December 31, 2012
Yearender: Indian boxing takes blows in 2012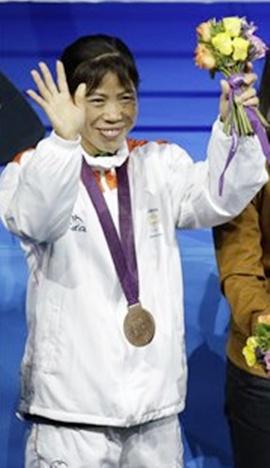 Indian boxing's euphoric rise in the past four years met a sudden fall as a disappointing Olympic campaign was followed by international suspension in a thoroughly forgettable 2012, which was saved from being complete bummer by M C Mary Kom's bronze in London.
Liverpool's Suarez drowns controversies with consistency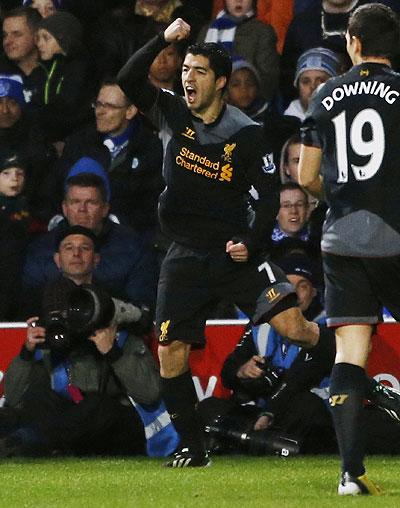 Striker Luis Suarez sparked life into Liverpool's stuttering Premier League campaign as they thumped Queens Park Rangers 3-0 on Sunday in a match that highlighted the brilliance of the unpredictable Uruguayan.
F1: Of Vettel's win, Schumi's farewell and a woman chief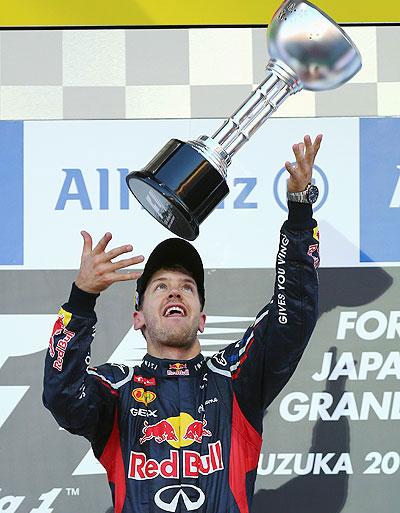 Here is a look at how the season panned out in the pit lanes and tracks of the Motosports world in 2012.
Tennis year-ender: Murray achieves milestone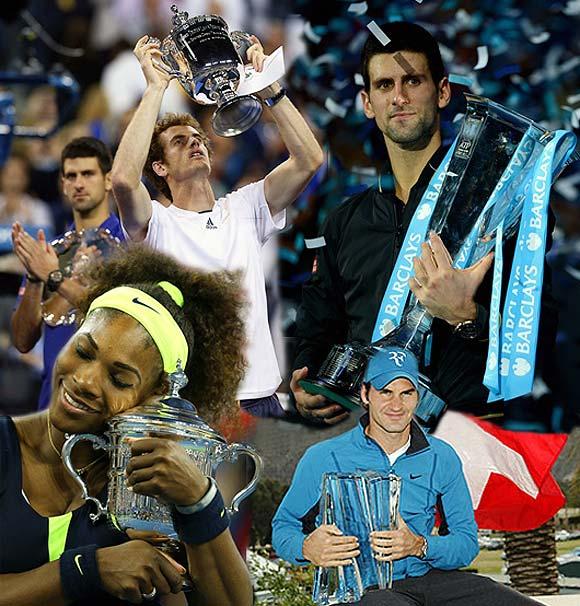 For Andy Murray 2012 marked a golden milestone, for Novak Djokovic the year was an emphatic reminder of his status as the world's best male player, and for Roger Federer and his army of fans it was proof that the old master's magic still sparkles.
PIX: Lampard lifts Chelsea to 3rd; Suarez on song for Reds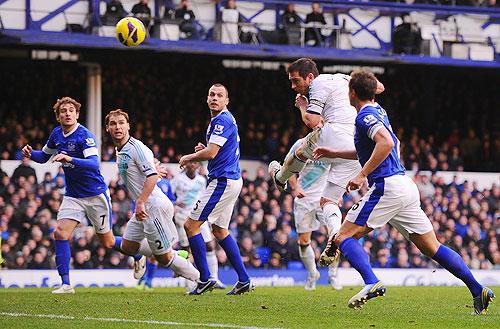 Images from the EPL matches played across England on Sunday.
December 30, 2012
I-League: Salgaocar demolish Air India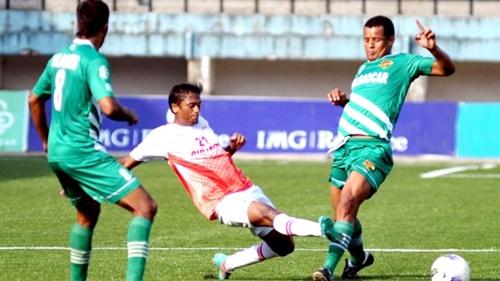 Salgaocar Football Club scored a resounding 4-0 win over Air India in the 13th round of the I-League to put their campaign back on track, in Goa on Sunday.
PHOTOS: Man United stay clear on top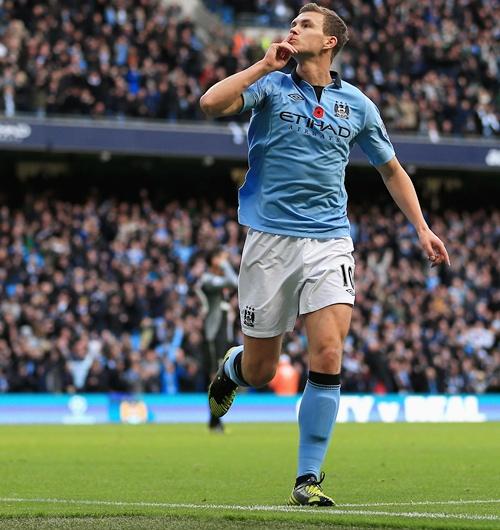 Edin Dzeko shone to give 10-man Manchester City a battling 4-3 victory at Norwich City but leaders Manchester United also won as own goals and more controversial refereeing marked the last Saturday of 2012.
December 29, 2012
Wrestling 2012: Sushil, Yogeshwar cynosure of all eyes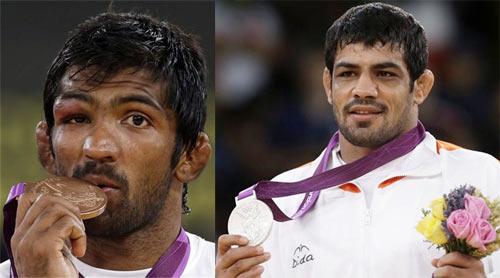 Four years of blood, sweat and tears culminated into a historic Olympic performance as Sushil Kumar and Yogeshwar Dutt did the country proud with lion-hearted performances in a truly memorable 2012 for Indian wrestling.
December 28, 2012
Hope floats for 'realistic' Ronaldinho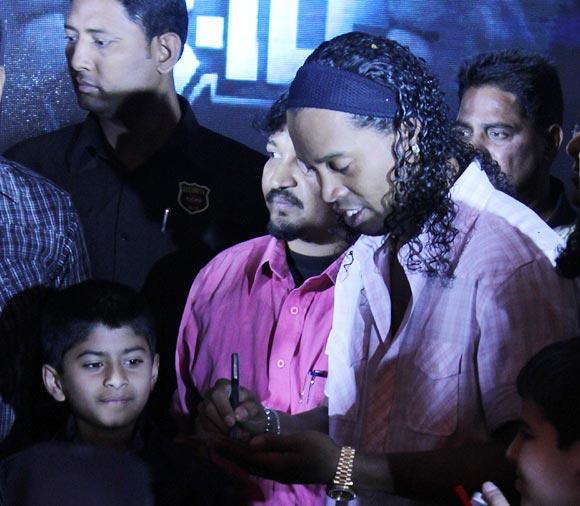 His best days may be well behind him but Ronaldinho's name still rings a bell. The 32-year-old having had a stellar career in Europe, that included spells with Paris-Saint Germain,FC Barcelona and AC Milan, is now back in native Brazil, playing with Atletico Mineoro.
2012: 'Old war horses' rule the roost in squash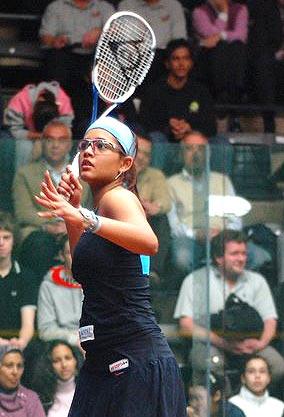 Dipika Pallikal broke into the world top 10, Saurav Ghosal celebrated the biggest PSA World Tour title win of his career and Joshna Chinappa claimed her maiden WISPA title at home as 'old warhorses' continued to be the flag-bearers of Indian squash internationally in 2012.
I have a Hollywood script on my table: Leander Paes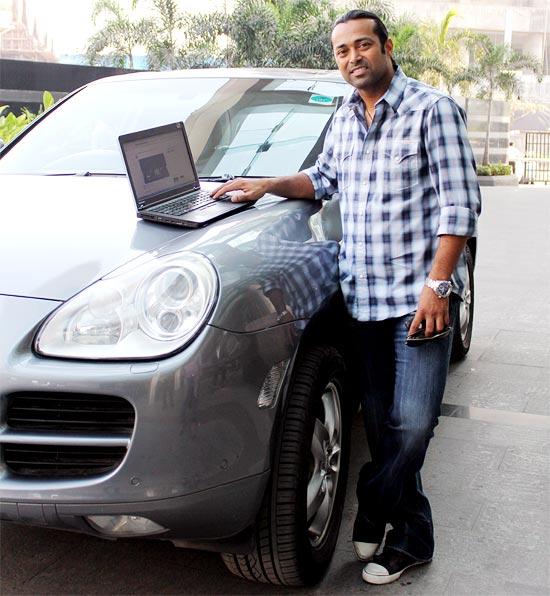 India's tennis legend Leander Paes is gearing up for a new challenge in life as he gets set for his debut in Bollywood with his movie Rajdhani Express.
December 27, 2012
PHOTOS: Man United open up a seven-point lead, Chelsea win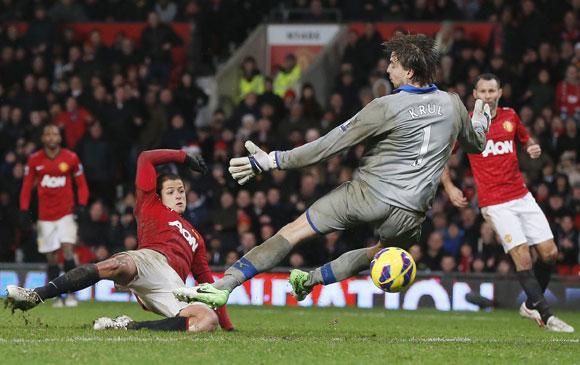 Manchester United opened up a seven-point lead at the top of the Premier League even as rivals Man City suffered a shocking reverse at Sunderland on the Boxing Day.
Dope, Olympic flopshow mar Indian athletics in 2012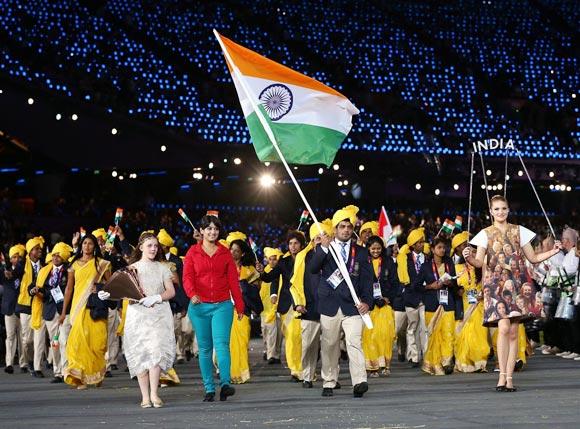 Indian athletics slumped to new depths of shame by producing the highest number of dope cheats while continuing the flopshow at the Olympics in yet another dismal year.
December 26, 2012
PHOTOS: Sporting spectacles that made 2012 special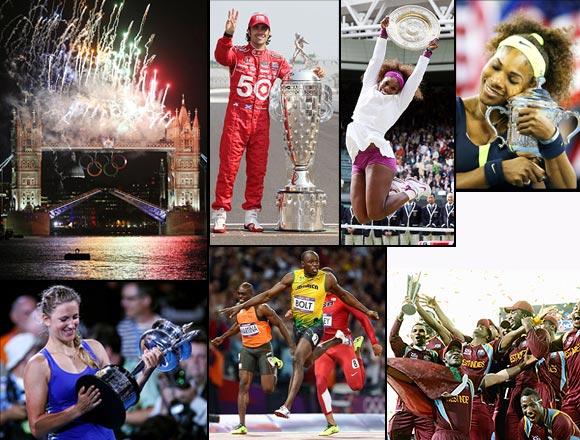 Here are the key moments and personalities from the world of sport who hit the headlines in 2012.
London Olympics an unforgettable tapestry of tears, drama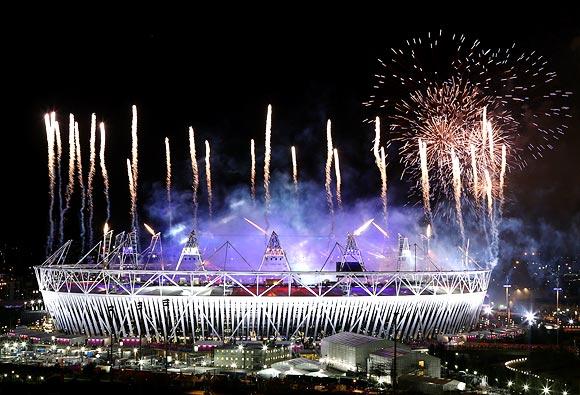 The July and August Games gave Britain - and Britishness - a reputational boost, at home and abroad, at a time when few who are younger than the 86-year-old Queen Elizabeth can recall its days of imperial glory.
December 25, 2012
PHOTOS: Table-topping United face testing nine days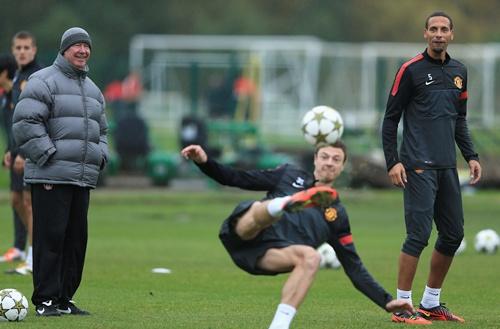 Manchester United manager Alex Ferguson has presided over enough festive fixtures to know rotation is the key as he prepares for a busy period starting with the visit of Newcastle United in the Premier League on Wednesday.
December 24, 2012
A year that witnessed Ferrer trump Djokovic, Federer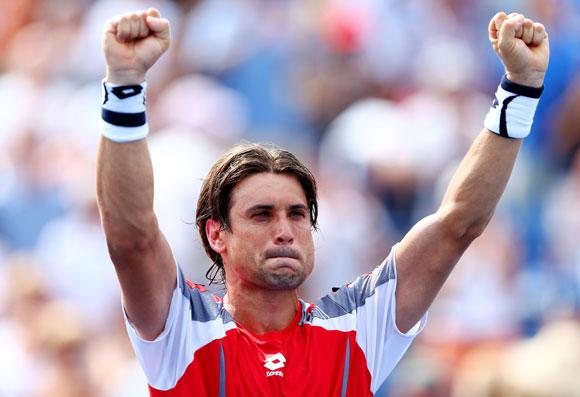 A round-up of the players who impressed the most on the ATP Tour in 2012.
December 23, 2012
Photos: Swansea ride their luck to hold leaders United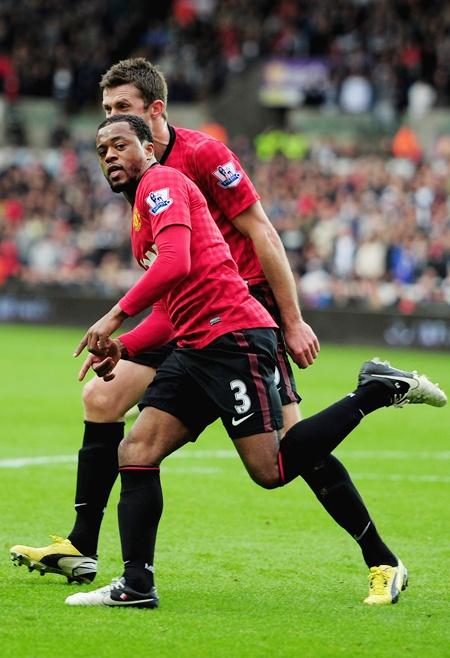 Leaders Manchester United were held to a draw for the first time in the Premier League this season after Swansea City rode their luck at home in an entertaining clash that ended 1-1 on Sunday.
December 22, 2012
I-League: Abranches scores a brace in Dempo's 2-1 win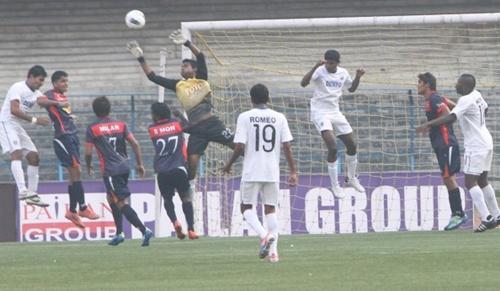 Joacquim Abranches scored one goal in each half as defending champions Dempo SC reclaimed the top position with a facile 2-1 win over Pailan Arrows at the Yuba Bharati Krirangan in Kolkata on Saturday.
Three-time US Olympian reveals she worked as an escort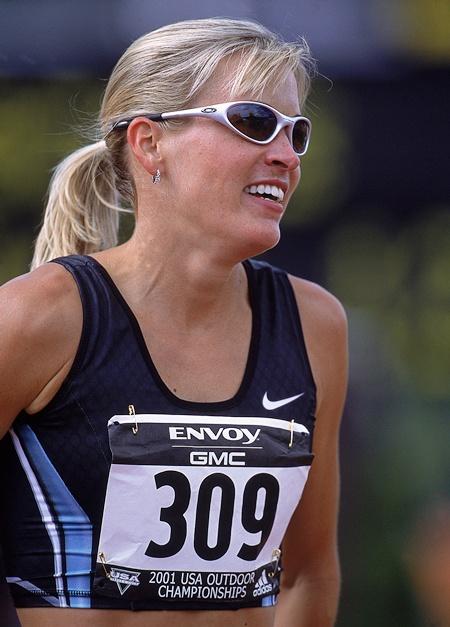 Former Olympic middle-distance runner Suzy Favor Hamilton has confirmed that she worked as a high-end escort and issued an apology after an expose about her double life was published on a tabloid website.
Lebron shines brightest on every stage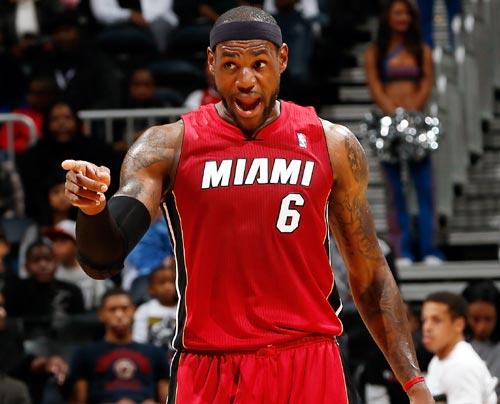 LeBron James finally captured an elusive National Basketball Association title to cap a year where he silenced his critics and shared the spotlight with some unlikely players.
December 21, 2012
PHOTOS: The top sporting quotes from 2012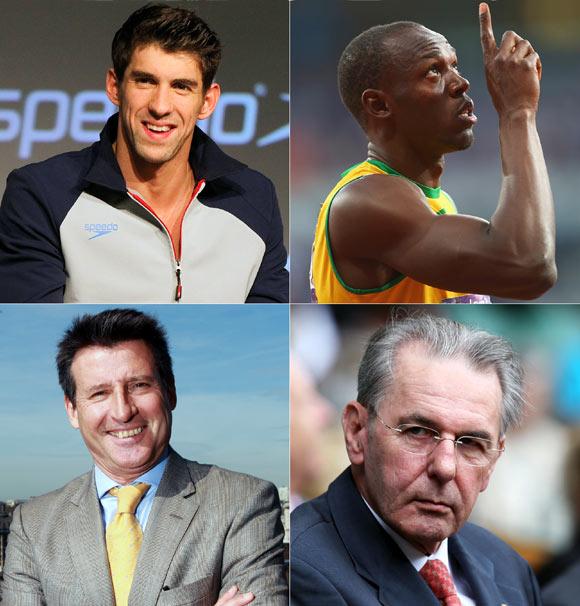 Memorable comments by sports stars in 2012.
PHOTOS: Best sports moments of 2012 - Part 2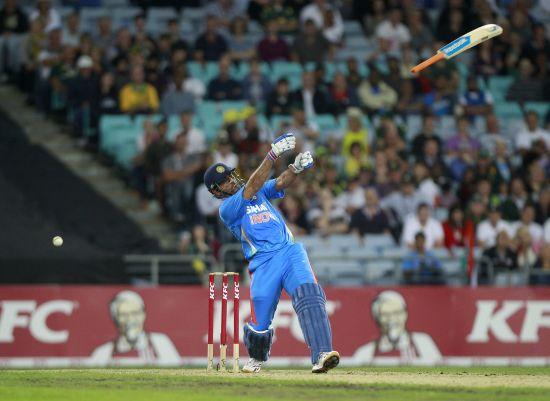 Here is the second part of a series of slideshows that showcase the best sporting images of 2012.
December 20, 2012
EPL: Reinvigorated Arsenal kick-off Holiday festivities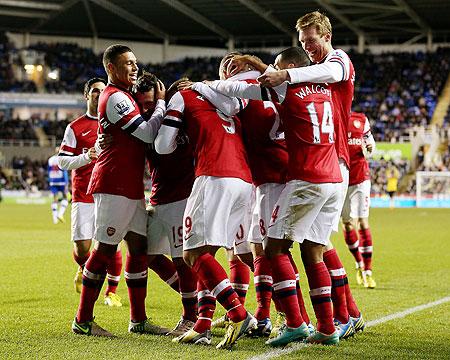 The first offering of a 12-day Premier League feast is served up on Saturday when Arsenal travel to Wigan Athletic for a clash involving two of the country's most unpredictable teams.
December 19, 2012
Beckhams raking in moolah from business ventures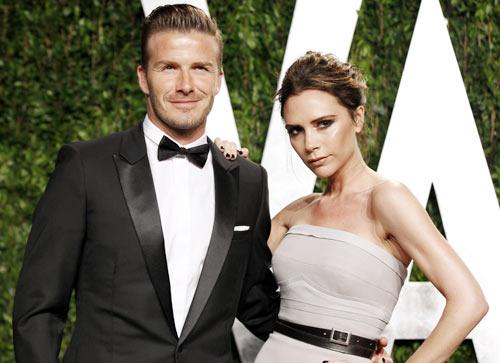 Business seems to be doing well for David and Victoria Beckham, as the couple earned over 11 million pounds in the last year, it has been revealed.
December 18, 2012
Anand urges Tendulkar to continue playing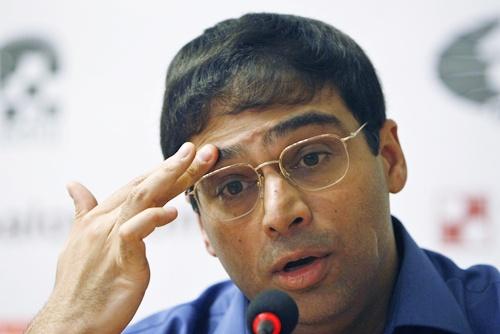 Struggling Indian cricketer Sachin Tendulkar on Tuesday received support from unexpected quarters with five-time World Champion chess wizard Viswanathan Anand urging him to continue playing as long as he wanted.
December 17, 2012
Ennis's ravishing gown creates buzz at BBC Sports Awards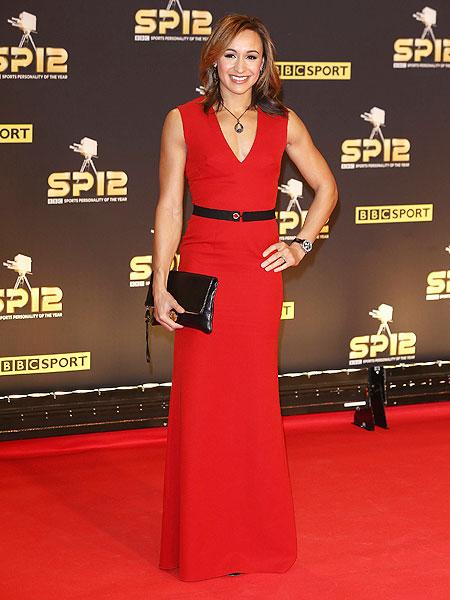 Jessica Ennis, who has had a stellar year after becoming the golden girl of the 2012 Olympics, seems to be a winner in the fashion stakes as well.
EPL PIX: Spurs to go fourth; West Brom draw with Hammers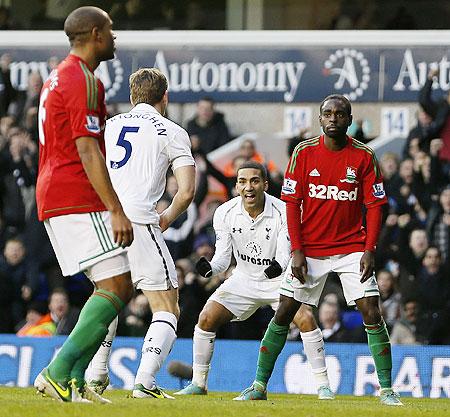 Images from the English Premier League matches played across England on Sunday.
HIL: Raghunath says 'unbelievable'; Sandeep 'disappointed'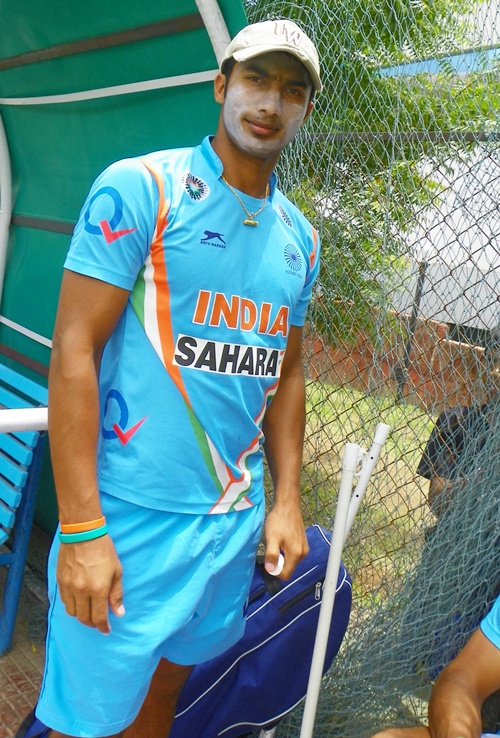 Ace drag-flicker VR Raghunath was unable to describe his feelings after fetching a whopping $ 76,000 at the inaugural Hockey India auctions while senior pro Sandeep Singh was a disappointed man as he got one of the lowest bids among current India players.
December 16, 2012
I-League: United SC beat East Bengal 1-0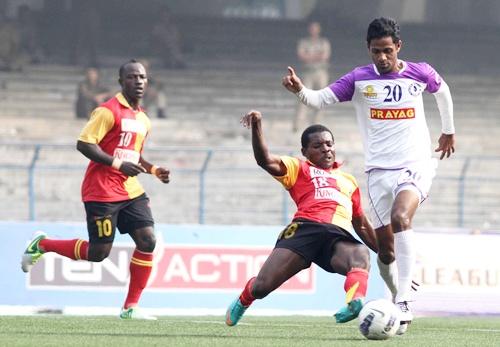 United SC halted East Bengal unbeaten run in the I-League with Ranty Martin's second-half header earning the side an upset 1-0 win in a 12th round I-League fixture at the Yuba Bharati Krirangan in Kolkata on Sunday.
EPL PIX: Man United stay six points clear, QPR win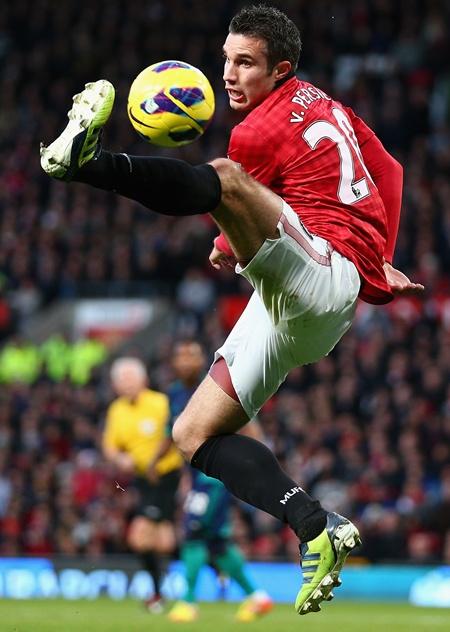 Robin van Persie and Wayne Rooney were on target for Manchester United as the Premier League leaders swept aside Sunderland 3-1 at Old Trafford on Saturday to stay six points clear of champions Manchester City.
December 15, 2012
Sorry for Bradford loss, but we have to look ahead: Wenger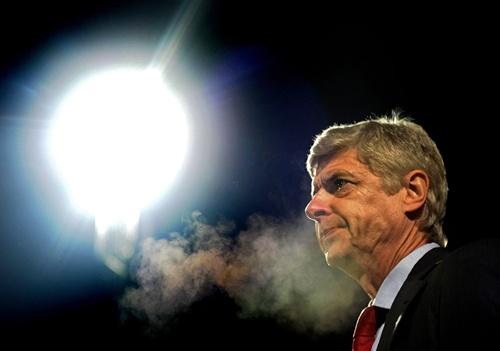 After one of the toughest weeks in his 16-year reign, Arsenal manager Arsene Wenger says his side are united and looking confidently towards Monday's Premier League clash at Reading (0000 IST, Tuesday).
December 14, 2012
Lampard says this could be his last season at Chelsea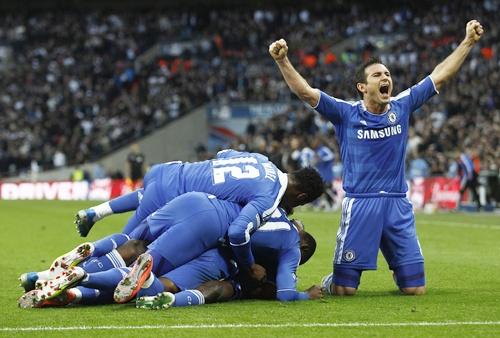 Chelsea's veteran midfielder Frank Lampard wants to play on for two or three more years but says this campaign could be his last at Stamford Bridge.
December 13, 2012
Pressure mounts on Wenger in denial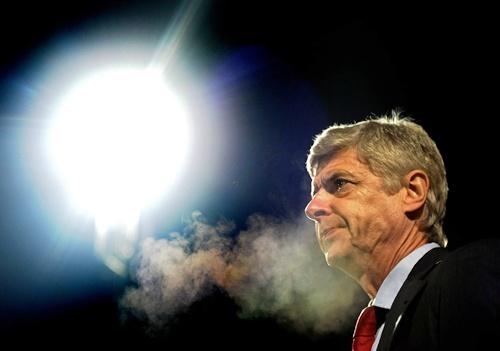 Arsene Wenger appeared a man in denial after his hapless Arsenal side were knocked out of the League Cup by a fourth tier English club who avoided relegation to non-league football by only six points last season.
December 12, 2012
Photos: Lewis Hamilton and Nicole look loved up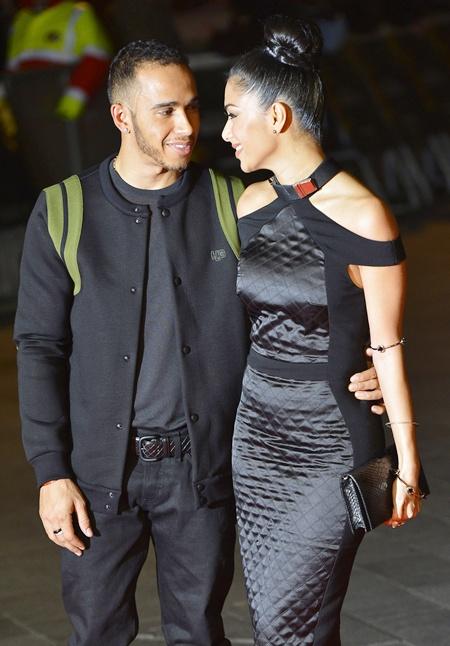 Nicole Scherzinger and her boyfriend Lewis Hamilton, who have been seen together just a handful of times in the past few months due to the singer's hectic schedules, were spotted attending the premiere of Jack Reacher in Leicester Square.
League Cup: Arsenal suffer shootout defeat at Bradford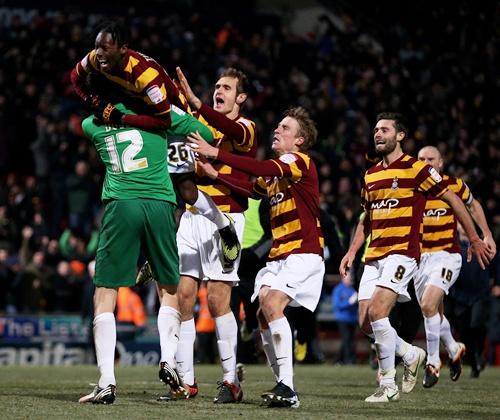 Arsenal suffered a humiliating League Cup quarter-final exit to fourth tier Bradford City on Tuesday, losing 3-2 on penalties after an absorbing game finished 1-1 at the end of extra time at a packed Valley Parade.
December 11, 2012
'My ultimate goal and dream is to be ranked No 1'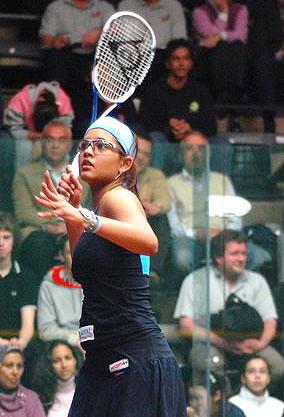 In this exclusive tete-a-tete with Rediff.com's , Pallikal talks about her passion for squash, how coach Sarah Fitz-Gerald has contributed to her rise and her dream of being World No 1.
My goal is a podium finish for India in Rio: Nobbs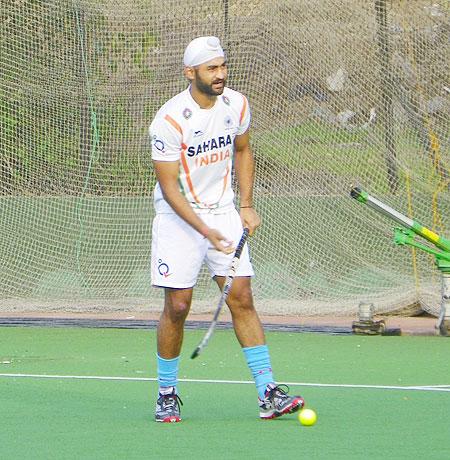 With a young Indian team managing an impressive fourth-place finish in the Champions Trophy, hockey coach Michael Nobbs has dropped hints that seniors like Sandeep Singh could be on their way out as he is looking to build a side for the 2016 Olympics.
PHOTOS: Best sports moments of 2012 - Part 1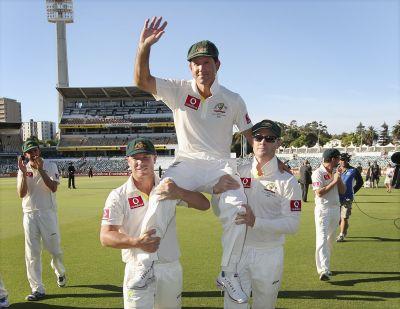 The first in a series of slideshows that showcase the best sporting images of 2012.
Photos: Fatherhood hasn't slowed record-breaking Messi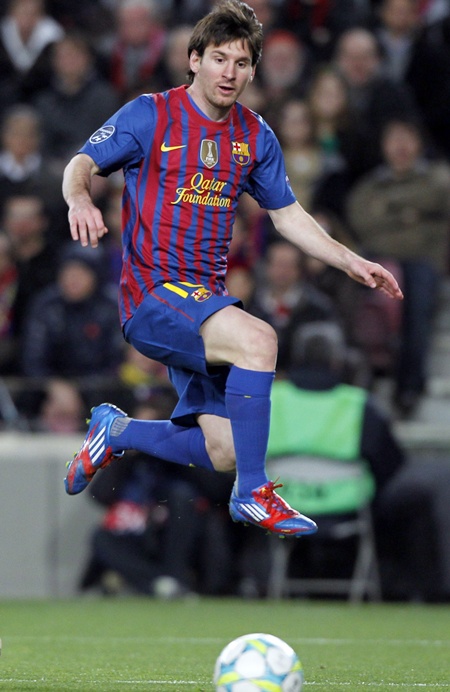 Barcelona forward Lionel Messi became a father for the first time last month at the age of 25 but parenthood doesn't appear to have slowed the Argentine down and if anything has sharpened his appetite for goals.
December 10, 2012
Van Persie breaches City fortress, Reds win at Upton Park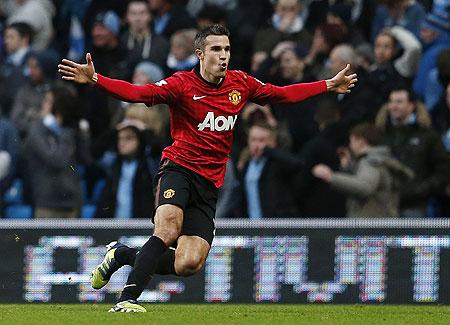 Images from the EPL matches played on Sunday.
PHOTOS: Defeated Pacquiao has no plans to retire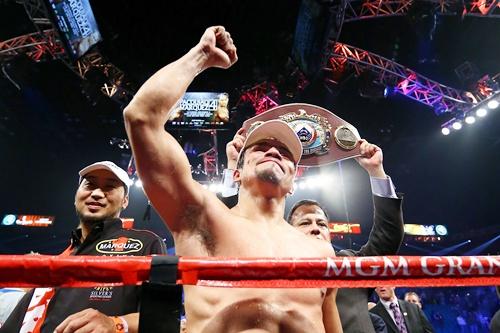 Though bruised and battered, Manny Pacquiao said he felt "fine" after his sensational sixth-round knockout by Mexican Juan Manuel Marquez and promised his fans he would return to the ring.
Magical Messi goes past Mueller to rewrite history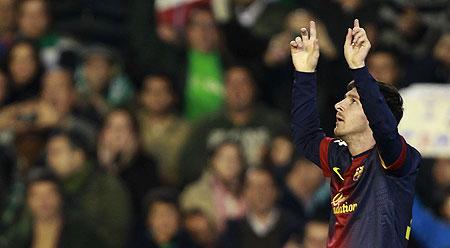 Barcelona forward Lionel Messi reached another milestone in his phenomenal career on Sunday when he set a record for goals scored in a calendar year of 86 with a La Liga double at Real Betis, beating Gerd Mueller's 40-year-old tally of 85.
December 09, 2012
Photos: Van Persie scores on Manchester derby debut
Persie's stoppage-time free kick snatched a 3-2 victory for Manchester United in a pulsating derby at champions Manchester City to send them six points clear at the top of the Premier League on Sunday.
Photos: 40 injured as Kolkata derby called off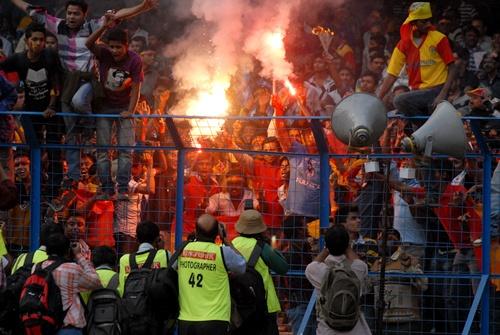 The mecca of Indian soccer on Sunday made headlines when the marquee I-League clash between East Bengal and Mohun Bagan had to be called off after the unruly crowd present at the Salt Lake stadium went out of control.
December 08, 2012
PHOTOS: Brazil's former World Cuppers dazzle in Kolkata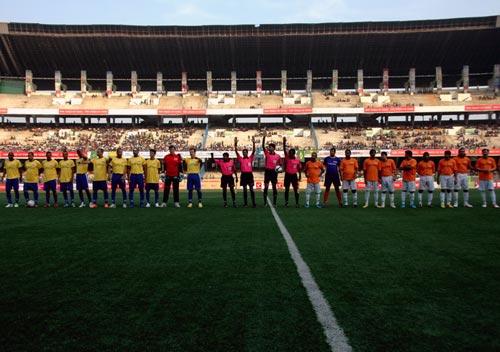 Brazil's former World Cup winners mesmerised the mecca of Indian soccer with their unmatched skills, reminding everyone of their heydays as they beat IFA XI 3-1 in an exhibition match at the Salt Lake Stadium in Kolkata, on Saturday.
'Schumacher shouldn't have come out of retirement'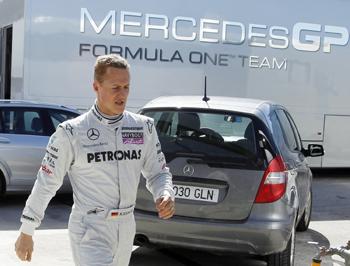 Michael Schumacher should have stayed in retirement rather than risked his reputation in a disappointing Formula One comeback with Mercedes, Bernie Ecclestone said on Friday.
December 07, 2012
Five Memorable Manchester Derbies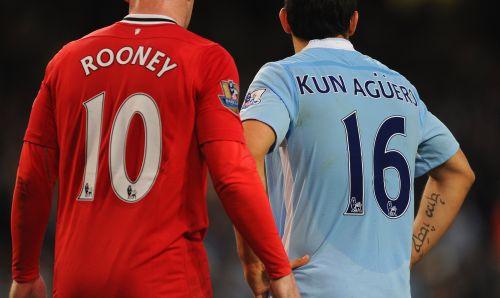 Ahead of the all-important clash, Rediff.com looks at five memorable derbies between the fierce rivals.
Chelsea players must share blame for CL exit: Cech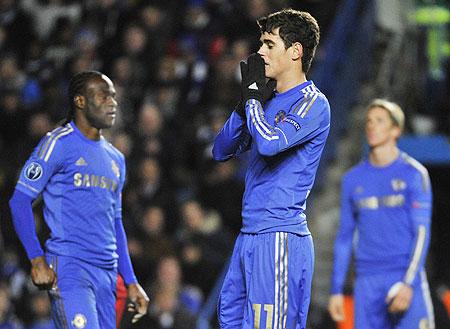 Chelsea's players must shoulder the blame for the Londoners becoming the first holders to leave the Champions League at the group stage, goalkeeper Petr Cech said after Wednesday's exit.
December 06, 2012
Rory McIlroy hails girlfriend Wozniacki as inspiration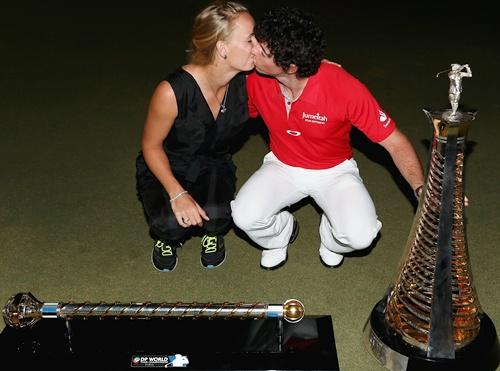 Rory McIlroy couldn't stop gushing about his girlfriend Caroline Wozniacki, after he won the PGA Tour Player of the Year award on Tuesday.
NBA: Bryant becomes youngest scorer of 30,000 points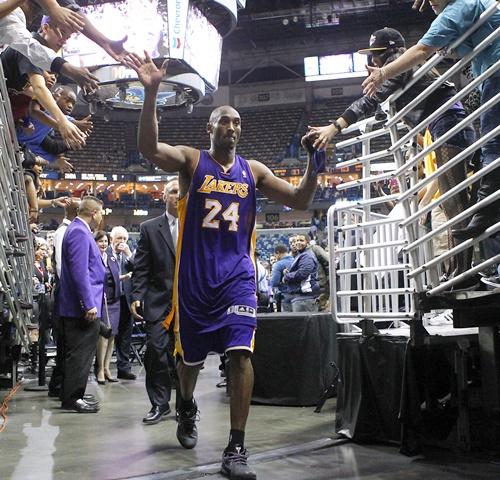 Los Angeles Lakers shooting guard Kobe Bryant become the youngest player to score 30,000 NBA career points during his team's 103-87 road win against the New Orleans Hornets on Wednesday.
CL: Chelsea out as Juve, Galatasaray, Celtic advance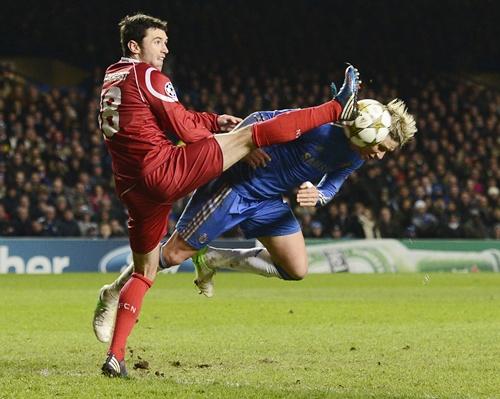 Less than seven months after celebrating a first Champions League triumph to satisfy owner Roman Abramovich's thirst for continental dominance, Chelsea became European chumps on Wednesday despite a rip-roaring but irrelevant finale.
FIFA launch goal-line revolution in Japan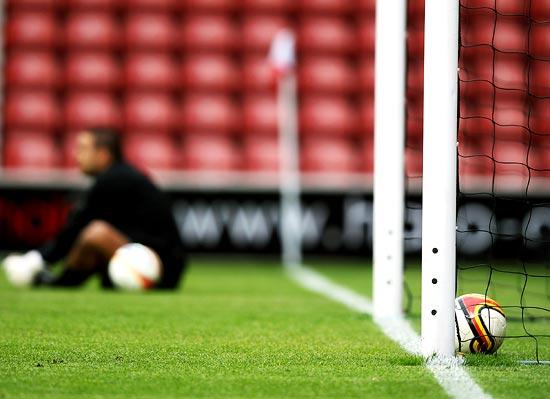 Prompted into action by England midfielder's Frank Lampard's disallowed goal against Germany at the 2010 World Cup, FIFA will use goal-line technology for the first time in Japan this week.
Europe exit can help us win the EPL: Mancini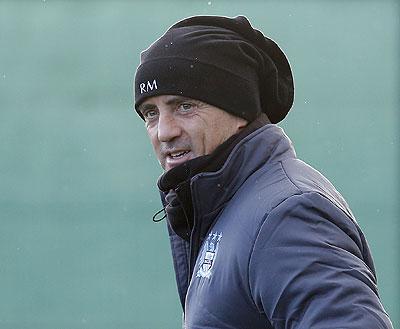 Manchester City's dismal exit from European competition is not an embarrassment and could boost the big-spending club's defence of the Premier League title, according to manager Roberto Mancini.
December 05, 2012
First Look: Mary Kom's adorable twins get sparring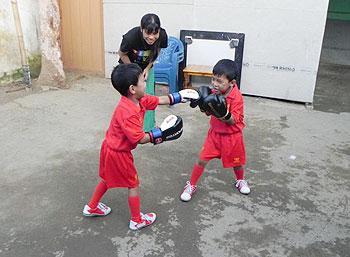 First Look: Mary Kom's twins enjoy a sparring session.
Who's the hottest, pregnant Mrs Rooney or Mrs Gerrard?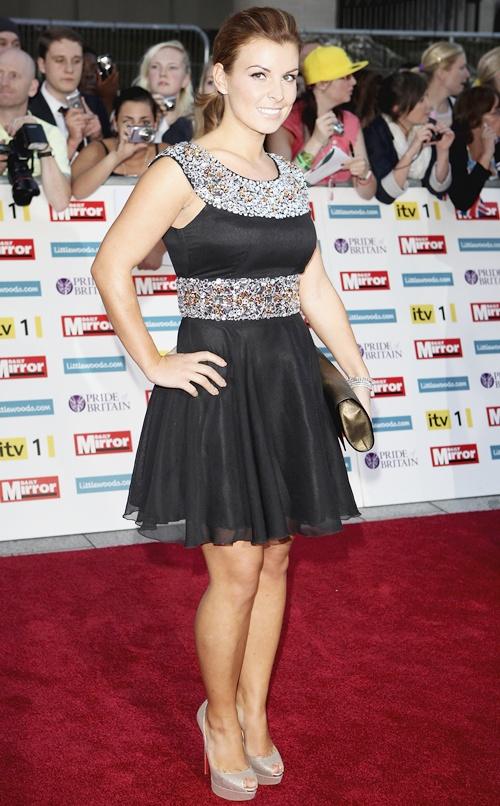 Coleen Rooney swapped her maternity wear for a flirty snake-print mini dress that showed off her tanned legs, to attend a Christmas party hosted by Liverpool's popular Cricket boutique.
CL: PSG show they mean business; Arsenal, City lose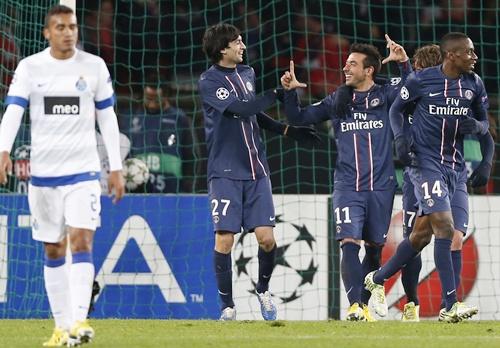 Big-spending Paris St Germain, struggling to deliver domestically on a huge investment by Qatari owners, showed they mean business in the Champions League by winning Group A at Porto's expense on Tuesday.
December 04, 2012
McIlroy wins PGA Player of the Year award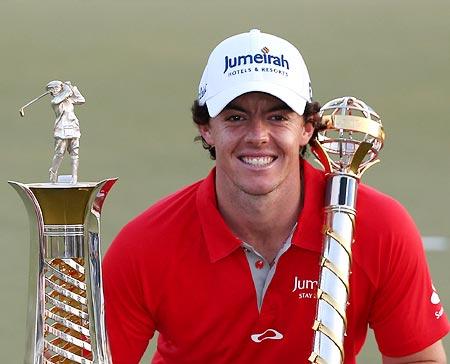 The 23-year-old was the popular choice for the annual Jack Nicklaus Award, decided by a vote from eligible tour players, becoming the youngest recipient since Tiger Woods in 1998.
Wenger concedes Arsenal have problems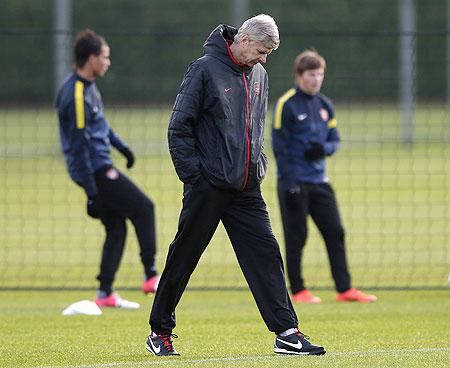 Languishing mid-table, outplayed by teams he would fully expect to beat and with fans loudly questioning his judgement, Arsenal manager Arsene Wenger concedes his side have problems but is adamant he is the man to fix them.
Champions League: Messi backs Celtic to make last 16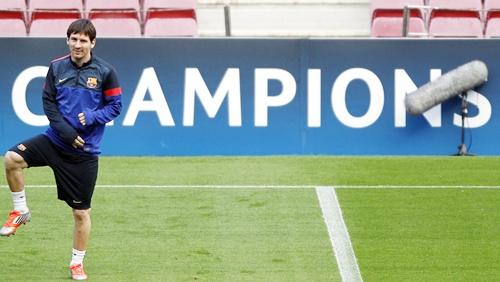 Celtic's bid to make the last 16 of the Champions League has been backed by Lionel Messi who believes the Scottish club's fans deserve to see their side progress.
December 03, 2012
Ferguson believes Mourinho has personality to succeed him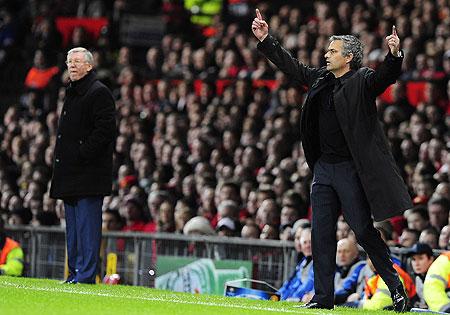 Manchester United manager Sir Alex Ferguson has backed his Real Madrid counterpart Jose Mourinho to succeed him at Old Trafford once he eventually decides to retire.
CL: Chelsea need big helping hand for last-16 ticket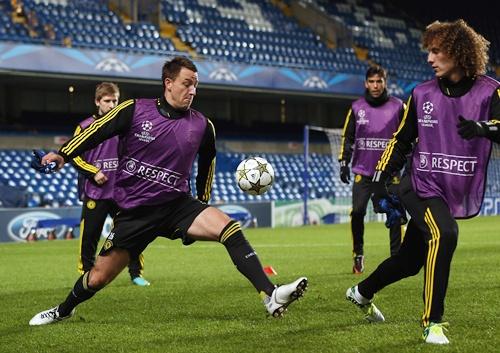 Six clubs enter this week's final round of Champions League group matches harbouring hopes of grabbing one of the three last-16 places still up for grabs although for holders Chelsea their fate is beyond their control.
Soccer Roundup: Record for Barca, United go clear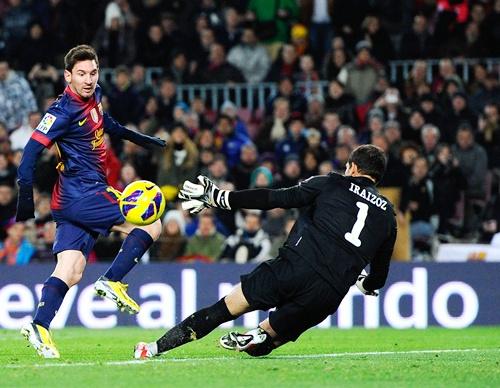 Two goals by the dynamic Lionel Messi helped La Liga leaders Barcelona maintain their flying start to the season with a 5-1 destruction of Athletic Bilbao.
Was Flintoff's debut bout a 'disgrace'?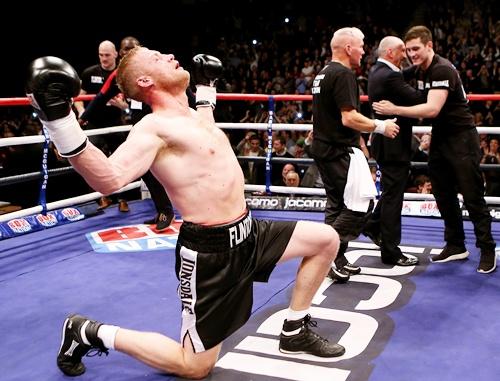 Andrew Flintoff's boxing debut received a contemptuous chiding from many quarters of the professional boxing world with British promoter Frank Maloney labelling it as a circus.
December 02, 2012
Mancini concerned about misfiring Man City strikers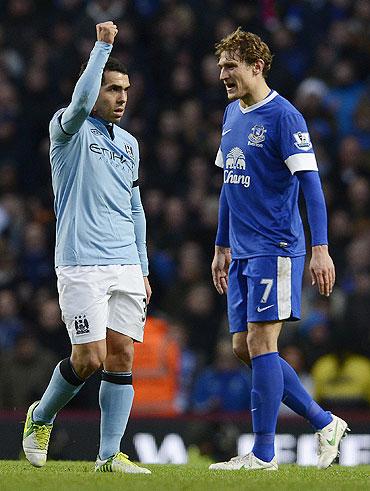 Manchester City manager Roberto Mancini used every attacking weapon at his disposal on Saturday and was left frustrated after the various combinations failed to get the better of Everton.
United defending is agony for Ferguson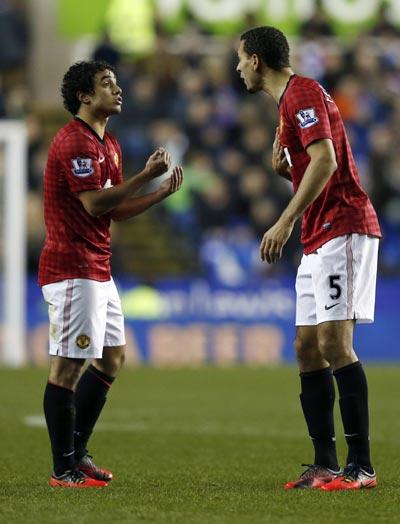 Alex Ferguson described watching his Manchester United side's defending in the topsy-turvy 4-3 victory over Reading on Saturday as agony.
December 01, 2012
Photos: 'As personal achievement, boxing win is best'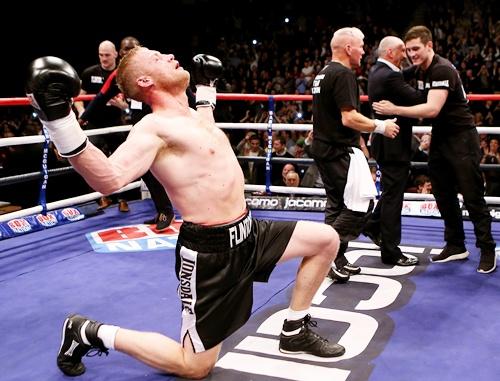 Former cricketer Andrew Flintoff beat American Richard Dawson on points after surviving a knockdown in his first professional fight at the MEN Arena in Manchester.
November 30, 2012
I'd fix Torres in two weeks, says sprinter Campbell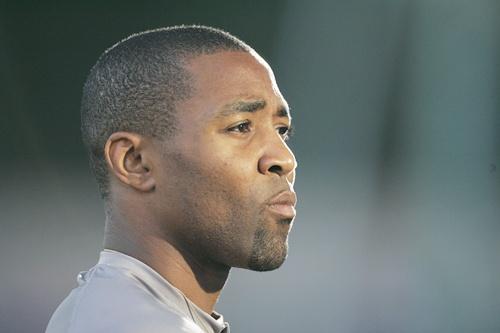 Misfiring Chelsea striker Fernando Torres needs two weeks of intensive sprint training and Britain's former Olympic champion Darren Campbell believes he can help the Spaniard regain his explosive pace.
David Beckham has his hands full after MLS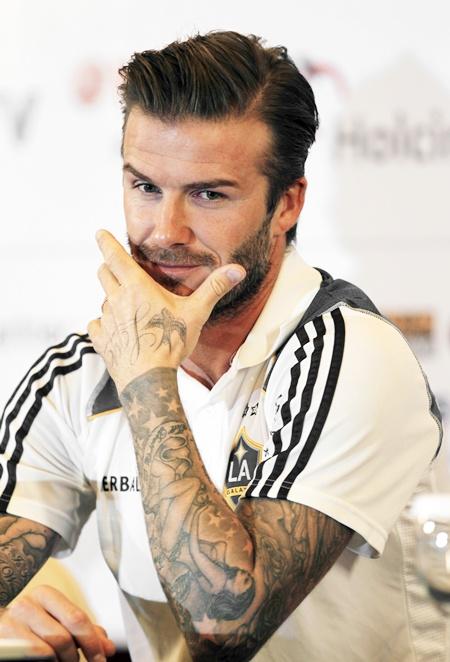 David Beckham is flattered by the "interesting and exciting options" facing him as he prepares to farewell LA Galaxy and Major League Soccer, the former England captain said on Thursday.
November 29, 2012
EPL: Van Persie scores fastest goal of the season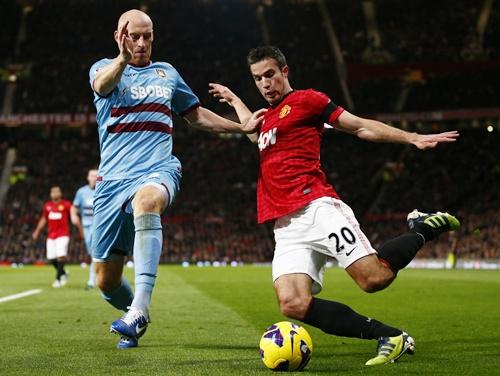 Robin van Persie scored the fastest goal of the Premier League season -- timed at 31 seconds - to keep leaders Manchester United a point clear at the summit after a 1-0 home win over West Ham United on Wednesday.
Ferrari mull over protesting Vettel's title win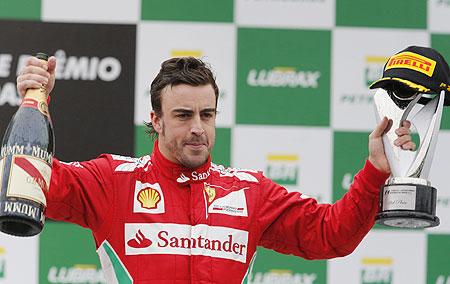 Ferrari are considering whether to lodge a protest that could lead to the result of the Formula One world championship being overturned.
London Olympic Park gets $468m post-Games makeover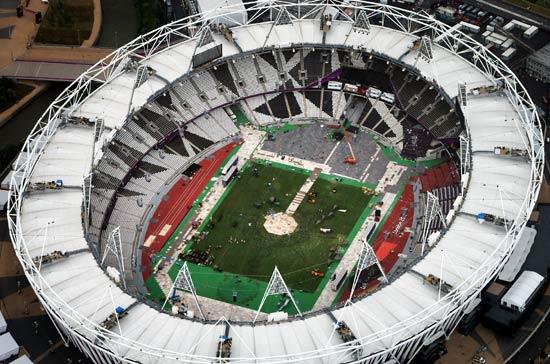 London's Olympic Park has taken on the air of a construction site again, with work under way on a 292 million pound transformation before Britons can use facilities like the swimming pool and cycle trails.
November 28, 2012
Vettel reigns in a bizarre F1 season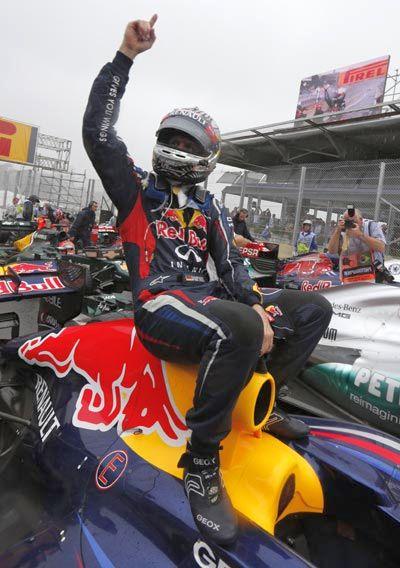 At 25, Sebastian Vettel has been champion for three straight years. At 25, he's caught up with Ayrton. At 25, he's just getting better, says .
November 27, 2012
Alonso demands faster Ferrari next season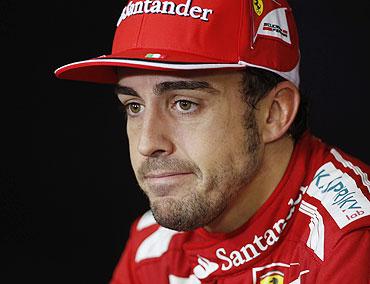 While Ferrari's Fernando Alonso rates 2012 as his best season in Formula One, the Spanish driver says his car must be quicker next year if he is to fight for the title again.
Down memory lane: The best and worst of Schumacher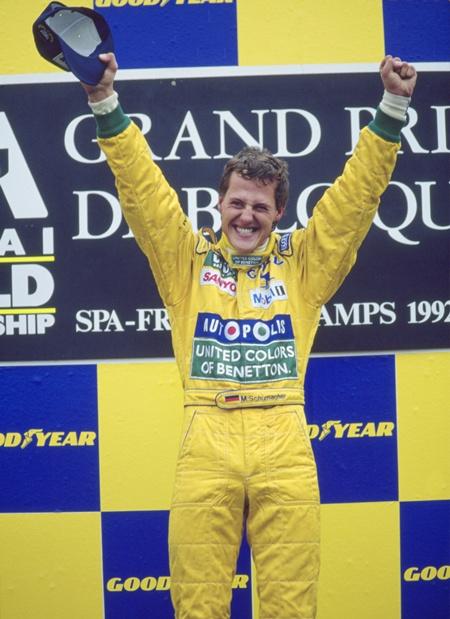 Seven-times world champion Michael Schumacher raced for the last time in Formula One at the Brazilian Grand Prix on Sunday, finishing seventh before heading into his second retirement.
November 26, 2012
Brazilian Grand Prix: Team by team analysis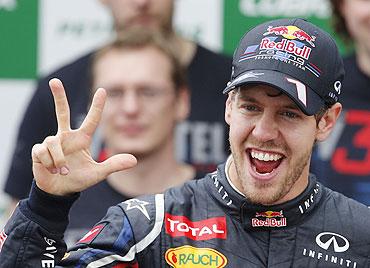 Team by team analysis of Sunday's season-ending Brazilian Formula One Grand Prix (listed in championship order).
Seven star Schumacher bids F1 farewell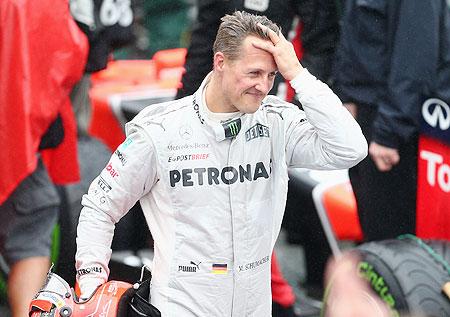 Michael Schumacher said farewell to Formula One with a battling seventh place for Mercedes at the Brazilian Grand Prix on Sunday before an embrace for newly-crowned triple champion Sebastian Vettel.
Third championship crown renders Vettel speechless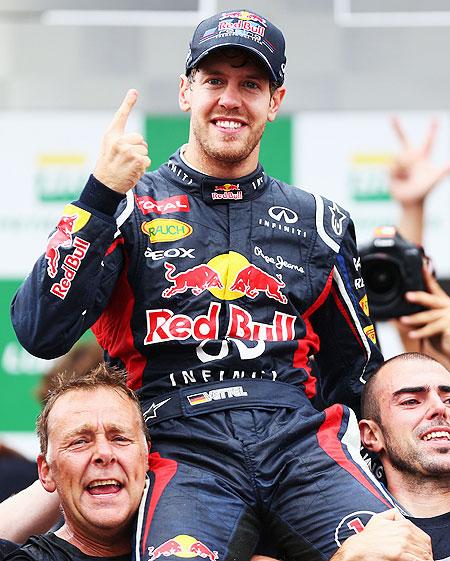 It all came good for Sebastian Vettel just when it all seemed to be going wrong on Sunday in a Brazilian Grand Prix that turned the Red Bull driver into Formula One's youngest triple world champion.
Vettel emulates boyhood hero Schumacher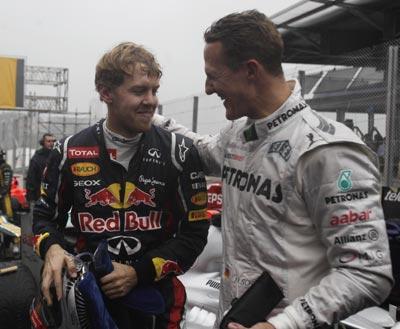 Vettel is only the third driver to win three championships in a row and the ninth triple champion. The others are Argentina's Juan Manuel Fangio and Germany's Michael Schumacher. The following are some key facts about Vettel.
La Liga: Barca equal best start with homegrown team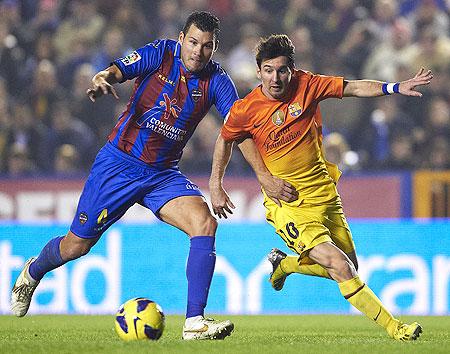 Leaders Barcelona and second-placed Atletico Madrid took full advantage of Real Madrid's stumble on Sunday, Barca winning 4-0 at Levante and Atletico thumping visiting Sevilla by the same scoreline at the Calderon.
Benitez jeered as Chelsea hold Man City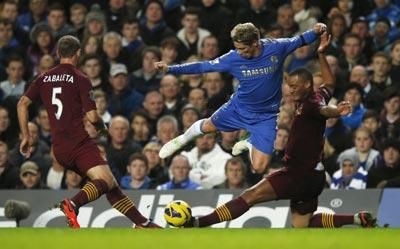 Interim manager Rafael Benitez was given a hostile welcome by Chelsea fans angry at Roberto Di Matteo's sacking when the Spaniard, serenaded with jeers, began his Stamford Bridge reign with a 0-0 draw against Manchester City on Sunday.
November 25, 2012
Vettel becomes F1's youngest triple champion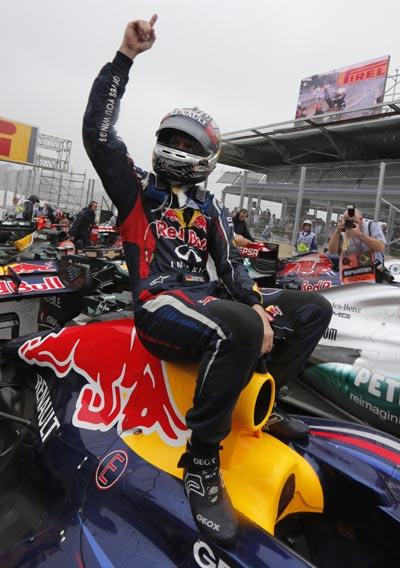 Red Bull's Sebastian Vettel became Formula One's youngest triple world champion at the age of 25 at the Brazilian Grand Prix on Sunday.
Photos: Man Utd beat QPR, Arsenal held by Villa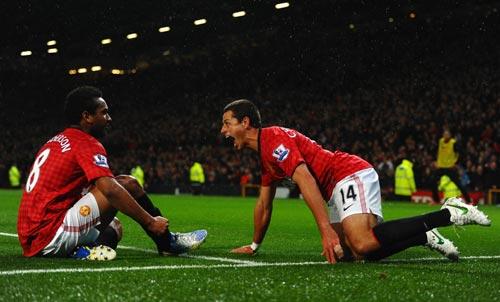 A quick-fire three-goal salvo saw Manchester United come from behind to beat Harry Redknapp's new club Queens Park Rangers 3-1 on Saturday, propelling them to the top of the Premier League.
November 24, 2012
Benitez lucky to land Chelsea job: Ferguson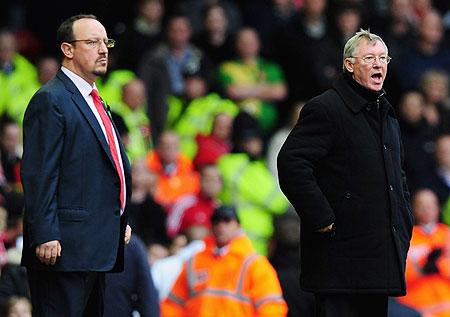 Alex Ferguson wasted little time renewing his old rivalry with Rafael Benitez on Friday when he branded the Spaniard "lucky" for walking into the manager's job at Chelsea.
Statue of Ferguson unveiled at Old Trafford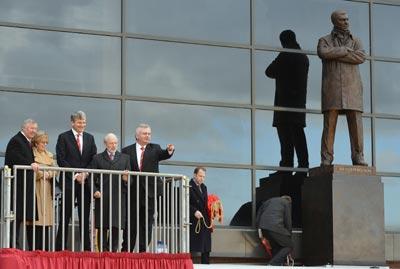 Alex Ferguson's glittering reign as Manchester United manager was celebrated when his wife Cathy unveiled a bronze statue of the Scot outside Old Trafford on Friday.
November 23, 2012
Benitez relishing massive challenge at Chelsea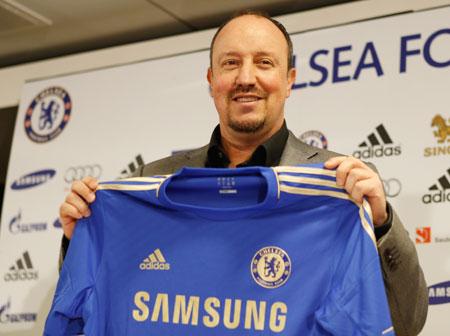 Chelsea's interim manager Rafael Benitez said the challenge of trying to win five trophies this season was too great an opportunity to turn down as he returned to the Premier League on Thursday.
Referee Clattenburg cleared of racism charge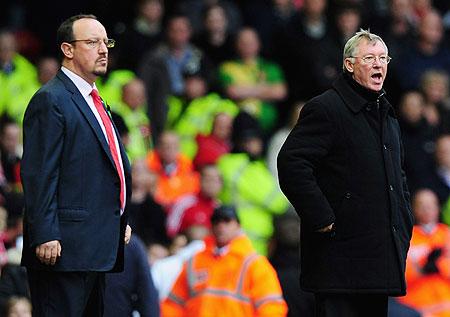 English referee Mark Clattenburg will not face any disciplinary action following a complaint by European champions Chelsea that he used racist language towards a player, the Football Association said on Thursday.
November 22, 2012
When Manchester United were almost Champions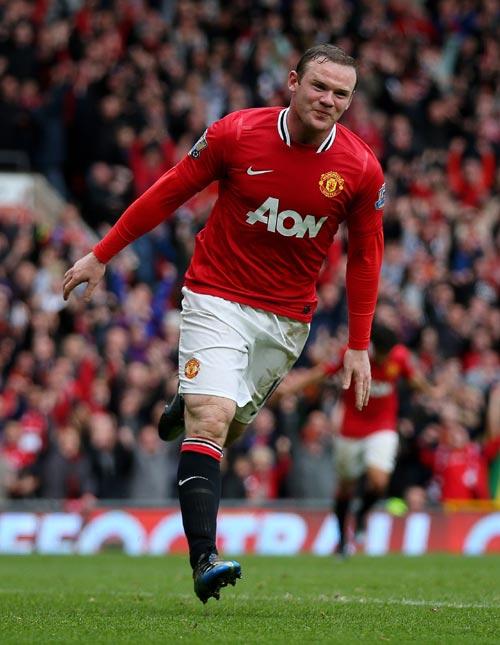 Wayne Rooney, the Manchester United star, captures the drama of the 2011 season when his team lost the EPL title to Manchester City in the League's very last game.
Vettel can take nothing for granted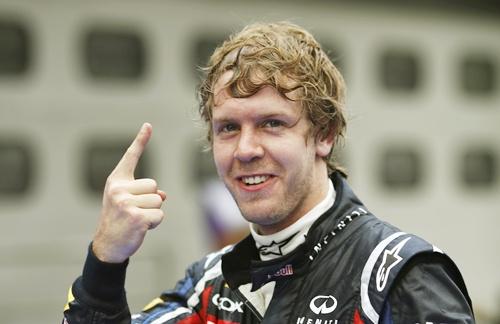 Sebastian Vettel can become Formula One's youngest triple champion without scoring a point in Sunday's season-ending Brazilian Grand Prix but Fernando Alonso has a more sensational script in mind.
Photos: Real among six teams through as City crash out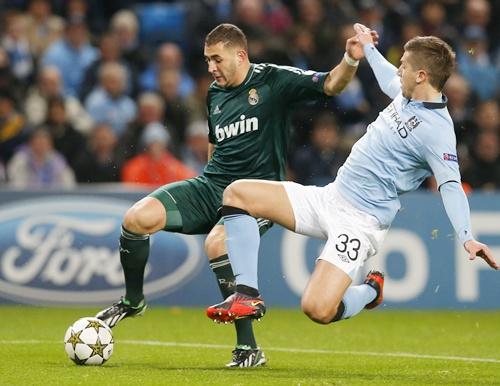 Real Madrid and AC Milan led a procession of six teams into the Champions League last 16 on Wednesday while big-spending Manchester City failed again on the European stage to further dent English soccer's standing.
Benitez thrown in at the deep end at Chelsea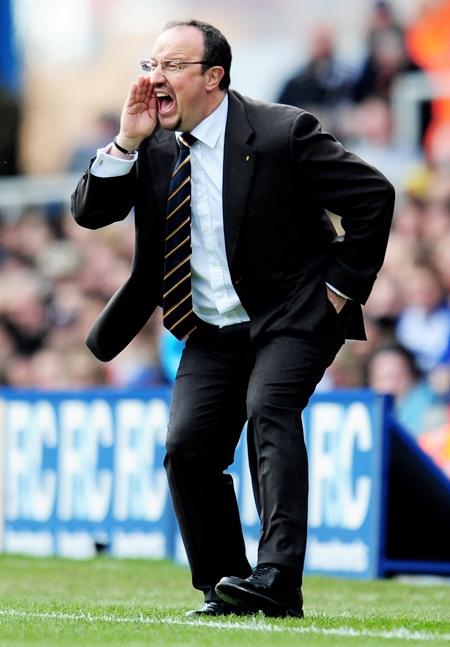 Interim manager Rafael Benitez has little time to dust off his Premier League suit and tie and start plotting how to drag Chelsea out of their malaise with leaders Manchester City visiting Stamford Bridge on Sunday.
Nine years of managerial Blues under Roman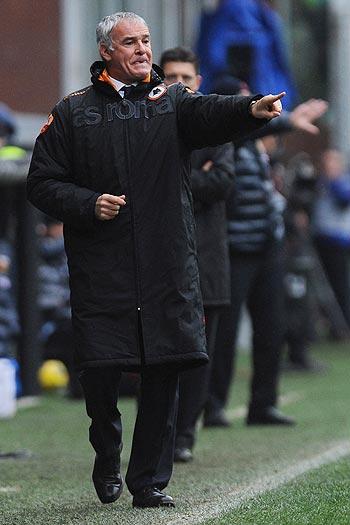 Following the sacking of manager Roberto Di Matteo on Wednesday, we present a list of Chelsea managers and the trophies won since Russian billionaire Roman Abramovich bought the Premier League club in 2003.
November 21, 2012
Champions League PIX: Messi fires Barca into last 16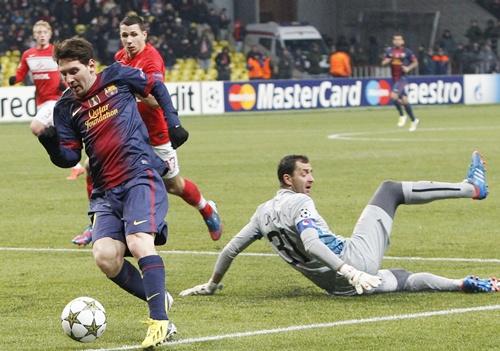 Lionel Messi fired Barcelona into the last 16 of the Champions League with two goals in their 3-0 victory at Spartak Moscow on Tuesday but holders Chelsea are walking a tightrope after a crushing defeat by Juventus.
Messi goes second in Champions League scoring chart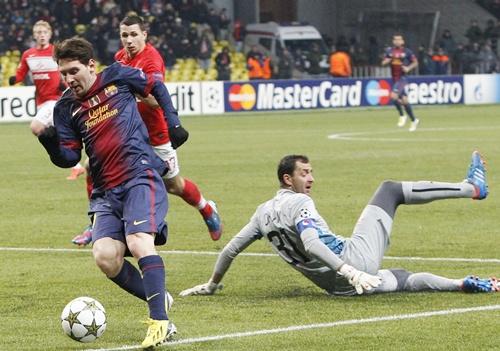 Rather like tennis's serial record breaker Roger Federer, Barcelona striker Lionel Messi cannot seem to finish a soccer match without ticking off another milestone.
Henry could return for third Arsenal spell: Wenger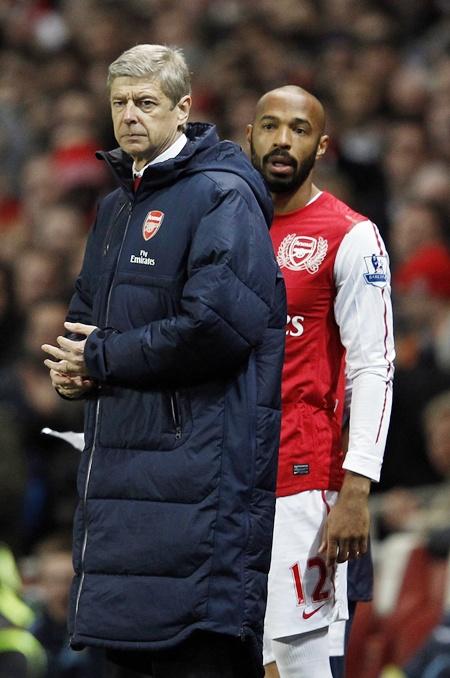 Former Arsenal striker Thierry Henry could be on his way back to the north London club for another spell on loan from New York Red Bulls in January, according to manager Arsene Wenger.
November 20, 2012
Alternator a 'ticking time bomb' for Red Bull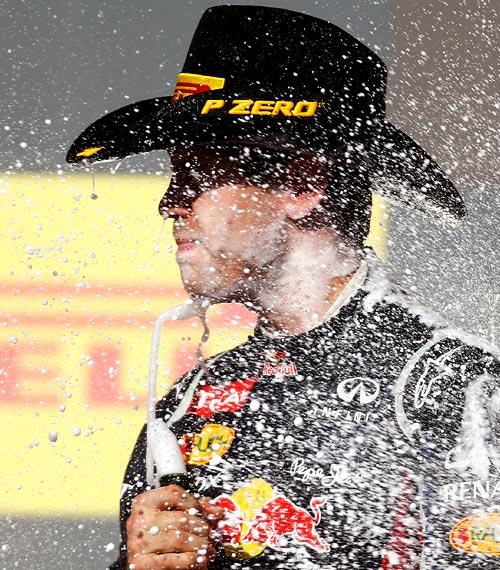 Red Bull and Renault will be working flat out to ensure Formula One championship leader Sebastian Vettel does not go into next weekend's title showdown in Brazil with a 'ticking time bomb' deep inside his car.
CLeague: Barca ready to adapt to Russian conditions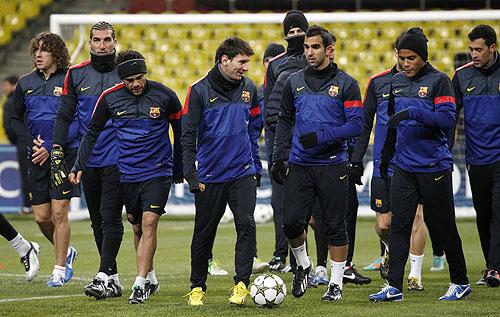 An artificial pitch, freezing conditions in Moscow and a wily coach who knows them all too well are some of the obstacles that stand between Group G leaders Barcelona and qualification to the last 16 on Tuesday.
Ferrari finds loophole to help Alonso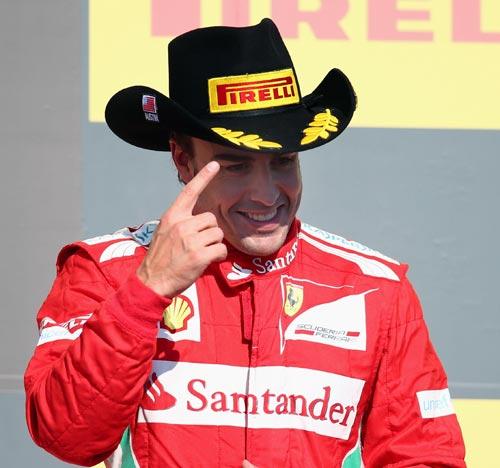 Ferrari promised to pull out all stops on Sunday to help Fernando Alonso claim the Formula One drivers title and with the help of a rulebook loophole they head to the season finale still in the fight.
Beckham to leave LA Galaxy after MLS Cup final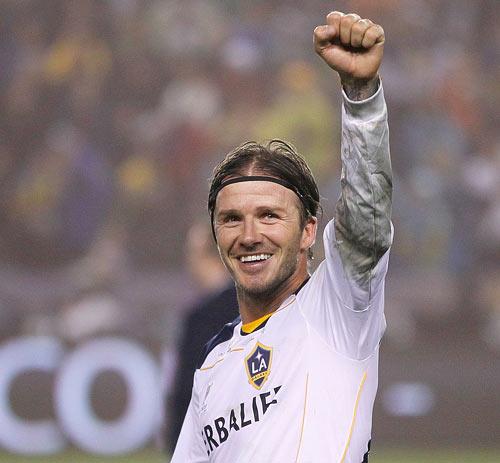 Former England captain David Beckham will leave LA Galaxy after next month's Major League Soccer (MLS) Cup final but said he intended to continue with his playing career.
F1's successful return leaves US wanting more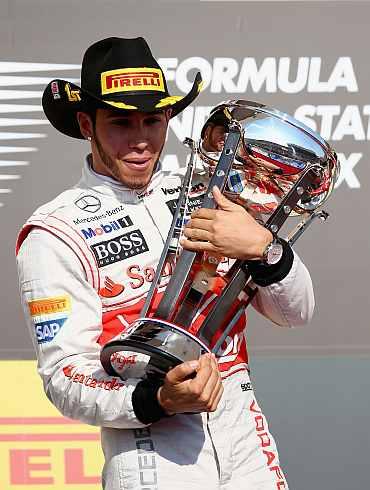 Lewis Hamilton claimed the victory and Red Bull clinched the constructors title but the biggest winner at the US Grand Prix was Formula One with commercial supremo Bernie Ecclestone immediately calling for more races in America.
November 19, 2012
PHOTOS: Czechs lift Davis Cup with victory over Spain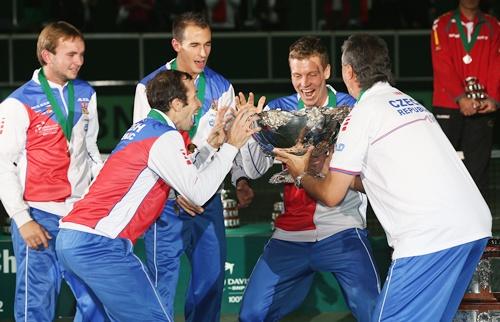 The Czech Republic beat holders Spain 3-2 to win the Davis Cup for the first time as an independent nation when Radek Stepanek overcame Nicolas Almagro in four tough sets before a raucous home crowd on Sunday.
Pix: Hamilton rides high at US Grand Prix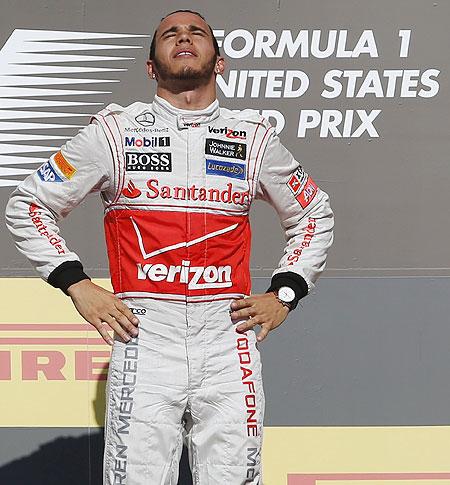 No one was happier to see Formula One back in America on Sunday than McLaren's Lewis Hamilton as the Briton picked up where he left off in 2007 by winning the United States Grand Prix.
Weekend soccer: Man City go top, Sunderland bt Fulham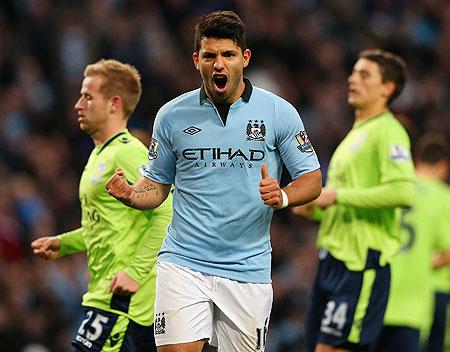 Images from football matches played across Europe over the weekend.
PHOTOS: Hamilton makes Vettel wait after win in Texas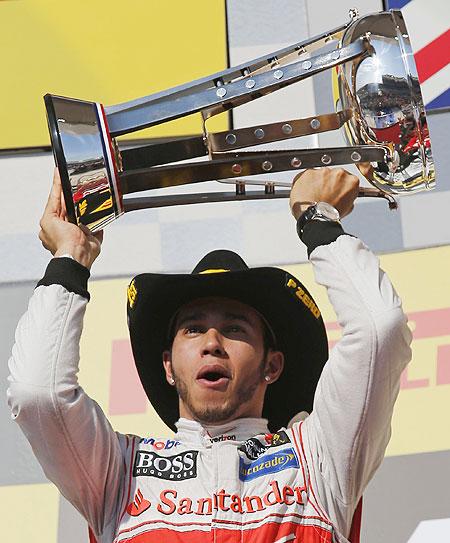 Images from the US Grand Prix held at the at the Circuit of the Americas in Austin, Texas, on Sunday.
Hamilton wins US Grand Prix to keep title race alive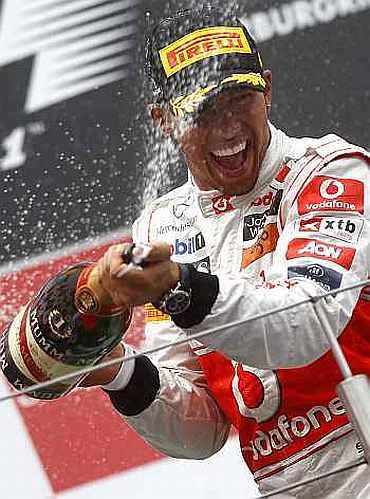 McLaren's Lewis Hamilton won the US Grand Prix on Sunday while Red Bull's championship leader Sebastian Vettel failed to clinch his third consecutive drivers' title on his 100th career start.
November 18, 2012
PHOTOS: Advantage City as United, Chelsea stumble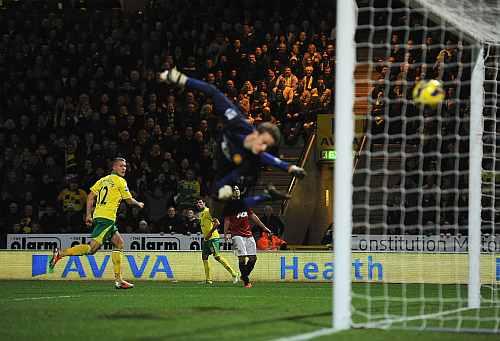 Manchester United were humbled 1-0 by Norwich City and Chelsea upset at West Bromwich Albion on Saturday as champions Manchester City took advantage of their rivals' mistakes to go top with a 5-0 demolition of Aston Villa.
Adebayor sorry for red card that cost Spurs at Arsenal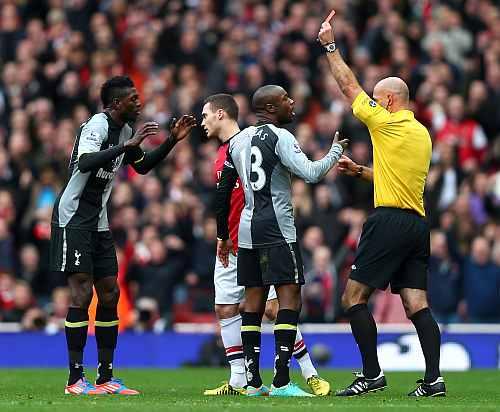 Tottenham Hotspur's Emmanuel Adebayor, sent off after 17 minutes of the north London derby on Saturday, has apologised for the red card that turned the match Arsenal's way but says there was no malice in his challenge on Santi Cazorla.
Jimenez proves age no factor in Hong Kong victory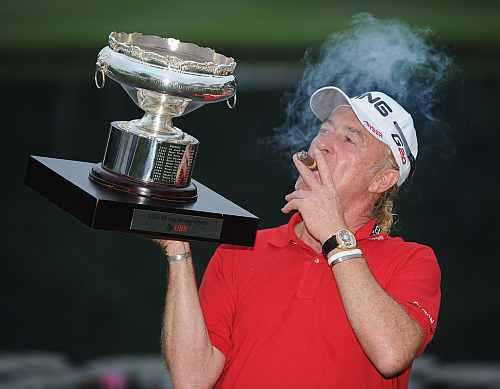 Miguel Angel Jimenez fired a final round five-under 65 to become the oldest player to record a European Tour victory with a one-stroke triumph at the Hong Kong Open on Sunday.
Photos: Czechs close in on Davis Cup title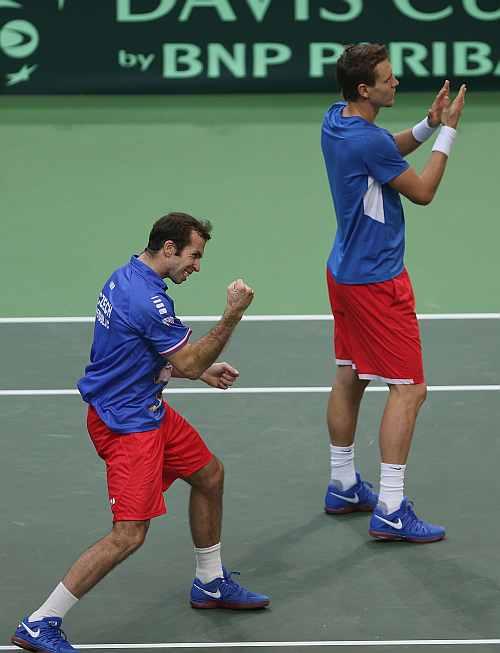 Tomas Berdych and Radek Stepanek used a roaring home crowd to come back from a set down on Saturday, putting the Czech Republic 2-1 up over holders Spain and a win away from the Davis Cup title.
November 17, 2012
Davis Cup Photos: Berdych puts Czechs level with Spain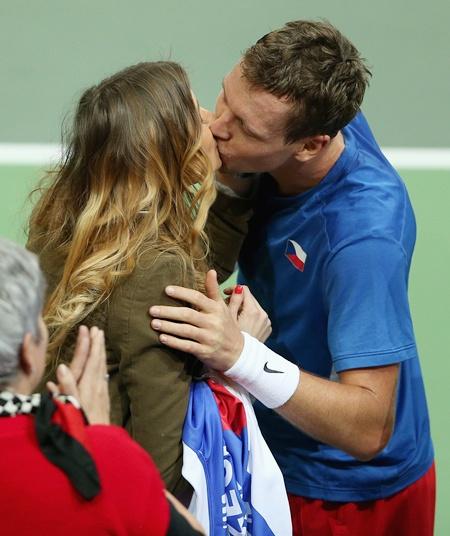 The Czech Republic's Tomas Berdych brought the hosts level at 1-1 with holders Spain in the Davis Cup final with a battling five-set victory over Nicolas Almagro on Friday.
November 16, 2012
Is Sunday's F1 race weird enough for Austin, Texas?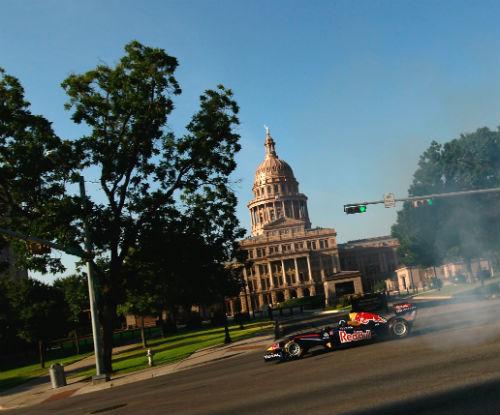 As the Texas capital prepares to host the first Grand Prix in the United States in five years, some in laid-back Austin say this weekend's glamorous race clashes with the city's soul.
November 15, 2012
Erratic Arsenal and Spurs seek derby day spoils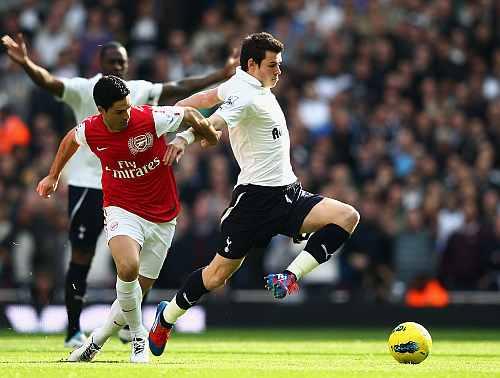 An incendiary mix of bitter local rivalry and two teams searching for consistency amid fan disquiet see Arsenal and Tottenham Hotspur throw themselves into the bearpit of a North London derby at the Emirates on Saturday.
Inspired Ibrahimovic scores four, no Messi record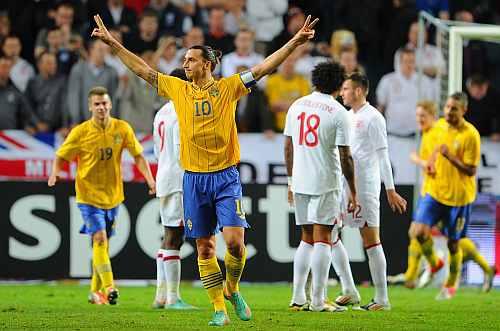 Zlatan Ibrahimovic christened Sweden's new stadium with a sprinkling of gold on Wednesday, scoring three classy goals and an unforgettable one in a 4-2 friendly win over England, while Argentina's Lionel Messi drew a blank in Riyadh.
November 14, 2012
PHOTOS: Foot/golf fusion sport growing around the globe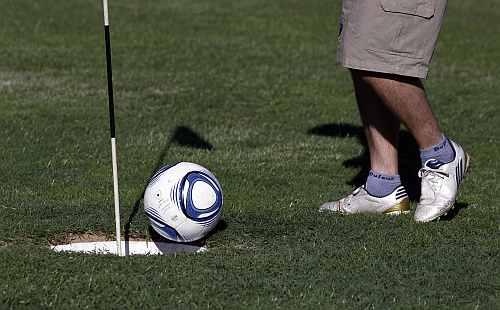 The innovative fusion sport of football-golf is helping Argentine courses stay afloat in testing economic times when golfing revenue alone is often not enough to cover costly maintenance fees.
Milestone man Gerrard keen to write more England chapters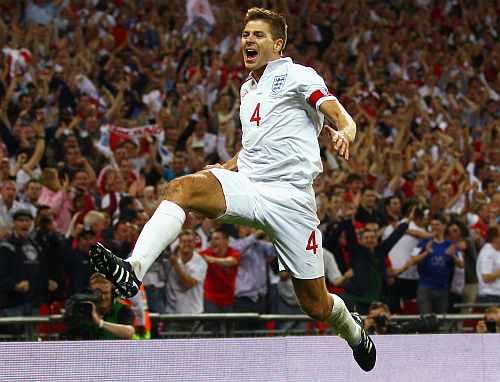 Captain Steven Gerrard is set to become the sixth player to reach the milestone of 100 caps for England in Wednesday's friendly against Sweden and feels he still has a lot more fuel left in his international tank.
November 13, 2012
Dad's ill-health stoked Djokovic's fire in final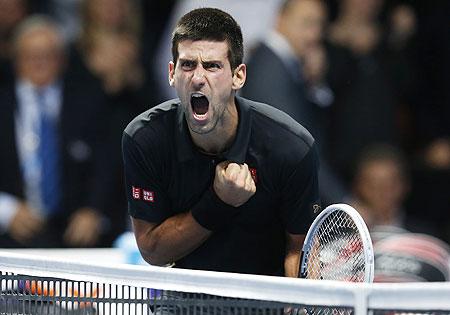 Novak Djokovic said his ailing father's struggle with serious illness had inspired him to beat Roger Federer in a thrilling climax to the ATP World Tour Finals on Monday.
November 12, 2012
PHOTOS: Messi fires Barca, Suarez to Liverpool's rescue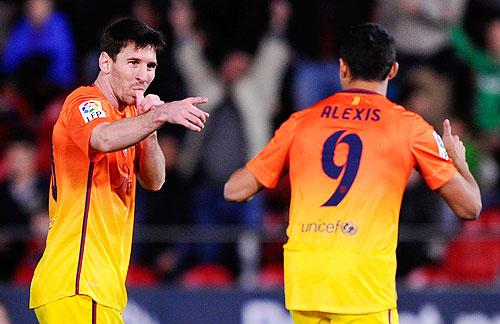 Images from football matches played across Europe over the weekend.
Del Potro targets big four in 2013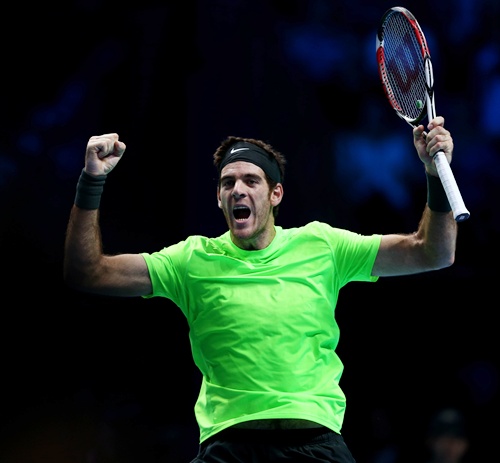 Juan Martin del Potro believes he can muscle his way into the world's top four next year after returning to the kind of form that propelled him to the US Open title three years ago.
Federer charms fans in Murray's backyard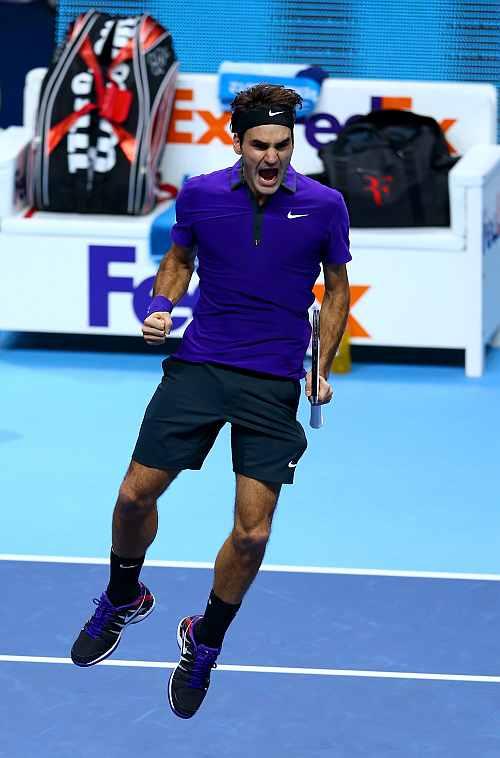 Roger Federer's unique appeal showed no sign of waning on Sunday as he gate-crashed what was supposed to be Andy Murray's party in the semi-finals of the ATP World Tour Finals.
November 11, 2012
EPL: Late goal from Dzeko gives City win over Spurs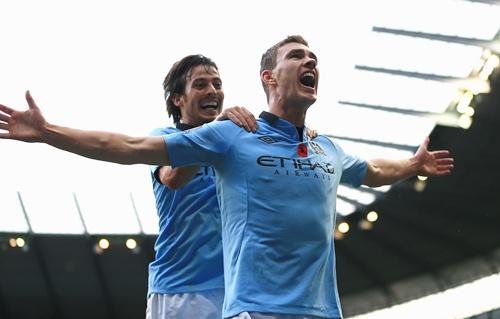 Champions Manchester City came from behind with goals from Sergio Aguero and a late winner from substitute Edin Dzeko to beat Tottenham Hotspur 2-1 and maintain their unbeaten start in the Premier League on Sunday.
I wanted to have a great Indian experience: Sharapova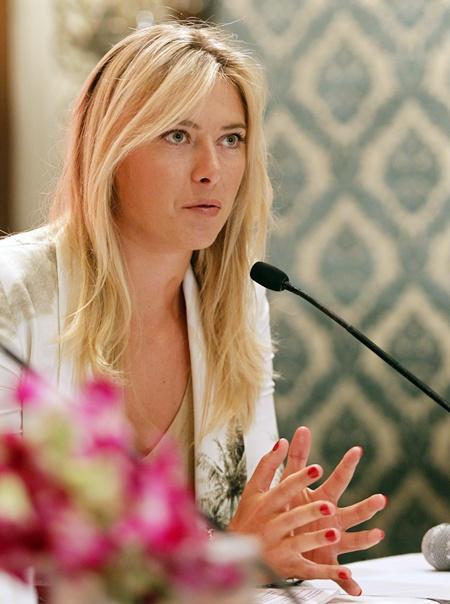 She has an unenvious head-to-head record against Serena Williams but tennis' glam girl Maria Sharapova says rivalries not only light up the sport but also extract the best out of an athlete.
Federer believes Wimbledon loss has matured Murray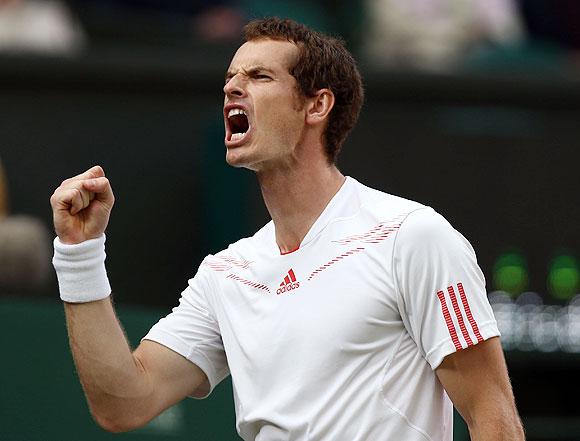 Andy Murray's tearful defeat in his first Wimbledon final proved the catalyst for the Scot's golden summer, according to Roger Federer, the man who crushed Murray's hopes that day in July.
EPL: Hernandez inspires United comeback win at Villa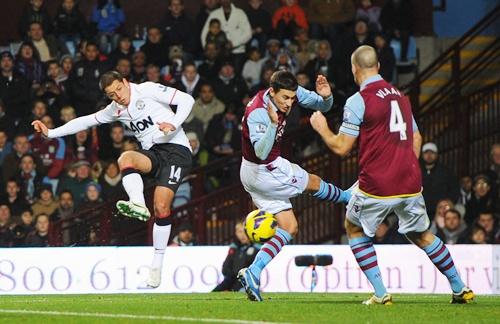 Javier Hernandez went off clutching the match ball after helping leaders Manchester United fight back for a 3-2 win at Aston Villa after Arsenal were held in another rip-roaring Saturday of Premier League action.
EPL: Wenger struggling for answers after new setback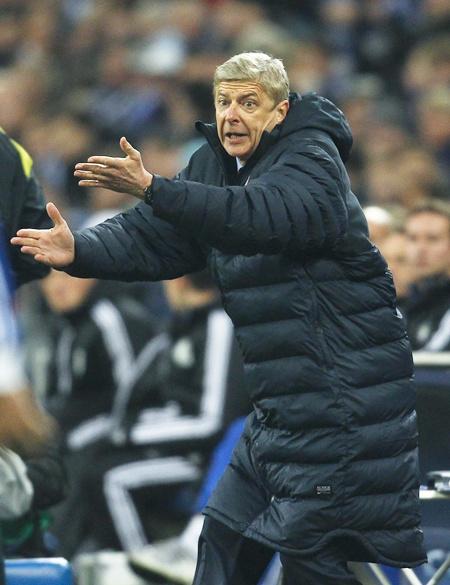 Arsenal manager Arsene Wenger has rebuilt successful teams time and again but fans fear he has been found wanting in all departments of late, a feeling which can only have intensified after Saturday's 3-3 draw with Fulham.
November 10, 2012
'Hamilton may have regretted decision to leave McLaren'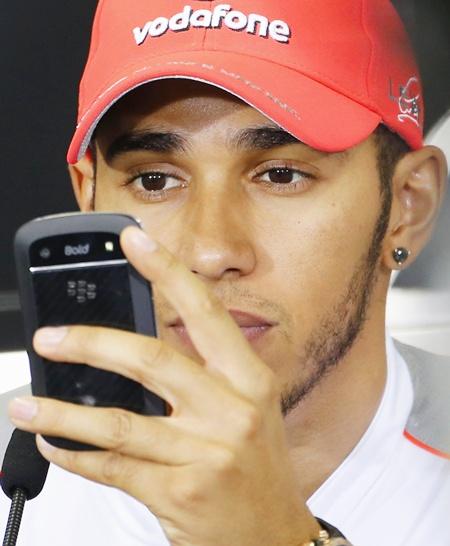 Lewis Hamilton may have had some regrets already about his decision to join Mercedes next season, according to his McLaren Formula One team principal Martin Whitmarsh.
Terry free after ban but Di Matteo coy on starting place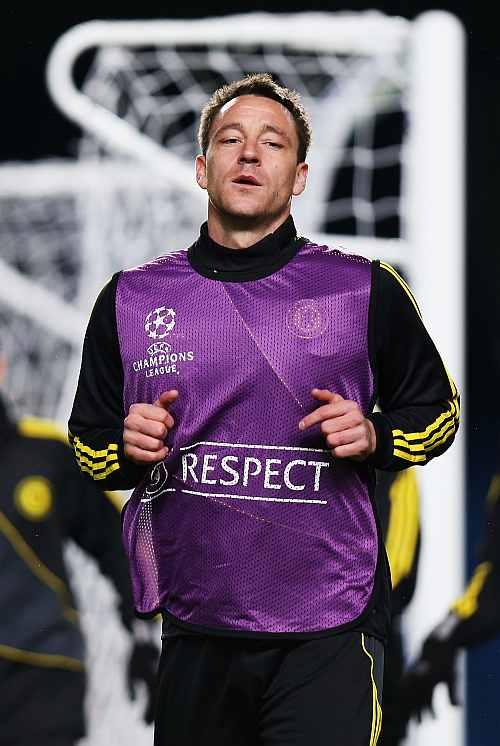 John Terry is available after four-game suspension for Chelsea's Premier League match against Liverpool on Sunday but coach Roberto Di Matteo would not be drawn on whether his club captain will start.
November 09, 2012
Tearful Muamba makes emotional return to White Hart Lane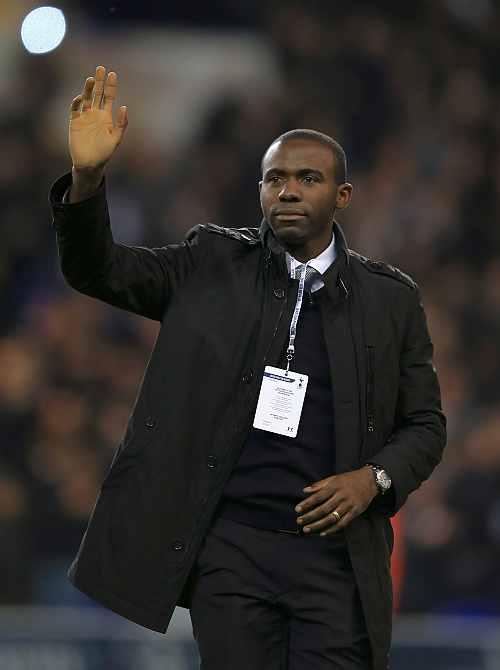 Former Bolton Wanderers player Fabrice Muamba, who suffered a cardiac arrest and almost died playing at Tottenham Hotspur in March, made an emotional return to White Hart Lane for the first time on Thursday.
Photos: Mavericks' cheerleaders debut skimpier outfits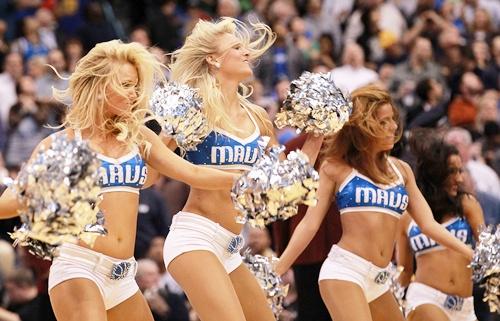 US basketball club Dallas Mavericks' cheerleading team took to the playing arena for the half-time show, wearing short, white spandex dresses with cut-out panels, it has been revealed.
I hope to improve upon my current rankings: Sania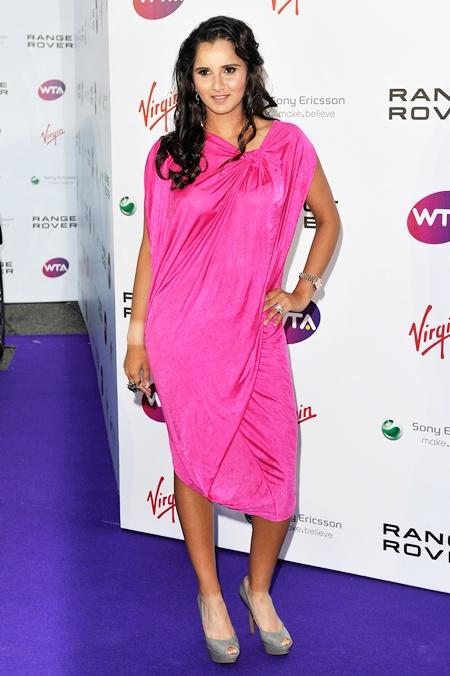 She might have reached her career-best ranking in doubles this year but Sania Mirza feels that there is a scope to improve her ranking further.
Tour Finals: Deja vu for del Potro as Federer looms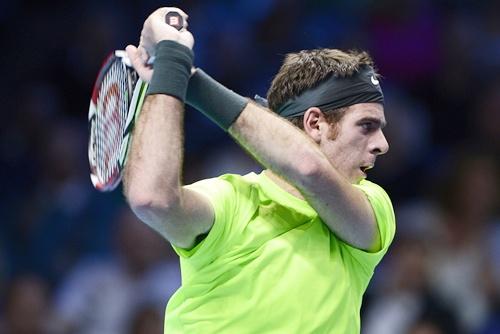 Argentina's Juan Martin del Potro found himself in a strangely familiar position at the ATP World Tour Finals on Thursday after keeping his hopes on track with victory over Janko Tipsarevic.
November 08, 2012
Barca relaxed despite Celtic reverse, says Messi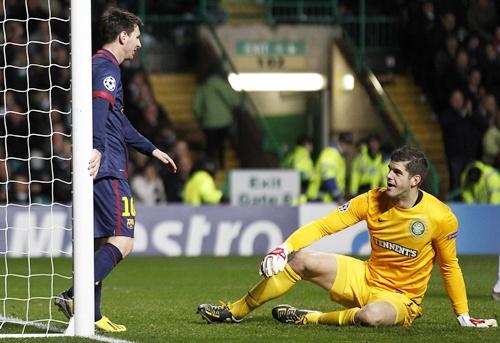 Barcelona's players reacted calmly to Wednesday's surprise 2-1 Champions League reverse at Celtic when the favourites squandered a chance to qualify from Group G with two games to spare.
Modern rivals Chelsea, Liverpool have point to prove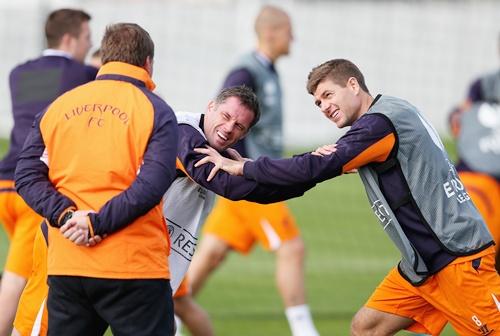 Chelsea against Liverpool is one of the Premier League's more modern rivalries but the teams, who have clashed over 30 times since the start of the 2004/05 season, meet at Stamford Bridge on Sunday each with a point to prove.
Champions League: Celtic stun Barca, MU reach last 16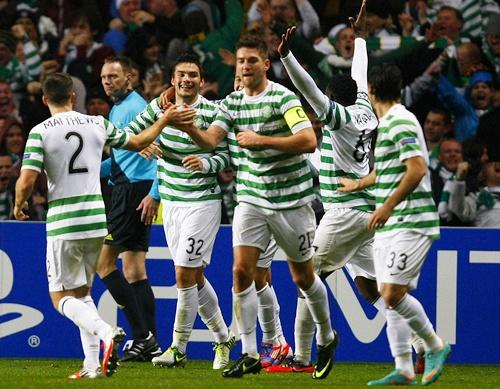 Barcelona wasted their first chance to reach the Champions League last 16 after a surprise defeat by Celtic but Manchester United edged through and six-goal Bayern Munich rocketed closer to progression on Wednesday.
November 07, 2012
Tour Finals Images: Bhupathi-Bopanna, Paes-Stepanek score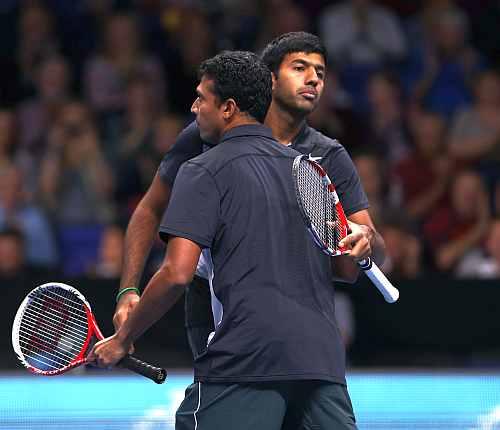 Mahesh Bhupathi and Rohan Bopanna won their first match at the ATP World Tour Finals, scoring a 6-3, 5-7, 10-5 victory over Robert Lindstedt and Horia Tecau in Group B to keep their semi-final hopes alive, while Leander Paes and Radek Stepanek also made a winning start.
CL Pix: City on verge of exit; Real, Arsenal draw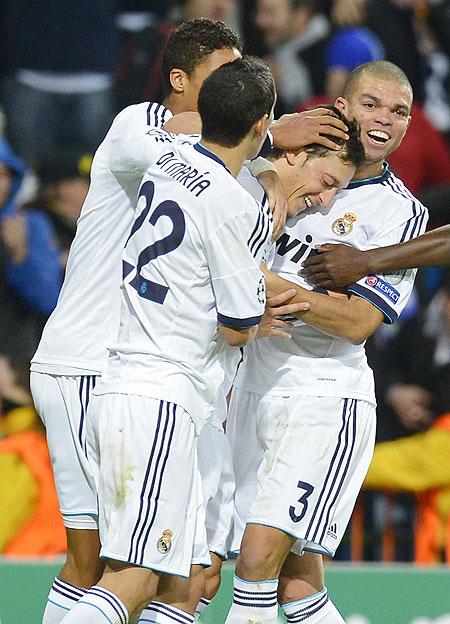 Images from the Champions League matches played across Europe on Tuesday.
November 06, 2012
Vettel ready to land knockout blow in F1 title race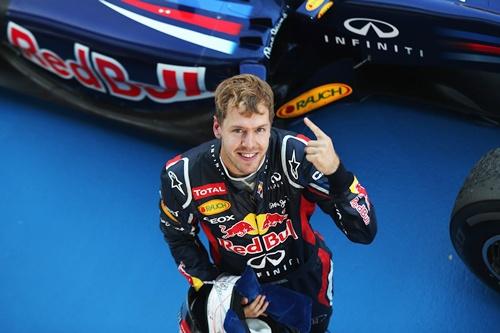 The knockout blow in the Formula One title battle has yet to be thrown but the moment is fast approaching and Red Bull's Sebastian Vettel is landing the big psychological hits.
CL: Terry returns to plug Chelsea's leaky defence
Captain John Terry will be back to plug Chelsea's porous rearguard on Wednesday when the holders bid to avenge last month's defeat by Shakhtar Donetsk and wrest back control of Champions League Group E.
CL: Barcelona almost there despite makeshift defence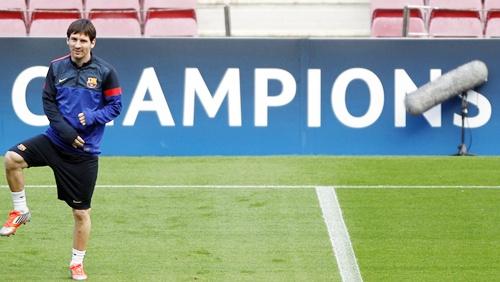 Barcelona's early season form has been on a par with their habitually high standards but as they prepare to visit Celtic in the Champions League there remains a question mark hanging over their makeshift defence.
World Tour Finals: Murray, Djokovic open with wins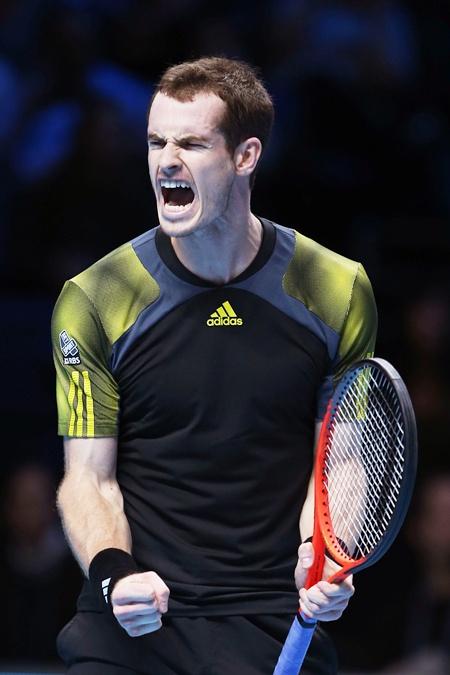 US Open champion Andy Murray withstood an early onslaught to beat Tomas Berdych in his first match on home soil since winning his maiden grand slam title and Novak Djokovic overcame Jo-Wilfried Tsonga as the ATP World Tour Finals began on Monday.
Honest Mancini concedes City not ready to win C League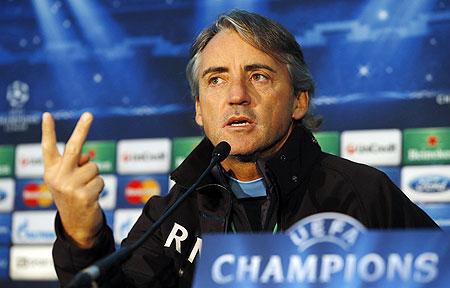 Manchester City's expensive squad are not ready to win the Champions League, manager Roberto Mancini said ahead of his side's must-win encounter with Ajax Amsterdam on Tuesday.
November 05, 2012
Photos: Tired Djokovic primed for one final challenge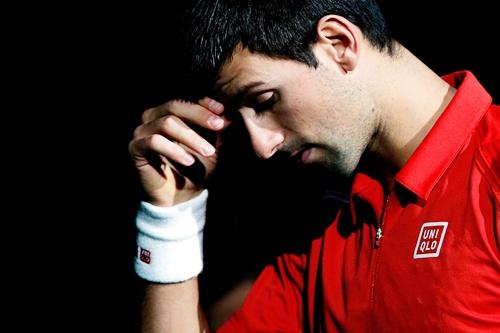 A tired sounding Novak Djokovic says he will need to draw on all his mental and physical strength if he is to crown another stellar season with the ATP World Tour Finals title.
Team by team analysis of Abu Dhabi Grand Prix
Vettel went from starting in the pit lane, after being punished for a fuel regulations breach, to the podium and also set the fastest lap.
Roundup: United go top, Juve's unbeaten run ends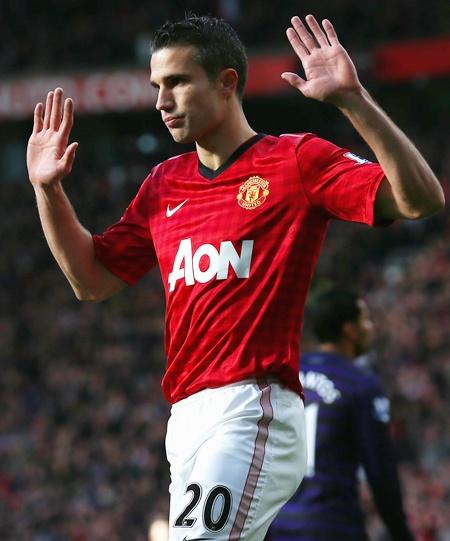 Manchester United moved to the top of the Premier League with a comfortable 2-1 win over Arsenal, a match that saw striker Robin van Persie face his old side for the first time.
Abu Dhabi: Raikkonen shows he still knows how to win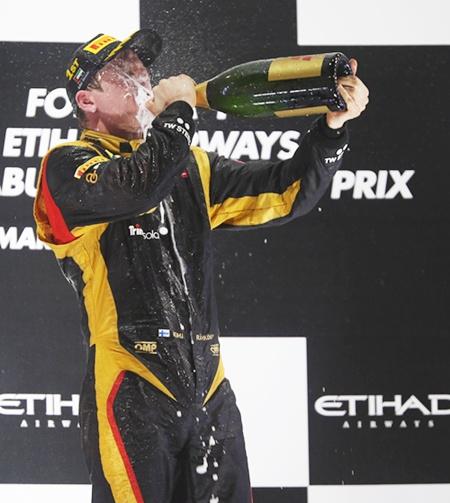 Kimi Raikkonen returned to the top of the Formula One podium for the first time since 2009 at the Abu Dhabi Grand Prix on Sunday, leaving his Lotus team in no doubt that he knew what he was doing.
November 03, 2012
Paris Masters: Janowicz continues magical run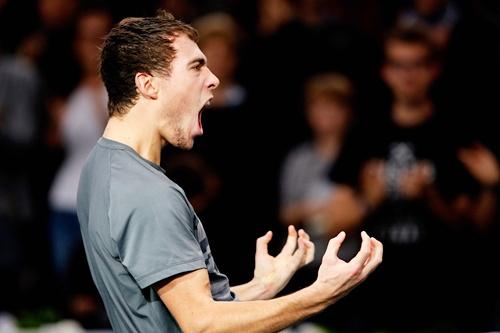 Polish qualifier Jerzy Janowicz continued his brilliant run at the Paris Masters on Friday while fourth seed David Ferrer knocked out local favourite Jo-Wilfried Tsonga.
New York cancels Sunday marathon in wake of storm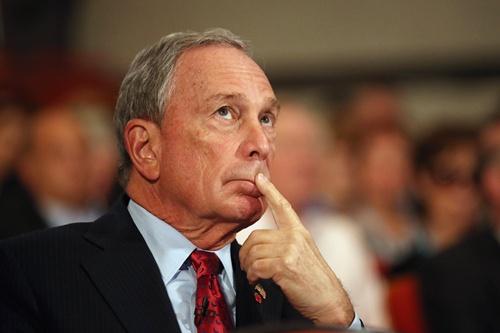 New York City Mayor Michael Bloomberg abruptly reversed course and canceled Sunday's marathon, a beloved annual race that had become a lightning rod for people frustrated by the disastrous aftermath of megastorm Sandy.
November 02, 2012
Sauber can expect no favours from Hulkenberg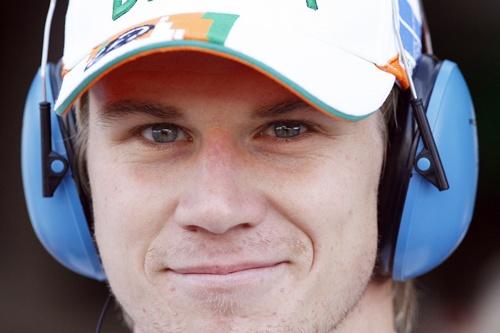 Germany's Nico Hulkenberg has promised to do his best to help Force India beat Sauber in the Formula One constructors' championship even if it costs his future team millions of dollars.
Wenger calls on fans to respect Van Persie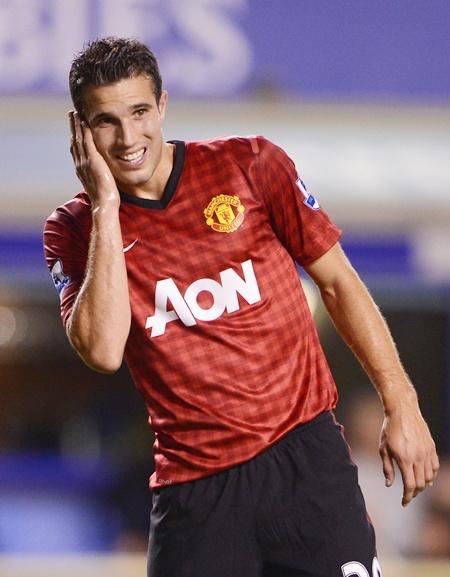 Arsenal coach Arsene Wenger has called on fans to "show respect" to Manchester United's Robin Van Persie when he faces his old club for the first time on Saturday.
Emotional Janowicz goes all out in search for sponsors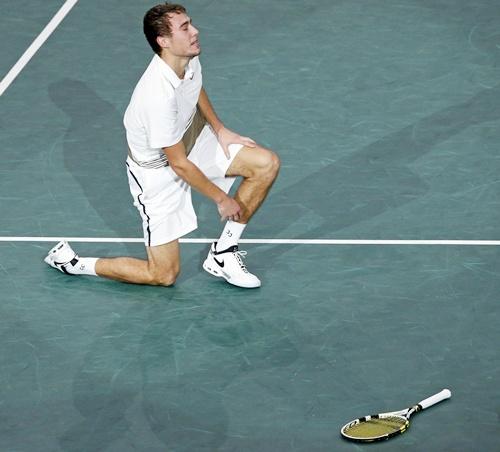 A few years ago, Jerzy Janowicz's parents sold their shops and apartments so that their son could play professional tennis.
If there's anything to prove, it's to myself: Advani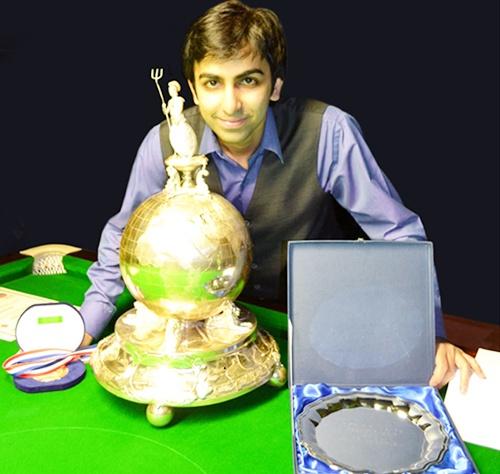 Champion cueist Pankaj Advani tells he was determined to prove he could perform at the highest level in both billiards and snooker after joining the Pro Snooker Circuit.
November 01, 2012
Goals may flow as United and Van Persie host Arsenal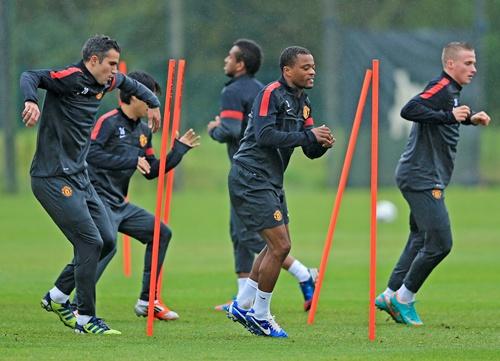 Manchester United and Arsenal, who have scored and conceded a total of 41 goals between them in eight matches since October 20, promise a feast of football on Saturday as Robin van Persie faces his ex-club for the first time.
Abu Dhabi GP: Alonso gets ready to bare his teeth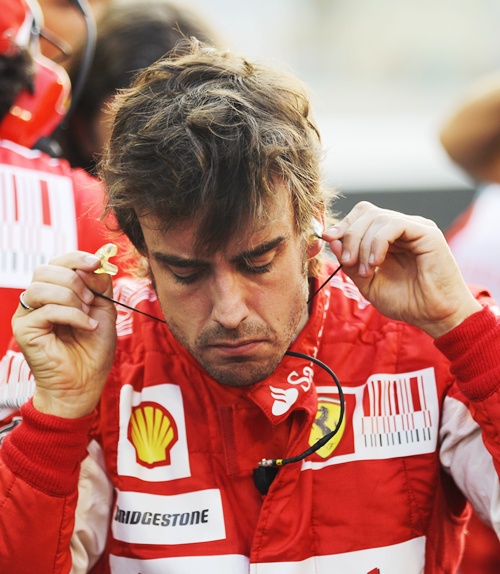 Like the Samurai warrior that he has tattooed across his back, Ferrari's Fernando Alonso goes into Sunday's Abu Dhabi Grand Prix refusing to give up and ready to fight tooth and nail for victory.
Williams sisters urge African women to play tennis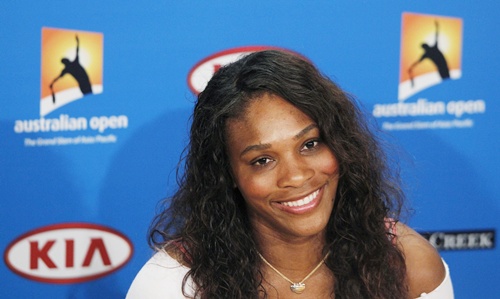 For many African-American celebrities, visiting Africa satisfies a yearning to return to their distant ancestral homeland. Not so for tennis player Serena Williams.
Deflated Djokovic knocked out of Paris Masters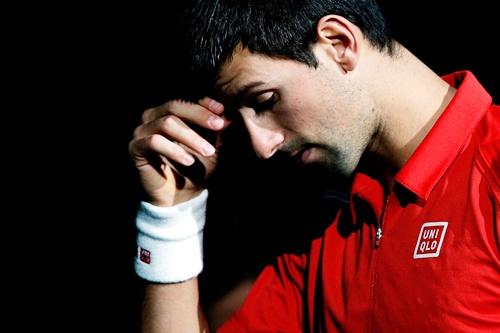 World No. 2 Novak Djokovic suddenly ran out of gas as he was knocked out 0-6, 7-6, 6-4 by American Sam Querrey in the second round of the Paris Masters on Wednesday.
League Cup: Chelsea beat United, Liverpool out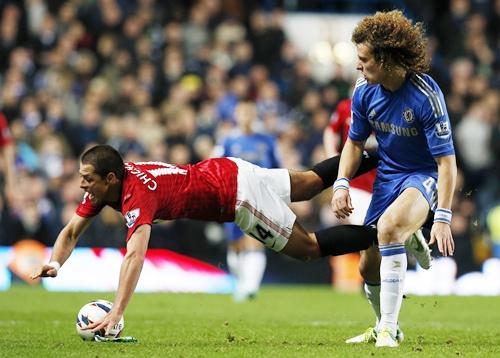 Chelsea came from behind three times to overhaul Manchester United 5-4 after extra time and book a spot in the League Cup quarter-finals on Wednesday, earning sweet revenge for Sunday's controversial 3-2 league defeat.
October 31, 2012
Photos: FIFA World Cup mascots of the decade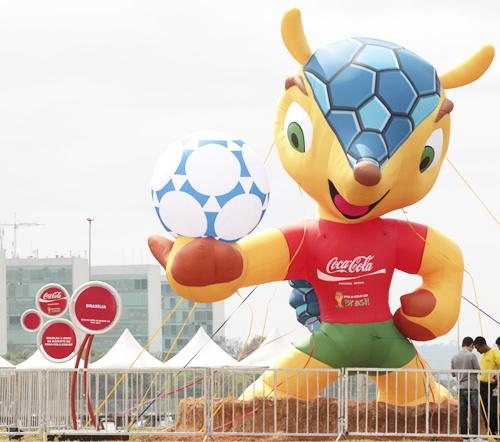 Spain had Naranjito, the smiling orange in 1982; France, Footix, the football-playing rooster in '98. Now Brazil have chosen the endangered armadillo as the mascot for the 2014 World Cup.
League Cup: Arsenal rally to record stunning 7-5 win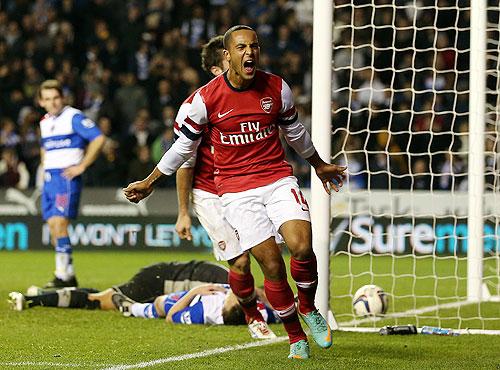 Arsenal battled back from 4-0 down to beat top-flight rivals Reading 7-5 on Tuesday, powering their way into the League Cup quarter-finals after one of the most extraordinary matches in the competition's 52-year history.
October 30, 2012
Vettel's Red Bull looks like an indomitable beast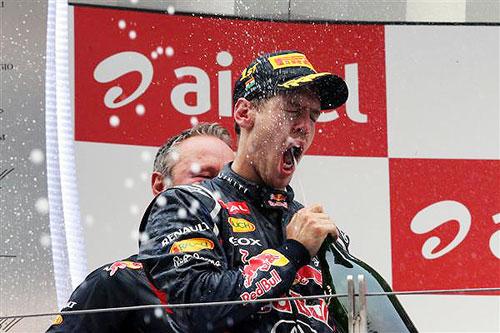 The Indian Grand Prix saw Sebastian Vettel and Fernando Alonso on the top of their respective games. looks back on Sunday's duel.
October 29, 2012
'I simply followed the calling of World billiards'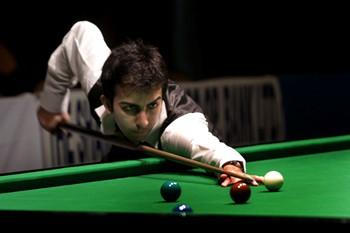 When ace cueist Pankaj Advani decided to take part in the World Billiards Championship, he quietly made a promise to himself that nothing short of silverware would satisfy him. He kept his date with destiny!
European soocer: United scrape through, Barca rout Rayo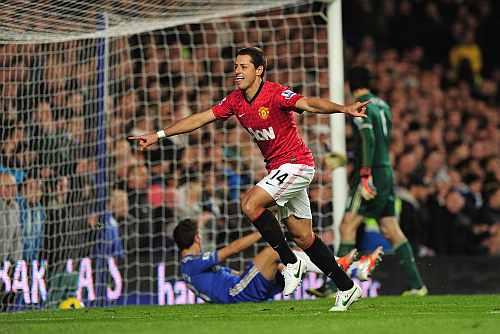 A wrap of the football matches played across Europe over the weekend.
I deserve top ranking, says Serena Williams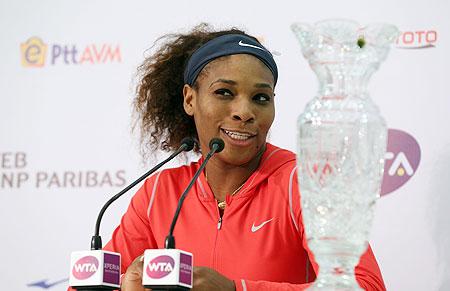 Even though she won four big titles during the year, Serena Williams will still end 2012 ranked No 3 behind Victoria Azarenka and Maria Sharapova. After backing up her victories at Wimbledon, the Olympics and the US Open with the WTA Championships title on Sunday, Williams concurred with Sharapova and World No 8 Li Na that she is in fact the world's top female tennis player.
The best images from the Indian Grand Prix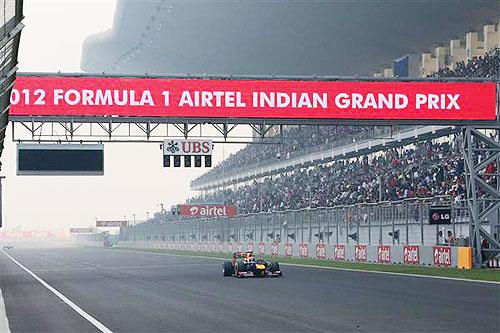 Red Bull's Sebastian Vettel won the Indian Grand Prix on Sunday and stretched his Formula One championship lead over Ferrari's Fernando Alonso. Here's a look at some top class action from the race.
Photos: Bollywood, sports stars rev it up at Indian GP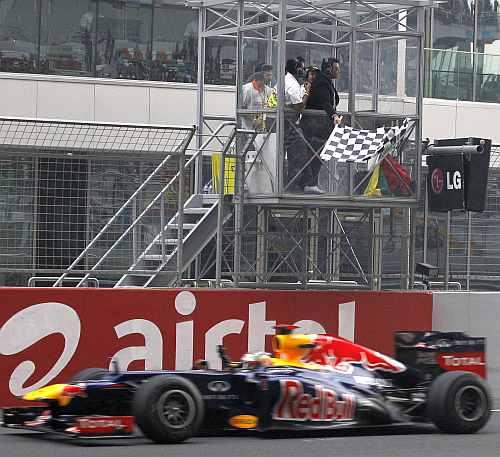 The second edition of the Indian Grand Prix received a huge response from tinsel town and sporting fraternity as a host of Bollywood and cricketing stars and India's Olympic heroes graced the event at the Buddh International Circuit.
Hernandez seals controversial win for Man United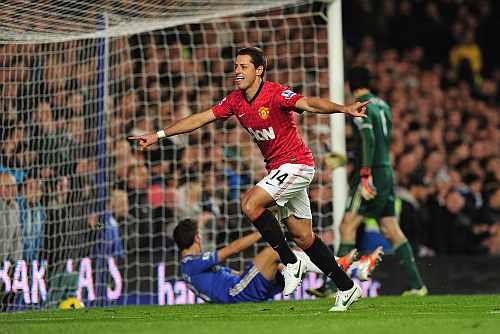 Javier Hernandez grabbed a 3-2 victory for Manchester United at Premier League leaders Chelsea after the previously unbeaten hosts had been reduced to nine men in a tempestuous clash at Stamford Bridge on Sunday.
October 28, 2012
Bagan struggle to their first win of the season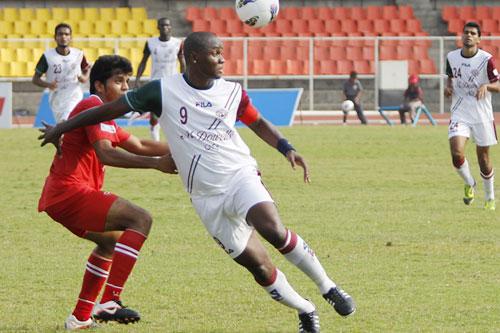 A Mickey Fernandes own goal gave Mohun Bagan their first win of the season -- a much-needed one -- in the third round match of the I-League, at the Balewadi Sports Complex stadium, in Pune, on Sunday.
Focus, discipline are ingredients of my success:Vettel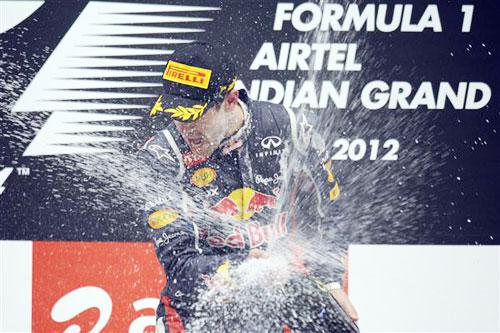 Defending champion Sebastian Vettel of Red Bull termed "discipline and focus" as the two main ingredients of success after winning his second successive Indian Grand Prix on Sunday.
Narain couldn't show his power in HRT, feels Coulthard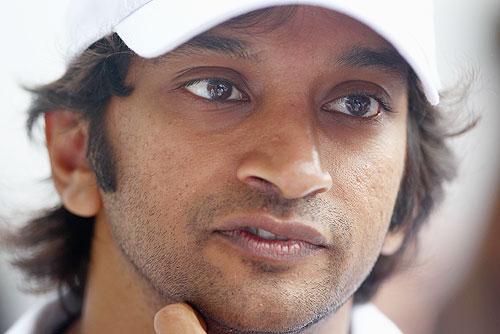 India doesn't have a legacy in Formula One drivers but Narain Karthikeyan is a "talented driver who could have done wonders had he be racing for any other team" than minnows Hispania Racing (HRT), feels former multiple Grand Prix winner David Coulthard.
Indian Grand Prix is very special: Vettel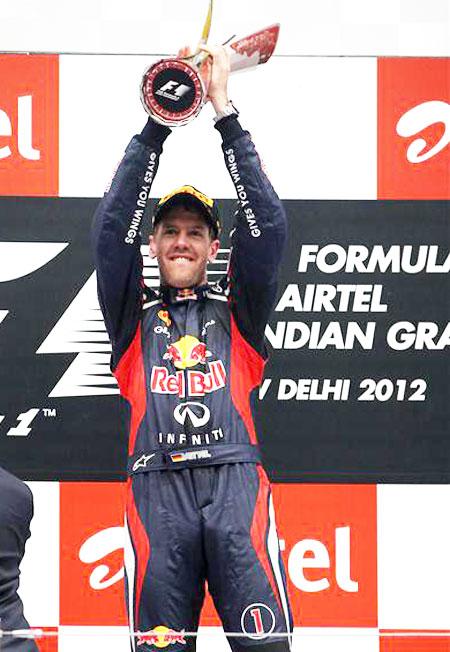 Red Bull's Sebastian Vettel won the Indian Grand Prix on Sunday and stretched his Formula One championship lead over Ferrari's Fernando Alonso, who was a battling second, to 13 points with three races remaining.
Photos: Harbhajan Singh at Indian Grand Prix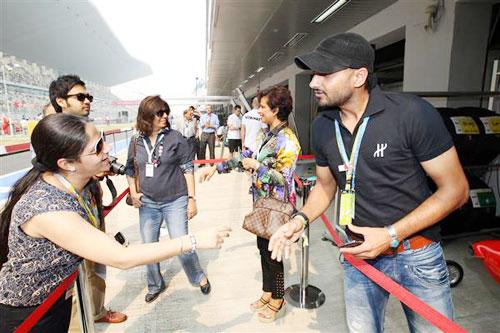 The second Indian Grand Prix is a grand affair and the Indian cricketer Harbhajan Singh made his presence felt. He joined the F1 fan fare at the Ferrari garage on Sunday.
Alonso confident he can still win F1 title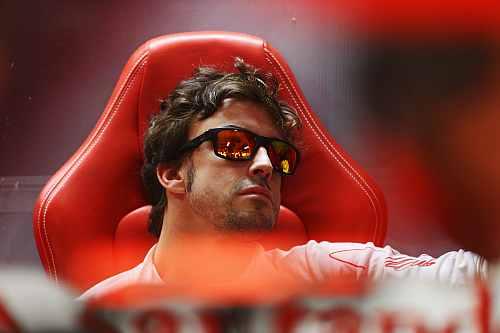 Ferrari's Fernando Alonso was unshaken in his belief that he can win this season's Formula One title despite rival Sebastian Vettel taking another dominant pole position at the Indian Grand Prix on Saturday.
October 27, 2012
In PIX: Indian GP moves on from the dog days of 2011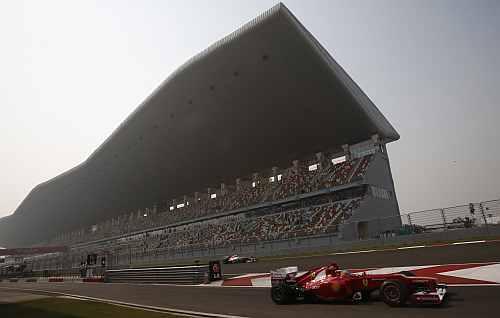 The dog days are over and the dust has also settled for the Indian Formula One Grand Prix on its second appearance on the Formula One calendar.
Vettel storms India, Alonso must attack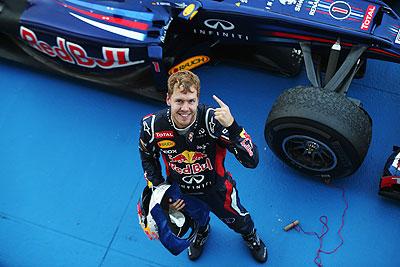 Felipe Massa might have a curb named after him at the Buddh International Circuit, but it is Sebastian Vettel who really seems to like the circuit on the outskirts of Delhi.
'I am amazed at the rise of Formula One in India'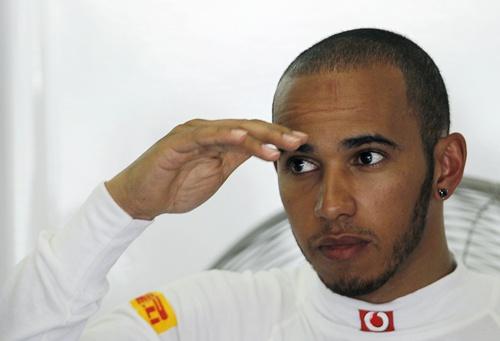 Amazed to see the rapid rise of Formula One in India, McLaren driver Lewis Hamilton said the F1 race here could become one of the best of the year given the country's potential.
Player exodus catching up with Arsenal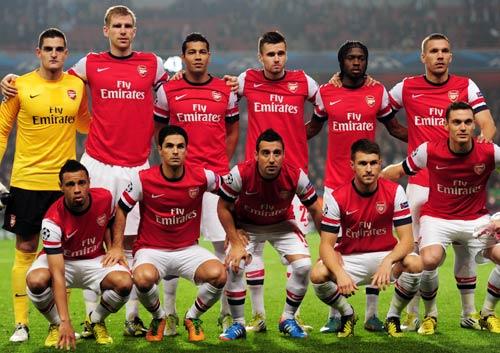 The club's transfer policy in recent years has seen world class individuals such as Samir Nasri, Cesc Fabregas and Robin van Persie allowed to leave and be replaced by lesser models.
PHOTOS: India gears up for second F1 Grand Prix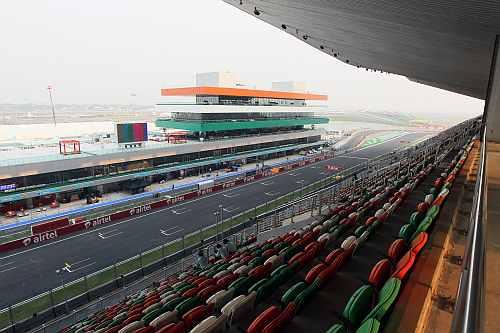 Organizers of the second edition of the Indian Grand Prix are jazzing up the Buddh International Circuit in anticipation of a nail biting race that could decide the 2012-13 Formula One champion.
October 26, 2012
India GP, Day 1: Schumi astonished at fan following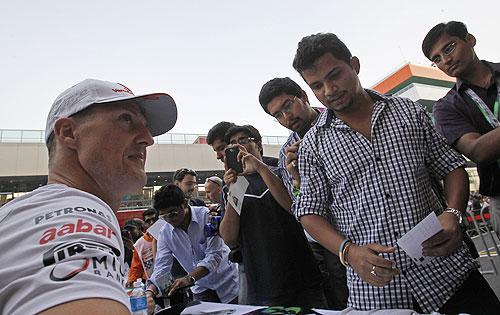 The India F1 GP is upon us and Rediff.com's is at the Buddh International Circuit to get a pulse of the goings on the pit lanes and the paddock.
McLaren can challenge Red Bull: Button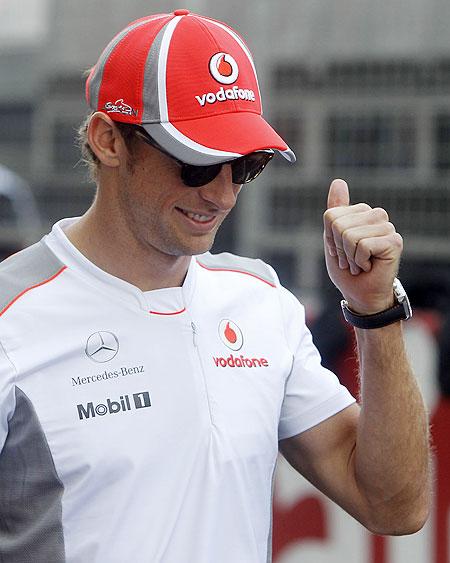 McLaren can deny Red Bull's Formula One leader Sebastian Vettel a fourth straight win, Jenson Button said at the Indian Grand Prix on Thursday.
F1: Indian GP awaits 'absconder' Mallya's arrival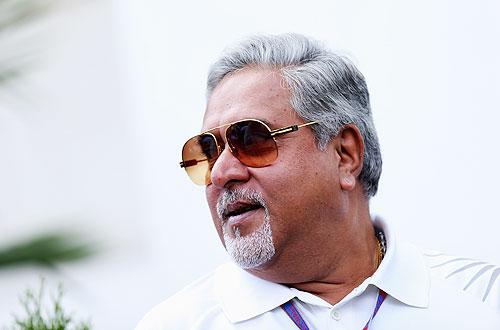 Vijay Mallya's nameplate gleamed on the door of his office in the Force India hospitality at the Indian Grand Prix on Thursday while a team sponsor board outside carried the words 'Fly Kingfisher'.
October 25, 2012
Ferguson aims to get balance right at Chelsea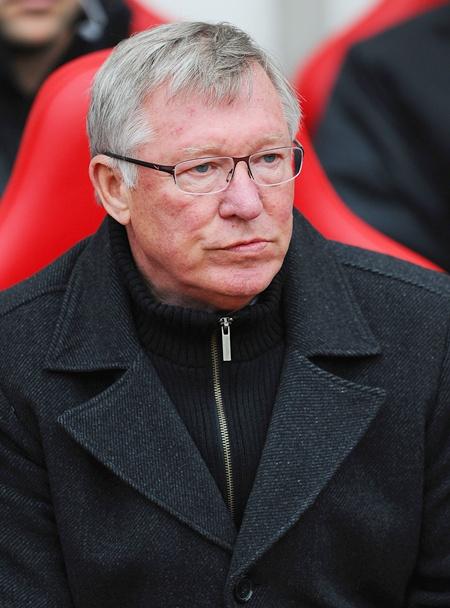 Manchester United head to Premier League leaders Chelsea on Sunday with Alex Ferguson admitting that not only is he worried about his porous defence but he now has a problem in attack - albeit a "good" one.
WTA C'ships: Azarenka, Sharapova survive marathons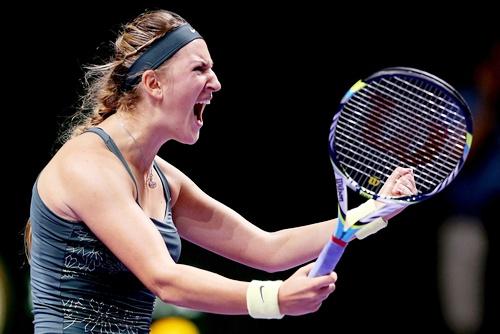 Victoria Azarenka moved a step closer to securing the year-end No. 1 ranking with a 6-7, 7-6, 6-4 win over Germany's Angelique Kerber at the WTA Championships on Wednesday.
'Focus is singles, but doubles is natural for me'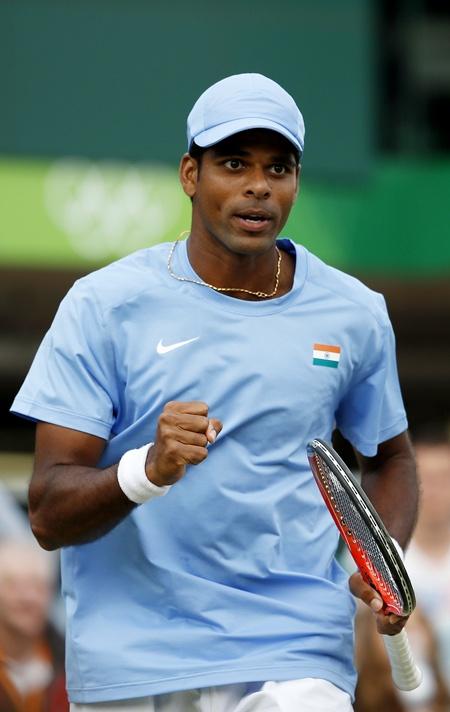 Opportunity knocked on the door for Vishnu Vardhan, and he made the best of it. The 25-year-old Olympian discusses it with .
CL: Real among big guns left reeling by defeats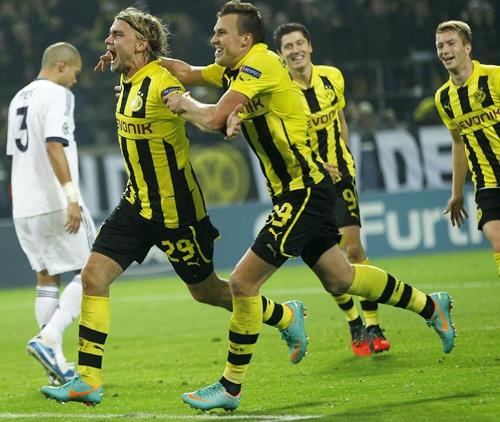 Real Madrid, Manchester City, Arsenal and AC Milan suffered painful Champions League defeats on Wednesday which complicated their chances of progressing from an increasingly intriguing group stage.
Photos: Putt naturally, golf glamour for these sportsmen!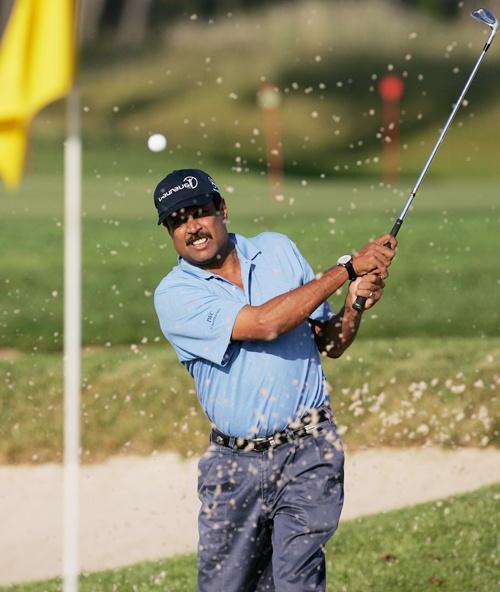 Earlier only Roger Federer and Rafael Nadal could be seen strutting on the golf course. They made head turns and one was surprised how these doyens of their field (tennis) were so comfortable exchanging golf clubs for their racquets.
Alonso has a good chance of winning the title: Webber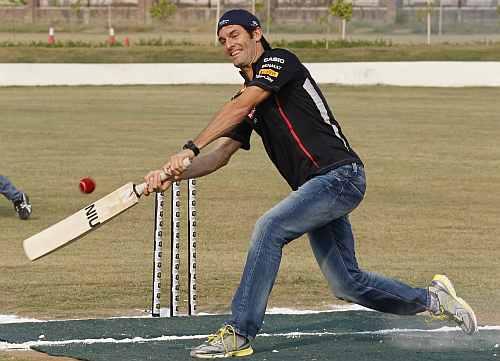 They have a healthy 77-point lead over Ferrari with just four races left in the season but Red Bull driver Mark Webber says they are not taking the constructors' title for granted and "hunger" for success is still there in them.
October 24, 2012
Fans can make Indian GP most exciting race: Hamilton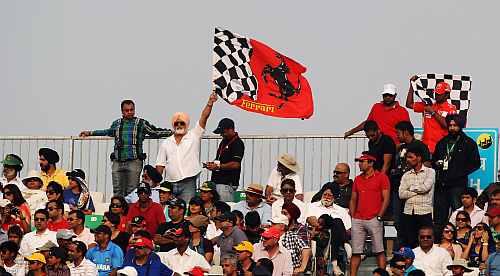 Drivers run the show but it's the fans who make a Formula One race special and the Indian Grand Prix can become one of the most exciting races on the calendar if the home fans support the event, outgoing McLaren star Lewis Hamilton said on Wednesday.
PHOTOS: Barca, United pull off great escapes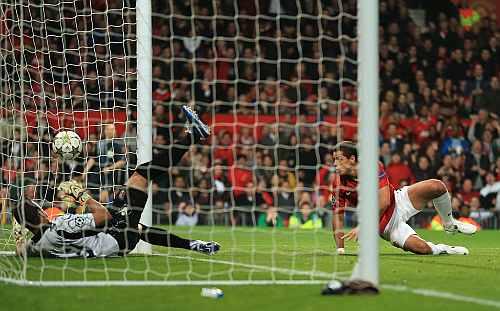 Photos of the Champions League game that were played on Tuesday.
Soccer's goal-line technology passes another hurdle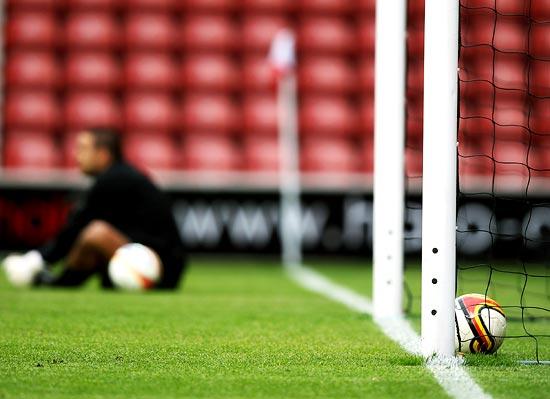 Goal-line technology providers GoalRef and Hawk-Eye have been authorised to install their systems worldwide after signing licence agreements with FIFA, soccer's world governing body said on Tuesday.
PHOTOS: Sharapova-Serena in X-rated Turkey talk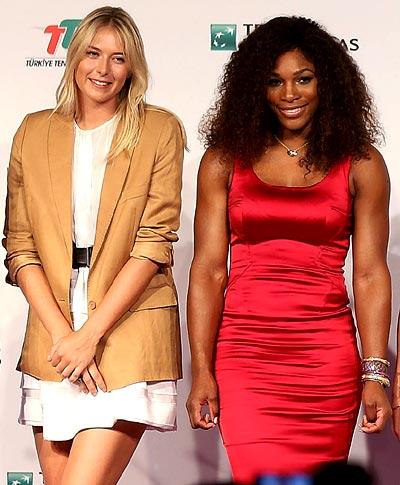 Tennis stars Maria Sharapova and Serena Williams confessed that they got distracted by some X-rated girl talk during the draw ceremony for the WTA Championship in Istanbul.
October 23, 2012
EPL weekend wrap: Chelsea maintain lead, Arsenal lose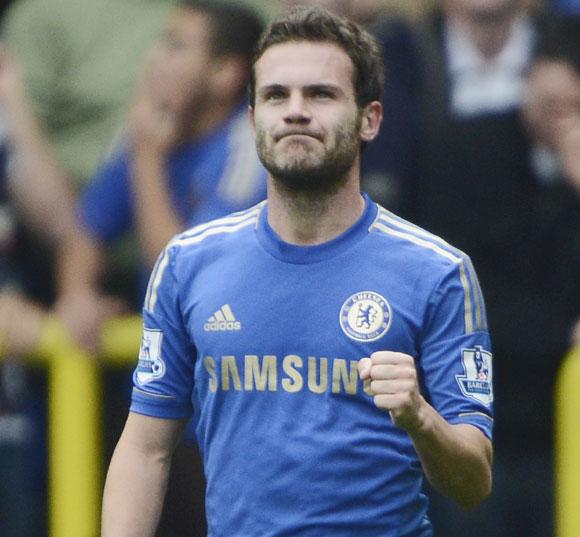 looks back on the weekend's action in the English Premier League.
Can we really forget Lance Armstrong's legacy?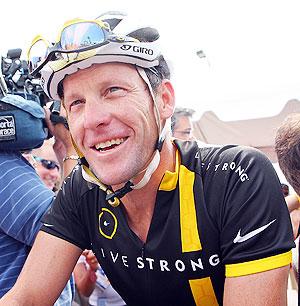 Lance Armstrong was ditched from the Tour de France record books on Monday but the question of whether cycling should forget his tarnished legacy or use it as a force for change must be urgently addressed.
Armstrong gate fallout: Sponsors distance cyclist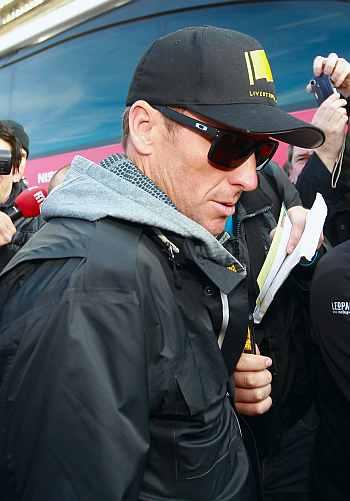 Californian sunglasses maker Oakley has ended a sponsorship of Lance Armstrong that began 25 years ago when he was a teenage triathlete after the American was stripped of his seven Tour de France titles over a doping scandal.
India is special; BIC is different track: Hamilton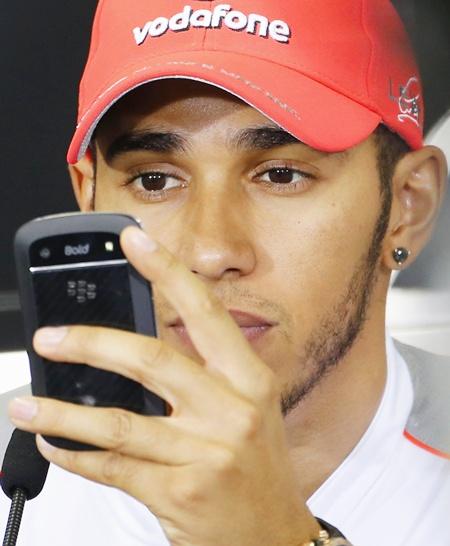 McLaren star Lewis Hamiton is a big fan of India and its people and likenes the Buddh International Circuit to the "great" Spa circuit in Belgium.
October 22, 2012
United in favourable position ahead of Braga visit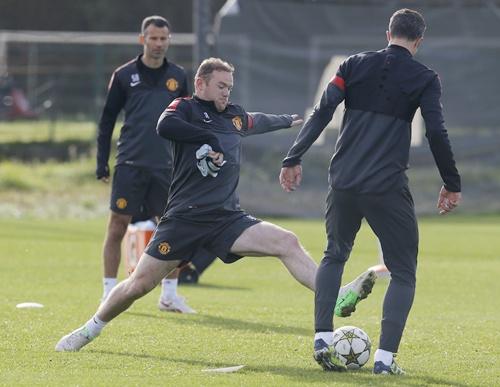 Manchester United's determination to avoid last season's mistakes, a winning start this term and their unbeaten home record against Portuguese teams are good signs ahead of Braga's Champions League visit on Tuesday.
C League: Celtic look to erase woeful record in Spain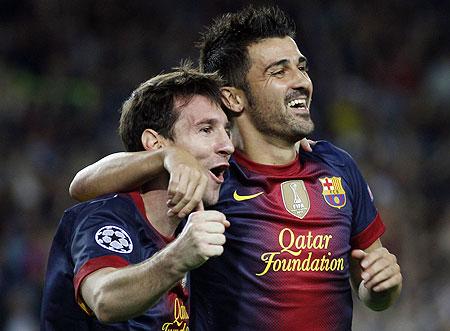 Celtic will have to reverse a horrible record in Spain and cope with a Barcelona side fired by the scintillating form of Lionel Messi if they are to reap an unlikely reward from Tuesday's Champions League Group G clash at the Nou Camp.
Dzeko rescues City, Messi tricks as Barca down Deportivo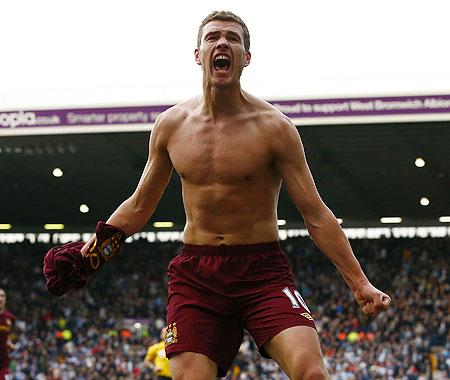 Images from football matches played across Europe over the weekend.
UEFA or FIFA won't do anything about racism: Campbell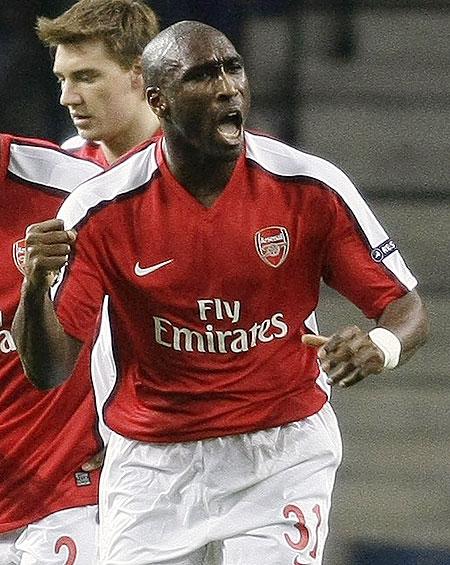 Former England centre-back Sol Campbell says European football's governing body UEFA should introduce points deductions as a deterrent to stop racism rather than fining national associations when it happens.
October 21, 2012
Superb Saina clinches Denmark Open title
Olympic bronze-medallist shuttler Saina Nehwal fought through a troubling knee to clinch her fourth title of the year by lifting the Denmark Open Super Series Premier trophy with a dominating win in the final in Odense, Denmark on Sunday.
Rio's protest to wearing anti-racism shirt angers Fergie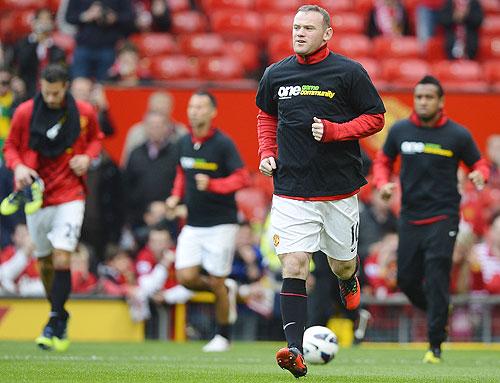 Manchester United manager Alex Ferguson accused Rio Ferdinand of embarrassing him on Saturday after his defender failed to wear a t-shirt in support of an anti-racism campaign.
La Liga: Messi slams 15th 'trick as Barca edge Deportivo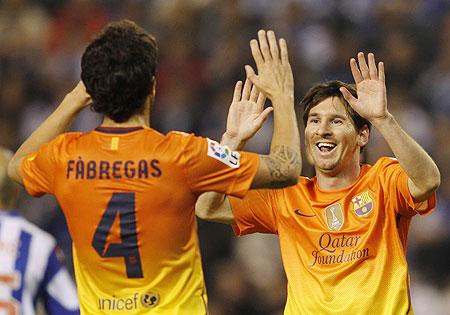 Images from the La Liga matches played across Spain on Saturday.
EPL PHOTOS: City, United keep pressure on leaders Chelsea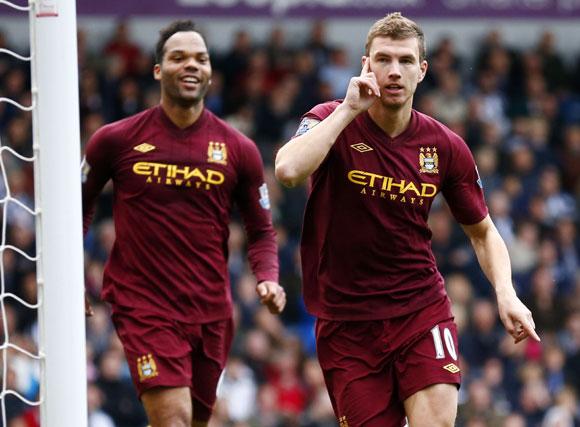 Images from the weekend fixtures of the English Premier League that witnessed holders Manchester City, leaders Chelsea and 19-time winners Manchester United scoring comfortable wins.
Denmark Open: Saina Nehwal in final, to face Schenk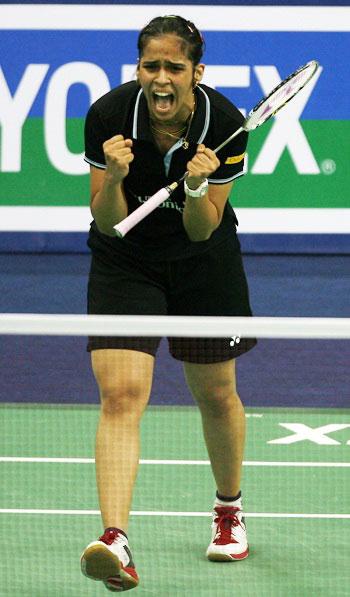 Ace Indian shuttler Saina Nehwal booked her place in the finals of the Denmark Super Series Premier tournament after world number one opponent Yihan Wang of China retired midway through the semi-final clash because of a knee injury.
October 20, 2012
We will move forward: Lance Armstrong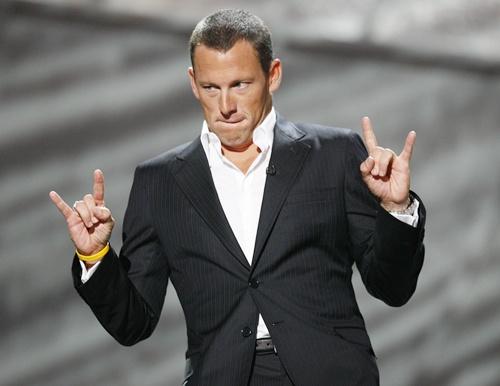 Disgraced cyclist Lance Armstrong told supporters of his Livestrong cancer charity that it had been a difficult couple of weeks but the foundation's mission must go on.
Forget the Hindi, Kaltenborn's Indian roots strong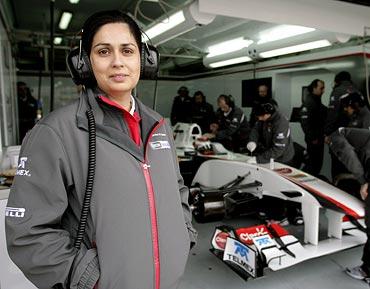 All of the sudden there is a boom of super moms in the media. Women with a penchant for different sporting fields. Where Indian men would have thought twice about venturing, these women are making a name for themselves as pioneers in their chosen fields.
October 19, 2012
McLaren learn from Indian driving lesson
Last year's inaugural Indian Formula One Grand Prix taught McLaren team principal Martin Whitmarsh an important driving lesson: Steer clear of the country's public roads as much as possible.
Terry racism row damaged England's reputation: FA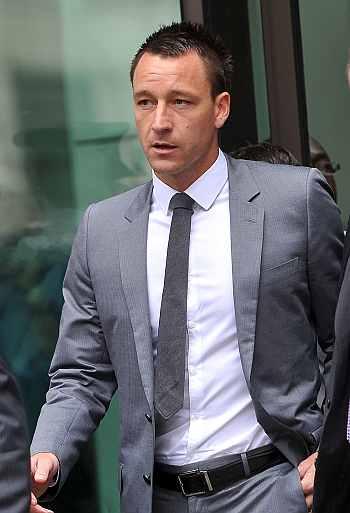 The reputation of English football has been tarnished by the long-running John Terry affair, according to Football Association chairman David Bernstein.
India should be ashamed of 168th place in FIFA: Baan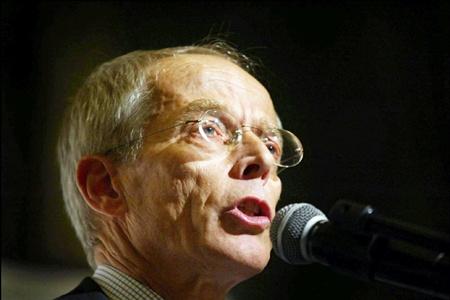 Indian football's technical director Rob Baan said the country should be ashamed of its 168th place in FIFA rankings and work hard to plug the gaping holes in various aspects of the game.
I have the speed to deserve a better place: Narain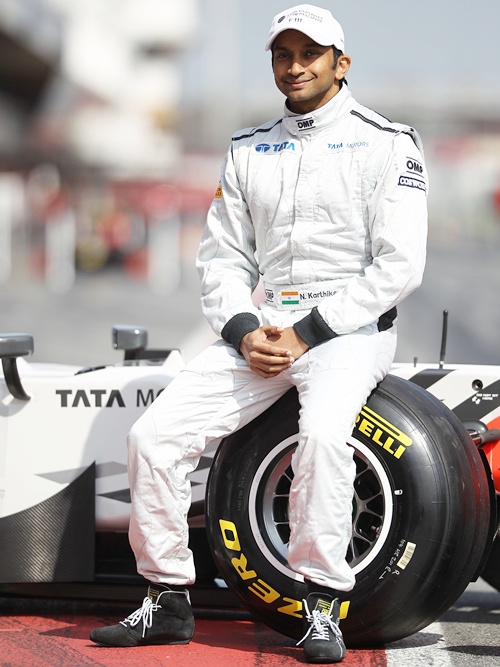 He has faced consistent mechanical issues in his HRT car but Narain Karthikeyan, the only Indian racing in Formula One, says despite problems he has proved that he has the speed to deserve a better team and a better place on the grid.
October 18, 2012
Racism allegations heat up between Serbia, England
The Serbian Football Association (FSS) has denied allegations by England of racist abuse during an Under-21 qualifier which ended in a brawl.
Spurs' Villas-Boas looking to avenge Chelsea exit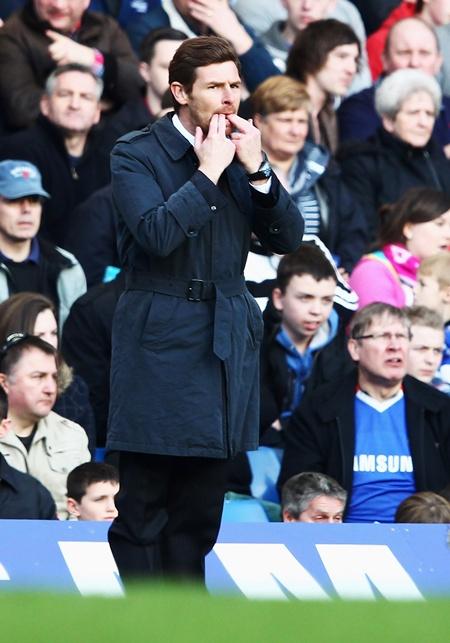 Andre Villas-Boas can become the first opposition coach to plot Chelsea's downfall in a Premier League match this season when his old club play his in-form Tottenham Hotspur side at White Hart Lane on Saturday.
In-form Bhullar eyes Indian Open golf title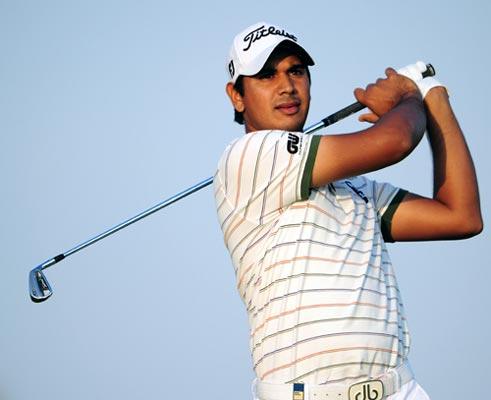 Indian stalwart Gaganjeet Bhullar will be chasing his third Asian Tour win this season when he tees off in the Indian Open golf tournament in Bangalore on Thursday.
October 17, 2012
All about the Lance Armstrong doping case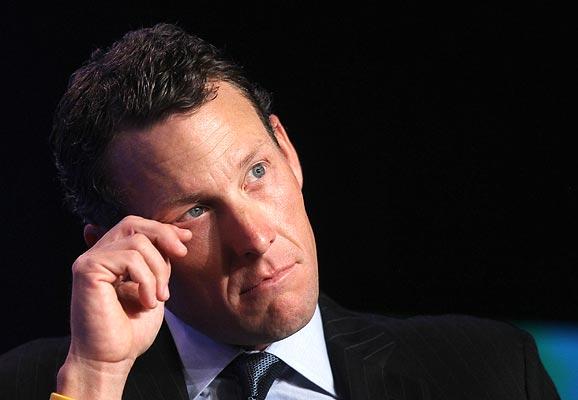 Cyclist Lance Armstrong has consistently denied ever using drugs but decided not to contest the charges by the United States Anti-Doping Agency (USADA).
October 16, 2012
Hamilton is loved by us at McLaren: Whitmarsh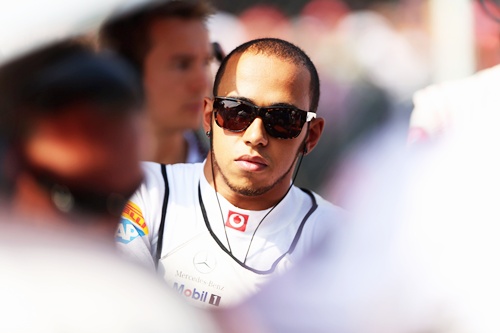 McLaren have left Lewis Hamilton in no doubt that he will feel the love when he goes back to the Formula One team's factory this week for the first time since his move to Mercedes was announced last month.
From shy guy to resolute leader, Ronaldo on a 100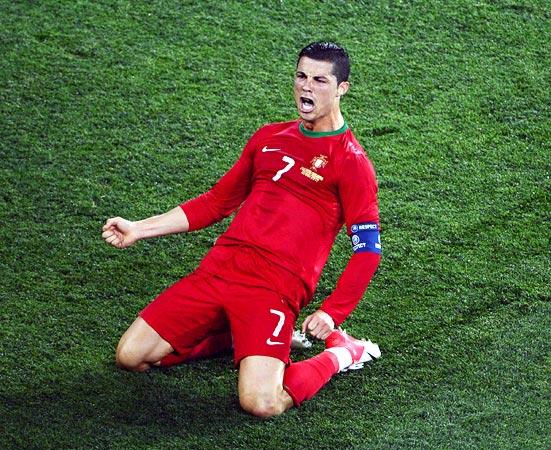 Portugal's Cristiano Ronaldo started in central defence and was marked by early shyness before an explosion of attacking flair made him one of soccer's greatest players.
October 15, 2012
Mikel is Chelsea's unsung hero, says Di Matteo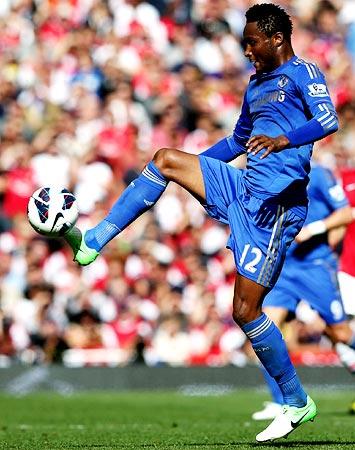 John Obi Mikel's value to Chelsea often goes unrecognised by the media and by fans of the European champions but manager Roberto Di Matteo says the Nigeria midfielder is one of the club's unsung heroes.
Yeongam style not enough to attract F1 fans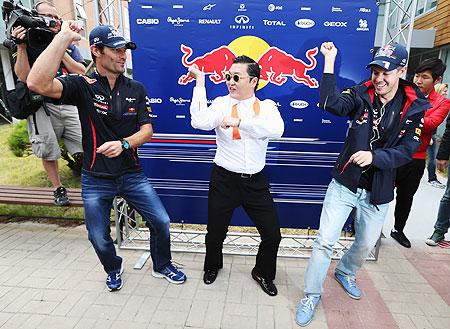 Red Bull team principal Christian Horner saw the Yeongam circuit in a rosier light than others after Sebastian Vettel won the Korean Grand Prix, but Formula One still has a job on its hands to get local fans to make the long journey to the isolated track.
Djokovic in contention for No.1 spot after Asian 'double'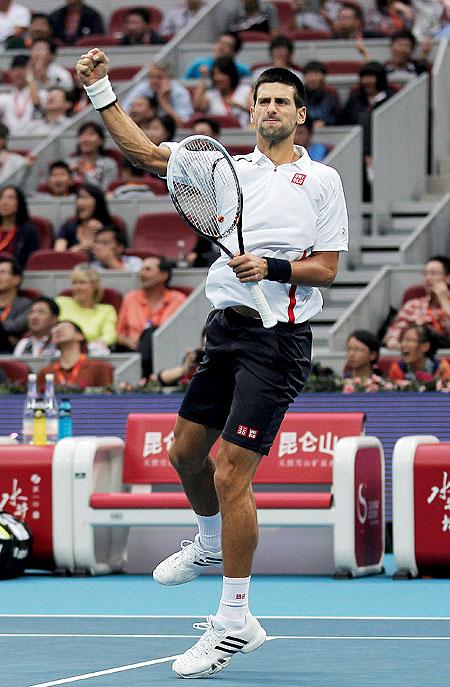 With twin successes on the Asian swing of the ATP Tour, Novak Djokovic is back in the reckoning in a comparatively less successful year. And with no points to defend in the weeks ahead, the Serb, says , is the lone challenger to Roger Federer in the race for the year-end No.1 ranking.
Hamilton heroic as title hopes disappear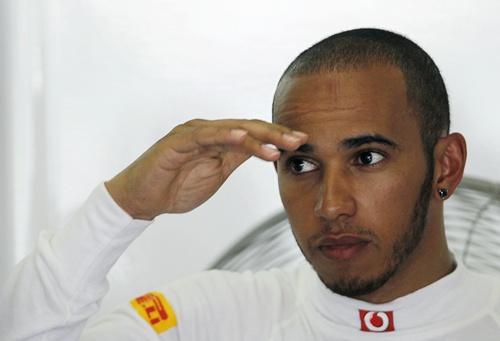 Lewis Hamilton brought down the shutters on his Formula One title hopes at the Korean Grand Prix on Sunday even as his McLaren team praised him to the skies for his grit and determination.
Jeev has set targets for us: Bhullar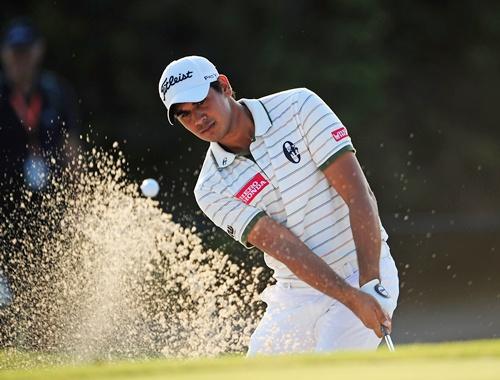 Gaganjeet Bhullar played junior golf with Rory McIlroy, and the Irishman has now won two Majors and is now the World No.1.
October 14, 2012
Paes-Stepanek down Bhupathi-Bopanna, win Shanghai title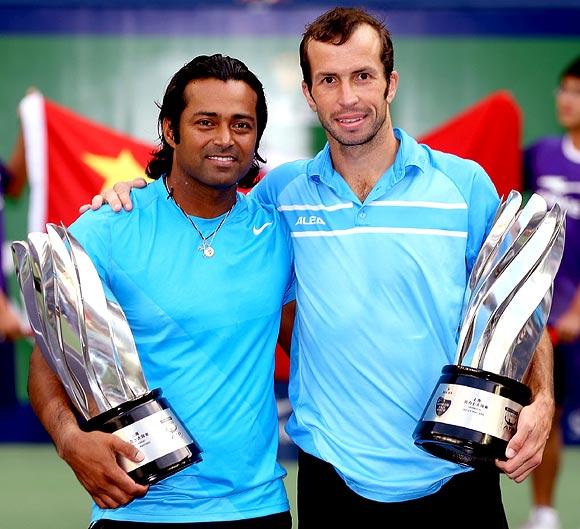 Leander Paes and Radek Stepanek won the ATP Shanghai Masters, their third tour-level title of the season, after defeating Mahesh Bhupathi and Rohan Bopanna 6-7(7), 6-3, 10-5.
Photos: Vettel wins to seize F1 lead from Alonso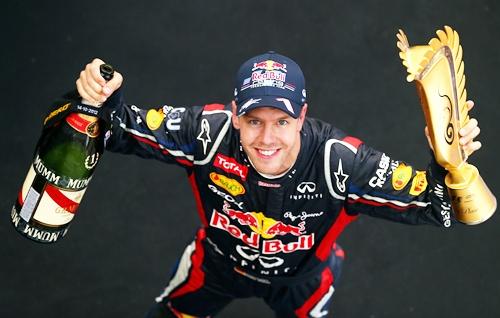 World champion Sebastian Vettel won the Korean Grand Prix in a Red Bull one-two finish on Sunday to take the overall Formula One lead from Ferrari's Fernando Alonso with four races remaining.
12 medals in Rio isn't a pipedream: Tendulkar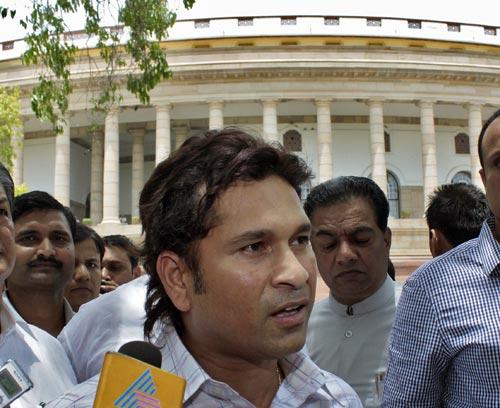 Iconic cricketer and Rajya Sabha MP Sachin Tendulkar has advocated "systemic changes" in Indian sports so that "12 medals in next Olympics in Rio or 20 in 2020 is not a pipe dream".
Force India play down impact of Mallya's troubles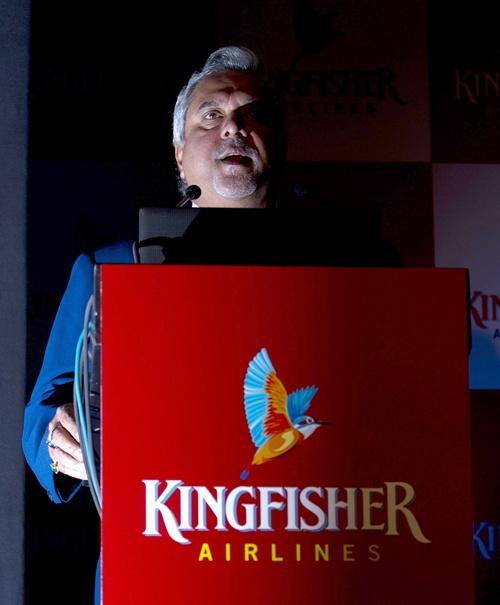 A court warrant in India against billionaire Vijay Mallya over his airline business has no repercussions for his Force India Formula One team, deputy principal Bob Fernley said on Sunday.
Sauber chief Kaltenborn flies a flag for women in F1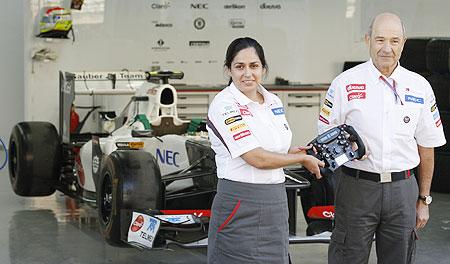 Monisha Kaltenborn's fast track to the top in Formula One has seen her steer smoothly through the daunting 'esses' of scepticism and sexism to success with Sauber.
October 13, 2012
Pix: Pedro treble in Spain win, Russia stun Portugal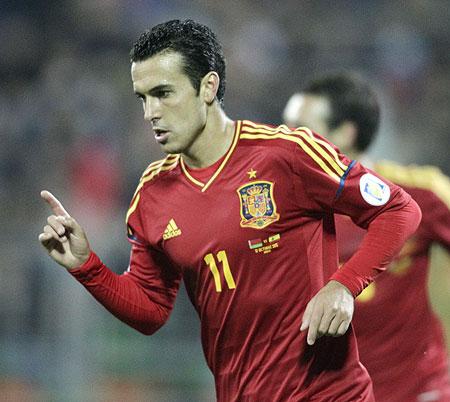 Spain and hat-trick hero Pedro turned on the style in a 4-0 World Cup qualifying win in Belarus amid a television blackout while Sweden had viewers switching off before rallying in the Faroe Islands on Friday.
Sania set to launch academy in March 2013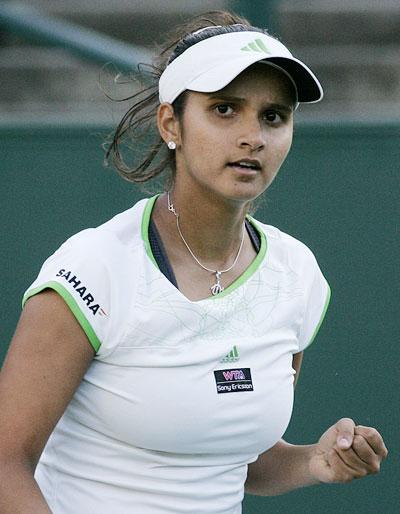 With an aim to give back something to the sport that brought her fame and wealth, Sania Mirza is now all set to start her own tennis academy in Hyderabad, where youngsters will get quality training at an affordable price.
Ronaldo deserves Ballon d'or more than Messi: Mourinho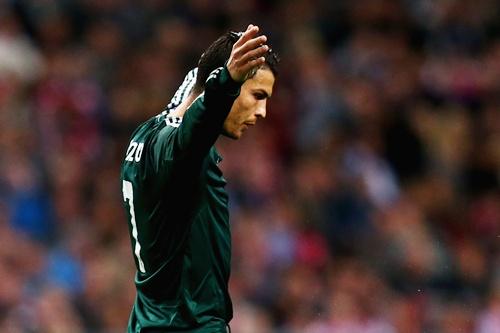 It would be a crime if Cristiano Ronaldo lost out to Lionel Messi for the 2012 Ballon d'Or, his Real Madrid coach Jose Mourinho said.
Federer, Murray semis showdown in Shanghai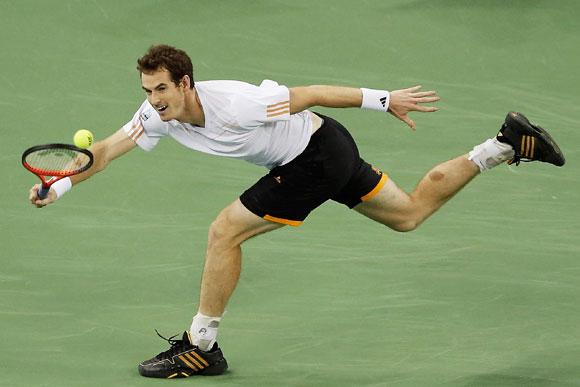 Andy Murray remained on course for a hat-trick of titles at the Shanghai Masters despite the best efforts of tricky Czech Radek Stepanek on Friday, and now sets his sights on Roger Federer.
October 12, 2012
Force India is closely watched by Monisha's Sauber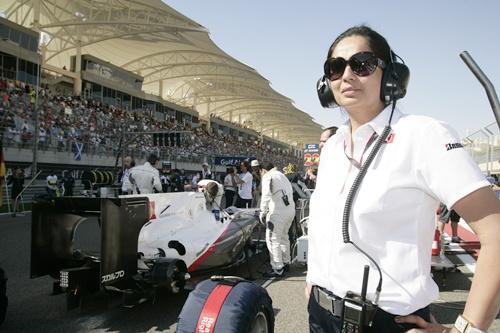 Sauber's newly-appointed Indian-origin Team Principal Monisha Kaltenborn, the first woman to reach this position in Formula One, says she is well aware of the competition her outfit faces from Sahara Force India.
Force India car good enough for podium finish: Nico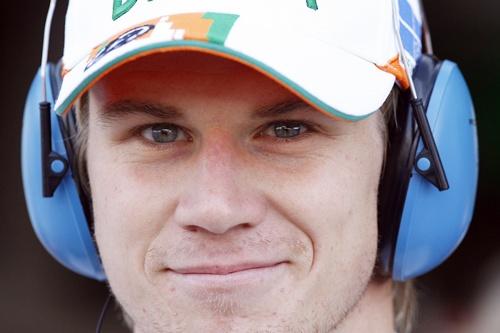 The chase for that elusive podium finish continues but Sahara Force India driver Nico Hulkenberg said that his team has the car and technology to achieve a top-3 finish in one of the remaining five races in this year's Formula One Championships.
October 11, 2012
'Nobody needs to cry for me. I'm going to be great'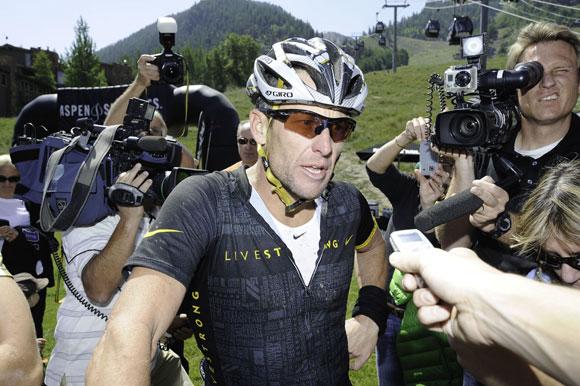 The US Anti-Doping Agency (USADA) on Wednesday released its reasons for banning seven times Tour de France winner Lance Armstrong from sport. Follows, a quote-hanger on the scandal.
Makes no difference to be second if you don't win:Kimi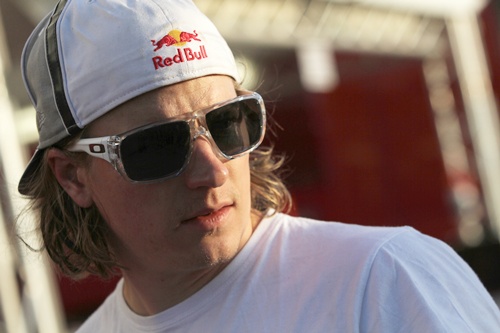 Kimi Raikkonen would rather finish fourth in the Formula One world championship than end up second or third because then he can skip the official prize-giving gala in December.
How the noose was tied around Armstrong's neck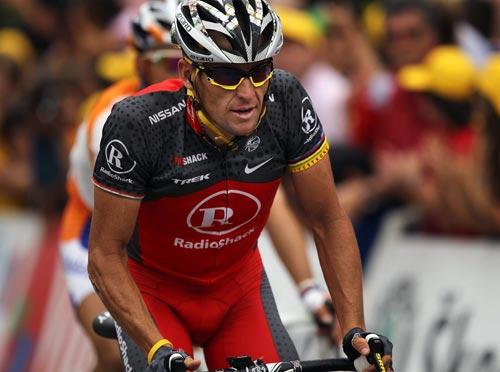 Here is a timeline of the events surrounding USADA's procedures against retired American cyclist, Lance Armstrong.
India-born Kaltenborn first female F1 team principal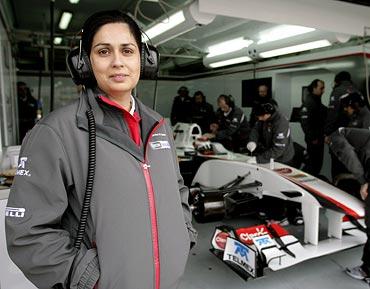 Indian-born Monisha Kaltenborn became Formula One's first female team principal on Thursday after taking the helm at Sauber from founder Peter Sauber with immediate effect.
USADA accuses Armstrong of being doping ringleader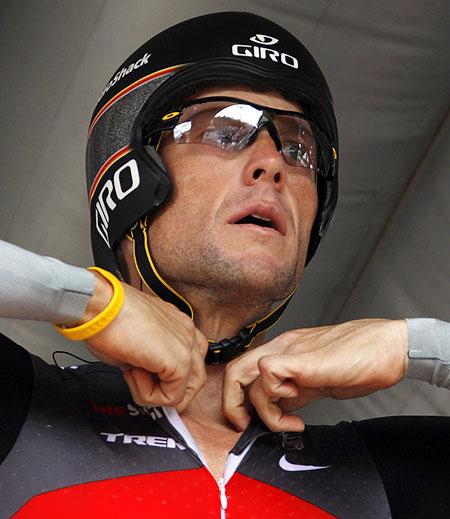 If the United States Anti-Doping Agency is right, then Lance Armstrong cheated his way to the top of the cycling world through an elaborate doping scheme never seen before in the sport.
October 10, 2012
Nadal recovering slowly, not thinking too far ahead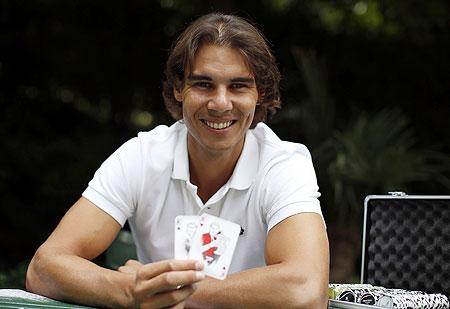 Rafael Nadal has no timeline for his return to competitive tennis but on Tuesday the world number four did not completely rule out the possibility of returning from injury in time for next month's Davis Cup and ATP World Tour finals.
Alonso inspired by samurai swordsman for Korean GP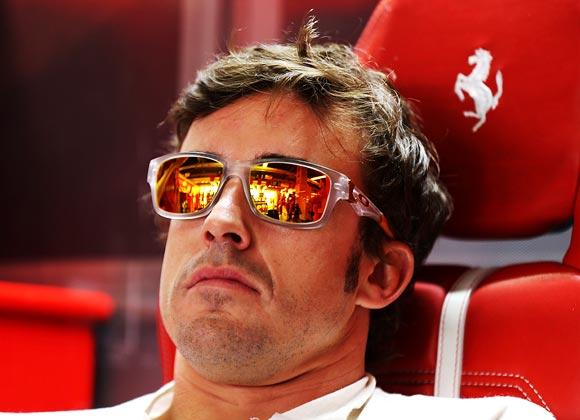 The Spaniard knows he will lose the championship lead at the southern Yeongam circuit for the first time since seizing it in Valencia in June if his Red Bull rival Sebastian Vettel chalks up a third win in a row.
October 09, 2012
F1 title race is a battle between Alonso and Vettel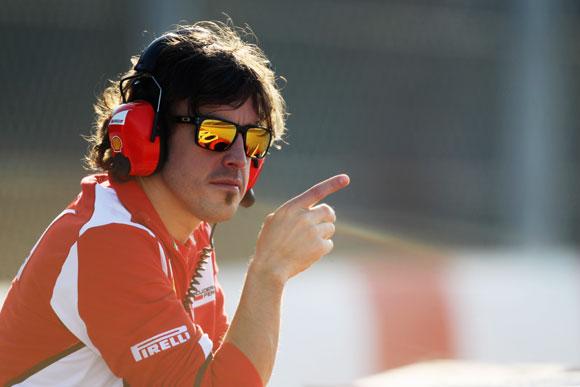 The Formula One title battle is turning into a straight duel between Ferrari's Fernando Alonso and Red Bull's Sebastian Vettel for the honour of becoming the youngest triple world champion.
October 08, 2012
Joshua, Noah rev it up at Nat Dirt Track Racing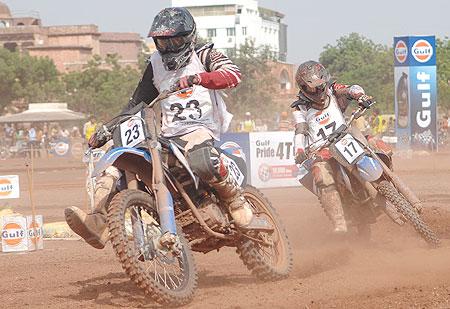 Images from the Gulf Cup Dirt Track FMSCI National Championship held in Jodhpur on Sunday.
I-League: Sporting Clube hold East Bengal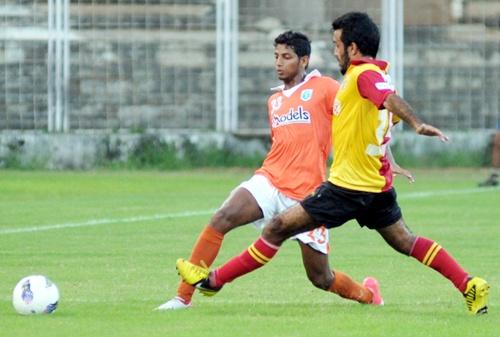 Sporting Clube de Goa put up a gritty performance to hold Federation Cup champions East Bengal to a goalless draw in their opening encounter of the I-League football tournament at Nehru Stadium, Fatorda.
Honours even in Messi-Ronaldo showdown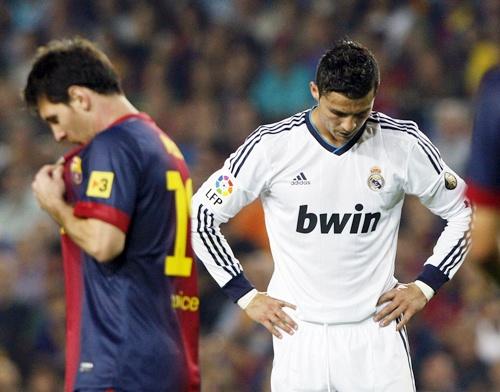 Billed in Spain as the decisive showdown between Lionel Messi and Cristiano Ronaldo for the 2012 FIFA Ballon d'Or award, Sunday's La Liga El Clasico gave plenty of ammunition to both camps as each player netted twice in a thrilling 2-2 draw.
October 07, 2012
F1 c'ship thrown wide open after Vettel wins in Japan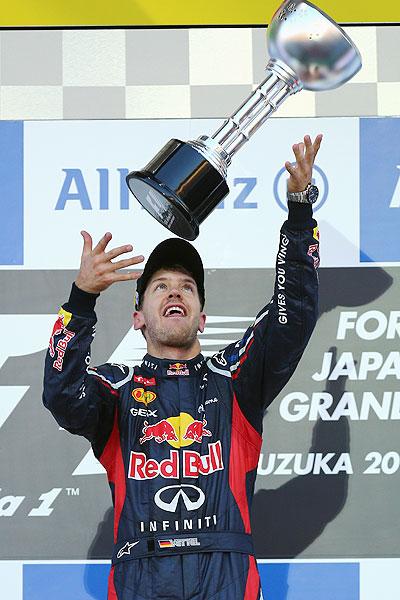 Images from the Japanese Formula One GP on Sunday.
October 06, 2012
I-League: Dempo win against Churchill Brothers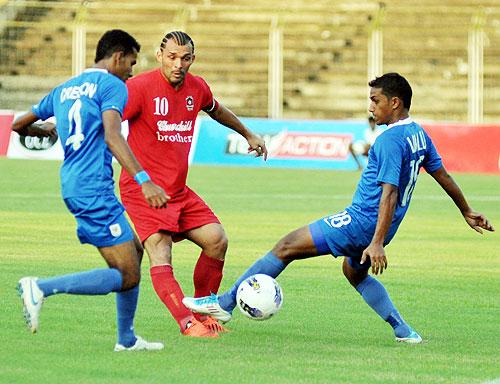 Ryuji Sueoka scored a brace of goals as Dempo Sports Club laboured to a 2-1 win over Churchill Brothers Sports Club in the opening match of the I-League at the Nehru Stadium, Fatorda, on Saturday.
October 05, 2012
Under-pressure Real Madrid to play catch-up in 'Clasico'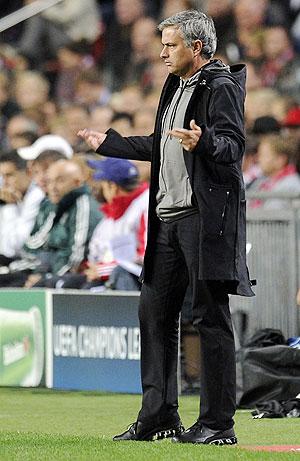 The millions of fans around the globe who will tune in to watch Sunday's 'Clasico' in Barcelona could witness the death throes of Real Madrid's La Liga title challenge in their seventh match of the season. Defeat at the Nou Camp for Jose Mourinho's side, who are chasing a second consecutive title after ending Barca's three-year run as champions, would stretch the Catalan club's lead over their bitter rivals to 11 points.
Indo-Pak Express derails as Aisam snubs Bopanna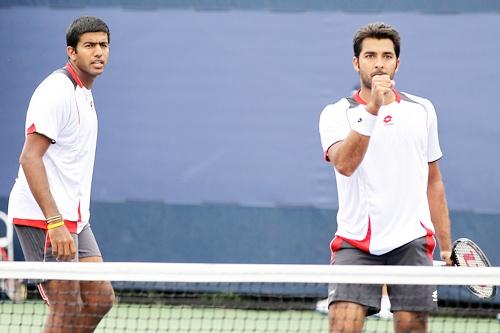 Adopting a once bitten twice shy approach, Pakistan tennis ace Aisam-ul-Haq Qureshi is reluctant to renew his partnership with India's Rohan Bopanna, who parted ways with him last year.
Schumacher may be the greatest, but not most popular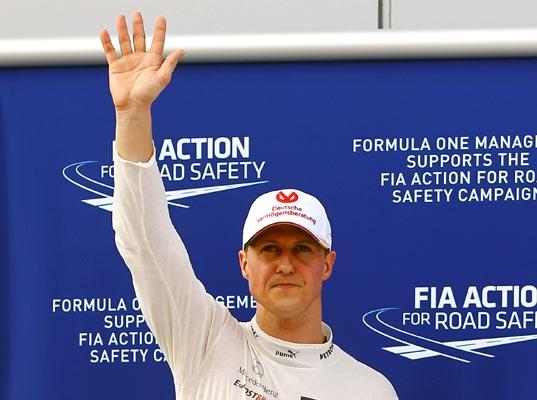 Michael Schumacher achieved more than any other driver in Formula One but the winner of a record seven World championships and 91 Grands Prix could not beat time however hard he raced.
October 04, 2012
Hamilton eyes greatness with Mercedes 'challenge'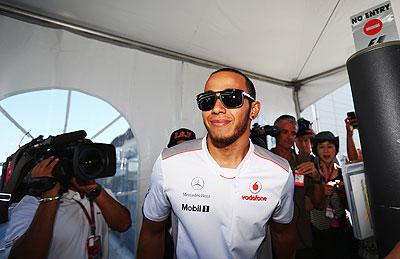 Lewis Hamilton does not believe he is taking a gamble by leaving McLaren for Mercedes next season, saying the move could catapult him into Formula One's pantheon of greats even if it does not pay out immediately.
CL PIX: Real Madrid crush Ajax; Arsenal labour to win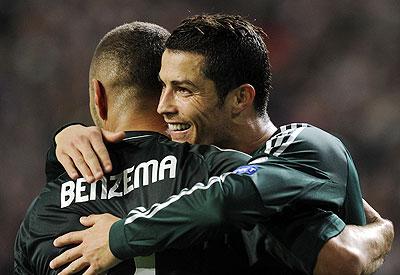 Images from the Champions League matches played across Europe on Wednesday.
October 03, 2012
Indian Grand Prix targets long-term success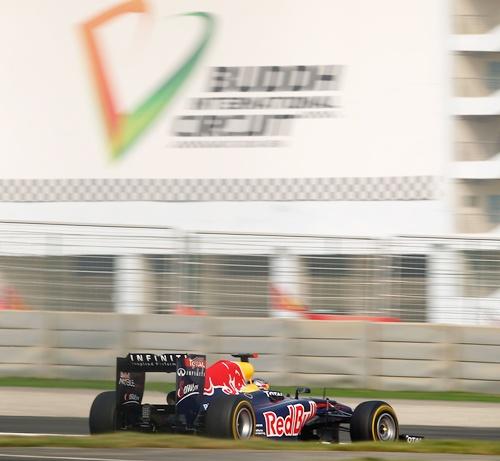 The success of last season's inaugural Indian Grand Prix has convinced organisers they can build both a long-lasting legacy within Formula One and break even on their substantial outlay within "five to seven years".
Champions League: BATE stun Bayern; Chelsea win easily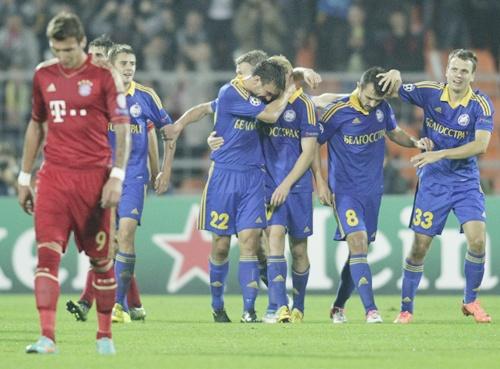 Belarussian side BATE Borisov caused one of the biggest shocks ever seen in the Champions League when they stunned last season's beaten finalists Bayern Munich 3-1 on Tuesday.
October 01, 2012
CL Preview: Benfica's new midfield faces Barca test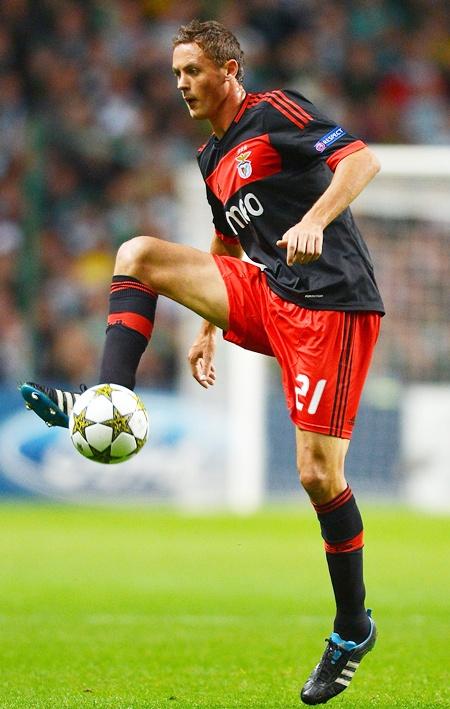 Benfica will rely on little-known duo Nemanja Matic and Enzo Perez, who have played only a handful of games since signing in 2011, to lead the Portuguese league leaders against the vast talents of Barcelona in the Champions League on Tuesday.
Di Matteo plots end to road less travelled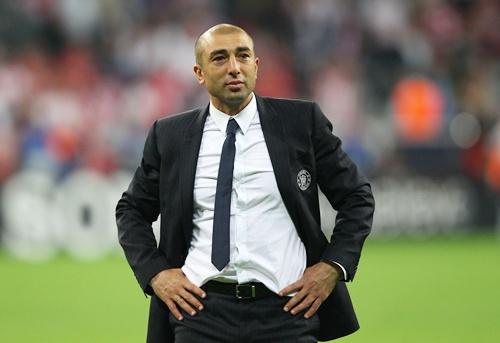 Chelsea coach Roberto Di Matteo will have to address his side's shortcomings on the road in Europe on Tuesday with the Londoners unable to afford a slipup against Nordsjaelland, a team new to rubbing shoulders with the continent's elite.
Europe clinch Ryder Cup with stunning comeback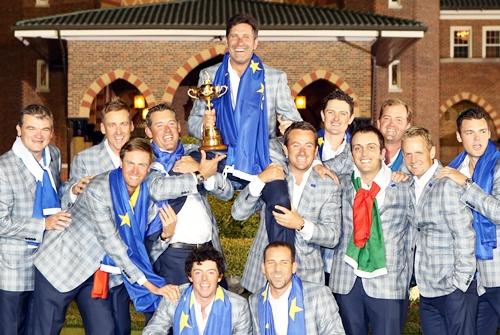 Inspired by the spirit of Seve Ballesteros, Europe pulled off one of the greatest comebacks on a golf course to beat the United States and win the Ryder Cup by 14-1/2 points to 13-1/2 on Sunday.
Ronaldo treble lifts Real to 5-1 win over Deportivo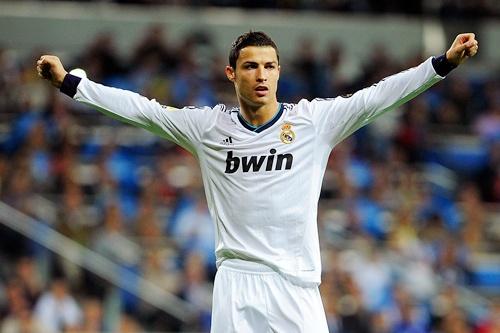 Real Madrid will go into next weekend's La Liga El Clasico at Barcelona eight points behind their great rivals after Cristiano Ronaldo netted a hat-trick in a 5-1 comeback win at home to promoted Deportivo Coruna on Sunday.
September 30, 2012
La Liga: Villa late show snatches Barca win at Sevilla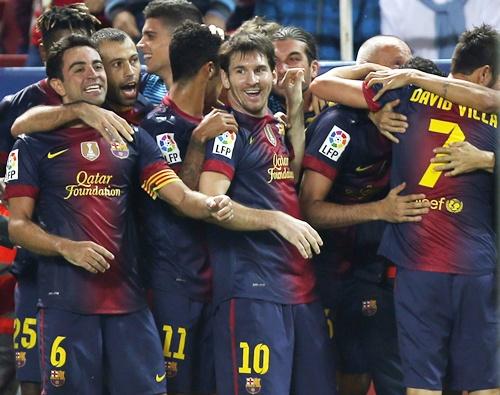 Substitute David Villa scored a superb last-gasp winner and Cesc Fabregas netted twice as leaders Barcelona came from two goals down to stun 10-man Sevilla 3-2 and extend their perfect La Liga record on Saturday.
EPL PIX: Spurs end Man United hoodoo, Chelsea win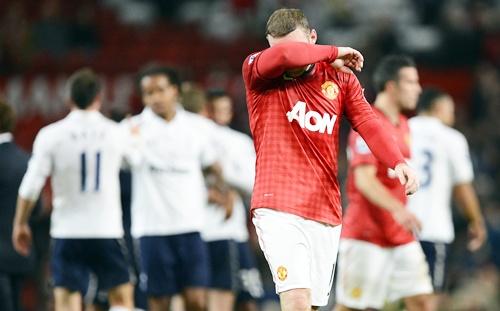 Premier League leaders Chelsea beat London rivals Arsenal 2-1 while Tottenham Hotspur ended their Old Trafford hoodoo and beat Manchester United 3-2 there for the first time since 1989 to leave Chelsea three points clear on Saturday.
September 28, 2012
PHOTOS: Saina on Cloud 9 after IAF aircraft sortie
London Olympics bronze medallist shuttler Saina Nehwal experienced the thrill of flying in an Indian Air Force aircraft, and described the experience as "dream come true".
Olympic champion Phelps eager to make mark as golfer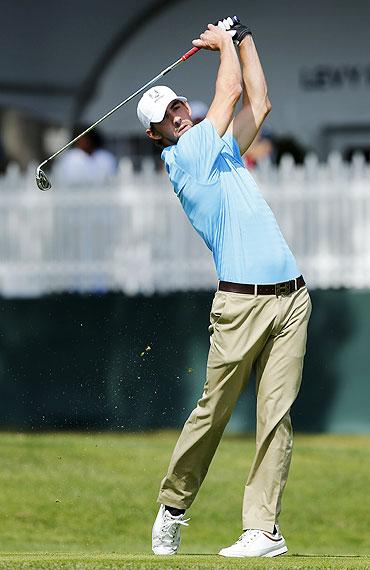 For almost 20 years, Michael Phelps was swim coach Bob Bowman's project. But Phelps, who retired from swimming as the most decorated Olympian of all time after winning a record 22 medals including 18 golds, is now swing guru Hank Haney's project as he turns his sights on becoming a top golfer.
French centenarian cyclist aims for 100 km record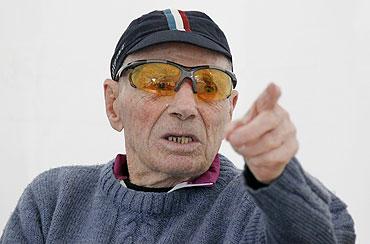 A French centenarian will try to ride his way into the record books on Friday by becoming the fastest cyclist of his age to cover 100 km (62 miles).
September 26, 2012
Foley designs Indian F1 Grand Prix trophy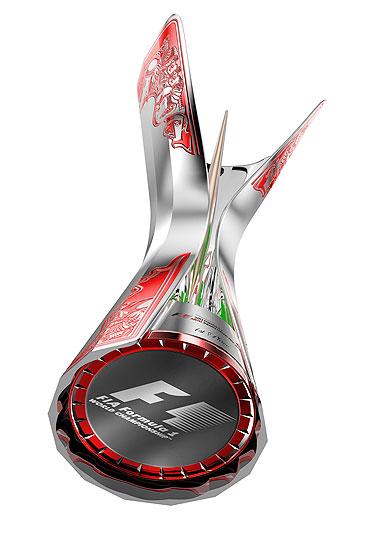 As excitement builds towards the forthcoming 2012 Airtel Indian Grand Prix, title sponsors Bharti Airtel on Wednesday, appointed renowned Bengaluru-based designer Michael Foley to craft the trophy for the race.
End in sight for F1's game of musical chairs?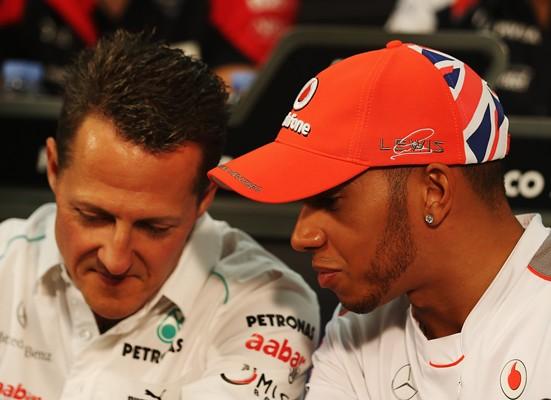 After months of feverish speculation about the Formula One futures of Lewis Hamilton, Michael Schumacher and Felipe Massa, matters could finally be coming to a head with less change than expected.
Terry's all gold for us, say Chelsea after 6-0 romp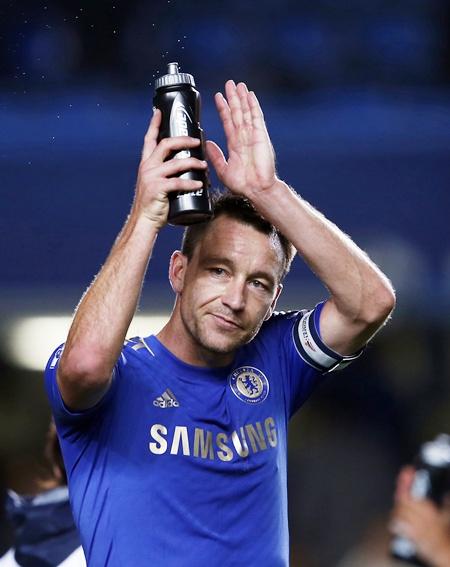 Chelsea had no qualms about selecting captain John Terry for Tuesday's 6-0 League Cup third round win over Wolverhampton Wanderers despite his FA racial abuse hearing, said assistant manager Eddie Newton.
September 25, 2012
Nadal recuperation on track, will not rush back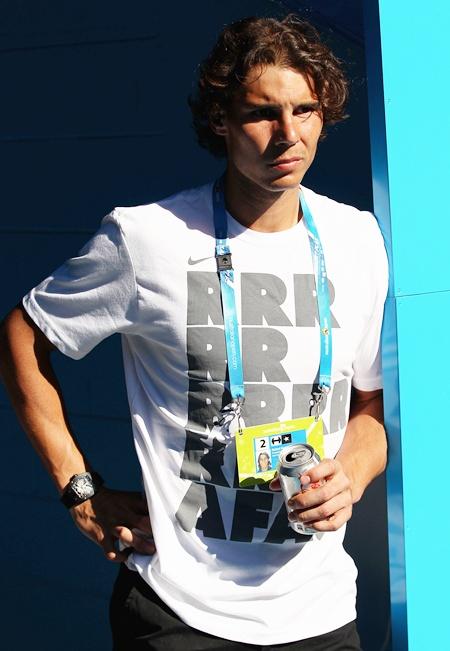 Rafa Nadal's steady recuperation from a knee injury is proceeding according to plan and he is not going to rush back before it has healed properly, the World No. 4 said.
September 24, 2012
EPL: Worrying times for Mancini but Wenger is buoyant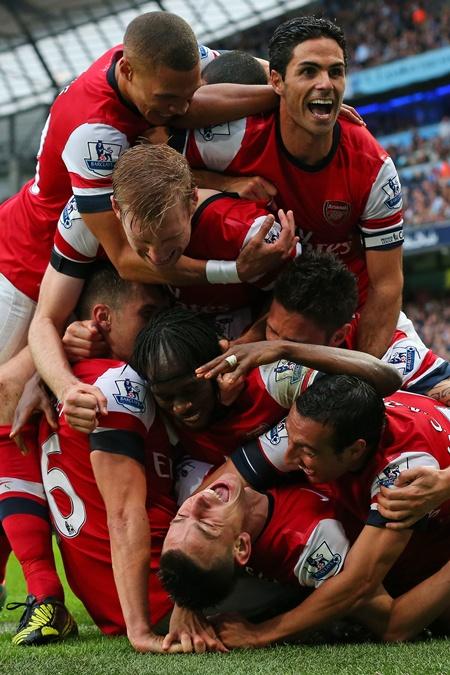 Both their sides are unbeaten and are well-placed in the Premier League table on nine points but Arsenal manager Arsene Wenger was clearly the happier after his side drew 1-1 at the fortress-like home of Roberto Mancini's Manchester City on Sunday.
Former England captain Terry quits internationals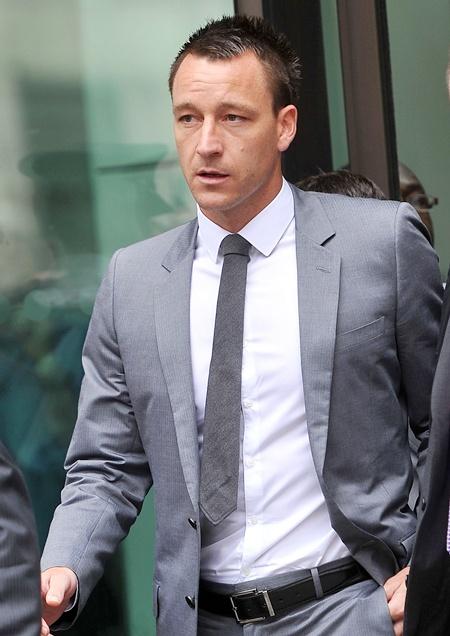 John Terry brought his long and often controversial England career to an end on Sunday when the Chelsea defender announced his retirement from international soccer.
Photos: Special victory delights sluggish Vettel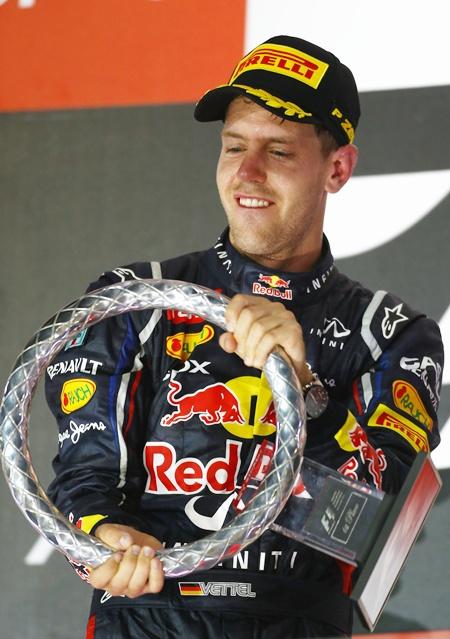 Thankfully for world champion Sebastian Vettel the Singapore Grand Prix is a marathon and not a sprint as the German overcame a self-perceived lack of pace in his Red Bull to claim the two-hour night race.
September 23, 2012
Force India's Di Resta finishes 4th at Singapore GP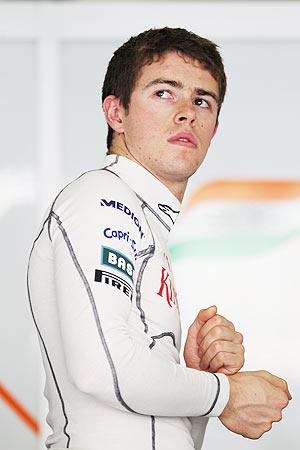 Paul di Resta recorded his career-best result as he picked up 12 points for Sahara Force India with a fourth-place finish even as his teammate Nico Hulkenberg returned empty-handed from the incident-filled Singapore Grand Prix, on Sunday.
September 20, 2012
Photos: Salgaocar, Pune FC win Fed Cup matches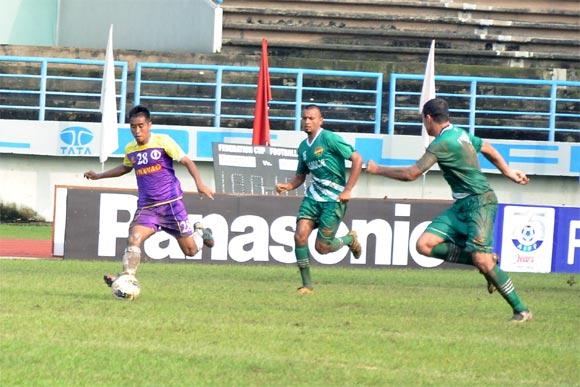 Defending champions Salgaocar SC had to sweat it out for a solitary goal win over Prayag United, Kolkata, while Pune FC defeated United Sikkim by an identical margin in Group D league encounters of the 34th Federation Cup football tournament in Jamshedpur on Thursday.
PHOTOS: Messi header rescues Barca, English clubs stutter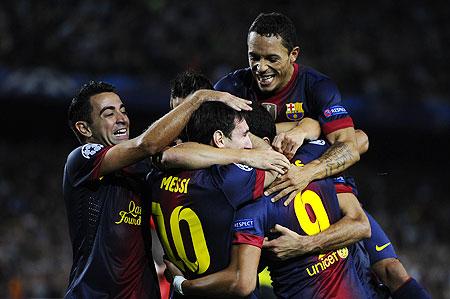 Images from the Champions League matches plsyed across Europe on Wednesday.
September 19, 2012
PHOTOS: Arrows hold Dempo, Lajong down Mumbai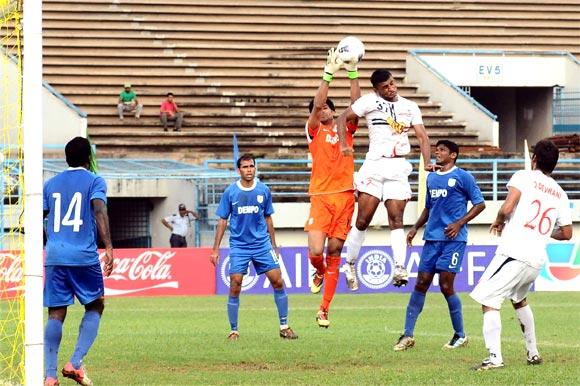 Images from the opening day of the Federation Cup football tournament on Wednesday.
Ronaldo seals last-gasp win for Real; joy for PSG, Malaga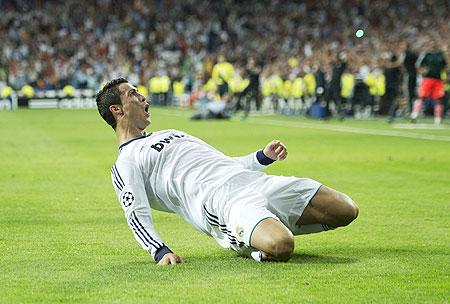 Images from the Champions League matches played across Europe on Tuesday.
September 18, 2012
CL Preview: Vilanova striking new beat at Barcelona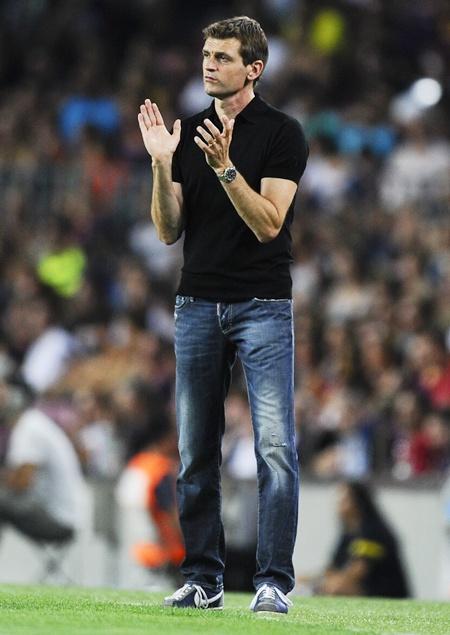 Tito Vilanova is quietly stamping his authority on the Barcelona team and they head into their Champions League Group G opener at home to Spartak Moscow on Wednesday with La Liga's only perfect record.
Chelsea title thirst remains unquenched: Di Matteo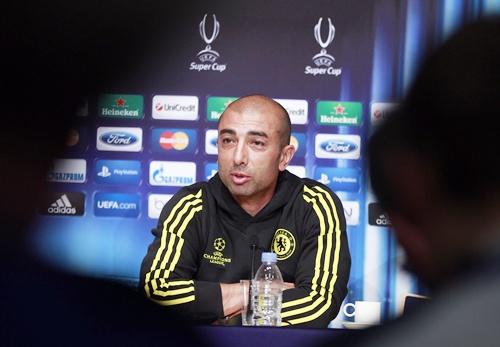 Chelsea begin their quest to become the first team to win back-to-back Champions League titles on Wednesday when they entertain a Juventus side still getting used to matchdays without their coach.
No early exit for United this time, vows Ferguson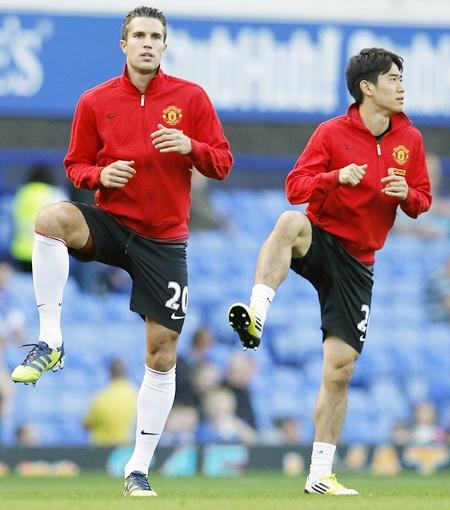 Manchester United manager Alex Ferguson vowed there would be no repeat of last season's early Champions League exit as he prepared for Wednesday's opening Group H fixture at home to Galatasaray.
CL Preview: Bayern start afresh with renewed optimism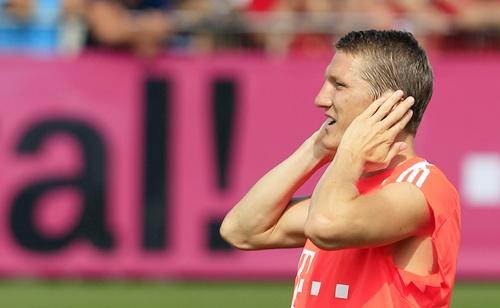 Bayern Munich will be out to prove they have erased the bitter taste of last season's Champions League final defeat by Chelsea when they host Spain's Valencia in their opening Group F match on Wednesday.
September 17, 2012
Faltering Real begin C League campaign against City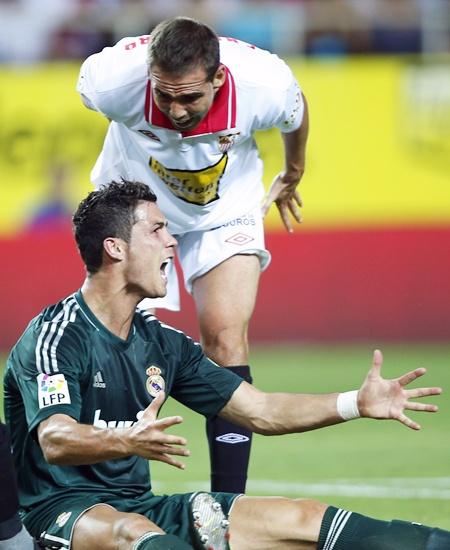 The Champions League returns to the spotlight on Tuesday as Real Madrid, one of the most decorated clubs in the competition, take on Manchester City, the English champions whose vast spending power has fast-tracked them to European heavyweight status.
Euro soccer: Real fall at Sevilla, Spurs record first win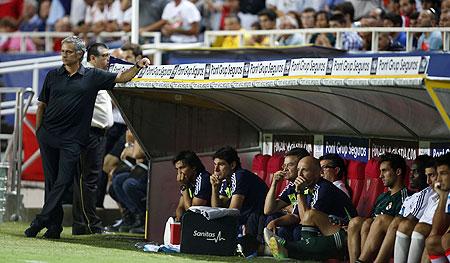 A summary of football matches played across Europe over the weekend.
'I need to focus on giving 100 per cent with McLaren'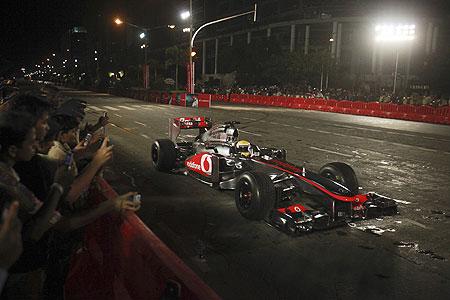 On the sidelines of a promotional event in Mumbai, Hamilton talks to Rediff.com's about F1, his immediate goal and his future.
September 16, 2012
Davis Cup: Czechs go 2-1 up as Del Potro pulls out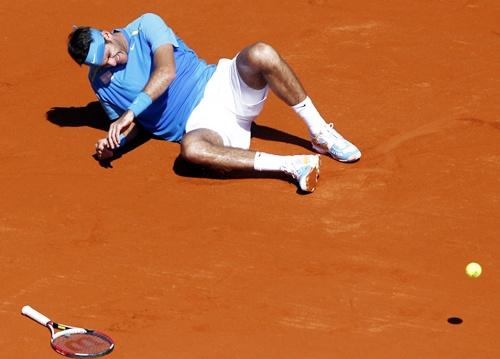 Czech Republic's path to the Davis Cup final was wide open after they won the doubles on Saturday and Argentine Juan Martin del Potro pulled out of the reverse singles.
EPL: United, Arsenal give top four familiar feel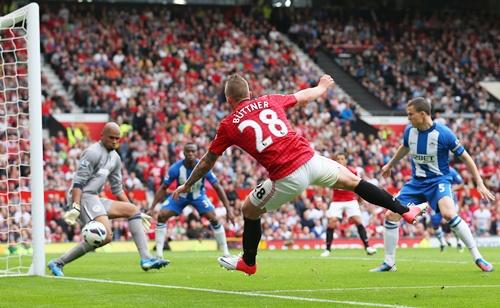 Manchester United and Arsenal enjoyed emphatic home wins over Wigan Athletic and Southampton respectively on Saturday to join Chelsea and Manchester City in the top four and give the Premier League table a familiar feel.
La Liga: Real lose at Sevilla, Messi double for Barca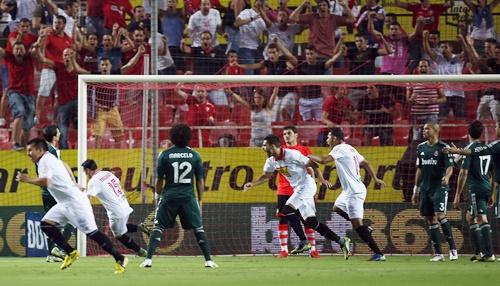 Real Madrid's stuttering start to La Liga continued when they lost 1-0 at Sevilla to slip eight points behind leaders Barcelona who were 4-1 victors at Getafe earlier on Saturday.
September 15, 2012
Mourinho plays down Ronaldo's 'sad' remarks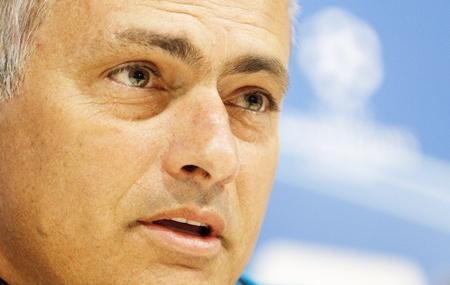 Real Madrid coach Jose Mourinho has sought to play down Cristiano Ronaldo's revelation two weeks ago that he was feeling 'sad' at the club.
Jamaicans to rule sprints for long time: Blake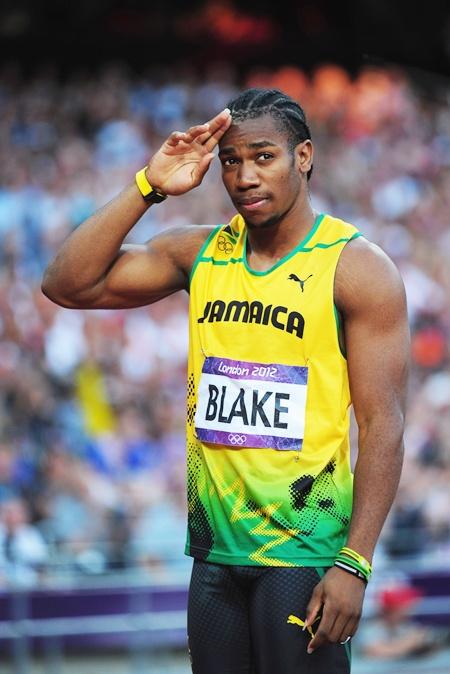 Americans need to get used to Jamaica's men dominating the global sprinting scene because it will not change soon, Jamaican double Olympic silver medallist Yohan Blake said.
September 13, 2012
India's 2022 football World Cup goal: a pipe dream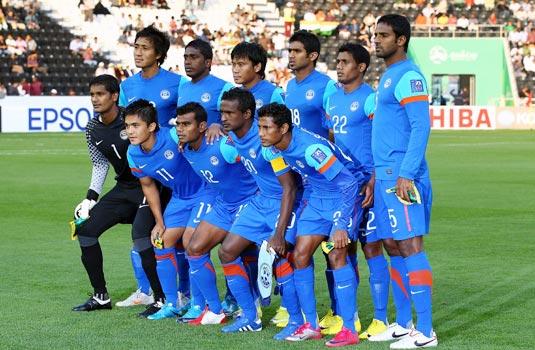 The sport remains popular only in certain geographic areas while the television appetite is restricted to the English Premier League or Spain's La Liga.
September 12, 2012
Lendl traits mirror in Murray's meteoric success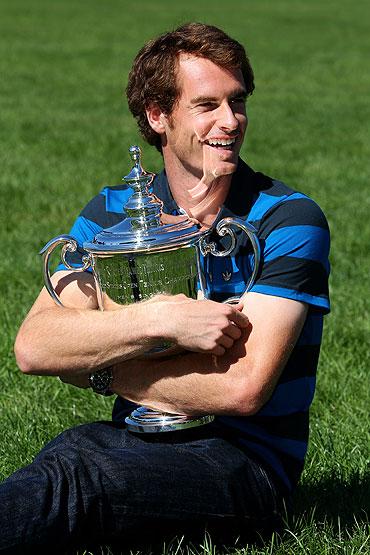 In the last eight months Ivan Lendl inculcated in Andy Murray the attributes he was known for. The Scot's back-to-back triumphs in the Olympics and US Open, says , is testimony to it.
PHOTOS: Game, Set, Match at US Open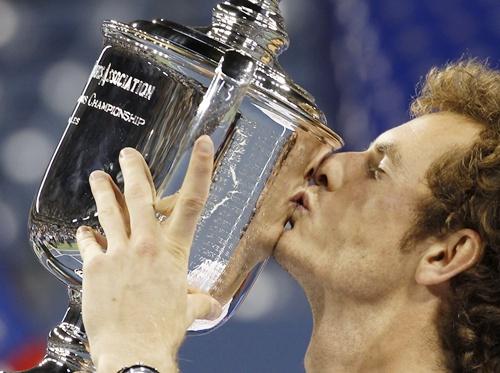 Andy Murray fought off Novak Djokovic to win an epic US Open final on Monday and become the first British man in 76 years to win a Grand Slam singles title. Here are some best moments form the tournament.
September 11, 2012
Inspirational PHOTOS from the London Paralympic Games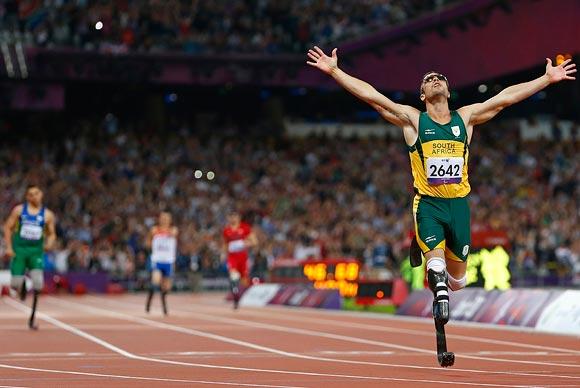 A collection of the best photos from the recently-concluded 2012 Paralympic Games in London.
Murray ends Britain's wait for Grand Slam glory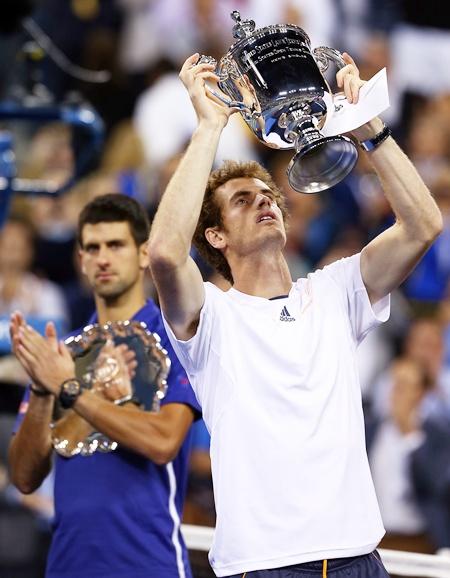 Britain's long wait is over. The nation that invented modern tennis finally has a champion for the new age after Andy Murray won the US Open on Monday.
Djokovic welcomes friend Murray into Grand Slam club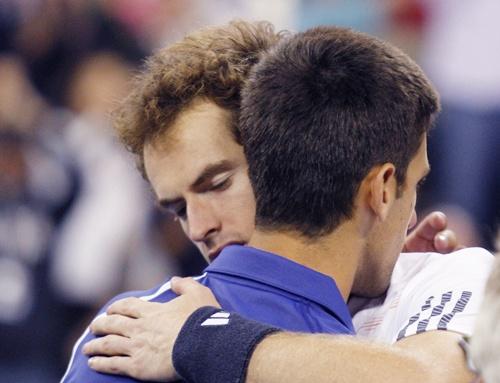 Novak Djokovic hates to lose, but the five-times Grand Slam champion was happy for his friend Andy Murray, who beat him in a pulsating, five-set struggle for the US Open title on Monday.
Photos: Murray fights off Djokovic to win US Open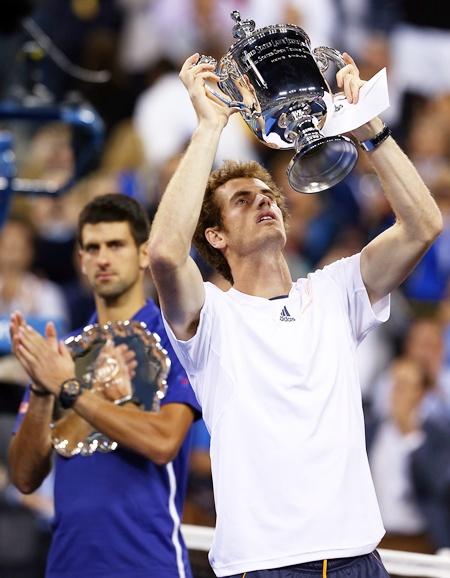 Andy Murray fought off Novak Djokovic to win an epic US Open final on Monday and become the first British man in 76 years to win a Grand Slam singles title.
September 10, 2012
Thousands cheer British Olympians on streets of London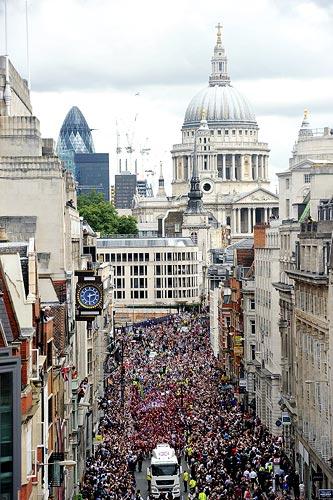 Some 800 athletes rode atop 21 floats past many of the landmarks that made up the backdrop to the London Games, a day after the Paralympic closing ceremony brought an end to the 45-day festival of sport.
Hamilton wins to boos while Alonso feels the love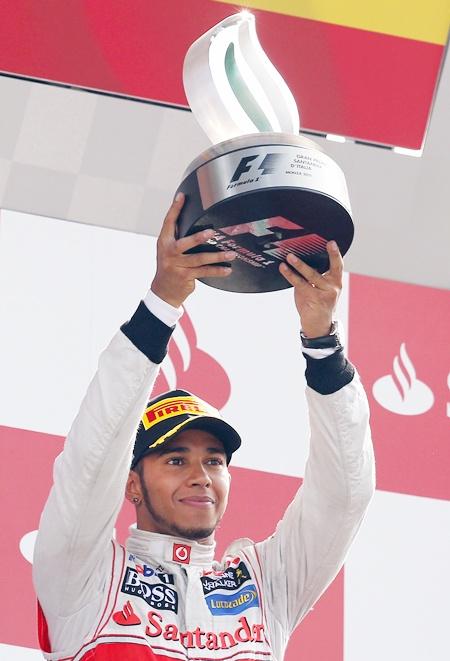 A victorious Lewis Hamilton tried to speak a few words in Italian on the Monza podium on Sunday, but there was no winning over the red-capped crowd on the track beneath the McLaren driver.
Djokovic threatens Murray's Grand Slam dream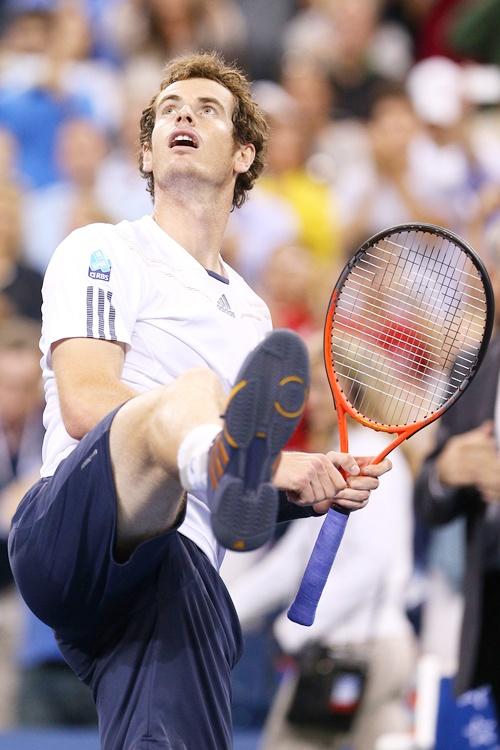 Andy Murray is on the verge of crowning Britain's golden summer by ending one of the longest droughts in sport. Only the formidable figure of Novak Djokovic stands in his way of winning Monday's US Open men's final.
Djokovic hits out at crammed US Open schedule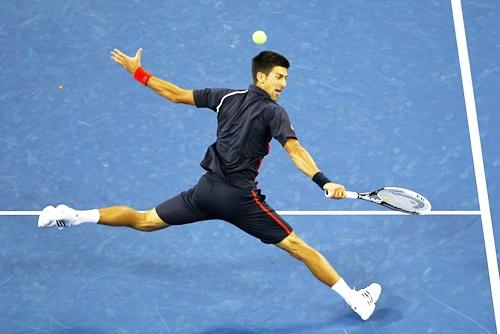 Novak Djokovic was happy to complete his weather-delayed semi-final victory over David Ferrer in sunshine on Sunday but the Serb still lashed out at the US Open's crammed schedule.
Serena underlines her greatness with epic win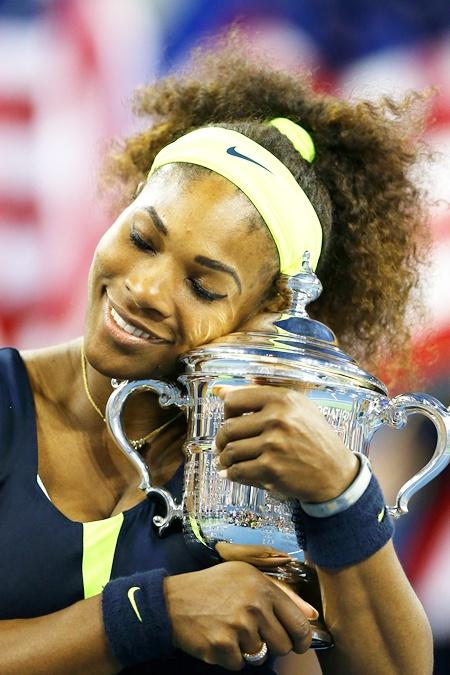 Serena Williams, through sheer force of will as much as her skill with the racket, beat World No. 1 Victoria Azarenka 6-2, 2-6, 7-5 in a dramatic US Open final on Sunday to capture her 15th singles Grand Slam title.
September 09, 2012
Hamilton reigns in Italy, Perez pushes Alonso to 3rd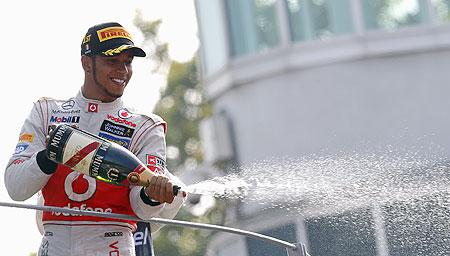 McLaren's Lewis Hamilton added the Italian Grand Prix to his list of Formula One victories on Sunday while Ferrari's Fernando Alonso stretched his overall championship lead to 37 points with third place.
September 08, 2012
Sharapova looking forward to ice cream treat after exit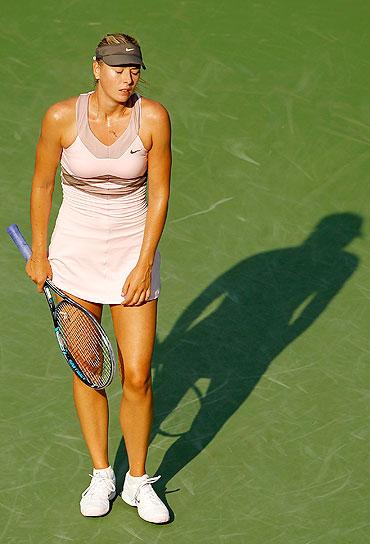 Maria Sharapova was frustrated by her three-set defeat to World No 1 Victoria Azarenka in Friday's US Open semi-final, but the Russian preferred to look on the bright side.
Bryans always bring magic to the court: Paes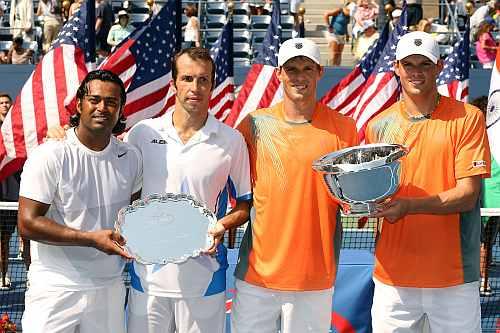 He missed out on a third US Open men's doubles title but Indian tennis star Leander Paes was far from dejected as he insisted that he and his Czech partner Radek Stepanek gave all that they had in the final clash against champions Mike and Bob Bryan.
September 07, 2012
Preview: Women's US Open semis offer classic matchups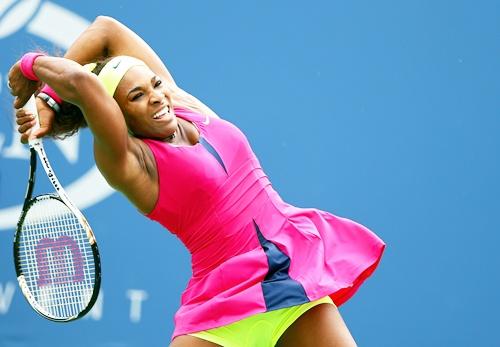 All the ingredients are in place for a classic finish to the US Open women's singles tournament with a stellar cast set to take the court on Friday in semi-final action at the year's final Grand Slam.
Brilliant Djokovic, Ferrer through to US Open semis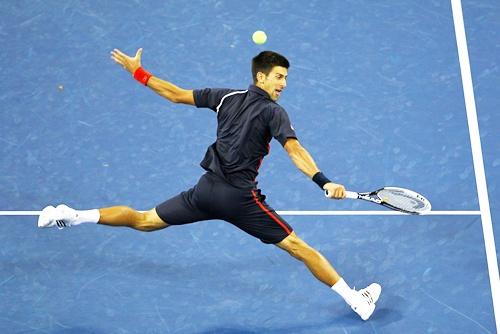 Fourth-seeded Spaniard David Ferrer edged Janko Tipsarevic of Serbia 6-3, 6-7, 2-6, 6-3, 7-6 on Thursday in a see-saw slugfest marked by gutsy, gritty play to reach the semi-finals of the US Open.
PHOTOS: Celebrities hit the US Open courts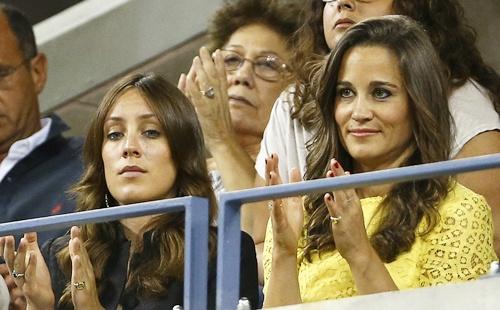 Pippa Middleton watches the men's quarter-final match between Roger Federer of Switzerland and Tomas Berdych of the Czech Republic at the US Open tennis tournament in New York on Wednesday.
September 06, 2012
Paralympics: Former F1 driver enjoys golden day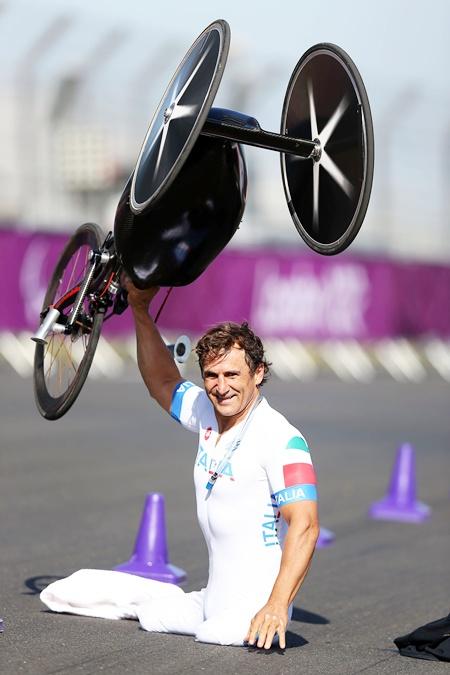 Former Formula One driver Alex Zanardi, who lost his legs after a horrific crash in 2001, enjoyed a golden finale to his 'magical adventure' by winning the Paralympic men's individual H4 handcycling time trial on Wednesday.
Roddick, last link to US tennis supremacy, exits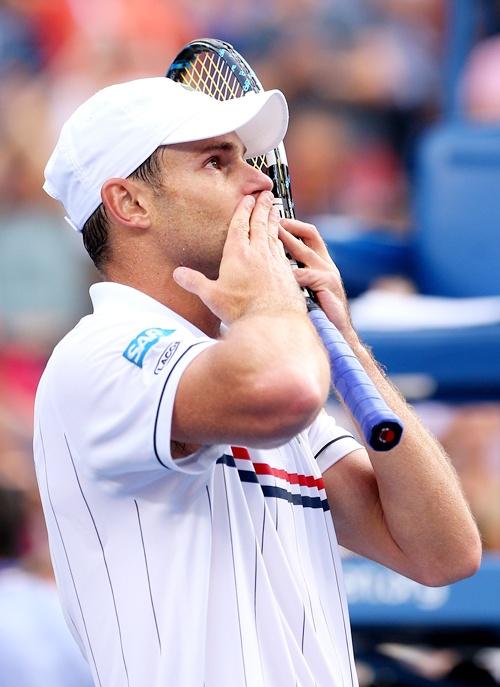 The last American man to win a grand slam and to hold the world number one ranking, Andy Roddick ended his tennis career on centre court at the US Open on Wednesday after an enviable career that still might have left some fans wondering what if.
Vikas looking to learn from Olympics disappointment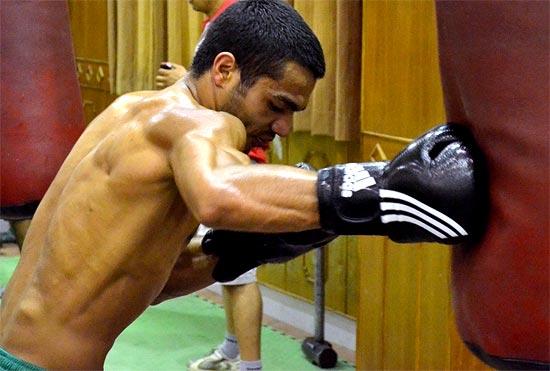 Since the London Olympics, pugilist Vikas Krishan is keeping a low profile. The disappointment of missing out on a medal at the Games lingers in his voice, even though he tries to put up a brave face.
September 05, 2012
PHOTOS: Azarenka, Ferrer advance at rain-hit US Open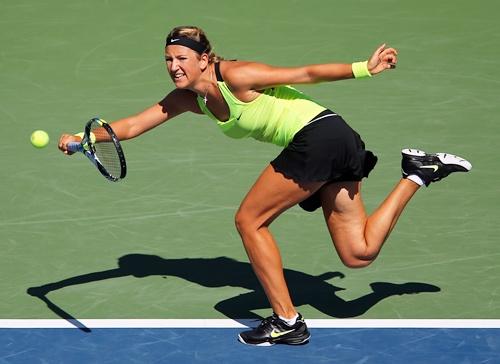 Victoria Azarenka survived a ferocious comeback from defending champion Sam Stosur to reach the US Open semi-finals on Tuesday, as the remnants of Hurricane Isaac played havoc with the schedule and left organisers juggling with a backlog.
We are better than FIFA rankings suggest: Nabi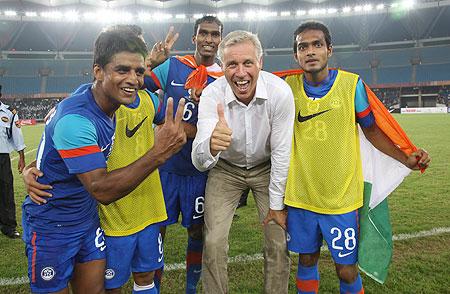 Versatile Indian footballer Syed Rahim Nabi feels their 168th ranking in FIFA chart is not a true reflection of the national team's capabilities.
Ronaldo's 'sadness' at Madrid has teammates surprised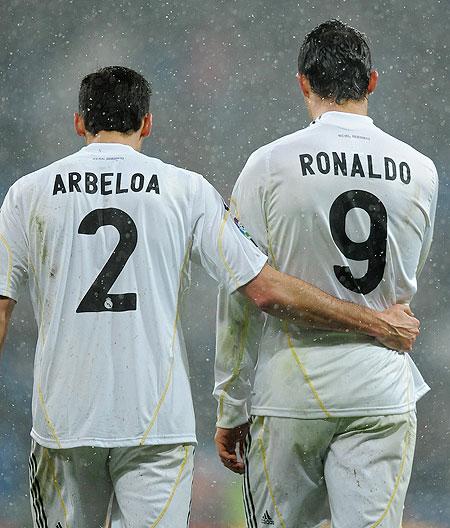 Cristiano Ronaldo's sadness has come as a surprise to his Real Madrid team-mates, defender Alvaro Arbeloa said as he joined up with the Spain squad on Tuesday.
September 04, 2012
US Open: Paes, Sania out of mixed doubles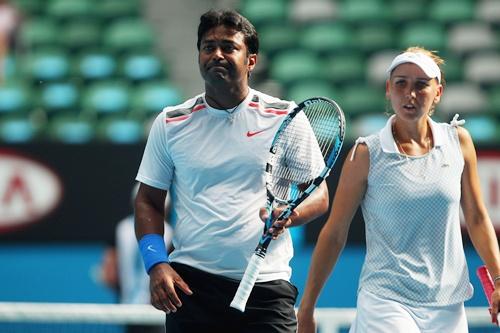 Leander Paes and Sania Mirza, along with their respective partners, crashed out of the mixed doubles event at the US Open after losing in the quarter-finals in New York.
Pistorius shows disabled sport can stand controversy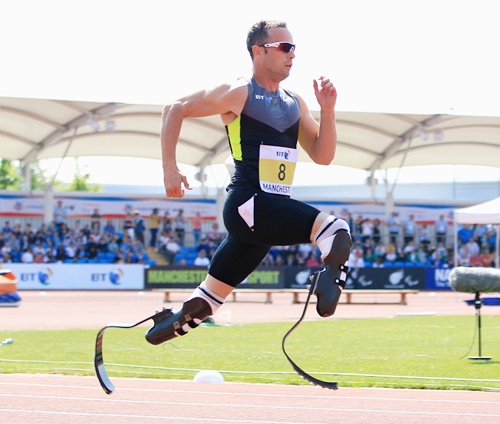 South African "blade runner" Oscar Pistorius has unleashed a debate about disabled sport with an emotional claim that a rival in the T44 200 metres final at the London Paralympics beat him thanks to longer prosthetic legs.
US Open: Murray, Williams and Federer reach quarters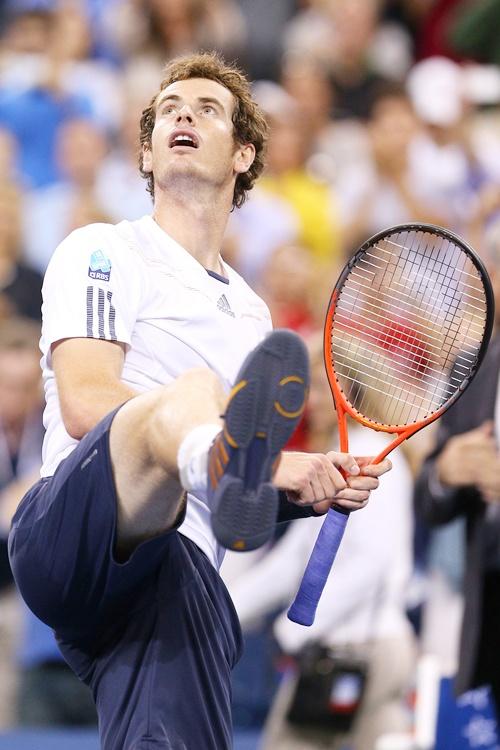 Andy Murray produced a masterclass in tennis to destroy the highly rated Milos Raonic on Monday and book his place in the quarter-finals of the US Open.
September 03, 2012
PHOTOS: Sharapova survives upset bid by Petrova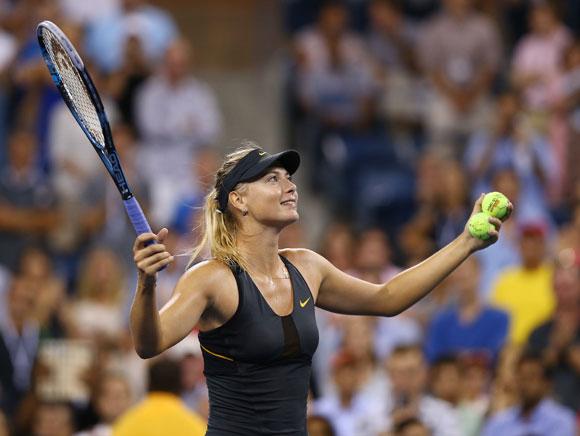 Images from Day Seven of the US Open tennis tournament being played in New York.
'Big release' for Clijsters as career ends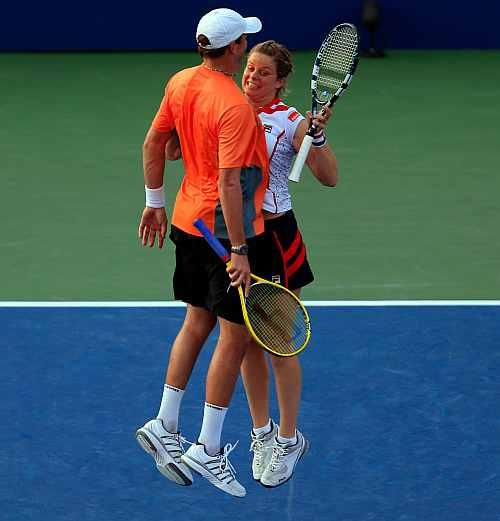 The professional tennis career of Kim Clijsters officially ended on Saturday when the Belgian lost in the second round of the mixed doubles event at the U.S. Open.
September 02, 2012
Photos: Van Persie hat-trick seals win for United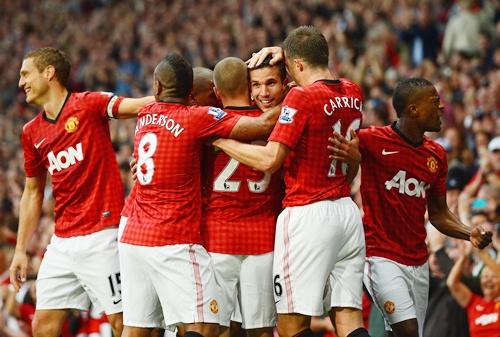 Robin van Persie struck twice late on to complete his hat-trick and seal a dramatic 3-2 victory for Manchester United over Southampton in the Premier League on Sunday.
Hulkenberg records career-best position at Belgian GP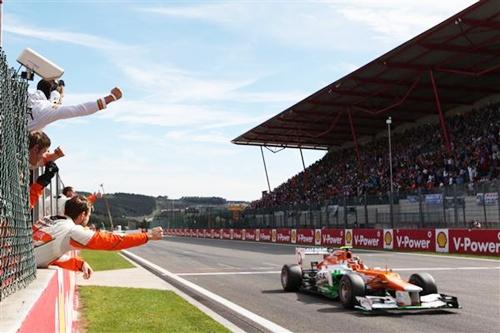 Nico Hulkenberg scorched his way to a career-best fourth place and Paul Di Resta finished 10th as Sahara Force India secured 13 points from theaction-packed Formula One Belgian Grand Prix, at Spa-Francorchamps on Sunday.
September 01, 2012
PHOTOS: Sharapova continues to blaze trail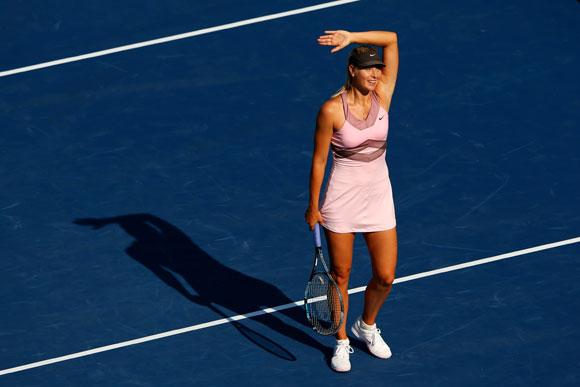 Images from Day Five of the US Open tennis tournament being played in New York.
From prodigy to giant-killer, Robson comes of age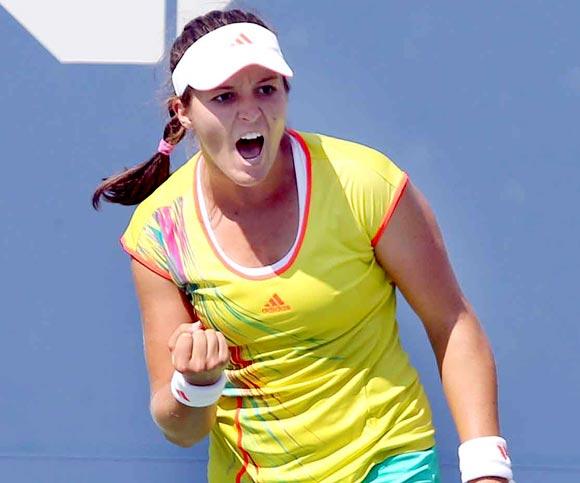 With Virginia Wade the last Briton, male or female, to win a Grand Slam singles title at Wimbledon in 1977, the 18-year-old has to deal with plenty of expectation on her shoulders.
PHOTOS: Paes-Stepanek enter third round of US Open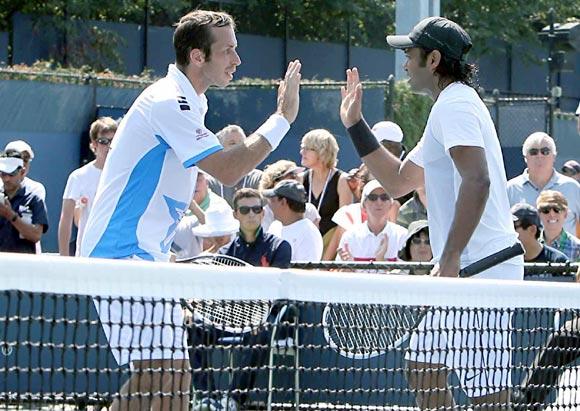 Leander Paes and his Czech partner Radek Stepanek entered the third round of the US Open men's doubles event after getting the better of Brazilians Joao Souza and Thomaz Bellucci.
August 31, 2012
United rely on Van Persie in Rooney's absence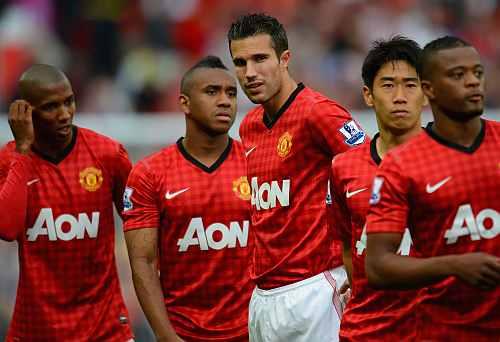 Manchester United will need new signing Robin van Persie to shoulder the goal-scoring burden when they travel to promoted Southampton in the Premier League on Sunday without the injured Wayne Rooney.
Blackburn make record signing, Carroll moves to West Ham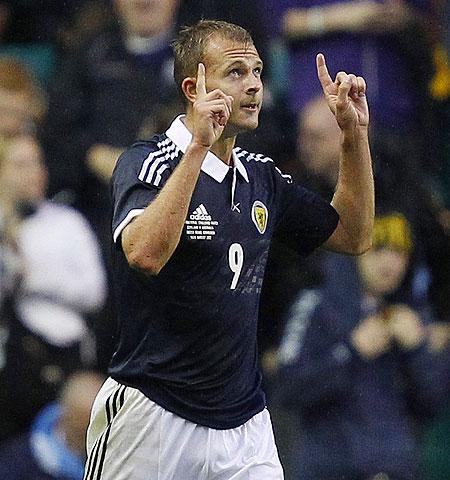 Football transfer news from across Europe.
Chelsea open Champions League title defence against Juve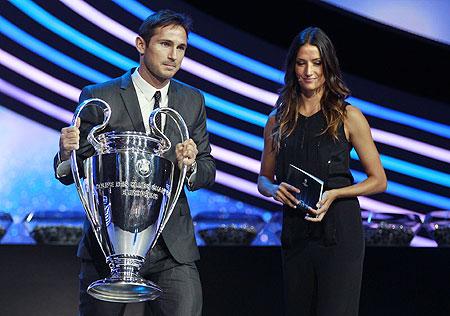 Chelsea will start the defence of the Champions League trophy they won so dramatically last season with a Group E match against former winners Juventus at Stamford Bridge.
US Open: Easy win for Federer; Tsonga, Venus out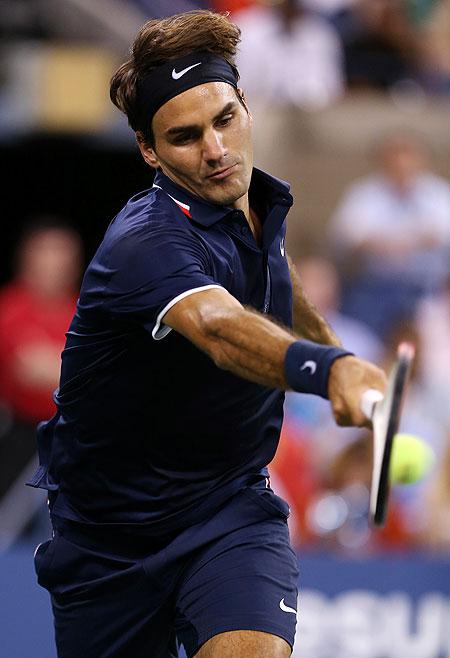 Images from the US Open matches played at Flushing Meadows on Thursday.
Olympic laggard India finally gets ambitious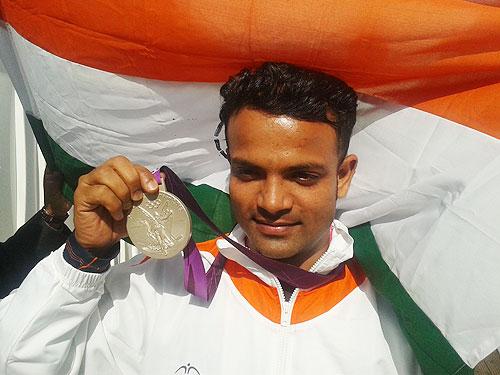 India returned with two silver and four bronze medals from London but there could have been a gold too, had lack of ambition been an Olympic sport.
August 30, 2012
Clijsters proud of herself, signs off with no regrets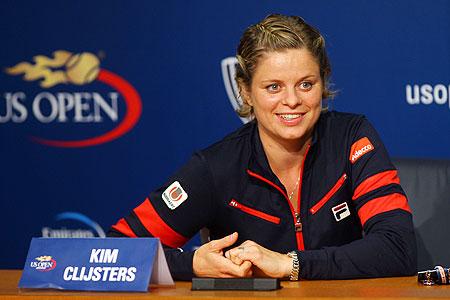 Disappointed but content, Kim Clijsters signed off her singles career with a second-round defeat at the US Open on Wednesday, beaten but unbowed and with the praise of her peers ringing in her ears.
Mary Kom is now Bollywood's muse
India's latest Olympic hero is hoping that a Bollywood movie on her life isn't just about the sweat, tears and grime.
US Open: Clijsters sent out by Brit, Murray cruises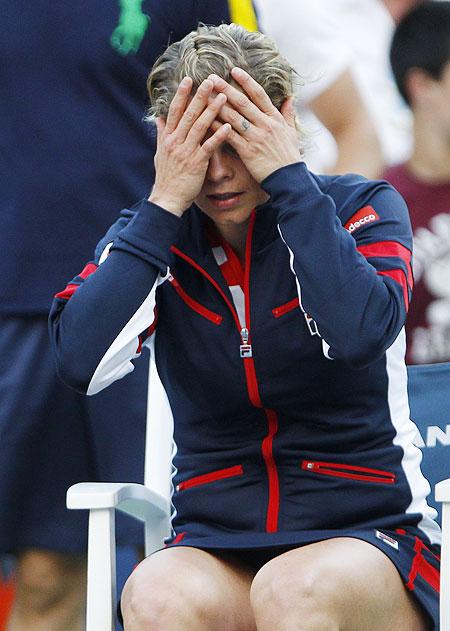 Images from the US Open matches played at Flushing Meadows on Wednesday.
PHOTOS: Real Madrid beat 10-man Barca to lift Super Cup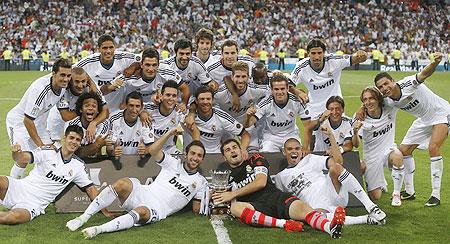 Real Madrid claimed their first Spanish Super Cup in four years and a morale-boosting success against their arch-rivals when Gonzalo Higuain and Cristiano Ronaldo struck in a 2-1 win against 10-man Barcelona on Wednesday.
Hawking says look to stars as Paralympics opens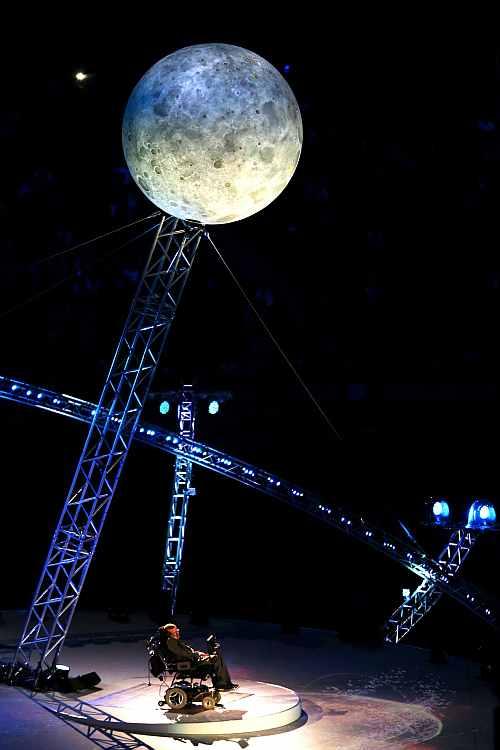 Wheelchair-bound physicist Stephen Hawking challenged athletes to "look to the stars" on Wednesday as he helped open a record-setting Paralympics Games that will run for 11 days in near sold-out venues.
August 29, 2012
Vijay, Dutt conferred with Khel Ratna, Yuvi gets Arjuna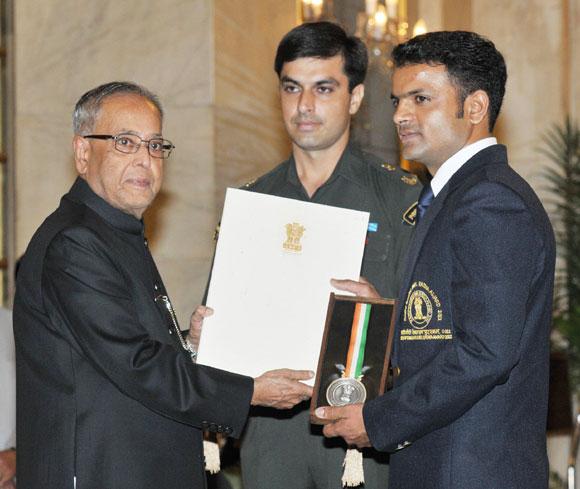 A thunderous applause greeted London Olympic heroes, Vijay Kumar and Yogeshwar Dutt, as they jointly received the Rajiv Gandhi Khel Ratna award - country's highest sporting honour - in a glittering ceremony at the Rashtrapati Bhawan on Thursday.
Mary Kom wants foreign coach for women boxers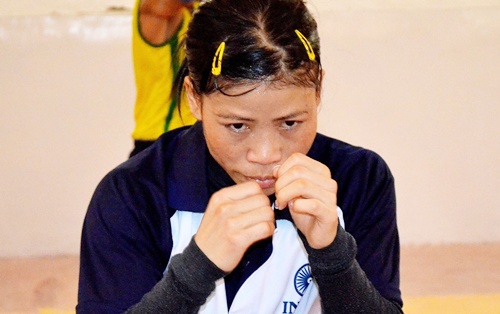 Having done the country proud with her bronze medal-winning feat at the London Olympics, M C Mary Kom declared that training under foreign coaches will be beneficial to the country's women boxers.
Super Serena believes she is No.1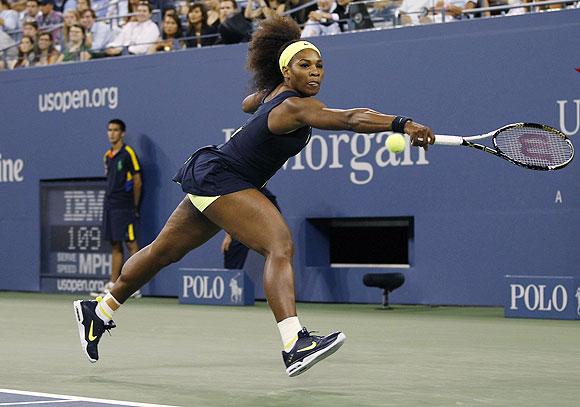 Serena Williams marched into the second round of the US Open on Tuesday and despite being seeded only fourth at Flushing Meadows, the American is in no doubt she is the world's best player.
Krkic announces move to Milan; Dembele for Spurs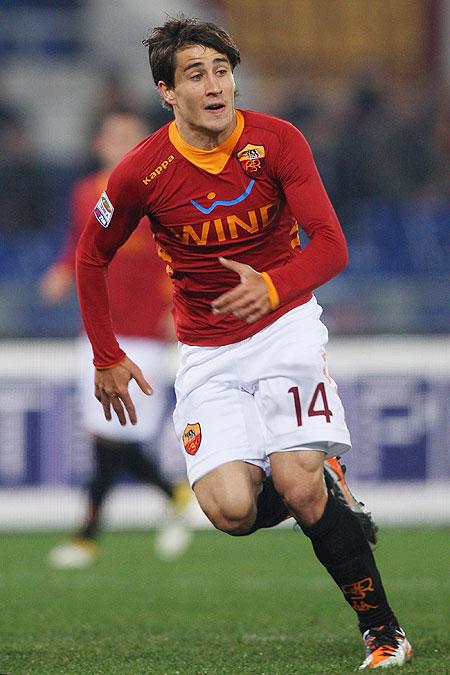 Football tranfer news and speculations from across Europe.
US Open Photos: Djokovic, Serena roll into second round
Images from the US Open mathches played at Flushing Meadows on Tuesday.
August 28, 2012
Stuttering Real seeking Super Cup fillip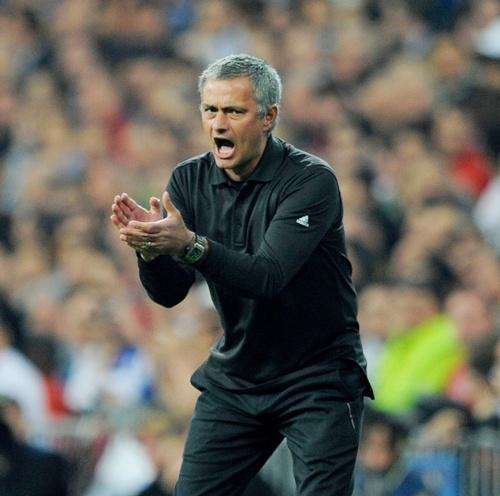 A Spanish Super Cup comeback against arch rivals Barcelona and the arrival of Croatia playmaker Luka Modric may provide the perfect springboard for Real Madrid to kickstart their season.
US Open: Federer, Murray, Sharapova sail into 2nd round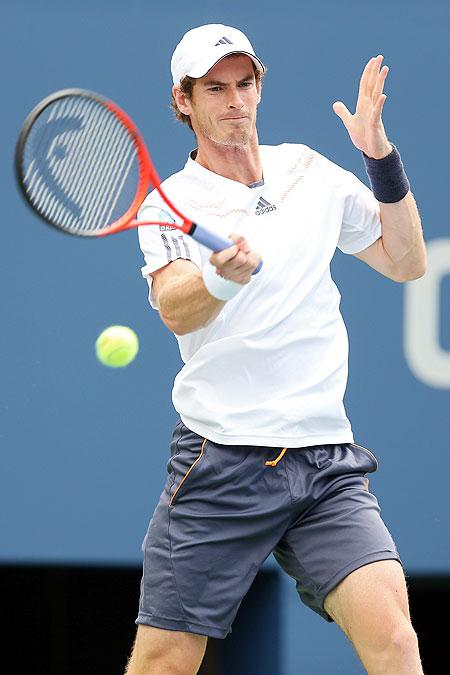 Olympic champion Andy Murray looked to build on his recent success by cruising past Alex Bogomolov Jr. and leading a parade of favourites into the second round of the US Open on Monday.
Fergie's sparing, yet successful Dutch deals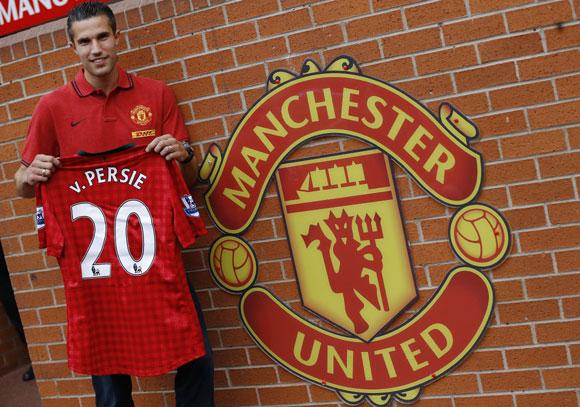 Robin van Persie has announced his arrival at Old Trafford in style. The question is will he make the same impact as Fergie's other Dutch signings?
August 27, 2012
European soccer: Real defeated at Getafe, City hold Reds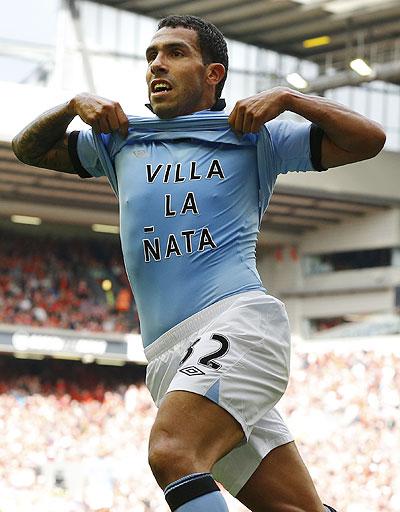 A round-up of European football news over the weekend.
We need to assist athletes at grassroots level: Padukone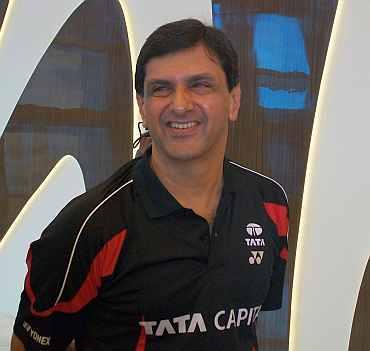 Former All England badminton champion Prakash Psdukone tells Rediff.com's that the focus ahead of the next Olympics should be on winning gold, and not just medals and there should be more support to athletes at the grasroots level.
US Open: Federer takes to court as World No 1 on day 1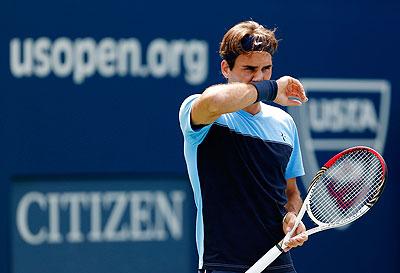 Roger Federer looks to cap an 'incredible' season when he launches his bid for a sixth US Open title against American Donald Young on Monday.
Mistakes cost me dear at the Olympics: Devendro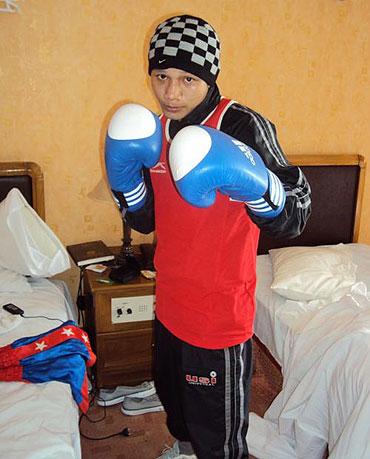 In an interview with , boxer Devendro Singh assesses his performance in London, laments missing out on a medal and promises to win one the next time. Excerpts from the interview.
August 26, 2012
PHOTOS: Van Persie and Hazard net first goals in wins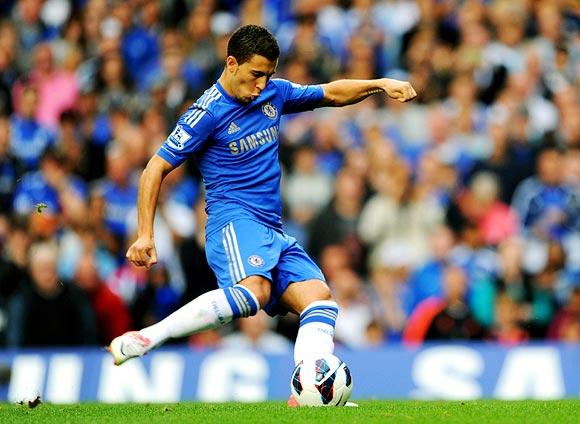 Images from the English Premier League matches on Saturday.
'Don't cry for me', says defiant Lance Armstrong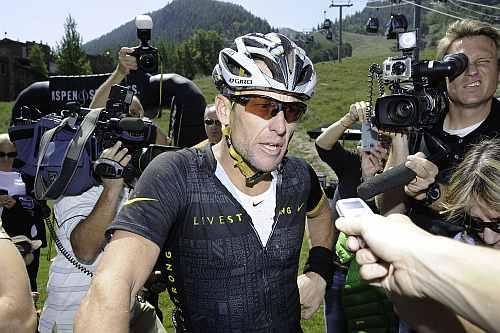 Lance Armstrong was back on his bike on Saturday, urging his supporters not to 'cry' for him a day after the United States Anti-Doping Agency's (USADA) decision to strip his seven Tour de France titles and ban him for life.
Doubt-free Federer chasing more glory at U.S. Open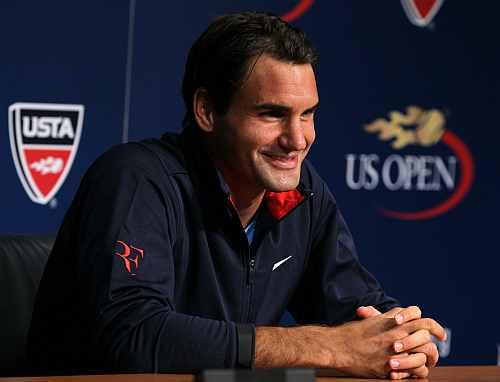 Twelve months ago, Roger Federer went into the U.S. Open with doubts, perhaps for the first time in his career.
August 25, 2012
Armstrong finally loses the will to fight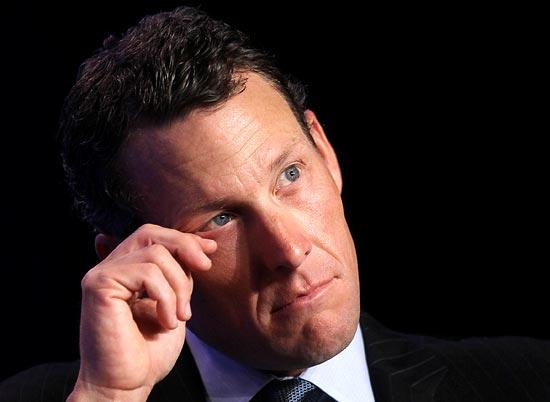 While the American says he is bringing the matter to a close, in truth this may just be the beginning.
August 23, 2012
Indian sports today is looking bright: Gopichand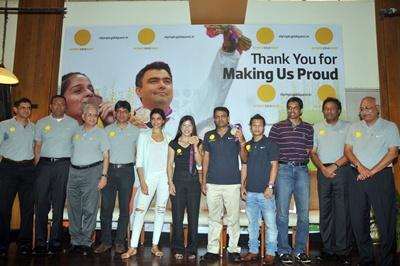 In the wake of India's biggest ever medal haul of six in its Olympic Games history at London, chief national badminton coach Pullela Gopichand on Thursday exuded confidence that the number would be bettered four years later in Rio de Janeiro.
EPL Preview: Wounded Liverpool welcome City's riches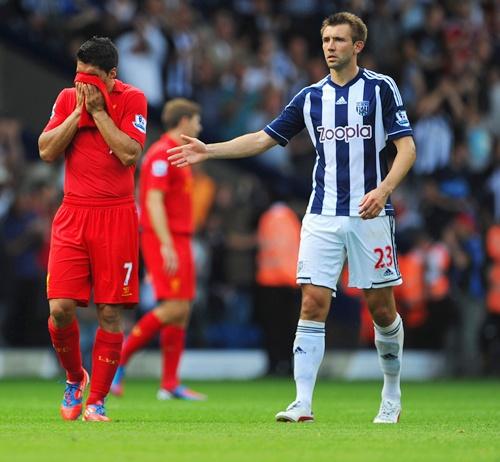 Since the formation of the Premier League two decades ago, Liverpool have been classed as one of the division's "Big Four" but their weakening grip on a place among the true elite was eroded further by a woeful start to the new campaign.
August 22, 2012
Mourinho, Vilanova face-off as Barca defend Super Cup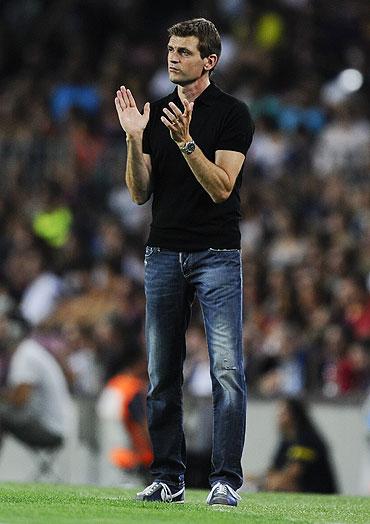 Tito Vilanova was still Pep Guardiola's Barcelona assistant when he hit the headlines last August after Real Madrid coach Jose Mourinho jabbed him in the eye during a touchline scuffle in the Spanish Super Cup.
August 21, 2012
PHOTOS: EPL, La Liga weekend action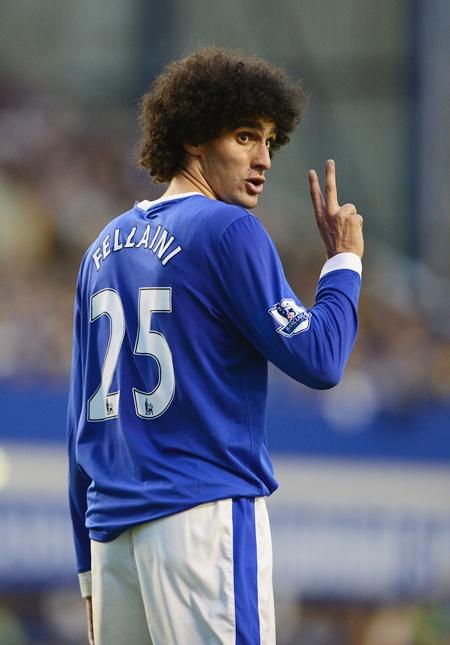 Everton stunned Manchester United 1-0 thanks to a bullet header in the second half by Marouane Fellaini when both teams got their Premier League campaigns underway on Monday.
August 20, 2012
La Liga: Messi, Villa fire Barcelona to 5-1 win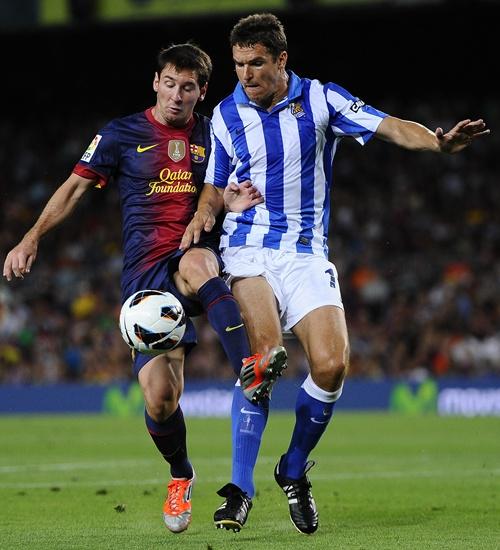 Lionel Messi's double and a David Villa goal on his return form injury helped Barcelona hammer visitors Real Sociedad 5-1 to give new coach Tito Vilanova the perfect start to their La Liga campaign on Sunday.
August 18, 2012
President felicitates Olympic medal winners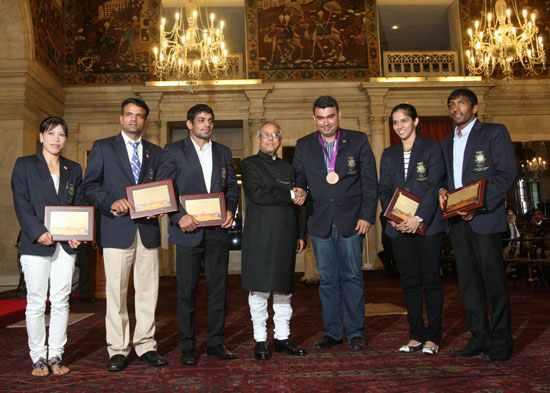 President Pranab Mukherjee on Saturday congratulated India's Olympic medal winners at a felicitation ceremony at the Rashtrapati Bhavan.
August 17, 2012
Varied emotions of athletes as Olympic success sinks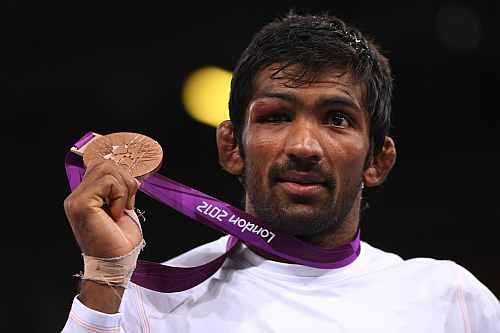 Gagan Narang's nightmare is over, Yogeshwar Dutt too doesn't need to live with the feeling of being an Olympic failure, while for Saina Nehwal the ghosts of Beijing have finally been exorcised.
Life gets golden for Olympic champs Douglas, Wieber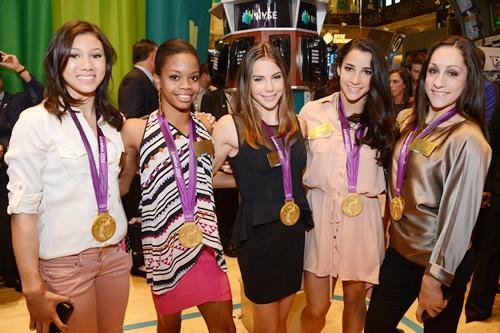 When US gymnasts Gabby Douglas and Jordyn Wieber captured gold at the London Olympics, each achieved a lifelong dream, but it was just the opening act for two teenagers who haven't ruled out the 2016 Rio Games or even careers in show business.
Winning Slams is Sania's motivation after Olympics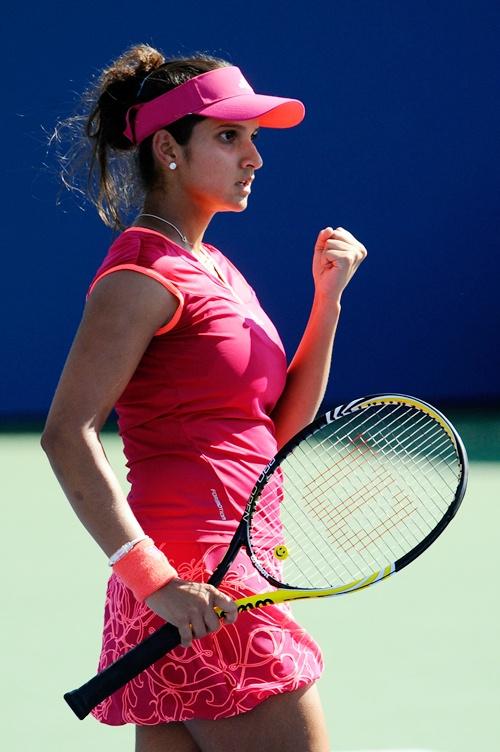 Winning an Olympic medal may remain an unfulfilled dream for Sania Mirza but the Indian tennis ace is not losing sleep over it and would continue to push her battle-hardened body to win one or two Grand Slam titles before ending her career.
August 16, 2012
Messi scores as Argentina win; Belgium stun Dutch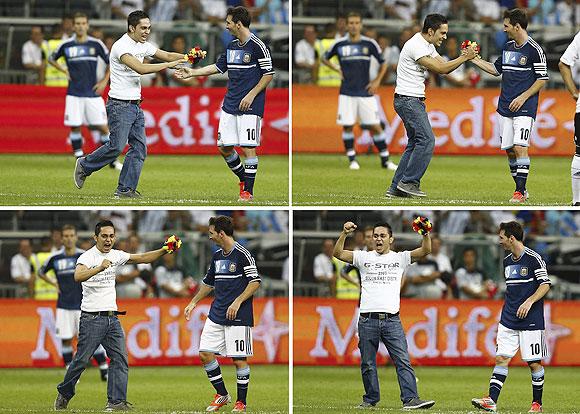 Lionel Messi scored and missed a penalty in Argentina's 3-1 win in Germany and Belgium stunned Netherlands 4-2 as a flurry of new coaches and debutants cut their international teeth in friendlies on Wednesday.
August 15, 2012
Relieved to get an Olympic medal: Yogeshwar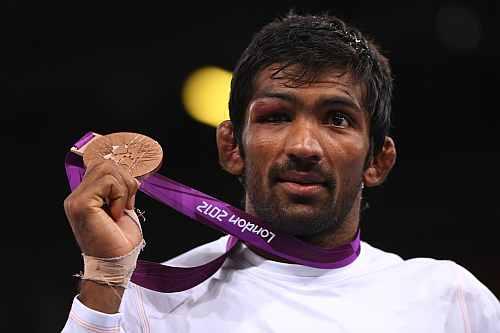 Having realised his dream of winning a medal at the Olympics, star grappler Yogeshwar Dutt says, he would now be able to "sleep soundly" after having "sleepless nights" since Beijing Olympics where he lost in quarter-finals in the last 10 seconds.
Special One Mourinho now wants to be the Only One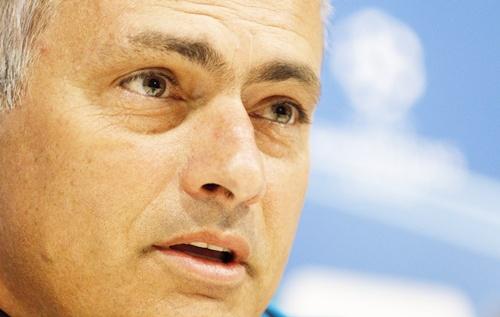 Real Madrid's Jose Mourinho said that he should be labelled the "Only One" instead of the 'Special One', after becoming the only coach to win the top three leagues in European football.
August 14, 2012
We could play 30-35 percent of our potential: Chetri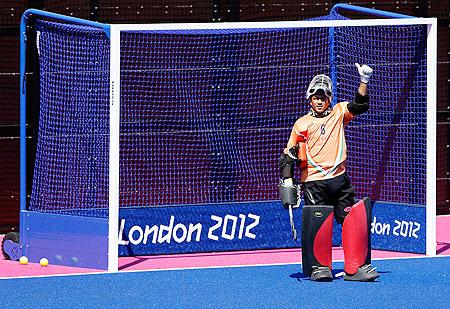 India captain Bharat Chetri doesn't want to point fingers at any individual for the hockey team's disastrous outing at the Olympic Games, instead he is forthcoming in accepting the blame and said the former champions could only play upto "30-35 percent" of their potential in London.
PIX: Tears, smiles by the billion at London Games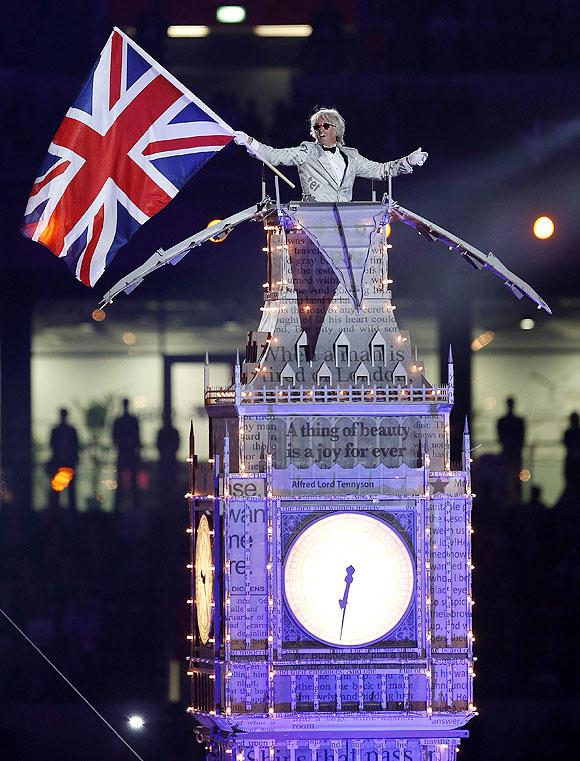 Fourteen billion dollars goes a long, long way; it would buy you three US aircraft carriers or six NASA rover missions to Mars.
Confusion and lack of movement cost me semis: Mary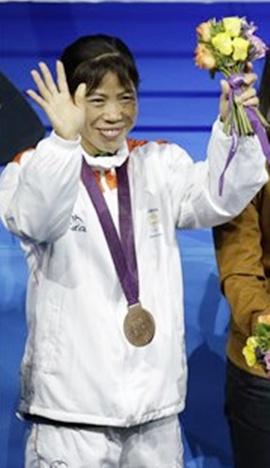 She is over the moon after becoming the first Indian woman boxer to clinch an Olympic medal but bronze is not the colour for M C Mary Kom, who feels she could have finished higher on the podium had it not been for the "confusion" that gripped her during her semifinal bout.
Family awaits Olympic champion Sushil Kumar's return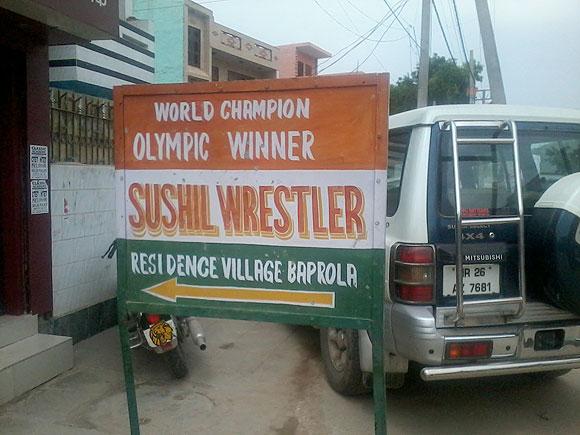 The excitement has been palpable as relatives, neighbours and friends of Olympic medal winner Sushil Kumar, who won Silver medal in the 66 kg men's freestyle wrestling on the final day at London Olympics.
What went wrong with the Indian hockey team at London?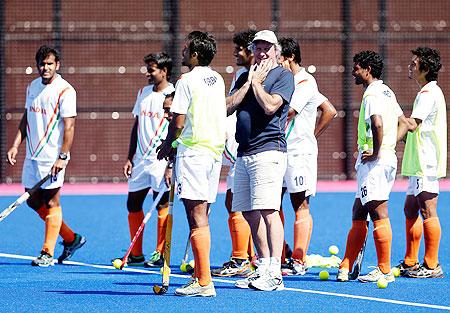 Bikash Mohapata analyses the Indian Hockey team's disastrous performance with former India players Joaquim Carvalho and M M Sommaya.
The Losers of London Games 2012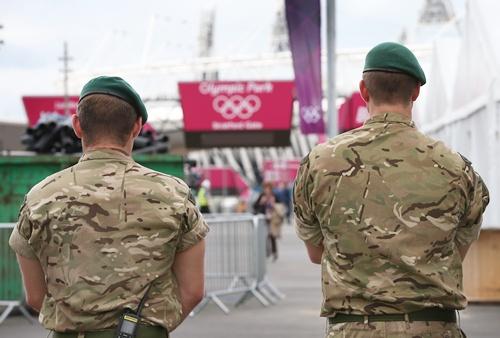 Every Olympic Games has its winners and losers, not just among the athletes and competing nations, who stand out from the crowd and take the praise or punishment as the host city steps into the limelight.
August 13, 2012
Warne wants Bolt for Big Bash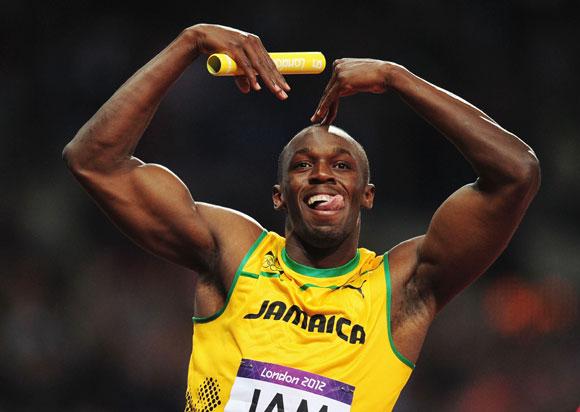 Usain Bolt could repackage himself as a big-hitting cricketer in Australia's Big Bash League after defending his sprint double at the London Olympics, local media reported on Monday.
Not so easy as it looked for US men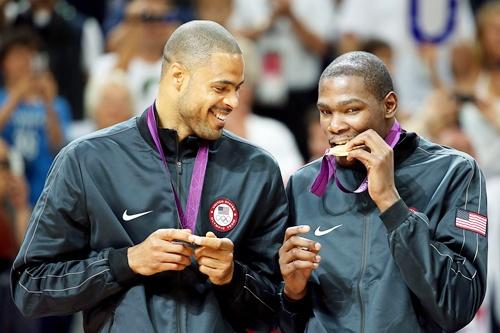 The US men's and women's basketball teams made their expected sweep of London gold but it was not an open and shut case for the NBA stars in a tough test in the gold medal game against a polished Spain team.
KEY FACTS: London Olympic Games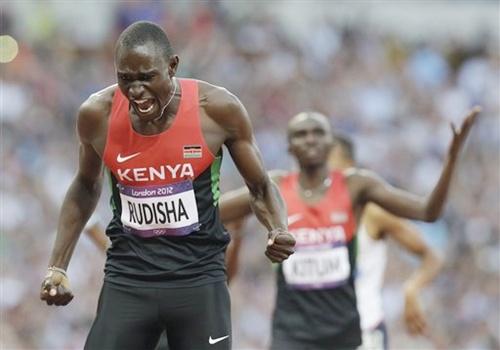 A look at some key facts from the London Olympic Games.
Best quotes from the London Olympics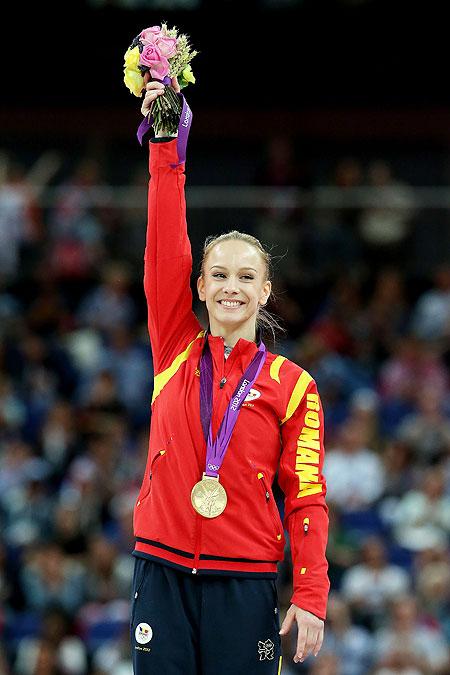 A selection of the best quotes from across all sport at the London 2012 Olympic Games.
Happy and glorious, London signs off in style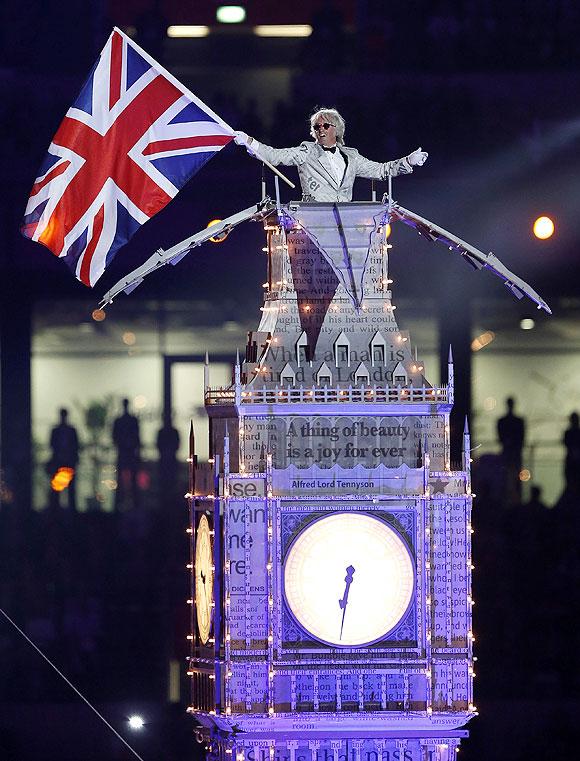 A celebration of British music, recognition of those who have contributed to the success of the Olympics Games and the resurrection of influential figures in British history were at the centre of a spectacular Closing Ceremony as London brought the Olympic Games to a fitting climax.
The WINNERS of London Games 2012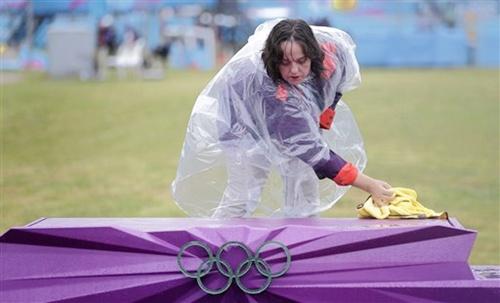 Every Olympic Games has its winners and losers, not just among the athletes and competing nations, who stand out from the crowd and take the praise or punishment as the host city steps into the limelight.
PHOTOS: Colourful party brings curtain down on Games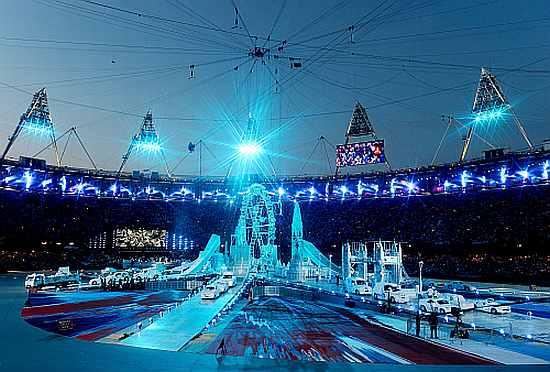 London said farewell to the Olympic Games on Sunday with a high-octane romp through British pop music, bringing the curtain down on more than two weeks of action at the end of which the United States topped the sporting world with 46 gold medals.
Girl power carries US back to top of medal table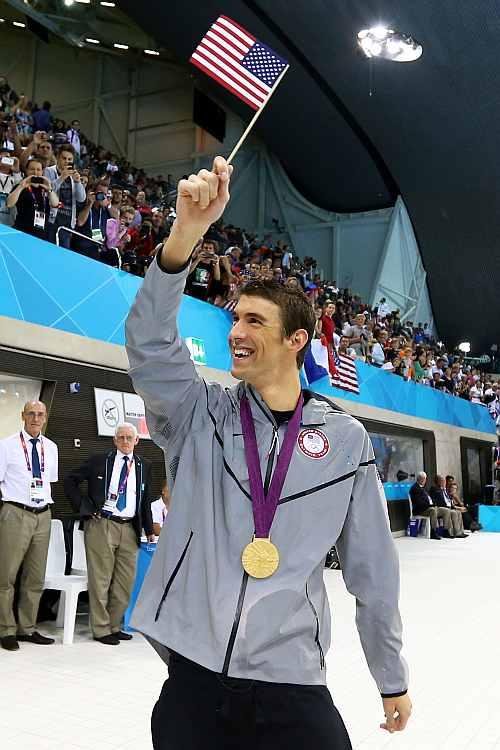 The United States clawed back to the top of the Olympic medal table at the London Games, waving goodbye to Michael Phelps its greatest ever medal producer, and saying hello to a brigade of young newcomers who will carry the torch onto Rio.
August 12, 2012
PHOTOS: Gold medal winners on Day 16 of the Games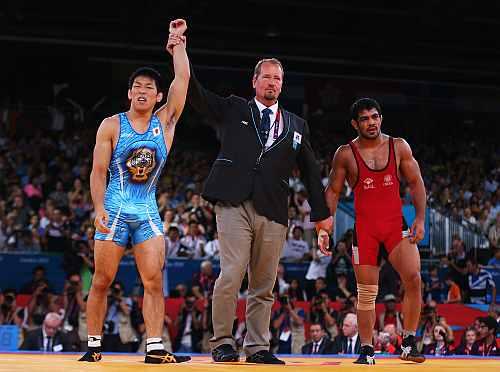 A look at the gold medalists on Day 16 of competition at the London Olympics on Sunday.
Happy to deliver, even though medal was silver: Sushil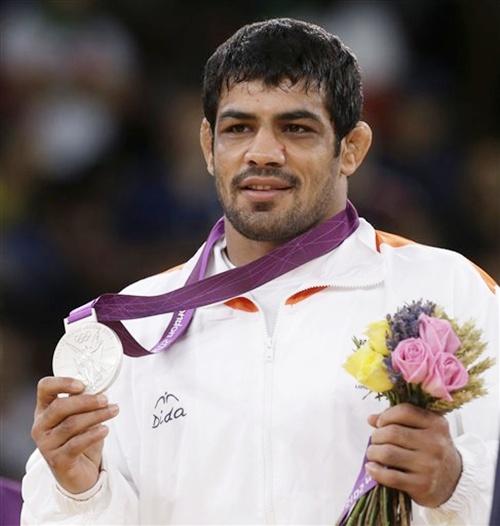 Sushil Kumar fell short of winning a gold medal at the London Olympics by a whisker, but firmly etched his name in the Games' history as the first Indian to win medals at successive Olympics.
Bolt, Farah steal the honours at the London Games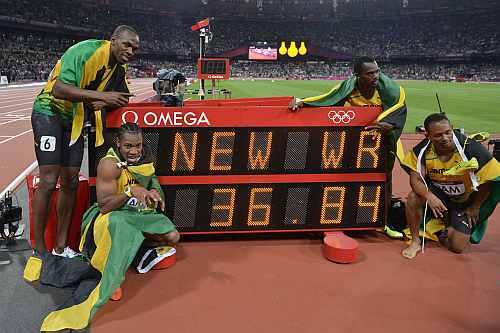 As in Beijing 2008 so now at the London 2012 Olympic Games, the final night of athletics at the Olympic Stadium belonged to Usain Bolt on Saturday.
We can get 25 medals in 2020 Games: Maken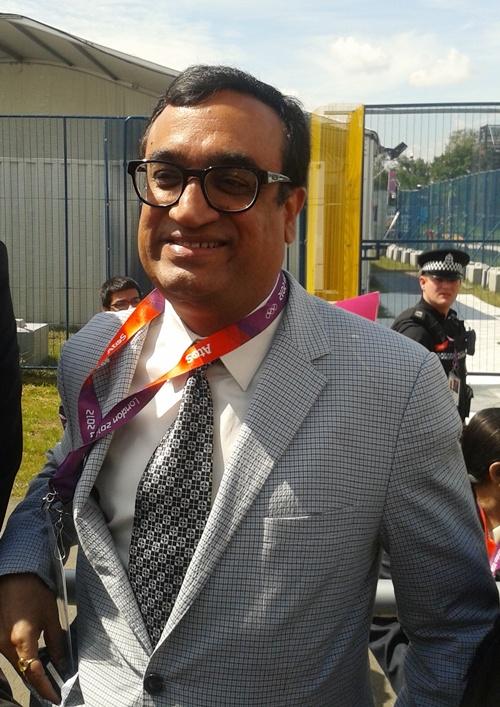 India would be returning with its best ever medal haul in the Olympics from London, though without a gold in its kiity, prompting Sports Minister Ajay Maken expressing satisfaction with the performance of the athletes and hoping that the country can win 25 medals in 2020 Games.
Brilliant Sushil assured a medal with final entry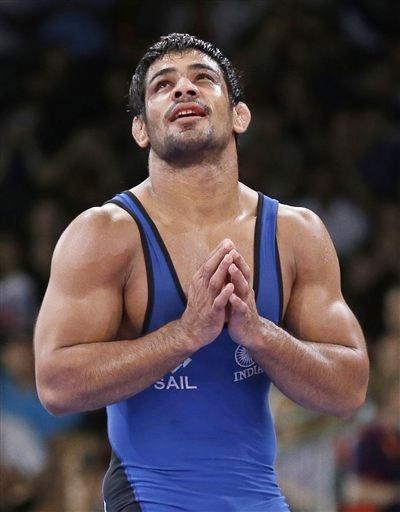 Star wrestler Sushil Kumar created history on Sunday as he scripted his name as India's best-ever individual Olympian by assuring at least a silver medal in the London Olympics by entering the finals of the 66kg class on Sunday.
Photos: Braving pain for Olympic glory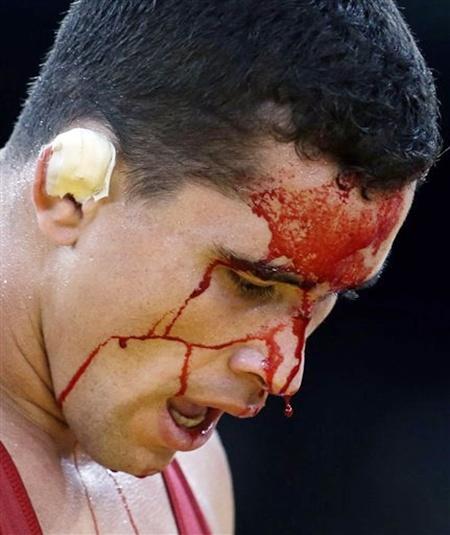 Venezuela's Ricardo Antonio Roberty Moreno is injured during his match against Guinea-Bissau's Augusto Midana during a 55-kg men's freestyle wrestling competition.
PHOTOS: Third gold for Bolt as Jamaica win 4x100 with WR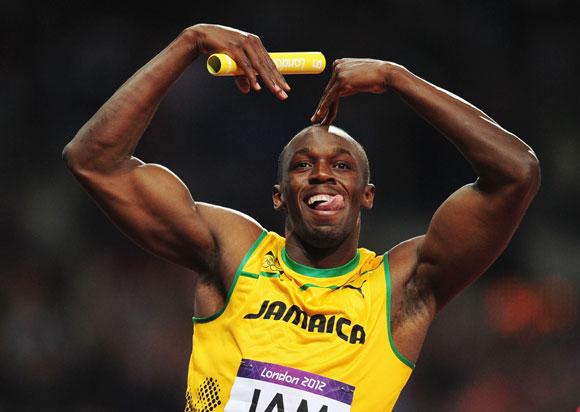 Usain Bolt gets 3rd gold of London Olympics as Jamaica wins 4x100, sets world record.
Grappler Yogeshwar Dutt clinches bronze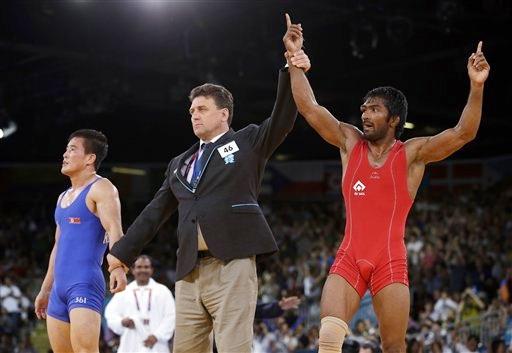 Yogeshawar Dutt clinched a bronze medal at the Olympic Games after beating North Korea's Jong Myong Ri 3-1 in the 60kg freestyle play-off for the medal at the ExCel arena in London on Saturday.
August 11, 2012
Football: Peralta double helps Mexico shock Brazil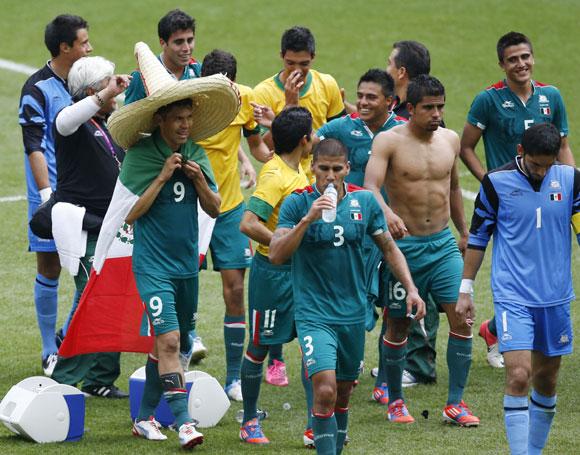 Oribe Peralta scored just 29 seconds into the Olympic final and added another goal in the second half to help Mexico stun Brazil 2-1 Saturday and win its first gold in football.
PHOTOS: Gold medal winners on Day 15 of the Games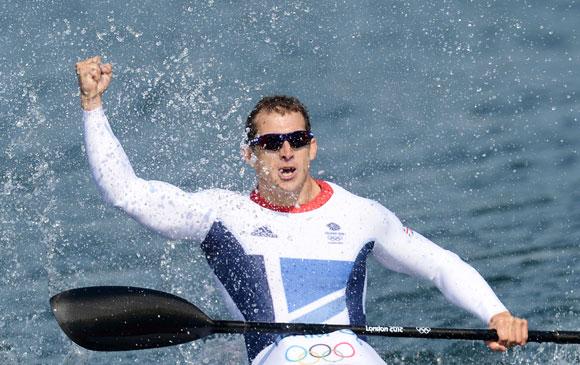 A look at the gold medalists on Day 15 of competition at the London Olympics on Saturday.
Boxers disappoint, but Mary saves India the blushes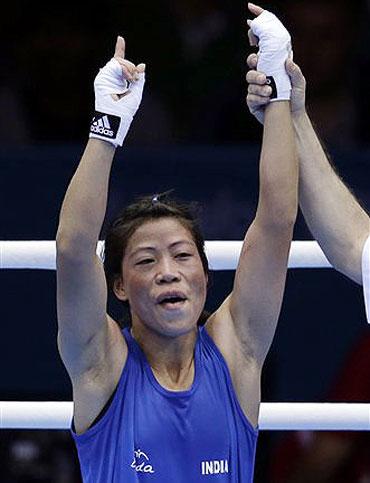 India's boxers came to London with the promise of delivering a gold medal at the 2012 Olympics, but all hopes were ground to dust as they failed. Woman boxer MC Mary Kom saved the blushes by finishing with a bronze on debut.
We're not good enough to play in Olympics: Chetri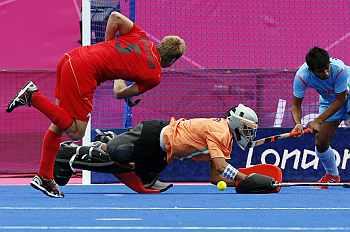 India's disastrous hockey campaign in the London Games ended with a humiliating bottom spot finish out of 12 competing nations, and it prompted a dejected skipper Bharat Chetri to say that the former champions were not good enough to play at a big stage like the Olympics.
Archers insulted Limba during Olympics: Source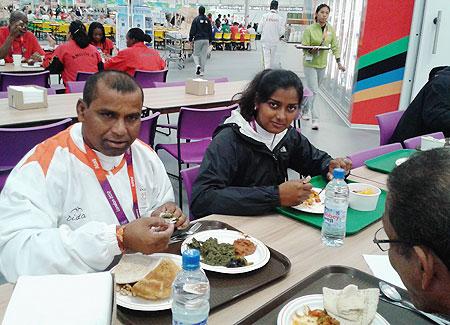 India's archery coach Limba Ram made a quiet exit from the national team not just because of the country's dismal Olympic performance but also after being allegedly insulted by his top wards Deepika Kumari and Jayanta Talukdar, who denied the accusation.
The Who, Spice Girls set to rock Olympic closing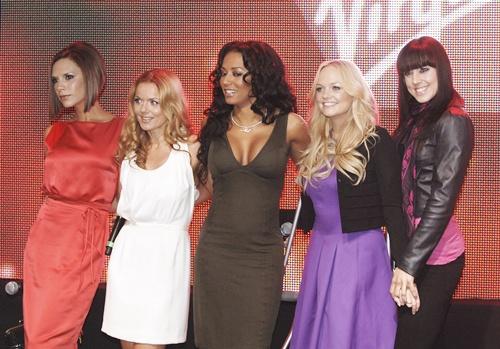 Get ready for a star-studded spectacular: Olympic Stadium is being transformed into a giant jukebox of British pop and pizazz for the closing ceremonies of the London Games.
Women's boxing looks to grow after Olympic debut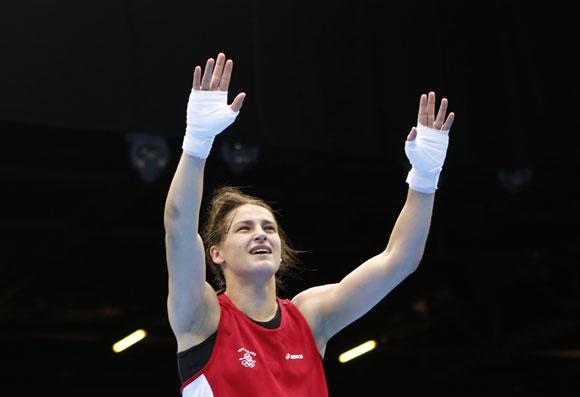 Women's boxing was a big hit in its first Olympics.
Photos: Trainers day out!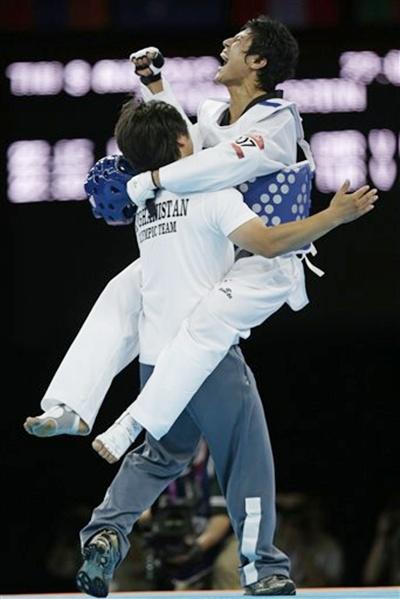 Coaches act as mentors, parent figures to the athletes. Under their guidance an athletes' career is enabled.
Beijing loss still rankles Saina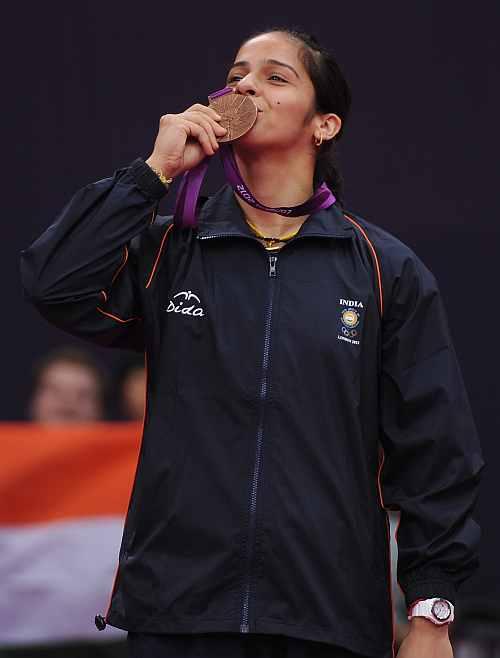 Her bronze medal in the London Olympics has sent India into a state of frenzy, but her shocking quarterfinal defeat in her maiden appearance at the mega event in Beijing four years ago, still rankles shuttle queen Saina Nehwal.
PHOTOS: US breaks 27-year-old record in women's 4x100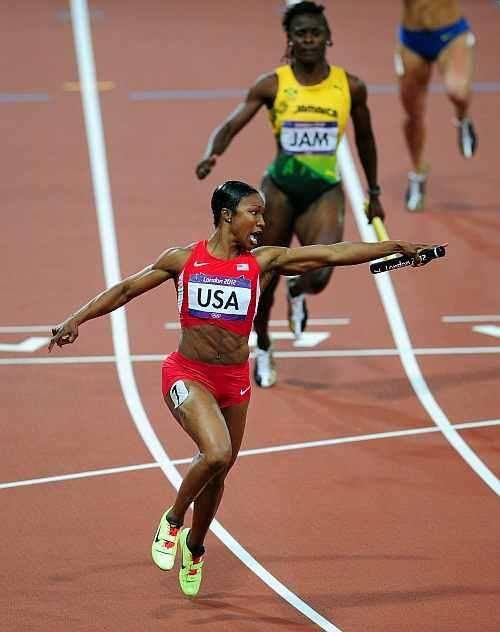 Pointing the baton at the clock showing the world-record time of 40.82 seconds, Carmelita Jeter anchored the United States on Friday night to its first Olympic gold medal in the women's 4x100-metre relay since 1996.
August 10, 2012
PHOTOS: Gold medal winners on Day 14 of the Games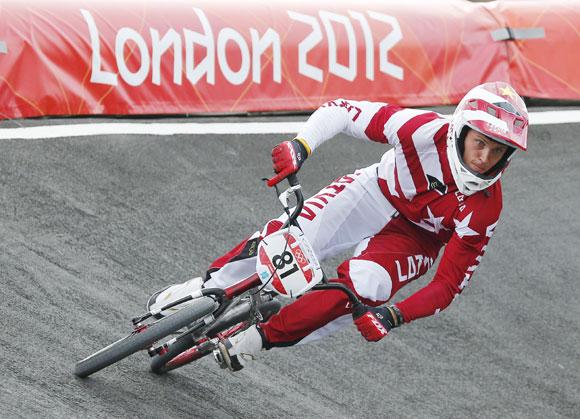 A look at the gold medalists on Day 14 of competition at the London Olympics on Friday.
PHOTOS: Memorable moments from London Games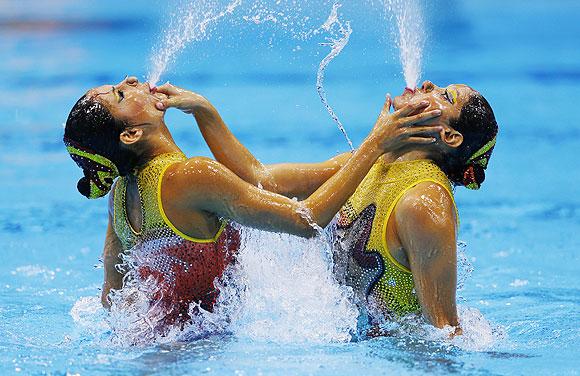 A look at some memorable moments from the London Olympics so far.
Rudisha plots 400m fun run against Bolt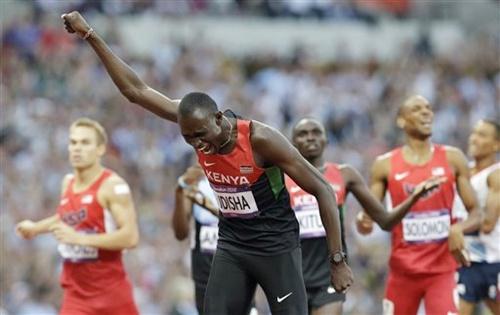 David Rudisha lit up Thursday evening with an 800m World record but despite running one of the great Olympic races, he was eclipsed an hour later when Usain Bolt took to the track.
Is Bolt the 'legend' he claims to be?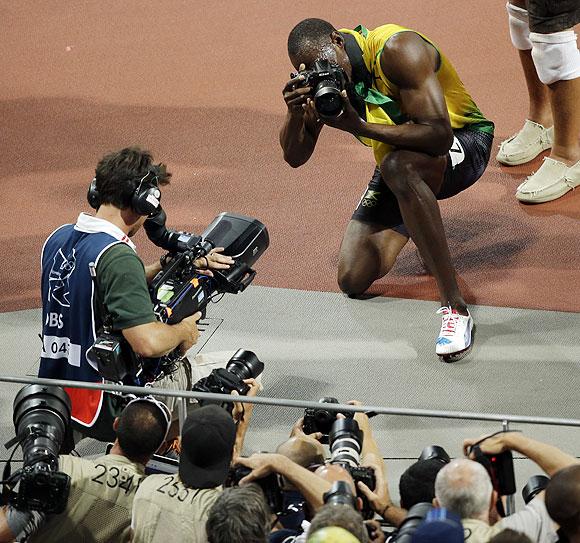 'Legend'. A small word, but with such weight of meaning. Usain Bolt bandied it around a lot before the London Olympics, saying these would be the Games where he wanted to become one. He did. But not solely for the reasons he thinks.
Yohan Blake reveals cricket is his first love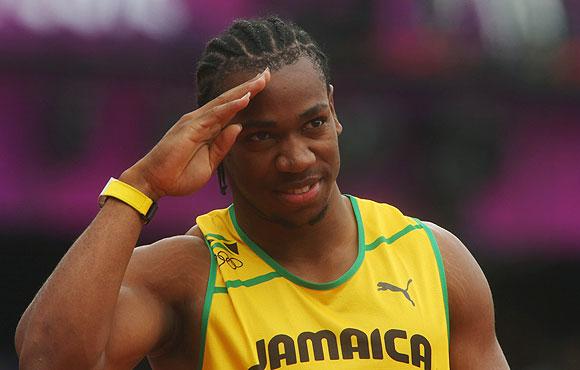 He gave Usain Bolt a mighty scare on the track in both the 100 and 200 metres at the London Olympics but Yohan Blake surprised all his fans by saying that 'cricket is his first love'.
Upset Bolt has 'lost all respect for Carl Lewis'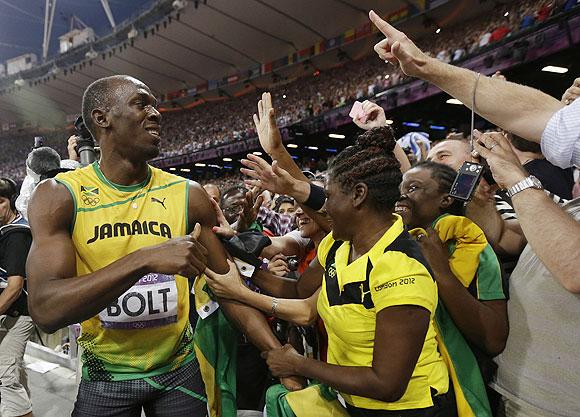 Usain Bolt took a momentary break from basking in his historic Olympic sprinting double to fiercely criticise former US athlete Carl Lewis.
It takes more than gold to make a hero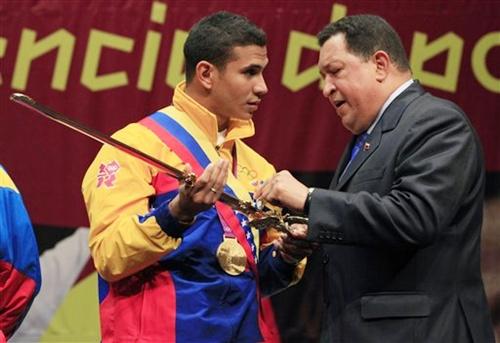 When fencer Ruben Limardo set off for the London Olympics, he little imagined that he would be cheered through the streets of the Venezuelan capital Caracas on top of a truck on his return, and honoured by the president.
PHOTOS: Bolt does back-to-back sprint double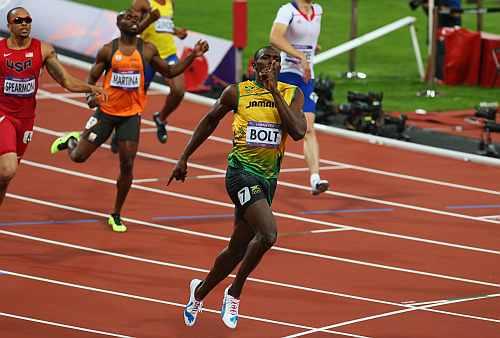 Usain Bolt won the 200 meters in 19.32 seconds Thursday night to become the first man with two Olympic titles at that distance.
August 09, 2012
PHOTOS: Another frustrating day for India at Games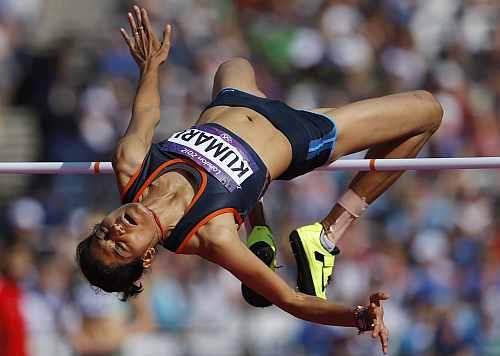 High jumper Sahana Kumari and wrestler Geeta Phogat were eliminated before making any serious attempt to climb the medal podium as India drew a blank on Day 13 of the Olympic Games.
PHOTOS: Gold medal winners on Day 13 of London Games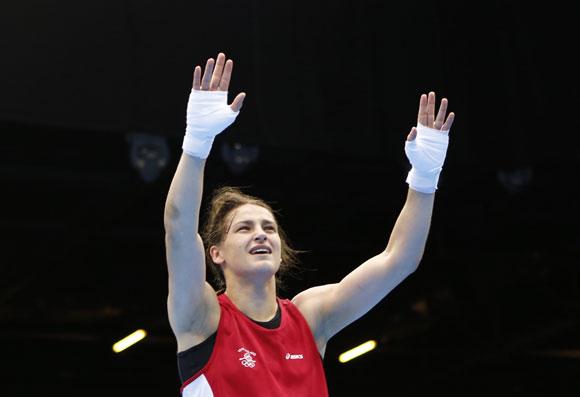 A look at the gold medalists on Day 13 of competition at the London Olympics on Thursday.
Sardar should be inspiration for players: Nobbs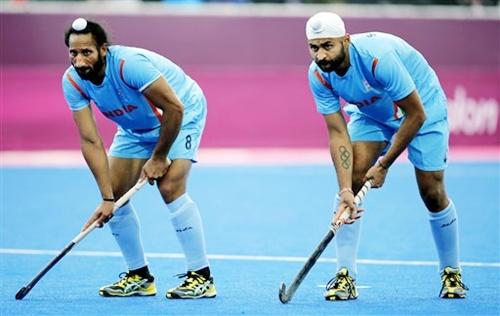 India's hockey players have a role model within their ranks and should look at play-maker Sardar Singh for inspiration, says coach Michael Nobbs.
Inconsistent judging affected morale: Vijender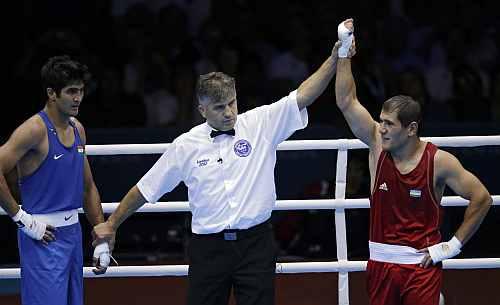 Heartbroken after missing out on what would have been his second successive Olympic medal, star Indian boxer Vijender Singh said inconsistent judging affected the morale of Indian pugilists who drew a blank at the mega-event in London.
'New format encouraged match-fixing in badminton'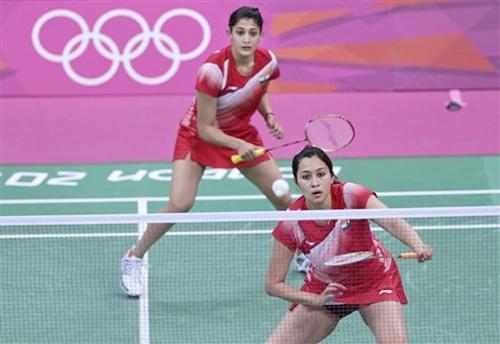 Ace shuttler Ashwini Ponappa is still in disbelief over her early exit from the Olympics and criticised the new round-robin format which according to her encouraged 'match-fixing' at the London Games.
'No medal but this was our best Olympic performance'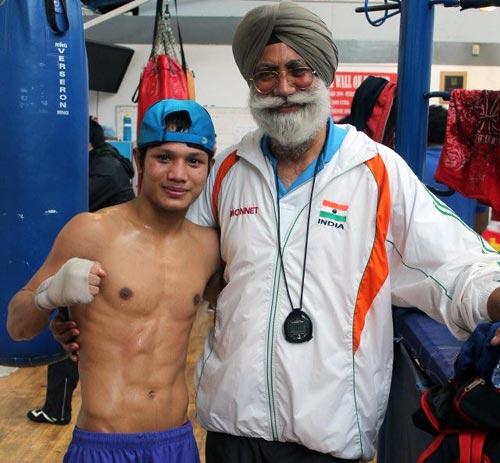 India's much-hyped male boxers might have drawn a blank in the London Olympics but national coach Gurbaksh Singh Sandhu insisted that the country's pugilists gave their "best performance" in the quadrennial sporting spectacle.
Olympic spirits flowing as athletes hit clubs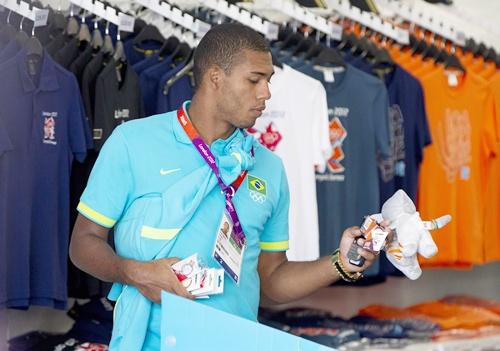 With some events over, Olympians are being wooed by London nightclubs offering free entry and drinks, with one even treating gold medallists to a 2,012 pound ($3,150) cocktail.
Doing the swimming 'double'... without much trouble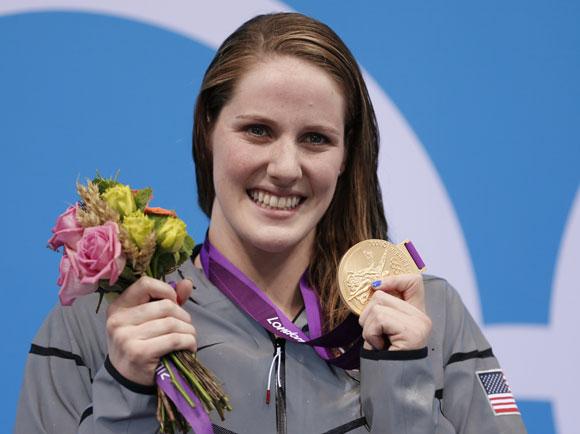 Rediff.com takes a look at those swimmers who achieved the double without much trouble.
200m win caps a golden night for Felix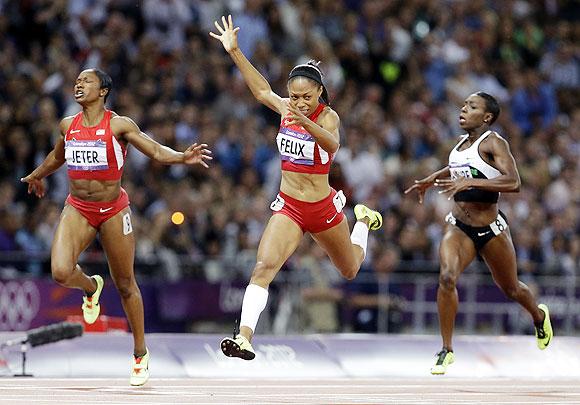 Allyson Felix finally won an individual Olympic gold medal, gliding home with her seemingly effortless stride to take the 200-meters title and break Veronica Campbell-Brown's stranglehold on the event.
Can Blake burst Bolt's double bubble?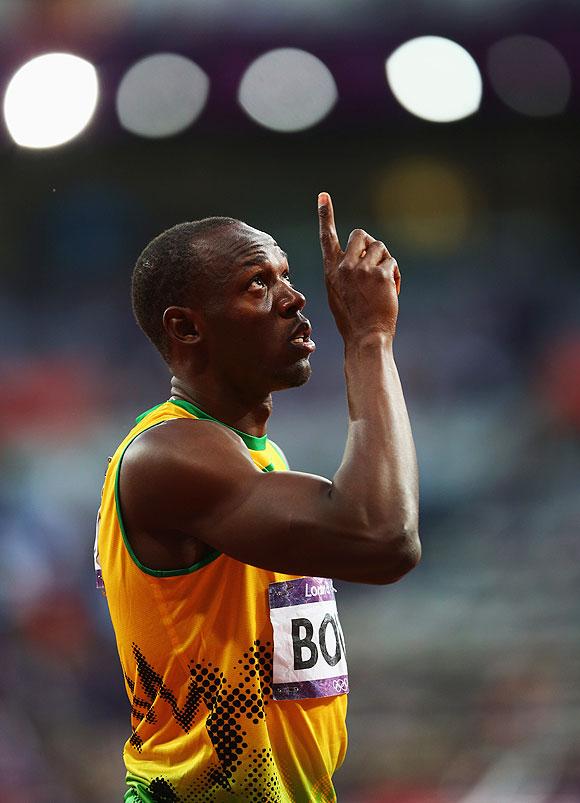 Even when he slows to a jog, Usain Bolt is as fast as he needs to be. His sidekick, Yohan Blake, is looking like the closest thing there is to a true challenger. Is there anyone in the Olympic 200-metre final on Thursday night who can outsprint both of the Jamaicans to win the gold?
Special: The untold story of Indian boxing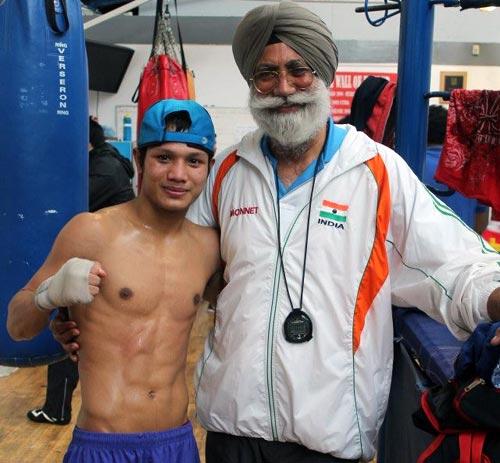 At a time when Indian boxing is on an unprecedented high, a book captures the history and essence of the sport in the country, finds .
PHOTOS: American athletes stamp their authority on Day 12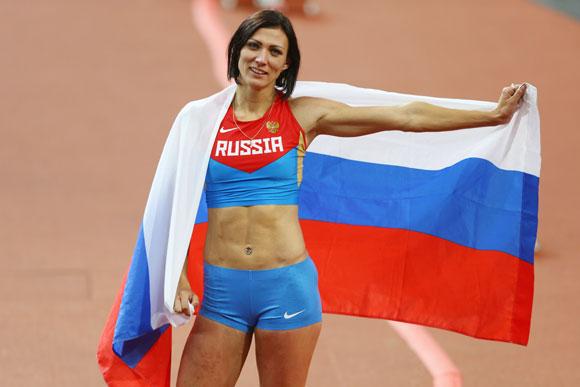 American athletes dominated the track and field events on Day 12 of the London Games on Wednesday winning three of the four gold medals on offer. The other gold went to Russia.
August 08, 2012
'Sorry I couldn't come back with the gold medal'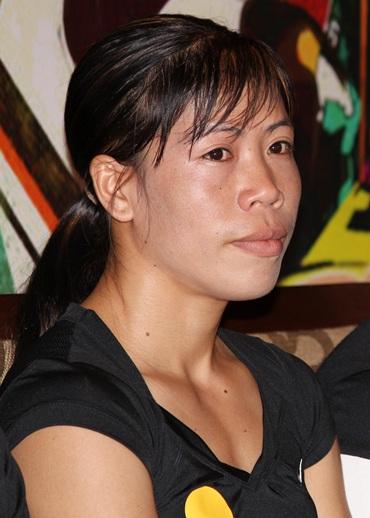 Ace woman boxer M C Mary Kom apologised to the nation after returning with a bronze from the London Olympics, saying she did her best.
PHOTOS: Gold medalists on Day 12 of London Games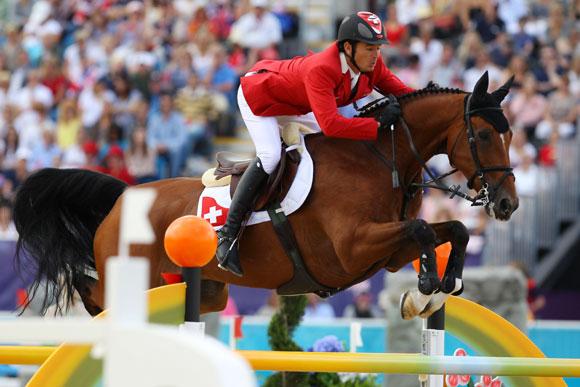 A look at the gold medalists on Day 12 of competition at the London Olympics on Wednesday.
PHOTOS: India's highs and lows on Day 12
India's star woman boxer M C Mary Kom settled for the bronze medal after losing her 51kg semifinal bout against Great Britain's world number two Nicola Adams, while Tintu Luka eased into the semifinals of the 800m race on Day 12 of the Olympic Games on Wednesday.
Mary outclassed by Adams, settles for bronze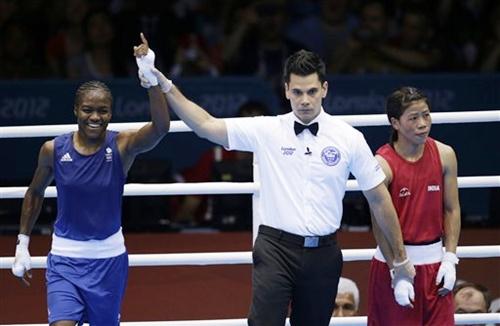 Great Britain's Nicola Adams dashed M C Mary Kom's hopes of making it to final, outclassing the iconic Indian pugilist 11-6 in the women's flyweight (51kg) semi-finals on Wednesday.
Harting 'tares away' at discus Olympic glory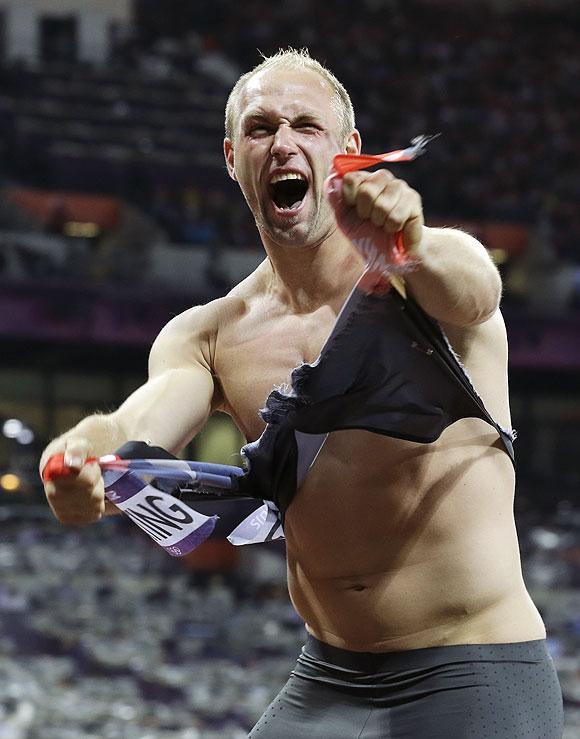 Germany's Olympic Committee won't mind footing the bill for new shirts for Robert Harting. The discus thrower has a tradition of tearing them up whenever he wins a major title and on Tuesday, it was a rip-roaring victory at the London Games.
Narang's mother expected him to return with gold medal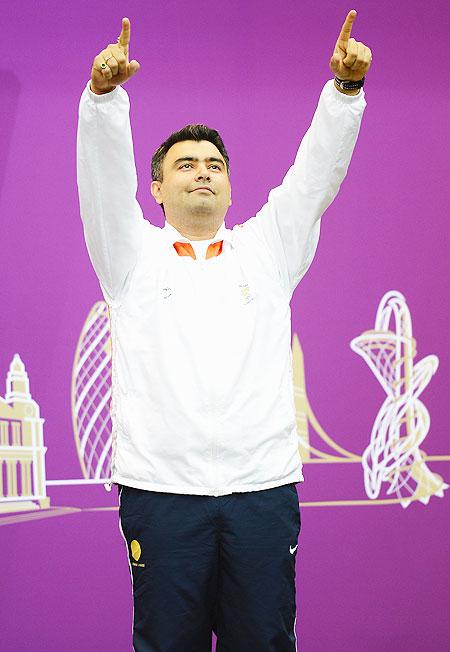 The Olympic bronze he scooped from shooting, the first for India in the London Games, was celebrated across the nation but Gagan Narang's mother was disappointed as she was expecting a gold medal, the shooter said on his return to the country.
Ricardo Blas Junior, Judo's heaviest weight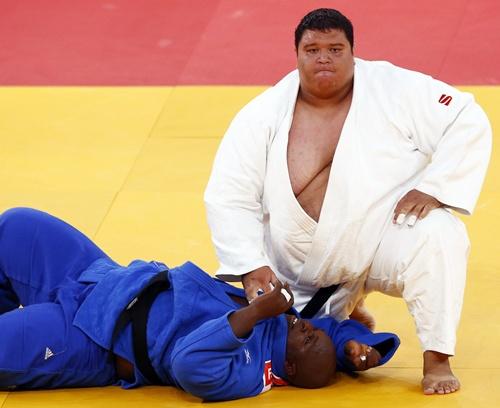 There are heavyweights and then there are heavyweights.
Current players need to learn basics first: Baskaran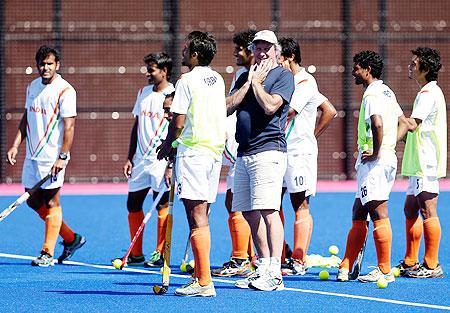 Former coach Vasudevan Baskaran lashed out at the Indian hockey team for their dismal showing in the London Olympics, and said the current batch of players should first get their basics right before aspiring to play at the international level.
Russian duo eye clean sweep in synchronised swimming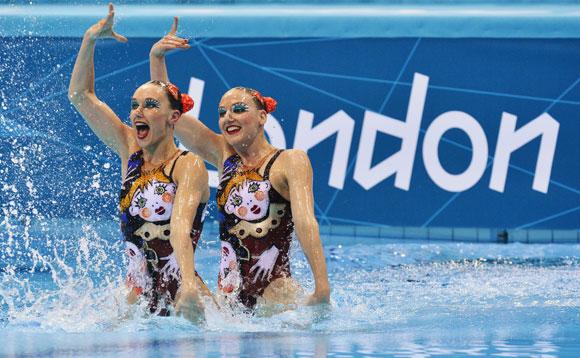 Natalia Ishchenko and Svetlana Romashina had the crowd cheering before they even entered the pool on Tuesday, extending Russia's monopoly of the sport with a dominating duet win. The team competition begins on Thursday, and the Russians are overwhelming favorites to win in that event, too.
'Switching to 81kg category presents new challenge'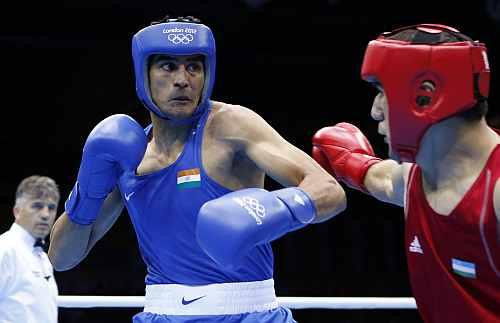 In an exclusive interview with Rediff.com's , Vijender analyses his performance in London and reveals the reason for switching his weight category.
Hockey: Tale of missed chances and incisive blows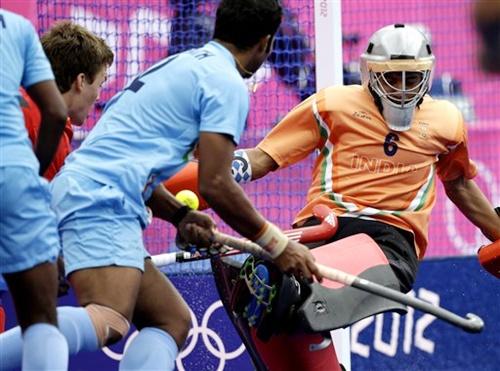 Former hockey captain Pargat Singh represented India in three Olympic Games between 1988 and 1996. He is the only man to captain India in two Olympics - at Barcelona '92 and Atlanta '96.
'Mature' Kashyap setting short term goals post Olympics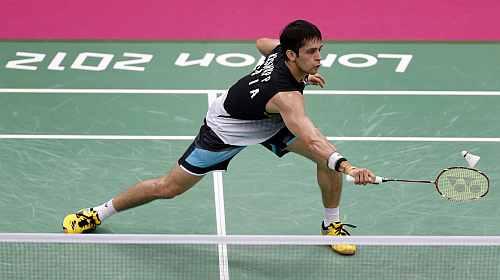 Parupalli Kashyap, who surprised all and sundry by reaching the quarter-finals of the badminton men's singles event at the London Olympics, is disappointed to return empty-handed from London but said the experience has made him more mature as a shuttler.
Spence's exit brings boxing shame to US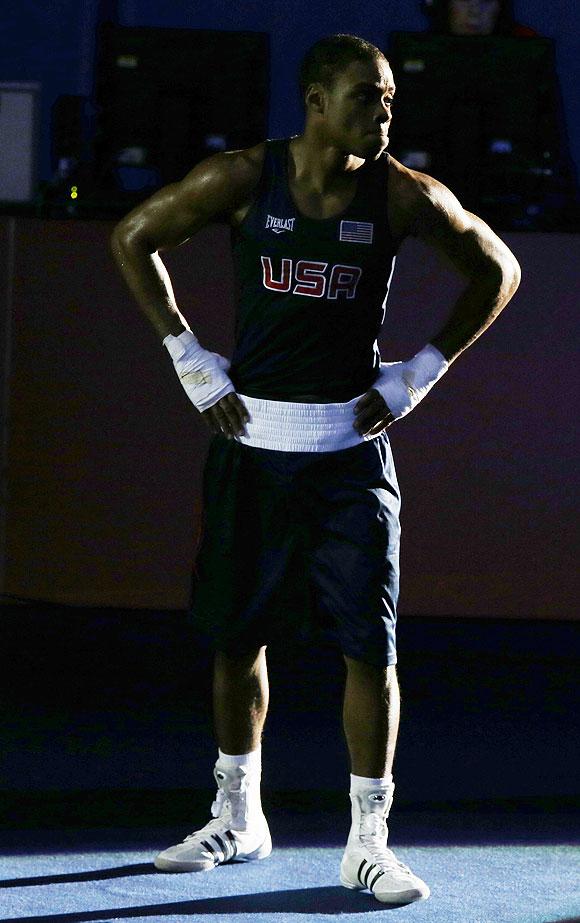 The last American male boxer exited the London Games on Tuesday to complete a humiliating first Olympics without a medal for the most decorated nation in the sport as Cuba, Ukraine and Britain added to their tallies.
Photos: Little mermaids make waves in London waters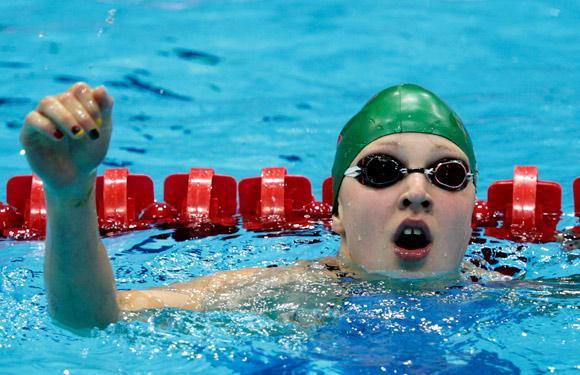 Rediff.com takes a look at the youngest swimmers to take gold in London.
PHOTOS: Bikini-babes, bronze bodies at the Games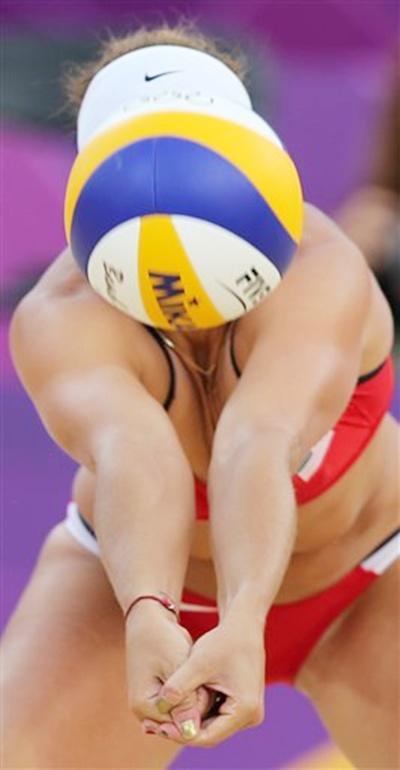 Beach volleyball has been a huge crowd puller Olympic sport and London Games were no different.
Photos: Pearson, Makhloufi stamp their mark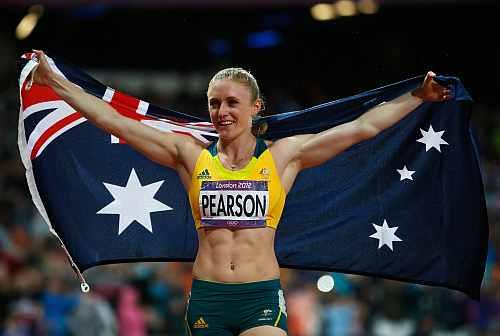 Ivan Ukhov of Russia won the high jump in cold conditions and a light drizzle at the London Olympics on Tuesday.
PIX: Gold medal winners on Day 11 of the London Games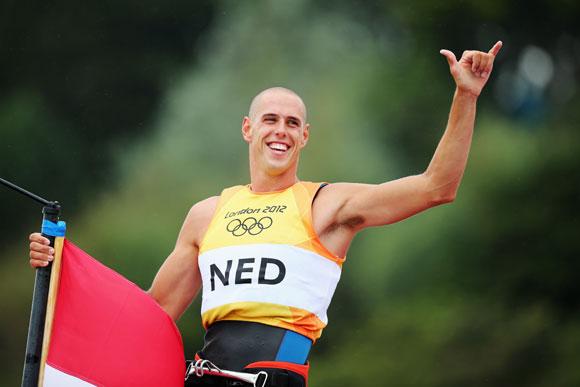 A look at the gold medalists on Day 11 of competition at the London Olympics on Tuesday.
August 07, 2012
Vijender to switch to light-heavy category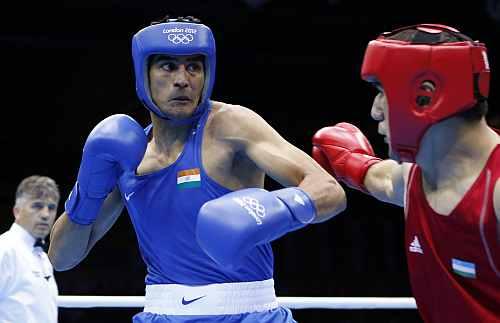 Vijender Singh, whose dream of bagging back-to-back Olympic medals came crashing down on Monday, is planning to switch to the light-heavyweight category (81 kg) in a bid to win more medals.
Smaller nations lead alternative gold medal count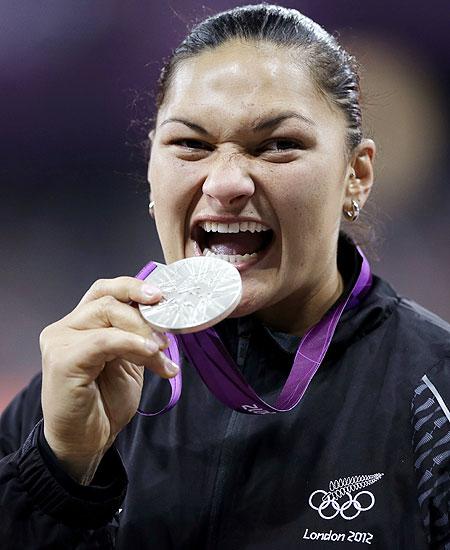 Forget about the Olympic medal race between the United States and China. The real action is happening in places like Jamaica, New Zealand and the tiny island nation of Grenada. At least that's according to one method for crunching the numbers that's being promoted by a New Zealand government agency.
'I would have felt incomplete without Saina's medal'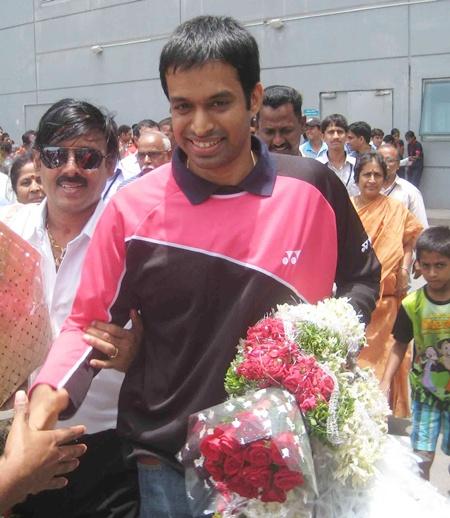 Describing Saina Nehwal as 'phenomenal', her coach Pullela Gopichand said had Saina had not won the Olympic medal, his life would have been incomplete.
PHOTOS: Liu out of Olympics in heats again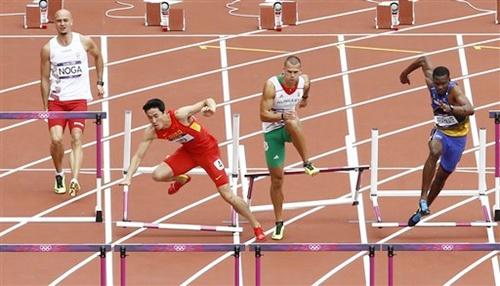 Former champion Liu Xiang left the Olympics Games in the first heat of the 110-meter hurdles for the second time in a row, clutching his right Achilles after he crashed into the first obstacle.
''Speechless' Saina promises more to come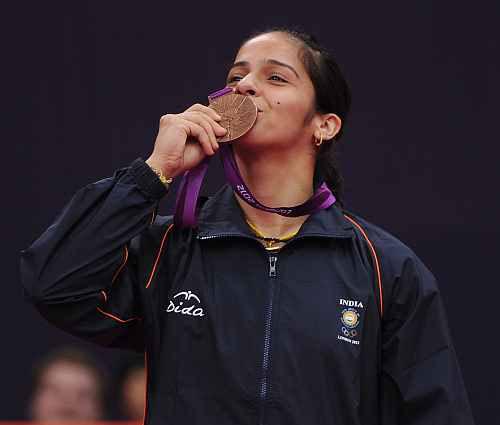 The enormity of her achievement has gradually started sinking in, but for Saina Nehwal, standing on the podium and receiving an Olympic medal, still feels like a dream.
Former players lambast 'bunch of mediocre' Olympians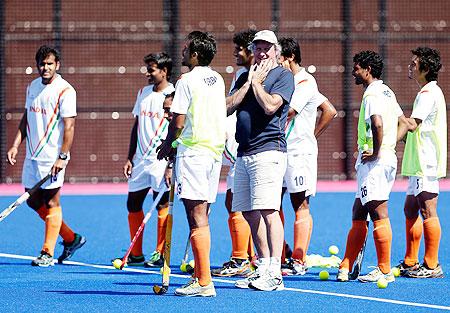 There is a dearth of quality hockey players in India and the present national team possesses a' bunch of mediocre' individuals who are just satisfied to be Olympians, feel yesteryear stars of the game.
Richards-Ross shines on return to Olympic track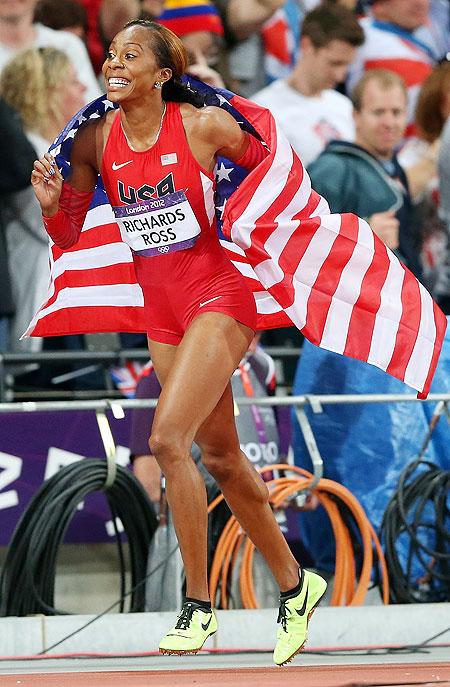 Sanya Richards-Ross, who won gold in the women's 400 metres on Sunday, returned to Olympic Stadium the following day and advanced to the semi-finals of the 200 metres. She won her opening race in 22.48 seconds -- the fastest time in any of the six heats.
'I'm not entirely satisfied, but silver is also special'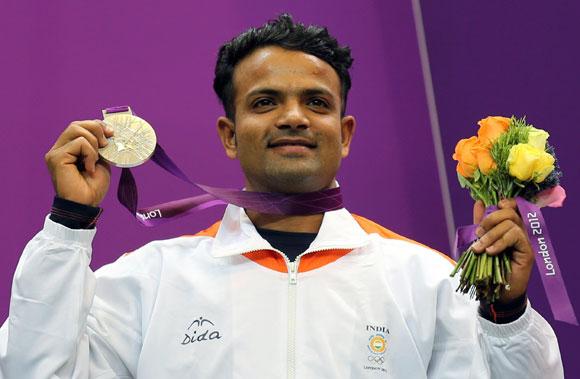 Vijay Kumar's silver in the 25m Rapid Fire pistol event at the London Olympics came in as a bolt from the blue. The Olympic silver medallist talks to about his success, his future in the army and of course, shooting.
Bolt returns to wow the crowds, Pearson eyes hurdles gold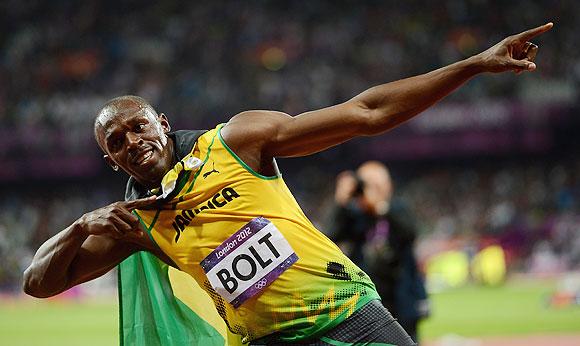 Fresh from 100 metres glory Jamaica's Usain Bolt begins a highly anticipated 200m title defence at the London Olympics on Tuesday, while women's 100m hurdles world champion Sally Pearson is favourite to go one better than her silver in Beijing.
Red-hot Taylor sets the boxing ring on fire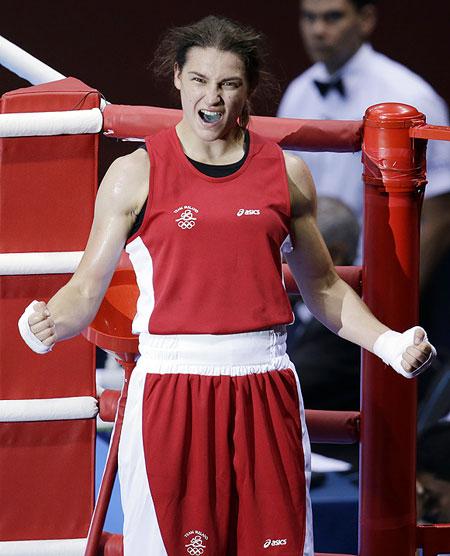 Women's boxing already had a star. She just needed a stage. Irish fighter Katie Taylor found one at the ExCel arena on Monday and within four pulsating rounds against Natasha Jonas proved female fighters would be just fine at the Olympics.
PICS: Isinbayeva crashes, Sanchez dashes on day of upsets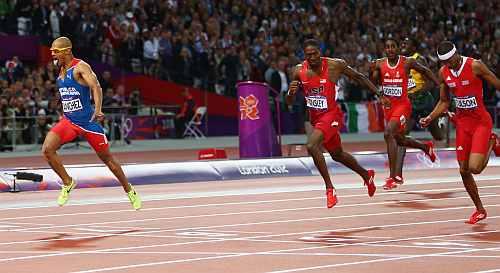 Felix Sanchez of the Dominican Republic proved that age is no barrier to track success when he stormed to a second men's Olympic 400 metres hurdles gold medal on Monday, eight years after winning in Athens.
PHOTOS: India's highs and lows on Day 10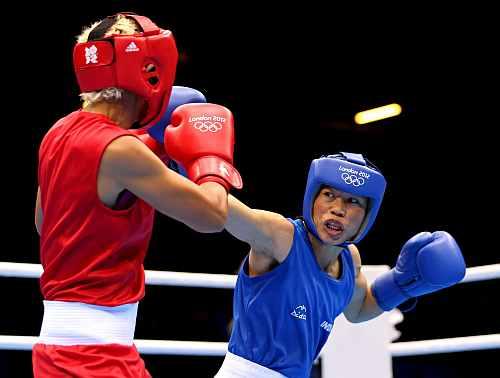 M C Mary Kom punched her way into the women's boxing semi-finals at the Olympic Games to ensure India of at least a bronze medal while Vikas Gowda joined a select group of the country's track and field athletes by entering the finals of men's discus throw on Monday.
August 06, 2012
PHOTOS: Man charged in bottle throwing incident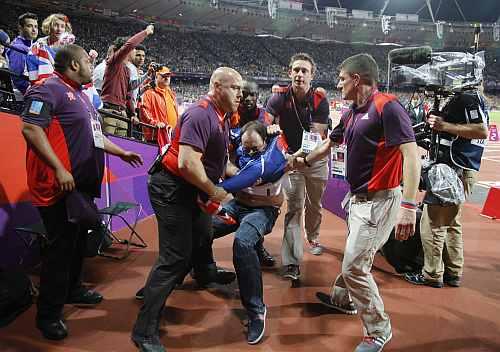 A man accused of throwing a plastic bottle onto the Olympic track seconds before the start of the men's 100-meter final pleaded not guilty Monday to creating a public nuisance.
Medal assured, Mary vows to give best in semis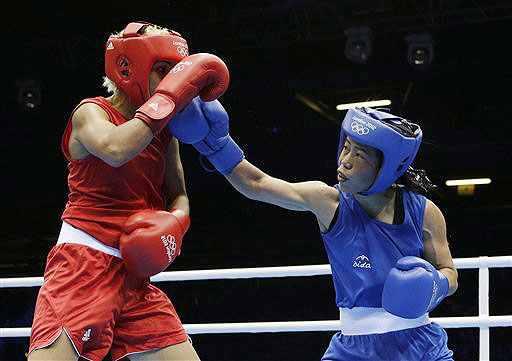 It's the biggest victory of her career. She waited for a long time for this moment, working tirelessly for it. And when she finally made sure of an Olympic medal her joy knew no bounds.
PHOTOS: Gold medal winners on Day 10 of the London Games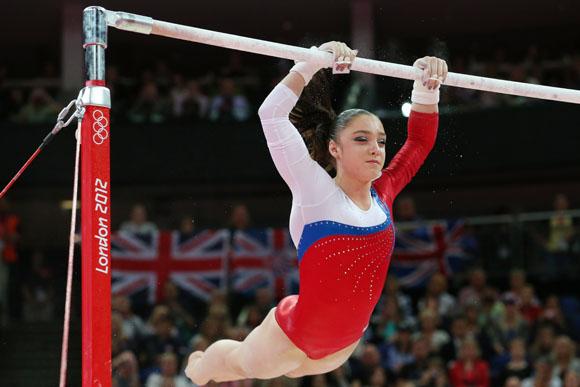 A look at the gold medal winners on Day 10 of the London Games.
MC Mary Kom creates history, assured of a medal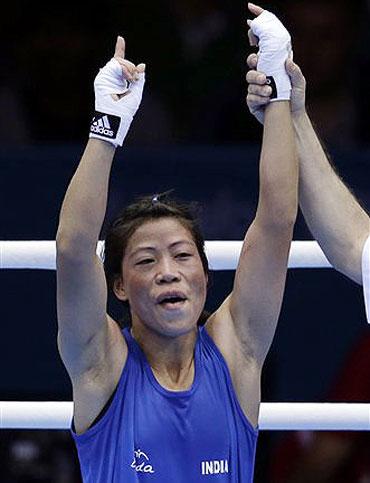 MC Mary Kom on Monday created history as she assured India its fourth Olympic medal after winning her quarterfinal boxing bout against Maroua Rahali of Tunisia by 15-6 margin in the women's 51 kg category.
PHOTOS: Brilliant Bolt blazes to Olympic 100m gold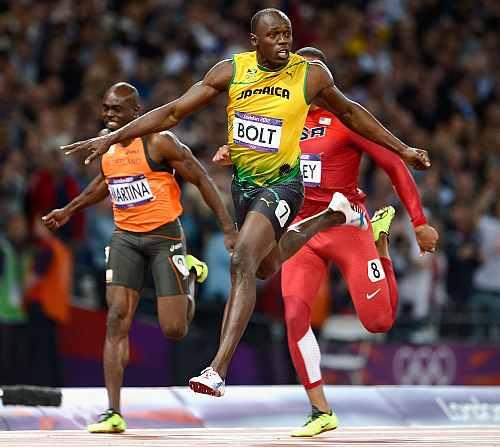 Usain Bolt lived up to all the hype of becoming a "living legend" at the London Games, decisively defending his 100-meter title by beating Jamaican training partner Yohan Blake in the defining race of the Olympics.
Olympic dream realised, Mary Kom now targets medal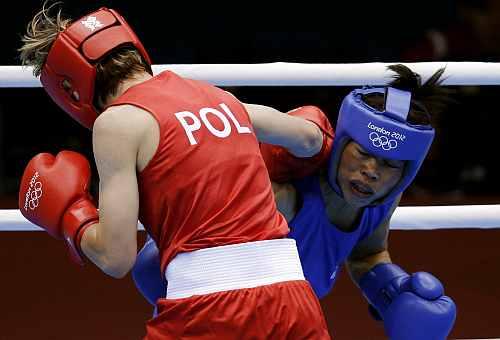 For more than a decade now, Mary Kom had sacrificed everything for boxing. On Sunday, at the ExCel Arena, in London, she finally reaped the reward for hard work as women's boxing made its debut at the Olympics.
August 05, 2012
PHOTOS: India's highs and lows of Day 9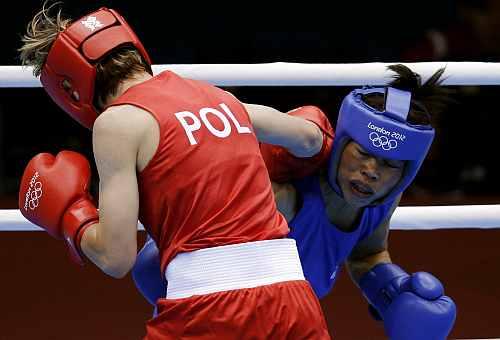 Strong medal contender MC Mary Kom opened her campaign on an impressive note as she punched her way into the quarter-finals but the men's hockey team continued its freefall after being thrashed 4-1 by South Korea at the London Olympics in London on Sunday.
Murray annihilates Federer for Olympics gold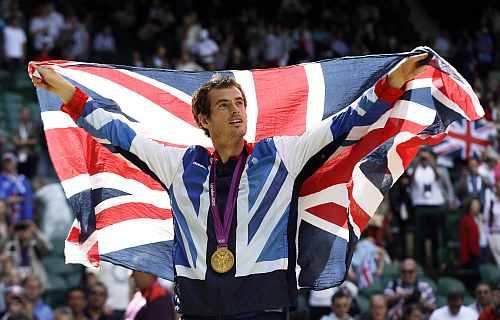 Andy Murray had Centre Court rocking Sunday, winning gold for the home team and beating Roger Federer 6-2, 6-1, 6-4 in the tennis final at Wimbledon.
Mary Kom sizzles in opener, enters quarter-finals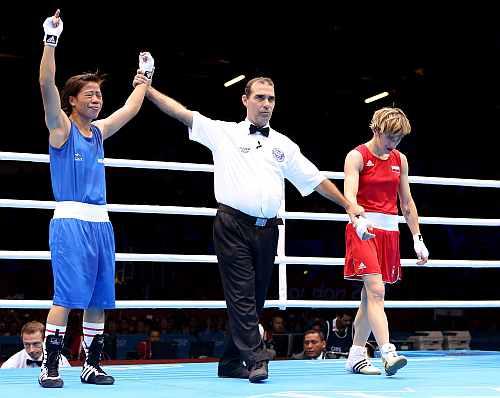 M C Mary Kom stormed into the quarter-finals of the women's boxing flyweight category (51 kg) at the Olympics, scoring a comfortable 19-14 victory over Poland's Karolina Michalczuk at the ExCel Arena on Sunday.
Athletics: Gold for Ethiopia, Britain's night of glory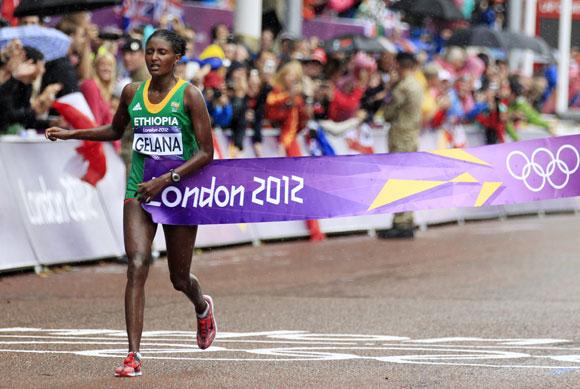 A look at the gold medalists in track and field at the London Olympics.
'Low-profile build-up like Vijay's is good for shooters'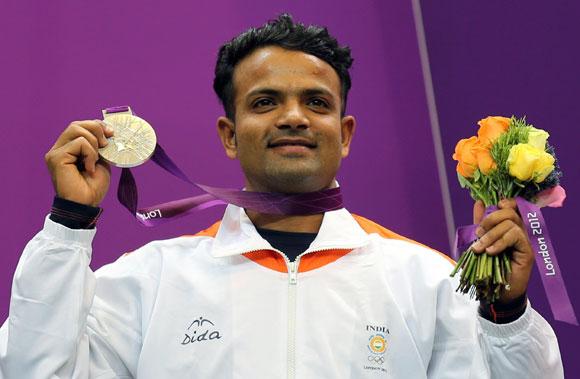 Renowned pistol shooter Jaspal Rana praised army subedar Vijay Kumar for clinching an Olympic silver medal, but felt the over-hyped build-up to Abhinav Bindra and Ronjan Sodhi's participation in the London Games could have affected their focus and led to their failure.
Fitting finale: Michael Phelps retires with one last gold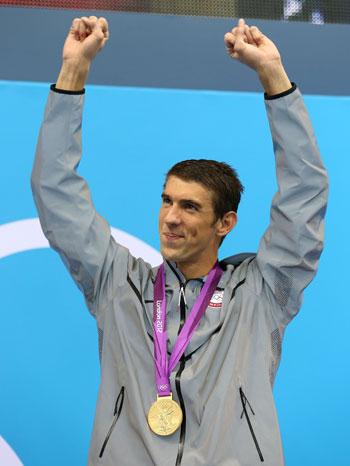 Michael Phelps got up to leave his last news conference at the Olympic pool when his relay mates were asked if they thought he would really stay retired.
Gopichand, Kashyap bask in Saina's bronze win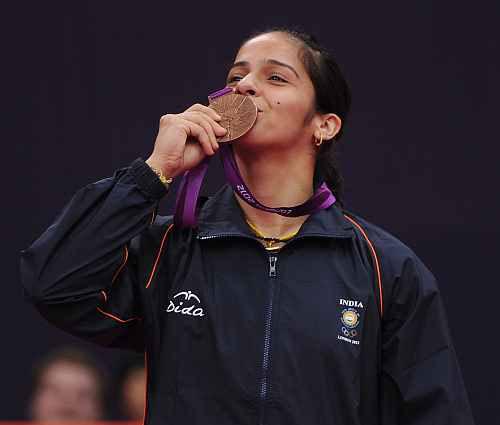 Saina Nehwal's bronze medal win at the Olympics is the happiest moment of her career. For her coach Pullela Gopichand, however, it means the world.
PHOTOS: Usain Bolt advances to Olympic 100 semis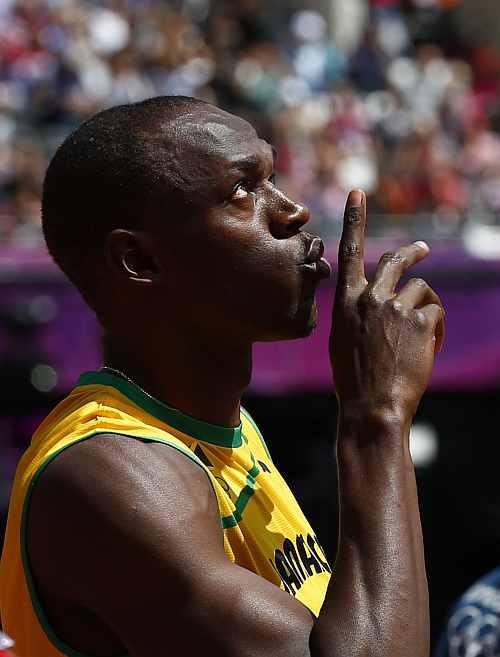 Getting set for his London Olympics debut, Usain Bolt bopped to the music blaring over the loudspeakers, rocking his head back and forth. He drew cheers merely for removing the green T-shirt that covered his uniform, then for yanking the black wool cap off his head.
August 04, 2012
'I was lucky today; the medal was waiting for me'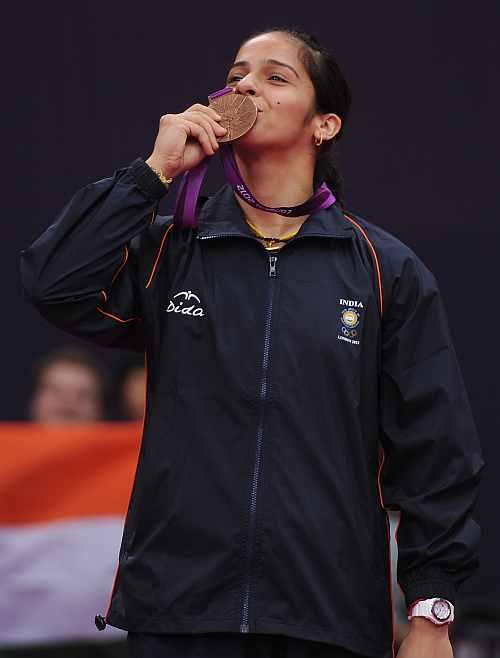 Saina Nehwal is only 22, but she's already etched her name in Indian sports folklore. She gave the country its first medal in badminton at the Olympics by winning the women's singles bronze at the London Games on Saturday.
PHOTOS: Gold winners on Day 8 of the Games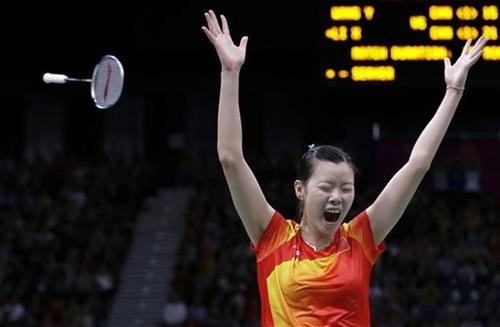 Images of the gold medallists on Day 8 at the London Olympics.
PHOTOS: India's highs and lows at the Games, Day 8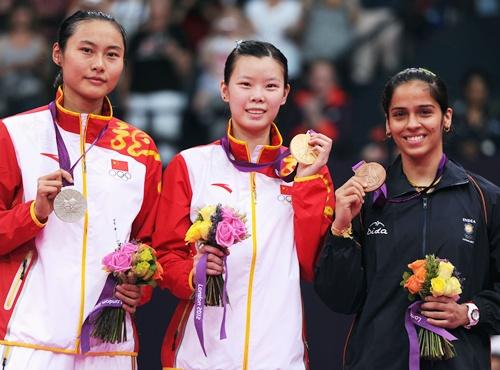 Saina Nehwal gave India its maiden medal in Olympics badminton when her Chinese opponent withdrew from the bronze medal contest after injuring her knee while pocket dynamo Laishram Devendro Singh stormed into the boxing quarter-finals with an upset victory on Saturday.
Saina wins bronze after injury stops Xin Wang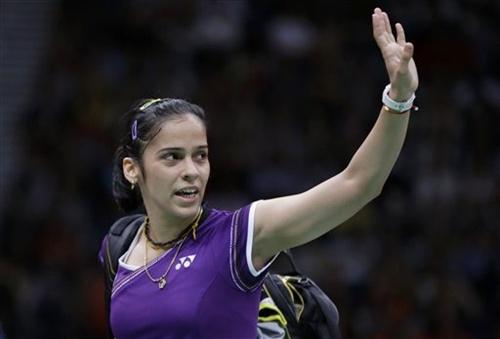 Ace shuttler Saina Nehwal earned India its third medal at the London Games, clinching a bronze under fortuitous circumstances.
Pistorius makes history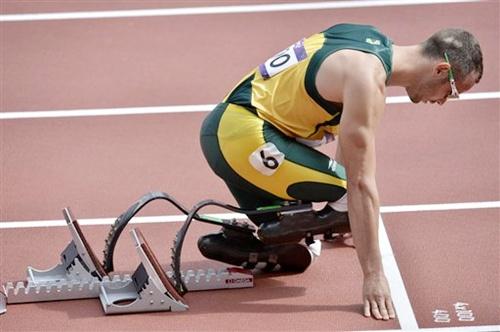 "Bladerunner" Oscar Pistorius was cheered around the Olympic track Saturday, finishing second in his 400-meter heat to advance to the next round on his carbon fiber blades.
Nobbs enraged at Indian players' lack of commitment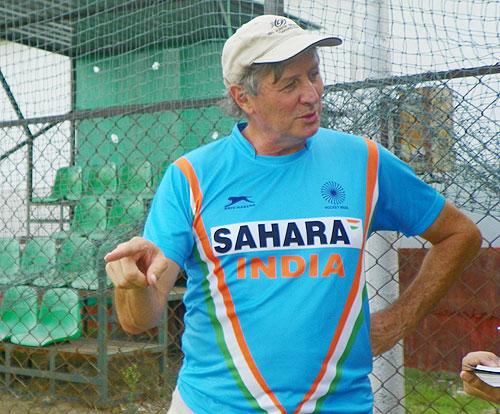 India's hockey coach Michael Nobbs is furious at the lack of commitment shown by his players in the first three games at the London Games and said there were some players in the team who are just happy to be Olympians.
'Magnificent Mary' takes to ring in Olympic debut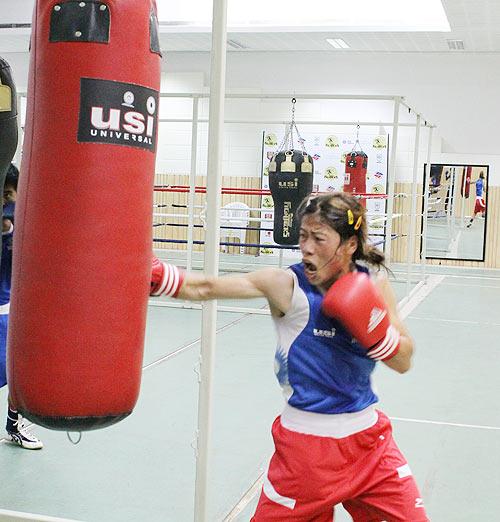 Five-time world champion M C Mary Kom (51kg) would be India's lone flagbearer and a gold medal hope when women's boxing makes its historic Olympic debut in three weight categories on Sunday.
Serena, Sharapova in face-off for Olympic gold, and more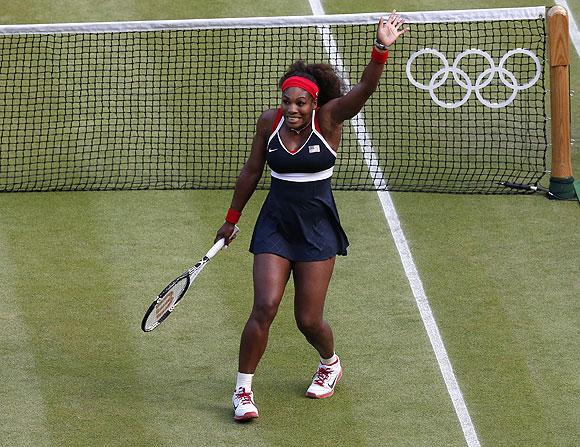 Serena Williams and Maria Sharapova are not just playing for Olympic gold at Wimbledon. There's a career Golden Slam on the line, too.
Phelps looks to wrap up career with one final gold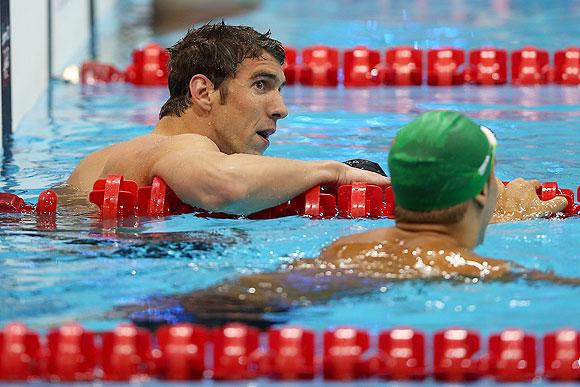 One more race. Two more laps. And, in all likelihood, an 18th gold medal for Michael Phelps. He will wrap up his swimming career on Saturday with the butterfly leg of 4x100 medley relay, an event the US men have never lost.
Expect a few surprises in the women's track events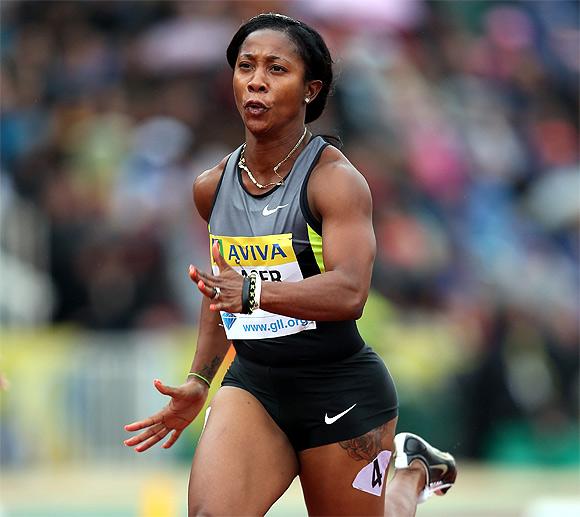 Analysis of track events in women's athletics programme.
Usual suspects expected to dominate track events for men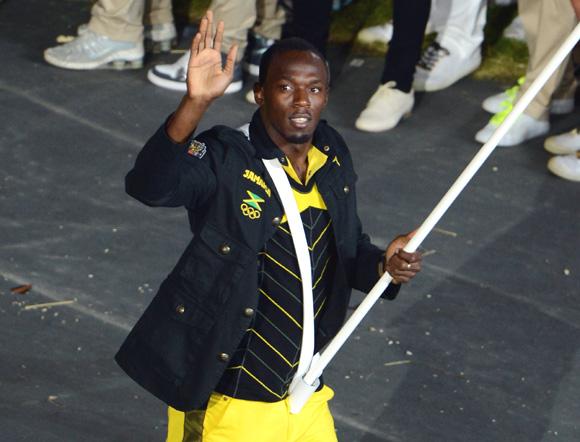 Analysis of the track events in the men's athletics programme.
PIX: Phelps sets record with 100m butterfly gold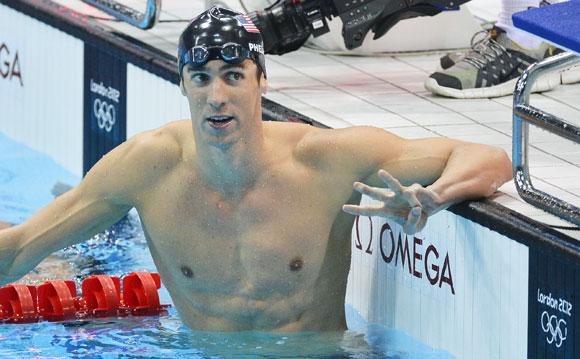 Michael Phelps won the 100-metre butterfly at the London Games for a record 17th gold and 21st medal overall in his Olympic career.
PHOTOS: India's highs and lows at the Games, Day 7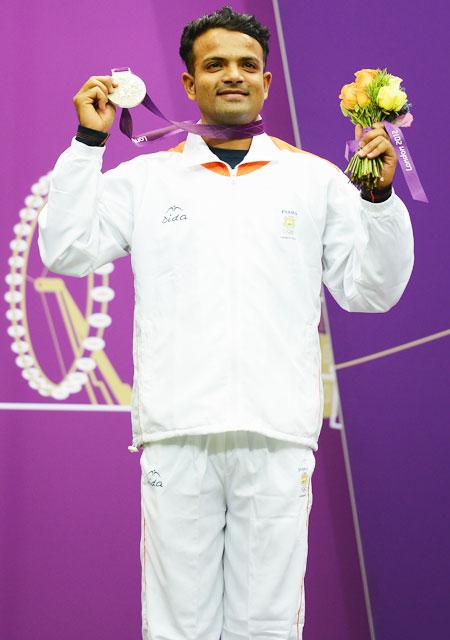 Armyman Vijay Kumar turned out to be the unlikely hero as he lifted the sagging Indian spirits by clinching the silver medal after fighting a nerve-wracking battle with five other top marksmen in the men's 25m Rapid Fire Pistol event at the Olympic Games on Friday.
August 03, 2012
I was mentally prepared for this moment: Vijay Kumar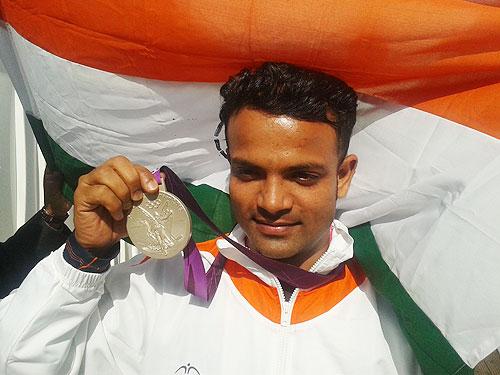 India's new shooting sensation Vijay Kumar, who won a silver medal at the London Olympics on Friday, said he had prepared himself mentally for a medal and is elated to have achieved his objective.
PHOTOS: The gold medalists on Day 7 of the London Games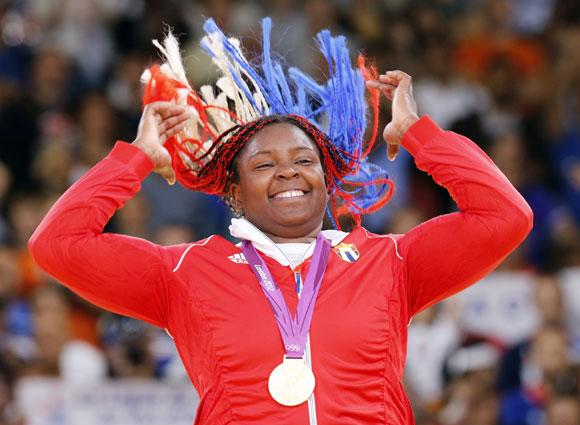 A look at the gold medal winners on the seventh day of competition at the London Olympics on Friday.
Sharpshooter Vijay Kumar scintillates to bag silver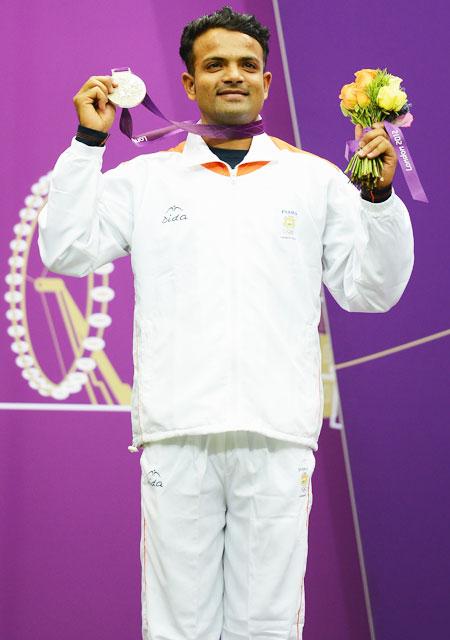 Army sharpshooter Vijay Kumar came through a nerve-wracking battle with five other leading marksmen to clinch the silver medal in the men's 25m Rapid Fire Pistol event at the London Olympics on Friday.
Wang was too fast, concedes Saina after semis defeat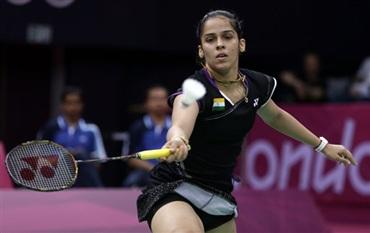 One of the biggest drawbacks of Saina Nehwal's career is her failure to break the Chinese stranglehold. It was the same old story again on Friday, as she went down to China's world No 1 Yihan Wang 21-13, 21-13 in the semi-finals of the women's singles badminton at the London Olympics.
And the gold for dramatic gesture in London goes to...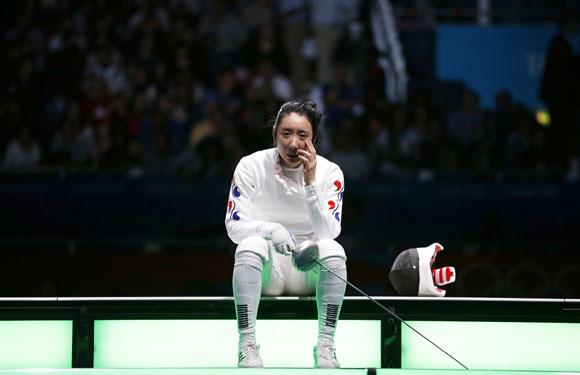 Losing at the Olympics hurts. But suffering an injustice, real or imagined, is agony.
PHOTOS: The highs and lows in the swimming pool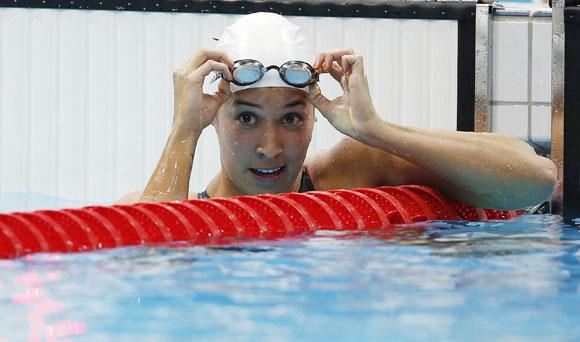 A look at the highs and lows in the swimming events at the London Games.
Saina bows out in semis, to play Wang in bronze play-off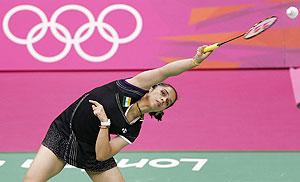 India's ace shuttler Saina Nehwal was beaten in straight games by world number one Yihan Wang in the women's singles semifinals at the London Olympics on Friday but remained in the medal hunt as she will be competing in the bronze medal play-off.
China's swimming sensation not affected by doping claims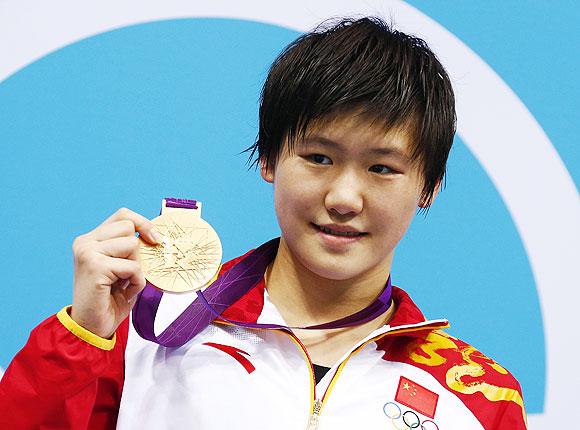 Olympic sensation Ye Shiwen has hit back at a top American coach who suggested the Chinese swimmer could be using banned substances, telling state news agency Xinhua that John Leonard had acted unprofessionally.
Milestone man Phelps 'pleased with gold'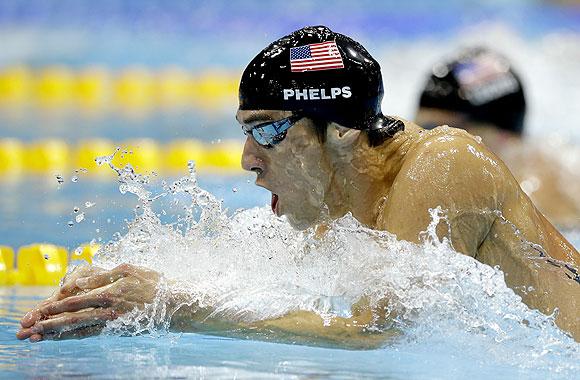 Michael Phelps became the first male swimmer to win the same event at three successive Olympics when he clinched the men's 200 metres individual medley gold medal at the London Games on Thursday.
'Sania's aggressive game made the task easier'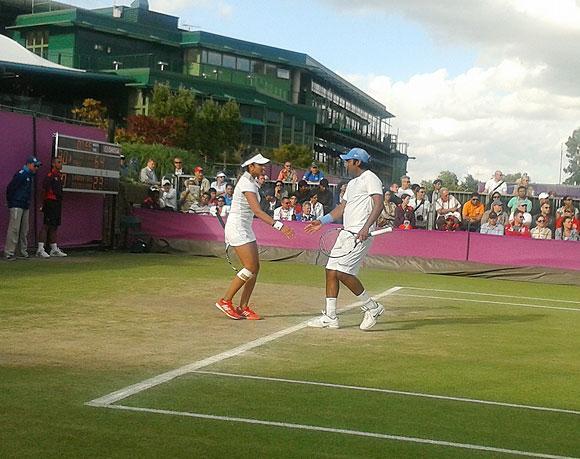 Leander Paes and Sania Mirza looked like regular partners on the circuit as they demolished the Serbian pair of Ana Ivanovic and Nenad Zimonjic in the first round of the mixed doubles at the London Olympics, on Thursday and Paes had big praise for his partner after the win.
Women on the field: Isinbayeva, Spotakova lead the pack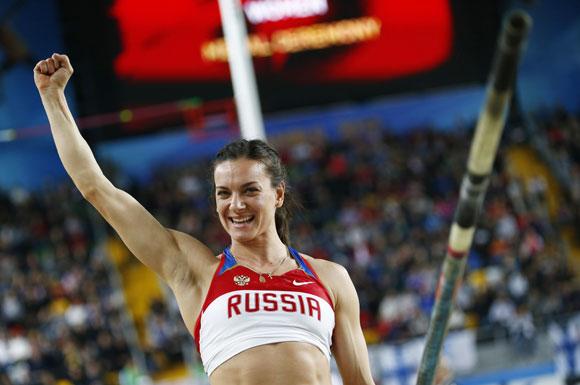 Analysis of the field events in the women's athletics programme.
PHOTOS: Saina the lone bright spot for India on Day Six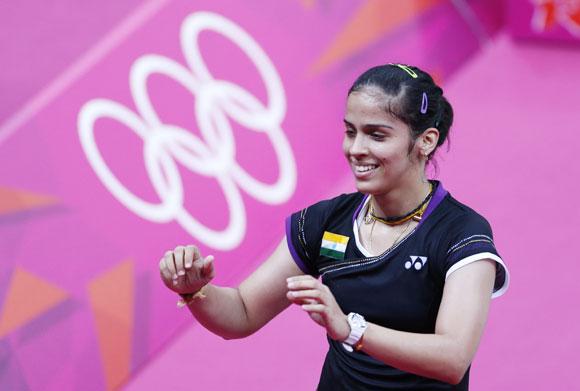 Star shuttler Saina Nehwal lit up another gloomy day for India at the Olympic Games by storming her way into the women's singles semi-finals while shooting medal hope Ronjan Sodhi fell by the wayside on Thursday.
August 02, 2012
PHOTOS: The gold medalists on Day 6 of the London Games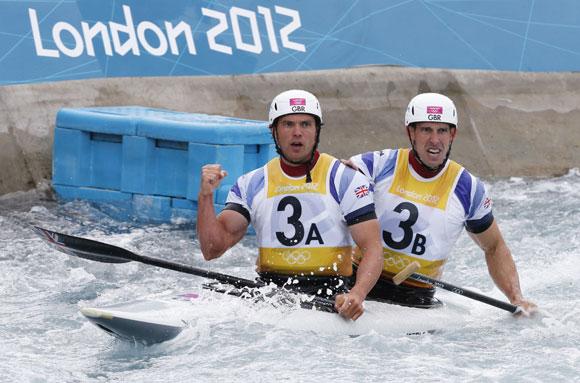 A look at the gold medalists on Day 6 of the London Games.
Saina Nehwal tames Tine Baun to enter semi-finals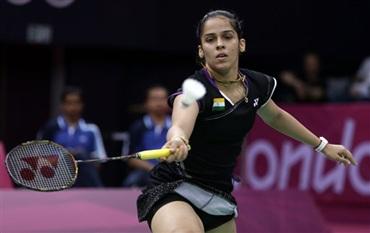 Saina Nehwal lit up another gloomy day for India at the Olympics by storming into the women's singles semi-finals, even as shooting medal hope Ronjan Sodhi fell by the wayside on Thursday. The ace shuttler exhibited excellent court-craft and unflinching attitude to defeat senior opponent and two-time All England champion Tine Baun of Denmark 21-15, 22-20 in a pulsating quarter-final clash that lasted 37 minutes.
China allege Western media bias against its athletes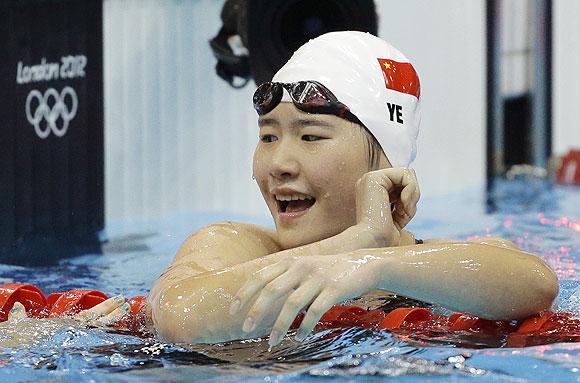 China's state media on Thursday attacked what it said were arrogant and prejudiced views of the country's athletes at the London Olympics.
Games badminton row: IOC could act against China players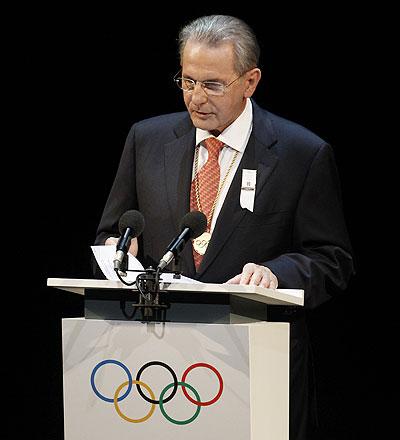 The IOC could take further action -- including expulsion from the Olympics -- against the eight badminton players disqualified for discrediting their sport by trying to lose on purpose.
Now Olympic boxing judges under 'fixing' shadow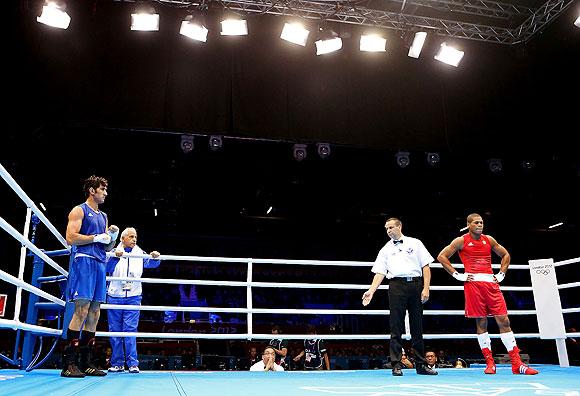 Olympic judges and referees came under fire on Wednesday with one fighter accusing them of 'a fix', another successfully appealing a loss and even boxing great Lennox Lewis questioning some of their calls.
Federer-Wawrinka knocked out; new record set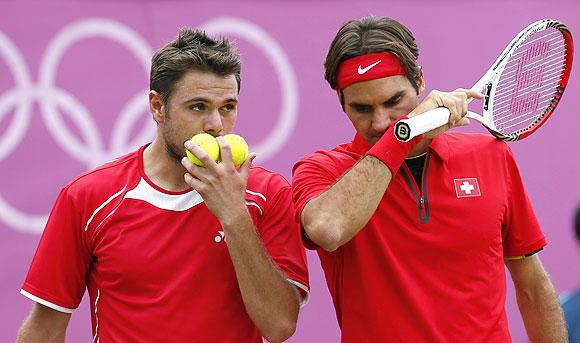 Roger Federer moved a step closer to an elusive Olympic singles gold after reaching the final eight but Israel's Jonathan Erlich and Andy Ram ended the World No 1's hopes of repeating his Beijing doubles success.
'Vardhan up there with one of the best partners I've had'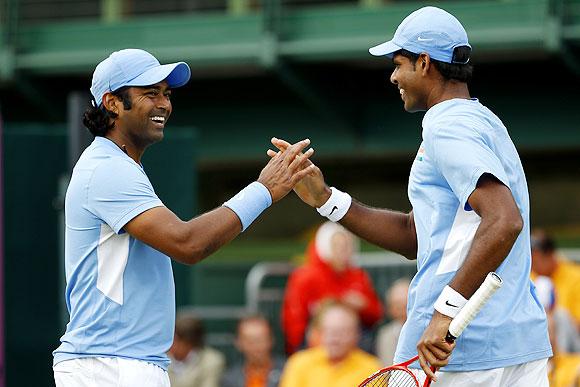 Paes and Vardhan went down fighting 6-7, 6-4, 3-6 to the French combine of Jo-Wilfried Tsong and Michael Llodra on Wednesday but despite the loss, Paes was all praise for inexperienced partner Vardhan.
Photos: Soni sizzles as swim records sink at the Games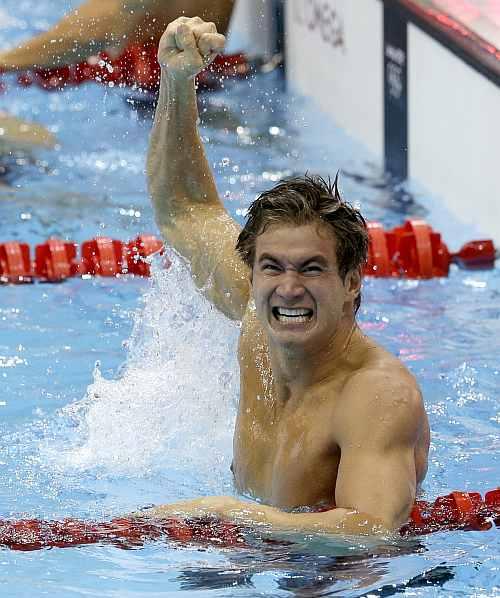 Nathan Adrian took out the Missile by a fingertip. Daniel Gyurta and Rebecca Soni took down two more world records at the pool.
Olympics 100m: It's 'The Lightning Bolt' vs 'The Beast'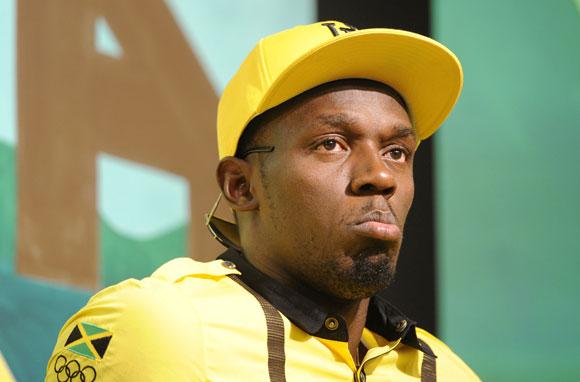 Penpix of the leading candidates for the men's Olympic 100 metres which gets underway with opening-round heats on Saturday.
PHOTOS: Saina, Kashyap bring cheer on day of mixed bag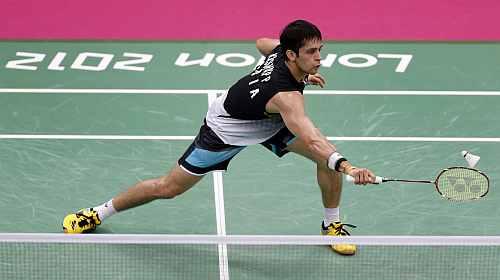 Parupalli Kashyap created history by becoming the first Indian shuttler to reach the men's singles quarter-finals and Saina Nehwal too powered her way into the last-eight stage even as archer Deepika Kumari flopped miserably at the Olympics.
August 01, 2012
PHOTOS: The gold medalists on Day 5 of the London Games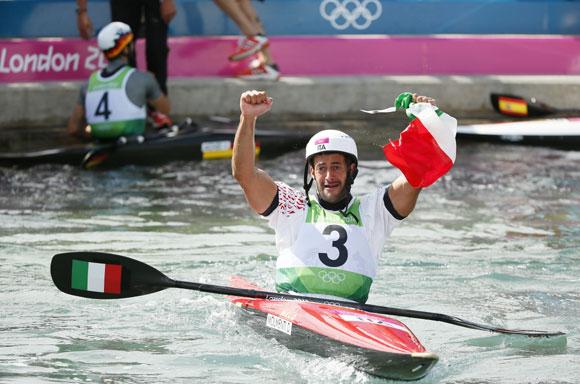 Rediff.com brings to you the gold medalists on the fifth day of the competition at the London Games.
There were expectations, but I failed: Deepika Kumari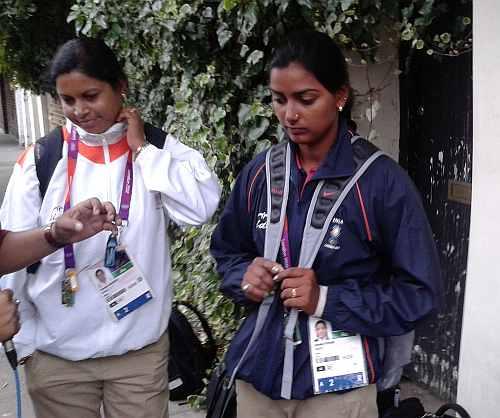 Deepika Kumari sits atop the world rankings in women's archery, but she failed to deliver when it mattered and was knocked out in the opening round in the women's individual event at the London Olympic, on Wednesday.
Kashyap faces top seed Lee Chong Wei in quarter-finals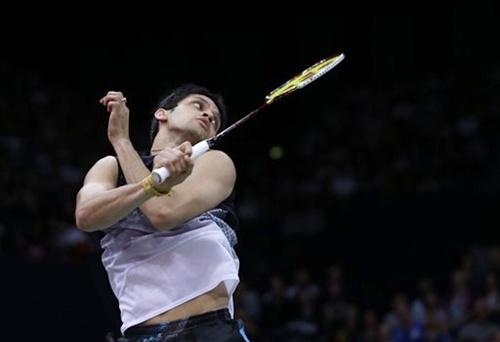 Parupalli Kashyap, who became the first Indian male shuttler to reach the quarterfinals of Olympics on Wednesday, will have a daunting task of dethroning top seed and world number one Lee Chong Wei of Malaysia if he wants to reach the semifinals in the London Games.
PIX: American women storm to team gymnastics gold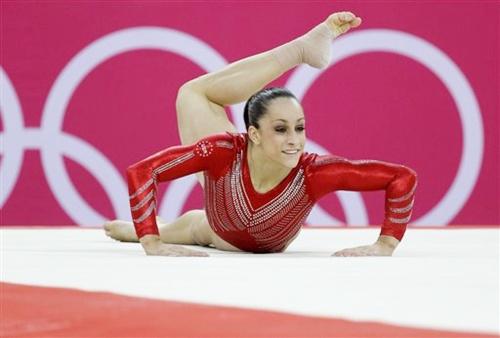 Jordyn Wieber sparkled and Gabby Douglas dazzled as the United States stormed to the Olympic women's gymnastics team gold on Tuesday.
Chinese dive to a hat-trick of Gold at London Games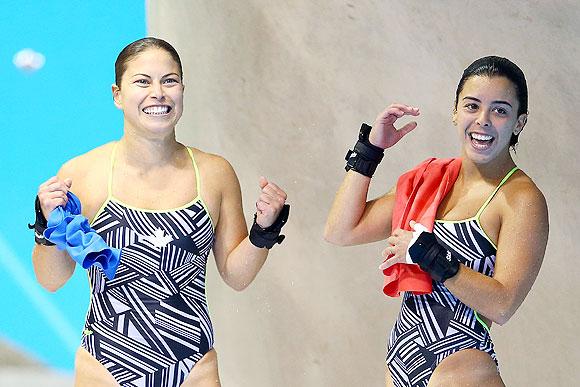 With stunning precision and dazzling athleticism, Chen Ruolin and Wang Hao led China to gold off the big tower in women's 10-meter synchronized.
Pistorius can run any part of relay London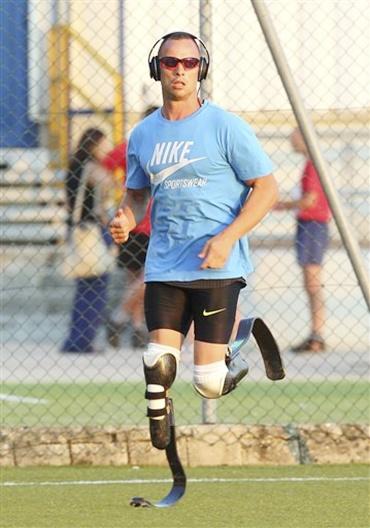 Double amputee sprinter Oscar Pistorius will be able to run any part of the Olympic 4x400-meter relay and will not be held back by concerns his carbon fiber blades would endanger others in the race, the IAAF said.
Shooter Sodhi excited about medal prospects before opener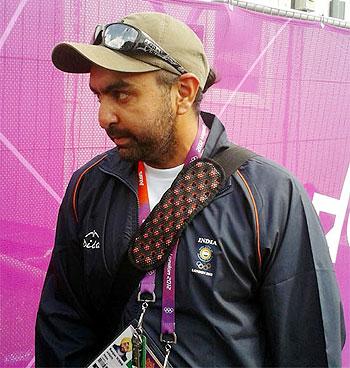 With his sights firmly on a medal, shooter Ronjon Sodhi will look to emulate compatriot Gagan Narang when he takes to the range for the double trap event at the London Olympic Games on Wednesday.
Phelps defies belief to become history-maker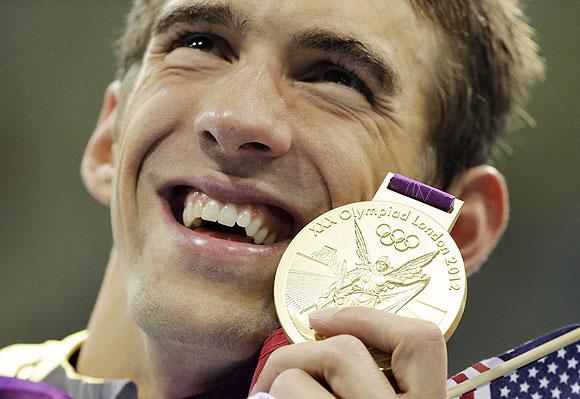 For the first time in all of the hundreds of races he has swum, Phelps said he smiled to himself underwater in the last 20 meters of the 4x200-meter freestyle relay on Tuesday night that got him the medal -- it was gold, yet another one -- he needed to become the first Olympian in history with 19 medals.
Guess I'll have to die without an Olympic medal: Bhupathi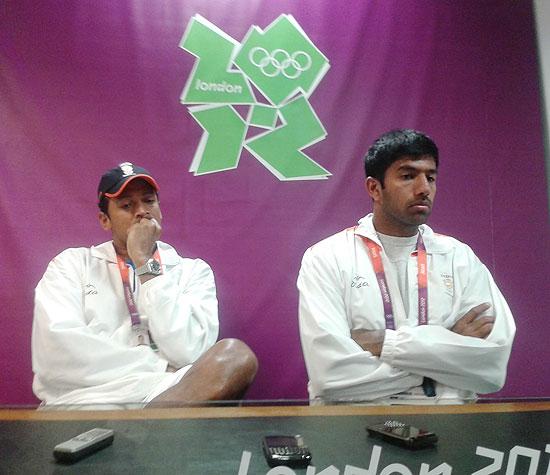 Following the second round defeat in London on Tuesday Mahesh Bhupathi's disappointment was perceptible. He even appeared to have shed a few tears after being knocked out of the men's doubles in his last appearance at the Olympics.
Olympics quiz: See the flag, name the country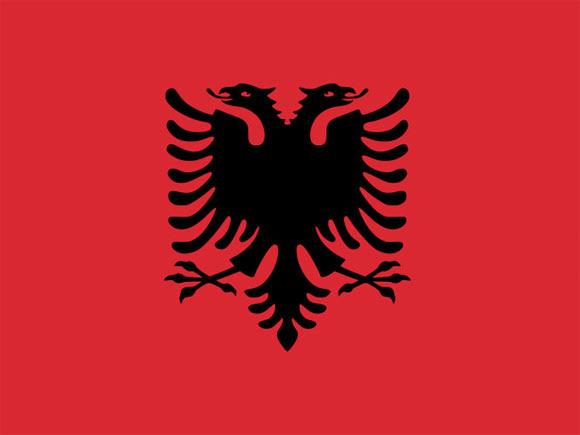 Have a look at the flags above and see if you can recognise which country it belongs to.
Photos: India's highs and lows on Day 4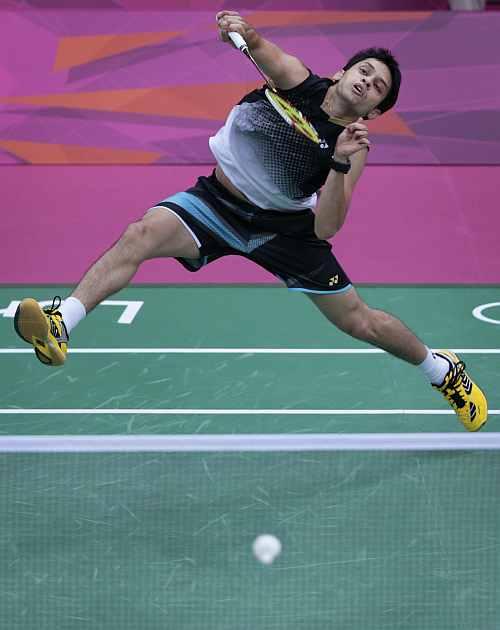 Shuttler Parupalli Kashyap and boxer L Devendro Singh came up with stellar displays on Day 4 of competitions in the Olympic Games but India drew a blank and failed to add any medal to the bronze won by rifle shooter Gagan Narang.
Zolnir gives Slovenia its first judo gold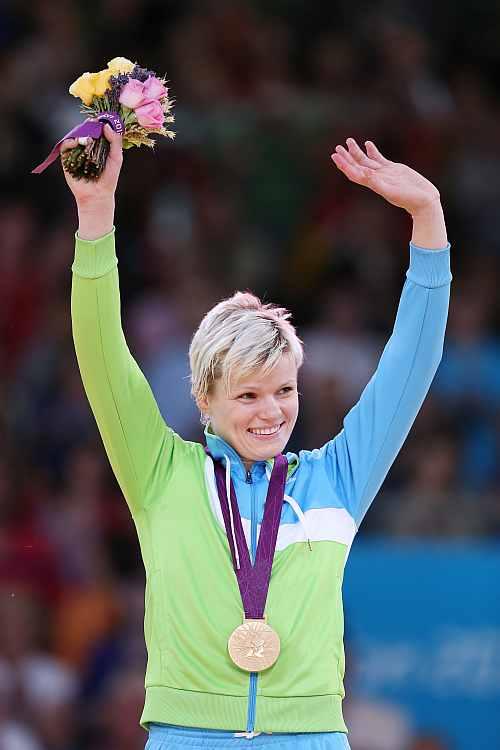 Meet the gold medallists on Day 4 of the London Olympics.
July 31, 2012
Photos: Record breakers at the Games so far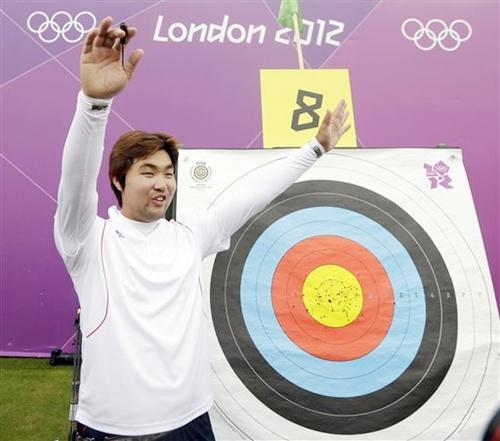 Photos: Record breakers at the Games so far
'No shame in losing as long as you give your best'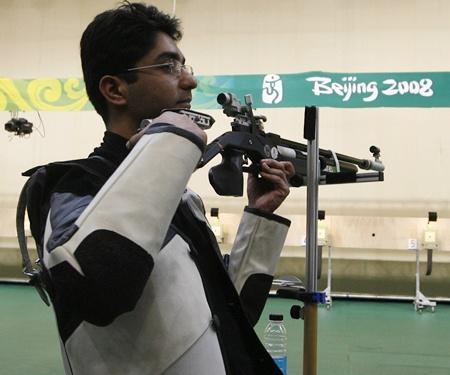 Ace Indian shooter Abhinav Bindra, who failed to defend his Olympic gold medal in the 10 metres air rifle, on Tuesday said though he was disappointed for not qualifying for the final of his event, he has no shame as he gave his 100 percent.
Impressed with how comfortable we feel together: Paes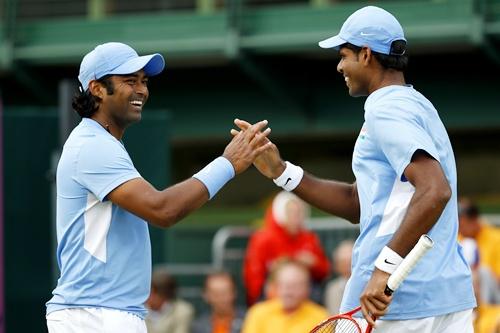 Having won the men's doubles first round Olympic match against Jean Julien Rojer and Robin Haase of The Netherlands, India's tennis legend Leander Paes was all praise for his unheralded partner Vishnu Vardhan, stating that he felt extremely comfortable with the youngster on the court.
Phelps ready to take Olympic spotlight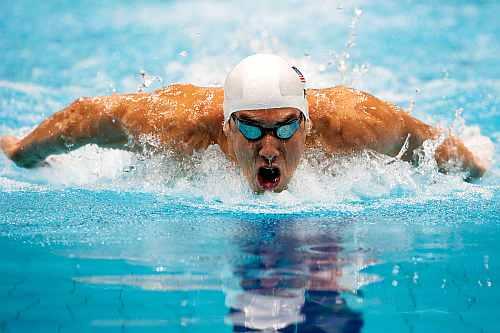 Michael Phelps is poised to scale the final mountain he needs to reach the peak of Olympic immortality when the fourth day of the Olympic swimming competition takes place on Tuesday.
Forget intensity, Indians just played for 15 minutes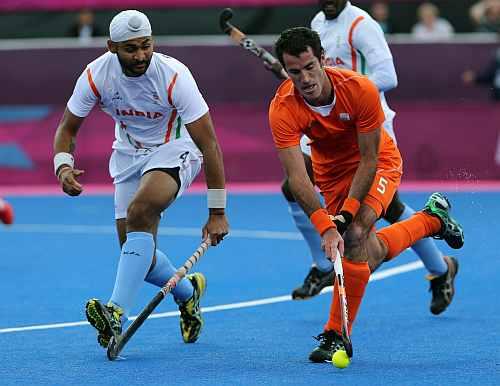 Pargat Singh is former India hockey captain. He represented India in three Olympic Games between 1988 and 1996. He is the only man to captain India in two Olympics - at Barcelona '92 and Atlanta '96.
China grabs gold, Brits steal show in gymnastics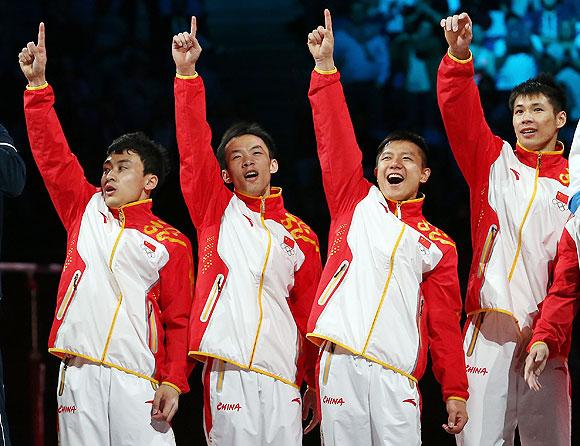 Chinese and British gymnasts stole the show in the Artistic Gymnastics Men's Team final on Monday.
Bindra, Sodhi thrilled over Narang's bronze at London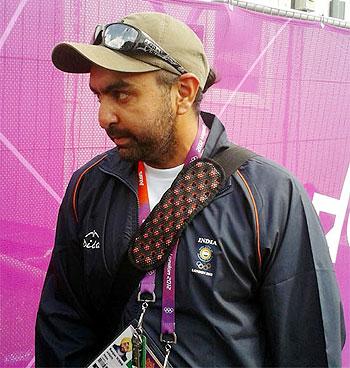 Indian shooters Abhinav Bindra and Ronjan Sodhi excited and thrilled about Gagan Narang's bronze at the London Games.
Federer-Wawrinka made to work in opener at Games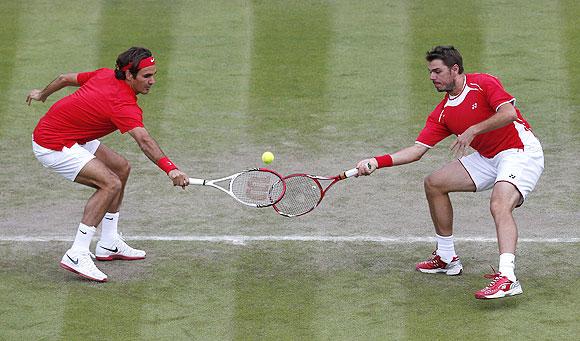 Defending doubles gold medallists Roger Federer and Stanislas Wawrinka were stretched by Japanese pairing Kei Nishikoir and Go Saeda on Monday, with the Swiss only winning the thrilling match 6-7, 6-4, 6-4 as darkness fell.
PHOTOS: 15-year-old Meilutyte makes a big splash in pool
Lithuanian teenager Ruta Meilutyte survived the ultimate test of nerves to win the women's 100 metres breaststroke gold medal at the London Olympics on Monday.
PHOTOS: India's highs and lows on Day 3 of the Games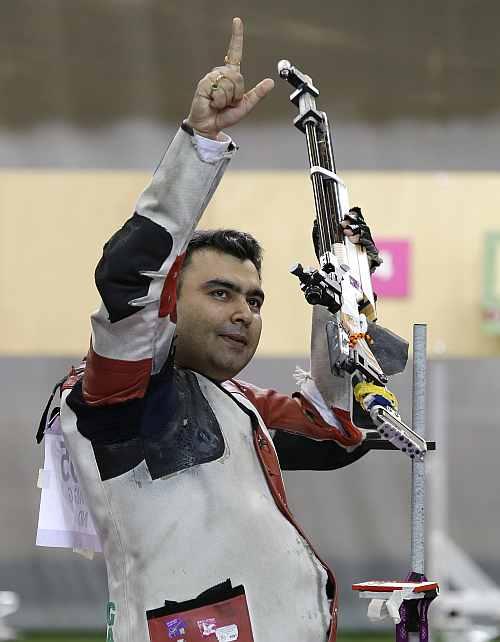 Ace marksman Gagan Narang fired India to its first medal at the Olympic Games on Monday, winning the bronze in the men's 10m air rifle, but Beijing Games gold medallist Abhinav Bindra flopped, making an exit in the preliminaries.
PHOTOS: China's gold rush continues at the Games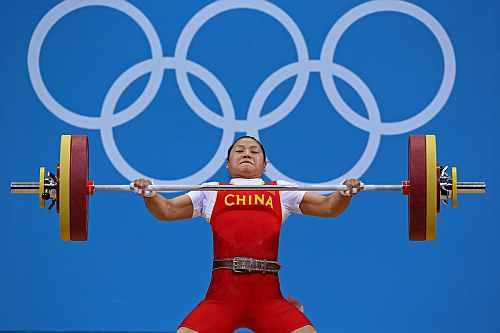 Li Xueying won China's second weightlifting gold medal at the London Olympics on Monday as she dominated the women's 58-kilogram category.
July 30, 2012
It is like a huge stone is off my chest, says Narang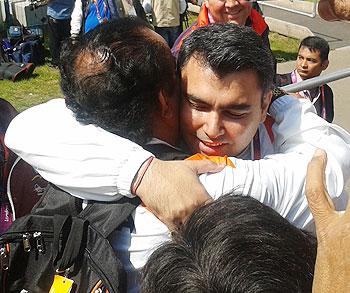 Shooter Gagan Narang provided the spark to India's Olympic campaign by clinching the bronze medal in the men's 10 m air rifle event while his compatriot Abhinav Bindra surprisingly failed to qualify for the finals at the Royal Artillery Barracks in London on Monday.
Phelps, rowers and traffic: Day 3 at the Olympics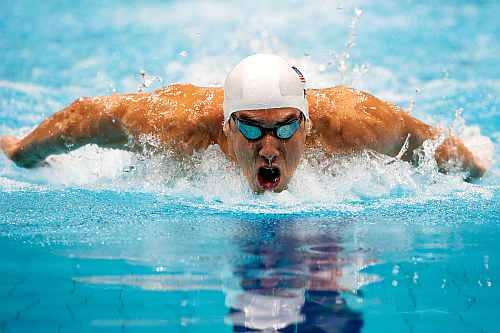 Michael Phelps and powerhouse rowing teams from Australia and Britain were the early highlights at the Olympics on Monday when London's notoriously clogged roads appeared to handle the extra crush of traffic on the first business day of the games.
Photos: Gagan Narang's moment of glory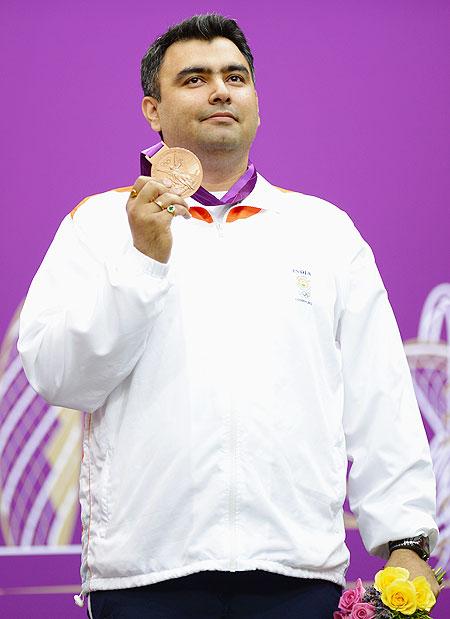 Ace marksman Gagan Narang on Monday opened India's account in the London Olympic Games by clinching the bronze medal in the men's 10m Air Rifle event in London.
Out of Games, Bindra has no plans to retire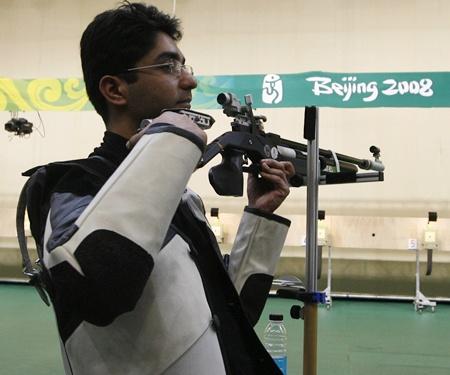 Beijing Games gold medallist shooter Abhinav Bindra on Monday insisted that he has no plans to retire from the sport after crashing out of the London Olympics by failing to make the finals of the 10m air rifle event in London.
Sharapova, Djokovic win at Olympics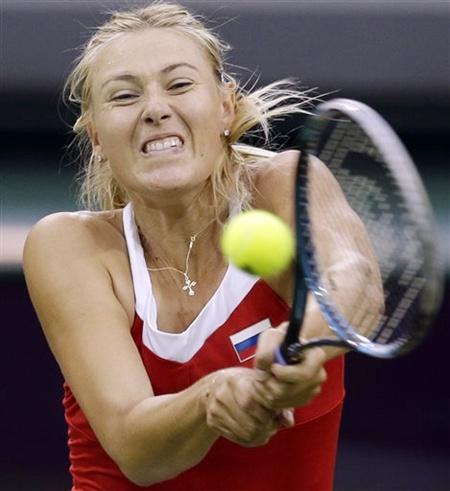 Thanks to rain, Victoria Azarenka, Venus Williams and 20 other women at the Olympics who have yet to complete a singles match could end up on court six consecutive days if they reach the gold medal round.
PHOTOS: Phelps's golden era on wane as records fall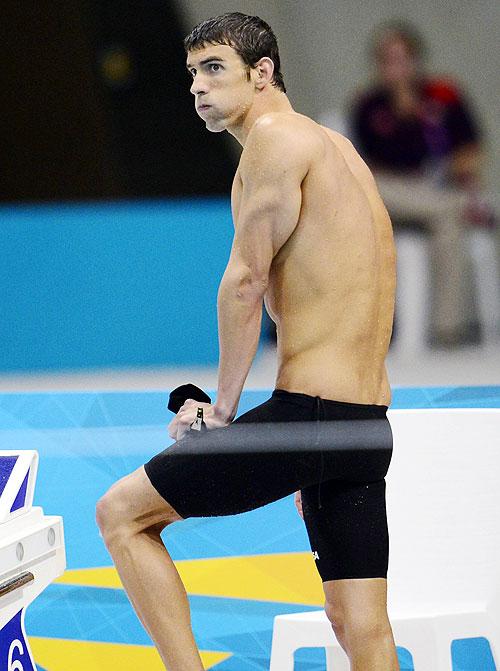 Action from the swimming event at the London Olympics on Sunday.
July 29, 2012
Photos: North Korean Om sets Games lifting record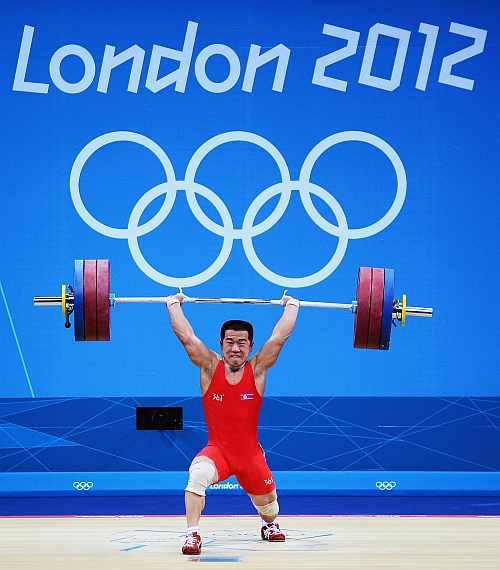 North Korean weightlifter Om Yun Chol set an Olympic record and matched the world record for the men's 56 kilogram clean and jerk lift on Sunday by lifting 168 kg - exactly three times his own bodyweight.
PHOTOS: Dominant Hamilton wins in Hungary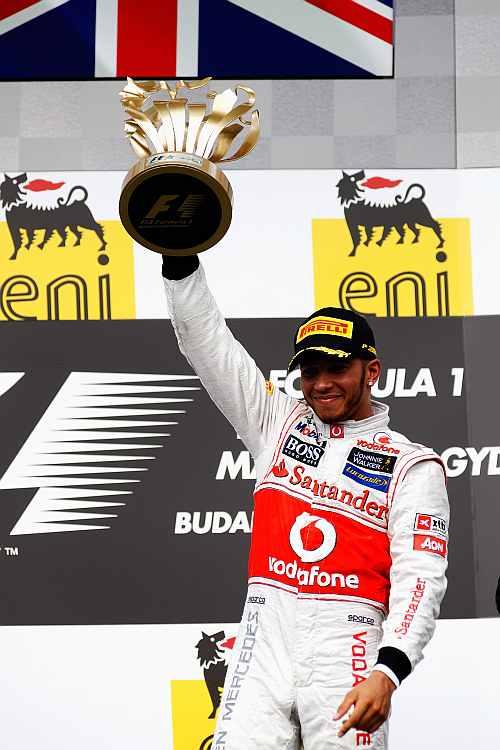 Lewis Hamilton dominated the Hungarian Grand Prix on Sunday as he led from start to finish, holding off fierce challenges from both Lotus drivers to claim his second win of a season that had threatened to fizzle out.
Photos: Saina, Vijender, Jai provide cheer at the Games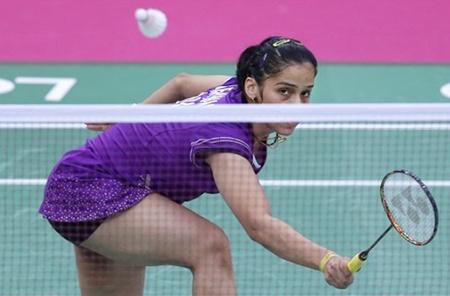 The sagging morale of Indian contingent at the London Games got a much-needed boost when key medal contenders Saina Nehwal,Vijender Singh and Jai Bhagwan began their respective campaigns with a bang.
Women archers blame weather conditions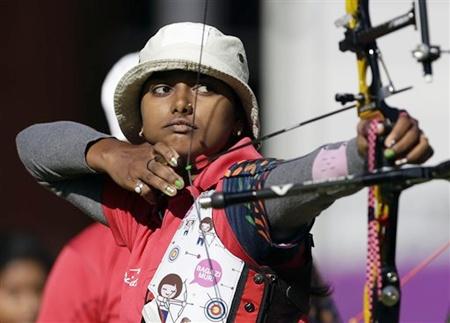 India's erratic women archers crashed out of the team event on Sunday. Denmark edged out the Indians 210-211 at the Lord's cricket ground.
Hockey team eager to make impressive start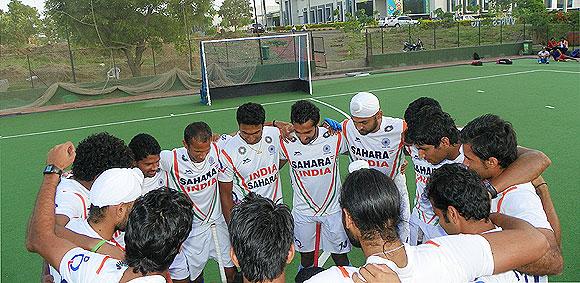 Back in the Olympics after eight years, the Indian hockey team would look to relive the glory days when it opens its campaign against the formidable Netherlands in the 30th Games in London on Monday.
Olympics photos: The gold medallists of Day 1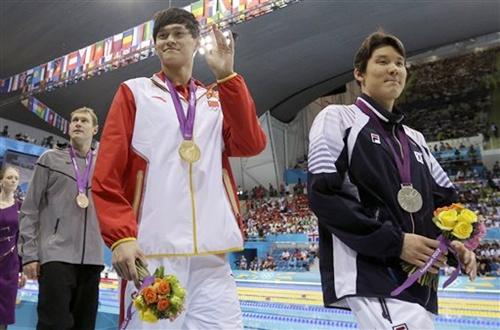 Rediff.com looks at the gold medal winners of the London Olympics so far.
Bindra, Narang set to take aim with medal in sight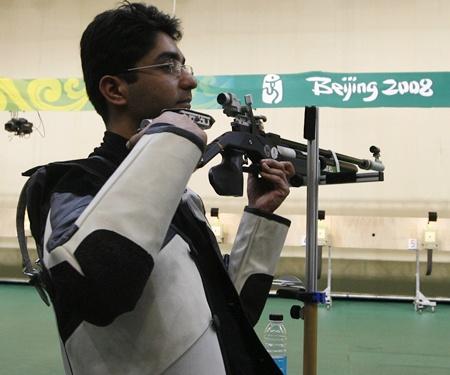 Abhinav Bindra will aim for his second-successive medal, while Gagan Narang will hope to end his Olympic jinx when the hyped duo takes aim in the 10m Air Rifle event of the London Games on Monday.
Royal Zara Phillips set to make Olympic equestrian debut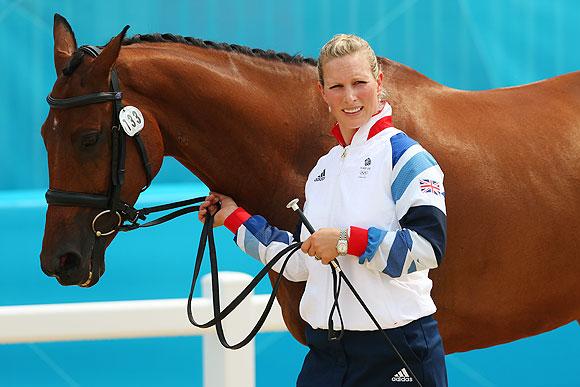 Zara Phillips is making her Olympic debut in equestrian eventing, and the gold-medal question is whether her grandmother, Queen Elizabeth II, will head out to Greenwich Park on Sunday to watch her compete in the dressage portion of the competition.
Water wonder Phelps's mystique shattered by Lochte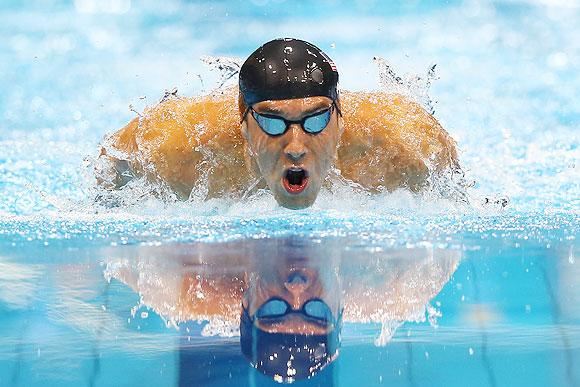 Michael Phelps's mystique may have shattered by Ryan Lochte, after finishing 4th in the 400m Individual Medley on Saturday.
Cry babies on Day 1 at the Games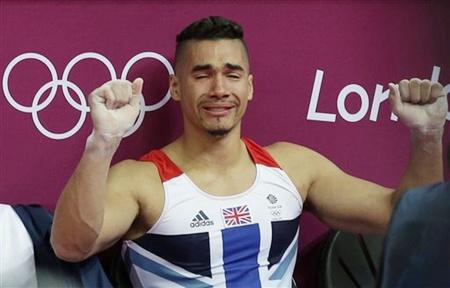 An emotional gymnast Louis Smith. He clenches his fists and cries during the Artistic Gymnastics men's qualification at the London Olympics on Saturday.
July 28, 2012
PIX: Kashyap the saving grace on gloomy day for India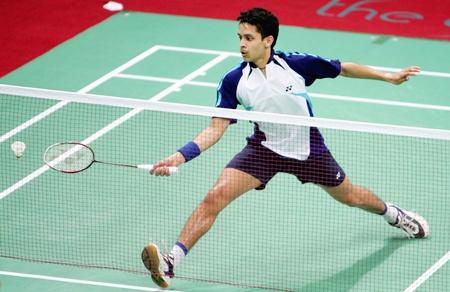 Parupalli Kashyap was the lone bright spot on a disappointing day for India at the London Olympic Games, on Saturday.
No expectant medal for Malay pregnant shooter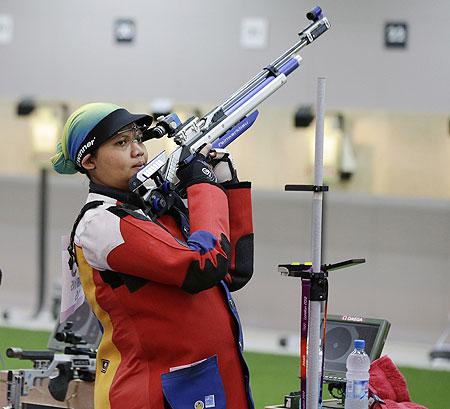 She's still expecting, even after finishing out of the medals in the opening event of the London Games. After placing 34th out of 56 shooters in the women's 10-meter air rifle on Saturday, Nur Suryani Mohd Taibi pronounced she's ready to have her baby daughter in less than seven weeks back home in Malaysia.
Photos: With royalty and rock, Britain opens its Olympics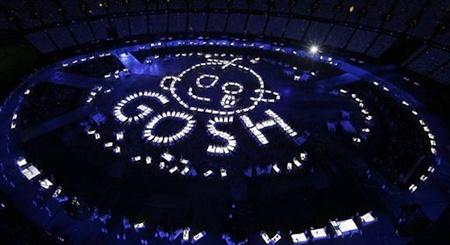 Shaken and stirred. making her film-acting debut teamed on Friday to give London a wild Olympic opening like no other.
PHOTOS: LONDON 2012 FLAG BEARERS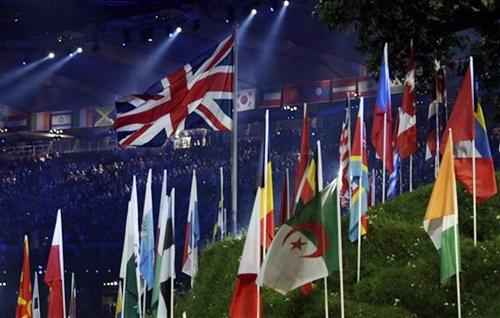 It's not a concert, Danny Boyle stressed. It's about the athletes.
Olympic opener showcases Britain's musical melange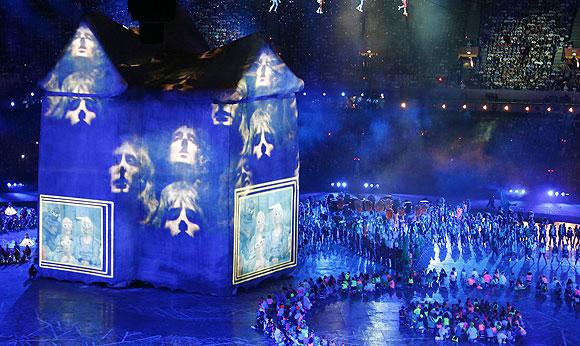 While sports are the heart of the Olympics, music -- loud, bold, world-conquering British music, amplified in the most global of settings -- was the booming beat Friday night.
PIX: Britain stages a spectacular welcome for the world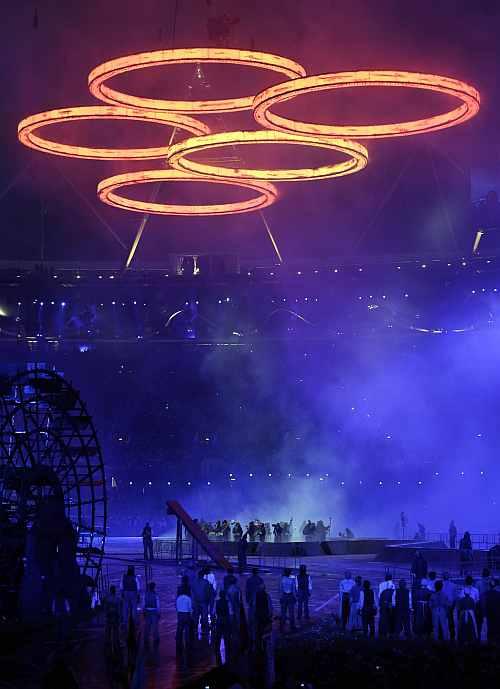 Britain greeted the world Friday with an extravagant celebration that included Bond, the Bard and a Beatle and a formal welcome from no less a figure than its jubilee queen.
Back to business for muscle-bound Bolt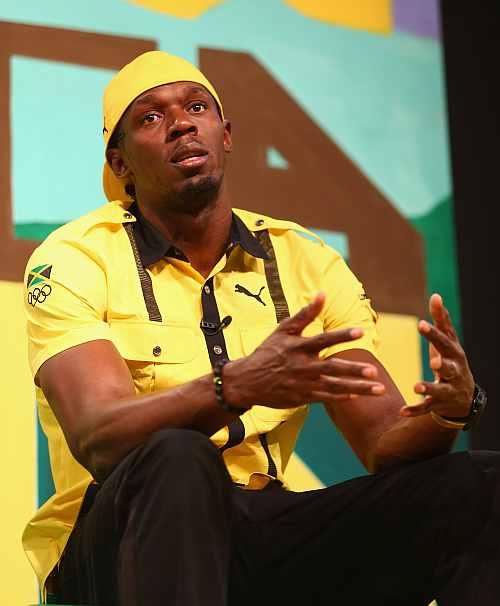 After a day spent in the full glare of the media spotlight, Usain Bolt returned to what he does best on Friday morning, training with his Jamaican teammates at London's Olympic Park.
PIX: Games Village and best of 'Indian and Asian cuisine'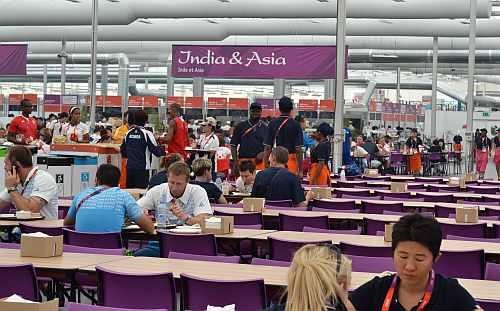 The London Olympics Games Village is buzzing with activity as athletes, officials and journalists from all corners of the world rub shoulders.
July 27, 2012
London Olympics: Photos of the day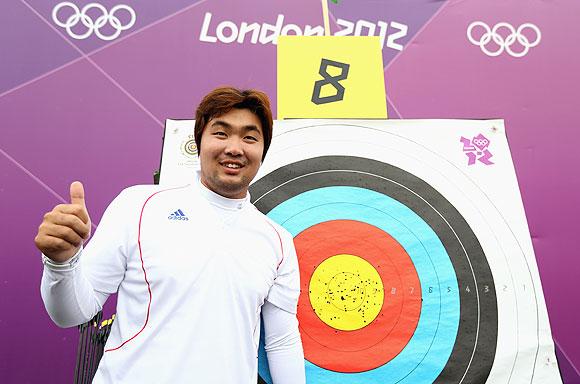 Photographs from the London Olympics.
All eyes on Bindra, Sodhi as shooters aim for bull's eye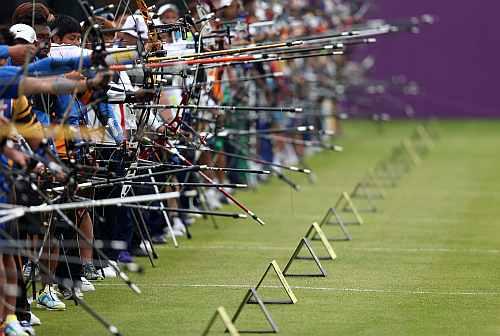 A clutch of young archers and a host of experienced marksmen would aim to boost the meager medal haul that India has reaped from the Olympic arena when competitions in these two disciplines gather pace on Saturday.
Photos: India's Best Bets for Games Medals
Armed with a new-found self-belief, India's top athletes hope to script a fresh chapter in the country's Olympic history as they go into competiton in the 30th edition of the sporting extravaganza.
Inexperienced Indian paddlers take centre stage at Games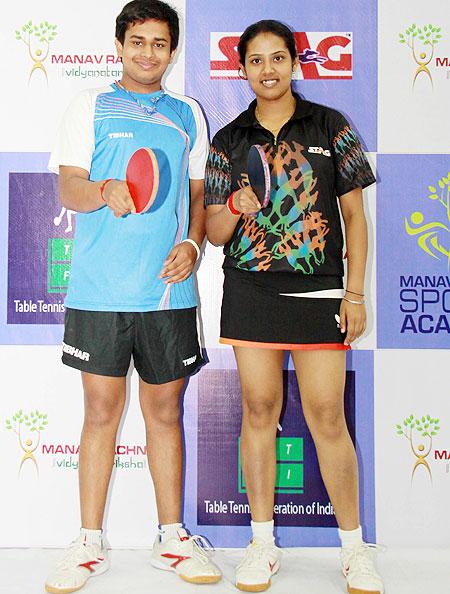 In the absence of big names of Indian table tennis, the onus will be on the teenaged duo of Soumyajit Ghosh and Ankita Das to deliver the goods at the London Olympics.
Photos: Dazzling venues of the London Games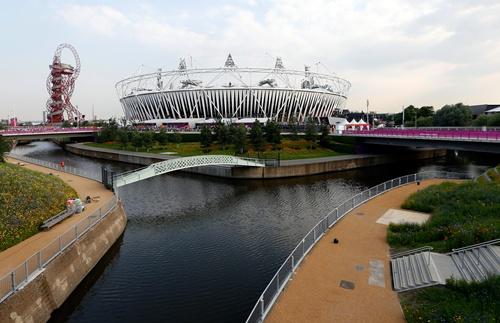 The Olympic Stadium is pictured in Olympic Park ahead of the London 2012 Olympic Games in London.
Formula One: Ten down, ten to do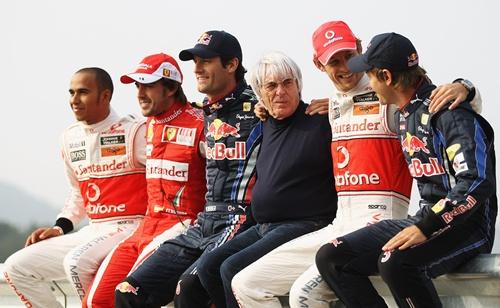 The Formula One season in 2012 has been the sport's most divisive one. On one hand, there's constant overtaking and incredible unpredictability: for the first time in F1 history, seven different drivers won the first seven races.
Michelle Obama tells US athletes to 'have fun' at Games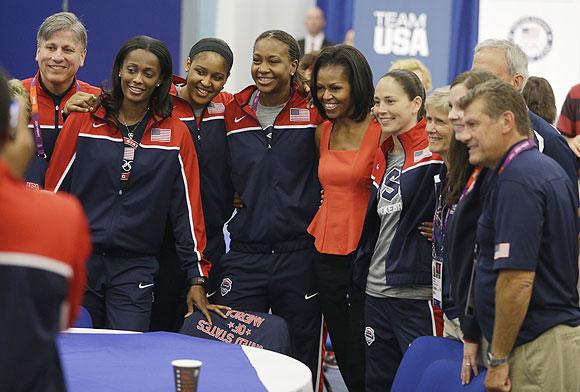 Michelle Obama formally opened her stint as leader of the US Olympics delegation on Friday morning, attending a breakfast with American Olympians and saying she was 'just in awe' of their company.
All eyes on London and spectacular Games opening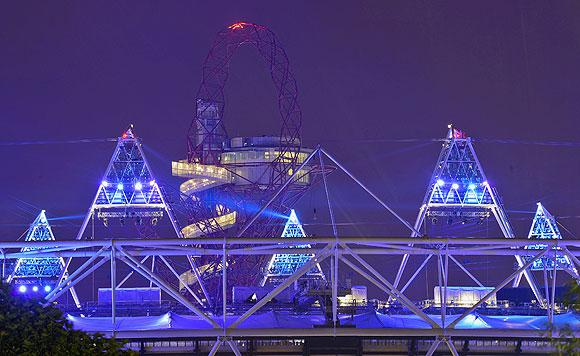 All eyes turn to London on Friday for the opening ceremony of the 2012 Olympics, an exuberant journey from Britain's idyllic pastures through the grime of the Industrial Revolution and ending in a contemporary world dominated by popular culture.
Ready to roll: Stars to watch out for at the Games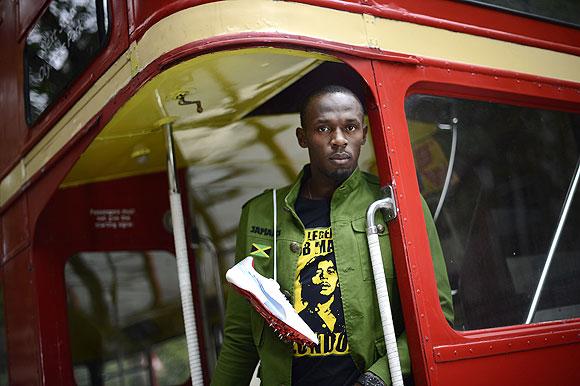 Check out the athletes who could set the 2012 Olympics alight. Swimming dominates the first week of the Games, athletics the second while gymnastics continues throughout at the North Greenwich Arena.
'You are never going to have an easy match at Olympics'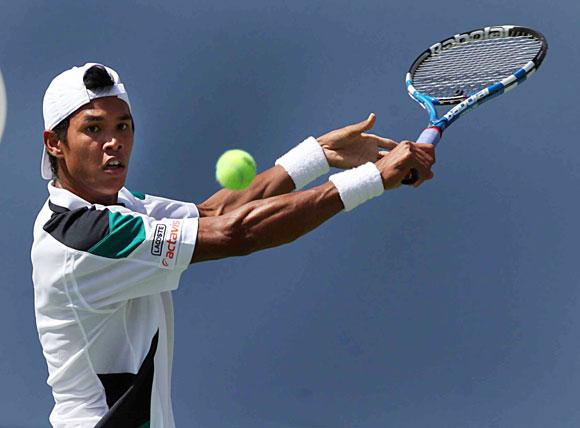 Somdev Devvarman could not have asked for a tougher beginning to his Olympic campaign. Back in action after a nine-month injury lay-off he was handed a tough first round match against Finland's Jarkko Nieminen in the men's singles.
No pressure, but responsibility, says shooter Sodhi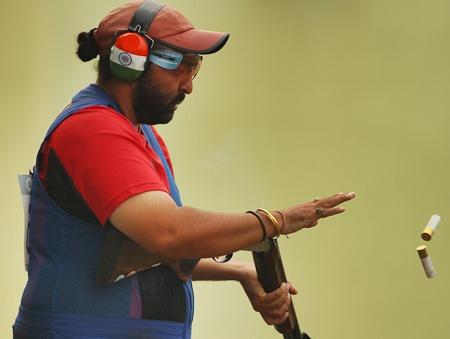 Shooter Ronjan Sodhi tells the fickle English weather could play a huge part during the double trap event at the Games.
Photos: Swimmers test the waters in the Games pool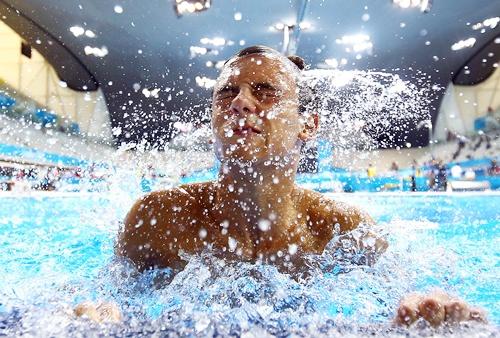 Images from the Aquatics Centre at the Olympic Park.
These athletes gave their nation its only Olympics gold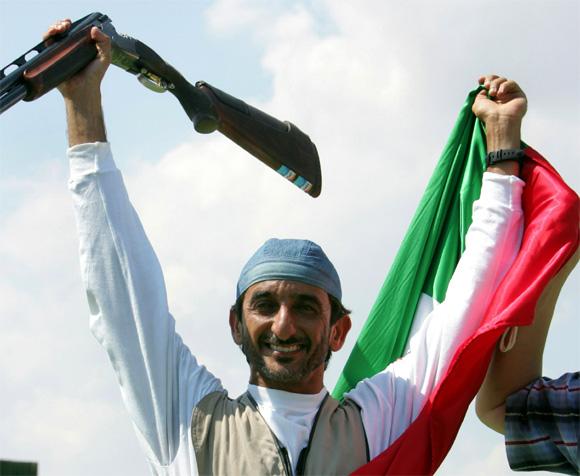 digs out athletes who have given their nations a solitary golden moment at the Olympics.
July 26, 2012
Eyes on Games as London gears up for greatest spectacle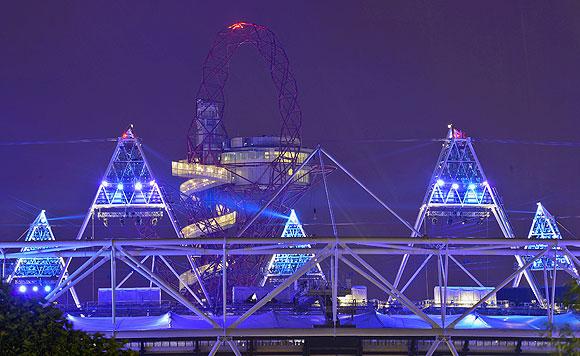 On the eve of the greatest show on earth, here are a few snippets bringing you the flavour and goings-on around the London Games.
Beijing is past, I have to start afresh: Bindra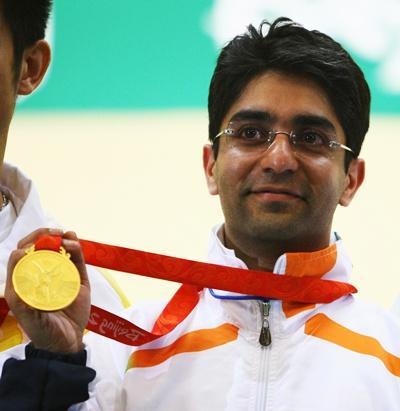 The Beijing Olympics gold medal is a distant memory for the star Indian shooter Abhinav Bindra, who says he will have to start afresh when he takes aim at the London Games, starting in London on Friday.
India eyeing early medals from archers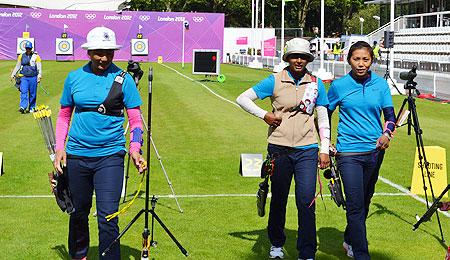 Indian archers, touted as serious medal contenders, will seek to give India's Olympic campaign the perfect start when they get off the blocks at the hallowed turf of the Lord's on Friday.
Women campaigners demand sex equality at the Games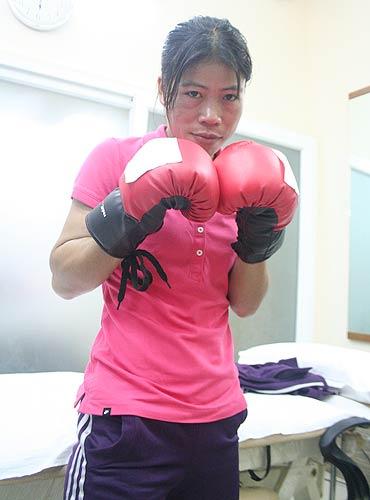 Women's rights campaigners called for an end to sex discrimination at the Olympics, urging the International Olympic Committee (IOC) to ensure there are equal numbers of sports and medals for men and women.
Former British PM Blair defends Games expenses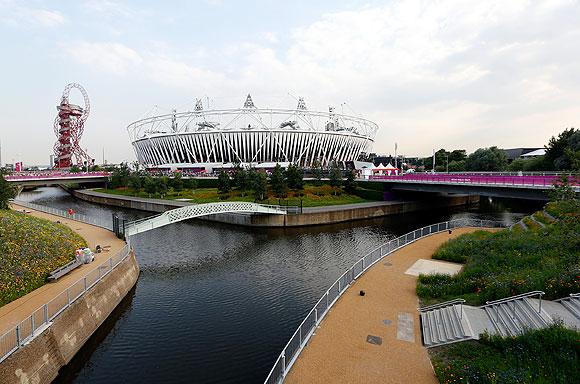 Two days from the start of the Olympics, former British Prime Minister Tony Blair has defended his decision to deliver the games to London, maintaining on Wednesday that the event will be value for money as austerity hits other public projects.
Awesome to come back for my sixth Olympics: Paes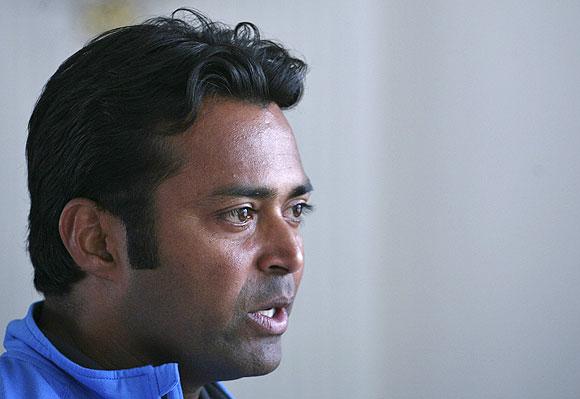 Leander Paes has done it all for Indian tennis in a career spanning more than two decades. He won an Olympic medal, won countless Grand Slam trophies and guided the national team to some unbelievable wins at the Davis Cup level.
Tendulkar inspires archer Banerjee at Lord's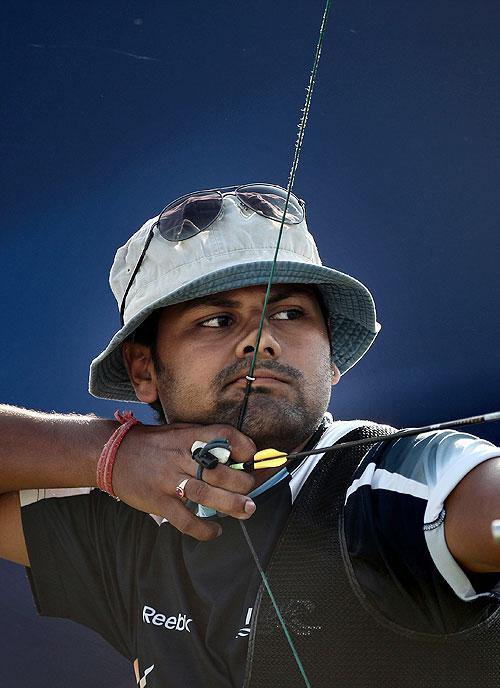 Rahul Banerjee is hoping to carry forward the legacy of archery by looking to draw inspiration from his cricketing hero Sachin Tendulkar to script history at the Mecca of Cricket with a medal in archery at the Olympics.
Poonia, Sudha check into London Games Village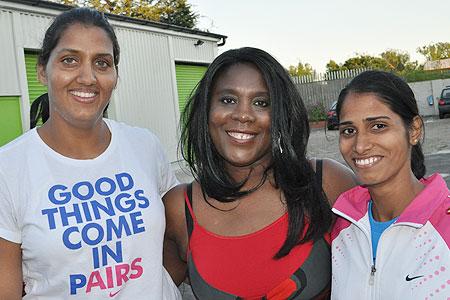 The Indian contingent continued to grow at the Games Village, as star athletes Krishna Poonia and Sudha Singh checked in on Wednesday.
'It will be pleasing if Mittal athletes win a few medals'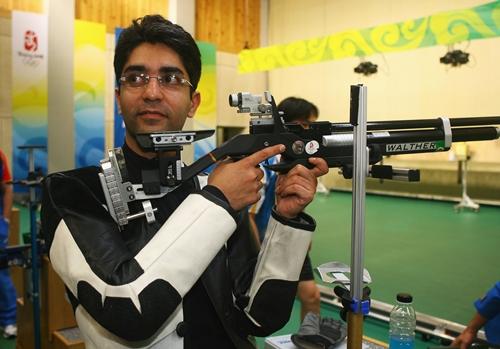 Rediff.com's caught up with Mittal Champions Trust's Amit Bhatia to find out about his involvement with the trust and expectations from Indian athletes at the Games.
July 25, 2012
PHOTOS: In and Around the Games Village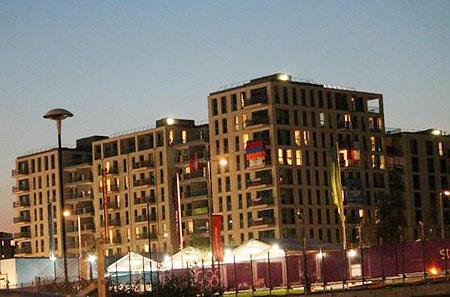 Rediff.com's is at the 2012 Summer Olympics in London, armed with a camera. Here are some pictures he's posted on Rediff ZaraBol! Post yours too!
Our archers are hungry for success: Limba Ram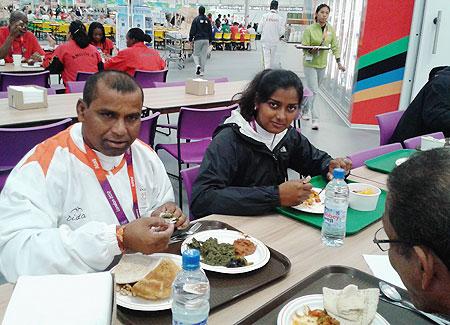 Hit by flu on arrival, the Indian archers have got used to the unpredictable weather in London and are now eagerly awaiting the start of the Olympics in which they aim to win their first-ever medal, national coach Limba Ram said.
Twitch or flinch no longer a false start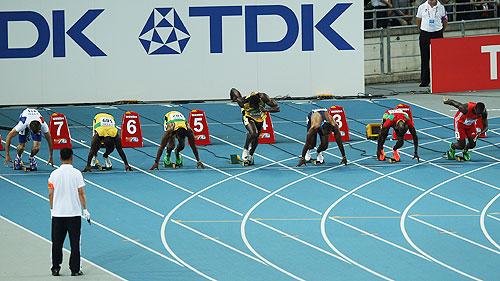 The danger of one inadvertent twitch ruining the greatest day of a sprinter's life has been removed after athletics' governing body softened the rules on false starts ahead of the London Olympics.
PHOTOS: Indian athletes gearing up for the Games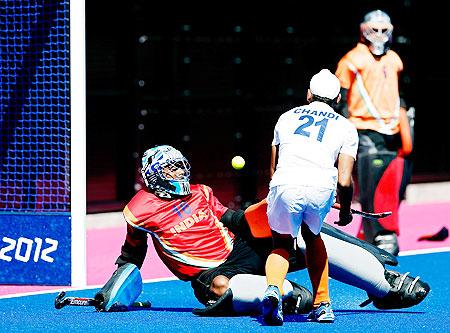 PHOTOS: Indian athletes gearing up for the Games
Pool side stories: Gold glitter lost at the Games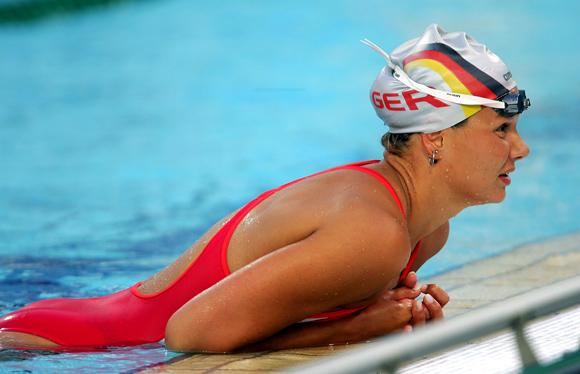 A few swimmers, their plethora of medals in other major international competitions notwithstanding, missed out on the medal that matters the most in the sport -- an Olympic gold. rediff.com takes a look at a few recent examples.
India's teenage paddlers living a dream at the Olympics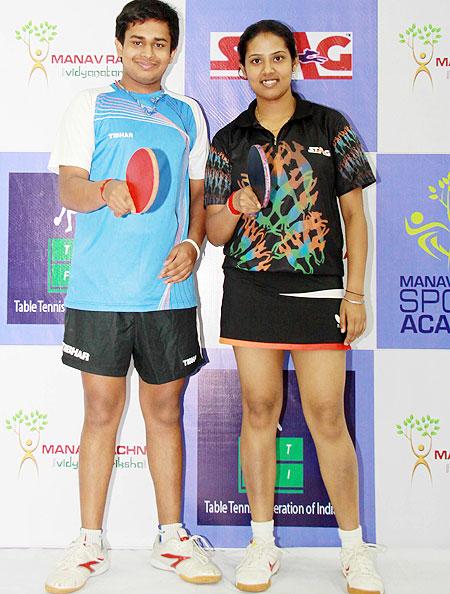 India's young duo of Soumyajit Ghosh and Ankita Das are hoping to make waves at their first Olympics, but admitted finding it tough to keep their excitement in check as they live their dream of performing at the London Games.
PHOTOS: Around London, three days to go for the Games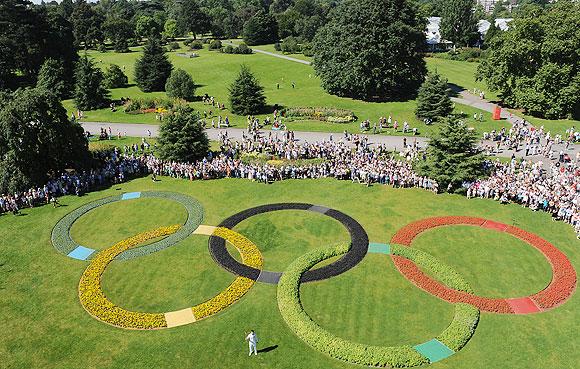 Torchbearer Oliver Golding holds the Olympic Flame in between the Olympic Rings at Kew Gardens in London, England.
July 24, 2012
India working extra time on penalty-corners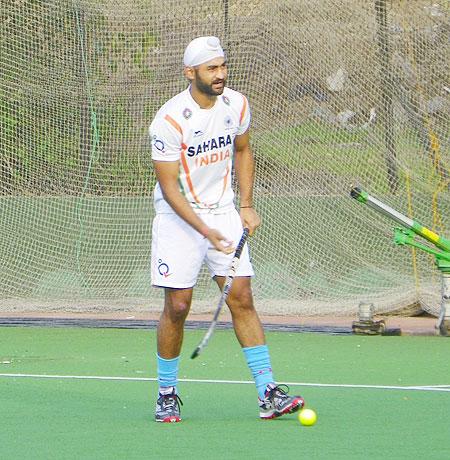 The Indian hockey team is working extra time in fine-tuning penalty-corner drills ahead of the London Olympics. Chief coach Michael Nobbs feels the fate of the competition rests on the team firing in more short corners.
Olympic opener will be spectacular but not secret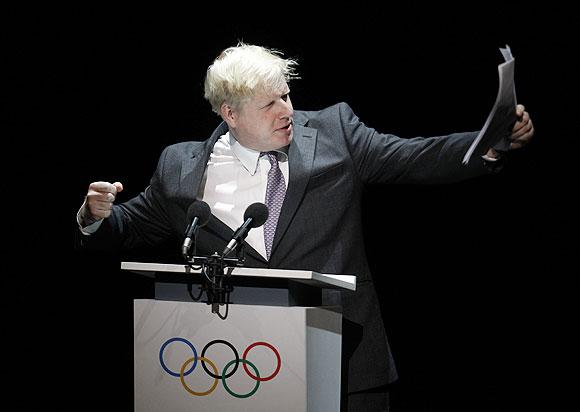 The London Olympics opening ceremony will be a grand spectacle -- but will it be a surprise?
London Olympics mascots: menacing or magic?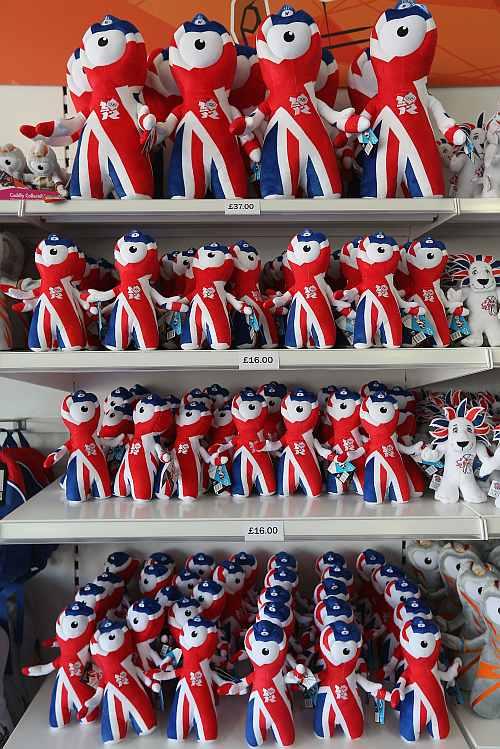 Sinister. Disturbing. Creepy. Frightening. The official mascots of London's Olympic and Paralympic Games Wenlock and Mandeville have been called all of those things, but organizers are hoping to tack on a more positive title: merchandising magic.
London Mayor steals show at opera house Olympic ceremony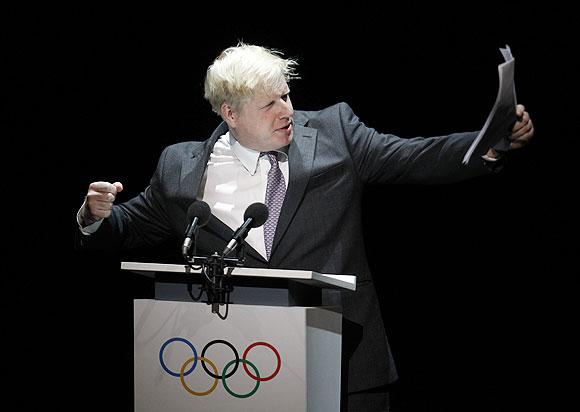 It's not often that Placido Domingo is upstaged at the Royal Opera House. Yet flamboyant London Mayor Boris Johnson managed to pull it off at a star-studded Olympic gala on Monday night.
PHOTOS: London ready to roll for the Games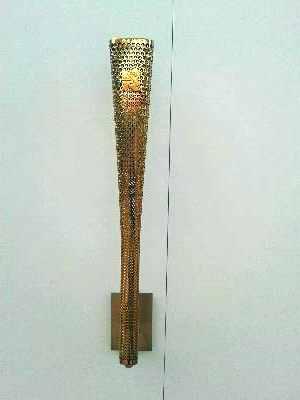 Rediff.com's Harish Kotian is at the 2012 Summer Olympics in London, armed with a camera. Here are some pictures he's posted on Rediff ZaraBol! Post yours too!
July 23, 2012
Sandeep Singh aims to score in every game at Olympics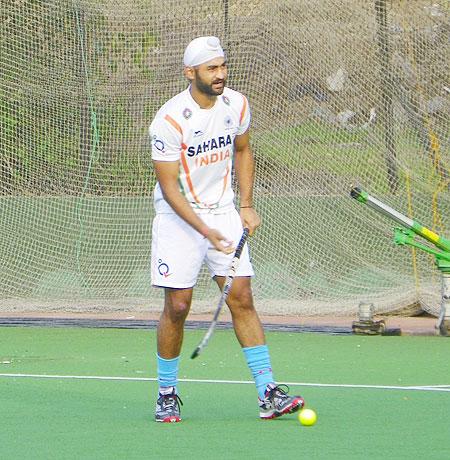 India's star drag-flicker Sandeep Singh has set a personal target of scoring in every game at the London Olympics and hopes to make up for the disappointment of missing out on the Beijing Games.
Double-decker bus gets Olympic make-over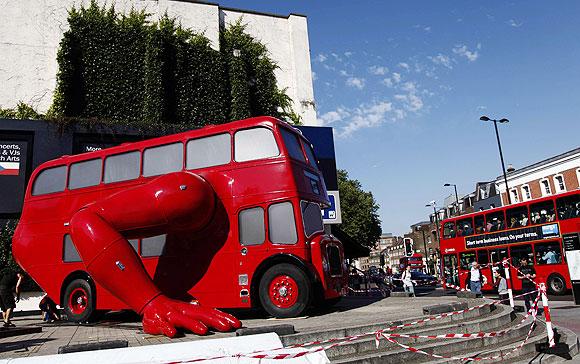 A Czech artist has re-modelled a traditional London double-decker bus into a mechanical sculpture of an athlete doing push-ups to celebrate the Olympic Games opening in the British capital on Friday.
The men who hold the key to India's chances in hockey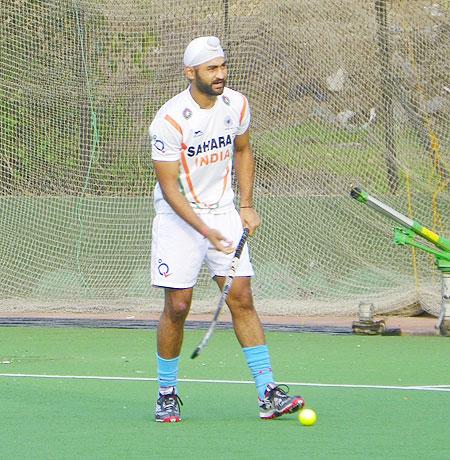 The name should be survivor Singh rather than Sandeep Singh. Life has come a full circle for Sandeep Singh after getting injured in a train when an RPF officer's pistol went off accidentally in 2006. He was on his way to Delhi to join the team for the World Cup in Germany.
July 22, 2012
Mayor hopes London torch tour to lift Olympic mood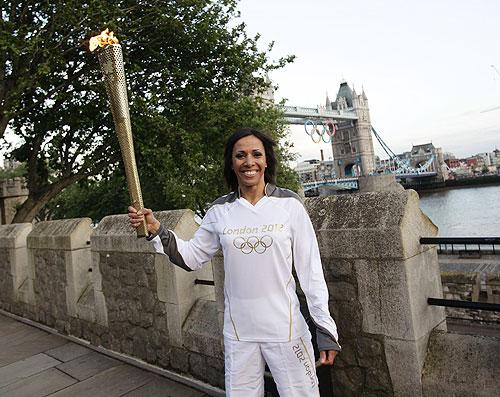 Crowds of thousands cheered the Olympic torch relay through London on Saturday on the final leg of its tour around Britain, generating excitement that organisers hope will dispel lingering fears about the event's organisation and security.
Photos: Fernando Alonso wins controversial German GP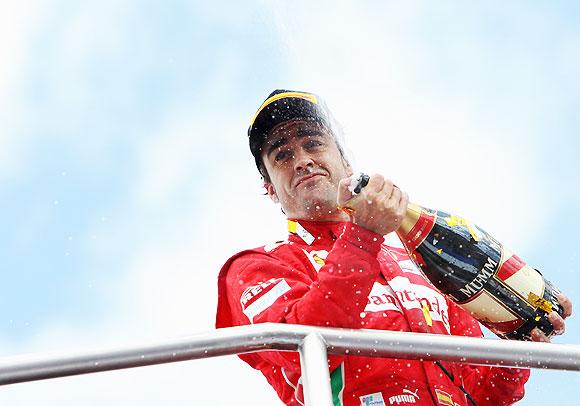 Fernando Alonso led from pole position to chequered flag to win the German Grand Prix for Ferrari on Sunday while Germany's World champion Sebastian Vettel was stripped of second place for an overtaking infringement.
Nadal sad to miss 'once in lifetime' chance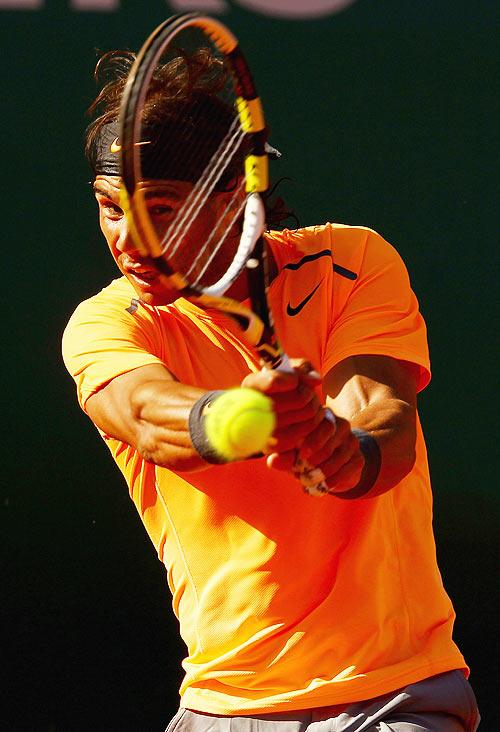 Rafa Nadal fears the chance to carry Spain's flag at an Olympics opening ceremony may not come around again after being forced to withdraw from the London 2012 tennis event with a knee injury.
July 21, 2012
Indian boxers are not pompous, have self belief: Sandhu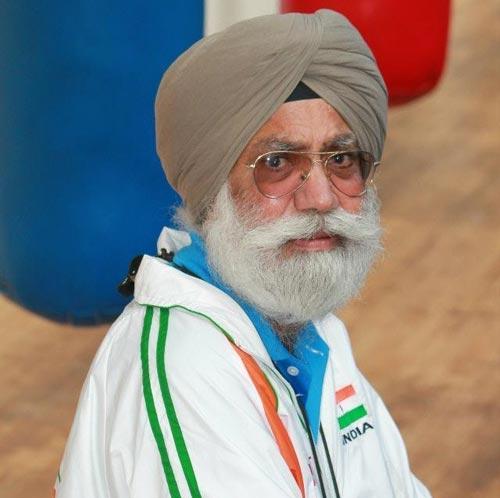 His wards might be dreaming big ahead of the London Games but national boxing coach Gurbux Singh Sandhu sees no harm in it, saying the Indian pugilists are not "pompous" but have "self belief".
Mom's the word for Mary Kom at London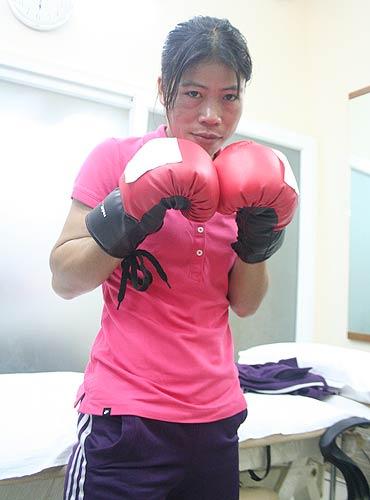 For M C Mary Kom, the London Olympics is a dream realised twice over. The five-time World champion is not just excited about being the only Indian woman boxer at the quadrennial extravaganza, but is also overjoyed about having her mother in the stands to watch her live for the first time.
Don't expect anything big from hockey team, say ex-players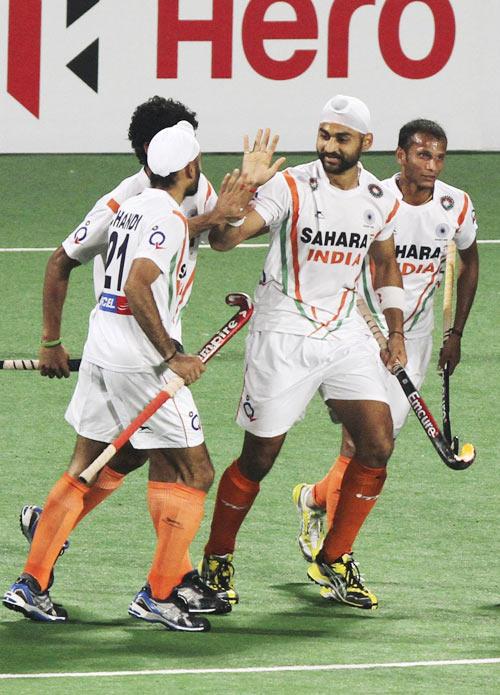 A top-four finish in the Olympics will be a 'miracle' for the Indian men's hockey team, but a favourable outing in their Games opener against the mighty Netherlands on July 30 will act as a huge 'confidence booster' for the eight-time champions, feels former players.
Jwala Gutta: I'm fit; why won't I expect a medal?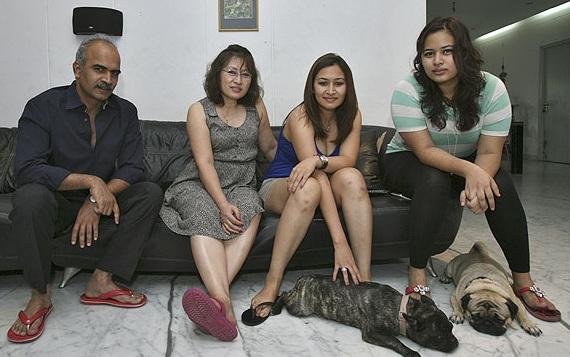 Ace shuttler Jwala Gutta says she is confident of winning a medal at the Olympics as she has worked hard on her fitness and other aspects of the game.
July 20, 2012
'Winning Olympic medal in men's or mixed doubles my goal'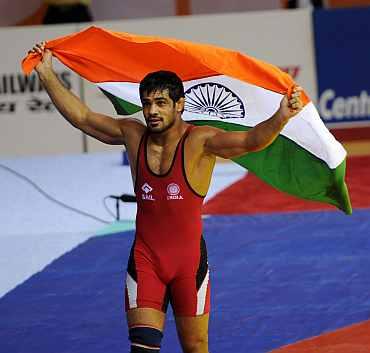 Indian tennis legend Leander Paes has backed the IOA's decision to appoint Sushil Kumar as the country's flag-bearer at the London Olympics opening ceremony, saying that the Beijing bronze-medallist wrestler deserves the honour.
'Reaching quarter-finals will be achievement for rowers'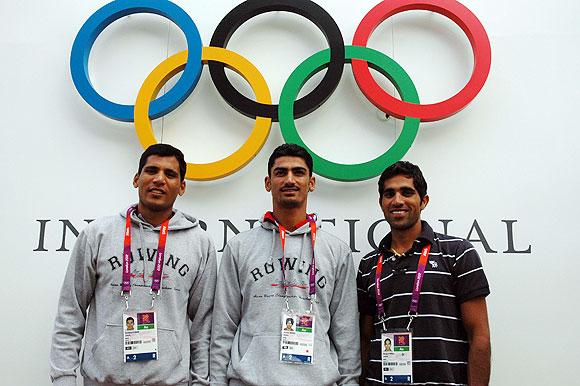 Indian rowing coach Ismail Baig is realistic about expectations from his wards at the upcoming Olympics and feels it will be a big achievement if the three-member team finishes among the first 15 in the Single Scull event.
Strike threats loom over London Games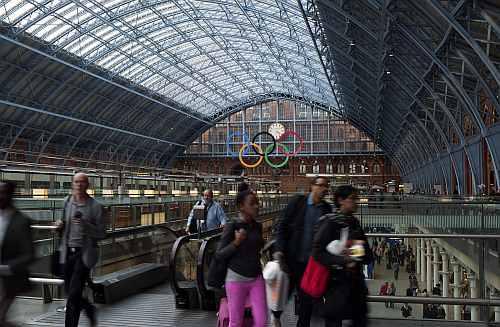 Strikes by train drivers and passport officials threaten major disruptions to the London Olympics, prompting the government to warn unions on Thursday that they risked public anger if the industrial action went ahead.
The men that pack the punch in Indian boxing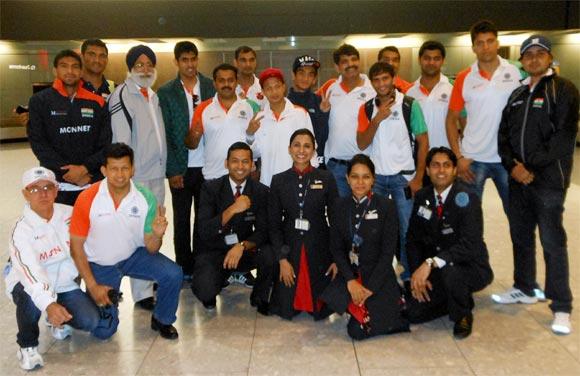 While the boxers have done their bit by winning laurels at international competitions and securing as many as seven spots at the Olympics, the support staff has also played a key role in the success.
They won Olympic medals for India... well, almost!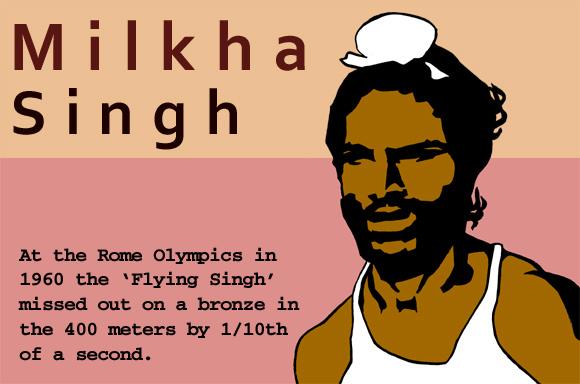 As the whole country hopes for better returns from the upcoming London Games, Rediff.com takes a look at a few Indian athletes who missed out on Olympic medals.
July 19, 2012
Inspired by Tyson, Shiva now eyes Olympic glory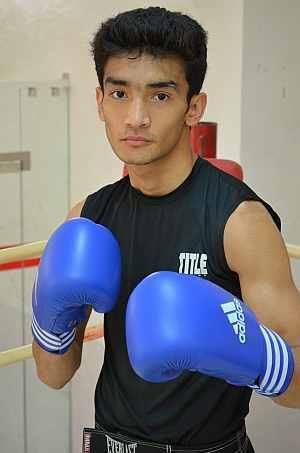 He is the youngest Indian pugilist to qualify for the Olympics but Shiva Thapa was busy trying his hand at athletics and football to start with before catching the phenomenal Mike Tyson on TV charmed him into taking up boxing.
Olympics-bound Kumari seeks funds for London trip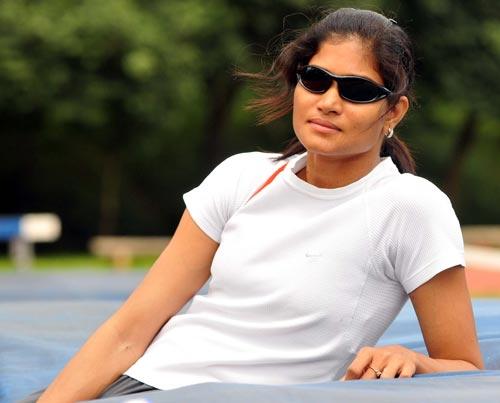 Little-known woman high jumper Sahana Kumari is having a tough time sourcing funds for her preparation for the mega-event.
Brazilian champion predicts more medals in London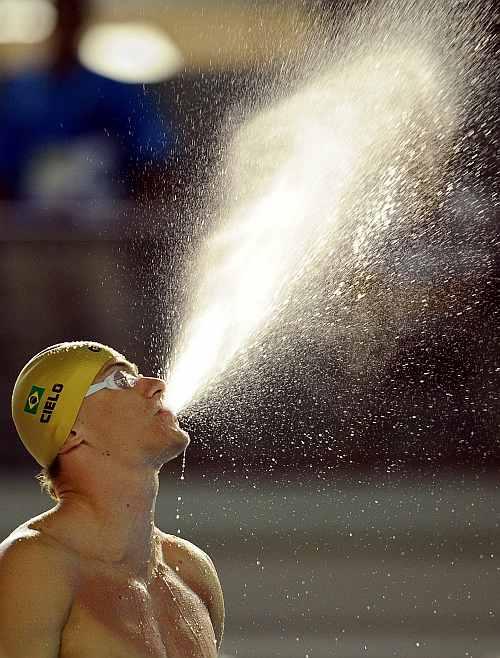 Olympic 50 metres freestyle champion Cesar Cielo predicted on Wednesday that Brazil would leave the London Olympics with more medals than the 15 they took home from Beijing four years ago.
July 18, 2012
London bound Pistorius already dreaming of Rio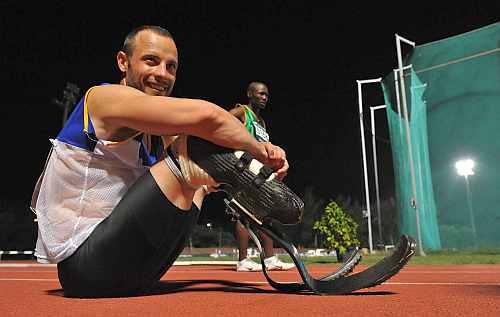 After striving to qualify for the 400 metres at the London Olympics for six years, Oscar Pistorius believes he will now be better placed to run at the Rio de Janeiro Games in 2016.
World champions, but no Olympic gold to show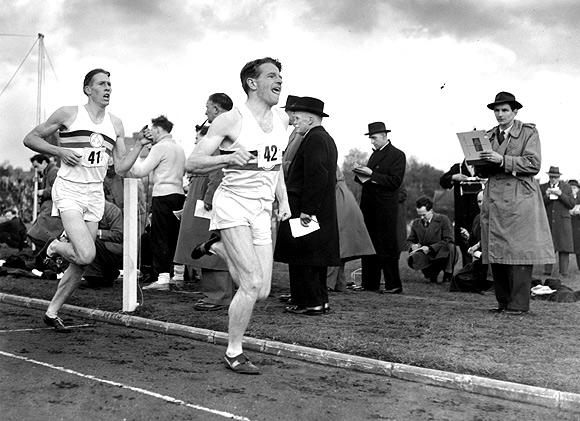 Rediff.com takes a look at a few known names who failed to win gold at the premier sporting extravaganza.
Photos: Fourth Open win could put Woods back on top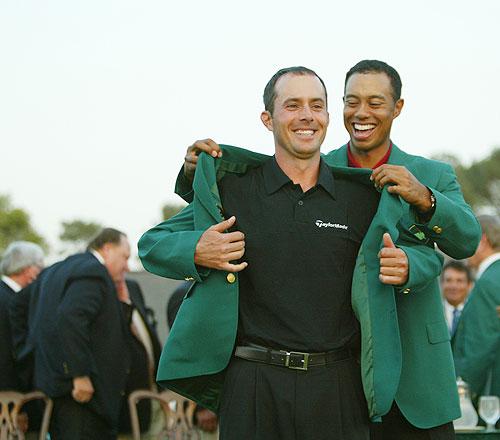 Tiger Woods is not surprised he can return to the top of the World rankings by winning the British Open and is not feeling impatient because he has not lifted a major for four years, the American said.
July 17, 2012
PHOTOS: Athletes, visitors flock to Games village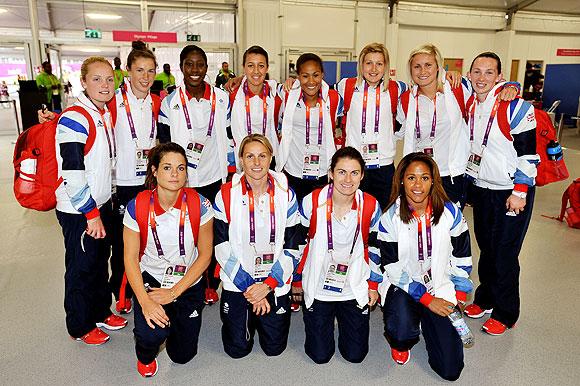 The first wave of Olympic athletes and visitors began pouring into Britain on Monday as officials played down fears that a packed London would buckle under the pressure of its biggest peacetime security and transport operation.
Why Jeev Milkha's win is key for Indian golf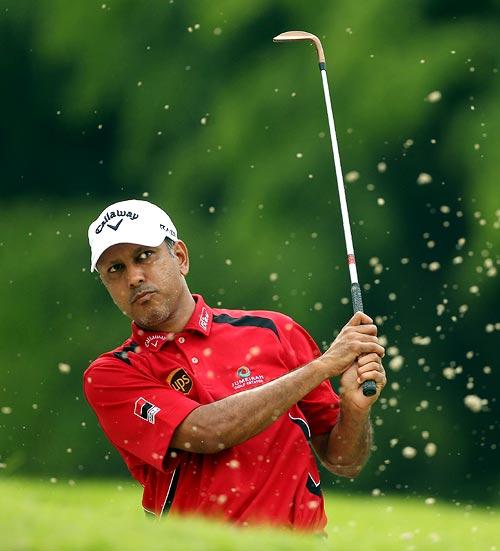 It has not only ended the four year victory drought for who I call the 'fairway hurricane' but it has also lifted India's place in golf.
Fitter Jwala upbeat about medal chances at Olympics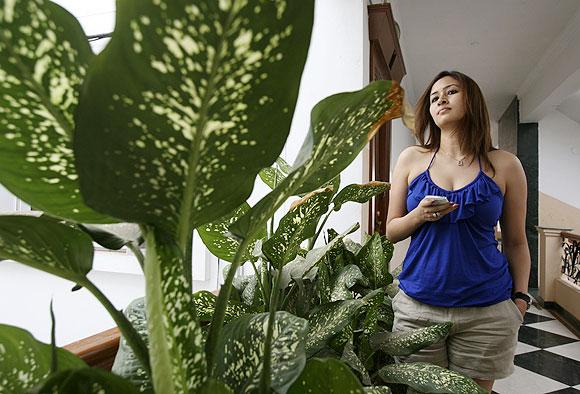 Jwala Gutta thinks it may take India 100 years to emulate China's sporting success but the badminton doubles specialist hopes to bring her country a step closer to that goal by earning a medal at the London Olympics.
The most decorated Olympic athletes ever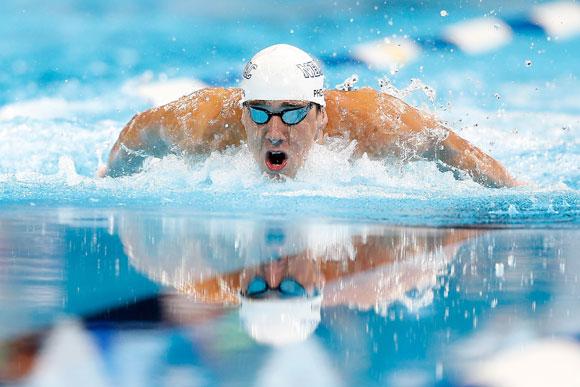 Rediff.com presents to you the athletes who have most gold medals to their credit in the quadrennial sporting extravaganza.
July 16, 2012
'India have good chance of a medal in mixed doubles'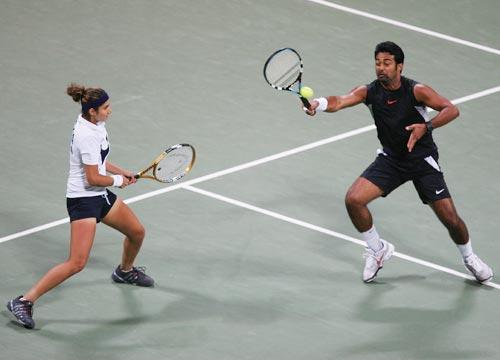 Leander Paes should stick to the deuce court and Sania Mirza should support him from the left side with her 'solid ground strokes' when they compete in the mixed doubles event of the London Olympics, Indian team captain S P Misra has suggested.
Jeev triumphs in Scottish Open, qualifies for British Open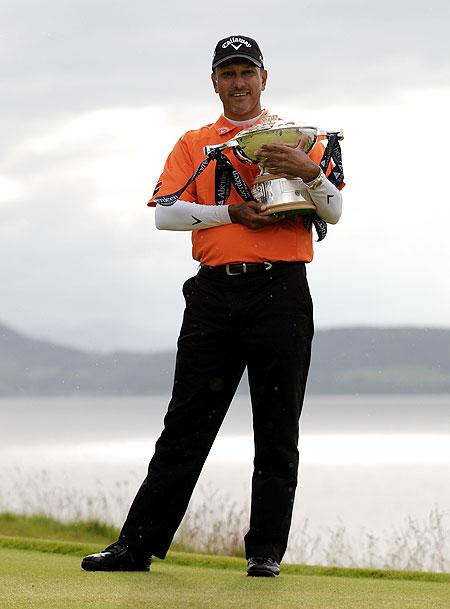 Jeev Milkha Singh sparked a double celebration after beating Italian Francesco Molinari in a play-off to win the Scottish Open at Castle Stuart, on Sunday, and earn a spot at the British Open next week at the Royal Lytham and St. Annes.
When an Olympic gold came their way... by chance!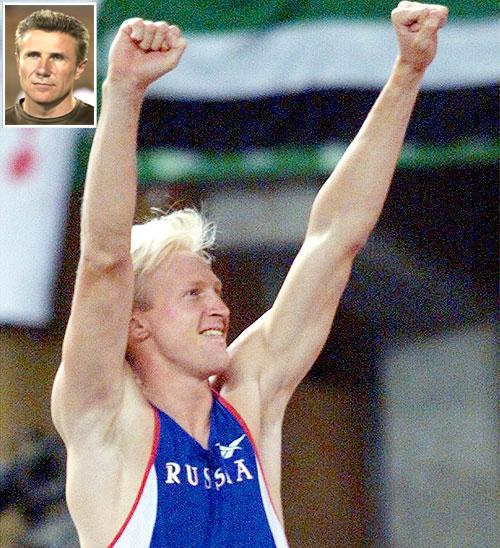 Rediff.com takes a look at a few athletes in recent history who have upset the odds (and the favourites) to take home the gold at the world's biggest sporting event.
July 15, 2012
Chances are not bright for Hesh-Bopanna: Mukherjea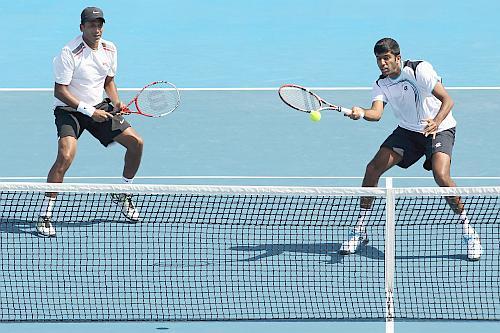 Mahesh Bhupathi and Rohan Bopanna may have fought hard to be sent as a team to the Olympics but they don't have much of a chance on the medal front given the line-up of stars which will compete in London, feels former Davis Cup captain Jaideep Mukherjea.
July 14, 2012
PHOTOS: A Village in name, if not reality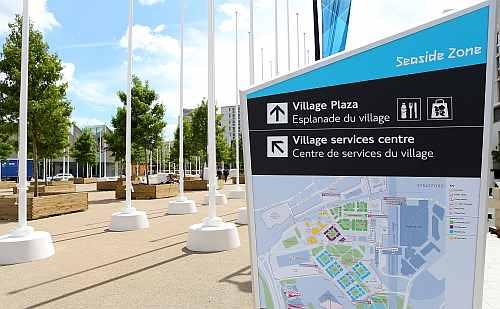 When the first wave of athletes arrive in the Olympic Village on Monday they will find their new home from home bears little resemblance to anything found in the English countryside.
July 13, 2012
Can't promise medal, but will give our best shot: Sania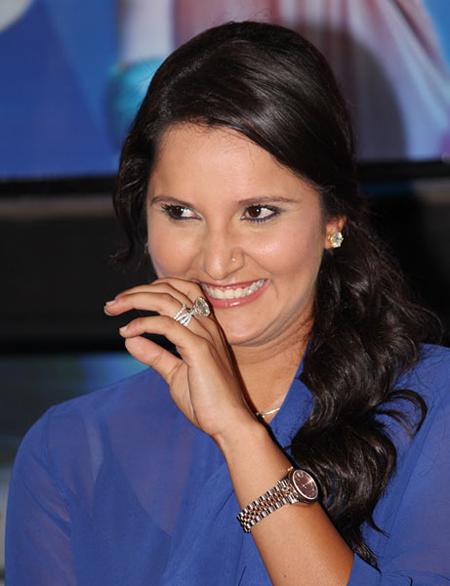 Indian tennis star Sania Mirza on Friday refused to make predictions on how many medals country's tennis players will win at the upcoming London Olympic Games but promised that they will give their best shot.
Kagawa happy to handle Man United pressure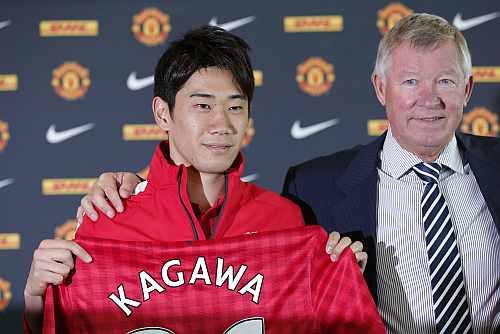 Japan international Shinji Kagawa backed his ability to handle the pressures associated with playing for Manchester United, saying on Thursday his move was the "greatest challenge" of his career.
Narang 'determined' to shine at London Games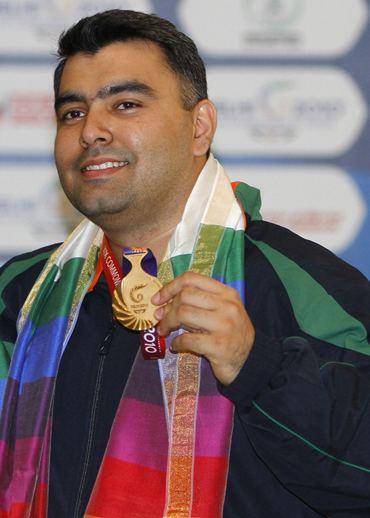 India's ace shooter Gagan Narang is hoping to be third time lucky at the London Olympics after two unsuccessful attempts in Athens and Beijing.
PHOTOS: Sharapova, Hantuchova sizzle at ESPY awards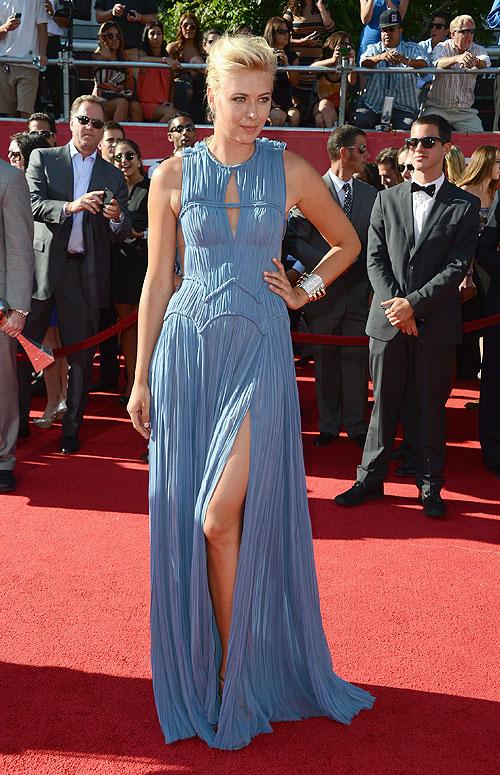 The bold and beautiful of the sports world came out in their best attire at the ESPY (Excellence in Sports Performance Yearly Award) awards on Wednesday in Los Angeles, California.
I'm not the man to light Olympic flame: Beckham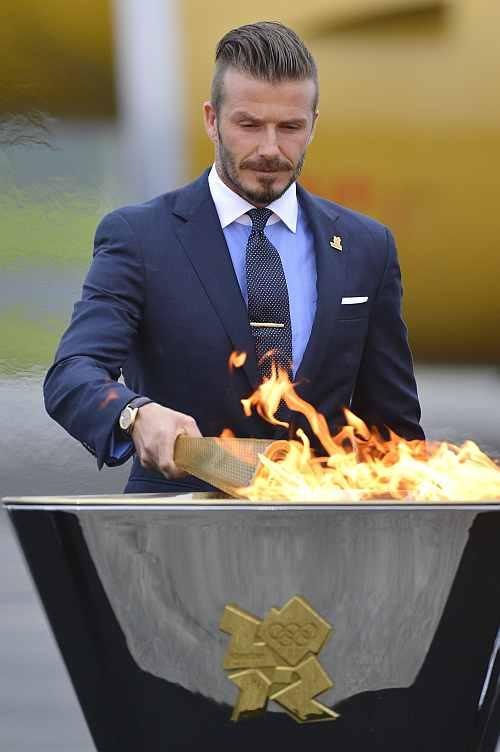 David Beckham has suggested he is not the right man to light the Olympic flame to officially open the London Games, saying on Thursday the honour should go to an Olympian who has won gold medals.
Time to deliver for feuding tennis stars at Olympics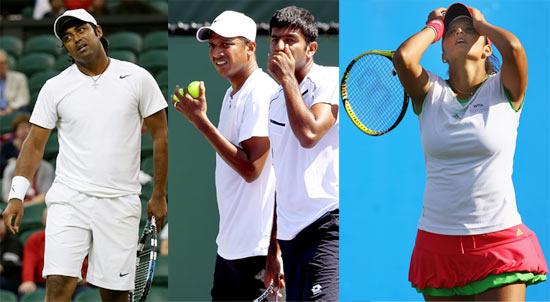 A divided house filled with animosity like never before -- that's what the Indian tennis contingent looks like heading into the London Olympics but it would be a mistake to write off the players even though they seem a vulnerable lot given the pre-Games bickering.
July 12, 2012
Olympic medal ranks above Grand Slams: Bhupathi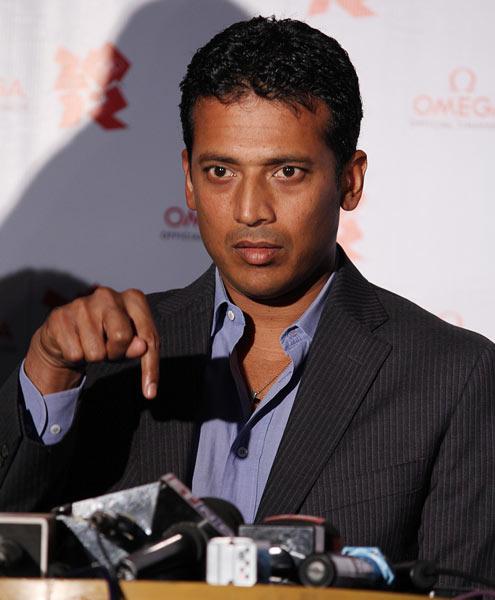 Heading into the London Games -- his fifth and probably last -- Mahesh Bhupathi, 38, says the wait for an elusive medal at the Olympics 'is extremely painful'.
Wrestler Geeta can spring surprises in London: Coach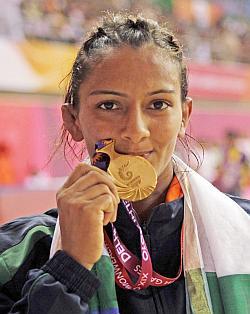 India's first female grappler at the Olympics, Geeta Phogat can spring a few upsets with a little bit of luck at the upcoming quadrennial event in London, feels chief coach of the women's wrestling team, O P Yadav.
Nobbs reckons Sardara, Sandeep key to Olympic success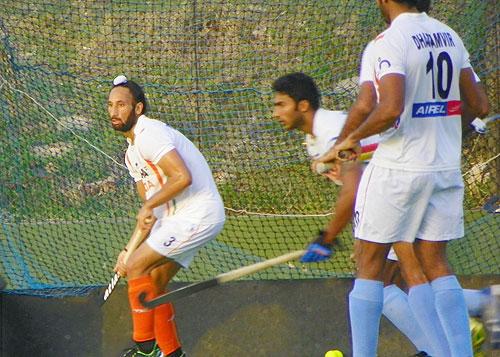 Placed in a tough pool, India's hockey coach Michael Nobbs says vice-captain Sardara Singh and ace drag-flicker Sandeep Singh's form will be crucial to the team's chances in the upcoming London Olympics.
Pistorius can run where he likes in Olympic relay: IAAF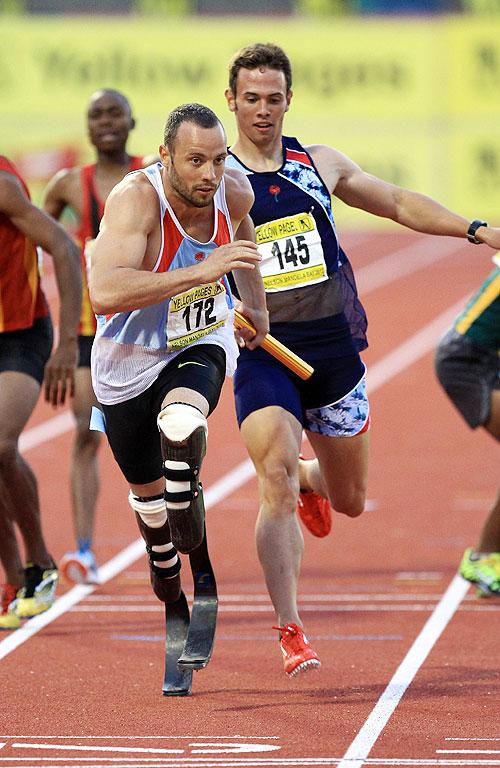 South Africa's double amputee Oscar Pistorius will not be forced to lead off in the Olympic 4x400 metres relay, the International Amateur Athletics Federation (IAAF) said on Wednesday.
Abramovich didn't keep promises: Villas-Boas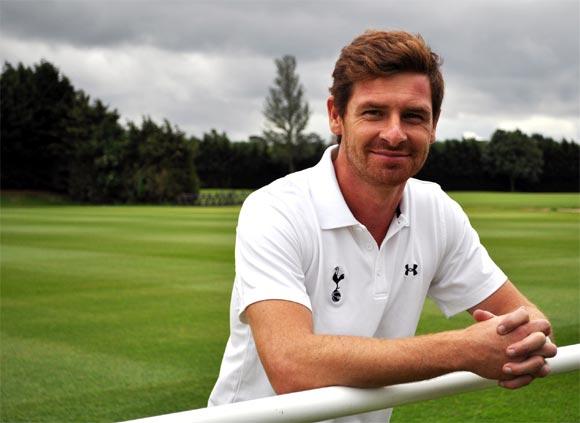 Andre Villas-Boas knows he has a "massive opportunity" at Tottenham Hotspur but denied he was on a mission to restore his reputation after being sacked as Chelsea manager in March.
July 11, 2012
Weightlifter Soniya keen to spring up surprise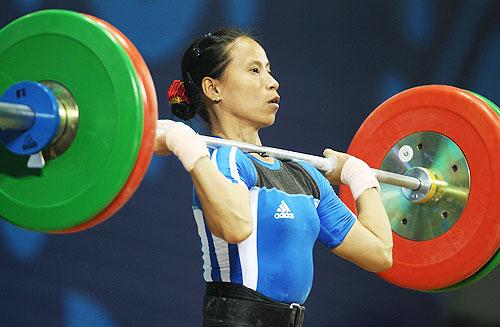 Karnam Malleshwari's bronze at the 2000 Olympics raised the profile of Indian weightlifting by several notches but little is expected of London-bound Soniya Chanu and the lifter does not mind it one bit as she is keen on springing a surprise at the mega-event.
Indian wrestlers out to prove a point in London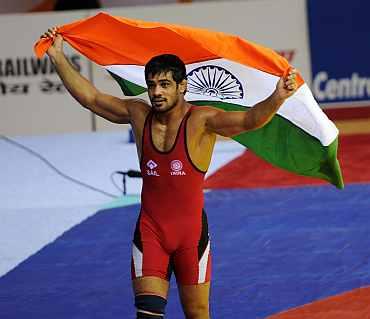 A bronze in the Beijing Games four years ago came as a surprise for many but as the London Olympic Games draw closer, the country's grapplers led by Sushil Kumar will be out to prove that they are no longer the dark horses.
Women boxers knock men out of Olympics limelight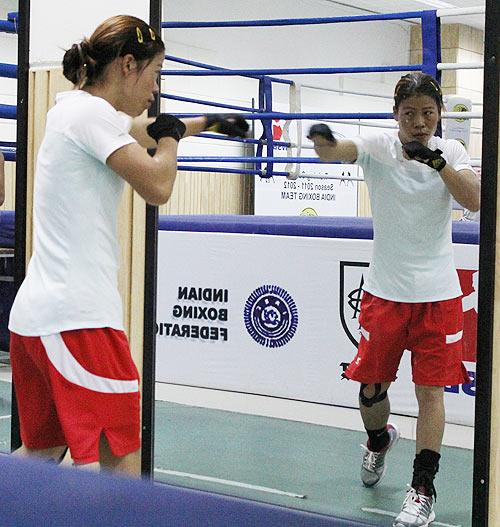 Women will box in the Olympics for the first time in London, bringing an end to the last all-male sport at the summer Games and potentially usher in a series of changes that may permit professionals to fight in Rio in four years time.
Serena happy to defend title where comeback started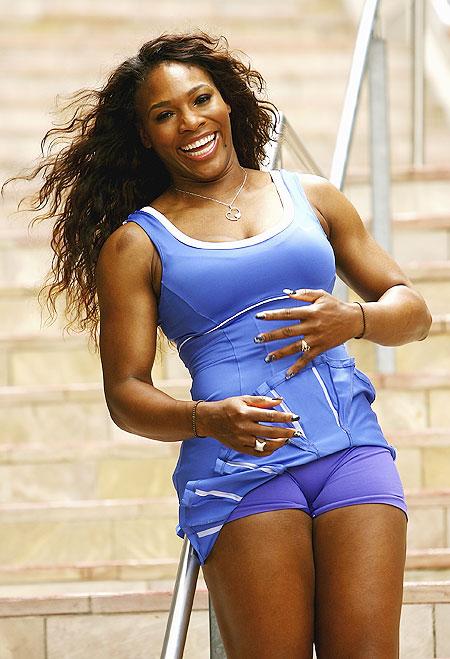 Fatigue and a busy schedule was not going to get in the way of Serena Williams returning to the place she says launched her comeback and gave her the confidence to believe she could win another Grand Slam.
Wimbledon begins London Olympics makeover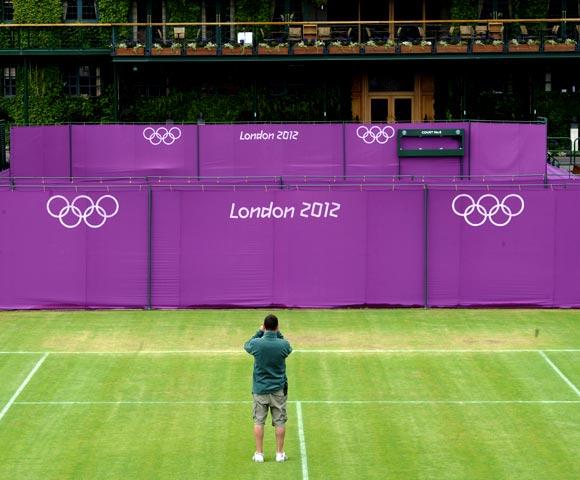 The Olympic tennis event, which was held at the All England Club's previous site in 1908, will begin on July 28 and last nine days. There will be medals in men's and women's singles and doubles and, for the first time since Paris 1924, mixed doubles.
July 10, 2012
Bannister carries Olympic torch at site of famous mile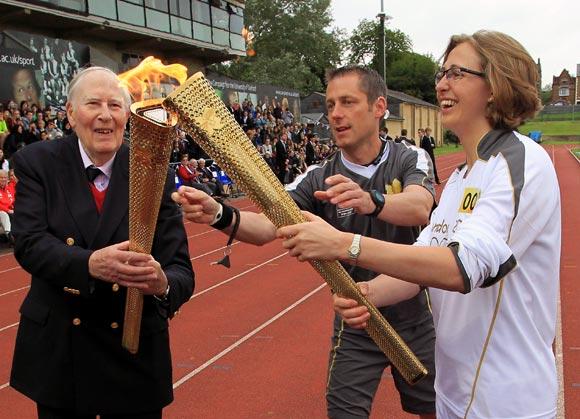 Roger Bannister returned to the Iffley Road Stadium where he ran the first sub four-minute mile in 1954 on Tuesday to begin the 53rd leg of the London Olympic torch relay.
Boxing coach Sandhu to retire after London Olympics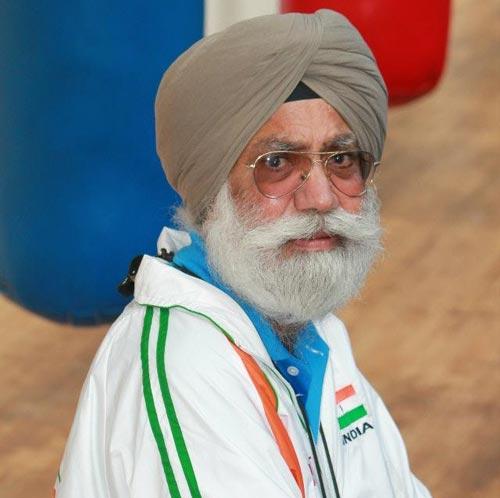 Gurbaksh Singh Sandhu is retiring after London Games and the only farewell gift he wants from his wards is to bring home better than the bronze medal Vijender Singh notched up in Beijing four years ago.
Scandal-hit athletes hope to seek solace in London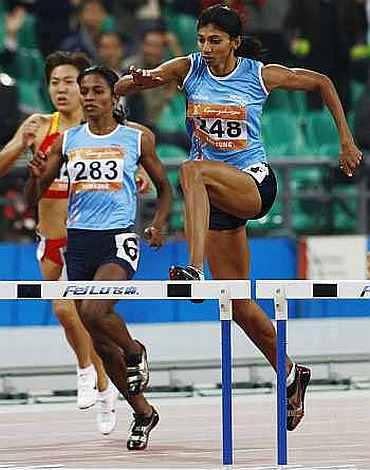 Hit hard by one of the biggest doping scandals in the run-up to the Olympic Games, India's athletics team, including a couple of medal hopefuls, would hope to seek solace and redeem their reputation with some strong performances in London.
London Games: Even more eyes on Bolt after rare defeats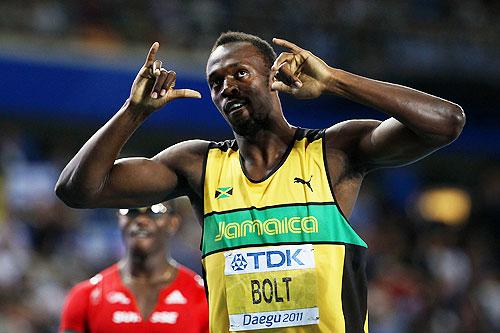 The men's 100 metres is the jewel in the Olympic crown and Yohan Blake's surprise humanisation of Usain Bolt has ensured that next month's showdown will be a race worthy of the Games rather than a mere time trial for the defending champion.
'King' Anand still simple, affable and accessible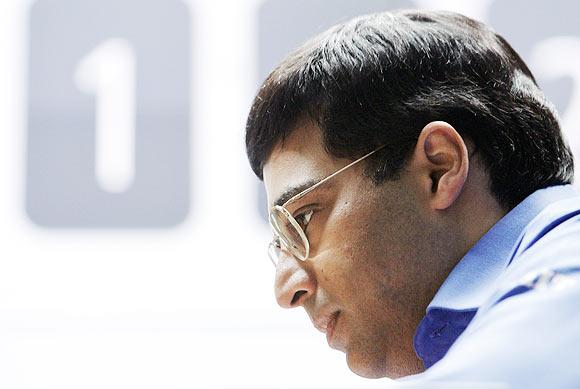 Vishy Anand talks to about life after his triumpoh in the fifth World Chess Championship.
Growing economy makes China the new football destination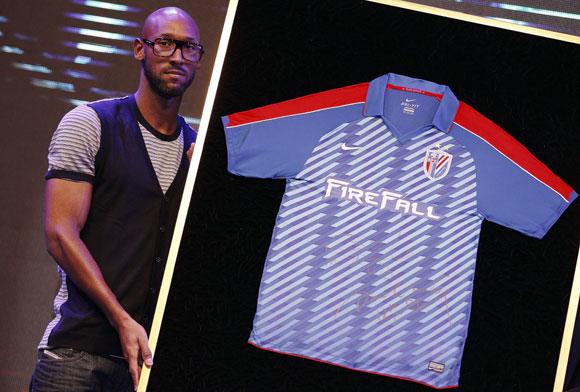 While celebrated coaches like Marcelo Lippi, Jean Tigana, Segio Batista and Henk ten Cate are making their presence, so are a few big ticket players. Rediff.com takes a look at a few stars who have preferred to move eastwards from their respective European clubs.
Federer's still the daddy when it comes to Wimbledon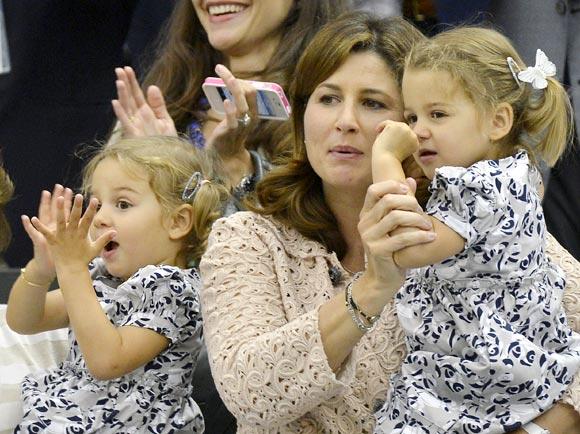 Tennis fathers have won only 12 of the last 129 Grand Slam titles but the Swiss feels having a young family has breathed new life into his game as he approaches his 31st birthday.
A stage for Indian shooters to raise the bar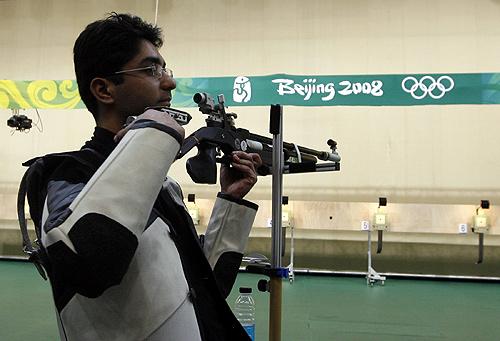 Speculation can often be a futile exercise but Indian shooters' success stories in recent years have ensured that they head into the London Olympics with bright hopes of adding on to Abhinav Bindra's historic gold-medal feat in Beijing four summers ago.
July 09, 2012
Tennis row created bad blood among us: Sania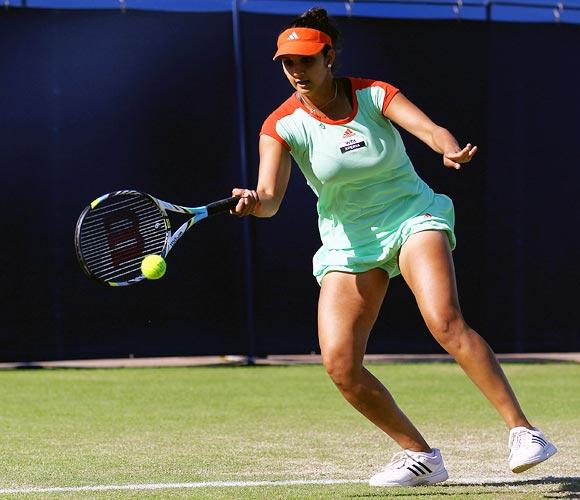 Sania Mirza said the Olympics tennis selection row trained her relationship with Mahesh Bhupathi but she has left it behind to focus on winning a medal in mixed doubles with Leander Paes.
F1 sees a pattern emerging after the mud and rain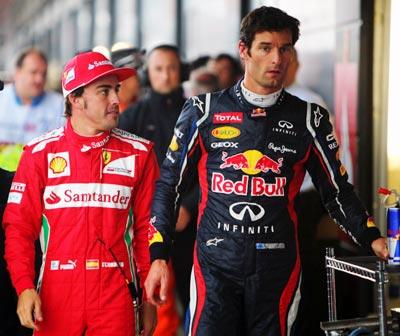 Ferrari and Red Bull like the look of it but for McLaren, and their world champions Lewis Hamilton and Jenson Button, it is not a pretty sight.
Evergreen Federer back on top of the world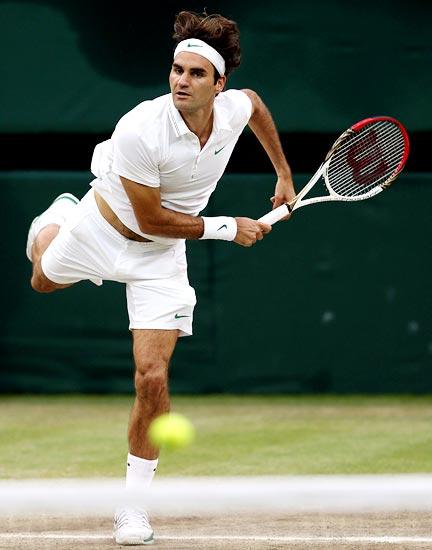 Whatever feats Roger Federer goes on to add in the final chapter of his career, he can rest assured that he has elevated the men's game to previously unimaginable heights.
The Rich and Royal witness Wimbledon final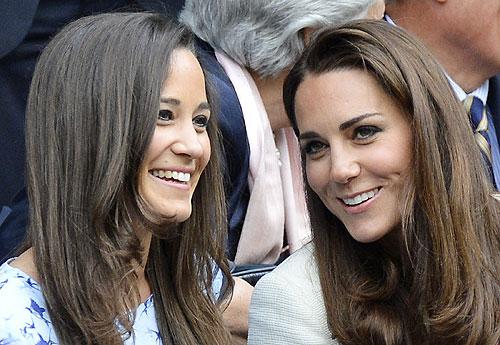 The rich and famous from around the world came to witness Roger Federer clash with local boy Andy Murray in the Wimbledon final on Sunday. Rediff.com gives you a glimpse of the famous faces that made it to the All England tennis lawns to witness history being made.
Chinese Super League football spending may not last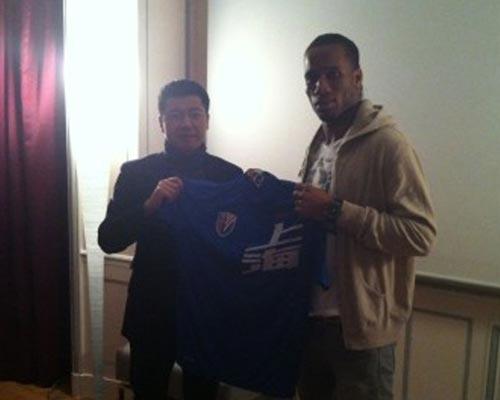 With the corrupt heading to jail and big name signings rolling in, Chinese soccer is basking in an unusually positive period, but experts have warned the galactico-style transfer policy is unsustainable and investment is being ploughed into the wrong areas.
Brits endure more Wimbledon heartache after Murray loss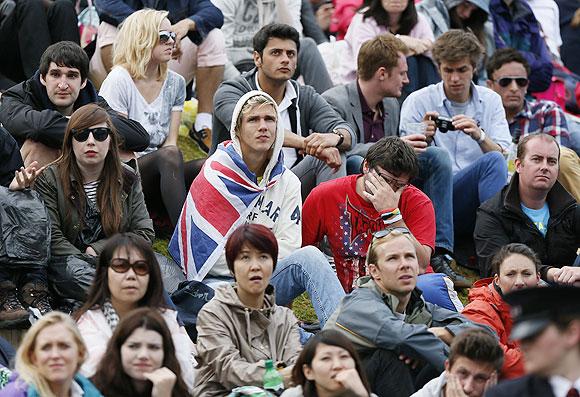 After 76 years of national pain, British tennis fans will have to wallow in disappointment for at least another 12 months after enduring torrential rain and a hail storm of Swiss bullets that ended Andy Murray's Wimbledon hopes on Sunday.
Federer never stopped believing despite title drought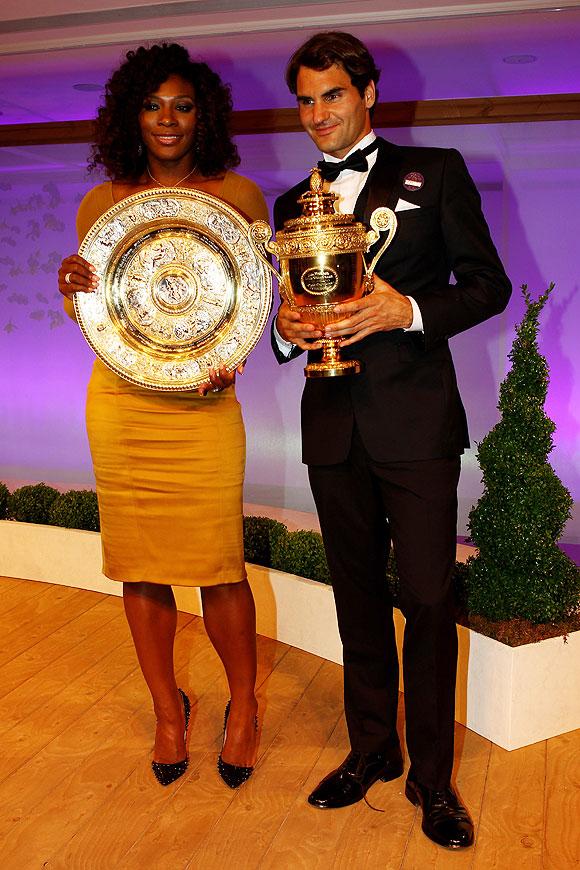 Roger Federer never doubted his ability to win Grand Slam titles during a two and a half year drought in which he was written off in some quarters and passed the 30 year age barrier that often signals the beginning of the end for top tennis players.
Webber proves doubters wrong with British GP win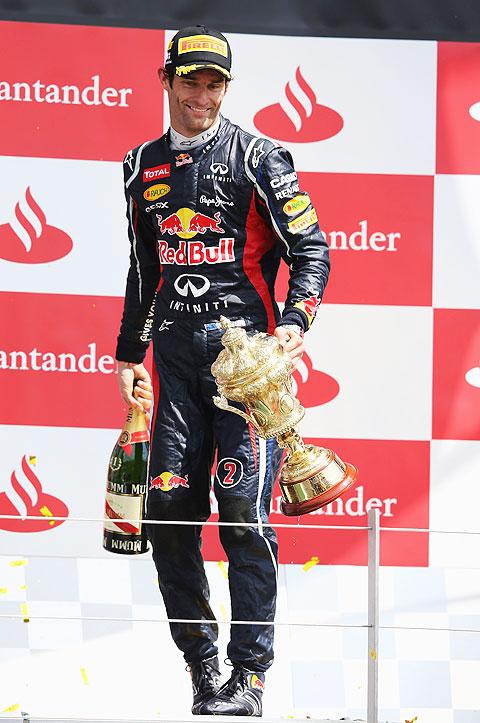 If anyone doubted Mark Webber's desire to stay in Formula One next year, the Australian Red Bull driver made his position very clear after scorching to victory in the British Grand Prix on Sunday.
Photos: Dominant Federer dashes Murray's dream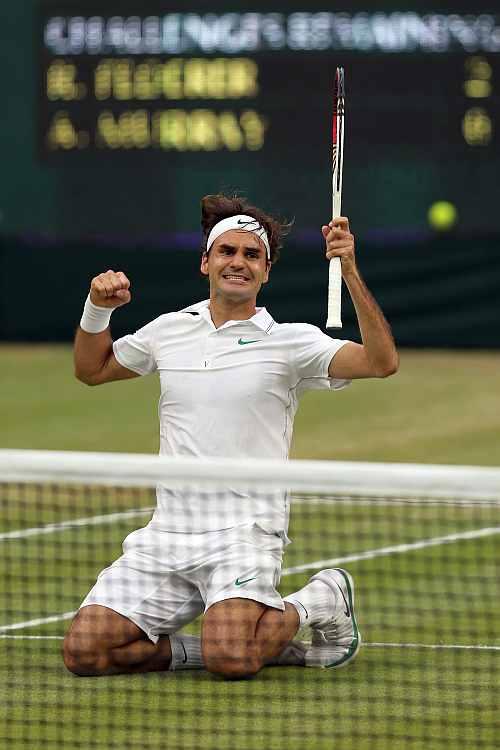 Roger Federer won a record-equalling seventh Wimbledon title and 17th Grand Slam crown Sunday, shattering tearful Andy Murray's dream of ending Britain's 76-year wait for an All England Club men's champion.
July 08, 2012
Meticulous planning key to success in Olympics: Poonia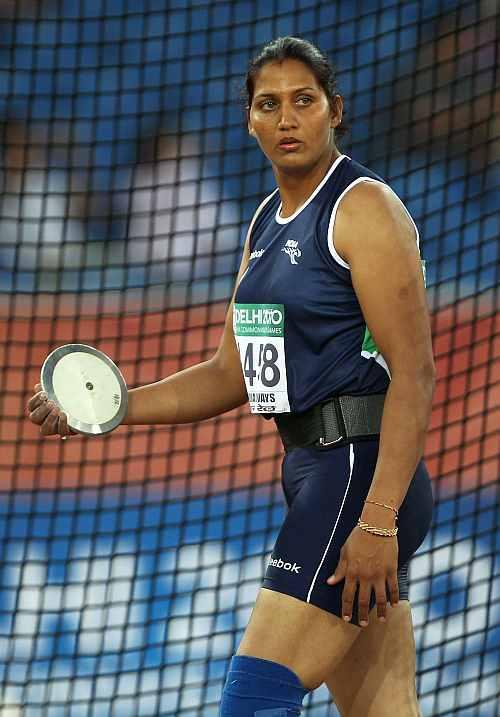 Winning a medal in the Olympics is a "lifetime dream" for India's top discus thrower Krishna Poonia, who is "meticulously planning" her every move to brighten her podium chances in London.
Double joy for Serena as she captures crown with Venus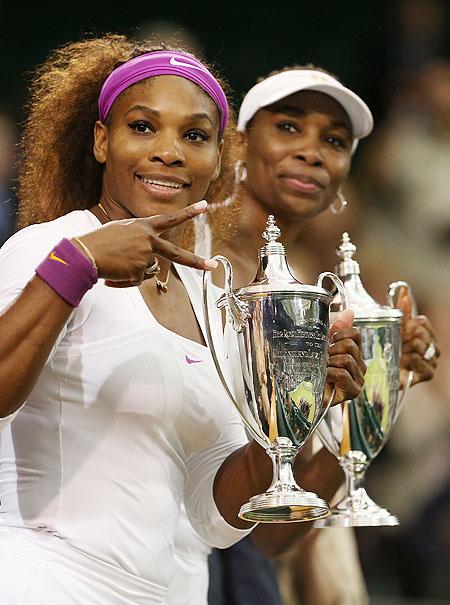 Serena Williams capped off yet another successful day at Wimbledon for America's premier tennis family as she followed up her singles triumph by winning the doubles title with sister Venus on Saturday.
Marray fever hits Wimbledon after doubles success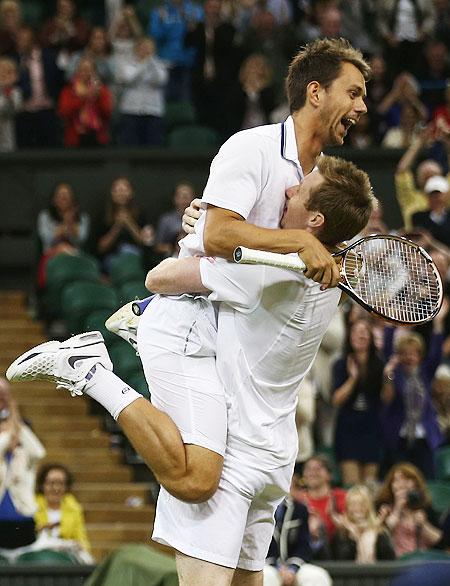 Jonathan Marray kicked off what could be a weekend of national euphoria for British tennis when he became the first home player since 1936 to win the Wimbledon men's doubles title with Danish partner Frederik Nielsen.
Serena overpowers Radwanska for fifth Wimbledon crown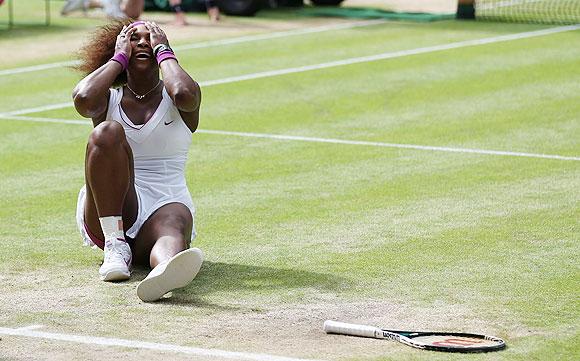 American Serena Williams powered her way to a fifth Wimbledon singles title with an explosive start and a cool finish after a mid-match meltdown to beat Poland's Agnieszka Radwanska 6-1, 5-7, 6-2 on Saturday.
July 07, 2012
Murray sees off Tsonga, faces Federer in final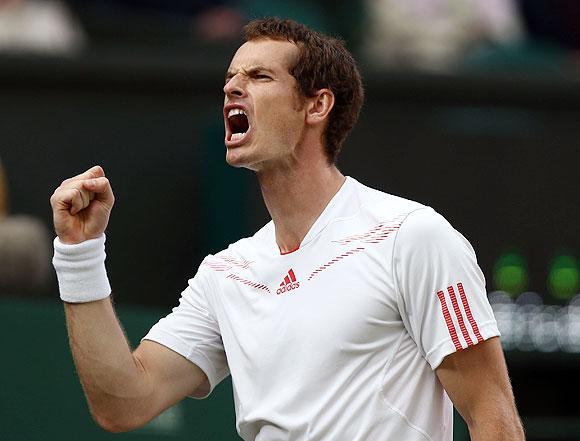 He put his fans through the wringer again but Andy Murray now stands one win from ending 76 years of British pain after reaching the Wimbledon men's final on Friday -- the only trouble is Roger Federer will be over the other side of the net.
Djokovic plays down talk of dip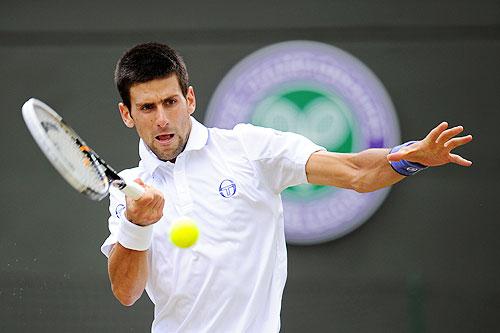 Novak Djokovic refused to be downhearted after his Wimbledon title defence ended in semi-final defeat by an inspired Roger Federer on Centre Court on Friday.
Soccer technology debate unlikely to stop on the line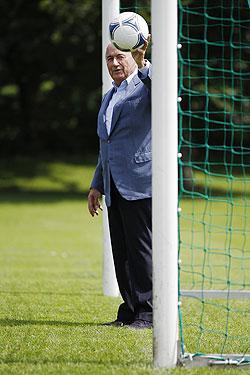 Soccer's rulemakers are adamant that the use of technology will go no further than the goal-line, yet there is an uncomfortable feeling another Thierry Henry-style handball controversy could trigger a whole new debate.
Fear is the key for Indian boxing ace Vikas Krishnan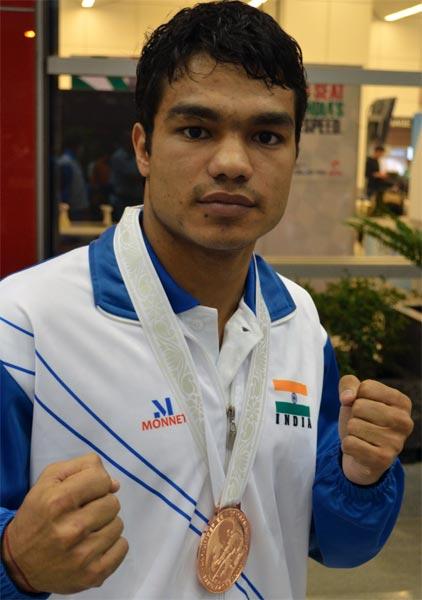 India's young boxing sensation Vikas Krishan Yadav talks about his achievements, his transition into the senior tour, his unique technique and preparations for the 2012 Olympics.
July 06, 2012
F1: Mudbath memories haunt rain-hit Silverstone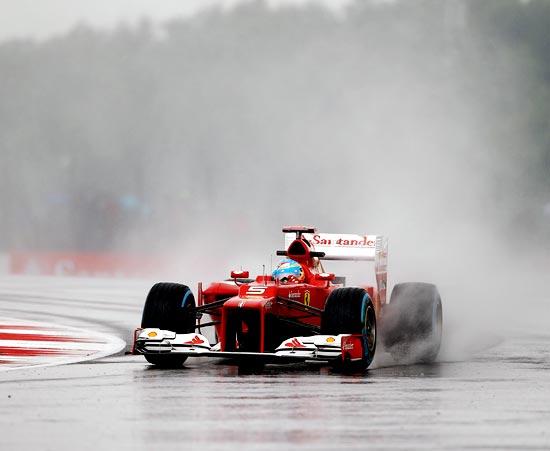 Memories of the mudbath and mayhem of 2000 haunted the British Grand Prix on Friday as rain triggered monster traffic jams and left thousands of frustrated Formula One fans queuing for hours to get in.
PHOTOS: Federer enters 8th Wimbledon final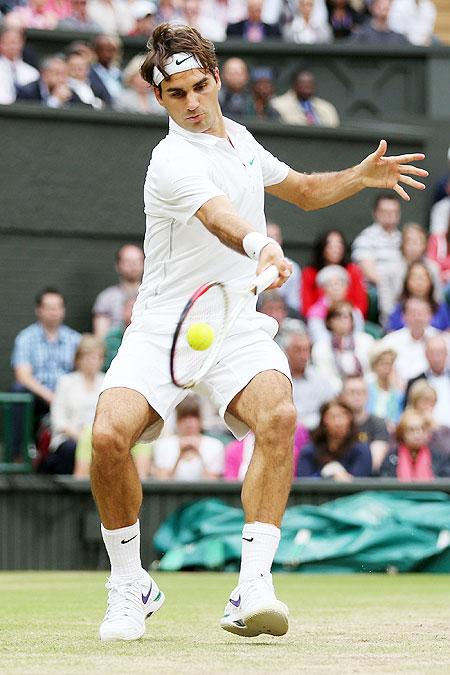 Six-time champion Roger Federer produced a vintage display to beat defending champion Novak Djokovic 6-3, 3-6, 6-4, 6-3 in the Wimbledon semi-final on Friday.
PHOTOS: Tendulkar, Kylie light up Wimbledon semis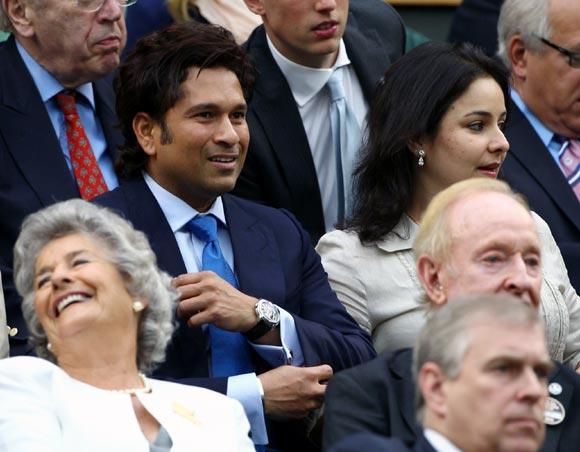 Indian cricket legend Sachin Tendulkar and his wife Anjali Tendulkar watch the men's semi-final match between Roger Federer and Novak Djokovic from the Royal Box on Centre Court at Wimbledon.
London: London set for 'Wieber Fever' in gymnastics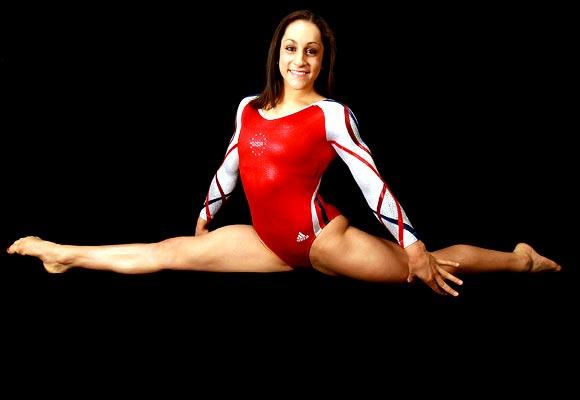 'Wieber Fever' has been steadily building in her Michigan hometown and the craze could become a worldwide phenomenon if Jordyn Wieber can clinch the all-around women's gymnastics title at the Olympic Games.
Senior-man Vijender ready to carry responsibility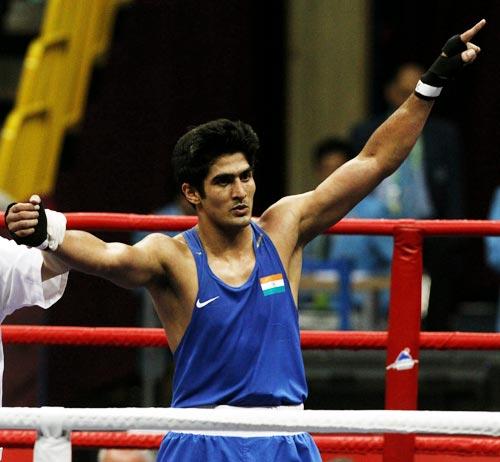 He rose from anonymity with a bronze in Beijing that was as good as gold for Indian boxing but set for an unprecedented third Olympic appearance, Vijender Singh wants to remain oblivious -- at least to the pressure that comes with being one of the country's biggest stars at the greatest sporting show on earth.
Ivanisevic asks Murray to shed 'Mr Nice Guy' tag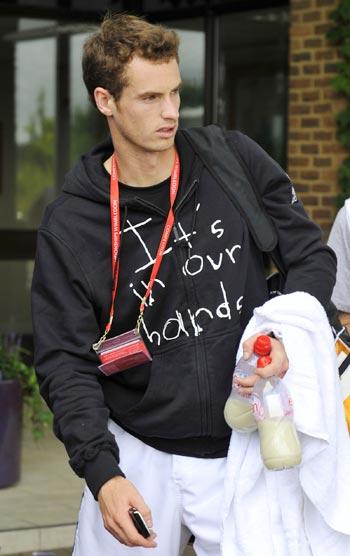 Andy Murray needs to ditch the 'Mr Nice Guy' image and become more arrogant, brash and big-headed if he has aspirations of becoming Wimbledon champion, according to Goran Ivanisevic.
We need to improve the car: Alonso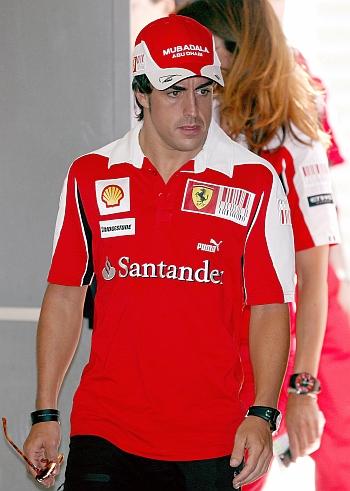 Ferrari have made a remarkable recovery after a slow start to the season but still have a gap to close on their rivals, Formula One championship leader Fernando Alonso said on Thursday.
Goal-line technology gets FIFA nod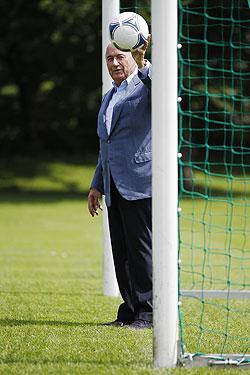 Soccer's rulemakers and its governing body FIFA bowed to pressure on Thursday when they finally approved the use of goal-line technology and agreed to allow Muslim women players to wear a headscarf.
July 05, 2012
Radwanska puts final ambitions in reach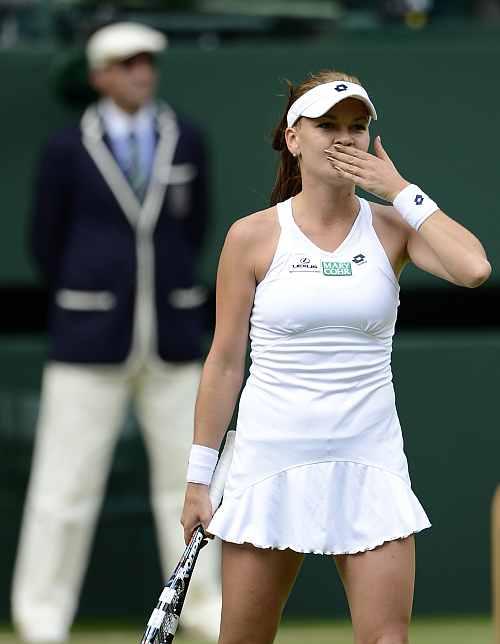 Agnieszka Radwanska could achieve all her tennis ambitions this weekend after becoming the first Pole to reach a Grand Slam final for 73 years by outwitting German Angelique Kerber 6-3, 6-4 at Wimbledon on Thursday.
Double-amputee Pistorius makes it to London Olympics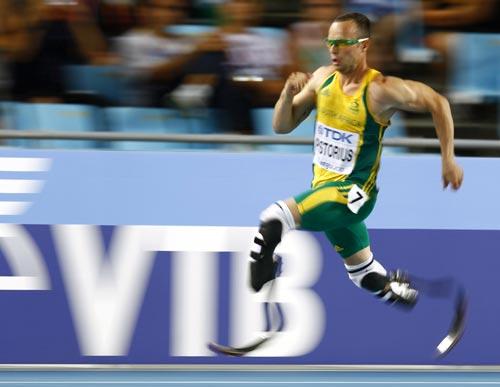 Oscar Pistorius, who races wearing carbon fibre prosthetic blades, will become the first double-amputee athlete to compete on the track at an Olympic Games.
World No 1 archer Deepika leads Indian challenge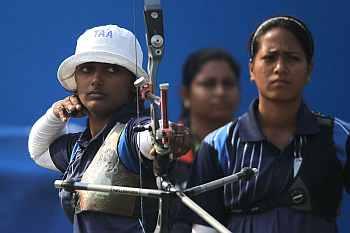 With World No Deepika Kumari spearheading the campaign, India's in-form archers will aim for a perfect 10 when they pick up their bows and arrows to seek Olympic glory at the 'spiritual home of cricket' -- the hallowed turf of Lord's Stadium in London.
Villas-Boas gets shot at redemption with Spurs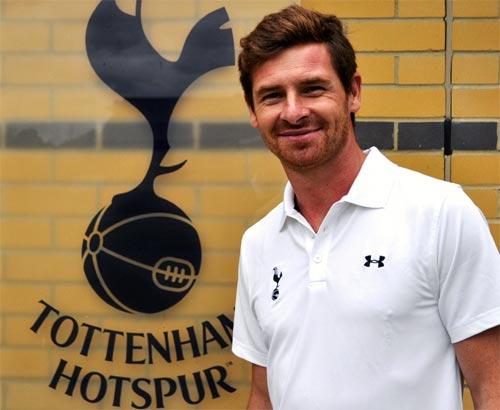 Andre Villas-Boas was given a chance to make amends for his first failed effort in English football management after being named coach of Tottenham Hotspur on Tuesday.
Confident Serena has nothing to lose in semi-final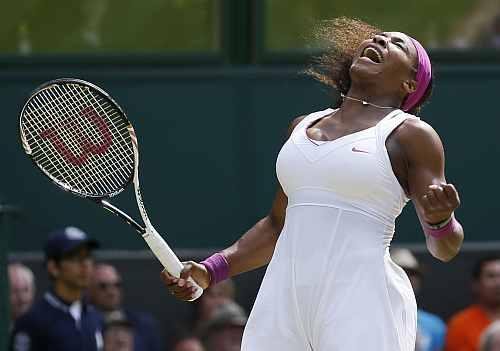 Serena Williams hit top gear in deposing champion Petra Kvitova and ominously for her Wimbledon semi-final opponent Victoria Azarenka the four-times champion says she has nothing to lose in the last-four clash on Thursday.
Murray takes inspiration from LeBron James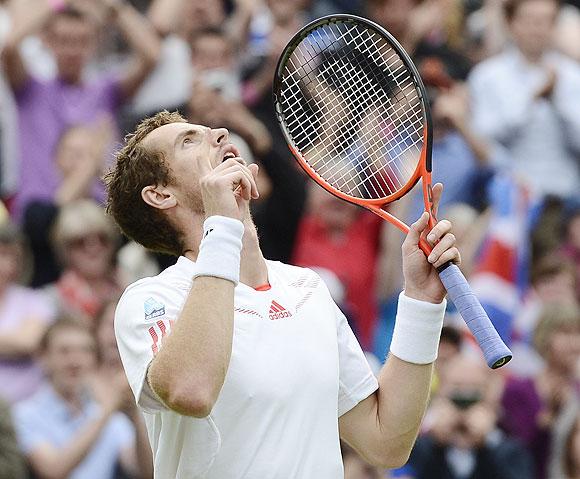 Britain's great Wimbledon hope Andy Murray compared himself with NBA great LeBron James on Wednesday after moving within two victories of his first major title.
July 04, 2012
Wimbledon Images: Djokovic, Federer have it easy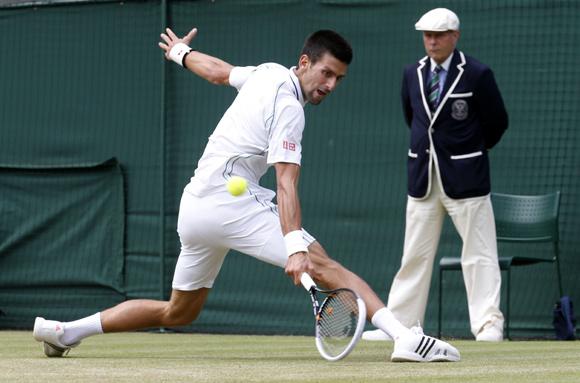 Top seed and defending champion Novak Djokovic motored into the Wimbledon semi-finals with a quick-fire 6-4, 6-1, 6-4 victory over Germany's Florian Mayer on Wednesday.
Yadav wants Olympic boxing medal for father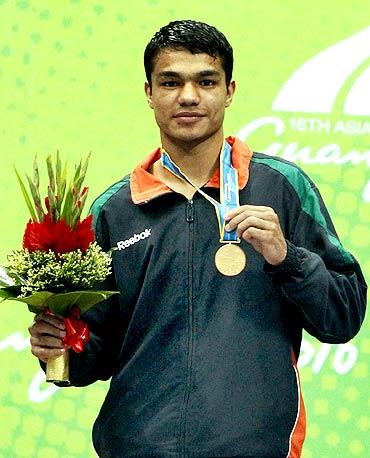 Indian welterweight Vikas Krishan Yadav will draw on all of his skill, discipline and determination to return from London with an Olympic medal and fulfill a promise he made to his father.
Djokovic up against confident Mayer for semis spot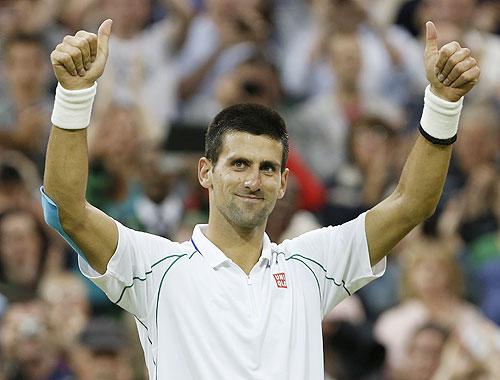 A year to the day after becoming World No 1, Novak Djokovic hopes to award himself the anniversary present of a place in the Wimbledon semi-finals.
July 03, 2012
PHOTOS: Serena gets serious, easy for Murray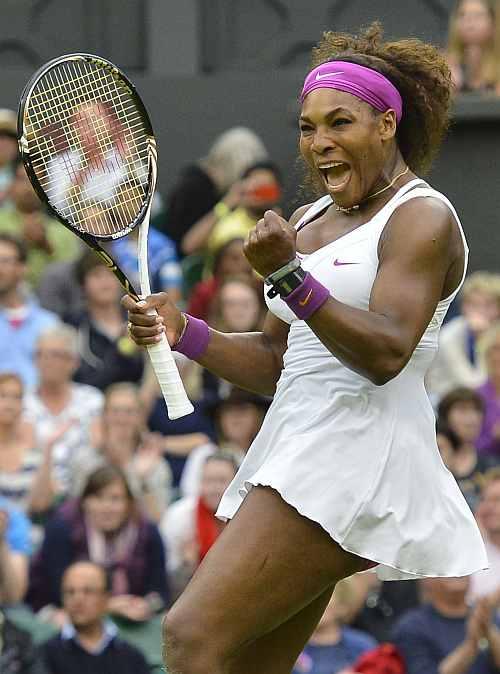 With the whiff of a fifth Wimbledon singles title in the air, grass court predator Serena Williams cut down defending champion Petra Kvitova to move ominously into the semi-finals on Tuesday.
Blake ready to lead Jamaican sprint assault in London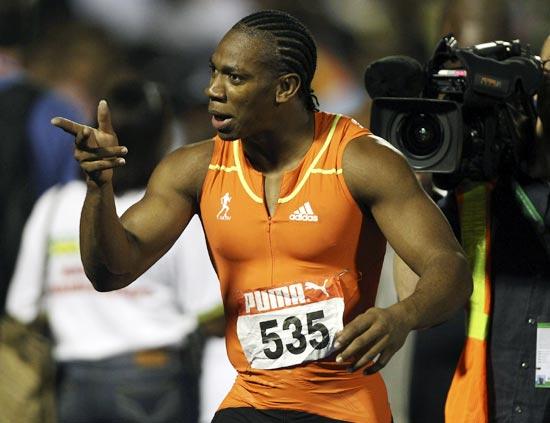 Yohan Blake and not Usain Bolt may now be the man to beat in London Games but the mission remains the same with the 'The Beast' set to lead an all out assault by Jamaican sprinters on the Olympic medal podium.
Olympics, it's a family affair for Japan trio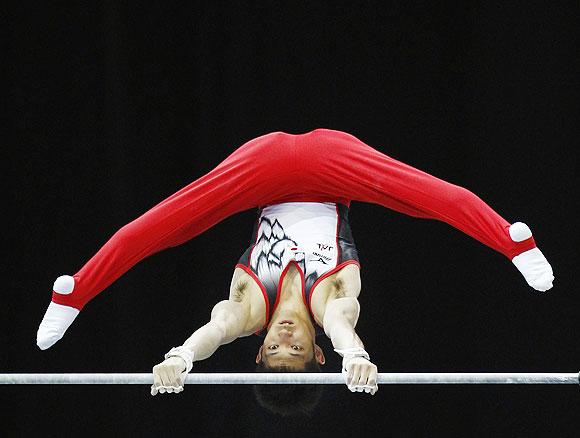 The competition at the London Olympics is already guaranteed to be intense but three Japanese gymnasts may have an extra source of motivation as they vie for gold medals: sibling rivalry.
PHOTOS: Spain celebrates Euro triumph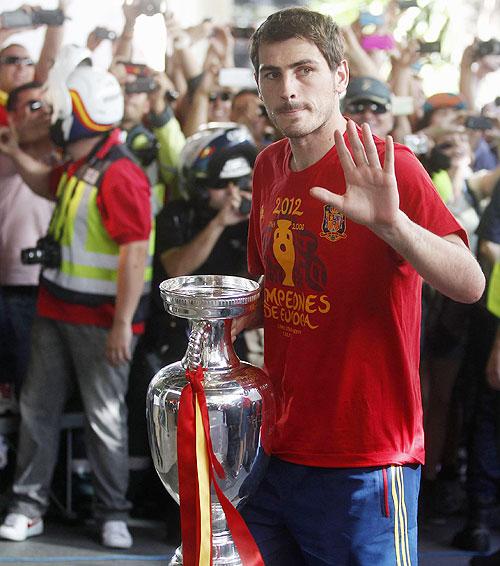 Spaniards seized on their European Championship triumph as a source of restored national pride after months of economic anxieties, as celebrations reached fever pitch on Monday with a victory parade in the capital.
Euro photos: Kiddies party after dads' triumph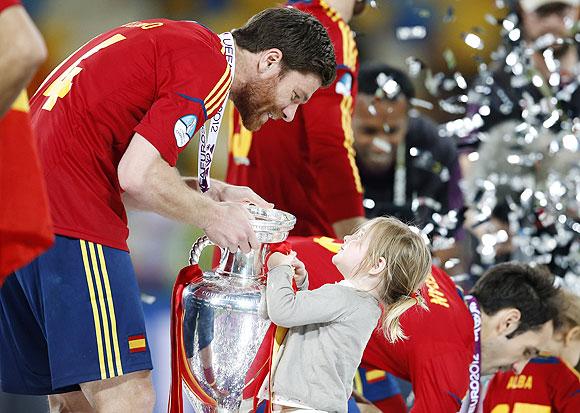 Spain's Xabi Alonso and a child celebrate with the trophy after defeating Italy.
The sexiest female tennis players at Wimbledon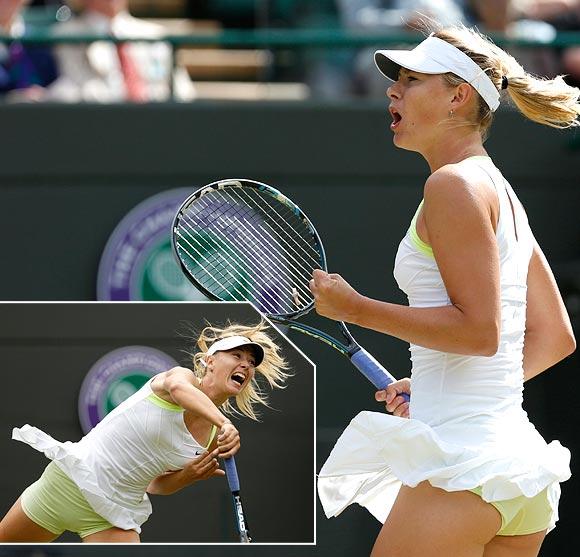 A look at the top ten sexy female players at this year's Wimbledon.
Phelps to swim seven events in London Games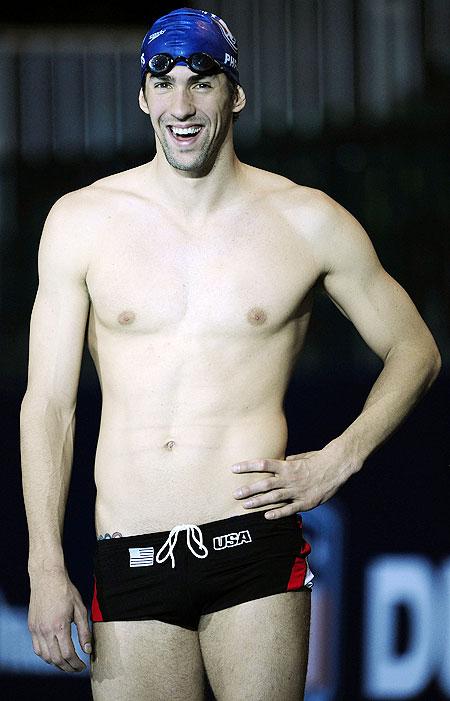 Michael Phelps has dropped the 200 metres freestyle from his schedule for next month's London Olympics, leaving him with seven events for his Games swansong.
Olympic fever revs up fitness routines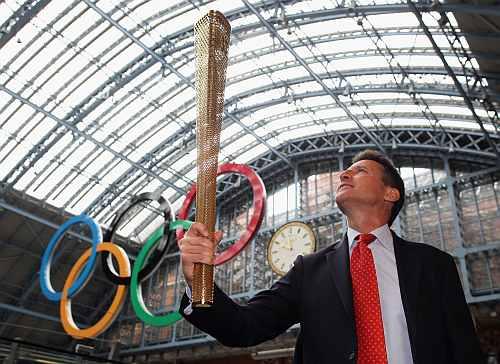 With the 2012 London Olympics just weeks away, weekend warriors, fitness fanatics and couch potatoes alike will soon be inspired to rev up their routines.
July 02, 2012
Wimbledon Images: Sharapova stunned, Serena survives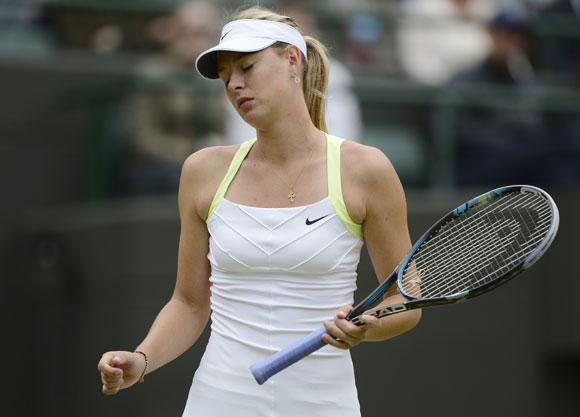 Maria Sharapova's hopes of winning a second Wimbledon title were shattered on Monday as the world number one was comprehensively beaten 6-4, 6-3 by Germany's Sabine Lisicki in the fourth round.
Male chauvinism is evident in sports: Dipika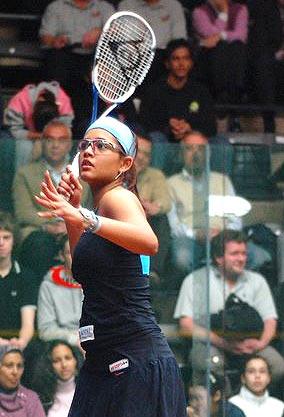 India's top squash player Dipika Pallikal has joined the 'male chauvinism' chorus started by tennis star Sania Mirza, and said that it has always existed in sports.
Olympic medal is my dream, says archer Deepika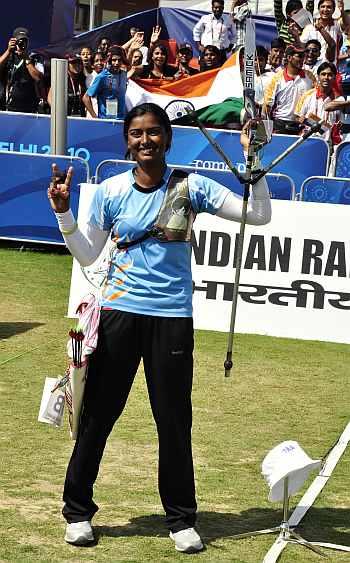 At 18, she is the World's No. 1 archer but Deepika Kumari says she would not allow her numero uno status weigh her down as she prepares to hit the bull's eye at the hallowed Lord's cricket ground during the upcoming London Olympics.
Record-breaking Spain redefine success story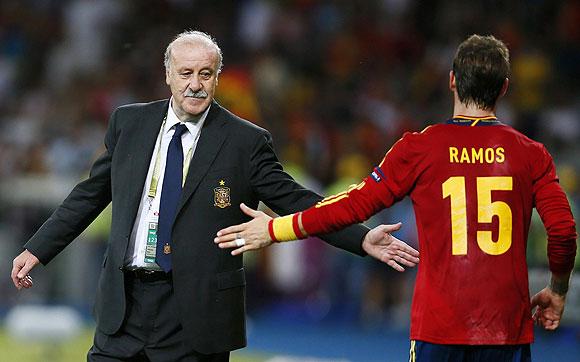 Majestic Spain took their place among the game's greats by thrashing Italy 4-0 to retain their European title on Sunday, the biggest victory margin in a World Cup or Euro final -- and all without a recognised striker.
Spain coach Del Bosque modest in victory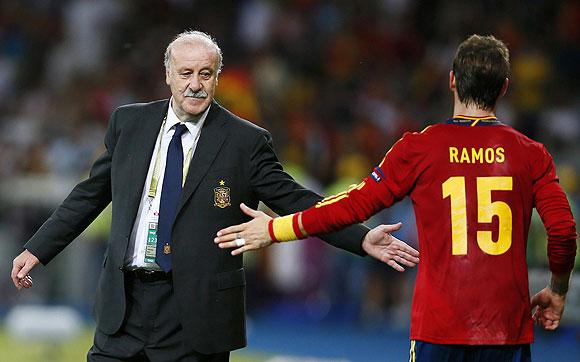 Vicente del Bosque played down a suggestion he had changed football by sometimes starting matches at Euro 2012 without a recognised striker after Spain crushed Italy 4-0 to retain their continental title on Sunday.
PHOTOS: Majestic Spain take their place among elite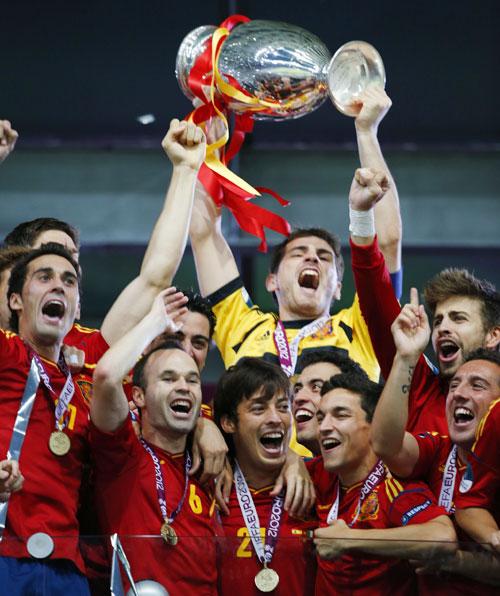 Imperious Spain took their place among the game's greats in vintage style by thrashing Italy 4-0 to become the first team to win successive European Championship titles on Sunday.
July 01, 2012
Fabregas, Ramos unfazed by raging Italians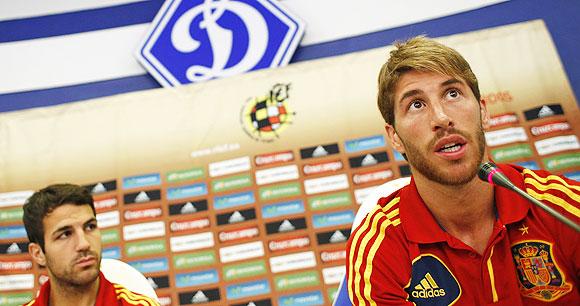 The threat of Italy striker Mario Balotelli and the propsect of an unprecedented treble occupied Spain's Cesc Fabregas and Sergio Ramos before Sunday's Euro 2012 final but neither thought those obstacles too big to overcome.
My players are flexible, says football coach Papas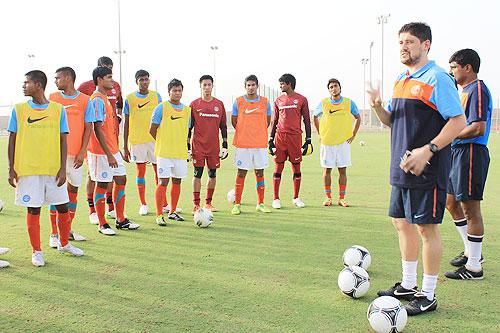 Head coach Arthur Papas feels that India Under-22 football side has a good bench strength that allows him the liberty to experiment and utilise all the players.
Roddick undecided about Wimbledon return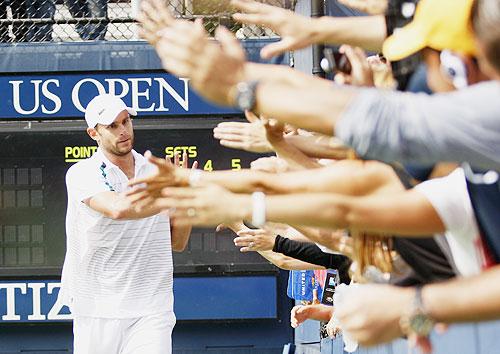 As Andy Roddick walked off Wimbledon's Centre Court after his third-round defeat by David Ferrer on Saturday, he blew a kiss and waved to the crowd in a manner which suggested the three-times runner-up might not be returning.
June 30, 2012
Fabregas, Ramos unfazed by raging Italians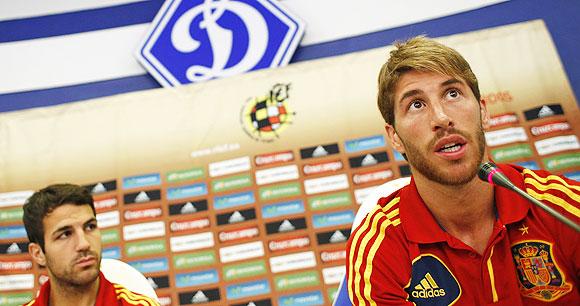 The threat of Italy striker Mario Balotelli and the propsect of an unprecedented treble occupied Spain's Cesc Fabregas and Sergio Ramos before Sunday's Euro 2012 final but neither thought those obstacles too big to overcome.
PIX: Serena wins marathon, Rosol's dream Wimbledon ends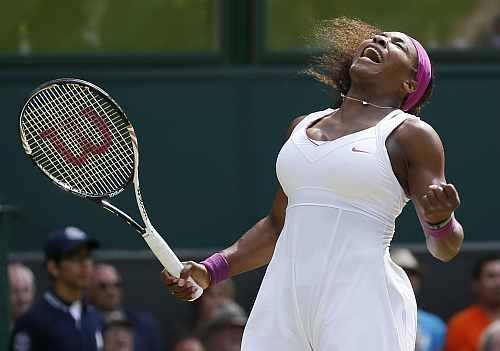 A subdued Serena Williams recovered from a sluggish start to beat China's Zheng Jie 6-7, 6-2, 9-7 in a marathon Wimbledon third-round match on Saturday.
Europe's aristocrats clash in tasty Kiev finale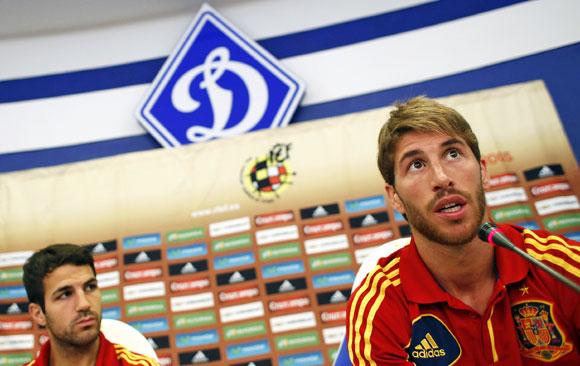 Soccer's aristocrats will compete for the continent's crown on Sunday when Spain seek to extend their domination of Europe against a revitalised Italy who threaten to end their reign.
Maori haka inspired Rosol's rampage against Nadal
Despite his scintillating display, which included 65 clean winners, few are waging much money on the 100th-ranked Czech player reaching such heights again.
June 29, 2012
The 'big boys' who took a beating at Wimbledon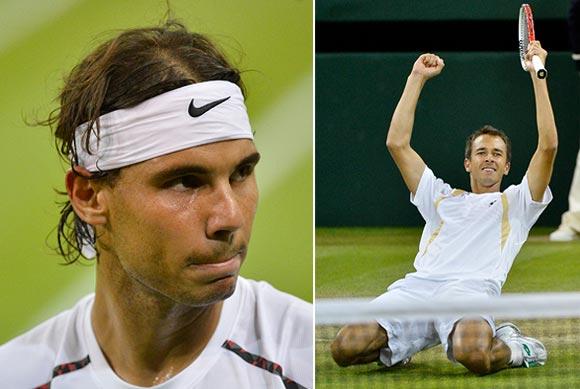 Wimbledon has witnessed some seismic shocks down the years but few could top twice champion Rafael Nadal's elimination at the hands of Lukas Rosol, a Czech ranked 100th in the world.
I was sure Leander would say yes: Vardhan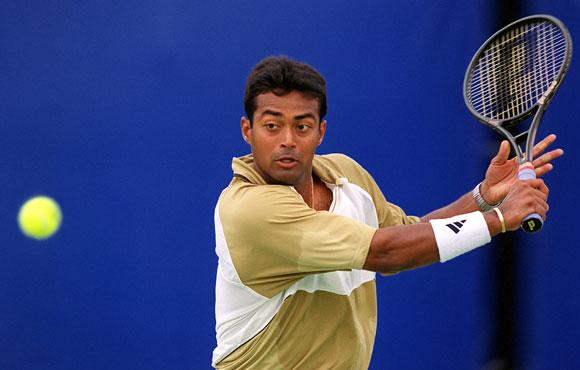 Leander Paes may have kept everyone guessing whether he would participate in London Olympics, but Vishnu Vardhan, his doubles partner for the mega event, says he was always sure 'things would fall in place'.
Indian hockey team can surprise at the Olympics: Chetri
Goalkeeper Bharat Chetri, who will lead the Indian hockey team at the London Olympics, discusses India's chances with .
I'm playing the Olympics for my country: Jwala Gutta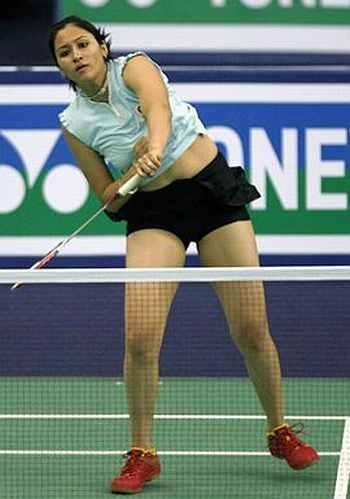 Jwala Gutta knows competing at the London Olympics could be quite nerve-wracking but the Indian ace shuttler said she is ready for the challenge as she is not scared of losing and believes in working hard.
Paes refuses to play politics in Indian Olympic row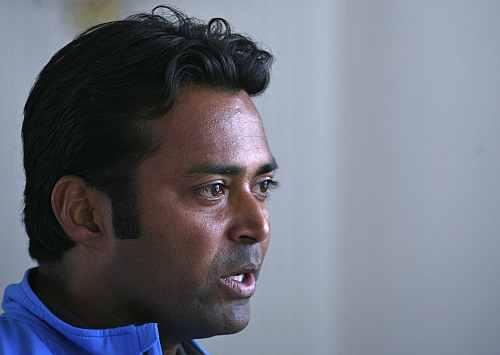 None of India's top players want to play with him and he has been called "a backstabber" by his former friend, but on Thursday Leander Paes' only concern was whether his novice partner at the Olympics had the right shoes to compete.
Unsung Lukas 'Czechs' Spanish conquistador Nadal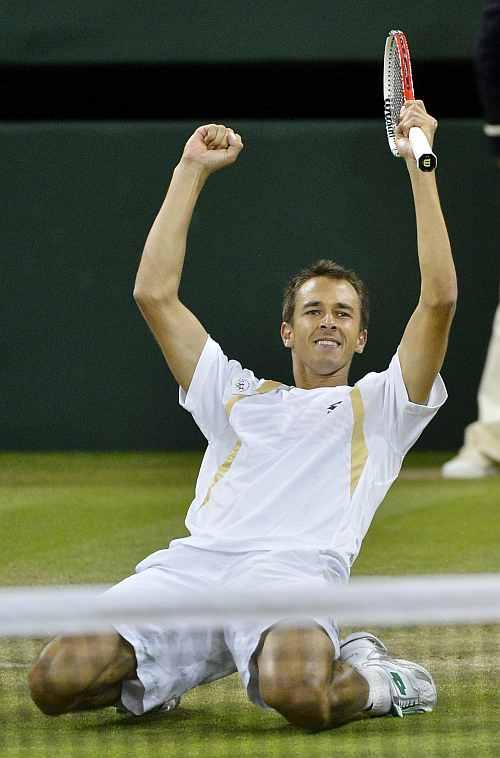 Launching outrageous winners left, right and centre, obscure Czech Lukas Rosol rocked Wimbledon's Centre Court to its foundations on Thursday by winning a final-set shootout after dusk against twice former champion Rafa Nadal.
I have had to toil my way into the Olympics: Vijender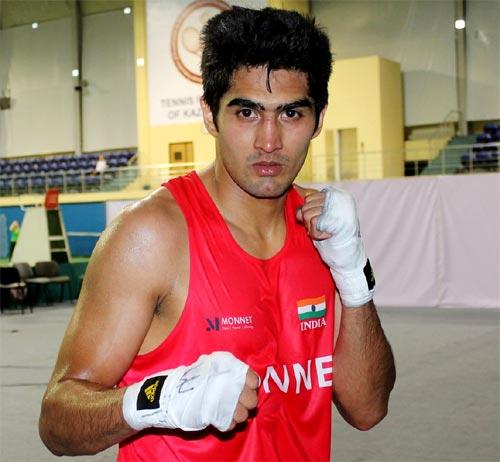 Vijender Singh speaks about his journey from humble beginnings in Kalwash village of Bhiwani district to becoming the only Indian boxer who will have the unique distinction of partaking in three Olympics.
PHOTOS: Balotelli heads Italy into final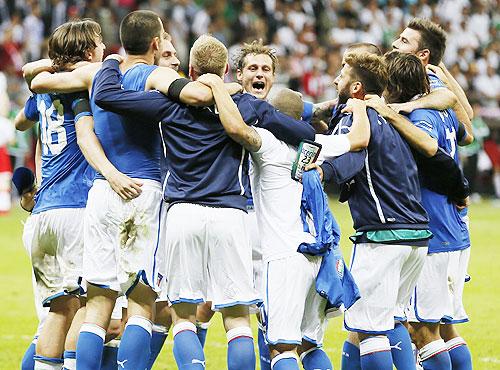 Italy forward Mario Balotelli scored two superb first-half goals to steer his team to a 2-1 victory over favourites Germany on Thursday and into the Euro 2012 final where they will meet holders Spain.
London Game's first cable car lifts off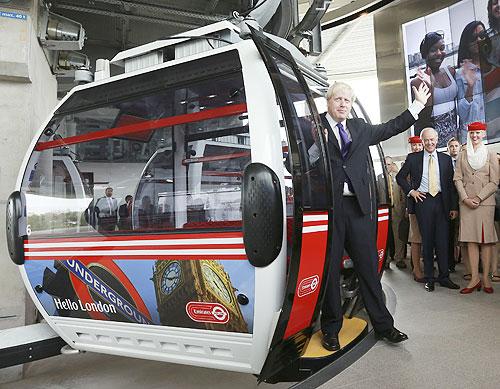 London's first cable car service opened its doors to the public on Thursday, a spectacular ride high across the River Thames near the Olympic Park which will help visitors to the Games avoid any jams on the ground.
June 28, 2012
Jwala focusing on fitness for the Olympics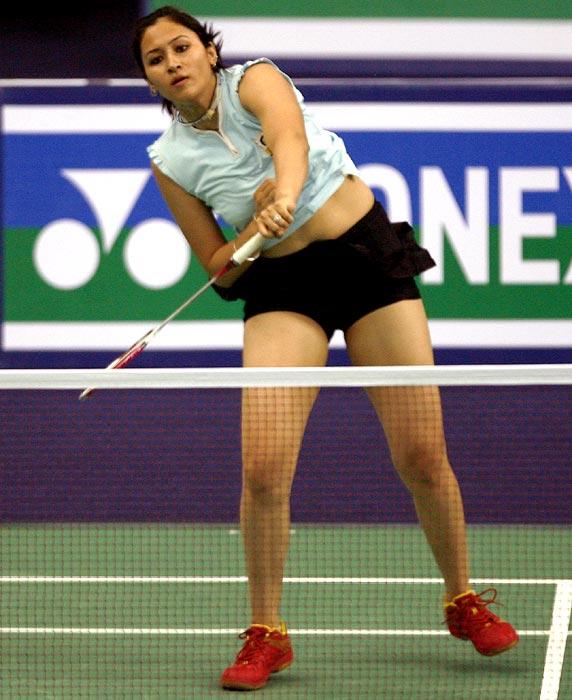 Expressing confidence that she would do well in next month's Olympics, ace shuttler Jwala Gutta said she is focusing on her fitness to be battle-ready for the London Games.
Wimbledon Images: Rosol stuns Nadal in five-set thriller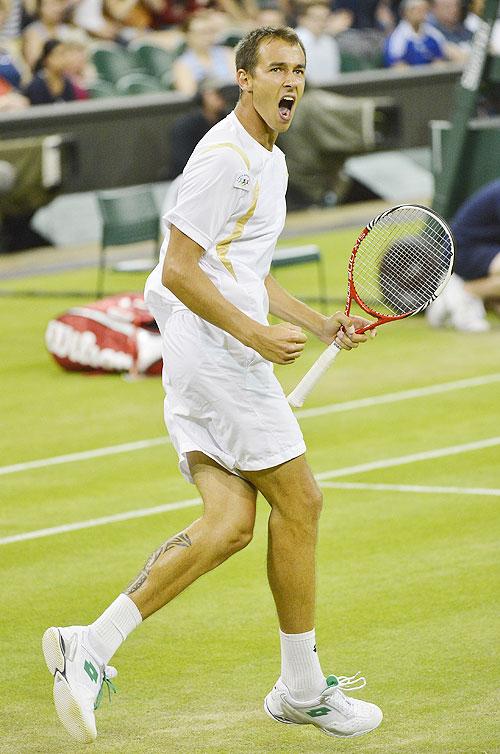 Czech Lukas Rosol beat second seed Rafa Nadal 6-7, 6-4, 6-4, 2-6, 6-4 in the Wimbledon second round to complete one of the biggest ever upsets on Thursday.
Fabregas leaves Portugal in pain to send Spain through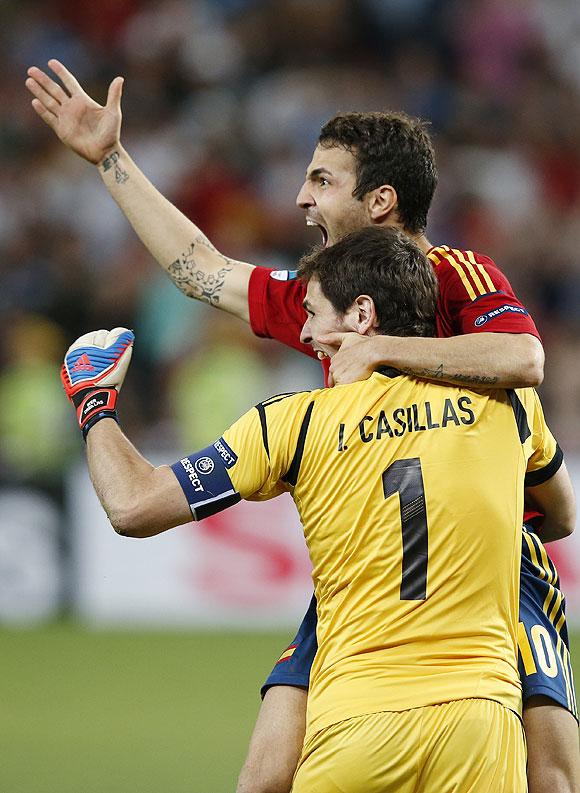 Spain's 'Tiki Taka' passing was off-tempo at the Donbass Arena but the holders, unable to hurt Portugal in 120 minutes of stalemate, broke their hearts in a penalty shootout to reach the final of Euro 2012 on Wednesday.
We had no luck in the tournament: Bento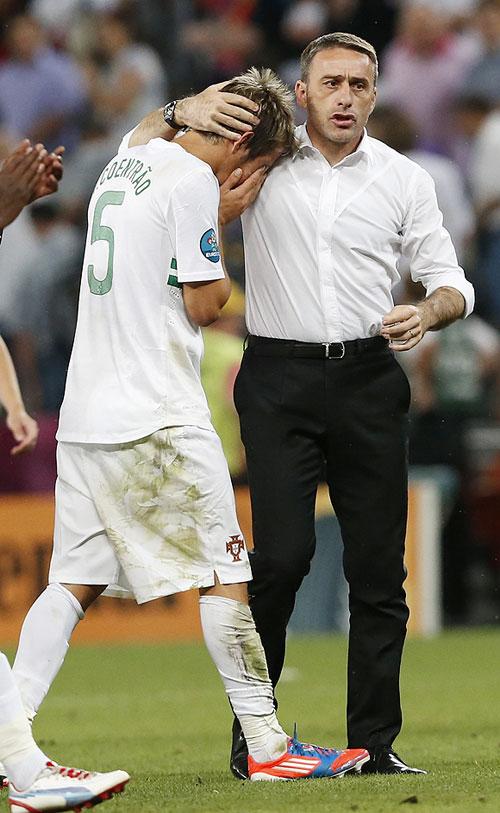 Portugal had planned for Cristiano Ronaldo to take the fifth penalty that never was, coach Paulo Bento said after his team's 4-2 shootout defeat by Spain in Wednesday's Euro 2012 semi-final.
London organisers promising a tasty Olympics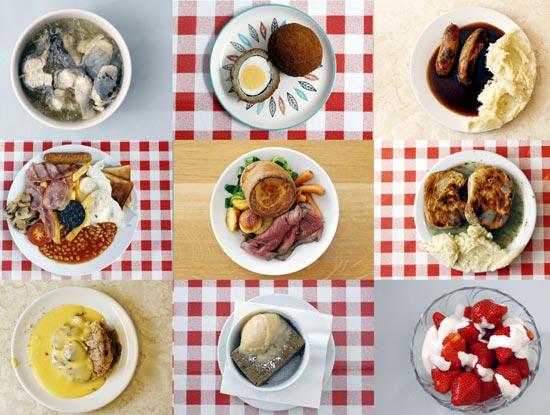 More than 14 million meals will be served to fans and the 15,000 athletes during the Games, across 40 locations, with the focus on ethical and sustainable produce, according to LOCOG.
Wimbledon Images: Stosur, Wozniacki suffer shock defeats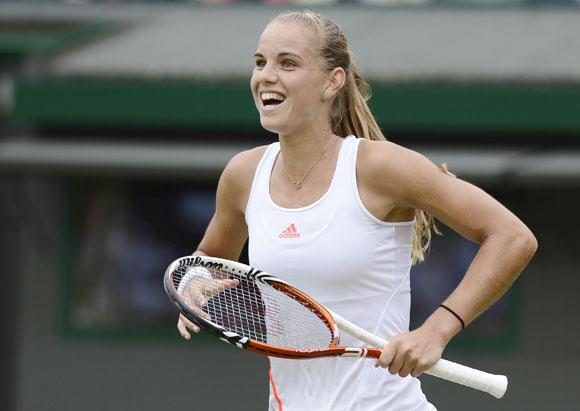 Samantha Stosur became the highest seed to fall at the championships when the Australian was bundled out in the second round by Dutch player Arantxa Rus.
Hockey coach Nobbs on India's chances at the Olympics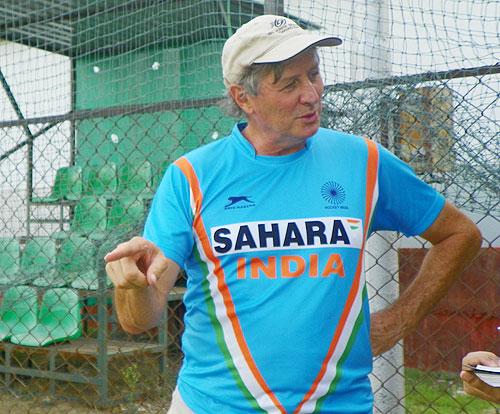 India hockey coach Michael Nobbs says scoring field goals will be the key to the team's fortunes at the upcoming Olympics.
June 27, 2012
Wimbledon Images: Stosur, Wozniacki suffer shock defeats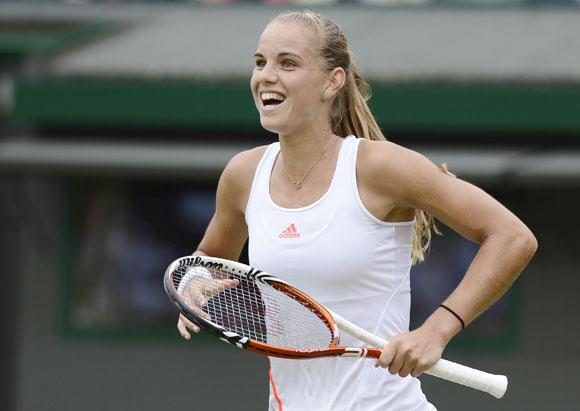 Samantha Stosur became the highest seed to fall at the championships when the Australian was bundled out in the second round by Dutch player Arantxa Rus.
Sania was used without even being consulted: Bhupathi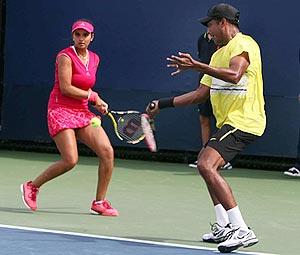 Admitting that his pairing with Sania Mirza in the mixed doubles category would have been the best bet for India in the London Olympics, Mahesh Bhupathi on Tuesday said that the Indian star player was used without even being consulted.
Who will make it to last four at Wimbledon this year?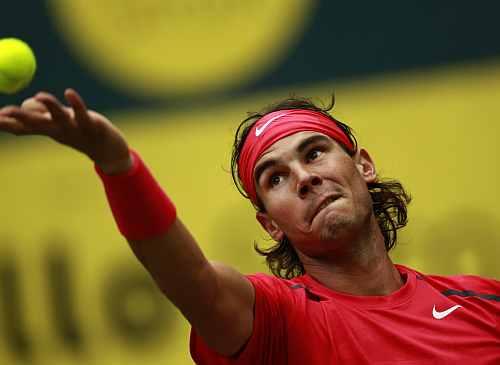 Will Roger Federer prove he's 'King of Grass' once more, or will it be Rafael Nadal yet again? Or will Novak Djokovic come good, asks A Seshan?
Time stood still when Platini broke Portuguese hearts
It was the moment when time seemed to stand still just long enough for Michel Platini to score one of the most memorable goals of his brilliant career and break Portugal's hearts.
Euro: Portugal vs Spain semi-final prospects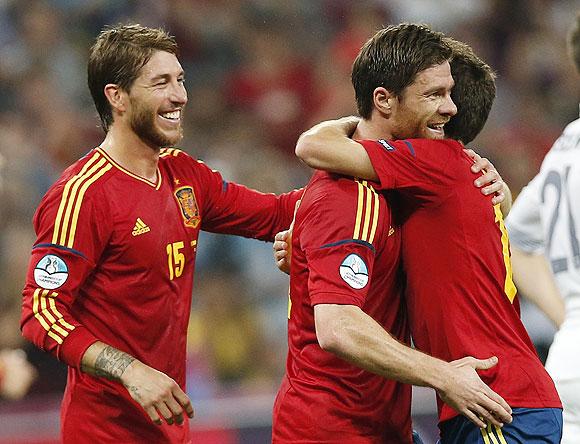 Prospects for the first Euro 2012 semi-final to be played between Portugal and Spain.
Dhoni, Mary Kom India's most marketable athletes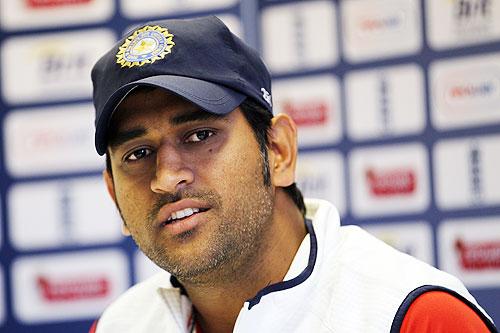 Team India captain Mahendra Singh Dhoni and five-time world champion boxer MC Mary Kom have been rated as the 16th and 38th most marketable athletes in the world by a monthly British magazine that reports on the business and financial aspects of sport.
June 26, 2012
Wimbledon: Serena moves safely through first round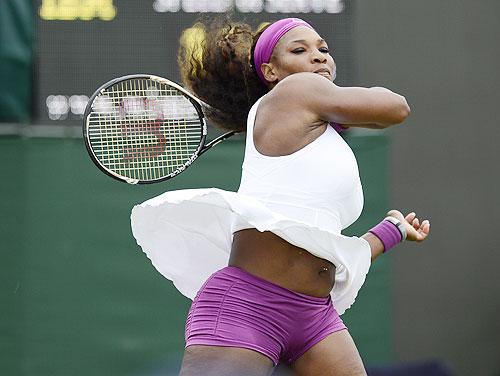 Four-time champion Serena Williams made an excellent start to Wimbledon on Tuesday, coming through an athletic first-round match against Czech Barbora Zahlavova Strycova that was tougher than the 6-2, 6-4 scoreline would suggest.
Germany not out for revenge after 2006 'trauma'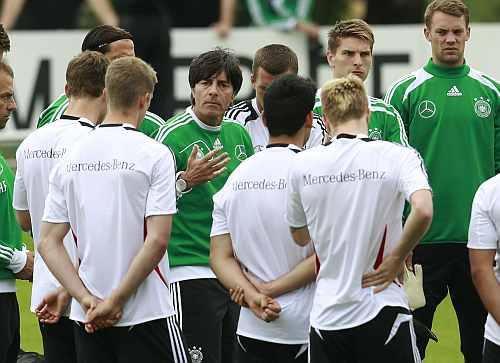 Germany will not be seeking revenge for a bitter 2006 World Cup semi-final defeat on home soil when they meet Italy again at the same stage of Euro 2012 in Warsaw on Thursday, coach Joachim Loew said.
Portugal's progress boosts confidence back home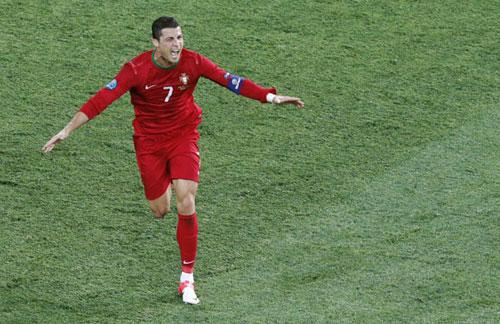 Cristiano Ronaldo's inspirational form at Euro 2012 has boosted flagging Portuguese self-confidence during a tough time for the country which is struggling to cope with massive debt and painful austerity measures.
Prankster Pique delivering for Spain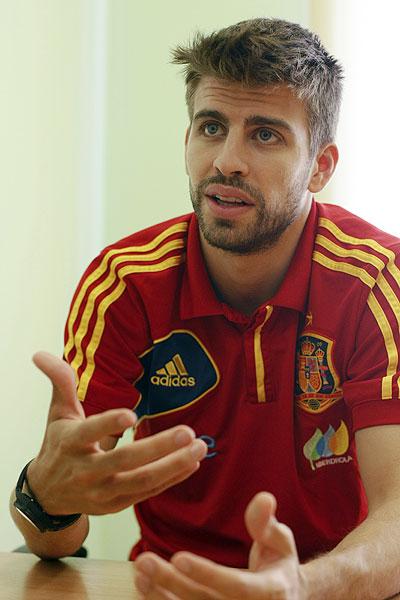 Gerard Pique's reputation as something of a joker and his glamorous popstar partner Shakira make him one of the more colourful characters in the ranks of the highly disciplined and professional Spain team.
Photos: WAGS leave their mark at Euro 2012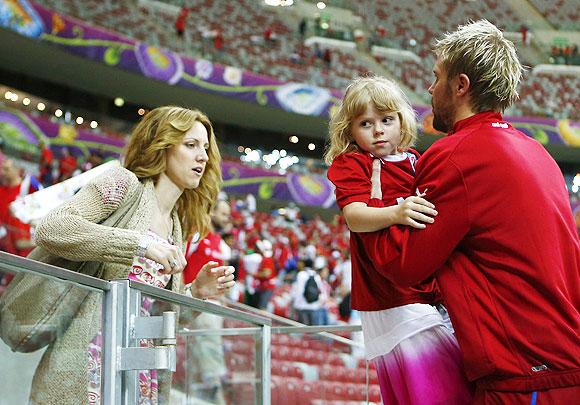 At Euro 2012, while the footballers grabbed the headlines for their on-field showing, surely, some of their wives and girlfriends (WAGS) did have a share of the limelight.
Wimbledon title not on Nadal's mind just yet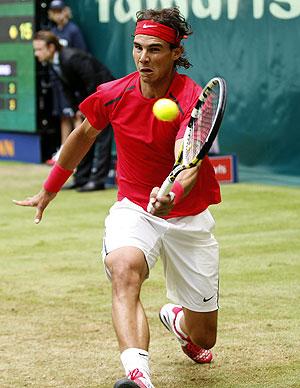 Being neither 'arrogant' nor 'crazy', Rafa Nadal is refusing to think about a third Wimbledon title ahead of his first-round match against Brazilian Thomaz Bellucci on Tuesday.
Spitz advice to Phelps: less is more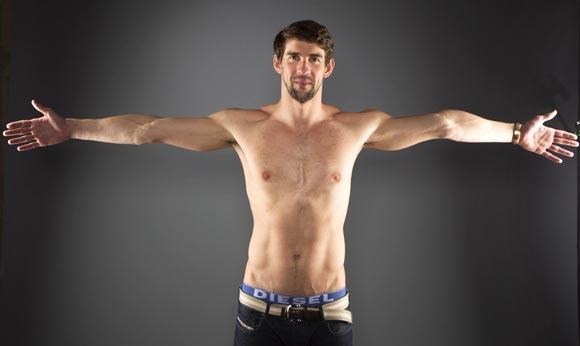 Michael Phelps has signed up for seven individual events, which combined with the three relays he is likely to join at the London Olympics could potentially see him strive for a stunning 10 gold medals this summer.
PHOTOS: Porn stars in Sexy Soccer game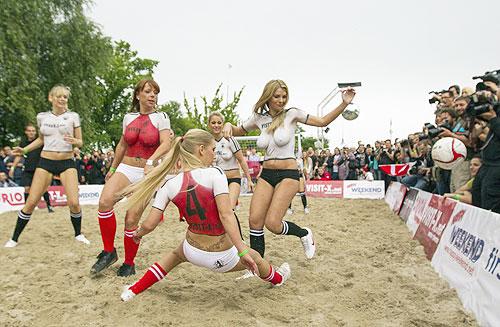 Porn actresses posing as members of German and Danish teams play soccer during the 2012 Sexy Soccer game in Berlin.
Quiet please! Wimbledon decorum adheres to tradition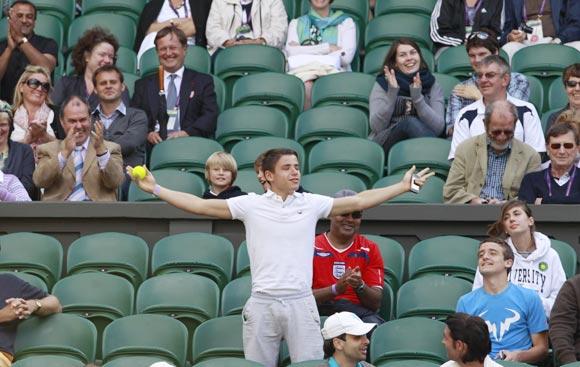 The polite instructions to spectators in the Wimbledon daily programme speak volumes - this is all about England's genteel middle class performing their traditional summer rituals.
June 25, 2012
PHOTOS: Djokovic, Sharapova cruise; Venus knocked out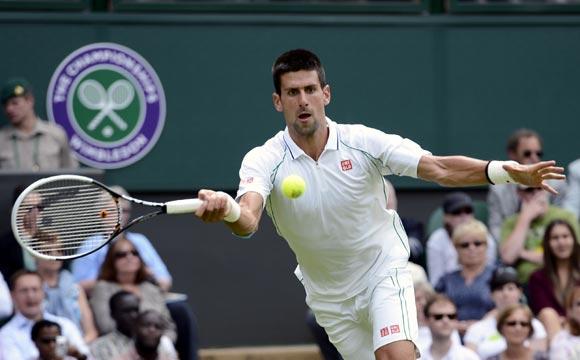 Images from the opening day of the Wimbledon tennis championships in London, on Monday.
I wish I didn't cry after losses: Federer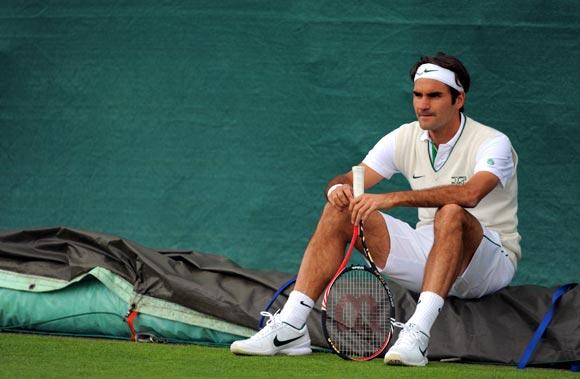 Roger Federer talks about playing in the golden era of tennis, his chances of winning his first singles gold medal when Wimbledon hosts the Olympics tennis event next month and about being bestowed honours outside his sport.
Schumacher savours Formula One podium at long last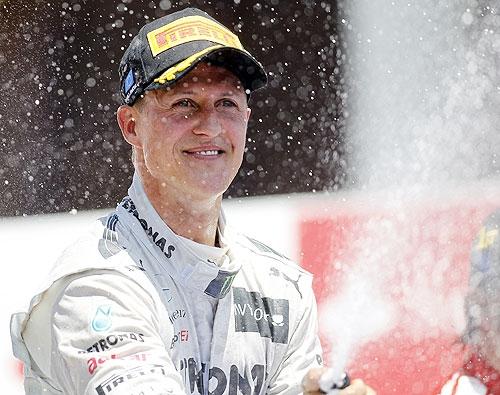 Michael Schumacher was taken by surprise on Sunday after ending up on the Formula One podium for the first time in nearly six years.
Sharapova comes back down to earth at Wimbledon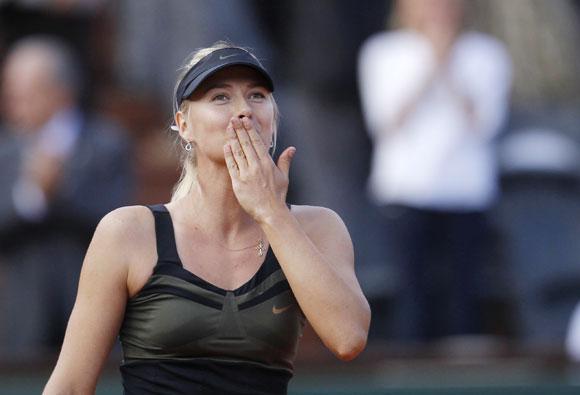 After the stellar delight of winning the French Open to complete a career grand slam, Maria Sharapova has come back down to earth at Wimbledon, scene of one of her greatest disappointments a year ago.
Champion Djokovic not underestimating Ferrero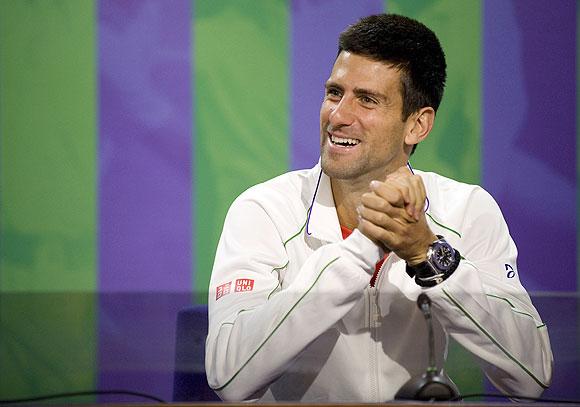 Having picked himself up after the disappointment of failing to complete his grand slam collection in Paris, Novak Djokovic begins his Wimbledon defence looking for a repeat of last year's "perfect tournament".
PIX: Justice served as Italy beat England in penalties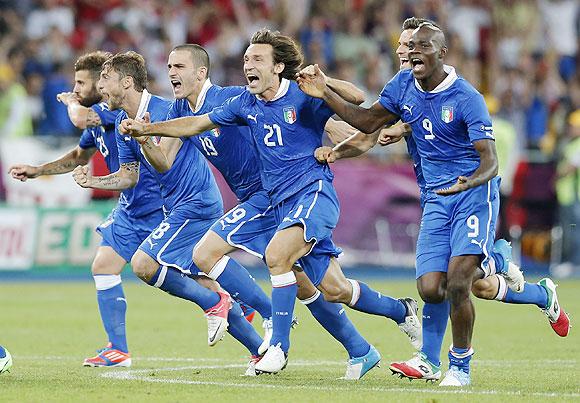 Italy needed penalties to eliminate England and reach the semi-finals of Euro 2012 on Sunday after the match finished goalless at the end of extra time but any other outcome would have been a travesty.
June 24, 2012
PHOTOS: Alonso thrills home fans with Valencia win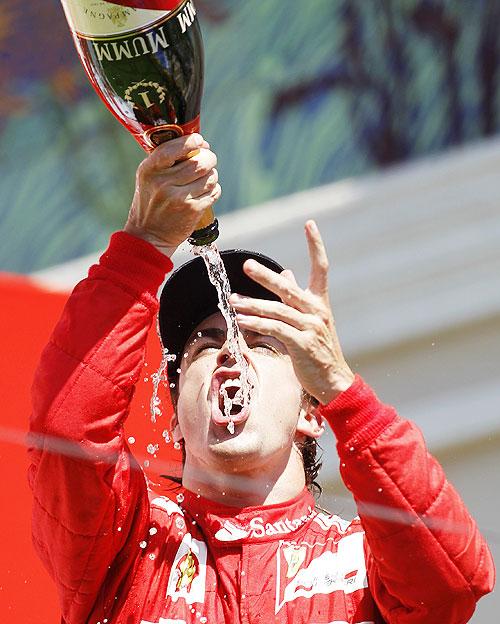 Ferrari's Fernando Alonso thrilled home fans by winning an incident-packed European Grand Prix in Valencia on Sunday to take the overall championship lead and become Formula One's first repeat winner of the season.
Familiar foe Ronaldo awaiting Spain in last four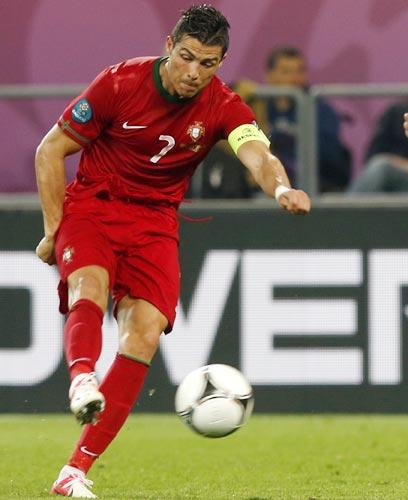 Spain's Euro 2012 semi-final against Portugal will almost certainly hinge on how effectively the holders manage to shackle a familiar foe.
Federer dreams of reaching seventh heaven at Wimbledon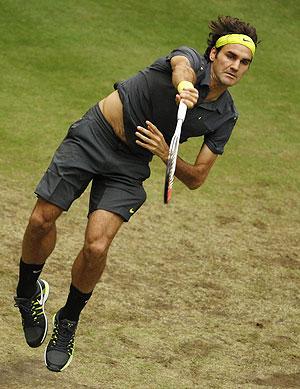 For almost a decade it seemed Roger Federer was guest of honour on finals day at nearly every Grand Slam event but over the past 12 months Novak Djokovic and Rafa Nadal have conspired to strike him off the list.
India tennis stars look to prove a point at Wimbledon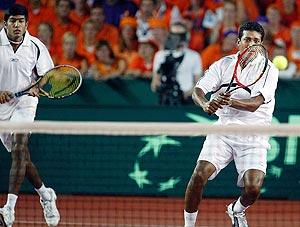 India's squabbling tennis players would be eager to prove a point amid a bitter selection row for next month's Olympics when they take the court at the prestigious Wimbledon Championships starting on Monday at the All England Club.
Spain down France to underline winning credentials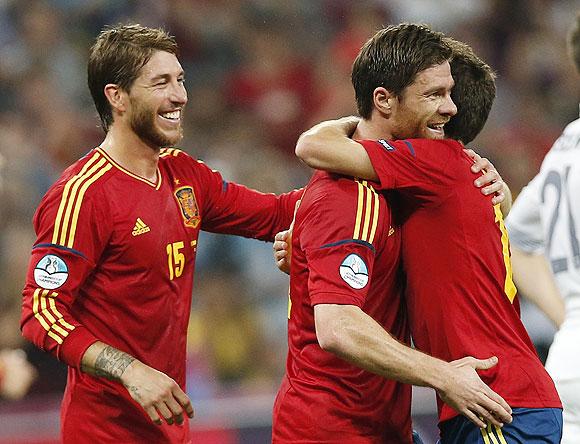 Slick Spain showed they are a team who know how to get results against ultra-defensive teams at major championships when they eased past France into the last four of Euro 2012 on Saturday.
June 23, 2012
German engines roaring as title moves into view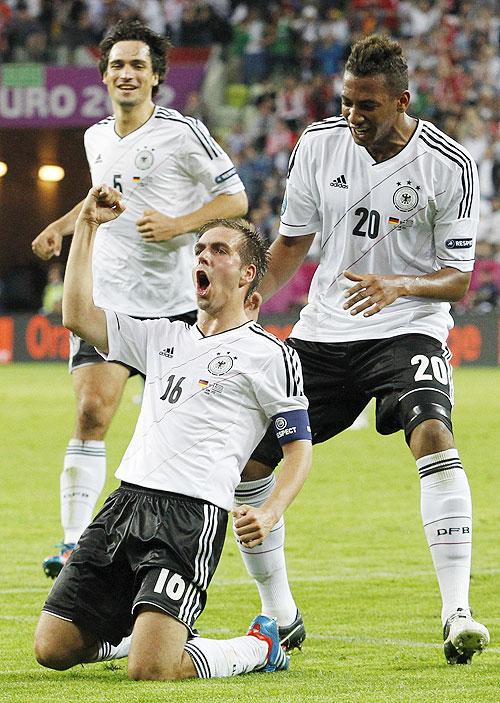 Germany turned on the turbo chargers to race into the Euro 2012 semi-finals and with their fourth consecutive last four spot in a major tournament secured they can see their first silverware in 16 years on the horizon.
Tennis impasse likely to continue for few more days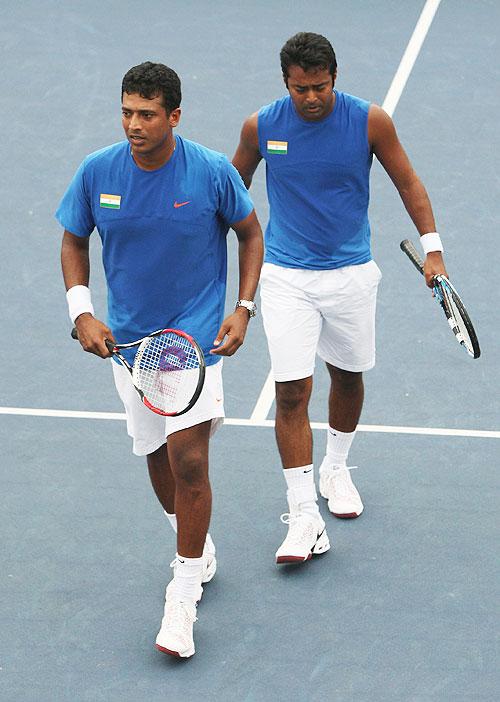 A clear picture on Leander Paes' participation at the London Olympics is unlikely to emerge before June 28, when ITF will reveal whether Sania Mirza has been given a wild card.
NBA: Adversaries become teammates as Olympics heats up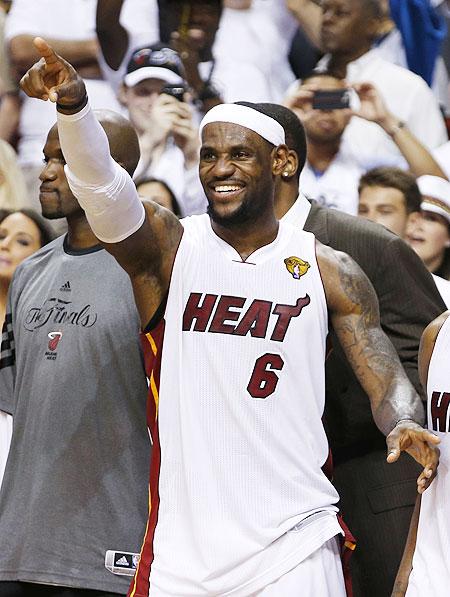 Now that LeBron James and the Miami Heat have capped off the NBA season with a glorious title run, the spotlight turns to the next great stage for basketball, the London Olympics.
Euro: England face rare and intriguing Italy test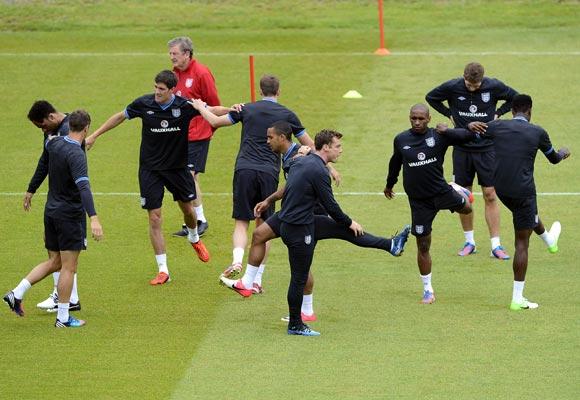 For England, where the Premier League has ushered in a financial boom, cosmopolitan coaching and many world class players, it is a chance to prove their game has progressed since they lost 2-1 to Italy at Leeds, in March, 2002.
PHOTOS: Slick Germany crush Greek dreams again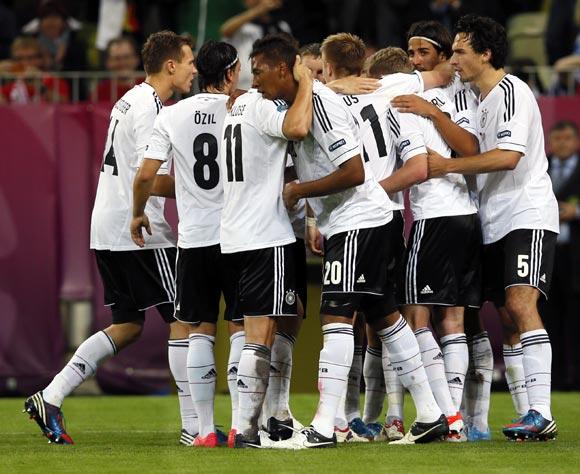 Germany crushed Greece 4-2 to reach the Euro 2012 semi-finals on Friday, surviving a scare against the surprise quarter-finalists before putting them to the sword with second-half goals from Sami Khedira, Miroslav Klose and Marco Reus.
June 22, 2012
Put national interest first: Maken to tennis players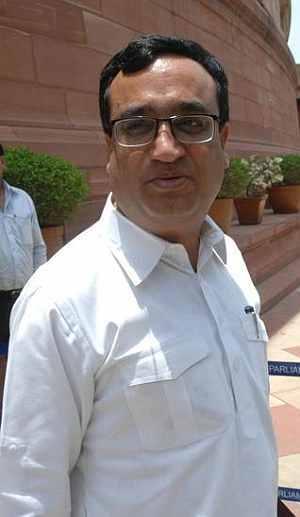 Sports Minister Ajay Maken on Friday sought to steer clear of the furore surrounding the controversial tennis team selection for the London Olympics but said the feuding players should put national interest first.
'With some luck, we can win medals in badminton'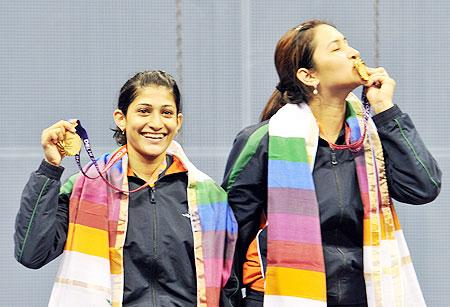 Ashwini Ponnappa, who will partner Jwala Gutta in the women's doubles at the Olympics, is confident of peaking in time and doing well at the mega event.
AITA selector rushes to London to pacify Paes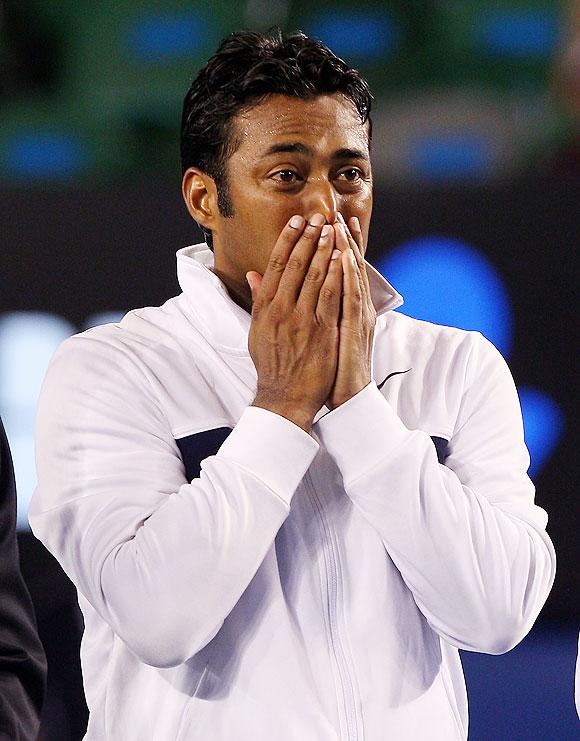 Faced with a pullout threat from Leander Paes, the All India Tennis Association has sent one of its selectors to London to pacify the veteran who is miffed at not getting a partner of choice for the men's doubles event of the London Olympics.
PHOTOS: Sizzling Heat crack Thunder to claim title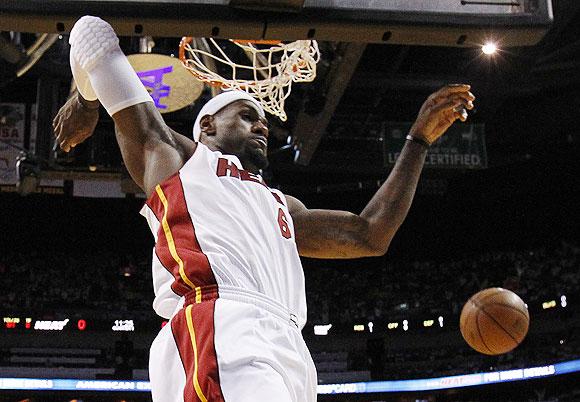 LeBron James led an outstanding team effort as the Miami Heat demolished the Oklahoma City Thunder 121-106 to win the National Basketball Association title on Thursday, the new champions reeling off four straight victories to take the series 4-1.
PREVIEW: Spain united as French squabble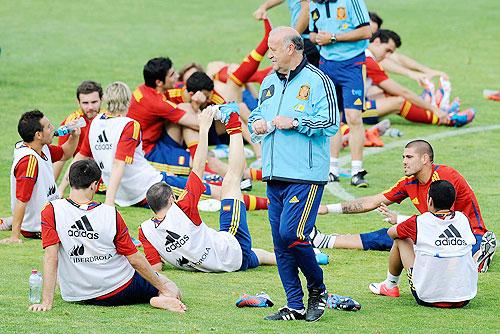 Spain must beat France in a competitive match for the first time if they are to reach the Euro 2012 semi-finals and the latest French squabbling can only have boosted their chances of finally vanquishing Les Bleus in a major tournament.
FACTBOX: MVP LEBRON JAMES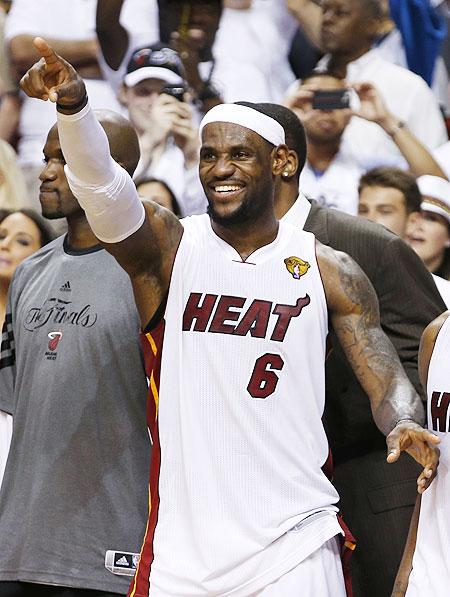 Factbox on the Miami Heat, who won the National Basketball Association (NBA) championship on Thursday by beating Oklahoma City Thunder 4-1 in the best-of-seven final series.
Relentless Ronaldo does it again for Portugal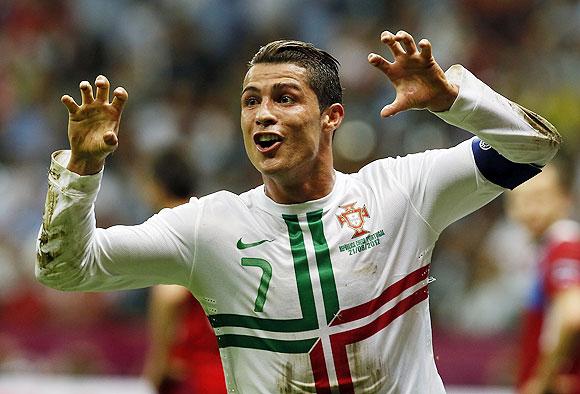 On this evidence the Czech Republic could play a dozen quarter-finals and still not produce the number of goal attempts that Cristiano Ronaldo managed on his own in another display of awesome authority by the Portugal skipper.
June 21, 2012
There's still a lot to be done, says Saina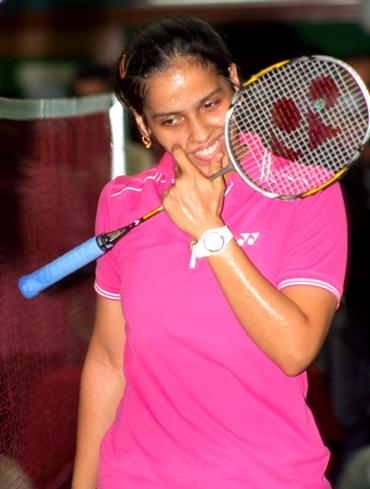 Ace shuttler Saina Nehwal says she still needs to fine-tune some aspects of her game before the London Olympics.
'If boring boxing can win me a medal, what's wrong?'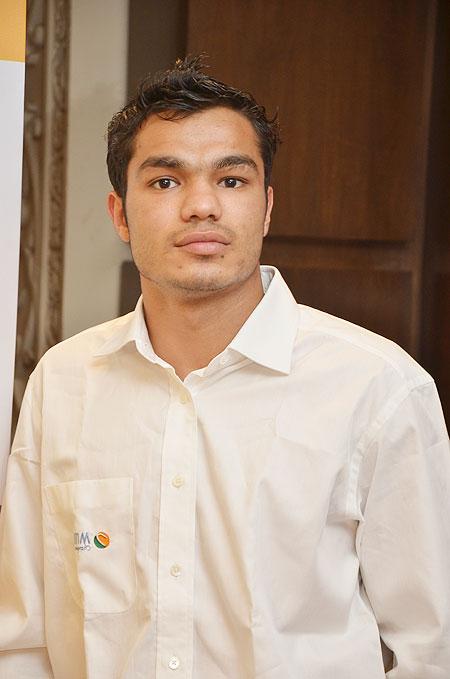 The Asian Olympic boxing qualifiers in Astana, Kazakhstan, did wonders to Vikas Krishan. He did not participate in it, but with three other Indian pugilists -- Shiva Thapa, Sumit Sangwan and Vijender Singh -- booking berths to the London Olympics from the tournament, he got off the media radar.
Czechs hope Ronaldo has an off-day in Warsaw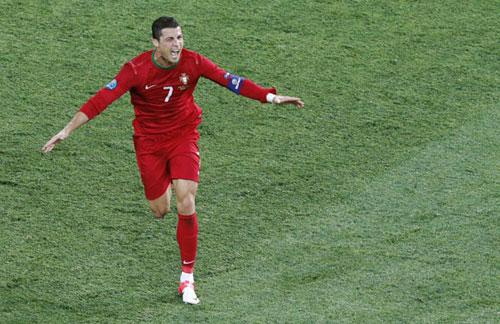 Cristiano Ronaldo has scored at will in the Spanish and English leagues in recent seasons but can struggle for Portugal, leaving the Czech Republic hopeful that he fails to shine in their Euro 2012 quarter-final later on Thursday.
Brilliant goals, performances light up Euro 2012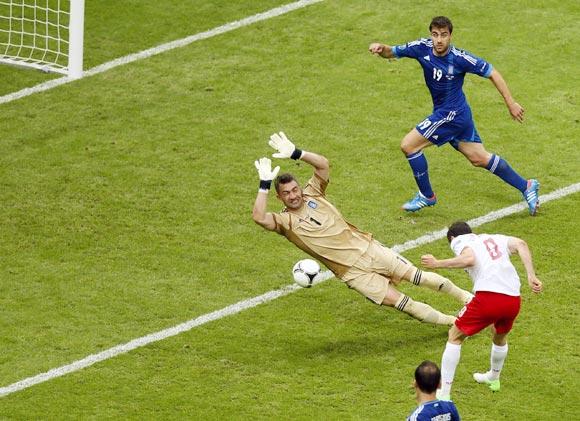 Neither co-hosts Poland or Ukraine survived the group stage, but still produced memorable moments.
Nike, Adidas lead suppliers' battle for Olympic gold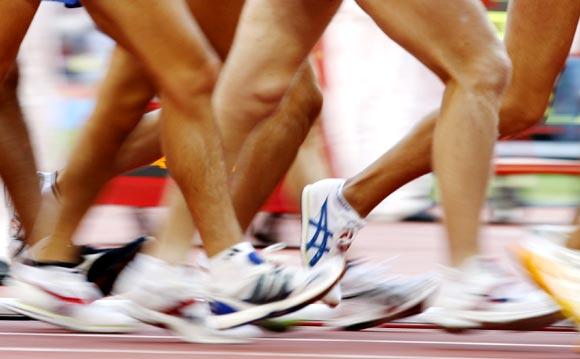 US market leader Nike and German rival Adidas are locked in their own Olympic battle to boost athletes' performance and squeeze maximum value out of next month's Games in London.
June 20, 2012
'Saina will certainly return with an Olympic medal'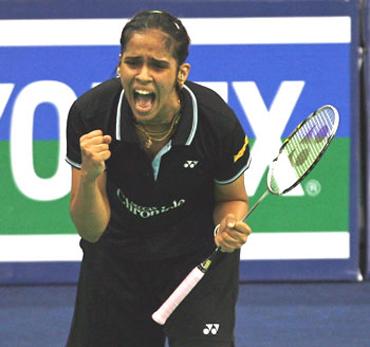 Saina Nehwal has become a strong medal prospect at the upcoming London Olympics after her dominating performanmce over the formidable Chinese players at the Indonesian Open, asserts nine-time national badminton champion and two-time Olympian Aparna Popat.
PHOTOS: Euro 2012 Soccer Babes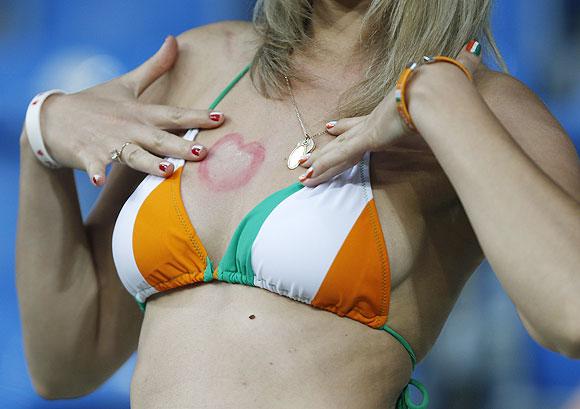 An Irish fan waits for the start of their Group C Euro 2012 soccer match against Croatia at the City Stadium in Poznan.
PHOTOS: England, France through to the quarter-finals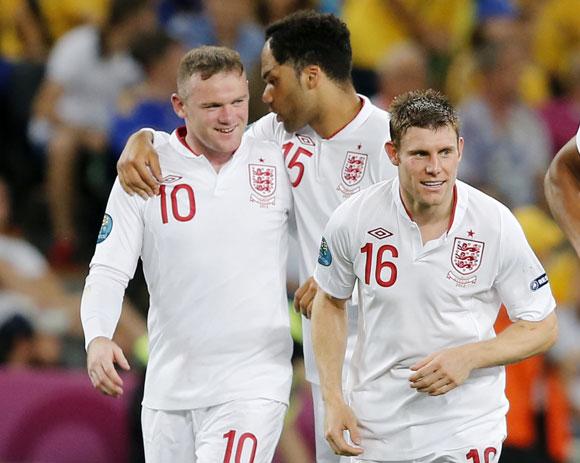 Wayne Rooney made a decisive impact on his belated entry to Euro 2012 when his header gave England a 1-0 win over Ukraine on Tuesday that sent them into the quarter-finals as Group D winners and eliminated the co-hosts. Below-par France also qualified for the last eight despite a superb Zlatan Ibrahimovic strike and a late Sebastian Larsson goal condemning them to a 2-0 defeat by Sweden.
June 19, 2012
Fan zone: Agony and Ecstasy at Euro 2012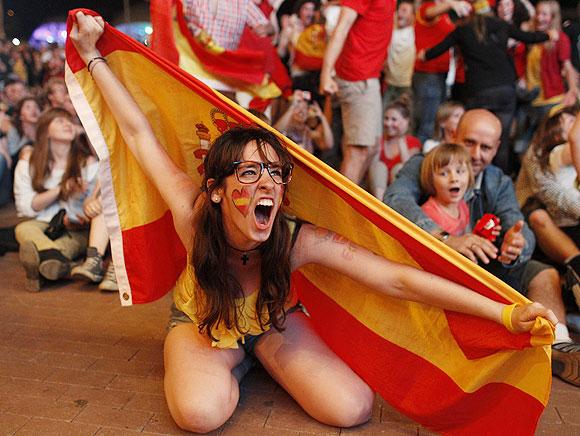 Images of fans at the Euro 2012.
Peerless Isinbayeva heads for new heights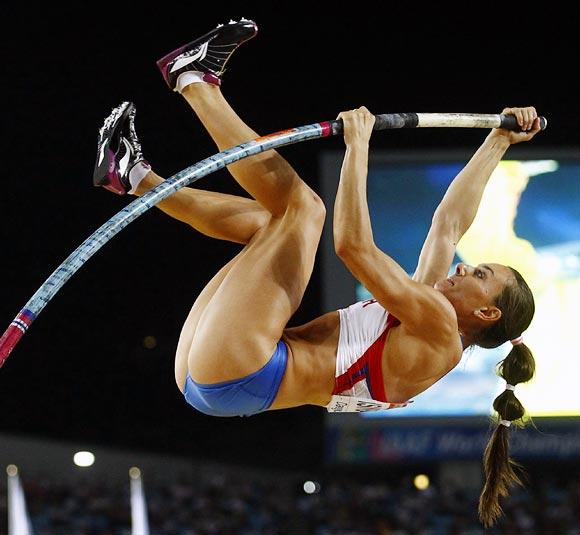 Yelena Isinbayeva is back at the peak of her powers as she bids to become the first female track and field athlete to win three successive Olympic golds in what is likely to be her last Games.
PHOTOS: Spain, Italy secure quarter-finals berths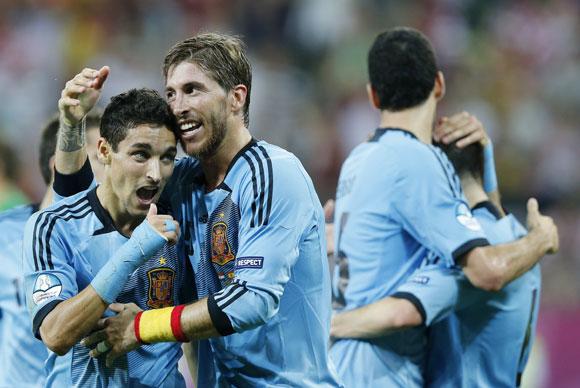 Holders Spain and former champions Italy made it through to the last eight of Euro 2012 in contrasting fashion on Monday.
June 18, 2012
AITA's decision defies logic: Bhupathi to Maken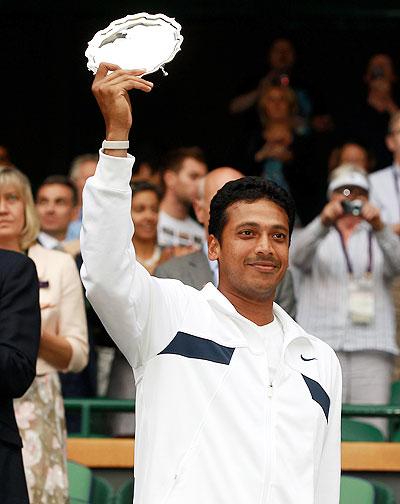 Mahesh Bhupathi has complained to the Sports Ministry over selection of the men's double team for London Olympics raising apprehensions over the AITA's selection process wherein he is being forced to pair with estranged partner Leander Paes.
Bopanna tells AITA he won't partner Paes at Olympics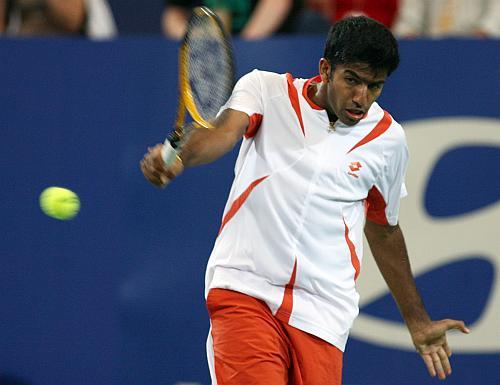 The crisis that has rocked Indian tennis deepened on Monday, with Rohan Bopanna officially snubbing the All India Tennis Association's offer to pair with Leander Paes in the men's doubles at the London Olympics.
Rooney set to start against Shevchenko-less Ukraine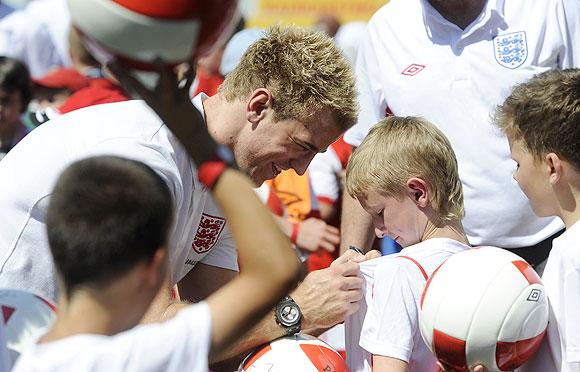 Key England striker Wayne Rooney is set to feature at Euro 2012 for the first time on Tuesday but co-hosts Ukraine could be without their talisman Andriy Shevchenko as they battle to stay in the tournament.
PHOTOS: Germany, Portugal seal spot in quarters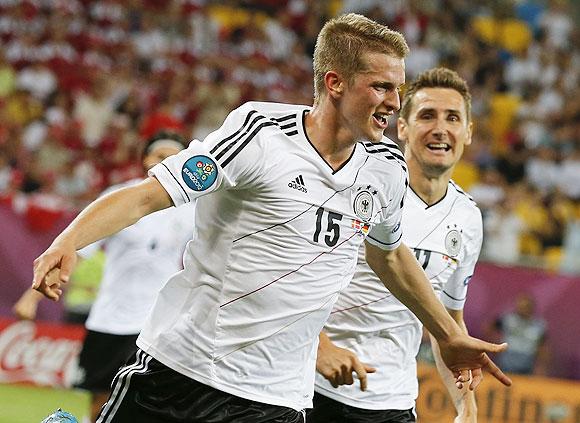 Cool-headed Germany extended their Euro 2012 winning streak to reach the last eight with a solid 2-1 victory over Denmark on Sunday as two goals from an inspired Cristiano Ronaldo put Portugal through and sent the Dutch packing.
PHOTOS: Cristiano Ronaldo steers Portugal into last eight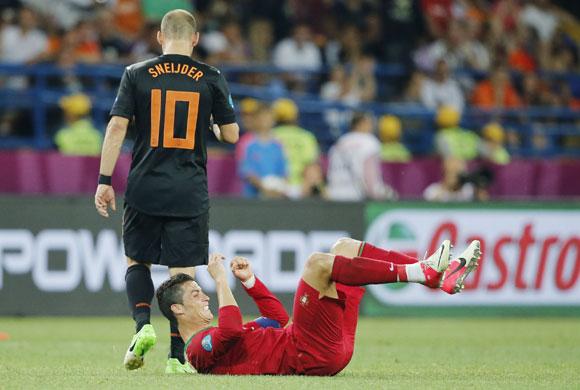 Cristiano Ronaldo scored both goals as Portugal deservedly beat the Netherlands 2-1 on Sunday to reach the quarter-finals of Euro 2012 and eliminate the Dutch, beaten World Cup finalists two years ago.
June 17, 2012
Saina raises Olympic medal hopes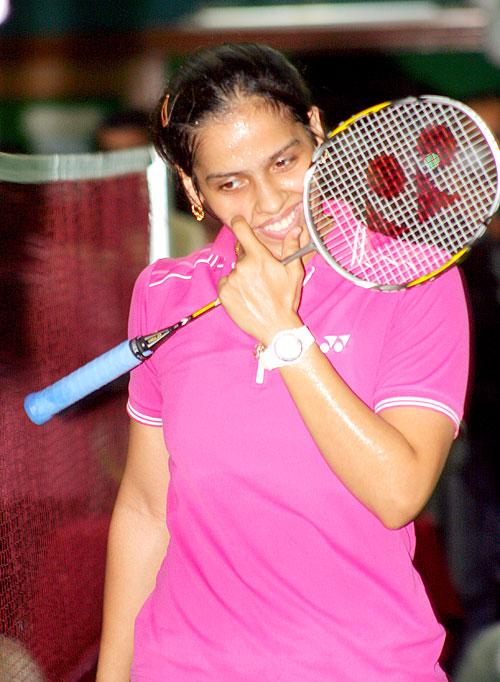 Raising hopes for a medal in next month's London Olympics, Indian badminton ace Saina Nehwal on Sunday won the Indonesia Open Super Series title after beating world number three Xuerui Li of China in a hard-fought summit clash in Jakarta.
Spain set for tougher test against Croatia
After thrashing an accommodating Ireland side 4-0, holders Spain may find Croatia a tougher nut to crack when they meet in Gdansk on Monday in a game that will decide who tops Euro 2012 Group C.
Italy banish conspiracy theory thoughts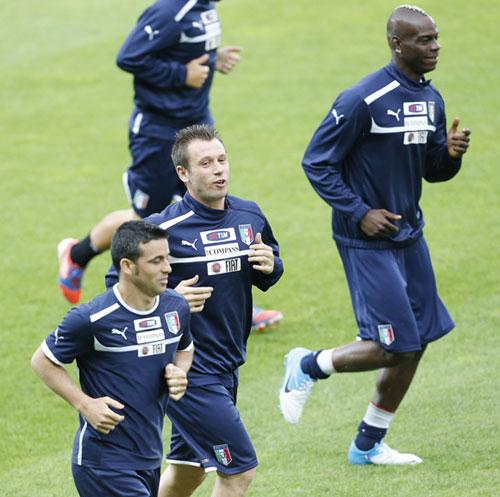 Italy's Euro 2012 squad trained gently in hot sunshine on Saturday afternoon apparently convinced they have their destiny in their own hands.
'MS Dhoni is a very good leader'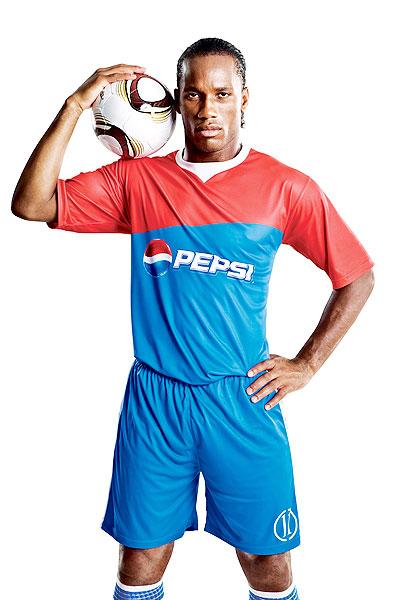 Star footballer Didier Drogba, who played a key role in English Premier League side Chelsea's Champions League triumph last month, on Sunday, said he followed last year's cricket World Cup in India and feels that Mahendra Singh Dhoni is a good leader.
Czech coach Bilek shows he's right man for the job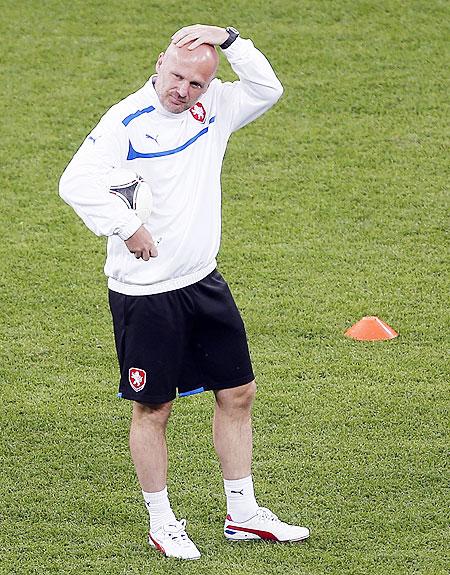 Unloved, unwanted and unappreciated by fans who have long doubted him, Czech Republic coach Michal Bilek's achievement in guiding an unfancied side to the Euro 2012 quarter-finals should help silence the critics.
Greece must keep a cool head for quarter-final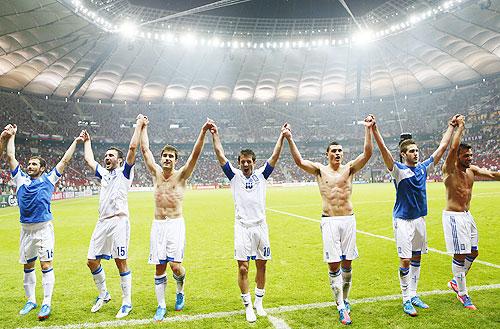 Greece will go into the Euro 2012 last eight with a sense of pride but must keep a cool head after a roller coaster group stage saw them move from the brink of elimination to the knockout phase with a 1-0 win over Russia.
London 2012: Yogeshwar knows London is his last chance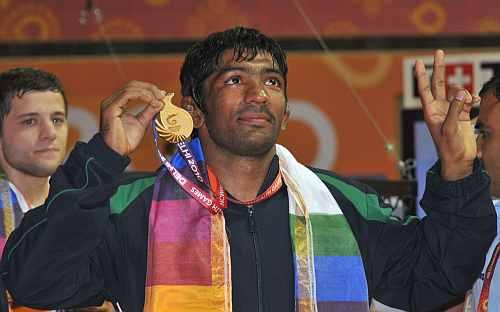 With two unsuccessful attempts behind his back, London-bound Indian wrestler Yogeshwar Dutt pretty well knows it is his last chance to win an Olympic medal when he competes in his third and probably last Games in two months' time.
June 16, 2012
Croatia face racism charge by UEFA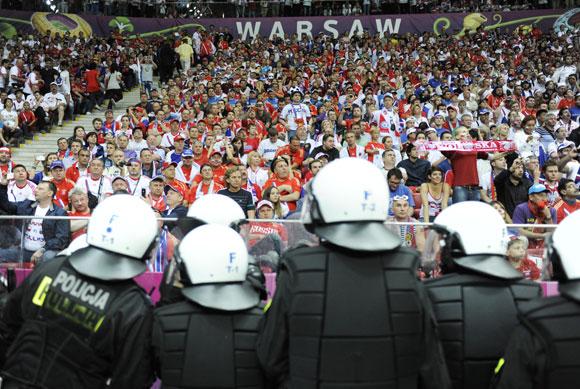 Croatia's Football Federation was charged by UEFA on Saturday for racist chants by the national team's fans and the displaying of racist symbols in the Euro 2012 Group C game against Italy on Thursday, UEFA said.
Rooney return gives Hodgson selection poser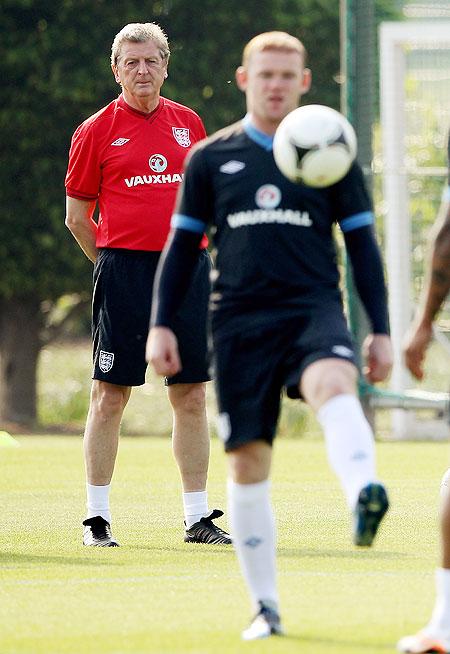 After two unbeaten displays characterised by defensive organisation, determination and team spirit, manager Roy Hodgson will face a "welcome" selection problem for England's final Euro 2012 Group D game against Ukraine on Tuesday.
AITA refuses to change stance, says will send Lee-Hesh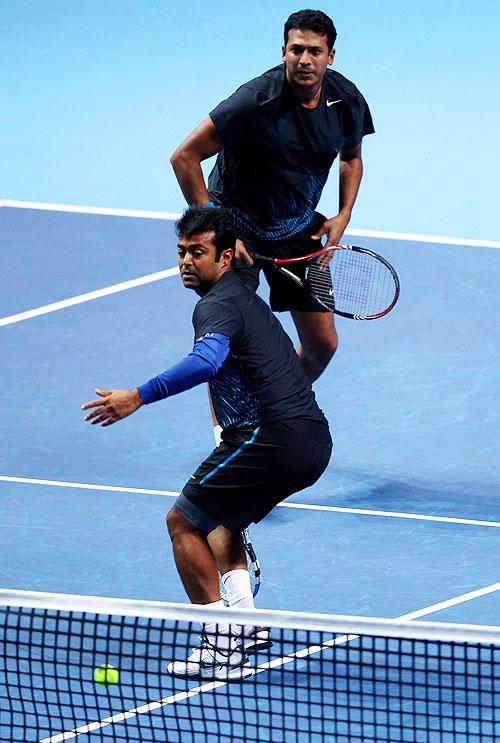 Sticking to its stand, the All India Tennis Association on Saturday said it will not change the players' combination for the London Olympics despite Mahesh Bhupathi categorically rejecting his pairing with Leander Paes.
Stunned Swedes blame bad luck for early exit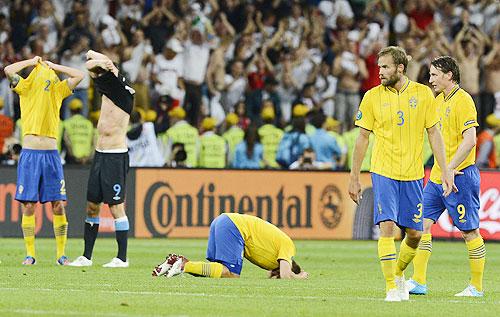 Sweden's stunned players blamed poor luck for their 3-2 defeat by England in a thrilling Euro 2012 Group D match at the Olympic Stadium and thought they were the better team on the night.
PHOTOS: Sloppy England inspired by Walcott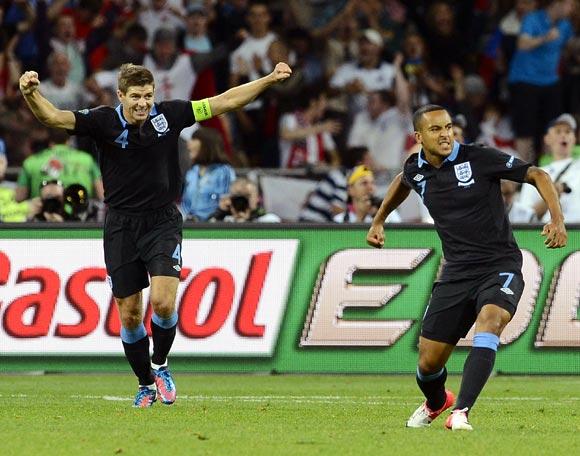 England looked nothing like the disciplined team Roy Hodgson is trying to build but inspired by substitute Theo Walcott they beat Sweden 3-2 in a thrilling Euro 2012 Group D match.
Ukraine go down to superior France on rainy night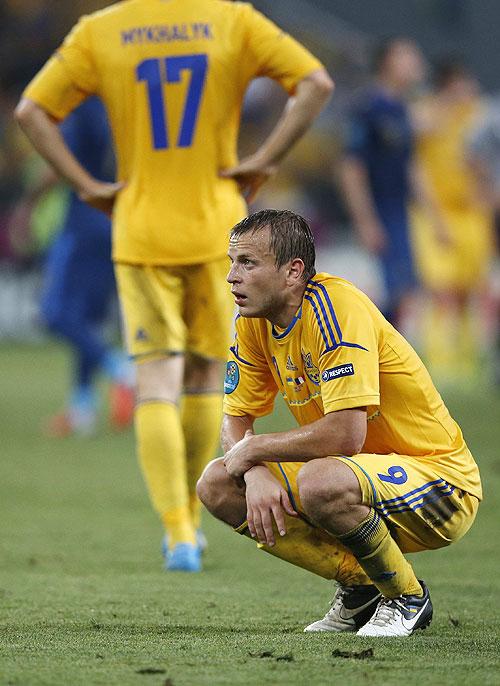 Ukraine's Euro 2012 hopes were dampened by a 2-0 defeat by France in a Group D game that was suspended for 55 minutes because of a thunderstorm on Friday, causing England's match against Sweden to be delayed.
June 15, 2012
Netherlands cling to dream with Germany's help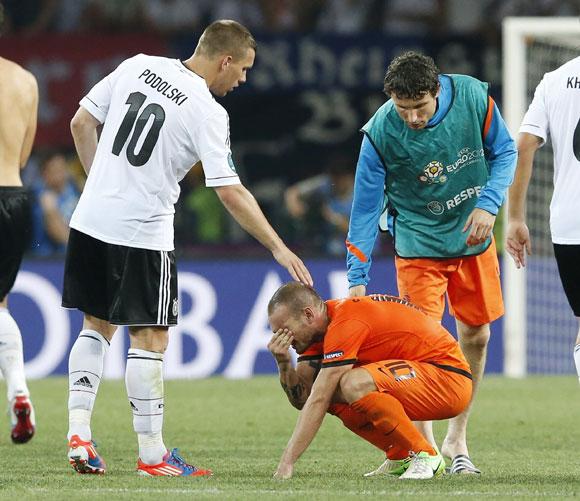 The Netherlands found an unexpected ally as the players sat slumped in their changing room after a dispiriting 2-1 loss to Germany on Wednesday night as their rivals promised to do their best to help them qualify.
PHOTOS: Spain march on as Irish sing in rain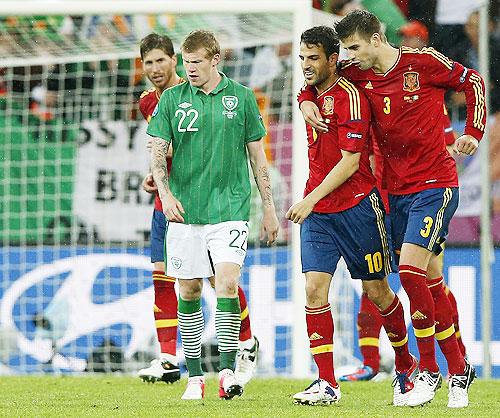 Not even a mucky night more akin to November in Dublin or the will of 20,000 passionate green-shirted fans could hide the gulf in class as Fernando Torres scored twice to ease holders Spain to a 4-0 win over Ireland at Euro 2012 on Thursday.
Spain's Torres on road to redemption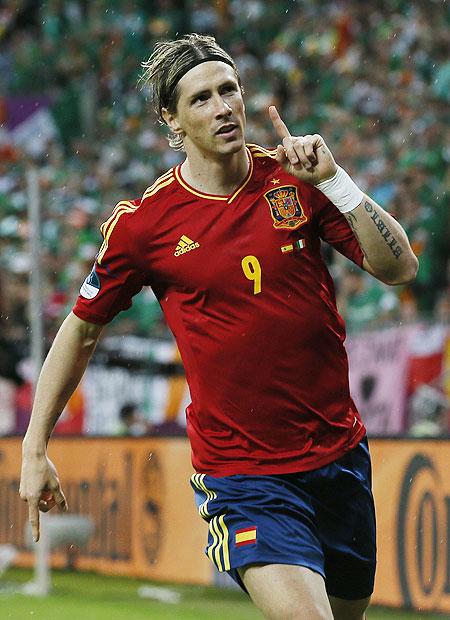 Spain striker Fernando Torres is rediscovering his form at the perfect time after scoring his first tournament goals since the Euro 2008 final and justifying his place in a squad he was in danger of missing out on.
Schweinsteiger gives Dutch a lesson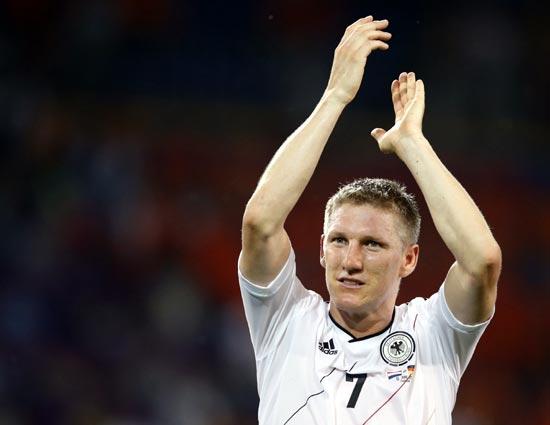 The Netherlands have plenty of marquee names in their Euro 2012 squad but they do not have an enforcer in the mould of Germany midfielder Bastian Schweinsteiger.
PHOTOS: Mandzukic helps Croatia hold Italy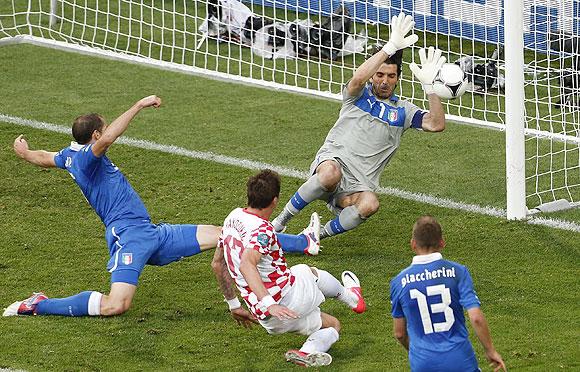 Croatia striker Mario Mandzukic struck his third goal of Euro 2012 to earn a 1-1 draw against Italy who let their opponents off the hook after taking the lead in the Group C match on Thursday.
June 14, 2012
Olympic: Federer seeking golden seal in London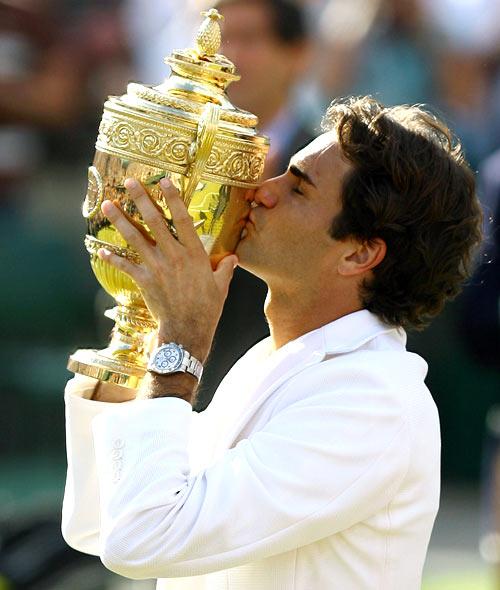 His beloved Wimbledon hosts the Olympic tennis tournament in a few weeks and at 30, and with a record 16 Grand Slam titles to his name, Roger Federer knows time is running short.
Euro preview: France feel heat as Ukraine loom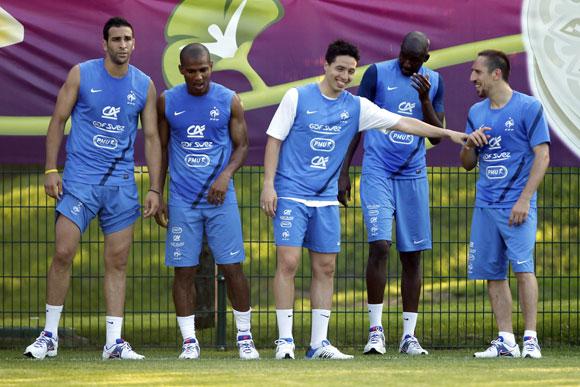 France's 22-match unbeaten run will count for nothing on Friday when they will face similar challenges as they did against England in a Euro 2012 Group D clash against red-hot Ukraine in Donetsk.
Euro preview: Hodgson goes back to the future vs Sweden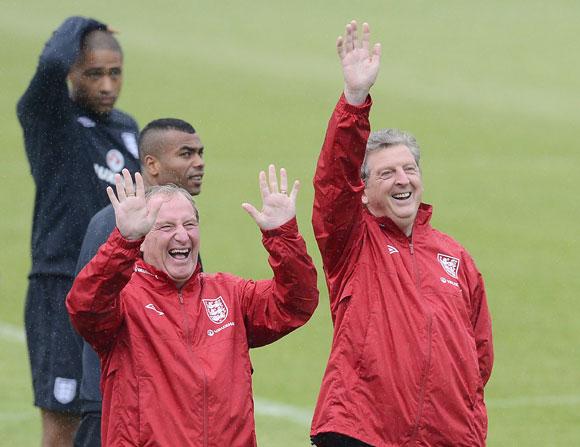 Roy Hodgson may wonder if he is looking into a footballing mirror in Kiev on Friday when he travels back to the future as England meet Sweden in their Euro 2012 Group D clash.
PHOTOS: Dutch face elimination after loss to Germany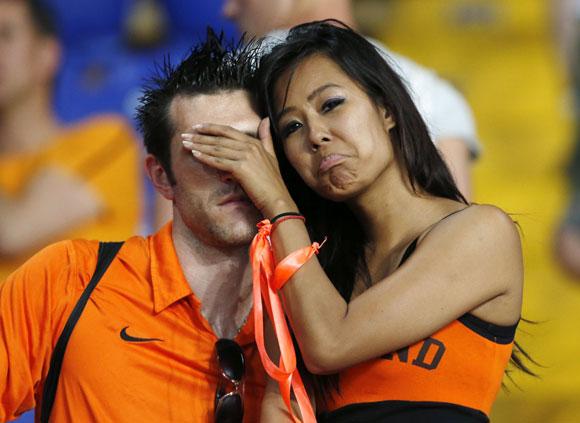 Germany took a big step towards the Euro 2012 quarter-finals on Wednesday when two classy first-half strikes from Mario Gomez secured a 2-1 victory over the Netherlands who are in serious danger of elimination.
UK sees Olympic under budget, transport working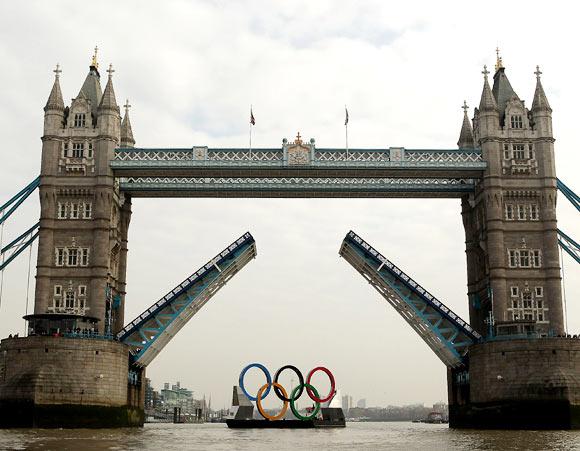 Cash-strapped Britain has almost half a billion pounds left unspent in its Olympic budget, the sports minister said on Wednesday, adding that London's transport system would cope with huge crowds during the Games.
PHOTOS: Varela seals last-gasp win for Portugal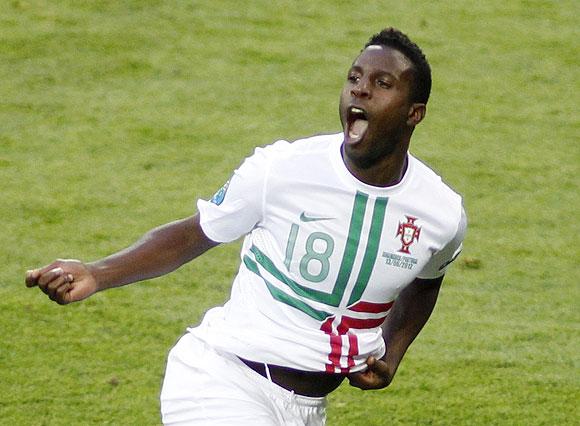 Portugal's Silvestre Varela came off the bench and smashed home an 87th-minute goal to give his side a nail-biting 3-2 victory over Denmark on Wednesday and keep them on course for the Euro 2012 quarter-finals.
June 13, 2012
Cuba says goodbye to boxing great Teofilo Stevenson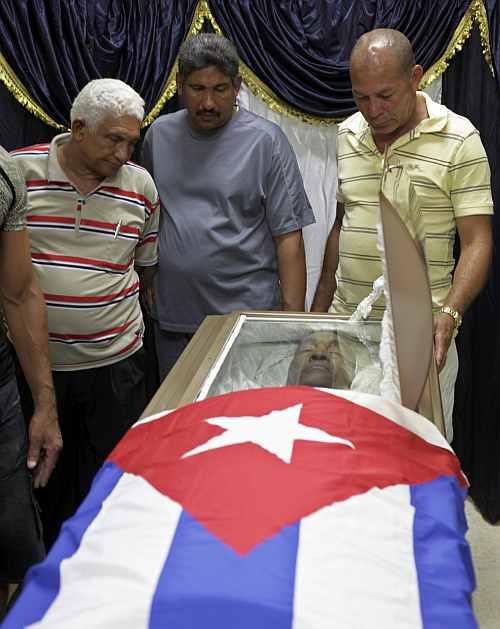 Cuba said goodbye on Tuesday to heavyweight boxing great Teofilo Stevenson, who won three Olympic gold medals and became a symbol of communist pride when he refused to fight for money.
Spotted: India hockey star Sandeep Singh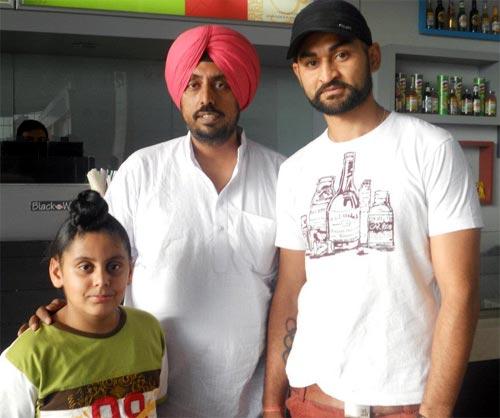 Reader Amarpreet Singh sent us this picture from Chandigarh.
Euro preview: Balotelli show could be curtailed by Croatia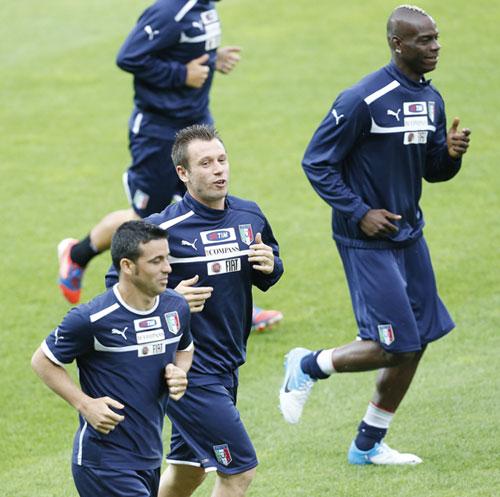 In another life, Mario Balotelli and Antonio Cassano could have been Italy's leading comedy double act but their attacking partnership on the field is under threat ahead of the Euro 2012 Group C clash with Croatia on Thursday.
Euro preview: Misfiring Spain face Irish puzzle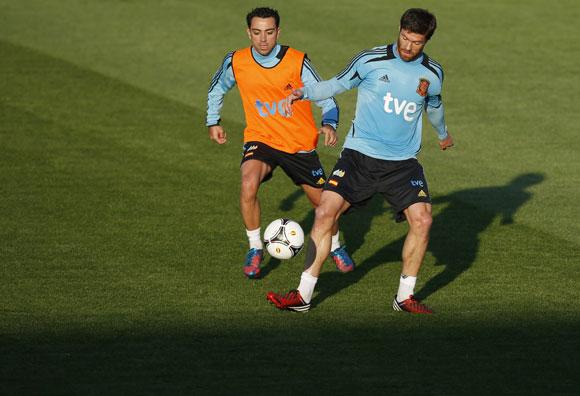 Spain's sizeable Barcelona contingent may be forgiven for feeling a sense of deja vu when they face Ireland on Thursday in their second Group B match at Euro 2012.
PHOTOS: Violence flares in Warsaw as Poland draw Russia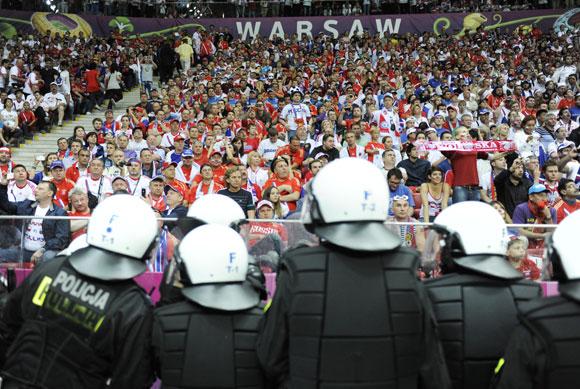 A thrilling 1-1 draw between old adversaries Poland and Russia was marred by the worst fan violence of soccer's European Championship so far on Tuesday, with 123 fans arrested after running street battles in Warsaw.
FACTBOX: Some statistics for Olympic opening ceremony
Danny Boyle, the British film maker in charge of the opening ceremony at this year's Olympic Games in London, unveiled plans for the event on Tuesday.
Five stars to watch out for at the London Olympics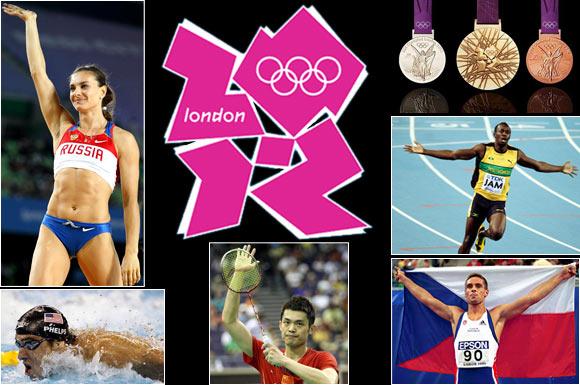 Held once in four years, the Olympic Games are considered to be the ultimate test for athletes and success at the mega-event vaults them to instant stardom.
50 ATP titles and more...Rafael Nadal in elite company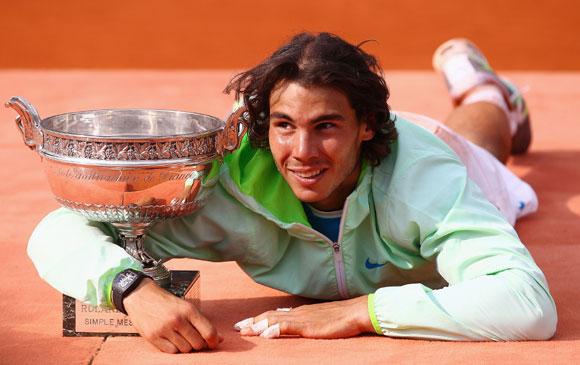 Rafael Nadal's historic seventh French Open crown was also his 50th ATP title. Only nine other players in the Open era preceded the Spaniard to the feat. looks at them.
PHOTOS: Czechs take revenge on Greece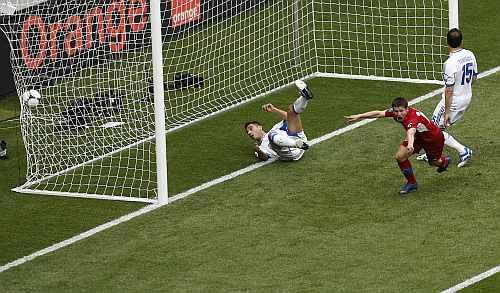 The Czech Republic kept alive their hopes of progress at Euro 2012 with an initially scintillating but ultimately nerve-wracking 2-1 win over Greece in Group A on Tuesday.
June 12, 2012
Meadow, cows, cricket for Olympic opening ceremony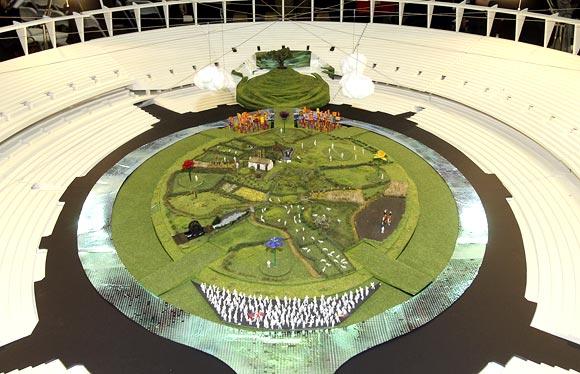 Film maker Danny Boyle, artistic director of the London 2012 Olympic Games opening ceremony which takes place on July 27, said on Tuesday he wants to recreate a classic rural idyll for the opening scene of the three-hour event.
Blanc wants France to show big improvement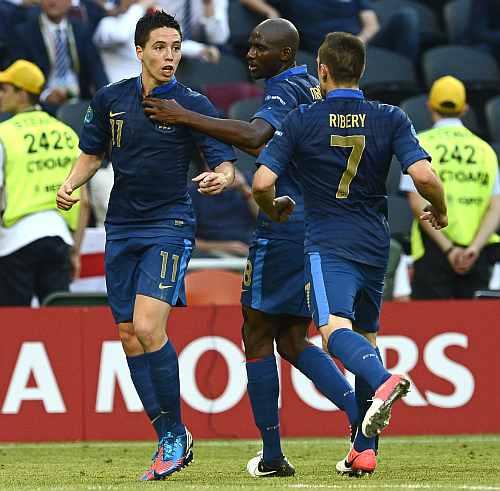 France coach Laurent Blanc, disappointed by his team's draw with England in the Group D opener, said his players must show greater self-assurance and take more risks in their next match against Ukraine on Friday.
England build foundations for work in progress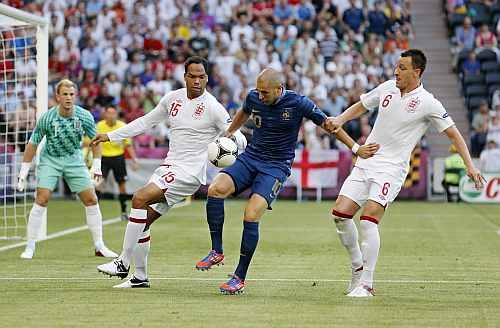 England may not have passed Roy Hodgson's first competitive test as national team manager with a flourish but by avoiding defeat against an in-form France on Monday they built belief that they can make progress at Euro 2012.
Fancied Dutch under pressure against Germany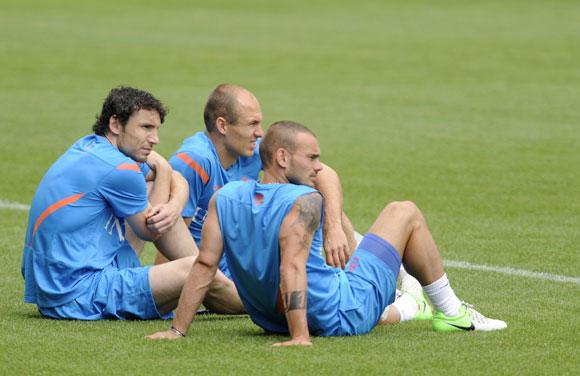 Clashes between Netherlands and neighbours Germany always have extra spice but Wednesday's Euro 2012 Group B encounter is about much more than regional rivalry after the Dutch began with a surprise defeat by Denmark.
'You've to be a bit patient with players like Samir Nasri'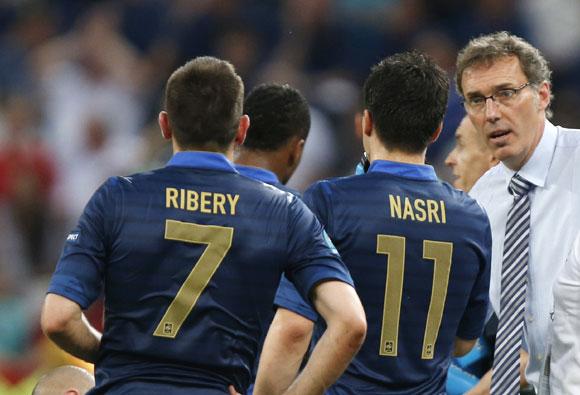 France coach Laurent Blanc's patience with the much criticised Samir Nasri paid off on Monday after the midfielder equalised in a 1-1 draw with England in their Euro 2012 Group D opener.
PHOTOS: Shevchenko kicks off Ukraine party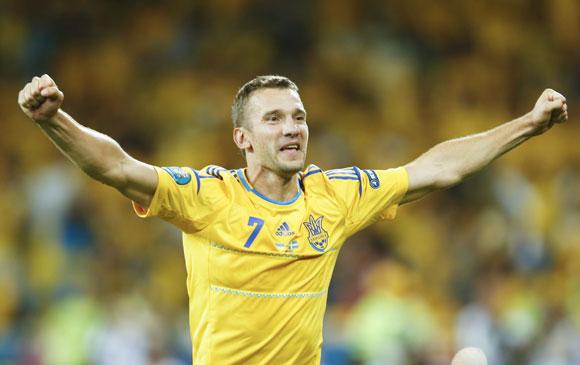 Ukraine's Euro 2012 party started in style when they sealed a thrilling 2-1 comeback win over Sweden as Andriy Shevchenko struck twice to complete a perfect evening for the co-hosts in Group D on Monday.
'Psychic' animals get kicking for Euro 2012 honours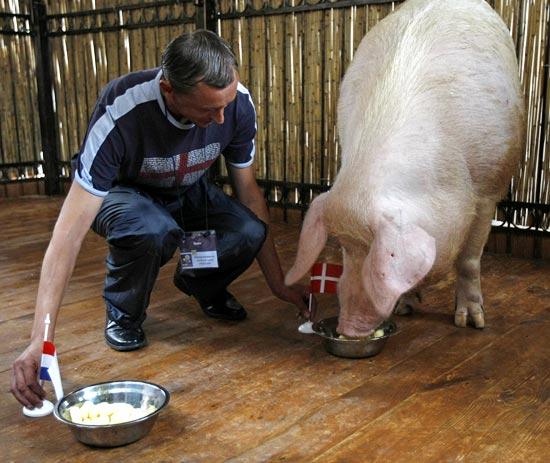 A few creatures have been tried to predict results of the Euro 2012 matches, being played in Ukraine and Poland, but the results haven't been up to the mark.
Portugal's problem at Euro is unco-operative ball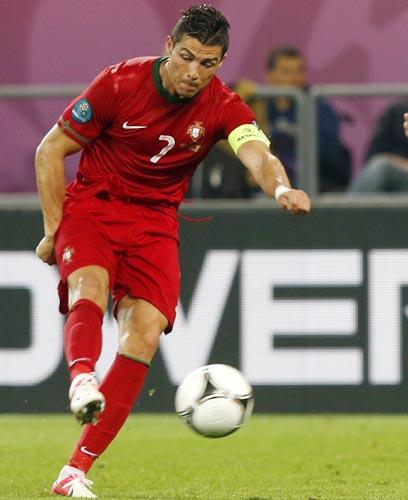 Portugal have finally got to the root of their goal-scoring problems, saying it is simply the case that "the ball does not want to go in."
PHOTOS: England, France settle in with a draw
A moment of class from France's Samir Nasri cancelled out England's bright start to Euro 2012 as the two favourites in Group D settled for a share of the points in a 1-1 draw at the Donbass Arena on Monday.
June 11, 2012
Coaches no idiots so expect surprises: Loew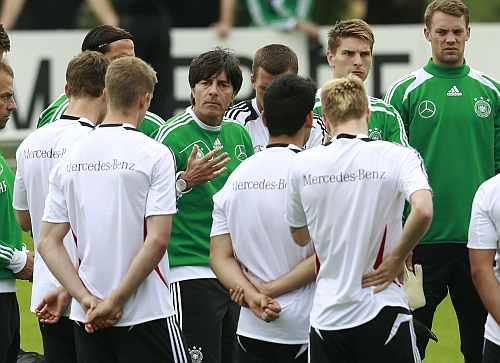 Germany coach Joachim Loew could spring a few surprises in their second Euro 2012 Group B game against Netherlands on Wednesday after his two last-minute changes paid off in the win over Portugal, he said on Monday.
PHOTOS: For me it is a great honour, says Nadal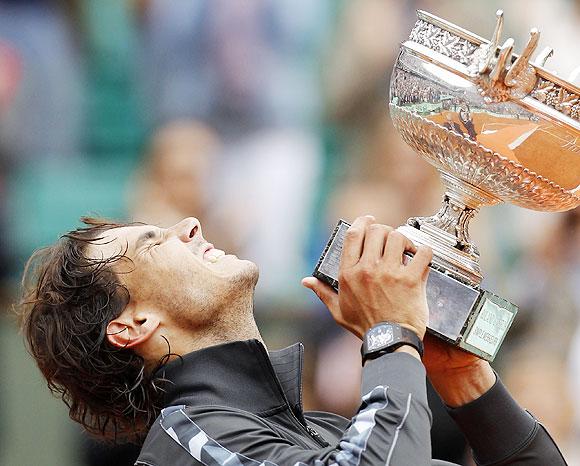 Spain's Rafa Nadal sank to his knees in celebration after beating Serbia's Novak Djokovic 6-4, 6-3, 2-6, 7-5 to win a record seventh French Open title on Monday.
Spain may forego striker against Ireland: del Bosque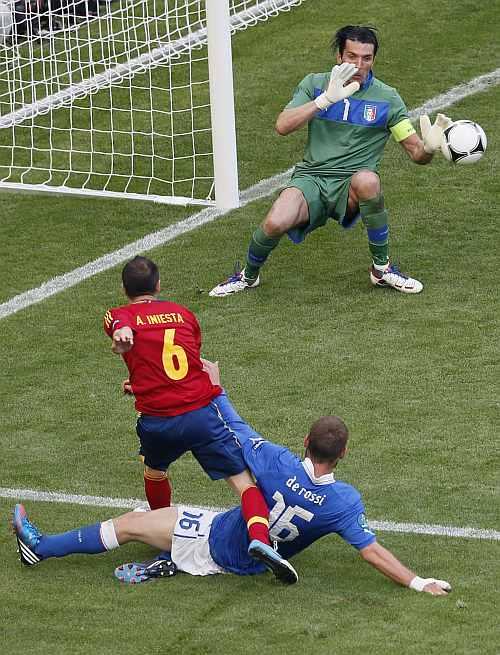 Spain coach Vicente del Bosque has defended his decision to start without a striker in their 1-1 Euro 2012 draw against Italy and suggested he might use the same tactic for Thursday's Group C clash with Ireland.
PIX: Hamilton takes lead after Canadian GP win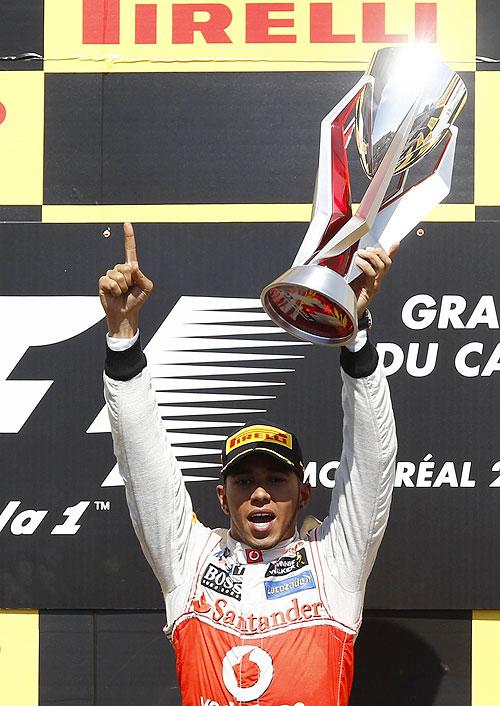 McLaren's Lewis Hamilton stormed to a Canadian Grand Prix victory on Sunday to become a magnificent seventh winner in seven Formula One races this season and seize the championship lead.
Defending champs Spain held by Italy, Croatia impress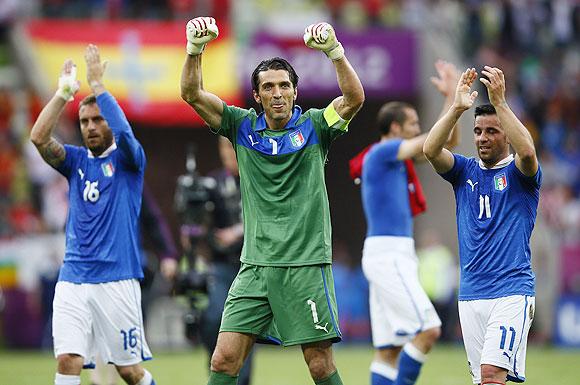 Spain's bid to become the first team to win three successive major international titles began in unconvincing fashion after Italy repelled Iberian flair with Latin artistry to earn a 1-1 draw at Euro 2012 on Sunday.
Images: Nadal, Djokovic must return to finish Paris duel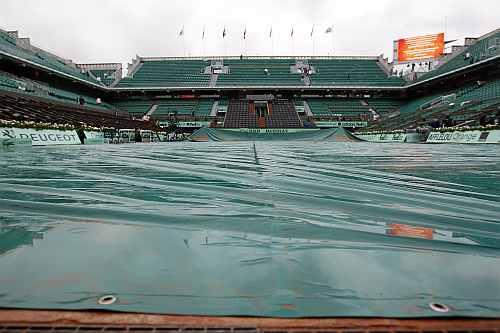 Novak Djokovic and Rafa Nadal will have to come back to finish their French Open final after rain prevented a conclusion on Sunday with the match on a knife-edge.
PHOTOS: Stubborn Italy give Spain food for thought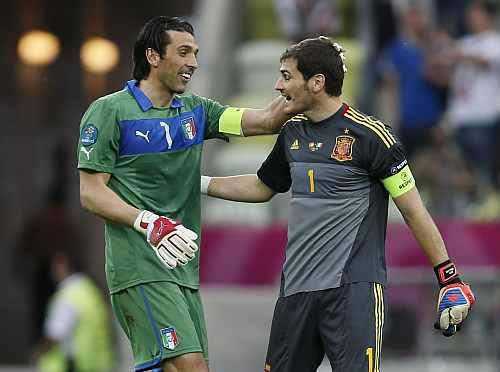 Italy emerged from a trough of pre-tournament gloom to slug out a 1-1 draw with holders Spain on Sunday thanks to a performance that suggests they are serious European Championship contenders.
June 10, 2012
PHOTOS: Cautious France wary of England in Group D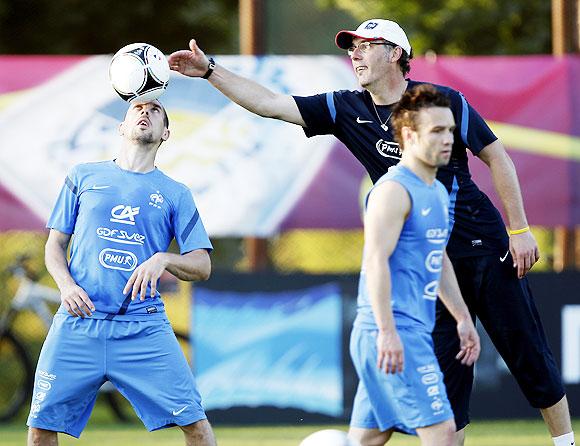 France have a long unbeaten record to protect as they seek to confirm their renaissance under coach Laurent Blanc by winning Group D to sweep into the quarter-finals at Euro 2012.
Confident Germany plan Dutch offensive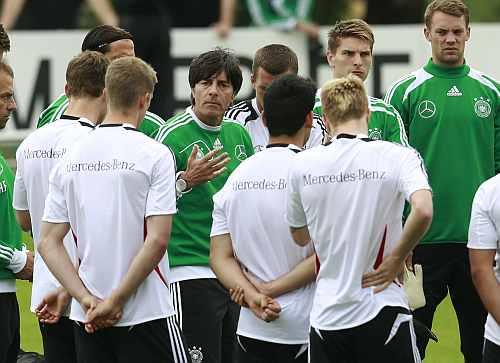 Germany's opening Euro 2012 victory over Portugal has given the team the necessary spark for the tournament but coach Joachim Loew wants to see his players create more scoring chances when they take on bitter rivals Netherlands.
Saina rallies to clinch Thailand Open title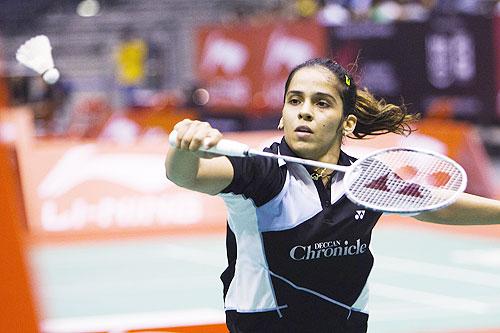 Ace Indian shuttler Saina Nehwal got a shot in the arm ahead of next month's Olympics as she lifted the Thailand Open Grand Prix Gold title after rallying to beat Thailand's Ratchanok Inthanon in the final of the event in Bangkok on Sunday.
Stumbling Portugal prove critics right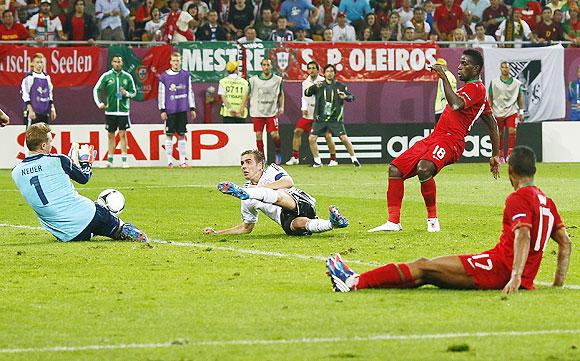 When Portugal captain Cristiano Ronaldo tore off his armband after losing 1-0 to Germany in their opening Euro 2012 Group B game on Saturday, the frustration summed up all that is wrong with his team.
PHOTOS: Dutch pay heavy price for sloppy finishing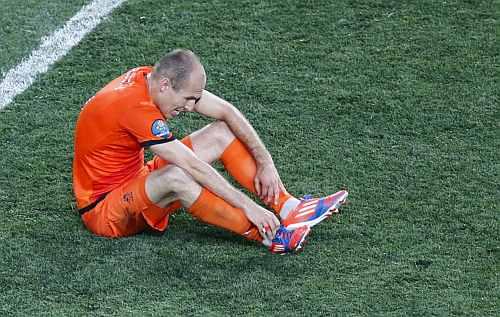 Among the favourites for Euro 2012 and boasting two of the hottest forwards on the continent, Netherlands produced a shocking display of finishing in their 1-0 defeat by Denmark on Friday that could cost them dear.
June 09, 2012
PIX: Sharapova crowned queen of Roland Garros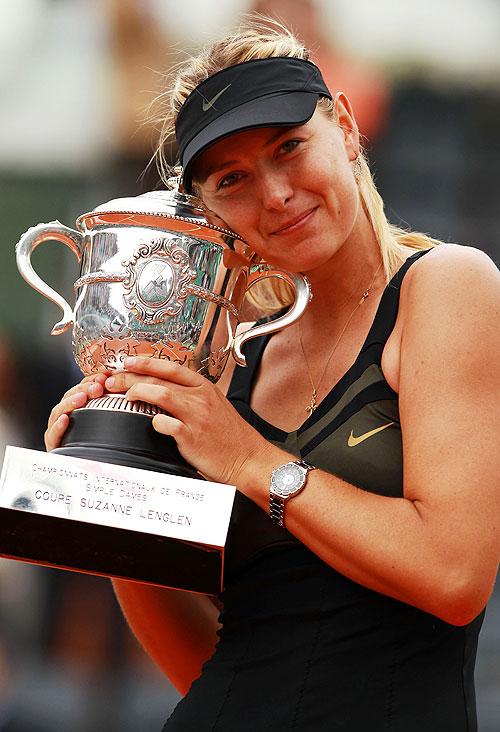 Maria Sharapova was crowned the new queen of Roland Garros after she kept her poise to outwit and outpower diminutive Italian Sara Errani 6-3 6-2 to complete her collection of Grand Slam trophies on Saturday.
Records beckon as Djokovic, Nadal set for final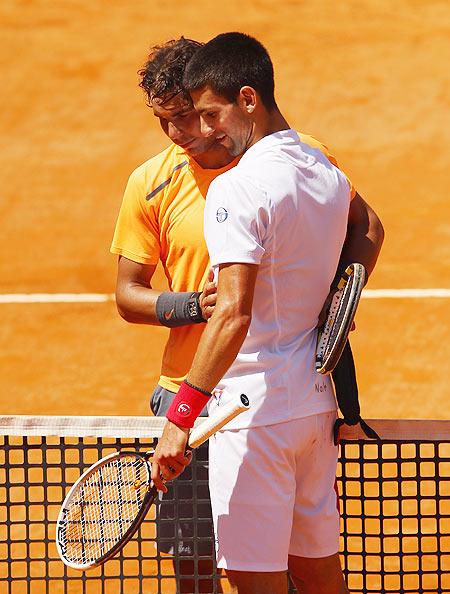 No man has won seven French Open titles and no man in 43 years has won four Grand Slams in a row -- and only one of these dreams will be realised at the French Open after Rafa Nadal and Novak Djokovic on Friday set up a lip-smacking final showdown.
Euro: Russia hammer Czechs, Poles held by Greece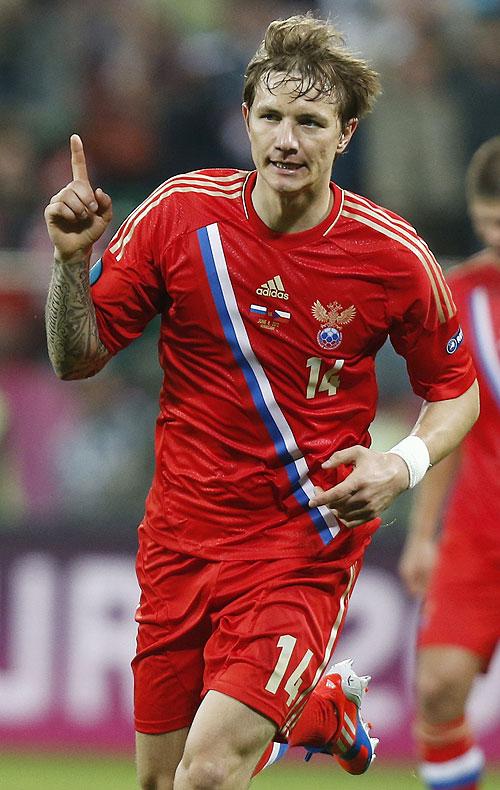 Euro 2012 got off to an incident-packed start on Friday with Group A favourites Russia thrashing the Czech Republic 4-1 while Greece spoiled the party for co-hosts Poland in a drawn opening match as both teams finished with 10 men.
No pain, no gain for comeback queen Sharapova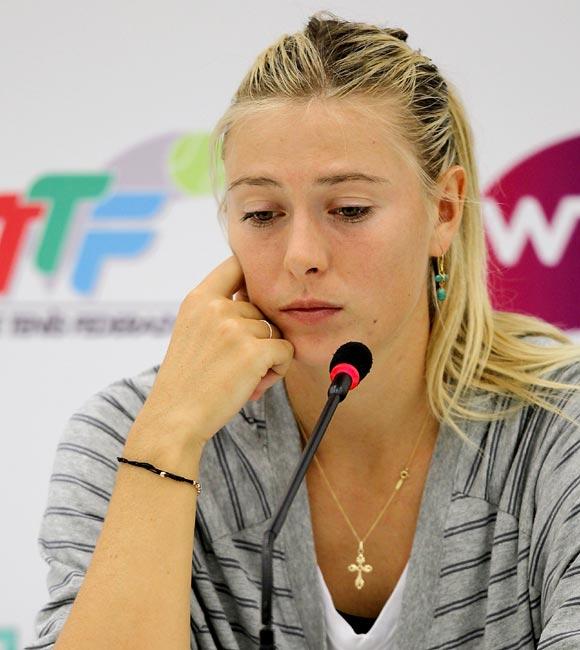 Her 6-3, 6-3 French Open semi-final win over Petra Kvitova took Maria Sharapova within two sets of completing a remarkable comeback that many athletes dream of, but only the most determined and single-minded achieve.
PHOTOS: Lack of matches shows as Poles lose their way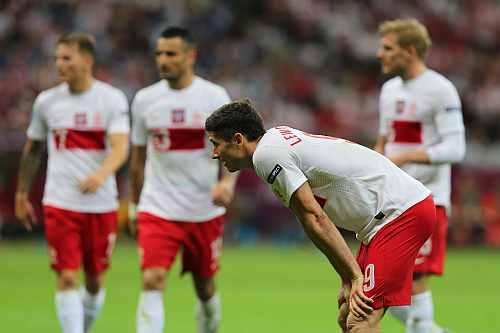 Poland's lack of a competitive game in more than two years may have played a part in Franciszek Smuda's otherwise vibrant young side being held to a 1-1 draw by a streetwise Greece in Euro 2012's opening game on Friday.
June 08, 2012
I am hopeful of receiving Olympics wild card: Sania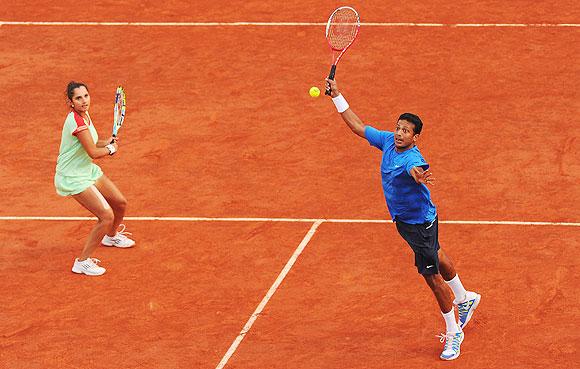 The timing of a Grand Slam title victory could not have been better for Sania Mirza, who is desperately seeking a wild card entry into the London Olympics, which in all probability is her last chance to become an Olympic medal winner.
'Well-prepared', OGQ athletes raring to go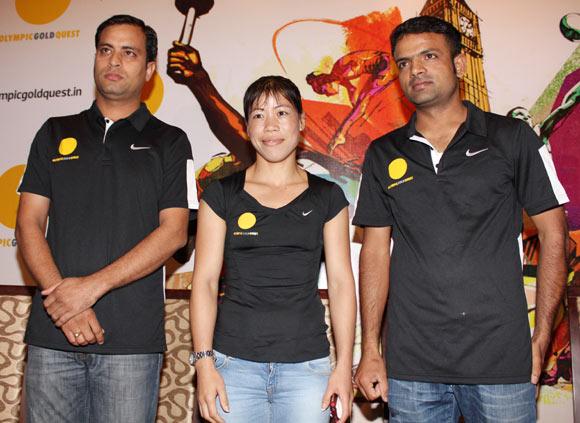 India's lone woman boxing hope M C Mary Kom and shooters Sanjeev Rajput and Vijay Kumar are upbeat about their preparations for the upcoming London Olympics.
Euro: Mata awaits his chance in Spain squad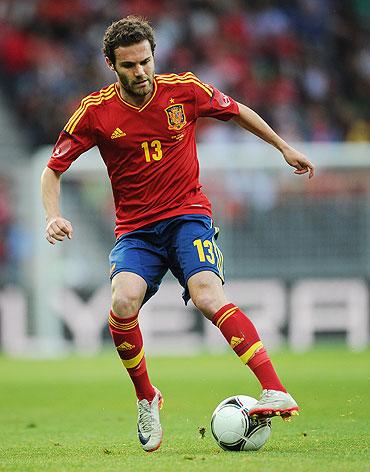 Spain's attacking midfielder Juan Mata knows he is unlikely to make Vicente del Bosque's starting lineup despite being one of Chelsea's best players in their run to Champions League glory.
Dogged Sharapova fights pain to reclaim top spot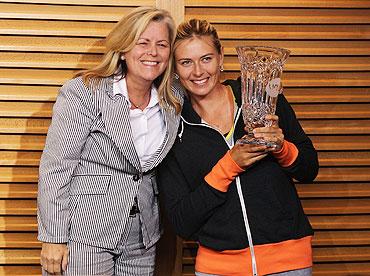 Russian Maria Sharapova fought years of pain and uncertainty to book a place in the French Open final and reclaim the World No. 1 crown.
Euro: Poland hope to inflict pain on Greece in opener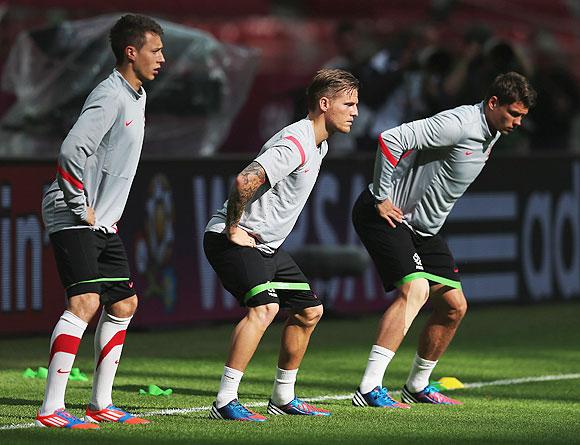 Poles nationwide will hope their team get the Euro 2012 party started with a bang when they take on Greece in the impressive National Stadium in the tournament's opener on Friday (5:00 p.m. British time).
Birthday boy Bhupathi wins mixed doubles with Mirza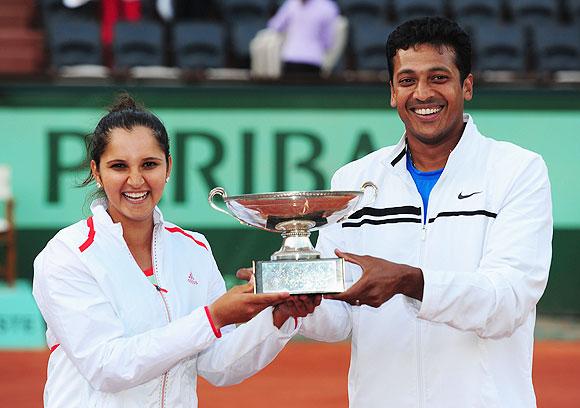 Mahesh Bhupathi celebrated his 38th birthday in style, as he and Sania Mirza captured their second mixed doubles title together after beating Klaudia Jans-Ignacik and Santiago Gozalez 7-6, 6-1 in the French Open final on Thursday.
Manipur's 'Mother Mary' eyes Olympic glory for her twins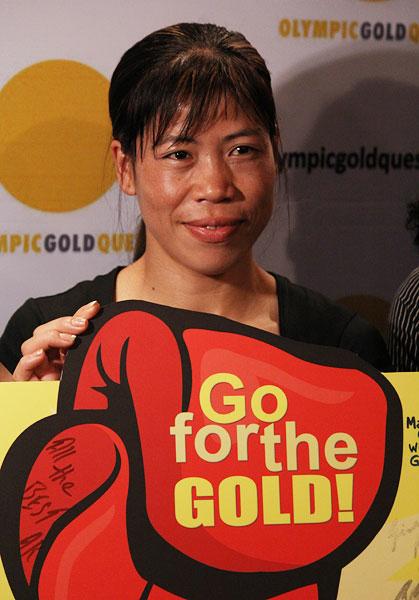 Five-time boxing World champion MC Mary Kom is hoping to win the gold medal at the London Olympics next month for her twin sons Raengpe and Naidong.
PHOTOS: Sharapova in French Open final, reclaims top spot
Maria Sharapova enjoyed a double celebration on Thursday as she reclaimed the world number one tennis ranking after blowing away Wimbledon champion Petra Kvitova 6-3, 6-3 to reach her maiden French Open final.
June 07, 2012
PHOTOS: Pink clay court unveiled at Roland Garros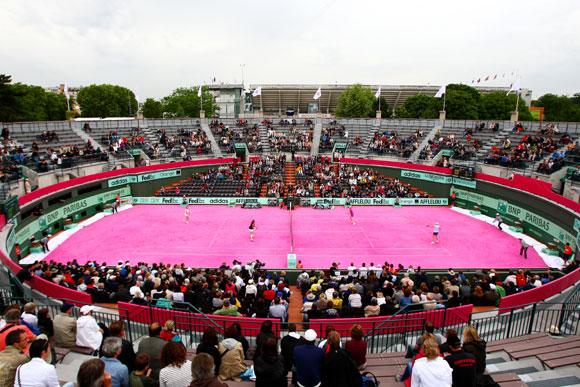 Day 12 of the French Open witnessed the unveiling of a brand new pink clay court. The women's legends doubles semi-final match between American Martina Navratilova and Jana Novotna of Czech Republic and Nathalie Tauziat and Sandrine Testud of France was the first match to be played on the freshly-laid surface.
Euro: Robben retains lethal edge for Dutch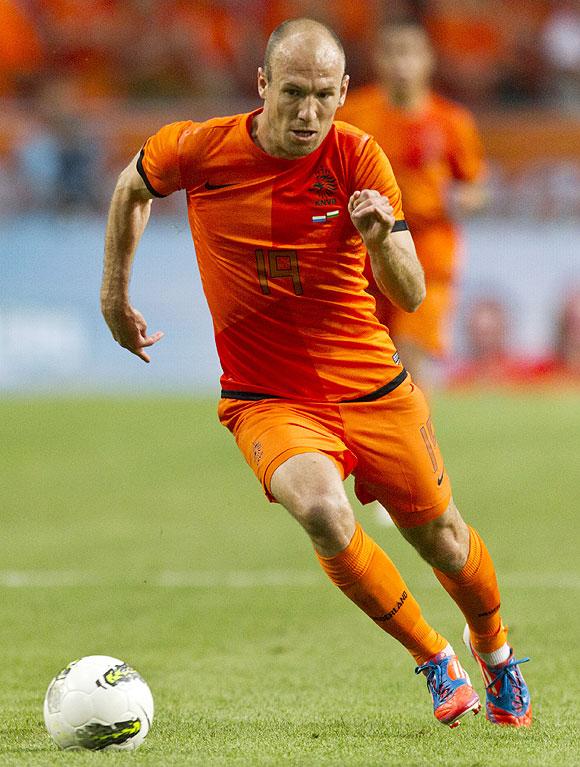 A season without injuries may never happen in the whimsical career of Arjen Robben, yet despite all the setbacks he remains the most lethal threat in the Dutch team.
PHOTOS: Euro teams visit Auschwitz concentration camp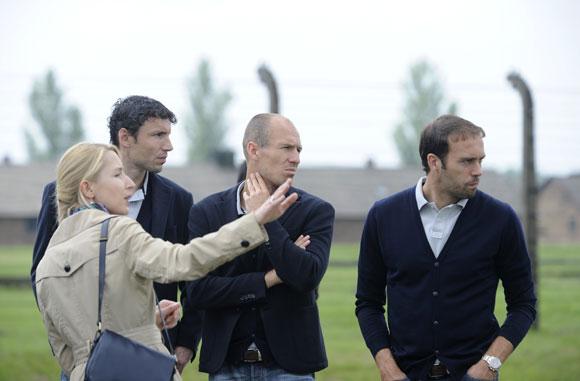 The national teams of Germany, Italy and the Netherlands visited the Auschwitz concentration camp on Wednesday.
Ruthless Rafa fires his friend, Murray out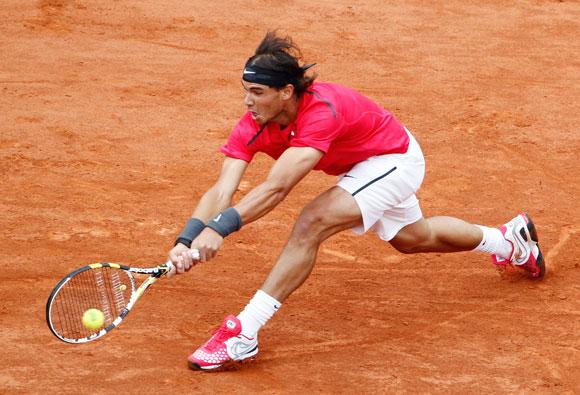 There is a reason why Rafa Nadal is called 'the Boss' by Nicolas Almagro and on Wednesday the ruthless claycourt king fired his fellow-Spaniard in his pursuit of a record seventh Roland Garros title.
Spain is my favourite for Euro crown: Chhetri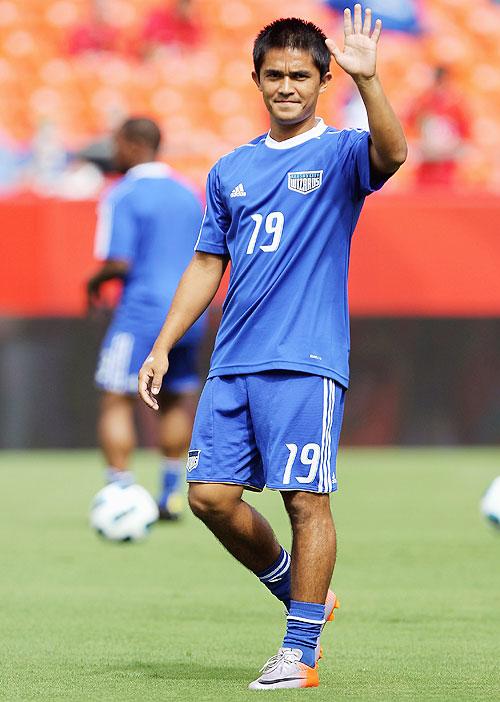 With Euro 2012 round the corner, Chhetri tells Rediff.com's that he has his money riding on Spain winning the tournament.
Nadal follows Federer into elite French Open club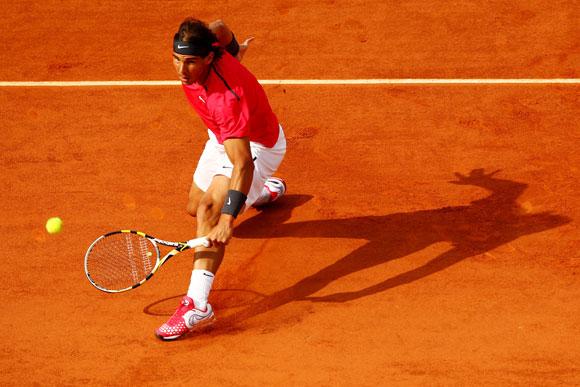 Rafael Nadal's quarter-final win over compatriot Nicolas Almagro made him only the sixth player ever to win 50 matches at the French Open. Roger Federer, his arch rival, had achieved the feat earlier in the tournament.
June 06, 2012
PHOTOS: Sharapova, Kvitova set up semi-final showdown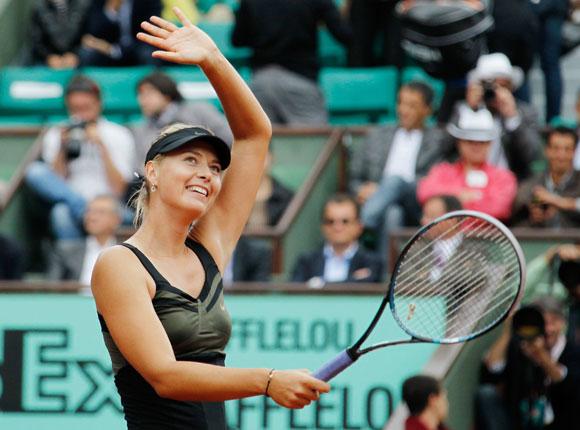 A decibel-busting display of power tennis helped Maria Sharapova reach her third French Open semi-final with a 6-2, 6-3 win over Kaia Kanepi on Wednesday.
An Olympic medal not an impossible task: Jwala Gutta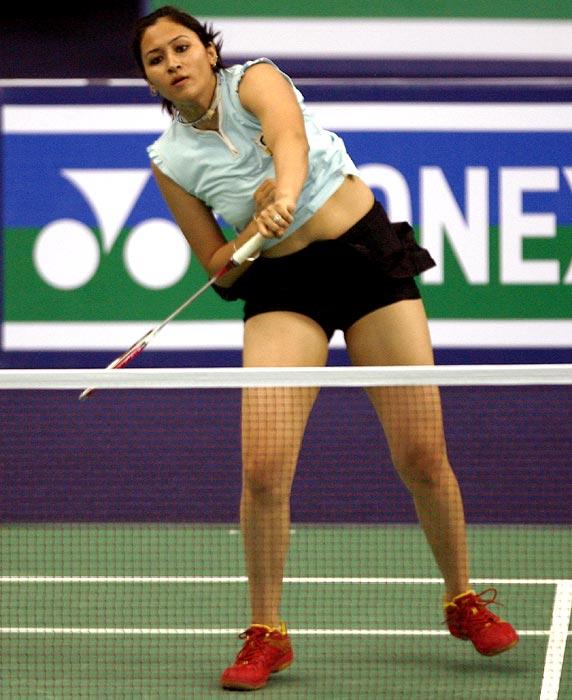 The badminton ace speaks about her preparations for the upcoming London Olympics, where she will be participating in the doubles and mixed doubles.
Despair again for Americans at the French Open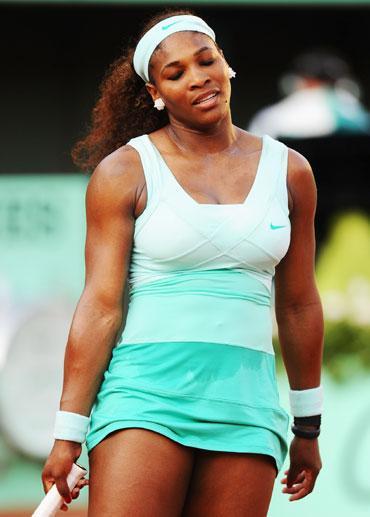 It's been a decade since an American won in Paris. For that matter, no player from the country has made it to the final at Roland Garros since. Historically, the French Open is the lone major where Americans have struggled to assert their authority. There's something about
French Open: Nadal faces familiar foe in quarter-finals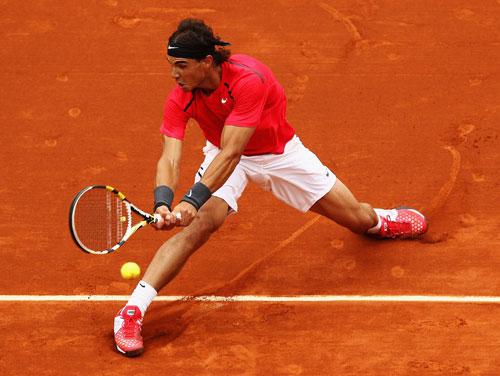 Rafa Nadal is unlikely to face the same problems Novak Djokovic had to confront against Jo-Wilfried Tsonga when the six-times French Open champion takes on Nicolas Almagro in the quarter-finals on Wednesday.
Spain eye unique treble at Euro 2012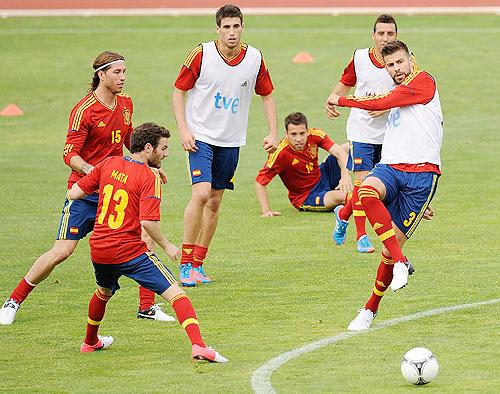 Spain will try to become the first team to win three successive major international titles while Germany will hope to lift their first trophy since 1996 when Euro 2012 kicks off on Friday.
Japan's Paralympic sprinter poses nude for funds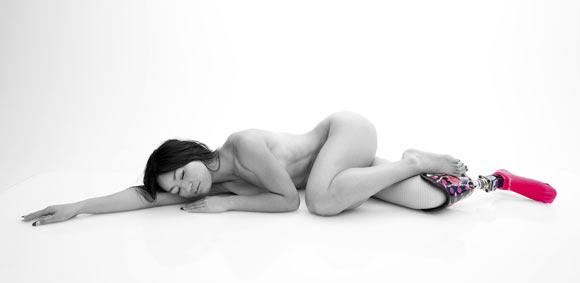 With little financial assistance, she made up her mind to pose herself partially nude in her calendar to fund her trip to compete in London.
Quiet hero Iniesta the epitome of Spanish style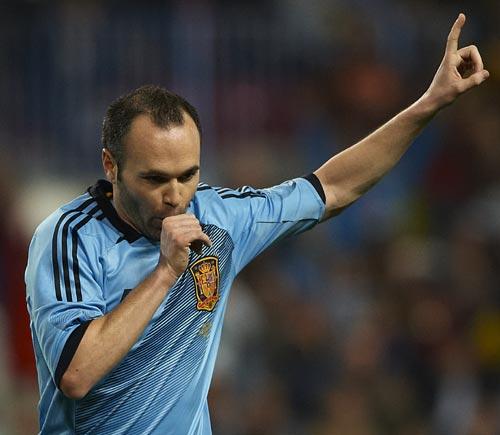 Shy and unassuming, the Barcelona playmaker has an uncanny habit of thrusting himself into the limelight with some dramatic goals on the biggest occasions.
Germany want to dazzle all the way to title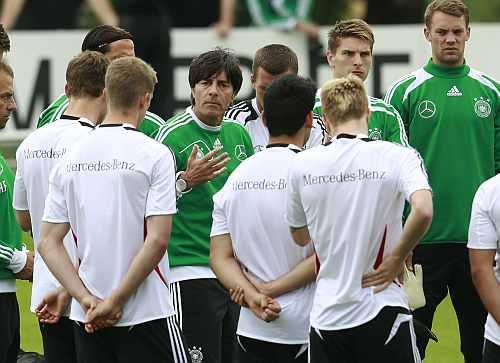 Germany go into Euro 2012 among the favourites, but this time it has less to do with past successes and more to do with their modern game that has won over legions of new fans.
PIX: Federer, Djokovic rally into French Open semis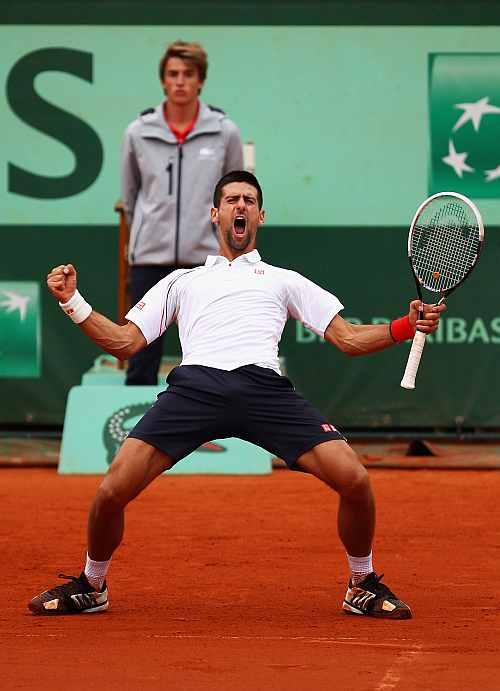 Novak Djokovic came back from the brink to save four match points before he downed local favourite Jo-Wilfried Tsonga 6-1, 5-7, 5-7, 7-6, 6-1 in the French Open quarter-finals and keep alive his dream of holding all four Grand Slam titles on Tuesday.
June 05, 2012
Lonely recovery road for giant-killing Kazakh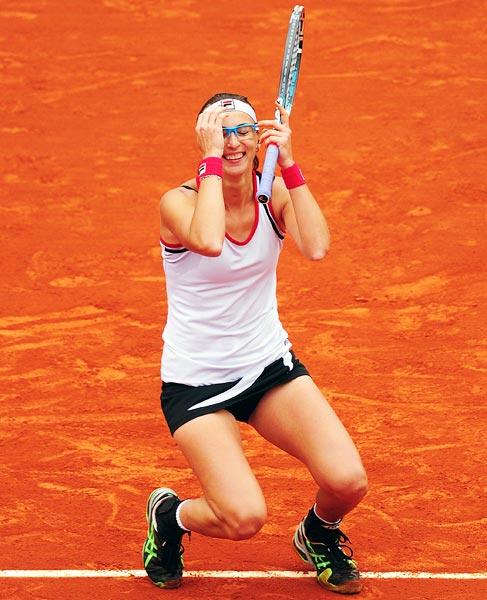 Injured, lonely and without a coach, Yaroslava Shvedova climbed a psychological mountain to oust the defending champion from the French Open.
Euro: Acid test for world-class Ronaldo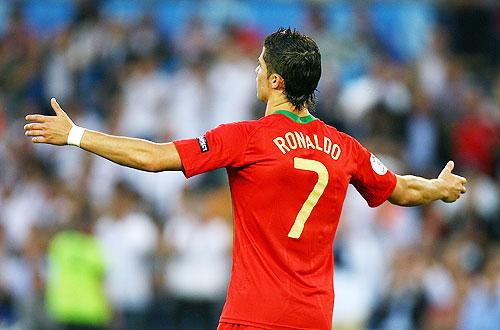 Goal-machine Cristiano Ronaldo is at the peak of his career but the world's most expensive player still has one unfulfilled ambition -- to win a major international trophy for Portugal.
French Open: A field day for Spanish trio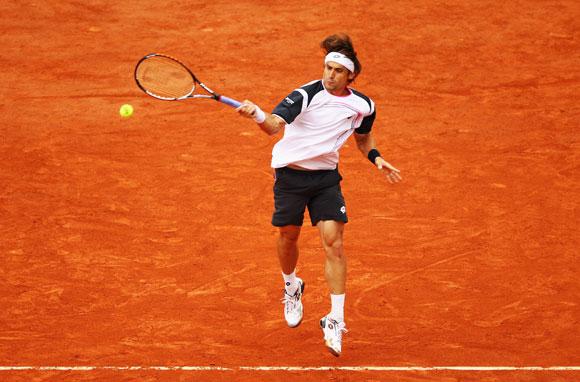 The trio of Spaniards -- Rafa Nadal, David Ferrer and Nicolas Almagro -- showed why the nation has ruled Roland Garros for most of the last decade.
Euro: Spate of injuries suggest another England failure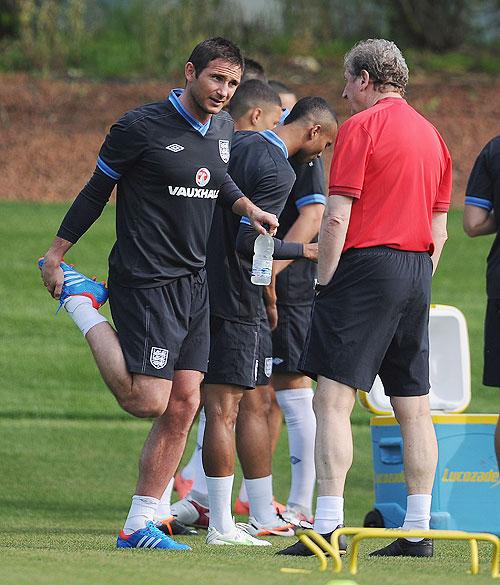 England return to the European Championship after an eight-year absence with new manager Roy Hodgson hoping to improve on what is a woeful record in the finals for one of Europe's traditional stronger soccer nations.
Euro: Spain at ease with favourite status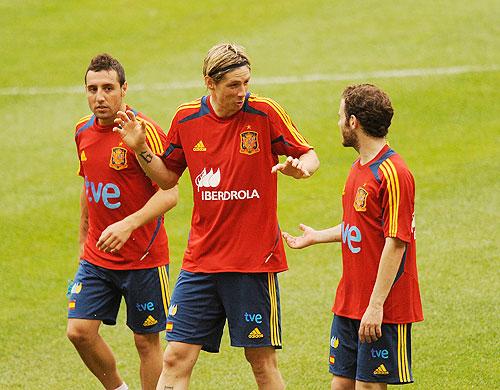 Spain shook off the tag of inveterate also-rans to triumph at Euro 2008 and winning a first World Cup two years later secured them undisputed status as the team to beat in international soccer.
June 04, 2012
PHOTOS: Champion Li Na shocked, Sharapova survives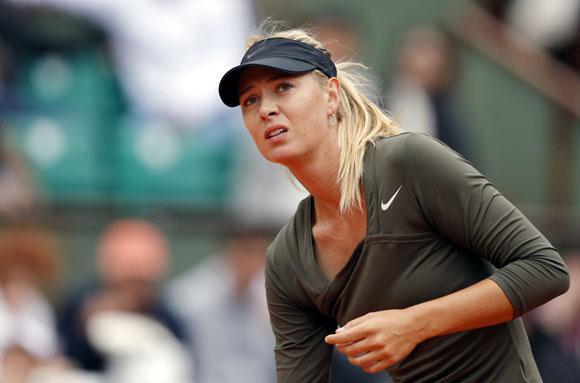 Defending champion Li Na was shown the door while Maria Sharapova remained on course for a maiden title after the fourth round of the French Open on Monday.
Swapnali finishes second in Malaysian Triathlon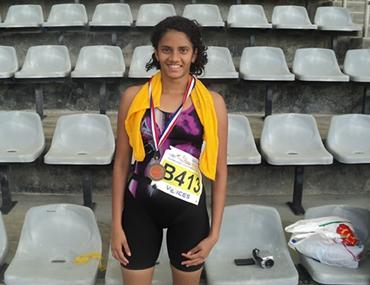 Swapnali Yadav of India clocked an impressive aggregate time to win a silver medal in the Putrajaya Junior International Triathlon 2012, at the Water Sports Complex, Putrajaya, Malaysia on Sunday.
Karun Chandhok aims for an Indian first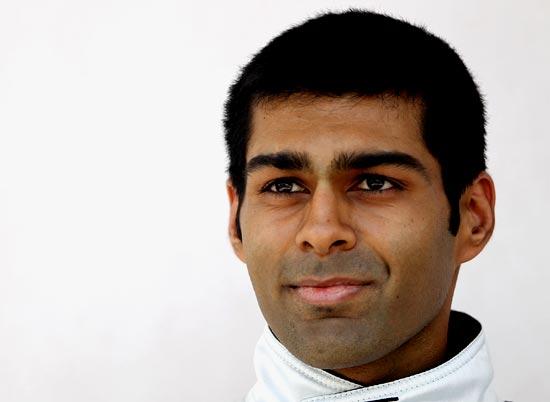 Karun Chandhok is ready to claim an Indian motor racing first by starting the Le Mans 24 Hours sportscar race next week.
EURO 2012: A soccer fan's walking guide to Kiev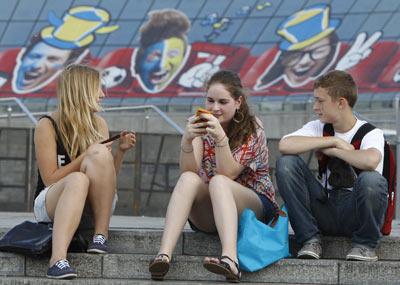 A large digital clock, inexorably counting down to the kick-off of the month-long Euro 2012 soccer feast, looks out onto a broad Kiev boulevard where metal barriers are going up to corral Europe's football faithful.
Fifth World title toughest in terms of intensity: Anand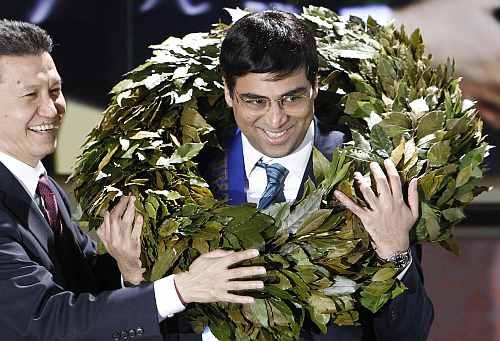 Of all the five World titles he has won so far, Indian chess wizard Viswanathan Anand has rated the latest one as the toughest in terms of intensity.
French Open: Numbers adding up for Nadal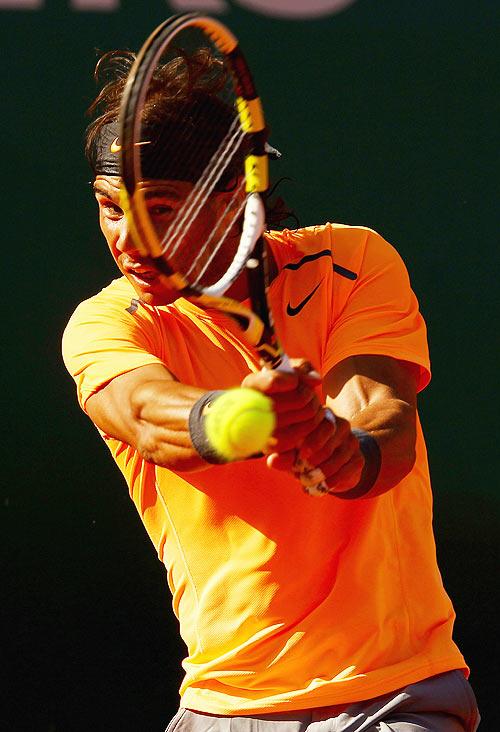 If there was any doubt that Rafa Nadal will reach the French Open quarter-finals on Monday, a simple look at the numbers should silence the sceptics.
Magical Woods claims 73rd PGA Tour title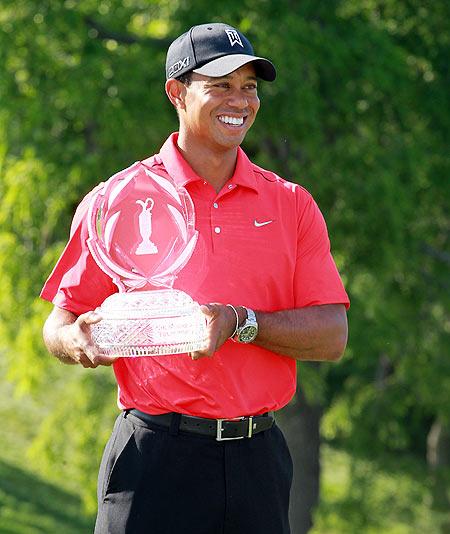 Tiger Woods overhauled a fading Spencer Levin and a charging Rory Sabbatini with a few moments of magic to win his 73rd PGA Tour title by two shots at the Memorial tournament on Sunday.
June 03, 2012
PHOTOS: Azarenka, Kuznetsova knocked out of French Open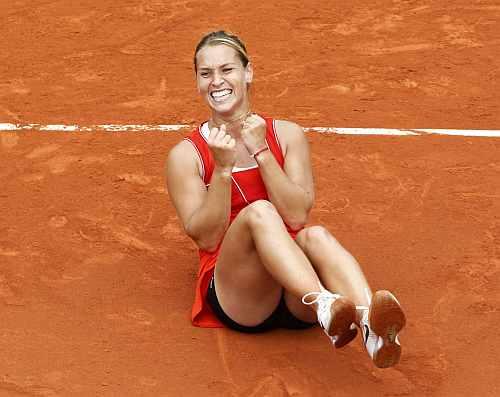 World number one Victoria Azarenka was knocked out in the fourth round of the French Open when she slumped to a 6-2, 7-6 defeat by Slovakian 15th seed Dominika Cibulkova on Sunday.
Winning in Moscow meant a lot emotionally: Anand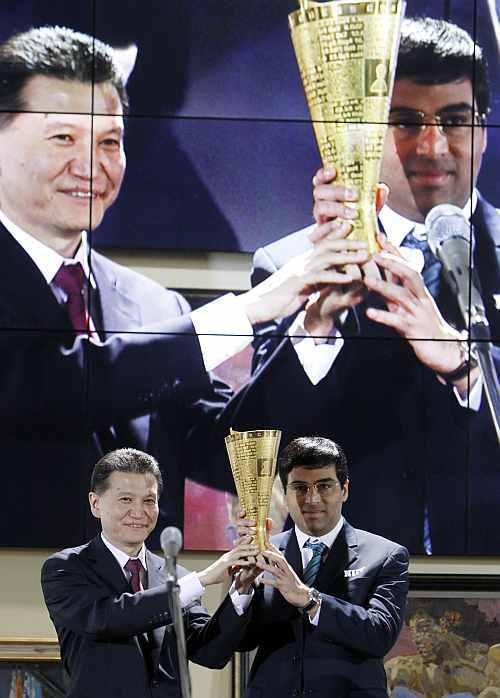 He has been the undisputed world champion for the past five years but Indian chess veteran Viswanathan Anand has no plans of calling it quits just yet as he says his morale is on a high after beating a "complicated" Boris Gelfand to notch up his fifth world title.
June 02, 2012
Photos: Schiavone knocked out of French Open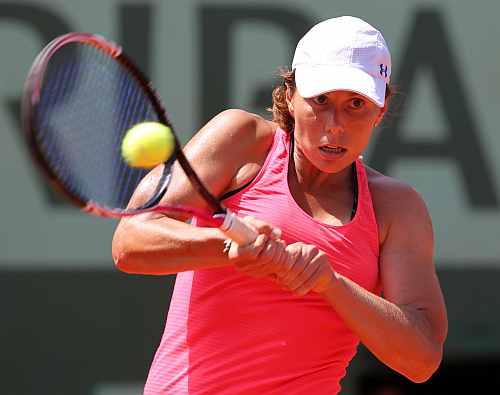 Former champion Francesca Schiavone made a third-round exit from the French Open on Saturday when she was beaten, for the second time in a month, by American left-hander Varvara Lepchenko.
Gelfand neutralised almost everything I did: Anand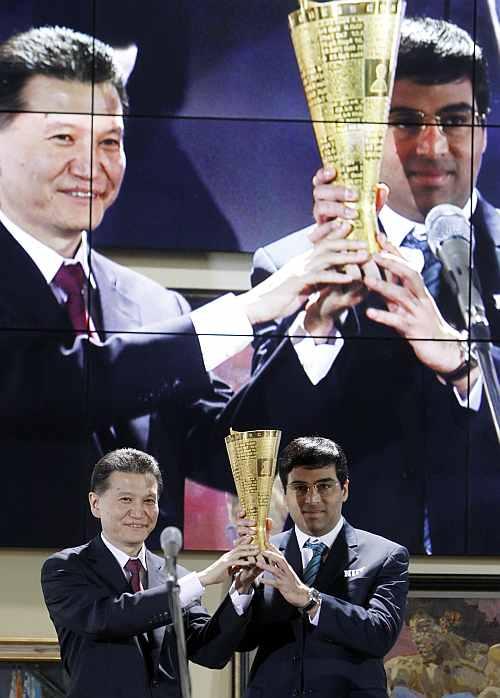 In a rare display of annoyance, World chess champion Viswanathan Anand hit out at chess great Gary Kasparov and other critics for suggesting that he lacked motivation.
June 01, 2012
PHOTOS: Sharapova cruises, Ivanovic crashes out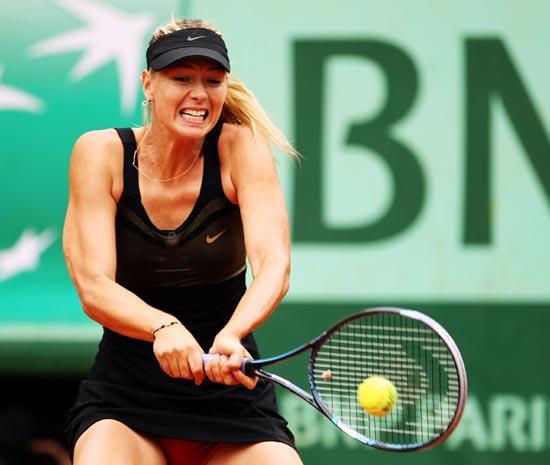 Maria Sharapova made up for lost time as she hurried into the third round of the French Open, while former champion Ana Ivanovic went down to Italian Sara Errani.
Divided loyalties in Federer v Mahut contest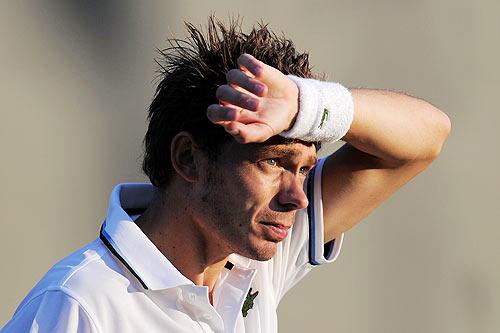 As the winner of 16 Grand Slams and the owner of countless records, Roger Federer is revered all over the world.
England midfielder Lampard out of Euro 2012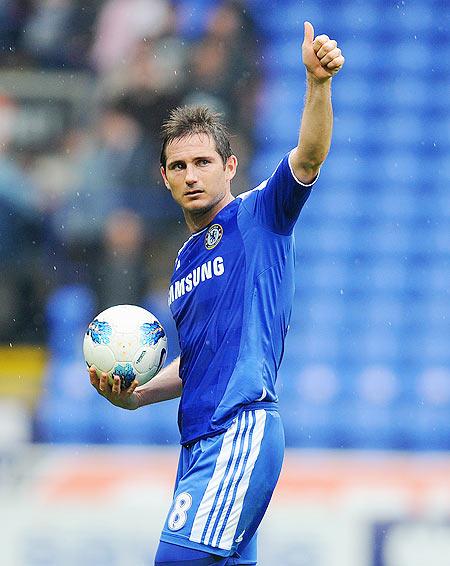 England suffered a major blow before the start of Euro 2012 when experienced midfielder Frank Lampard was on Thursday ruled out of next month's tournament with a thigh injury.
WC Qualifiers: Messi's Argentina look to pull away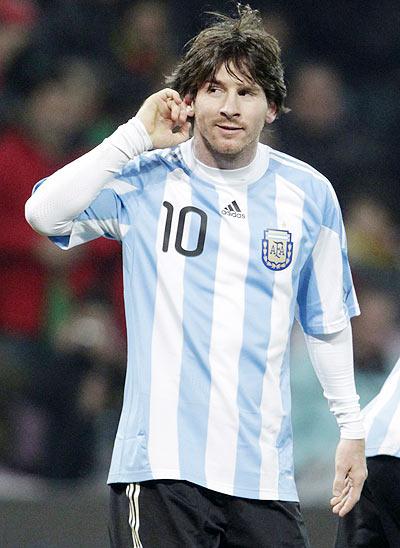 Barcelona's serial hat-trick scorer Lionel Messi will be looking to take up where he last left off as Argentina captain when he leads his country against Ecuador in a 2014 World Cup qualifier on Saturday.
May 31, 2012
PHOTOS (Day V): Nadal, Kvitova advance in French Open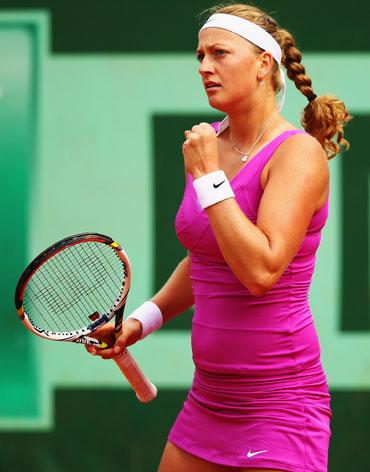 Petra Kvitova, Rafael Nadal, Andy Murray and Jo-Wilfried Tsonga battled their way into the third round of the French Open on Thursday.
I deserve wild card for Olympics: Sania Mirza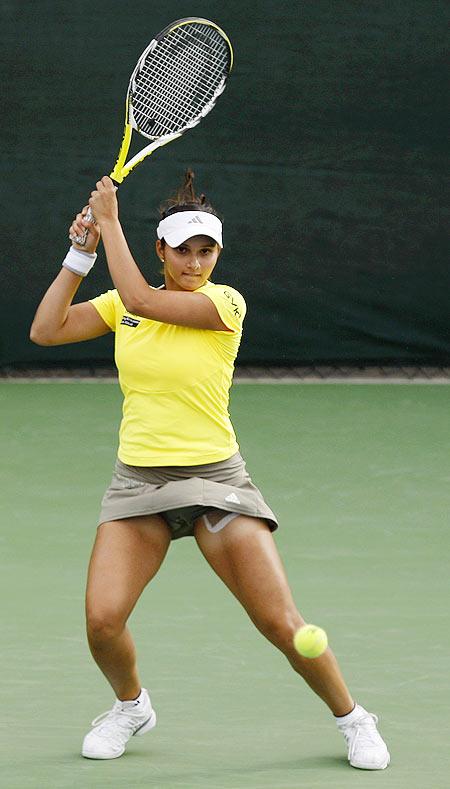 Her participation in the Olympics may have been jeopardised by a shock first-round exit from the French Open but top Indian tennis player Sania Mirza on Thursday asserted that she has done enough to "deserve" a wild card into the London event.
I simply hung on for dear life: V Anand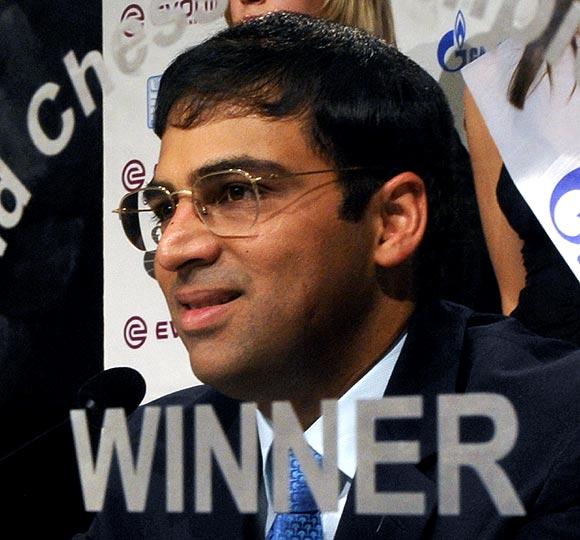 Winning the world championship for the fifth time after a nerve-wracking tie-breaker, Viswanathan Anand said he was too tense to be happy and was relieved that the result went in his favour.
When the best were laid to rest at Roland Garros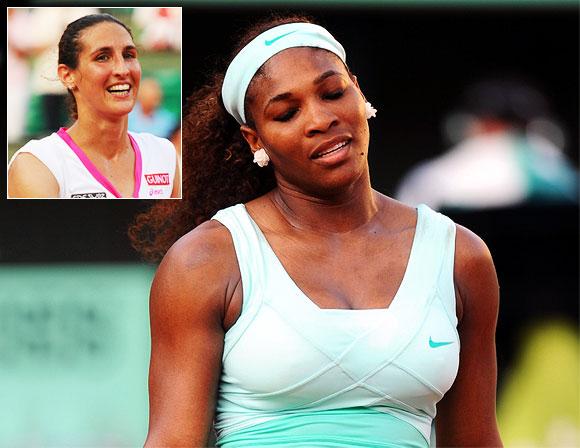 Following Serena Williams's shock exit from the French Open, looks at some of the biggest upsets at Roland Garros in the last decade.
French Open Photos: Venus joins Serena in early exit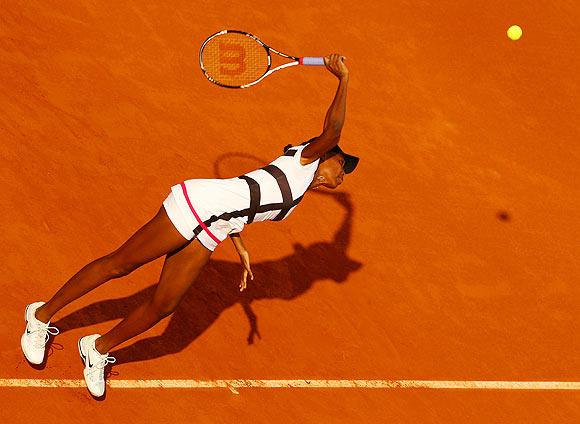 After four days of play, the French Open was left without a Williams sister in the draw on Wednesday when former runner-up Venus joined 2002 champion Serena in making an early exit.
Check out what the women are wearing at the French Open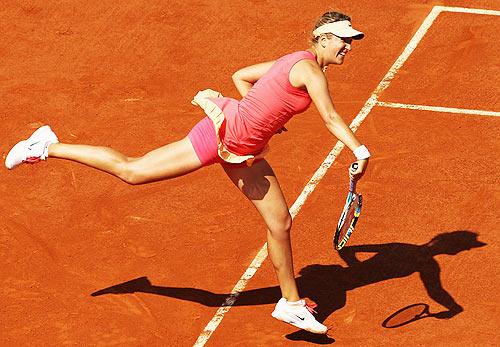 All eyes are on Victoria Azarenka as she battles it out in the French Open as the women's World No. 1 player and reigning Australian Open champion.
May 30, 2012
The five peaks in Vishy Anand's career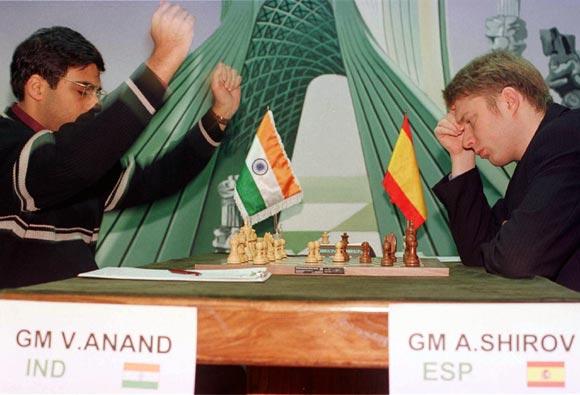 How Viswanathan Anand won his five World Chess Championship titles.
PHOTOS: Federer survives hiccup to land record win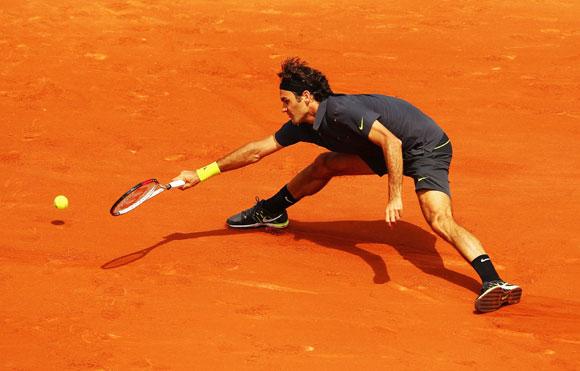 Third seed Roger Federer won a record 234th grand slam match on Wednesday, fighting his way into the third round of the French Open with a 6-3, 6-2, 6-7, 6-3 victory over Romanian Adrian Ungur.
High five for World champion Anand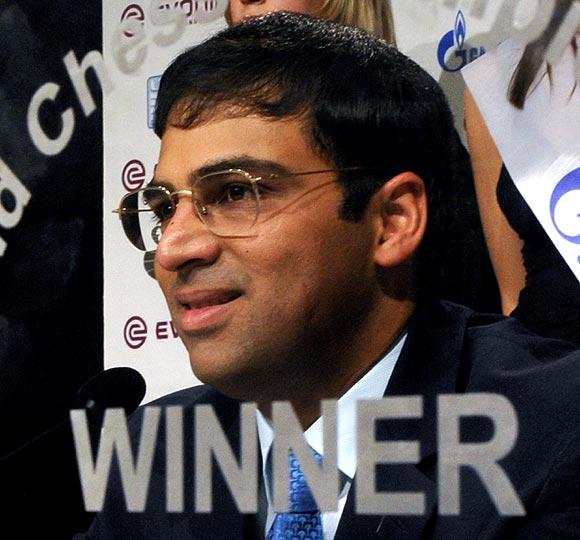 Indian Grandmaster Viswanathan Anand showed immense resilience to beat challenger Boris Gelfand of Israel in a tense rapid chess tie-breaker to win the World Championship crown for the fifth time and fourth in a row.
Refreshed Bolt ready to speed up in Rome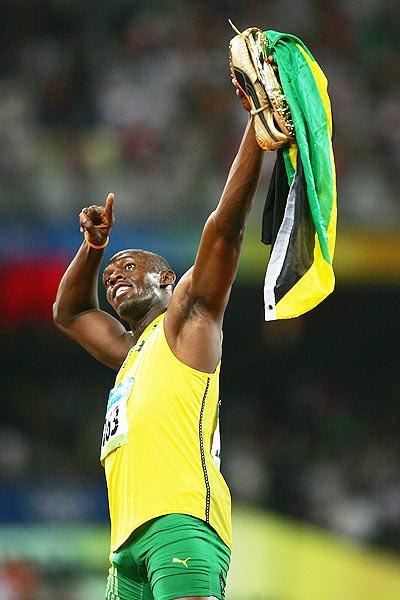 The real Usain Bolt will make a return appearance at Rome's Diamond League meeting on Thursday, according to the Jamaican sprinter who got tongues wagging last week when he failed to break 10 seconds over 100 metres in Ostrava.
Photos: Serena defeat shocks French Open out of a doze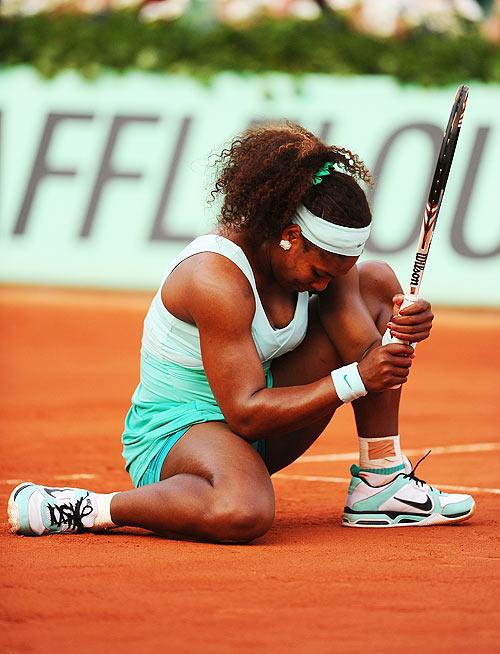 Former champion Serena Williams shocked the French Open crowd, and herself, by losing to Virginie Razzano in the first round on Tuesday, her earliest exit from a grand slam in the 47 appearances she has made in an outstanding career.
May 29, 2012
Anand, Gelfand set for Rapid chess tie-break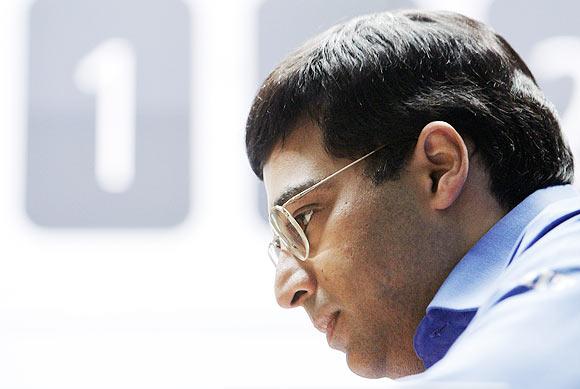 Defending champion Viswanathan Anand is set to fight it out in a Rapid chess tie-breaker against challenger Boris Gelfand after a tied 6-6 result in the World Chess Championship match in Moscow on Wednesday.
Olympics: Poonia has medal to win and promise to keep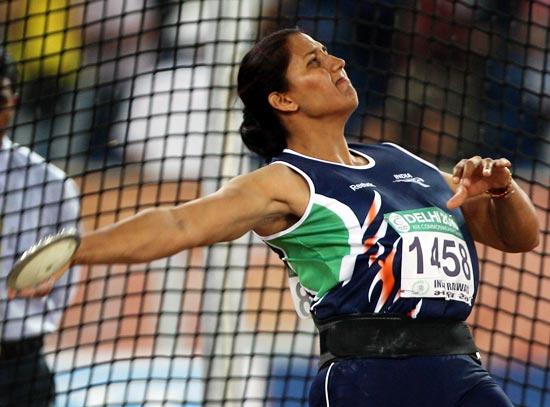 Upbeat about her podium prospects in London, Indian discus thrower Krishna Poonia sounded equally optimistic about India's next generation of throwers.
PHOTOS: Federer equals record, Azarenka survives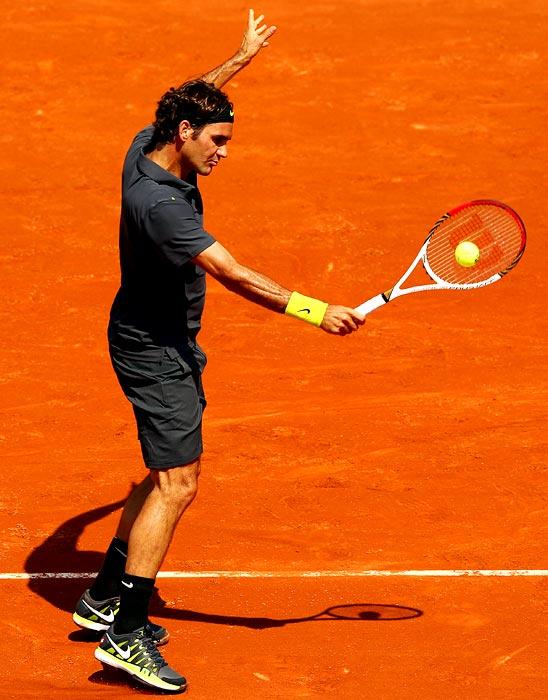 Images from day two of the French Open tennis Grand Slam at Roland Garros in Paris.
May 28, 2012
Winning the French Open... losing little en route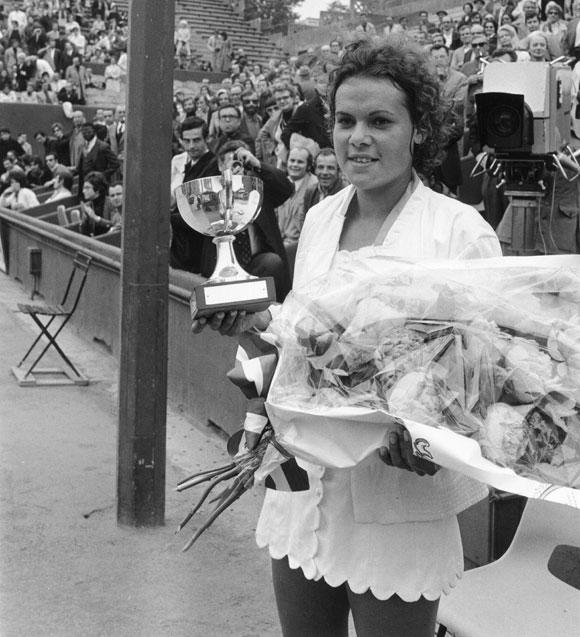 Rediff.com draws out the elite list of players, male and female, who have pocketed the singles title at the French Open without dropping a set, a superhuman feat to say the least.
May 27, 2012
Day 1 PHOTOS: Stosur, Del Potro shine at French Open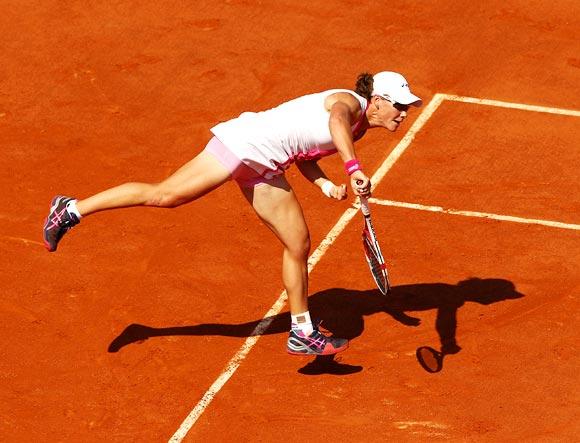 Images from Day 1 of the French Open 2012 tennis tournament at Roland Garros in Paris, on Sunday.
Winning Webber hits Formula One for six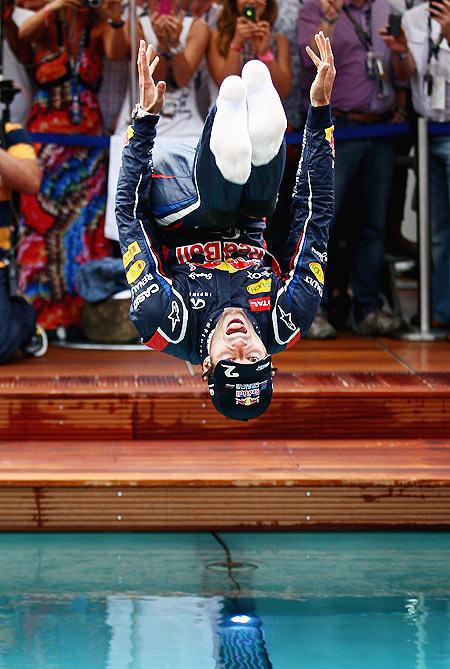 Australian Mark Webber won the showcase Monaco Grand Prix for champions Red Bull on Sunday as Formula One celebrated an unprecedented six different winners in six races this season.
Schumacher shows he still has what it takes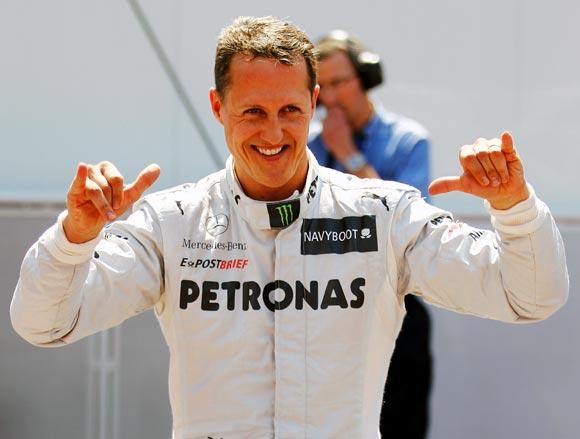 But for a five place grid penalty carried over from Spain, the seven times world champion would have been celebrating the first pole position of his comeback and the first since his Ferrari days in 2006.
May 26, 2012
Guardiola ends Barca reign with King's Cup triumph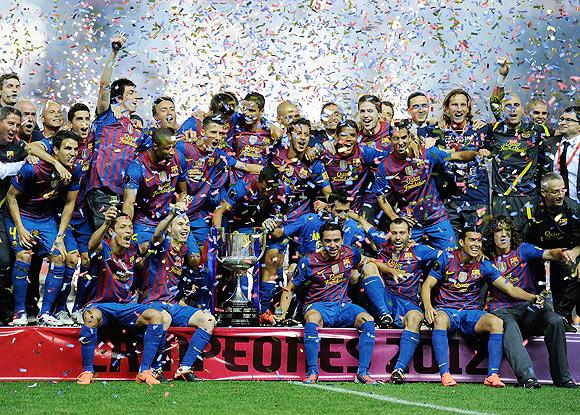 Barcelona gave Pep Guardiola a fitting end to his glittering four-year reign as coach winning the King's Cup final against Athletic Bilbao 3-0 on Friday to send him off with a 14th trophy under his arm.
Big three make for a vintage period, says Federer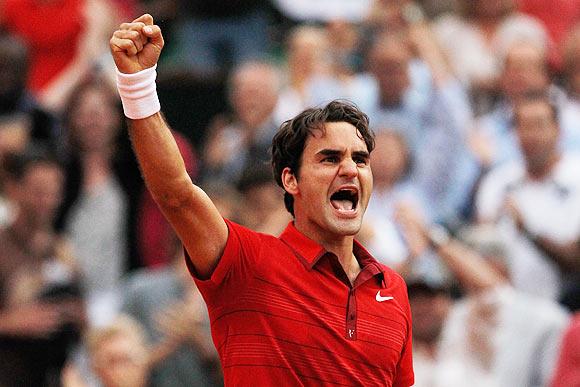 Roger Federer, Rafa Nadal, Novak Djokovic: whoever wins at Roland Garros will claim something more than just the French Open title as tennis is going through a "very special time", according to Federer himself.
Bhupathi eyeing French Open doubles title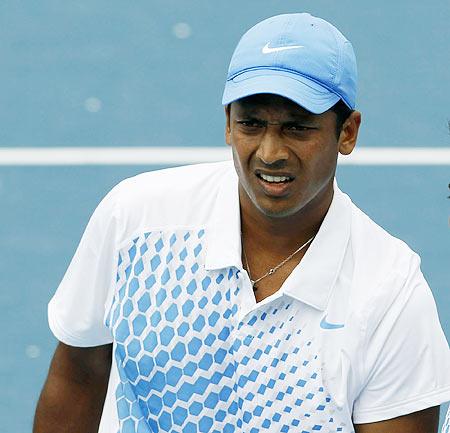 High on confidence after their good performances in Rome and Madrid ATP Masters, the doubles duo of Mahesh Bhupathi and Rohan Bopanna of India is eyeing this year's French Open title.
I lost focus after French Open title, says Li Na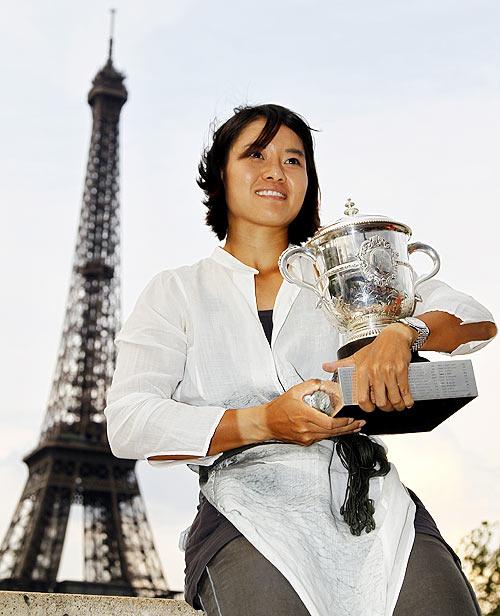 The distractions of being French Open champion led to six wasted months, said 2011 winner Li Na, who has finally found her form again in time to defend her title next week.
May 25, 2012
Lotus the team to beat, says Button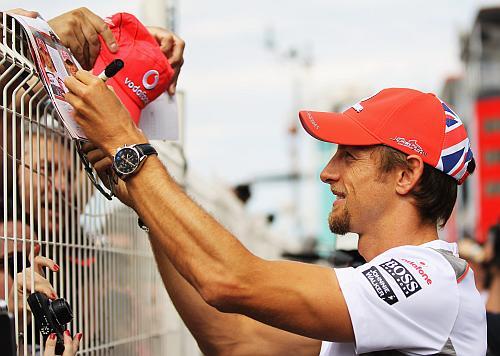 McLaren's Jenson Button set the pace in a rain-hit practice for the Monaco Grand Prix but kept a wary eye on rivals Lotus.
Torres looking forward to brighter future at Chelsea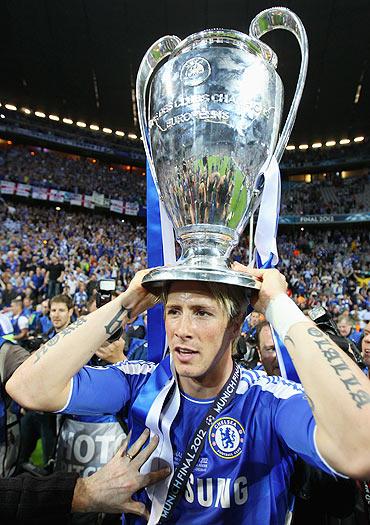 Chelsea striker Fernando Torres has put a difficult season behind him and is itching to be part of the European champions' future plans, the player said on Thursday following talks with the club's hierarchy.
Vijay Mallya does not want to justify party at Monaco GP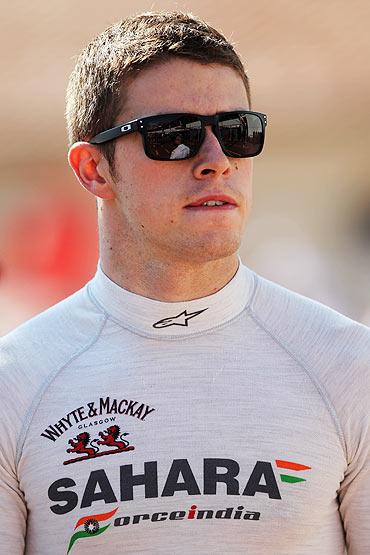 Force India expect Paul Di Resta to stay with them next season but would be understanding if the highly-rated British Formula One driver wanted to move elsewhere, team owner Vijay Mallya said on Thursday.
Ahead of King's Cup final, Guardiola calms waters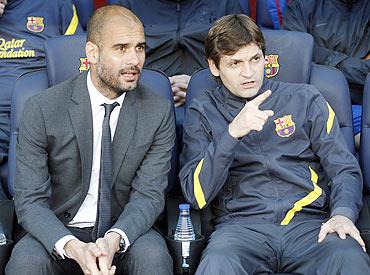 Outgoing Barcelona coach Pep Guardiola sought to make the succession of his number two Tito Vilanova as smooth as possible as he gave his last Nou Camp news conference on Thursday, ahead of the King's Cup final.
Didier Drogba: The Ivory tower Chelsea will miss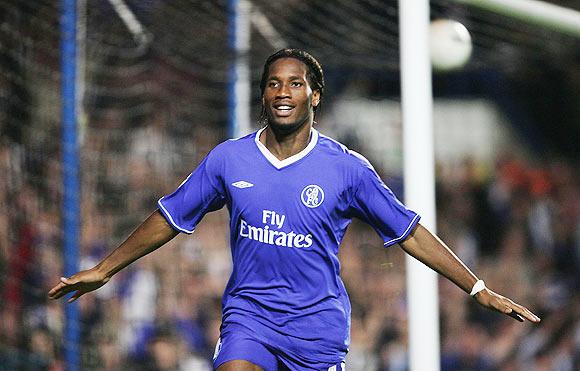 Drogba's arrival at Chelsea coincided with the club's best phase, reaching its zenith with the recent Champions League triumph. His departure from Stamford Bridge, says , will leave a void that will be hard to fill.
May 24, 2012
Nadal clouds Djokovic's bid to match Laver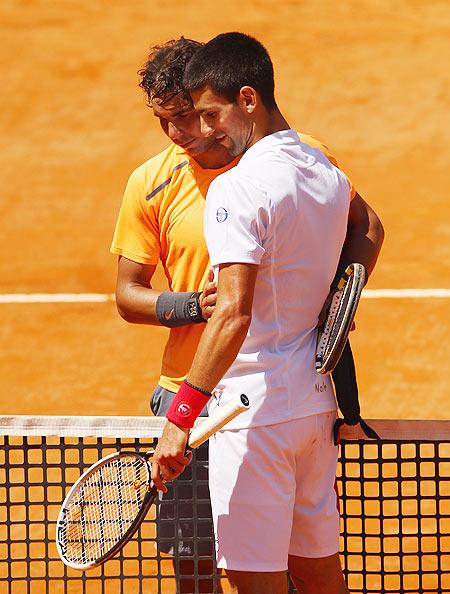 Novak Djokovic will arrive at Roland Garros seven wins away from becoming the first man for 43 years to hold all four grand Slam titles concurrently -- the only trouble is one of his victims will probably have to be claycourt king Rafa Nadal.
Mourinho inspired by long-term challenge at Real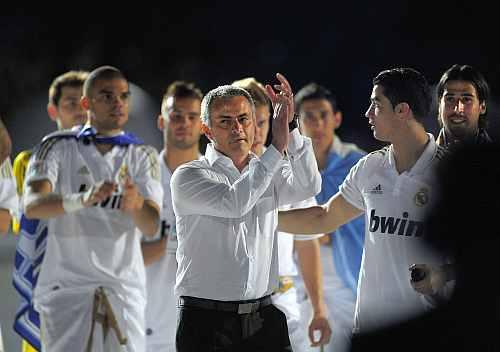 Jose Mourinho said he was motivated by the challenges ahead at Real Madrid after agreeing a two-year contract extension on Tuesday which tied him to the Spanish champions until 2016.
May 23, 2012
India to test Olympics readiness in Azlan hockey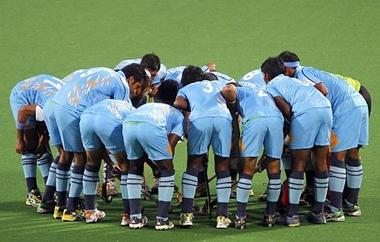 Five-time champions India seek a return to the podium after a year's gap and boost their confidence ahead of the Olympic Games as they begin their campaign in the Sultan Azlan Shah Cup hockey tournament with a match against New Zealand, in Ipoh, Malaysia, on Thursday.
Won't be able to get 100 percent fit for Euro 2012: Villa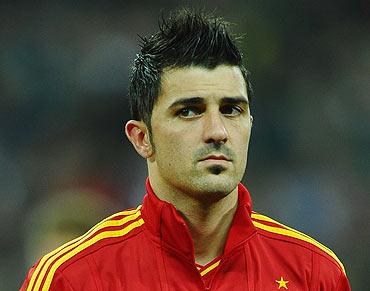 Barcelona striker David Villa ruled himself out of the running for a place in Spain's squad for Euro 2012 on Tuesday after failing to fully recover from a broken leg.
Clijsters to quit tennis for second time after US Open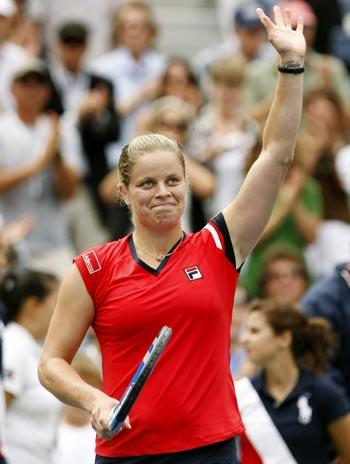 Former World No 1 Kim Clijsters has confirmed that she will bring down the curtain on her second career at the end of this year's US Open, Belgian news agency Belga has reported.
May 22, 2012
Grappling with gender bias, London beckons Geeta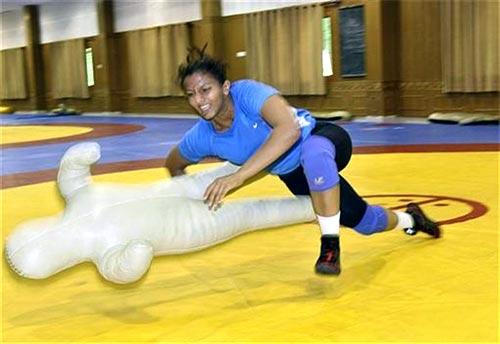 Wrestler Geeta Phogat says she is both excited and nervous about the Olympics in London, a city she has never seen before. But even if she does not win gold, her success has inspired girls in and around her village.
May 21, 2012
Olympic flame goes out for first time in 2012 relay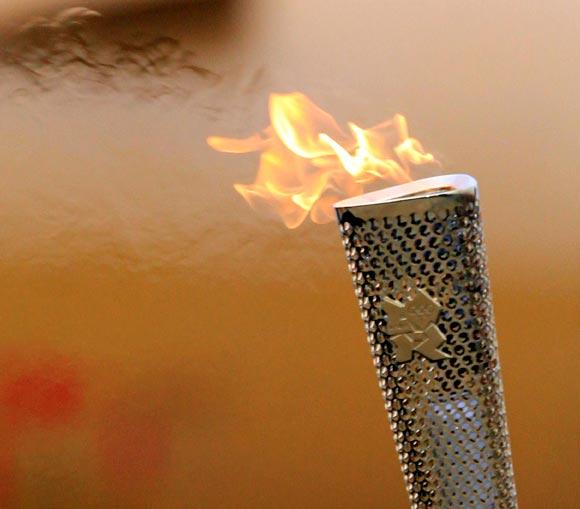 The Olympic flame went out on Monday for the first time during the torch relay around Britain ahead of the London Games because of a "malfunctioning burner", organisers said.
British PM Cameron basks in Chelsea's CL triumph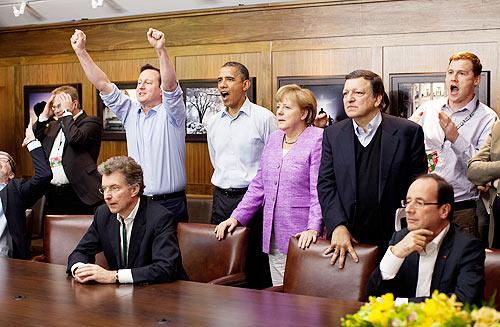 Prime Minister David Cameron savoured Chelsea's win over German club Bayern Munich in the Champions League final on Sunday after watching the deciding penalty shootout with German Chancellor Angela Merkel at a summit in the United States.
Bayern still waiting to crown 'golden generation'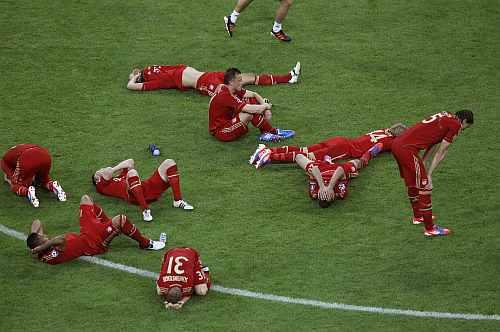 Another Champions League final another defeat, time is running out for Bayern Munich's home-grown talent to claim the top prize in European club football and cement their status as a golden generation.
Drogba, man of the moment for Chelsea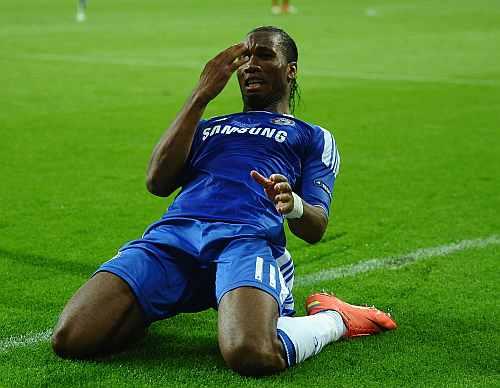 Didier Drogba scored Chelsea's goal and their winning Champions League penalty against Bayern Munich on Saturday and then solemnly appeared to say his farewells.
Football legends... but no Champions League medal to show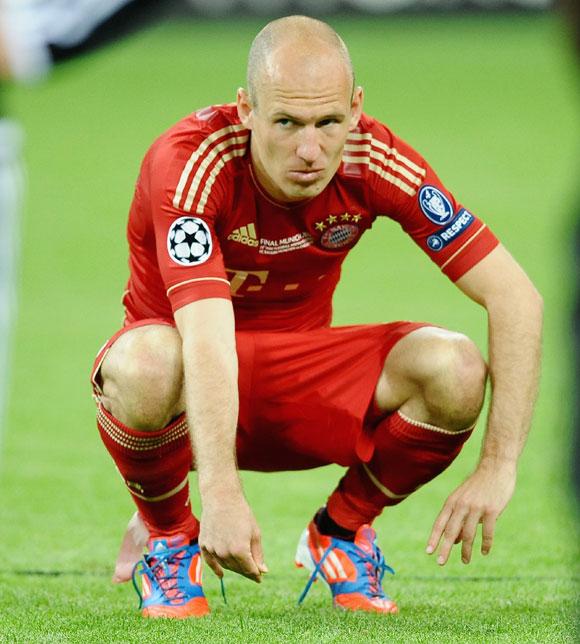 Rediff.com takes a look at a few legends of the modern game who won titles galore but failed to win the competition that matters the most in club football.
Photos: London turns blue as Champions Chelsea return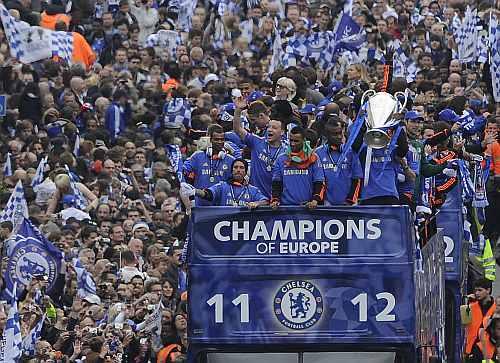 Images of the Chelsea's victory parade in London
May 20, 2012
Give Di Matteo the job, say Chelsea players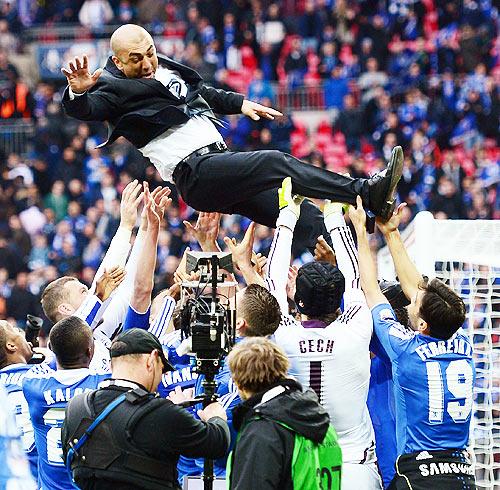 Chelsea players made it clear they wanted Roberto Di Matteo to be given the coach's job full-time after the Italian's whirlwind three months in charge ended with the Champions League trophy -- the prize owner Roman Abramovich had craved the most.
Djokovic downs Federer to set up Nadal final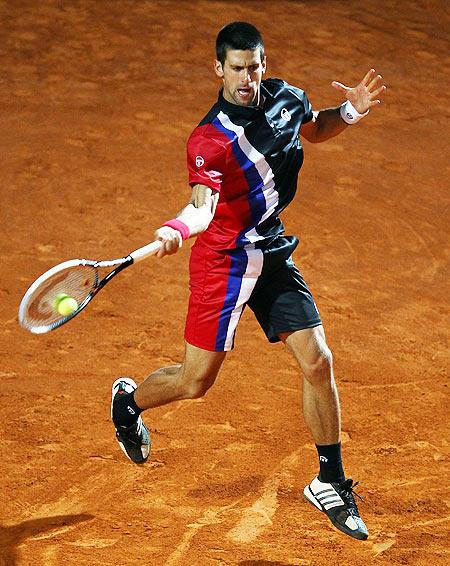 World No. 1 Novak Djokovic beat Roger Federer in straight sets on Saturday and will play Rafa Nadal in the Rome Masters final for the second year in a row.
Shootout win was never in doubt: Lampard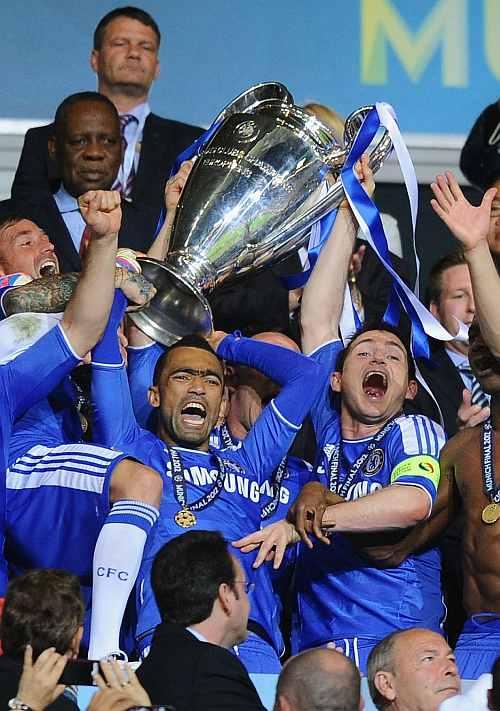 Frank Lampard began to think there was no way back for Chelsea in the Champions League final as the minutes ticked down with Bayern Munich leading 1-0, but when the match went to a penalty shootout he had no doubts the trophy was coming to London.
Chelsea, first London club to win Champions League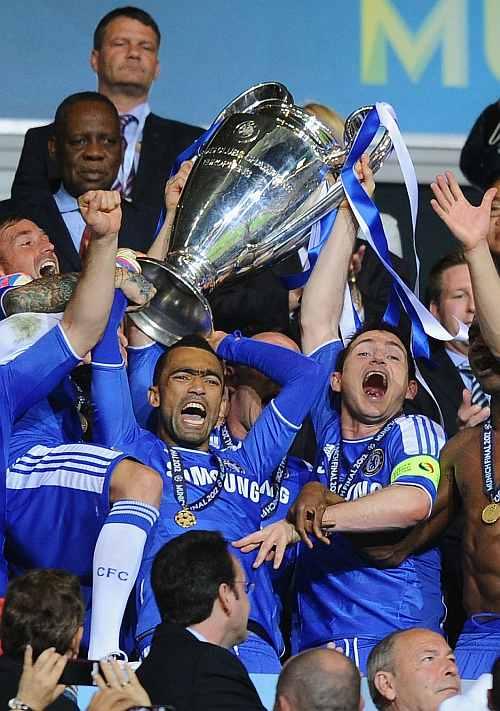 Post-match stats from the Champions League final between Bayern Munich and Chelsea at the Allianz Arena, Munich.
Images: Chelsea cross final frontier to become Champions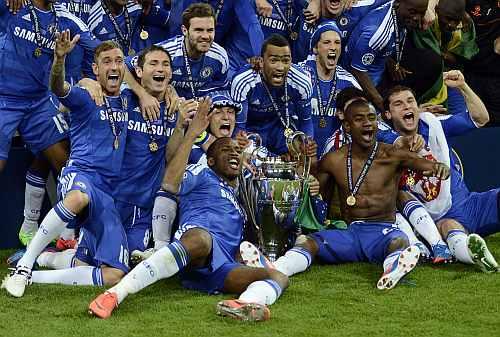 Chelsea cleared the final hurdle in a season of never-ending challenges when they beat Bayern Munich 4-3 on penalties in the German team's Allianz Arena stadium to be crowned European Champions for the first time on Saturday.
May 19, 2012
Ainslie sets the Olympic torch relay on the road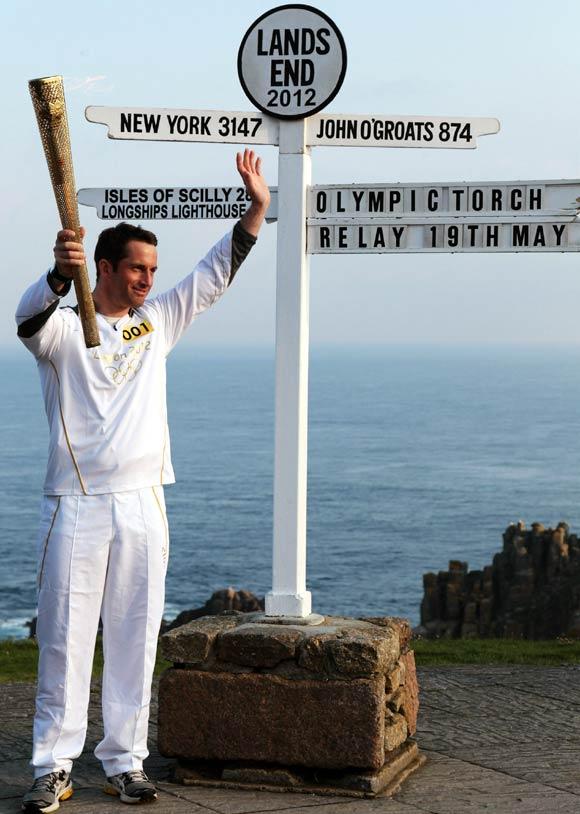 With the rolling Atlantic ocean behind him, yachtsman Ben Ainslie set the London Olympic torch relay on the road from Land's End in the extreme south-west tip of England.
Flame for London Games arrives in Britain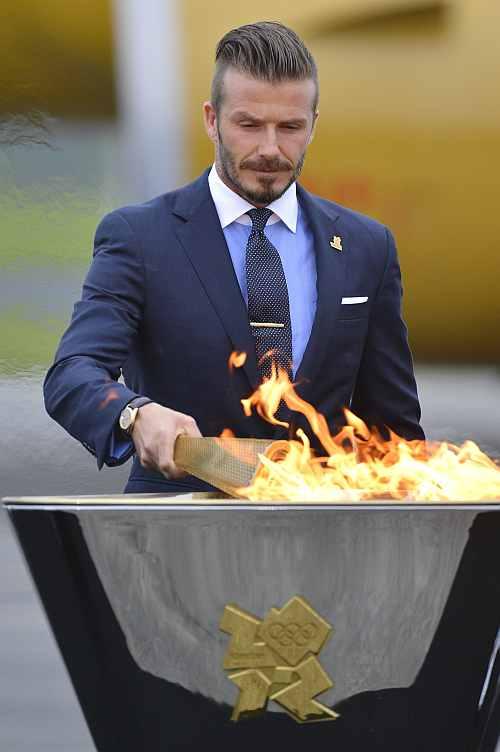 The flame for the London Olympics burned brightly on British soil on Friday after David Beckham stepped off a special flight from the Games birthplace of Greece to light a cauldron with a golden torch.
Asafa Powell: Being relaxed key to winning Olympics 100m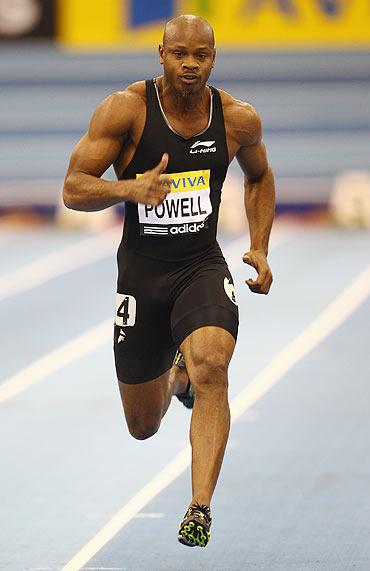 Asafa Powell thinks he has pinpointed why he has so often failed to produce on the big occasion and believes that if he is at his best he will win the 100 metres at the London Olympics.
May 18, 2012
Olympic slot confirmed, finally: Mary Kom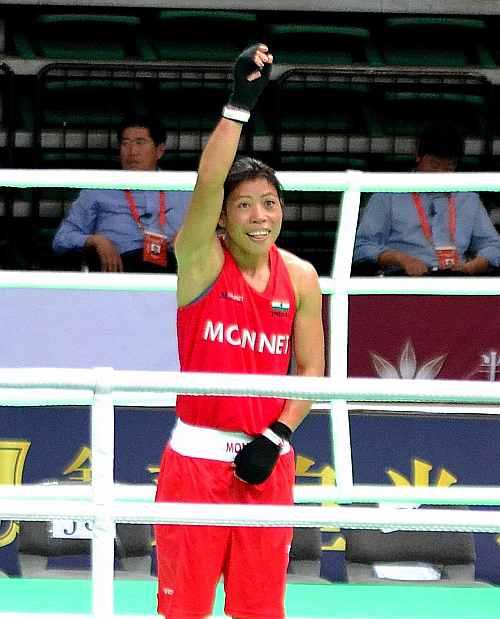 Five-time world champion M C Mary Kom (51kg) on Friday added another feather to her already crowded cap by becoming the only Indian woman boxer to qualify for the London Olympics.
Where the Champions League final will be won and lost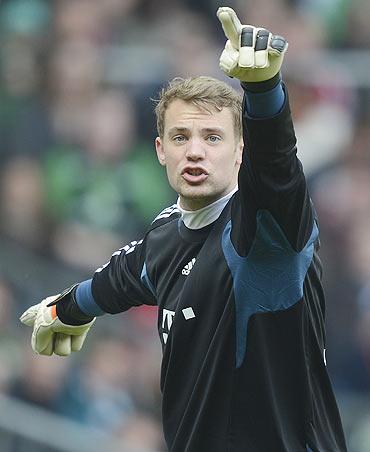 A look at how the Chelsea and Bayern Munich teams compare tactically and where the game might be won or lost ahead of the Champions League final at the Allianz Arena.
May 17, 2012
Flame for London Games formally handed over to Britain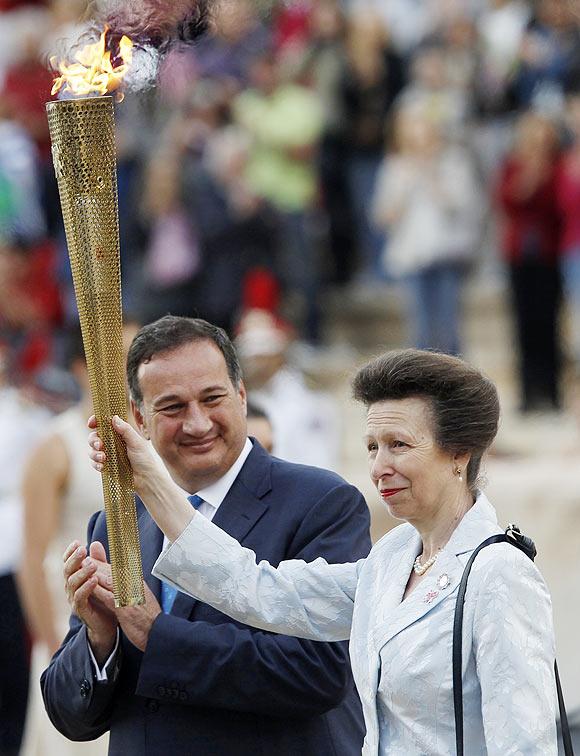 The flame for the London Olympics, which start on July 27 after a 70-day torch relay around Britain, was formally handed over at a ceremony in a damp Athens on Thursday.
CL: Depleted Chelsea hope to avoid turning to reserves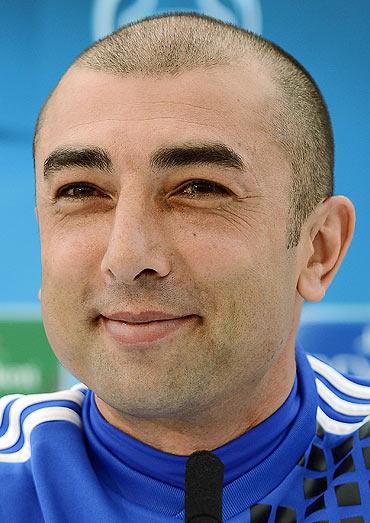 Chelsea's caretaker manager Roberto Di Matteo is hoping to avoid what he described on Tuesday as the "worst-case scenario" with reserves and youngsters on the bench for the Champions League final against Bayern Munich on Saturday.
May 16, 2012
Chelsea boosted as Luiz, Cahill start training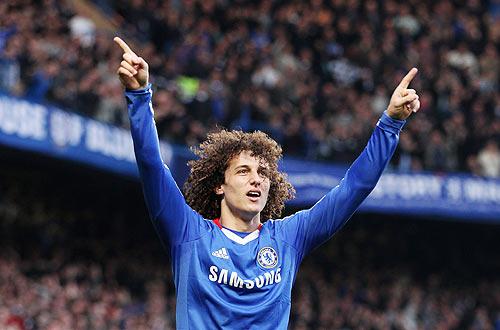 Chelsea central defenders David Luiz and Gary Cahill are hopeful they will be fit for Saturday's Champions League final against Bayern Munich after completing their first training session following hamstring injuries.
May 15, 2012
'Our athletes are well-prepared for the Games'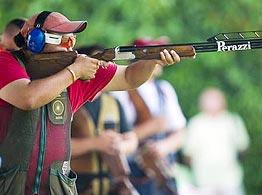 Manisha Malhotra, CEO, Mittal Champions Trust, is determined that the Indian athletes her organisation sponsors bring gold for India. She shares her plans with Rediff.com's A Ganesh Nadar.
PHOTOS: Sun shines on City's victory parade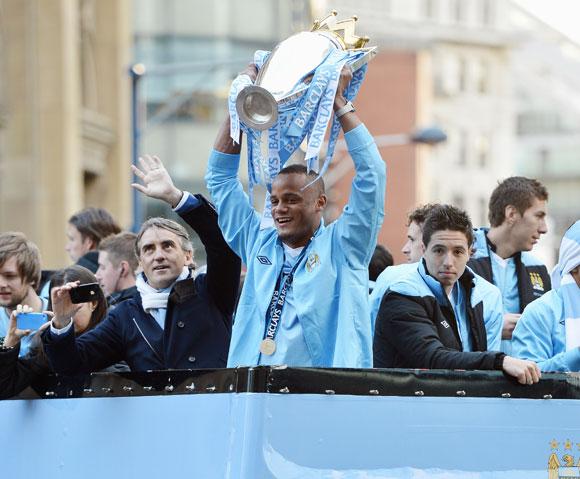 Even the sun shone for Manchester City as the Premier League champions celebrated their long-awaited and dramatic title win with a euphoric victory parade on Monday.
The best moments of the Champions League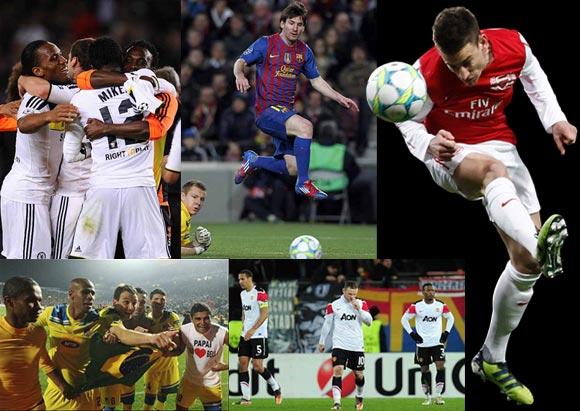 As Chelsea and Bayern Munich prepare to battle for honours in the final, here's a look at some memorable moments in this year's Champions League.
May 14, 2012
Hero Aguero repays huge fee with title clincher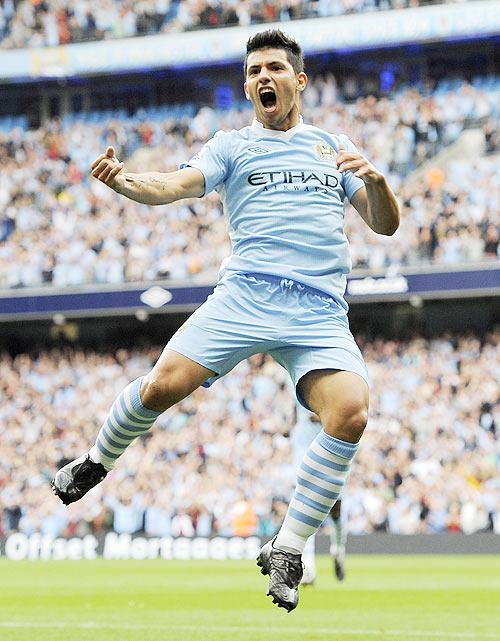 Sergio Aguero was as good as his word on Sunday when he scored the stoppage-time winner against Queens Park Rangers that sealed Manchester City's first title for 44 years.
Mancini's steady hand key for City in title race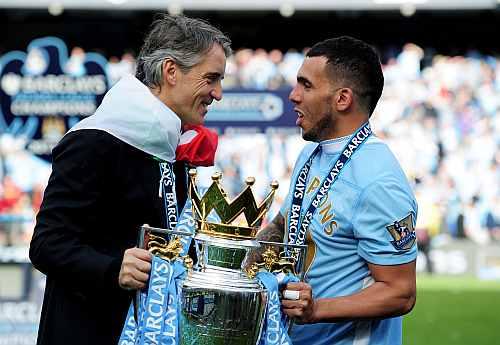 There has been an inevitability about Manchester City's journey to the Premier League title since Abu Dhabi petro-dollars began flooding into the club in 2008 but they still required a steady hand at the tiller to navigate them to glory through one of the most unpredictable seasons for decades.
Ferguson upbeat as United end empty-handed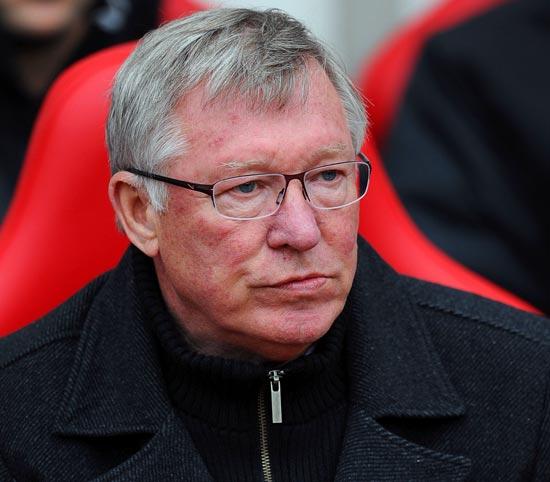 Alex Ferguson remained defiantly upbeat after a 20th English title was snatched from Manchester United's clutches on Sunday but when the dust settles on a dramatic season the wily Scot will ponder long on where it went wrong.
PHOTOS: Key moments in City's title triumph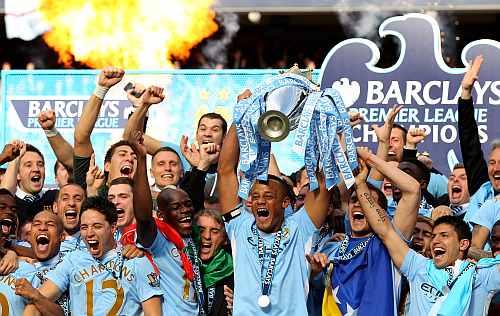 Manchester City claimed their first English title in 44 years in barely believable circumstances on Sunday as stoppage time goals from Edin Dzeko and Sergio Aguero snatched a 3-2 home victory over Queens Park Rangers.
May 13, 2012
'We wanted this title and we deserved it'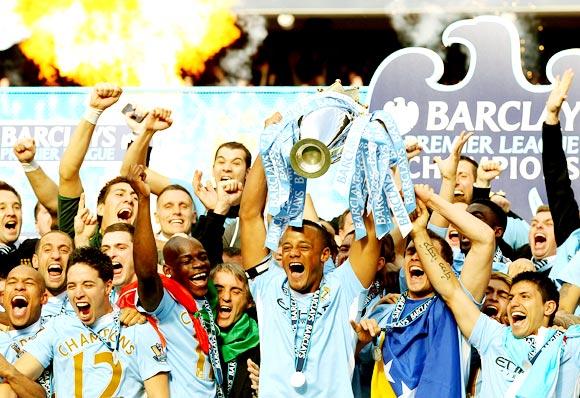 Manchester City captain Vincent Kompany said he never stopped believing his side could beat Queens Park Rangers and win the English Premier League title even when they trailed 2-1 with the match into stoppage time.
PHOTOS: Maldonado hands Frank Williams a late birthday gift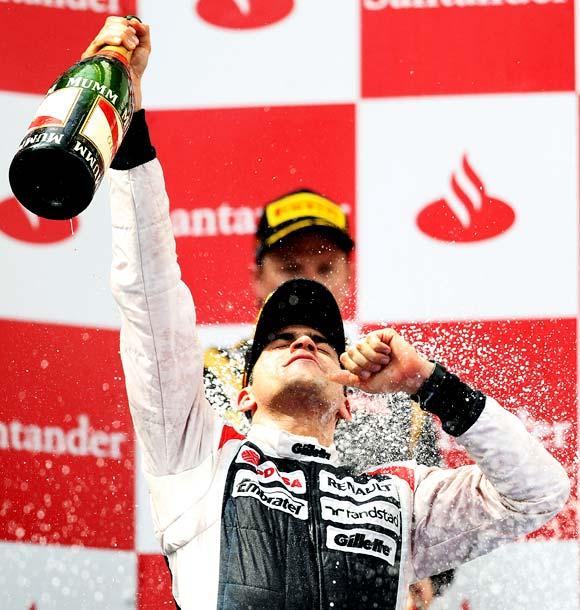 Pastor Maldonado grabbed an astonishing first Formula One victory in a Spanish Grand Prix thriller that handed former champions Williams their first triumph in 132 races and nearly eight years.
PHOTOS: Man City clinch title in dramatic finale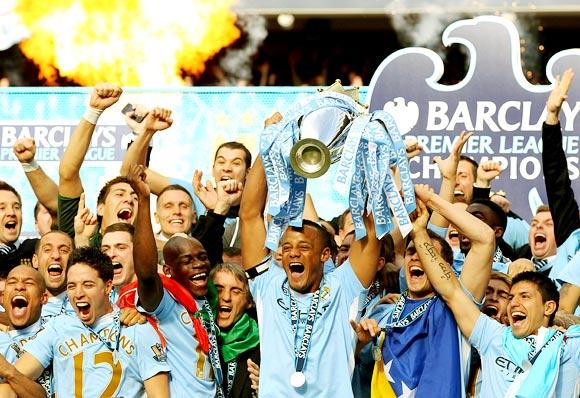 Manchester City claimed their first English title in 44 years in barely believable circumstances on Sunday as stoppage time goals from Edin Dzeko and Sergio Aguero snatched a 3-2 home victory over Queens Park Rangers.
May 12, 2012
Talking almost over for Ferguson and Mancini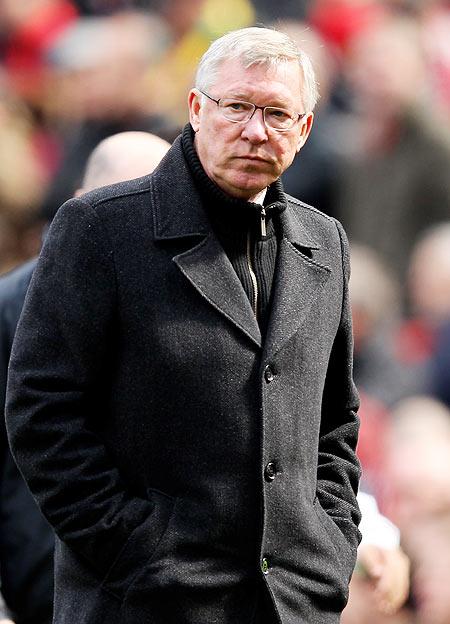 Manchester United manager Alex Ferguson and his Manchester City counterpart Roberto Mancini will rally their troops one last time this weekend when the nine-month battle for the Premier League title will end in victory for one club or the other.
May 11, 2012
'After beating Barca, Chelsea have nothing to fear'
Chelsea have nothing to fear when they face Bayern Munich in the Champions League final next week as their semi-final win over Barcelona proved they can beat the best in Europe, caretaker boss Roberto Di Matteo said.
Hockey team bats for blue turf in run-up to Olympics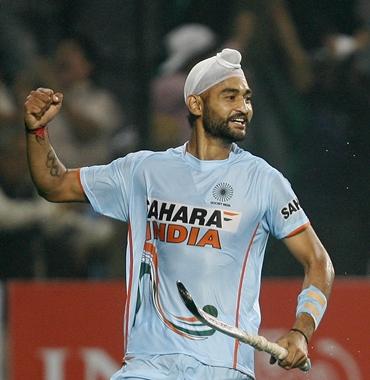 Having failed to adapt to the blue turf during the Olympic hockey test event in London recently, India hockey team is keen to play more on the surface to get adjusted to it ahead of the Games, says ace drag-flicker Sandeep Singh.
Five facts about the London Olympics torch
The London 2012 Olympics torch was lit by the sun's rays in ancient Olympia on Thursday, kicking off a relay that will culminate with the lighting of the Olympic stadium's cauldron during the opening ceremony on July 27.
Ten to watch at the London Games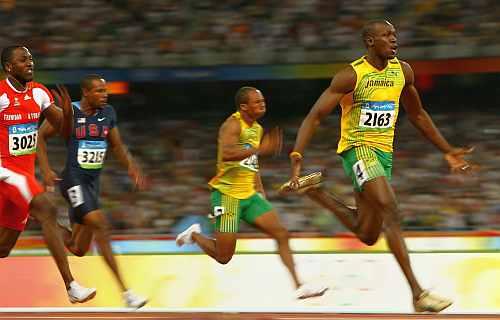 The world's greatest athletes descend on London in July for the 2012 Olympics. Martyn Herman highlights 10 to watch when the Games get underway.
May 10, 2012
PHOTOS: London 2012 torch lit in Olympia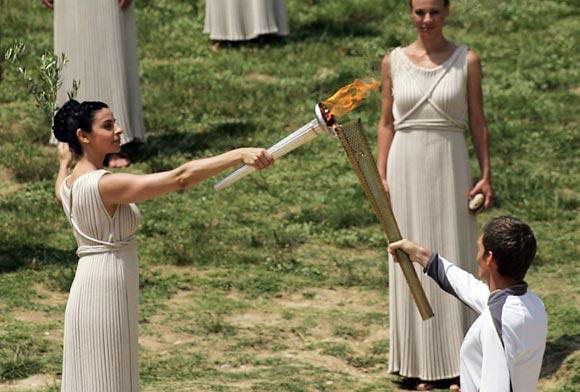 The countdown to this summer's London Olympics kicked off with the kindling of the Games torch by the sun's rays in ancient Olympia on Thursday, sparking a relay that will culminate with the lighting of the Olympic stadium's cauldron at the opening ceremony on July 27.
Falcao, Simeone script Europa history as Atletico win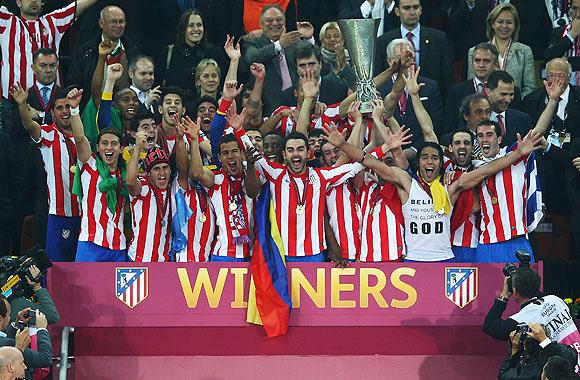 salutes Radamel Falcao and Diego Simeone, the men who fashioned Atletico Madrid's Europa Cup triumph.
No tears in India over Blackburn's relegation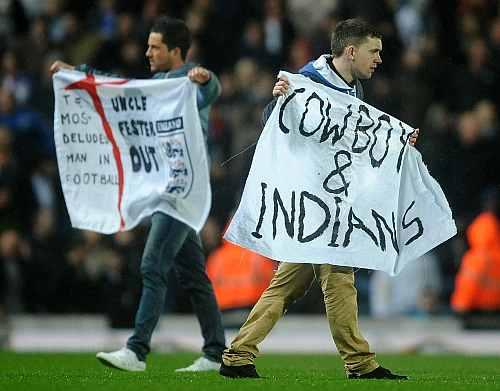 As Blackburn Rovers supporters in Lancashire awoke on Tuesday struggling to cope with the club's relegation from the Premier League, there was little sympathy to be found on the streets of India, the home of the club's owners.
An Olympics love story that sparked a fashion empire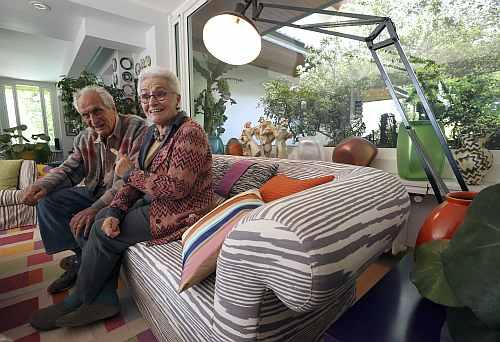 Mention the name Missoni, and most think of a fashion empire that revolutionised textile patterns, spawned the no-bra look on the catwalks, and is now a global brand that designs everything from sweaters to sheets to hotels.
May 09, 2012
Olympic history: Torch relay pioneered at Nazi Games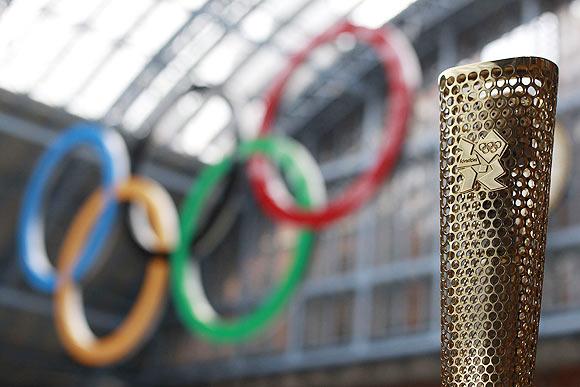 Mist clears to reveal white marble images from classical Greece culminating in Myron's celebrated statue of an athlete poised to launch a discus in the prologue to Leni Riefenstahl's remarkable documentary film "Olympia".
Ferrari mark idol Villeneuve's 30th death anniversary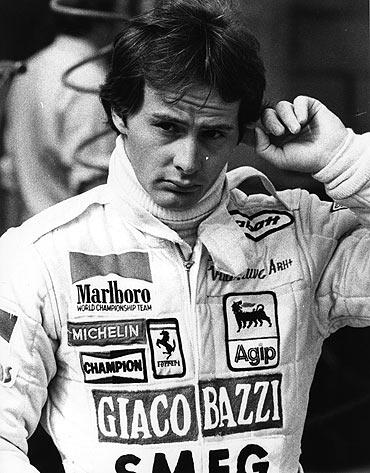 Ferrari marked the 30th anniversary of the death of fan favourite Gilles Villeneuve on Tuesday with the Canadian's son Jacques behind the wheel of one of his cars at the Italian team's Fiorano test track.
UK paralympians set records at London Olympic stadium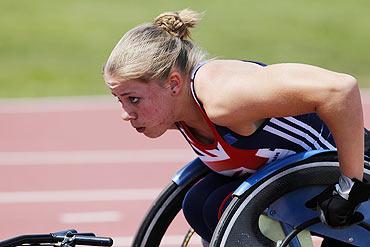 London's Olympic Stadium witnessed its first world record on Tuesday when British wheelchair racer Hannah Cockroft set a new mark in the T34 category for 100 metres.
PIX: Liverpool hammer Chelsea, end their top-4 hopes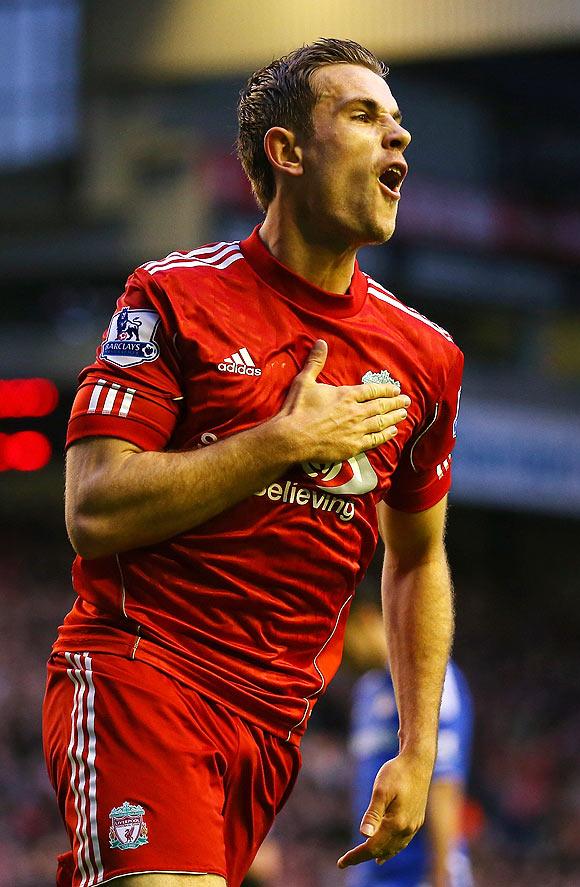 Chelsea must win the Champions League to play in Europe's elite club competition next season after a 4-1 defeat at Liverpool on Tuesday ended their hopes of qualifying via the Premier League.
May 08, 2012
Europa final promises goals from Spanish rivals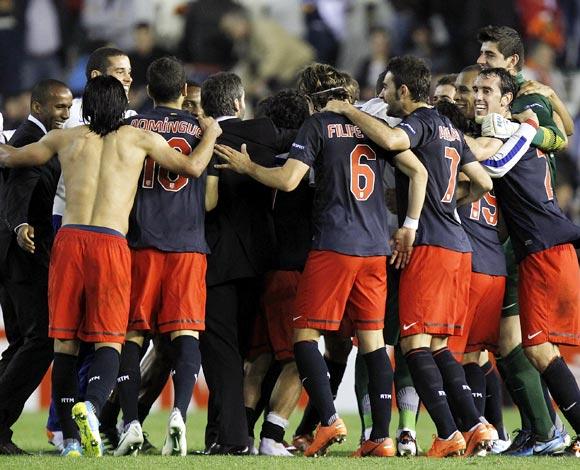 Atletico Madrid and Athletic Bilbao should serve up a Europa League final to remember on Wednesday and remind the continent that Spain is not just about Real Madrid or Barcelona.
May 07, 2012
PIX: City close in on EPL crown, Juve win Serie A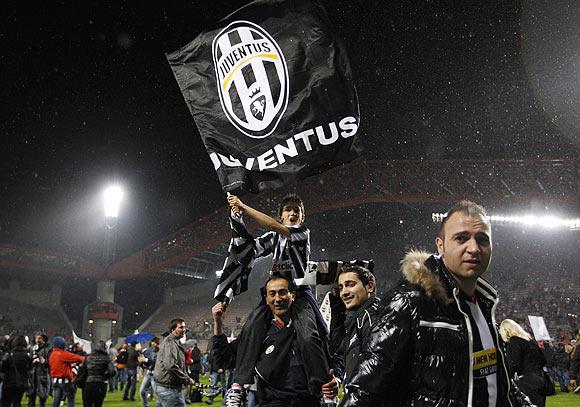 A summary of the football matches played across Europe over the weekend.
Beckham tops Britain's sports rich list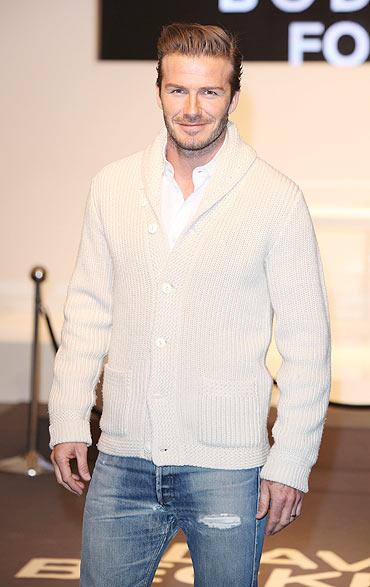 Former England soccer captain David Beckham's success on the field and appeal to sponsors have made him an estimated fortune of 160 million pounds to put him top of the Sunday Times Sport Rich List published this weekend.
Federer ready for clay feat after welcome break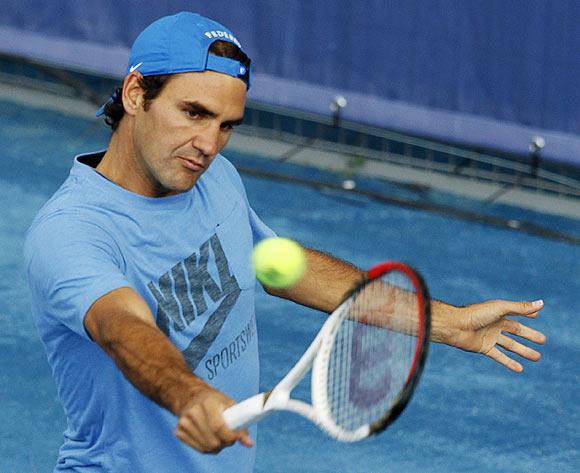 In fine fettle after a month-long rest, Roger Federer is ready to get his clay season underway and continue his bid to recapture the World No 1 ranking from Novak Djokovic.
May 06, 2012
Old guard are picture perfect in Chelsea renaissance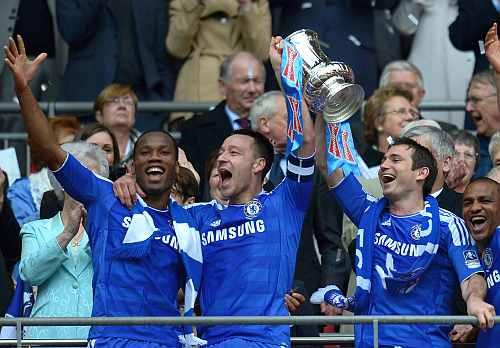 If a picture is worth a thousand words then the sight of Chelsea's Didier Drogba, Frank Lampard and John Terry standing side by side to lift the FA Cup on Saturday neatly encapsulated the story of a season in which the old guard have confounded their critics to revitalise the club.
Olympic stadium formally opened, bring on the Games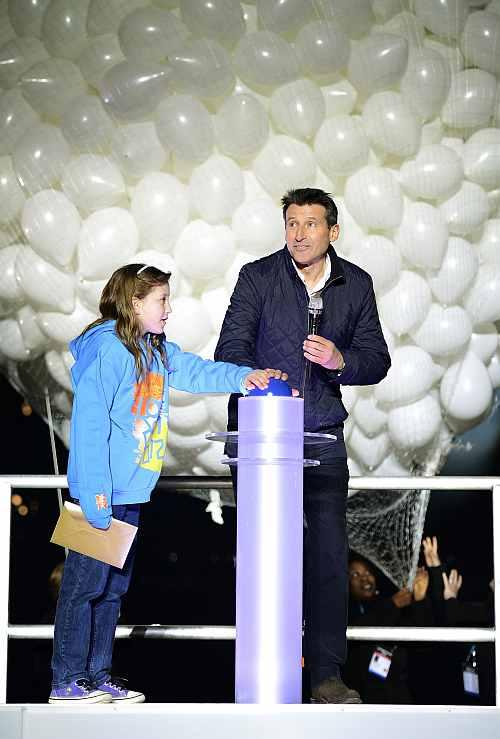 The Olympic stadium, the beating heart of the Games when the world's greatest athletes come to London in 82 days' time, was formally opened on Saturday by a nine-year-old girl who lives down the road.
May 05, 2012
The best sports photos from the last 24 hours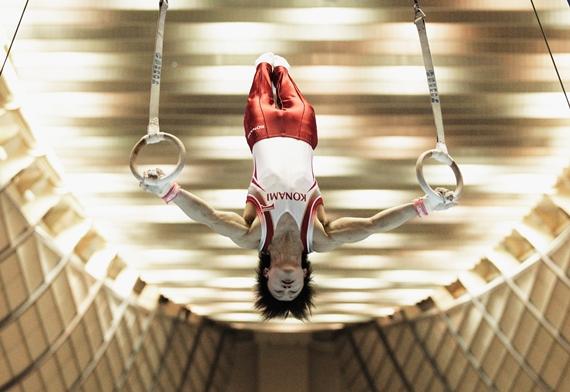 Images from sports action over the last 24 hours.
May 04, 2012
Bolt may face surprise challenger in Powell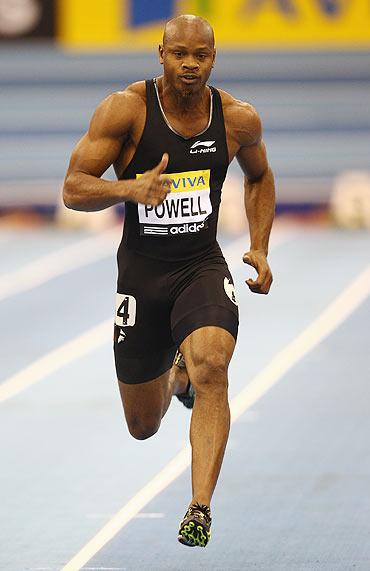 Triple Olympic champion Usain Bolt could have an unexpected challenger when the Jamaican world record holder runs his first 100 metres on Saturday.
FA Cup final offers Torres and Carroll chance of glory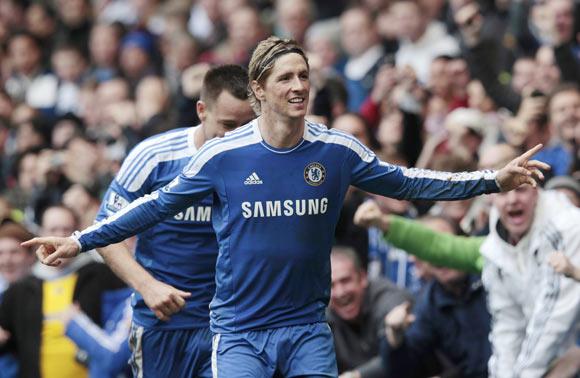 Either Fernando Torres of Chelsea or Andy Carroll of Liverpool, who have both hugely under-achieved since their record-breaking transfers last year, will claim one of English soccer's major prizes when their teams meet in the FA Cup final on Saturday.
Rooney's overhead effort voted best EPL goal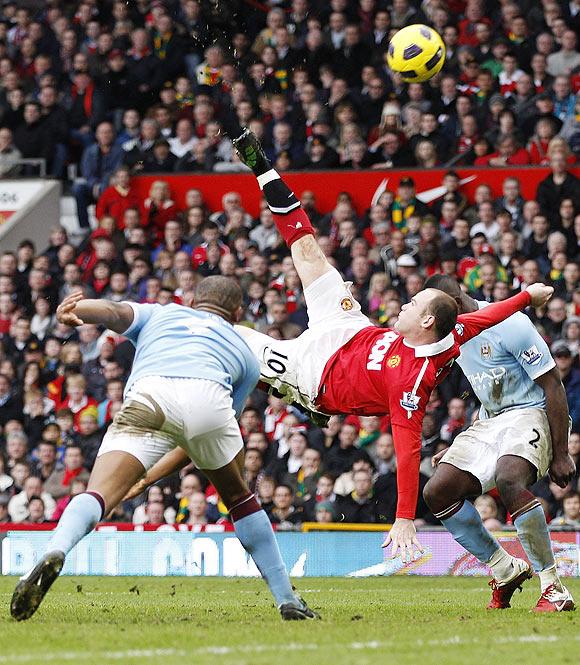 Wayne Rooney's overhead kick for Manchester United against Manchester City in February last season has been voted by fans as the best goal of the 20 years of the Premier League, it was announced on Thursday.
May 03, 2012
Ronaldo chases scoring record after securing league title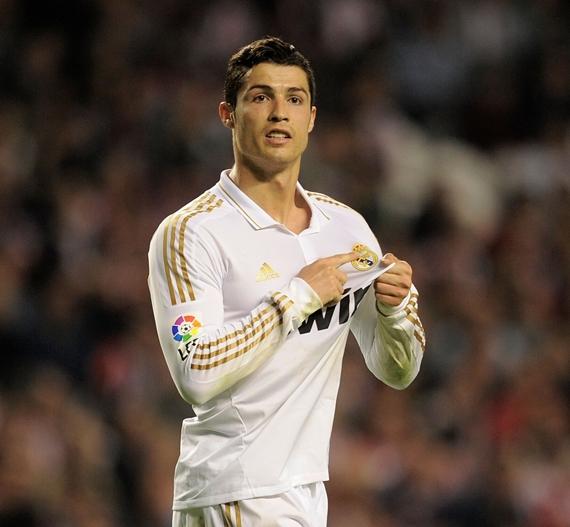 Cristiano Ronaldo has led Real Madrid's charge to their first La Liga title in four years, and still has the chance to overhaul Lionel Messi to retain his league top scorer award before the end of the season.
La Liga most difficult league to win: Mourinho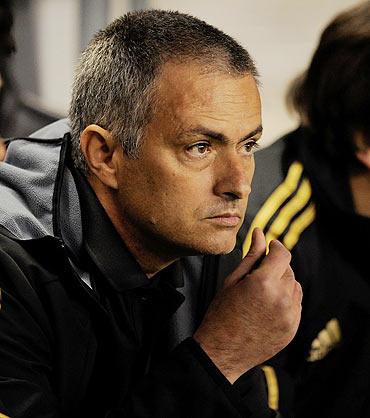 Jose Mourinho believes winning La Liga was the toughest of the seven league titles he has sealed in coaching stints in his native Portugal, England, Italy and Spain, the Real Madrid manager said on Wednesday.
Real land 32nd La Liga title after beating Bilbao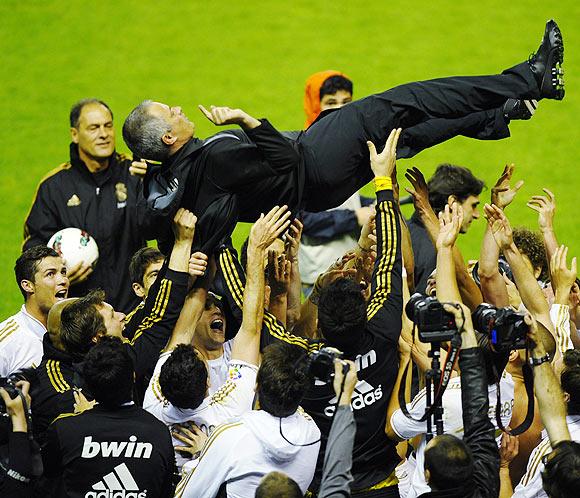 Real, who have smashed the La Liga scoring record, clinched their 32nd league crown and their first in four years when Gonzalo Higuain, Mesut Ozil and Cristiano Ronaldo struck in a frenetic 3-0 win at 10-man Athletic Bilbao on Wednesday.
May 02, 2012
'Qualifying for Olympics was dramatic, almost filmy'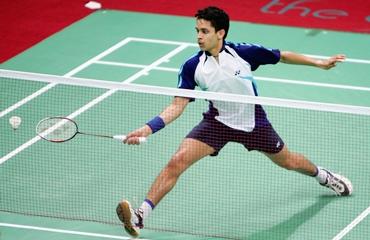 Shuttler Parupalli Kashyap talks to about his qualification for the London Olympics and his preparations for it.
Guardiola exit changes nothing for Real Madrid: Mourinho
Pep Guardiola's decision to step down as Barcelona coach at the end of the season will change nothing for Real Madrid, Guardiola's Real counterpart and bitter rival Jose Mourinho said on Tuesday.
May 01, 2012
City take leaf from United's book with derby win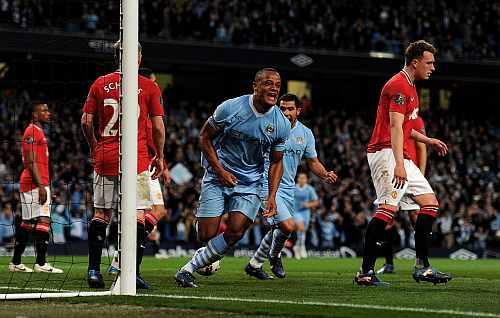 Manchester City closed in on their first top flight title in 44 years by beating Manchester United 1-0 on Monday after doing what their rivals have done for years - keeping their nerve when all seemed lost.
April 30, 2012
Rooney is replica shirt best seller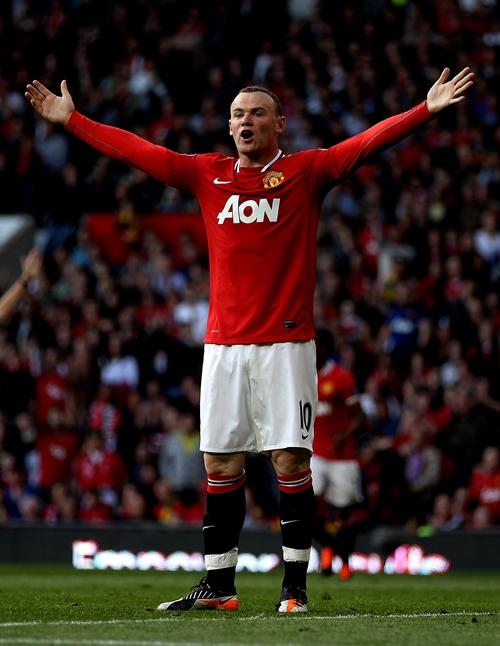 When it comes to sporting the name of their favourite Premier League player on the back of a replica shirt, Manchester United striker Wayne Rooney is officially the most popular choice of fans around the world.
City may win EPL title if they beat United: Ferguson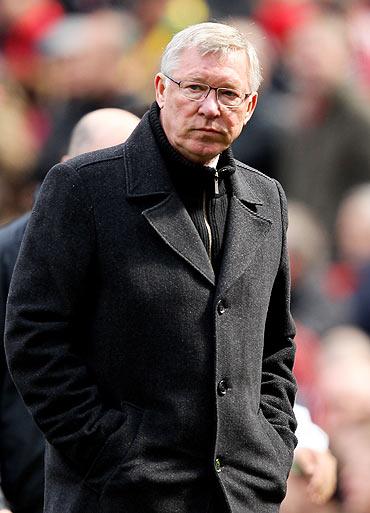 The destiny of the Premier League title will be firmly in Manchester City's hands if they beat leaders Manchester United at home on Monday, United manager Alex Ferguson has said.
April 28, 2012
We hope to play good badminton in Olympics: Jwala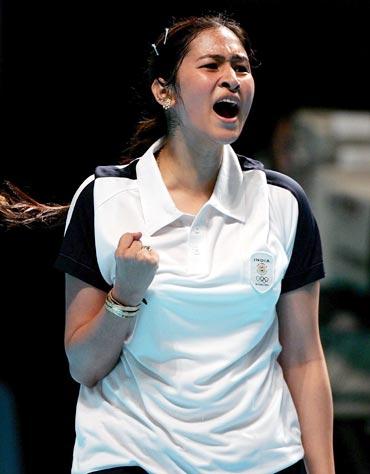 Jwala Gutta will become the first Indian to qualify for two events -- mixed and women's doubles -- in the Olympics when the World rankings are out next week and the doubles specialist said she was delighted and hoped to bring laurels to the country at the London Games.
Olympics: Shooters spearhead India's bid for glory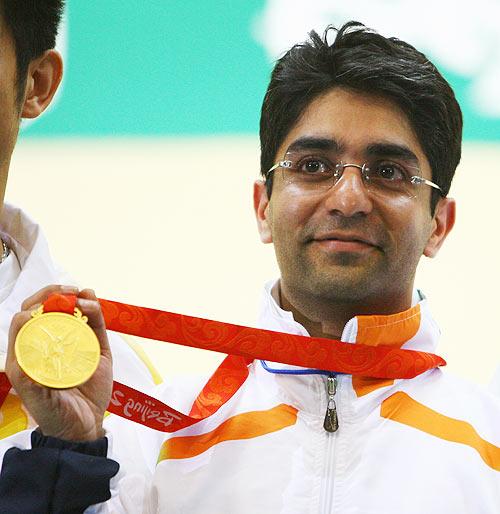 The landmark gold medal Abhinav Bindra shot down in Beijing four years ago has only served to make life more difficult for the baby-faced marksman and his fellow Indian Olympic shooters.
April 27, 2012
Potential destinations for Guardiola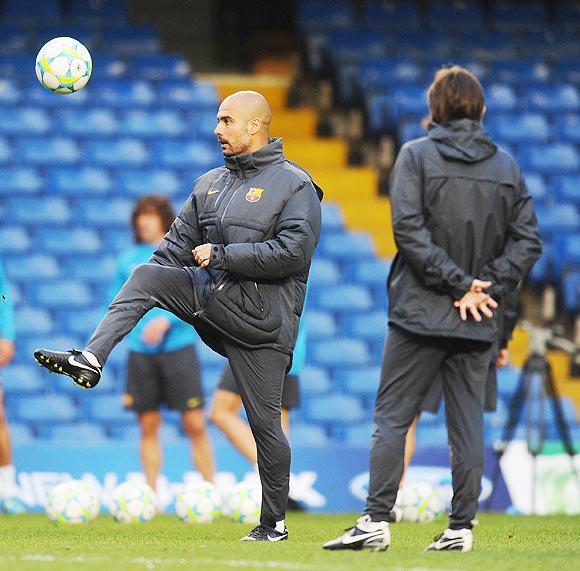 Pep Guardiola is expected to take a sabbatical after quitting Barcelona but there are plenty of clubs who would be eager to entice him back to football.
EPL PREVIEW: Manchester braced for biggest derby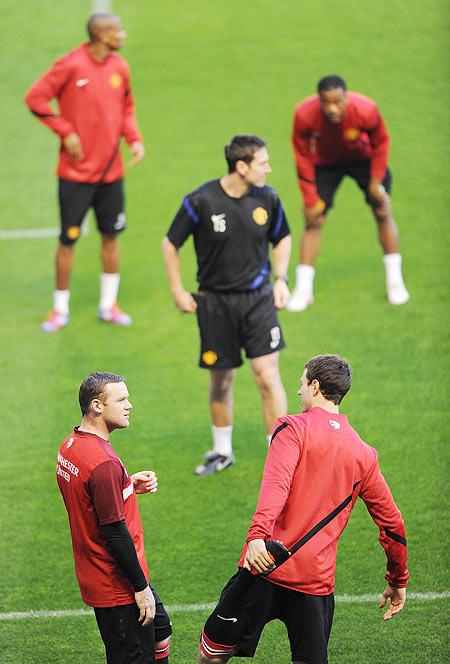 Alex Ferguson has described it as the most important derby in his 26 years at Manchester United while Manchester City manager Roberto Mancini thinks his side are too far behind in the Premier League title race for it to be decisive.
April 26, 2012
Olympic football should be for amateurs: Seaman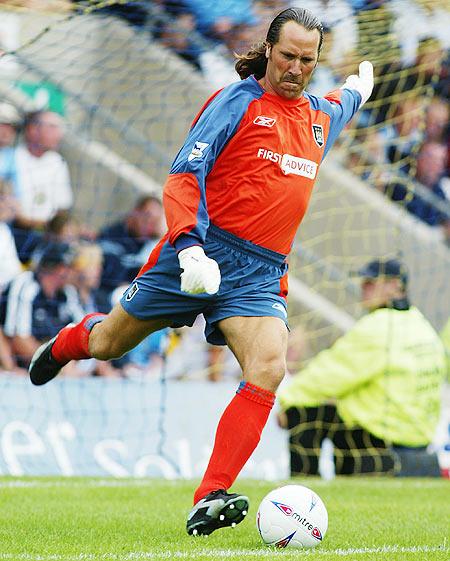 Former England goalkeeper David Seaman has poured cold water on the Olympic soccer tournament, saying only amateur players should be eligible to compete for gold.
PIX: Resilient Bayern oust Real after shootout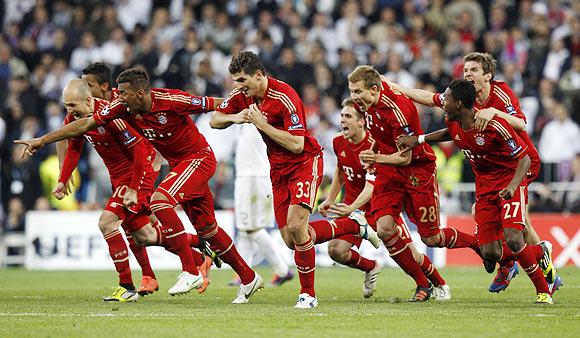 Bayern Munich summoned up all their famous resilience to oust Real Madrid in a nerve-jangling Champions League penalty shootout on Wednesday, denying Jose Mourinho's expensively-assembled side a tilt at a 10th European crown and setting up a final showdown against Chelsea next month.
'Saina and I have a chance of winning Olympic medal'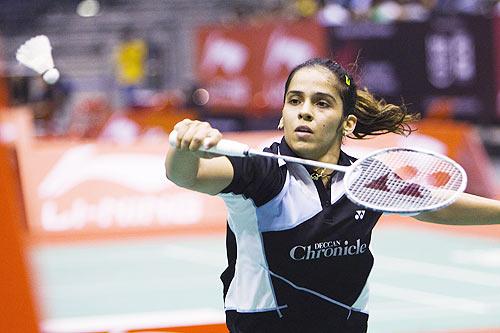 Two-time All England champion Tine Baun is confident that she and Indian ace Saina Nehwal are good enough to topple the formidable Chinese players at the London Olympics and win medals.
Olympic champion Beard reveals darkest secrets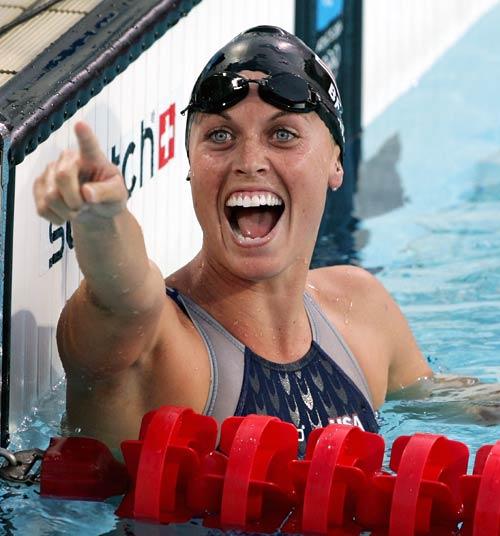 In the book, Amanda Beard gives a revealing insight into the pressures that elite Olympic athletes face and said it is not unusual for them to release tension through recreational drugs.
April 25, 2012
Nou Camp heroics write new page in Chelsea's Roman era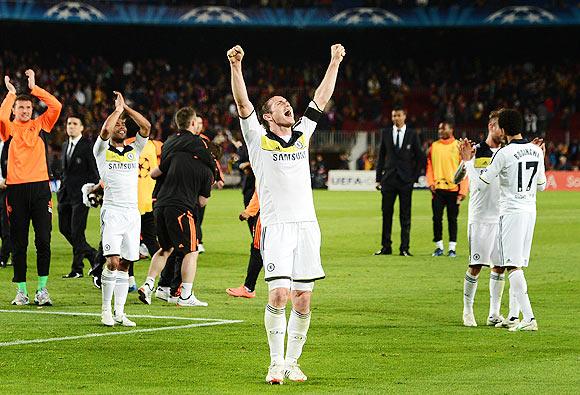 Whatever happens in the Champions League final in Munich next month, Chelsea's astonishing 3-2 aggregate win over Barcelona's artisans at the Nou Camp in Tuesday's semi-final will go down as one of the club's greatest achievements.
Messi's rare failure at crucial moment for Barca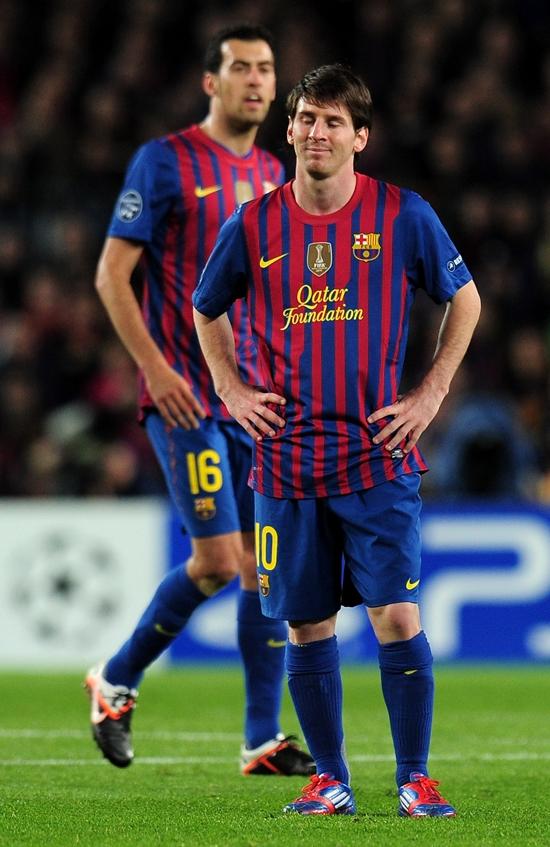 The Argentine failed to find the net for Barcelona in either leg of the Champions League semi-final, meaning he has now been unable to score against Chelsea in eight outings, by far his worst record against any club.
PIX: 10-man Chelsea defend stoically to upset Barca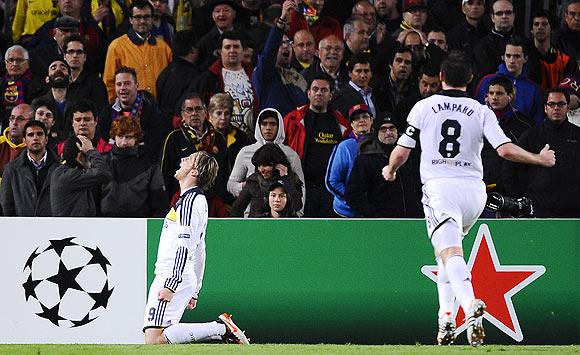 Chelsea survived the dismissal of captain John Terry to eliminate holders Barcelona 3-2 on aggregate and clinch a place in the Champions League final after an action-packed last-four clash on Tuesday in which Lionel Messi missed a penalty.
Nadal says regaining No 1 ranking not a priority
Rafa Nadal has played down the significance of his victory over Novak Djokovic in Monte Carlo, saying winning tournaments was his priority rather than reclaiming the World No 1 spot.
April 24, 2012
Real confident of overturning semis deficit vs Bayern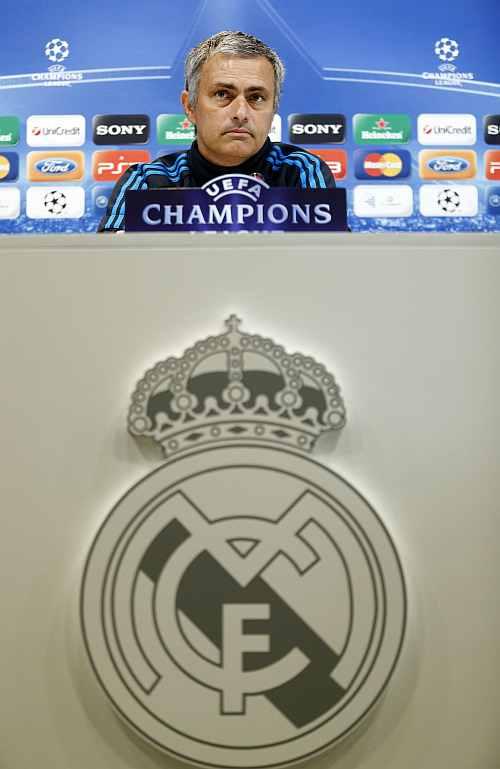 Real Madrid look like being crowned kings of Spain but need to overturn a 2-1 Champions League semi-final first leg deficit against Bayern Munich on Wednesday to continue dreaming of European glory.
F1 column: The next winner is... anyone's guess!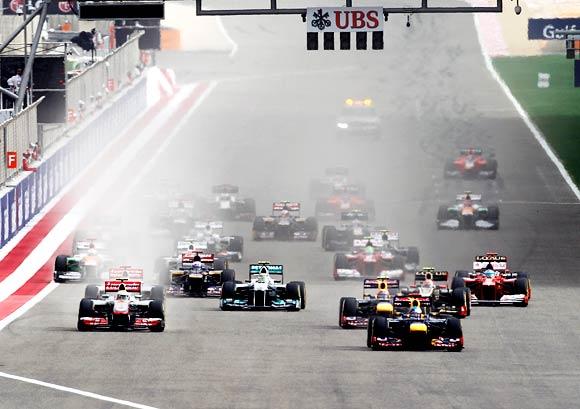 For the first time since 2003, no one driver has managed to take a repeat victory in the opening four races while new faces have emerged.
I am confident I can win a gold at Olympics: Vijender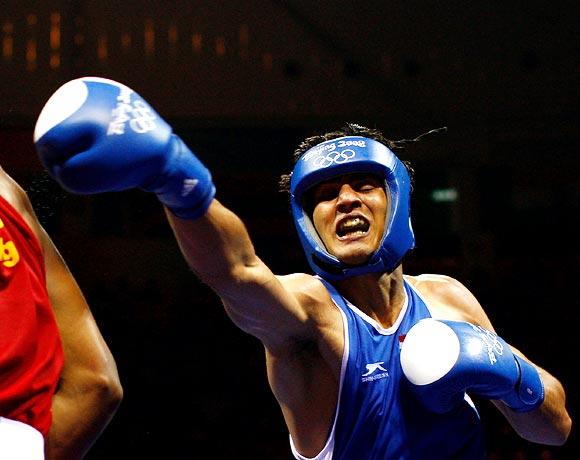 Vijender Singh, India's first ever Olympic medal winner in boxing, speaks about his plans for the mega event, and why he thinks he can win a gold medal this time.
Mine to medal: The Olympic medal journey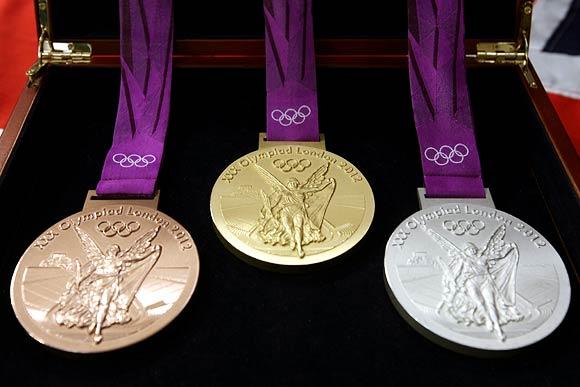 The gold medals for this summer's London Olympic Games will be the largest and most valuable ever to be handed out.
Guardiola, Pique reject rift claims before Chelsea tie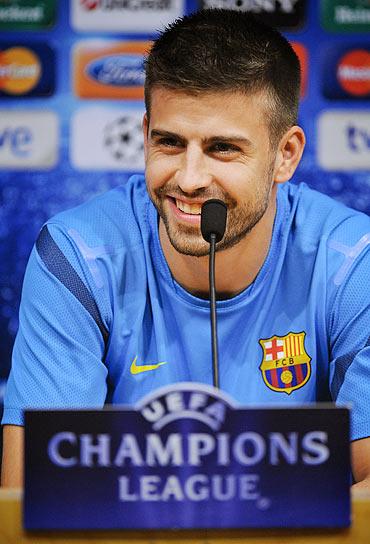 Barcelona coach Pep Guardiola and defender Gerard Pique have played down reports of a rift, with both saying the centre back was left out of the Spanish and European champions' last two matches for purely sporting reasons.
No winner in the real contest of Bahrain's Grand Prix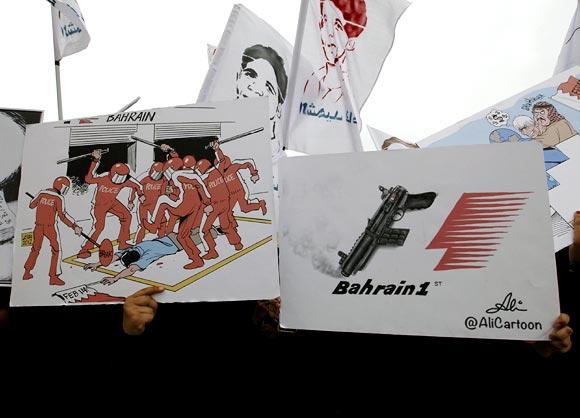 Demonstrators denounced the Grand Prix as a lavish stunt by a government that crushed Arab Spring protests last year and remains out of touch with popular demand for change.
April 23, 2012
Saina's weak wrist stroke compels her to train harder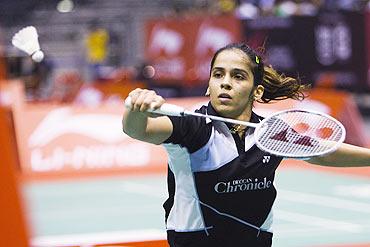 Saina Nehwal is sweating it out a bit more in training ahead of the Yonex Sunrise India Open because the ace Indian shuttler says she sometimes forgets her strokes.
On the ATP Tour winning in succession is what matters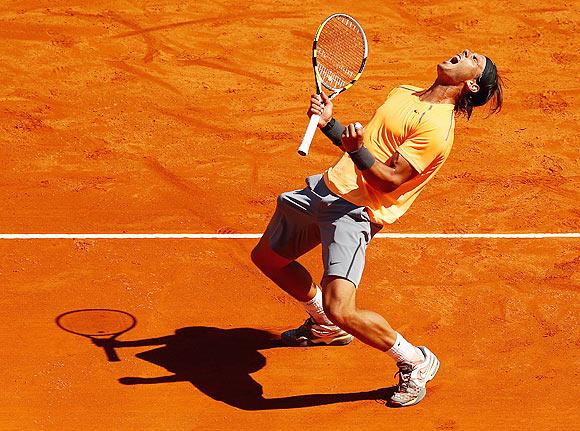 Rafael Nadal's mauling of Novak Djokovic in the final of the Monte Carlo Masters on Sunday was memorable in more ways than one.
THE BEST SPORTS IMAGES OF THE WEEK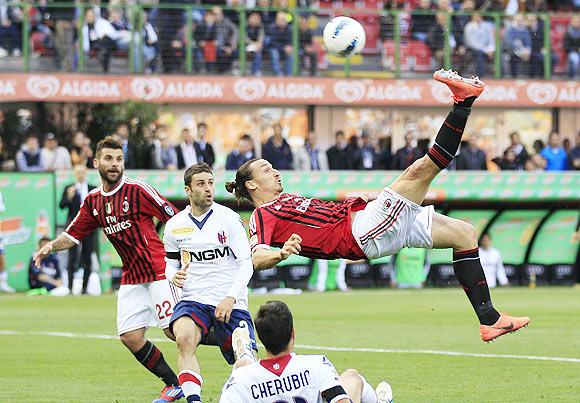 AC Milan's Zlatan Ibrahimovic (centre) performs a scissors kick against Bologna during his Italian Serie A soccer match at the Giuseppe Meazza stadium in Milan
CL PREVIEW: Chelsea threaten Guardiola's Midas touch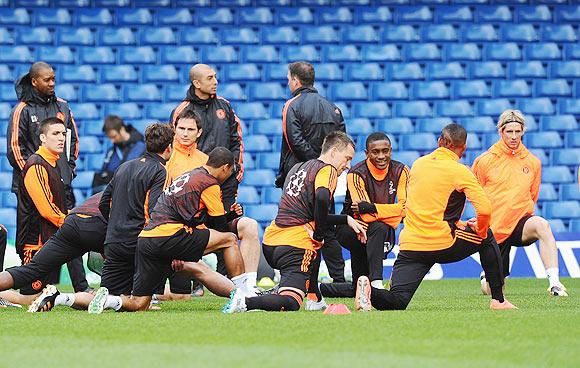 Barcelona coach Pep Guardiola is in danger of tarnishing his reputation as the man with the Midas touch when the holders seek to overturn a 1-0 deficit against Chelsea in Tuesday's Champions League semi-final second leg at the Nou Camp.
EPL PICS:Title race takes twist as United blow lead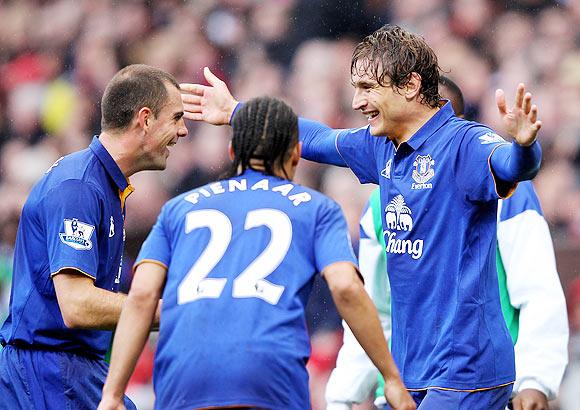 The Premier League title race took another dramatic twist on Sunday when leaders Manchester United blew a two-goal lead to draw 4-4 with Everton and Manchester City beat Wolverhampton Wanderers 2-0 to narrow the gap to three points.
April 22, 2012
Vettel wins Bahrain GP, protesters kept away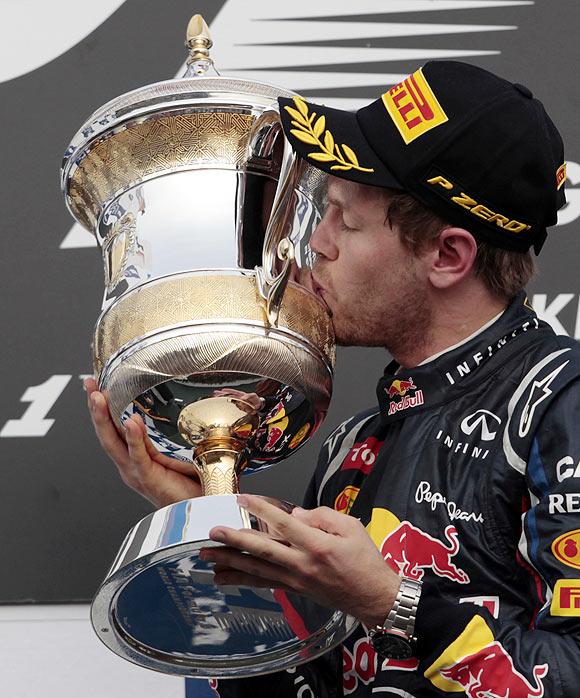 Formula One world champion Sebastian Vettel won the Grand Prix in Bahrain on Sunday while rage boiled beyond the circuit among protesters who say the ruling family that crushed Arab Spring demonstrations last year should not have hosted the race.
El Clasico Pix: Real Madrid outplay ordinary Barca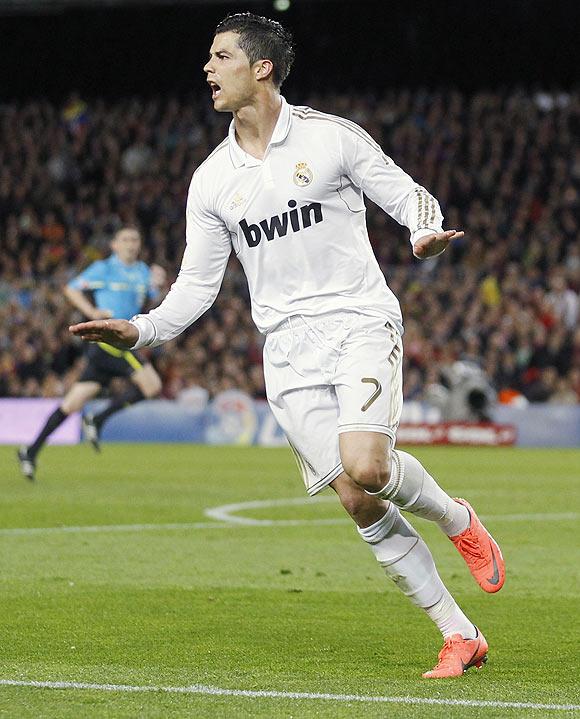 Images from the El Clasico match between Barcelona and Real Madrid played at Camp Nou on Saturday.
April 21, 2012
Bahrain Grand Prix security tight as protests flare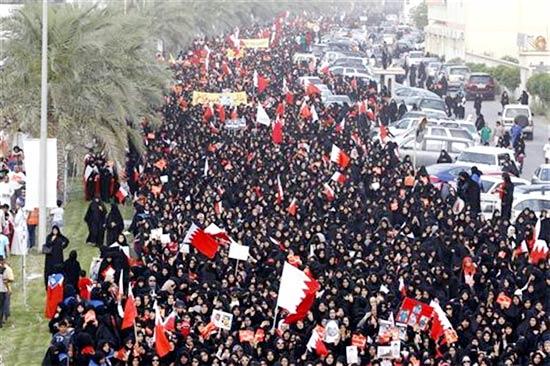 Organisers have rejected calls from human rights groups to cancel Sunday's race because of what activists see as continuing political repression. The cars take to the track again on Saturday for practice and qualifying sessions.
PHOTOS: Dempo crowned I-League champions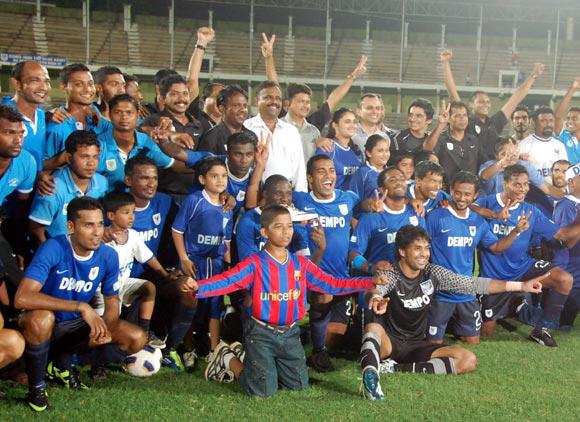 Dempo SC made history when they won the I-League crown for a record fifth time on Friday as they held East Bengal to a goalless draw.
Ecclestone never far from F1 headlines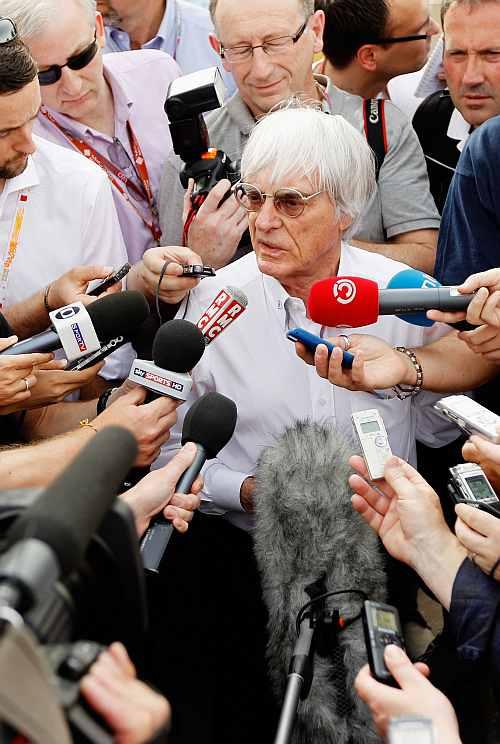 Bernie Ecclestone has had the hauntingly echoing theme tune from 'The Good, the Bad and the Ugly' as the ringtone on his mobile phone for some years now.
April 20, 2012
Raja Sen's F1 column: Thank you, Ross Brawn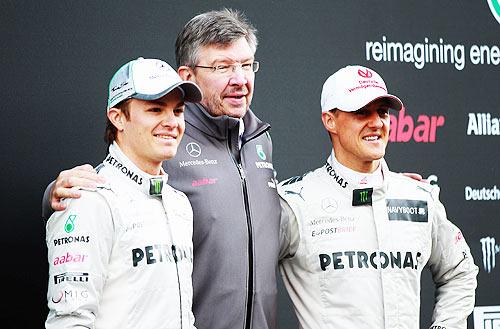 2012 has been a highly unpredictable season, but will it be the year of the underdog? We're likely to see a bit of a see-saw situation over a season where, well, we're all still guessing, notes .
Police, protesters face off as Bahrain GP begins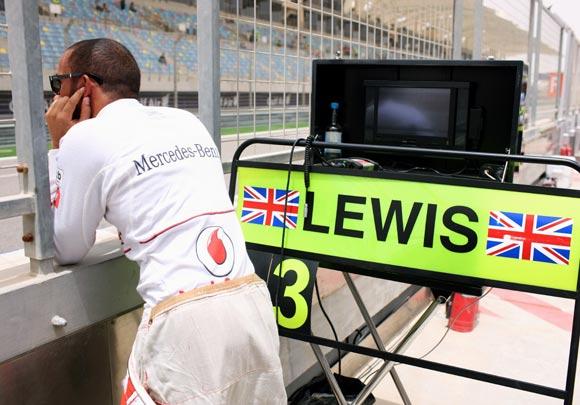 Formula One cars took to the track in Bahrain on Friday, while the government, hoping for a successful Grand Prix, squared off against activists determined to mark it with "days of rage" after more than a year of Arab Spring protests.
Bahrain: Safety fears hit Force India's track time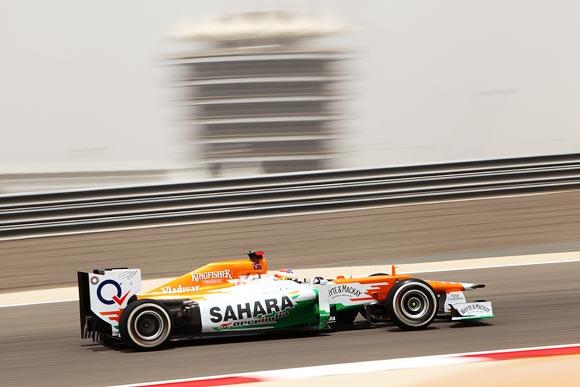 The Force India Formula One team will limit their involvement in second practice for the Bahrain Grand Prix on Friday and may skip the session altogether for safety reasons, deputy principal Bob Fernley said.
TOP SPORTS PHOTOS OF THE LAST 24 HOURS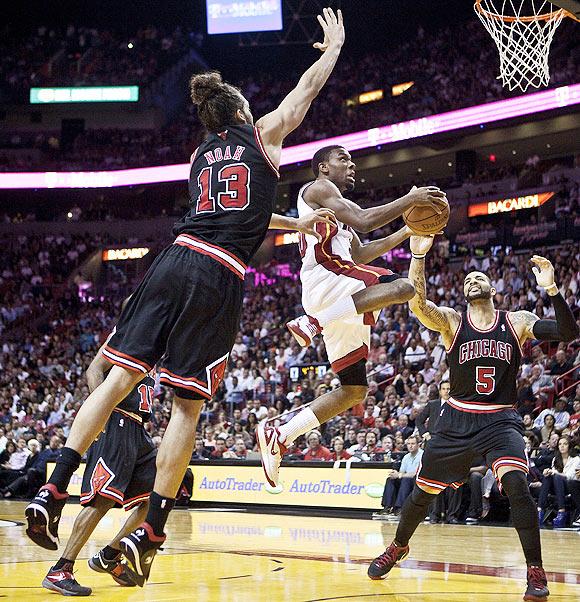 Miami Heat's Norris Cole (centre) moves between Chicago Bulls Joakim Noah (left) and Carlos Boozer (right) in the first half of their NBA basketball game in Miami, Florida.
Do you know the key words on El Clasico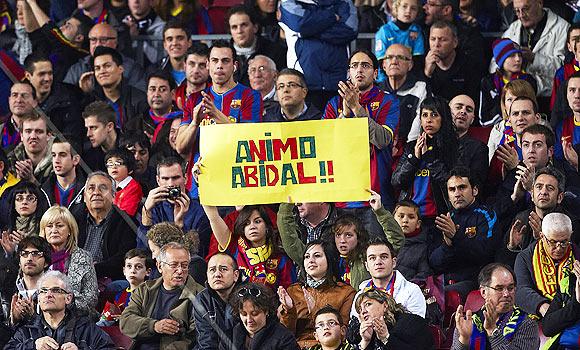 Following is a selection of Spanish words and phrases which help explain the intense rivalry between Real Madrid and Barcelona played out in the El Clasicos
Protests rage as Bahrain Grand Prix to start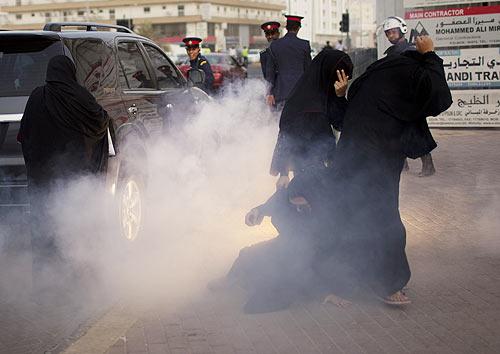 Formula One cars take to the track in Bahrain on Friday with the government hoping a successful Grand Prix will draw a line under more than a year of Arab Spring protests and activists promising to mark the motor race with 'days of rage'.
PHOTOS: Rehearsal for London Olympics torch relay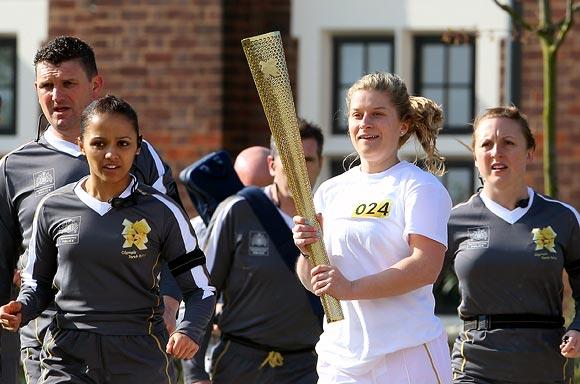 The Olympic flame will visit most parts of Britain during its 70-day tour starting on May 19 before returning to the capital for the opening ceremony at the Olympic Stadium in east London on July 27.
April 19, 2012
El Clasico high noon for Ronaldo and Messi
As well as a potential title decider, Saturday's El Clasico between bitter rivals Real Madrid and Barcelona serves up the latest installment in the goal-scoring drama featuring record-setting marksmen Cristiano Ronaldo and Lionel Messi.
CL PHOTOS: Chelsea eye final after late twist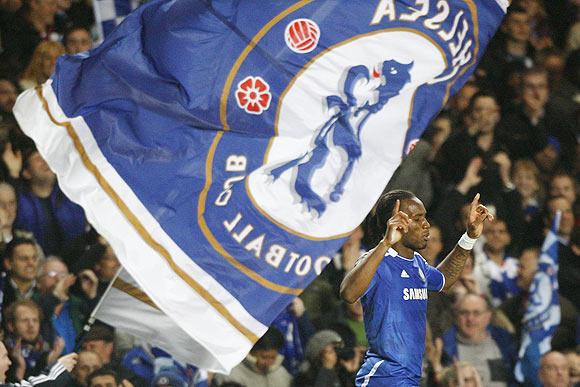 Chelsea may never quite get over the perceived injustice of their 2009 Champions League semi-final loss to Barcelona but Wednesday's victory over the Spaniards could go some way to easing the pain.
Devindar awaits senior team call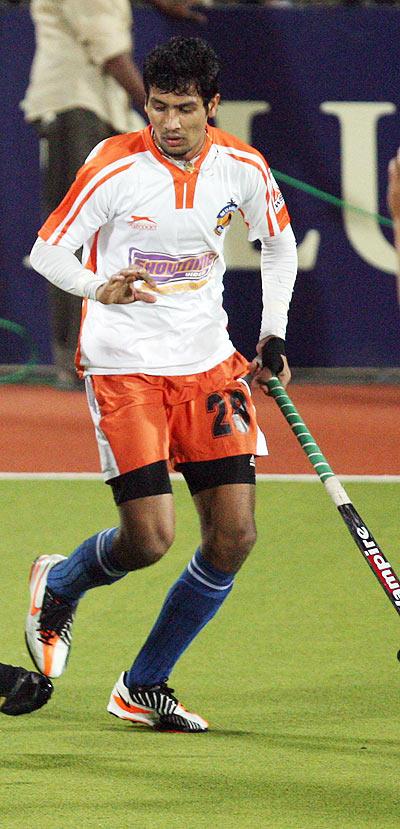 The ball goes from junior Walmiki to senior Walmiki; he traps and sends it to junior Walmiki, who dodges the goalkeeper and makes no mistake. It's a goaaal!!
Death on the football pitch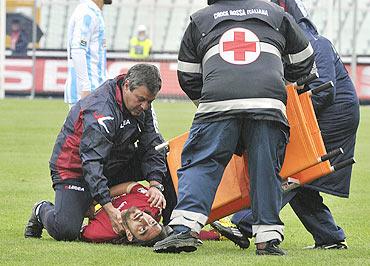 Rediff.com lists the players who have died in the last decade due to injuries sustained on the field.
PHOTOS: The leading modern Olympians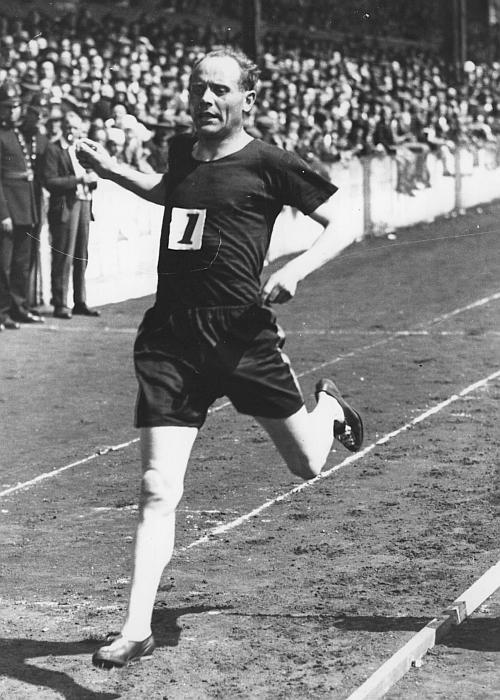 A list of the leading Olympic athletes since the Summer Games were revived in 1896.
EPL PREVIEW: Ruthless United primed for final assault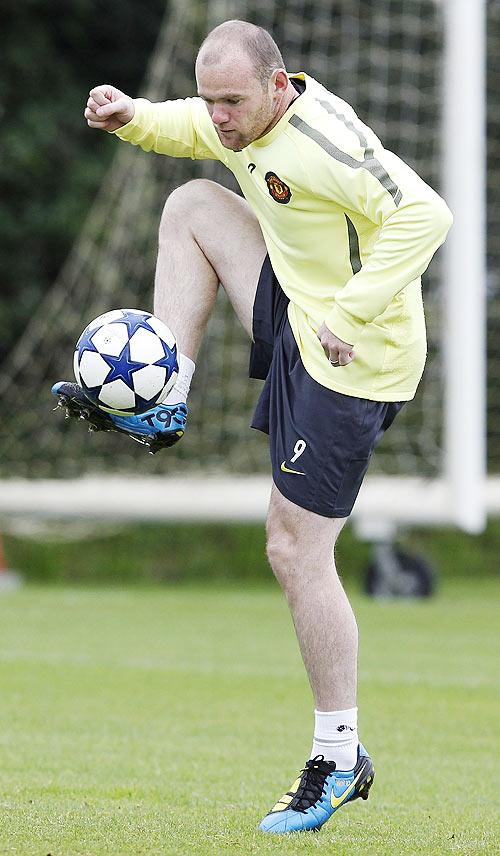 Like a vulture circling its fallen prey, Manchester United have the scent of another Premier League title in their nostrils with a fifth crown in the last six seasons just two wins away.
April 18, 2012
Final countdown starts to London Games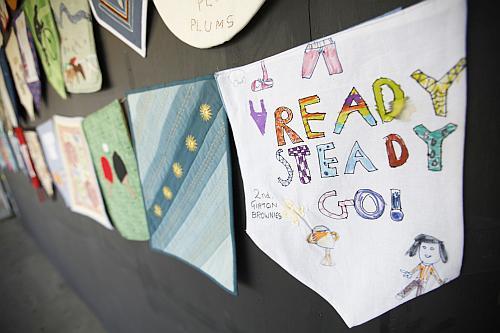 Kew Gardens on an English spring morning will host the first in a series of celebrations on Wednesday to commemorate the 100 days' countdown to the London Olympics.
CL PHOTOS: Bayern snatch win over Real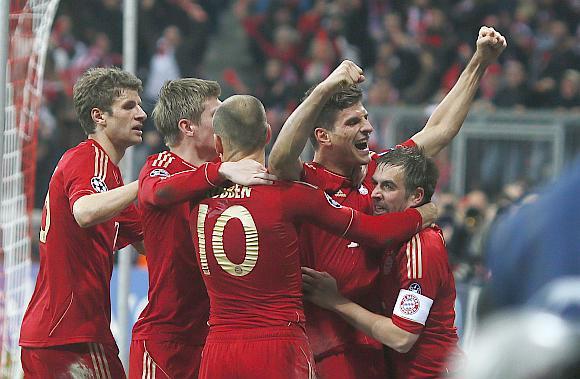 Germany striker Mario Gomez gave Bayern Munich a last-gasp 2-1 win over Real Madrid in a histrionic-filled Champions League semi-final first leg between the swaggering European giants on Tuesday.
Premier League gets nostalgic 20 years on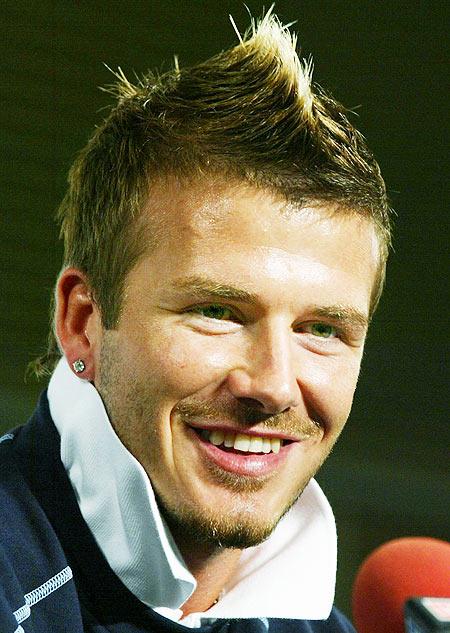 Nostalgia, the old line goes, is not what it used to be. But as the Premier League gets misty eyed about its 20 years of existence, it appears that great goals are not what they used to be either.
TOP SPORTS PHOTOS OF THE LAST 24 HOURS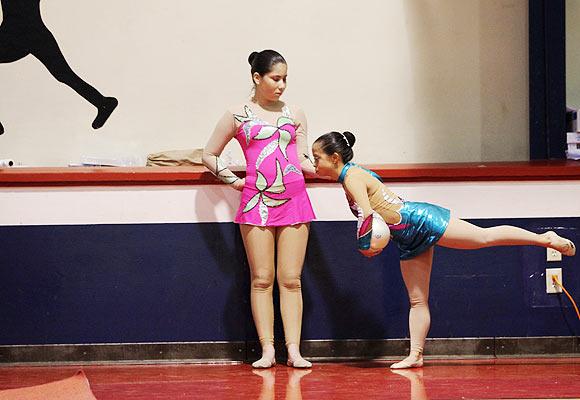 Costa Rican athlete Alesandra Duarte (right) warms up with a ball before the rhythmic gymnastic preliminary round during the second Central American and Caribbean Special Olympic Games in Panama City.
April 17, 2012
Golden pole vaulter Isinbayeva to quit in two years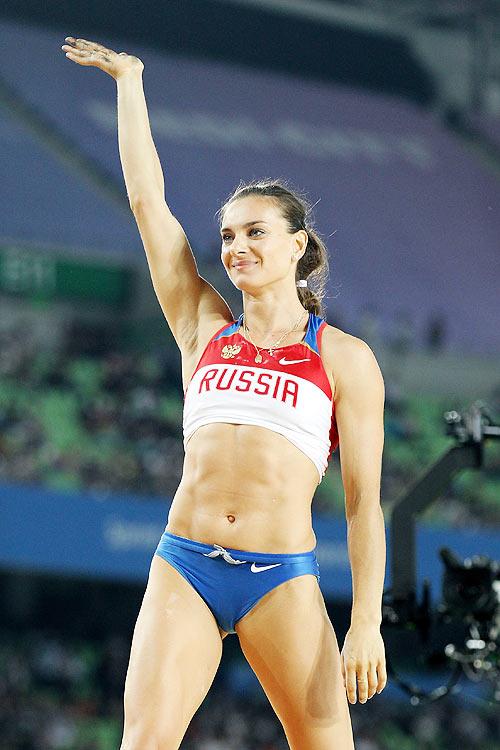 Russian pole vaulter Yelena Isinbayeva, chasing her third straight Olympic gold medal at the London Games this year, says the strain of training will force her to retire in two years.
CL: Chelsea warriors digging in for Barca assault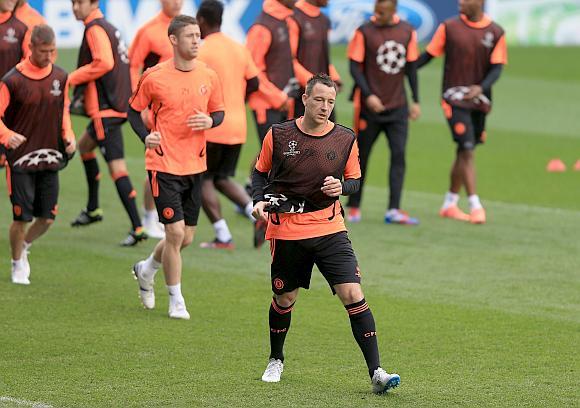 Written off as too old and accused of hastening the downfall of Andre Villas-Boas, Chelsea's old guard have flourished under stand-in manager Roberto Di Matteo and will relish trying to halt Barcelona's bandwagon on Wednesday.
April 16, 2012
Rosberg win was 'personal ambition' for Brawn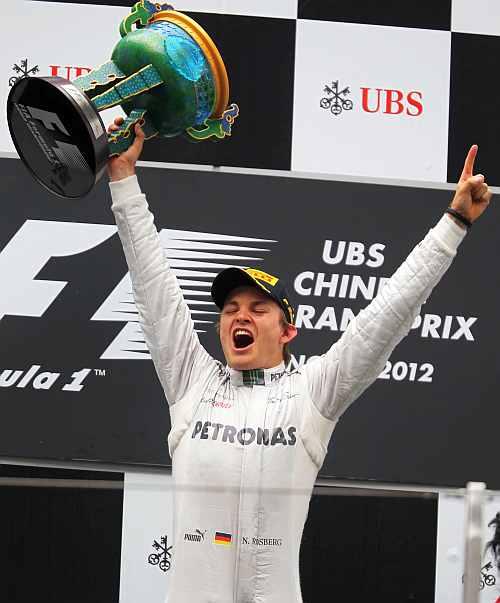 Of the many Formula One victories that Ross Brawn has celebrated over an extraordinary career spanning several decades, Nico Rosberg's first with Mercedes in China offered a particular satisfaction.
CLeague: Bitter rivals Bayern, Real clash in semis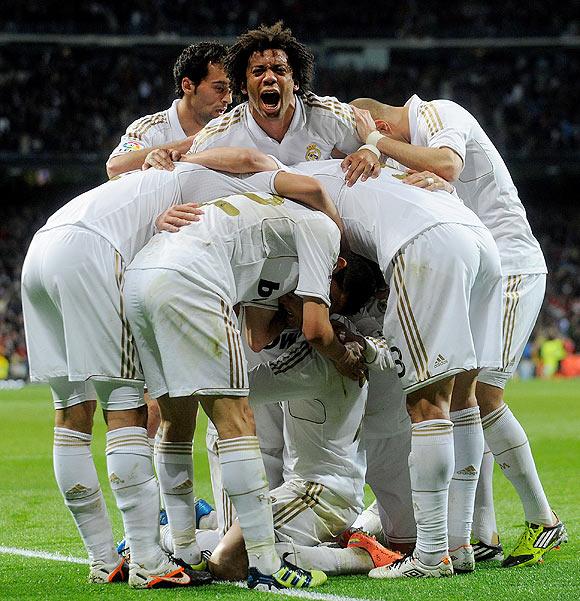 From Juanito stamping on Lothar Matthaeus' head to an entire team storming off the pitch in a friendly, there is no love lost between Bayern Munich and Real Madrid, who resume their bitter rivalry on Tuesday.
Euro soccer: United maintain lead; Record in Spain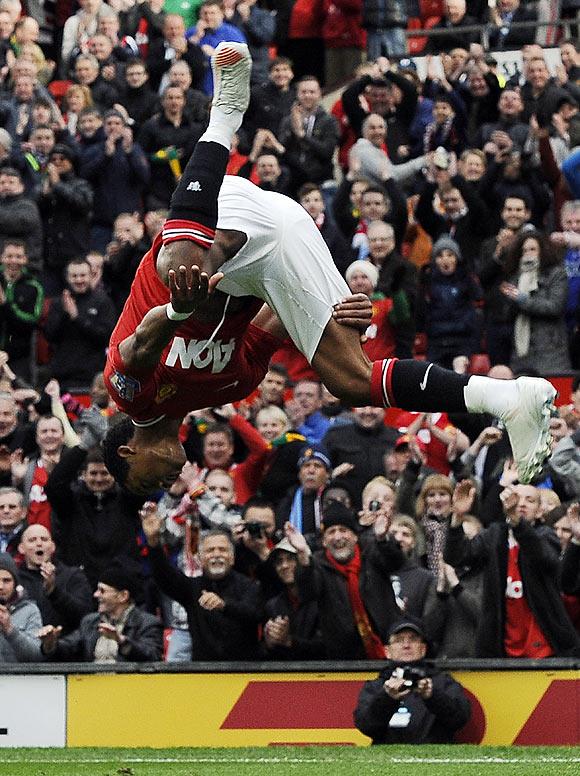 Images from football matches played across Europe over the weekend.
FA Cup: Chelsea beat Spurs 5-1 in controversial semis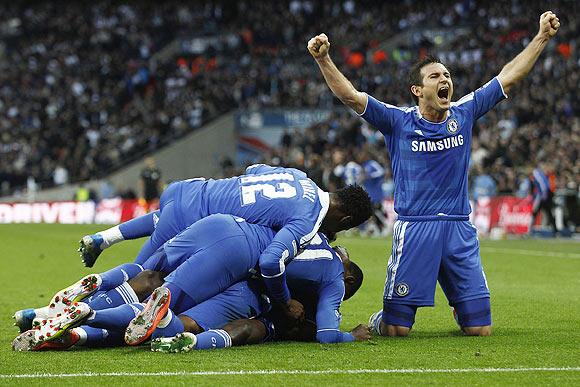 Images from the FA semi-final played between Chelsea and Tottenham played at Wembley on Sunday.
Jwala wants to have fun and avoid Olympic pressure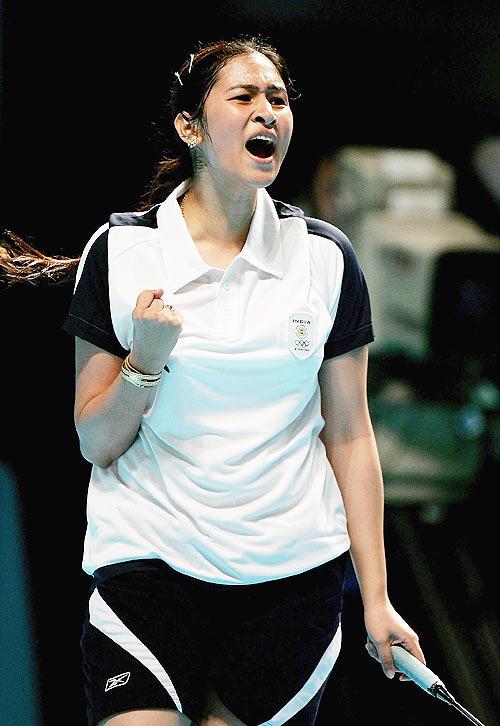 An Olympic berth is top of her agenda, but Jwala Gutta won't exactly be gutted if it doesn't come about as India's top women's doubles shuttler feels that obsessing about a London ticket would only create unnecessary pressure.
THE BEST SPORTS IMAGES OF THE WEEK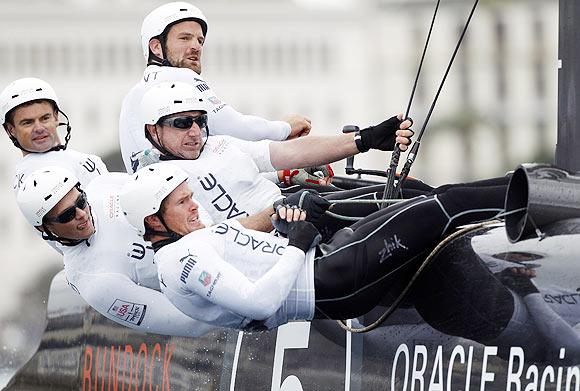 Oracle Racing Bundock of US team competes with their multihulls during the America's Cup World Series regatta in Naples.
April 15, 2012
F1 PHOTOS: Rosberg wins in China for first victory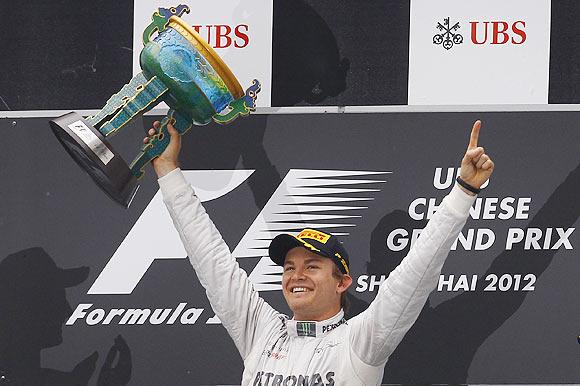 Germany's Nico Rosberg celebrated the first victory of his Formula One career with a commanding pole-to-flag win for Mercedes in China on Sunday.
April 14, 2012
Almost like old times for Schumacher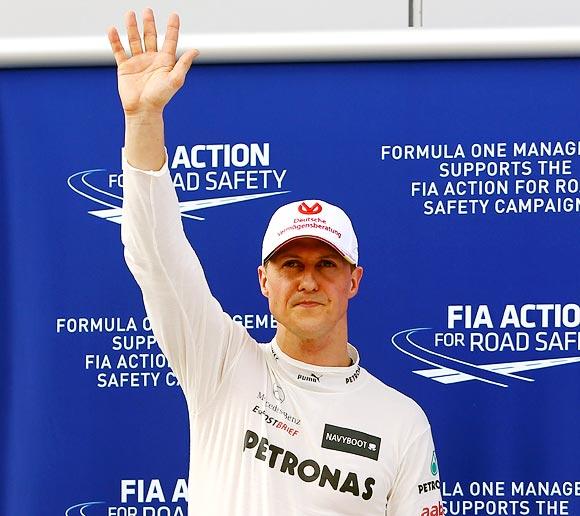 The 43-year-old has looked rusty at times in the last two years but rarely, if at all, has he shown self-doubt or wavered in the belief that he can return to the top of the podium if given the tools to do the job.
One burden off, Vijender ready to shoulder another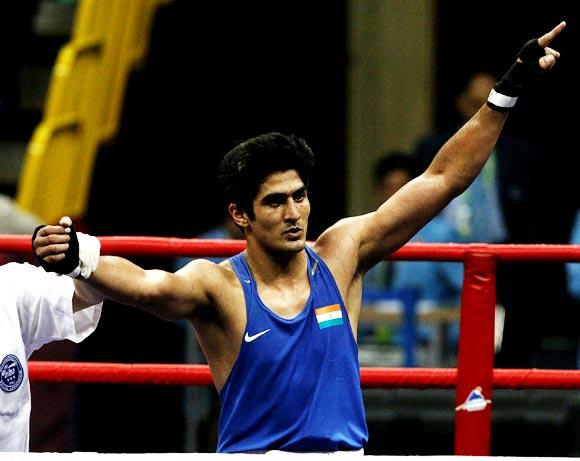 The "burden" of qualification off his back, star Indian boxer Vijender Singh is now gearing up to shoulder a fresh burden -- the one of heightened expectations -- when he appears in his third successive Olympic Games in London in July-August.
London 2012: Irish physio readies medals hopefuls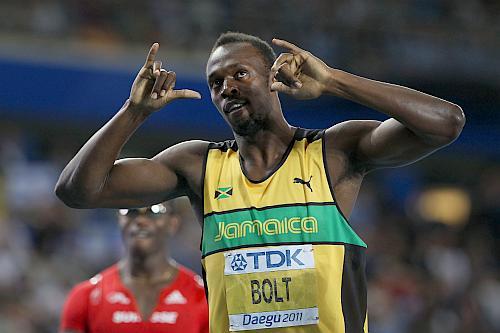 With a story to match each of the 61 Olympic medal winners he has treated, Irish physiotherapist Gerard Hartmann is keen to add another tale or two in London this summer.
Saina has potential to win Olympic medal: Lee Chong Wei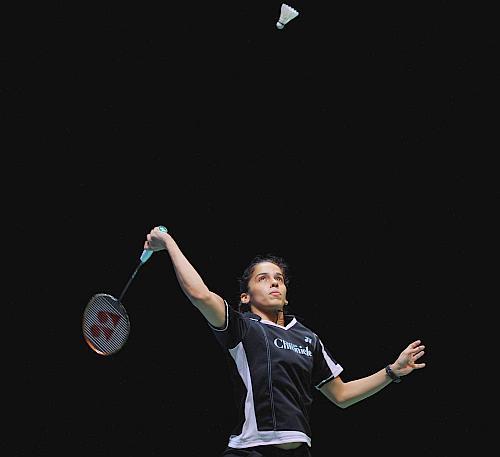 Indian badminton ace Saina Nehwal is very skillful and has the potential to win a medal at this year's London Olympics provided she continues to work hard, feels World No. 1 male shuttler Lee Chong Wei.
April 13, 2012
Spanish women boxers build Olympic dreams on luck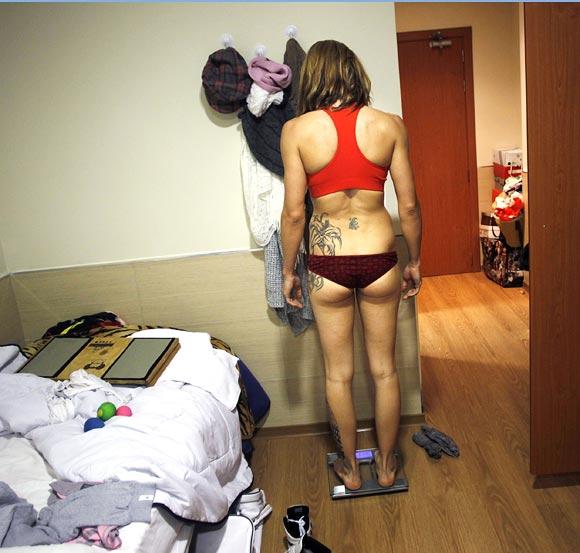 Women's boxing will make its Olympic debut in London and while the Spanish hopefuls know how tough it would be to even qualify, they are filled with pride that the sport they have dedicated their lives to is finally getting the recognition.
Japan goes bananas for 71-year-old horseman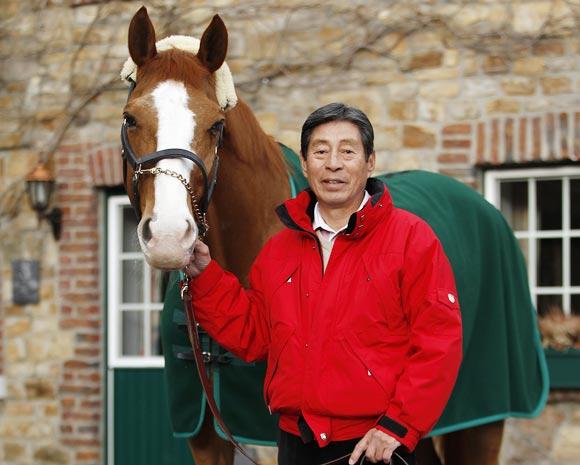 Japanese dressage rider Hiroshi Hoketsu looks and dresses more like a soccer manager in his early fifties than the world's oldest Olympian at 71-years-old. Meet the Benjamin Button of this year's London Olympics.
Range rover Randhawa harbours double sports dream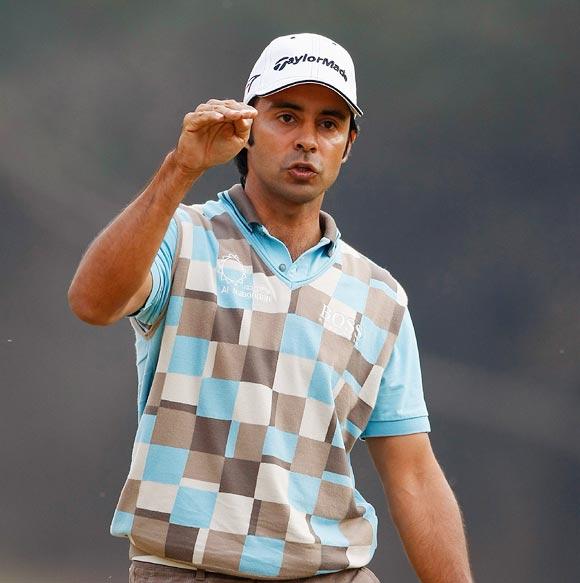 Indian golfer Jyoti Randhawa will be hard at work at the driving and shooting ranges in the run-up to the 2016 Olympics, his ever-improving proficiency with a rifle leaving him dreaming of an unlikely double gold medal haul.
Boxers Shiva, Sumit eye Olympic glory after gold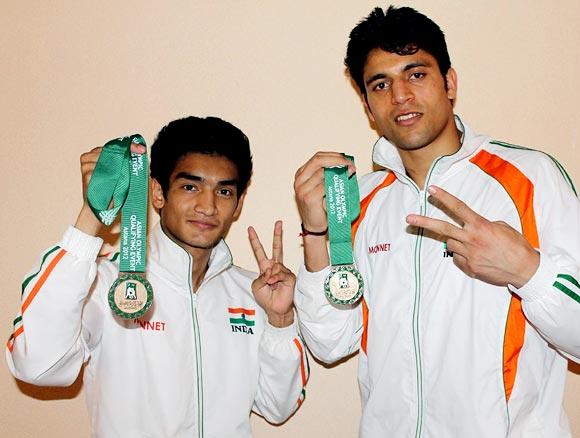 The two not only clinched Olympic berths but also gold medals at the Asian qualifying tournament in Astana, Kazakhstan.
April 11, 2012
Beijing grapples with Games legacy four years on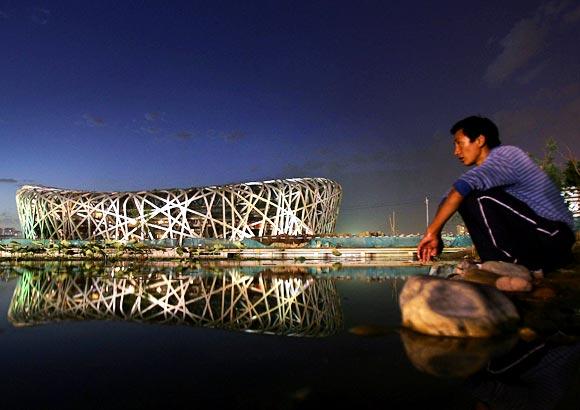 Four years after Beijing hosted a spectacular summer Olympics, China's bustling capital sees vastly improved public transport and infrastructure, but many of the venues built for the event languish unloved, underused and draining public finances.
London's tube ready for Olympics challenge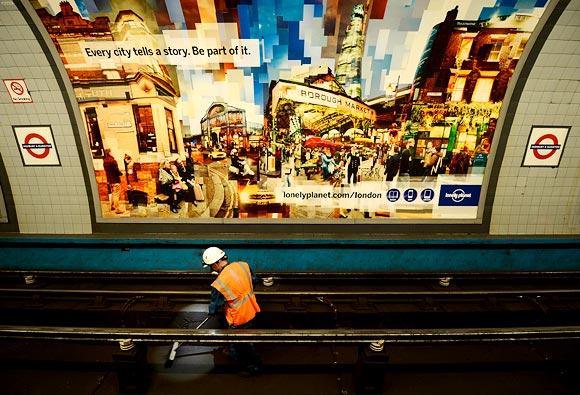 Transport for London (TfL) has also suggested commuters cycle or walk during the games and has launched a voucher scheme, offering passengers cheap theatre and cinema tickets to ease congestion on the tube during peak evening times, when spectators will also be leaving Olympic venues.
Euro soccer: Reds down Rovers, Barca close in on Real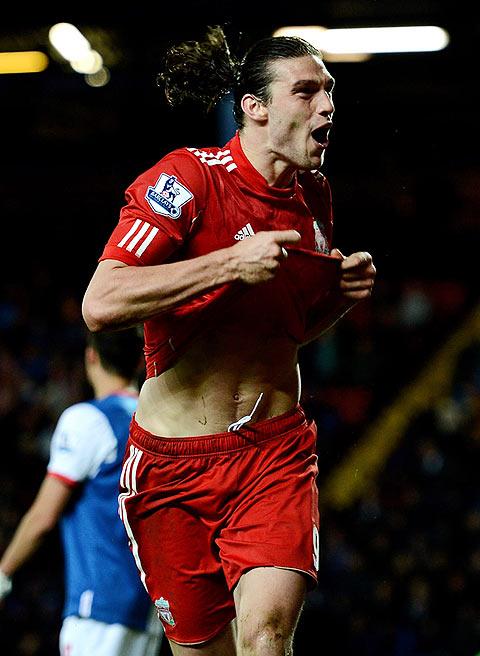 Action from mid-week football matches played across Europe.
TOP SPORTS PHOTOS FROM THE LAST 24 HOURS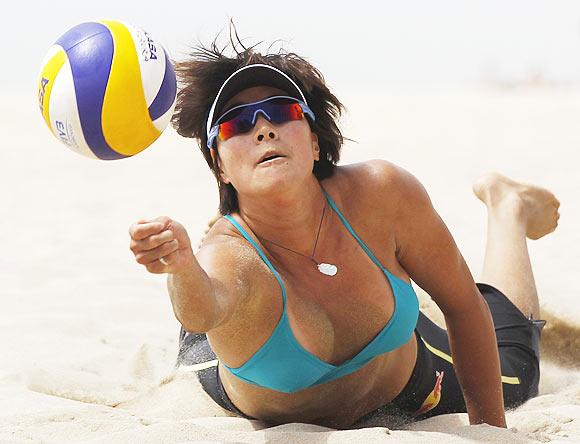 Beach volleyball player Zhang Xi, 27, of China trains for the London 2012 Olympics in Manhattan Beach, California. Xi and her partner Chen Xue (not pictured), 23, won bronze medals at the 2008 Beijing Olympics.
April 10, 2012
TOP SPORTS PHOTOS FROM THE LAST 24 HOURS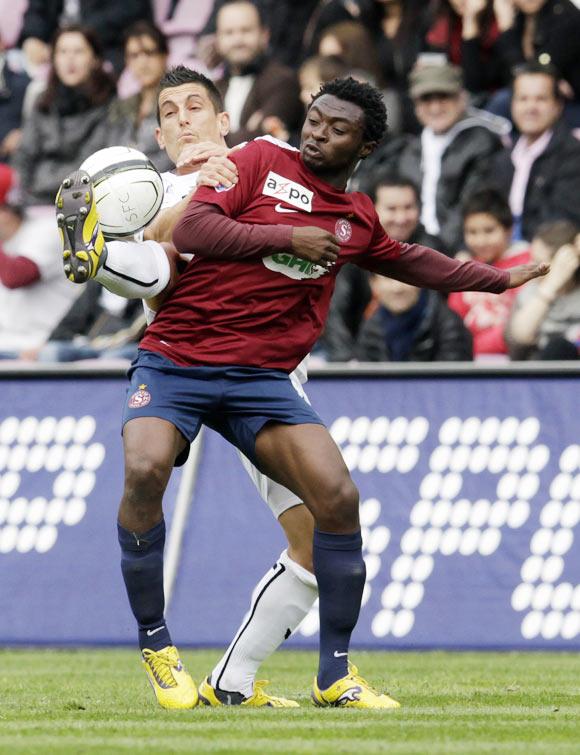 Servette's Laglais Kouassi (right) fights for the ball with Thun's Dennis Hediger during their Super League soccer match in Geneva.
The 'lefties' who got it right at The Masters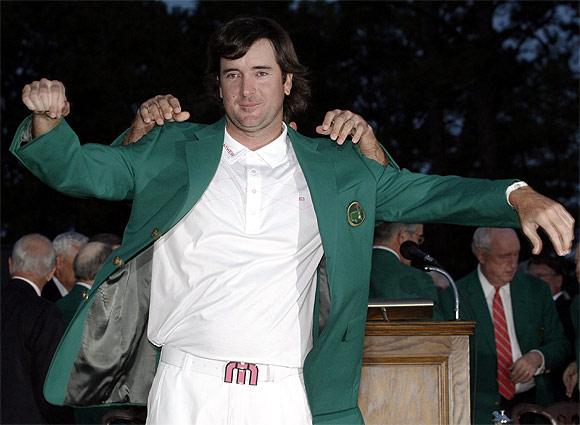 As American Bubba Watson celebrates putting on the green jacket, rediff.com takes a look at other instances when left-handers got it right at the Masters.
Confident Saina chipping at Wall of China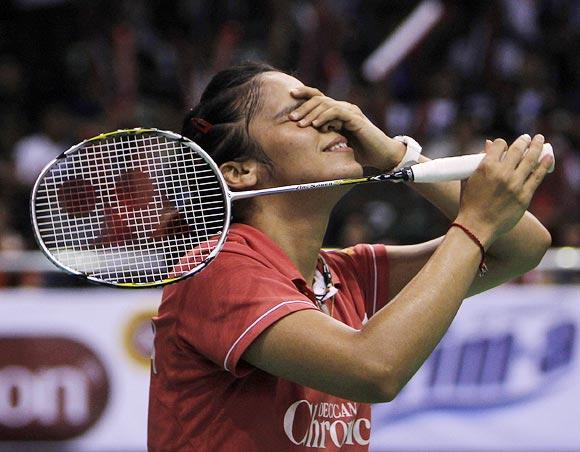 With the Swiss Open title in her bag, Saina Nehwal feels she is peaking at the right time for the London Olympics.
Arkaji to be trailblazer for Qatari women in London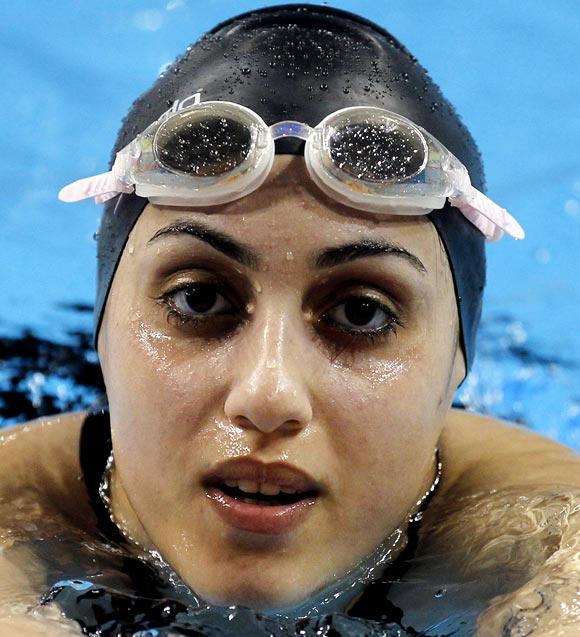 Nada Arkaji hopes to be a trailblazer for Qatar's forgotten sportswomen at the London Olympics this year even though the teenager's medal prospects are almost non-existent.
April 09, 2012
Euro football: Manchester City's hopes dip, Real held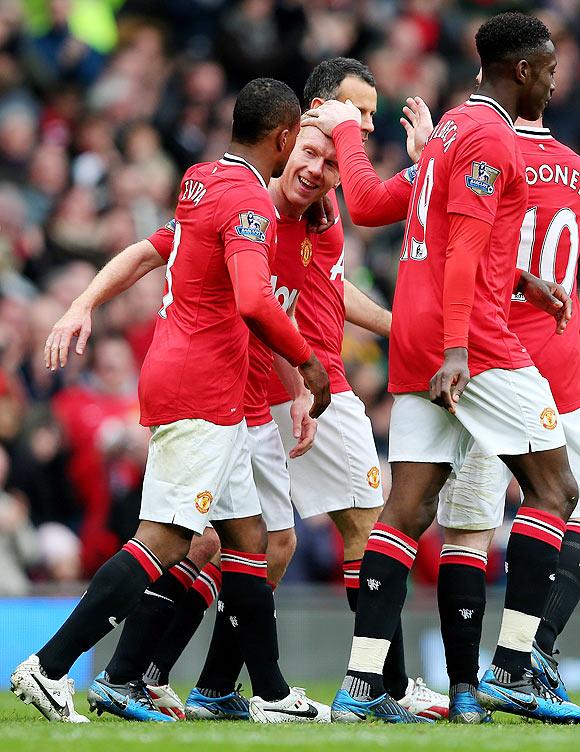 Football action from across Europe played over the weekend.
April 05, 2012
TOP SPORTS PHOTOS FROM THE LAST 24 HOURS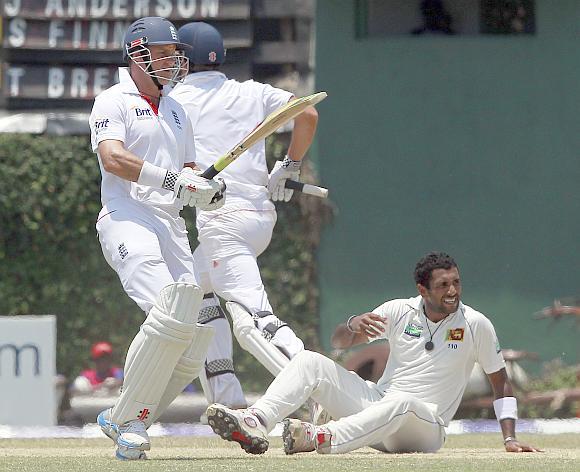 England's captain Andrew Strauss (left) runs between wicket as Sri Lanka's Dhammika Prasad looks on during the second day of their final Test cricket match in Colombo.
Chelsea thwart Benfica challenge, Real have it easy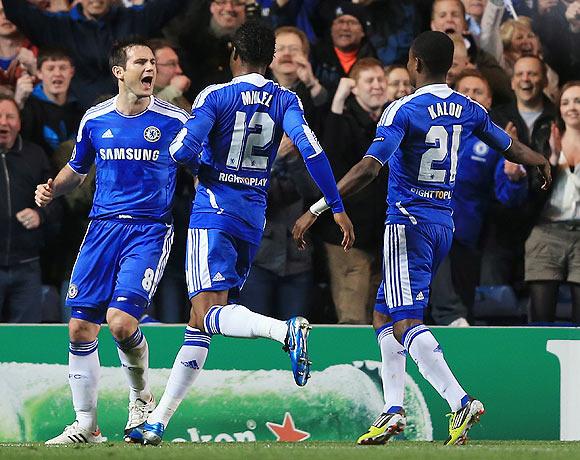 Images from the Champions League quarter-final matches played across Europe on Wednesday.
'Boring' Yadav ready to trade punches at Olympics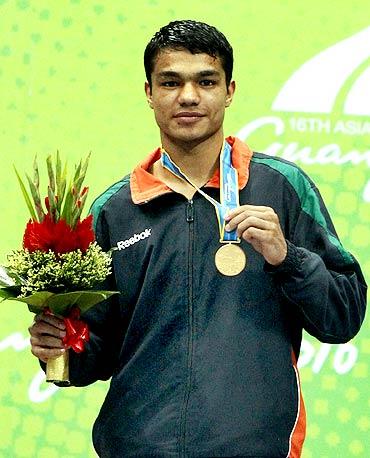 Vikas Krishan Yadav would baulk at the idea of paying to watch someone box like himself in the ring but the chess-playing Indian remains committed to his tried and tested "boring" technique to win an Olympic medal.
April 04, 2012
CL: Real, Chelsea look to book semis berth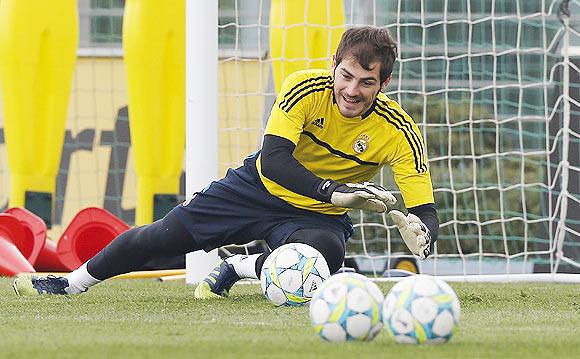 Real Madrid and Chelsea look set to join Barcelona and Bayern Munich in the Champions League semi-finals when they complete their last eight ties at home to APOEL Nicosia and Benfica respetively on Wednesday.
Syrians don't want to take part in London Games: Saroot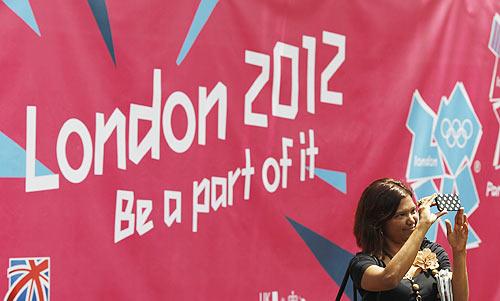 Abdelbasset Saroot, the former Syria international goalkeeper, said on Tuesday his country's athletes do not want to compete in this year's London Olympics because "they don't want to play for a flag that they have no pride or faith in".
CL PHOTOS: Irrepressible Messi leads Barca into semis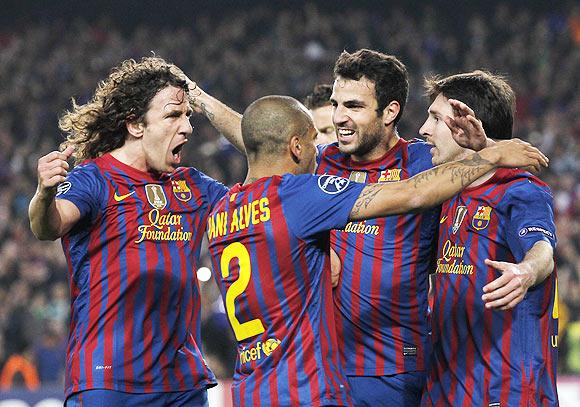 Lionel Messi led Barcelona almost effortlessly past AC Milan into the Champions League semi-finals on Tuesday with a thrilling 3-1 victory at the Nou Camp as the Argentine and his team mates got into the record books along the way.
TOP SPORTS PHOTOS FROM THE LAST 24 HOURS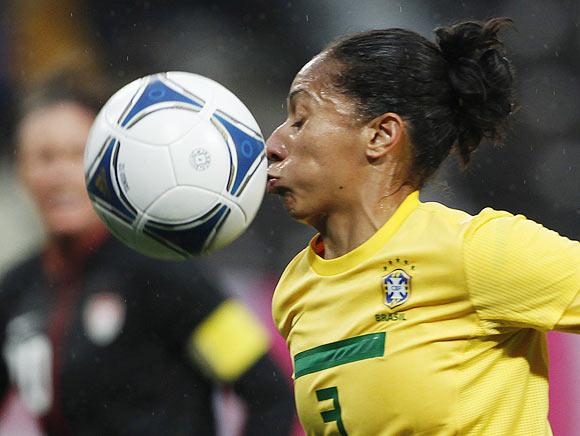 A selection of the action from the day gone by.
April 03, 2012
India hockey coach eyes top-six finish at Olympics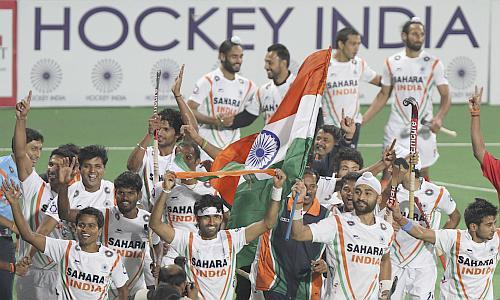 Having "fed the 5,000" and fulfilled his duty of leading the India hockey team to Olympic qualification, Australian coach Michael Nobbs has set the target of a top-six finish in London.
PHOTOS: Sher-e-Punjab emerge kings of WSH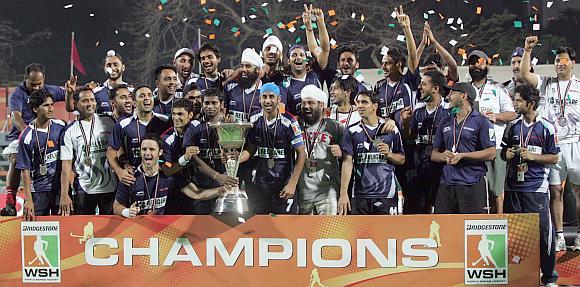 Sher-e-Punjab are the champions of the inaugural edition of the Bridgestone World Hockey Series.
Last shot at Oly qualification but Vijender not nervous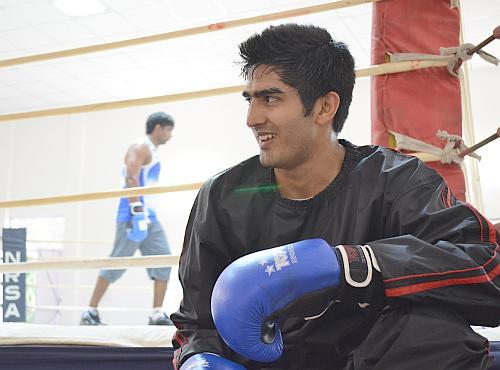 The Asian Olympic Qualifiers are his last chance to book a ticket to the London Games but starIndian boxer Vijender Singh claims he is least bit intimidated by the challenge at hand as the situation is all too familiar.
EPL PHOTOS: United shoot to five-point lead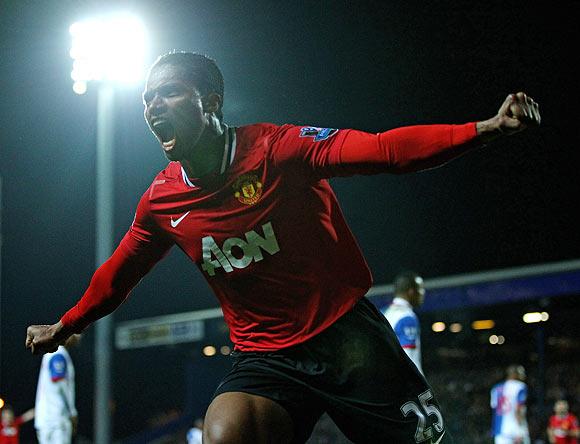 Images from the EPL match played between Manchester United and Blackburn Rovers at Ewood Park on Monday.
Boxers told to let the guard down at Olympic qualifiers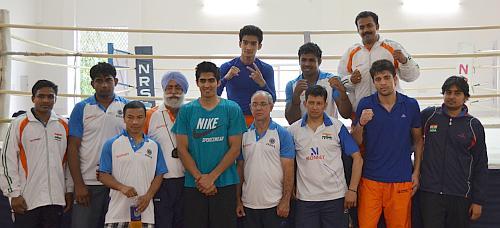 Drop the guard and punch the living daylights out of rivals -- this would be the Indian boxing team's mantra for success during the Asian Olympic Qualifiers as national coach Gurbax Singh Sandhu feels the new system of scoring encourages pugilists to be more aggressive.
CL: Xavi doubtful for Barca's return leg vs Milan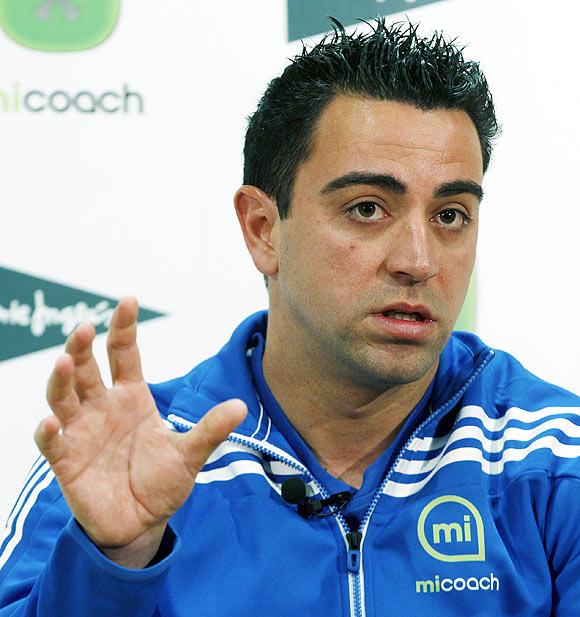 Barcelona have a doubt over midfielder Xavi as they prepare to go on the offensive in their Champions League quarter-final second leg against AC Milan on Tuesday.
TOP SPORTS PHOTOS FROM THE LAST 24 HOURS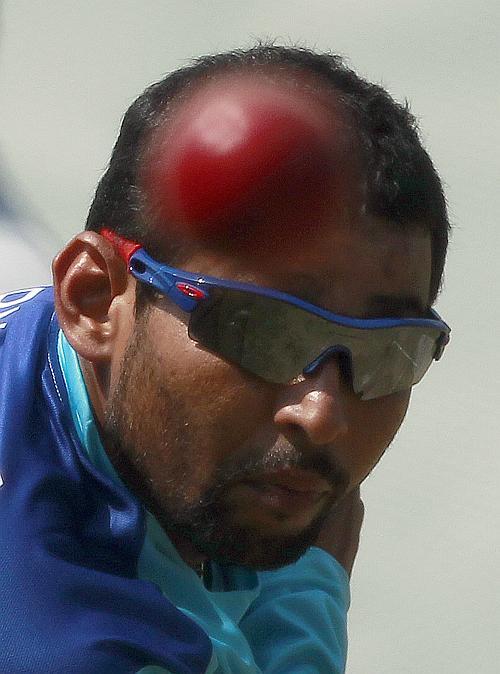 TOP SPORTS PHOTOS FROM THE LAST 24 HOURS.
April 02, 2012
CL: Barca wary of Milan defence as records await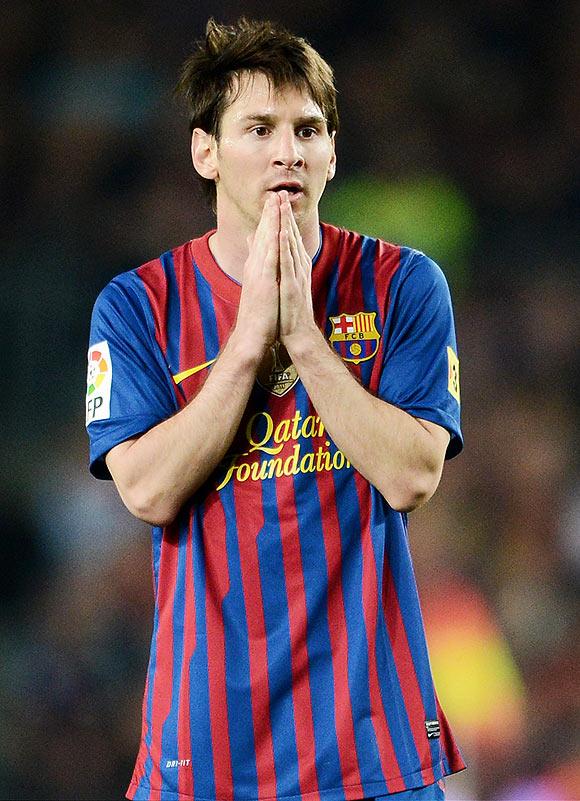 Barcelona and Lionel Messi can write new chapters in the record books on Tuesday if they are able to break out of the straightjacket imposed on them by AC Milan and reach the Champions League semi-finals.
Manchester City slip despite draw against Sunderland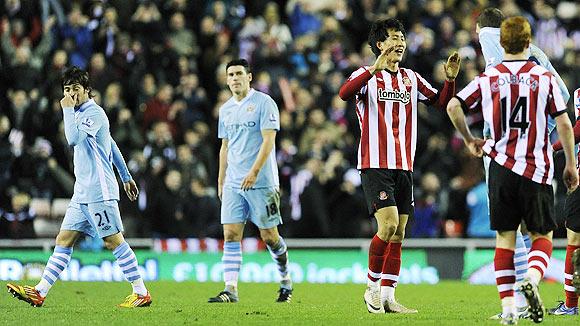 Big-spending Manchester City opened the Premier League title door to Manchester United ahead of the Old Trafford's team visit to Blackburn Rovers on Monday after being held to a 3-3 home draw by Sunderland.
March 31, 2012
Figure skating-Germans pip Russians for fourth title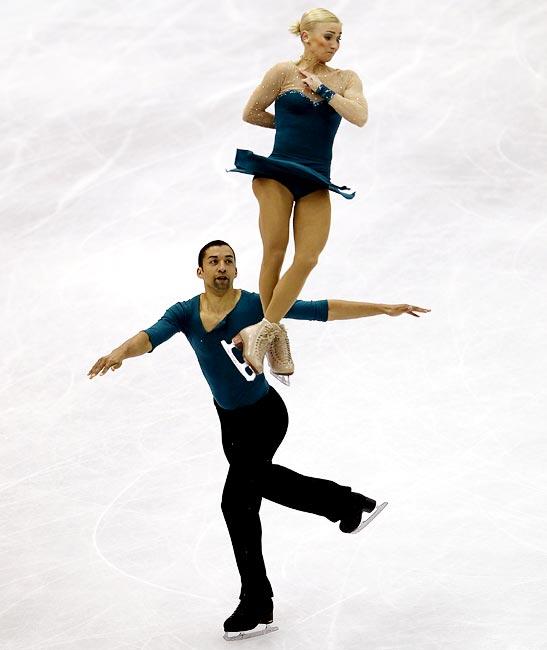 Robin Szolkowy proved his 32-year-old legs were still capable of out-performing his younger rivals as he and Aliona Savchenko captured their fourth world championship pairs title by the narrowest of margins on Friday.
Gay pins hopes on 100 at London Olympics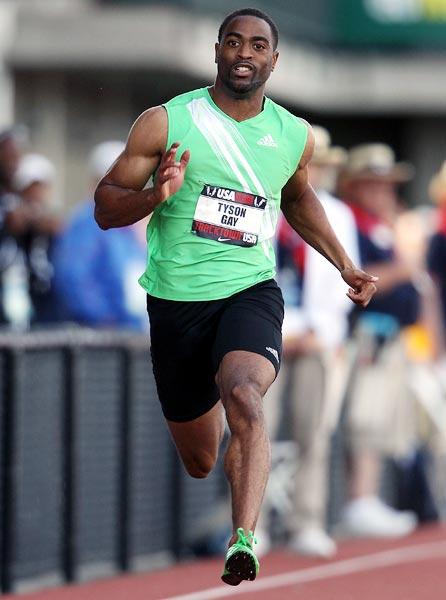 Tyson Gay has given up hope of running in the 200 metres at this year's London Olympics, opting instead to focus all his energy on the 100m dash.
TOP SPORTS PHOTOS FROM THE LAST 24 HOURS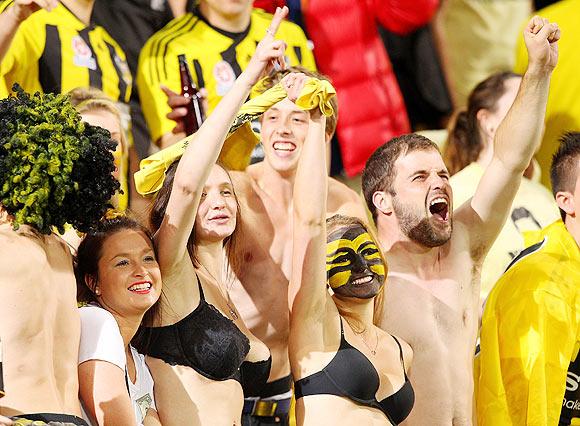 Best sports images from around the world.
March 30, 2012
Maths and Olympics: How fast could Usain Bolt run?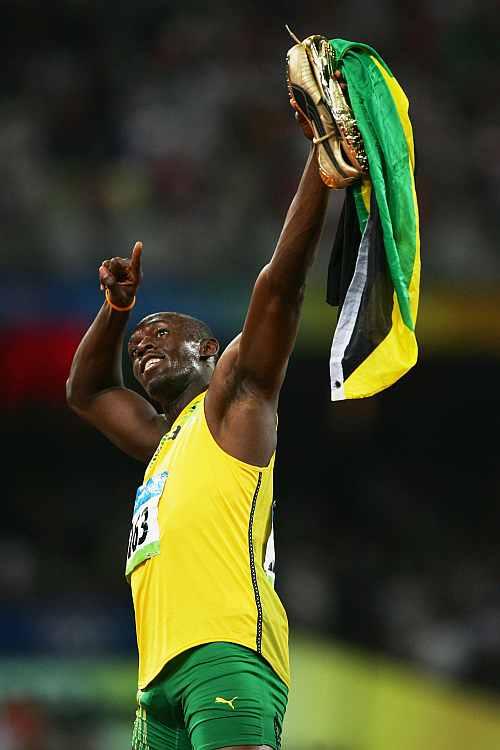 Usain Bolt, already the world's fastest man, could lop another 0.18 seconds off his 100 metre sprint world record even without running any faster. It's just a question of getting a few conditions right - and doing the maths.
Europa League: Spanish duo snatch dramatic wins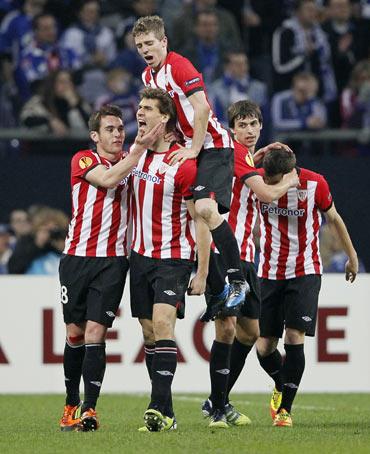 Athletic Bilbao, conquerors of Manchester United in the previous round, continued their Europa League run by scoring three times in the last 20 minutes to win their quarter-final first leg tie 4-2 at Schalke 04 on Thursday.
March 29, 2012
Champions League: Milan, Barca draw leaves tie well poised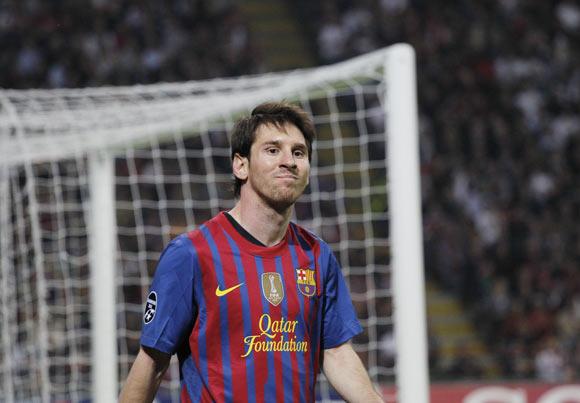 Holders Barcelona were held to a frustrating 0-0 draw at AC Milan in their Champions League quarter-final first leg as the attacking prowess of Lionel Messi and Zlatan Ibrahimovic was all but nullified on Wednesday.
Pistorius confident of qualifying for 2012 Olympics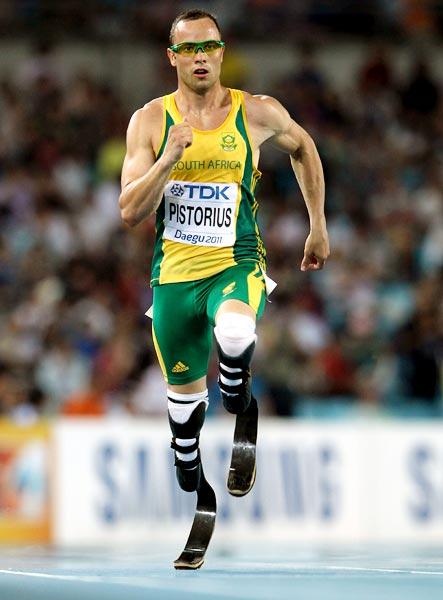 Double amputee Oscar Pistorius says he is confident of qualifying to run the 400 metres at the London Olympic Games.
Clothing options added for women's beach volleyball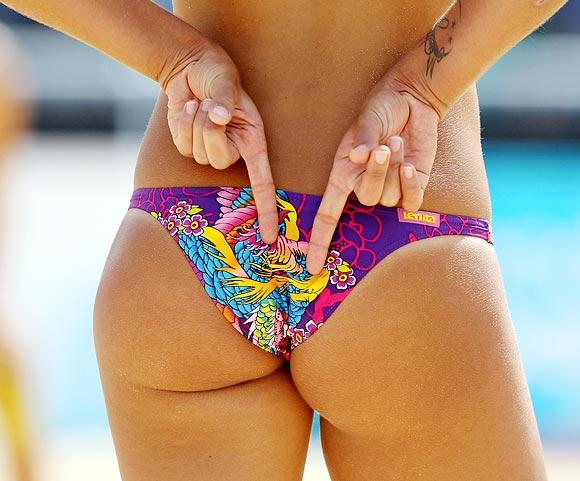 Female beach volleyball players have been given the option of wearing long-sleeved tops and shorts instead of bikinis at the London Olympics.
Iconic Wimbledon gives tennis players extra Games lift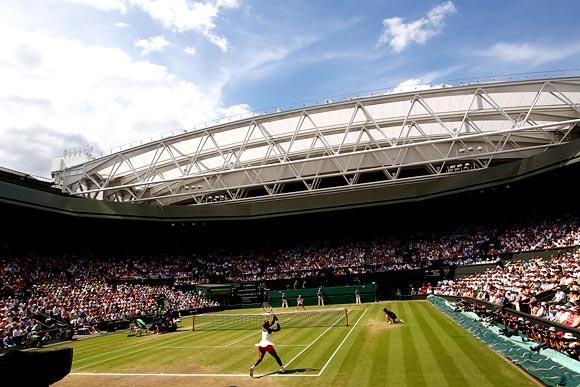 The prospect of competing for Olympic gold on the hallowed turf of Wimbledon during the 2012 London Games has the world's top tennis players salivating in anticipation.
TOP SPORTS PHOTOS OF LAST 24 HOURS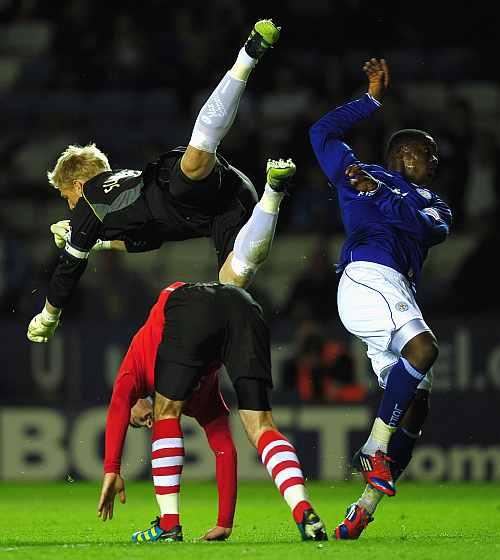 Catch all action in pictures.
March 28, 2012
The 'Black Knight' who turned golfing talent to business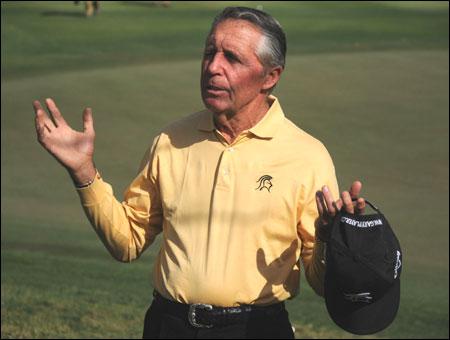 With nine major championship victories, Gary Player is the only non-American to have won all four majors, and is widely regarded as one of the greatest players in the history of golf.
Champions League: Benzema, Kaka strike late to sink APOEL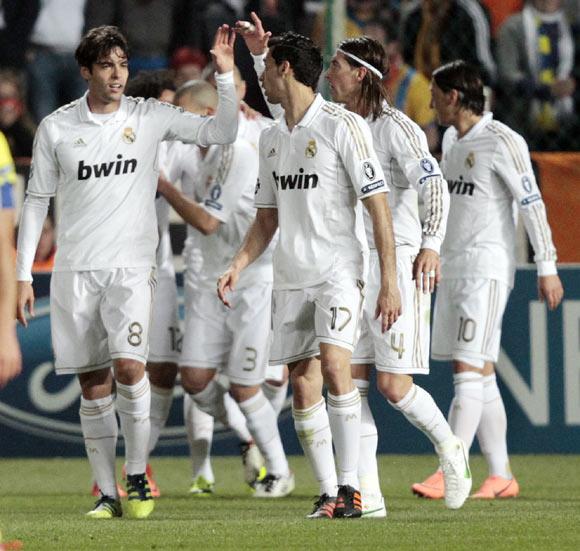 Karim Benzema and Kaka scored late goals to give Real Madrid an emphatic 3-0 win at APOEL Nicosia in the Champions League quarter-final first leg on Tuesday.
I have sorted out my weaknesses: Mary Kom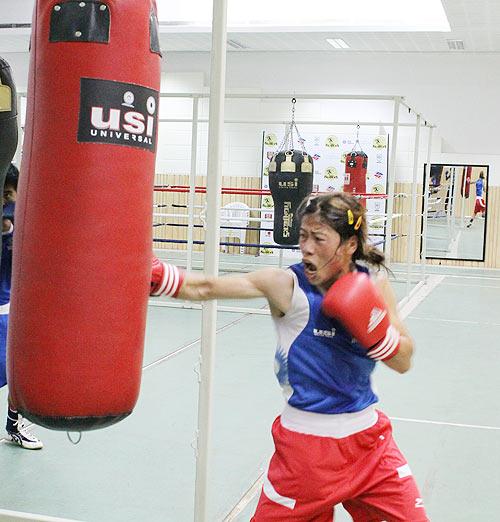 India's most successful woman boxer M C Mary Kom is spewing fire even though it is celebration time for her after clinching her maiden gold medal since jumping a division, in the Asian Championships in Mongolia.
March 27, 2012
Alonso showed his class hasn't faded an ounce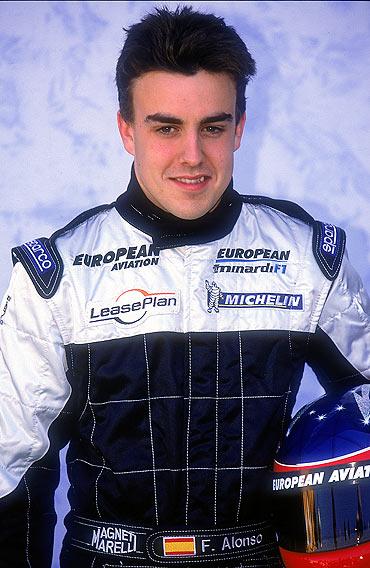 Last Sunday's Malaysian GP, says , was all about a master driver outclassing the field with a bad car.
March 26, 2012
Touch of romance returns to Champions League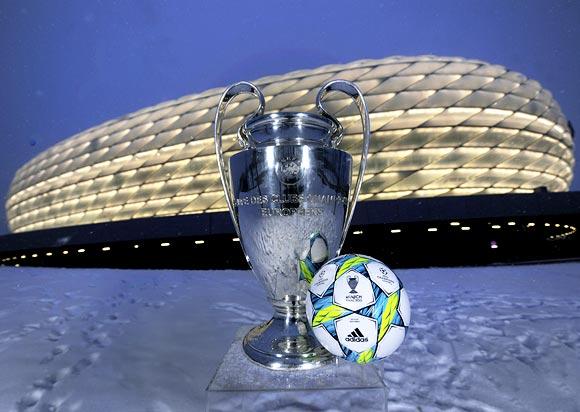 A touch of romance has returned to the Champions League quarter-finals with seven countries, including Cyprus, represented in this week's first legs with AC Milan-Barcelona topping the bill.
March 25, 2012
PHOTOS: Alonso wins Malaysian GP, Perez finishes second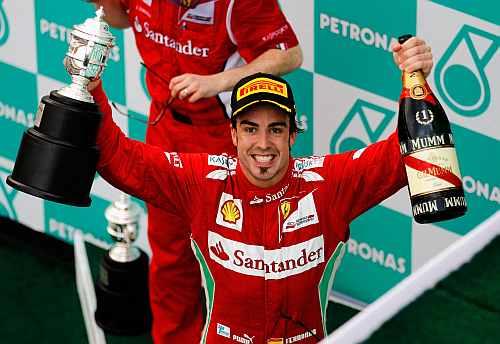 Images from the Malaysian Grand Prix race at Sepang Circuit.
Malaysian GP: Force India picks up 8 points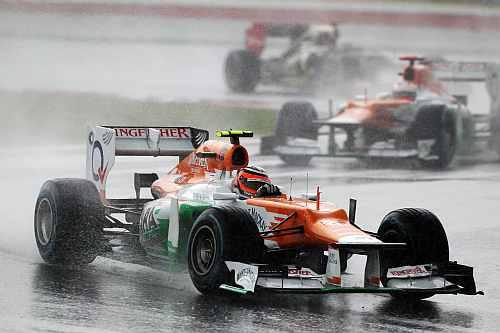 Sahara Force India recorded its first double points finish of the season with Paul di Resta securing seventh place and Nico Hulkenberg ninth in the dramatic and rain-hit Malaysian Grand Prix, in Sepang.
March 22, 2012
Swiss Open helped me regain my confidence: Saina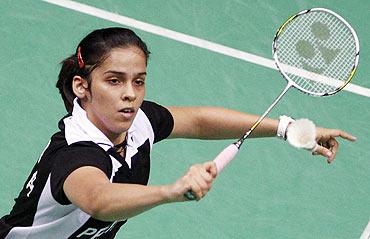 Relieved after securing her maiden title of the year, ace Indian shuttler Saina Nehwal said more than her technique and strokeplay, she needs to work on becoming a calmer player as that will improve all other aspects of her game.
Lionel Messi: from scrawny kid to world's best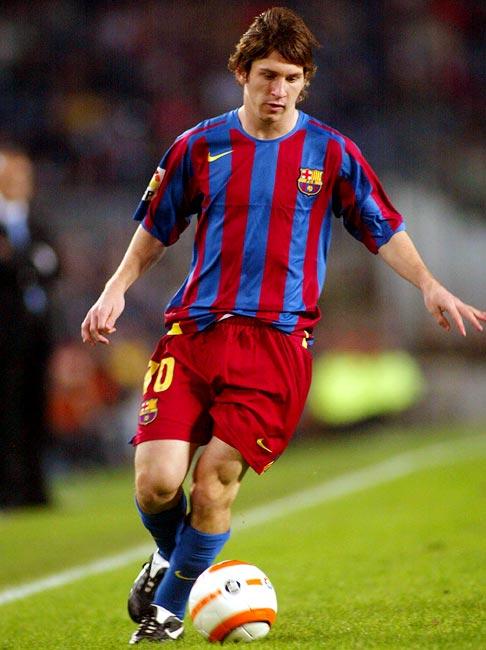 Barcelona's faith in their ability to groom the little lad from Rosario for their first team and transform him into the world's best player has paid off handsomely.
March 21, 2012
FACTBOX - Key moments in Messi's Barcelona career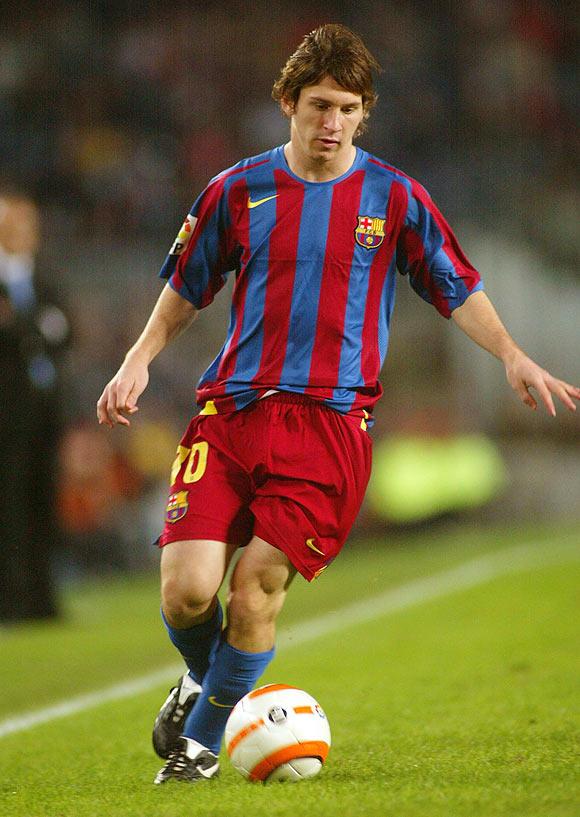 Following is a factbox detailing a selection of key moments in Lionel Messi's Barcelona career.
Walsh juggles motherhood in quest for gold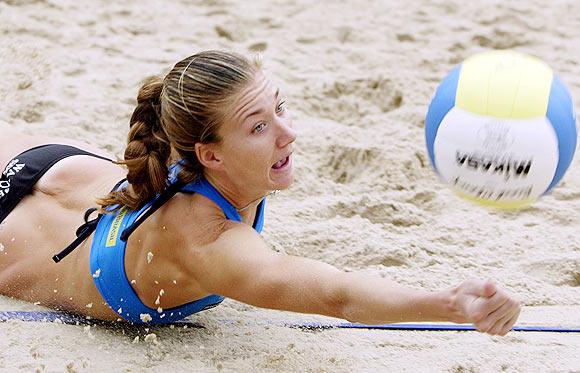 With two Olympic gold medals dangling around her neck and two toddlers at her feet, Kerri Walsh already knows the importance of having balance in her life.
TOP SPORTS PHOTOS OF THE LAST 24 HOURS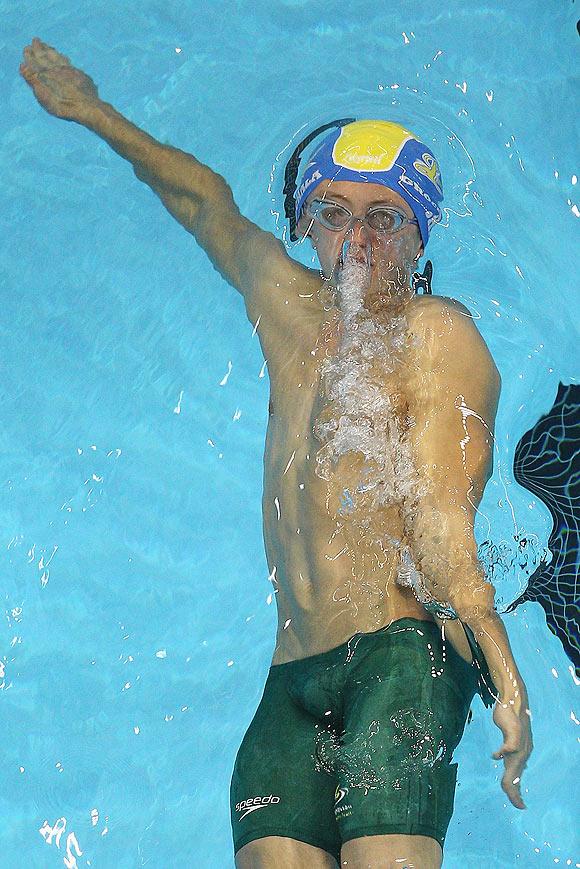 Best sports images from across the world.
It was a tough phase for me and I cried a lot: Saina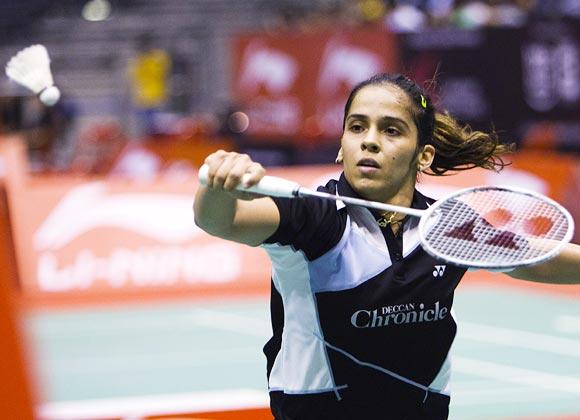 Her eyes trained on the Chinese, ace shuttler Saina Nehwal on Tuesday revealed that long before winning the recently-held Swiss Open, she had to endure a difficult phase which, at times, even made her weep.
PHOTOS: World's highest paid footballers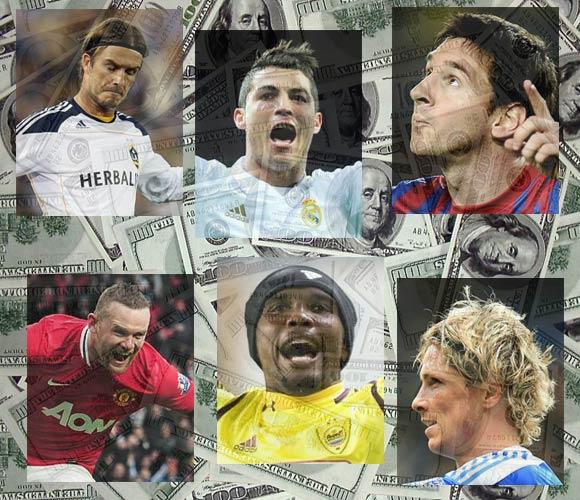 Barcelona and Argentine forward Lionel Messi is the highest-paid football player in the world, ahead of David Beckham and Cristiano Ronaldo, according to France Football magazine.
March 20, 2012
Kleybanova returns to the court after cancer battle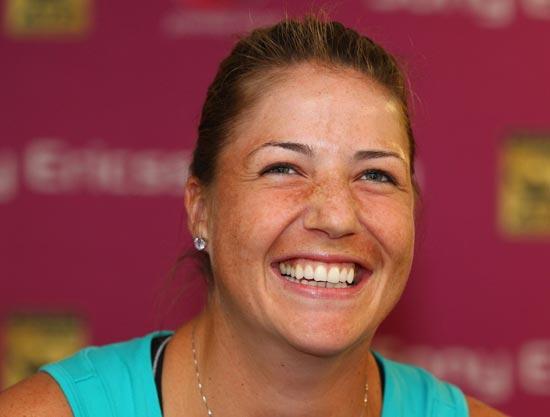 Alisa Kleybanova says she will bring a whole new approach to her tennis career when she returns to tournament action on Tuesday after a ten month battle with cancer.
TOP SPORTS PHOTOS OF THE LAST 24 HOURS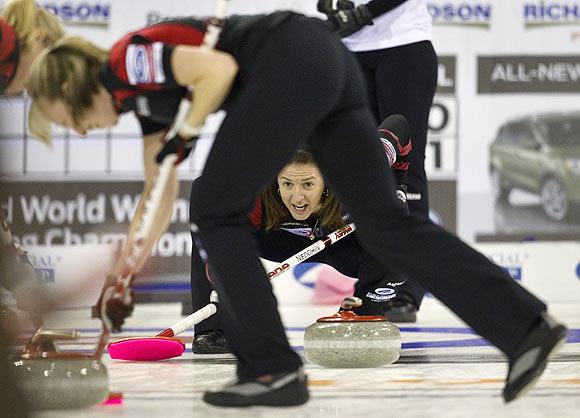 Best sports images from across the world.
McLaren, by no means, uncatchable!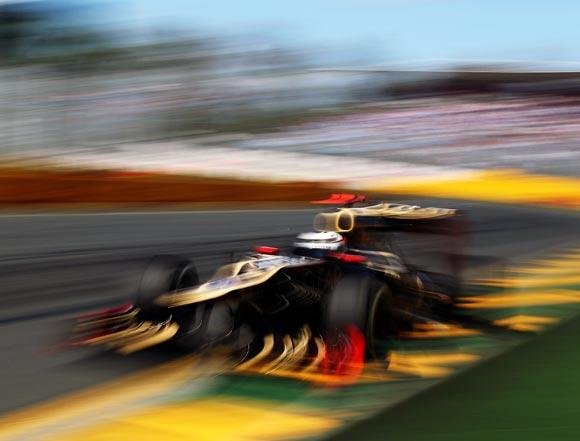 And in tribute to the enormously special way with which he attacks the exit of a corner, I suggest a new nickname for the man likely to keep things thrilling all year around: Kimi Raikkonen, apex predator, says .
Rice cooking up perfectly for London Olympics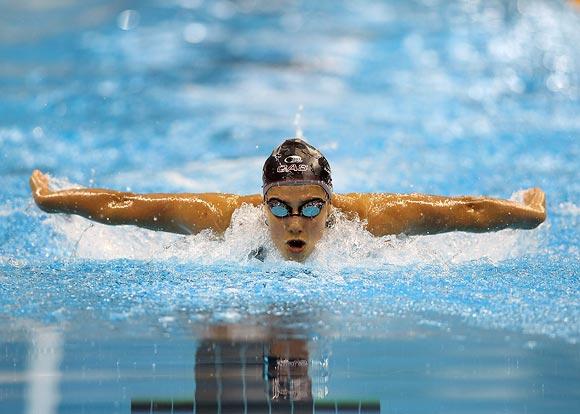 With her confidence back to sky-high levels, Stephanie Rice has talked of going out with a bang at London, where she feels she could get close to her world-beating best, provided her injury demons remain manageable.
March 19, 2012
Naresh steals the show in Gulf Dirt Track Nationals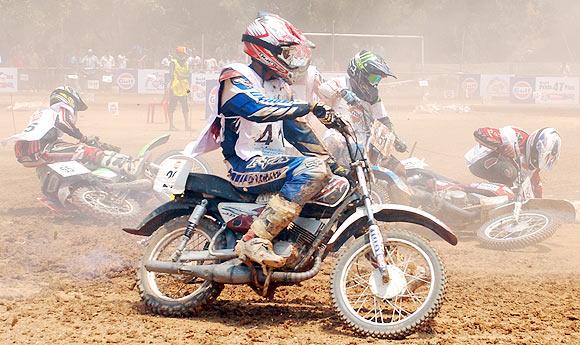 Naresh V S was the surprise package in the first round of the Gulf Dirt Track National Championship, at the Fisheries College ground in Mangalore.
THE BEST SPORTS IMAGES OF THE WEEK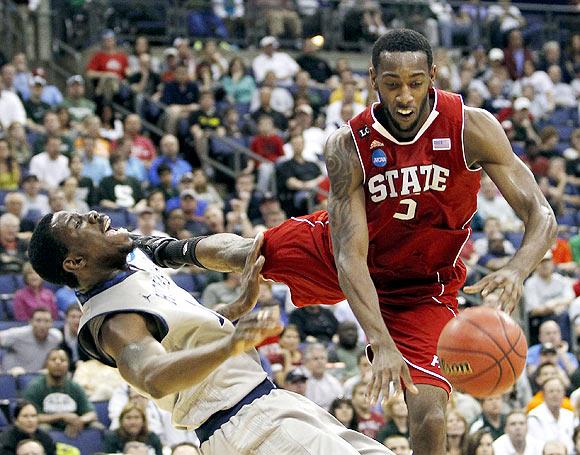 North Carolina State University forward CJ Williams (5) is fouled by Georgetown University center Henry Sims (left) during their men's NCAA college basketball game in Columbus, Ohio.
Euro football round-up: Real held, tributes for Muamba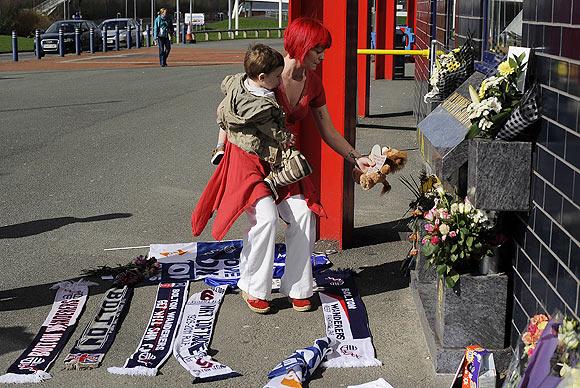 Images from football matches played across Europe over the weekend.
March 18, 2012
Aus GP: Cool Button steers McLaren to win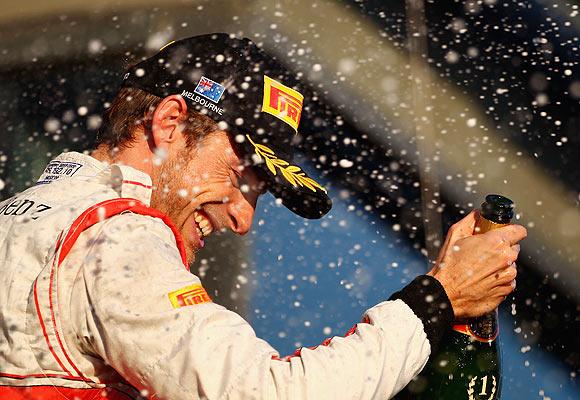 Jenson Button ignored an incident-packed race behind him and calmly steered his McLaren to victory at the season-opening Australian Grand Prix ahead of world champion Sebastian Vettel on Sunday.
March 16, 2012
The five F1 drivers to bet on in 2012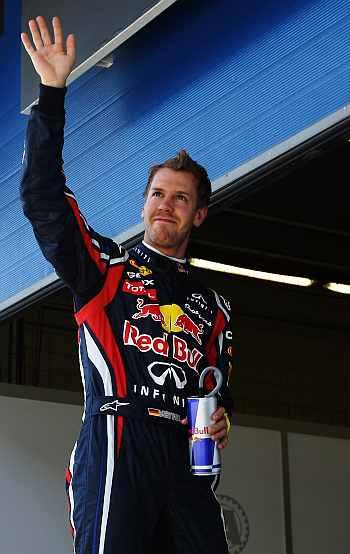 presents the drivers who are likely to define the 2012 Formula One season.
F1: McLarens set early pace in wet Melbourne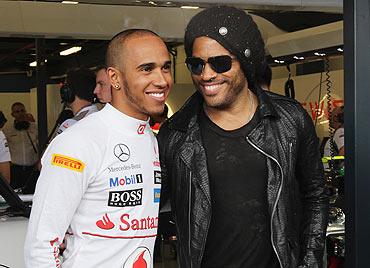 The McLarens of Britons Jenson Button and Lewis Hamilton posted the fastest times as Formula One got back to business with the first two practice sessions for the season-opening Australian Grand Prix on Friday.
Check out the London Olympics athletes' village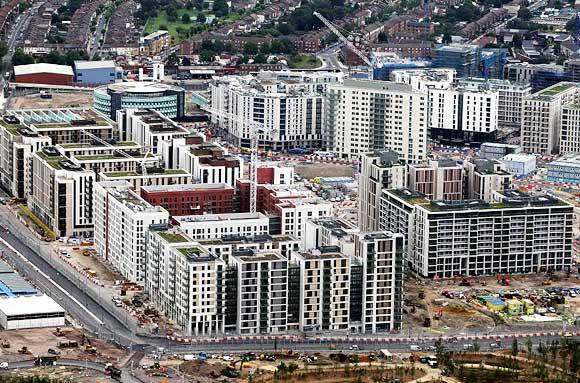 London Olympic chiefs unveiled the first furnished apartments at the athletes' village on Thursday, including extendable beds for taller sportsmen and boldly coloured sports-themed duvets.
March 15, 2012
Photos: Mary Kom in shipshape for Olympic challenge
spends a day in training with India's boxing queen MC Mary Kom at the Balewadi Sports Complex in Pune.
Chelsea not ready to crumble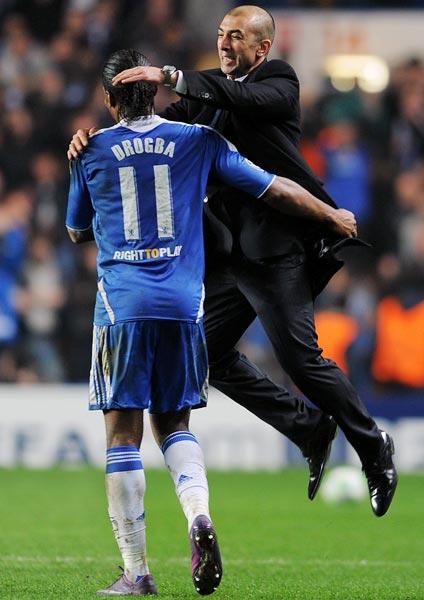 The Chelsea old guard showed they are not ready to be consigned to the scrapheap after a thrilling win over Napoli in the Champions League on Wednesday.
TOP SPORTS PHOTOS OF THE LAST 24 HOURS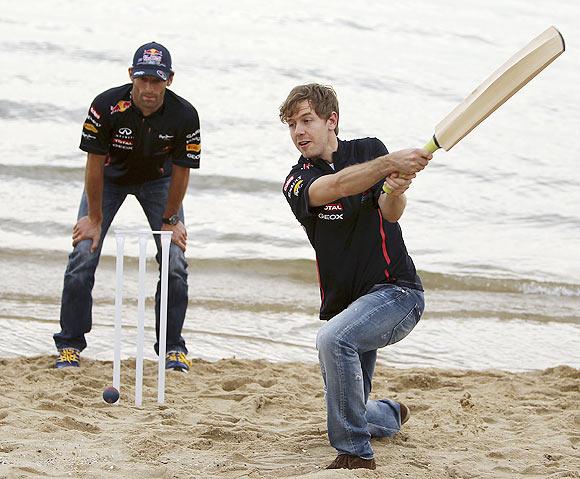 Red Bull Formula One drivers Mark Webber of Australia (left) and Sebastian Vettel of Germany (right) play cricket during a press event before the first day of the Australian F1 Grand Prix on St. Kilda Beach in Melbourne.
WSH PHOTOS: Sher-e-Punjab rule over Mumbai Marines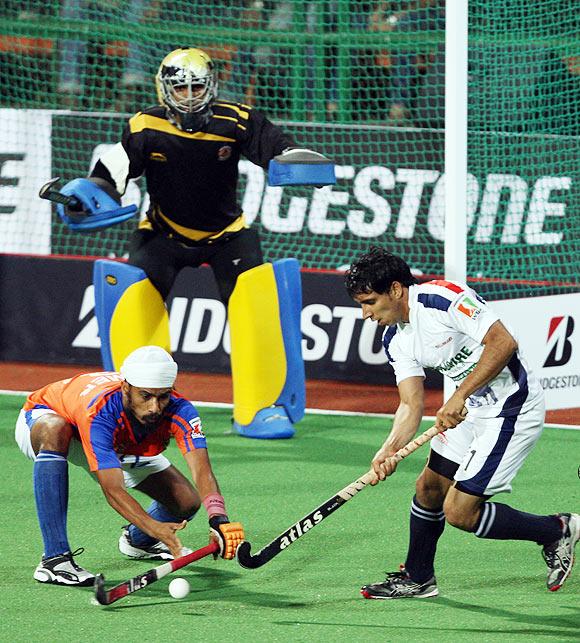 Sher-e-Punjab are known for their attacking hockey while rivals Mumbai Marines are reputed to be one of the toughest team in the Bridgestone World Series Hockey with a very disciplined outfit.
CL PHOTOS: Chelsea perform heroics to enter quarters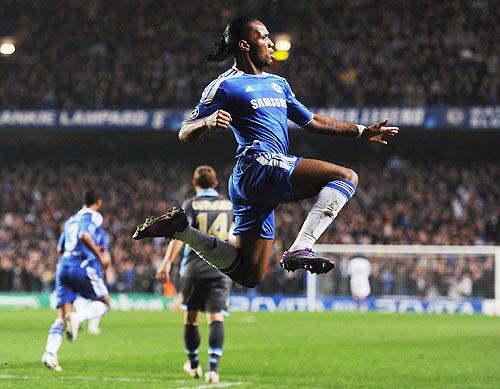 Chelsea's old guard masterminded one of the club's greatest European escapes to reach the Champions League quarter-finals on Wednesday, beating Napoli 4-1 after extra time at Stamford Bridge to edge an electrifying tie 5-4 on aggregate.
March 14, 2012
Aus GP: Phenomenal field out to stop Vettel at the start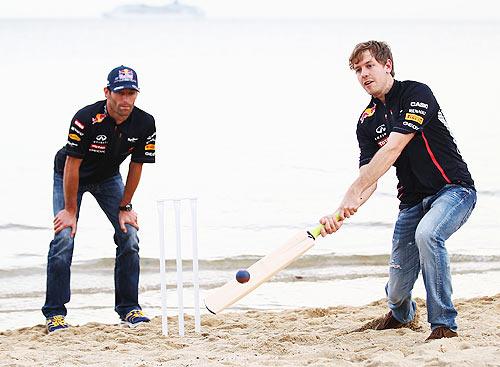 World champion Sebastian Vettel is understandably favourite to open the Formula One season with a victory at the Australian Grand Prix this weekend but there are strong indications he will face a much tougher challenge than he did last year.
TOP SPORTS PHOTOS OF THE LAST 24 HOURS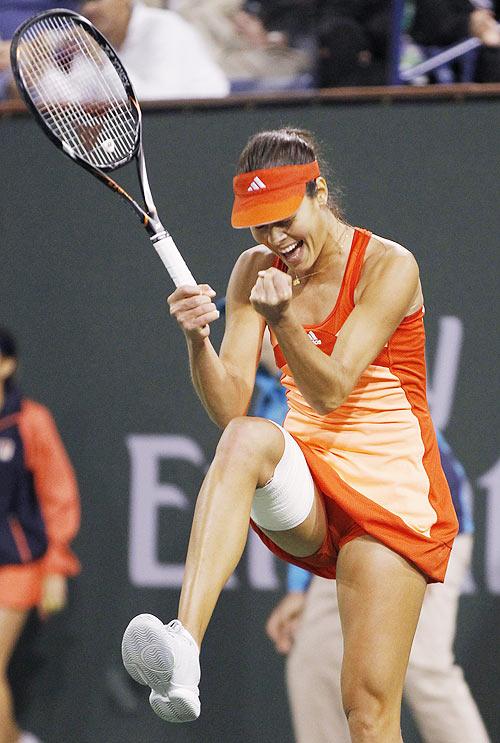 Ana Ivanovic of Serbia celebrates defeating Caroline Wozniacki of Denmark during their match at the Indian Wells WTA tennis tournament in Indian Wells, California.
This year I feel a lot more confident: Di Resta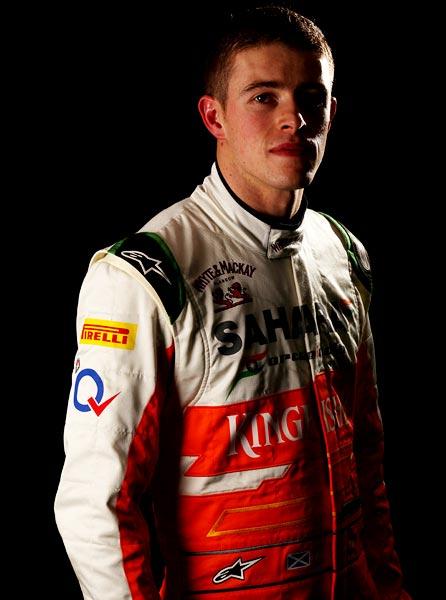 Force India driver Paul di Resta discusses his first season in F1 and targets for 2012.
EPL Photos: Gerrard 'tricks for Liverpool in derby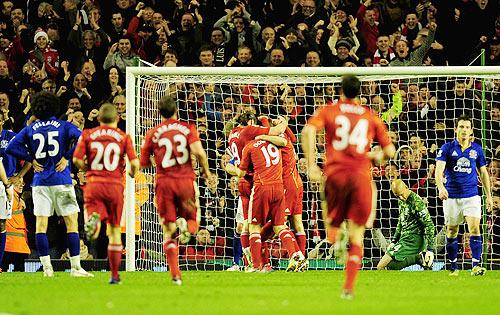 Liverpool captain Steven Gerrard scored the first hat-trick in a Merseyside league derby since 1982 as his side enjoyed an emphatic 3-0 victory over Everton in the Premier League at Anfield on Tuesday.
CL PHOTOS: Gomez scores four as Bayern humble Basel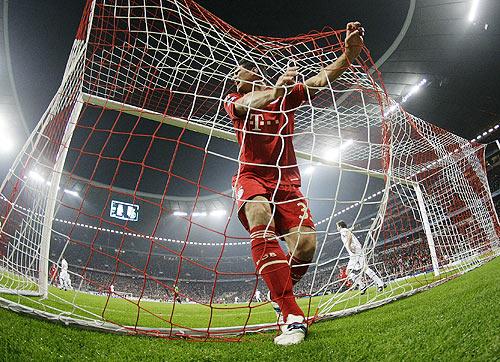 Mario Gomez scored four opportunist goals as Bayern Munich shattered Champions League records and ruthlessly ended Basel's surprise run with a 7-0 win on Tuesday to reach the quarter-finals.
March 13, 2012
WSH PHOTOS: Pune Strykers on target against Karnataka Lions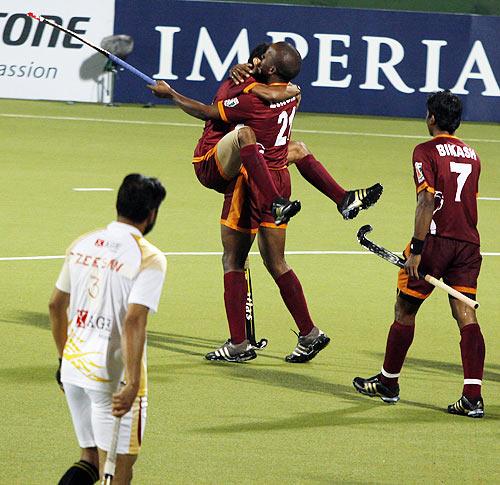 The inaugural Bridgestone World Series Hockey witnessed yet another sizzler as Pune Strykers got past Karnataka Lions by a slender margin of 3-2, in Pune, on Monday.
No unity among hockey players: Thakur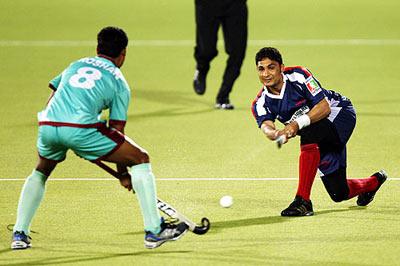 Two-time Olympian Deepak Thakur feels the Indian hockey players are under the thumb of the game's authorities since there is lack of unity among them.
TOP SPORTS PHOTOS OF THE DAY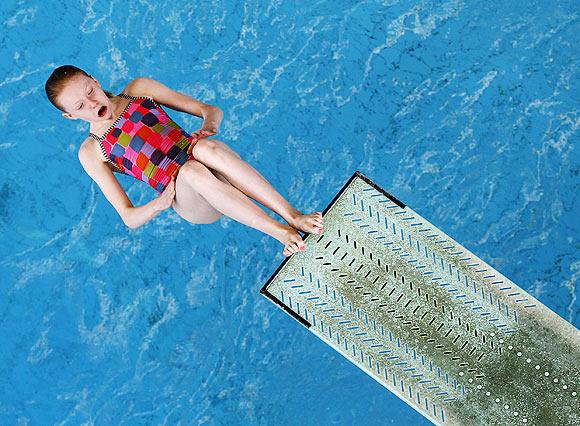 A member of Crystal Palace diving club dives during a training session in London.
Guardiola more important to Barca than me: Messi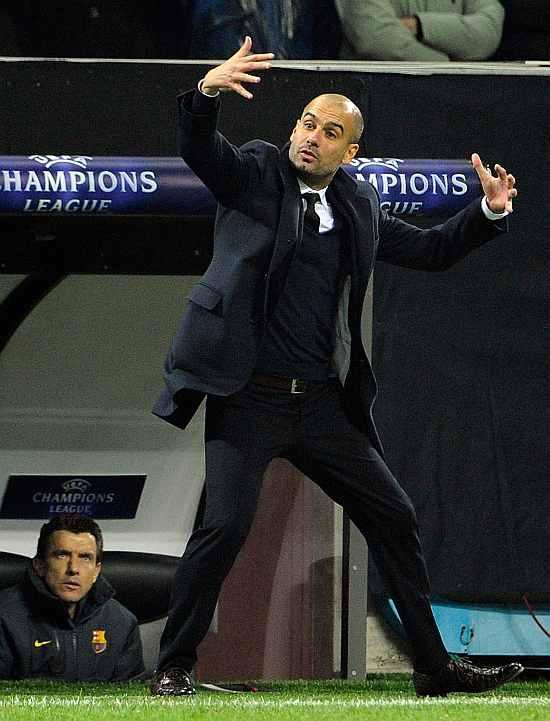 Lionel Messi played down his impact at Barcelona on Monday, saying coach Pep Guardiola is more important to the Catalans.
EPL PHOTOS: Arsenal strike late to turn up heat on Spurs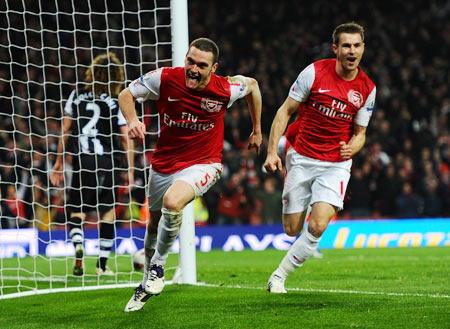 Arsenal narrowed the gap on third-placed Tottenham Hotspur to one point when Thomas Vermaelen struck deep in stoppage time to seal a 2-1 win over Newcastle United in a dramatic Premier League match on Monday.
March 12, 2012
German, English clubs aim for CLeague survival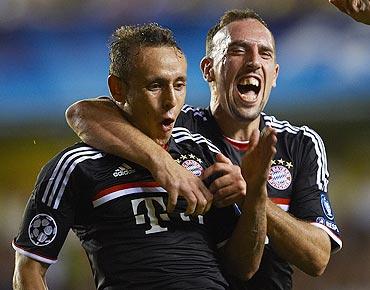 England and Germany will be left without any teams in the Champions League quarter-finals unless Chelsea and Bayern Munich can overturn first-leg deficits in this week's ties.
EPL PIX: United hit top spot as City mull Tevez return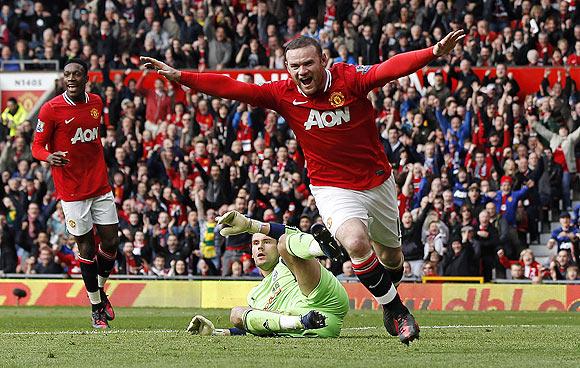 Images from the Premier League matches played across England over the weekend.
Americans head to Olympics after show of strength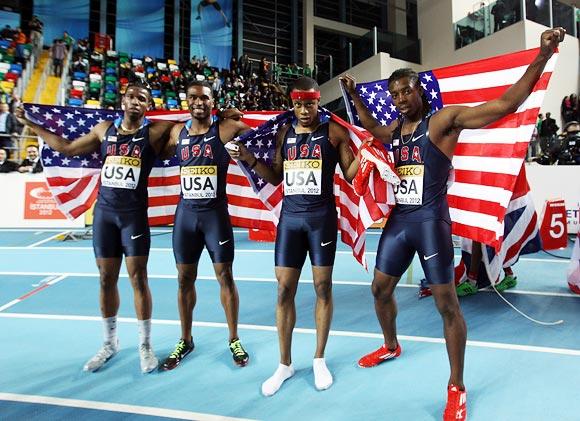 "Watch out London - the Americans are coming" was the message after the US team recorded their best showing at the world indoor championships with 10 gold medals in Istanbul.
WSH PHOTOS: Wizards hold Marines in a thriller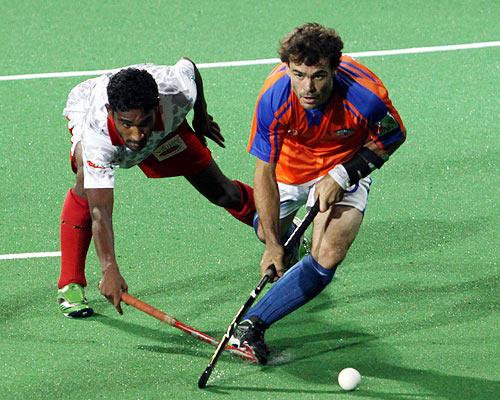 This was the ultimate city rivalry and despite the intense tussle on the field, both teams walked away with honours intact after 70 minutes of scintillating action.
THE BEST SPORTS IMAGES OF THE WEEK
Boston Celtics Kevin Garnett sweats as he listens to the national anthem before their NBA basketball game against the Los Angeles Lakers in Los Angeles, California.
World indoors: Isinbayeva back to winning ways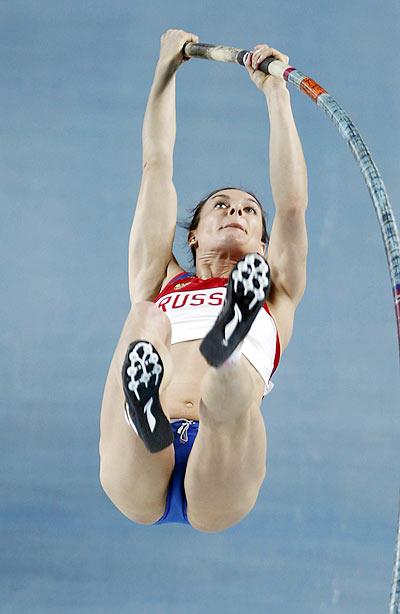 There were twists, turns and a back flip at the World indoor championships on Sunday but no World records, despite pole vault winner Yelena Isinbayeva's best efforts.
March 10, 2012
I'm not unbeatable, says Djokovic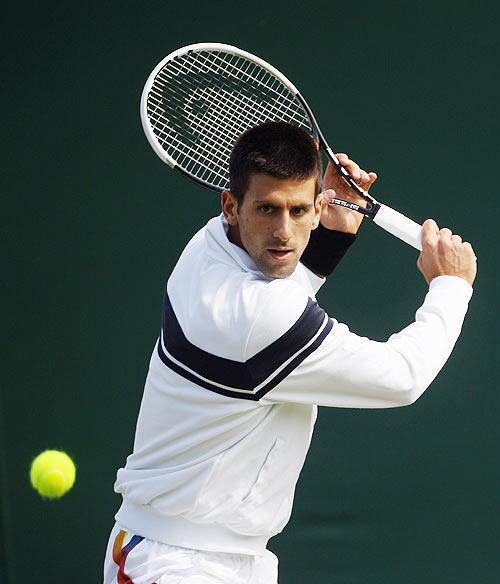 Roland Garros has always been his favourite Grand Slam venue but he knows he will face an uphill task their on its claycourt surface in a tournament he has yet to win.
Hamilton makes Monaco a home race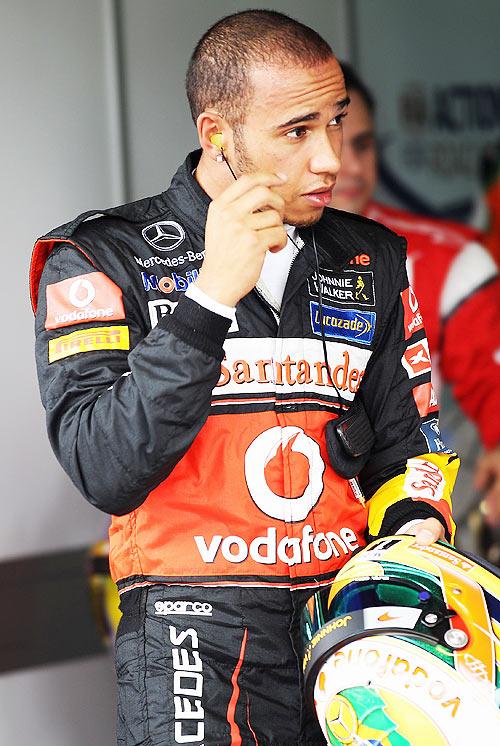 Lewis Hamilton has made his move before the start of the Formula One season and can now call Monaco a home race as well as his favourite Grand Prix.
Tennis stars shine at the Indian Wells party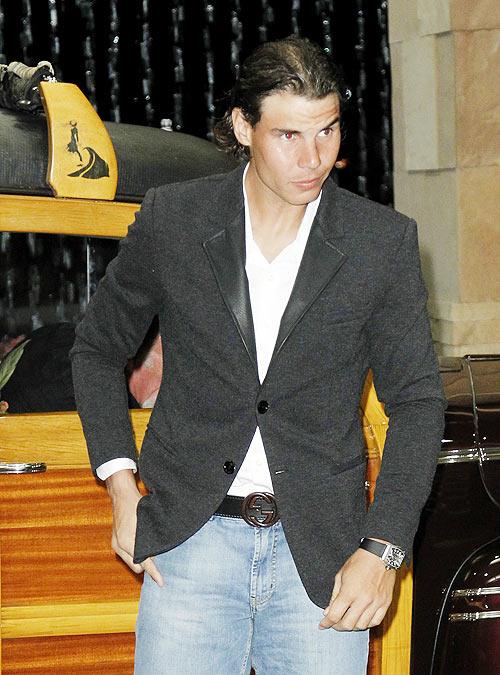 Rafael Nadal of Spain poses at the BNP Paribas Open players party during the Indian Wells ATP and WTA tennis tournament in Indian Wells, California.
March 09, 2012
Messi gives new meaning to 'Hand of God'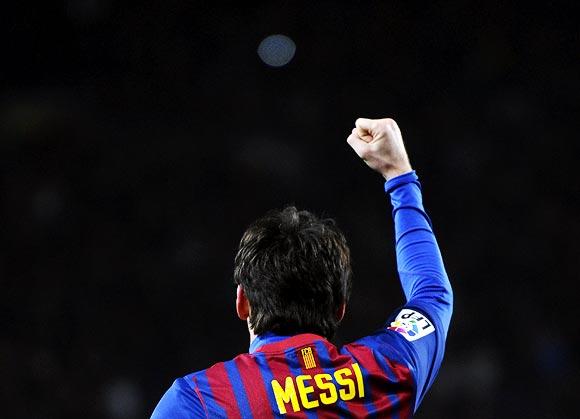 Lionel Messi gave a new meaning to the phrase 'Hand of God' when he netted a Champions League record five goals in Barcelona's 7-1 demolition of Bayer Leverkusen on Wednesday.
Vettel aims to join trio of F1 greats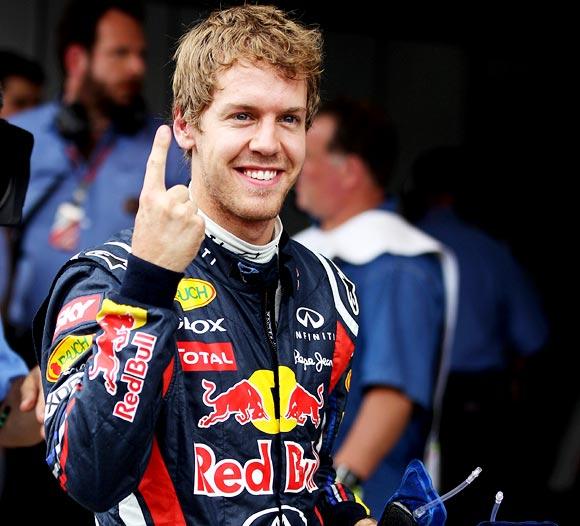 Sebastian Vettel will have to be the best of the best if he is to join Juan Manuel Fangio and Michael Schumacher as the only drivers to have won three successive Formula One titles.
Formula One grid shows a wealth of talent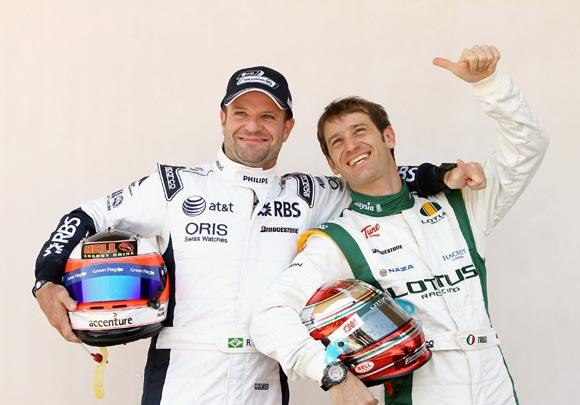 Formula One has always followed the money, grabbing it where it can and burning through bank balances as quickly as anything on the track.
How the Olympic Games are funded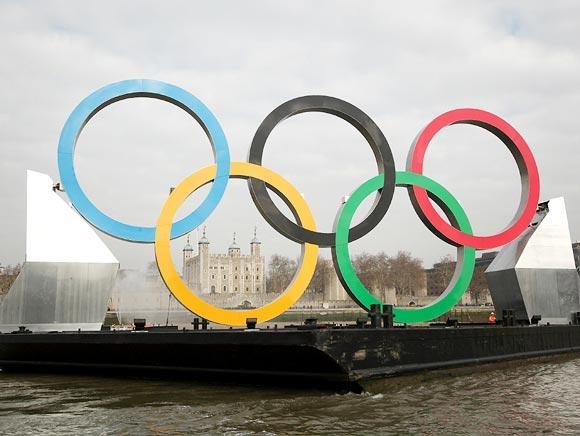 A look at how the funding of the Olympic Games work.
March 08, 2012
PHOTOS: Record man Messi hits five for Barcelona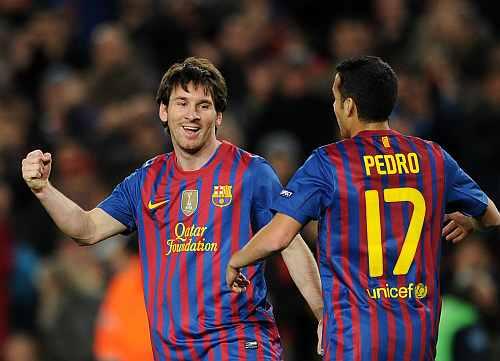 Lionel Messi at his breathtaking best tore Bayer Leverkusen apart with a record five-goal Champions League haul on Wednesday as Barcelona swept into the quarter-finals 7-1 on the night and 10-2 on aggregate.
March 07, 2012
TOP SPORTS PHOTOS OF THE DAY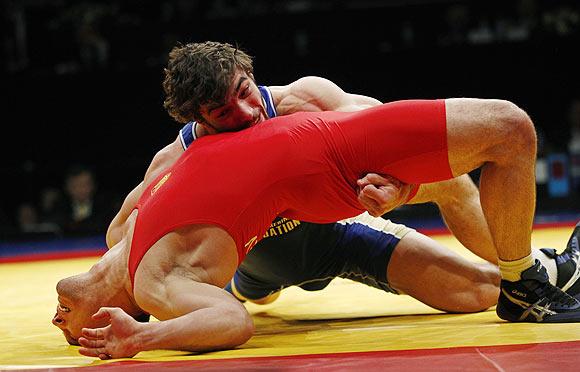 Top sports images from the last 24 hours.
WSH PHOTOS: Aiyappa does the 'trick' for Karnataka Lions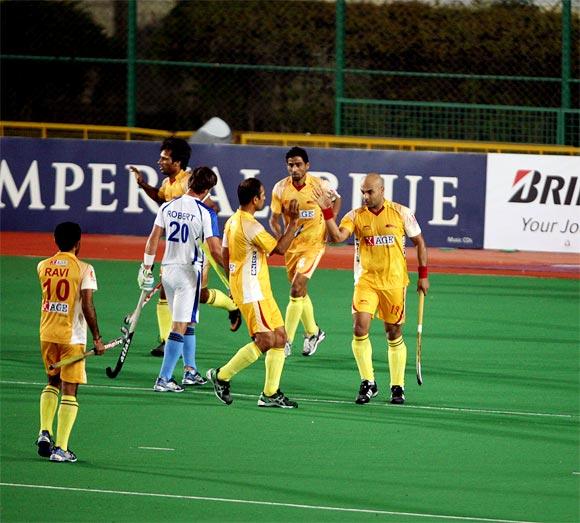 Lion-hearted Len Aiyappa scored a hat-trick to help Karnataka Lions floor fighting Chandigarh Comets 3-2 on day seven of the World Series Hockey in Bangalore, on Tuesday.
PHOTOS: AC Milan survive, Benfica see off Zenit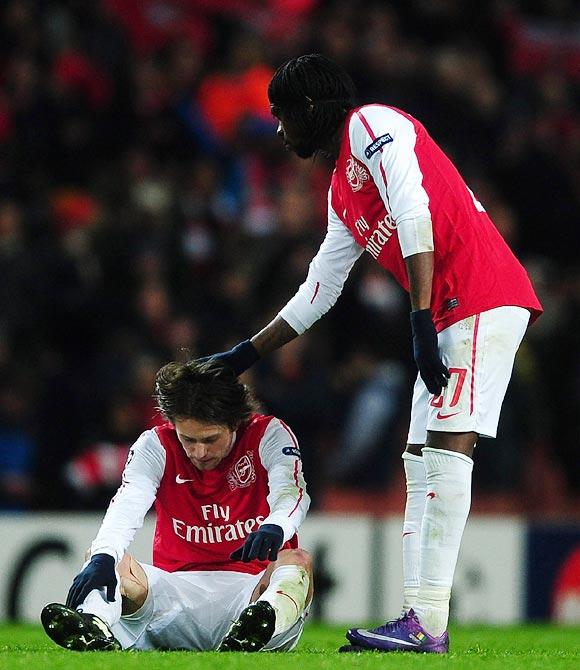 AC Milan survived a grilling at Arsenal to reach the Champions League quarter-finals 4-3 on aggregate despite losing the second leg of their last 16 tie 3-0.
London Olympics to hit revenue target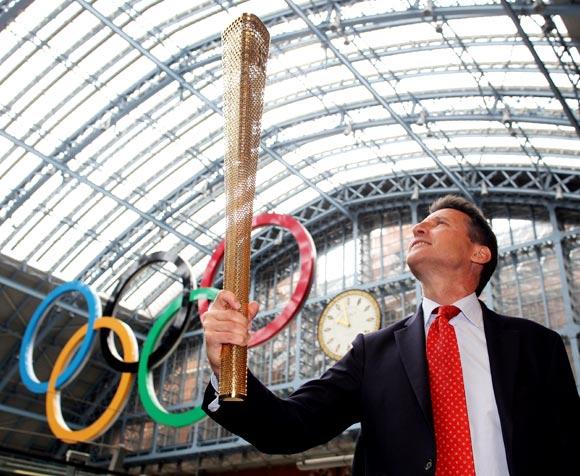 Organisers of the London Olympics are set to meet their target of raising 2 billion pounds to help stage the Games this summer.
PHOTOS: Prince Harry bolts past Usain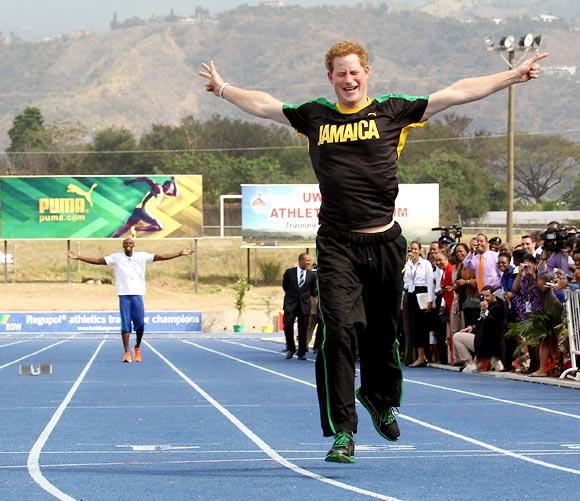 Britain's Prince Harry achieved the impossible when he beat world's fastest man Usain Bolt in a friendly race as part of the royal's visit to Jamaica, in Kingston, on Tuesday.
I am still getting adjusted to Bhupathi: Bopanna
Doubles specialist Rohan Bopanna said it would take some more time for him and senior partner Mahesh Bhupathi to get adjusted to each other before they strike a right chord in ATP tennis circuit.
March 06, 2012
TOP SPORTS PHOTOS OF THE LAST 24 HOURS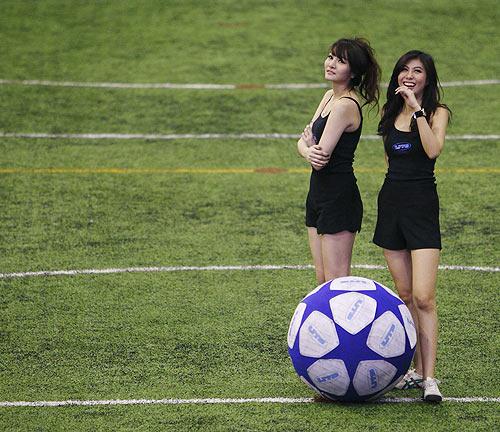 Women pose for a picture in front of the 24-inch (60-cm) ball during a break in an Ultimate Tak Ball game in Bangkok. The rules are simple: throw a ball into the goal to score a point.
Leverkusen have tough task against pass masters Barca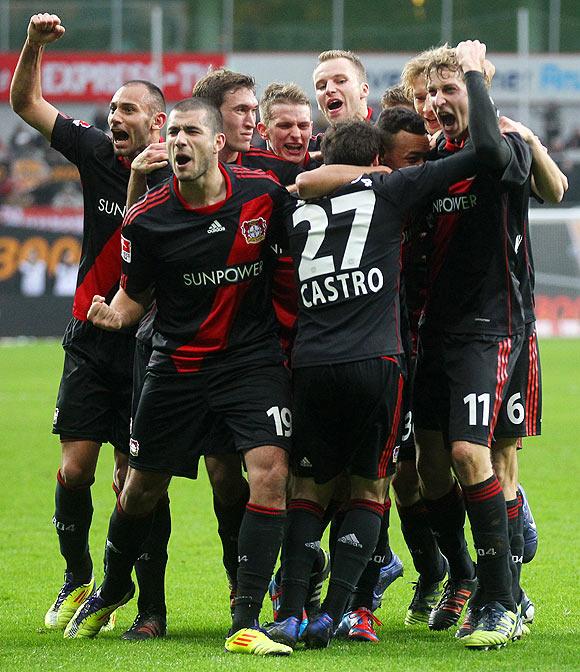 Bayer Leverkusen face what looks to be the near-impossible task of putting three goals past Barcelona at the Nou Camp on Wednesday and to do so they will need to dethrone the undisputed passing kings of Europe.
Mcilroy excites game as he completes rise to top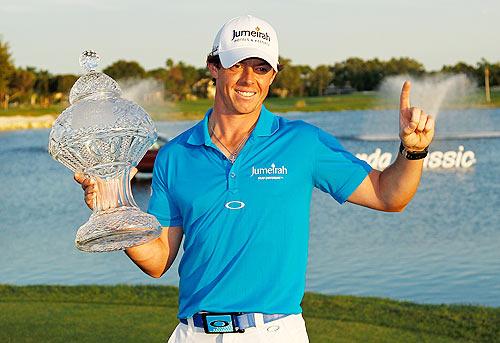 Rory McIlroy was proclaimed as golf's next truly great player after winning the Honda Classic on Sunday and taking over as the World's No. 1 ranked player.
The axed emperors of Chelsea's Roman empire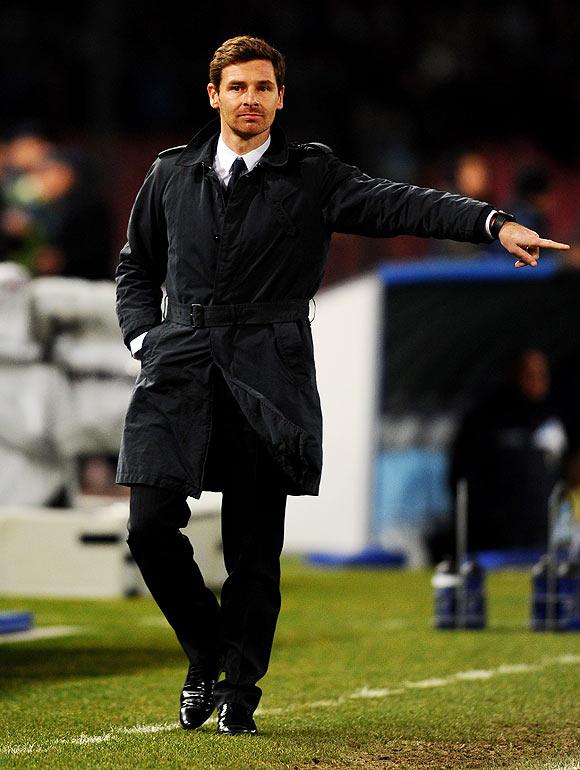 Villas-Boas was the sixth coach of the club since Abramovic took over the ownership of the club in 2003. Rediff.com brings you list of managers who tried to change fortunes at Stamford Bridge but failed to impress the Blues owner.
Last eight years were really tough: Sandeep Singh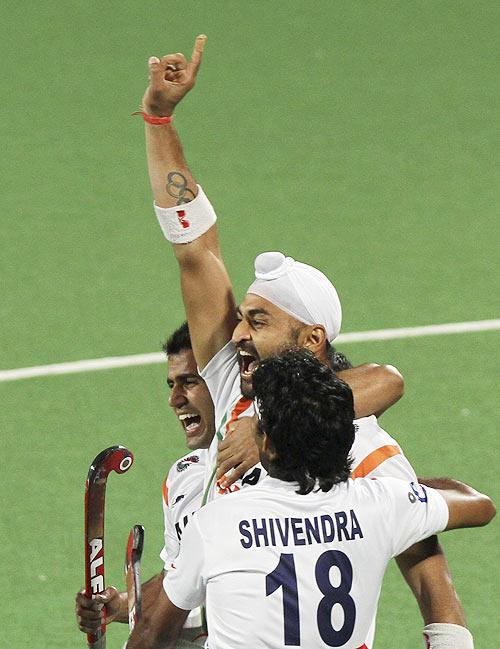 Sandeep Singh is the toast of the nation after his exploits in the 2012 London Qualifying tournament in New Delhi. TWFcorrespondent Abhiroop Mukherjee in conversation with Sandeep.
Who's next to take the hot seat at Chelsea?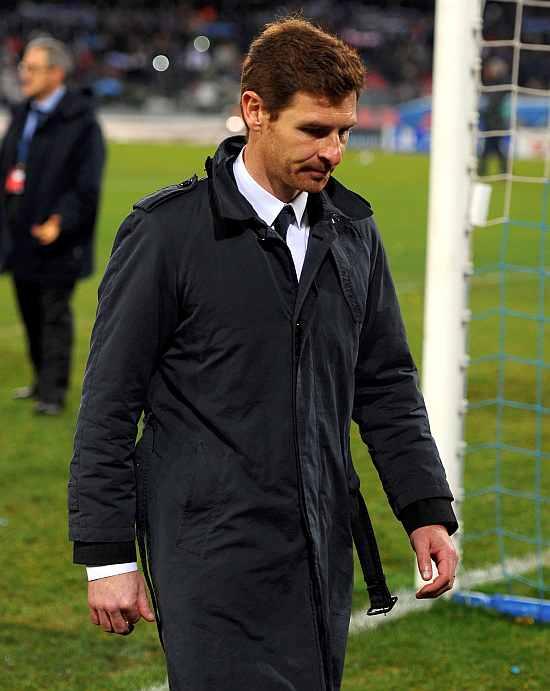 Arguably the hottest of hot seats in soccer is vacant yet again after Chelsea's ruthless Russian owner Roman Abramovich removed Andre Villas-Boas on Sunday.
March 05, 2012
All England C'ship: Saina looks to gain experience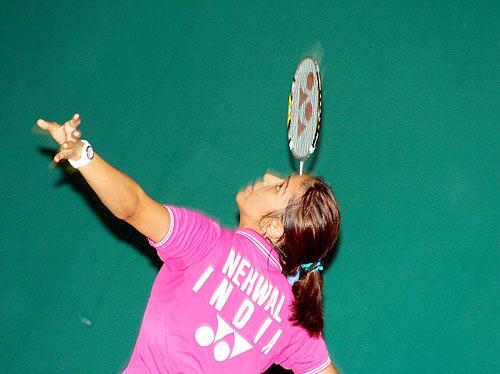 Star Indian shuttler Saina Nehwal will look to gather some valuable experience for London Olympics preparation when she starts her campaign at the All England Championship, which begins with the qualifiers in Birmingham on Tuesday.
TOP SPORTS PHOTOS OF THE LAST 24 HOURS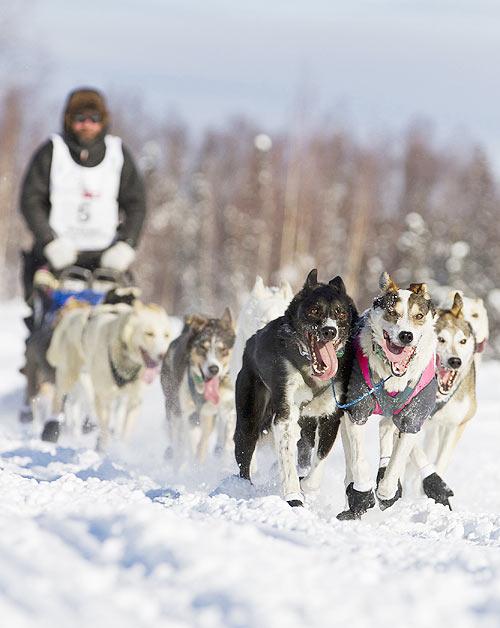 Tom Thurston of Oak Creek and his team head to Nome at the official re-start of the 40th Iditarod Trail Sled Dog Race in Willow, Alaska.
WSH PHOTOS: Pune Strykers maintain unbeaten run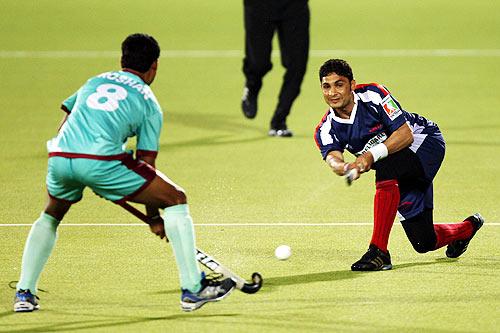 Star striker Deepak Thakur regained his form and usually unstoppable Prabhjot Singh helped home side Sher-e-Punjab build a comfortable lead but were forced to settle for a 3-3 draw with the hitherto undefeated Pune Strykers in the Bridgestone World Series Hockey at the Olympian Surjit Hockey stadium in Jalandhar on Sunday.
EPL PHOTOS: Ruthless United slay Spurs, Newcastle held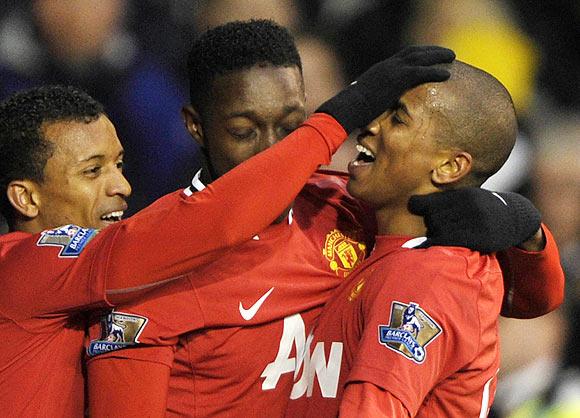 Two Ashley Young goals helped Manchester United to a clinical 3-1 win at Tottenham Hotspur that sliced Manchester City's lead at the top of the Premier League back to two points on Sunday.
March 03, 2012
WSH PHOTOS: Mumbai Marines taste first victory at home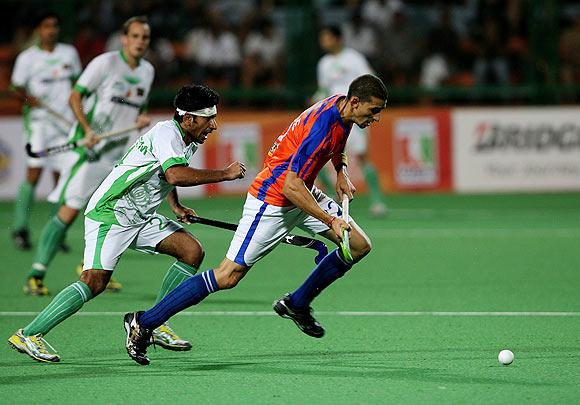 Mumbai Marines eked out a solitary goal victory over Bhopal Badshahs to earn their first few points in the World Series Hockey clash at the MHA-Mahindra Stadium Mumbai late on Friday night.
For Bindra, Olympic gold is history; focus on London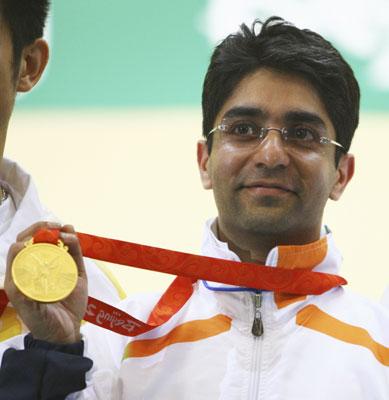 For India's only individual Olympic gold medallist Abhinav Bindra, the 2008 Bejing Games is history as he has now set his sights on this year's quadrennial extravaganza in London.
London Games: Expect intense ambush marketing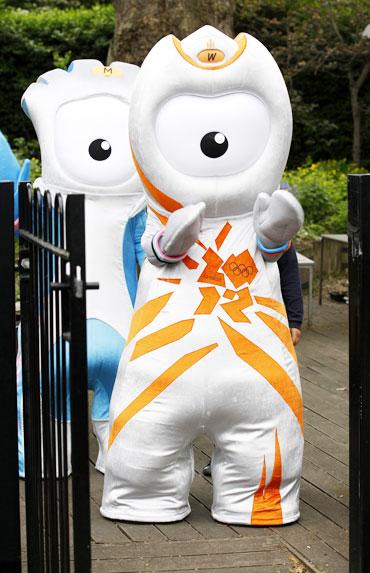 Companies will try to piggyback this year's London Olympics to win themselves free advertising, despite some of the strictest rules ever, by upstaging rivals paying millions of pounds to be official sponsors, a survey said.
TOP SPORTS PHOTOS OF THE LAST 24 HOURS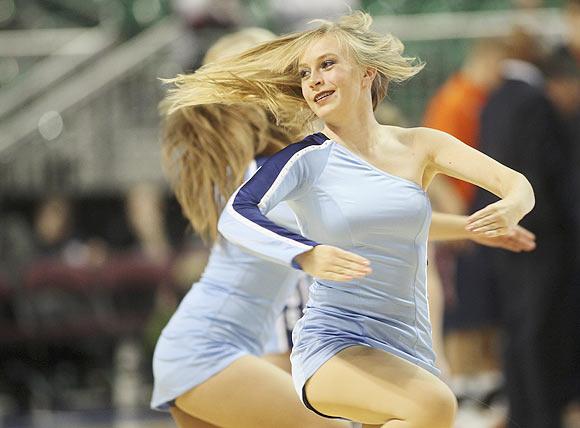 San Diego Toreros' cheerleaders perform during the team's game against the Pepperdine Waves in the Zappos.com West Coast Conference Championships basketball tournament at the Orleans Arena in Las Vegas, Nevada.
UN urge FIFA to allow women to wear hijab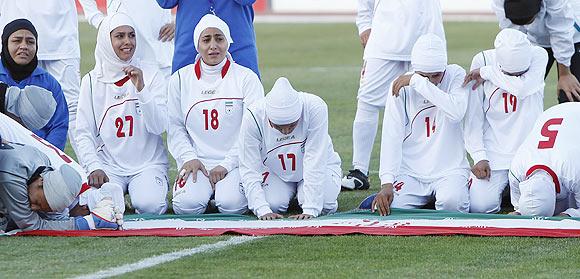 The United Nations has asked the world governing body FIFA to overturn its ban on allowing women footballers to wear a hijab, the Islamic headscarf, when its law-making body meets on Saturday.
March 02, 2012
WSH IMAGES: Prabhjot leads Punjab to win over Chennai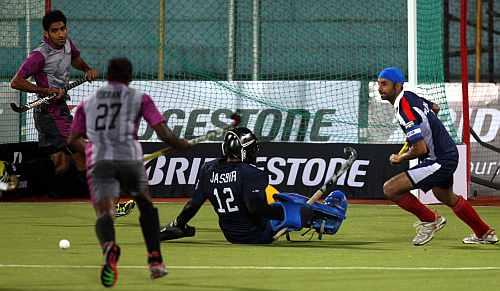 Images from the WSH matches being played on Thursday
TOP SPORTS PHOTOS OF THE LAST 24 HOURS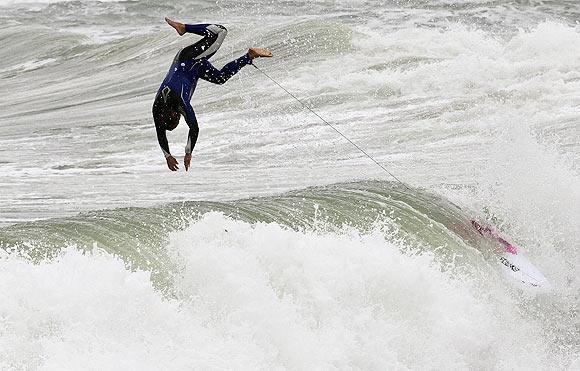 Top Sports images from the last 24 hours.
Saudi women push for the right to play sports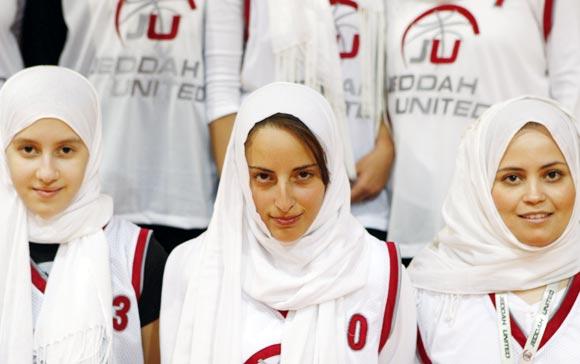 Female participation in sports has long been a controversial issue in the conservative Islamic kingdom, which on February 15 was lambasted by Human Rights Watch for never having sent a woman athlete to the Olympics.
March 01, 2012
Photos: Soldado, Messi perform friendly 'tricks'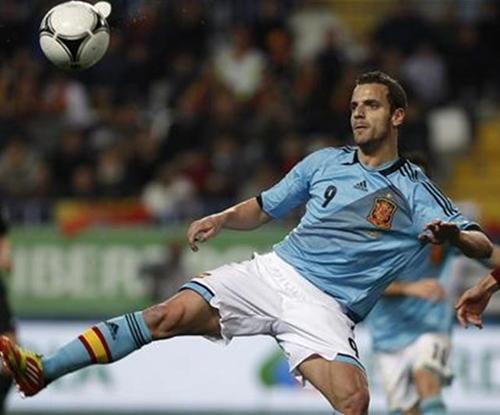 Images from Wednesday's football friendlies across Europe.
'Bolt could run 9.4 at London Olympics'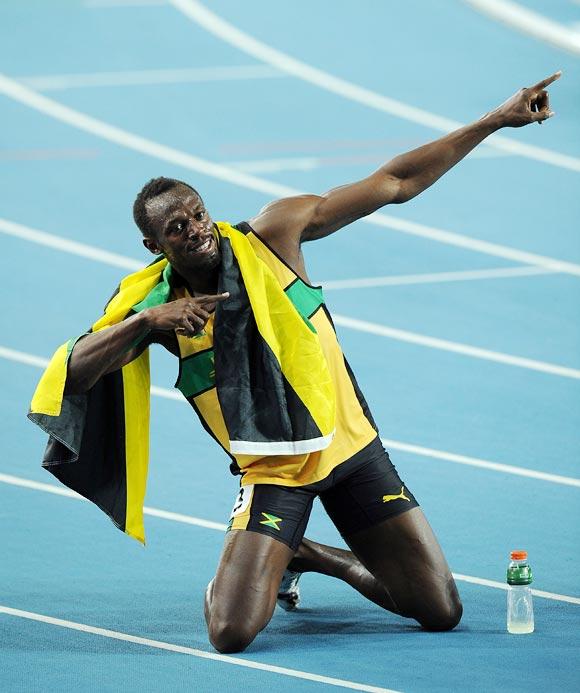 Usain Bolt, the world's fastest man, could possibly run 9.4 seconds over 100 metres at this year's London Olympics, Games organising committee chairman Sebastian Coe said.
United see survival at Spurs as key to season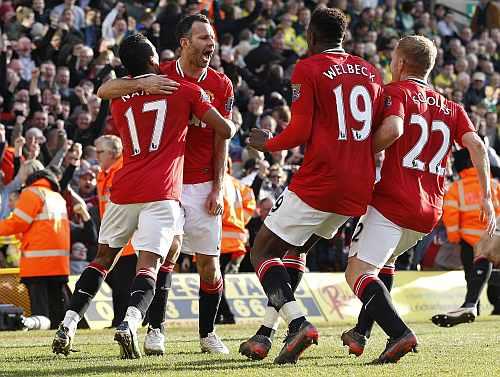 Manchester United can stamp out any lingering Tottenham Hotspur title ambitions with a victory in London this weekend that would set the Premier League trophy firmly on course to remain in northwest England.
AWACS and jets to secure airspace for Olympics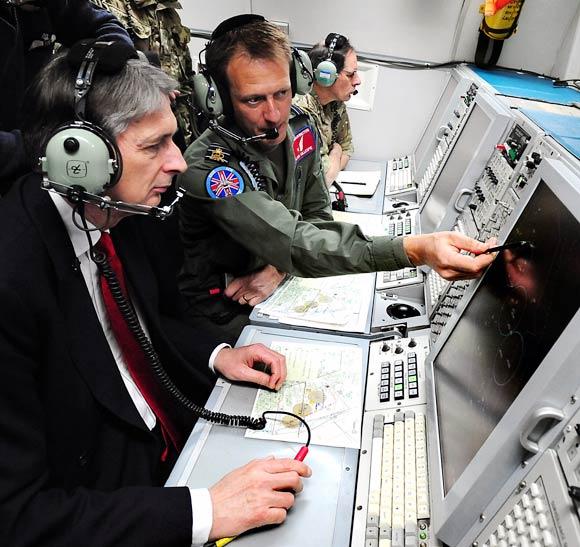 As crowds gather to watch this year's Olympic opening ceremony in London, highly trained eyes on the ground and in the sky will be keeping tabs on every aircraft over the southeast of Britain.
Queen Elizabeth to open London Olympics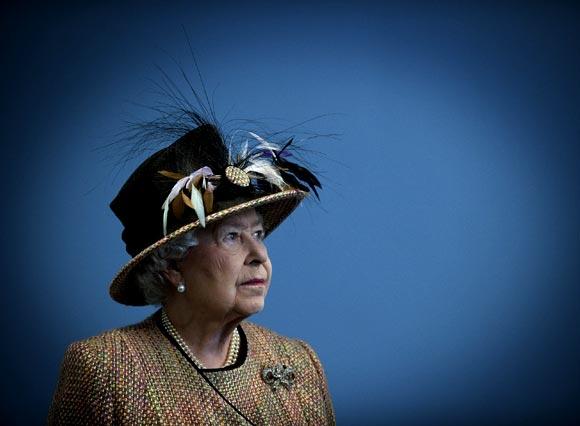 Queen Elizabeth, who celebrates 60 years on the throne this year, will open both the London Olympics and Paralympics, Buckingham Palace and organisers said on Wednesday.
PHOTOS: Chandigarh Comets vs Bhopal Badshahs, WSH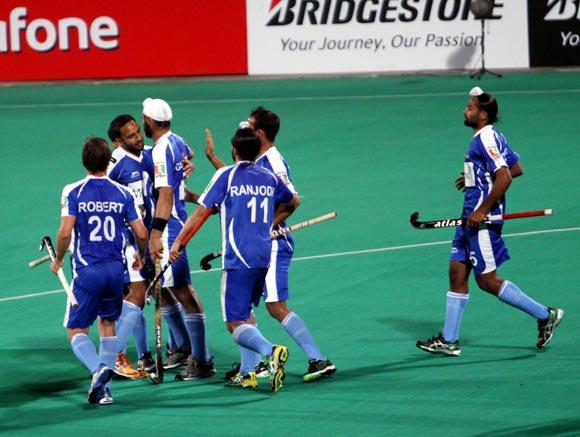 Images from the World Series Hockey inaugural match between Chandigarh Comets and Bhopal Badshahs in Chandigarh, on Thursday.
Robben foils England fightback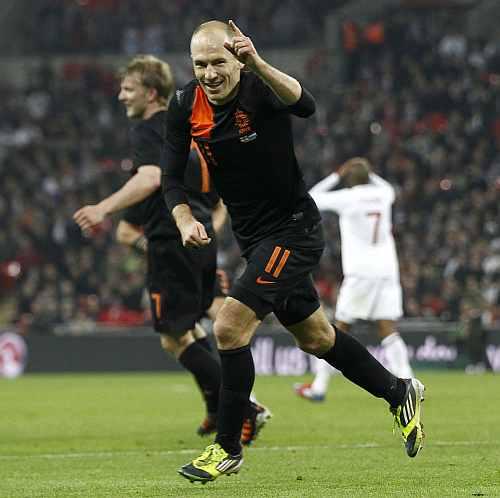 A stoppage-time winner from Arjen Robben ended Netherlands' three-match run without a win as they beat England 3-2 in a largely low-key friendly with a dramatic twist in the tail at Wembley Stadium on Wednesday.
PHOTOS: Top sports action of the last 24 hours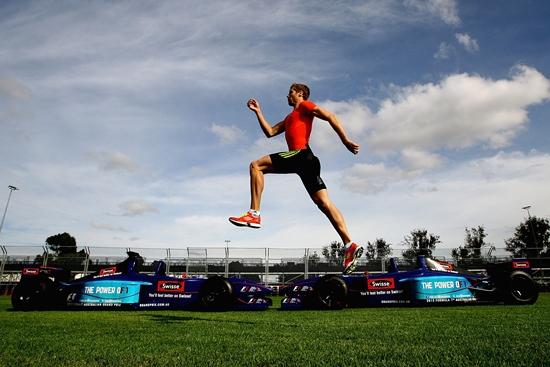 Rediff.com prsents a selection of photographs from sports action in the last 24 hours.
February 29, 2012
Olympics: London puts rings on the river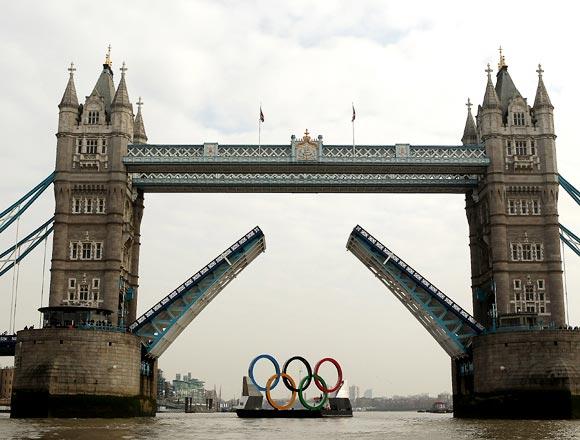 The Rings on the River, standing 11 metres high and 25 metres wide, are due to travel down to the Thames barrier, past Canary Wharf and Greenwich, before returning to the 19th century bridge next to the Tower of London.
Missed penalties in shoot-outs that proved costly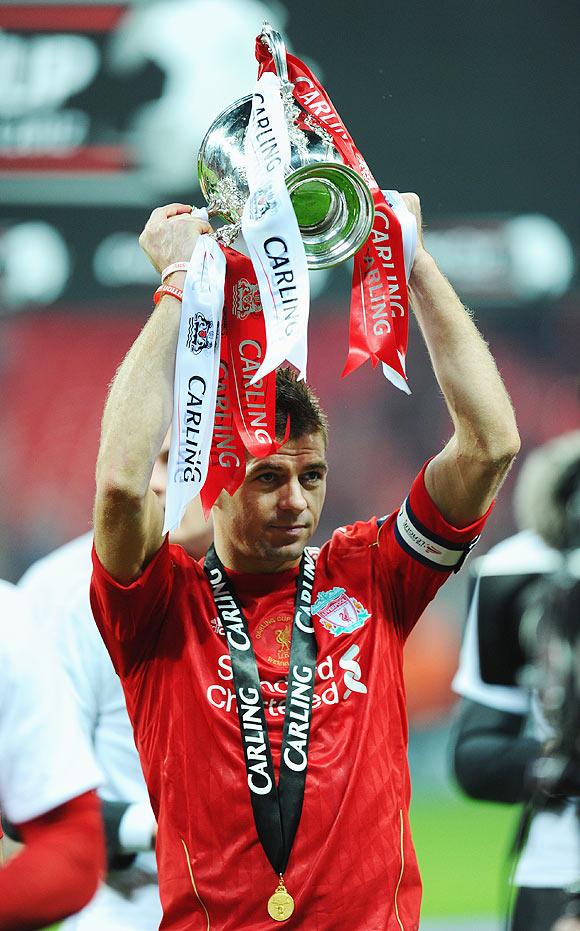 Many matches in big tournaments have seen the script being changed because of a missed penalty. Rediff.com brings to you six instances in recent times when a penalty miss proved decisive.
February 28, 2012
'Hockey India should learn how to treat seniors from BCCI'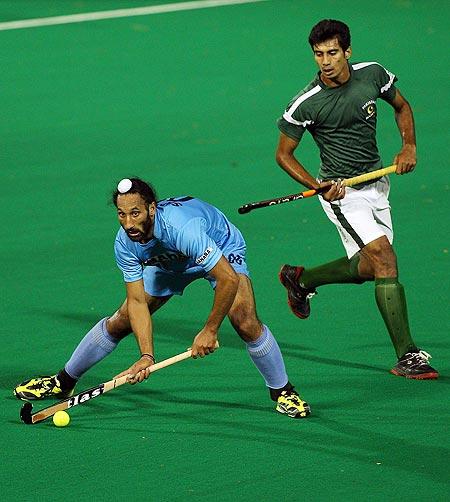 Deeply hurt on being ignored from the list of Olympic probables, former hockey captain Rajpal Singh on Monday fired a salvo at Hockey India (HI), saying they should take a cue from the Indian Cricket Board as to how to treat the senior players.
February 27, 2012
PHOTOS: Ronaldo, Messi and Giggs conjure up wins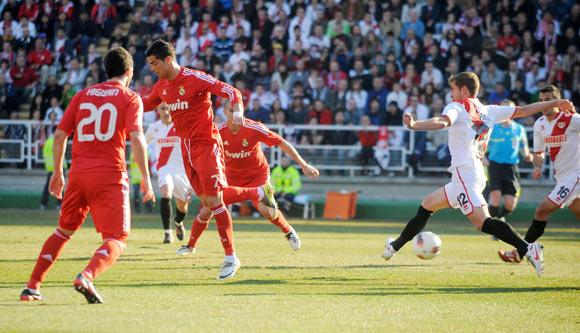 Cristiano Ronaldo and Lionel Messi produced moments of magic to earn victories for Real Madrid and Barcelona which kept Real 10 points clear at the top of La Liga on Sunday.
TOP SPORTS PHOTOS OF THE DAY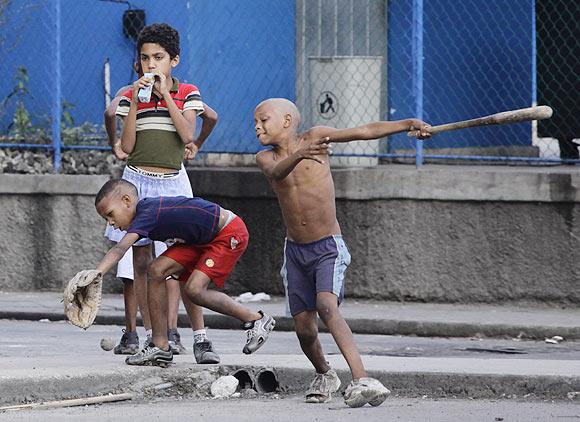 Boys play baseball on a street in Havana.
Serena, Sharapova, Beckham scintillate in Hollywood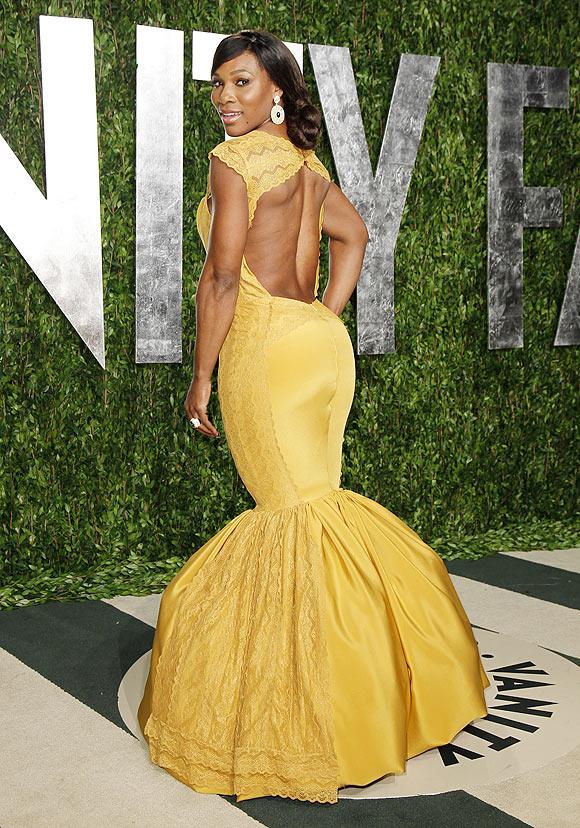 When is comes to adding glamour to the Oscar party in Hollywood out sportsperson were not far behind. Have a look...
League Cup: Liverpool down Cardiff to lift title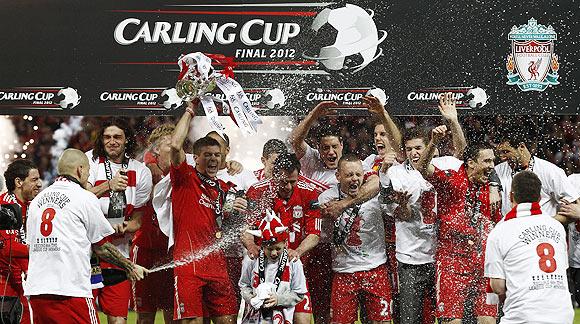 Liverpool won the English League Cup for the eighth time on Sunday but were given a huge fright by Championship Cardiff City who snatched a goal deep into extra time to salvage a 2-2 draw before going down 3-2 in a penalty shootout.
February 26, 2012
Sandeep powers India to London Olympics men's hockey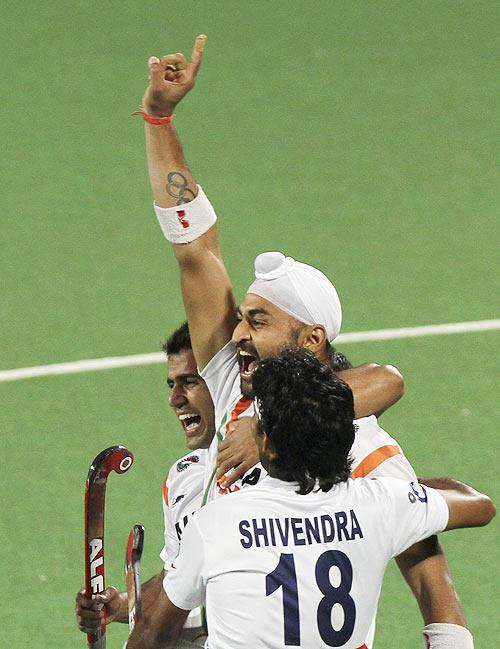 Ace drag-flicker Sandeep Singh slammed five goals, including a hat-trick, as India qualified for London Olympics men's hockey after missing out the 2008 edition by spanking France 8-1 in the final of thequalification tournament in New Delhi on Sunday.
PHOTOS: City stretch lead, Chelsea end winless run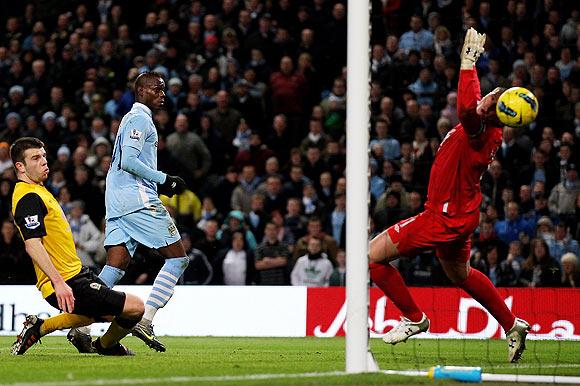 Manchester City took another step toward the Premier League title when they brushed aside Blackburn Rovers 3-0 for their 18th successive home league win to move five points clear of Manchester United at the top of the table on Saturday.
February 25, 2012
Hockey qualifier: India one win away from London dreams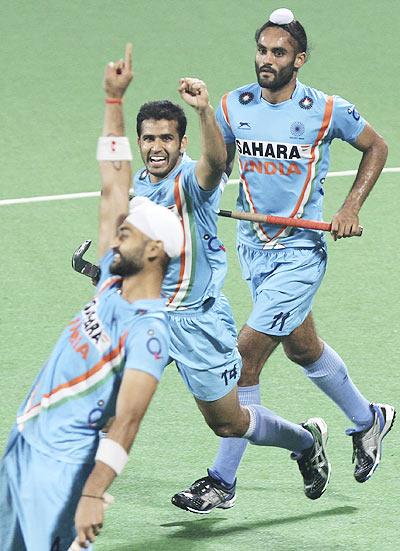 The failure to qualify for 2008 Beijing Olympics still fresh in mind, the Indian hockey team would be desperate to avoid a repeat of the debacle and give the dying national sport a new lease of life when it takes on France in the final of men's Olympic Qualifiers in New Delhi on Sunday.
'Tom Daley diving in Kournikova's footsteps'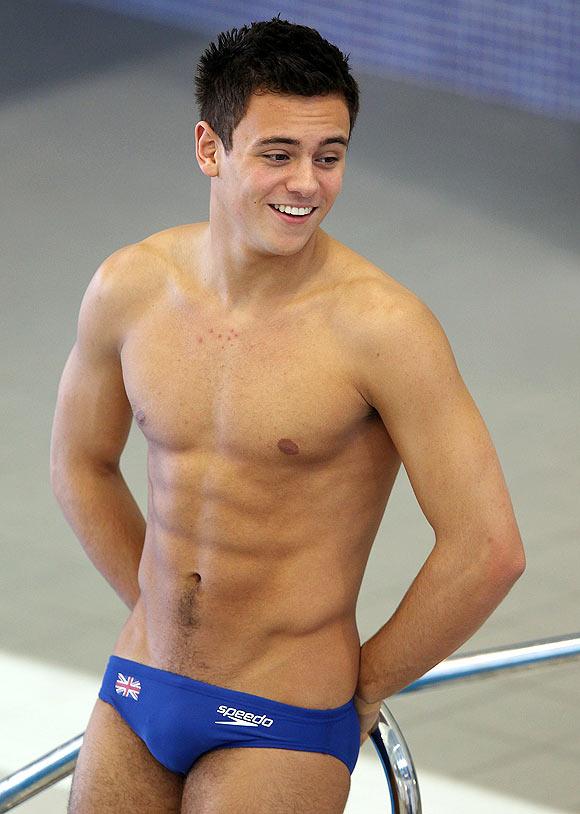 Britain's Olympic poster boy Tom Daley is in danger of becoming diving's answer to former glamour girl of women's tennis Anna Kournikova, according to one of the team's top coaches.
February 24, 2012
TOP SPORTS PHOTOS OF THE DAY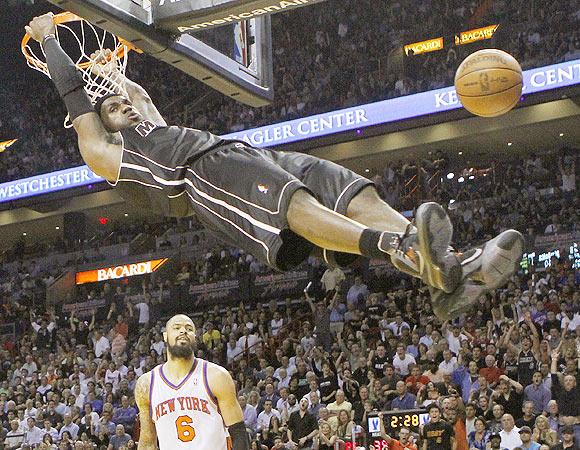 Miami Heat's LeBron James hangs on the rim after his dunk near New York Knicks Tyson Chandler during their NBA basketball game in Miami, Florida.
Basketball stars toast avid hoops fan Obama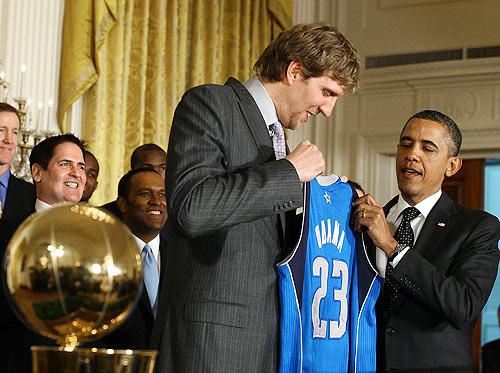 Basketball greats including Magic Johnson and Alonzo Mourning toasted U.S. President Barack Obama at a campaign fundraising dinner on Thursday that was served on a basketball court in Dallas Mavericks player Vince Carter's palatial home.
Athens hero Rathore's Olympics dreams gunned down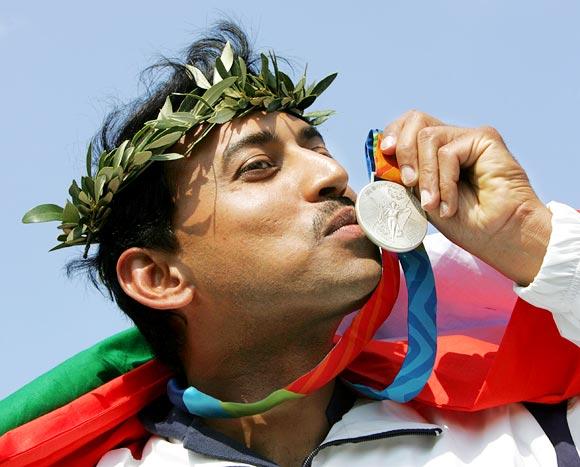 Eight years ago Rajyavardhan Singh Rathore was the cynosure of all eyes when he won the silver medal at the Athens Olympics; today he sits on the crossroad, says .
Europa League: United outplayed but still scrape through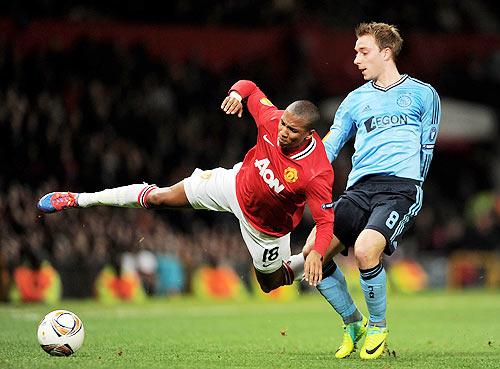 Manchester United scraped into the last 16 of the Europa League on Thursday, narrowly avoiding a humiliating elimination after being outplayed and losing 2-1 at home to Ajax Amsterdam.
February 23, 2012
London Olympics inspiring figure-hugging fashions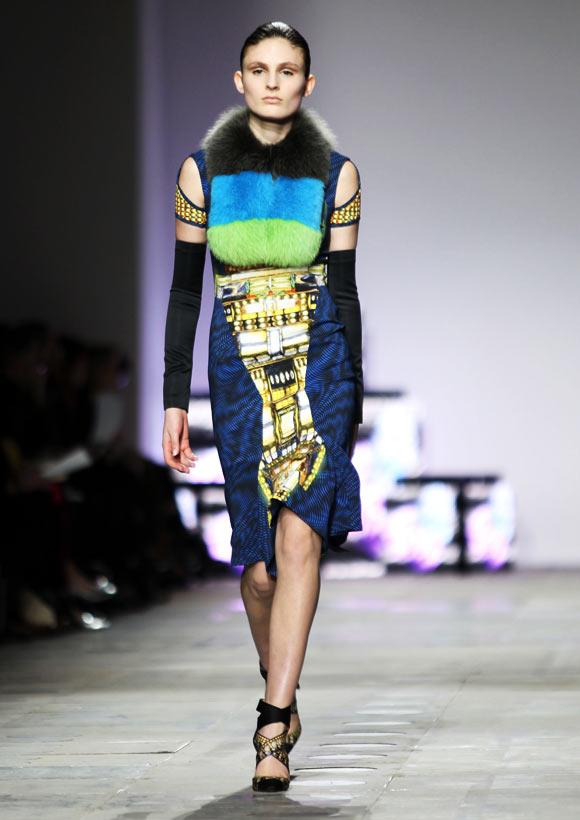 As London prepares to host the Olympic Games this summer, fashion designers in the British capital are turning to sport for inspiration, ushering in an era of sleek, figure-hugging dresses and coats which celebrate the female figure.
Champions League: Basel, Marseille register shock wins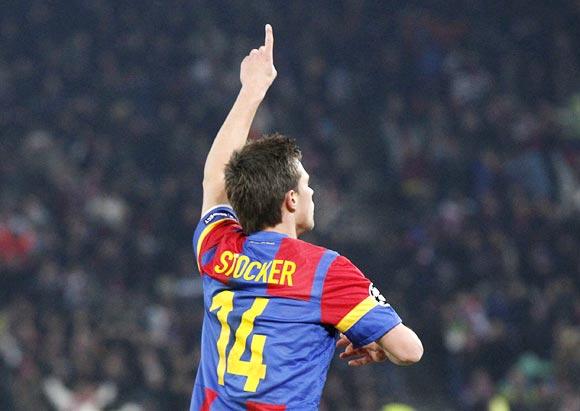 Basel pulled off another huge Champions League upset with a 1-0 victory over Bayern Munich, while a stoppage-time goal from Andre Ayew gave Olympique Marseille a 1-0 win over Inter Milan in the first leg of their last-16 tie.
Rudisha ready to slay another lion at Olympics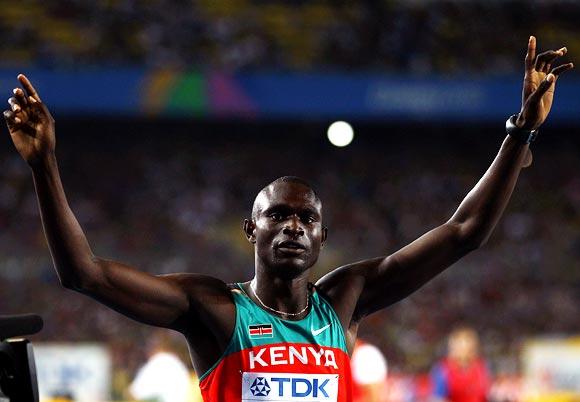 David Rudisha is proud to be a 800 metres world champion, proud to be a world record holder but as much as anything is proud of being a Maasai and desperate to secure a first Olympic gold medal for his tribe later this year.
At 65, Guus Hiddink starts afresh with Anzhi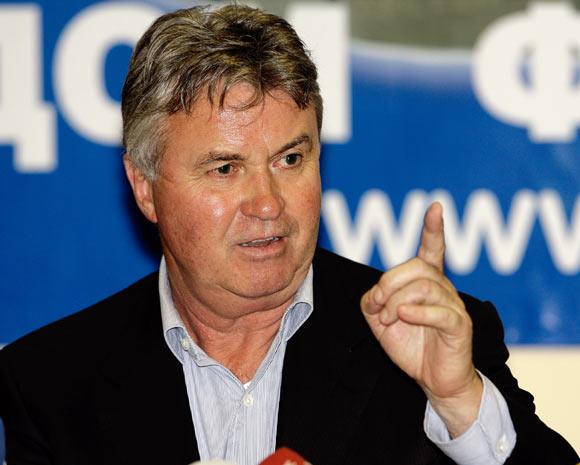 As the Dutchman settles down in the freezing climes of Eastern Europe, rediff.com takes a look at a few coaches who preceded the Dutchman in taking charge of relatively new clubs at the twilight of their respective careers.
February 22, 2012
PHOTOS: Sandeep scintillates in Oly hockey qualifier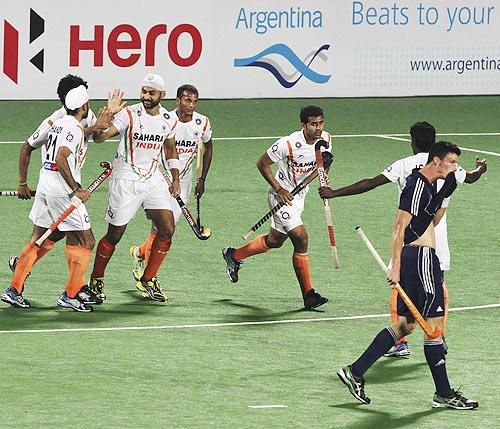 Ace drag-flicker Sandeep Singh continued his goal-scoring spree as he scored a hat-trick to guide favourites India to a convincing 6-2 win over France in an enthralling match in the men's hockey Olympic qualification tournament, in New Delhi, on Tuesday.
Why Running is a way of life for Roshni Rai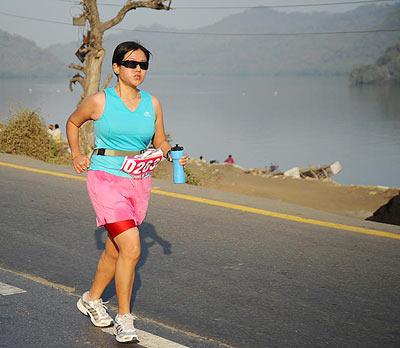 Roshni Rai, who gathered runners from her native Darjeeling to run the 2012 Mumbai Marathon, won't take anything lying down. Certainly not, if her nationality is in question.
TOP SPORTS PHOTOS OF THE DAY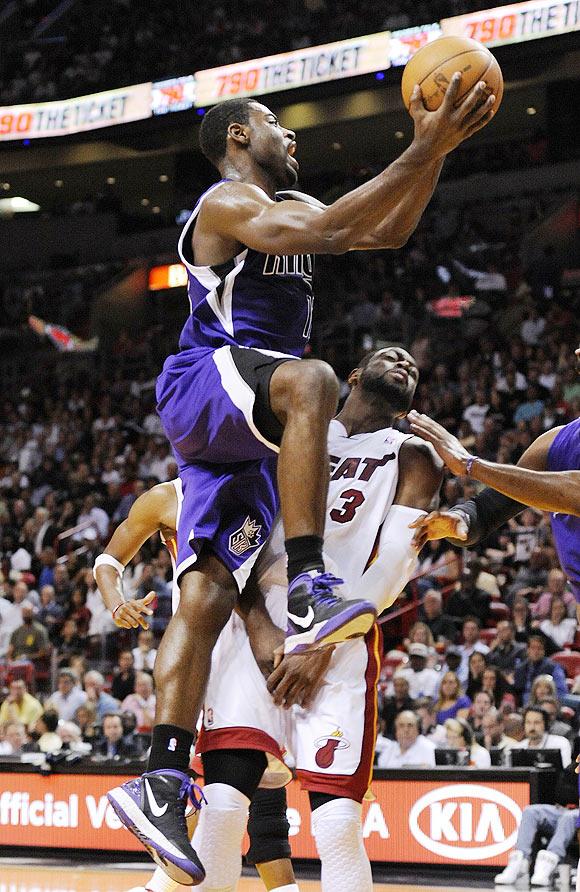 Sacramento Kings' Tyreke Evans (left) shoots over Miami Heat's Dwyane Wade (right) during the second half of their NBA basketball game in Miami, Florida.
CL: Lavezzi makes it Napoli nightmare for Chelsea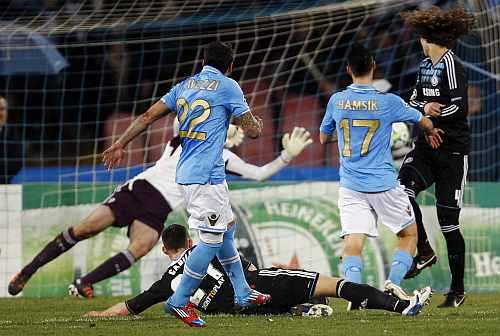 Ezequiel Lavezzi and Edinson Cavani combined to spark Napoli's 3-1 comeback win over Chelsea in their Champions League last 16 first-leg match on Tuesday that deepened the gloom hanging over the London club.
Tyson-loving Devendro tempers aggression for gold dreams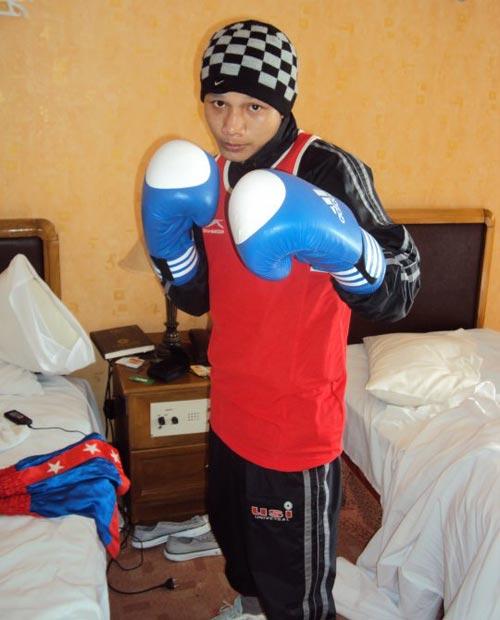 Having modelled the aggressive style of former heavyweight champion Mike Tyson to claim an Olympic berth, Indian boxer Devendro Singh knows curbing those attacking instincts is the only way to achieve his dream of a medal at the London Games.
February 21, 2012
'Wall of sound' velodrome passes the Olympic test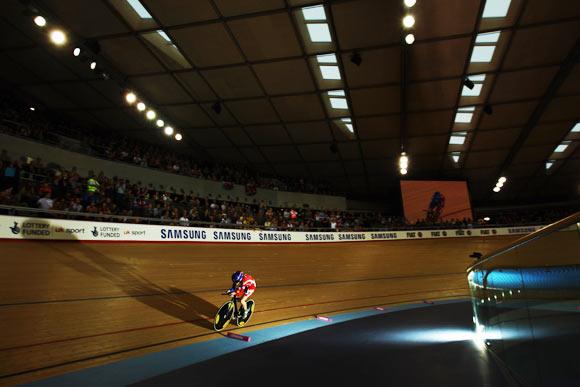 The 2012 Olympics suddenly seem a lot closer after a memorable weekend of World Cup track cycling, the first test event of an Olympic Park venue, proved a spectacular success for organisers, athletes, fans and media.
Basel face Bayern, Italian clubs face CL challenge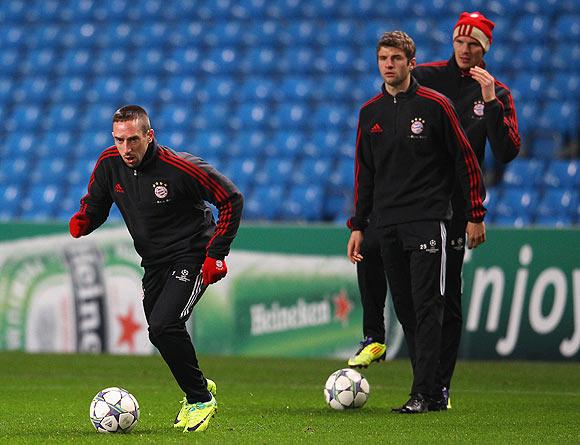 Surprise package FC Basel will be the only reigning domestic champions in action in the Champions League this week as they host Bayern Munich in the first leg of the round of 16.
February 20, 2012
PHOTOS: Indian men, eves remain on track for London 2012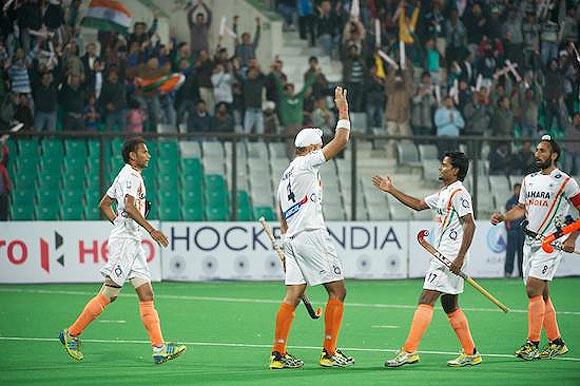 Having missed out on qualifying for the Beijing Olympics, the Indian hockey team remained on course for the London Games with clinical performances last week.
TOP SPORTS PHOTOS OF THE DAY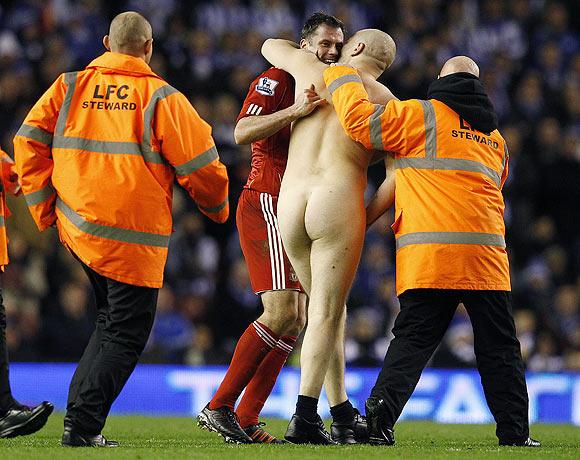 Top sports photos of the day.
The harsh reality of Arsenal's decline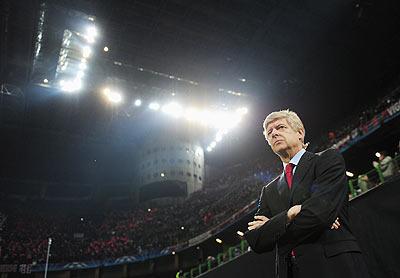 Following another failed season for Arsenal, and its manager Arsene Wenger, traces the decline of the North London club.
February 17, 2012
Olympics chairman says games can't fix gender inequality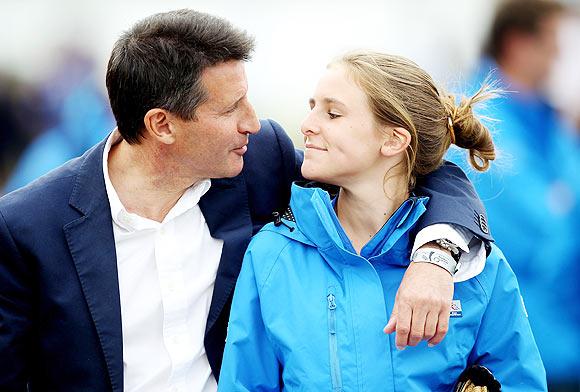 The chairman of the London 2012 Olympics said on Thursday that the Olympic committee needed to encourage more inclusiveness by countries that failed to send women to the games but cautioned that "sport is not the panacea for all ills."
THE TOP SPORTS PHOTOS OF THE DAY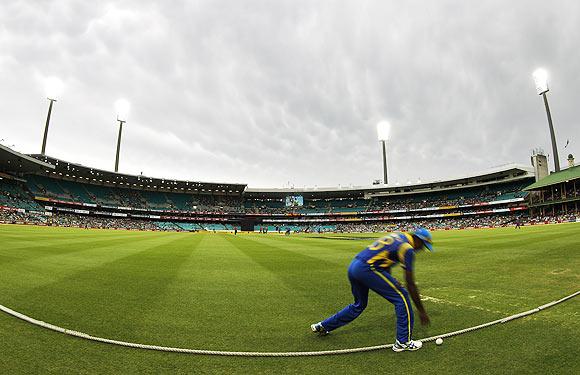 Sri Lanka's Farveez Maharoof picks up the ball from the boundary as storm clouds move over the Sydney Cricket Ground during their One-day International cricket match against Australia in Sydney.
Beckham sad to see Capello go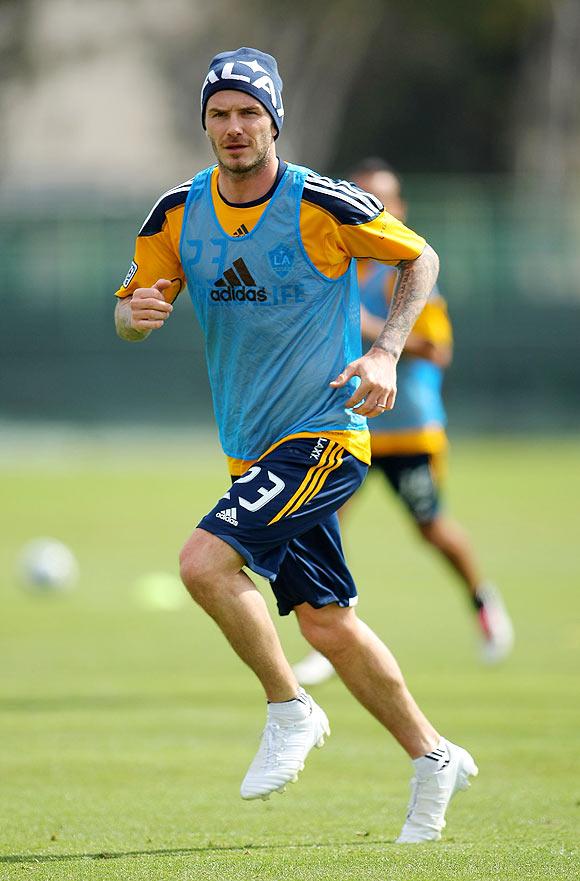 Former England captain David Beckham has offered his support to Fabio Capello, the Italian who called time on Beckham's international career, after his decision to stand down as England manager.
PHOTOS: Manchester clubs take charge in Europa League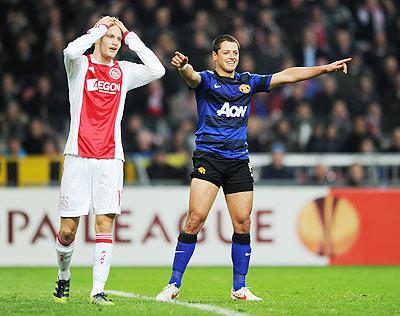 Manchester United earned comfort in the unfamiliar surroundings of the Europa League with a 2-0 win at Ajax on Thursday while their English rivals Manchester City fought back against holders Porto to also take control of their round of 32 tie.
Phelps growing in confidence as London Games loom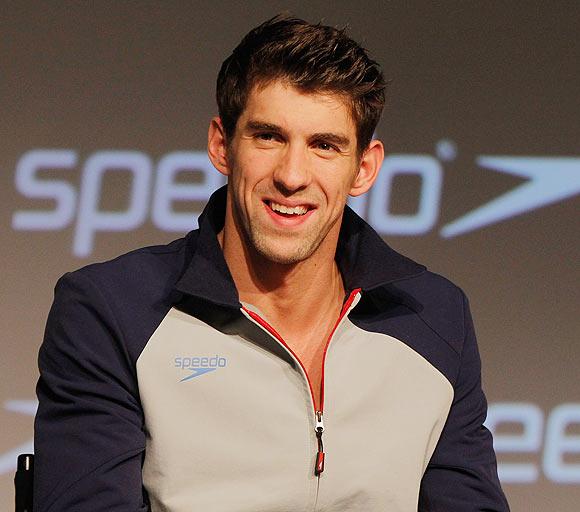 The clock is starting to tick faster for Michael Phelps. The London Olympics are drawing closer and the American swimmer knows that time is running out on his golden career.
Indian hockey must emerge from cricket's shadow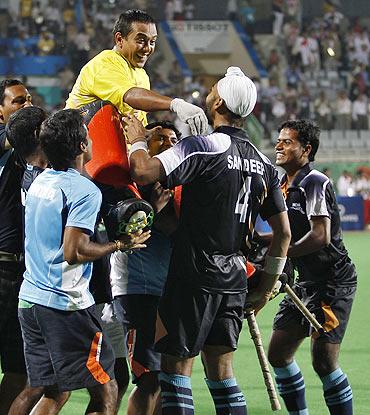 Indian hockey has fallen on hard times but captain Bharat Chetri believes it is his destiny to lead the team to the London Olympics and snatch a new generation of players away from cricket's grasp.
February 16, 2012
'London's Olympic stadium not fit for soccer'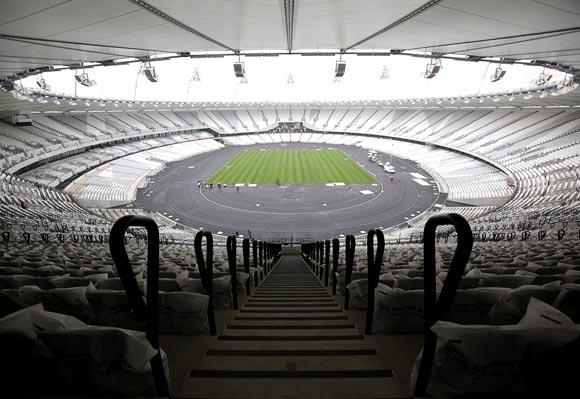 London's Olympic Stadium is not fit for football and risks turning into a white elephant after this year's Games, the chairman of third-tier English club Leyton Orient warned on Thursday.
In the father's footsteps... in a different sport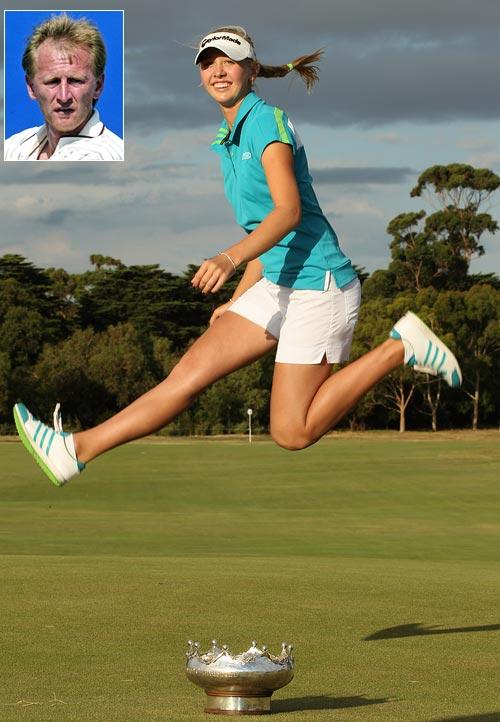 Jessica Korda's maiden LPGA Tour title at the Australian Open on Sunday completed a two-sport, father-daughter double. presents instances of children following in their parents' footsteps, with varying degrees of success in different disciplines.
February 15, 2012
Daley warned his medal hopes could take a dive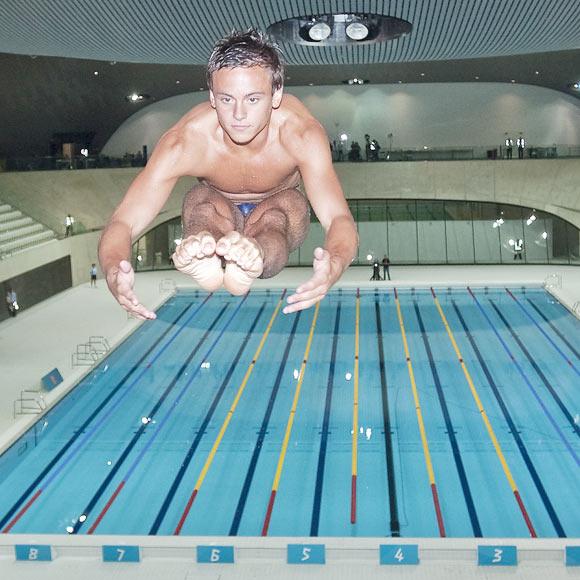 British diver Tom Daley has been warned that his media appearances could sink his hopes of winning gold at his home London Olympics.
PHOTOS: Barca avoiding La Liga hiccups on the road in Europe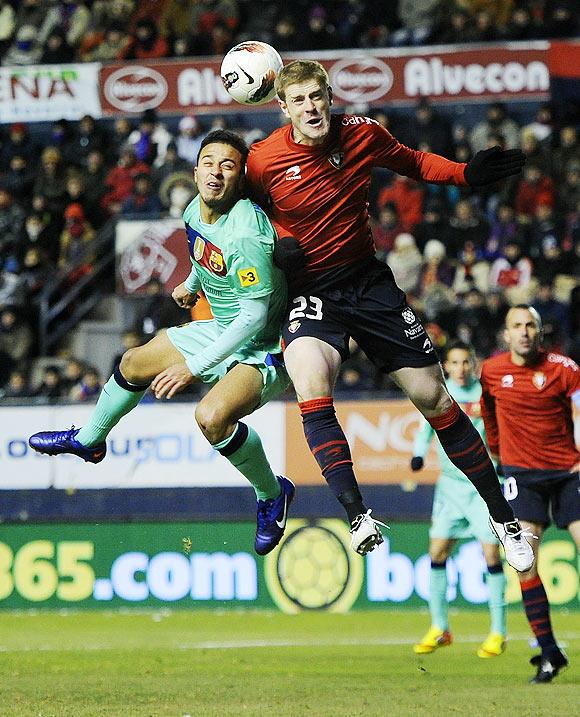 Barcelona's bid for a fourth straight La Liga title is foundering due to their erratic away form but Tuesday's 3-1 Champions League victory at Bayer Leverkusen suggests they are unlikely to suffer the same problem in Europe.
THE TOP SPORTS PHOTOS OF THE DAY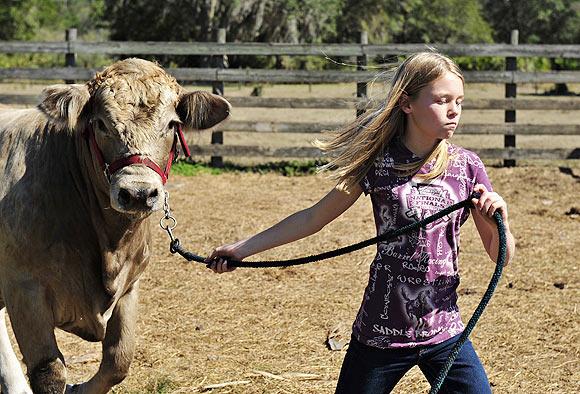 Rachel Shirah, 11, leads her steer Mo to his feeding area on the morning of the 52nd Miss and Little Miss Silver Spurs Pageant at her family's ranch in St. Cloud, Florida.
February 14, 2012
Vijender confident of making London Olympics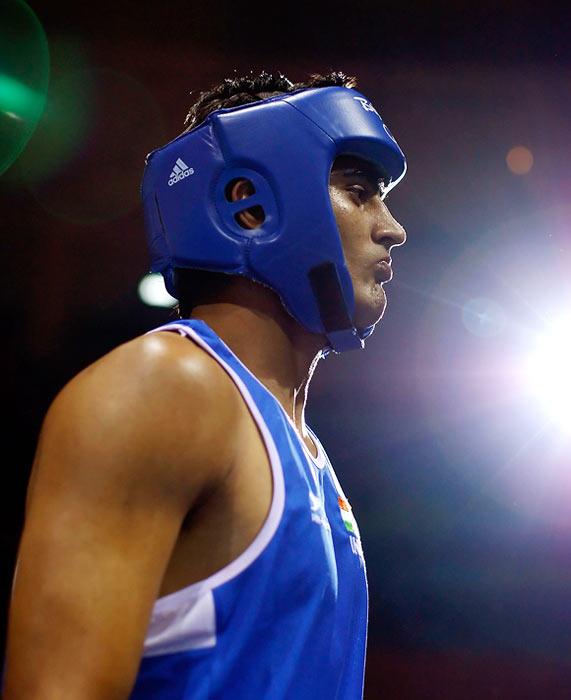 The 26-year-old, whose name is indelibly etched in the annals of Indian boxing's history after the Beijing Olympics bronze medal in 2008, has not yet qualified for the mega event.
THE TOP SPORTS PHOTOS OF THE DAY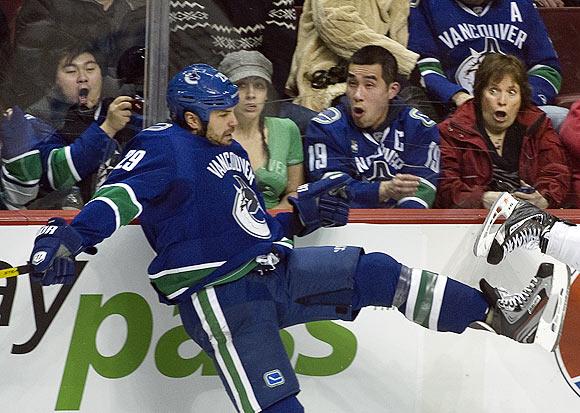 Spectators react after Vancouver Canucks Aaron Rome crashes into the boards during the third period of their NHL hockey game against the Phoenix Coyotes in Vancouver, British Columbia.
Gaza runner ready to fly Palestinian flag in London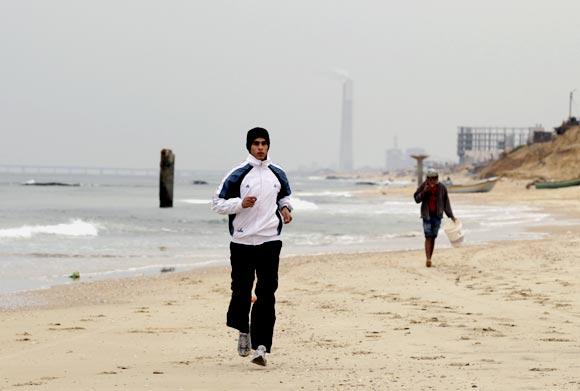 Palestinian athletes complain of a paucity of financial support at home and a lack of vital equipment and coaches that are crucial for success and to nurture talented youth, but by competing at the 2012 Olympics in London, a national dream will be realised.
Memory of dead players steers Zambia to victory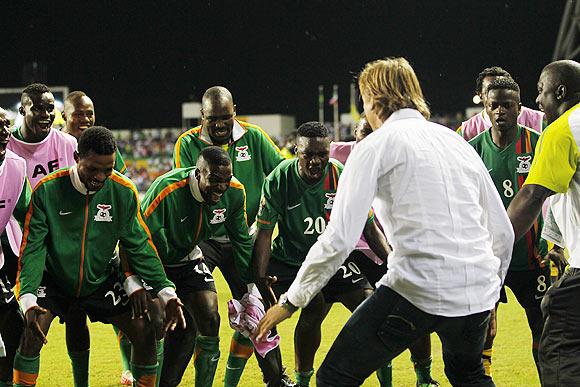 The memory of 18 players killed in an air crash almost 20 years ago carried Zambia's current generation to their extraordinary African Nations Cup triumph, the team said on Monday.
Mancini treated me like a dog, says Tevez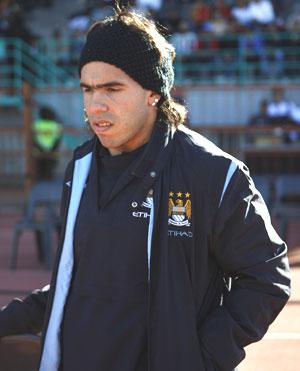 Manchester City's rebel striker Carlos Tevez left Argentina for England on Monday taking manager Roberto Mancini's olive branch with one hand and hurling an accusation he was treated "like a dog" with the other.
February 13, 2012
THE TOP SPORTS PHOTOS OF THE DAY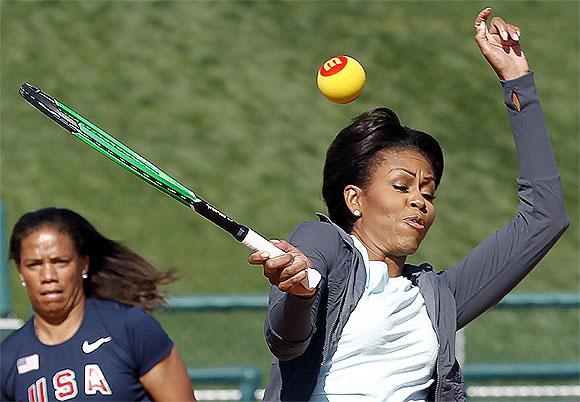 US First Lady Michelle Obama plays mini-tennis during a "Let's Move!" faith and communities physical activity at Disney World's ESPN Wide World of Sports in Orlando, Florida.
EPL: Lescott strike sends Man City back to top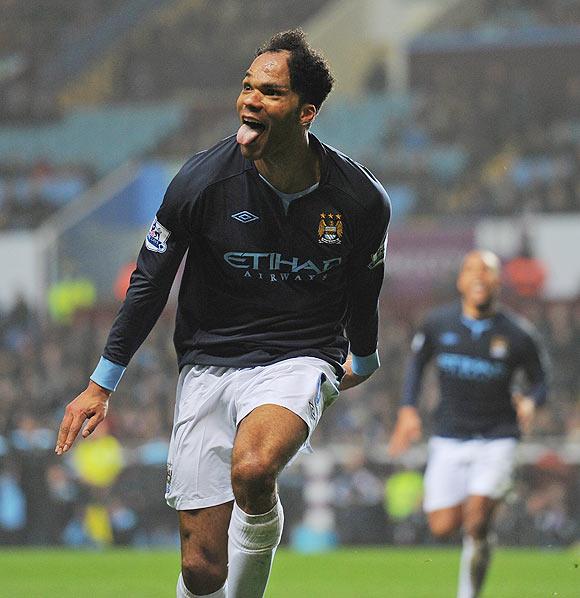 Joleon Lescott's 62nd-minute goal and a brilliant late save by goalkeeper Joe Hart sent Manchester City back to the top of the Premier League with a tense 1-0 win at Aston Villa Sunday.
February 12, 2012
Davis Cup: Woe for Federer as Swiss crash, Spain cruise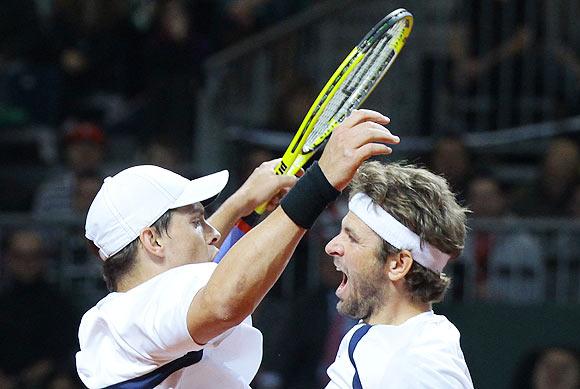 Roger Federer suffered defeat for the second day in succession as United States completed a surprisingly comfortable victory over Switzerland in the Davis Cup World Group first round in Fribourg on Saturday.
Suarez is a disgrace to Liverpool: Ferguson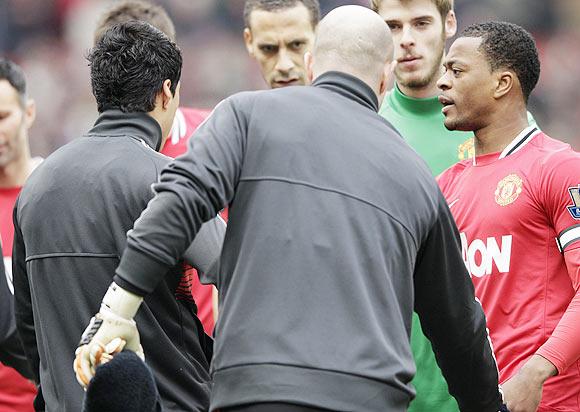 Luis Suarez is a disgrace to Liverpool and should never be allowed to play for them again, Manchester United manager Alex Ferguson said after the Uruguayan refused to shake Patrice Evra's hand on Saturday.
February 11, 2012
Davis Cup: Isner stuns Federer, holders Spain in control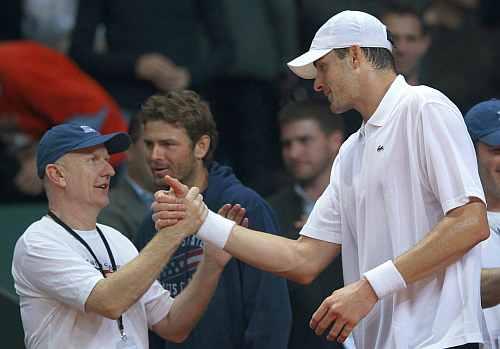 John Isner shocked Roger Federer in four sets to secure a 2-0 lead for the United States away to Switzerland in Davis Cup World Group action Friday while holders Spain carved out the same advantage over Kazakhstan in their first-round tie.
F1: Bruno writes new chapter in Senna story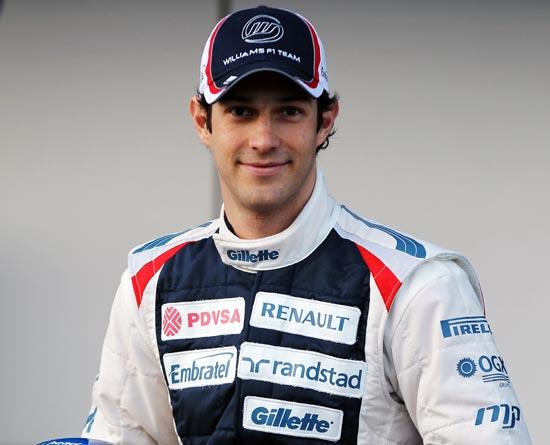 The Brazilian says his family is completely supportive as he treads in the footsteps of his late uncle Ayrton but the 28-year-old also recognises that the pain of the past will always be there.
February 10, 2012
THE TOP SPORTS PHOTOS OF THE DAY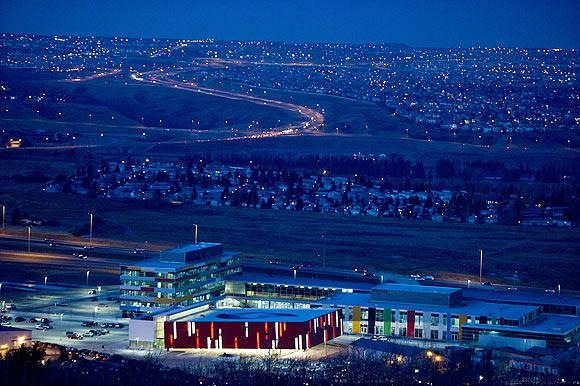 Canada's new Olympic Hall of Fame and Museum glows during dusk in Calgary, Alberta.
February 09, 2012
THE TOP SPORTS PHOTOS OF THE DAY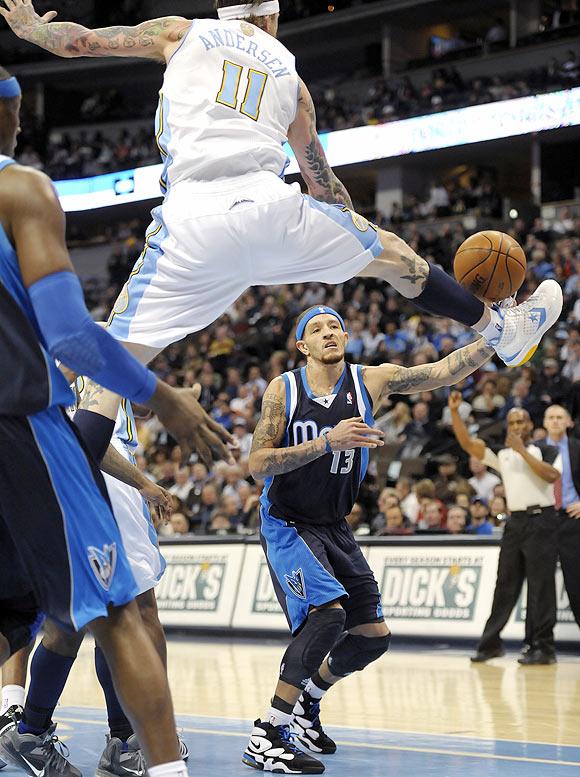 Denver Nuggets' Chris Andersen (left) kicks the ball from Delonte West (right) of Dallas Mavericks during their NBA Basketball game in Denver, Colorado.
Mumbling Capello never at home in England
Fabio Capello arrived in London four years ago with a sparkling CV but for all his club success he departed still barely able to speak English and with his adopted country rent with division and long shots for success at Euro 2012.
February 08, 2012
TOP CLICKS OF THE DAY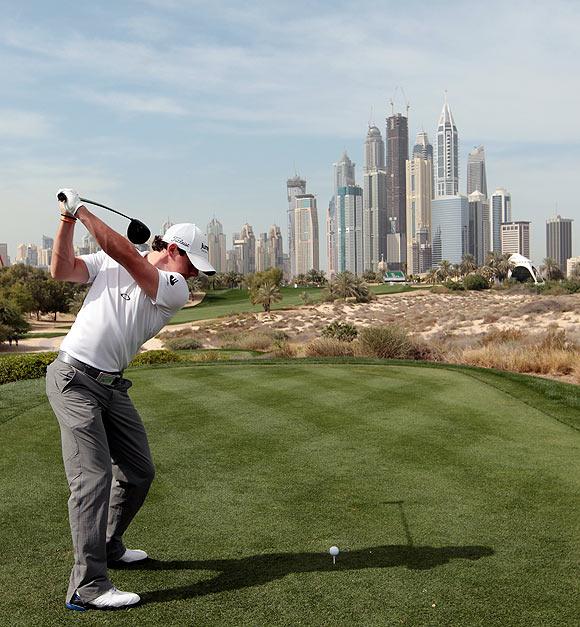 Rediff.com presents the top sports photographs of the day.
Contador mulls appeal over doping ban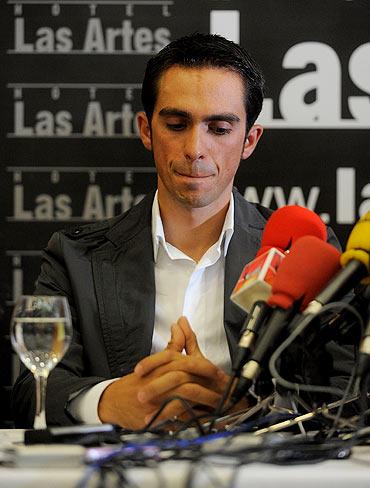 Alberto Contador was on Tuesday considering appealing against the two-year ban he was handed by Court of Arbitration for Sport (CAS) for failing a dope test during his victorious 2010 Tour de France campaign.
London offers Leander Paes chance to beat dad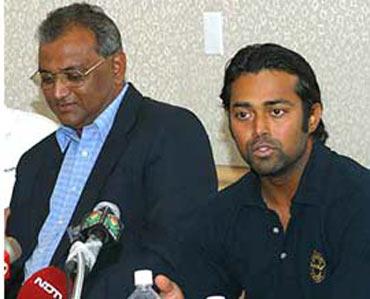 London's Olympics offer the seemingly ageless Leander Paes the chance to outdo his father in the medals stakes and to crown his doubles tennis career.
February 07, 2012
Top honours for Djokovic, Barca at Laureus Awards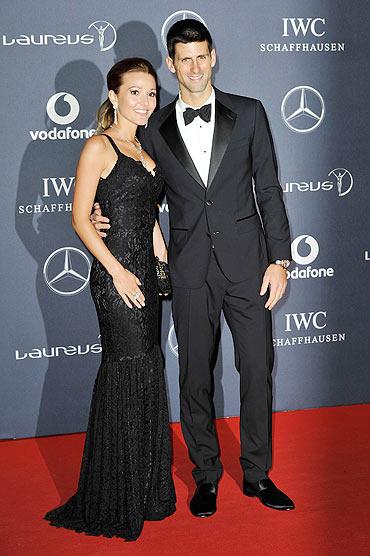 Serbian tennis star and World No 1, Novak Djokovic won the Sportsman of the Year, while Spanish football giants Barcelona won big at the 2012 Laureus Sports Awards in London on Monday.
TOP CLICKS OF THE DAY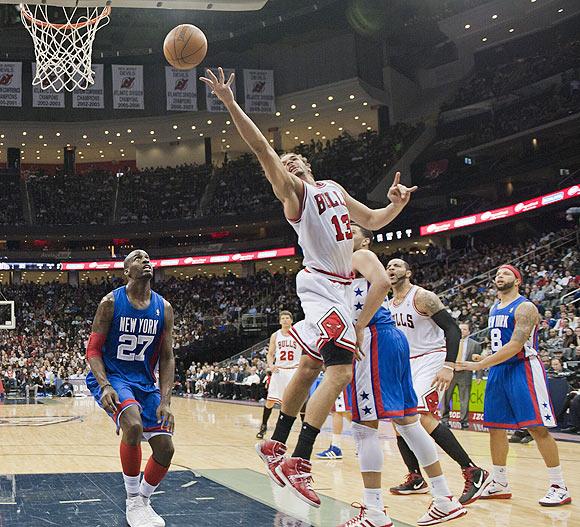 Chicago Bulls center Joakim Noah (13) reaches to score over New Jersey Nets center Johan Petro in the second quarter of their NBA basketball game in Newark, New Jersey on Monday night.
February 06, 2012
TOP CLICKS OF THE DAY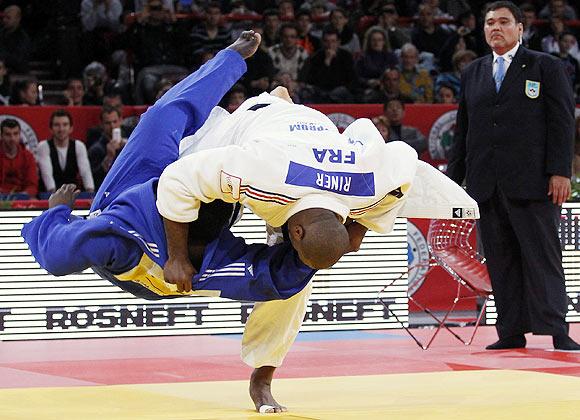 France's Teddy Riner (right) challenges Guatemala's Darrel Castillo in their +100 kg preliminary round at the Paris International Grand Slam judo tournament.
Football in India is growing: Bhutia
Former India captain Bhaichung Bhutia, who played his farewell match last month, believes that football has a bright future in the country.
EPL PHOTOS: Rooney on the spot in dramatic United fightback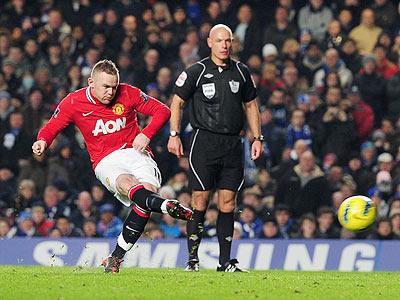 Manchester United staged a remarkable comeback from 3-0 down inspired by two Wayne Rooney penalties to salvage a 3-3 draw at Chelsea in a thrilling Premier League match on Sunday.
London best chance to win second Olympic medal: Paes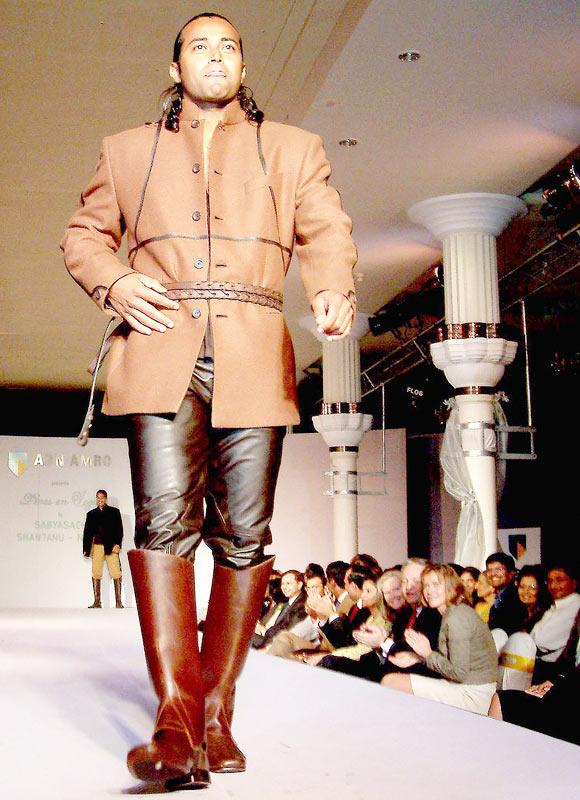 Ageless Indian tennis star Leander Paes, who completed a career Grand Slam at the Australian Open last week, says that the London Games is probably his "best" but not the "last" chance to win a second Olympic medal.
February 05, 2012
Lance Armstrong cleared of doping charges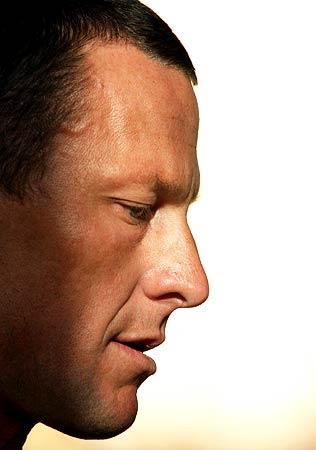 Federal prosecutors on Friday dropped an investigation centered on whether seven-time Tour De France champion Lance Armstrong and his teammates cheated the sponsor of their bike racing team with a secret doping programme.
February 04, 2012
EPL: Van Persie hits hat-trick as Arsenal crush Blackburn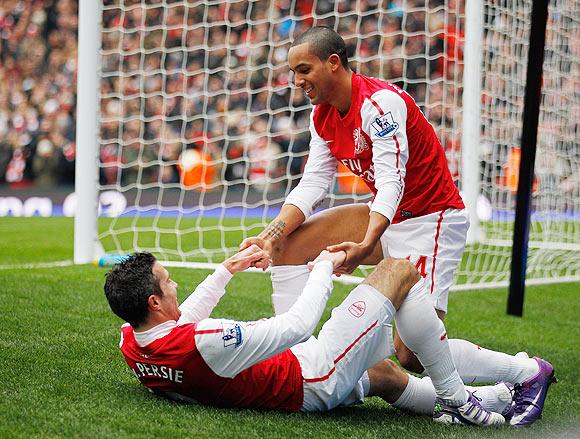 Robin van Persie scored a hat-trick as Arsenal crushed a woeful Blackburn Rovers 7-1 to chalk up their first league victory of 2012 at the Emirates Stadium on Saturday.
February 03, 2012
EPL preview: Ailing City bid to steal march on rivals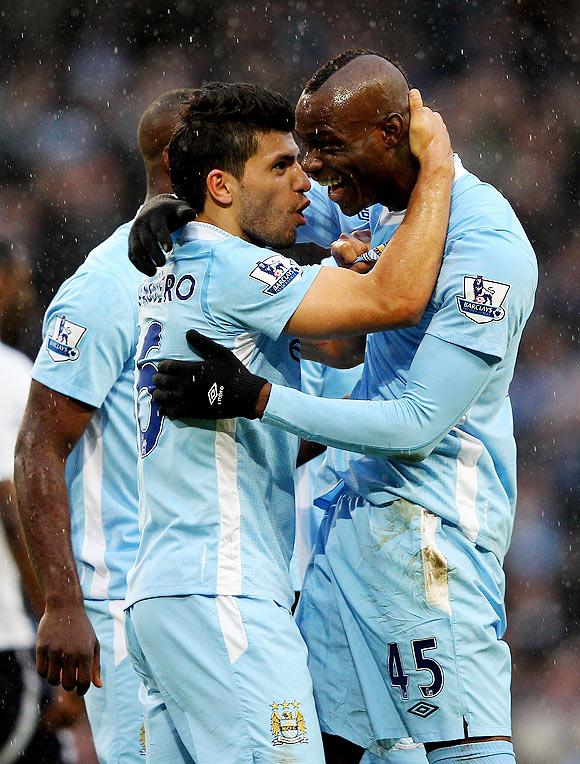 Having had their lead wiped out in midweek Manchester City have the chance to steal a march on their Premier League title rivals when they host Fulham on Saturday.
Barca coach Guardiola's contract decision pending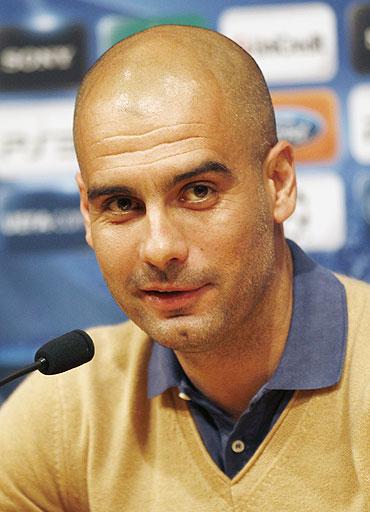 Barcelona are in the unusual position of having drawn their last three matches as they prepare for Saturday's home La Liga game against Real Sociedad and Pep Guardiola's unwillingness to commit to a new contract is not helping settle jangled nerves.
'Not sensible to pair Lee-Hesh if not interested'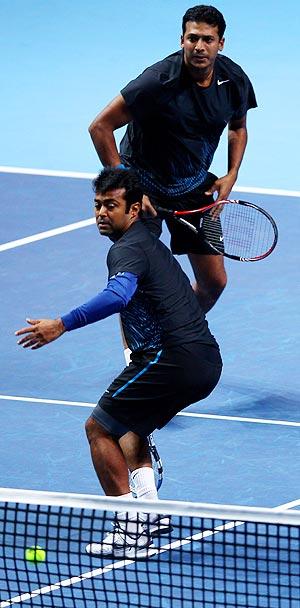 Leander Paes and Mahesh Bhupathi should not be forced to play together at the London Olympics if they are not comfortable in playing as a team, feels Indian tennis legend Vijay Amritraj.
February 02, 2012
PHOTOS: Egypt soccer game riot kills more than 74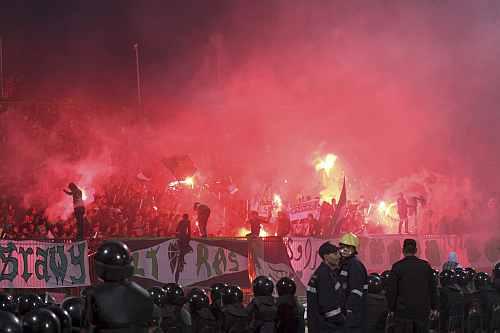 Seventy-four people were killed and at least 1,000 injured on Wednesday when Egyptian football fans staged a pitch invasion in the city of Port Said, the deadliest incident since the ouster of President Hosni Mubarak from power.
February 01, 2012
Road to Olympics: Shooters gung-ho about preparations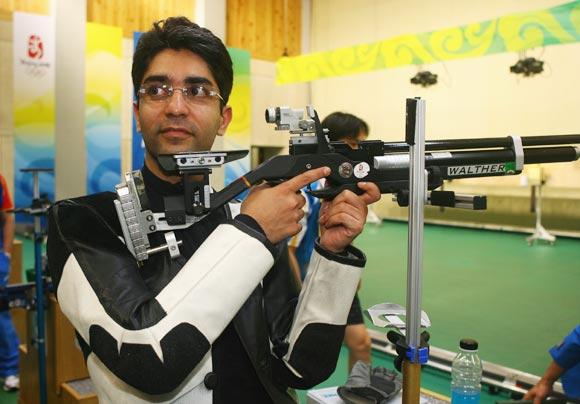 The Sports Ministry has spent over Rs 14 crore on providing training and foreign exposure to Indian shooters as part of its 'Operation Excellence' for this year's London Olympics.
Giggs aims to go on for another season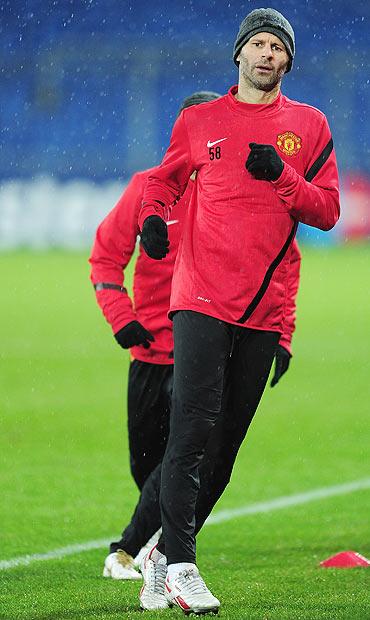 Manchester United's Ryan Giggs, who will be 39 later this year, said on Tuesday he had no thoughts of retiring and plans to continue playing for at least another season.
January 31, 2012
Asia urges green light for headscarves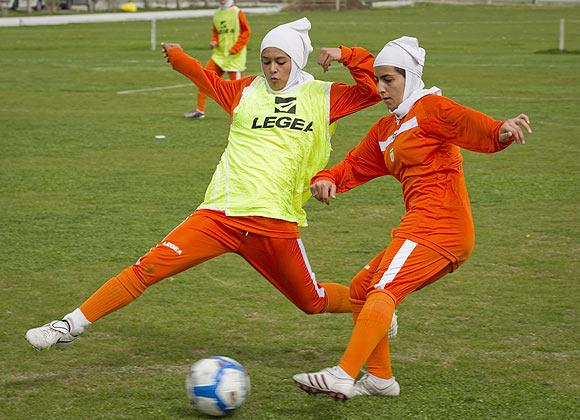 Asian soccer's acting president has urged the sport's rule-makers to change the laws to permit women to wear a headscarf in official matches.
Keen on peace match with Bopanna as partner: Aisam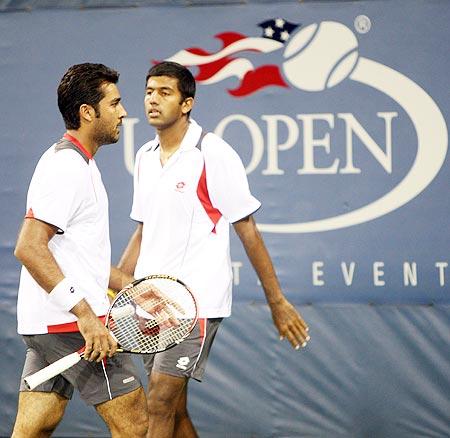 They may no longer be partners on the international circuit but Pakistan's top tennis player Aisam-ul-Haq Qureshi has not given up on the idea of teaming up with India's Rohan Bopanna for a 'peace match' to bolster Indo-Pak ties.
January 30, 2012
Cannavaro gets highest bid in Indian PLS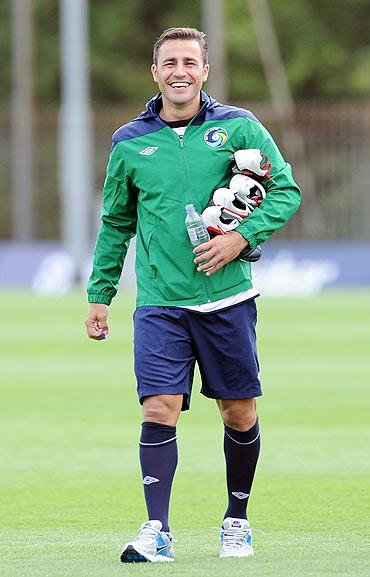 Italy's 2006 World Cup-winning captain Fabio Cannavaro got the maximum bid after being sold to Siliguri franchise, as a galaxy of world footballers and coaches went under the hammer in Kolkata on Monday for the Premier League Soccer to be held next month.
Rankings: Sania reaches career-best 7th spot in doubles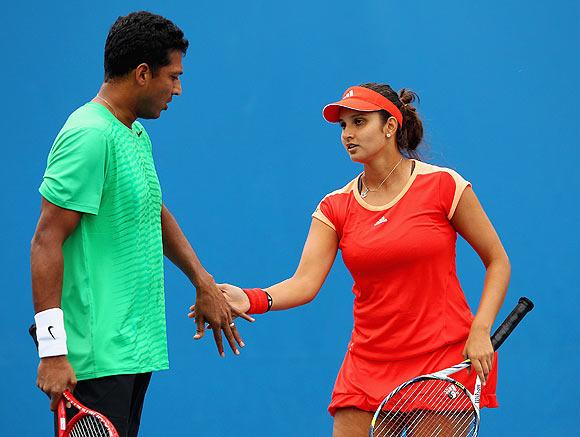 Sania Mirza's semifinal finish in the women's doubles event at the recently concluded Australian Open has catapulted her to a career-best ranking of seventh position in the latest WTA Team Rankings, issued on Monday.
We took the last drop of energy that we had: Djokovic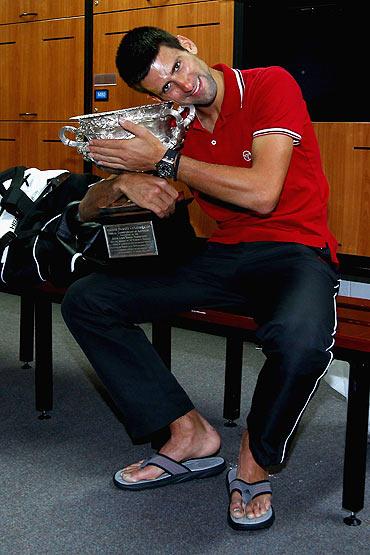 Novak Djokovic said Rafa Nadal had pushed him to the brink of exhaustion as his weary legs held him upright just long enough to see off the Spaniard in the longest Grand Slam final on record.
Record final has banished mental demons: Nadal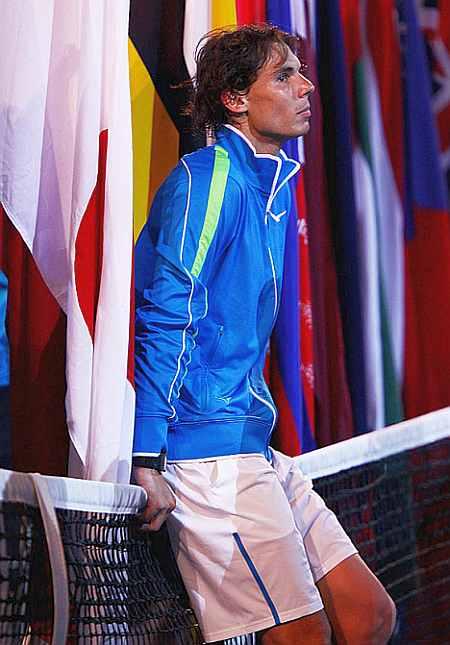 Rafa Nadal soothed his disappointment at yet another loss to Novak Djokovic in the longest ever Grand Slam final by declaring he was at least free of the mental chokehold the Serb had placed him under throughout last year.
January 29, 2012
Aus Open Photos: Djokovic downs Nadal in epic final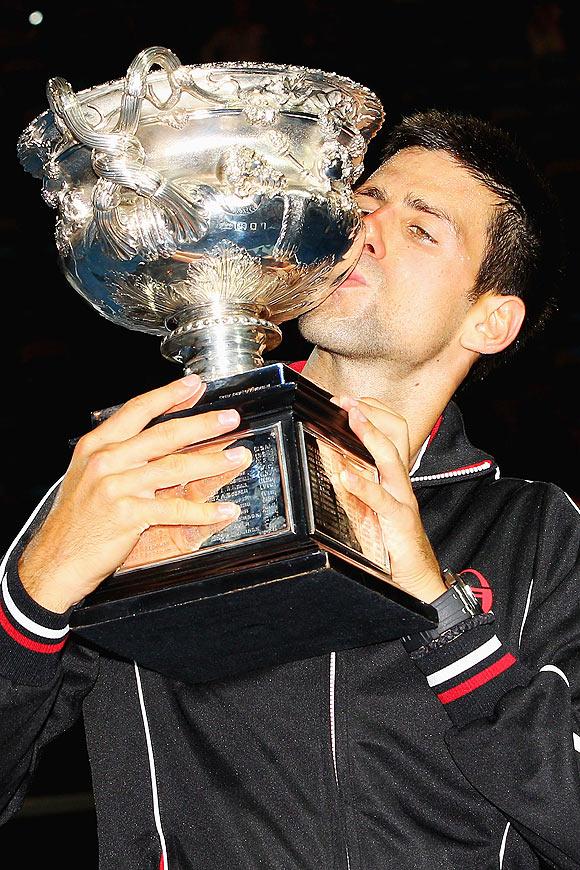 A fatigued Novak Djokovic stared down a ferocious challenge from Rafa Nadal to retain his Australian Open title on Sunday in the longest Grand Slam final played.
January 28, 2012
Leander Paes completes career Grand Slam. Congratulate him!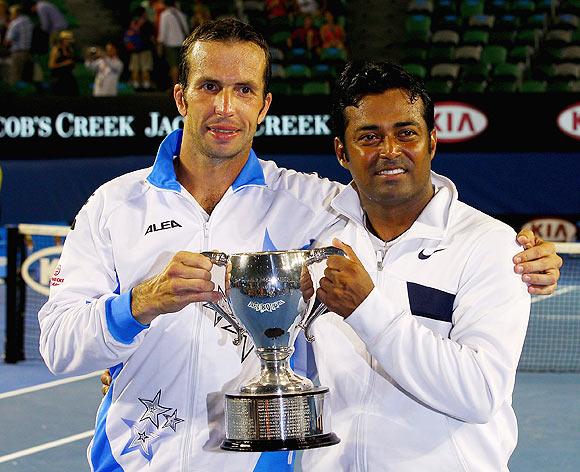 Leander Paes created history on Saturday, becoming the first Indian to complete a career Grand Slam by winning the Australian Open men's doubles title with Radek Stepanek.
Photos: Azarenka bullies Sharapova to claim maiden Aus Open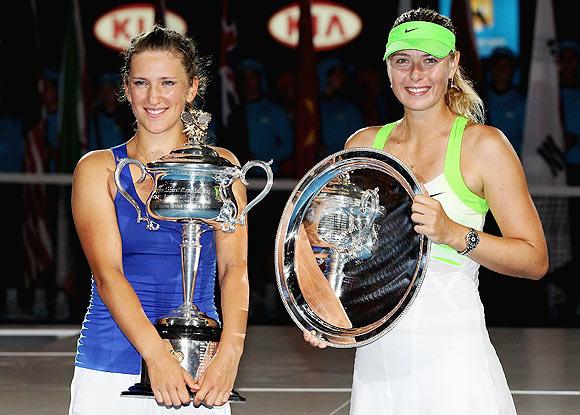 Victoria Azarenka sank to her knees in disbelieving triumph after winning her first grand slam singles title with a one-sided victory over Maria Sharapova in the Australian Open final on Saturday.
Aus Open: Paes-Stepanek win doubles title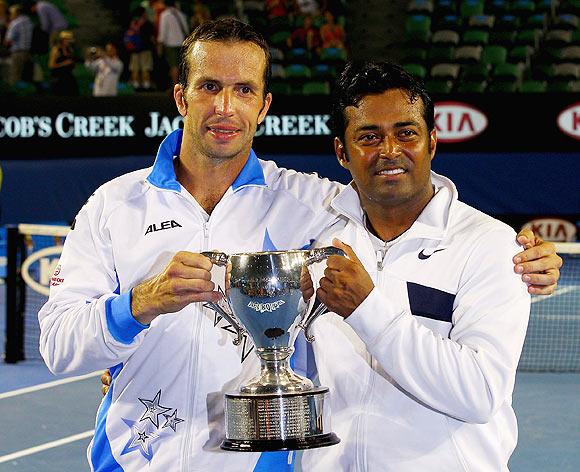 Leander Paes and Radek Stepanek upset Bob and Mike Bryan 7-6(1), 6-2 to win the Australian Open doubles title on Saturday and foil the American twins' bid for a record 12th Grand Slam crown.
I have a mental edge over Nadal: Djokovic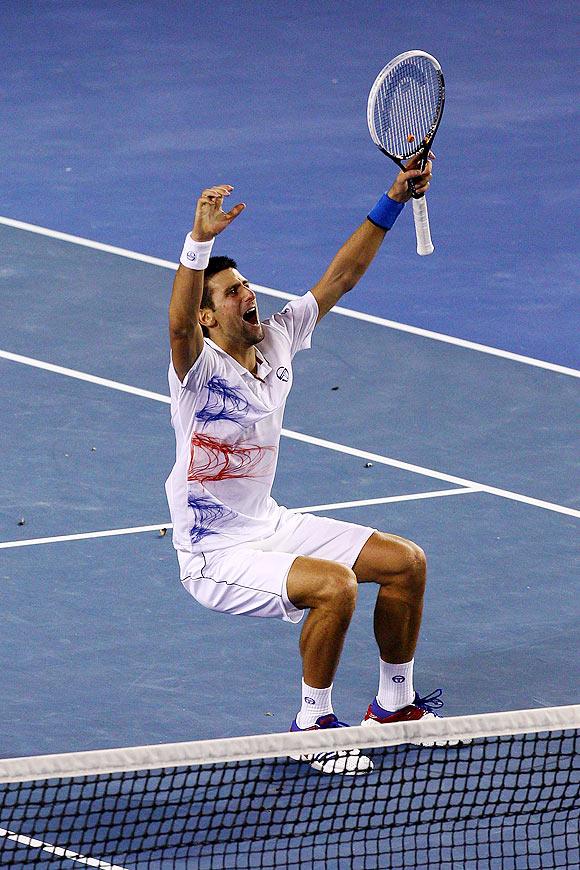 All the top three's charitable talk of new challengers ready to end their Grand Slam hegemony at the Australian Open has come to nothing and the top two seeds Novak Djokovic and Rafa Nadal will contest their third consecutive major final on Sunday.
January 27, 2012
Aus Open photos: Djokovic beats Murray in epic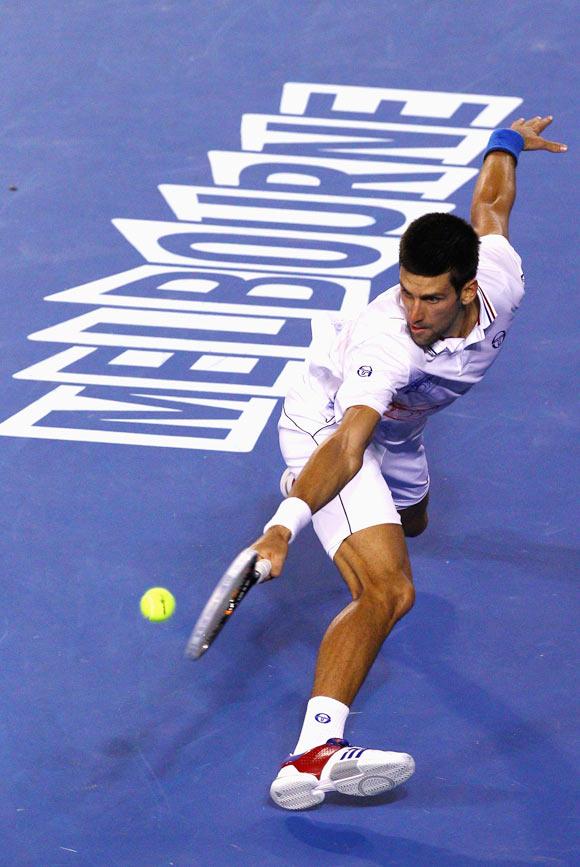 World No. 1 Novak Djokovic fought off what appeared to be breathing problems and fatigue to advance to the final of the Australian Open following an epic five-set semi-final victory over Britain's Andy Murray.
Venky's don't understand English football: Samba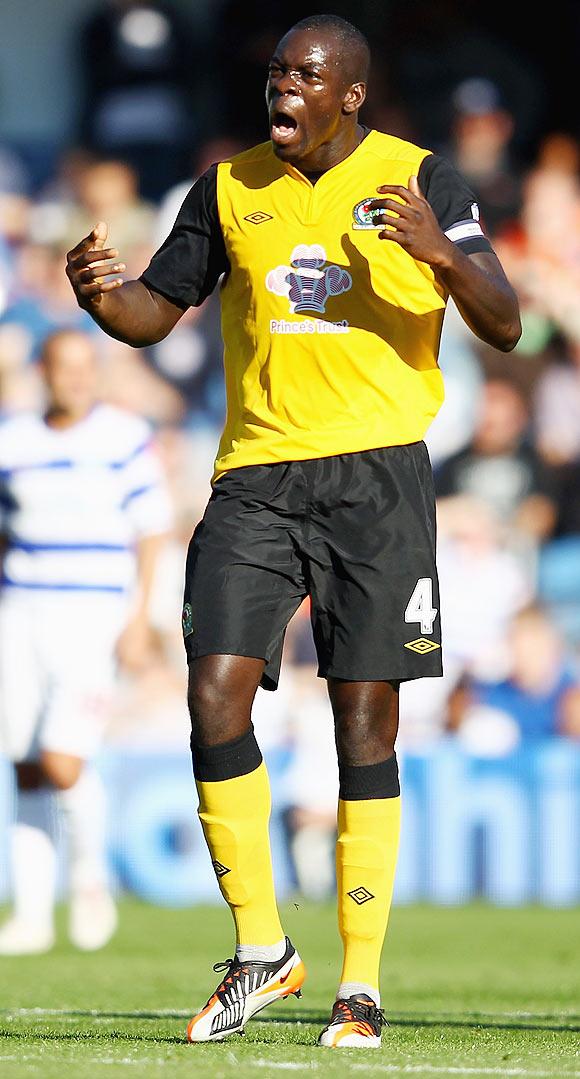 Christopher Samba continued his push to leave Blackburn Rovers on Friday, accusing the Premier League club's Indian owners Venky's of breaking their promises and "not understanding English football."
Aus Open: Women's finalists play down experience factor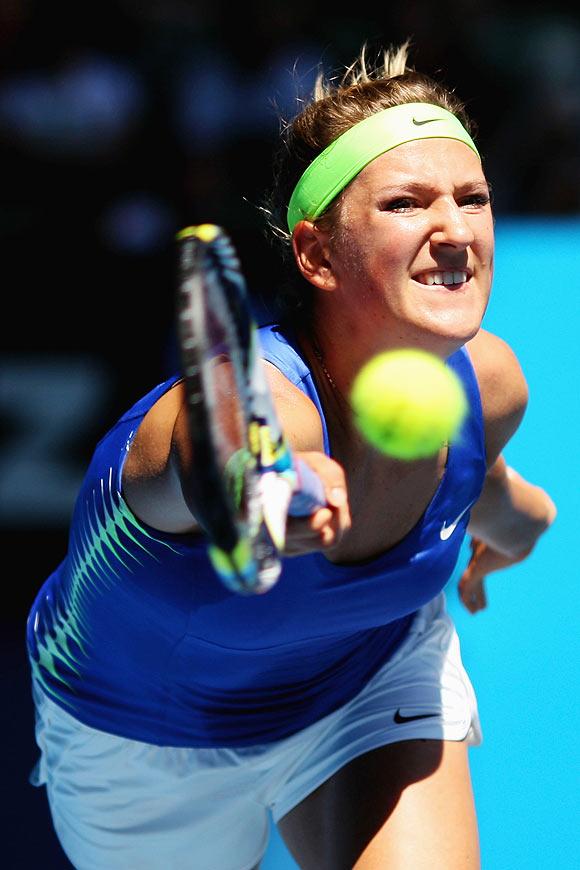 Victoria Azarenka refuses to accept that Maria Sharapova's greater experience could be the defining factor when they meet in the Australian Open women's final on Saturday.
January 26, 2012
Smart Sharapova hangs on to make Australian Open final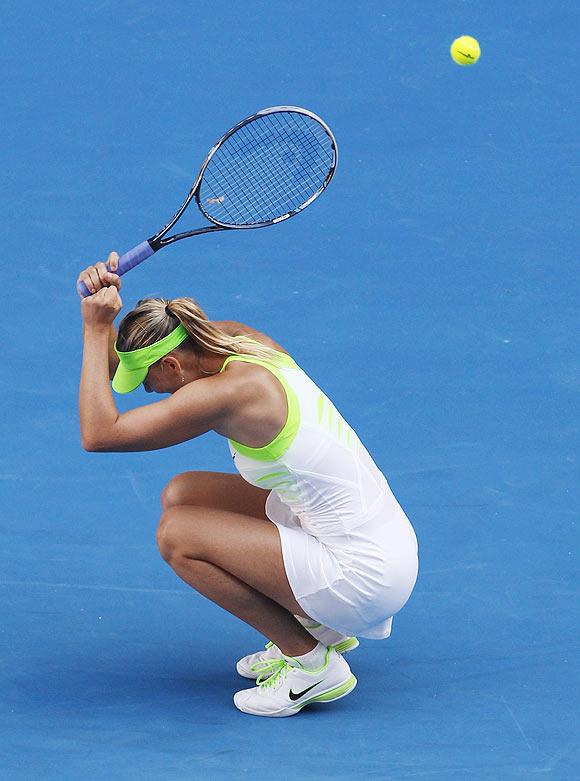 Maria Sharapova stood, looked at the players' box, slammed both of her fists down in celebration and let out an almighty roar of "Come on!"
Aus Open: Nadal edges Federer in Melbourne thriller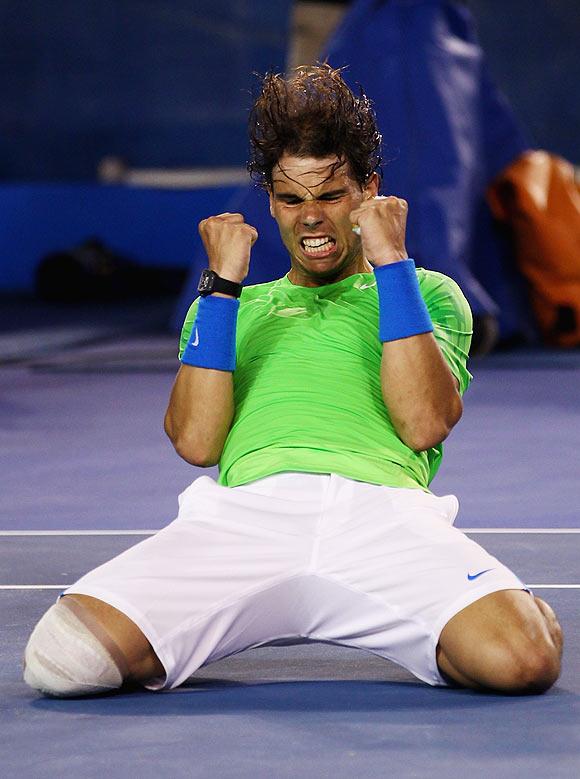 Rafa Nadal came from behind to topple great rival Roger Federer 6-7, 6-2, 7-6, 6-4 on Thursday in an enthralling Australian Open semi-final of the highest quality.
Flexibility a double-edged sword for Sania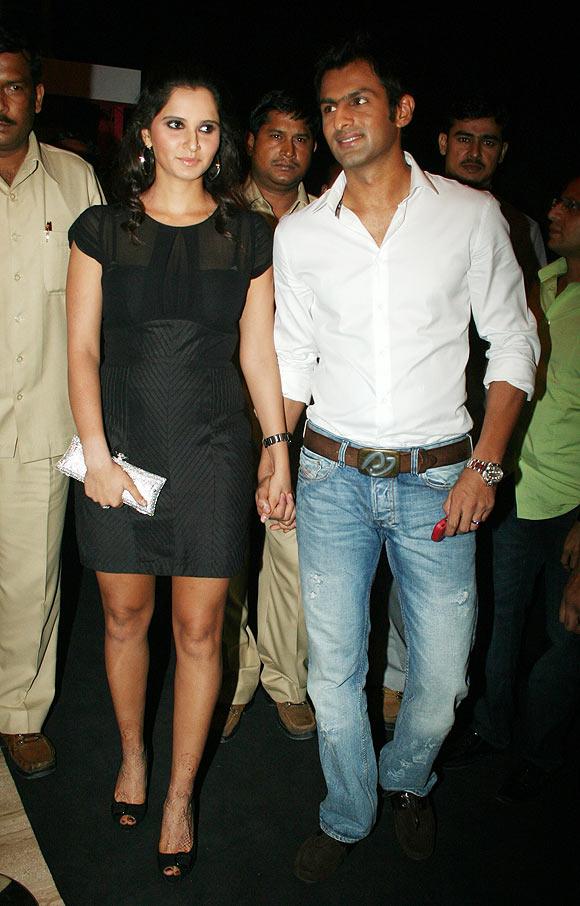 Sania Mirza yanks her thumb down to touch the underside of her forearm. "See?" she giggles. "I'm double-jointed."
PHOTOS: Sharapova, Azarenka set up final showdown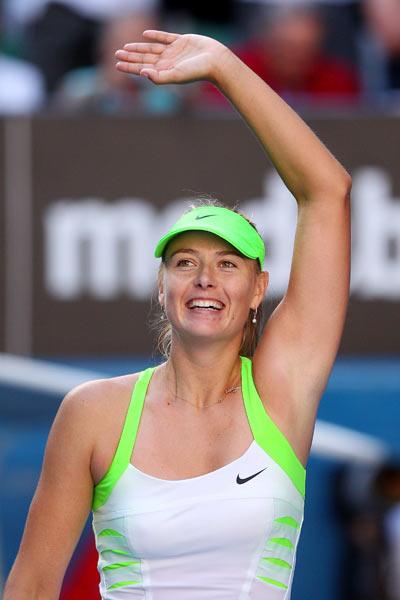 Fourth seed Maria Sharapova overcame a second set rally by Petra Kvitova to advance to her third Australian Open final with a 6-2, 3-6, 6-4 victory on Thursday. She will now meet third seed Victoria Azarenka in the final on Saturday after the Belarusian earlier beat 2011 champion Kim Clijsters 6-4, 1-6, 6-3.
January 25, 2012
Photos: Sharapova vs Kvitova, Djokovic vs Murray semis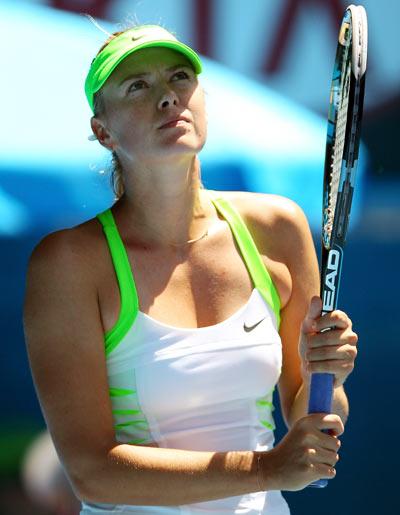 Russia's Maria Sharapova booked her spot in the last four of the Australian Open on Wednesday with a surprisingly simple 6-2, 6-3 win over compatriot Ekaterina Makarova. She will face Czech Petra Kvitova.
January 24, 2012
Time on my side, says beaten Wozniacki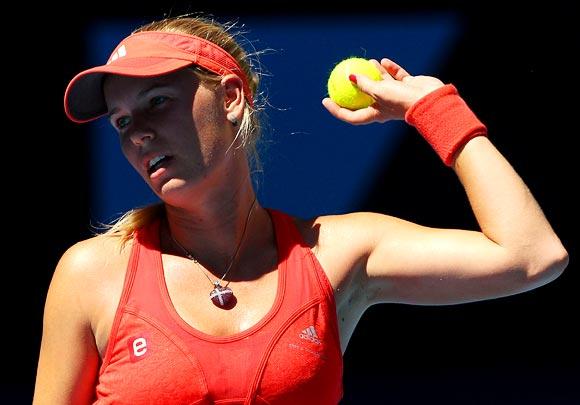 The Dane says it is just a matter of time before she reclaims her crown.
PHOTOS: Nadal sets up Federer semi, Clijsters marches on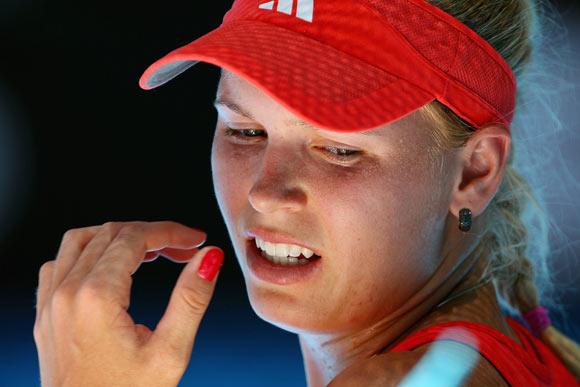 Images from day nine of the Australian Open 2012 Grand Slam tennis tournament in Melbourne, on Tuesday.
Mumbai Fighters' no-show won't deter team owner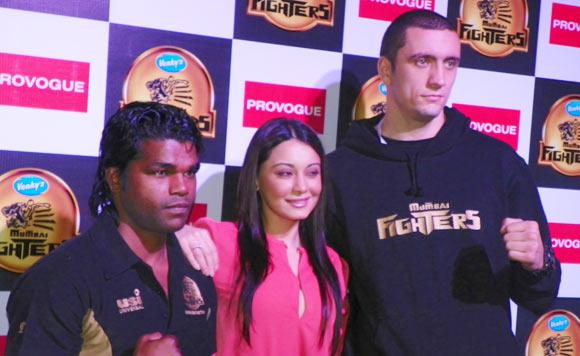 His team is not faring well in its first season in the World Series of Boxing. But Udit Sheth is not prepared to throw in the towel, says Laxmi Negi.
Beckham has big ambitions at the London Olympics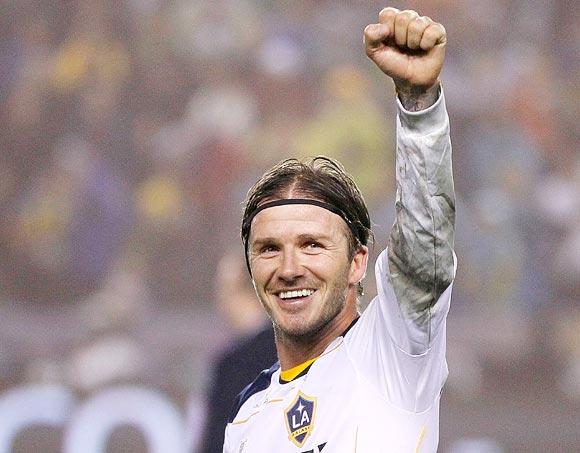 While David Beckham has set his sights on winning a second successive Major League Soccer (MLS) championship with the LA Galaxy this year, he also has big ambitions at the London Olympics.
January 23, 2012
Djokovic crushes Australian dreams to reach quarters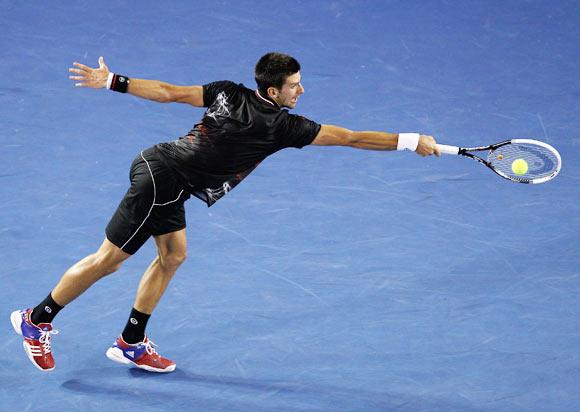 Novak Djokovic weathered a gallant challenge from a tenacious Lleyton Hewitt to send the last Australian in the draw packing and make the quarter-finals of the Australian Open on Monday.
PHOTOS: Manchester City stay ahead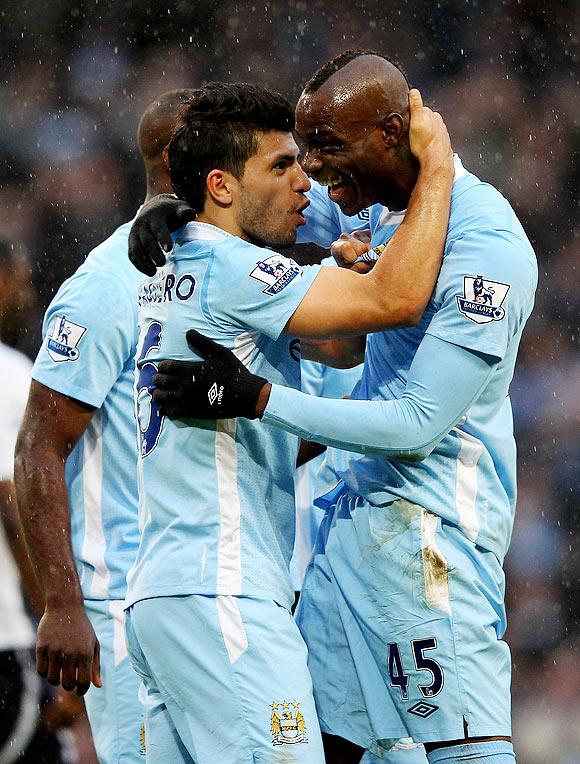 Manchester City secured a dramatic 3-2 win over Tottenham Hotspur to stay three points clear of Manchester United in England.
Kvitova makes a hash of smash in Melbourne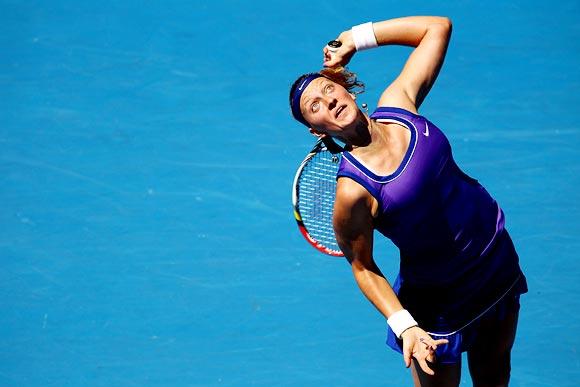 There's nowhere to hide when you hit the worst shot of a tennis Grand Slam.
PHOTOS: Serena, Tsonga shown the door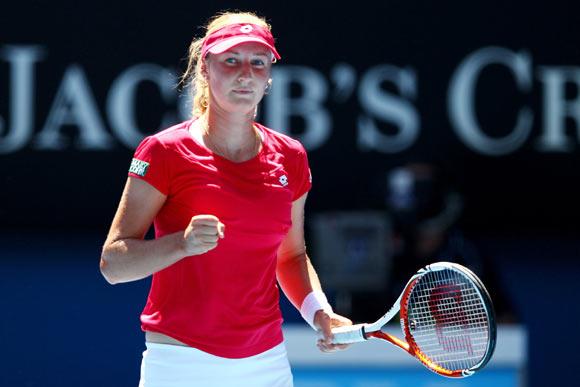 Russia's Ekaterina Makarova etched her name into Australian Open folklore on Monday by stunning Serena Williams 6-2 6-3 in their fourth-round match to end the American's aura of invincibility at Melbourne Park.
January 22, 2012
Lion-heart Clijsters overcomes Li Na challenge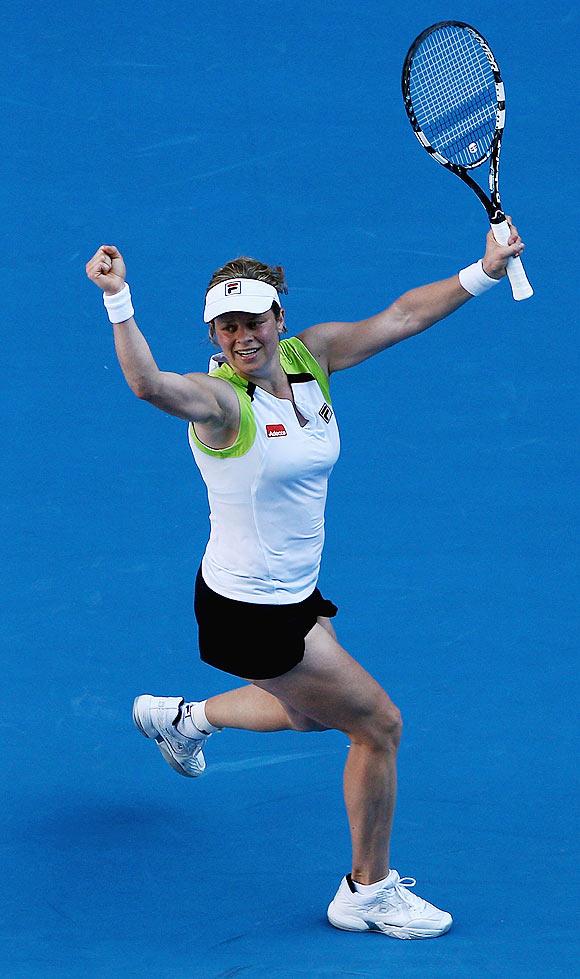 Kim Clijsters was courage personified as the defending champion shook off a painful ankle injury and saved four match points to overhaul China's Li Na 4-6, 7-6, 6-4 and reach the quarter-finals of the Australian Open on Sunday.
January 21, 2012
PHOTOS: Djokovic, Murray, Sharapova advance with ease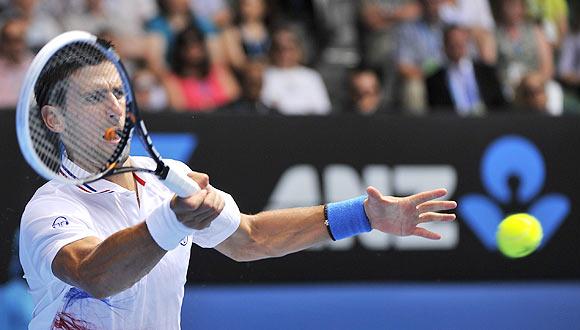 World No 1 Novak Djokovic praised the battling spirit of Nicolas Mahut after he thrashed the injured Frenchman 6-0, 6-1, 6-1 in 74 minutes on Saturday to reach the Australian Open last 16.
Same intensity in United-Arsenal matches: Wenger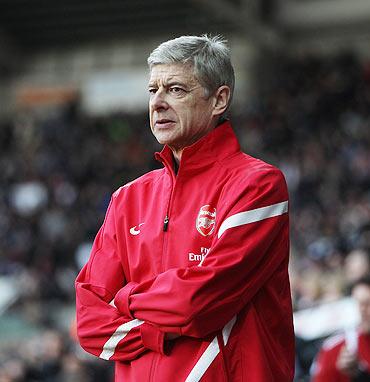 Matches between Arsenal and Manchester United are as fascinating as ever despite fresh teams emerging as Premier League title contenders, Arsenal manager Arsene Wenger said on Friday.
January 20, 2012
All down to experience as Clijsters eases through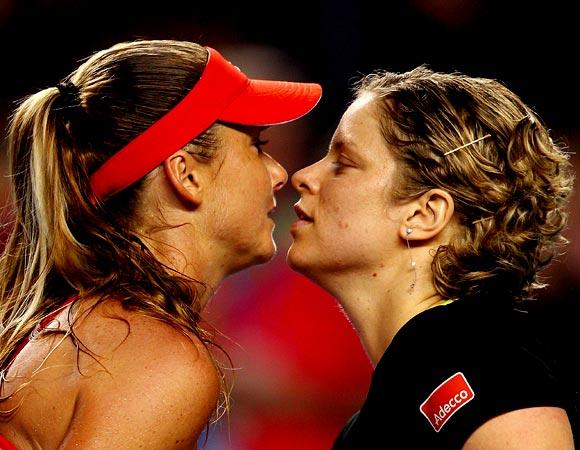 Kim Clijsters may have eased through the draw so far, but her experience on important points, knowing when they were and how to win them also helped her against Daniela Hantuchova.
Family's needs made Beckham's decision easy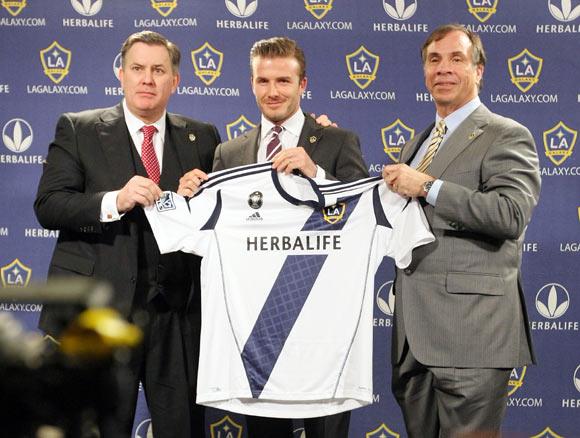 David Beckham's decision to spurn lucrative club offers in Europe and return to the LA Galaxy on a fresh two-year contract was an easy one to make, the former England captain said on Thursday.
PHOTOS: Nadal and Federer shine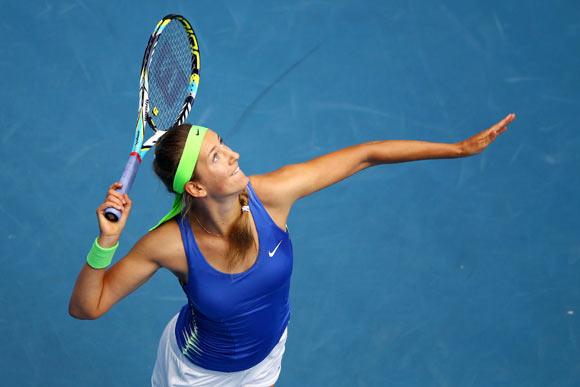 Rafa Nadal struck a blow for the old establishment, overwhelming Lukas Lacko to become the first man into the Australian Open's last 16 on Friday, before Caroline Wozniacki's reign as world number one survived with a win over Romania's Monica Niculescu.
January 19, 2012
'Shameful' Pepe slammed for stamping on Messi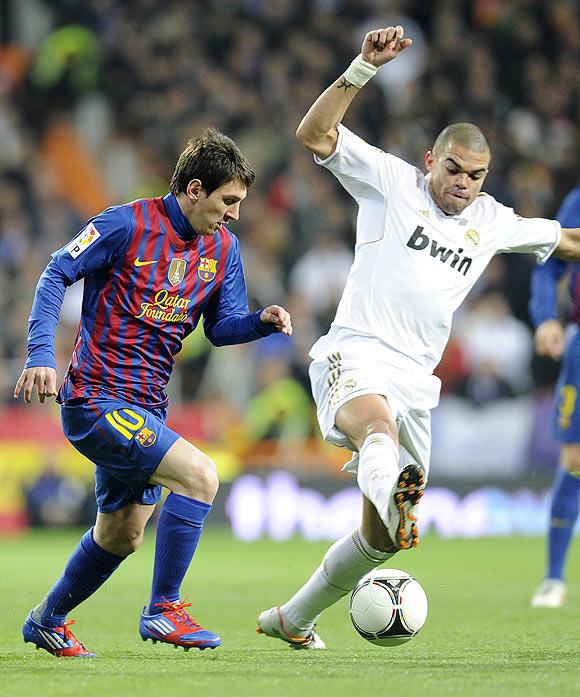 The normally loyal Madrid-based sports papers rounded on Pepe on Thursday after the Real Madrid defender's stamp on Lionel Messi's hand during Wednesday's King's Cup quarter-final first leg defeat by Barcelona.
Baghdatis causes racquet and his rage goes viral
Whack. Whack, whack, whack. Whack. Whack. Four broken racquets, $1,250 worth of fines and more than 200,000 hits on video sharing website YouTube was all it needed for Marcos Baghdatis to enter Australian Open folklore.
PHOTOS: Sharapova, Serena and Djokovic cruise at Aus Open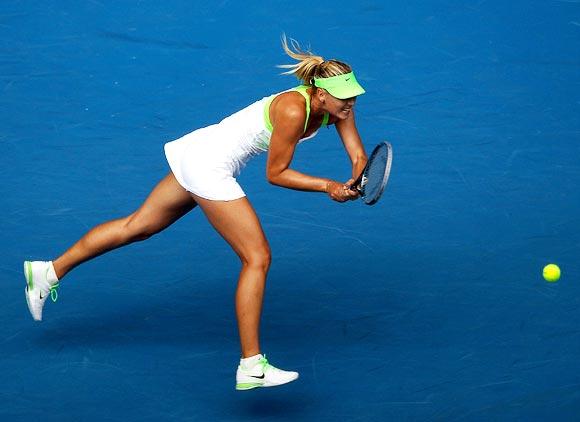 Images from day four of the Australian Open 2012 tennis tournament in Melbourne, on Thursday.
Beckham to rejoin Galaxy on two-year deal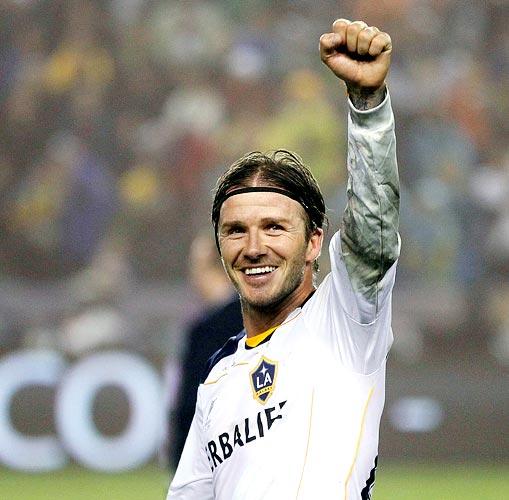 Former England captain David Beckham will be returning to the LA Galaxy on a fresh two-year contract, the Major League Soccer (MLS) team said on Wednesday.
January 18, 2012
PHOTOS: Nadal routs Haas; Wozniacki, Li advance at Aus Open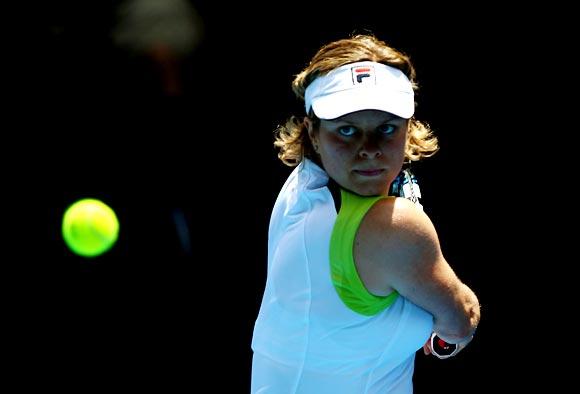 Images from day three of the Australian Open 2012 tennis tournament in Melbourne, on Wednesday.
They are back... and blazing in the English Premier League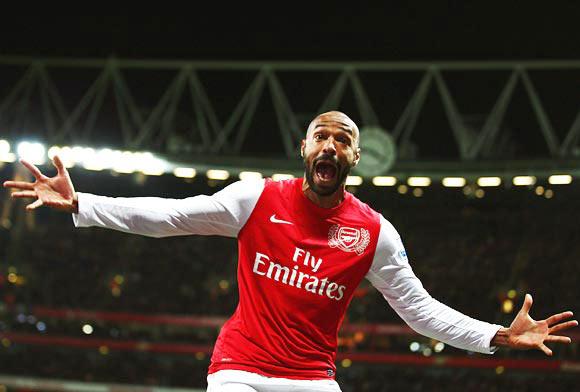 Rediff.com takes a look at stars who returned to the stage where they left a mark in their heydays.
January 17, 2012
Australian Open: Stosur melts as other seeds handle the heat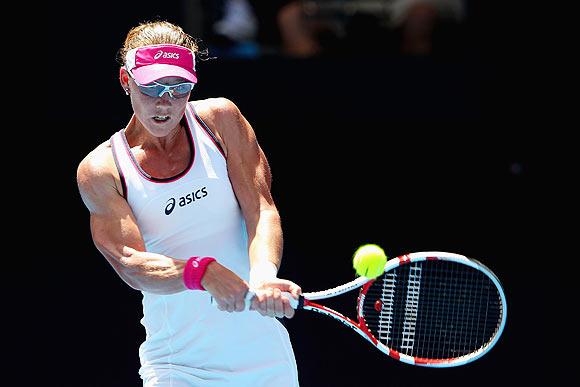 Local favourite and sixth seed Sam Stosur became the highest ranked player to crash out of the Australian Open first round on Tuesday while men's fourth seed Andy Murray was pushed by Ryan Harrison before he overcame the American teenager in four sets.
PHOTOS: Easy wins for Djokovic, Sharapova at Aus Open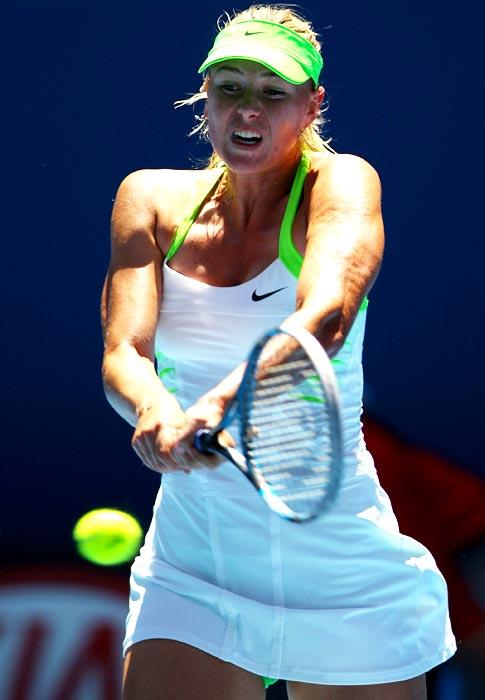 Images from day two of the Australian Open 2012 tennis tournament in Melbourne, on Tuesday.
The greatest of all time turns 70. Wish him!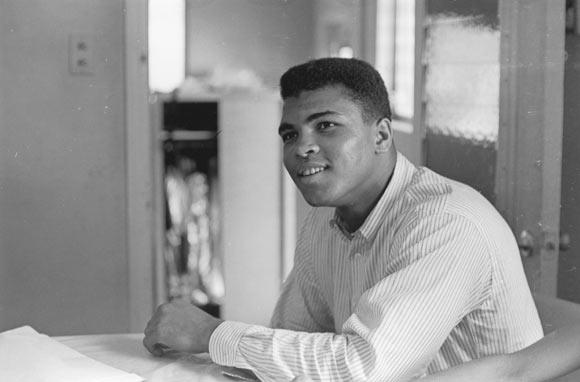 Bikash Mohapatra salutes boxing legend Muhammad Ali on his 70th birthday.
January 16, 2012
Aus Open photos: Federer, Nadal, Clijsters have it easy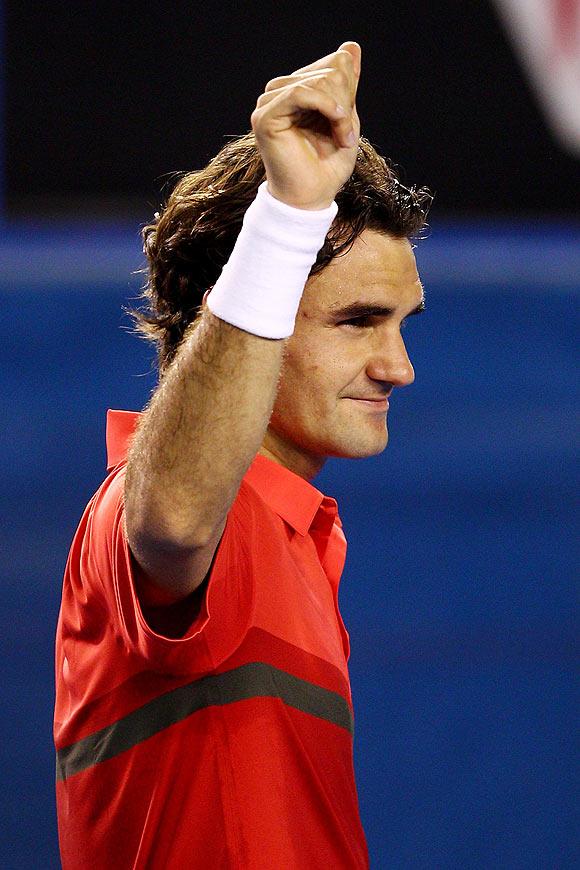 Images from Day 1 at the Australian Open, in Melbourne, on Monday.
January 15, 2012
African flavour dominates Mumbai Marathon again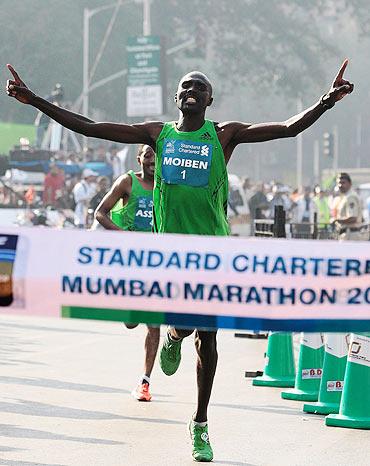 Kenya's Laban Moiben and Ethiopian Netsanet Abeyo bagged the top honours in contrasting fashion in the men's and women's categories at the 9th Standard Chartered Mumbai Marathon on Sunday even as India's Ram Singh Yadav qualified for the London Olympics.
January 14, 2012
Back injury was a real concern, says Federer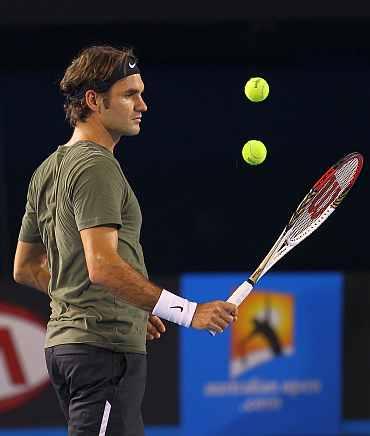 Roger Federer's remarkable run of appearing at every Grand Slam since 2000 was closer to ending than ever after a back injury at the Qatar Open earlier this month threw his Australian Open participation into doubt.
Sleeping giant Serena ready to take back throne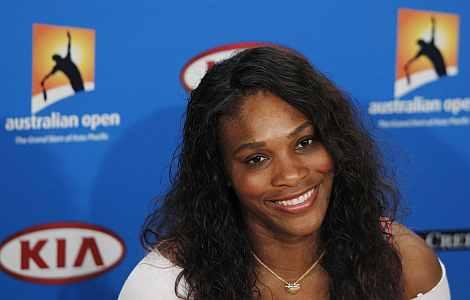 Serena Williams has played two matches in five months and comes into the Australian Open still feeling the effects of a twisted ankle but the American has no doubts she can claim a 14th Grand Slam single title.
January 13, 2012
'You cannot plan for a replacement for Alex Ferguson'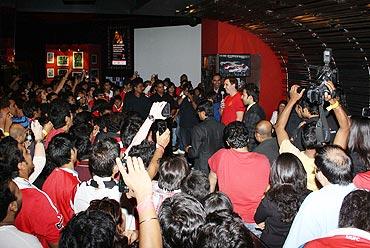 Former Manchester United ace Gary Neville reveals why he never quit the champion club, and shares his thoughts on manager Sir Alex Ferguson and the future of football in India.
Leading women limp into Australian Open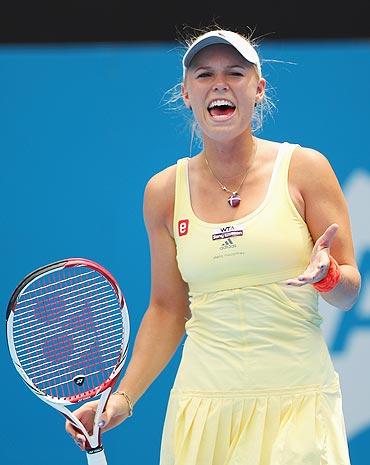 The women's draw for the Australian Open is resembling the march of the walking wounded, with more than a quarter of the top 25 ruled out or carrying injuries into the year's first Grand Slam.
January 12, 2012
Rathore, Sandhu eye Olympic berths at Asian shooting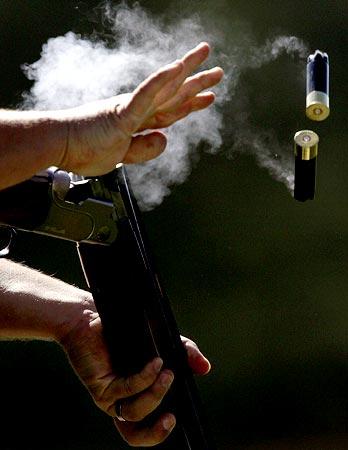 The Indian shooting contingent is gearing up to earn more Olympic quota places in the Asian Shooting Championship that gets underway in Doha from Friday.
'Lendl can help Murray overcome Grand Slam drought'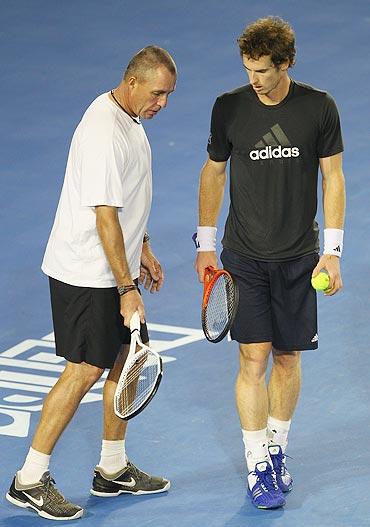 Ivan Lendl could be the missing piece to Andy Murray's Grand Slam puzzle, says the Briton's former-coach Darren Cahill, who helped pick his new mentor.
The sports world's dream and doomed comebacks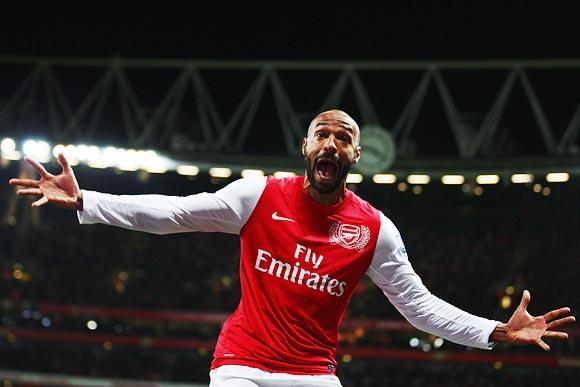 Many ageing sportsmen have been unable to resist the lure of a comeback but few have returned as spectacularly as Thierry Henry did with Arsenal at the ground where only last month he was immortalised with a bronze statue for his achievements.
January 11, 2012
All you wanted to know about the Australian Open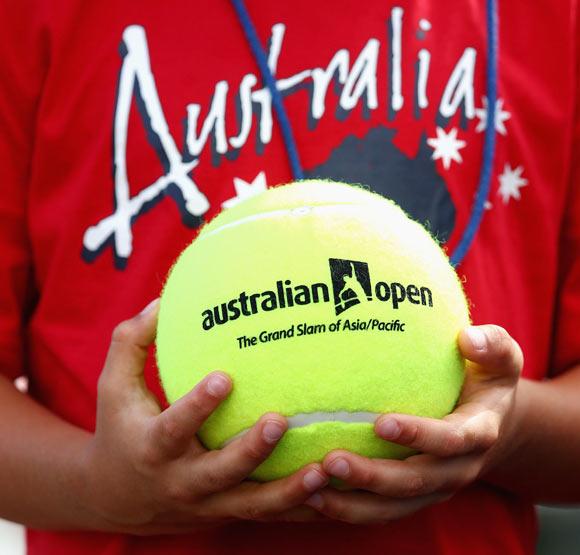 As Kim Clijsters and Novak Djokovic set out to defend their titles at Melbourne Park, rediff.com takes a look at a few interesting facts and figures related to the year's first major tournament.
Messi still needs to shine at the World Cup, says Platini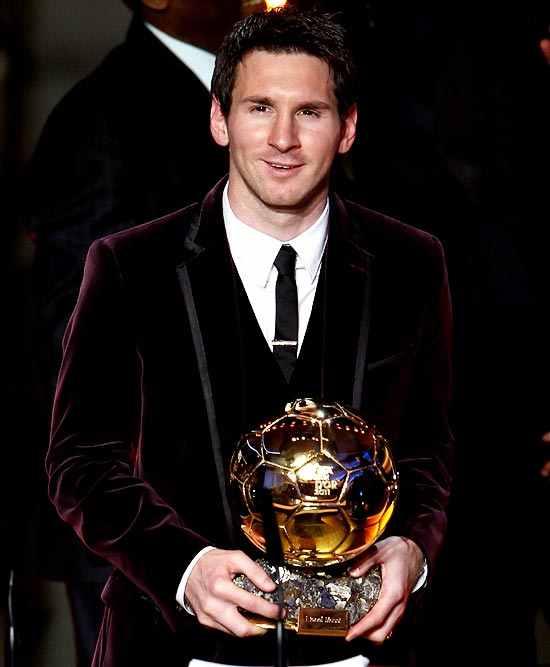 Lionel Messi still needs to produce his best at the World Cup to be remembered as one of the truly great players, former France captain Michel Platini said on Monday.
January 10, 2012
It was a privilege playing alongside Bhaichung: Chhetri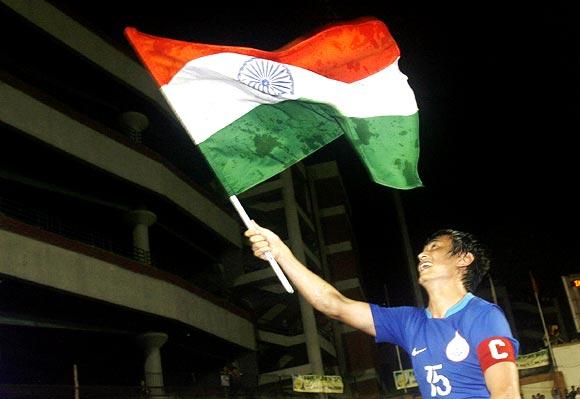 Already ruled out of India's exhibition match against Bayern Munich which is also Bhaichung Bhutia's farewell match, Sunil Chhetri talks about Bhaichung's influence on his career, his telepathy with the legendary striker and much more.
All you wanted to know about Lionel Messi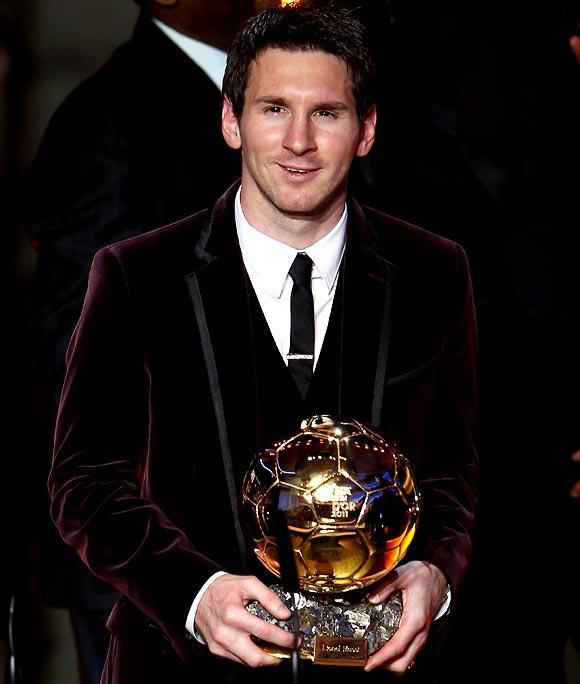 Passed the milestone of 200 goals for Barcelona in November 2011 and is fast closing in on the Catalan club's record marksman Cesar Rodriguez, who scored 235.
'Bhaichung -- the start of a legacy'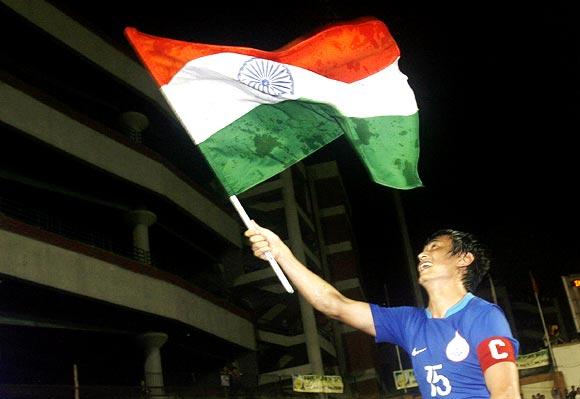 'Farewell?' Does it mean his reflexes inside the box aren't deadly anymore? Does it mean he can't wrong foot defenders with his sudden burst of speed? Does it mean he isn't good anymore?
Hero Henry seals Arsenal return with winner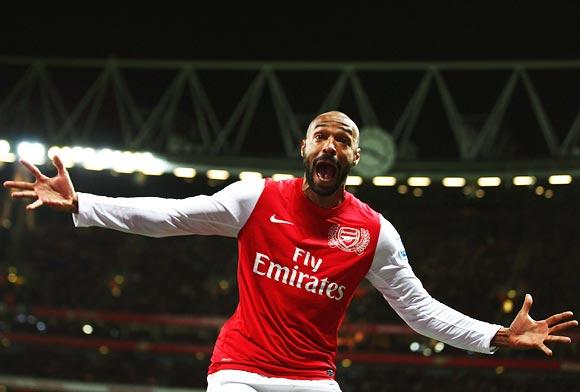 Substituted into the English Premier League club's third round FA Cup match against Leeds United on 68 minutes with the score at 0-0, the on-loan striker took just 10 minutes to break the deadlock with the winning goal for his beloved Arsenal.
Messi wins World Player of Year award again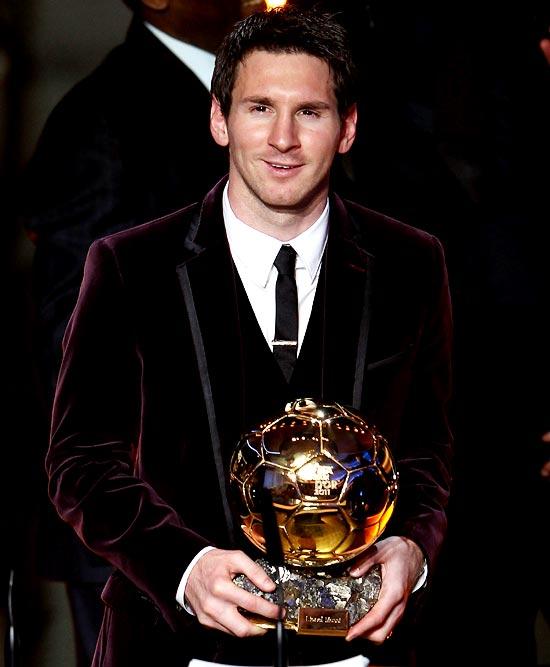 Argentina and Barcelona forward Lionel Messi, still only 24, won the World Player of the Year award for the third time in a row on Monday.
Can these football coaches prove second time lucky?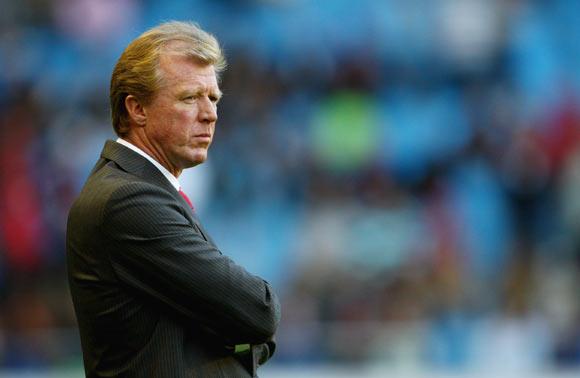 Englishman Steve McClaren is the fifth coach in the last 12 months to return to his former club, FC Twente. Bikash Mohapatra's lists coaches who reignited partnerships that yielded excellent results in their first stints.
January 09, 2012
Stage set for Bhaichung's farewell exhibition match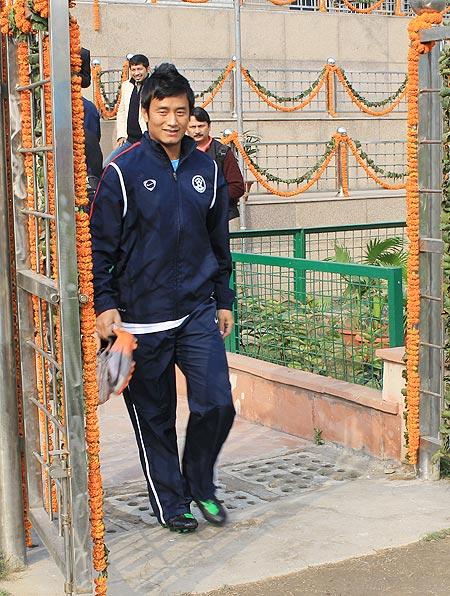 Former captain Bhaichung Bhutia will don the national colours one last time when the Indian football team takes on German giants Bayern Munich in his farewell exhibition match in New Delhi on Tuesday.
London looks to legacy with 200 days to go for Olympics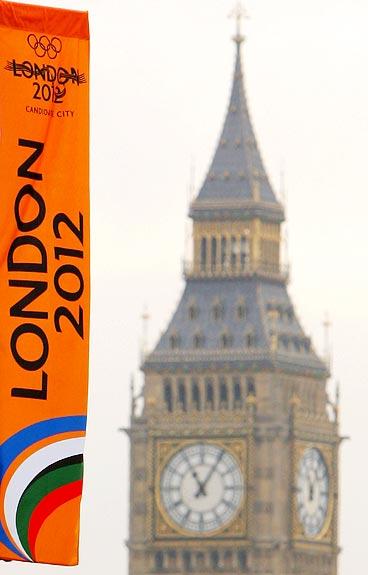 The London Olympics countdown entered its final 200 days on Monday with government and organisers talking up the legacy Britain can look forward to long after the last medal has been won and the show is over.
Game, set, match: high-profile tennis partnerships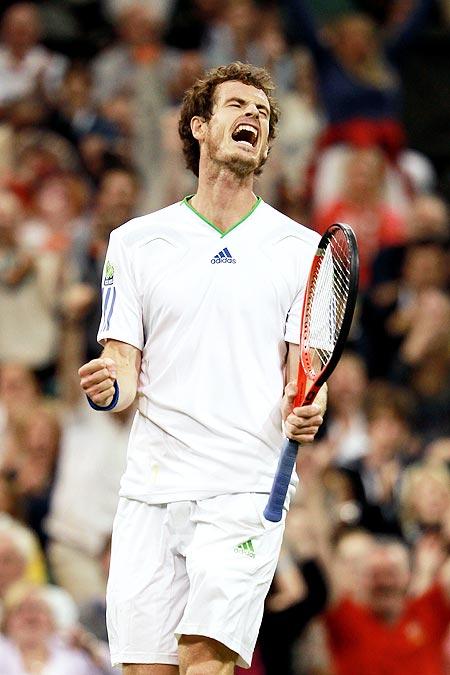 For tennis aficionados it is something to look forward to. Going strictly on face value, it seems a perfect combination.
January 08, 2012
FA Cup: United taste revenge to knock out holders City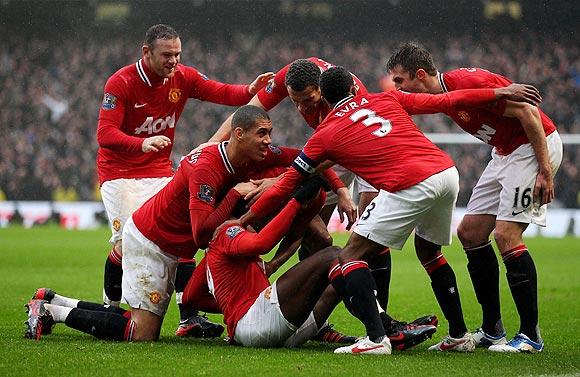 Manchester United withstood a furious fightback by 10-man Manchester City to beat their local rivals 3-2 in a dramatic FA Cup third-round match at the Etihad Stadium on Sunday.
Bhaichung upbeat to lead national team for last time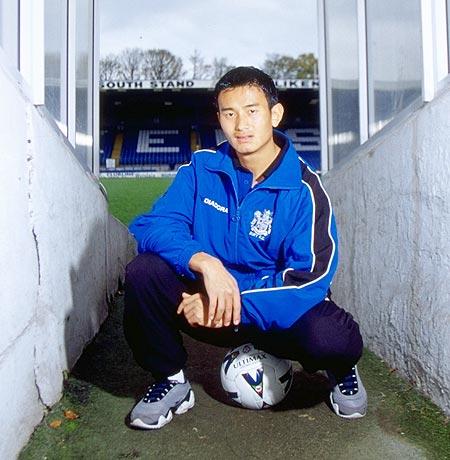 Former Indian football captain Bhaichung Bhutia is not fully fit to last full 90 minutes against Bayern Munich in his farewell exhibition match in New Delhi on Tuesday but is upbeat that he will lead the national team one last time against the top European side.
Savio hails incomparable Bhaichung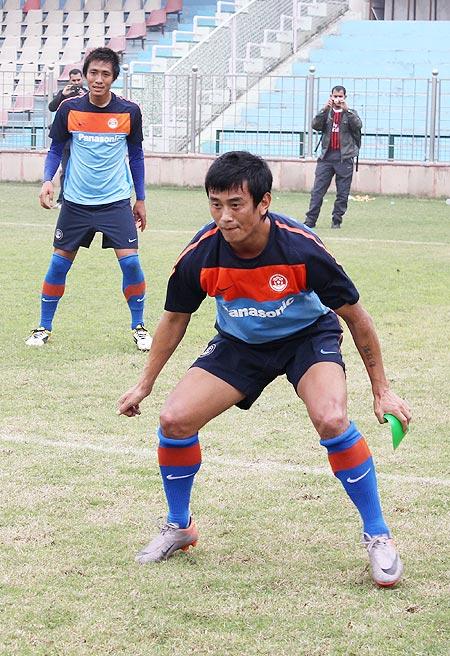 Indian football coach Savio Medeira on Sunday hailed former captain Bhaichung Bhutia for the services he has rendered to the country.
January 05, 2012
Cricket can never take a backseat in India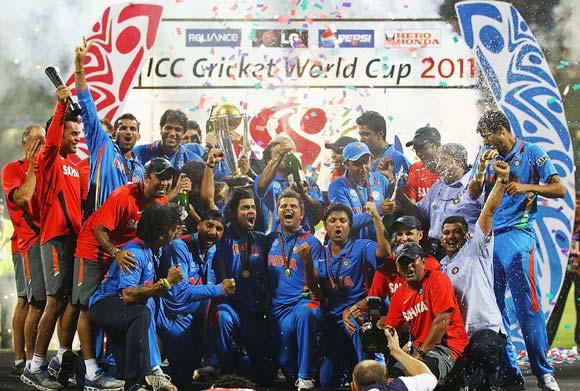 Even in this Olympics year, cricket will hog its share of the limelight, but one hopes the hype will be a tad less, at least for the period of the Games.
Afghan girls throw punches, aim for Olympic gold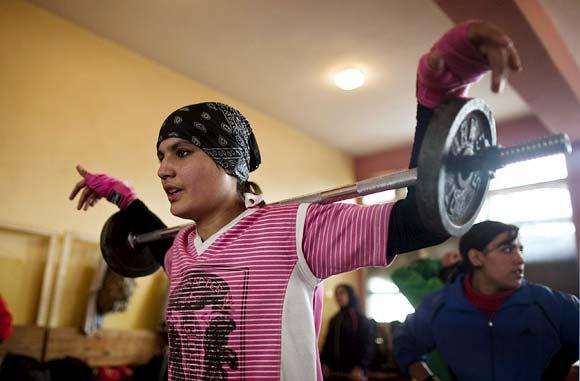 No Afghan woman has ever won a medal at the Olympic games, but taekwondo fighter Rohullah Nikpai may have paved the way by taking a bronze at the 2008 Beijing Games, becoming a national hero in the process.
Last season was probably one of my best: Bolt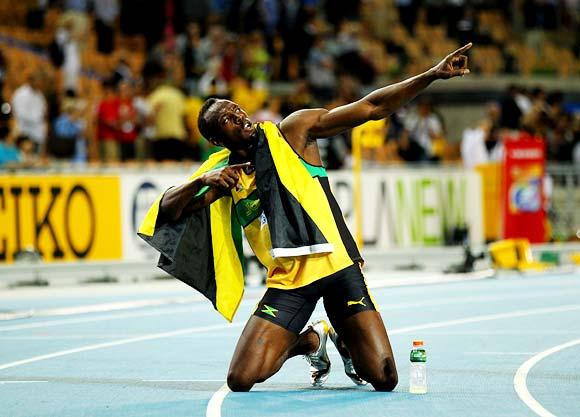 Healthy and on a new nutrition program, Usain Bolt plans to launch his run-up to defending his 100 and 200 metres titles at the 2012 London Games with tune-up races in Jamaica next month, the world's fastest man said.
January 04, 2012
It's the year of the Olympics!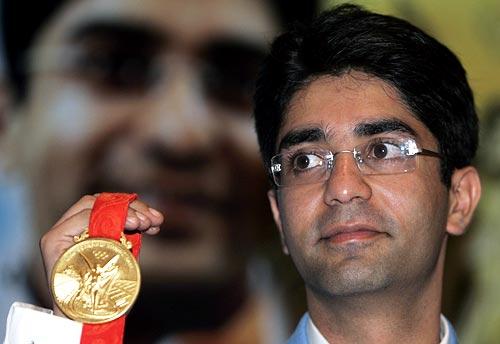 A lot has been said about the year gone by, so instead of delving too much on the past, it's best to get down to the Herculean task ahead, the Olympics, says .
January 03, 2012
My dream is to win an Olympic gold: PV Sindhu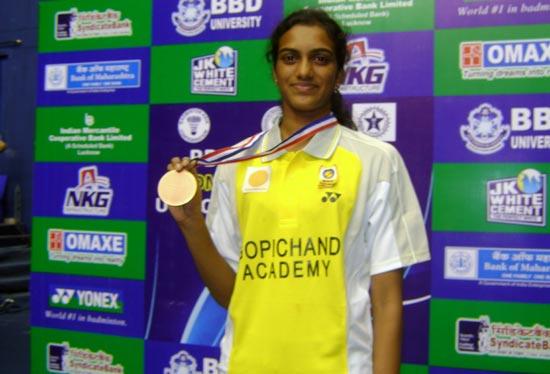 PV Sindhu considers Saina Nehwal as her role model and wants to follow in her footsteps by breaking into the top-10 of the world rankings.
What I would like to see in sports in 2012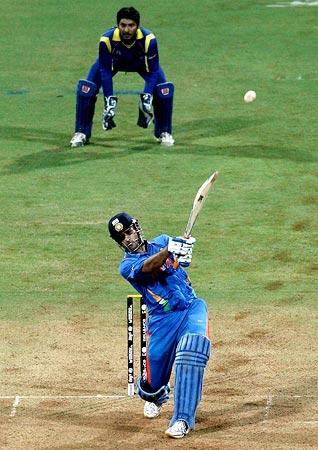 As 2012 takes its first steps there's much to hope for, says . This time it's more than just two wishes, though there's just one from cricket.
January 02, 2012
PHOTOS: Blackburn shock United, Spurs and Chelsea slip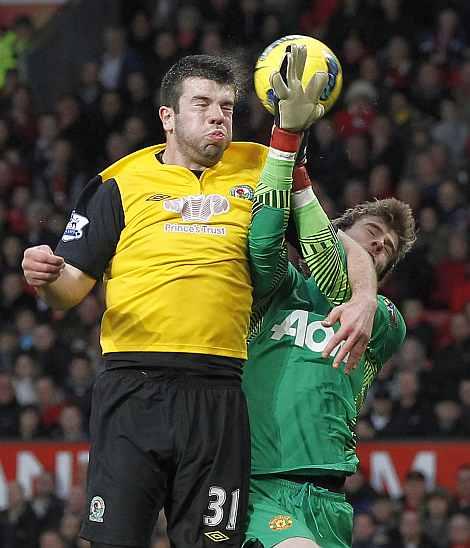 Images from the EPL matches being played over the weekend.
Man United bogged down by injuries and lethargy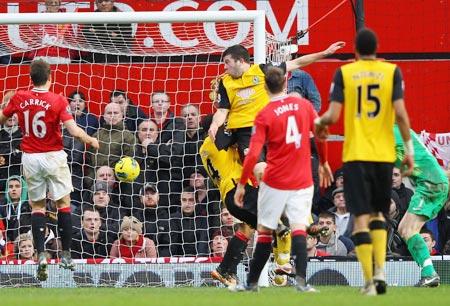 If Alex Ferguson is still making New Year's resolutions at the age of 70 his hopes for 2012 should be for Manchester United to shake off the lethargy that has handed the Premier League initiative to Manchester City and for an end to their injury blight.
Archives
January - December 2011
|
May - December 2010
|
April 2010
|
March 2010
|
February 2010
|
March 2010
|
April 2010