December 31, 2011
Chennai Open: Somdev draws Eric in 1st rd, Wawrinka may be next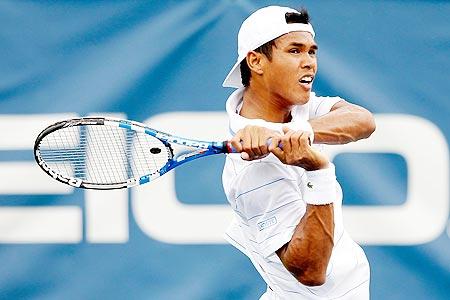 Local favourite Somdev Devvarman could clash with defending champion Stanislas Wawrinka of Switzerland in the second round of the Aircel Chennai Open if both the players manage to clear the first round hurdle.
Li wins fight with Bartoli and hubby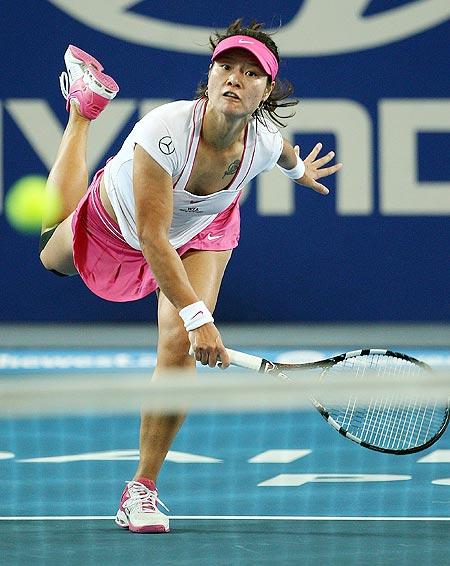 French Open champion Li Na has blamed her perplexing slump on her sudden celebrity status -- and her irritation at being yelled at by her husband.
December 30, 2011
Drogba on brink of 150 Chelsea goals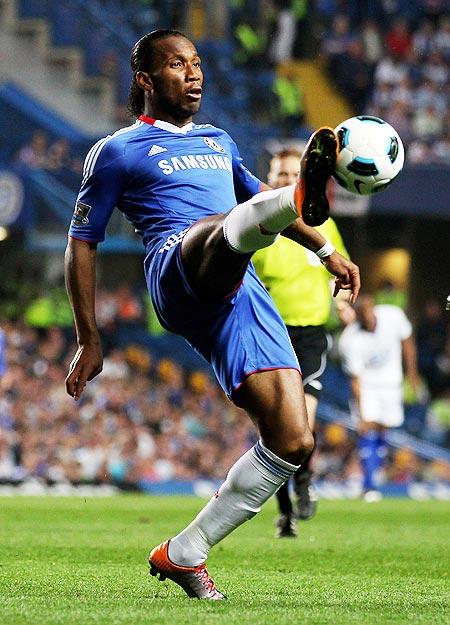 Chelsea striker Didier Drogba, restricted to a brief substitute appearance in the 1-1 home draw with neighbours Fulham in the Premier League on December 26, is looking to chalk up his 150th goal for the London club on Saturday.
I can't wait to kick-off the season: Wawrinka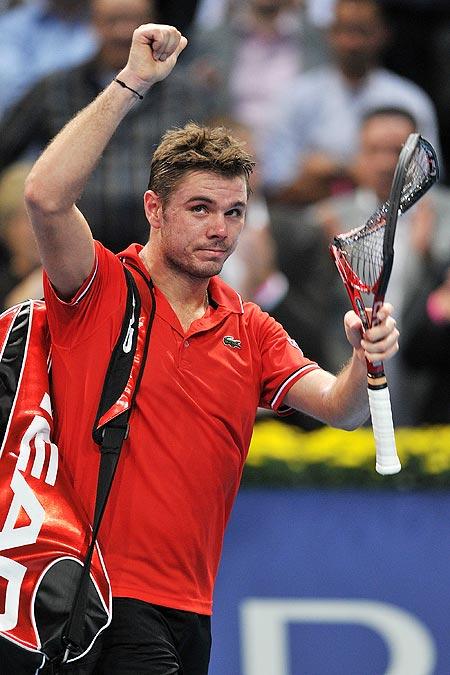 World No. 17 and defending champion Stanislas Wawrinka of Switzerland sounded a note of caution ahead of the Chennai Open, saying the field is 'very interesting' and nothing could be taken for granted in the world of professional tennis.
December 29, 2011
Henry, Podolski would boost Arsenal: Mertesacker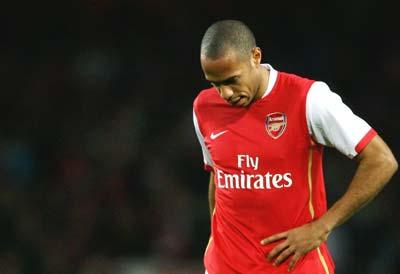 Thierry Henry, training with his former club Arsenal, would fit right back into the team according to German defender Per Mertesacker who says the club should also consider signing compatriot Lukas Podolski.
Lee-Hesh part ways again, but is it all over?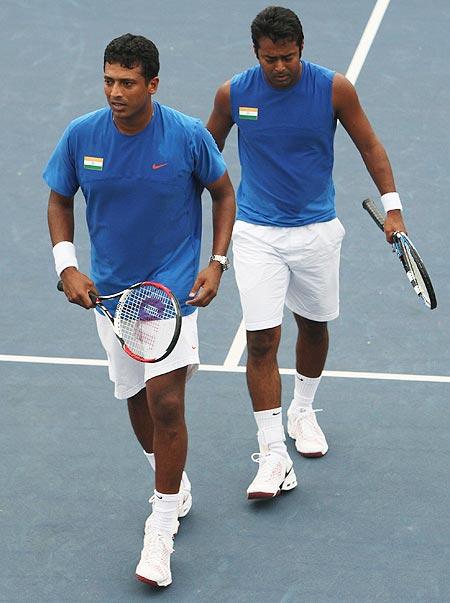 The year, which started offering dual hope for Indian tennis fans, ended up serving double disappointment instead.
Hockey India-IHF row hogs limelight in 2011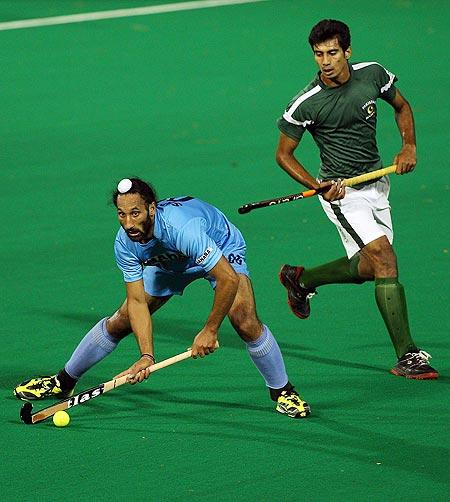 Another year passed but the sorry state of Indian hockey refused to change as the prolonged struggle for power between two warring federations once again took centre-stage over the performance of the national team in 2011.
December 28, 2011
Bopanna eyes success at London Olympics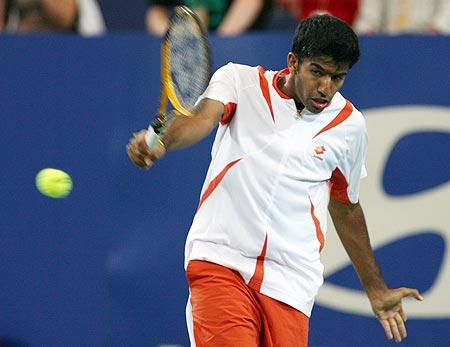 Rohan Bopanna said he is confident that his new association with 11 Grand Slam winner Mahesh Bhupathi on the professional Tour at the 2012 Chennai Open, in January, will augur well in the Olympic year.
Variety brought refreshing change on WTA Tour in 2011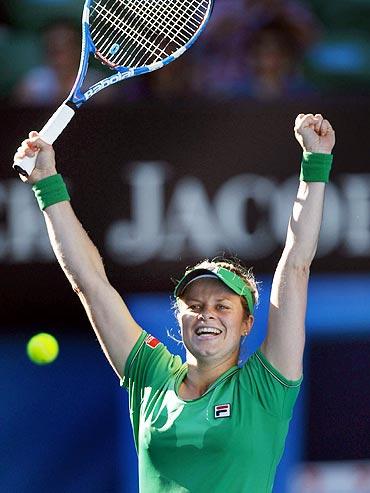 If men's tennis in 2011 was about a one-man domination, the women's equivalent was anything but that.
December 27, 2011
Indian marksmen on the bull's eye in 2011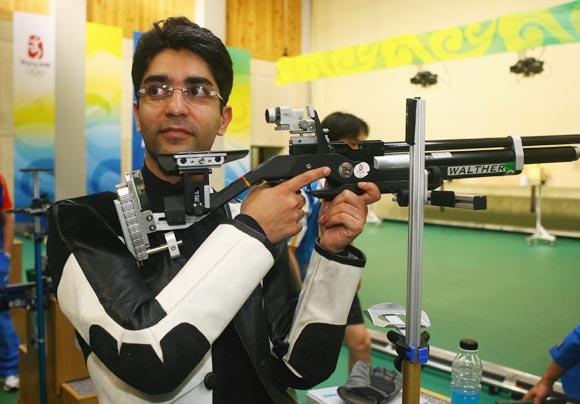 It is not just a sport. For Indians, it is a matter of pride.
Tennis 2011: Djokovic clear winner in four-horse race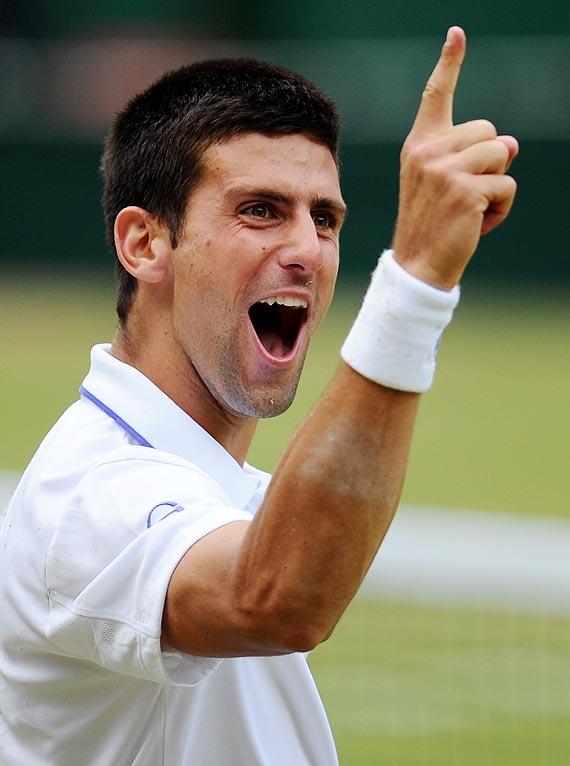 For tennis aficionados, 2011 will always remain a different year. Used to watching Roger Federer and Rafael Nadal sharing the big titles between them, the year marked the coming of age of another player.
December 26, 2011
Mahesh Gawli quits international football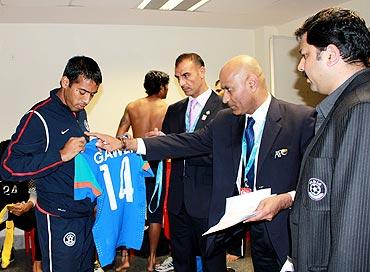 Ace defender Mahesh Gawli, who represented India in 82 matches, brought the curtain down on his 12-year-old international football career on Monday.
Ferguson urges 'amazing' Giggs to extend contract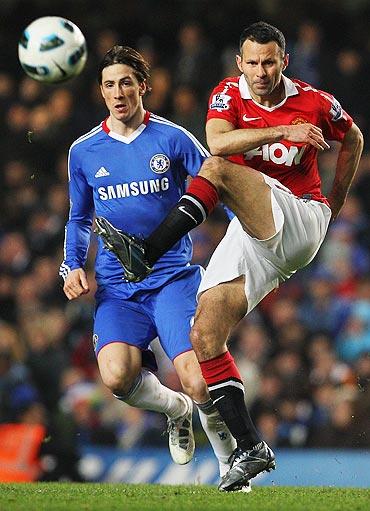 Manchester United manager Alex Ferguson has urged winger Ryan Giggs to extend his contract with the Premier League champions for another season.
Somdev aims to better record at Chennai Open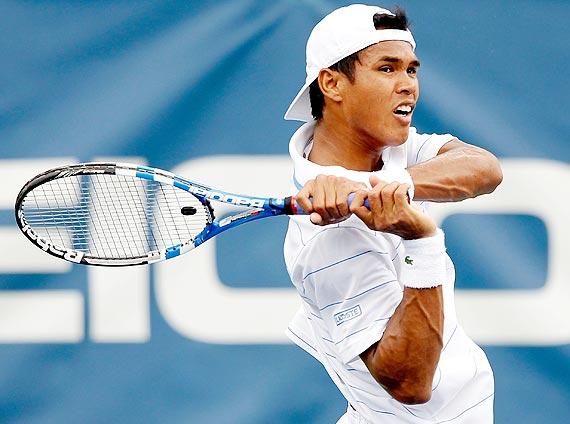 Somdev Devvarman has struggled at the Chennai Open after his breakthrough year in 2009 but the Indian tennis ace is determined to improve his record at his home event though he admitted that the road ahead would not be smooth.
Tennis 2011: Ferrer, Tsonga prove worthy challengers to Big Four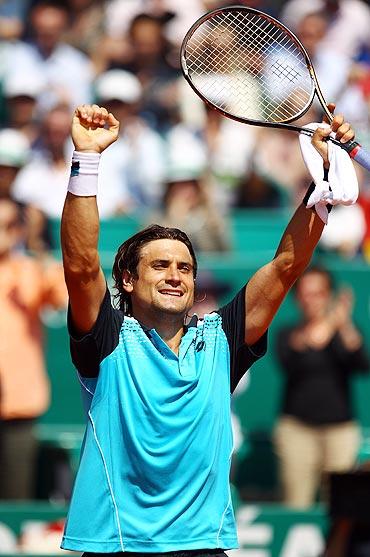 If the Big Four continued to dominate, there were a few who managed to make an impact as well.
December 24, 2011
Suarez grateful for Liverpool support: Dalglish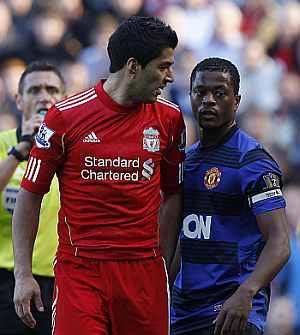 Liverpool manager Kenny Dalglish has defended the club's support of Luis Suarez following criticism for their reaction to the eight-match ban given to Uruguayan who was found guilty of racially abusing Manchester United's Patrice Evra.
December 23, 2011
NADA bans six Indian athletes for a year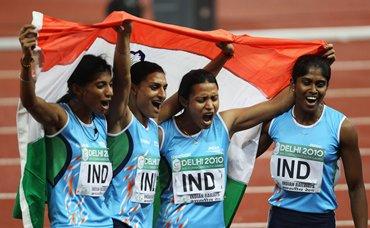 India's six top women athletes, including Asian Games double gold-medallist Ashwini Akkunji, were, on Friday, handed one-year bans for flunking dope tests earlier this year, virtually ending their chances of participating in the London Olympics next year.
December 22, 2011
Manchester rivals win as City stay top for Christmas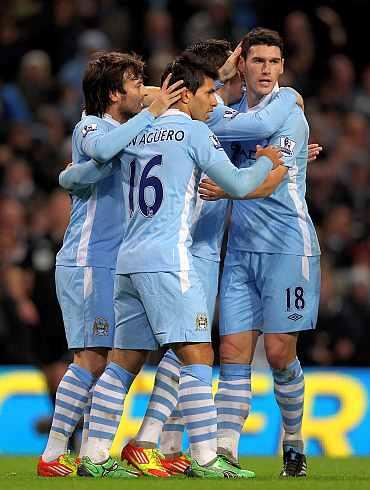 Images from the English Premier League matches that were played on Wednesday.
Charged Terry to lead Chelsea against Spurs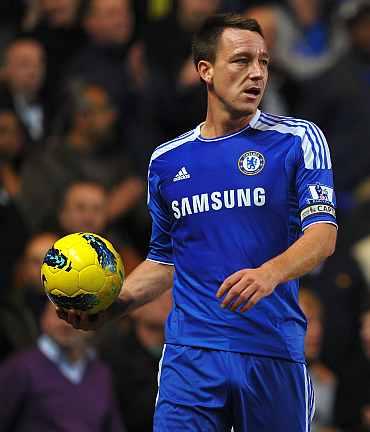 Chelsea and England captain John Terry will be prosecuted for the alleged racial abuse of Queens Park Rangers defender Anton Ferdinand in a Premier League match in October, British authorities said on Wednesday.
PHOTOS: Best sports moments of 2011 - Part 4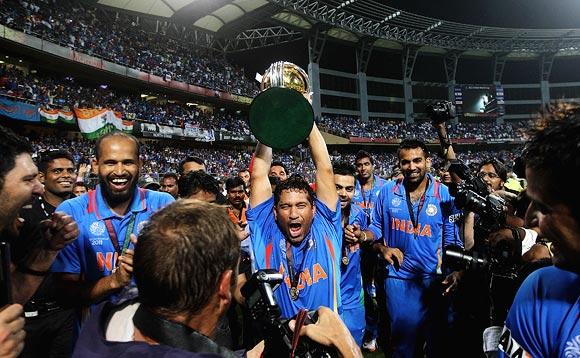 The fourth in a series of slideshows that showcase the best sporting images of 2011.
December 20, 2011
Football's top five surprises in the 2011 transfer market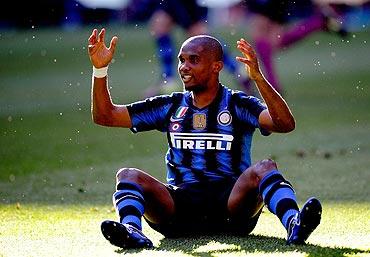 In a year when the likes of Cesc Fabregas, Samir Nasri, Sergio Aguero and Diego Forlan made big ticket moves, there were some footballers who surprised us with their decisions.
World Series Boxing Images: Mumbai Fighters tamed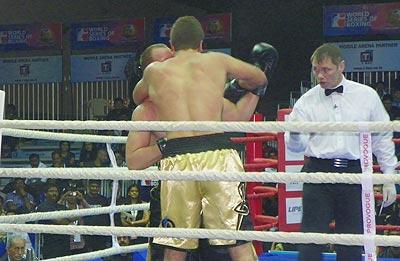 Venky's Mumbai Fighters were thrashed 5-0 by LA Matadors last week, but spectators at the T-Box arena, in Mumbai's Inorbit Mall were treated to rich fare in the World Series Boxing, says Laxmi Negi.
December 19, 2011
Luger Shiva Keshavan makes history with Asia Cup gold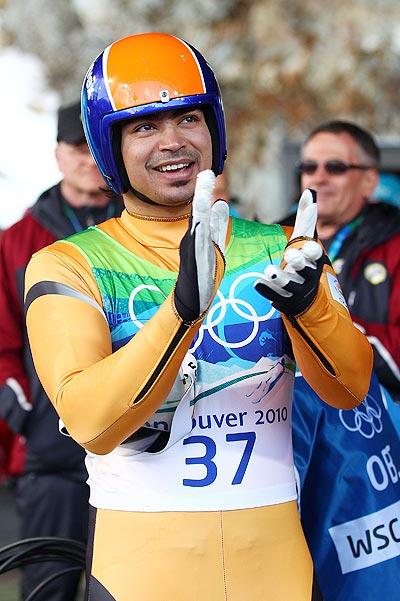 Shiva Keshavan did India and himself proud on Sunday, winning the Asia Cup 2011 luge title with a new continental speed record in Nagano, Japan, on Sunday.
Karthikeyan hoping his F1 career not over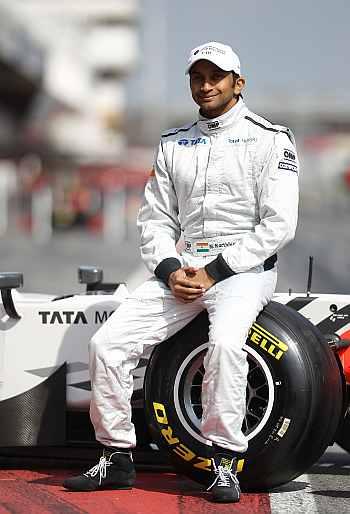 Narain Karthikeyan has not given up hope of racing in Formula One next year despite there being only two clear vacancies remaining and a long list of rivals for them.
Messi spurs 'invincible' Barca to World Club title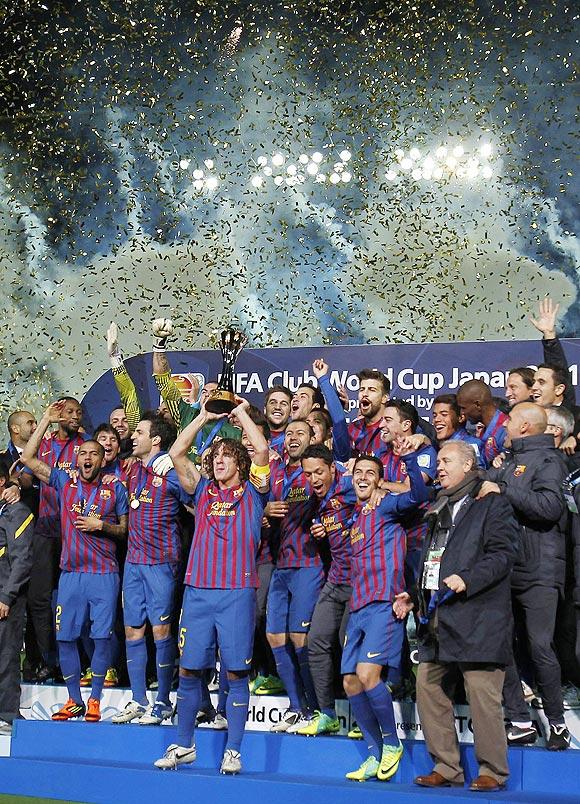 Lionel Messi scored two wonder goals as European champions Barcelona ripped apart Brazil's Santos 4-0 to win their second Club World Cup in swashbuckling style on Sunday.
PIX: Silva strike helps Man City retain top spot, United down QPR
Images from the EPL matches played on the weekend.
December 17, 2011
Badminton: Lukewarm 2011 for Saina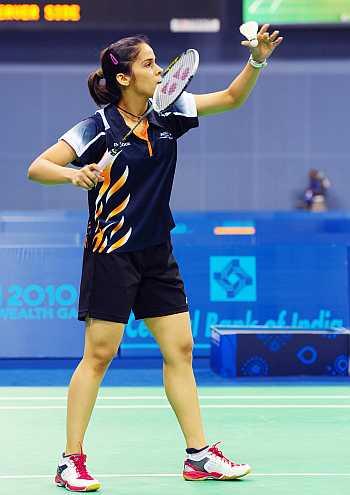 Saina Nehwal's struggle for form summed up a disappointing year for Indian Badminton, the rare high point of which was Jwala Gutta and Ashwini Ponnappa's World Championships bronze medal.
December 16, 2011
PHOTOS: Best sports moments of 2011 - Part 3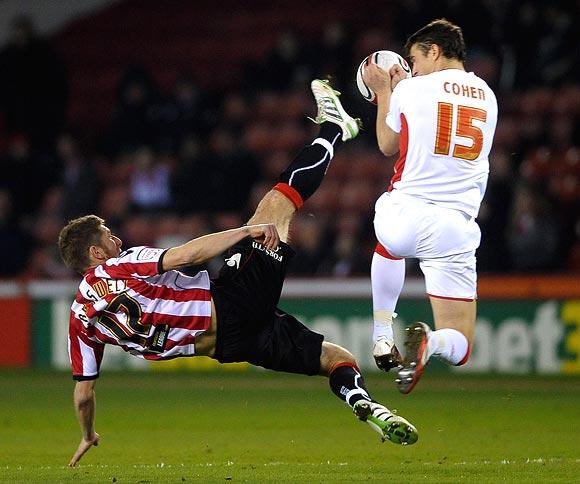 The third in a series of slideshows that showcase the best sporting images of 2011.
Torres not for sale at any price: Villas-Boas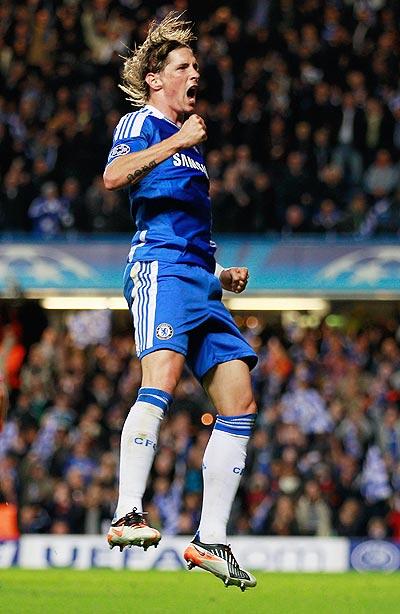 Spanish striker Fernando Torres is "not for sale at any price", Chelsea manager Andre Villas-Boas said on Thursday.
December 15, 2011
EPL: Arsenal out to test Man City's resolve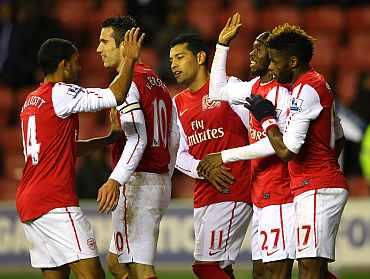 Having had their armour pierced for the first time this season leaders Manchester City face a big test of their resolve when Arsenal come gunning for them in the Premier League on Sunday.
Indoor season is the best move for me: Powell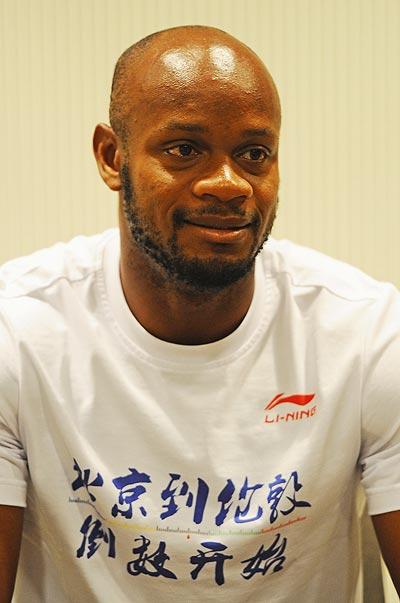 Jamaican Asafa Powell, the former world 100 metres record holder, will race indoors for the first time in eight years as part of his preparations for next year's London Olympics, he said on Tuesday.
December 14, 2011
King's Cup: Ronaldo takes Real into last-32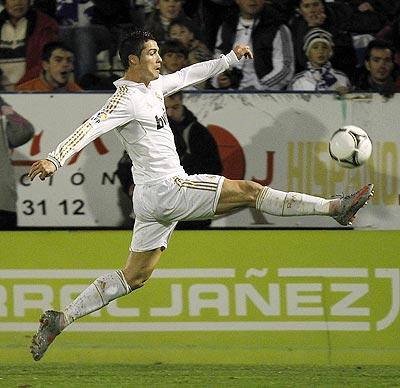 Cristiano Ronaldo struck a late goal to help Real Madrid beat third tier Ponferradina 2-0 away in a King's Cup last-32, first-leg match, on Tuesday, as the holders looked to recover from their demoralising 'El Clasico' defeat by Barcelona at the weekend.
December 13, 2011
Saina is slightly slower than last year: Padukone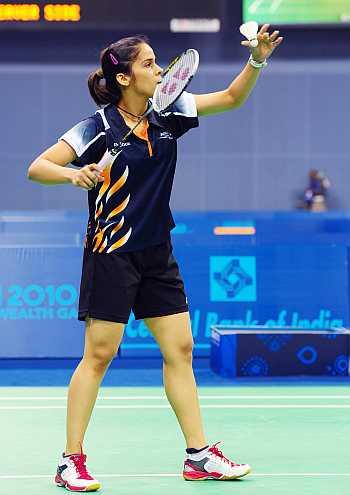 Saina Nehwal, who has been struggling to replicate her superb run of 2010 when she won three Super Series women's singles crowns as well as the gold medal at the Commonwealth Games, seems fractionally slower on her feet this year, feels former badminton ace PrakashPadukone.
Boxing takes a beating after pugilist's death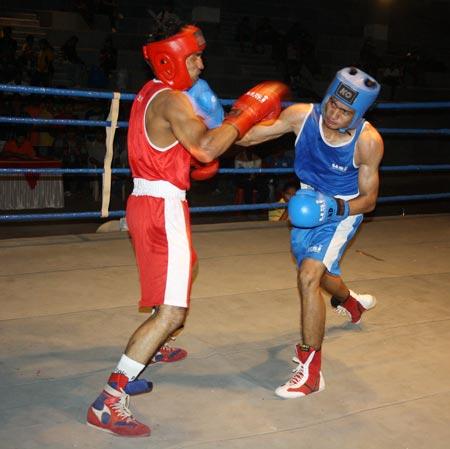 It is said that we are the creators of our own destiny. But there are times when we have to stand up to the fact that few things are beyond our reach.
December 12, 2011
EPL: Stoke halt Spurs's unbeaten run, Sunderland pip Rovers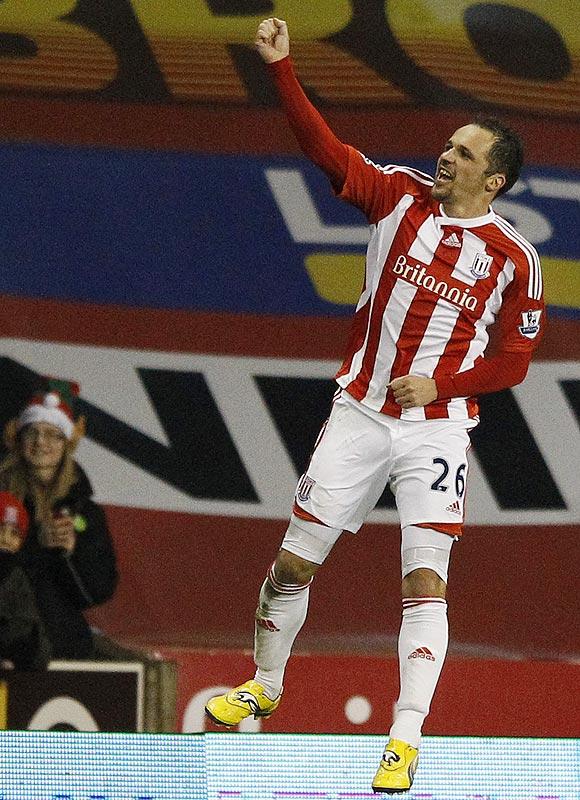 Images from the English Premier League matches played across England on the weekend.
PHOTOS: Best sports moments of 2011 - Part 2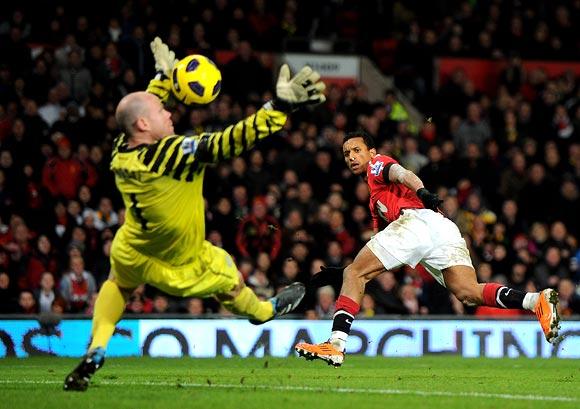 The second in a series of slideshows that showcase the best sporting images of 2011.
December 11, 2011
Serie A: Inter blank blundering Fiorentina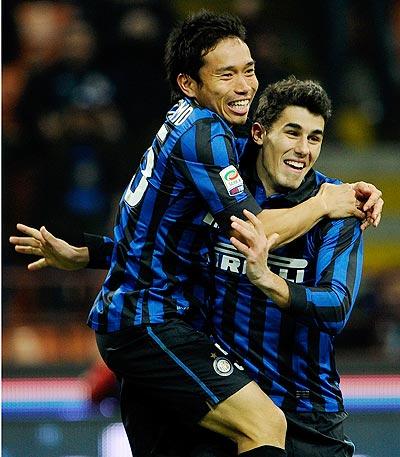 Inter Milan, helped by the visitors' blundering defence, beat Fiorentina 2-0 in Serie A on Saturday to bounce back after suffering two home defeats in the previous week.
Champions Trophy hockey: Australia clinch gold for record fourth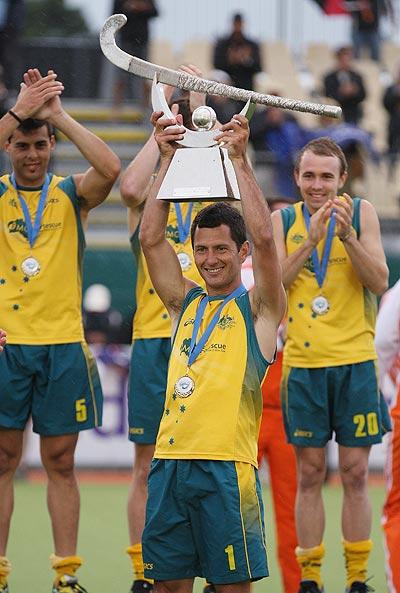 Australia have made history by becoming the first team to win four FIH Champions Trophy tournaments in succession following a 1-0 win over Spain in the Gold medal game of the Owen G Glenn FIH Champions Trophy, on Sunday.
El Clasico: Luck not on our side, laments Mourinho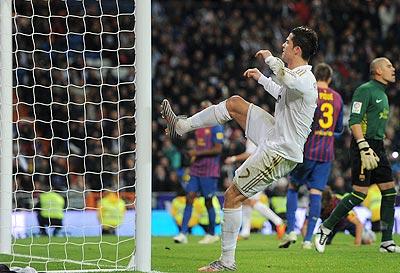 Jose Mourinho attributed a large part of Barcelona's 3-1 'Clasico' victory at the Bernabeu on Saturday to luck and dismissed the idea that it would damage his side's morale in the La Liga title race.
December 10, 2011
Vettel crowned World champion at FIA Awards Gala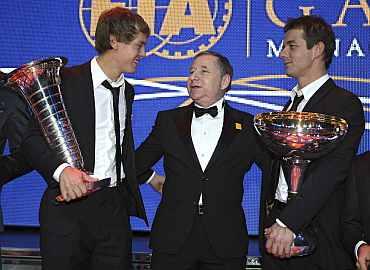 German driver Sebastian Vettel was awarded the World Champion trophy for the second consecutive year, while Sameer Gaur of Jaypee Sports International (JPSI) received the Formula One Promotional Trophy for hosting a successful inaugural Indian Grand Prix at a glittering FIA Prize Giving Gala ceremony.
'Defeat by City will end Chelsea title hopes'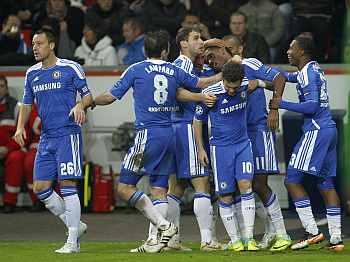 Defeat against leaders Manchester City on Monday will effectively end Chelsea's Premier League title hopes, coach Andre Villas-Boas warned on Friday.
Champions Trophy hockey: Spain to lock horns with Aus in final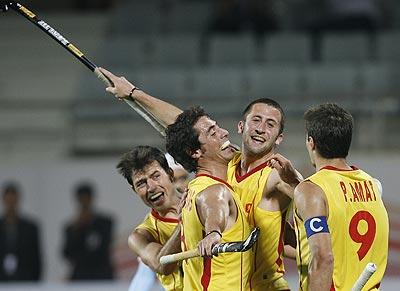 Spain continued their remarkable return to form with a superb 3-1 win over The Netherlands, on Saturday, to set up a smashing encounter against Australia in the final of the FIH Champions Trophy, in Auckland.
December 09, 2011
El Clasico: Real look to make most of Barca's poor away form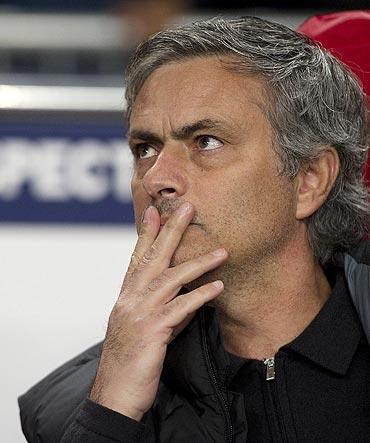 Jose Mourinho wants to prove there has been a shift in the balance of power towards his Real Madrid side when the La Liga leaders host bitter rivals Barcelona in the opening 'Clasico' of the campaign on Saturday.
Allow Dow Olympic 'redemption': Gagan Narang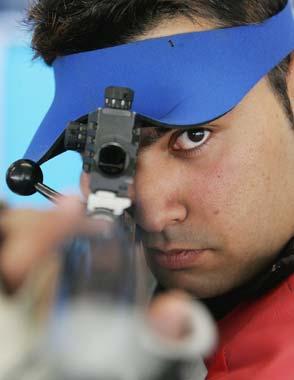 Shooter Gagan Narang became the first Indian athlete to say Dow Chemical should be allowed to be a sponsor of the 2012 London Games even though the Indian Olympic Association wants the organisers to reconsider it.
December 08, 2011
Champions Trophy hockey: Australia storm into final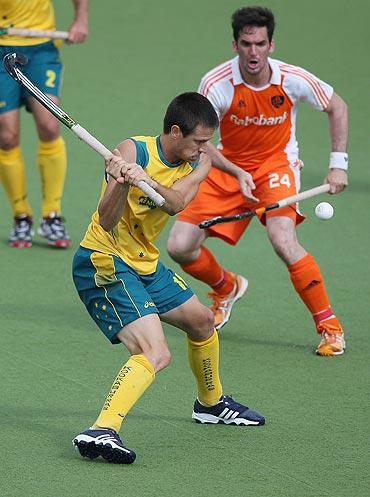 World No 1 Australia reached the final of the Champions Trophy hockey in Auckland on Thursday, scoring a fine 4-2 win over the Netherlands in Pool C.
Sania justifies Paes-Bhupathi split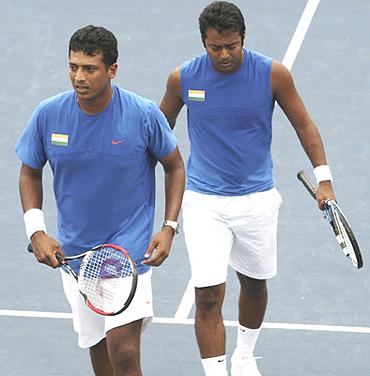 Ace tennis star Sania Mirza, on Wednesday, backed the decision of experienced duo of Leander Paes and Mahesh Bhupathi to part ways ahead of 2012 London Olympics.
Champions League PIX: Manchester duo exit, Real advance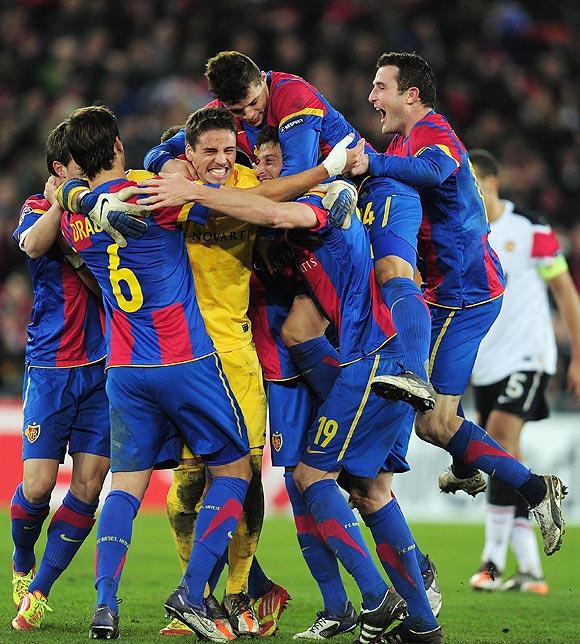 Images from the Champions League matches played across Europe on Wednesday.
McIlroy is more talented than Woods: Donald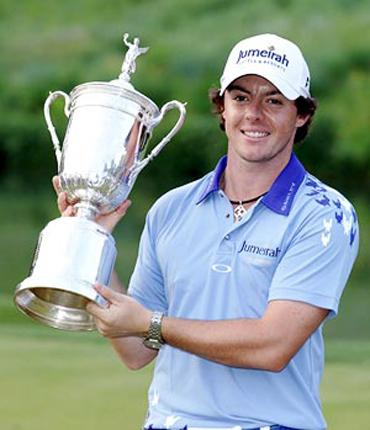 Rory McIlroy is a more talented golfer than 14-times major winner Tiger Woods, said World No. 1 Luke Donald on the eve of his Dubai World Championship showdown with the young Northern Irishman.
Football's men in masks make an impact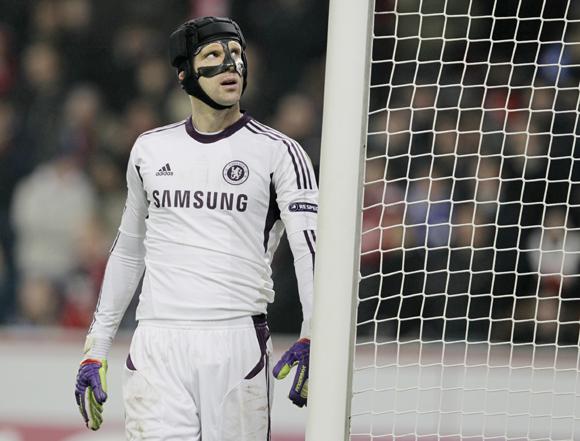 Rediff.com takes a look at the footballers who are making an impact recently despite a protective gear.
December 07, 2011
I'm playing at the highest level of my career: Parker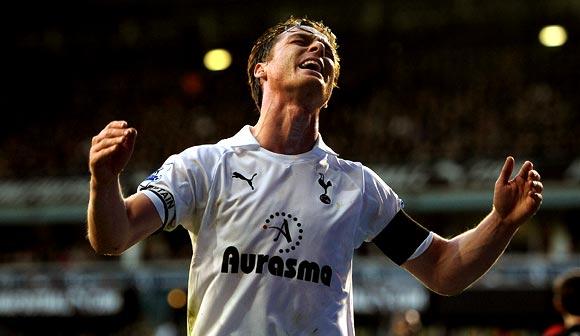 The 31-year-old midfielder is yet to taste defeat as a Spurs player -- as the London club have now won six games in a row and marked 11 English Premier League games since their last defeat -- equalling the club record.
PIX: Barca young guns rout BATE, Chelsea through to last 16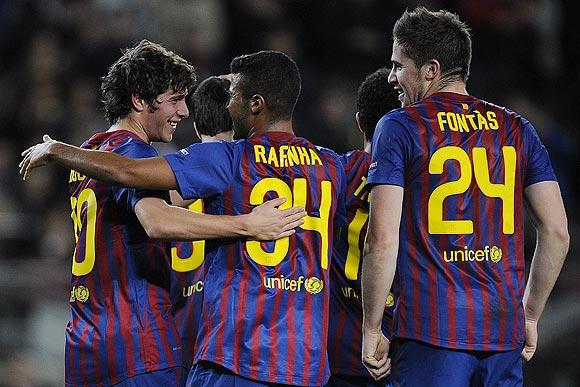 Images from the Champions League matches played across Europe on Tuesday.
December 06, 2011
Champions Trophy: Spain thump Britain, Aus thrash Pakistan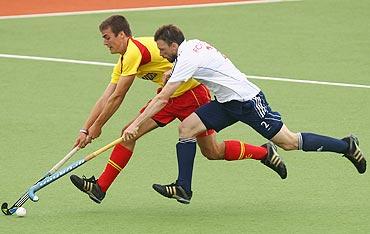 Australia's Jamie Dwyer scored a hat-trick as the Kookaburras thrashed Pakistan 6-1 to top Pool A in the FIH Champions Trophy played in Auckland on Tuesday.
PHOTOS: Best sports moments of 2011 - Part 1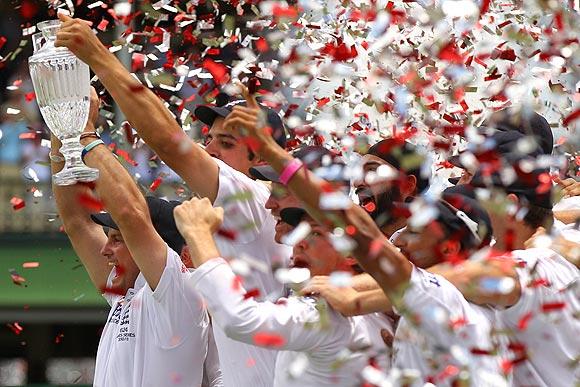 A look at the best sports images of the year.
December 05, 2011
Champions Trophy Photos: Pakistan go down to Spain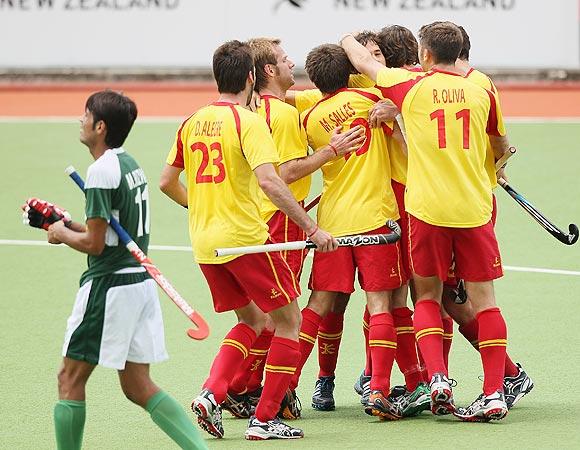 Pakistan's hopes of a triumphant return to Champions Trophy hockey were dashed after 4-2 defeat to Spain, in Auckland, on Monday.
Davis Cup: Nadal ends quiet year on a high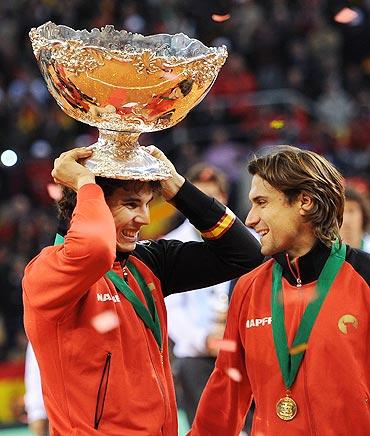 Rafa Nadal ended a relatively barren year on a thrilling high when he battled back from a set down to beat Argentina's Juan Martin Del Potro and secure Spain's fifth Davis Cup tennis triumph on Sunday.
Redknapp, Parker complete unique double for Spurs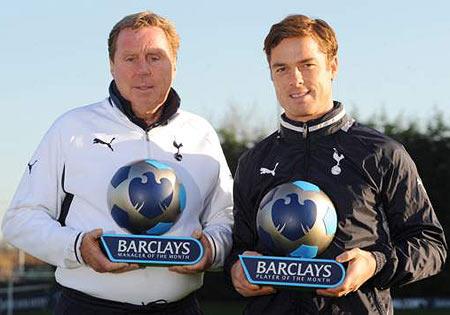 Harry Redknapp and Scott Parker completed a Spurs double in the English Premier League monthly awards for November.
Tiger ends two-year title drought with Chevron win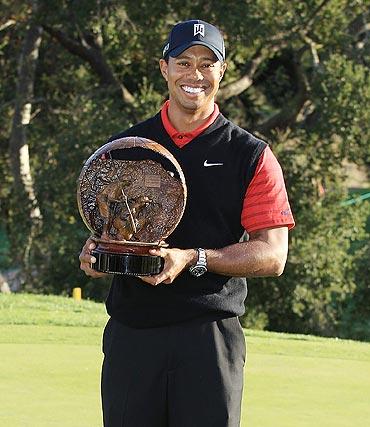 Tiger Woods ended a frustrating victory drought of just over two years when he clinched the Chevron World Challenge which he hosts by one shot on Sunday, holing a six-foot birdie putt at the last.
'Golden Heel' Socrates was Brazil's best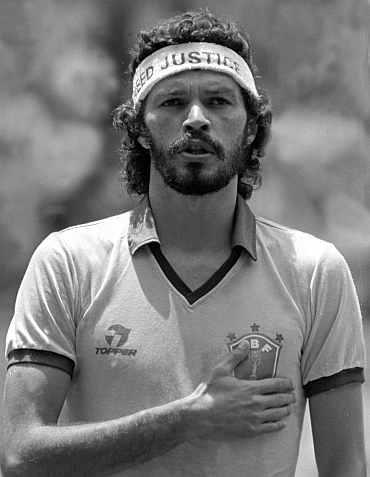 Brazil's 1982 World Cup captain Socrates, the '"Golden Heel' renowned as one of the great playmakers of his generation, died in hospital Sunday of septic shock at the age of 57.
December 04, 2011
Images: Aguero magic helps leaders Man City march on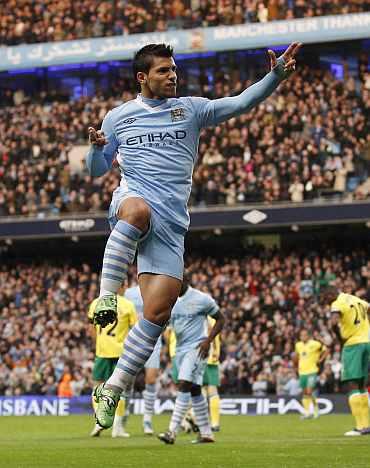 Images from the EPL match match being played over the weekend.
December 03, 2011
Euro 2012 draw: Lip-smacking ties on platter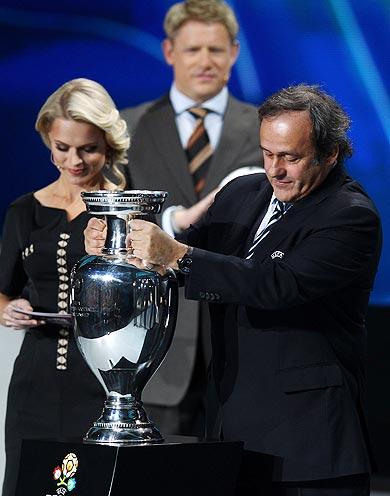 Traditional rivals Germany and Netherlands will lock horns in a tough group at the 2012 European soccer championship while co-hosts Poland will be hoping that history does not repeat itself when Greece provide the opposition on the opening day next June.
Davis Cup: Ferrer puts Spain 2-0 up after Nadal blitz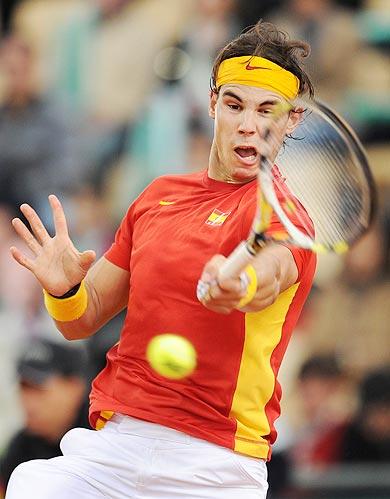 Rafa Nadal thrashed Juan Monaco and David Ferrer rallied to fell Juan Martin Del Potro in five thrilling sets to give Spain a 2-0 lead over Argentina in the Davis Cup final on Friday that put the favourites on the brink of a fifth title.
December 02, 2011
History shows Manchester United slip not so surprising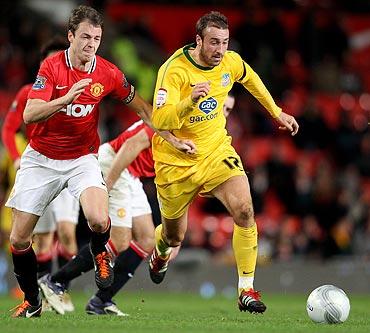 While Manchester United manager Alex Ferguson was left to offer abject apologies, and home fans shook their heads, a flick through football's record books perhaps helped illustrate why the English giants' loss to lower-tier Crystal Palace in the League Cup should have come as no great surprise.
Choi stands tall in strong Sherwood winds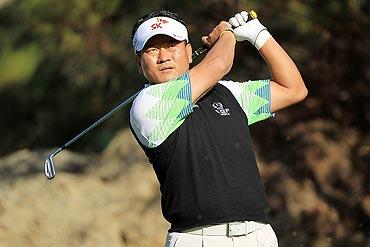 South Korean KJ Choi, who regularly practises in strong winds at his US base in Dallas, was seemingly unflappable in 35 miles per hour (56 km/h) gusts during Thursday's first round at the Chevron World Challenge.
December 01, 2011
League Cup: Crystal Palace stun Man United, march into semis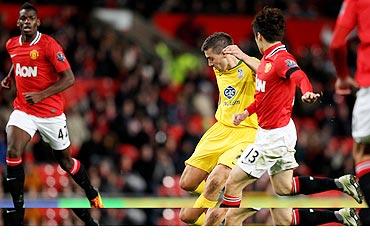 Second-tier side Crystal Palace stunned Premier League champions Manchester United to win 2-1 after extra time in their League Cup quarter-final at Old Trafford on Wednesday and set up a semi-final against Cardiff City in January.
'My dream is to help OGQ athletes get the best of everything'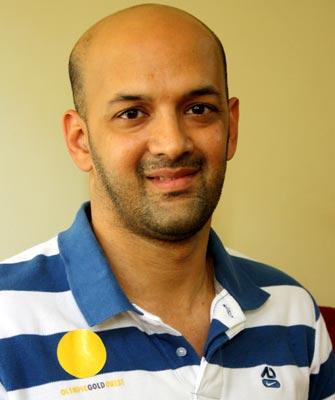 Harish Kotian caught up with Viren Rasquinha in a rare free moment at his residence in Bandra to discuss OGQ's vision, the mode of operation and why he is so passionate about creating the next Olympic champion from India.
Davis Cup final: Argentina eye revenge against Spain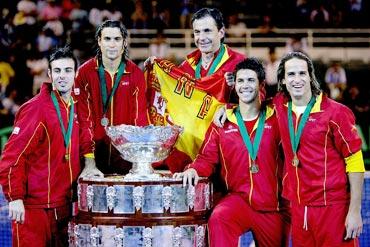 The last time Argentina met Spain in the Davis Cup, in the 2008 final in Mar del Plata, the South Americans were firm favourites to claim their first title but their challenge was wrecked by infighting within the team.
November 30, 2011
Split with Paes: It wasn't my decision, says Bhupathi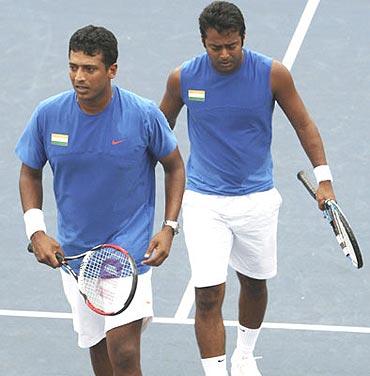 Veteran Indian tennis player Mahesh Bhupathi claims it was Leander Paes' decision to end their much-hyped reunion within a year as he felt that they "were possibly a little too old on the tour and not able to gel on a consistent basis."
MLS commissioner confident Beckham will stay despite French offer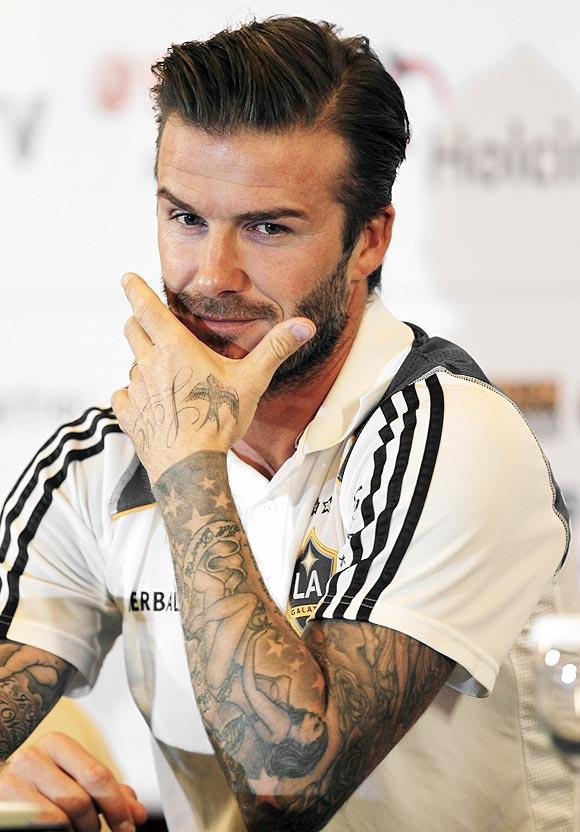 Major League Soccer's top executive said he is "uncertain" the sport's English superstar David Beckham will stay with Los Angeles Galaxy given the financial lure to join French club Paris St Germain.
I never lost passion for F1, says Raikkonen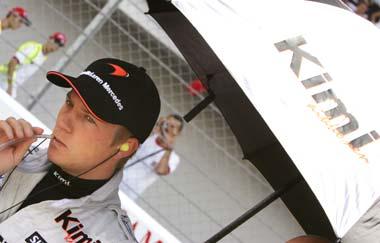 Kimi Raikkonen has said he will return to Formula One next season fully motivated and with his passion for the sport undimmed after two years away.
'New swimsuit will produce flood of world records at Olympics'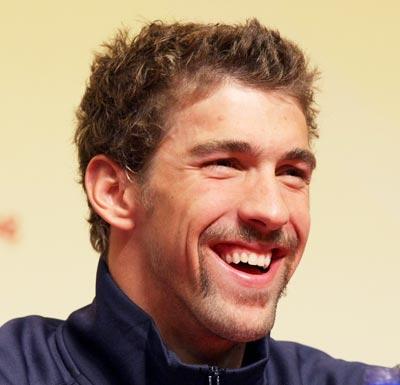 The bodysuit war that reduced the 2009 swimming World Championships to farce and effectively turned the sport into a battle of technology could erupt again on Wednesday when Michael Phelps takes to the catwalk to launch a new outfit for next year's London Olympics.
PIX: Man City, Liverpool make League Cup semis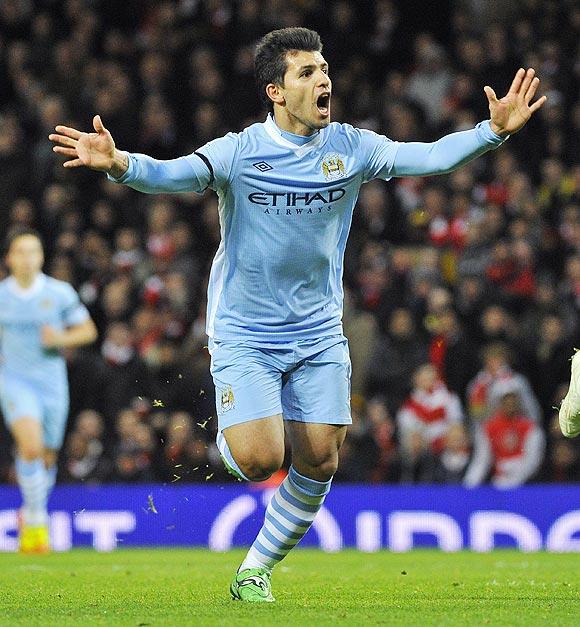 Manchester City edged past Arsenal and Liverpool beat Chelsea to reach the League Cup semi-finals Tuesday while Cardiff City also made the last four on an emotional night in south Wales.
November 29, 2011
Barca's Guardiola asks players to raise their game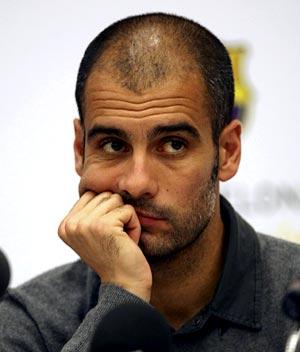 Barcelona coach Pep Guardiola has told his players they need to lift their game if they hope to catch La Liga leaders Real Madrid and secure a fourth straight Spanish title.
Experience will help Man U pip City to EPL title: Beckham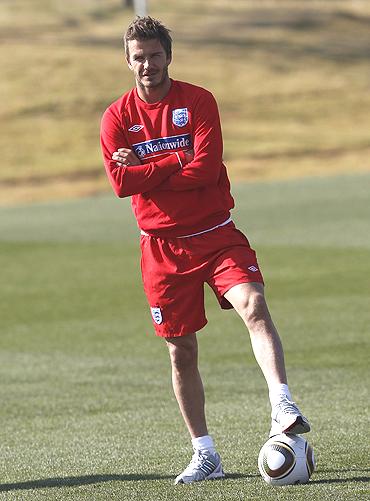 David Beckham believes big-spending Manchester City have no chance of winning the Premier League this season despite being five points clear after 13 games.
November 28, 2011
'All who have signed up for World Series Hockey will play'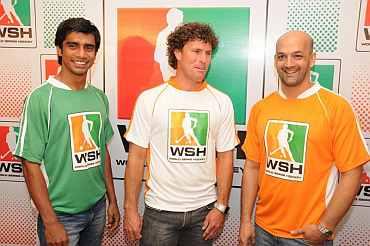 Dismissing threats of a possible ban by Hockey India on local players participating in the World Series Hockey (WSH), the organisers of the multi-million dollar tournament on Monday declared that all those who have signed up will certainly play in the upcoming event.
Spurs need to keep up this momentum: Modric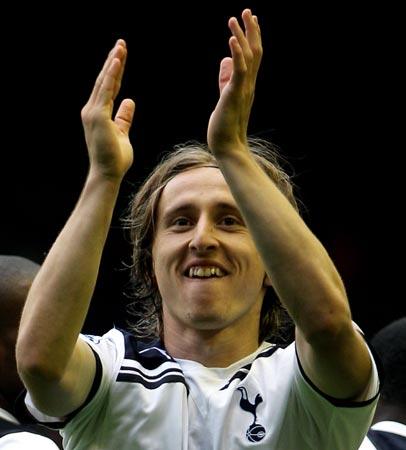 The 26-year-old reveals his delight at Croatia's qualification for Euro 2012 and the secret behind Tottenham's superb start in this season's English Premier League.
While Sachin keeps fans waiting, Federer achieves century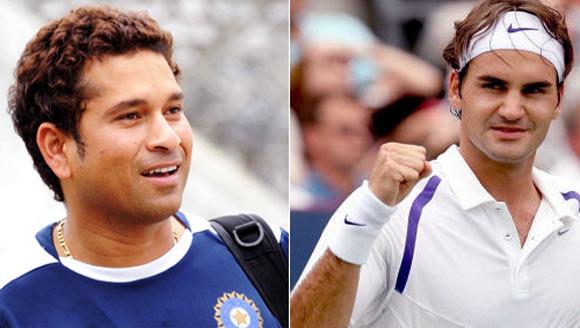 Last week was all about Sachin Tendulkar. The Master Blaster has been on the threshold of a epoch-making 'century of centuries' for some time now (8 and 12; months to be precise) and many felt he would achieve the same in front of his home fans at the Wankhede stadium -- venue of the third and final Test between India and West Indies.
After slam drought Federer ends year on high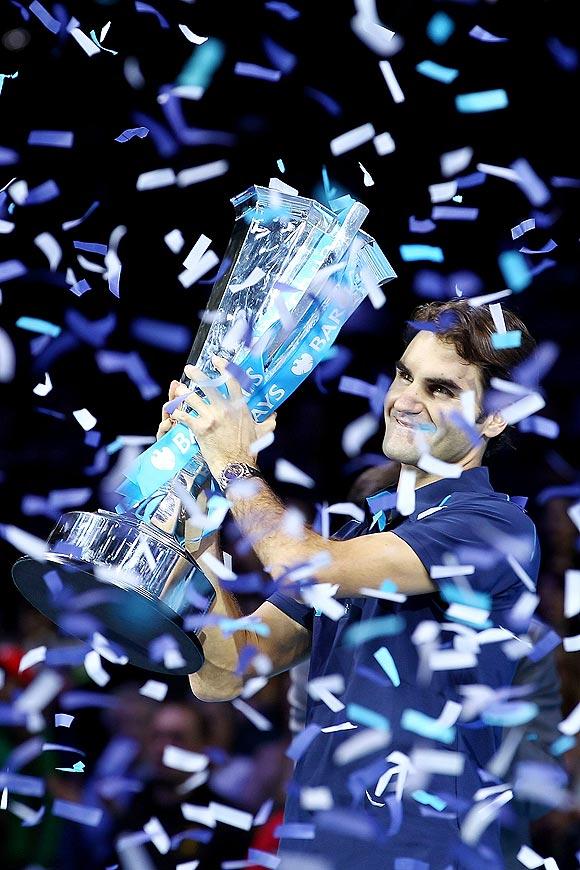 Roger Federer became the first player to win the ATP World Tour Finals six times but had to weather a storming fightback by Jo-Wilfried Tsonga before retaining his title with a 6-3, 6-7, 6-3 victory at the O2 on Sunday.
PIX: Liverpool hold City as football mourns Speed demise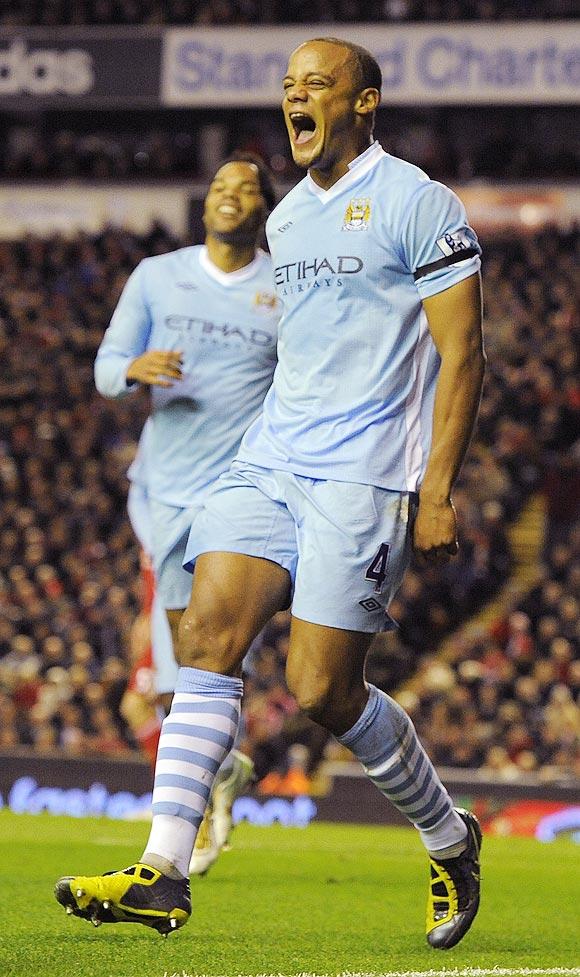 Images from English Premier League matches played on Sunday.
Hamilton hugs Massa to end feud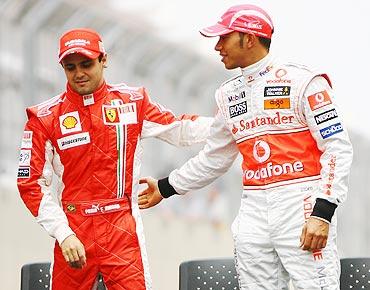 Lewis Hamilton ended a long-running Formula One feud with Felipe Massa on Sunday by walking up to the Ferrari driver after the Brazilian Grand Prix and giving him a hug.
Brazilian GP: Webber registers his first win of season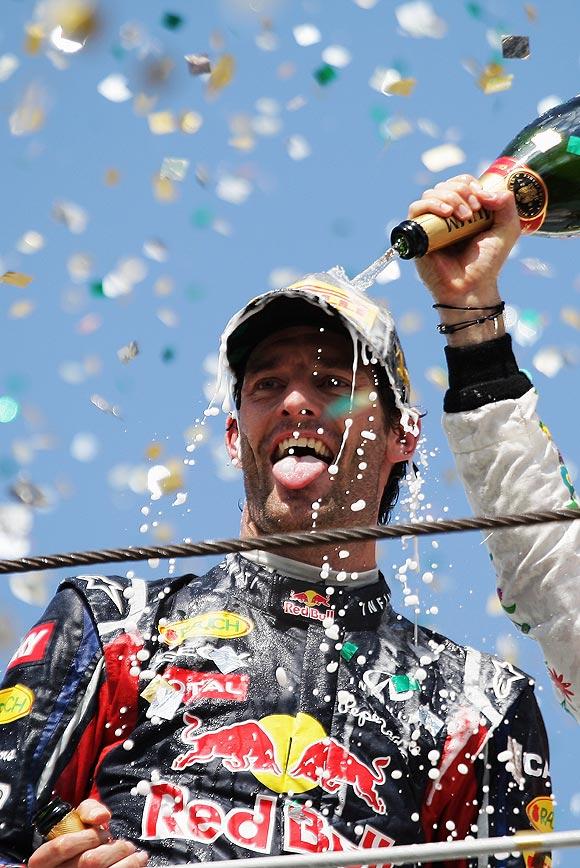 Mark Webber led a Red Bull one-two in the Brazilian Grand Prix on Sunday to celebrate his first victory of the year in the last race of the Formula One season.
November 26, 2011
My body says it's overload: Djokovic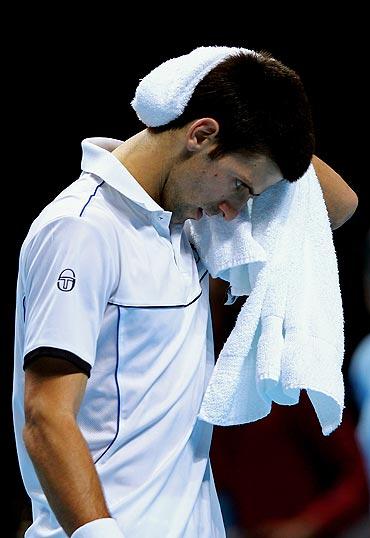 A year that began with a 41-match winning streak, included three grand slam titles and saw him knock Rafa Nadal off his perch ended in tame fashion for a "drained" Novak Djokovic when he made an early exit from the ATP World Tour Finals, on Friday.
November 25, 2011
Nicole boost for Hamilton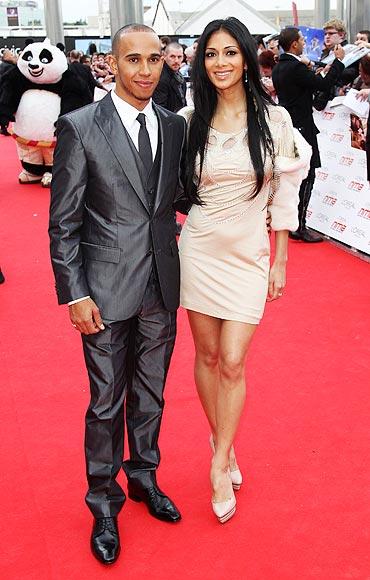 Lewis Hamilton said he was ready for a new beginning in Brazil at the end of the Formula One season and spoke on Thursday of his hope of re-kindling his romance with singer Nicole Scherzinger.
Nadal finishes year on disappointing note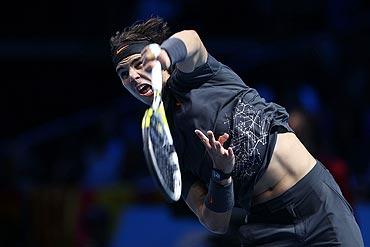 Former World No. 1 Rafa Nadal admitted he has struggled of late to rekindle his passion for tennis on Thursday after defeat by Jo-Wilfried Tsonga sent him spinning out of the ATP World Tour Finals at the group stage.
November 24, 2011
Champions League: Xavi's precision lifts Barcelona spirits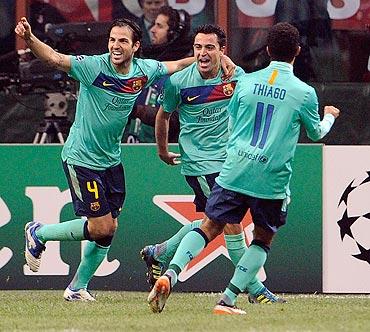 Xavi produced a goal of surgical precision to give Barcelona a 3-2 win over AC Milan on Wednesday in an enthralling Champions League match which also featured Zlatan Ibrahimovic scoring against the Catalan club he left acrimoniously last year.
Olympics 2012: Skirts not so popular with women boxers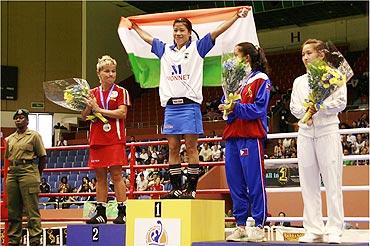 Competitors in the first Olympic women's boxing tournament next year should not be forced to wear skirts, a member of the British team said on Wednesday.
Ferrer tames outstanding player of the year Djokovic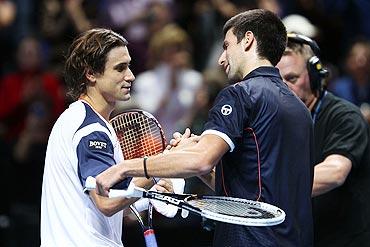 David Ferrer, the lesser known Spaniard in the ATP World Tour Finals, burst out of Rafa Nadal's shadow to reach the last four on Wednesday with a demolition job on World No. 1 Novak Djokovic at the O2 Arena, in London.
November 23, 2011
England Rugby: Leaked report exposes groupism, leadership failing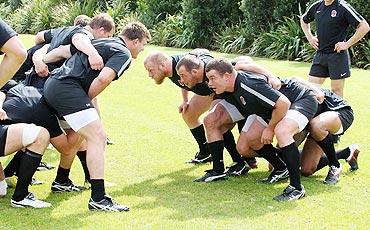 Leaked reports into England's rugby World Cup debacle paint a picture of a squad in meltdown and expose schisms and leadership failings greater than even their dismal performance had suggested.
Golf has an opportunity to grow: Randhawa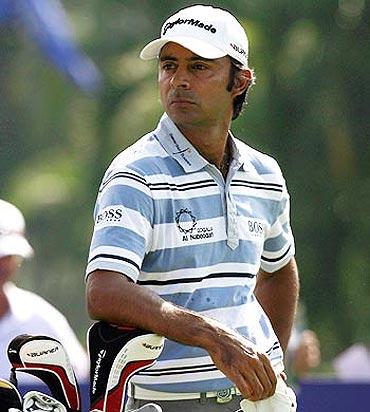 Golf has plenty of opportunity to grow in India where cricket has almost reached its peak, said top ranking golfer and Asian Tour Player of the Year, Jyoti Randhawa.
Champions League: Inter, Bayern and Benfica progress to last 16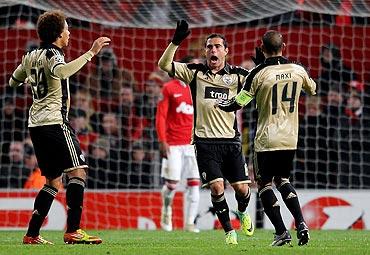 Benfica snatched a 2-2 draw at sloppy Manchester United to reach the Champions League last 16 and leave the three-times winners with work to do, while Inter Milan ambled through before even playing and Bayern Munich also progressed with ease on Tuesday.
It's not the moment to say goodbye: Nadal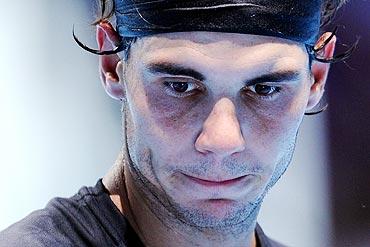 An hour after one of the worst beatings of his career Rafa Nadal refused to be too downhearted on Tuesday and said he was still in contention at the ATP World Tour Finals.
Afghanistan trailblazer targets London gold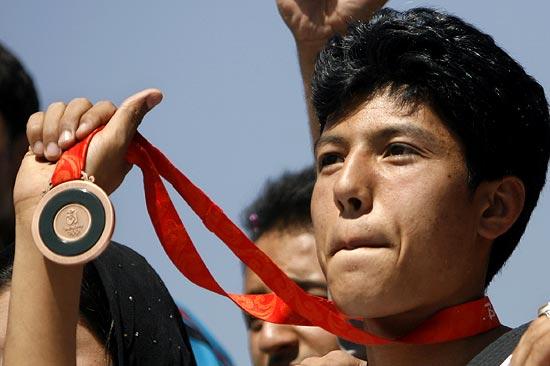 Given that it took Rohullah Nikpai only two years to claim a bronze medal the 2008 Beijing Olympics, the additional four may be long enough to lift him two more places on the podium.
November 22, 2011
Beckham silences critics with MLS title success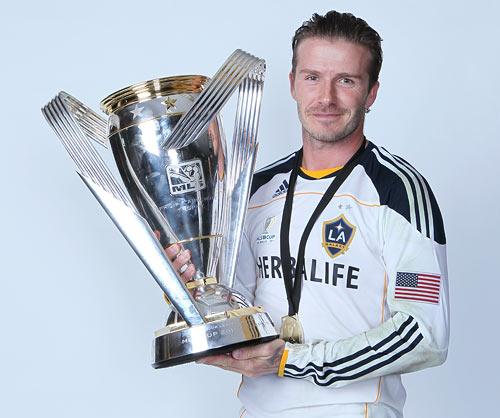 It remains to be seen whether the MLS Cup victory over the Houston Dynamo was Beckham's American swansong or if a return to Europe, or even retirement, are his next steps.
Stakes rise in Champions League qualifiers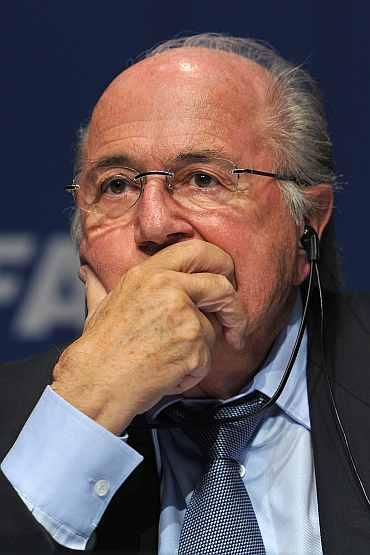 After a week of controversy caused mainly by FIFA president Sepp Blatter's comments about racism, UEFA will hope that action on the pitch dominates this week's Champions League headlines as the group stage reaches crunch time.
Djokovic passes Berdych test, woe for Murray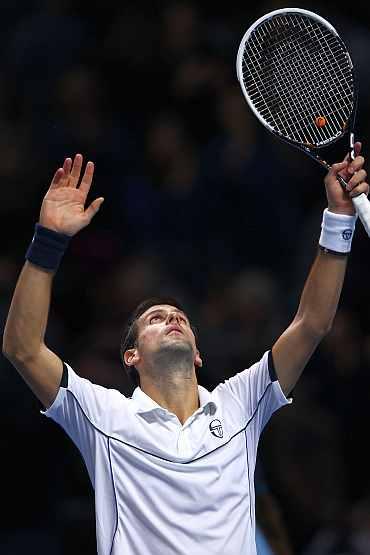 World number one Novak Djokovic clawed his way to victory over Tomas Berdych in his opening match at the ATP World Tour Finals on Monday but Andy Murray's prospects look bleak after a groin injury flared up in his shock defeat by David Ferrer.
November 21, 2011
Beckham ends American odyssey with glittering prize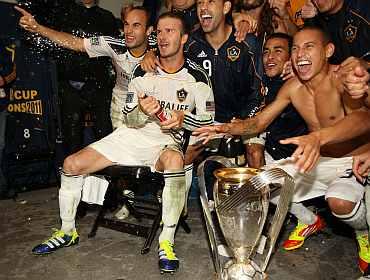 David Beckham helped lead the LA Galaxy to a coveted MLS Cup victory on Sunday with a performance that validated the former England skipper's decision to abandon Europe for a life in Los Angeles.
Woods seals Presidents Cup for US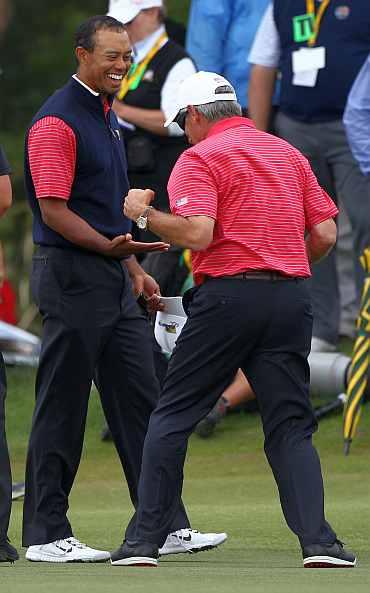 Tiger Woods found his putting groove to clinch the Presidents Cup for the United States, who held off a stiff challenge by the Internationals at Royal Melbourne Golf Club on Sunday.
November 20, 2011
PHOTOS: Man City overpower Newcastle; Gunners fight back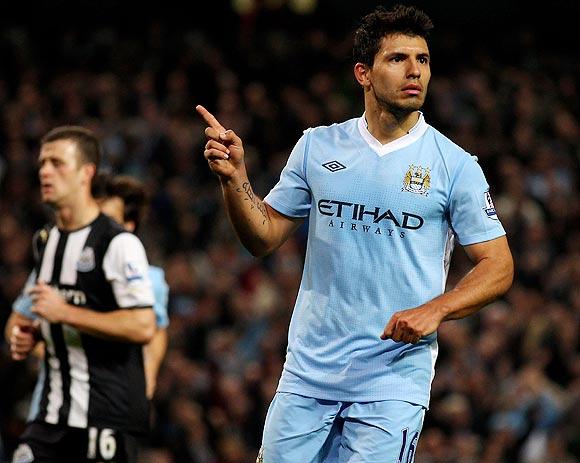 Images from the English Premier League matches played on Saturday.
November 19, 2011
Blatter apologises but will not resign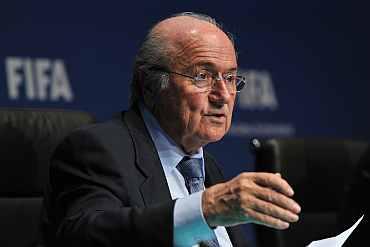 Embattled FIFA president Sepp Blatter apologised for his controversial comments about racism on Friday but said he would not be resigning despite a growing clamour in Britain for him to step down.
November 18, 2011
Baddeley rises from ashes of despair to deny Woods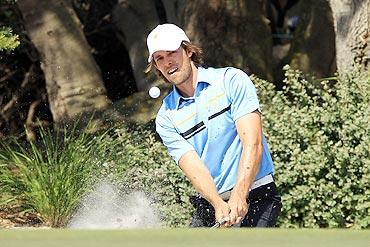 Presidents Cup International team captain Greg Norman said Aaron Baddeley "took it pretty rough" on Thursday when he blew victory with a poor putt on the 17th and an inexplicably woeful three-wood off the 18th tee.
Phelps in search of new goals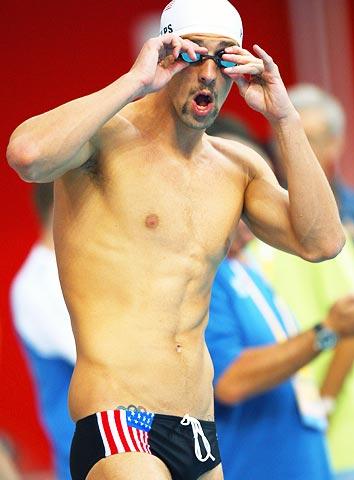 When Michael Phelps scaled the peak of Olympic achievement at Beijing in 2008 only one thing spoiled his view from the top. As he surveyed all below him, he instantly realized the only way forward was down.
On-song Federer targets record in London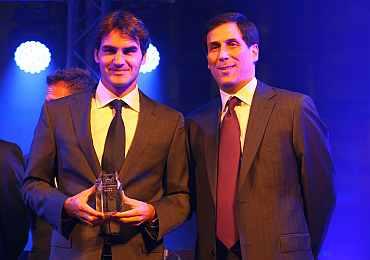 Roger Federer will aim to finish an off key year on a high note by winning a record sixth title at the ATP World Tour finals which start on Sunday at London's O2 Arena, a venue more famous for staging the biggest acts in the music business.
November 17, 2011
Presidents Cup: Woods, Stricker crash but US in command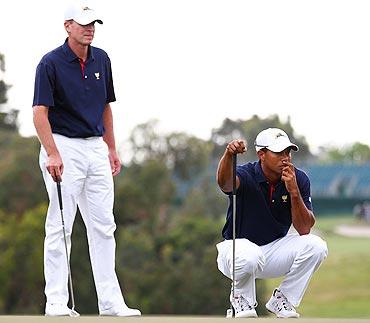 The United States recovered from a stunning collapse by the much-vaunted pairing of Tiger Woods and Steve Stricker to take a commanding 4-2 lead in the Presidents Cup at the end of Thursday's opening foursomes.
Rusedski asks ATP to look after top players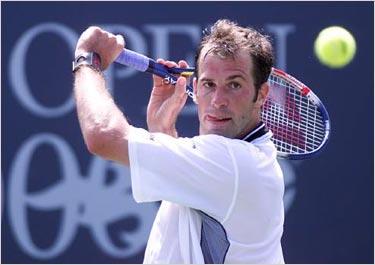 The men's tour must look after the welfare of top players like Novak Djokovic rather than expect them to turn up injured at tournaments so they do not lose out on bonus payments, former British number one Greg Rusedski said.
November 16, 2011
PHOTOS: Portugal book Euro ticket after Ronaldo brace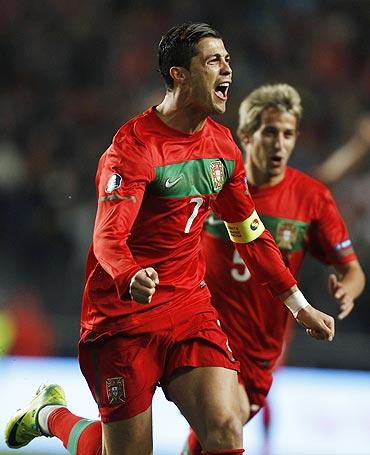 Portugal scored six goals against Bosnia including a Cristiano Ronaldo double to grab a ticket to the Euro 2012 finals while Ireland, Czech Republic and Croatia completed the lineup without the need for a frenzied finale to their playoff wins on Tuesday.
Images: Ali leads tributes to Joe Frazier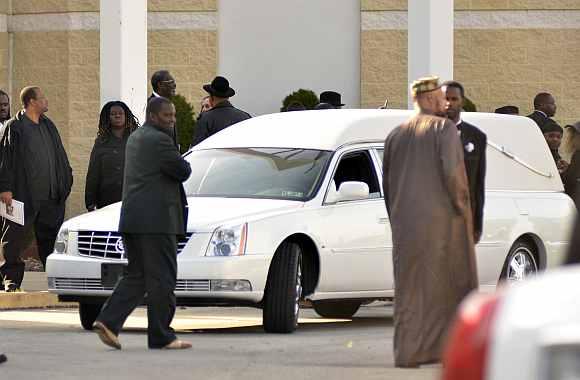 Boxing greats have paid their respects to former heavyweight champion Joe Frazier during a private funeral at the Enon Tabernacle Baptist Church, in Philadelphia.
November 15, 2011
Olympic berth a realistic dream: Jwala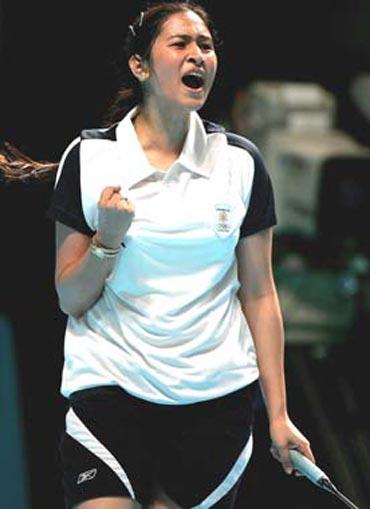 India's women's doubles player Jwala Gutta reckons qualifying for next year's Olympics is a realistic dream but she doesn't want to put pressure on her young partner Ashwini Ponnappa by thinking about the London event right now.
'Sports Bill could have averted Commonwealth Games scam'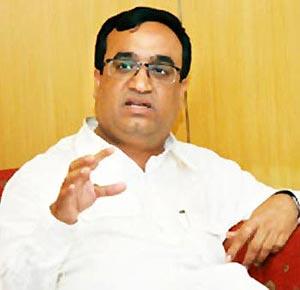 In an interview with Neerja Chowdhury, Ajay Maken strongly defended the provisions of his controversial bill, which, he says, he plans to bring before the Cabinet again in its revised version, and once it is cleared, he would introduce it in Parliament in the winter session.
Hamilton dedicates victory to his mother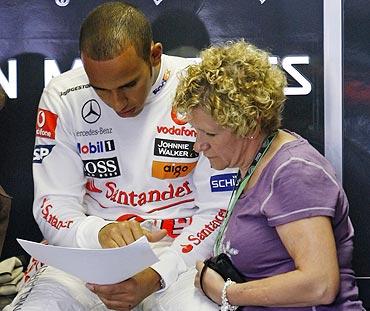 Lewis Hamilton, always his own fiercest critic, gave himself a pat on the back on Sunday after delivering one of his most satisfying Formula One wins to his mother as a birthday present.
November 14, 2011
Euro 2012: Ronaldo 'pitches' for Portugal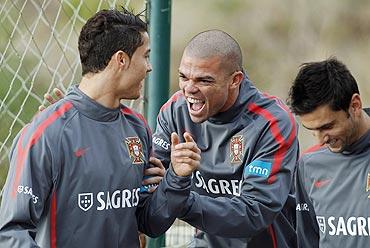 Portugal captain Cristiano Ronaldo believes his side's bold performance on a difficult pitch in Zenica last week will inspire them to overpower Bosnia at home on Tuesday and qualify for Euro 2012.
Roger Federer joins an 'exclusive' club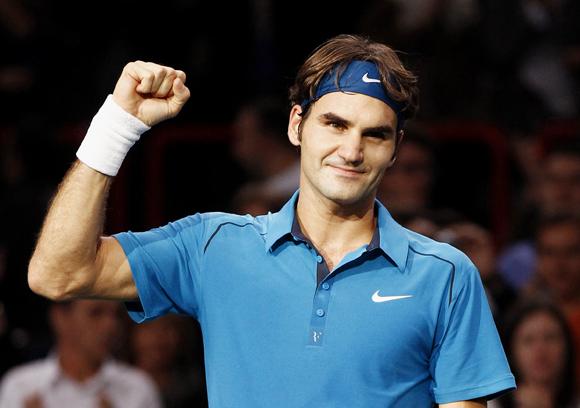 Roger Federer's 6-3, 7-5 win over Argentine Juan Monaco in the quarter-finals of the Paris Masters made him only the seventh player in the Open Era to win 800 singles matches on the Tour. His career-record now stands at 802-186.
Narang confident of handling pressure at Olympics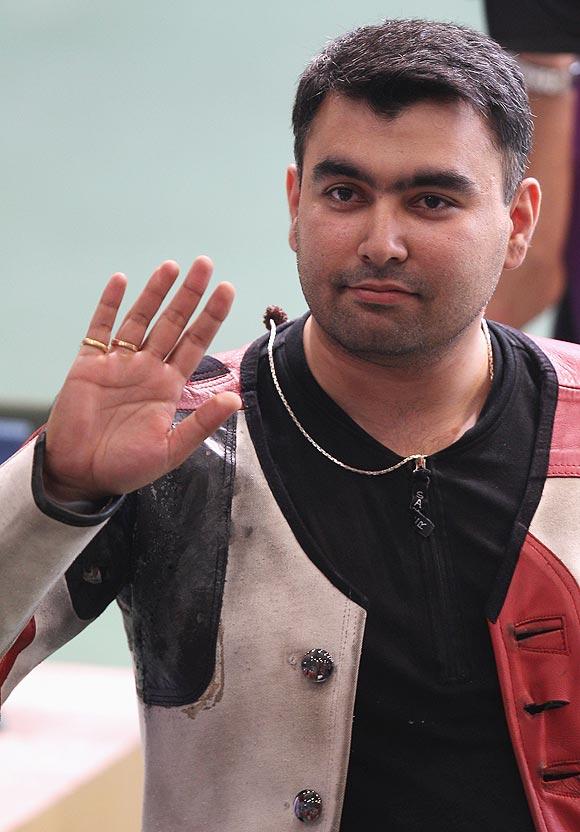 Gagan Narang has conceded that the burden of high expectations is new for Indian shooters as they prepare for the London Olympics but promised to deliver at the Games in 2012.
Cruel luck ends Vettel's Abu Dhabi streak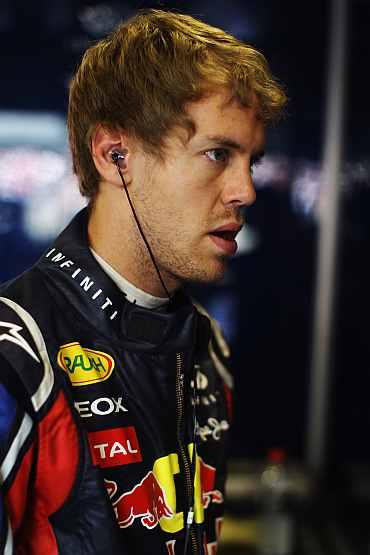 Double Formula One world champion Sebastian Vettel suffered his first retirement in more than a year on Sunday after a sudden tyre blowout at the first corner of the Abu Dhabi Grand Prix.
November 13, 2011
Abu Dhabi GP: Hamilton wins, rare retirement for Vettel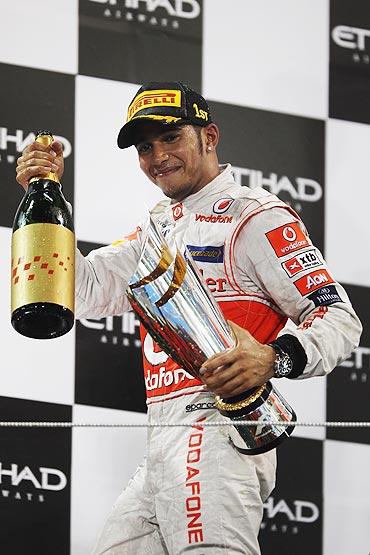 McLaren's Lewis Hamilton won the floodlit Abu Dhabi Grand Prix on Sunday after Red Bull's double Formula One champion Sebastian Vettel suffered his first race retirement in more than a year.
Top athletes back National Sports Bill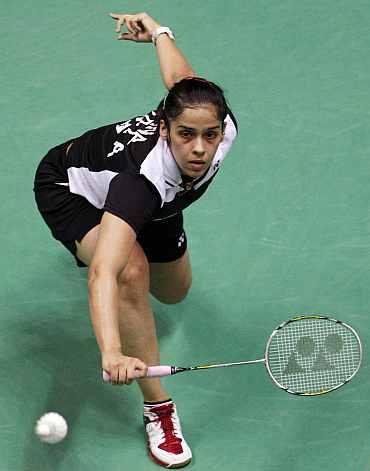 The Indian Olympic Association and the federations might be against it but the National Sports Bill has got a collective thumbs up from India's top athletes, who feel the draft has the potential to drastically change the country's sports scene.
Blake works harder than me, but won't take 200 title, says Bolt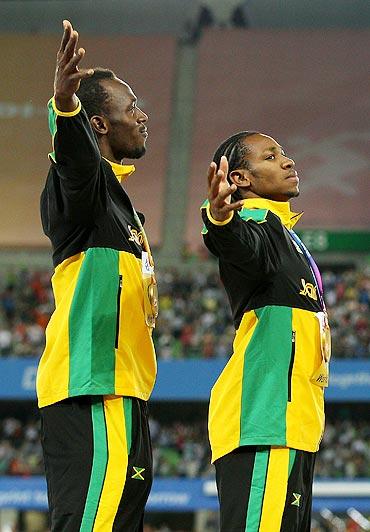 Usain Bolt gave a clear message to rival, friend and training partner Yohan Blake heading into Olympics year -- his 200 metres title is out of bounds in London.
November 12, 2011
F1 rivals would welcome 'raver' Raikkonen's return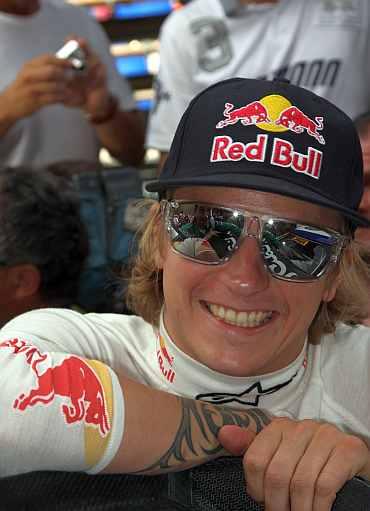 Kimi Raikkonen's possible Formula One comeback would liven up the post-race party scene as well as adding a sixth world champion to the starting grid, rivals agree.
'India need a Park Ji-Sung or a Messi to develop football'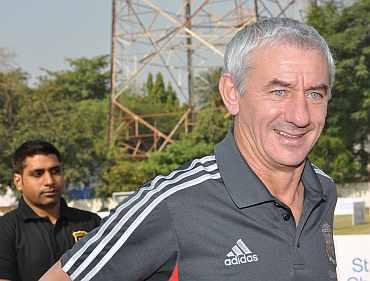 Football is more about mental toughness than mere physique and India needs to produce players with more mental strength to be a successful football nation, says legendary Liverpool striker Ian Rush.
Saint Iker leads Spanish keeping to new heights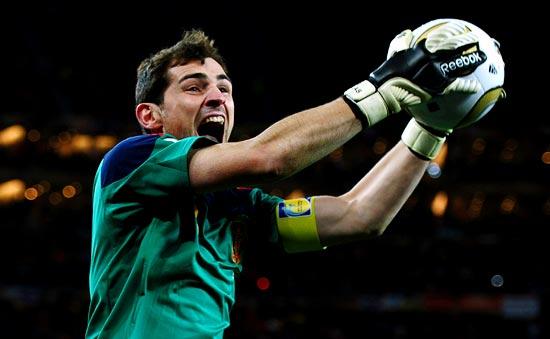 Iker Casillas, the rock behind Spain's Euro 2008 and 2010 World Cup triumphs, is set to equal the country's appearances record when the world champions visit England for a friendly on Saturday.
November 10, 2011
Big dramas for England in run-up to Spain friendly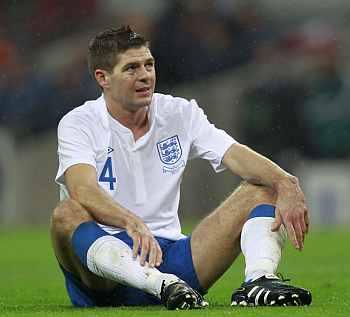 England are likely to field a young, experimental team against world and European champions Spain in their friendly at Wembley on Saturday with squad regulars John Terry, Wayne Rooney, Steven Gerrard and Rio Ferdinand all missing for different reasons.
I am not mad, I am entertaining: Balotelli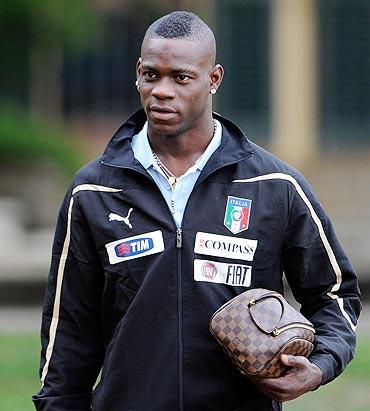 Mario Balotelli is not mad and does not miss playing in Serie A, the eccentric Italy and Manchester City forward said on Wednesday.
November 09, 2011
'Smokin' Joe' Frazier gets his due at last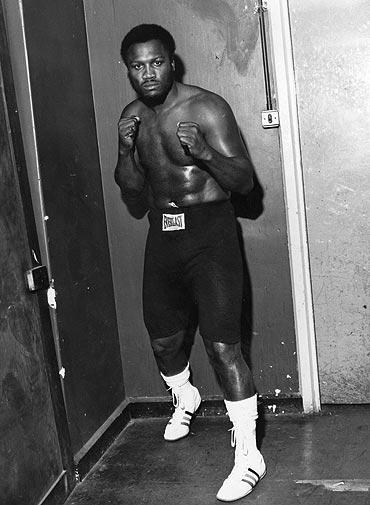 Joe Frazier had to wait until death to win rightful appreciation after a boxing career spent in the shadow of the magnificent Muhammad Ali, boxing historian Bert Sugar said.
EPL's bad boys: Toure fined for doping; Wigan's Alcaraz gets ban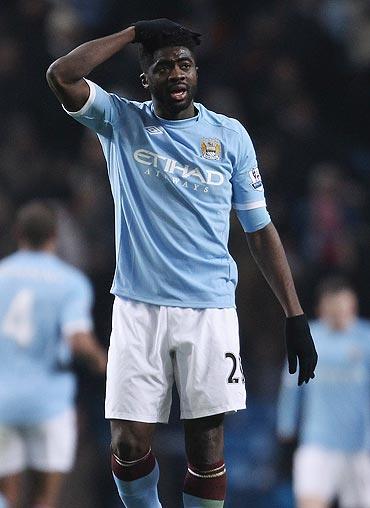 Defender Kolo Toure has accepted a six-week fine from Manchester City after the Ivorian international failed a drugs test earlier this year, the Premier League leaders said.
Marat Safin joins the political bandwagon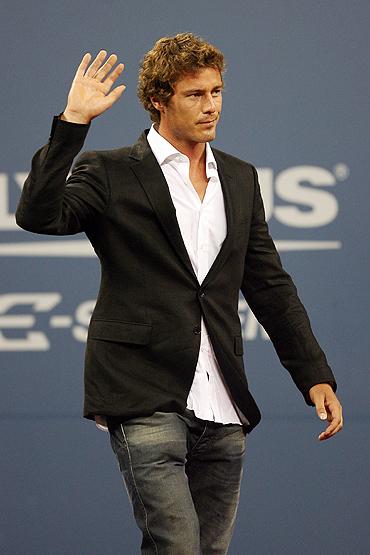 Even as Marat Safin prepares to take the plunge come December, rediff.com takes a look at a few other tennis stars who have entered the political arena.
November 08, 2011
Ali leads tributes to Joe Frazier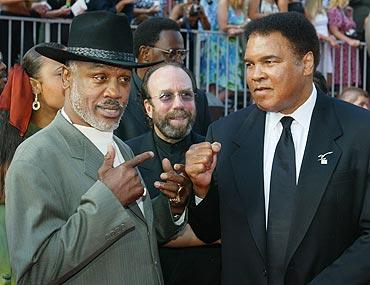 The sports world paid tribute to former heavyweight boxing champion Joe Frazier on Monday after the warrior whose toughness resonated with the blue collar everyman died at the age of 67.
The legend of 'Smokin' Joe' Frazier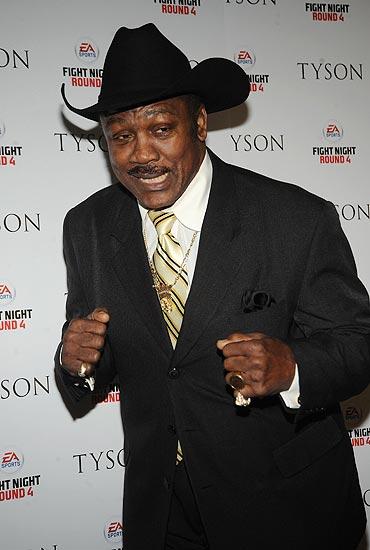 'Smokin' Joe' Frazier, the undisputed heavyweight champion of the 1960s and '70s and the first boxer to beat Muhammad Ali died in Philadelphia, a month after being diagnosed with liver cancer.
They take the prize for worst designed trophies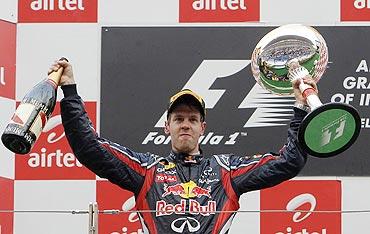 India presenting pretty trophies at prizes is as rare as India winning gold at the Olympics. Don't believe us, then take a look at these hideously designed trophies and you'll know what we mean!
November 06, 2011
Images: Ferguson celebrates with win but City stay clear at top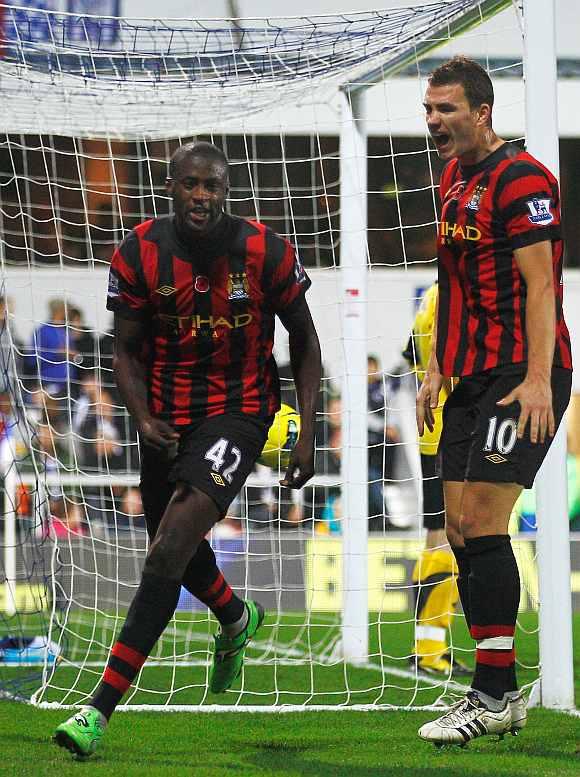 Alex Ferguson celebrated 25 years as Manchester United's manager as his team beat Sunderland 1-0 at Old Trafford on Saturday although they stayed five points behind Manchester City at the top of the Premier League after City won 3-2 at Queens Park Rangers.
November 04, 2011
Mumbai Fighters team up for the big bout at World Series Boxing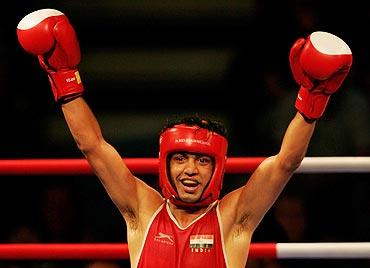 India's lone boxing franchise Mumbai Fighters is ready with its line-up of Indian and international pugilists in a 17-strong squad for the $5million World Series of Boxing commencing November 11 in Mumbai.
November 03, 2011
PIX: Real qualify as Ronaldo strikes 100th goal in Madrid shirt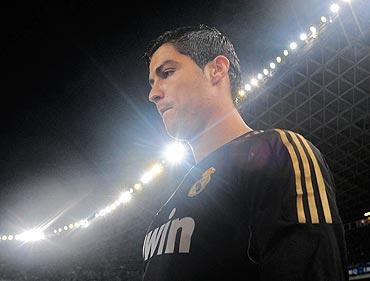 Images from the Champions League matches played across Europe on Thursday.
Messi will become club's top-scorer this year itself: Guardiola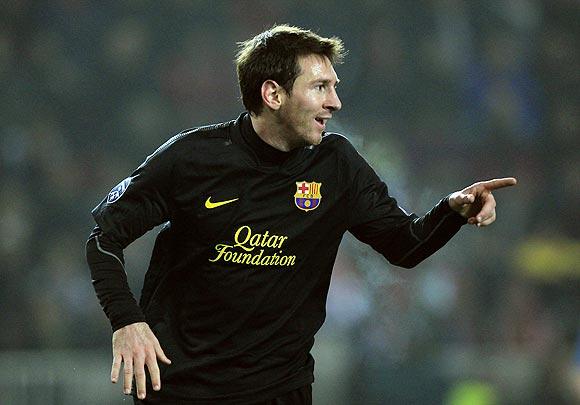 Lionel Messi is 34 goals short of becoming Barcelona's all-time top scorer after netting a hat-trick in the Champions League on Tuesday, and the only real question left is when he will achieve that accolade and not if.
November 02, 2011
CL PHOTOS: Messi 'tricks for Barcelona, reach last 16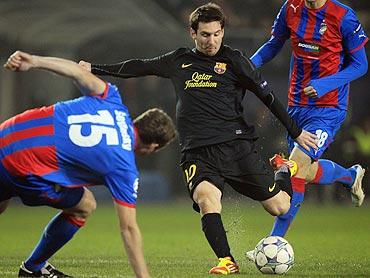 Another Lionel Messi hat-trick lit up the Champions League yet again as Barcelona and AC Milan qualified for the last 16 with time to spare on Tuesday although it is APOEL Nicosia who are fast becoming the talk of the group stages.
25 years later, Fergie makes winning a habit at Old Trafford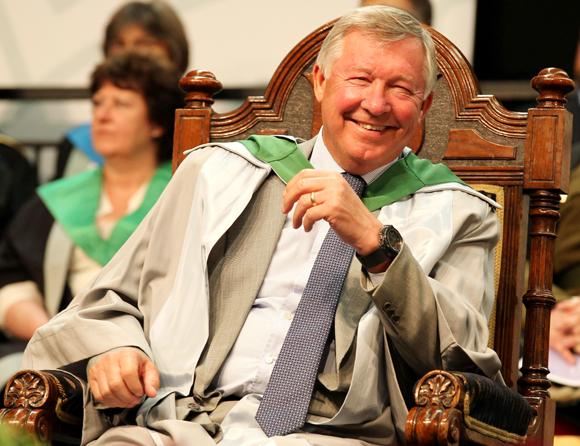 As Sir Alex Ferguson completes 25 years in charge of Manchester United, Bikash Mohapatra takes a look at the Scot's legacy at Old Trafford.
November 01, 2011
Alternating races could ease crowded F1 calendar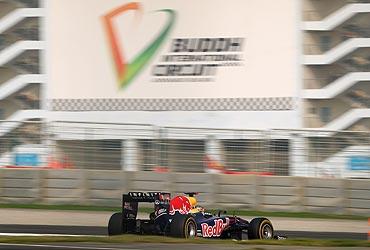 Alternation of circuits and team personnel could be the way forward for Formula One to add new races to a crowded calendar without losing existing ones.
The big moment from Sunday's Grand Prix of India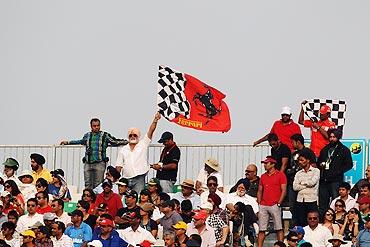 As the strains of Jana Gana Mana reverberated, there was, says Raja Sen, a shared moment of immense, overwhelming pride at the Buddh International Circuit.
October 31, 2011
PHOTOS: Formula One stamps its mark on India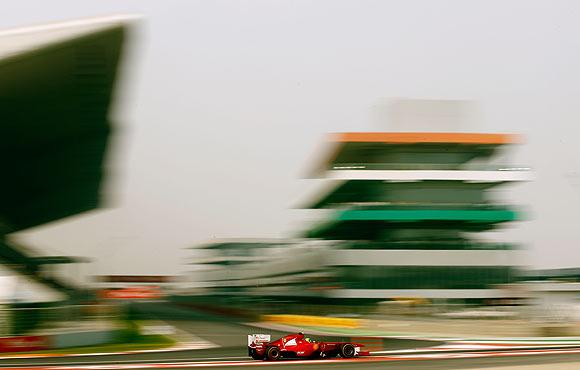 Some of the best images from the inaugural Indian Grand Prix.
Soccer Roundup: Real Madrid on top of the table in Spain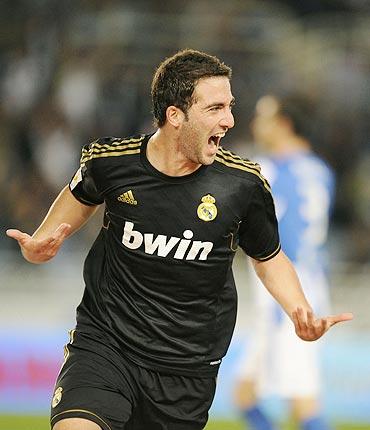 La Liga took on a more familiar look as surprise early pacesetters Levante suffered their first defeat of the season with a 2-0 loss at 10-man Osasuna and relinquished their hold on top spot.
Inaugural Indian Grand Prix exceeds expectations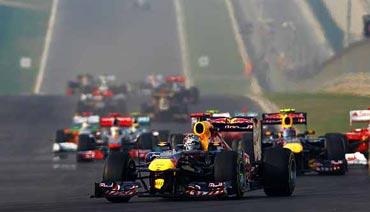 Formula One and India have the makings of a long and happy relationship after an inaugural grand prix that exceeded expectations.
Hamilton too hard on himself, says McLaren boss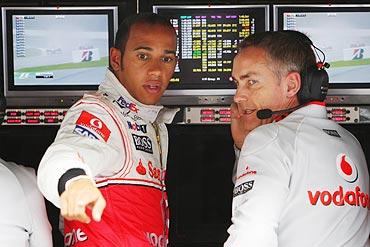 McLaren have told Lewis Hamilton to be less hard on himself after an inaugural Indian Grand Prix that again had the 2008 Formula One champion apologising profusely to team and sponsors.
Team by team analysis of the Indian GP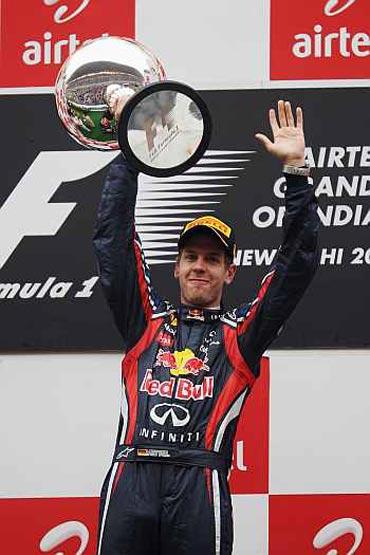 Team by team analysis of Sunday's inaugural Indian Formula One Grand Prix (listed in championship order).
October 30, 2011
Hamilton and Massa feud flares again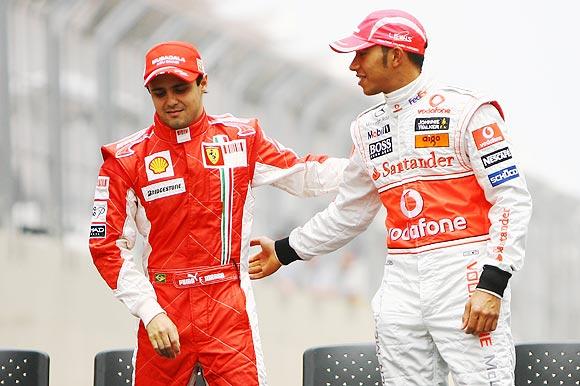 Feuding foes Lewis Hamilton and Felipe Massa were poles apart at the Indian Grand Prix on Sunday despite their magnetic attraction on the racetrack pulling stronger than ever.
Vettel praises organisers of Indian Grand Prix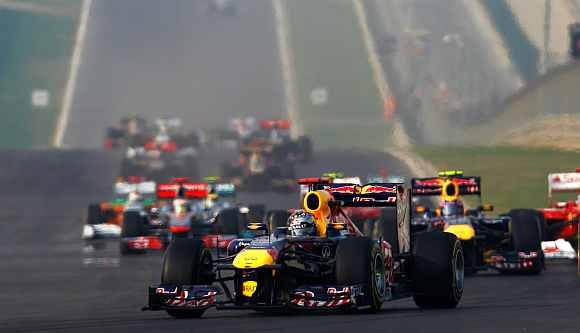 Double world champion and winner of the inaugural Indian Grand Prix, Sebastian Vettel of Red Bull was full of praise for the newly-built Buddh International Circuit and lauded the organisers for coming up with the spanking track in such a short time.
PHOTOS: Vettel reigns at inaugural Indian GP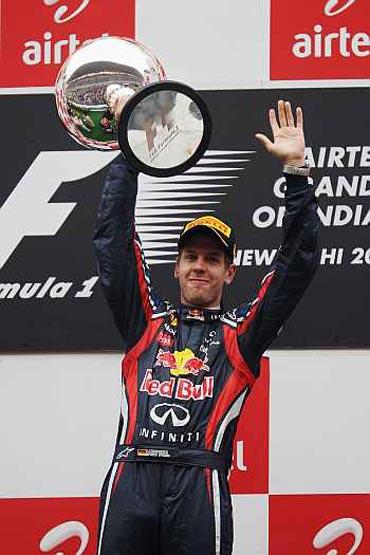 World Champion Sebastian Vettel asserted his supremacy by comfortably winning the action-packed inaugural Indian F1 Grand Prix while home team Sahara Force India earned two points through Adrian Sutil'sninth place finish, in Greater Noida, on Sunday.
'Who is Tendulkar? Is he a very rich man?'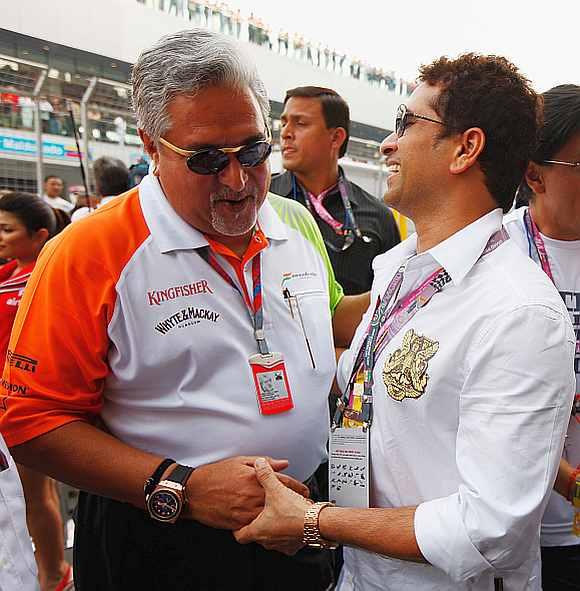 Sachin Tendulkar may be a world-renowned figure in the cricketing circle but for a few foreign journalists and photographers, the iconic batsman still remains an unknown figure.
'India needs more infrastructure to produce F1 champ'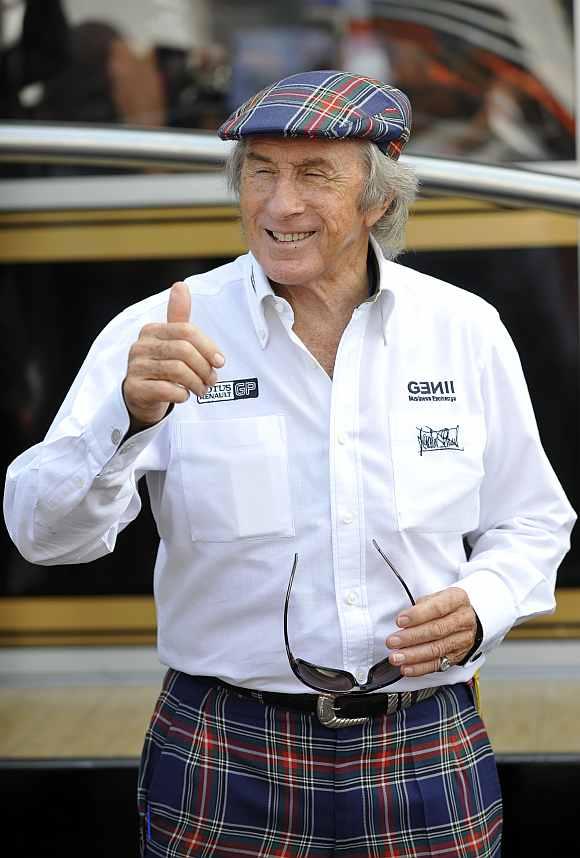 Formula One might have made its debut in the cricket-crazy nation with the inaugural Indian Grand Prix at the Buddh International Circuit but the country needs to build more motorsports infrastructure to produce world champions, feels legendary driver Sir Jackie Stewart.
Images: Tendulkar meets Schumacher and Ecclestone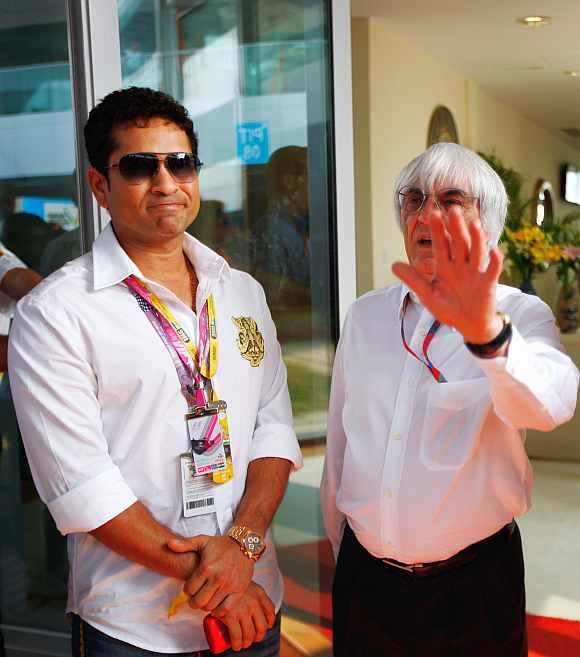 A self-confessed Formula One fan, Sachin Tendulkar met seven-time world champion and 'dear friend' Michael Schumacher at the Mercedes team building ahead of this afternoon's inaugural Indian Grand Prix on Sunday.
Lewis Hamilton accepts the risks of racing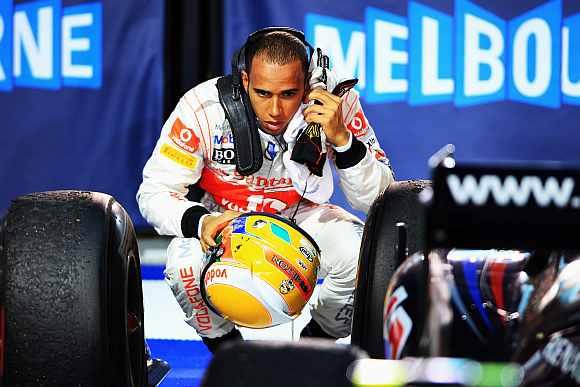 McLaren's Lewis Hamilton has said he accepts the risk of dying in a Formula One car as he follows his passion for racing to the limit.
October 29, 2011
Photos: Van Persie-led Arsenal stun Chelsea, Man U down Everton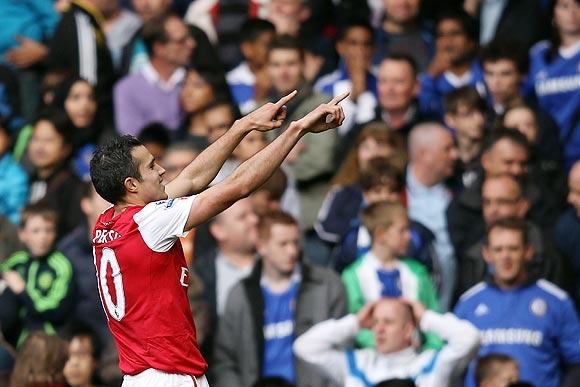 Skipper Robin van Persie scored a hat-trick as Arsenal beat Chelsea 5-3 after twice coming from behind in a remarkable Premier League match of attacking brilliance and defensive mistakes at Stamford Bridge on Saturday.
Don't want any favours from Red Bull: Webber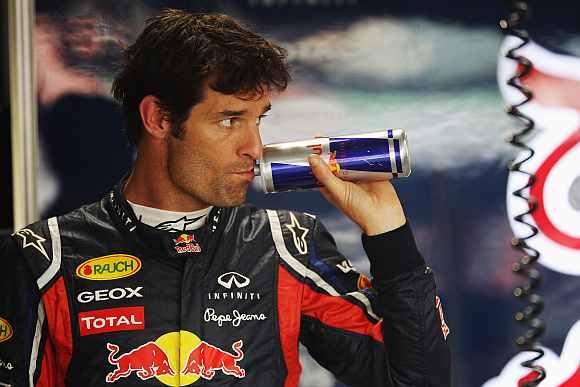 Mark Webber is not interested in taking favour from Red Bull teammate Sebastian Vettel to end his win drought this season, at Sunday's Indian Grand Prix.
Record man Vettel takes pole at Indian GP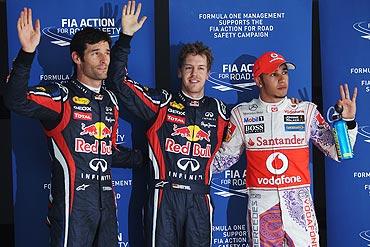 Red Bull set a Formula One record of 16 pole positions in a season when double world champion Sebastian Vettel lapped fastest in qualifying for the inaugural Indian Grand Prix on Saturday.
Tiger's winless run closes in on two-year mark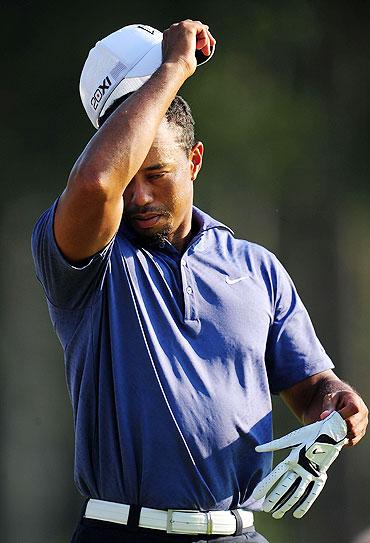 With the two-year anniversary of his last tournament win fast approaching, Tiger Woods is preparing for next month's Australian Open amid growing doubts over whether he can ever regain his former dominance.
October 28, 2011
Images: Penalty for Hamilton, drama from Alonso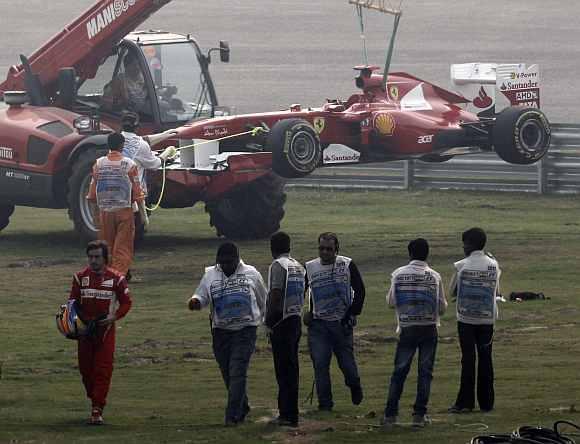 's trackside analysis of the first practice session at the Buddh Internationa Circuit.
Buddh track shines despite teething problems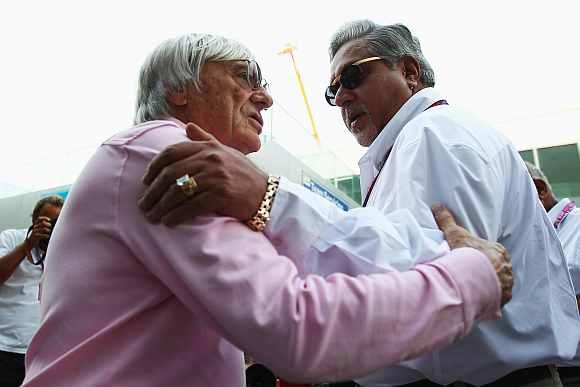 Teething problems were evident at India's new Buddh International circuit but Formula One's boss declared that he is satisfied.
Button, Hamilton keen to win Indian GP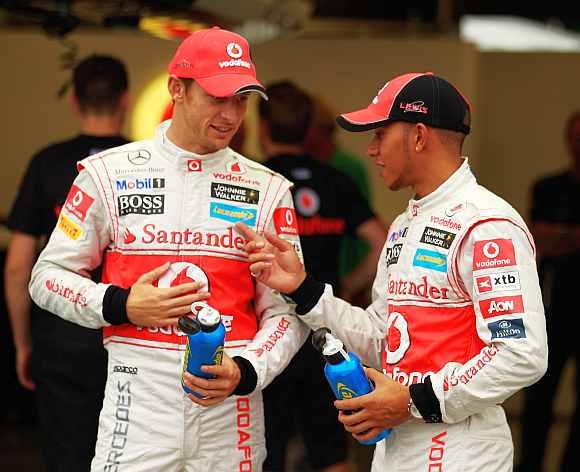 McLaren Mercedes drivers Lewis Hamilton and Jenson Button said that they are keen to win the inaugural Indian Grand Prix and the remaining two races of the season so that they can lay a strong base for next year.
Why Formula One turns me on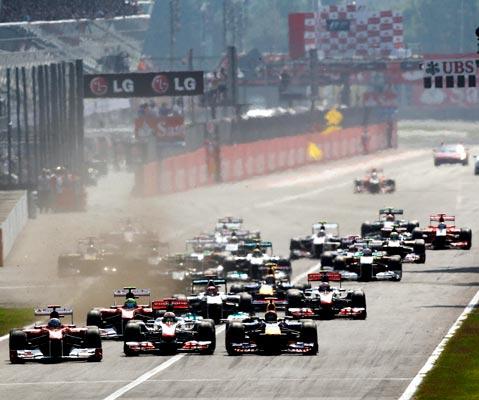 The first time you truly hear the primeval holler of a Formula One engine at full tilt, your jaw will drop, your pulse will pound like a gorilla on cocaine, and your nether regions will instantly, if only momentarily, stiffen and throb with the dramatic suddenness of utterly unexpected and overwhelming arousal.
October 27, 2011
Winning is the only taste I like: Schumacher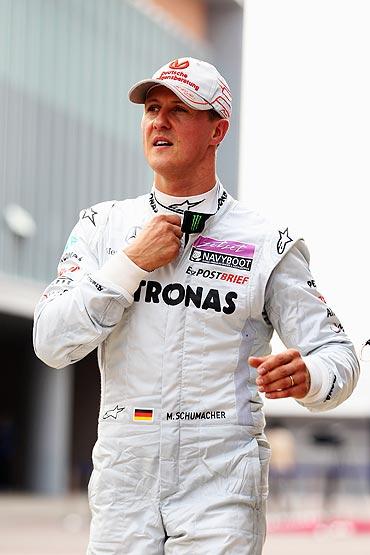 Seven-time Formula One World champion Michael Schumacher concedes it hasn't quite gone to the plan in his second coming, but the legendary German remains determined to make his way back to the top as winning is the only taste he likes.
What two DRS zones mean for the Indian Grand Prix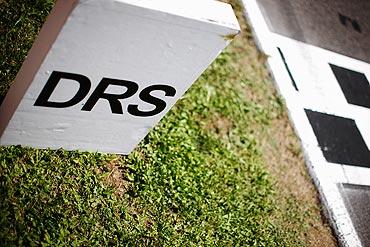 The regulatory body behind Formula One, FIA, has confirmed that there will be two DRS zones in the inaugural Indian Grand Prix. explains the working behind the system.
All eyes on India as F1 takes a pit stop in the country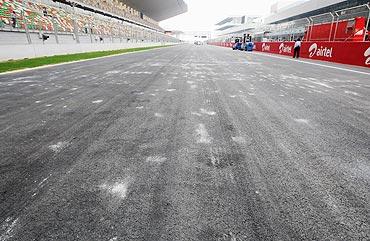 India's image as a growing sports superpower will be put to test when it hosts the first ever Formula One Grand Prix beginning with the free practice session, on Friday, where racing afficanados will get the first feel of the high-speed action set for Sunday.
Uneven compensation for F1 track infuriates Noida residents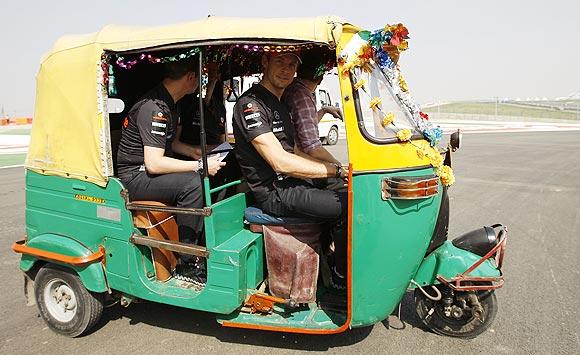 Villagers of Greater Noida in Uttar Pradesh have protested against the uneven compensation paid to them for taking over their lands for Formula One (F1) racing track.
October 25, 2011
You have to take your chances on the track: Chandhok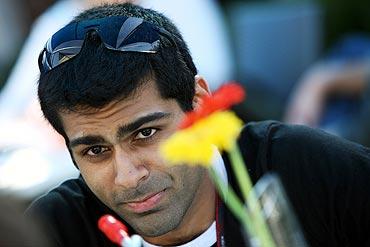 The recent deaths of Dan Wheldon and Marco Simoncelli may have reignited the debate about improving safety measures in motorsport but Indian racer Karun Chandhok believes that focusing too much on them would take away the excitement from Formula One.
Sauber chief reckons it's only time before Indian brands back F1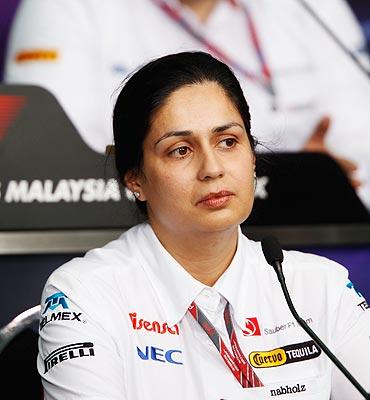 India's first Grand Prix this weekend could be the breakthrough that changes the way the country's businesses look at Formula One, according to Sauber chief executive Monisha Kaltenborn.
October 24, 2011
'Simoncelli, we will miss you so much'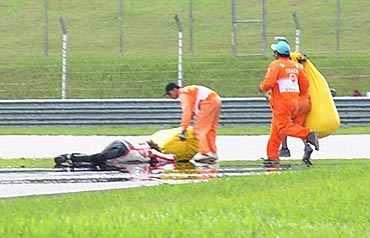 Italian MotoGP rider Marco Simoncelli died after a horrific crash at the Malaysian Grand Prix in Sepang on Sunday, completing a harrowing week for motorsport after British IndyCar driver Dan Wheldon lost his life last weekend.
Focus on safety in motor racing after Simoncelli's death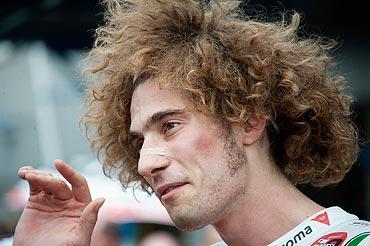 Motorsport was plunged into more grief and introspection on Sunday by a second death in a week amid intensified concern for safety standards in all forms of racing around the world.
Know more: Mechanics and technology involved in an F1 car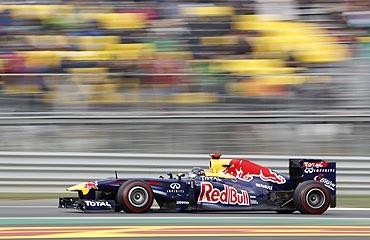 Have you ever had questions about the working and mechanisms of a Formula One car? Ever wondered how different is the engine of an F1 car from that of an ordinary one? On which fuel do F1 cars run? How long can the tyre of an F1 car last? As the country sets itself for a grand entry into the high profile and glamorous world of Formula One, here is a guide to some interesting facts -- a combination of information and rules about the sport.
Racing in India will be as special as it is in Germany: Sutil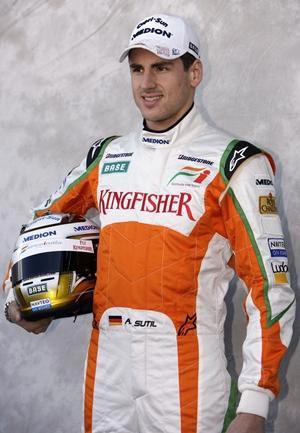 His country and culture may be different from the fans who would be rooting for him at India's first-ever Formula One Grand Prix but Force India's lead driver Adrian Sutil says racing in New Delhi, would be as "special" as it is driving in his motherland, Germany.
Racism on football pitch: Allegations against Fabregas, Terry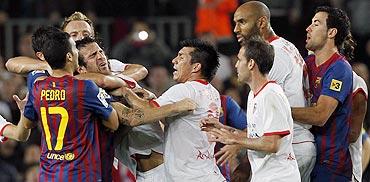 Barcelona midfielder Cesc Fabregas denied on Sunday that he racially abused Sevilla's Malian striker Frederic Kanoute in Saturday's 0-0 La Liga draw at the Nou Camp and the pair later settled their differences by telephone.
October 23, 2011
Man City pump up the volume with 6-1 rout at United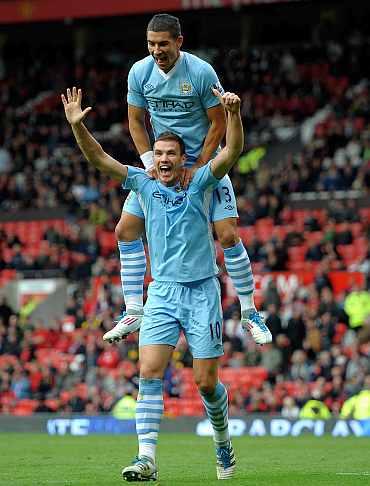 Manchester City ransacked fortress Old Trafford on Sunday with a 6-1 demolition of Manchester United that put them clear at the top of the Premier League.
October 22, 2011
Man City need to learn to win when playing badly, says Mancini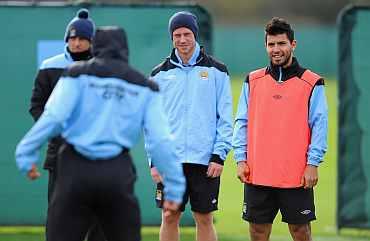 Premier League leaders Manchester City must learn to emulate rivals United in a key department -- winning matches even when playing badly.
October 21, 2011
Check out the best seats at the Indian F1 Grand Prix

With exactly one week to go for the Indian Grand Prix, organisers have slashed ticket rates in a welcome bid to fill the stadium to capacity.
EPL weekend: Battleground Manchester - ready for 'biggest' derby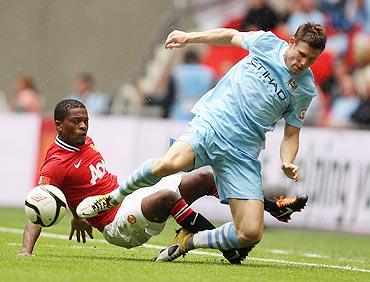 Alex Ferguson is gearing up for what he has called the biggest Manchester derby in his near 25-year spell as United manager, Sunday's home game against Premier League leaders City.
October 20, 2011
India F1 GP: What the Buddh International Circuit holds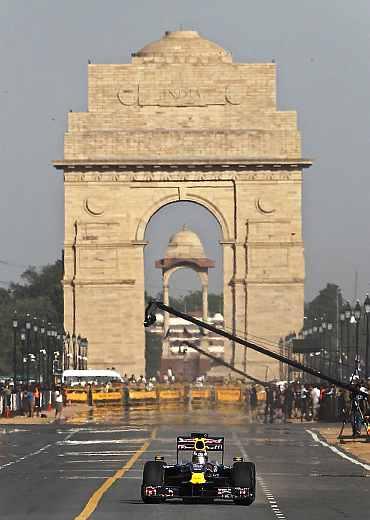 reviews the Buddh International Circuit, on which the Indian F1 GP will be run, and says the track seems unforgiving.
CLeague: Wasteful Barca down Plzen; Last gasp win for Gunners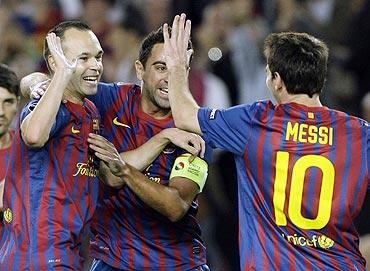 A spot of Andres Iniesta magic and a late David Villa strike lifted profligate Barcelona to a 2-0 home win over competition newcomers Viktoria Plzen in Champions League Group H on Wednesday.
When I'm in the ring I just think of the bout and opponent'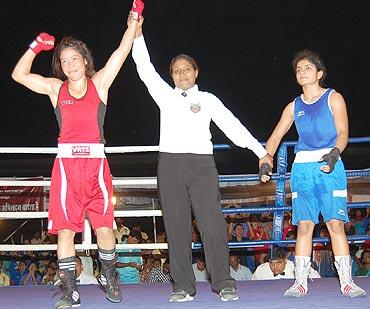 After a superb showing at the just-concluded National Boxing Championships, MC Mary Kom tells Laxmi Negi her sights are firmly set on next year's Olympics.
October 19, 2011
CLeague: Rooney fires United, late Aguero goal seals City win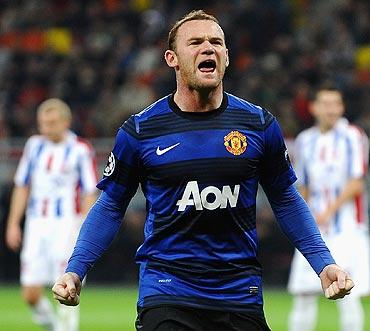 Images from the UEFA Champions League matches played across Europe on Tuesday.
Bootled beer and street curry, Flintoff's advice for F1 teams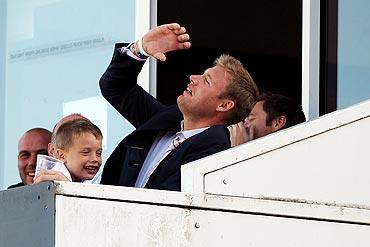 Andrew Flintoff's advice to Formula One teams visiting India for the country's first Grand Prix next week is to fuel themselves on beer and curry.
October 18, 2011
Photos: Buddh Circuit ready for India's date with Formula One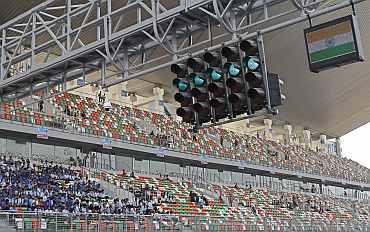 The Buddh International Circuit was unveiled on Tuesday amid much fanfare ahead of the widely-anticipated inaugural Indian Grand Prix and described as "one of the best in the world" by the country's first F1 driver Narain Karthikeyan.
Champions League: Real seek third win, United eye first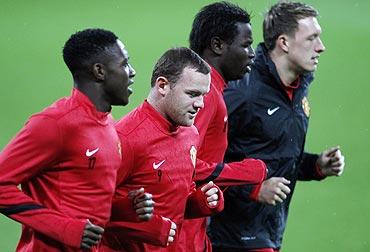 Real Madrid host Olympique Lyon aiming to continue their perfect start in the Champions League on Tuesday but some of the other heavyweights are still playing catch-up.
October 17, 2011
Manchester duo seek Champions League kick-start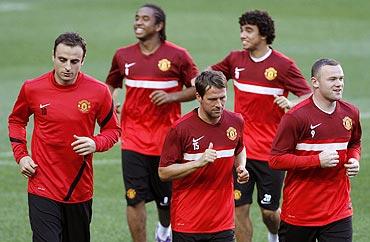 Manchester rivals City and United have so far not taken their domestic form into Europe and will be among 15 teams attempting to win their first matches in the Champions League group stage this week.
Another marathon milestone for centenarian Fauja Singh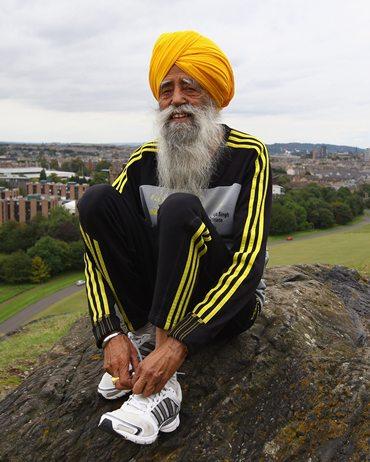 0-year-old Fauja Singh maintained his awe-inspiring record at the marathons after he became the first centenarian to complete the Toronto marathon on Sunday.
Wheldon bids farewell to the world in a fiery crash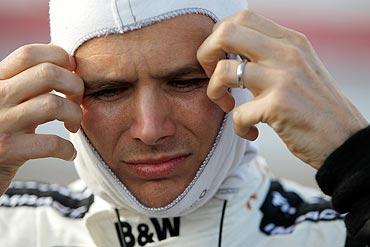 Dan Wheldon, who was killed in a fiery crash in Las Vegas on Sunday, was one of Britain's most successful race car drivers and one of the rare few foreign drivers who made it big in the United States.
Chandhok unsure about starting race at Indian GP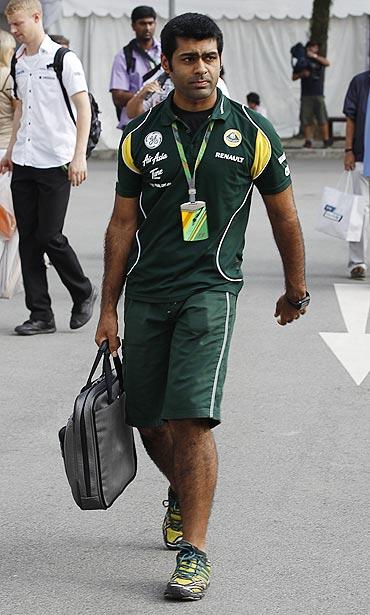 Karun Chandhok must wait for Team Lotus to make or break his dream of racing in his country's inaugural Formula One Grand Prix next week.
PIX: Indy 500 champion Wheldon dies in crash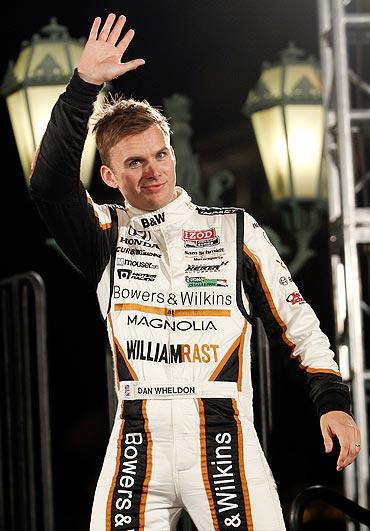 Briton Dan Wheldon, who won the Indianapolis 500 on its 100th anniversary in May, has died after a horrific 15-car crash at the Las Vegas Motor Speedway on Sunday which left the motor sports world in shock.
October 16, 2011
Free-scoring Man City take top spot from United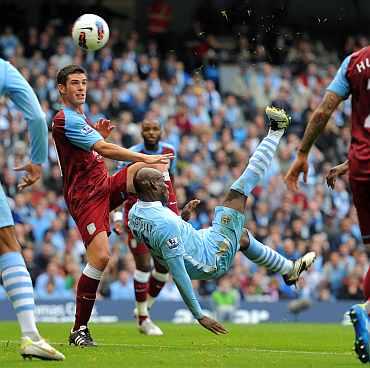 Manchester City went top of the Premier League when they beat Aston Villa 4-1 at the Etihad Stadium on Saturday after Manchester United dropped two points in a 1-1 draw at Liverpool.
Red Bull retain F1 constructors' crown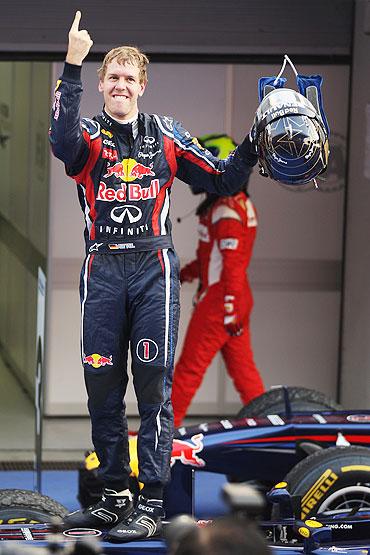 Sebastian Vettel won the Korean Grand Prix on Sunday to secure Red Bull's second successive Formula One constructors' championship with his 10th victory of the season.
October 14, 2011
No guaranteed slot for Vidic ahead of Livepool encounter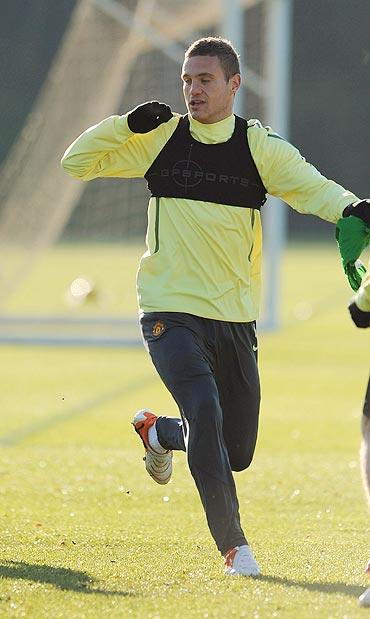 Manchester United manager Alex Ferguson's big question on Friday was whether captain Nemanja Vidic is ready to return to the team for the next day's "game of the season" at arch rivals Liverpool.
Rooney steeled for Anfield boo boys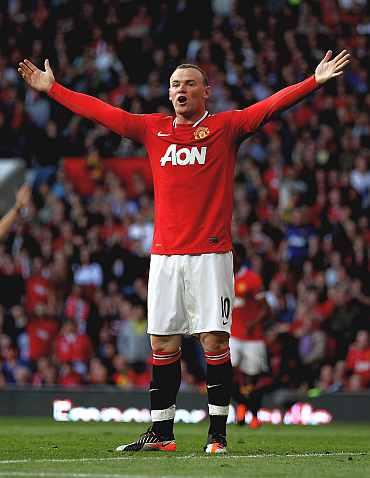 Manchester United striker Wayne Rooney's Everton connections meant he was already in for a rough ride from Liverpool fans this weekend but last week's family problems and England sending-off should crank up the decibels of abuse at Anfield.
After partying hard Vettel eyes Korean Grand Prix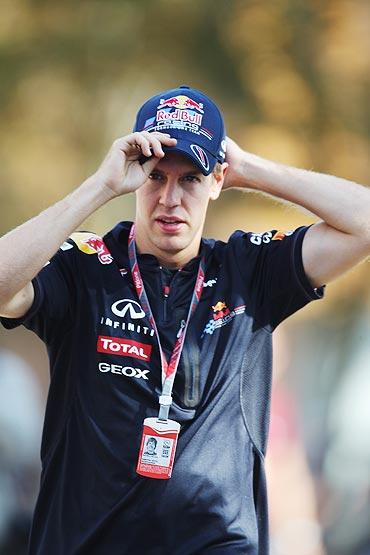 Partying with Michael Schumacher gave Sebastian Vettel the hangover of champions after he clinched his second Formula One title last weekend.
October 12, 2011
Euro 2012 qualifiers: Spain's golden Silva ruins Scottish hopes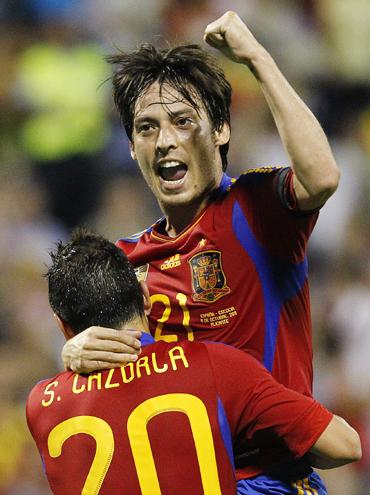 David Silva struck twice and David Villa netted his 50th international goal as Spain wrecked Scotland's hopes of qualifying for Euro 2012 with a 3-1 win in Group I on Tuesday.
October 11, 2011
Medal at World C'ship a bonus after Oly qualification: Vikas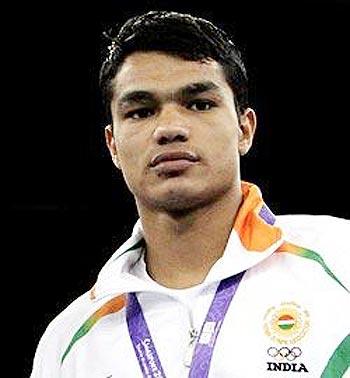 The youngest World Championships medallist in Indian boxing, teen sensation Vikas Krishan says the bronze he notched up in the recently-concluded mega-event in Azerbaijan was a bonus after he achieved his main target of qualifying for next year's London Olympics.
October 10, 2011
Lot at stake in final Euro qualifiers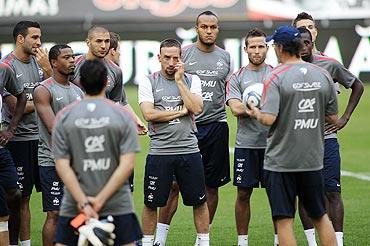 The largely predictable Euro 2012 qualifying tournament could throw up real late drama on Tuesday with France and Portugal involved in make-or-break matches.
Sebastian Vettel makes his point 15 times over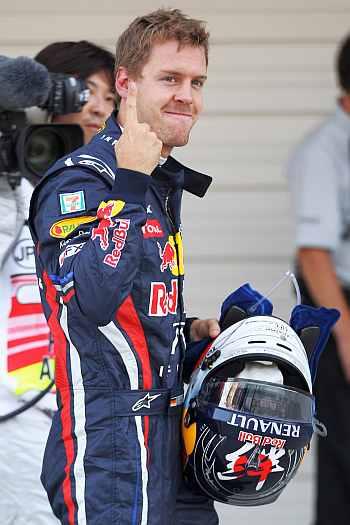 Sebastian Vettel made his point 15 times over at the Japanese Grand Prix on Sunday as he celebrated becoming Formula One's youngest double world champion.
October 09, 2011
'Baby Schumi' Vettel is now Mr Consistent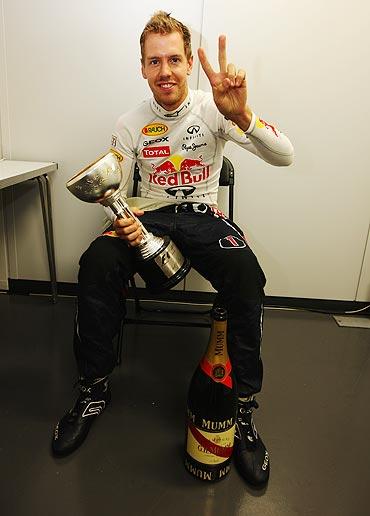 Sebastian Vettel has gone from 'Crash Kid' to coronation as Formula One's youngest double world champion in little more than a year.
Japan GP: Vettel seals second c'ship, Button wins race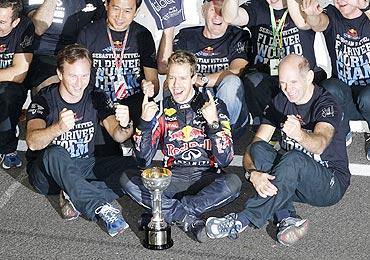 Red Bull's Sebastian Vettel roared into the record books as Formula One's youngest double world champion on Sunday after finishing third in a Japanese Grand Prix won by McLaren rival Jenson Button.
October 08, 2011
England reach Euro 2012, France set up thriller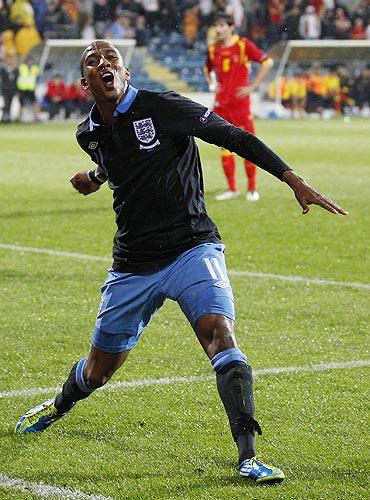 England booked a place at the Euro 2012 finals on Friday, while former champions France are among several teams who face nail-biting matches next week to determine their fate.
Argentina, Uruguay score four in World Cup qualifiers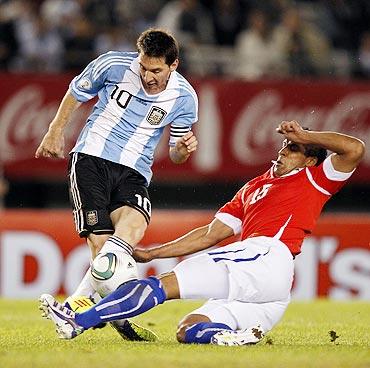 Argentina lifted the gloom from a poor Copa America by routing Chile 4-1 in their opening 2014 World Cup qualifier on Friday, while Uruguay also scored four to get their campaign off to a good start.
October 07, 2011
Sebastian Vettel wants to win F1 title in style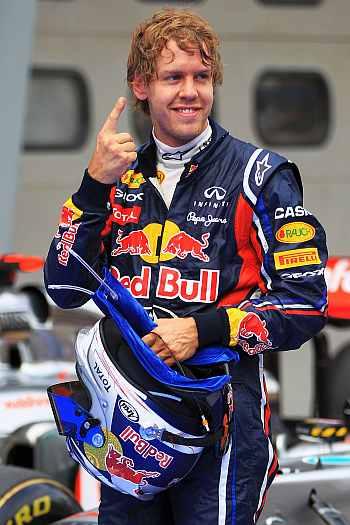 Sebastian Vettel has vowed to win the Formula One title in style even though he need finish only 10th in Sunday's Japanese Grand Prix to be sure of becoming the sport's youngest double champion.
October 05, 2011
Li Na endures criticism after first round exit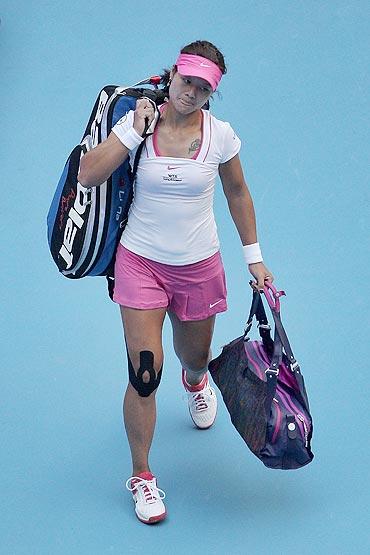 Li Na, the first Asian woman to win a grand slam singles title, has been served a volley of criticism after her shock first round exit at the China Open.
Woods's presence boosts PGA Tour's Fall Series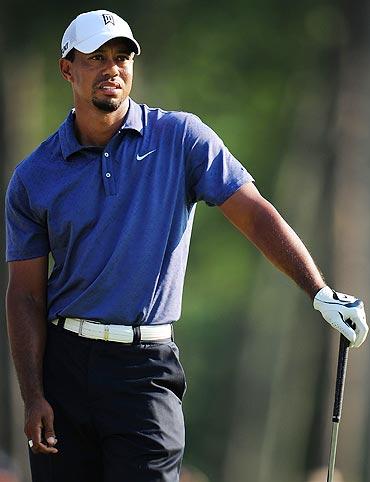 The Tiger Woods factor has overshadowed the build-up to this week's Frys.com Open at CordeValle Golf Club where the former World No 1 will make his first PGA Tour appearance in almost two months.
October 04, 2011
Boxers Devendro, Manoj qualify for London Olympics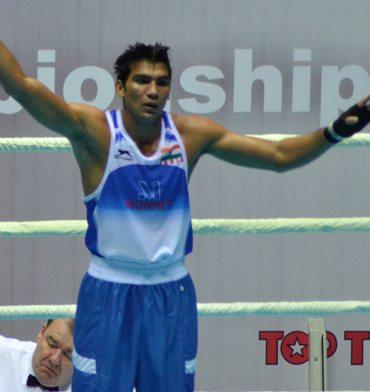 Teen sensation L Devendro Singh (49kg) and Commonwealth Games gold-medallist Manoj Kumar (64kg) booked Olympic berths by advancing to the World Boxing Championships' quarter-finals with contrasting wins in
October 03, 2011
Rankings leave Woods out in the wilderness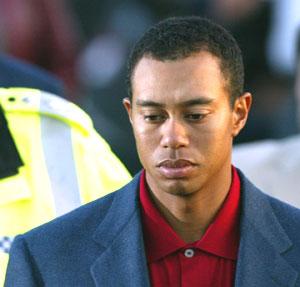 A year after surrendering his top ranking, Tiger Woods finds himself ranked 51st -- his lowest in almost 15 years.
Lampard silences his critics in style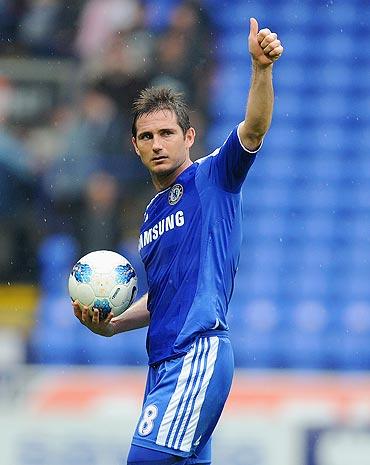 Chelsea midfielder Frank Lampard responded to the critics who have questioned his future by scoring a sizzling hat-trick against Bolton Wanderers on Sunday.
October 01, 2011
Images: Man United and Man City stay neck-and-neck at top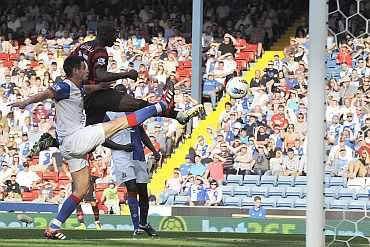 Manchester City's tough week ended on a high note on Saturday when they won 4-0 at Blackburn Rovers to maintain their unbeaten start in the Premier League and stay level on points with Manchester United at the top of the table.
City will reach Tevez compromise: Lawyer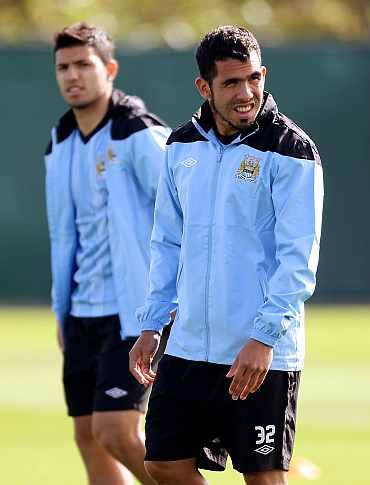 Leading sports lawyer Simon Pentol believes Manchester City will eventually reach a compromise with suspended striker Carlos Tevez to avoid possible litigation.
September 29, 2011
PIX: Messi brace sees Barca rout BATE, Chelsea held in Valencia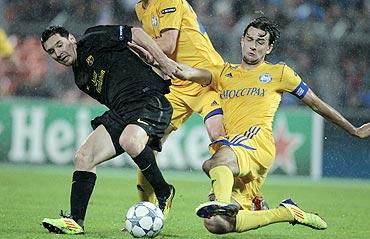 Images from the Champions League matches played across Europe on Wednesday.
Kournikova opens up about career-ruining back injury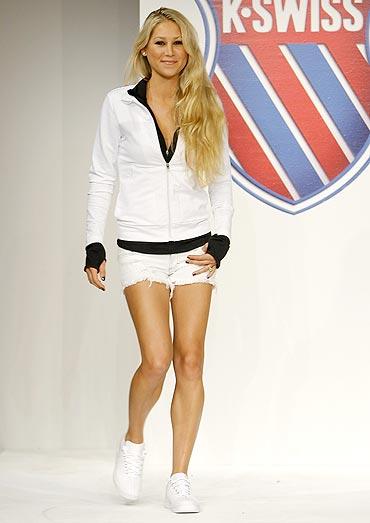 Anna Kournikova has opened up about the end of her tennis career following a back injury, and how she has learnt to live without the sport.
Charting bad boy Tevez's fall from grace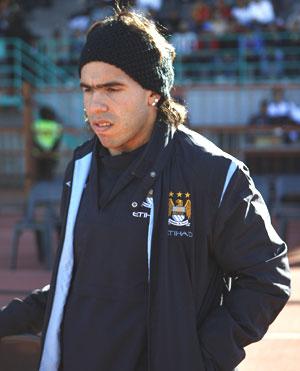 Manchester City suspended Carlos Tevez on Wednesday while they investigate his conduct in their Champions League match at Bayern Munich in which manager Roberto Mancini said the striker had refused to come on as a substitute.
September 28, 2011
Powerful Bayern eye last 16 after only two games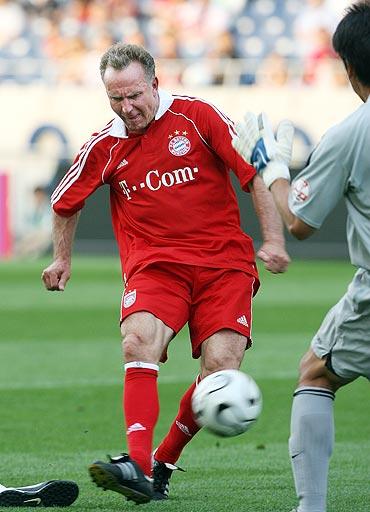 Bayern Munich's 2-0 Champions League win over Manchester City on Tuesday was a key step towards reaching the round of 16 as the Bavarians eye next year's final in their home stadium, club officials said on Wednesday.
Tevez's career at Manchester City is finished: Mancini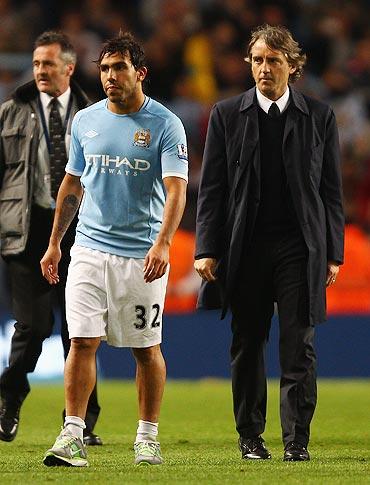 Argentine forward Carlos Tevez "is finished" as a Manchester City player after he refused to come on as a substitute during the 2-0 defeat by Bayern Munich in the Champions League on Tuesday, manager Roberto Mancini said.
PIX: Bad day for Manchester clubs&#59; Real overpower Ajax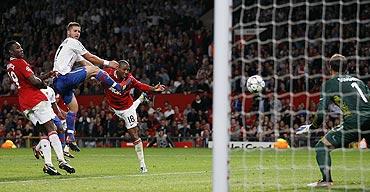 Images from the Champions League matches played across Europe on Tuesday.
September 27, 2011
Hamilton gives Bangalore taste of F1 ahead of India GP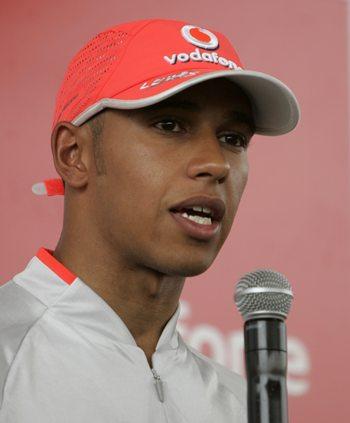 Former Formula One World champion Lewis Hamilton set the Nice road in Bangalore afire with his McLaren Mercedes F1 car to thundering applause from spellbound spectators.
Champions League: Arsenal look up to man in-form Van Persie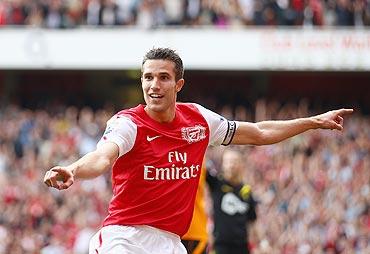 Robin van Persie has emerged as the man to lead Arsenal out of their early-season funk and the Dutch striker will be a key figure in ensuring their rehabilitation continues in the Champions League at home to Olympiakos on Wednesday.
September 26, 2011
Real's dream of 10th crown within reach: Perez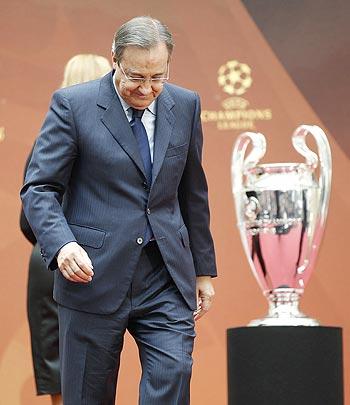 Real Madrid president Florentino Perez believes hiring Jose Mourinho as coach and spending hundreds of millions of euros on players has finally laid the foundation for winning a 10th European title.
Massa livid at Hamilton for 'destroying his race'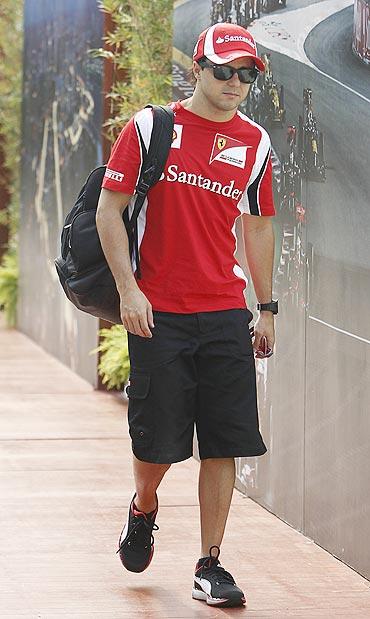 A simmering feud between Formula One's Lewis Hamilton and Felipe Massa threatened to explode on Sunday when the pair clashed again under the Singapore floodlights.
September 25, 2011
Vettel storms to Singapore win, on the verge of re-writing histor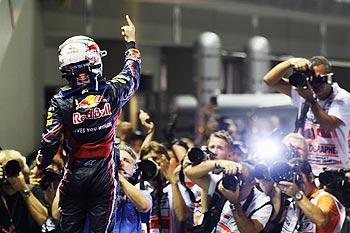 Red Bull's Sebastian Vettel held off a charging Jenson Button to win the Singapore Grand Prix on Sunday and stand one point away from becoming Formula One's youngest double World Champion.
Makau shatters world men's marathon record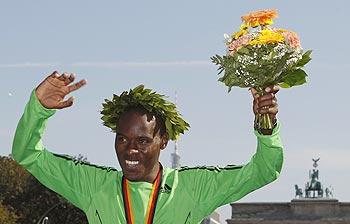 Kenyan Patrick Makau shattered the world men's marathon record by 21 seconds on Sunday, when he clocked two hours three minutes 38 seconds over the fast, flat Berlin course on a warm, sunny morning.
United keep top spot, Chelsea's Torres sent off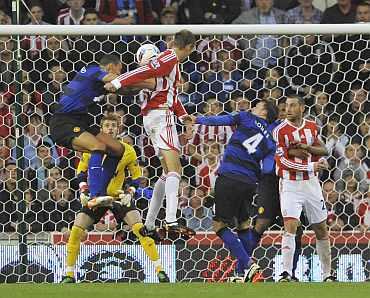 Manchester United dropped their first points of the season in a 1-1 draw at Stoke City on Saturday but ended the day top of the Premier League while Chelsea striker Fernando Torres scored and was sent off in his side's 4-1 win over Swansea City.
September 24, 2011
EPL Images: Balotelli, Milner help Man City beat Everton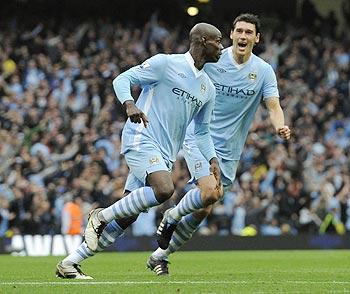 Manchester City went top of the Premier League, at least until Manchester United play at Stoke City later on Saturday, when they beat Everton 2-0 at the Etihad Stadium with goals from second-half substitutes Mario Balotelli and James Milner.
September 23, 2011
Manchester's forgotten men make their mark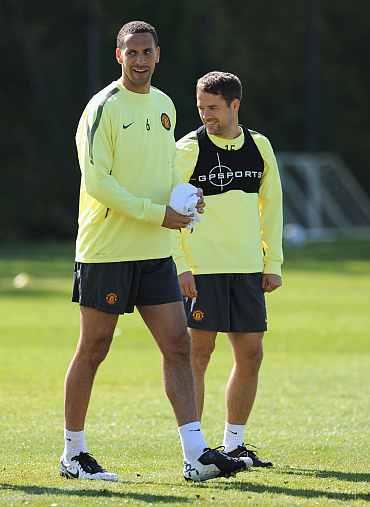 Manchester United's Michael Owen and Manchester City's Owen Hargreaves have made strong cases for inclusion in Saturday's Premier League matches after reminding English football of their ability this week.
September 22, 2011
Ranieri take over reins at Inter Milan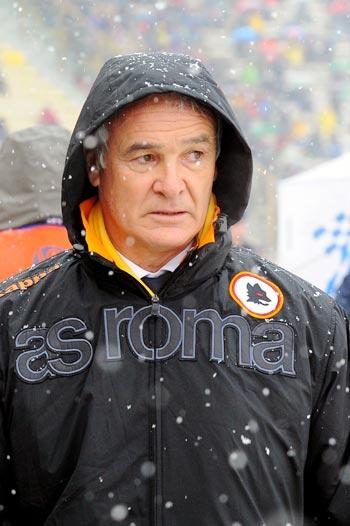 Inter Milan have appointed Claudio Ranieri as their new coach, the Serie A club said on their website, on Thursday.
September 21, 2011
Vardhan has the potential but needs to be consistent: Somdev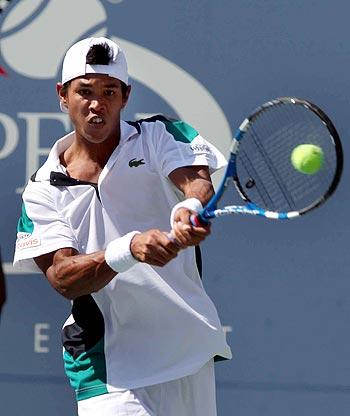 Vishnu Vardhan impressed one and all with his gritty fight against Kei Nishikori in his Davis Cup debut match but Somdev Devvarman feels it's too early to declare that India have got the second specialist singles player for the prestigious tournament.
September 20, 2011
Fast drivers take risks, says Hamilton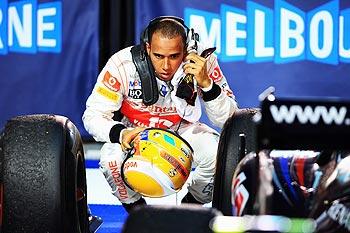 The key to being a really quick Formula One driver, is to take risks on the racetrack and be in no rush to start a family, according to McLaren's Lewis Hamilton.
Players could strike unless demands are met: Murray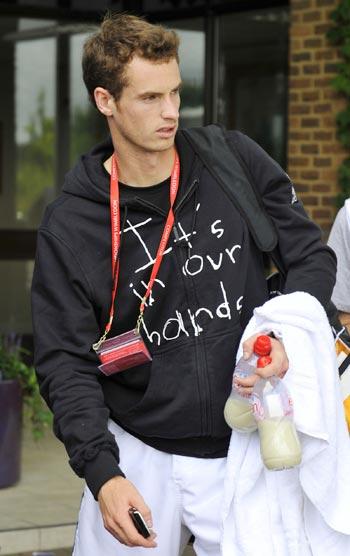 The world's leading players are "not afraid" of going on strike unless officials heed their calls to improve the crammed tennis calendar as soon as possible, Andy Murray warned on Monday.
September 19, 2011
Images: United march on as City stumble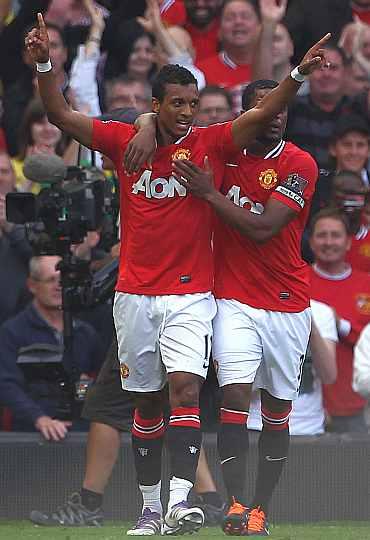 Free-scoring Manchester United's rip-roaring start to the Premier League season continued with a 3-1 defeat of Chelsea at Old Trafford on Sunday after rivals Manchester City threw away a two-goal lead in a 2-2 draw at Fulham.
September 17, 2011
Somdev doubtful for reverse singles against Nishikori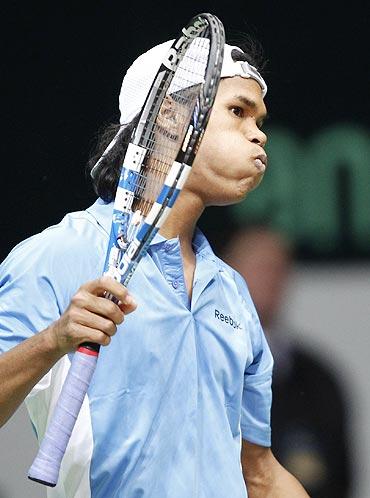 India's World Group hopes are hanging by a slender thread as its top singles player, Somdev Devvarman is still doubtful to play Sunday's reverse singles in the play-off tie against Japan due to a shoulder injury.
September 16, 2011
EPL weekend: Drogba set to miss United clash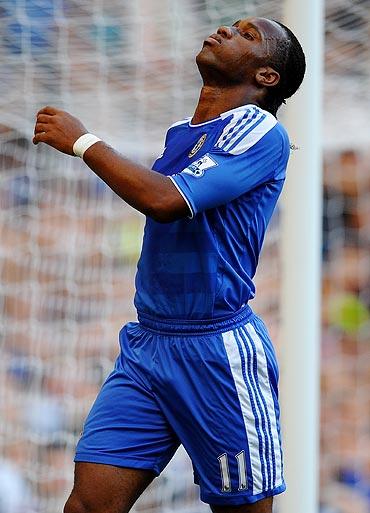 Chelsea's clash with champions Manchester United on Sunday (1930 IST) has come too soon for striker Didier Drogba who is unlikely to feature as he continues his recovery from a serious head injury, said manager Andre-Villas Boas.
I want to represent India at international level: Okolie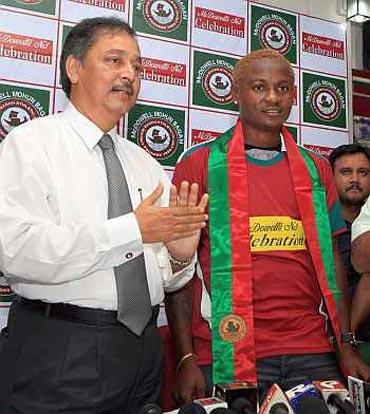 Mohun Bagan's new recruit, Odafe Okolie has expressed his desire to represent the Indian football team, for which he is even ready to surrender his Nigerian passport.
Europa League: Falcao, Diego score first Atletico goals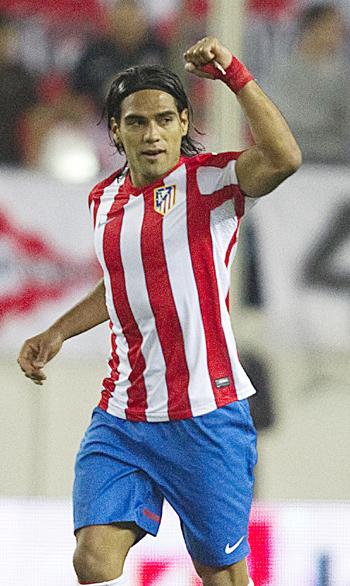 New signings Radamel Falcao and Diego scored to give Atletico Madrid a 2-0 win over Celtic as the Europa League group stage kicked off on Thursday.
September 15, 2011
Somdev holds the key in India-Japan Davis Cup tie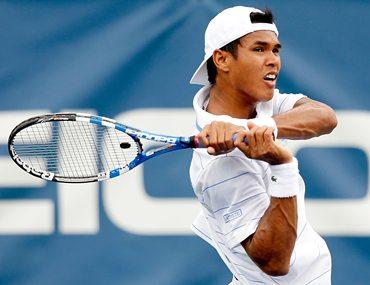 Somdev Devvarman has a heavy workload to shoulder, as India, sans top doubles player Leander Paes, take on hosts Japan in a bid to re-enter the elite Davis Cup World Group in Tokyo, from Friday
UEFA Champions League: Trabzonspor stun Inter in San Siro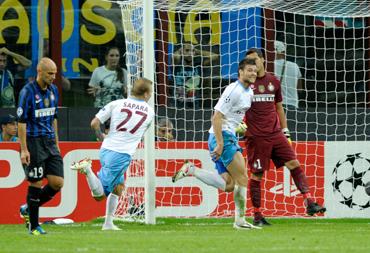 Trabzonspor, a team that failed to initially qualify for Europe's elite tournament, ripped up the Champions League formbook in style with a 1-0 win at beleaguered 2010 winners Inter Milan in their group stage debut on Wednesday.
Winning an Olympics gold is my ultimate dream: Vijender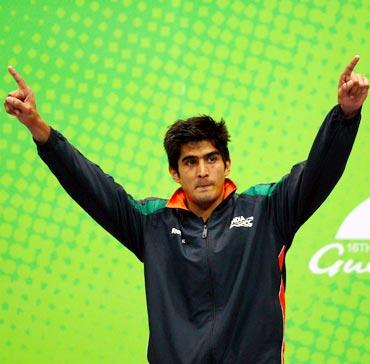 The 25-year-old pugilist from Bhiwani tells Harish Kotian, winning an Olympic gold medal is his dream and he is leaving no stone unturned to achieve it.
Liverpool FC on talent hunt in Mumbai schools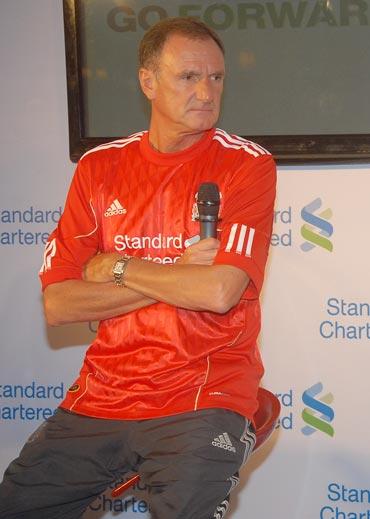 Former Livepool defender Phil Thompson is in India to promote a club-backed football program - 'Go Forward'. Through this initiative, talent will be spotted from a pool of 2,000 kids from 80 municipal schools of Mumbai (BMC). They boys will pass through three levels of coaching and training before 32 of them will receive rigorous training from I-League and Liverpool FC coaches.
September 14, 2011
Mumbai gives hockey heroes Walmiki, Lobo rousing reception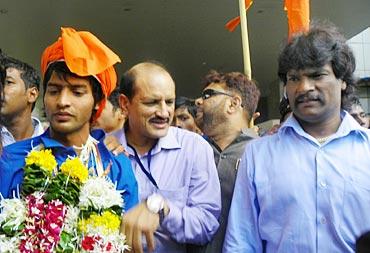 Flag-waving supporters blocked the exit gates at the airport and gave India hockey midfielder Yuvraj Walmiki and coach Clarence Lobo a rousing reception following the triumph in the Asian Champions Trophy.
Bolt wins 100 meters redemption race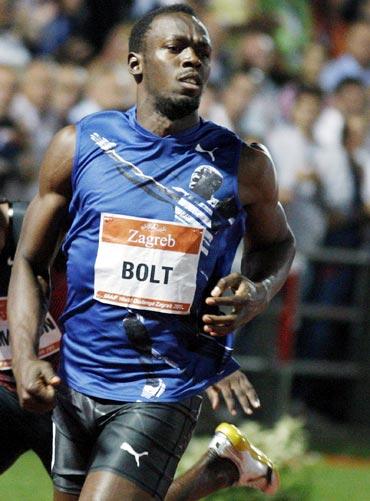 World record holder Usain Bolt won the 100 meters dash at an IAAF World Challenge event on Tuesday in a personal season's best time of 9.85 seconds on a hot and humid evening in Croatia's capital.
Federer better than ever but so are rivals, says Wilander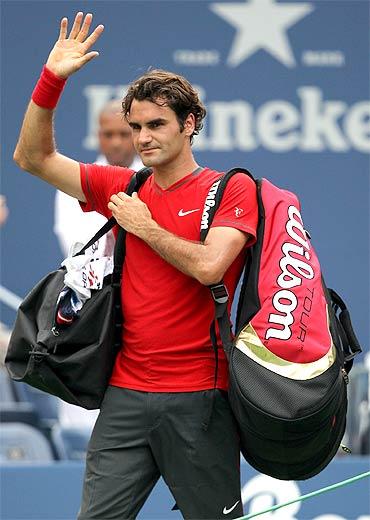 The good news for Roger Federer, according to former world number one Mats Wilander, is that he hasn't lost any of his skill and is playing as good as ever. But the bad news for the Swiss maestro is that the opposition has improved as well.
UEFA Champions League: Barca held by Milan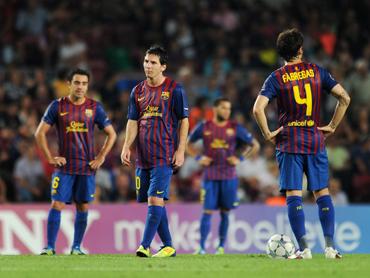 Thiago Silva powered home a header in the second minute of stoppage time to steal a 2-2 draw for AC Milan at holders Barcelona in the heavyweight pair's Champions League Group H opener on Tuesday.
Hollywood celebs grace US Open final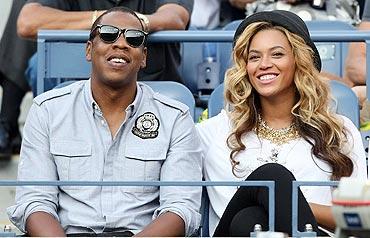 The US Open is the biggest tournament in America's tennis calendar. This is enough reason for the big personalities from Hollywood to catch their favourite tennis stars in action. Rediff.com gives you a glimpse of the big names from Hollywood who were at the US Open final.
September 13, 2011
Battered, bewildered Nadal promises to make winning return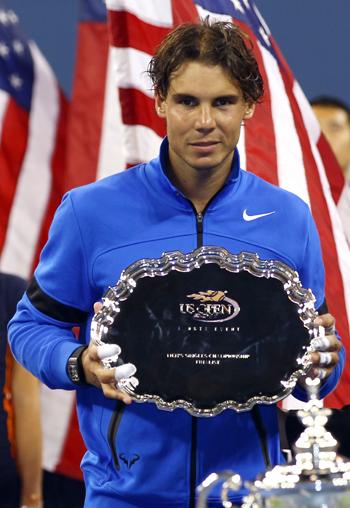 Rafa Nadal ran himself to the point of exhaustion in Monday's US Open final against Novak Djokovic then ran out of answers.
Setback for Milan as Ibrahimovic out of Barcelona tie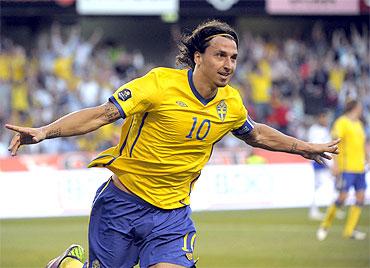 Zlatan Ibrahimovic's much-anticipated return to Barcelona was scuppered on Monday when the AC Milan striker was injured in training and ruled out of Tuesday's Champions League Group H opener at the Nou Camp.
Djokovic ends obsession with Rafa and Roger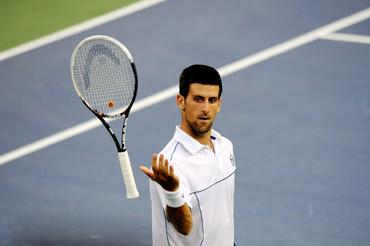 Novak Djokovic capped one of tennis's greatest seasons with a awe-inspiring U.S. Open triumph on Monday that could just signal an end to the sport's obsession with "Rafa v Roger" finals.
Chelsea fired up for another attempt at Holy Grail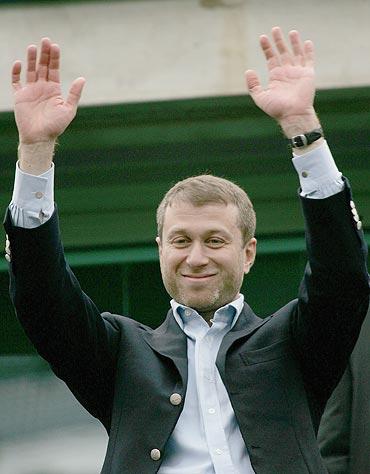 Since the billionaire from Russia took control of the London club in 2003, Claudio Ranieri, Jose Mourinho, Avram Grant, Luiz Felipe Scolari, Guus Hiddink and Carlo Ancelotti have all left Stamford Bridge after failing to reach the Holy Grail.
US Open triumph helps Djokovic join select club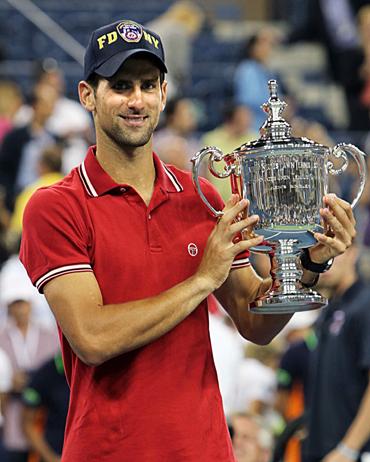 Following Novak Djokovic's triumph in New York, Bikash Mohapatra takes a look at the six players to have won three of the four majors in a year in the Open Era.
September 12, 2011
WTA rankings: Sania breaks into top-10 in doubles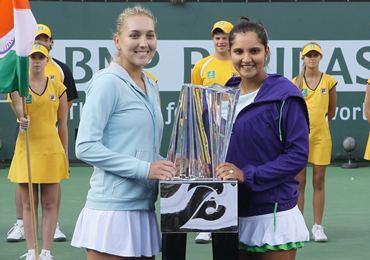 Indian tennis player Sania Mirza on broke into the doubles top-10 for the first time in her career as she gained a place after the US Open, where she made the third round along with Russian partner Elena Vesnina.
Arsenal and Dortmund seek way out of slump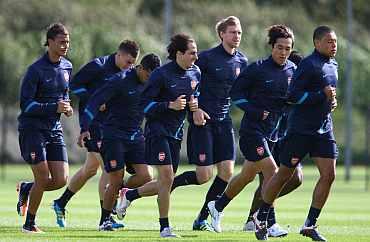 Former winners Borussia Dortmund host Arsenal in their Champions League Group F opener on Tuesday, with both sides desperate to drag themselves out of an early slump this season.
European soccer: Man City win; Barca drop points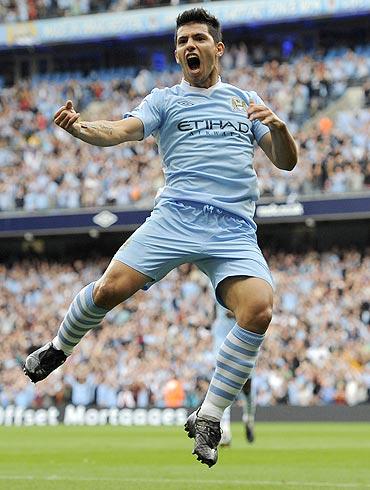 Neighbours Manchester United and City recorded convincing wins to continue setting the pace in the Premier League but European champions Barcelona dropped points in La Liga.
McLaren criticise Schumacher for 'harsh' moves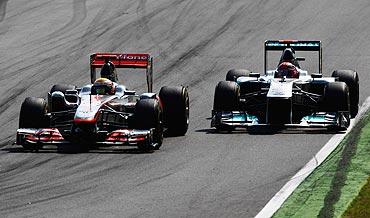 McLaren accused Michael Schumacher of using tough tactics to prevent Lewis Hamilton getting past for much of Sunday's Italian Grand Prix.
Ugly outburst earns Serena a code violation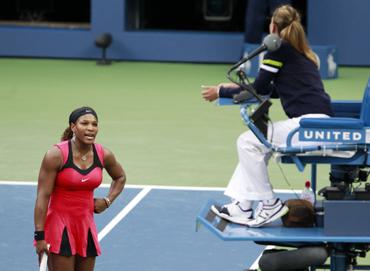 Serena Williams is under investigation by U.S. Open tournament officials for the ugly outburst she directed at the chair umpire during her loss to Australian Sam Stosur in the final on Sunday.
Djokovic favoured for US Open final rematch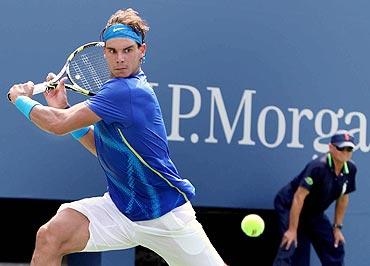 Rafa Nadal and Novak Djokovic will meet in the US Open men's final on a Monday for a second straight year, but things could not be any different than they were 12 months ago.
US Open Pics: Serena loses control as Stosur wins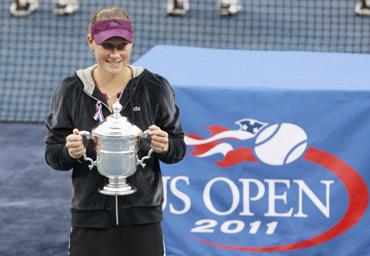 Australia's Sam Stosur tamed her own pounding heart and repelled everything -- both good and bad -- that Serena Williams hurled at her to win the U.S. Open crown and her first grand slam singles title on Sunday.
September 11, 2011
Vettel victorious in Monza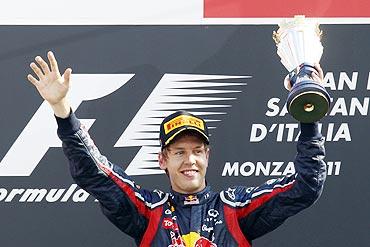 Red Bull's Sebastian Vettel had his second successive Formula One world championship almost wrapped up after winning the Italian Grand Prix on Sunday.
Manchester clubs march on with more goals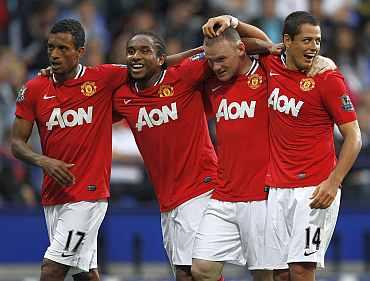 Images from the English Premier League matches being played on Saturday.
Djokovic, Rafa set up mouthwatering US Open final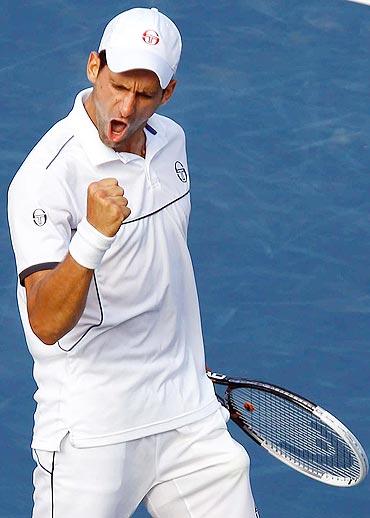 Novak Djokovic and Rafa Nadal will meet in the US Open final for the second year in a row after winning their semi-finals on a day of unrelenting drama and precision tennis at Flushing Meadows on Saturday.
Williams, flag-bearer of US on 9/11 anniversary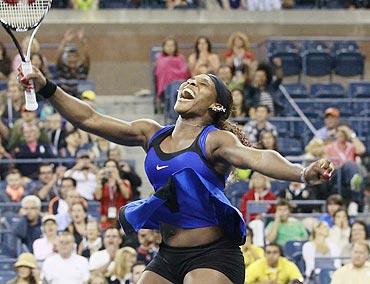 Six months after she nearly died, Serena Williams finds herself carrying the hopes of a grieving nation at the US Open.
September 10, 2011
'Top Four' set to battle it out for US Open crown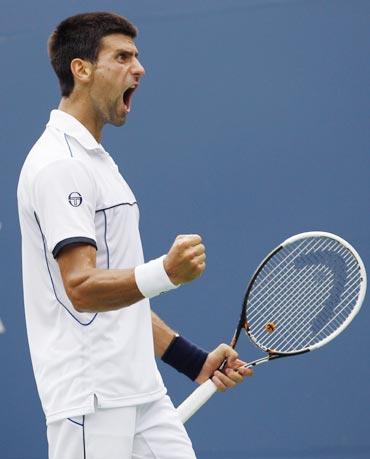 With the preliminaries now out of the way, the US Open men's competition can really begin. As expected, the world's top four players, Novak Djokovic, Rafa Nadal, Roger Federer and Andy Murray, are safely through to the semi-finals.
Man United ready to unleash their pea shooter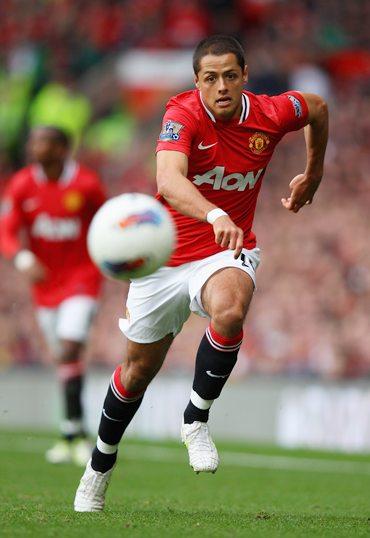 Manchester United striker Javier Hernandez is ready to make his first start of the season, manager Alex Ferguson said on the eve of Saturday's Premier League trip to Bolton Wanderers.
September 09, 2011
Make or break time for boxer Akhil Kumar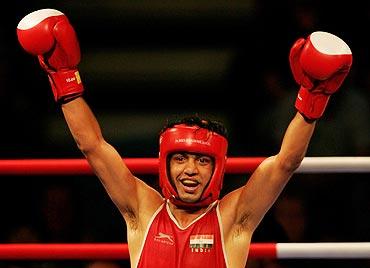 Celebrated boxer Akhil Kumar tells he is enjoying his boxing and looking to give his best at the upcoming World Championships in Baku, the first qualifying tournament for the Olympics.
PHOTOS: Federer, Nadal advance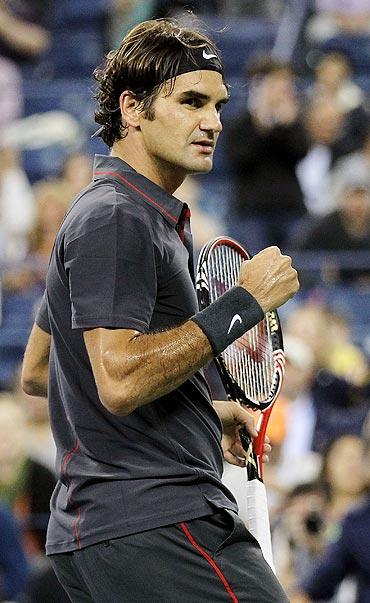 Roger Federer avenged his loss to Jo-Wilfried Tsonga at Wimbledon this year when he beat the Frenchman 6-4, 6-3, 6-3 on Thursday to reach the semi-finals of the US Open and give himself a chance of a sixth title at Flushing Meadows.
PHOTOS: Short or skimpy, it's fashion at US Open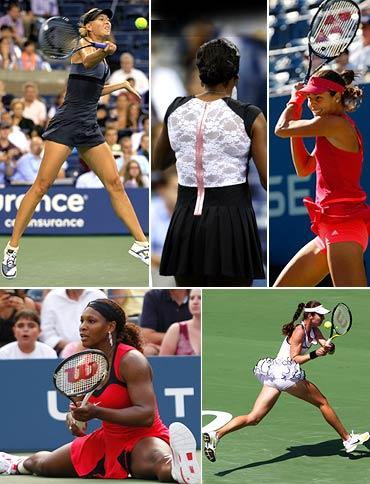 Tennis fashion has travelled a long way from whites to bright colours. Though white is still reserved for Wimbledon, for other tournaments, players, and the famous brands, experiment with various shades.
'Even after World C'ship bronze I've no sponsors'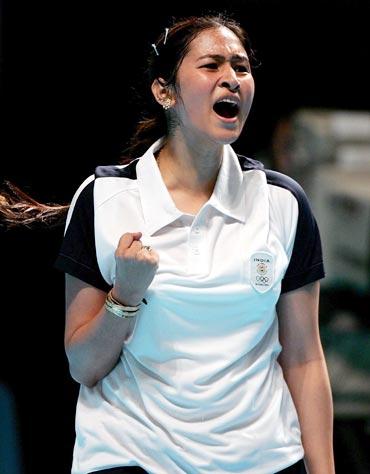 Despite all her success, badminton ace Jwala Gutta laments lack of support from the Badminton Association of India.
September 08, 2011
Rain washes out second day in a row at US Open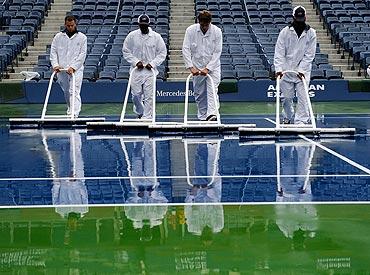 The US Open was washed out for the second day in a row on Wednesday, leaving organisers scrambling to clear a backlog and appease players who revolted against conditions on the court.
PHOTOS: Famous faces at Flushing Meadows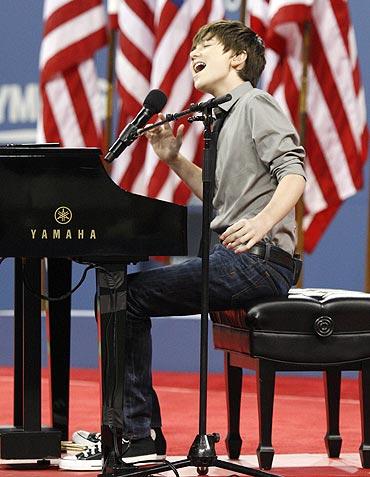 Rediff.com gives you a peek at the celebrities who came to support their favourite players at Flushing Meadows.
September 07, 2011
Injury may cut short Sania's season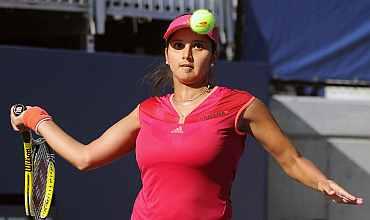 Sania Mirza may not be able to play for the rest of the season in the WTA circuit. The Indian tennis star has been advised six weeks' rest after suffering a knee injury during the women's doubles third round defeat at the US Open.
PHOTOS: Best moments from World Athletics C'ships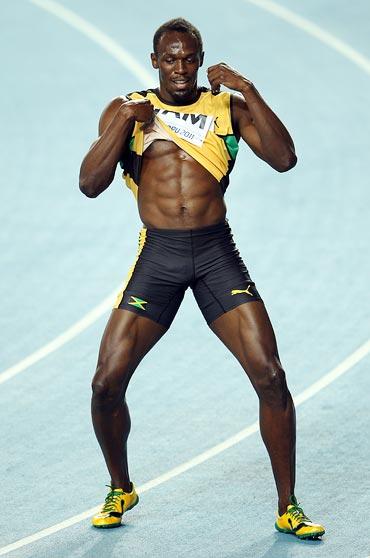 A look at some memorable moments from the World Athletics Championships.
September 06, 2011
Photos: Doubles delight for Paes at US Open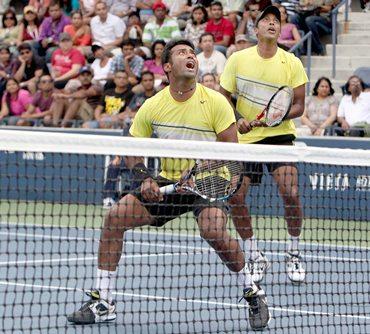 Leander Paes had much to cheer about at the US Open on Monday, having advanced to the quarter-finals of the men's doubles and semi-finals of the mixed doubles.
PHOTOS: Williams, Djokovic march on at US Open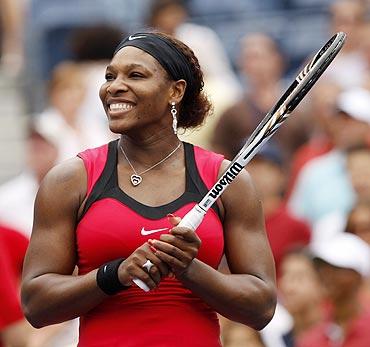 Six months after she nearly died, Serena Williams is closing in on what could be the greatest achievement of her incredible career.
For these tennis stars, it's love all!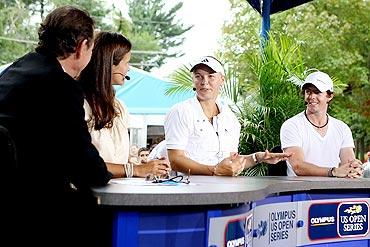 Just like Hollywood stars, the personal lives of tennis players have garnered a lot of media attention and speculation. Rediff.com gives you a glimpse of players who have dated or married persons from the tennis fraternity and from other sporting disciplines.
Money made it possible... for Man City and the ilk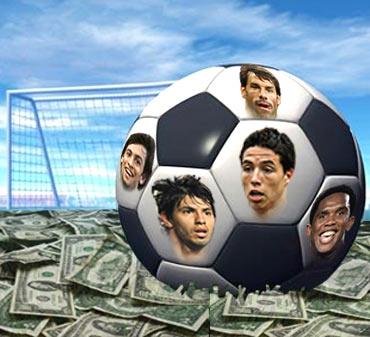 Rediff.com takes a look at the clubs that have made the biggest noise in the transfer market.
September 05, 2011
Rule debate lingers after World C'ships close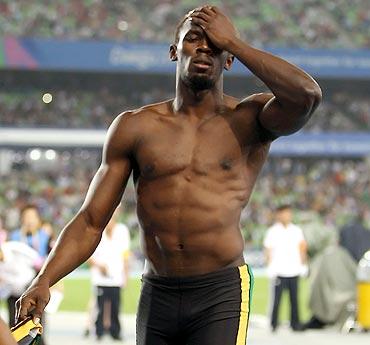 There were tears and glory, a solitary world record and athletics firsts. There was even a Daegu curse. But for most, the story of the 13th world athletics championships will be disqualifications. Drama, of one kind or another, was ever-present against a backdrop of velvet mountains draped in mist.
PHOTOS: Nadal collapses at press brief after win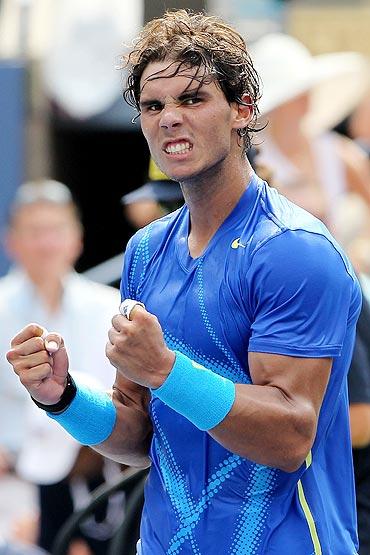 Rafael Nadal sent a scare through the US Open on Sunday when he collapsed during his post-match news conference because of severe cramping in his leg in a dramatic ending to the first week at the last Grand Slam of the year.
September 04, 2011
Dazzling Bolt leads Jamaica to world record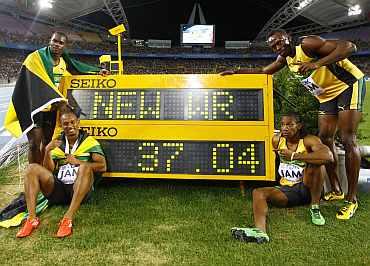 The world's fastest man Usain Bolt anchored Jamaica to a golden 4x100m relay world record in the final race of the 13th world athletics championships on Sunday.
Photos: Federer, Williams survive unscathed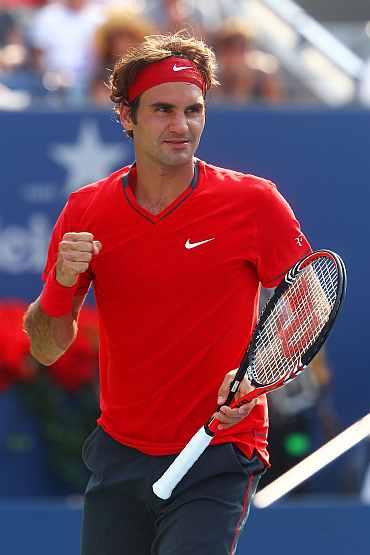 Roger Federer and Serena Williams came through their first real tests at the U.S. Open on Saturday with flying colours as the casualty toll at the last grand slam of the year soared to record numbers.
EPL transfers: Wenger leaves it late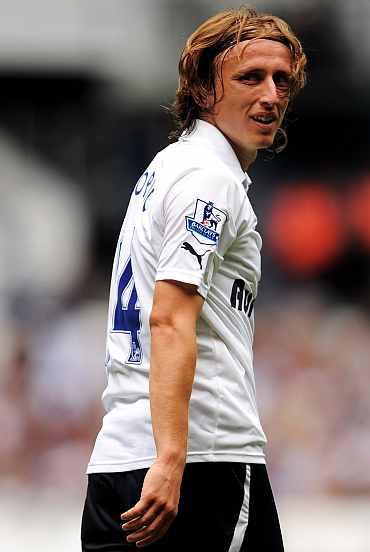 Both Harry Redknapp and Arsene Wenger have paid the price for leaving it too late, offloading a lot of key players at the EPL transfers, says .
September 03, 2011
Bolt back where he belongs, Vlasic vanquished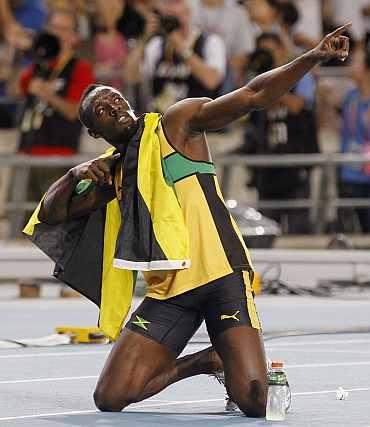 Usain Bolt raced to redemption in 19.40 golden seconds on Saturday to retain his world 200 metres title while Anna Chicherova ended Blanka Vlasic's four-year run as high jump world champion.
Images: Sharapova knocked out, Murray survives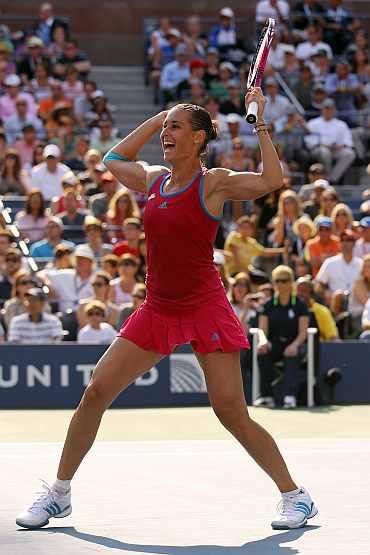 Maria Sharapova was knocked out of the U.S. Open Friday in a shock third round loss to Flavia Pennetta, while Andy Murray was lucky to survive after being pushed to five sets by Robin Haase.
At 100, tea and ginger curry drives Fauja's run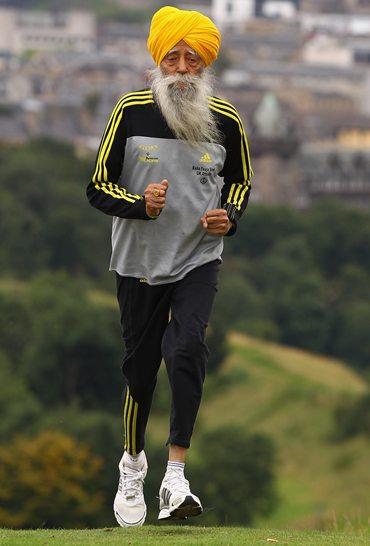 He's the world's oldest marathon runner, and, at the grand old age of 100, Fauja Singh is certainly showing no signs of slowing down. The nimble-footed centenarian, who has completed seven marathons since turning 89, was the first to sign up for the 2012 Edinburgh race, the Daily Mail newspaper said on Friday.
Images: Lionel Messi enthralls Kolkata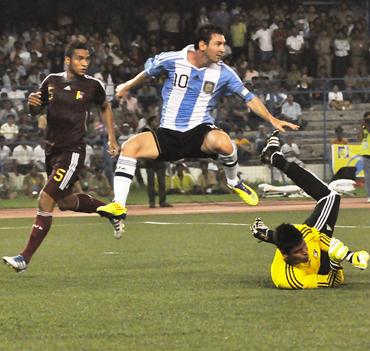 Lionel Messi kept his date with India and unfolded his magic when he led Argentina in a FIFA international friendly against Venezuela in Kolkata even as the euphoria of one of the most high-profile matches in the country reached the crescendo.
September 02, 2011
Brilliant Bolt cruises into 200 final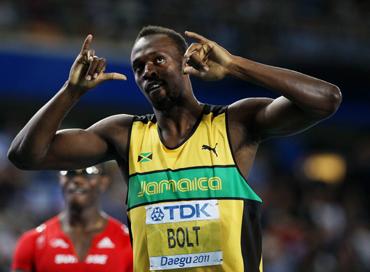 Jamaican Usain Bolt was back to his best on Friday, cruising into the world championships 200 metres final with the greatest of ease before whipping the crowd into a frenzy in Daegu.
Kolkata football fans await Messi's magic
Football superstar Lionel Messi is set to unfold his magic when he leads Argentina in FIFA international friendly against Venezuela in Kolkata on Friday evening.
The football stars who visited Kolkata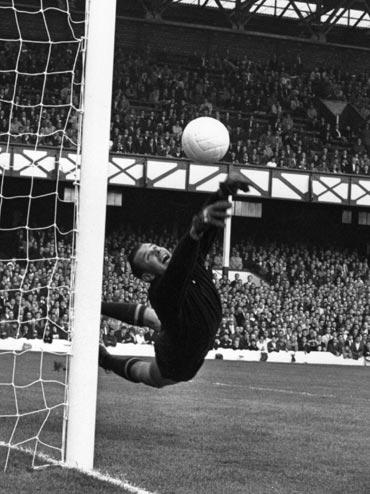 A look at the some of the top football stars who have visited Kolkata in the past.
What is Venus Williams suffering from?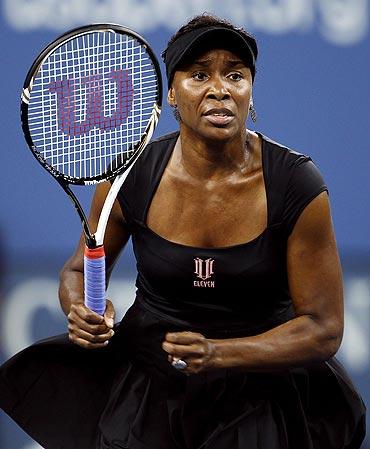 When former US Open champion Venus Williams revealed her illness that forced her to withdraw midway through the tournament, she brought into focus a disease that is not heard of often but is suffered by many the world over.Sjogren's Syndrome is a chronic disease where white blood cells attack moisture-producing glands.
World athletics: Bolt in 200m semis, Dix confident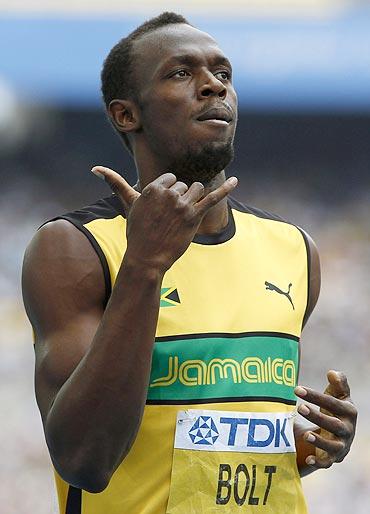 Jamaica's Usain Bolt kept the showboating to a minimum and swept through to the semi-finals of the men's 200 metres at the world championships on Friday.
PHOTOS: Federer, Serena cruise into third round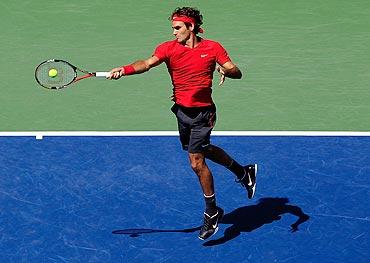 Roger Federer and Serena Williams both swept into the third round of the US Open on Thursday with the sort of ruthless performances that have made them the king and queen of tennis.
September 01, 2011
U.S. mine gold in Daegu, Britain get off mark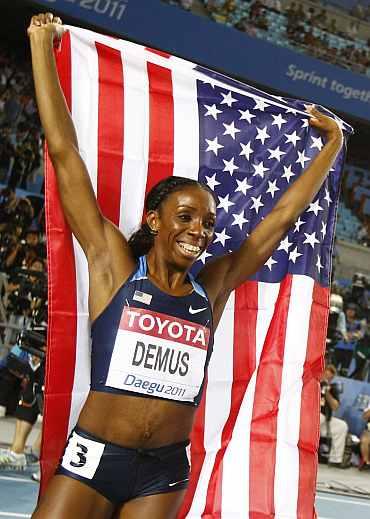 The United States flexed their muscles at the world athletics championships on Thursday, harvesting three of the six titles on offer, while Britain finally won an elusive gold medal in Daegu.
Messi & Co sweat it out ahead of friendly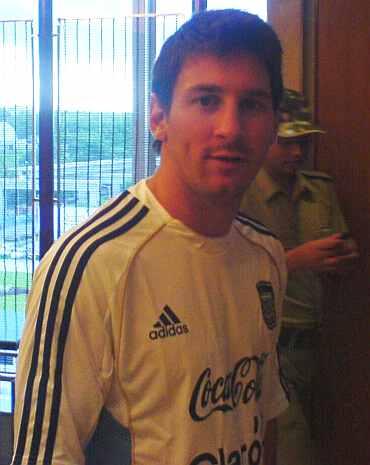 Star footballer Lionel Messi and his team had their final practice session this evening ahead of the FIFA International friendly between Argentina and Venezuela at the Yuba Bharati Krirangan.
Messi magic set to unfold in high-profile friendly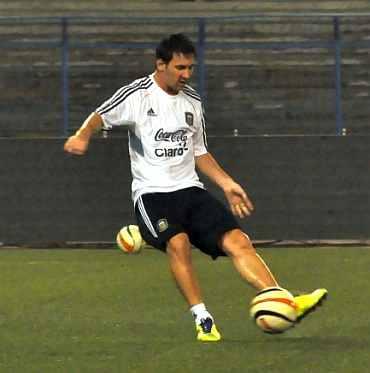 Superstar footballer Lionel Messi is set to keep his date with India and unfold his magic when he leads Argentina in a FIFA international friendly against Venezuela in Kolkata on Friday when the euphoria of one of the most high-profile matches in the country reaches the crescendo.
Images: Venus withdrawal eclipses U.S. Open action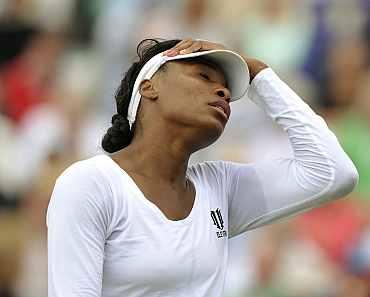 The U.S. Open witnessed a major shock without a ball being struck in anger on Wednesday when Venus Williams quit the tournament after revealing she was suffering from an illness that could threaten her tennis future.
'Messi always gives his best for Argentina'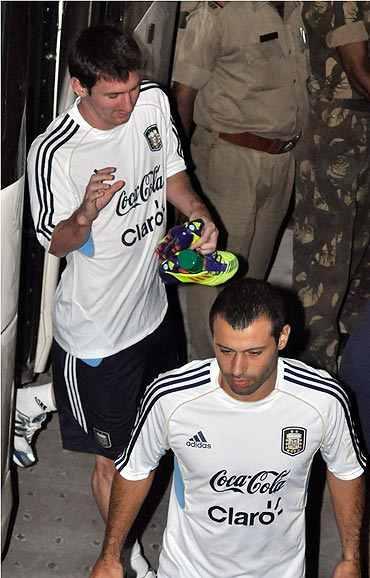 Lionel Messi may often be criticized for not showing the same spark for his country Argentina as for his club Barcelona, but the national team's midfielder Jonas Gutierrez and defender Pablo Zabaleta feel that the Argentine superstar gives his 100 per cent while representing his nation.
August 31, 2011
Kaniskina breaks cover curse at World C'ships
A gritty Russian racewalker won the solitary gold up for grabs on Wednesday as a world championships characterised so far by drama and disqualifications reached its midway point.
Messi fights jet lag to attend practice session
Argentina captain and star forward Lionel Messi, who arrived in the wee hours of Wednesday, defied jet lag and fatigue to join his teammates for a full practice session under new coach Alejandro Sabella at the Yuba Bharati Krirangan in Kolkata on Wednesday.
PHOTOS: Djokovic, Serena impress, Sania ousted
Roger Federer and Rafa Nadal are seemingly not the only ones sick of the sight of Novak Djokovic and his domination of men's tennis.
Messi arrives to mesmerise fans in Kolkata
Lionel Messi kept his date with India as he landed in the football-crazy city of Kolkata in the wee hours of Wednesday.
Rousing welcome for Lionel Messi in Kolkata
Argentine superstar Lionel Messi arrived in Kolkata in the wee hours on Wednesday but more than 1500 frenzied fans were left heartbroken as securitymen whisked the Argentine superstar away through the VIP gate.
Fergie's 'smart buys' reaping rewards at Man Utd
Manchester United have gone in for smart choices, rather than spalshing money on 'big names', says
August 30, 2011
Isinbayeva felled, James rockets in Daegu
Yelena Isinbayeva became the latest victim of a curious curse at the world athletics championships on Tuesday, while Grenadian Kirani James lit up the track in the 400 metres to become the third youngest ever world champion.
Kvitova joins 'inglorious' US Open club
While Petra Kvitova is the first woman to achieve the 'inglorious' feat, there have been three men who were there before hand to welcome her as a member of the not-so-wanted club.
Williams sisters have no plans to retire
The tennis obituaries will have to wait for now. The Williams sisters have no intentions of quitting anytime soon.
Ennis on brink of defeat at World C'ships
Britain's miserable world athletics championships took another nosedive on Tuesday when world champion Jessica Ennis struggled further in the heptathlon and now looks certain to lose her title in the evening session.
PIX: Wimbedon champ Kvitova out, Federer advances
Maria Sharapova survived an early scare at the US Open Monday after Wimbledon champion Petra Kvitova had been knocked out of the year's final Grand Slam, which began on time and in perfect conditions after a week of wild weather in New York.
Serena to make return to US Open
Serena Williams will make her long-awaited return to the Arthur Ashe centre court on Tuesday when she opens her latest US Open campaign against Bojana Jovanovski.
Fabregas nets on debut as Barca crush Villarreal
Cesc Fabregas and Alexis Sanchez marked their home debuts for Barcelona in La Liga with goals as the champions crushed Villarreal 5-0 in their opening match of the campaign on Monday.
Infamous false starts at World athletics events
Jamaican sprinter Usain Bolt false-started and failed to finish in the 100m at the World Championships on Sunday and subsequently was disqualified for leaving the blocks far too early. Here are other athletes who faced disqualification after false starts.
August 29, 2011
Gloom lingers in Daegu after Bolt shock
Like the ever-present mist on Daegu's mountains, a gloom lingered over the world athletics championships on Monday morning as the shock of Usain Bolt losing his 100 meters title sank in.
'You can't be serious,' Murray tells McEnroe
Andy Murray has scoffed at John McEnroe's suggestion that this week's US Open represented his best chance of winning a Grand Slam.
Wenger keeps calm following Arsenal humiliation
Arsenal manager Arsene Wenger was facing the biggest crisis of his career after Sunday's 8-2 mauling by Manchester United but the Frenchman vowed not to panic on the field or in the transfer market with fans questioning his future for the first time.
PHOTOS: Robles stripped of 110m hurdles gold
Images from Day 3 in the World Athletics Championships in Daegu, South Korea.
PHOTOS: President honours India's sports stars
Ace shooter Gagan Narang, who won four gold medals at last year's Commonwealth Games, was conferred the country's highest sporting honour -- the Rajiv Gandhi Khel Ratna award -- at a glittering ceremony at Rashtrapati Bhawan, in New Delhi, on Monday.
World's fastest man takes his time with his words
For the world's fastest man, Usain Bolt sure took his time in responding to the controversial disqualification which stripped athletics of its biggest name from its blue riband event.
August 28, 2011
United and City humiliate North London's finest
Manchester United and Manchester City left their tortured opponents and the Premier League in no doubt they are the teams to beat this season after hugely confident demolitions of Arsenal and Tottenham Hotspur on Sunday.
Bolt and Bekele beaten, Blake takes 100
Usain Bolt and Kenenisa Bekele relinquished their world titles on Sunday when the world's fastest man and the most successful distance runner false-started and failed to finish in the 100 and 10,000 metres finals.
Vettel savours seventh win of season
World champion Sebastian Vettel won the Belgian Grand Prix and stretched his Formula One lead to 92 points in a Red Bull one-two finish with Australian Mark Webber Sunday.
August 27, 2011
Chelsea edge out Norwich, Wolves draw
Juan Mata scored on his debut for a still-stuttering Chelsea in a 3-1 home win over promoted Norwich City as the Londoners joined Wolverhampton Wanderers at the top of the Premier League on Saturday.
Bolt and Kenyans beam as Ohuruogu sobs
Usain Bolt brought world-class pizzazz to the athletics world championships on Saturday where one Olympic champion ducked out without completing even a single pole vault and another was in tears after false starting in her 400 metres heat.
And Sgt Schumacher's Club Band plays on
It began because of tear gas. Twenty years ago, the French-Belgian Bertrand Gachot was all set to drive for the Jordan team at his home grand prix, the iconic Spa-Francorchamps circuit, but handcuffs got in the way.
Serena and Sharapova favourites for U.S. Open
The return from injury of Serena Williams and the return to form of Maria Sharapova has added a sense of predictability to a U.S. Open women's tournament overflowing with uncertainty.
August 26, 2011
Djokovic faces old foes at US Open; Serena returns
Novak Djokovic faces the daunting prospect of possibly having to beat Roger Federer and Rafa Nadal to win the US Open for the first time and end the year as the world number one.
CLeague: Old foes Barca and Milan drawn together
Holders Barcelona will begin their defence of the Champions League with a home match against AC Milan after the two old rivals were drawn in the same group on Thursday.
August 25, 2011
Schumacher marks 20 years on the F1 circuit
Michael Schumacher celebrates a major milestone at Spa-Francorchamps this weekend, even if the glory years of the seven times world champion form part of Formula One's history rather than its present.
Vieira told me Man City is place to be: Nasri
Manchester City's latest big-money signing Samir Nasri's mind was made up about leaving Arsenal once fellow Frenchman Patrick Vieira told him his new club was the "place to be".
India's football stars salute retiring Bhutia
Football legends, led by Chuni Goswami and P K Banerjee, paid rich tribute to just-retired former India captain Bhaichung Bhutia, hailing him as one of the best players the country produced.
August 24, 2011
Bhaichung Bhutia hangs up his boots
Former captain and the face of Indian football for major part of the last two decades, star striker Bhaichung Bhutia on Wednesday announced his international retirement, drawing curtains on an illustrious 16-year career.
August 22, 2011
The 'Indian Express' still surging
At the start of 2011 Leander Paes and Mahesh Bhupathi ended a nine-year separation when they teamed up for the Chennai Open and capped a glorious reunion by winning their fifth crown at the tournament.
August 20, 2011
It's go-time for The Indian Grand Prix
A day after Formula One head honcho Bernie Ecclestone addressed the press in New Delhi singing praises about the Buddh International Circuit in Greater Noida, circuit developers the Jaypee Group finally made way for the fans.
August 19, 2011
Injured Vlasic will defend world high jump title
World high jump champion Blanka Vlasic will defend her title despite a hamstring injury which nearly forced her to pull out of the upcoming world championships in the South Korean city of Daegu.
August 18, 2011
Parents' separation destroyed me, claims Nadal
In his recently-released autobiography, Rafa: My Story, Spanish tennis star and World No. 2, Rafael Nadal claims that the separation of his parents made him depressed and 'his competitiveness had waned'. In an extract from the book, published in The Telegraph, Nadal said he was 'left stunned' when his father, Sebastian, broke the news to him that there were problems back home between himself and his mother, Isabel.
August 16, 2011
Don't understand the new scoring system: Vijender
As he gears up to chase his 'London Dreams' with the first Olympic qualifiers next month, star Indian boxer Vijender Singh is not just working hard on his game, he is also trying to figure out an all-new system of scoring that has left him "confused".
Debutant Aguero nets twice as City down Swansea
Manchester City's new striker Sergio Aguero netted twice on a spectacular debut after coming off the bench in their 4-0 home win over promoted Swansea City on Monday as the potential Premier League title challengers made an impressive start.
August 15, 2011
Special day for Fabregas as he rejoins Barca
An excited Cesc Fabregas was preparing for the "greatest challenge of life" after completing his move from Arsenal to Barcelona on Monday.
August 13, 2011
Football's new goal: kick the spending habit
The new rules, which UEFA calls Financial Fair Play (FFP), begin this month with the start of the European season. Clubs will have two years to begin balancing their books.
August 11, 2011
EPL weekend: Newlook Man U kick off at West Brom
Manchester United's sparkling performance in the Community Shield should put them in good heart for the start of their Premier League title defence at West Bromwich Albion on Sunday.
Pix: Germany beat Brazil, Spain lose in friendlies
A late goal rush helped Germany beat Brazil for the first time in 18 years while world champions Spain suffered a rare defeat on a bumper night of international friendlies on Wednesday.
August 10, 2011
Man United's Shield win could be major sign
Manchester United begin the defence of their Premier League title this week with a youthful spring in their step and some evidence to suggest victory in the Community Shield could be more significant than just a minor trophy.
August 09, 2011
Federer turns 30 but no retirement party planned
Roger Federer celebrated his 30th birthday in typical low-key fashion on Monday but the Swiss tennis great has no intention of fading quietly away from the game.
August 08, 2011
Bhopal gas disaster wrap over London Olympics
As the year-long countdown begins for the 2012 London Olympics, organisers have been hit by the first major controversy around the mega sporting event, with activists of Bhopal gas disaster planning protests against Dow Chemical Company, one of the official sponsors.
Images: Man United captures Community Shield
Manchester United produced a trademark fightback and last-gasp winner to beat Manchester City 3-2 in the Community Shield season curtain-raiser at Wembley on Sunday.
Federer @ 30: The fire still burns bright
Federer's greatness oozes from the manner in which he has dominated the sport for a substantial part of the last decade, says .
August 05, 2011
EPL: Man City ready to prise title from United
Manchester City stand ready to emerge from the long shadow cast by their illustrious neighbours when the new Premier League season begins next weekend.
'Hope to qualify for Olympics at World C'ship'
He is desperate to grab the first available berth for next year's London Olympics at the World
August 04, 2011
PHOTOS: The world's top 10 earning sportswomen
Maria Sharapova may not have won a Grand Slam title since 2008, but the Russian tennis player remains unchallenged as the world's highest paid woman in professional sports.
Federer trusts himself to thrive past age 30
Roger Federer will turn 30 next week, but the Swiss winner of a record 16 Grand Slam singles titles said on Wednesday he will not pause for reflection since he is too busy plotting for more tennis success.
August 03, 2011
I am able to hold nerves better than most: Narang
Ace Indian rifleman Gagan Narang claims he can control his nerves better than anyone else but this mental toughness will be put to the "ultimate test" when he heads to London next year to realise his long-cherished dream of winning an Olympic medal.
Getting into rhythm quickly will be key: Saina
Her troubling ankle completely healed, ace Indian shuttler Saina Nehwal can't wait for the World Championships next week but conceded that months of rigorous preparation would count only if she gets into the rhythm quickly at the London mega-event.
PHOTOS: The best naked runs in sport
A list of some of the wildest streakers in sports over the years.
August 01, 2011
Button wins in wet Hungary on 200th start
McLaren's Jenson Button celebrated his 200th Formula One start by winning the Hungarian Grand Prix on Sunday after a thrilling race decided by tyre choices in the slippery, wet conditions.
July 29, 2011
History behind the design of Olympic Games medals
Historic details of the design of the Olympic Games medals.
Aguero ready to fight for trophies with Man City
Sergio Aguero's description of his playing style would have been music to the ears of Manchester City coach Roberto Mancini on Thursday after the Argentina striker completed his move to the Premier League's big-spenders from Atletico Madrid.
July 28, 2011
Chunky medals unveiled for 2012 London Olympics
The thousands of athletes striving to compete at London 2012 now know what treasure awaits at the end of their long and tortuous journeys after the medals for next year's Olympics were revealed in Trafalgar Square on Wednesday, one year before the start of the Games.
Nottingham Forest FC: From despair to hope
With Steve McLaren at the helm, fans of former European champions, Nottingham Forest FC, tell they believe the historical club may secure promotion to top-flight football this season.
July 27, 2011
Hamilton triumph breathes new life into season
As the Formula One season moves into its second half Sebastian Vettel's armour suddenly appears to have some chinks after Lewis Hamilton's superb victory left the German in the shade for the second consecutive race in his previously imperious Red Bull.
Olympics showdown looms after Lochte beats Phelps
Ryan Lochte's victory in the men's 200 metres freestyle at the World Swimming Championships on Tuesday not only allowed him to emerge from compatriot Michael Phelps's shadow but could set up a mouthwatering 'Race of the Century - Part Two' at next year's London Olympics.
July 21, 2011
Top Indian players for World Series Hockey
Around 176 players from India and across the world will participate in the World Series Hockey tournament, from December 15 to January 22, 2012.
July 14, 2011
Glam quotient at the 2011 ESPY Awards
Rediff.com takes a look at the glam quotient at the 2011 ESPY Awards.
July 12, 2011
'Since 1998 Indian sports seems under drug abuse'
Sprint queen P T Usha discusses the latest doping scandal to hit Indian sport with Sriram Bala.
Messi-inspired Argentina come to life
Lionel Messi at last came into his own at the Copa America as Argentina beat a defensive Costa Rica 3-0 with two goals from Sergio Aguero to secure second place in Group A on Monday.
July 11, 2011
Mallya 'determined' to find F1 driver in India
Indian Formula One fans should be proud of their own team rather than bemoaning the lack of homegrown talent on the starting grid, Force India's flamboyant owner Vijay Mallya said.
Alonso follows 'Pampas Bull' as Red Bull-beater
Spanish matador Fernando Alonso followed in the footsteps of a veteran Argentine red 'Bull' on Sunday to beat the modern-day Red Bulls and give Ferrari a longed-for 60th anniversary present.
Special: Game, Set and Match 6-0, 6-0, 6-0
With Andy Murray being the latest addition to this elite club, Senior Associate Editor Bikash Mohapatra takes a look at the six players who have achieved a 'triple bagel' in the Open Era.
July 06, 2011
'Athletes have told me they knowingly take drugs'
Ace shuttler Saina Nehwal gave a stunning twist to the raging dope scandal by saying that many athletes and weightlifters had told her in the past that they knowingly consume banned drugs.
Special: Track and field marks that defied time
A chance meeting with long jump world record holder Mike Powell earlier this week, coupled with the ongoing Diamond League, inspires Senior Associate Editor to take a look at those athletics records that have withstood the test of time.
July 05, 2011
PIX: Wimbledon king Djokovic gets hero's welcome
Some 100,000 Serbian tennis fans gave Novak Djokovic a royal reception in central Belgrade on Monday after the 24-year-old arrived home to celebrate winning his first Wimbledon title.
I believed I could break the record: Mike Powell
Mike Powell, the world record holder in long jump, opens up to Senior Associate Editor regarding his longstanding record, his biggest regret and other things.
July 04, 2011
Top dog Djokovic living the dream
Twelve years after leaving home with a racket bag full of dreams Novak Djokovic saw two of them come true in three remarkable days at Wimbledon, culminating in an emphatic victory over Rafa Nadal in the men's singles final on Sunday.
Losing Wimbledon final not toughest loss: Nadal
Rafa Nadal lost the Wimbledon final on Sunday and will concede the number one ranking to his conqueror Novak Djokovic but the gritty Spaniard has known worse times.
Kvitova: Meet the shy Wimbledon champion
Will winning Wimbledon be a life-changing experience for the Czech Republic's Petra Kvitova? Not if she can help it.
July 03, 2011
Images: Inspired Djokovic tames Nadal in final
Novak Djokovic proved he is the dominant force in men's tennis by outplaying defending champion Rafa Nadal to win Wimbledon for the first time with an emphatic 6-4, 6-1, 1-6, 6-3 victory in the final on Sunday.
Kvitova gives Sharapova taste of her own medicine
Softly-spoken 21-year-old Czech Petra Kvitova celebrated her Wimbledon singles title with a shy smile on Saturday, a stark contrast to the destructive tennis she employed to destroy former champion Maria Sharapova on Centre Court.
July 02, 2011
Images: Kvitova claims maiden Wimbledon crown
Czech Petra Kvitova created a major upset by shocking favourite Maria Sharapova to win her first Grand Slam title with a 6-3, 6-4 win in the women's singles Wimbledon final on Saturday.
Djokovic ready to cement rivalry with Rafa
Often overshadowed by his classic duels with Roger Federer, Rafa Nadal's rivalry with Novak Djokovic has been brewing slowly and it will come to the boil on Sunday when the world's two best players contest the 125th Wimbledon men's final.
Indian youth cold on Olympic sports, rues Bindra
India's sporting culture and infrastructure, as well as its attitude towards Olympic disciplines, must change if it hopes to produce world-beaters on a consistent basis, Abhinav Bindra, the country's only individual Olympic gold medallist, said.
Wimbledon Images: Djokovic on top of the world
Novak Djokovic is enjoying such a magical year that even patchy form and the acrobatic brilliance of Jo-Wilfried Tsonga could not stop him reaching his first Wimbledon final and becoming world number one on Friday.
July 01, 2011
Borg, McEnroe: From rivals to partners
Tennis legends Bjorn Borg and John McEnroe have announced their partnership by launching of a limited edition underwear collection.
Sharapova's off day good enough for final return
Maria Sharapova, the glamour girl of women's tennis, showed she is not averse to winning ugly as she overcame some jitters to set up a Wimbledon final against Petra Kvitova on Thursday.
Wimbledon: Murray in the mood to stop Nadal
Andy Murray believes he is ready to inflict a first Wimbledon defeat on the Spanish powerhouse since 2007 -- a winning run interrupted only by Rafael Nadal's dodgy knees in 2009.
Tour de France: Major doping scandals
Factbox on the major doping scandals to hit cycling's Tour de France since 1998.
Wimbledon Images: Sharapova powers into final
Favourite Maria Sharapova served 13 double faults in just 87 minutes yet still set up a Wimbledon final against Petra Kvitova after beating Sabine Lisicki 6-4, 6-3 in an error-strewn semi-final on Thursday.
June 30, 2011
Beating Federer best moment of my career: Tsonga
Jo-Wilfried Tsonga described his incredible comeback to floor Roger Federer at Wimbledon on Wednesday as the greatest moment of his career.
Villas-Boas keen to escape Mourinho's shadow
Andre Villas-Boas knows comparisons with Jose Mourinho are inevitable but he was quick to distance himself from his former boss during his first news conference as Chelsea manager on Wednesday.
Tour de France: Questions & answers on the race
The Tour de France starts on Saturday from Passage de Gois. Here are some key questions and answers about the three-week race.
Wimbledon Images: Federer stunned by Tsonga
Roger Federer's dreams of a seventh Wimbledon title were shattered by an extraordinary comeback from Frenchman Jo-Wilfried Tsonga who won an epic quarter-final 3-6, 6-7, 6-4, 6-4, 6-4 on Wednesday.
June 29, 2011
CWG, Asiad gold medallist Mandeep flunks dope test
Two leading Indian athletes -- Mandeep Kaur and Juana Murmu have been suspended and face the prospect of a two-year ban after flunking an out-of-competition dope test.
PHOTOS: Wimbledon women show life beyond Williams
Fans turning up for the Wimbledon women's quarter-finals might have been forgiven for feeling a little short-changed by Tuesday's lineup yet the action served up by some of the sport's lesser lights was undoubtedly worth the ticket.
PHOTOS: Leading Tour de France contenders
The strengths and weaknesses of leading contenders in the 2011 Tour de France which starts on Saturday.
Special: WAGs @ Wimbledon 2011
Rediff.com takes a look at some of the WAGs of the promiment players featuring in Wimbledon this year.
Special: Being No.1 is no 'major' achievement
Senior Associate Editor looks at an inglorious club of seven players who have been ranked No. 1 without a major title to their credit.
Images: Sharapova, Azarenka in last four
Fifth seed Maria Sharapova, the last giant left in the women's draw, powered into the Wimbledon semi-finals after being head and shoulders above diminutive Slovak Dominika Cibulkova in a 6-1, 6-1 demolition on Tuesday.
June 28, 2011
No Williams in the quarters? Over to you Maria
The rare sight of neither Williams sister in the Wimbledon quarter-finals will have the remaining eight women in the draw buzzing with the possibility of reaching the final, none more so than 2004 champion Maria Sharapova.
PHOTOS: Cricketers on Wimbledon courts
Over the years cricketers have graced the Wimbledon Championships. And this year it is no different. From Sachin Tendulkar to Kevin Pietersen, everyone has been to the All England Lawn Tennis and Croquet Club to witness some hardcore tennis action. Rediff gives you a sneak peek of the cricket stars at Wimbledon.
PHOTOS: Best moments from week one at Wimbledon
A selection of the best images from the opening week at Wimbledon.
Images: Williams sisters out, Rafa in quarters
It took less than two brutal hours at Wimbledon on Monday to disprove the theory that Serena and Venus Williams could march back to continue their domination of the grasscourt slam having hardly swung their rackets in anger for months.
June 27, 2011
Man Utd's Nani welcomes Young signing
Manchester United winger Nani has no plans to quit the English champions following the signing of Ashley Young last week and said on Monday that he welcomed the competition for a place in the starting lineup at Old Trafford.
Wimbledon: Magnificent 7 gear up for Manic Monday
Wimbledon is ready to kick into gear after a stop-start first week, with seven Grand Slam champions in action on 'Manic Monday' when all the men's and women's fourth-round matches are contested.
June 26, 2011
Vettel takes sixth win of season in Valencia
Red Bull's Formula One world champion Sebastian Vettel turned the European Grand Prix into a stroll in the Spanish sunshine on Sunday as he racked up his sixth victory in eight races this season.
Erratic Saina ends runner-up at Indonesia Open
A profligate defending champion Saina Nehwal faltered at the final hurdle, failing to complete a hat-trick of titles at the Indonesia Open Super Series after losing to Chinese world number three Yihan Wang in the final in Jakarta on Sunday.
Federer knows a lot about cricket: Tendulkar
It takes lot to bowl over Sachin Tendulkar as bowlers around the world would confess but tennis ace Roger Federer managed to do it just by his knowledge of cricket when the two legends caught up during the Wimbledon in London.
June 25, 2011
PHOTOS: Tendulkar greets Federer at Wimbledon
It was a meeting of legends and a rare photo op for all when Indian cricket maestro Sachin Tendulkar met tennis great Roger Federer at Wimbledon on Saturday.
PHOTOS: Nadal, Sharapova storm into last 16
Gilles Muller was the last player to beat Rafa Nadal at Wimbledon apart from Roger Federer but the Luxembourger never seriously looked like repeating the feat in the third round this year.
Saina in Indonesian final after 'miraculous win'
Defending champion Saina Nehwal inched closer to a third successive Indonesian Open Super Series title after advancing to the finals with a hard-fought victory over Chinese Taipei's Shao Chieh Cheng in Jakarta on Saturday.
Wimbledon Images: Sharapova spoils British party
Maria Sharapova overcame Briton Laura Robson and a partisan crowd on Number One court to reach the Wimbledon third round on Friday.
June 24, 2011
Photos: Wimbledon over the years
As The Wimbledon Championships complete 125 years, Rediff.com takes you down memory lane and rewind those glorious moments etched in tennis history.
Photos: Federer tames Mannarino, Hewitt, Li ousted
Roger Federer battered Adrian Mannarino so badly in a 6-2, 6-3, 6-2 romp on Thursday that the Wimbledon crowd began to root for the sorry Frenchman rather than their beloved six-times champion.
June 23, 2011
Wimbledon special: Memorable matches in Open Era
With Wimbledon underway, the focus is on two weeks of superlative grasscourt tennis. While the 134-year-old tournament has witnessed many classic contests, a few will remain etched in memory for eternity. Senior Associate Editor takes a look at some memorable contests played at the All England Club in the Open Era.
Wimbledon Images: Nadal too good for Sweeting
Rafael Nadal had his fans drooling with another muscle-bulging display of brilliance to crush Ryan Sweeting 6-3, 6-2, 6-4 on Wednesday and stay firmly on course to defend his Wimbledon title.
June 22, 2011
Meet Andre Villas-Boas, Chelsea's new manager
Chelsea confirmed the appointment of Portugal's Andre Villas-Boas as their new manager on Wednesday as the 33-year-old, who resigned from Porto on Tuesday, agreed to a three-year contract. A fact file on the manager.
Photos: Isner-Mahut Wimbledon rematch a damp squib
The John Isner against Nicolas Mahut rematch inevitably failed to live up to last year's historic clash when American Isner needed only just over two hours to book his place in the Wimbledon second round on Tuesday.
Special: Wimbledon made them tennis legends
With the 2011 edition of the prestigious tournament getting underway, Senior Associate Editor takes a look at a few players whose lone claim to fame came at the grass courts of the All England Club.
Wimbledon Images: Wozniacki makes confident start
World number one Caroline Wozniacki got her bid for a first grand slam title off to a fine start with a 6-2, 6-1 win over Spain's Arantxa Parra Santonja in swirling winds at Wimbledon on Tuesday.
June 21, 2011
PIX: 20 champs who made their mark at a young age
Golfer Rory McIlroy won the US Open by eight shots in record style on Sunday, confirming his rich promise as a potential golfing great by becoming the championship's youngest winner since 1923. At the age of 22, the mop-haired Northern Irishman clinched his first major title by an astonishing eight shots, raising comparisons with the record 15-shot margin achieved by Tiger Woods at the 2000 US Open. takes a look at a few athletes who made a mark at an ea
Photos: Nadal, Venus cruise at Wimbledon
Rafa Nadal made a dazzling start to his Wimbledon title defence with an easy win over American Michael Russell on Monday before home favourite Andy Murray produced some indoor fireworks to join the Spaniard in the second round.
Photos: Sania, Sharapova sizzle at Wimbledon bash
It was a night to remember as tennis stars rubbed shoulders with celebrities and designers at the pre-Wimbledon party in London on Friday.
June 20, 2011
Roger Federer: I wish I had a serve like Sampras
The man who enjoyed the privilege of opening Centre Court proceedings at the All England Club for seven successive years - including 2009 when Rafa Nadal was unable to defend his title - is now back to reclaim his crown.
McIlroy tipped as golf's next superstar
Rory McIlroy was showered in praise by his peers all week at Congressional Country Club but the accolades flew especially thick and fast on Sunday after his runaway victory at the US Open.
Nadal set for under cover start at Wimbledon
Rafael Nadal could become the first player to begin the defence of his Wimbledon title under cover on Monday as rain threatens to dampen the start of the grasscourt Grand Slam.
June 19, 2011
Tears and tantrums good for Zvonareva's game
Vera Zvonareva was a shock finalist at Wimbledon last year but 12 months on it would be no surprise if the Russian repeated her feat at the All England Club over the next fortnight.
June 18, 2011
Big four get fit for Wimbledon shootout
Champion Rafa Nadal and the three other leading men's contenders charge into Wimbledon with major expectations despite all battling minor fitness issues in the run-up to the grasscourt Grand Slam.
The ten highest earning athletes
Scandal-scarred golfer Tiger Woods is still the No.1 paid sportsman in the United States, according to Sports Illustrated's eighth-annual compilation of the 50 top-earning American athletes by salary, winnings, endorsements and appearance fees.
June 15, 2011
Argentina in search for Messi understudy
Gonzalo Higuain is training for a similar role to Lionel Messi's in the Argentina team in preparation for matches when the Barcelona forward is not playing, coach Sergio Batista said on Tuesday.
Venus's intuition saved Serena's life
Venus Williams has always taken her role as big sister to Serena very seriously but never before had she thought a bit of family intuition would end up saving the life of the 13-times Grand Slam champion.
June 13, 2011
Vettel's one mistake cost Canadian Grand Prix win
McLaren's Jenson Button had a race littered with mistakes while Sebastian Vettel's one error cost the Formula One world champion victory at the Canadian Grand Prix on Sunday.
Worst day turns into greatest for Button
What started out as one of Jenson Button's worst day as a driver turned into his best as the Briton mounted one of Formula One's great charges to steal victory from Sebastian Vettel at the Canadian Grand Prix on Sunday.
NBA: Mavericks beat Heat for first championship
The Dallas Mavericks ended three decades of frustration by capturing their first championship with a 105-95 victory over the Miami Heat on Sunday to win the best-of-seven NBA Finals 4-2.
June 10, 2011
Premier League clubs get real with home shopping
English Premier League clubs are spending big on home-grown youngsters in what could be the first indication that they are finally coming to terms with reality.
F1: Hamilton chasing Canadian hat-trick
McLaren's Lewis Hamilton can make amends for his ill-disciplined Monaco weekend with a Montreal win on Sunday, even if Red Bull's Sebastian Vettel is the man with the momentum.
Usain Bolt dazzles in drizzly Oslo
Usain Bolt thundered past a weak field in driving rain to win the 200 metres at the Diamond League meeting in Oslo on Thursday, clocking the year's fastest time of 19.86 seconds.
June 09, 2011
London unveils 'golden cheesegrater' Olympic torch
The London 2012 Olympics has unwittingly acquired its first iconic image after unveiling an Olympic torch design, which looks like a huge cheesegrater on Wednesday.
Nadal back in groove on grass, Murray labours
Rafa Nadal swapped clay for grass on Wednesday but the result was just as emphatic with the world number one overpowering Australia's Matthew Ebden at the Queen's Club championships on a chilly evening in west London.
June 08, 2011
How Prakash Padukone became a badminton legend
The Indian badminton ace tells Bikash Mohapatra how the legendary Rudy Hartono inspired him to greatness.
Germany on brink of Euro spot, Sweden triumph
Germany all but secured a place at the Euro 2012 finals with a 3-1 win in Azerbaijan while Zlatan Ibrahimovic got a hat-trick as Sweden demolished Finland 5-0 to provide an unexpected spark to the end of the European season.
June 07, 2011
Nadal can beat Federer's Grand Slam mark
If there was any doubt before, there is now no question that Rafa Nadal can and most probably will better Roger Federer's record of 16 Grand Slam titles following the Spaniard's French Open success over the Swiss.
June 06, 2011
Rafa and Roger are back in the game: Federer
One of her twin girls in one arm and a glass of champagne in the other hand, Roger Federer's wife Mirka looked far from dejected after her husband once again came up short against Rafa Nadal in a French Open final on Sunday.
Nervous Nadal says tough journey made win special
Having conquered his anxiety and battled through tough situations, Rafa Nadal won possibly the sweetest of his six French Open titles on Sunday.
Nadal's grip on title and Federer tightens
Rafa Nadal had doubted he could seal a sixth French Open title having started in shaky form and with rivals looking imperious, but the Spaniard need not have worried after triumphing with another claycourt masterclass.
Photos: Agony and ecstasy at the French Open
Catch the emotions at the French Open.
June 05, 2011
Nadal wins French Open, equals Borg's record
Images from the French Open Men's singles final between Roger Federer and Rafa Nadal at Roland Garros.
Tough nut Li breaks new ground for Asia
Li Na hits the ball hard and flat, displays her emotions, cracks acerbic jokes, is relatively old at 29 and her landmark triumph at the French Open will be welcomed far further afield than China.
June 04, 2011
Photos: Nadal to face Federer in summit clash
Images from Day 13 at the French Open in Paris, on Friday.
Pix: Li puts Asia on Grand Slam map with win
Images from the women's singles final at the French Open in Paris on Saturday.
Nadal and Federer set for new classic
Reports of Roger Federer's demise were as wide of the mark Rafa Nadal's own prediction he was not playing well enough to win a sixth Roland Garros title.
Bops and I have to become mentally stronger: Aisam
Indian tennis player Rohan Bopanna's Pakistani doubles partner Aisam-ul-Haq Qureshi says the pair will have to become mentally tougher to produce knockout performances that are required to win Grand Slams.
Photos: Beauties scorch the French clay
Check out the sexiest female tennis players at this year's French Open.
June 03, 2011
Sharapova to hit shops before embracing grass
A little bit of retail therapy is all Maria Sharapova needs to overcome her French Open disappointment before she turns her attention to her beloved grasscourt season.
June 02, 2011
Images: Li, Schiavone to face-off for French crown
Images from Day 12 at the French Open in Paris, on Thursday.
O'Neal calls it quits after 19 years in the paint
A larger than life figure both on and off the court, the announcement from Shaquille O'Neal that he is retiring leaves a void from the basketball aficionado to the casual fan who merely laughed at the antics of the future Hall of Famer.
Analysing the FIFA scandal and Blatter's election
Sepp Blatter was re-elected unopposed as FIFA president on Wednesday, promising to use his final four-year term for radical reform of a sport reeling from bribery and corruption allegations.
June 01, 2011
Nadal, Murray find their groove in Paris
Champion Rafa Nadal cut loose after a shaky French Open start to batter Robin Soderling 6-4, 6-1, 7-6 and Andy Murray again tried to tie himself in knots before easily sealing his semi-final spot on Wednesday.
Salgaocar extend coach Bencherifa's contract
Salgaocar coach Karim Bencherifa has been rewarded for taking the side to their maiden I-League title with a two-year extension of his contract till 2013.
Paul Scholes, man of few words but many gifts
Manchester United midfielder Paul Scholes slipped into retirement on Tuesday in the unassuming manner that characterised a one-club man hailed by his peers as one of the greatest players of his generation.
May 31, 2011
Images: Schiavone, Murray survive thrillers
Images from Day 10 at the French Open in Paris, on Tuesday.
Messi shimmies his way to more greatness & glory
The moment that defined Lionel Messi as the greatest player in the world came after 69 minutes of the Champions League final on Saturday, rather than the 54th when he scored. That's how remarkable it was.
May 30, 2011
Images: Djokovic, Nadal, Li book quarters berth
Images from Day 9 at the French Open in Paris, on Monday.
Images: Shakira celebrates with Barca after CL win
The heroes of newly crowned European champions, Barcelona, paraded in an open-top, double-decker bus through cheering, packed streets and arrived to a roar of welcome at the Camp Nou stadium on Sunday.
Midfield machine drives Barcelona to greatness
The midfield machine behind Spain's first World Cup success ticked back into the same relentless rhythm to deliver Barcelona's fourth European Cup triumph at a spellbound Wembley Stadium on Saturday.
May 29, 2011
Images: Cakewalk for Federer , Zvonareva ousted
Images from Day 8 at the French Open in Paris, on Sunday.
Images: Vettel wins crash-hit Monaco GP
Formula One world champion Sebastian Vettel took his fifth victory in six races when he won a crash-hit Monaco Grand Prix thriller for Red Bull on Sunday.
We were mesmerised by Barca midfield: Ferguson
Manchester United were never able to control Barcelona's midfield or deal with the brilliance of Lionel Messi as they were overwhelmed 3-1 in Saturday's Champions League final, manager Alex Ferguson said.
Images: Messi sparks Barca triumph over United
Lionel Messi mesmerised Manchester United into submission on Saturday as his dazzling Barcelona team claimed an emphatic 3-1 win in the Champions League final to bag their third European crown in six seasons.
Messi evokes memories of Maradona at Wembley
Barcelona's Lionel Messi brought back memories of outstanding performances by his Argentine compatriots Diego Maradona and Ricky Villa at Wembley with his match-winning display in the Champions League final on Saturday.
May 28, 2011
Images: Nadal, Murray storm into fourth round
Images from Day 7 at the French Open in Paris, on Saturday.
Showtime at Wembley as Barcelona face United again
Barcelona and Manchester United clash in the Champions League final at Wembley on Saturday (1845 GMT) to decide who are the undisputed kings of Europe.
May 27, 2011
Images: Federer on fire, Schiavone survives
Images from Day 6 of the 2011 French Open in Paris, on Friday.
Park hoping it will be third time lucky at Wembley
Park Ji-sung was overlooked in Moscow in 2008, lost in Rome in 2009 and hopes it will be third time lucky when Manchester United face Barcelona in the Champions League final at Wembley on Saturday.
United get second chance to pick Barcelona pocket
Barcelona must beware the artful dodgers of the Champions League in Saturday's final at Wembley where Manchester United will get a second chance to pick the pocket of Europe's classiest team.
May 26, 2011
Images: Clijsters knocked out, Soderling advances
Images from Day 5 at the French Open in Paris, on Thursday.
World awaits mouth-watering Champions League final
All the ingredients are in place for a classic Champions League final at Wembley on Saturday when millions of fans around the world will settle down to dine on what should be a rare footballing feast.
Barca's Spain crop on cusp of near-perfect year
For the eight Spain internationals in Barcelona's probable starting 11 for Saturday's Champions League final, victory over Manchester United at Wembley would put a gilt edge on an already spectacularly successful year.
May 25, 2011
Images: Federer, Stosur enjoy stroll in the sun
Images from Day 4 at the French Open in Paris, on Wednesday.
Sharapova adds sunshine with a yellow dress
In-form Maria Sharapova added the sunshine with a yellow dress as she routed Mirjana Lucic 6-3, 6-0.
Impish Messi defines current Champions League era
At the age of 23, Barcelona's Lionel Messi has already come to define an era of European soccer in a way only a handful of players have managed since the days of Alfredo di Stefano.
May 24, 2011
Images: Nadal survives, Ivanovic in tears
Images from day three of the 2011 French Open in Paris, on Tuesday.
Carlo Ancelloti tops the managerial sack race
Following Carlo Ancelotti's sacking, Bikash Mohapatra takes a look at EPL managers who lost their jobs after failing to deliver this season.
May 23, 2011
Images: Djokovic, Schiavone off to a blazing start
Images from day two of the 2011 French Open tennis tournament at Roland Garros in Paris, on Monday.
Old Trafford rejoices after 'most dramatic' season
Manchester United manager Alex Ferguson hailed his most dramatic season on Sunday as his players lifted the Premier League trophy to the deafening sound of fireworks and cheers at Old Trafford.
Stosur untroubled on low-key Sunday start
Gusty winds and half-empty stands gave no sense of the usual Parisian glamour as last year's French Open runner-up Samantha Stosur began with an easy win on Sunday and Lleyton Hewitt pulled out injured.
May 21, 2011
Djokovic faces hazardous route at French Open
Novak Djokovic's route to a maiden title at Roland Garros and the world number one ranking could be a hazardous one following Friday's draw for the French Open which starts on Sunday.
May 20, 2011
Clijsters needs another winning comeback in Paris
Kim Clijsters will not have played a match in almost two months when she returns at the French Open but if anyone can make a big impression after a lengthy absence the Belgian can.
Federer revived for another French Open assault
A rested Roger Federer will come out swinging when he begins his French Open campaign after being left behind by favourites Novak Djokovic and Rafa Nadal.
Paris fear factor key to Nadal's French dreams
Rafael Nadal will rely on the Paris fear factor to overcome the scorching form of Novak Djokovic in his bid for a sixth French Open title.
Hamilton admits to doping, accuses Armstrong
Tyler Hamilton, who was allowed to keep his Athens Olympics gold medal despite failing a doping test, has finally confessed to cheating and accused other top cyclists, including Lance Armstrong, of doing the same.
French Open: Check out the sexiest female players!
A look at 10 sexiest female players at the French Open.
May 19, 2011
Prolific Falcao heads Porto to Europa League glory
Porto deservedly beat Braga 1-0 to win the Europa League after a superb header by Colombian striker Falcao decided the first all-Portuguese final of a European competition on Wednesday.
Djokovic set to block Nadal's path to sixth title
Rafa Nadal arrives at Roland Garros without his air of invincibility as the seemingly unstoppable Novak Djokovic threatens to flatten the Spaniard's bid to equal Bjorn Borg's six French Open titles.
May 16, 2011
Man United revel in life on top of the perch
The chants of 'Are you watching Merseyside?' began as soon as Wayne Rooney scored a penalty to earn Manchester United a 1-1 draw at Blackburn Rovers on Saturday to seal their record 19th English league title.
Mumbai boy, Chennai girl win NBA Skills Challenge
Danish Qureshi of Hume High School, Mumbai, and Nishanti of St. Joseph's Anglo Indian Secondary School, Chennai, were crowned champions in the Jr. NBA and Jr WNBA National Skills Challenge and earned an all-expense paid trip to the NBA headquarters in the US.
May 12, 2011
Guardiola, Messi hail Barca's toughest Liga title
Barcelona coach Pep Guardiola and leading scorer Lionel Messi described their 2011 La Liga crown as the toughest of titles after securing top spot with a 1-1 draw at Levante on Wednesday.
May 11, 2011
Mary Kom relieved after son's heart surgery
World champion boxer M C Mary Kom was a relieved mother after as her ailing son underwent successful heart surgery in Chandigarh on Wednesday.
May 10, 2011
Red Bull exorcise their Turkish demons
The hand that last year pointed the finger of blame at Mark Webber was extended in grateful thanks on Sunday as Red Bull celebrated a healing one-two Turkish Grand Prix finish.
May 07, 2011
Ballesteros, the greatest shot-maker of all time
Five-times major winner Seve Ballesteros, regarded by many as golf's greatest shot-maker, was one of the most gifted and charismatic players to have graced the game.
May 05, 2011
Images: Man Utd brush aside Schalke to enter final
Images from the Champions League second leg semi-final match between Manchester United and Schalke 04.
May 04, 2011
Barca's Abidal eyeing return for Wembley final
Barcelona and France defender Eric Abidal, who had surgery on a liver tumour in March, is hoping to be back to full fitness for the Champions League final at the end of this month.
Barca coach Guardiola relishing Wembley return
Barcelona coach Pep Guardiola is looking forward to a Champions League final at the place where he tasted his only triumph in Europe's elite club competition as a player -- Wembley Stadium.
Pix: Barca in final after seeing off Real threat
Barcelona's slick football at a rain-swept Nou Camp had Real Madrid chasing shadows for long periods again as the Catalans reached the Champions League final after a 1-1 draw sent the 2009 winners through 3-1 on aggregate.
May 03, 2011
CLeague: Man United freshen up for Schalke
Manchester United manager Alex Ferguson faces a delicate balancing act of picking a strong enough side to reach the Champions League final while resting the players he needs for this week's domestic showdown.
May 02, 2011
CL: Real Madrid seek inspiration from past glories
Real Madrid are attempting to revive former glories to inspire them on their mission to overturn a two-goal deficit at arch-rivals Barcelona in Tuesday's Champions League semi-final second leg.
Arsenal's young Gunners repay Wenger's faith
Arsene Wenger was left glowing with pride at the performance of his young team in Sunday's 1-0 win over Manchester United -- a week after the world seemed united in telling him he needed to buy in some experience.
April 29, 2011
Barcelona - Real row escalates
The UEFA on Thursday also opened disciplinary probes into the Portuguese coach's sending-off at the Bernabeu and subsequent outburst after Wednesday's bad-tempered clash, which Barca won 2-0.
High jump great Sjoberg reveals sexual abuse
Former high jump world record holder Patrik Sjoberg has shocked Swedish athletics by revealing that his coach and stepfather Viljo Nousiainen sexually abused him as a young boy.
April 28, 2011
Barca coach Guardiola lauds 'outrageous' Messi
Barcelona coach Pep Guardiola described Lionel Messi's achievements as 'outrageous' after the World Player of the Year produced another masterclass in Wednesday's 2-0 Champions League win at Real Madrid.
Magnificent Messi gives Barca 2-0 win over Real
Lionel Messi's sublime double gave Barcelona a 2-0 win over Real Madrid in a tempestuous Champions League semi-final first leg which saw Real finish the game with 10 men and with coach Jose Mourinho in the stands.
April 27, 2011
Classy Manchester United tear Schalke apart
Manchester United overwhelmed Schalke 04 as they strolled to a 2-0 victory in their Champions League semi-final first leg on Tuesday in a one-sided match that left the home fans stunned.
Geethu Anna Jose ready for basketball's big league
Geethu Anna Jose is the first Indian to attend try-outs for the American professional basketball league. traces the rise of the25-year-old captain of the Indian women's team.
April 26, 2011
Mourinho set to haunt Barca in semi-finals again
Jose Mourinho is ready to haunt Barcelona in the Champions League semi-finals again on Wednesday, this time with Real Madrid.
April 25, 2011
Schalke bank on Raul to shoot down United
Surprise semi-finalists Schalke 04 will look to talisman Raul to carve out a first-leg advantage when they put their 100 per cent home record on the line against Manchester United on Tuesday.
EPL: Arsenal's hopes dashed, Torres scores at last
Arsenal's Premier League title hopes suffered a crushing blow when they conceded a last-minute goal to lose 2-1 at Bolton Wanderers on Sunday.
Hernandez proves a prolific alternative to Raul
As Schalke 04 are carried to new heights by the Champions League's most experienced player, Manchester United's hopes are being increasingly pinned on a man expected to play only a peripheral role this season.
April 21, 2011
Mourinho answers critics with Cup win
Real Madrid coach Jose Mourinho has answered his critics in the best possible way by adding an 18th King's Cup to the club's trophy cabinet and ending a two-year silverware drought on his debut season.
Spanish Cup: Shakira cheers for Barca in stands
Columbian pop singer, Shakira was spotted in the crowds during the King's Cup final between Barcelona and Real played at Valencia's Mestalla stadium on Wednesday.
Ronaldo seals dramatic Spanish Cup win for Real
Real Madrid claimed their first trophy under Jose Mourinho when Cristiano Ronaldo's dramatic extra-time winner secured a 1-0 King's Cup final victory over arch-rivals Barcelona on Wednesday.
April 18, 2011
EPL: Arsenal held by Liverpool, Chelsea win
Arsenal's title hopes took another blow when they were held to a 1-1 draw at home by Liverpool on Sunday after an astonishing finale in which both teams convert stoppage time penalties.
'F1 must do more to promote itself in new arenas'
Formula One served up a thriller in China at the weekend but the lack of fans indicated the sport must do more to sell itself to new audiences, according to McLaren boss Martin Whitmarsh.
April 17, 2011
Brilliant Hamilton conquers Shanghai
McLaren's Lewis Hamilton went from China crisis to champagne celebration on Sunday with a stirring victory that denied Red Bull's Formula One world champion Sebastian Vettel a fifth win in a row.
April 15, 2011
Vettel leads Red Bull charge in China
Red Bull's Formula One world champion Sebastian Vettel put down a marker for a possible fifth win in a row by dominating both practice sessions for the Chinese Grand Prix on Friday.
April 14, 2011
CL: Soft win for Real, Raul takes Schalke to semis
Jose Mourinho stayed on course to become the first coach to win the Champions League with three different clubs when Real Madrid beat Tottenham Hotspur 1-0 on Wednesday to seal a 5-0 aggregate rout in the quarter-finals.
April 13, 2011
United dish out more European misery to Chelsea
Images from the Champions League second-leg quarter-final match, being played on Tuesday.
April 12, 2011
CL: Guardiola reluctant to rest players in Donetsk
Barcelona could be at full strength in Tuesday's Champions League clash at Shakhtar Donetsk despite the luxury of a 5-1 advantage from the quarter-final first leg, coach Pep Guardiola suggested on Monday.
April 11, 2011
'Chelsea are obsessed with Champions League'
Chelsea are over-stretching themselves with their Champions League "obsession," Manchester United manager Alex Ferguson said on the eve of their quarter-final, second leg.
Vettel cuts through techno-speak with raw pace
While talk ahead of the Malaysian Grand Prix was all about tyre degradation and the speed-boosting KERS system, Red Bulls's Sebastian Vettel sent out a reminder that raw pace remains the key ingredient to becoming a world champion.
United favourites but Chelsea not dead yet
Fortress Old Trafford, Chelsea's flat form and a welter of statistics point to Manchester United advancing to the semi-finals of the Champions League Tuesday -- yet one goal changes the whole tie.
April 10, 2011
Images: Faultless Vettel eases to Malaysian GP win
Sebastian Vettel powered to victory in the Malaysian Grand Prix on Sunday, the German registering his second pole-to-flag win in as many races to open his Formula One title defence.
April 07, 2011
Red Bull tweak Webber's car for Malaysia
Formula One champions Red Bull expect Mark Webber to be back up to speed in Malaysia this weekend after modifications to his car, team principal Christian Horner said on Monday.
CL images: Barca maul Shakhtar, Man U down Chelsea
Barcelona seized control of their Champions League quarter-final against Shakhtar Donetsk when an early Andres Iniesta strike paved the way for a 5-1 first-leg victory at the Nou Camp on Wednesday.
April 06, 2011
Champions League set for a more wary Wednesday
After Tuesday's 11-goal fireworks the matches are likely to be tighter in Wednesday's Champions League quarter-final first legs as Chelsea entertain Manchester United and Barcelona host Shakhtar Donetsk.
CL: Inter stunned by Schalke, Real steamroll Spurs
Holders Inter Milan faced almost certain elimination from the Champions League after collapsing to a stunning 5-2 home defeat by a makeshift Schalke 04 team in their quarter-final first leg at the San Siro on Tuesday.
April 05, 2011
CL: Chelsea seek revenge or bust against Man U
Chelsea must avenge their 2008 Champions League final defeat by Manchester United or face a trophyless season if they lose the all-English quarter-final which starts at Stamford Bridge on Wednesday (1845 GMT).
CL: Ronaldo back as Real host Spurs
Real Madrid make their first appearance in the Champions League quarter-finals for seven seasons on Tuesday, when their former talisman Raul will lead the line for his new club Schalke 04 at holders Inter Milan.
March 28, 2011
Fresh challenges await F1 newcomers
Formula One supremo Bernie Ecclestone gave a one-word reply when asked how the new season would be for the three teams that made their debuts last year: "Difficult".
Alonso happy to take points after messy start
Ferrari's Fernando Alonso was "more or less happy" to finish just off the podium at the Australian Grand Prix on Sunday after a poor start left the Spaniard fighting tooth and nail for points.
March 27, 2011
Hamilton vows to close the gap on Red Bull
Lewis Hamilton is confident McLaren can close the gap on Sebastian Vettel's Red Bull after staging a stunning turnaround to finish second behind the world champion at the Australian Grand Prix on Sunday.
Images: Vettel cruises to Australian GP win
A coy Sebastian Vettel was determined not to get carried away with a blistering start to his world title defence at the Australian Grand Prix on Sunday.
McLaren ready for victory after rapid turnaround
McLaren could barely conceal their delight on Saturday at going from a team in crisis to having Lewis Hamilton and Jenson Button on the front two rows of the grid with pretensions of winning the Australian Grand Prix.
March 25, 2011
Expect an excting Formula One season
As the Formula One season unfolds this weekend, Raja Sen lists what to look out for.
Team prospects for 2011 Formula One season
Team-by-team prospects for the Formula One season starting in Australia on March 27 (listed in 2010 championship order, numbers are those on their cars).
Webber on top as gloves come off in Melbourne
Red Bull's Mark Webber swept to the fastest time in the first practice session of the new Formula One season at the Australian Grand Prix on Friday.
March 22, 2011
Webber desperate to get back on track
Australia's Mark Webber, desperate to get racing after the delay to the start of the Formula One season, thinks he "probably" has his best chance of winning his home grand prix in Melbourne this weekend.
March 20, 2011
Images: Berbatov puts winning line in sight
Manchester United manager Alex Ferguson hailed his team's ability to grit their teeth after they snatched a 1-0 win over Bolton Wanderers on Saturday to open a five-point lead at the top of the Premier League.
Sania-Vesnina win Indian Wells doubles
Sania Mirza and Elena Vesnina of Russia clinched their first title in just their third WTA event as a team, lifting the BNP Paribas Open women's doubles trophy after upstaging Bethanie Mattek-Sands and Meghann Shaughnessy.
La Liga round-up: Ronaldo aggravates muscle injury
Real Madrid forward Cristiano Ronaldo aggravated a leg muscle injury in Saturday's 2-1 win over city rivals Atletico, the La Liga club said.
March 19, 2011
Alonso carries Ferrari's title hopes
With 'team orders' now legal in Formula One, Ferrari's Felipe Massa will have to raise his game right from the start of the season in Australia next week.
Mourinho relishing reunion with pal Redknapp
Real Madrid coach Jose Mourinho is looking forward to congratulating Tottenham Hotspur manager Harry Redknapp for leading his side into the Champions League quarter-finals when their teams meet next month.
March 17, 2011
Images: Mourinho's Real end six-year jinx
Images from the second leg of the Champions League matches played on Wednesday.
March 16, 2011
Carl Lewis queries Bolt's long jump ambitions
Usain Bolt should concentrate on retaining his Olympic 100 and 200 metres titles before considering a move into other events, nine times Olympic champion Carl Lewis said on Tuesday.
Australia's 'Thorpedo' teams up with Popov's coach
Five-time Olympic champion Ian Thorpe will work with Gennadi Touretski, the former coach of Russian swimming great Alexander Popov, as he seeks to get back into peak form for next year's London Olympics after more than four years out of the pool.
CL images: Inter, Man U scrape into last eight
Holders Inter Milan stared defeat in the face while Manchester United flirted with danger before both teams were able to sigh with relief after reaching the last eight of the Champions League on Tuesday.
March 15, 2011
Japan crisis: Sportspersons lend their support
Tennis star Maria Sharapova and Pune FC's Japanese footballer Izumi Arata lend their support to those affected in Japan in last week's devastating earthquake and tsunami and the nuclear crisis.
Indians can get 2012 Olympics tickets throug IOC
Indians interested in witnessing the 2012 London Olympics can get tickets from the Indian Olympic Committee, Chairman of the Games Organising Committee Lord Sebastian Coe said.
March 10, 2011
Serena opens up about 'scariest moment in my life'
Serena Williams is receiving daily blood thinning injections to get rid of the clots that are still in her lungs, the former world number one revealed on Wednesday.
Champions League Images: Spurs, Schalke go through
Tottenham Hotspur and Schalke 04 belied their reputations to knock seven-times winners AC Milan and twice finalists Valencia out of the Champions League on Wednesday with performances that went entirely against type.
March 09, 2011
CL Images: Messi mauls Arsenal as Barca go through
Barcelona and Shakhtar Donetsk became the first teams to reach the Champions League quarter-finals with contrasting wins over Arsenal and AS Roma, who both finished with 10 men, on Tuesday.
March 07, 2011
Arsenal braced for Barcelona backlash
Arsenal will man the barricades on Tuesday in anticipation of a Barcelona backlash while hoping that their second Champions League visit to the Nou Camp in less than a year will be less harrowing than the first.
Manchester United's title hopes in balance
Defeat by arch-rivals Liverpool on Sunday has threatened to expose Manchester United's Premier League title challenge at the time in the season when they usually come to life.
March 06, 2011
Davis Cup roundup: Spain cruise, Serbs edge ahead
Spain, Sweden and Argentina reached the quarter-finals of the Davis Cup after sealing World Group first round victories with a minimum of fuss on Saturday.
March 04, 2011
Liverpool desperate to prevent United's 19th title
Chelsea showed by beating Manchester United that they will not give up the Premier League title without a fight and Liverpool are likely to be just as tenacious when they face United at Anfield on Sunday.
March 03, 2011
Serbia are clearly the favourites against India
It is David versus Goliath, literally!
March 02, 2011
Chelsea fight back to beat Man U 2-1
Chelsea came from behind to beat Manchester United 2-1 thanks to Frank Lampard's 79th-minute penalty at Stamford Bridge on Tuesday and put the brakes on the visitors' charge towards the Premier League title.
February 24, 2011
CL: Resurgent Gomez gives Bayern last-gasp win
Mario Gomez, widely considered a failure in his first season with Bayern Munich, continued his resurgence with a last-gasp goal to clinch a 1-0 Champions League win at titleholders Inter Milan on Wednesday.
Exciting if India hosts World Championship: Anand
World Chess champion Vishwanathan Anand talks to about defending his World crown and supporting and mentoring young sportsmen through Olympic Gold Quest.
February 23, 2011
Anelka hits two as Chelsea cruise in Copenhagen
Chelsea striker Nicolas Anelka offered a reminder of his striking prowess on Tuesday with both goals in a comfortable 2-0 win over FC Copenhagen in their Champions League last 16, first leg match.
February 19, 2011
Images: Wrestler Sushil ties the knot with Savi
Champion wrestler Sushil Kumar married Savi, eldest of the three children of well-known wrestler and his guru Satpal, at a farmhouse near Palla village, in Uttar Pradesh, on Friday.
February 17, 2011
Champions League images: Arsenal rock Barca
Arsenal and Barcelona each got a taste of their own medicine on Wednesday but it was the Londoners who recovered from what looked a terminal condition to register a remarkable 2-1 comeback win in the Champions League last-16 first leg.
February 16, 2011
CL: Barca, Arsenal revive entertaining rivalry
Barcelona revive their entertaining rivalry with Arsenal on Wednesday in the first leg their Champions League last 16 tie that will showcase two of the most technically gifted and attractive sides in world soccer.
CL images: Spurs stun Milan, Raul strikes in Spain
Images from the UEFA Champions League matches played on Tuesday.
February 14, 2011
Brazilian striker Ronaldo announces retirement
Former Brazil striker Ronaldo will announce his retirement from soccer on Monday, he told a Brazilian newspaper.
Rooney dedicates his career best goal to his fans
England and Manchester United striker Wayne Rooney has said that his career "best" goal, an overhead kick in the traditional derby against Manchester City on Saturday, is for his fans as he feels he has let them down in the recent past.
February 13, 2011
Rooney's schoolboy trick props Man U
A moment of perfect timing, agility and sheer audacity marked the return of Wayne Rooney's instinct for goal as he propelled Manchester United nearer to the Premier League title on Saturday.
February 12, 2011
Clijsters tops world rankings again
Belgium's Kim Clijsters will become world number one next week for the first time since 2006 after she reached the Paris Open semi-finals by beating Jelena Dokic 6-3, 6-0 on Friday.
February 10, 2011
Int' friendlies (Images): Messi outshines Ronaldo
Lionel Messi won his personal duel with his great rival Cristiano Ronaldo lighting up Argentina's 2-1 win over Portugal by making one goal and scoring the winner in a lively friendly international in Geneva on Wednesday.
February 08, 2011
'You can only become No 1 by winning tournaments'
Indian badminton ace Saina Nehwal is not too bothered about her rankings. The 20-year-old knows by winning tournaments she can inch closer to the top spot.
February 07, 2011
Nadal pips Messi for Laureus Sportsman of the Year
Tennis ace Rafael Nadal pipped star footballers Lionel Messi and Andres Iniesta to clinch the
Torres the target as Liverpool fans exalt in win
Barracked by his former fans and wasteful in front of goal, new Chelsea striker Fernando Torres endured a forgettable debut on Sunday as his old club Liverpool had the last laugh with a 1-0 win at Stamford Bridge.
February 06, 2011
Messi, Iniesta vie for Laureus honours
Barcelona teammates Lionel Messi and Andres Iniesta find themselves competing against each other along with four other top sporting icons, including Rafael Nadal, for the 'World Sportsman of the Year' trophy at the prestigious Laureus Awards to be announced in Abu Dhabi on Monday.
Wolves end Man Utd run, Newcastle stun Arsenal
An intoxicating day of Premier League action on Saturday ended with leaders Manchester United beaten for the first time this season, title rivals Arsenal blowing a 4-0 lead and a record 41 goals across eight fixtures.
February 05, 2011
Ferguson aims to keep Neville in 'Man U family'
Manchester United hope to keep Gary Neville on as a coach now he has retired because he is a vital part of the "family atmosphere" at the club, manager Alex Ferguson said on Friday.
February 04, 2011
Meet India-born Monisha: F1's first female MD
Monisha Kaltenborn, chief executive of the Sauber team and effectively responsible for the day-to-day running of the business, got there almost by accident.
February 03, 2011
London Olympics is my biggest goal, says Sharapova
Former world number one Maria Sharapova, who is still looking to rediscover her best form after shoulder surgery, is excited at the prospect of competing at next year's London Olympics.
Torres faces old club Liverpool in Chelsea debut
Fernando Torres gets the chance to break Liverpool fans' hearts twice in a week with the Spain striker poised to make his Chelsea debut against his former club in the English Premier League on Sunday.
Clijsters to play on for maximum two years
Australian Open champion Kim Clijsters plans to play on for a maximum two years following her remarkable run of success since returning to the tour in 2009 after taking time out to have a baby.
Ian Thorpe's return makes up for premature exit
Ian Thorpe's decision to return to competitive swimming has added an intriguing new twist to next year's London Olympics and sets the stage for possibly one of the most anticipated races of all time.
February 02, 2011
Transfer mayhem underlines great English divide
English soccer's polarisation into a competition between a few clubs with massive transfer funds and the willingness to spend them whatever the wider economic picture was underlined again by Monday's transfer mayhem.
Schumacher puts winning back on the menu
A confident Michael Schumacher set his sights on a return to the Formula One podium on Tuesday after Mercedes unveiled the car that could make him a winner again.
EPL: Two for Rooney as Man Utd cruise past Villa
Manchester United may have kept their powder dry in the transfer window but they remain the team to beat in the Premier League as two goals by Wayne Rooney helped them to a 3-1 home win over Aston Villa on Tuesday.
February 01, 2011
Old swing habits die hard for frustrated Woods
Like a snake slowly trying to shed its skin, Tiger Woods has been struggling to remove old habits as he desperately searches for consistency in his remodelled swing.
January 31, 2011
Gun for Glory: Narang sets up shooting academy
Gagan Narang launches India's first shooting academy in Pune.
East rules west on the field at least in Asia
Japan's record fourth Asian Cup title demonstrated that the east of the continent remains the region's dominant force on the field even if the power in the boardroom has switched to the west.
Li Na slammed by fans over remarks during final
National pride turned into a "rally of abuse" for tennis player Li Na after she shouted at Chinese spectators not to teach her how to play tennis during Saturday's tense final against Kim Clijsters in the Australian Open.
I want more Grand Slams, says bleary-eyed Djokovic
Novak Djokovic belted out Serbian folk songs in an all-in party after clinching the Australian Open, but shrugged off a poor night's sleep to focus on more glory on the clay-courts of Roland Garros.
No tears as timid Murray flatlines again
Andy Murray once again froze on the biggest stage Sunday but instead of shedding tears as he did last year he simply shrugged off his failure to end 75 years of British Grand Slam hurt.
Dominant Djokovic no longer 'one Slam wonder'
Novak Djokovic brilliantly dominated a listless Andy Murray to claim his second Australian Open title on Sunday to confirm the arrival of a genuine third force at the top of men's tennis.
January 30, 2011
Aus Open Images: Ice man Djokovic mauls Murray
Third seed Novak Djokovic pulverised Andy Murray 6-4, 6-2, 6-3 to win his second Australian Open on Sunday, dashing British hopes of a first men's grand slam champion in 75 years.
January 29, 2011
Clijsters sees off Li challenge to clinch Aus Open
Kim Clijsters won her second straight Grand Slam title and the fourth of her career beating China's Li Na to clinch the Australian Open crown on Saturday.
Liverpool deny Torres request, agree Suarez deal
Liverpool have turned down a transfer request from Fernando Torres hours after Kenny Dalglish made his first major transfer impact in his second spell as manager by agreeing to sign Uruguay forward Luis Suarez.
Murray, Djokovic do battle to fill the vacuum
Novak Djokovic and Andy Murray will put friendship aside when they meet in Sunday's Australian Open final to decide who fills the power vacuum left by the early exits of Rafa Nadal and Roger Federer.
Djokovic fires opening salvo in final mind games
Novak Djokovic took a leaf out of Roger Federer's book by insisting the pressure was all on Andy Murray when the Serb faces the British Grand Slam hope in Sunday's Australian Open final.
January 28, 2011
Murray makes final, Dulko-Pennetta win doubles
Andy Murray ground down David Ferrer 4-6, 7-6, 6-1, 7-6 on Friday to reach his second consecutive Australian Open final, raising British hopes of ending a 75-year drought for a men's singles grand slam champion.
End of an era? Let's talk in six months: Federer
Roger Federer reacted with disdain when asked if Thursday's Australian Open semi-final defeat by Serbia's Novak Djokovic signalled the end of an era in men's tennis.
Djokovic senses change at top after Federer win
Novak Djokovic said it was good for men's tennis that the duopoly in Grand Slams had been broken on Thursday after he thumped Swiss Roger Federer to reach the Australian Open final.
Emotions run high as Djokovic floors Federer
Novak Djokovic stunned defending champion Roger Federer 7-6, 7-5, 6-4 to reach his second Australian Open final on Thursday after a match of high emotion which threatened to boil over. The hard-hitting Serb, who captured his only Grand Slam title in Melbourne three years ago, clearly rattled Federer who exchanged words with him in the third set.
January 27, 2011
Li Na breaks new ground for China at Aus Open
Lion-hearted Li Na broke new ground for China at the Australian Open on Thursday, fighting back to topple World No1 Caroline Wozniacki and become her country's first singles Grand Slam finalist.
Aus Open Images: Clijsters, Djokovic in final
Belgium's Kim Clijsters wasted little time in flattening second seed Vera Zvonareva 6-3, 6-3 with an awesome display of power tennis to reach her second Australian Open final on Thursday.
Nadal walks precipice in search of perfection
The sight of a stricken Rafa Nadal being finished off by fellow Spaniard David Ferrer at the Australian Open on Wednesday was a stark reminder of the precipice he walks in search of sporting perfection.
January 26, 2011
Images: Nadal stunned, Murray, Clijsters surge
Images from the matches played at the Australian Open on Wednesday.
January 25, 2011
Aus Open Images: Federer, Wozniacki progress
Caroline Wozniacki dragged herself back from the brink to power into the semi-finals of the Australian Open with a gritty 3-6, 6-3, 6-3 win over a dogged Francesca Schiavone on Tuesday.
January 24, 2011
Images: Rafa roars into quarters, Soderling ousted
Rafa Nadal pummelled Croatia's Marin Cilic into submission with a brutish 6-2, 6-4, 6-3 victory to reach the Australian Open quarter-finals on Monday.
January 23, 2011
Images: Berbatov, Van Persie mark Super Saturday
Stunning hat-tricks from Dimitar Berbatov and Robin van Persie moved Manchester United and Arsenal ahead in the Premier League title race as strikers took the spotlight on Saturday.
Aus Open Images: Roddick, Sharapova knocked out
Images from the matches played at the Australian Open on Sunday.
Barca march on at top, Valencia squeeze 4-3 win
Barcelona cranked up the pressure on Real Madrid by moving seven points clear at the top of La Liga on Saturday after sweeping aside Racing Santander 3-0 at the Nou Camp.
January 22, 2011
Aus Open Images: Nadal, Murray coast through
Images from the matches played at the Australian Open on Saturday.
January 21, 2011
Images: Federer marches on, Kuznetsova ousts Henin
Images from the matches played at the Australian Open on Friday.
Paul the Octopus gets a memorial
Paul, the German octopus famous for correctly predicting each of Germany's 2010 World Cup matches, got his own permanent memorial three months after his death on Thursday.
Women's dress code@ Aus Open
Outfits worn by women tennis players at the Australian Open,
January 20, 2011
Aus Open Images: Too easy for Nadal, Clijsters
Images from the Australian Open matches played on Thursday.
January 19, 2011
Edberg and the Aus Open: An eternal love-affair
On his 45th birthday, rediff.com salutes Swedish legend Stefan Edberg, whose love affair with the Australian Open continues 15 years after his retirement.
Aus Open Images: Top seeds cruise on Day 3
Images from the matches being played at the Australian Open, Day Three
'India will come back stronger in next Asian Cup'
India ended their Asian Cup campaign after losing all their three matches but coach Bob Houghton vowed the country will come back tronger in the next edition in 2015 having gained rich experience after playing in the continent's biggest stage for the first time in 27 years.
January 18, 2011
Aus Open images: Clijsters, Nadal merciless
Images from Tuesday's play at the Australian Open.
January 17, 2011
Federer fireworks warm up Melbourne Park
Roger Federer fired up the Australian Open with a blistering start to his title defence on Monday, bringing some welcome warmth to an unseasonably cool Melbourne Park on opening day.
January 16, 2011
Djokovic admits top 2 remain a cut above the rest
Novak Djokovic believes he is a better player than when he won the Australian Open in 2008, but admits his improvement might not be enough to take the title for a second time.
No longer "Aussie" Clijsters stays in the bubble
There are only a certain number of ways to avoid addressing your chances of winning the Australian Open but Kim Clijsters found yet another on Sunday at Melbourne Park.
Federer, Nadal rally for Australia flood relief
Roger Federer, Rafa Nadal and other top tennis players hammed it up in exhibition matches on the eve of the Australian Open to raise money for victims of the country's devastating floods on Sunday.
January 15, 2011
We committed silly mistakes: Indian soccer team
Indian players rued the silly mistakes committed by them in their Asian Cup football match against Bahrain and said the scoreline could have been more respectable than 2-5 had they avoided the errors.
Nadal deserving favourite at Aus Open: Federer
Rafa Nadal's possession of three grand slams makes him the deserving favourite to win the Australian Open, arch-rival and defending champion Roger Federer said on Saturday.
Wozniacki defends ranking despite no slam success
Caroline Wozniacki had a stint as judge of a beauty contest in Ukraine during the off-season, but the Dane is loathe to be judged on her grand slam record as she takes the world number one ranking into Australian Open.
January 14, 2011
Aus Open: Nadal faces tricky path to slam sweep
Rafa Nadal will take on Brazilian world number 96 Marcos Daniel in his first round of the Australian Open but faces a rocky path in his bid to become the first man to hold all four grand slam crowns simultaneously since Rod Laver in 1969.
January 13, 2011
8 years on, Freeman still conquering new frontiers
chats up with Australian athletics legend Cathy Freeman, event ambassador for the Standard Chartered Mumbai Marathon.
Spurs seek to end dire record against United
When Ryan Giggs and Paul Scholes trudged off the pitch after a 3-1 defeat at White Hart Lane in 2001 they would hardly have imagined they would still be playing for Manchester United 10 years later.
Ronanldinho promises success at Flamengo
Ronaldinho was given a welcome even bigger than Brazil great Zico when he was officially unveiled as Flamengo's new signing to a samba beat on Wednesday. More than 20,000 fans, entertained by singers and dancers while they waited, swarmed the Flamengo headquarters to greet the gifted, party-loving forward with the toothy grin who was transferred from AC Milan this week.
India, Bahrain bid to keep Asian Cup hopes alive
After the spirited show against formidable Australia, India would hope to make an impact in the Asian Cup football tournament when they take on Bahrain in their second group match in Doha on Friday.
Berdych booms, but yet to Czech in at majors
Tomas Berdych had an impressive outing in 2010, finishing the year at No 6 but without a title for his efforts. The Czech is now looking for the elusive major this year, starting with the Australian Open, writes Bikash Mohapatra.
How Udupi's golden girl hurdled her way to stardom
Ashwini Chidananda Akkunji won gold medals in the women's 4x400m relay and 400m hurdles at the Commonwealth and Asian Games respectively against all odds. Rajul Hegde traces the meteoric rise of India's latest track sensation.
January 11, 2011
India fall 'short' of soccer success, critics say
All it takes is a measuring tape to explain why India is a dwarf among giants dominating international soccer, critics of the national team say.
Messi, Mourinho spoil Spanish party at Ballon D'Or
Argentina's Lionel Messi won the World Player of the Year for the second time in a row on Monday and Jose Mourinho walked off with the coach's award, leaving Spain's World Cup winners disappointed.
After Chennai, Lee-Hesh eye elusive Aus Open
They are back! And how? A few months ago, Leander Paes and Mahesh Bhupathi made a brief attempt -- at the Bangkok Open last September -- at reunification, with the Delhi Commonwealth Games in mind. Both those attempts though ended in failure.
January 10, 2011
A high-five for Paes-Bhupathi in Chennai
Leander Paes and Mahesh Bhupathi capped a glorious reunion on Sunday by winning their fifth Chennai Open doubles title. Sunday's win also served their basic purpose, as a perfect preparation for the year's first major - the Australian Open. Neither Paes nor Bhupathi have won the men's doubles title at Melbourne thus far in their careers.
Asian Cup: Syria stun Saudi, Japan draw Jordan
Two deflected strikes from midfielder Abdulrazak Al Husein handed Syria a surprise 2-1 win over Gulf giants Saudi Arabia in their Asian Cup Group B opener in Qatar on Sunday.
January 09, 2011
Barcelona trio in running for FIFA Ballon D'Or
Barcelona's Xavi, Lionel Messi and Andres Iniesta are on the shortlist for the first FIFA Ballon D'Or award for the best player in the world to be presented on Monday at a ceremony that gets bigger by the year.
January 07, 2011
India face daunting tast at Asian Cup
With doubts looming over skipper Baichung Bhutia's availability and taking into account their unimpressive outings in the friendly matches, India face a daunting task in their bid to make an impact in the Asian Cup football tournament which kicks off on Friday.
'We were confident of playing like Lee-Hesh'
They are the Asian counterparts of the Bryan brothers. For the Ratiwatana twins, Sonchat and Sanchai, though the comparisons end right there.
January 06, 2011
Doubles is about the team: Aisam
A player who achieves success at a later stage of his career probably understands better what it means to him and what it takes to achieve the same. He cherishes every such moment and values the people who've helped him achieve it more. And if that success has been achieved in partnership with someone, then the chances of him contemplating breaking that combination is remote. Aisam-Ul-Haq Qureshi is one such example.
January 04, 2011
At 30, Rohan Bopanna is just starting
At an age when most players contemplate retirement, Bopanna is looking forward to what could potentially be the best year of his career.
Barcelona look for more Messis in Argentina
How to clone Lionel Messi? Set up a Barcelona soccer school in Argentina.
January 03, 2011
The unsung champions of the Chennai Open
Rediff.com takes a look at a few such players who triumphed in Chennai but remained obscure entities for most of their respective careers.
Mahesh and I need to get back to the groove: Paes
As the Indian Express join forces after nine long years on the ATP circuit, Leander Paes and Mahesh Bhupathi will be hoping this reunion would help them prepare well and win Australian Open, the only Grand Slam trophy missing from their cupboard, says our correspondent
January 02, 2011
CWG: Construction cost of stadia crossed Rs1000 cr
An RTI reply has revealed that the cost of construction of five Commonwealth Games venues by Central Public Works Department (CPWD) escalated by over Rs 1,110 crore than the original sanctioned amount.
Archives
May - December 2010
|
April 2010
|
March 2010
|
February 2010
|
March 2010
|
April 2010