It is lucky for Michael Phelps that he is blessed with broad shoulders and an arm span like the wings on a jumbo jet. Not only does it enable him to swim like a fish but it also helps him to carry the burden of his own great expectations.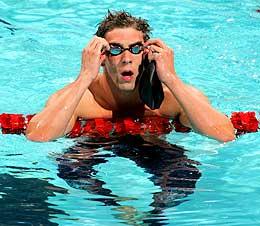 The American teenager was destined to be the centre of attention at the Athens Olympics from the moment he announced he would try to better the seven gold medals Mark Spitz won in Munich in 1972.
It was an outrageous goal that almost everybody thought was doomed to failure. Even Phelps had his doubts and while he tried to put a lid on the hype by declaring he would be satisfied just to win one gold, the promise of a $1 million bonus only added to the weight of expectation.
The doomsayers were ultimately right and Phelps, who is 1.94 metres tall but has a wingspan of almost two metres, did come up short though he lost no admirers in his attempt. He finished with six gold and two bronze medals to match Soviet gymnast Alexander Dityatin's 1980 record for the most medals at one Games.
"I wanted to do something no-one else had done in swimming," said Phelps.
"I'd rather be the first Michael Phelps than the next somebody else. To me, six gold and eight total was a perfect outcome."
Phelps, 19, won both individual medley and both butterfly finals as well as two relay golds. He got a bronze in the 200 metres freestyle behind Ian Thorpe and Pieter van den Hoogenband and another in the 4x100m freestyle relay, surprisingly won by South Africa.
He broke his own world record to win the 400m individual medley and was still going strong at the end, beating his team mate and world record holder Ian Crocker in the 100m butterfly final.
He may have missed out on the $1 million bonus but his performances meant he could earn 50 times that amount in sponsorship although his halo slipped when he was arrested for drink-driving after returning to Baltimore.
FALSE START
No-one came close to matching his gold-medal haul in the Athens pool but Thorpe was just as impressive in winning two gold, one silver and a bronze.
| | |
| --- | --- |
| | Also Read |
| | |
Thorpe, who won three gold and two silver medals as a 17-year-old at the Sydney Olympics, successfully defended his 400m freestyle title after months of angst. He was disqualified from the event for a false start at the Australian trials and got the chance to swim only after his friend Craig Stevens volunteered to stand aside.
He then produced a masterful display of speed and tactics to sink Phelps and van den Hoogenband in the 200m freestyle final and won a bronze in the 100m freestyle in his first attempt at the sprint to become the first man since Charles Daniels in 1904 to win medals in the 100m, 200m and 400m at one Olympics.
"In my book he's potentially the greatest swimmer the world's ever seen," former Australia coach Don Talbot said.
"I don't think he's there yet but if he can get up again and win in Beijing then you're probably going to have to hand it to him."
Van den Hoogenband gained some consolation when he retained the 100m title he won in Sydney while his Dutch team mate Inge de Bruijn successfully defended her 50m freestyle crown after failing to repeat her triple gold-medal performance of four years earlier.
Australia's Jodie Henry took up the mantle as the world's best female swimmer in Athens. She broke the 100m freestyle world record and helped to set world records in two relays to finish with three golds.
Her team mate Petria Thomas also finished with three golds, two in the relays and another in the 100m butterfly, after years of injuries and near-misses.
WORLD RECORDS
The U.S. and Australia dominated the medal tally but plenty of other countries joined in the gold rush. Ukraine's Yana Klochkova completed the women's medley double for the second Games running, Otylia Jedrzejczak gave Poland their first Olympic swimming champion and Kirsty Coventry provided her troubled homeland of Zimbabwe with their first winner.
Teenager Laure Manaudou became the first French female swimming champion. Japan won three golds and China, host of the 2008 Olympics, won one.
There were just eight world records set during the eight days of swimming competition, the lowest count since Mexico City in 1968, with six coming in the relays.
The most surprising was the U.S. women breaking the 4x200m freestyle mark, which had stood for 17 years, to erase the last of the East German records from the books.
Athens marked the end of the Olympic trail for Alexander Popov and Jenny Thompson.
Popov, who won the 50-100m freestyle double in Barcelona and Atlanta, slipped out almost unnoticed after failing to make it past the heats.
Thompson won two relay silvers to finish with mixed emotions. There was no farewell gold but her career tally of 12 Olympic medals was more than any other swimmer in history, beating the mark of 11 held by Matt Biondi and Spitz.