It was a marvellous week of Champions League football, with so much to watch and almost every game living up to its potential. Ronaldinho, thank you! Not only did you help me with my first correct prediction, your untiring efforts gave us the match of the season. And that goal…
Almost with perfect timing we've got ourselves a light weekend, with the two or three big games giving us an ideal way to cool off. With a third of the English Premier League coming to a close, this will be a very interesting week for the top few. And there's some history to raise the decibel level as well.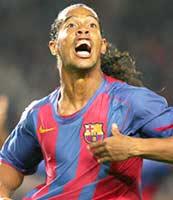 It was thirty years ago that the much-awaited Manchester Derby resulted in a loss to the more fancied Man U, and it was a heavy one. Denis Law's back heel actually relegated the Reds to the second division. Kevin Keegan's Manchester City believe it has been a long time coming and that this weekend could see a repeat, even if it only means a defeat. There are three reasons why we should even entertain Keegan's opinion.
One, they played a brilliant game against Newcastle just a fortnight ago, only to lose 3-4 with Bellamy's late winner. At the same time, Man U haven't exactly been playing rocking football either -- the irresponsible loss to Portsmouth right after their huge win over Arsenal seconding that. They're also playing without Nistelrooy, and against an unconventionally solid defence of Richard Dunne, Danny Mills and David James in the goal. But you know what, Man U always play like their life depended on it, and that's why Sunday's Manchester Derby is a must watch. Nine points adrift of Arsenal and Chelsea, the time has come for a string of wins from Man U.
| | |
| --- | --- |
| | Also see |
| | |
 Speaking of Arsenal and Chelsea, it's the latter who, I think, will give us our game of the week. They've caught up with Arsenal, they're playing very, very well, and they're up against the number 2 team -- Everton. The Blues haven't been spoken about much this season, and without any big names they have largely been unsung this far. They've won 7 out of 11, and drawn 2, and that leaves them just one win from the top of the league. Think about it. Everton one win from top of the league. Pistone and Stubbs at the rear, Gravesen and Kilbane in the belly, and Campbell and Bent up front are a classic example of the team game. With Abramovich prepared to pay 30million pounds for Roma's Antonio Cassano, and upset over Mutu's lenient Cocaine ban, the Chelsea strikers could be distracted.
Arsenal are without Sol Campbell and Crystal Palace have a lot of heart. I suspect however, that we'll get a straightforward result from that game.
Aah, this weekend also gives us the chance to watch in awe as the team that is Barcelona steps on to the Nou Camp turf. Will they extend their Primera Liga run to 10 unbeaten games when they take on the struggling Deportivo La Coruna? Words fail me…
So have a relaxed weekend. And make sure the beer is chilled.
November 6, Saturday:
Aston Villa vs Portsmouth – 1810hrs – ESPN
Chelsea vs Everton – 2025hrs – ESPN
Liverpool vs Birbingham City – 2024hrs – Star Sports
Crystal Palace vs Arsenal – 2245 -- ESPN
November 7, Sunday:
(Saturday, late night) Barcelona vs Deportivo La Coruna – 0030hrs – Star Sports
Manchester United vs Manchester City – 2130 hrs – ESPN.