April 16, 2018
Sports Shorts: Johnson beats Sandgren to defend Houston title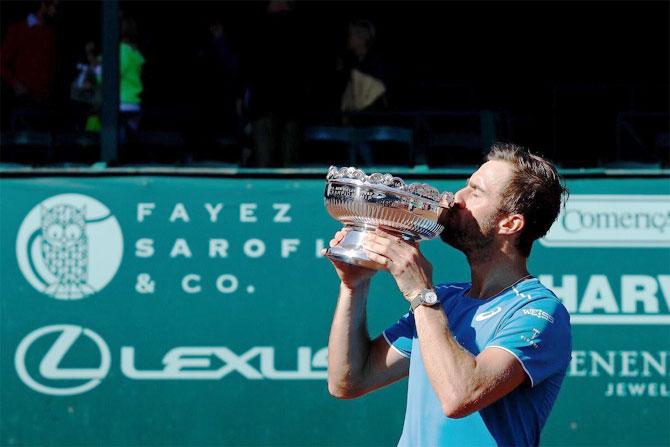 A summary of sports events and sports persons, who made news on Sunday
Paris St Germain thrash AS Monaco to win Ligue 1 title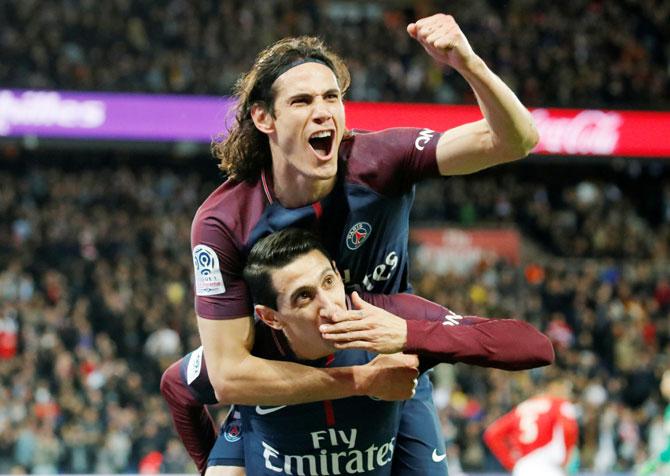 Playing at the Parc des Princes against the team who denied them the title last year was the perfect occasion for PSG, owned by big-spenders Qatar Sports Investments since 2011, to wrap up their fifth title in the Qatari era.
PHOTOS: The BEST moments of India's eventful CWG campaign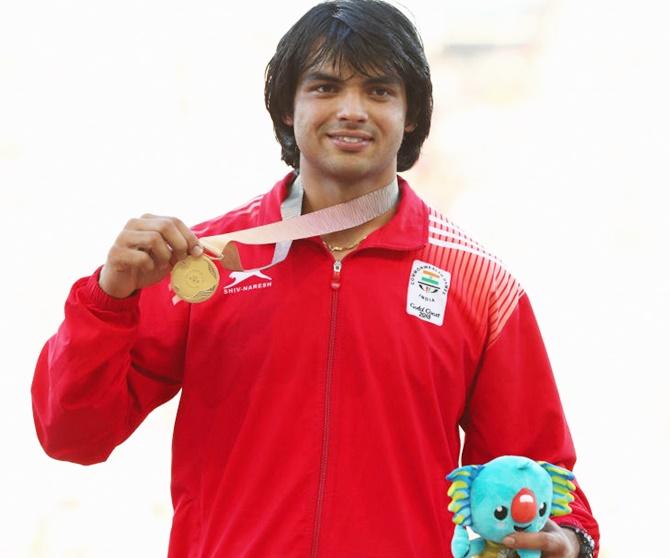 The sheer diversity of medal winners was a heartwarming aspect of the Games for India. There were medals from squash, although not gold, there were nine medals from boxing, 12 from wrestling, 16 from shooting and nine from weightlifting.
April 15, 2018
EPL PIX: Manchester City on verge of title, Salah on target for Liverpool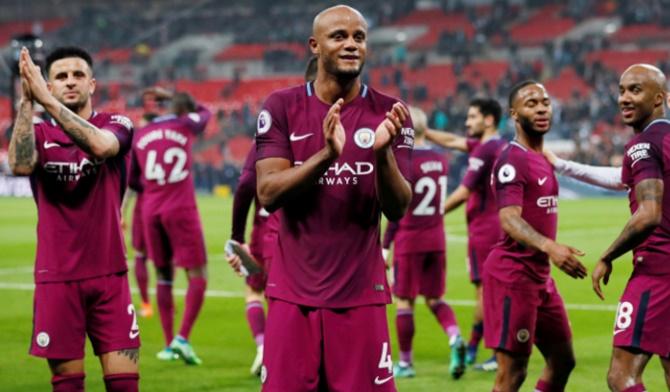 Manchester City emerged from a trough of despair to beat Tottenham Hotspur 3-1 and move to within three points of the Premier League title at Wembley on Saturday.
April 13, 2018
CWG: Fame and shame On Day 9 as needle pricks India amidst medal rush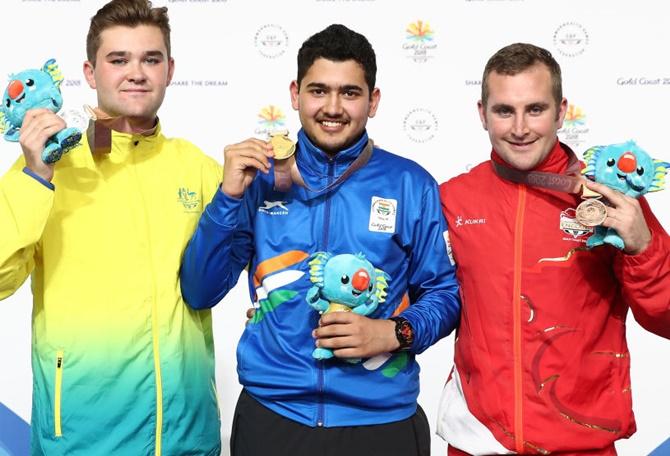 There was ecstasy and agony in equal measure for the Indian contingent on Friday.
April 12, 2018
CWG: Grapplers Sushil, Aware strike gold, Babita takes silver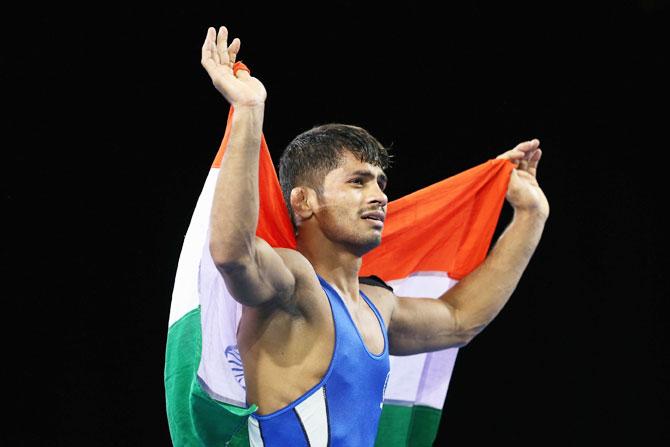 Sushil took a minute and 20 seconds to defeat Johannes Botha of South Africa on technical superiority to claim his third successive gold medal at the Games.
April 10, 2018
PHOTOS: EXCITING Moments from Day 6 of 2018 Commonwealth Games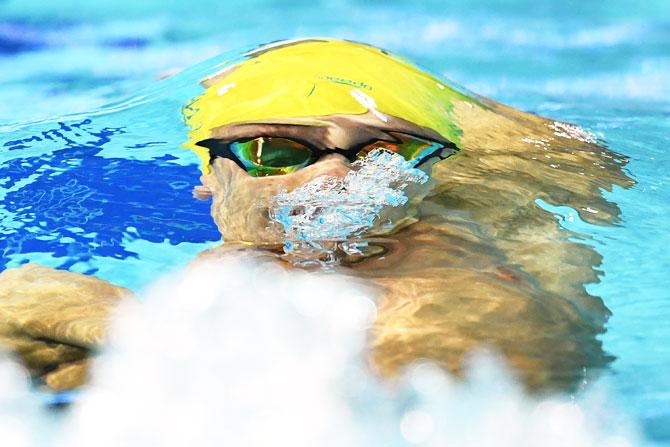 The events on Day 1, Day 2, Day 3, Day 4 and Day 5 of the Games were well captured and here we document all the action from Day 6, in pictures...
April 09, 2018
Sports Shorts: Pistorius's bid to appeal murder sentence turned down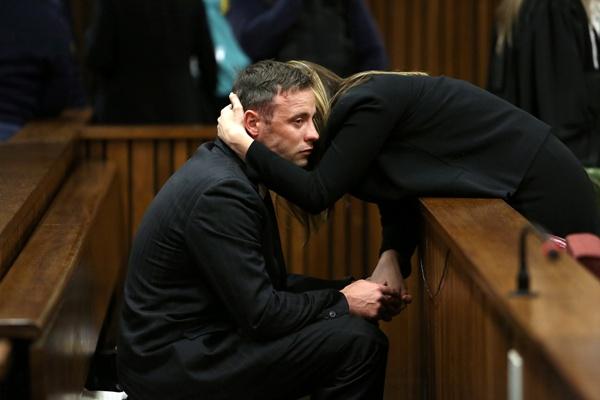 A summary of sports events and sports persons, who made news on Monday
PHOTOS: EXCITING Moments from Day 5 of 2018 Commonwealth Games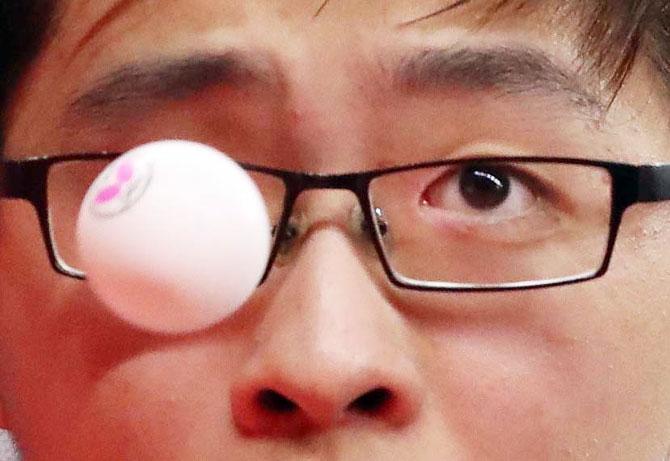 The events on Day 1, Day 2, Day 3 and Day 4 of the Games were well captured and here we document all the action from Day 5, in pictures...
PIX: Trudeau attends emotional vigil for Canada bus crash victims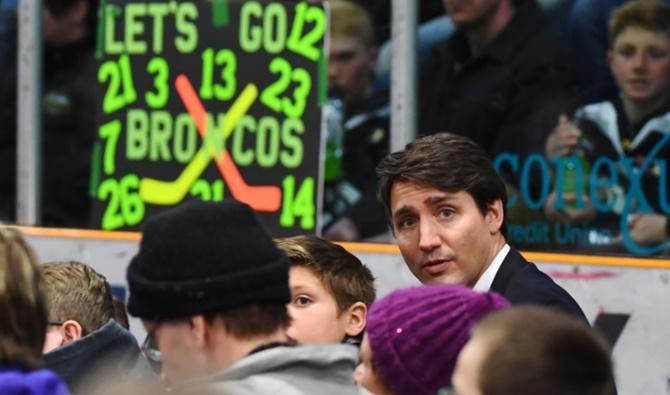 Canadian Prime Minister Justin Trudeau joined religious and community leaders at an emotional vigil on Sunday night to honor the 15 members of a junior ice hockey team killed in a bus crash that shocked the hockey-loving nation.
April 07, 2018
PIX: EXCITING Moments from Day 3 of the Gold Coast Commonwealth Games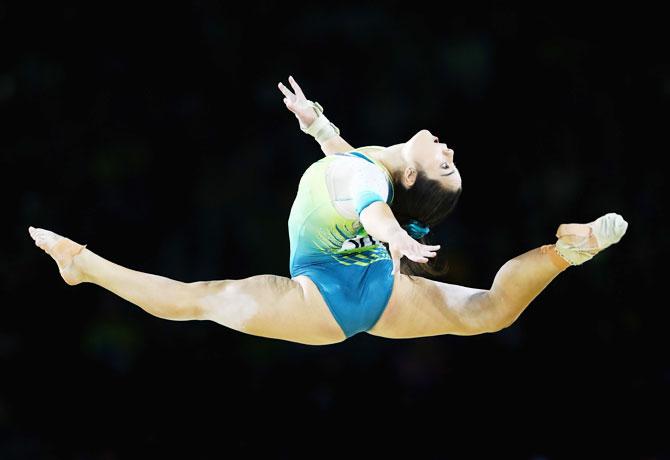 The events on Day 1 and Day 2 of the Games were well captured and here we document all the action from Day 3, in pictures...
Winners at CWG: Peaty defends 100m breaststroke title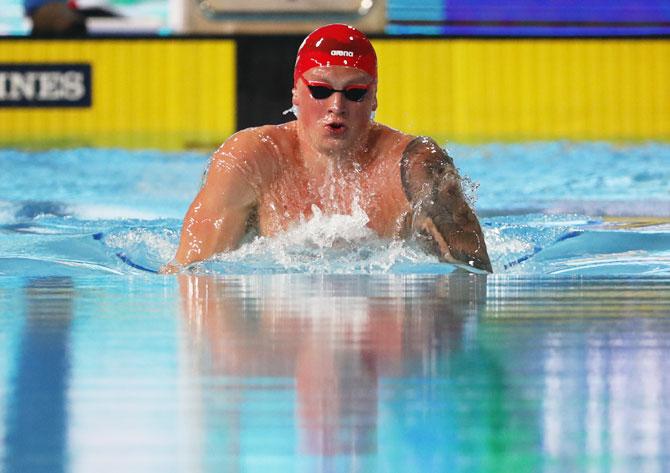 Peaty had swum a Commonwealth Games record 58.59 on Friday but appeared to be content to just win the race rather than challenge his own world record of 57.13 that he set at the Rio Olympics in 2016.
April 06, 2018
PHOTOS: EXCITING Moments from Day 2 of the Gold Coast Commonwealth Games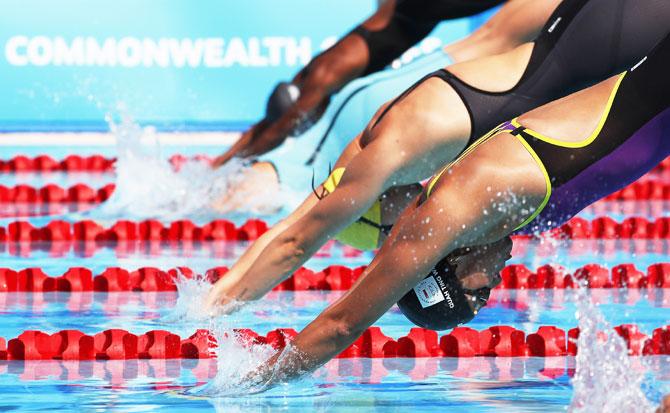 Here are some highlights -- in pictures -- from Day 2 of the events at Gold Coast...
CWG PIX, Day 2: Sanjita's gold, Lather's bronze ensure great outing for India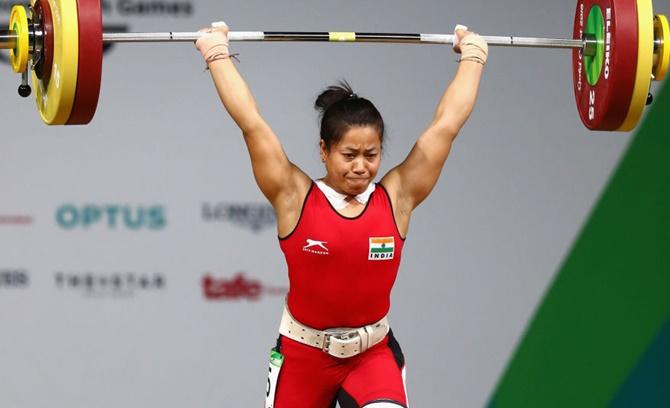 Indian weightlifting had two contrasting medallists to celebrate on Day 2 of the Commonwealth Games, in Gold Coast, on Friday.
April 05, 2018
Mirabai Chanu: A big dreamer with humble beginnings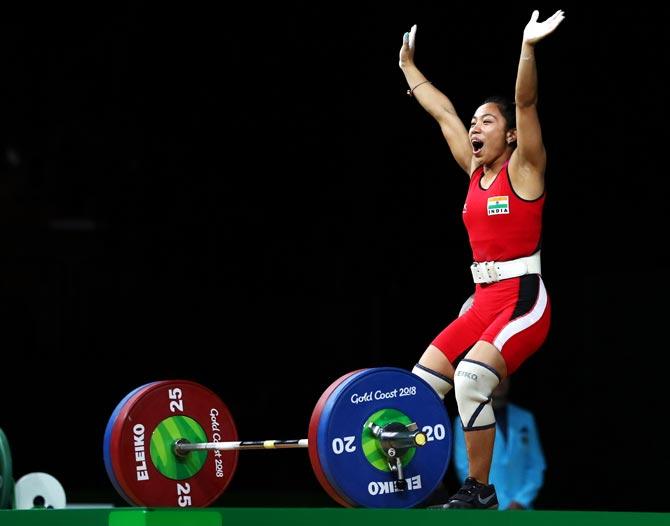 Born to a poor family in Nongpok Kakching village about 20 kilometres from the capital Imphal, the youngest among six siblings, Mirabai would go to collect firewood from a nearby hill with her brother Saikhom Sanatomba Meitei, who is four years her elder.
PHOTOS: EXCITING Moments from Day 1 of the Commonwealth Games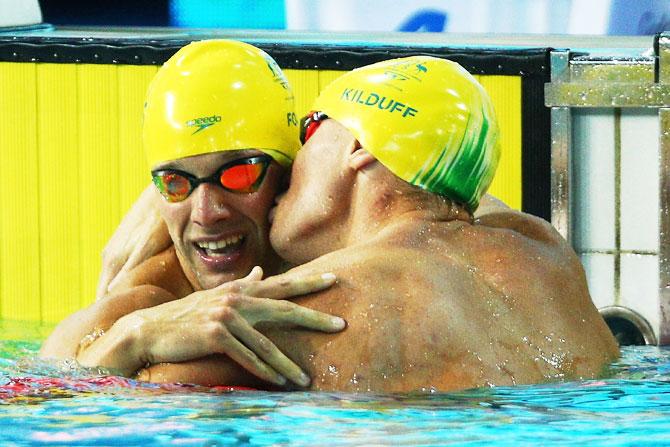 Day 1 witnessed a lot of action across events at Gold Coast. Here are some highlights -- in pictures -- from the opening day's events...
CWG: Horton ends Australia's long wait for 400 freestyle champion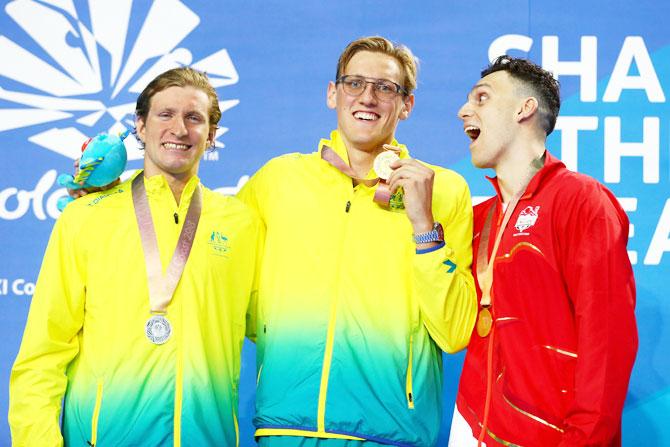 The 21-year-old had to chase down James Guy and Jack McLoughlin to win the title, pulling ahead in the final 100 metres to edge out compatriot McLoughlin and the Englishman to touch in three minutes, 43.76.
April 04, 2018
Sports Shorts: Honda replaces Toro Rosso engine parts for Bahrain GP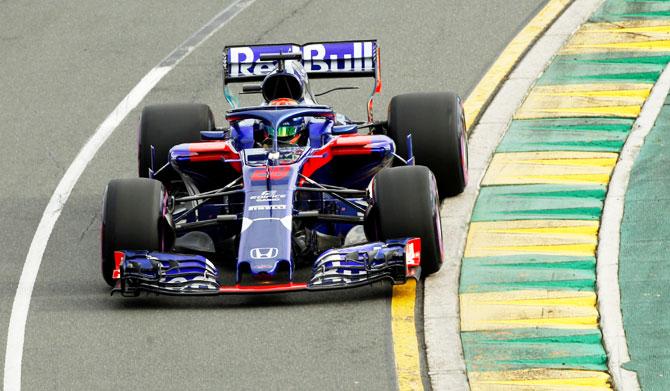 A summary of sports events and sports persons, who made news on Wednesday
India at CWG: Badminton, hockey, squash players take field on Day 1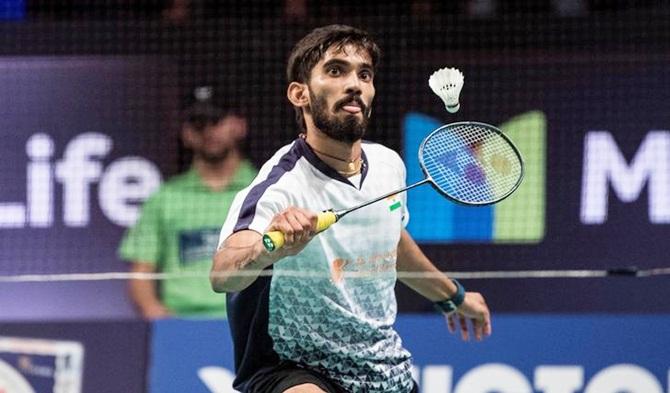 India badminton team have been accorded the top seed this time and are clubbed with Sri Lanka, Pakistan and Scotland in Group A.
CWG Opening Ceremony PIX: PV Sindhu leads Indian contingent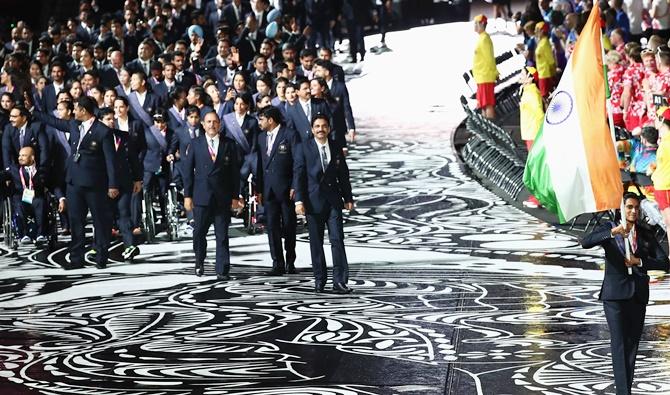 Here are some photographs from the Opening Ceremony:
PIX: Fortunate Bayern come from behind to beat Sevilla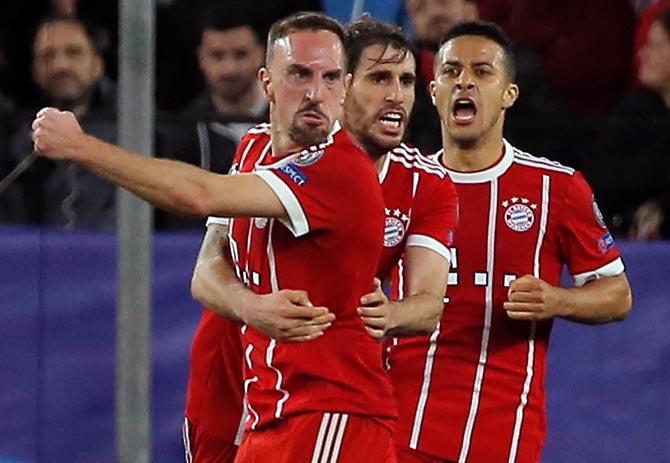 Bayern Munich fought back with a deflected own goal and a late header from Thiago to claim a 2-1 win at Sevilla in an exciting Champions League quarter-final, first leg clash.
April 03, 2018
PHOTOS: Best sports action from the month gone by...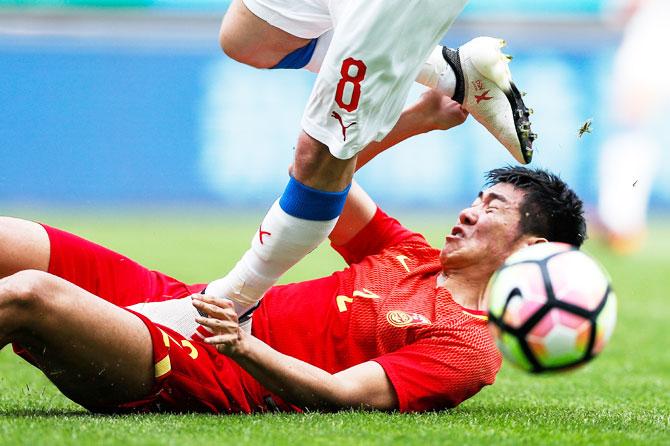 Rediff.com gives you a quick flashback, in pictures of the month gone by...
March 29, 2018
Miami Masters PHOTOS: Isner topples Chung; Venus stunned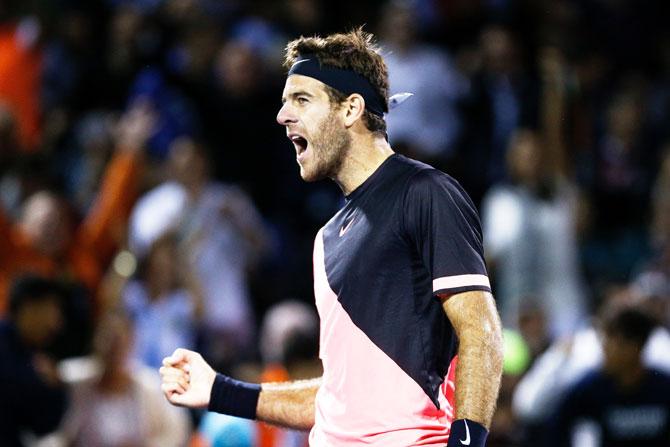 IMAGES from the matches played at Miami Miasters in Key Biscayne, Florida, on Wednesday
March 28, 2018
Miami: Zverev battles past Kyrgios; Stephens, Azarenka in semis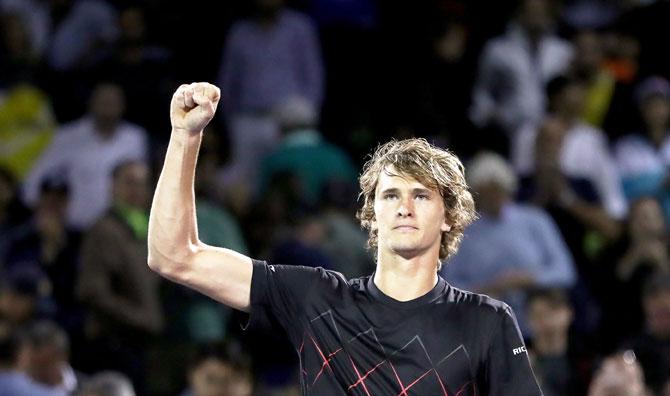 IMAGES from the Miami Masters played in Key Biscayne, Florida on Tuesday
March 27, 2018
Football Briefs: Portugal thrashed by Netherlands 3-0 in friendly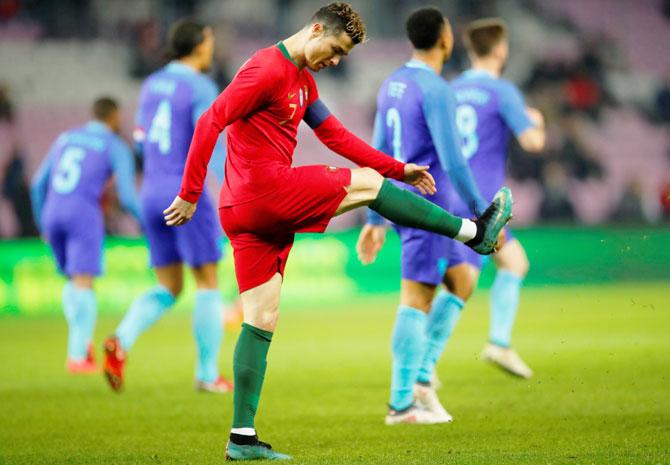 News of all that's transpired on and off the football field
Miami Masters PIX: Isner upsets Cilic; Zverev, Venus advance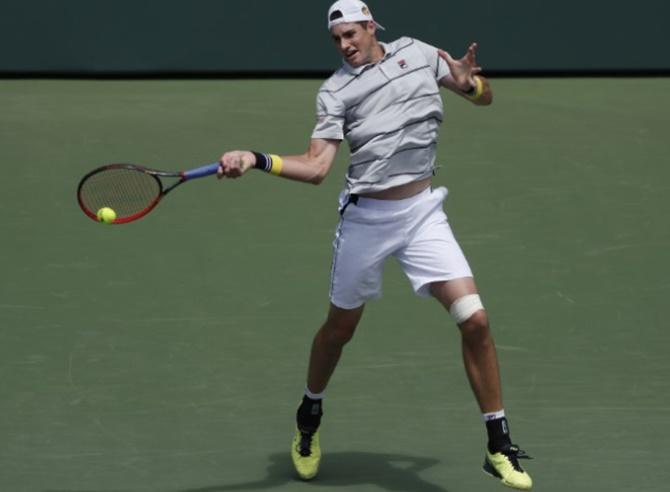 IMAGES from matches played at the Miami Masters in Key Biscayne, Florida
March 26, 2018
Pallikal expects to defend CWG squash doubles gold despite no coach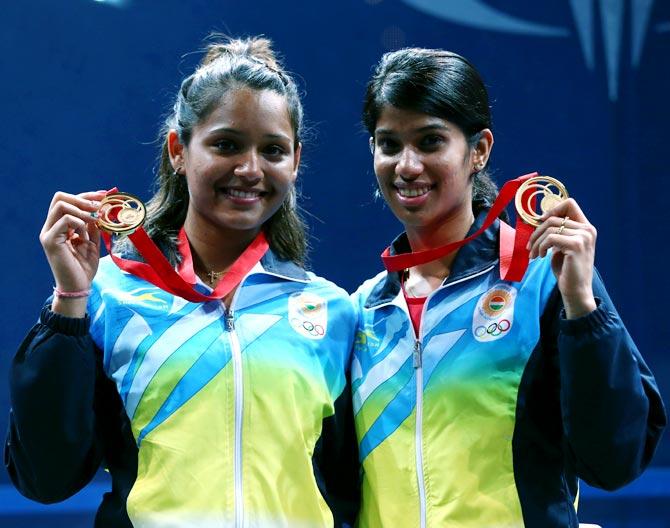 The acrimonious exit of foreign coach Achraf El Karargui days before the Commonwealth Games has affected the team's preparations but medal hopefuls Pallikal, Chinappa and Saurav Ghosal remain optimistic of their chances in all three events -- singles, doubles and mixed doubles.
NBA's Kings and Celtics protest police shootings of unarmed black men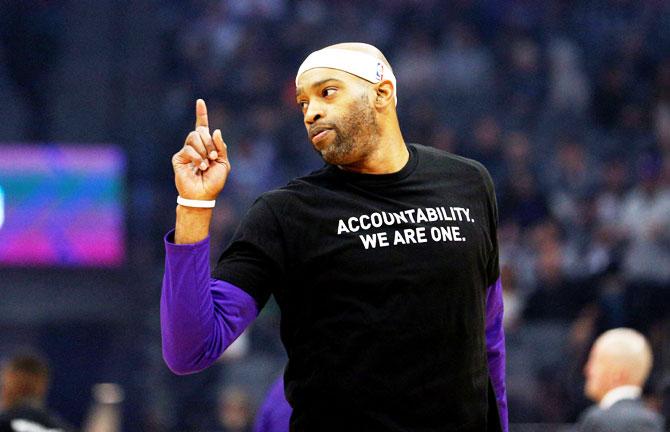 The squads of both teams took part in the pre-game show of support for civil rights activists denouncing last Sunday's shooting death of Stephon Clark and the killing of numerous other African-Americans at the hands of law enforcement in recent years.
Miami Masters: Cilic, Del Potro, Venus advance, Dimitrov beaten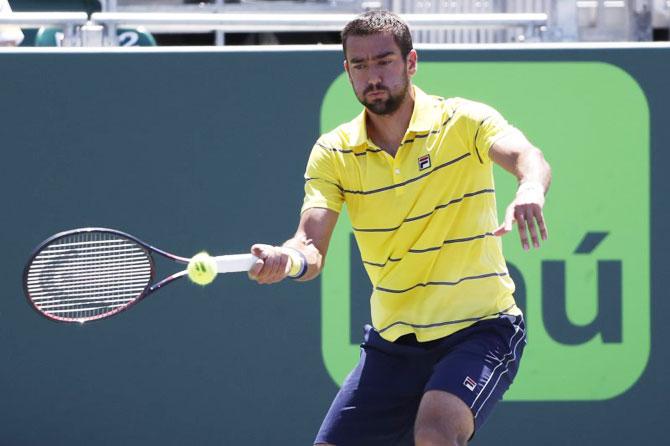 IMAGES from the matches played at the Miami Masters on Sunday
March 22, 2018
Hungrier, stronger, paddler Sathiyan confident of gold at CWG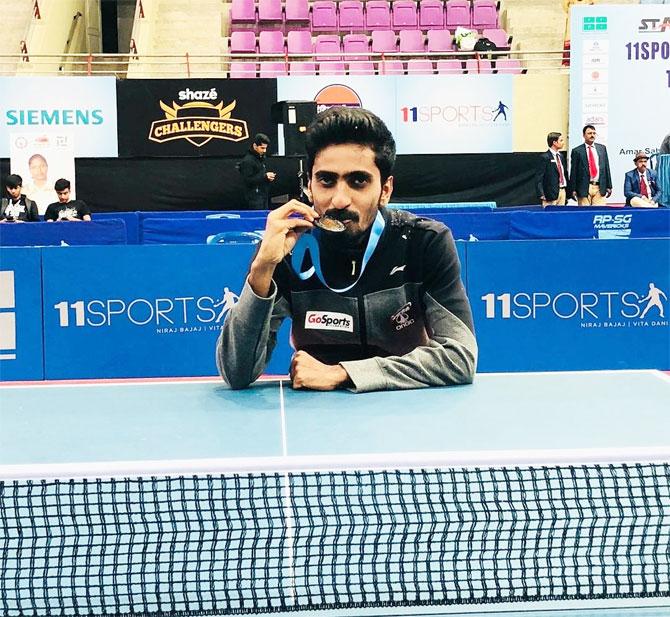 The 25-year-old, who shot to fame by becoming the second Indian to win an ITTF event -- the Belgium Open in 2016, is a strong medal hope in the Gold Coast Games starting April 4. He has also won a gold in the ITTF Challenge -- Spanish Open last year in the men's singles category.
Armed with changes in technique, Sakshi hopeful of CWG gold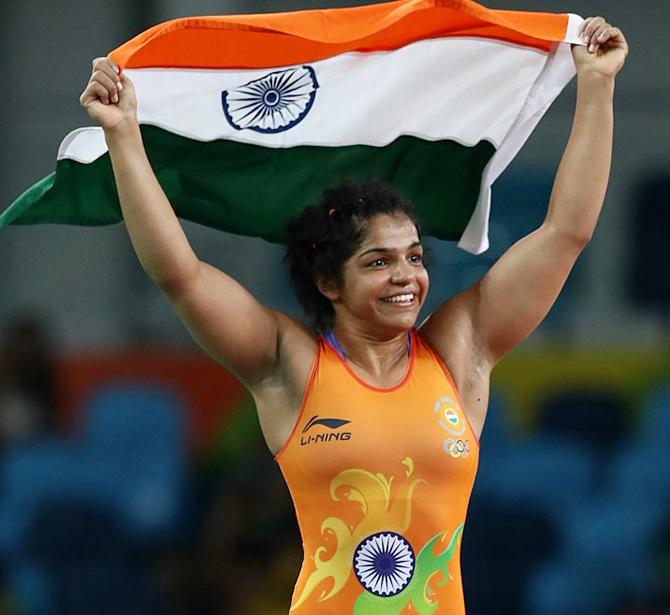 The Rio bronze-winner has tweaked her leg defence on the insistence of her coach Kuldeep Singh Malik, something that has already got her a gold in the Commonwealth Championships in December last year.
March 21, 2018
F1: Hamilton, Vettel kick off race for fifth title in Melbourne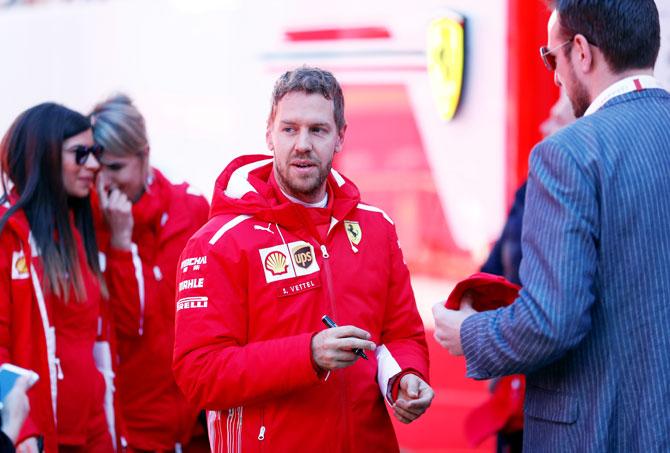 This year marks the first that two quadruple champions are competing in the same season and their battle to see who joins Argentine legend Juan Manuel Fangio in second place on the all-time list with five titles promises to light up the series.
Football Briefs: Spain's prosecutor seeks 5-year jail for Xabi Alonso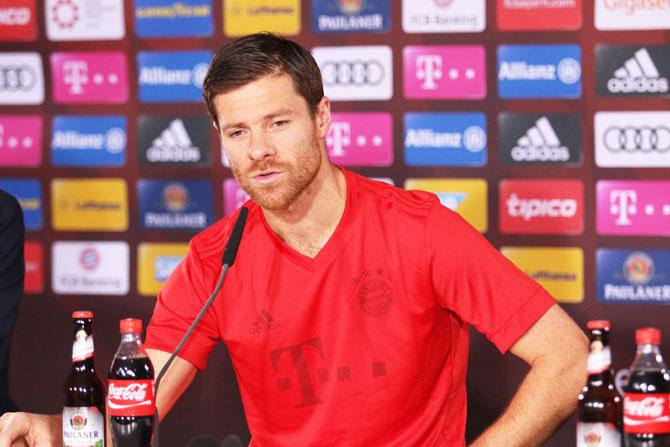 News of all that's transpired on and off the football field
March 20, 2018
Inspiring moments from the 2018 Pyeongchang Paralympic Winter Games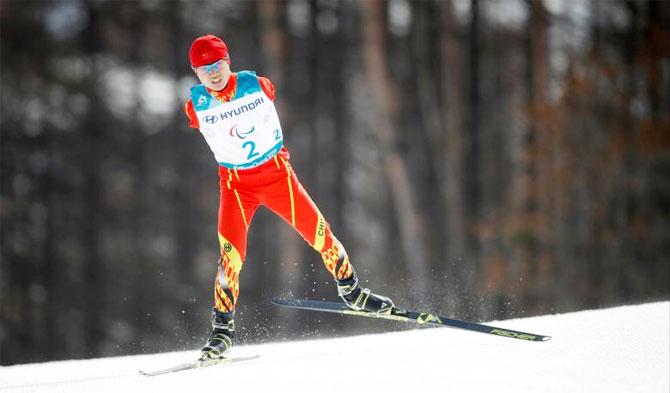 Inspiring moments from the 2018 Pyeongchang Paralympic Winter Games
Mercedes, Ferrari, Force India: Team prospects for 2018 F1 season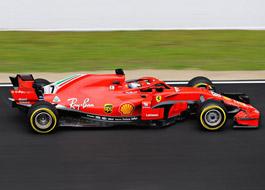 Formula One motor racing: Team prospects for 2018
March 19, 2018
Football Briefs: French clubs face disciplinary action over violence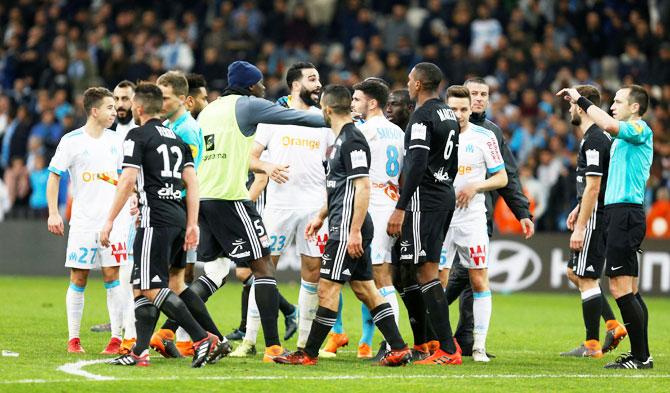 News of all that's transpired on and off the football field
March 18, 2018
Mourinho slams United players, says they lack personality, desire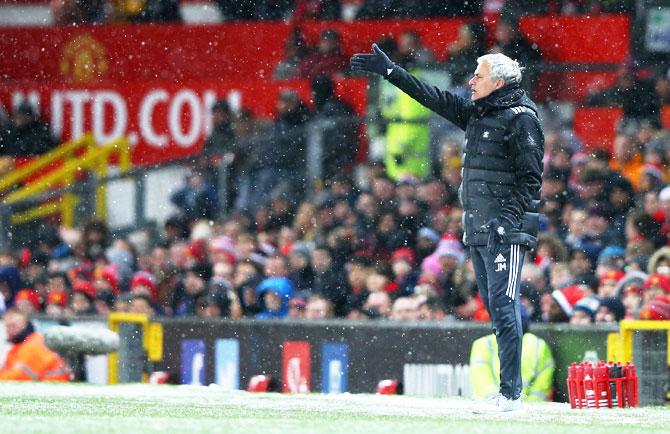 Mourinho singled out midfielder Nemanja Matic, who created the first goal for Romelu Lukaku and added the second himself with a late header, as one of the few players he was satisfied with.
March 15, 2018
King Messi lights up Nou Camp with 100th Champions League goal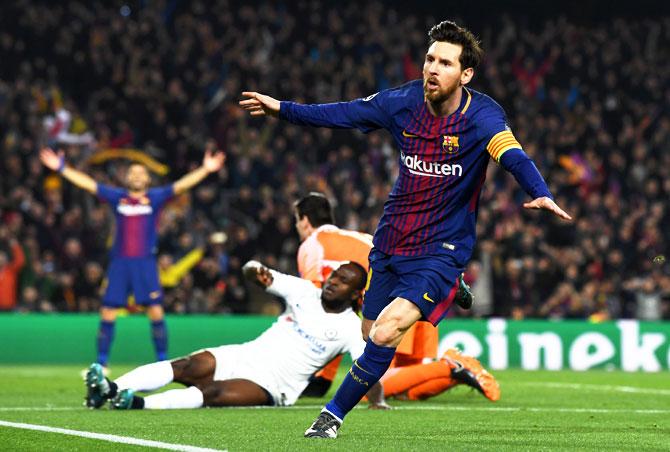 A majestic solo dribble shredded Chelsea's defence before Messi played in Dembele for the second and the Argentine maestro killed the tie off when he smashed a third through the legs of Courtois again in the second half.
Indian Wells PHOTOS: Federer fends off Chardy; Halep in semis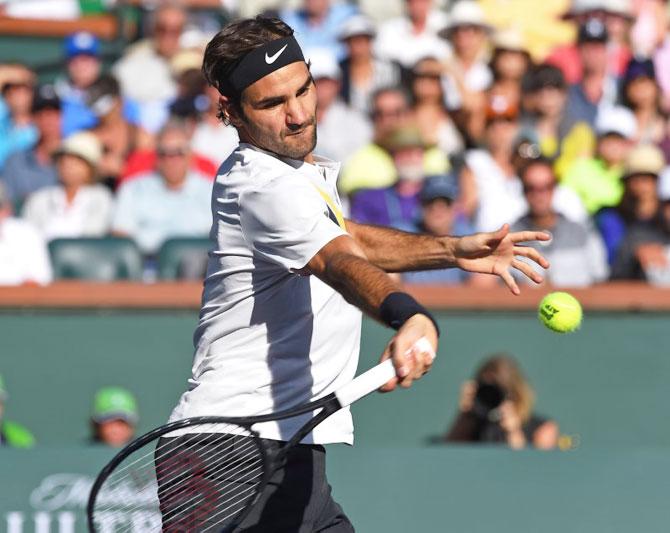 IMAGES from the matches played at the PNB Paribas Open at Indian Wells on Wednesday
Champions League PIX: Barcelona crush Chelsea; Bayern in quarters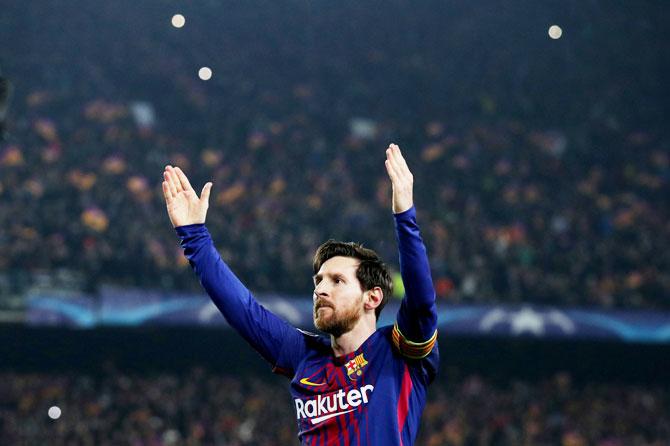 Messi opened the scoring after two minutes and eight seconds, the quickest goal of his career, slipping the ball through Thibaut Courtois' legs from a tight angle.
Love it or loathe it, Formula One has a halo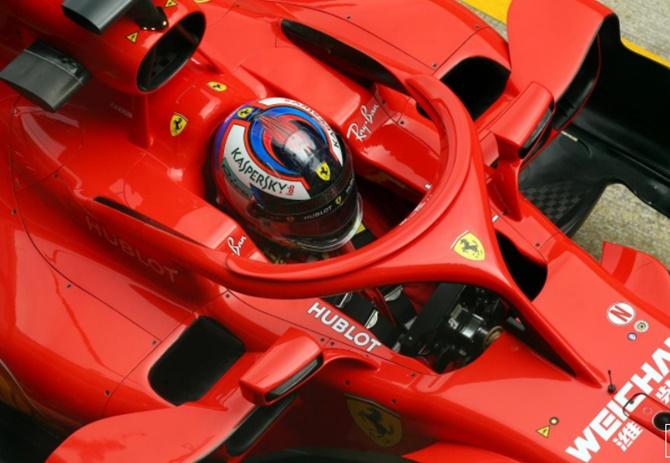 Formula One's clunky 'halo' head protection device, the most obvious novelty of the 2018 season, has divided opinion.
March 14, 2018
Indian Wells PIX: Kohlschreiber stuns Cilic, Yuki loses; Halep rolls on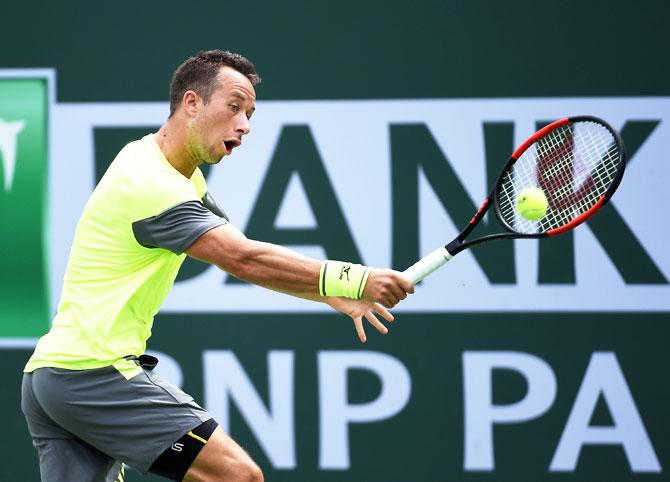 Cilic's booming serve lacked its usual accuracy and Germany's Kohlschreiber was able to control long rallies, pushing the towering Croatian around the court with pinpoint groundstrokes en route to a quick victory.
Champions League PIX: United knocked out by Sevilla, Roma in quarters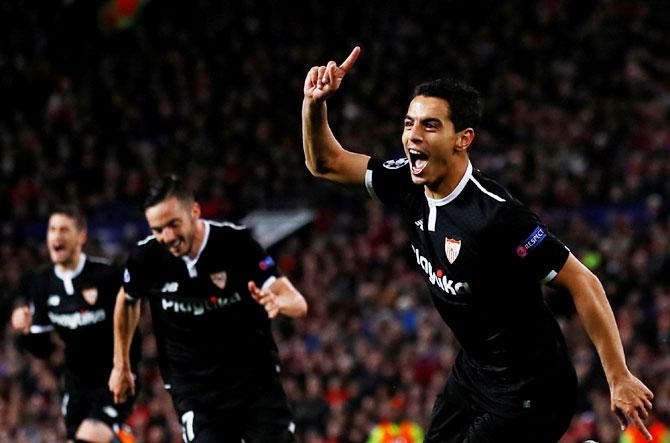 IMAGES from the Champions League matches played on Tuesday
March 13, 2018
Mourinho hits back at De Boer over Rashford comments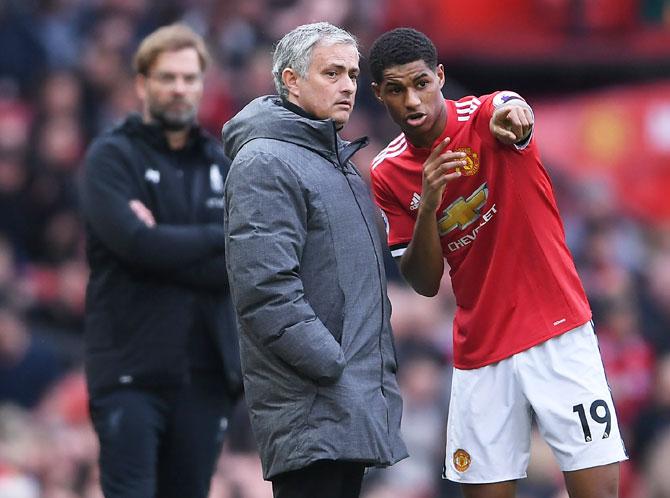 De Boer, who lasted only 77 days as Crystal Palace manager after losing his first four league games in charge with no goals scored, said in an interview on BT Sport that it was "a pity" Mourinho was Rashford's manager because he was not getting enough chances.
Indian Wells PHOTOS: Rusty Serena knocked out by Venus; Federer cruises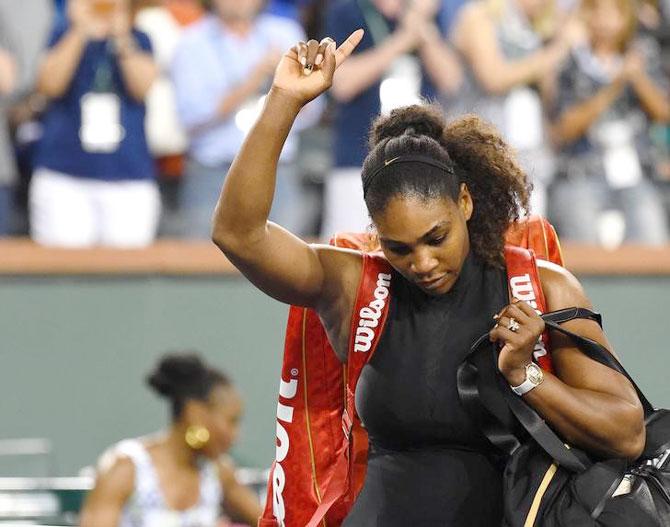 IMAGES from the PNB Paribas Open played at Indian Wells in California on Monday
March 12, 2018
Conte says Chelsea should be ready to suffer at Barca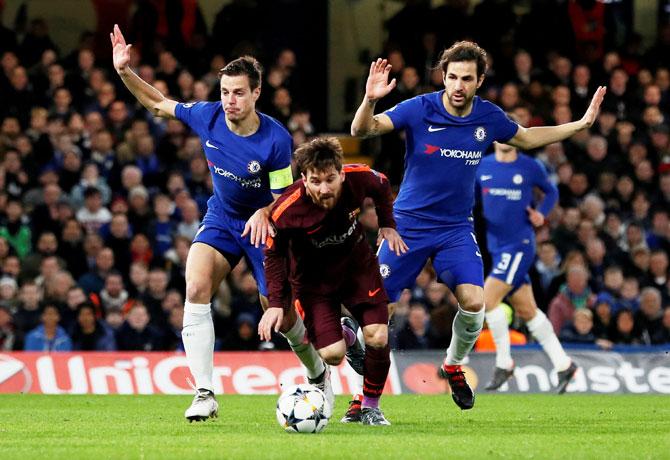 Conte said his team could face a more daunting task against the five-time European champions at the Nou Camp.
EPL: Cech happy to end frustrating wait for 200th clean sheet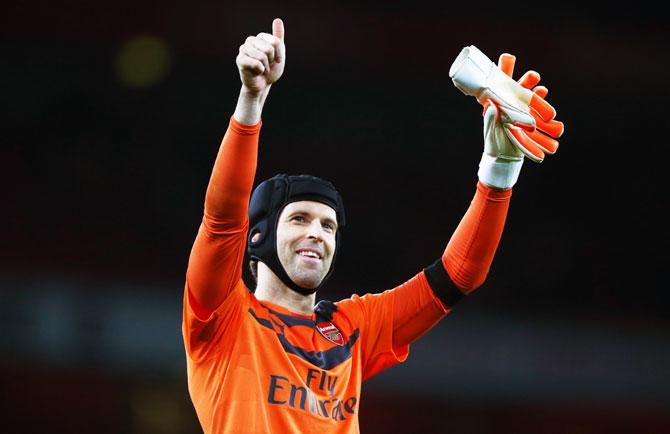 The former Chelsea goalkeeper had to wait for 11 games to reach the landmark and produced an inspired performance that included a second-half penalty save from Watford striker Troy Deeney to help Arsenal seal the win.
PHOTOS: Djokovic out; Yuki stuns Pouille as Federer, Halep advance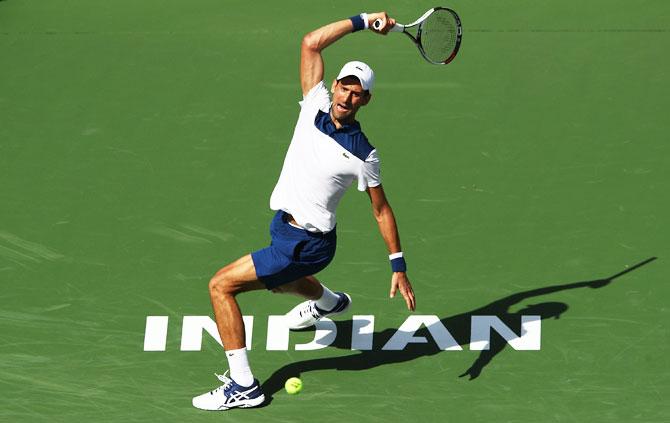 IMAGES from the matches played at the PNB Paribas Open at Indian Wells on Sunday
March 10, 2018
EPL PHOTOS: Everton cruise to victory, Newcastle rout Saints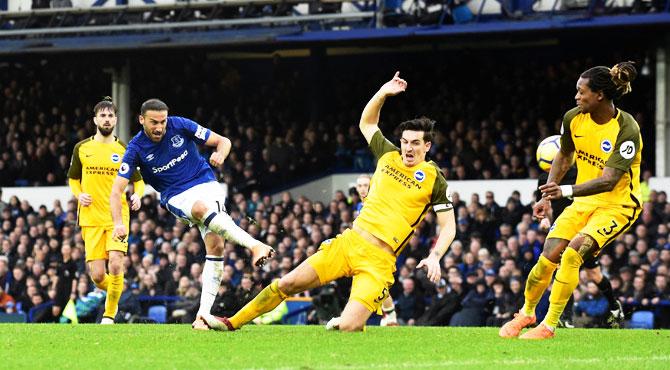 IMAGES from the English Premier League matches played on Saturday
PHOTOS: United beat Liverpool after Rashford brace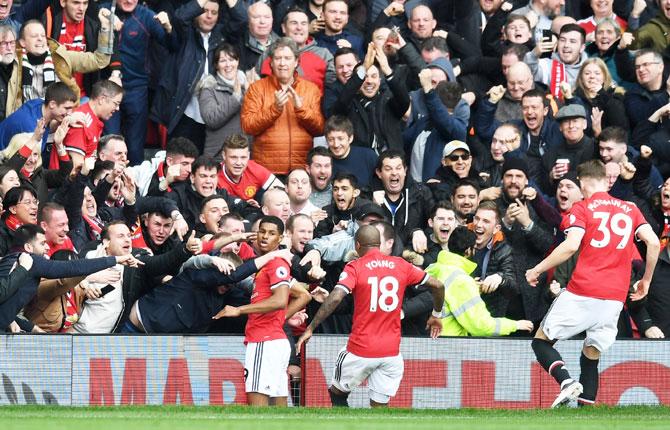 IMAGES from the English Premier League match played between Manchester United and Liverpool at Old Trafford on Saturday
Sports Shorts: India beat Ireland 4-1 to finish 5th in Azlan Shah Cup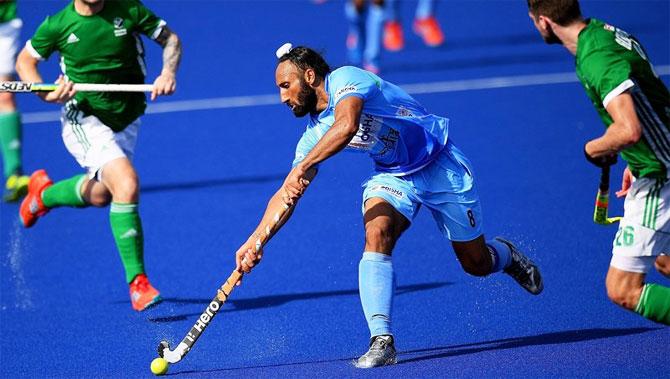 A summary of sports events and sports persons, who made news on Saturday
Indian Wells PHOTOS: Pospisil, Muguruza stunned; Yuki, Kvitova advance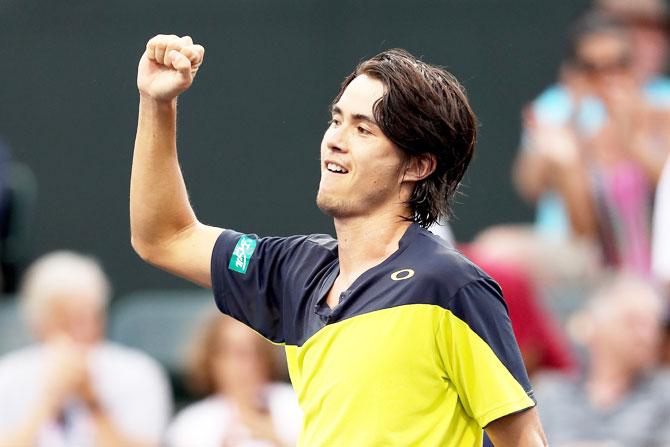 American qualifier Sachia Vickery completed an astonishing comeback to stun third seed Garbine Muguruza 2-6, 7-5, 6-1 in a second-round win at the BNP Paribas Open in California on Friday.
March 09, 2018
Football Briefs: PSG braced for fine from UEFA for fans' behaviour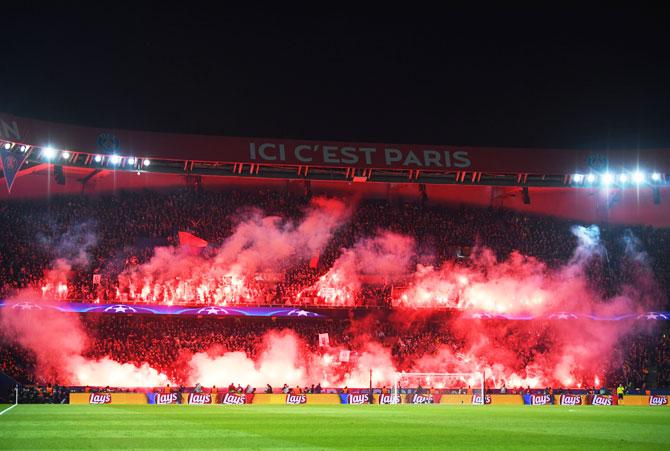 News of all that's transpired on and off the football field
EPL: Man United likely to park the bus against Liverpool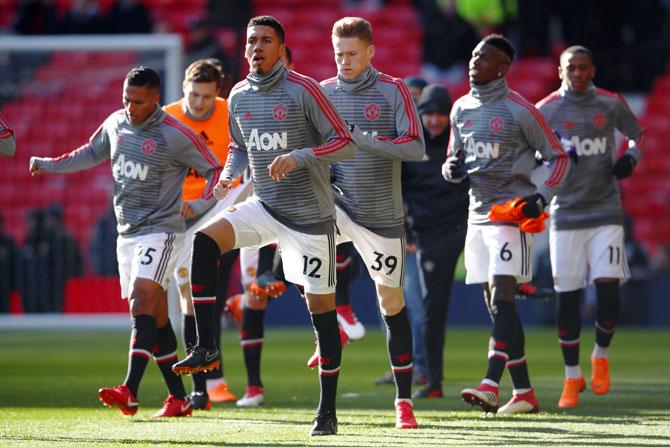 The last three league meetings between the two sides, including October's game at Anfield, have ended in draws but Lovren said Liverpool were intent on coming away with all three points on Saturday.
PHOTOS: Serena makes winning return at Indian Wells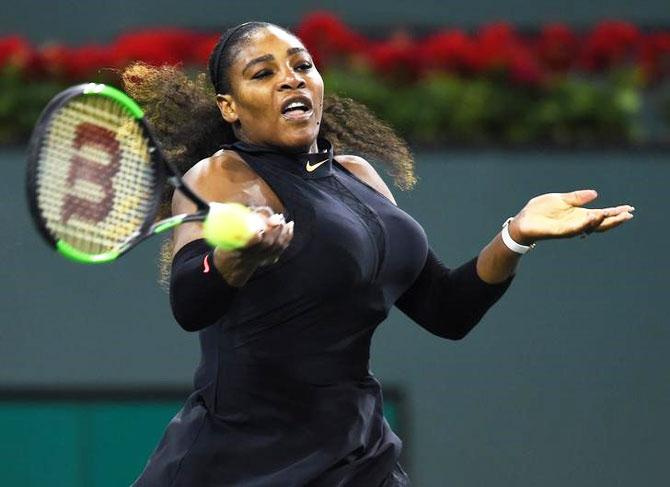 Delbonis to face Federer
Europa League: Arsenal stun Milan 2-0, Atletico cruise to victory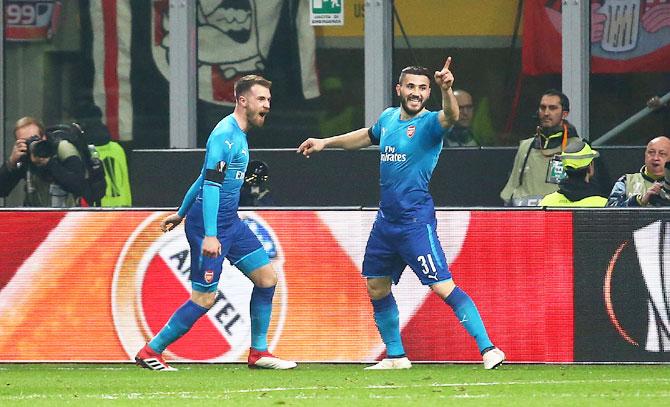 IMAGES from the Europa League matches played on Thursday
'Ladies First': Story of Deepika's journey from Ranchi to Rio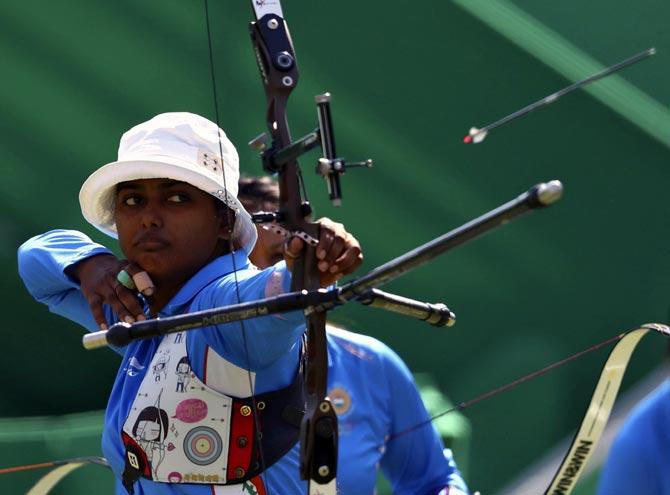 The International Women's Day could not have been more special for Indian archer Deepika Kumari as a documentary on her life 'Ladies First' -- was released for worldwide streaming on Thursday.
March 07, 2018
PHOTOS: Real Madrid, Liverpool stroll into Champions League quarters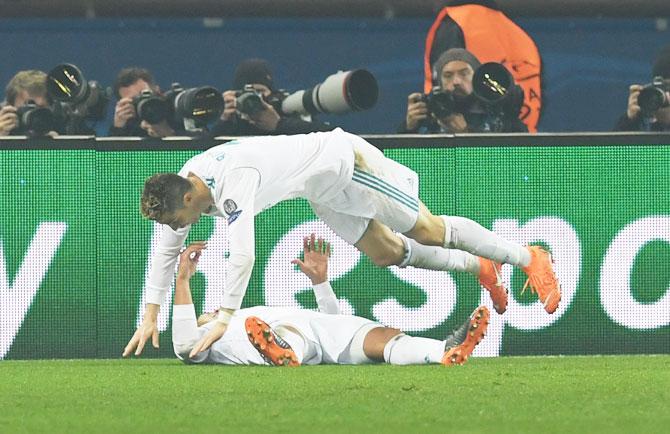 Images from the Champions League matches played on Tuesday
The 'fearless' Indian golfer who has a 'flawless game'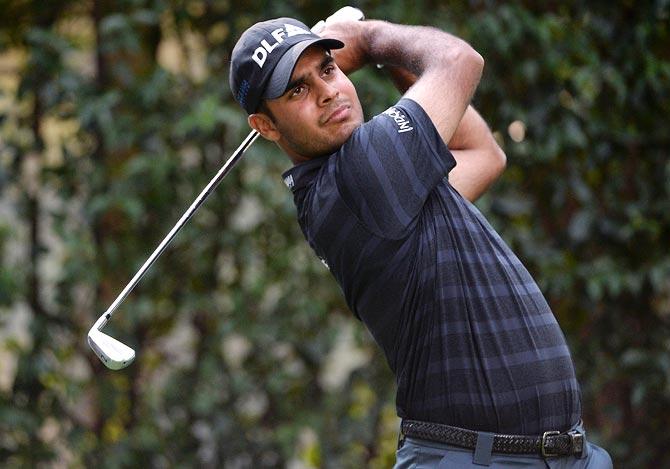 Shiv Kapur joined the chorus in showering praise on young Shubhankar Sharma, describing him as an 'exceptional talent' with maturity beyond his age.
March 06, 2018
Serena aims to inspire women the world over with this powerful message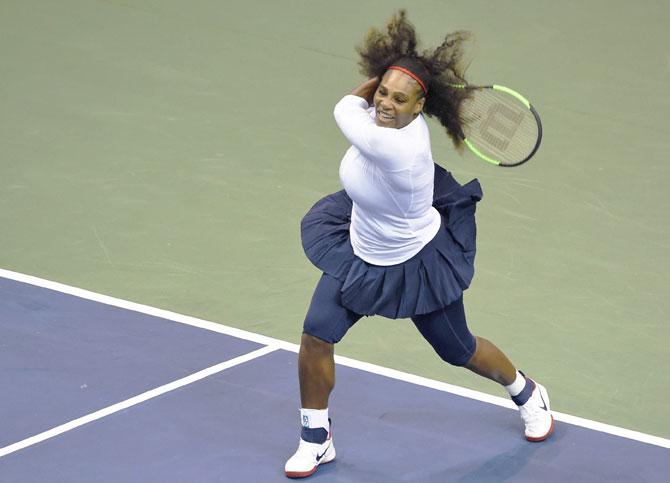 Serena had said on Monday that she "can't wait for the future" as she warmed up for her return to the WTA Tour at the Tie Break Tens exhibition at Madison Square Garden.
Shooting star Manu's rise from the boxing ring to a golden double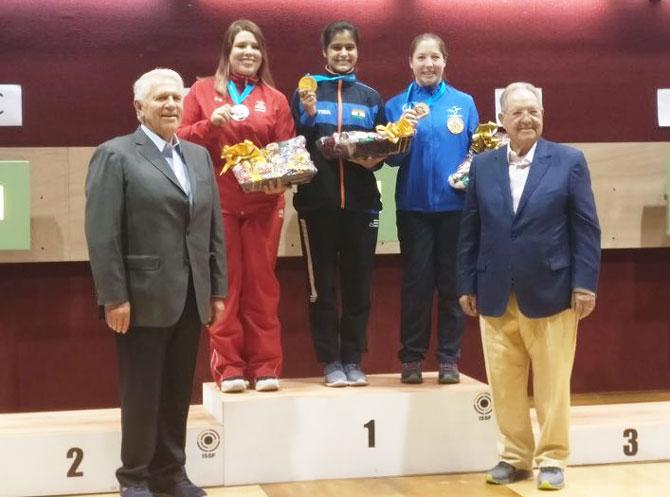 For someone who took to shooting just a little over two years ago, winning two gold medals at a global event of this magnitude would easily qualify as some achievement.
Norovirus threat ahead of CWG. What is it?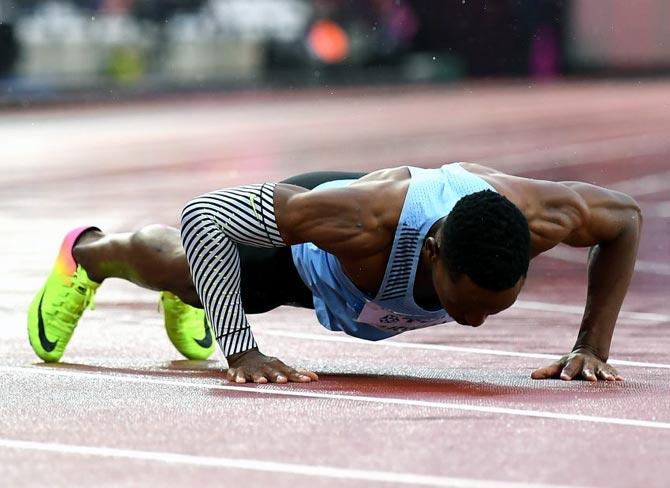 Norovirus is known as the 'winter vomiting bug'.
EPL PHOTOS: United pull off win at Palace in five-goal thriller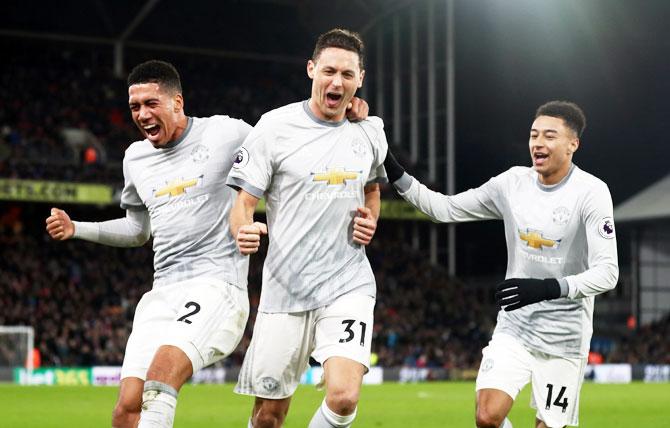 IMAGES from the English Premier League match played at Selhurst Park in London on Monday
March 05, 2018
Football Briefs: 'There is no one like Messi in the world'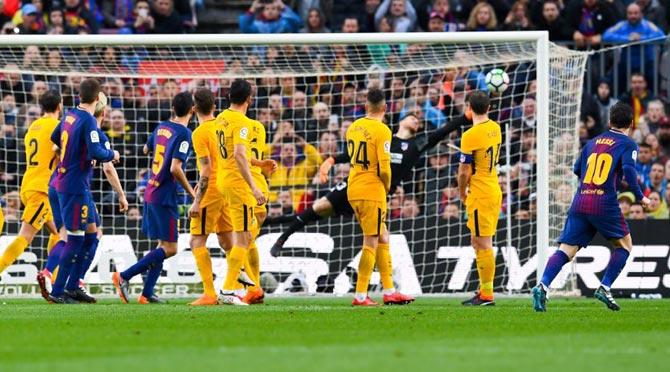 News of all that's transpired on and off the football field
Che Bella! Wimbledon champ Muguruza scorches red carpet at the Oscars!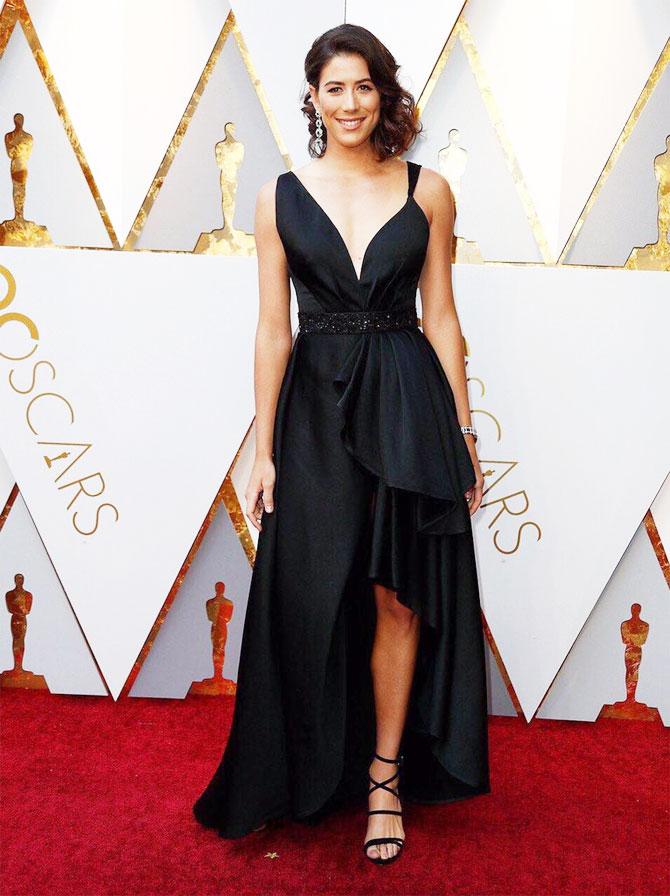 US Olympian skier Lindsay Vonn also walked the red carpet, but her choice of outfit was open to debate on social media.
EPL round-up: 100-point nearing City not looking at records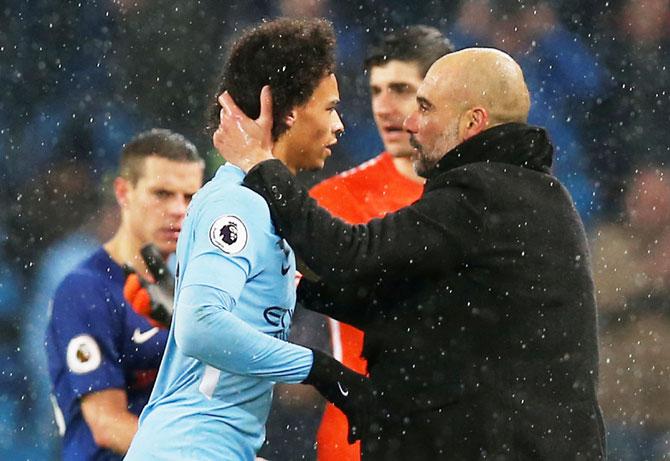 City are 18 points clear of second-placed Liverpool after beating Chelsea 1-0 at the Etihad Stadium on Sunday and need just four wins from their final nine games to be sure of the title.
Sports Shorts: Paes returns to top 50 in rankings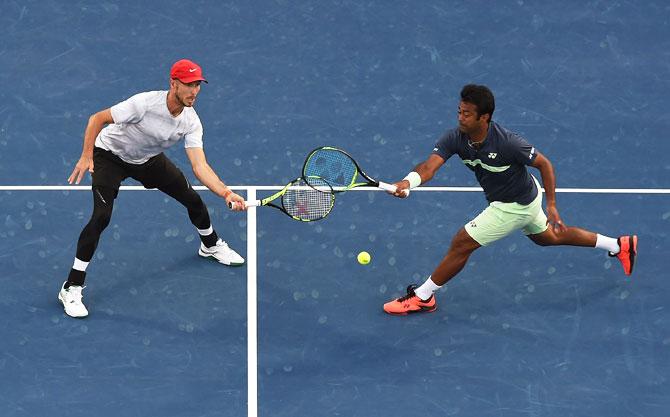 A summary of sports events and sports persons, who made news on Monday
Oscar gongs for NBA star Bryant, Russia dope documentary film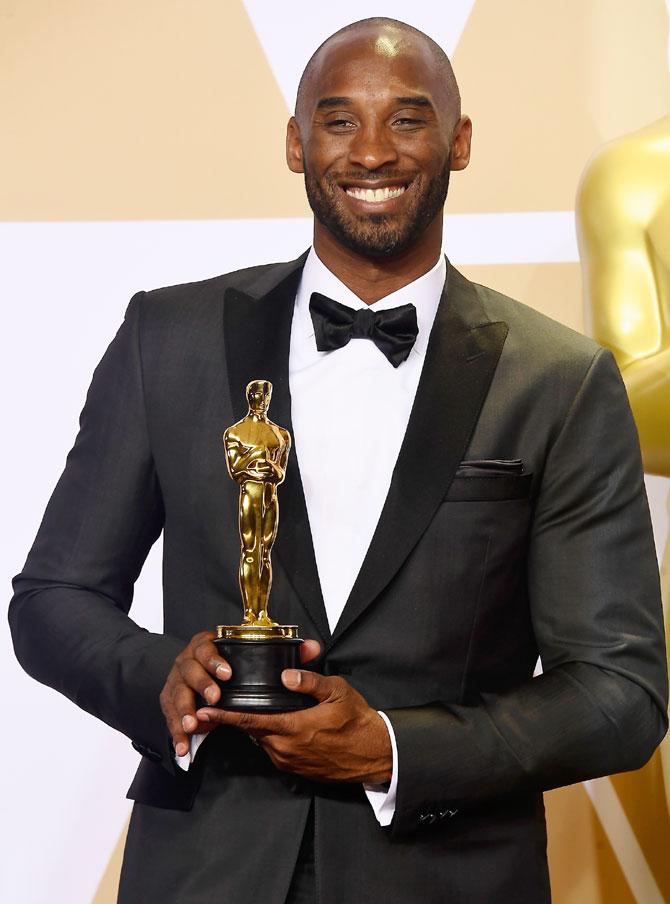 The sports field saw two special mentions at the 90th Oscar Awards on Sunday night.
Rathore: 'Corporates are ready to invest in sports but...'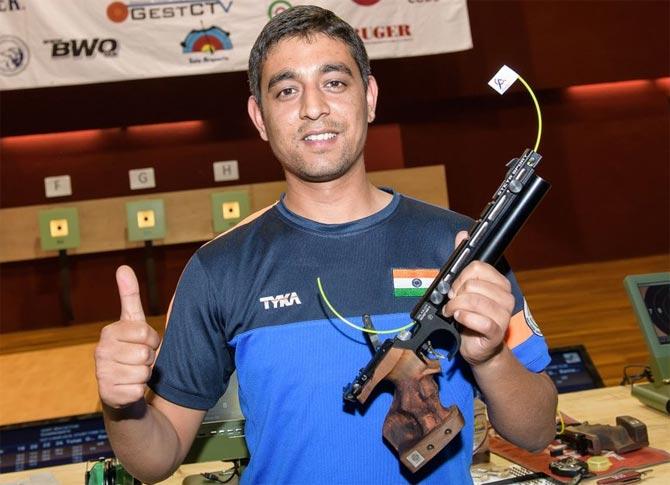 Sports Minister Rajyavardhan Singh Rathore says the corporate sector is very much willing to support development of sports and athletes in India but it needs to be given the assurance that the money is going in right hands.
March 01, 2018
Sports Shorts: BFC knock Kerala Blasters out of ISL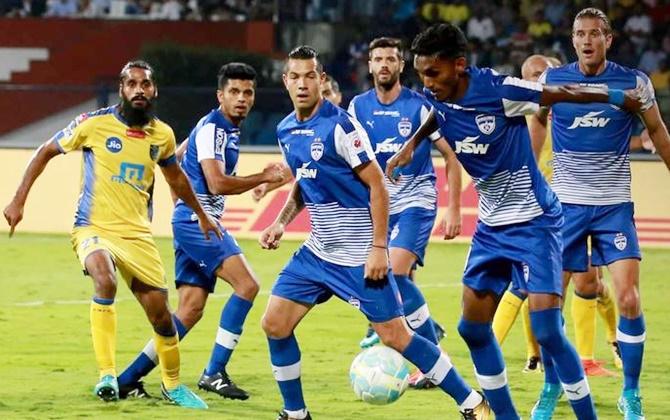 A summary of sports events and sports persons, who made news on Thursday
FA Cup: Llorente treble fires Spurs after more VAR chaos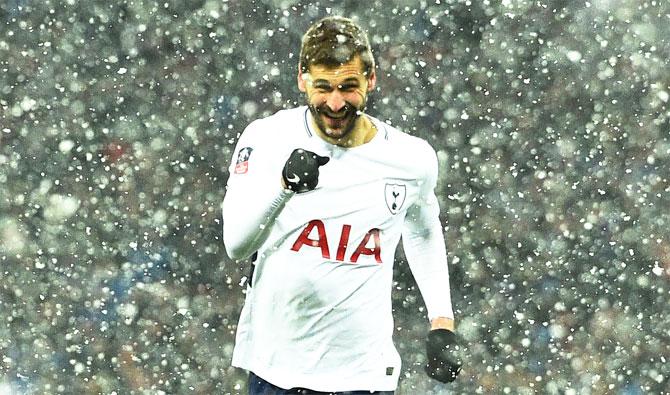 Llorente's second-half treble, a double from Son Heung-min and a late effort from Kyle Walker-Peters in driving snow at a freezing Wembley Stadium settled an game where tensions had threatened to bubble over before the break.
February 28, 2018
PIX: Meet Tokyo 2020 Olympic Games' pointy-eared mascots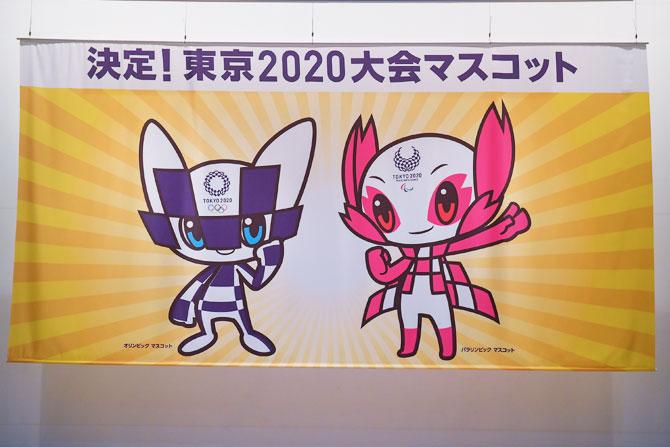 Chosen by schoolchildren across Japan and announced before a gymnasium of cheering pupils in Tokyo, the as yet unnamed blue character will be the mascot for the Olympics and the pink cherry blossom-inspired one for the Paralympics.
Football Briefs: Neymar out for 'six to eight weeks'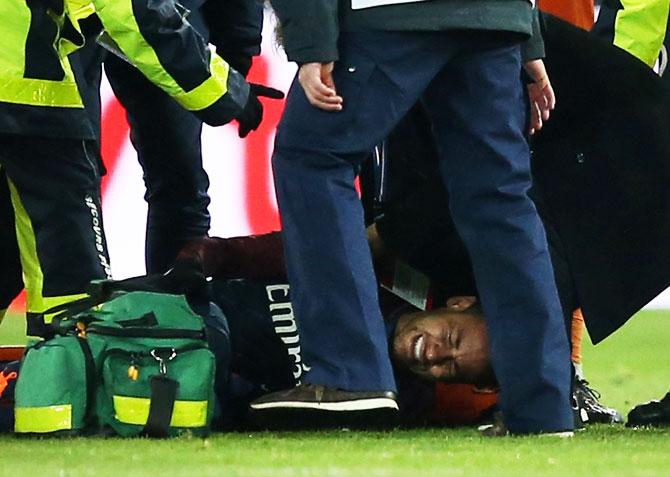 News of all that's transpired on and off the football field
February 26, 2018
PIX: Force India reveals new car for 2018 season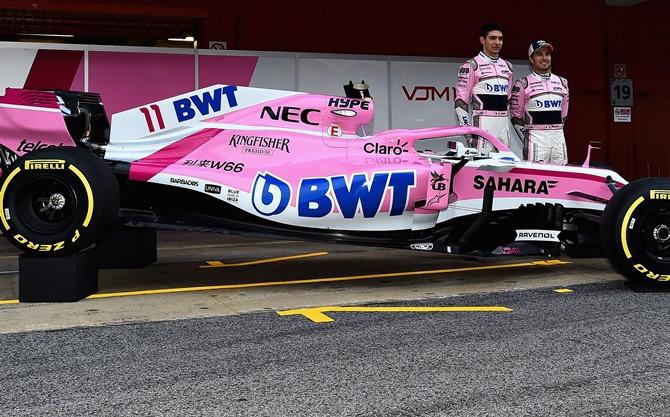 Force India, on Monday, unveiled its new car --VJM11 -- for the 2018 season, hours ahead of first testing.
February 25, 2018
EPL PIX: Lukaku buries old club Chelsea as Man United rally to win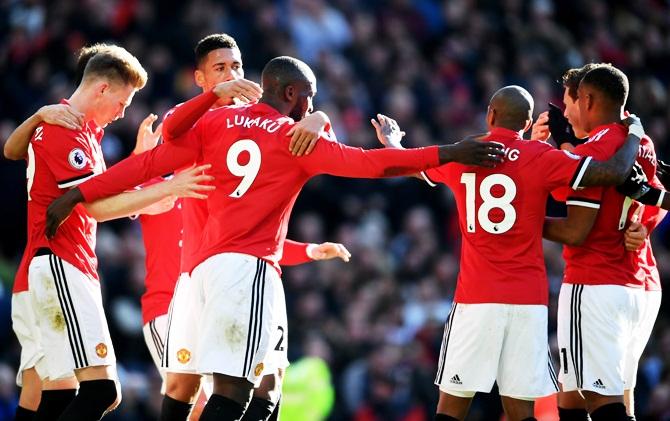 The win put United back in second place in the Premier League, still 13 points behind neighbours Manchester City, while Chelsea drop below Tottenham into fifth place.
EPL PHOTOS: Late Kane header gives Tottenham victory at Palace
Kane headed home from Christian Eriksen's corner in the 89th minute to make up for two glaring misses earlier in the match at Selhurst Park.
Winter Olympics PIX: South Korea brings curtain down on 'Peace Games'
Spectacular IMAGES from the closing ceremony of the 2018 Winter Olympics held in Pyeongchang, South Korea
Tendulkar, Sehwag, Sindhu mourn demise of Sridevi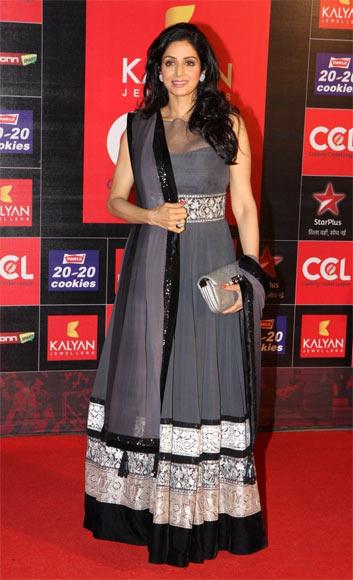 'It is hard to digest that Sridevi is no more'
February 24, 2018
PHOTOS: Hockey time for Canadian PM Trudeau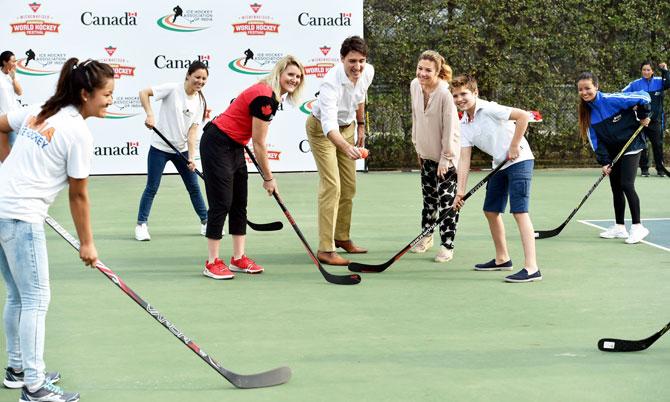 Trudeau, along with his wife Sophie Gregoire, presented Canada's ice hockey jerseys to the budding Indian girls team during the event at the Canadian High Commission.
Manchester United legend Vidic rolls back his years at the Reds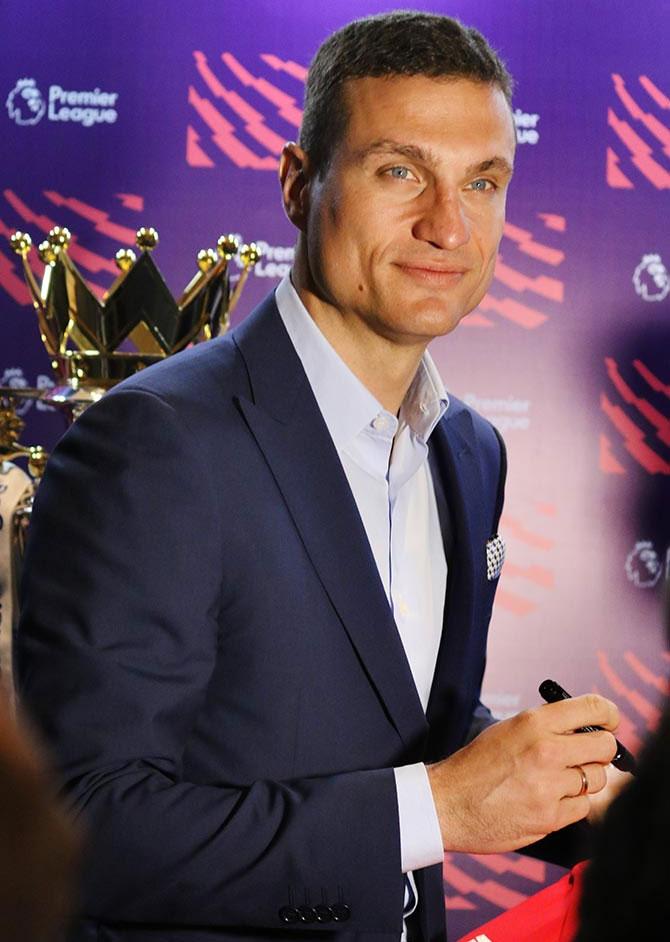 Legendary Serbian defender Nemanja Vidic was articulate and candid while speaking at a conference in Mumbai on Friday. Norma Godinho/Rediff.com listens in as Vidic talks of Sir Alex Ferguson's motivational mind games, the Ronaldo bet and Man Utd under Mourinho...
February 22, 2018
Benched Bale comes under the lens as Zidane gives no full backing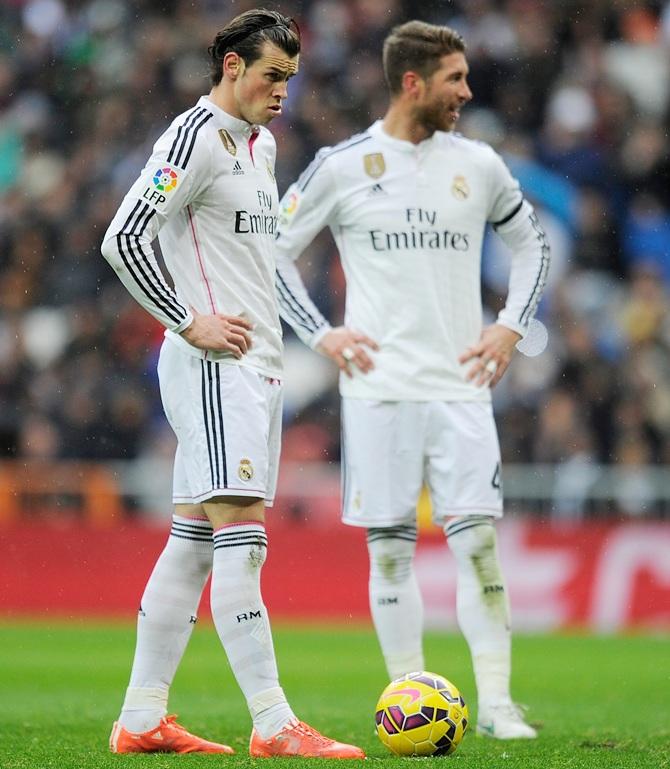 Bale began Real's 3-1 win at Leganes on Wednesday on the bench, just as he had done against Real Sociedad and in their Champions League last-16 first leg against Paris St Germain.
Football Briefs: Ronaldo-less Real rally to beat Leganes, go up to 3rd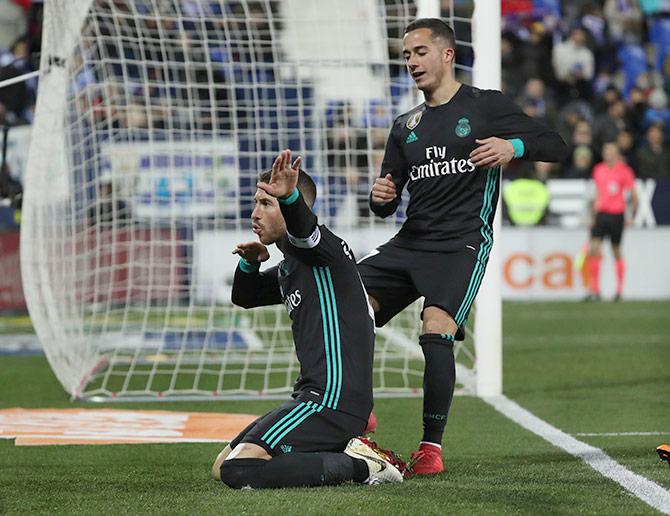 News of all that's transpired on and off the football field
February 19, 2018
Champions League: Messi will look to break Blues jinx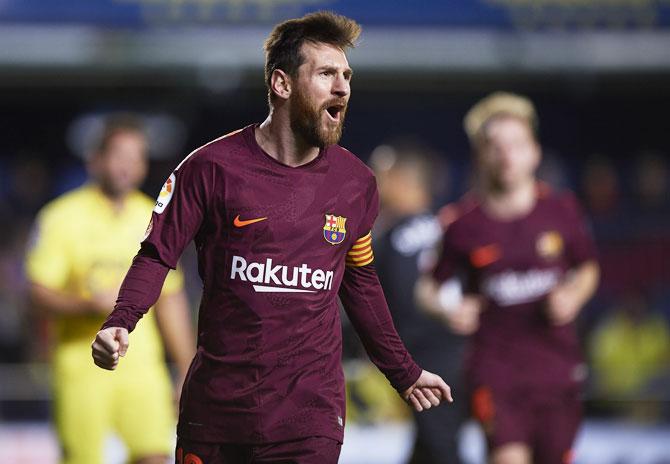 Conte wants 'perfect game', while hoping Messi's goal drought continues
Tennis round-up: Kvitova back into top 10 after claiming Qatar title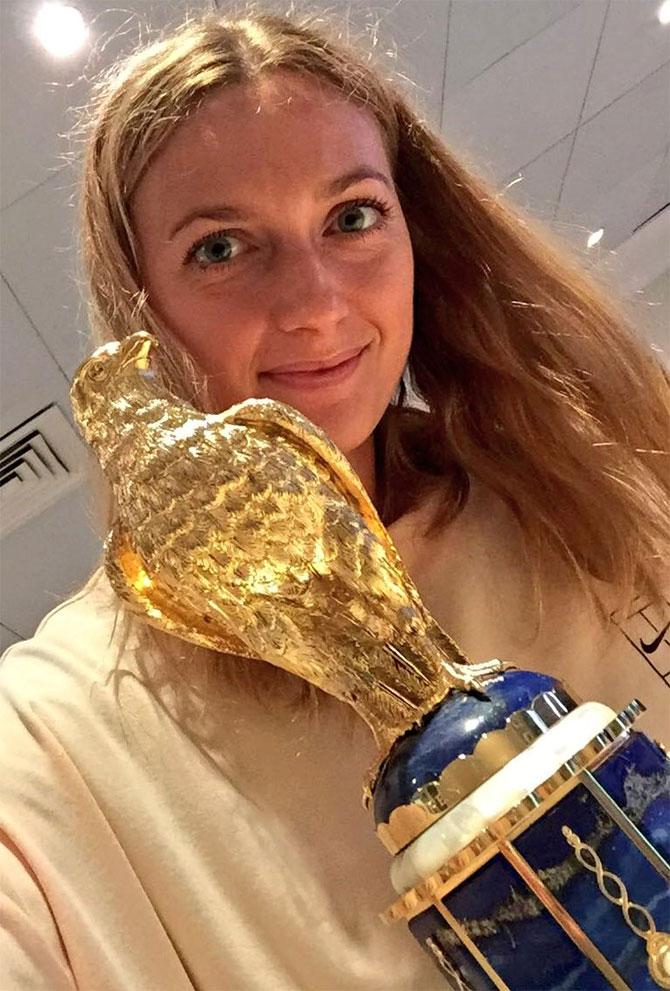 Coming into the tournament 21st in the WTA rankings, the Czech won 3-6, 6-3, 6-4 in two hours and 16 minutes to add to her triumph in St Petersburg earlier this month.
Sports Shorts: Coleman breaks world record in 60 metres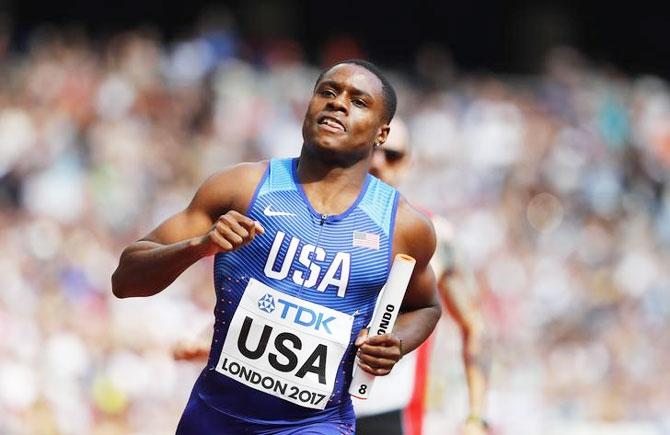 A summary of sports events and persons who made news on Monday
February 17, 2018
Wind, snow and frozen phones: How to survive the coldest Olympics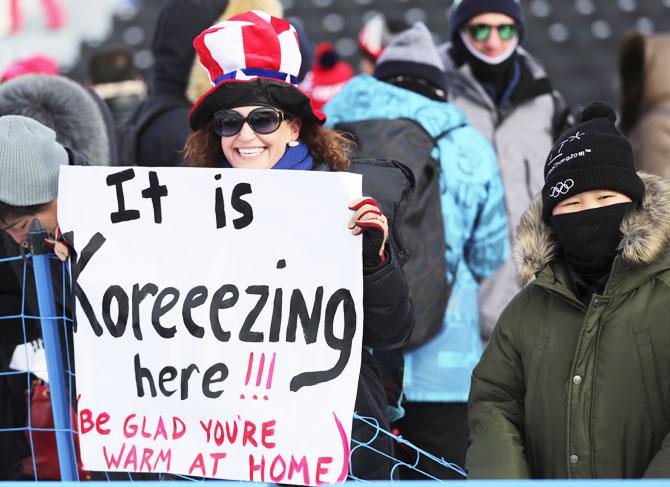 The weather was a bone-chilling, minus 20 degrees Celsius (minus 4 Fahrenheit).
February 15, 2018
Winter Olympics sidelights: Deadly Mexican uniforms bring team to life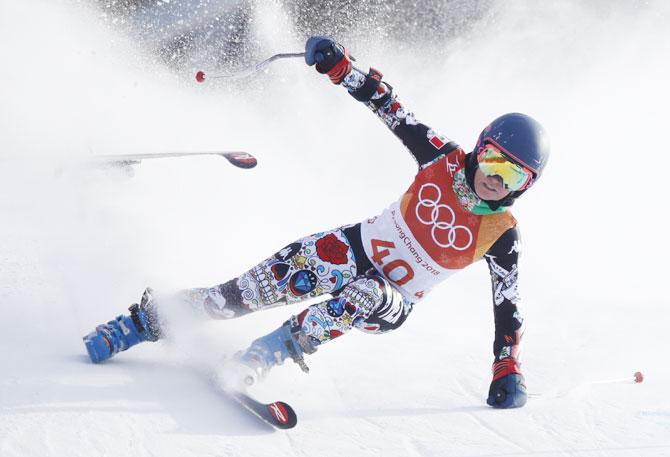 The suits, which depict red flowers and blue diamonds on top of enormous skulls in a homage to the Mexican holiday, at first stoked controversy among committee members.
Djoko, Wozniacki put out romantic Valentine's Day wishes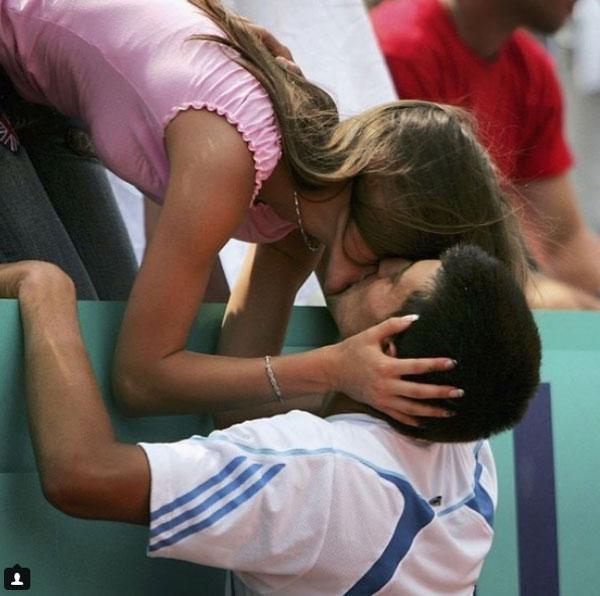 And taking time out to show their love for their beloveds were tennis stars.
Champions League: Orange is the new Red as Liverpool run riot in Porto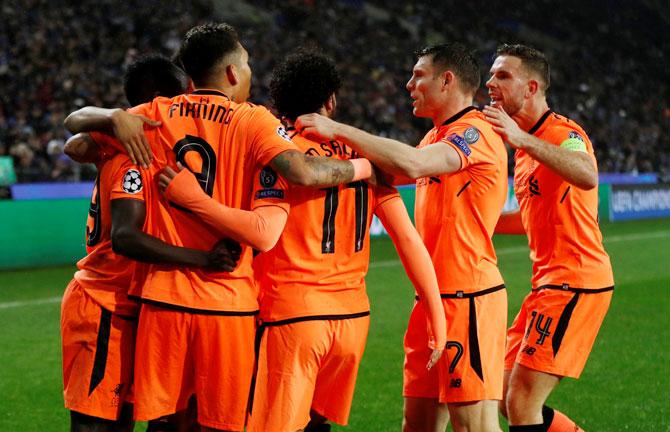 The strip made a memorable debut in the 7-0 thrashing of Maribor in the Champions League group stage, marking Liverpool's biggest ever away win in European competition.
Day 7: What's hot at the Pyeongchang Winter Olympics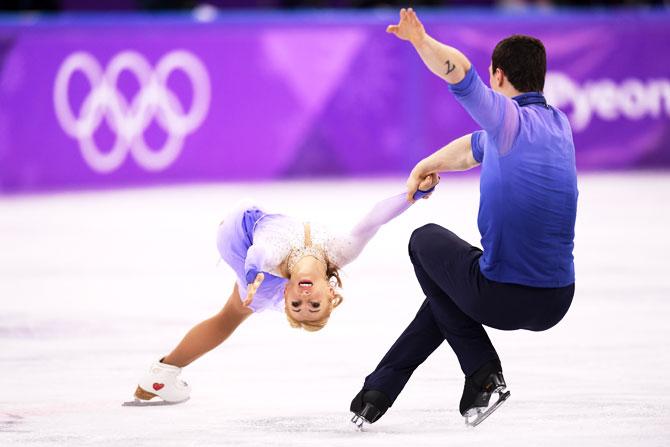 Several events were postponed or rescheduled, including Nordic combined, biathlon and Alpine skiing, and more than 60 tents were damaged by winds with a speed of seven metres per second as organisers warned of flying debris.
Real's low-cost Asensio overshadows PSG's costly buys Neymar, Mbappe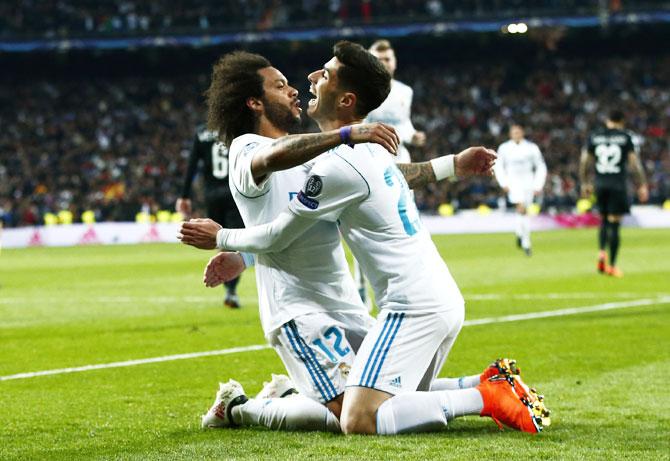 Spanish winger Asensio cost Real a mere 3.5 million euros from Mallorca in 2014 and entered the game only in the 79th minute but played a decisive role in Cristiano Ronaldo and Marcelo each scoring late on to give the European champions the edge in the tie.
February 14, 2018
Day 6: What's hot at the Pyeongchang Winter Olympics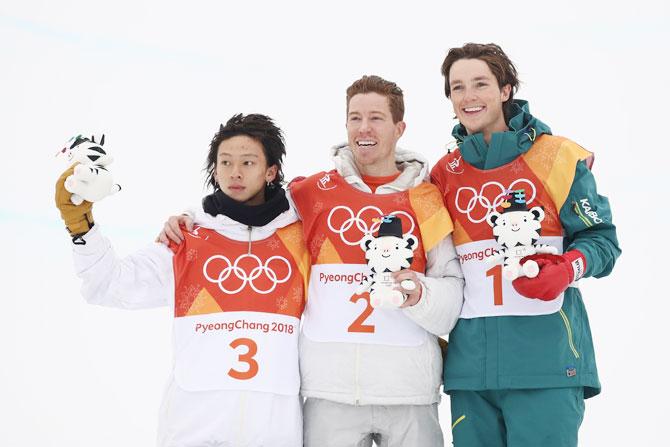 North Korean pair given warm welcome on Pyeongchang debut
Winter Olympics sidelights: Finland's knitting passion is latest yarn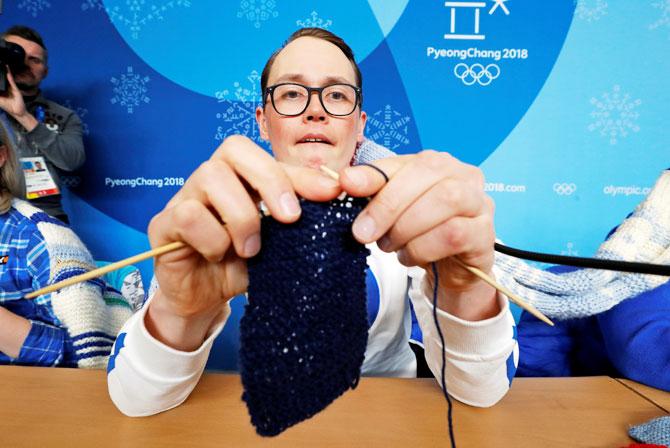 The Finns started using the unique method of stress relief at the Sochi Games, where they knitted a scarf. Two years later at the Rio Olympics they added to it.
Loved up US figure skaters show how it's done on Valentine's Day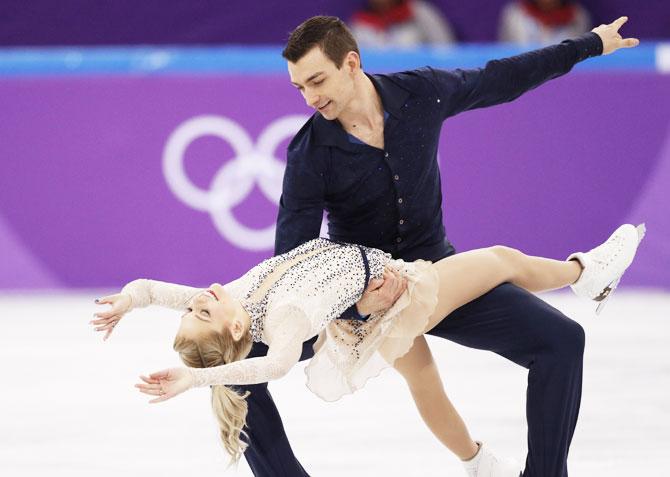 'We're just feeding off each other and reminding each other how lucky we are to be here. It's keeping us humble and happy'
Winter OIympics PIX: US snowboarder White stamps legacy with third gold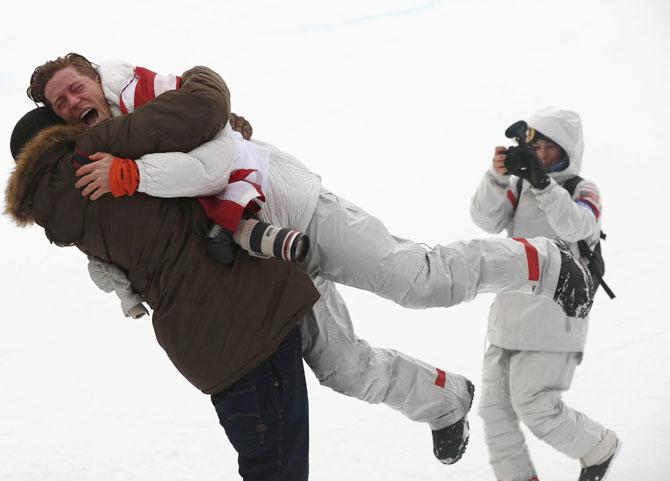 White needed a big performance to overhaul Japan's Ayumu Hirano and duly delivered with a spectacular display to earn a score of 97.75. His victory means the United States have won all four snowboarding golds awarded at the Games.
Champions League: Spurs' Kane matches Gerrard in Juve draw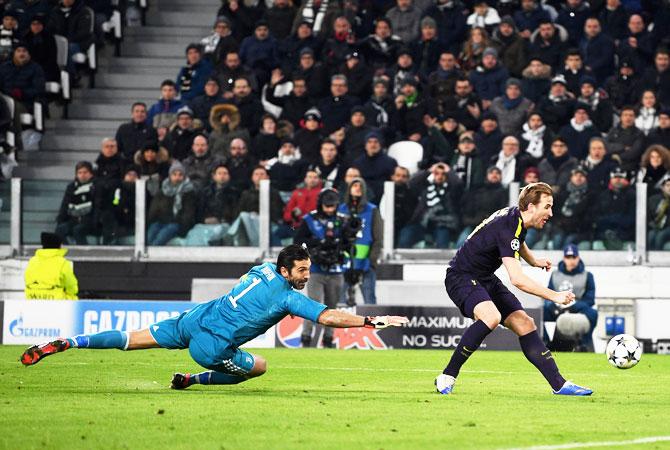 IMAGES from the UEFA Champions League last 16 first leg matches played across Europe on Tuesday
February 13, 2018
Pix: Inside a 'Penis Park' in South Korea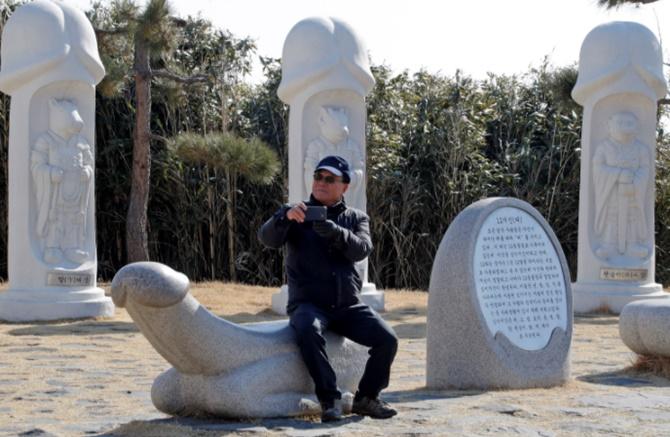 The country now has several 'penis parks', so many that Haesindang markets itself as the 'only one on the east coast'.
EPL PHOTOS: Chelsea beat West Brom, move back into top four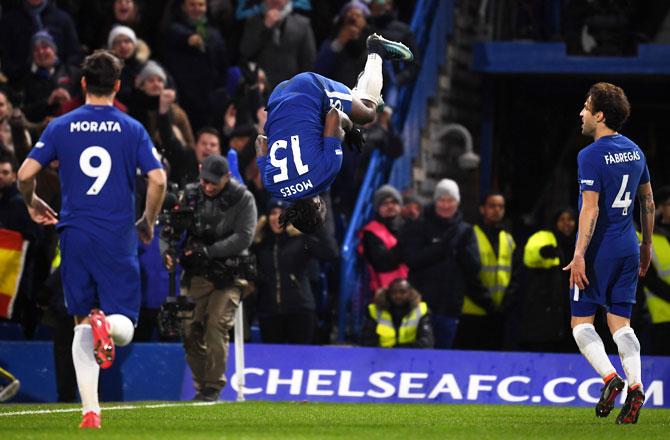 IMAGES from the EPL match played between Chelsea and West Brom at Stamford Bridge in London on Monday
February 12, 2018
Winter Olympics sidelights: Robots take to the slopes on sidelines of Games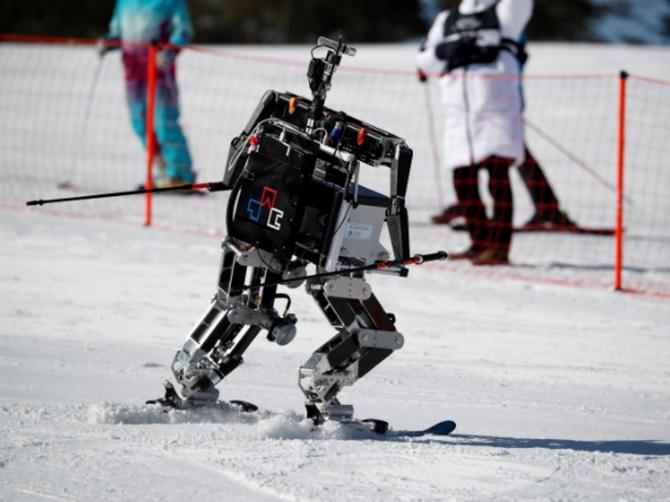 The virus had broken out in the lead-up to the opening ceremony in Pyeongchang last Friday and led to some 1,200 security staff being quarantined. Organisers had to call in military personnel to replace them.
Football Briefs: Barcelona drop points in dull draw with Getafe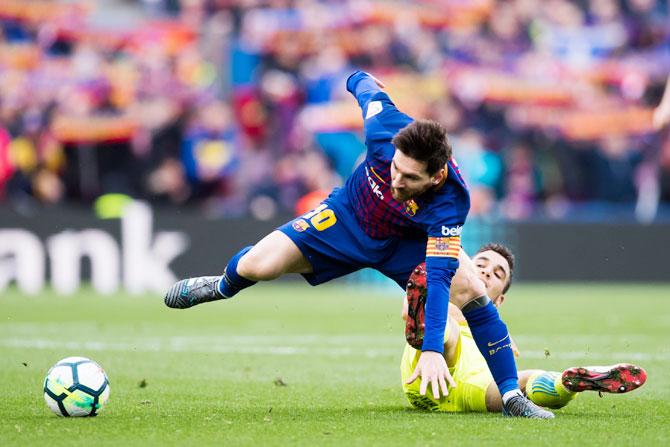 News of all that's transpired on and off the football field
US skier at Winter Olympics keeping flag flying for LGBT community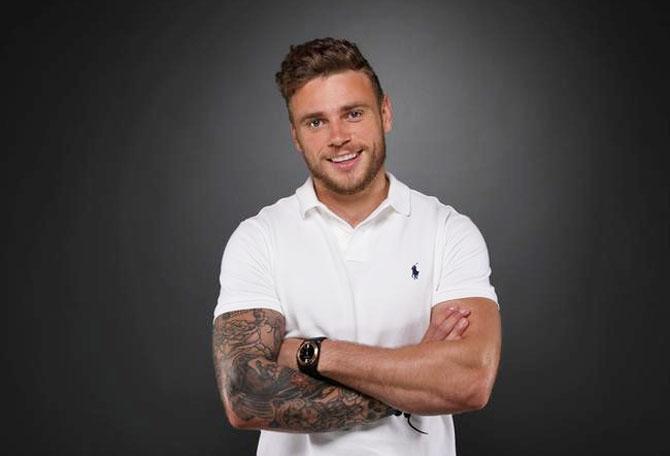 The 26-year-old told Reuters on Sunday he was excited about representing the United States as well as the lesbian, gay, bisexual and transgender (LGBT) community at the ongoing Games in South Korea.
February 11, 2018
EPL PHOTOS: Liverpool down Saints; Newcastle shock Manchester United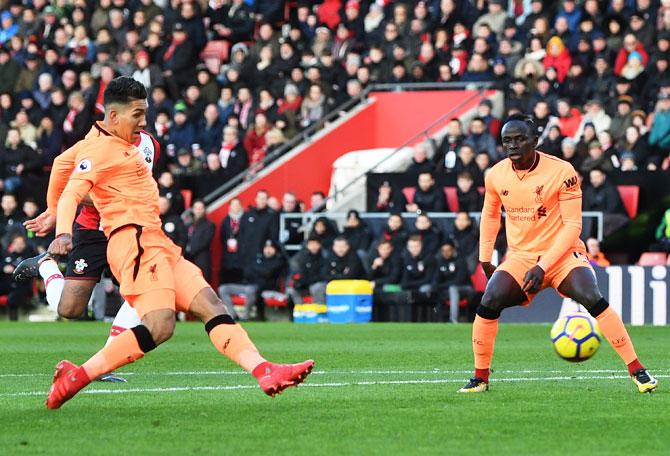 IMAGES from the English Premier League matches played on Sunday
Winter Olympics sidelights: Cyber attack shuts official site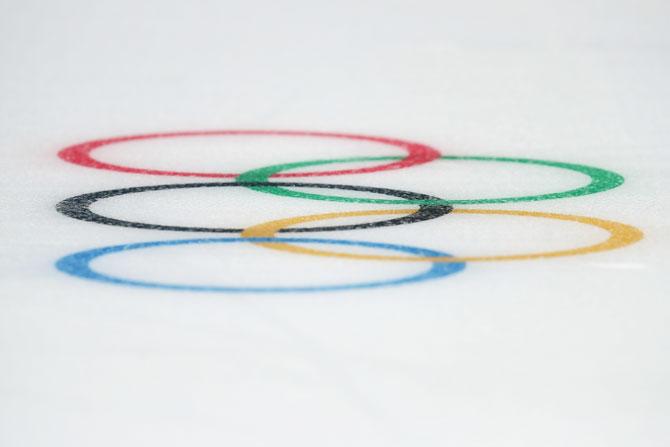 The cyber attack affected the internet-connected televisions at the media centres and also shut down the official Winter Olympics website for around 20 minutes.
India luger Keshavan ends career with 34th-place finish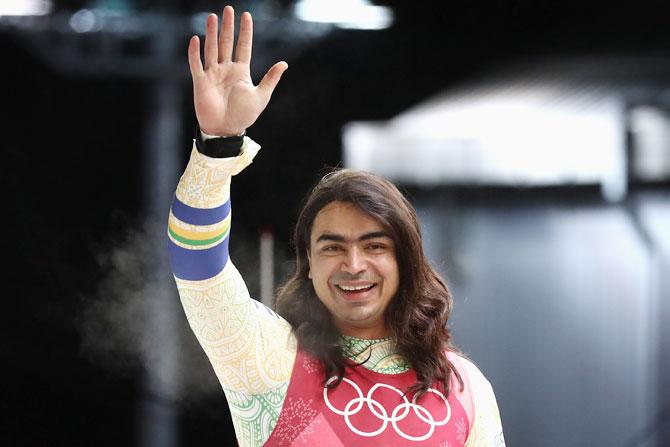 The effort put him at 30th in the third heat among 40 competitors and 34th overall after three rounds. Since Keshavan finished outside the top 20 after three runs, he did not get to compete in the fourth and final run -- the medal round.
This Olympic ski coach's life story akin to a Bollywood flick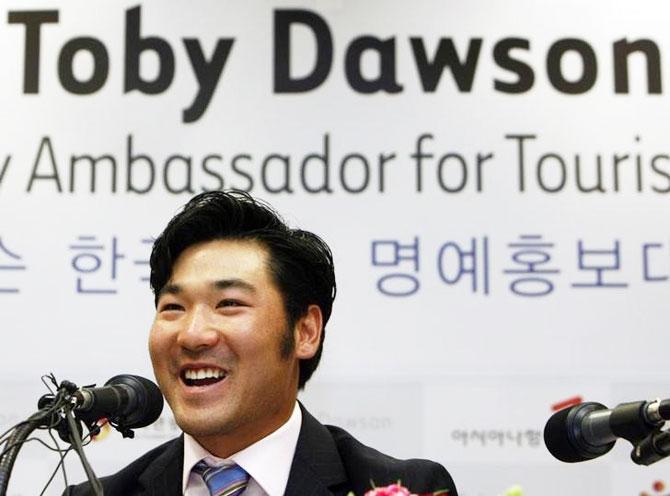 US Olympic medallist Dawson was born in South Korea's Busan where, at the age of three, he was separated from his mother in a bustling marketplace.
Pune man is first Asian to swim across Ocean Seven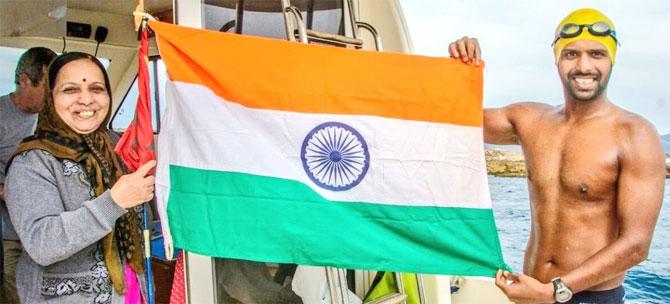 More becomes only the ninth person in the world to complete the marathon swim
Sports Shorts: Disgraced former USA Gymnastics doctor sent to prison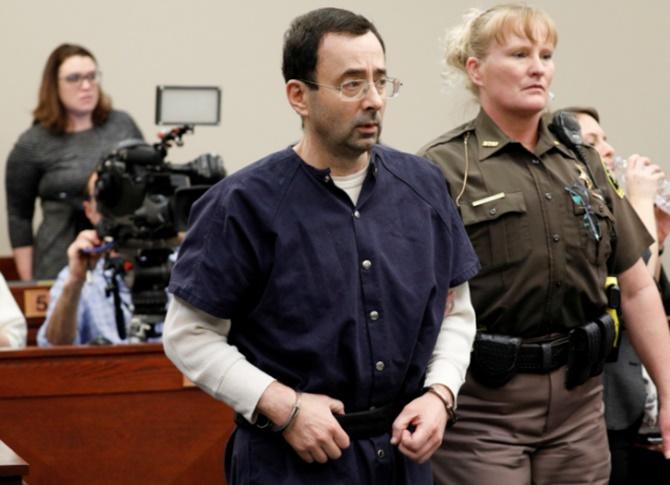 A summary of sports events and sports persons, who made news on Sunday
February 10, 2018
EPL PIX: Kane heads Tottenham to derby victory over Arsenal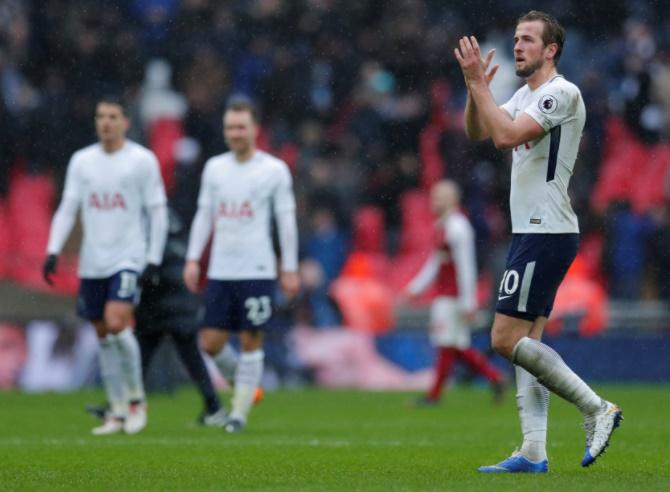 Harry Kane's 101st Premier League goal was the difference as Tottenham Hotspur earned a 1-0 win over Arsenal, to continue their fine recent form in north London derbies in front of a Premier League record crowd at Wembley on Saturday.
Day 2: What's hot at the Pyeongchang Winter Olympics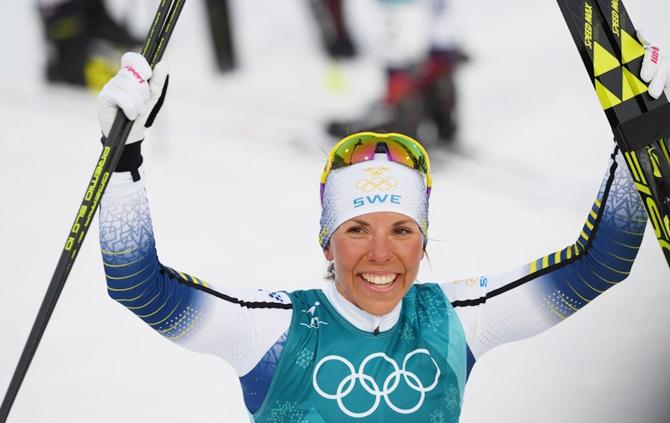 Sweden's Charlotte Kalla won the first gold medal of the Pyeongchang Winter Olympics on Saturday after powering away from the field to secure victory in the women's 7.5km + 7.5km skiathlon.
February 09, 2018
PIX: Diplomacy under microscope at Winter Olympics Opening Ceremony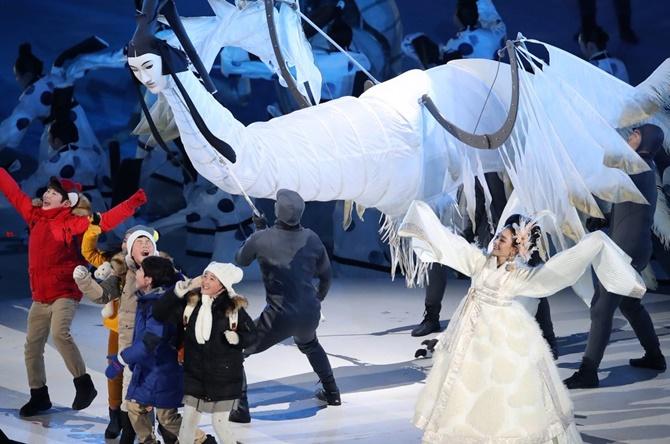 The Winter Olympics sparked to life in a vivid, colourful ceremony of fire and ice in South Korea
Luger Shiva Keshavan carries flag for India one last time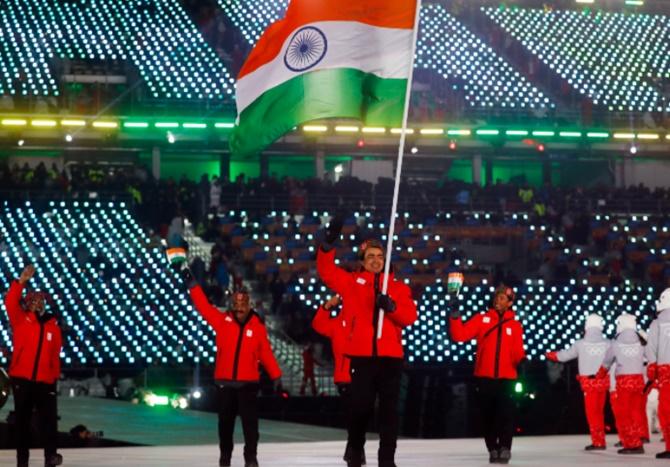 A teenage Keshavan shot down the luge track on a borrowed sled at Nagano in 1998 and at the age of 36, he will compete in his sixth consecutive Games at the Olympic Sliding Centre.
Sports Shorts: Top seed Wawrinka labours to three-set victory in Sofia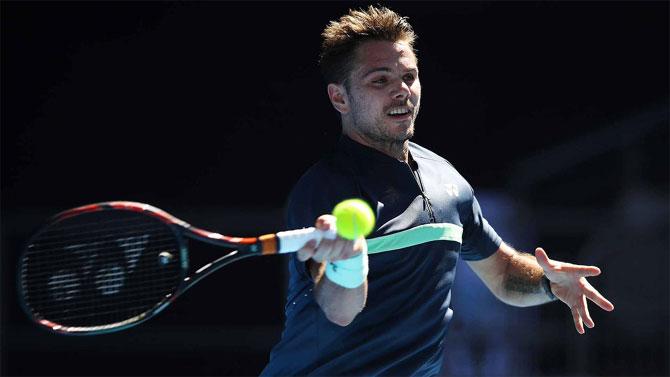 A summary of sports events and sports persons, who made news on Friday
February 08, 2018
PIX: Ice, Ice baby! Winter Olympics is here, it's the coldest one yet!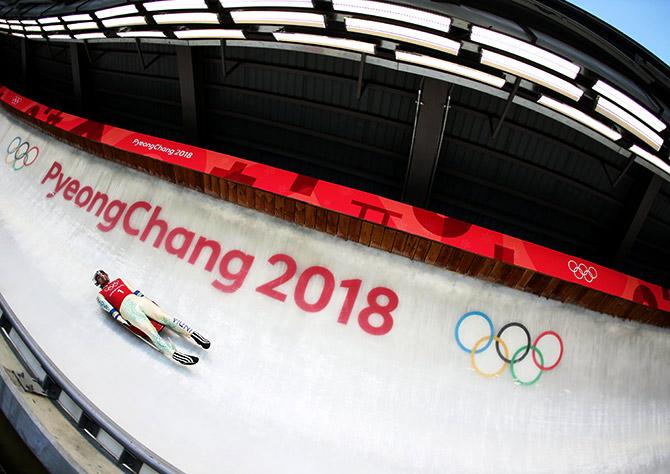 And while the mercury hits its lowest, South Korea's Jang Hye-Ji launched the Games on Thursday by sliding the first mixed doubles curling stone in Olympic history down the ice, before about 2,500 spectators at Gangneung Curling Centre, AFP reported.
North Korean orchestra serenades South Koreans amid protest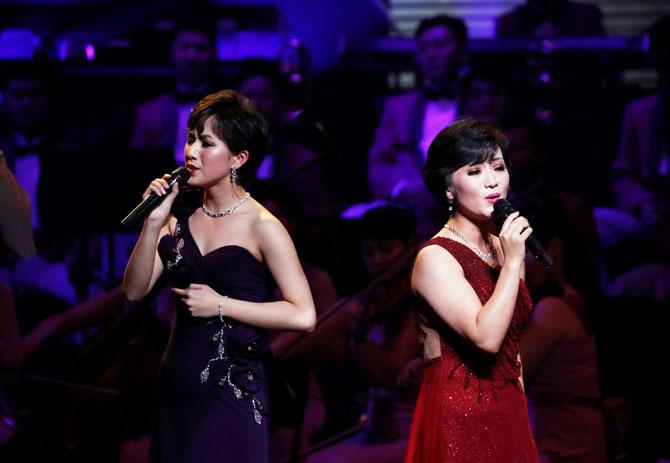 The Samjiyon Band's performance comes a day before South Korea opens its first Winter Olympics, amid a thaw in ties with North Korea highlighted by the first visit by its leader Kim Jong Un's sister, who is set to arrive on Friday.
Winter Olympics sidelights: Norway and its 'eggstraordinary' menu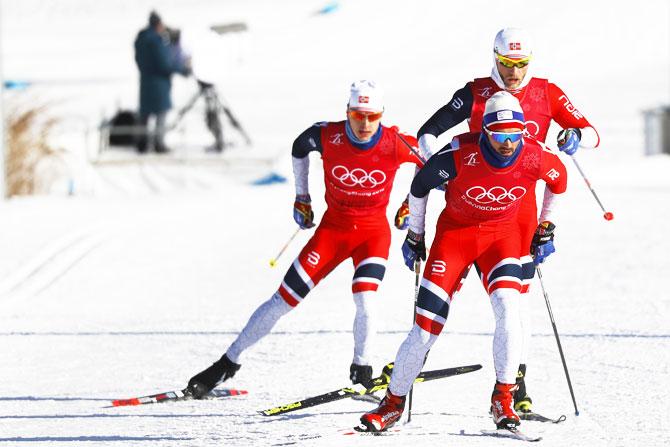 After taking receipt of 15,000 eggs instead of the 1,500 they wanted, Norway's team at this month's Pyeongchang Winter Olympics may have a pretty limited menu
February 06, 2018
EPL PHOTOS: Watford late show sinks 10-man Chelsea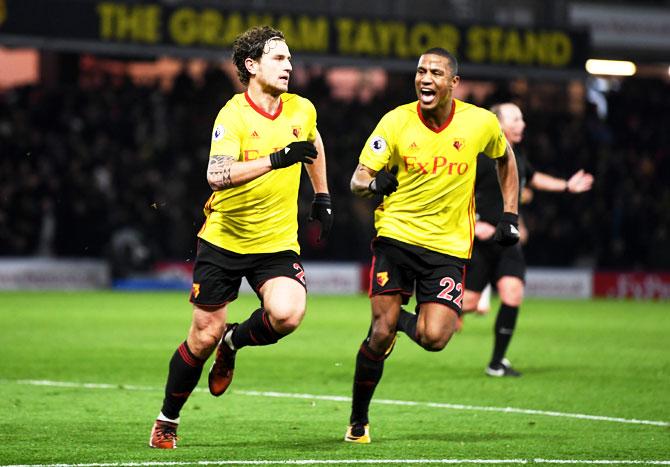 Daryl Janmaat, Gerard Deulofeu and Roberto Pereyra all scored late on in response to Eden Hazard dragging Chelsea back into the game with a curler in the 82nd minute after Tiemoue Bakayoko was sent off for a second booking on the half-hour.
February 05, 2018
PIX: Inside Neymar Jr's lavish birthday bash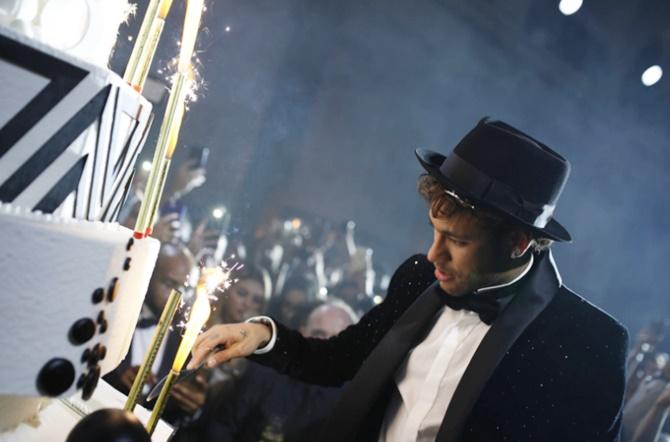 Stars turn out in Paris for Neymar Jr's extravagant birthday bash
EPL PHOTOS: Last-gasp Kane penalty earns Spurs draw at Liverpool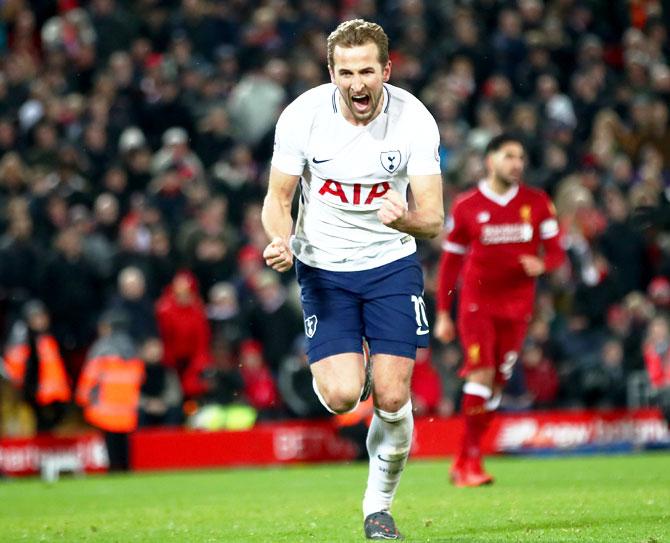 IMAGES from English Premier League matches played on Sunday
Super Bowl PIX: Families take centre-stage after Eagles stun Patriots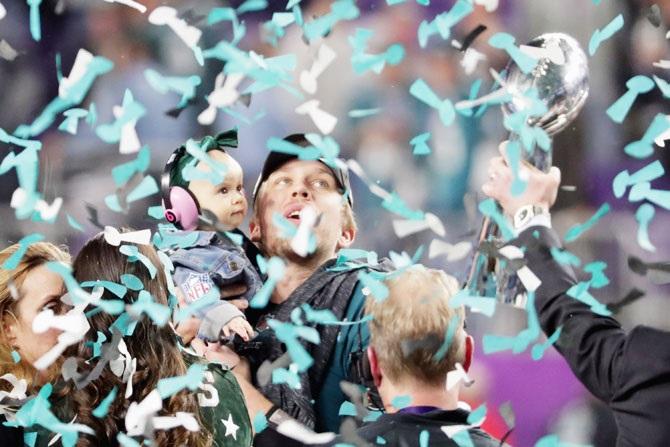 For the Eagles, who previously lost title games in 1981 and 2005, the win capped a remarkable late-season charge that most observers considered unthinkable when starting quarterback Carson Wentz suffered a season-ending injury in December.
Super-achievers Bumrah, Harmanpreet, Sidhu in Forbes 30 Under 30 list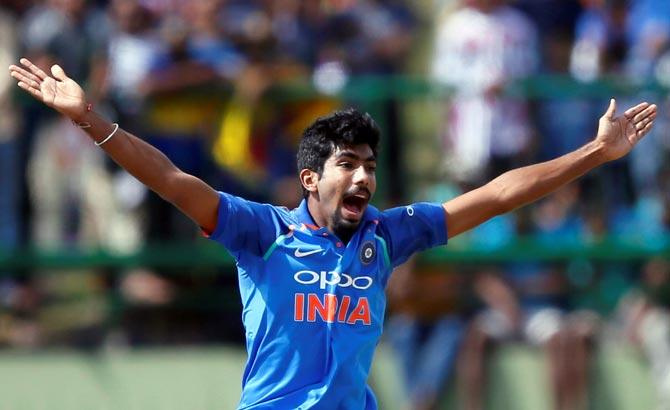 Team India's Jasprit Bumrah, India women's cricketer Harmanpreet Kaur and shooter Heena Sindhu have exceeded expectations to make the cut.
February 02, 2018
Victims' father charges at ex-USA Gymnastics doctor in court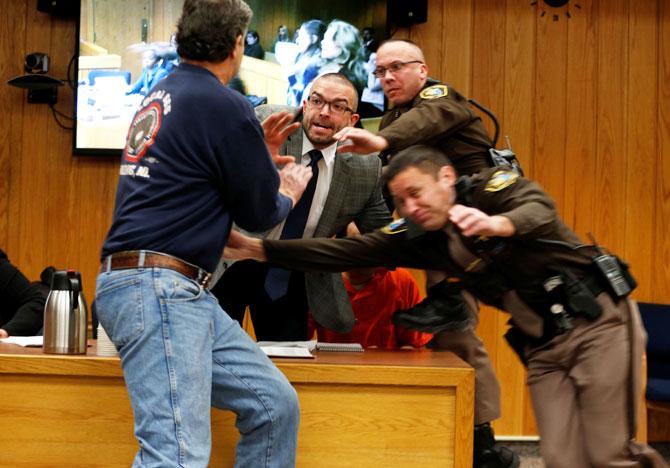 He was nearly within striking distance of Nassar before court guards tackled him roughly to the ground in front of his shocked daughters.
In pictures: When Kohli, Saina, Kournikova burnt the runway!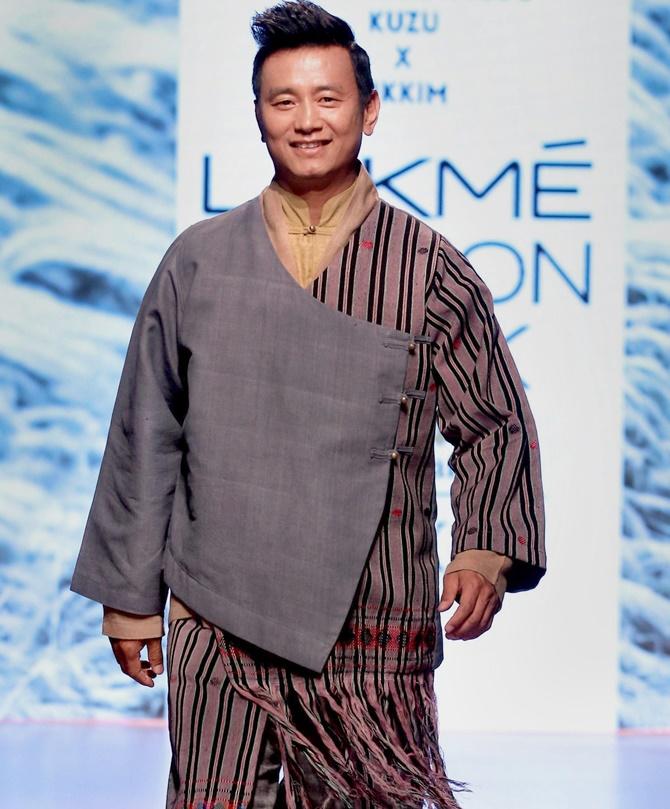 From Sania Mirza to Virat Kohli, even the likes of Virender Sehwag has shown that swagger on the runway.
February 01, 2018
EPL PIX: Man City win to go 15 points clear as United suffer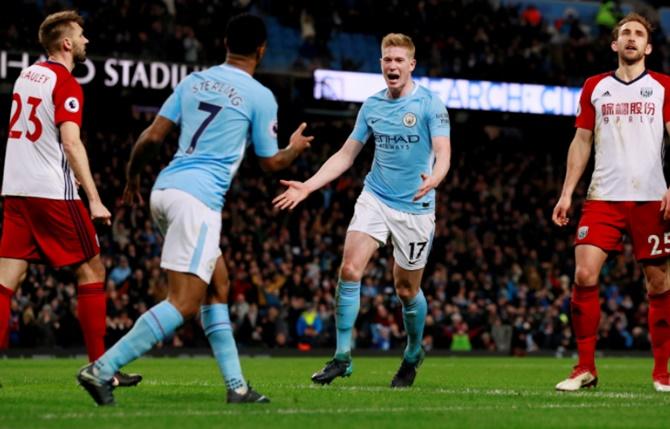 Manchester City tightened their stranglehold at the top of the Premier League on Wednesday by trouncing bottom club West Bromwich Albion 3-0 as nearest rivals Manchester United suffered a chastening 2-0 defeat at Tottenham Hotspur.
January 26, 2018
PHOTOS: Dominant Federer into Australian Open final after Chung retires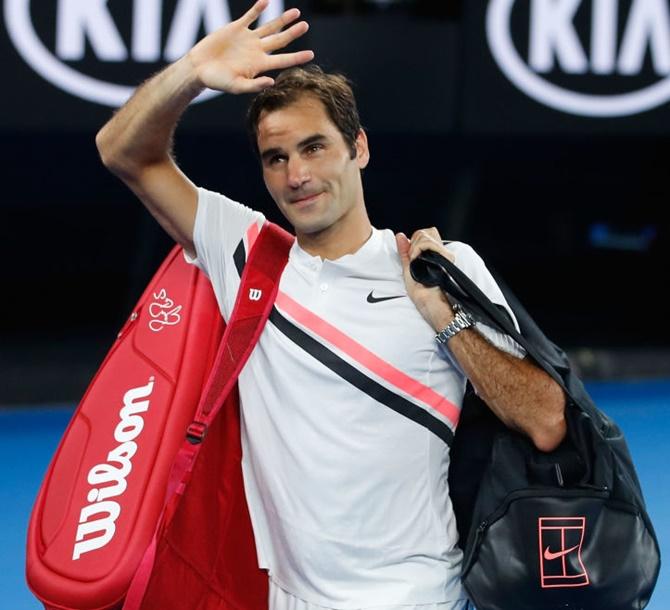 The 36-year-old was all over the world number 58 throughout a one-sided contest under the Rod Laver Arena roof, breaking three times to win the opening set in 33 minutes.
January 25, 2018
Padma Bhushan gong for Dhoni, Advani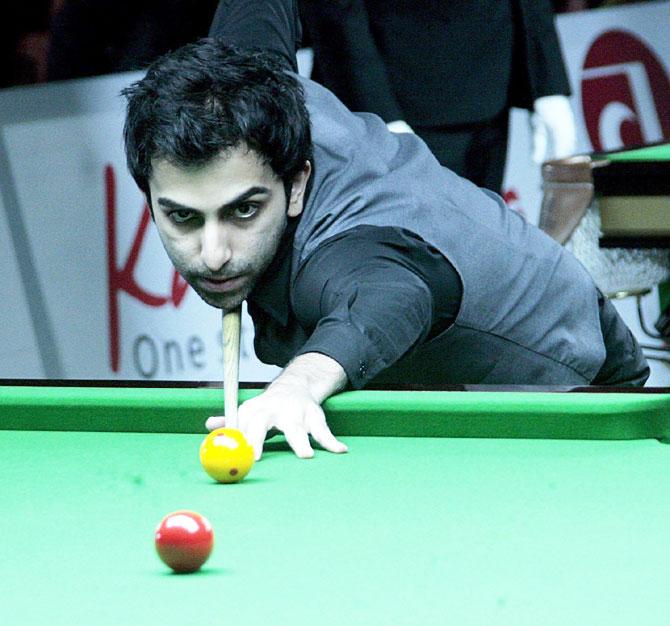 Besides the duo, 2017 World Weightlifting Champion in the 48kg category, Saikhom Mirabai Chanu and former Asian Games gold medallist tennis player Somdev Devvarman were conferred with the Padma Shri award.
Aus Open: When ruthless Cilic showed no mercy in Edmund rout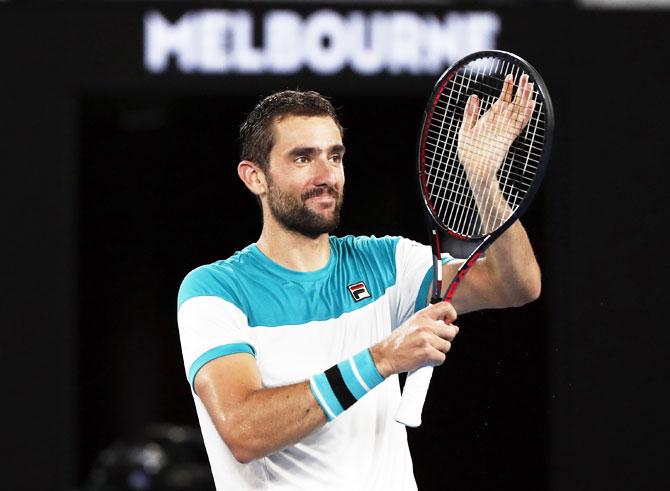 Sealing the match with a thumping serve, the 2014 US Open champion will bid for his second grand slam title against Friday's winner of Roger Federer and South Korea's rising star Chung Hyeon.
Chung can end 'Big Four' era with semi-final win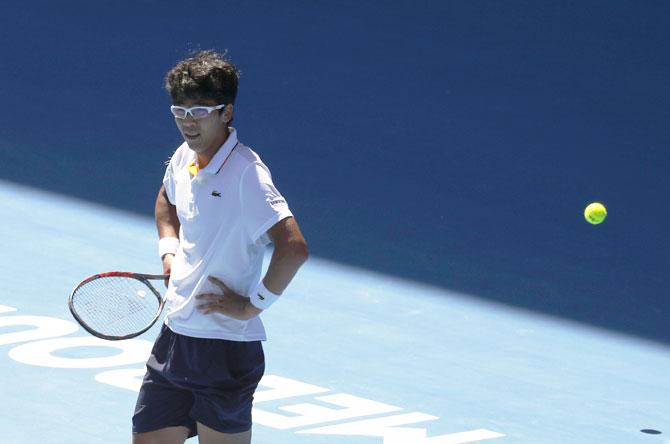 In fact, barring 2014 when Stan Wawrinka won the title, no player apart from the quartet has even been involved in the men's final at Melbourne Park since 2008.
Halep reaps reward for aggressive approach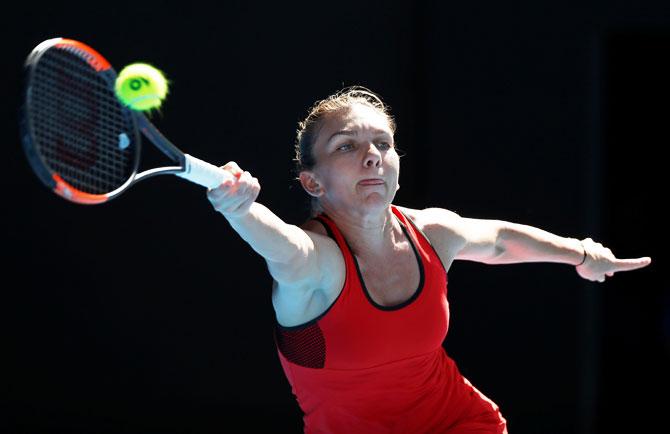 'I was aggressive. I had this in my mind, and I wanted to finish the points quicker, but was not that easy with her. She's moving very well. She was returning every single ball'
Australian Open PHOTOS: Clinical Cilic tames Edmund to reach final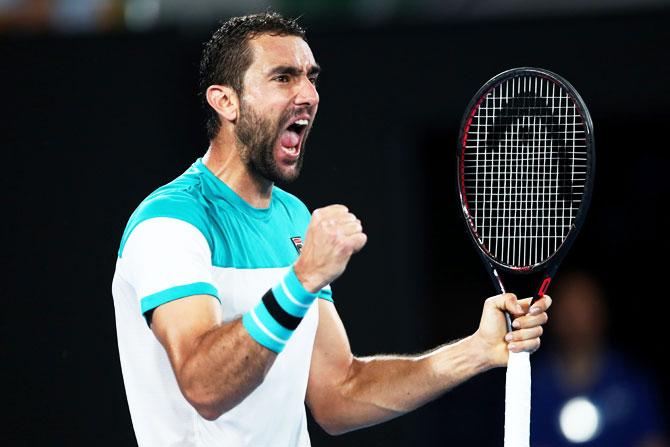 This is the first time that the towering Croatian has made the final of the Aus Open
January 23, 2018
Kerber will be brutal test for Keys: Davenport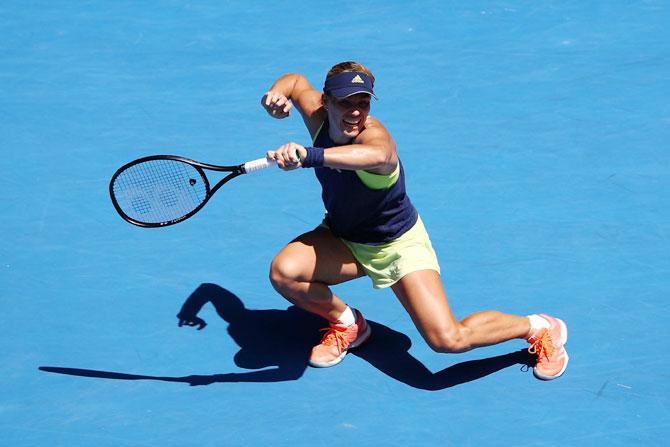 The 17th seed has been in no-nonsense mood so far in Melbourne, moving through the rounds with the minimum of fanfare, but faces her biggest test against the German.
Inspiration runs dry for mentally jaded Dimitrov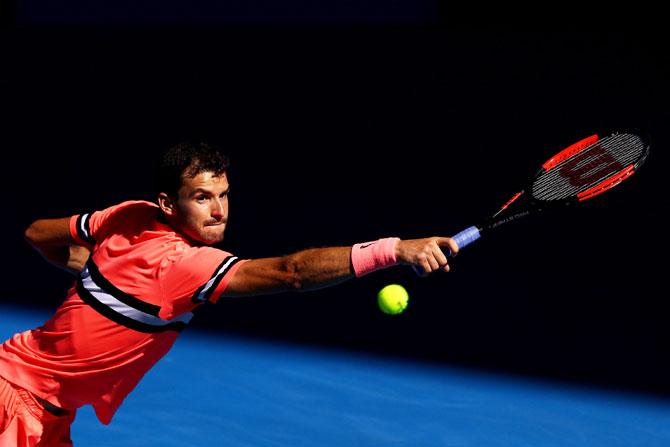 After some patchy form in the opening rounds Dimitrov hit top form to beat home hope Nick Kyrgios in the last 16, fuelling hopes of a first grand slam final appearance.
Agressive Mertens stuns Svitolina to reach Melbourne semis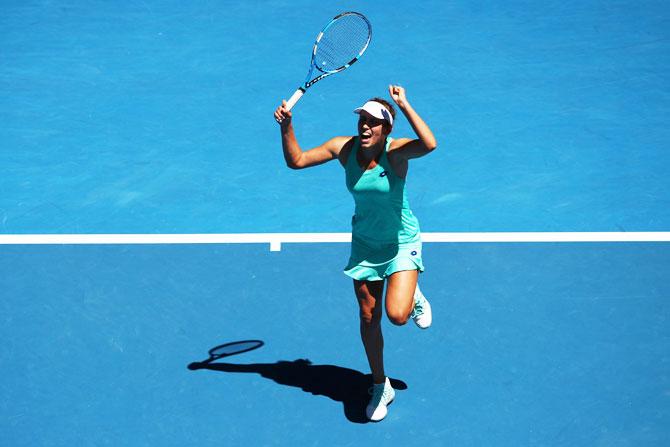 Ukrainian Svitolina came into the match riding high on a nine-match winning streak from the start of the season but, hampered by a hip injury, was completely outplayed by the aggressive Belgian on Rod Laver Arena.
EPL PHOTOS: Liverpool stunned at Swansea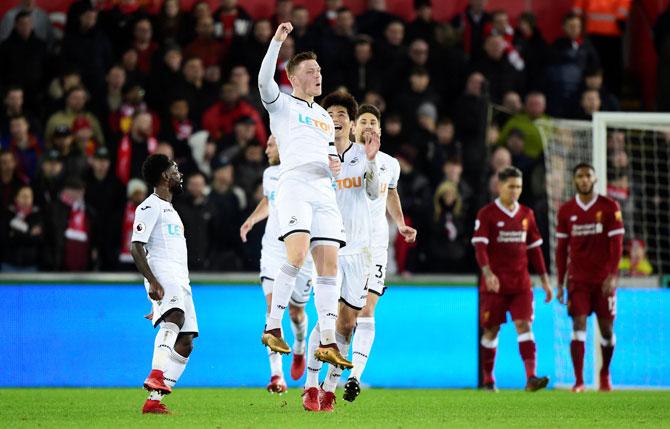 Swansea went ahead five minutes before the break when an attempt to clear by Liverpool's 75 million pounds ($104.88 million) defender Virgil Van Dijk landed at the feet of Mawson who swept the ball home for his sixth league goal this season.
Aus Open PIX: Nadal limps out, Edmund stuns Dimitrov, Wozniacki, Mertens make semis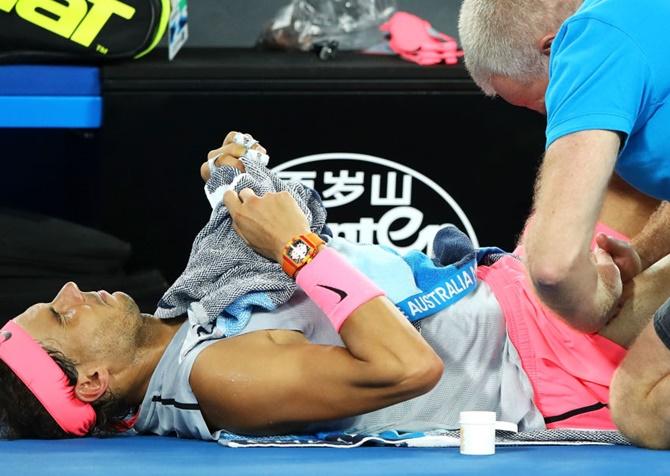 Images from the quarter-final matches played at the Australian Open at Melbourne Park on Tuesday
Cucumber cool Pliskova ready for Halep challenge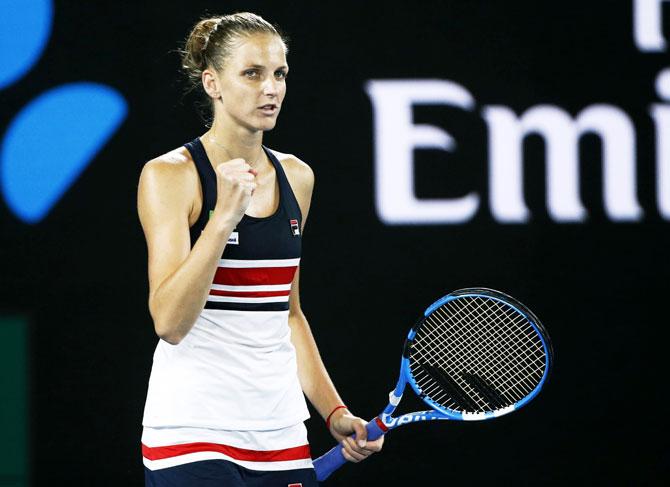 The sixth seed burnt the midnight oil in her all-Czech fourth round grudge match against Barbara Strycova, finally clinching a 6-7, 6-3, 6-2 victory at 1.35 a.m. local time on Tuesday morning.
January 22, 2018
Laver, Smith watch as six-time champ Djokovic upset by Korean Chung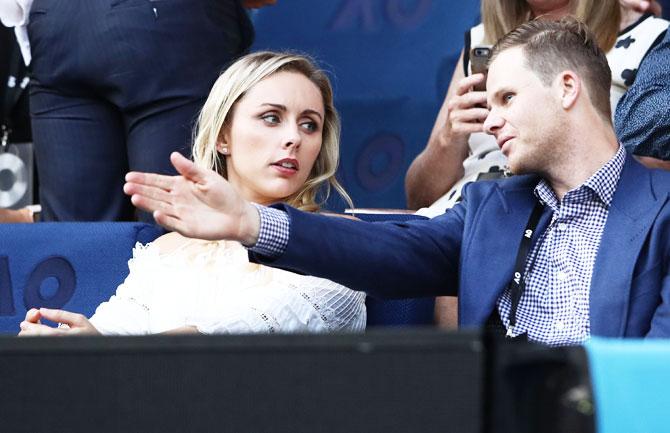 Djokovic lost 6-7, 5-7, 5-7 to 21-year-old South Korean Chung Hyeon in a gripping fourth round tie.
Kerber back in quarter-finals club after tough year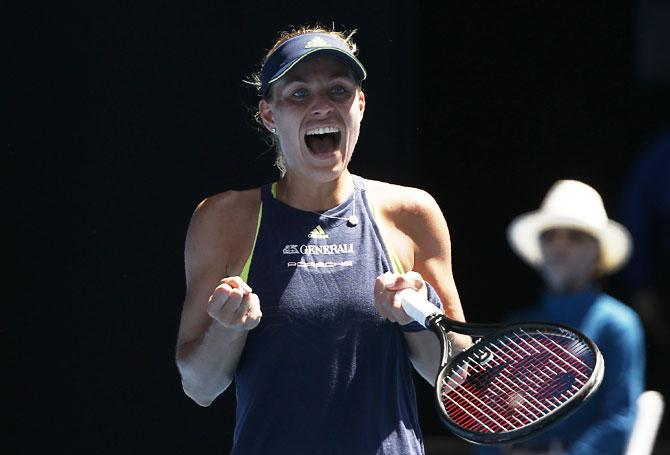 The 2016 champion's next opponent may be far more to her liking than Hsieh, whose dazzling marksmanship left Kerber shrieking in frustration throughout much of the two-hour and eight-minute clash.
Nocturnal Federer makes light of day shift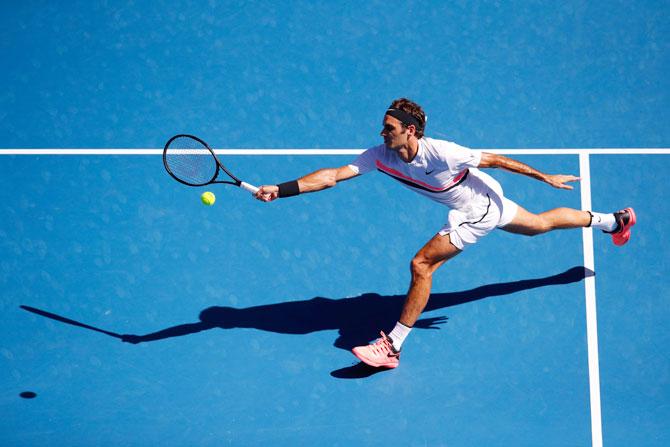 The defending champion did not require his dazzling best against 80th-ranked Hungarian Marton Fucsovics in his first match scheduled during the day session but still emerged a comfortable 6-4, 7-6(3), 6-2 winner.
Fitter, stronger Berdych sweeps past Fognini into Aus Open quarters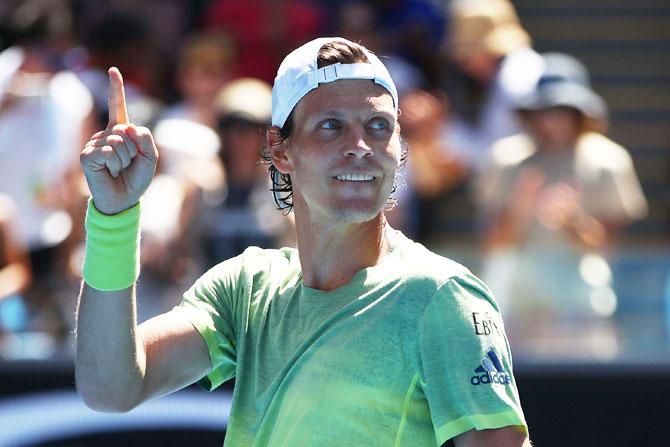 Showing great mobility, the towering Czech neutralised the potentially tricky world number 25 in a sometimes tetchy two-hour contest on Margaret Court Arena.
Football Briefs: Bayern stretch Bundesliga lead with win over Bremen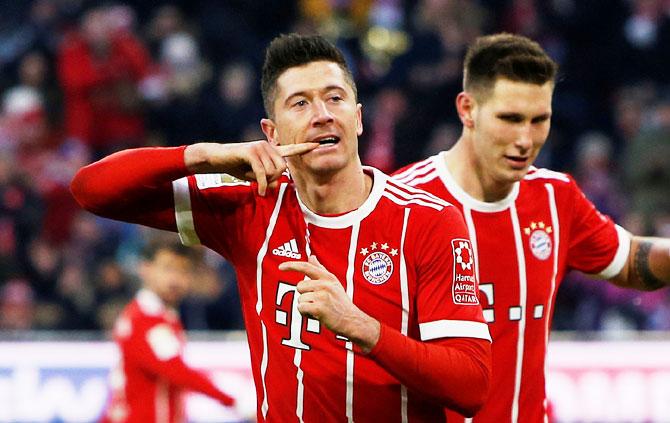 News of all that's transpired on and off the football field
Could this be the secret to Barca's massive lead in La Liga?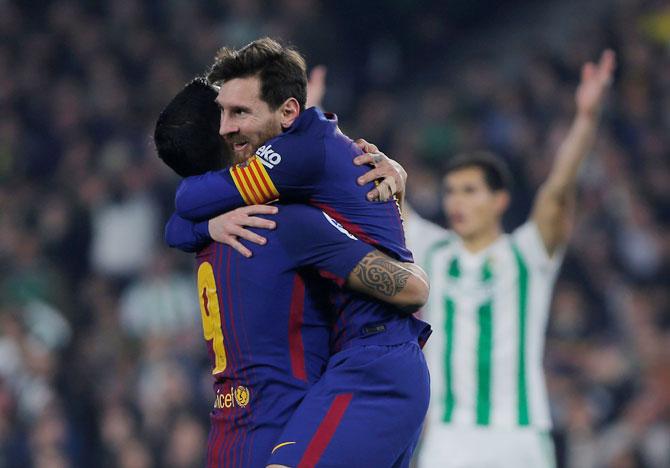 Barca's second-half stamina key to their massive lead in the standings this season
Willow-thin Su-Wei leaves her mark at Australian Open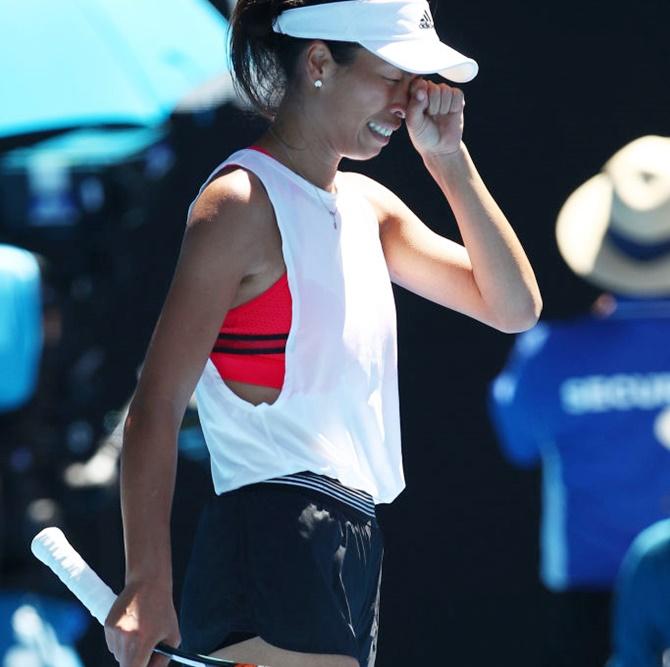 Taiwan's Hsieh Su-wei has enjoyed double good fortune at Melbourne Park this week.
Aus Open PIX: Chung stuns Djokovic; Federer, Halep in quarters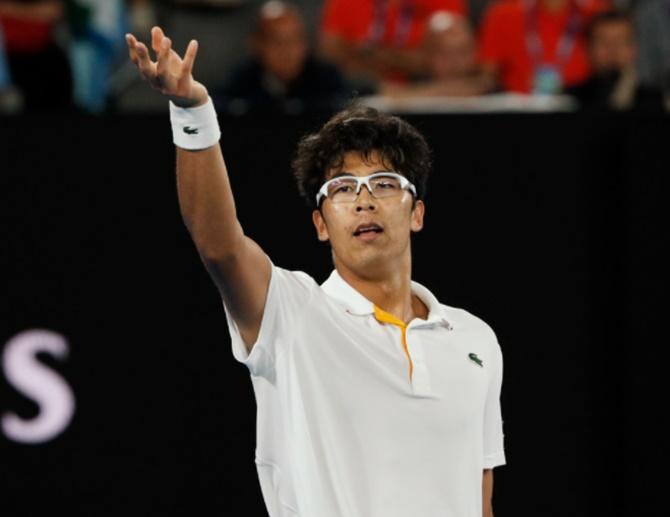 Images from the matches played on Day eight of the 2018 Australian Open at Melbourne Park on Monday
Mirror, mirror on the phone, am I still the fairest of them all? - asks Ronaldo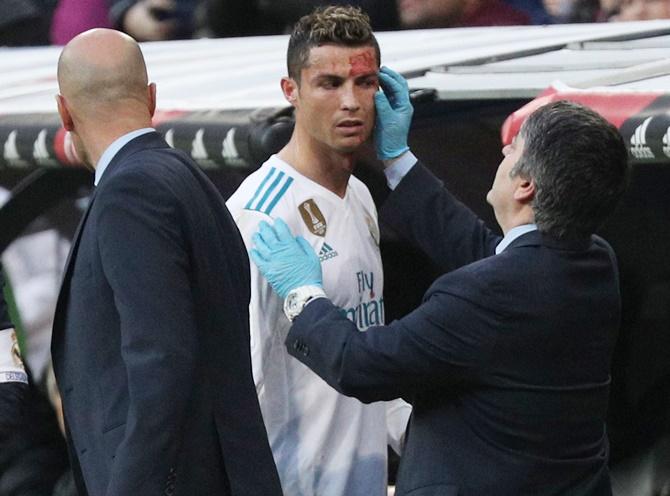 Cristiano Ronaldo took his obsession with his image to new heights as he examined his bloodied face on the mobile phone of a Real Madrid doctor while walking off the pitch towards the end of Sunday's 7-1 win over Deportivo La Coruna.
January 19, 2018
Melbourne is frying others but Federer's unapologetic about his sched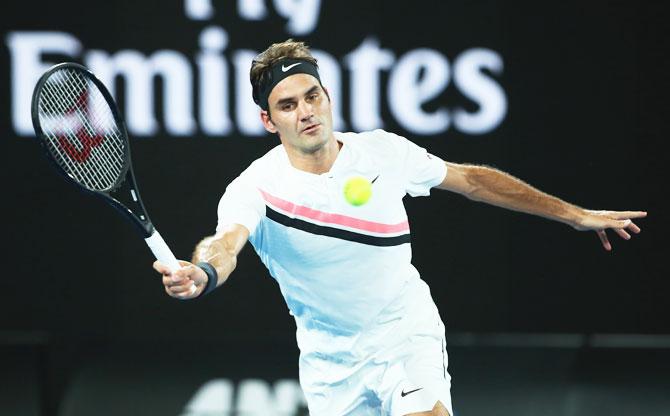 Players complained about the conditions, with France's Alize Cornet stating extreme the heat policy could be endangering the safety of players, this, after she suffered dizzy spells during her third round match against Elise Mertens on Friday.
Federer and Sharapova give us a reminder of 'sweet times'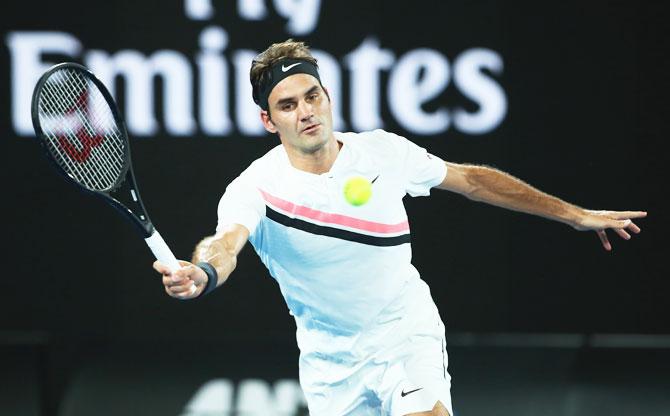 With colours resembling famous candies and lolly brands, Nike splashed bright hues to drive sales to younger fans
Physically extraordinary Djokovic is battle ready, asserts coach Agassi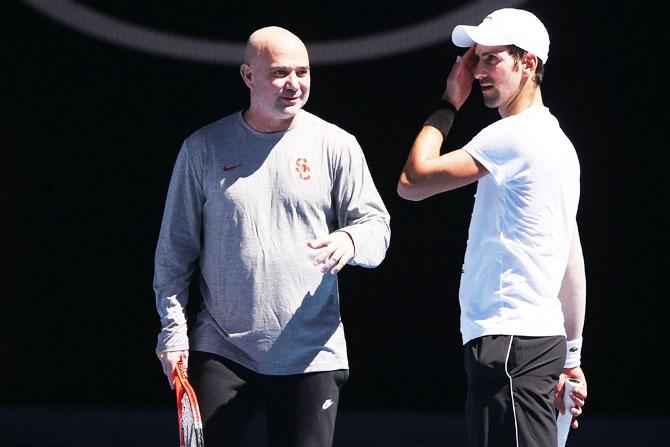 Physically extraordinary Djokovic is battle ready, asserts coach Agassi
'Almost on the edge' Cornet asks for Aus Open heat policy review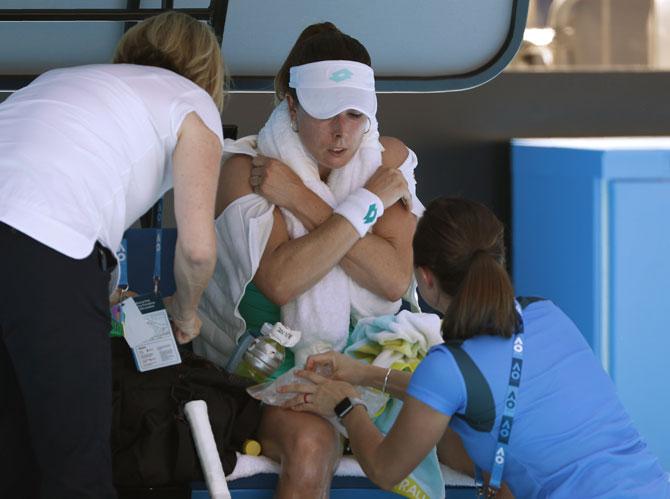 'The limit of not playing the match is really high, it's like it needs to be above 45 degrees and humidity. I think this limit should be a little lower because playing in this condition is not nice for anyone'
PHOTOS: Players get roasted as Melbourne heat wave continues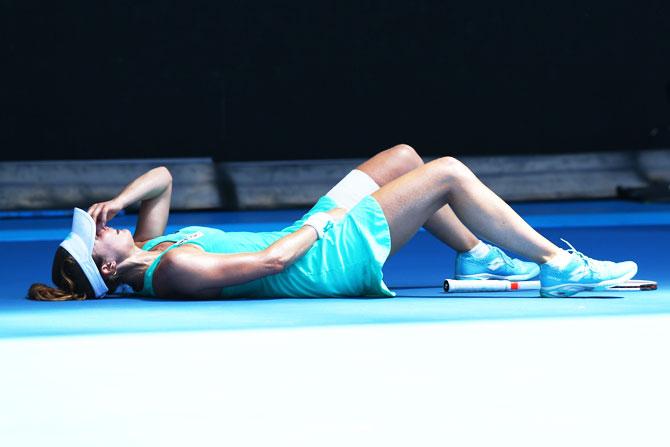 Relief was at hand, however, with a cool change blowing over the city and the temperature expected to fall back below 30 by the evening.
Aus Open PHOTOS: Nadal waltzes into last 16; Kyrgios, Dimitrov, Svitolina also through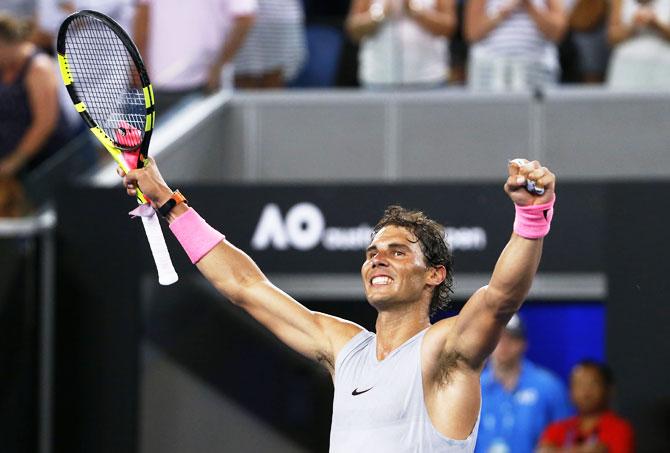 Images from matches played on Day 5 at the Australian Open in Melbourne Park on Friday
January 18, 2018
FA Cup: Chelsea through on penalties, Bournemouth lose to Wigan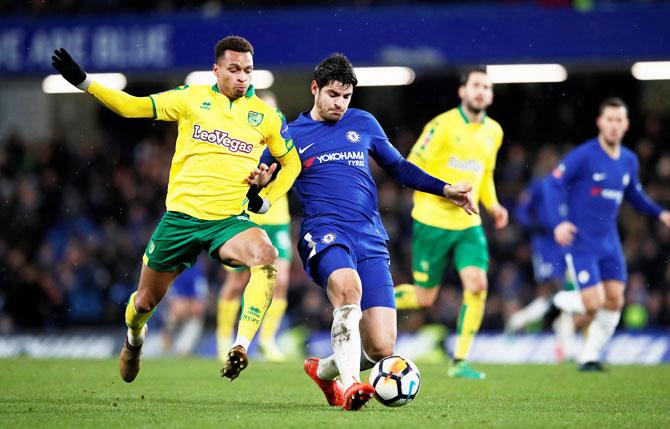 Chelsea manager Antonio Conte was fuming at the final whistle after Pedro and Alvaro Morata were dismissed in extra time and two penalty appeals had been waved away, but the Premier League champions regained their composure to win the shootout 5-3.
Aus Open PHOTOS: Federer, Djokovic, Zverev battle through; Muguruza, Wawrinka out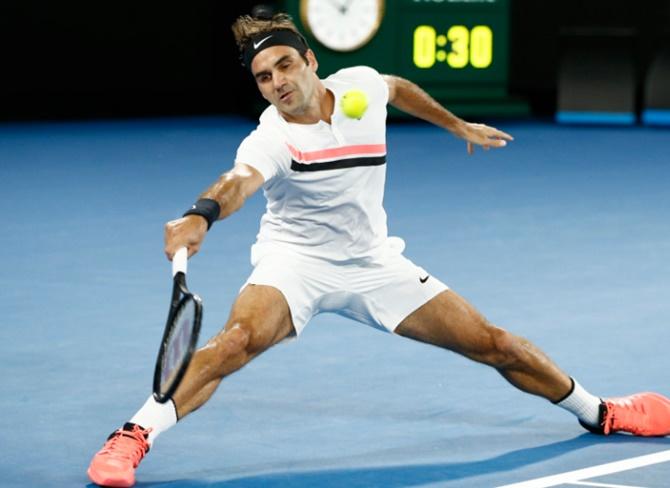 Images from matches played on Day 4 of the Australian Open at Melbourne Park on Thursday
PHOTOS: Big upsets on Day 4 at Australian Open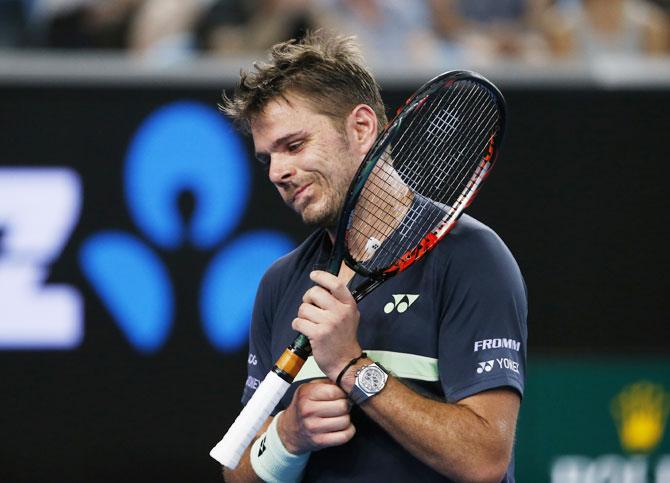 From potential dark horses to former champions, here are the players who were knocked out of the Australian Open on Thursday
PIX: Sharapova sizzles in scorching Melbourne to reach 3rd round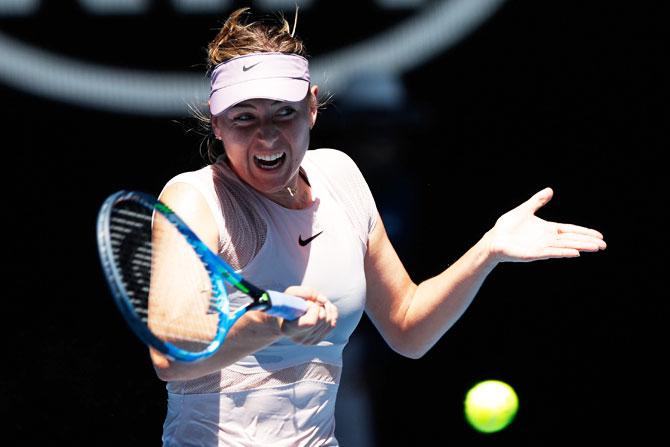 So prior to their Melbourne Park rematch, former champion Sharapova said she was primed and ready for another drawn out dog-fight against the 14th seed.
PIX: Players, fans melt under Melbourne sun at Aus Open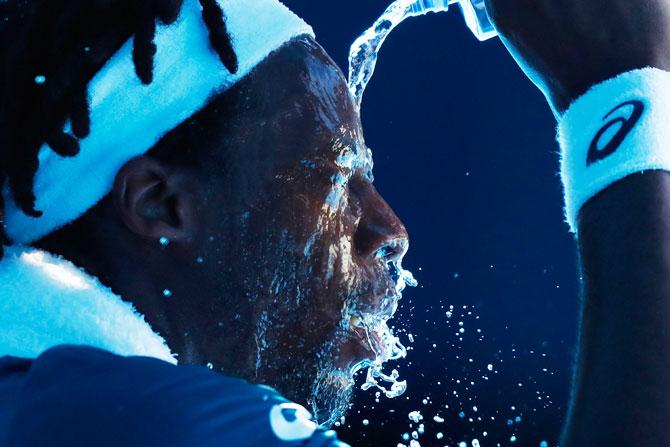 Here are images from a hot, hot day from Melbourne Park...
PHOTOS: Djokovic survives Melbourne furnace to beat Monfils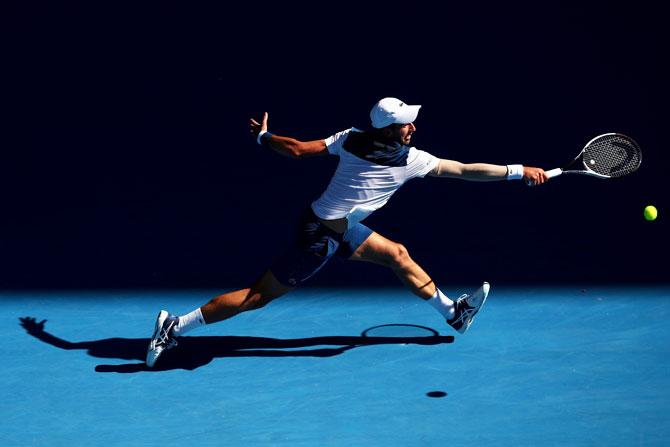 Djokovic, playing his first tournament for six months because of an elbow problem, dropped his opening two service games and although he battled back to break Monfils twice he wavered again as scrappy opener went his opponents' way.
January 17, 2018
Aus Open: Tsonga edges Shapovalov to strike blow for old guard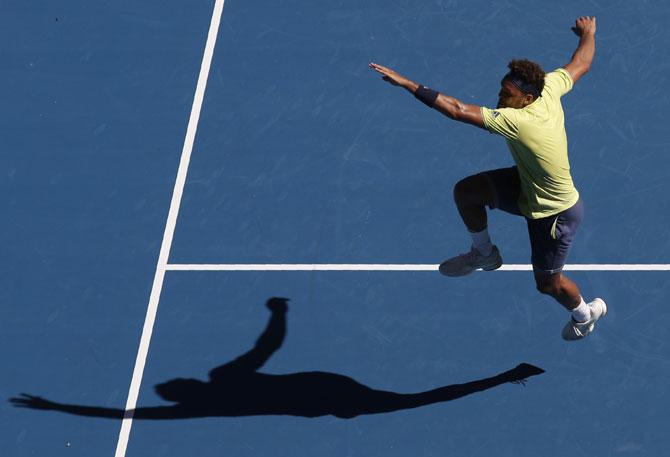 Two errors from his favourite backhand and a double-fault opened the door for Tsonga to break back and the Frenchman then swept through the final three games, sealing the 16th five-set victory of his career with a textbook serve and volley winner.
Victim of ex-USA gymnastics doctor says abuse led to dad's suicide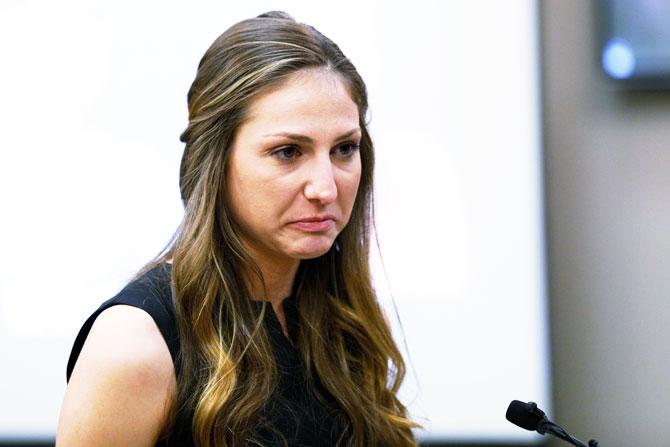 Kyle Stephens, pausing to compose herself during Nassar's sentencing hearing in a courtroom in Lansing, Michigan, on Tuesday, said the doctor, a family friend, began molesting her when she was 6 years old and her parents did not believe her when she told them.
Aus Open PHOTOS: Nadal, Kyrgios advance; Wozniacki survives scare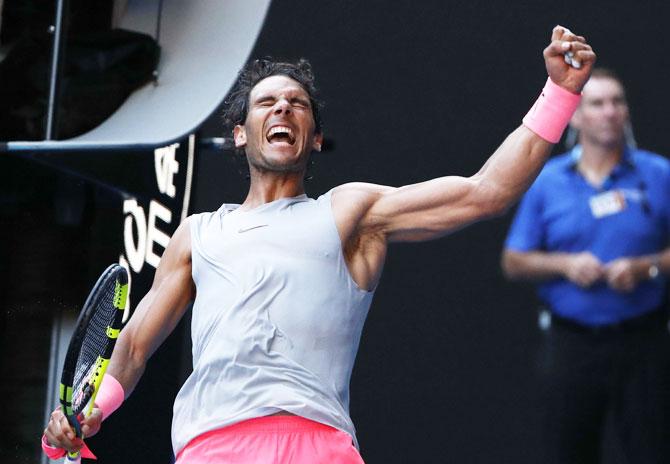 Images from the Australian Open matches played at Melbourne Park on Wednesday.
January 16, 2018
Pressure will determine whether Djokovic is back: Wilander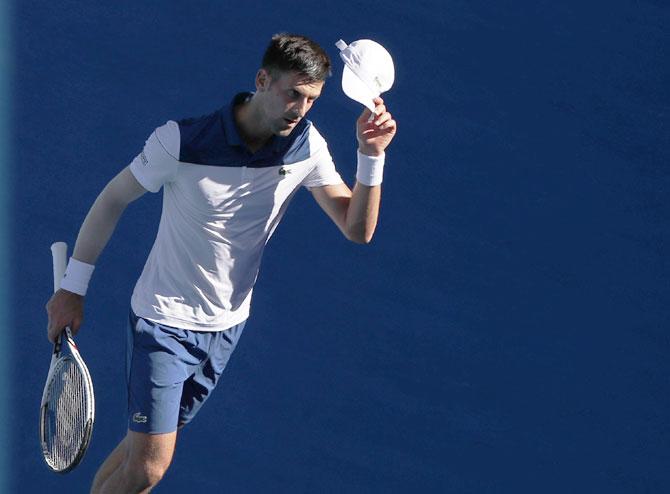 'When it's easy it's going to be no problem. When it gets tough that's when you know what's going to hold up and what's not'
January 15, 2018
Day 2 at Aus Open: Federer, Djokovic in action on day of returns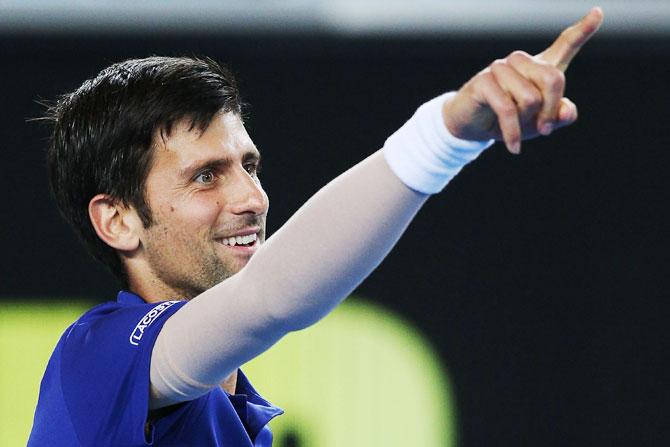 Six times a men's singles champion Down Under, the Serbian will be joined in making a return at MelbournePark by 2008 women's champion Maria Sharapova, who missed last year's tournament because of a doping ban.
Fans swoon as sleeveless Nadal turns up the heat in Melbourne!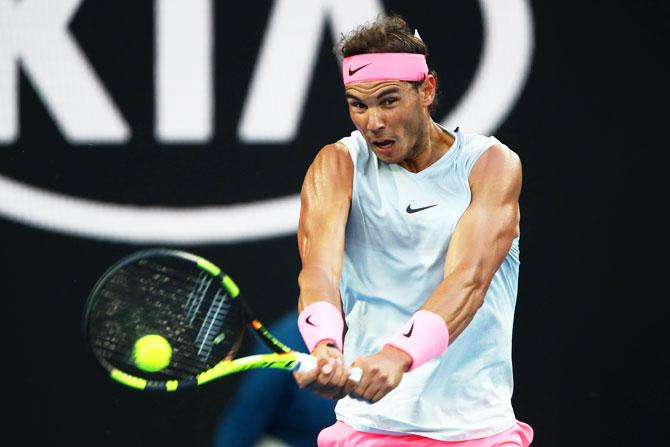 Fans literally broke Twitter, going gaga over Rafa's muscle-exposing sexy style.
Victorious Nadal says doubts are good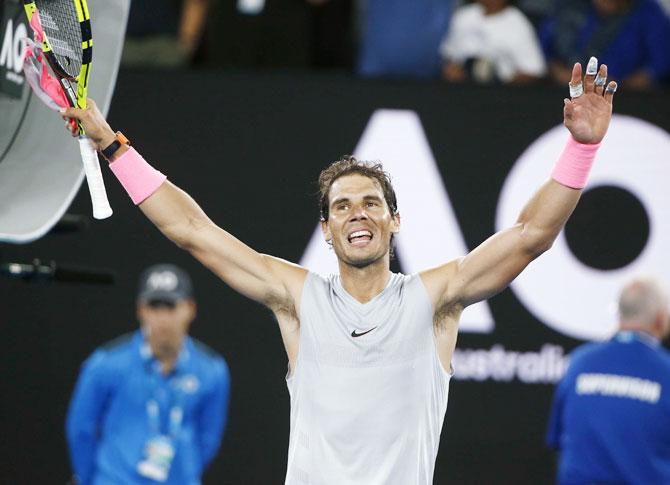 'It's a positive start with a good result. If I do months without playing an official match, it's always a little bit more difficult.'
EPL PHOTOS: Liverpool end Man City's unbeaten run in thriller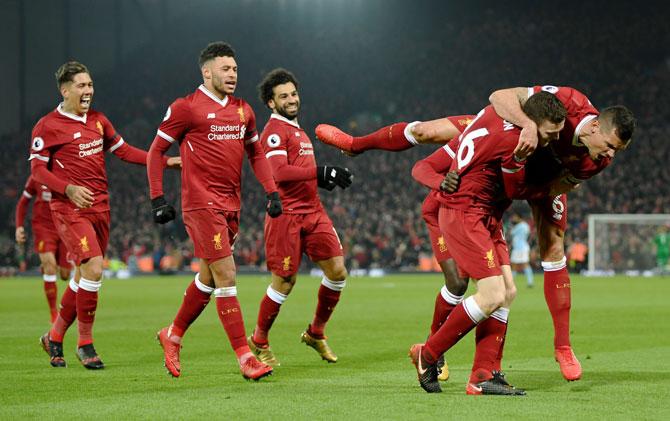 Images from the English Premier League match between Liverpool and Manchester City played at Anfield on Sunday
January 14, 2018
EPL PHOTOS: Bournemouth rally to beat lacklustre Arsenal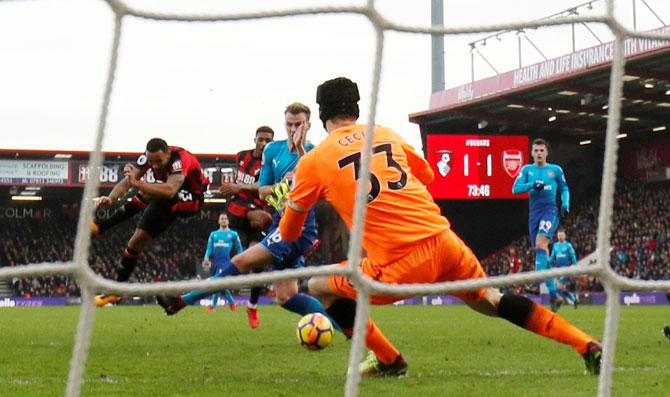 After Hector Bellerin fired through Asmir Begovic to open the scoring for Arsenal in the 52nd minute, Callum Wilson and Jordon Ibe scored within five second-half minutes to turn the game on its head.
Kyrgios finally beginning to look like the real deal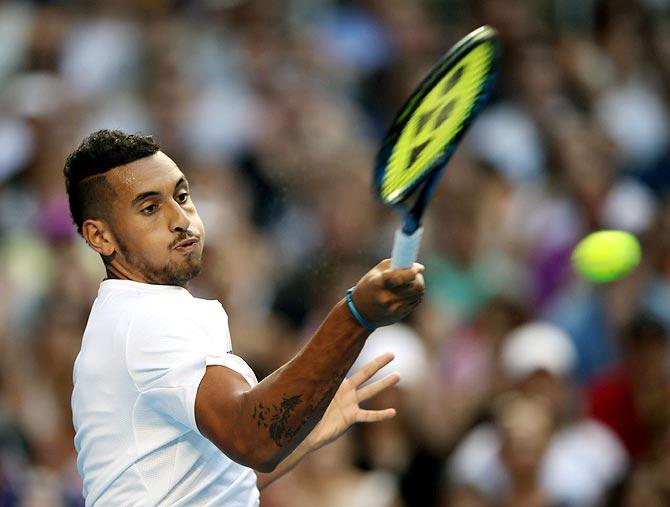 No home player has won the Australian men's title since Mark Edmondson in 1976 but hopes are soaring that Kyrgios could end that long wait after his spectacular start to the year.
Slam number 20 in sight but Federer plays down favourite tag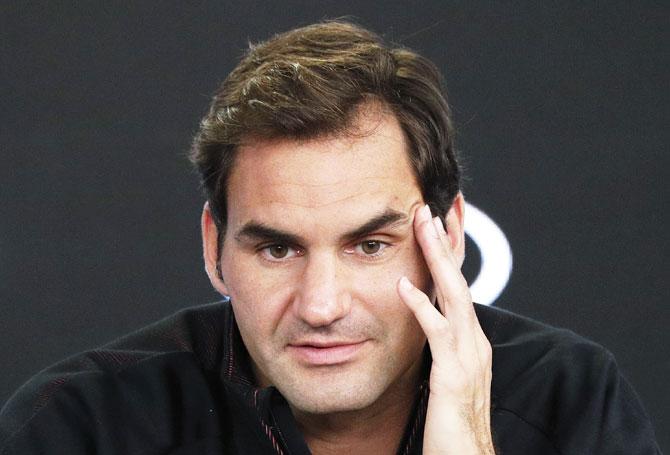 According to News.com.au, the 36-year-old tennis ace has said that his aspirations are different to last season, when he contrived a miracle win despite a supposedly horrendous draw.
January 11, 2018
Tennis round-up: Del Potro sets up Ferrer semis at Auckland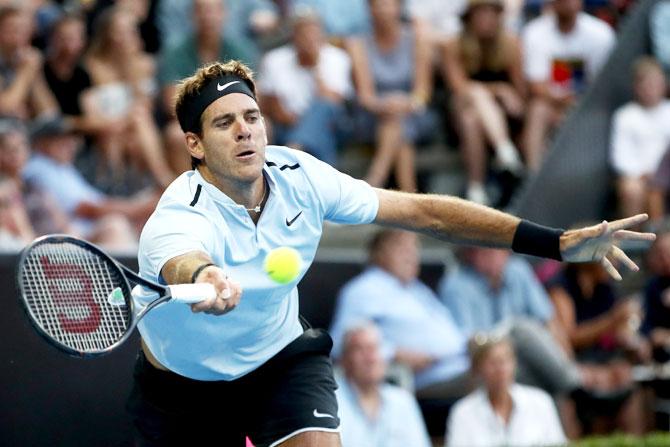 Former US Open champion Del Potro fired down 11 aces and did not face a break point during the one hour, 33 minutes match.
Bookies, experts, Federer is everyone's favourite for Aus Open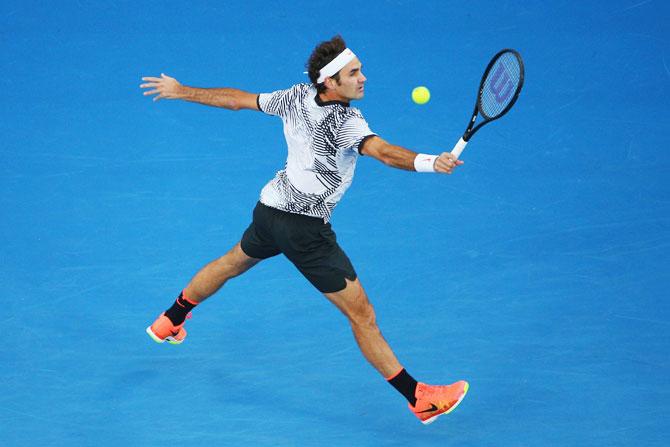 Federer's bid for a 20th grand slam title will be aided by the absences of Andy Murray and Kei Nishikori, as well as lingering injuries to top players who are still expected to play like Rafael Nadal and Stan Wawrinka.
Aus Open draw: Federer faces unknown Bedene in opener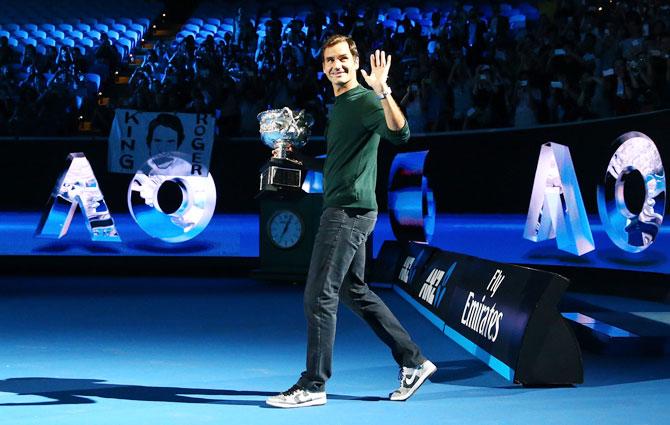 Djokovic is clubbed with Federer, Juan Martin Del Potro, David Goffin and Alexander Zverev.
League Cup: Chelsea spurn chances in stalemate with Arsenal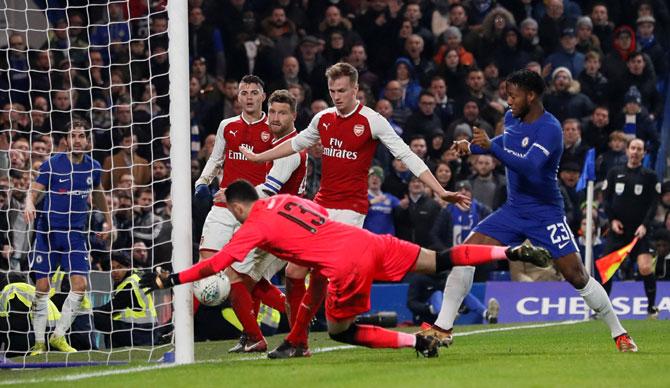 The hosts struggled to break down Arsene Wenger's side despite enjoying the majority of possession and will feel hard done by after crafting the best of the game's few openings in a lively game at Stamford Bridge.
January 10, 2018
League Cup PIX: City get advantage after Aguero heads last-gasp winner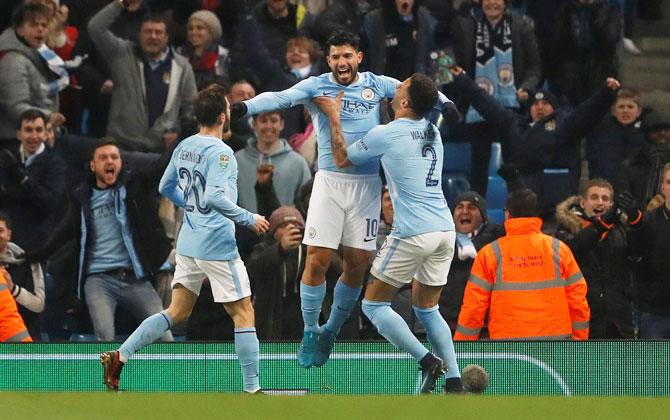 City, who have dished out a string of maulings in a stellar league campaign, found the Championship side a tough nut to crack and had to wait until the 92nd minute to grab the winner when Argentine substitute Aguero darted in to head home.
Australia impatient for home champion at Melbourne Park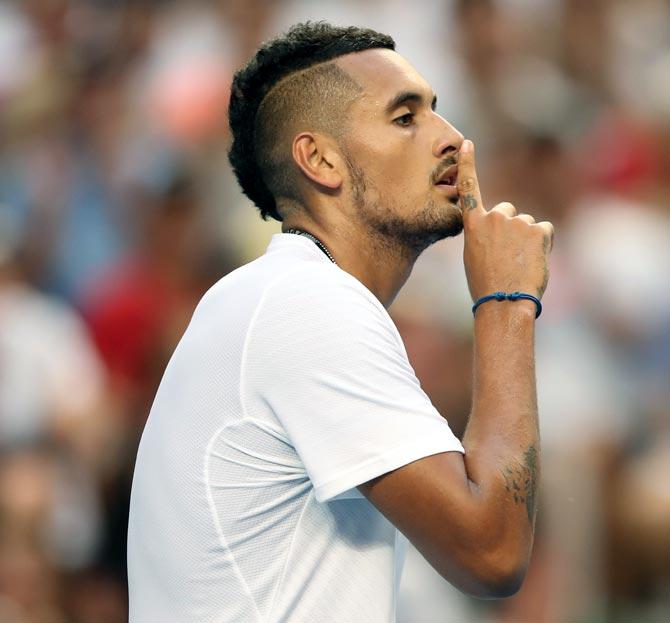 Forty years have passed since Chris O'Neil held the Daphne Akhurst Memorial Cup aloft as the last Australian women's champion in 1978.
After medal, skier Aanchal hopes govt ends apathy towards winter sports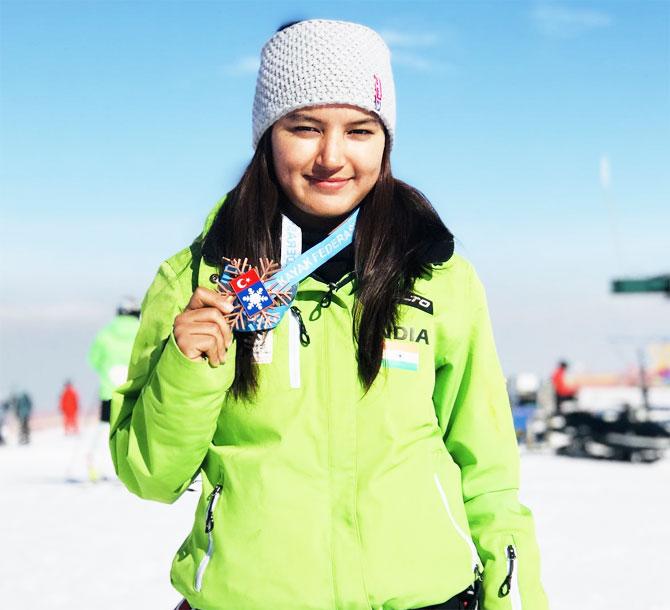 'I just want to say that we too are fighting, working hard, day in and day out for India'
Djoko tames 'greatest enemy' before hitting the straps with Thiem win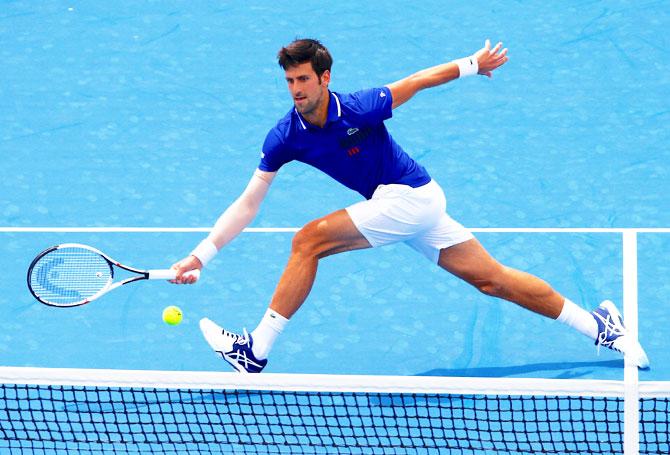 Six-time Australian Open champion Djokovic pulled out of a tournament in Abu Dhabi last week because of continuing problems with his right elbow and wore a sleeve over the joint during his round robin match against the Austrian.
New era dawns for Nadal sans Uncle Toni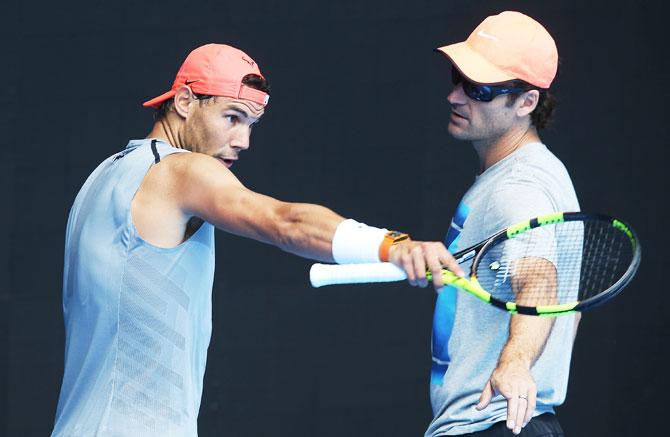 'It's a new era and will be like adapting to a different routine. Moya has come with new ideas and new methods of working that have worked well and we are excited'
January 07, 2018
Tennis round-up: Kyrgios gets Brisbane title boost ahead of Australian Open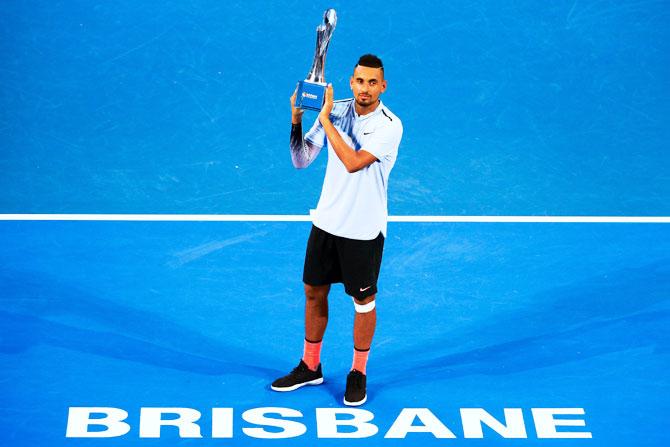 Nick Kyrgios clinched his maiden tour title on home soil in a big confidence boost ahead of the Australian Open, beating Ryan Harrison 6-4, 6-2 in the Brisbane International final.
Football Briefs: Immobile hits four in Lazio rout in Serie A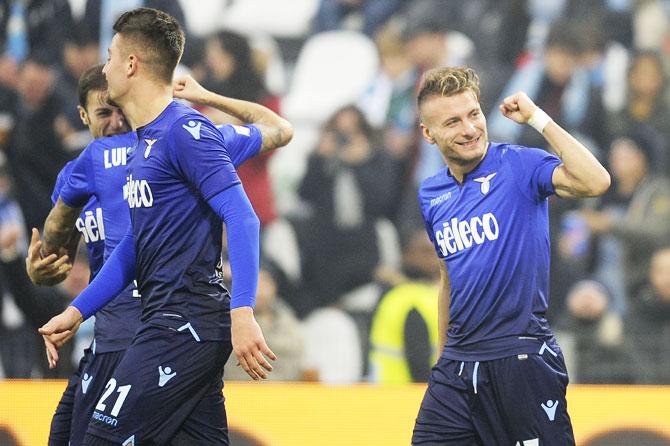 News of all that's transpired on and off the football field
FA Cup PIX: Aguero scores twice in City win, Chelsea held by Norwich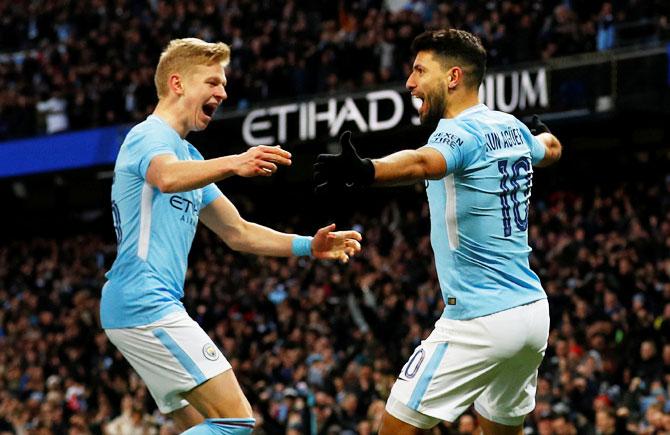 Former Cup winners Coventry, now plying their trade in the bottom division of the Football League, revived memories of happier times as Jordan Willis and Jack Grimmer scored the goals in a 2-1 victory at the Ricoh Arena.
World champ Saksham among 5 powerlifters killed in road accident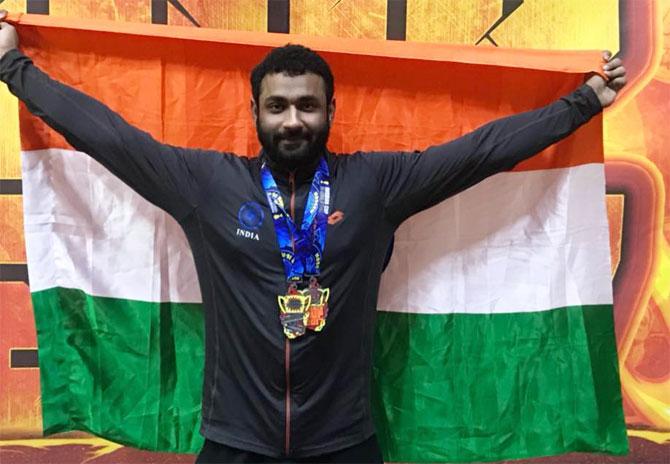 According to Delhi Police, the incident occurred at around 3 am on Sunday.
January 04, 2018
EPL PHOTOS: Arsenal held to exciting draw by Chelsea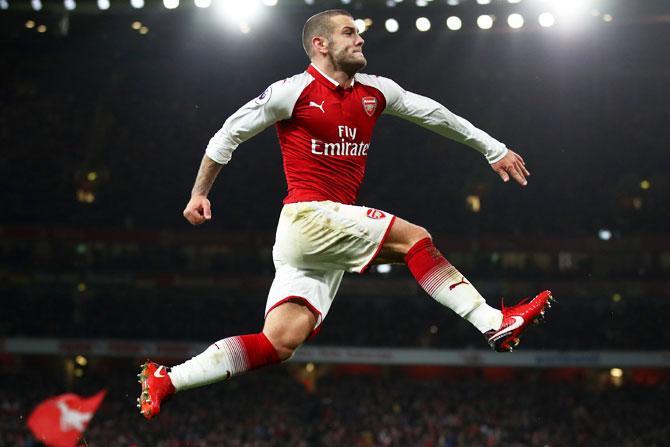 Images from the English Premier League London derby played between Arsenal and Chelsea at the Emirates on Wednesday
WATCH: How Cilic overpowered Ramakumar to moves into Tata Open quarters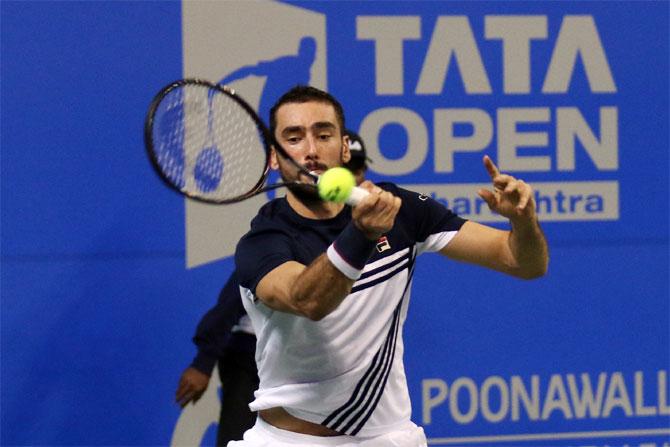 Ramkumar played with a lot of passion against the 2014 US Open champion and 2017 Wimbledon finalist before bowing out with a 4-6, 3-6 second round defeat.
Tennis round-up: Murray, Nishikori pull out of Australian Open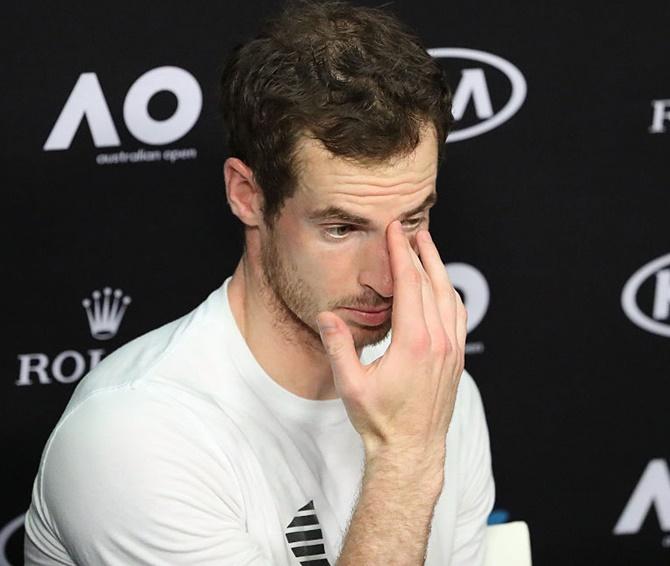 Bernard Tomic is set to sit out the Australian Open after Tennis Australia (TA) decided not to award him a wildcard to the main draw, the organisers said on Thursday.
January 03, 2018
EPL: Wenger charged for comments about referee at West Brom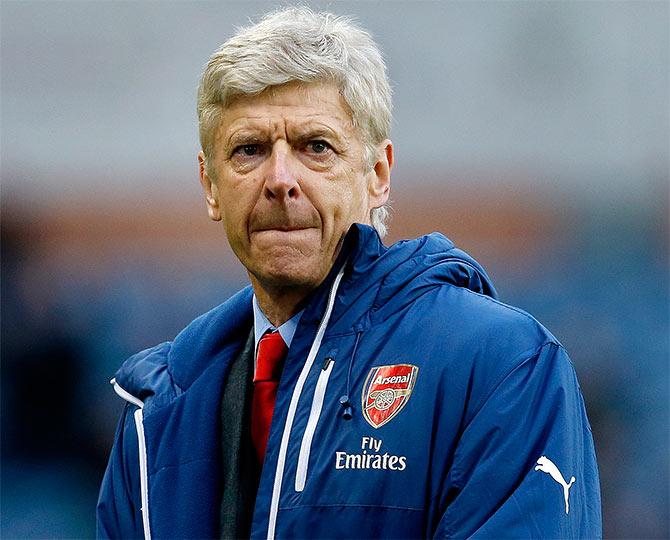 Wenger has until Friday to respond to the charge.
EPL PHOTOS: City back to winning ways, Spurs win at Swansea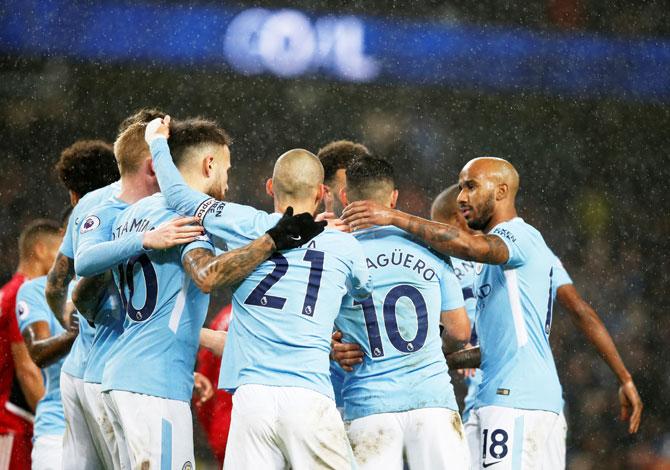 Images from EPL matches played on Tuesday
January 02, 2018
EPL: Mourinho hits back at Scholes over Pogba criticism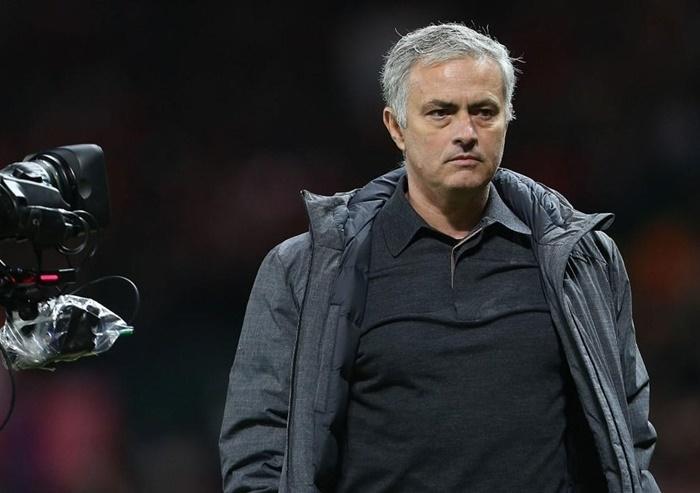 Leicester's Mahrez finds form in time for January sales
PHOTOS: What an exciting, long weekend of sports it was...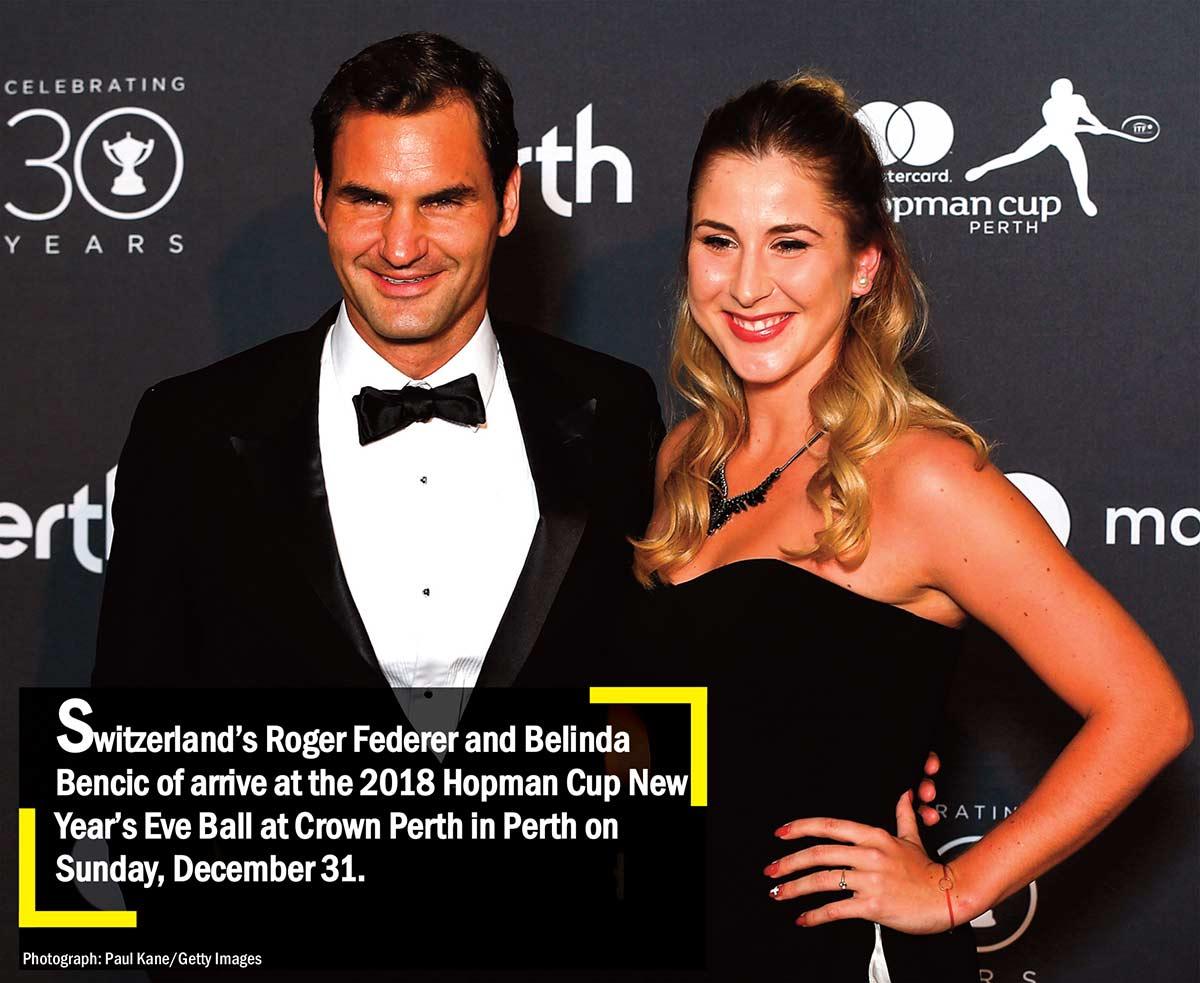 We begin the New Year with 10 pictures that mirrored the exciting happenings of the last 48 hours.
Tata Open Maharashtra: Yuki tames Kadhe; Jeevan-Bopanna beat Paes-Raja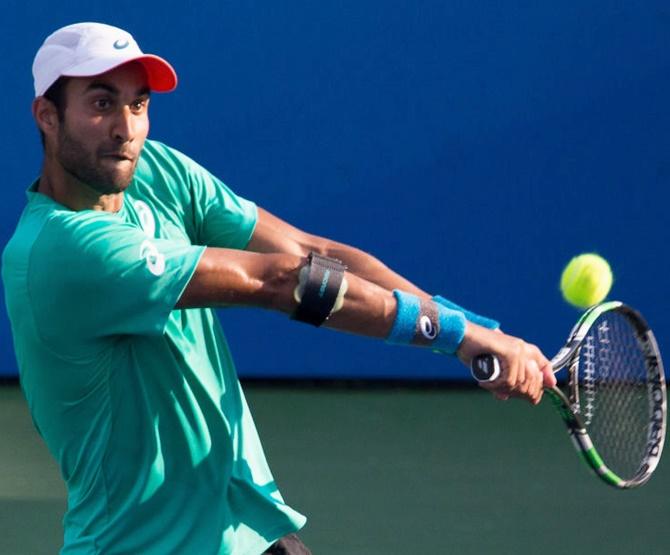 Yuki Bhambri asserted his class over a promising Arjun Kadhe even as young Sumit Nagal's ATP World Tour debut ended in a tame defeat at the Tata Open Maharashtra in Pune on Tuesday.
December 30, 2017
Soccer in 2017 Ronaldo continues reign; Aizawl FC make their mark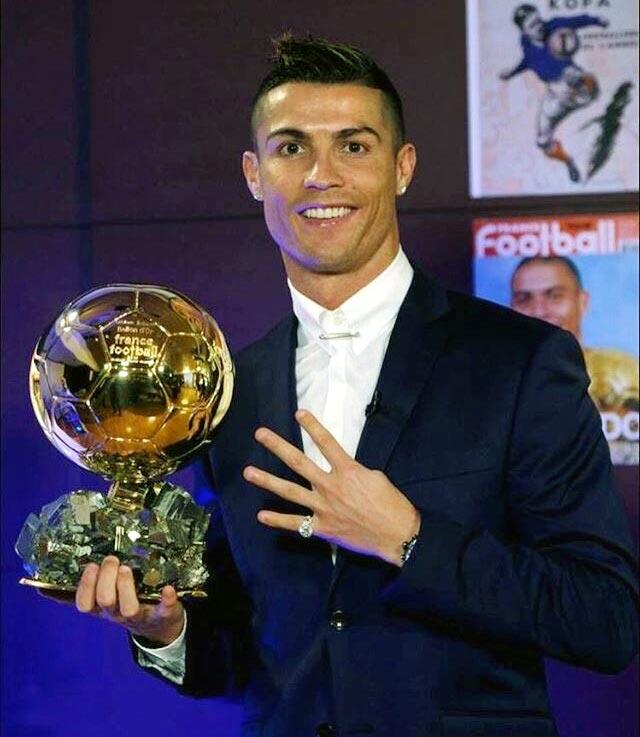 Laggards in international rankings, India finally made their presence felt by pulling off an impressive under-17 World Cup that drew all-round praise even though the country was eliminated in the very first round.
That's a wrap! Kohli rules in 2017 while Anand turns back the clock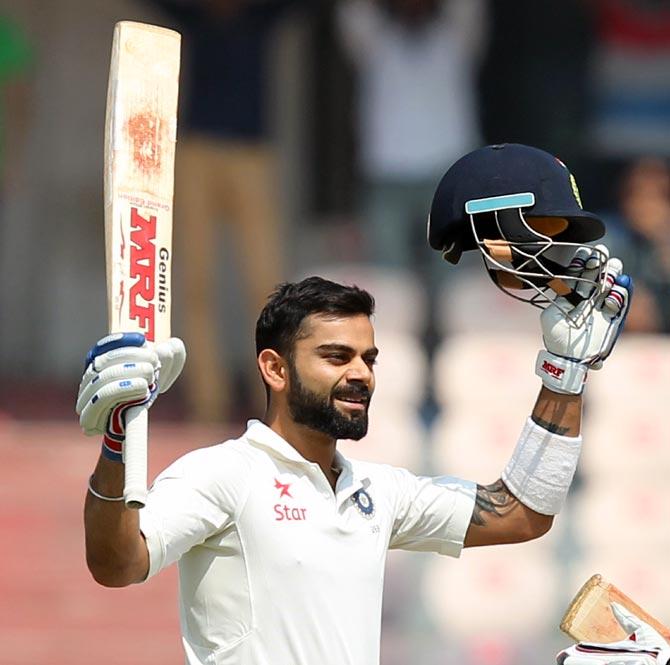 Looking back, the Indians had rubbed their hands in delight at the variety of marquee events at home the sporting calendar of 2017 offered, and they now look forward, with optimism and anticipation, to a challenging 2018.
Rear view: Photos of sporting moments that made 2017 special - Part 2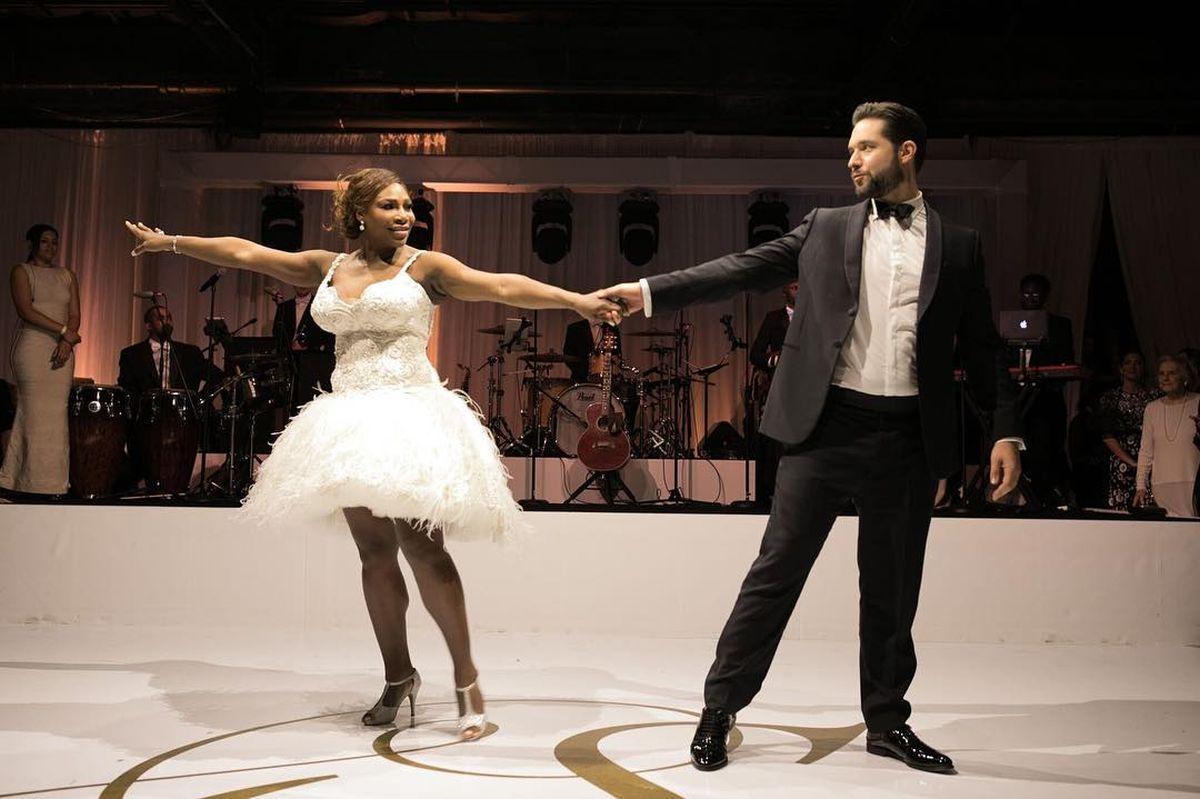 As the countdown to 2018 starts, it's time to rewind those moments in sport that stood out this year.
December 29, 2017
'Pessimistic' Anand wonderfully surprised after World Rapid triumph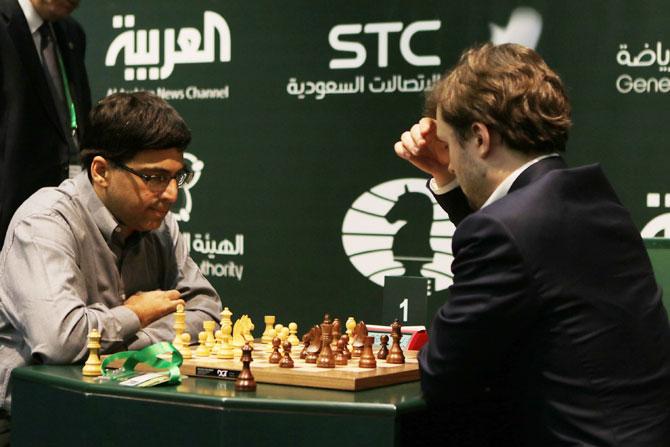 "The crucial moment was the win against Magnus Carlsen, because he had come back after a defeat against Bu Xiangzhi. He seemed to be in great form, as always.
Athletics enters post-Bolt era, but nothing changes for India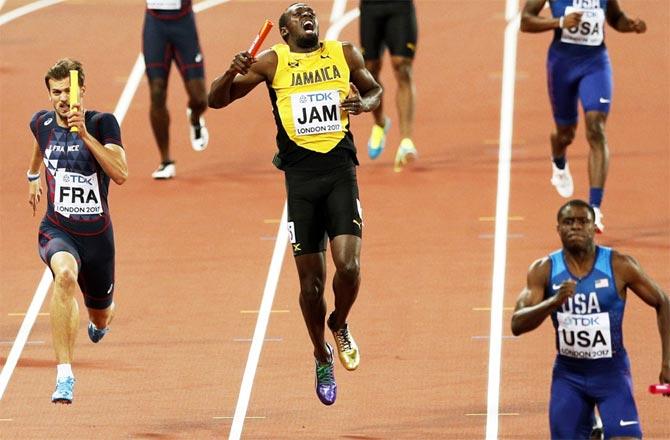 The world braced up to a post-Bolt era but for India there was no momentous change as the country's athletes did nothing for the global audience to take note of.
December 28, 2017
Fitness comes first for returning Murray, Djokovic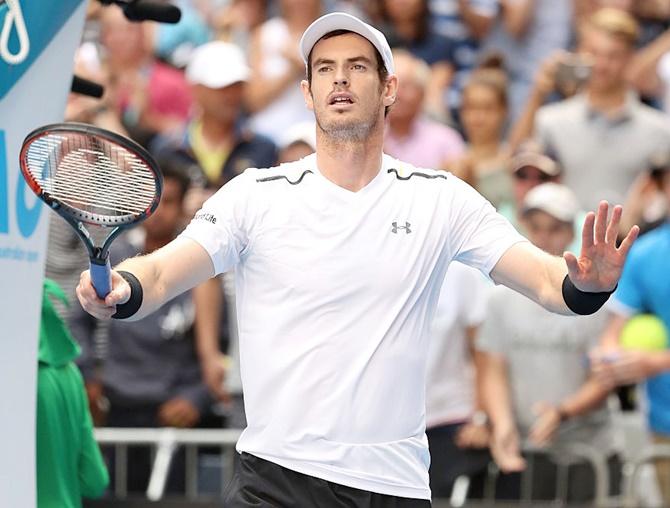 Murray, who has struggled with a persistent hip injury since the Briton's quarter-final exit at Wimbledon in July, pulled out of the US Open and dropped to 16th in the world rankings.
Federer keeping it realistic as 2018 season nears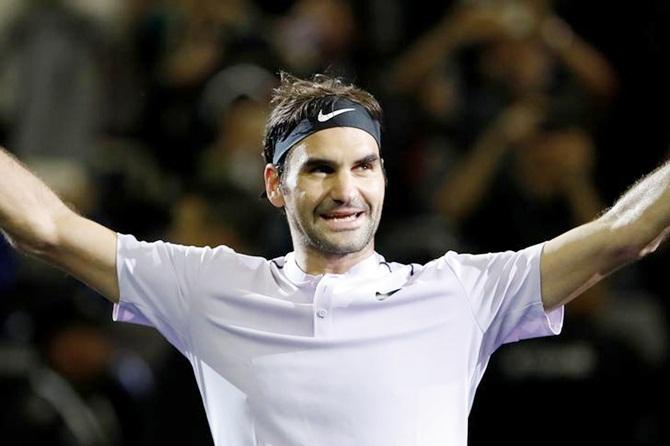 The six months off, however, appeared to be positively cathartic as he provided arguably the major talking point of the tennis circuit by reviving a career that pundits thought could be over with the injury.
EPL PHOTOS: City wasteful but march on with 18th straight win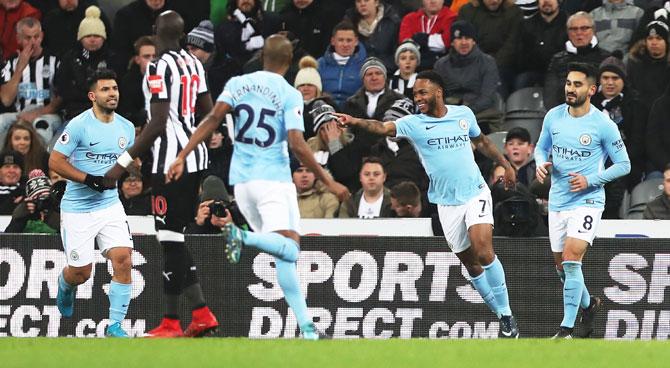 Images from the English Premier League match played between Manchester City and Newcastle on Wednesday
Hockey: Continental giants India struggle for global success in 2017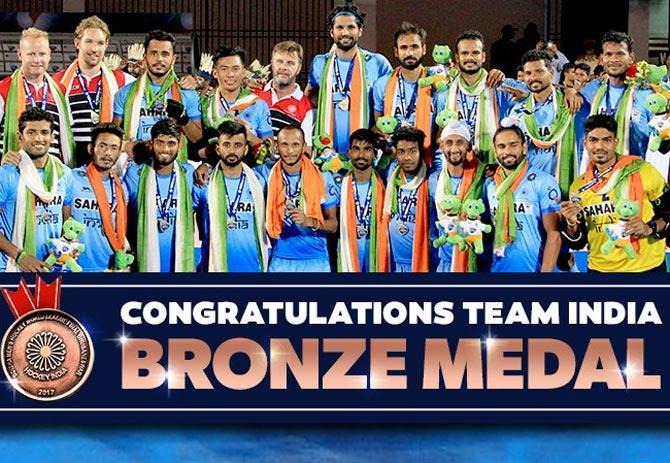 The age-old malady of inconsistency remained unaddressed but Indian hockey did take baby steps towards global success in 2017, a year which reaffirmed the nation's continental supremacy in the sport.
December 27, 2017
Rear view: Photos of sporting moments that made 2017 special - Part 1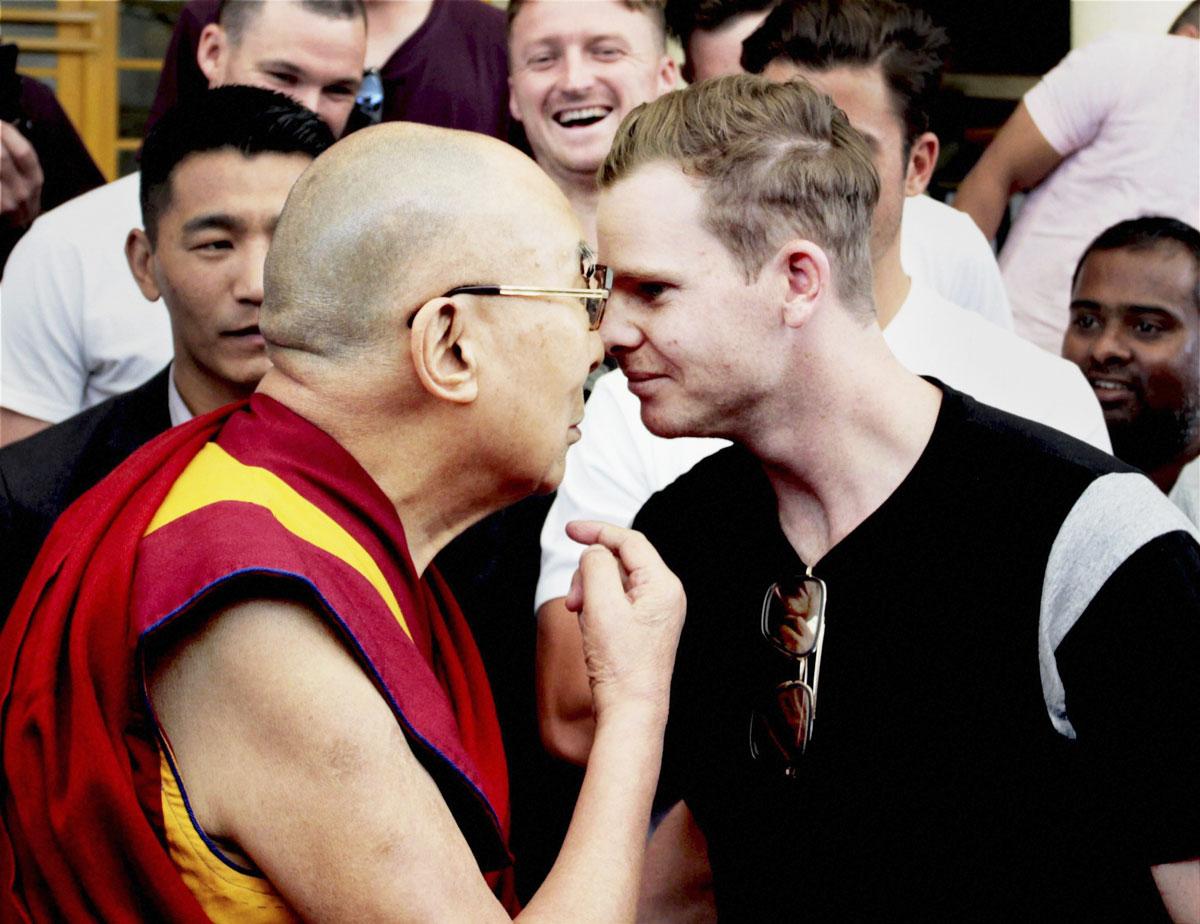 Rediff.com gives you a throwback to an eventful 2017, in pictures.
December 21, 2017
El Clasico: Can Barca open 14-point gap over Real?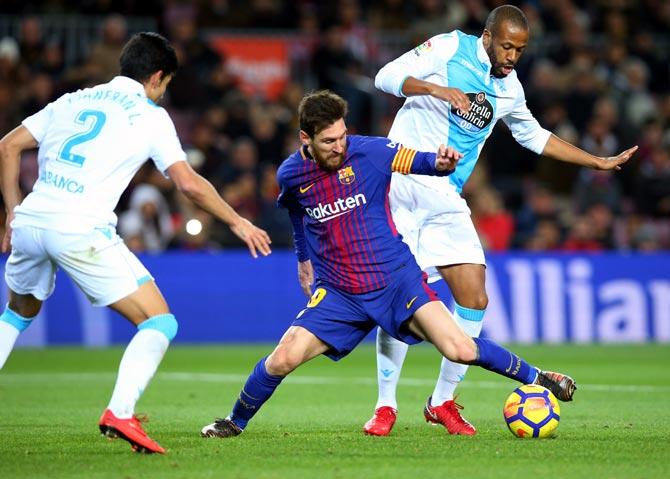 It is a scenario few could have foreseen after Real won a Liga and Champions League double last term and began this season so convincingly.
December 19, 2017
Football Briefs: Atletico report Barcelona over Griezmann approach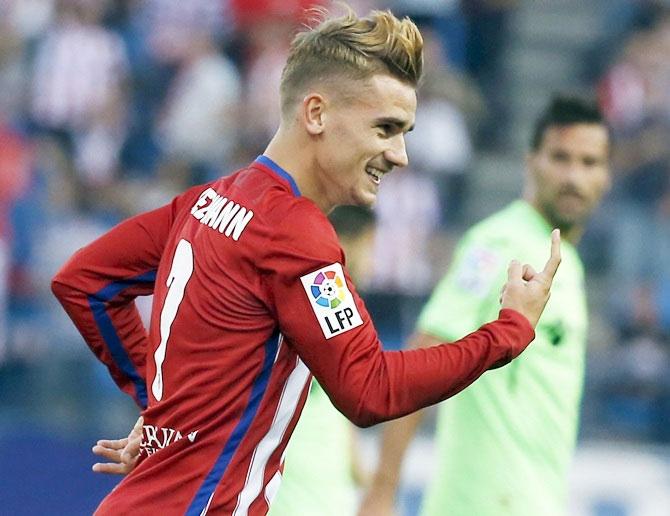 News of all that's transpired on and off the football field
December 16, 2017
EPL PHOTOS: Chelsea go to third after victory over Southampton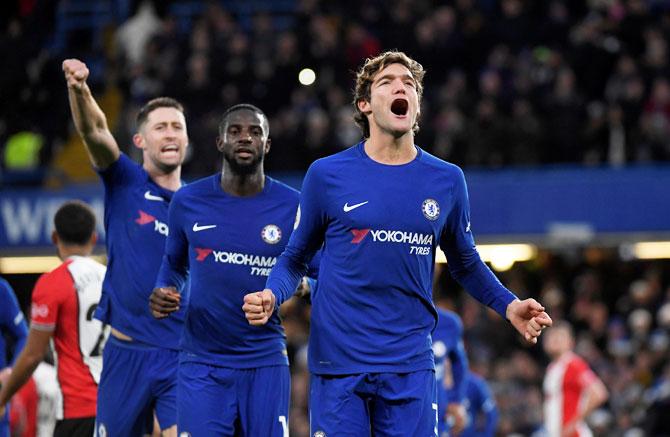 Images from the English Premier League matches played on Saturday
December 14, 2017
Sports Shorts: Sushil to make international return at CWG C'ship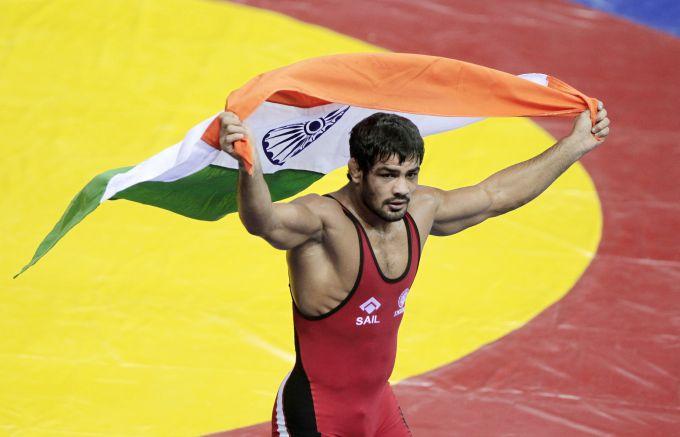 A summary of sports events and sports persons, who made news on Thursday
Not Federer, not Ronaldo. Who is the highest-paid athlete of all time?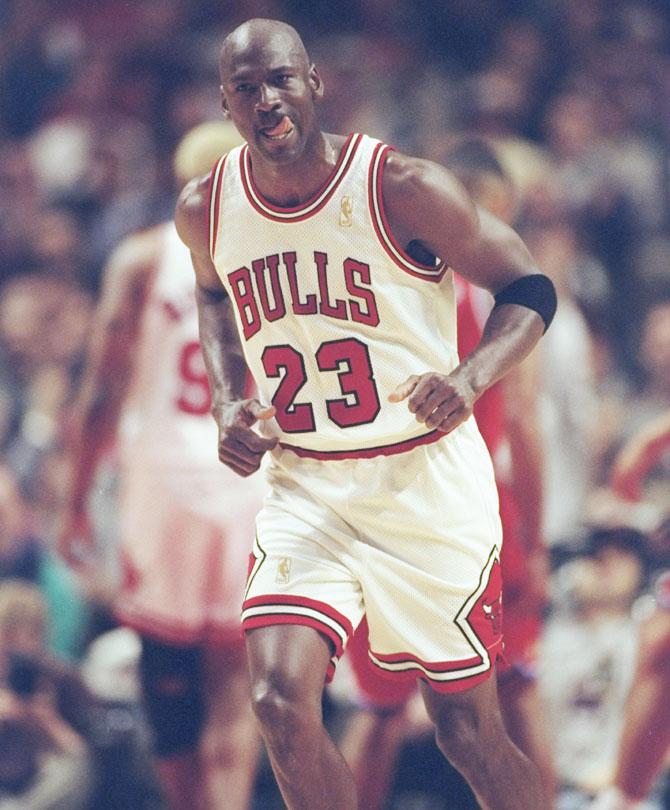 The 54-year-old has a whopping $1.7 billion in the bank, thanks to his long time endorsement relationships with Beverage company Gatorade, clothing brand Hanes, American Sportswear giant Nike and playing card manufacturer Upper Deck.
December 11, 2017
La Liga PIX: Suarez and Messi give Barca win as Atletico keep up chase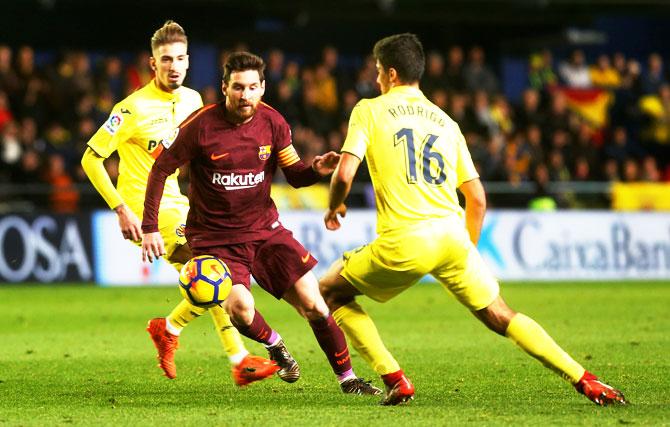 Barca looked set for a third consecutive league draw as they created scant opportunities but they were presented with the advantage of an extra man when Villarreal midfielder Daniel Raba was given a straight red card for a wild, studs-up challenge on Sergio Busquets on the hour mark.
EPL: Guardiola responds after Mourinho blames ref for United's loss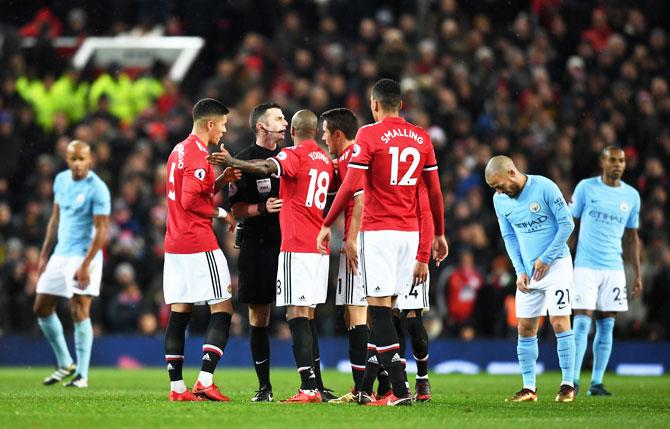 'Last season it was the same -- we won here and it was the referee. Today as well'
December 09, 2017
EPL PIX: Chelsea no longer in title race after West Ham defeat?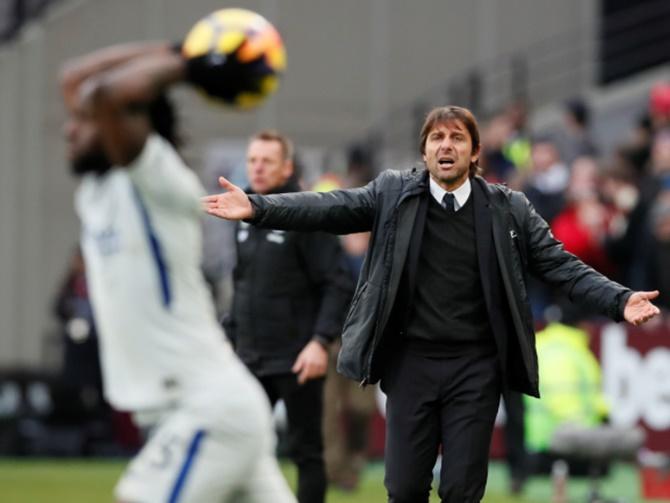 Images from the English Premier League matches played on Saturday
December 08, 2017
What you should not miss in EPL this weekend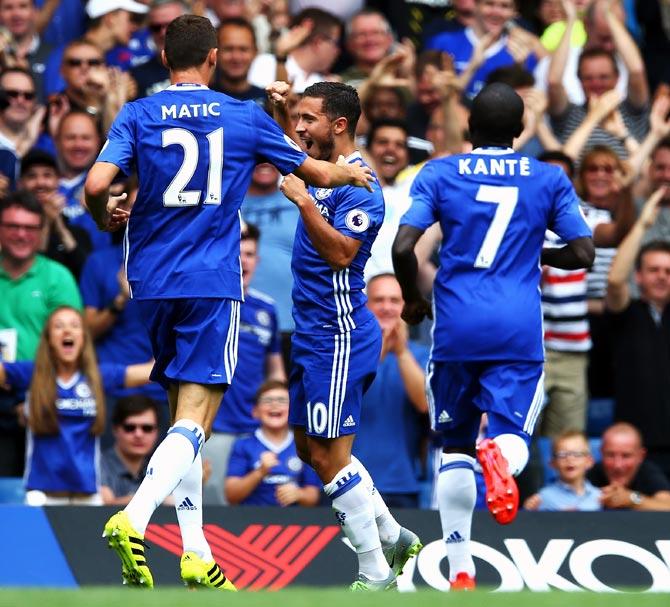 Two big derbies and an eventful weekend of football awaits us all...
Ballon d'Or: It's 5-all. So who is better, Ronaldo or Messi?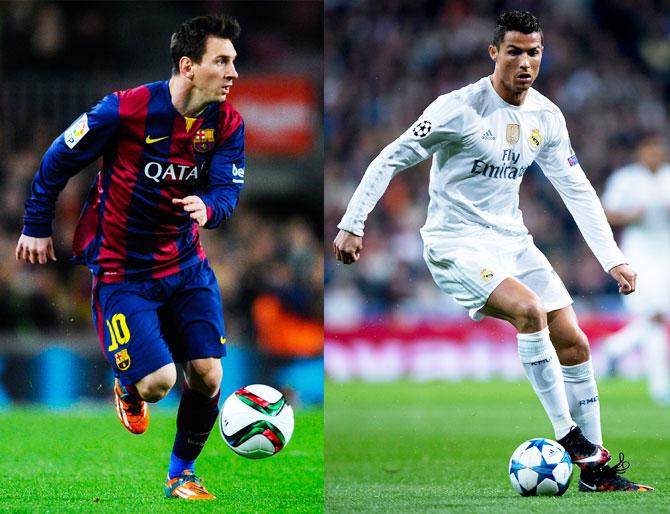 After picking fifth Ballon d'Or, Ronaldo's reignites eternal debate
Europa League: Arsenal maul Bate 6-0, Red Star advance after 26 years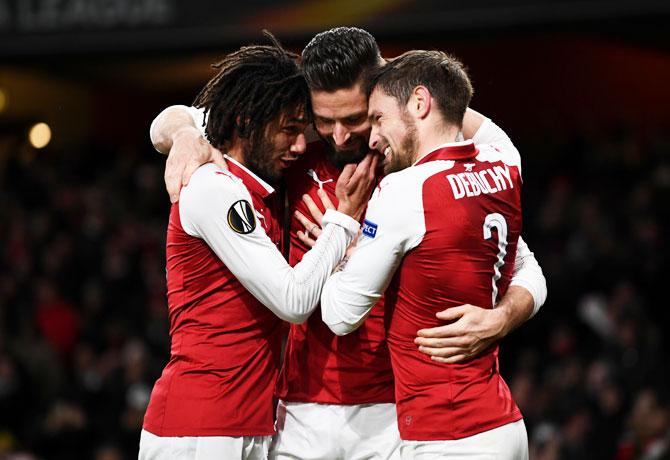 Red Star, who won the European Cup in 1991 and reached the latter stages the following season, finished second in Group H behind Arsenal who crushed BATE Borisov 6-0.
December 07, 2017
EPL: Are you ready for 'the mother of all football derbies'?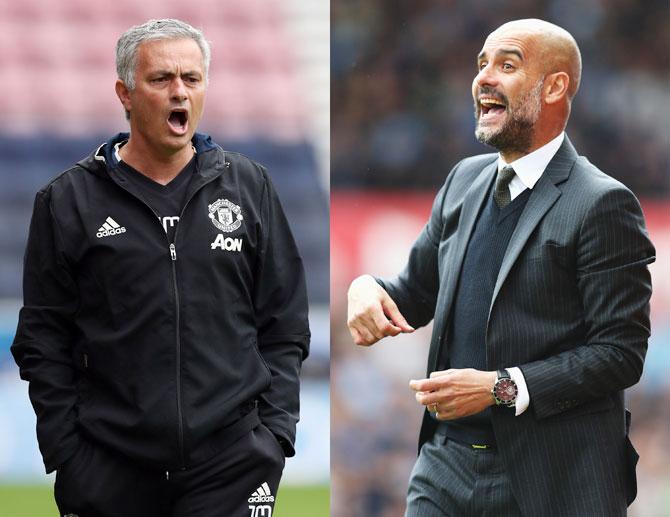 City will look to extend lead against United at Old Trafford
Champions League: Real Madrid edge Dortmund; Liverpool rout Spartak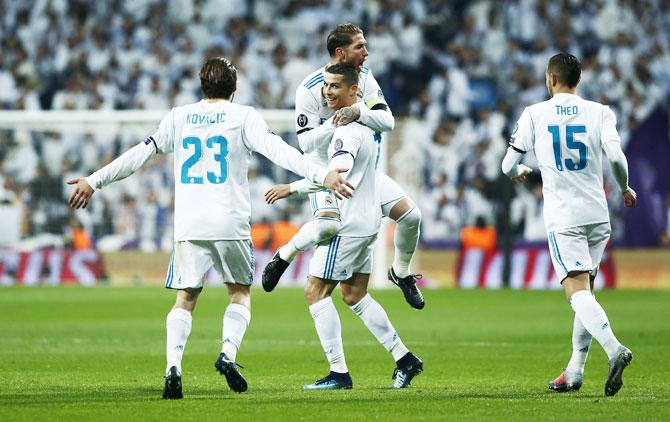 images from the UEFA Champions League matches played across Europe on Wednesday
December 03, 2017
PHOTOS: 10-man Manchester Utd stun Arsenal at Emirates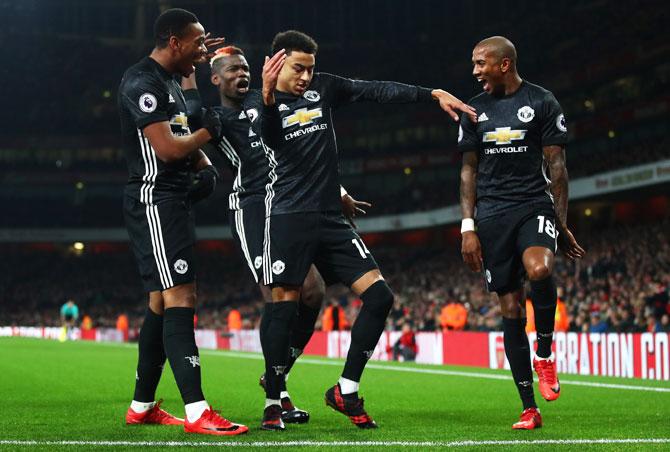 Photos from the English Premier League match played between Manchester United and Arsenal on Saturday
November 30, 2017
Football Briefs: Neymar, Cavani strike again as PSG go 10 points clear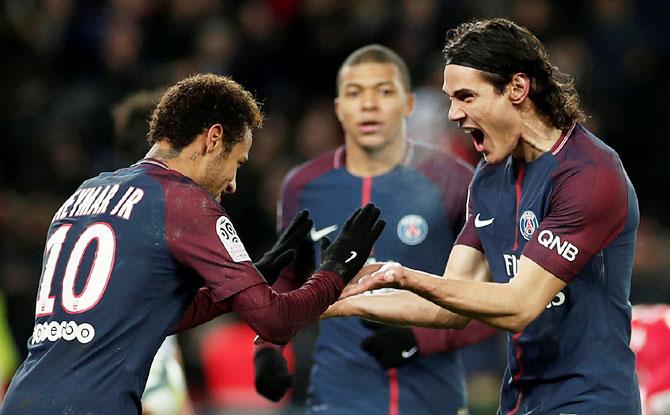 While their nearest chasers lost, Olympique Lyonnais succumbing 2-1 at home to struggling Lille and Monaco falling 1-0 at Nantes after a last-gasp Lucas Lima thunderbolt, PSG marched on without ever hitting top gear.
EPL PHOTOS: City maintain lead; big wins for Liverpool, Arsenal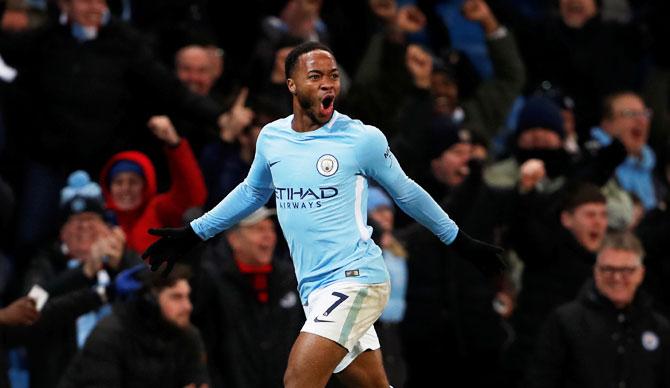 Images from the English Premier League matches played on Wednesday
November 29, 2017
Sports Shorts: Serena uncertain of making comeback at Aus Open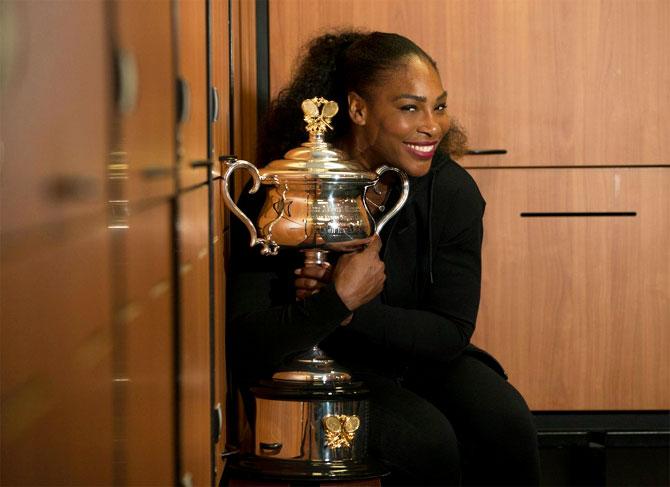 A summary of sports events and sports persons, who made news on Wednesday
EPL PHOTOS: Man United stay in touch, Spurs slump at Leicester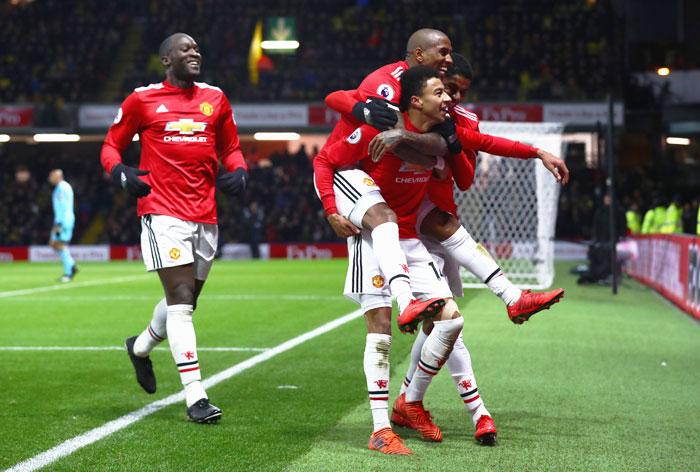 Images from the English Premier League matches played on Tuesday
November 28, 2017
Prakash Padukone on how to increase pool of quality shuttlers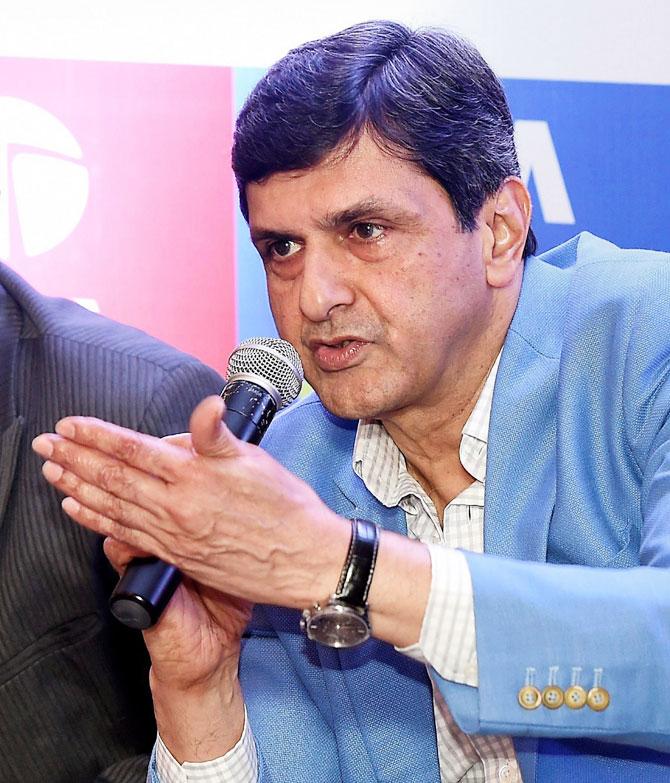 'If we have one dedicated coach to train 50-100 coaches who can go back and coach their wards, that will be a very good move'
EPL: Improved Arsenal not out of title race yet, feels Cech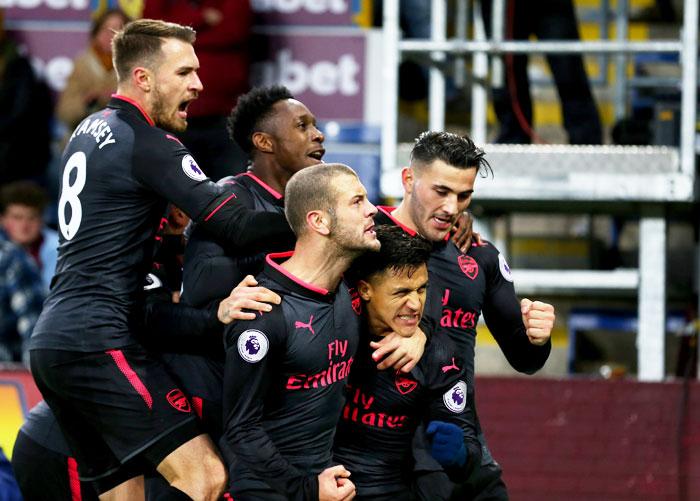 'It's only 13 games in, that's the most important thing and there's so many points to be won. You need to carry on for 38 games and show consistency'
November 27, 2017
Sports Shorts: Advani secures IBSF World Snooker C'ship title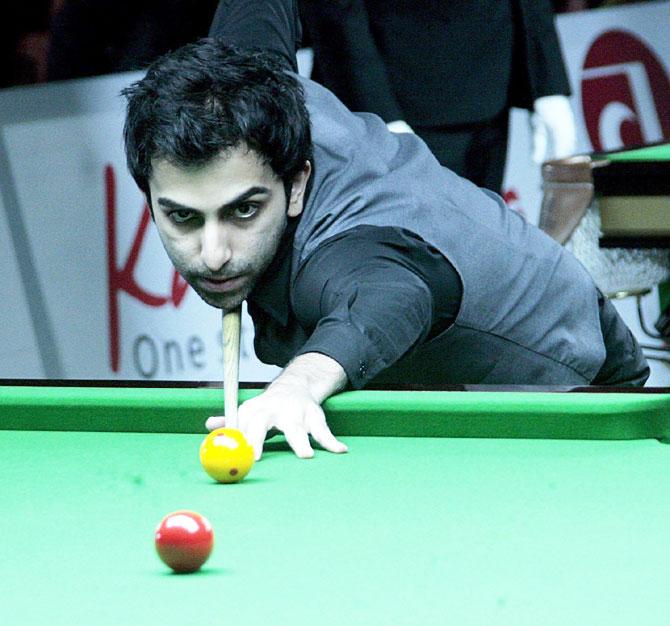 A summary of sports events and sports persons, who made news on Monday
November 26, 2017
EPL: Austin double helps Southampton to win over Everton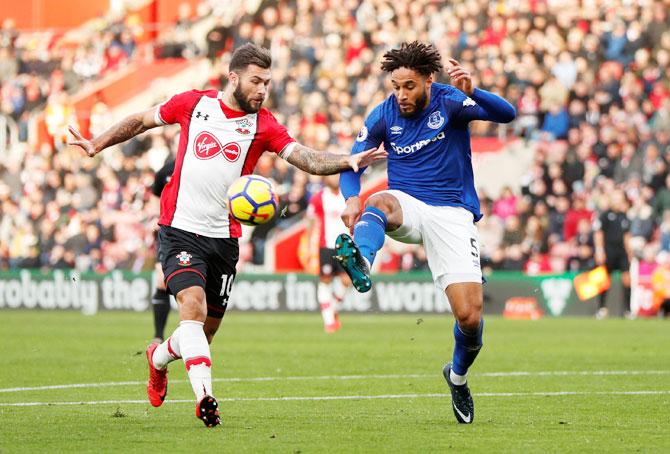 Southampton took the lead at St Mary's in the 18th minute after Dusan Tadic finished off a fine team move but, just before the break, Everton levelled with a bolt from the blue as Iceland's Gylfi Sigurdsson thundered a strike from distance in off the crossbar, his first league goal for the club.
F1: Bottas beats Hamilton to win Abu Dhabi GP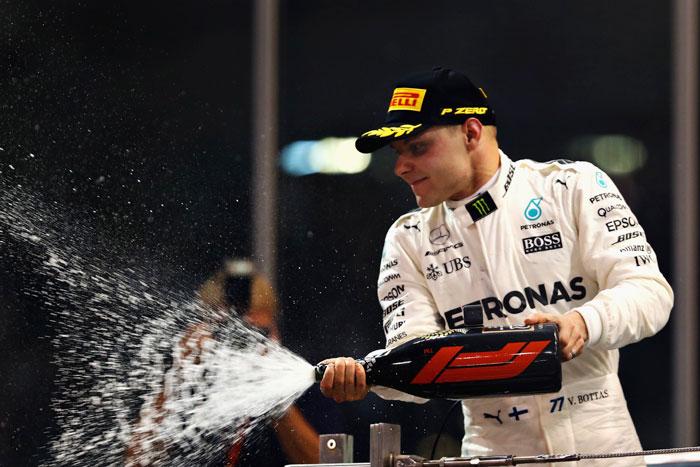 The win was the third of the Finn's career and season, denying Hamilton a 10th of the campaign.
Football Briefs: Bayern suffer shock loss, Schalke stage comeback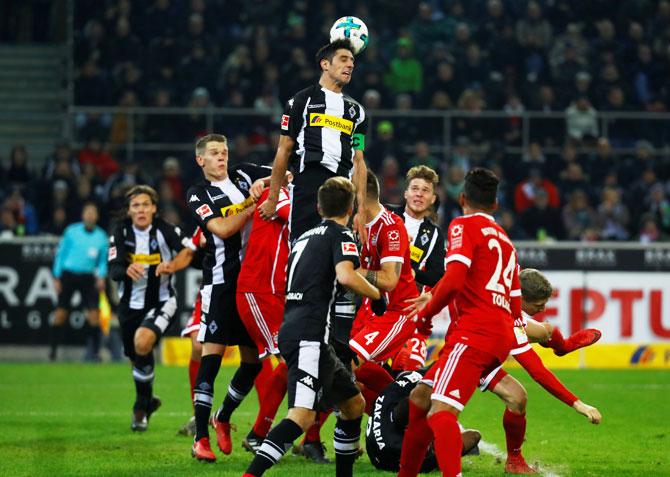 News of all that's transpired on and off the football field
November 25, 2017
EPL PHOTOS: Manchester United steal late 1-0 win over Brighton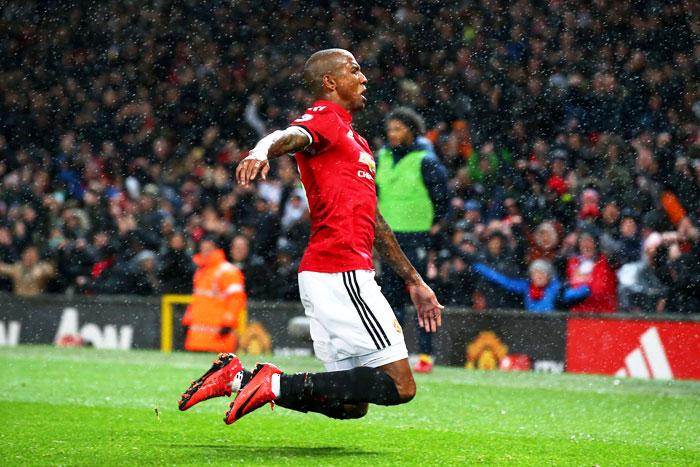 Images from the English Premier League matches played on Saturday
Indian football round-up: Mumbai City FC strike late to down FC Goa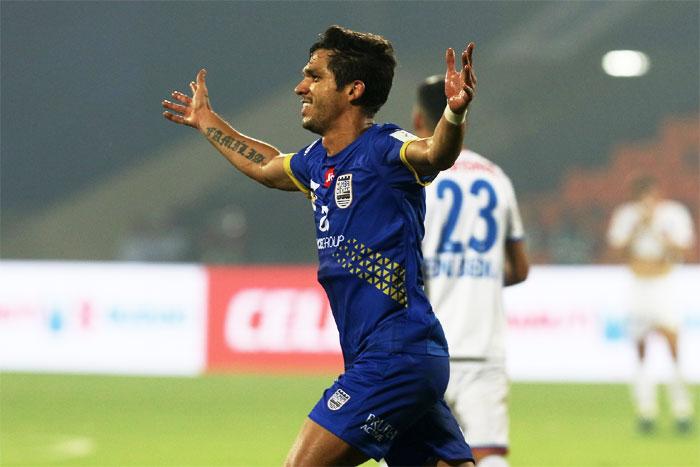 All the results from the I-League and ISL matches played on Saturday
Sports Shorts: Chawrasia maintains slender lead in Hong Kong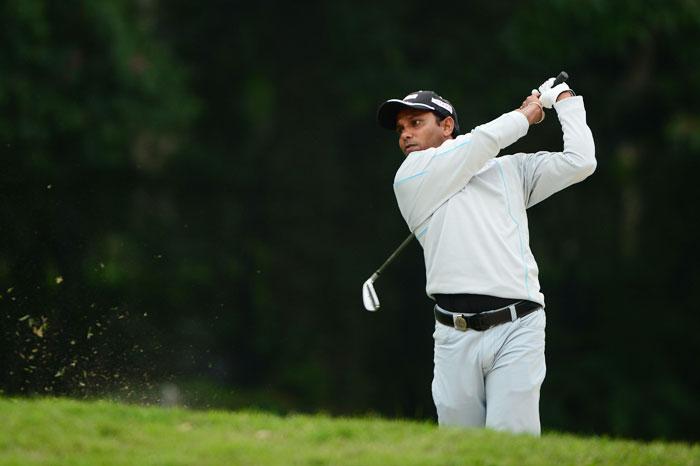 A summary of sports events and sports persons, who made news on Saturday
EPL: United's Carrick recovering from heart operation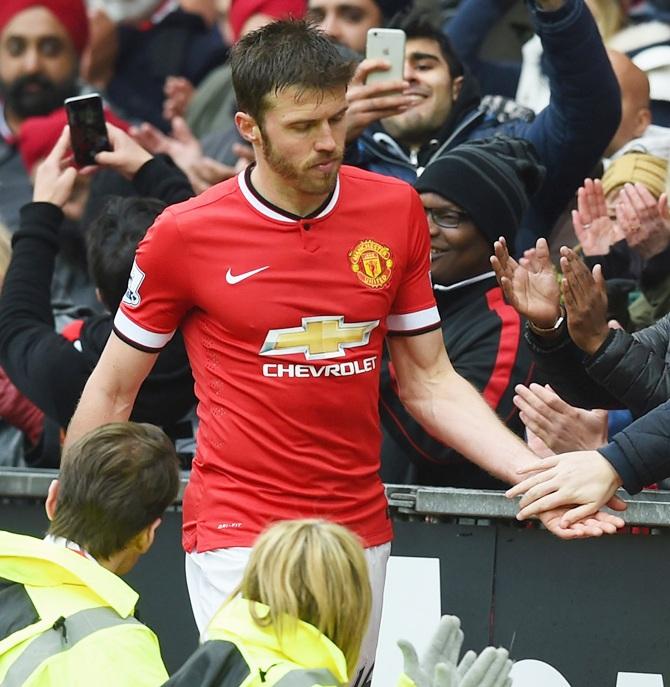 "After feeling strange in the second half of the Burton game in September, I underwent a series of tests," he said.
November 23, 2017
Champions League PIX: Manchester Utd's progress on hold; Chelsea in last 16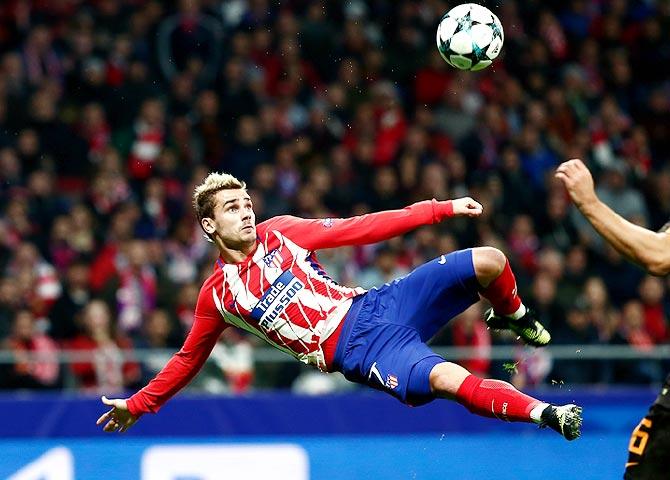 A summary of Wednesday's matches in the UEFA Champions League.
November 22, 2017
Champions League PIX: Real thrash APOEL 6-0; Liverpool held in thriller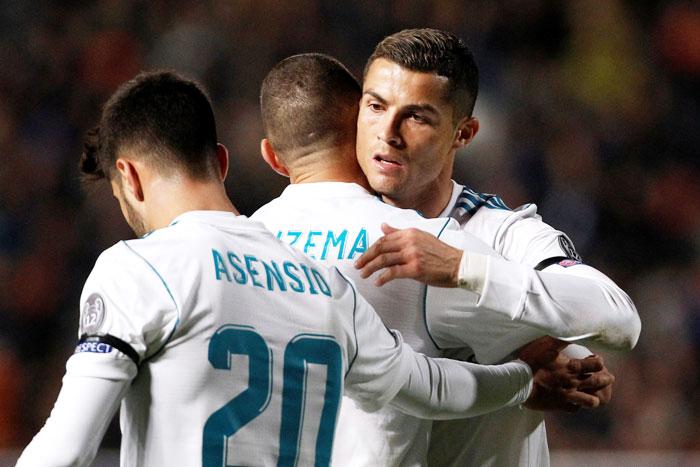 Images from Champions League matches played across Europe on Tuesday
November 18, 2017
EPL PIX: City brush past Leicester, Arsenal, Chelsea win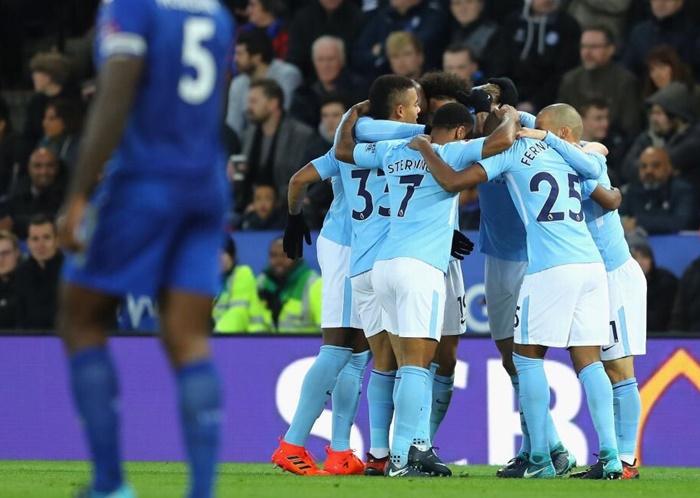 Images from the English Premier League matches played on Saturday
First Look: Serena Willams and Alexis Ohanian's fairy tale wedding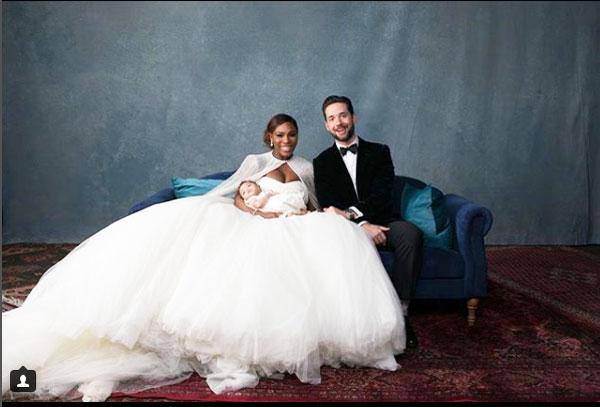 Vogue magazine, who were given exclusive rights to the photographs of the 'wedding of the year', put out some pictures from the Beauty and the Beast-themed wedding on their Instagram page.
Ethiopia's Olympic champion Ayana loves Bollywood movies!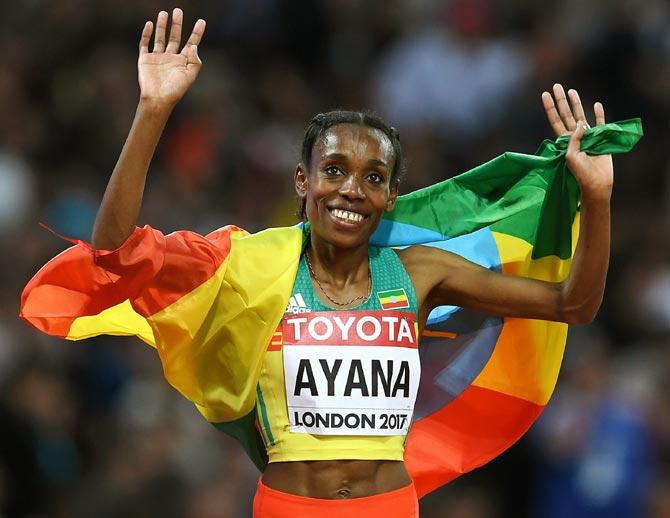 She can't quite recollect the names of either the films or the actors but Ethiopia's World and Olympic 10,000m champion runner Almaz Ayana says Bollywood movies are her favourite indulgence whenever she gets some time to herself.
November 17, 2017
PHOTOS: Salman, Katrina light up ISL opening night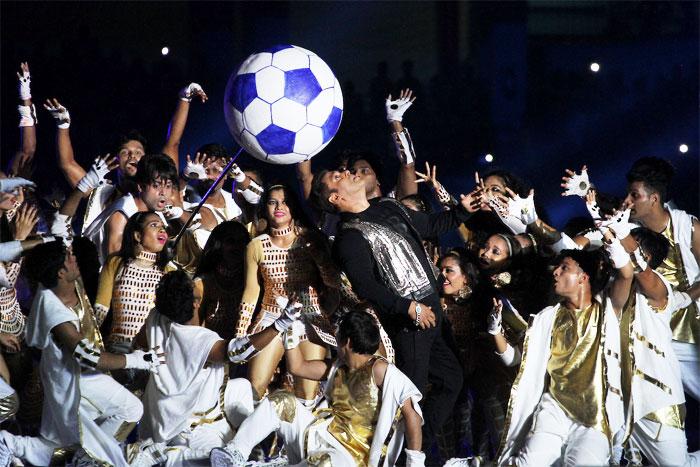 Here are pictures from the glamorous evening...
November 15, 2017
PIX: Four-time Olympic champion Mo Farah receives knighthood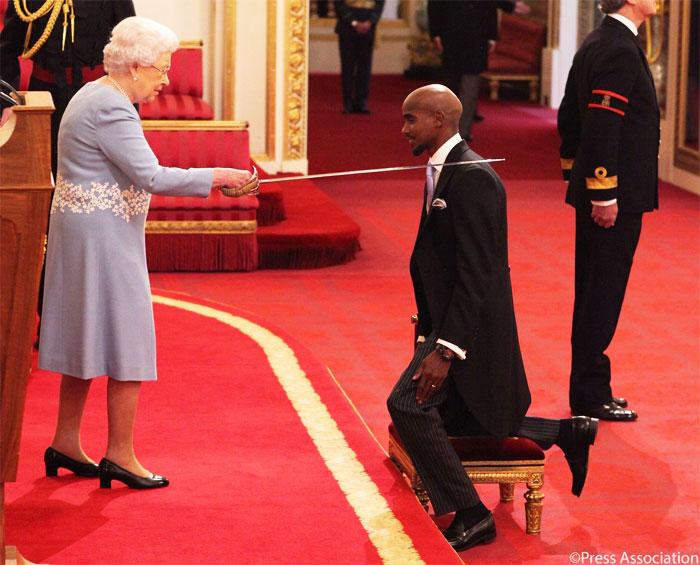 The four-time Olympic champion, who was honoured for his services to athletics by the Queen on Tuesday, described the moment as "incredible".
November 14, 2017
Heartbreak for Italy as they fail to qualify for World Cup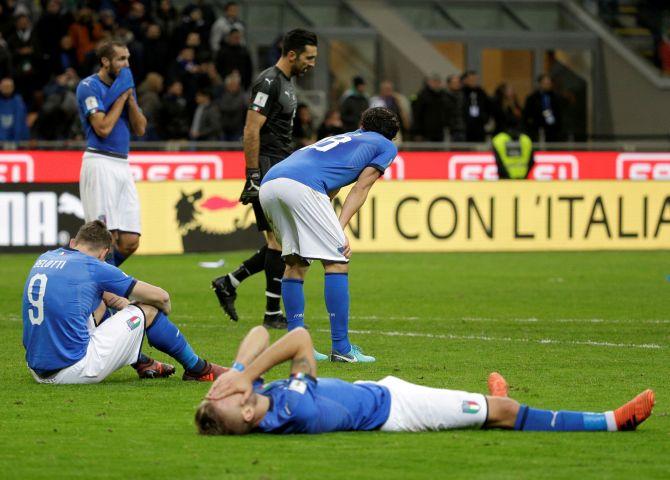 Goalkeeper and captain Gianluigi Buffon announced his retirement as the Azzurris unable to qualify for first time since 1958.
November 13, 2017
Freeze Frame: A Super Sports weekend, in pictures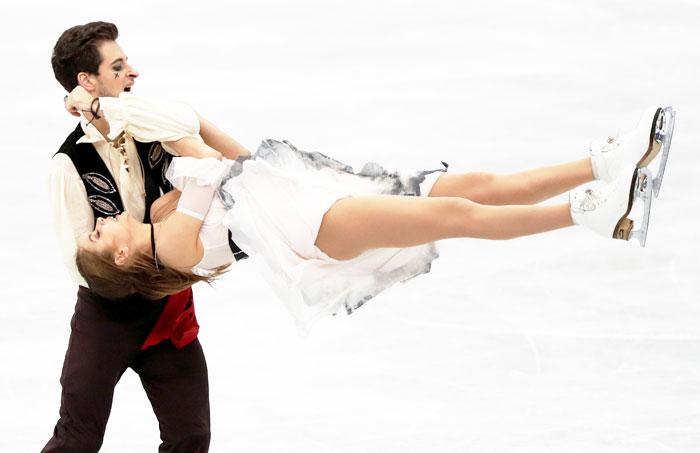 Rediff.com gives you a peek into these action-packed moments from the weekend, frozen in time...
Formula One: Vettel wins Brazilian GP, Hamilton fourth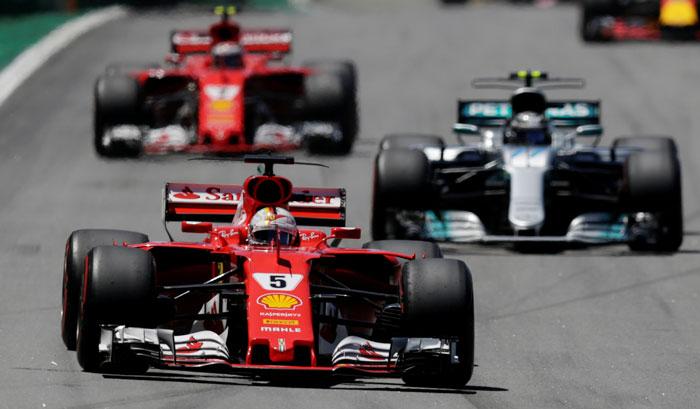 Hamilton, who clinched his fourth world championship in Mexico two weeks ago, started from the pitlane after crashing in qualifying but led the race after 31 of 71 laps when others pitted.
November 12, 2017
PHOTOS: Anushka-Virat up style quotient at Indian Sports Honours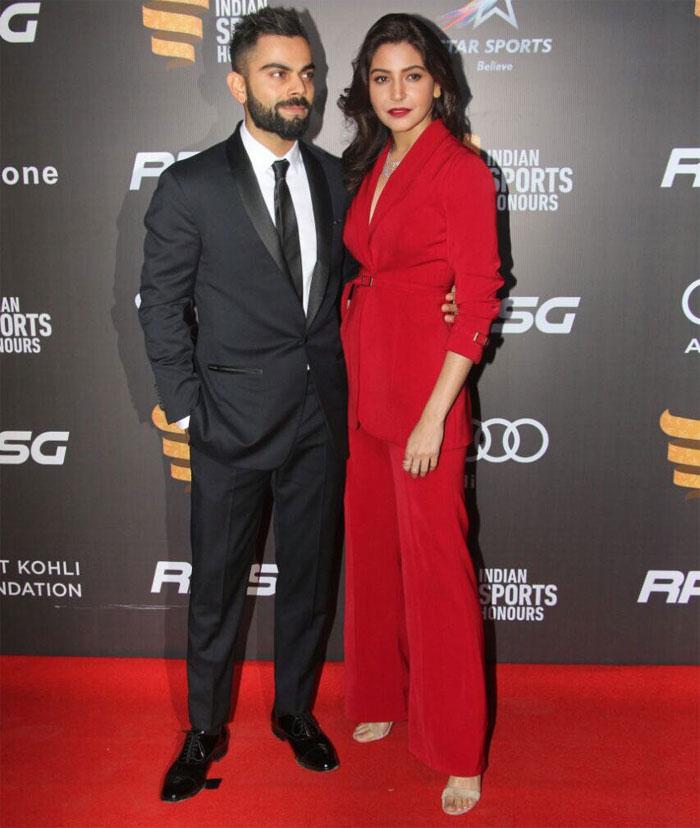 Rediff.com gives you a glimpse of the stars that lit up the night at the awards ceremony...
Football friendlies: Silva leads Spain's assault on Costa Rica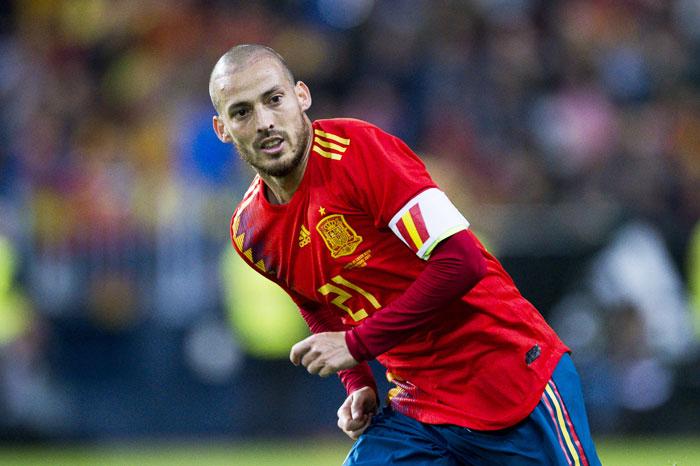 Silva struck twice in the second half to further stretch the 2010 World Cup winners' lead after Barcelona's Jordi Alba had fired them into the lead in the sixth minute and Alvaro Morata had doubled their advantage midway through the first half.
FIFA World Cup qualifiers: Goalless draw secures Tunisia finals berth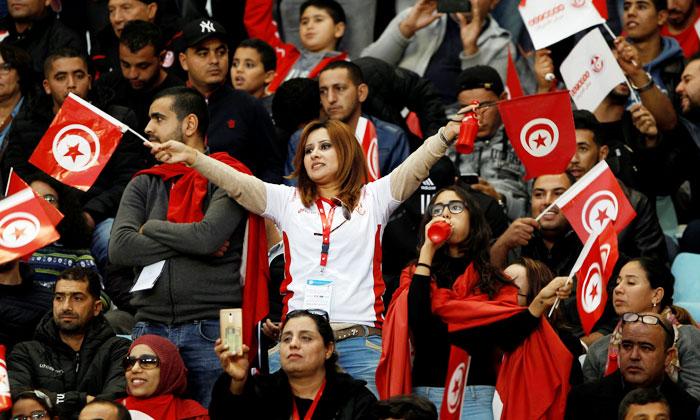 Images from the FIFA 2018 World Cup qualifiers played across the globe on Saturday
November 02, 2017
PIX: Record-breaking Aguero lifts City to victory; Liverpool cruise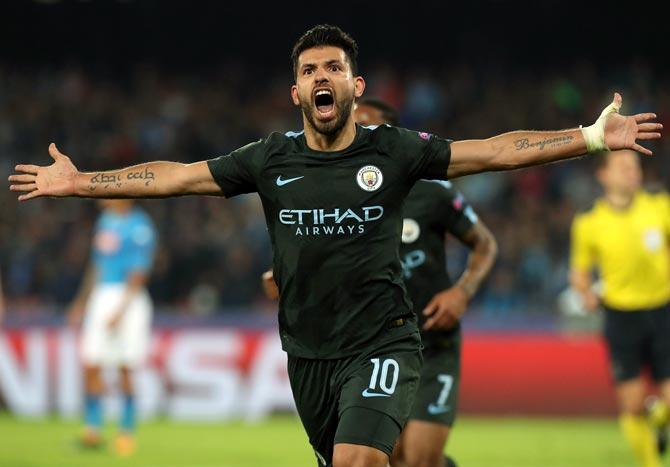 Manchester City's all-conquering season reached new peaks as Sergio Aguero became the club's all-time top scorer with a decisive goal in a thrilling 4-2 victory at Napoli that put them into the Champions League last 16 on Wednesday.
October 21, 2017
EPL Images: Aguero's milestone goal leads Man City to easy win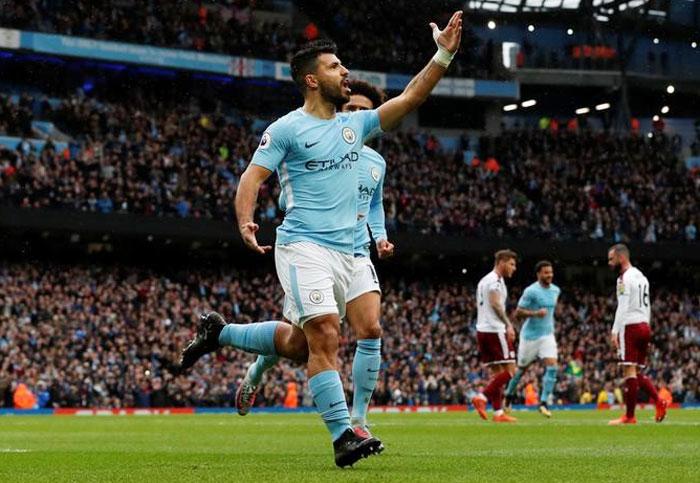 City were not at their all-action best early on as Burnley looked comfortable at the back, but the game turned on a penalty decision that incensed the visitors when Bernardo Silva was adjudged to have been brought down by Burnley goalkeeper Nick Pope just before the half hour.
EPL PIX: Manchester United stunned by Huddersfield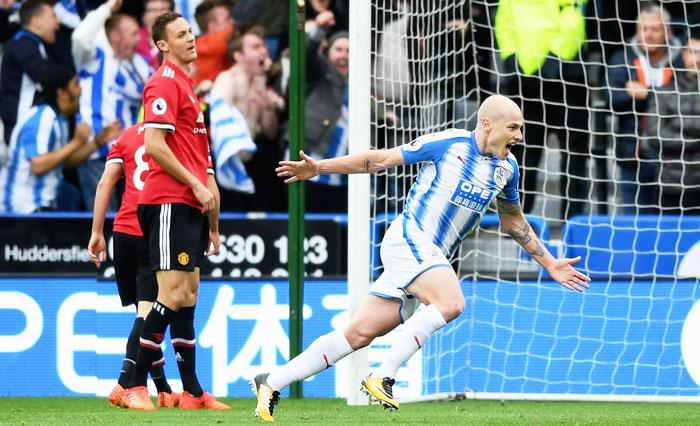 An ecstatic home crowd at a noisy and rainy John Smith's Stadium celebrated what was the Yorkshire club's first win over United since 1952 and one which few would doubt they deserved after a passionate display.
Dominant India pummel Pakistan 4-0, enter Asia Cup final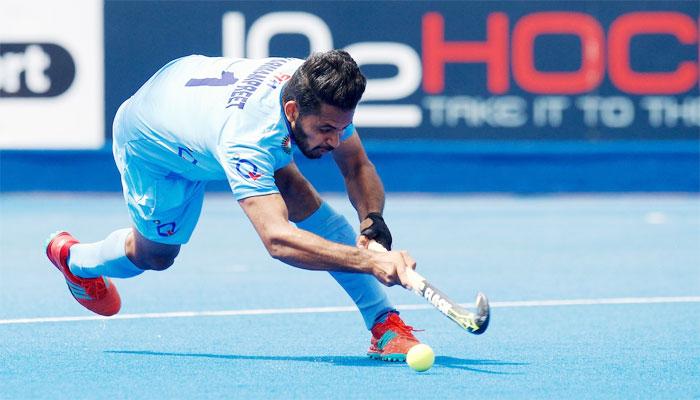 The sixth ranked India, who just needed a draw to seal a place in Sunday's summit clash, produced a superlative performance after the change of ends to pump in four goals -- three field strikes and one through penalty corner.
EPL PHOTOS: Chelsea squeeze past Watford in 4-2 win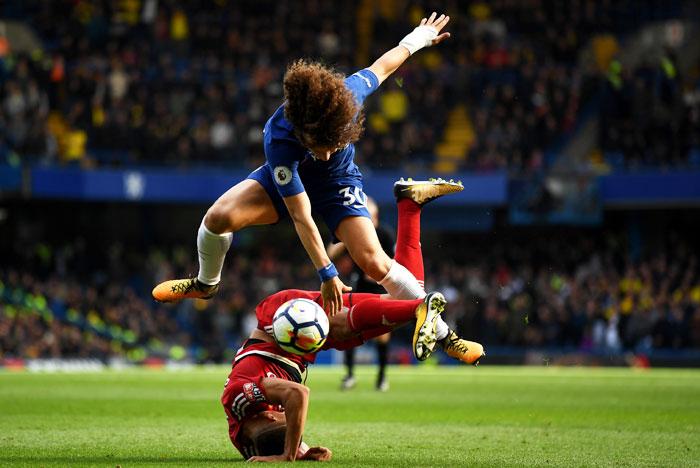 Watford equalised seconds before halftime through Abdoulaye Doucoure and in a rampant spell of attacking football went ahead four minutes after the break when Roberto Pereyra tapped home a Richarlison cross.
Sports Shorts: FC Barcelona to offer Messi lifetime deal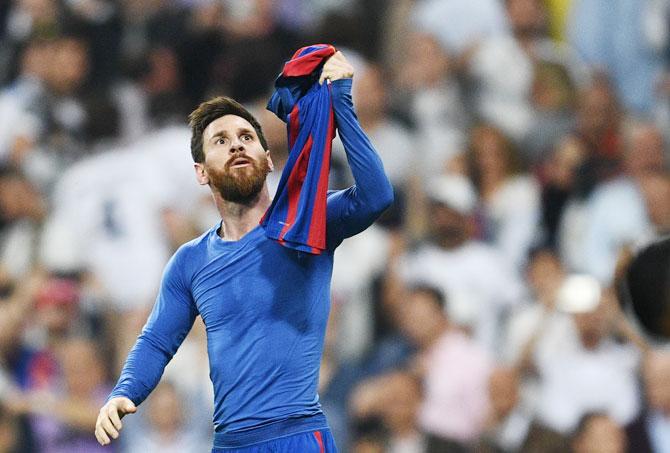 A summary of sports events and sports persons, who made news on Saturday
October 20, 2017
Denmark Open: Srikanth stuns World No 1 Axelsen; Saina, Prannoy exit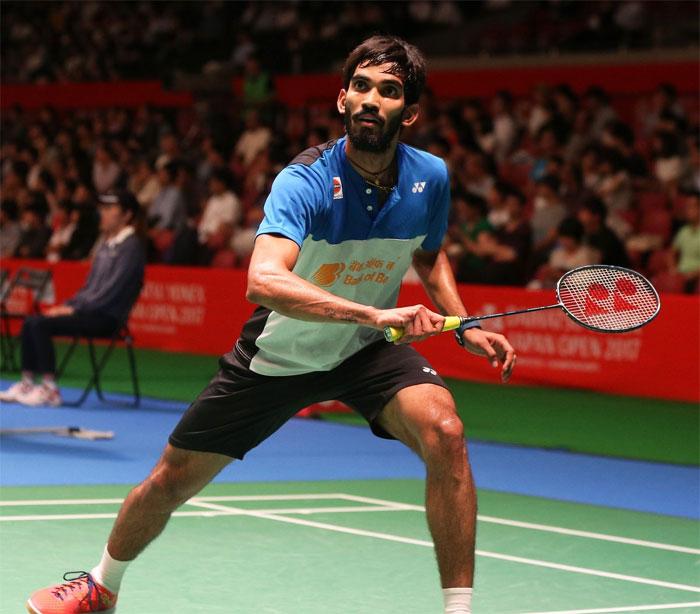 It was day of mixed results for India at the US$750,000 Denmark Open Super Series in in Odense on Friday, as Kidambi Srikanth fought back brilliantly to shock World No 1 Victor Axelsen and enter the semis after Saina Nehwal crashed out of the event following her quarter-final loss to Japan's Akane Yamaguchi.
WTA Finals: Hopeful Eight seek starring role in Singapore showdown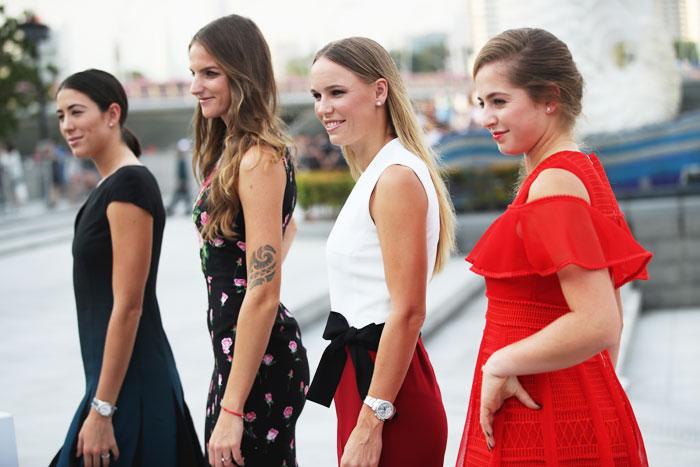 Three women in the field have topped the world rankings this season, incumbent Simona Halep and her predecessors Garbine Muguruza and Karolina Pliskova, but none of them have been able to kick on and cement their place as the tour's dominant player.
October 19, 2017
When Jwala was left amused, and Sachin sent a thoughtful Diwali message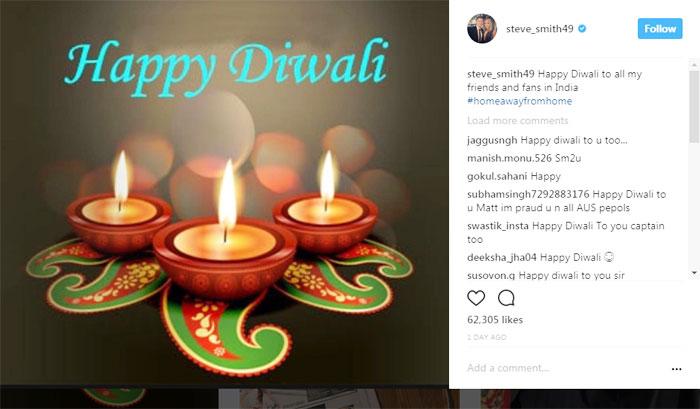 And sharing their warm greetings on Diwali were our sports stars, who took to social media to wish their fans on the auspicious occasion.
October 18, 2017
FIFA Under-17 WC: Brazil drub Honduras 3-0, face Germany in quarters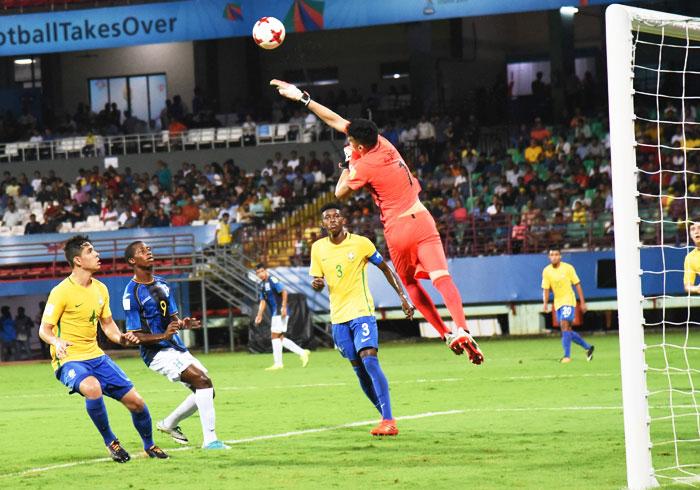 In the earlier match on the night, Ghana beat debutants Niger 2-0, face Mali in quarters
Sports Shorts: Indian archery coach suspended for alleged misconduct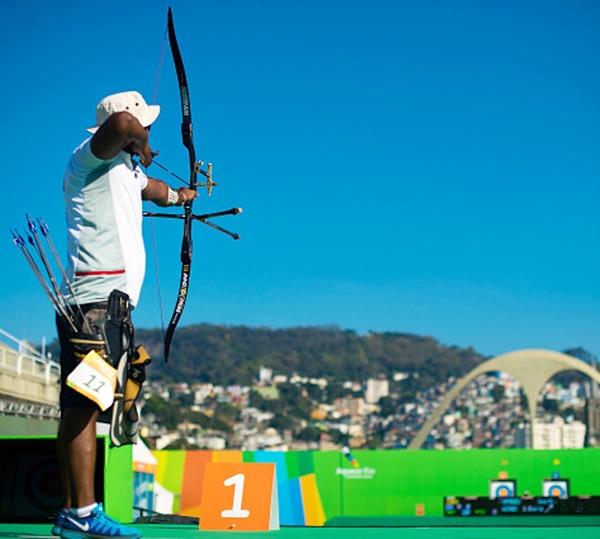 A summary of sports events and sports persons, who made news on Wednesday
October 17, 2017
Under-17 WC: Spain advance, to meet Iran in quarter-finals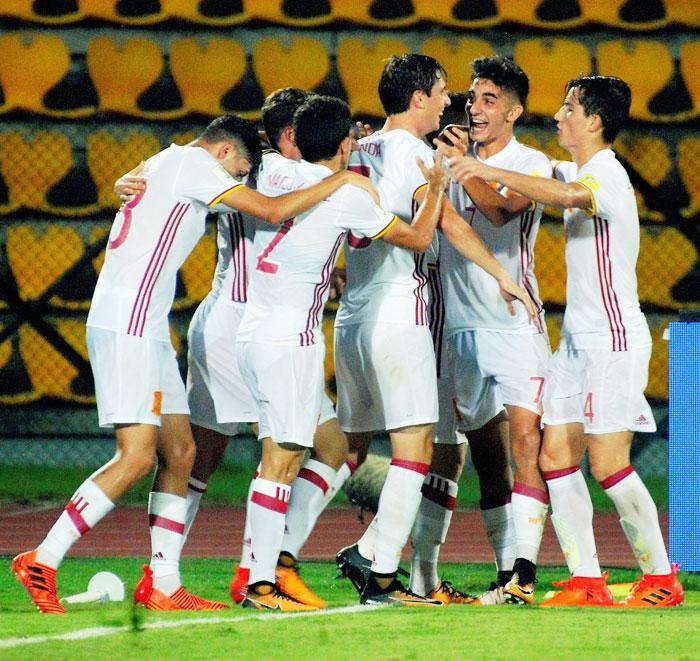 Spain will take on Asian surprise package Iran, who knocked out fancied Mexico by a similar margin in the day's one pre-quarterfinal clash at Margao, Goa.
October 16, 2017
FIFA U-17 WC: Weah 'tricks' as US whip Paraguay; Germany rout Colombia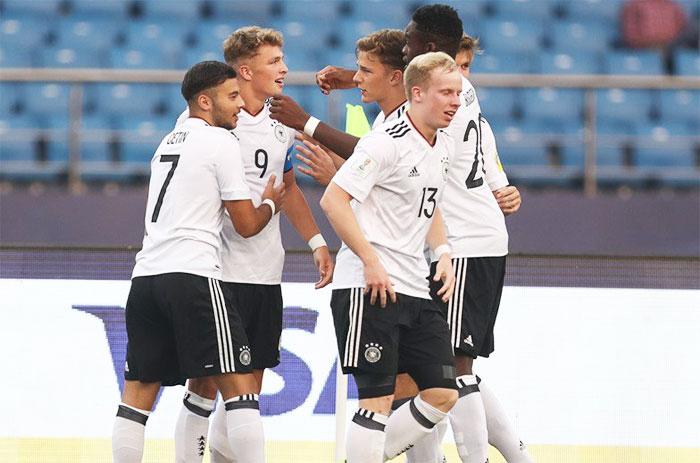 Captain and star striker Jann-Fiete Arp (7th and 65th) struck twice while Yann Bisseck (39th) and John Yeboah (49th) scored a goal each to help Germany reach the quarters.
Tennis Round-up: Federer 'really wants to win World Tour Finals'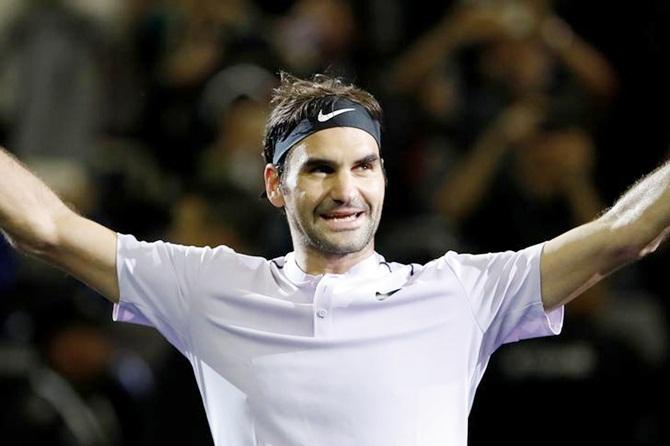 Russian sixth seed Anastasia Pavlyuchenkova claimed her third title of the year by beating seventh-seeded Australian Daria Gavrilova in the final of the Hong Kong Tennis Open on Sunday.
October 15, 2017
Charity football, PHOTOS: Dhoni stars as All Hearts beat All Stars 7-3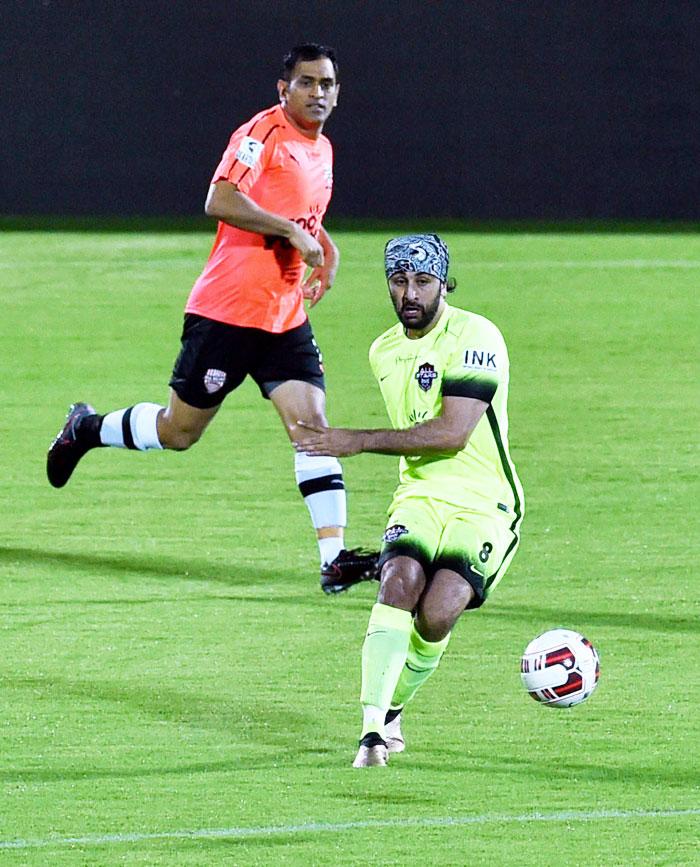 Dhoni scored a brace and was fittingly awarded the 'man of the match'
EPL: Late Rooney penalty rescues draw for Everton at Brighton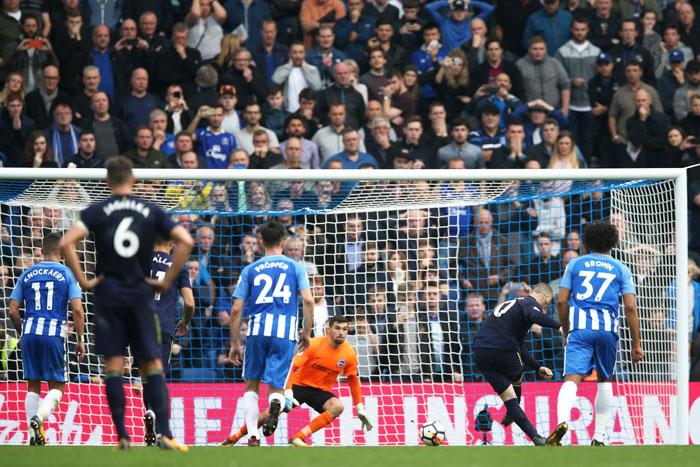 The hosts had looked on course to take all three points from a drab match when Anthony Knockaert pounced on a loose ball and fired home eight minutes from full-time.
Asia Cup Hockey, PHOTOS: India trounce Pakistan 3-1 to top group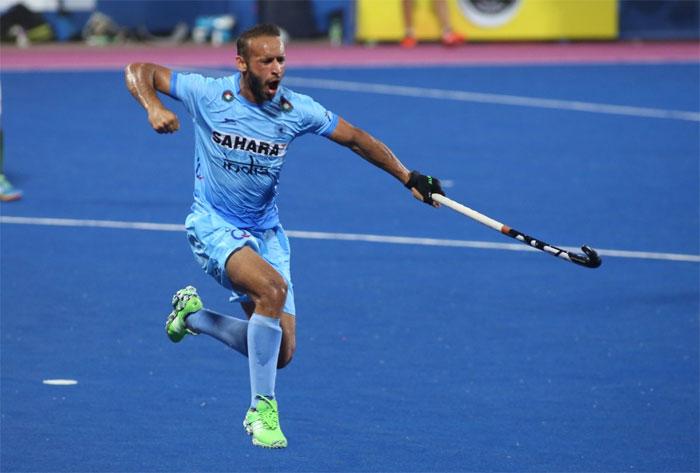 But at the end of the day, the Indians came out superior and continued their recent domination over Pakistan that includes back-to-back victories in the Hockey World League Semi-Final in London earlier this year.
Football Briefs: Heynckes makes winning Bayern return, Dortmund lose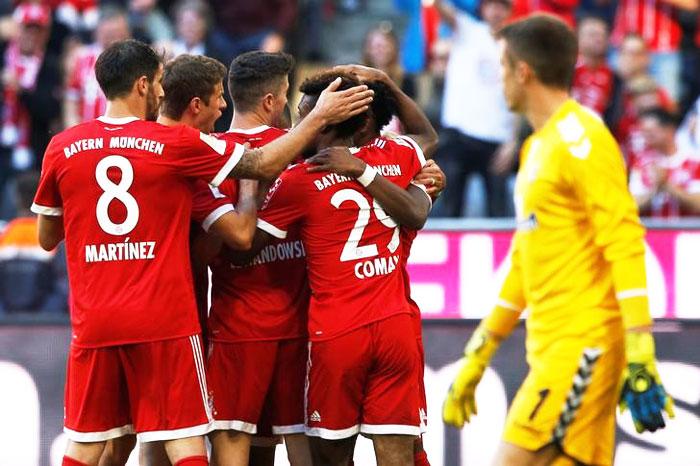 The victory moved second-placed Bayern, who take on Celtic in the Champions League next week, up to 17 points, two behind Dortmund who suffered their first home loss in 41 league matches.
October 13, 2017
Under-17 World Cup: Germany beat Guinea, reach round of 16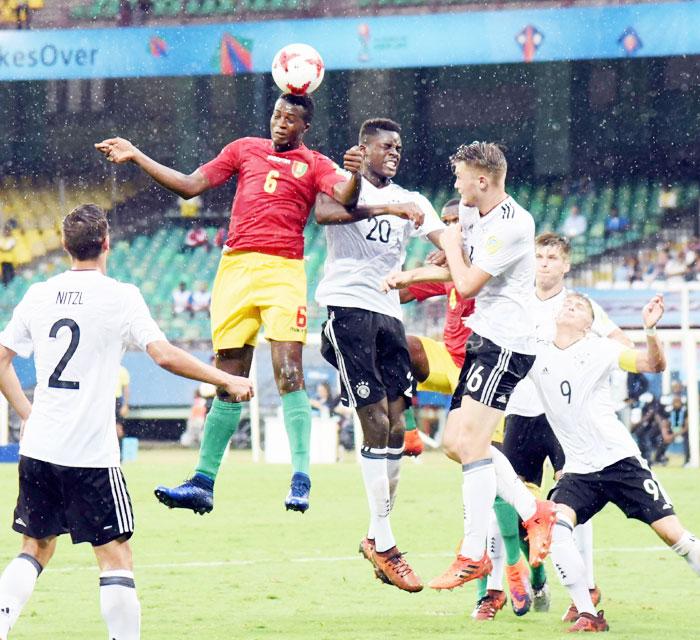 Jan-Fiete Arp (8th minute), Nicolas Kuehn (62nd) and Sahverdi Cetin (90+2) netted for the winners, while Ibrahima Soumah got the lone goal for Guinea in the 26th minute in the final Group C match at the Jawaharlal Nehru International Stadium.
EPL snapshots: Guardiola is manager of the month; Aguero back training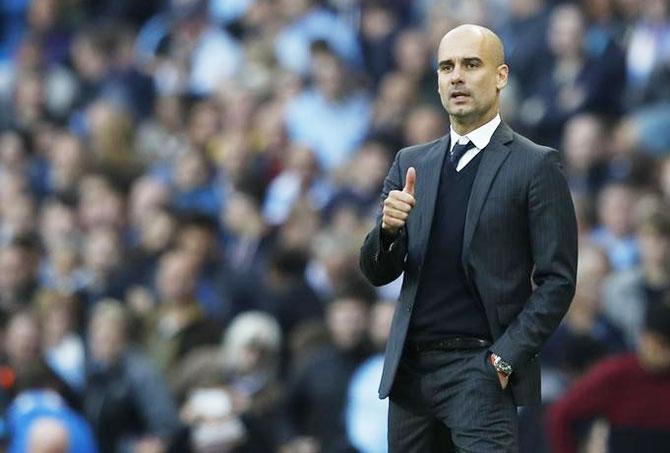 Tottenham Hotspur striker Harry Kane was named player of the month after scoring six goals in four league games.
Converting chances and plugging defensive errors crucial for Reds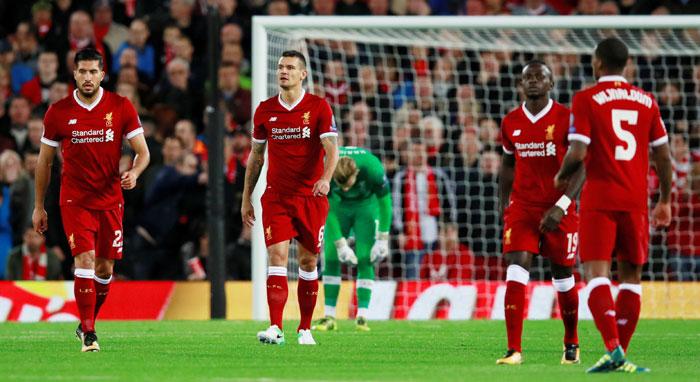 'We have to be hard in the tackles, we have to try to dominate the game and score the goals when we create chances. We will see what happens'
October 11, 2017
U-17 WC: England pip Mexico to seal last 16 berth; France advance too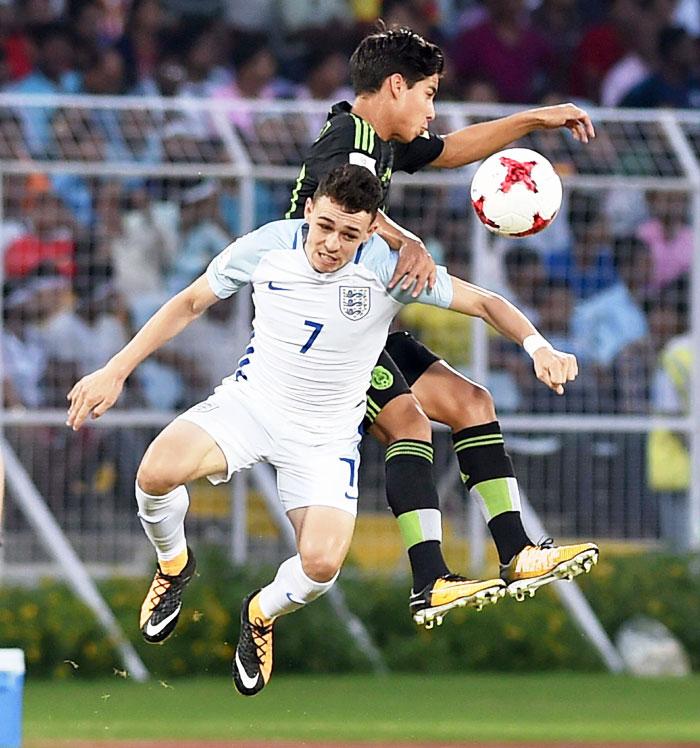 It was a feast for the eyes as 40,620 people turned out at the Saltlake Stadium and witnessed the five-goal thriller with England dominating the first one-hour, followed by Mexico's second-half resurgence.
India qualify for 2019 AFC Asian Cup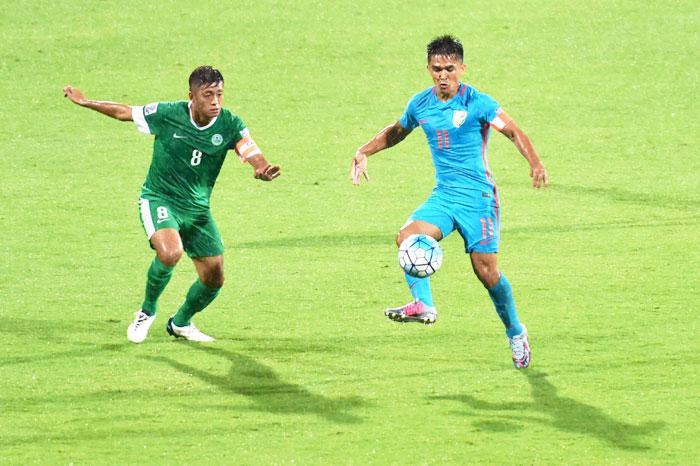 This is the third time the country has qualified for the continental showpiece.
Shanghai Masters PHOTOS: Nadal, Federer cruise to third round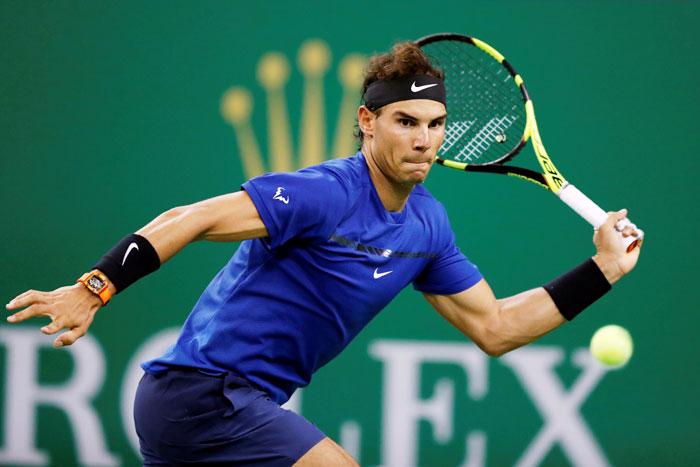 Top seed Nadal extended his winning streak to 13 matches with a 6-2, 6-1 demolition of American Jared Donaldson in the Qi Zhong Stadium before World No 2 Federer, to the delight of his sizeable Chinese fan club, got the better of Argentina's Diego Schwartzman 7-6(4), 6-4.
Sports Shorts: Unseeded Zhu upsets Kvitova in Tianjin opener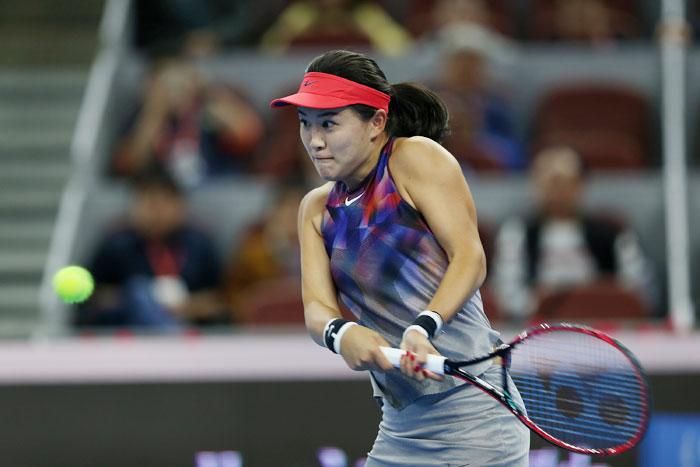 A summary of sports events and sports persons, who made news on Wednesday
October 10, 2017
Giroud scorpion kick vs teen Castellanos's goal for Puskas award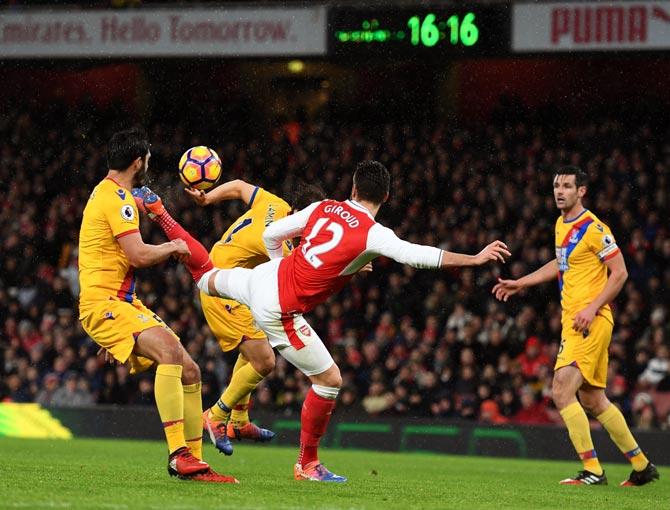 Giroud scored with an improvised volley in the Premier League match on Jan. 1, producing an acrobatic flick with his left heel to convert Alexis Sanchez's cross into the net off the crossbar while tumbling forward.
2018 FIFA World Cup qualifiers: Cahill's extra-time winner keeps Australia alive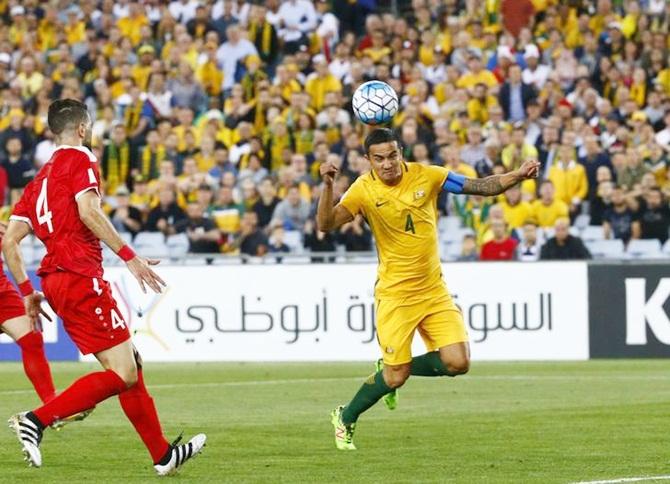 Images from the 2018 World Cup qualifiers played in Europe on Monday
Messi, Ronaldo or Mbappe? Pick your favourite for Ballon d'Or crown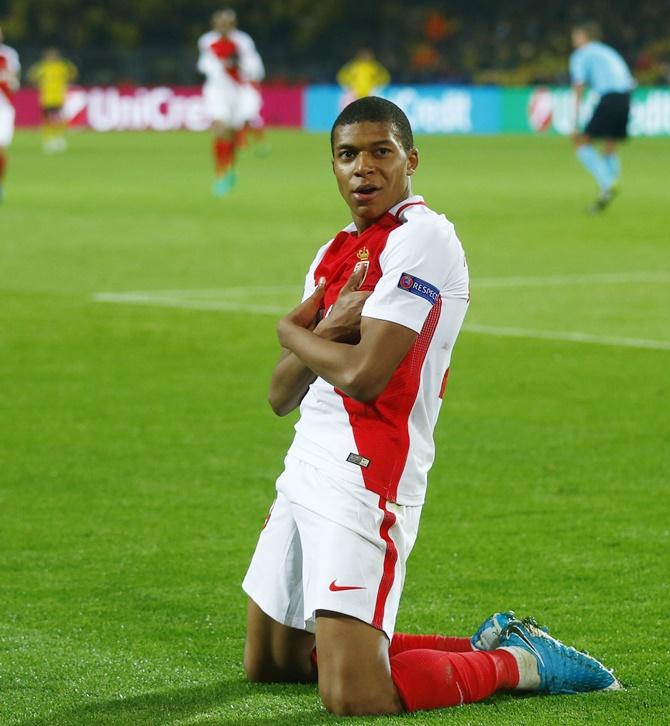 Should the Portugal forward triumph, he will equal the record of his great rival and five-time winner Lionel Messi of Barcelona, who is also nominated.
Under-17 WC: 'Loss of concentration after equaliser cost India match'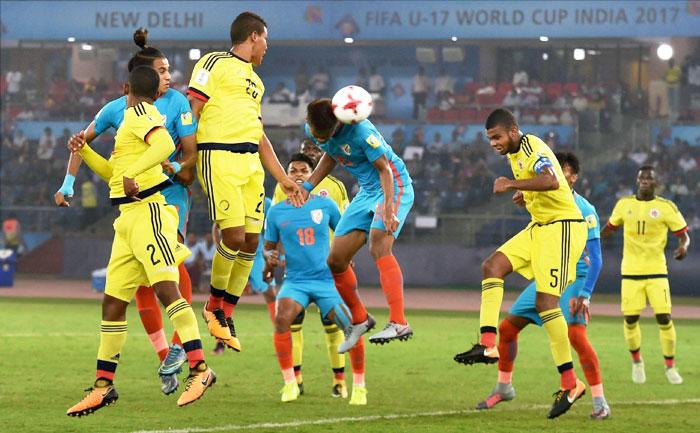 'I am very proud of these Indian players. They have shown that India can compete against the best in the world. They have a fantastic future'
Serena to defend title at Australian Open?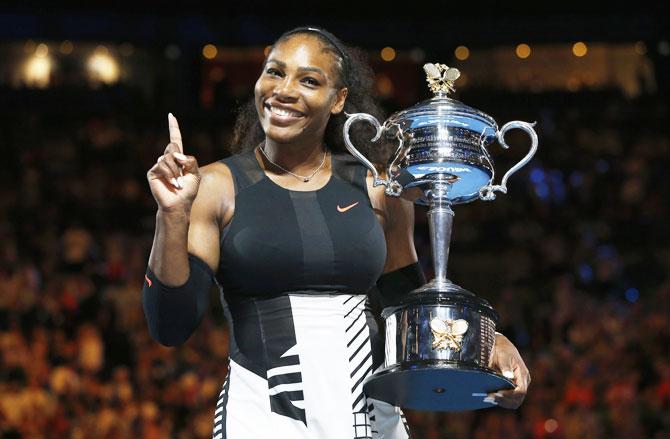 'She wants to come back in 2018 and defend her title and she's in training now'
October 09, 2017
PIX: Jubilant Egypt erupts after sealing first WCup berth in 28 years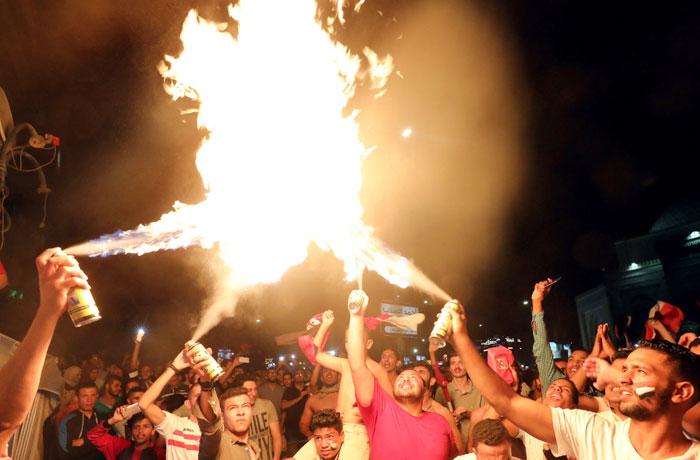 The win clinched Egypt a long-awaited spot in Russia for the 2018 World Cup finals, where the Arab world's most populous country will compete on football's ultimate stage for the first time since Italy in 1990.
US Vice Prez exits NFL game after players kneel during anthem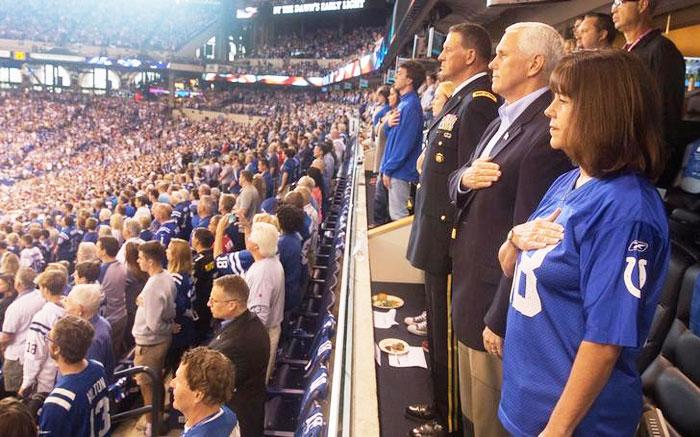 When the national anthem was played before the start of the game, some 49ers knelt while some Colts, their arms locked, wore black T-shirts with the words "We Will" on the front and "Stand for equality, justice, unity, respect, dialogue, opportunity" on the back.
2018 World Cup qualifiers: Lewandowski helps Poland seal berth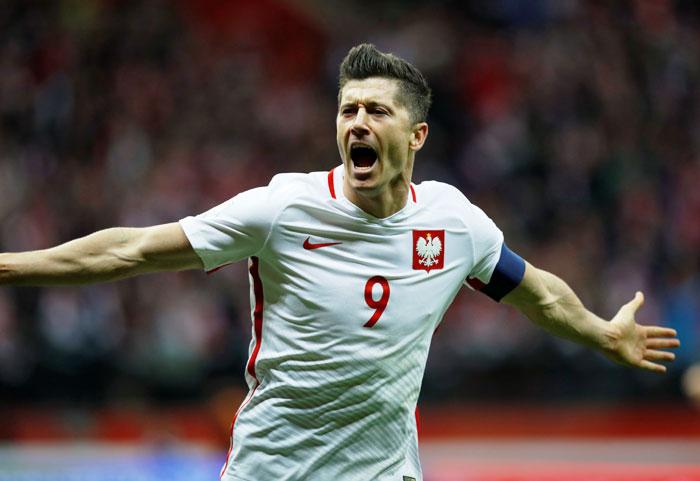 IMAGES from the FIFA World Cup qualifiers played across Europe on Sunday
October 05, 2017
FIFA Under-17: India set for challenging WC debut against USA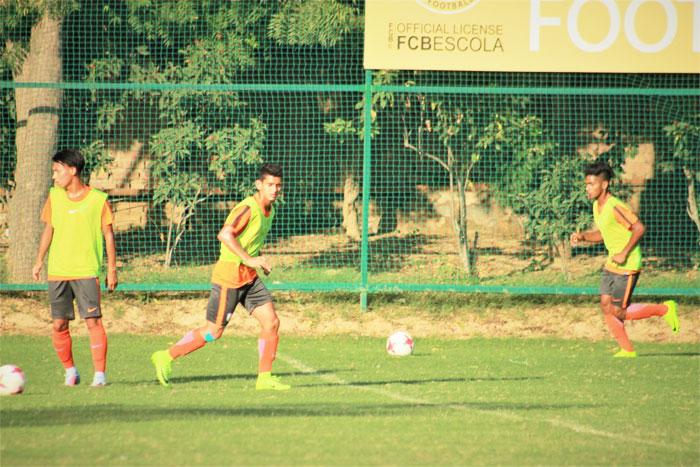 India qualified automatically for the event as hosts. They have prepared well with the All India Football Federation (AIFF) sending the players for training tours in Europe and a tournament in Mexico but the home side are the clear underdogs.
EPL snapshots: City's in-form Stones hails Guardiola's impact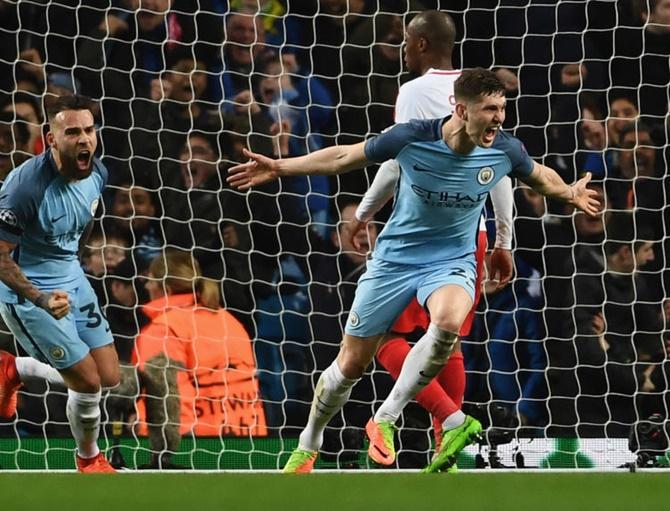 Leicester City's attempts to sign Adrien Silva from Sporting Lisbon were dealt a blow on Wednesday, with FIFA saying it had rejected an FA petition to grant the midfielder an international transfer certificate.
October 04, 2017
Sports Shorts: 3 Indians to officiate hockey events at 2018 CWG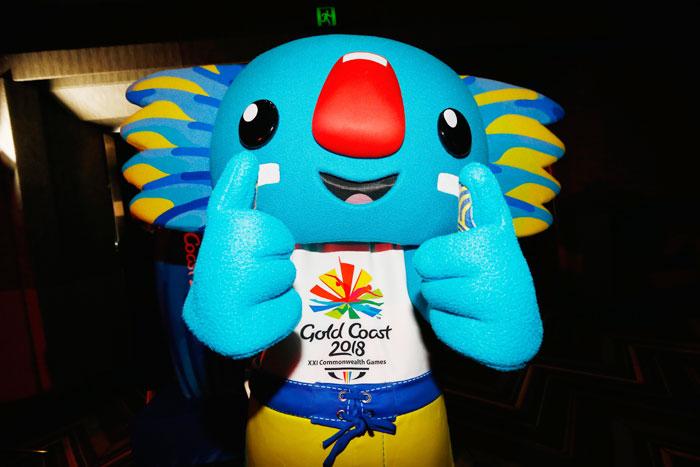 A summary of sports events and sports persons, who made news on Wednesday
October 03, 2017
Sports Shorts: World No 1 Nadal unmoved in ATP rankings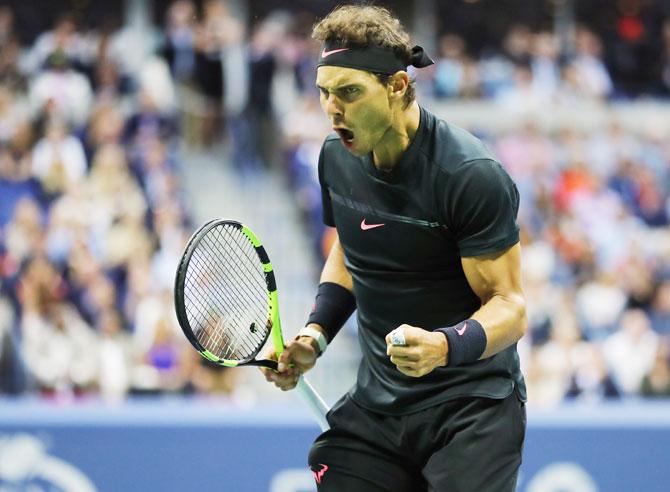 A summary of sports events and sports persons, who made news on Tuesday
EPL snapshots: 'Ibrahimovic must not rush Manchester United return'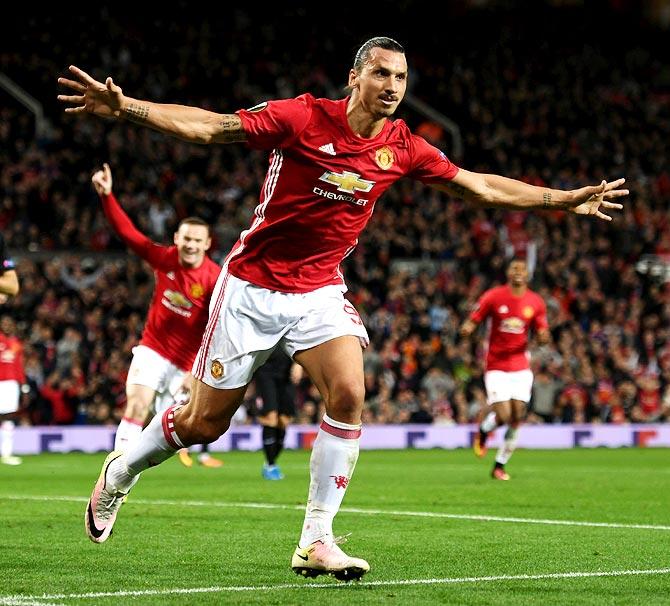 Ibrahimovic has not played since suffering a career-threatening knee ligament injury in United's Europa League quarter-final second leg match against Anderlecht at Old Trafford in April.
October 01, 2017
Football Briefs: Bayern misery continues, PSG demolish Bordeaux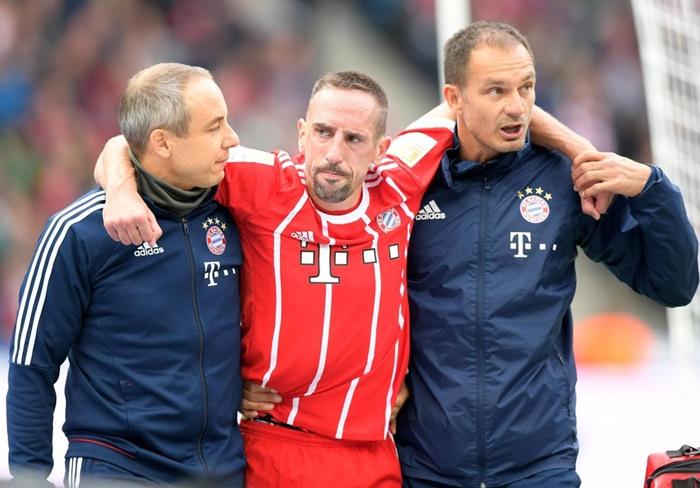 News of all that's transpired on and off the football field
September 29, 2017
Indian footballers go on clean-up drive for #SwachhBharat week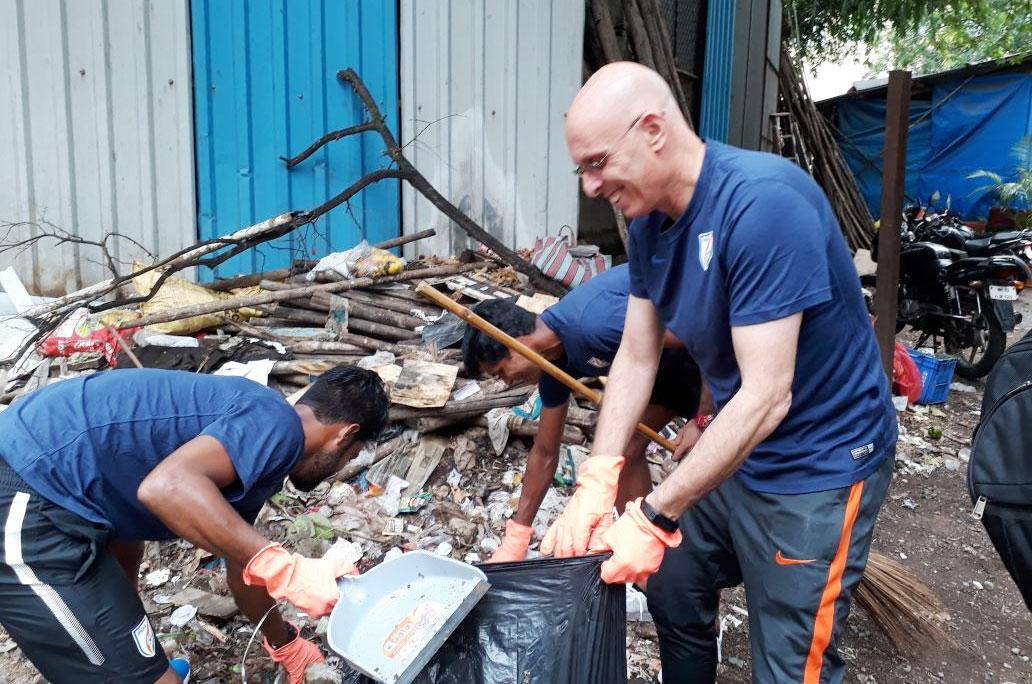 The team is in Mumbai to prepare for the 2019 Asian Cup qualifying round match against Macau on October 11.
EPL: Manchester United's Pogba sidelined for long-term with injury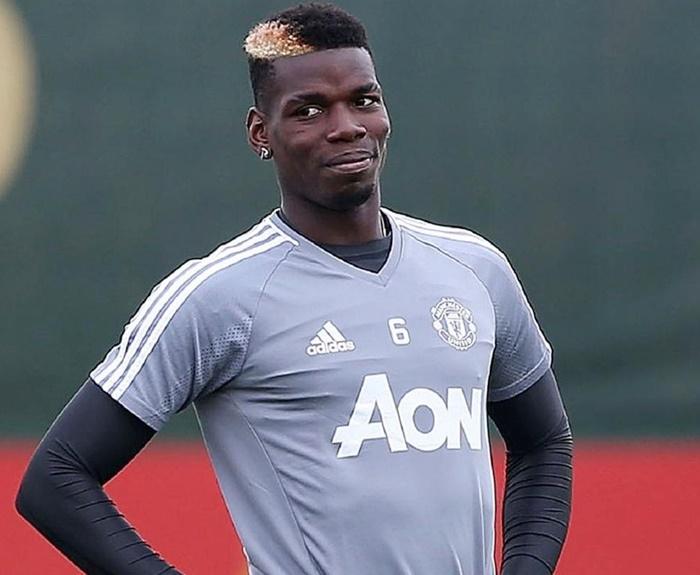 Pogba suffered the injury in United's 3-0 Champions League win over Basel this month.
Sports Shorts: Ramos criticises Pique over political stance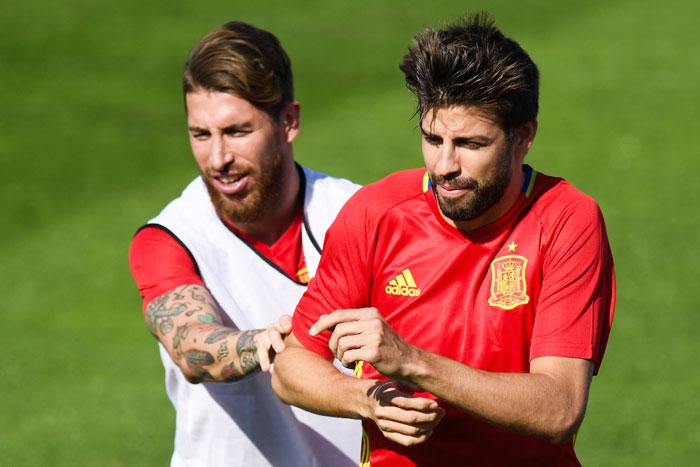 A summary of sports events and sports persons, who made news on Friday
September 27, 2017
Under-17 WC digest: Brazil-NZ kick-off tournament with practice match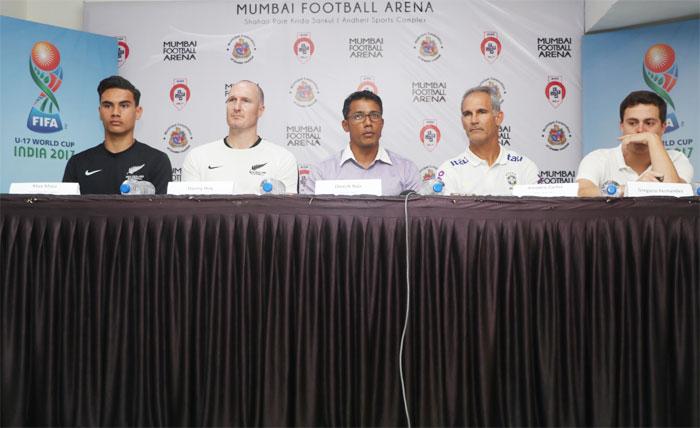 'Our defence system starts with our first four and that's why we have a solid defence. People look to Brazil and always try to find players who score or dribble but we have many other qualities. With our goalkeeper and defenders, we have a solid defence'
Moya addition to coaching team is breath of fresh air: Nadal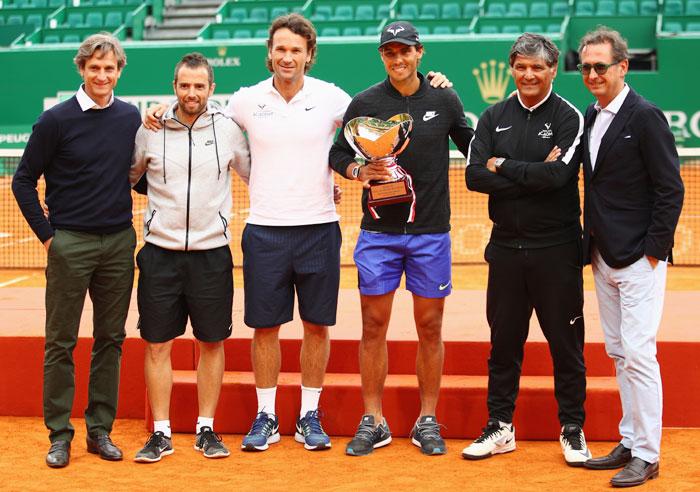 Moya, a former world number one, joined Nadal's team to work with his uncle Toni Nadal last December and has helped revitalise the 31-year-old's career.
September 26, 2017
Sports Shorts: Hamilton not chasing Schumacher's F1 title record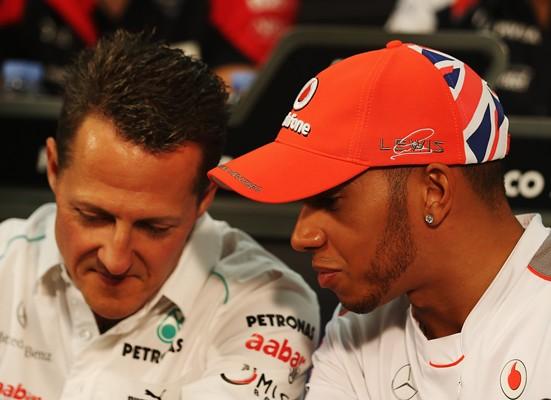 A summary of sports events and sports persons, who made news on Tuesday
There is no stop to the national anthem controversy in the US...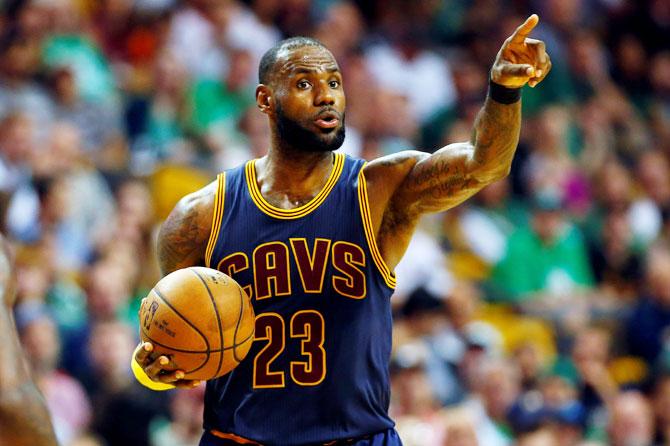 Trump trying to divide us, cries NBA star LeBron James even as Cowboys, Cardinals link arms amid anthem protests
#SwachhBharat: Tendulkar teams with Thackeray Jr in clean-up drive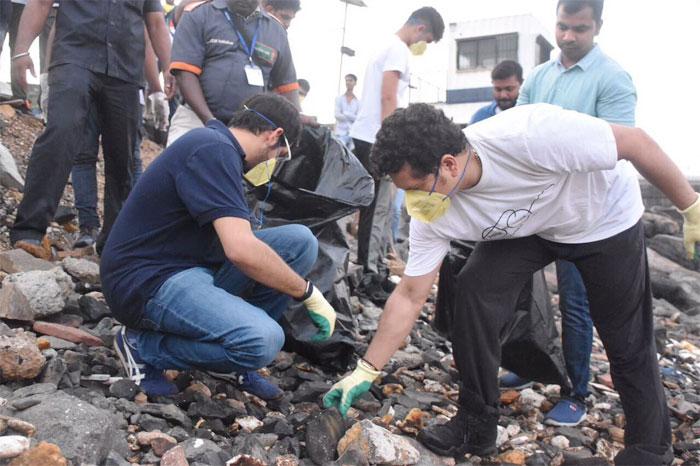 The duo, along with a few volunteers, and sweepers of the Brihanmumbai Municipal Corporation, joined forces to clean up parts of Bandra Fort in Western Mumbai.
September 23, 2017
EPL PHOTOS: City thrash hapless Palace 5-0; Morata 'tricks' for Chelsea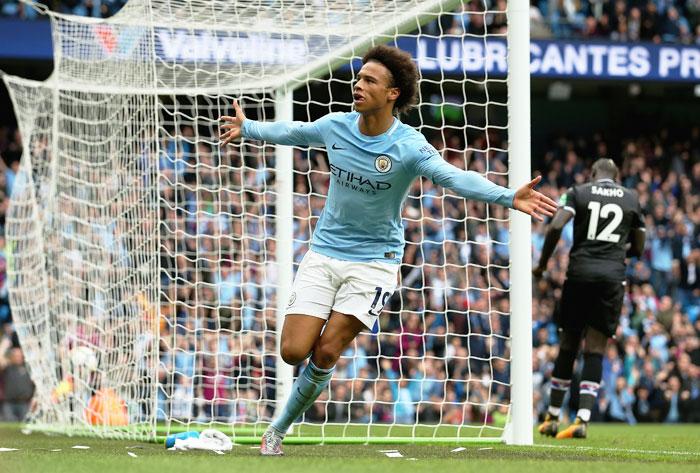 Images from the English Premier League matches played on Saturday
September 22, 2017
Costa's Chelsea exit a 'real shame' for Premier League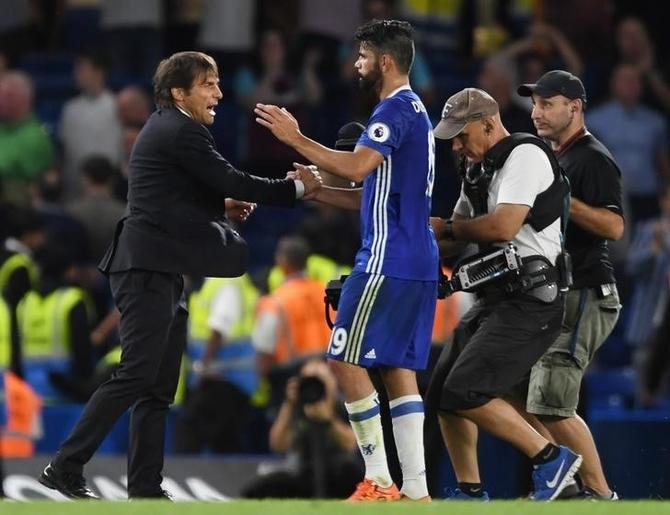 'We want to thank him (Costa) for what he did with this club. We wish him all the best for the future'
Tennis round-up: Top seed Muguruza sails into Pan Pacific Open semis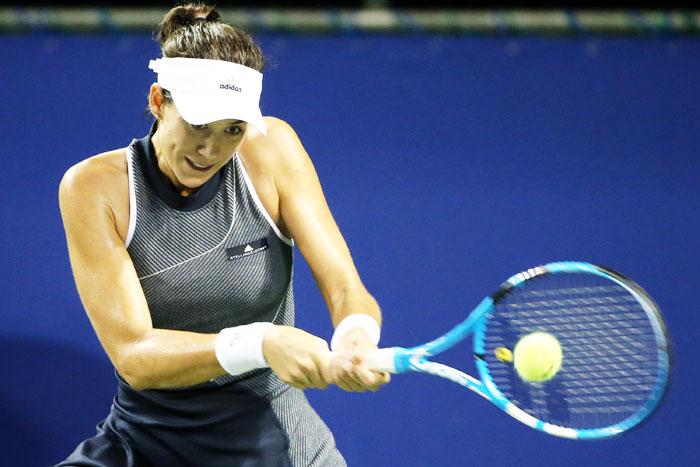 The 23-year-old Wimbledon champion, who climbed to the top of the WTA rankings on Monday, hardly broke sweat against the Frenchwoman, ranked 20th in the world, on her way to victory in an hour and 20 minutes.
September 20, 2017
PIX: Four-star Messi makes it a night to remember as Barca rout Eibar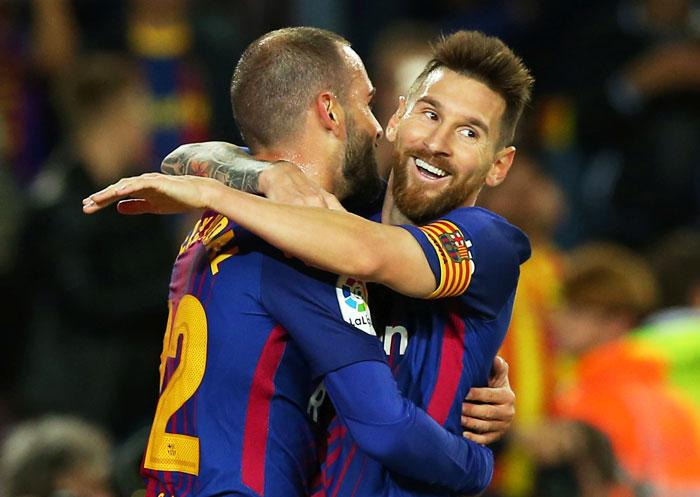 The clinical Argentine Messi now has 11 goals in his last five games in all competitions and with record signing Ousmane Dembele injured and Luis Suarez rested, he put on a sensational show at Camp Nou to extend Barcelona's La Liga lead.
September 15, 2017
Europa League: Fan trouble before Arsenal rally to win, Everton lose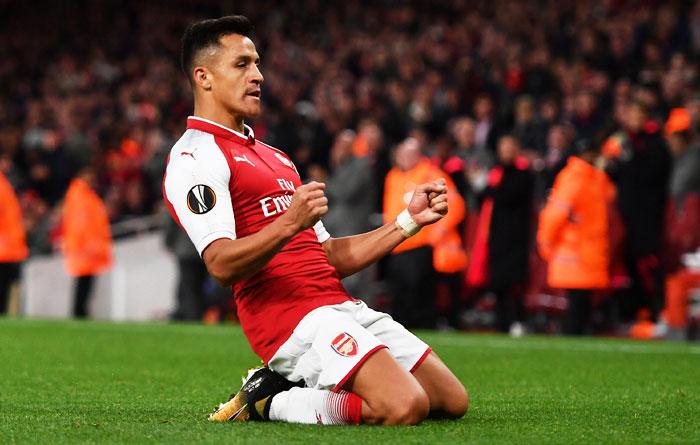 Fellow Serie A sides Atalanta and Lazio also won while Portugal's Vitoria Guimaraes began their match against Salzburg with not a single European player in the team.
September 14, 2017
Davis Cup: Young blood to the fore as India take on Canada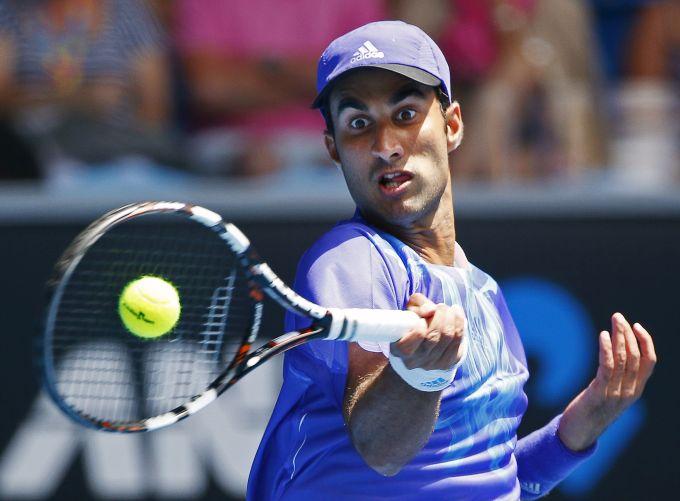 Shapovalov made the world take note of him with his shock win over Rafael Nadal at the Montreal Masters. He then became the youngest player to reach the fourth round of the US Open, only his second Grand Slam, last week.
Of highs, lows and upsets at the UEFA Champions League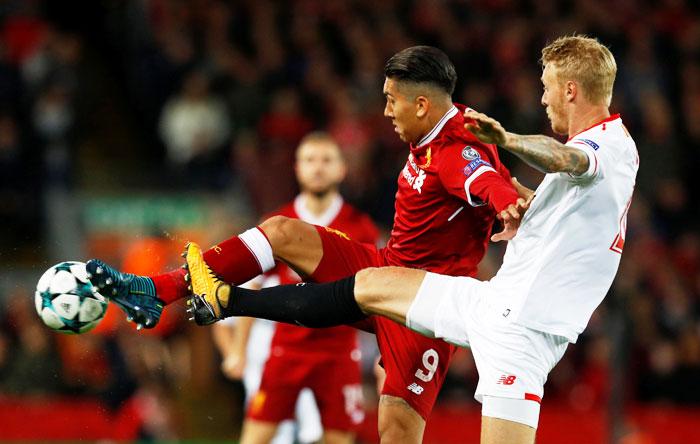 Wednesday night saw a few surprise results while a debutant club makes a mark
Champions League PIX: Real crush APOEL; English clubs off to good start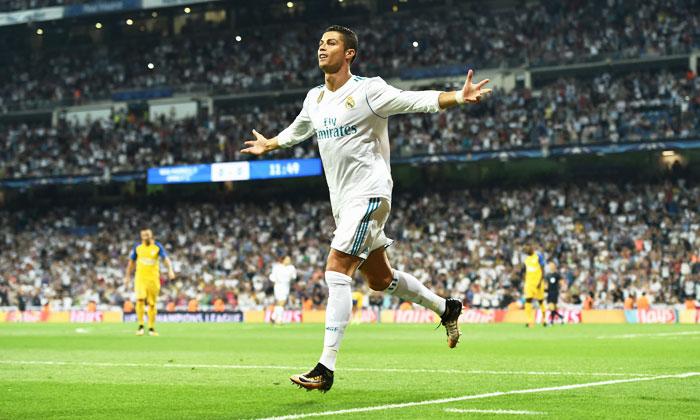 A summary of all the Champions League matches played across Europe on Wednesday
September 13, 2017
Rafael Nadal reveals strong political views on Catalonia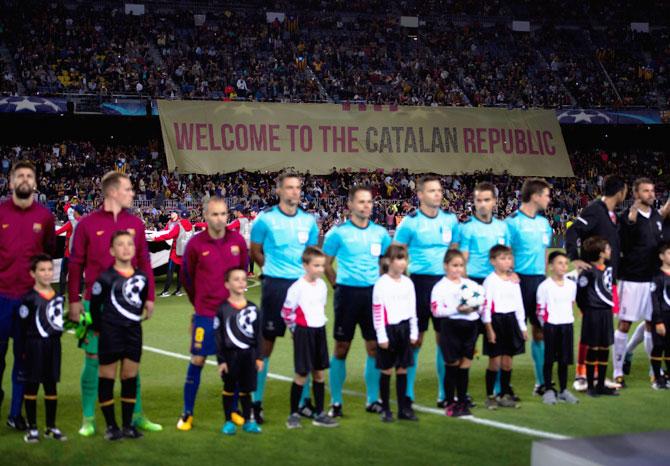 'I don't understand Spain without Catalonia. I don't want to understand or see it'
Highlights from the opening night of UEFA Champions League...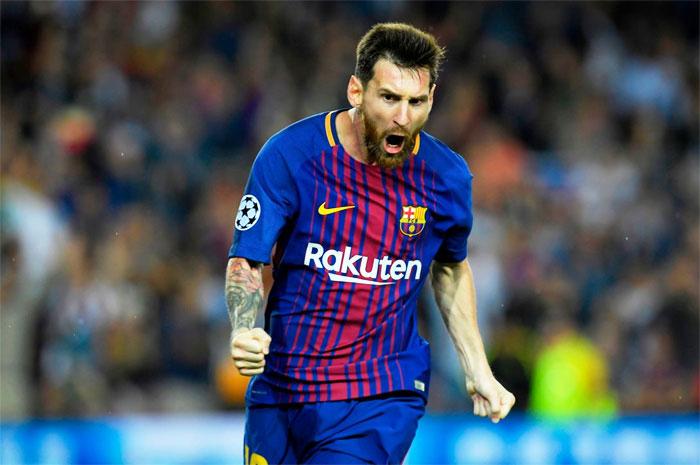 There is never a dearth of drama in European football and here is proof...
Champions League: Italian clubs flop but Barca, United score big wins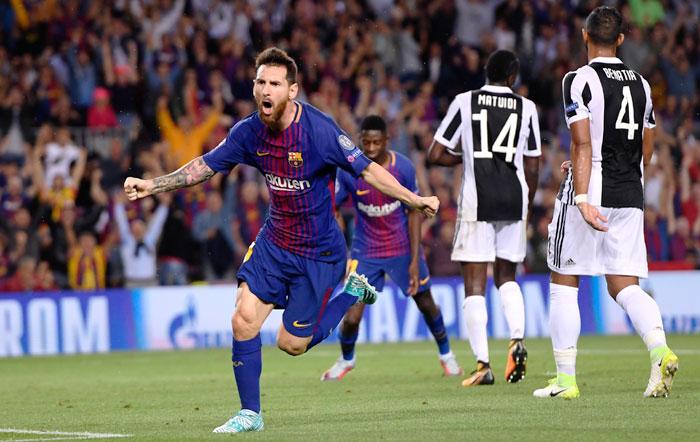 A summary of all the Champions League matches played across Europe on Tuesday
September 12, 2017
Davis Cup: Bhupathi confident while Shapovalov and Co await India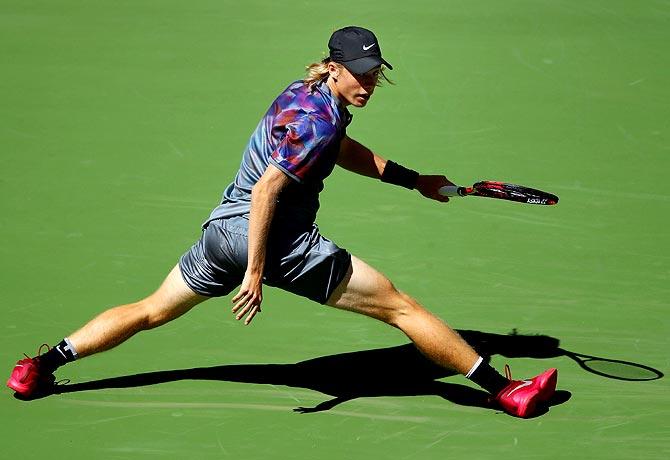 'The boys have hit a lot of balls and are feeling good, so we are looking forward to the weekend'
A club from war-torn Azerbaijan set for Champions League baptism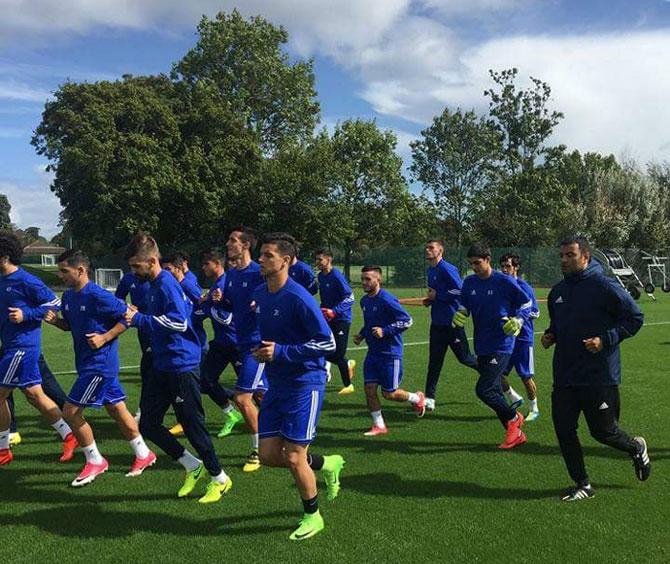 Founded in 1992, Qarabag's Imarat Stadium is reduced to rubble and they play their home games 440km away in the capital Baku.
'Motivated' Manchester Utd go through grind on Champions League return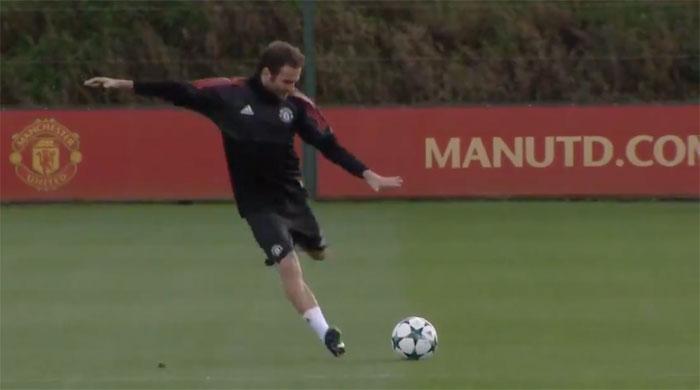 'Being back in the Champions League is going back to the natural habitat. Manchester United (have been there) season after season'
September 11, 2017
EPL snapshots: Crystal Palace sack manager Frank de Boer?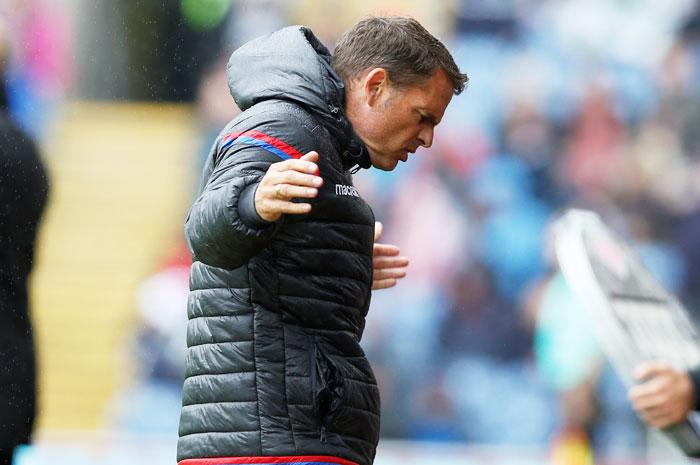 De Boer, who replaced Sam Allardyce at the London club, has lost all four league games with his side failing to score a goal -- the most recent loss coming at Burnley on Sunday.
Manchester United 'stopped in time' after Fergie's departure: Mourinho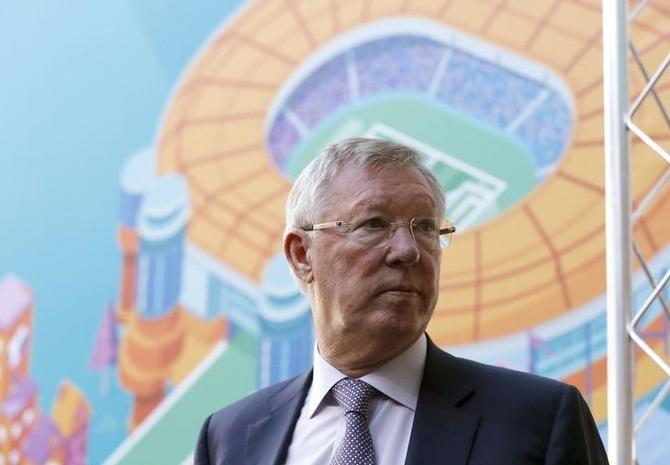 'That was quite an empty period in this club with no evolution in areas that are important'
Retracing Rafa's run to Sweet 16!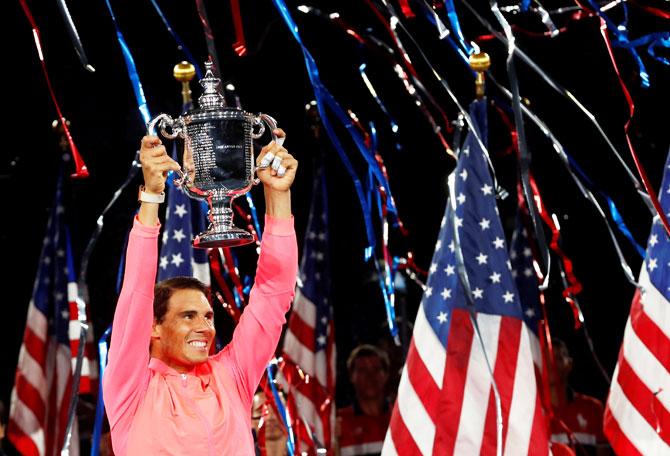 Here is a factual guide on the man of the moment...
Nadal feels 'lucky' being part of an 'incredible era'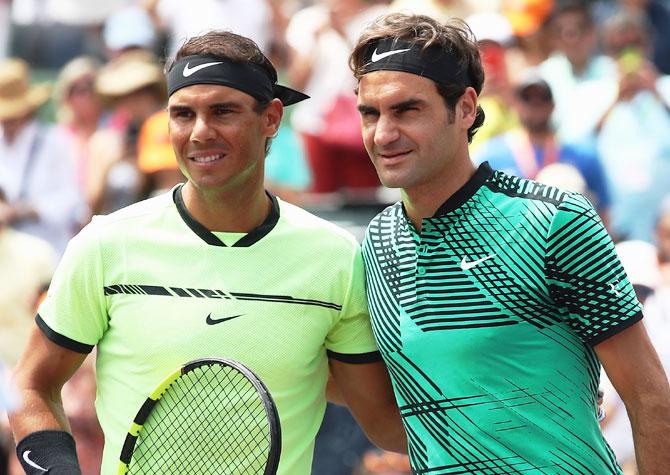 'I feel happy to be part of this rivalry, but at the same time, I played even more matches with Novak (Djokovic) than with Roger in such important matches, too'
Anderson targets return to top 10 after special fortnight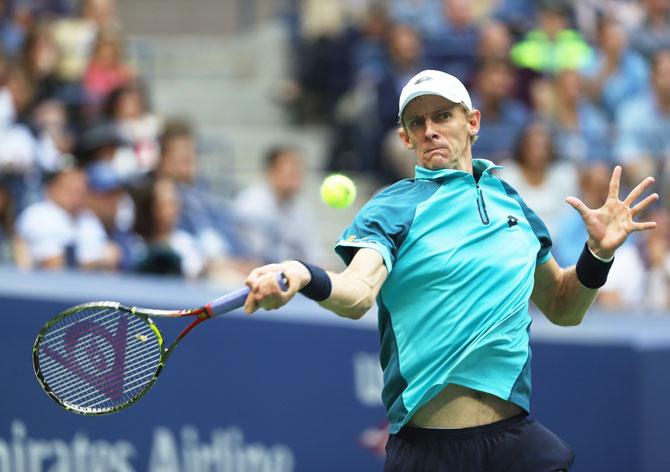 'It's a tough loss, but it was obviously a great experience'
Can ruthless Nadal surpass Federer's 19 slams?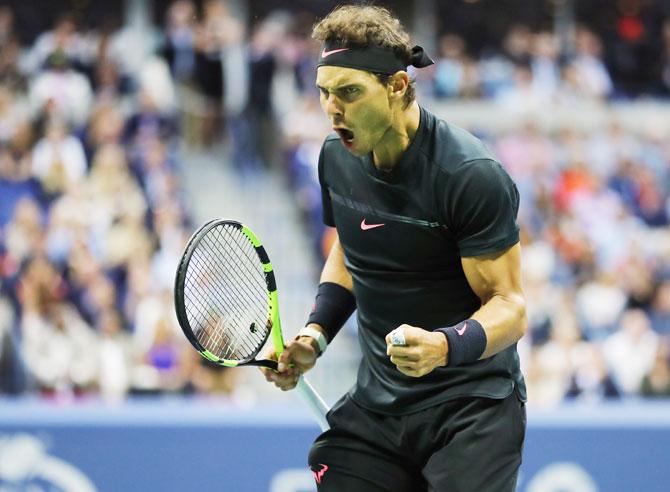 'I really don't think much about these kind of things. I do my way, he does his way'
September 10, 2017
Football Briefs: Inter penalty awarded after video review; Bayern lose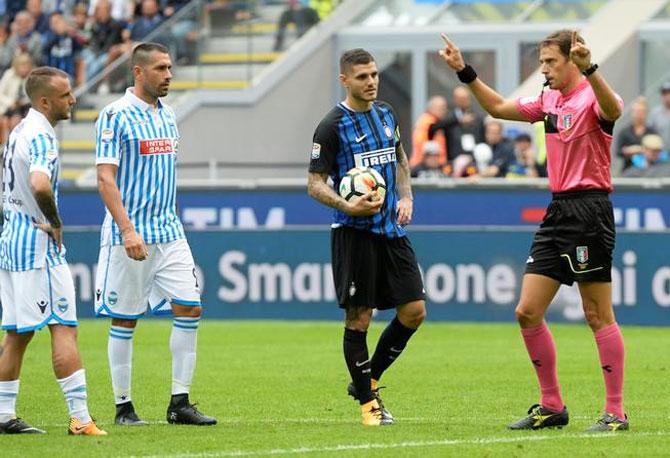 News of all that's transpired on and off the football field
Sports Shorts: India shuttlers win big at Ukraine international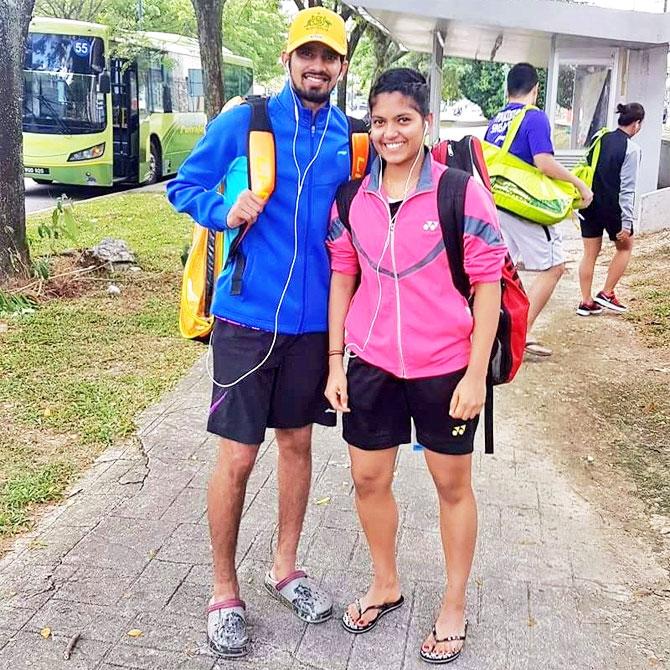 A summary of sports events and sports persons, who made news on Sunday
September 09, 2017
Gen Next of American tennis vie for US Open crown

Keys and Stephens to put friendship to grand slam test
Meet US Open women's finalists Madison Keys and Sloane Stephens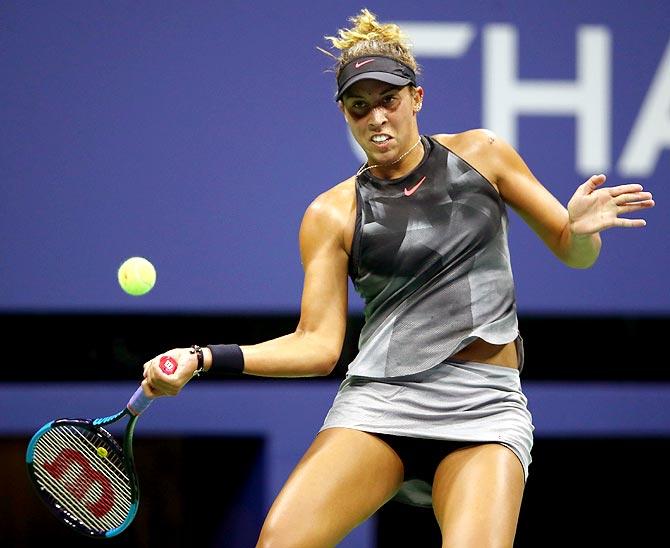 Here is a player profile, a look at the form and records of American Madison Keys and compatriot Sloane Stephens ahead of Saturday's US Open final (prefix number denotes seeding)
EPL snapshots: Huddersfield's Wagner named manager of the month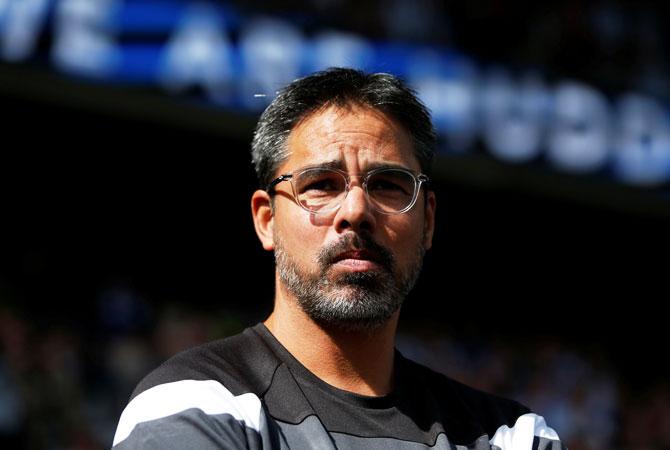 Manchester City's Kompany out of Liverpool clash with calf injury
Nearly-man Anderson fights off injuries, reaps rewards for perseverance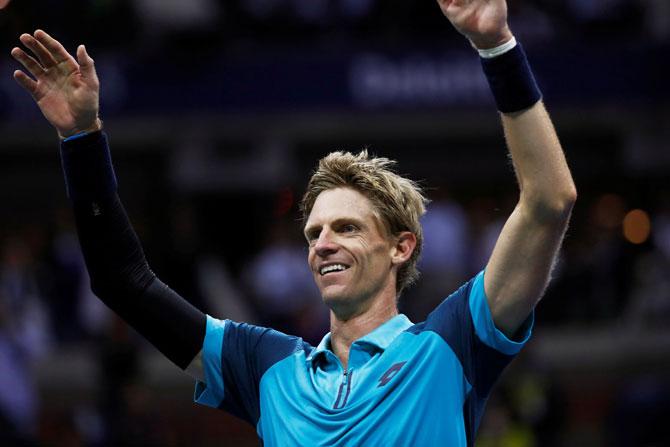 'There have been a lot of ups and downs and I feel really happy, I've always kept belief'
US Open: Rojer makes political point in doubles triumph with Tecau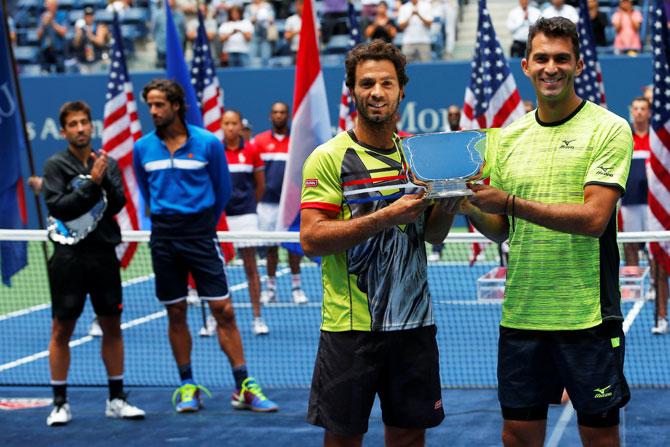 The 12th seeded Rojer and Tecau, who rallied from a set down to upset top seeded Henri Kontinen and John Peers in the semi-finals, needed just 86 minutes on a sunny Arthur Ashe Stadium court to add the US Open championship to the Wimbledon title they won in 2015.
US Open Pix: Nadal battles back to tame Del Potro for final spot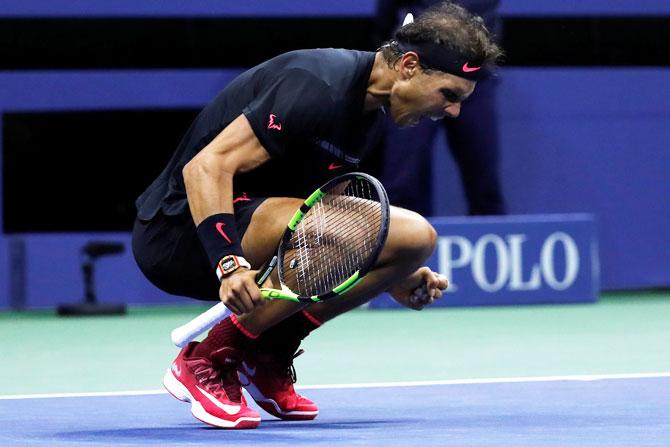 Rafael Nadal was at his awe-inspiring best as he recovered from a first set wobble to crush Juan Martin del Potro 4-6, 6-0, 6-3, 6-2 in the US Open semi-finals on Friday and move within reach of a 16th grand slam title.
September 06, 2017
US Open PIX: Anderson beats Querrey; Stephens through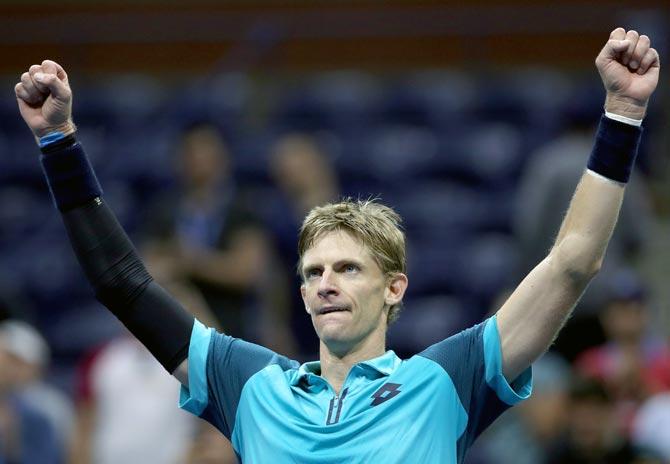 Kevin Anderson spoiled the American party at the US Open when the big-serving South African beat local favourite Sam Querrey 7-6(5), 6-7(9), 6-3, 7-6(7) to reach his first Grand Slam semi-final on Tuesday.
September 05, 2017
US Open PIX: Ailing Del Potro survives, Federer eases through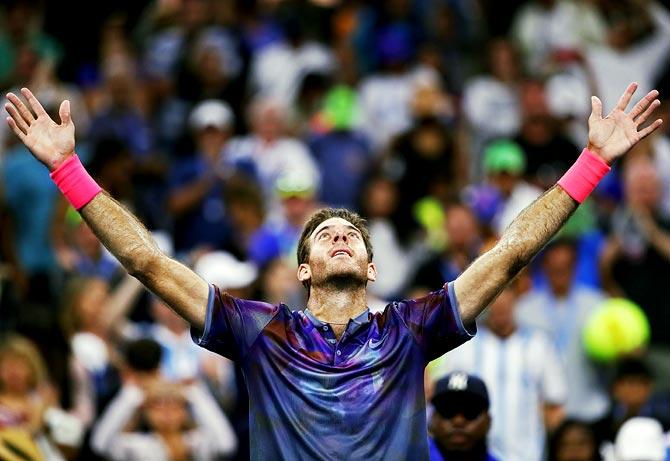 The 2009 champion who will next face Roger Federer, saved two match points in the fourth set of what was arguably the best of the tournament so far.
September 03, 2017
F1: Hamilton wins Italian GP in style to take Championship lead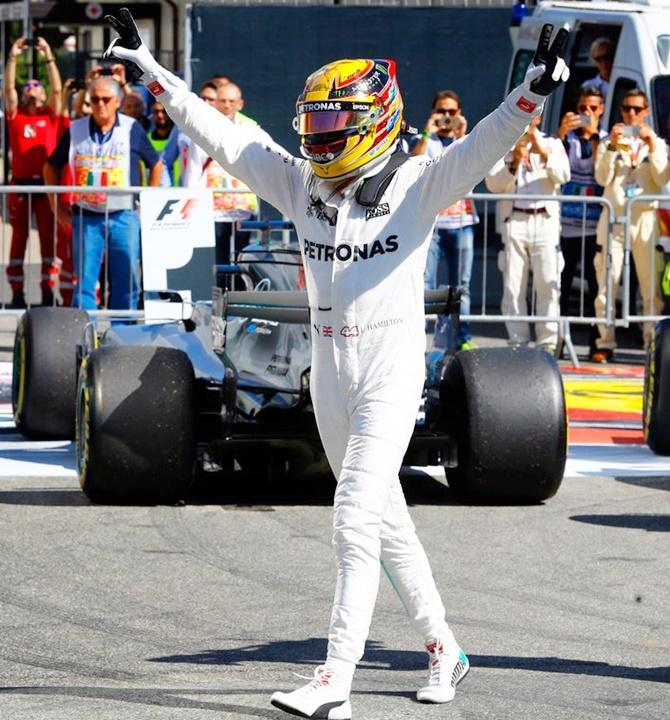 The triple champion, who started the race from a record 69th career pole position, led Finnish team mate Valtteri Bottas to a runaway one-two finish in front of the massed ranks of red-shirted Ferrari fans.
Nadal survives early wobble to book last 16 spot at US Open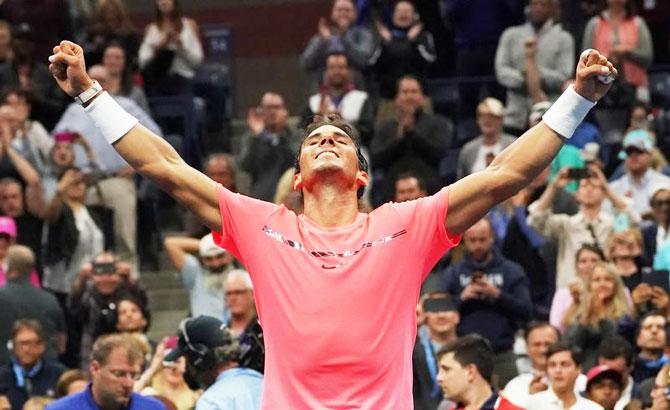 Nadal will next face Ukraine's Alexandr Dolgopolov.
US Open: After two marathons Federer sprints into fourth round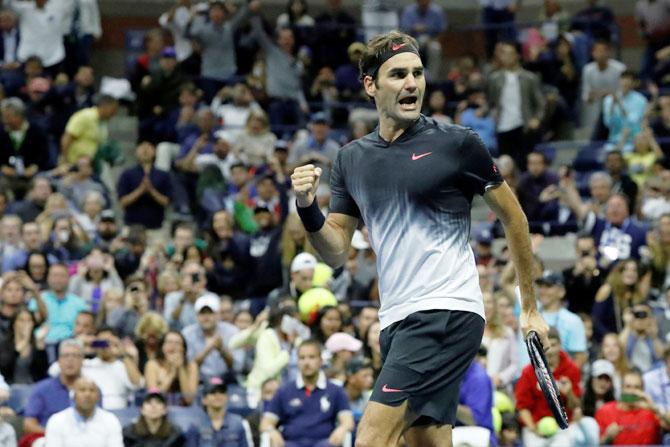 Chasing a sixth US Open title, Federer needed just one hour and 46 minutes under a closed roof at Arthur Ashe Stadium to put away the 31st seed Lopez, leaving plenty in the tank after being forced to go the distance in his opening two matches.
US Open PIX: Pliskova survives scare, Thiem eases through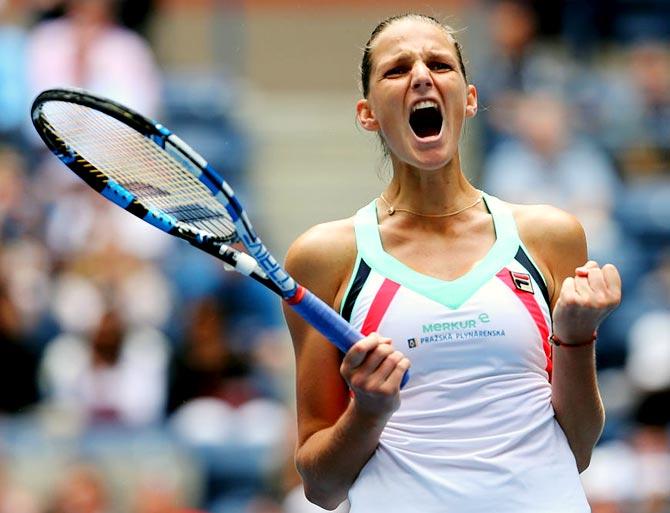 Karolina Pliskova showed the steel of a world number one as she fought off a match point to claim a riveting 3-6, 7-5, 6-4 comeback win over Zhang Shuai in the US Open third round.
August 31, 2017
US Open: Kyrgios on another self-berating spree after 2nd round loss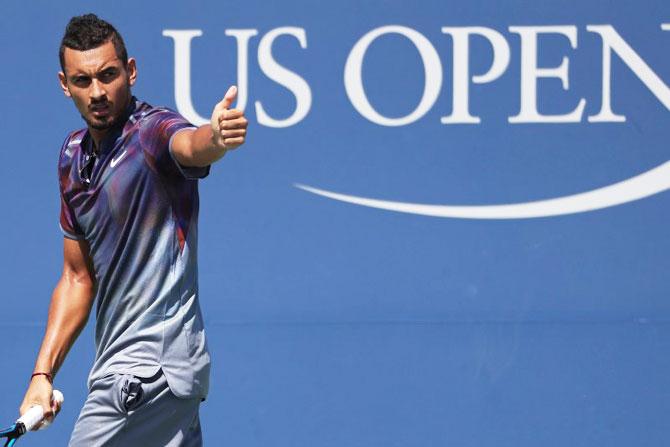 'He probably deserves a player that is probably more dedicated to the game than I am. He deserves a better athlete than me'
Transfer deadline day: Arsenal's Oxlade-Chamberlain to join Liverpool?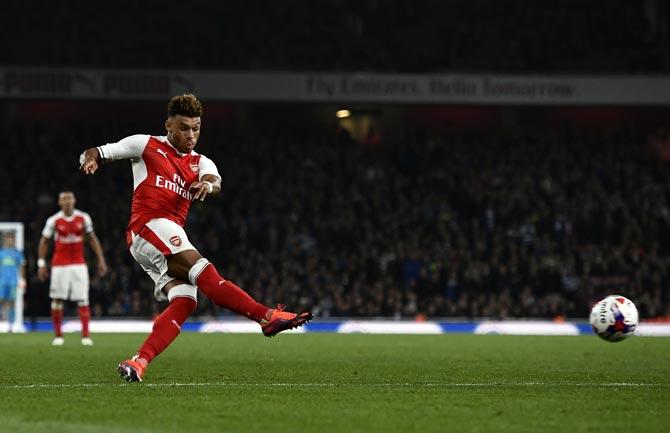 Arsenal manager Arsene Wenger spoke last week of his desire to keep the 24-year-old Oxlade-Chamberlain, who was also a target for champions Chelsea.
Sharapova feels the love, respect from fans and fellow players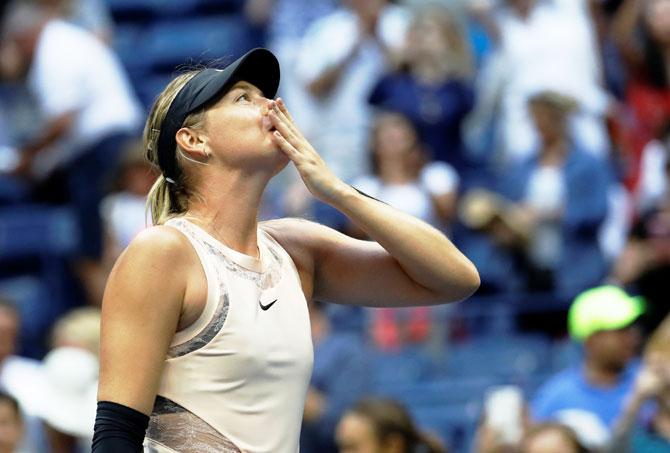 'I definitely feel the respect from the athletes. Certainly when I play against them, in terms of the level they play with'
Dolgopolov hits back at fixing claims: 'I don't want to talk about it'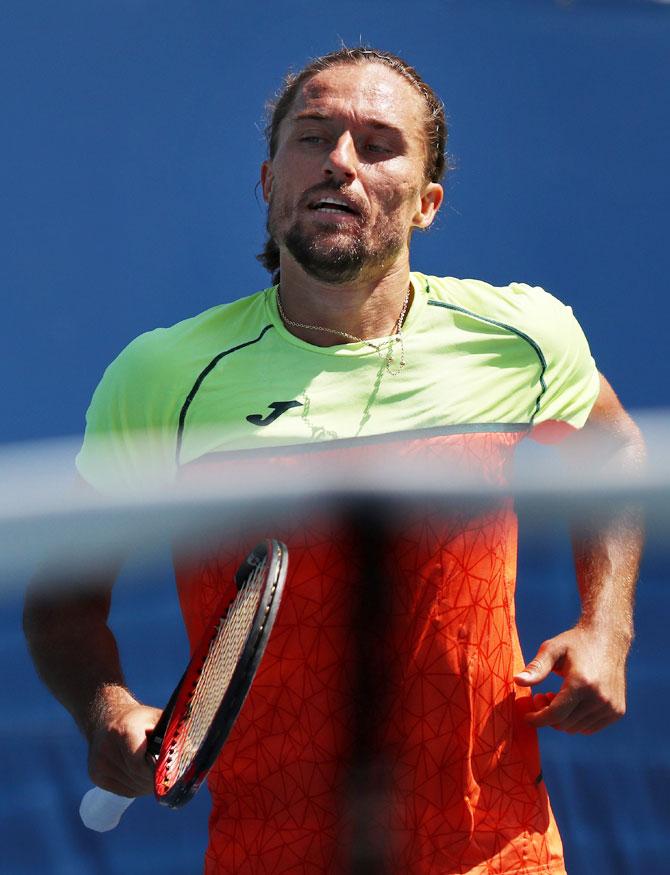 Dolgopolov, who advanced to the 2nd round of the US Open on Wednesday, said he could not remember ever being approached to fix a match.
US Open PIX: Sharapova, Venus roll on; Zvarev, Kyrgios, Wozniacki out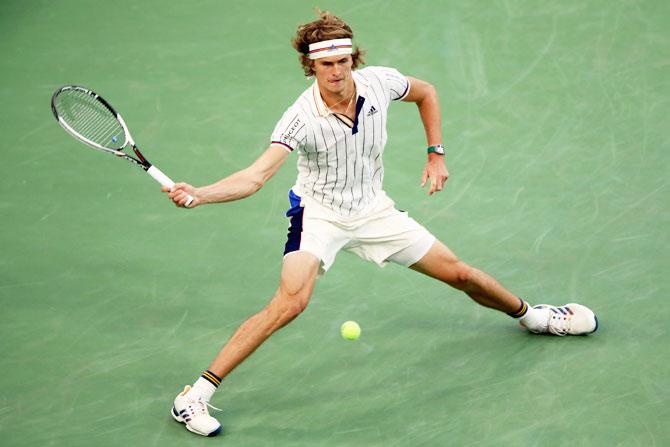 IMAGES from Day 3 of the US Open in New York on Wednesday.
August 30, 2017
US Open PIX: Federer stretched by teen Tiafoe before advancing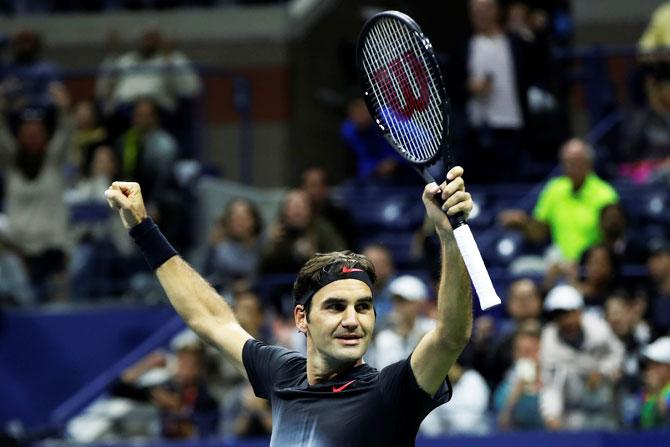 'It was exciting and this is why I came to New York, to go through these emotions'
Upsets on Day 2 at US Open: Defending champ Kerber ousted by Osaka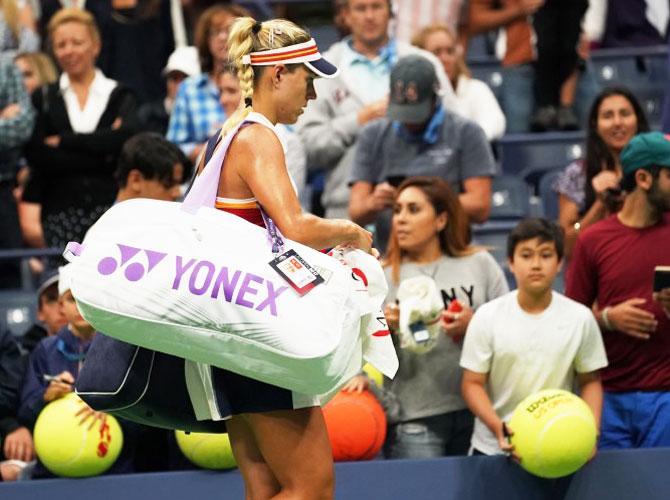 The German sixth seed, who has not won a title since winning at Flushing Meadows last year, never got into the match against the 2016 WTA newcomer of the year.
Nadal takes first step towards Federer US Open showdown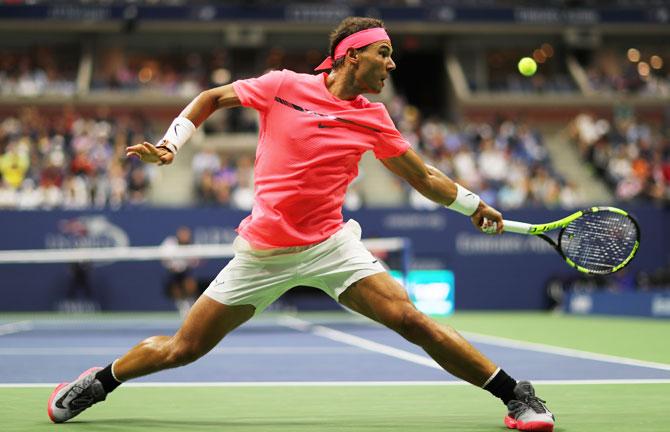 While the year's final grand slam is just underway tennis fans have circled Sept. 8 when, if all goes to form, Nadal and Federer would meet to decide a place in the final.
August 29, 2017
PIX: Sardar Singh, Jhajharia, bask in Khel Ratna glory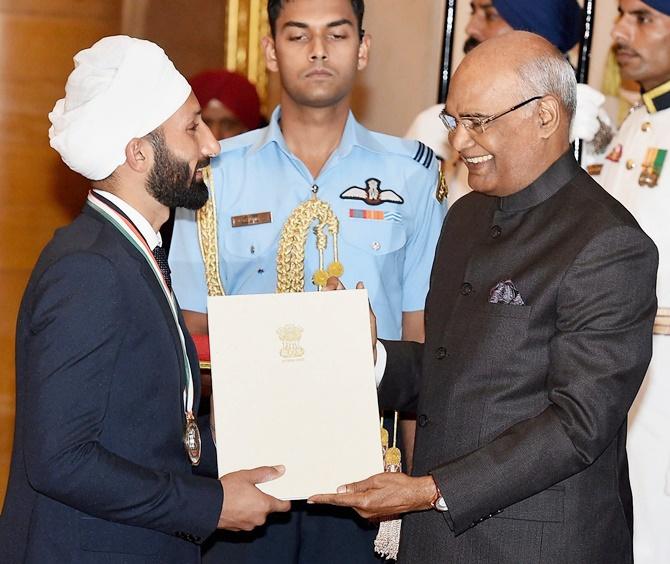 Devendra Jhajharia, on Tuesday became the first para athlete to receive India's highest sporting honour -- Rajiv Gandhi Khel Ratna -- along with hockey star Sardar Singh, who has endured trying times off the field in the last one year.
Proud Maria grabs spotlight in Big Apple after humbling Halep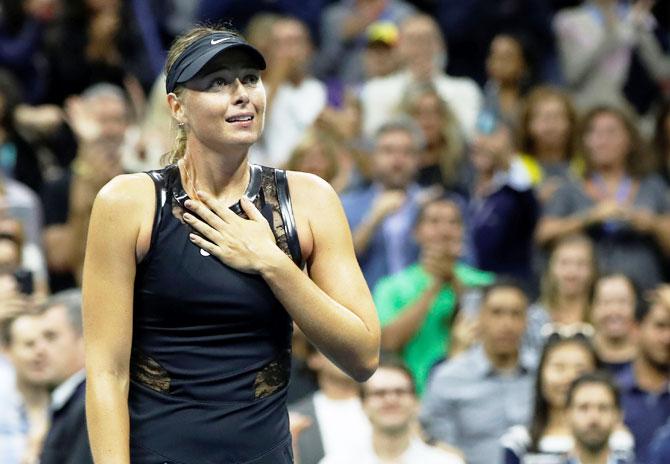 However, the 30-year-old Russia belied her own self-doubt with an impressive three-set win over the Romanian to thrust the former world number one back into the spotlight as the toast of the Big Apple.
PIX: Venus Williams leads American charge at US Open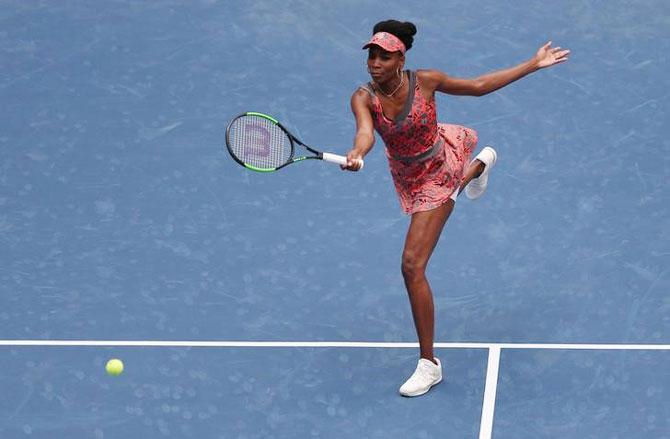 With the American men experiencing their longest US Open title drought in the Open era, Venus Williams led the American charge into round two on Monday with a 6-3, 3-6, 6-2 win over Viktoria Kuzmova of Slovakia.
US Open: Sharapova sparkles on return to grand slam stage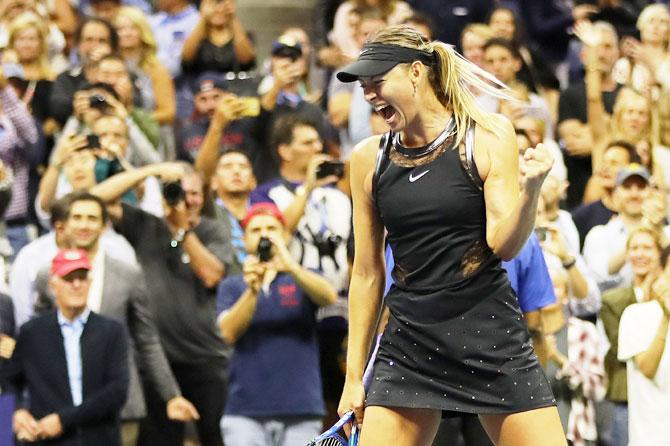 Still shaking off the rust from a 15-month doping ban and a string of nagging injuries, the 30-year-old Sharapova needed all her skill, determination and two hours and 44 minutes to snatch victory in front of a packed Arthur Ashe stadium.
Upsets on Day 1 at US Open: Sharapova knocks out Halep, Konta loses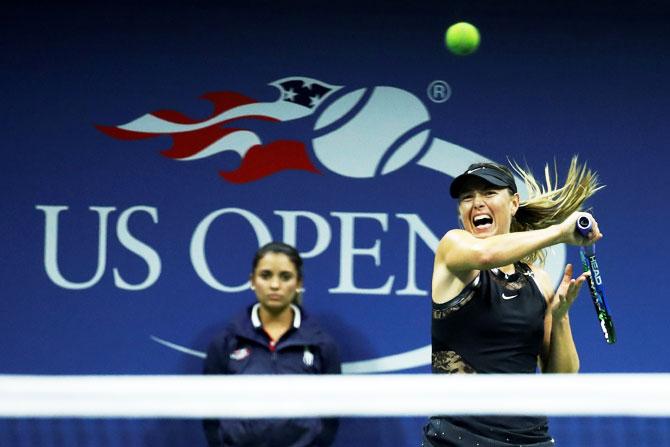 Sharapova, making her return to top-flight tennis after serving a doping ban, defeated Romanian Halep 6-4, 4-6, 6-3 to move into the 2nd round of the final major of the year.
August 26, 2017
EPL PHOTOS: Sterling grabs last-gasp victory for City, then sent off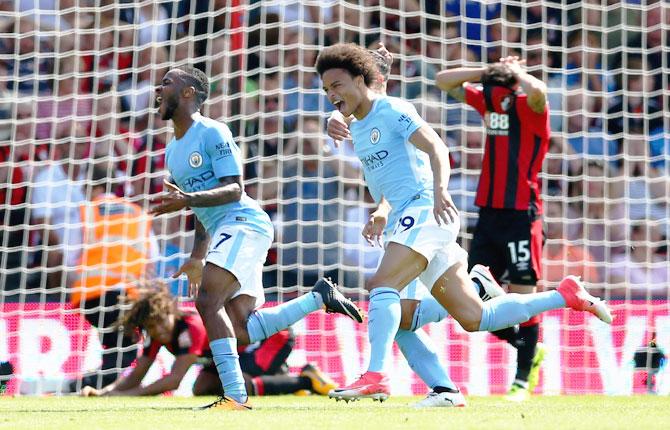 Seconds after Bournemouth had a chance to snatch victory the ball went back down the other end and Sterling's deflected shot looped past helpless Bournemouth keeper Asmir Begovic.
Federer, Nadal look to turn back the clock at New York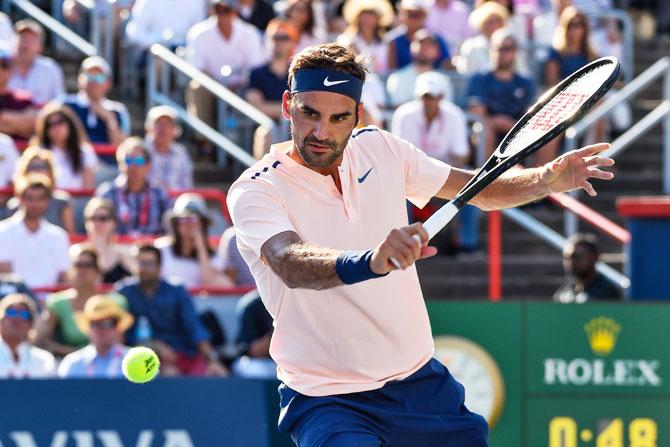 With the physical demands of modern-day tennis taking its toll the tournament will start without four of the top 11 in the ATP rankings including defending champion Stan Wawrinka who ended his season early with a knee injury.
Saina crashes out of World Championship, brings home bronze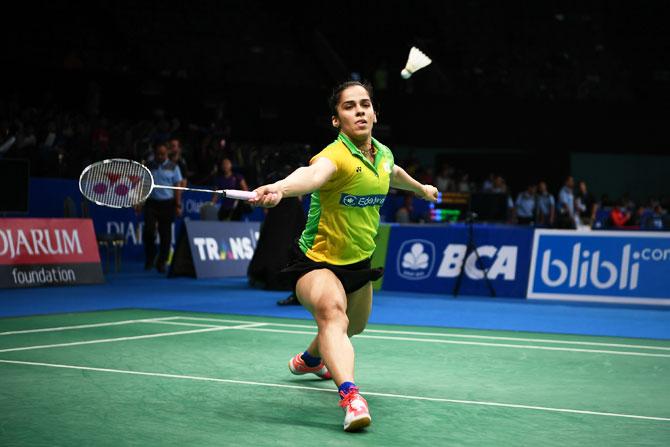 Saina, who had won a silver medal two years ago at Jakarta, gave everything in a battle of attrition but Okuhara's never-say-die attitude helped her to outmanoeuvre the Indian in an energy-sapping sem-ifinal clash at the Emirates Arena.
Red-hot Muguruza eager to solve US Open puzzle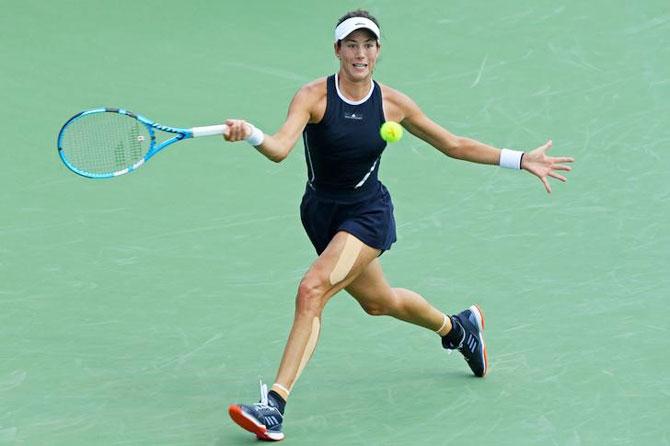 Now with Serena sidelined for the impending birth of her first child, the two-time grand slam winner is delivering on the promise that could see her become the new face of women's tennis.
August 25, 2017
US Open draw: Nadal faces unknown Lajovic in opening round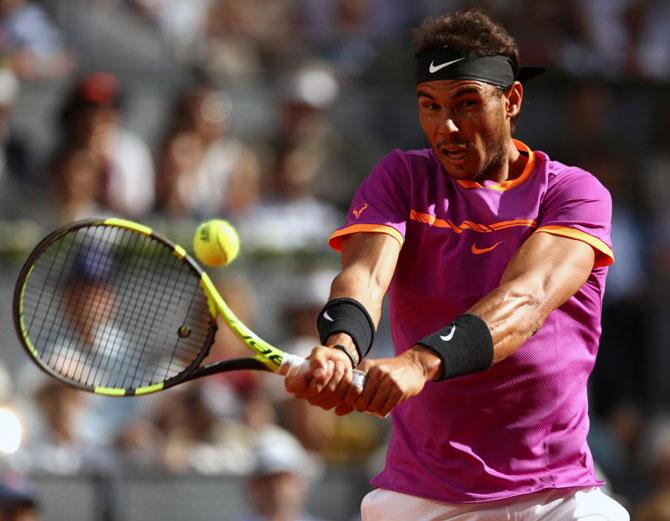 Among other top players, Briton Andy Murray will face American Tennys Sandgren in the first round, while World No. 3 Roger Federer will start his US Open campaign against young American Frances Tiafoe.
EPL preview: Liverpool forwards will be licking their lips vs Arsenal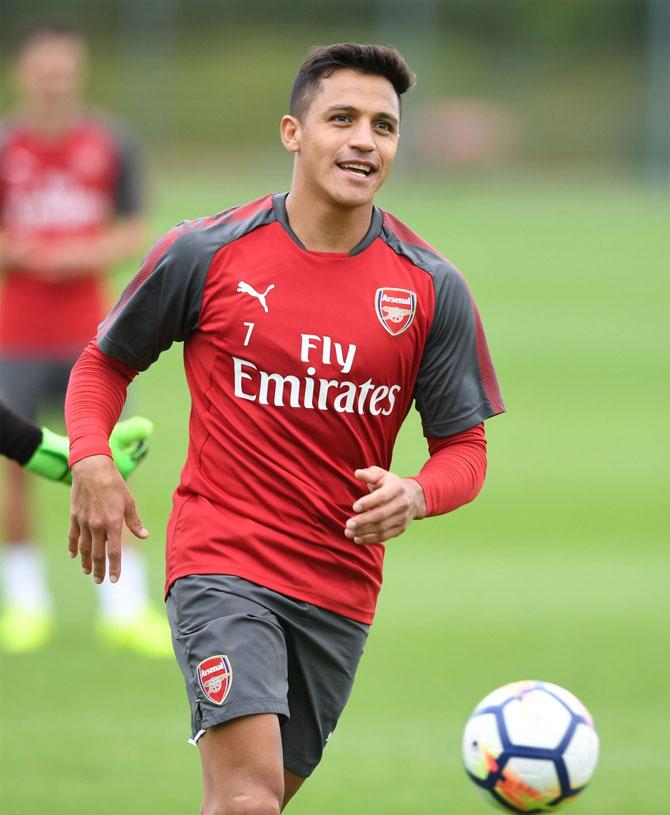 Wenger dropped Rob Holding for the visit to Stoke, preferring Shkodran Mustafi alongside Nacho Monreal and Sead Kolasinac at the back.
Diamond League PIX: Farah wins final race after rival trio collide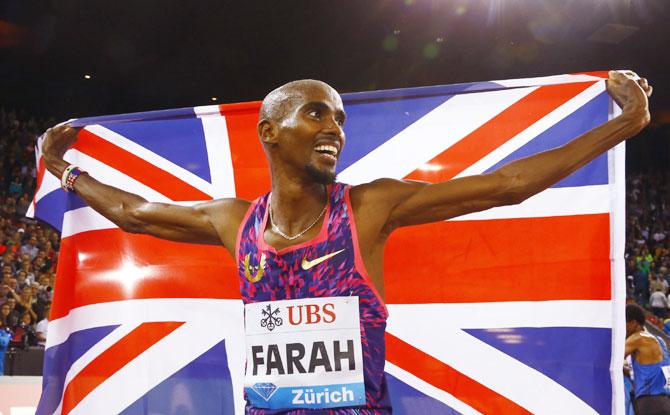 World champion Muktar Edris, who beat Farah at the World Championships in London two weeks ago, was among the trio left sprawled on the track in the Briton's wake as Farah dived over the line.
World C'ships: Sindhu assures India a medal; Srikanth knocked out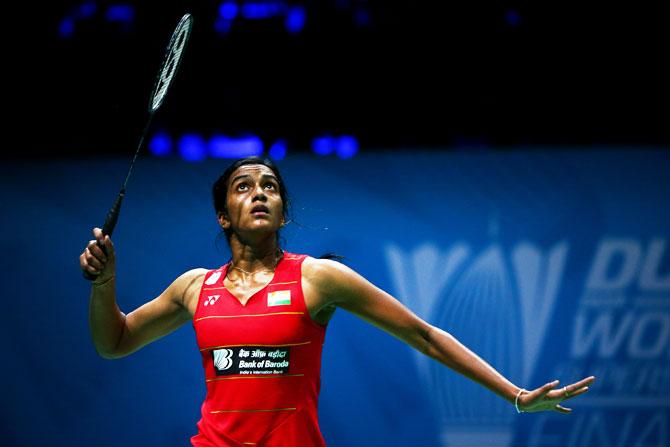 The 22-year-old, who has won a bronze at the 2013 and 2014 editions, disposed off Sun Yu 21-14, 21-9 in 39 minutes at the Emirates Arena.
August 23, 2017
Football Briefs: Ex-United striker Berbatov joins Kerala Blasters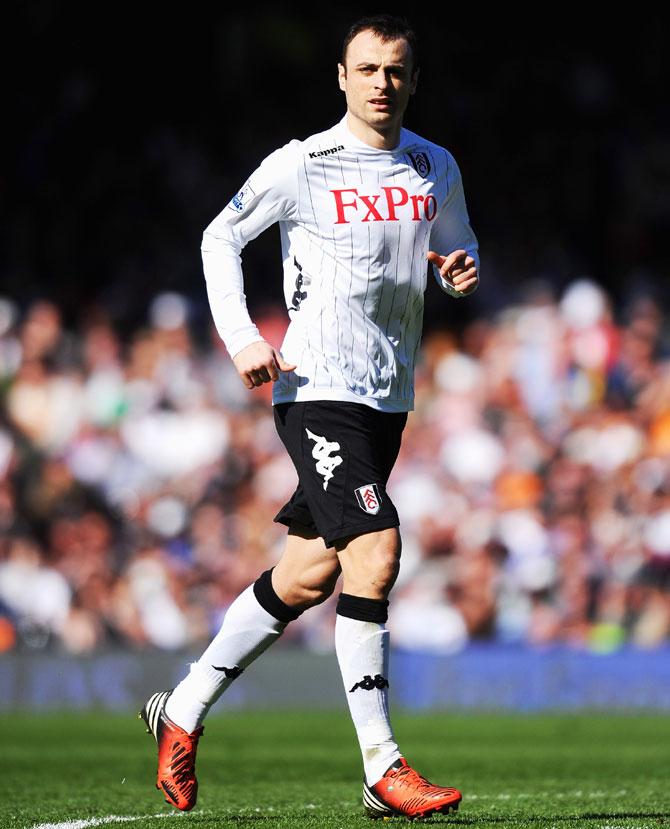 News of all that's transpired on and off the football field
Watch: Napoli, Sevilla in Champions League while Balotelli makes drama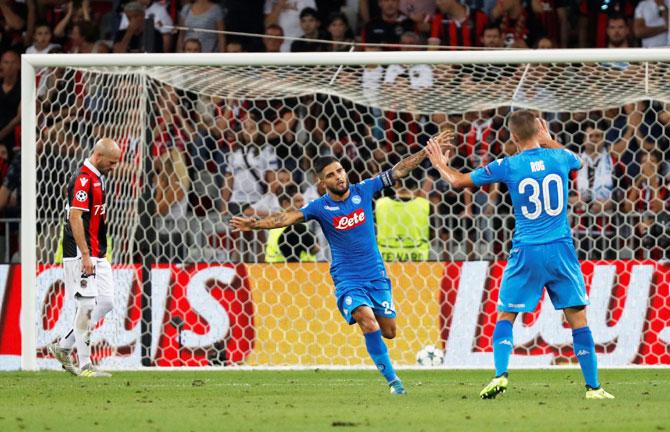 Jose Callejon took advantage of Napoli's numerical advantage in the 48th minute of the playoff round second leg tie, handing them an away goal which, added to their 2-0 win from the first leg, effectively ended Nice's challenge as it left the French side needing to score four goals.
'Track and Field not grown in last 10 years, focus was only on Bolt'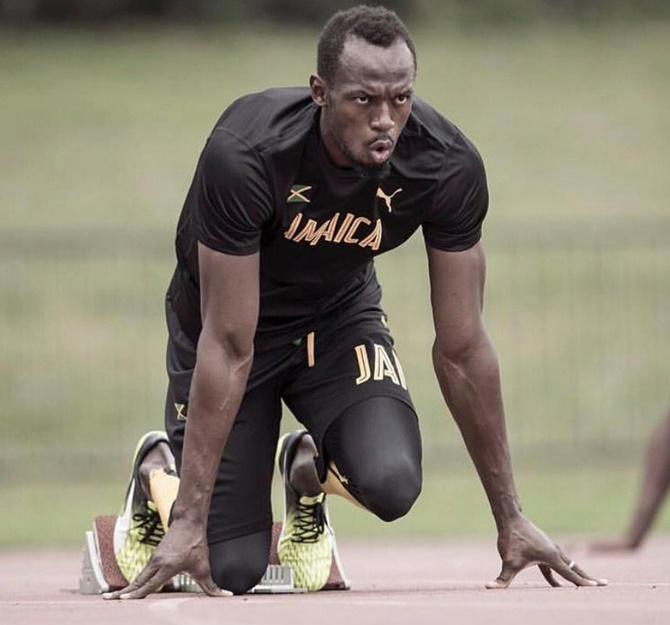 Carl Lewis minces no words and is scathing in his opinion on giving all attention to recently-retired Usain Bolt
August 22, 2017
Tennis round-up: Azarenka to miss US Open over child custody battle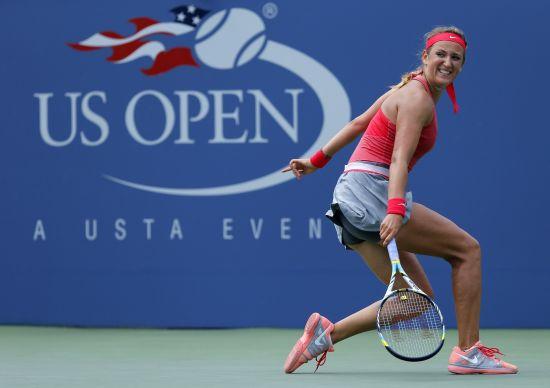 The 28-year-old Belarusian returned to action in June, after the birth of her son Leo last December, and had been hopeful that legal arrangements could be worked out to allow her to compete in the August 28-September 10 grand slam in New York.
EPL: Rooney joins Shearer in 200-goal club, shows haters how it's done!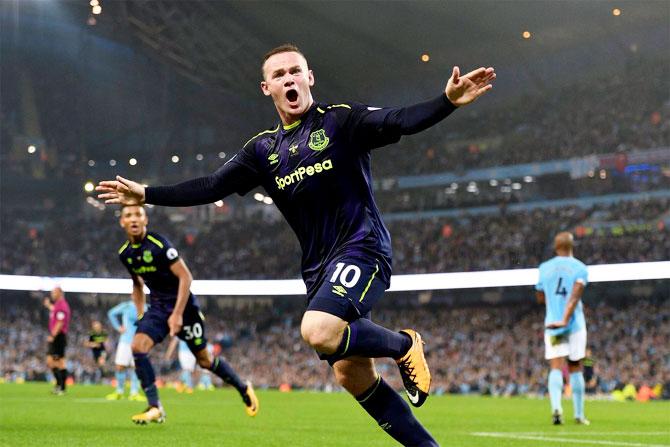 Rooney's 50th, 150th and 200th EPL goals have all come against Manchester City.
EPL PHOTOS: Sterling shares limelight with record-man Rooney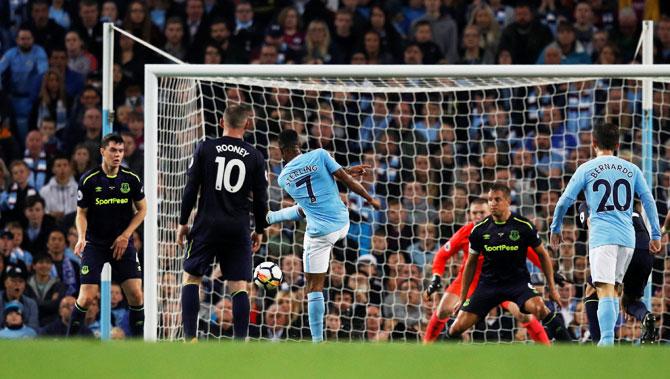 City salvage draw at home with Sterling's superb late volley after Rooney put Everton ahead.
August 21, 2017
Badminton Worlds: Srikanth, Sameer advance to second round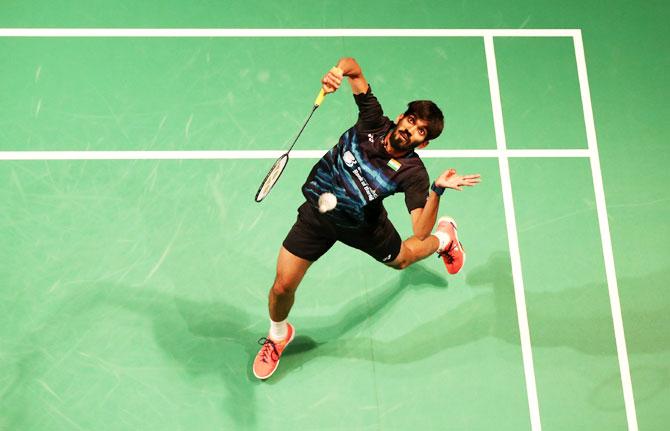 The eighth seeded Indian, who won the Indonesia Super Series Premier and Australian Super series Open in June, defeated Russia's Sergey Sirant 21-13 21-12 in less than 30 minutes. The World No. 8 will take on France's Lucas Corvee tomorrow.
August 19, 2017
EPL PHOTOS: United rout Swansea, Liverpool edge past Palace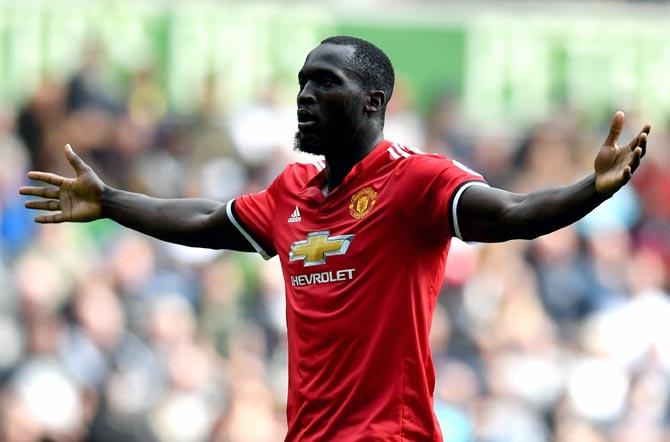 Manchester United continued their perfect start to the Premier League season by crushing Swansea City 4-0 with three late goals in four minutes.
August 18, 2017
Tennis round-up: Dimitrov, Bopanna-Dodig in Cincinnati quarters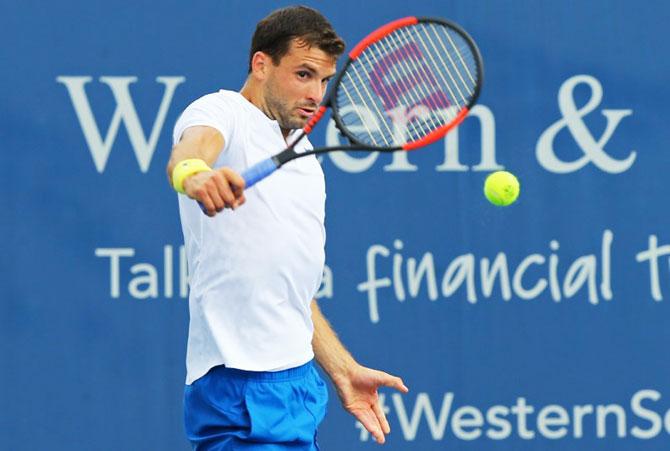 The seventh-seeded Bulgarian advanced to his eighth ATP World Tour Masters 1000 quarter-final with a 6-3, 7-5 victory over Del Potro, who struggled with the intense heat in the closing stages of the one hour, 39 minute match.
What you must not miss in the EPL this weekend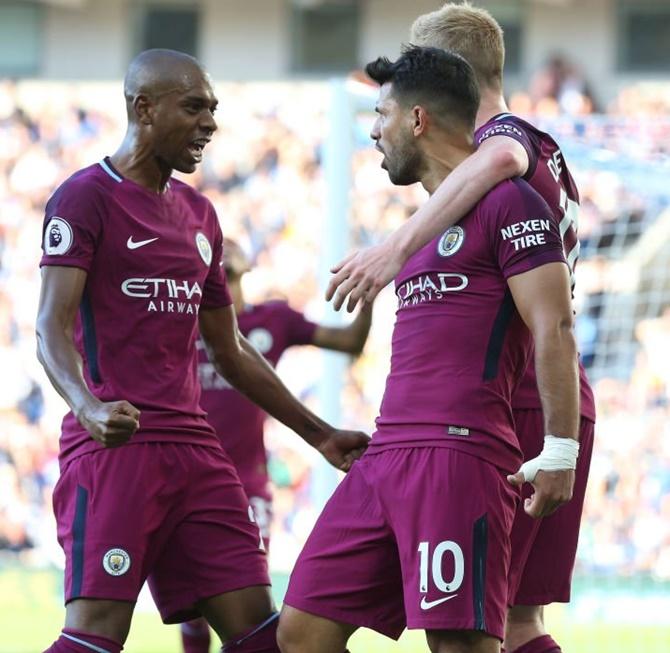 Following is a match by match look at the English Premier League's weekend fixtures:
Real's confidence contrasts with Barca's concern as season begins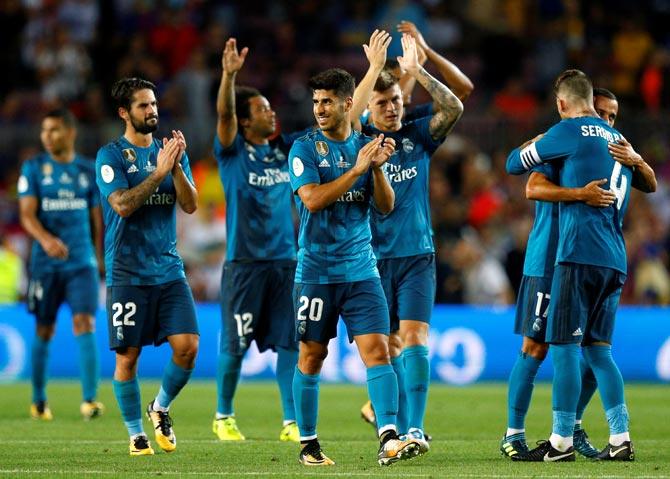 Barcelona finished three points behind Real Madrid last season but there is concern the gap between Spain's biggest two sides could be far larger this season.
August 17, 2017
Sports Shorts: 16-year-old Lakshya wins Bulgaria Open badminton title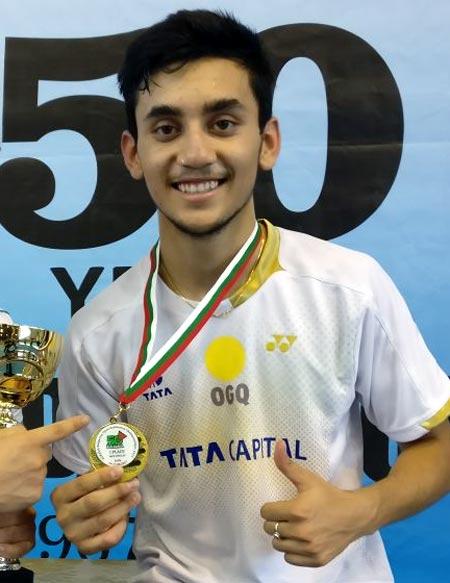 A summary of sports events and sports persons, who made news on Thursday
Tennis round-up: Nadal cruises; Sania in Cincinnati quarters
Nadal, who got a first-round bye, defeated Richard Gasquet 6-3, 6-4 to advance.
PHOTOS: How Madrid crushed Barcelona to win Super Cup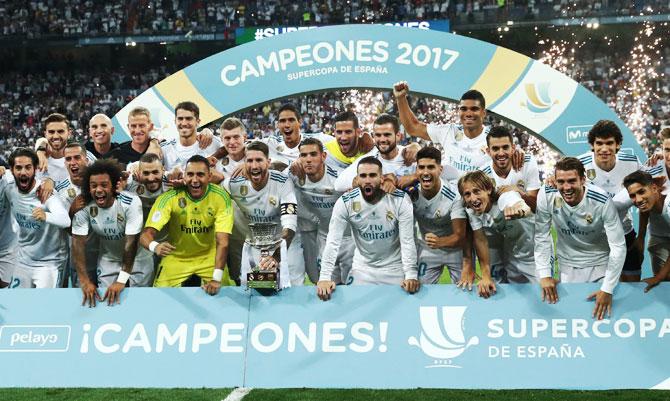 Marco Asensio followed up his brilliant late goal in Sunday's first leg with a stunning effort from 30 metres in the fourth minute that proved a punishing blow for the Catalans.
August 16, 2017
EPL news: Sanchez could be out of Arsenal... for FREE!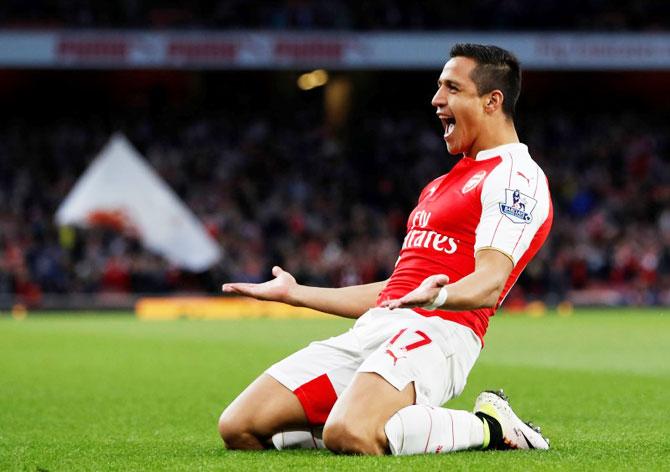 Sanchez, 28, is currently in the final year of his contract. He has been linked with a move to Paris St Germain in the current transfer window.
August 14, 2017
CAPTURED! Moments that made World Championships memorable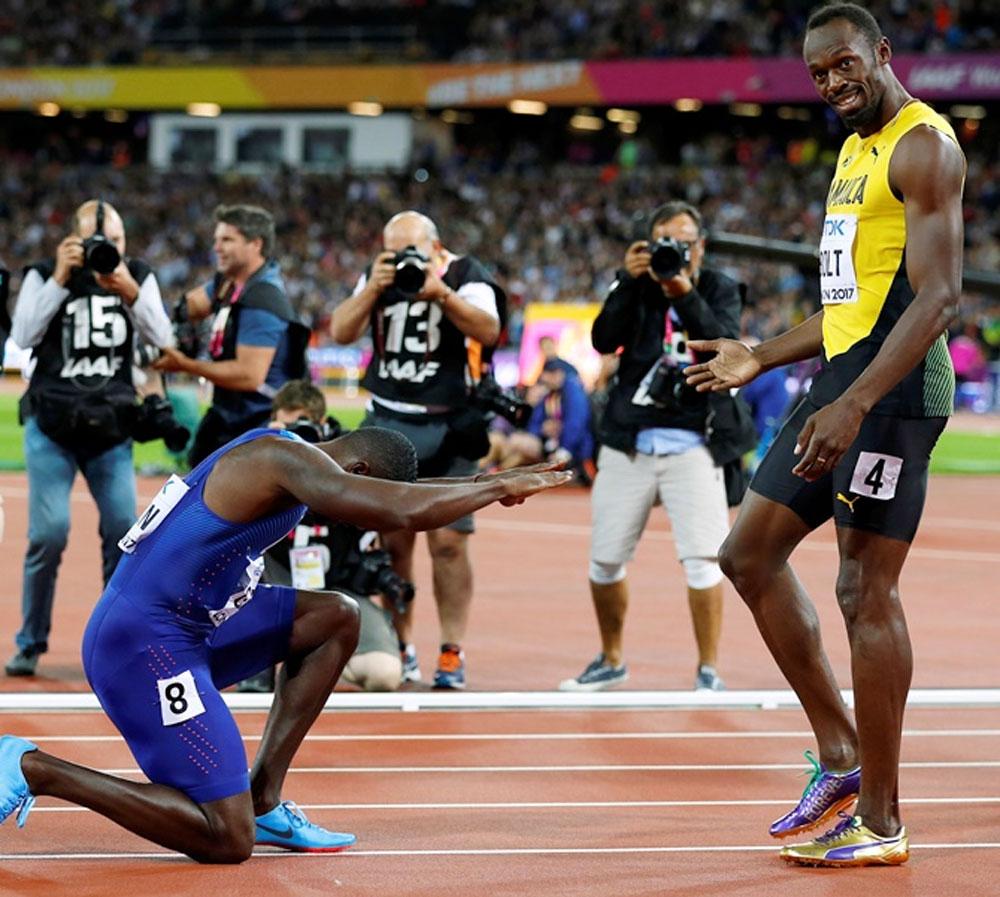 There was plenty of other Track & Field action that demanded our attention and we've given them their due. So scroll down to view some of the best images that went into making this World Championships a memorable one...
World Athletics PIX: US reclaim 4x400m title, more injury woe for Jamaica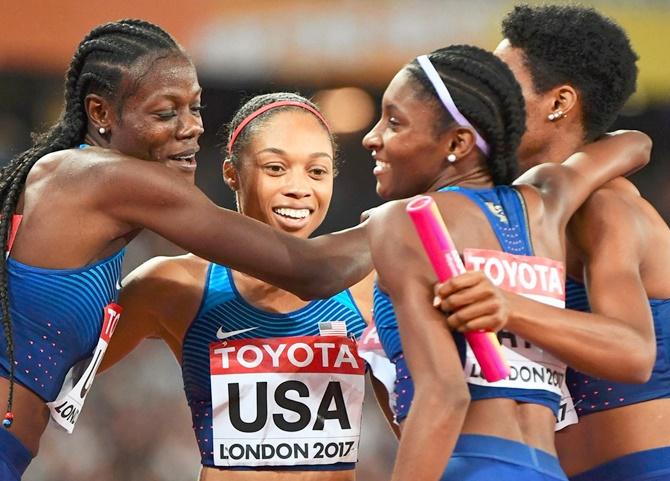 Olympic champions the United States reclaimed their women's 4x400m relay world title as Jamaica suffered more injury heartbreak in the World Championships final on Sunday.*
PIX: PSG's big money star Neymar shines on debut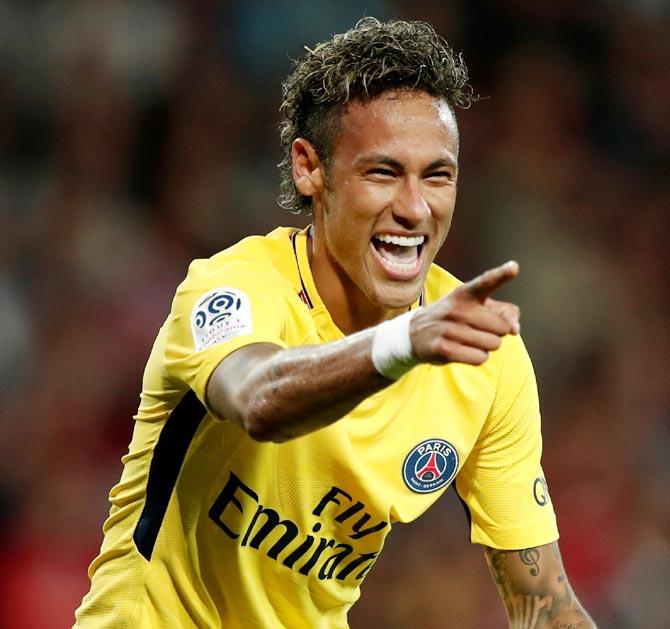 Neymar lived up to expectations as he showed his class on his Ligue 1 debut on Sunday, scoring one and setting up another goal in Paris St Germain's 3-0 win at En Avant Guingamp.
August 13, 2017
EPL PHOTOS: Manchester United crush West Ham 4-0; Alli shines for Spurs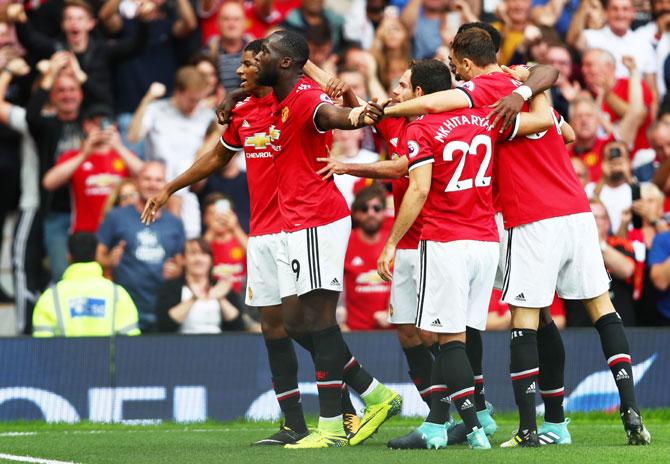 Images from the English Premier League matches played on Sunday
World C'ships: Race walker Diniz becomes oldest world champion at 39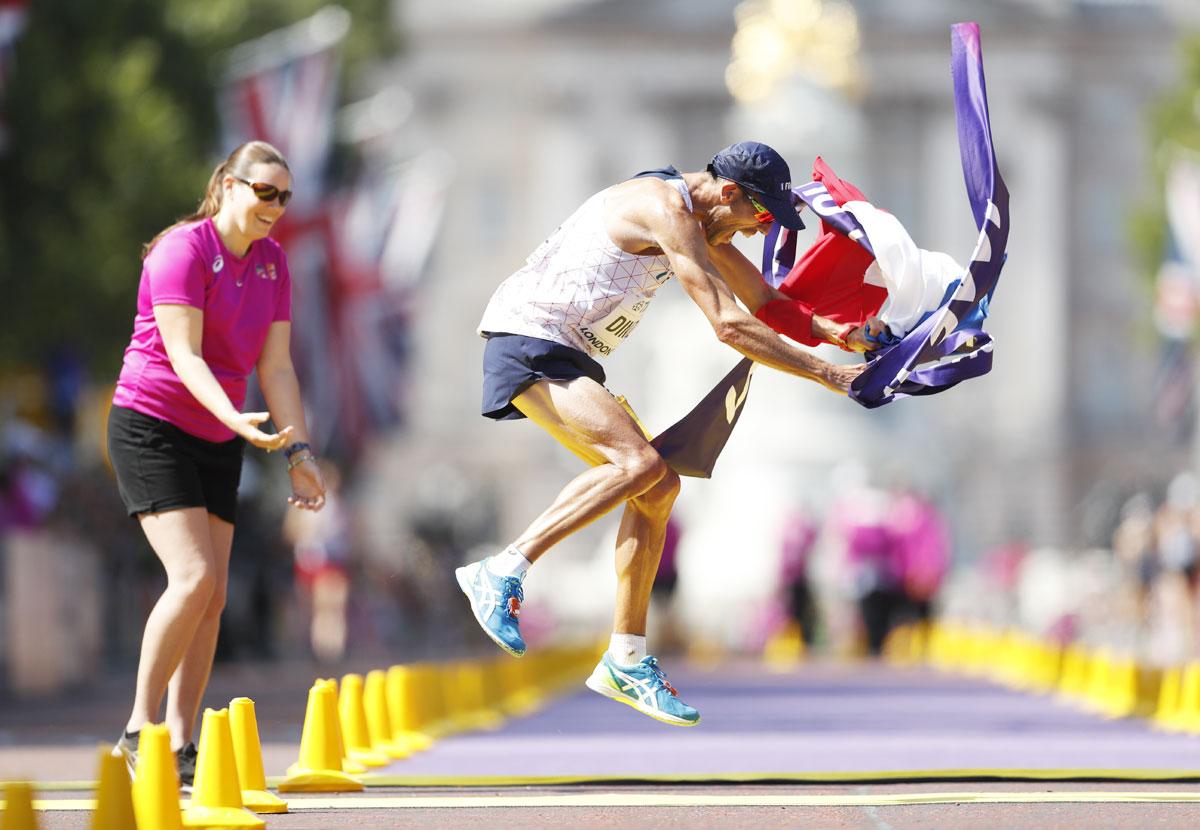 A round-up of all the results from the 16th World Athletic Championships in London
August 11, 2017
World Championships PHOTOS: Carter earns shock 400m hurdles win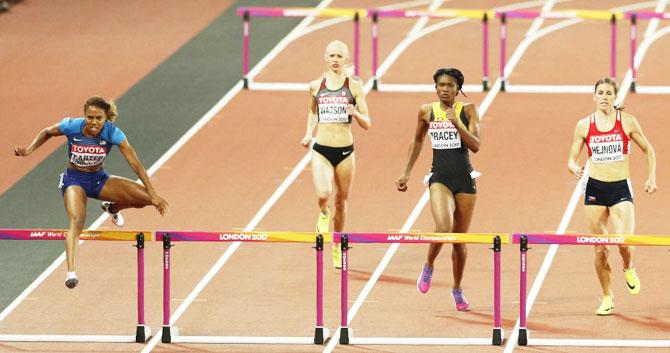 A round-up of all the results from the 16th World Athletic Championships in London
The new season of EPL kicks off tonight and aren't we excited!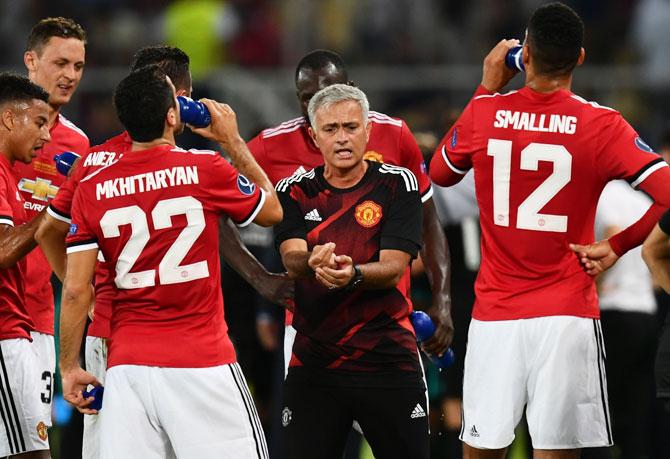 Following is a match by match look at the English Premier League's season-opening weekend fixtures:
Tennis round-up: Nadal stunned by teen, Federer staggers past Ferrer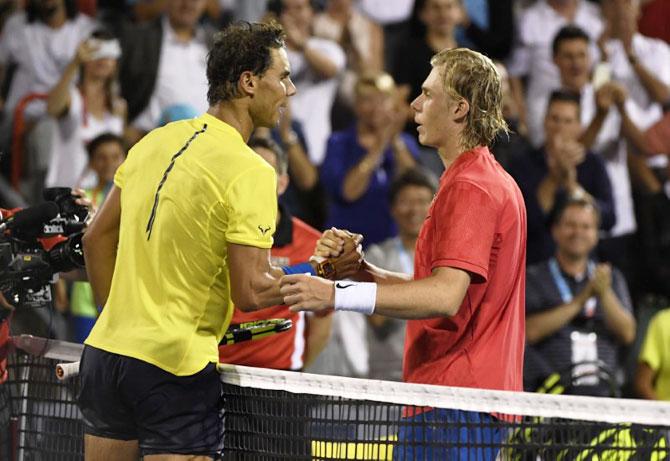 The lanky wild card kissed the Montreal court after completing a rousing 3-6, 6-4, 7-6(4) triumph as the 18-year-old became the youngest player to ever reach the quarter-finals of an ATP Masters 1000 event.
August 10, 2017
When sportsmen and the drug mafia made for strange bedfellows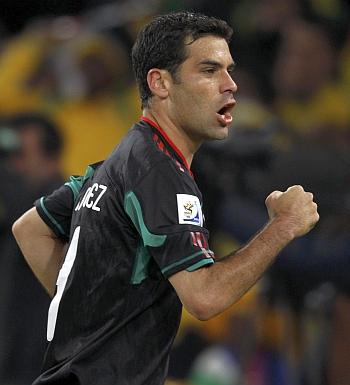 Rediff.com lists those sportsmen who have been accused of 'sleeping with the enemy'
Produnova queen Dipa eyes Handspring 540 gold at 2018 CWG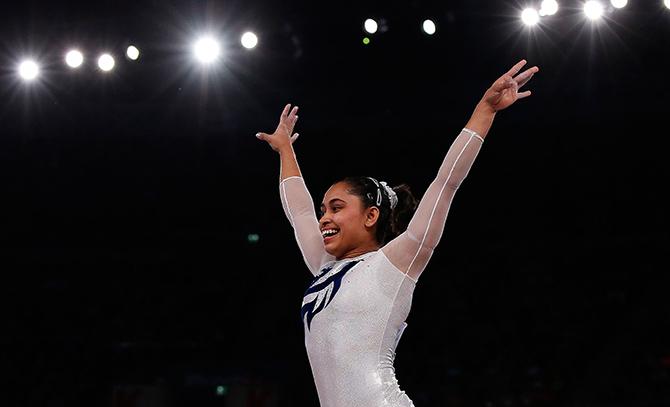 'She already knows two vaults and now I am teaching her a third one. She can perform any two but which two, that we have not decided. The basic training (for Handspring 540) has begun and after two months she will start performing'
World Championships PHOTOS: 'Pinch me!' demands hurdles champ Warholm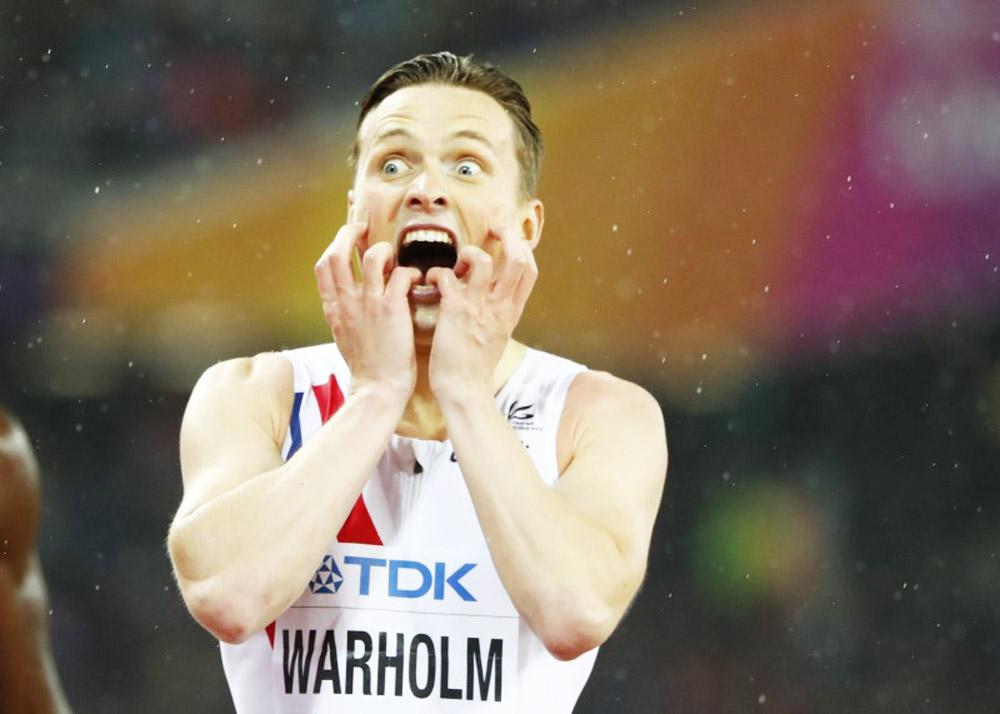 A round-up of all the results from the 16th World Athletic Championships in London
Farah advances in 5,000 metre for final assault on track gold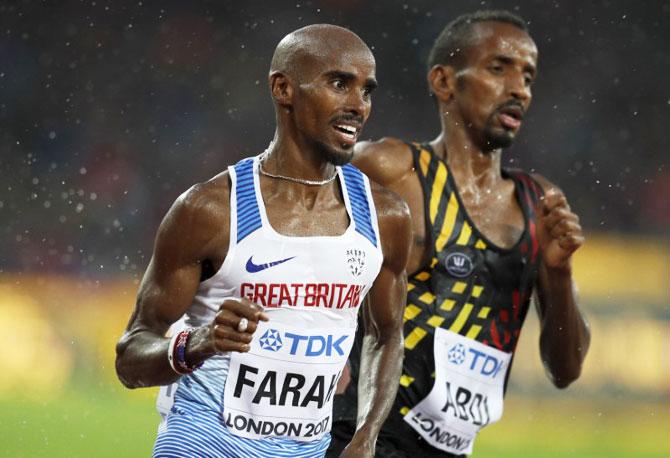 Even with three stitches in his spiked left leg and suffering from a bruised left knee, the legacy of his turbulent 10,000 metres triumph on Friday, Britain's endurance maestro had the quality and nous to qualify easily for Saturday's final.
Tennis round-up: Nadal, Federer cruise in Montreal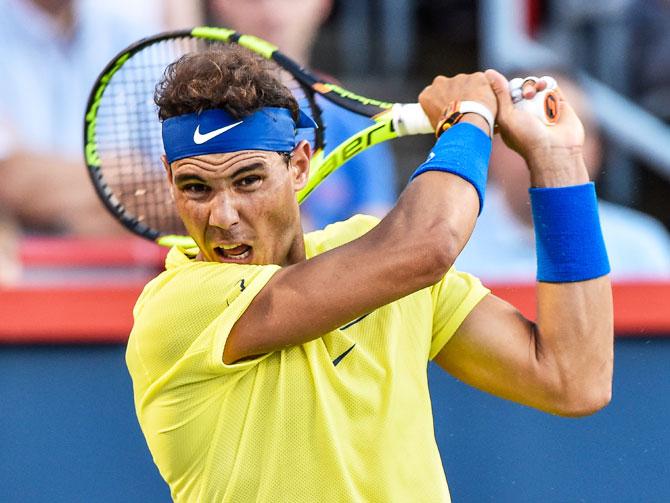 A day after celebrating his 36th birthday, Federer played the aggressive game that has propelled him to five titles, including two grand slams, this year, attacking the net and rocketing second serves.
August 08, 2017
10 inspiring quotes from birthday boy Roger Federer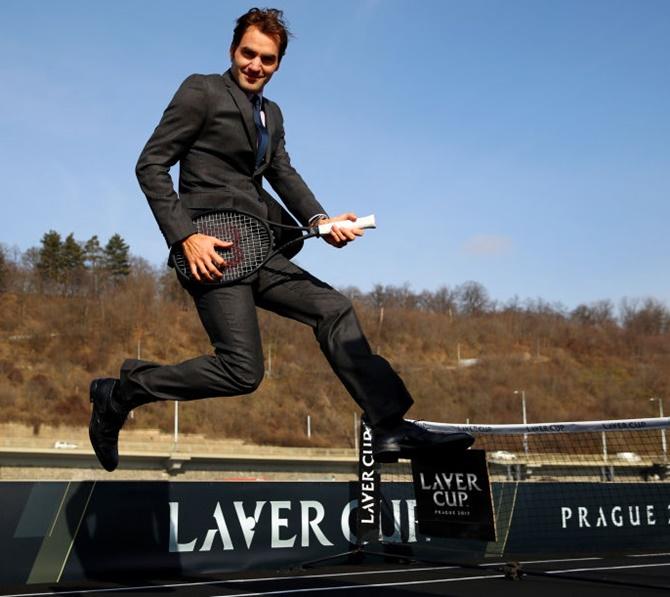 And as we celebrate the Swiss champ's decorated career on his 36th birthday, here are some sharp, inspiring quotes from the man, who dresses even sharper, and is classy as they come...
PHOTOS: Barca pay tribute to Chapecoense crash survivors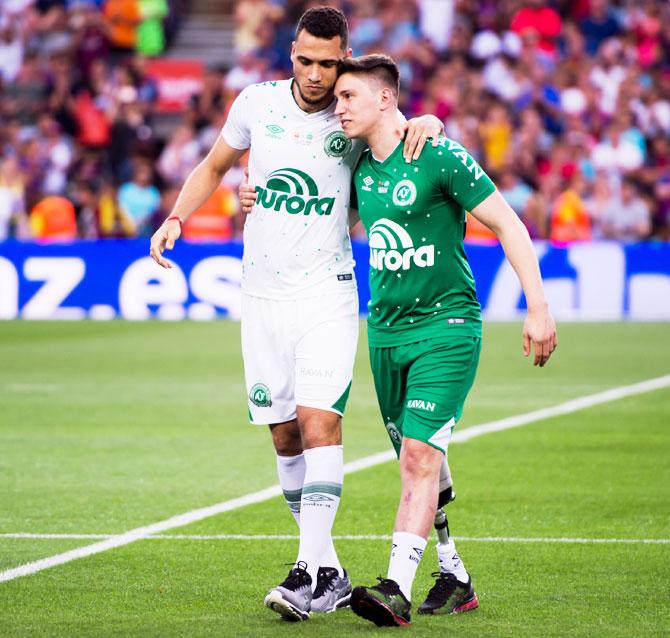 The plane carrying Chapecoense to the Copa Sudamericana final, first leg against Atletico Nacional crashed into mountains outside Medellin, Colombia on November 28 after running out of fuel, killing 71 of the 77 people on board
World C'ships PIX: McLeod wins hurdles; Rojas puts Venezuela on map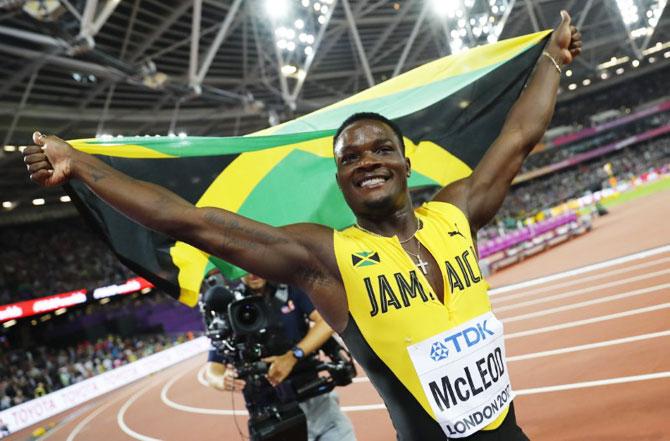 A round-up of all the results from the 16th World Athletic Championships in London
Football Briefs: Rested Ronaldo ready for United in European Super Cup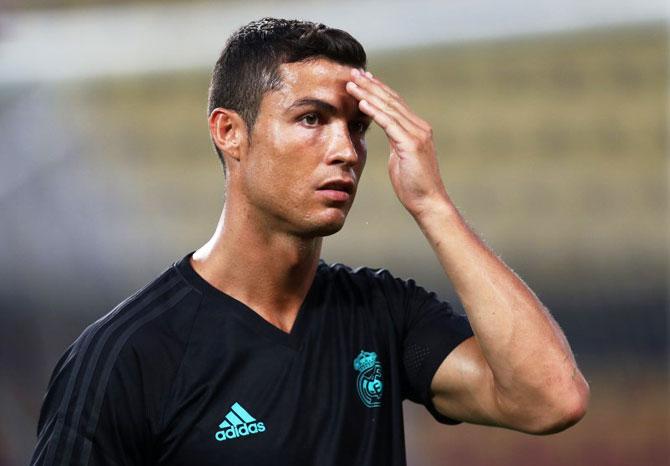 News of all that's transpired on and off the football field
August 07, 2017
PHOTOS: It's baby shower time for mommy-to-be Serena Williams!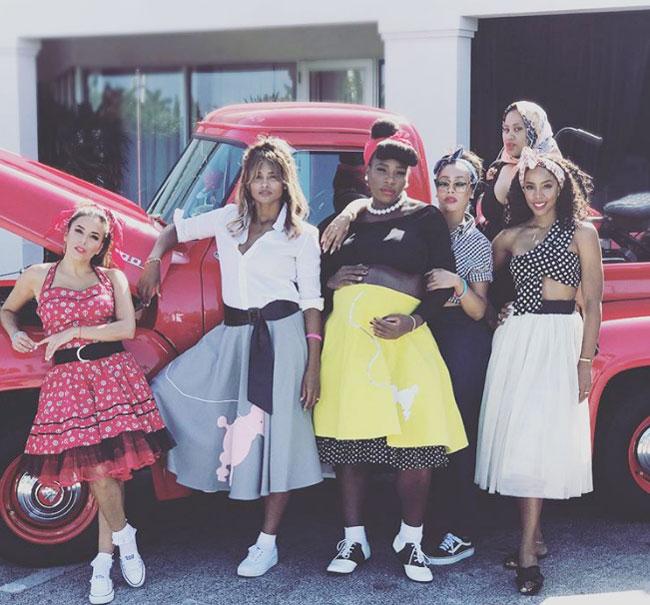 Sister Venus, actress Eva Longoria; singer Ciara, singer Kelly Rowland, of Destiny's Child fame and wife of New York Knicks' star Carmelo Anthony, LaLa, were the group of girls who were part of the soiree that was held at a local diner in Florida.
Bolt says 'Gatlin deserves to be here' after more jeers on podium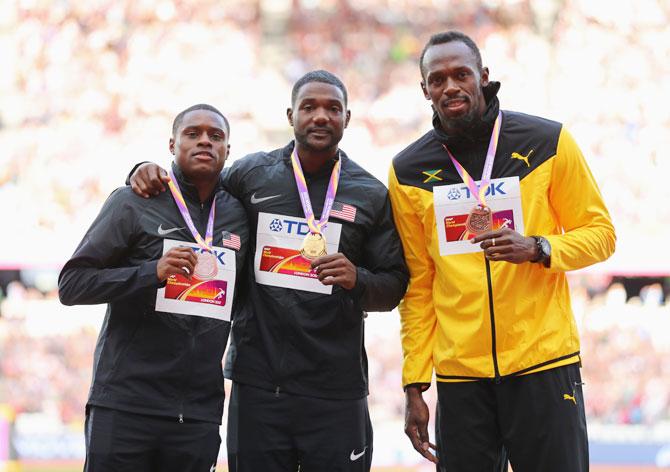 The 35-year-old Gatlin, who has served two suspensions for doping offences, ruined retiring Usain Bolt's fairytale farewell on Saturday by beating the Jamaican sprint superstar in a highly anticipated 100m final.
Australia's 'Golden Girl' Betty Cuthbert dies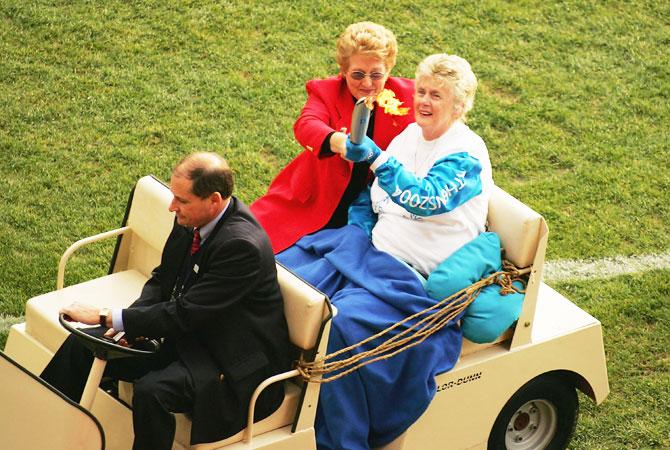 Cuthbert won the 100m and 200m double as a teenager at the 1956 Melbourne Olympics and returned after a brief retirement to claim the 400m title in Tokyo eight years later in the final race of her career.
Tennis: Zverev youngest to claim four titles in a year; Keys wins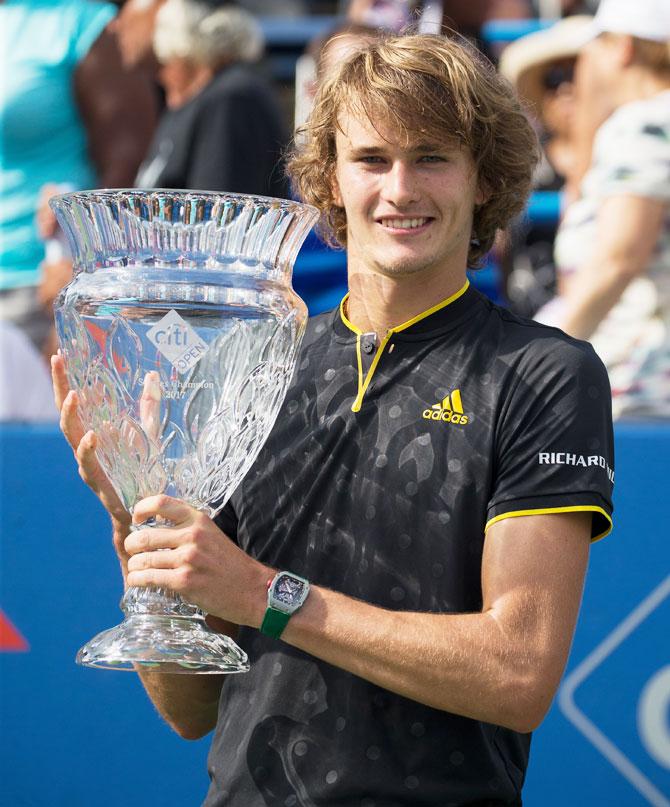 Zverev defeated Anderson 6-4, 6-4 and captured his fourth title of the year in the finals played on Sunday.
August 06, 2017
World C'ships: Manyonga claims long jump gold; Discus gold for Gudzius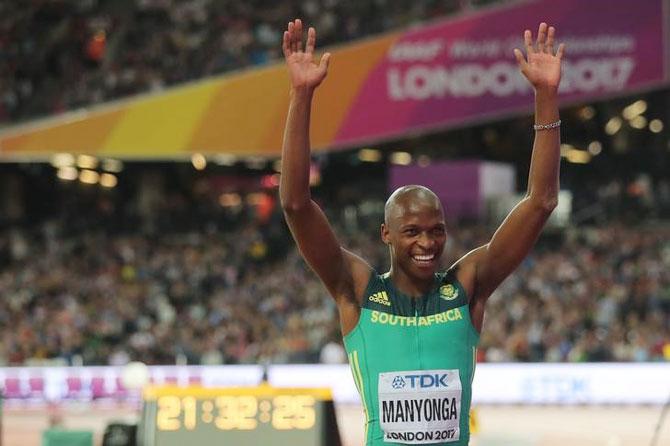 A round-up of results from the Athletics World Championships in London on Saturday
PIX: Gatlin bows down to 'The Greatest" Bolt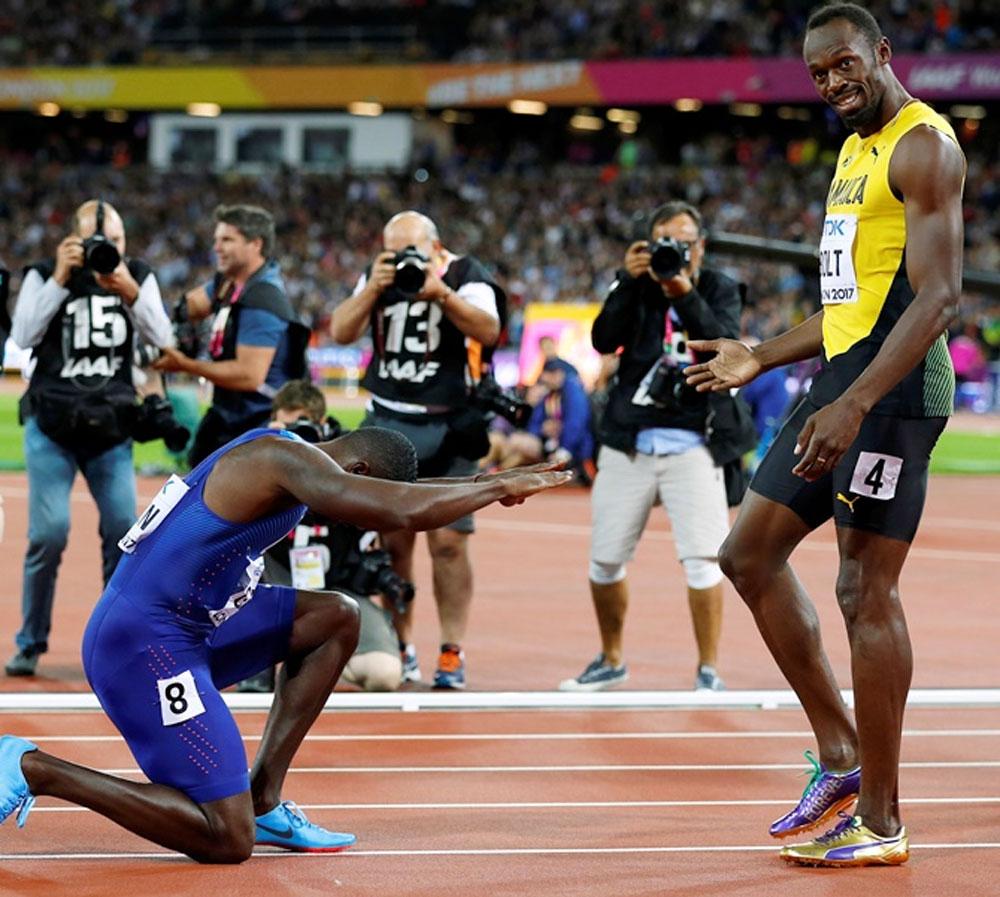 Gatlin bowed to Bolt before the pair hugged it out.
Football Briefs: Bayern win German Super Cup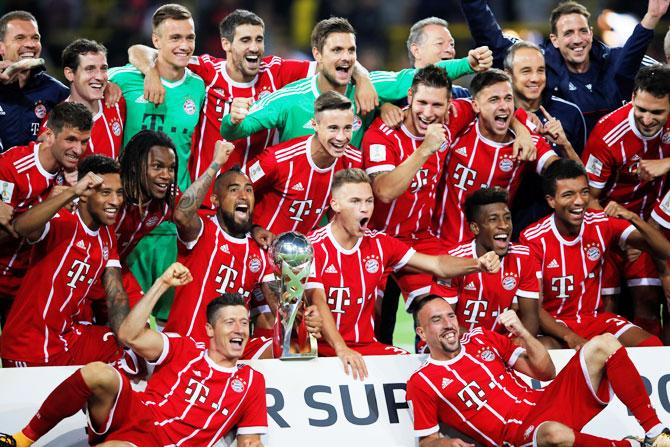 News of all that's transpired on and off the football field
PHOTOS: Bogeyman Gatlin booed as Bolt's saintliness shines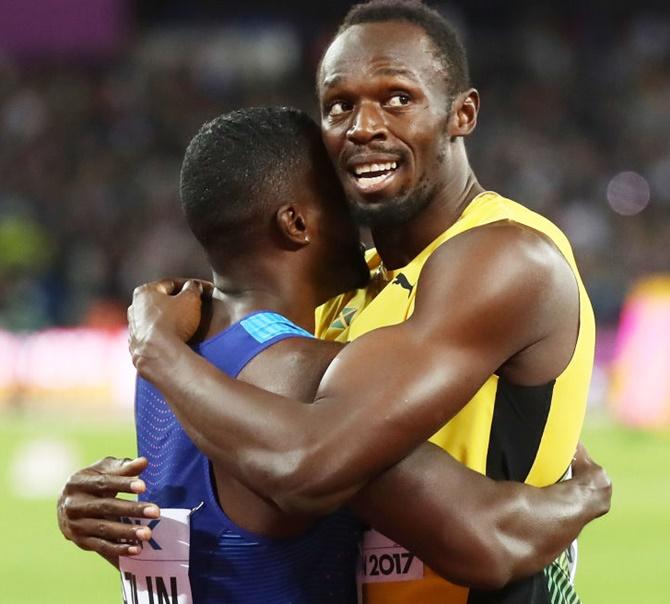 In the history of sport, you were forced to ponder, had there ever been a champion more universally unloved than Gatlin, the twice doping offender who by winning world 100 metres gold on Saturday had ruined one of sport's great fairytale farewells.
August 05, 2017
PIX: Neymar paraded in Paris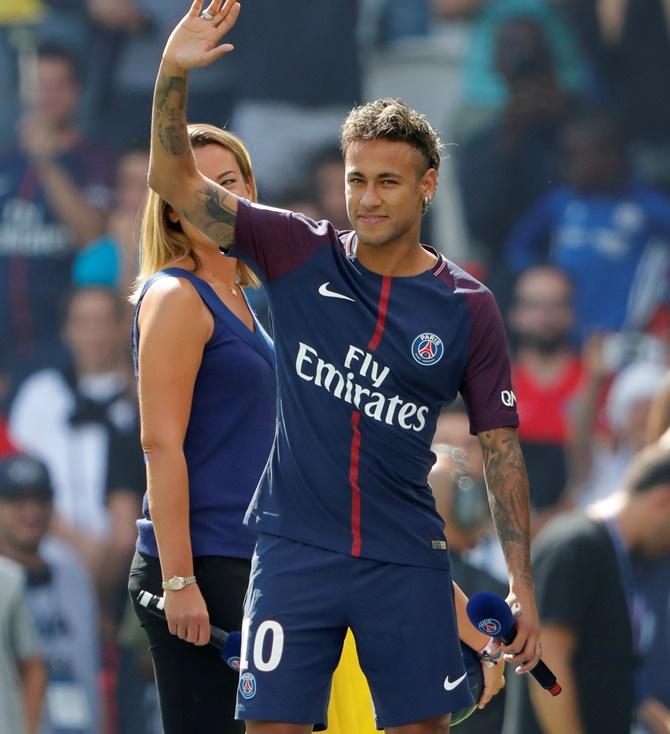 World-record signing Neymar greeted delirious fans at a grand welcome event at Paris St Germain's stadium on Saturday but must sit out the French club's Ligue 1 opener after his transfer was not registered in time.
Tennis round-up: Bhambri's campaign ends at Citi Open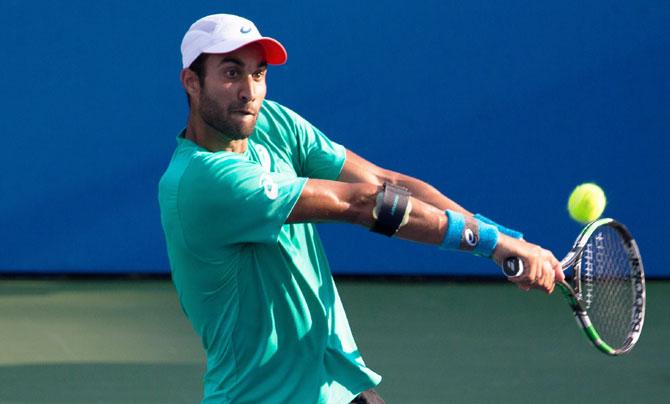 The Indian qualifier, who savoured his best ever performance on the ATP World Tour, went down fighting 4-6, 6-4, 3-6 against the world number 45 from South Africa in the quarter-finals played on Friday.
Worlds: Farah maintains domination with epic 10,000m win in last run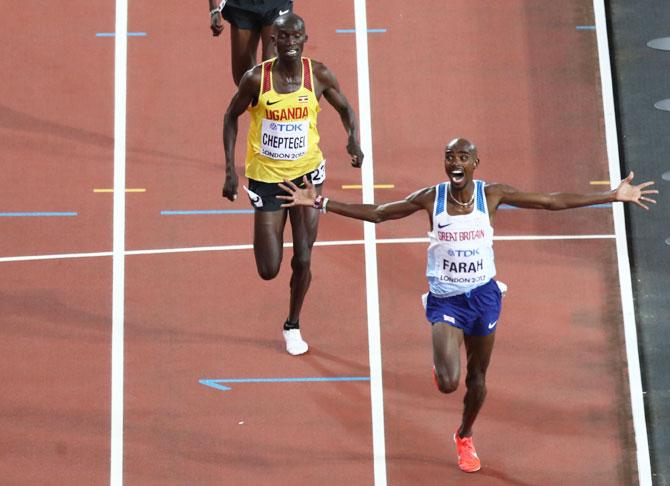 With 55,000 of his home fans roaring their support at the London Stadium, the 34-year-old Briton sprinted away with his 10th consecutive gold medal in a global track final, a dazzling sequence that ranks among the greatest feats in sport.
World C'ships: Bolt digs in to advance to 100m semis after poor start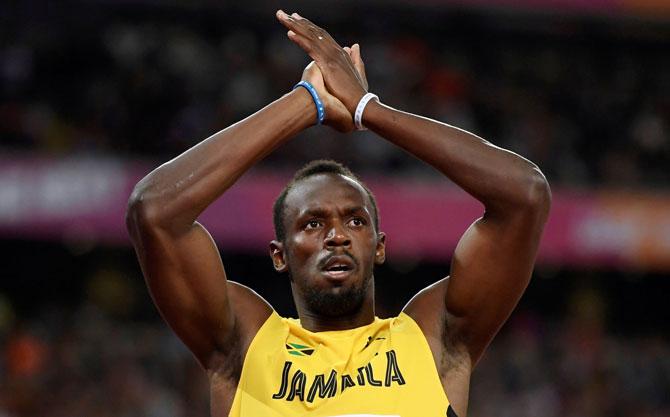 The Jamaican is seeking his fourth gold in the event - he has won the 100m at every world championships since 2009 apart from 2011 in Daegu when he was disqualified for a false start.
August 04, 2017
Football Briefs: Conte wants more signings; Lallana injured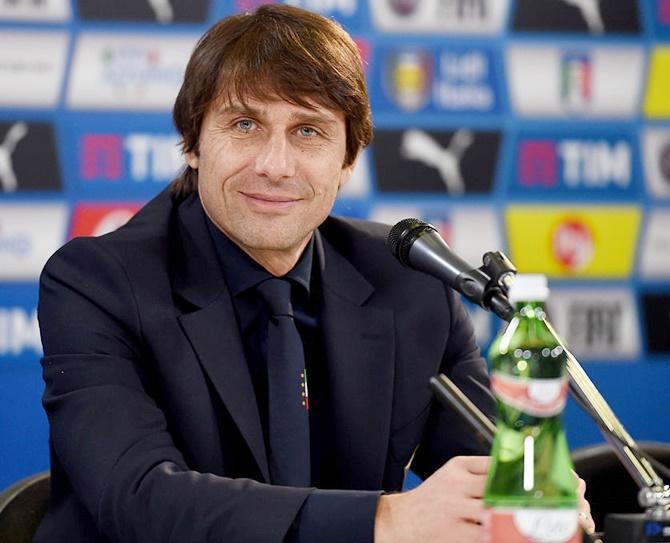 News of all that's transpired on and off the football field
Tennis round-up: Yuki tames Guido Pella to enter Citi Open quarters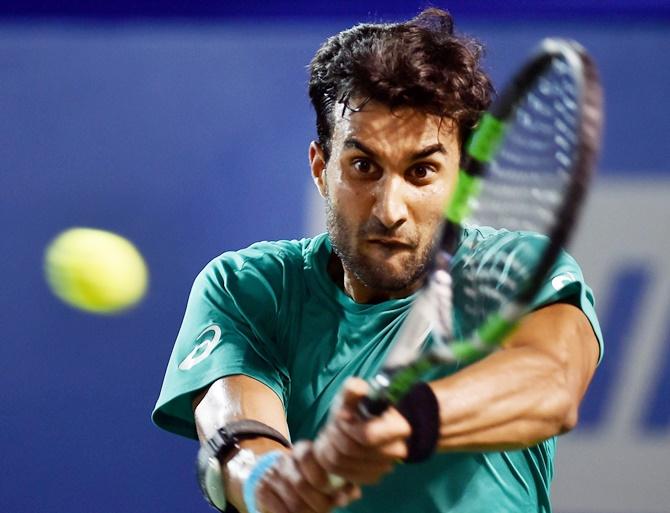 Bhambri, ranked 200th, recovered from a set down and registered what turned to be an emphatic 6-7, 6-3, 6-1 win over Pella in a match that lasted for two hours and 10 minutes.
Mourinho feels Neymar 'not expensive'; Klopp criticises deal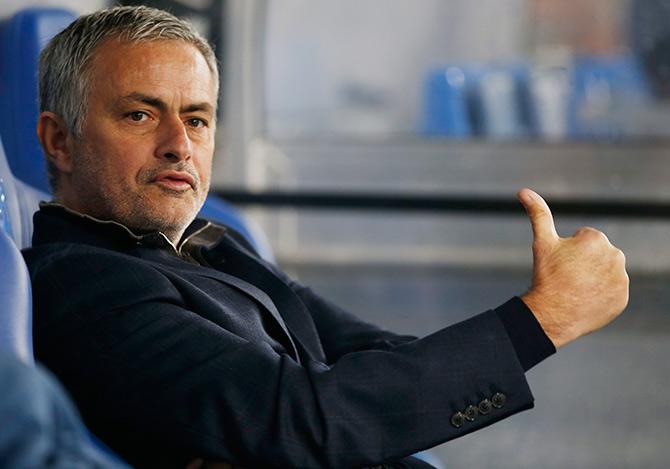 Jose Mourinho and Juergen Klopp's conflicting views on Neymar's imminent move from Barcelona to Paris St Germain offer an insight into how the 222 million euro (199 million pounds) deal has divided opinion across football.
July 31, 2017
PHOTOS: All the drama that unfolded at the Hungarian GP...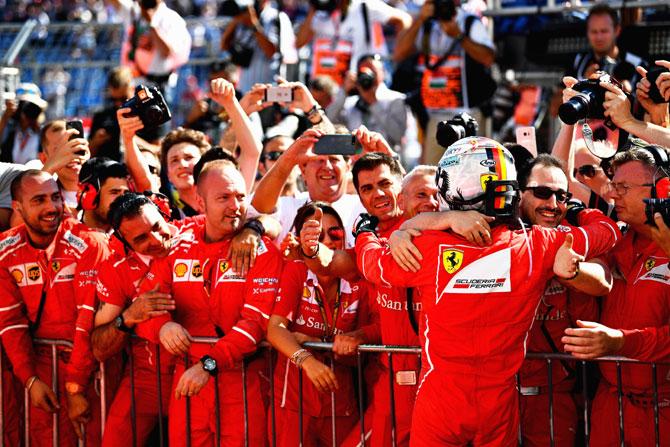 Sebastian Vettel won a tense Hungarian Grand Prix on Sunday in a Ferrari one-two that stretched his championship lead to 14 points after Mercedes rival Lewis Hamilton sportingly surrendered third place to his teammate.
PHOTOS: 11 records for US as Dressel matches Phelps at Swimming Worlds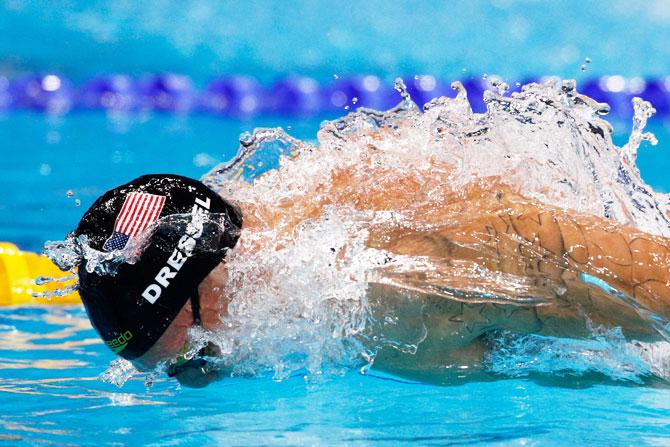 Dressel had already won three individual golds and three relay titles in Budapest and Sunday's addition allowed him to match his compatriot Phelps's tally from the 2007 championships in Melbourne.
Football Briefs: Ronaldo protests innocence; Indian women's team win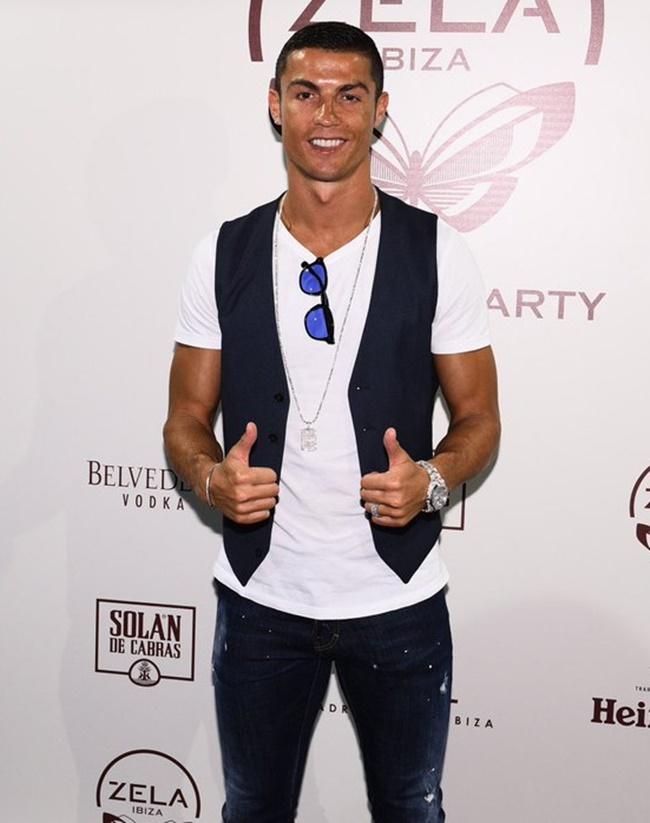 This and more from the happenings in the world of football
July 30, 2017
F1 PHOTOS: Vettel wins in Hungary to stretch lead over Hamilton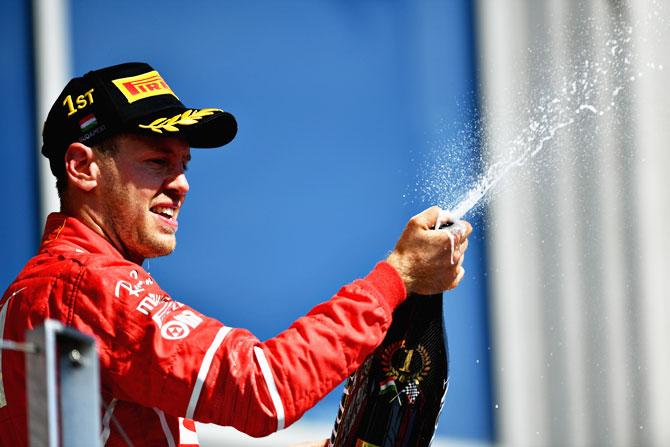 The German, taking his fourth win of the season, took the chequered flag 0.9 seconds ahead of Kimi Raikkonen with Hamilton finishing fourth after sportingly surrendering third place to team mate Valtteri Bottas on the last lap.
Sports Shorts: Shiva, Manoj strike gold at Czech boxing tourney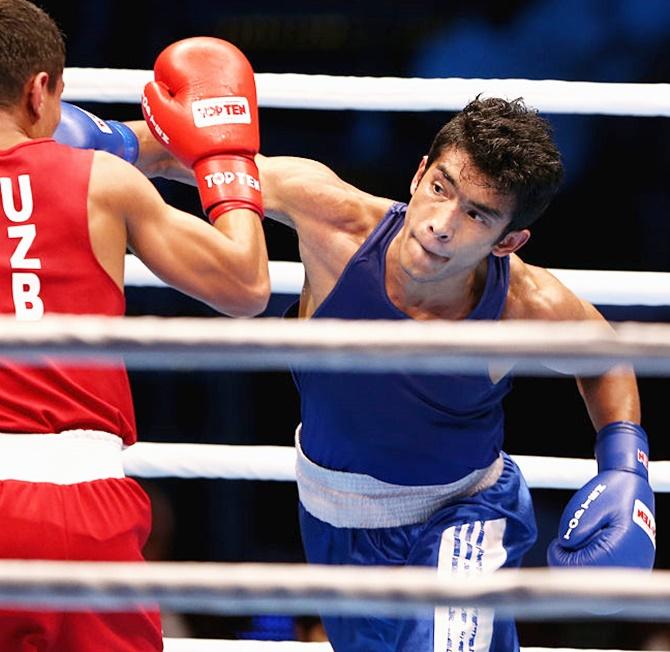 A summary of sports events and sports persons, who made news on Sunday
Clasico: Barca down Ronaldo-less Real Madrid in Miami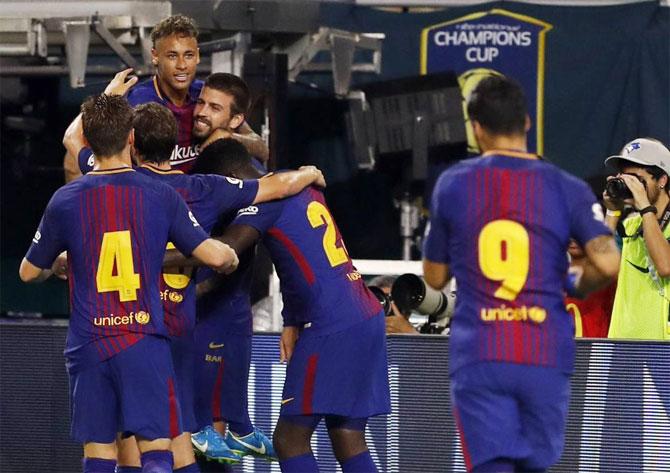 The historic rivals will meet again twice in August in the Spanish Super Cup and this International Champions Cup match set the entertainment bar high, with Barcelona maintaining their 100 per cent record in pre-season.
July 29, 2017
Football Briefs: Inter beat Chelsea to win International Champions Cup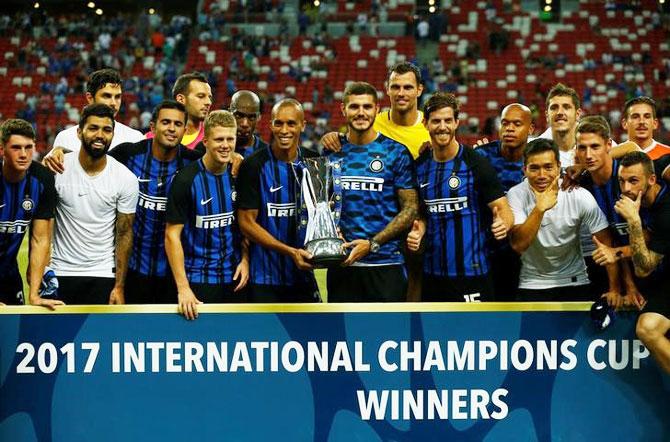 News of all that's transpired on and off the football field on Saturday
Sports Shorts: India pip Kazakhstan to win FIBA Women's Asia Cup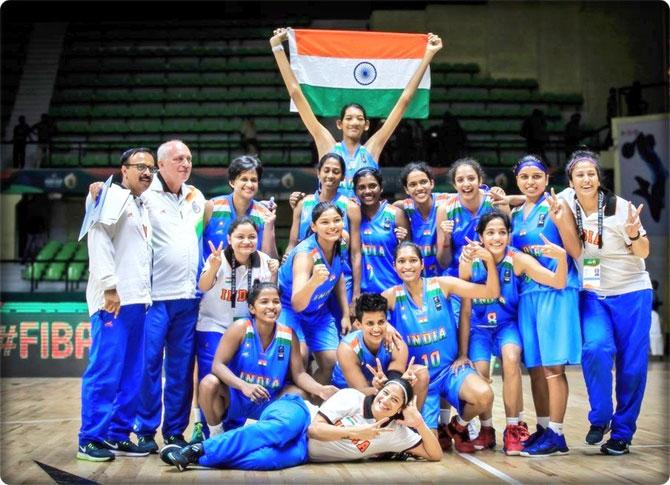 A summary of sports events and sports persons, who made news on Saturday
July 28, 2017
Saturday night fever: El Clasico set to turn up heat in Miami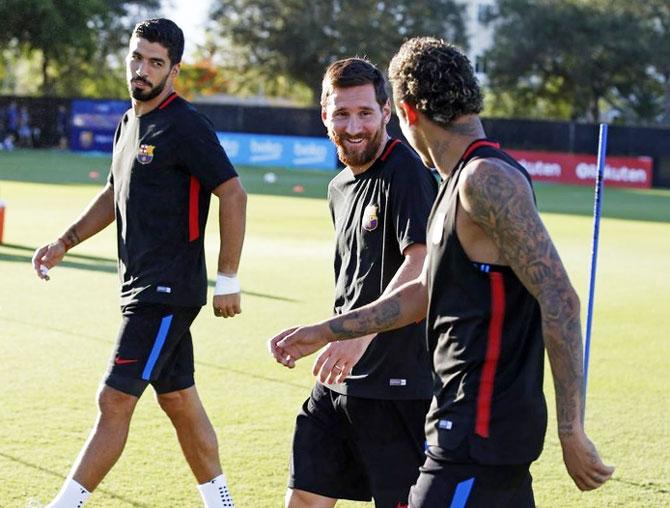 The match marks just the second time, and first in 35 years, that El Clasico will be played outside Spain.
Football Briefs: Neymar on brink of record move to PSG?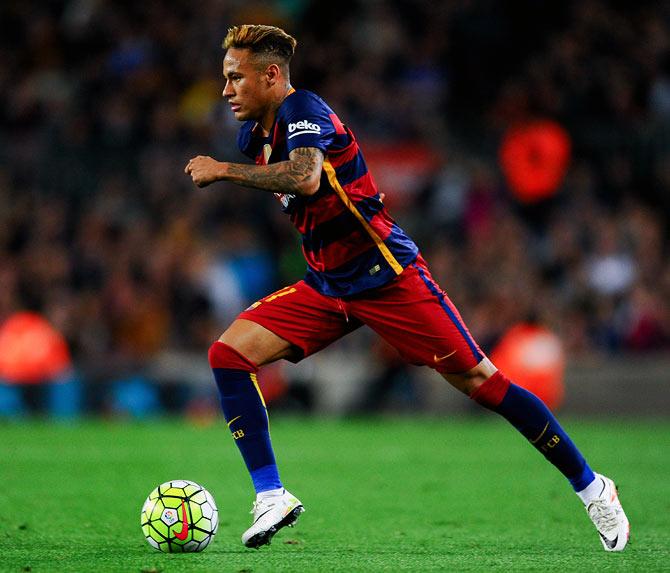 News of all that's transpired on and off the football field on Friday
Sports Shorts: Four Indian shuttlers in top 20 of BWF Rankings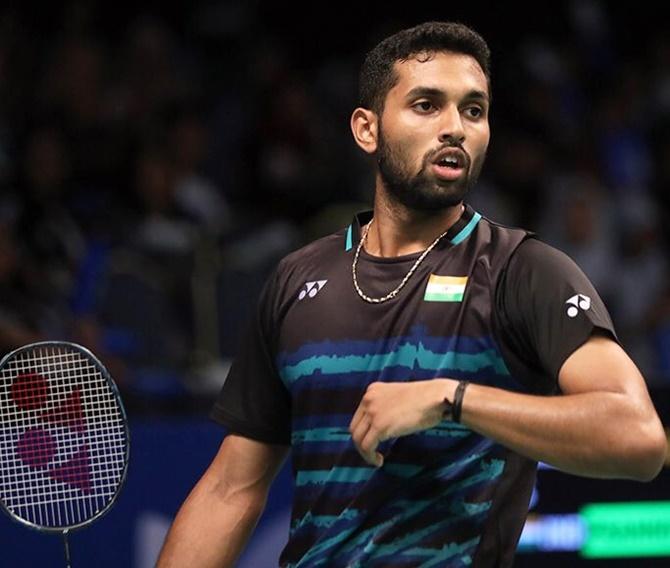 A summary of sports events and sports persons, who made news on Friday
July 20, 2017
Football Briefs: Monaco say forward Mbappe approached without consent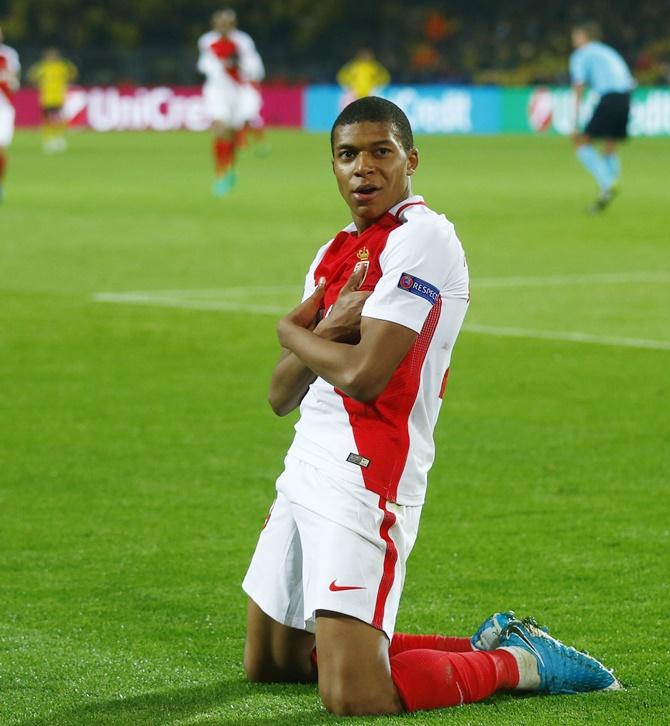 News of all that's transpired on and off the football field on Thursday
July 17, 2017
Football Briefs: 'Ronaldo will retire at Real Madrid'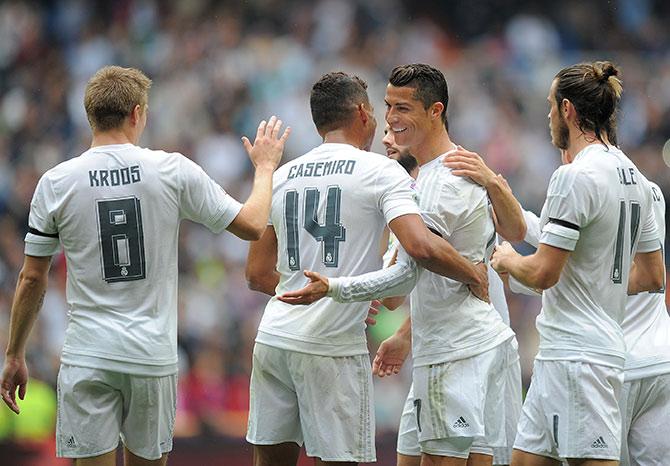 News of all that's transpired on and off the football field
PHOTOS: When Hollywood biggies descended at Wimbledon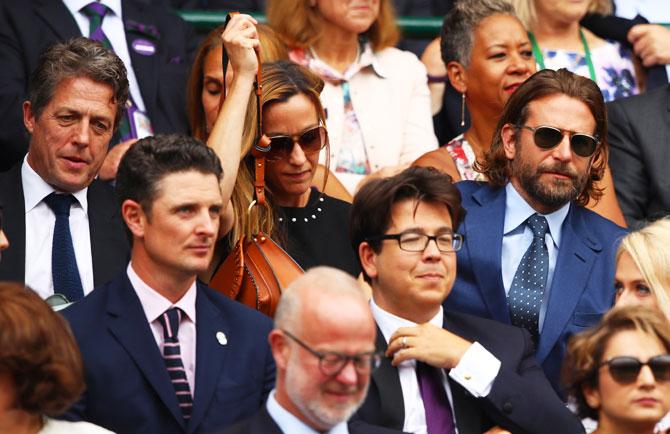 Be it cheering for Roger Federer or Garbine Muguruza at the Wimbledon final, the Hollywood brigade made their presence felt at both, the women's and men's final at Wimbledon over the weekend.
PHOTOS: Anti-Trump protests staged at US Women's Open golf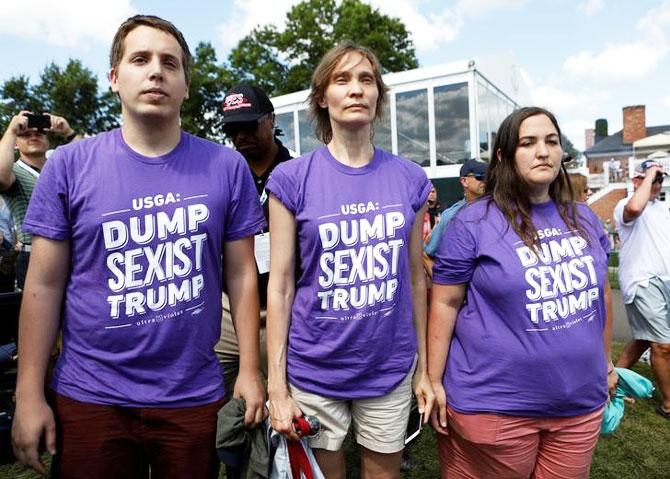 There had been calls for moving the tournament, which was awarded to Trump National in 2012 long before he officially entered politics, by women's groups angered by his campaign rhetoric and behavior they found to be misogynistic.
'If you keep believing, you can go far'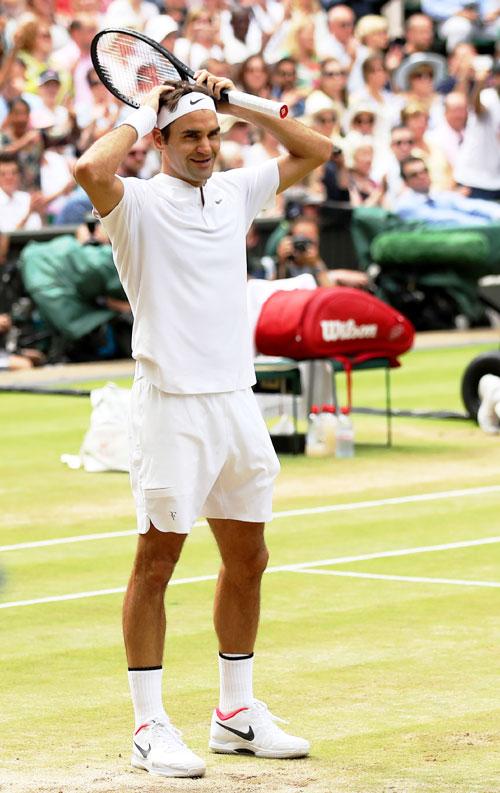 'I always believed.'
Special: Relive Federer's super 8 Wimbledon titles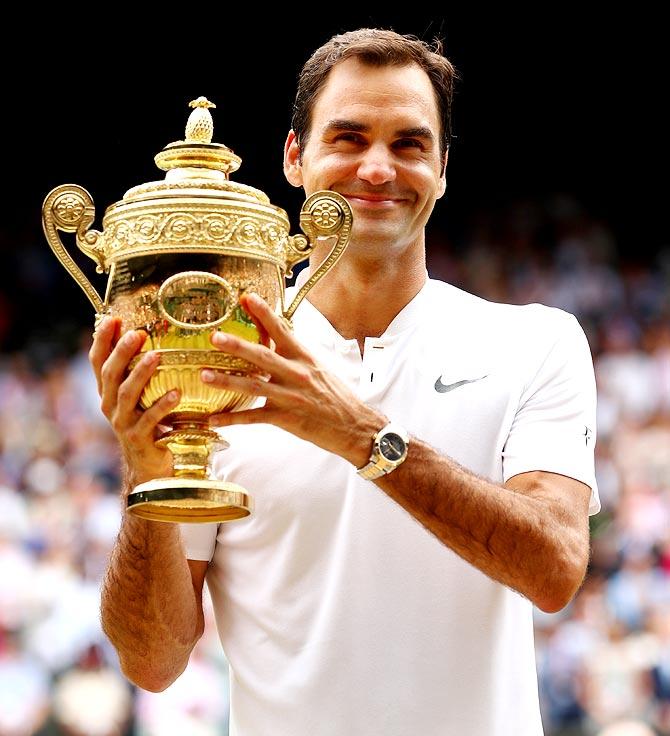 Here is a break-up of how the modern tennis great got to his 8 victories at the hallowed turf of the All England Club
Wimbledon champion Muguruza eyes more trophies not rankings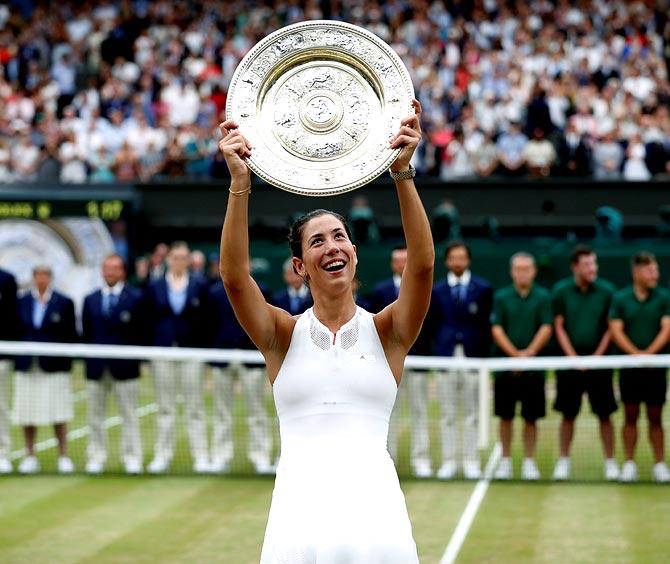 The 23-year-old says the points and calculations are far from her mind and it is the big events such as Wimbledon and next month's US Open that fire her up.
Will Federer return to his favourite Wimbledon next year?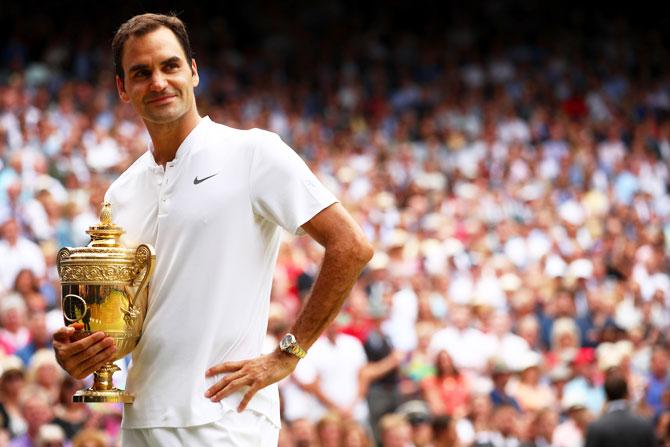 'I guess you would have laughed if I told you I was going to win two slams this year'
PHOTOS: Hingis-Murray are Wimbledon mixed doubles champions!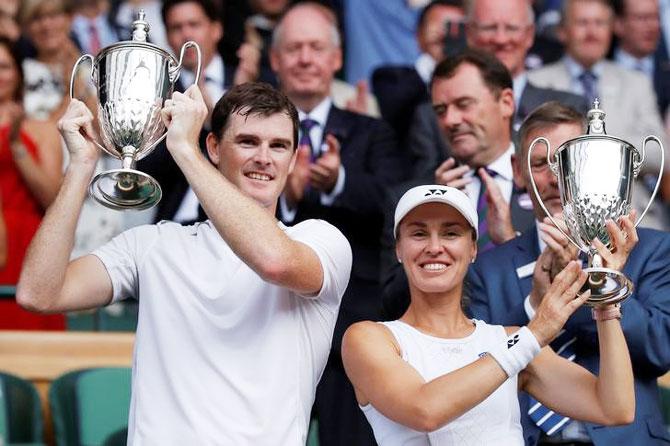 After fellow Swiss Roger Federer had claimed a record eighth Wimbledon singles title, Hingis and Murray delighted the Centre Court crowd with a 6-4, 6-4 victory over reigning champions Heather Watson of Britain and Finland's Henri Kontinen.
July 15, 2017
Error-prone Venus heaps praise on Muguruza after Wimbledon heartbreak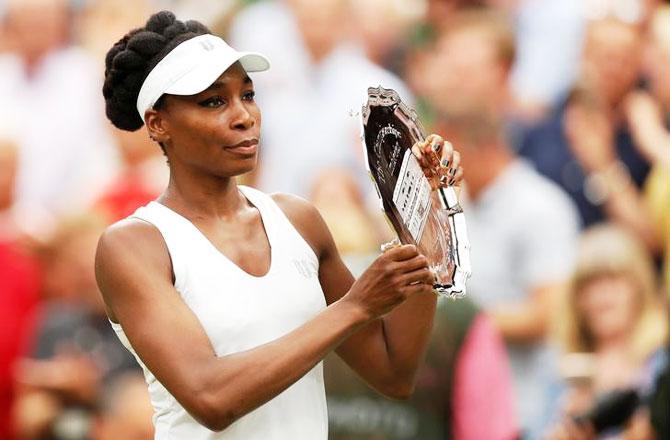 The manner of her defeat inevitably led to speculation that the 37-year-old may have had a physical problem that stopped her from competing with the effectiveness she had shown in earlier rounds.
Muguruza eclipses Venus to take first Wimbledon crown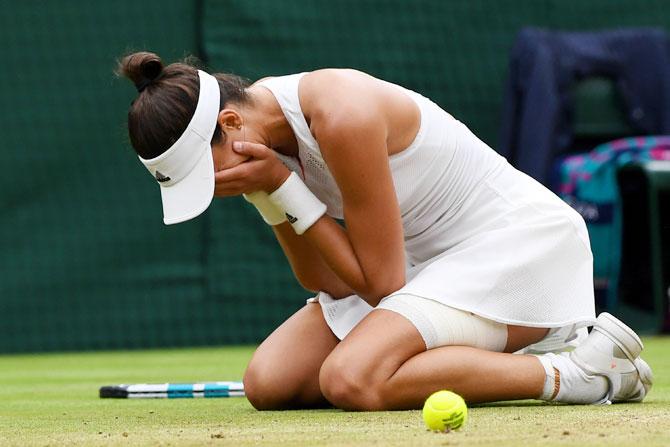 In the first women's final played under the Centre Court roof, a high-quality first set gradually built towards a captivating conclusion after both players began with two comfortable service holds.
Cilic challenge awaits Federer as he seeks historic 8th Wimbledon crown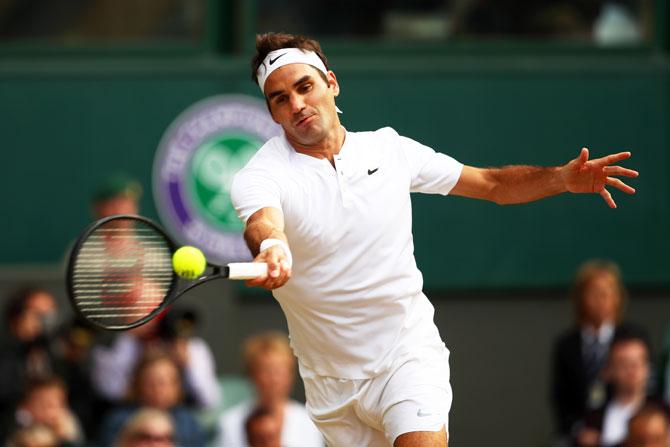 Already one of the greatest sportsmen of his era, Roger Federer will become the most successful man in Wimbledon history if he can beat Croatian Marin Cilic on Sunday's final and claim an unprecedented eighth men's singles title.
Football Briefs: 'Ibra may stay at United'; ATK get new coach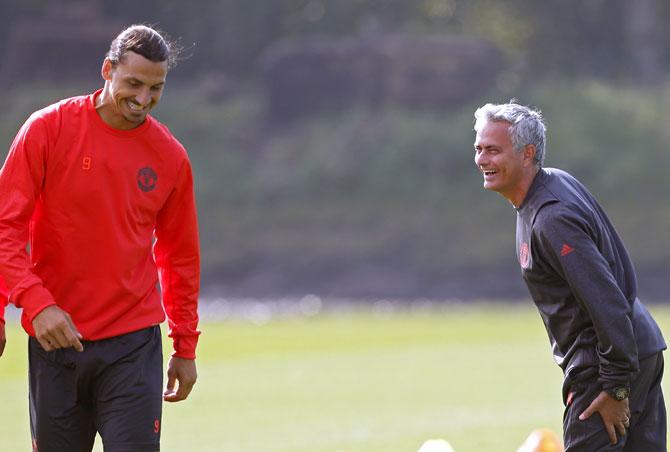 News of all that's transpired on and off the football field on Saturday
Sports Shorts: Ramkumar makes Winnetka Challenger final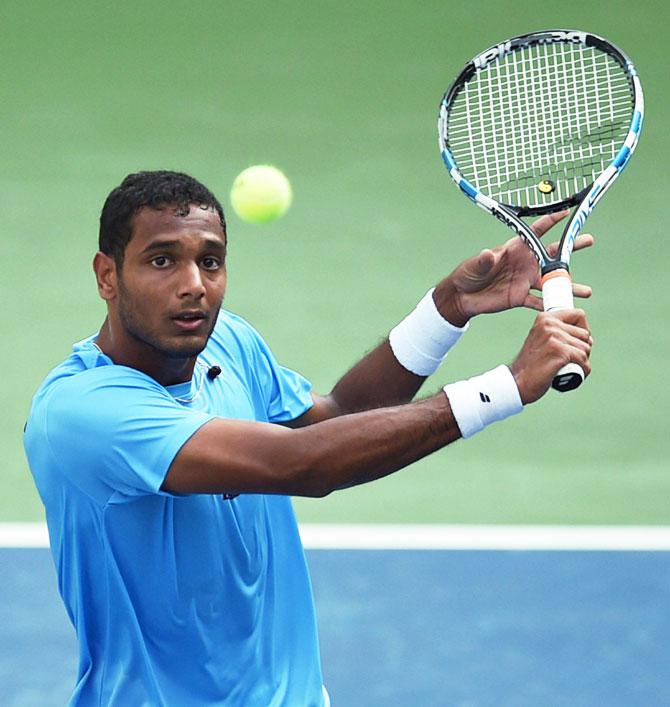 A summary of sports events and sports persons, who made news on Saturday
July 14, 2017
Ronaldinho ready to light up Premier Futsal again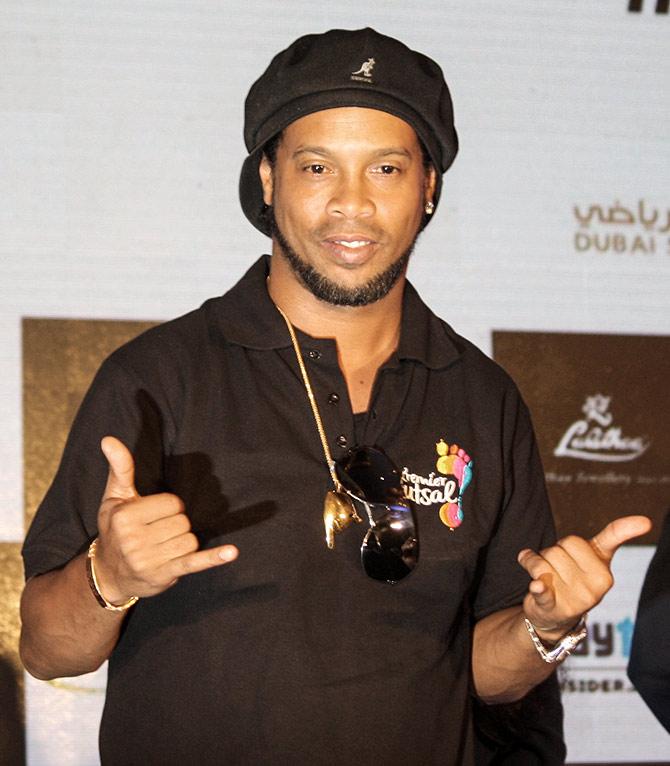 'The 2nd season season is here and it will be a bigger success in the following years'
Ricciardo may give the 'Shoey' the boot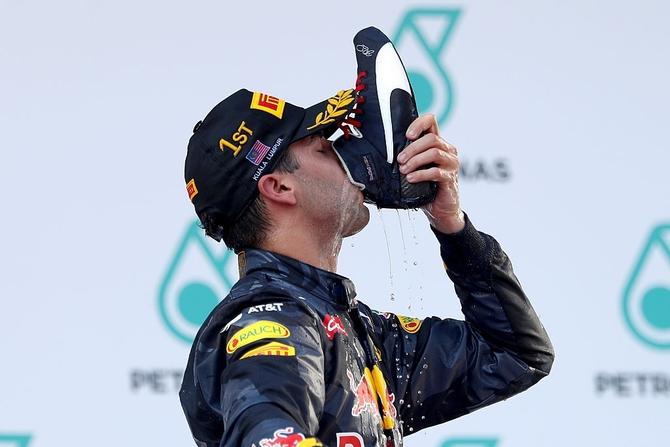 'The juice from the foot is not something I wish to drink. Especially someone else's'
There's something unique about this year's Wimbledon men's semis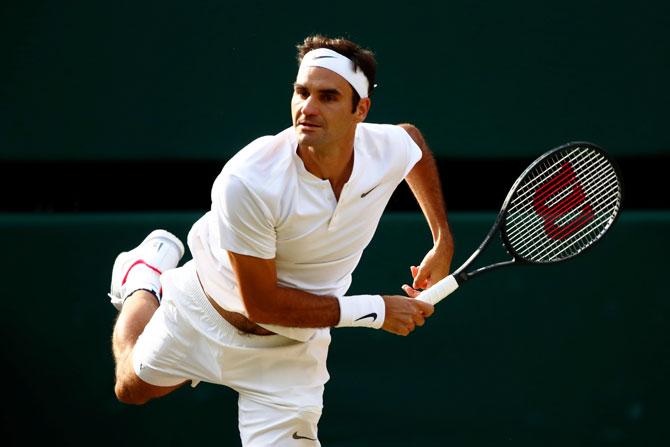 World No 5 Roger Federer's possible records aside, it is the first time since 2003 that the semis have featured four men outside the top four in the world rankings.
Missing India? There's nothing to miss, says Mallya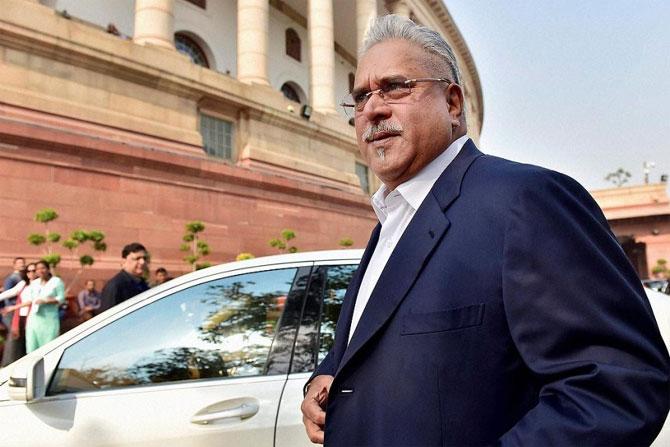 'It isn't as if I have any emotional ups and downs. I have done absolutely nothing wrong. In fact I am glad that it is finally before a UK court and an impartial court. So we wait and see how it plays out'
July 13, 2017
Football Briefs: Alves ends speculation, joins PSG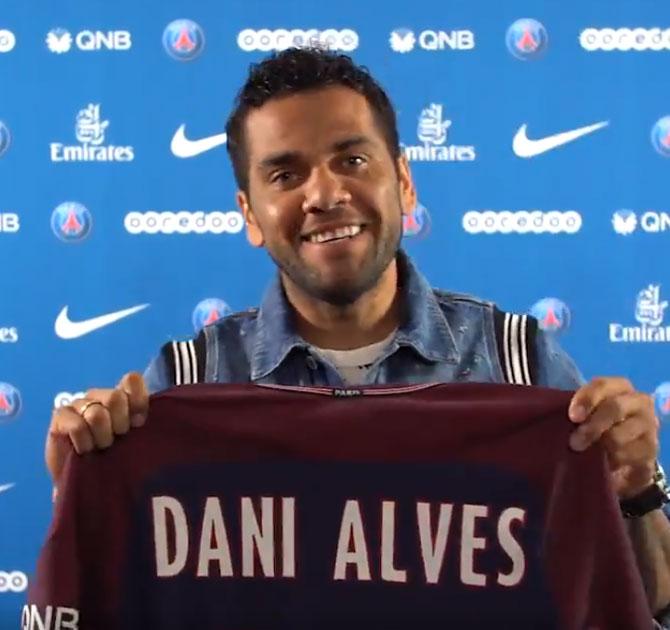 News of all that's transpired on and off the football field on Thursday
Confident Cilic eyes first Wimbledon final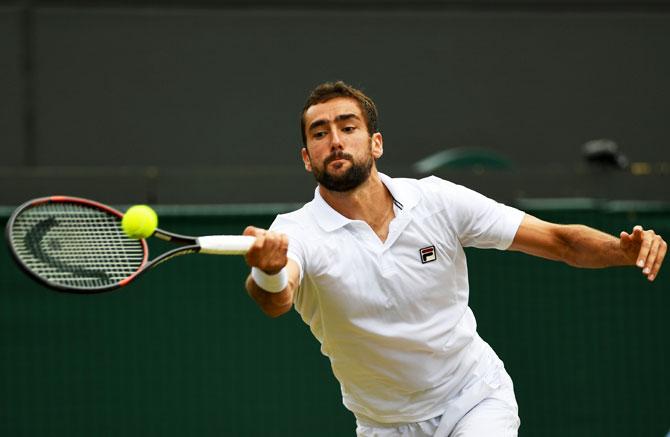 'I would say winning the US Open has helped me for all these grand slams I have played so far, and I believe the rest of my career'
July 12, 2017
'Big three' eye semi-finals but face tough challenges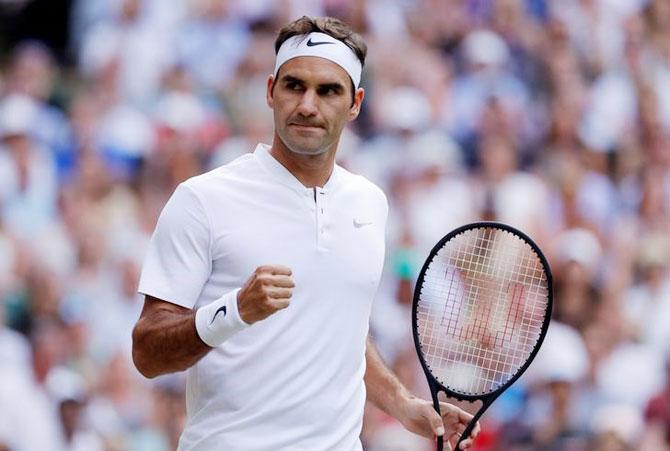 The 'Big Four' has become a 'Big Three' with the shock exit of Rafael Nadal, and the remaining trio of Roger Federer, Andy Murray and Novak Djokovic will all be aiming to prove their elite credentials in Wednesday's quarter-finals.
Big hitters vie for Wimbledon semis spot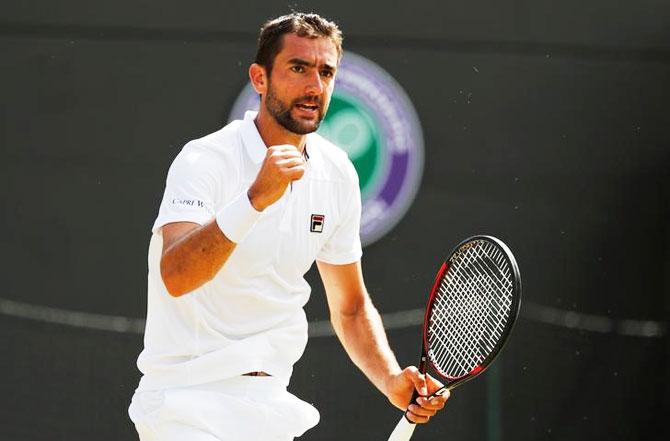 Inspired Cilic vs 'tired' underdog Muller
July 11, 2017
With Nadal out of the way, Wimbledon is fit Federer's for the taking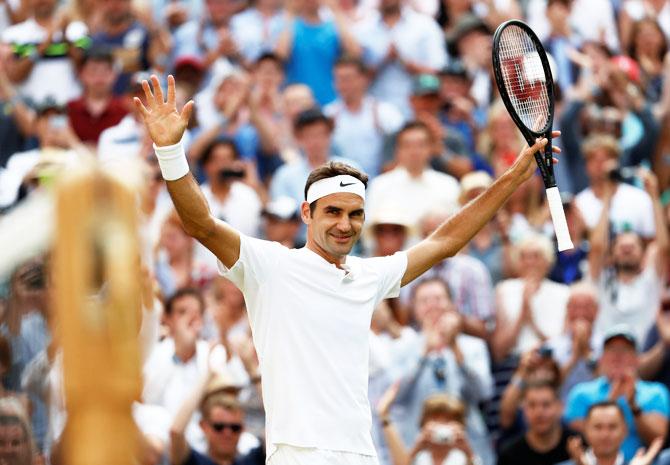 'I feel like I'm rested enough. I've had... not the toughest matches. I can look at this quarter-final (on Wednesday against Milos Raonic) in a totally relaxed fashion'
Watch: Head-banging Nadal and his Monday blues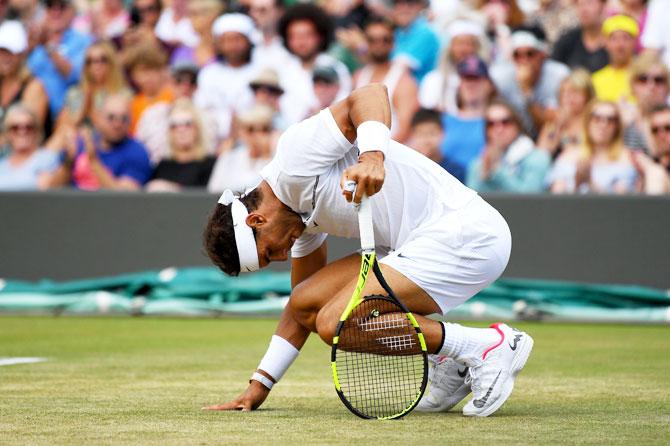 So by now we all know what has transpired at Court No 1 in Wimbledon on Monday.
Nadal-slayer Muller emerges from the shadows to march forth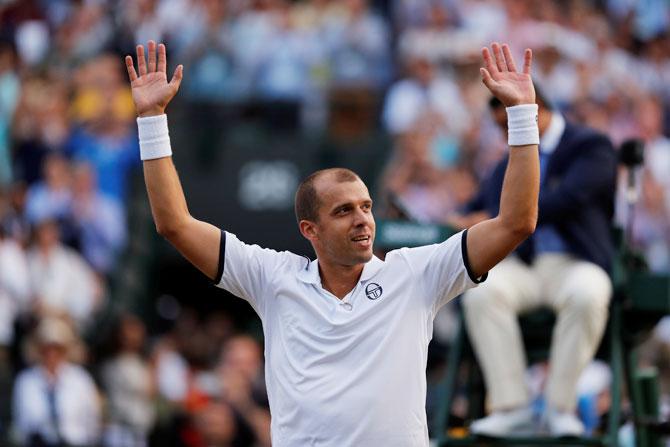 Although he had beaten Nadal 12 years ago at Wimbledon, few gave Luxembourg's Muller a chance on Monday against the fourth seed and French Open champion.
Nadal makes no excuses after 'lost opportunity' in thriller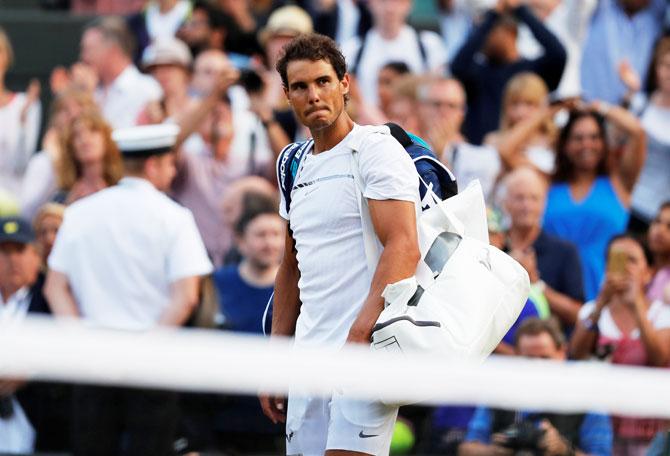 He paid for losing the first two sets 6-3 6-4 and while he hit back impressively to win the next two by the same margin, he was unable to complete what would have been only his fourth recovery from two sets down.
July 10, 2017
The Highs and Lows of Rooney's career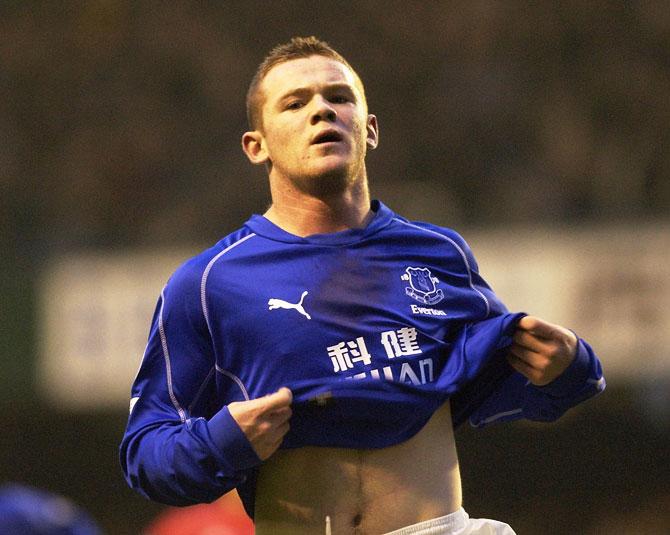 Here is a fact file on the former Manchester United captain
July 09, 2017
Formula One: Mercedes' Bottas pips Vettel to win Austrian Grand Prix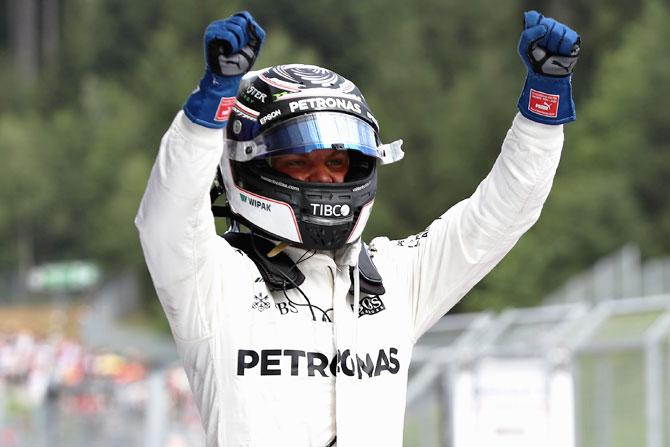 Hamilton, Bottas's team mate, started in eighth place after a grid penalty triggered by an unscheduled gearbox change and finished fourth.
Sports Shorts: Ajax's Nouri out of danger after collapsing on pitch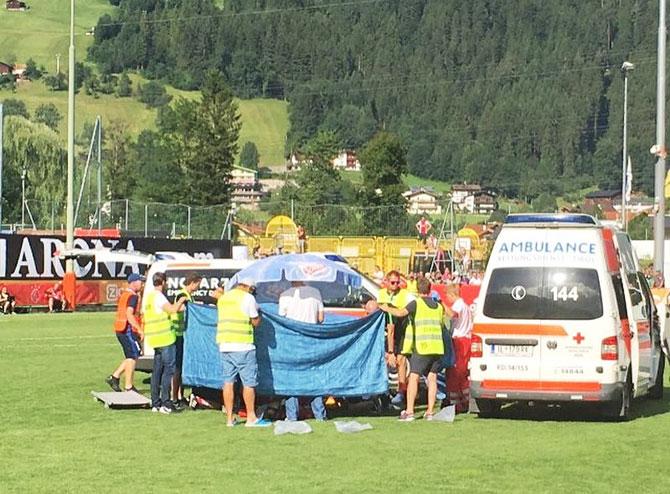 A summary of sports events and sports persons, who made news on Sunday
July 08, 2017
Wimbledon Pix: Kerber, Muguruza, Dimitrov advance into fourth round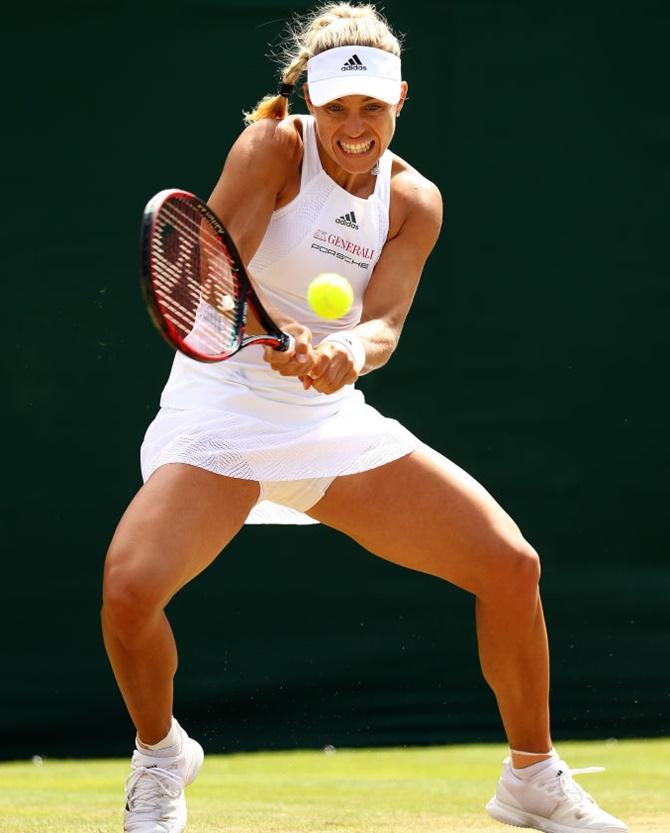 PHOTOS from day four of the Wimbledon championships at the All England Lawn Tennis and Croquet Club in London on Saturday
July 07, 2017
Wimbledon Pix: Azarenka dashes Watson's dreams, Nishikori beaten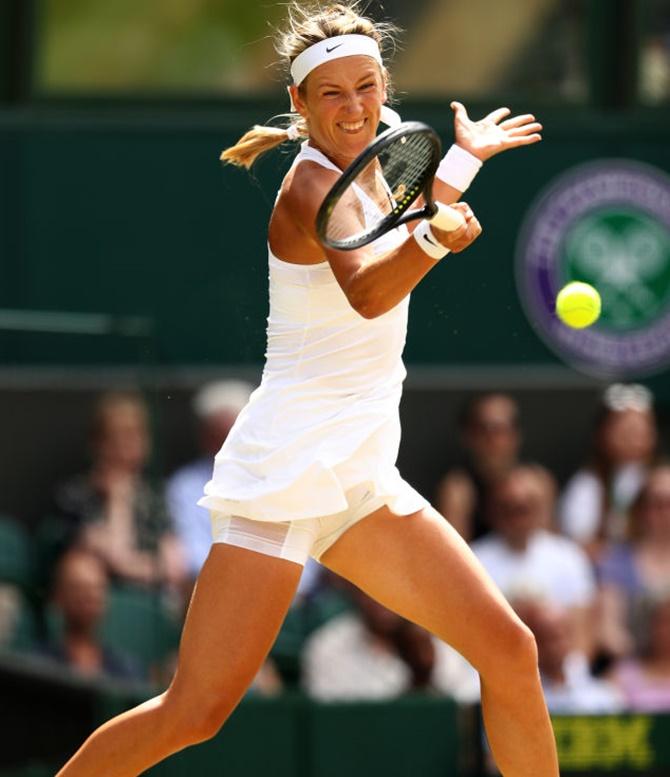 PHOTOS from day four of the Wimbledon championships at the All England Lawn Tennis and Croquet Club in London on Friday.
July 05, 2017
Half-naked Ronaldo enjoying all the attention!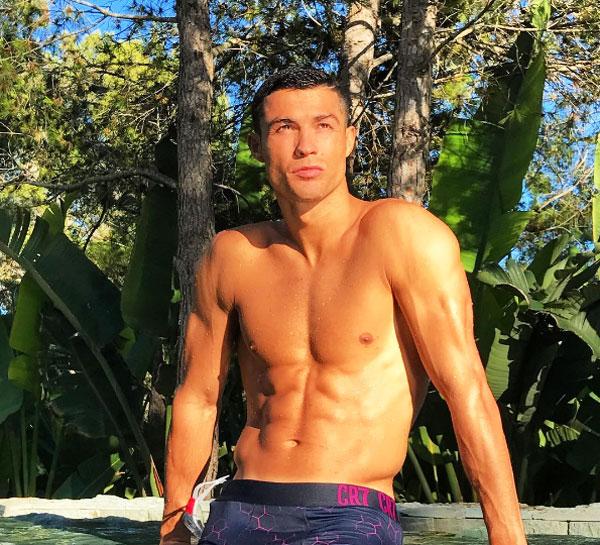 After letting the world know of the arrival of his twin babies via Instagram, the Real Madrid star has started using the app rather regularly, posting intriguing pictures of himself.
'Super Coach' Gopichand on what can further propel Indian badminton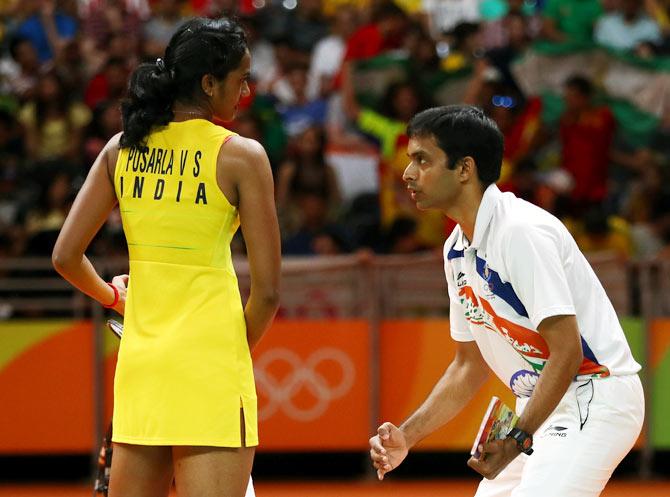 'I think for the next generation to come up, we need to put a system in place which actually identifies and nurtures talent. We have grown exponentially but there is lot more which needs to be done'
Wimbledon injury pull-outs raise questions about motives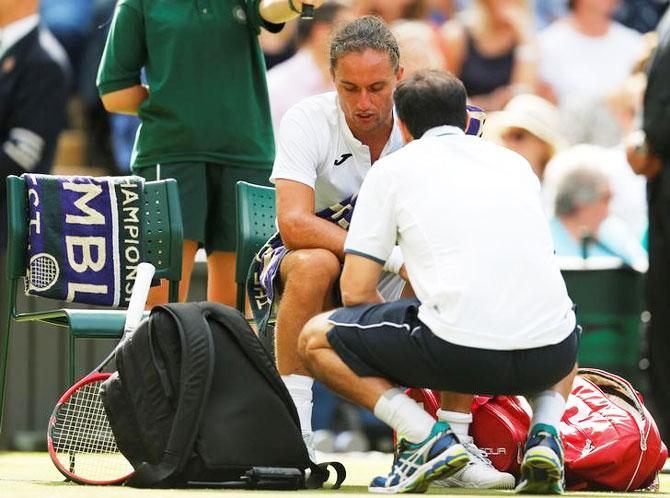 Federer said the rate of dropouts would fall if the slams switched to best-of-three-sets rather than best-of-five as it would mean matches were more like "a sprint to the finish line" rather than being "a marathon" but the people he really felt sorry for on Tuesday were the fans.
July 04, 2017
Haas leaves Wimbledon with heavy heart but bag full of memories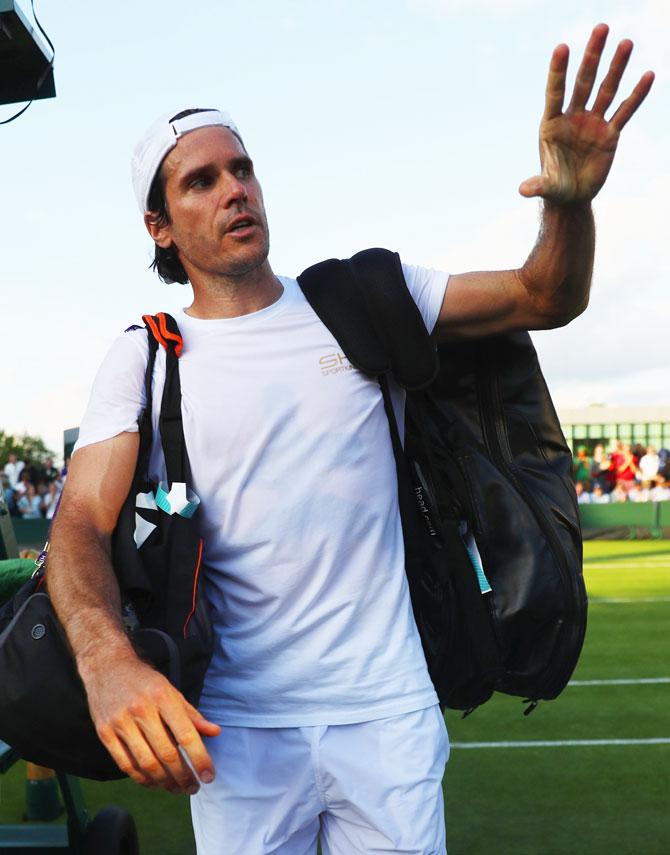 The 39-year-old German, awarded a wildcard for his 16th and final appearance at the All England Club, had to accept his body was "not cooperating anymore" as he slumped to a 6-2, 3-6, 6-3, 7-5 first-round defeat by Belgian qualifier Ruben Bemelmans.
PHOTOS: Serena joins in Wimbledon drills from afar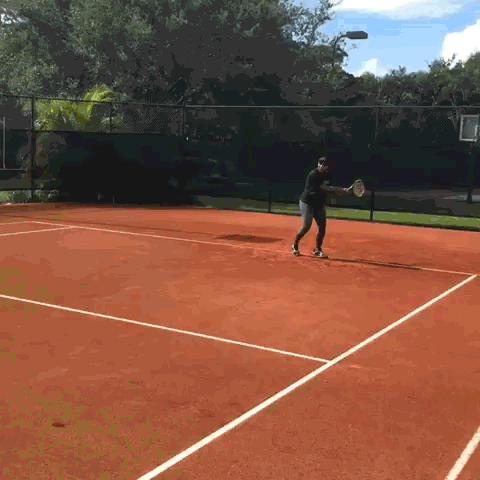 As the first day's play got under way, she posted a video clip on Instagram of her pounding backhands on a clay court despite being absent from the tour since winning the Australian Open in January as she is expecting her first child.
Today at Wimbledon: Federer, Djokovic get their campaign underway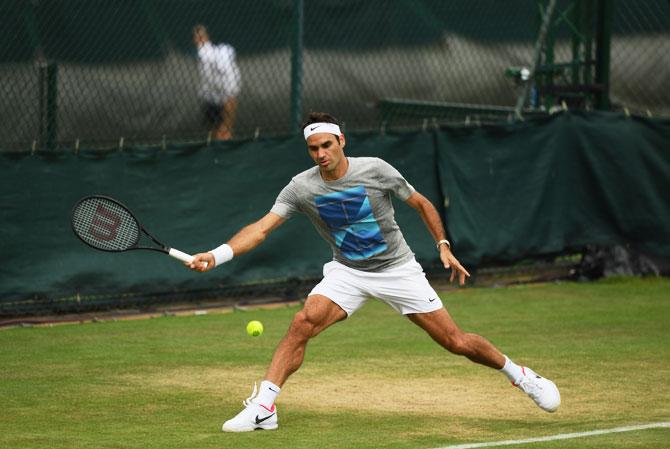 Federer begins the pursuit of a record eighth Wimbledon title and a record 85th match win at the grass court major; Djokovic hoping to curb dismal slide
His aggressive forehand to the fore, Nadal cruises into Rnd 2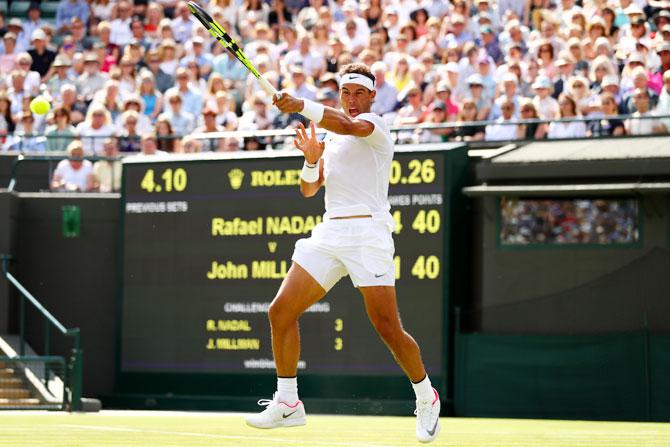 Rafael Nadal moved seamlessly from months of clay court success to a satisfyingly smooth first-round victory on grass as he opened his Wimbledon campaign with a commanding 6-1, 6-3, 6-2 victory over Australian John Millman on Monday.
Laid low by sore knee, Wawrinka shown door by energetic Russian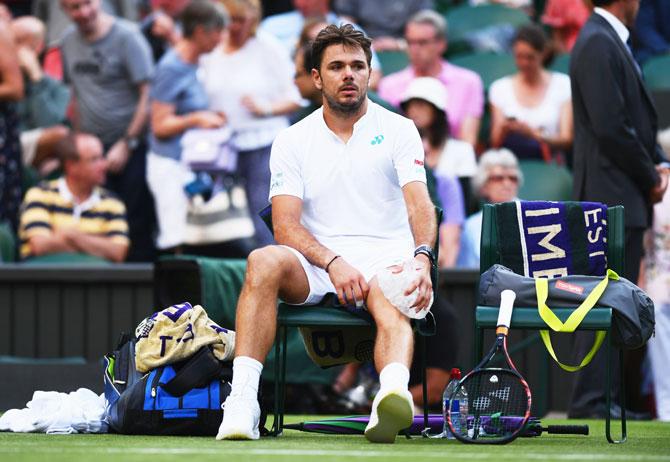 The Swiss three-time grand slam champion was out-gunned by 21-year-old Medvedev, who had the Centre Court crowd on their feet as he pulled off a dazzling array of winners to wrap up a 6-4, 3-6, 6-4, 6-1 victory on his first Wimbledon appearance.
July 03, 2017
Germany survive Chile onslaught to win Confederations Cup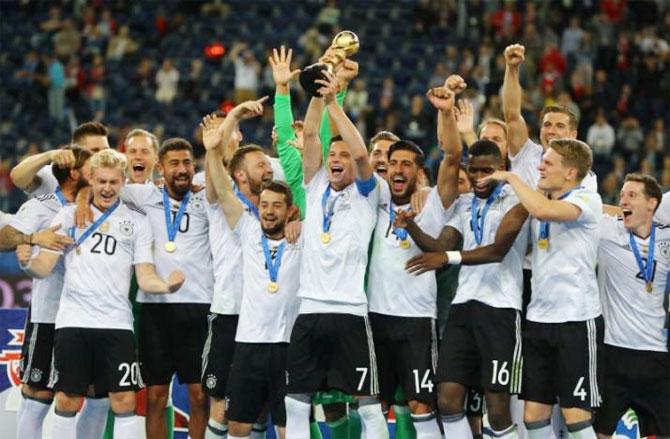 A dramatic game featured missed chances, defensive howlers, scuffles and two video reviews, one producing a highly controversial outcome in the second half.
July 02, 2017
Djokovic's timely adjustments on grass to boost Wimbledon chances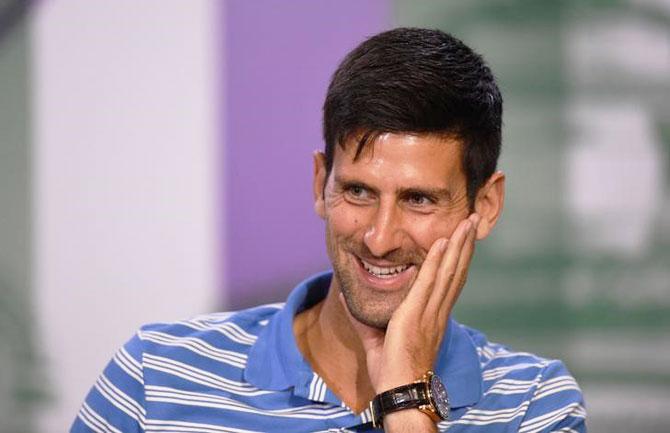 It was his first tournament win since January and has left the world number four confident of mounting a challenge at Wimbledon, where he has been drawn against Slovakia's Martin Klizan in the first round.
June 30, 2017
PIX: Tennis stars too hot to handle at pre Wimbledon party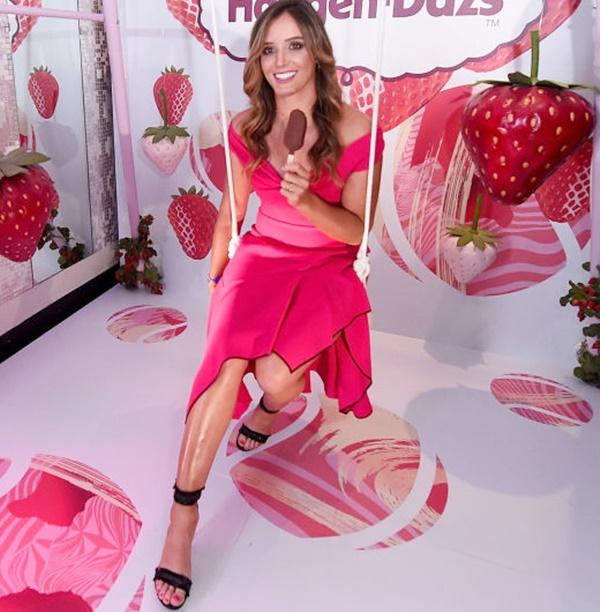 The stars were out in full force at the Kensington Roof Gardens, in London, on Thursday night.
June 29, 2017
Federer picks his best Wimbledon match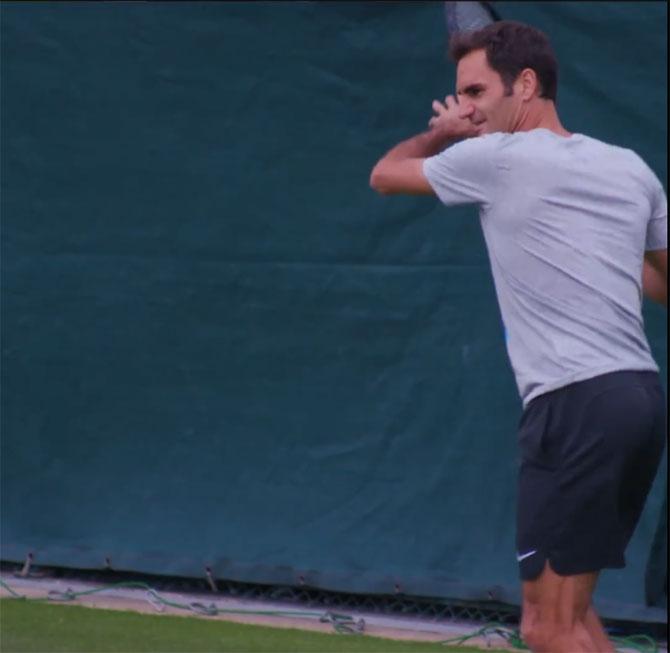 Nadal, Roger get in the groove for the Big W
Confed Cup: Portugal out after Bravo save sends Chile into final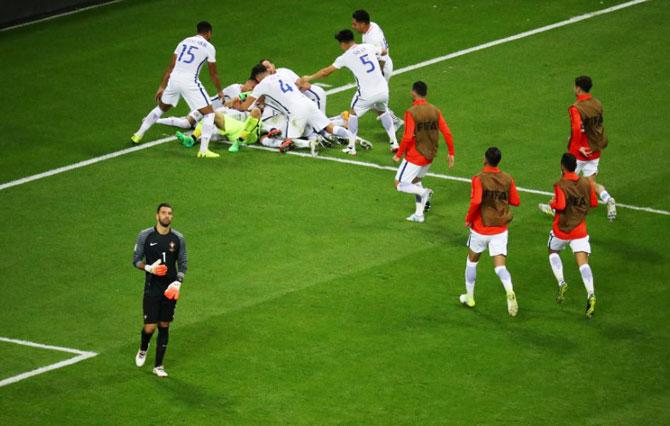 Bravo stopped Portugal's first three spot kicks from Ricardo Quaresma, Joao Moutinho and Nani while Chile converted their first three to win the clash of South American and European champions.
Check out the main contenders at this year's Tour de France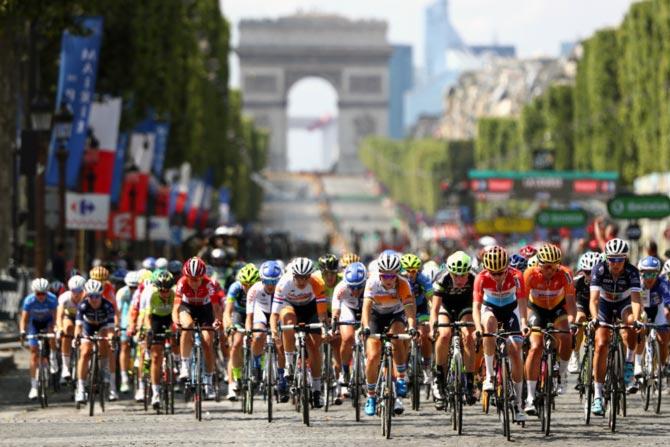 A look at the main Tour de France contenders ahead of Saturday's first stage, a 14-km individual time trial in Duesseldorf:
June 28, 2017
PHOTOS: Bold and bare -- athletes take centre stage in nude shoots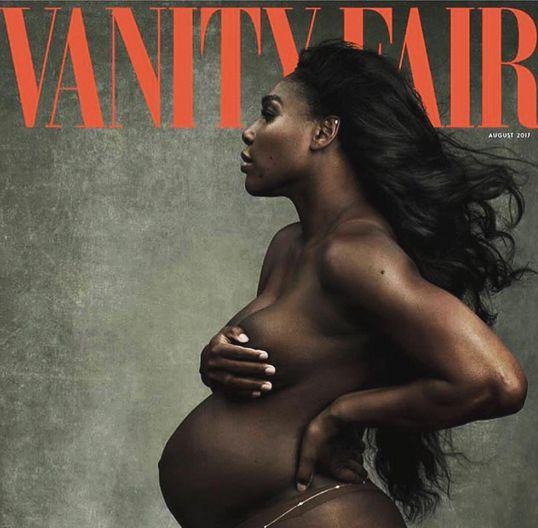 Here is a list of athletes, some of who just turned up the heat while some created ripples with their bold photos. Scroll down to find out who these athletes are...
Sports Shorts: Facebook to livestream UEFA Champions League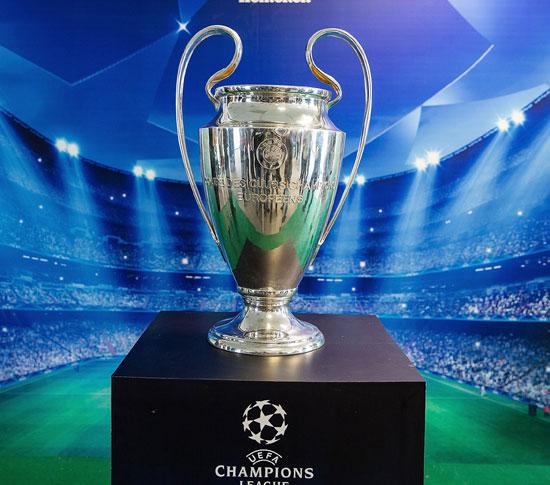 A summary of sports events and sports persons, who made news on Wednesday
McEnroe refuses to apologise to Serena, suggests a 'solution'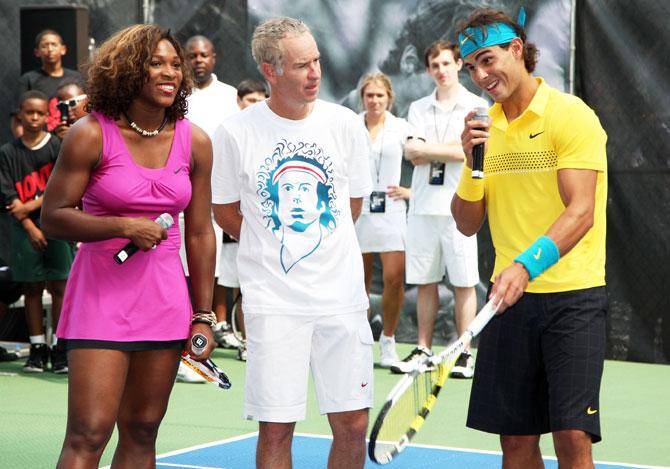 McEnroe had claimed that Serena, who is the best player of her gender, would be ranked 700 if she plays on the men's circuit.
Wimbledon: Top young men's players to watch out for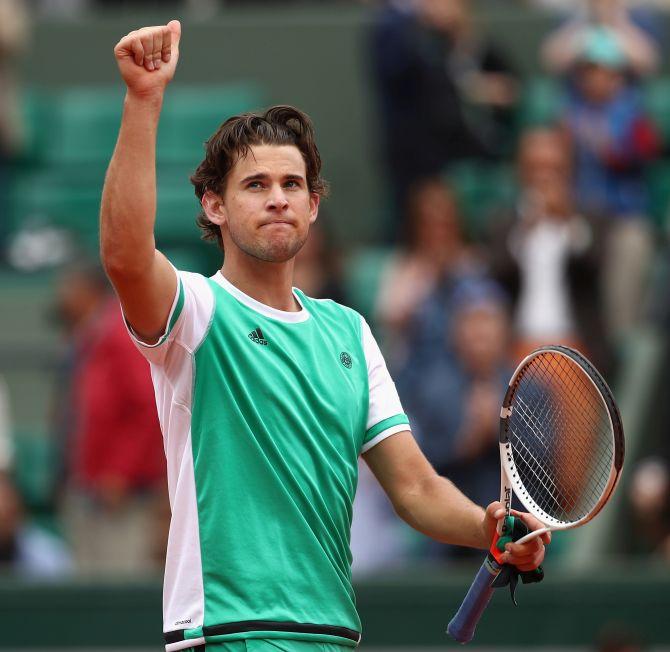 Check out some of the up-and-comers who could cause an upset at Wimbledon this year.
Can win over Thiem mark turning point in Ramanathan's career?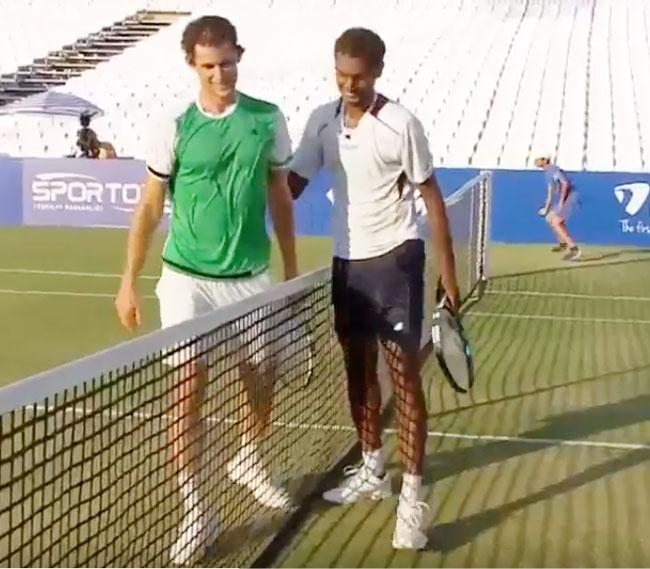 It will motivate him to keep working hard and move to the top 100, feels India's Davis Cup captain Mahesh Bhupathi
June 27, 2017
Federer and Nadal primed for dream Wimbledon final reprise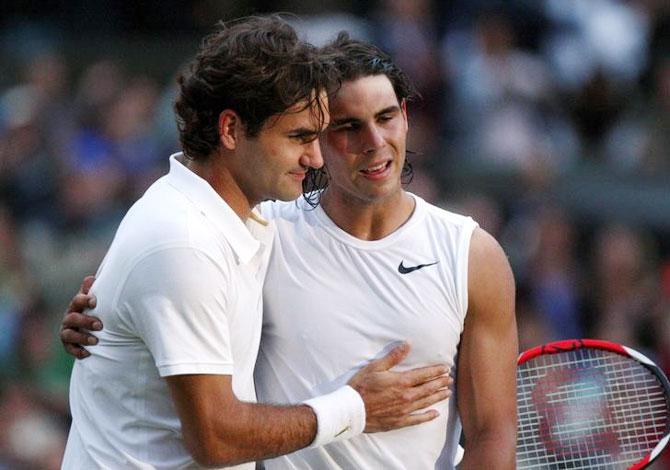 Roger Federer and Rafael Nadal have shared the grand slam spoils this year and it would take a hard heart not to hope for a fairy tale rematch next month of their epic 2008 Wimbledon final.
Sort it 'face to face' like men: Hamilton tells Vettel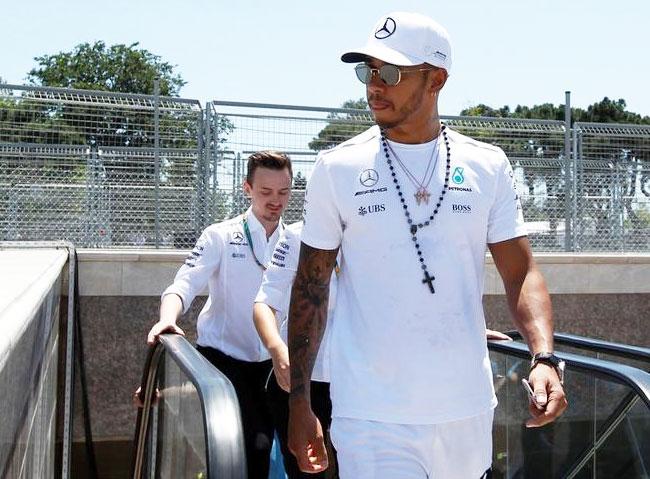 'Vettel disgraced himself, to be honest'
Serena replies to McEnroe's comments with a winner!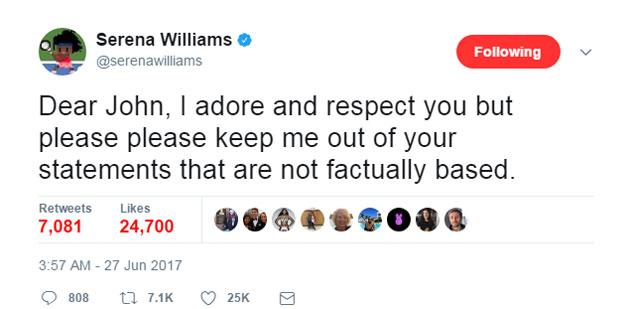 The 23-time Grand Slam champion has retorted to former tennis ace John McEnroe's comments, saying she would struggle on the men's circuit.
Kvitova plays down favourite tag at Wimbledon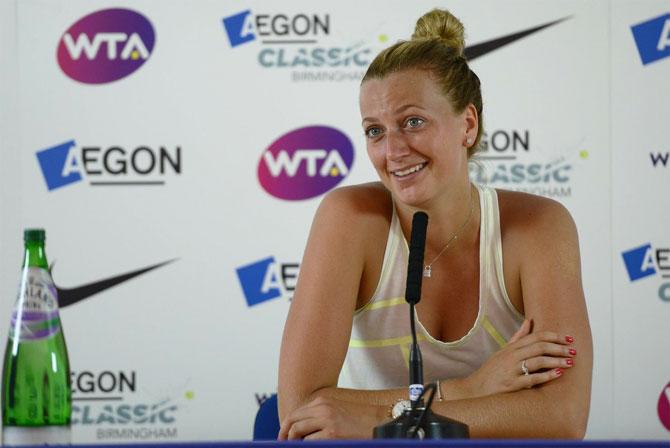 'Maybe the last tournament changed something in people's minds but not in mine. I'm really enjoying every match but, still, I think I do have lot of things to improve'
Serena will be ranked 700 if she plays men's circuit: McEnroe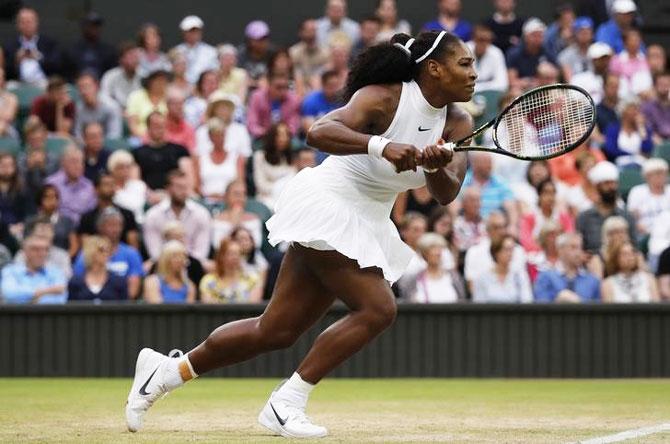 The seven-time major champion, speaking as part of a tour to promote his new book 'But Seriously', said that while he has great respect for Serena, he would place the 23-time Grand Slam winner "like 700 in the world" on the men's circuit.
Serve-and-volley a lost art as grass loses its menace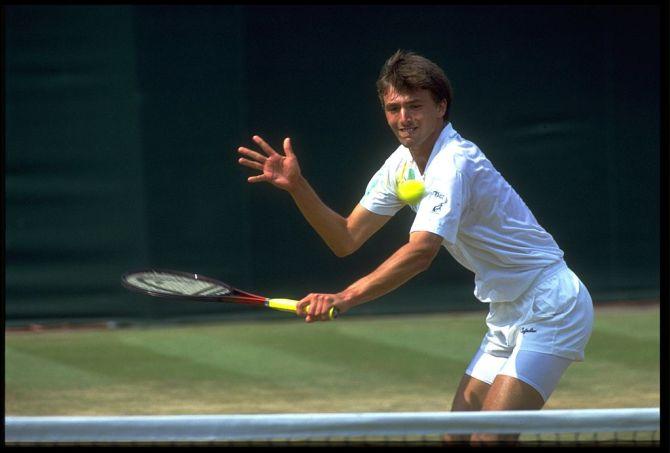 Not since Croatian Goran Ivanisevic beat Australian Pat Rafter in 2001 has there been a final featuring two players adopting the serve-and-volley style once deemed mandatory.
June 23, 2017
Tennis round-up: Federer in Halle quarters; Cilic advances in Queen's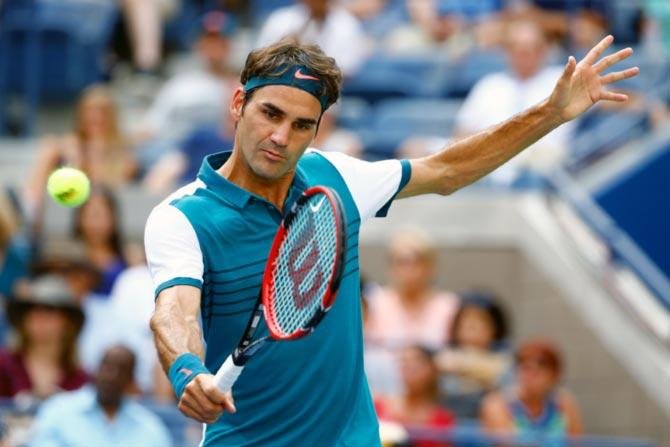 Federer, who skipped the entire clay court season after winning the Australian Open and claiming titles at Indian Wells and Miami this year, will next play defending champion Florian Mayer who beat Frenchman Lucas Pouille in three sets.
Confederations Cup: Sanchez becomes breaks Chile's top-scorer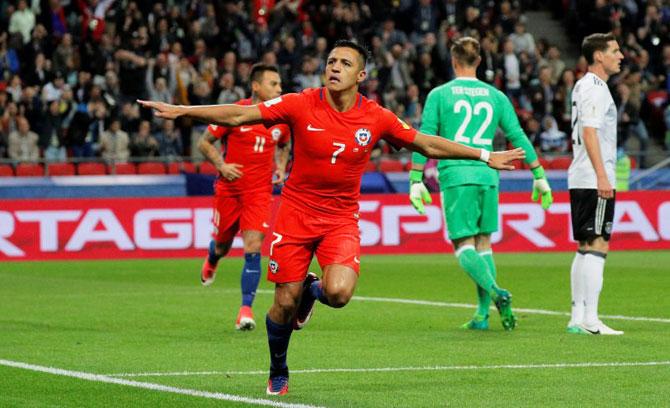 The Arsenal forward broke the record just five minutes into the match, taking his tally to 38 with his national side at the Kazan Arena, Kazan.
June 22, 2017
Australian Open: Srikanth to face Praneeth in quarter-final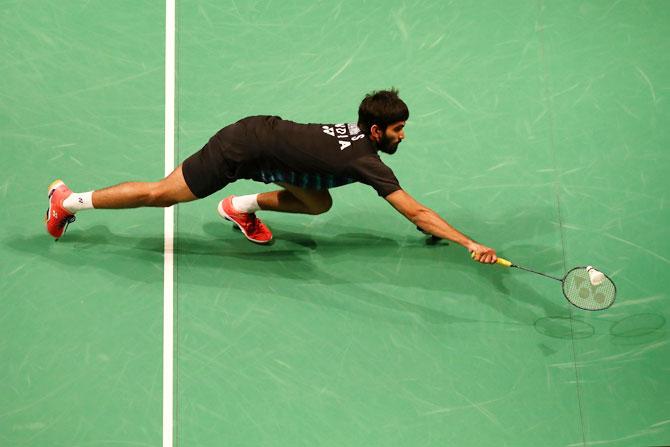 After losing the first game, the 24-year-old Indian rebounded strongly to clinch a 15-21, 21-13, 21-13 win over Wan Ho in a gruelling second-round clash that lasted almost an hour.
Football Briefs: Ronaldo ready to pay 14.7m in Spanish tax fraud case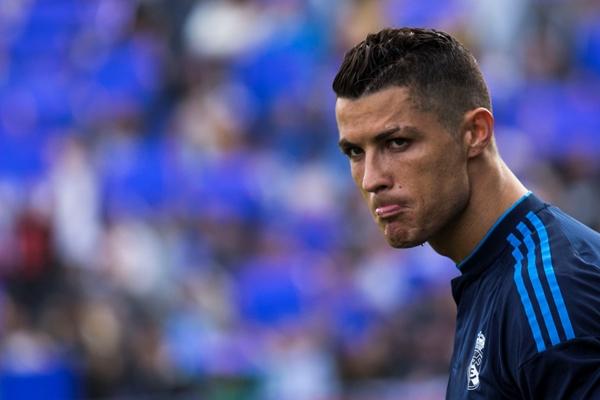 News of all that's transpired on and off the football field
June 21, 2017
Sports Shorts: Pope Francis gets jersey from US football Hall of Famers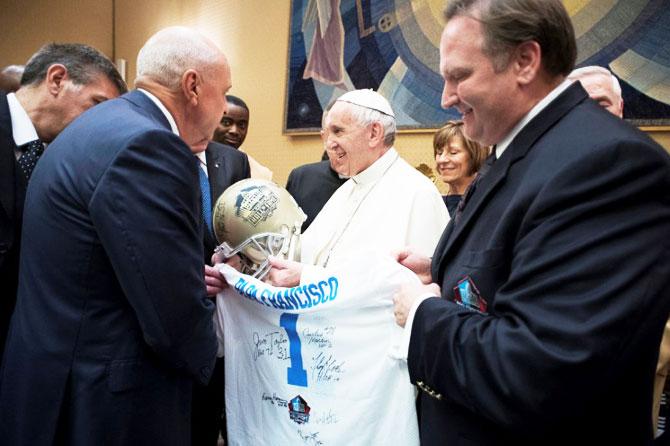 A summary of sports events and sports persons, who made news on Wednesday
Football Briefs: Man United cleared in Pogba deal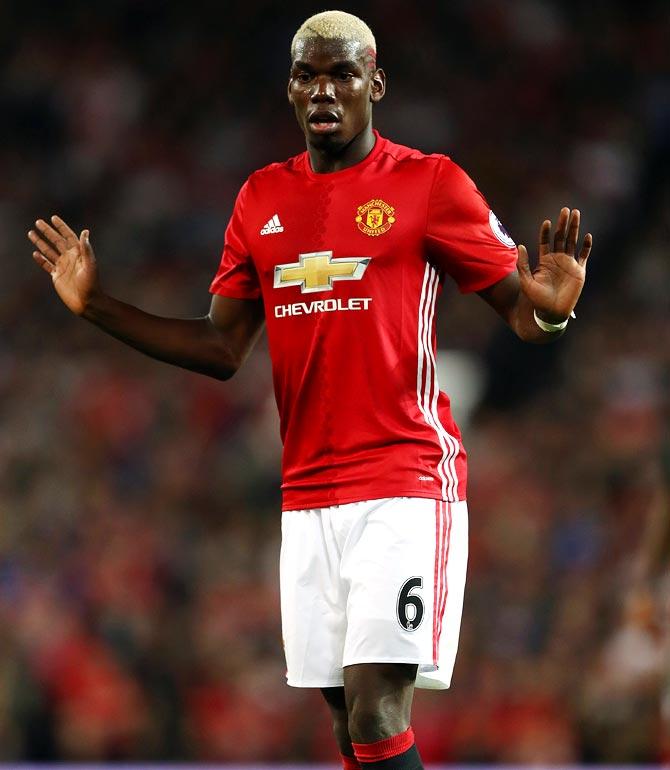 News of all that's transpired on and off the football field
June 12, 2017
La Decima: 'Simply incredible Rafa'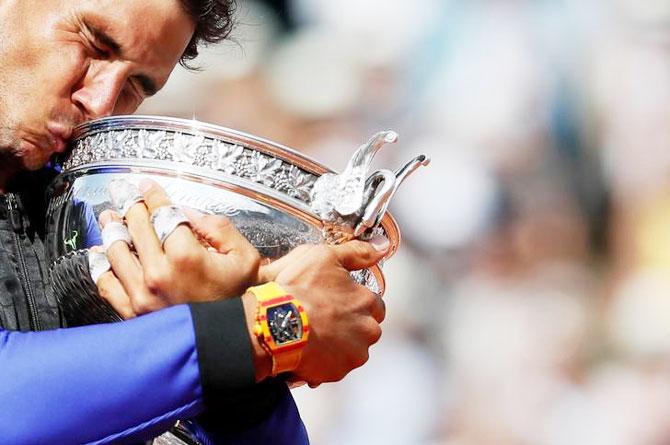 Rafael Nadal's unprecedented 10th French Open title on Sunday drew praise from across the tennis and sporting community:
Lewis Hamilton wins Canadian GP for sixth time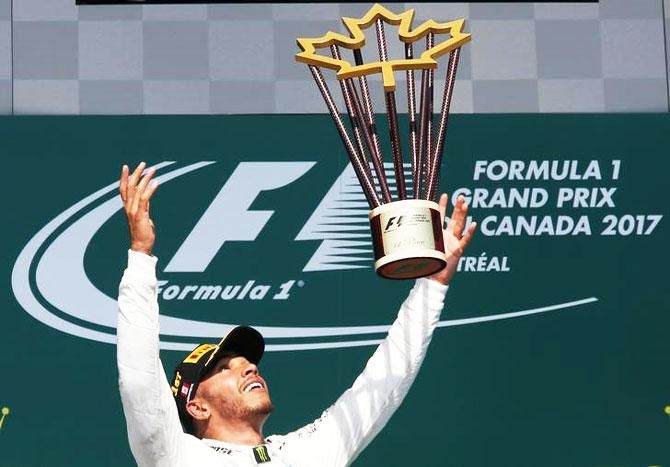 It was Hamilton's third victory of the season and also his third in a row at the sun-bathed but windswept Circuit Gilles Villeneuve.
June 10, 2017
Ostapenko's dream at age 10: Winning French Open!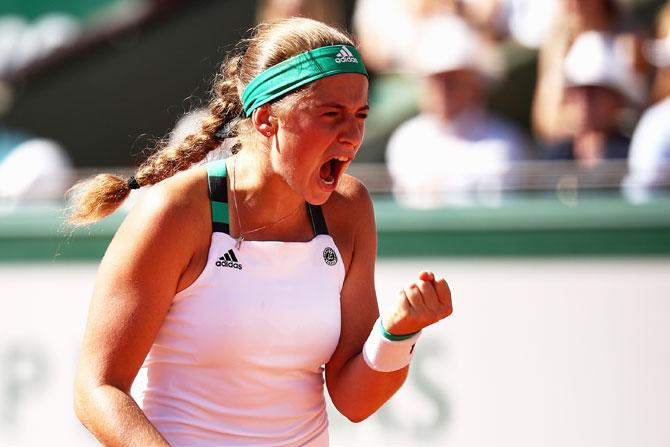 The unseeded Ostapenko, 20, downed Romanian third seed Simona Halep 4-6, 6-4, 6-3 in the final, hitting a staggering 54 winners and taking her tournament tally to 299.
All you need to know about French Open champ Jelena Ostapenko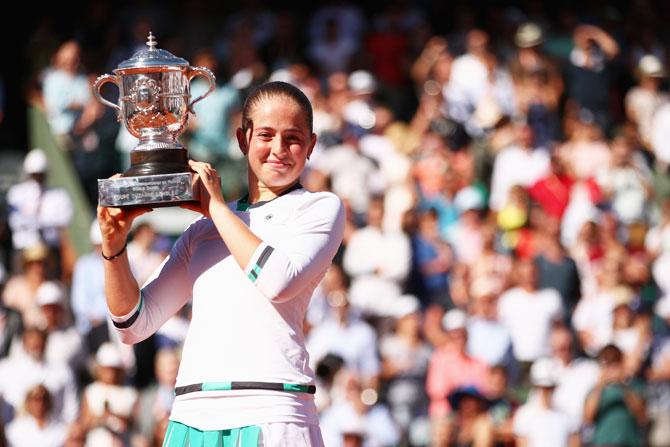 Factbox on Latvian Jelena Ostapenko, who beat Romania's Simona Halep 4-6 6-4 6-3 to win the French Open on Saturday and claim her first grand slam title:
Unseeded Ostapenko stuns Halep to win French Open crown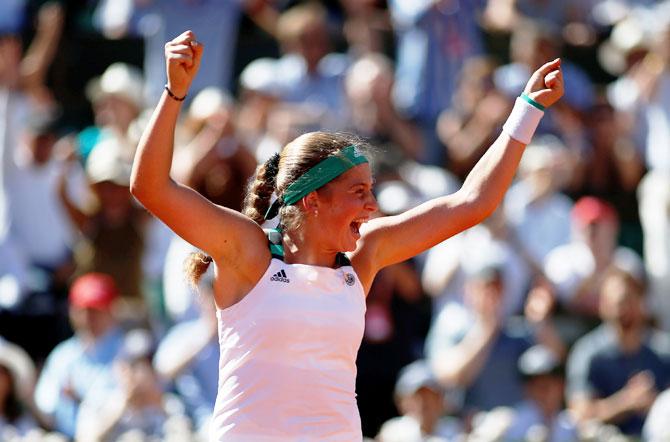 The 20-year-old Ostapenko was the first unseeded woman to lift the Suzanne Lenglen Cup since Britain's Margaret Scriven in 1933.
Time for number 10 to become Nadal's favourite number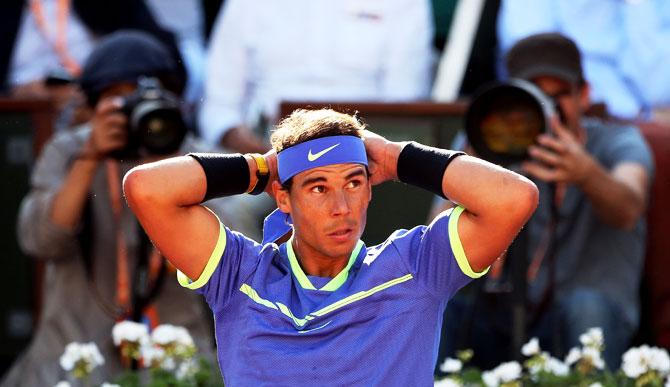 Victory on Sunday would see Nadal become the first player to win the same grand slam 10 times in the modern era.
June 07, 2017
French Open: Thiem knocks out Djokovic, Nadal in semis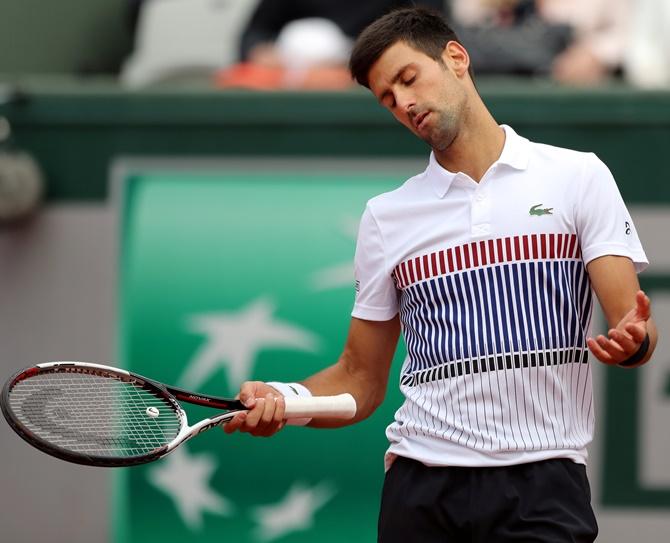 Nadal was leading the match 6-1, 2-0 when Correno Busta decided he had had enough.
Here are Forbes' Top-10 most valuable football teams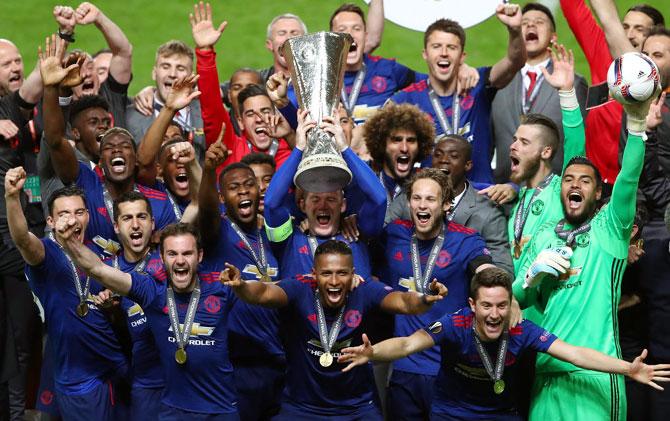 United topple Real Madrid off its perch in Forbes' list, Barca are at No 2 spot
June 06, 2017
Underperforming French men a disappointment at Roland Garros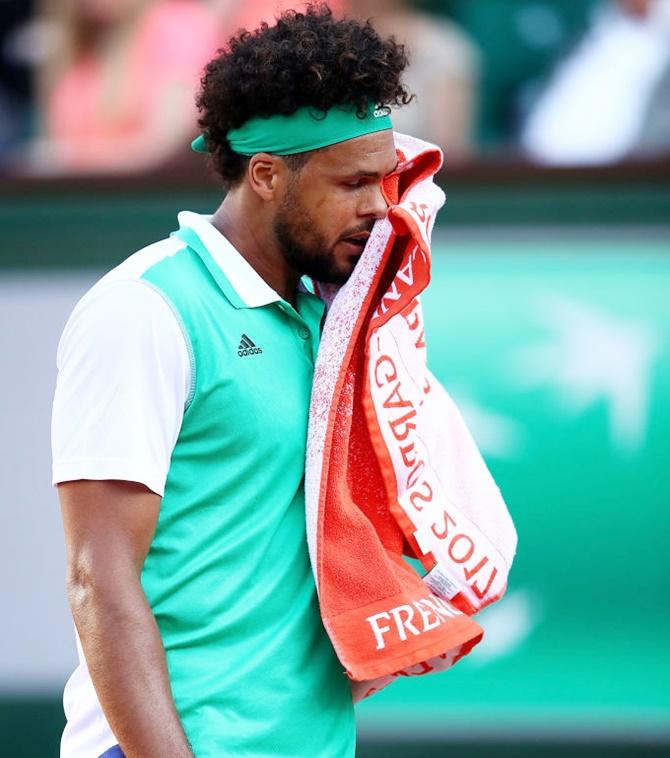 France's wait for a men's singles champion at Roland Garros will stretch into a 35th year, and three-times champion Mats Wilander says their current crop of stars are running out of time.
June 03, 2017
Sports Shorts: Federer to make comeback in Stuttgart on June 14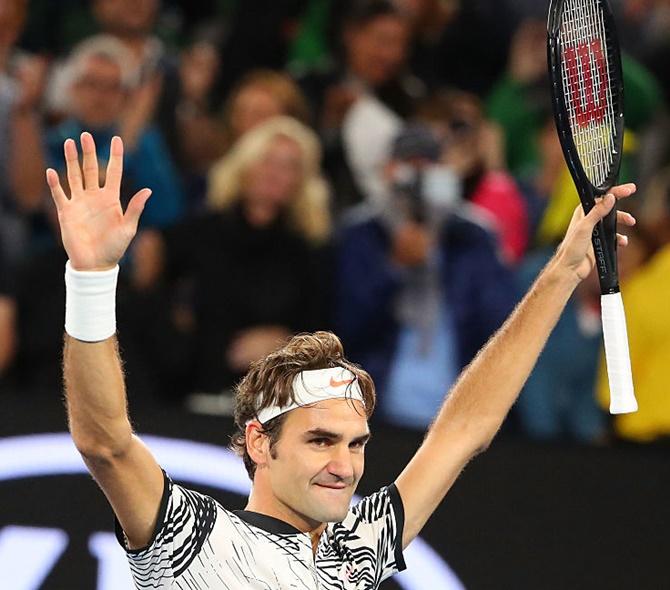 A summary of sports events and sports persons, who made news on Saturday
French Open PHOTOS: Murray, Wawrinka advance; Radwanska out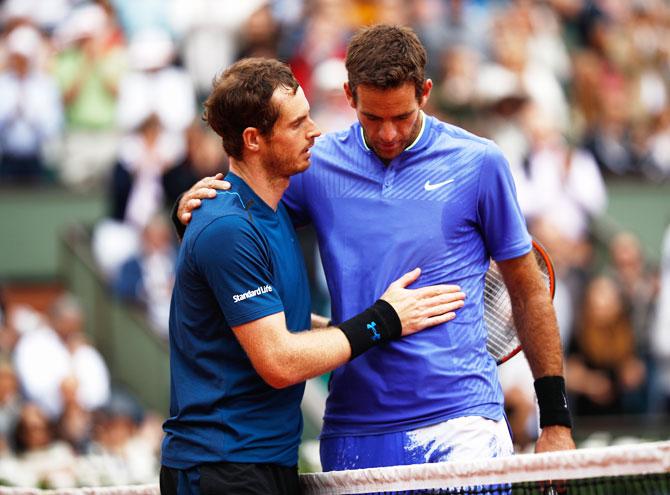 Images from the matches played on Day 7 at the Roland Garros on Saturday
Football Briefs: Giroud treble boosts France in friendly win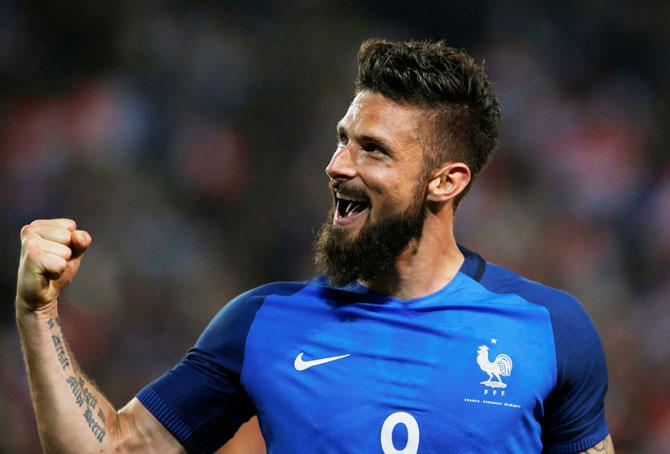 News of all that's transpired on and off the football field
June 02, 2017
Champions League: Juve seek what Zidane failed to deliver for them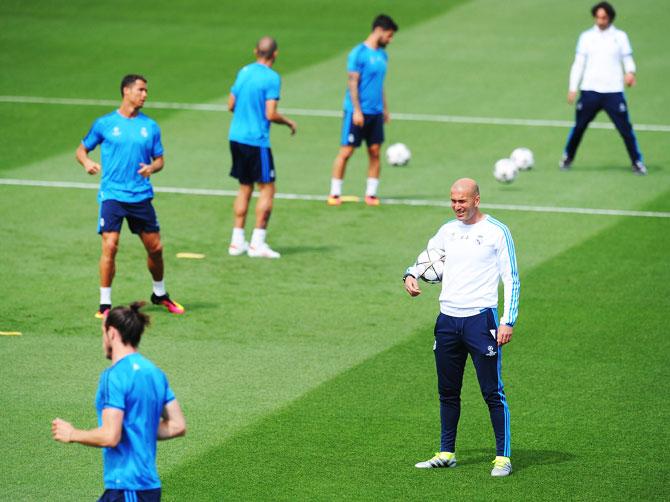 But Saturday's Champions League final against his former club Juventus is a reminder that the Frenchman hasn't quite had it all his own way.
June 01, 2017
Sports Shorts: NBA star LeBron James's home vandalized with racial slur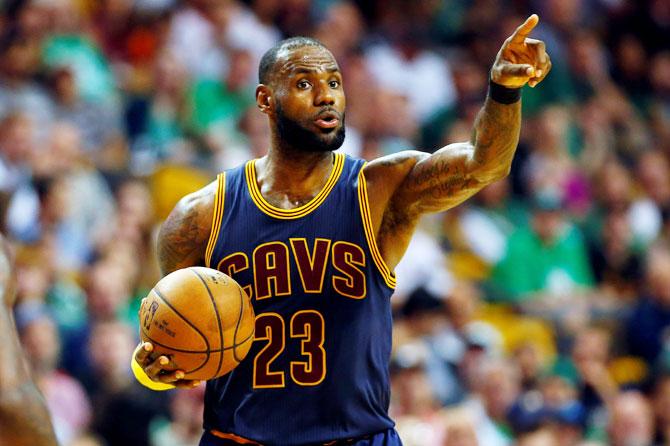 A summary of sports events and sports persons, who made news on Thursday
Football Briefs: Ibrahimovic to talk with United, consider rival offers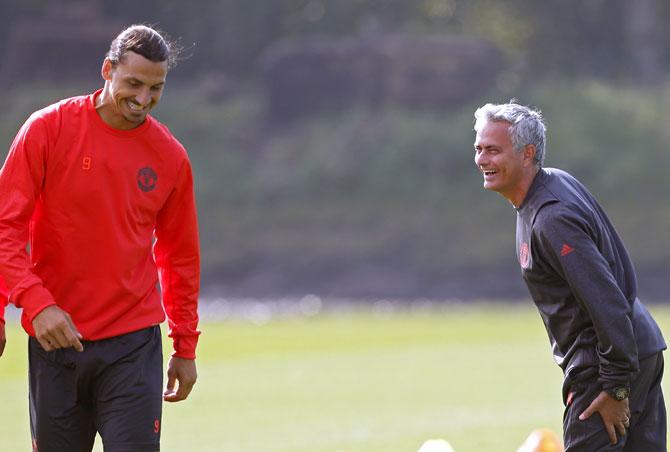 News of all that's transpired on and off the football field
Wilander on how to curb Big Four dominance in tennis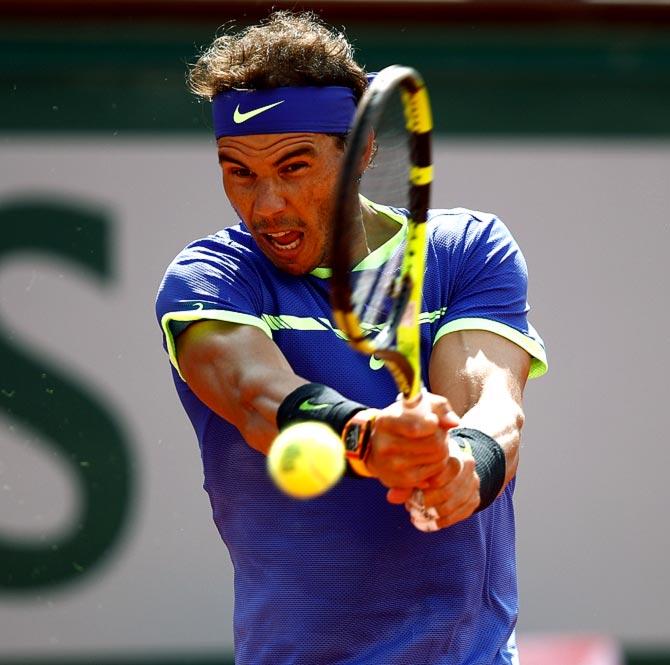 'There has to be some collective responsibility, that is what I'm saying... the only way to beat these guys is to bring their level down'
This former champ tells it straight on Day 4 at Roland Garros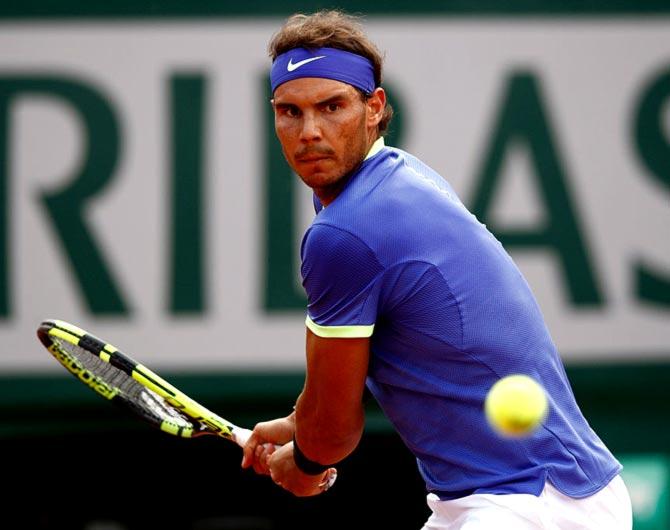 The Swedish former world number one is in the French capital soaking up all the action as a presenter for broadcaster Eurosport's daily flagship show 'Game, Set and Mats'.
Five things to watch out for at the French Open on Day 5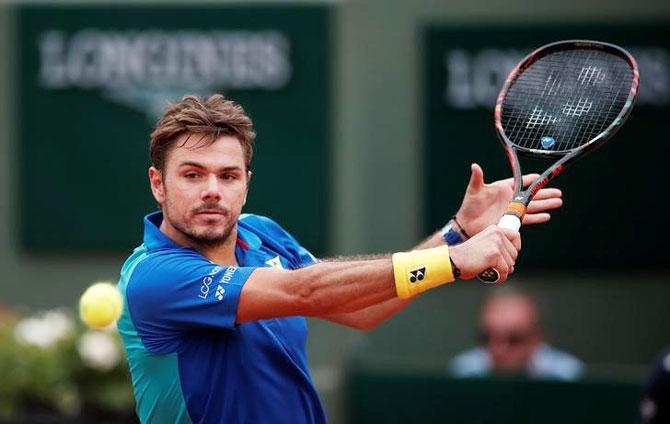 Five things to watch out for on day five of the French Open on Thursday
May 31, 2017
French Open PIX: Nadal, Djokovic advance; Kvitova crashes out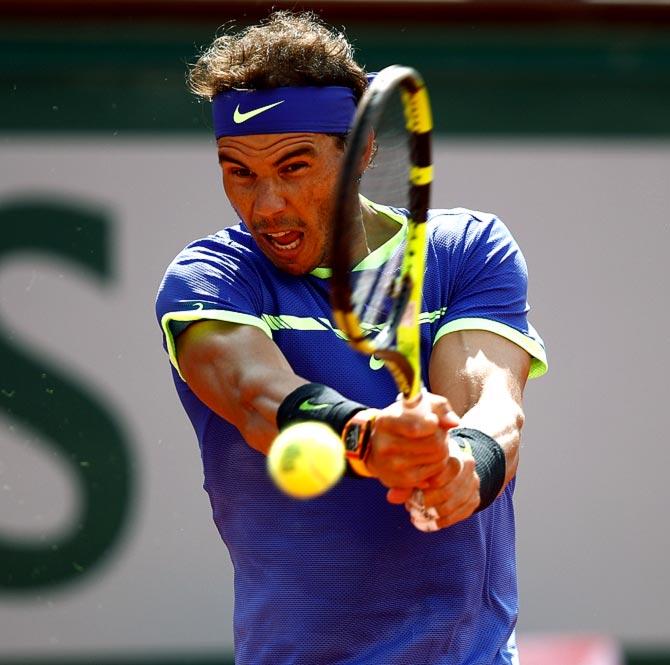 Images from Day 4 of the French Open matches played at Roland Garros in Paris on Wednesday
May 30, 2017
French Open PHOTOS: Murray and Kyrgios advance; Verdasco stuns Zverev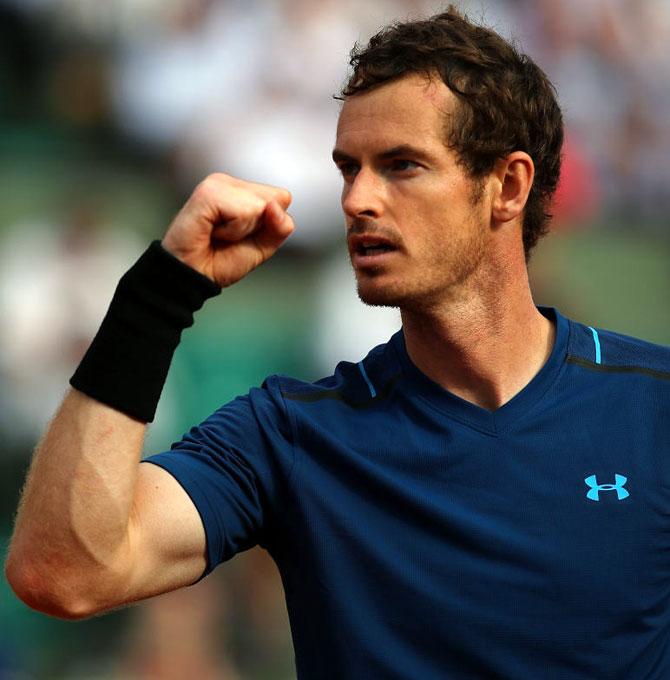 Images from Day 3 of the French Open matches played at Roland Garros in Paris on Tuesday
Will we witness Murray's exit from French Open tonight?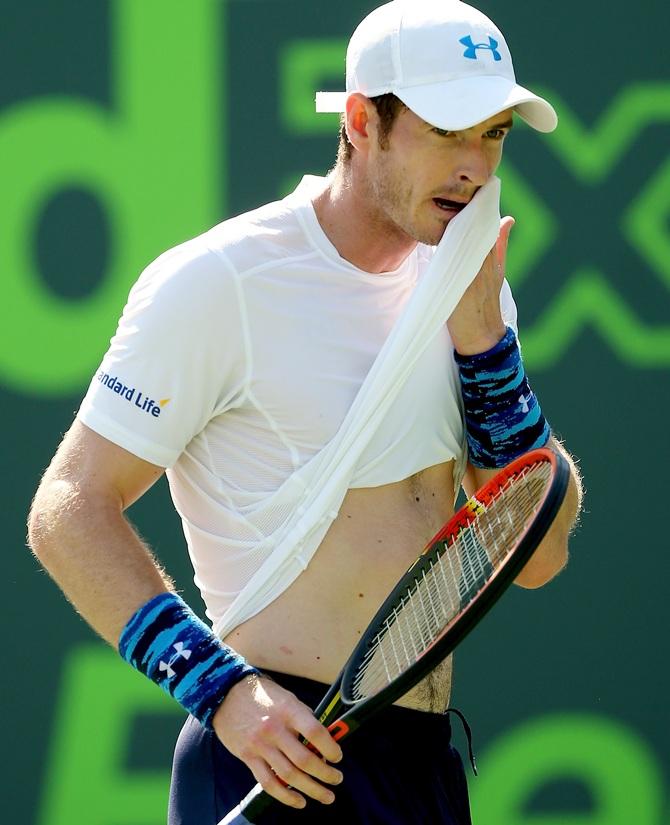 With 'nothing to lose', Kuznetsov senses upset over vulnerable Murray
May 28, 2017
With feet of clay, Kerber wilts under weight of expectations in Paris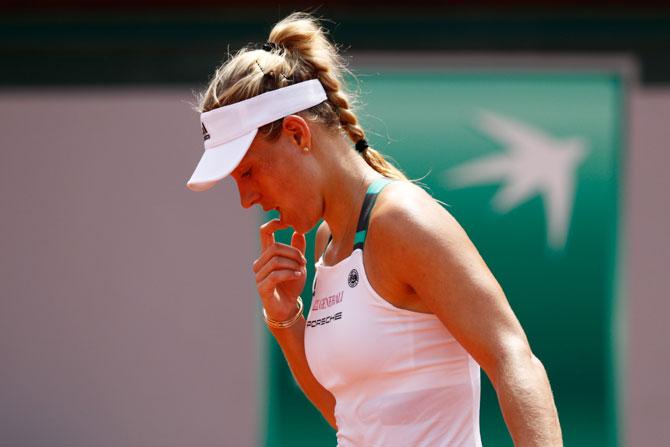 'Right now I think that I have to find to myself again and just trying to forget the clay court season as soon as possible'
F1: Vettel first Ferrari driver since Schumi to win Monaco GP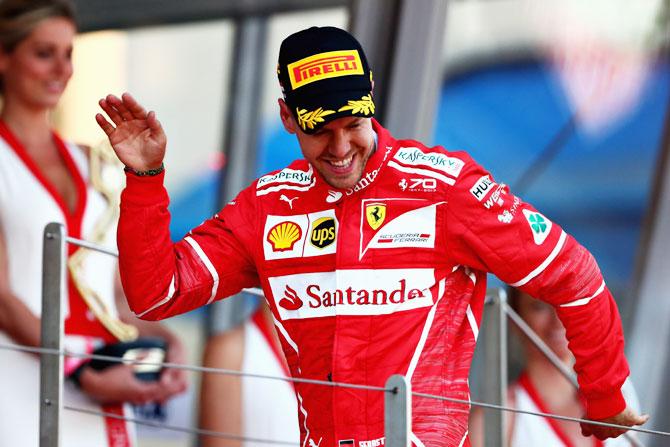 Finnish team mate Kimi Raikkonen, who started on pole for the first time in nine years but lost the lead in the pitstops, made sure of a Ferrari one-two with Hamilton finishing seventh for Mercedes after starting 13th.
Football Briefs: Diego Costa will go only to Atletico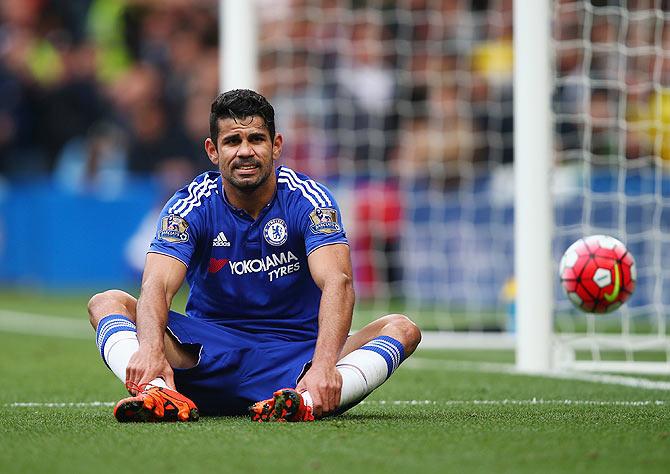 News of all that's transpired on and off the football field
French Open PIX: Kerber stunned, Kvitova wins on return; Thiem advances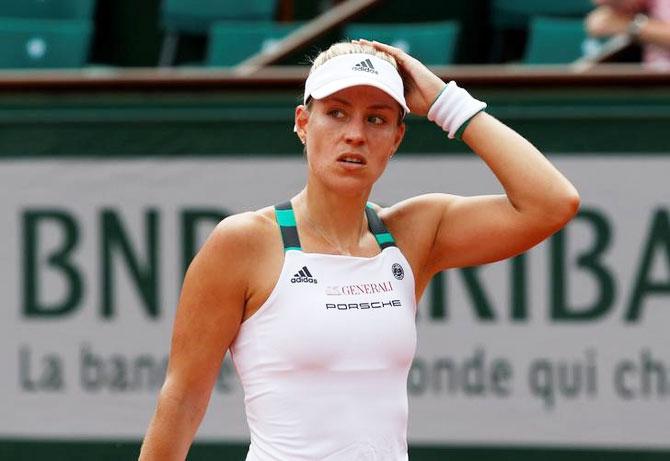 Images from all the action from Day 1 of the French Open played at Roland Garros in Paris on Sunday
Kvitova makes emotional winning comeback at French Open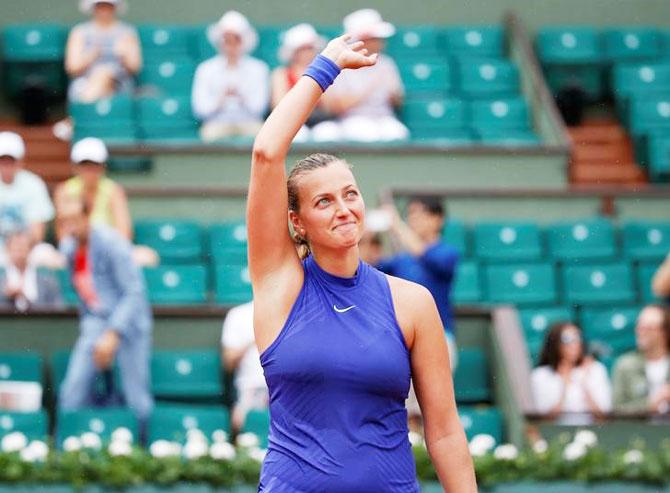 The twice Wimbledon champion, a semi-finalist at Roland Garros in 2012, looked poised and focused, treating the sparse Court Philippe Chatrier crowd to a few exquisite drop shots and lightning-quick forehands.
Messi's master-class inspires Barcelona to Copa del Rey title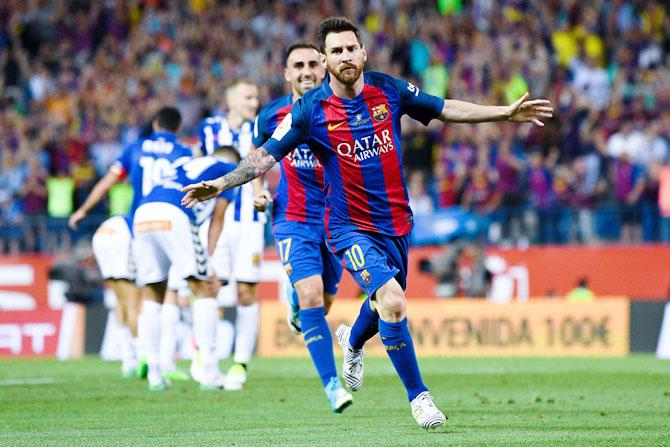 Barca, who had a rather disappointing season, managed to restore some pride with victory over last season's second division champions in what was the final match to be played at Atletico Madrid's Vicente Calderon Stadium.
May 26, 2017
Factbox: A list of French Open men's champions over time
The 2nd major of the year, the French Open will start on the weekend.
Women's tennis comes of age as youngsters battle to keep up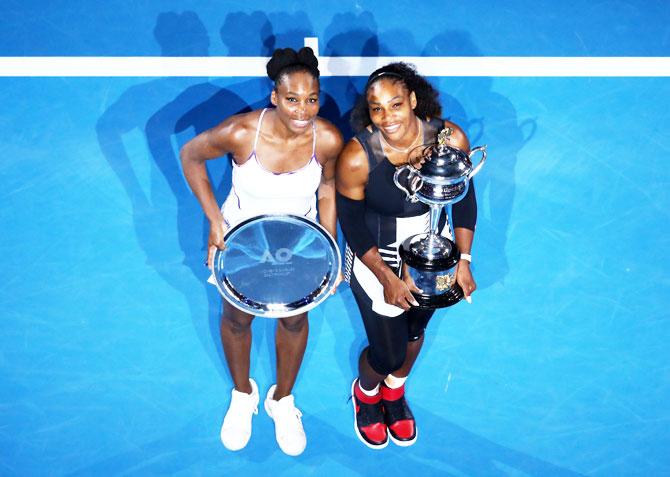 With five of the top 10 in the current rankings aged 28 or older, form suggests another pair of seasoned campaigners could contest the title match at the French Open, which starts in Paris on Sunday.
First Look: Djokovic working on finding lost mojo with coach Agassi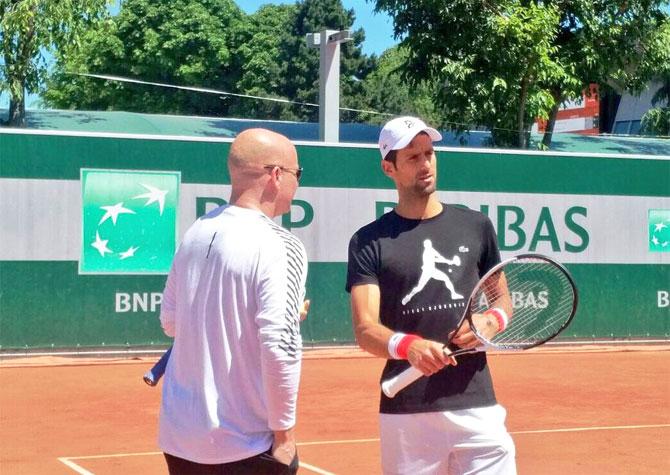 Djokovic had named Agassi as his new coach on Sunday, following his defeat to Alexander Zverev in the Italian Open final.
May 25, 2017
Sports Shorts: Rooney left out of England team for World Cup qualifier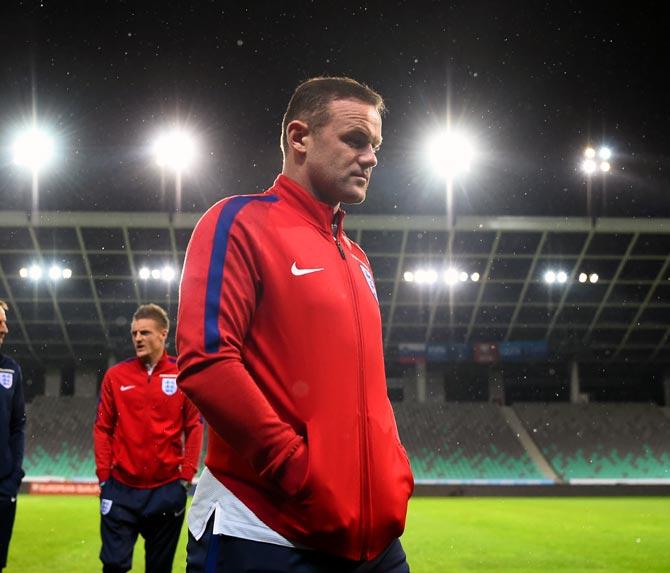 A summary of sports events and sports persons, who made news on Thursday
World No 1 Murray finds it tough to motivate himself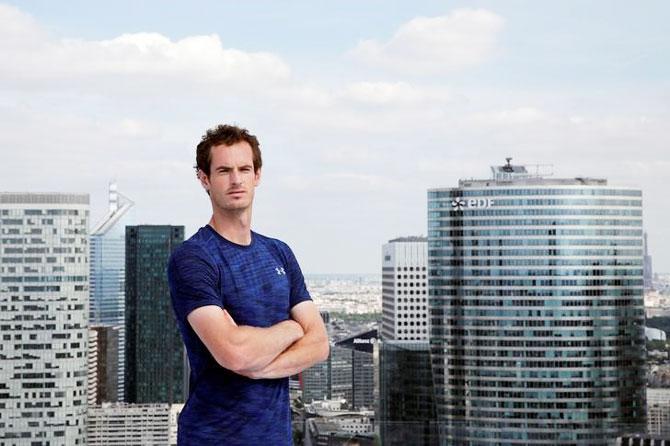 The Scot said the last few months had been difficult and he had had some problems with his elbow early in the year.
May 24, 2017
Barcelona star Messi loses appeal in tax fraud trial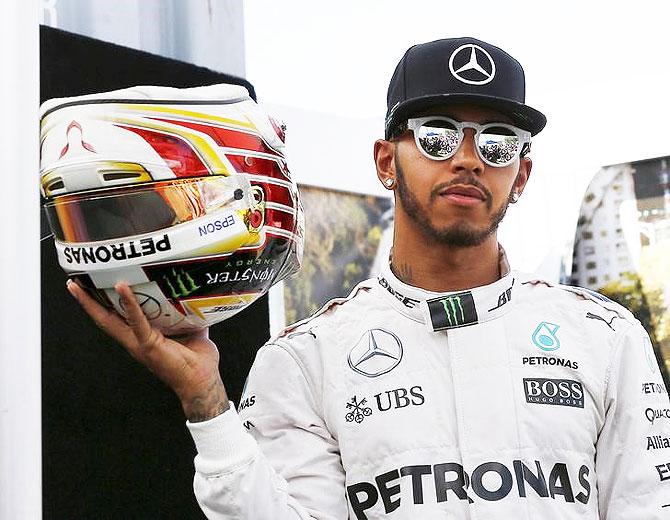 A summary of sports events and sports persons, who made news on Wednesday
May 23, 2017
PHOTOS: La Liga champs Real Madrid felicitated by local govt offices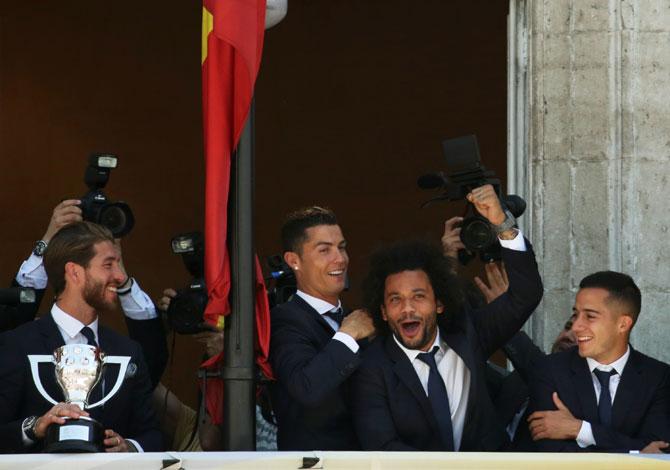 After taking home their first La Liga trophy in five years, Sergio Ramos, Cristiano Ronaldo and Co. took their celebrations from streets in CelebesPlaza to the Town Hall.
Vulnerable Murray must stop Sampras-like slide as French Open beckons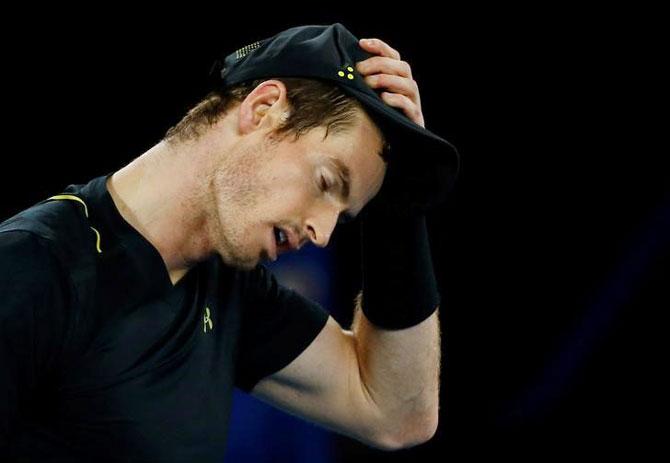 With the French Open starting on Sunday, Murray has accrued 1,210 to the 4,915 of Rafael Nadal and looks a pale imitation of the player who won his last 24 matches of 2016 to knock Novak Djokovic off his pedestal and seize power in men's tennis.
May 21, 2017
PIX: Champions Chelsea bid farewell to captain Terry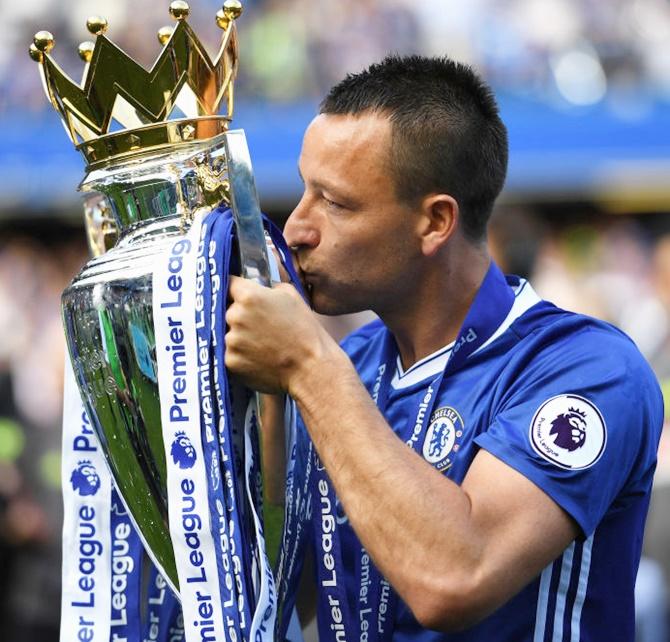 Stamford Bridge erupted in celebration on Sunday as departing Chelsea captain John Terry lifted the Premier League trophy in Antonio Conte's record-breaking first season in charge, but the carnival atmosphere had a bitter-sweet edge.
May 20, 2017
Sports Shorts: Harikrishna holds Tomashevsky in FIDE Moscow GP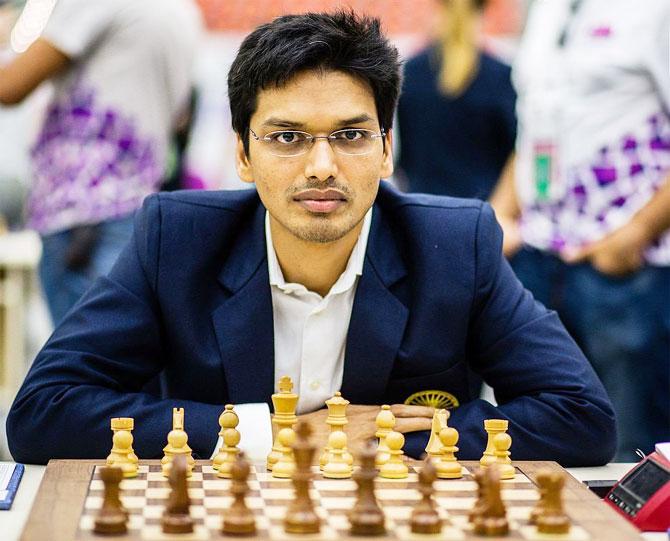 A summary of sports events and sports persons, who made news on Saturday
May 19, 2017
Italian Open: Thiem ends Nadal's unbeaten run on clay in Rome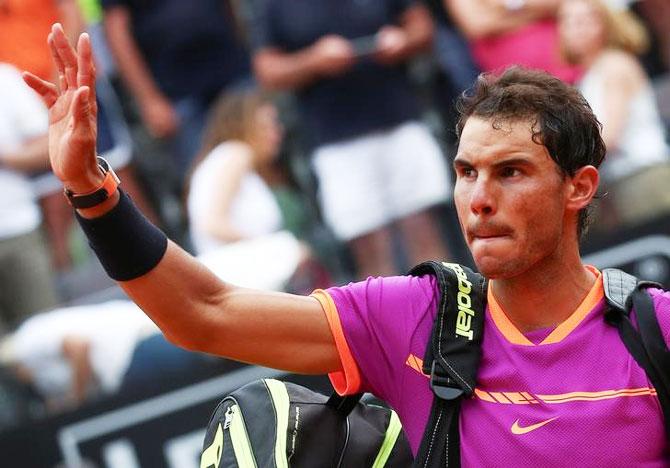 Beaten twice by Nadal in the space of a month, in the Barcelona and Madrid Open finals, Thiem took his revenge by handing the 30-year-old Spaniard a first clay court defeat of the season in Rome.
May 17, 2017
Ignored by Deschamps, but Benzema not giving up on France recall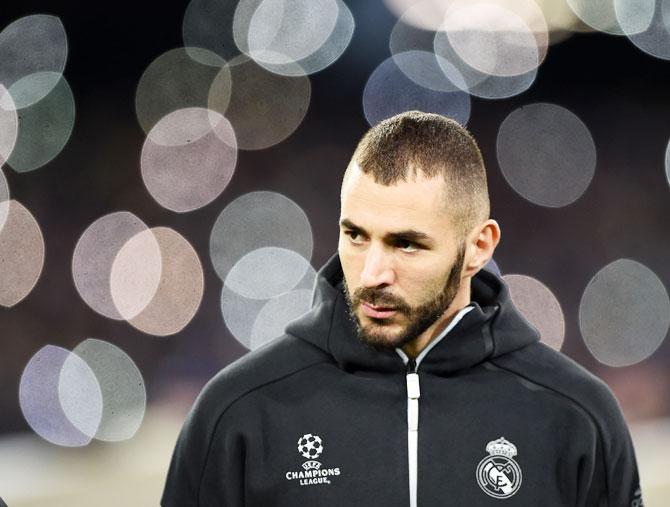 'I asked the coach for an explanation. An explanation can be just two minutes long. It's not complicated ... But I am still at the coach's disposal. The coach knows this'
May 16, 2017
'Cristiano is one of the greatest in history, but Messi is better'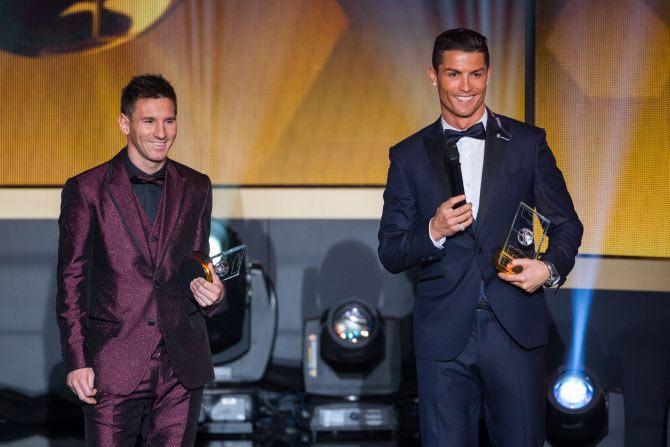 'I hope Messi wins something with his national team and not only with his club, then he would have won everything with everyone'
Sports Shorts: Cavani named best Ligue 1 player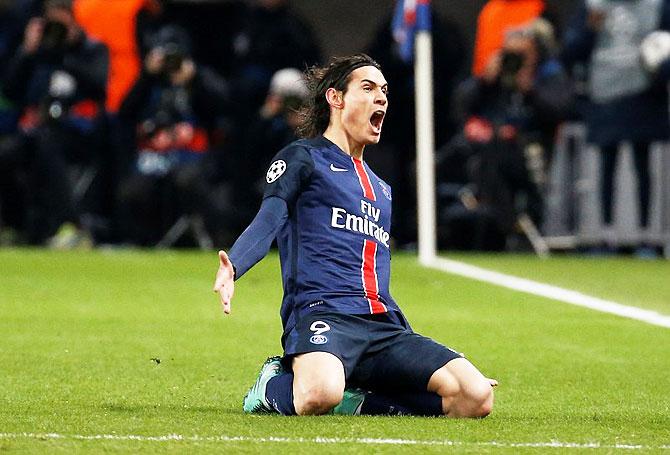 A summary of sports events and sports persons, who made news on Tuesday
May 15, 2017
Tennis rankings: Kerber regains World No 1 spot; Nadal moves to 4th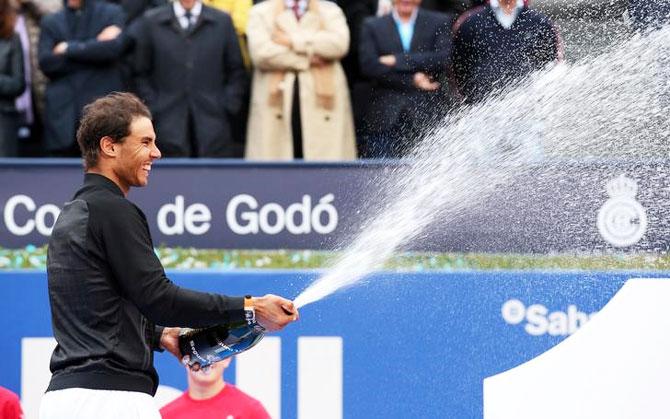 The latest tennis rankings have been announced by the ATP and WTA
May 12, 2017
Sports Shorts: Under-fire Sharapova gets Navratilova backing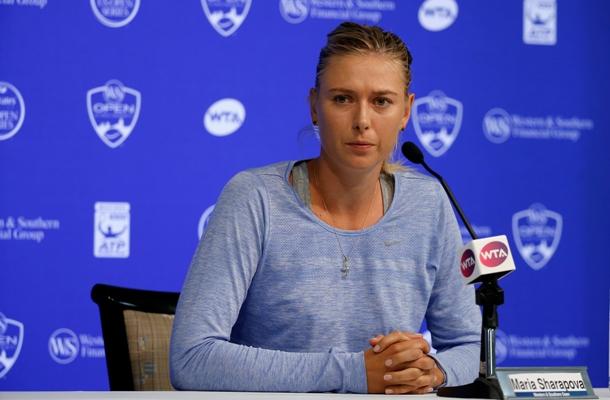 A summary of sports events and sports persons, who made news on Friday.
United cling on against Celta in tense match to reach Europa final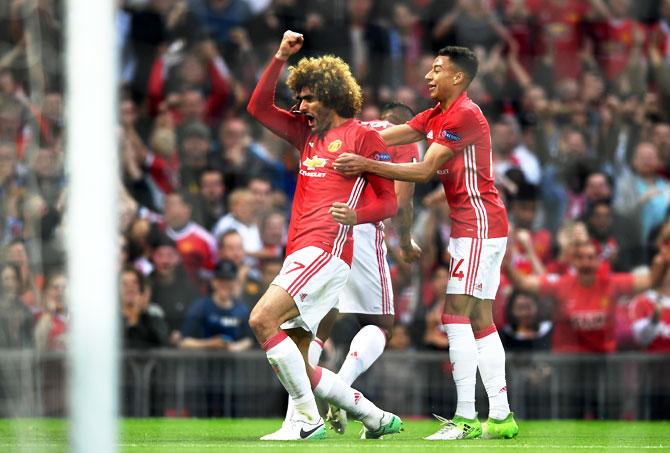 Ajax to face United in final despite defeat at Lyon
May 11, 2017
Madrid Open: Murray sent packing from Djokovic eases into quarters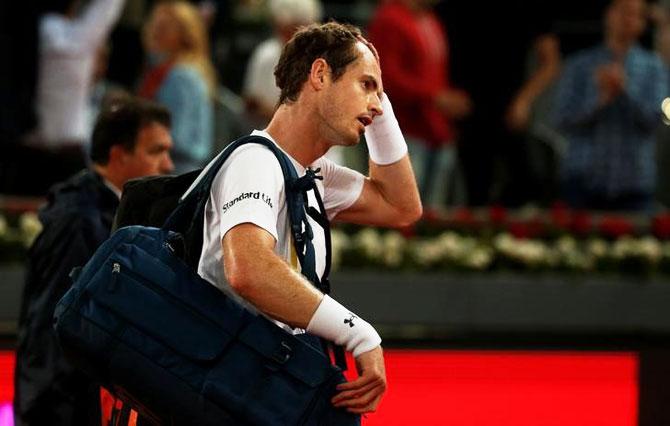 The Briton, who was thrashed 6-3 6-1 by the Croatian in the Dubai Championships in 2015, performed poorly in the first set and after recovering in the second he then surrendered his serve in the seventh game, giving Coric three break points.
May 10, 2017
Djokovic, Nadal battle through at Madrid Open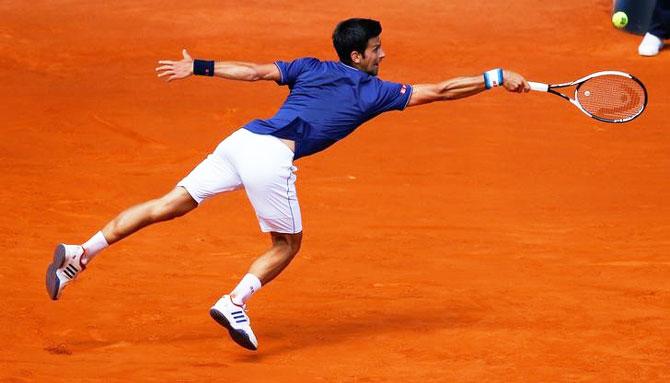 The Spaniard, who has never gone beyond the quarter-finals in a grand slam, grew in confidence in the second set, however, with the backing of the home support on the Manolo Santana court and saved two break points before forcing a decider.
EPL: Wing back Moses credits Conte for reviving his career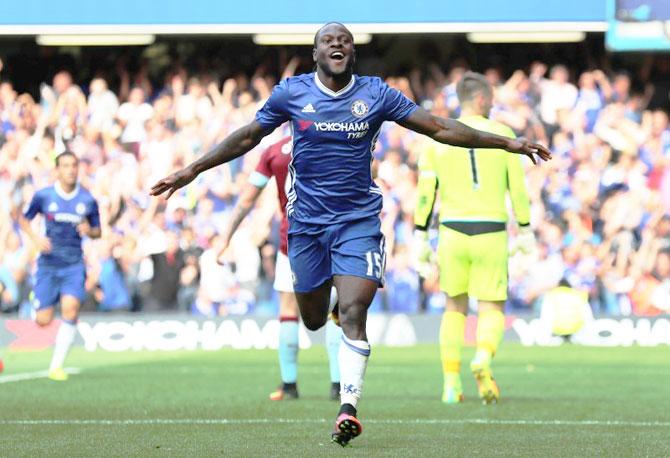 Nuggets of news coming from the English Premier League
Sports Shorts: Totti declines to confirm retirement at end of season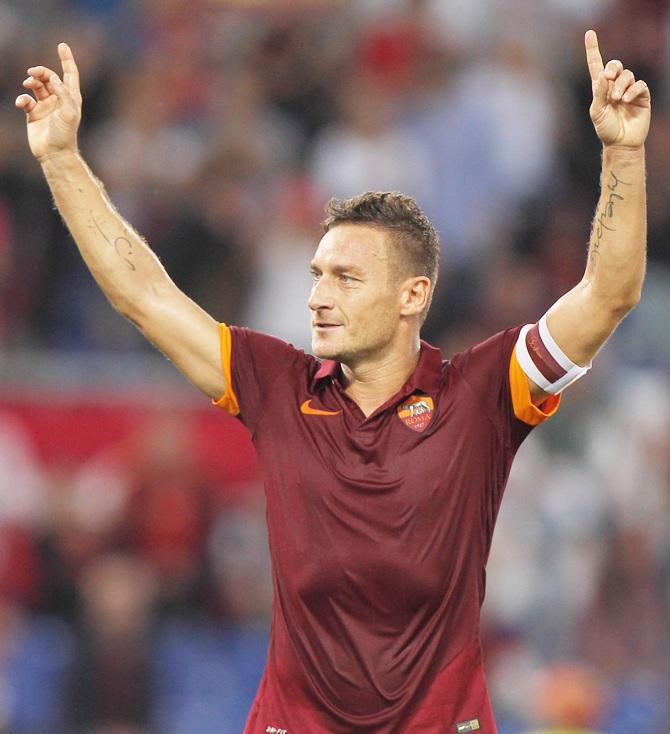 A summary of sports events and sports persons, who made news on Wednesday.
May 04, 2017
La Liga: Can Real keep title hopes alive at Granada?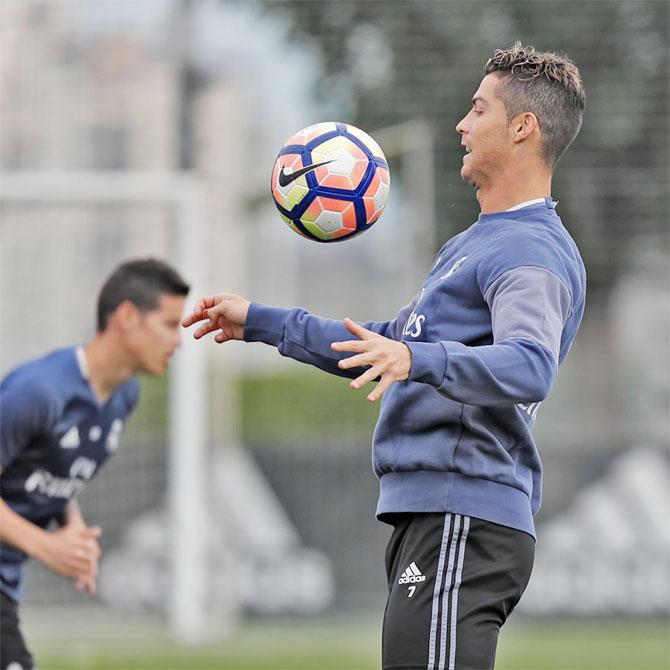 Barca must beat Villareal on the weekend if they are to stand a chance of overhauling Real in the run in.
Champions League PIX: Higuain double sends Juve close to final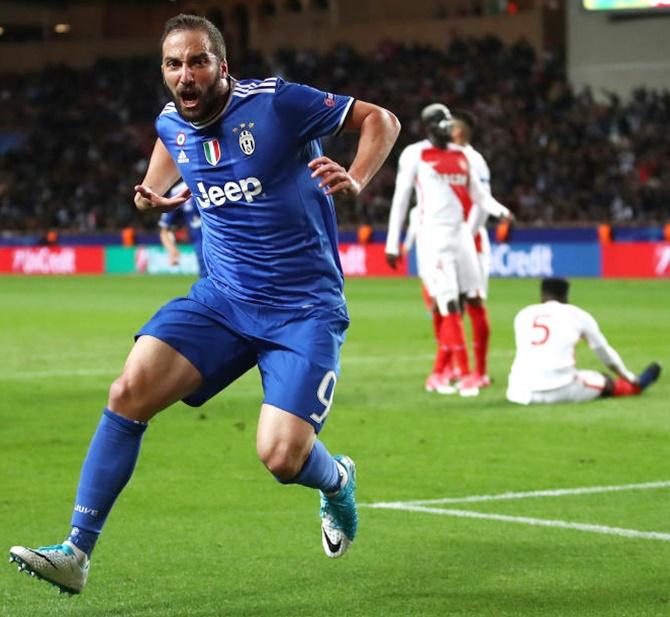 Juventus striker Gonzalo Higuain struck twice as the Italian side produced a masterful all-round display to beat Monaco 2-0 in the first leg of their Champions League semi-final on Wednesday.
May 03, 2017
All hail Ronaldo the Real Madrid centre-forward!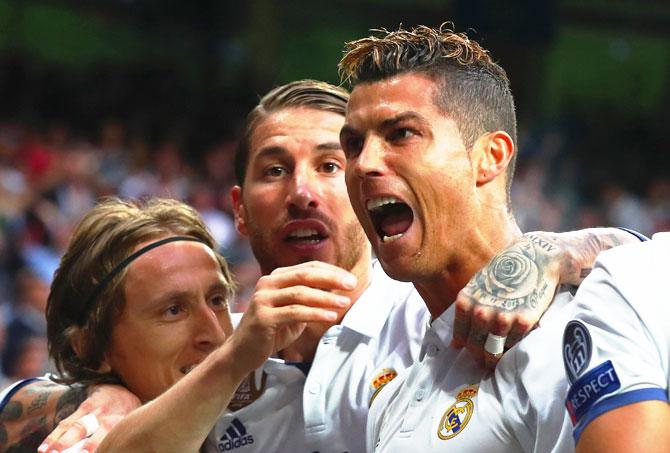 The Portuguese forward, who also scored a treble in the quarter-final against Bayern Munich at the Santiago Bernabeu, and five goals across that tie, is revelling in the central striker's role he has adopted this season.
Trickster Ronaldo puts Real on verge of Champions League final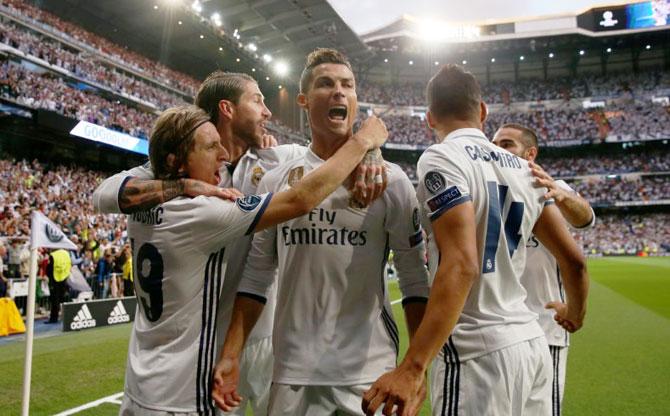 The Portuguese forward put his team on the verge of their third final in four years and took his tally to 103 goals in the competition as he helped Madrid vanquish their neighbours at the Santiago Bernabeu.
May 02, 2017
Sports Shorts: Europe calls for new record ratification laws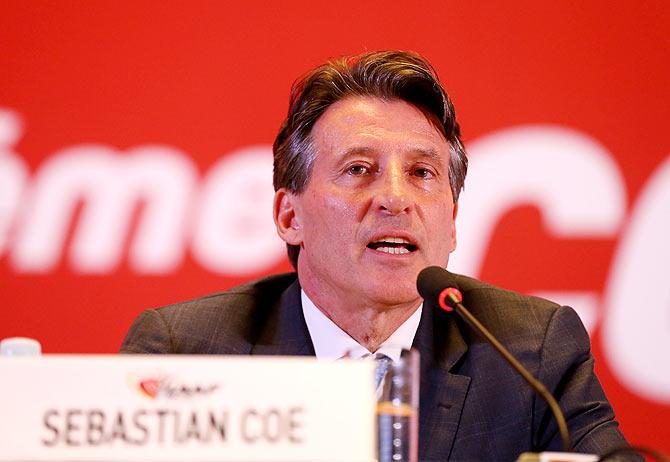 A summary of sports events and sports persons, who made news on Tuesday
Italians and racism in sport: UN hails Pescara's Muntari for walk-off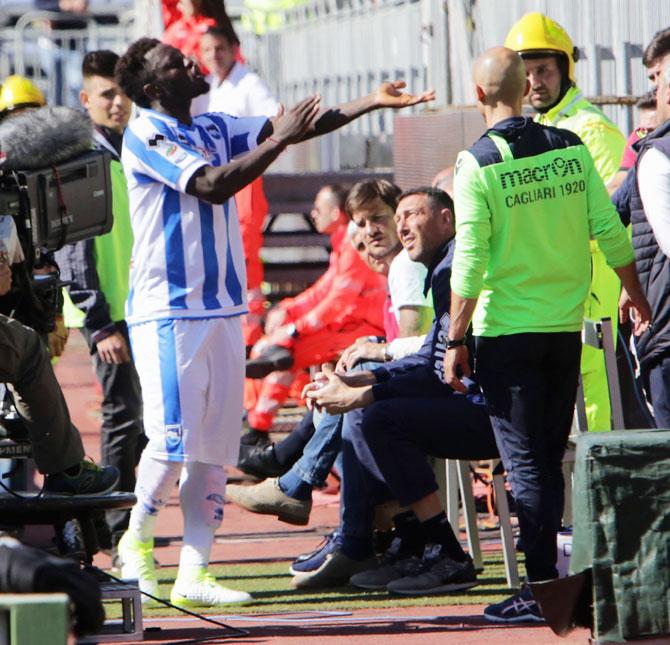 Muntari said he had complained that parts of the crowd, including a group of children, had hurled racist insults at him from the start of his Italian team's game at Cagliari in Serie A on Sunday.
First Look! Mommy-to-be Serena rocks the red carpet at Met Gala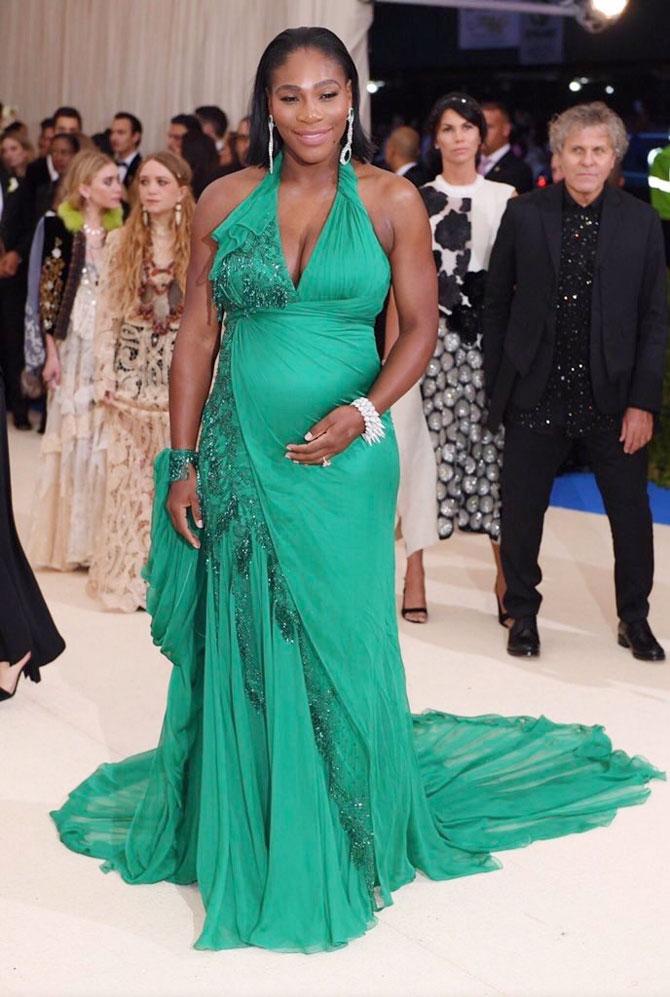 The mother-to-be showed off her baby bump in a flowing green gown as she entered with fiancé Alexis Ohanian.
EPL: Can nets 'one of the great Liverpool goals' for top-four push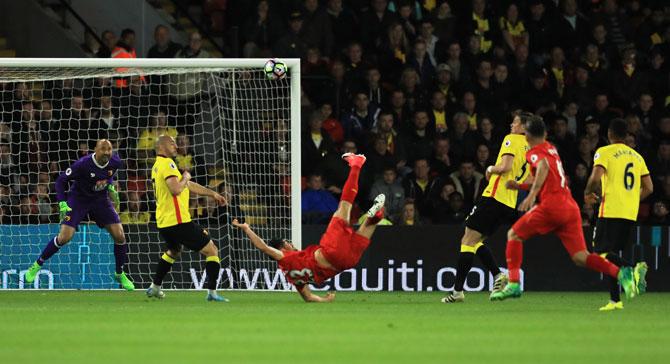 A game that had been meandering along amid much mediocrity came to life on the stroke of halftime when Can's extraordinary overhead scissors kick from Lucas's chipped through ball rocketed into the top corner.
April 29, 2017
Nadal to face Thiem in Barcelona Open final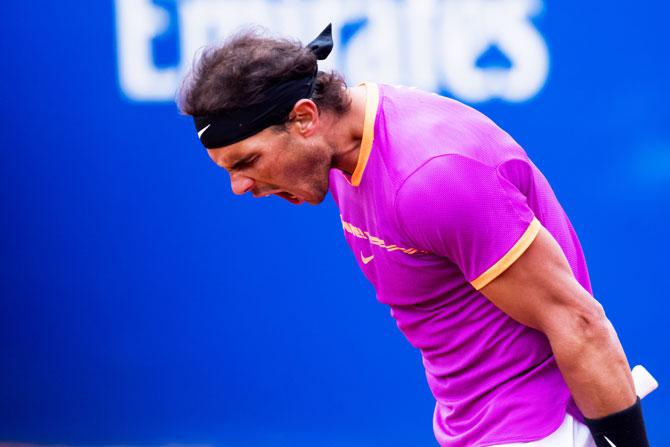 Thiem became the first Austrian since Thomas Muster in 1996 to reach the final of the claycourt tournament after subduing Murray for the first time in his career.
April 28, 2017
Nadal logs 50th win at Barcelona Open after cruising into quarters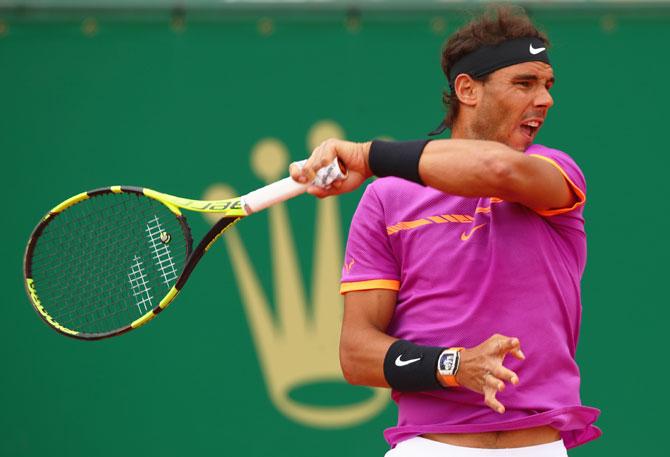 Third seed Rafael Nadal remains on course for a 10th Barcelona Open title, advancing to the quarter finals with a routine 6-3, 6-4 victory over Kevin Anderson.
April 27, 2017
EPL PIX: Tottenham refuse to give up title chase, Arsenal eye top-four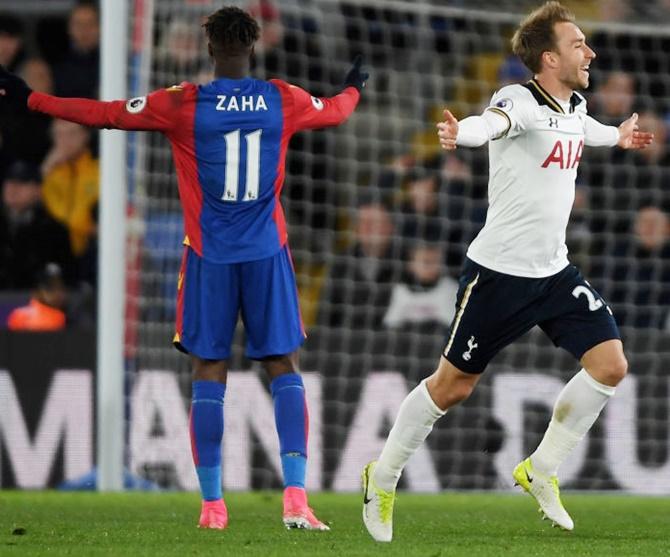 With less than a month of the Premier League season left it remains Chelsea's title to lose but Tottenham Hotspur defiantly stayed in contention by grinding out a 1-0 victory at Crystal Palace on Wednesday.
April 25, 2017
Sports Shorts: EB's Ali suffers heart attack; Harikrishna loses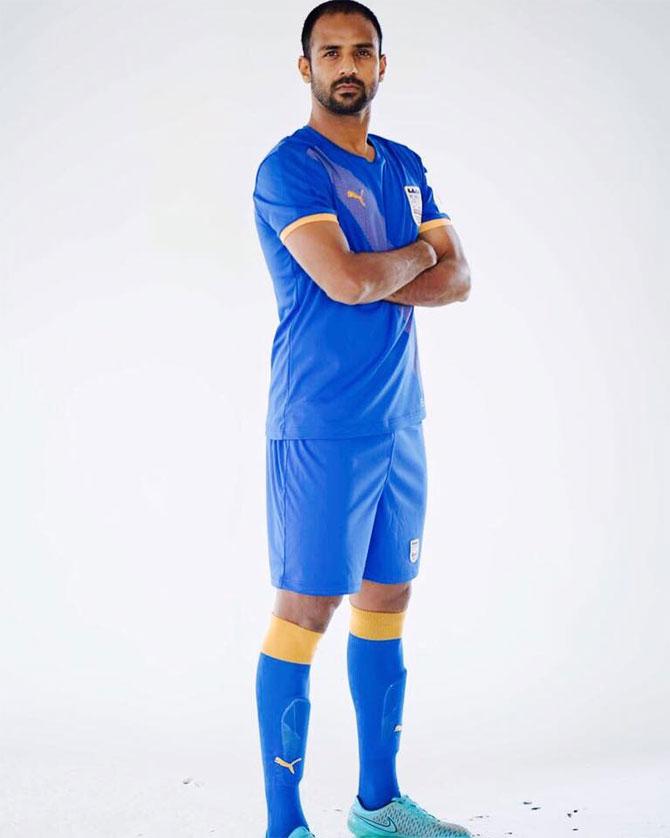 A summary of sports events and sports persons, who made news on Tuesday
April 24, 2017
Euro football round-up: Juve thump Genoa; Monaco edge Lyon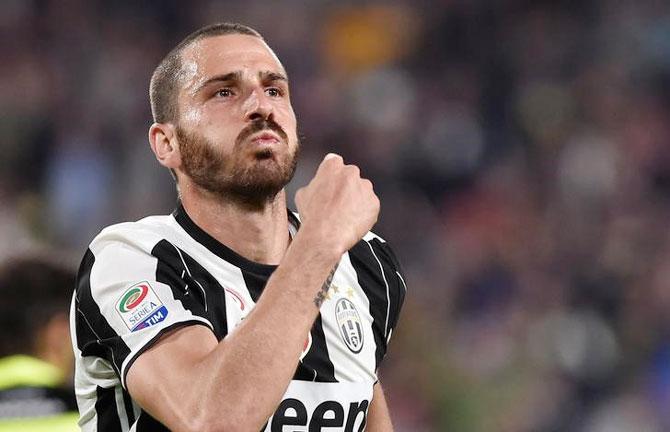 A summary of results from matches played in the Italian Serie A and Ligue 1
How milestone man Messi shaped Real's downfall at the Bernabeu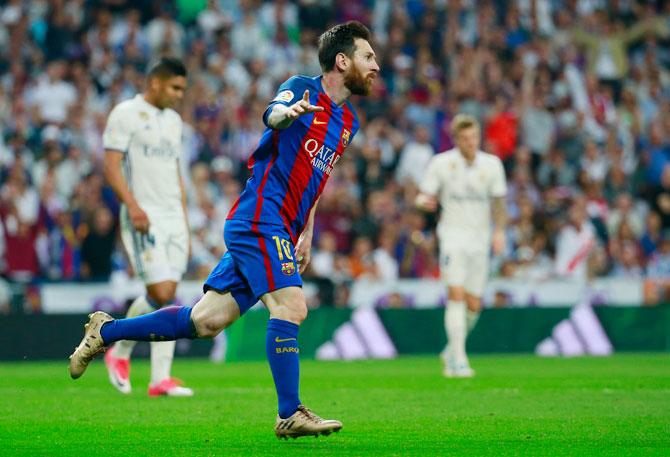 Messi scored twice with his stunning second strike settling a pulsating clash in the last minute of stoppage time, drawing Barcelona level with Madrid on 75 points at the top of La Liga, although Los Blancos have a game in hand.
El Clasico: Messi scores late winner as Barca down 10-man Real Madrid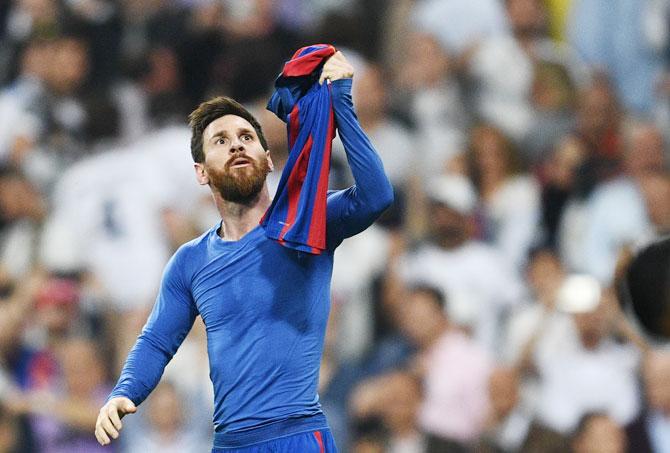 That was also Messi's 500th goal for Barcelona.
April 22, 2017
Monte Carlo Masters: Goffin sends Djokovic packing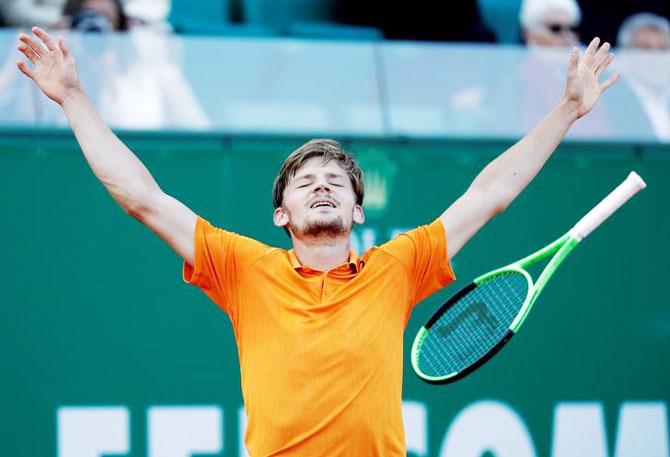 Former world number one Djokovic saved four match points but cracked under his opponent's tremendous pressure on the fifth as Goffin set up a last-four meeting with either clay court king Rafael Nadal or Argentine Diego Schwartzman.
April 21, 2017
'Sharapova should not get French Open wildcard'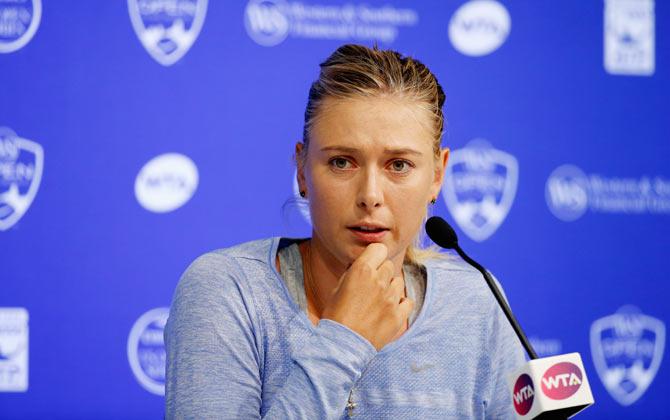 She should win her place thanks to good results, says Radwanska
Sports Shorts: Olympic high jumper Mason dies in motorbike crash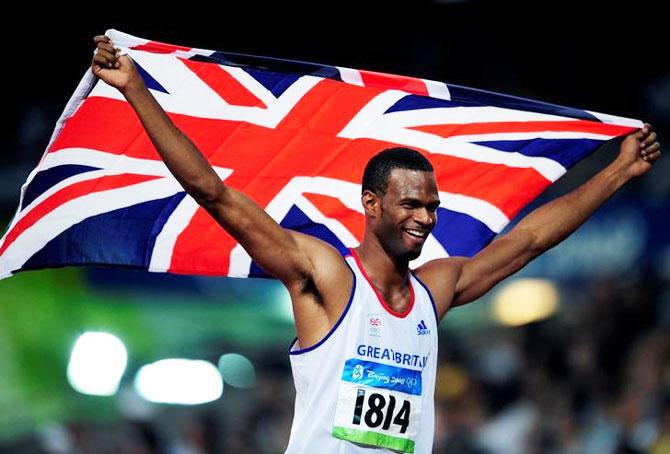 A summary of sports events and sports persons, who made news on Thursday
April 20, 2017
Rankings: Sindhu back in top three, Praneeth achieves career-best 22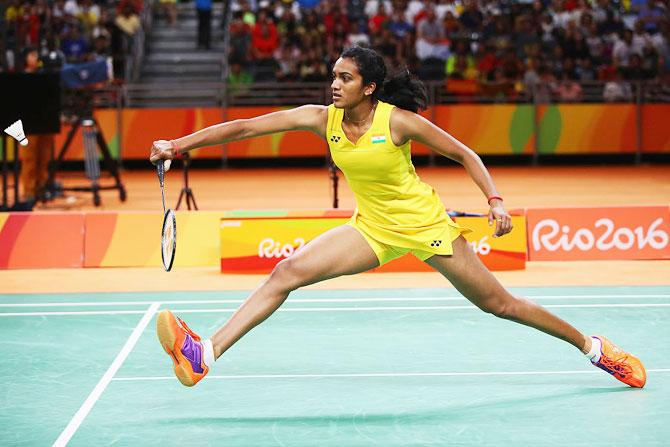 Earlier this month, Sindhu had attained her career-best world number two ranking after clinching her maiden India Open Super Series title.
El Clasico: Can Barca stop 'eternal rivals' Real in their tracks?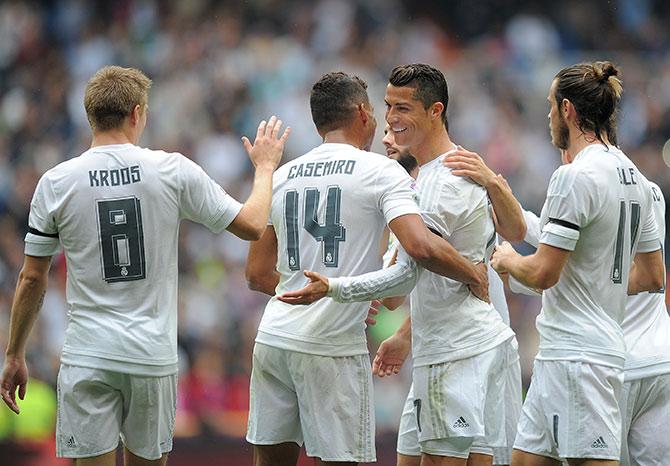 Real are unbeaten since February, winning 10 of their last 12 games. In contrast, Barcelona have won just two of their previous five in all competitions and were dumped out of Europe in midweek.
April 17, 2017
BEST Sports PHOTOS of the Week!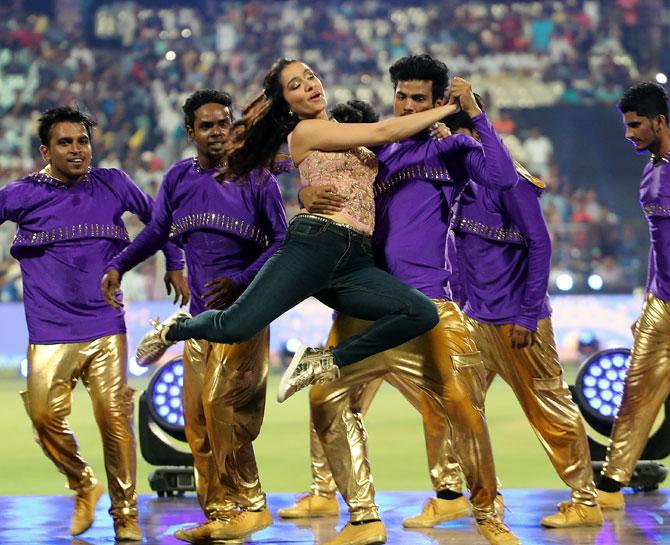 From Shraddha Kapoor gyrating at the opening ceremony of an IPL match to breathtaking moves on the soccer field, here are Images that made memorable sporting moments
Can Spurs surge to English Premier League title?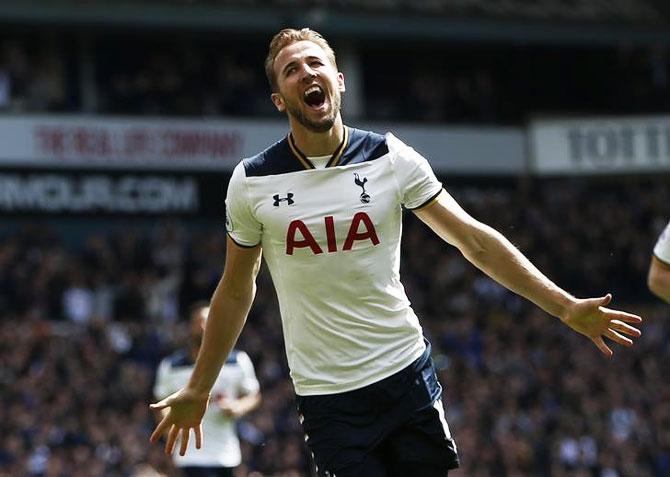 The fixture list suggests that Chelsea should still be able to finish above challengers Tottenham Hotspur. But strange things can happen when the pressure reaches it's greatest intensity and here was certainly something strange about Chelsea at Old Trafford on Sunday.
Euro football: Celta sink Granada; Ligue 1 game abandoned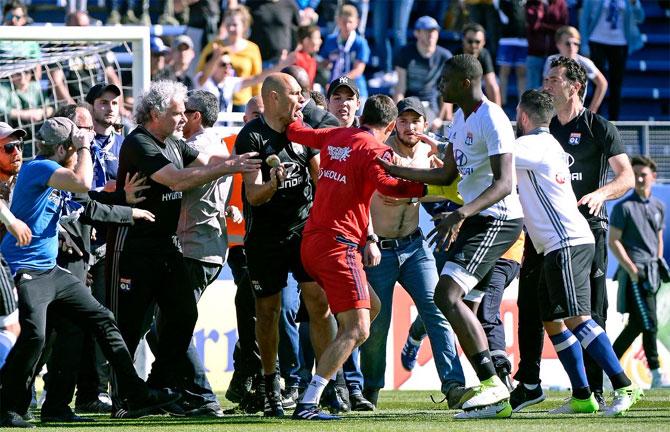 Bastia game abandoned after fans attack Lyon players
Sports Shorts: Sainz given three-place grid penalty for Russian GP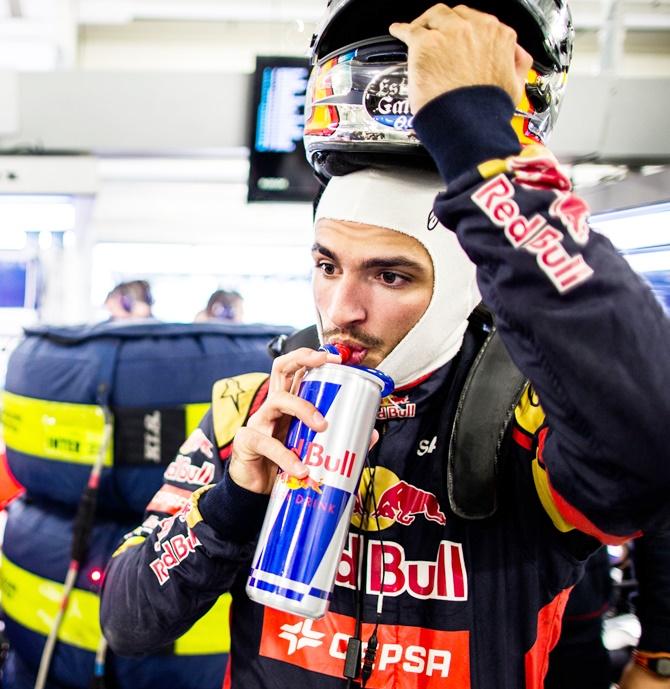 A summary of sports events and sports persons, who made news on Sunday
EPL: How Manchester United outclassed Chelsea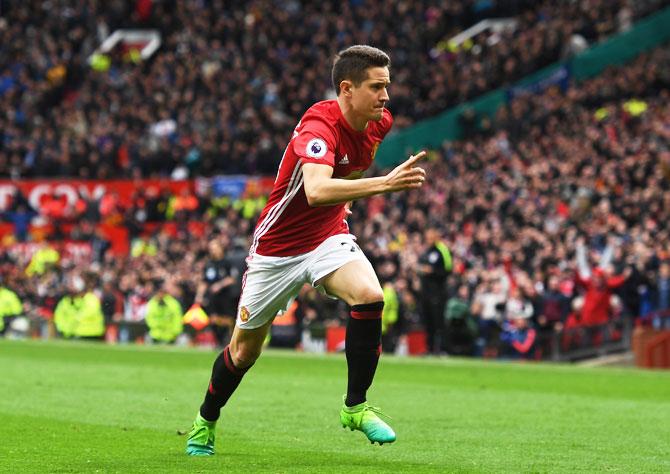 'I want to say I was convinced even before (the defeat by Chelsea in February's FA) Cup match that controlling the two players that play behind Diego (Costa) and controlling the full-backs, because they go really deep with two wide men, would create lots of problems and I repeat the same'
Olympians Malik, Karmakar in Forbes' list of young super achievers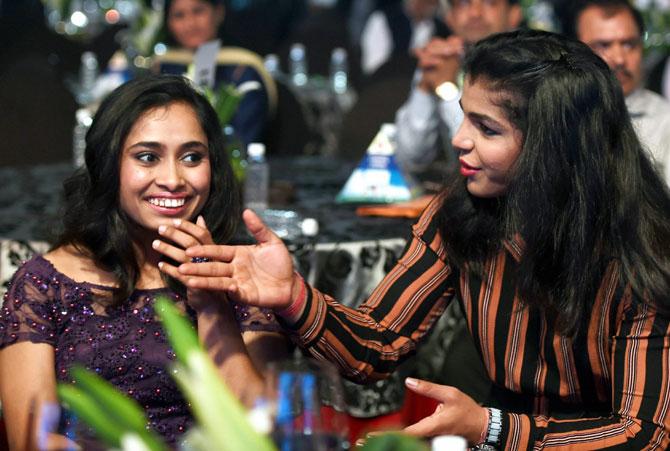 India has 53 achievers on the list, second only to China which has 76 honorees.
April 13, 2017
Olympians Sakshi, Karmakar receive Padma honours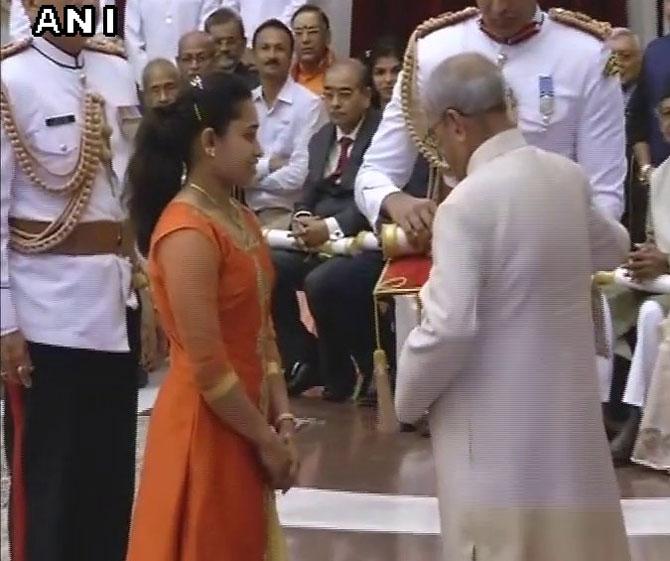 Gymnast Dipa Karmakar and discus thrower Vikas Gowda were the other sport spersons to receive the honour on Thursday.
Day after bus blast Dortmund put the 'beautiful game' in perspective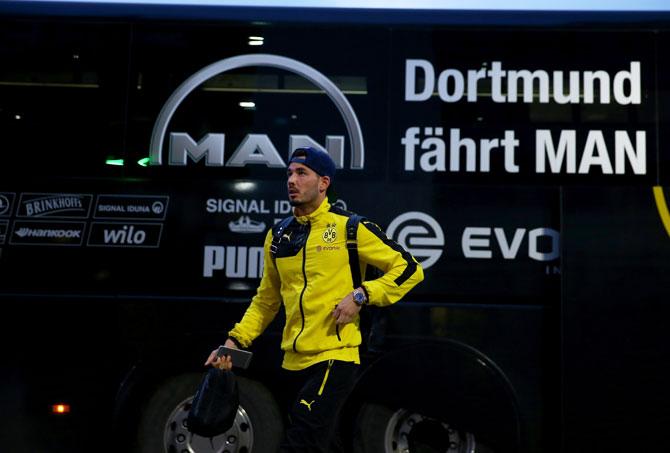 'Until I was on the pitch in the second half, I didn't think about football'
Controversial Griezmann penalty gives Atletico edge over Leicester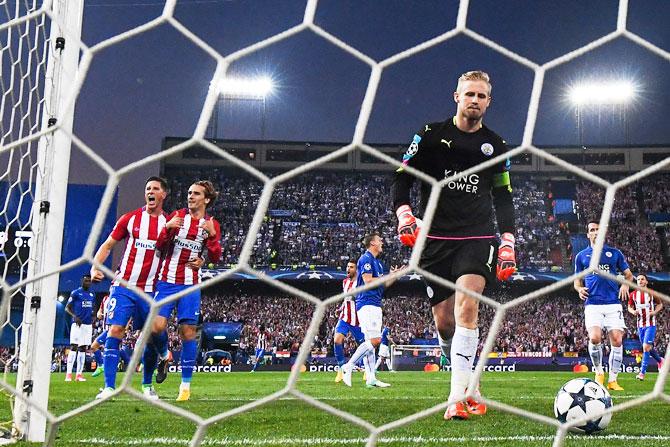 The France striker was fouled by Leicester's Marc Albrighton on the edge of the box and referee Jonas Eriksson deemed the action to have continued into the penalty area.
Champions League PIX: How Real Madrid rallied to victory over Bayern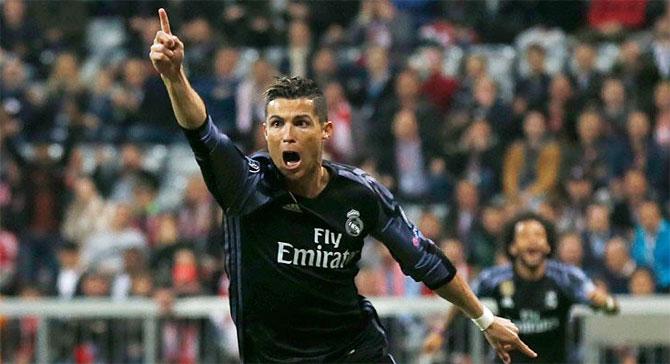 Cristiano Ronaldo became the first player to score 100 goals in UEFA competitions when he struck twice as holders Real Madrid came from behind to win 2-1 at Bayern Munich in the first leg of their Champions League quarter-final on Wednesday.
April 12, 2017
Dreamers Leicester ready for hardened Atletico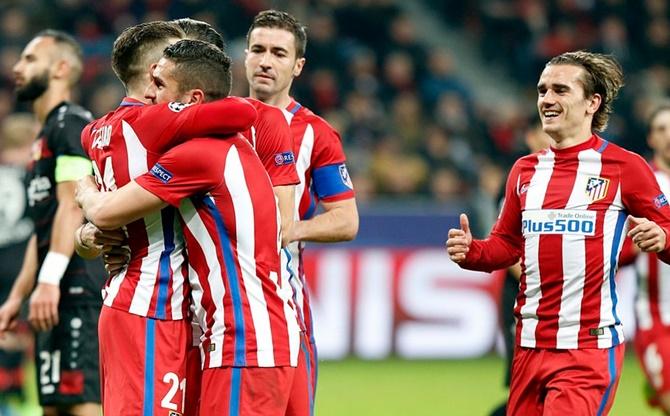 Before Leicester enchanted the sporting world last year with their miraculous Premier League title win, Atletico had worked similar wonders in 2014 by breaking the strangehold of Real Madrid and Barcelona in La Liga.
Champions League preview: Real's 'BBC' trio out to reignite spark against Bayern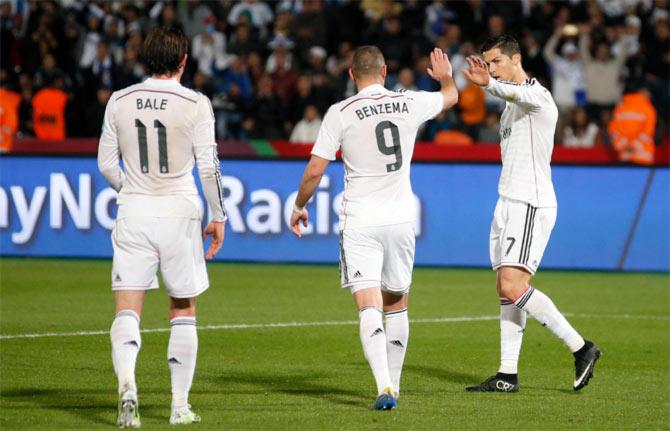 Gareth Bale, Karim Benzema and Cristiano Ronaldo will be looking to rekindle some of the magic they once served up under Carlo Ancelotti on Wednesday when they face their old coach in the latest edition of Real Madrid's rivalry with Bayern Munich.
Champions League PIX: Dybala upstages Messi as Juve stun Barcelona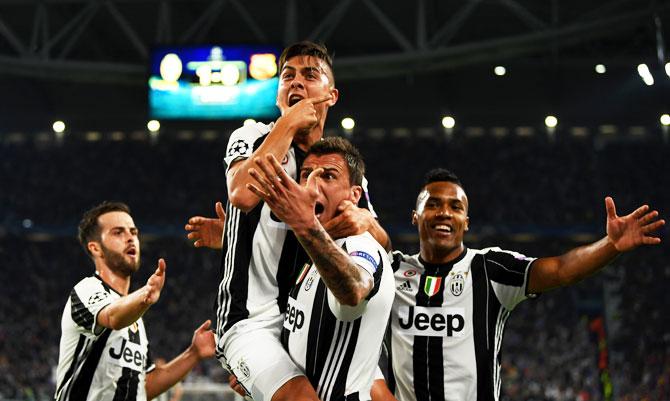 Paulo Dybala upstaged his fellow Argentine Lionel Messi by scoring two exquisitely taken goals to set Juventus on the way to an emphatic 3-0 win over an underwhelming Barcelona in the Champions League on Tuesday.
April 11, 2017
Champions League preview: Juve wary of Barca attack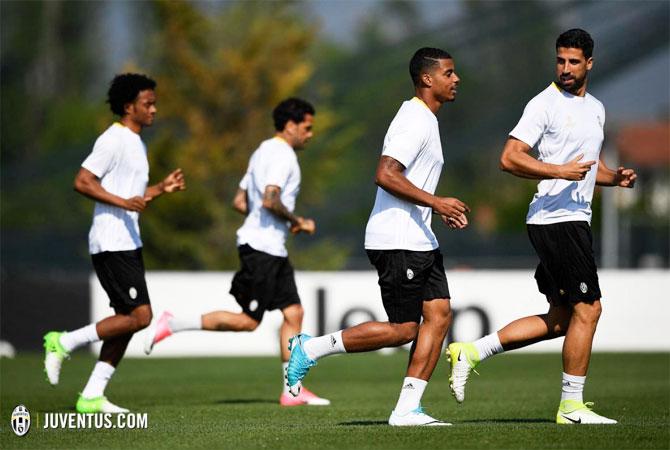 Instead, Allegri said on Monday, he would throw on all his best attacking players in an attempt to outscore his opponents in the first leg at the Juventus stadium.
EPL PHOTOS: Arsenal cave in at Palace, blow chance for top-four finish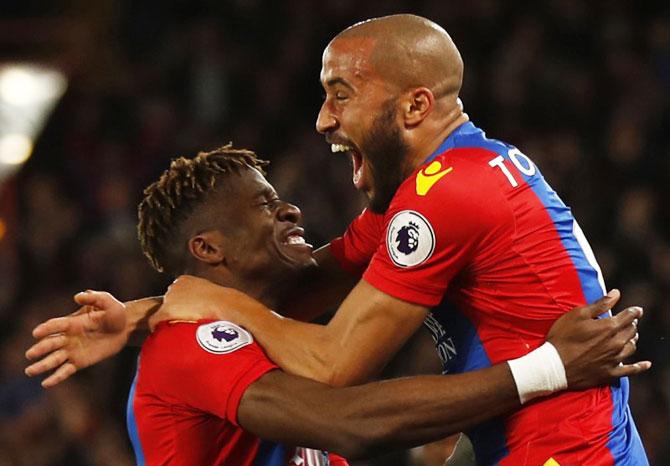 Images from the English Premier League match played between Arsenal and Crystal Palace on Monday
April 10, 2017
Manchester United will fight to the finish for Champions League spot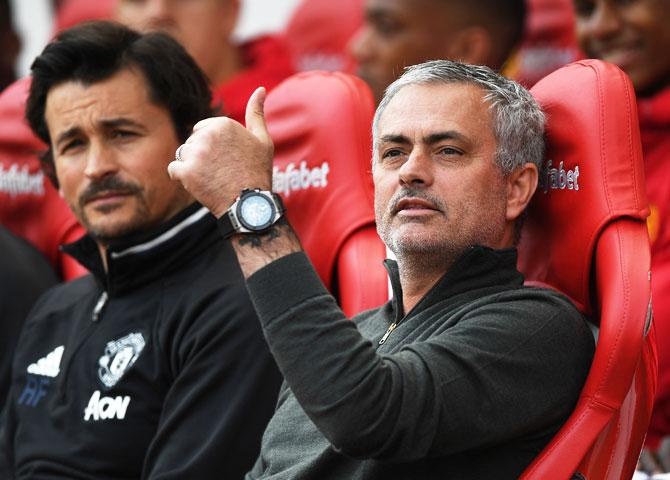 I'm not happy with just fighting for fourth, I want to fight for trophies, says manager Jose Mourinho
April 09, 2017
F1 PHOTOS: Hamilton pips Vettel to win Chinese GP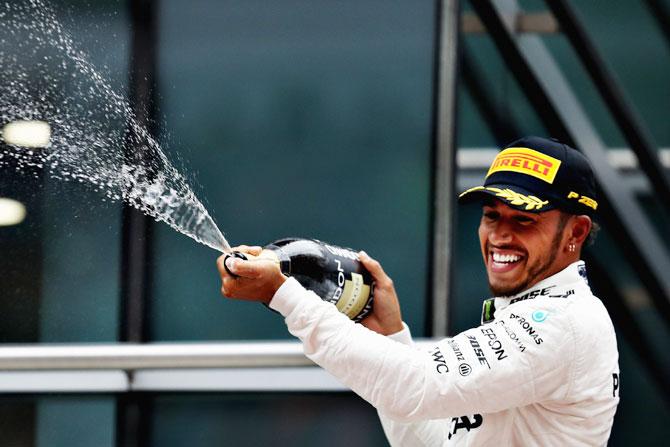 The Briton eased his Mercedes across the line 6.2 seconds ahead of Ferrari's Sebastian Vettel, with Max Verstappen, who started 16th, finishing a surprise third for Red Bull.
April 07, 2017
Davis Cup: Ramkumar, Gunneswaran give India 2-0 lead vs Uzbekistan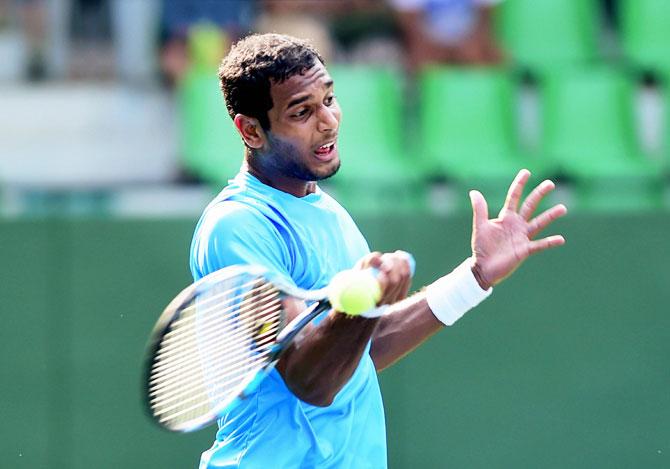 Downs Uzbek Isamilov in four-set thriller
Sports Shorts: Former United striker Cole has kidney transplant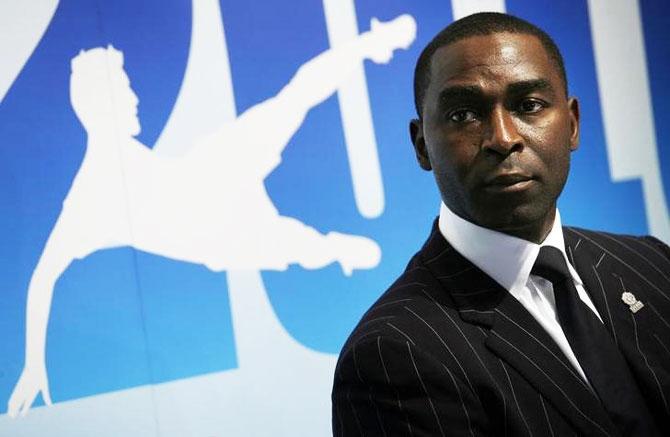 Former Manchester United striker Andy Cole is recovering in hospital after undergoing a kidney transplant, the club said in a statement on Friday.
April 04, 2017
Sports Shots: Barca star Rafinha set to miss crucial month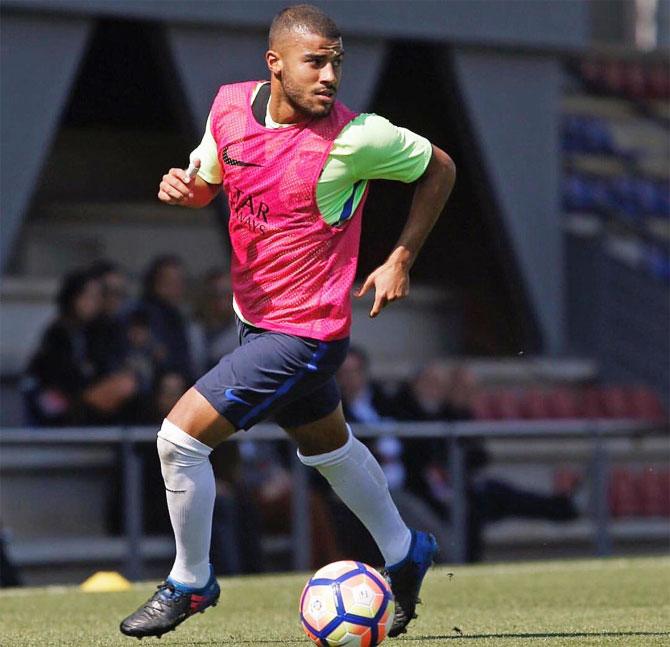 A summary of sports stories from across the globe
An honest letter to Tiger Woods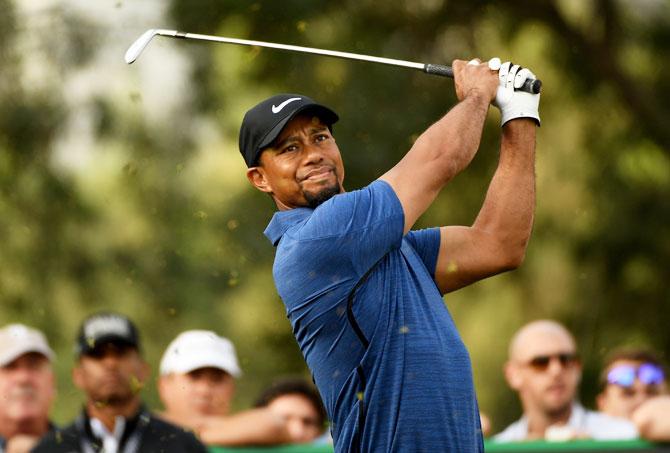 Change your game. You should play with a new game of shorter drives and enter tournaments where length off the tees is not so critical, writes Siddharth Shriram in a note to the golfing great.
April 03, 2017
Euro football: Juve hold out for tense draw at Napoli, Milan held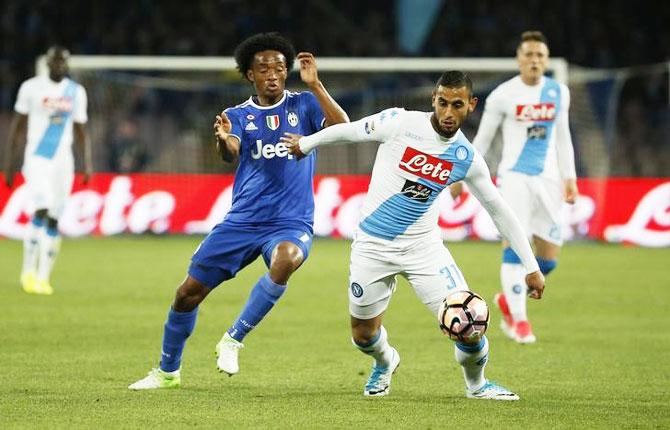 A round-up of the top-flight football matches played across Italy and Germany on Sunday
The Professor thanks fans even as days at Arsenal looked numbered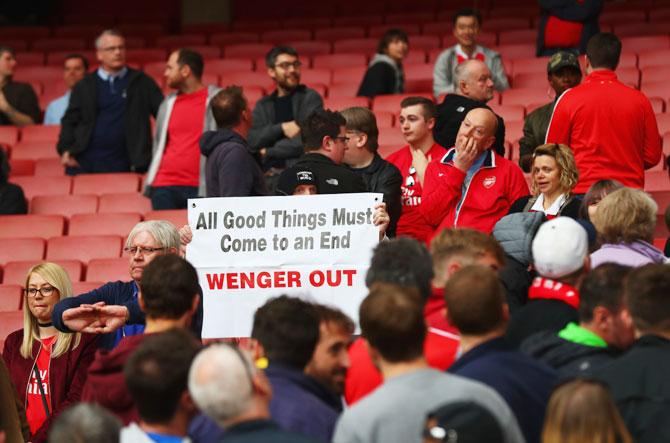 Against a background of supporter discontent over the form of Wenger's team as the Frenchman decides his future, with a protest outside the ground before kick-off urging the manager to leave his post, Arsenal were nervy from the start.
La Liga: Neymar strikes his 100th Barca goal in win over Granada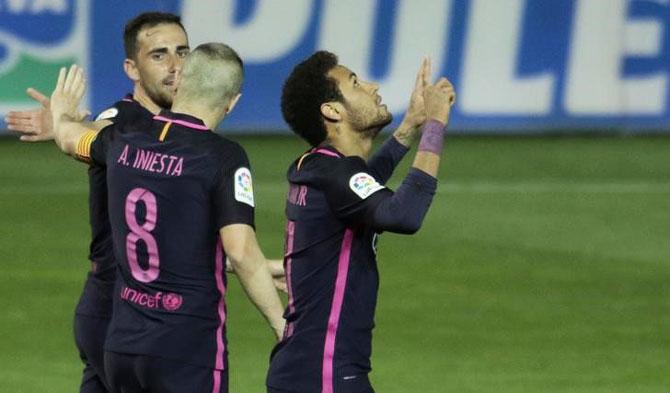 Barca are now second on 66 points, two behind Real who have a game in hand as they chase a first title triumph since 2012.
March 31, 2017
Sindhu trumps Saina to enter India Open semis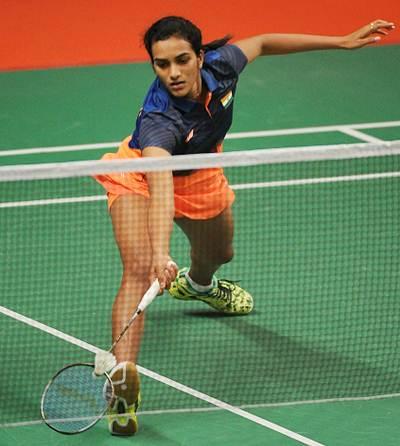 PV Sindhu fought back in the 2nd game to down compatriot Saina Nehwal 21-16, 22-20 and book a berth in the Yonex-Sunrise India Super Series badminton tournament at the Siri Fort Sports Complex in New Delhi on Friday.
March 30, 2017
Padma honours for Kohli, Dipa Malik among other sports stars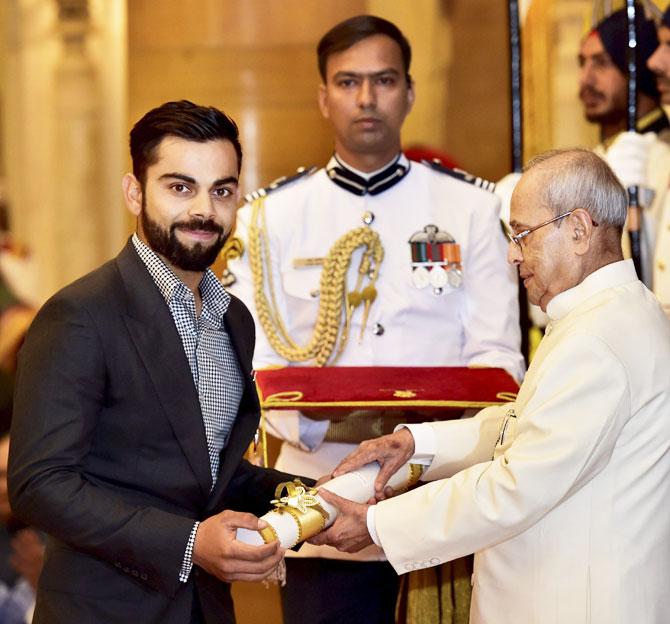 Images of the Padma Shri conferred on sports stars on Thursday
March 29, 2017
Ronaldo Airport naming ceremony overshadowed by dodgy statue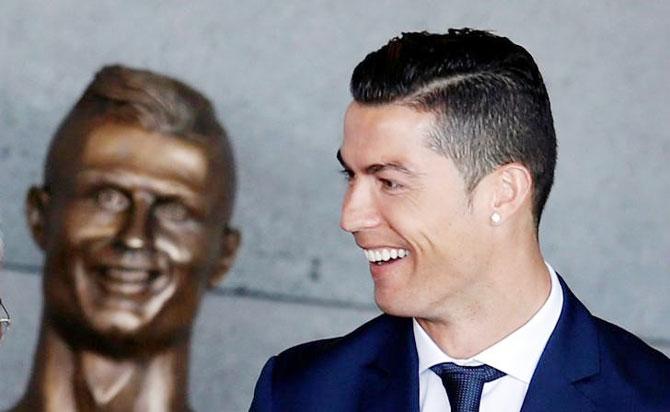 Madeira renamed its airport in honour of Cristiano Ronaldo on Wednesday -- although it is a new statue of the four-time world player of the year that is likely to grab the headlines.
March 27, 2017
Hamilton expects a close season, a 'best v best' duel with Vettel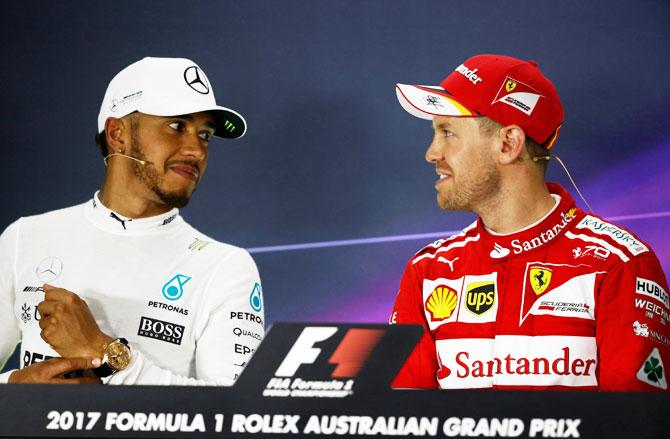 Lewis Hamilton lost a battle but regained a rival after Sebastian Vettel won Sunday's Australian season-opener for Ferrari.
BEST Sports Photos of the Week!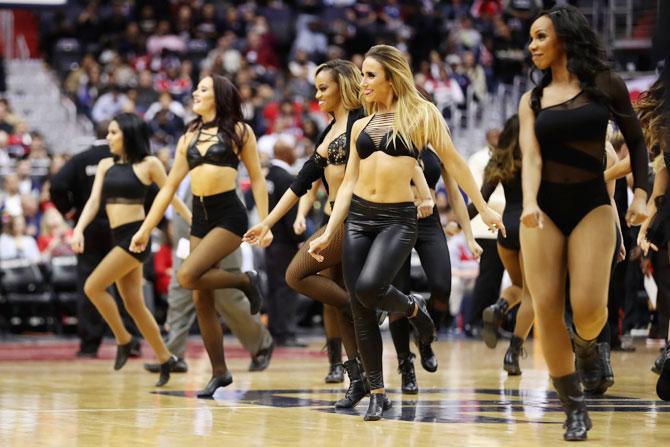 Rediff.com brings you some pictures that summarise the happenings in the sporting world in the week that was.
March 25, 2017
Miami Open: Nadal, Venus advance; Dimitrov, Vesnina ousted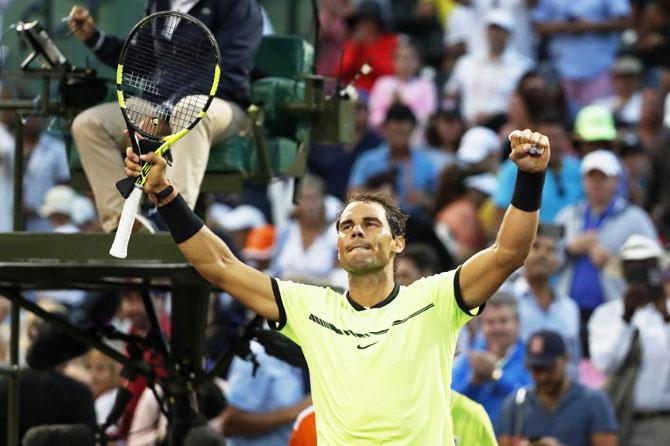 Big-serving Canadian Milos Raonic made a strong return to competition on Friday by beating Viktor Troicki 6-3, 7-5 to reach the third round of the Miami Open.
March 24, 2017
WC qualifiers: Messi helps Argentina edge Chile; Brazil, Japan on track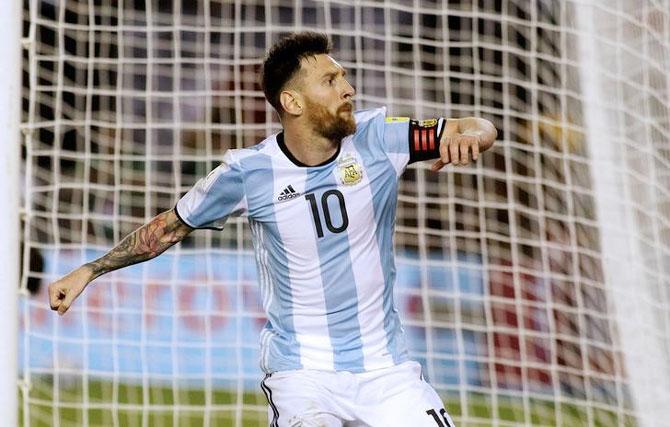 A round-up of the 2018 World Cup qualifiers played on Thursday
March 23, 2017
Friendly: Podolski bids goodbye with stunning winner over England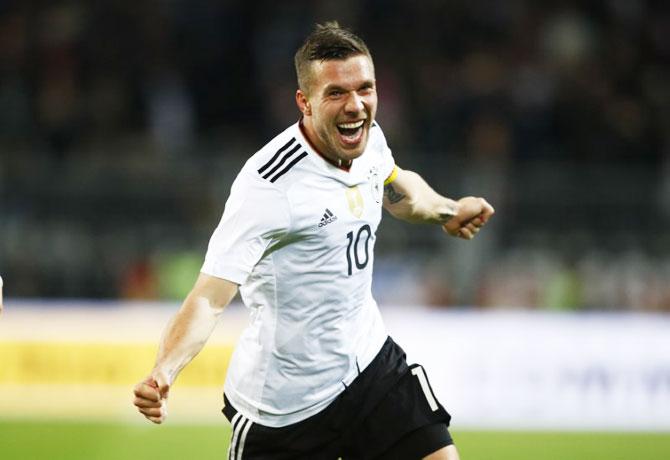 Germany's Lukas Podolski capped his international swansong with a sensational goal to give the world champions a 1-0 victory over England in a friendly on Wednesday.
March 21, 2017
PHOTOS: Stars descend in all their glory at Sports Awards night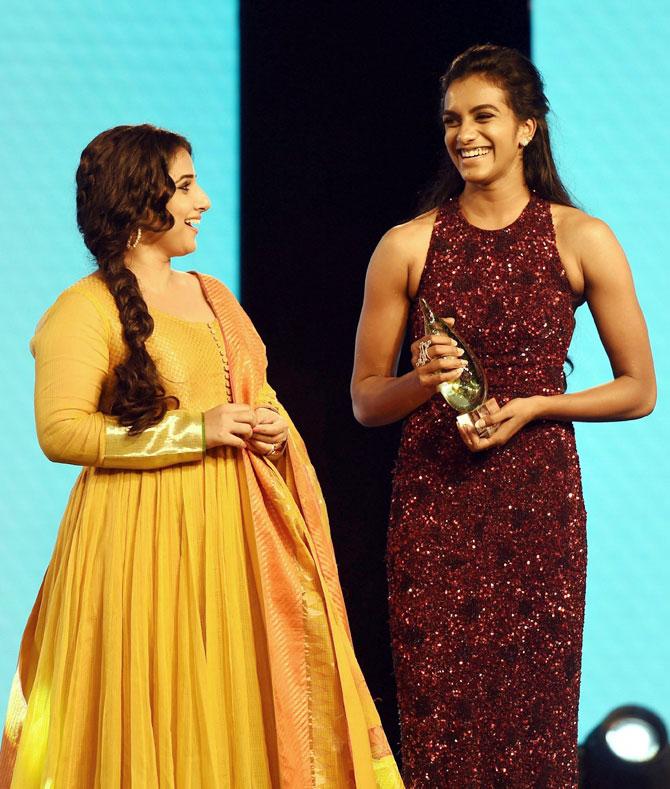 Rediff.com gives you a glimpse of the personalities that graced the event:
March 19, 2017
Euro football: Inter's Champions League hopes dented, Nice held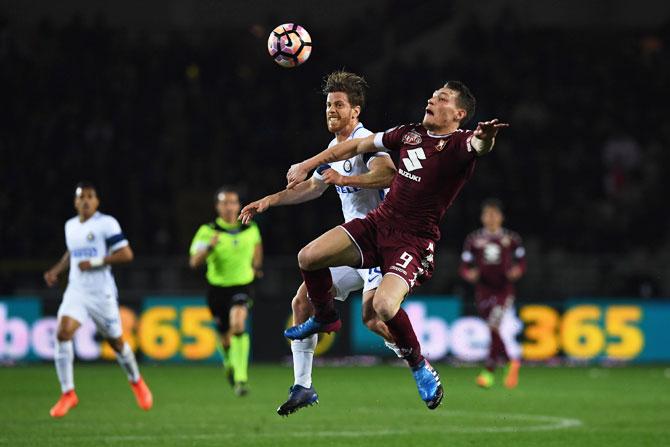 Romelu Lukakuare still five points off the Champions League places after Antonio Candreva's equaliser rescued a solitary point in a 2-2 draw at Torino in a thrilling Serie A clash on Saturday.
Federer to meet Wawrinka in all-Swiss final at Indian Wells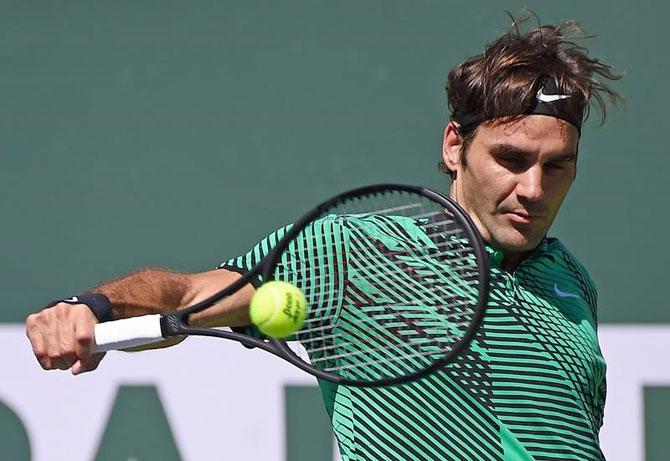 Roger Federer continued his sizzling form on Saturday to set up an all-Swiss final against Stan Wawrinka at the BNP Paribas Open in California.
March 13, 2017
Kohli, Karmakar, Clarke greet fans on Holi!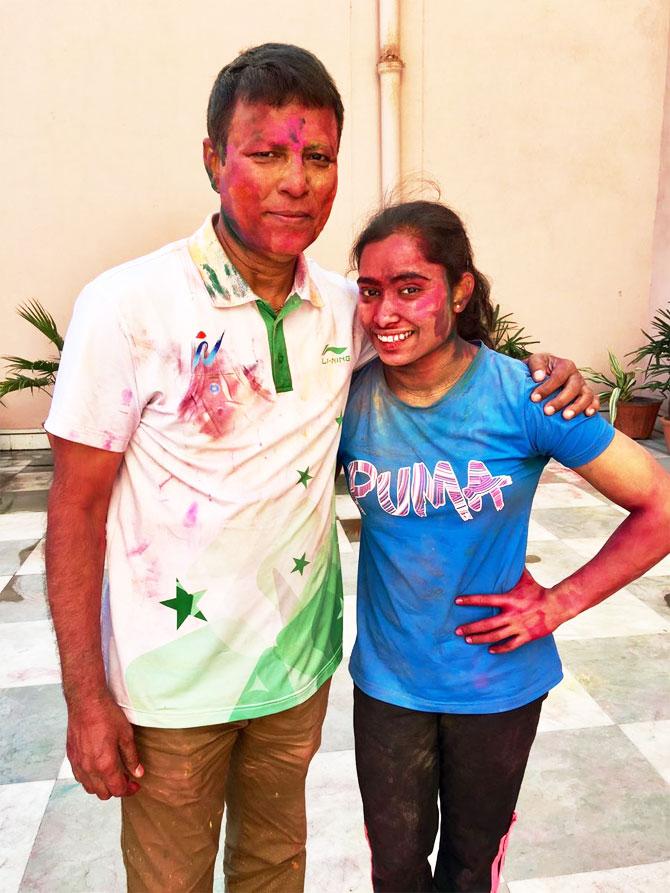 Among the cricketers, Australia's David Warner, Steve Smith and West Indies' Chris Gayle also wished the fans on Instagram.
March 10, 2017
Europa League: United earn draw at Rostov, Lyon beat Roma 4-2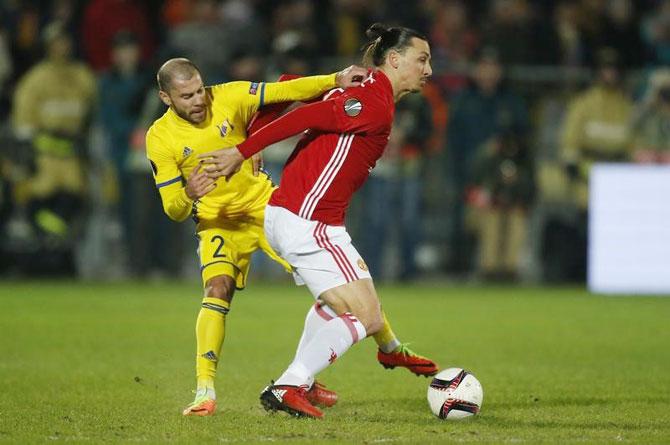 Europa League favourites Manchester United secured a 1-1 draw on a threadbare pitch at Rostov, while Olympique Lyonnais beat AS Roma 4-2 helped by a fine individual goal from Nabil Fekir in their last 16, first leg ties on Thursday.
March 09, 2017
The GREATEST comebacks in UEFA Champions League history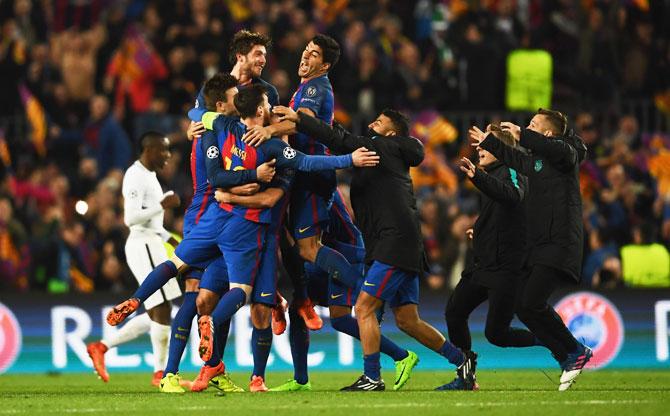 Following this stunning turn-around of fortunes for Barcelona, here is a flashback of some of the best come-from-behind wins recorded in Europe's premier club competition.
Aubameyang hat-trick leads Dortmund into last eight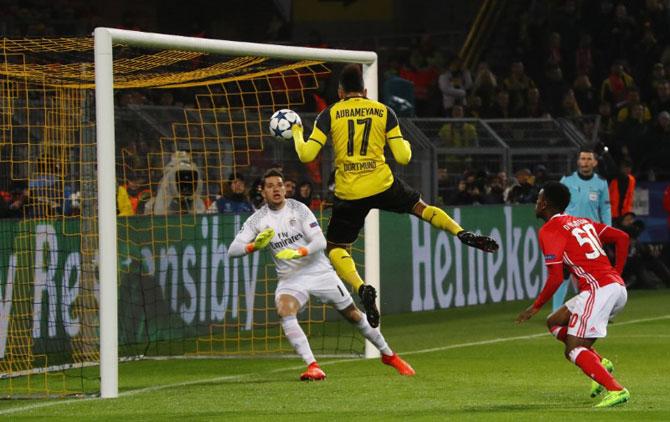 Pierre-Emerick Aubameyang grabbed a hat-trick as Borussia Dortmund crushed Benfica 4-0 on Wednesday to advance to the Champions League quarter-finals 4-1 on aggregate.
Where did PSG lose the plot? Emery searches for answers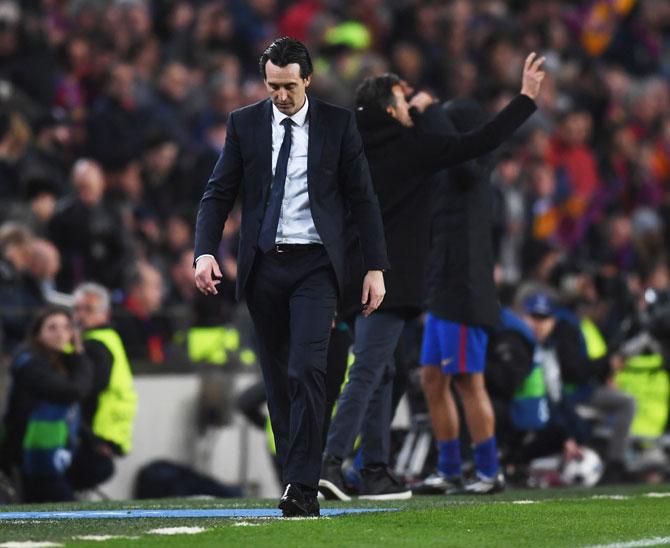 Paris St Germain coach Unai Emery cursed his side for switching off in the final minutes of their 6-1 defeat at Barcelona which sent the French champions out of the Champions League before the quarter-finals for the first time in five years.
Barca's night of miracle will prompt lots of love making: Pique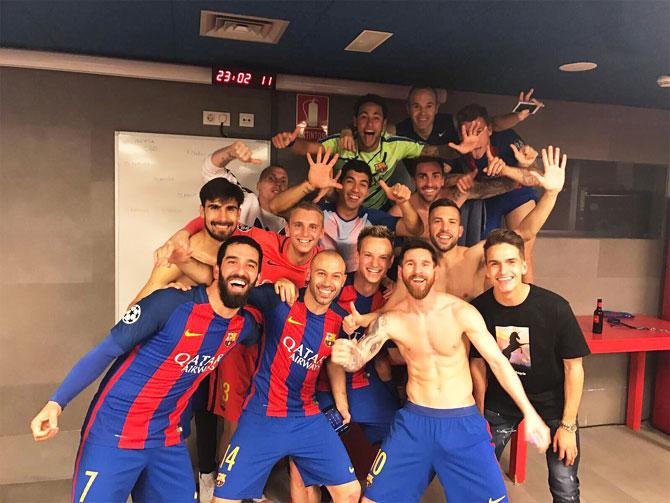 Barcelona's amazing 6-1 victory over Paris St Germain on Wednesday that sent them through to the Champions League quarter-finals will forever stay in the memories of supporters, coach Luis Enrique said.
March 05, 2017
EPL PHOTOS: Liverpool crush Arsenal, Zlatan misfires for United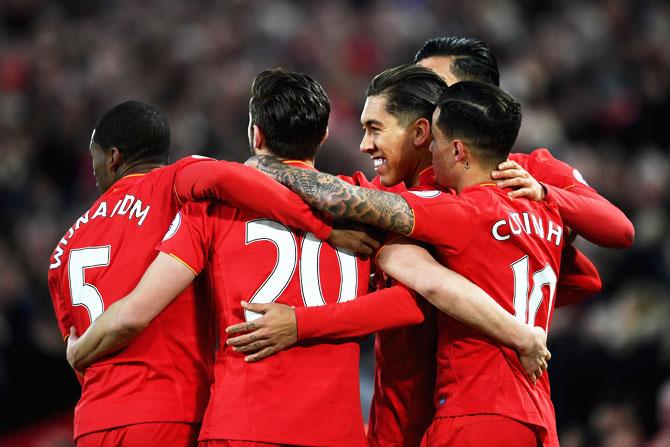 Liverpool put their recent troubles behind them, showing touches of their best early-season vibrancy to overcame Arsenal 3-1 at a jubilant Anfield and leapfrog the Gunners into third place in the Premier League on Saturday.
February 28, 2017
EPL: Vardy nets brace as Leicester stun Liverpool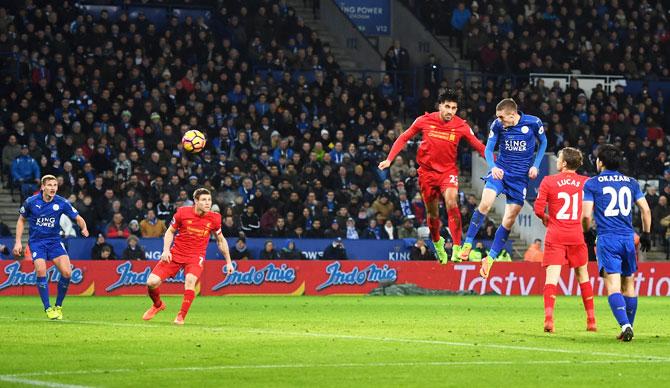 In their first match since manager Claudio Ranieri was sacked after five successive defeats in which they failed to score a goal, Leicester produced the kind of vibrant display that carried them to glory last May.
February 17, 2017
Serena Williams burns up the beach at this sizzling shoot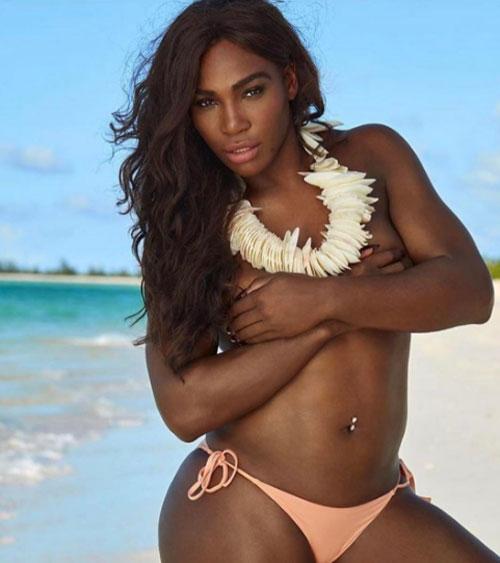 Looking smoking hot for the Sports Illustrated's special swimsuit issue, the World No 1 tennis star grabbed eyeballs and posted the pictures on her Instagram page.
It's raining hat-tricks in the Europa League!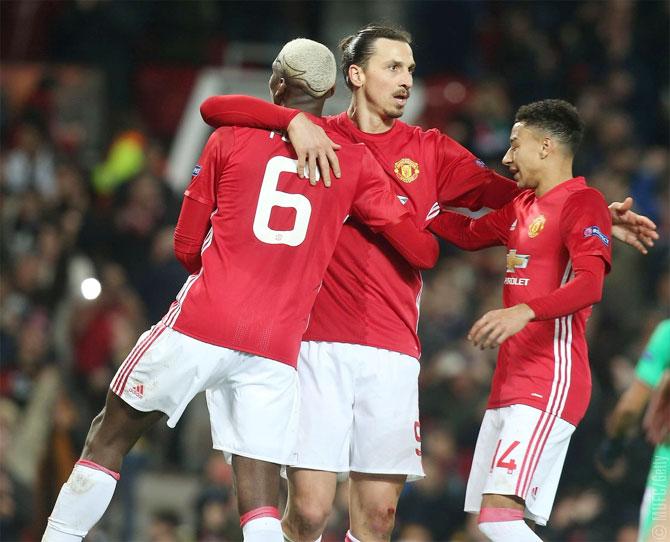 United's Ibrahimovic, Roma's Dzeko find the net thrice to give clubs first leg advantage
February 16, 2017
Zidane reckons game still open despite Real's first leg advantage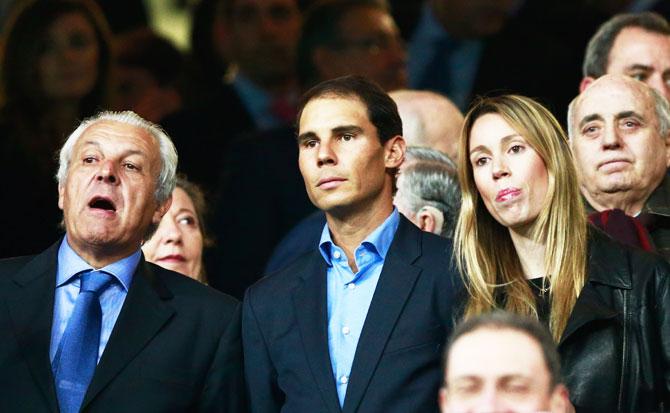 Real Madrid coach Zinedine Zidane warned that it was still all to play for in their Champions League last-16 clash against Napoli after the holders strolled to a 3-1 win in the first leg on Wednesday.
Champions League PIX: Real beat Napoli 3-1; Bayern rout sorry Arsenal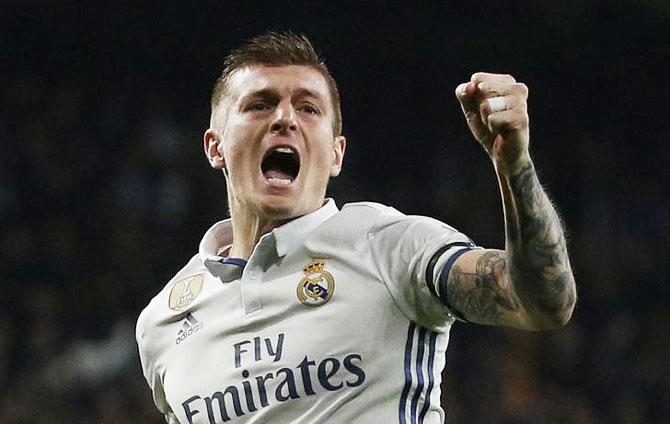 Alexis Sanchez had equalised for the visitors, scoring on the rebound after Manuel Neuer saved his 30th-minute penalty but the Gunners suffered when captain Laurent Koscielny limped off injured to leave the defence exposed.
February 15, 2017
Champions League: Busquets lists reasons for Barca's nightmare in Paris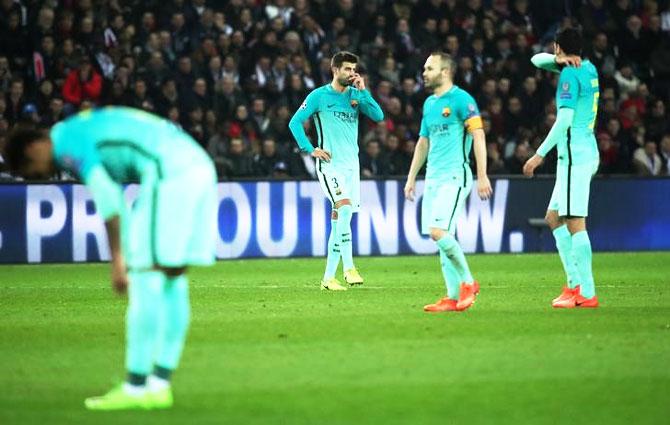 Barcelona midfielder Sergio Busquets has criticised their tactical and physical frailties after a 4-0 thrashing at Paris St Germain in the last 16 left them on the brink of their earliest Champions League exit in a decade.
PHOTOS: Bolt wins top honour at Laureus for record-equalling 4th time!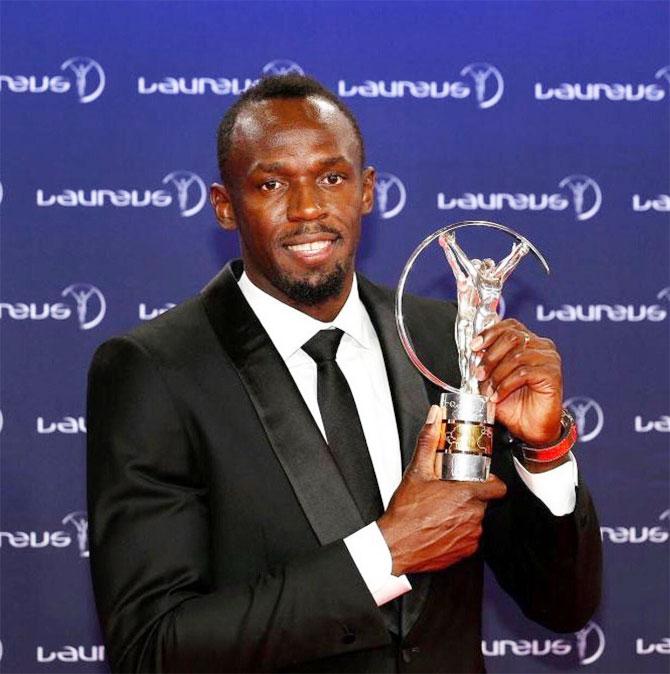 Images from the Laureus World Awards held in Monaco on Tuesday
Can Maradona inspire Napoli to continue unbeaten run against Real?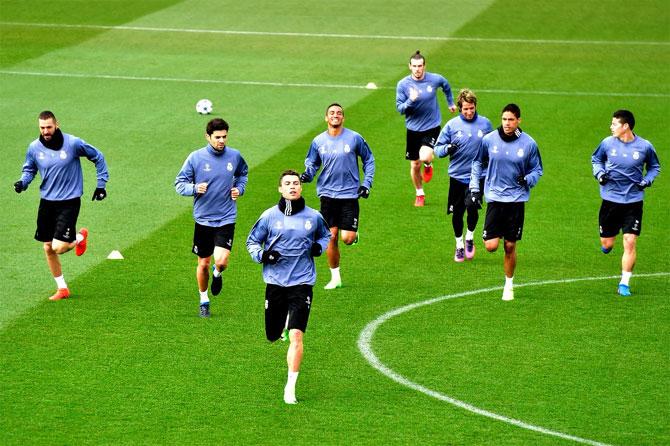 An estimated 10,000 Napoli supporters, including the team's most famous player Diego Maradona, are expected to make the trip to the Spanish capital for the first competitive meeting with Real Madrid since the 1987.
PIX: Birthday boys Di Maria, Cavani help PSG thrash Barca; Benfica win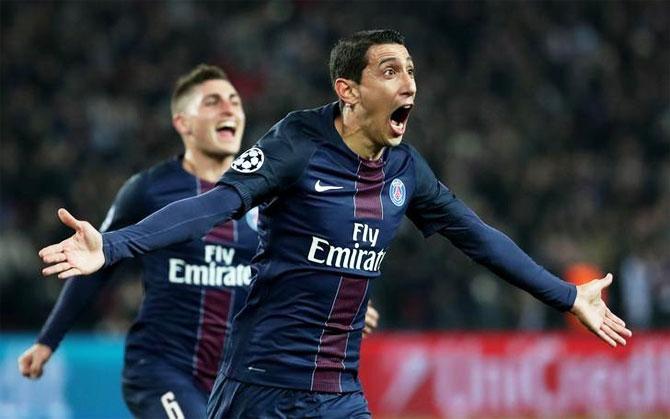 Five-times European champions Barca, with their trident of Lionel Messi, Luis Suarez and Neymar subdued, have not exited in the last 16 since going out to Liverpool in the 2006/07 season and the score equalled their worst Champions league loss.
February 14, 2017
Champions League: Arsenal look to go one better against Bayern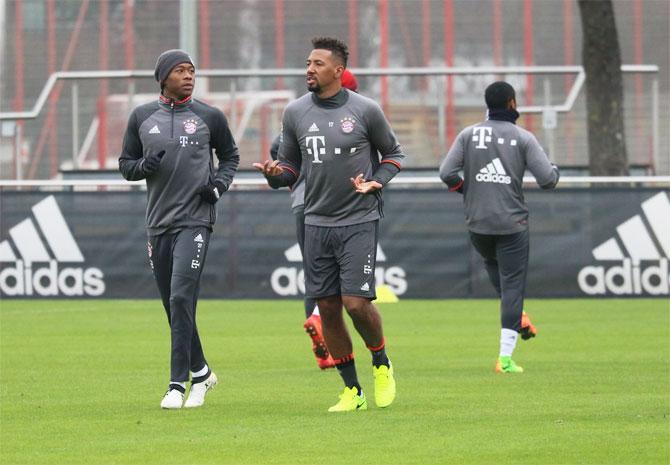 Bayern Munich and Arsenal meet in their big-name Champions League round of 16 first leg on Wednesday, both hoping European success will help lift mid-season gloom on their domestic fronts.
Won't let out Hamilton's secrets: Rosberg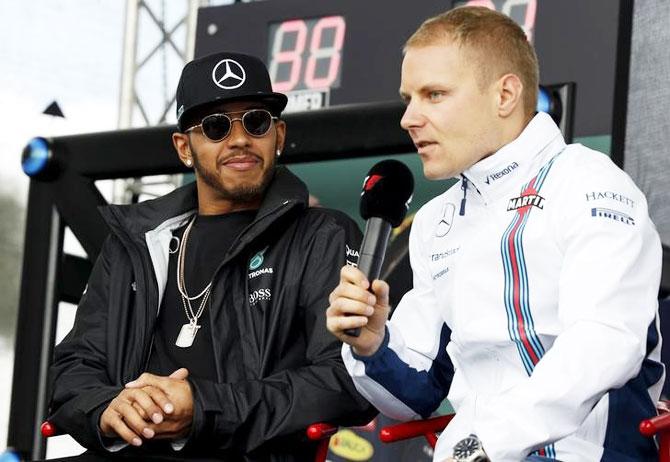 Reigning F1 champ warns Bottas about Hamilton rivalry
EPL PHOTOS: Aguero makes strong return as City go second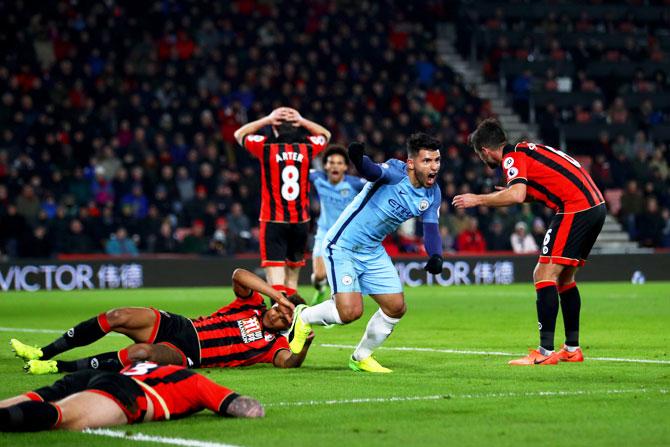 In the 69th minute, the Argentine slid in to meet a cross from Sterling and, although it appeared Mings got the final touch for an own goal -- ultimately, a decision for the dubious goals committee -- no-one was going to persuade Aguero that he was not responsible for putting City two up.
February 09, 2017
Euro football: Dortmund beat Hertha on penalties in German Cup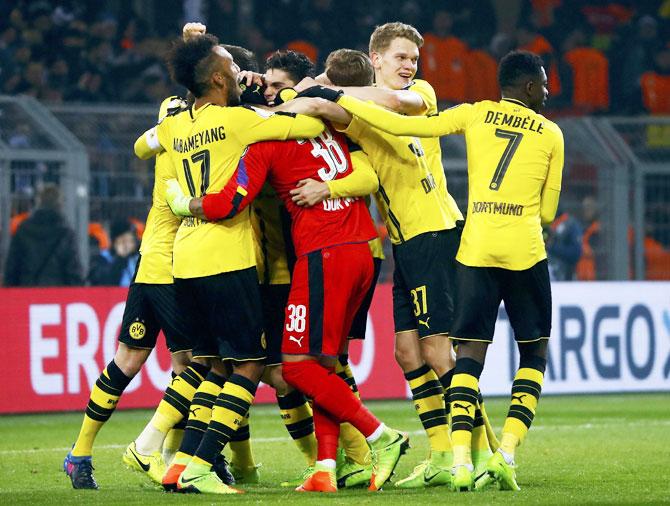 Borussia Dortmund beat Hertha Berlin 3-2 on penalties to reach the German Cup quarter-finals on Wednesday after the match finished 1-1 after extra time.
February 08, 2017
Euro football: Bayern into last eight with narrow Wolfsburg win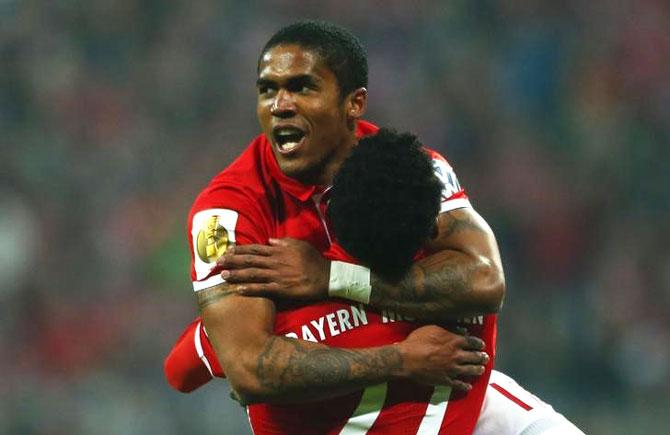 Bayern Munich's Douglas Costa scored a first-half winner as the holders did the bare minimum to beat VfL Wolfsburg 1-0 on Tuesday and move into the German Cup quarter-finals.
Hero to villain: Suarez denied place in Cup final after pivotal role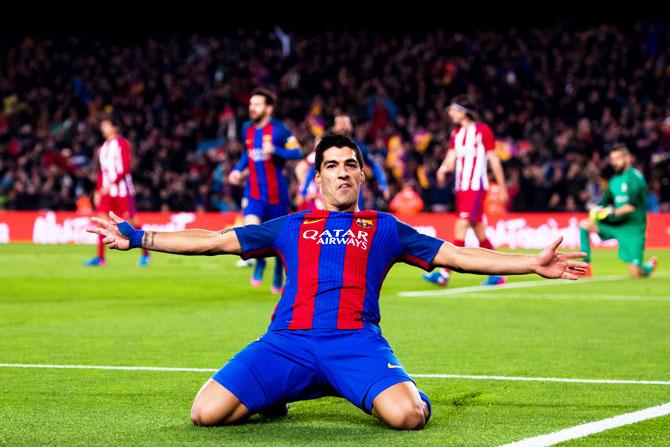 Luis Suarez was incredulous after being sent off in Barcelona's thrilling King's Cup semi-final second leg with Atletico Madrid on Tuesday, ruling him out of the final in May after playing a pivotal role in getting his team there.
February 05, 2017
'Was hoping for three singles wins, got four': Proud captain, Amritraj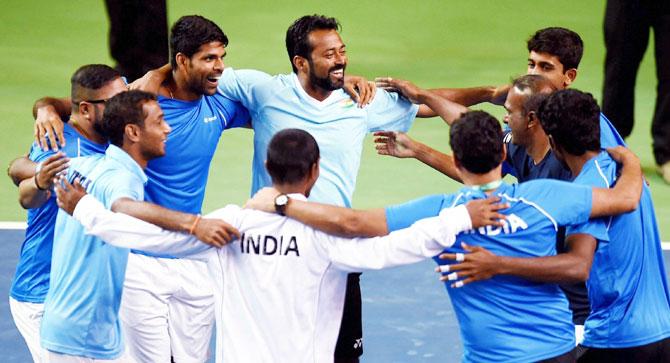 'In my eight ties as captain we won five and lost three to Serbia, Czech Republic and Spain who were all better teams than us. We should have won against Czech but lost 3-2. Having said that they were top 10 teams and I am not too unhappy losing to them'
Former Davis Cup coach paints bleak picture of Indian tennis future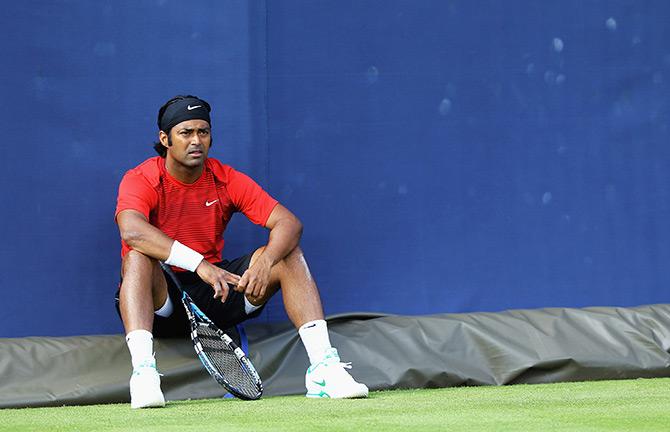 Enrico Piperno, who was also India's Fed Cup coach says, lack of funding, support and infrastructure will cease creation of a top-50 player
February 02, 2017
Euro football round-up: Totti's stoppage-time penalty sinks Cesena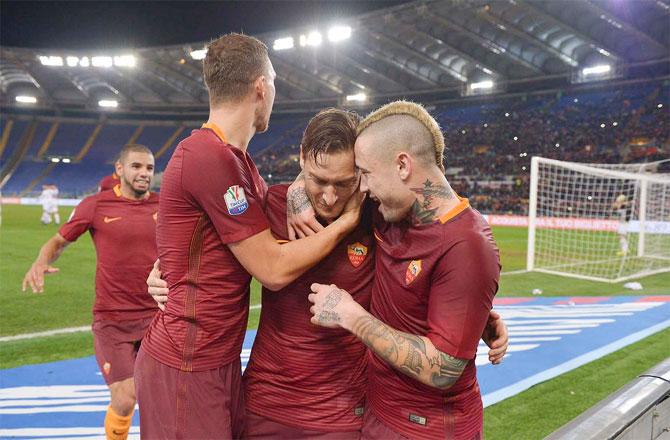 AS Roma needed a penalty from 40-year-old forward Francesco Totti in the seventh minute of stoppage time to scrape past second-tier Cesena 2-1 in their Coppa Italia quarter-final on Wednesday.
EPL PHOTOS: United frustrated by Hull, City thrash Hammers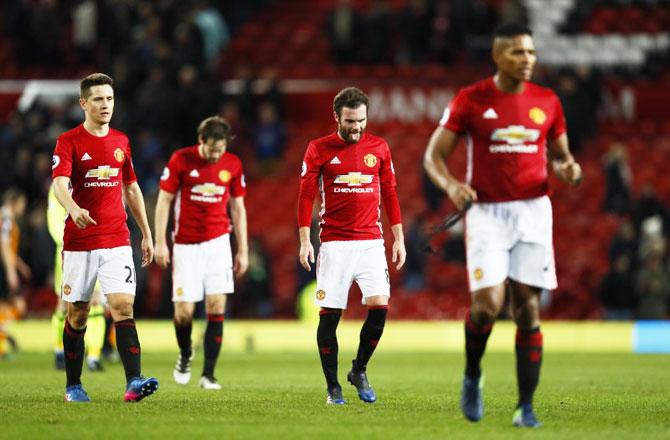 Photos from the English Premier League matches played on Wednesday
February 01, 2017
EPL PHOTOS: Chelsea held by Liverpool, Arsenal stunned by Watford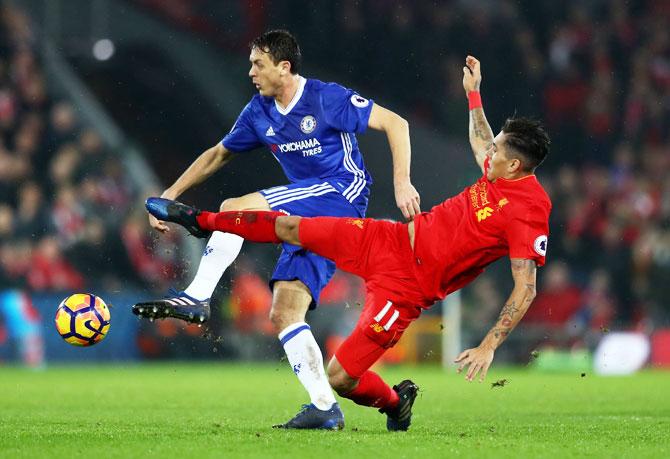 Images from the English Premier League matches played across England on Tuesday
January 31, 2017
A streaker, Federer and others who made news in the last 24 hours!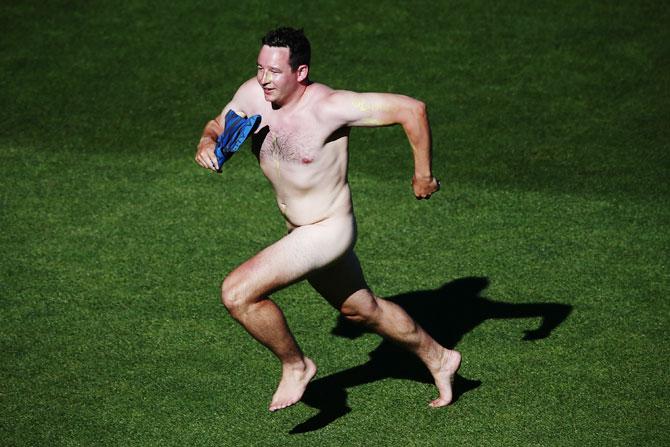 The last 24 hours have been a follow-through to that and other sporting events across the world. Rediff.com brings you five Best Sports Photos of all the action that sum up memorable events of the last 24 hours.
January 29, 2017
Emotional Federer savours long-awaited 18th slam win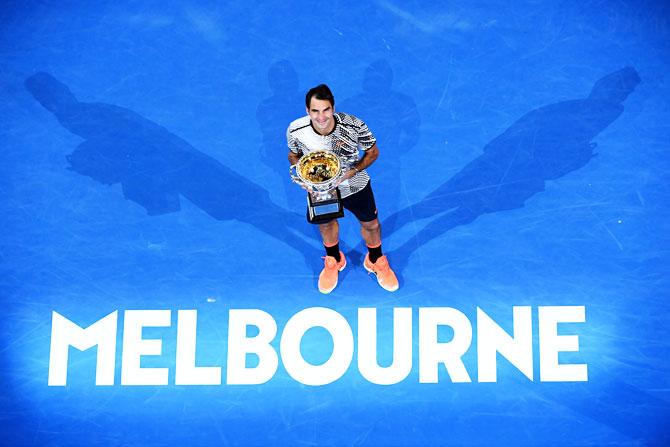 An emotional Roger Federer wiped away tears and urged Rafael Nadal to stay with him on the tour for years to come after felling his great rival to win his fifth Australian Open on Sunday.
Here is a list of leading men's grand slam winners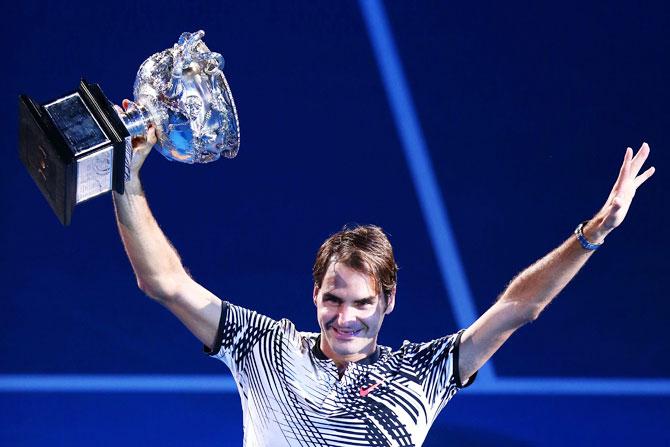 List of leading men's grand slam singles title winners after Roger Federer beat Rafael Nadal in the Australian Open final on Sunday.
January 28, 2017
FA Cup PHOTOS: Liverpool stunned by Wolves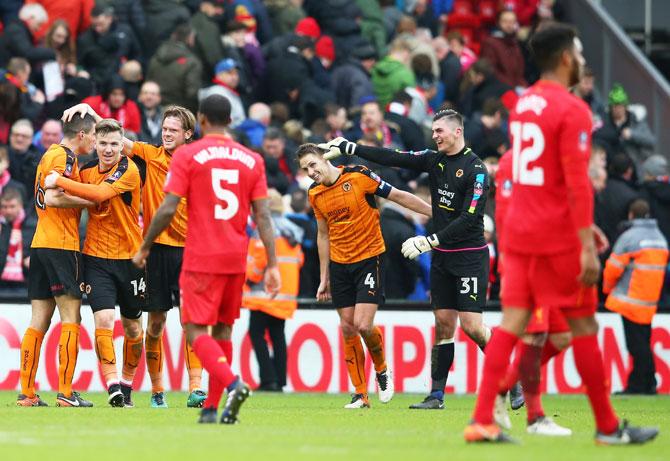 Liverpool suffered a shock 2-1 loss to Championship side Wolverhampton Wanderers in the FA Cup fourth round on Saturday, handing manager Juergen Klopp a third home defeat in a row.
We're just going for some dreams: Venus on Williams sisters' greatness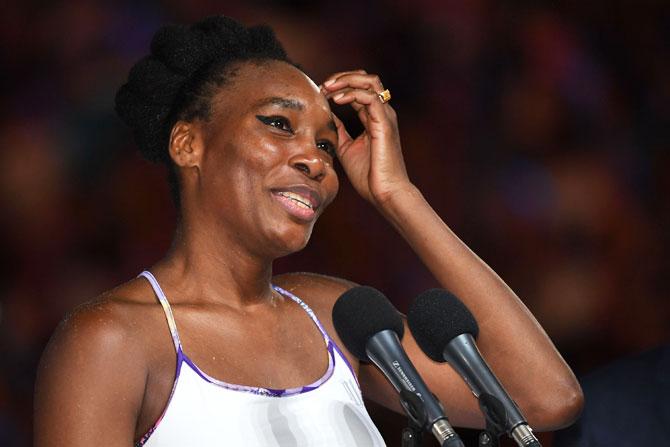 Upbeat Venus ready to 'kill it' after loss to little sister
Record-breaker Serena on inspirational Venus and the Jordan connection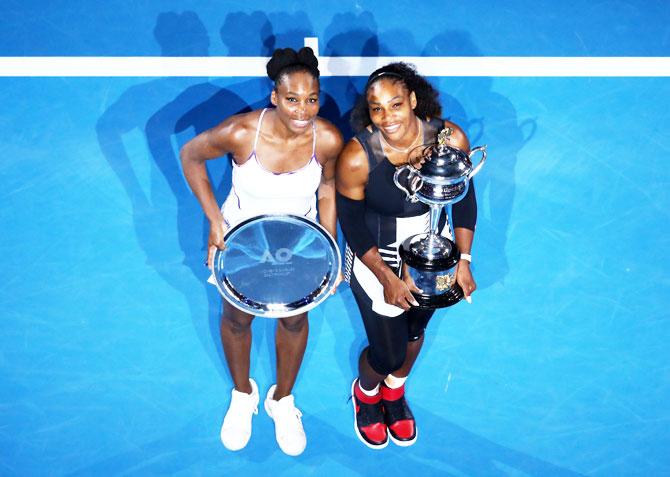 Serena Williams clinched a record 23rd grand slam title at the Australian Open on Saturday but spent most of the immediate aftermath talking about her older sister Venus.
Serena Williams, the Greatest Of All Time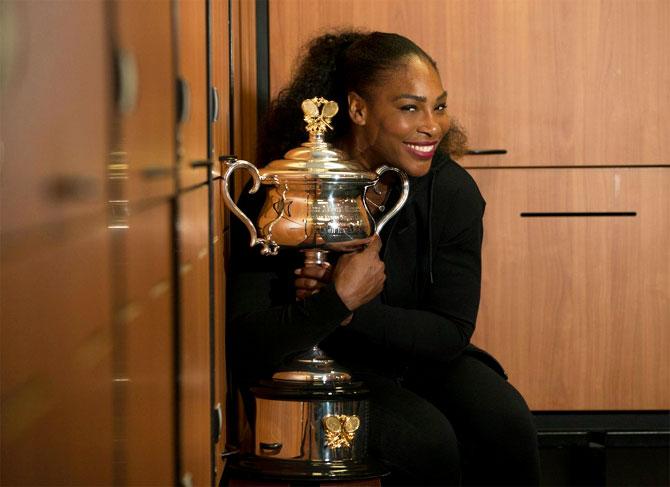 A quick guide into the life of Serena Williams, the GOAT - The Greatest of All Time!
The Roger-Rafael show 'is going to be a freakin' amazing match'

Roger Federer and Rafael Nadal take to Rod Laver Arena to reprise one of the great sporting rivalries of the modern age on Sunday, a fitting climax to an Australian Open which has sent tennis back to the future.
PHOTOS: Revisit Serena Williams's 23 grand slam singles titles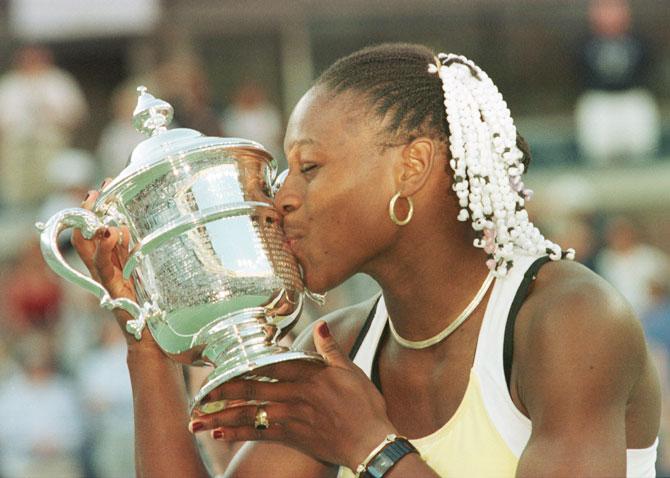 Following is a list of Serena Williams' 23 grand slam singles titles after the American surpassed Steffi Graf's professional era record with victory at the Australian Open on Saturday:
Aus Open: Kontinen-Peers stun Bryan twins to lift men's doubles title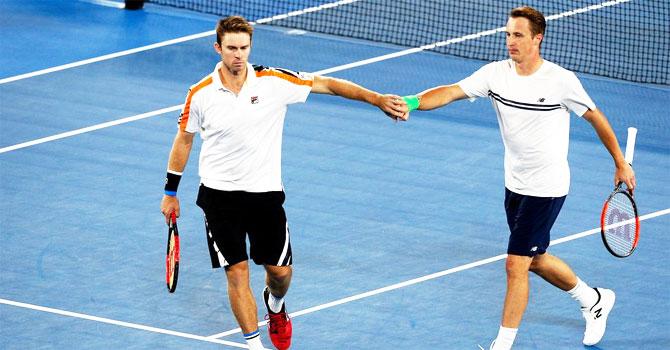 Henri Kontinen and John Peers stunned the Bryan twins 7-5, 7-5 to win the Australian Open men's double title at MelbournePark on Saturday.
Meet the most successful women tennis stars of the Open era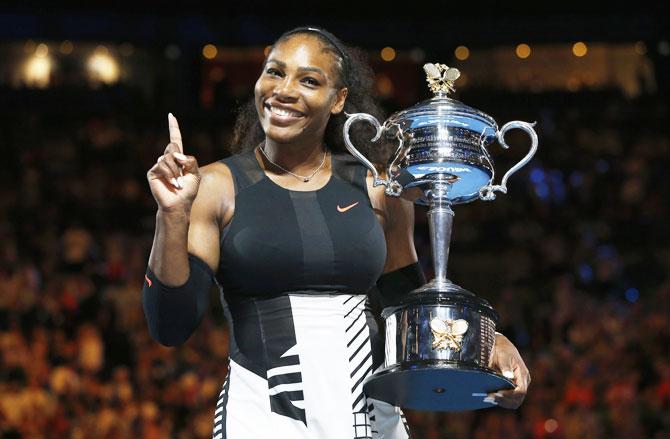 List of leading women's grand slam singles title winners in the professional era after Serena Williams surpassed Steffi Graf by winning the Australian Open on Saturday.
PHOTOS: Serena wins Australian Open for 23rd grand slam crown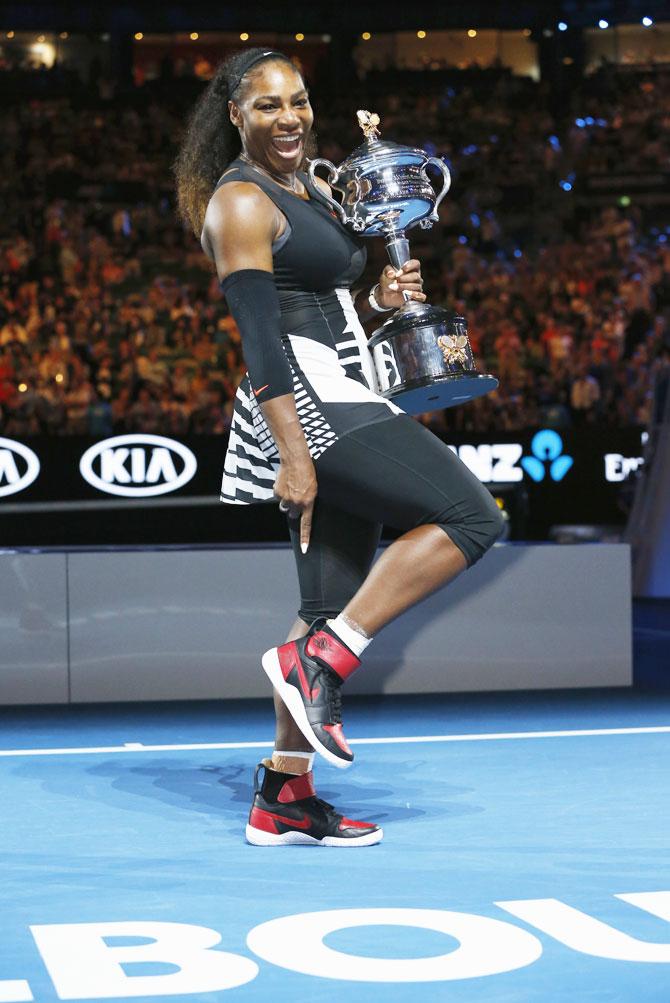 Serena Williams beat her sister Venus 6-4, 6-4 in the Australian Open final on Saturday to win her 23rd grand slam singles title and become the most successful tennis player in the open era.
January 25, 2017
'30 is the new 10': Serena Williams leads charge of 30 somethings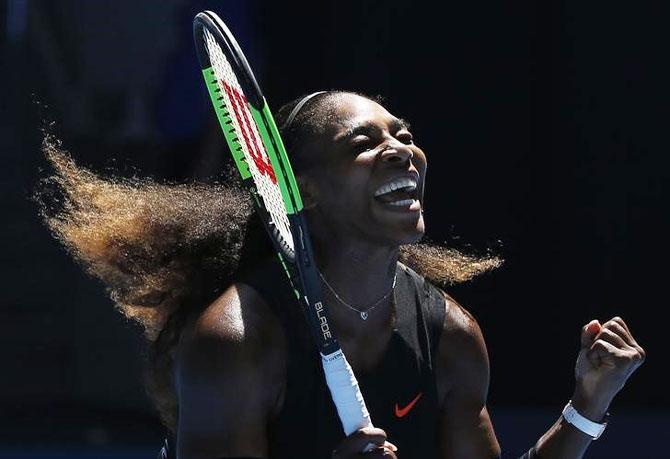 "
Aus Open: Doubting Nadal crushes Roanic to seal semis spot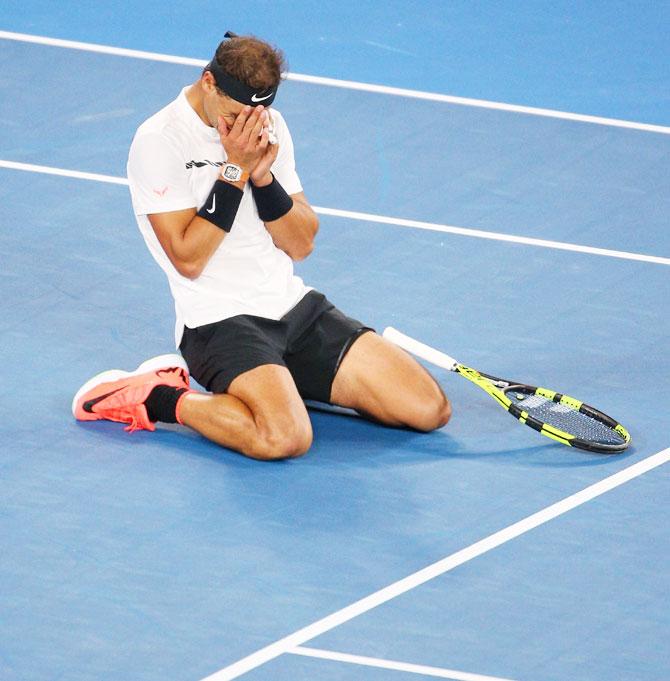 Rafael Nadal continued his brilliant revival at the Australian Open to topple Milos Raonic 6-4, 7-6(7), 6-4 on Wednesday and reach his first grand slam semi-final in three years.
'God is great': Life takes a 180 turn for Lucic-Baroni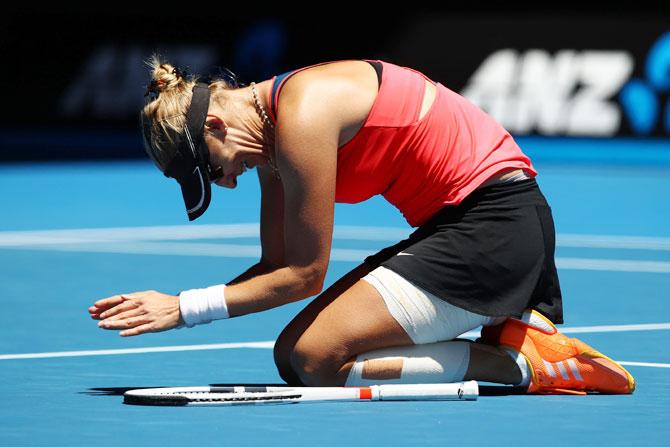 Croatia's Mirjana Lucic-Baroni could barely contain her joy after reaching the Australian Open semi-finals on Wednesday, 19 years after her only previous singles match win at Melbourne Park prior to her remarkable run.
Dimitrov buries Goffin in baseline battle to book semis spot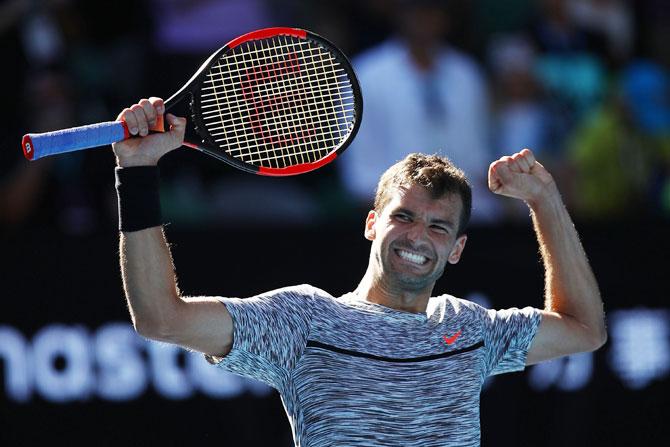 Grigor Dimitrov dismantled 11th seed David Goffin 6-3, 6-2, 6-4 in their Australian Open quarter-final on Wednesday to advance to his second grand slam semi-final.
Aus Open PHOTOS: Nadal to face Dimitrov in semis; Serena sets up Lucic-Baroni reunion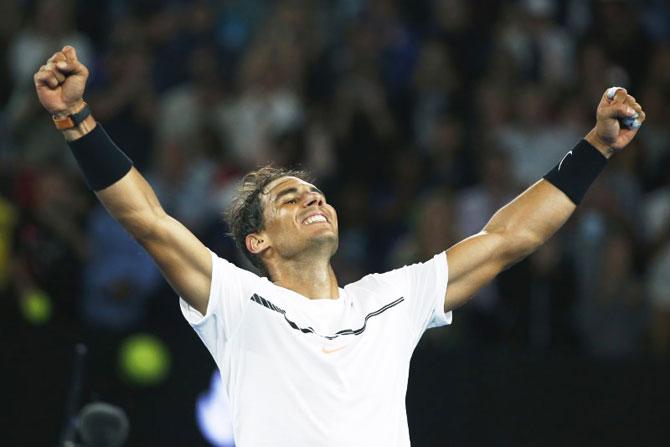 Images from all the action on Day 9 at the Australian Open in Melbourne on Wednesday
January 24, 2017
PHOTOS: Back to the future as Federer storms into semis at Aus Open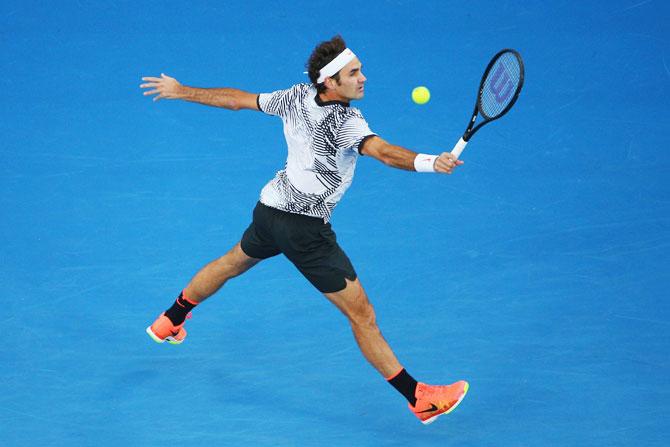 Wawrinka wins testy Tsonga clash to reach Aus Open semis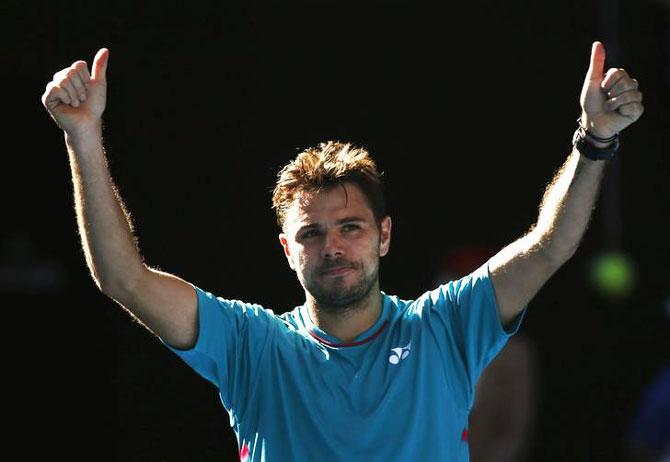 Former champion Stan Wawrinka engaged in a war of words with Jo-Wilfried Tsonga before winning the only argument that mattered on Tuesday, storming into the Australian Open semi-finals with a 7-6(2), 6-4, 6-3 win over the Frenchman.
Aus Open: When Van moved like a 'freight train' to slay Muguruza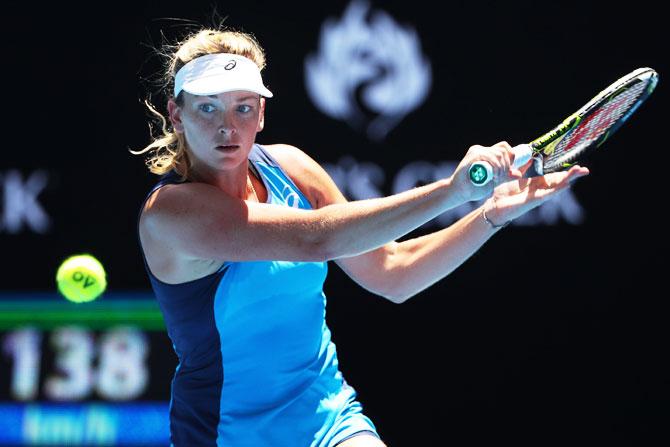 Coco Vandeweghe blasted her way into her first grand slam semi-final with a dominant display of power tennis to destroy French Open champion Garbine Muguruza 6-4, 6-0 at the Australian Open on Tuesday.
Venus 'does not want to stop' after rolling into semis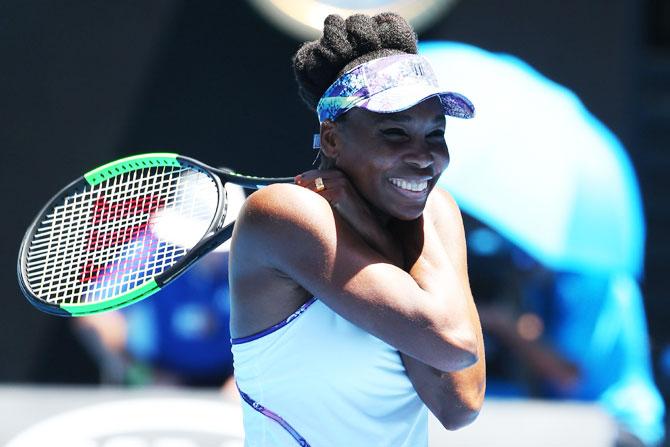 Venus Williams continued her astonishing late-career revival by felling Anastasia Pavlyuchenkova 6-4, 7-6(3) on Tuesday to reach her first Australian Open semi-final in 14 years.
Australian Open PIX: Federer to meet Wawrinka, Venus strolls into semis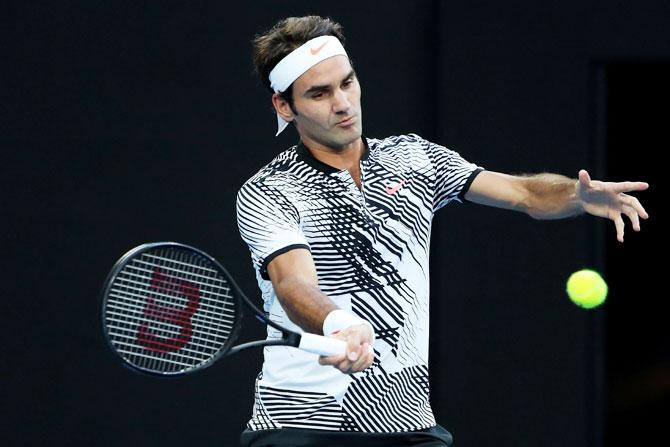 Images from all the action on Day 9 of the Australian Open at Melbourne Park on Tuesday
January 23, 2017
With top two seeds gone 'Baby Fed' sees himself in with a chance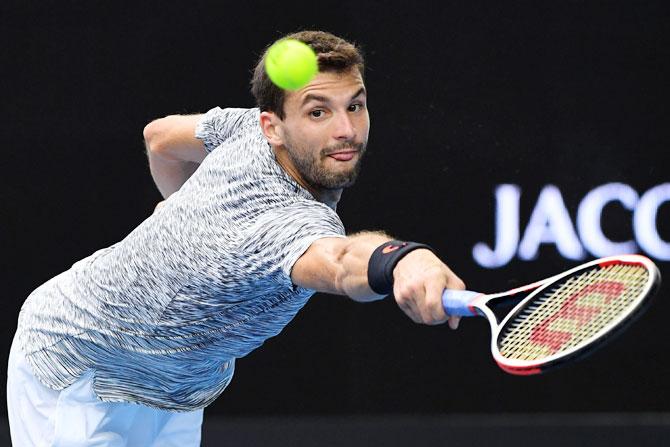 Grigor Dimitrov reached his first grand slam quarter-final in over two years on Monday by defeating an injury-hampered Denis Istomin 2-6, 7-6(2), 6-2, 6-1 to end the Uzbek wildcard's fairytale run at the Australian Open.
Serve-and-volley tennis rises from the dust in Melbourne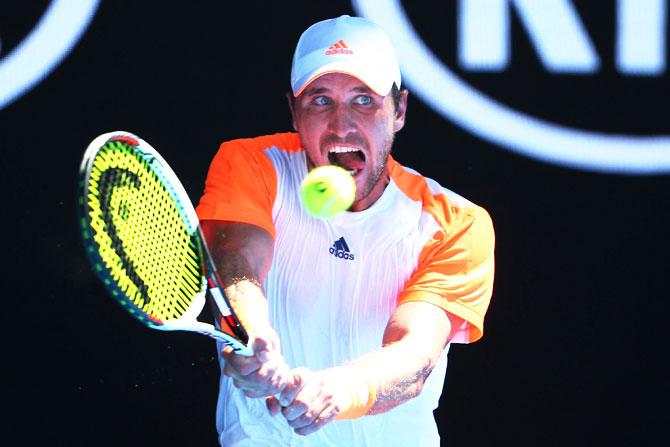 Cash believes there will never be a return to the golden era of serve-and-volley tennis, however, not while the court speeds were so much slower than when he was winning at the All England Club.
La Liga: Messi, Suarez help Bara down Eibar, Sevilla stage fightback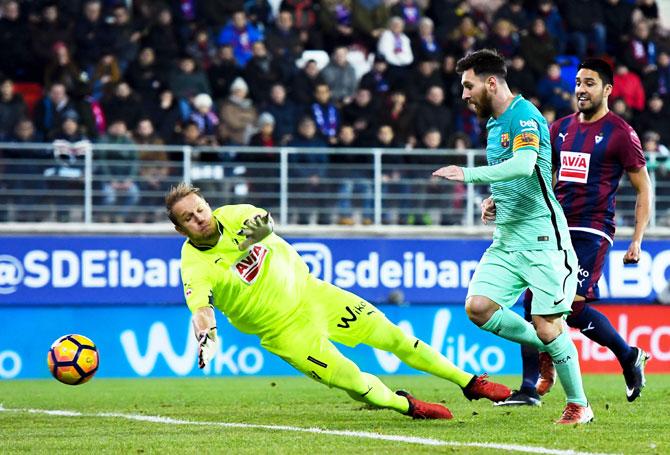 Messi stretched Barca's lead by finishing off a brilliant move with Luis Suarez in the 50th minute and the Uruguayan joined his close friend and strike partner on 15 league goals by robbing an Eibar defender and finishing inside the near post in the 68th.
Aus Open: How Serena ground down dogged Strycova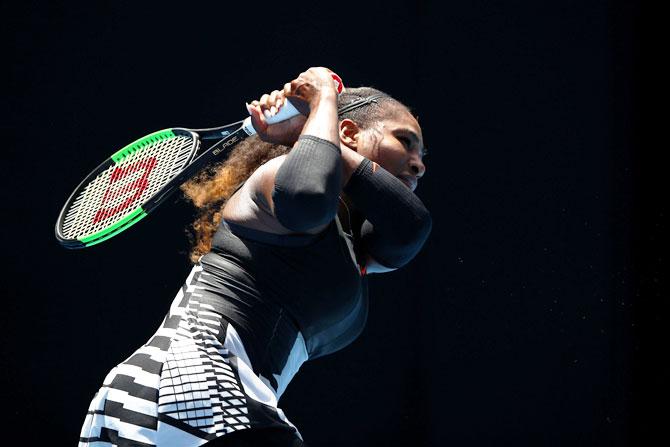 Serena Williams battled a misbehaving serve and scorching heat but stayed cool under pressure in a 7-5, 6-4 win over Czech Barbora Strycova to reach the Australian Open quarter-finals on Monday.
Aus Open PIX: Nadal survives Monfils fightback, Konta to meet Serena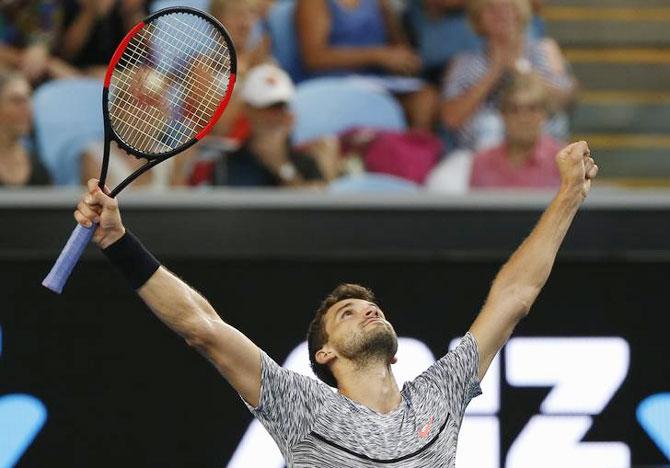 IMAGES from all the action on Day 8 the Australian Open on Monday
January 22, 2017
Top seed Kerber stunned by American Vandeweghe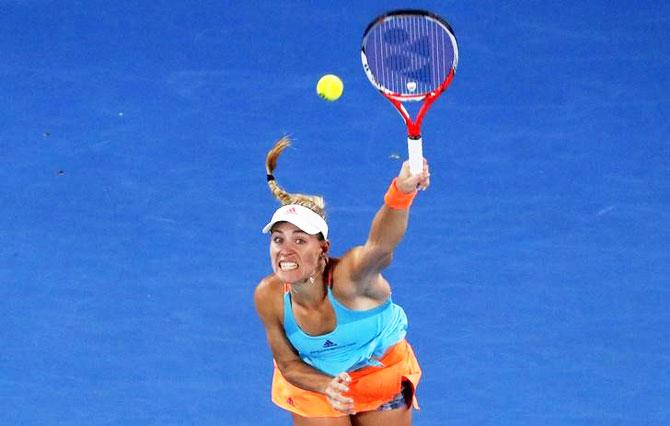 Reigning champion and top seed Angelique Kerber was knocked out of the fourth round of the Australian Open on Sunday, losing 6-2, 6-3 to American Coco Vandeweghe on Rod Laver Arena.
PHOTOS: Resilient Federer holds off Nishikori to reach quarter-finals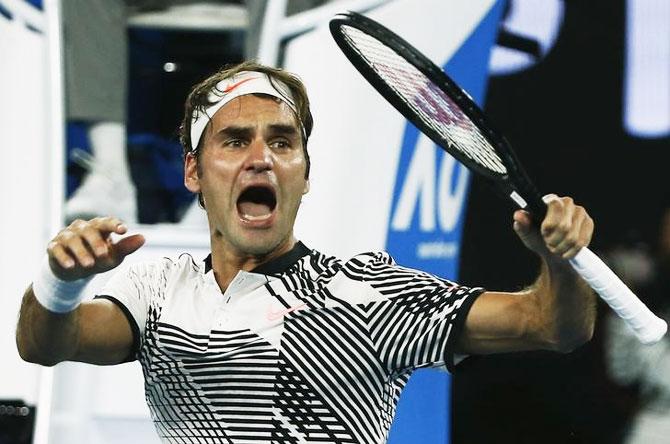 After six months out of the game, Federer's fairytale return continued under the lights of Rod Laver Arena where he emphatically quashed doubts about his fitness in three hours and 24 minutes of high-octane tennis.
EPL PIX: Liverpool, Tottenham drop points, Rooney record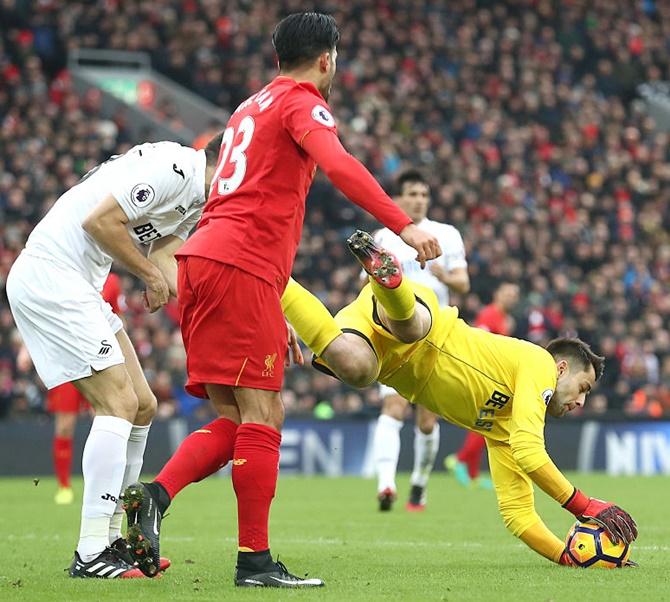 Brief reports of English Premier League matches on Saturday:
January 21, 2017
Aus Open PHOTOS: Raonic recovers from stumble; Serena marches on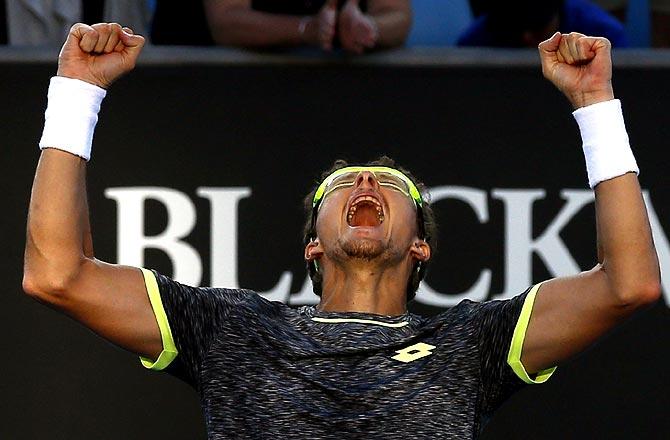 Images from Day 6 of the Australian Open in Melbourne, on Saturday.
January 20, 2017
PHOTOS: Vintage Federer hammers Berdych to reach Aus Open last 16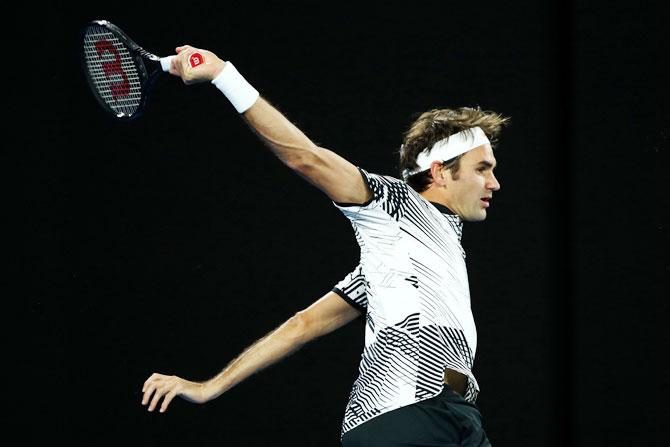 A rampaging Roger Federer delivered a stunning reminder of his class at the Australian Open on Friday with a crushing 6-2, 6-4, 6-4 win over Tomas Berdych to storm into the fourth round.
The strange story behind birth of Vandeweghe-Hingis partnership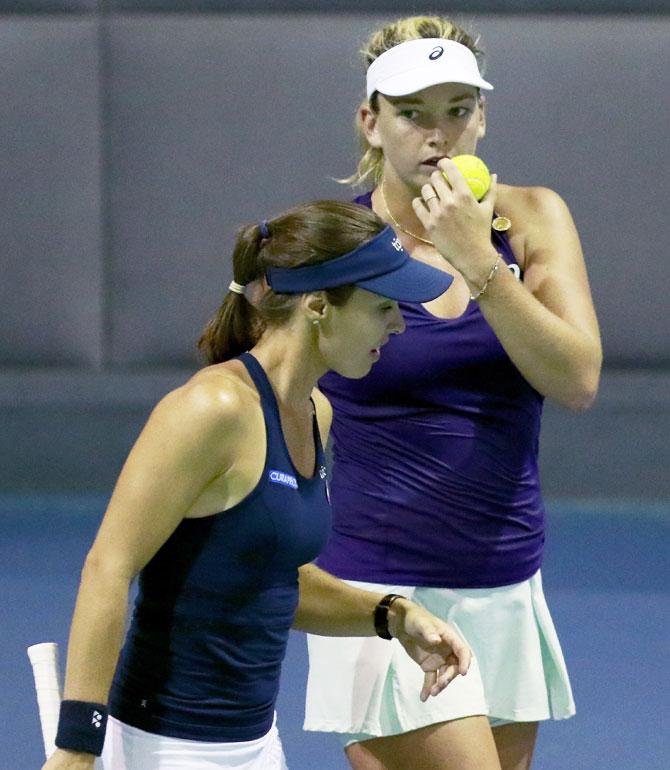 Coco Vandeweghe was in two minds whether to answer the call when an unknown number with a strange international dialling code popped up on her telephone last year.
An ugly win is still a win, says Wawrinka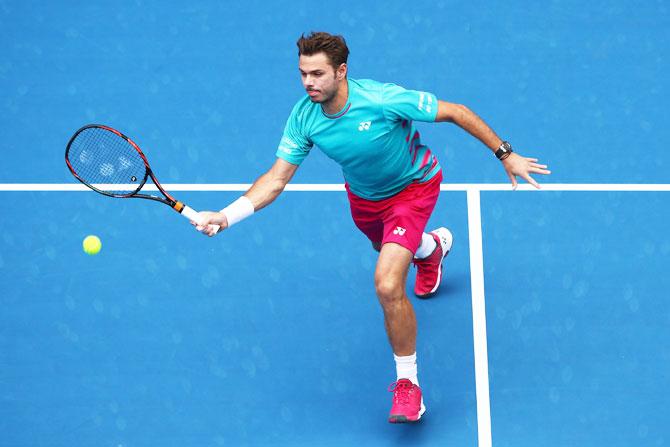 Stan Wawrinka was not fully convincing in his four-set victory against Serbian Viktor Troicki but the fourth seed refused to fuss over the nature of his win after securing his place in the fourth round of the Australian Open on Friday.
Indians at Aus Open: Sania advances, Bopanna loses controversial match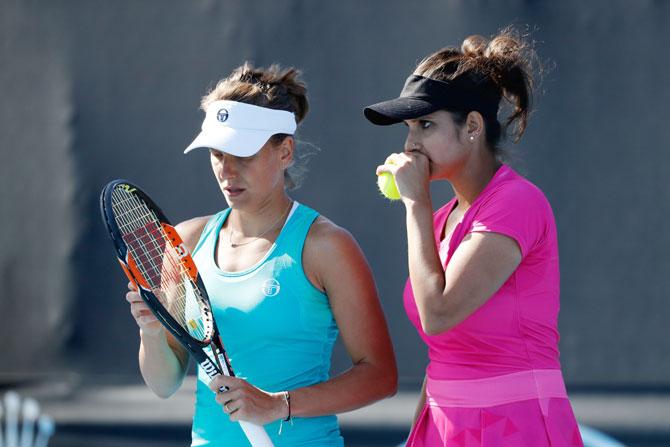 It was a mixed day in office for Indian tennis players in the season-opening Australian Open with Sania Mirza sailing into the third round of the women's doubles event even as Rohan Bopanna crashed out of the men's doubles, in Melbourne on Friday.
Aus Open PIX: Murray, Kerber cruise ahead; Coco, Wawrinka fight back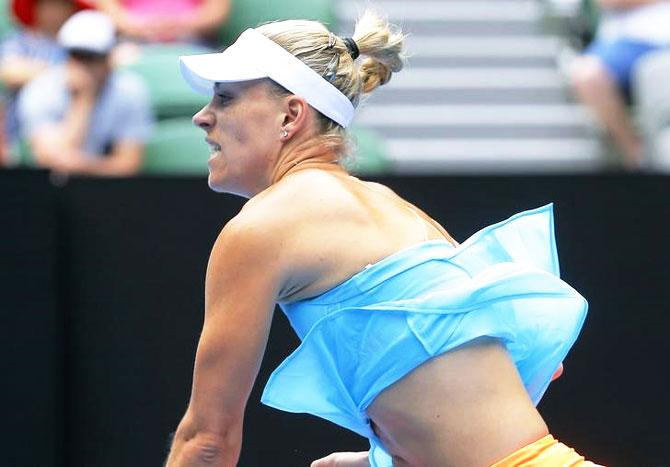 Images from all the action on Day 5 of the Australian Open
January 19, 2017
Stylish Istomin says demolishing Djokovic 'feels unreal'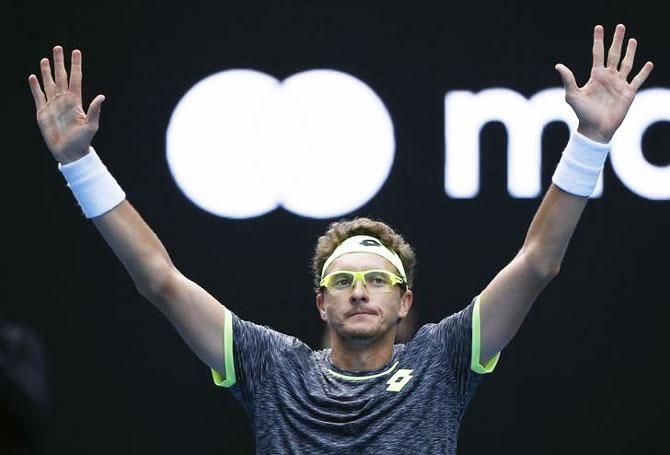 Exhausted by a near five-hour contest, Denis Istomin struggled to formulate his thoughts following his stunning upset of Novak Djokovic at the Australian Open.
Djokovic 'disappointed' after being done in by Istomin high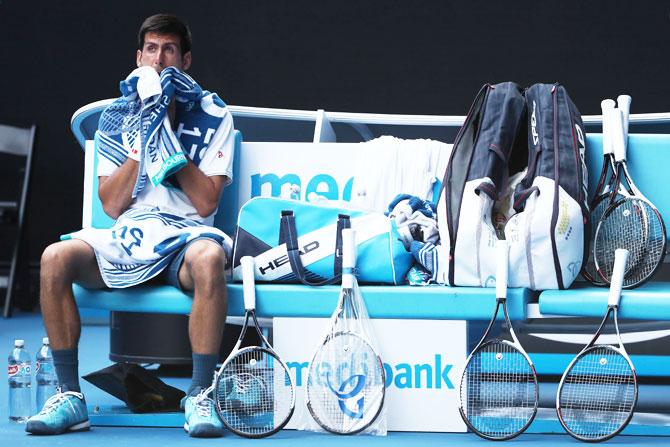 A deflated Novak Djokovic blamed a bad day at the office for his stunning second-round elimination by Uzbek wildcard Denis Istomin which condemned the Serb to his earliest grand slam exit in nearly a decade.
PHOTOS: Istomin stuns defending champ Djokovic in 2nd round at Aus Open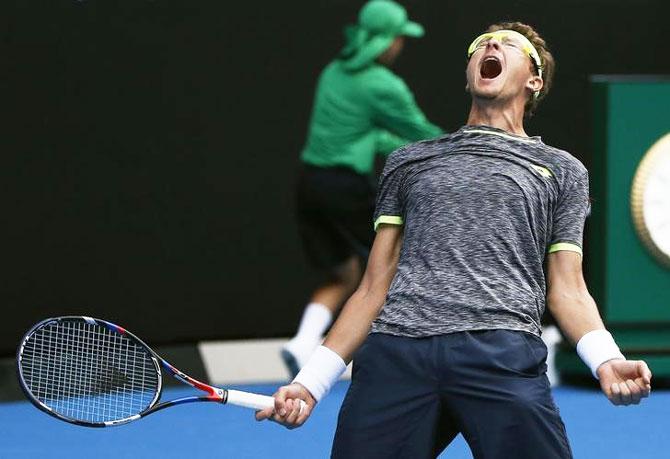 'I surprised myself also today'
Aus Open PIX: Defending champ Djokovic out; Serena, Raonic, advance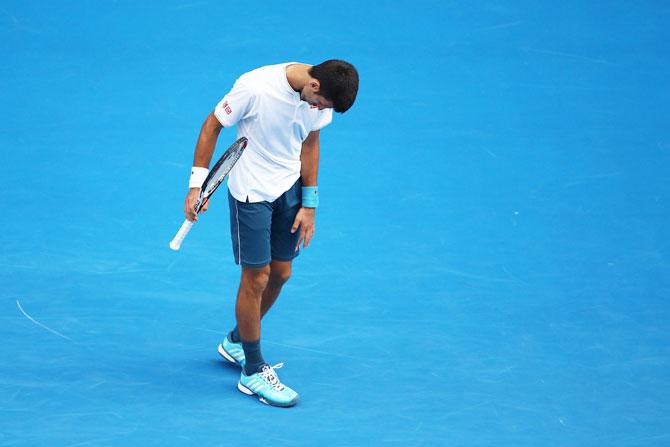 Images from all the action on Day 4 of the Australian Open in Melbourne on Thursday
January 18, 2017
Birthday girl Kerber gifts unnecessary points before winning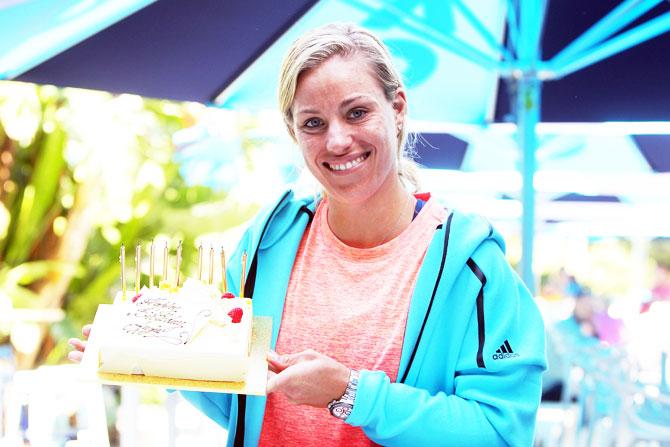 World number one Angelique Kerber got the birthday gift she wanted Wednesday by making the Australian Open third round, but she had to work hard against fellow German Carina Witthoeft.
PHOTOS: Murray hands out masterclass to reach third round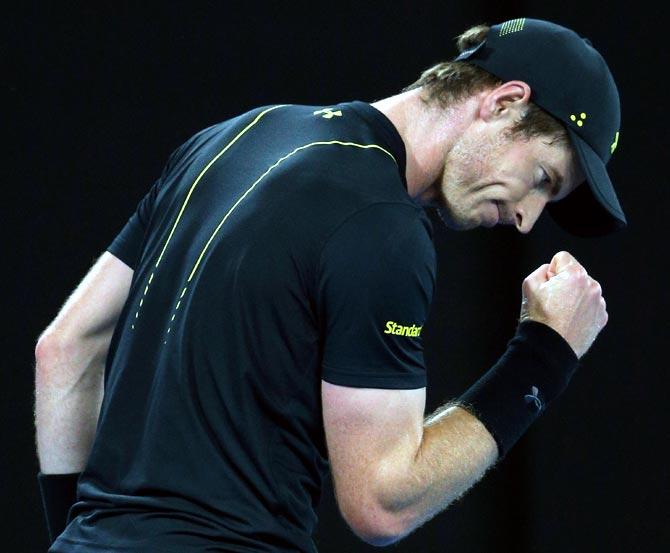 Andy Murray looked every bit the world number one as he gave a Russian teenager Andrey Rublev a lesson in Grand Slam tennis to reach the third round of the Australian Open with a 6-3, 6-0, 6-2 win.
Federer wary of Berdych test after fending off Rubin challenge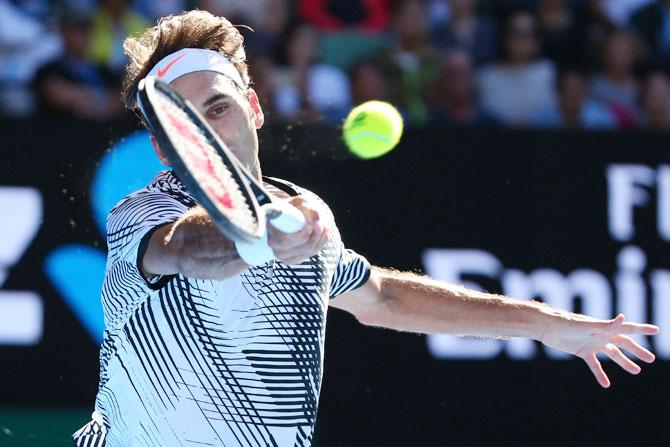 Roger Federer dug himself out of a late slump to fend off American qualifier Noah Rubin 7-5, 6-3, 7-6(3) on Wednesday and draw vital confidence for a tough third round clash against 10th seed Tomas Berdych at the Australian Open.
PHOTOS: Tennis legend Agassi makes Mumbai stop over!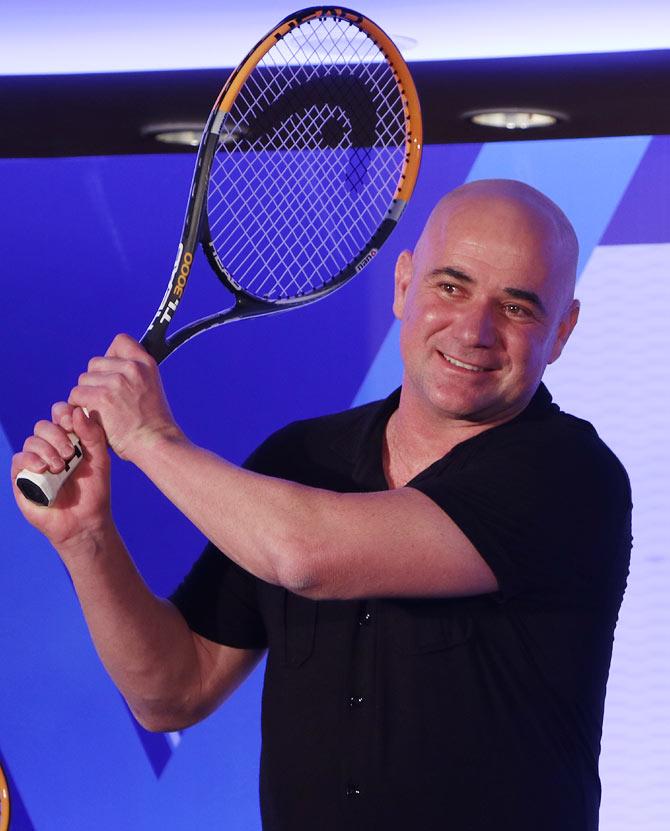 Former World No 1 and tennis legend Andre Agassi was named ambassador for the True North Brand at an event in Mumbai on Wednesday.
True love keeps Venus coming back for more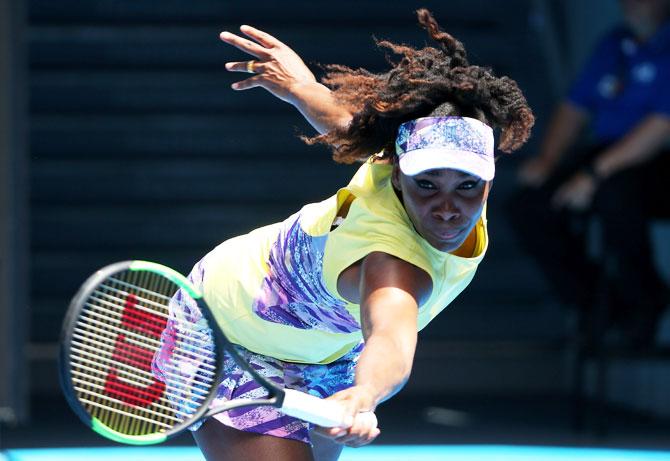 Seven-time grand slam champion Venus Williams advanced to the third round at Melbourne Park on Wednesday with a 6-3, 6-2 win over Stefanie Voegele but conceded she was still troubled by an elbow injury that forced her to pull out of the women's doubles.
Indians at the Aus Open: Sania and Bopanna march forth in doubles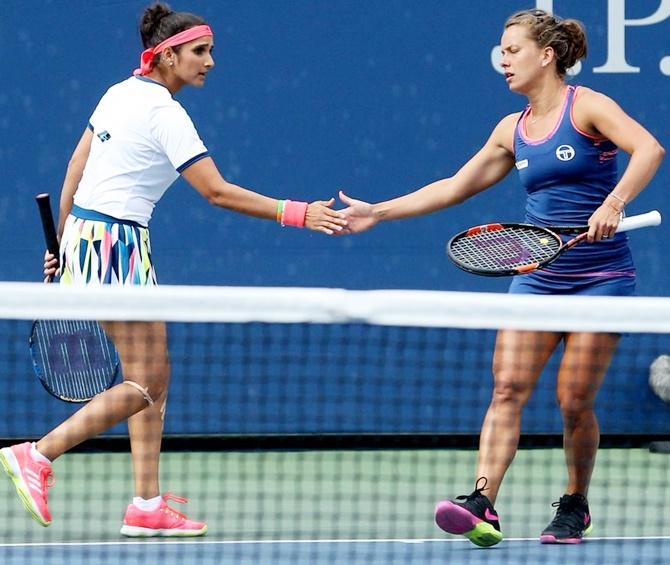 Sania Mirza and Rohan Bopanna made winning starts to their respective campaigns at the Australian Open with contrasting opening-round victories with their doubles partners, in Melbourne on Wednesday.
Aus Open PIX: Kyrgios, Cilic out; Federer Kerber stagger to Round 3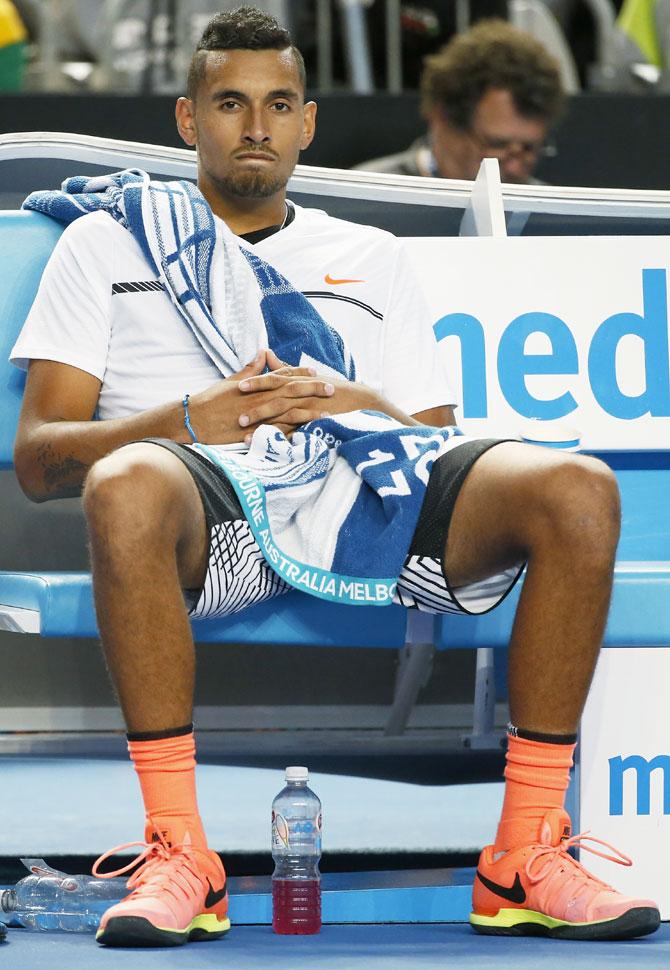 Images from all the action on Day 3 at the Australian Open in Melbourne on Wednesday
January 16, 2017
Australian Open: Knight in rusty armour Murray battles through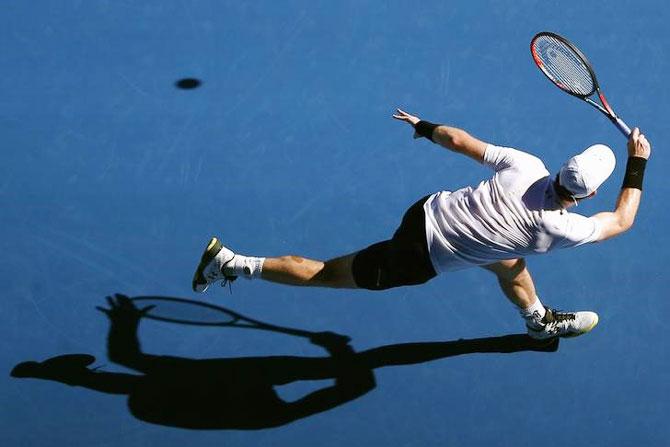 Andy Murray took to Melbourne Park's centre court as top seed at a grand slam for the first time in his career on Monday but the recently knighted Briton's victory over Illya Marchenko was far from a regal display.
'Switch hit': Big Bash cricket to Aus Open, Barty back with Beck win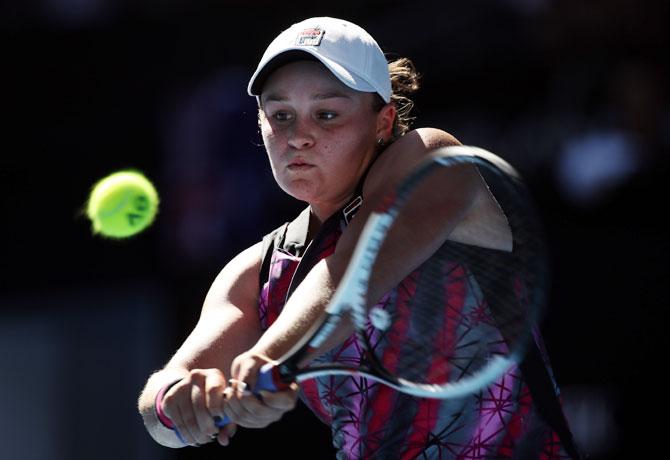 The 20-year-old, free of a shoulder injury that forced her out of qualifying for last week's Hobart tournament, won her first match at the Australian Open at her fourth attempt with a 6-4, 7-5 victory over Germany's Annika Beck.
EPL: Exceptional Ibra to United's rescue again in Liverpool draw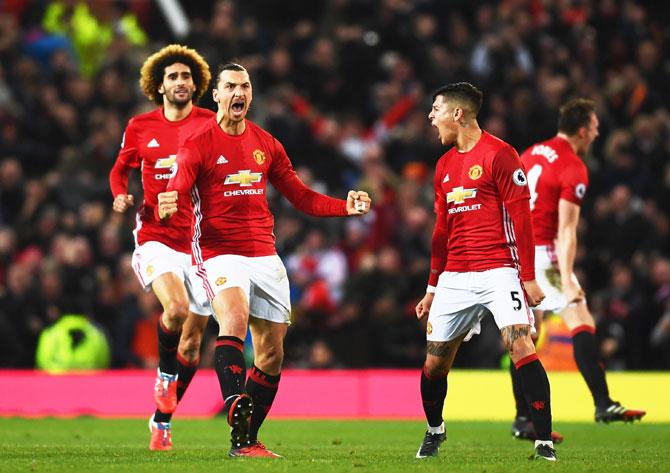 Zlatan Ibrahimovic noted this week in his own inimitably self-regarding fashion that he had taken just three months to conquer England.
Aus Open PHOTOS: Halep ousted; Wawrinka and Nishikori survive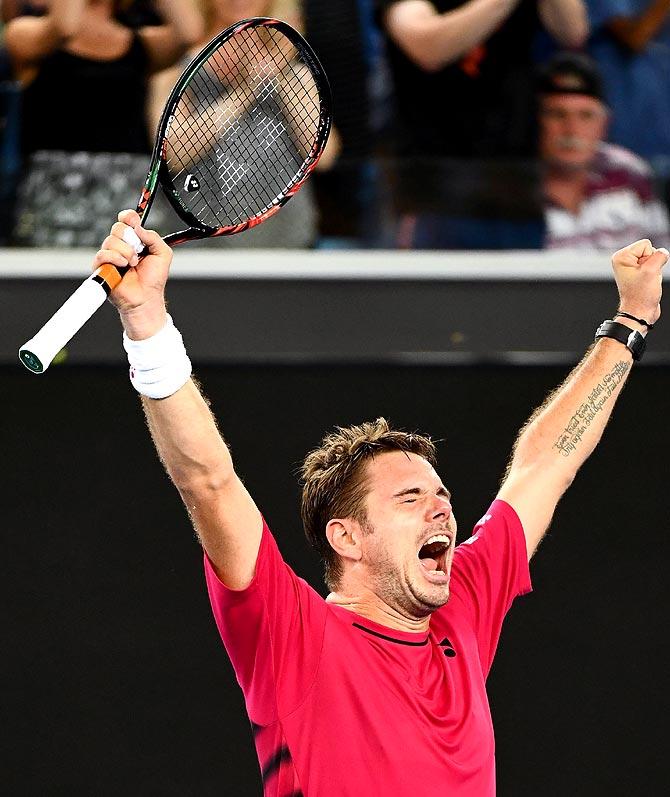 Images from Day 1 of the Australian Open, in Melbourne, on Monday.
January 15, 2017
Manchester City's title hopes hit by Everton teens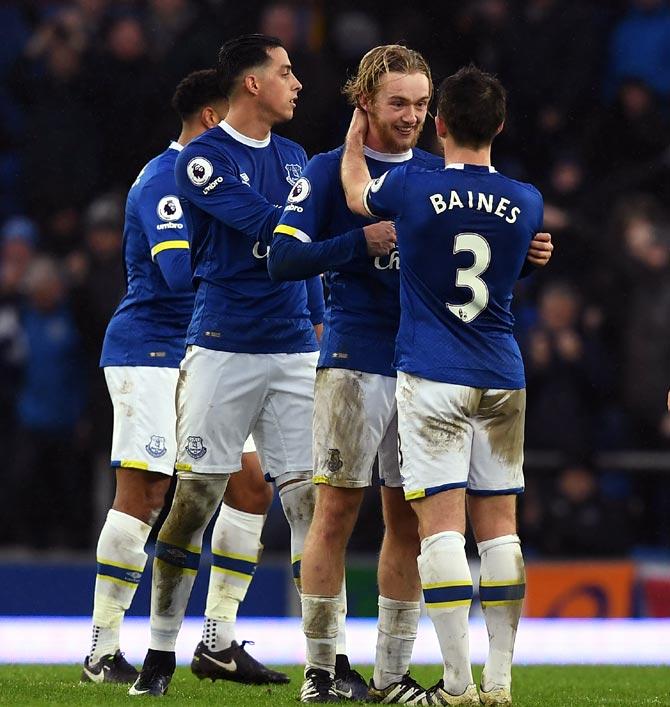 Manchester City's Premier League title hopes were delivered a grievous blow on Sunday as Everton's inspired Romelu Lukaku and teenagers Tom Davies and Ademola Lookman made it another crushing afternoon for Pep Guardiola.
January 14, 2017
Serena defers engagement joy as 7th Aus Open in sight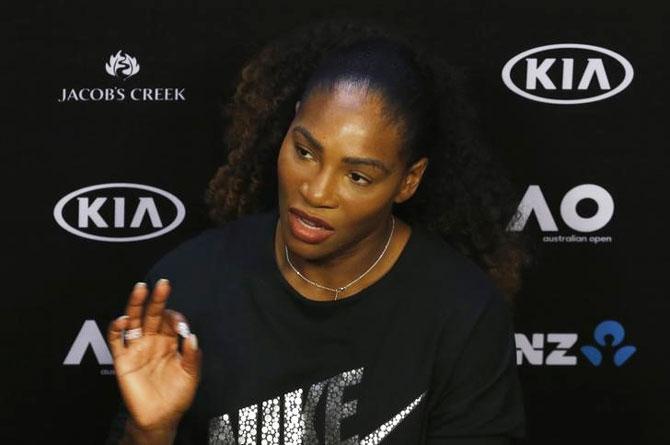 The World No 2 announced her commitment to the social media entrepreneur shortly before the New Year and while it was "great", she was pushing it to the back of her mind, at least until after Melbourne Park.
January 13, 2017
Tennis round-up: Konta wins Sydney title; Goffin retains Kooyong crown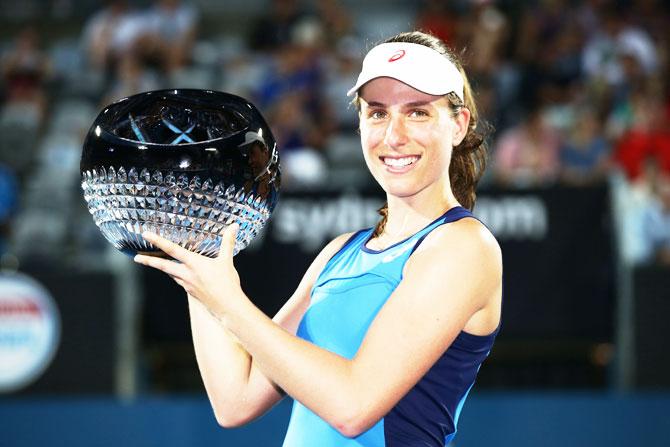 Britain's Johanna Konta overpowered Agnieszka Radwanska 6-4, 6-2 in a one-sided victory in the final of the Sydney International on Friday to claim her second career WTA title.
King's Cup: Real claim record with last-gasp draw against Sevilla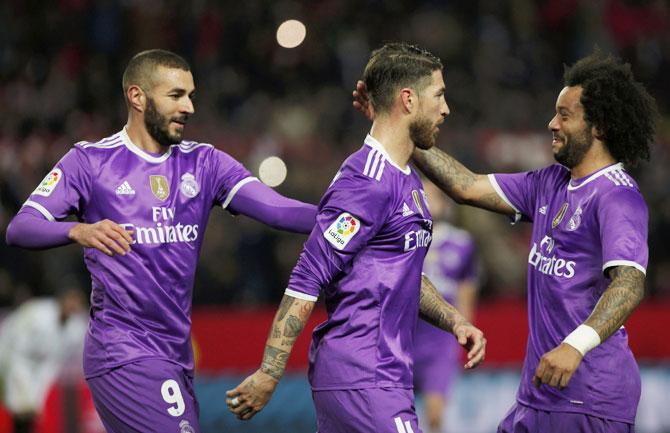 Real Madrid set a Spanish record of 40 matches unbeaten in all competitions after they came back from two goals behind to snatch a 3-3 draw at Sevilla with a last-gasp equaliser from Karim Benzema in the King's Cup on Thursday.
Djokovic faces huge test as he opens Australian Open defence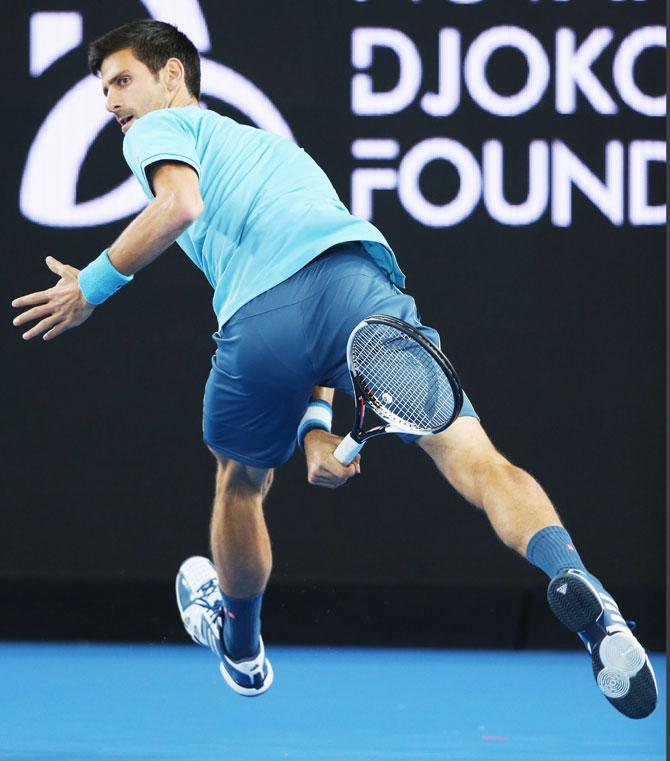 Top seed Andy Murray could meet Roger Federer or Kei Nishikori in the third round, while Serena faces tricky Belinda Bencic in opening round
Djokovic. Novak Djokovic. Licensed to thrill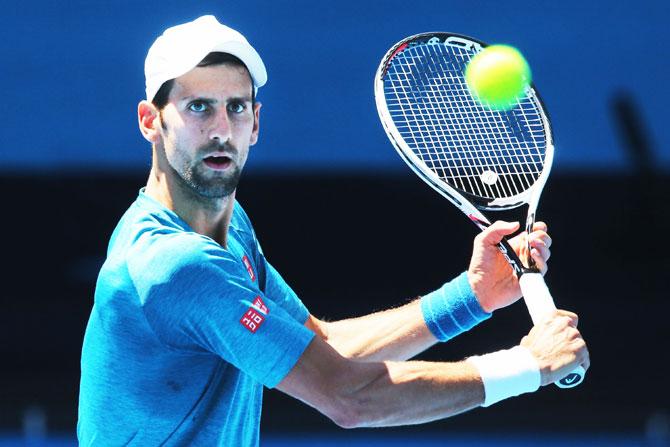 '007, Why not? Maybe this is the year. Seven in 17. I'm not a numerologist but it sounds good'
January 08, 2017
PHOTOS: Djokovic downs Murray to win Qatar crown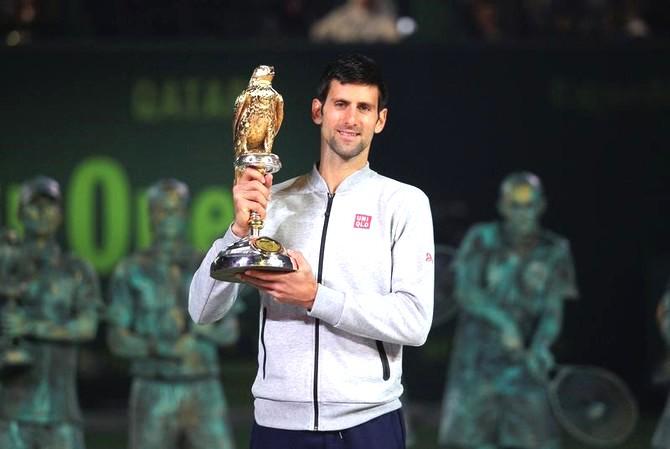 Novak Djokovic made an immense statement in his bid to rule men's tennis again when he defeated Andy Murray, the man who deposed him as world number one, 6-3, 5-7, 6-4 in an epic Qatar Open final in Doha on Saturday.
Five reasons for Real Madrid's unbeaten run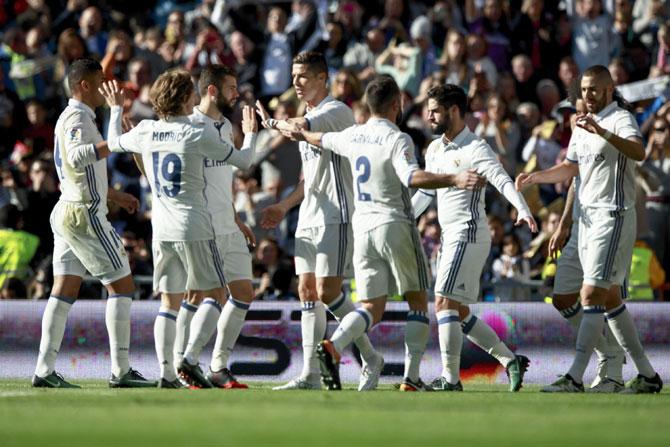 Real Madrid's 5-0 thrashing of Granada on Saturday equalled a Spanish record of 39 games unbeaten in all competitions. Reuters Sport takes a look at the factors behind their run.
January 07, 2017
Rooney matches Charlton to become Manchester United's leading scorer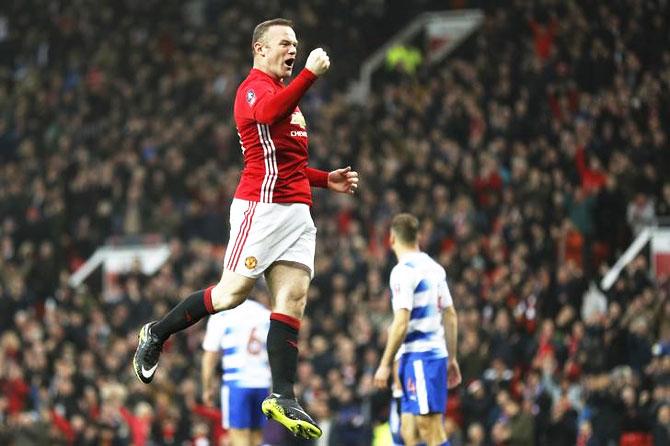 Wayne Rooney made history by equalling Bobby Charlton's Manchester United record and becoming the club's leading all-time goalscorer after netting his 249th goal (543 matches) during an FA Cup match against Reading on Saturday.
Sania ends 91-week reign as World No 1 despite Brisbane title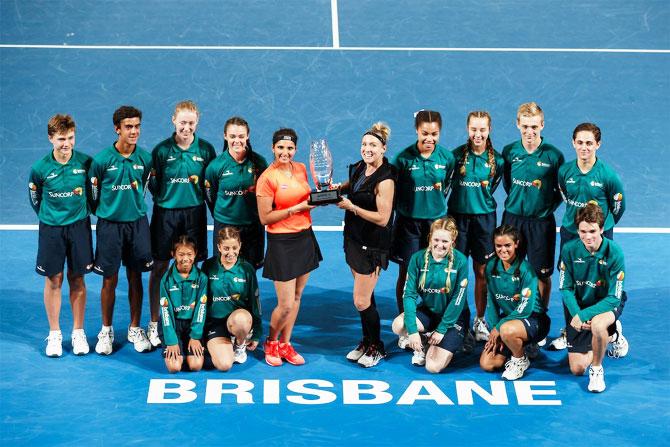 Her doubles partner, Bethanie-Mattek Sands now wears the 'Miss World No.1 crown'
Guardiola wants Manchester City to become 'believers'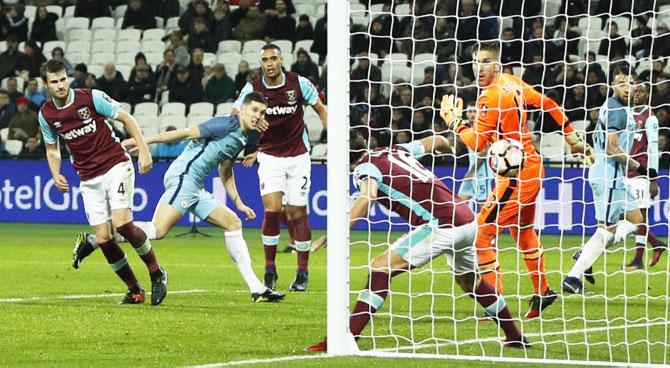 ManchesterCity manager Pep Guardiola had his spirits cheered with a 5-0 FA Cup thrashing of West Ham United on Friday that the Spaniard hopes will turn his side into "believers" for the rest of the campaign.
Dimitrov vs Nishikori in Brisbane; Murray-Djokovic face off in Doha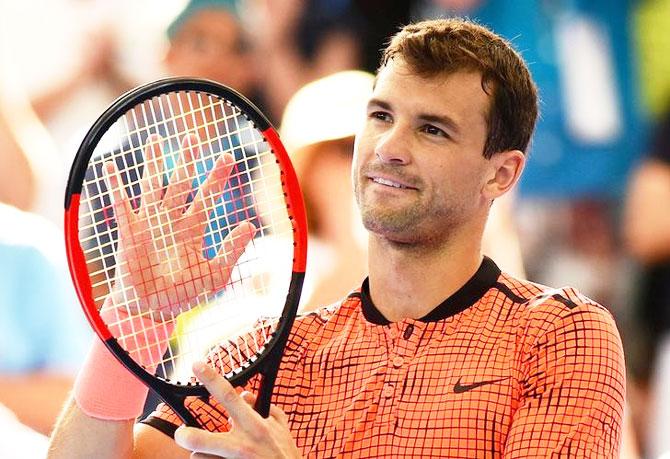 Bulgaria's Grigor Dimitrov upset top seed and defending champion Milos Raonic of Canada at the Brisbane International on Saturday to set up a title clash against Japan's Kei Nishikori.
January 06, 2017
Croatian Cilic ready to challenge Big Four for Slams this season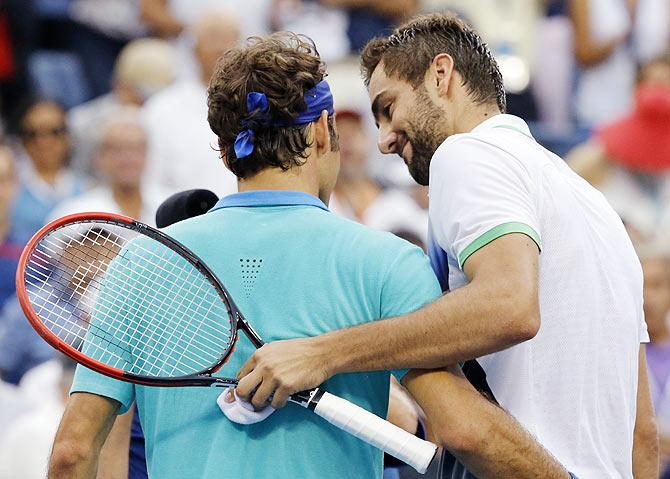 'Goran had quite a big influence on me to change my mentality and focus on my game. He changed my serve, I started to get aggressive and that is what I needed in my career'
January 03, 2017
For Kerala, ISL 3 finale was bigger than Euro 2016 final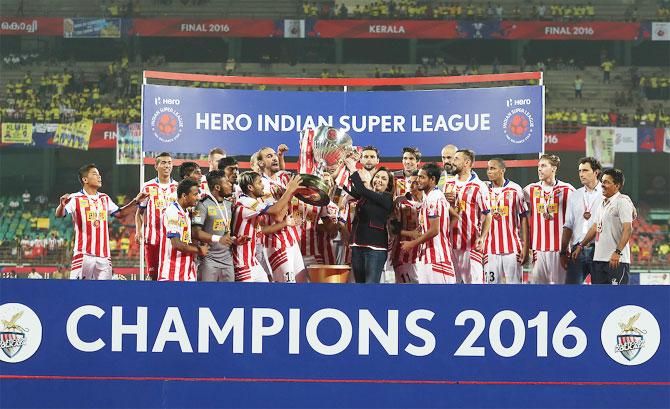 Hero ISL received, in its third edition, a total viewership of 216 million as compared to around 207 million last year. One of the highlights of the season was the sharp increase in rural India viewership registering a cumulative figure of 101 million, indicating the widespread appeal of the sport.
Do Ronaldo, Messi feature in your World XI?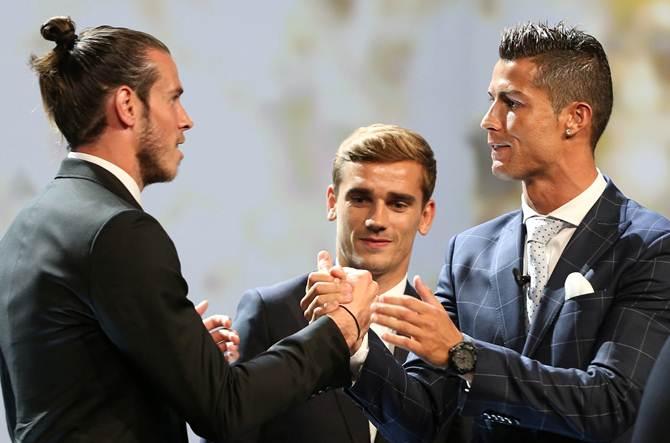 Cristiano Ronaldo, Lionel Messi and Antoine Griezmann appear among the 55 nominees for the FIFPro 2016 World 11 released on Friday but England forward Wayne Rooney failed to make the shortlist for the first time.
Ibra's offside goal, questionable red card mark United's dramatic win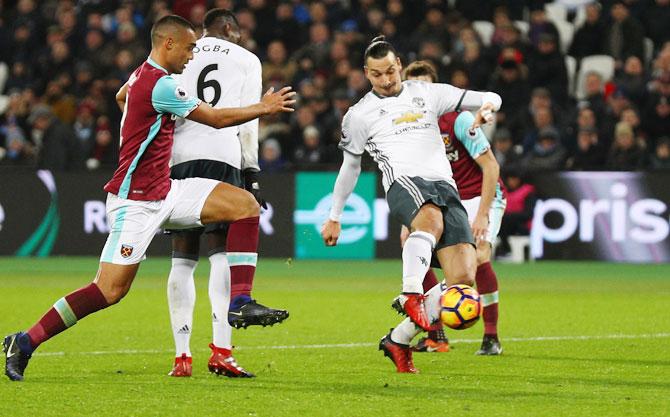 Manchester United clinched a sixth consecutive Premier League win for the first time since April 2015 as Juan Mata and Zlatan Ibrahimovic scored second-half goals in a controversial 2-0 victory at 10-man West Ham United on Monday.
December 31, 2016
2016 Rewind: India's women shine bright; Kohli enjoys dream run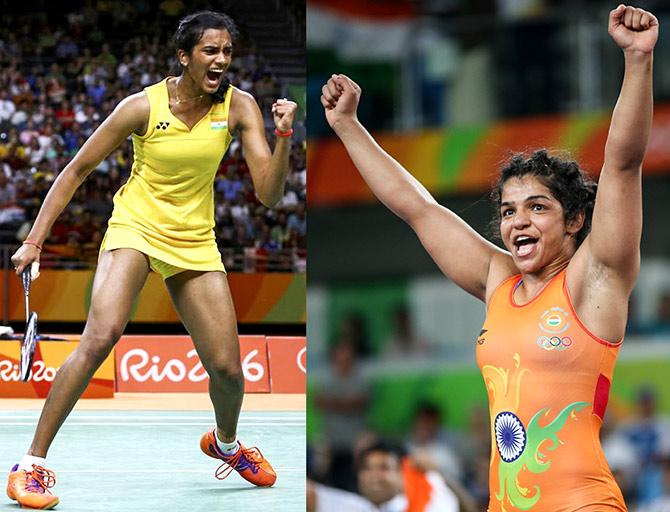 An Olympic campaign saved by the fortitude of three women, a cricket team that rediscovered itself under a bold and zealous Virat Kohli -- Indian sports in 2016 was a dramatic mix of highs and lows wherein athletes mostly raised the bar but administrators found new ways to embarrass the country.
Another year of utter disappointment for Indian athletics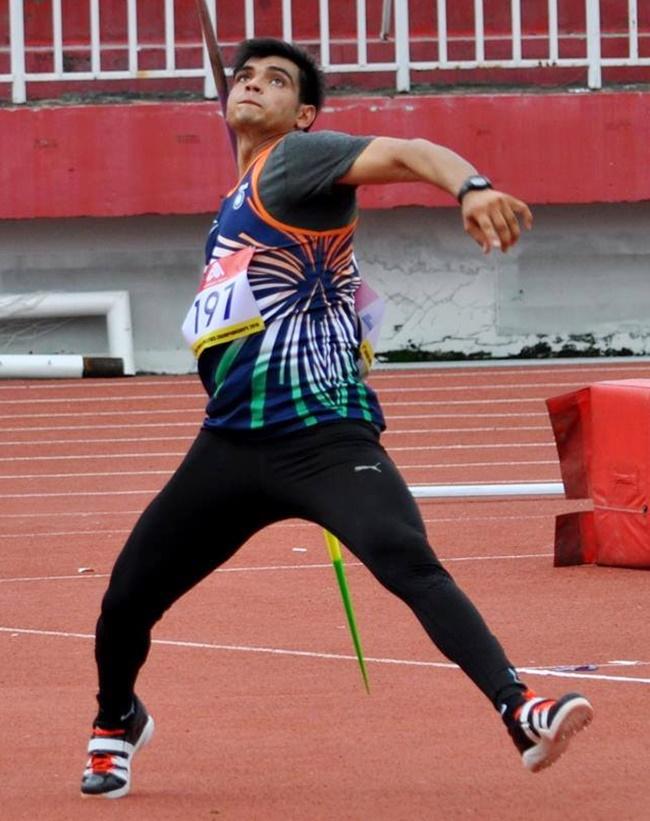 An overview of India's underwhelming performance in athletics
December 30, 2016
FLASHBACK! BEST Sports Photos from 2016 - Part 3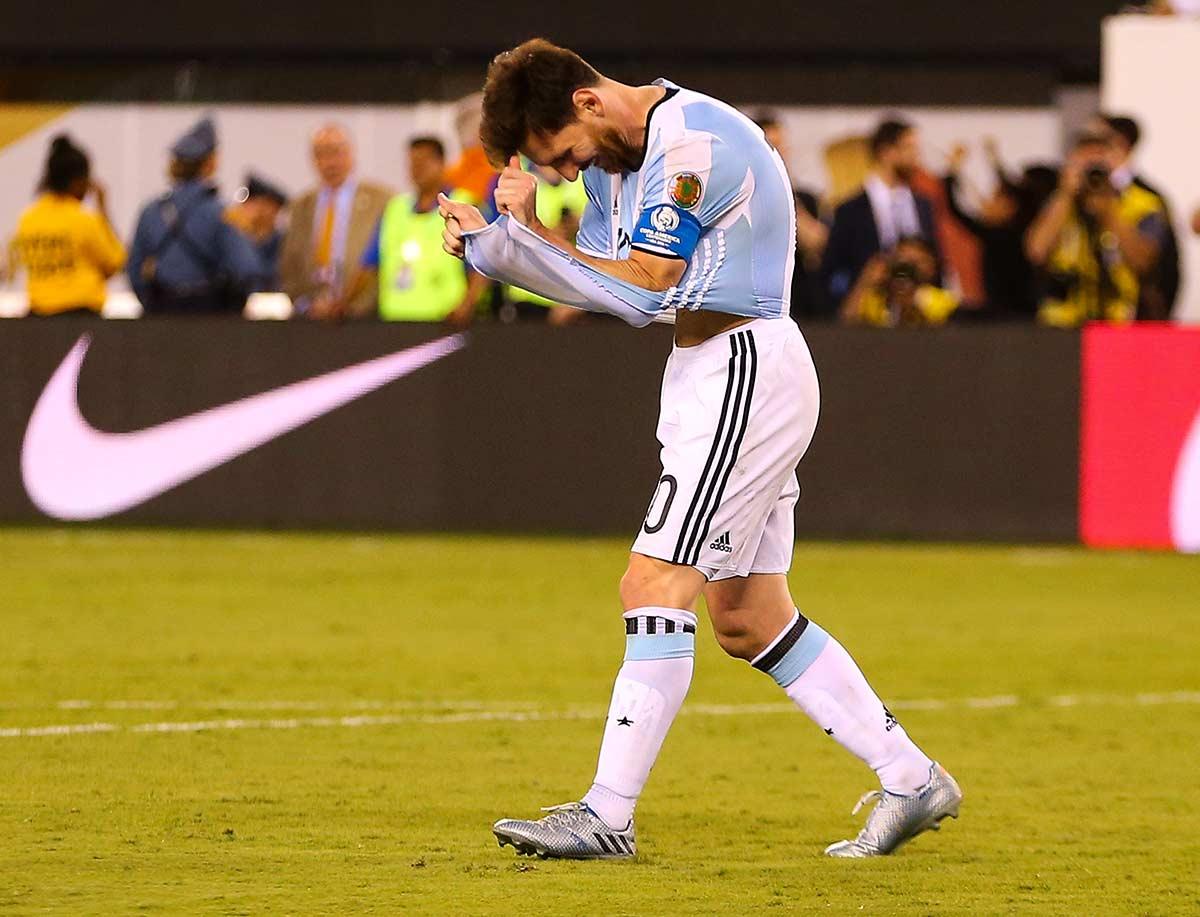 As we prepare to cruise into the New Year, Rediff.com gives you a glance back, through photos, into all the sporting moments that made the last 12 months memorable.
Returning Nadal, Federer build mindset for long term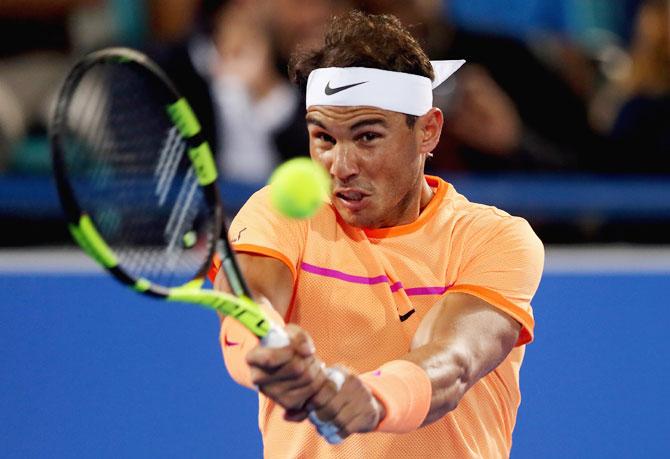 With fire in their bellies, former Grand Slam champs Rafael Nadal and Roger Federer are targetting a fresh return to the tennis courts in 2017.
Indian hockey rose in stature in 2016 but Olympic failure hurt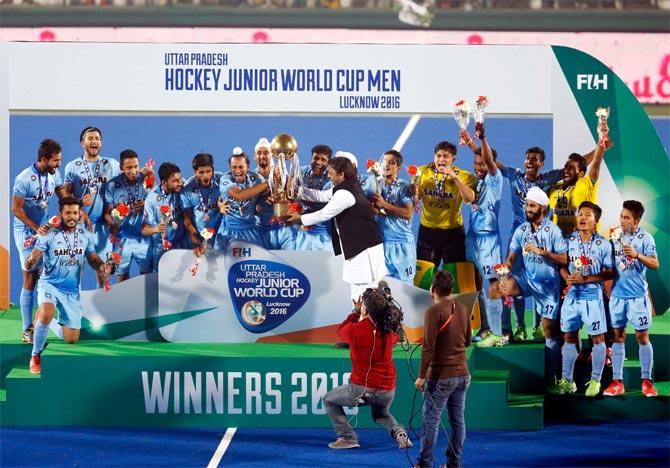 For Indian hockey, 2016 was a year in which much was promised and achieved as well. It was also a year where India made significant and visible advancements but deep down somewhere the pain of missing out on an Olympic medal will remain for four more years.
December 29, 2016
EPL: What you must not miss this weekend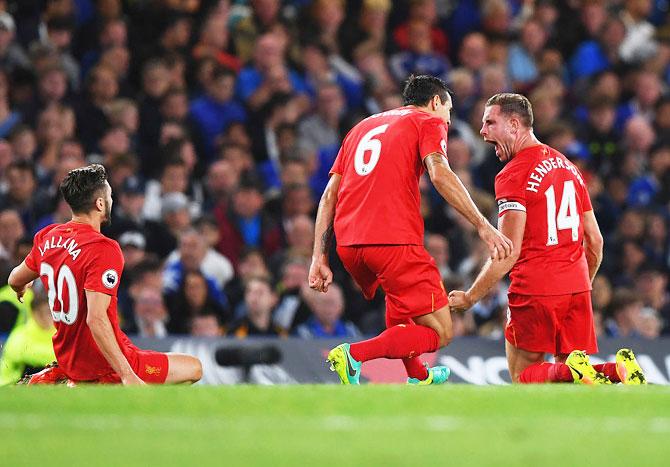 The much-anticipated clash between Liverpool and ManchesterCity at Anfield on Saturday looks like a knockout to determine who can challenge Chelsea for the Premier League title.
FLASHBACK! BEST Sports Photos from 2016 - Part 2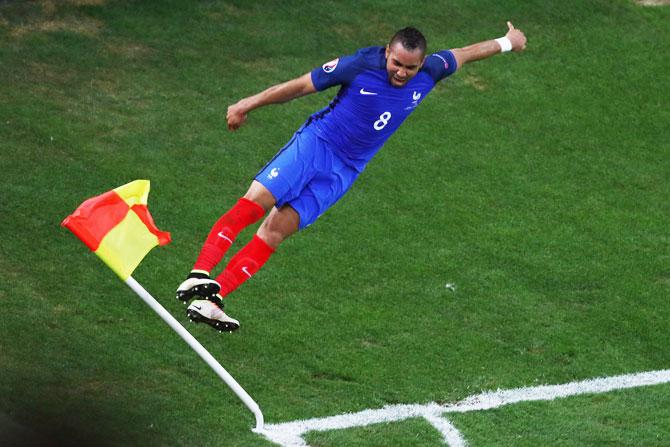 As we prepare to cruise into the New Year, Rediff.com gives you a glance back, through photos, into all the sporting moments that made the last 12 months memorable.
EPL PHOTOS: Alli double helps Spurs sink 10-man Southampton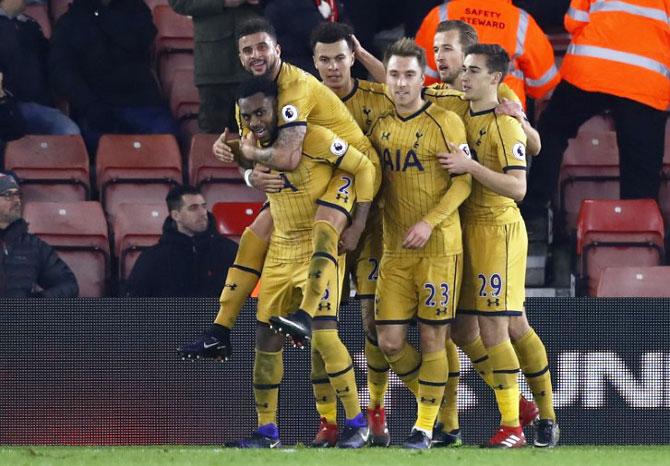 Spurs, who stayed fifth in the table with 36 points from 18 matches, one behind arch-rivals Arsenal and three adrift of third-placed Manchester City, visit 10th-placed Watfor
December 28, 2016
EPL PHOTOS: Liverpool rally to thrash Stoke, move to 2nd spot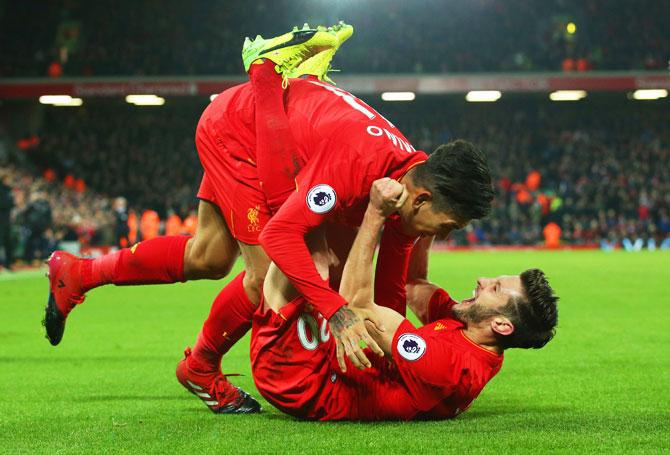 Goals from Adam Lallana and Roberto Firmino put the home side ahead by halftime and they romped to victory with a Giannelli Imbula own goal and Daniel Sturridge strike after Stoke threatened an upset with a Jonathan Walters header.
December 27, 2016
FLASHBACK! BEST Sports Photos from 2016 - Part 1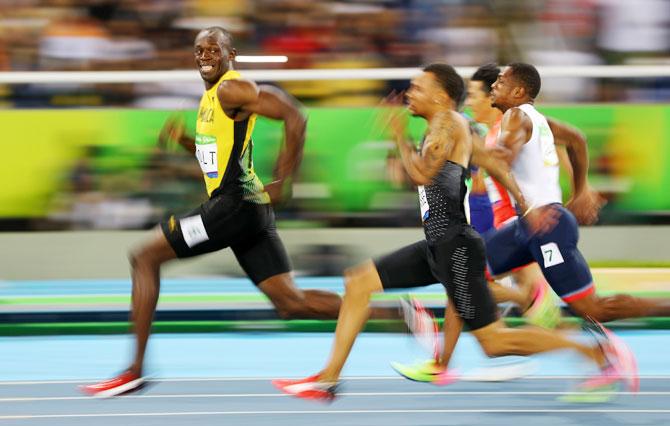 As we prepare to cruise into the New Year, Rediff.com gives you a glance back, through photos, into all the sporting moments that made the last 12 months memorable.
EPL PHOTOS: Record-breaking Chelsea go seven points clear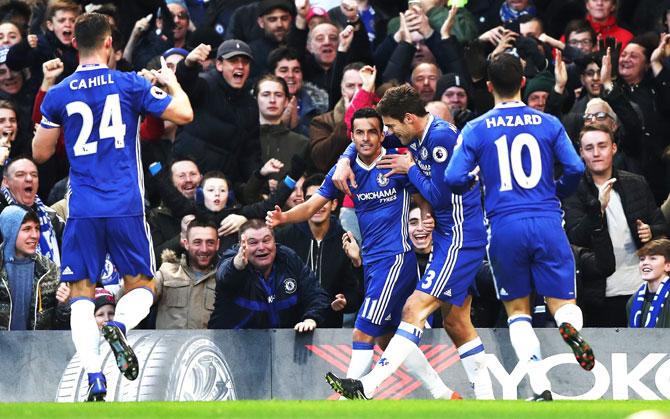 Spaniard Pedro scored twice as Chelsea tightened their grip on top spot by sweeping past Bournemouth 3-0 on Monday, a club record 12th successive Premier League win taking them seven points clear.
December 22, 2016
Flashback: How dominant Murray, Kerber owned the year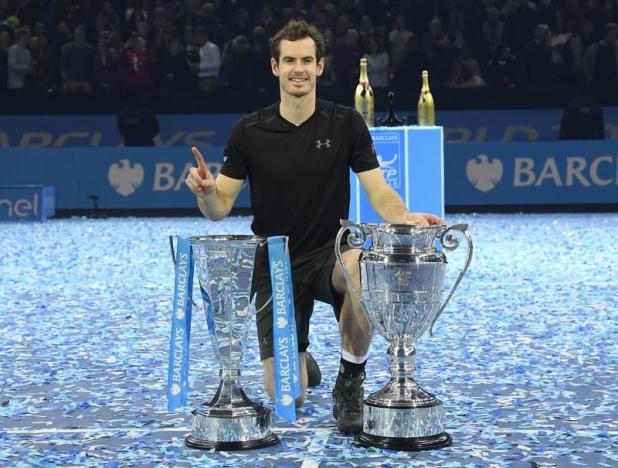 Audacious coups by Andy Murray and Angelique Kerber have transformed the tennis landscape and they will begin 2017 eyeing the kind of domination that few would have thought possible at the start of a seismic year.
Irresistible Chelsea looking to break Arsenal's win record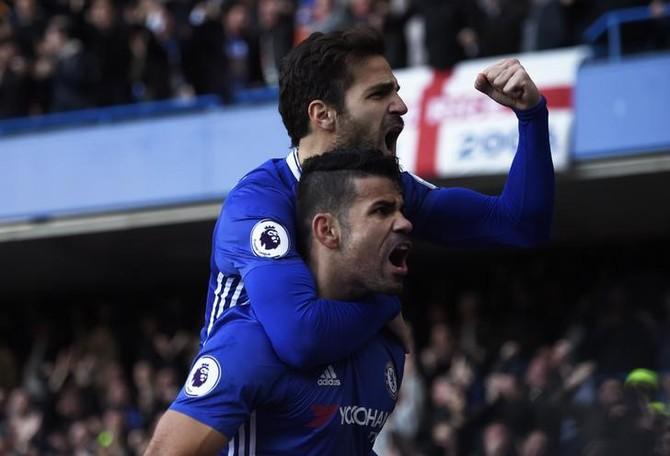 Irresistible Chelsea go into the Christmas round of fixtures knowing they can end the year by re-writing the record books.
Euro football shorts: Bayern down Leipzig; PSG snap winless streak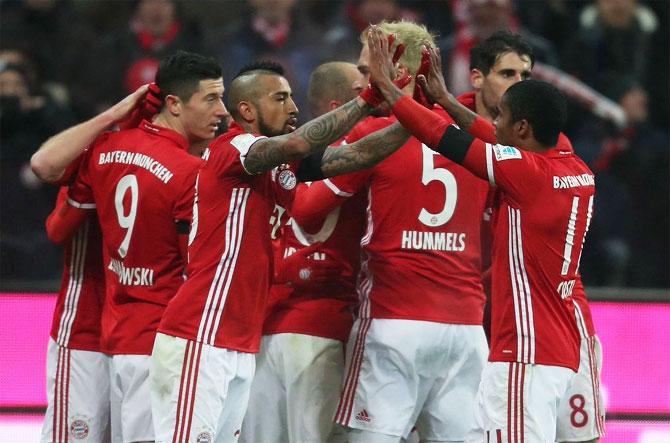 Bayern Munich put upstarts RB Leipzig firmly in their place by sweeping to an emphatic 3-0 home win, with all the goals coming in the first half, in a disappointingly one-sided top-of-the-table Bundesliga clash on Wednesday.
Teen golf sensation Aditi Ashok makes waves in breakthrough year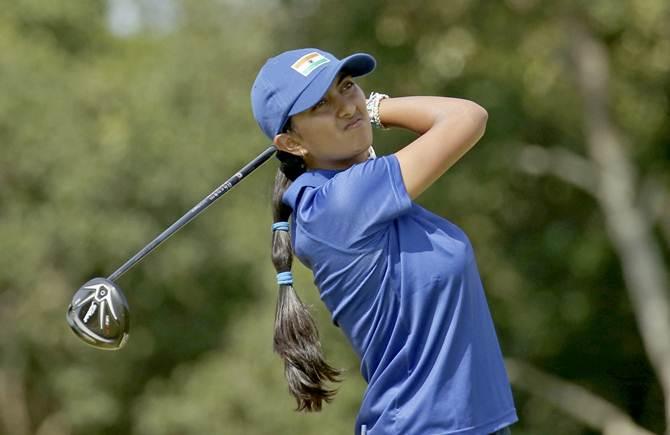 Eighteen-year-old Aditi Ashok was the brightest star on the country's golfing circuit this year and was fittingly named the Ladies European Tour's Rookie of the Year for becoming the first Indian to win two back-to-back titles in her first year on the tour.
December 21, 2016
What are Sania Mirza's plans for 2017?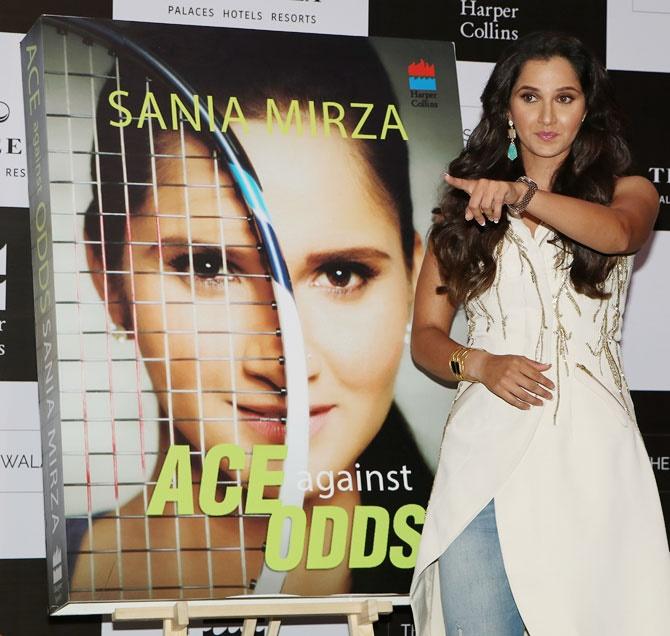 Tennis star Sania Mirza says she enjoyed incredible results in 2016 and it would be amazing if she could complete a Career Slam next year.
December 18, 2016
Dominant India down Belgium to win Jr Hockey World Cup title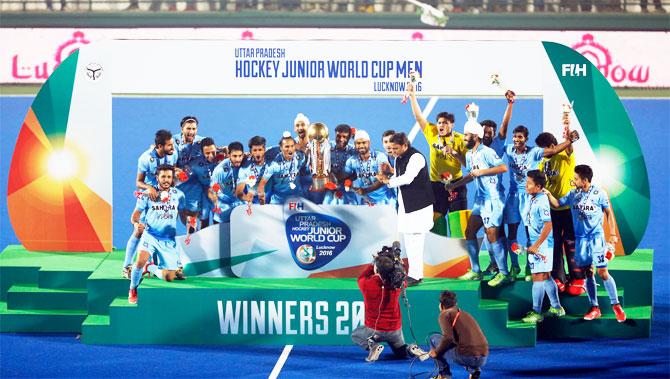 India won the gold medal in the Junior Hockey World Cup after defeating Belgium 2-1 at the Major Dyan Chand stadium in Lucknow on Sunday.
Real Madrid rally to win Club World Cup after Ronaldo hat-trick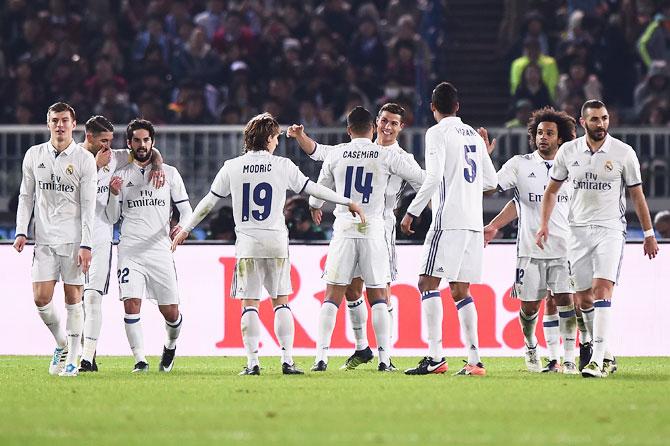 Real Madrid suffered an almighty fright before a Cristiano Ronaldo hat-trick hauled them back from 2-1 down and gave them a 4-2 win over rank outsiders Kashima Antlers in the Club World Cup final on Sunday.
December 17, 2016
'God grabbed me and gave me a second chance'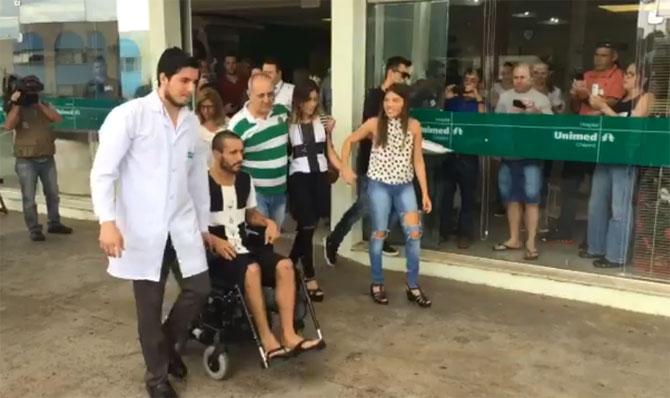 Seat swap may have saved Chapecoense player's life in plane crash
EPL PHOTOS: Chelsea seal win at Palace, Stoke hold Leicester 2-2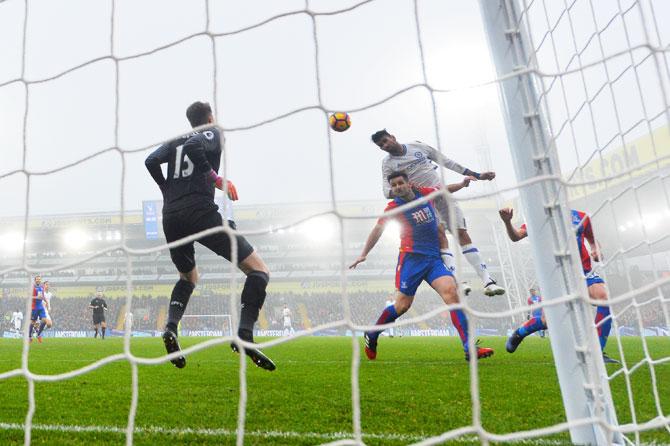 Leaders Chelsea stretched their Premier League winning run to a club record-equalling 11 as Diego Costa's header shortly before halftime secured a 1-0 victory at London rivals Crystal Palace on Saturday.
December 12, 2016
Euro football PHOTOS: Juve snatch win in Turin derby; Schalke lose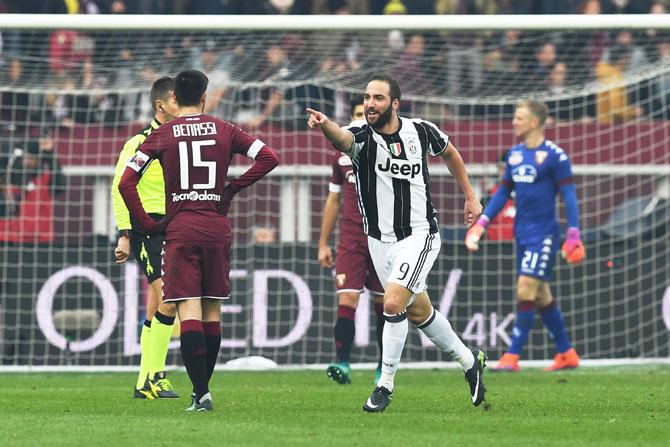 Juventus striker Gonzalo Higuain again showed his killer instinct with two expertly-taken goals in a late 3-1 win at Torino after their less illustrious neighbours had scored first and dominated the Serie A game on Sunday.
EPL PIX: Origi spares Liverpool blushes against West Ham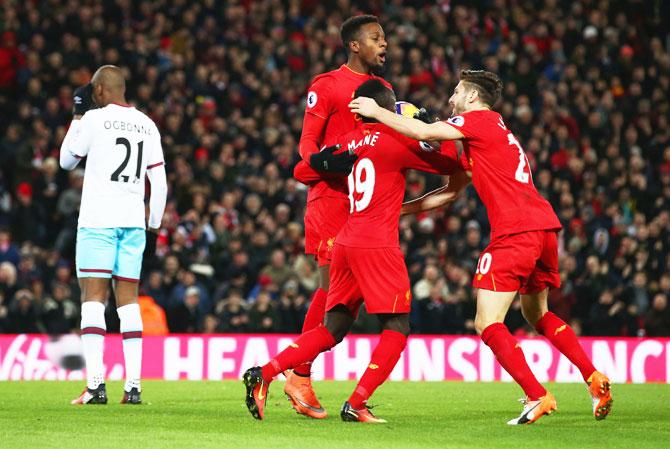 Liverpool took the lead against West Ham United but then had to come from behind in another game of thrills and spills for Juergen Klopp's unpredictable side who where held to a 2-2 home draw in the Premier League on Sunday.
December 09, 2016
Over 1,000 Russian athletes benefited from conspiracy to conceal doping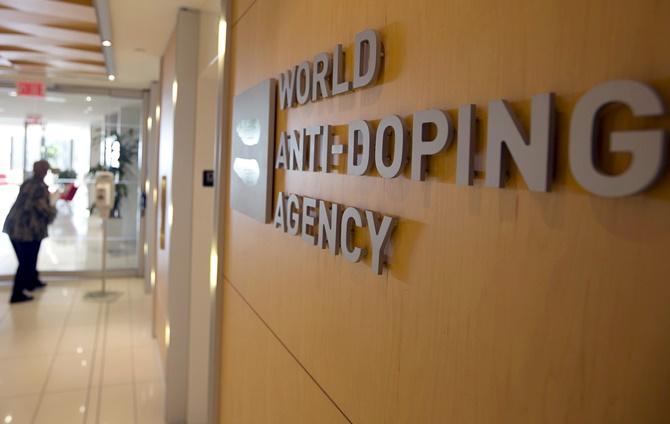 'We are now able to confirm a cover up that dates back until at least 2011 and continued after the Sochi Olympic Games. It was a cover up that evolved from uncontrolled chaos to an institutionalised and disciplined medal-winning conspiracy'
December 07, 2016
Ethics Board extends IAAF officials' suspension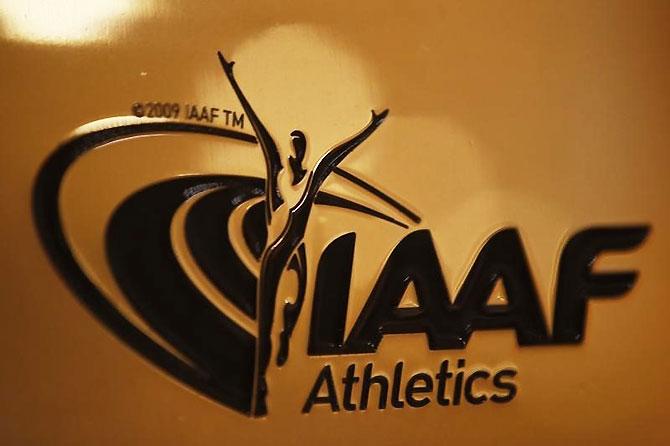 Three senior athletics officials have had their provisional suspension from the sport extended by the IAAF's Ethics Board as it continues its investigation into their alleged involvement in a suspected cover-up of Russian doping cases.
IBSF World Billiards: Kothari upsets Advani, Gilchrist in semis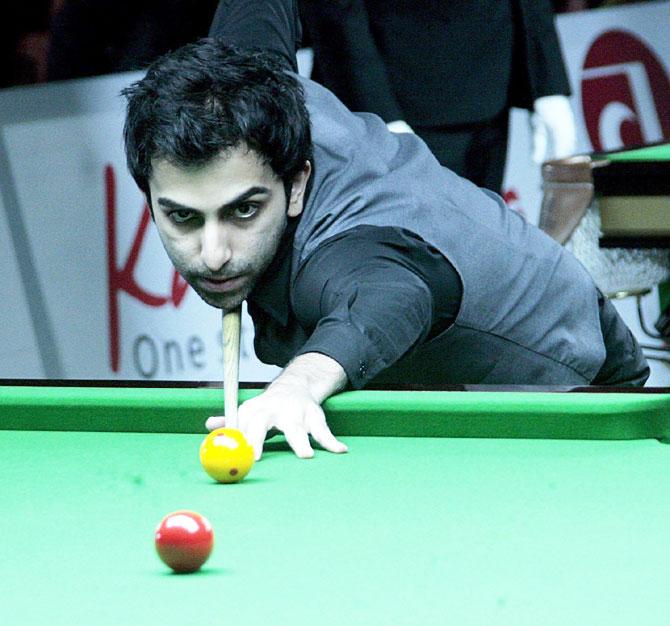 December 05, 2016
'Ronaldo doesn't have the brilliance of Messi'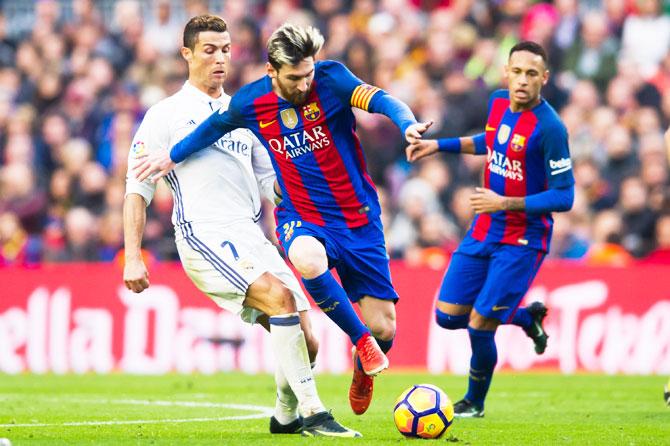 Former Real Madrid and England manager gives a clear explanation to the Messi vs Ronaldo debate
Euro football: Roma win bloody derby; Hamburg record 1st win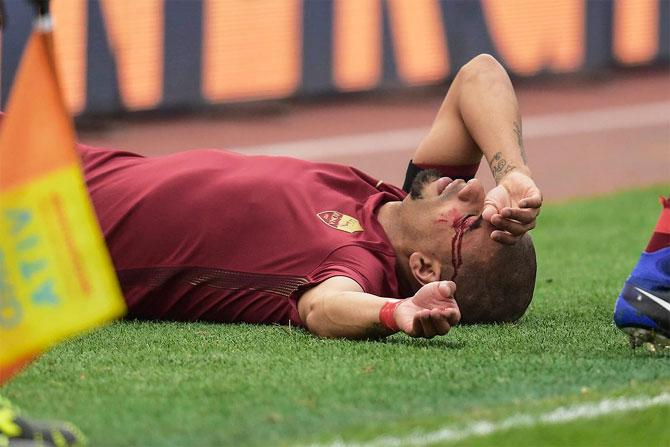 Photos from the football matches played in the Serie A, Bundesliga and French Ligue 1 on Sunday
EPL PHOTOS: Liverpool and United thwarted in dramatic finales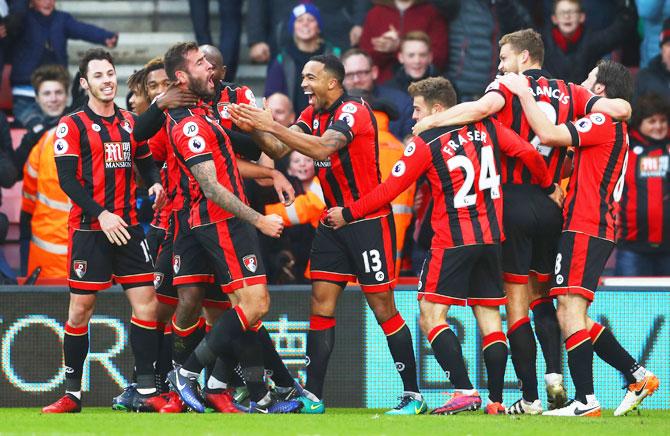 Premier League heavyweights Liverpool and Manchester United were caught by late sucker punches in two games that finished far more dramatically than they began on Sunday.
December 03, 2016
El Clasico PIX: Ramos strikes late equaliser as Real Madrid hold Barca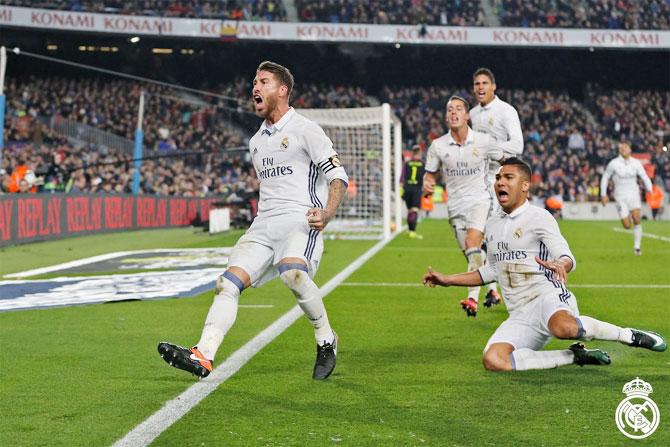 Real Madrid's Sergio Ramos scored in the 90th minute to hold FC Barcelona to a 1-1 draw at the Camp Nou on Saturday.
EPL PHOTOS: Ruthless Chelsea rally to sink Man City; Spurs down Swansea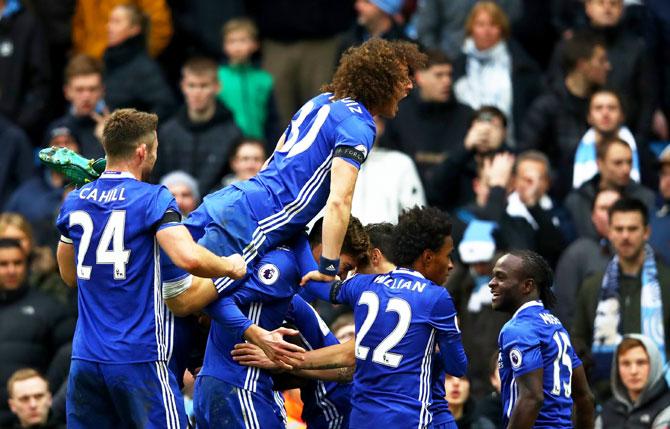 Chelsea came from behind to secure a 3-1 win at Manchester City and forge further clear at the top of the Premier League as a dramatic top-of-the-table clash ended in a mass brawl and two City players being sent off on Saturday.
Euro football: Napoli rediscover scoring touch; Bayern back on top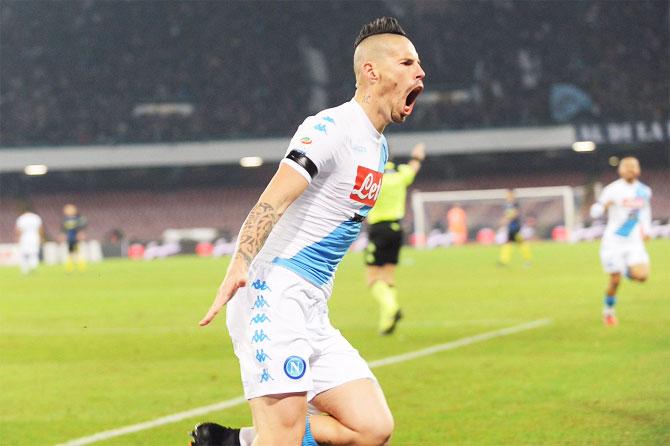 Napoli rediscovered their scoring touch as they brushed aside Inter Milan 3-0 on Friday, sending their opponents' new coach Stefano Pioli back to the drawing-board.
Grieving Brazilian town receives bodies of soccer crash victims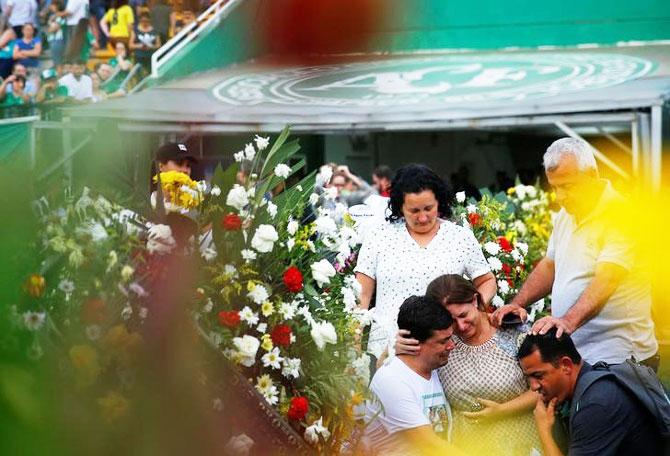 The Brazilian town of Chapeco, its streets wet with drizzle and buildings draped in the green of its devastated soccer club, prepared Saturday to receive the bodies of victims of an air crash in Colombia that killed 71 people and wiped out the team.
Vote: Is Premier League title out of United's reach?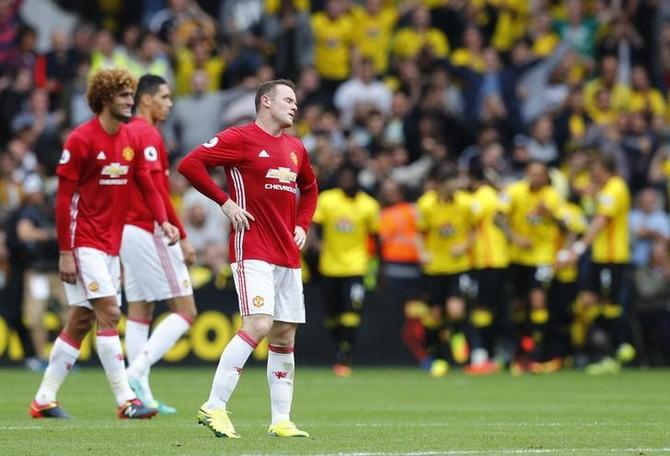 Manchester United might have left themselves too much ground to make up in the Premier League title race as they trail leaders Chelsea by 11 points after 13 games, according to their manager Jose Mourinho.
December 02, 2016
No team better than Barca; Real will be defensive, claims Luis Enrique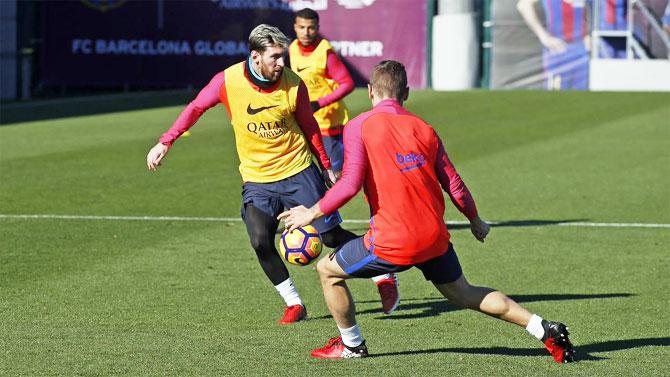 'Barca are the best team around and when we play as we know how we are unstoppable'
World champ Rosberg announces shock retirement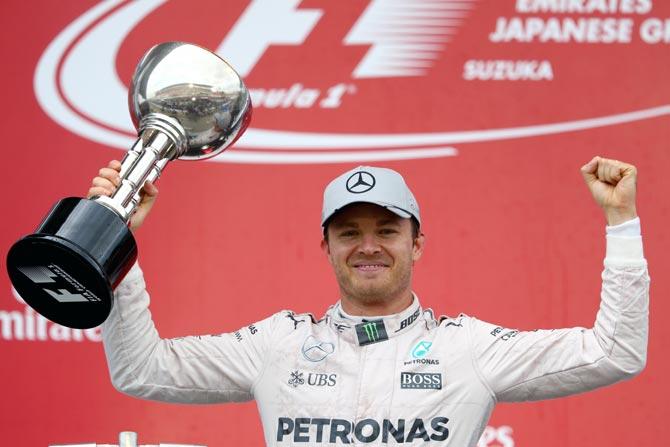 My strongest emotion right now is deep gratitude to everybody who supported me to make that dream happen
Colombia crash victims to take final flight home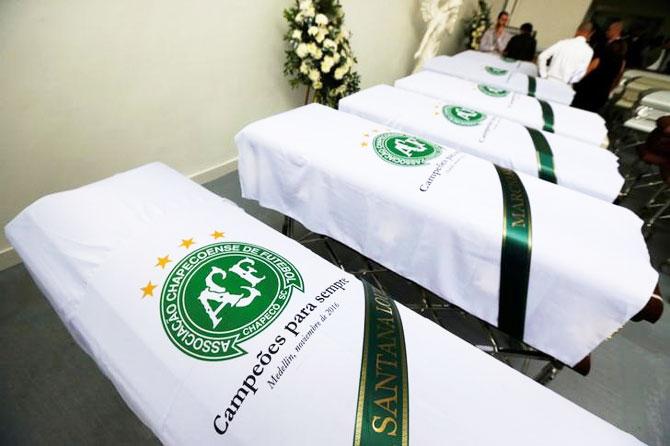 Dozens of hearses carrying the coffins of those killed when a plane flying Brazil's Chapecoense soccer team crashed into a Colombian mountain will leave Medellin for the airport on Friday to be flown home.
November 29, 2016
Soccer world descends into sorrow as Neymar, Chettri send condolences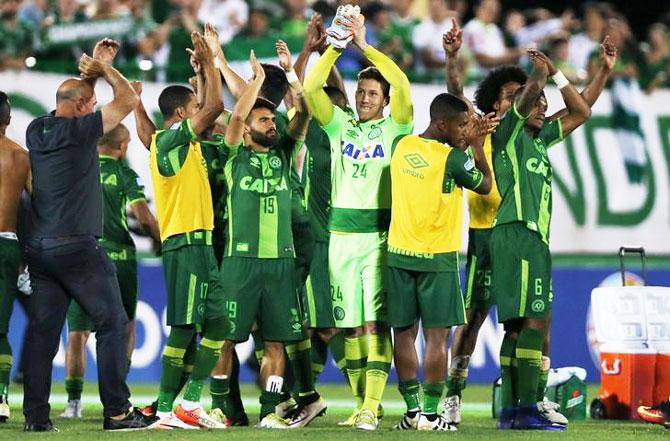 The soccer world was in mourning on Tuesday as clubs, players and fans from around the globe sent tributes and support to Brazilian side Chapecoense following a deadly air crash in Colombia that killed 76 people, including several players.
November 28, 2016
No European football has Chelsea in advantageous position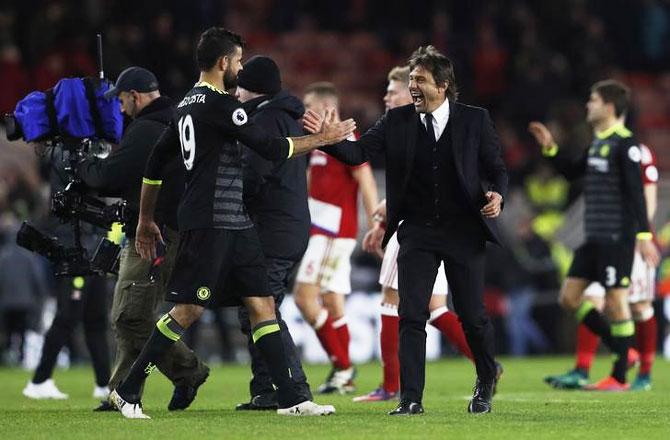 Chelsea forward Eden Hazard expects ManchesterCity and Liverpool to be the London side's main rivals in the Premier League title race after the top three sides all enjoyed victories on the weekend.
La Liga PHOTOS: Barca fall six points behind Real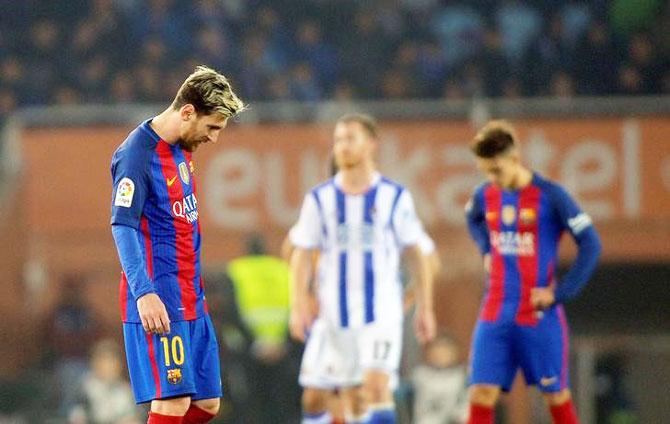 Barcelona's poor run away to Real Sociedad continued when the champions were held to a 1-1 draw at Anoeta on Sunday and slipped six points behind La Liga leaders Real Madrid before next week's 'Clasico' against their arch rivals.
November 27, 2016
EPL: Sanchez's double helps Arsenal sink brave Bournemouth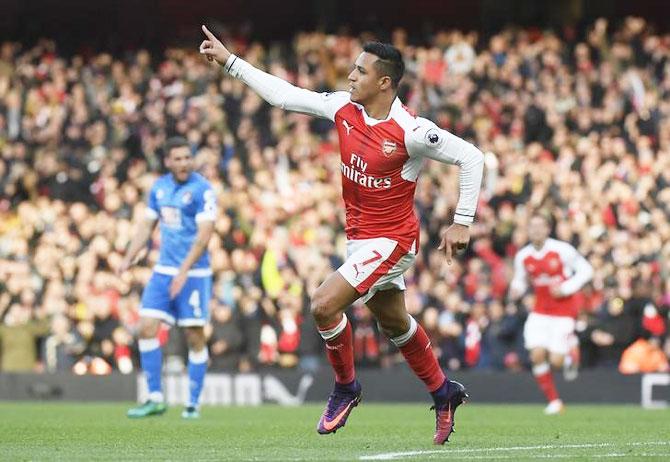 Two goals from Alexis Sanchez and another from Theo Walcott ended Bournemouth's brave resistance at the Emirates stadium as Arsenal won 3-1 to stay in touch with the Premier League leaders on Sunday.
PHOTOS: How Rosberg took the Formula One title from Hamilton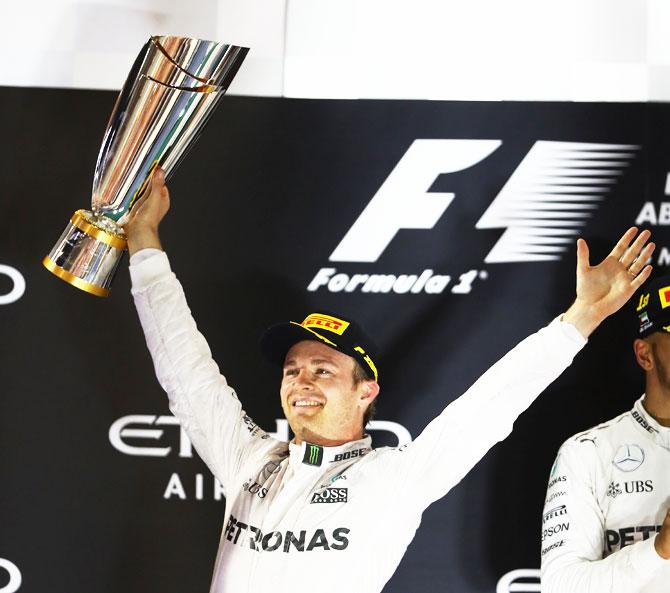 Germany's Nico Rosberg celebrated his first Formula One world championship on Sunday after finishing runner-up in a tense Abu Dhabi Grand Prix won by Mercedes team mate Lewis Hamilton amid accusations of 'dirty tricks'.
Euro soccer: Monaco down Marseille to go top; Bayern end winless streak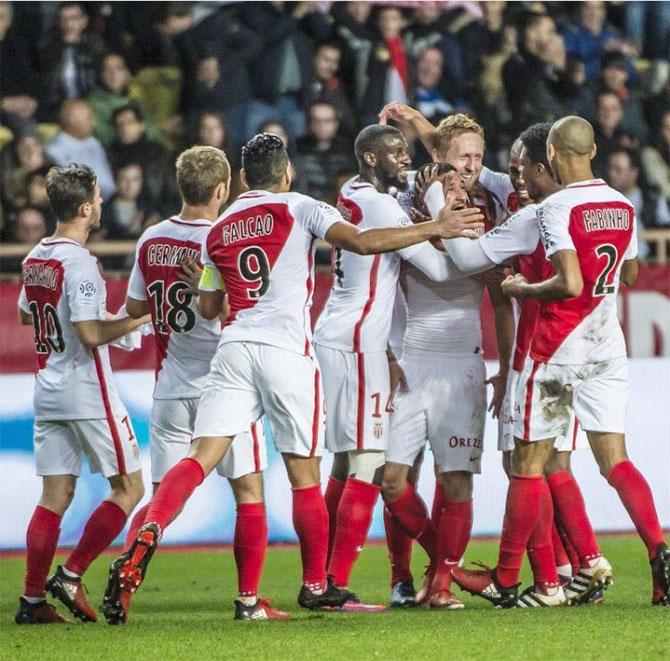 Monaco's firepower was far too hot to handle for Olympique de Marseille as the Principality side moved top of the French Ligue 1 standings with a 4-0 home win on Saturday.
PHOTOS: Colours of the rainbow light up Premier League matches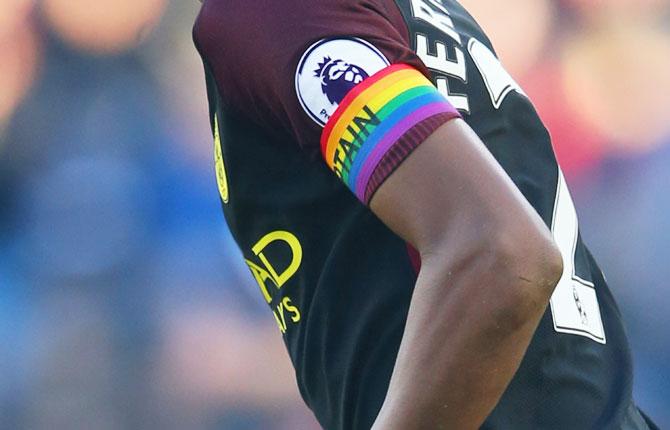 In an effort to show equality and inclusiveness towards people of all races and sexual orientation, players, officials from the English Premier League and even the historic Wembley Stadium was decked in the colours of the rainbow.
November 26, 2016
Abu Dhabi GP: Hamilton on pole for F1 title showdown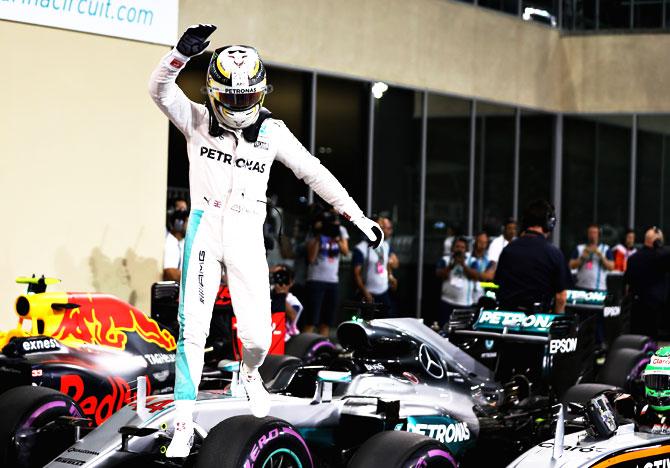 Lewis Hamilton lapped in a league of his own on Saturday to seize pole position for the title-deciding Abu Dhabi Formula One Grand Prix with Mercedes team mate and championship favourite Nico Rosberg joining him on the front row.
EPL PIX: Liverpool down Sunderland to go top; Swansea stun Palace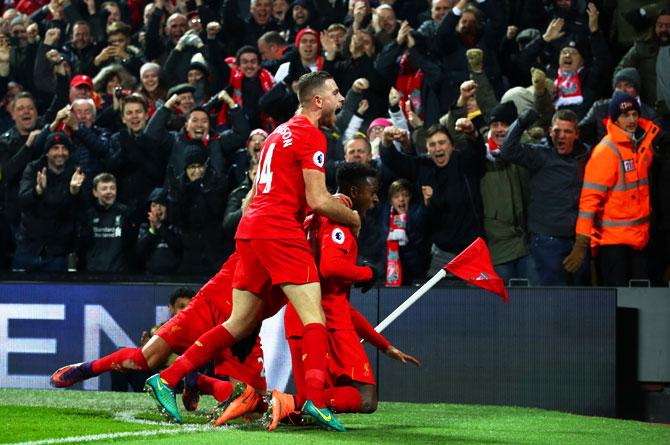 Sergio Aguero struck twice as Manchester City came from behind to beat Burnley 2-1 at Turf Moor in the Premier League on Saturday.
Super day for Indians Verma and Sindhu at Hong Kong Super Series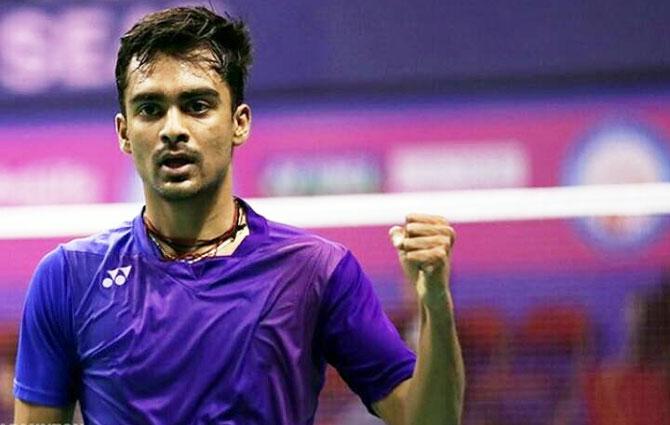 Sameer Verma stunned World No. 3 Jorgensen to enter the final, while Rio Olympic silver medallist PV Sindhu brushed aside local shuttler Cheung Ngan Yi's challenge to make the title round, her second final seven days.
November 25, 2016
Hamilton fastest in Abu Dhabi practice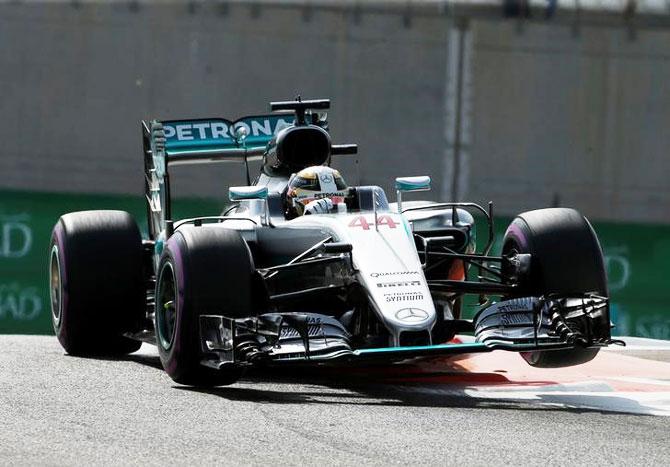 Lewis Hamilton landed an early psychological blow ahead of Formula One's Abu Dhabi title showdown by lapping faster than Mercedes teammate Nico Rosberg in both Friday practice sessions.
'Mesmerised' Hamilton takes inspiration from Williams sisters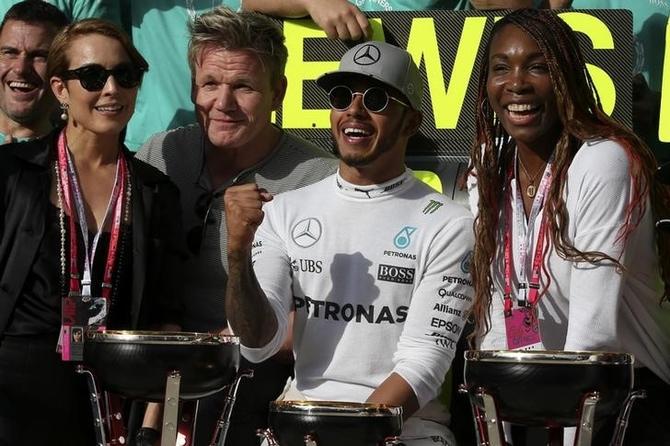 'I was actually with Serena last week in LA ... she came out to Mexico (for the race) which for me was a real honour to have someone of her power, someone who has achieved so much'
November 21, 2016
Justin Bieber trains with Neymar at FC Barcelona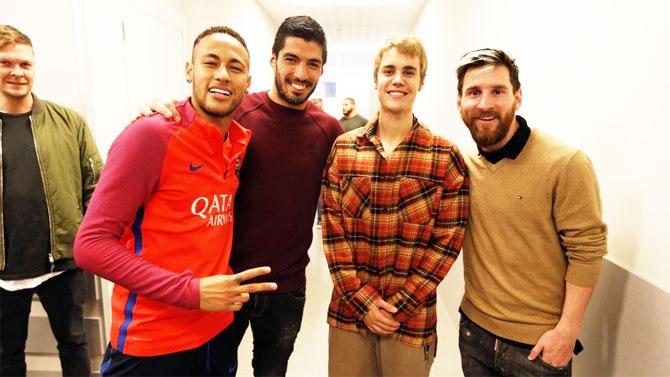 Canadian pop sensation Justin Bieber had a fan boy moment when he visited the FC Barcelona training base on Monday.
Domestic slump aside, Leicester target last 16 in Europe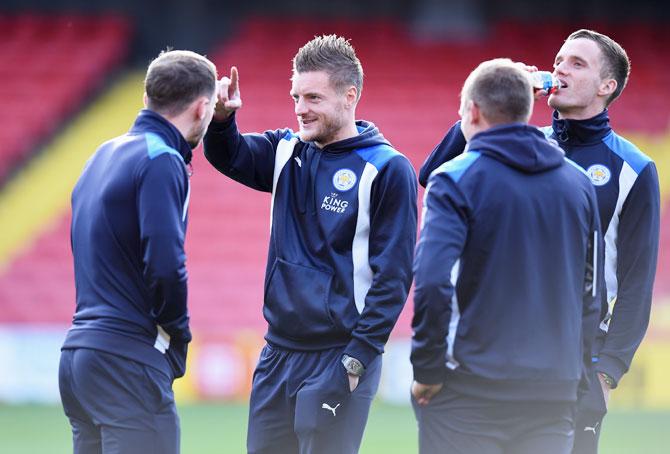 At the start of the season Leicester City fans could hardly have imagined their side would take the Champions League by storm.
It's a star-studded evening as wrestlers Geeta Phogat-Pawan Kumar wed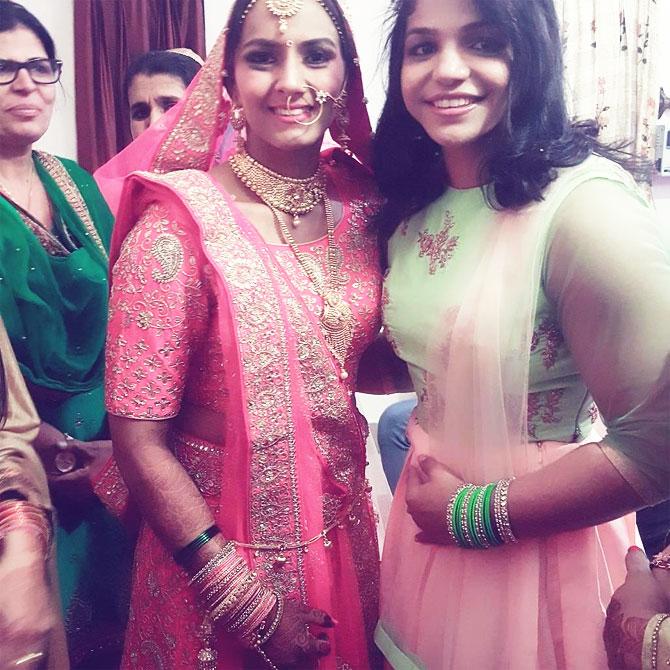 The stars descended at the wedding ceremony of Olympian wrestlers Geeta Phogat and fellow wrestler Pawan Kumar on Sunday.
November 19, 2016
EPL PHOTOS: Giroud to the rescue as Arsenal hold Manchester United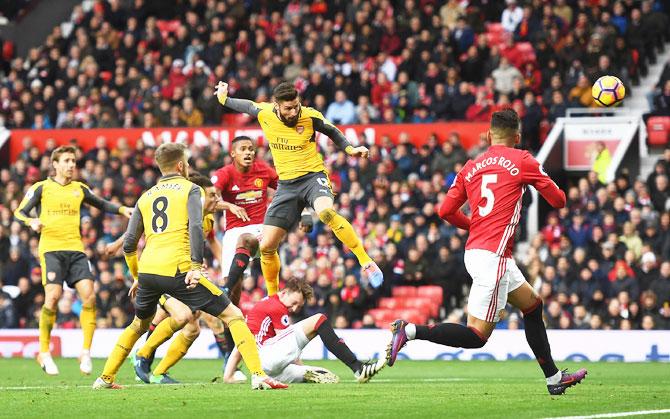 Images from the English Premier League matches played at Old Trafford on Saturday
November 18, 2016
World Tour Finals: Murray eases past Wawrinka to reach semi-finals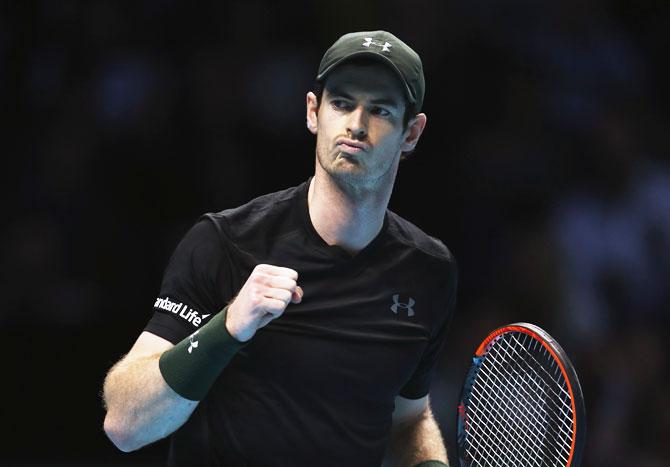 Andy Murray crushed Stan Wawrinka 6-4, 6-2 to win his group at the ATP World Tour Finals on Friday and stay on course for a season-ending climax with Novak Djokovic.
Zambrotta reckons hosting under-17 World Cup good for India's future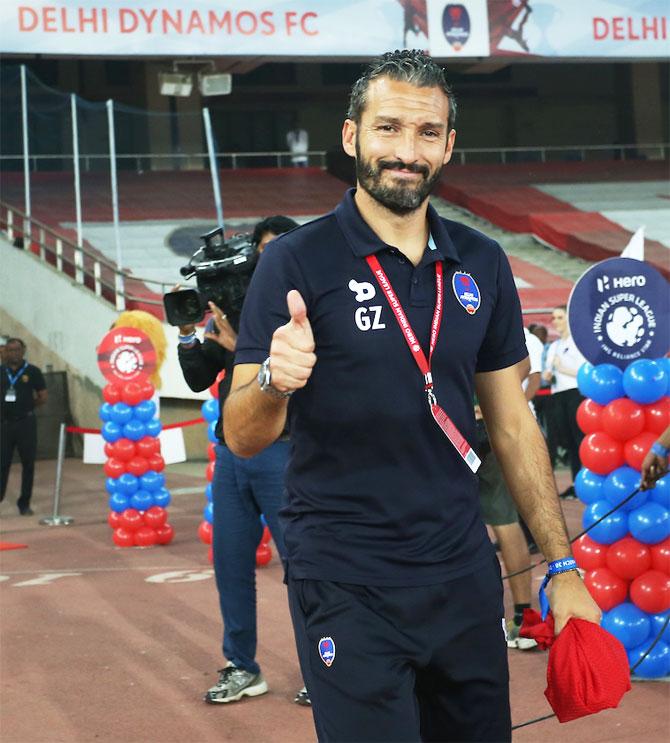 The 2006 FIFA World Cup winner and Delhi Dynamos coach says 'ISL can also improve Indian players by having good coaches, academies which will help to grow Indian football'
November 16, 2016
PHOTOS: Jesus shines as Brazil down Peru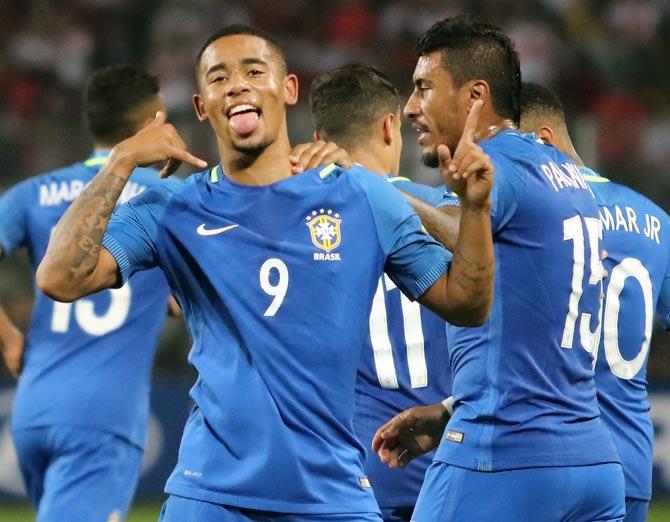 An outstanding performance from Gabriel Jesus helped Brazil to a 2-0 win over Peru on Tuesday and moved the five times World Cup winners four points clear at the top of the South American qualifying group for Russia 2018.
PHOTOS: Djokovic digs deep to repel Raonic onslaught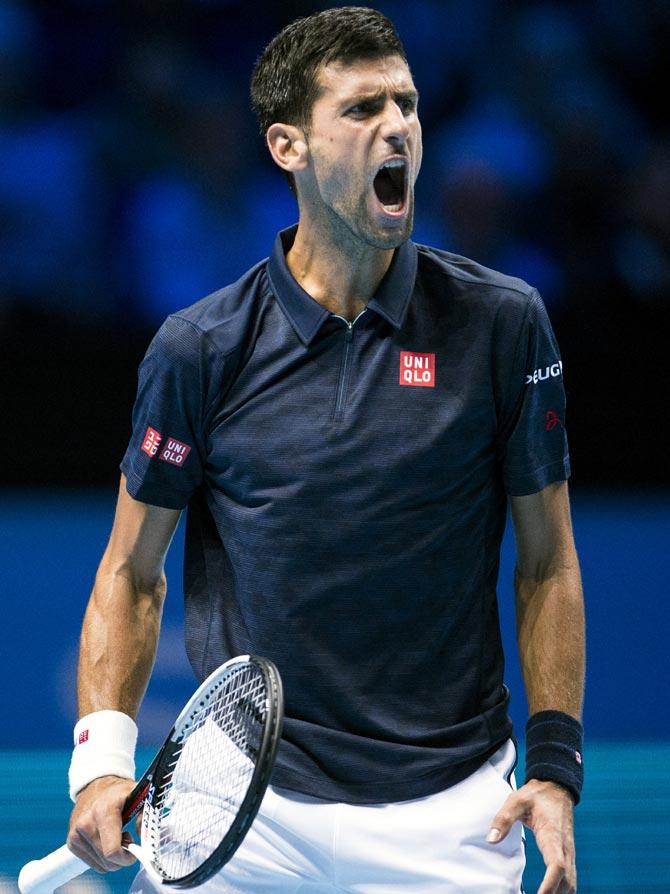 Novak Djokovic rediscovered his warrior spirit to tame Canada's Milos Raonic 7-6(6), 7-6(5) in a rivetting duel and guarantee progress from his group at the ATP World Tour Finals in London on Tuesday.
November 15, 2016
ATP Tour Finals: Thiem to replace 8th ranked Nadal after first win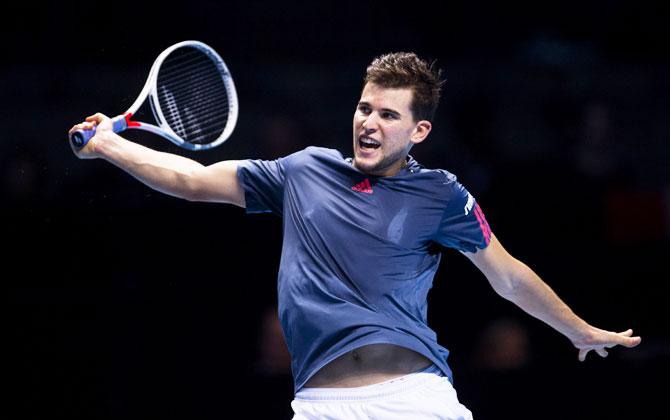 Dominic Thiem stayed very much in the mix at the ATP World Tour Finals with a 6-3, 1-6, 6-4 victory over mercurial Frenchman Gael Monfils at the O2 Arena on Tuesday.
November 14, 2016
ATP Tour Finals: Nishikori thrashes wayward Wawrinka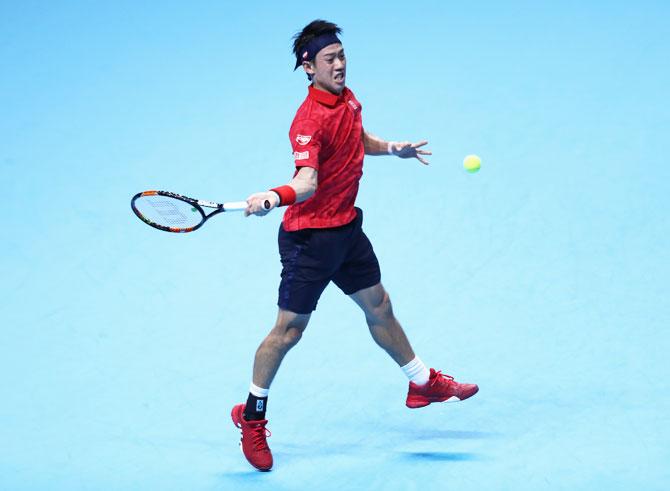 Japan's Kei Nishikori dispatched error-strewn Swiss Stan Wawrinka 6-2, 6-3 in a disappointingly one-sided clash at the ATP World Tour Finals on Monday.
Vijender's next pro bout will be anything but easy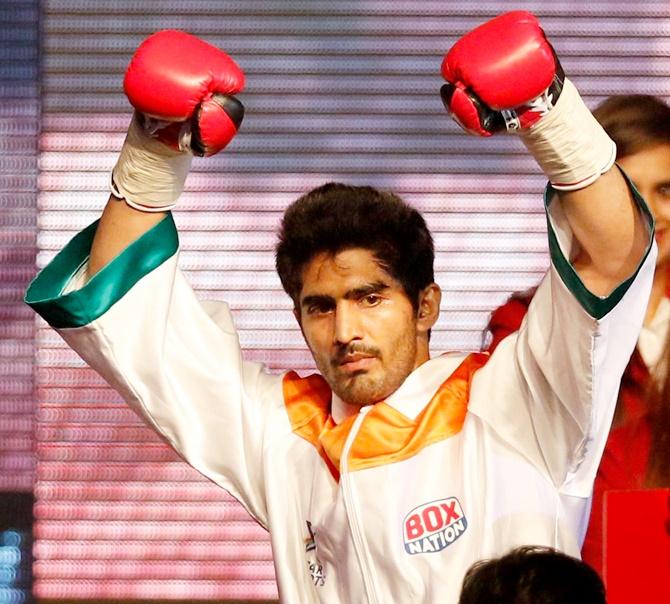 Ex-world champ Cheka 'ready to put Vijender in his place'
F1: Hamilton wins dramatic Brazilian GP to keep title race alive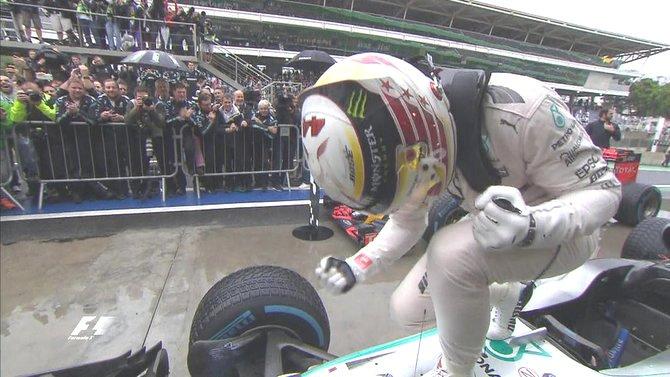 Mercedes' British driver Lewis Hamilton won the Brazilian Grand Prix at the Interlagos Circuit in Sao Paulo on Sunday to keep the Formula One Championship alive with one race left this season.
F1: Boos as Brazilian GP is halted twice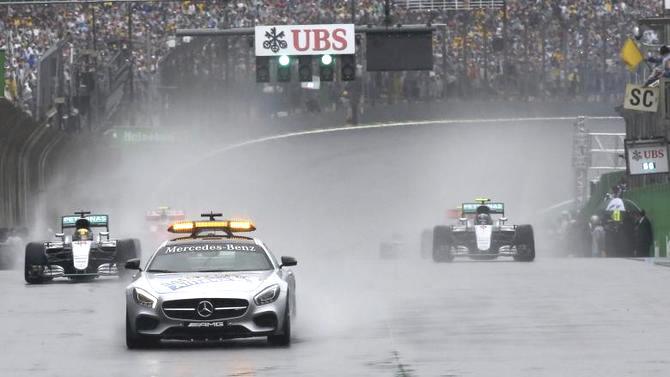 Rain and crashes twice halted the potentially title-deciding Brazilian Formula One Grand Prix on Sunday with the crowd booing and triple world champion Lewis Hamilton disagreeing with officials.
November 13, 2016
Fed Cup: Strycova beats Cornet to take tie into decider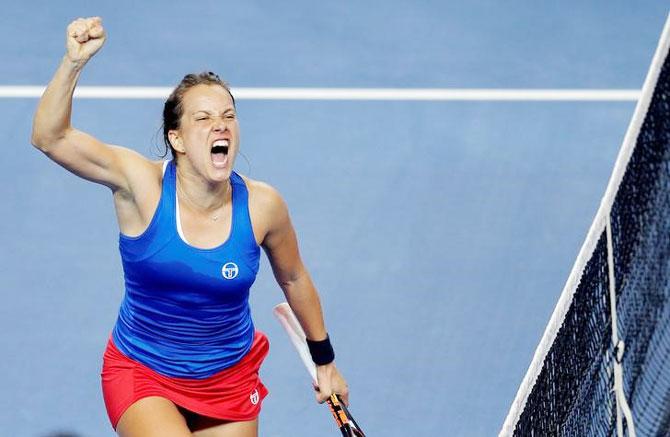 Barbora Strycova beat Alize Cornet 6-2, 7-6(4) to put defending champions Czech Republic level at 2-2 against hosts France and send the Fed Cup final into a doubles decider on Sunday.
November 08, 2016
ATP Tour Finals: Year-end top spot in focus as Murray faces tough draw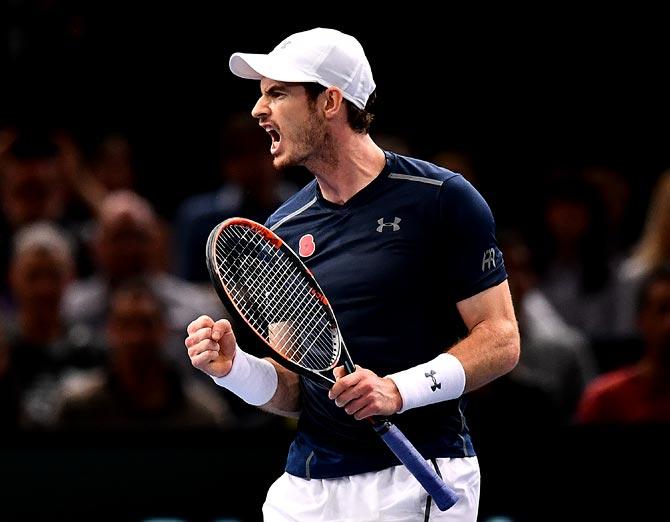 With 1,500 points available for an undefeated champion next week, the tournament could produce a thrilling climax with Murray and Djokovic, who have never met at the O2, facing off in the final for the year-end number one ranking.
November 07, 2016
Euro round-up: Leipzig go level with leaders Bayern; PSG win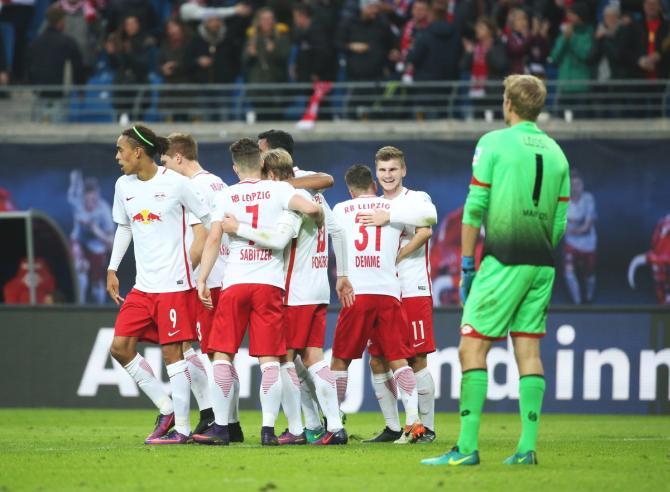 RB Leipzig continued their remarkable first season in the Bundesliga when they brushed aside Mainz 05 3-1, their fifth win in a row, to go level on points with leaders Bayern Munich on Sunday.
Can resurgent Liverpool maintain top-spot on EPL table?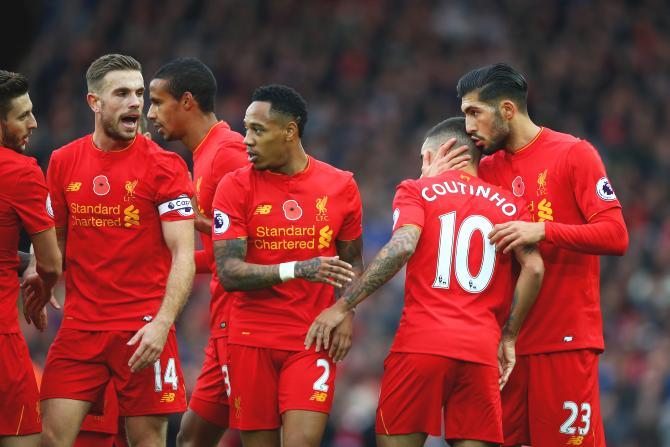 While, Reds' manager Juergen Klopp is realistic about his team being league leaders, you, dear reader, can convey your opinion by casting your vote in the poll below
'Extraterrestrial' and 'best of all time' Messi nets 500th Barca goal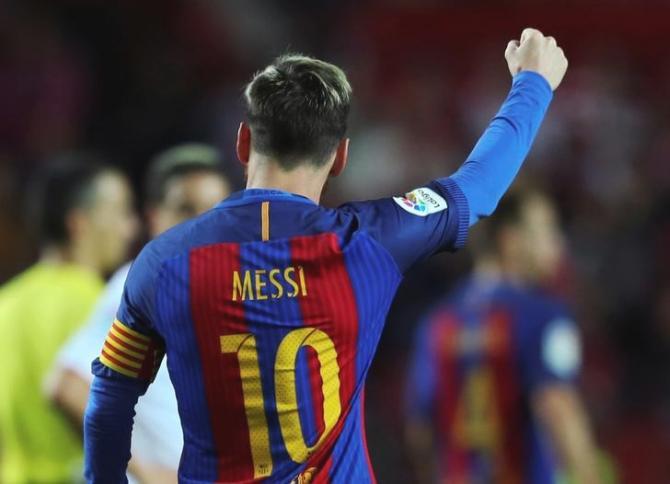 There was no dearth of praise for little magician Lionel Messi who struck his 500th goal for FC Barcelona on Sunday.
La Liga PHOTOS: Sensational Messi inspires Barca comeback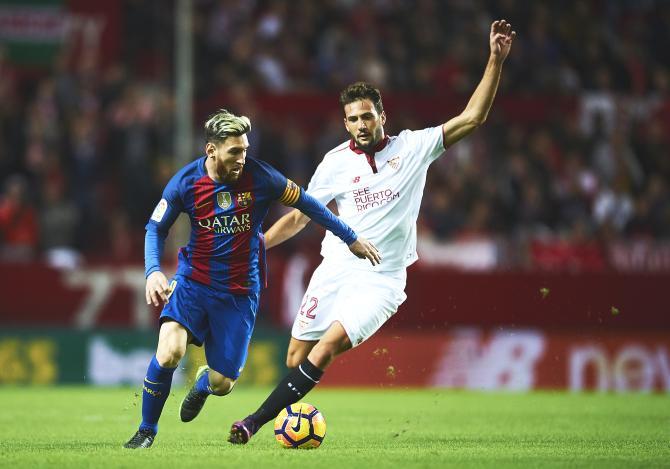 A mesmeric Lionel Messi helped Barcelona to come from behind and beat Sevilla 2-1 in a thrilling encounter on Sunday as the champions kept the pressure on La Liga leaders Real Madrid, who saw off Leganes 3-0 thanks to a double from Gareth Bale.
Paris Masters in pocket, Murray just wants to enjoy No1 status for now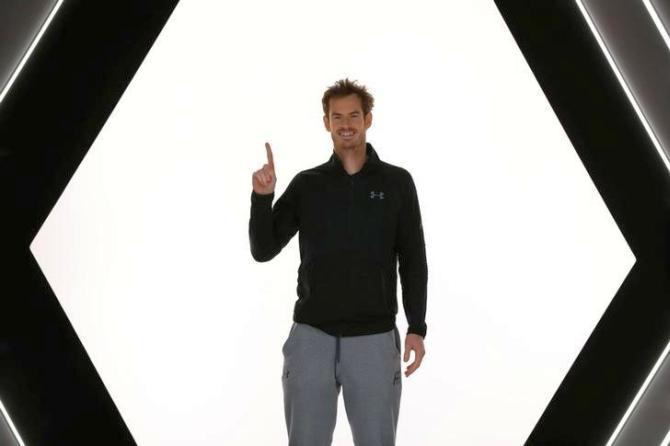 As the new World No 1, Andy Murray could be troubled by the weight of expectations on his shoulders at the ATP World Tour Finals, but the Briton just wants to enjoy his new status.
November 05, 2016
EPL PHOTOS: Manchester City held after Boro strike late equaliser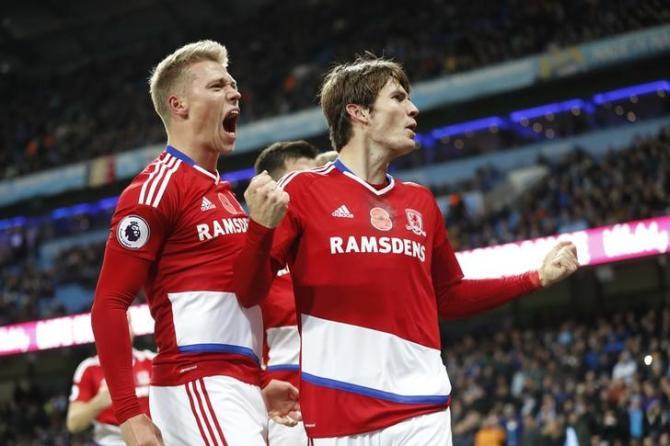 A stoppage-time goal from Martin de Roon earned Middlesbrough an unlikely 1-1 draw at Premier League leaders Manchester City on Saturday.
November 03, 2016
Zidane laments Real 'relaxing' to gift Legia draw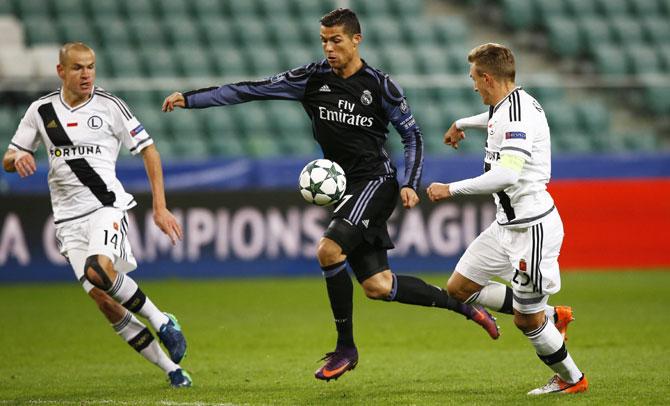 Real Madrid coach Zinedine Zidane cursed his side's carelessness after the European champions threw away a two-goal lead against Legia Warsaw and needed a late equaliser from Mateo Kovacic to salvage a 3-3 draw on Wednesday.
Champions League: Dortmund into knockout stage; Leicester draw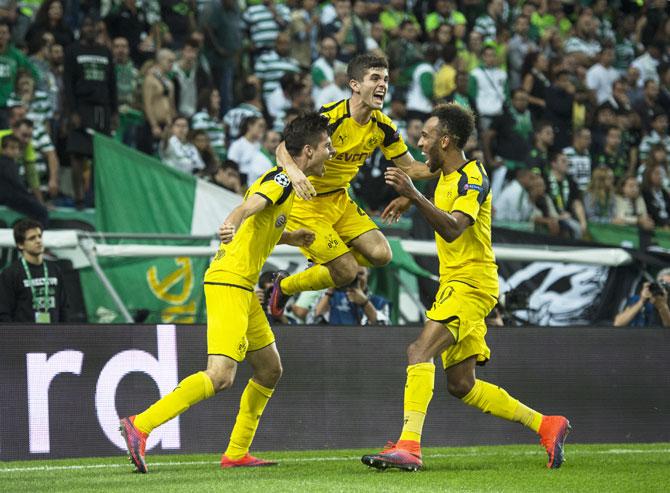 Last-minute starter Adrian Ramos scored a first-half header to give Borussia Dortmund a 1-0 victory over Sporting on Wednesday and earn a spot in the knockout stage of the Champions League with two Group F matches to spare.
PHOTOS: Cubs end 108 year title drought to win World Series Baseball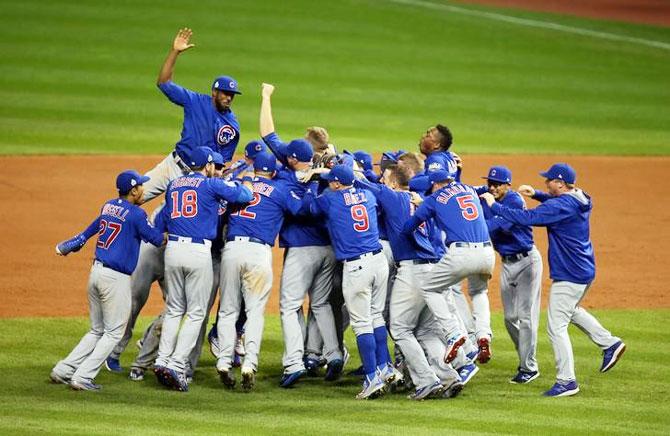 The Chicago Cubs shed themselves of the "Curse of the Billy Goat" and ended a 108-year wait for a World Series title by beating the Cleveland Indians 8-7 in 10 innings on Wednesday in a thrilling Game Seven classic.
Paris Masters: Djokovic cruises, Murray struggles, Wawrinka out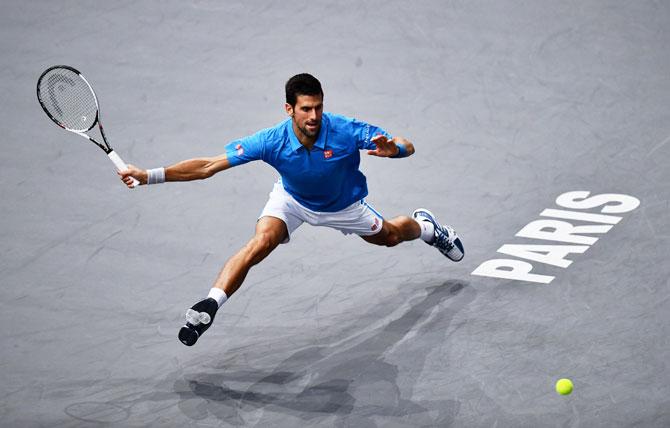 Novak Djokovic began his bid to hold on to his number one ranking with an easy win over Gilles Muller in the Paris Masters second round while Andy Murray struggled through and Stan Wawrinka faltered on Wednesday.
Can Bengaluru FC script Indian football history?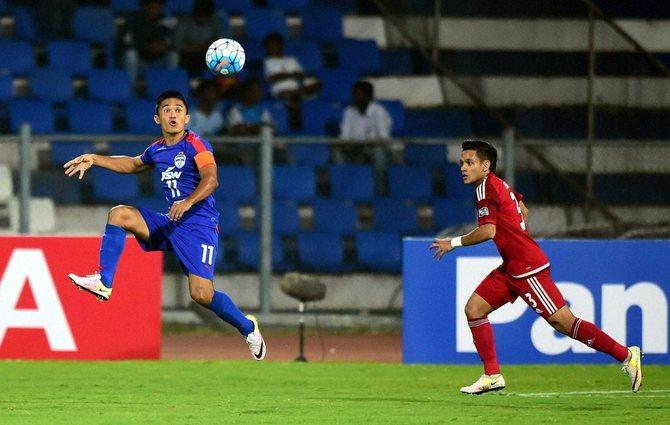 Bengaluru FC captain Sunil Chhetri feels that his club making it to the summit clash of the AFC Cup heralds a beginning in the revival of Indian football.
Champions League PIX: Real salvage draw in 3-3 thriller at Warsaw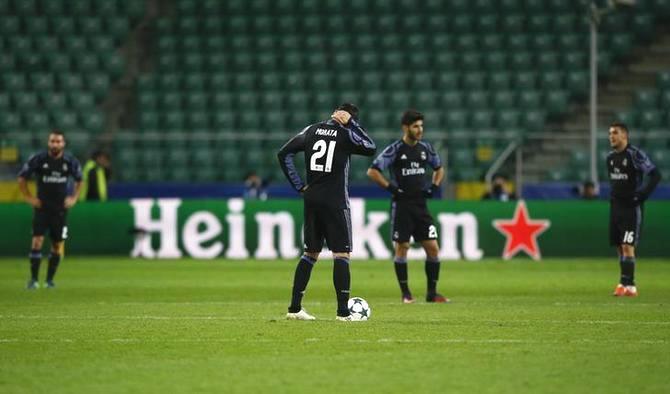 Mateo Kovacic's late strike avoided embarrassment for Real Madrid as the European champions surrendered a two-goal lead before drawing 3-3 with Legia Warsaw in an enthralling Champions League game played amid an empty stadium on Wednesday.
November 02, 2016
Champions League PHOTOS: PSG advance; Napoli draw at Besiktas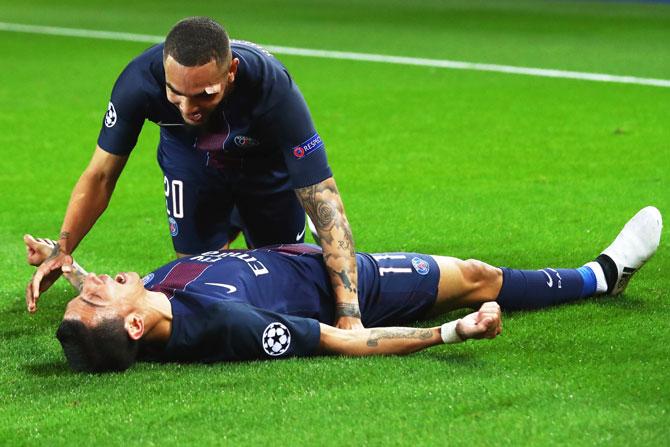 Thomas Meunier volleyed a spectacular last-minute goal to give Paris St Germain a 2-1 win at FC Basel, which took them into the last 16 of the Champions League on Tuesday.
PHOTOS: How your favourite sports stars celebrated Halloween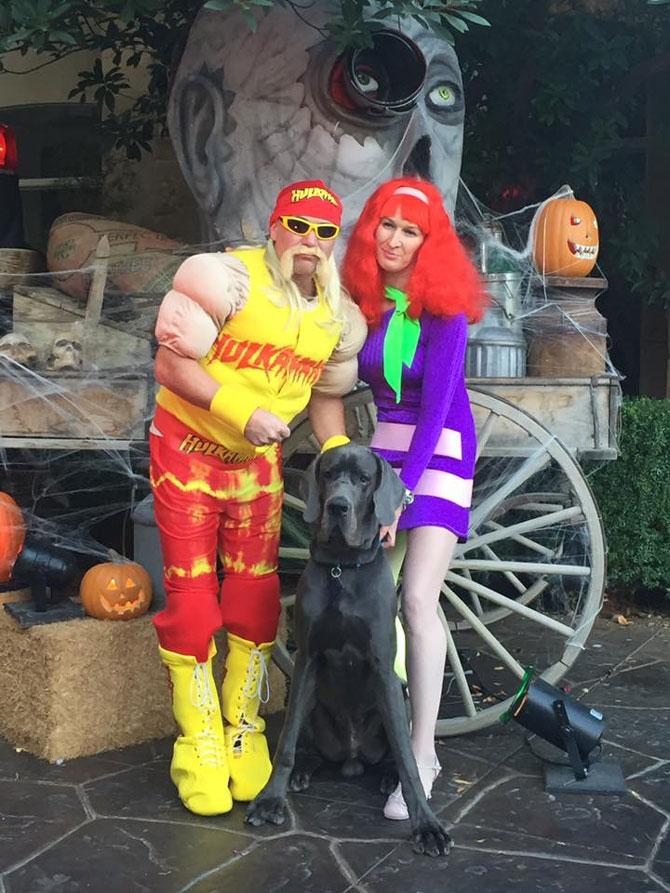 As the world celebrated Halloween on Monday, our favourite tennis stars and footballers didn't want to be left behind in all the celebrations.
PIX: City stun Barca to keep hopes alive; Atletico, Bayern through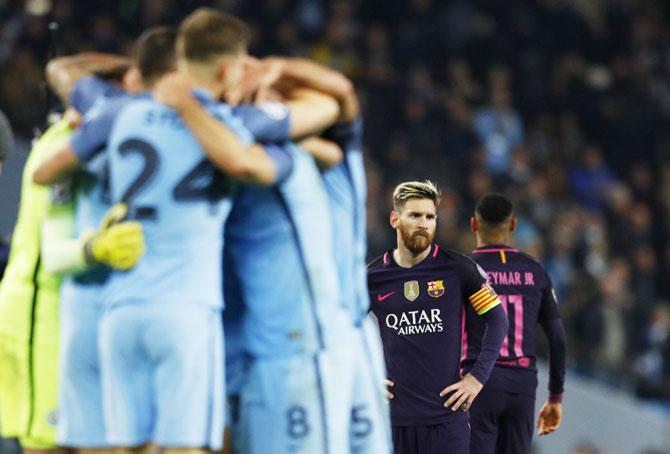 Coach Pep Guardiola was left thrilled after ManchesterCity revived their Champions League bid by beating his old club Barcelona 3-1 in a gloriously open Group C encounter at the Etihad Stadium on Tuesday.
October 31, 2016
Aguero's inclusion could give City much-needed boost vs Barca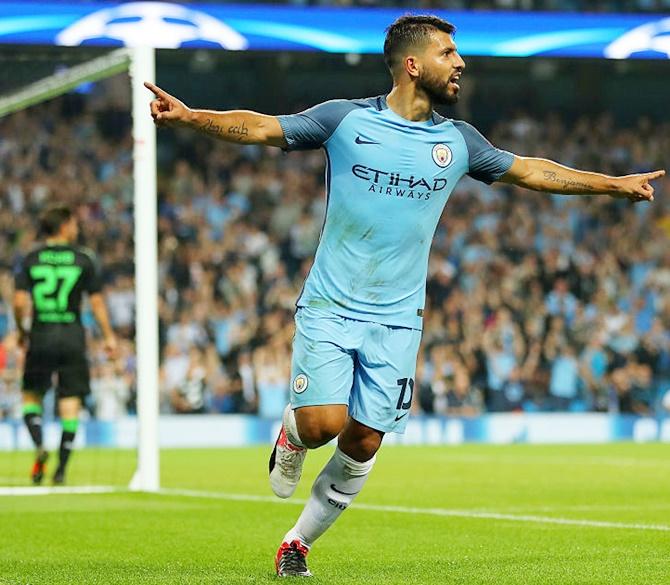 Manchester City cannot afford another defeat on Tuesday at home to Barcelona, who thumped them 4-0 two weeks ago, having taken just one point from their last two Champions League Group C matches.
Djokovic not losing sleep over battle for No 1 ranking with Murray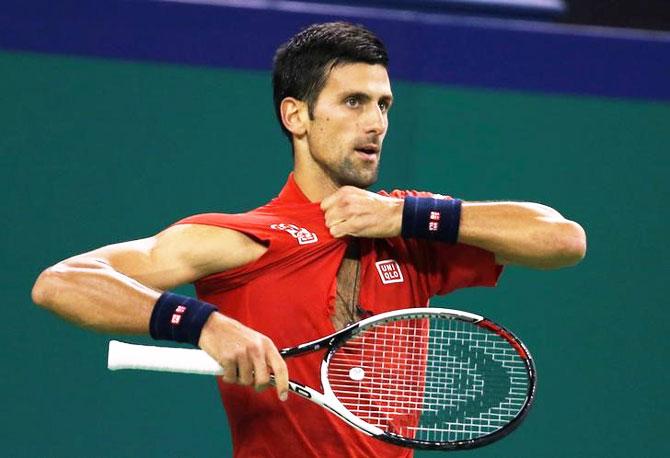 Novak Djokovic has admitted that Andy Murray's attempt to surge to the top of the rankings has rejuvenated an otherwise mediocre season for the World No. 1.
Euro round-up: Milan climb to third; Fifth straight win for Hoffenheim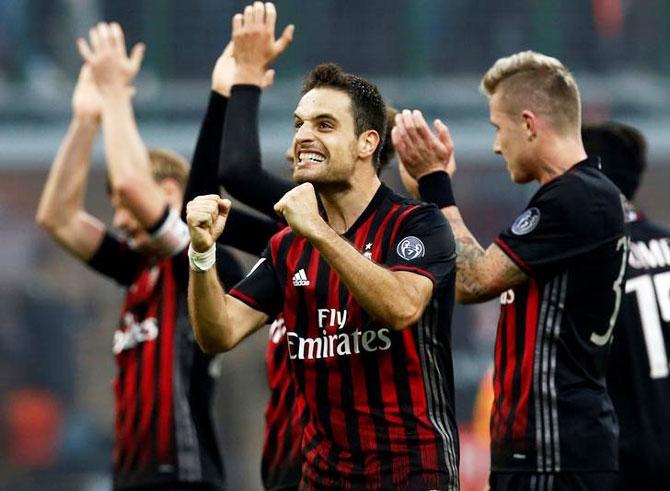 Giacomo Bonaventura's free kick earned Milan a 1-0 win over Pescara to move them into the top three of Serie A on Sunday.
October 28, 2016
Manchester United are a team in progress: Mourinho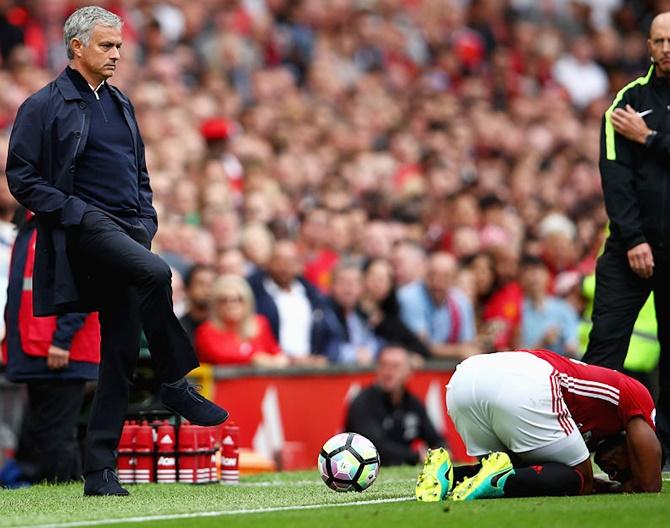 Henrikh Mkhitaryan will prove his worth at Manchester United once he adapts to the rigours of English football, according to his manager Jose Mourinho.
Radwanska, Kuznetsova in WTA Tour Finals semis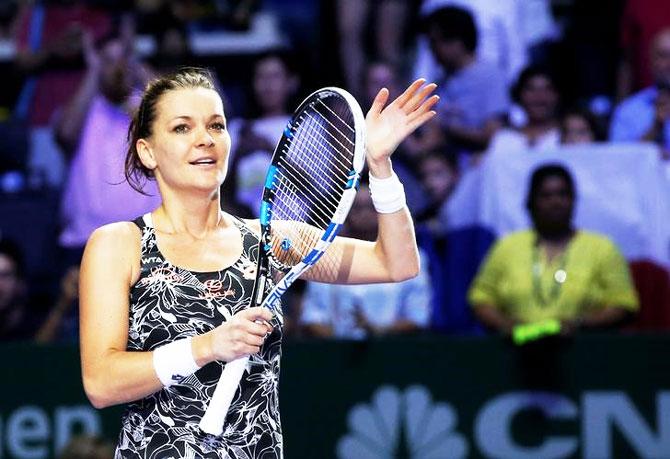 Poland's Agnieszka Radwanska stayed patient in the face of a barrage of big serving to advance to the last four of the WTA Finals for the third time in a row with a 7-5, 6-3 victory over Karolina Pliskova on Friday.
October 27, 2016
WTA Tour Finals: Perfect Kerber helps Cibulkova advance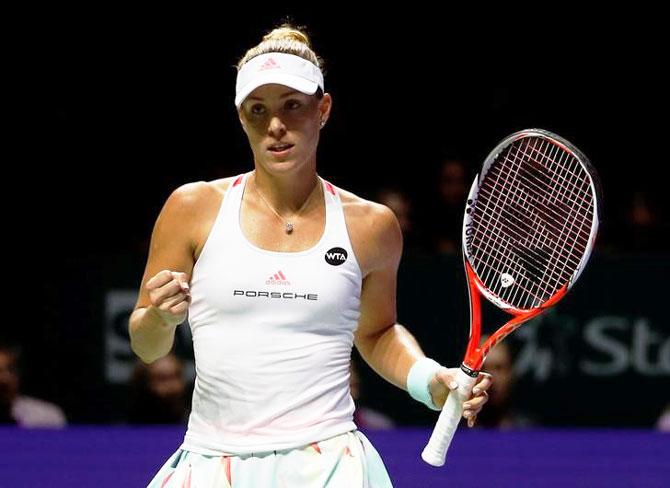 Dominika Cibulkova kept her hopes of reaching the last four of the WTA Finals alive with a gritty 6-3, 7-6(5) Red Group victory over Simona Halep at the Singapore Indoor Stadium on Thursday.
Thierry Henry on ISL, Wenger, Pep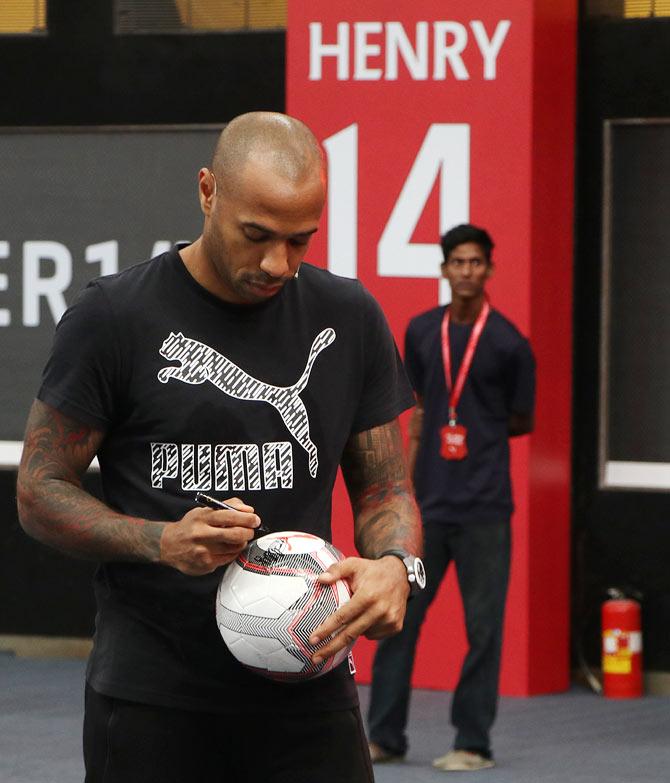 'You have to have a good coach to direct you on the right path.'
When 'King Henry' left Mumbai spellbound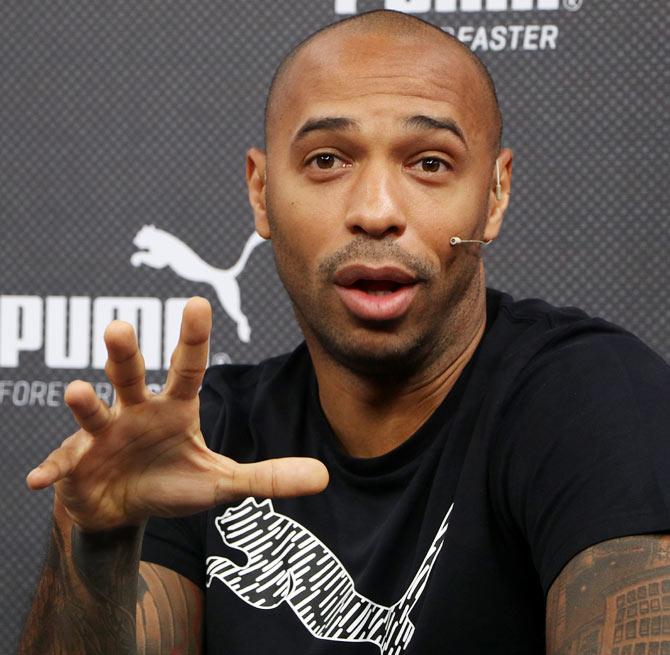 Thierry Henry came to Mumbai and left his fans in a daze as he showed off that famed, magical footwork while he trained budding talent from the city.
October 25, 2016
'King' Henry on Ballon D'Or favourites, Paul Pogba and Indian football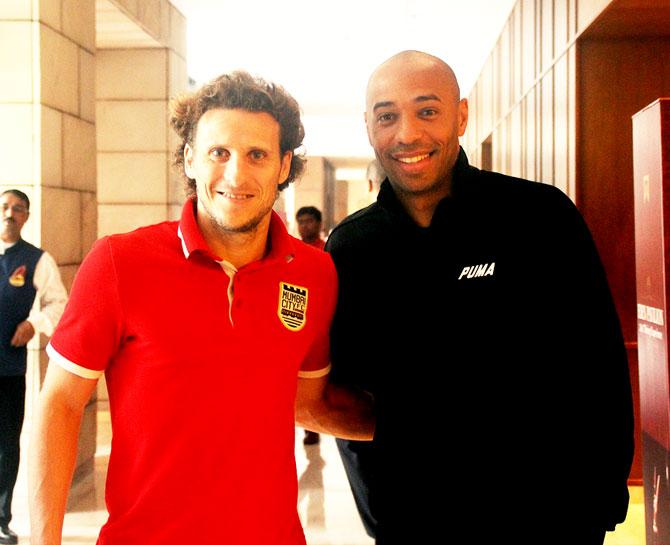 France football legend Thierry Henry, who's on his maiden visit to India, has put Lionel Messi and Cristiano Ronaldo among the top contenders to win this year's Ballon d'Or trophy.
WTA Tour Finals: Superb Kerber overwhelms Halep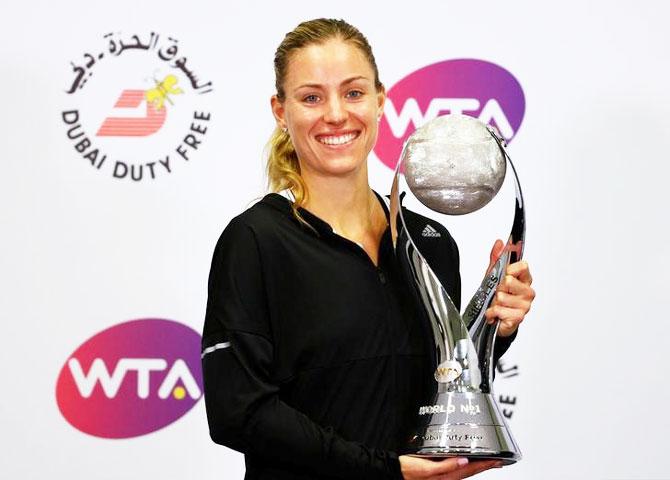 Angelique Kerber produced a polished display to claim her second straight win at the WTA Finals with a 6-4, 6-2 victory over Simona Halep on Tuesday, the world number one virtually booking a spot in the semi-finals of the elite eight-woman event.
October 24, 2016
When a hair-cut between games saved the match for Kuznetsova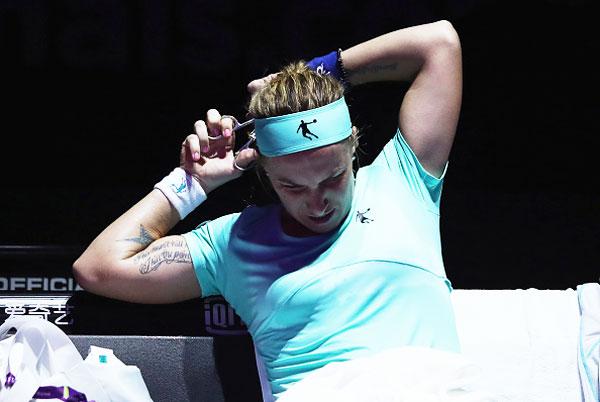 Svetlana Kuznetsova had been steamrolled in the second set and was a break down in the decider of her WTA Finals opener against defending champion Agnieszka Radwanska on Monday. So what did the Russian do to turn the match around?
WTA Finals: Tireless Kuznetsova edges Radwanska in Singapore thriller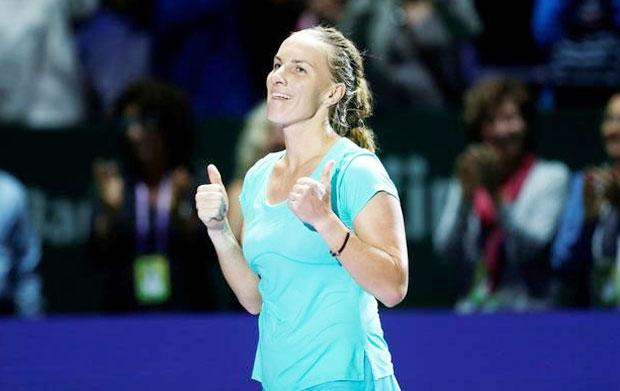 Svetlana Kuznetsova dug deep into her reserves to overcome Agnieszka Radwanska 7-5, 1-6, 7-5 in their WTA Finals round robin opener on Monday, the late-arriving Russian upsetting the defending champion in a thrilling encounter.
Aubameyang shortlisted along with Ronaldo, Bale for Ballon d'or award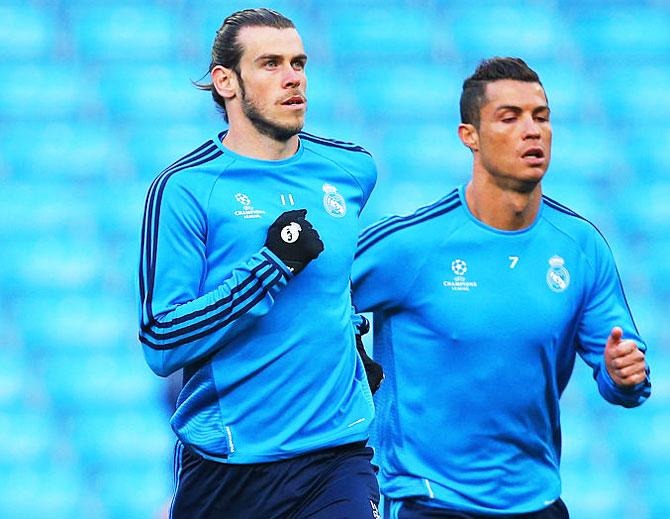 Portugal captain Cristiano Ronaldo and his Real Madrid team-mate Gareth Bale have been shortlisted for this year's coveted Ballon d'Or award.
Prince Ali says FIFA needs to speed up reforms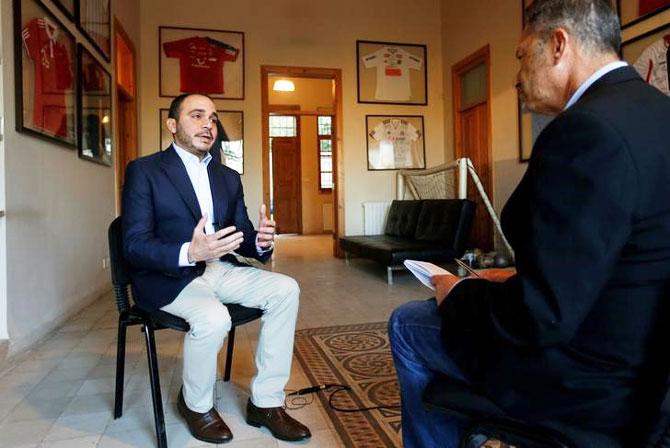 Former FIFA presidential candidate Prince Ali Bin Al Hussein of Jordan is concerned about the pace of reform in world soccer's governing body and says new president Gianni Infantino has "no time to lose" in bringing transparency to the organisation.
What did Mourinho whisper in Conte's ear?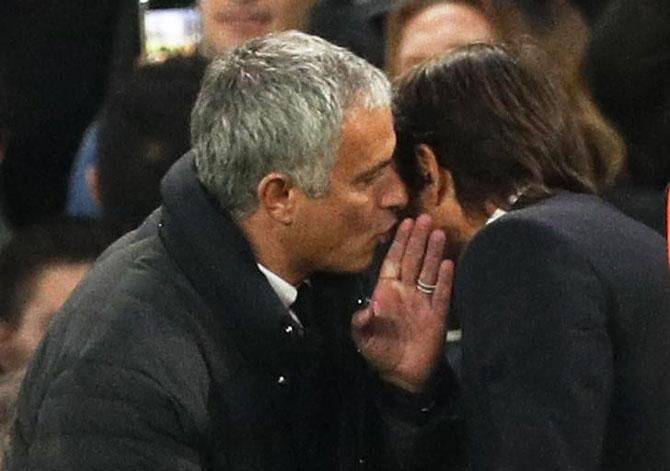 Manchester United manager Jose Mourinho told his Chelsea counterpart Antonio Conte that his antics in whipping up the crowd during the London club's 4-0 victory on Sunday were "humiliating", according to Italian television.
EPL PHOTOS: Mourinho's United routed on return to Stamford Bridge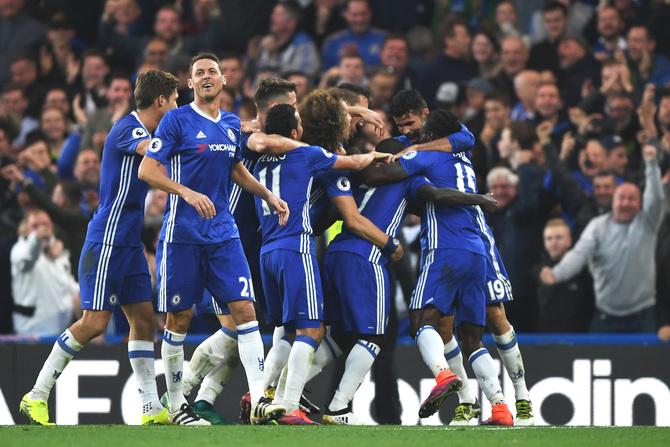 Images from the match played between Chelsea and Manchester United at Stamford Bridge on Sunday
October 23, 2016
Sania rates them as India's next generation of tennis stars...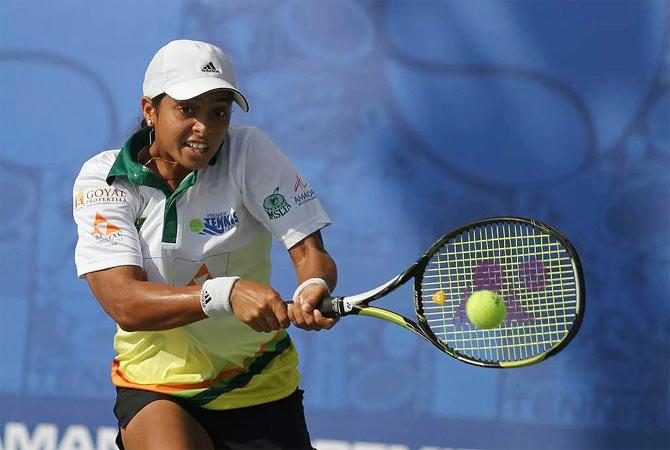 Tennis ace Sania Mirza has revealed the names of players she thinks will rule the tennis circuit in a few years time.
Guardiola equals his worst record as manager as City draw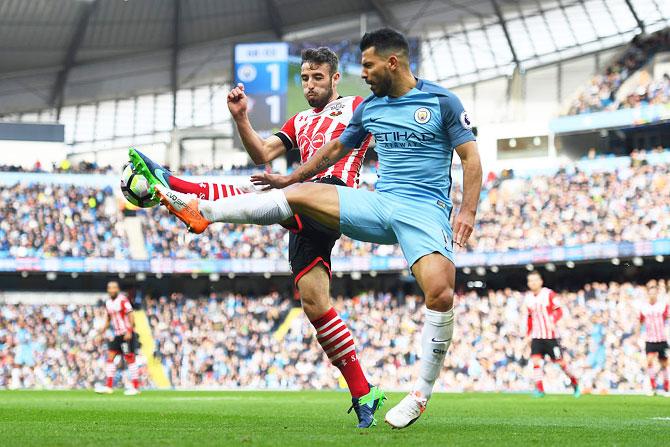 Manchester City returned to the top of the Premier League on goal difference after coming from behind to draw 1-1 with Southampton at the Etihad Stadium on Sunday.
October 21, 2016
Europa League PIX: Pogba nets twice as Man United trounce Fenerbahce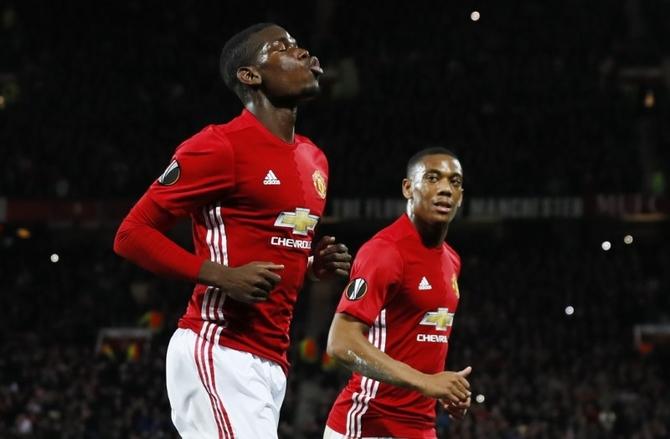 Paul Pogba repaid some of his world record transfer fee with two goals as Manchester United rediscovered their early-season shine, cruising to a 4-1 Europa League win over Fenerbahce to go top of their group on Thursday.
October 20, 2016
80 weeks and counting... it's the kind of stuff dreams are made of: Sania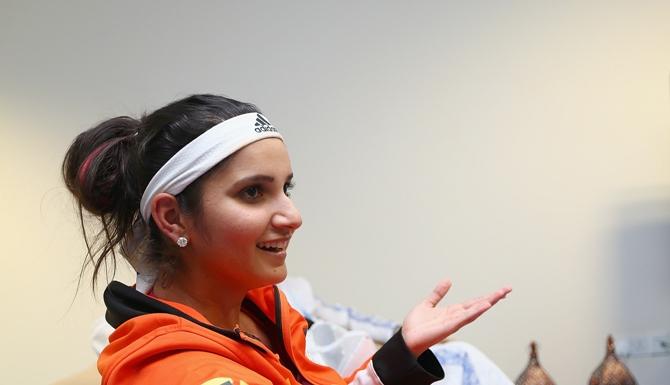 After achieving the rare feat of being the World No. 1 in women's doubles for 80 consecutive weeks, Indian tennis star Sania Mirza has said it was very satisfying to be bracketed with the legends of the game.
Champions League PIX: Bayern crush PSV; PSG down Basel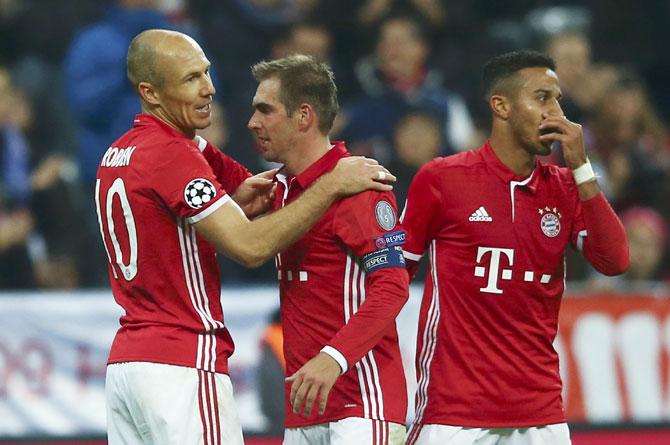 Images from the UEFA Champions League matches played on Wednesday
Confident Kerber enjoying the challenges of a World No 1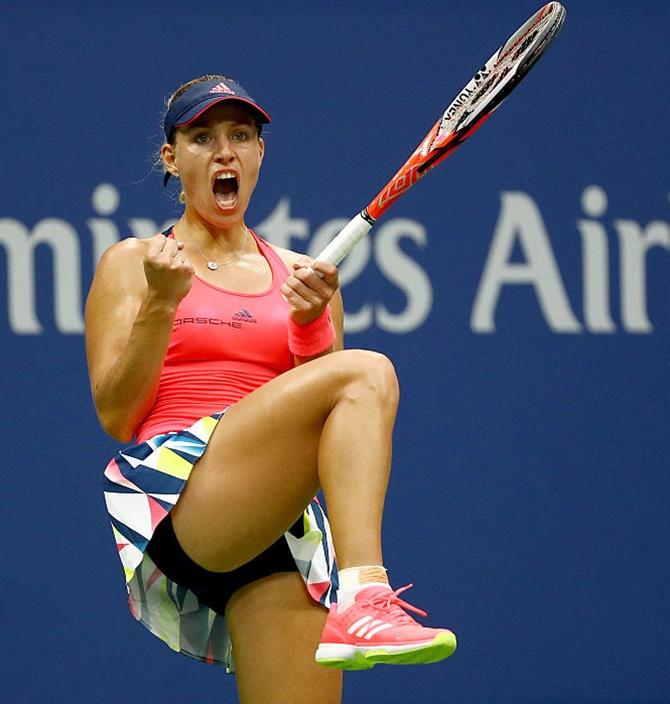 Angelique Kerber is the world number one in women's tennis yet it remains a title she has yet to grow accustomed to after her meteoric rise to the summit.
Champions League PIX: Messi treble grounds City; Arsenal thrash Ludo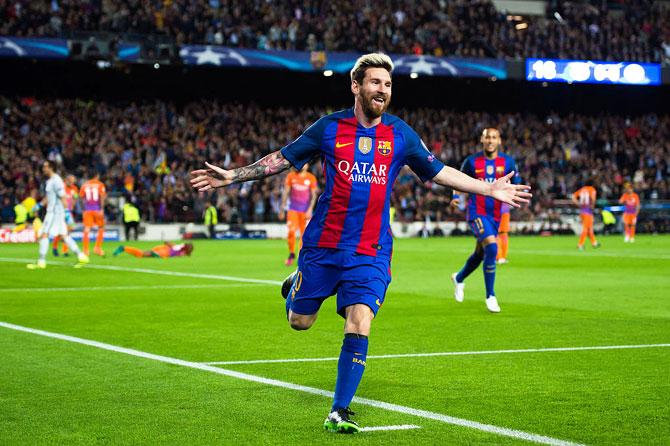 Images from the UEFA Champions League matches played across Europe on Wednesday
October 19, 2016
Champions League PHOTOS: Leicester close in on knock-outs, Sevilla win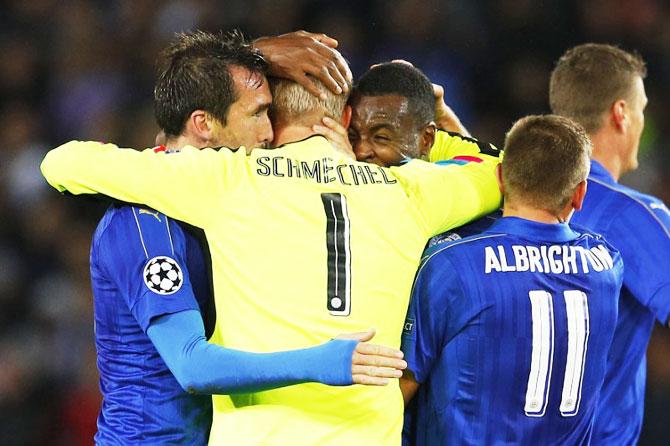 Images from Champions League matches played across Europe on Tuesday
Manjrekar's attempt to troll Sania on Twitter backfired... and how!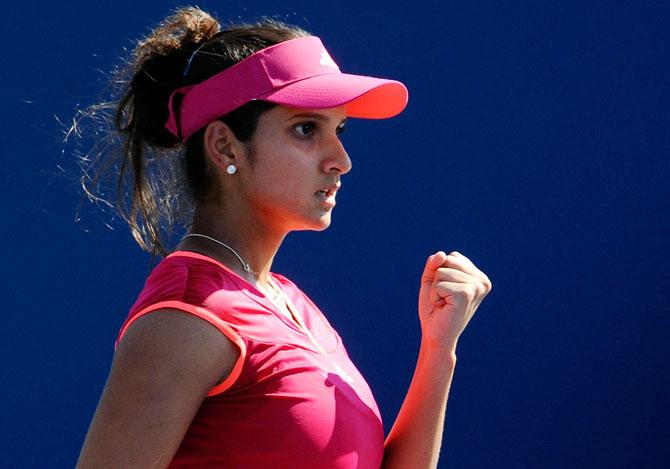 Sanjay Manjrekar loves to court controversy. Or so it seems. After taking a dig at the Maharashtra Navnirman Sena on Twitter on Tuesday, the former India batsman took a swipe at tennis ace Sania Mirza.
Champions League PIX: Five-star Real hammer Warsaw; Spurs held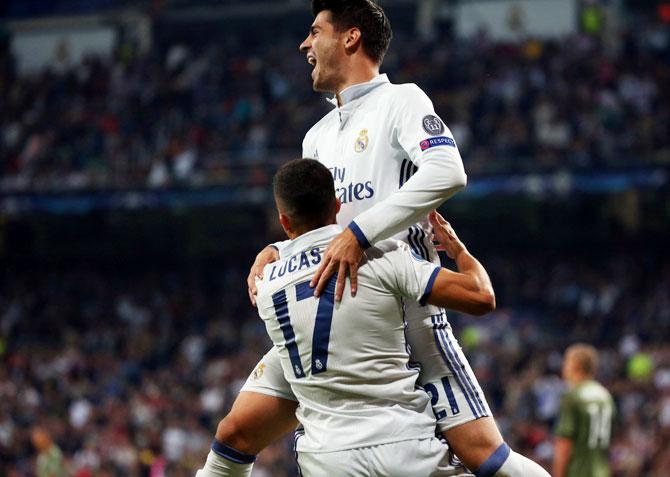 Images from Champions League matches played across Europe on Tuesday
City's Guardiola makes emotional return to Barca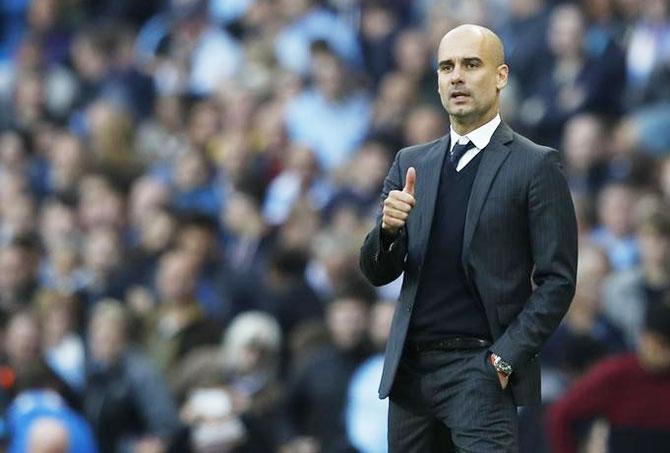 Pep Guardiola's formidable managerial skills will be put to the test again when his stuttering ManchesterCity side visit his former club Barcelona in a top-of-the-bill Champions League clash on Wednesday.
October 18, 2016
Mourinho criticises 'cautious' Liverpool as Ibra rues goal miss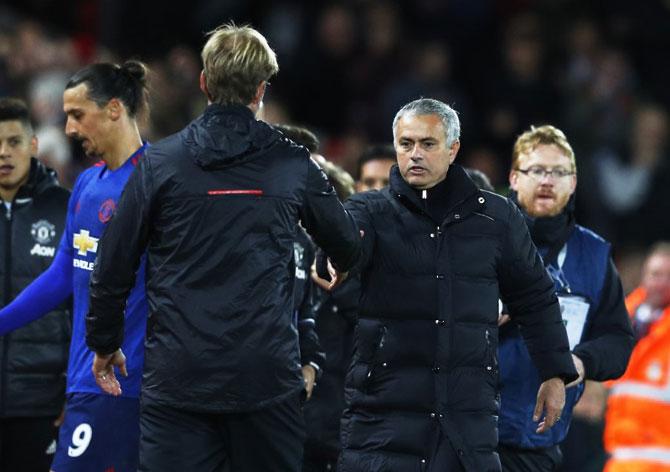 Manchester United manager Jose Mourinho has accused Liverpool of being the 'cautious team' in a dull goalless draw in their Premier League clash at Anfield.
Pat Cash blames Tennis Australia for Kyrgios's mental meltdown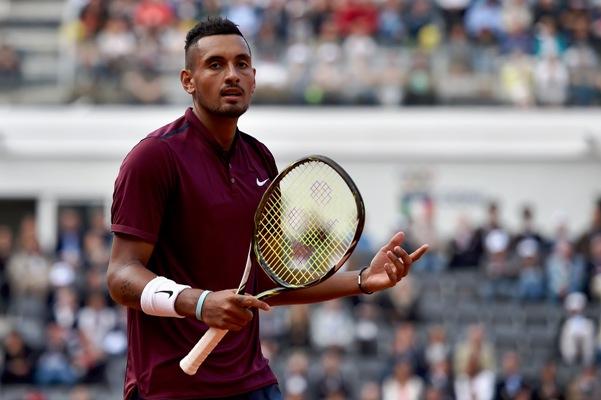 Australia's tempestuous talent Nick Kyrgios has the potential to be a future grand slam champion but could just as easily be lost to the sport if he fails to get the support he needs, according to former Wimbledon champion Pat Cash.
FIVE ways Barcelona have evolved without Guardiola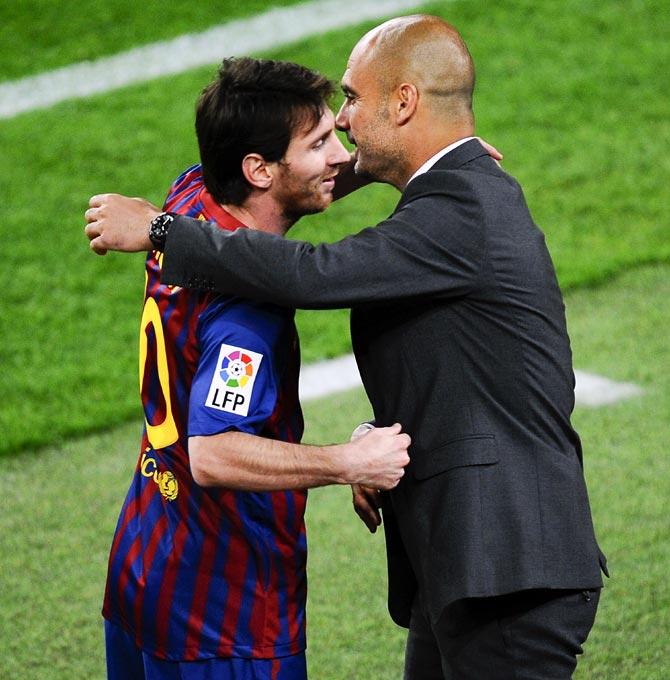 As Barcelona prepare to welcome back Pep Guardiola to the Nou Camp for Wednesday's Champions League game against Manchester City, check out how the club has evolved since the visionary coach departed in 2012.
October 17, 2016
Serie A: AC Milan beat Verona, climb to joint third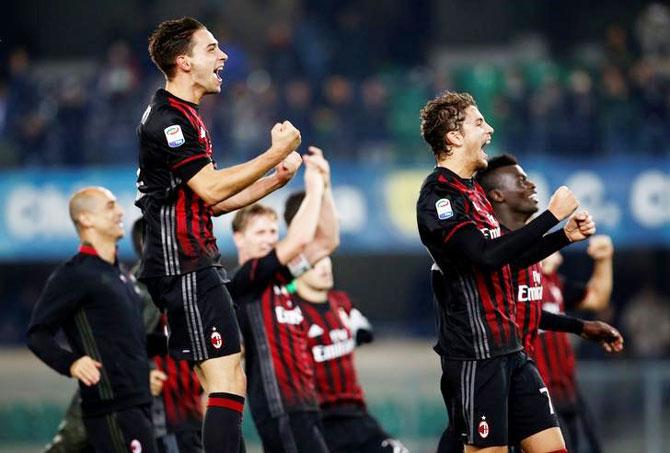 AC Milan surged into third place in Serie A with a 3-1 win at Chievo Verona on Sunday but their great city rivals Inter Milan were left in turmoil as their captain Mauro Icardi again came under fire from his own fans in the 2-1 defeat by Cagliari.
October 13, 2016
Can Coppell reverse the English curse in ISL?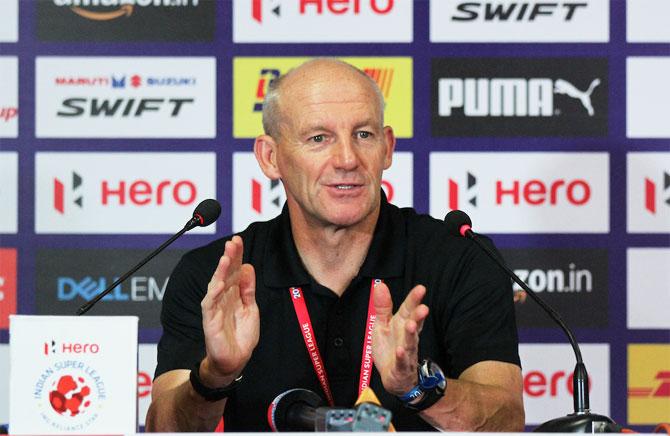 'I am puzzled why English coaches are not successful here. But I am determined to reverse that trend'
October 12, 2016
What not to miss in the EPL this weekend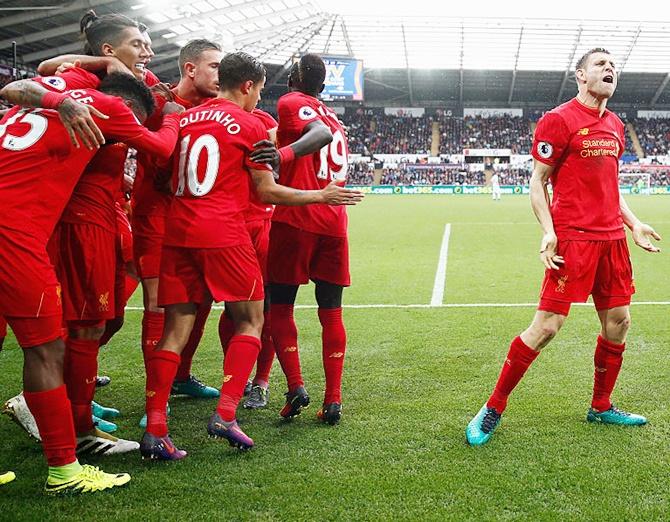 Rediff.com brings you the previews of the main matches scheduled for this weekend and early next week in the English Premier League calendar
October 02, 2016
EPL PHOTOS: Tottenham score shock win over City; United held at Stoke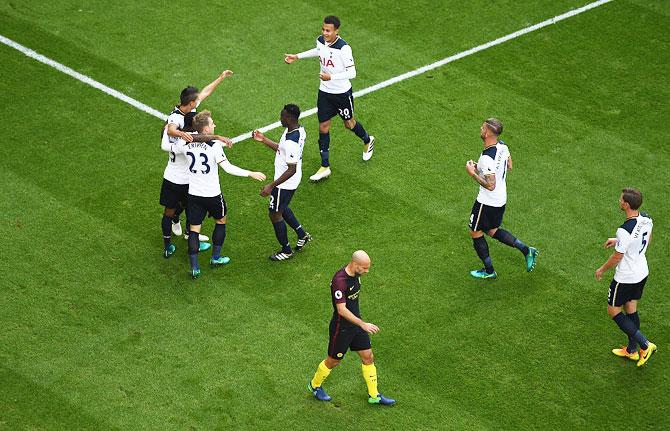 Manchester United were denied by a spirited Stoke City performance as Joe Allen pounced late to secure the visitors their first point at Old Trafford since 1989 in a deserved 1-1 Premier League draw.
September 29, 2016
Champions League: Barca rally to down Gladbach; Atletico beat Bayern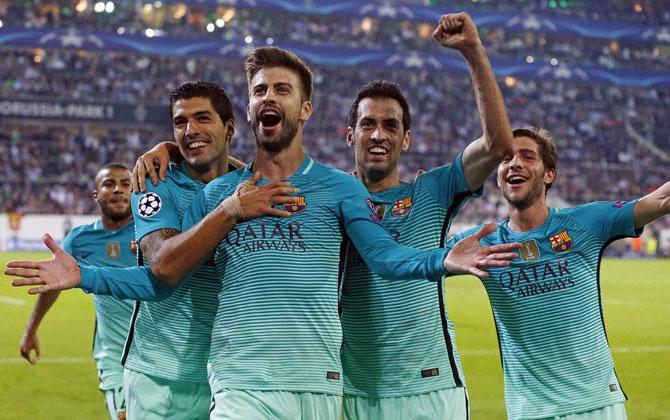 Barcelona battled back from a goal down and scored twice in the second half to overcome hosts Borussia Moenchengladbach 2-1 in their Champions League Group C match on Wednesday despite the absence of the injured Lionel Messi.
September 28, 2016
Champions League PHOTOS: Dortmund deny Real; Leicester beat Porto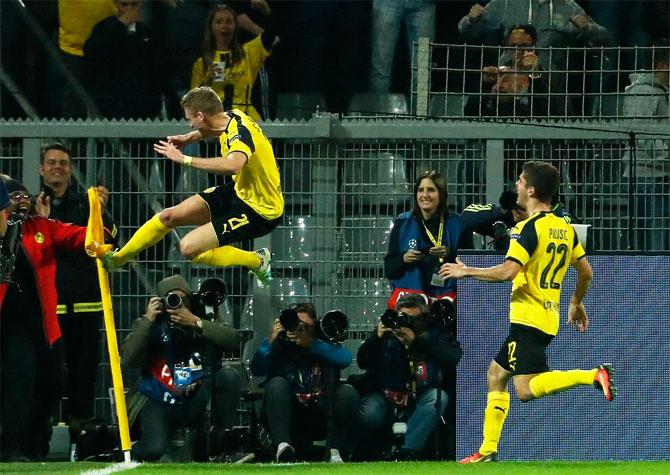 Photos from the Champions League matches played across Europe on Tuesday
September 27, 2016
'Atletico proved any team can win the Champions League'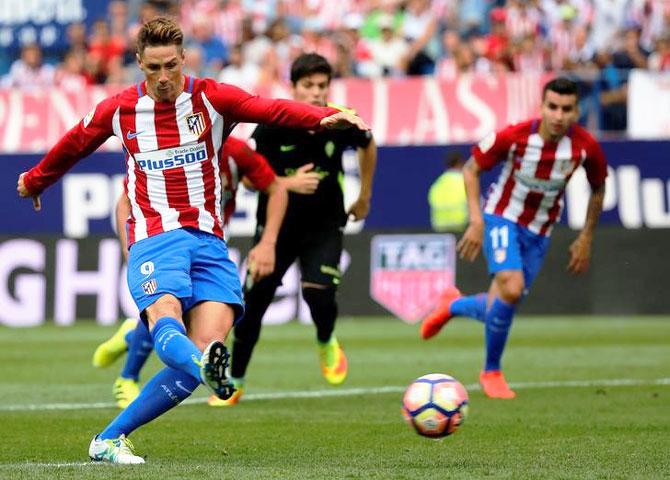 Tottenham Hotspur defender Toby Alderweireld insists his run to the Champions League final with Atletico Madrid two years ago proves that underdogs can compete with Europe's elite and win the competition.
Champions League: Celtic braced for Manchester City raiders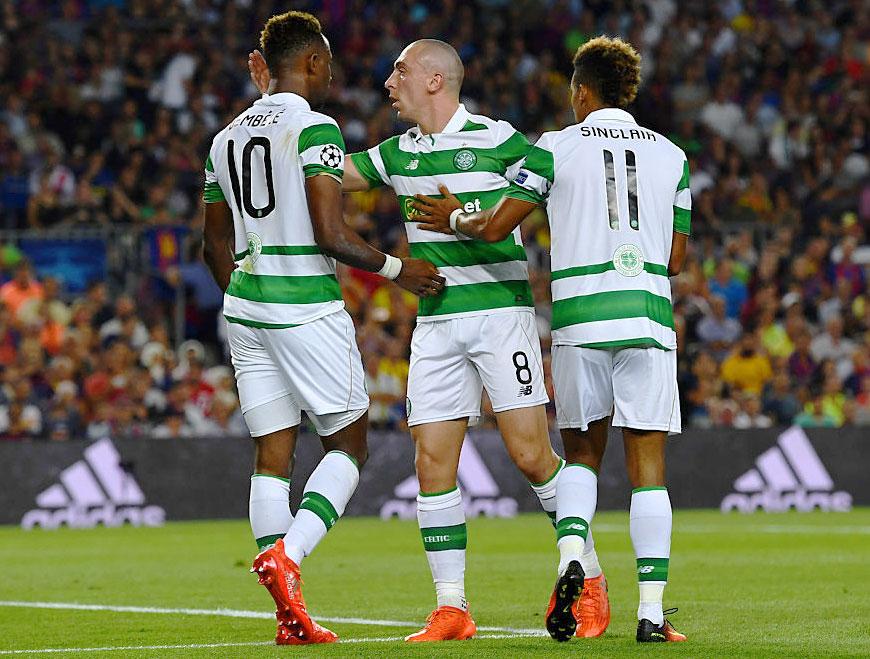 Celtic manager Brendan Rodgers has a goalkeeping dilemma to resolve before ManchesterCity turn up for their Group C Champions League match in Glasgow on Wednesday.
September 26, 2016
Baseball world mourns death of Miami Marlins star Fernandez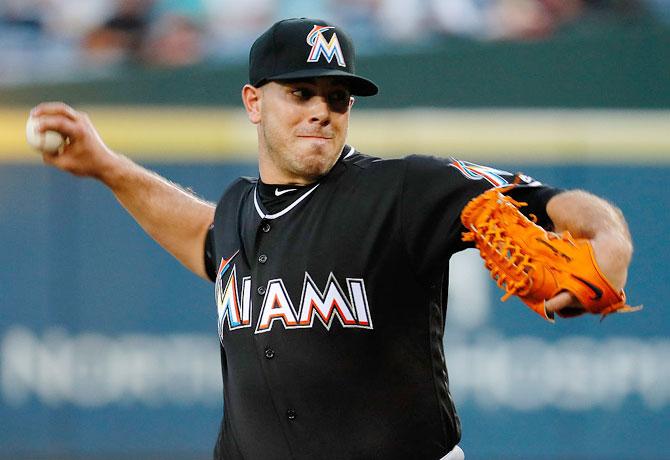 Miami Marlins star Jose Fernandez, one of the most dominant pitchers in Major League Baseball and a hero to Miami's Cuban community, was killed in a boating crash early on Sunday in Florida, the US Coast Guard said. He was 24 years old.
Olympians punished in 1968 get redemption with White House invite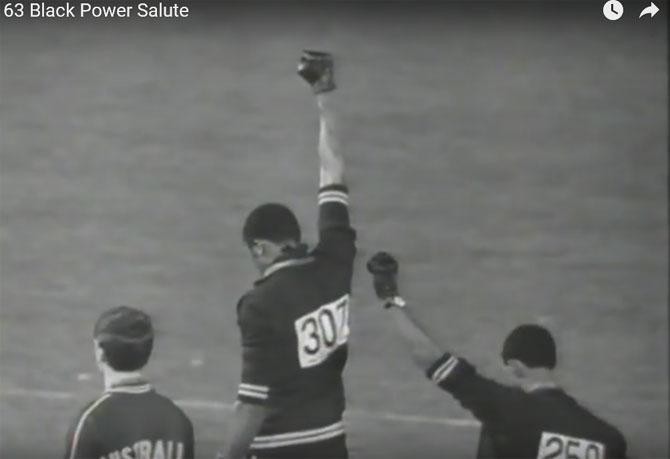 Tommie Smith and John Carlos, the two African-American athletes sent home from the 1968 Olympic Games for their raised-fist protest on the medal podium, will receive a long-awaited moment of redemption at a US team event at the White House this week.
Obama, Woods remember Palmer as 'pioneer' in golf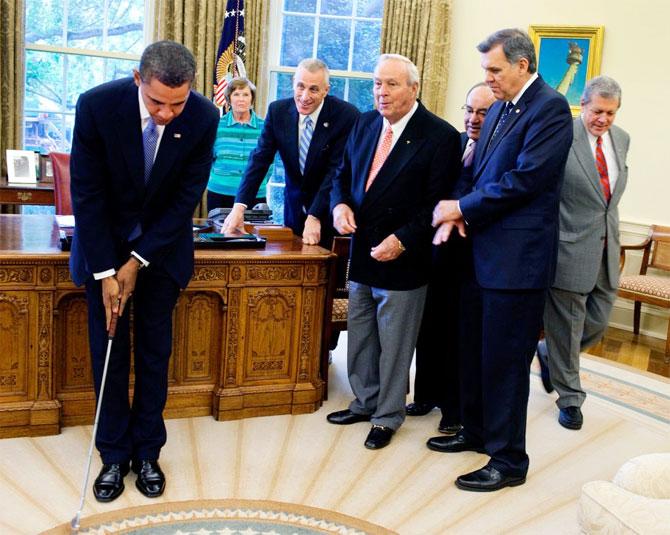 Golfing great Arnold Palmer died on Sunday, aged 87. His death left the golfing fraternity in mourning. Tributes flow...
September 25, 2016
La Liga PIX: Barcelona close gap as Real draw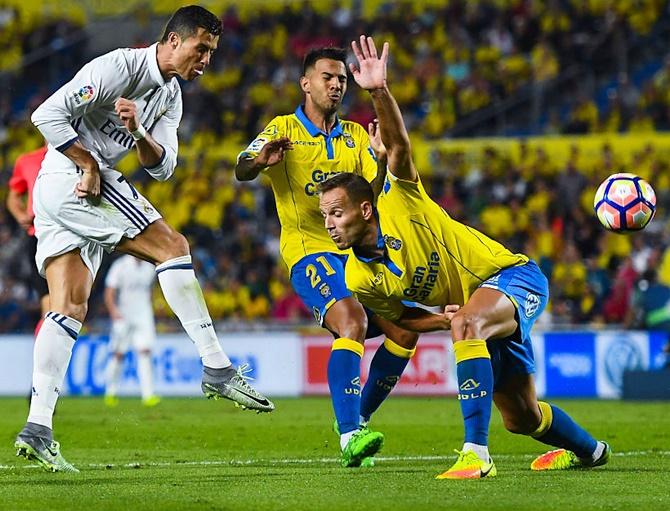 Substitute Sergio Araujo struck a late equaliser as Las Palmas held Real Madrid to a 2-2 draw and left them with a one-point lead over Barcelona at the top of La Liga on Saturday.
September 22, 2016
League Cup: Manchester clubs win to tee up fourth round tie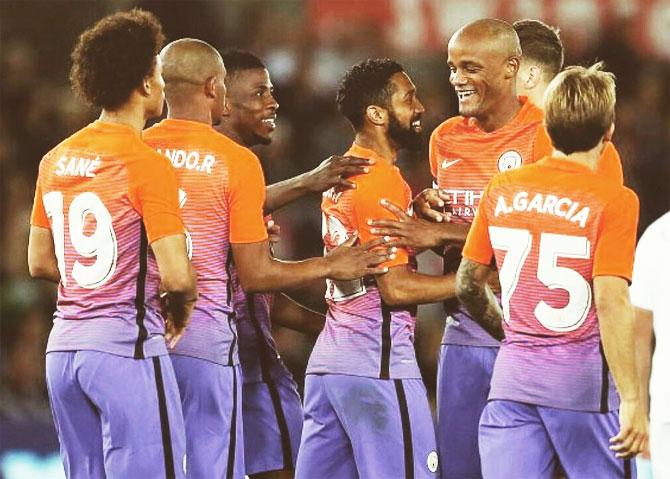 Manchester City continued their imperious start to the season with a 2-1 win over Swansea City to reach the fourth round of the League Cup on Wednesday but it was a testing night for rivals United who eventually overcame Northampton Town 3-1.
La Liga: Barca held by Atletico after Messi limps off; Real drop points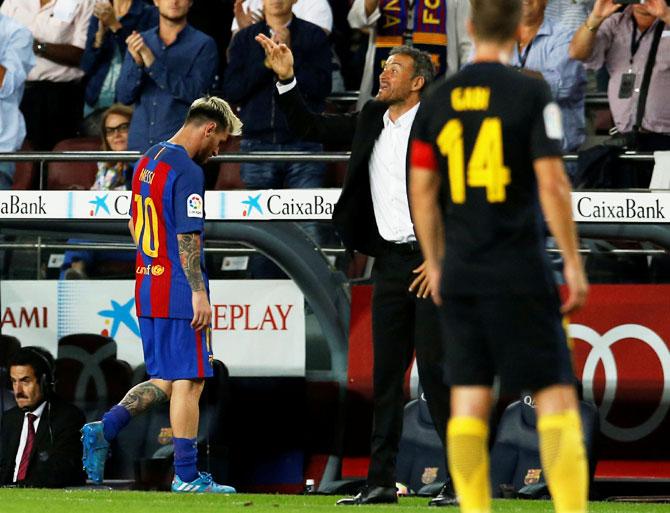 Barcelona failed to capitalise on Real Madrid dropping points against Villarreal as the La Liga champions were held to a 1-1 draw at home to Atletico Madrid on Wednesday, while talisman Lionel Messi limped off with a groin injury.
September 21, 2016
League Cup: Fabregas gives Chelsea win at Leicester, Everton lose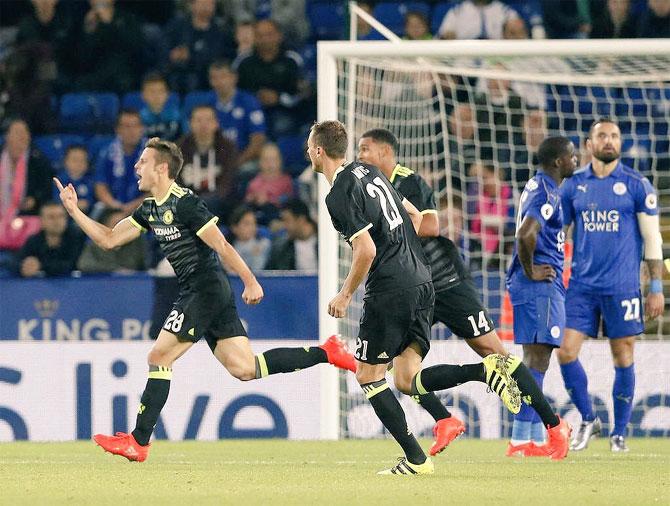 Chelsea midfielder Cesc Fabregas gave his manager a reminder of his talents by scoring twice in extra time as they fought back from two goals down to knock Premier League champions LeicesterCity out of the League Cup 4-2 on Tuesday.
September 19, 2016
Leander Paes on jealous competitors and personal life issues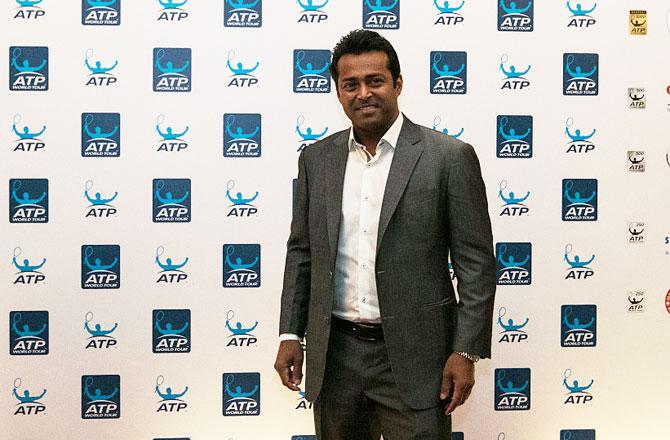 His monumental achievements notwithstanding, controversies keep chasing Leander Paes.
La Liga PIX: Real Madrid equal record for successive wins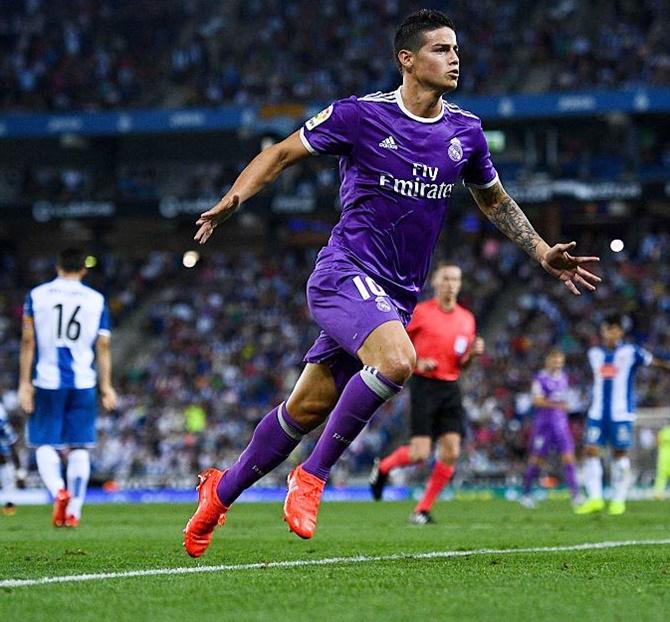 Real Madrid brushed off the absence of Cristiano Ronaldo and Gareth Bale to beat Espanyol 2-0 away and maintain their 100 per cent start to the league season while matching the La Liga record of 16 consecutive victories.
September 17, 2016
Davis Cup PIX: Croatia and France deadlocked after singles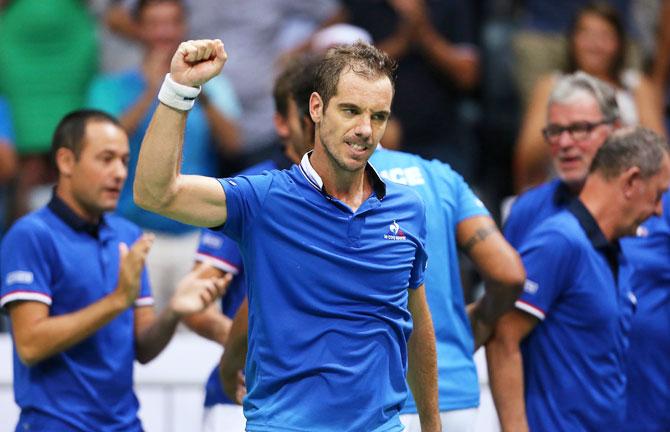 Croatia and France were tied at 1-1 after Friday's singles in their Davis Cup semi-final clash in Zadar after Richard Gasquet and Marin Cilic both won their matches.
EPL PHOTOS: Henderson stunner headlines Liverpool win over Chelsea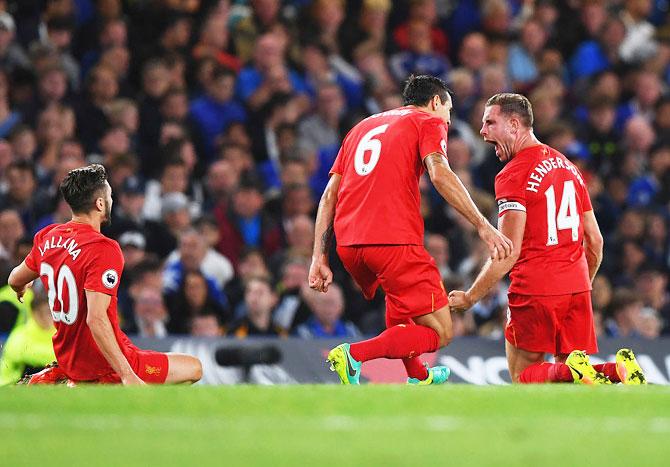 A stunning strike from Jordan Henderson helped Liverpool secure a comfortable 2-1 win at Chelsea on Friday that ended the London club's unbeaten start to the season and underlined the growing potential of Juergen Klopp's side.
Davis Cup: Del Potro sinks Murray in epic tie, Argentina take 2-0 lead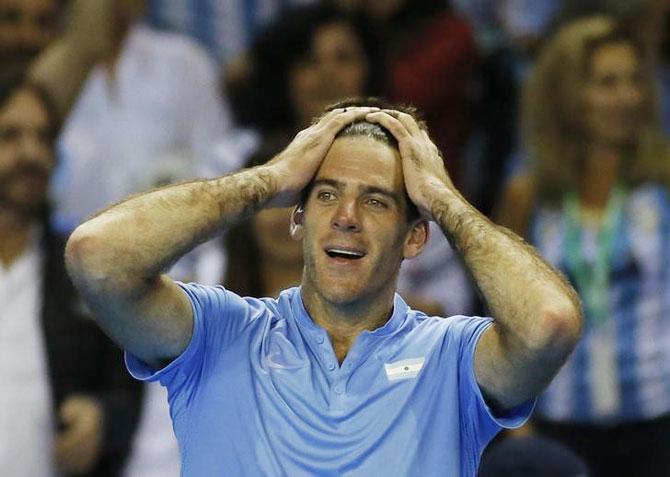 Juan Martin del Potro delivered a huge blow to Britain's hopes of retaining the Davis Cup when he beat Andy Murray 6-4, 5-7, 6-7(5), 6-3, 6-4 in a five-hour thriller as Argentina grabbed a 2-0 lead in their world group semi-final on Friday.
September 16, 2016
Lopez clarifies: Nadal sat out with wrist injury, not upset stomach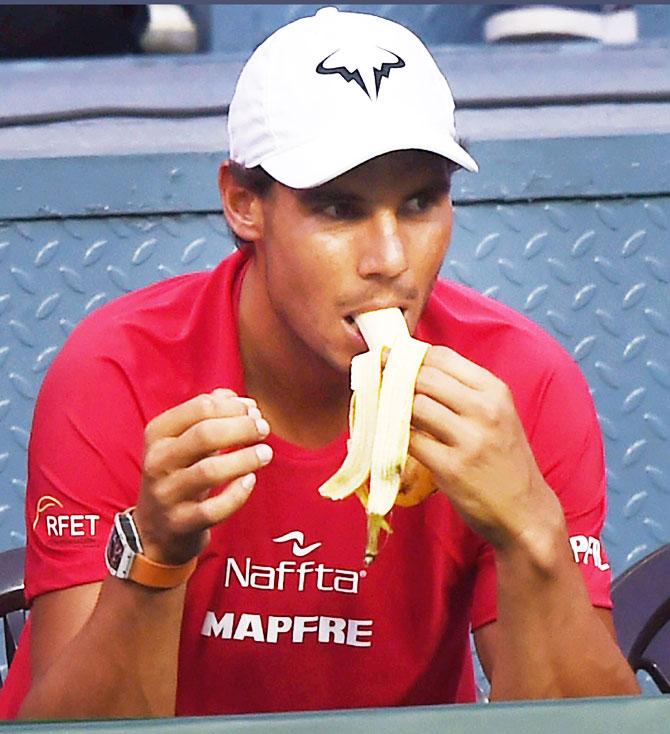 'Rafa is okay, nothing serious. He did not have any stomach upset. He was playing in the US Open with the same wrist issue. It is getting better and better but still it is sometimes painful. We still have two days of competition. So he might play one of these days'
Davis Cup: Spain take 2-0 lead vs India in World Group play-offs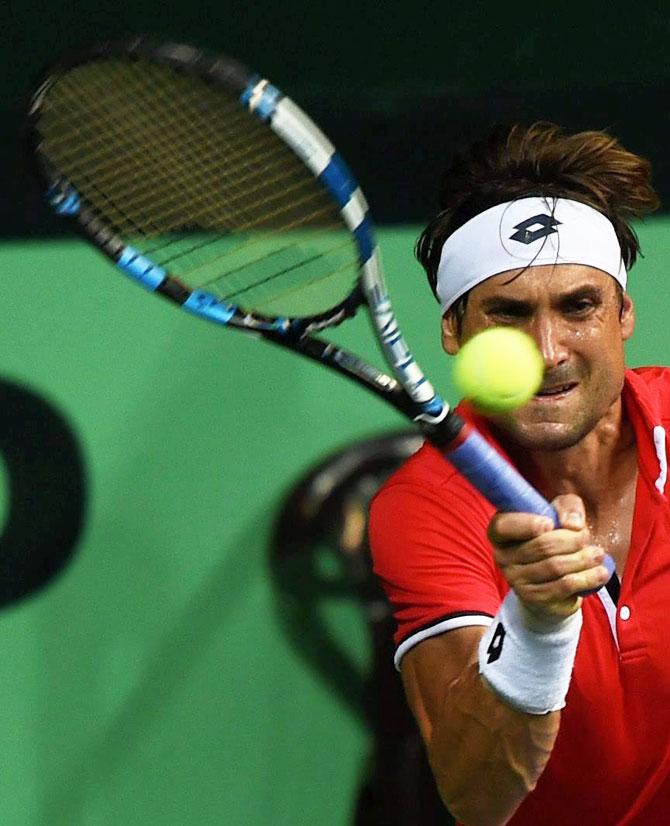 India lost the opening tie of the Davis Cup World Group play-off against Spain after Ramkumar Ramanathan lost to Spain's Feliciano Lopez 4-6, 4-6, 6-3, 6-1 on a hot evening in Delhi on Friday.
September 15, 2016
Davis Cup: Ramanathan faces Nadal challenge in opening singles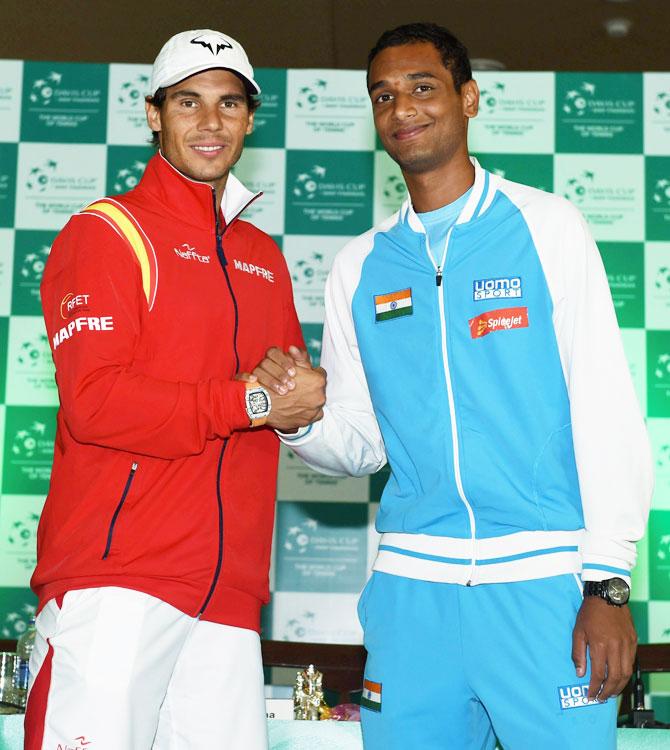 Rafael Nadal to play against Ram Kumar Ramanathan on the first day of their Davis Cup World Group play-off tie in New Delhi on Friday.
Champions League PIX: Aguero hat-trick leads City; Monaco stun Tottenham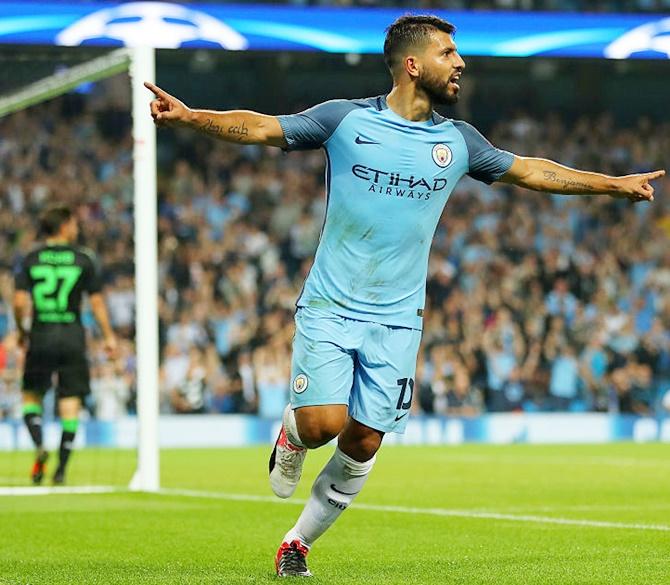 Manchester City's Sergio Aguero scored a hat-trick as coach Pep Guardiola maintained his 100 per cent record at the club with a commanding 4-0 victory against Borussia Moenchengladbach in their rearranged Champions League Group C opener on Wednesday.
September 14, 2016
Champions League PIX: Messi sets hat-trick record; PSG wasteful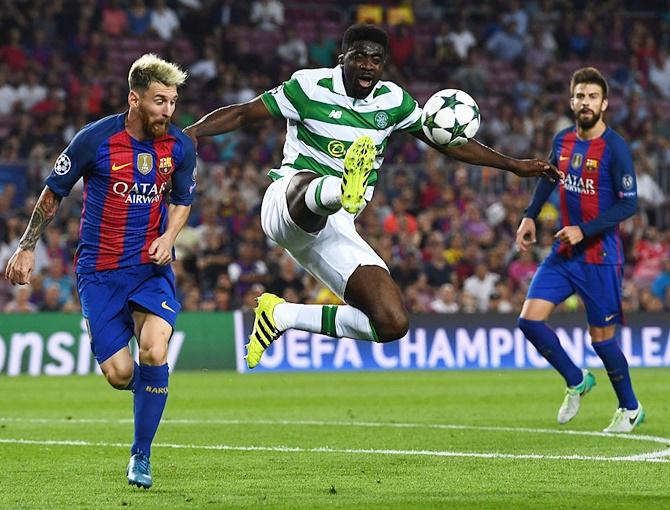 Lionel Messi, Luis Suarez and Neymar combined to devastating effect as Barcelona swatted Celtic aside 7-0 at the Nou Camp to lay down a marker in Champions League Group C on Tuesday.
September 13, 2016
Williams sisters let off by WADA despite positive dope test?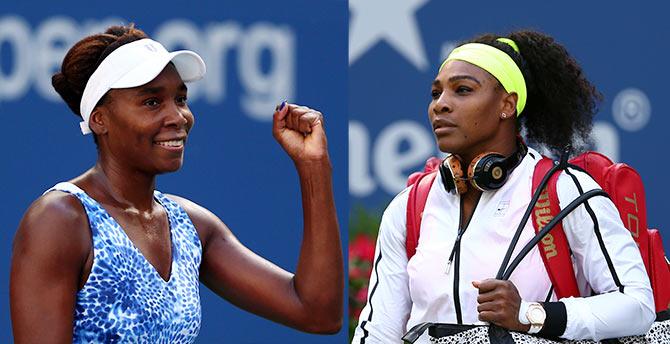 Claiming to have accessed WADA's database, Fancy Bears' hack team claimed to have leaked dozens of files allegedly relating to United States athletes on the internet.
Davis Cup: Doubles team yet to be decided; fitness a concern for India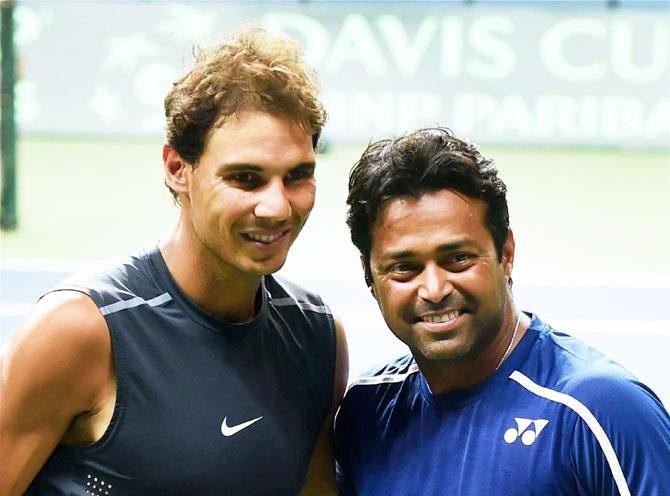 Indian captain Anand Amritraj hinted that Saketh Myneni partner Leander Paes for the doubles rubber in the World Group Davis Cup play-off tie and he believes the hosts have a "good chance" of earning a point against the formidable Spain.
PHOTOS: Saluting Paralympians and their undying spirit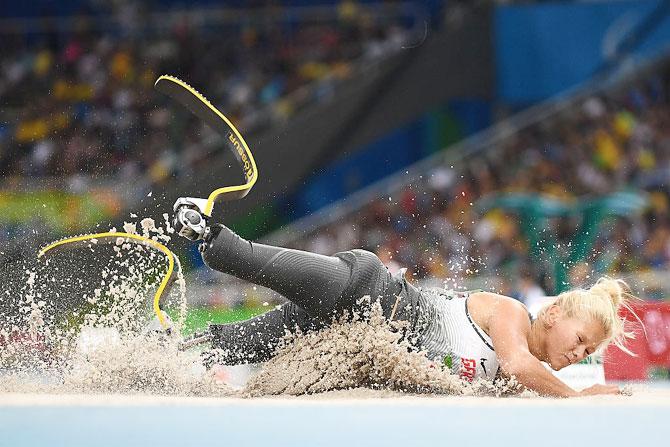 At Rediff.com, we would like to salute their undying spirit...
September 11, 2016
US Open: Aggressive style almost pays off for Pliskova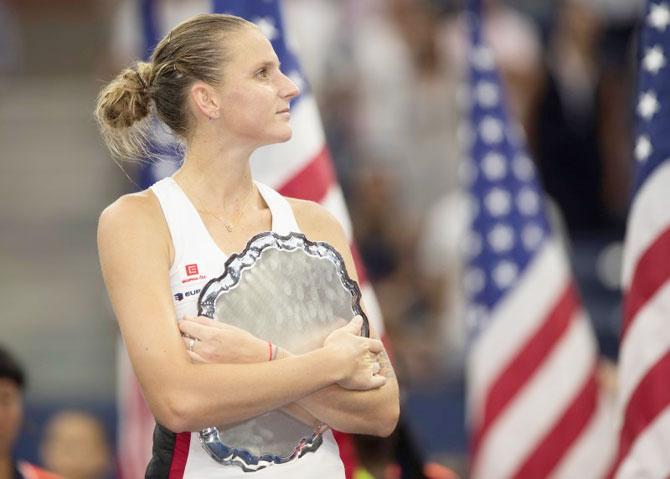 Karolina Pliskova suffered a narrow US Open defeat at the hands of Angelique Kerber on Saturday, but the Czech 10th seed also proved her mettle as one of the most dangerous attacking players in women's tennis.
EPL: Chelsea held by Swansea in controversial 2-2 draw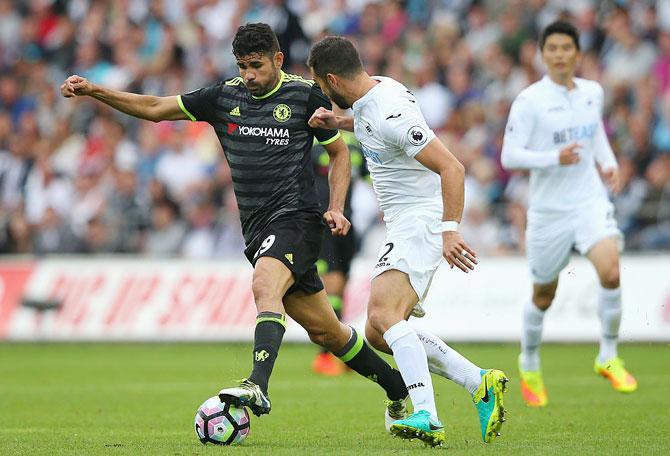 Diego Costa scored twice but could not prevent Chelsea losing their 100 percent Premier League record in a controversial 2-2 draw at Swansea on Sunday.
Mourinho undone by 'the one that got away'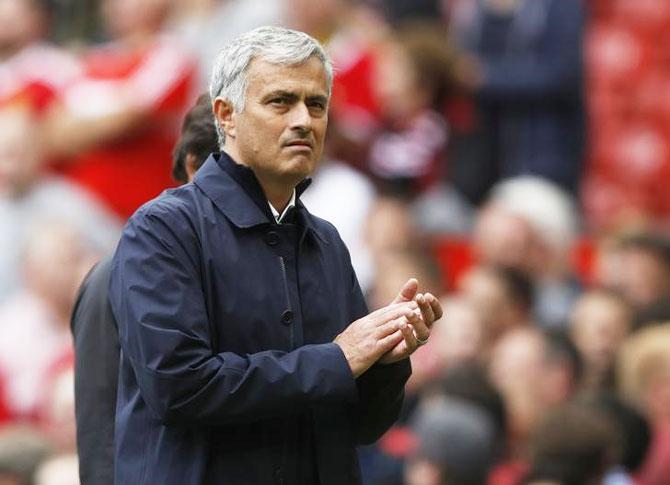 On the face of it, Jose Mourinho shouldered the blame for the wounding defeat in his first Manchester derby at Old Trafford on Saturday.
September 10, 2016
EPL PIX: Spurs sink Stoke; Arsenal win; West Ham stunned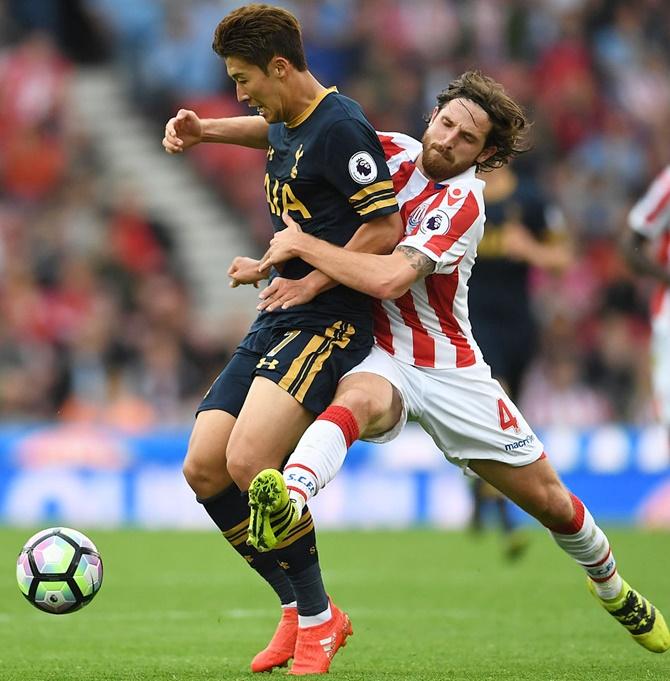 Santi Cazorla scored a 94th-minute penalty as sub-par Arsenal beat Southampton on Saturday with Laurent Koscielny's overhead kick having earlier cancelled out Petr Cech's own goal.
September 09, 2016
PHOTOS: Five memorable Manchester derbies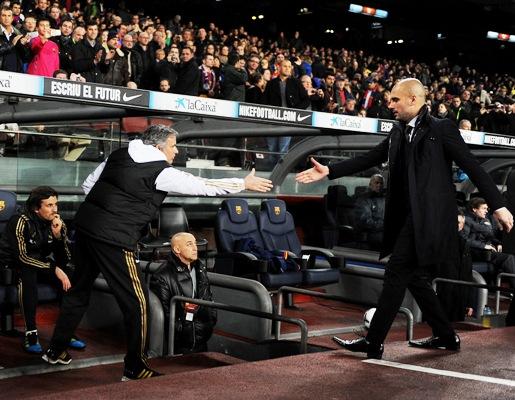 Despite all the hype, however, the match will do well to live up to some of the Manchester derby tussles down the years.
'Ibrahimovic born for Manchester derby'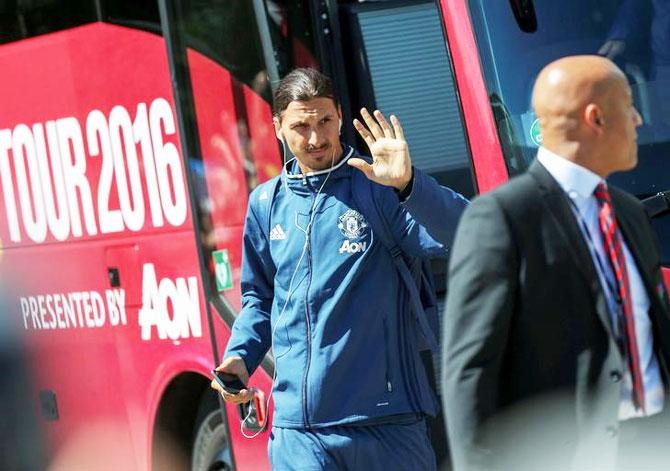 If ever a fixture was made for striker Zlatan Ibrahimovic it is Saturday's Manchester derby at Old Trafford, according to his former Barcelona team mate Thierry Henry.
PHOTOS: When Serena was hit by a double whammy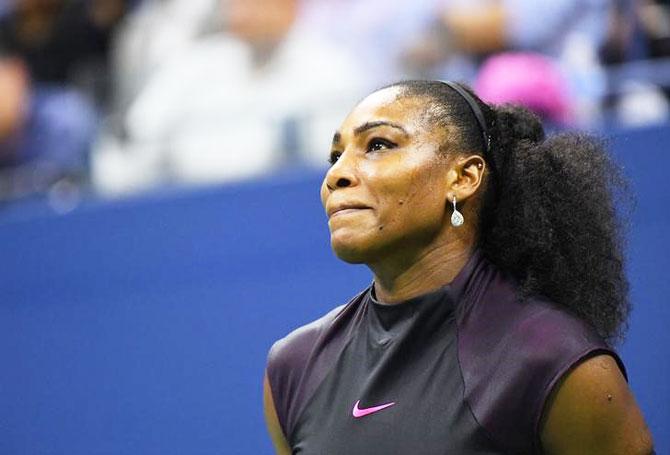 Serena Williams crashed out of the US Open after losing in the semi-final to Karolina Pliskova costing her a shot at a 23rd Grand Slam title and resulted in her losing her record 187th straight week at number one.
September 06, 2016
US Open PHOTOS: Kerber downs Vinci to enter semis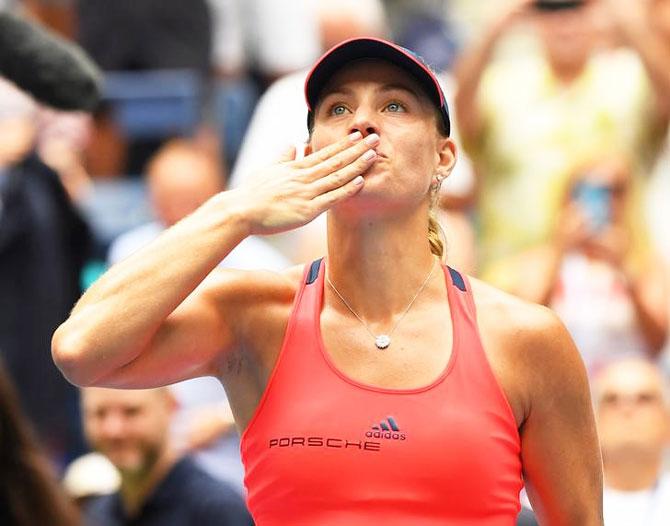 Second seed Angelique Kerber was first through to the semi-finals of the US Open on Tuesday bringing Roberta Vinci's Flushing Meadows dream run to an end with a clinical 7-5, 6-0 win.
'We have forgotten the art of physical literacy'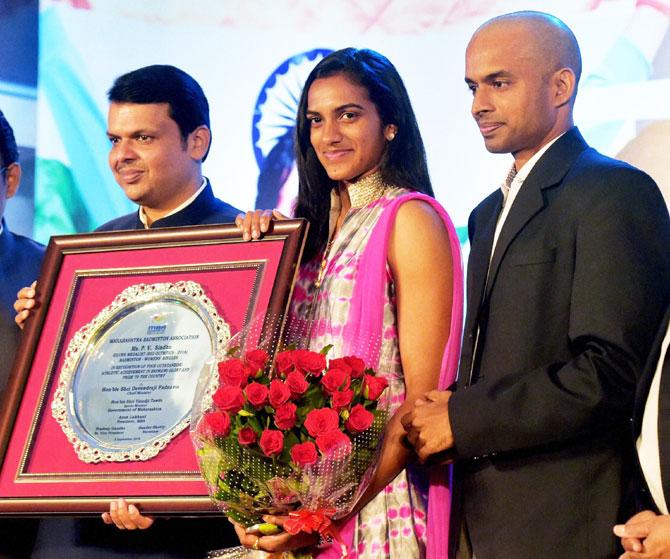 'We have lost the importance of physical movement. It is important we encourage kids to take up sport.'
September 05, 2016
US Open PIX: Del Potro in quarters after Thiem retires; Halep advances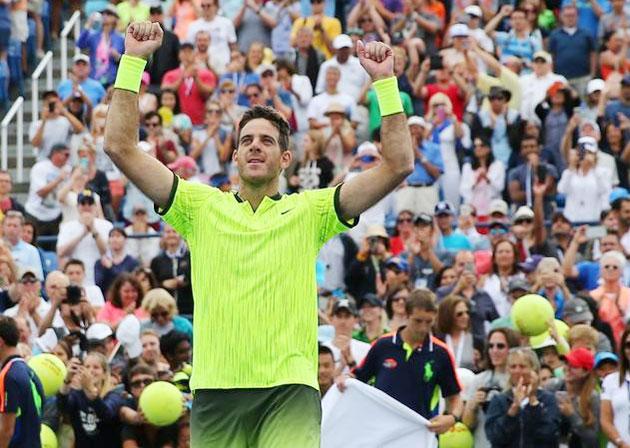 Juan Martin del Potro's summer renaissance continued on Monday as the unseeded Argentine advanced into the US Open quarter-finals when Austrian eighth seed Dominic Thiem quit their match with an injury.
'Stronger than before' Pouille's career set to skyrocket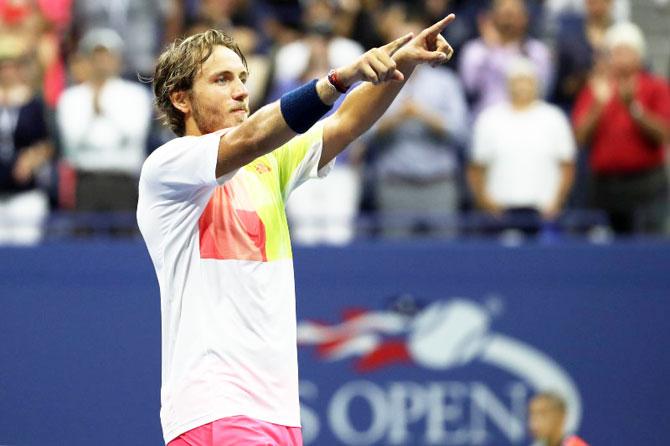 Lucas Pouille was not prepared to say his pulsating four hour, fourth-round upset of 14-time grand slam winner Rafael Nadal at the US Open on Sunday was a career changing moment.
PHOTOS: Djokovic shakes off rust, to face Tsonga in quarters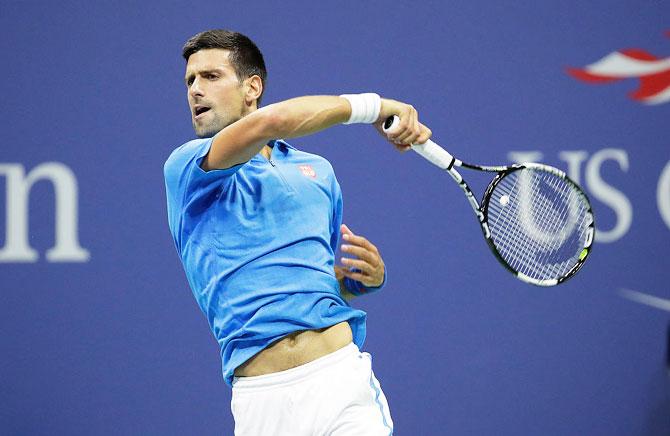 Top seed Novak Djokovic has been starved of competitive action at the US Open but on Sunday the World No 1 feasted on unseeded Briton Kyle Edmund in a 6-2, 6-1, 6-4 romp that put him into the quarter-finals.
US Open PHOTOS: Wozniacki, Vinci, Monfils through to quarters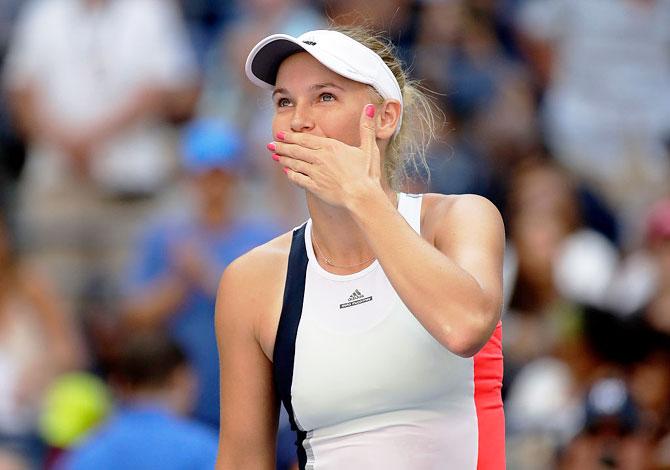 Photos from matches played at the US Open in Flushing Meadows on Sunday
September 04, 2016
2018 WC qualifiers: England grab last-gasp win over 10-man Slovakia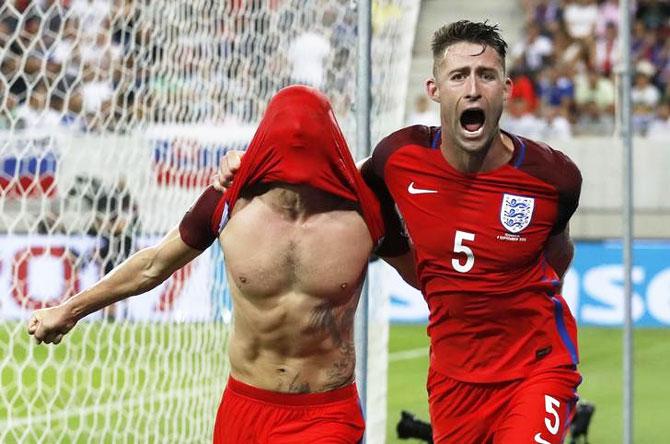 England's Adam Lallana scored his first international goal with the last kick of the game as they beat 10-man Slovakia 1-0 in their World Cup Group F qualifier on Sunday to get new manager Sam Allardyce's reign off to a winning start.
Time to hand over the baton to the younger generation: Bindra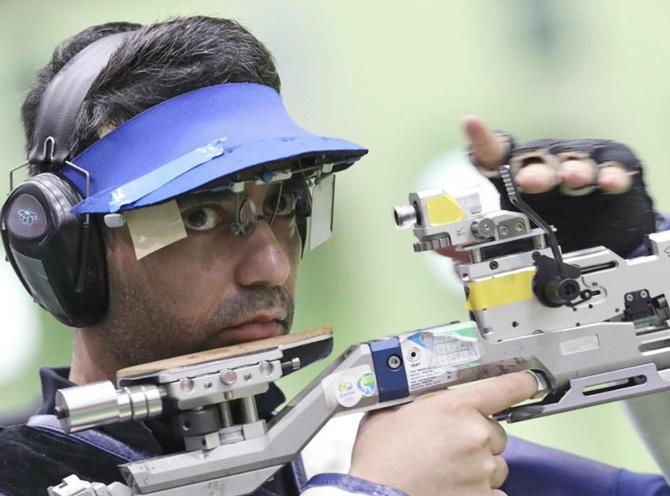 'The role of sports science, sport medicine is incredibly important in modern day sport. We can't do without it'
PHOTOS: Rosberg wins Italian GP, cuts Hamilton's lead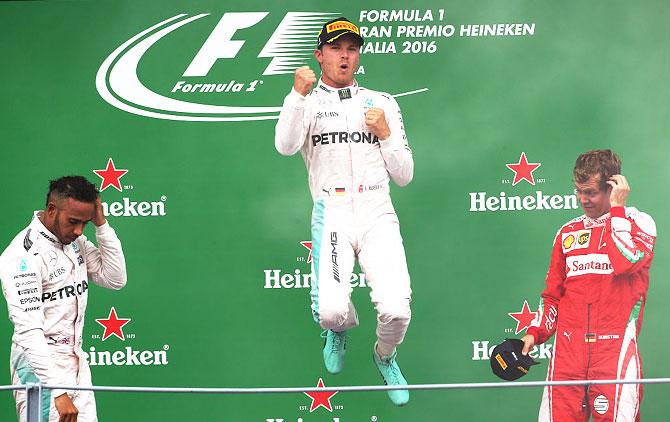 Germany's Nico Rosberg won the Italian Grand Prix for dominant Mercedes on Sunday to cut teammate Lewis Hamilton's Formula One world championship lead to two points with seven races remaining.
Massa and Button exits herald F1 generation change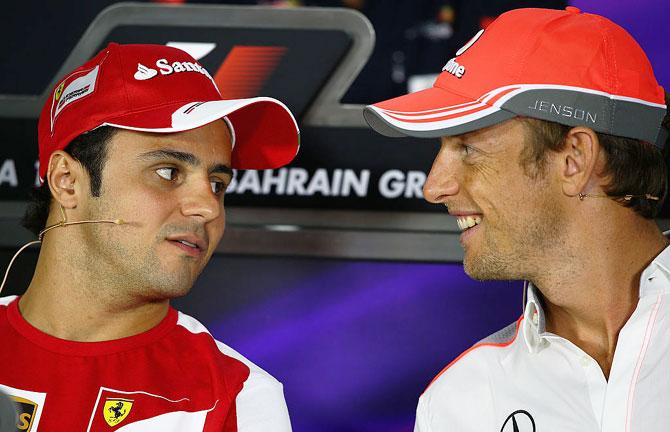 Lewis Hamilton, once the young sensation of Formula One, is starting to feel his age as a new generation of drivers sweeps into the sport and old hands like Jenson Button and Felipe Massa head for the exit.
US Open PHOTOS: Halep gets Hungarian fright before reaching last 16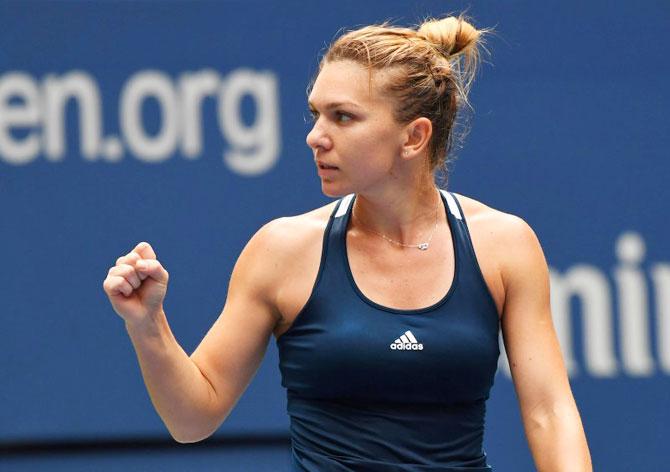 Fifth seed Simona Halep narrowly avoided a third-round upset with a 6-1, 2-6, 6-4 win over Hungary's Timea Babos on Saturday to keep her US Open title hopes alive.
September 03, 2016
Superb India rally to thump Puerto Rico 4-1 in soccer friendly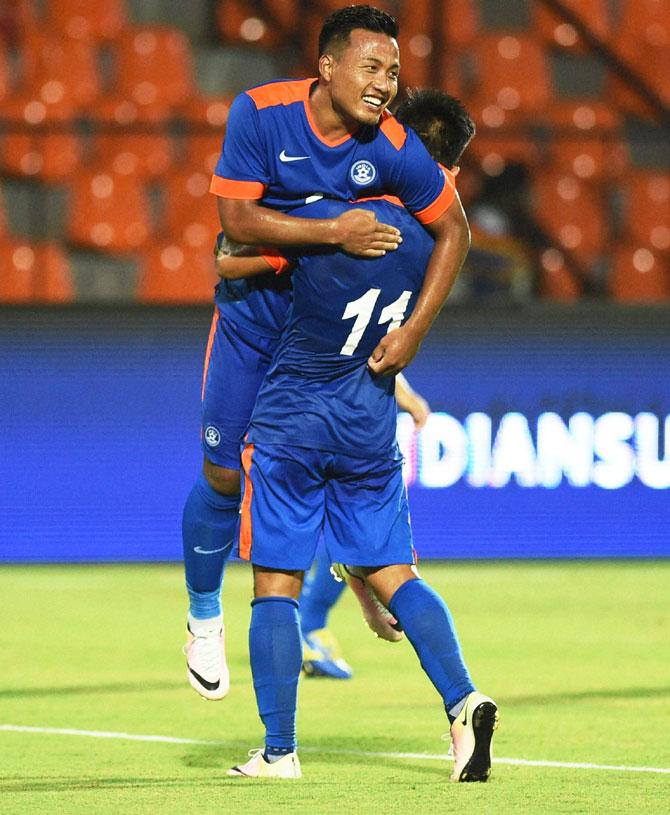 Masterminded superbly by ace striker Sunil Chhetri, a dominant India scripted a sensational 4-1 win over higher-ranked Puerto Rico in an international football friendly at the Andheri Sports Complex stadium in Mumbai on Saturday.
F1: Ferrari president practical about team's chances this season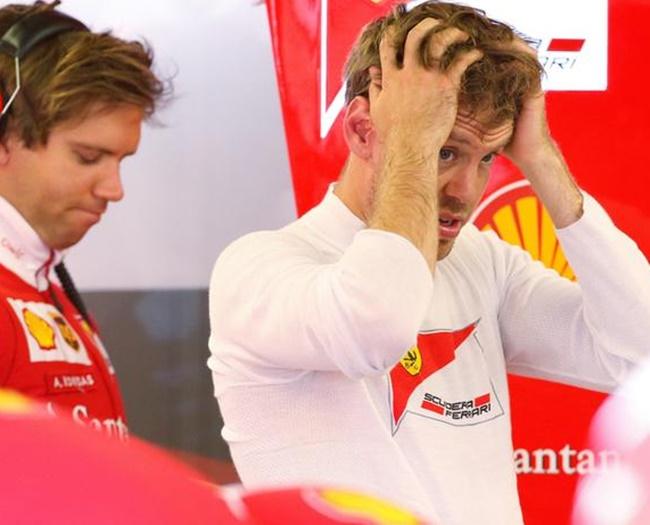 Marchionne writes off Ferrari's season of failure
August 30, 2016
Rooney to quit internationals after 2018 World Cup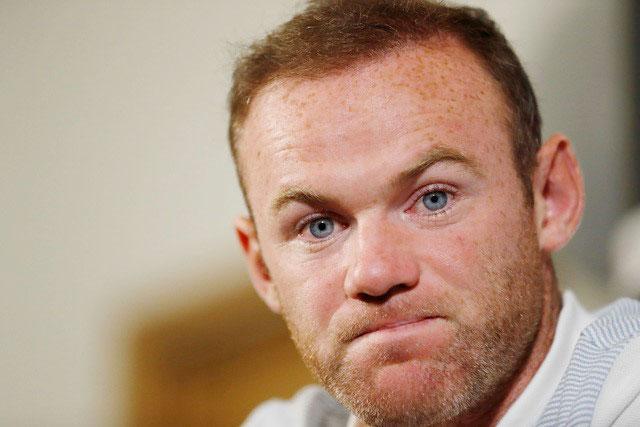 Wayne Rooney will end his England career after the 2018 World Cup in Russia, the striker said on Tuesday.
PHOTOS: Look who turned up on the opening day of the US Open!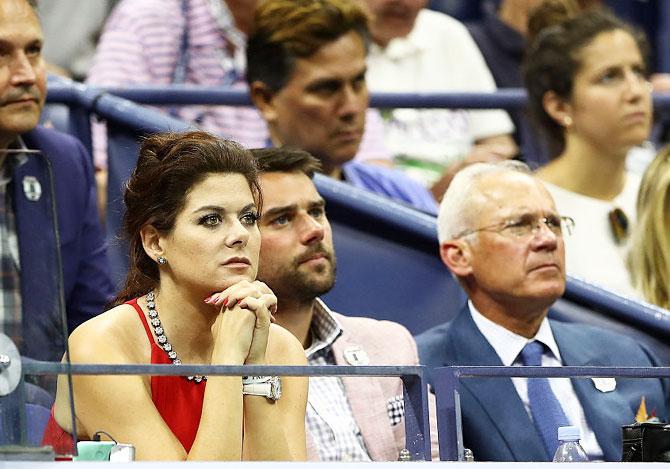 As World No 1 Novak Djokovic and Spanish bull Rafael Nadal opened their accounts with first round victories, celebrities from the world of Hollywood, fashion and sport were there to witness the proceedings on the opening day of the fourth and final Grand Slam of the year.
PIX: Meet 100-year-old Indian who won gold at Masters Games track meet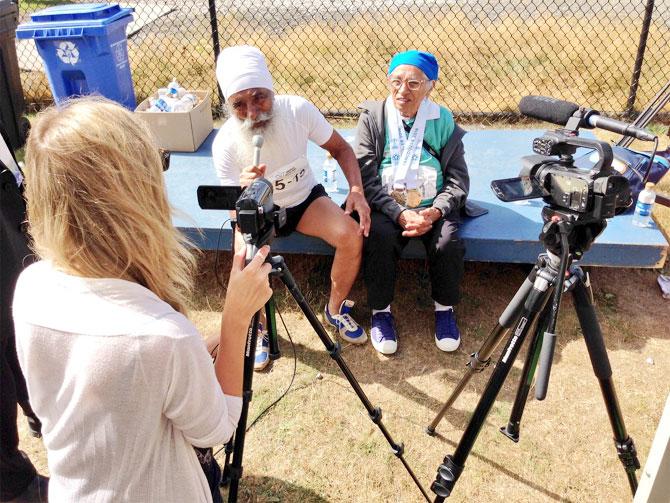 In a gripping tale of unwavering dedication and passion towards the sport, a 100-year-old Indian runner has become the talk of the town after she picked up a gold medal in the 100-metre race at the Americas Masters Games in Vancouver, Canada.
August 29, 2016
BEST Sports Photos of the Week!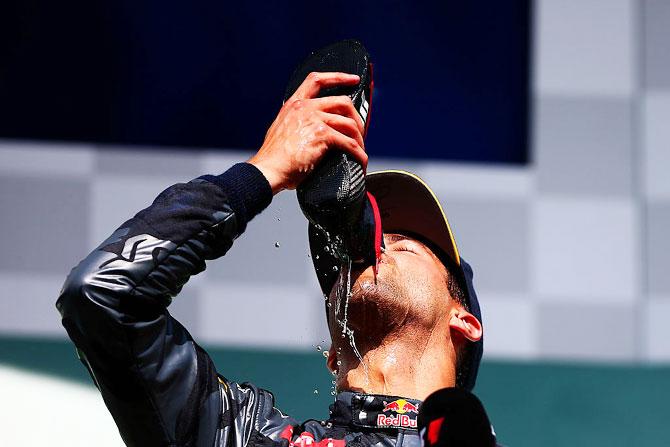 Rediff.com takes you through a photographic journey of all the exciting sporting moments that unfolded over the last seven days.
August 26, 2016
Ethiopian marathoner stays put in Rio, vows to fight for land rights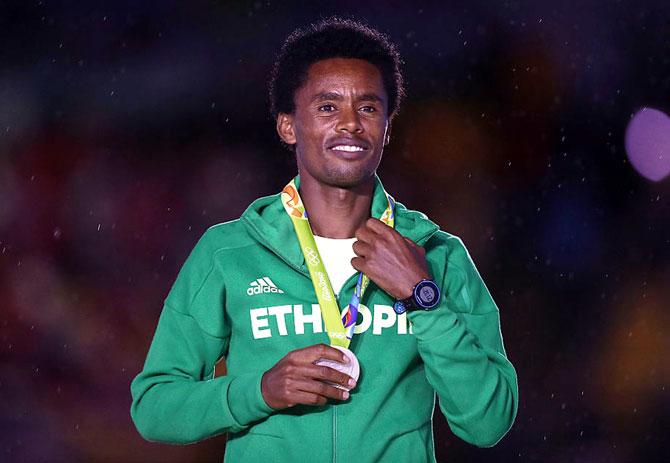 Ethiopian silver medalist Feyisa Lilesa, who did not return home after staging a protest against his government at the Rio Olympics, said on Thursday he feared for his life if he went back and vowed to keep up his fight for land rights.
Expect the unexpected at this year's US Open!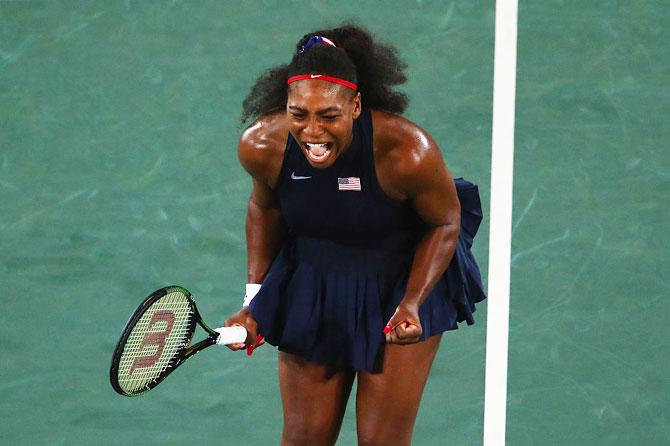 With Serena Williams vying to safeguard her World No 1 ranking and Djokovic fighting off a wrist injury, expect to see a few surprises at the fourth and final Grand Slam of the year
August 25, 2016
Borg, McEnroe to renew rivalry in Laver Cup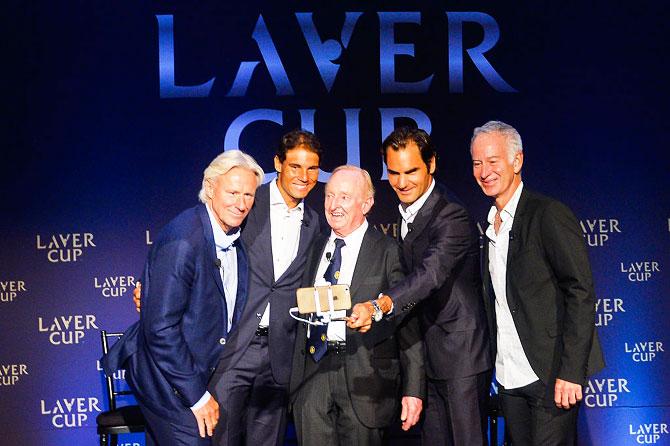 The tennis greats announced on Wednesday that they had committed to lead the teams for the first three years of the new competition, patterned after golf's Ryder Cup
August 24, 2016
Olympic flag arrives in Tokyo, governor calls for unity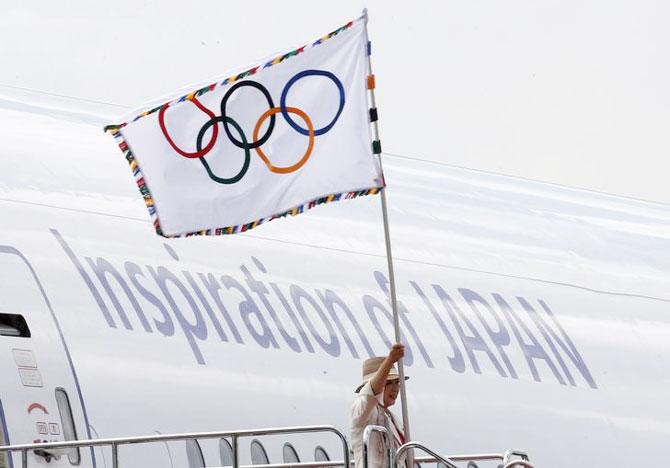 Tokyo governor Yuriko Koike brought the Olympic flag to Japan from Brazil on Wednesday and called for all parties to work together to host a successful Summer Games in 2020.
Summer transfer window: Bale renews Real Madrid contract until 2021?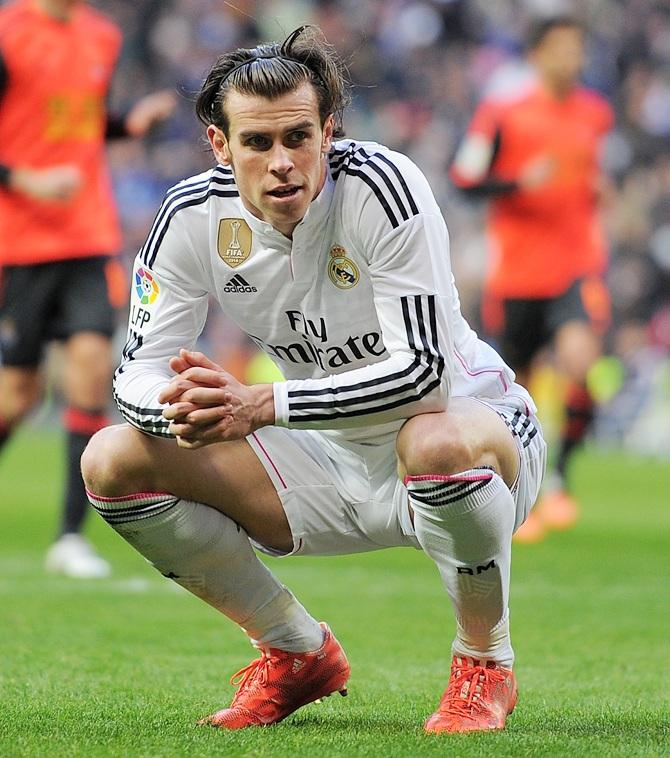 Real Madrid star striker Gareth Bale has reportedly been rewarded for his stellar performances with a new five-year contract that will keep him at the Bernabeu until 2021.
Sakshi accorded grand welcome, presented Rs 2.5 crore cheque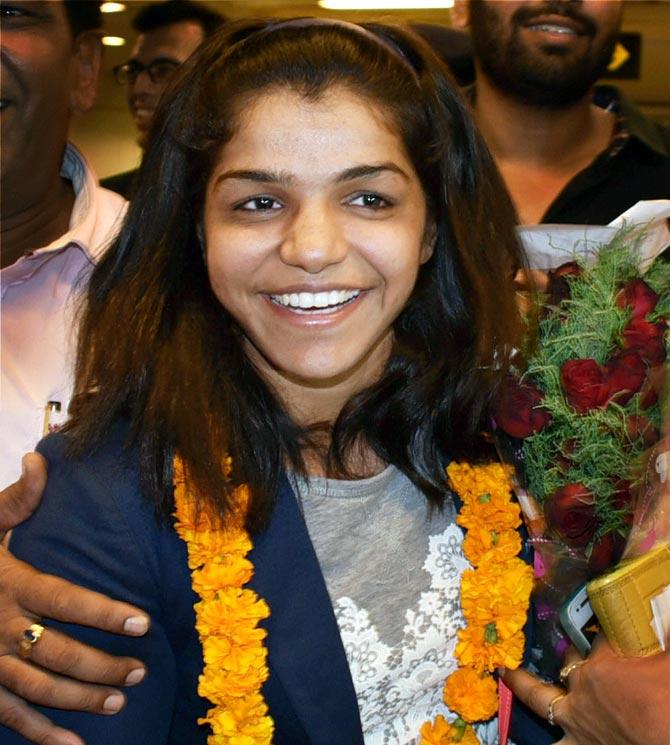 Haryana on Wednesday honoured its 'daughter' Sakshi Malik by appointing her as brand ambassador of the Prime Minister Narendra Modi's flagship 'Beti Bachao, Beti Padhao' campaign and presenting the Olympic bronze medallist a cheque of Rs 2.5 crore.
Woeful nine-man Roma miss out on Champions League group stage spot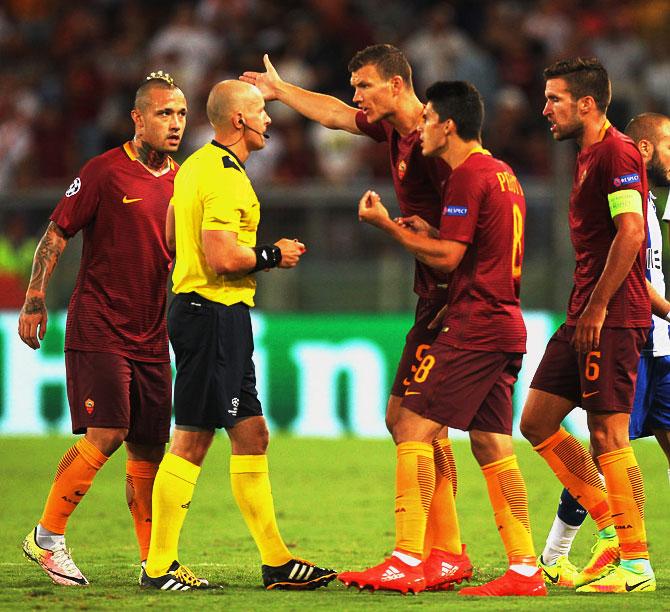 AS Roma suffered another European humiliation on Tuesday when they had two players sent off, lost 3-0 at home to Porto and missed out on the Champions League group stage.
August 23, 2016
11-year-old Odisha slum-dweller to train at Bayern Munich academy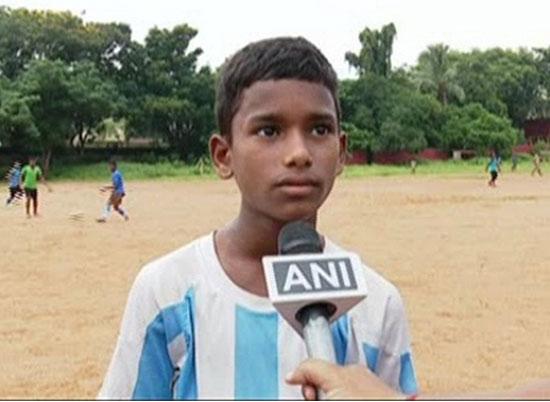 Defying all odds, an 11-year-old football prodigy from an impoverished area of Bhubaneswar has been selected to train at Germany's most iconic club Bayern Munich, as an academy player for two months.
EPL transfers: Manchester United youngster joins Wolves on loan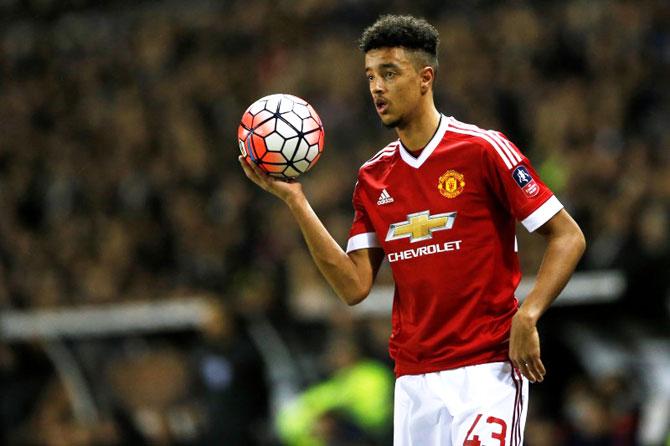 Manchester United defender Cameron Borthwick-Jackson has joined Wolves on a season-long loan, the Premier League club confirmed on Twitter.
August 22, 2016
PHOTOS: Moments that stood out at the Rio Olympics!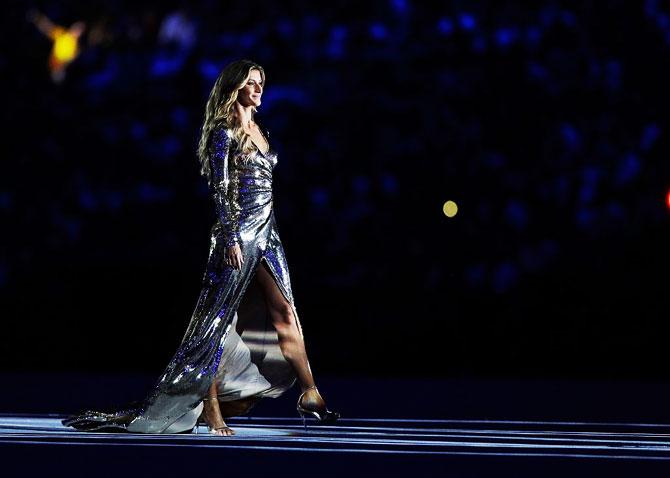 Here is a flashback of the top moments from the just concluded quadrennial Games...
Wrestling: Furious Mongolians strip off over bronze medal defeat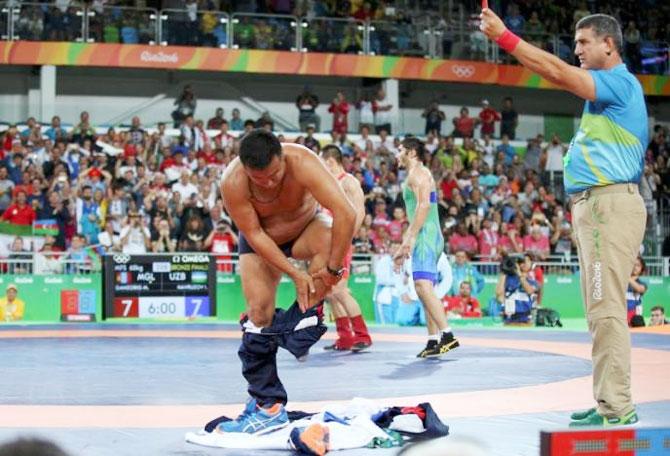 Two Mongolian coaches stripped off and hurled their shoes in protest on Sunday after their wrestler Mandakhnaran Ganzorig was denied victory for running away from his Uzbek opponent in the dying seconds of their bronze medal contest.
PIX: Rio passes Olympic flag to Tokyo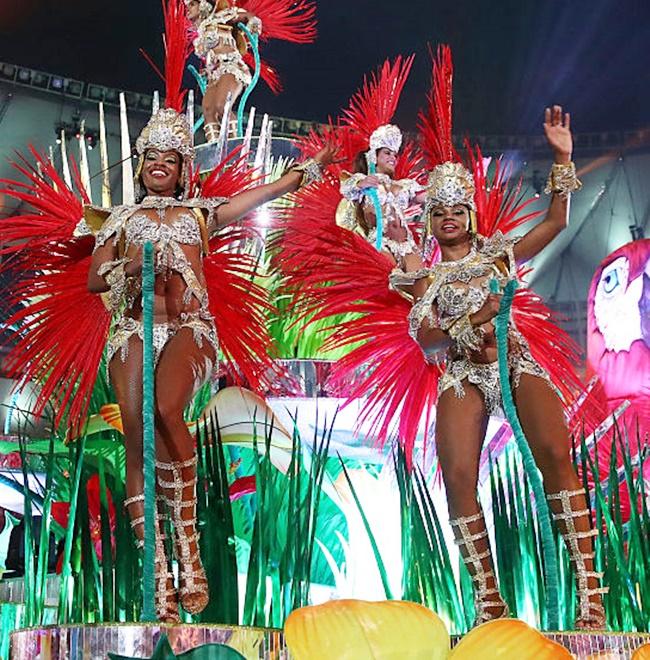 Rains failed to dampen the famous Rio carnival spirit as this Brazilian city bid an emotional farewell to the thousands of athletes of the world in a colourful closing ceremony to bring down curtains on the 31st Olympic Games.
August 21, 2016
Brazil soccer gold will be the memory Rio never forgets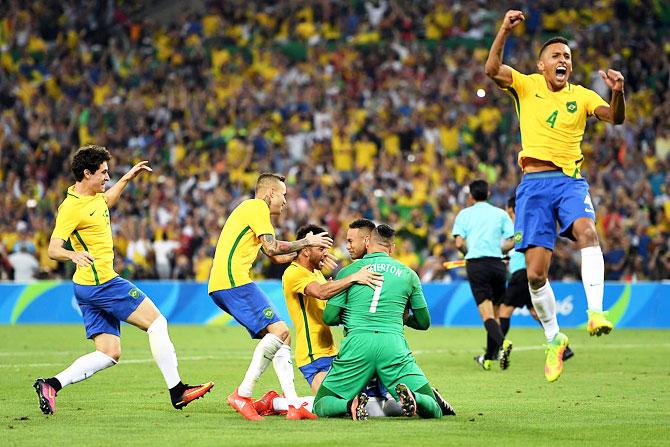 In Brazil it will be the Olympic moment everyone remembers.
Is it time to call him Sir Mo Farah?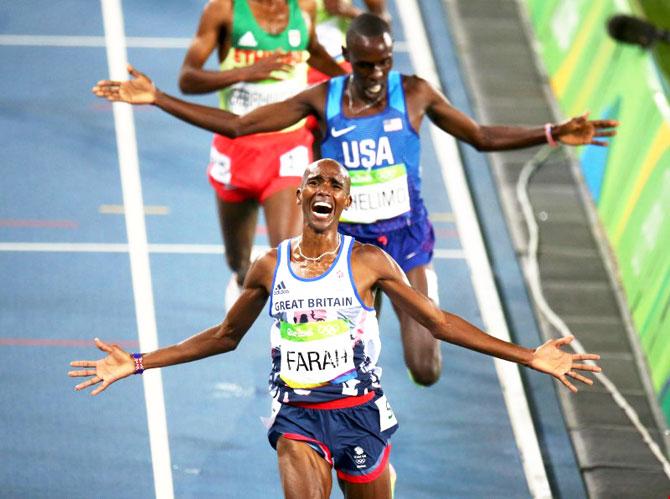 Rio repeat proves London was no fluke, says Farah
Murray beats Raonic, to play Cilic in Cincinnati final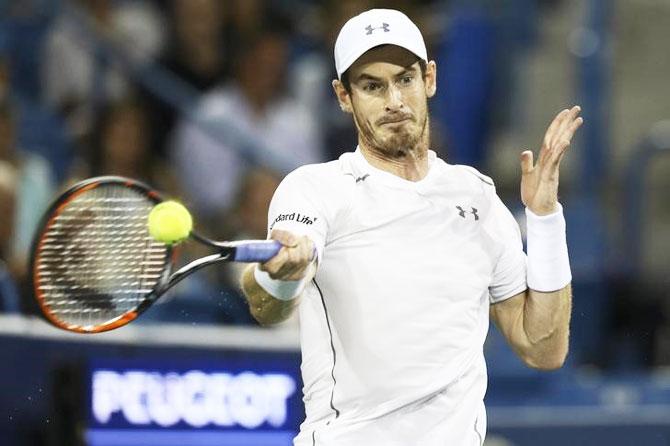 Sizzling hot Andy Murray roared into his seventh successive final with a commanding victory over Canadian Milos Raonic at the Western & Southern Open in Cincinnati on Saturday.
Rio Olympics: United States reclaim men's 4x400m title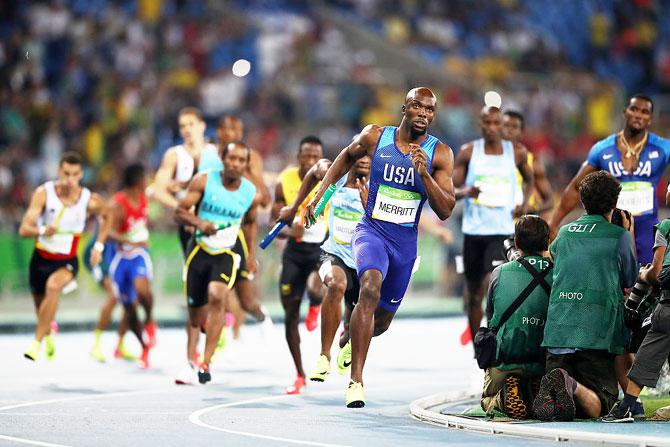 LaShawn Merritt ran a blistering anchor leg to return the men's 4x400m title to the United States, and win his third Olympic gold medal, in the final athletics event of the Rio Games on Saturday.
I'm sorry. I over-exaggerated what was happening to me: Lochte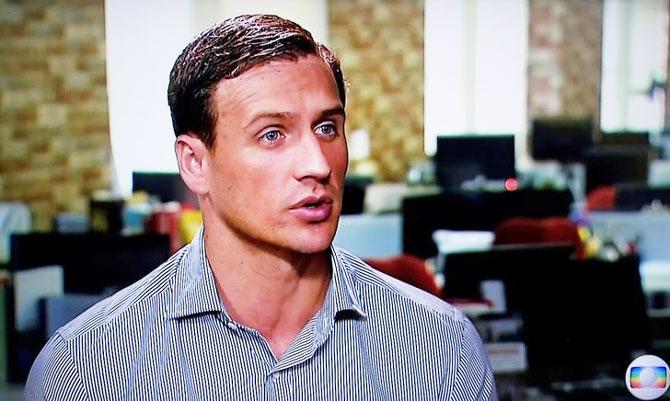 US gold medalist Ryan Lochte admitted to Brazil's largest broadcaster Saturday night that he had exaggerated his story about being robbed at gunpoint in Rio -- but insisted he did not lie.
US win sixth straight gold in women's 4x400 relay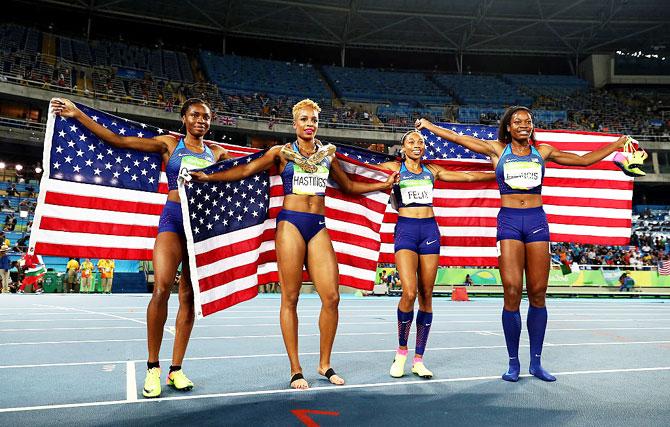 The United States won the Olympic women's 4x400 meters relay gold medal on Saturday in 3 minutes 19.06 seconds, their sixth straight victory in the event at the Games.
Rio Olympics: Neymar hands Brazil elusive soccer gold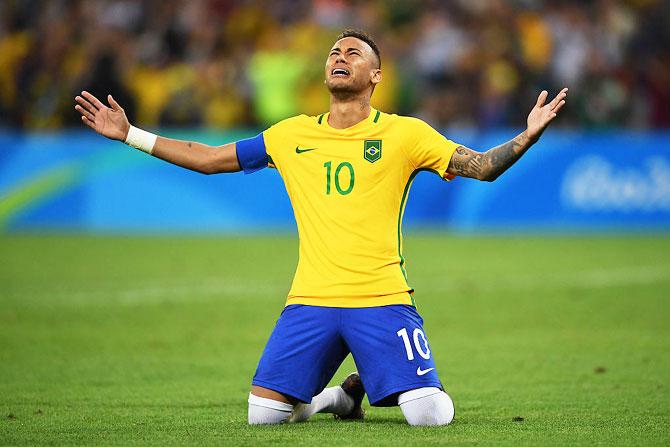 Neymar shed tears of joy after delivering Brazil's first men's soccer gold medal with the winning penalty in a 5-4 shootout triumph over Germany after a thrilling final ended in a draw following extra-time on Saturday.
South Africa's Semenya takes 800 meters gold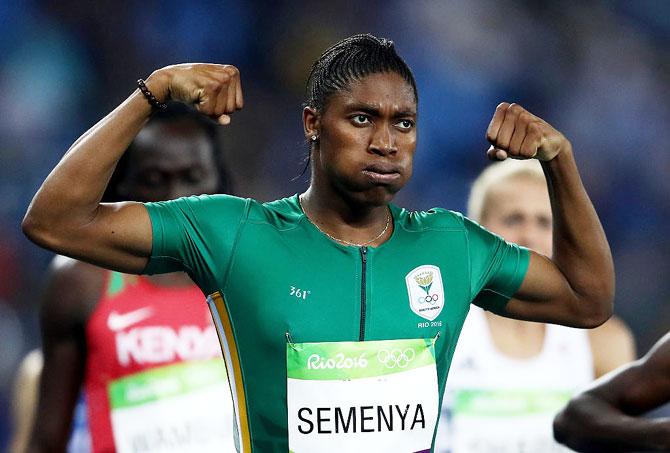 Caster Semenya of South Africa took the gold medal in the Olympic 800 meters on Saturday in a personal best time of 1:55.28 seconds.
August 19, 2016
Sindhu loses to Marin; is first Indian woman to win Olympic silver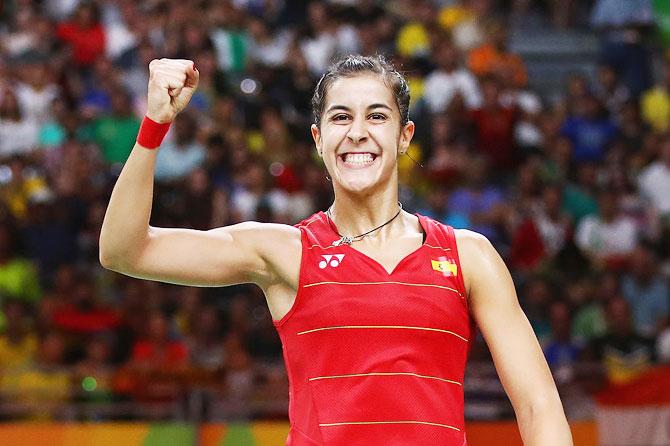 India's PV Sindhu went down fighting to Spain's World No 1 Carolina Marin in the women's singles badminton gold medal match at the Rio Olympics on Friday.
Lee defeats nemesis Lin to reach badminton final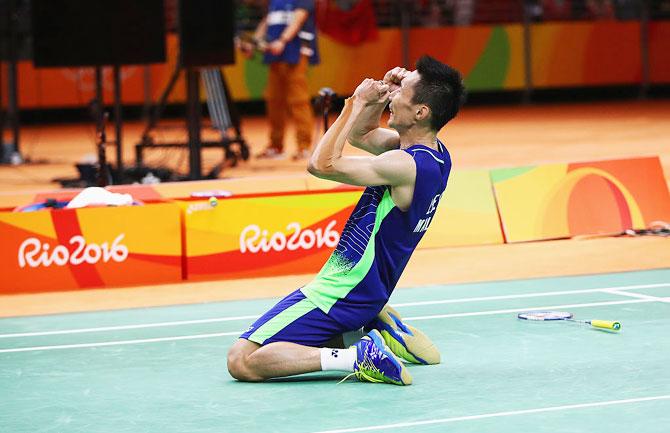 Malaysia's Lee Chong Wei shrugged off eight years of Olympic heartbreak on Friday to defeat his nemesis Lin Dan 15-21, 21-11, 22-20 and reach the final of the men's badminton after another classic encounter.
'Like Produnova, I want to invent a skill that will bear my name'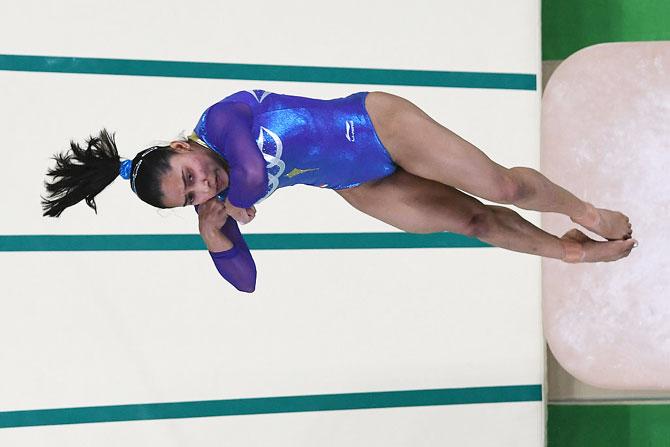 'I have probably made the Produnova vault more famous than Elena Produnova ever did'
August 18, 2016
In middle age, Rio's golden oldies teach youth a lesson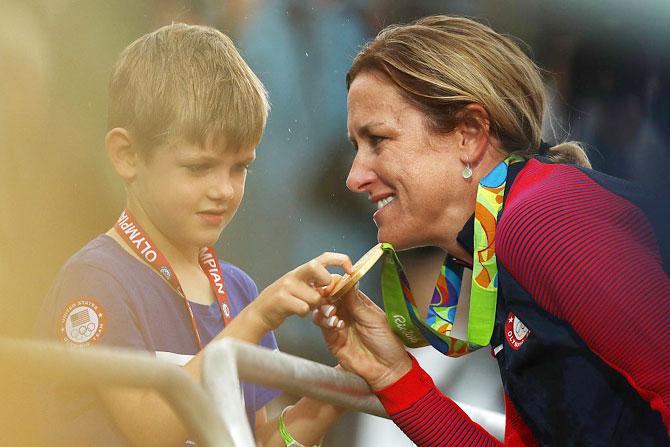 A group of athletes in Rio has found the secret to enhanced performance and it has nothing to do with doping.
Cincinnati: Murray and Nadal roll; Kerber wins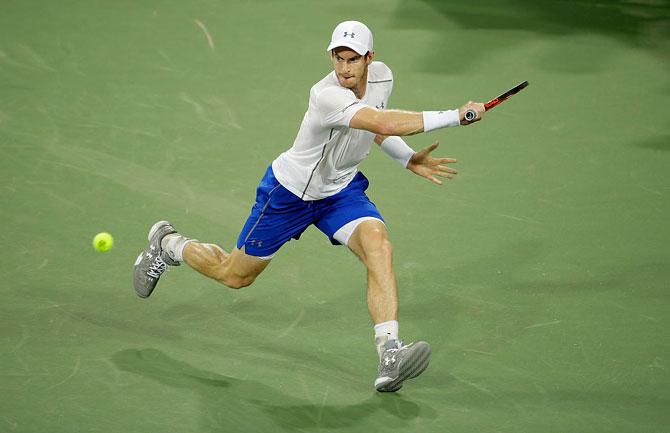 Olympic and Wimbledon champion Andy Murray picked up where he left off in Rio by drubbing Argentina's Juan Monaco to take his place in the third round of the Western & Southern Open in Cincinnati on Wednesday.
Enduring slavery, civil war: Tale of a South Sudanese marathoner at Rio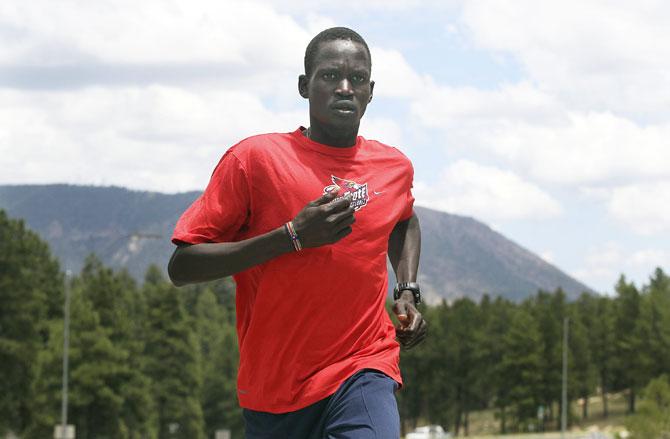 South Sudanese Olympic athlete Guor Marial may not be a hot medal tip for Sunday's marathon, but the former slave's road to Rio is one of the most astonishing stories of the games.
Marvellous Turan fires Barcelona to Super Cup glory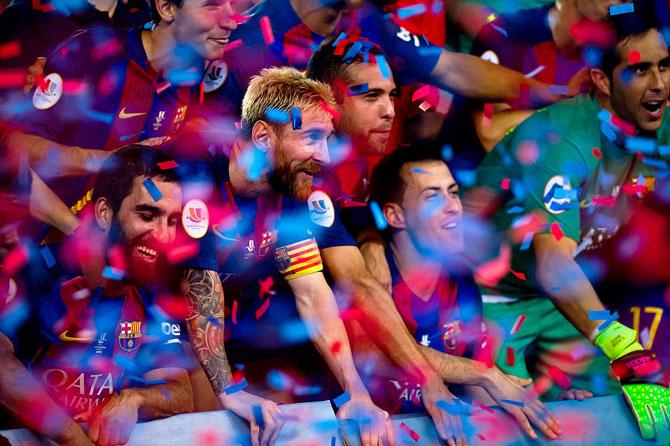 Two goals from Arda Turan and one from Lionel Messi gave Barcelona a 3-0 win over Sevilla in the Spanish Super Cup second leg on Wednesday to seal a 5-0 aggregate victory.
August 17, 2016
PIX: When an Olympic runner stopped to help competitor...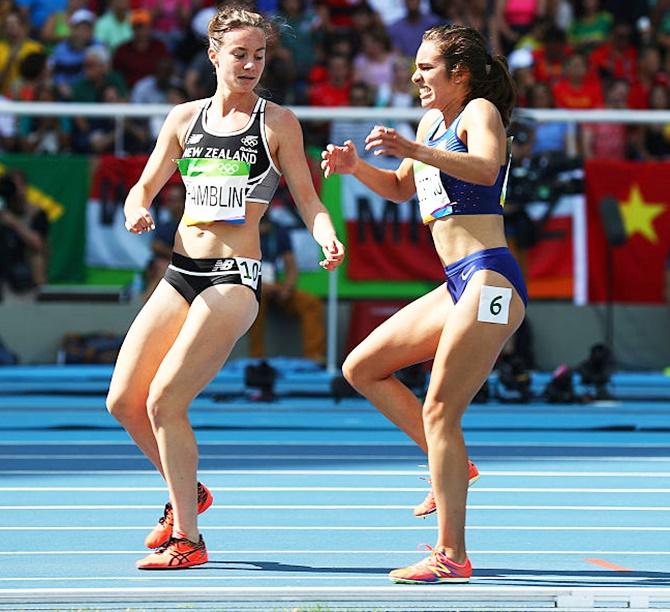 This was a moment that helped to restore faith in the ideals of sportsmanship.
August 16, 2016
Gay athletes at Rio Games bring hope to LGBT cause in Brazil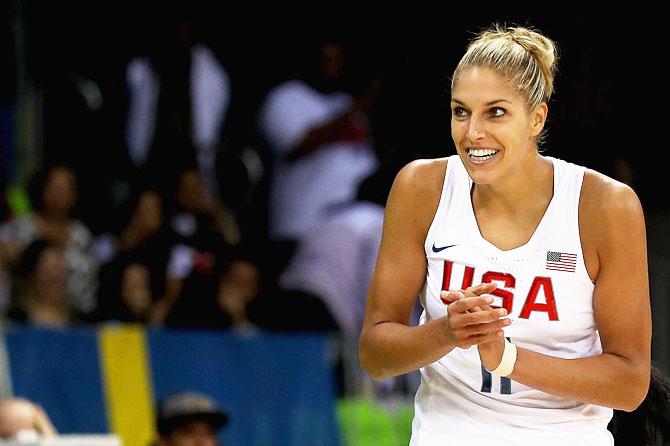 Dressed as a mermaid with shells covering his nipples, Brazilian Murilo Sousa voiced hope that the record number of openly gay athletes at the Rio Games would boost acceptance in his South American nation, amid a backlash over same-sex marriage.
Recap: Srikanth, Sindhu bright spots but India suffer more humiliation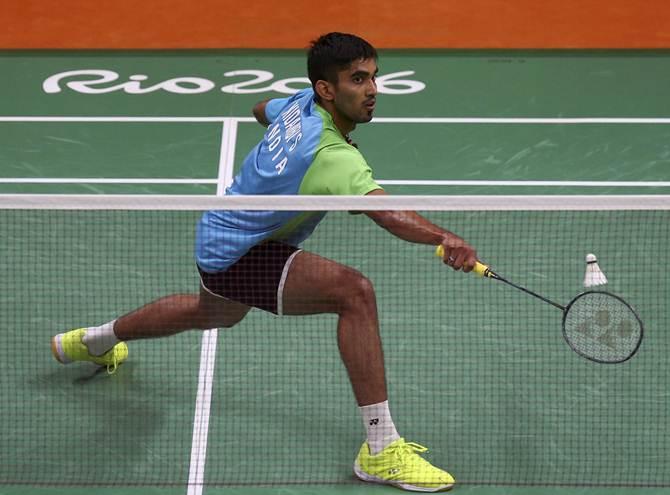 A recap of the performance by Indian athletes on Day 10 at the Rio Olympics on Monday
Record-creating Da Silva soars to dramatic pole vault gold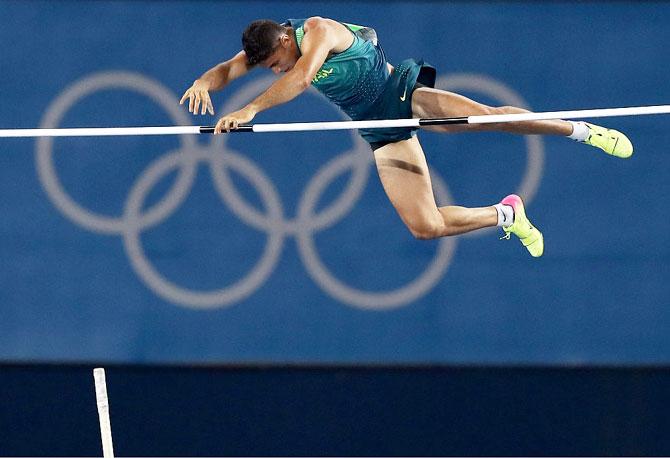 Thiago da Silva won Brazil's first athletics gold of their home Games on an extraordinary, unforgettable Monday night in Rio, producing an Olympic record of 6.03 metres in the pole vault to beat hot favourite Renaud Lavillenie and send the fans into raptures.
Kiribati weightlifter adopts unique style to spread message at Rio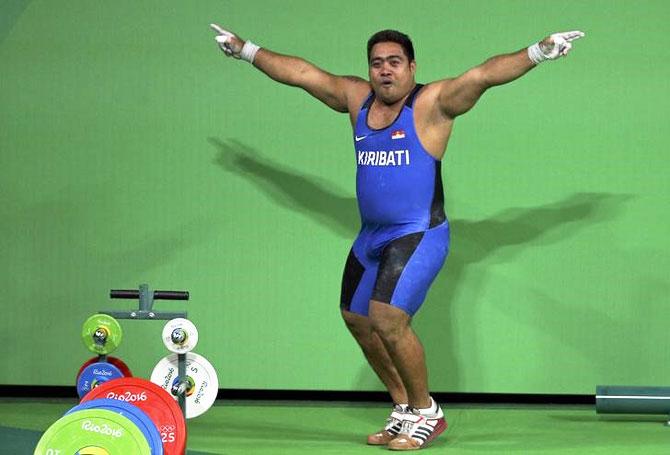 Pacific islander dances to raise climate change awareness
Miller dives over line to deny Felix 400m gold in photo finish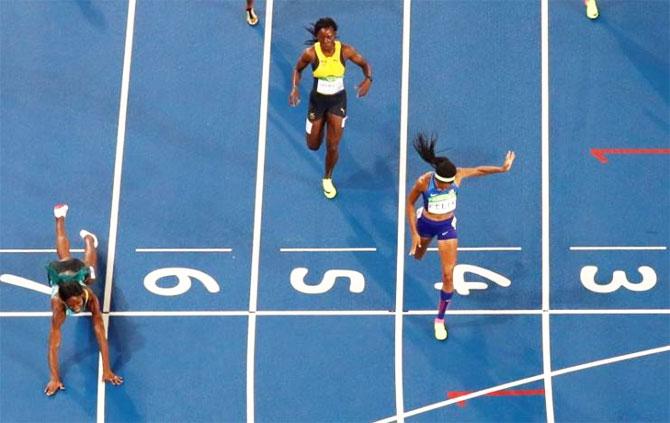 Bahamian Shaunae Miller launched herself over the finishing line with a desperate dive to pip Allyson Felix to the women's Olympic 400 metres gold medal by the narrowest of margins on Monday.
Defending Champion Rudisha retains 800m title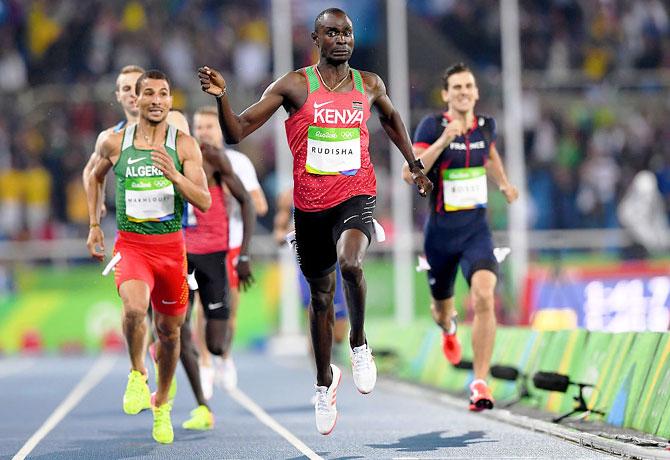 Kenya's David Rudisha stormed to victory in the Olympic 800 metres final on Monday, retaining his title with a devastating final-lap sprint.
'Sorry' Vikas stops short of blaming banned federation for ouster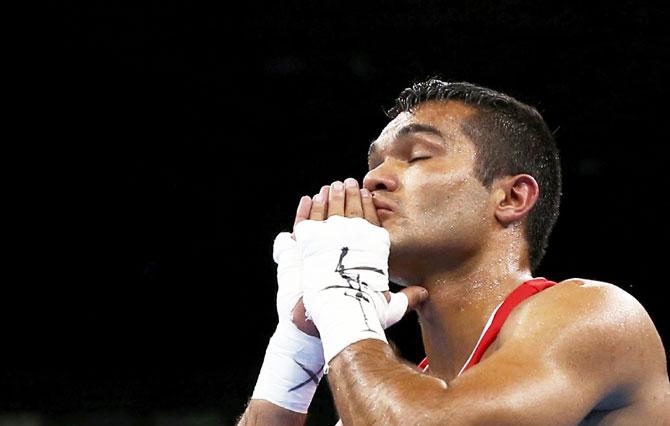 'I'm really sorry to have let you down'
August 15, 2016
PHOTOS: The gold medallists on Day 9 at the Rio Olympics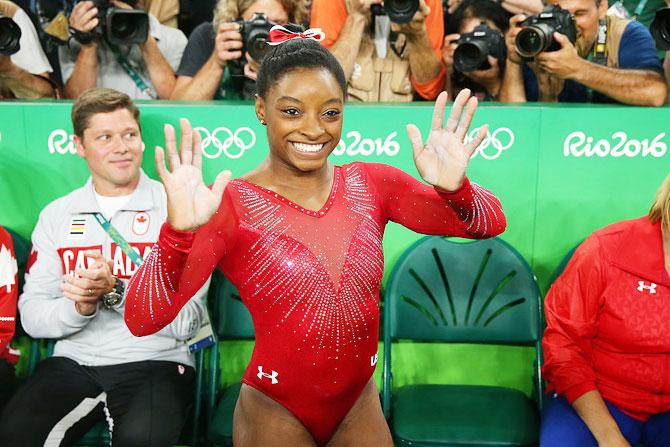 Check out the gold medallists from Day 9
EPL: Ibra scores in United victory; Liverpool edge Arsenal in thriller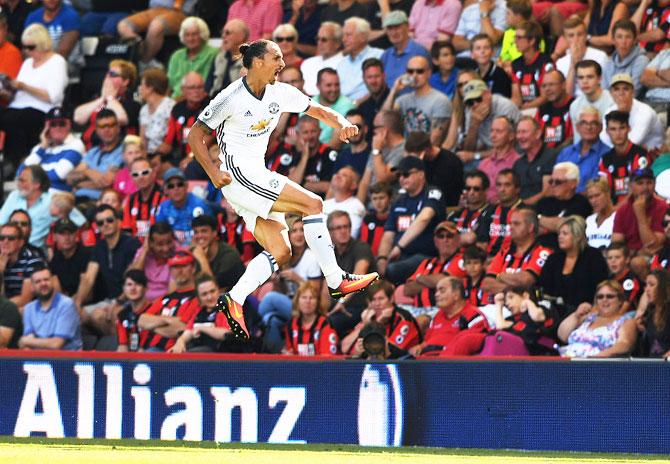 Jose Mourinho's first Premier League game as manager of Manchester United ended in a comfortable 3-1 victory away to Bournemouth on Sunday.
August 14, 2016
How Indian athletes fared on Day 8 in Rio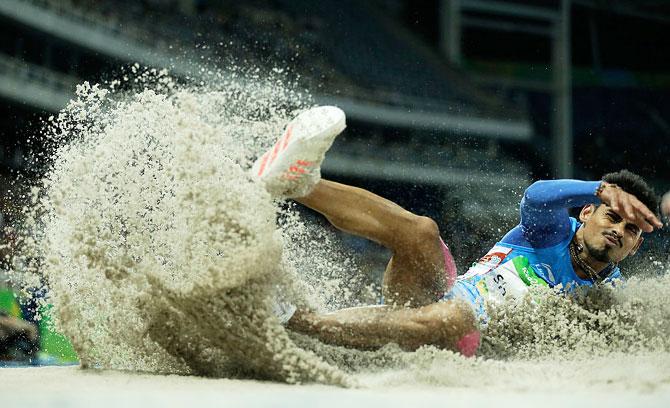 India's report card on the eigth day of the 2016 Olympics.
August 13, 2016
Ethiopia's Diro finishes 7th after losing shoe, gets final entry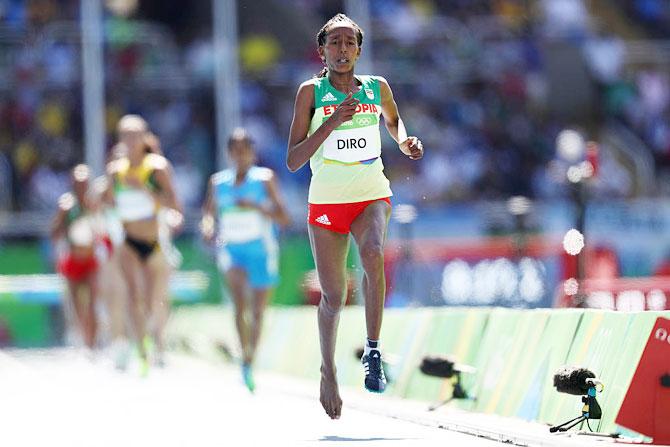 Ethiopia's Etenesh Diro got tangled up with two other runners in Saturday's 3,000m women's Olympic steeplechase and stopped to tear off her damaged right shoe and sock, but she kept on running to finish seventh.
August 12, 2016
First round matches are always tricky: Saina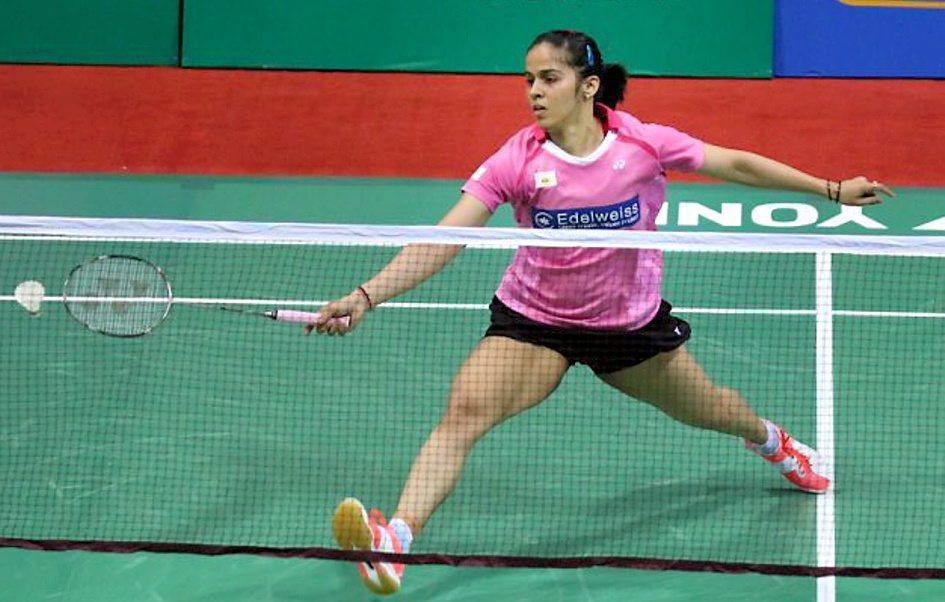 London Olympic bronze medallist Saina Nehwal said that unheralded Brazilian opponent Vicente Lohaynny "surprised her" as the first round at major events are always "tricky and difficult to play".
August 11, 2016
Weightlifting: Ahmed earns landmark podium for Egypt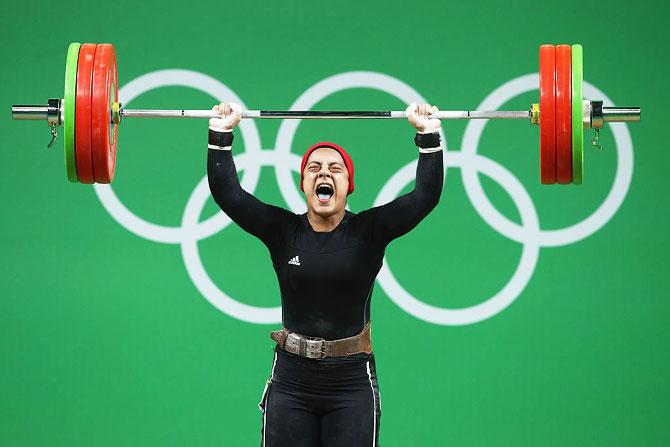 Jubilant teenager Sara Ahmed became the first Egyptian woman to stand on an Olympic podium when she finished third in the women's 69kg at Riocentro on Wednesday.
Rio Olympics: Britain oust champions China to claim first diving gold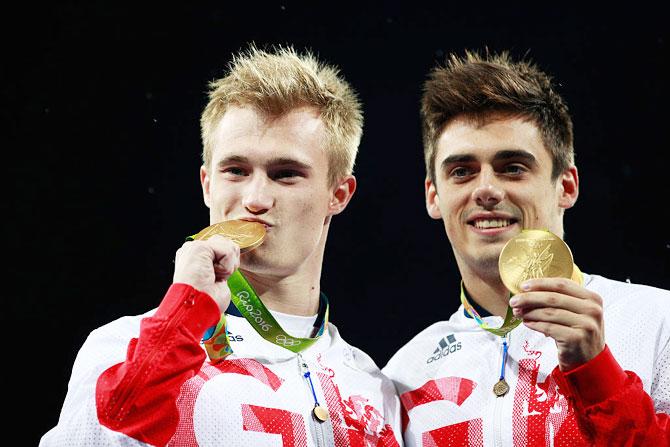 Britain's Jack Laugher and Chris Mears dethroned reigning champions China to claim their country's first ever diving gold medal in the men's 3 metre springboard event on Wednesday.
PHOTOS: The gold medallists on Day 5 at the Games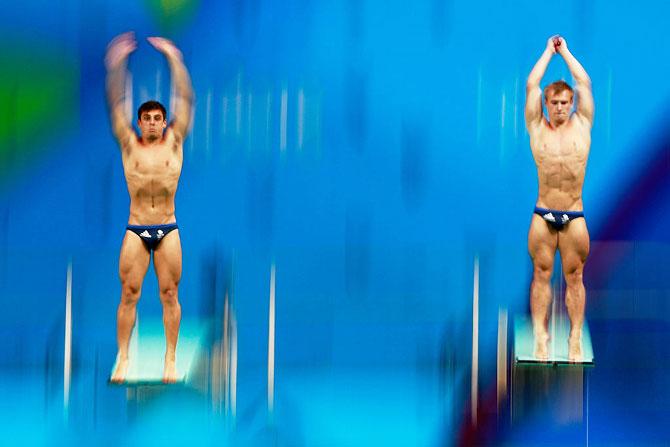 American Kristin Armstrong became the first cyclist to win the same road event at three different Olympic Games on Wednesday.
How Indian athletes fared on Day 5 in Rio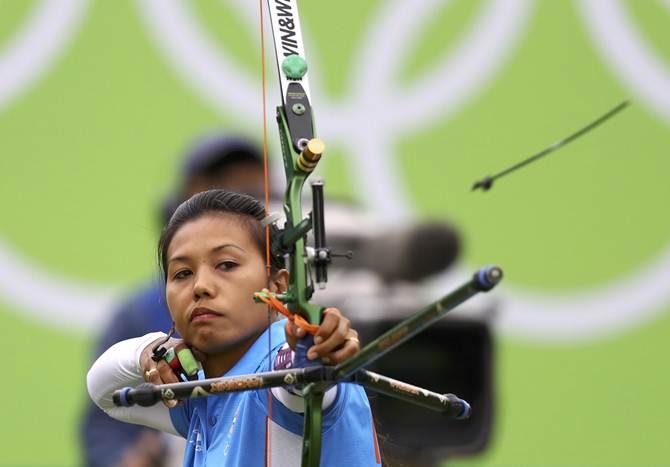 Check out India's report card on the fifth day of the 2016 Olympics.
Refugee wins over fans in clash with world champion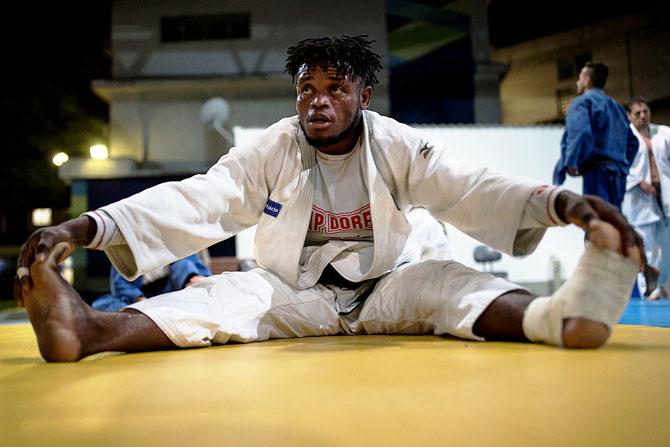 When Congolese refugee Popole Misenga stepped out to face the defending world champion in Wednesday's under 90-kilogram Judo competition he figured he'd be on the floor immediately.
'I was breastfeeding so could not have doped'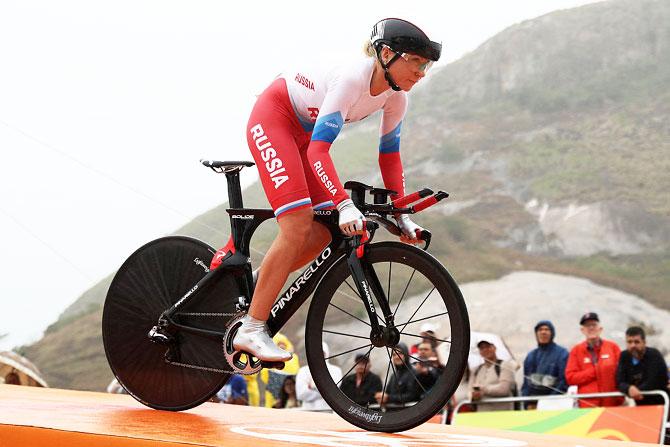 Russia's Olga Zabelinskaya protested her innocence after winning the silver medal in the women's time trial on Wednesday, a week after almost flying home because a previous doping ban looked like ruling her out of the Olympics.
August 10, 2016
At sprawling Rio Games, even spectators are worn out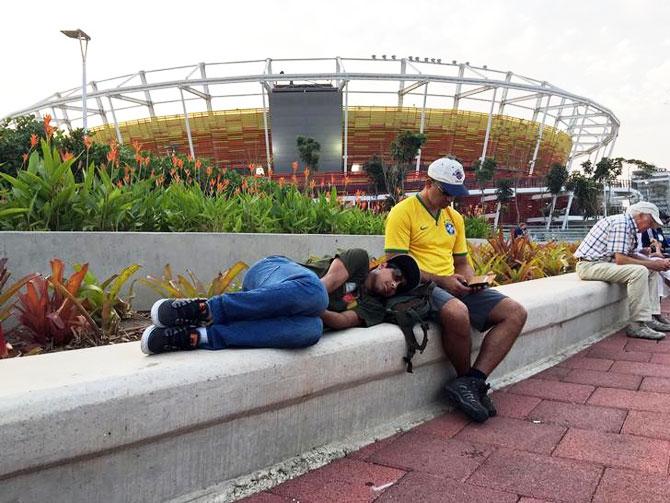 Less than a week into the Olympics and people are looking tired around Rio de Janeiro.
American Armstrong wins third straight time trial cycling gold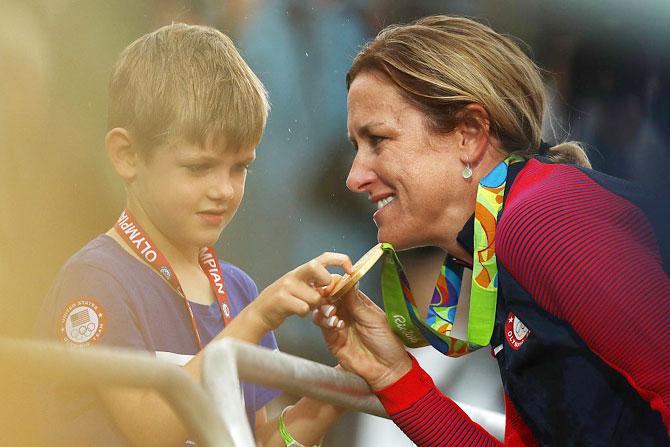 Veteran American Kristin Armstrong claimed a third consecutive road time trial gold to deny former Russian doper Olga Zabelinskaya what would have been a controversial triumph on a rain-soaked course at the Rio Games on Wednesday.
In PIX: Michael Phelps, the father...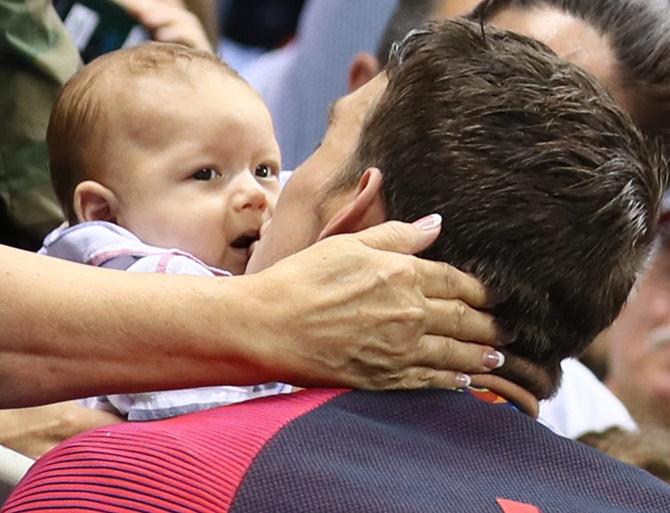 Michael Phelps shared the limelight with his three month old son Boomer.
Two tales of struggle and answering the call of the Olympic dream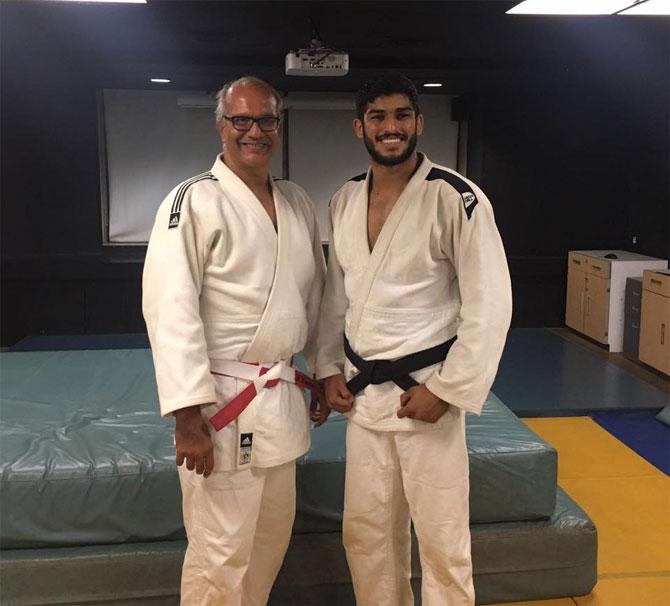 Indian Judoka, Avtar Singh's parents take maiden flight to cheer son, who will go up against Pople Misenga from the Olympic Refugee Team. Read on about the intense and interesting story of both Judokas...
PHOTOS: The gold medallists on Day 4 at the Games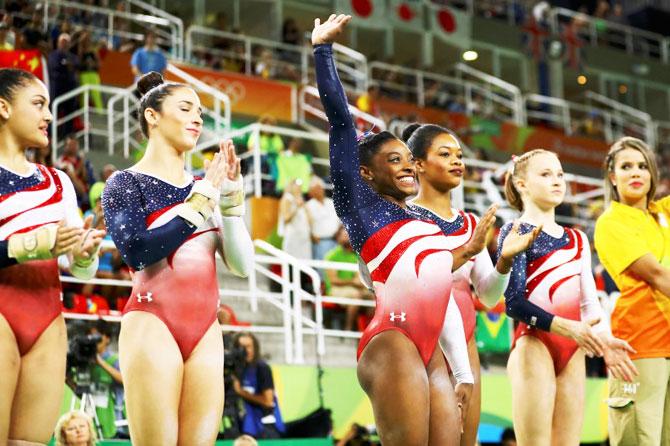 China continued to put up dominating performances in the pool, this time taking gold in women's 10 metre synchronized diving on Tuesday.
How Indian athletes fared on Day 4 in Rio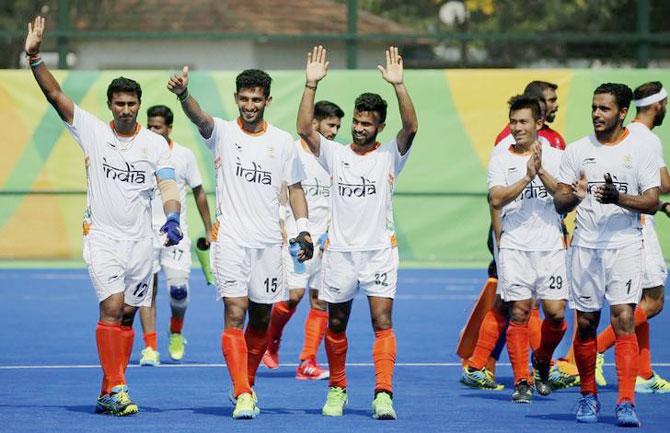 Check out India's report card on the fourth day of the 2016 Olympics.
Russian great Salnikov claims atmosphere in Rio like 'Cold War'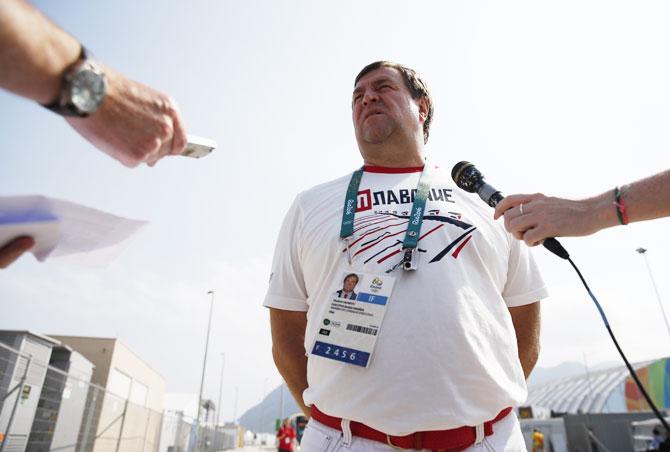 Russian swimming chief Vladimir Salnikov said on Tuesday the atmosphere surrounding his team at the Olympics reminded him of the Cold War, and criticised American breaststroke champion Lilly King for attacking the integrity of her Russian rival.
Rio Olympics: Japan stun All Blacks in rugby sevens opener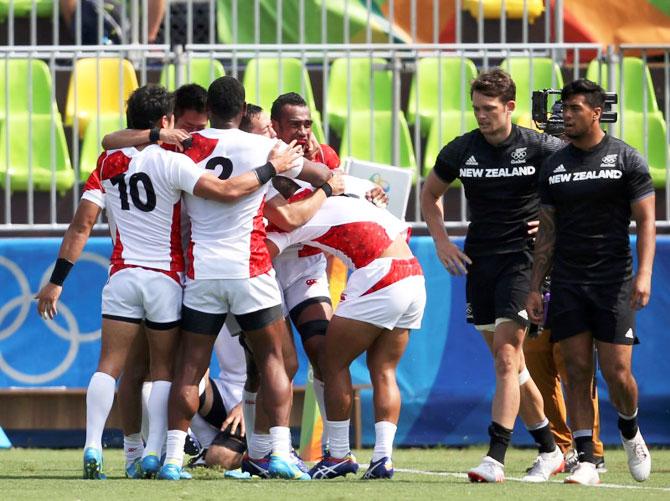 New Zealand hopes of becoming the first Olympic rugby sevens champions suffered a major setback on Tuesday when they lost their opening match to Japan and Sonny Bill Williams for the tournament to an Achilles injury.
Raised in the favela, racism inspires Brazil's golden girl to greatness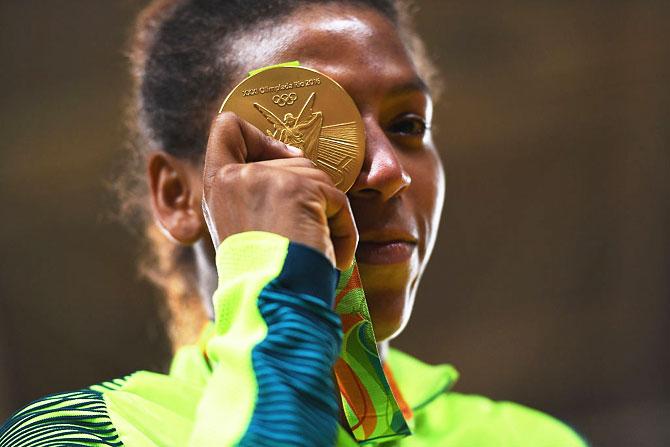 Brazil's first gold medallist of the Rio Olympics basked in her new-found fame on Tuesday, with Judoka Rafaela Silva taking aim at the racism that first threatened to defeat her and then became the affront that spurred her to greatness.
August 09, 2016
Rio Olympics: Murray in third round, Djokovic's campaign ends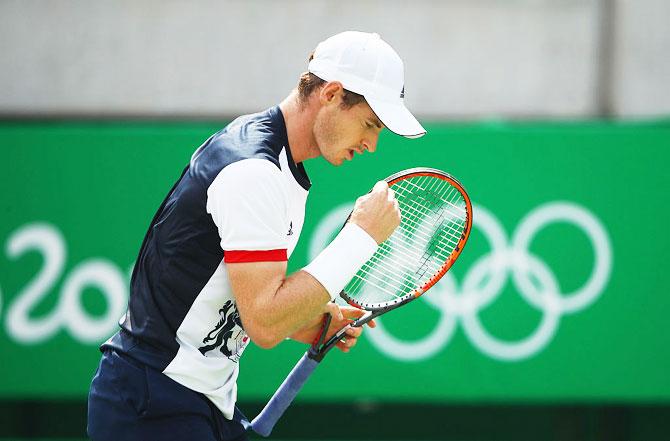 Britain's Andy Murray enjoyed a routine win over Argentina's Juan Monaco to ease into the third round of the tennis tournament at the Rio Games on Tuesday, while Spain's world number nine David Ferrer was knocked out.
Rio Olympics: China questions gold medal obsession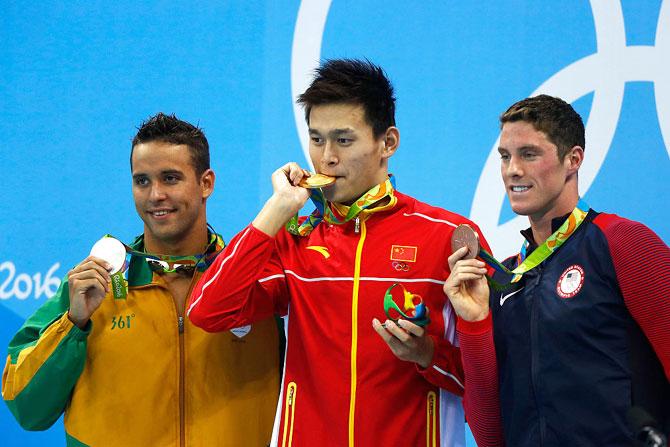 A scarcity of gold medals in the first few days of the Olympics is leading China to reflect on its past obsession with finishing first, amid agreement that being champion is no longer everything.
PIX: 'Brazilians are very passionate, very vocal, very loud'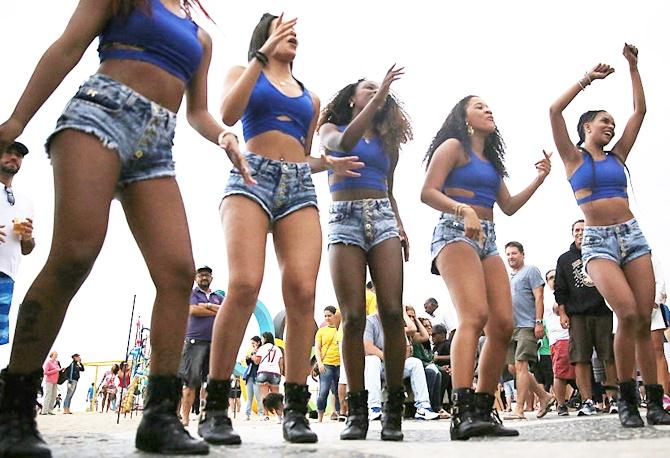 Brazilians brought a soccer fan's raucous attitude to the Rio Games on Monday, wildly cheering their own athletes, booing and mocking opponents -- and creating uncomfortable moments for Olympic athletes unaccustomed to no-holds-barred partisanship.
PIX: In search of star power, media lap up Usain Bolt show...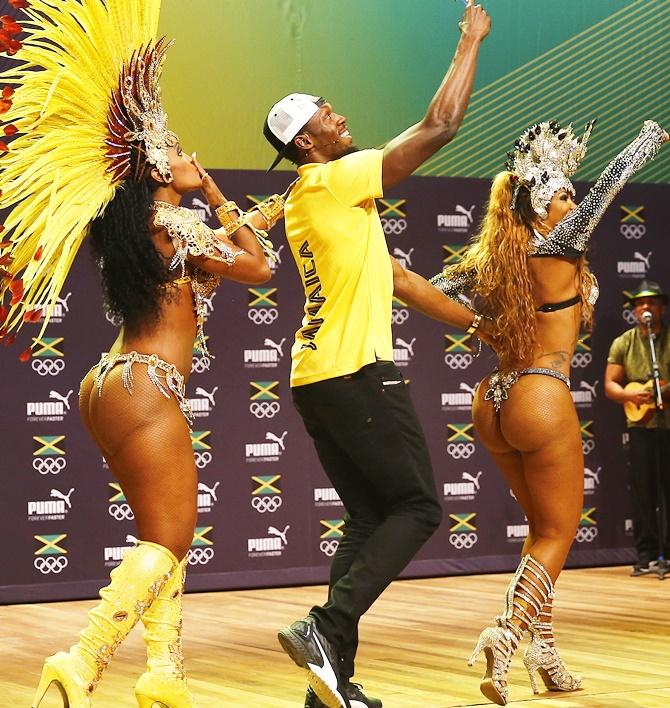 As a dozen scantily clad Brazilian Samba dancers gyrated on to the stage, rocking peacock-style headdresses and glittery thongs, Usain Bolt was not about to be intimidated or upstaged.
Beach Volleyball PHOTOS: Mixed fortunes for Brazil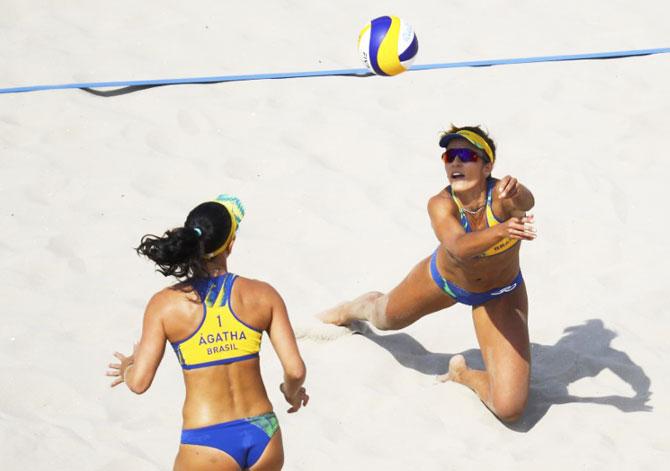 Brazil's male and female beach volleyball pairs enjoyed mixed results on Monday, with the men losing to Austria but the women crushing Argentina to book a place in the final 16.
PHOTOS: The gold medallists on Day 3 at the Games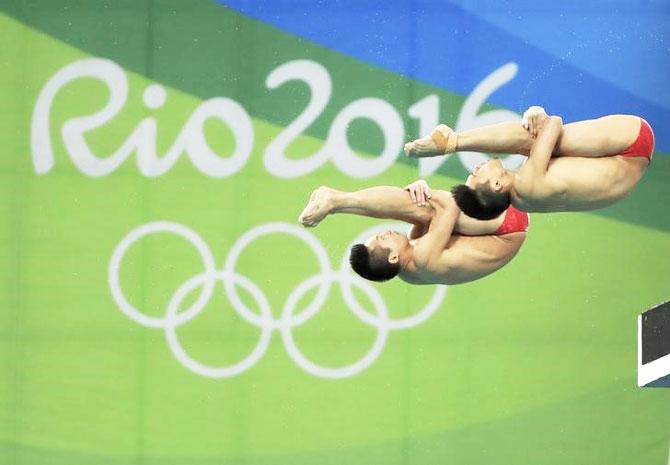 Hosts Brazil won their first gold of the Rio 2016 Summer Games after Rafaela Silva won the women's-57kg judo event on Monday.
August 08, 2016
PHOTOS: The gold medallists on Day 2 at the Games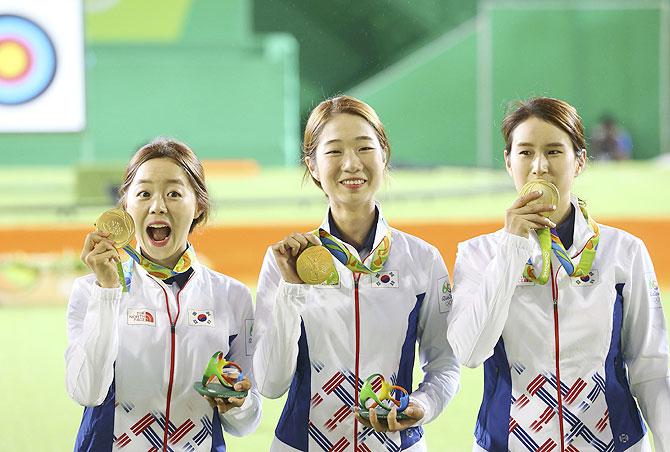 China got its first gold at the Rio 2016 Summer Olympics thanks to some sharp shooting skills by Olympic debutant Zhang Mengxue on Sunday.
Rio Olympics: Williams, Murray, Nadal cruise into second round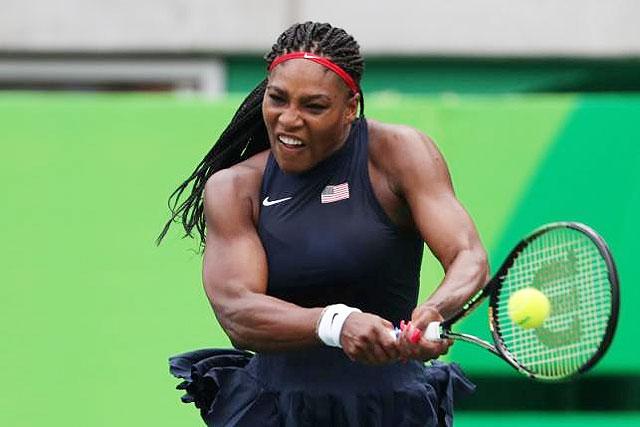 World number one Serena Williams and second seed Angelique Kerber progressed through the first round of the Rio Olympics tennis on Sunday despite windy conditions that delayed play on most of the smaller tennis courts.
August 05, 2016
Torch begins final race to stadium from beneath Rio's Christ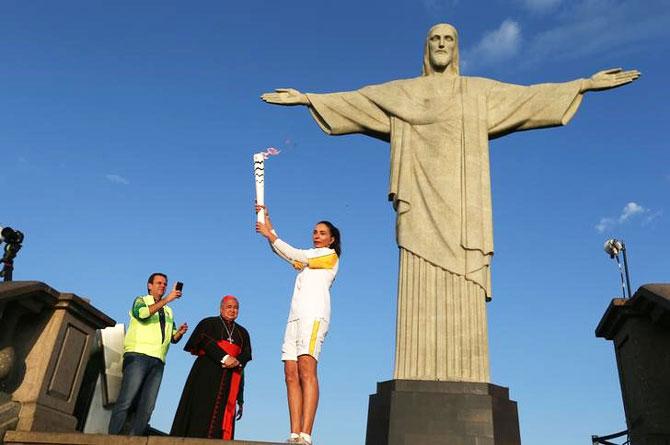 The Olympic torch was raised before Rio de Janeiro's iconic Christ the Redeemer statue on Friday on the final leg of its journey to the opening ceremony of the Olympics, as Brazil excitedly put the final touches to seven years of preparations.
PIX: Stars we spotted at the Rio Olympics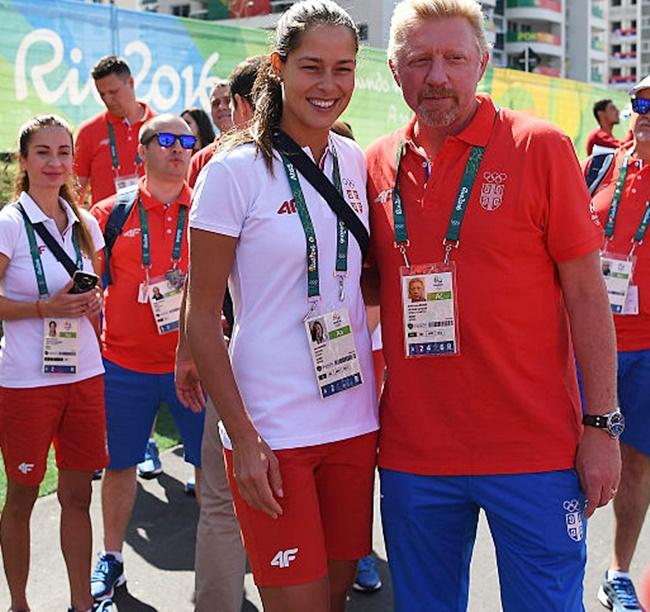 Prior to the kick-off of the 2016 Games in Rio de Janeiro on Friday, Rediff.com spotted some of the biggest names in sport at the Olympic Village. Check it out.
PIX: Party time in Rio after rollercoaster run-up to the Games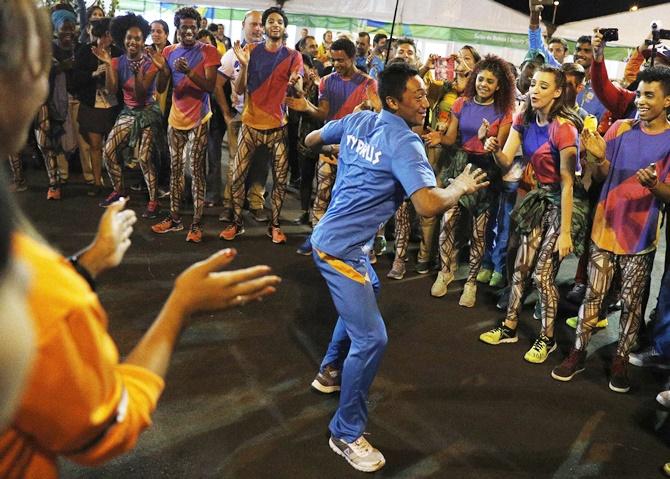 With a little bit of chaos and a last-minute sprint on preparations, Rio de Janeiro was ready on Friday to revel in a moment seven years in the making: the opening of the Olympic Games.
August 04, 2016
Indian archers eye redemption at Rio Olympics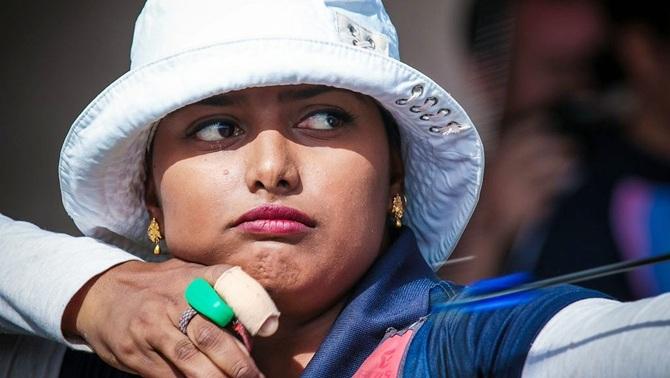 Indian archers would look to make amends for the flop-show in London when they take aim in the 31st Olympic Games in Rio de Janeiro on Friday -- archery and football kick-start before the official opening ceremony of the Games.
Military training helps Pakistani shooters reach Rio Olympics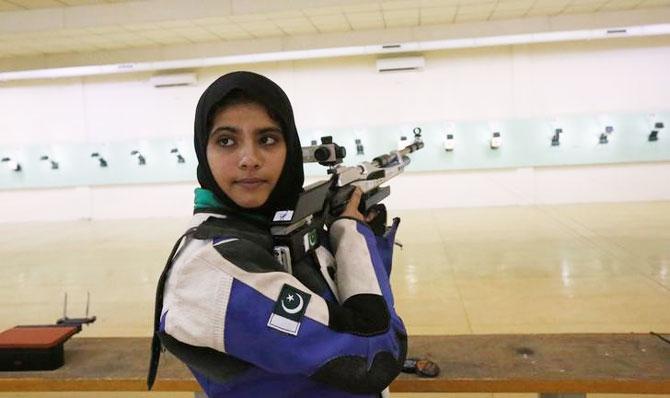 Two members of the small Pakistani contingent participating at the Rio Olympics have the country's military to thank for much of their training.
NBA D-League tryouts: Will Punjab's Palpreet leave a lasting impression?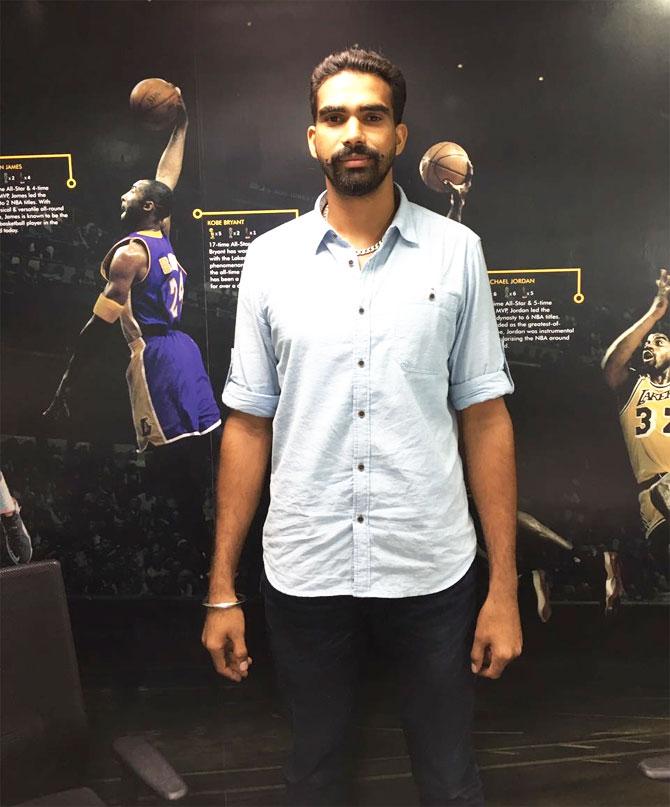 Palpreet Singh Brar, standing 6'9 can be an intimidating figure. But sit with him for a chat and his easy-going demeanor and straight-faced humour will have you alter any perceptions harboured of the 21-year-old.
August 03, 2016
PIX: Indians upbeat at welcome ceremony in Rio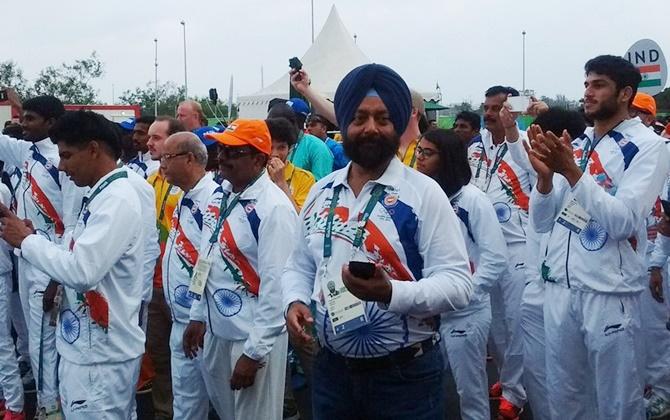 A short display of Brazilian culture, including their music and dance, greeted the Indian contingent at the formal Welcome Ceremony in the Games Village for the 31st Olympic Games in Rio de Janeiro.
August 02, 2016
PHOTOS: Sania, TT squad at Rio Games Village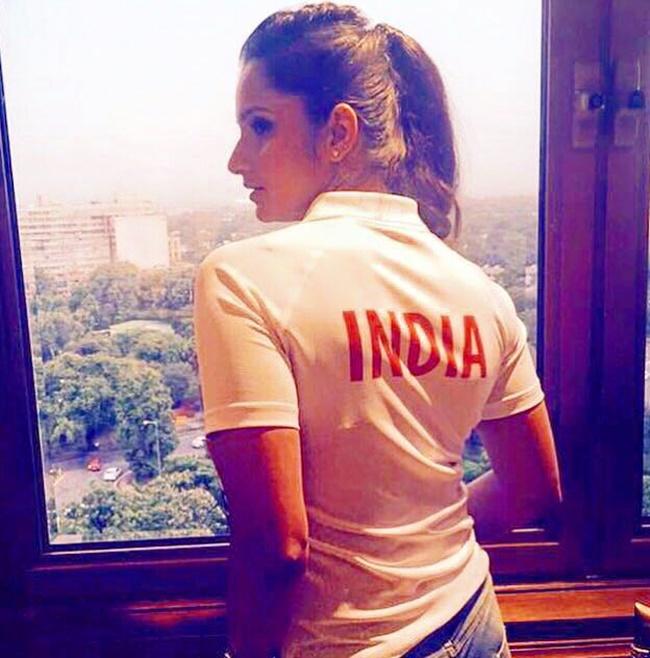 Tennis star Sania Mirza arrived at the Games Village of the Rio Olympics and so did the table tennis squad while the Indian hockey team won its practice match against Spain.
August 01, 2016
PIX: India's latest check-ins at the Rio Olympics village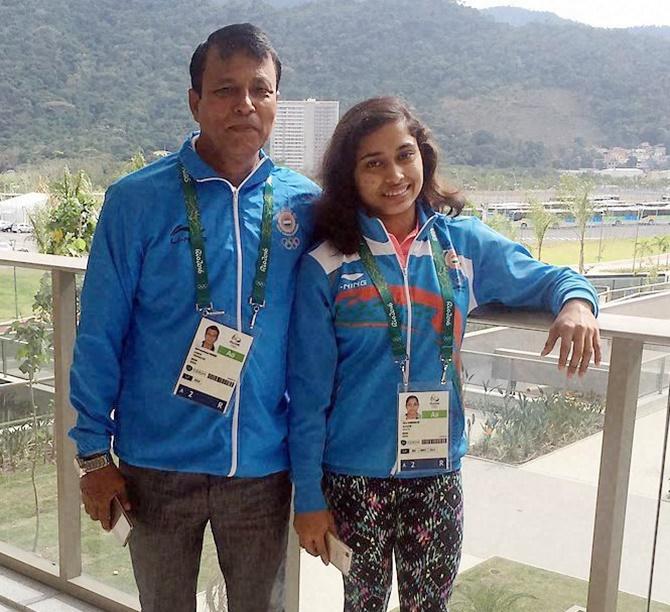 Promising gymnast Dipa Karmakar, the women's hockey team and shooter Heena Sidhu on Sunday checked into the Olympic Village to further boost the Indian contingent at the Rio Games beginning on August 5.
July 31, 2016
Sindhu will take it one game at a time at the Rio Olympics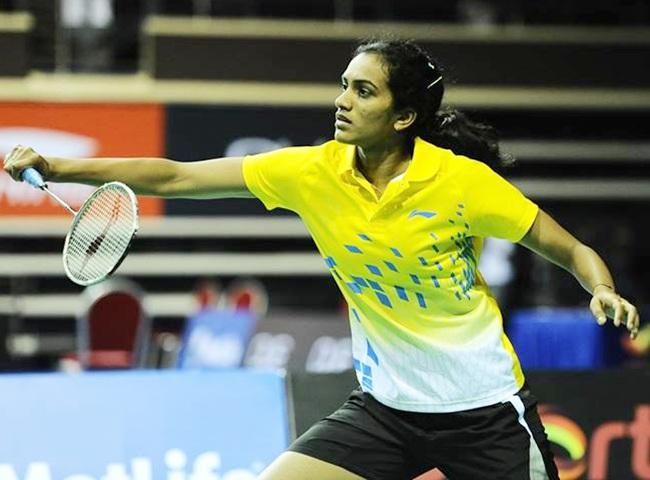 Adapting to the conditions in Rio and changing on-court strategy in match situation will be the key to success, according to ace Indian shuttler P V Sindhu, who is aiming to add an Olympic medal to her two World Championship bronze medals.
Two Russians appeal ban from Rio Olympics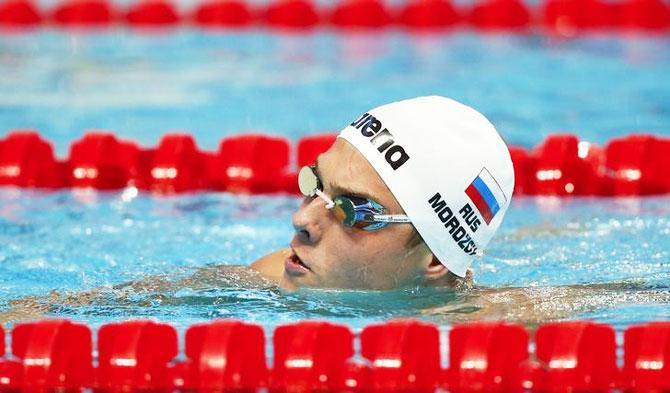 Russian swimmers Vladimir Morozov and Nikita Lobintsev have launched an appeal against the ruling banning them from next month's Rio Olympic Games even though they have never failed a doping test.
Rogers Cup: Djokovic continues Monfils mastery; Halep in final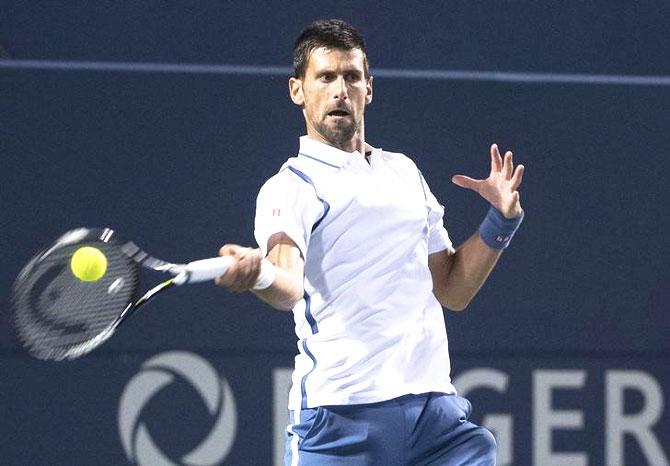 Novak Djokovic maintained his unbeaten record against Frenchman Gael Monfils with a 6-3, 6-2 win in the semi-finals of the Rogers Cup in Toronto on Saturday, while Japan's Kei Nishikori also reached the final after beating Swiss second seed Stan Wawrinka.
July 30, 2016
Rogers Cup: Wawrinka, Nishikori in last four; Halep, Kerber to face off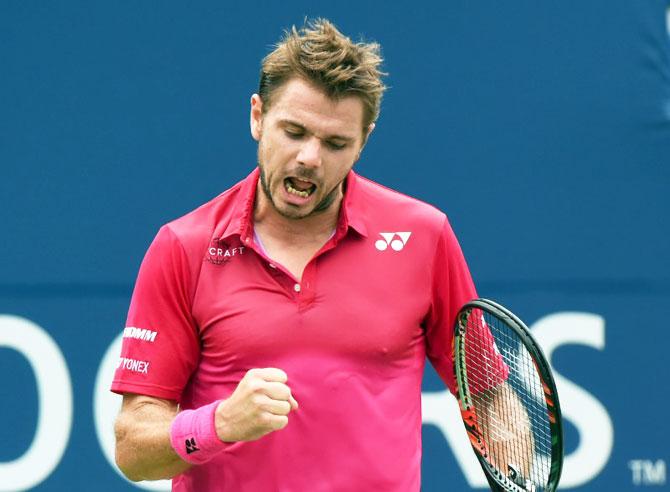 Swiss second seed Stan Wawrinka advanced into the semi-finals at the Rogers Cup with a comprehensive 6-1, 6-3 victory over big-serving South African Kevin Anderson at the Aviva Centre in Toronto on Friday.
July 29, 2016
Indian Hockey teams arrive in Rio with Olympic glory in sight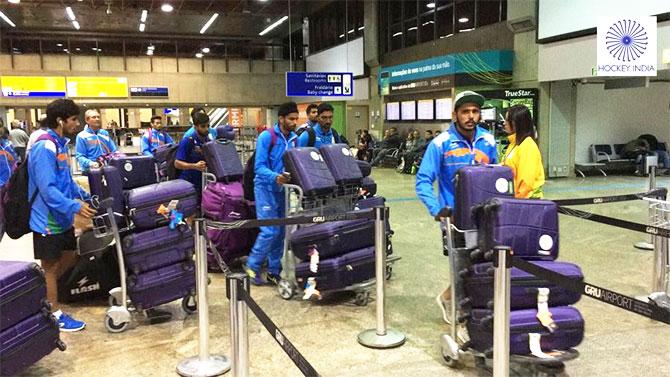 Determined to put up a top-notch performance at the 2016 Olympic Games, the Indian men and women's hockey teams arrived in Rio de Janeiro on Friday.
July 20, 2016
SRK, PM Modi, Vece Paes pay homage to departed hockey legend Shahid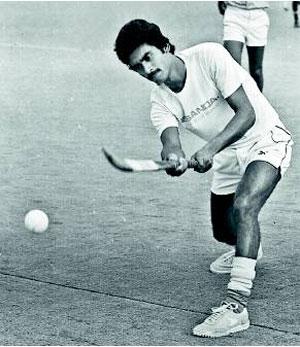 Tributes poured in for India's former hockey captain Mohammed Shahid who passed into the ages at a Gurgaon hospital following multiple organ failure on Wednesday.
July 17, 2016
PHOTOS: Mary Kom, Rahul Gandhi, Sehwag in 'Vijender's corner'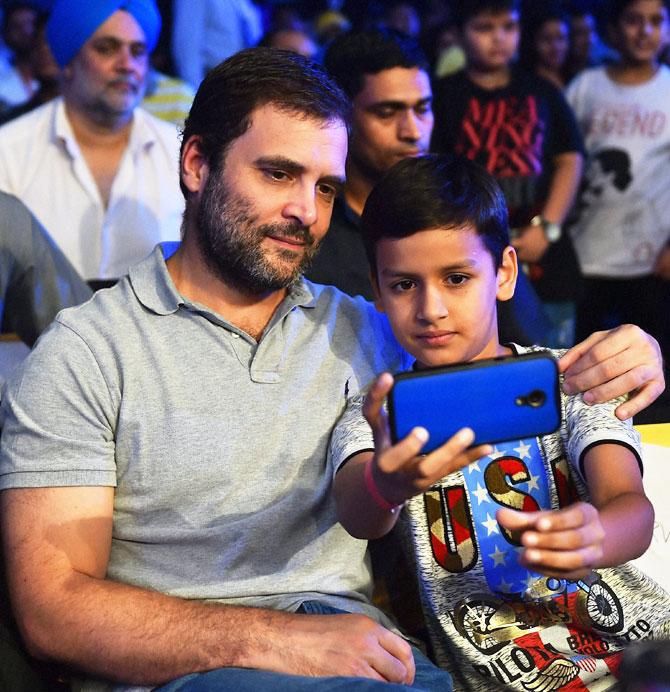 Getting a ringside view of the action were Congress vice-president Rahul Gandhi and Indian Premier League commissioner Rajiv Shukla, Olympic champion boxer MC Mary Kom, star wrestler Yogeshwar Dutt, cricketers Virender Sehwag, Yuvraj Singh and Suresh Raina.
July 16, 2016
Vijender wins WBO Asia Pacific super middleweight title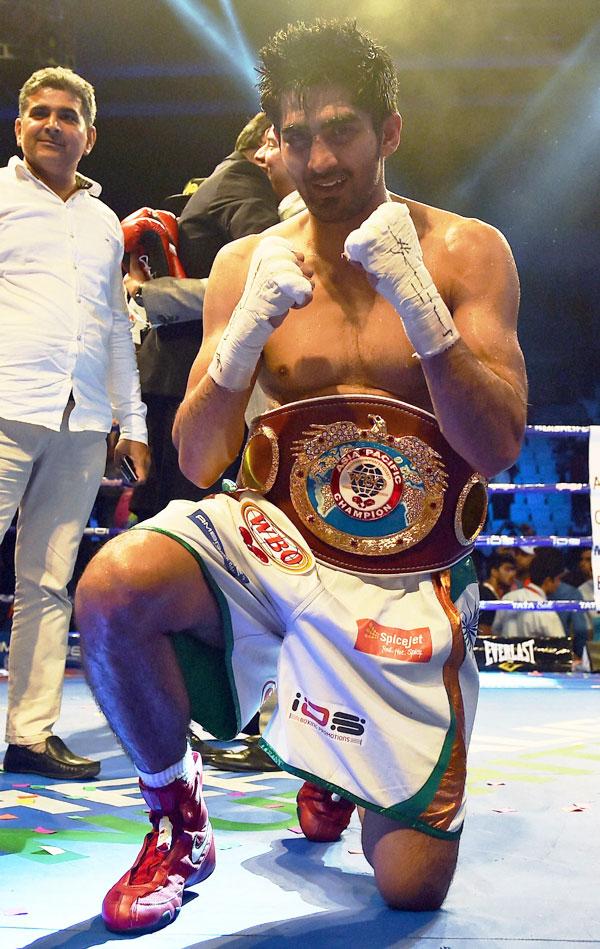 In front of a packed arena, in his first pro bout that lasted all ten rounds, Vijender Singh beat Kerry Hopes 98-92-98-92 and 100-92 in a close contest to win the WBO Asia Pacific super middleweight title fight in New Delhi on Saturday.
July 15, 2016
Futsal: Giggs's Mumbai record opening win; Ronaldinho's Goa go down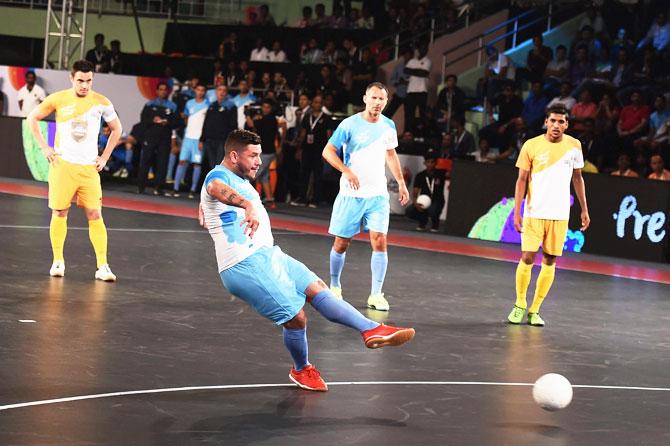 Football legends Ryan Giggs and Hernan Crespo led from the front in Mumbai 5's and Kolkata 5's identical 4-2 wins over Chennai and Goa respectively, in the inaugural Premier Futsal League that got off to a grand start at the floodlight Jawaharlal Nehru Indoor stadium in Chennai on Friday.
Davis Cup: Ramanathan, Myneni give India 2-0 lead over South Korea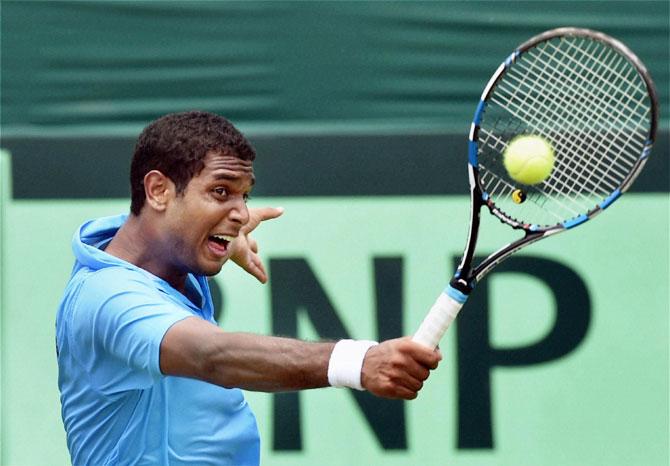 India won the opening singles to take a 2-0 lead over South Korea on Day 1 of the Asia/Oceania Group-I tie against South Korea, in Chandigarh, on Friday. After young Ramkumar Ramanathan made a winning Davis Cup debut, scoring a hard-fought 6-3, 2-6, 6-3, 6-5 (15-15) victory over Seong Chan Hong in the first singles, Saketh Myneni got the better of Yong-Kyu Lim 6-1, 3-6, 6-4, 3-6, 5-2.
July 14, 2016
Blanket ban on Russia for Olympics would not be fair: IOC chief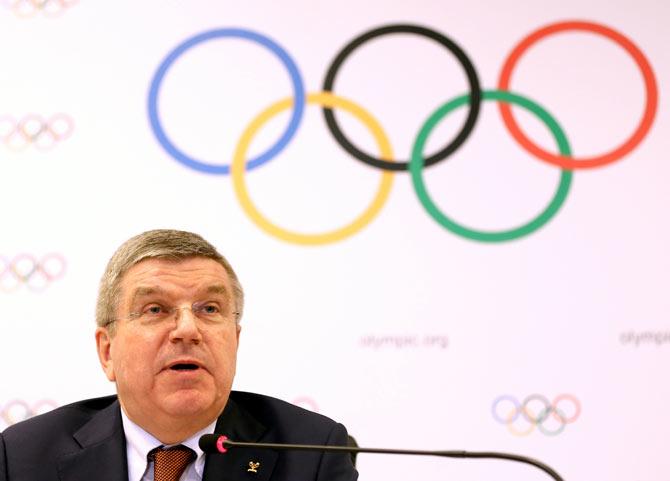 Athletes from one sport should not be punished for the sins of those from another, the IOC president said on Wednesday, cooling speculation that Russia could be banned from the Olympics altogether for systematic doping.
July 13, 2016
Attacking Saina Nehwal eyes success at Rio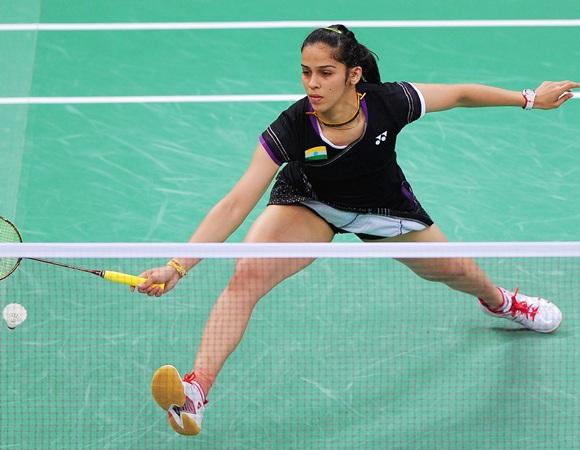 Adapting quickly to playing conditions at the Rio Olympics will pose the biggest challenge for players, says Saina Nehwal, who is aiming to better the badminton bronze she won in London four years ago.
July 11, 2016
Jubilant Portugal fans hit the streets after Euro triumph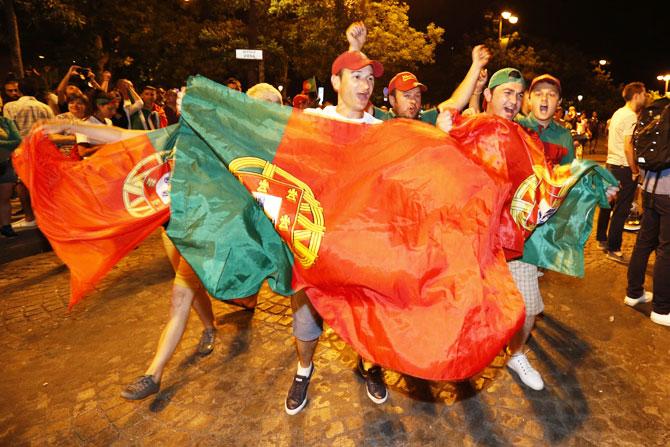 Portugal erupted into jubilation on Sunday as the country defeated France to win the Euro 2016, its first major international soccer championship.
Murray relieved to end 36-month Grand Slam drought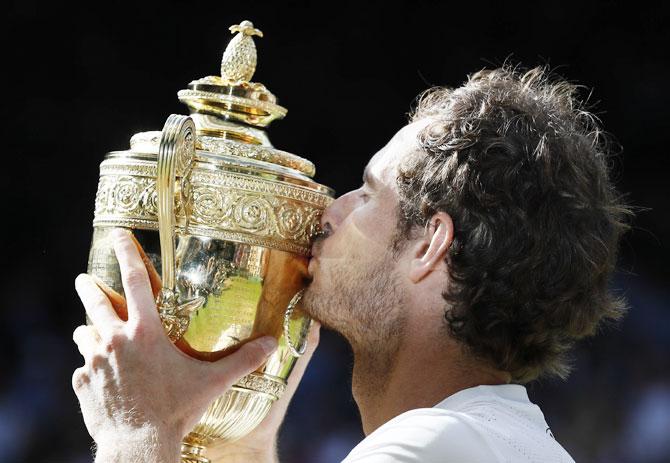 Once the immediate euphoria of winning Wimbledon for a second time had subsided, the tears flowing down Andy Murray's face bore testament to the sheer relief surging through his body.
July 10, 2016
Murray etches name in Wimbledon history with 2nd title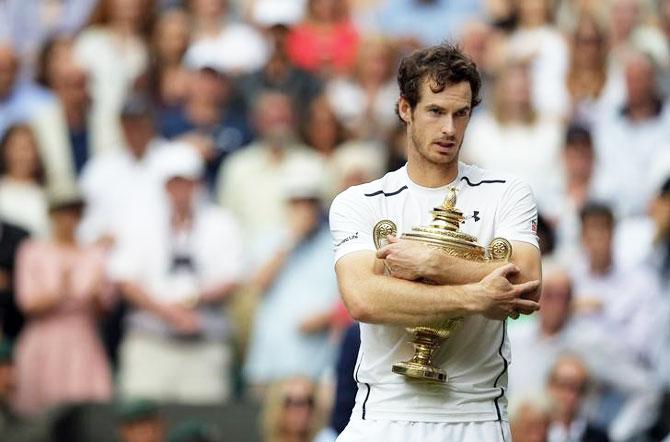 Britain's Andy Murray won lifted his second Wimbledon title after defeating Canadian Milos Raonic 6-4 7-6(3) 7-6(2) on Sunday.
Dominant Murray downs Raonic to win second Wimbledon title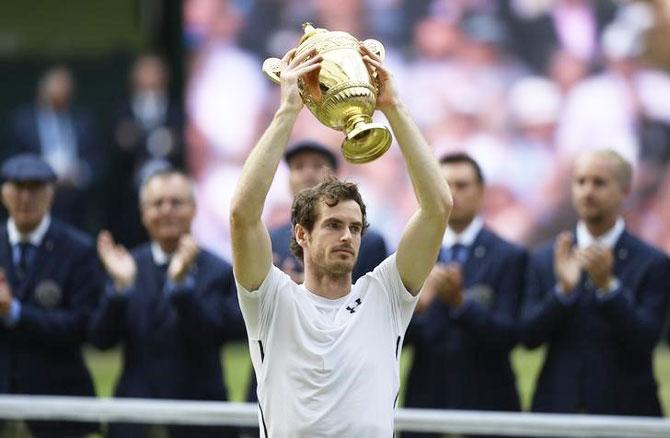 Britain's Andy Murray defeated Canadian Milos Raonic to win his 2nd Wimbledon title in London on Sunday.
Contemporaries, fans and friends hail champion Serena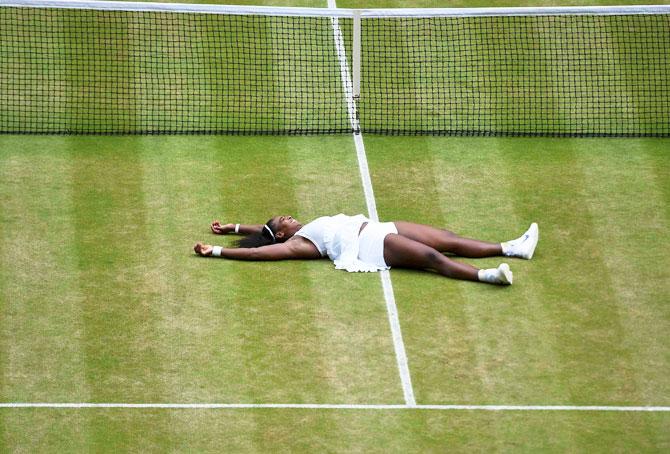 Tennis fans -- commoners and celebrities -- took to Twitter to convey their congratulatory messages to newly crowned Wimbledon champion Serena, who claimed a record-equalling 22nd major title with a 7-5, 6-3 victory over Angelique Kerber in Saturday's Wimbledon final.
July 09, 2016
Wimbledon: 'Workaholic' Murray ready to dodge Raonic's missiles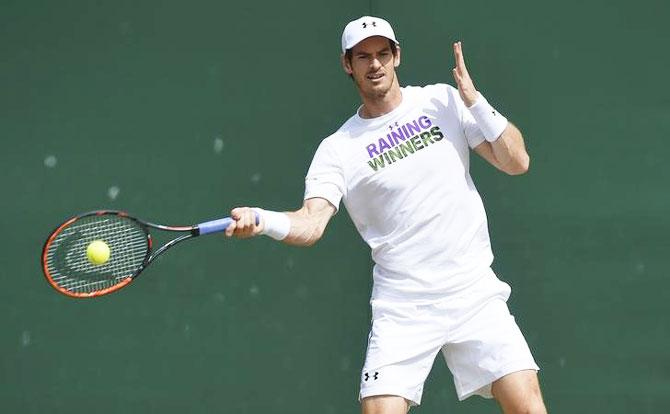 Since Andy Murray's memory is as razor sharp as his service returns, he will not have forgotten the parting shot he received from Milos Raonic when they last played.
Serena avenges Aus Open loss to Kerber and equals Graf's win record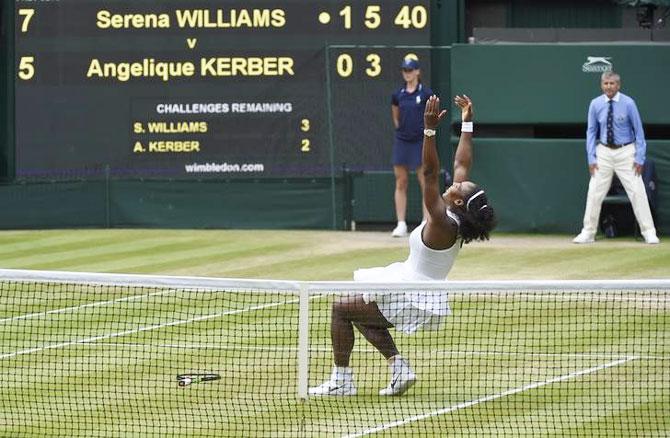 It was third time lucky for American Serena Williams as she finally matched Steffi Graf's professional era record of 22 grand slam singles titles by beating Angelique Kerber to claim a seventh Wimbledon crown on Saturday.
List of Wimbledon women's singles champions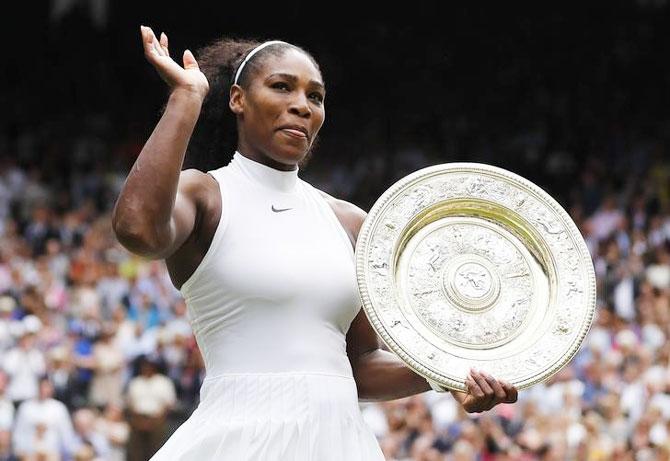 Following Serena Williams's win over Angelique Kerber for her 7th Wimbledon crown, here is a list of Wimbledon women's singles champions since 1922:
The greatest: Listing Serena Williams's 22 grand slam singles titles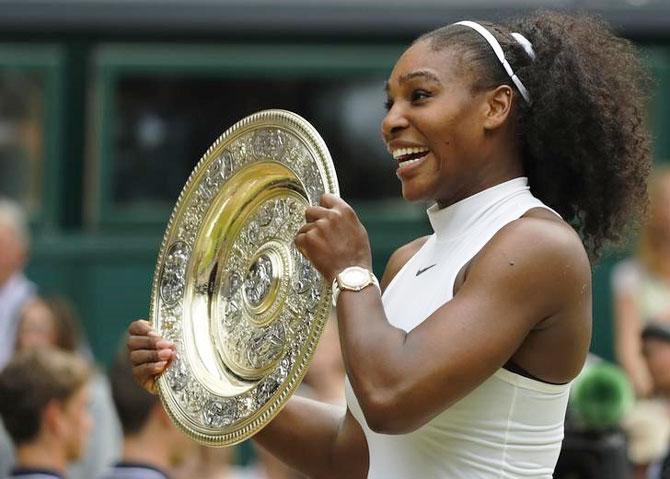 Following is a list of American Serena Williams' 22 grand slam singles titles as she equalled Steffi Graf's professional era record with victory at Wimbledon on Saturday
The indefatigable Serena Williams: Slam number 22 and counting...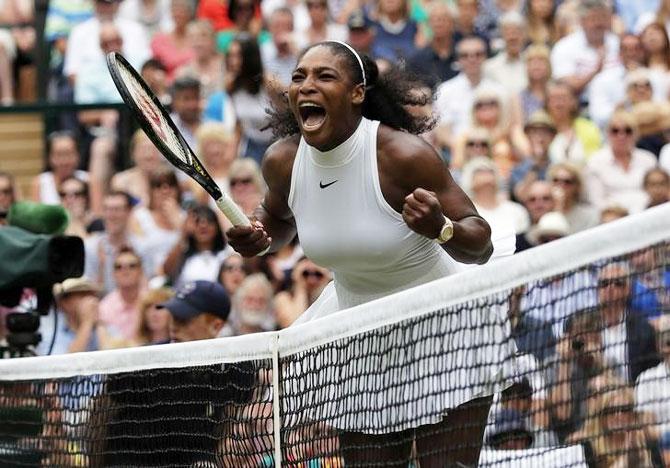 American Serena Williams won her seventh Wimbledon singles crown, and equalled the professional era record of 22 grand slam titles, with a 7-5, 6-3 victory over Germany's Angelique Kerber on Saturday:
Serena downs Kerber to win Wimbledon title, equals Graf's record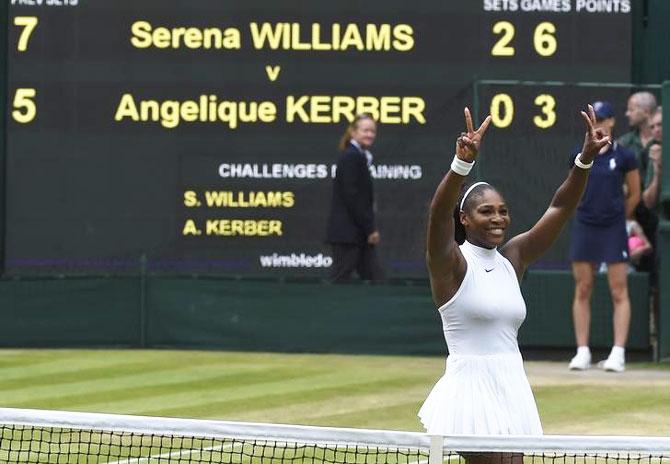 Serena Williams beat Germany's Angelique Kerber 7-5, 6-3 to claim a seventh Wimbledon singles title and equal Steffi Graf's professional era record of 22 grand slam singles crowns on Saturday.
British F1 GP: Hamilton on pole for Mercedes at Silverstone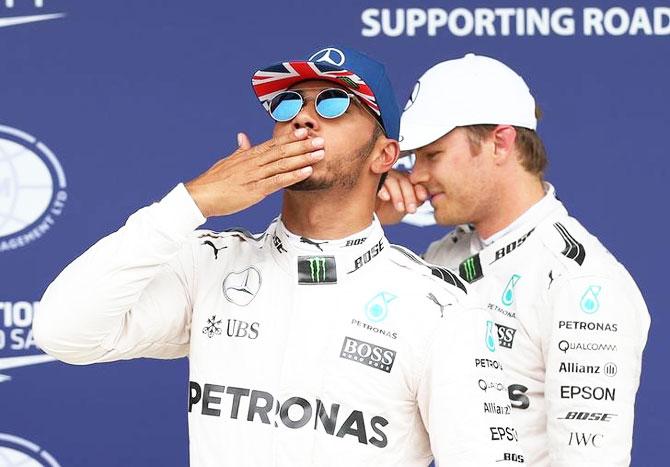 Formula One world champion Lewis Hamilton took pole position for his home British Grand Prix on Saturday with Mercedes teammate and title rival Nico Rosberg qualifying alongside on the front row.
The No 7 shirt set to take centre stage at Euro 2016 final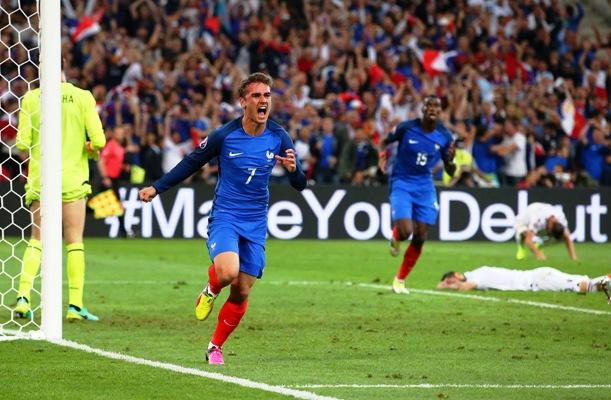 The fate of Sunday's intriguing European Championship final between France and Portugal weighs largely on two men wearing the number seven shirt, one already at the top of the game and the other one getting there fast.
July 06, 2016
Flashback PHOTOS: Semi-finalists Portugal at the Euros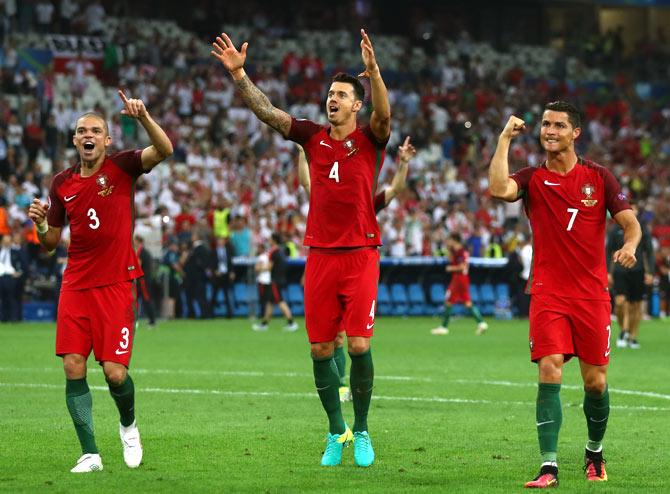 Here is a look at what happened in their previous Euro semis...
July 05, 2016
PHOTOS: Serena, Venus remain on course for final showdown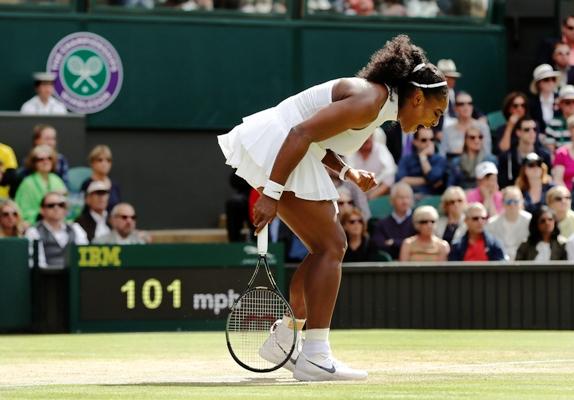 Serena Williams battered Anastasia Pavlyuchenkova 6-4, 6-4 in the quarter-finals at Wimbledon on Tuesday, seizing on moments of weakness from the Russian to ram home her advantage.
Time for German youngsters to step up against 'favourites' France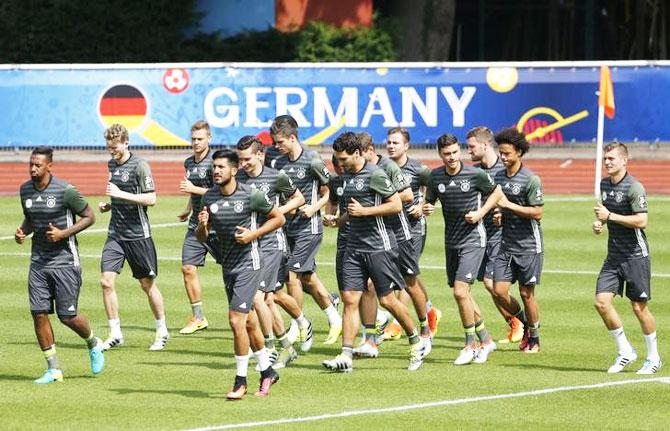 France are favourites in the Euro 2016 semi-final against injury-hit Germany but the world champions' absences will not affect their game, with a string of youngsters ready to step up, team manager Oliver Bierhoff said on Tuesday.
PHOTOS: How they celebrated at Euro 2016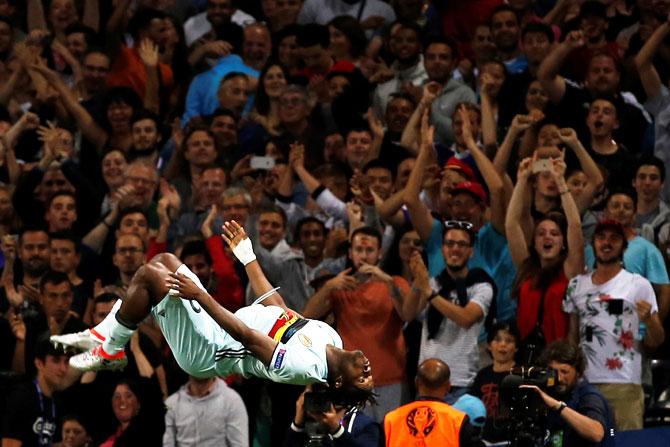 Rediff.com presents a flashback of those moments at Euro 2016 that personify pure ecstasy...
July 04, 2016
India at Wimbledon: Paes, Sania march forth; mixed day for Bopanna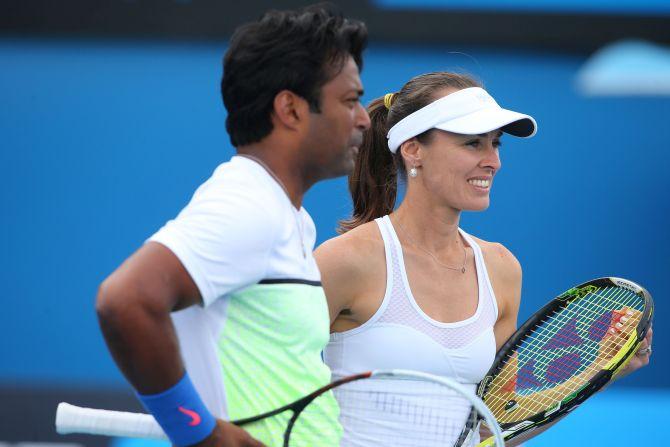 Defending champions Sania Mirza and Martina Hingis brushed aside Christina Mchale and Jelena Ostapenko to move into the quarter-finals of the Wimbledon Championships on Monday.
Euro: France end Iceland fairy tale in 5-2 quarter-final decimation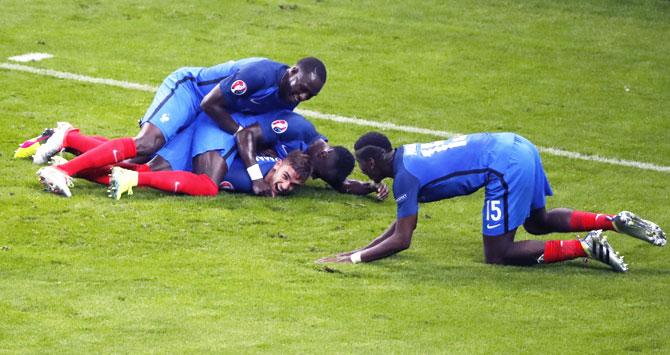 France decimated Iceland in a 5-2 win to end the Nordic nations Euro 2016 dream run in the quarter-final on Sunday.
July 03, 2016
Indians at Wimbledon: Sania-Martina ease into third round; Paes out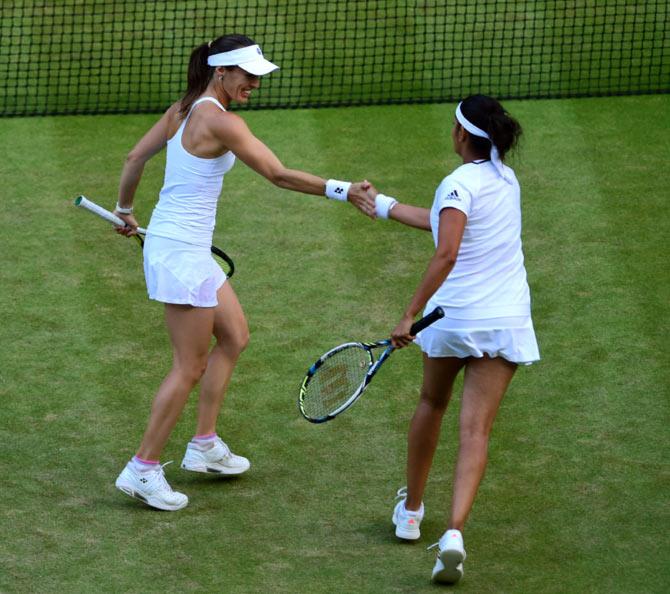 Top seeds Sania Mirza and Martina Hingis breezed into the women's third round with a 6-3, 6-1 win over the Japanese pairing of Eri Hozumi and Miyu Kato at the Wimbledon championships on Sunday.
F1: Hamilton wins Austrian Grand Prix after last lap drama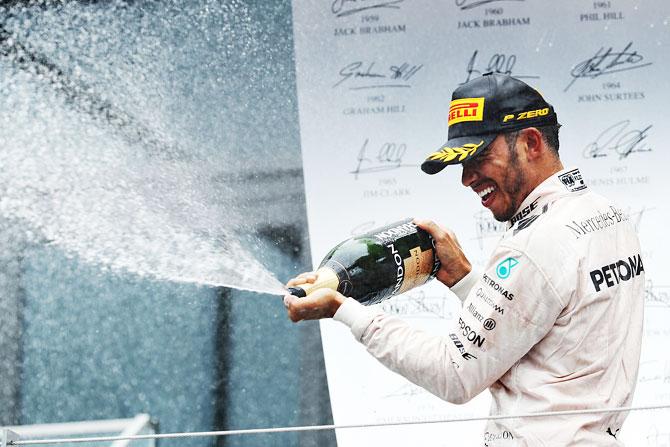 Triple Formula One world champion Lewis Hamilton won the Austrian Grand Prix on Sunday after a last-lap collision with Mercedes teammate Nico Rosberg as they fought for the lead.
July 02, 2016
Euro: 'Iceland deserve to be where they are'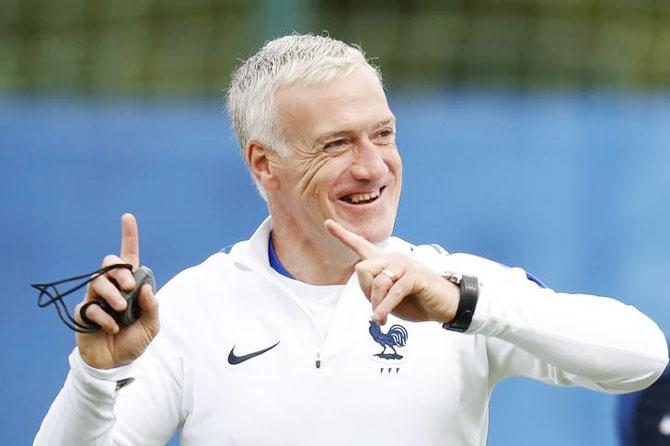 France realise how dangerous Iceland can be from long throw-ins and have been working on ways to counter that weapon when they face the surprise packages of the European Championship in the quarter-finals, coach Didier Deschamps said on Saturday.
Euro 2016: Welsh underdogs revel in greatest night with Belgium win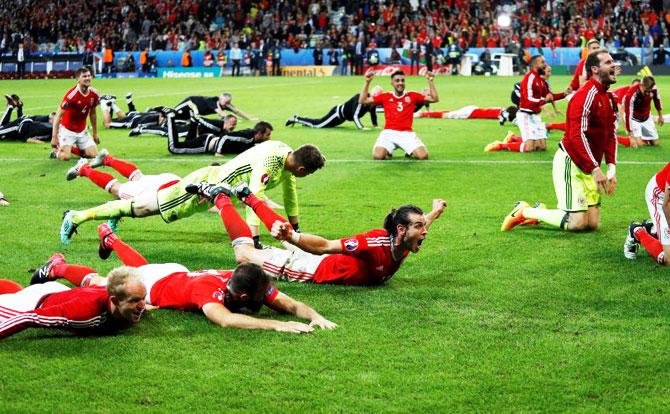 Ecstatic Wales coach Chris Coleman praised his "soldiers" after a shock 3-1 win over Belgium at Euro 2016 took the country to their first major tournament semi-final, and said they could match anyone if they were not afraid to fail.
Old guy Federer thanks the luck of the draw at Wimbledon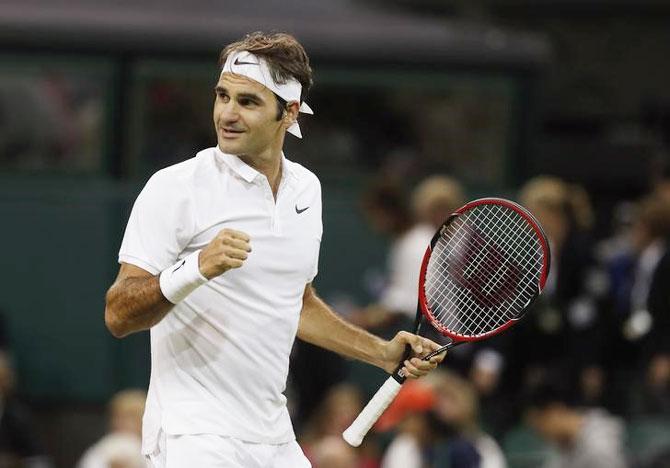 For a seven-time champion who is a month shy of his 35th birthday, and is known to have a dodgy back, fate could not have dealt Roger Federer a better hand this week as he became the first, and so far only, man to reach the Wimbledon fourth round.
This tactical disaster cost Belgium at Euro 2016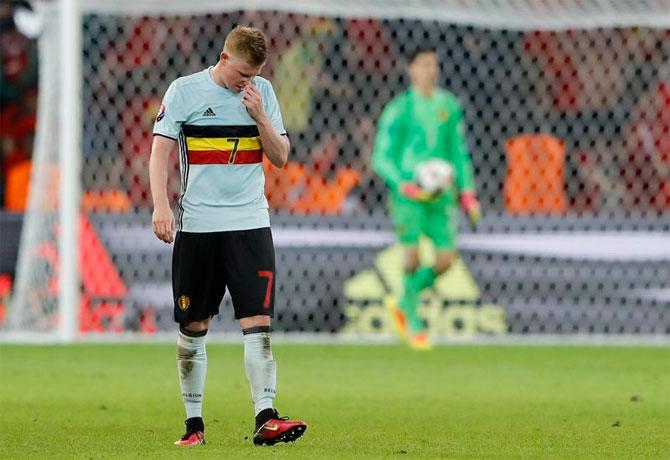 Wales's Euro 2016 victory over Belgium, officially the second-best team in football, showed again that you can have all the attacking talent in the world but if you are weak at the back you will be found out at the highest level.
Del Potro returns from wilderness to knock out Wawrinka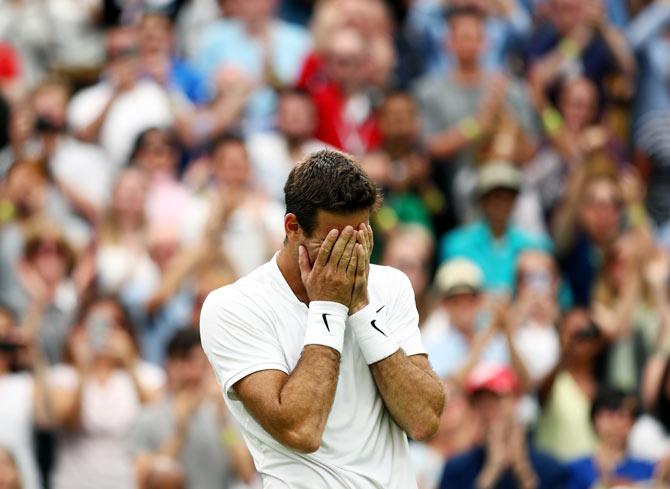 Juan Martin Del Potro, world number 165, was feeling "so alive" that by the time the match hit the mid-way point of the second set, Stan Wawrinka did not know what had hit him.
July 01, 2016
Drama in store as Ibrahimovic writes final chapter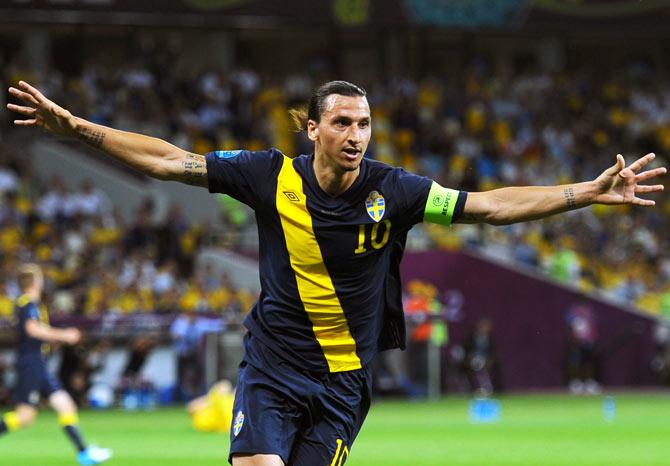 Zlatan Ibrahimovic is poised to write the final chapter in a glittering career with Manchester United in England's Premier League and although drama is guaranteed, a happy ending is not.
Euro 2016: When Portugal's starlet Sanches overshadowed star Ronaldo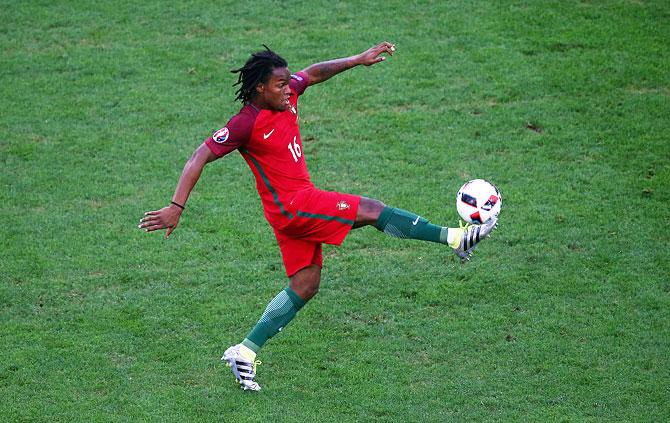 Portugal coach Fernando Santos turned to teenager Renato Sanches in a bid to bring some fluency to the midfield in their Euro 2016 quarter-final against Poland on Thursday and was handsomely rewarded for the decision.
PHOTOS: The Icelandic saga at Euros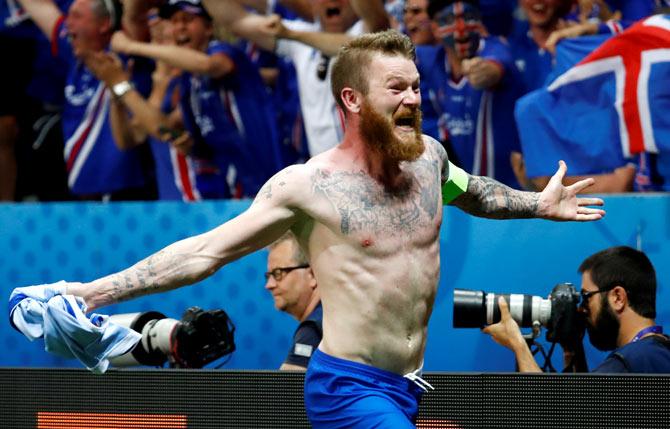 The smallest country ever to compete at the Euros surprised soccer fans around the world after comfortably knocking out England, the overwhelming favourites in the last 16 match with a 2-1 victory to set up a dream tie with hosts France.
Flamboyant Conte roars out of garage and burns up grass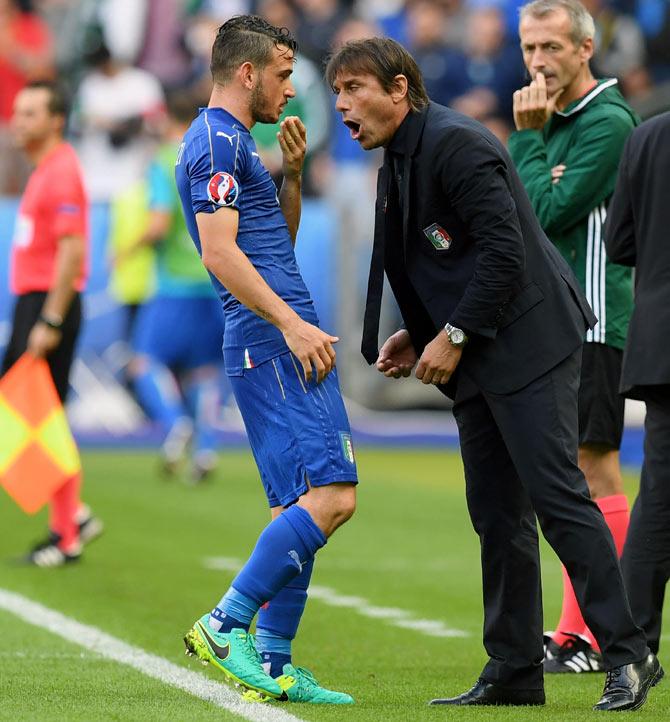 Antonio Conte, who spends matches ranting incessantly at his players and the referee from the touchline, is one of the most passionate coaches at Euro 2016 and has led an ageing, technically-limited side further than many felt possible.
June 30, 2016
Euro 2016: It's Bale vs Hazard as Wales faces 'home team' Belgium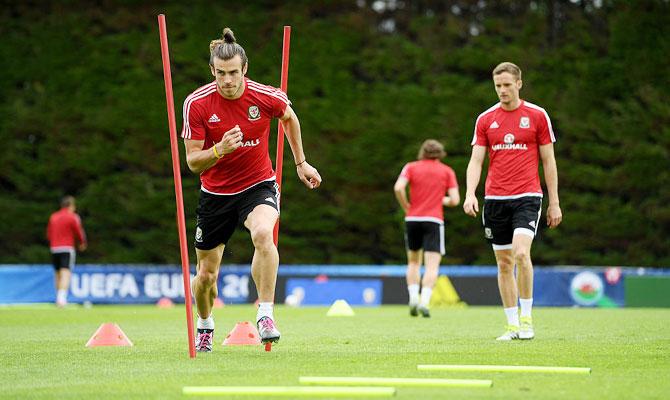 Wales are happy to cast themselves as underdogs in their Euro 2016 quarter-final against Belgium on Friday but such modesty belies their proven ability to bite hard.
Olympic champ Phelps swims his way to Rio Games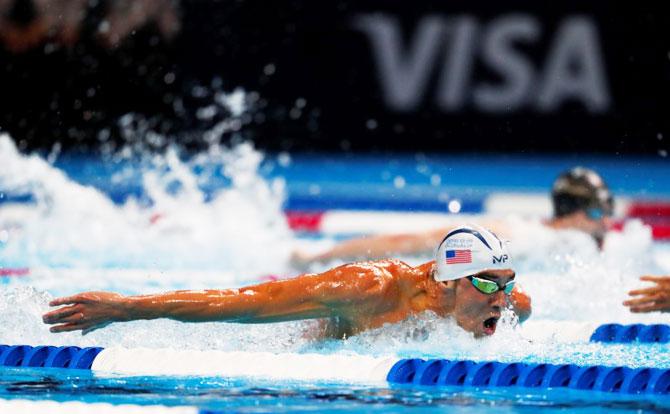 Michael Phelps gifted himself an early birthday present by winning the 200 metres butterfly at the US Olympic swim trials on Wednesday to punch his ticket to the Rio Summer Games.
Euro 2016: Portugal and the untying of the proverbial Gordian Knot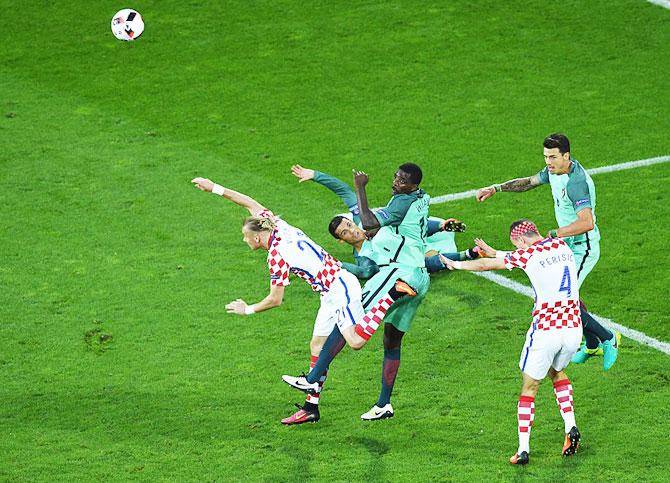 'I think it's a 50-50 match. My players know that. They (Poland) are here on their own merit'
June 28, 2016
The highs and lows of Lionel Messi's Argentina career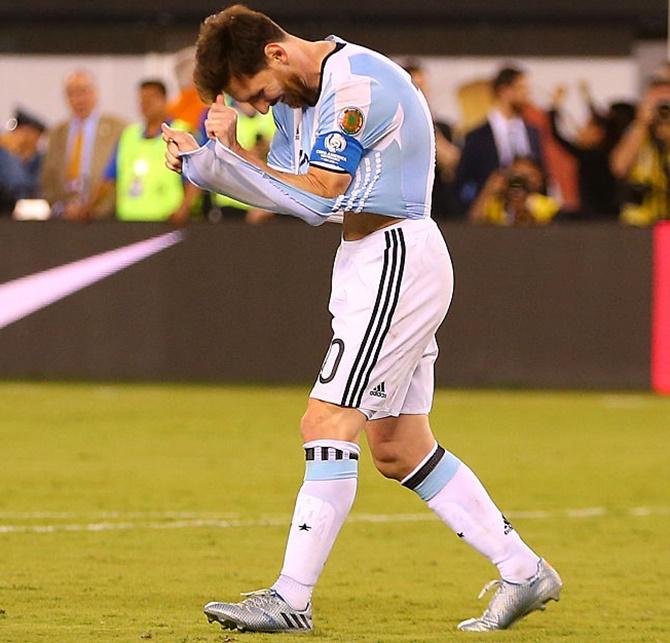 Argentina's star player Lionel Messi on Monday announced his retirement from international football after missing a penalty in the team's 2-4 defeat against Chile in the Copa America Centenario final at MetLife Stadium in New Jersey.
June 27, 2016
Wimbledon: Djokovic's solid start to title defence; Federer advances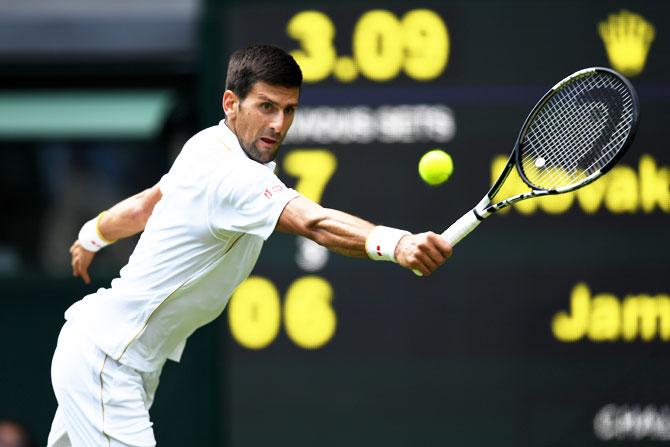 Photos from the Wimbledon matches on Day 1
June 26, 2016
Without Rafa, Muguruza flies Wimbledon flag for Spain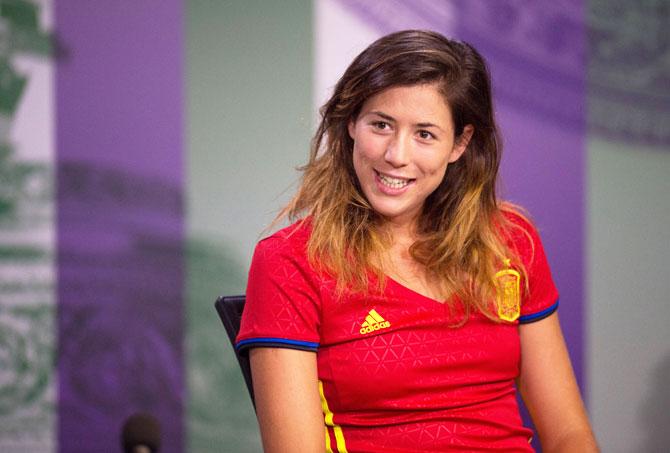 Wimbledon will naturally miss an old favourite with Rafael Nadal sidelined by injury yet Garbine Muguruza, armed with her sunny demeanour and blistering talent, seems perfectly happy and equipped to fill the void left by her great Spanish compatriot.
June 25, 2016
Federer ready to put 'one stupid move' behind him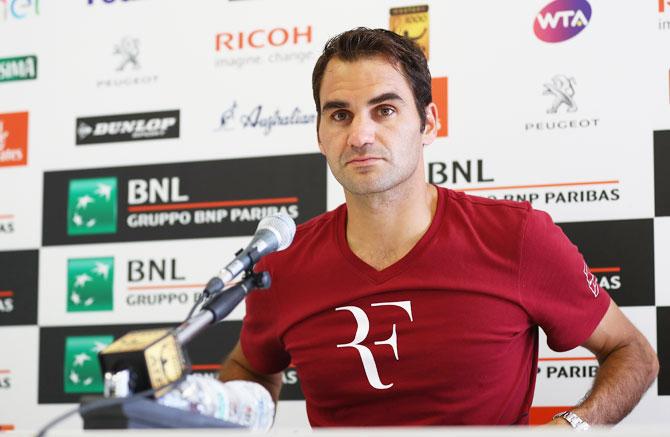 All it took was "one stupid move" for Roger Federer's season to fall into an abyss.
June 23, 2016
Euro: Ireland make history, enter last 16 after late Brady goal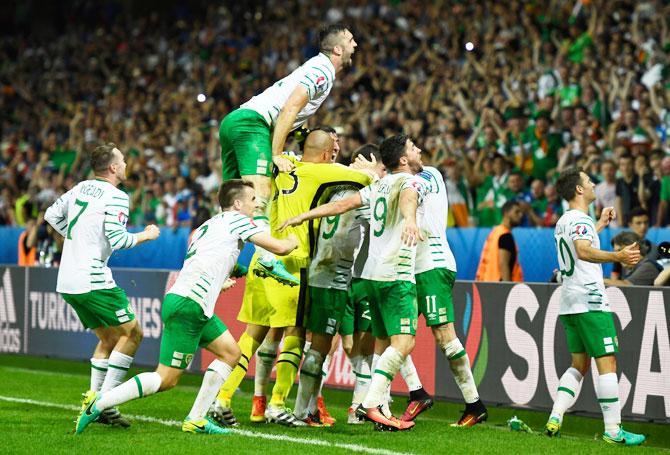 Ireland reached the knockout phase at a European Championship for the firs time when Robbie Brady's late goal earned them a 1-0 victory against Group E winners Italy on Wednesday.
Euro: Belgium's late strike sends them through as Ibrahimovic bows out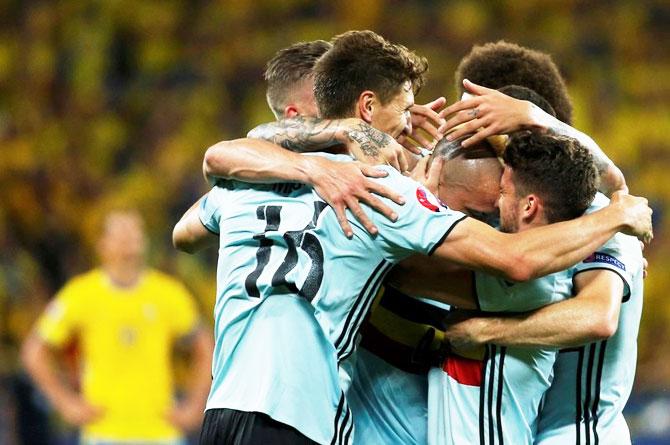 Belgium went through to the last-16 at Euro 2016 on Wednesday when Radja Nainggolan's late strike gave them a 1-0 win over Sweden, who were knocked out after scoring only once in three games.
Euro: Hungary and Portugal through after thrilling 3-3 draw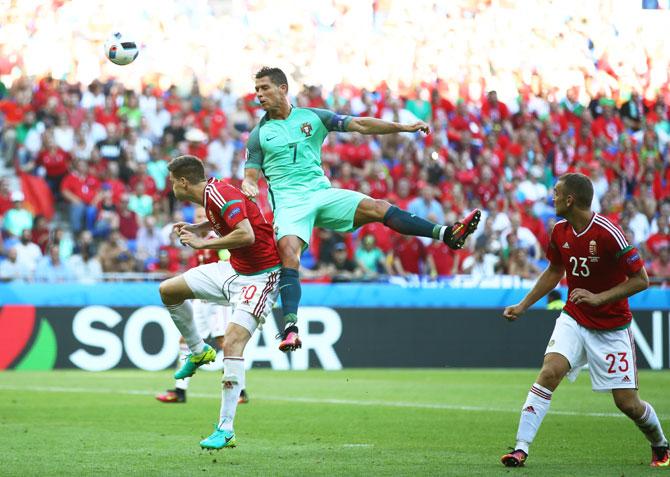 Hungary and Portugal reached the Euro 2016 knockout stages after a rip-roaring 3-3 draw in which Cristiano Ronaldo netted twice and became the first player to score at four European Championship finals on Wednesday.
June 22, 2016
Euro: Iceland advance to last 16 after 2-1 win against Austria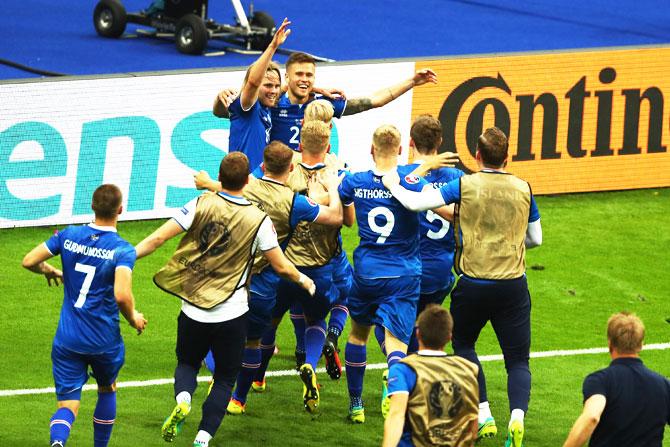 Iceland snatched a stoppage-time winner to continue their fairytale story at Euro 2016 by making it through to the last 16 after a deserved 2-1 victory against Austria in their final Group F match on Wednesday.
Euro: Turkey beat Czechs 2-0 to stay in last-16 contention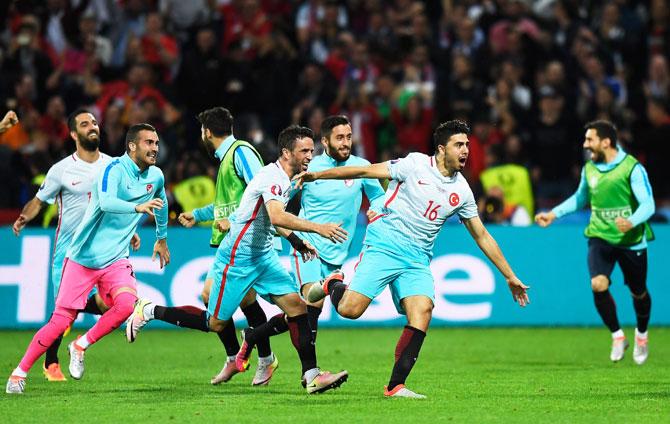 Goals by Burak Yilmaz and Ozan Tufan gave Turkey a 2-0 win over Czech Republic in Euro 2016 on Tuesday that secured third place in Group D and kept alive their hopes of reaching the tournament's knockout stages.
Euro: Impressive Croatia stun defending champs Spain, top group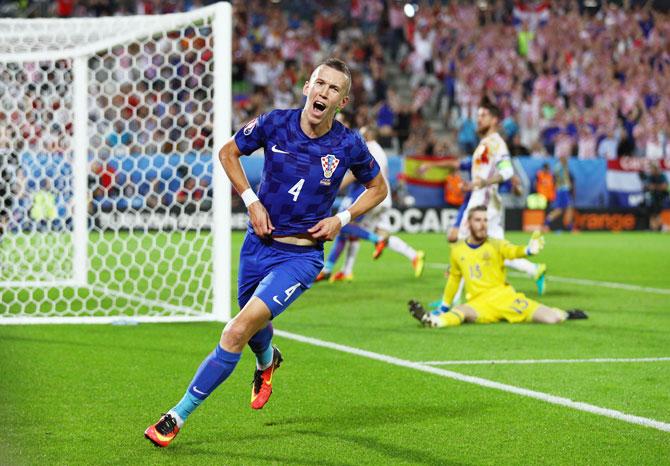 Holders Spain lost for the first time in 15 matches at the European Championship finals on Tuesday when Croatia beat them 2-1 to win Group D at Euro 2016.
June 21, 2016
Euro: Germany beat Northern Ireland 1-0 to win group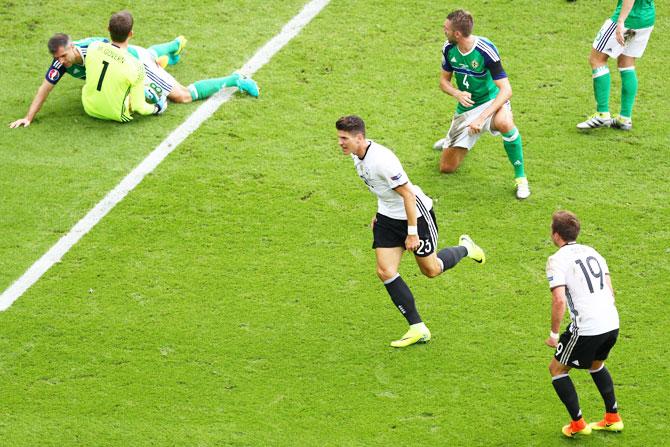 Germany's Mario Gomez scored in the first half to secure a 1-0 win over a stubborn Northern Ireland side and a place in the last 16 of Euro 2016 as Group C winners on Tuesday.
Euro: England advance after stalemate with Slovakia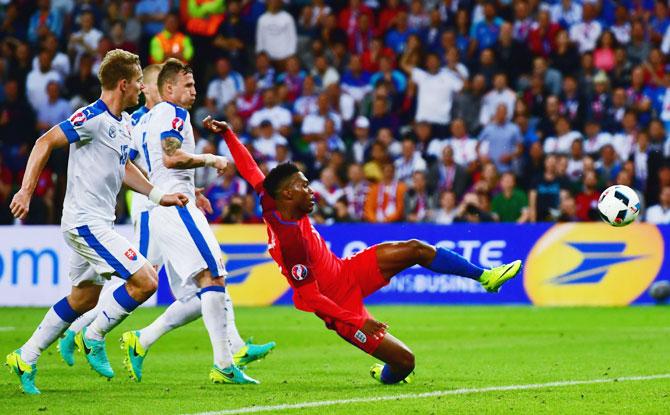 England drew 0-0 with Slovakia on Monday to finish second in Euro 2016 Group B and qualify for the knockout phase behind Wales who beat Russia 3-0 in their final match.
Euro: Wales thump Russia to top group, enter last sixteen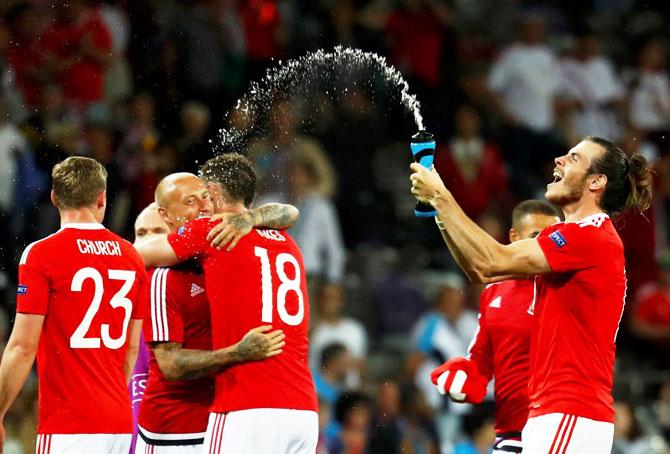 Wales outplayed Russia 3-0, scoring twice in the opening 20 minutes, as they moved into the round of 16 at Euro 2016 by winning Group B on Monday.
June 19, 2016
Euro: Ronaldo misses penalty as Portugal held to 0-0 draw with Austria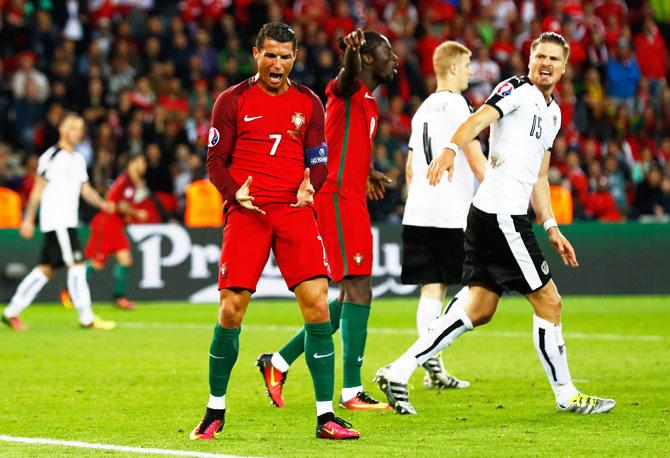 Portugal played out a goalless draw against Austria after captain Cristiano Ronaldo missed a penalty in their Euro 2016 Group F match at Parc des Princes stadium in Paris on Saturday.
June 18, 2016
Euro 2016: Late own goal gives Hungary 1-1 draw with Iceland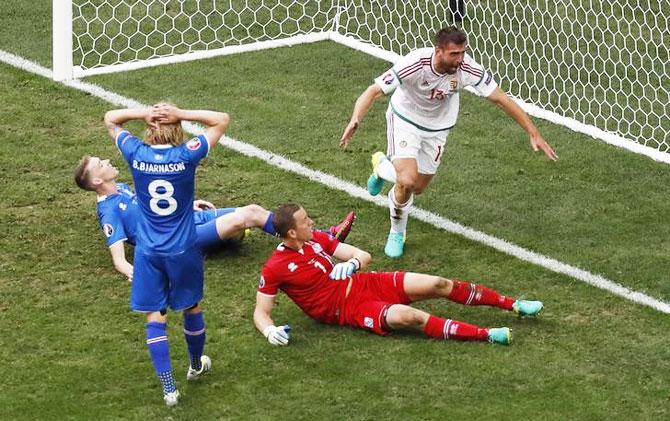 Iceland were within two minutes of a famous victory on their first appearance at a major tournament on Saturday only for Birkir Saevarsson to put through his own net to hand Hungary a 1-1 draw that leaves Euro 2016 Group F wide open.
Euro: Lukaku scores twice as Belgium batter Ireland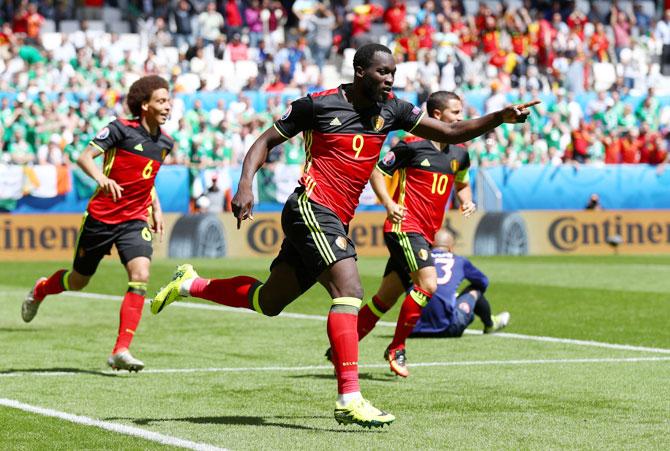 Belgium rediscovered their most blistering form to batter group E rivals Ireland 3-0 thanks to a brace from Romelu Lukaku and an Axel Witsel header on Saturday.
Euro 2016: Quiet Kante shows he can make it count even for Les Bleus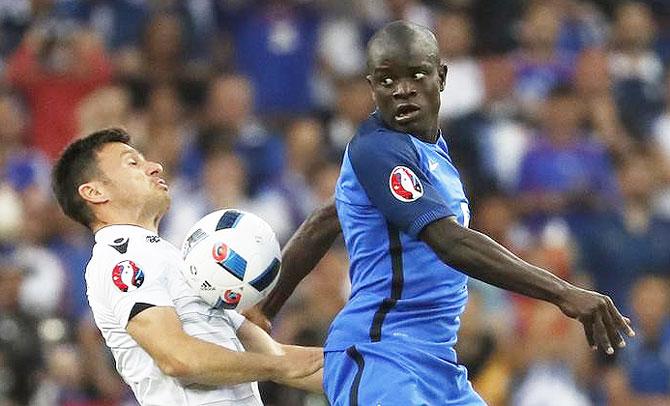 Blue is definitely the colour for the discreet N'Golo Kante, now shining for France on the pitches of Euro 2016 after playing a key role in LeicesterCity's fairytale run to the Premier League title in England.
June 17, 2016
Euro: Belgium await friendly invasion by Ireland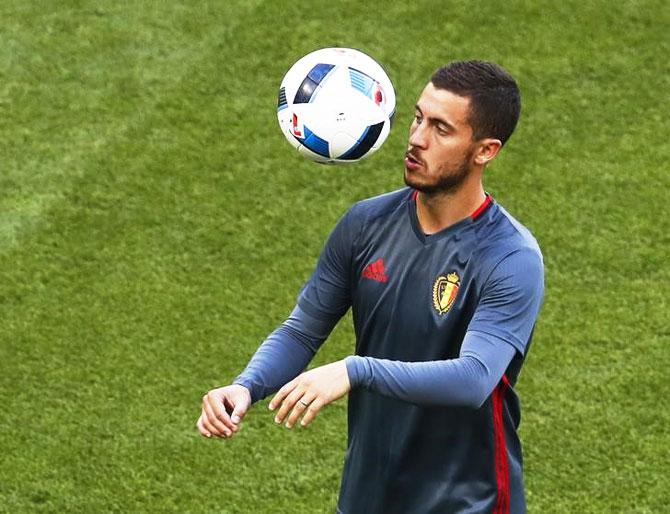 For however much or little it counts, Belgium have history on their side in not having lost to the Irish for 50 years, which includes beating them by a single goal in the playoffs to win a place at the 1998 World Cup in France.
'Compact and solid' Hungary bid to extend hot streak over Iceland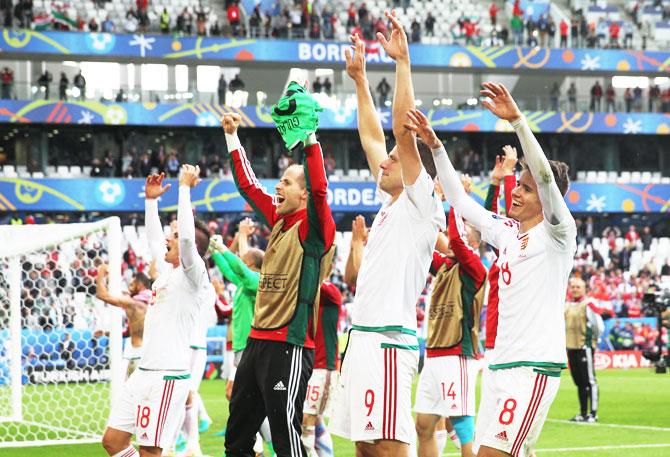 Two of the surprise teams of the opening round of matches at Euro 2016 meet on Saturday when Iceland face Hungary in Group F.
Pele backs new coach Tite to help Brazil win elusive Olympic gold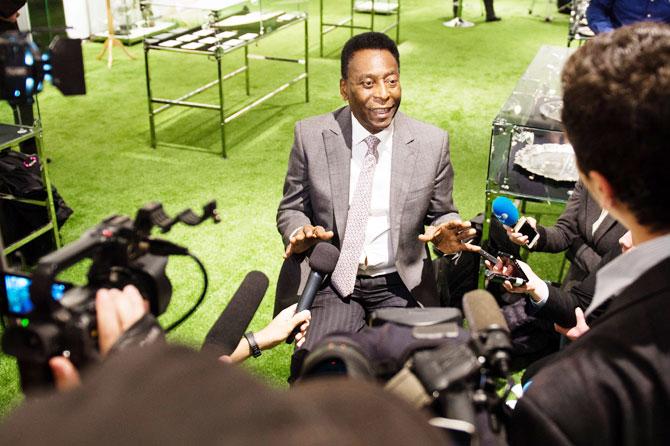 Brazil's failure to claim an Olympic soccer gold medal, the one major tournament they have never won, is all because Pele never played in the competition, the soccer great joked on Thursday.
Copa America PHOTOS: US reach semis with 2-1 win over Ecuador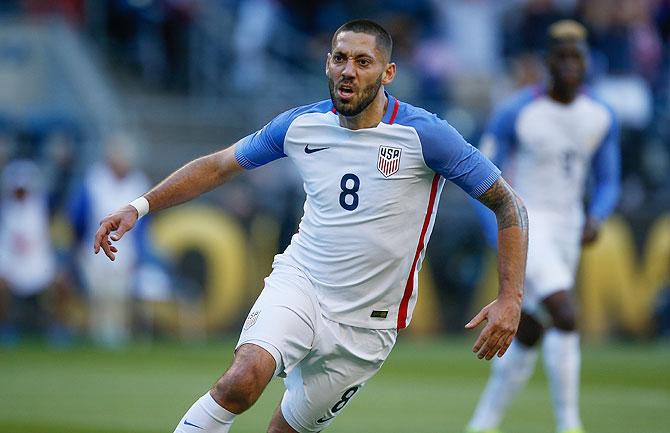 The United States survived a late onslaught to beat Ecuador 2-1 and advance to the semi-finals of the Copa America for the first time since 1995 after a pulsating and sometime fractious match in Seattle on Thursday.
Ecstatic England fans party in Lille after winning 'Battle of Britain'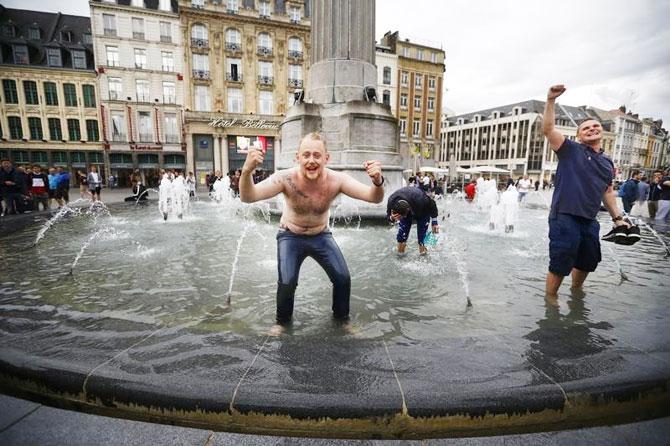 Beer-swilling English football fans bathed in public fountains on Thursday evening in the northern France town on Lille to celebrate their team's victory over Wales in nearby Lens, with little sign of the tensions seen there in previous nights.
Euro: How toothless Germany were checked by plucky Poland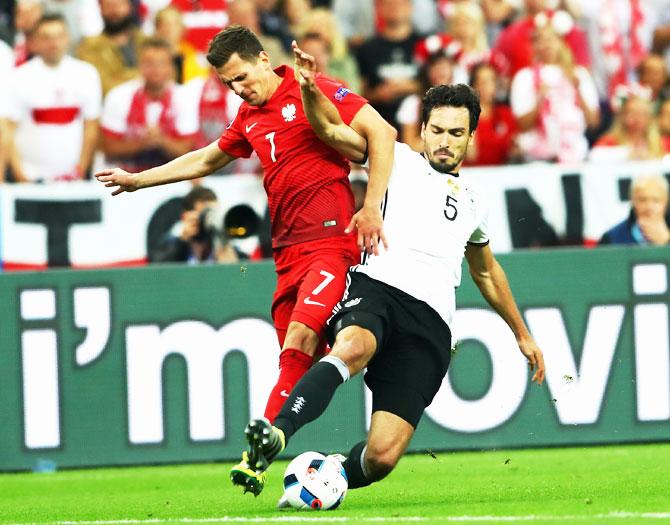 Germany bolstered their back line with the return of central defender Mats Hummels on Thursday but lacked penetration at the other end of the field as they were held to a 0-0 draw by Poland at Euro 2016.
June 16, 2016
Euro: It's Ibra vs a collective Italy as Sweden face mighty Azzurri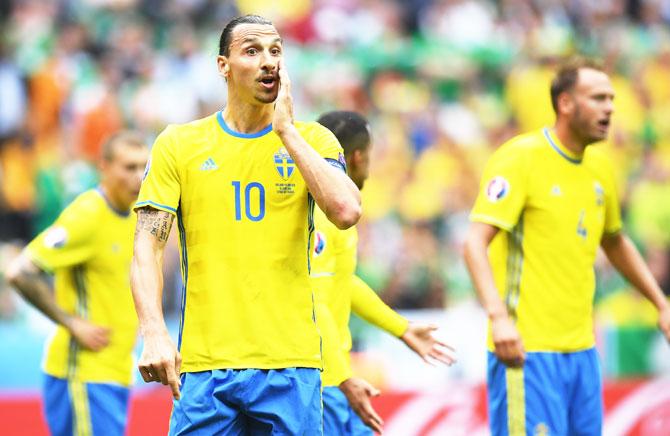 Italy's victory over Belgium was celebrated as a triumph of the team over individual talents, but Friday's opponents Sweden are relying on the singular genius of frontman Zlatan Ibrahimovic to get their Euro 2016 campaign off the ground.
Diplomatic relations on line as Moscow terms Euro 2016 'anti-Russian'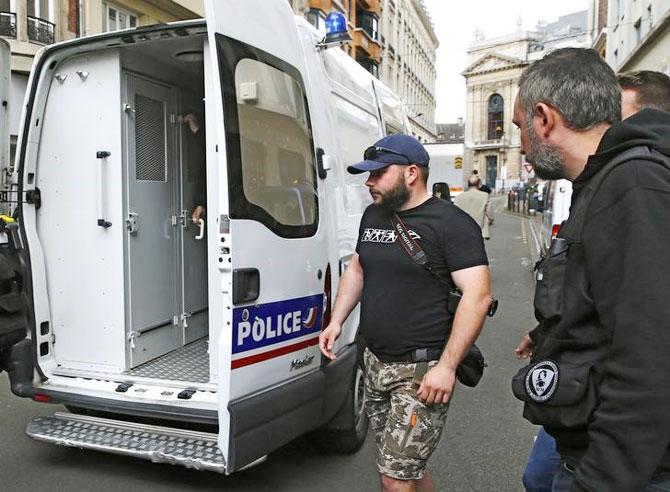 The French envoy was notified about "discrimination" towards Russian citizens, it said, adding that "further fanning of anti-Russian sentiments" could damage relations between France and Russia.
Euro shame: 36 England fans arrested by for creating ruckus in Lille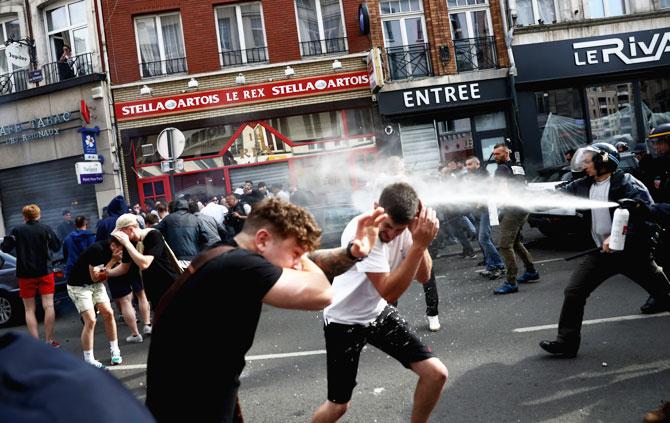 French riot police charged and used tear gas to disperse rowdy English football fans in Lille on Wednesday, though the northern city was spared feared clashes with Russian supporters.
Turning point: The ploy that worked for Deschamps's France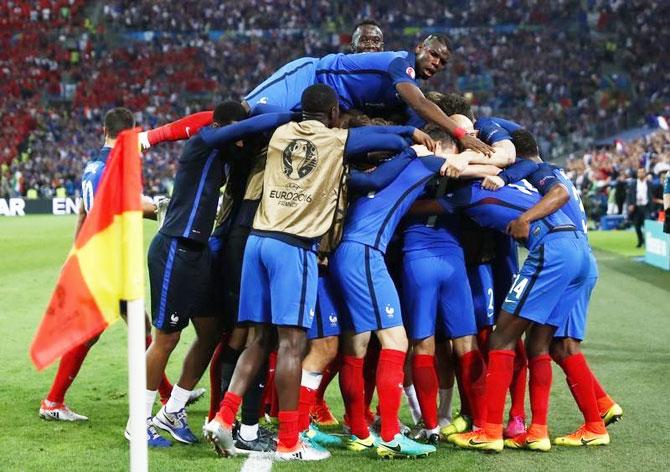 France coach Didier Deschamps was more than just relieved after his team scored two late goals to beat a stubborn Albania team 2-0 on Wednesday and reach the second round of Euro 2016.
June 15, 2016
PIX: Flying tackles, bloodied noses, coaches kisses and more at Euro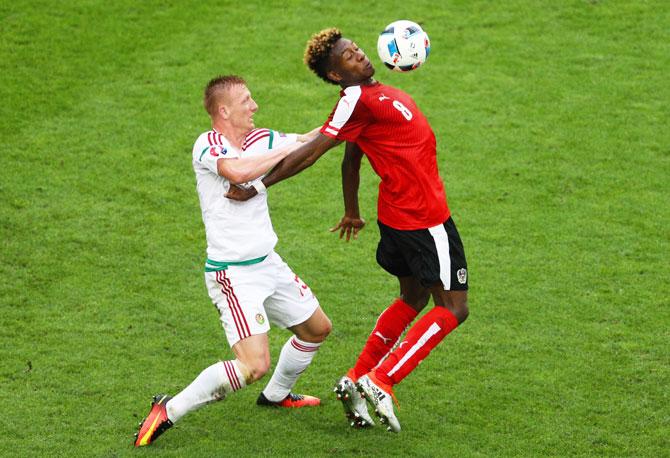 From sharp, flying tackles and tough possession-fights, bloodied noses to scissor kicks in attempt to finding those crucial goals and the ecstatic celebrations thereafter, Rediff.com gives you a quick rewind of all the excitement that has transpired over the last five days across France...
Euro: Debutants Iceland hold Ronaldo's Portugal to shock draw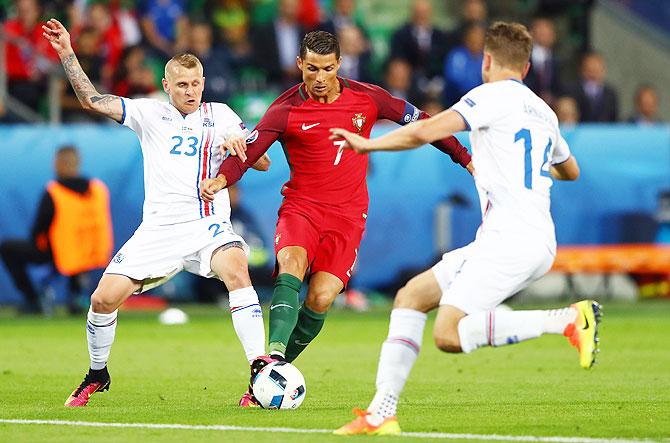 Rank outsiders Iceland enjoyed a superb big-stage debut as they clinched a shock 1-1 draw against Euro 2016 Group F favourites Portugal on Tuesday.
June 14, 2016
Euro: Hungary stun 10-man Austria 2-0 in thrilling match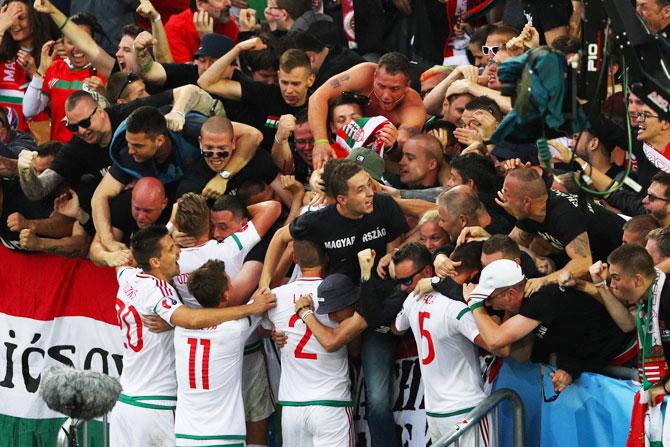 Austria, who were undefeated in 10 qualifying games, were beaten 2-0 by old rivals Hungary in the opening match of Euro 2016 Group F on Tuesday.
Former rebel now France's wise old man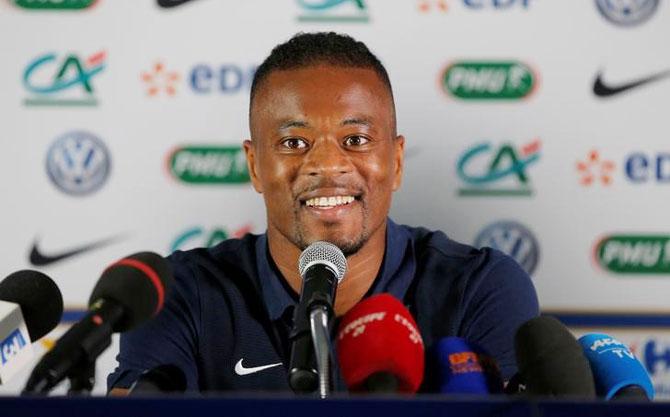 It has been a tortuous journey for France's Patrice Evra, once blamed for playing a dark role in the worst scandal in the history of the national team but now in the limelight as the wise old man of a team with high hopes.
Euro: Dominant Italy down Belgium 2-0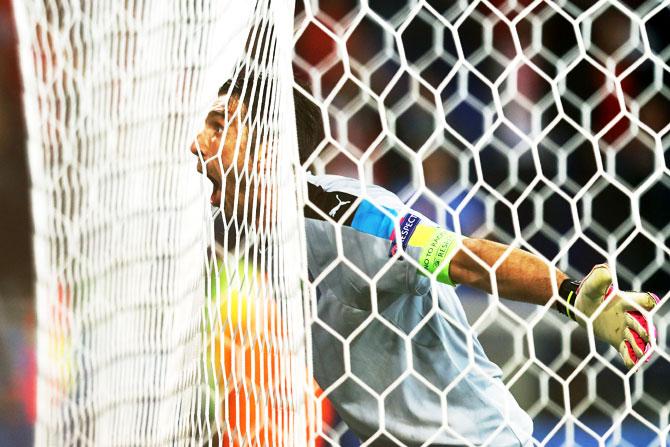 Italy were clinical in their approach as they beat Belgium 2-0 in their Euro 2016 Group E encounter on Monday.
Champions Spain: Big on possession but lacked finishing touch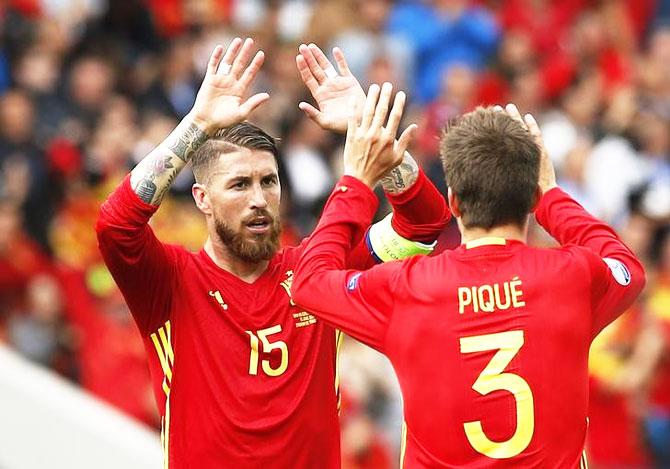 Spain huffed and puffed, making hard work of their Euro 2016 opener before a late Gerard Pique goal blew away the CzechRepublic resistance -- yet it could not conceal further evidence that Vicente del Bosque's champions may lack a killer instinct.
Euro: Clark own goal hands Sweden lucky draw vs Ireland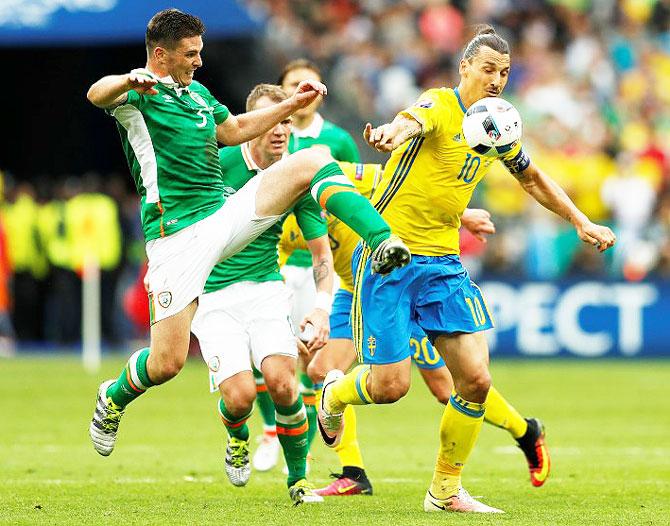 A Ciaran Clark own goal earned Sweden a fortunate 1-1 draw against a spirited Ireland side in their Euro 2016 Group E opener at the Stade de France on Monday.
June 13, 2016
Russians ready for 'ultra-violent' action involved in Euro 2016 clashes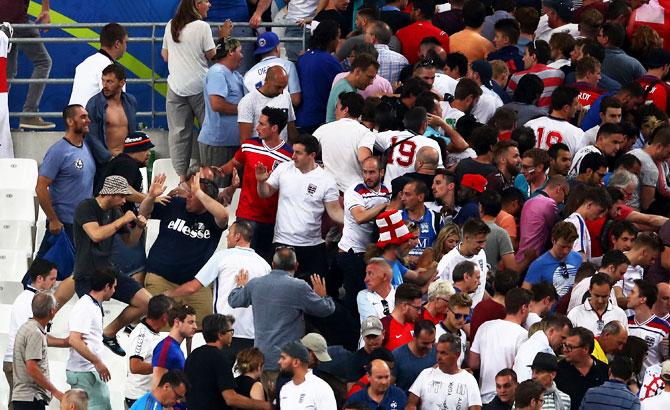 Russian hooligans prepared for "ultra-rapid, ultra-violent action" were involved in the worst of the fighting that hit Marseille at the start of the Euro 2016 soccer tournament, the French city's chief prosecutor said on Monday.
Euro: Spain edge Czechs after Pique's late header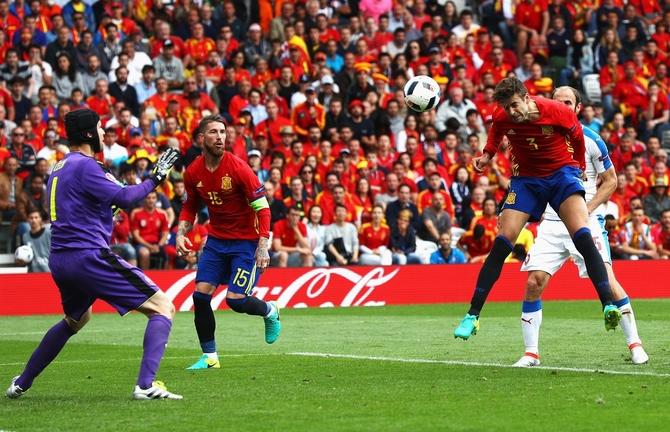 Reigning champions Spain left it late but Gerard Pique's 87th-minute header earned them a deserved 1-0 victory over a dogged Czech Republic in their Euro 2016 Group D opener on Monday.
Formula One: Hamilton wins fifth Canadian win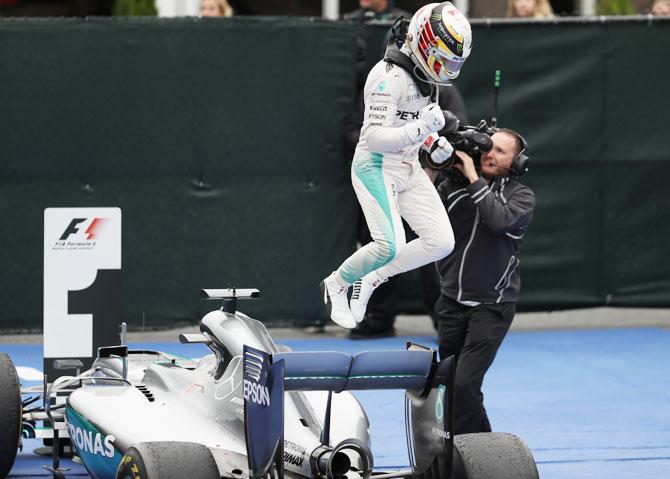 Lewis Hamilton survived another first corner clash with Mercedes teammate Nico Rosberg on Sunday to take a fifth Canadian Grand Prix victory and cut the German's championship lead to nine points.
Euro 2016: Superb Germany overpower Ukraine to record 2-0 win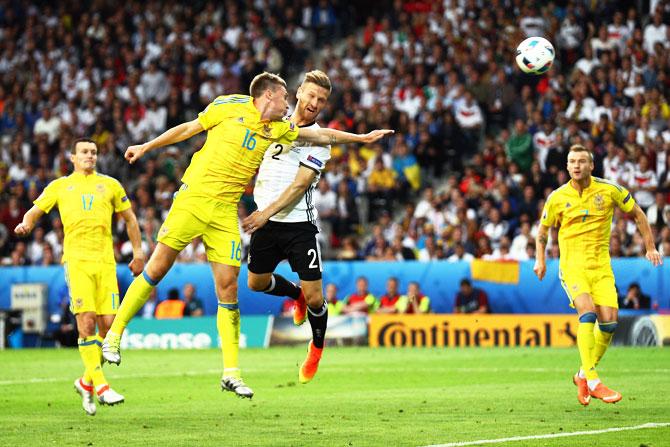 In what was a thrilling match of end to end action, Germany powered past Ukraine by a 1-0 margin in their Euro 2016 Group C campaign-opening match in Lille on Sunday.
June 12, 2016
Euro: Milik powers Poland to win over Northern Ireland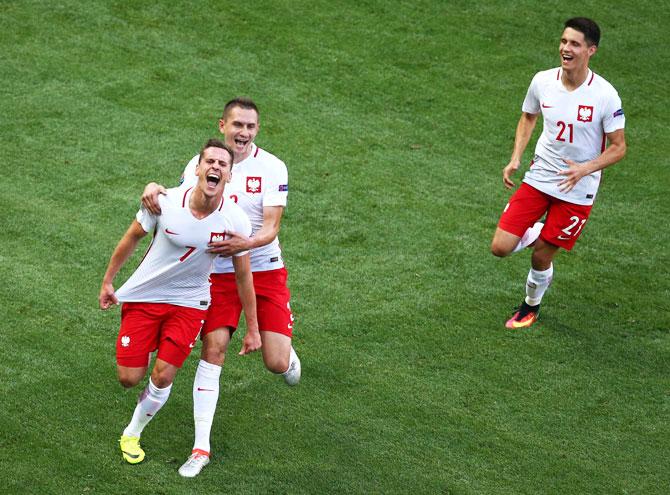 Poland's Arkadiusz Milik scored the winner as they downed Northern Ireland 1-0 in their Euro 2016 Group C opening match in Nice on Sunday.
Euro: Magical Modric helps Croatia down Turkey 1-0, exact 2008 revenge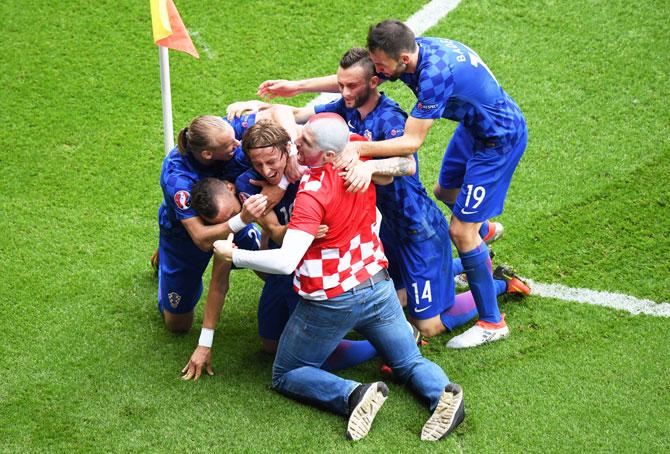 Croatia needed a touch of Luka Modric magic to beat Turkey 1-0 in their Euro 2016 Group D opener on Sunday, gaining a measure of revenge after their bitter quarter-final elimination by the same opponents at Euro 2008.
June 06, 2016
Career Grand Slam done, Djokovic believes Calendar slam 'achievable'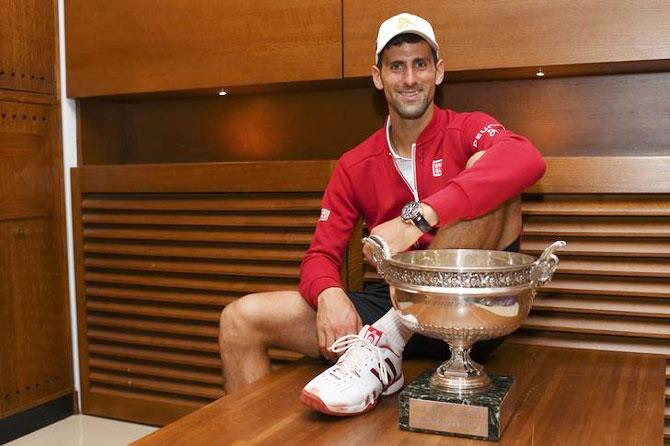 'Whether or not I can reach a calendar slam, that's still a possibility. But I don't think about it right now. Right now I just try to enjoy this experience of winning the trophy that I had never won before'
Euro warm-ups: Zlatan stars in Sweden's win; Czech stunned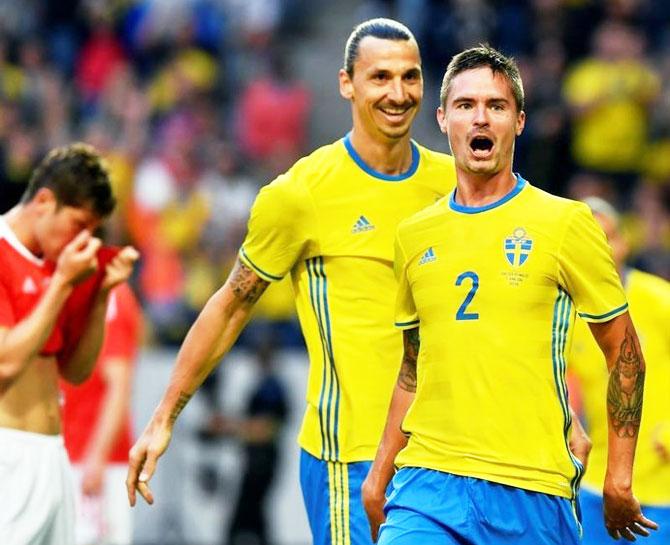 A round-up of Euro 2016 warm-up matches played on Sunday
Making peace with this fact made Djokovic the best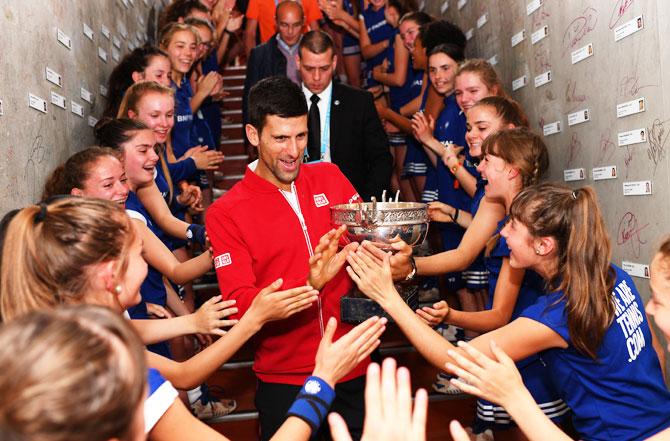 The moment Novak Djokovic accepted that being part of the Roger Federer/Rafael Nadal era was a chance, not a curse, everything improved for him.
Copa America: Mexico strike late to down Uruguay in thriller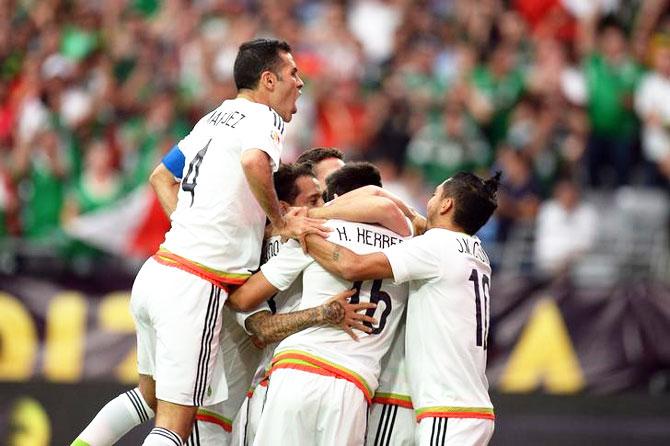 Mexico scored twice in the final five minutes to beat Uruguay 3-1 in a pulsating Copa America Group C match in which each side had a man sent off on Sunday.
June 04, 2016
Will Serena win her 22nd Major with the French Open crown?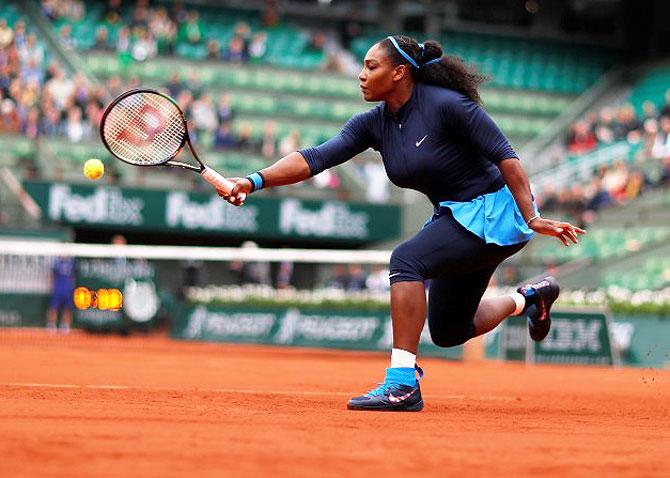 Garbine Muguruza's chances of winning her maiden grand slam title -- and achieving the rare feat of beating Serena Williams twice in three years at Roland Garros -- may well depend on which version of the world number one turns up on Sunday.
June 03, 2016
French Open: Murray downs Wawrinka, to face Djokovic in final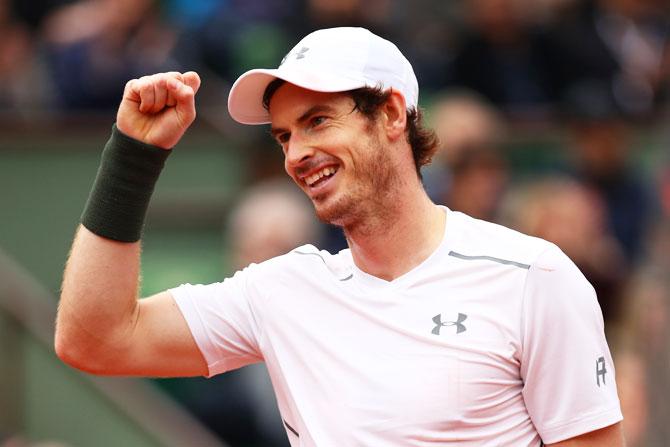 Britain's Andy Murray knocked out defending French Open champion Stan Wawrinka 6-4, 6-2, 4-6, 6-2 in the semi-finals on Friday to reach his first Roland Garros final where he will face world number one Novak Djokovic.
June 02, 2016
Djokovic, Serena avoid distractions of French Open 'circus'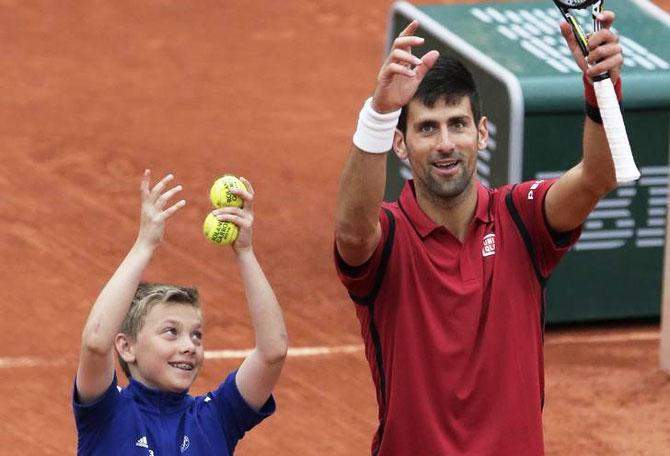 A competitor lambasted the French Open as "one big circus" on Thursday as soggy weather once again came back to exasperate players seeking a foothold in the semi-finals of the rain-hit claycourt major.
French Open PIX: It's Djokovic vs Thiem in semis; Serena staggers ahead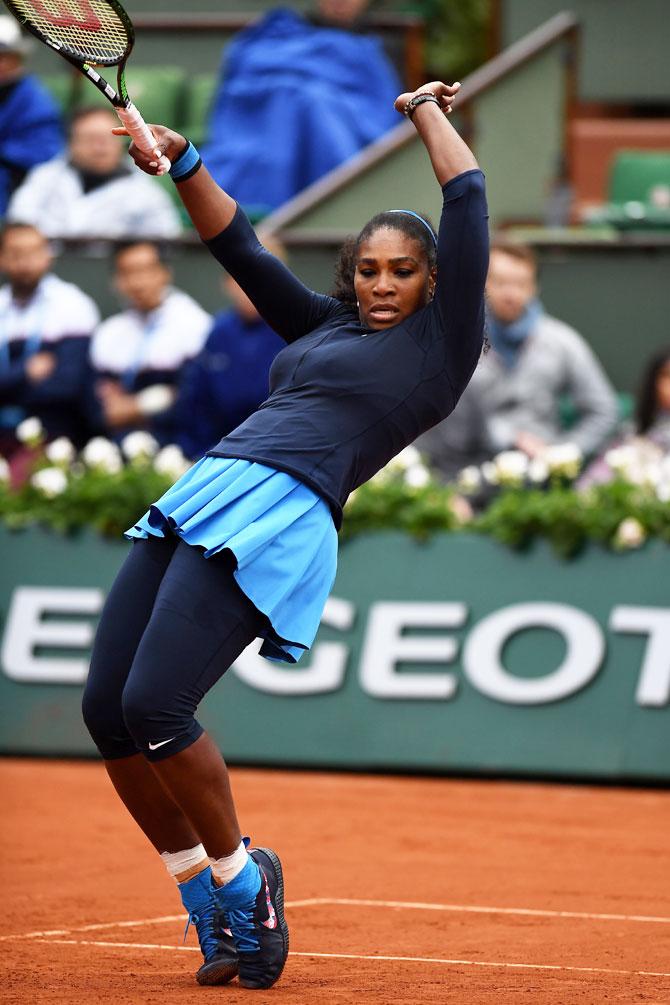 Photos from the French Open matches played at the Roland Garros on Thursday
How 'Karma' played a part in this Haryana-born Aussie Olympic wrestler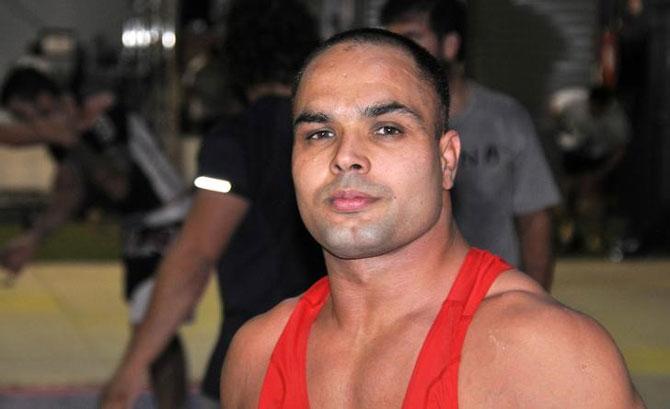 The path to the Olympics is paved with potholes for many athletes but few can claim to have overcome hardship like wrestler Vinod Kumar, who was thrown from a speeding train by a rival's family in India before landing on his feet in Australia.
June 01, 2016
French Open: Murray, Wawrinka to meet in semis; Djokovic, Serena advance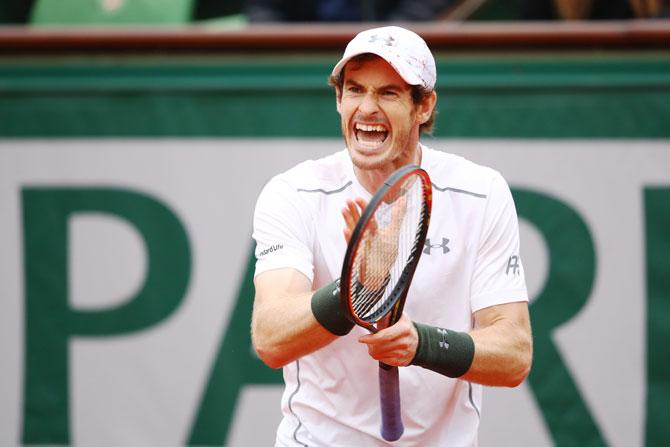 Images from Wednesday's matches at Roland Garros
May 31, 2016
Euro 2016: Experimental Portugal still a threat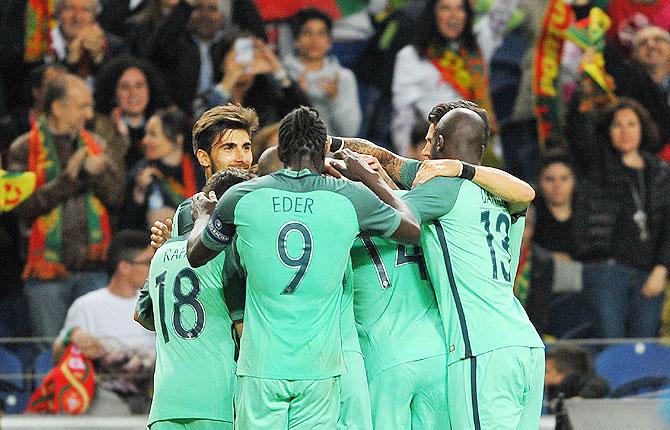 They may be over dependent on Cristiano Ronaldo and struggling to replace old faithfuls, yet under the wily leadership of Fernando Santos, Portugal can still be a threat.
Euros: Mix of youth and experience may help Spain prove doubters wrong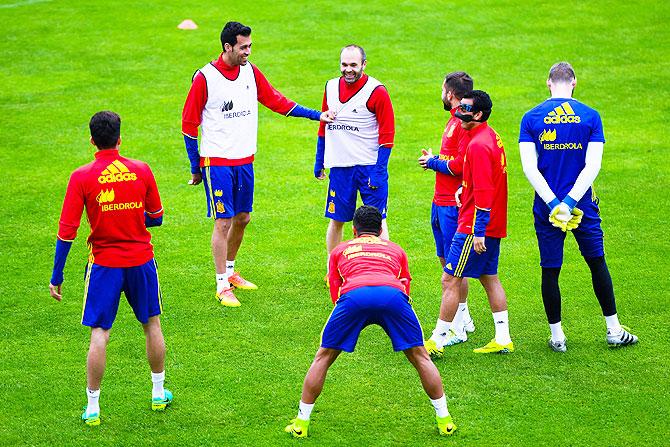 For all Vicente del Bosque's confidence that he has the right balance of experience and youth to return Spain to their familiar place on the winner's rostrum, questions remain about his best starting line-up ahead of Euro 2016.
Euro warm-up: Sweden in 0-0 draw with Slovenia; France edge Cameroon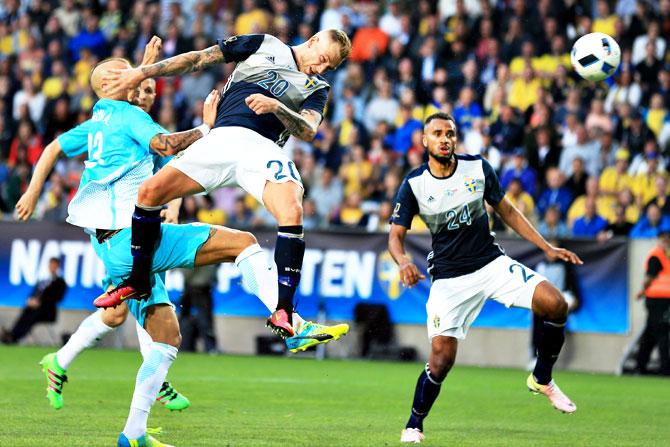 Sweden missed the influence of captain Zlatan Ibrahimovic, who was resting a sore calf muscle, as they struggled to create chances in a dull 0-0 draw with Slovenia in their penultimate Euro 2016 warm-up in Malmo on Monday.
May 30, 2016
Euro warm-up: Slovakia stun green Germany; Portugal, Spain win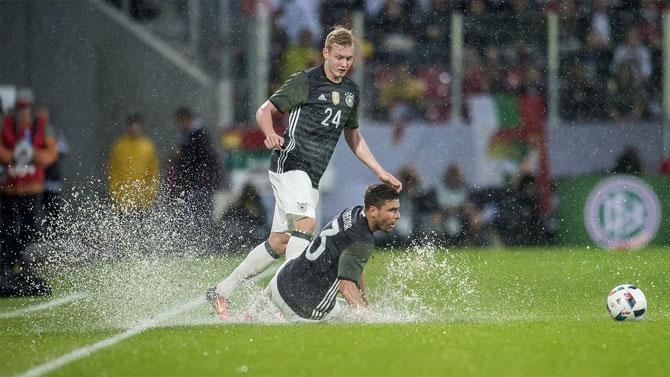 An inexperienced Germany suffered an embarrassing 3-1 defeat to Slovakia in a storm-affected friendly ahead of Euro 2016.
May 29, 2016
French Open: Bopanna-Mergea rally to reach doubles quarters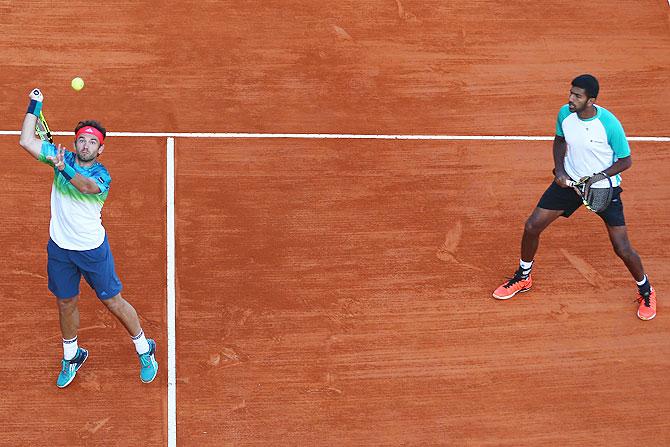 Indian tennis ace Rohan Bopanna and his Romanian partner Florin Mergea produced a spirited fight back as they have booked their place in the quarter-finals of the French Open at the Roland Garros in Paris on Sunday.
PHOTOS: Kings of Europe Real Madrid take celebrations to the street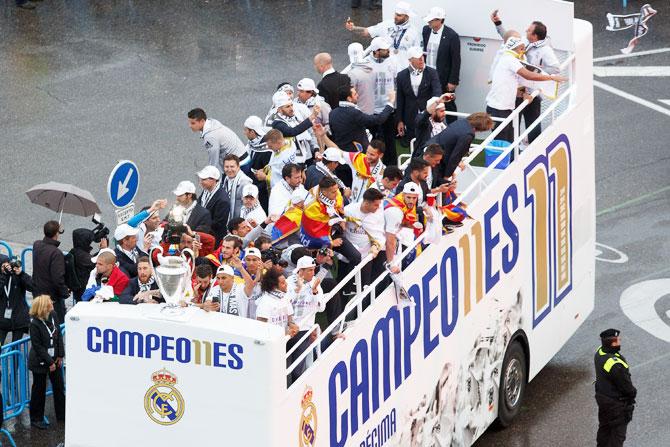 Newly-crowned European club football champions Real Madrid took their Champions League celebrations on to the streets of Madrid.
Heroic Zidane assured place in Real hearts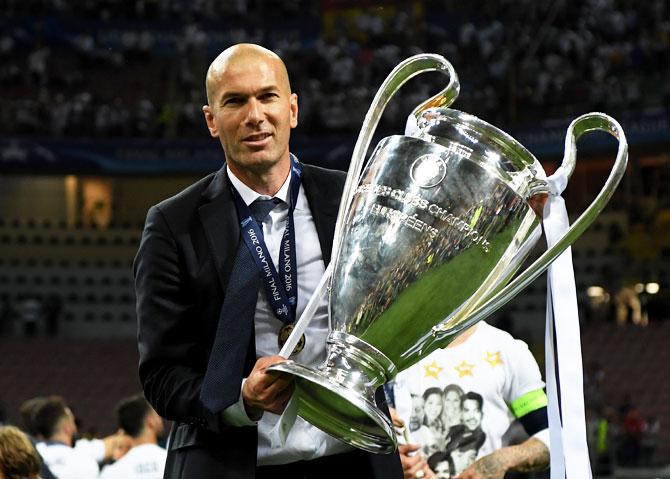 In leading Real Madrid to their 11th European Cup less than five months after inheriting an unhappy team from Rafael Benitez, Zinedine Zidane has cemented his heroic status at the Bernabeu and appears to have assured his immediate future.
Ramos is Real hero again after turbulent year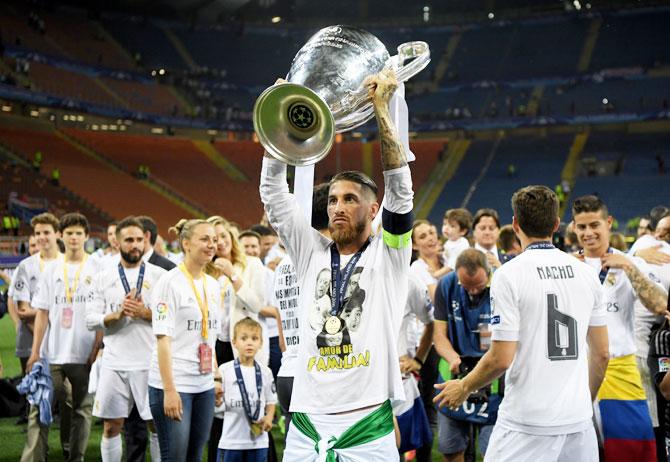 Just as he did two years ago, Sergio Ramos left his footprint all over Real Madrid's Champions League final triumph over Atletico Madrid following a turbulent 12 months.
Djokovic, Serena and their stand on tackling Zika at Rio Games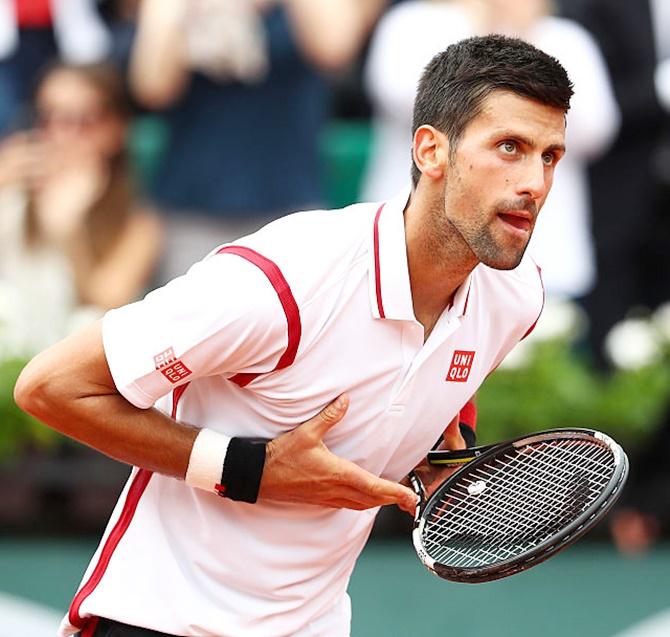 Novak Djokovic urged people to think about Brazilians who are having to live with the Zika outbreak on a daily basis rather than worrying about how the situation might affect those travelling to the country for the Rio Olympics in August.
When Serena failed to convert 11 of the 12 break points!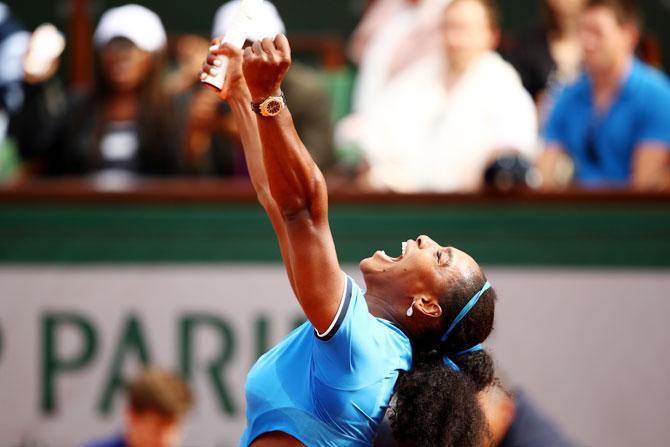 The imposter who did turn up got dragged into a two hour 11 minute tussle in which she failed to convert 11 of the 12 break points that fell her way.
Real edge Atletico in penalties to win 11th UEFA Champions League crown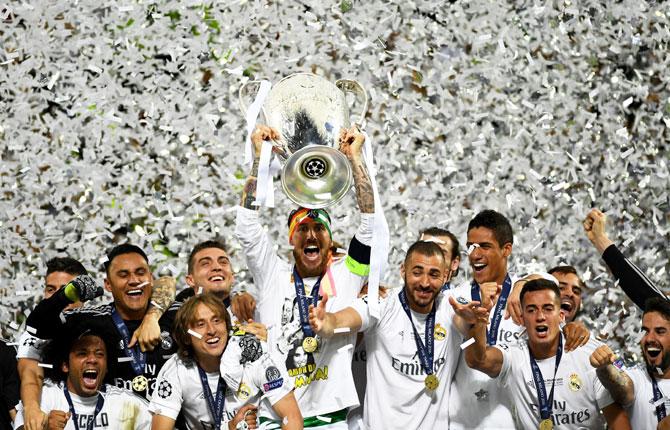 Real Madrid win UEFA Champions League
May 27, 2016
French Open PHOTOS: Murray, Halep advance; Kvitova bows out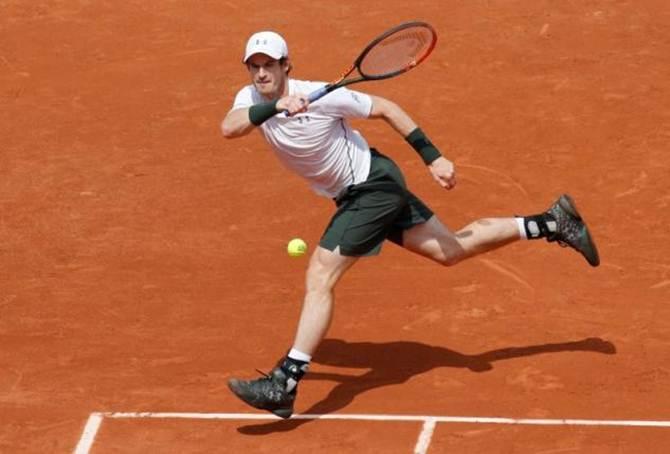 Photos from French Open matches played at the Roland Garros on Friday
May 26, 2016
French Open PIX: Nadal, Djokovic, Serena march on; Bouchard ousted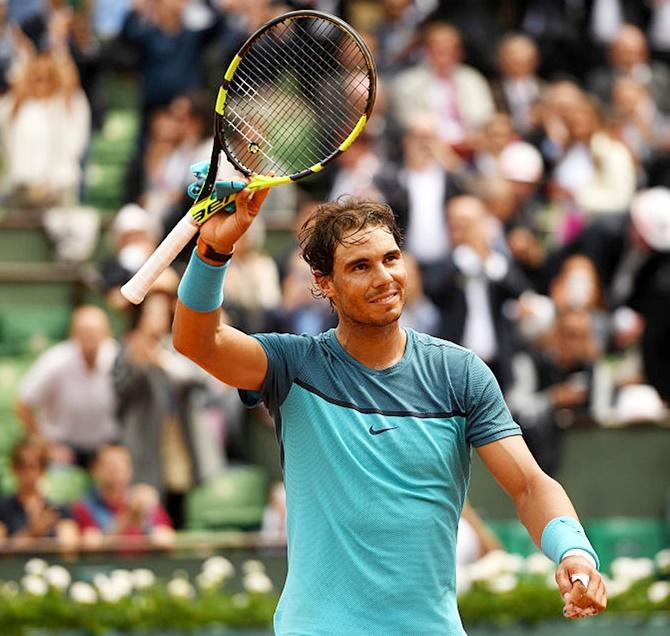 A dominant Rafael Nadal arrived at one career milestone on Thursday but the speed of the Spaniard's rampage through the early rounds of the French Open suggests his eyes are fixed firmly on another more significant one.
Paes-Hingis, Sania-Dodig make winning start in French Open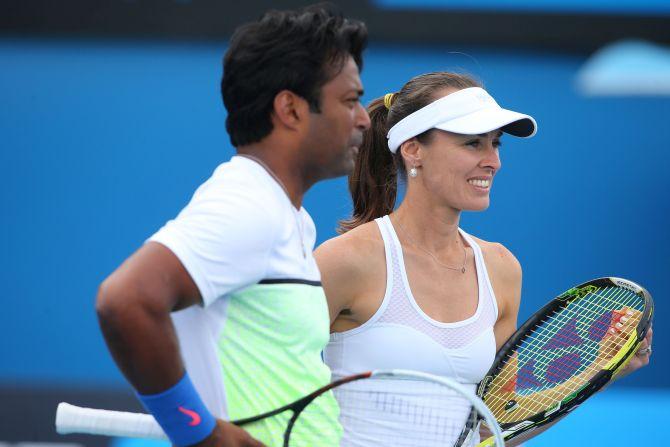 Indian tennis stars Leander Paes and Sania Mirza cruised into the mixed doubles pre-quarterfinals of the French Open along with their respective partners in Paris on Thursday.
May 25, 2016
Has Mourinho agreed to a deal with Manchester United?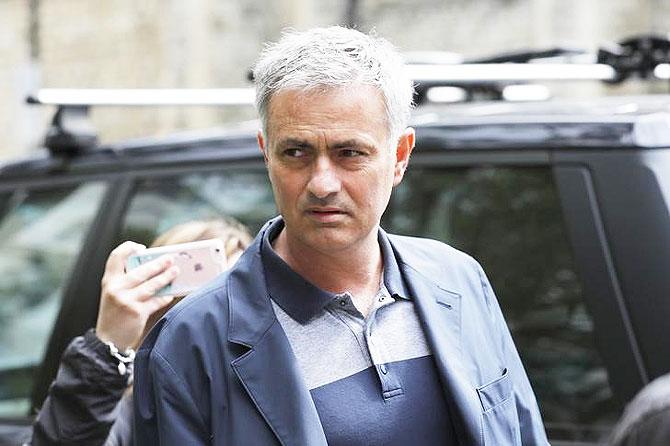 English football's biggest club seem to have secured the services of the sport's most colourful manager after Jose Mourinho, according to Sky TV reports, agreed personal terms with Manchester United on Tuesday.
May 23, 2016
French Open: Wawrinka made to wait as rain delays play on Day 2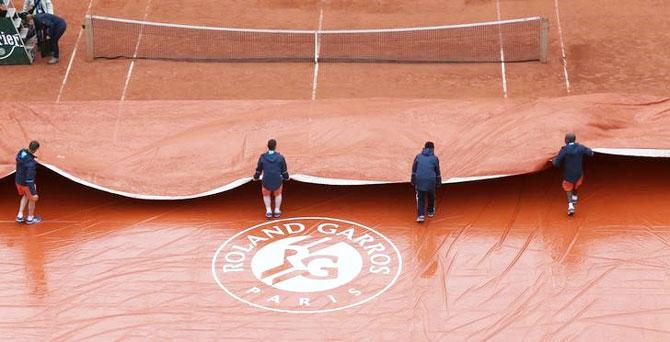 Heavy rain postponed play on day two of the French Open with organisers saying no matches would start before 1130GMT.
'Kings of Spain', Barca players celebrate Copa del Rey win in style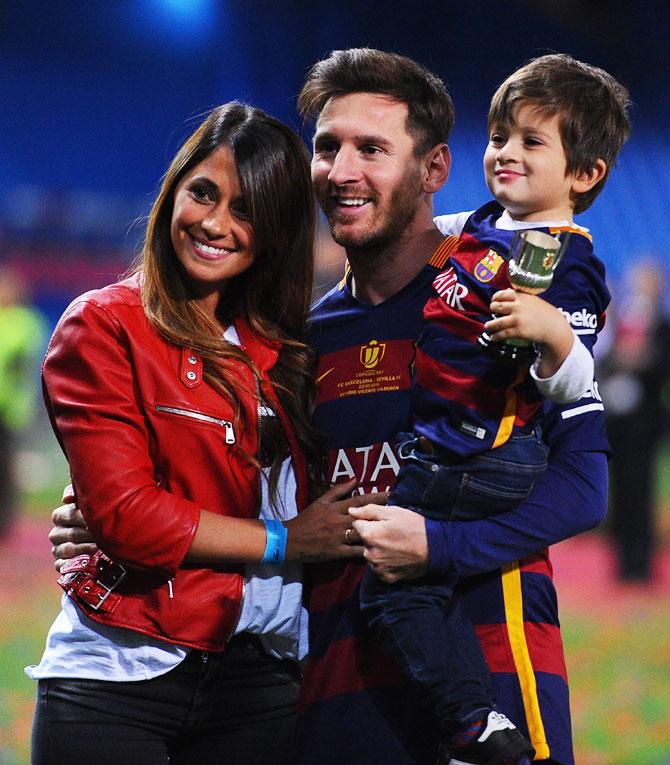 Rediff.com gives you a glimpse of the jubilant Catalan team...
King's Cup PIX: Barca complete double with win over Sevilla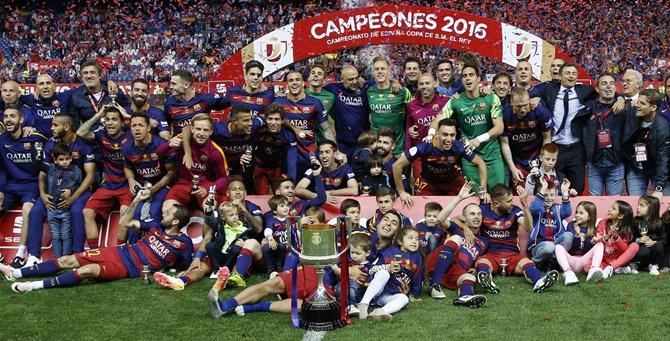 Barcelona retained the King's Cup with a 2-0 victory over Sevilla to complete a domestic double.
May 22, 2016
French Open PHOTOS: Kyrgios, Kvitova record hard-fought wins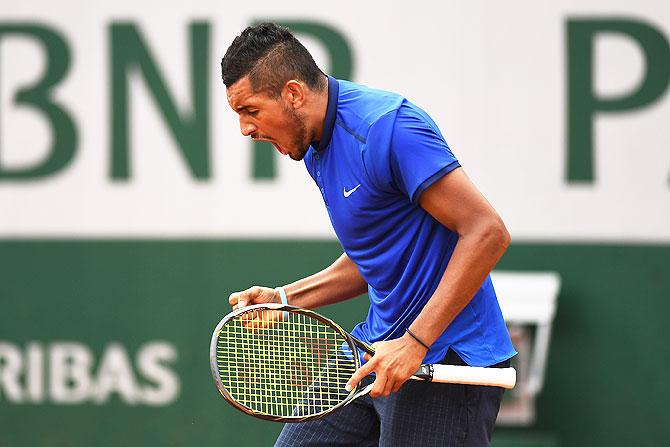 Australian Nick Kyrgios did his best to enliven a damp and dismal Parisian day with some eye-catching play and colourful language as the French Open began without part of the usual furniture on Sunday.
Former United player Neville makes Mourinho-Ferguson comparison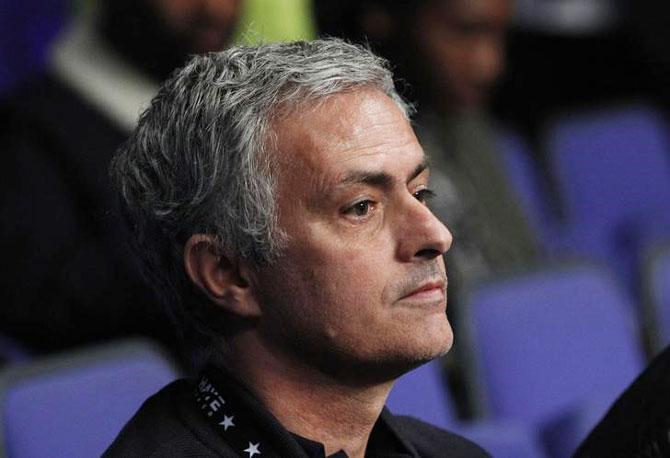 Jose Mourinho is a proven winner who is the perfect choice as Manchester United manager, the club's former defender Phil Neville said on Sunday.
FA Cup champs United to make Mourinho announcement next week?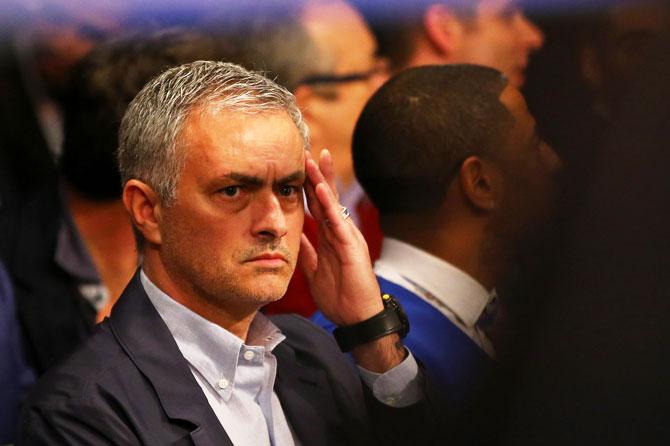 Jose Mourinho will be appointed Manchester United manager next week to replace Louis van Gaal despite Saturday's FA Cup final victory over Crystal Palace, British media have reported.
PHOTOS: Juventus win Italian Cup, complete double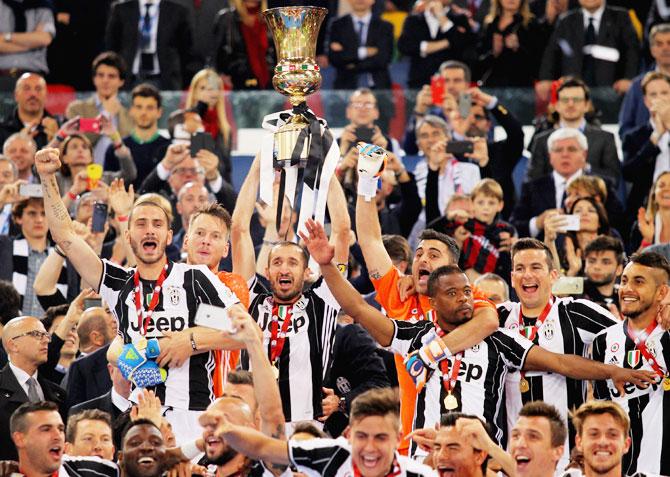 Juventus won a second consecutive double when substitute Alvaro Morata's extra-time goal secured a 1-0 Italian Cup final win over AC Milan who missed out on Europe for a third successive season on Saturday.
PHOTOS: Sublime Lingard volley sees United win 12th FA Cup title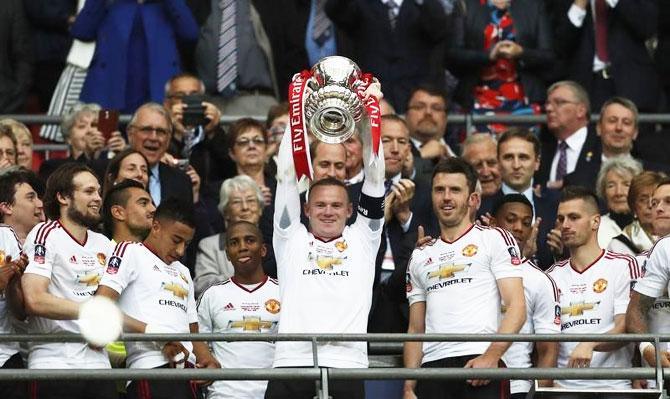 Manchester United substitute Jesse Lingard's superb volley in extra time secured a 2-1 win over CrystalPalace in the FA Cup final at Wembley Stadium on Saturday for their first major trophy in three years.
May 21, 2016
Atletico's hard-working Griezmann gets top rating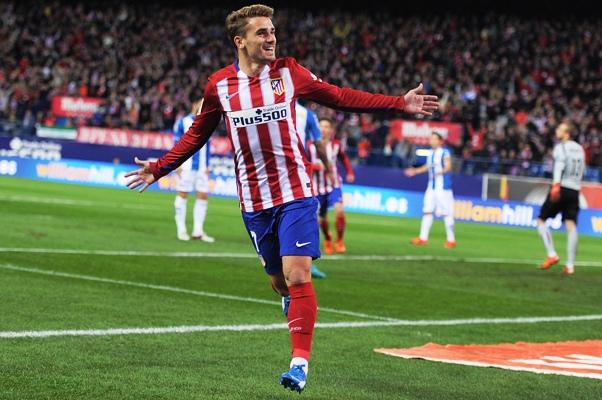 Atletico Madrid coach Diego Simeone rates Antoine Griezmann as one of the top three players in the world and says the forward owes it to his ability to work hard and the willingness to listen.
May 19, 2016
Europa PIX: Sevilla shock Liverpool; win third straight title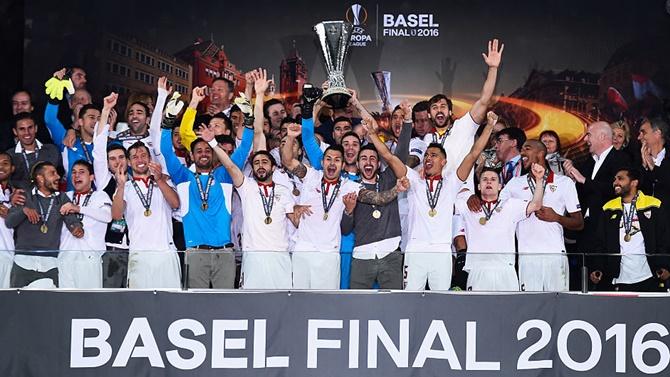 Sevilla conjured up a dazzling comeback to clinch a record third successive Europa League title on Wednesday, flooring Liverpool with a 3-1 victory that showed why the Spanish side have become masters of Europe's second-tier competition.
May 18, 2016
Making a splash! STUNNING images from the European Aquatics C'ships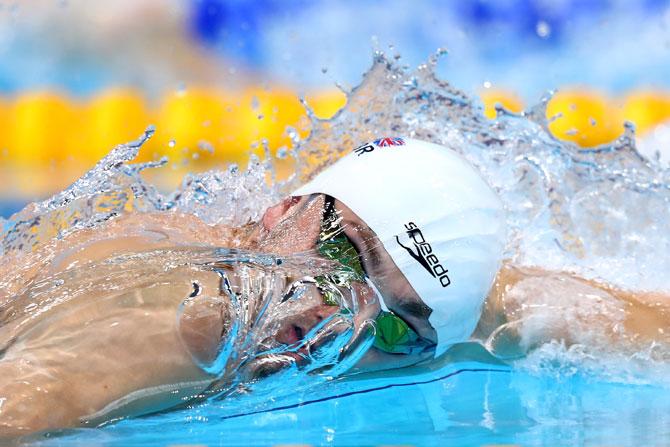 Rediff.com brings you images from the May 9-22 meet. Enjoy the feast your eyes!
Defiant Van Gaal booed by United fans after season finale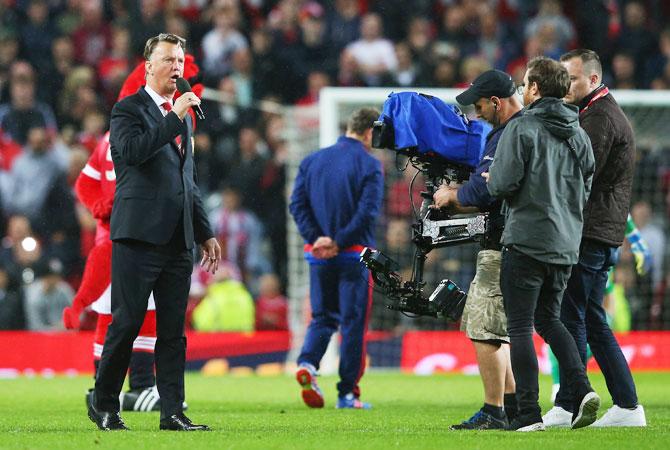 Manchester United manager Louis van Gaal blamed injuries and unrealistic expectations for his team's disappointing season after a 3-1 win over Bournemouth on Tuesday confirmed a fifth place finish in the Premier League.
Britain's Peaty wins European gold in Rio warm-up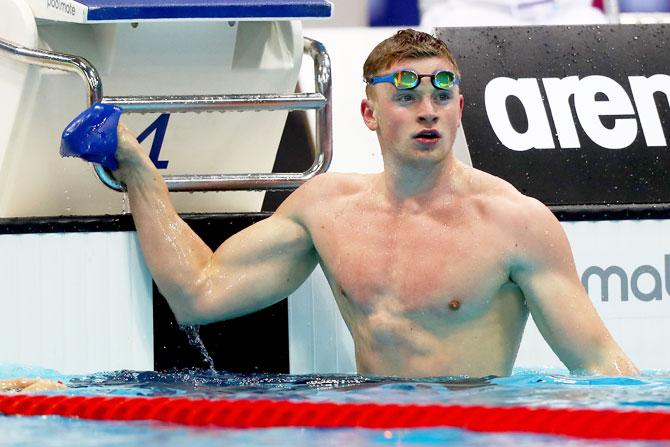 Rio-bound world champion Adam Peaty gave Britain their first swimming gold of the European aquatics championships on Tuesday with the fastest time of the year in the 100 metres breaststroke.
EPL: United ease past Bournemouth to seal fifth spot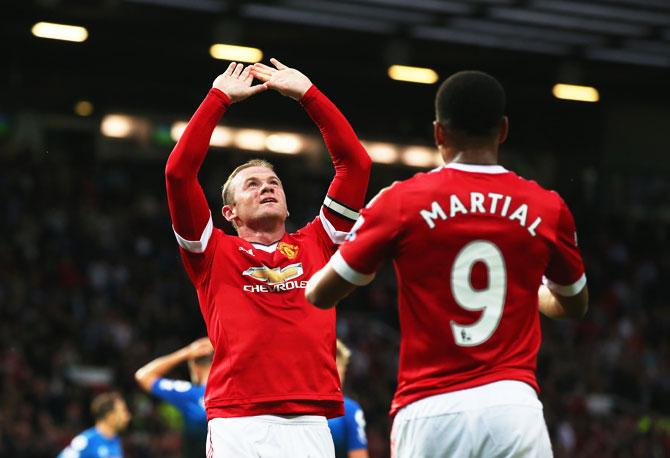 Wayne Rooney and Marcus Rashford scored to lift Manchester United to a comfortable 3-1 win over Bournemouth on Tuesday that secured fifth place in the Premier League table.
May 17, 2016
Europa League: A red revolution on cards under Klopp's watchful gaze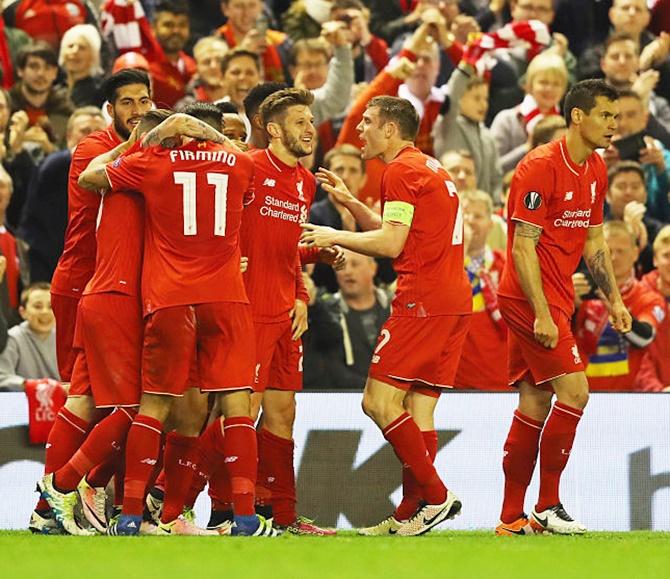 Juergen Klopp, who has breathed new life into Liverpool in his seven months in charge, would seal his place in the hearts of the club's supporters if he pulls off victory over Sevilla in Wednesday's Europa League final.
PHOTOS: The party's on in Leicester City...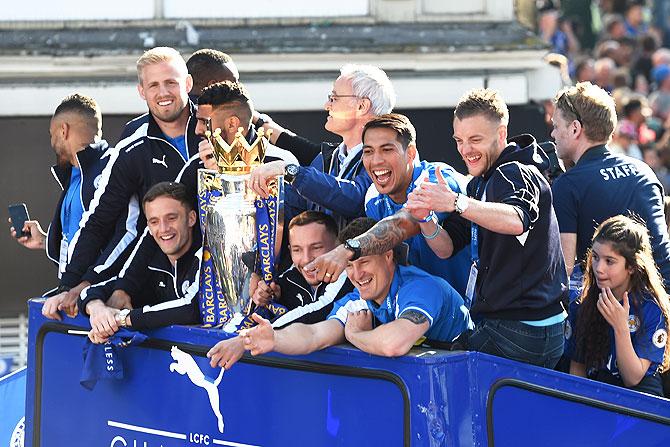 Players, manager, fans celebrate title triumph with victory parade
May 16, 2016
Sports sagas: When real life inspired reel...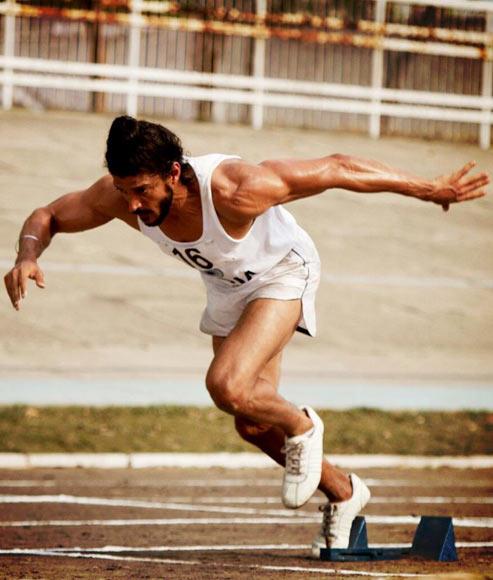 Rediff.com gives you a look at films in the past that have captured the lives of sporting icons, and their rise to glory, on the silver screen.
May 15, 2016
EPL PIX: Newcastle stun Spurs; Giroud hat-trick lifts Arsenal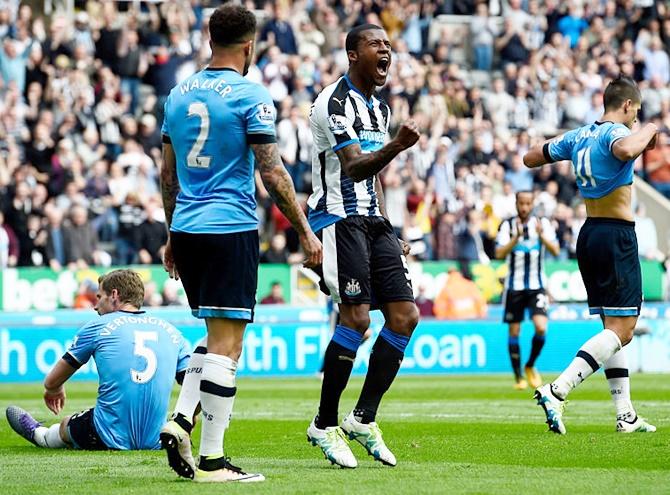 Tottenham Hotspur fluffed their last-day lines with a 5-1 defeat at relegated, 10-man Newcastle United that left them third in the Premier League behind bitter north London rivals Arsenal.
May 14, 2016
Vijender records sixth straight KO win in pro boxing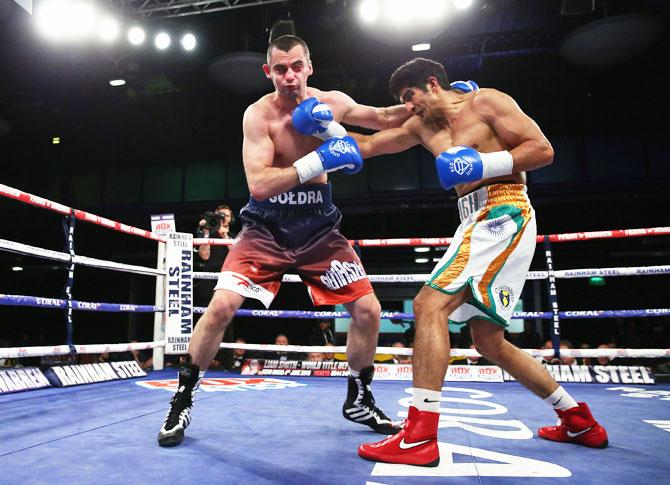 Indian boxing star Vijender Singh's rampaging winning streak remained intact as he carved out a sixth successive knockout victory by battering Poland's Andrzej Soldra on Friday.
FIFA gets first female secretary general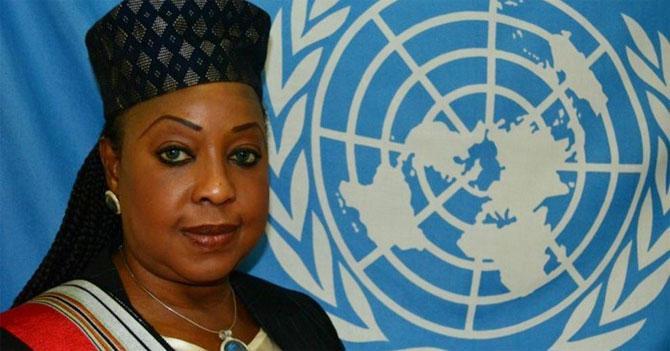 FIFA named an African woman with no experience in football administration as its second most powerful official on Friday, part of changes made by the sport's ruling body to move on from a major corruption scandal.
Can Real Madrid pip Barca to La Liga crown in season finale?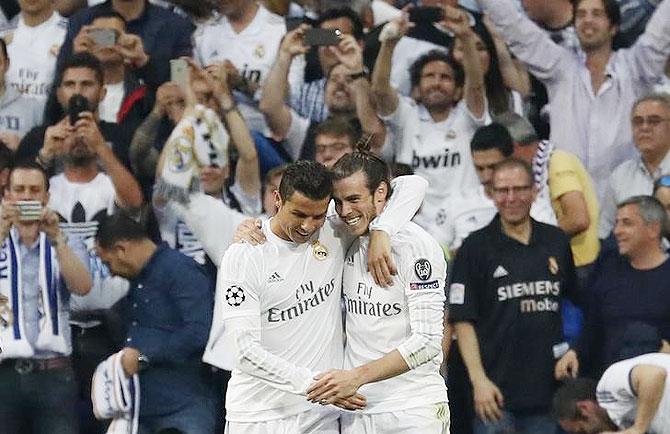 Real Madrid can pip Barcelona to the La Liga title on Saturday even though their destiny is out of their hands, coach Zinedine Zidane said on the eve of the season finale.
May 13, 2016
Factors that made a difference to Arsenal's EPL title chase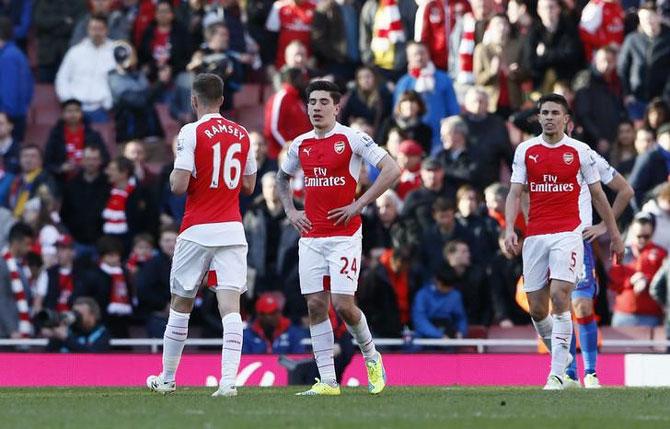 Overall fatigue and long-term injuries to key players combined to end Arsenal's pursuit for the Premier League title this season, goalkeeper Petr Cech has said.
Italian Open: Djokovic to face-off with Nadal for 49th time!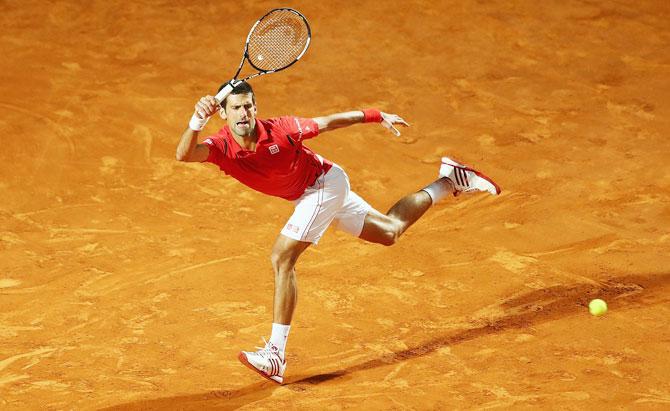 The Serbian fought back from a first set bagel to storm into the quarters
May 12, 2016
EPL PIX: Benteke salvages point for Liverpool; Norwich go down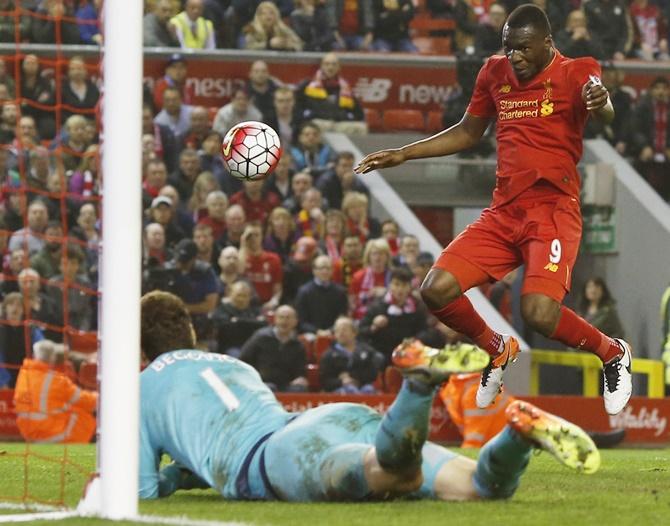 Christian Benteke headed home from close range as Liverpool grabbed a stoppage-time leveller to snatch a point against Chelsea in a 1-1 draw on Wednesday after Eden Hazard's dazzling opener for the visitors.
May 11, 2016
Italian Open: Serena commences clay-court season with thumping win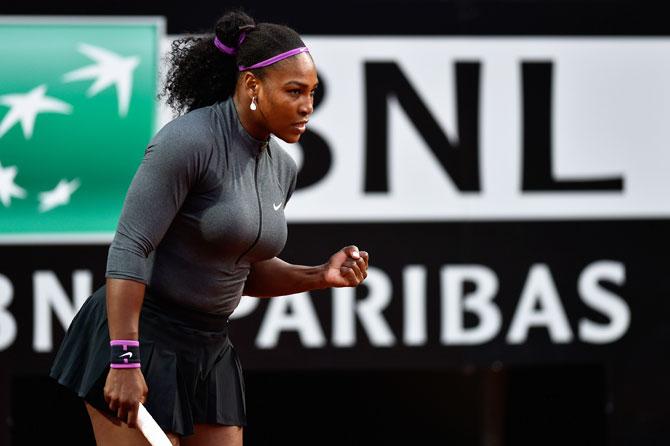 World number one Serena Williams has started her clay-court season in dominant style, beating Anna-Lena Friedsam in straight sets in the second round of the Italian Open in Rome on Tuesday.
PHOTOS: Putin shows off ace stick skills in all-star ice hockey game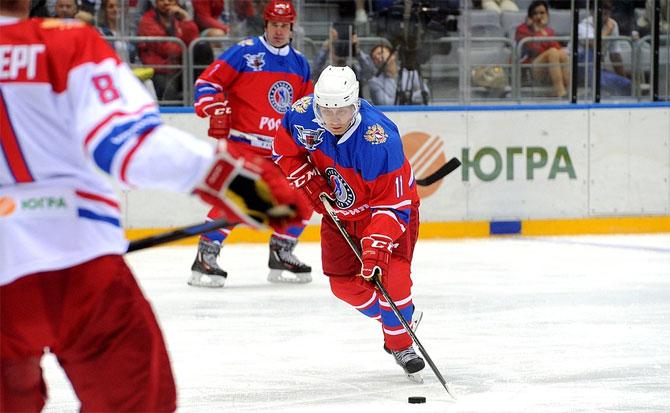 Russian President Vladimir Putin showed off his stick skills with a goal and two assists in an amateur ice hockey game at a 2014 Sochi Winter Olympics venue on Tuesday.
Now, Tennis Australia chief slams Tomic, Kyrgios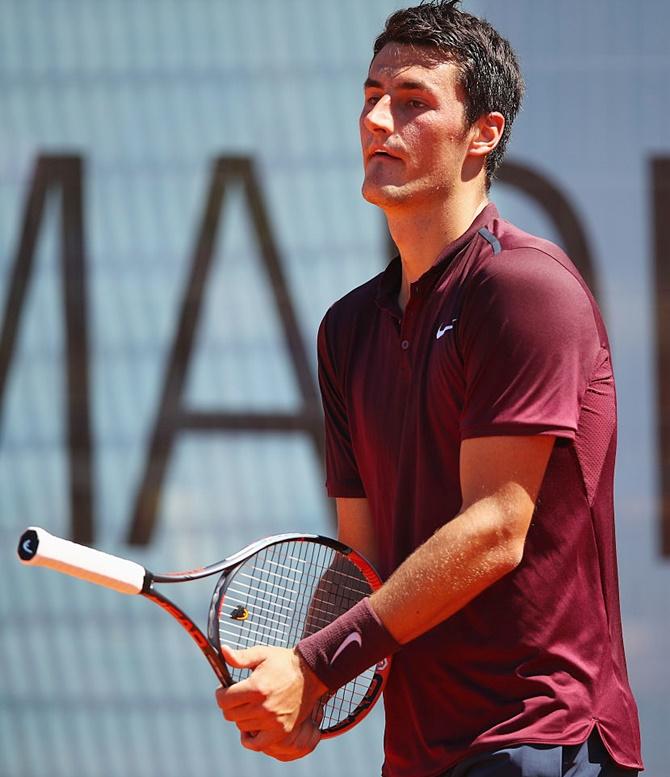 Tennis Australia chief Steve Healy has labelled Bernard Tomic disrespectful and said Nick Kyrgios was picking unnecessary fights with Olympic officials as the debate over who should represent the country at the Rio Games continued on Wednesday.
PIX: Loss at West Ham leaves United's Champions League hopes in shreds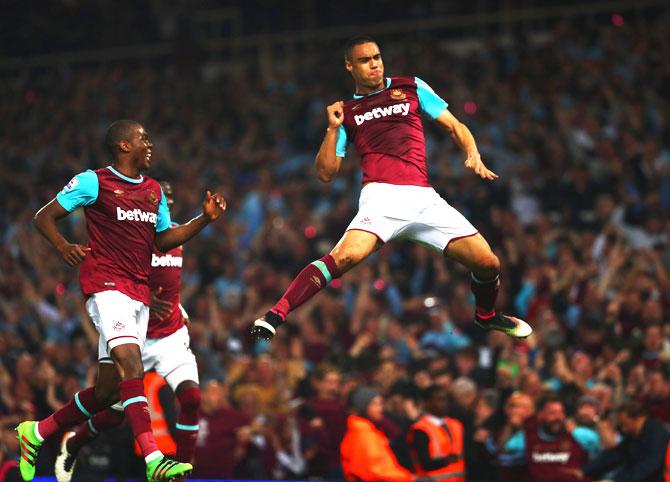 West Ham bade farewell to the Boleyn Ground after 112 years with a pulsating 3-2 victory over Manchester United to leave the visitors' top-four hopes in tatters on Tuesday.
May 10, 2016
Grappler Sushil demands trial with Narsingh as both eye Rio berth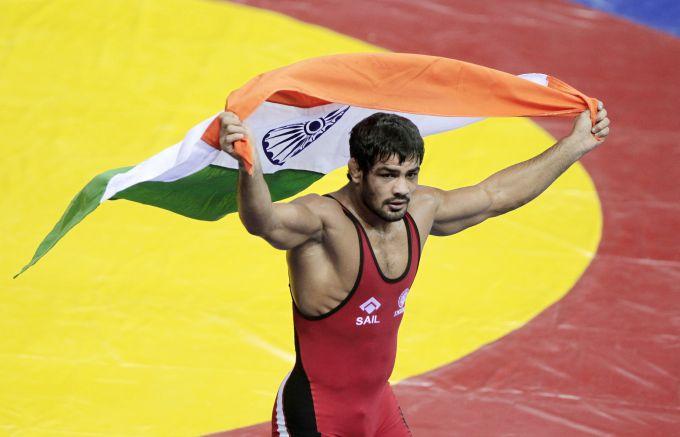 'I am only saying that whoever between me and Narsingh is better, should represent the country at the Olympics'
Soccer transfers: Bayern Munich swoop for Sanches and Hummels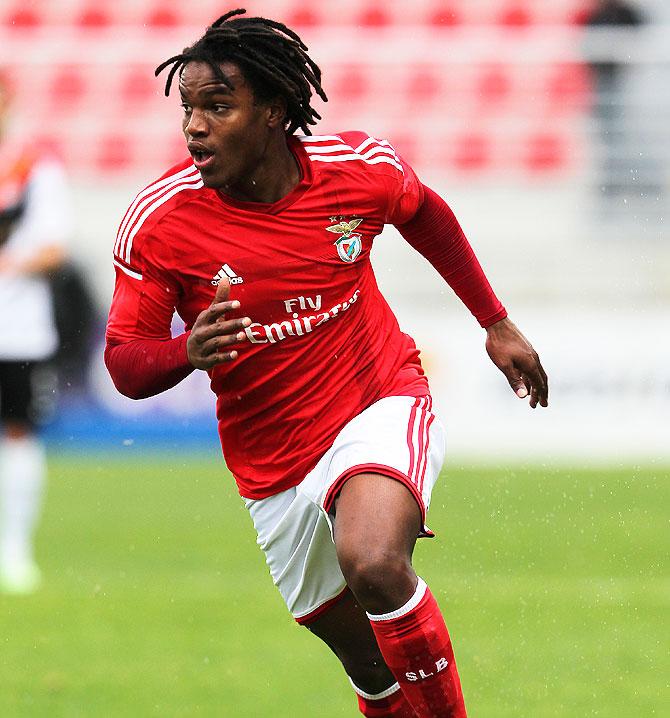 Bayern Munich have signed 18-year-old Portuguese midfielder Renato Sanches from Benfica and Borussia Dortmund defender Mats Hummels, the Bundesliga club said on Tuesday.
'Wasn't trying to expose Russia, I was trying to expose corrupt sports officials'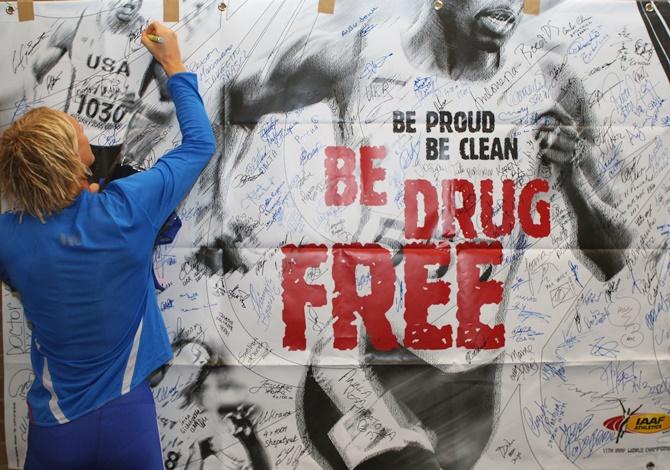 Whistleblower nearly aborted efforts to expose Russian doping
There's good news and bad as Barca aim for La Liga crown in final round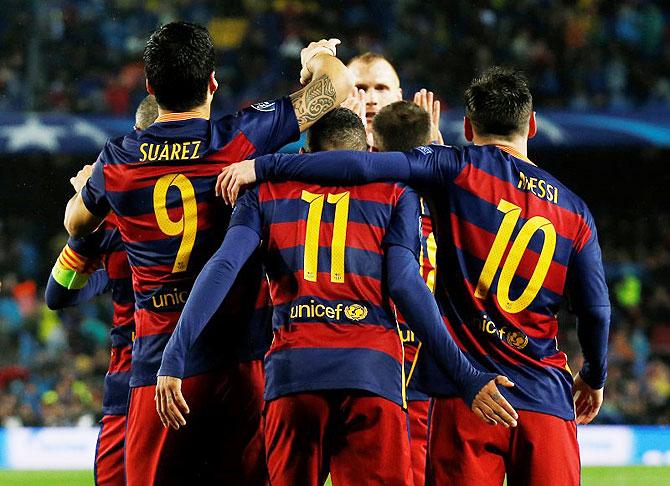 Barcelona manager Luis Enrique believes his team deserves to win "the best league in Europe" as they aim to clinch La Liga in a potentially thrilling climax to the Spanish season on Saturday.
May 09, 2016
Can Spain's trusted, old war-horses manage an encore at Euro 2016?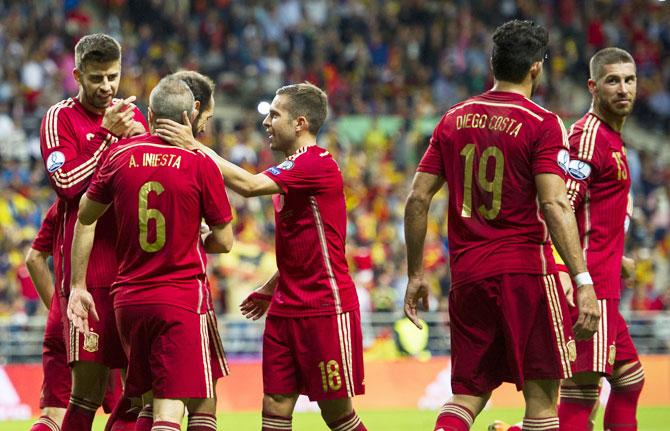 The shadow of their disappointing 2014 World Cup campaign still hangs over Spain as they prepare to defend their European Championship crown in France next month, according to coach Vicente del Bosque.
May 08, 2016
La Liga PIX: Barca thrash Espanyol, one win away from title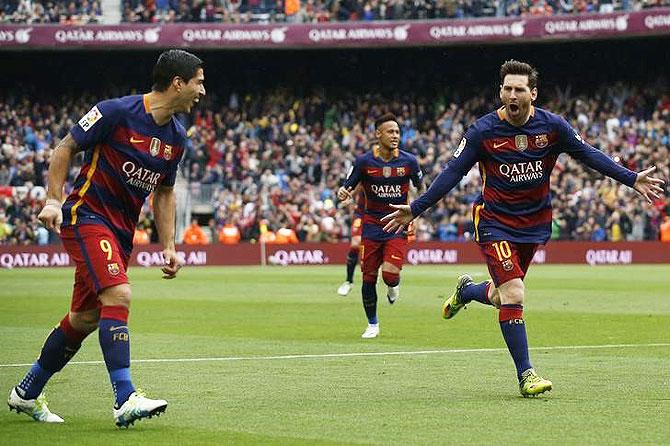 Barcelona closed in on the La Liga title by thrashing local rivals Espanyol 5-0 on Sunday as Atletico Madrid dropped out of the race after losing 2-1 at Levante and Real Madrid beat Valencia 3-2.
EPL PHOTOS: City CL hopes hit by home draw with Arsenal; Reds win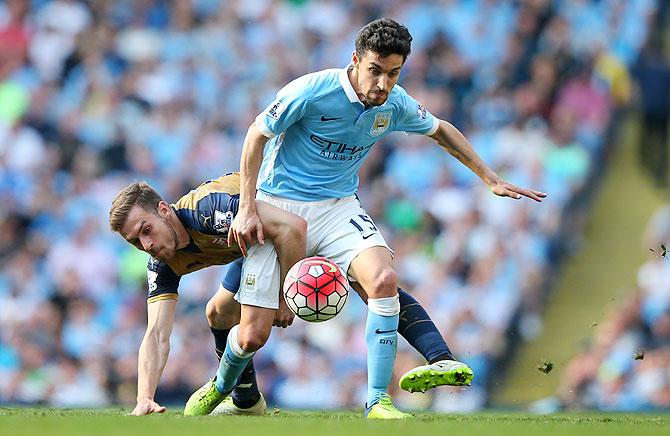 Photos from the English Premier League matches played on Sunday
Madrid Masters: Djokovic to meet Murray in blockbuster final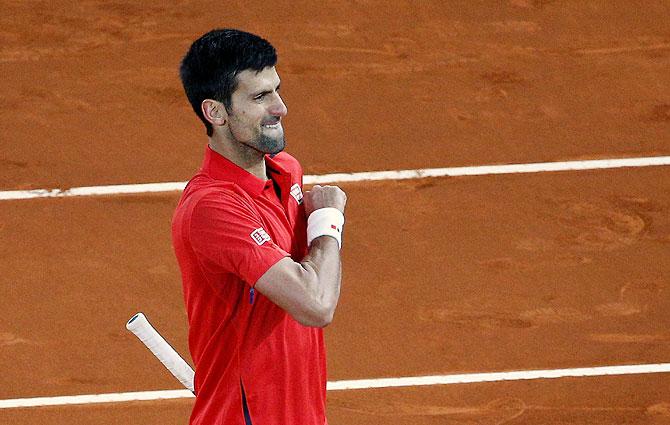 World No 1 Novak Djokovic will meet second-ranked Andy Murray in a blockbuster final at the Madrid Open after beating Kei Nishikori 6-3, 7-6 (4) on Saturday.
WBC middleweight boxing: Khan knocked out by Alvarez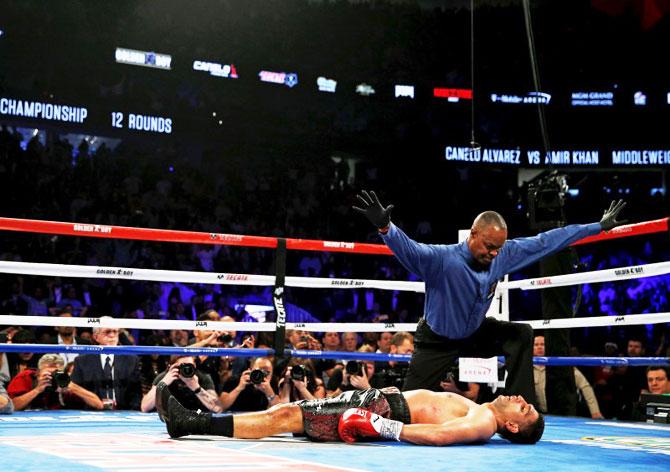 Saul 'Canelo' Alvarez landed a devastating right hook to knock out Amir Khan in the sixth round and claim the WBC middleweight title clash in Las Vegas on Saturday.
May 05, 2016
Syrian whose plight went viral finds refuge in Spanish soccer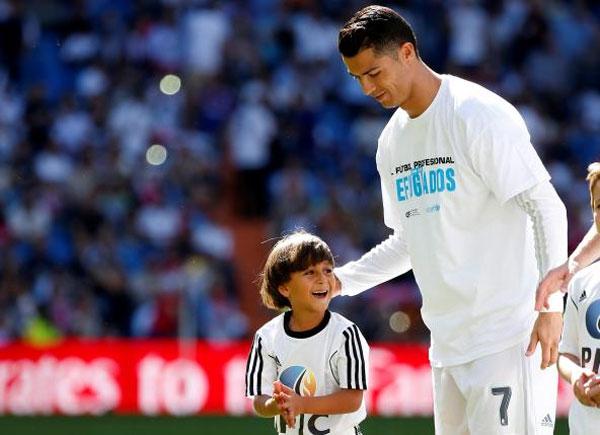 Mementos from the soccer world that brought Syrian refugee Osama Abdul Mohsen to Spain are strewn around the flat he shares with two of his sons, including a ball signed by Real Madrid's star players and a banner for the local team, Getafe.
German cyclist looks to race with 3D-printed prosthesis in Rio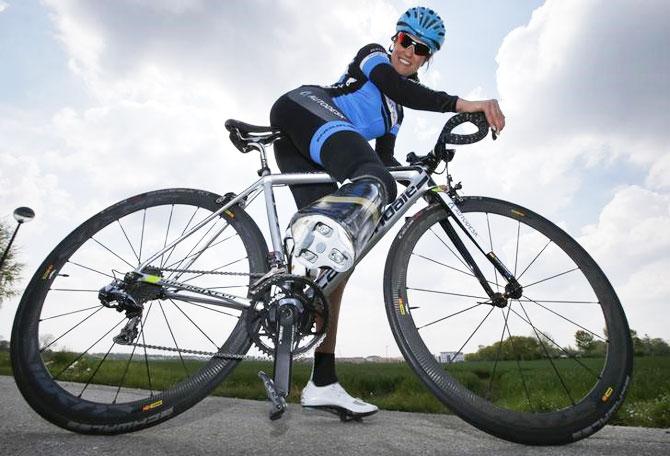 German paralympic cyclist Denise Schindler hopes to race with a 3D-printed leg prosthesis in Rio de Janeiro in September.
Champions League PIX: How Real tamed Manchester City to reach final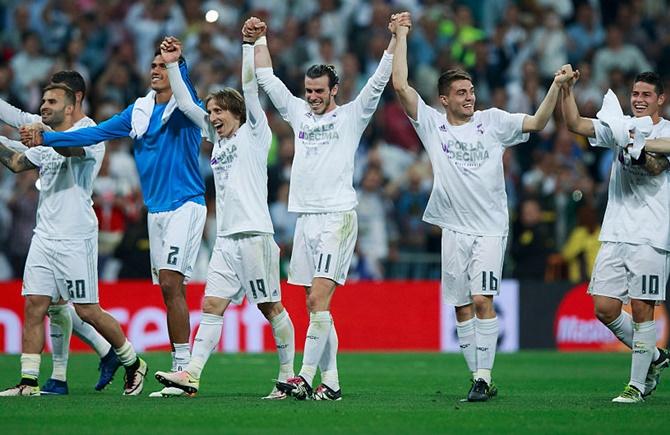 Real Madrid reached their 14th European Cup final and crushed Manchester City's hopes of a maiden title after Gareth Bale's deflected effort secured a 1-0 victory in the second leg of their Champions League last four clash on Wednesday.
May 04, 2016
Champions League PIX: How Atletico dumped Bayern to reach final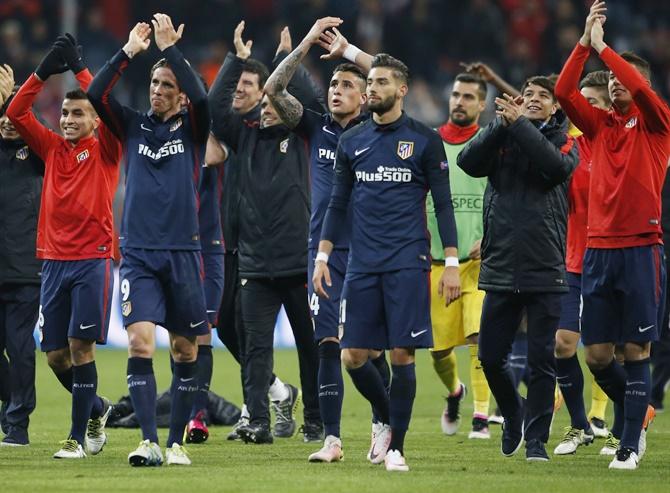 Atletico Madrid reached the Champions League final on away goals on Tuesday after a 2-1 defeat at Bayern Munich, in which both sides missed a penalty, with the exhilarating tie finishing 2-2 on aggregate.
May 03, 2016
EPL PIX: Tottenham lose their heads and title chances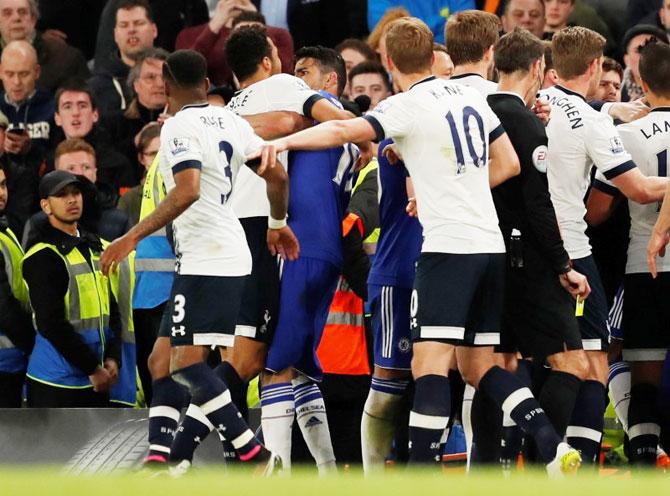 Tottenham Hotspur lost their cool and their Premier League title hopes as they let slip a two-goal lead at Chelsea to draw a stormy London derby 2-2 on Monday.
Leicester's success mantra: Ranieri and a forgotten football philosophy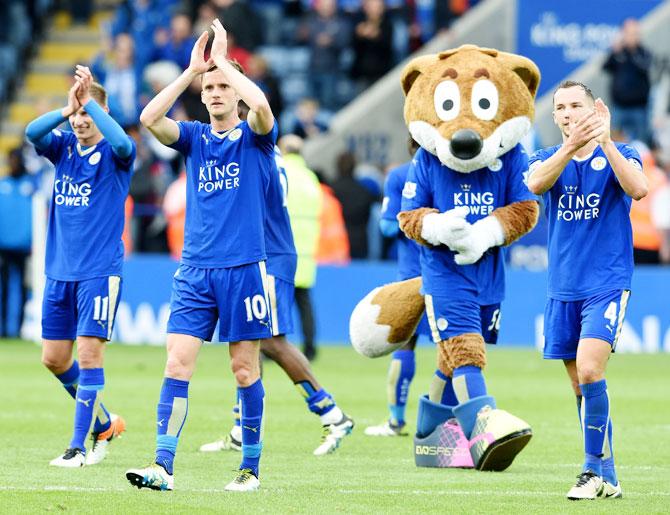 The statistics of a stunning campaign tell an astonishing tale of how Leicester have turned the clock back by shunning possession and glorying in the long ball to a pacey striker, while spurning rotation in favour of a settled, almost self-selecting side
EPL PHOTOS: Euphoric Leicester fans throng streets in celebration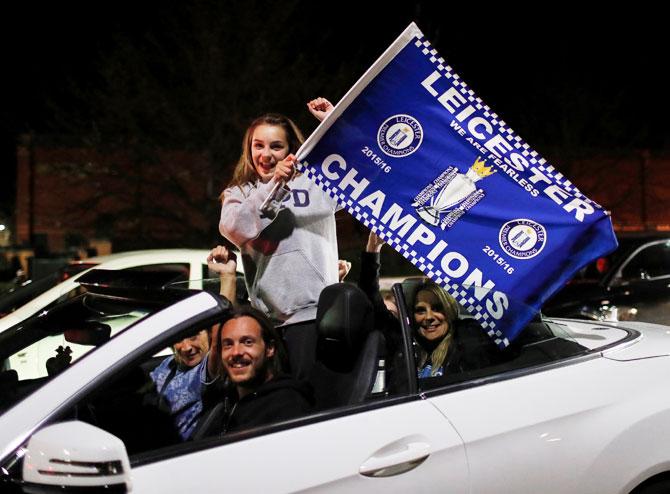 Rediff.com gives you a glimpse of the jubilant Leicester fans...
Is Leicester's 5,000-1 upset the greatest sporting shock?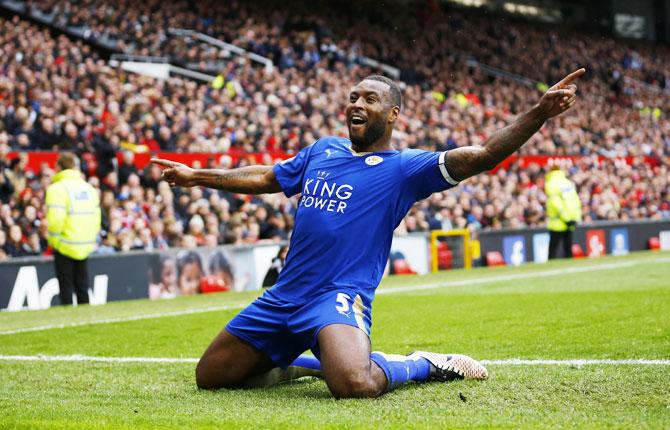 At the start of the English football season last August, bookmakers in Britain were offering odds of 5,000-1 against LeicesterCity winning the Premier League.
Leicester's victory a triumph for football and 'hope to smaller teams'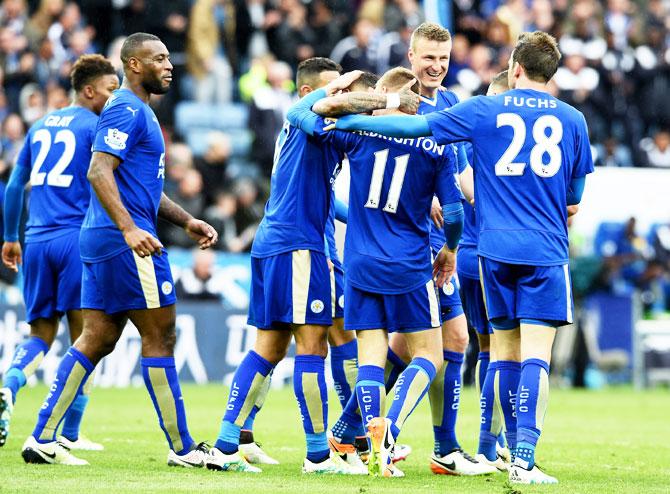 FIFA president Gianni Infantino echoed the most common and apt description of the "beautiful story" as a "fairytale" after the 5,000-1 outsiders, who performed a miraculous escape from relegation last season, were crowned champions on Monday.
Champions Leicester City are 'having a party' with EPL title in the bag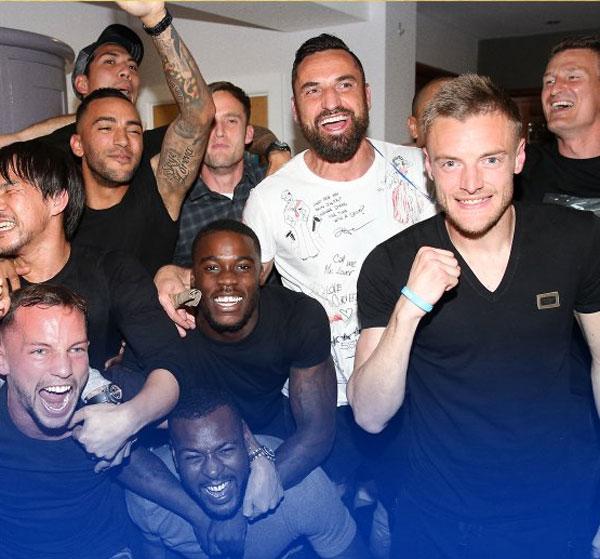 Here are a few pictures from the Foxes' celebrations that the club posted on their Twitter page with the hashtag -- Having a party!
May 02, 2016
10 BEST Sports Photos of the Week!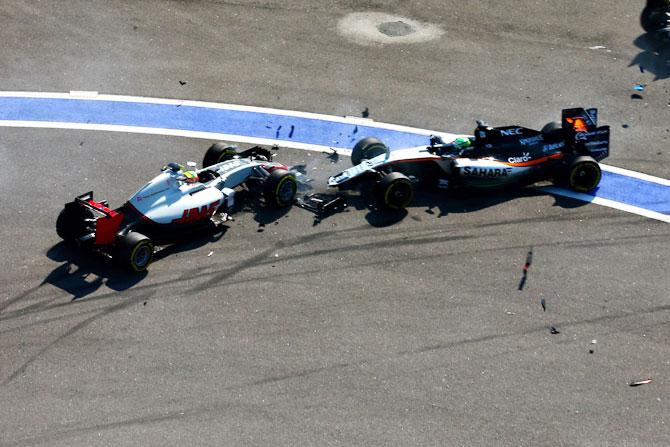 Rediff.com brings you these and other exciting news from the week gone by in this photo feature...
Pellegrini unhappy with Sunday kick-off with Madrid looming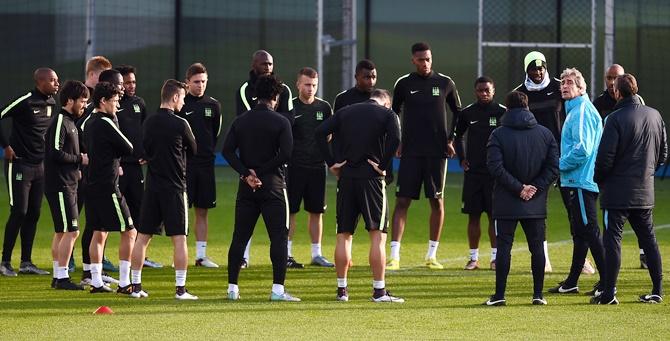 ManchesterCity manager Manuel Pellegrini said he had no option but to name a much-changed team for Sunday's 4-2 Premier League defeat by Southampton with the club's Champions League semi-final clash with Real Madrid scheduled on Wednesday.
April 29, 2016
Europa League semis: Villarreal jolt Liverpool late, Sevilla held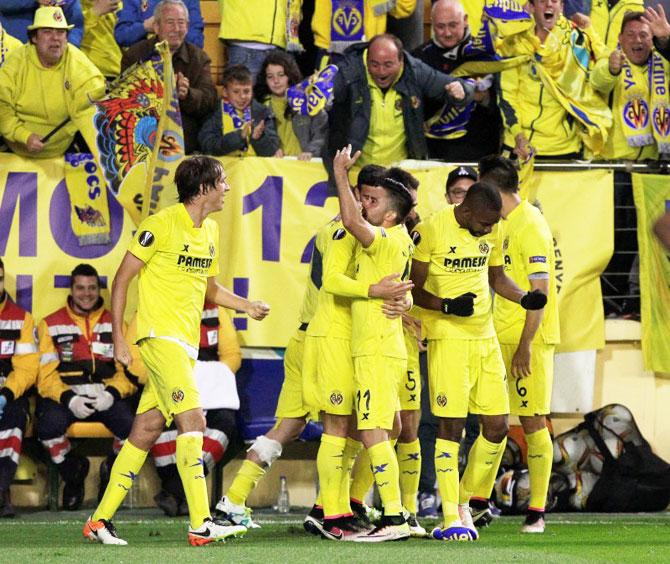 Villarreal's Adrian Lopez produced a stinging sucker punch in stoppage time to leave Liverpool reeling and move the Spaniards closer to a maiden European final after their Europa League last four first leg clash finished 1-0 on Thursday.
April 28, 2016
Host nation Brazil receives Olympic flame for Rio Games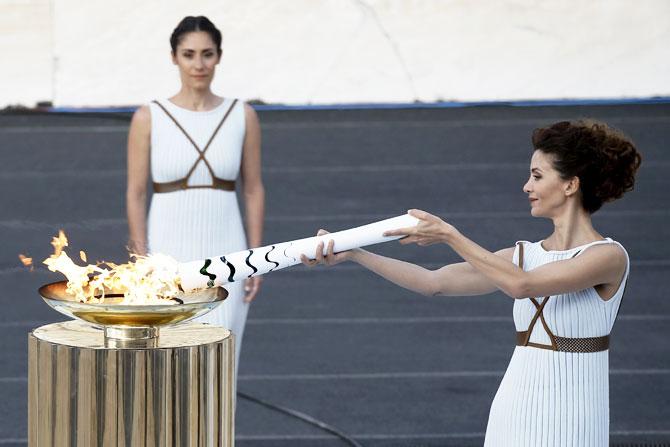 The flame will be flown in special safety lanterns to Switzerland for a ceremony at the United Nations in Geneva on Thursday
Champions League PIX: It's all Saul as Atletico go one up over Bayern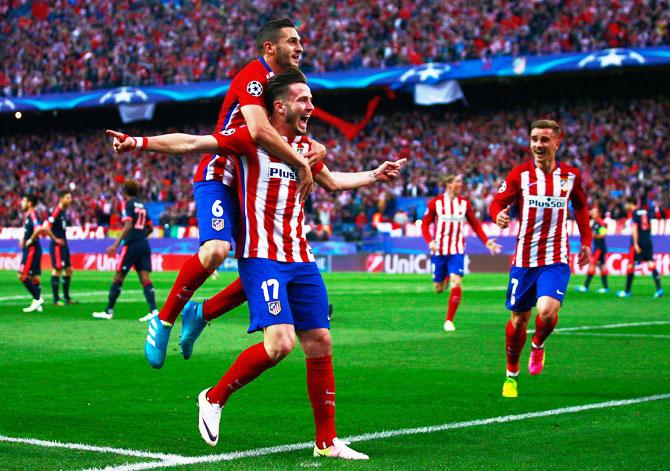 A breathtaking individual goal from Saul Niguez put Atletico Madrid in the box seat in their Champions League semi-final against Bayern Munich with a 1-0 victory in a tense first leg on Wednesday.
April 27, 2016
100 days to Rio: Venues ready, but many challenges remain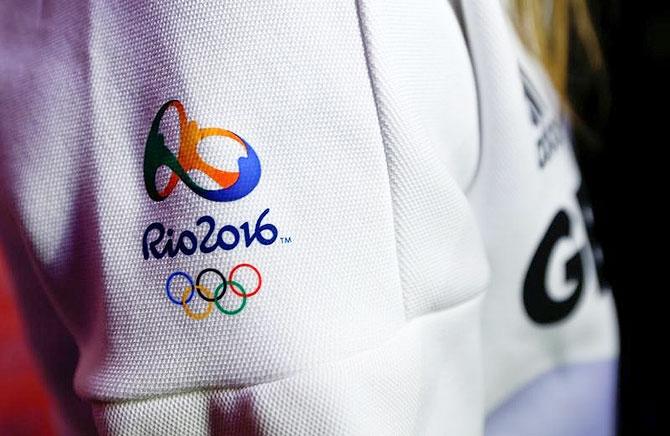 Brazil has long been known as a country that can throw a great party as long as the guests do not mind a location that still has the builders in it.
Publish all my drug test results, Nadal tells ITF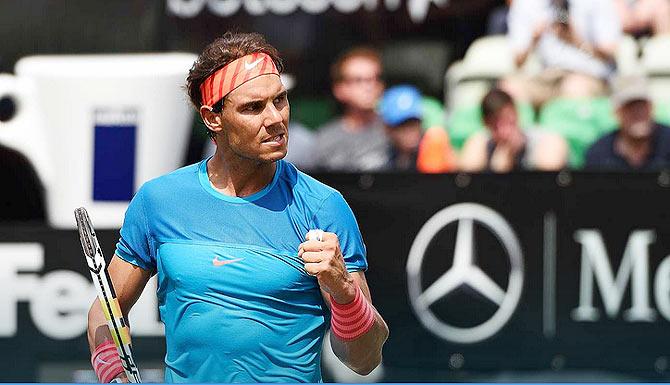 Rafael Nadal has asked the International Tennis Federation to publish the results of his drug tests following an accusation of doping by a former French cabinet minister.
Champions League PIX: Manchester City hold Ronaldo-less Real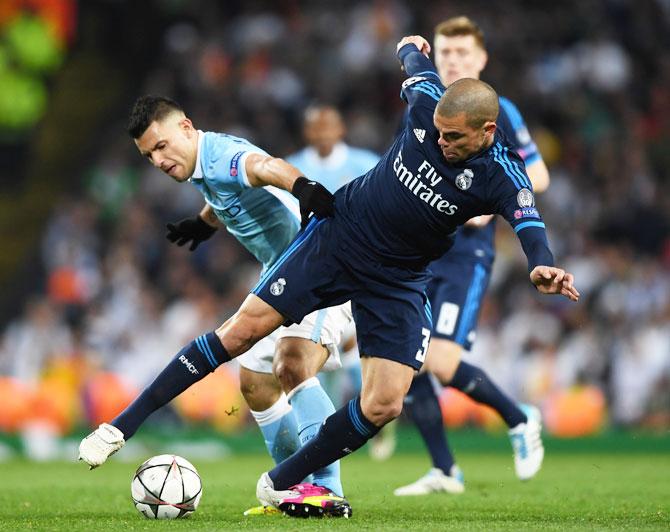 Manchester City survived a late grilling by Real Madrid thanks to goalkeeper Joe Hart to hold on for a 0-0 draw on Tuesday that keeps alive their hopes of reaching the Champions League final for the first time.
April 26, 2016
EPL: Spurs drop points and likely title in West Brom draw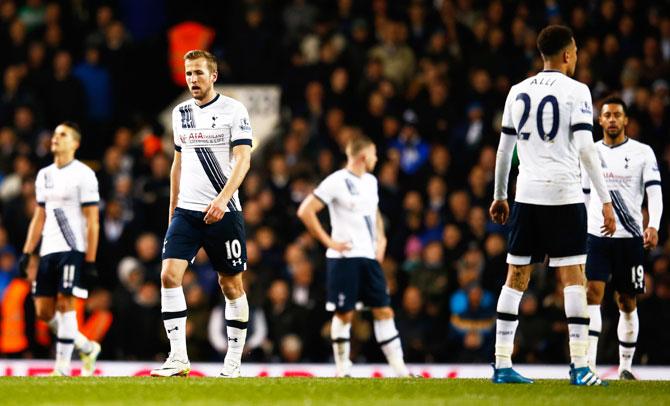 West Brom's Dawson is villain and hero as Spurs' chances at League title fades; Leicester now need just one win from three games to claim EPL crown
April 25, 2016
10 BEST Sports Photos of the Week!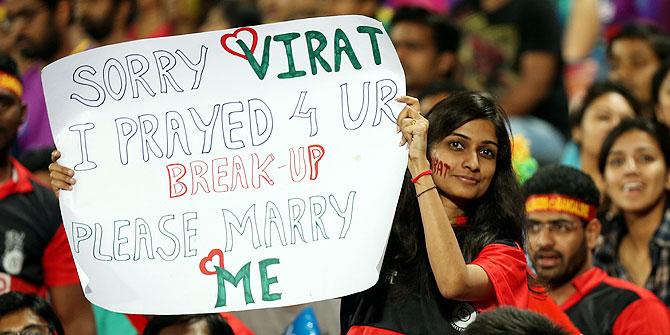 Rediff.com has this and a whole lot more exciting action from the week gone by, encapsulated in this photo feature.
Resurgent Nadal reclaims Barcelona crown, equals Vilas's record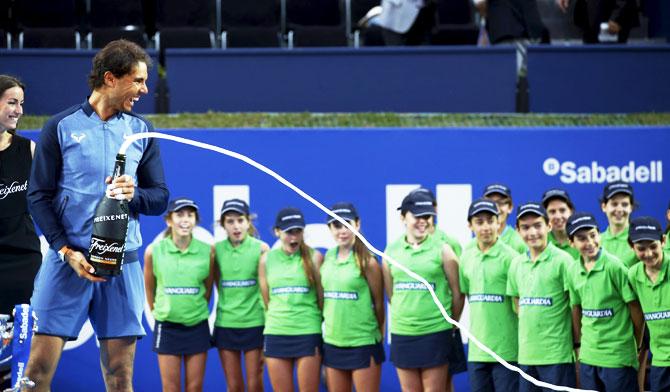 Rafael Nadal maintained his ominous claycourt form by seizing back the Barcelona Open title from Kei Nishikori with a 6-4, 7-5 victory on Sunday, matching Guillermo Vilas's record title haul on the surface.
April 24, 2016
Indian chess has solid depth: Anand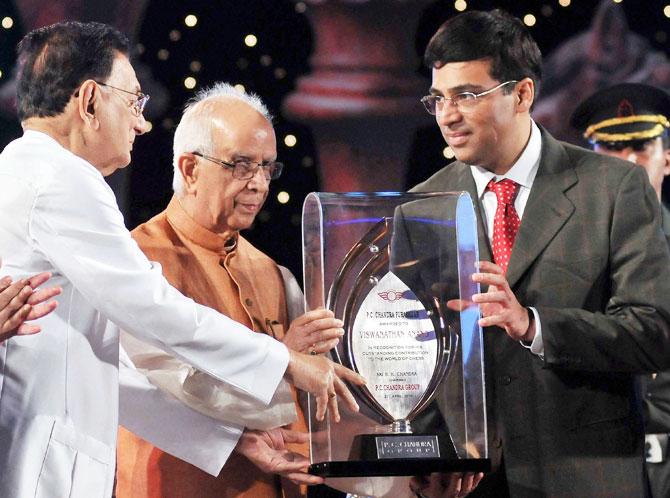 At a time when the sporting fraternity is divided over Salman Khan's appointment as brand ambassador for the Indian contingent for the upcoming Rio Olympics, five-time world chess champion Viswanathan Anand has said that the focus should be to address the needs of the Rio-bound athletes.
EPL PHOTOS: Leicester on verge of title; Sunderland draw with Arsenal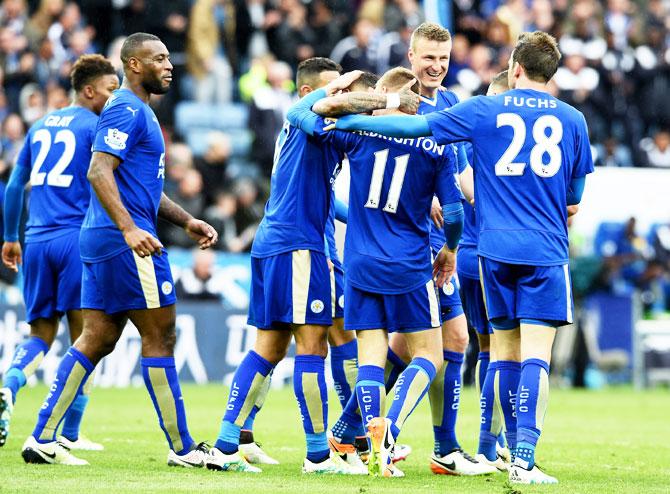 Leicester City were left in touching distance of a fairytale first Premier League title on Sunday after Leonardo Ulloa's double helped them outclass Swansea City at a delirious King Power Stadium.
EPL PHOTOS: Man City go third, Newcastle hold Reds to rally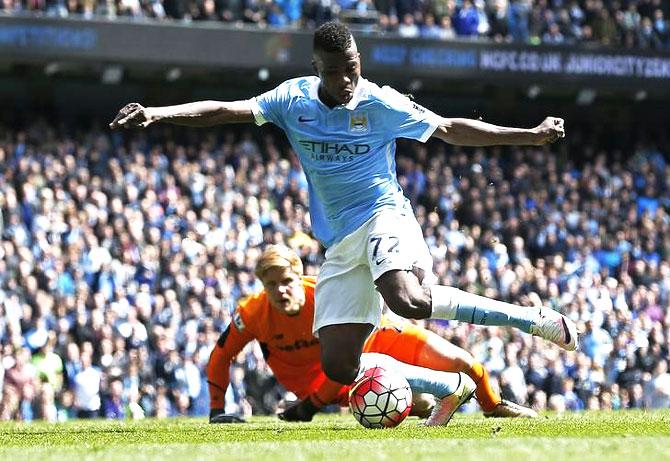 ManchesterCity moved up to third in the Premier League on Saturday while Newcastle United boosted their hopes of survival by coming back from two goals down at Liverpool to draw 2-2 and secure a precious point.
La Liga: Suarez makes history as Barca thrash Gijon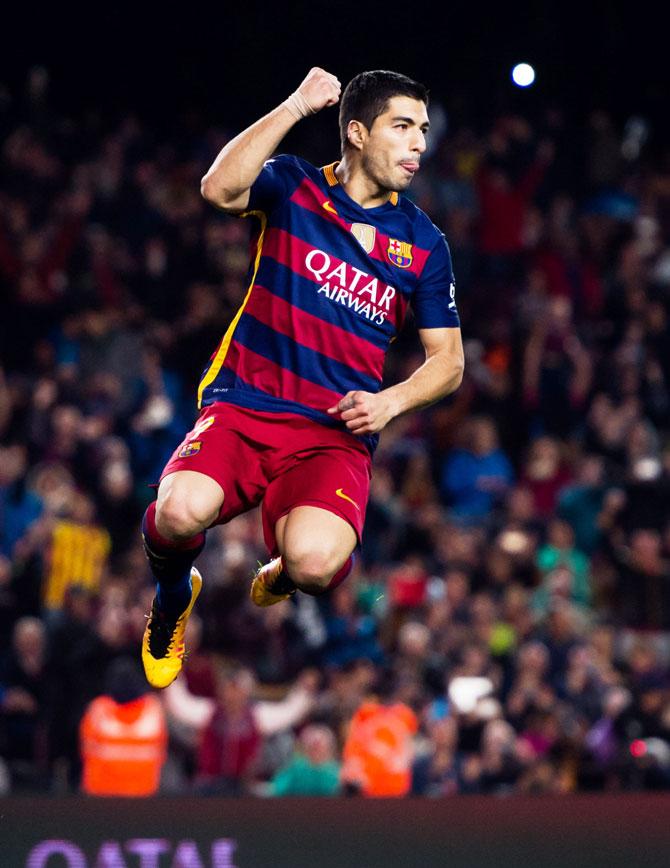 Suarez moved ahead of Ronaldo as the league's top scorer on 34 goals after netting four times, twice with penalties, in the space of 25 second-half minutes
April 22, 2016
Under-pressure Wenger says Arsenal want to finish as high as possible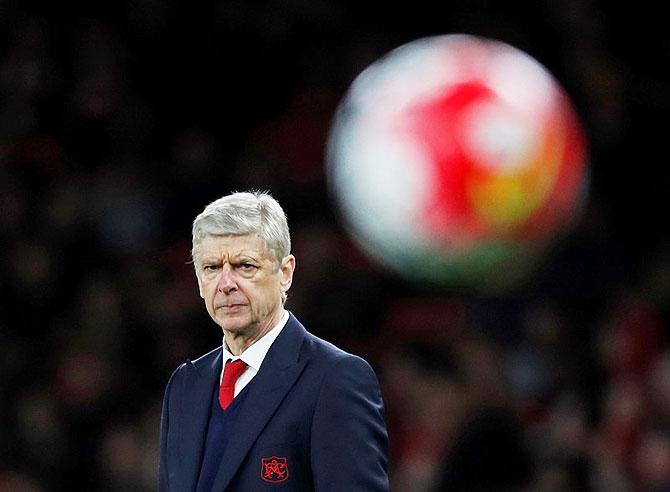 Arsenal manager Arsene Wenger has been feeling the pressure in the race for a Champions League place but a 2-0 win over West Bromwich Albion on Thursday got his team back up to third spot.
PHOTOS: Arsenal record 500th EPL win and leapfrog City to go third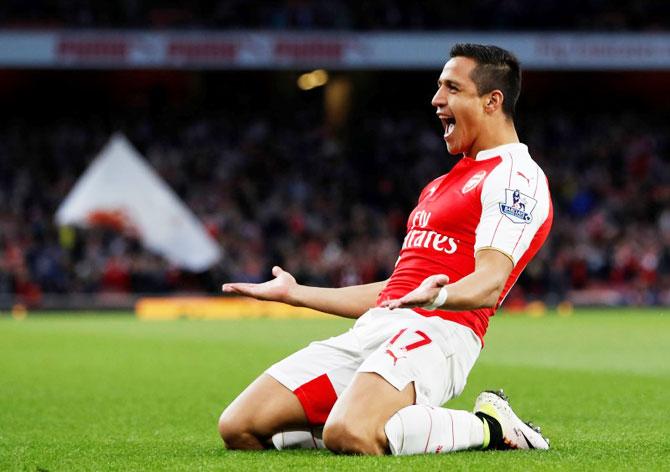 Arsenal's resurgent Alexis Sanchez scored twice to help ease their top-four jitters in a 2-0 victory over West Bromwich Albion in the Premier League at a less than full Emirates Stadium on Thursday.
How Arsenal missed their big title chance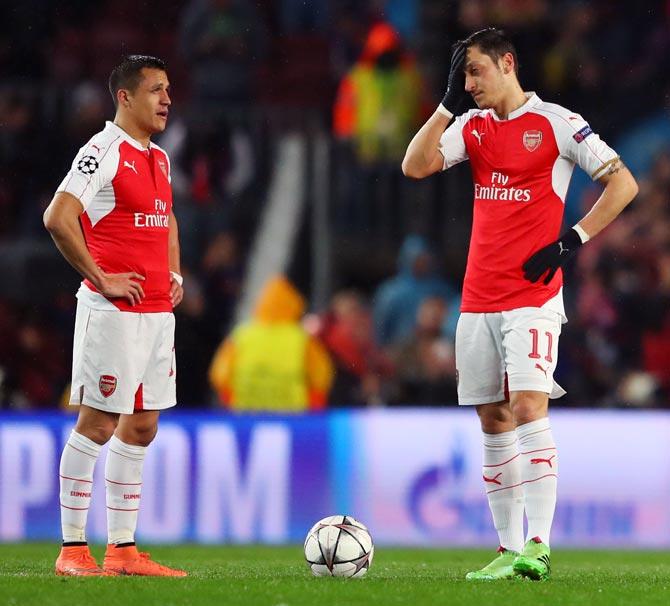 The Londoners are fourth in the Premier League table, 13 points behind leaders Leicester City with five games left.
April 21, 2016
Managerial futures at stake as FA Cup semis kick-off this weekend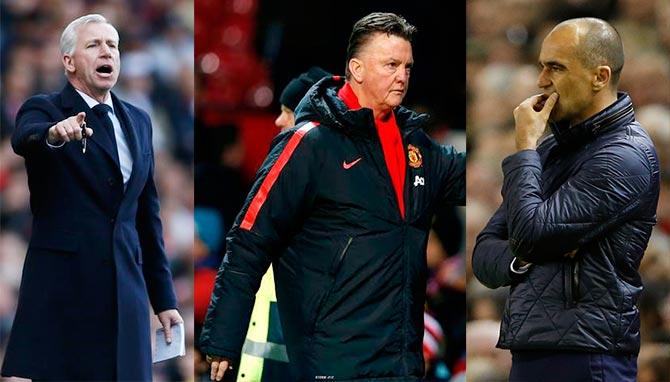 Three of the four managers leading their teams out at Wembley for this weekend's FA Cup semi-finals will do so knowing defeat could have serious ramifications for their short-term future.
Countdown to Rio Games begins with Olympia torch lighting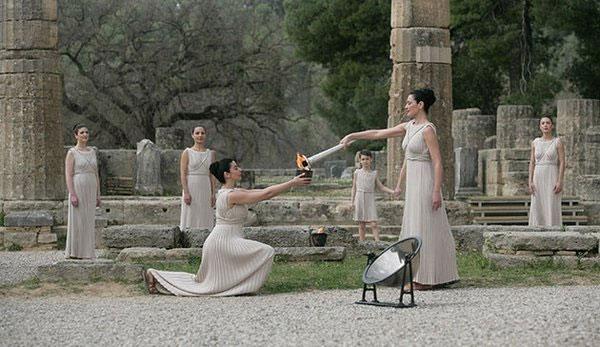 The Rio de Janeiro 2016 Olympics countdown got under way on Thursday with the lighting of the torch at the site of the ancient Olympics, with organisers hoping it will shift attention away from Brazil's political and financial turmoil.
April 19, 2016
Djokovic eyes Olympic gold even as he defends defamed tennis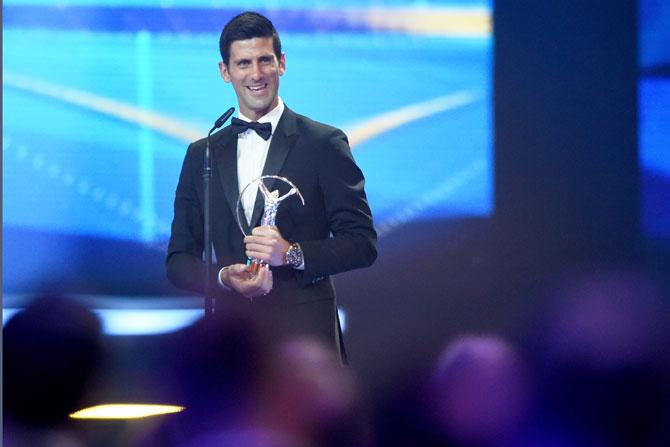 Tennis is going through 'tricky' times amid the swirling 'rumours' of doping and betting, concedes Novak Djokovic but the World No.1 says he would not question the sport's integrity till the time concrete evidence is presented to prove wrongdoing.
EPL PHOTOS: Tottenham's win at Stoke adds spice to title race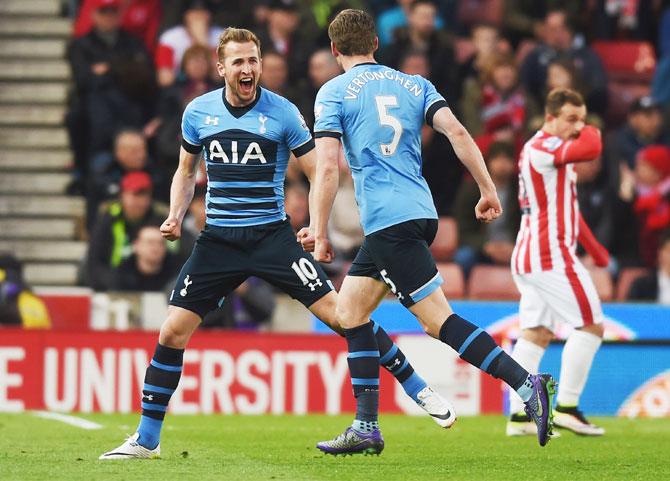 Tottenham Hotspur took a large bite out of Leicester City's Premier League lead with two goals apiece from Harry Kane and Dele Alli earning them a 4-0 victory at Stoke City on Monday.
Leicester's success a divine right after good karma?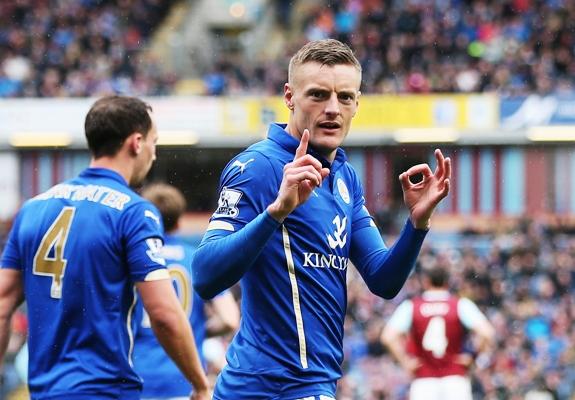 Good karma is what will land Leicester their first English Premier League title.
Dominant Djokovic, Serena claim top honours at Laureus Sports Awards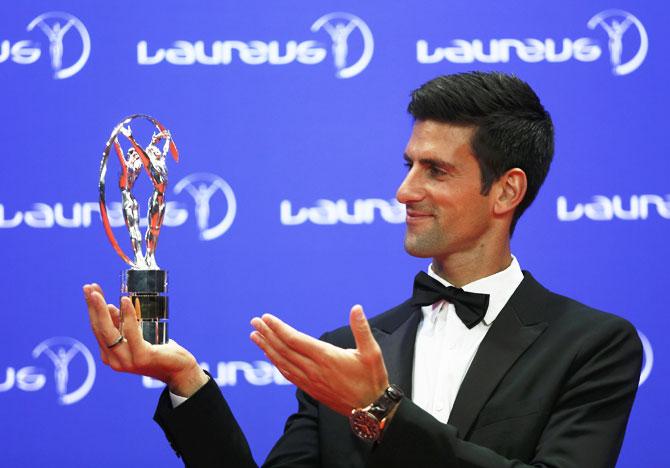 World number ones Novak Djokovic and Serena Williams completed a clean sweep for tennis as they won the Laureus Sportsman and Sportswoman of the Year awards on Monday.
Tiring 'MSN' trident shouldering blame for Barcelona slump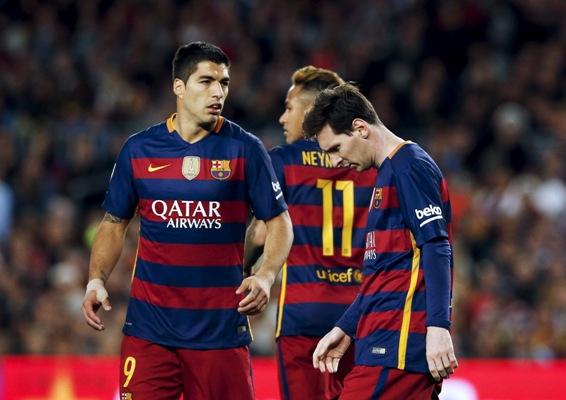 Lionel Messi, Luis Suarez and Neymar were being touted as the best strike force in soccer history a month ago as they spearheaded Barcelona's record unbeaten run but the tiring trio are now taking the blame as the club's season unravels.
April 18, 2016
Best Sports Photos of the Week!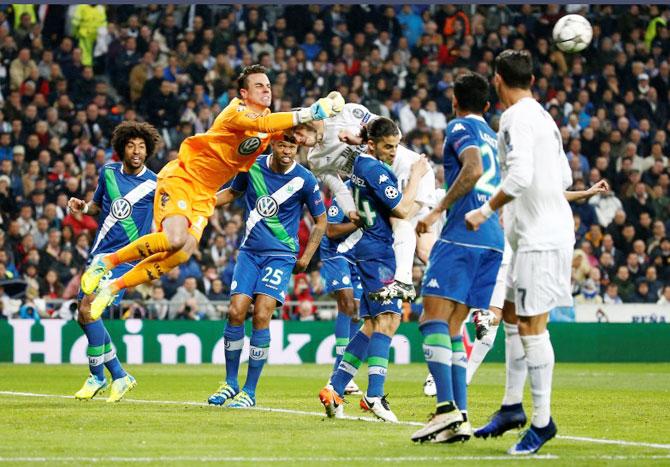 Rediff.com brings these and other big news from the sporting world, encapsulated in this photo feature...
After finding his mojo, Nadal now has Vilas's record in sight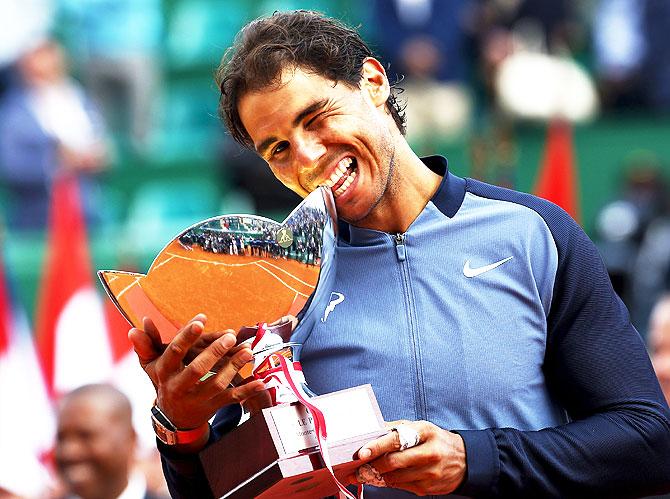 'I had a tough season in the last few years, but I've had better preparation this year, even with a tough start to the season'
La Liga PHOTOS: Barca lose to Valencia while Atletico catch up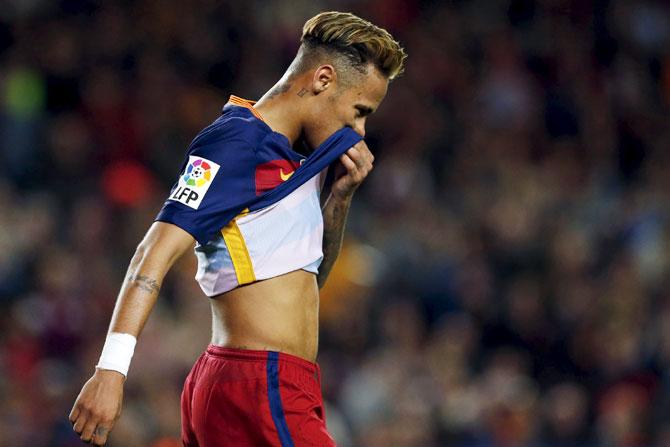 Barcelona's stuttering title bid suffered another setback when they lost 2-1 at home to Valencia on Sunday, while Atletico Madrid moved level on points with the La Liga leaders after a comfortable win over Granda.
April 16, 2016
La Liga PHOTOS: Madrid wallop Getafe to put pressure on Barca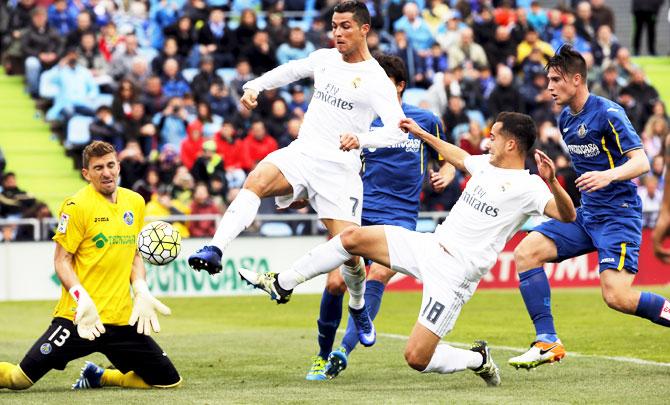 Real Madrid moved to within a point of La Liga leaders Barcelona after Karim Benzema, Isco, Gareth Bale, James Rodriguez and Cristiano Ronaldo all scored in a 5-1 thrashing at struggling Getafe on Saturday.
EPL PHOTOS: Villa relegated as Rashford nets United winner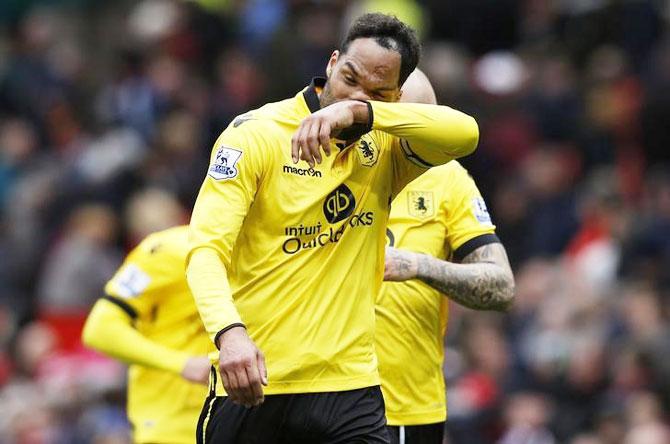 Aston Villa were relegated from the Premier League for the first time since it began in 1992 when they suffered their 24th loss of the season in a 1-0 defeat at Old Trafford on Saturday.
April 14, 2016
Champions League PIX: Atletico stun Barcelona at fortress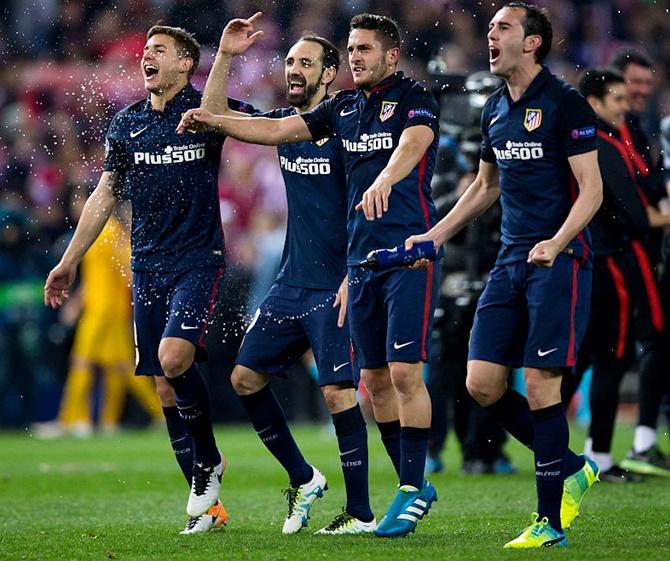 Holders Barcelona crashed out of the Champions League after being stifled by a brilliantly well-organised Atletico Madrid.
April 13, 2016
Of Zidane's tactical brain and Ronaldo's goal-scoring prowess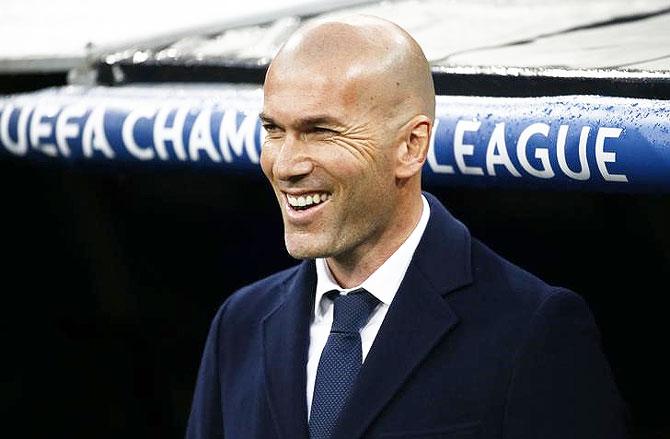 Zinedine Zidane overcame the biggest challenge of his fledgling coaching career as Real Madrid brushed aside VfL Wolfsburg to overturn a first-leg deficit and reach the Champions League semi-finals.
The Champions League and a season of missed chances for Wolfsburg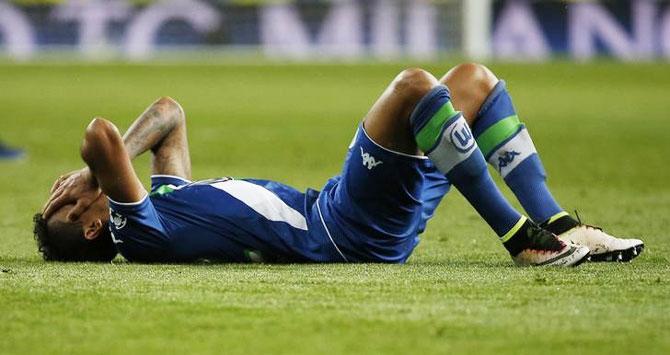 VfL Wolfsburg came close to staging a minor Champions League miracle but their 3-0 loss at Real Madrid in the last eight on Tuesday for a 3-2 aggregate defeat was a reflection of a season of missed opportunities, club officials said.
Champions League: Can Atletico repeat 2014 result against Barca?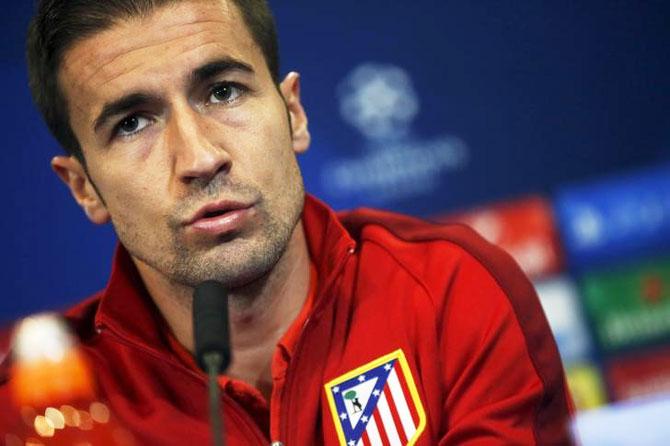 Atletico Madrid captain Gabi said his team would not be lulled into complacency by Barcelona's faltering form when they host the Champions League holders in the second leg of their quarter-final on Wednesday.
Champions League PIX: Ronaldo's treble takes Real to semis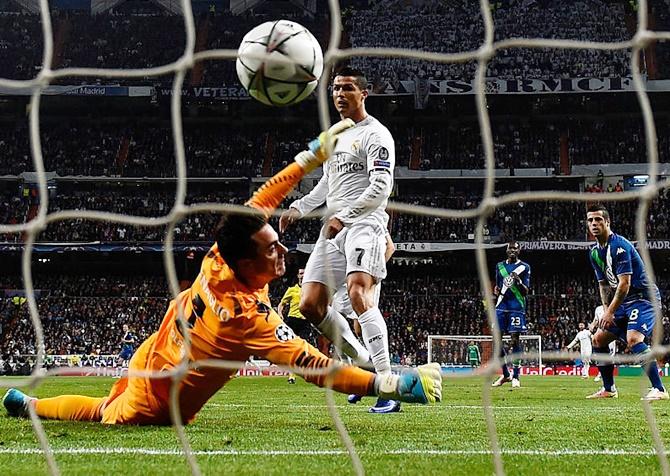 Cristiano Ronaldo's fifth Champions League hat-trick inspired Real Madrid to a 3-0 comeback victory over VfL Wolfsburg on Tuesday that clinched a place in the semi-finals for a sixth successive season.
April 11, 2016
Champions League: Can Real script comeback against Wolfsburg at home?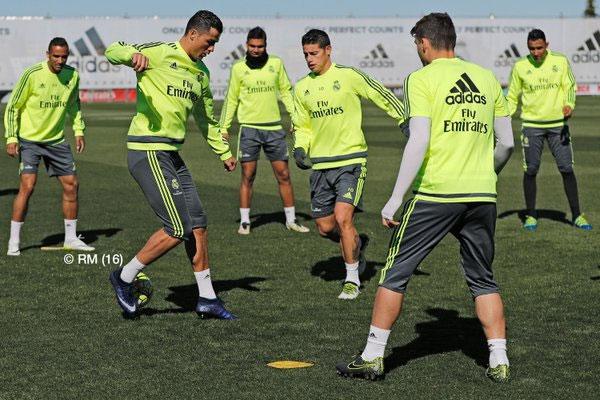 Real Madrid are determined to create an intimidating atmosphere for visitors VfL Wolfsburg as they try to overturn a two-goal deficit in Tuesday's Champions League quarter-final second leg at the Santiago Bernabeu stadium.
Soccer: Barca lose as Ronaldo breaks another record; Leicester cruise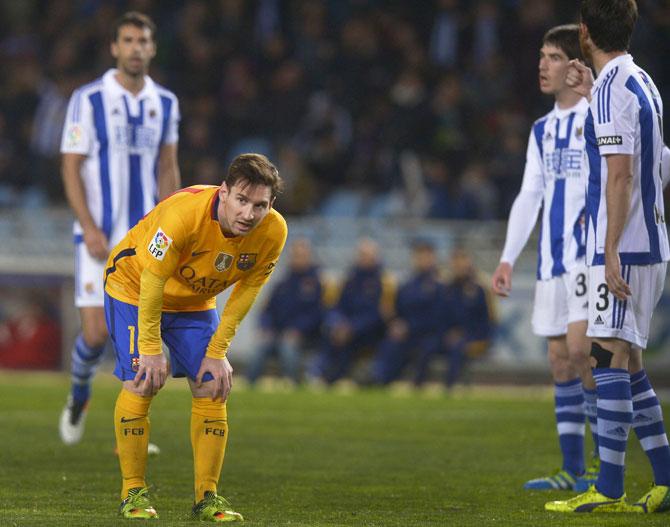 Barcelona's lead at the top of La Liga was cut after a second consecutive defeat and LeicesterCity's improbable march towards the Premier League title showed no sign of slowing as they won a fifth straight match.
Willett wins Augusta Masters after stunning Spieth meltdown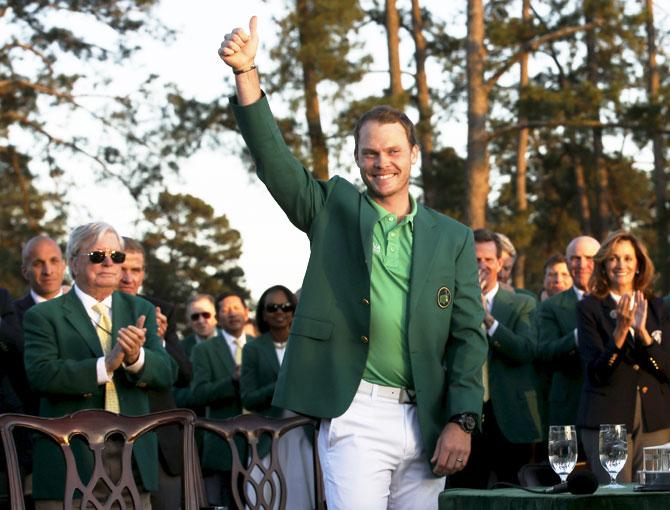 He is only the second Englishman following three-times champion Nick Faldo to win the coveted Green Jacket
April 07, 2016
Champions League PIX: Wolfsburg shock Real; City draw against PSG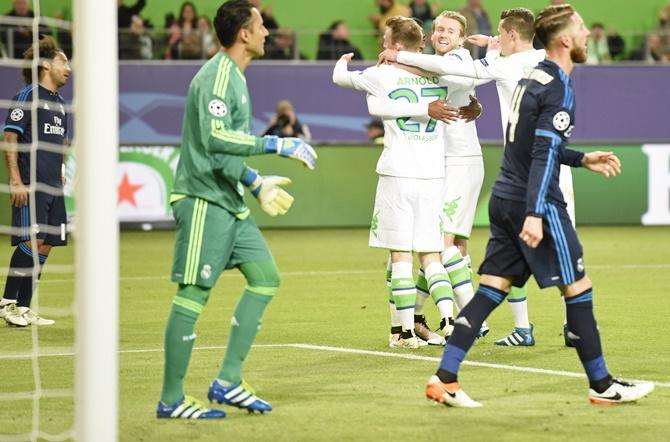 Wolfsburg shock Real Madrid 2-0 to crown big European night.
April 06, 2016
Augusta Masters: Champion Spieth feels pressure only from himself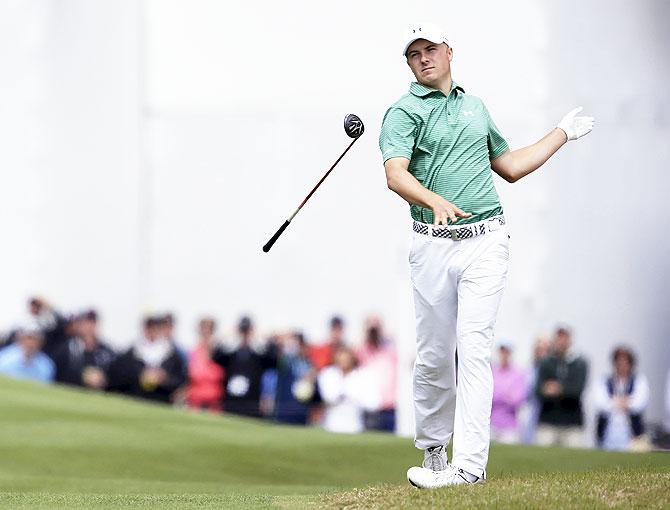 While the expectations of his fans soared sky-high after Jordan Spieth's sensational 2015 campaign, the American feels much greater pressure from himself as he prepares for his Masters title defence this week.
Champions League PIX: Barca beat 10-man Atletico; Bayern edge Benfica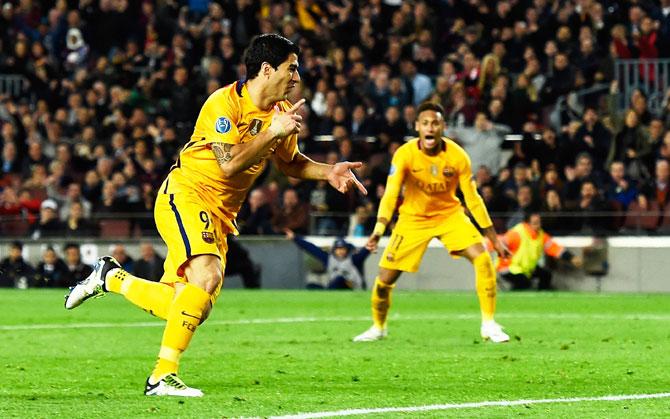 Barcelona's Luis Suarez netted twice for a 2-1 win over 10-man Atletico Madrid in their Champions League quarter-final, first leg on Tuesday after the visitors' Fernando Torres opened the scoring and was later sent off.
April 05, 2016
10 BEST Sports Photos of the Week!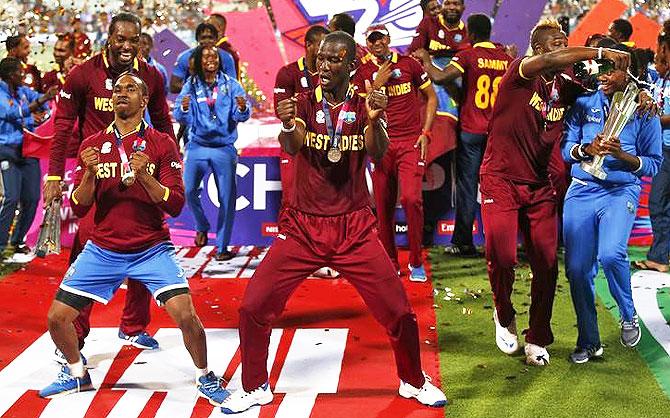 Rediff.com gives you a pictorial rewind of all the excitement that unfolded in the sporting world in the week gone by...
Atletico's talisman Godin back to torment Barca's MSN attack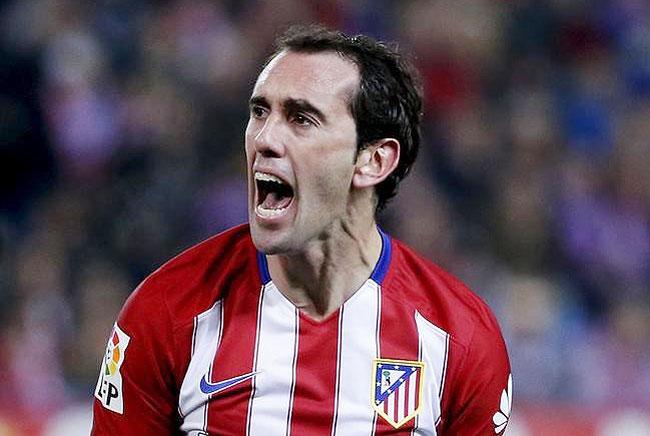 Atletico Madrid will have centre backs Diego Godin and Stefan Savic available again for Tuesday's Champions League quarter-final first leg at Barcelona.
April 04, 2016
Djokovic joins game's greats after claiming Miami title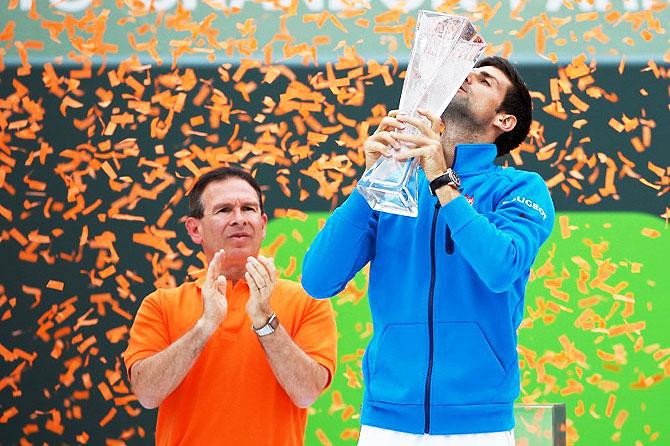 The World No 1 beat Japan's Kei Nishikori for his 63rd career title
How Tactically astute Zidane learnt from Benitez's mistakes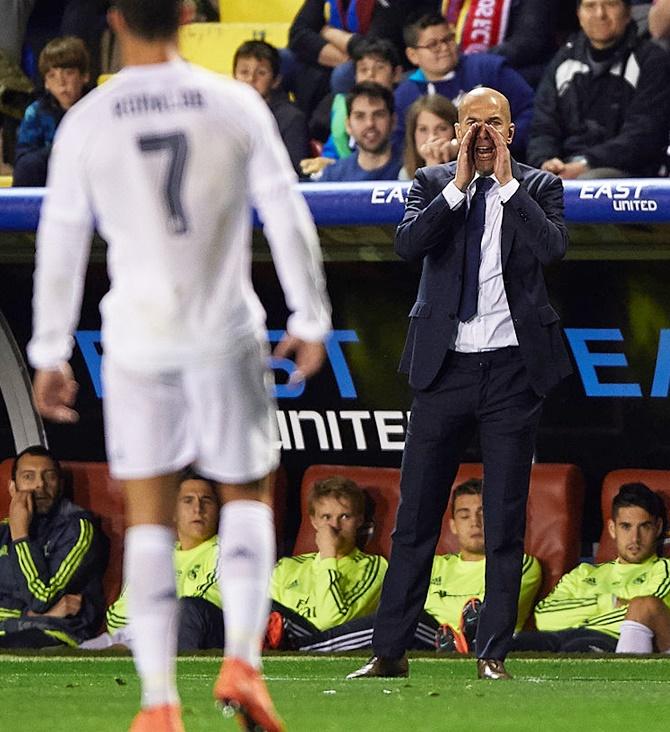 Coach Zinedine Zidane learned the lessons of predecessor Rafael Benitez's disastrous tactics in the last encounter and employed defensive midfielder Casemiro in favour of more attack-minded players, opting instead to sit and wait for Barcelona.
Five players to watch at the 2016 Augusta Masters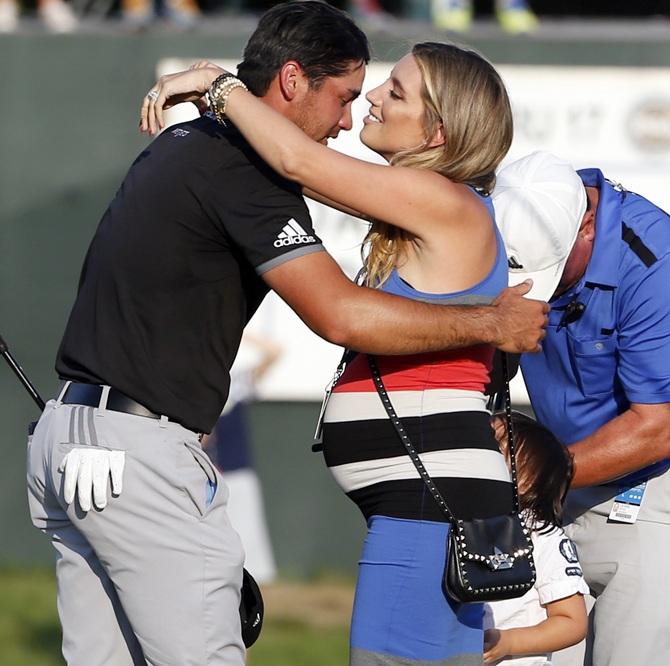 Five players to watch at the Masters, which starts on Thursday at Augusta National.
April 03, 2016
EPL PIX: Spurs draw at Liverpool leaves Pochettino frustrated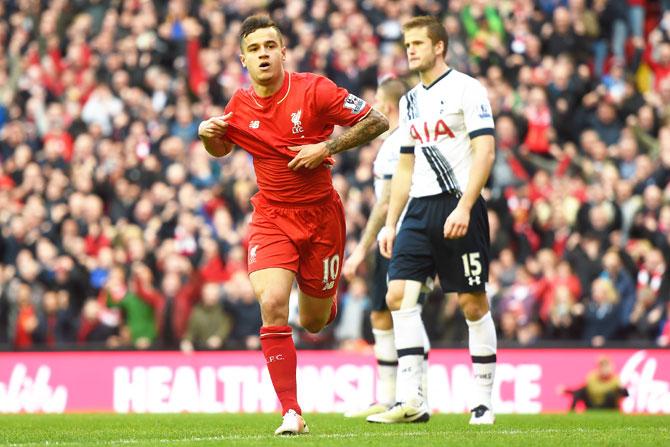 Tottenham Hotspur manager Mauricio Pochettino punched the Anfield turf in frustration at the final whistle after his side drew 1-1 with Liverpool in a Premier League match full of thrilling, attacking action on Saturday.
Clasico PHOTOS: Late Ronaldo goal ends Barca's 39-match win streak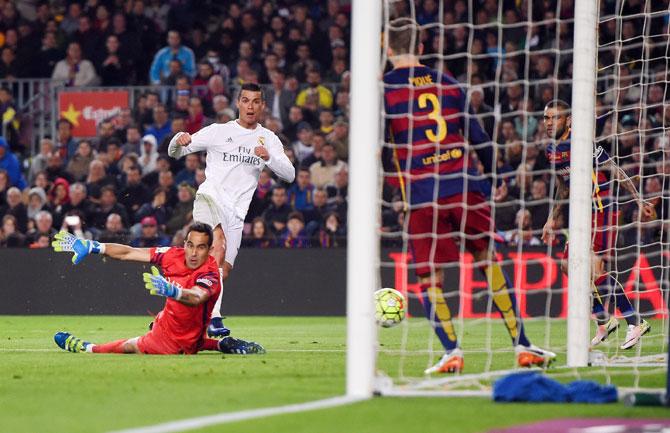 Real Madrid's star striker Cristiano Ronaldo made up for his otherwise quiet night by scoring the winner to beat Barcelona 2-1 win at the CampNou in Barcelona on Saturday.
April 01, 2016
Barca seek 'Clasico' win as fitting tribute to Cruyff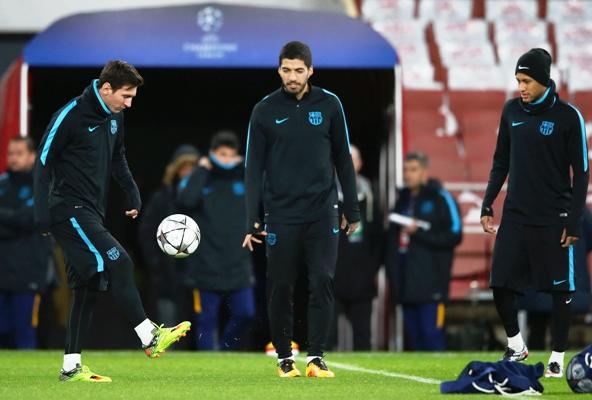 Memories and images of Johan Cruyff will provide an emotional backdrop to Saturday's Nou Camp 'Clasico' against Real Madrid when Barcelona pay tribute to the man who transformed the club from also-rans into one of the game's superpowers.
Miami Open PHOTOS: Azarenka to face Kuznetsova in final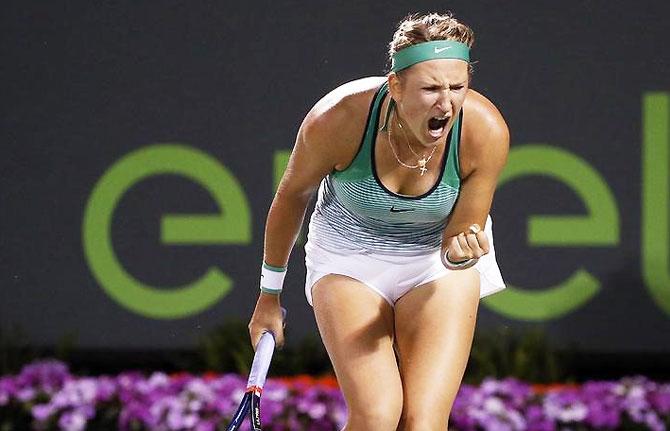 In-form Victoria Azarenka battled past an ailing but determined second seed Angelique Kerber to set up a Miami Open final showdown against Svetlana Kuznetsova with a 6-2, 7-5 victory on Thursday.
March 30, 2016
PHOTOS: Portugal beat Belgium in shadow of Brussels attacks; Eng lose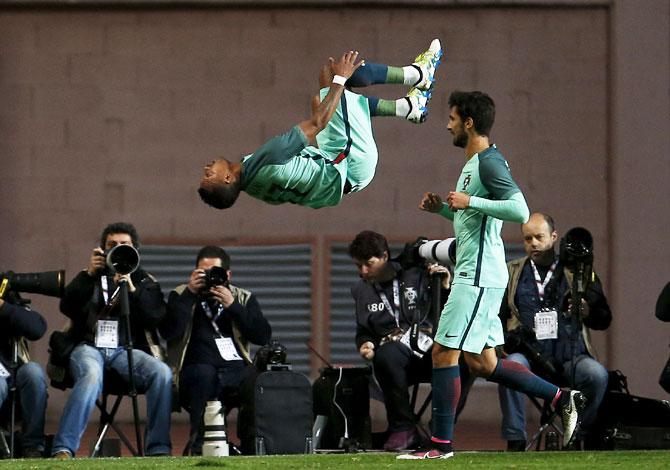 A round-up of all the international friendlies played on Tuesday
Barca coach Luis Enrique hails Cruyff legacy at memorial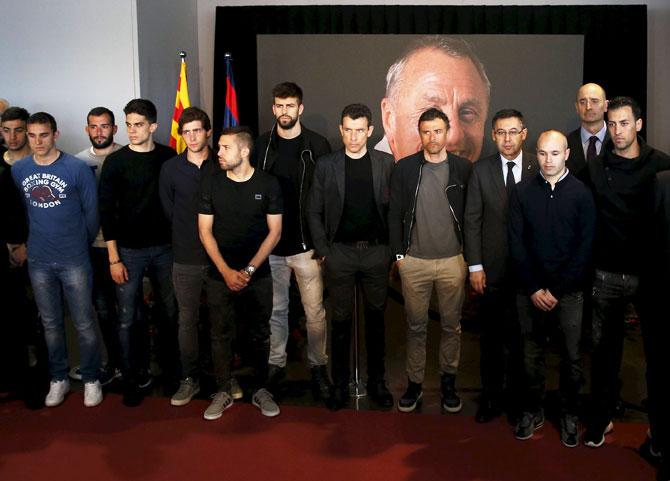 Barcelona coach Luis Enrique led tributes to the late Johan Cruyff in a memorial organised by the club on Tuesday and vowed to "continue copying and improving his style of attacking football".
Miami Open: Djokovic moves into quarters; Halep ousted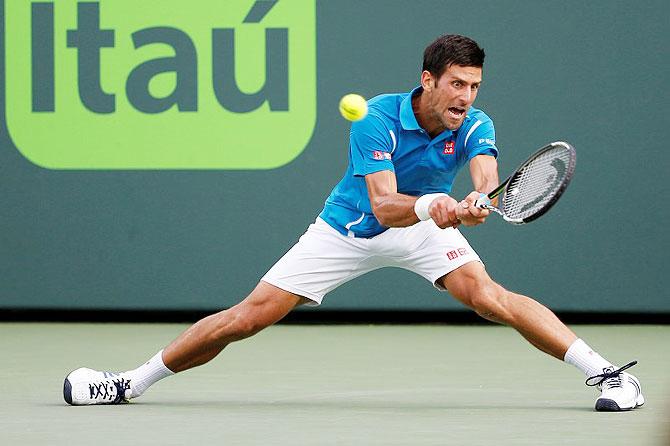 Photos from the matches played at the Miami Open on Tuesday
PHOTOS: Messi scores 50th Argentina goal; Alves rescues Brazil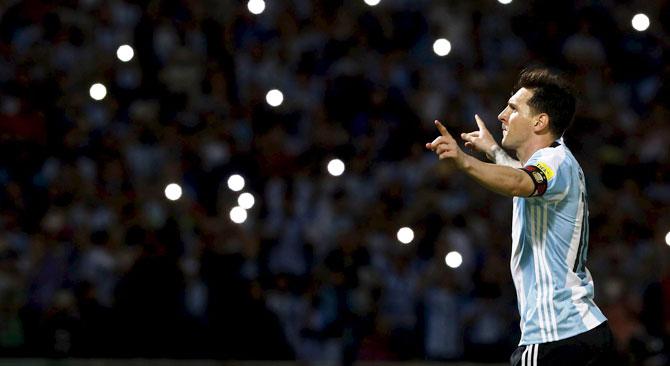 Photos from the 2018 World Cup qualifiers played on Tuesday
March 29, 2016
Euro friendlies: Northern Ireland set unbeaten record; Wales lose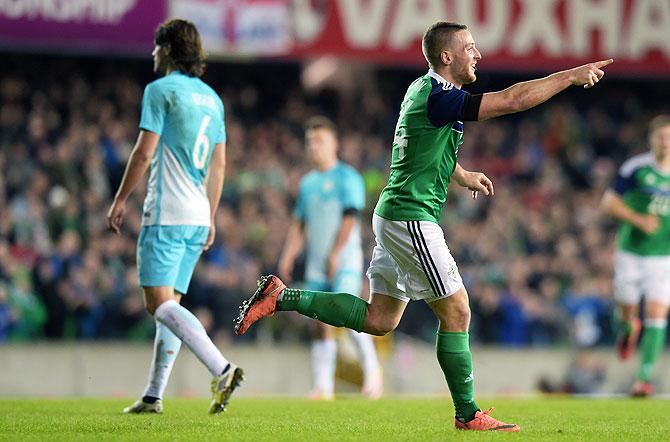 Northern Ireland set a record of 10 games unbeaten with a 1-0 win over Slovenia after a goal by Conor Washington in a friendly on Monday in the build-up to their first European Championship.
Shock defeats send Williams, Murray crashing out of Miami Open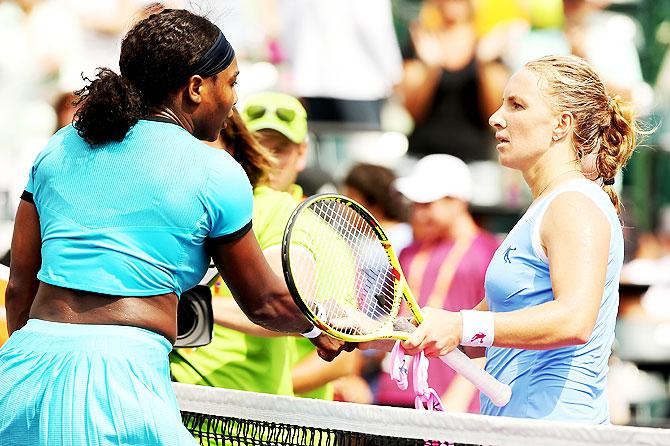 Photos from the matches played at the Miami Open on Monday
The key to Manchester United future...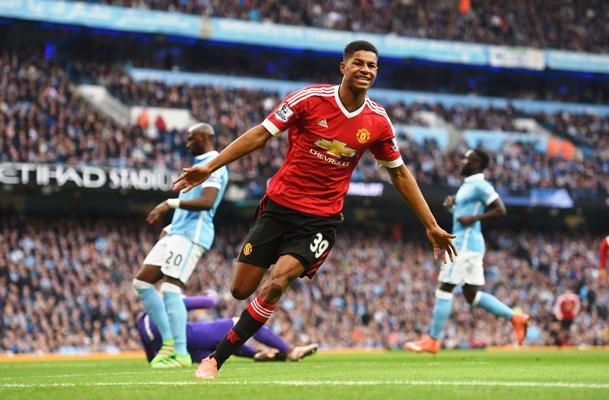 'Manchester United must always continue their tradition of bringing through players from the youth academy.'
March 28, 2016
Down but not out: Djokovic made to sweat in Miami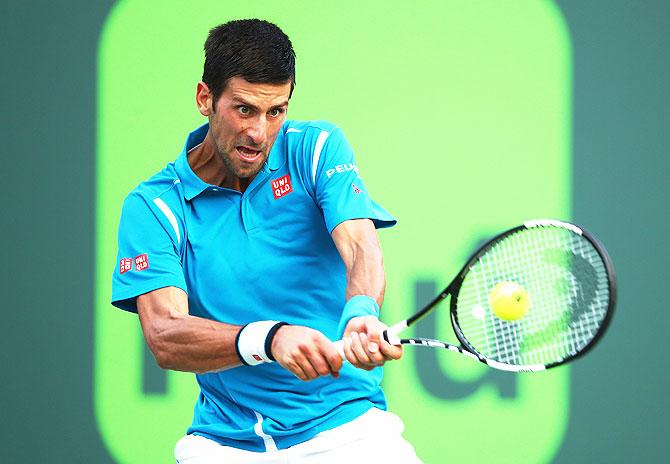 Five-time champion Novak Djokovic overcame a first-set spill to beat unseeded Joao Sousa of Portugal 6-4 6-1 in the third round at the Miami Open in Florida on Sunday.
March 21, 2016
Djokovic's comments add to controversy-fuelled day in tennis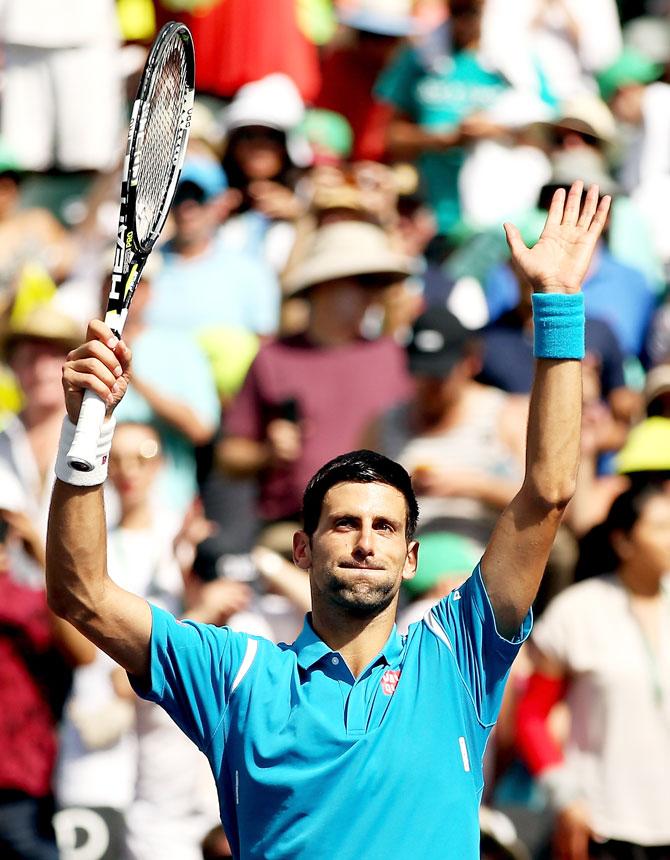 World No 1 Novak Djokovic added to the sexism row, saying male tennis players should earn more money than their female counterparts as more people watch their matches.
March 19, 2016
Australian GP: Hamilton races to his 50th pole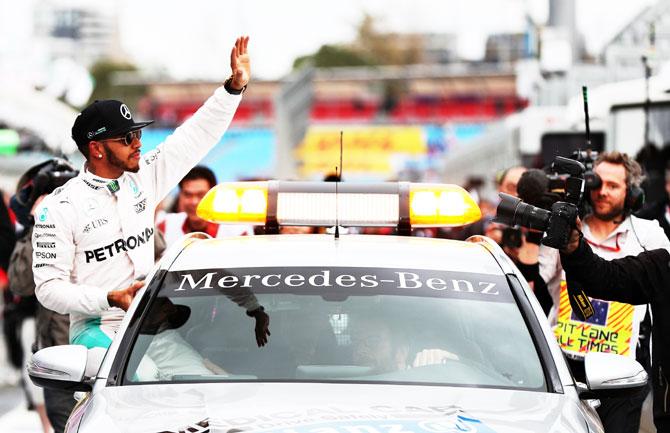 World champion Lewis Hamilton took pole for Mercedes in qualifying on Saturday for Formula One's season-opening Australian Grand Prix.
Indian Wells: Rafa to face Djokovic in semis; Serena cruises into final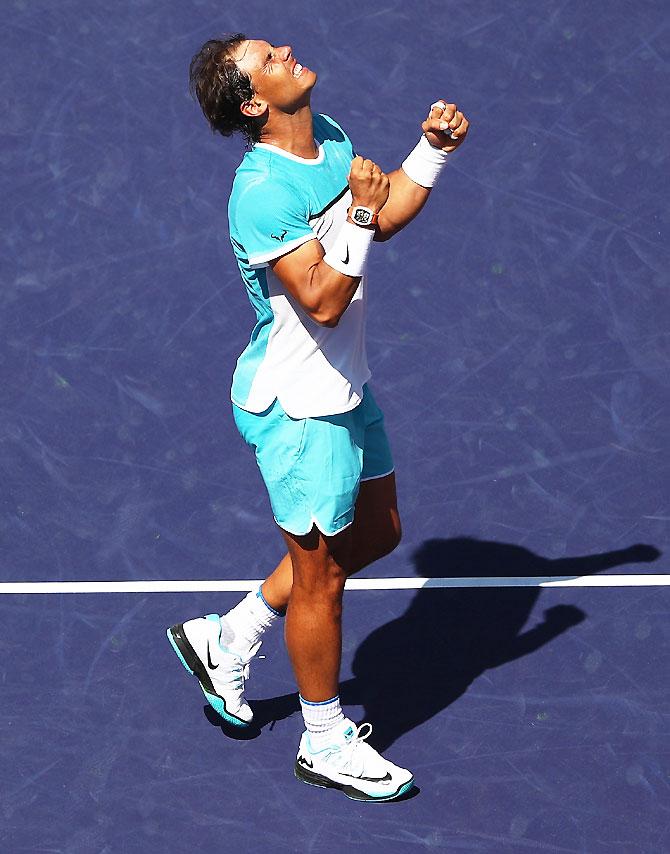 Fourth seed Rafael Nadal survived a few anxious moments before booking his place in the semi-finals of the BNP Paribas Open with a see-sawing 6-4, 6-3 victory over Japanese Kei Nishikori at Indian Wells in California on Friday.
March 17, 2016
Indian Wells: Nadal scrapes through; Wawrinka buried by Goffin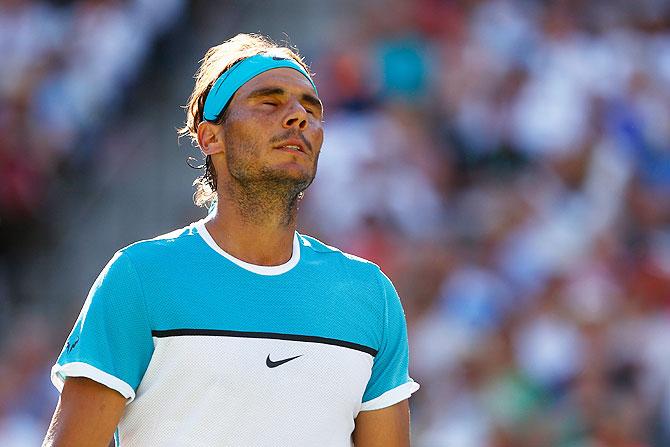 Third seed Stan Wawrinka was sent packing in the round of 16 at the BNP Paribas Open in California on Wednesday and was very nearly joined by Rafael Nadal, who pulled off a Houdini-like escape to reach the last eight.
Champions League PHOTOS: Bayern script late comeback to knock out Juve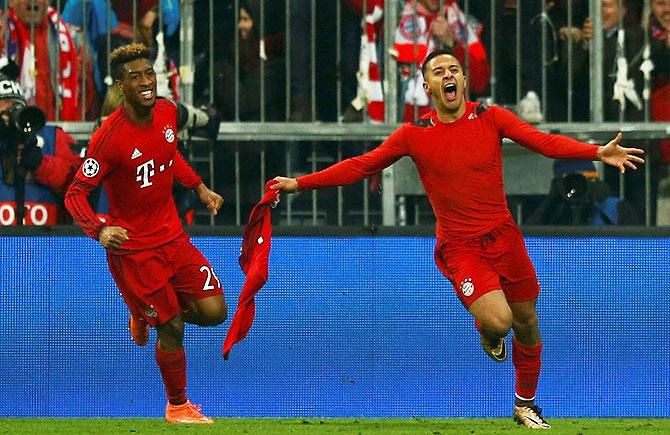 Photos from the match between Bayern Munich and Juventus played on Wednesday
Champions League PIX: Barca's MSN down Arsenal to enter quarters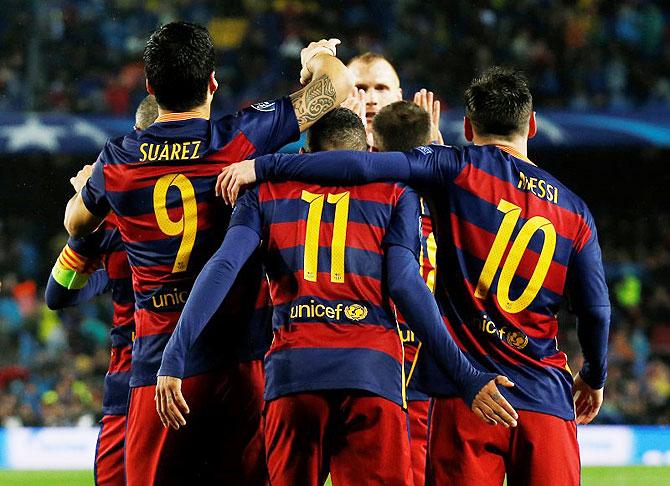 Photos from the UEFA Champions League Round of 16, 2nd leg match played between FC Barcelona and Arsenal at the Camp Nou on Wednesday
March 16, 2016
F1: Party over for Hamilton as new season dawns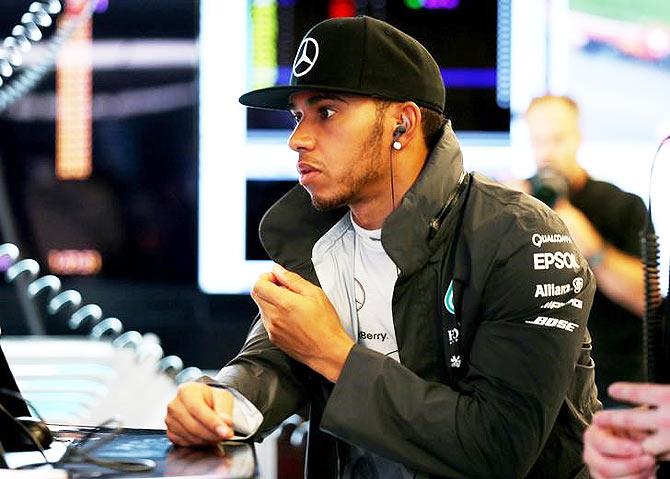 Lewis Hamilton spent the off-season crisscrossing the globe to party with A-list celebrities but Formula One's reigning champion is adamant there will be no hangover when he returns to work at this week's season-opening Australian Grand Prix.
Indian Wells: Djokovic hangs on, Nadal, Serena advance with ease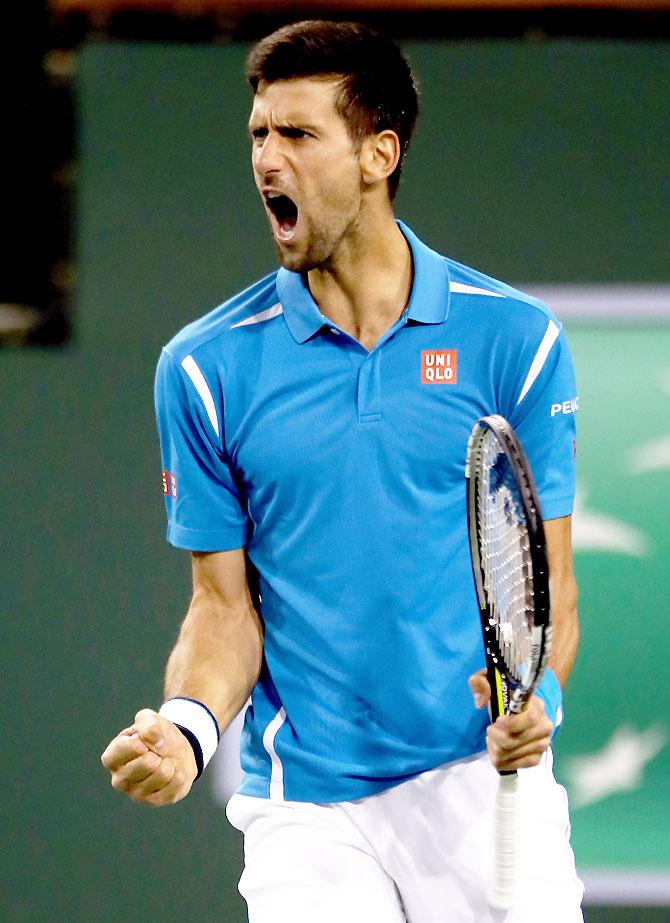 Photos from the tennis matches played at Indian Wells on Tuesday
PHOTOS: Manchester City script Champions League history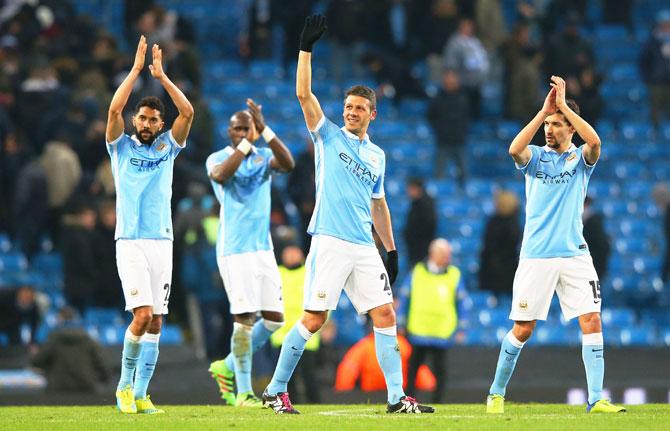 Celebration was tinged with disappointment for Manchester City who eased into the Champions League quarter-finals for the first time on Tuesday but lost Vincent Kompany to injury in a 0-0 draw with Dynamo Kiev.
Champions League PIX: Atletico win thrilling shootout to reach quarters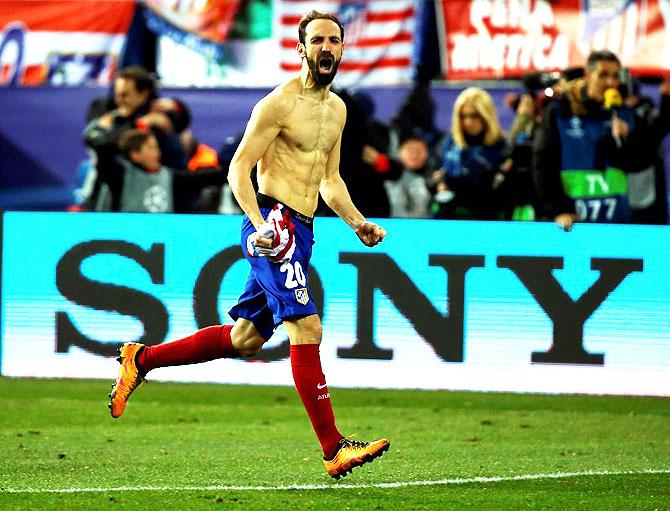 Atletico Madrid celebrated like they had won the trophy after reaching the Champions League quarter-finals by edging past PSV Eindhoven 8-7 on penalties on Tuesday following 210 goalless minutes in their last-16 tie.
March 12, 2016
EPL PHOTOS: Man City suffer blow to title hopes with Norwich stalemate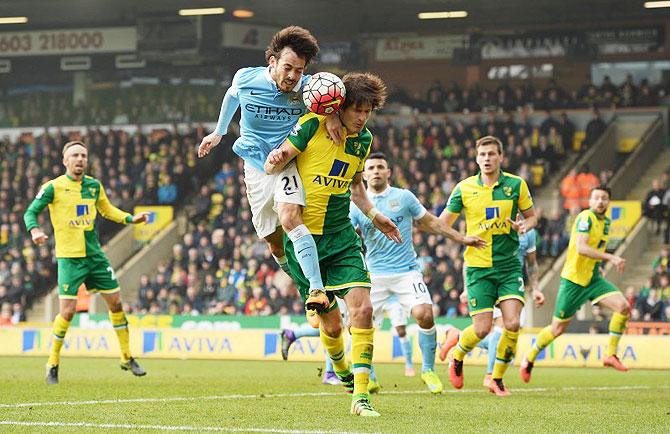 ManchesterCity's hopes of regaining the Premier League title suffered a potentially grievous blow on Saturday as they were held to a goalless draw by struggling NorwichCity at Carrow Road.
Hamilton and Rosberg given more freedom to race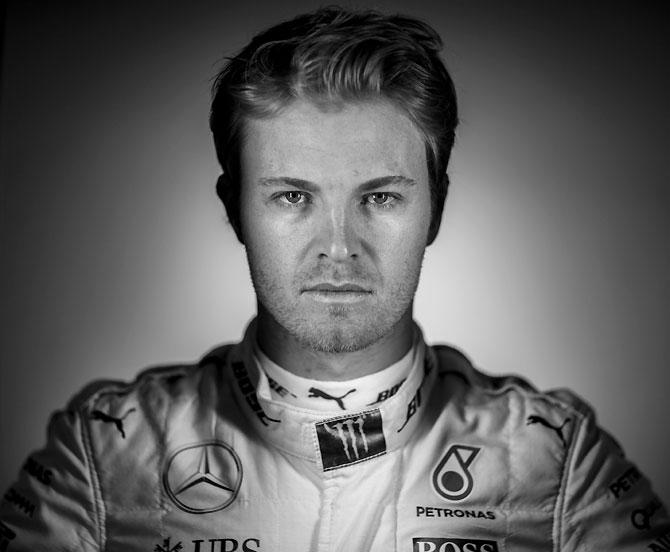 Triple world champion Lewis Hamilton and team mate Nico Rosberg will be given more freedom to race each other this season, Mercedes motorsport head Toto Wolff said on Friday.
March 11, 2016
F1 set for hefty shuffling and shoving as new talent look for race seat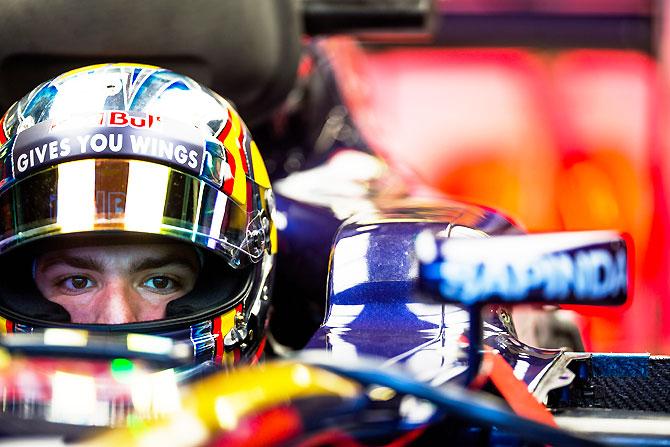 The clock is ticking for some of Formula One's big name drivers, with world champions and race winners out of contract at the end of the season and a restless young generation eager to take their places.
Pele to auction memorabilia and 'share story with generations to come'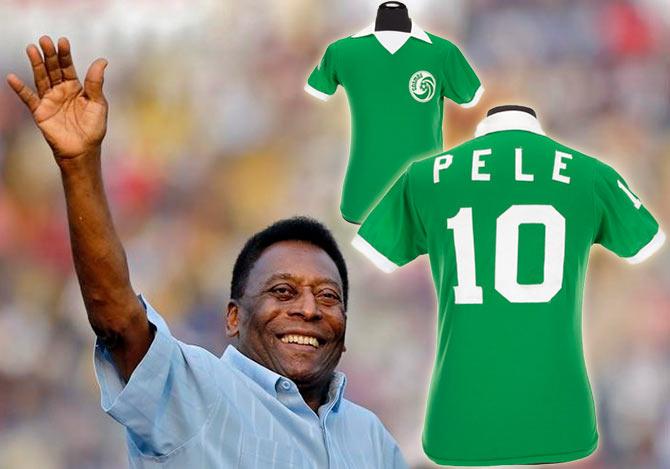 Triple World Cup soccer winner Pele is putting some 2,000 items up for auction, including his three World Cup medals and a one of a kind Jules Rimet trophy that could fetch up to one million dollars, auctioneers said on Thursday.
Scholes, Ferdinand slam Van Gaal after United's 'disastrous' night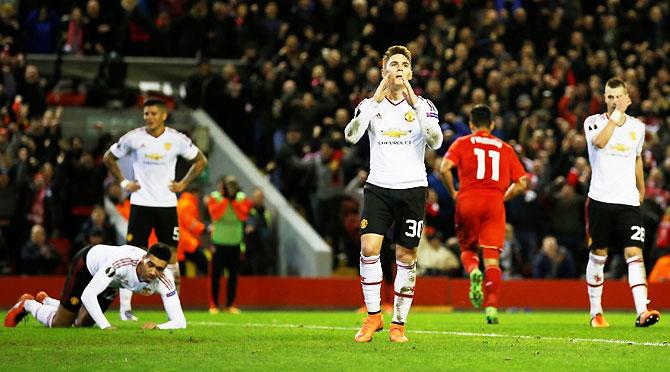 'It was shambolic ... so bad'
Will the new F1 season spring up any surprises?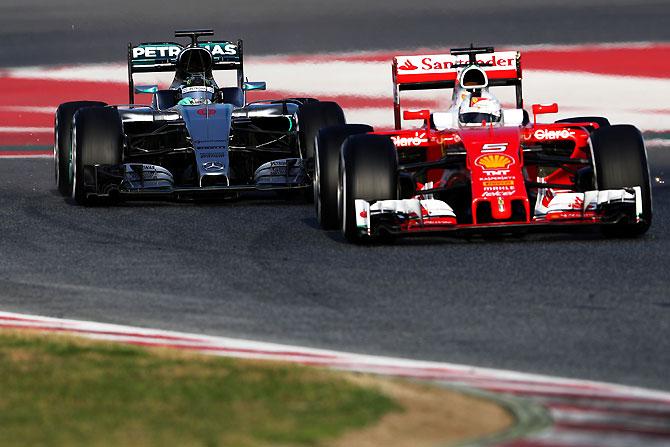 Three rookies are set to make their race debuts and Azarbaijan will make it's Formula One debut even as Sebastian Vettel, Nico Rosberg pose to challenge odds on favourite Lewis Hamilton.
March 09, 2016
Sharapova's intent questioned - Why was she taking banned heart drug?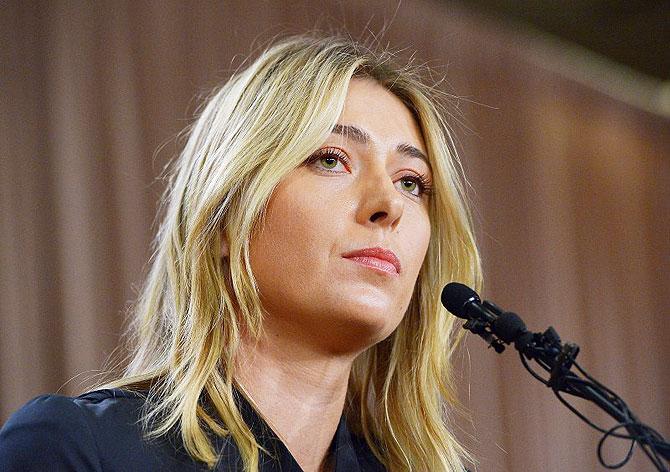 'Sharapova has been a US resident since early in her career, which does bring in a question of how or why she is using a drug that is not licensed there'
Champions League PIX: Ronaldo leads Real into last eight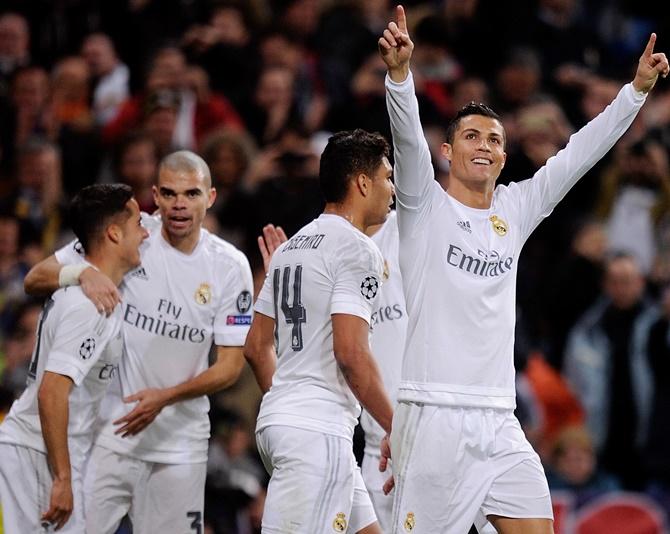 Real Madrid's Cristiano Ronaldo was the scourge of AS Roma again as he inspired the hosts to a 2-0 win and a place in the Champions League quarter-finals on Tuesday, scoring and setting up a goal Rodriguez to seal a 4-0 aggregate victory.
March 07, 2016
Davis Cup: Murray, Djokovic win epic encounters, to meet in quarters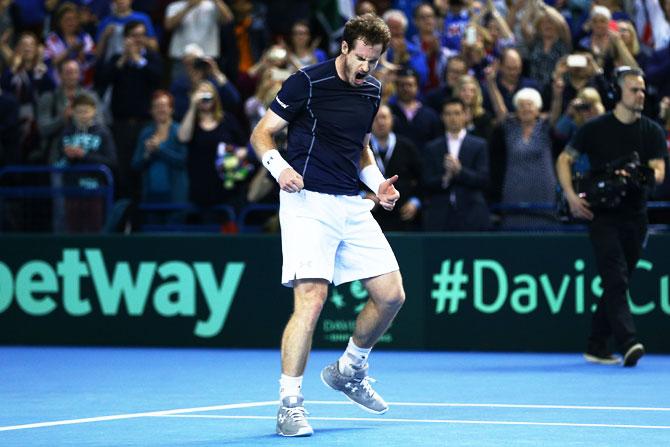 A round-up of results from Davis Cup matches played on and Sunday
March 06, 2016
Davis Cup: Djokovic loses first match in 5 years; US make quarters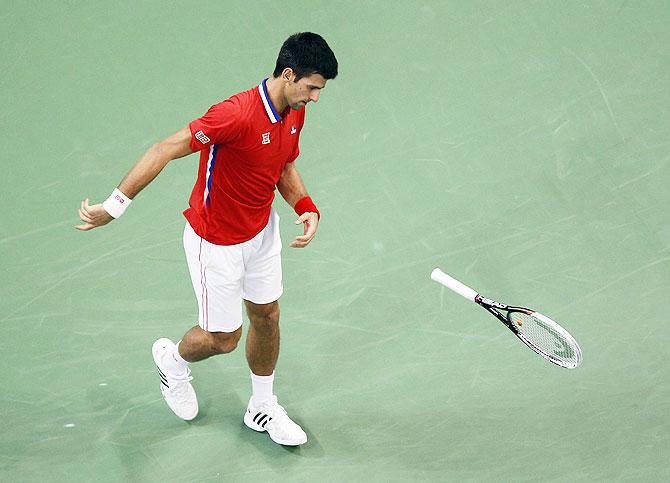 A round-up of results from Davis Cup matches played on Saturday and Sunday
German Bundesliga PHOTOS: Bayern stay well clear after holding Dortmund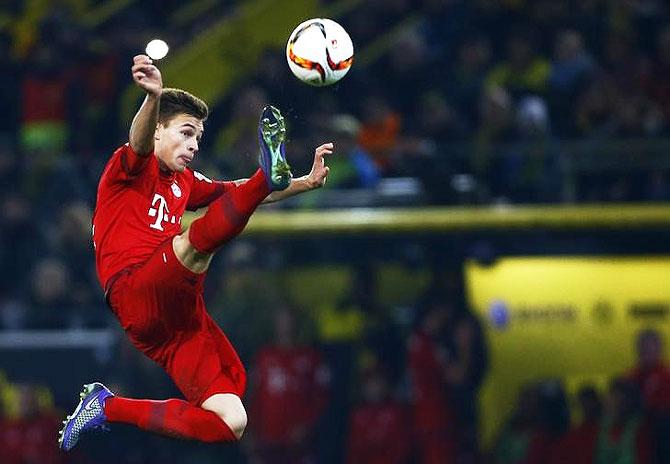 Bayern Munich kept their five-point lead at the top of the table on Saturday, drawing 0-0 at second-placed Borussia Dortmund to stay on track for a record fourth consecutive Bundesliga title.
EPL PHOTOS: Mahrez sends Leicester clear, Spurs held by Arsenal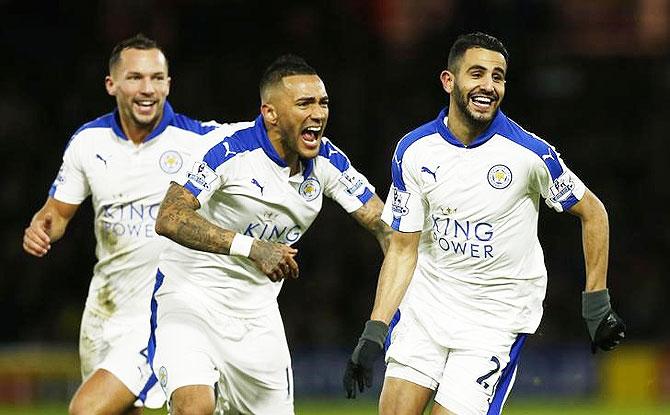 Photos from the English Premier League matches played on Saturday
Ronaldo second highest scorer in La Liga as Madrid crush Celta 7-1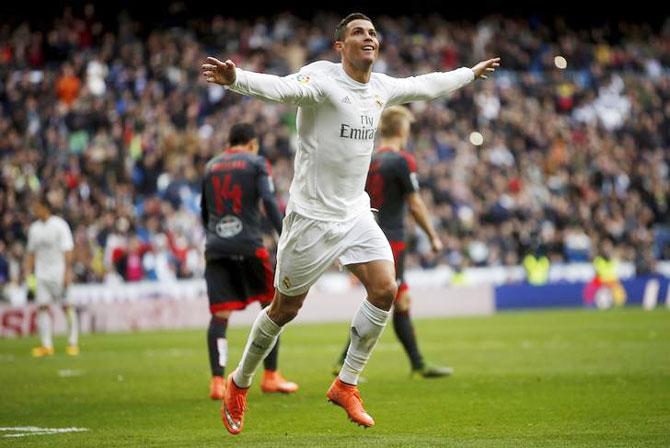 Cristiano Ronaldo, fired up by rival Lionel Messi's midweek hat-trick for Barcelona, struck four goals in 26 second-half minutes as Real Madrid crushed Celta Vigo 7-1 at the Bernabeu on Saturday.
March 04, 2016
Sad Alonso, Hamilton hit out at 'broken F1'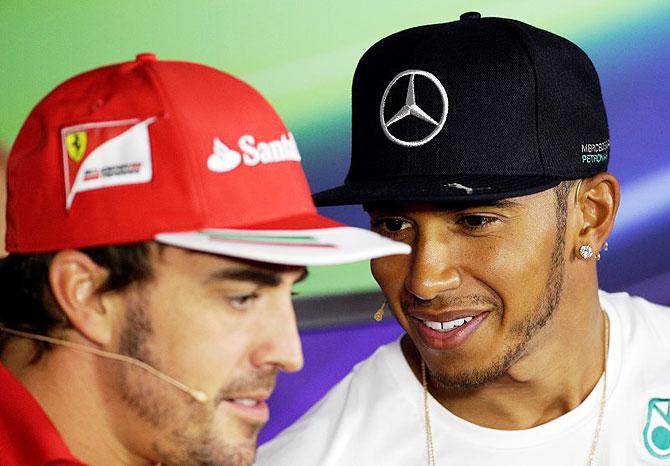 'I appreciate the quest for safety but this is Formula One and the way it is now is perfectly fine'
La Liga PHOTOS: Barca crack 35-match win record after Messi treble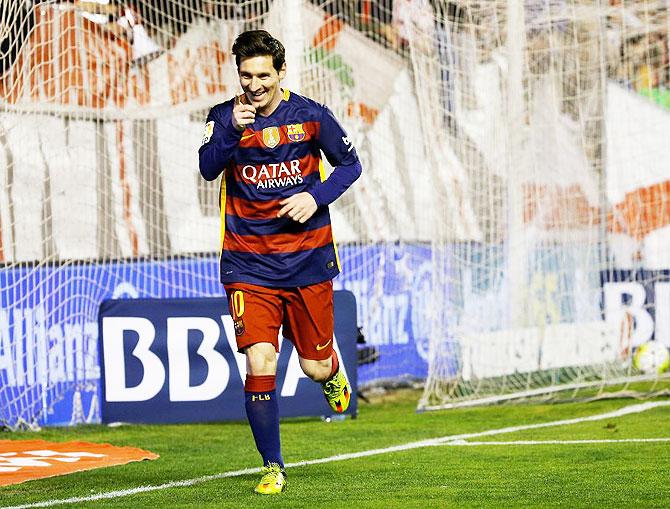 Beat Real Madrid's unbeaten run in the 1988-89 season, and thump Rayo Vallecano 5-1
March 03, 2016
IOC not worried despite no takers yet for Rio Games tickets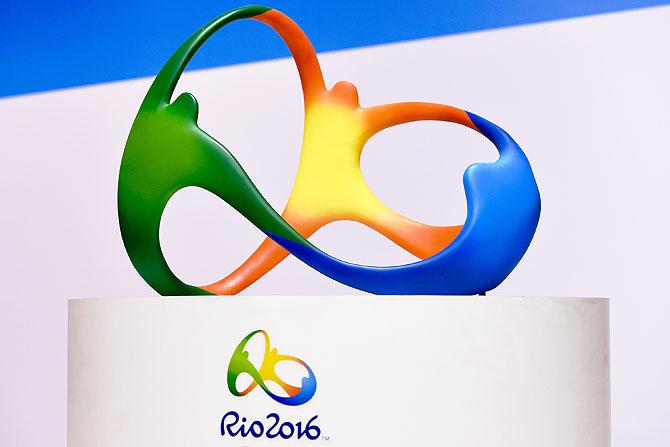 Only 47 per cent of tickets have been sold so far, while premium events and opening ceremony have been technically sold out
Winter testing: Button hails 'biggest improvement' in 14 months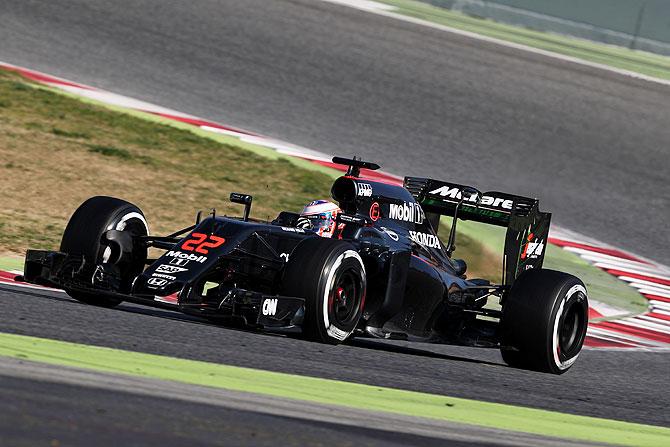 Jenson Button hailed Honda's latest power unit as a good step forward for McLaren after completing 121 laps and finishing fifth fastest on the second day of Formula One's final pre-season test on Wednesday.
EPL PHOTOS: Leicester hopes high after Reds crush City; Spurs also lose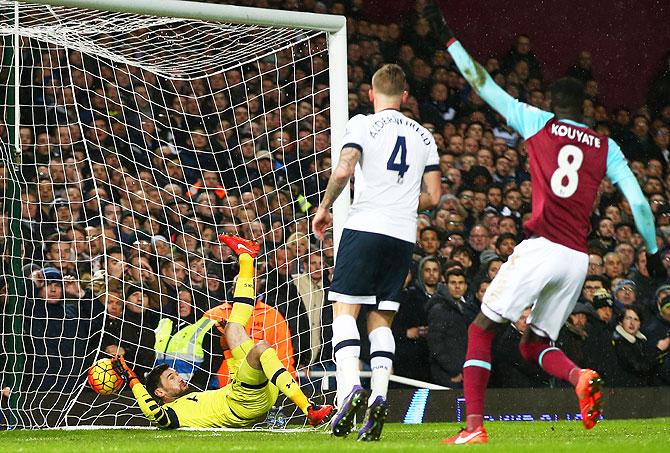 Photos from the English Premier League matches played across England on Wednesday
March 02, 2016
EPL PHOTOS: Leaders Leicester drop points even after 22 shots on goal!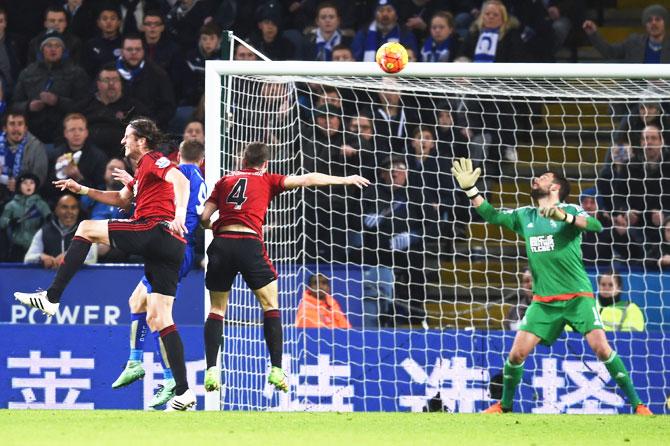 Photos and summary of the English Premier League matches played on Tuesday, including the story of Chelsea's resurgent win
La Liga: Atletico hot on Barca's heels after crushing win over Sociedad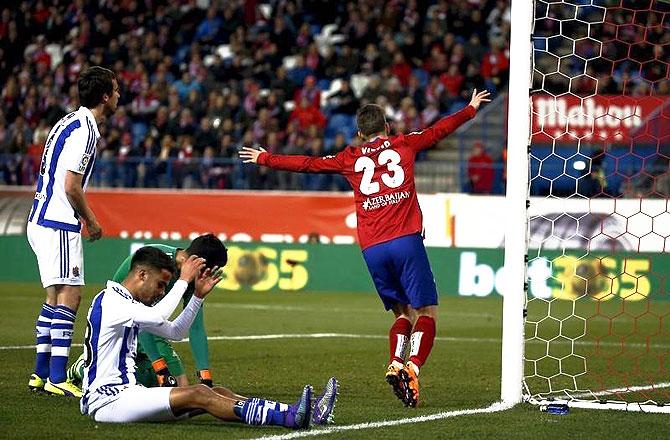 Atletico Madrid cruised to a 3-0 home win over Real Sociedad on Tuesday to close the gap behind La Liga leaders Barcelona to five points.
February 29, 2016
Serena, Federer, Sharapova dazzle on Oscars night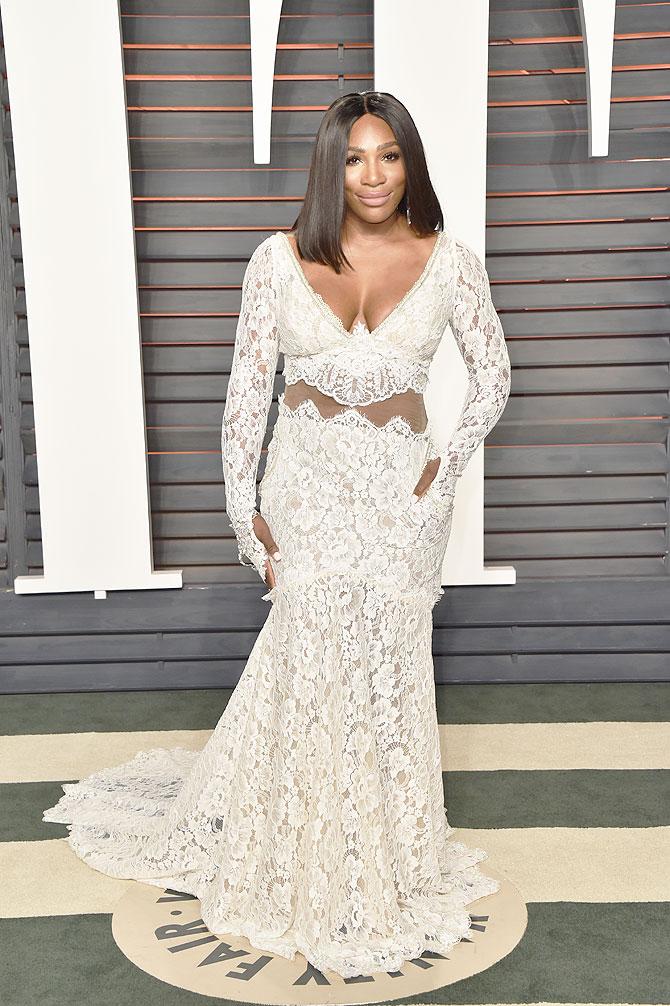 Tennis stars Serena Williams, Roger Federer and Maria Sharapova came in their finest best at the 88th Annual Academy Awards at Hollywood & Highland Center in Hollywood, California on Sunday.
Barca launch fight back to down Sevilla; equal La Liga win record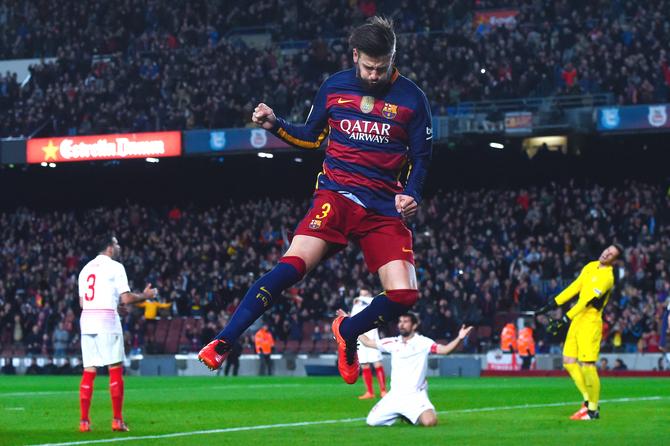 Defender Gerard Pique grabbed a rare winner and Lionel Messi scored yet another beauty as Barcelona came from behind to beat Sevilla 2-1 at the Nou Camp on Sunday and reclaim an eight-point lead at the top of La Liga.
Manchester City beat Liverpool to win League Cup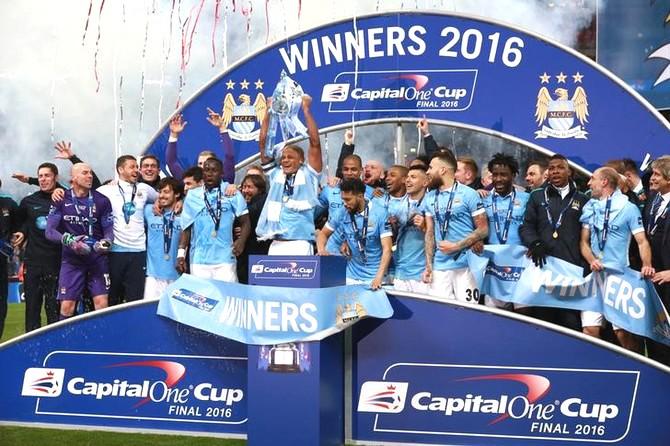 ManchesterCity beat Liverpool 3-1 on penalties to win the League Cup after Sunday's final finished 1-1 after extra time.
February 26, 2016
Europa League PIX: United flirts with calamity before remarkable win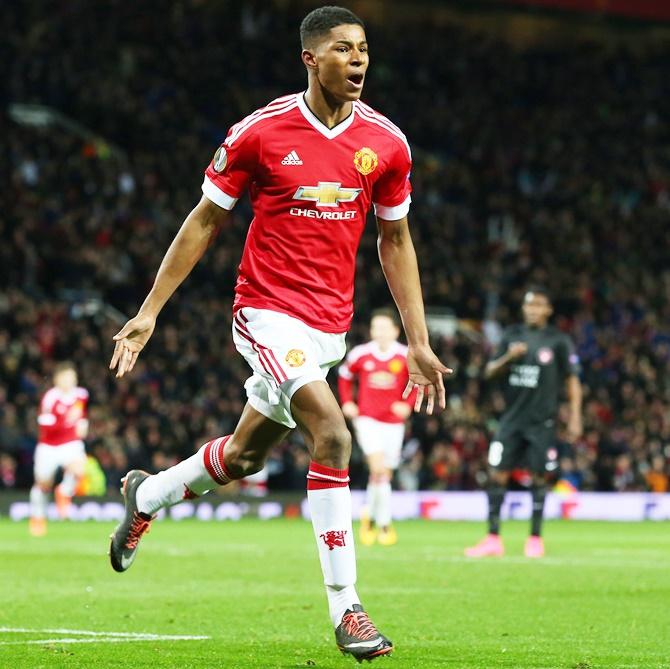 Manchester United flirted with calamity before coasting into the Europa League last 16 as debutant Marcus Rashford helped them overcome an early blow with two goals in a 5-1 home victory over Midtjylland on Thursday.
February 25, 2016
FIFA polls to go ahead but Blatter told to stay away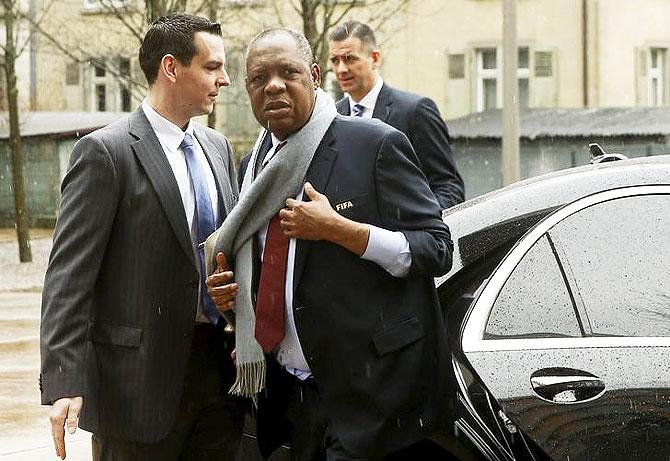 World soccer's governing body FIFA will proceed with an election to pick a new president on Friday to replace the disgraced Sepp Blatter and vote on a set of reforms aimed at restoring its credibility after the worst graft scandal in its history.
February 23, 2016
What's the Mata? 'FA Cup goal was 200 percent offside'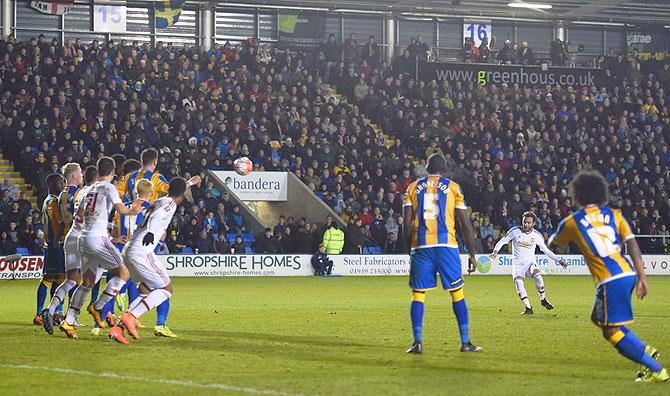 Referee Robert Madley was "200 percent wrong" to allow Juan Mata's goal to stand during Manchester United's 3-0 FA Cup fifth-round win over League One Shrewsbury Town, according to former FIFA official Mark Halsey.
February 18, 2016
UEFA Champions League PIX: Wolves overpower nervy Gent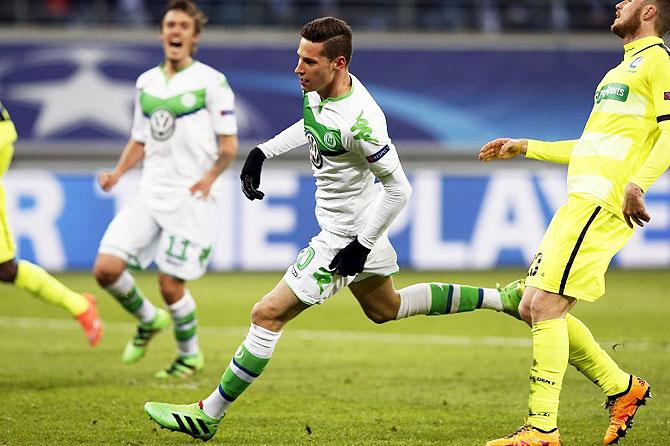 Photos from the Champions League match played between Wolfsburg and Gent on Wednesday
Stockholm: Dibaba breaks 26-year-old world indoor mile record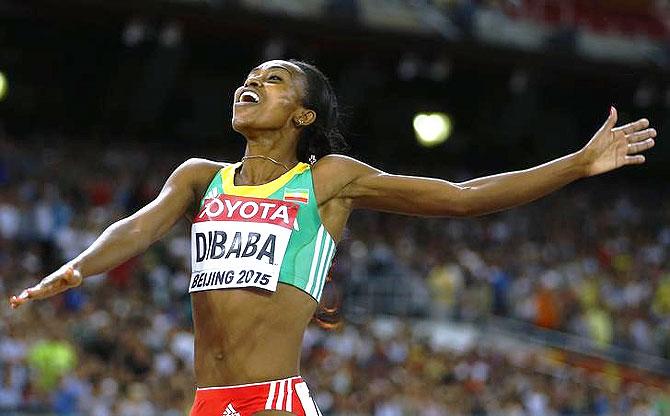 It is the third time Genzebe Dibaba, 25, has broken a world record in Stockholm, having previously set new marks for the 3,000 and 5,000 metres at the Ericsson Globe Arena in the Swedish capital
Champions League PHOTOS: Ronaldo breaks Roma resistance as Real win 2-0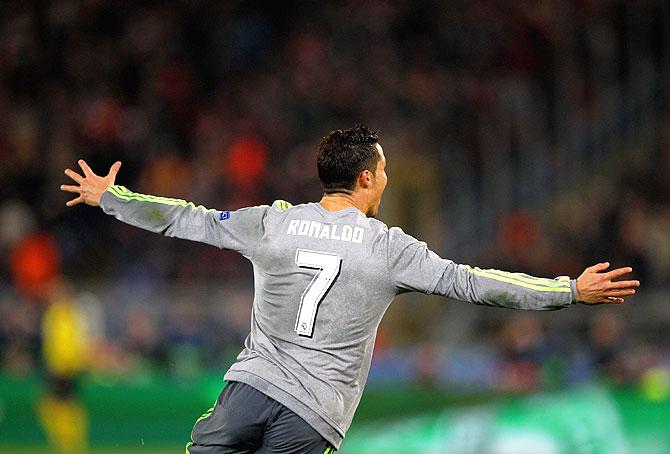 Photos from the Champions League match played between Real Madrid and AS Roma at the Stadio Olimpico on Wednesday
PHOTOS: 300 and counting... Messi creates La Liga goal history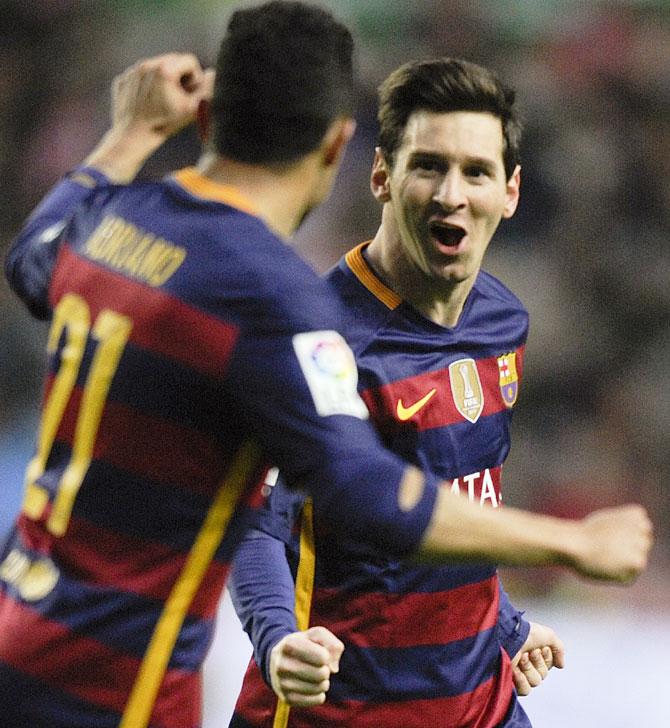 Lionel Messi became the first player to notch 300 La Liga goals as his double blast powered Barcelona to a 3-1 win at Sporting Gijon that sent them six points clear at the top of the table on Wednesday.
February 17, 2016
Ronaldo riled up over volley of uncomfortable questions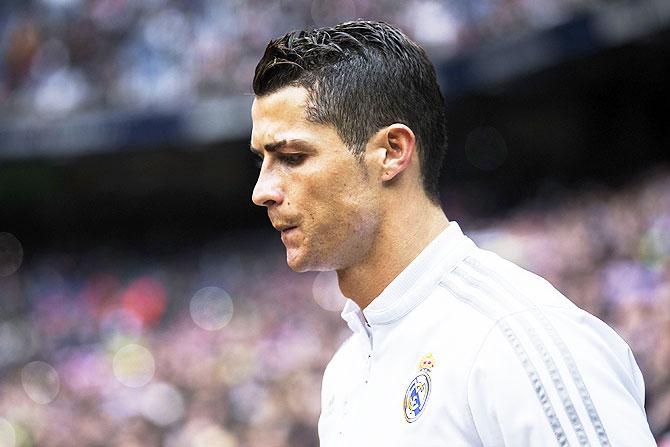 From comments about the healthy relationship shared between Barca trio -- Messi, Suarez and Neymar, to questions about his goal drought in away matches, an angry Ronaldo had the response to it all
Champions League PIX: Jonas snatches stoppage-time win for Benfica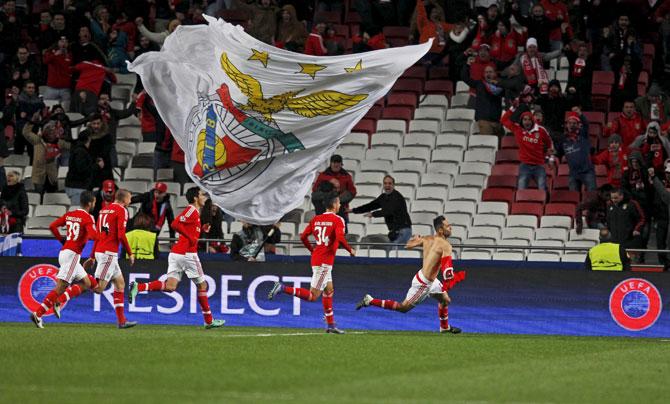 Photos from the UEFA Champions League round of 16 first leg match played between Benfica and Zenit St Petersburg at the Stadium of Light in Lisbon on Tuesday
'Sania has acquired a lot of depth in her game'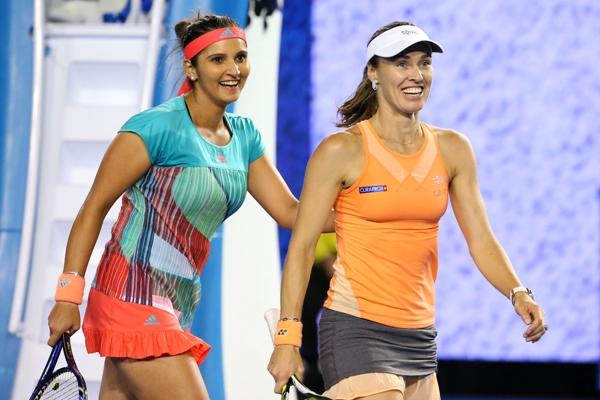 As Sania Mirza and Martina Hingis stand on the threshold of a unique milestone, former India players discuss the Hyderabadi's contribution in the all-conquering partnership with Bikash Mohapatra/Rediff.Com.
Champions League PHOTOS: Super-sub Cavani to PSG's rescue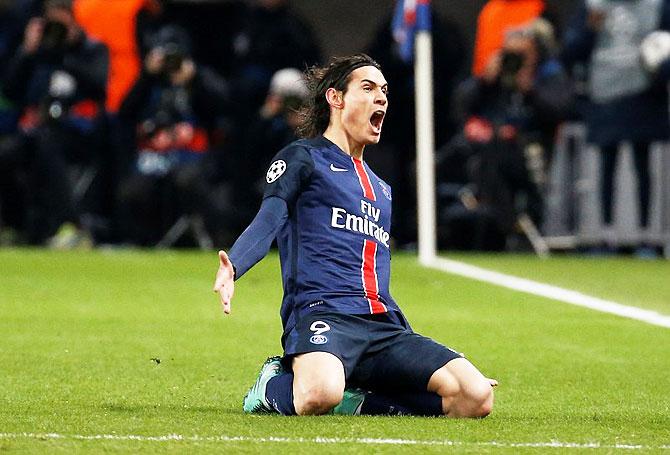 Paris St Germain substitute Edinson Cavani, criticised by French media lacking composure in front of goal, responded in style to earn a 2-1 home win over Chelsea in their Champions League last-16 first leg on Tuesday.
February 16, 2016
Man City's Pep talk may come back to haunt them in taxing fortnight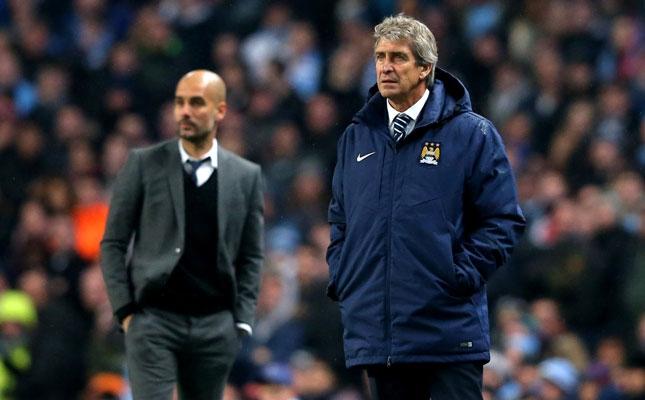 Successive home defeats by leaders Leicester City and second placed Tottenham Hotspur have left City six points off the pace with serious doubts about whether their expensively-assembled squad is still playing for the manager.
Champions League: Real and Ronaldo can't take speedy Roma lightly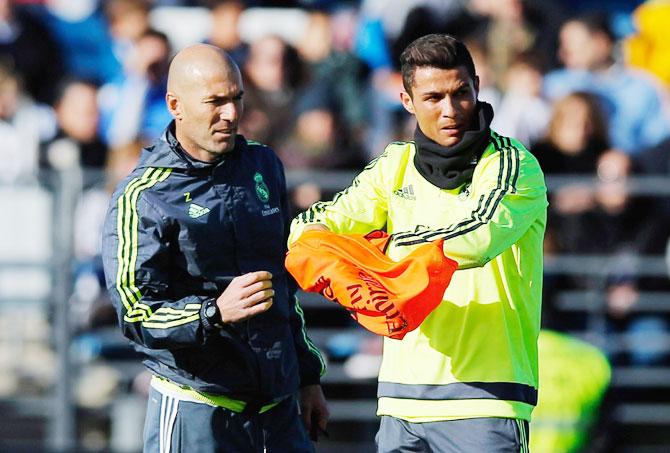 Real Madrid coach Zinedine Zidane reckons Cristiano Ronaldo is on top form as the Portuguese looks to increase his Champions League goals tally when they visit AS Roma in the first leg of their last-16 tie on Wednesday.
February 15, 2016
CL: Favourites PSG could find Chelsea tough to crack in last 16 tie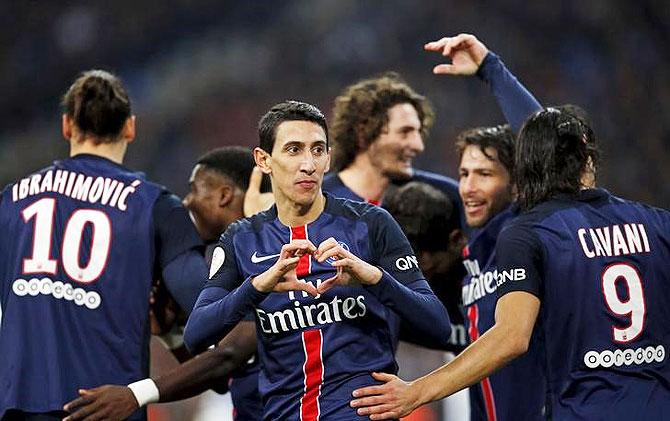 Paris St Germain would be odds-on certainties to easily beat Chelsea and take a big step towards the Champions League quarter-finals on Tuesday if statistics and domestic form decided matches.
Focus on elite prize as Champions League action returns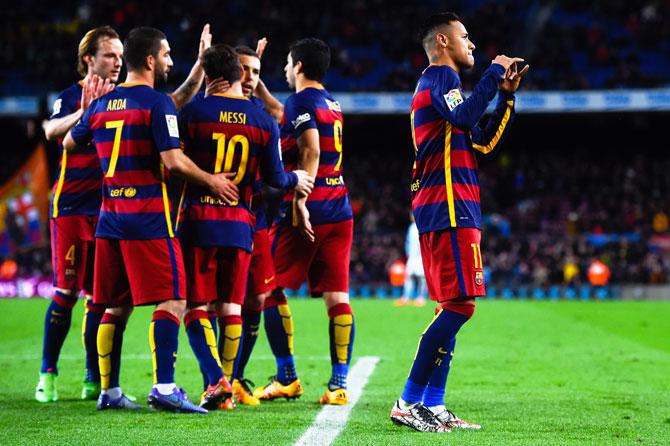 The last-16 knock-out round kicks-off this week with Chelsea visiting Paris on Tuesday; Zidane to coach Real Madrid as manager in his first match in Europe
La Liga: Suarez 'tricks' as Barca thrash Celta 6-1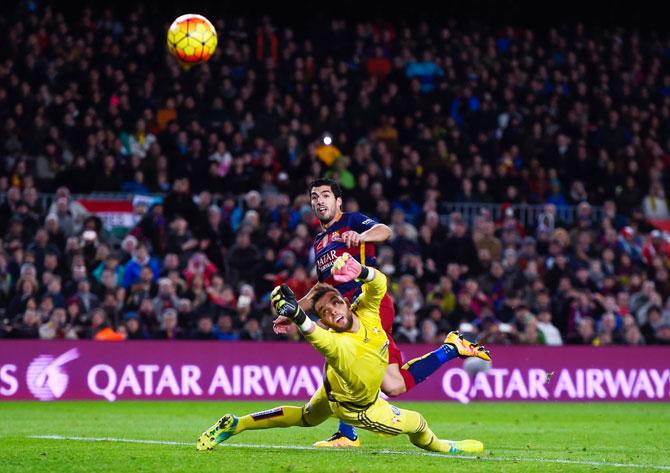 Luis Suarez completed a hat-trick thanks to a cheeky Lionel Messi assist from the penalty spot as Barcelona crushed Celta Vigo 6-1 to restore their three-point cushion over Atletico Madrid at the top of La Liga on Sunday.
February 12, 2016
'Ranieri will make sure you know every game in training counts'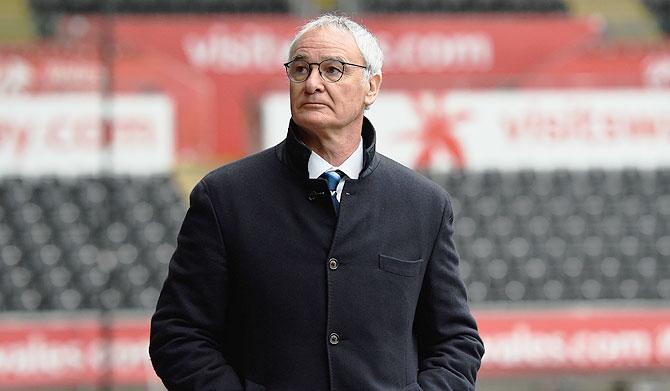 Ranieri is sparking a remarkable turnaround in Leicester's fortunes, and, Reuters has asked three players who worked under him during a previous Premier League stint at Chelsea from 2000-04 to offer an insight into the Italian coach's methods.
Marathoner Raut qualifies for Rio on another good day for India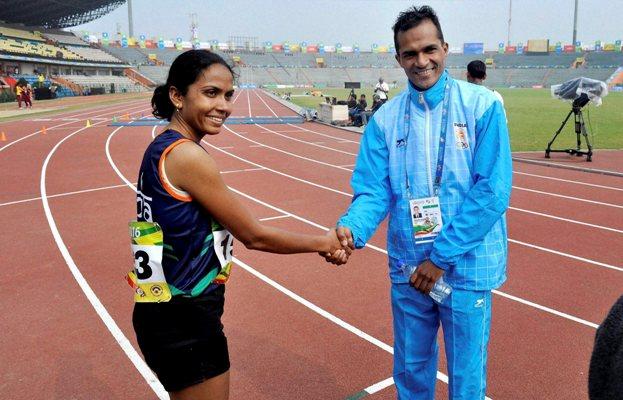 Long-distance runner Kavita Raut's Olympic qualification was the icing on the cake on yet another impressive day for India at the 12th South Asian Games, in Guwahati, on Friday. Firmly entrenched atop the overall standings, India increased their medal tally to 248 -- including 146 gold, 79 silver and 23 bronze.
February 10, 2016
FA Cup: Late Ogbonna goal sees West Ham knock out Liverpool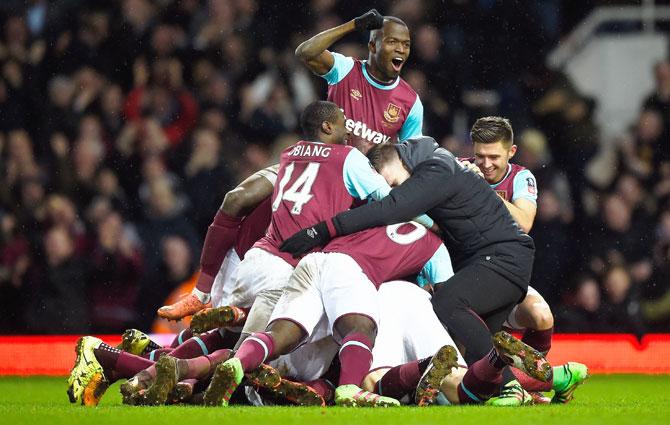 Angelo Ogbonna leapt high to power home a header in the dying seconds of extra time to claim a timely first goal for the club as West Ham United sank Liverpool 2-1 on Tuesday to reach the last 16 of the FA Cup.
February 08, 2016
EPL: United ditch 'dull' style in search of top finish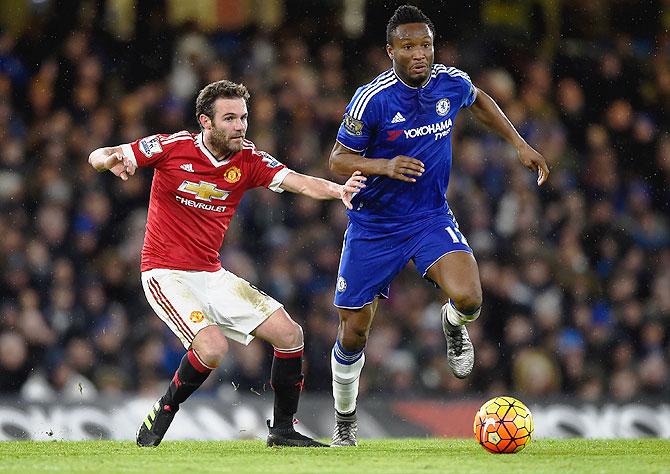 Manchester United have shown they are capable of playing an attractive and attacking brand of football in their recent games, midfielder Juan Mata said after Sunday's 1-1 Premier League draw at his former club Chelsea.
PIX: Junior Bachchan enjoys kabaddi match with wife and daughter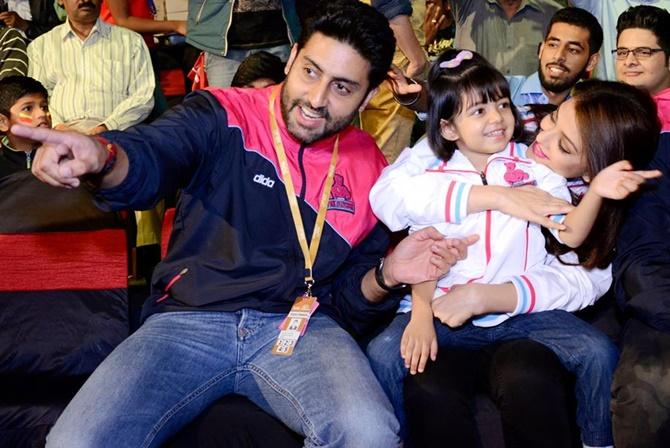 It was endless celebrations for the Bachchans.
European soccer PIX: Napoli take slender lead; Di Maria stars for PSG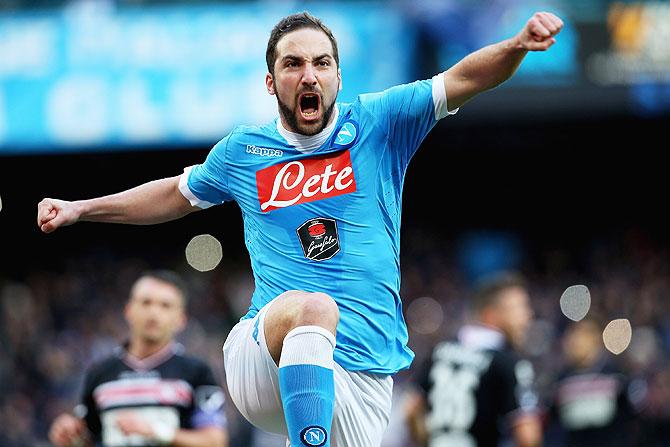 A summary of the results of the football matches played across Europe on Sunday
Fed Cup: Dutch shock Russia to semis; Czechs, Swiss through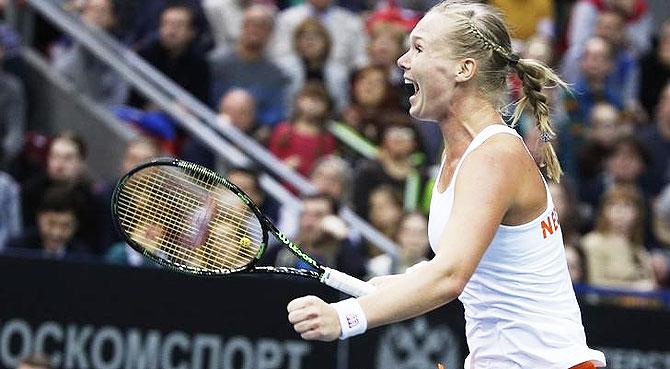 Russia, last year's runners-up, were unable to call on world number six Maria Sharapova who was injured
PHOTOS: Beyonce, Bruno Mars heat up Coldplay's Super Bowl halftime show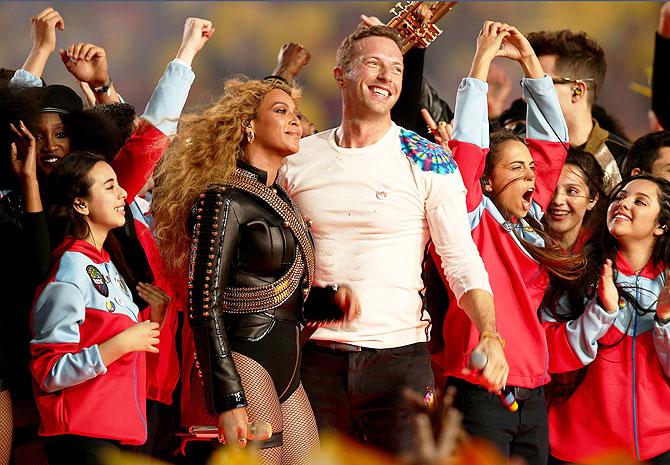 Coldplay headlined at Sunday's Super Bowl halftime show, but it was R&B super stars Beyonce and Bruno Mars who delivered the sizzle with a lively, upbeat production that paid homage to previous halftime performers.
La Liga PHOTOS: Barca equal unbeaten record, go three points clear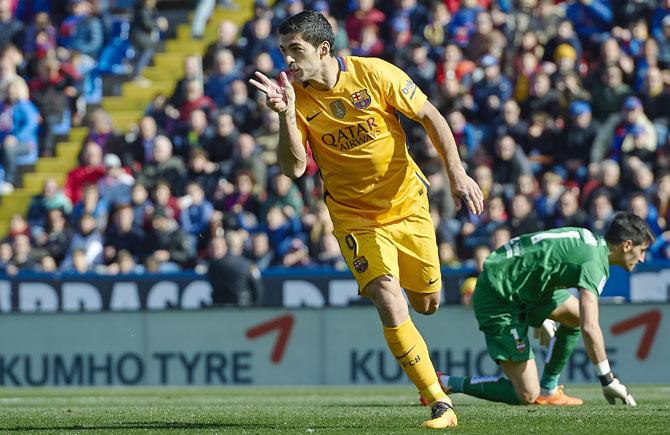 Photos from the La Liga matches played on Sunday
February 02, 2016
This car racer targets record 6th Olympics appearance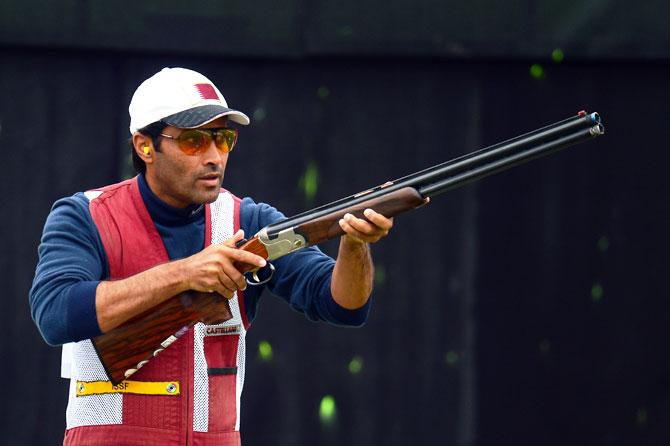 'I love both sport -- rally and shooting. And this was my dream for a long time, to be champion in rally and champion in shooting and this was really a good thing what I make for myself'
February 01, 2016
With focus on fitness, Zidane's Real producing the results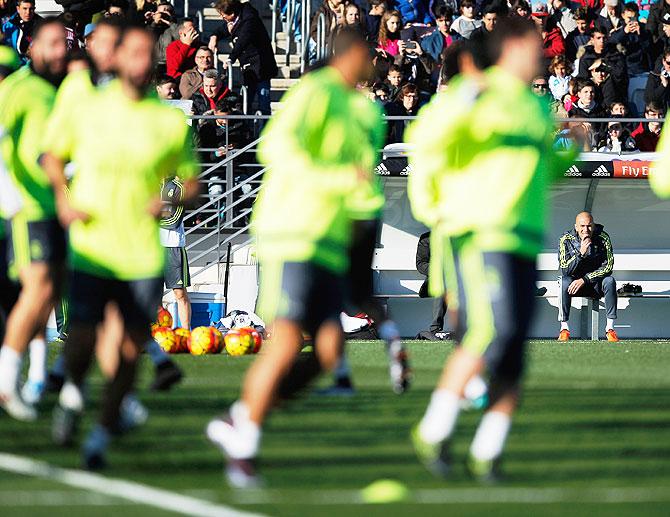 Real Madrid star striker Cristiano Ronaldo scored thrice to help his side thrash Espanyol 6-0 in a ruthless attacking display in La Liga clash at Santiago Bernabeu.
PIX: After cricket and football, hockey gets Sakshi Dhoni's attention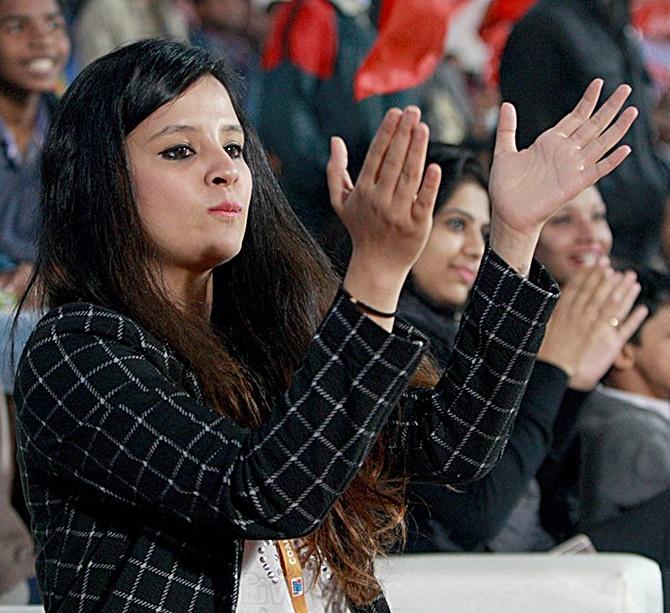 Sakshi Dhoni was seen cheering her husband's team Ranchi Rays during a Hockey Indian League match.
January 31, 2016
At his peak, Novak now hungry for bite of the Parisian desert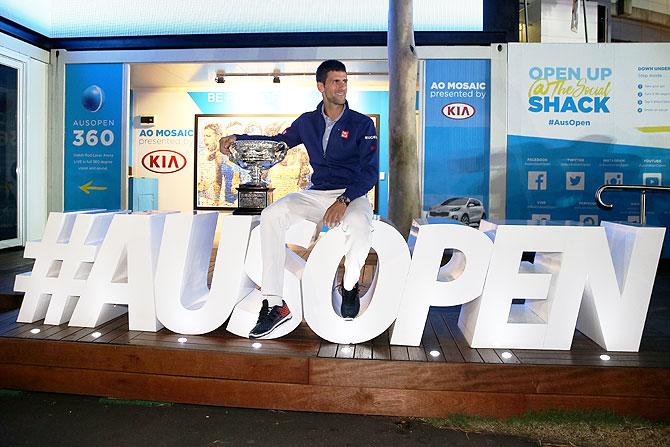 Novak Djokovic vanquished Andy Murray for the fourth time in an Australian Open final on Sunday to win a record-equalling sixth title and serve notice to his rivals that he could surpass even his stellar 2015 this year.
Emotionally taxed, error-prone, Murray unable to break Djokovic jinx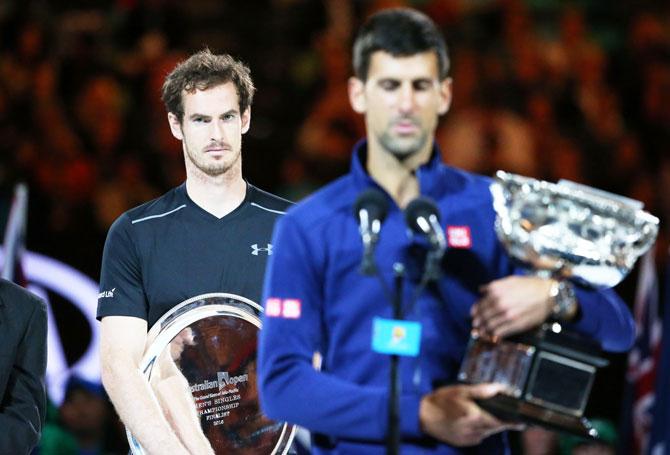 With another Australian Open title having slipped through his fingers after a tournament plagued by off-court dramas, Andy Murray could not wait to see the back of Melbourne Park after losing his fifth final on Sunday.
PHOTOS: How Djokovic tamed Murray en route to his sixth Aus Open title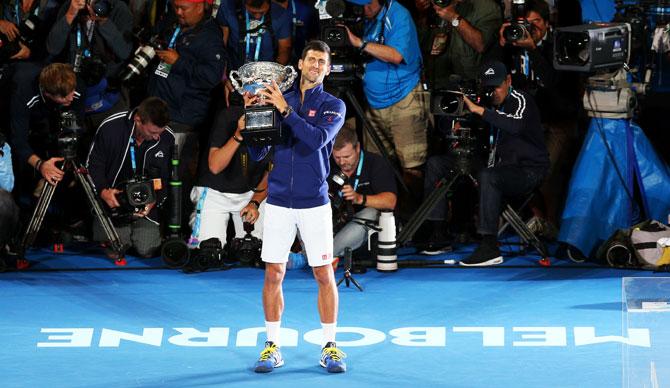 Djokovic downs Murray to claim 6th Australian Open title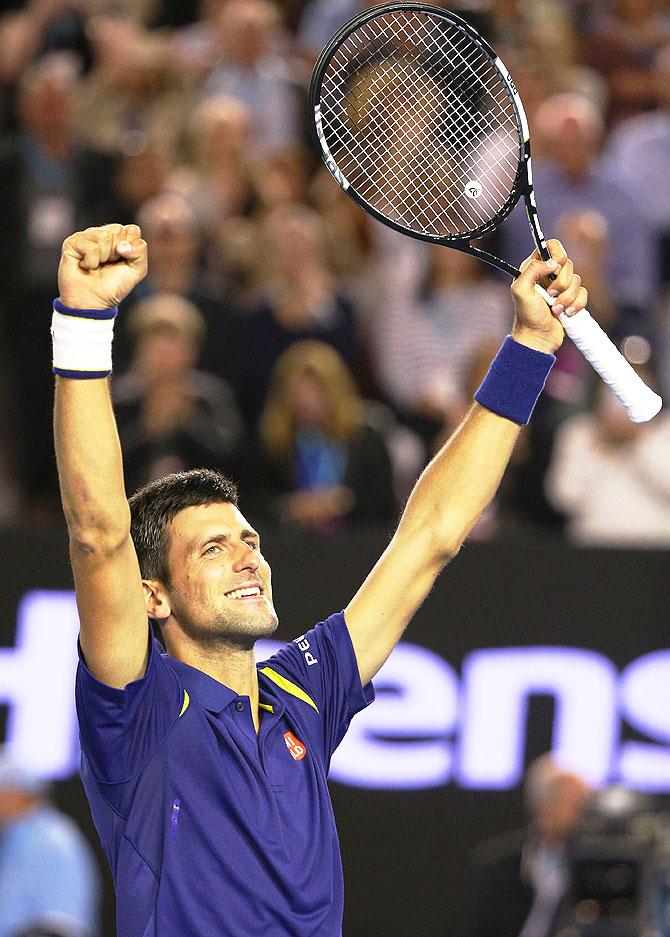 World No 1 Novak Djokovic won a record-extending 6th Australian Open title after defeating Briton Andy Murray in straight sets at Melbourne Park on Sunday.
Europe football round-up: El Shaarawy stars in Roma win; Monaco lose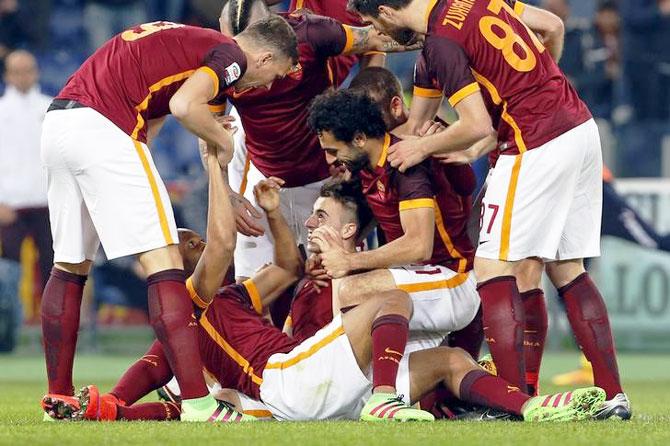 Debutant Stephan El Shaarawy scored with a crafty backheeled volley to give AS Roma a 3-1 win over Frosinone in Serie A on Saturday, their first under coach Luciano Spalletti.
Coffee-fuelled Soares serves up 'double' treat at Australian Open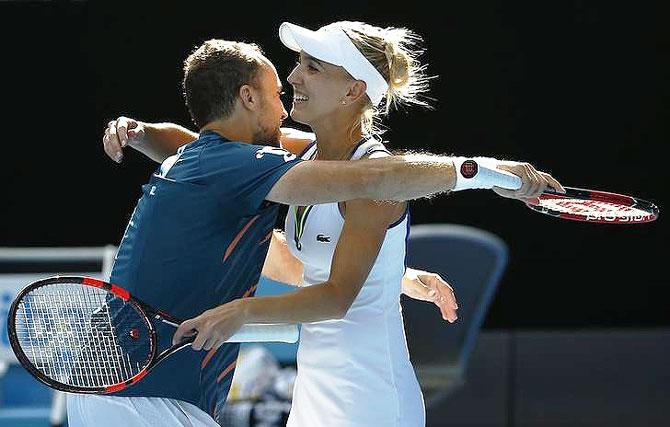 Brazil's Bruno Soares, fuelled by numerous cups of coffee, produced a doubles double on Sunday when he and Russian partner Elena Vesnina won the Australian Open mixed doubles title on Rod Laver Arena.
January 30, 2016
All you need to know about Aus Open men's finalists Djokovic and Murray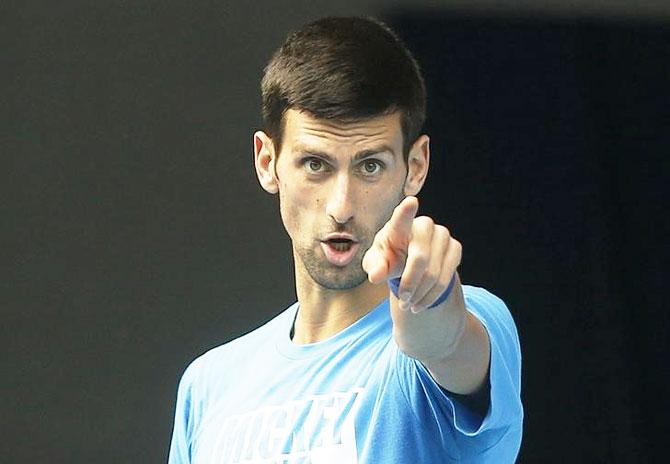 Factbox on Serbia's Novak Djokovic and Great Britain's Andy Murray who will contest his sixth Australian Open men's singles final on Sunday.
Aus Open: Baseline battle in view as Djokovic favourite to trump Murray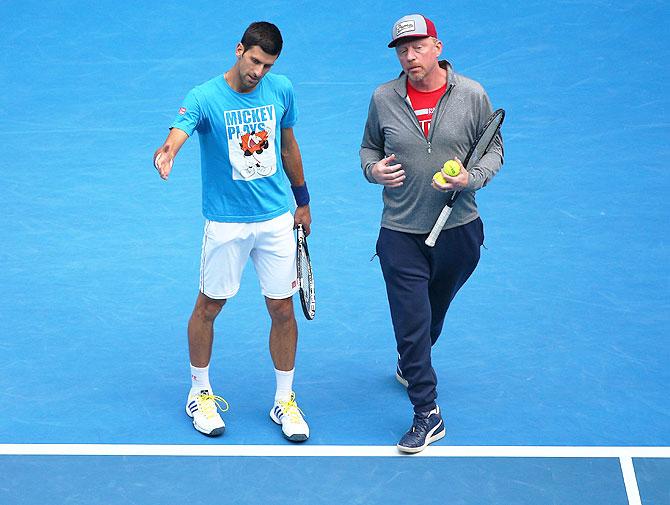 Novak Djokovic is expecting a fierce battle with an old friend and familiar protagonist when he makes a bid for history in the Australian Open final against Andy Murray on Sunday.
FA Cup: United's win over Derby allows Van Gaal to breathe easy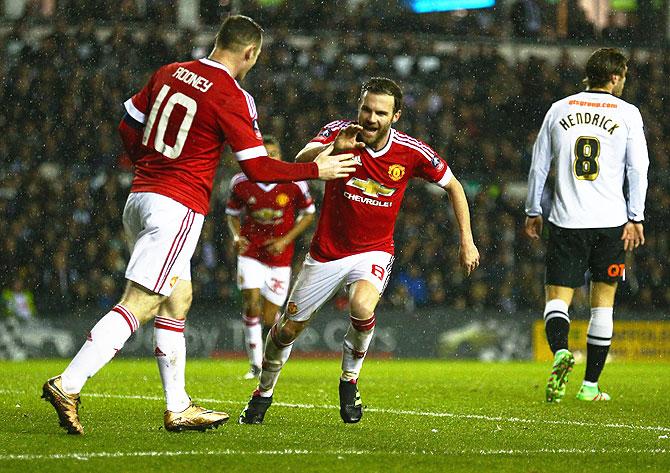 Under-pressure Manchester United manager Louis van Gaal enjoyed a rare highlight after weeks of gloom when his side comfortably beat Derby County 3-1 on Friday to reach the FA Cup fifth round.
January 26, 2016
Aus Open: 'Less is more' for Djokovic as Federer looms in semis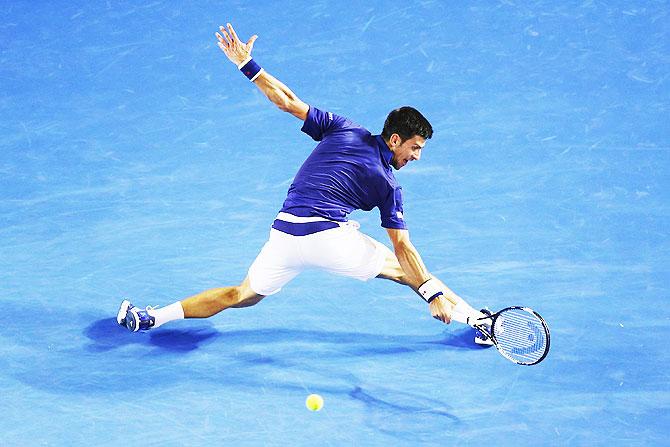 Champion Novak Djokovic did not bother with a practice hit before his showdown with Kei Nishikori and his "less is more" approach paid off with an easy 6-3, 6-2, 6-4 win on Tuesday to set up a blockbuster Australian Open semi-final with Roger Federer.
Aus Open PHOTOS: Djokovic downs Nishikori to set up Federer showdown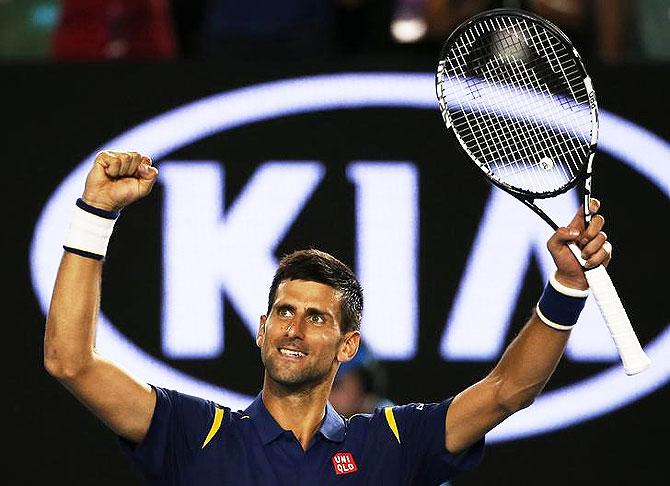 Images from the matches played on Day 8 at the Australian Open at Melbourne Park on Tuesday
January 25, 2016
'Drained' Murray would have quit Aus Open over Sears's health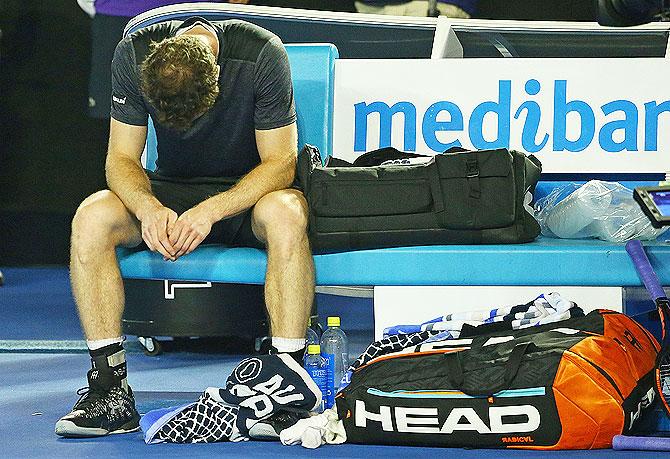 Andy Murray would not have continued playing at the Australian Open if his father-in-law's health had deteriorated following his collapse at Rod Laver Arena, the world number two said on Monday.
Aus Open: Emotions run high as Murray scrambles past Tomic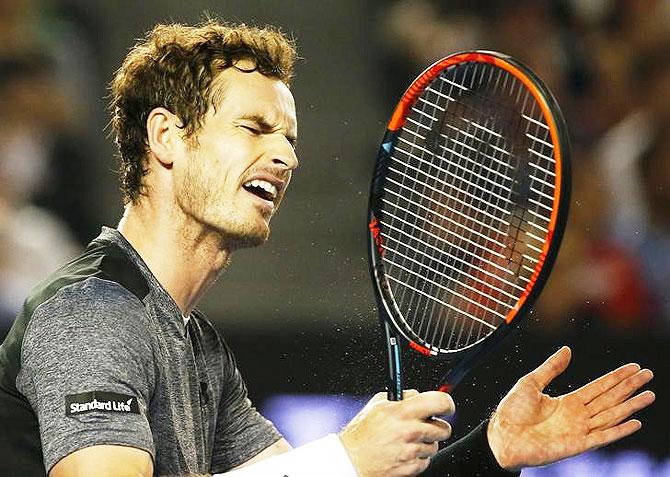 Becomes first Briton to make tournament quarters since 1977
Aus Open: Ailing Wawrinka concedes Raonic was better on the day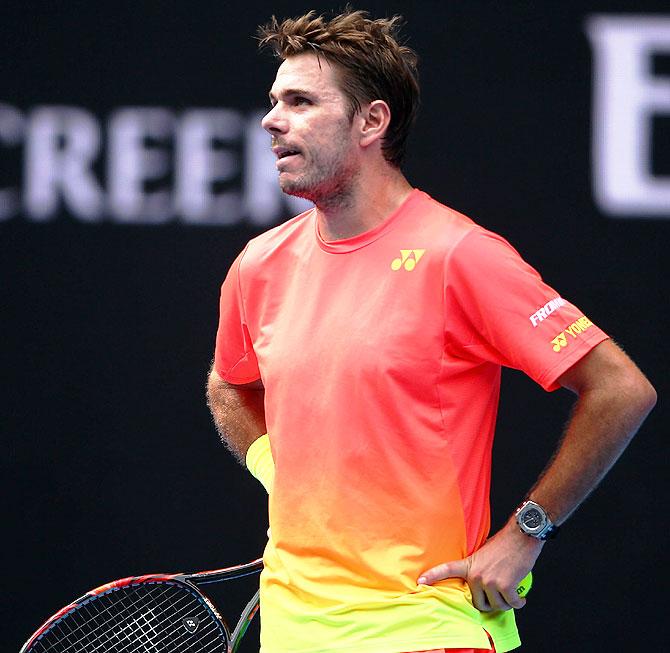 French Open champion Stan Wawrinka blamed a lingering cold for his exit from the fourth round of the Australian Open at the hands of Canada's Milos Raonic on Monday.
January 24, 2016
Aus Open: When big-hearted Simon almost did Djokovic in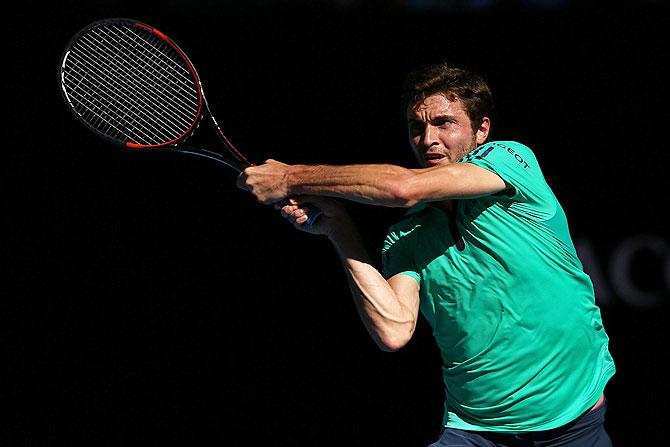 Gilles Simon will carry the distinction of being the first man to prise a set off Novak Djokovic at this year's Australian Open but the lion-hearted Frenchman was crushed after going down in a five-set classic on Sunday.
Euro football round-up: PSG thump Angers 5-1; Milan drop points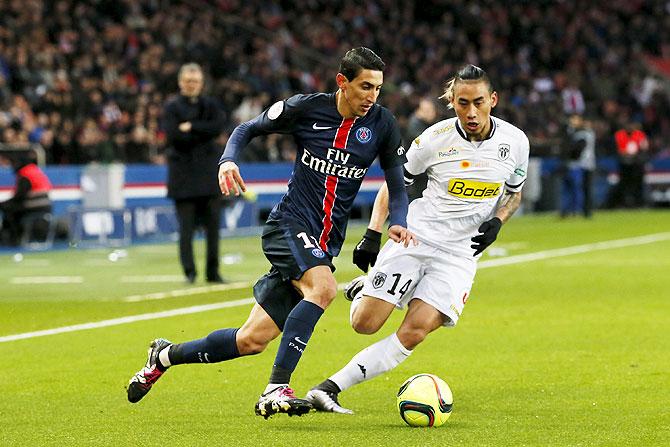 Photos from matches played in the French Ligue 1 and Serie A matches played on Saturday
Aus Open PHOTOS: Djokovic wins marathon battle; Serena, Maria advance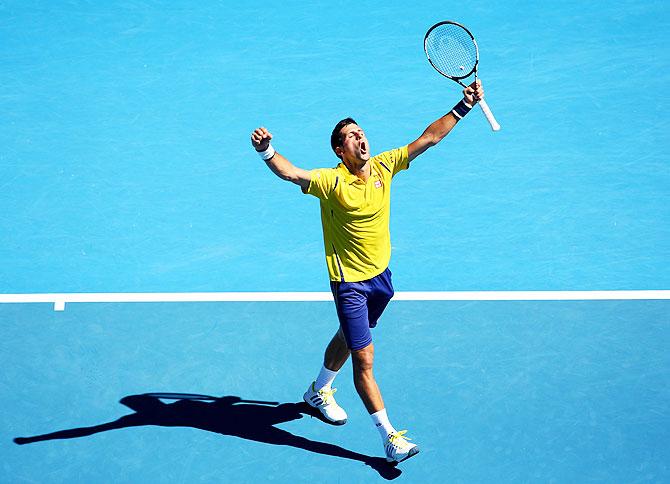 Photos from matches played Day 7 of the Australian Open at Melbourne Park on Sunday
January 23, 2016
Murray victory overshadowed by father-in-law's collapse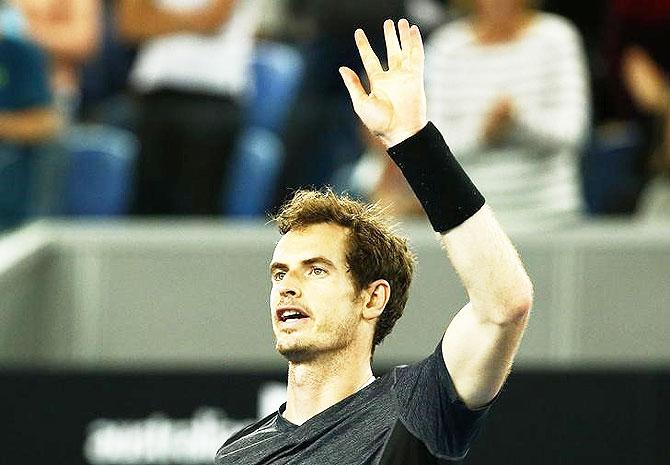 Andy Murray moved into the fourth round of the Australian Open in surreal circumstances on Saturday, completing a 6-2, 3-6, 6-2, 6-2 victory over Joao Sousa after his father-in-law had collapsed ill a few hundred metres away.
Sick but slick Wawrinka records 400th ATP win to move to fourth round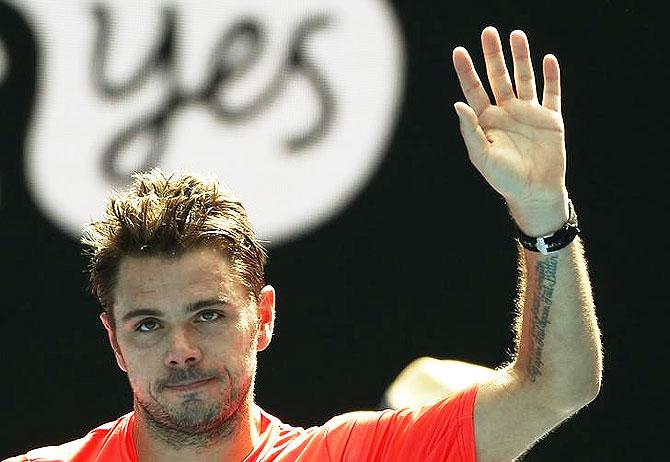 Stan Wawrinka let his tennis do the talking as he brushed off the after-effects of a cold to breeze into the fourth round of the Australian Open with a 6-2, 6-3, 7-6(3) victory over Lukas Rosol on Saturday.
Ivanovic bows out after coach hospitalised following collapse in stands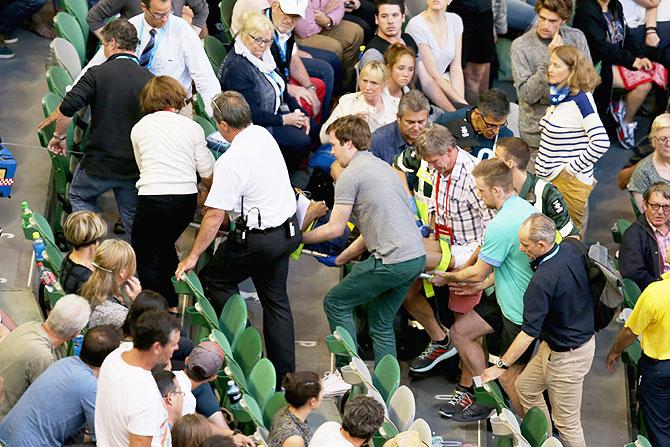 The coach of Ana Ivanovic, and father-in-law of men's world number two Andy Murray, collapsed in the stands at Rod Laver Arena during the Serb's third round clash with American Madison Keys on Saturday, causing play to be suspended indefinitely.
India at the Australian Open: Sania, Juniors cruise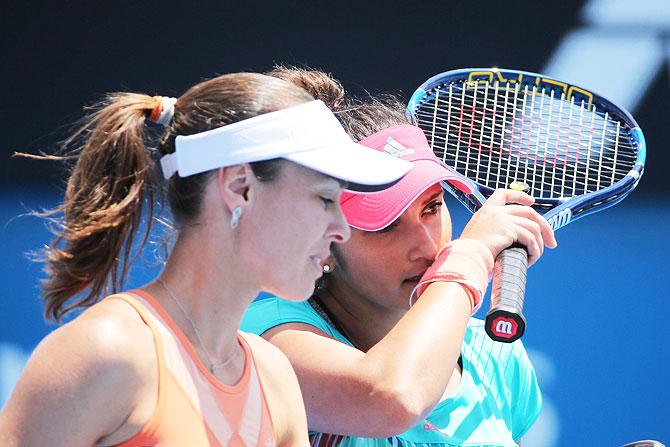 Indian tennis ace Sania Mirza and her Swiss partner Martina Hingis continued to display their rampaging form as they extended their winning streak to 32 after progressing through to the third round of the Australian Open in the women's doubles event on Saturday.
Brit Konta one among many 'local' exports shining under Melbourne sun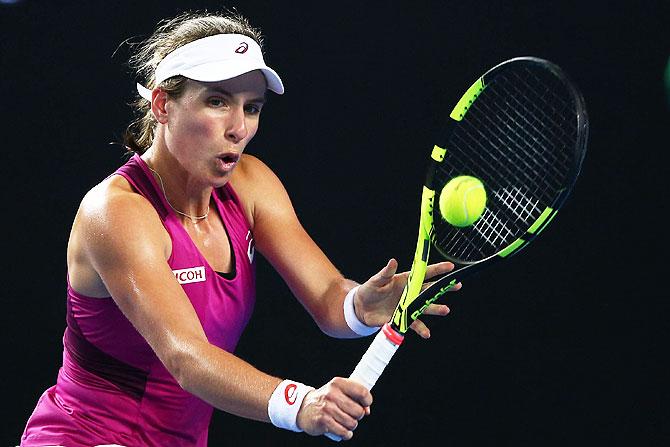 Johanna Konta spurned the country of her birth to play tennis for Britain but the Sydney-born 24-year-old has enjoyed huge support from the MelbournePark crowds during her run to the Australian Open fourth round.
January 20, 2016
Bouchard fails to live up to expectations once more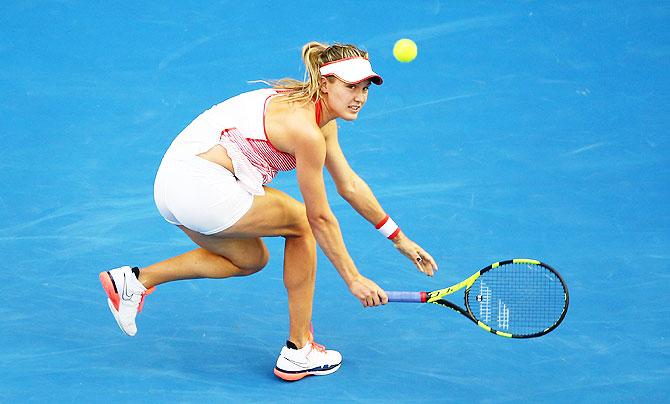 Former golden girl Eugenie Bouchard's hopes of rehabilitation at the Australian Open came to a swift end on Wednesday as wily Agnieszka Radwanska sent the Canadian spinning out of the tournament with a 6-4, 6-2 defeat in the second round.
Hewitt prolongs Australian Open swansong as family watches from stands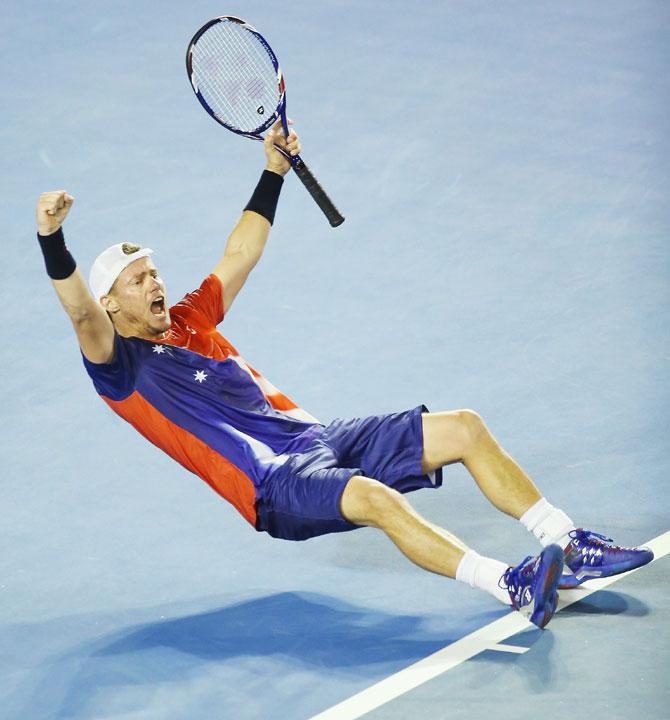 An emotional Lleyton Hewitt staved off retirement for at least one more match by beating countryman James Duckworth 7-6(5), 6-2, 6-4 to reach the second round of the Australian Open on Tuesday.
Confident and injury-free, Sharapova surges forth at Melbourne Park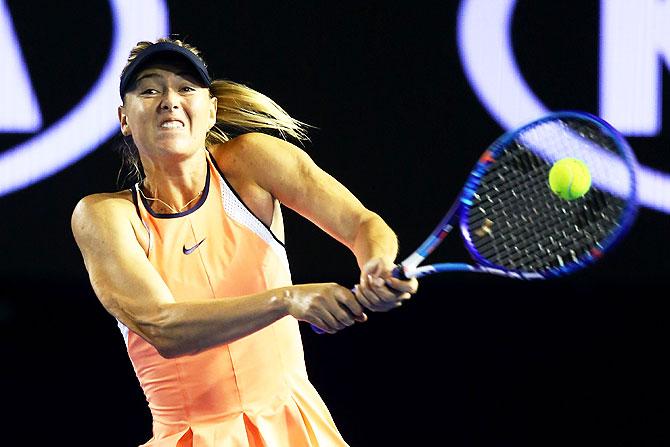 Maria Sharapova declared herself free from the worry of a forearm injury after charging into the Australian Open third round on Wednesday.
January 19, 2016
PHOTOS: Sublime Verdasco sends Nadal packing in first round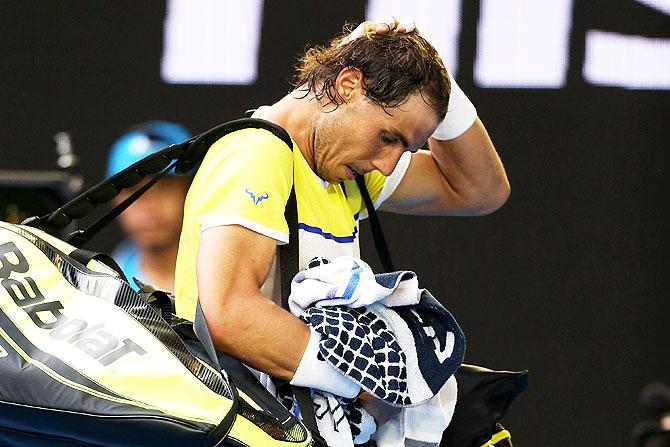 Fernando Verdasco sent shockwaves through the Australian Open on Tuesday by defeating Rafael Nadal 7-6(6), 4-6, 3-6, 7-6(4), 6-2 to send the former world number one crashing out in the opening round.
Federer wants names revealed as match-fixing allegations mar tennis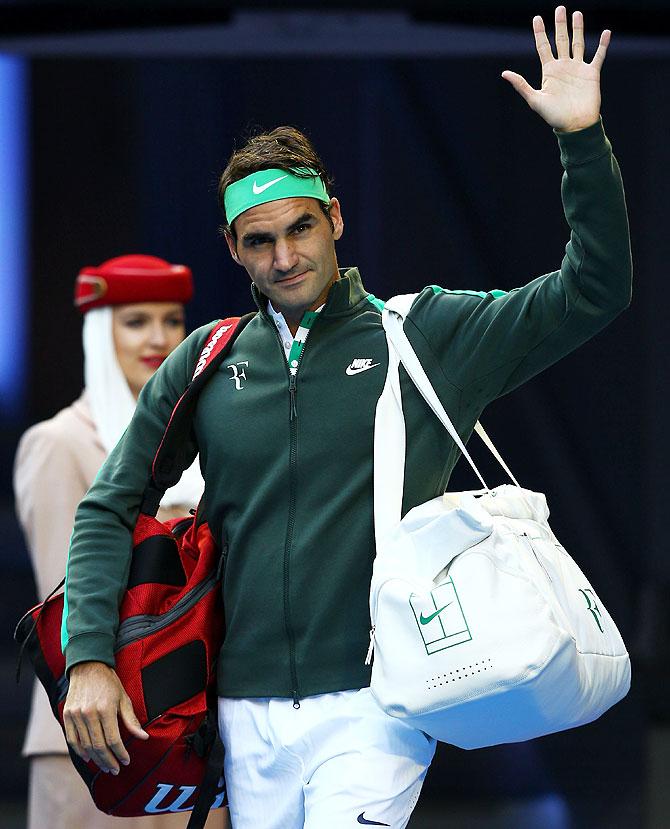 Roger Federer called for 'concrete' facts while Novak Djokovic spoke of his team once being offered $200,000 to fix a match as the multiple grand slam champions reacted to claims of widespread match-rigging in tennis on Monday.
Aus Open PHOTOS: Nadal, Halep, Venus knocked out; Murray forges ahead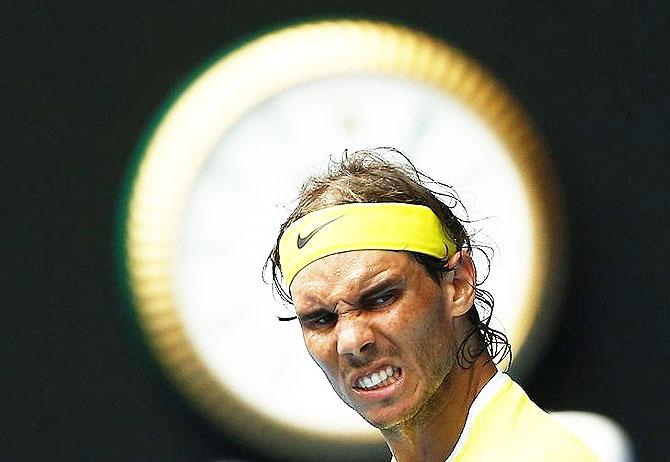 Photos from matches on Day 2 at the Australian Open on Tuesday
EPL PHOTOS: Swansea beat Watford to move out of relegation zone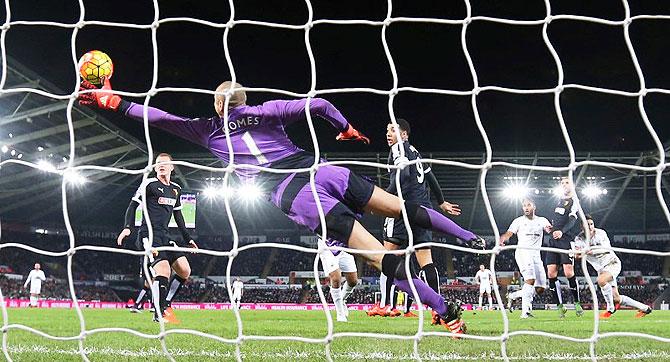 Swansea City climbed out of the relegation zone after a first-half header by captain Ashley Williams gave them a 1-0 win over Watford on Monday just hours after they named Francesco Guidolin as their new head coach.
January 18, 2016
India at Aus Open: Yuki Bhambri ousted by Berdych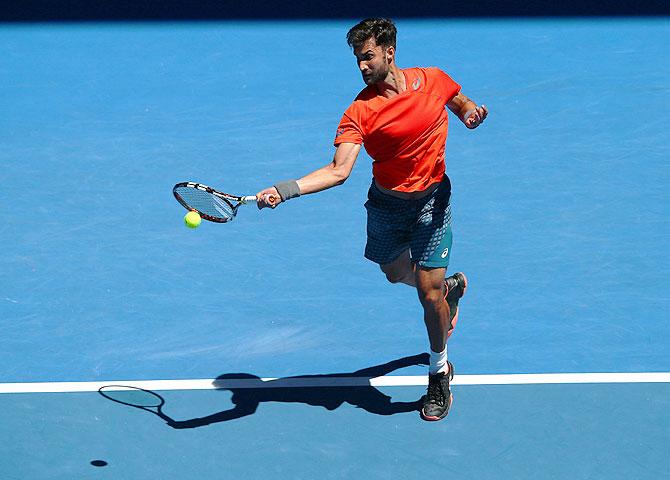 Star Indian tennis player Yuki Bhambri suffered a major setback in the Australian Open after a straight-set defeat at the hands of the sixth-seed Tomas Berdych in the opening round of the tournament on Monday.
Spate of injuries hit Barca and Real Madrid: Problems for Messi, Bale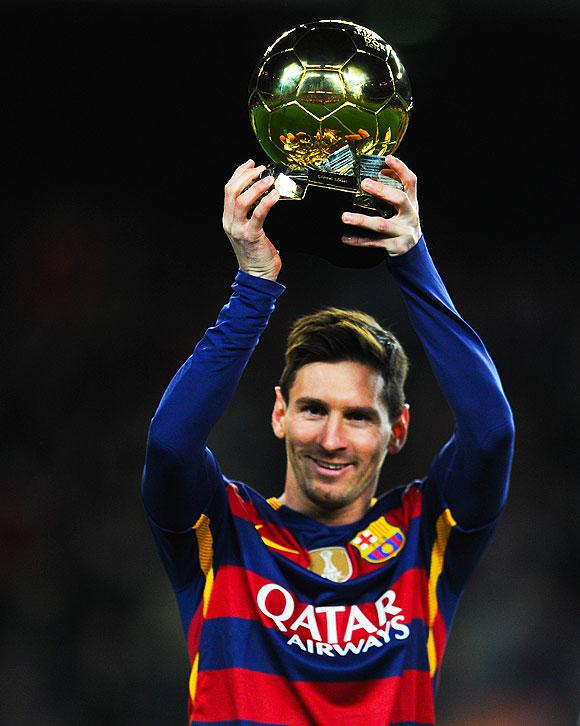 The injury list in the La Liga keeps growing as the season progresses and this time Lionel Messi and Gareth Bale are the unfortunate victims...
European football: Roma held by Verona; Monaco up to second in France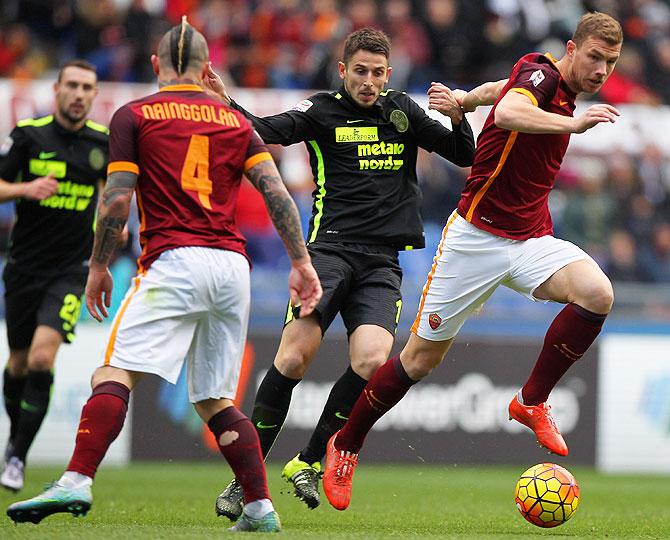 New coach Luciano Spalletti failed to inspire AS Roma as they were held 1-1 at home by bottom club Verona on his debut on Sunday and Juventus notched their 10th Serie A win in a row by hammering Udinese 4-0 away.
PHOTOS: Status quo maintained in La Liga as big teams cruise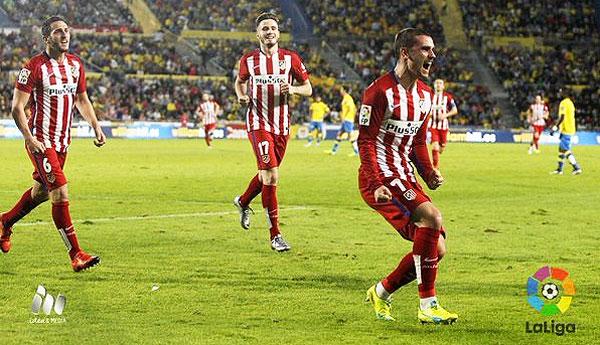 Atletico Madrid maintained a two-point lead in La Liga with a 3-0 victory at Las Palmas and Barcelona and Real Madrid stayed hard on their heels with thumping wins over Athletic Bilbao and Sporting Gijon on Sunday.
Tennis rocked by shocking match-fixing claims!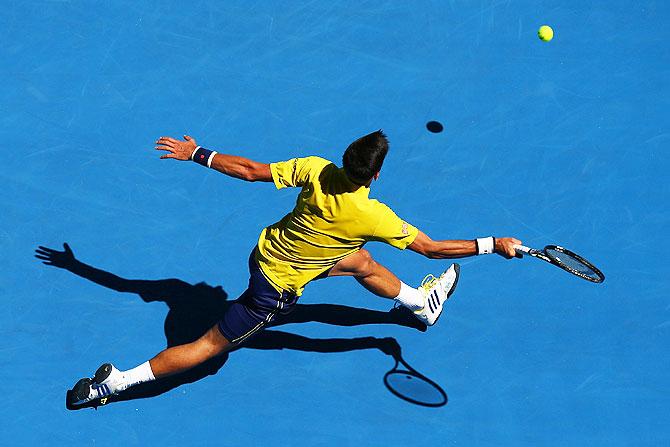 Widespread suspected match-fixing exists at the top level of world tennis, including at Wimbledon, according to secret files obtained by the BBC and online BuzzFeed News.
Aus Open PHOTOS: Federer, Djoko, Sharapova cruise; Wozniacki stunned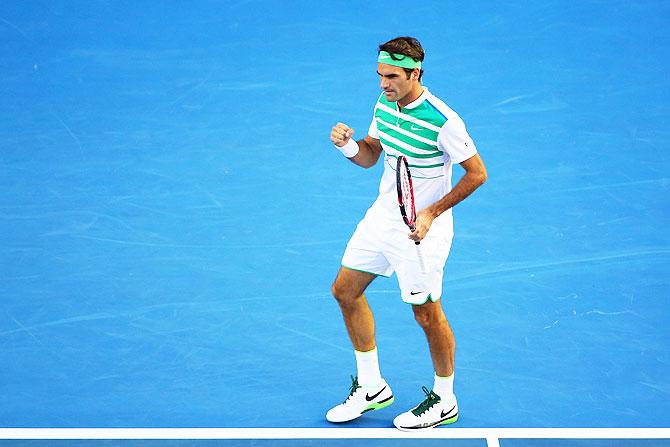 Photos from Day 1 of the Australian Open matches played at Melbourne Park on Monday
EPL PHOTOS: Arsenal go top after draw at Stoke; United win at Liverpool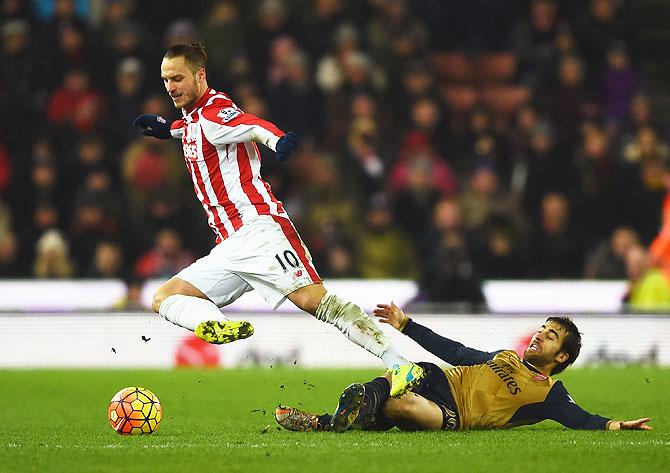 Arsenal ended Leicester City's brief stay at the top of the Premier League on Sunday despite being held to a 0-0 draw at Stoke City after Manchester United's Wayne Rooney struck late for a 1-0 win at Liverpool.
January 17, 2016
Record-chasing Djokovic ready to rumble in Melbourne heat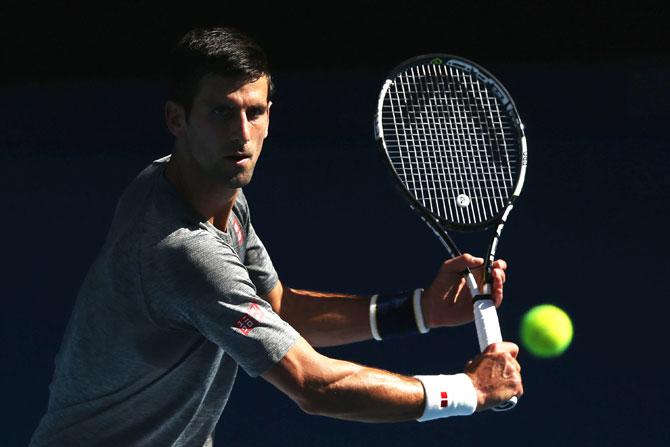 World number one Novak Djokovic is a red hot favourite to overcome all opponents and clinch another Australian Open title this year, although extreme temperatures will be a wild card the Serb has to watch out for.
Kenyan Kipketer sets new course record time to win Mumbai Marathon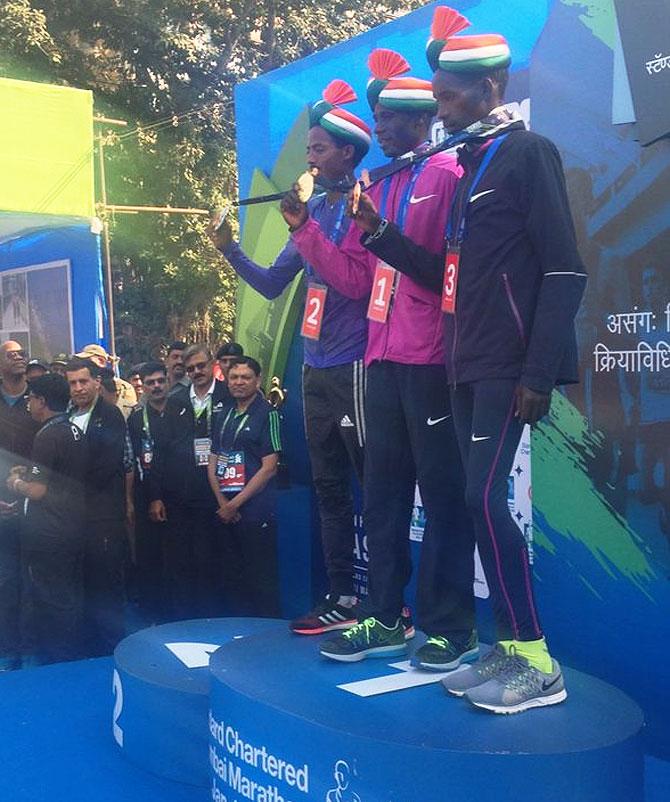 Kenyan pacesetter Gideon Kipketer won the men's race in an all-East African clean sweep of the podium by setting a new course record in the 13th Standard Chartered Mumbai Marathon on Sunday.
European soccer: Higuain extends Napoli's lead; Villareal drop points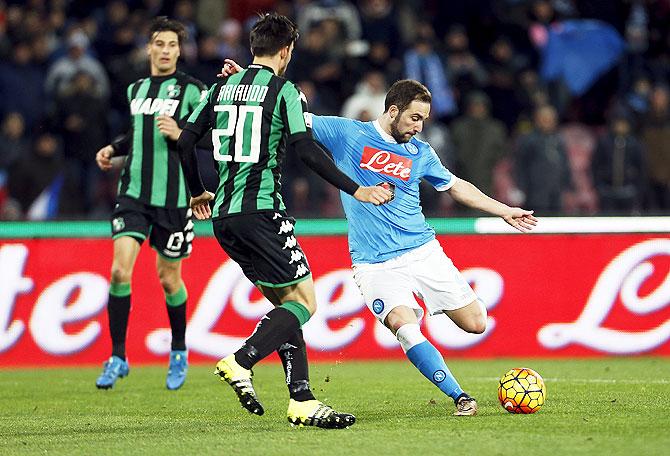 Photographic summary of the football matches played across Spain, Italy and France
EPL PHOTOS: Leicester back on top after draw; Chelsea win thriller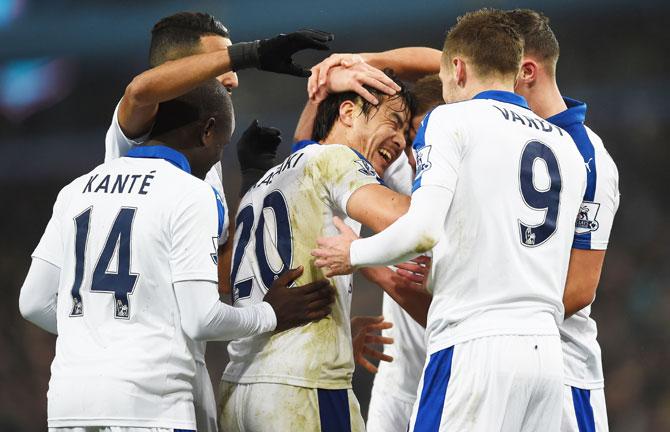 Photos from the English Premier League matches played on Saturday
January 15, 2016
Sydney International tennis: Bopanna-Mergea in final; Halep loses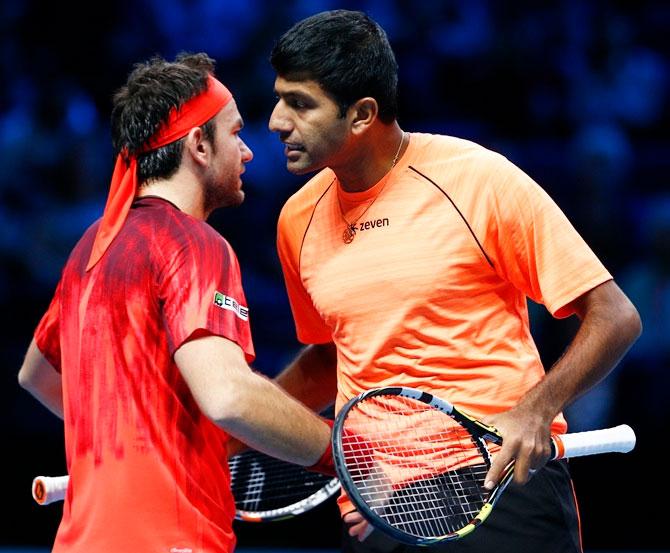 India's Rohan Bopanna and his Romanian partner Florin Mergea entered the Sydney International final after a straight sets win over Thomaz Bellucci and Leonardo Mayer, on Friday.
King's Cup: Super-sub Griezmann sends Atletico through to quarters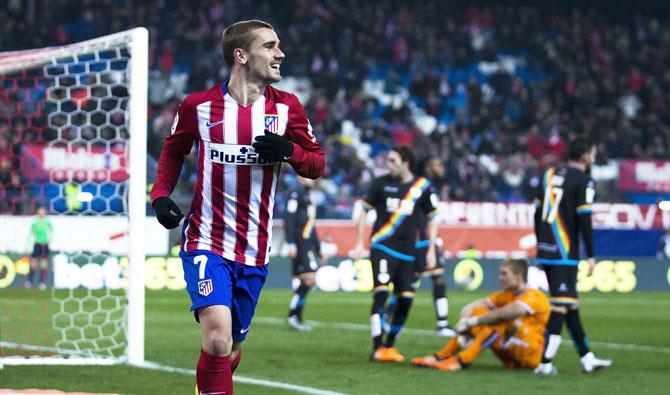 Antoine Griezmann scored twice off the bench as Atletico Madrid sealed a place in the King's Cup quarter-finals with a 3-0 win at home to Rayo Vallecano on Thursday while Valencia also advanced with victory by the same scoreline at Granada.
Aus Open draw: Djokovic to open title defence against plucky Korean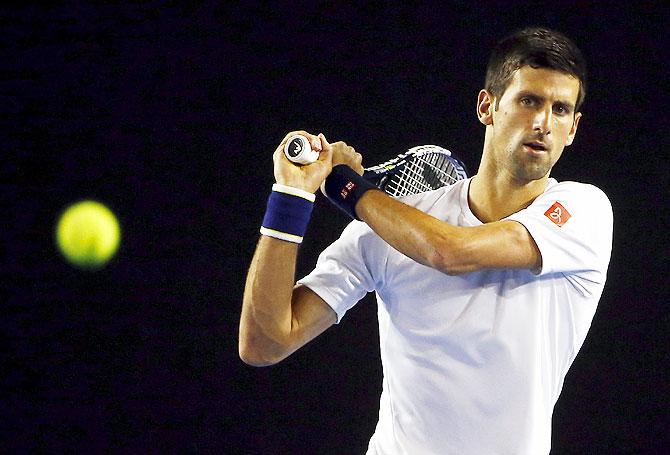 Serena faces hard-hitting Giorgi in first round while former World No Hewitt play his final grand slam
January 14, 2016
EPL PHOTOS: Fighting Leicester beat Spurs; Arsenal-Reds draw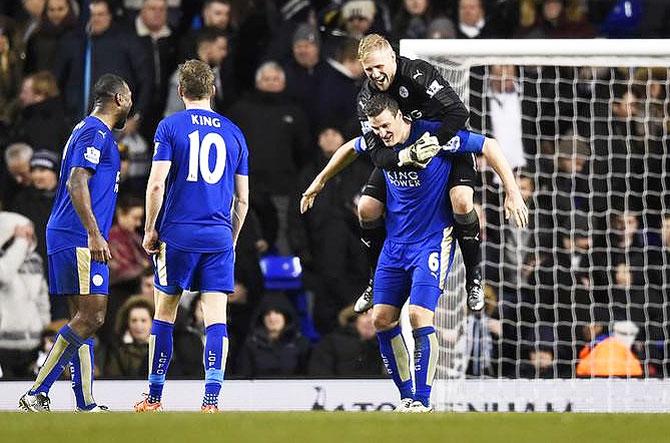 'Keep Calm And Carry On' could be Claudio Ranieri's motto for the second half of the season after Leicester City earned a 1-0 win at Tottenham Hotspur on Wednesday to put the heat back on Premier League leaders Arsenal.
January 13, 2016
IAAF under fire as more Russian doping allegations surface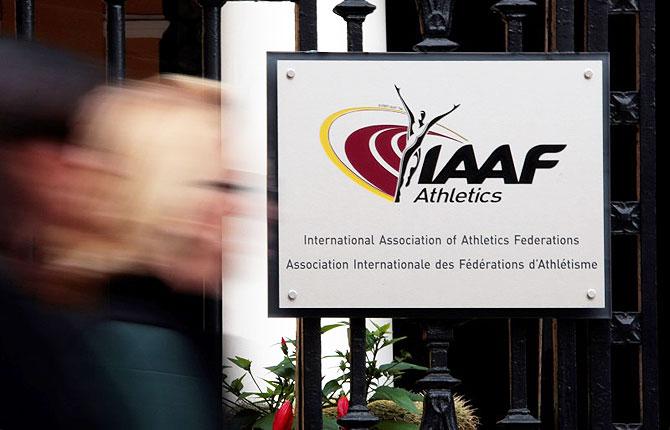 Athletics' governing body came under renewed fire on Tuesday following disclosures that top officials were aware of a potentially serious doping problem among Russian athletes as far back as 2009.
EPL PHOTOS: Rooney-inspired United held by Toons; Villa win at last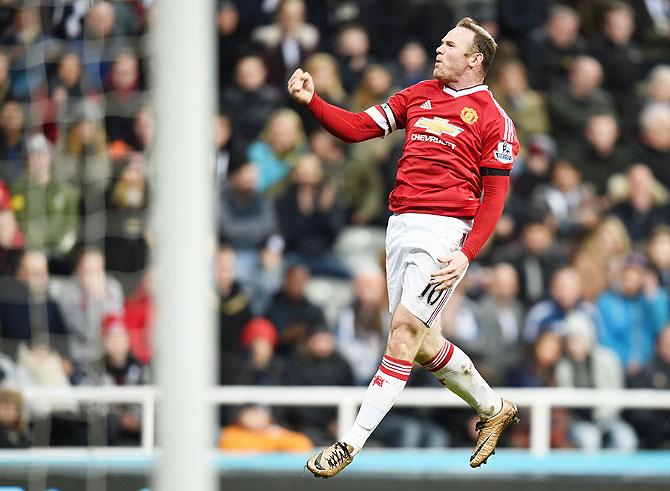 Aston Villa beat Crystal Palace 1-0 to win a Premier League match for the first time since August while a late goal from Paul Dummett earned a 3-3 draw for Newcastle United against Manchester United on Tuesday.
January 12, 2016
PHOTOS: Music, big names light up Ballon d'or Gala night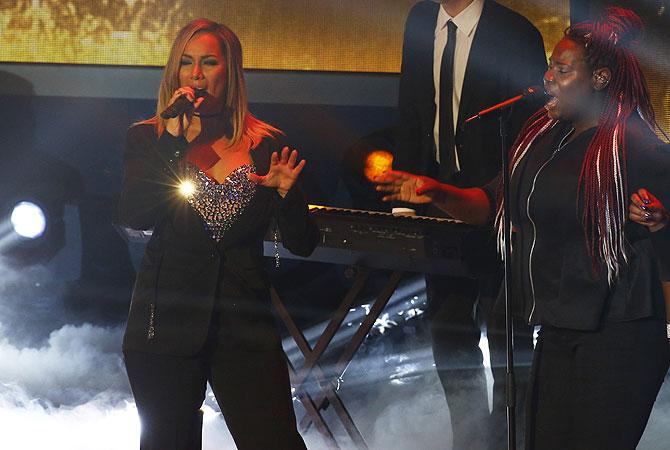 Here are some special moments from the gala night in Zurich on Monday...
PHOTOS: Messi 'grateful to football, fans on claiming fifth Ballon d'Or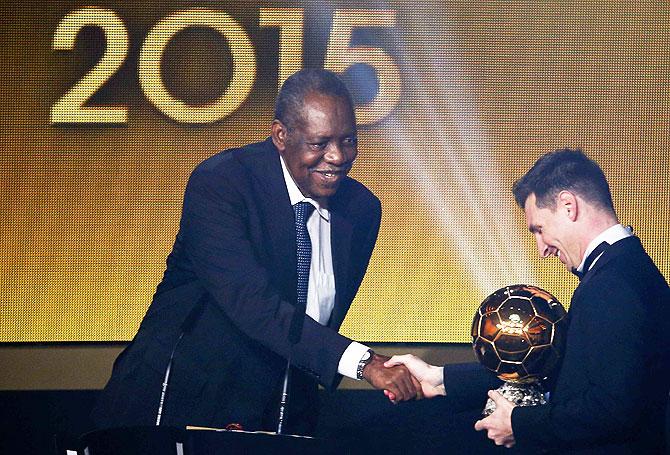 Lionel Messi reclaimed the FIFA Ballon d'Or award for the world player of the year on Monday from his great rival Cristiano Ronaldo who had walked off with the award for the previous two years.
January 06, 2016
With eye on coaching role, Henry takes managerial lessons from Wenger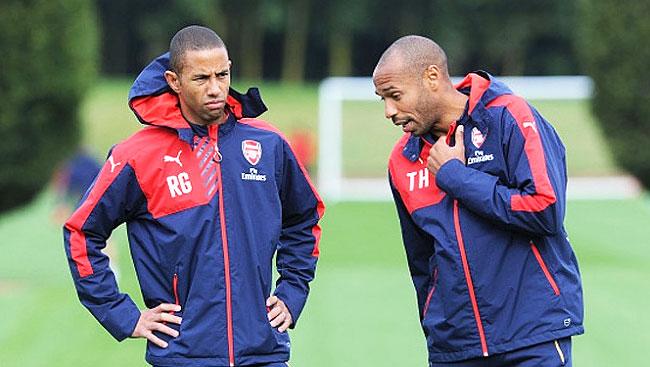 The former Arsenal legend, who is assistant coach at the Gunners' junior squad, has revealed that he speaks to 'The Professor' about everything related to coaching
January 05, 2016
Don't compare me with 'incredible' Guardiola, says Zizou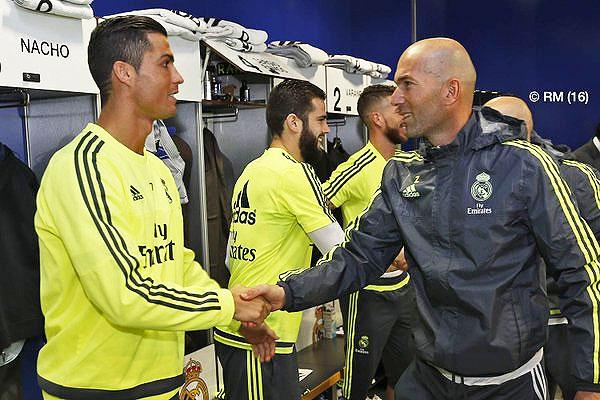 'Good football has always been important at this place and I am going to continue that. It has to be offensive football, balanced and nothing else'
January 04, 2016
PBL: Cheered on by Akshay, Nimrat, Saina's Warriors trump Delhi Aces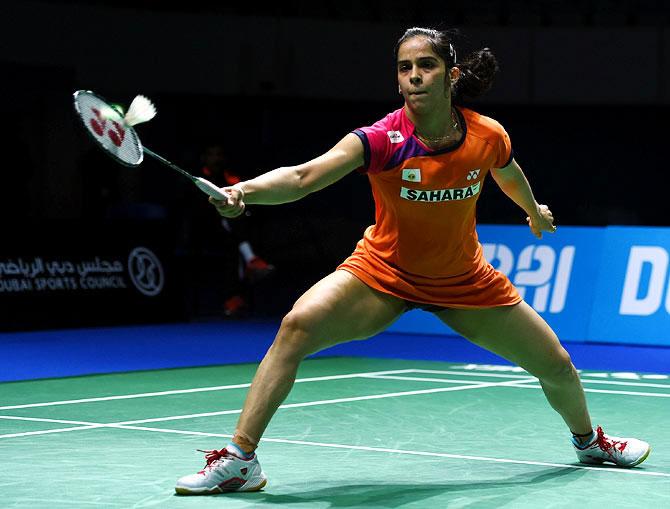 World No.2 Saina Nehwal notched up a comfortable straight-game victory in their Trump match over P C Thulashi in the women's singles event to guide Awadhe Warriors to a convincing victory over Delhi Aces in their Premier Badminton League (PBL) match in Lucknow on Monday.
10 BEST Sports Photos of the Week!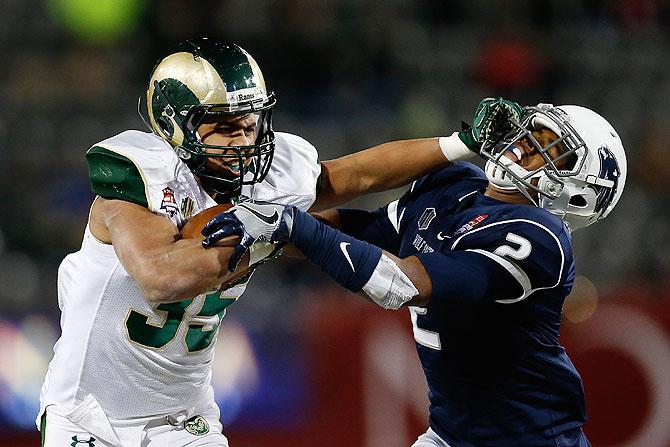 These and many more stunning photographs are encapsulated in this weekly, striking photo feature put together by Rediiff.com.
Brisbane International PIX: Easy for Azarenka; Stosur survives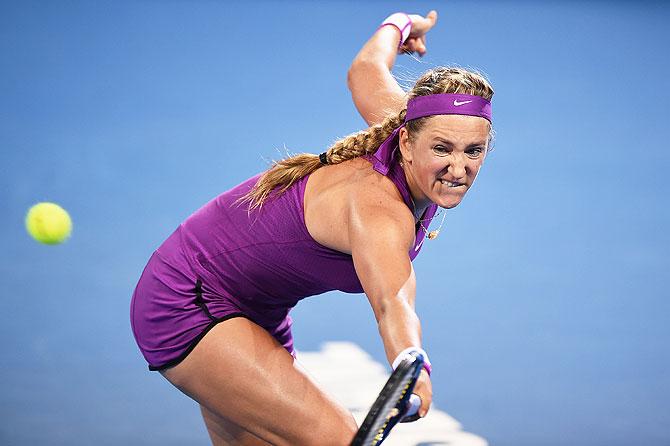 Former Australian Open champion Victoria Azarenka began her warm-up to the first Grand Slam of the year in convincing fashion with a 6-2,6-0 win over Russian Elena Vesnina in their first round match at the Brisbane International on Monday.
Spurs disappointed after dropping two points at Everton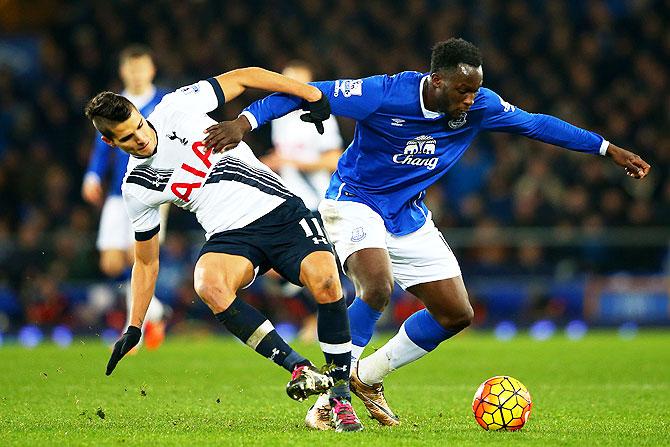 The London club dominated the first half but fell behind to a superb goal from their former winger Aaron Lennon before young midfielder Dele Alli furthered his case for a place in England's midfield with a classy equaliser just before the break.
January 03, 2016
EPL PHOTOS: Chelsea lord over Palace with 3-0 win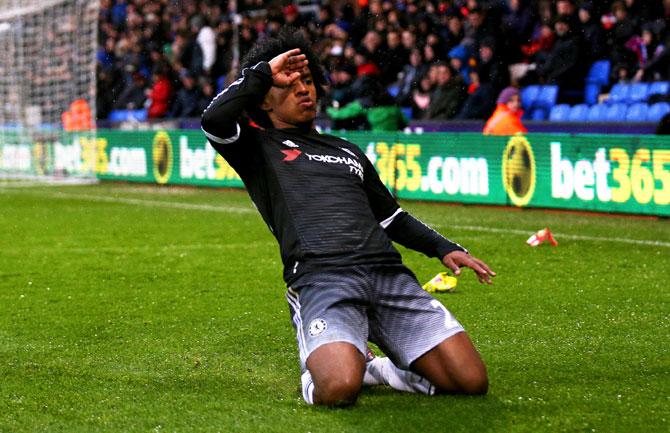 Chelsea put all their struggles away and looked like a renewed squad, stamping their class over Crystal Palace in their English Premier League match at the Selhurst Park on Sunday.
Paes doesn't want repeat of 2012 London Games selection drama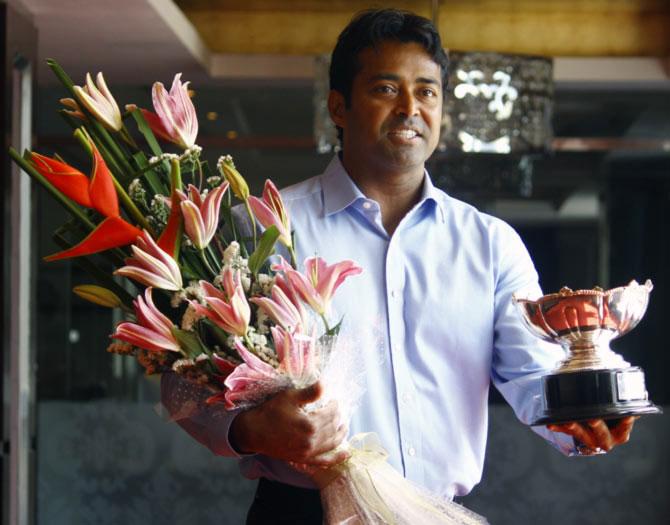 Leander Paes is hoping that there will be not be repeat of a selection fiasco ahead of the Rio Olympics and feels he deserves to be paired with Rohan Bopanna and Sania Mirza for the men's and mixed doubles events.
EPL PHOTOS: Arsenal go three clear at top, United end winless streak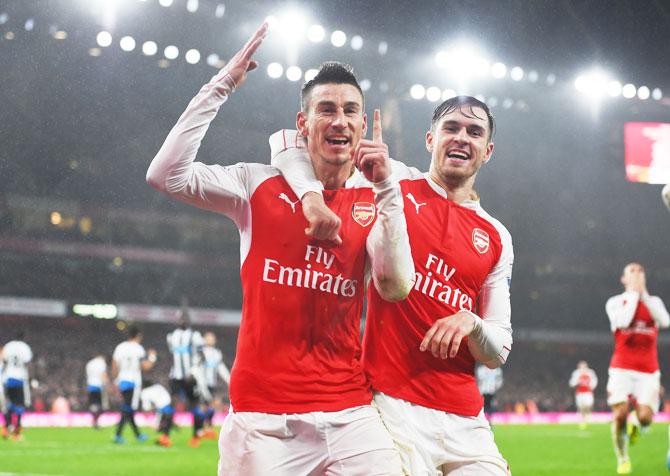 Arsenal's victory was scrappy and nervy but Laurent Koscielny's 72nd-minute winner was enough to move them two points clear at the summit after LeicesterCity's surprise push faltered with a goalless draw at home to 10-man Bournemouth.
December 30, 2015
Woods turns 40, in touching distance to record majors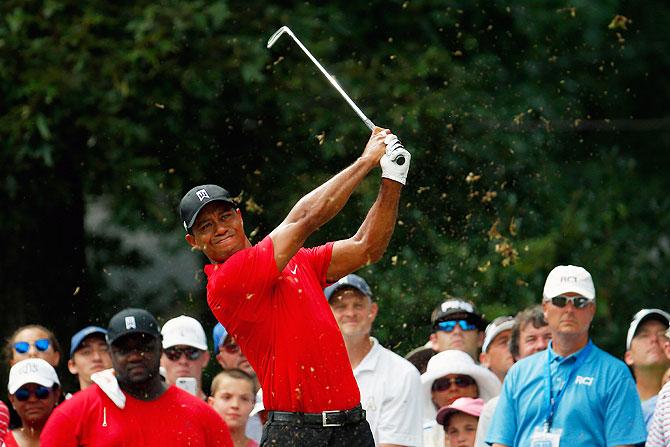 Woods had won five PGA Tour events in 2013 and, though major silverware had eluded him since 2008, there seemed no reason why he could not add to his haul of 14 majors as long as he stayed healthy.
FLASHBACK: BEST Sports Photos of the Year-Part 2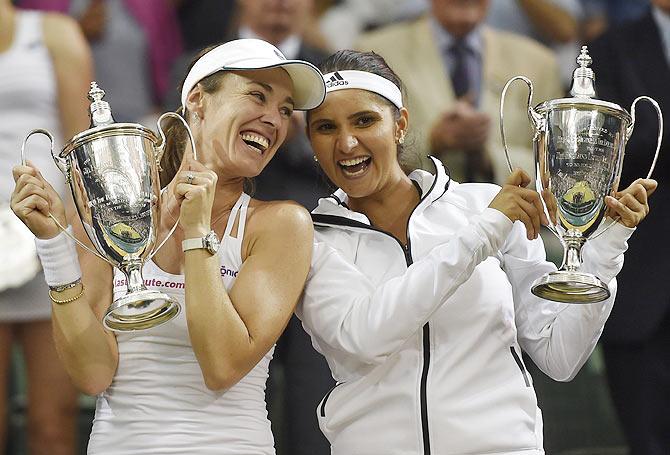 From a bloodied face of Spanish club Atletico's Madrid's Mario Mandzukic, to Australia's ICC World Cup triumph, Sania Mirza's fabulous run and more scintillating moments are frozen in time in this beautiful photo-feature.
EPL PHOTOS: Leicester held by City, share top spot with Arsenal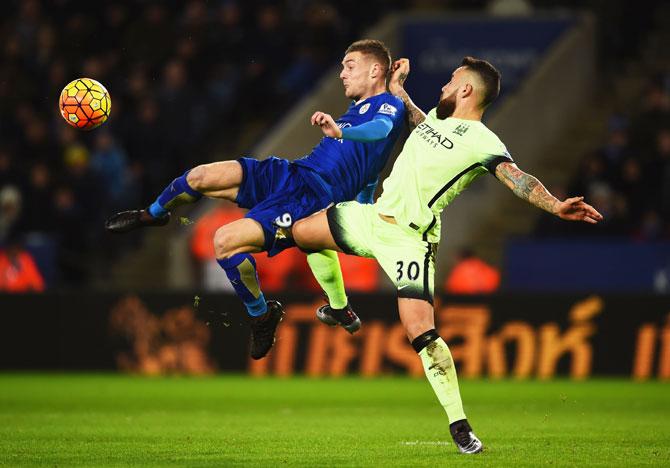 LeicesterCity went level on points with Premier League leaders Arsenal after drawing 0-0 with title rivals ManchesterCity at the King Power Stadium on Tuesday.
Playing the perfect 'cover' drive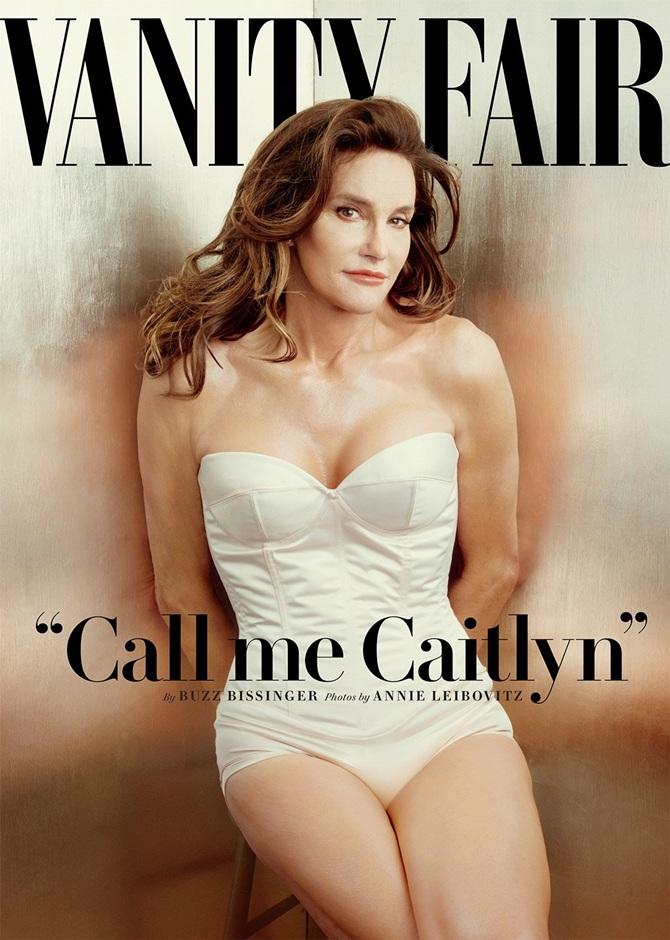 Vanity Fair's August issue, featuring Caitlyn Jenner, formerly known as 1976 Olympic gold medal-winning decathlon champion Bruce Jenner, on the cover was the magazine's best-selling issue in years.
December 29, 2015
EPL PHOTOS: United in entertaining draw with Chelsea; Arsenal top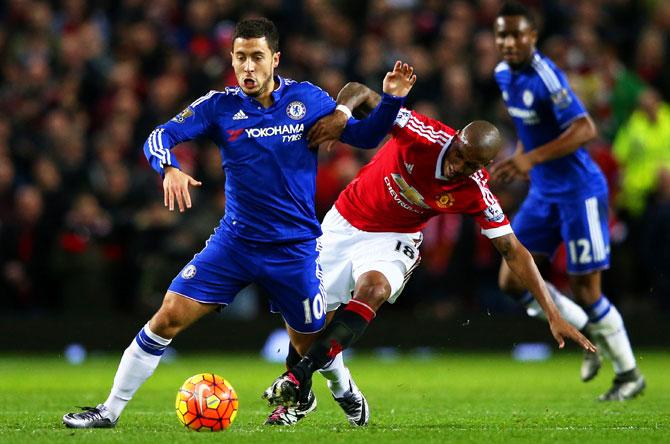 Manchester United's winless run continued but they gave under-fire coach Louis van Gaal crumbs of cheer with a committed display in an entertaining 0-0 draw with Chelsea while Arsenal went top of the table on Monday.
December 28, 2015
FLASHBACK: BEST Sports Photos of the Year-Part 1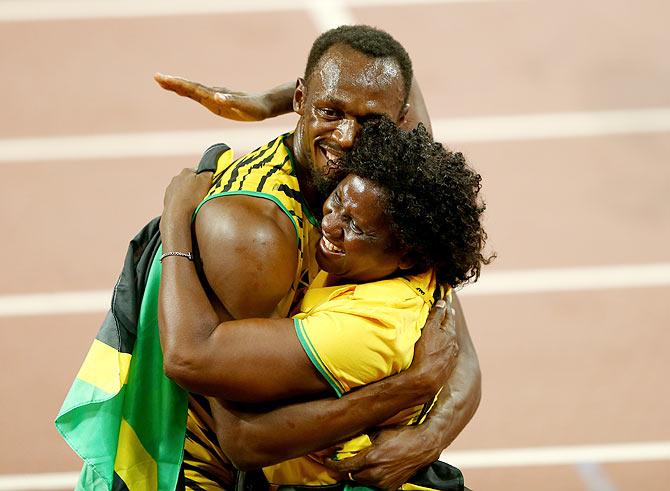 From Novak Djokovic's top performances to Australia's ICC World Cup victory and Sania Mirza's fabulous run, we have these and many more scintillating moments frozen in time and presented to you in this special photo-feature...
December 23, 2015
10 BEST Sports Images of the Week!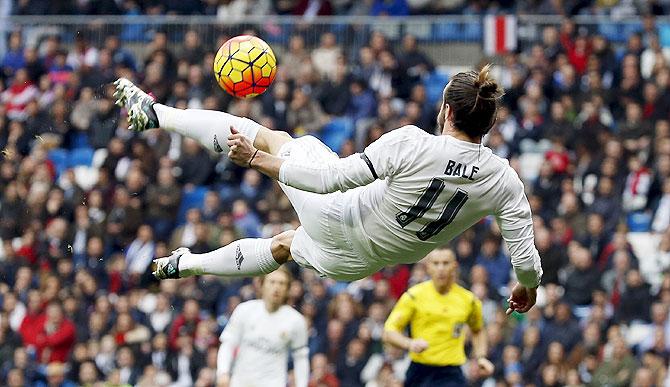 Get set to be amazed as Rediff.com has all that and more sporting action from the past week encapsulated in this super photo feature.
December 21, 2015
Champions League: 'Fearless' Arsenal ready for Barca's 'MSN' challenge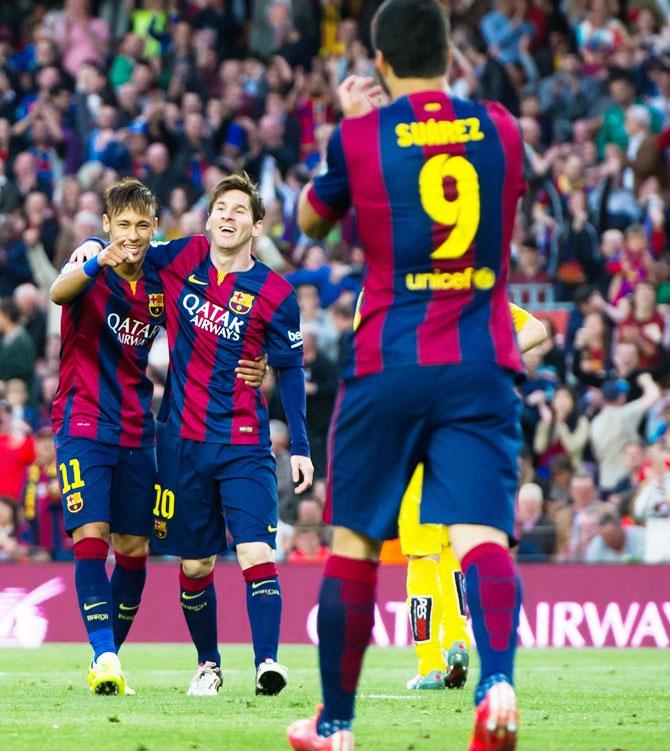 Arsenal's defence not afraid of Barcelona trio, says Ozil
December 20, 2015
PHOTOS: Mendoza stars as Chennaiyin FC clinch ISL 2 title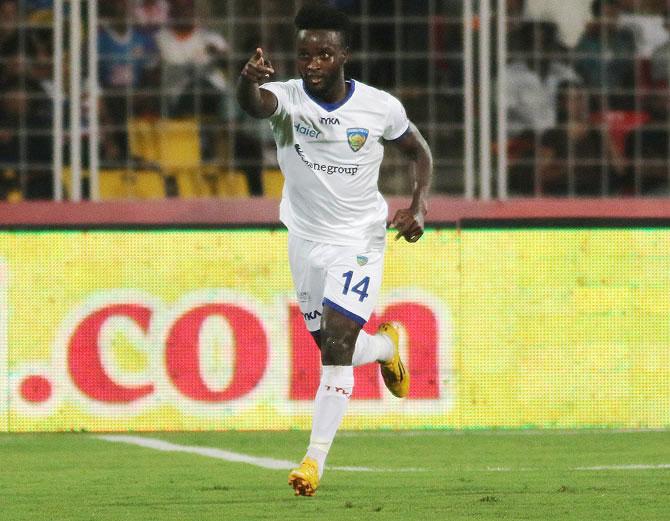 Stiven Mendoza was the star of the night as Chennaiyin FC beat FC Goa 3-2 in a dramatic final to clinch the 2nd edition of the Indian Super League at the Fatorda Stadium in Margao on Sunday.
PHOTOS: Messi, Suarez lead Barca to Club World Cup title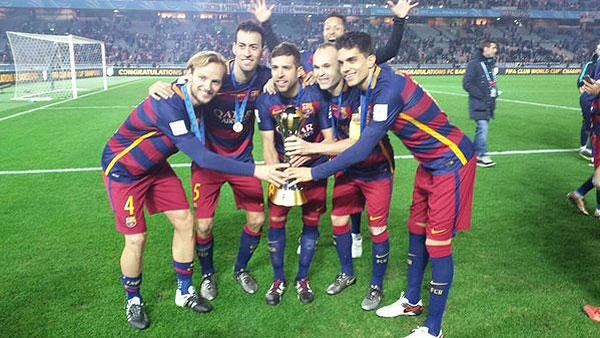 Lionel Messi broke the deadlock and Luis Suarez scored twice in the second half to give Barcelona a typically emphatic 3-0 win over River Plate in the Club World Cup final on Sunday.
PHOTOS: Wawrinka inspires Singapore to IPTL title victory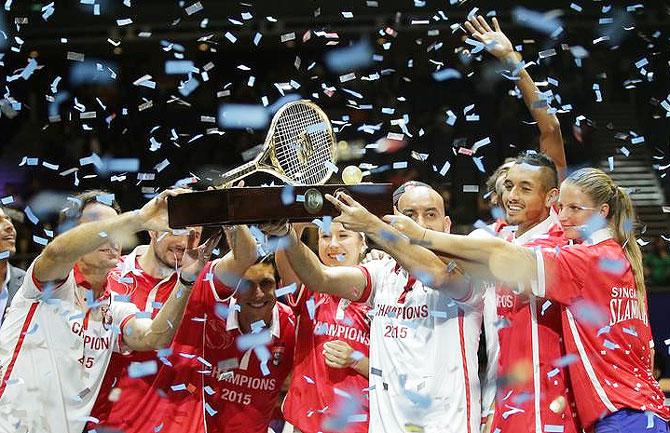 Stan Wawrinka showed his class in both singles and doubles to lead the Singapore Slammers to victory in the International Premier Tennis League (IPTL) final in front of a delighted home crowd at the Indoor Stadium on Sunday.
December 19, 2015
EPL PHOTOS: Chelsea thump Sunderland after Mourinho axe; United lose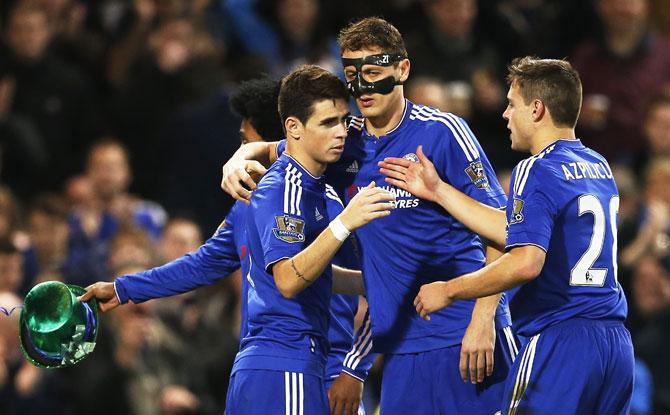 Leicester go five clear after win at Everton
EPL: Glum Chelsea fans lament Mourinho's exit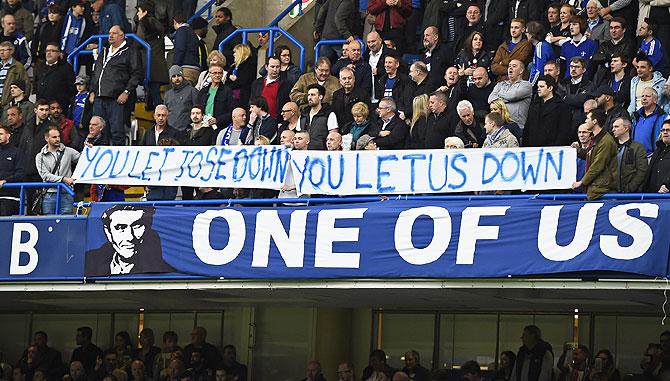 Despondent Chelsea fans expressed dismay and anger at the departure of the club's most successful manager Jose Mourinho as they arrived at StamfordBridge on Saturday for the first match since he was fired.
Can experienced Hiddink pull crisis-ridden Chelsea out of their misery?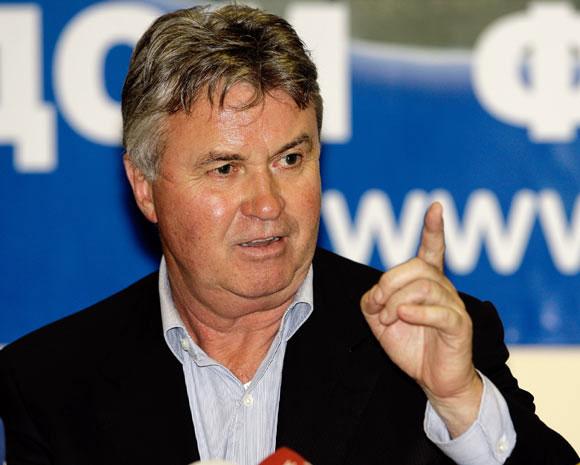 Chelsea turned again to experienced Dutchman Guus Hiddink to guide them out of a crisis when they named him interim manager on Saturday for the rest of the season following the sacking of Jose Mourinho.
December 18, 2015
Terry, Fabregas salute outgoing Mourinho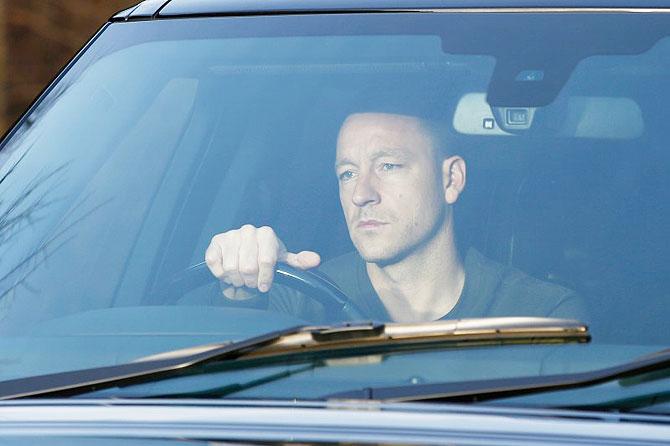 However, cracks in the relationship surfaced this season as the team's form slumped, with the first signs appearing as early as August when Mourinho hauled Terry off at halftime during a 3-0 defeat to ManchesterCity.
December 16, 2015
Fabregas blames player attitude for Chelsea slump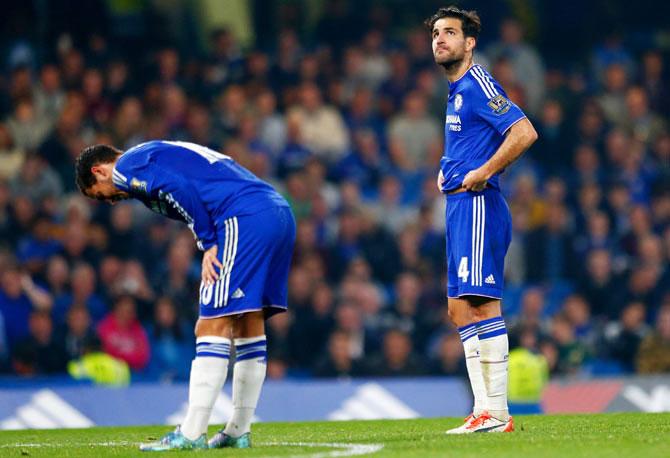 'If you are a big player, and paid like a big player, you must play like a big player and behave like a big player'
New study predicts leader of medals tally at Rio Olympics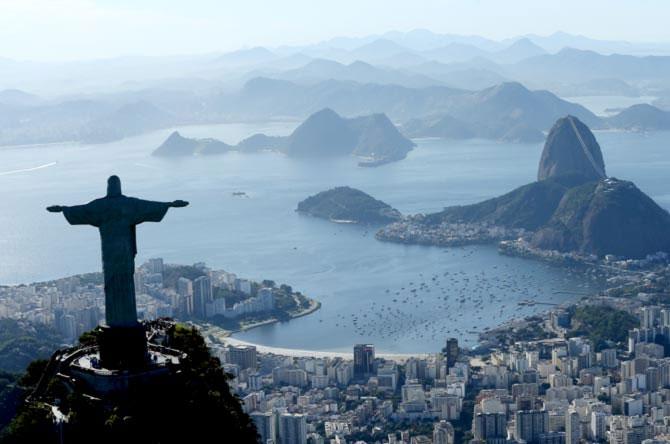 China is on track to return to the top of the medals table at the Rio de Janeiro Olympics next year ahead of the United States and Russia, according to a benchmark study released by the Australian Olympic Committee on Wednesday.
Two football officials plead not guilty in FIFA bribe case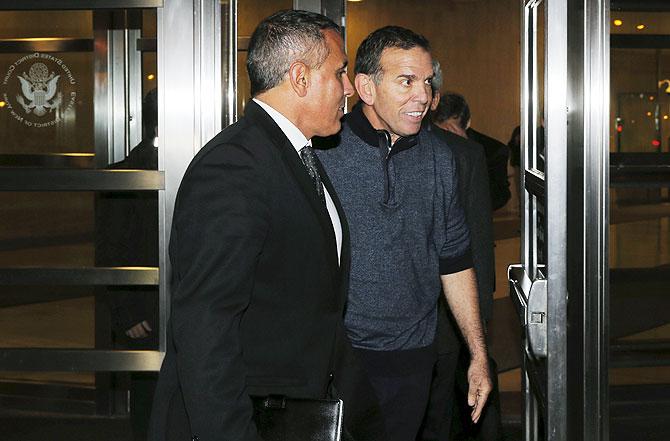 Two football bosses including a former president of Honduras pleaded not guilty on Tuesday to US charges they took bribes in exchange for media and marketing contracts in a scandal that has rocked the business of global football.
December 14, 2015
Champions League draw: 'Everybody wanted to avoid Barca and Bayern'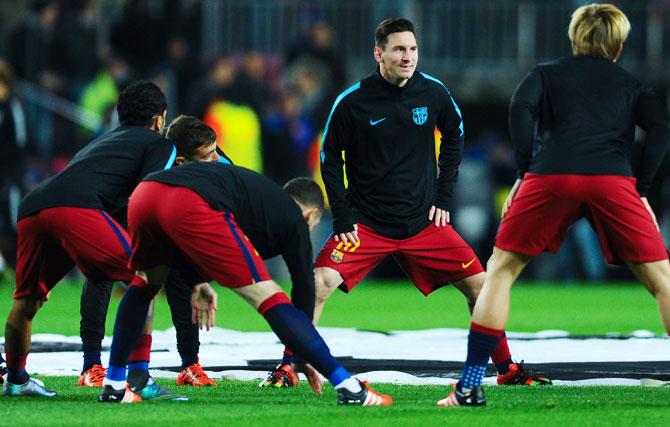 Holders Barcelona will play Premier League leaders Arsenal in the last 16 of the Champions League, 10 years after the sides faced each other in the final, following Monday's draw for the first knockout stage.
EPL: Have inconsistent Newcastle turned the corner with Spurs win?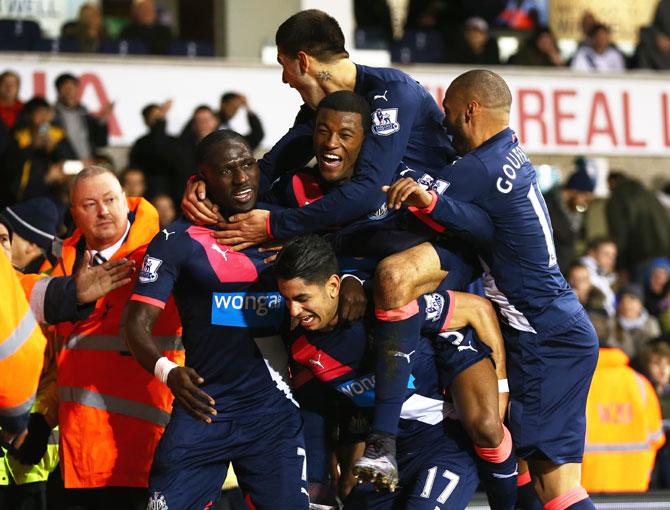 Manager Steve McClaren called for more of the same after Newcastle United beat Tottenham Hotspur on Sunday to put some daylight between themselves and the relegation zone, but stopped short of describing the win as a turning point in their season.
December 13, 2015
PHOTOS: Giroud scores 50th EPL goal as Arsenal go back to top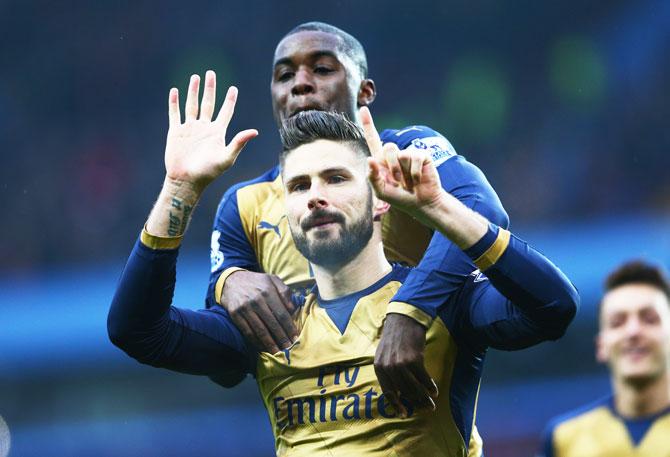 Arsenal enjoyed an easy 2-0 victory at Aston Villa on Sunday to soar to the summit of the Premier League and leave their hapless opponents rooted at rock bottom.
December 10, 2015
Champions League PIX: Chelsea outclass Porto; Giroud inspires Arsenal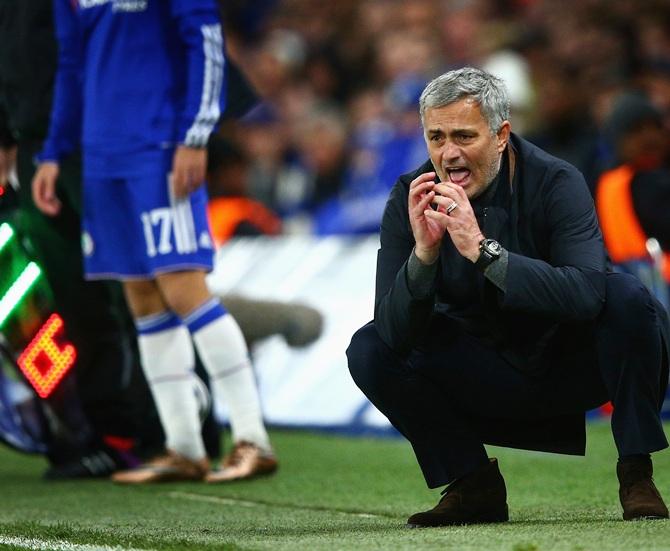 Jose Mourinho's Chelsea turned from domestic whipping boys back to European stalwarts on Wednesday, beating his former club Porto 2-0 to top Champions League Group G.
December 08, 2015
Depleted Arsenal face Olympiakos in Champions League 'showdown'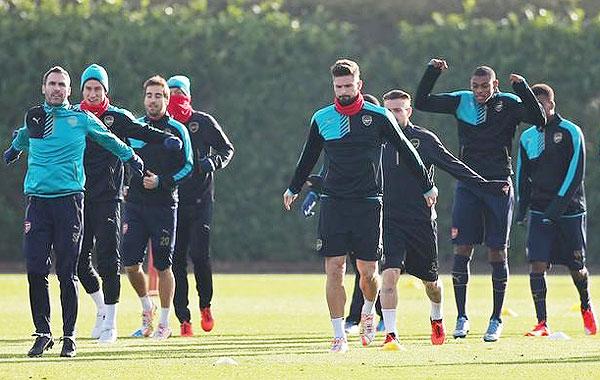 Arsenal will put one of the best Champions League records on the line when they face Olympiakos Piraeus in a showdown for second spot in Group F on Wednesday.
EPL PHOTOS: Lukaku's late goal saves Everton the blushes against Palace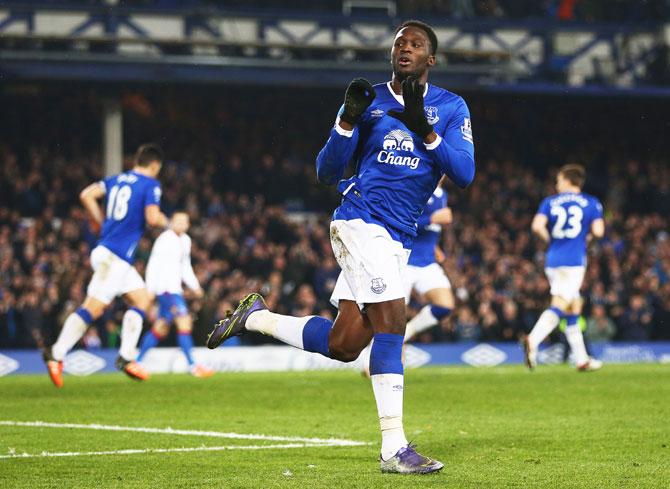 Everton striker Romelu Lukaku struck a late equaliser to salvage a 1-1 draw against a solid CrystalPalace side in an absorbing Premier League match at Goodison Park on Monday.
Young African footballers duped, dumped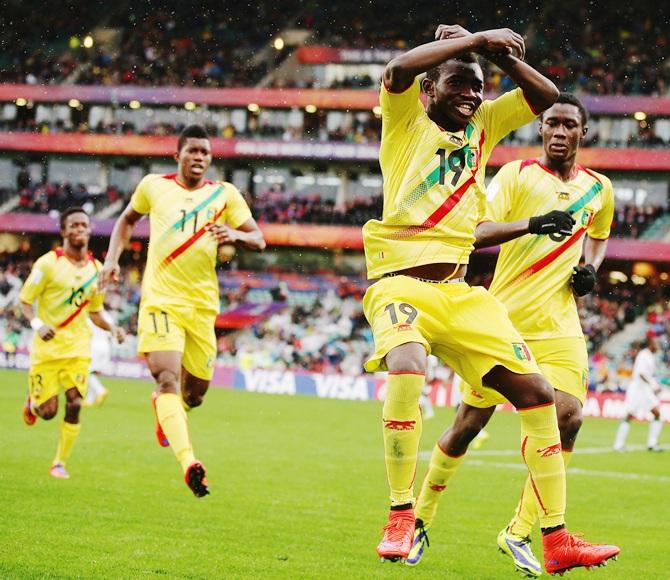 On the pitches of ramshackle football academies across West Africa, teenage boys chase one another in pursuit of the ball, the chance to impress, and the prospect of a lucrative contract with one of Europe's top teams.
December 07, 2015
Champions League: Van Gaal realistic about United's chances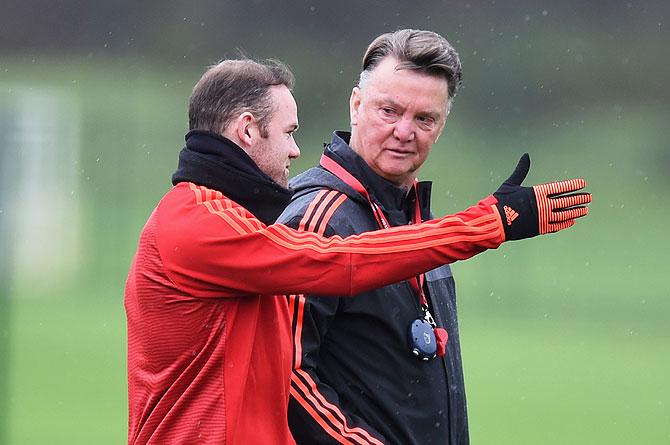 Since winning 2-1 at home to Wolfsburg in September, United have scored only twice in three Champions League games. In the Premier League the record is five goals in the last six games.
10 BEST Sports Photos of the Week!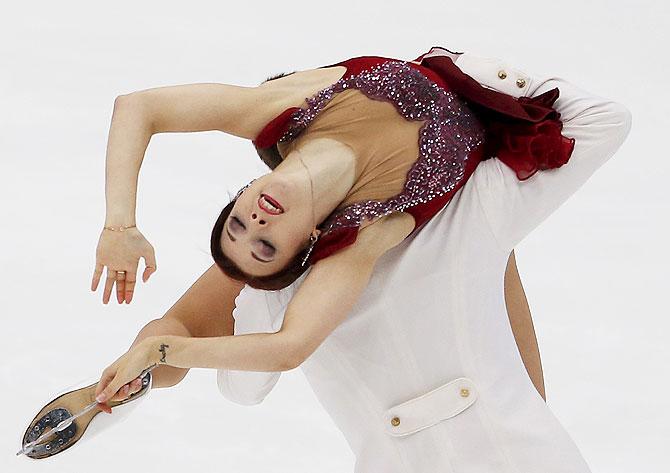 Be ready to be amazed as Rediff.com encapsulates all the sporting action from the past week in this super photo feature.
Not afraid of missing Euro, France needs me: Benzema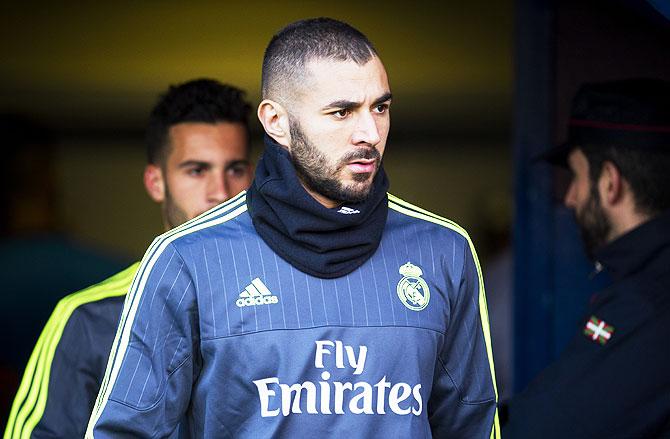 France international striker Karim Benzema, who is embroiled in a blackmailing scandal, is not afraid of possibly missing the Euro 2016 finals on home soil, the Real Madrid player said on Sunday.
EPL PHOTOS: Lowly Newcastle stun resurgent Liverpool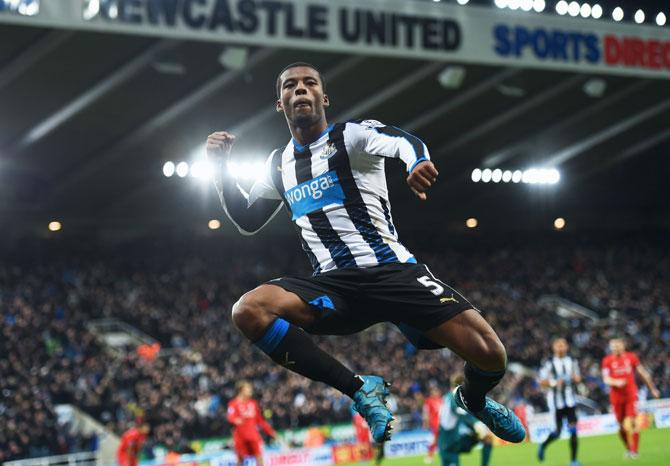 Juergen Klopp's side remain seventh, six points behind the Champions League places, after only their second defeat in the 12 games since the German took over in October
December 05, 2015
French TV show claims Real Madrid star Ronaldo is gay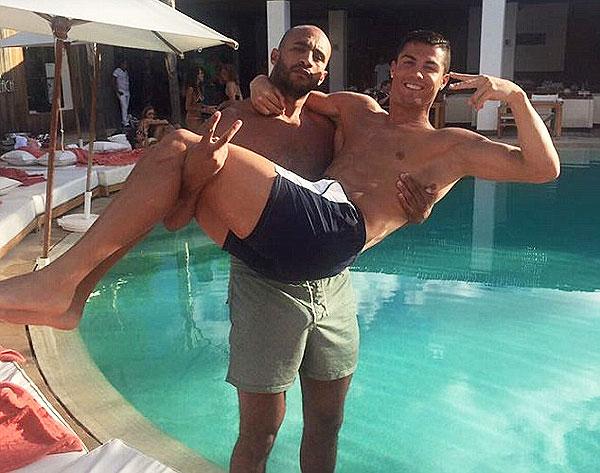 Several media houses have sensationalised Cristiano Ronaldo's 'bromance' with Moroccan kickboxer Badr Hari.
EPL PHOTOS: Shaqiri shines as Stoke sink ragged City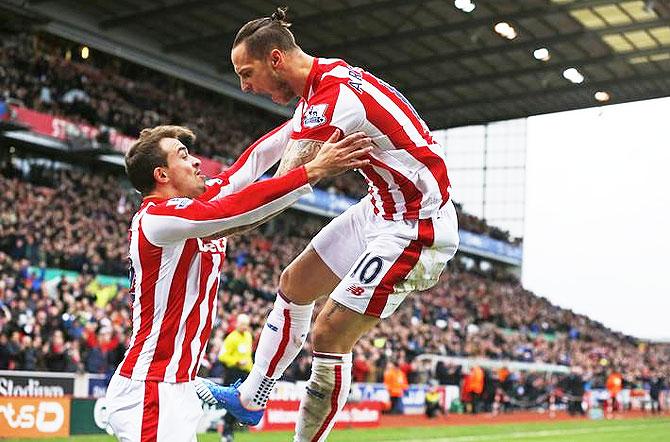 Xherdan Shaqiri inspired StokeCity to a convincing 2-0 victory over Premier League leaders ManchesterCity in blustery conditions at the Britannia Stadium on Saturday.
FIA awards: F1 teen sensation Verstappen is hero of the night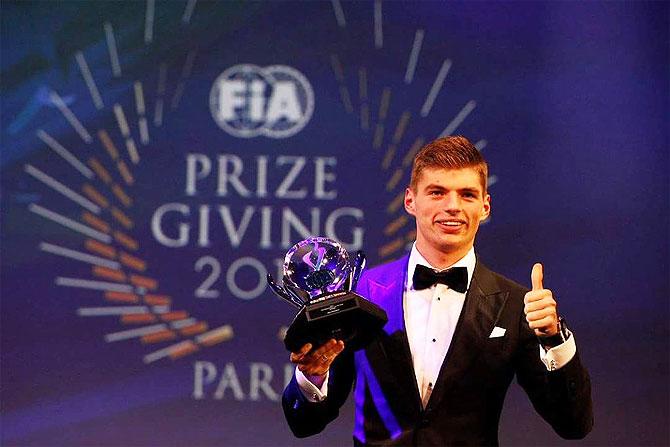 Dutch rookie Max Verstappen, signed controversially as a 16-year-old by Toro Rosso, has swept a hat-trick of awards after confounding his critics in an impressive debut Formula One season.
December 04, 2015
'Rosberg and I are never going to be best friends'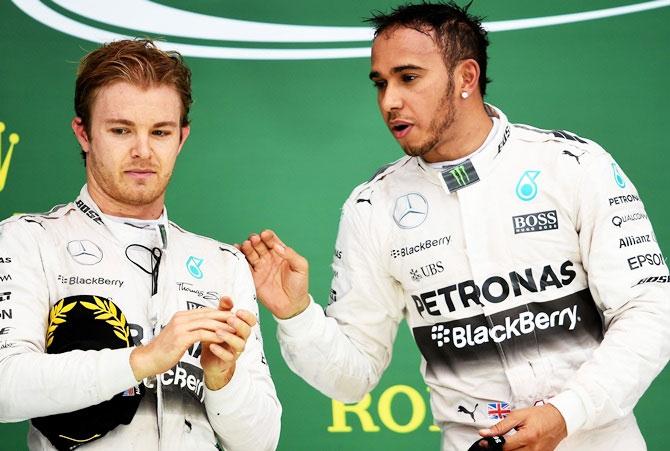 Hamilton responded to Mercedes motorsport head Toto Wolff who said that driver discord was a major weakness in the team and that they wanted 'nice guys'
This former banker proves Maradona wrong, takes Napoli atop Serie A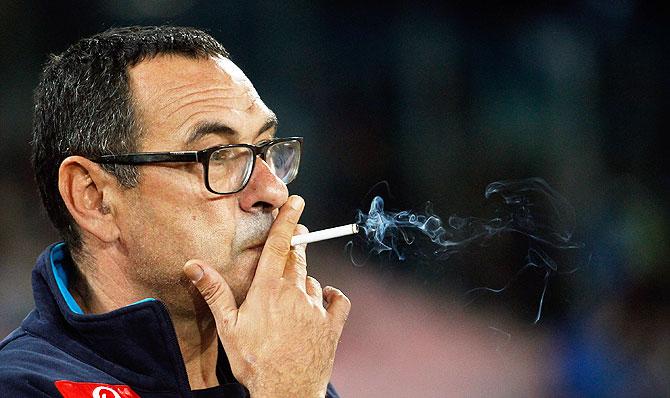 'I understood that if I dedicated myself solely to coaching, I could get much better at it'
South American soccer heads charged in latest FIFA probe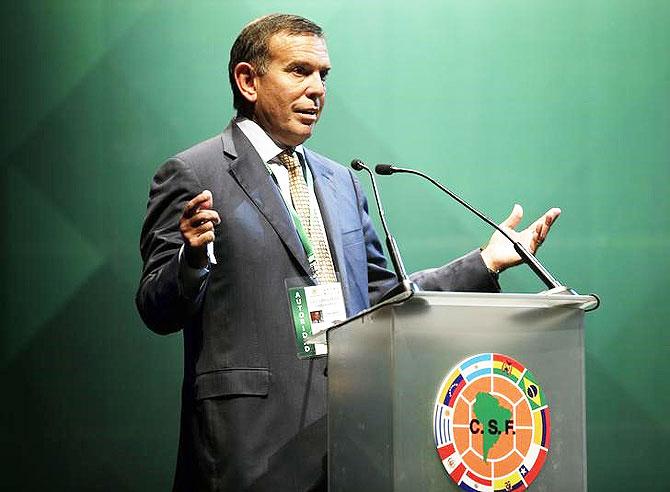 The United States Soccer Federation said in a statement on the new charges that its hosting of the 2016 Copa America Centenario tournament would go ahead as planned.
December 03, 2015
IPTL: Kyrgios takes Slammers past Mavericks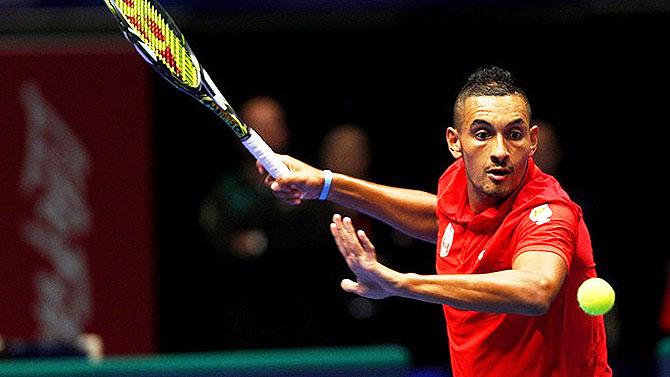 Mavericks won the men's doubles and men's legends singles rubber, but the Slammers clinched the women's singles, mixed doubles and men's singles to come out trumps.
League Cup PIX: Stunning Liverpool hit Southampton for six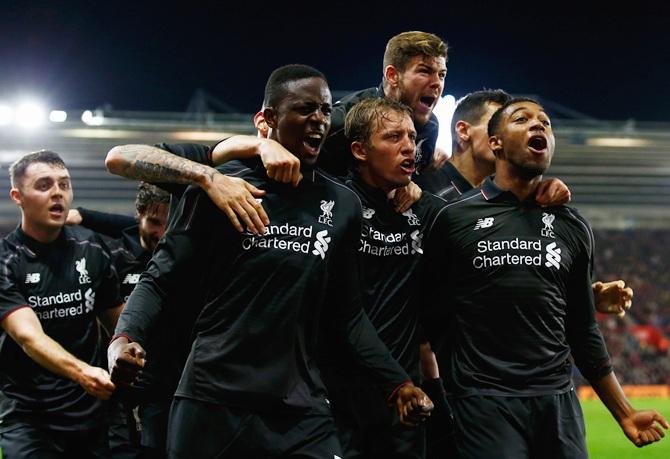 Liverpool ran riot to reach the League Cup semi-finals with a 6-1 thrashing of Southampton on Wednesday in which Divock Origi grabbed a hat-trick and Daniel Sturridge scored twice as the Juergen Klopp juggernaut rolled on.
November 29, 2015
AFC Awards night, PHOTOS: Khalil named Asian player of the year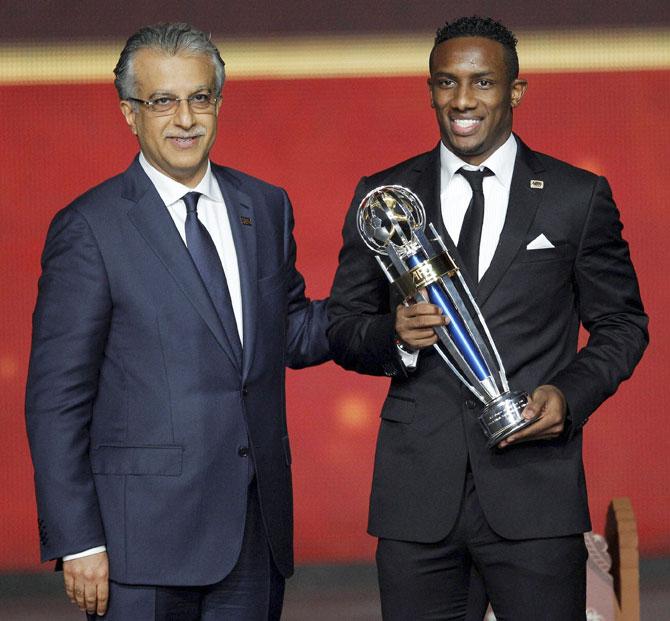 Emirati Ahmed Khalil got a modicum of revenge on Guangzhou Evergrande captain Zheng Zhi when he pipped the Chinese to the Asian Football Confederation (AFC) Player of the Year award on Sunday.
Davis Cup win caps remarkable year for Britain's Andy Murray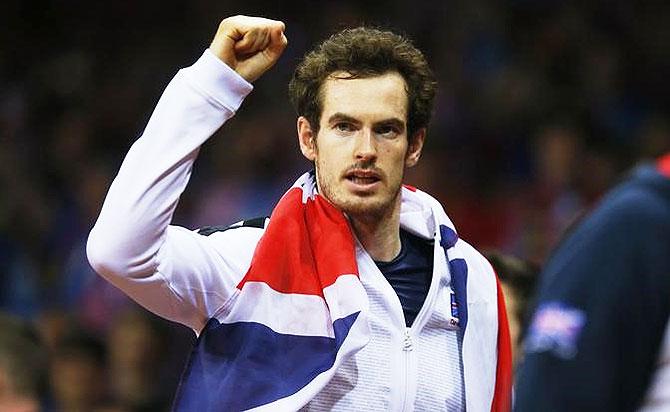 World No 2 Andy Murray's three-point contribution to Britain's defeat of Belgium in the Davis Cup final concluded one of the most remarkable years ever achieved in the competition by an individual player. Below are the key facts:
Murray beats Goffin to seal Davis Cup title for Britain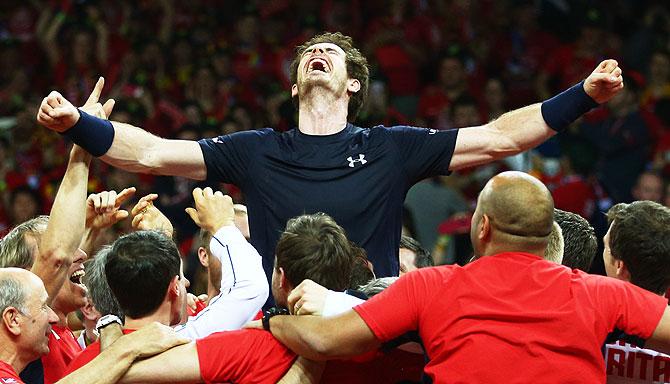 Andy Murray beat Belgium's David Goffin 6-3, 7-5, 6-3 to seal Britain's first Davis Cup triumph for 79 years on Sunday in the Flanders Expo in Ghent.
F1: Rosberg ends season on a hat-trick high with Abu Dhabi win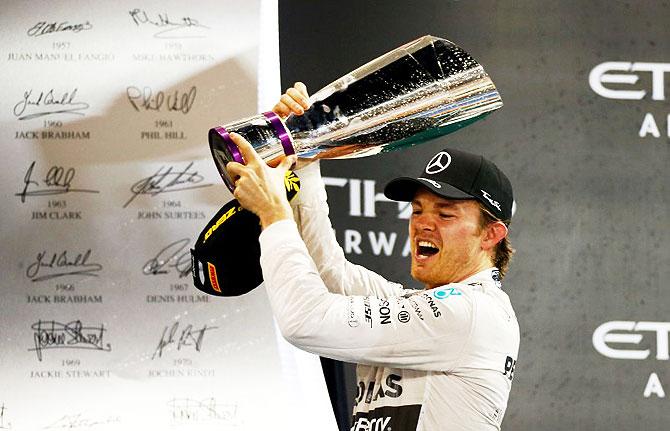 Nico Rosberg ended the Formula One season on a winning high in Abu Dhabi on Sunday with team mate and triple world champion Lewis Hamilton following him home in a record 12th one-two finish for dominant Mercedes.
EPL PHOTOS: Chelsea drop Costa, and then points against Tottenham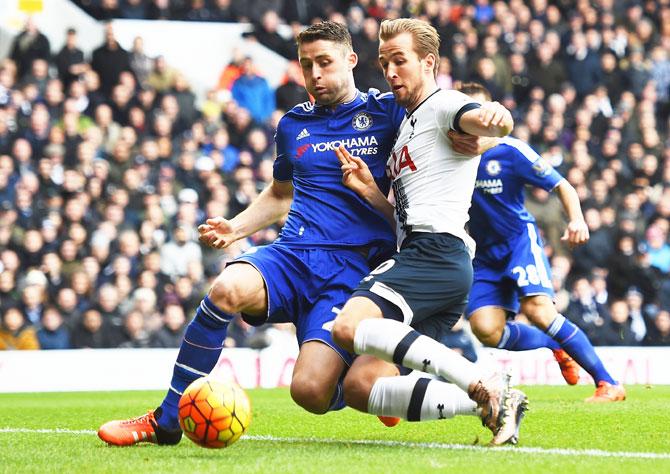 Jose Mourinho dropped his main striker Diego Costa for Chelsea's Premier League visit to Tottenham Hotspur on Sunday but the champions still proved toothless up front as they ground out an undistinguished goalless draw at White Hart Lane.
November 26, 2015
Double tragedy in US sports: Former boxer shot dead; Footballer injured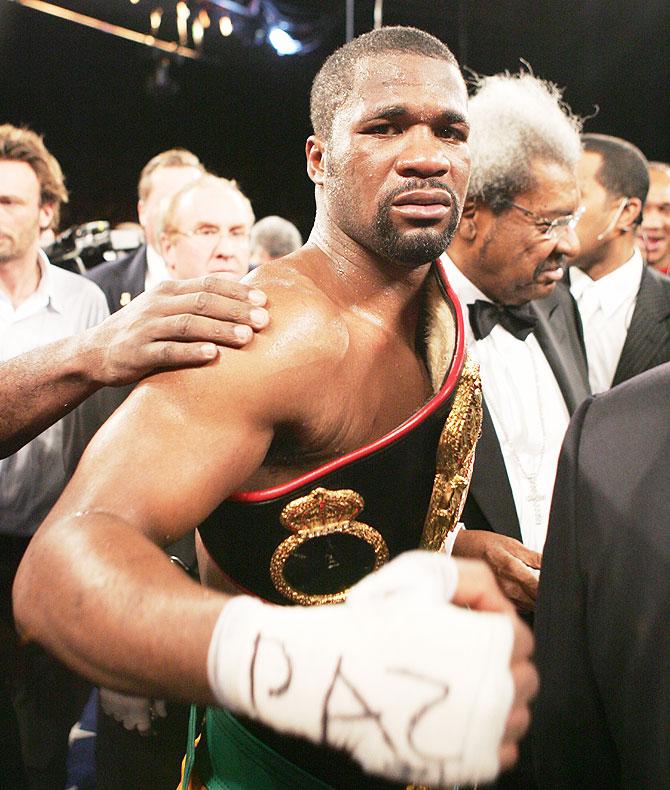 Forty-year-old O'Neil Bell was killed during a robbery in Atlanta, while suspended St. Louis Rams wide receiver Stedman Bailey underwent surgery after shootout
Champions League PIX: Ibra's PSG thrash Malmo; Atletico in last 16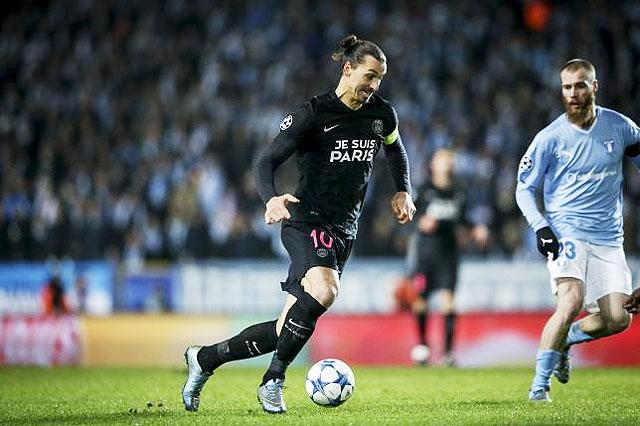 Sweden striker Zlatan Ibrahimovic crowned a triumphant homecoming with a second-half goal as Paris St Germain crushed Malmo 5-0 on Wednesday to book a place in the last 16 of the Champions League.
Champions League PHOTOS: United play-offs hopes in balance; Real win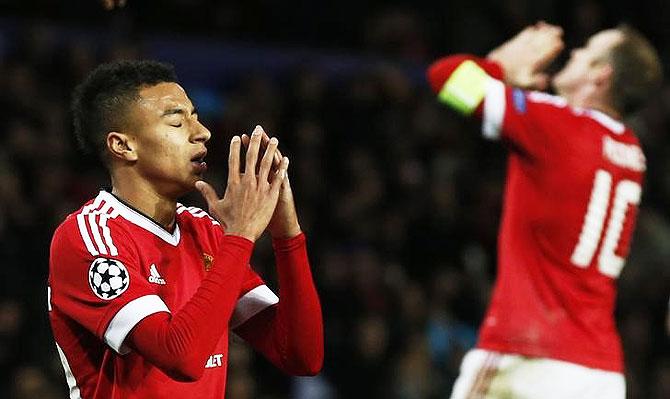 Photos from the UEFA Champions League matches played across Europe on Wednesday
November 25, 2015
Champions League PIX: Barca drub Roma; Arsenal's hopes alive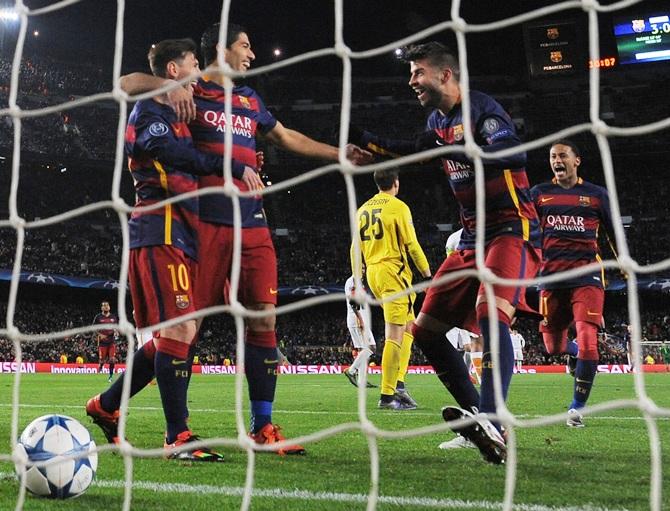 Barcelona's Luis Suarez hit a brace and set up a double for a spritely Lionel Messi to score in his first start after injury in a rampant 6-1 Champions League victory over AS Roma on Tuesday.
November 23, 2015
Serie A PHOTOS: Inter go top after Fiorentina held by lowly Empoli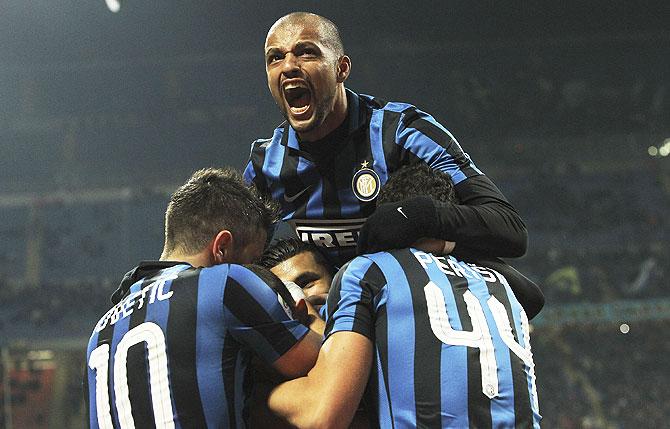 Inter Milan went on a rare scoring spree to thrash Serie A newcomers Frosinone 4-0 and go clear at the top on Sunday, the first time Roberto Mancini's team have won a league match by more than one goal this season.
Do Gunners have the Arsenal to qualify for Champions League play-offs?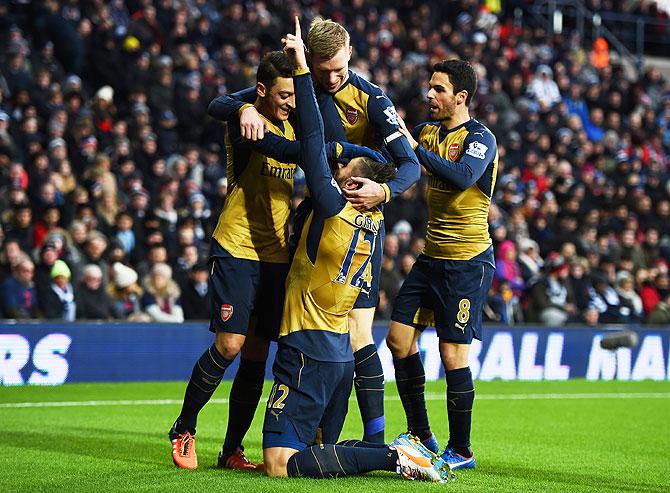 Arsenal manager Arsene Wenger still believes his side have a "strong chance" to qualify for the Champions League last 16 for a 16th consecutive season as the Premier League side and Croatian champions Dinamo Zagreb face a do-or-die contest.
Messi set for Champions League return in time for Roma visit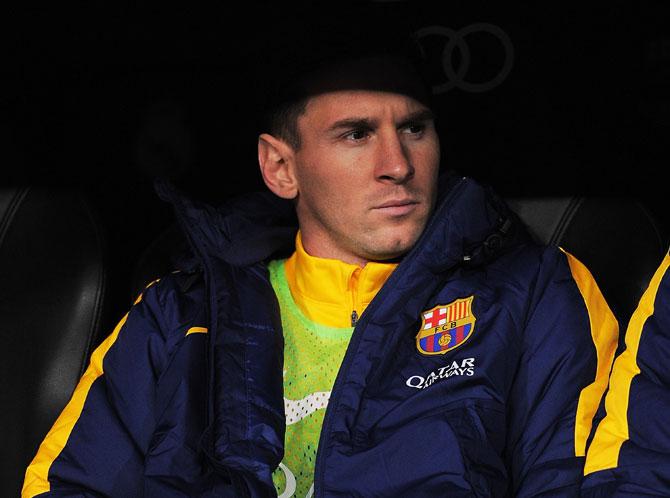 Lionel Messi is set for his first start for nearly two months when Barcelona, fresh from pulverising Real Madrid 4-0 at the weekend, set their sights on Champions League qualification when AS Roma visit the Nou Camp on Tuesday.
PHOTOS: Kane helps Spurs thrash West Ham in London derby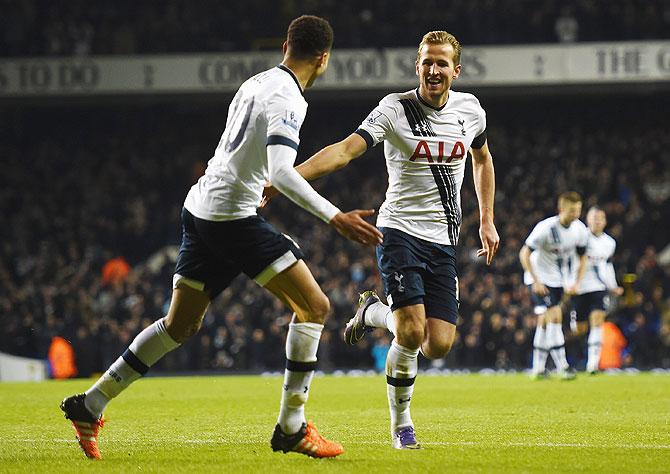 A double from Harry Kane, who scored in his fifth consecutive club match, inspired Tottenham Hotspur to a 4-1 win over London rivals West Ham United in the Premier League at White Hart Lane on Sunday.
PHOTOS: Djokovic caps brilliant year with Tour Finals win over Federer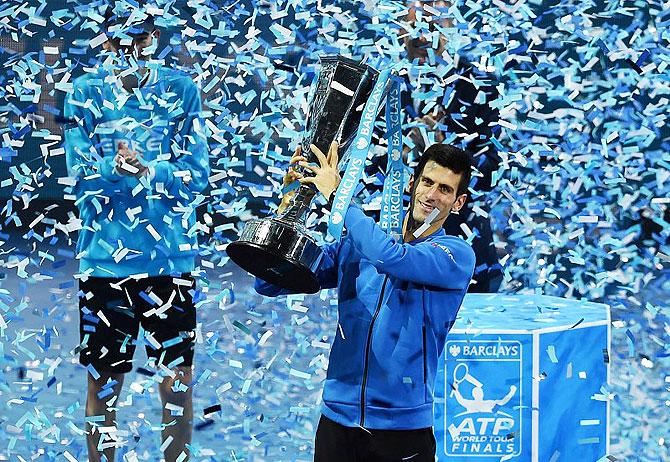 The immaculate Serb became the first player in the Tour Finals' 46-year history to claim the title four times in a row
November 19, 2015
La Liga: Messi still doubtful starter for Clasico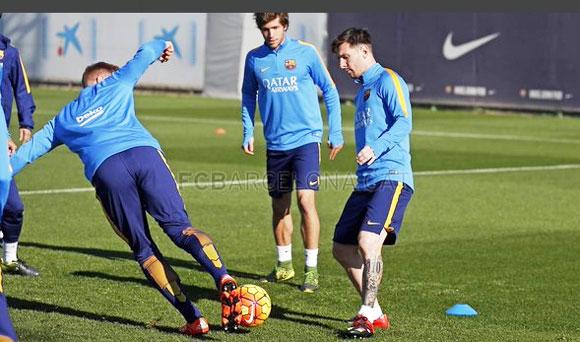 'Messi is a player that makes a difference in all games and in Clasicos he has always made a big impact but we will have to see if he is ready'
What you must not miss in EPL this weekend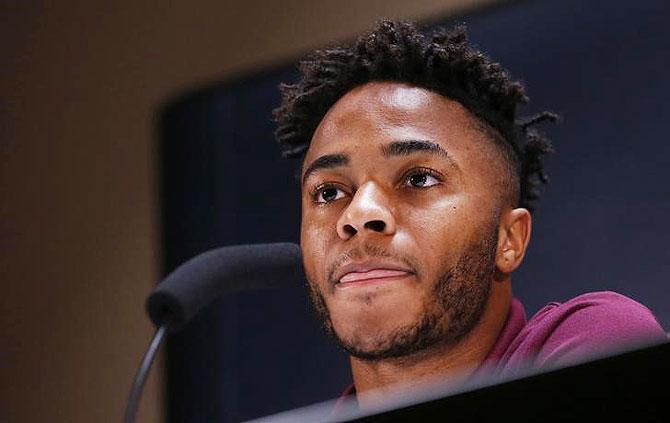 Four months after quitting Liverpool for ManchesterCity, Raheem Sterling will have the first opportunity to justify the move by getting one over his former employers when the teams meet at the Etihad Stadium on Saturday.
Paris attacks aftermath: Heightened security for 'El Clasico'; French league on alert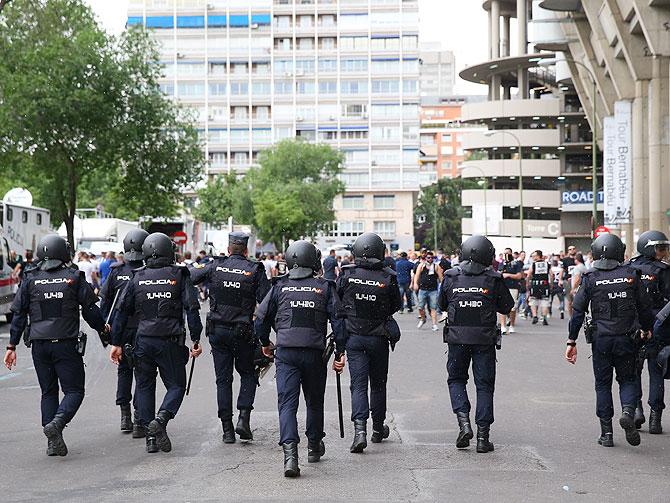 'We are on anti-terrorist alert four (with five a very high risk) and there will be extensive security so as to guarantee that the match takes place with complete normality'
'Samsonesque' Murray's strength lies in his hair!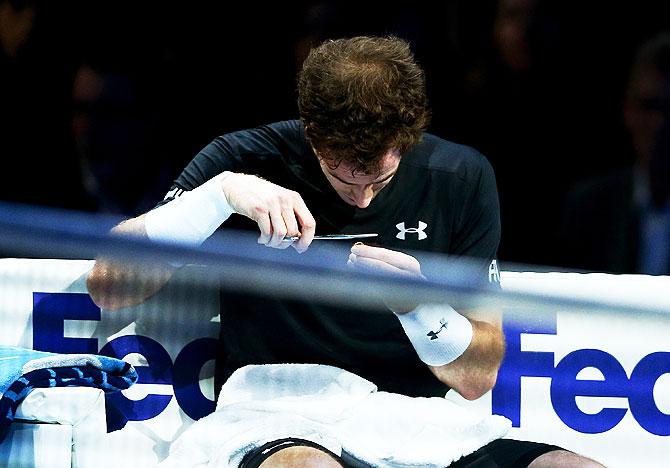 The Briton, who was playing fairly before the mid-match trim, slumped to a defeat against Nadal in their Round Robin match in the ATP Tour Finals on Wednesday.
November 18, 2015
10 sportsmen called to the Elysian fields early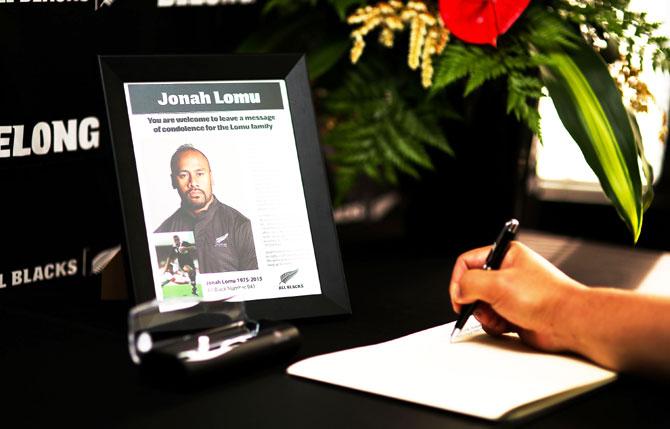 Rediff.com lists 10 athletes who died way before time.
PHOTOS, World Cup qualifiers: Brazil crush Peru; Romania hold Italy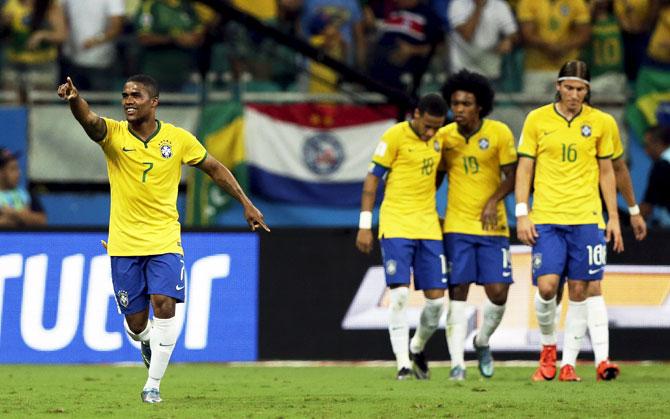 An inspired performance from Douglas Costa helped Brazil to a 3-0 win over Peru on Tuesday and lifted them into third place in the South American qualifying group for the 2018 World Cup in Russia.
PHOTOS: England beat France on night of solidarity at Wembley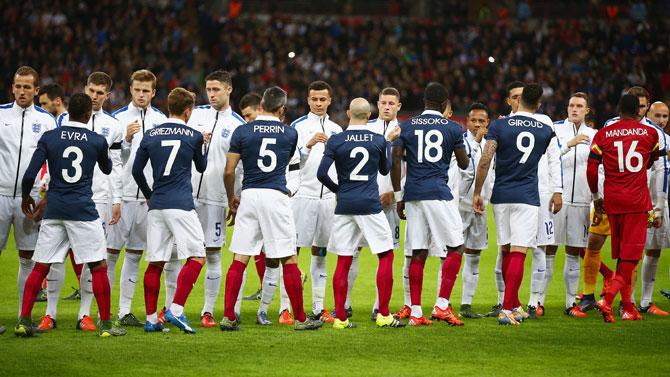 England beat France 2-0 in an emotional friendly at Wembley on Tuesday when more than 70,000 fans paid tribute to the victims of the Paris attacks with English fans roaring out a spine-tingling rendition of the visitors' national anthem.
PHOTOS: After cricket, football gets Sakshi Dhoni's attention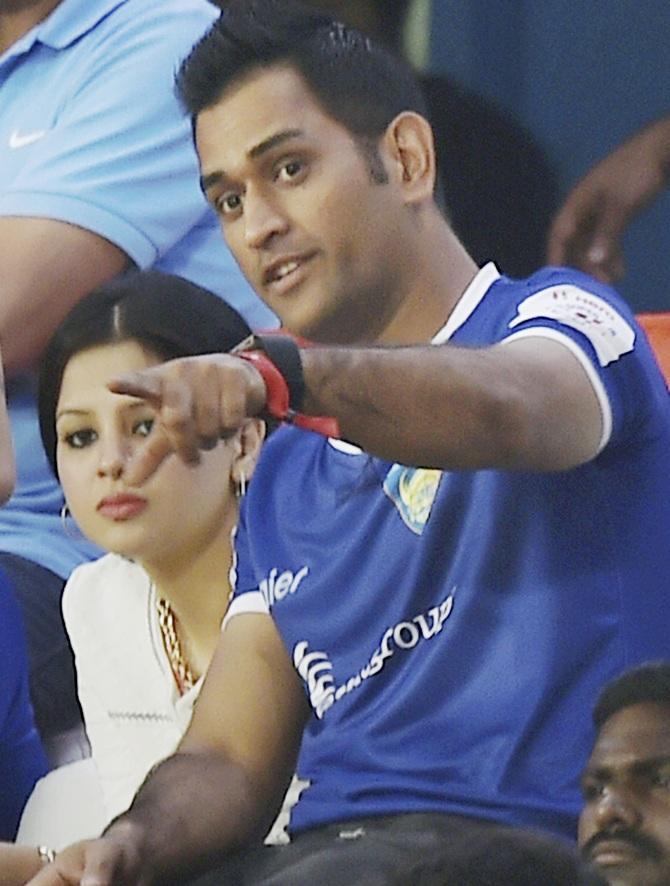 Just like MS Dhoni, his wife Sakshi is also a big football fan.
November 16, 2015
Euro 2016 qualifiers: Hungary taste victory after 30-year wait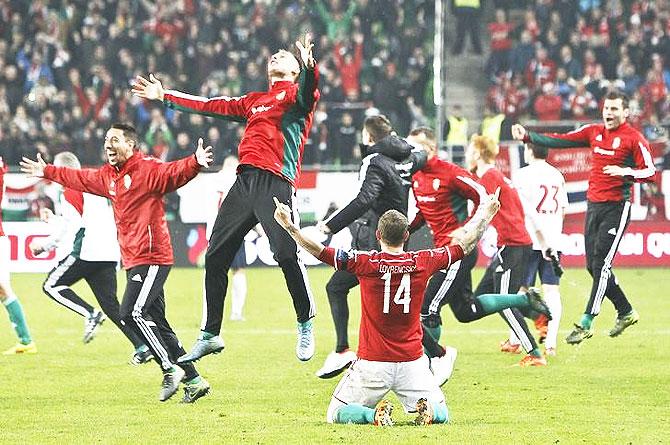 Hungary's 30-year wait to play on the major championship stage will end in France next year after their 2-1 victory over Norway ensured that one of football's most storied nations qualified for the Euro 2016 finals.
Fed Cup PHOTOS: Pliskova is hero as Czech rally to beat Russia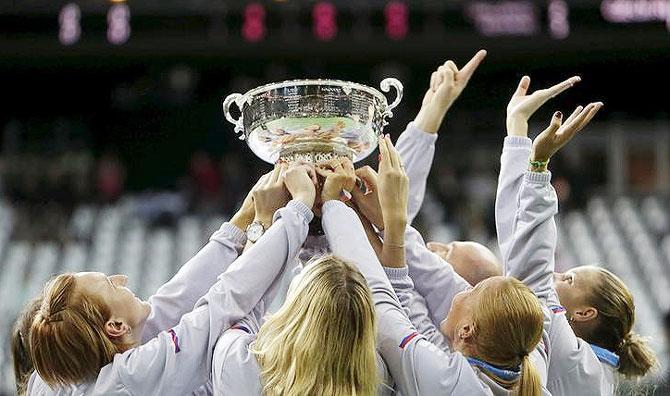 The Czech Republic defended their Fed Cup title on Sunday as Karolina Pliskova became the home team's hero with a starring performance in their thrilling 3-2 come-from-behind victory over Russia.
PHOTOS: Rosberg trumps Hamilton at Brazilian GP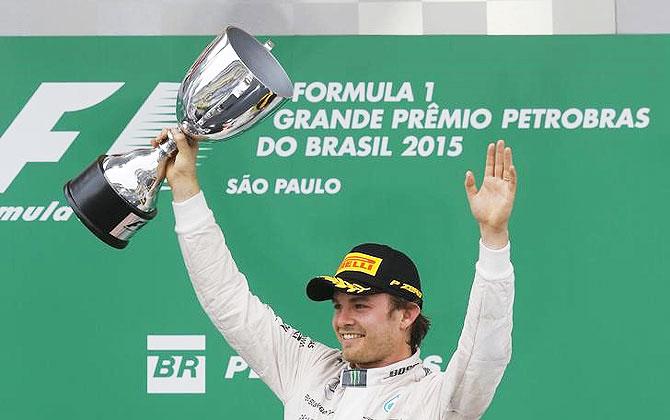 Nico Rosberg won the Brazilian Formula One Grand Prix for the second year in a row on Sunday and denied Mercedes teammate Lewis Hamilton a first success in the homeland of his late hero Ayrton Senna.
November 10, 2015
Can India win an Olympic medal in tennis?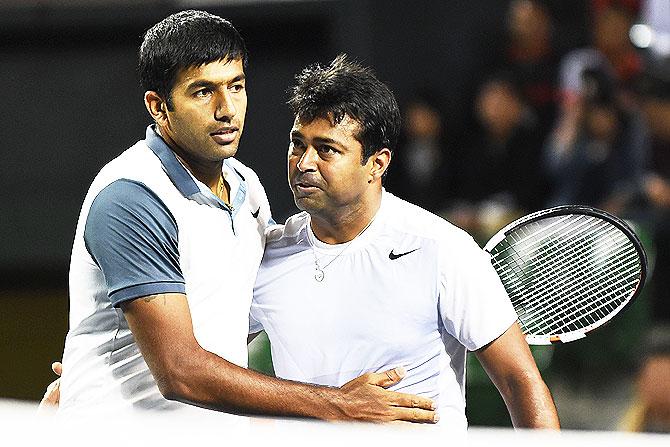 India have a good chance of winning medals in both, men's doubles and mixed doubles events at next year's Rio Olympics, feels former player Mahesh Bhupathi.
November 09, 2015
Pirouetting, volleying, and striking. Neymar has the Ronaldinho magic!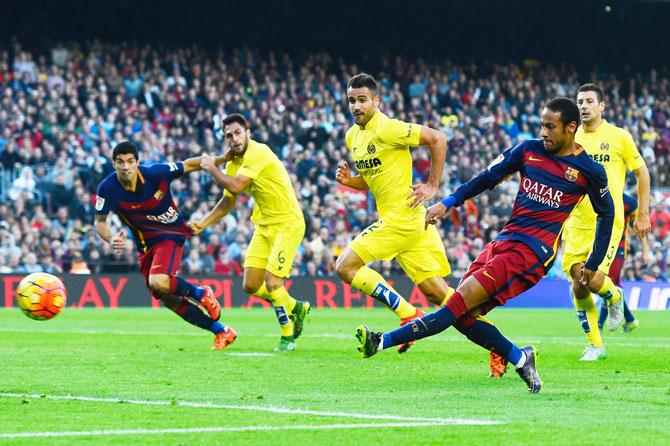 With sublime control, a back heel flick, a pirouette and a sweet volleyed finish, Neymar fashioned a glorious goal at the Nou Camp on Sunday to rekindle memories of Barcelona's greatest Brazilian wizards.
November 08, 2015
EPL PHOTOS: Palace lord over Liverpool; Spurs hold Arsenal in derby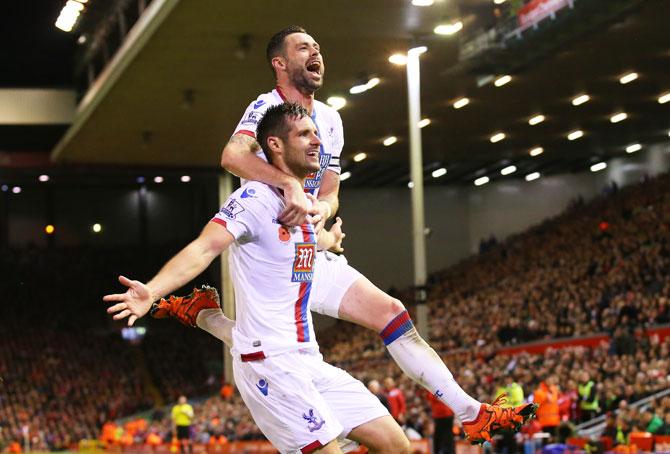 After seven consecutive league defeats, and one point from the last 30 on offer, had plunged Villa into crisis and cost Tim Sherwood his job, the former European champions produced a gritty display to frustrate City.
Impressive Djokovic makes history with Paris title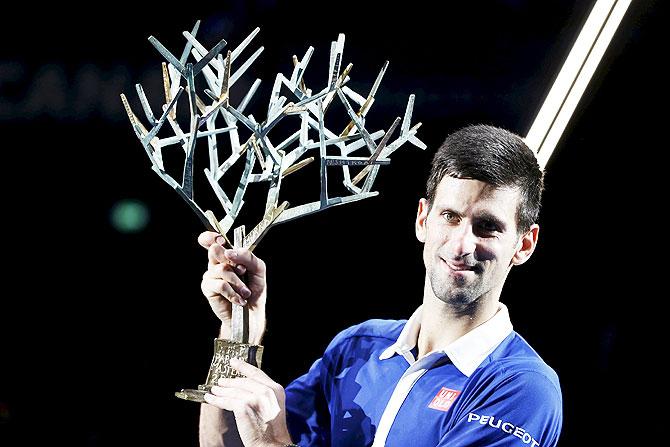 Novak Djokovic's already brilliant season took on another dimension on Sunday when the world number one became the first man to win six Masters titles in a calendar year by dismissing Andy Murray 6-2, 6-4 in Paris.
November 06, 2015
I'm a legend, declares Cristiano Ronaldo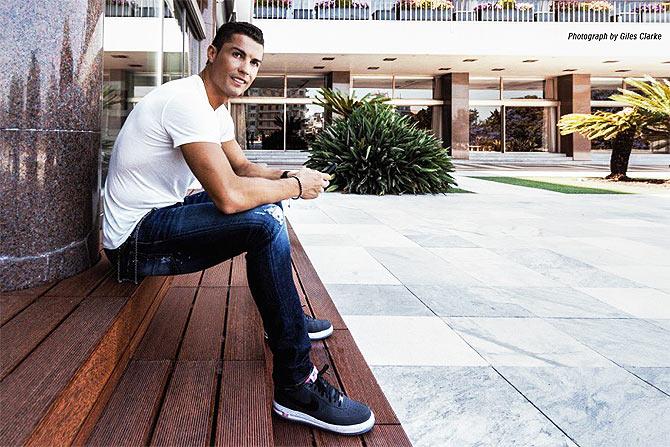 Real Madrid and Portugal record goal-scorer Cristiano Ronaldo is certain in his mind that he is the best footballer in the world.
Europa PIX: Wins for Liverpool, Spurs; Dortmund, Napoli in last 32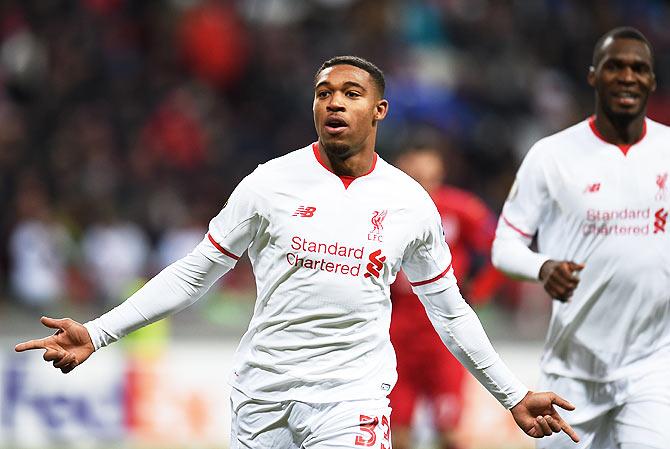 New Liverpool boss Juergen Klopp made it three wins from his last three matches with a 1-0 success at Rubin Kazan in Russia that left them second in Group B, two points behind Swiss club Sion on Thursday.
Paris Masters PHOTOS: Federer knocked out, Nadal survives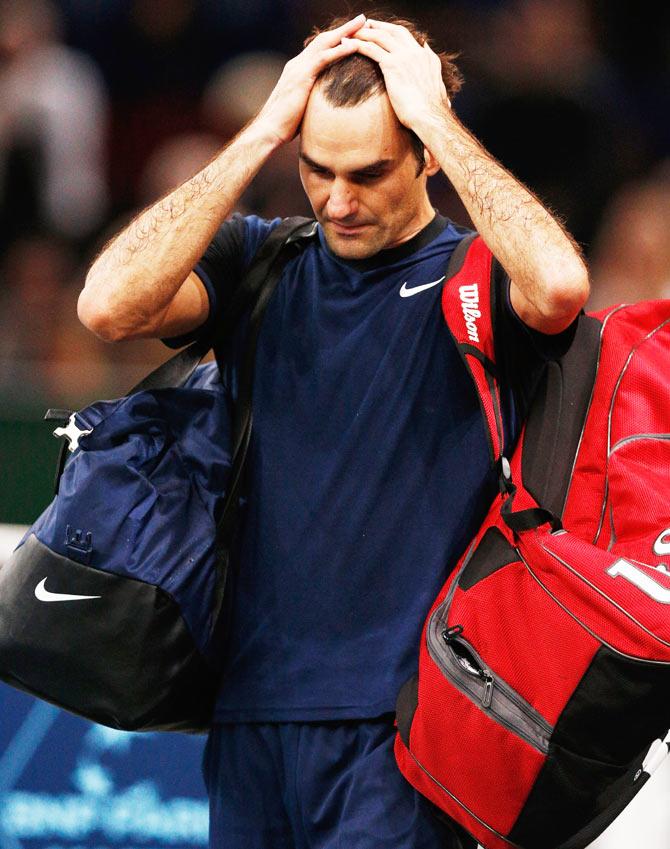 A long season took its toll on Roger Federer on Thursday as the Swiss was knocked out of the Paris Masters following a 7-6(3) 3-6 7-6(5) third-round defeat by big serving John Isner.
November 04, 2015
Champions League PHOTOS: Real, City into last 16; record for Rooney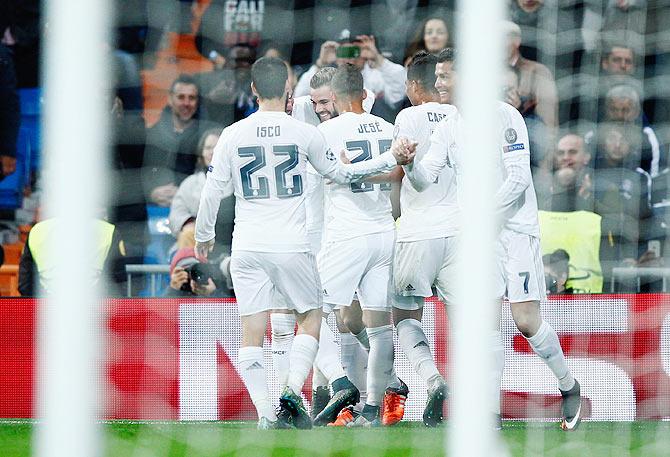 Photos from the Champions League matches played across Europe on Tuesday
October 29, 2015
FIFA's Blatter planned for Russia and US to host World Cups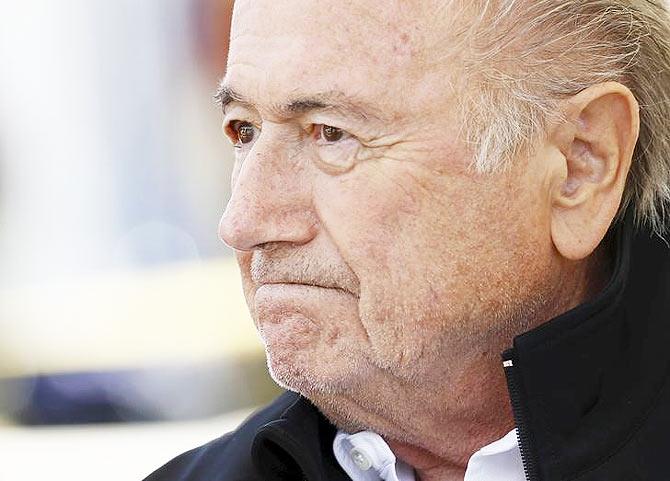 'It was not an agreement, this was his proposal and of course it (then) went to the vote at the (FIFA) executive committee'
A heart-wrenching tale of forgotten athletes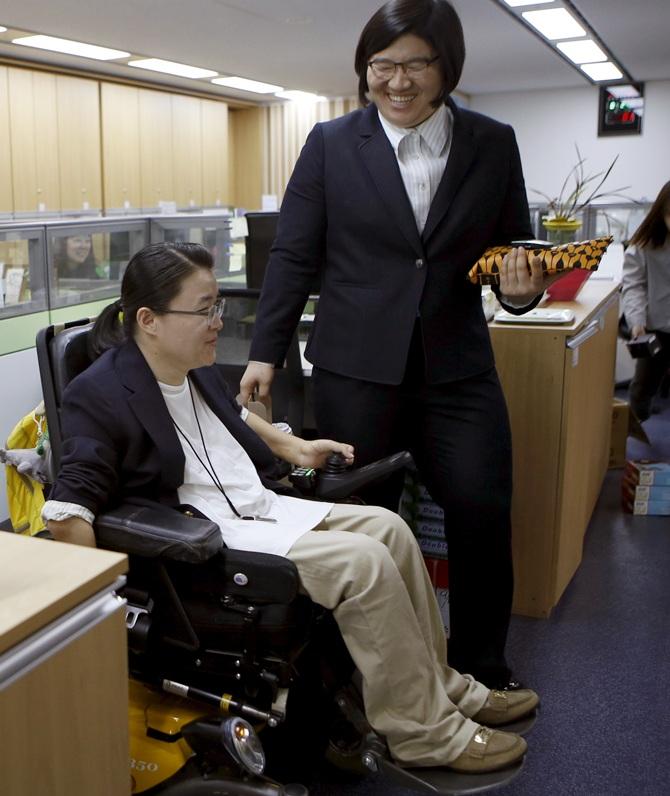 What lies ahead for Korea's forgotten athletes? Take a look.
League Cup PHOTOS: Rooney, Carrick fail to convert as United crash out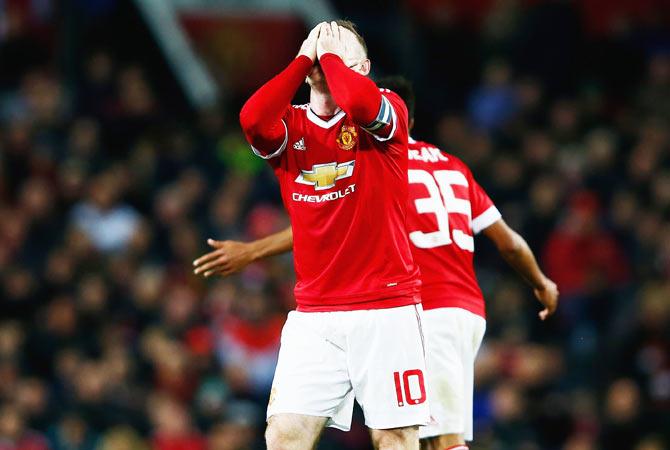 First win for Liverpool manager Klopp, City thrash Palace 5-1
Is Mourinho still the right man for Chelsea?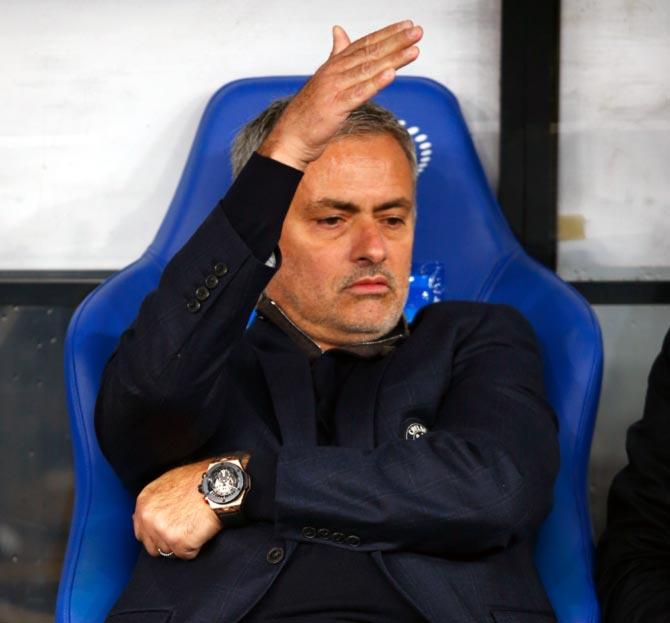 The Premier League champions have endured a dismal season so far, losing eight of the 16 games they have played in all competitions, and were knocked out of the League Cup, that they also won last season, in a penalty shootout against Stoke City on Tuesday night.
October 28, 2015
'Chelsea a tough team to referee with Mourinho in charge'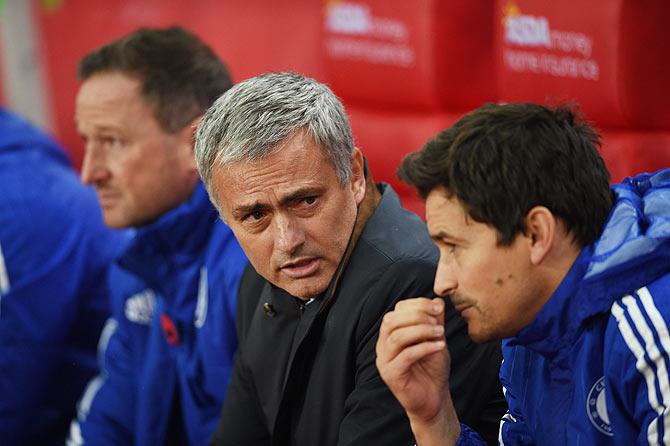 But the under fire Blues manager gets former player Frank Lampard's backing
League Cup: Chelsea knocked out in penalties; Arsenal also shown door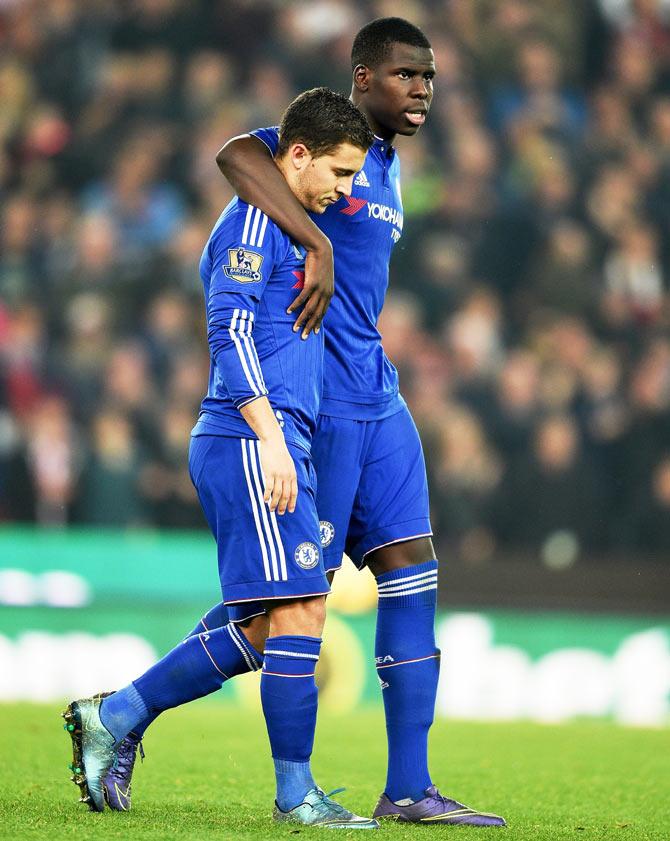 Chelsea's woes continued when the holders were dumped out of the Capital One (League) Cup fourth round following a shootout defeat by Stoke City on Tuesday, while Arsenal suffered a humiliating 3-0 defeat at second tier Sheffield Wednesday.
October 27, 2015
'Kyrgios doesn't realise how powerful his image can be'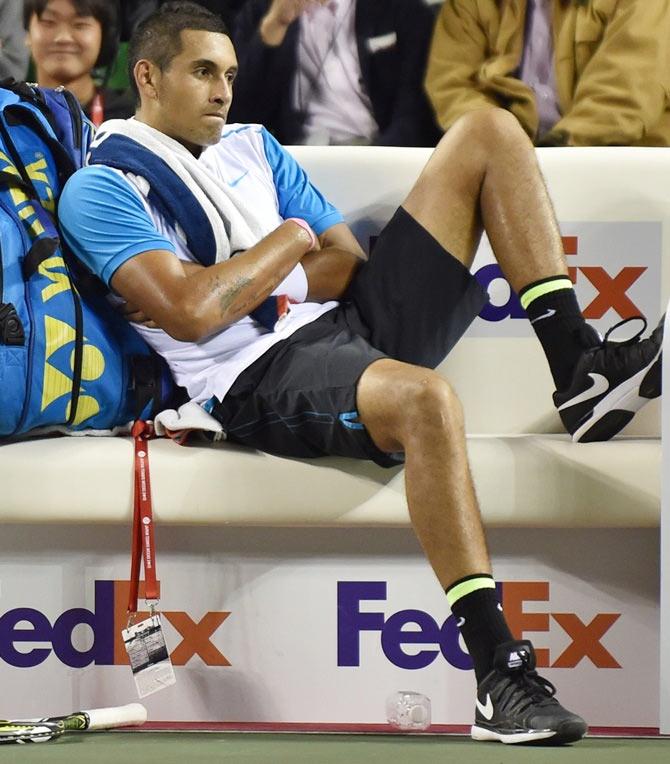 Australia's new Davis Cup captain Lleyton Hewitt has backed the country's bad boy of tennis Nick Kyrgios to "control" the image he projects and break through for a grand slam trophy in the next year or two.
2006 WC scam: Beckenbauer defends transfer of funds to FIFA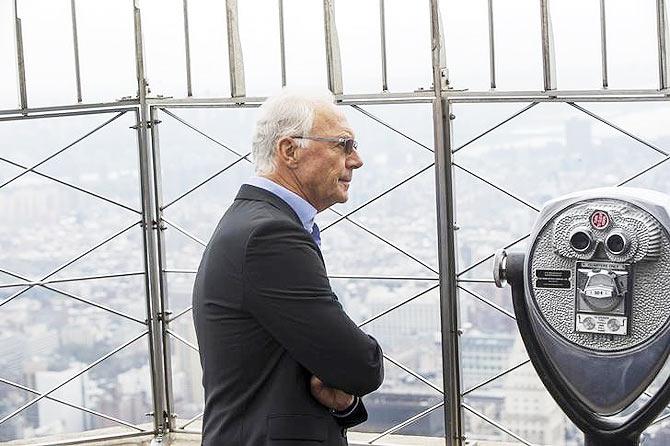 Franz Beckenbauer, who headed Germany's 2006 World Cup organising committee, said on Monday a transfer of 6.7 million euros to world football's governing body FIFA in 2005 was a mistake but rejected claims it was a return of a loan to buy votes in favour of the country's World Cup bid.
F1 Pit-lane tales: Ecclestone wants more races in America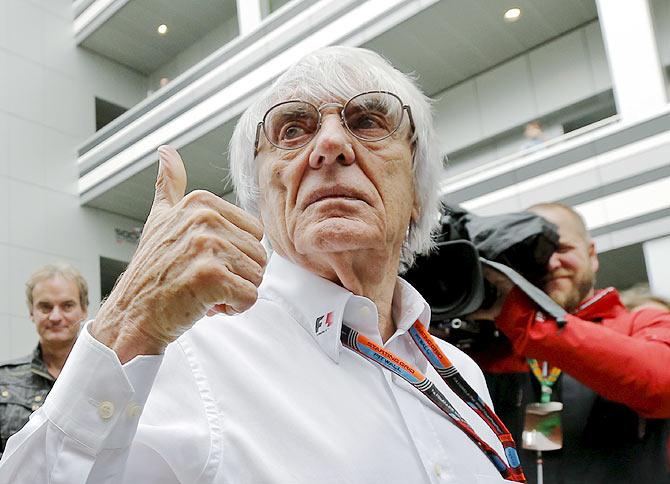 Speaking at last weekend's title deciding US Grand Prix in Austin, the 84-year-old Briton told reporters he hoped to add more American venues to a series that is already set for a record 21 races next year.
Desperate Nadal resurrects from despair to advance in Basel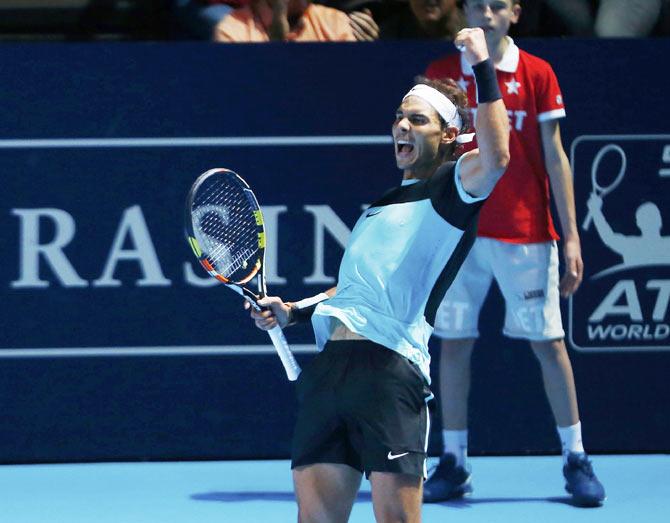 Spaniard Nadal was in all sorts of trouble, trailing by a set and 5-4 and with 69th-ranked Rosol serving at 30-0, but his Czech opponent framed a basic backhand volley at 30-15 and blew his chance, Nadal going on to win 1-6, 7-5, 7-6(4).
Mourinho sanctioned again by FA, this time charged with misconduct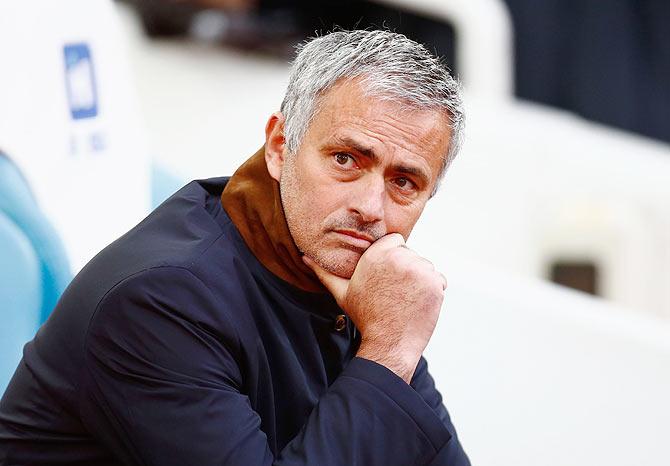 'Jose Mourinho has been charged with misconduct in relation to his language and/or behaviour towards the match officials in or around the dressing room area at halftime'
October 24, 2015
Hamilton a champion driver but not yet an F1 'great'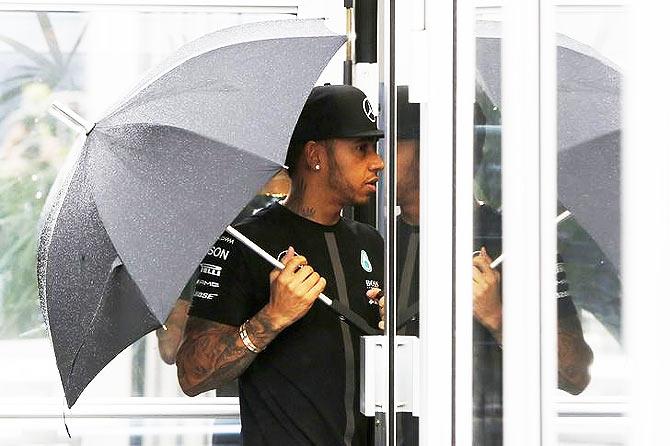 Lewis Hamilton can win his third Formula One world championship on Sunday but the Mercedes driver will have to wait a while longer before he can be truly hailed as one of the greats, according to Jackie Stewart.
US F1 Grand Prix: Second practice cancelled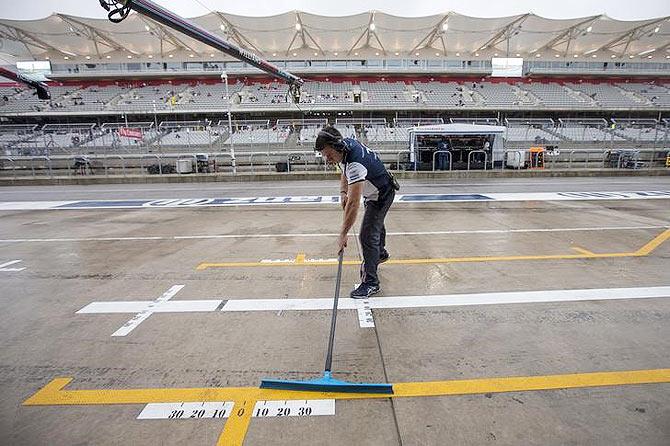 Thunder, lightning and torrential rain washed out second practice at the U.S. Formula One Grand Prix on Friday after Nico Rosberg went fastest for Mercedes in a largely meaningless morning session.
October 23, 2015
EPL: Reds sweating over Sturridge fitness for Southampton clash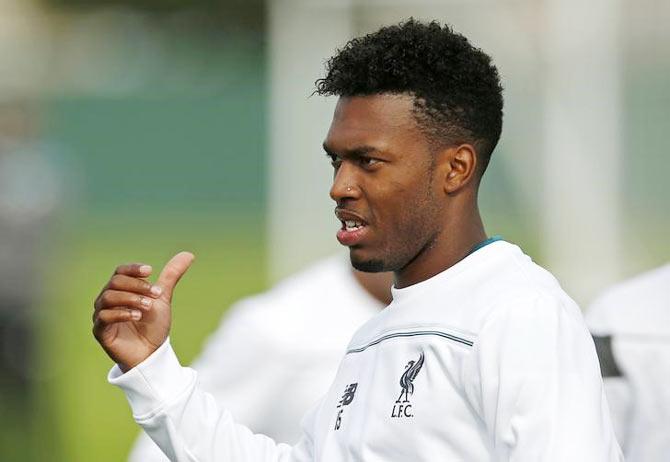 "It's not much better at the moment. With Daniel's injury we have to take it day by day, and see if he's better," Klopp told a news conference on Friday.
Football is no theatre and I'm no angel on the pitch: Costa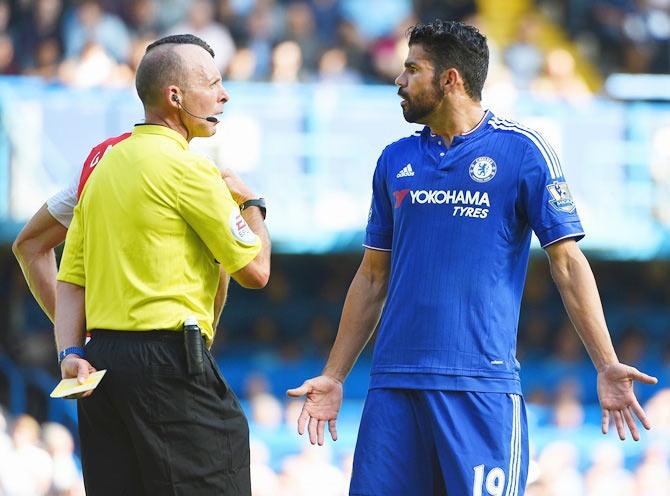 Portrayed as a pantomime villain in some quarters, Chelsea striker Diego Costa has said he will not be changing his aggressive style of play to win new friends.
Will result of Sunday's Manchester derby hint at this season's winners?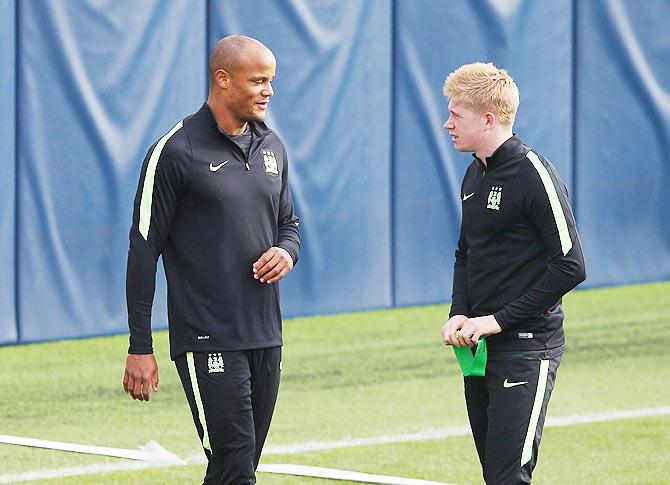 'If you take a point or even lose, it's not ideal but there are still almost 30 games to go so this result won't be the deciding factor in who wins the title'
October 22, 2015
UEFA open case against Man City after fans boo anthem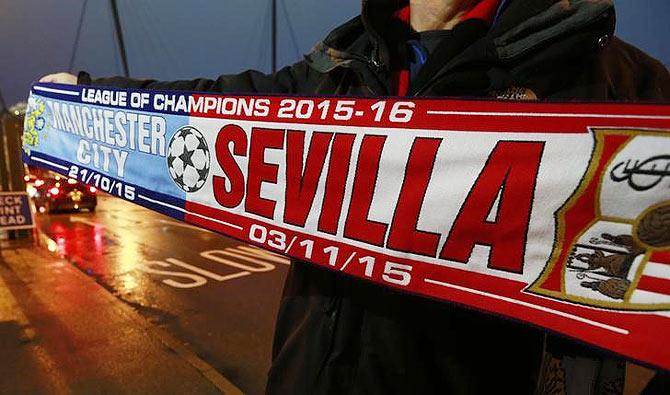 UEFA opened disciplinary proceedings against Dynamo Kiev on Thursday over alleged racist behaviour and crowd disturbances caused by their fans during Tuesday's Champions League match at the Olympiysky Stadium against Chelsea.
October 21, 2015
With less time for acquaintance, draw good enough for Van Gaal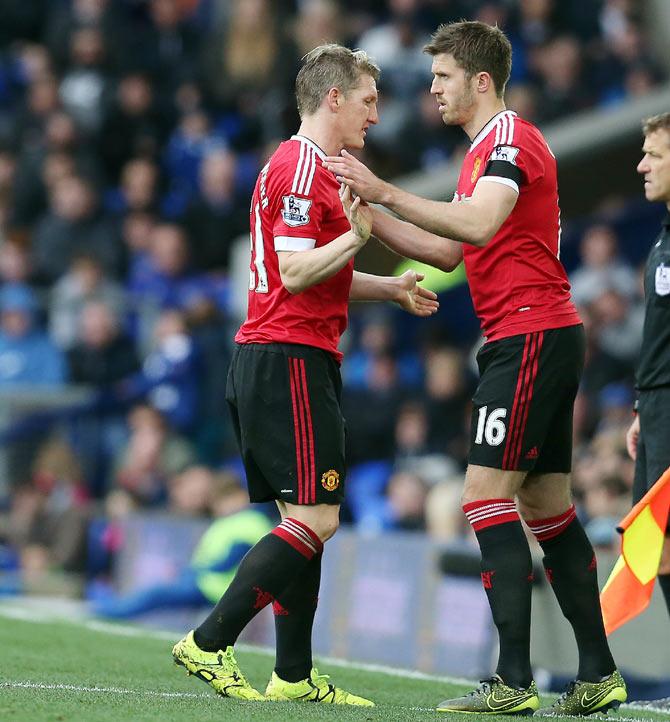 Manchester United would settle for a point away to CSKA Moscow in their Champions League Group B clash on Wednesday, according to manager Louis van Gaal.
Champions League: Plucky Arsenal beat Bayern; Rakitic stars for Barca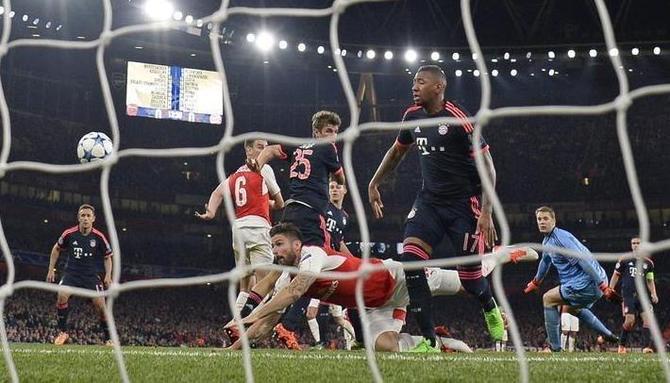 Chelsea struck the woodwork twice but could not find a breakthrough in an entertaining 0-0 Champions League draw at Dynamo Kiev on Tuesday that left everything to play for in Group G.
October 20, 2015
Aguero, Benzema join Ronaldo and Messi on Ballon d'Or shortlist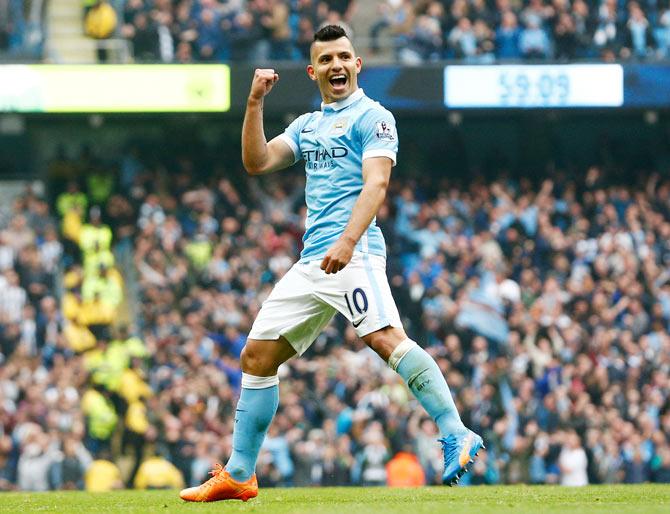 Real's Cristiano Ronaldo will be going in search of his third consecutive World Player of the Year award
Champions League: Guardiola wary of a desperate, difficult Arsenal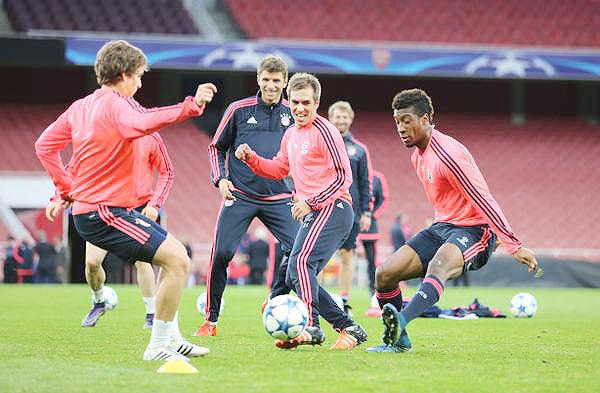 "Tomorrow we don't play six points against zero. We play at 7.45, at 0-0 with 90 minutes to go," he said.
EPL PHOTOS: Krikic penalty gives Stoke victory at Swansea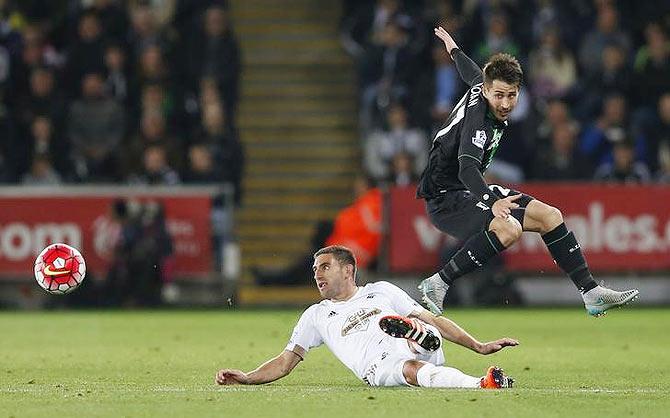 Former Barcelona forward Bojan Krikic earned and converted a fourth-minute penalty which sealed a scrappy encounter and left Swansea without a league win since August.
Fragile Chelsea face tough European test at Dynamo Kiev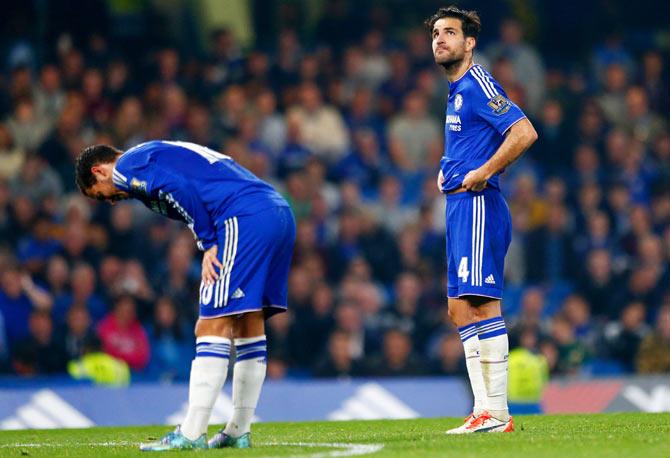 Chelsea enjoyed a somewhat fortuitous return to winning ways when they beat Aston Villa on Saturday but their fragile self-confidence will face a far more severe test at Dynamo Kiev in the Champions League on Tuesday.
October 19, 2015
Ronaldo, Bayern mark record-breaking weekend in Europe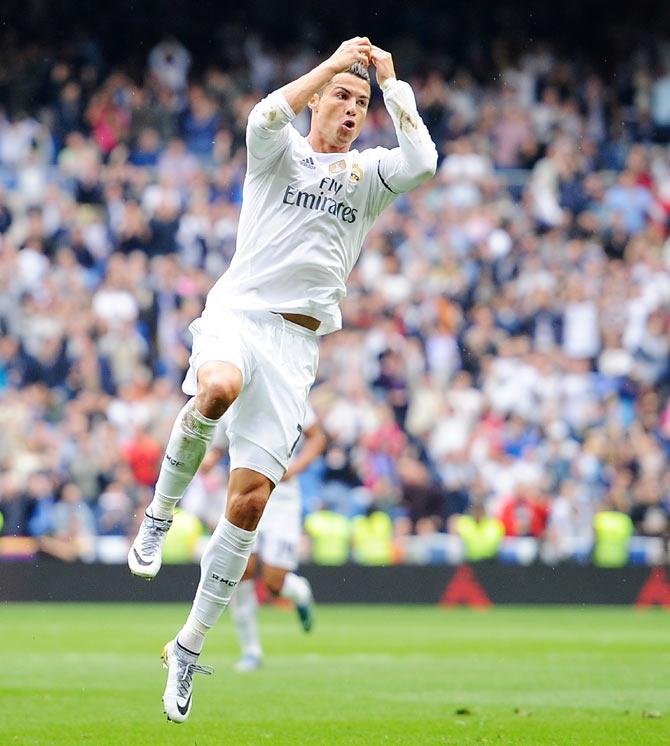 Cristiano Ronaldo finally became the highest scorer in Real Madrid's history while Bayern Munich set a record for the greatest number of successive wins at the start of a season in the Bundesliga this weekend.
Champions League: Can Arsenal upset Bayern at The Emirates?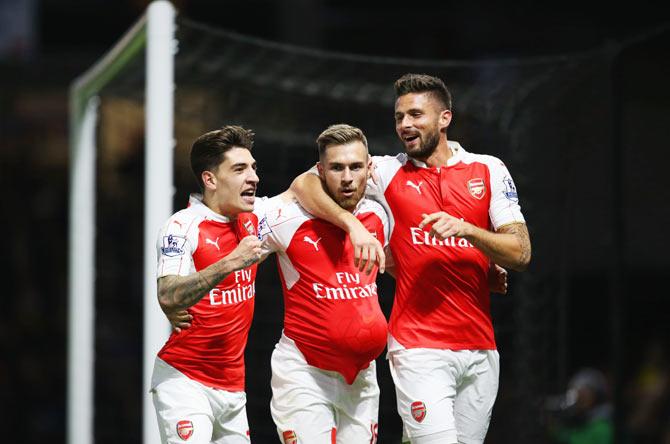 After damaging losses to Dinamo Zagreb and Olympiakos Piraeus in their first two fixtures, the Gunners have to win to advance to the knock-out stages
EPL: Wijnaldum scores four as Newcastle hammer Norwich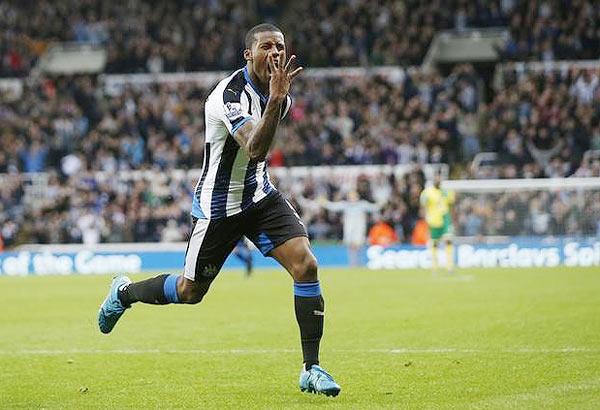 Newcastle United's Dutchman Giorginio Wijnaldum scored four times as they won their first Premier League match this season at the ninth attempt by thrashing Norwich City 6-2 to climb off the bottom of the table on Sunday.
October 18, 2015
Denmark Open: Sindhu falls at final hurdle, loses to defending champ Li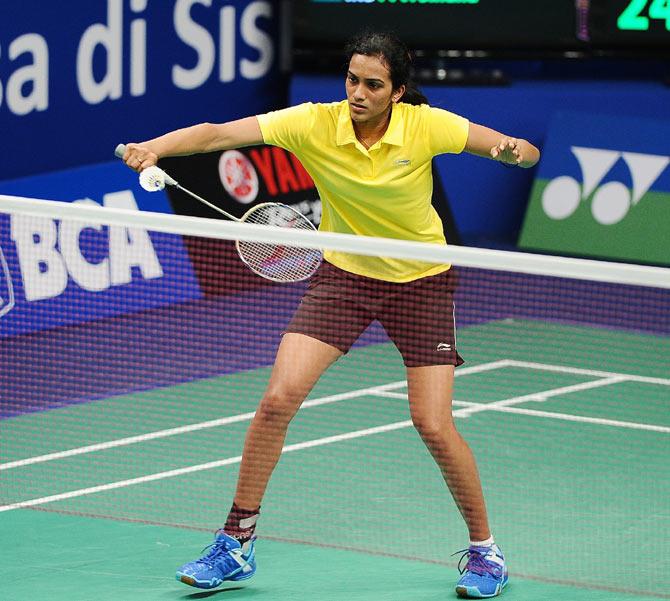 Xuerui retained her title beating Sindhu 21-19, 21-12 in a 47-minute encounter.
Djokovic is the Master of Shanghai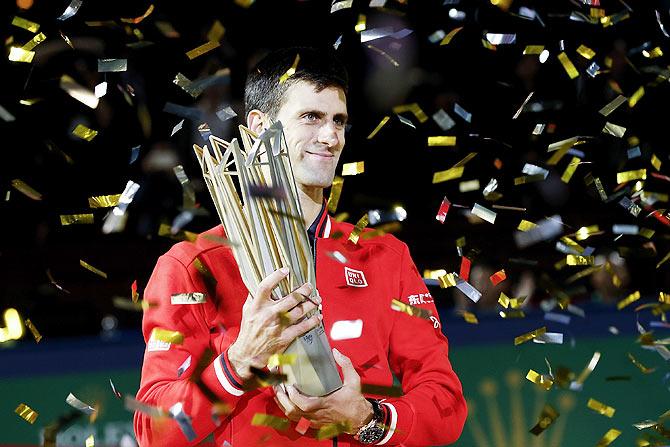 World number one Novak Djokovic continued his rich vein of form as he brushed aside French opponent Jo-Wilfried Tsonga in straight sets to clinch the Shanghai Masters title on Sunday.
October 17, 2015
Former top golfer Norman slams 'stupid' Kyrgios, Tomic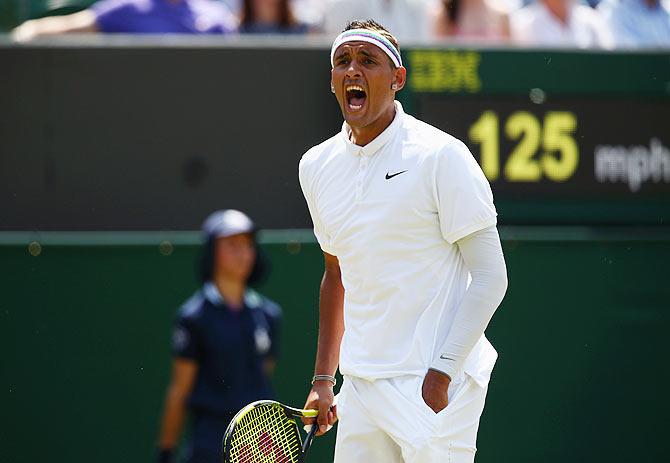 "I hope they both become ultra successful because at the end of the day, they will be humbled very quickly. If you become successful you cannot carry on like this.
Shanghai Masters: Tsonga outplays Nadal, to face Djokovic in final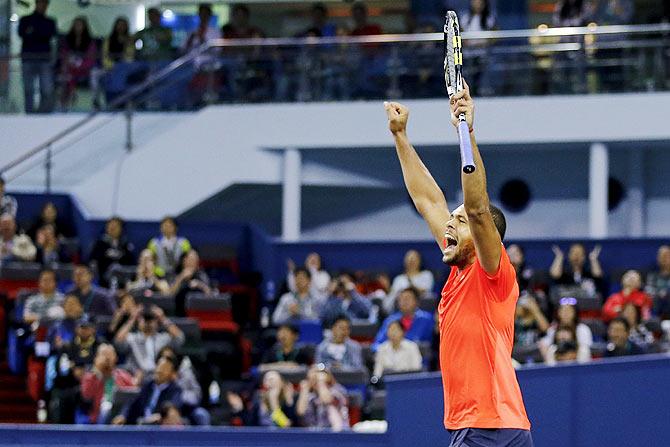 Frenchman Jo-Wilfried Tsonga recorded a first win over Rafael Nadal in almost four years after producing some scintillating tennis to beat the Spaniard in the semi-finals of the Shanghai Masters on Saturday. He will face Novak Djokovic in the final.
October 15, 2015
Shanghai Masters: Djokovic cruises but Murray, Nadal struggle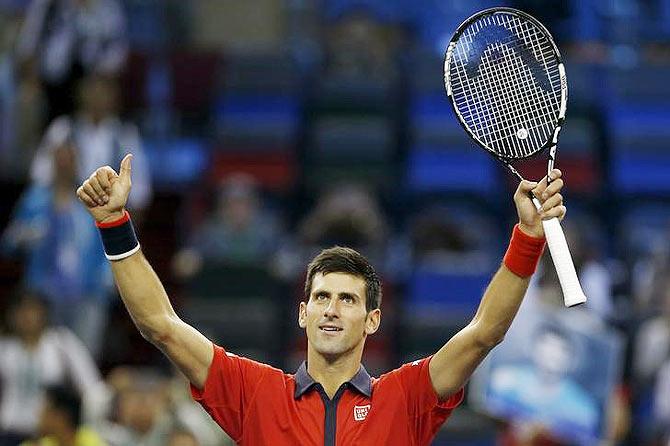 Novak Djokovic sauntered past Spaniard Feliciano Lopez to reach the quarter-finals of the Shanghai Masters on Thursday but Andy Murray had to claw past big-serving American John Isner after losing a first-set tiebreaker.
October 14, 2015
Shanghai Masters: Djokovic saunters through, Nadal toils for win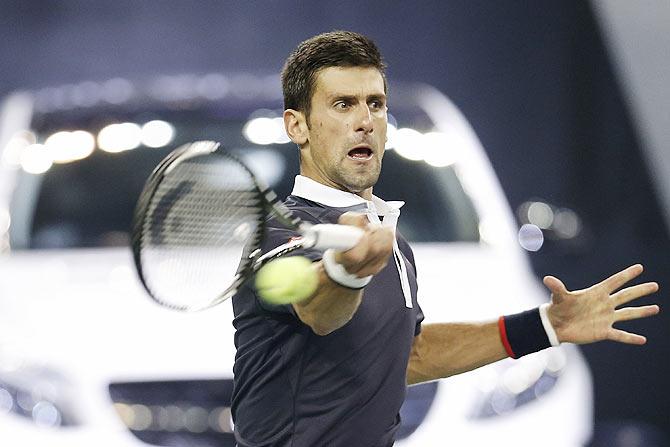 Djokovic dropped only three games against Klizan.
October 11, 2015
ISL: Chennaiyin's Mendoza tricks to sink FC Goa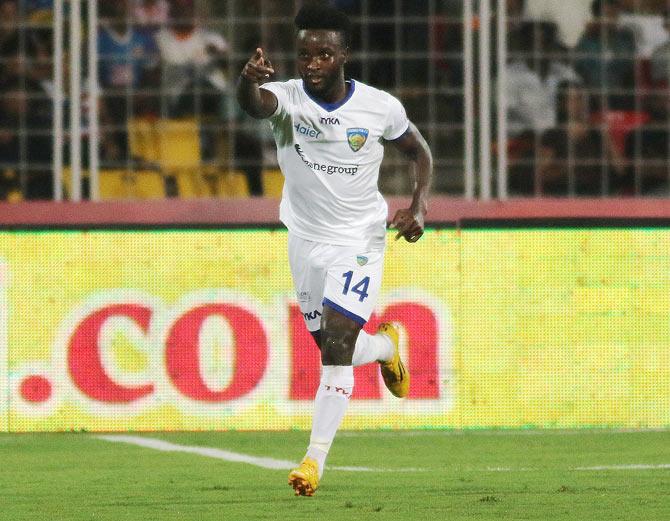 Stiven Mendoza scored the first hat-trick of the tournament as Chennaiyin FC thrashed FC Goa 4-0 in a third round match of Indian Super League football in Margao on Sunday.
Djokovic tames Nadal to become king of Beijing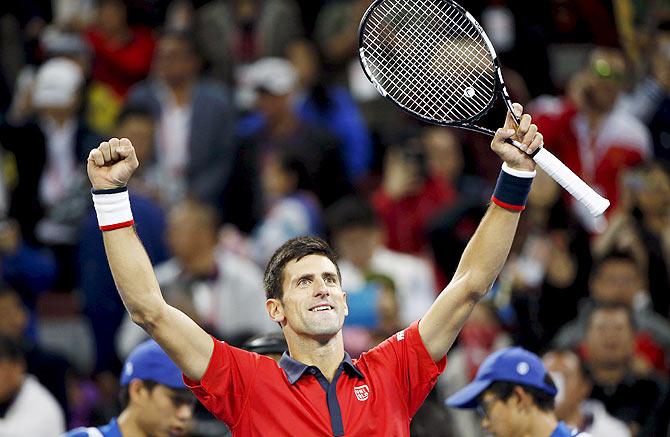 The Serbian showed no mercy against the Spaniard as he cruised to a 6-2, 6-2 victory at the National Tennis Centre to claim the China Open title
Russian GP PIX: Hamilton closes in on F1 title; Force India on podium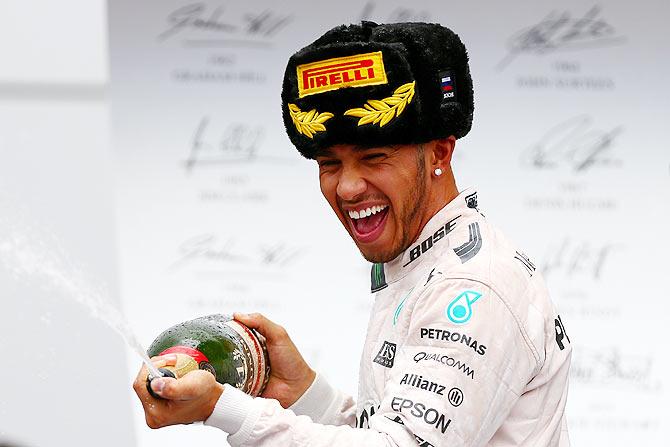 Lewis Hamilton won a dramatic Russian Formula One Grand Prix on Sunday to take a huge step towards his third world championship after Mercedes teammate Nico Rosberg retired with throttle failure.
October 10, 2015
PHOTOS: Spain, Switzerland seal Euro 2016 berth with emphatic wins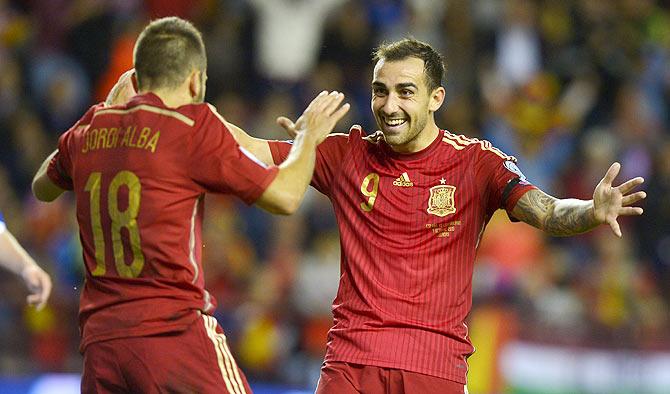 Photos from the Euro 2016 qualifying matches played across Europe on Saturday
October 09, 2015
20 AMAZING facts you didn't know about soccer legend Pele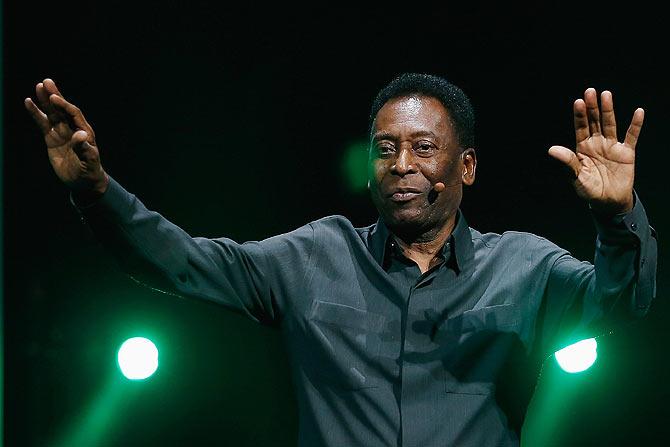 As Pele readies to awaken the 'sleeping giant of football' with his presence, Rediff.com lists some lesser known facts from the legend's life. Read on and be amazed...
PIX: Irish fans savour memorable night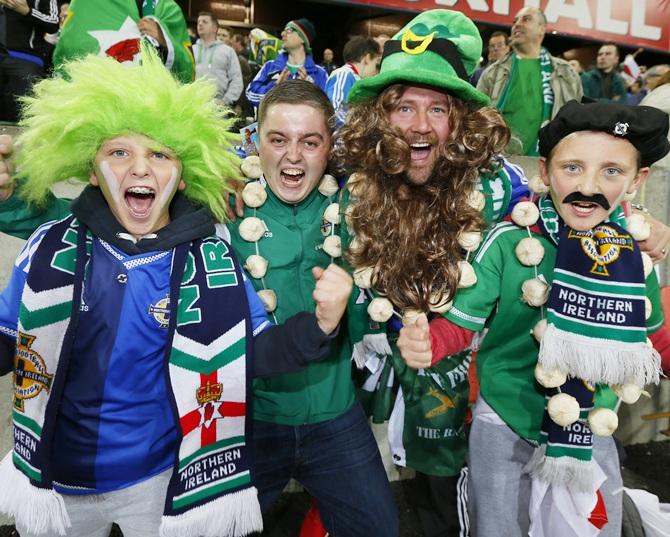 Northern Ireland reached their first major tournament in 30 years and their neighbours south of the border beat world champions Germany to take a big step towards joining them at Euro 2016 in a memorable night for Irish football on Thursday.
October 06, 2015
Honed in Barca school of football, Josue ready to wow India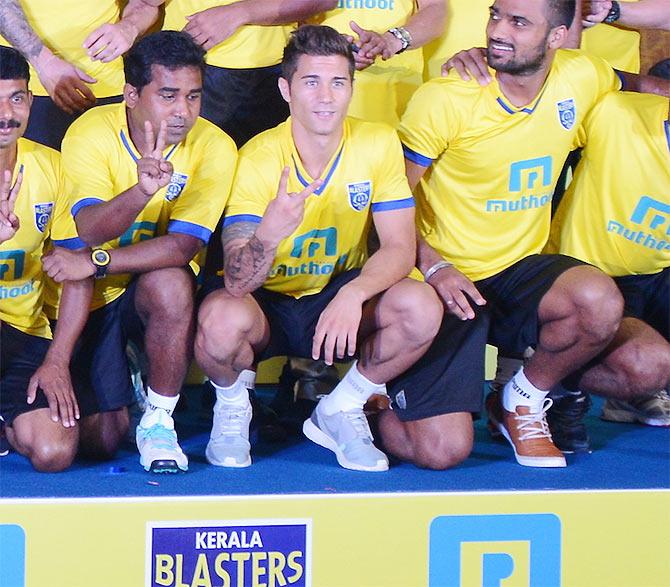 As Kerala Blasters kick-off their ISL campaign against NorthEast United FC in their opener in Kochi on Tuesday, October 6, Spaniard Josue Currais-Preito is looking forward to wow Indian crowds with his technical acumen.
October 05, 2015
'FIFA chief Blatter to quit in February, to publish memoir'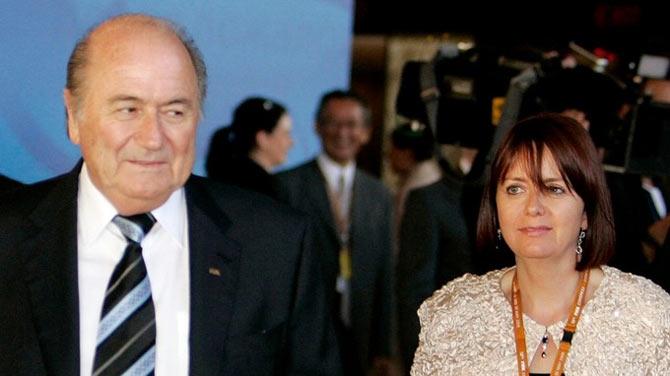 'I know he wants to quit, and he will do it'
Wenger quiets doubters as he celebrates anniversary at Arsenal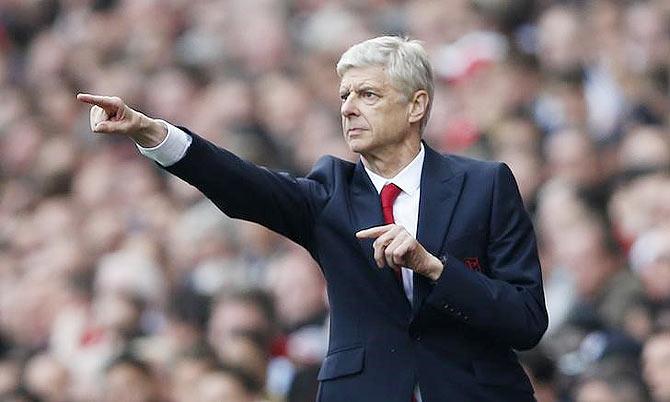 'It gives a strong answer to all the questions that were raised during the week'
PIX: Ibra's PSG record, Bayern's big win decorate Euro weekend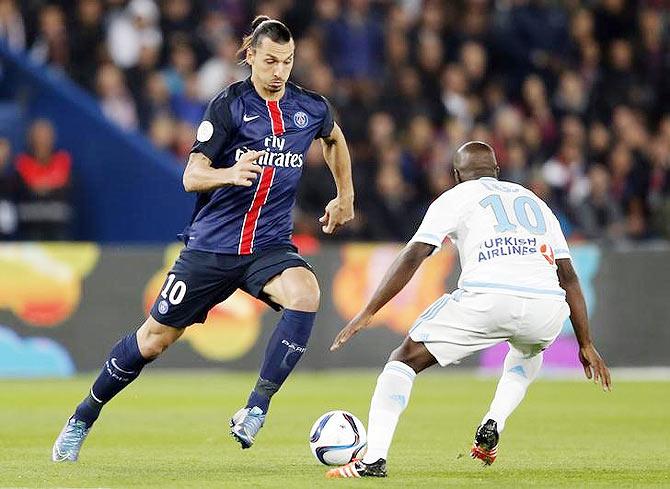 All the latest football news from around Europe.
Ronaldo made to wait for record as Atletico's Vietto does rescue act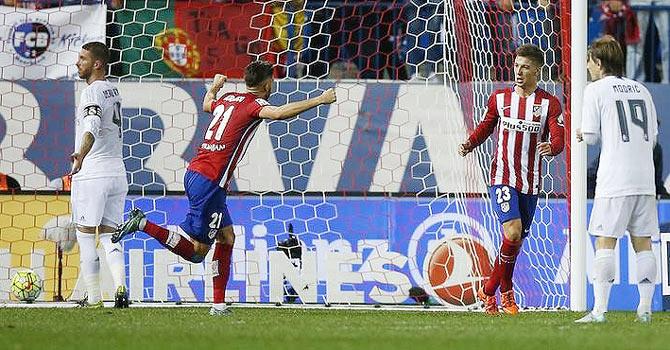 Vietto slotted the ball home with seven minutes to go after Karim Benzema had given visitors Real the lead early on.
'It is not difficult for me to play with quality players like Anelka'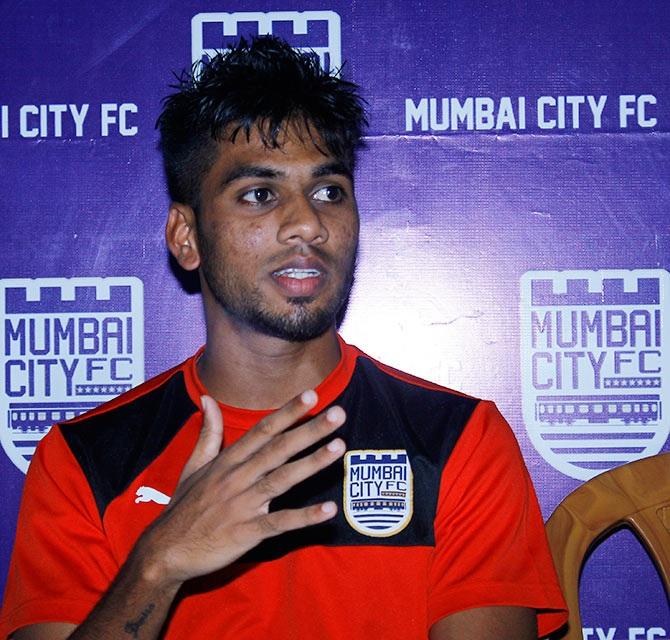 Having missed out in the first season of the ISL, young Brendon Fernandes tells Laxmi Negi/Rediff.com he is determined to prove his worth with MumbaI City FC in Season-2.
October 01, 2015
How 'mythical and legendary' Ronaldo scripted history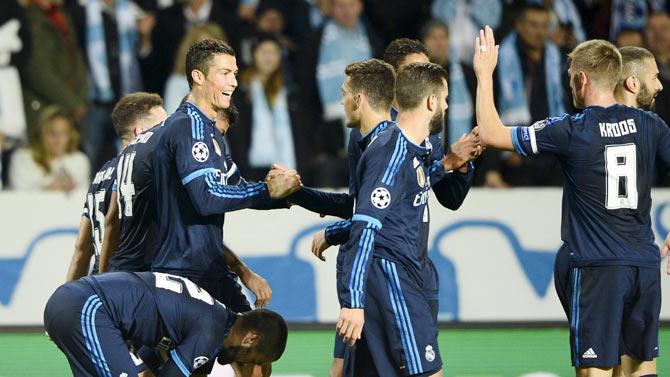 'What he has done in half as many matches as Raul is incredible'
Champions League PIX: A special night of records and own-goals!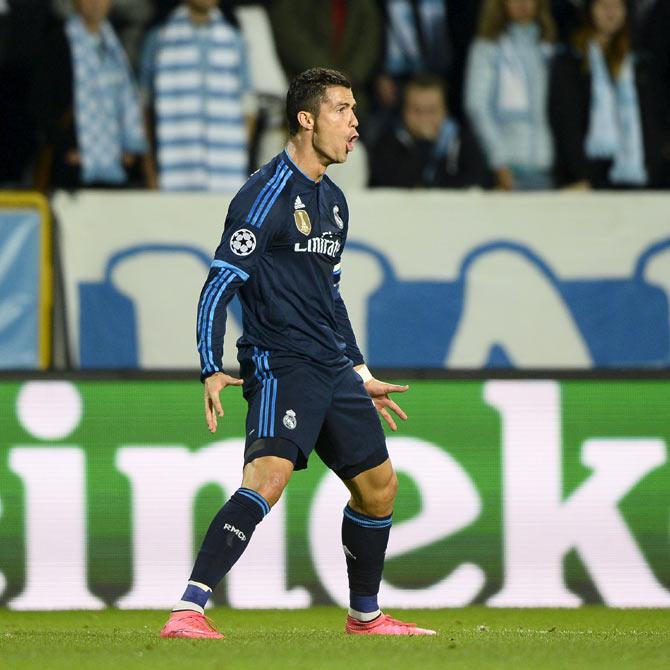 Ronaldo equals Raul Real Madrid record while Morata emulates Del Piero after scoring in five consecutive matches
Champions League PHOTOS: Manchester clubs record hard-fought victories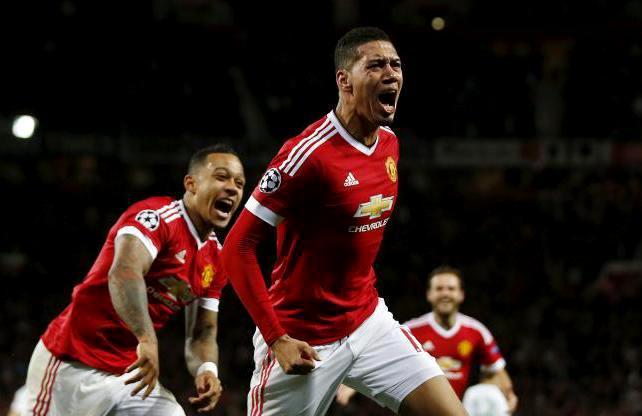 Photos from the Champions League matches played on Wednesday.
Why this 18-year-old racer is making heads turn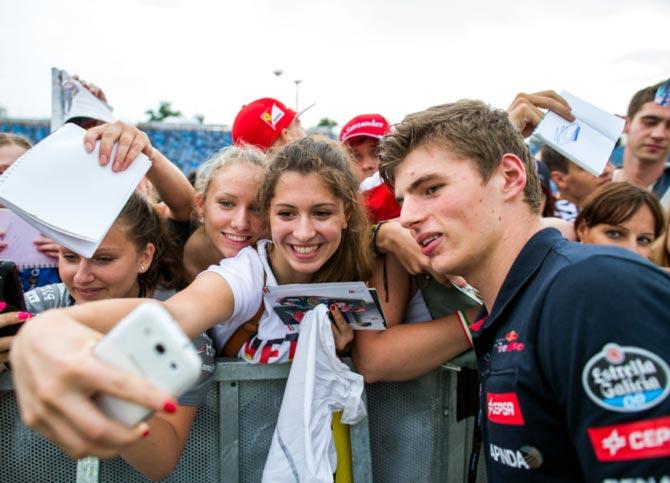 The first 17-year-old to race in Formula One became the sport's first 18-year-old driver on Wednesday and Toro Rosso's Max Verstappen is happy to reach the milestone.
September 30, 2015
PHOTOS: Face frames of the 'Special One'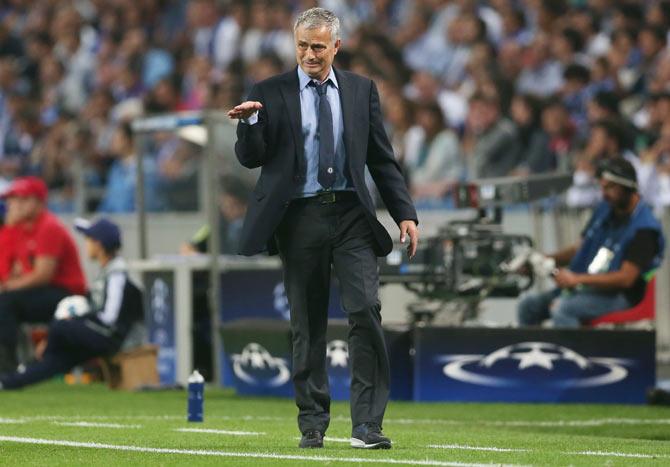 But Mourinho grabbed the attention of photographers on the sideline as his frustration at his team's showing forced a range facial expressions that would give 'Mr Bean' serious competition.
Champions League PIX: Sergi, Suarez rescue Barca; Bayern thrash Dinamo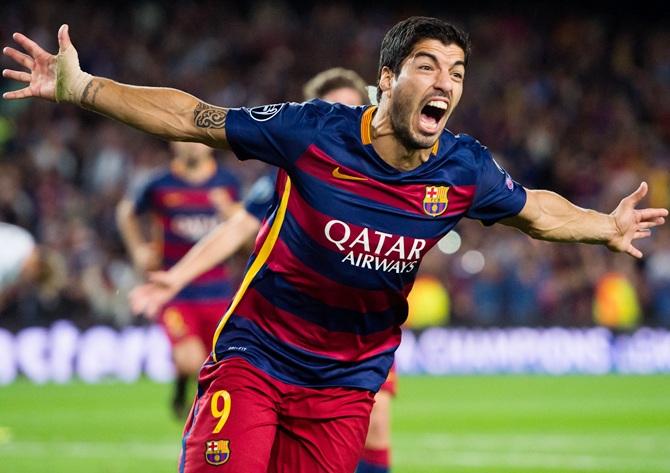 Two late goals in two minutes from Sergi Roberto and Luis Suarez gave European champions Barcelona a dramatic 2-1 win over Bayer Leverkusen in the Champions League on Tuesday.
September 29, 2015
EPL PHOTOS: Lively Lukaku sparks Everton comeback at West Brom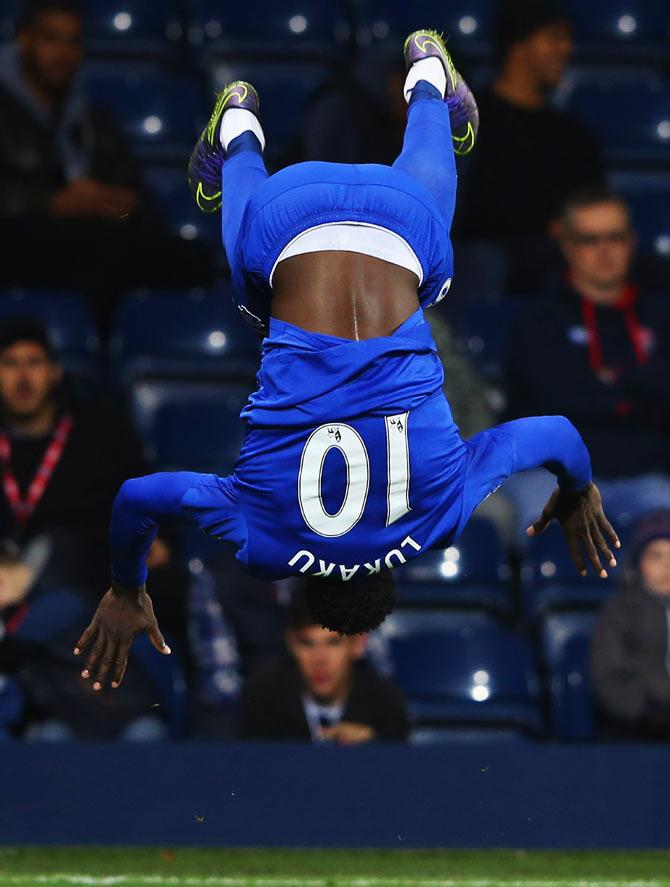 Everton now go to up to fifth in the table with 12 points from seven games
Can Pune FC stint enhance Romanian Mutu's chances for national recall?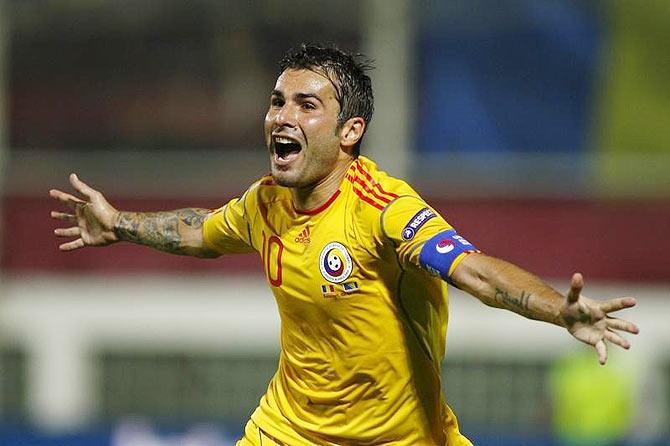 'He has told me that if I continue playing football even after ISL, then he will consider me for the European Championship next year'
'Vettel needs lottery winners' luck to win F1 championship'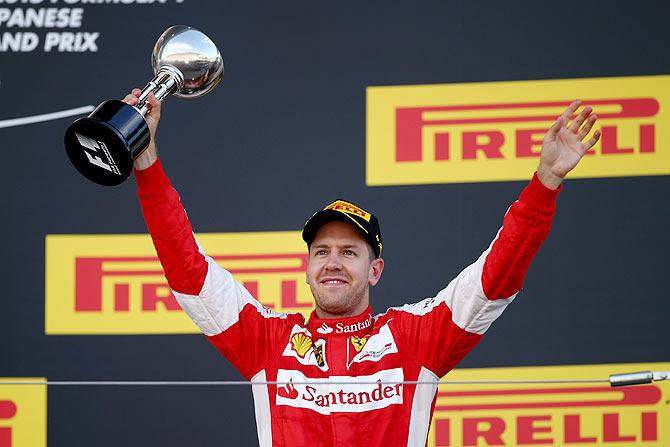 'The chance is there -- and what kind of racing driver would I be if I stopped believing?'
September 28, 2015
Ronaldo on celluloid: watch the trailer...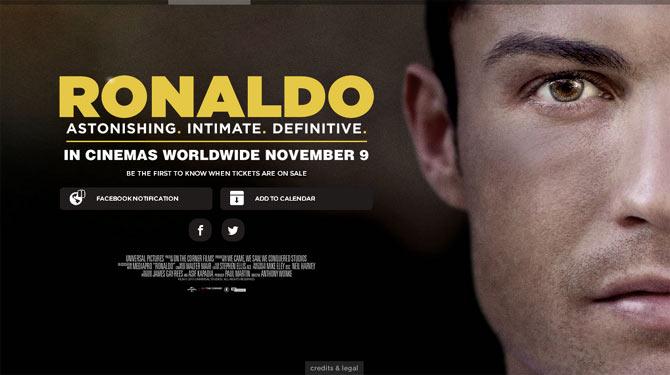 The trailer of the documentary film, titled Ronaldo, which was released by the man himself on his Twitter page, captures moments of his on-field brilliance and provides an in-depth look into the person beyond the footballer.
Hazard's excellence put pressure on Schurrle at Chelsea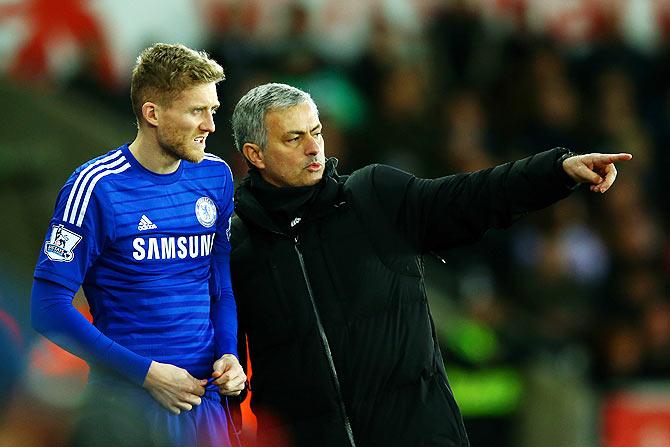 The Wolfsburg winger reckons he didn't enjoy Jose Mourinho's trust during his stay at Stamford Bridge
10 BEST Sports Photos of the Week!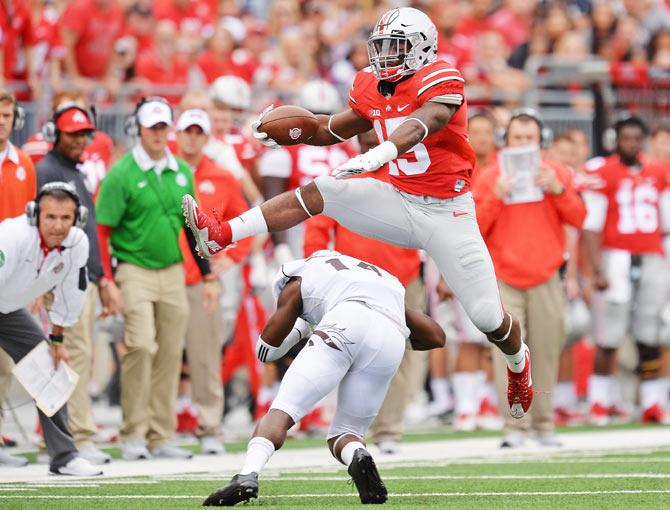 Rediff.com takes you in flashback as we rewind the best from the sporting world in the week gone by.
Under-fire Rodgers alleges conspiracy even as he gets team backing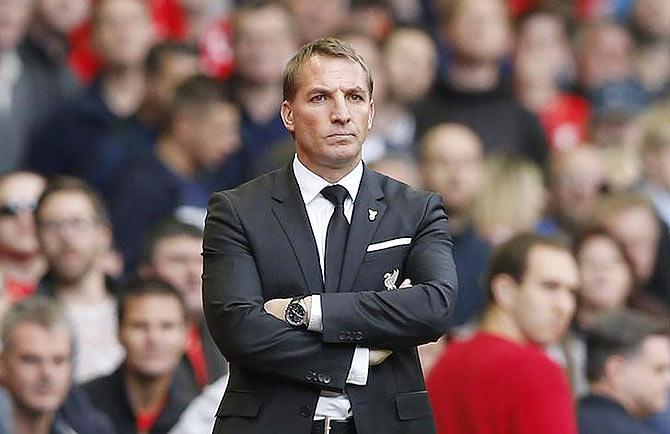 'I am talking about people outside of here. I think it is pretty clear. Sometimes we haven't lost games and the hysteria around it is pretty clear. There is maybe something else going on from behind'
September 24, 2015
PHOTOS: FC Goa ready for ISL 2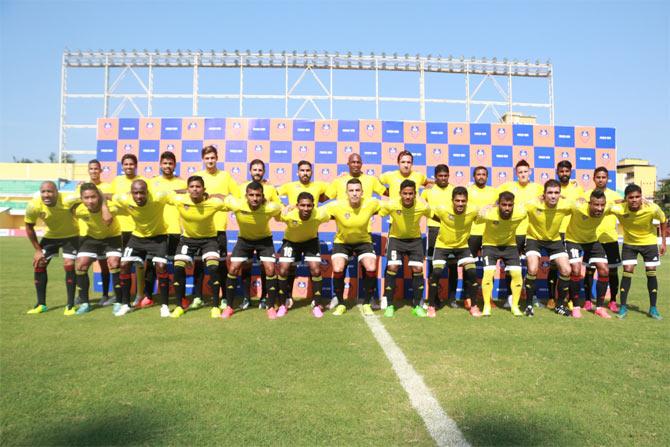 "The team has gelled well as a team and we are looking forward to do well this time. I have seen that the team players are disciplined, physically strong and most importantly they are eager and ready to learn more about football.
What it takes to be a pro boxer? Hear it from Vijender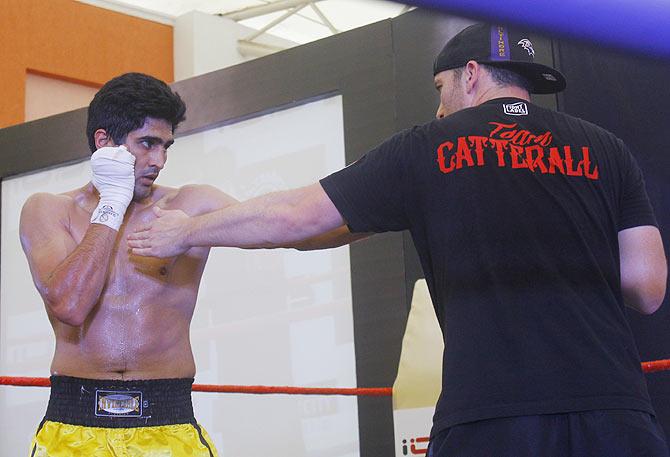 'It is gruelling but I am enjoying the grind. My body hasn't felt better'
September 23, 2015
Baseball legend Yogi Berra dies aged 90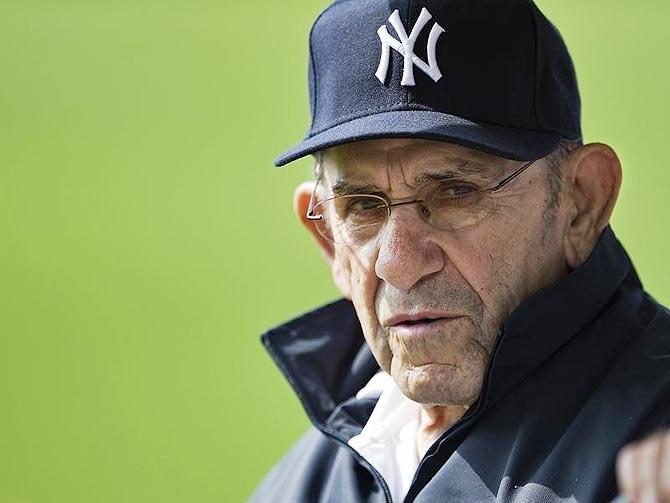 He played almost his entire 19-year baseball career for the New York Yankees.
September 21, 2015
10 Best Sports PHOTOS of the Week!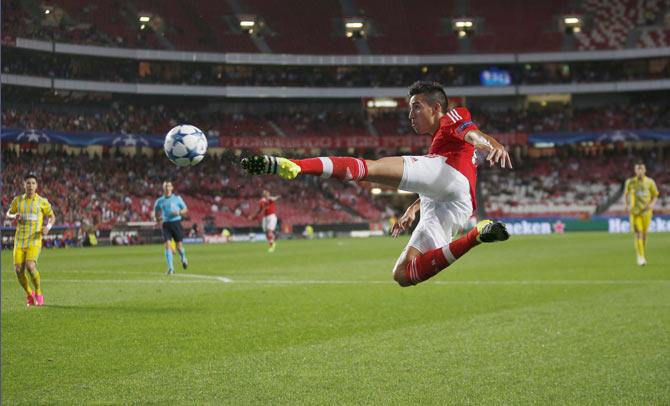 Rediff.com gives you a glimpse of the best sporting action from the week gone by.
Hamilton pursuit of Senna mark ends in frustration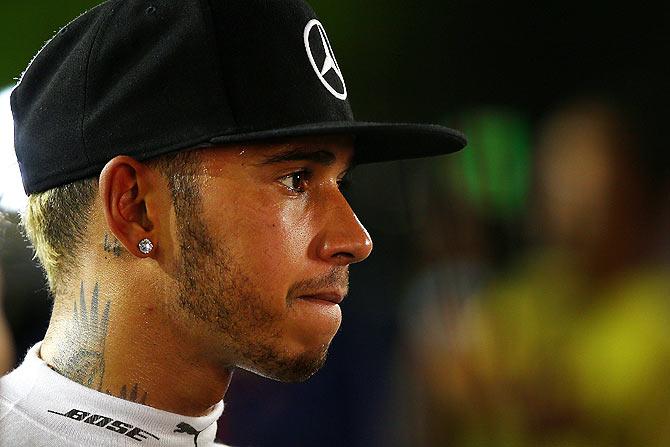 'It's still a long way to go and I know I lost some points today but I was fast and on form and I will make sure I bring that out to Suzuka to fight back'
September 20, 2015
Maroon 5 enthrall F1 fans in Singapore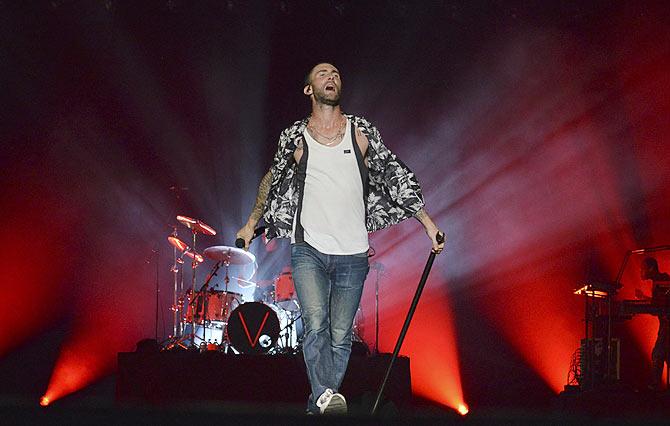 Rediff.com brings you pictures from that live-wire concert held late on Saturday...
September 19, 2015
La Liga: Misfiring Real beat Granada after Benzema header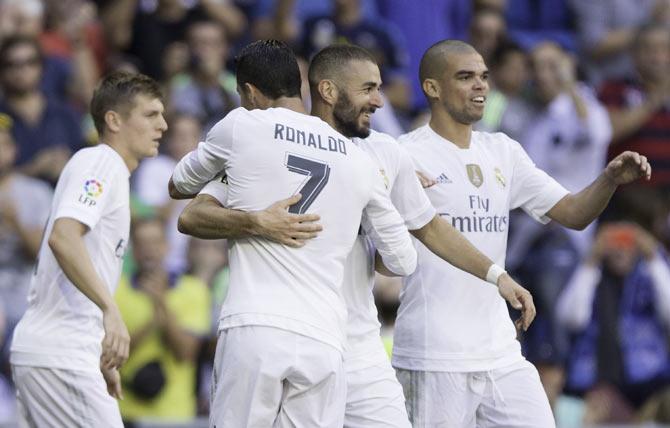 The Frenchman nodded home an Isco cross after 55 minutes against a well-organised Granada side that attacked with pace.
Wenger, Mourinho in war of words after ill-tempered match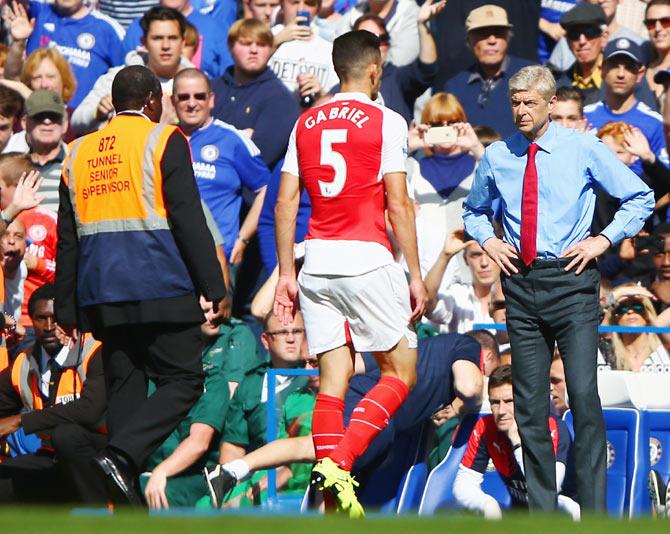 'I think it's unacceptable what he does to Koscielny. He pushes him down, he hits him in the face. I do not understand Mike Dean's decision at all. Why does Diego Costa stay on the pitch and Gabriel is sent off?'
After shock loss, Paes praises 'excellent' Czech youngster Adam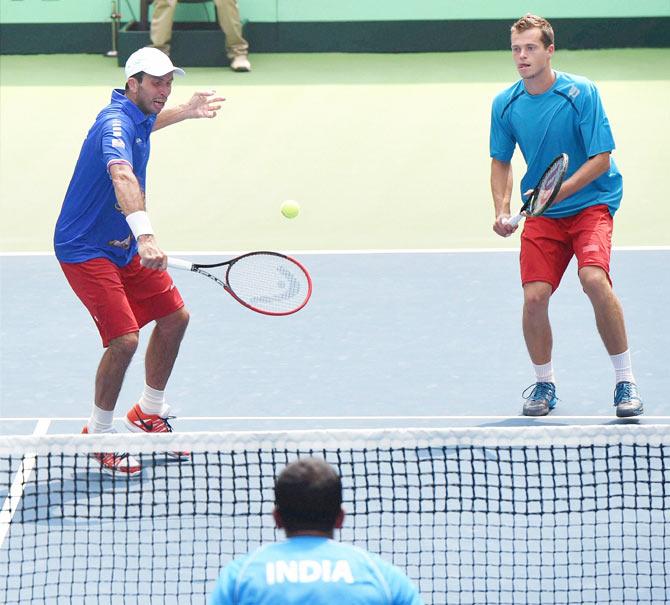 Leander Paes was, on Saturday, gracious in defeat and conceded that Czech player Adam Pavlasek played "phenomenal" tennis in the Davis Cup doubles game in New Delhi.
Ferrari's Vettel takes pole in Singapore, ends Mercedes' reign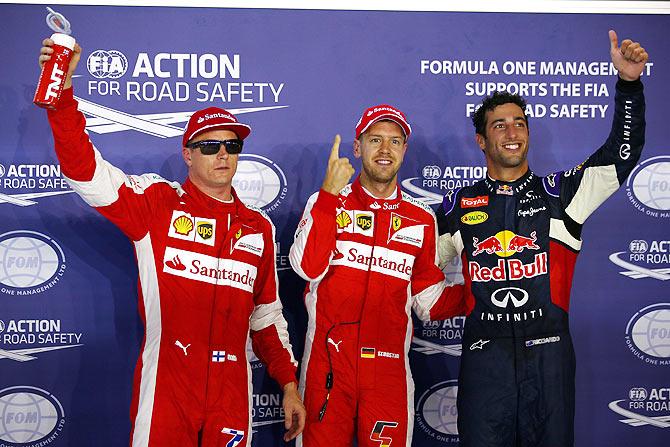 Vettel came out on top, giving Ferrari their first pole position since 2012 with a masterful lap around the floodlit Singaporean track.
EPL PHOTOS: Chelsea beat Arsenal in scrappy London derby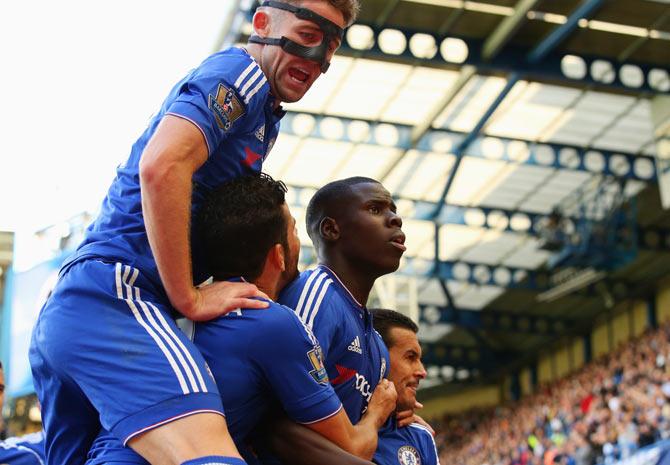 Kurt Zouma and Eden Hazard scored the goals the goals in a match that saw Diego Costa play central character.
September 16, 2015
Hamilton 'pushing for hat-trick' with Senna's record in sight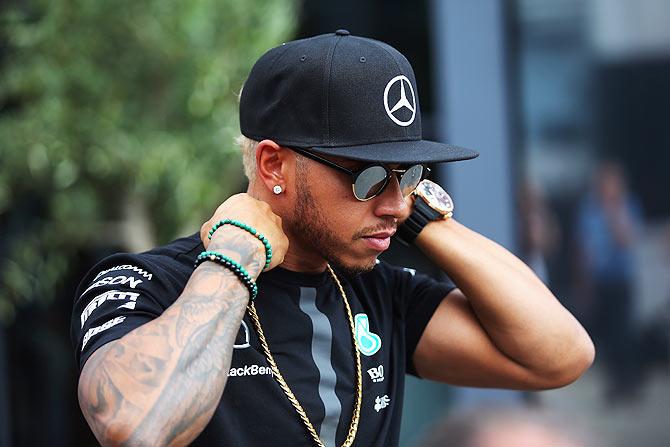 'I watched Senna as a child and it would be an honour to match him. Now I'm just one win away but I hope to do even better'
Good chance for Chelsea to pull out of slump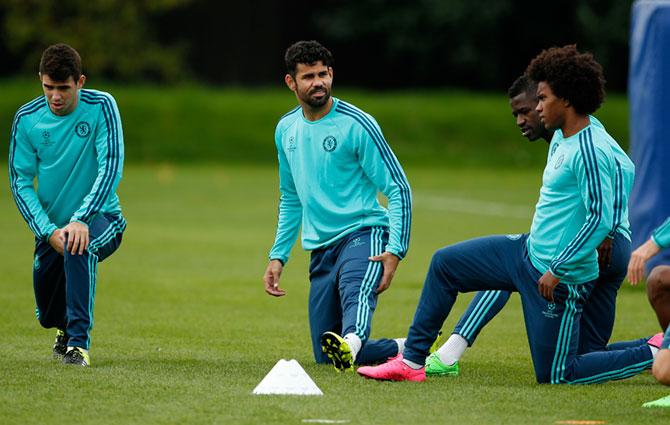 Out-of-sorts Chelsea have a golden opportunity to restore battered self-confidence when they face Maccabi Tel Aviv in their opening Champions League Group G match.
Champions League PHOTOS: Manchester clubs go down; Record for Ronaldo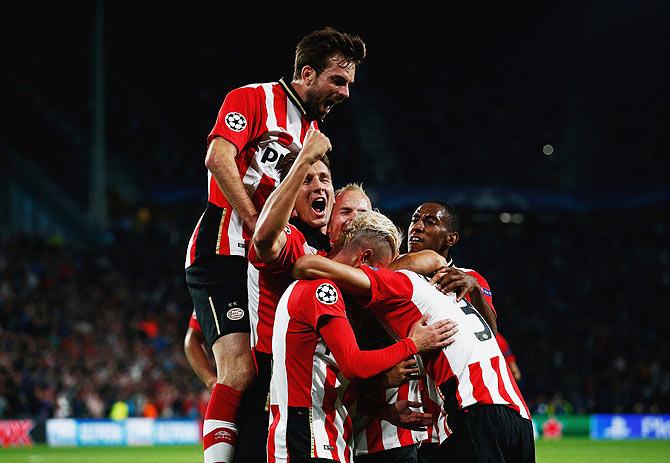 Photos from the Champions League matches played across Europe on Tuesday
September 15, 2015
Djokovic in his prime and threatening record books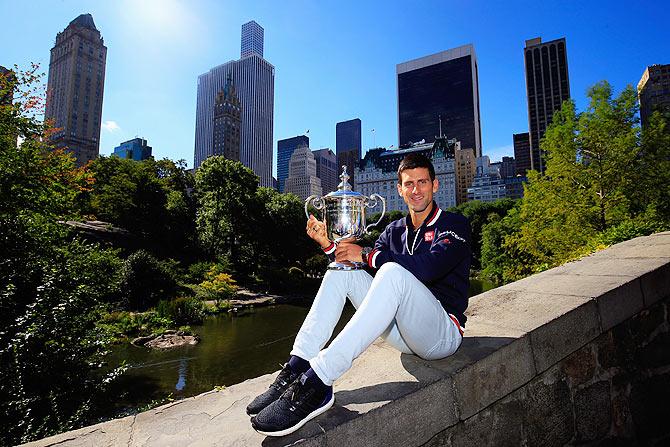 The 28-year-old Serb's initial slow accumulation of major silverware after his breakthrough at the 2008 Australian Open has accelerated to such an extent that talk of him surpassing the likes of Bjorn Borg, Rafael Nadal and even Roger Federer is no longer fanciful.
'America's Christ on a bicycle' Armstrong's disgrace revisited in film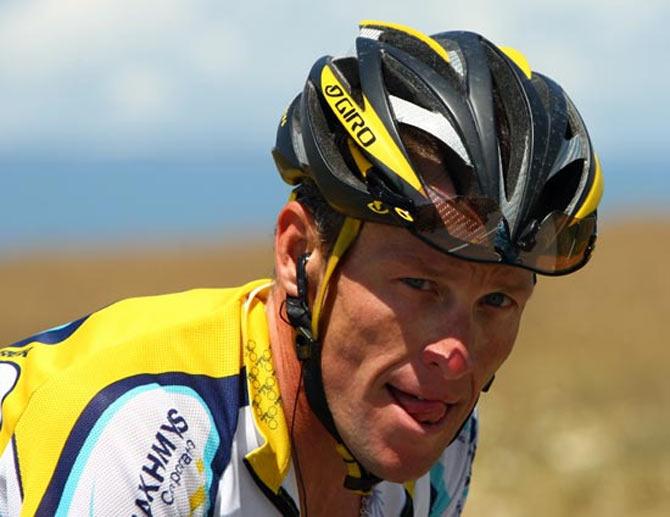 The Program documents the dark side of professional cycling, which still struggles to shake off suspicions of cheating amid a culture of loyalty to a team's star
PSV to play fearless football against favourites Manchester United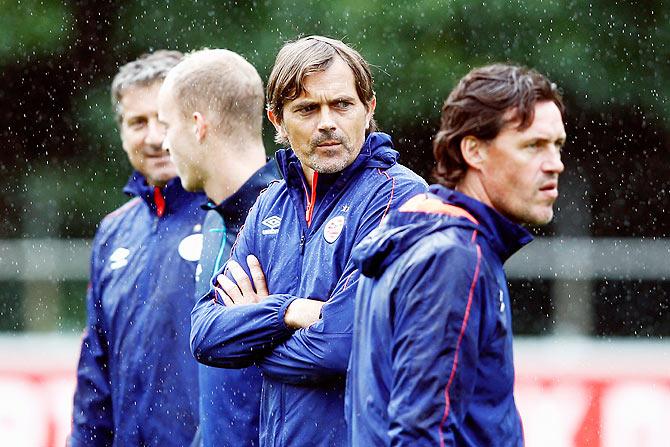 The Dutch club are returning to the group phase of the competition for the first time in seven years.
How Hollywood star Butler inspired Djokovic to US Open triumph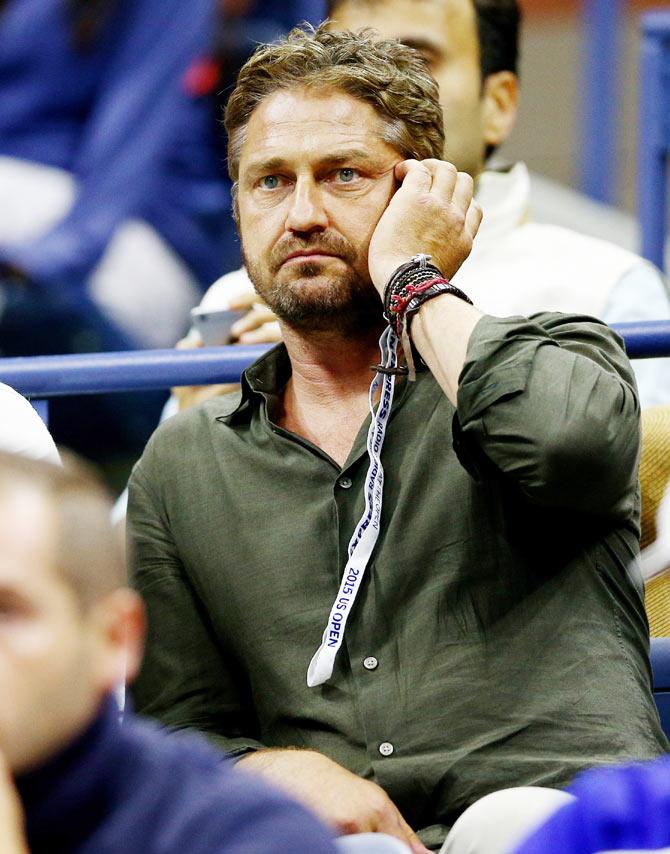 Novak Djokovic summoned some cinematic inspiration to help him conquer grand slam king Roger Federer and silence the roaring supporters of the Swiss at Sunday's US Open men's final.
EPL PHOTOS: Hammer Payet's double sees Newcastle slide to bottom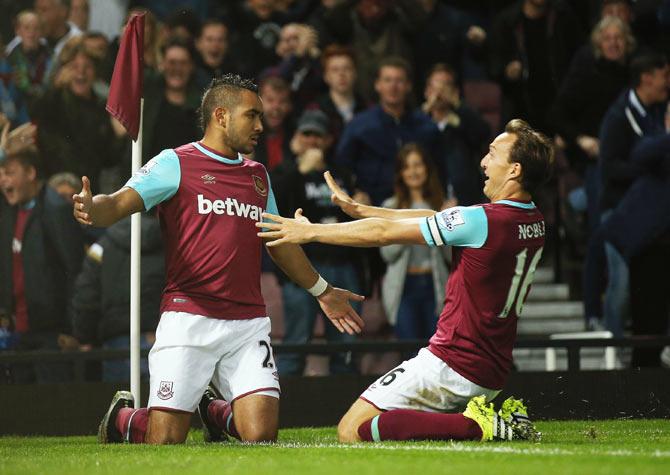 Dimitri Payet struck a brace for the Hammers against a tired Newcastle, whose players had to trudge the last mile to West Ham United's stadium after their team coach became stuck in London's rush-hour traffic before Monday's Premier League fixture.
September 14, 2015
Champions League: Dutch links add familiar flavour to United visit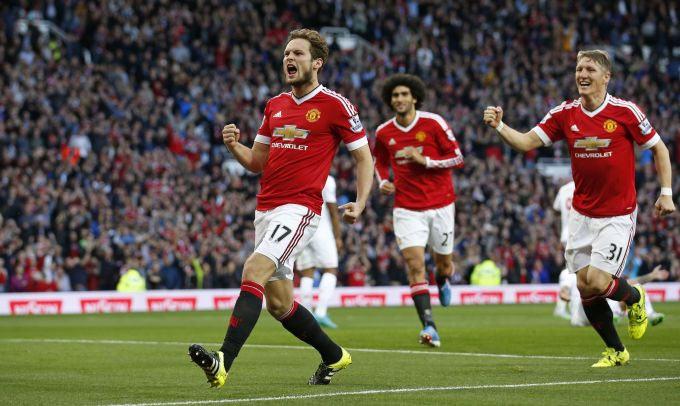 An air of familiarity will pervade the Champions League return of PSV Eindhoven and Manchester United when they open their Group B campaign in the Netherlands on Tuesday.
Djokovic plays pantomime villain in US Open final to cap great season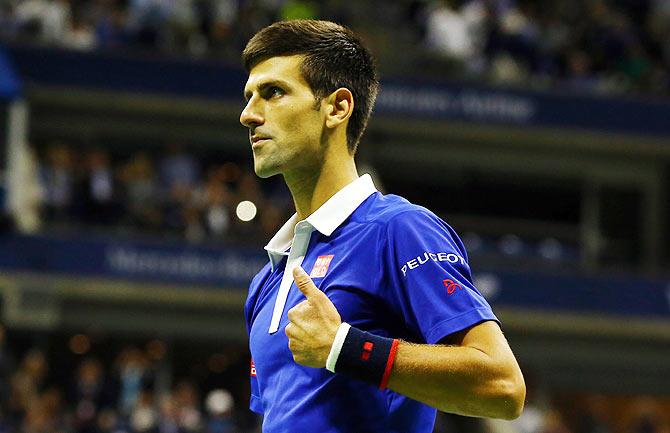 'As a father and a husband, experiencing a different variety of things in my life, it's a completely different approach to tennis today. I feel more fulfilled. I feel more complete as a player today than I was in 2011. Physically stronger, mentally more experienced and tougher as well'
Personal glory for Real hero Ronaldo as big teams fall across Europe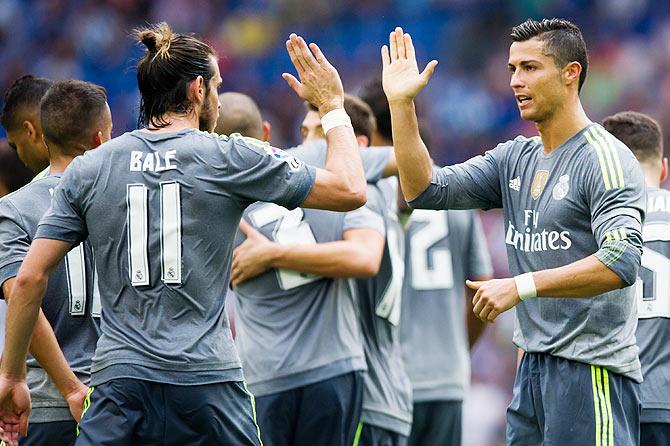 Manchester City made it five wins out of five in the Premier League and Cristiano Ronaldo scored five goals for Real Madrid but Chelsea and Juventus continued to struggle at the weekend as the Champions League looms.
Age-defying Federer shrugs off retirement talk on 'tough night'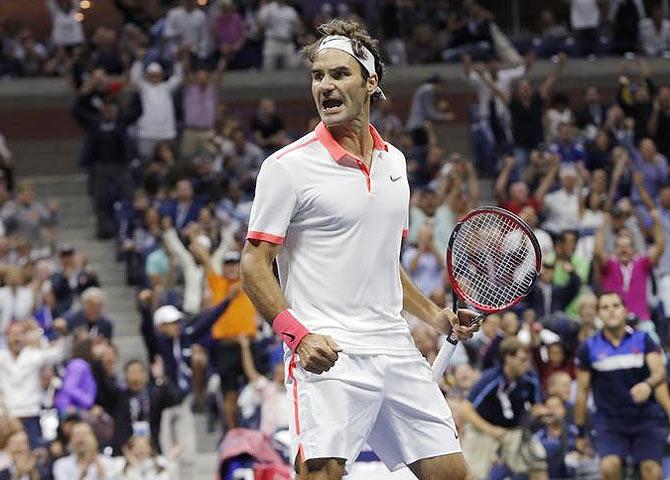 Unlike the women's US Open final there was no centre court retirement announcement on Sunday with Roger Federer putting aside the disappointment of losing to Novak Djokovic in the men's final to tell fans he will be back.
In PHOTOS: Djokovic's rise ten years since Grand Slam debut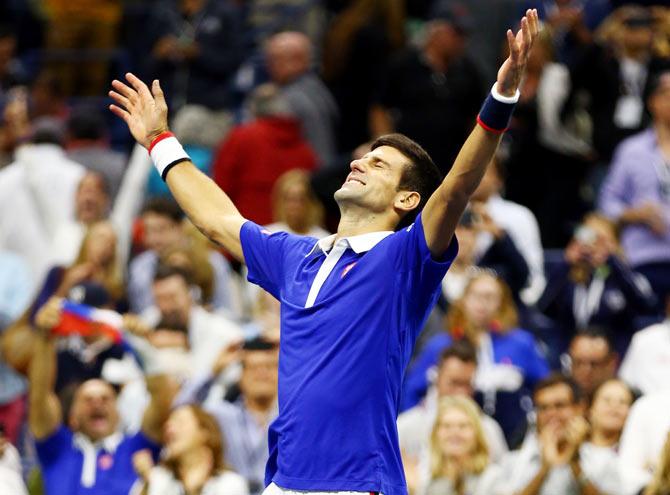 A summary of Novak Djokovic's rise in the tennis circuit in photos.
Djokovic overpowers Federer to win US Open crown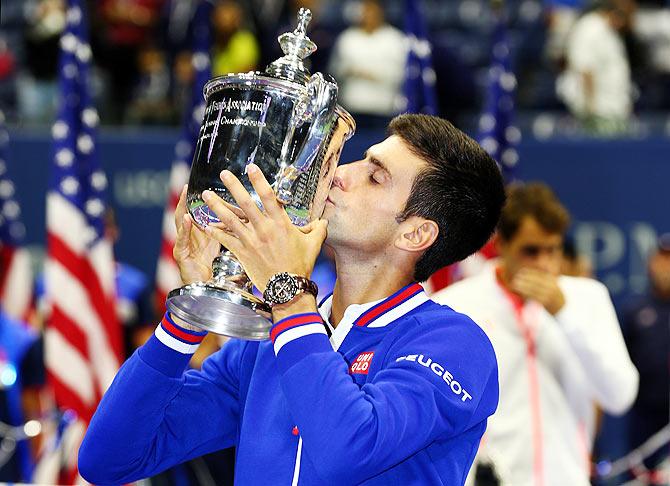 World No 1 Novak Djokovic beat Roger Federer 6-4, 5-7, 6-4, 6-4 to win the US Open title at the Flushing Meadows in New York on Sunday.
September 13, 2015
An even battle on cards as Djokovic faces-off against sublime Federer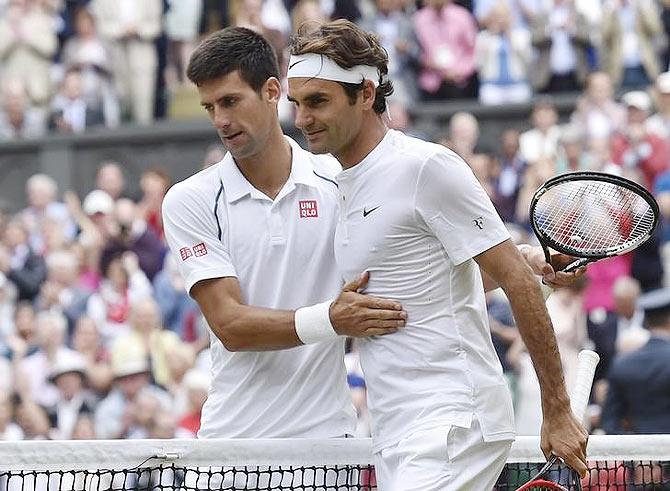 Both players burn with heaps of motivation to hoist the winner's trophy at Arthur Ashe Stadium in the last grand moment of the 2015 slam season.
Bundesliga: Aubameyang scores twice to help Dortmund leapfrog Bayern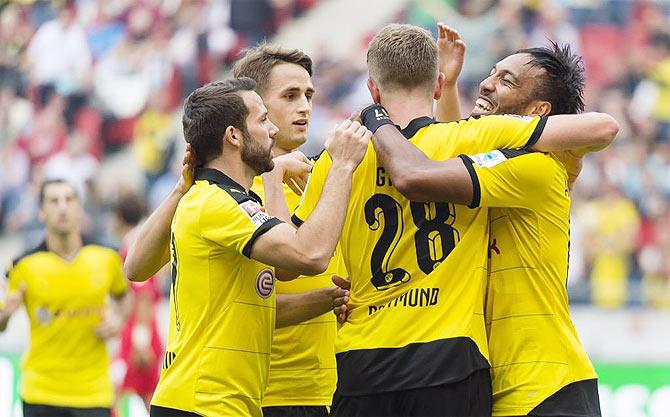 It was the ninth consecutive victory for Dortmund in all competitions this season and showed they had put last season's disappointing performances behind them.
La Liga PHOTOS: Ronaldo in record books as Real's highest goal-scorer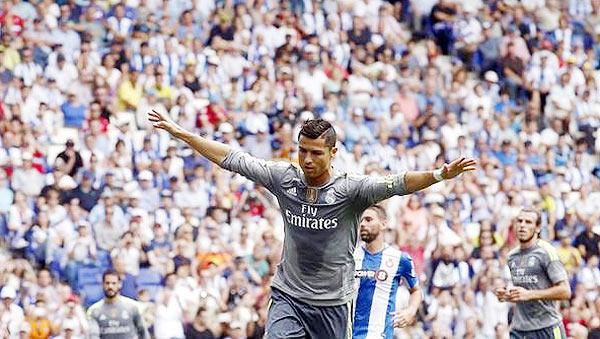 In other matches, super-sub Messi helped Barca romp past Atletico
Vinci can't stop gushing after 'miraculous' run at US Open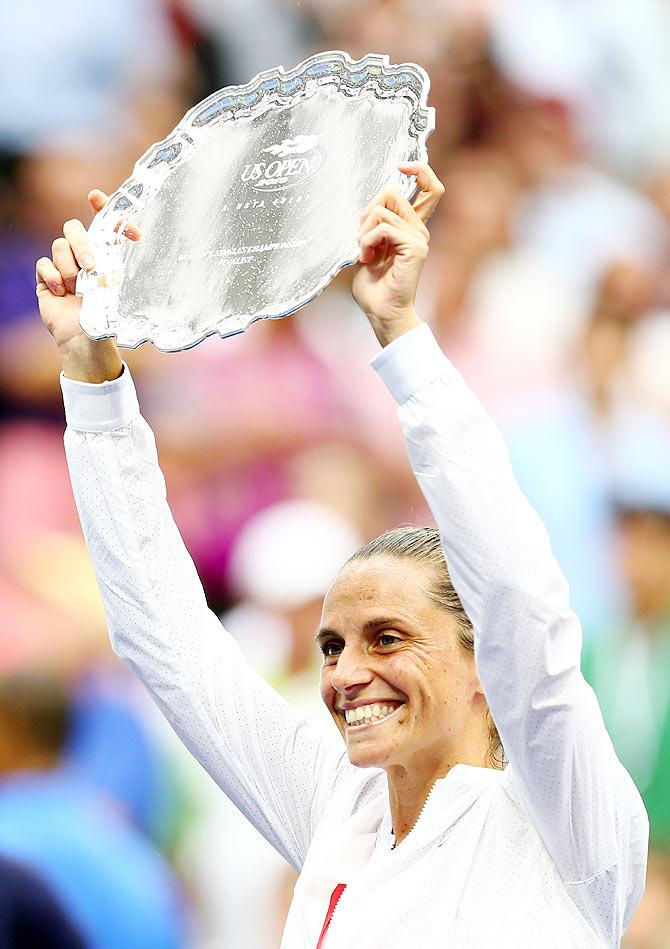 Roberta Vinci, playing in her first grand slam singles final, lost twice at the US Open on Saturday after coming up short in an all-Italian clash against her closest friend on tour.
US Open champion Pennetta says 'goodbye to tennis' moments after win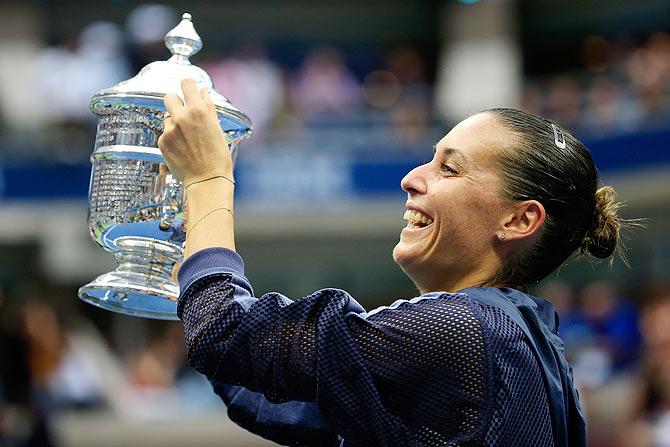 'I was trying to play every match like it was my last one. Trying to play best all the time'
September 12, 2015
US Open: Italy PM to travel to New York to watch women's final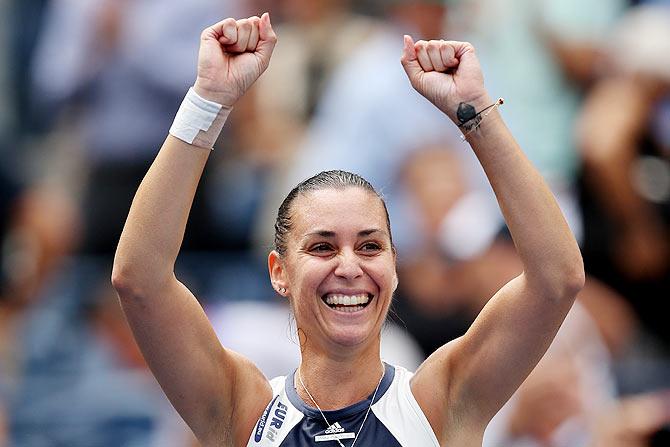 Italian Prime Minister Matteo Renzi dropped his busy weekend schedule and headed to New York on Saturday for the first all-Italian women's final at the US Open.
Serena finally falls after riding her luck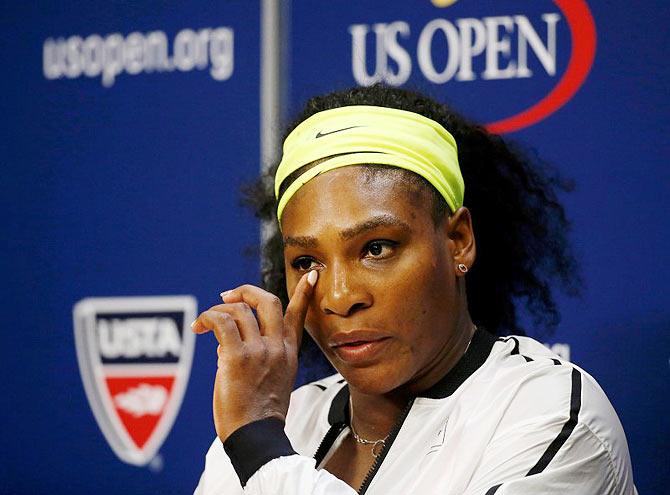 Serena Williams had been a vulnerable conqueror at this year's majors, living dangerously and dicing with defeat on numerous occasions as she tried to become only the fourth woman to complete the calendar Grand Slam.
Vinci finds it tough to stitch up words after upsetting Serena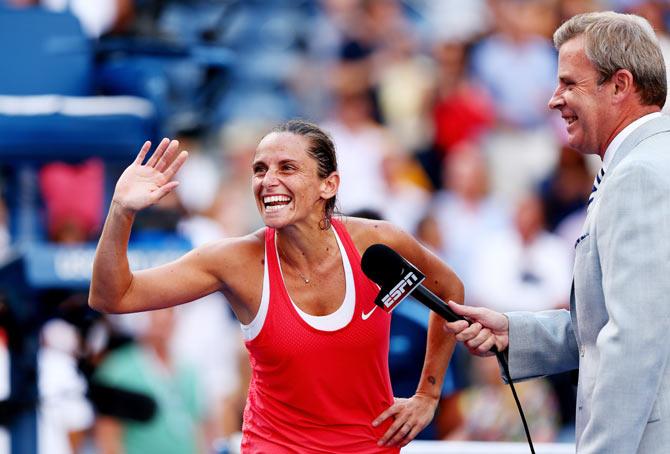 'I don't know. It's tough to explain my emotion right now. Maybe tomorrow morning I can tell you something, but now it's amazing'
European football round-up: Lasogga lifts Hamburg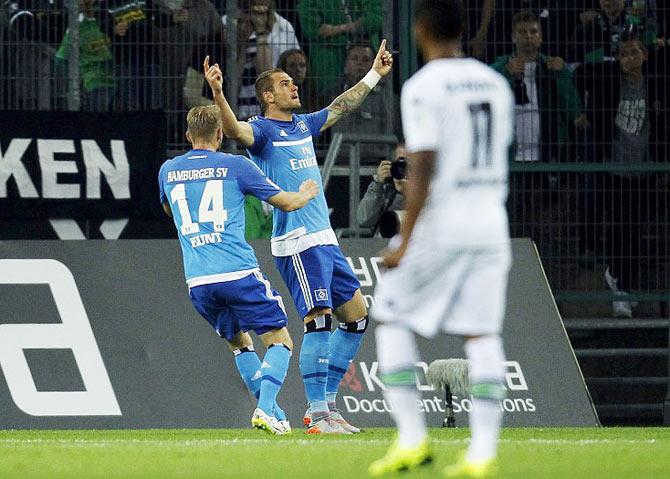 The win lifted Hamburg, who needed a relegation playoff to stay up last season, to seventh on six points.
'Gutsy' Paes says he learns a lot from Hingis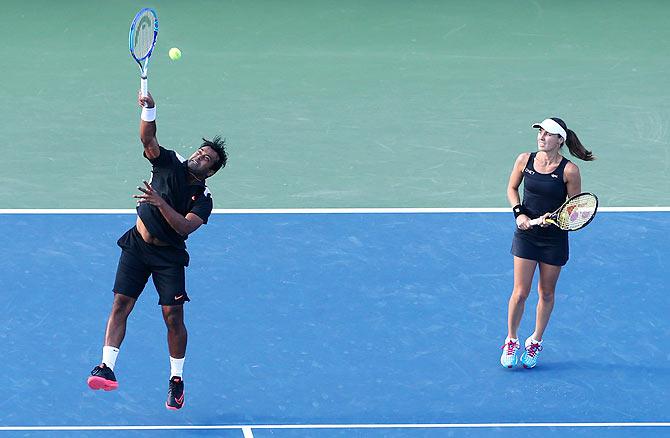 Soon after he won his historic US Open title, Paes said more than technique it is his never-say-die spirit that has got him success.
Vinci makes rare list in women's tennis after upset win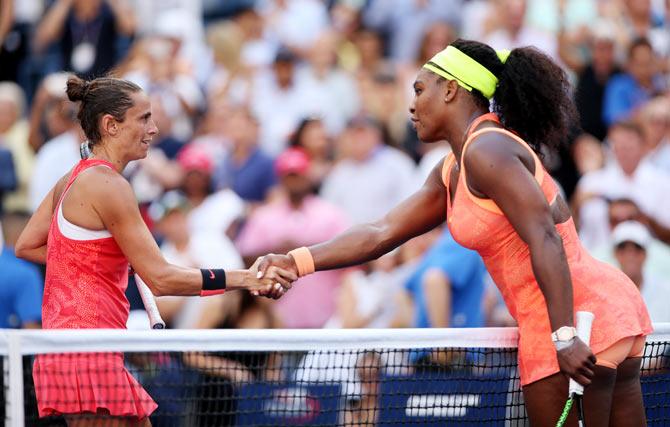 Following is a list of biggest shocks in women's tennis after Italian outsider Roberta Vinci, ranked 43rd, beat world number one Serena Williams in the US Open semi-finals on Friday to deny the American a chance to complete a calendar year Grand Slam.
US Open PHOTOS: Classic Federer sets up showdown with Djokovic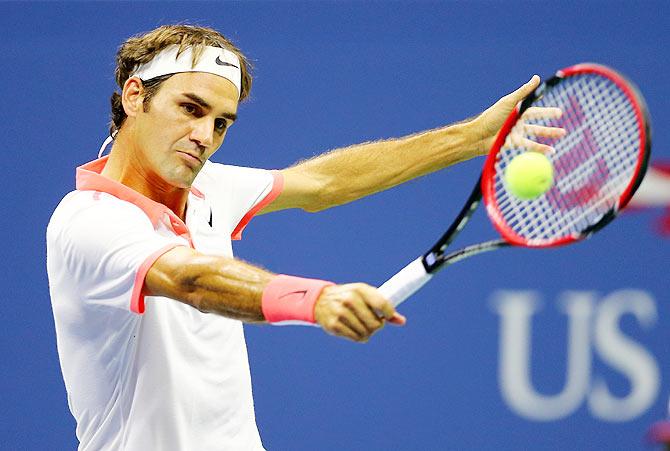 Five-times champion Roger Federer reached his first US Open final in six years as he raced past fellow Swiss Stan Wawrinka 6-4, 6-3, 6-1 at Flushing Meadows in the semi-finals on Friday.
September 11, 2015
Soccer shots: De Gea signs new four-year United contract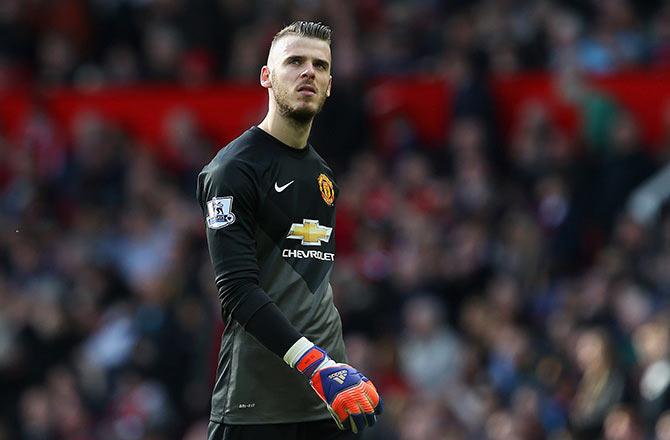 Here is a summary of stories from the English Premier League
'I could have still been at Liverpool had they offered coaching role'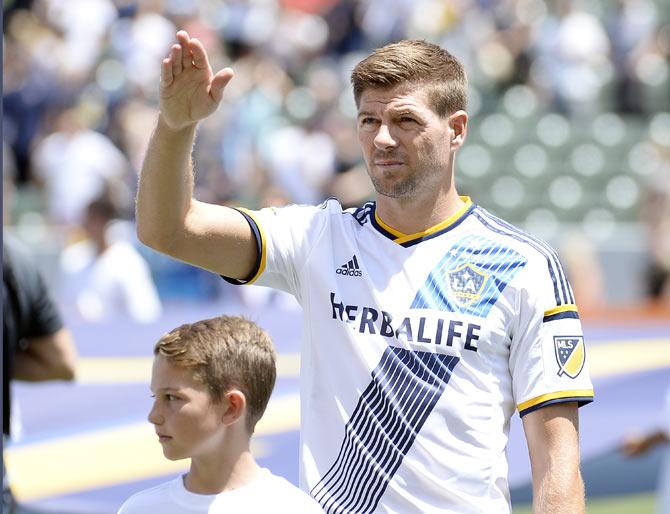 'I was surprised a role wasn't mentioned when chief executive Ian Ayre sat down with my agent, but maybe it might happen one day'
September 08, 2015
Williams sisters to put family ties to ultimate test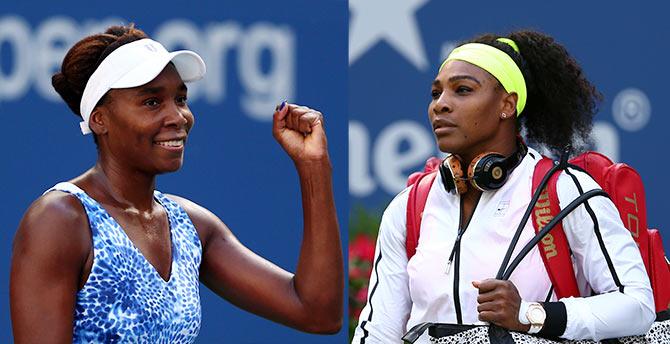 A win by Venus would keep the 35-year-old on track for a first grand slam title since 2008 Wimbledon and a possible return to the US Open final where she first made the final in her debut in 1997.
C'wealth Youth Games: Lifter Lather, javelin thrower Hadish give India gold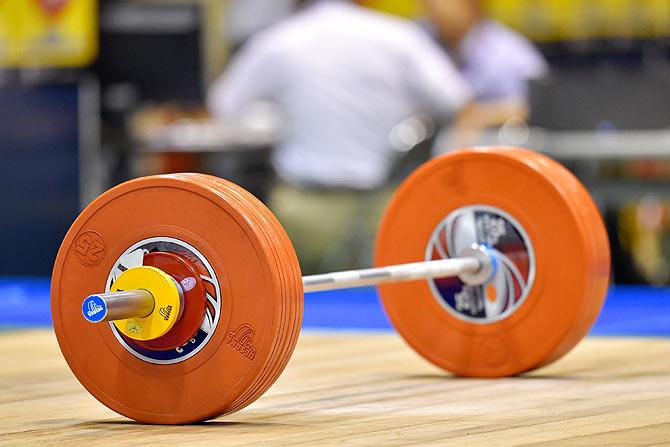 Indians continued their strong show at the fifth Commonwealth Youth Games, winning five medals, including two gold, on the second day of competition in Apia, Samoa, on Tuesday. Weightlifter Deepak Lather (boys' 62kg category) and javelin thrower Mohd Hadish won a gold each in their respective events, while Jisna Mathew won a silver in the girls' 400 metres.
US Open: How Anderson upset Murray and advanced to last 16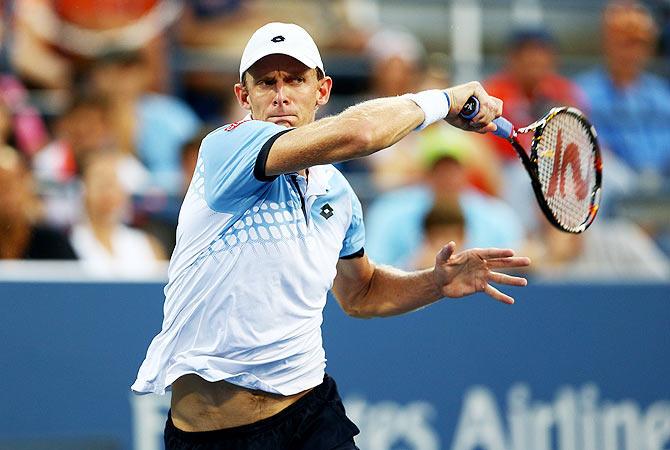 Anderson is the first South African in New York's last 16 since Wayne Ferreira in 2002.
Euro qualifiers, PHOTOS: Germany put Scots on the rocks; Portugal win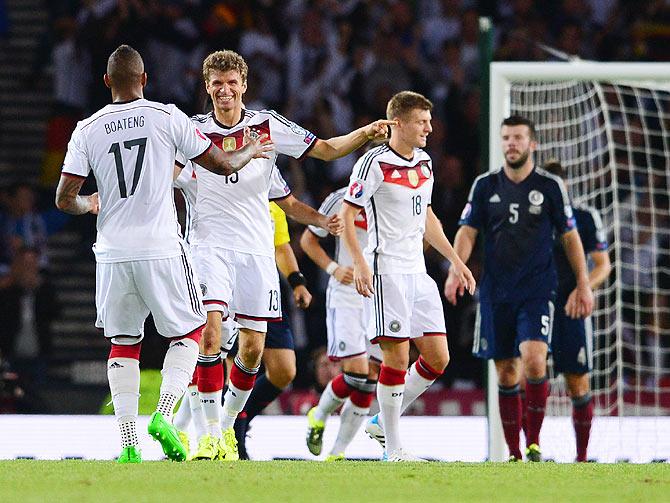 The world champions now have 19 points while Poland, 8-1 winners over Gibraltar, are on 17.
US Open PHOTOS: Murray stunned by Anderson; Federer, Halep in quarters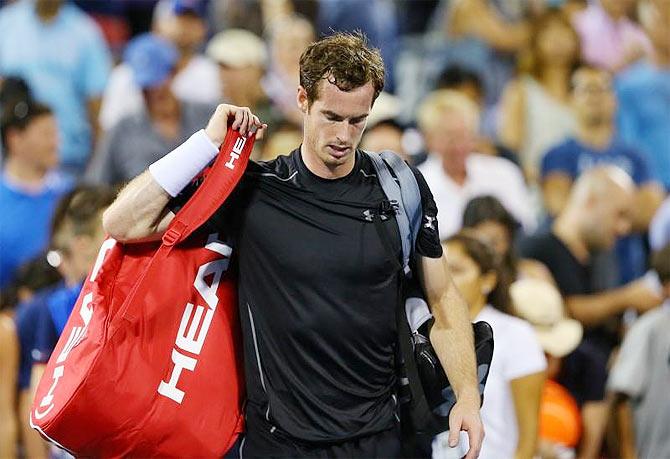 Murray had battled his way back from two sets down in the second round against France's Adrian Mannarino, but could not work another miracle against the 14th-ranked, 29-year-old Anderson, who swept the final tiebreak 7-0.
September 07, 2015
Euro 2016 qualifiers: Dutch football in crisis after losing to Turkey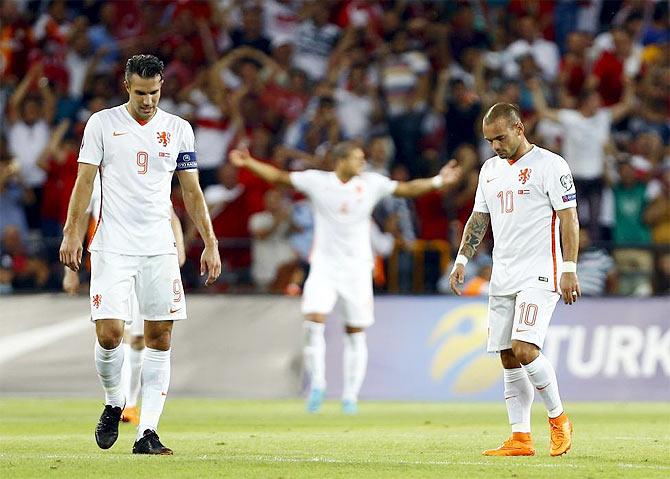 The two losses in Blind's first two games left the Dutch floundering in fourth place in Group A, needing to overhaul a two-point deficit on third placed Turkey with two games to play in October to have any chance of reaching the Euro 2016 finals via the November play-offs.
Formula One: Ferrari's Raikkonen keeps it cool after engine failure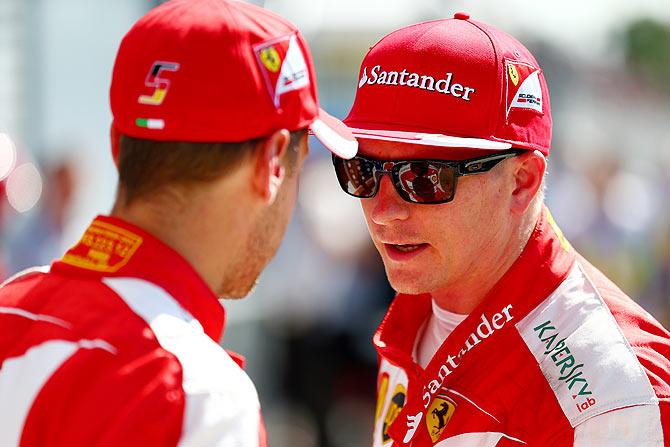 The glass was half full for Ferrari team boss Maurizio Arrivabene after Sunday's Italian Grand Prix, even if Kimi Raikkonen filled it almost to the brim before sloshing the contents around.
US Open: Does Venus have the game and stamina to halt Serena's surge?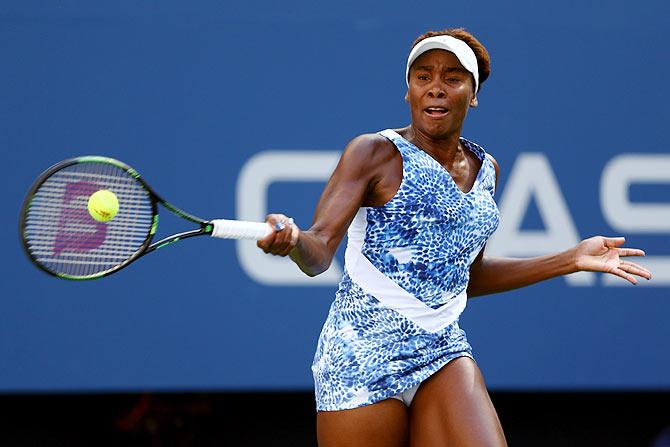 With Serena bidding to become just the fourth woman to win all four grand slams in the same year, the US Open hype machine that already had been in top gear is now set to crank into overdrive.
Indians at the US Open: Sania-Martina cruise into last eight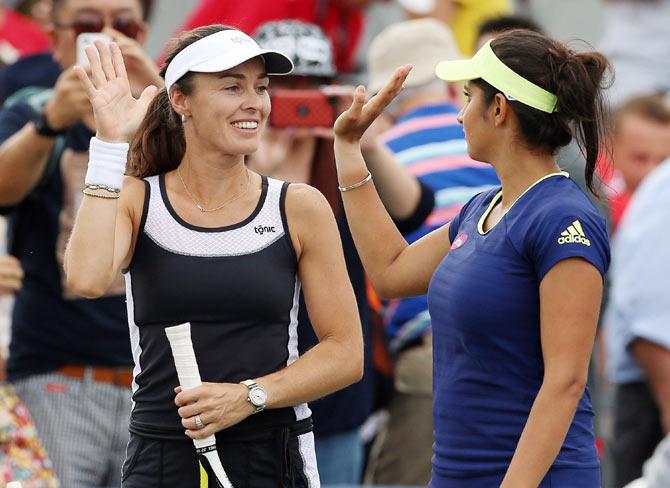 Sania-Martina will next face ninth seeds Yung-Jan Chan and Hao-Ching Chan of Chinese Taipei, who rallied to beat unseeded Romanians Irina-Camelia Begu and Raluca Olaru 5-7, 6-1, 7-6 (4).
Euro qualifiers: Italy win in Buffon's 150th match; Iceland through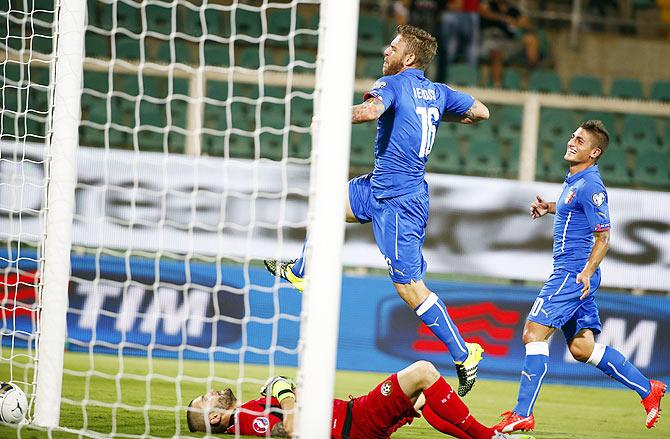 Belgium make Wales wait after Hazard's strike, while Czechs beat Latvia to qualify
US Open PHOTOS: Venus, Serena set up quarters clash; Djokovic stretched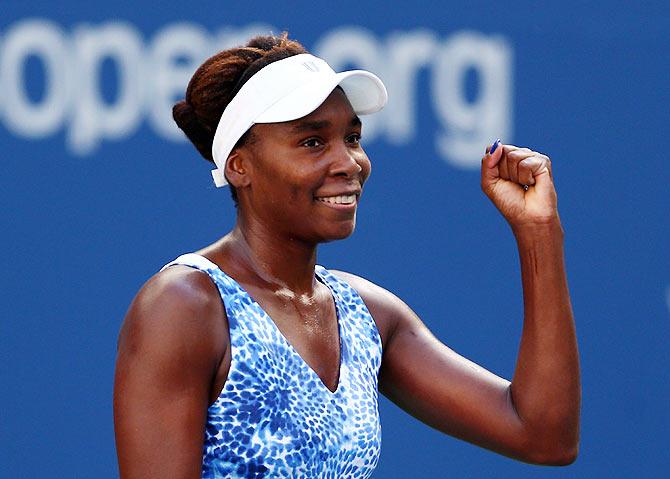 Venus Williams stands in the way of younger sister Serena's bid for a calendar-year Grand Slam after reaching the quarter-finals with a 6-2, 6-1 rout of Estonian teenager Anett Kontaveit on Sunday.
September 06, 2015
Euro qualifiers: Swiss script remarkable rally against stout Slovenia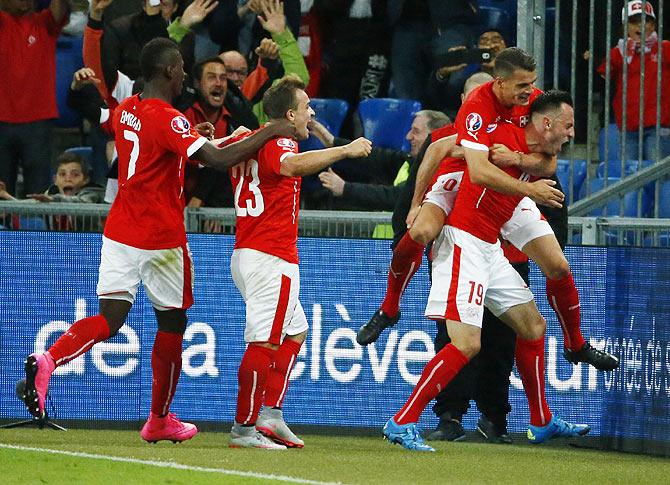 'It was a crazy game where we had the bit of luck that we didn't have in Slovenia'
US Open PHOTOS: Federer, Murray and underdogs share spotlight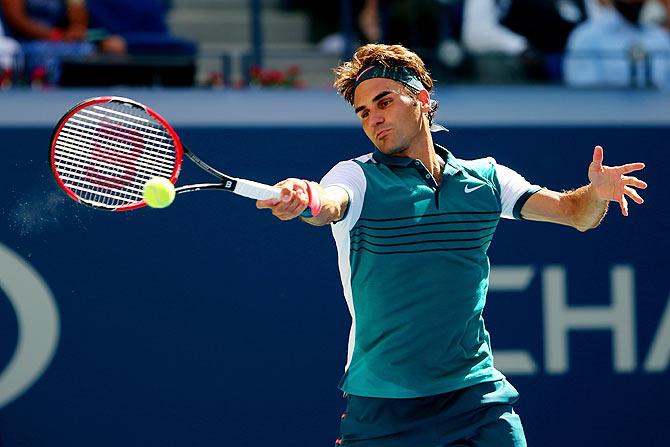 Konta first British woman in US Open last 16 since 1991
September 05, 2015
US Open: Defending champion Cilic fights back to live another day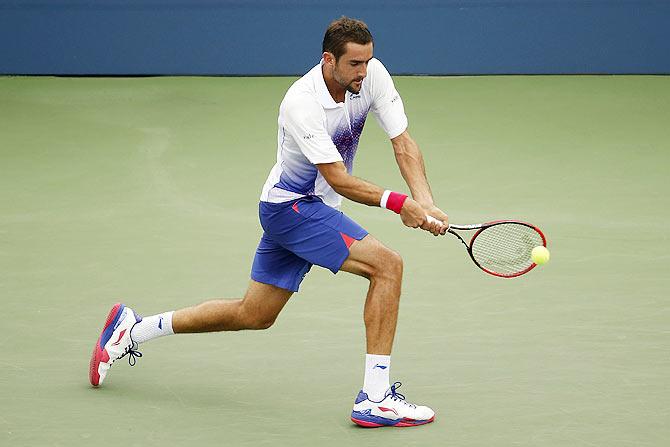 Defending champion Marin Cilic had to battle hard before beating Kazakhstan's Mikhail Kukushkin 6-7, 7-6, 6-3, 6-7, 5-1 in their 3rd round match of the US Open on Friday.
September 04, 2015
Indians at the US Open: Paes-Verdasco knocked out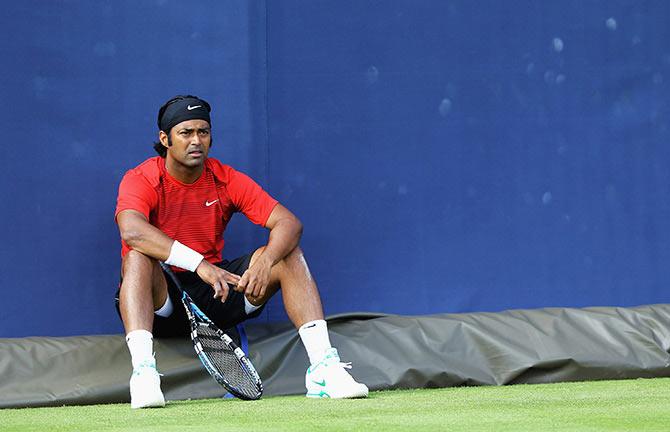 A round-up of results of Indian players at the US Open.
Euro qualifiers PHOTOS: Iceland beat horrendous Dutch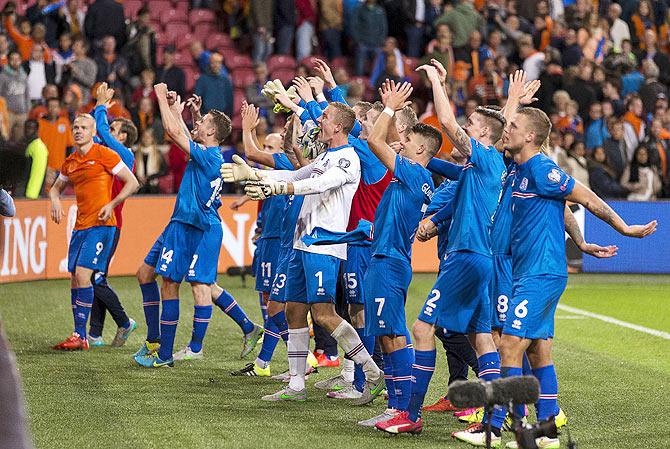 Malta make Italy sweat, while Bale takes Wales closer to competition
September 01, 2015
US Open PHOTOS: Williams scripts ruthless win; Djokovic, Nadal advance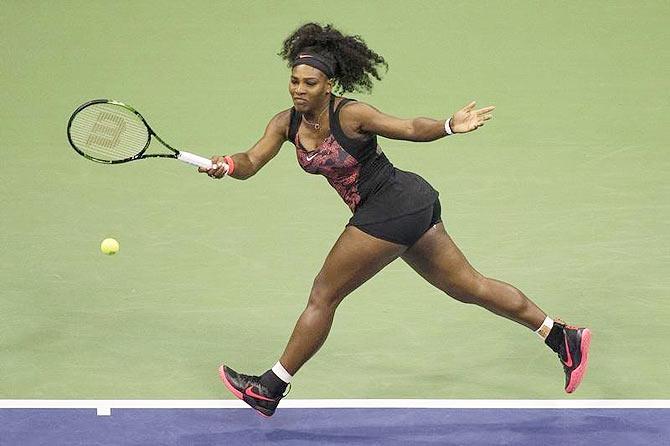 Photos from the US Open matches played on Monday
Juventus suffer side effects of dismantling a winning squad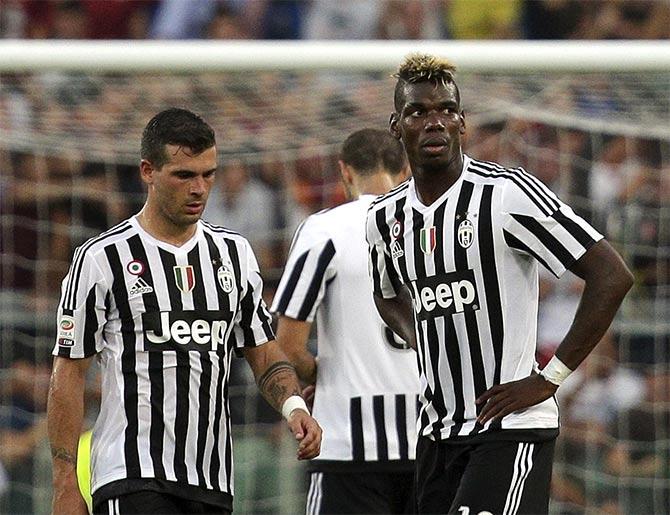 Juventus appear to be suffering from a predictable early-season slump in the wake of a summer spent fumbling around the transfer market in a bid to rebuild a team that had grown to dominate Serie A.
August 31, 2015
Transfer Talk: Man City sign Belgian De Bruyne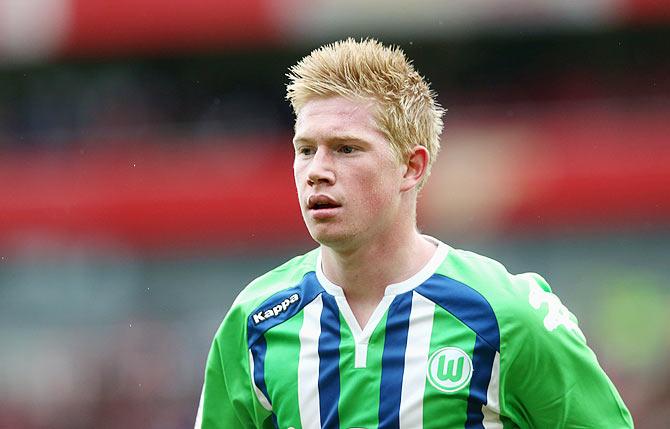 "I want to reach the highest level possible as a player and I think the most important thing is that at the end of the season we can be happy and maybe have some titles," playmaker De Bruyne told the City website (www.mcfc.co.uk).
Euro soccer round-up: Roma hand Juve second successive defeat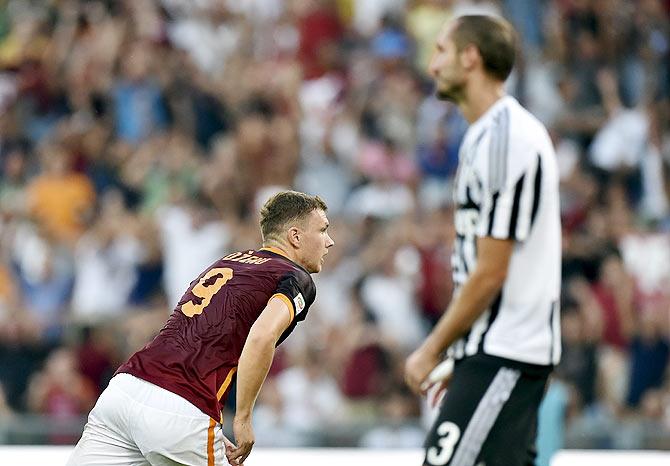 After losing only three league games last season Juventus have now lost the first two of the new campaign as a deserved 2-1 defeat at AS Roma on Sunday condemned the champions to their worst-ever Serie A start.
US Open leading men cheering for a Serena Grand Slam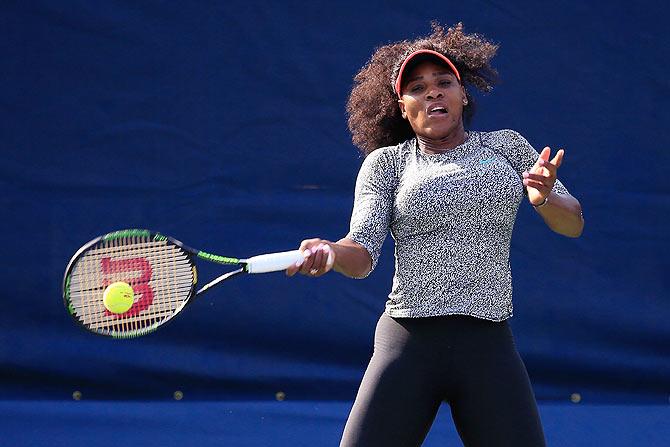 Serena Williams is on the brink of the grandest achievement in tennis, the single season Grand Slam, and even the leading men at the US Open championships starting on Monday are cheering her on.
Blessed with Monk's presence, Swansea are 'a force in the EPL'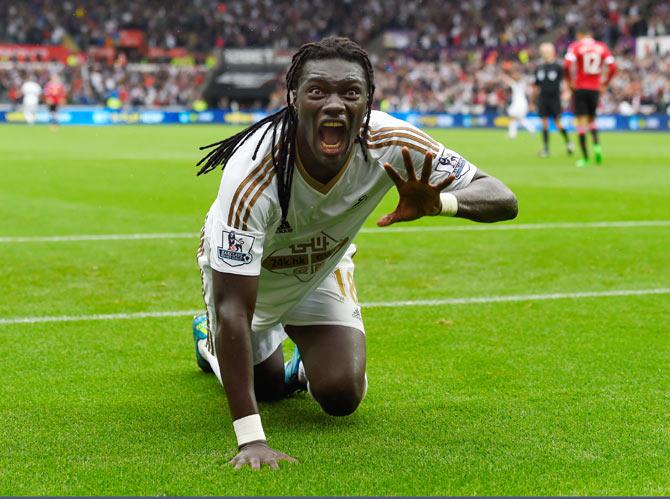 Swansea City are becoming a force in the Premier League after maintaining their unbeaten start with am impressive come-from-behind 2-1 victory over Manchester United, manager Garry Monk said.
La Liga PHOTOS: Martinez opens Atletico account in tough win at Sevilla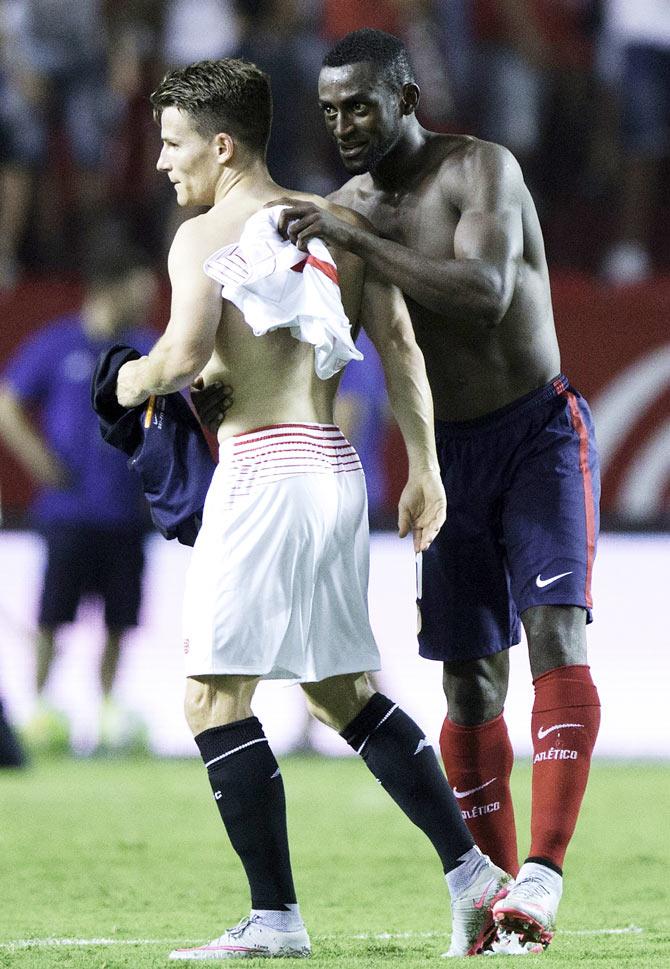 Atletico Madrid's Jackson Martinez scored his first goal for the club when he came off the bench and curled in a superb effort to seal a hard-fought 3-0 victory at Sevilla in La Liga on Sunday.
US Open: In-form Federer, Murray acknowledge opening round challenges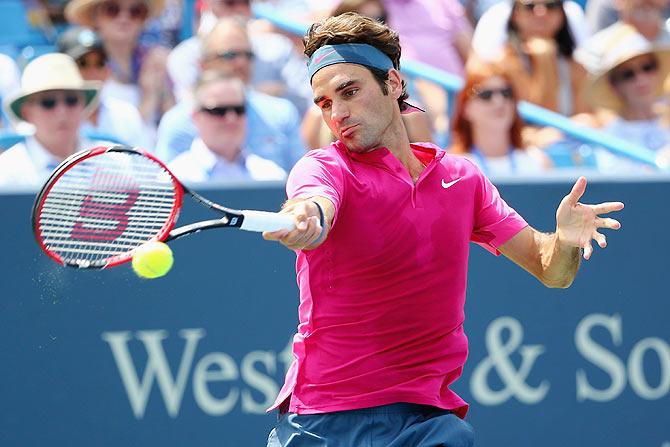 Federer has been brandishing an aggressive style of play, forcing the action and rushing in to half-volley weak second serves to forge an advantage.
August 30, 2015
Transfer Talk: Manchester United defender Evans signs for West Brom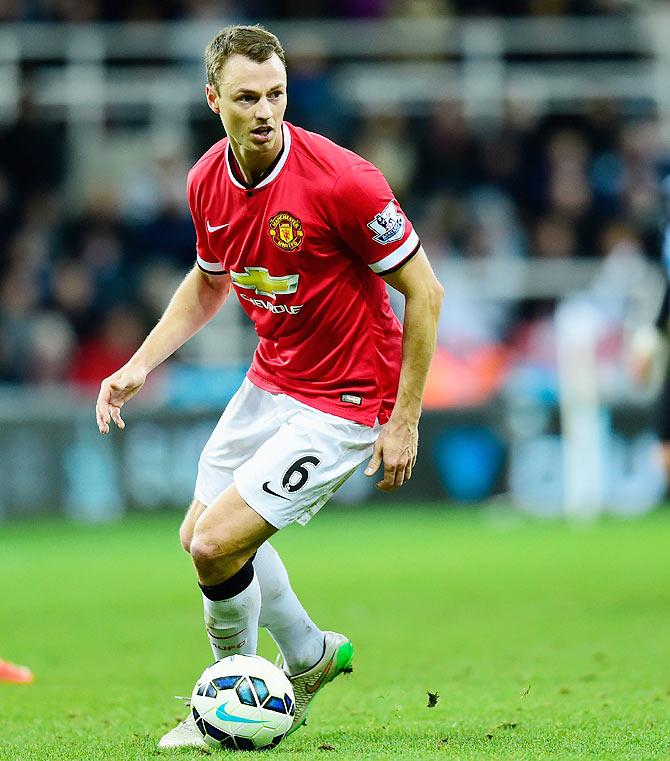 West Bromwich Albion have bolstered their defensive ranks by signing centre half Jonny Evans from Manchester United on a four-year deal.
La Liga PHOTOS: Real hand Betis a 5-0 thrashing while Barca labour to victory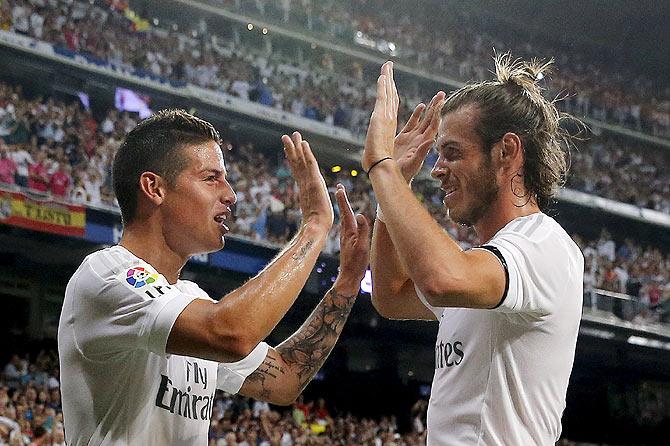 Gijon spoiled Asier Illarramendi's return to Real Sociedad's midfield after rejoining from Real Madrid this week when they held the Basque club, coached by Scot David Moyes, to a 0-0 draw in San Sebastian.
Big ticket showdowns on Day 1 at US Open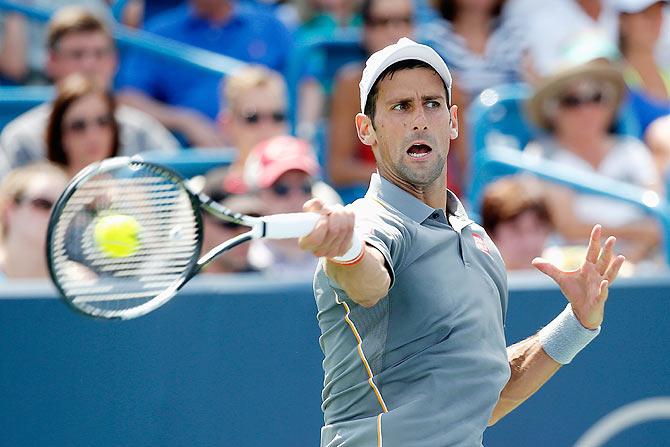 Top-seeded world number ones Serena Williams and Novak Djokovic help launch the US Open tennis championships on Monday's opening day of the year's final Grand Slam.
Tennis: Kvitova, Anderson get in form before US Open with title wins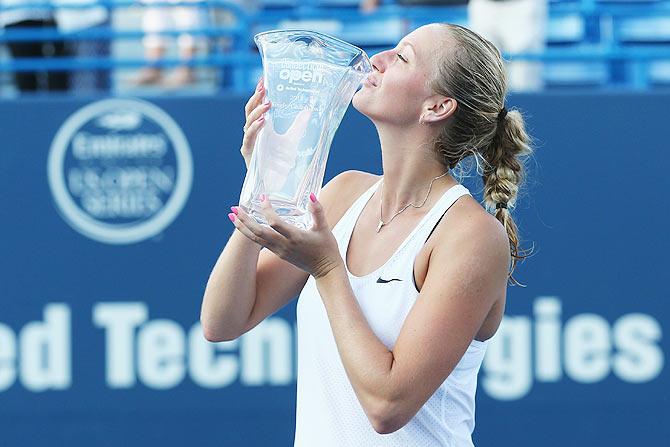 Defending champion Petra Kvitova used a dominant serve to beat Lucie Safarova 6-7(6), 6-2, 6-2 in their all-Czech final at the Connecticut Open on Saturday.
World Athletics: Ayana denies Dibaba with stunning 5,000m gold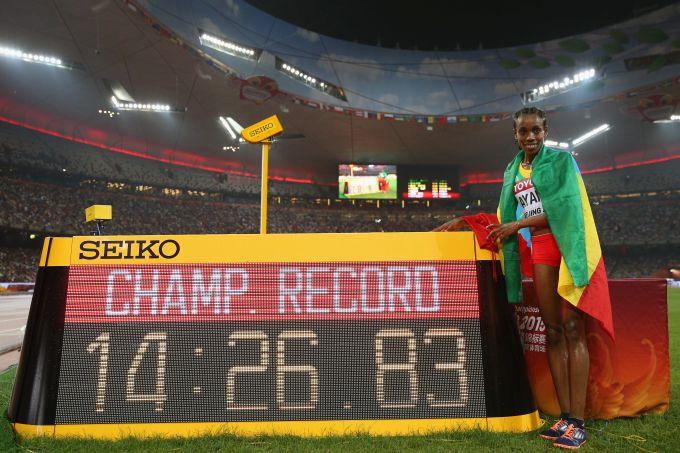 Ethiopia's Almaz Ayana put on a brilliant display of front-running to win the women's 5,000 metres at the world championships on Sunday and deprive compatriot Genzebe Dibaba of an unprecedented double gold.
August 28, 2015
World Athletics PHOTOS: Williams stuns favourites to take hurdles gold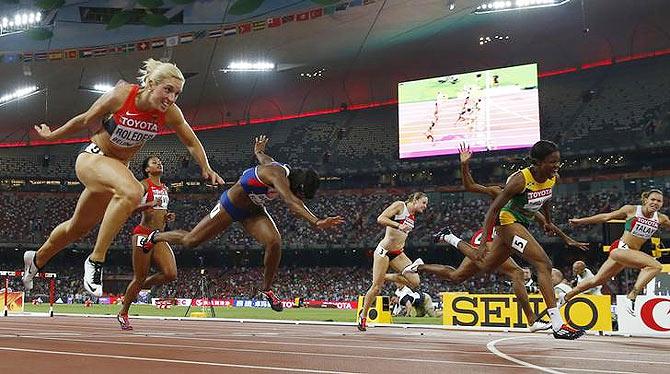 Hansle Parchment of Jamaica was second in 13.03 and Olympic champion and world record holder Aries Merritt claimed bronze in 13.04 seconds.
Bolt mulls retirement after Rio Olympics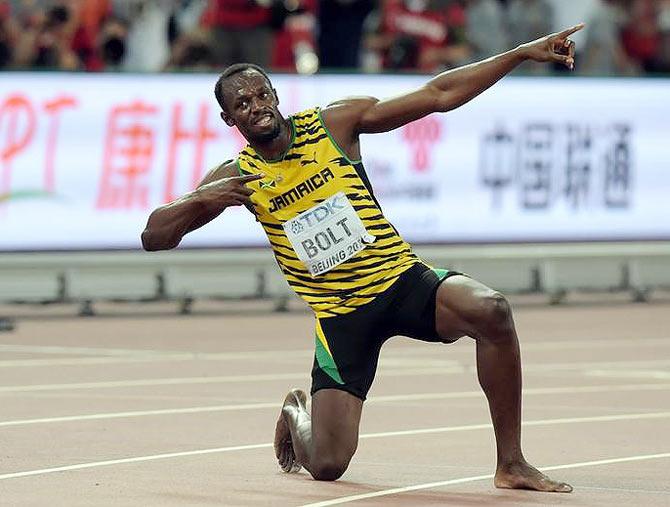 "So it's all about how I feel after Rio, if I feel I can really put my body through one more season. If I'm going to be focused and I'm going to be determined. That will determine if I compete after Rio. So we'll see how it goes."
August 26, 2015
League Cup: Watford ousted but other Premier League teams progress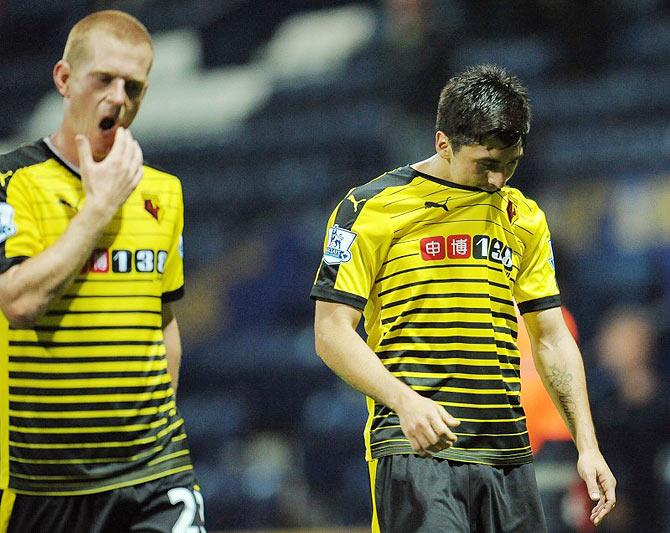 Premier League newcomers Watford suffered a League Cup upset in a 1-0 loss at Preston North End while five-times champions Aston Villa overcame plucky Notts County 5-3 after extra-time to reach the third round on Tuesday.
August 25, 2015
Transfer moves: Chelsea's Juan Cuadrado to Juve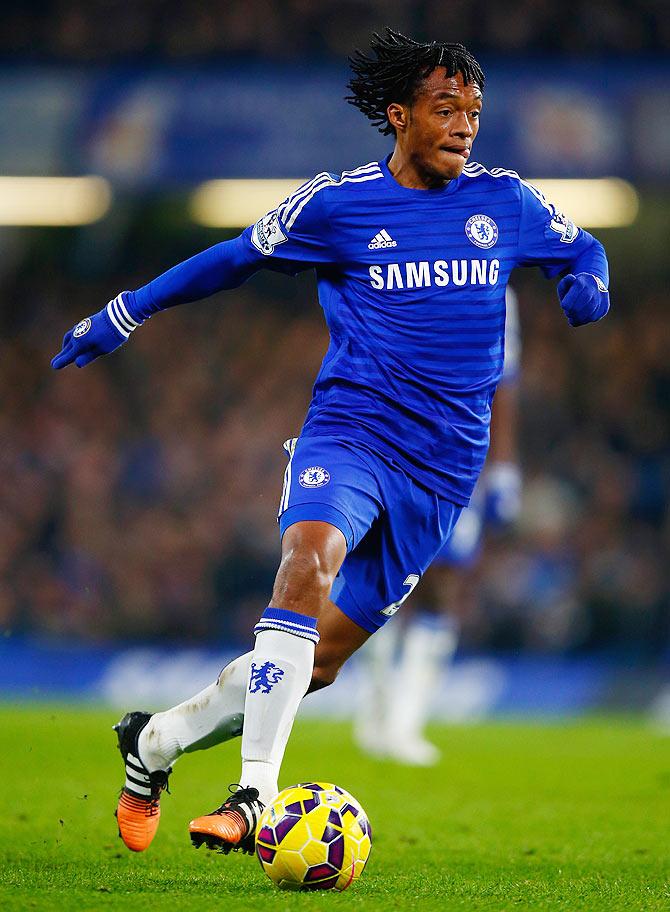 The Colombian forward is heading to Italian champions Juventus on loan.
ISL: Former Liverpool defender Riise joins Delhi Dynamos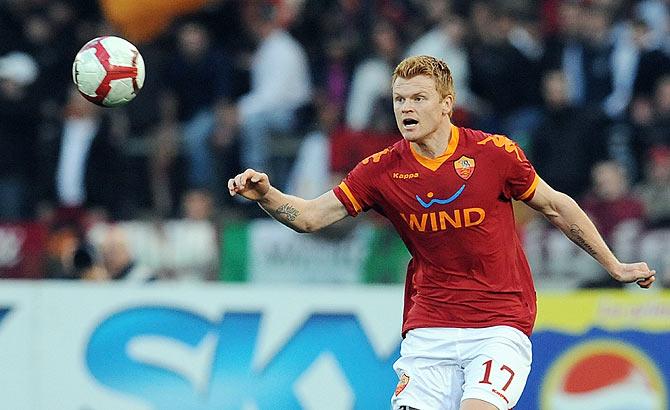 FC Pune City also bolstered their defence by signing former Espanyol and Deportivo La Coruna defender Diego Colotto for the second edition of the eight-team league beginning on October 3.
EPL PHOTOS: Splendid Cech denies impressive Liverpool at the Emirates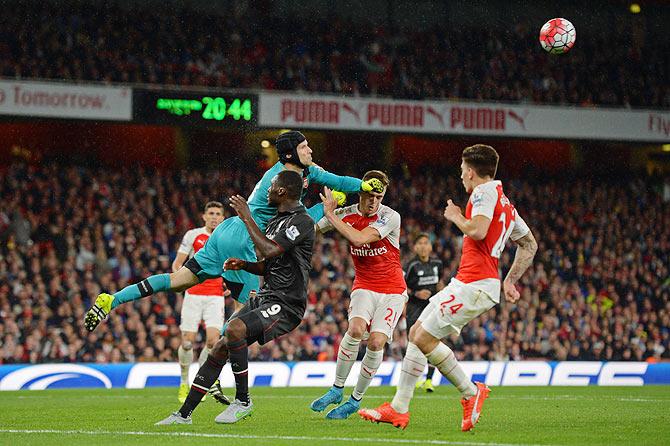 Cech's solid 'keeping and Liverpool's staunch defence ensured the match ended in a goalless stalemate
World champion Bolt 'ran his toughest race on Sunday'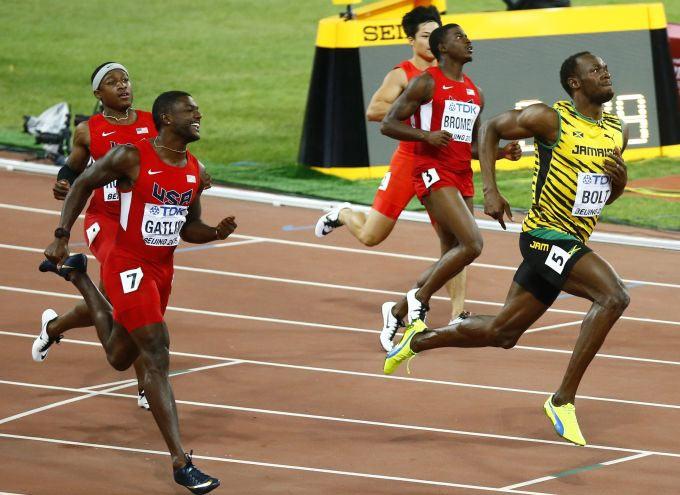 "It was a very trying time and it took a lot of skill and work and determination for him to get (to) what he was able to achieve by defending his championship."
Former F1 driver Wilson dies after IndyCar wreck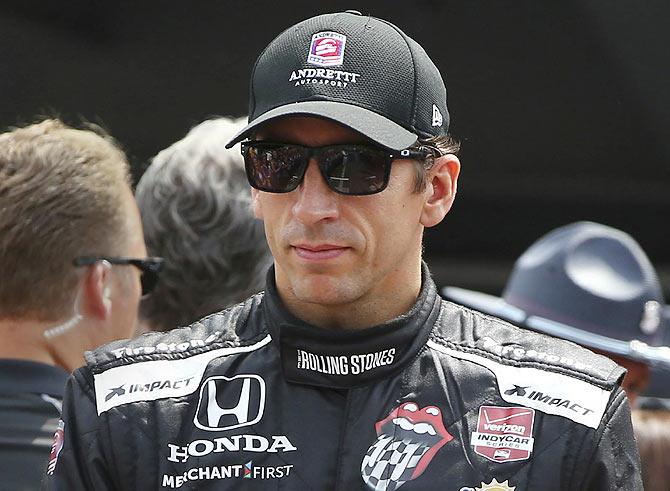 Wilson's car careened out of control and into a wall after he was hit by a large piece of debris from the car of Sage Karam on the track in Long Pond, Pennsylvania.
August 24, 2015
10 BEST Sports Photos of the Week!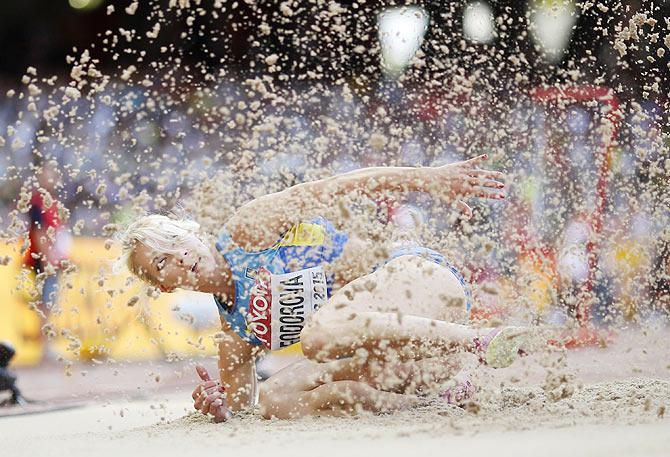 Rediff.com recaptures these and other exciting sporting moments from the week gone by....
Steenkamps question court ruling, say Pistorius killed their daughter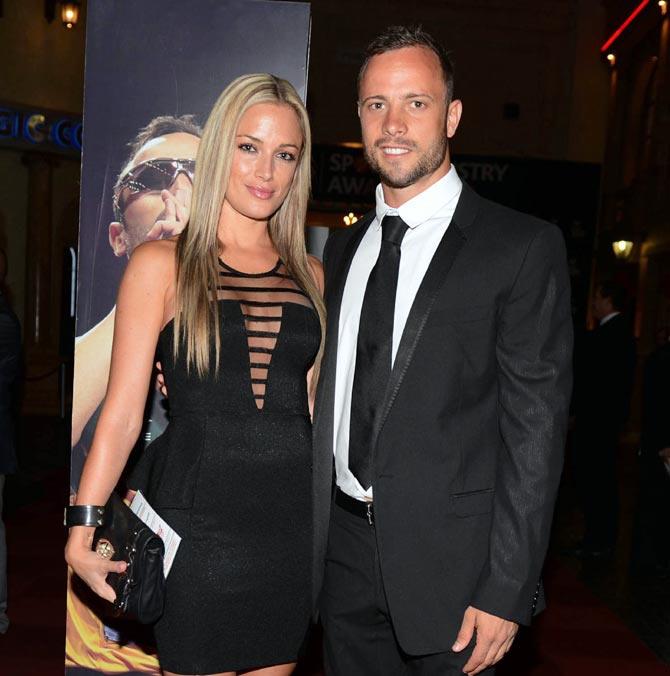 Oscar Pistorius shot dead his girlfriend Reeva Steenkamp deliberately, her parents said, ahead of an appeal hearing in which prosecutors are seeking to overturn a South African court ruling that the athlete was not guilty of murder.
Everton's lack of composure did them in against 'in-control' City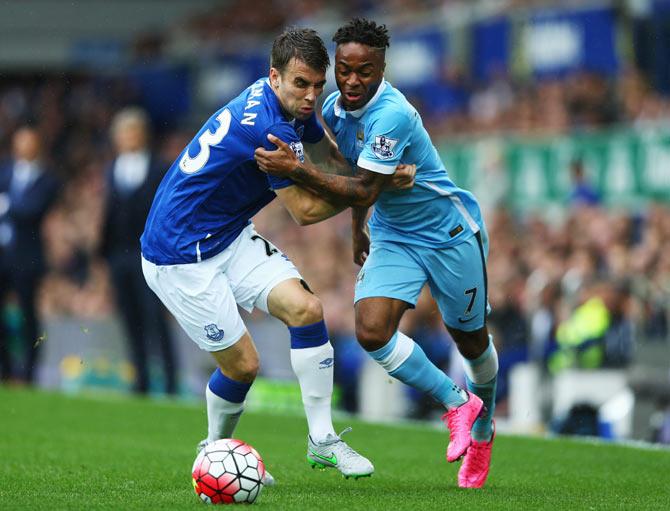 'We always knew it was going to be an important one playing against a quality side, but I think it affected us a little bit too much.
La Liga PHOTOS: Hard time for big clubs in Spain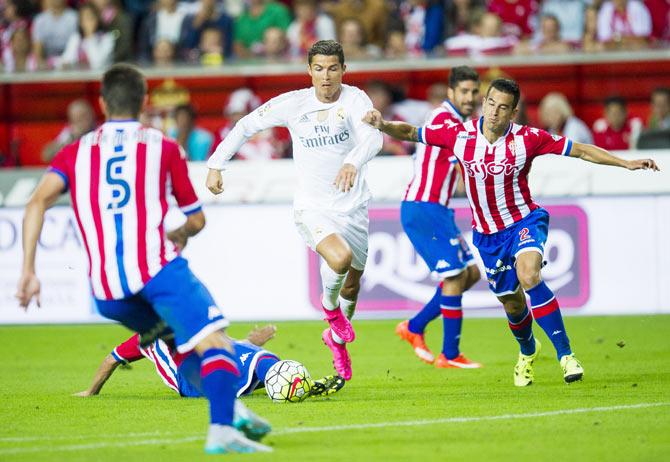 Barca overcome solid Bilbao challenge to scrape through 1-0.
August 21, 2015
Along with Hazard, 'Chelsea now have a match-winner in Pedro'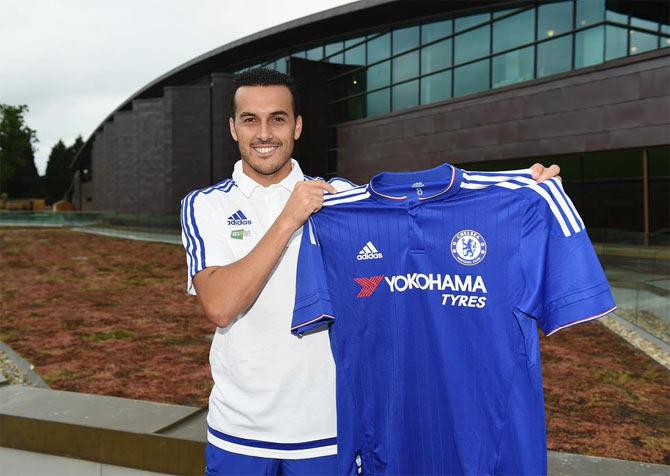 "I think Hazard will be able to get a breather every now and again now," said Hudson.
Not just Barca and Madrid, there are other contenders for La Liga crown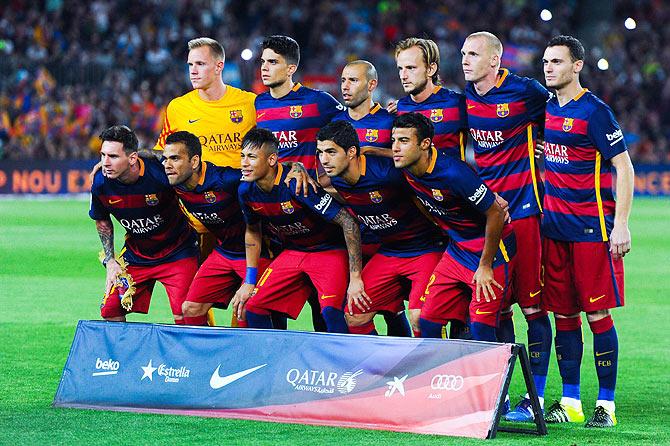 Champions Barcelona begin their bid for a sixth La Liga title in eight years at Athletic Bilbao on Sunday knowing that fellow heavyweights Real Madrid could, unusually, be just one of several challengers for their crown.
PGA: Woods back in rhythm, cards lowest score in two years at Wyndham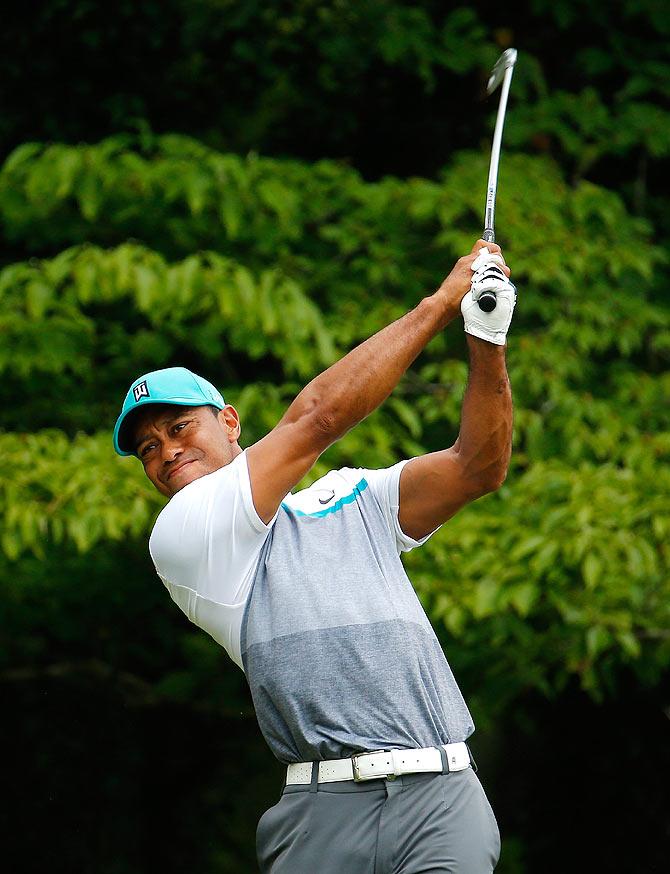 Tiger Woods fed off an "electric" atmosphere to card his lowest score in two years on the PGA Tour, a six-under 64 that put him within two shots of the early first round lead at the Wyndham Championship on Thursday.
Cincinnati Open: Former champion Nadal ousted; Serena in quarters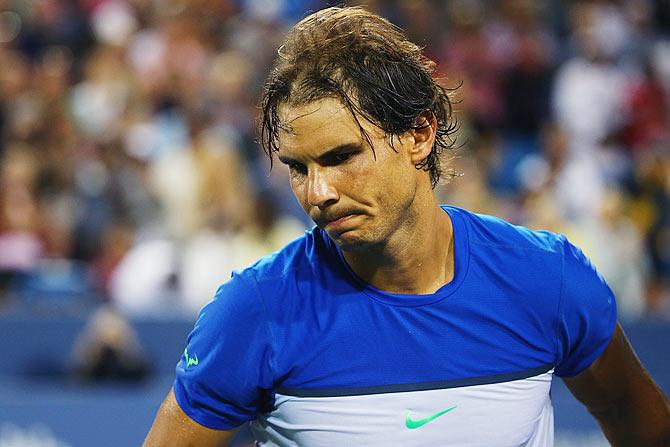 Photos from Day 5 action at the Western & Southern Open at Cincinnati on Thursday.
What you must not miss in the EPL this weekend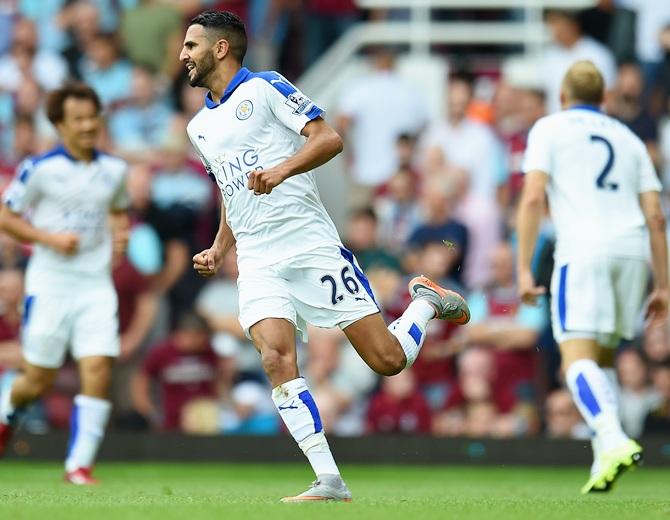 Leicester City has a chance to go top of the English Premier League table with a maximum nine points.
August 20, 2015
Bolt refuses to see himself as savior of dope-tainted athletics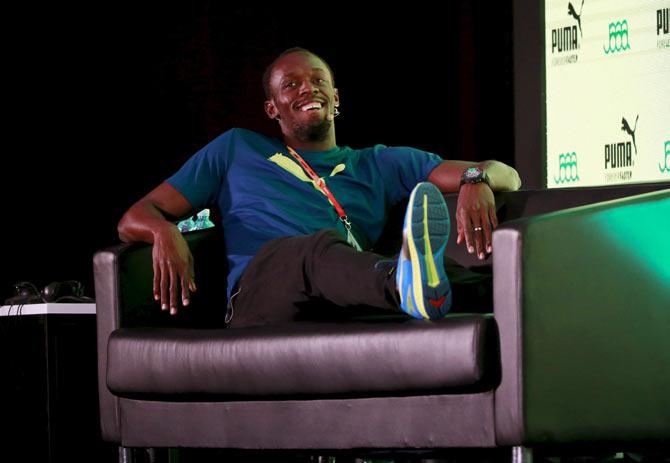 'People are saying I need to win for the sport but there's a lot of other athletes out there running clean, and who have run clean throughout their whole careers'
Squash sensation Dipika Pallikal marries cricketer Dinesh Karthik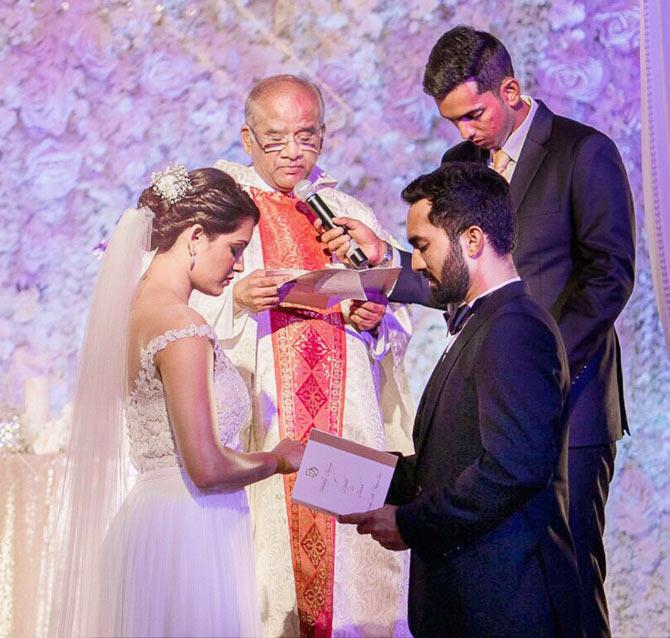 India's top-ranked squash player Dipika Pallikal married her fiancé and lond-time beau, cricketer Dinesh Karthik in a traditional Christian ceremony on Wednesday.
Cincinnati Open round-up: Wawrinka unfocussed but wins; Serena advances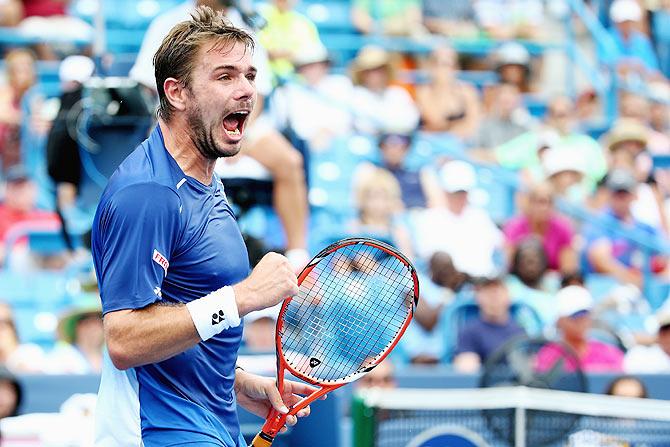 Stanislas Wawrinka had to dig deep to beat Borna Coric at the Western & Southern Open in Cincinnati on Wednesday and conceded his thoughts had been far from tennis over the past few days.
Valencia put one leg in Champions League group stages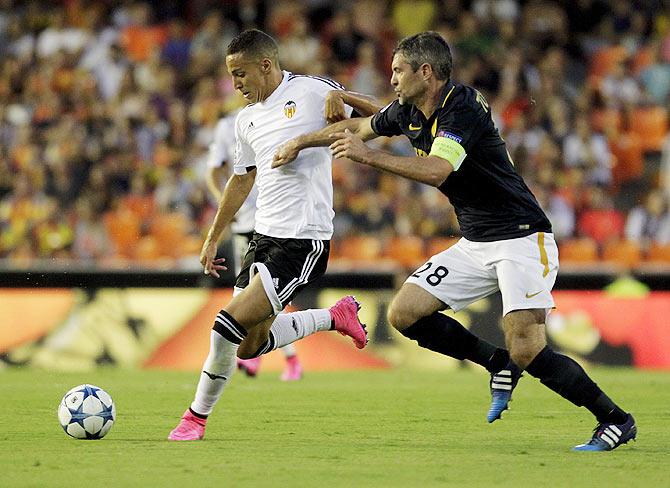 Sofiane Feghouli's late goal eased the nerves at Valencia's Mestalla as the Spanish club grabbed a 3-1 victory over Monaco in the first leg of their Champions league play-off round tie on Wednesday.
World awaits more Bolt magic after athletics marred by doping scandals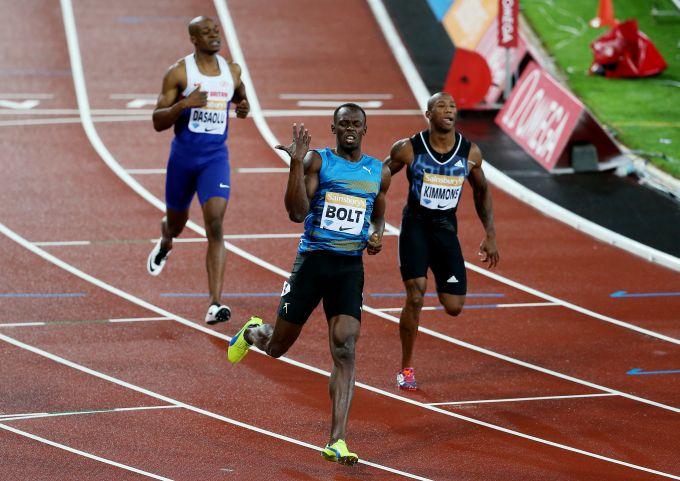 Usain Bolt returns to the site of his first global triumph this week for a world championships showdown with a convicted dope cheat that has ramifications for athletics beyond just establishing who is the fastest man in the world.
FIVE women to watch out for at world athletics championships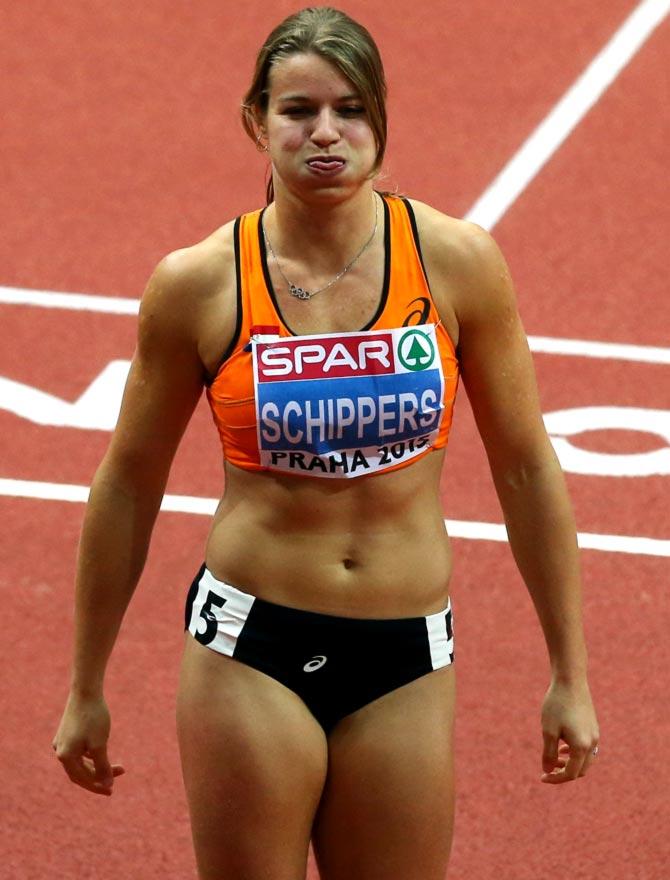 Check out five female athletes to watch out for at the August 22-30 world athletics championships in Beijing.
August 19, 2015
Soccer updates: Inter's Kovacic agrees big-money move to Real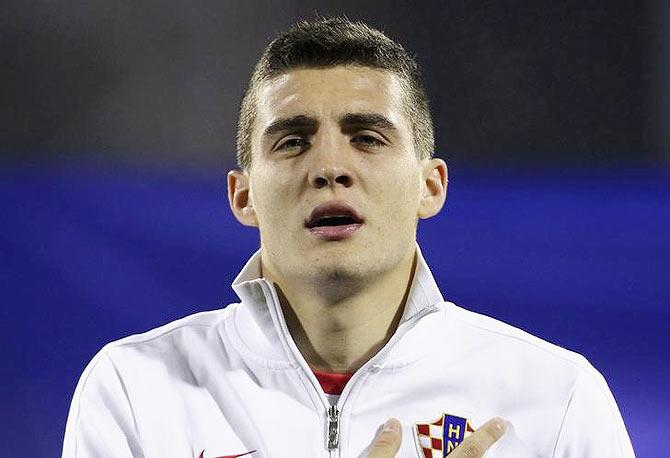 Bringing you all the news from the summer transfer window and other snippets from the soccer world...
Cincinnati Open round-up: Federer eases through; Bencic rolls on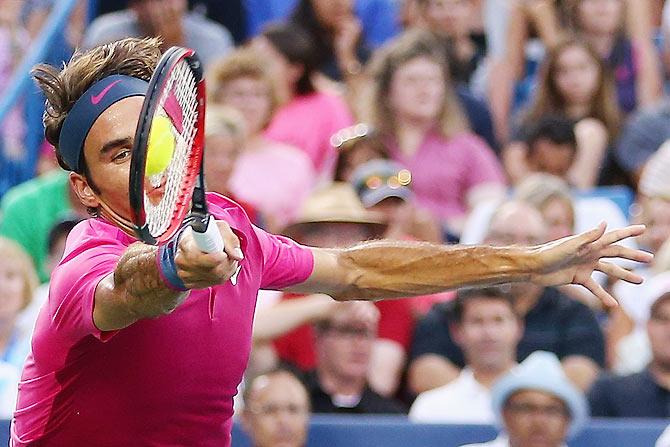 Roger Federer returned from a month-long layoff with a 6-4, 6-4 second round victory over Roberto Bautista Agut on Tuesday at the Western and Southern Open in Cincinnati.
US Open wildcards for former champion Hewitt and cancer-survivor Duval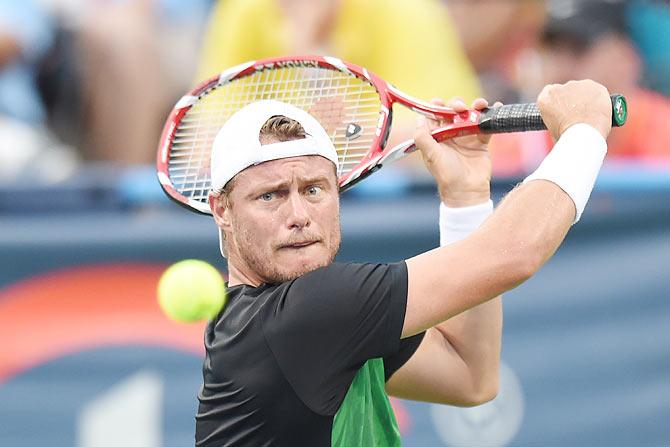 Hewitt, the 2001 champion, received his wildcard via a reciprocal agreement with Tennis Australia, which will grant an American a wild card into next year's Australian Open, and was among 16 players who received wildcard entries.
Champions League: Memphis stamps his mark for United; Record for Astana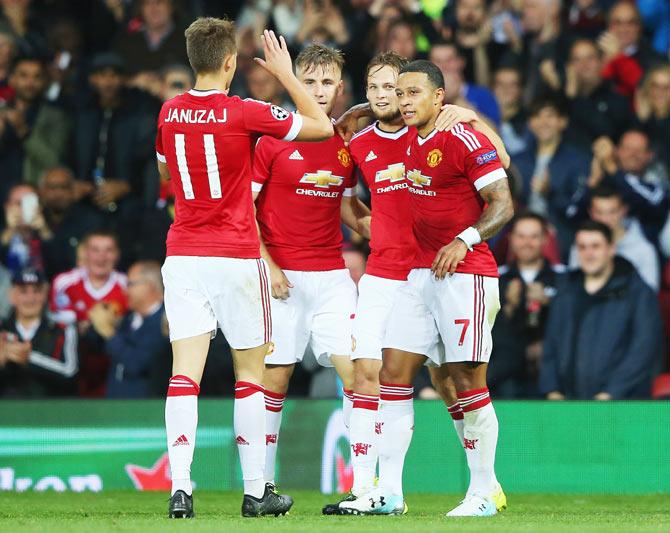 On a night of close finishes in all five first-leg playoff games, the 21-year-old Dutch winger opened his United account with a memorable performance in the famous number seven shirt previously worn by George Best, Eric Cantona and David Beckham.
Leaving champion clubs... for English Premier League also-rans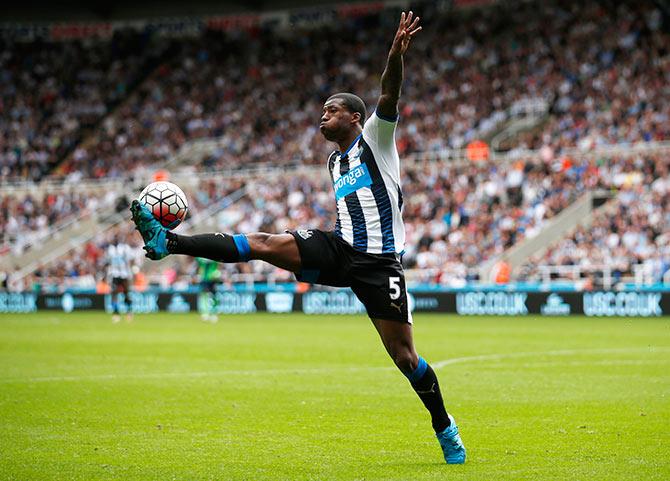 Rediff.com takes a look at a few other players who shunned champion sides for mediocre clubs in the Premier League.
August 18, 2015
A nearly-6000 points gap and No 1 spot still distant dream for Murray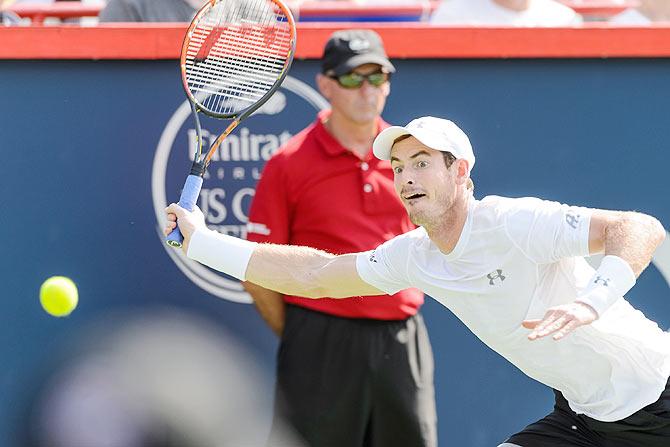 Murray, 28, moved up above Federer to second in the ATP's latest rankings on Monday, courtesy of his dazzling displays in Montreal culminating in 6-4, 4-6, 6-3 victory over Serb Djokovic in an absorbing three-hour duel.
Champions League: Januzaj optimistic of regaining his Midas Touch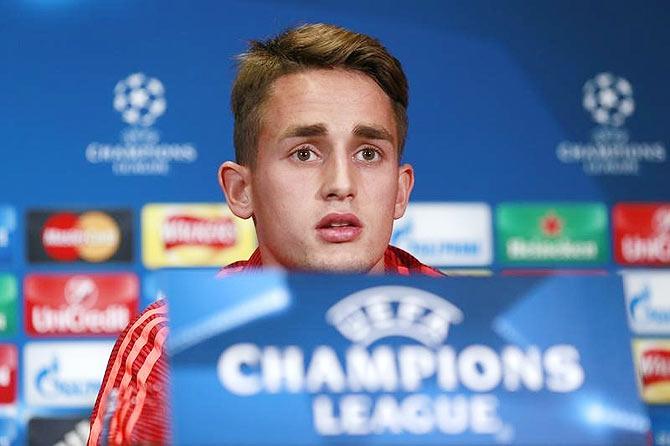 Manchester United winger Adnan Januzaj is confident he can rediscover the form he displayed in his breakthrough season in 2013-14 and feature more regularly for the club.
August 17, 2015
10 Best Sports Photos of the Week!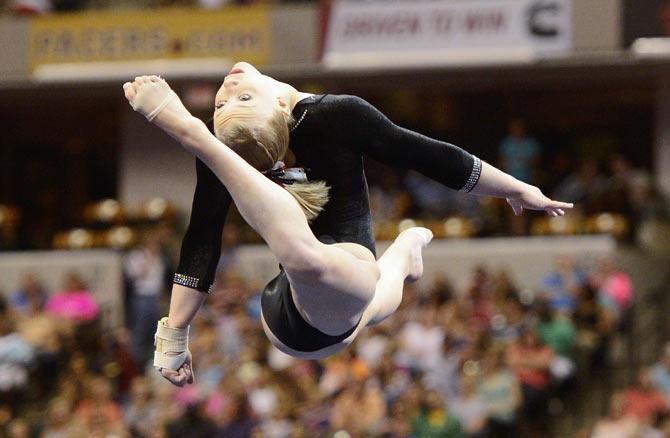 Rediff.com brings you this and a lot more gripping sporting action from the week gone by...
After prison, Pistorius set for house arrest in his uncle's mansion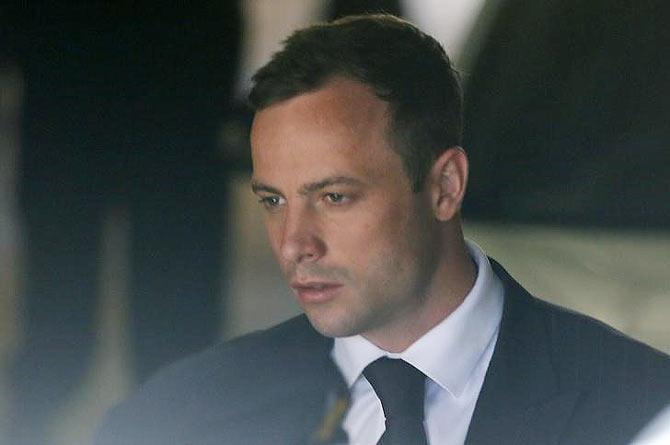 The release of Pistorius, whose lower legs were amputated when he was a baby, is in line with South African sentencing guidelines that say non-dangerous prisoners should spend only one-sixth of a custodial sentence behind bars.
Disillusionment and ignominy for Mourinho and Chelsea after City loss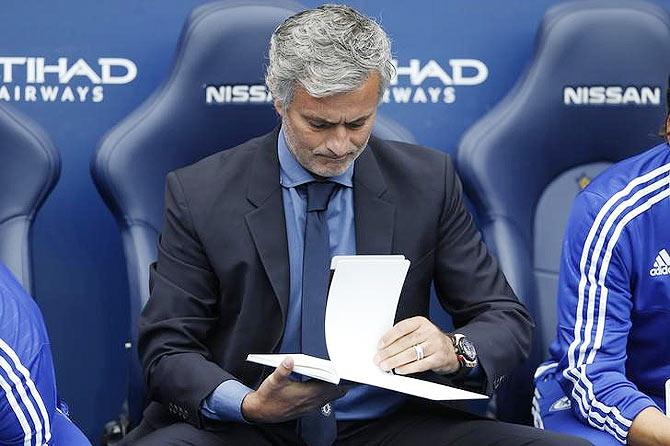 With the 3-0 loss, Chelsea and the Gaffer have now matched the club's worst records -- Mourinho suffered his joint-heaviest defeat as a Premier League manager, while, for the first time in 17 years, the Blues have failed to record a win in either of their opening league games
August 16, 2015
EPL updates: Advocaat calls meeting to discuss Sunderland's woes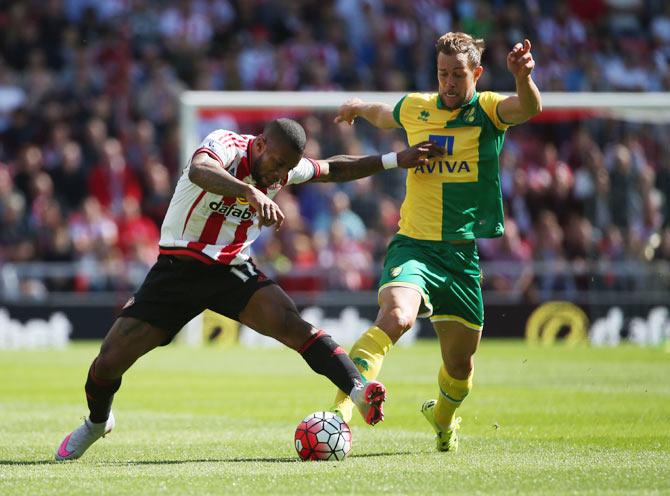 Follow the latest developments from all the on-field and off-the-field action in the Premiership.
Indian tennis round-up: Sania-Hingis ousted from Rogers Cup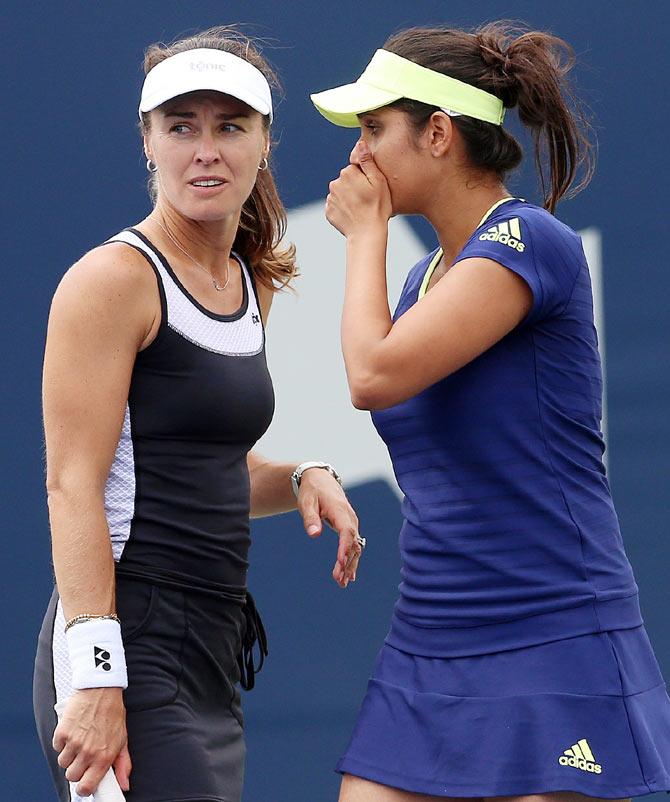 Saina settles for silver, loses to nemesis Marin at Badminton Worlds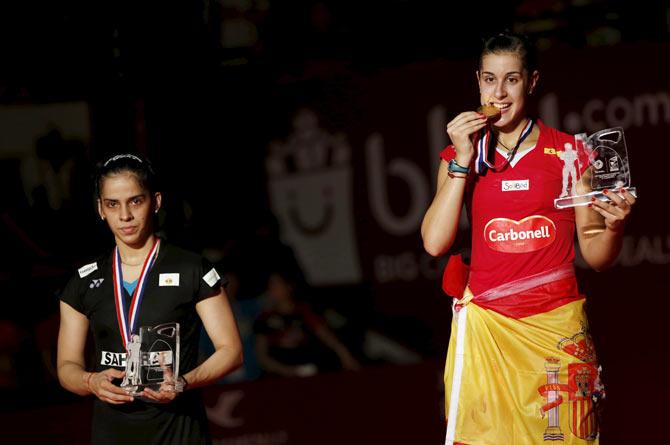 Marin retained the world title with a 21-16, 21-19 win over the Indian ace.
Swiss teen Bencic stuns Serena in Rogers Cup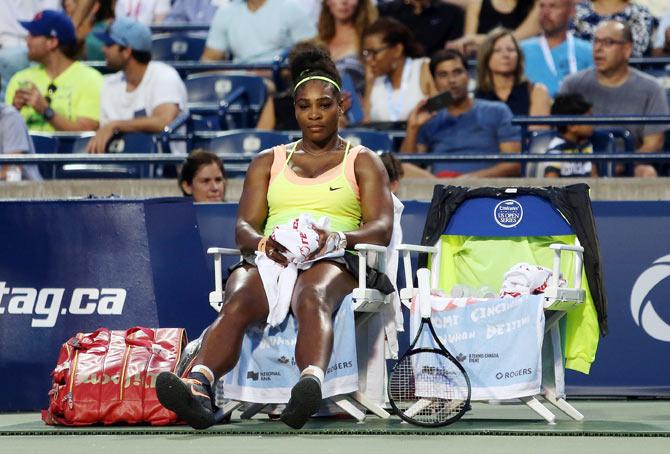 The unseeded Bencic, who also beat former world number ones Caroline Wozniacki and Ana Ivanovic in Toronto, wore a look of disbelief after the 18-year-old's forehand winner whizzed past Williams to seal the match.
August 14, 2015
Sidelined Balotelli set for 'loyalty bonus' if he goes unsold!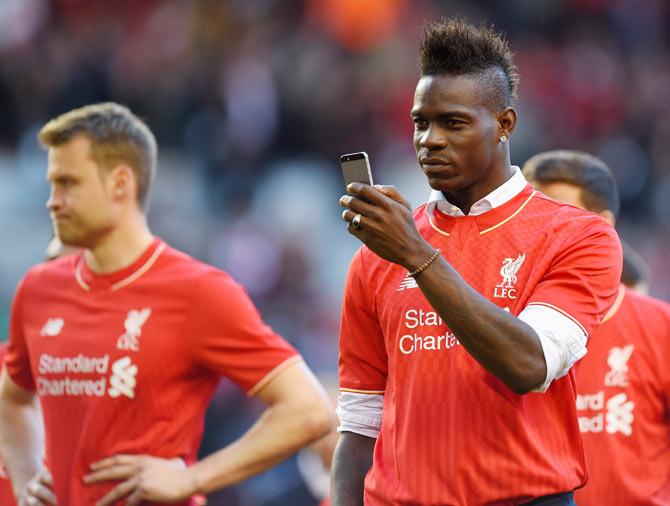 Out-of-favour Liverpool striker Mario Balotelli will receive a six-figure loyalty bonus if he is still at the club when the transfer window closes on September 1, according to British media reports.
Parliamentary Panel demands person with credential to lead SAI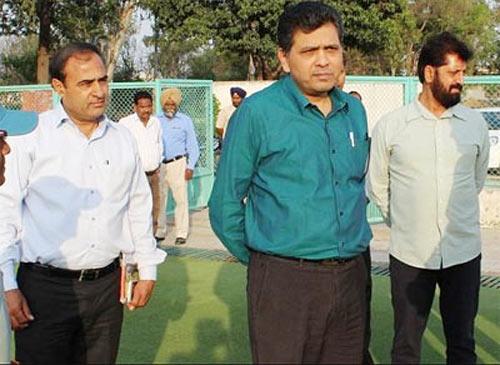 Parliamentary Standing Committee on Human Resource Development headed by Satyanarayan Jatiya has slammed SAI for not roping in sportspersons even 20 years after being asked for restructuring of the "unwieldy and monolithic bureaucratic organisation
August 12, 2015
Chelsea doctor Carneiro restricted from matches and training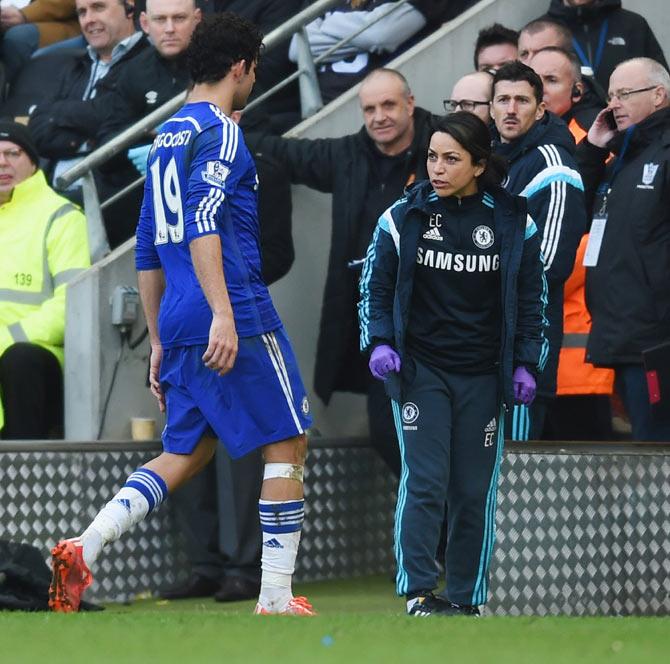 Eva Carneiro set to lose place on bench after Mourinho criticism
Broken four times by Panetta, rusty Williams advances despite glitches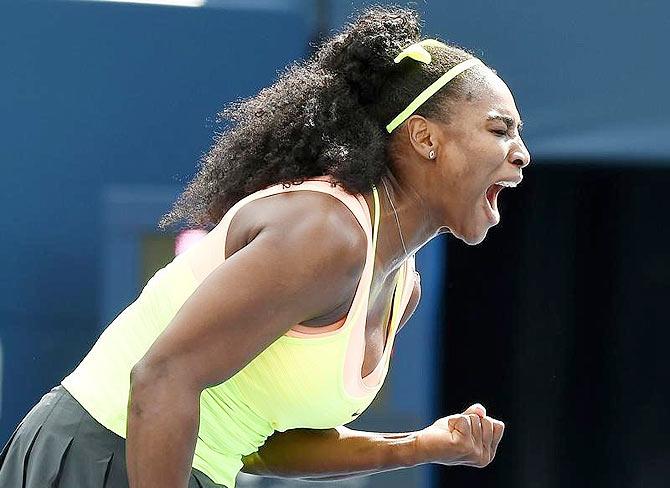 Playing her first match of the North American hard court swing after pulling out of last week's event in Stanford with a sore right elbow, Williams played a ragged opening set in which she was broken four times while firing four double faults.
Rogers Cup: Djokovic struggles; Karlovic 'aces' tennis history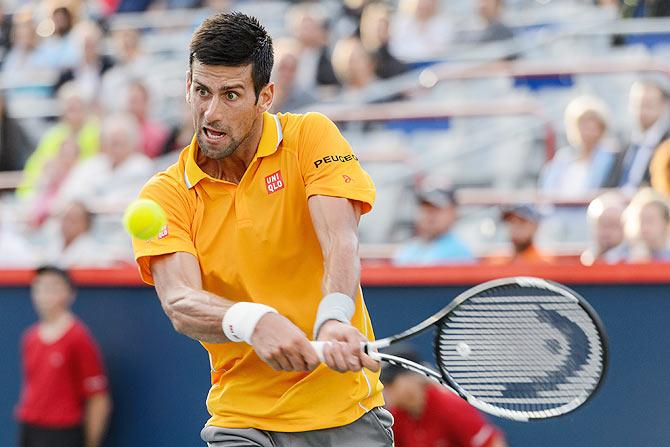 World No 1 Novak Djokovic kicked off his bid for a fourth Canadian crown with a 6-3, 7-6(4) second round win over a stubborn Thomaz Bellucci at the Rogers Cup on Tuesday.
In a nine-goal feast, Messi brace, Pedro winner hand Barca Super Cup!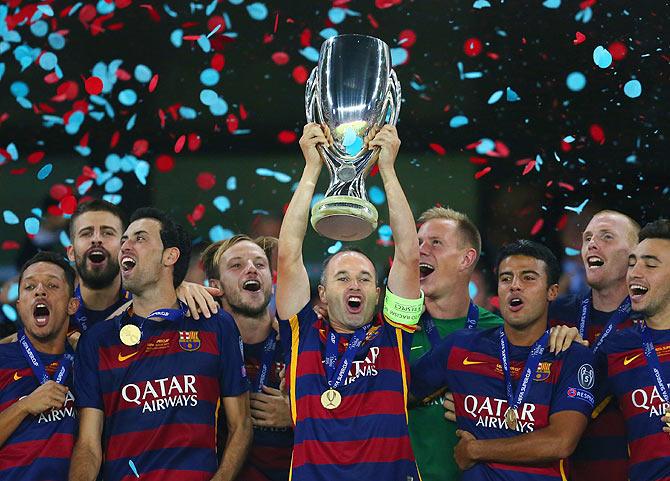 With five titles, Barca are now level with AC Milan on all-time UEFA Super Cup winners list
Man United playing risky game over De Gea saga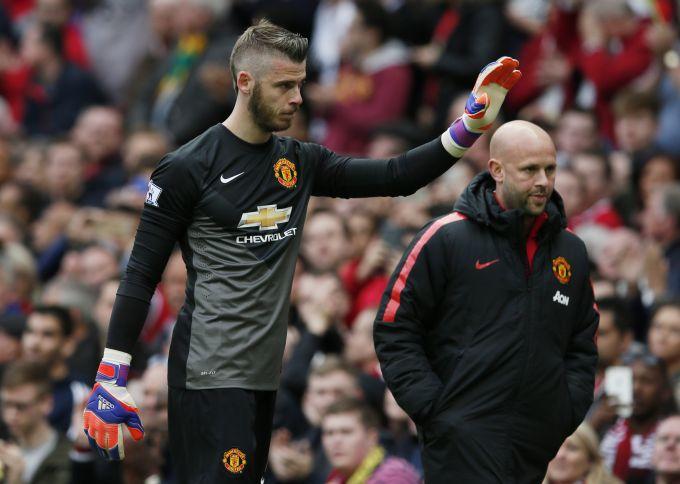 Former Manchester United manager Alex Ferguson once said he would not sell Real Madrid "a virus" let alone Cristiano Ronaldo but, as even he found out, when the Spanish giants come knocking they usually get what they want.
August 11, 2015
History-chasing Serena wants to be in the 'here and now'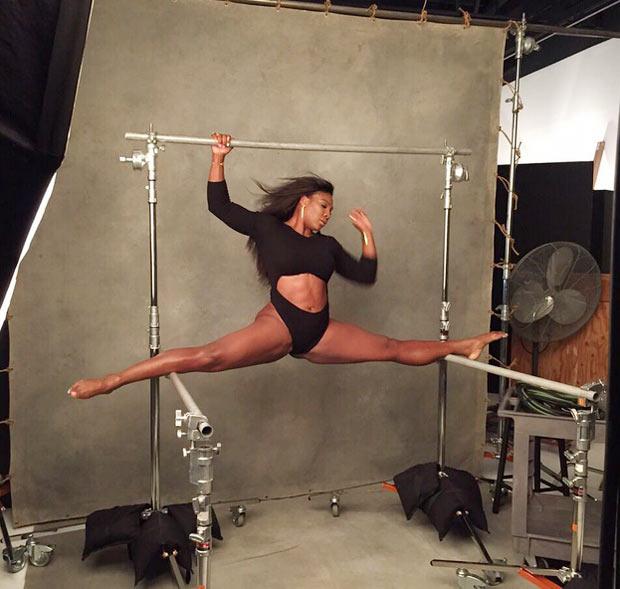 'I'm not thinking ahead to the Open right now because I am here in Toronto and I haven't really played a hard court match in awhile. I'm thinking I want to get some of this under my belt and the Open will happen when the Open happens.'
EPL: Toure dazzles for slick City at powerless West Brom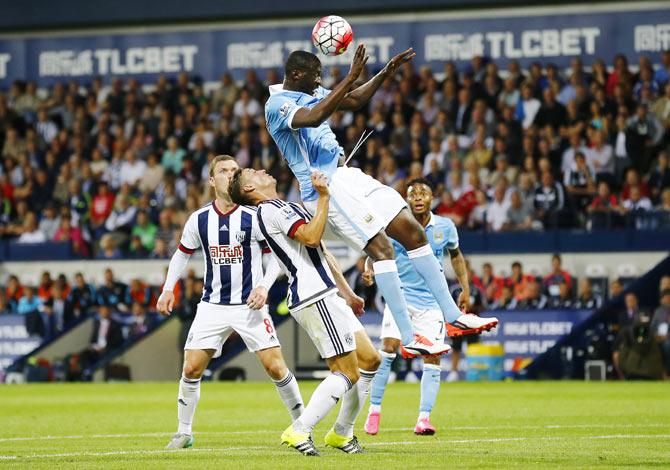 Photos from the EPL match played between Manchester City and West Bromwich Albion on Monday
Manchester United and South American players: Not quite a perfect mix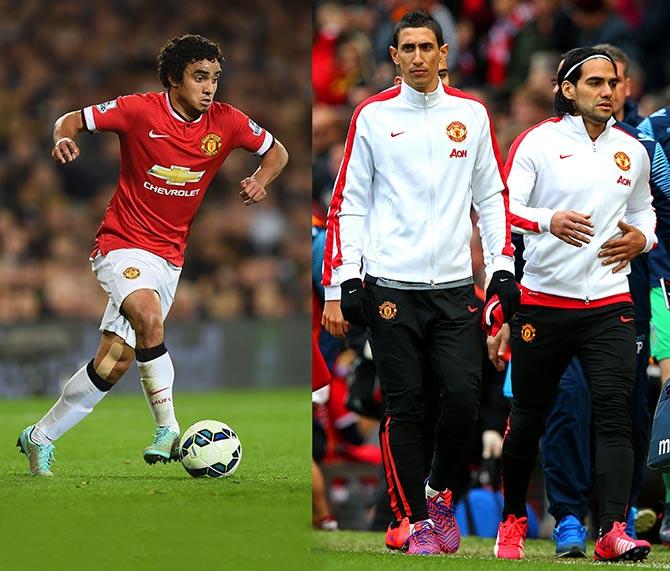 Following Angel Di Maria's nightmare stint, Bikash Mohapatra/Rediff.com says the 'Theatre of Dreams' has never been a happy a hunting ground for players from the continent
Lesser lights sparkle in opening round of EPL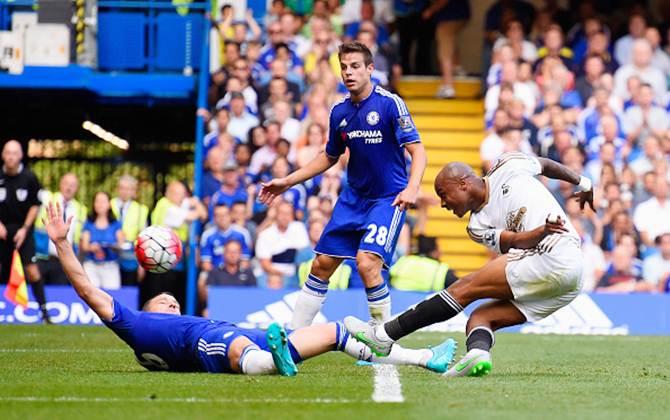 Despite a splurge of summer spending of more than 500 million pounds and counting, it was a free transfer from France who provided one of the standout moments of the Premier League's big kickoff.
August 10, 2015
PHOTOS: Scooterists reign in the dirt and rain!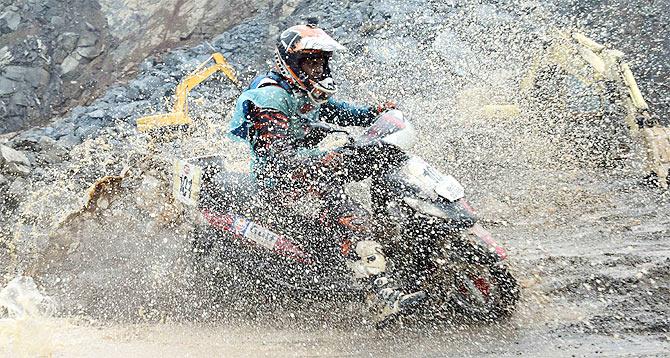 Come the rains and two-wheeler racing fanatics line-up for the popular off-beat challenge. The latest edition was on Sunday, August 8. There were entries from Mumbai, Nashik, Pune, Thane, Bangalore, Bhopal, and Jodhpur. Like previous years, this time too Sportscraft chose the backwoods of Navi Mumbai to give riders a chance to test their driving and racing skills in a safe environment.
Football weekend scarred by violence on and off the pitch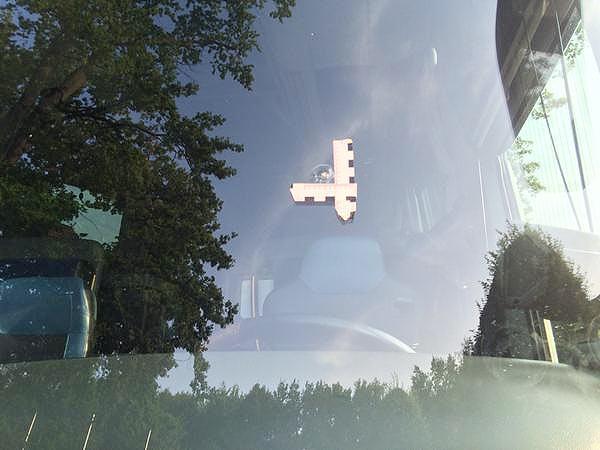 Hertha Berlin team bus shot at by motorcyclist and penalty prompts riot police to protect referee in Brazil league match.
EPL: Gut instinct over tactics pays off for Liverpool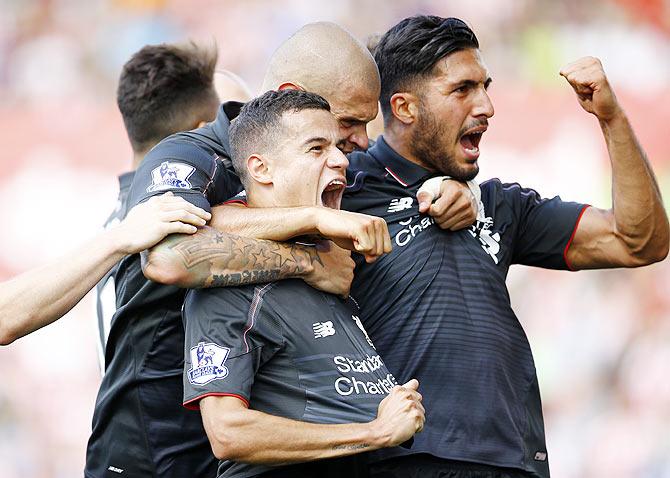 'We were looking at making a positive change -- so Coutinho was going to come off and we were going to put Danny Ings on. I'm glad I kept him on'
Kerber matches Serena's title record this season with Stanford triumph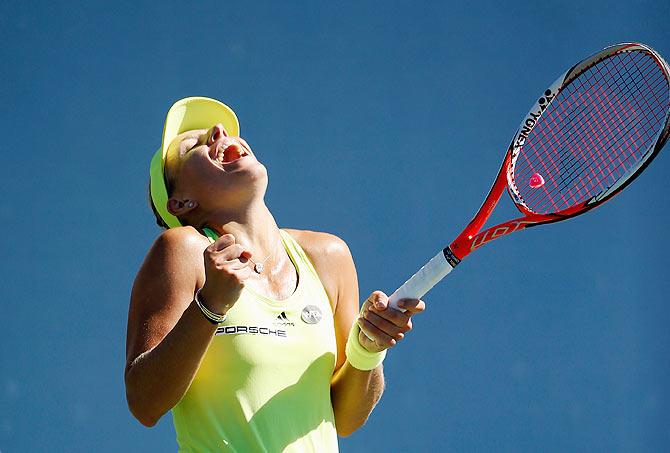 Runner-up Pliskova will move into the top-10 of the world rankings for the first time in her career
EPL: Hammers' 16-year-old Oxford enjoys dream debut vs Arsenal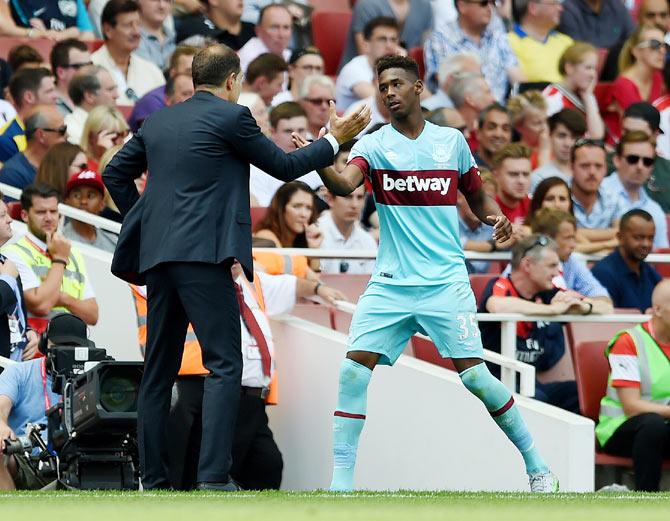 'I thought we need someone to sit in front of the defence who is cool and can be a third defender, but who can also play on the ball. I am very proud of him.'
August 08, 2015
PIX: Australian duo Larkin and Campbell set records at swimming Worlds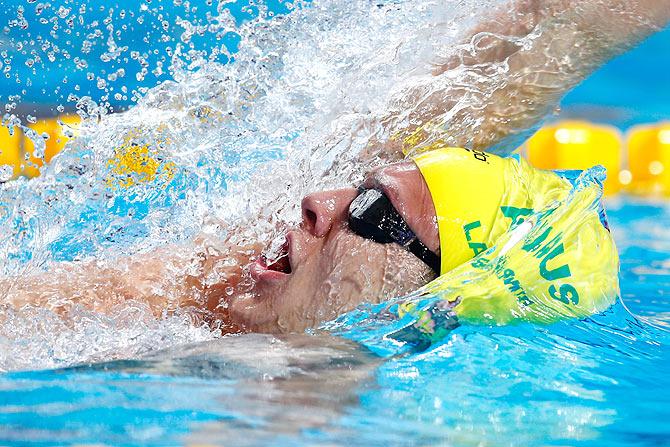 Mitchell Larkin completed a rare backstroke double and Bronte Campbell won the blue riband women's 100 metres freestyle title as Australia celebrated another golden night at the world swimming championships.
Tennis: Sharapova withdraws from Rogers Cup; Pliskova now among top-10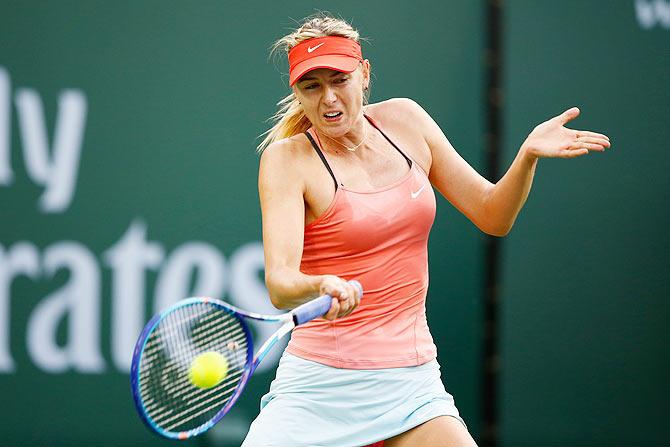 Maria Sharapova's US Open preparations took a major blow with the Russian World No 2 forced to withdraw from next week's WTA event in Toronto.
EPL: Why three is the perfect number for Mourinho going into the season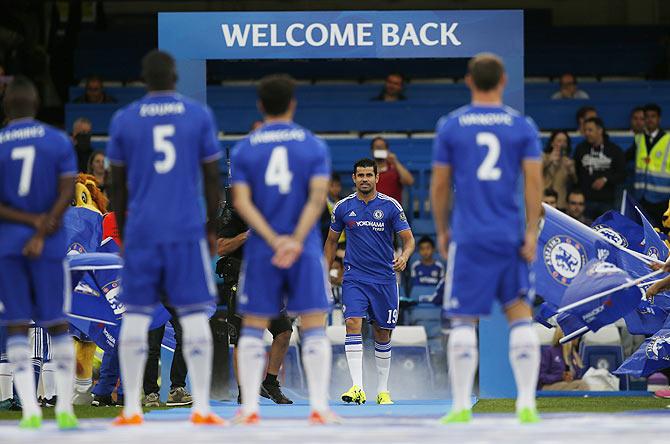 Chelsea banking on other big strikers with Costa still doubtful
August 07, 2015
Only 10, she is the youngest ever at the World Swimming Cships!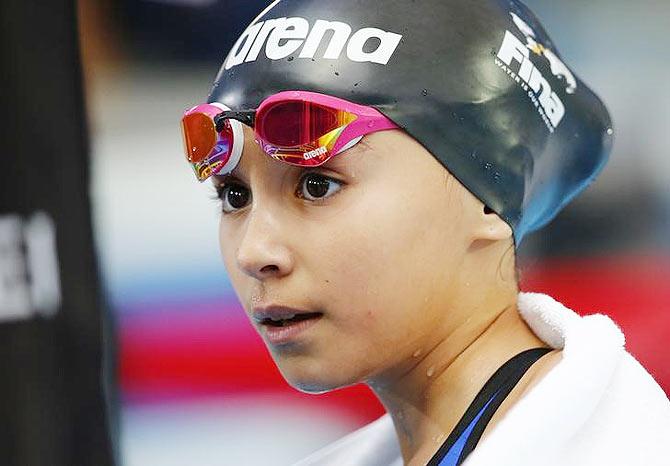 Alzain Tareq finished a distant last among the 64 competitors in the women's 50-metre butterfly, reaching the end of the pool in a time of 41.13 seconds but the Bahraini says she wants to swim at the Rio Olympics
'Keeper De Gea to miss United's EPL opener amid Real speculation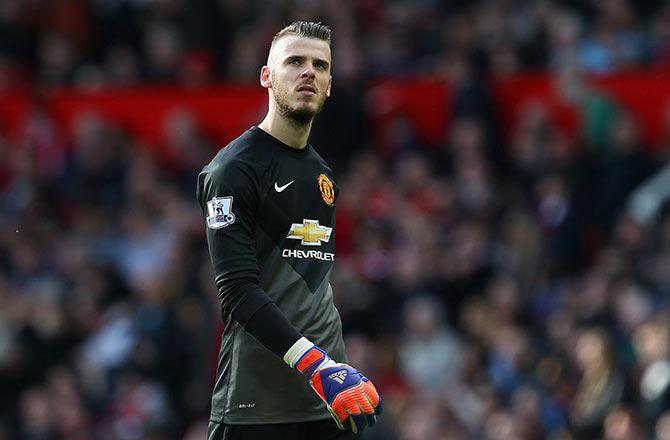 David De Gea will not play in Manchester United's opening Premier League game against Tottenham Hotspur, manager Louis van Gaal said on Friday, amid reports linking the goalkeeper with a move to Real Madrid.
Reasons for Benteke's Liverpool move revealed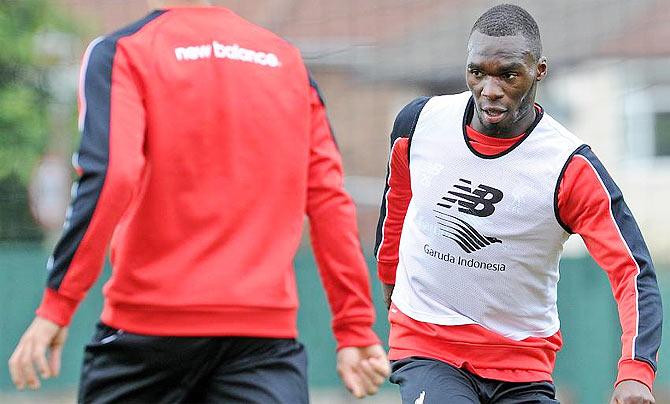 'If Liverpool bought me then they know how to use me. That's why I came here -- I'll show I can play with my feet too'
Di Maria to United fans: I am sorry it did not work out as I had wished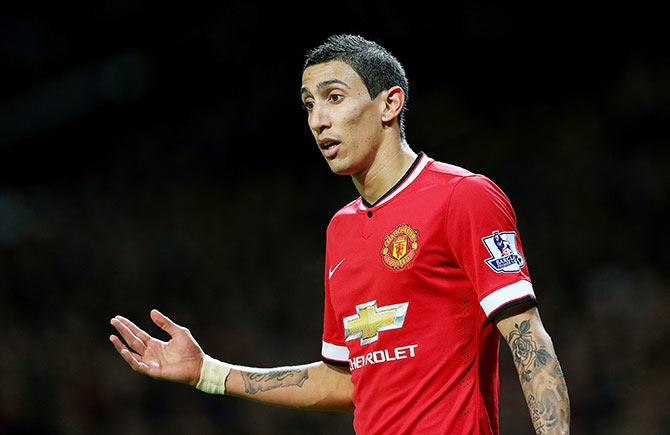 "I write this note to thank all the Manchester United family for the great support received during the year I've been part of this Club," Di Maria told United fans in an open letter, published widely by the British media.
In PIX: The many faces of synchronised swimming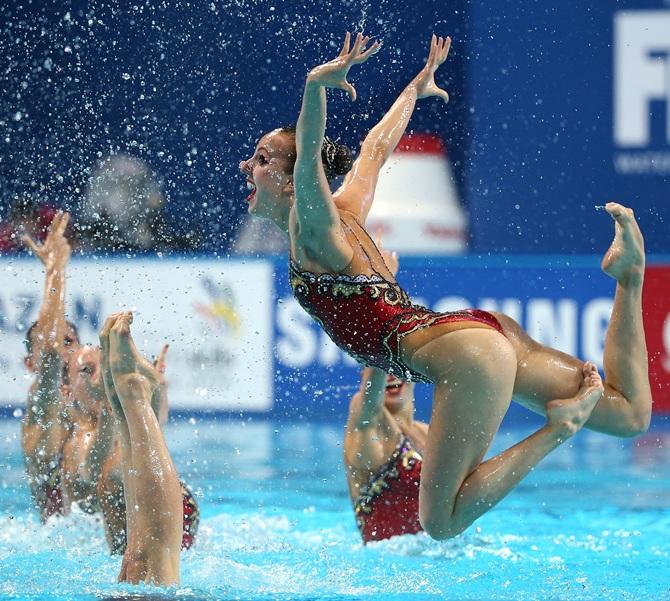 Synchronised swimming can be described as 'water ballet', as it consists of dance-like elaborate movements that swimmers make to music.
August 05, 2015
Mayweather's got a new challenger who is 'ready to kick his ass'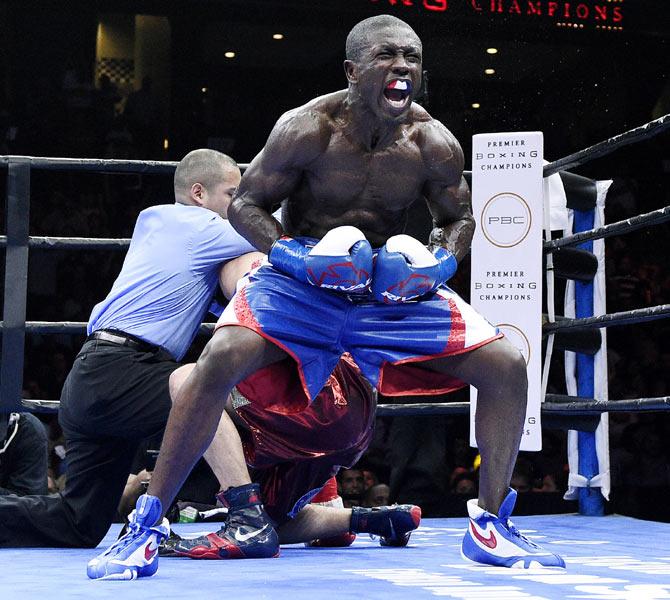 I always bring my A-game and this fight against Andre Berto is no exception, says the 38-year-old Mayweather, who will get back in the ring on September 12
Former European champions Ajax knocked out of Champions League!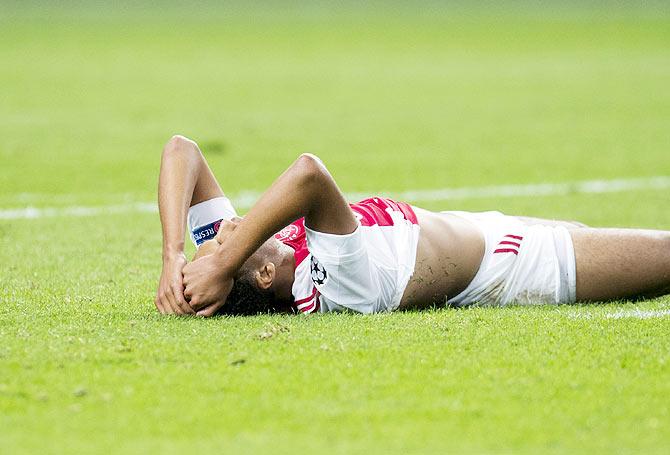 Four-time European champions Ajax Amsterdam were knocked out of the Champions League in the third qualifying round on Tuesday after a dramatic 3-2 defeat at home to unsung Rapid Vienna.
Bizarre! Politician mulls day of remembrance for Brazil's 7-1 WC loss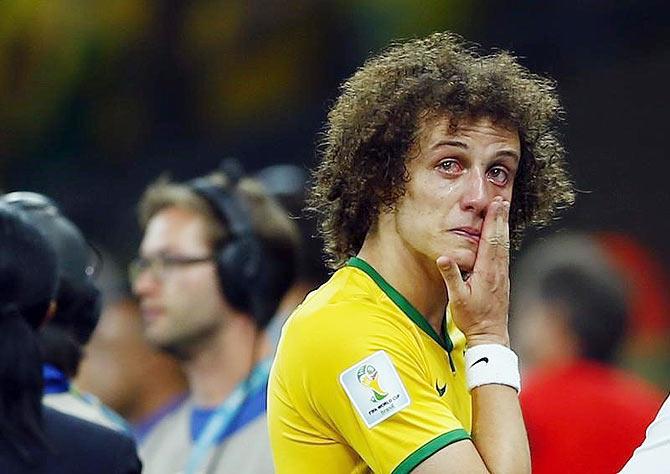 Jota Silva said the day would serve to "reflect on what happened on July 8," the day in 2014 when eventual world champions Germany beat Brazil 7-1 in the semi-finals.
Van Gaal faces many questions as Premeir League season looms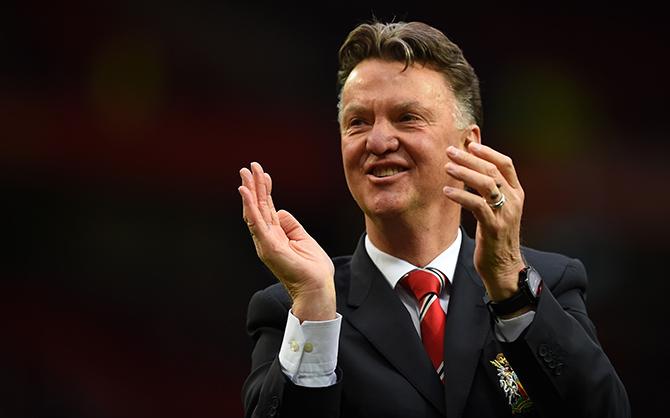 Manchester United's fourth place in last season's Premier League was regarded as a qualified success but more importantly the launch pad to return the club to former glory.
Records tumble as swimmers make a splash at Worlds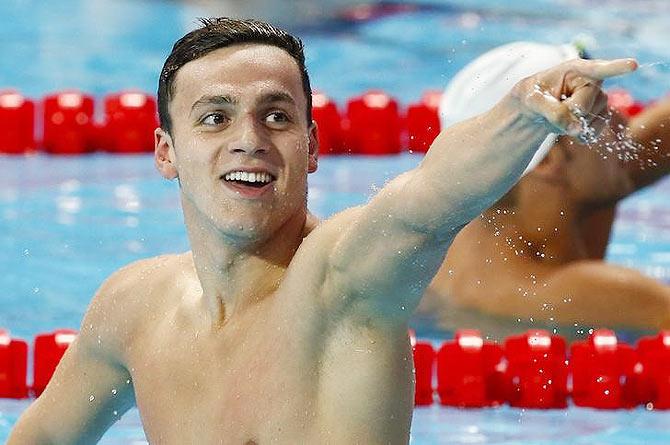 Britain's James Guy held off a host of Olympic champions to win his first world title, the men's 200m freestyle, at the world championships on Tuesday.
Di Maria 'very happy to join PSG', has medical ahead of move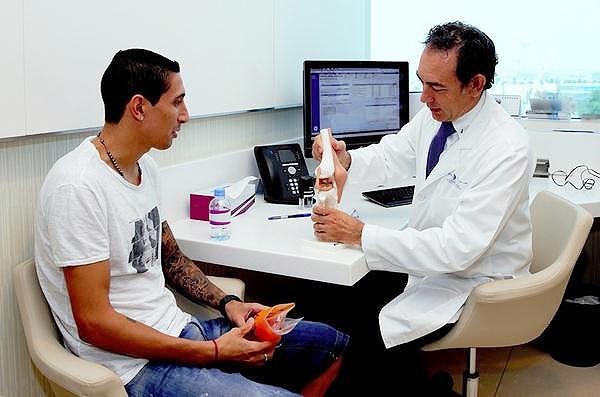 The former Real Madrid wide midfielder, whose 59.7 million pounds ($93.28 million) transfer a year ago set a British record, is preparing to join the French champions for a considerably lower fee, according to media reports.
August 04, 2015
Fit Costa will be key to Chelsea's campaign, reckons Redknapp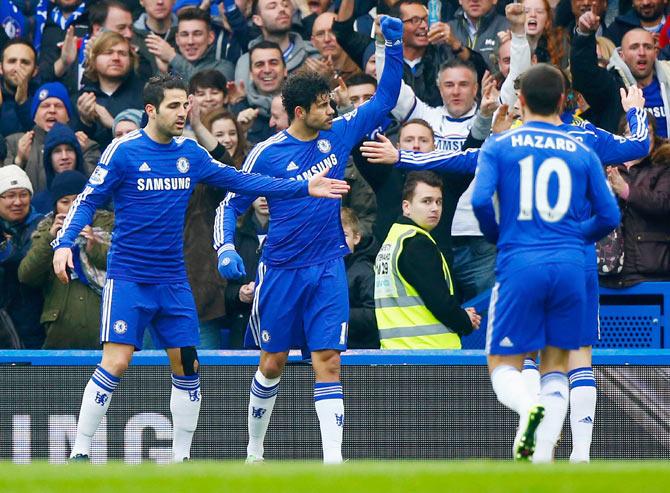 Defending champions Chelsea's season could be in trouble if striker Diego Costa is unavailable for long, former Tottenham Hotspur manager Harry Redknapp said.
Will Schweinsteiger prove a worthy buy for United? Guardiola is doubtful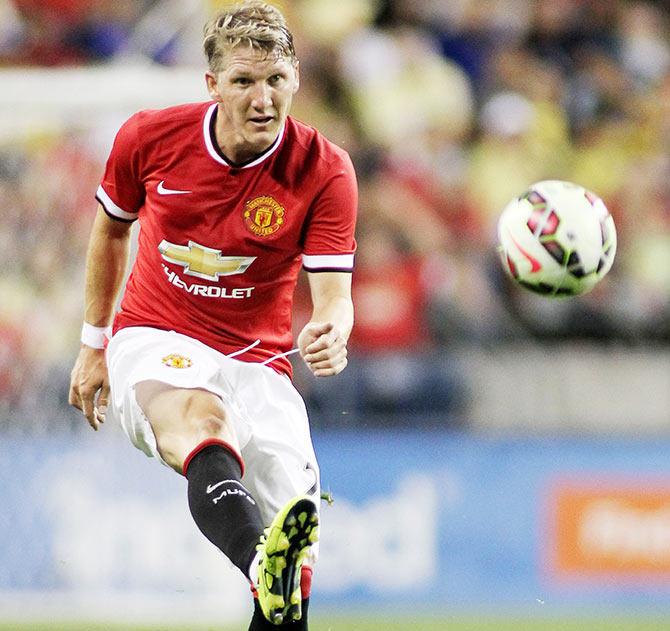 Bayern Munich manager Pep Guardiola has cast a doubt on Manchester United's new midfielder Bastian Schweinsteiger by saying his former player was never fully fit during the last three seasons.
Meet Sania, the elegant showstopper!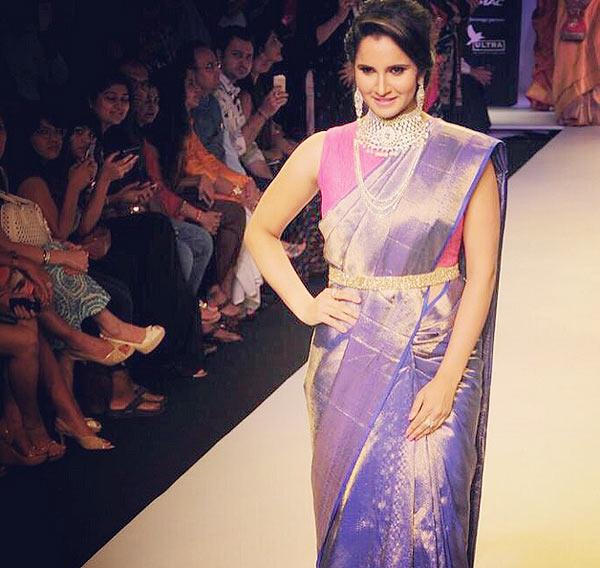 The World No 1 doubles tennis player, was adorned with ornaments designed by jewellery designer, Moni Agarwal, as she walked the ramp. She showcased Agarwal's royal and exquisite 'Zohrakshi' jewellery collection.
No love lost: Wenger snubs Mourinho after Community Shield win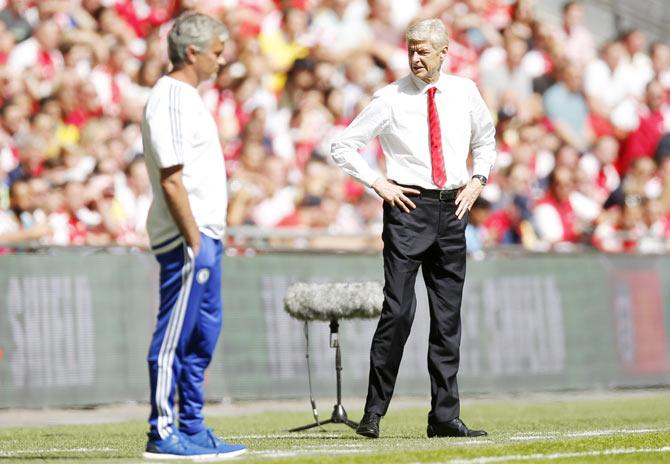 Chelsea boss Jose Mourinho has accused his rival Arsene Wenger of deliberately ignoring his potential handshake when the Arsenal boss walked down the tunnel after his team defeated Chelsea 1-0 to claim the Community Shield for a second season in a row at Wembley on Sunday.
August 03, 2015
Rodgers delights at promising start for Liverpool's new strike duo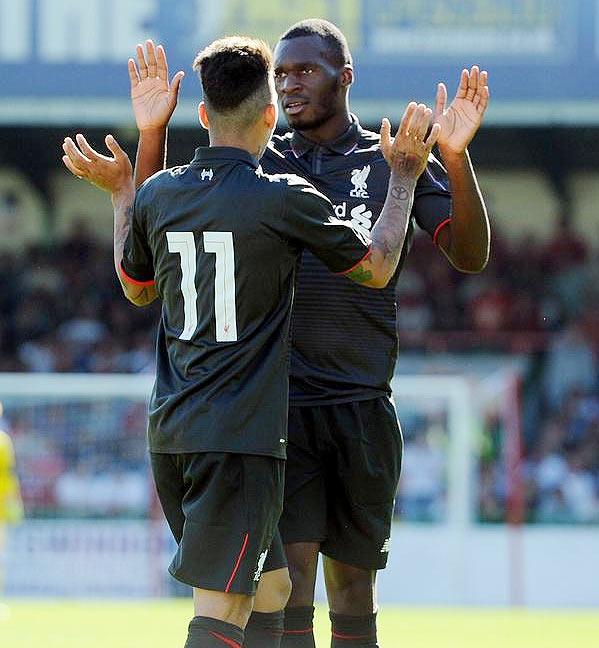 Liverpool manager Brendan Rodgers has expressed his delight with Christian Benteke and Roberto Firmino after the forwards made their first-team debuts in the club's final warm-up match before the new Premier League season.
10 BEST Sports Photos of the Week!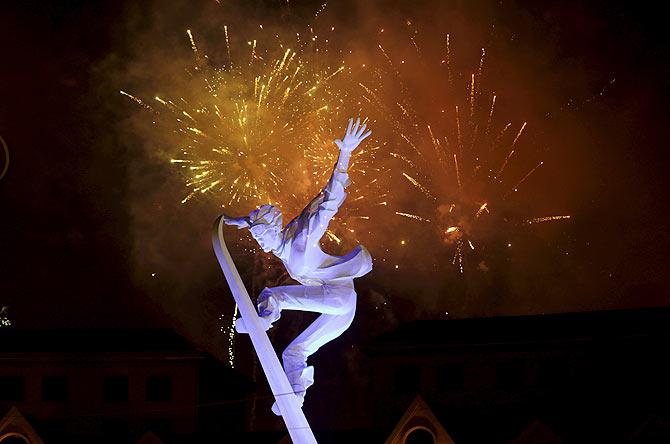 Steve Finn helped England dominate Australia in another Ashes Test at Edgbaston on Friday to take a 2-1 series lead.
Isner beats the heat and Baghdatis to rule in Atlanta once more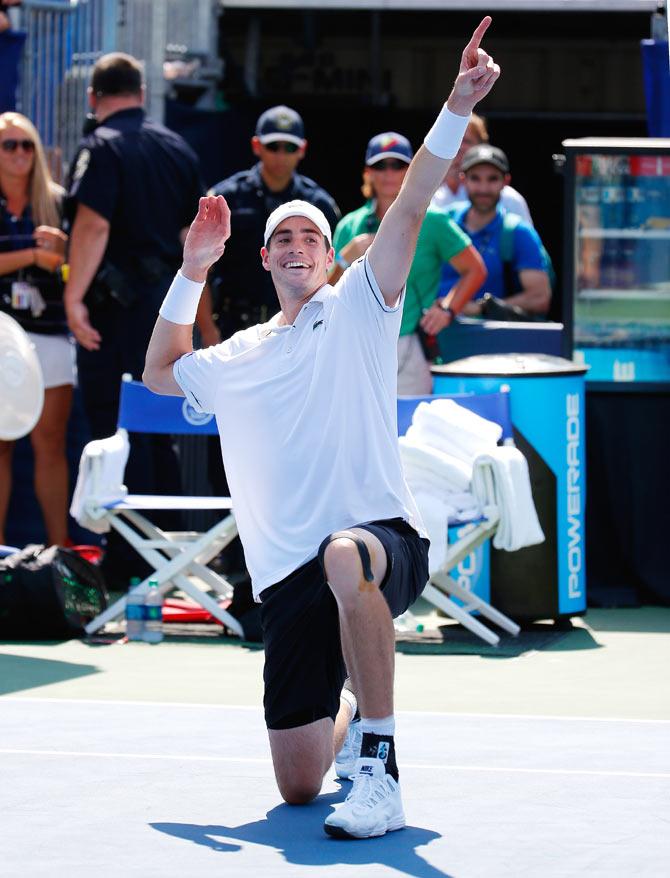 Overpowers the ailing Cypriot to win the hardcourt title for third time in succession
July 31, 2015
Mob Museum to display FIFA's 'rampant corruption'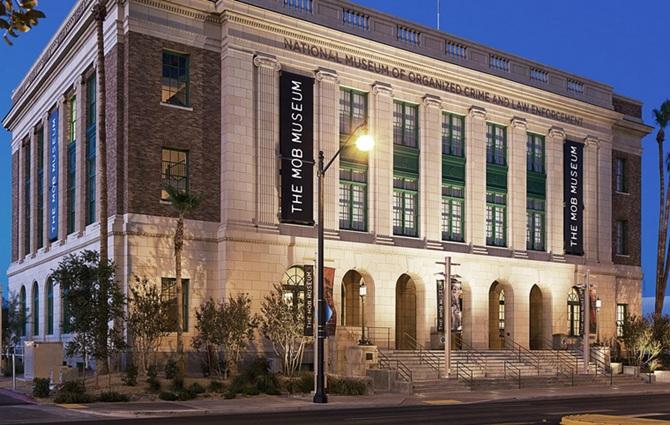 A Las Vegas museum devoted to the exploits of Tommy gun-wielding mobsters will open a permanent display that explores the "rampant corruption" of global soccer's scandal-rocked governing body, which has drawn comparisons to organized crime.
July 30, 2015
Mourinho lashes out after Benitez's wife sparks row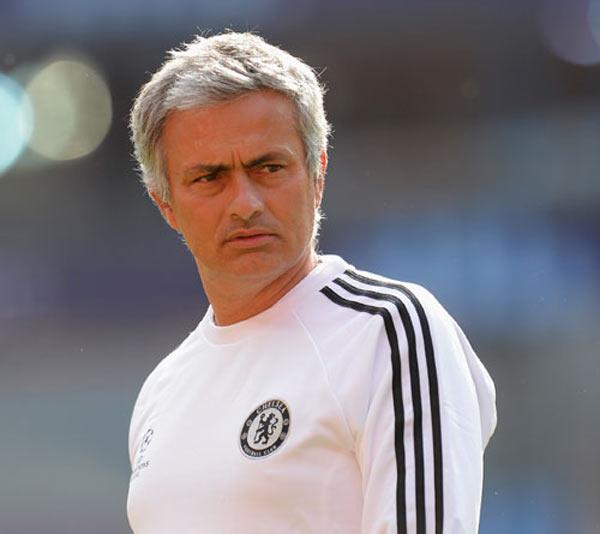 'The only club where her husband replaced me was at Inter Milan where, in six months, he destroyed the best team in Europe at the time'
July 29, 2015
Here is how Formula One drivers enjoy their 'summer break'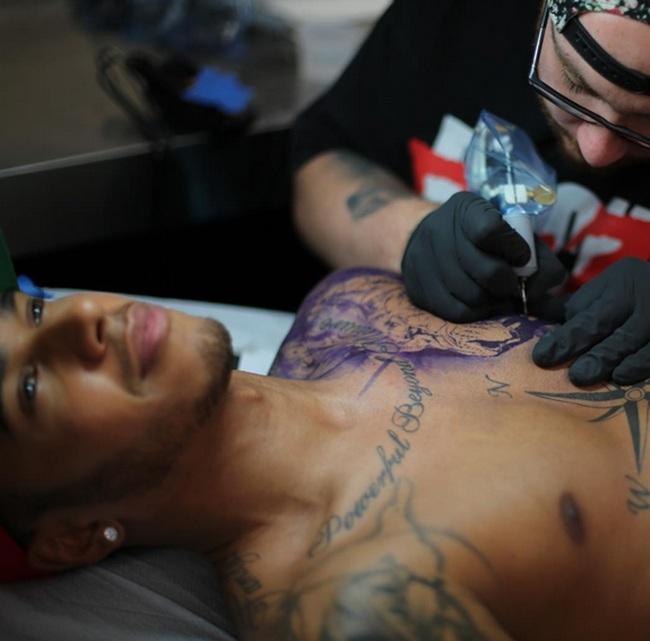 While Formula One rivals head to the sea or mountains at the start of the August break, Max Verstappen has some driving lessons on the horizon.
July 28, 2015
Best Pictures from the Tour de France - Part 2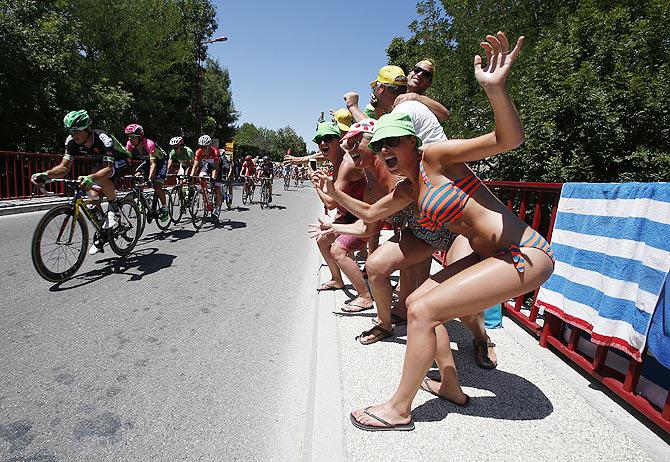 Rediff.com gives you a flashback of the beautiful moments from the Tour de France this year.
Van Gaal seeking galactico touch for resurgent Manchester United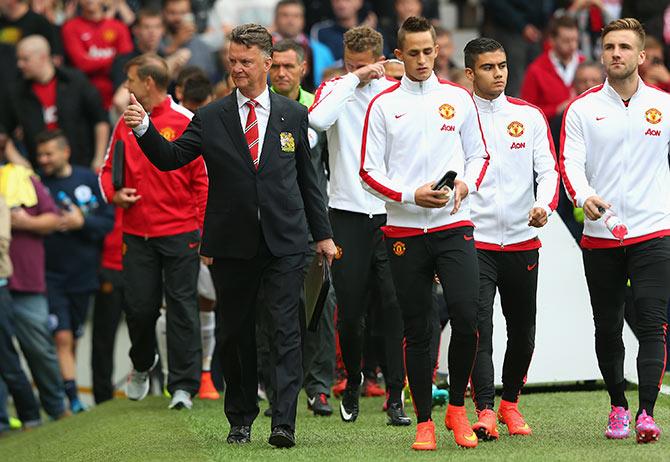 Louis van Gaal wants to recruit a new galactico match-winner for Manchester United in a bid to fulfil his ambition of bringing another Premier League title to Old Trafford before he walks away from the club in two years.
July 27, 2015
5 odds Froome fought-off to make history at Tour de France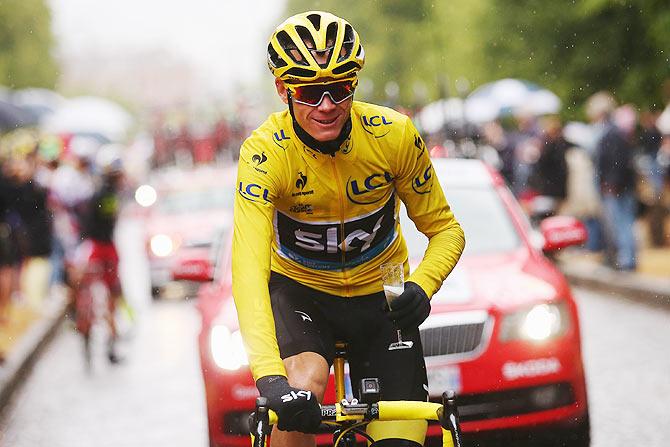 But Froome's Big Four rivals at the tour -- Alberto Contador, Vincenzo Nibali and Nairo Quintana - weren't the only hurdles in his path. There were outside influences that threatened to derail his campaign.
Error-prone Hamilton gets it wrong but still stretches lead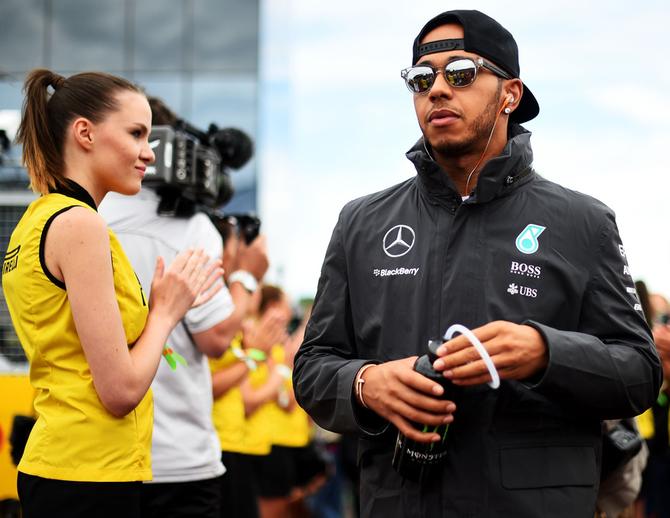 Before the start, Hamilton had spoken of Hungary fast becoming one of his favourite circuits.
Late bloomer Froome wins second Tour de France title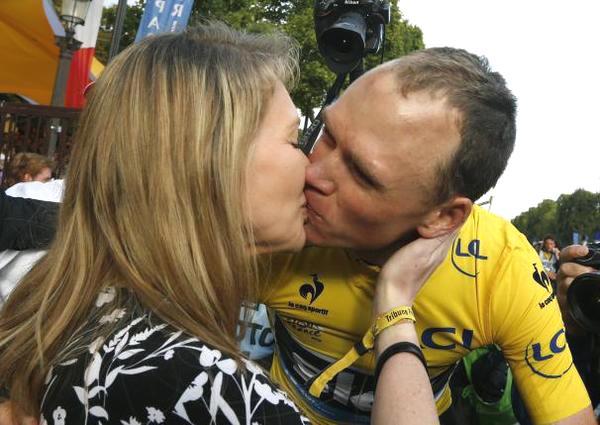 Briton Chris Froome won his second Tour de France title in three years on Sunday to enhance his growing reputation as a grand tour specialist.
July 26, 2015
Coach Gopi confident of rich medal haul at Badminton World C'ships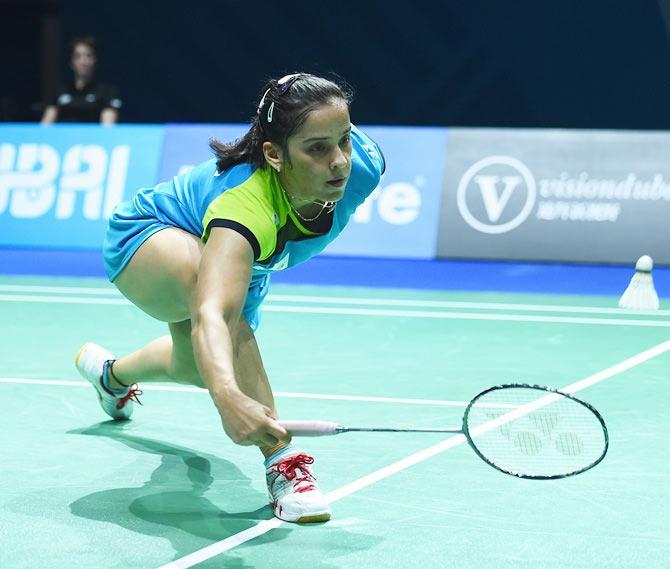 Confident about their preparation for the upcoming World Championships, India's chief badminton coach Pullela Gopichand said the home shuttlers have the best chance of winning multiple medals at the prestigious tournament next month.
Pre-season friendlies: United beat Barca 3-1; Arsenal thrash Lyon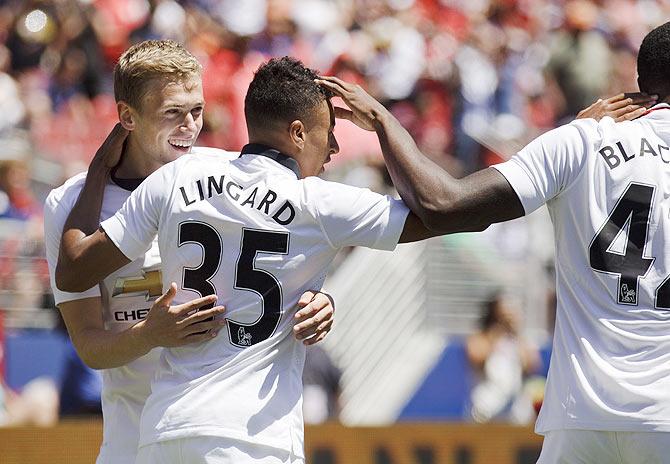 Manchester United kept up the positive momentum of their pre-season tour with a 3-1 victory over Barcelona in the International Champions Cup on Saturday in Santa Clara, California.
July 24, 2015
It's break point for tennis couple Sharapova-Dimitrov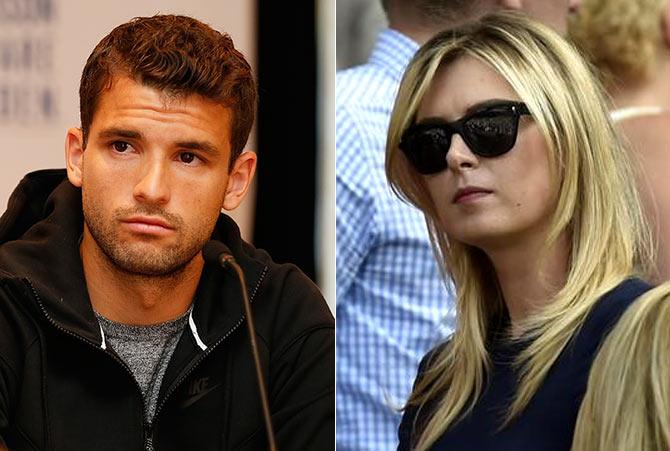 "We experienced wonderful moments together. I wish her much happiness and success in life and in tennis.
Best Pictures from the Tour de France - Part 1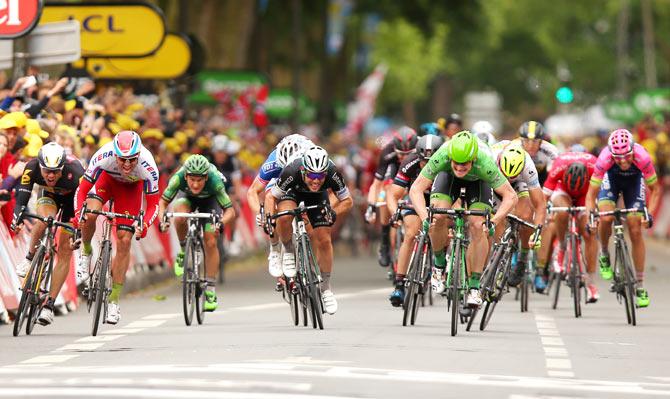 The best action from the Tour de France
July 22, 2015
Charity drive: Federer inaugurates 81st pre-school in Malawi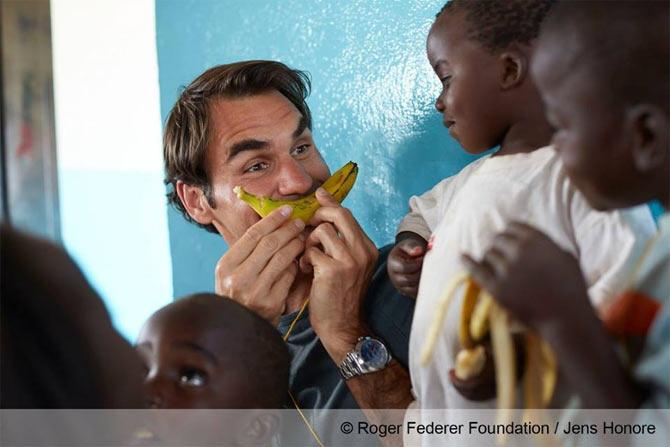 Federer's charity foundation had been working in Malawi since 2011 and has already opened 80 pre-schools across the country.
July 21, 2015
10 Best Sports Photos of the Week!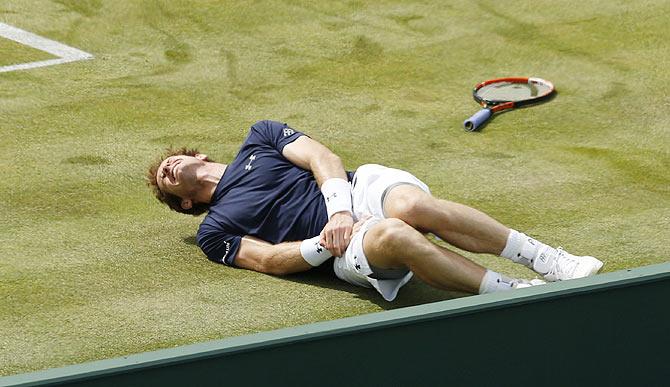 Rediff.com has the best sports images from the events in the week gone by snapped right here...
July 16, 2015
'Comparing FIFA to the Mafia is almost insulting to the Mafia'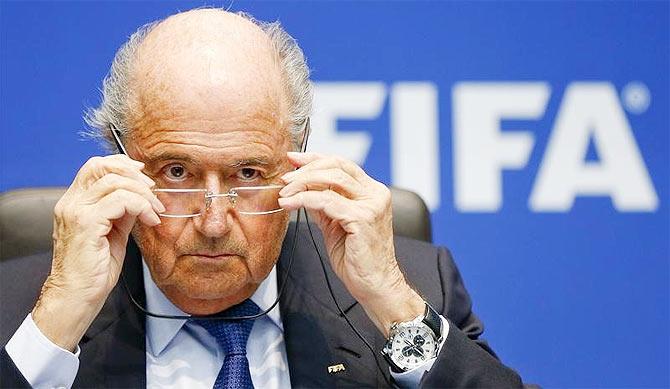 Senators call for reforms of US soccer body at FIFA corruption hearing
10 Most Valuable sports teams in the World!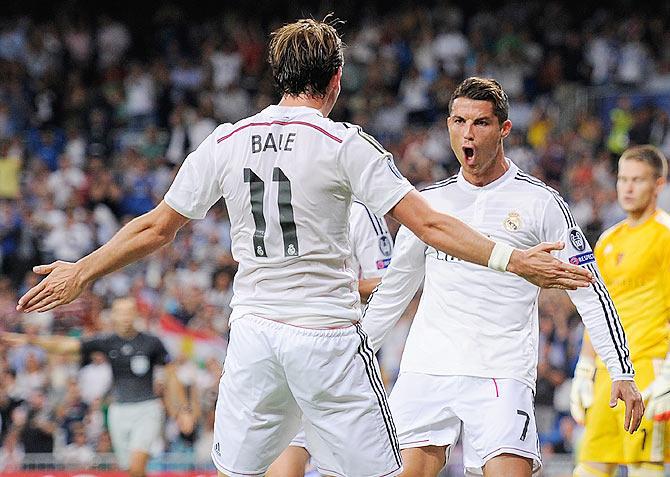 According to a Forbes poll released on Wednesday, Spanish football club Real Madrid once again leads Forbes' most valuable teams list, which mostly includes National Football League franchises.
Ooh... aah... ouch!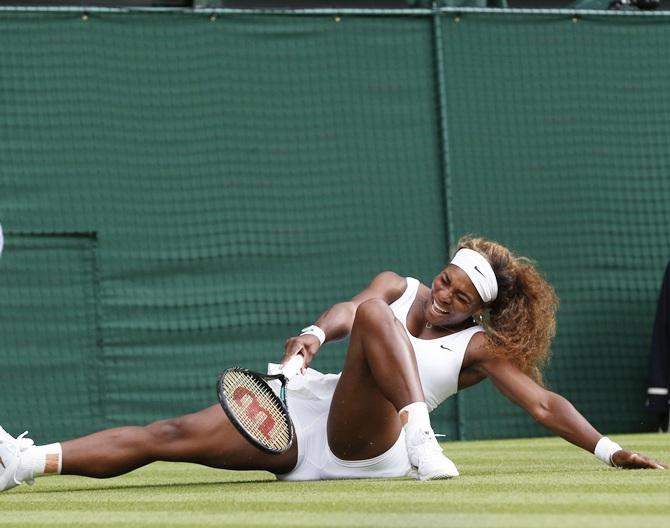 When sport stars collide, crash and fall!
July 15, 2015
Navratilova and Sania hold joint tennis Masterclass in Hyderabad!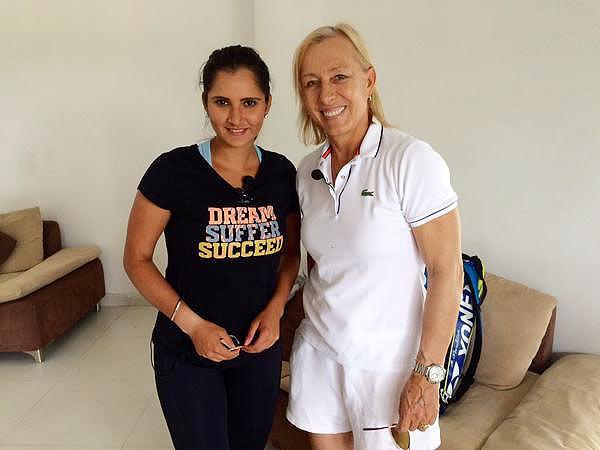 When two champions of tennis share their knowledge of the sport they most love and excel, everyone is keyed in. That is exactly what happened on Wednesday evening when Indian ace Sania Mirza hosted the legendary Martina Navratilova at a tennis 'Masterclass' in Hyderabad.
Fenerbahce fans give Van Persie rapturous welcome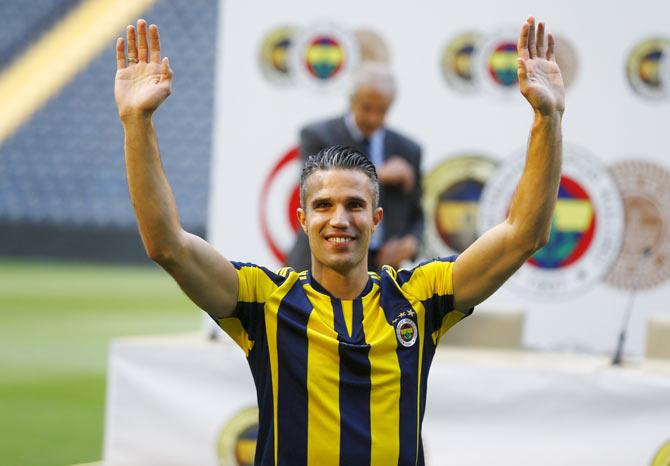 Netherlands striker Robin van Persie vowed on Tuesday to rekindle his goal-scoring prowess and help Fenerbahce win trophies as he joined the Turkish club from Manchester United on a three-year deal.
Tour de France: Froome demolishes rivals on first mountain test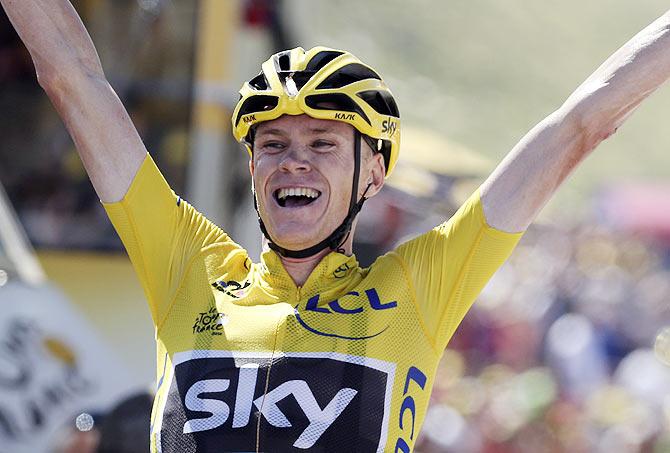 Overall leader Chris Froome put the hammer down on the Tour de France when the Briton humiliated his rivals in the first mountain test, winning the 10th stage in awe-inspiring fashion on Tuesday.
July 14, 2015
Father 'less optimistic' about Bianchi recovering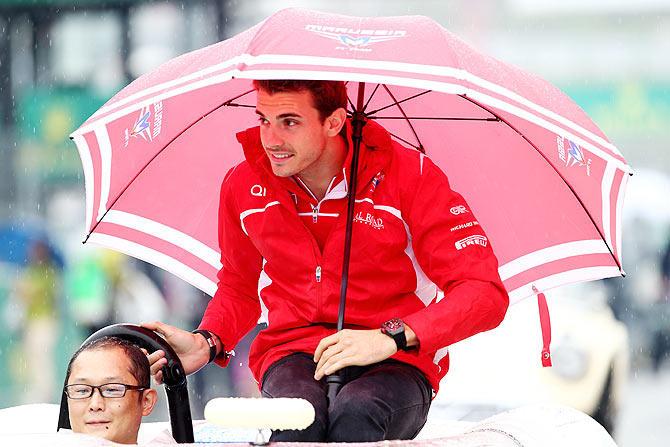 The father of French Formula One driver Jules Bianchi says he is "less optimistic" that his son will recover from the severe head injuries he suffered in a Japanese Grand Prix crash last October.
Can City-bound Sterling do justice to 49 million pound deal?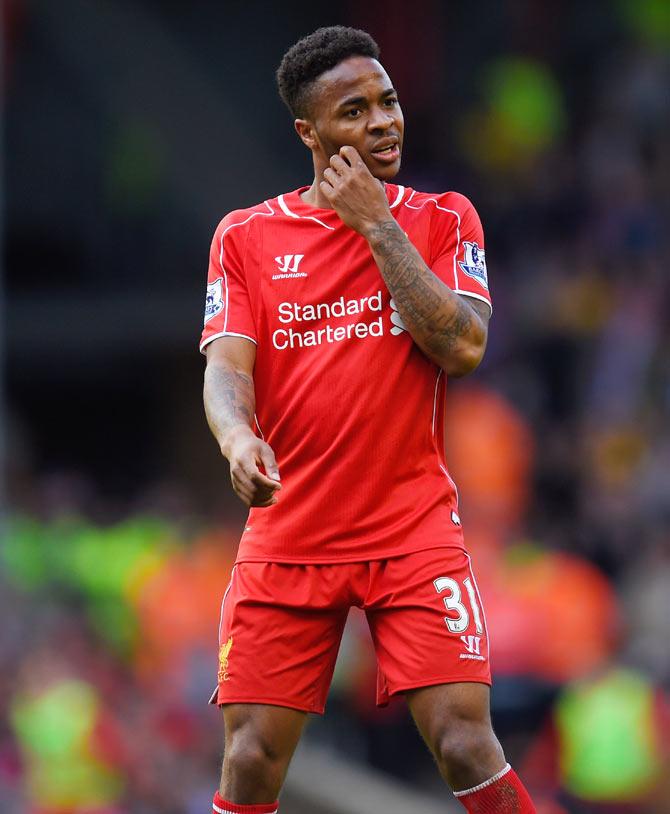 Manchester City are about to find out whether Raheem Sterling has the ability to justify his enormous price tag or is just another over-rated young English footballer motivated purely by his bank balance.
Mavericks' Satnam keen to work on shortcomings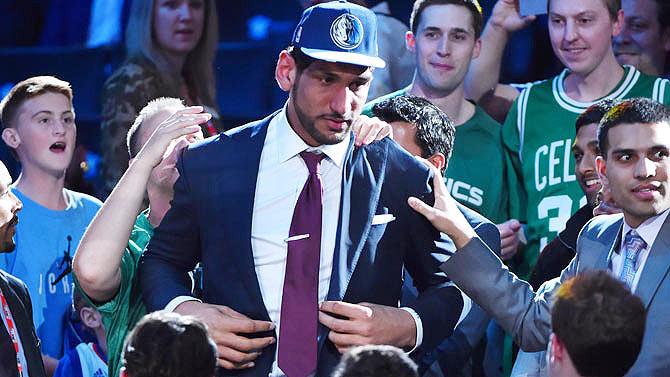 'May be, after another two years when I establish myself, I will play for India again. The main goal is to at least play 10 years in NBA league'
10 lesser known facts about newly-crowned Wimbledon champ Sania Mirza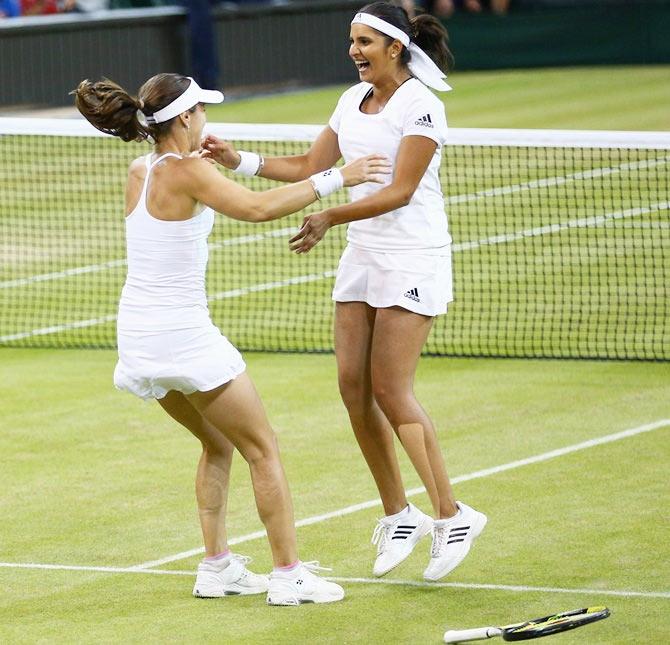 Sunita Iyer, lists the10 lesser known facts about the golden girl of Indian tennis.
July 13, 2015
10 Best Sports Photos of the Week!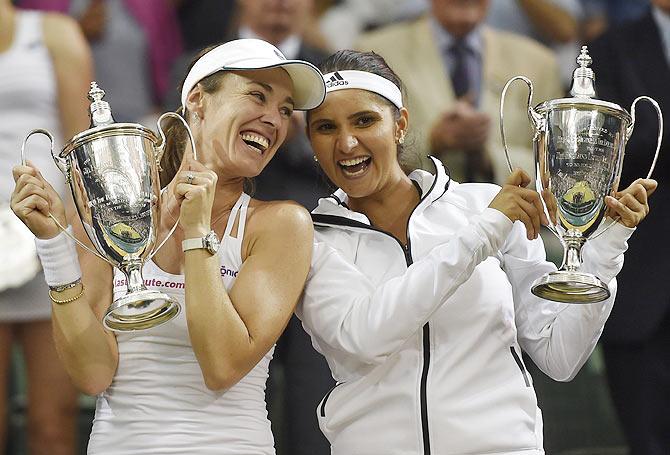 Rediff.com gives you a flashback of these events in pictures snapped right here...
Champions Djokovic, Serena show off their footwork at Wimbledon ball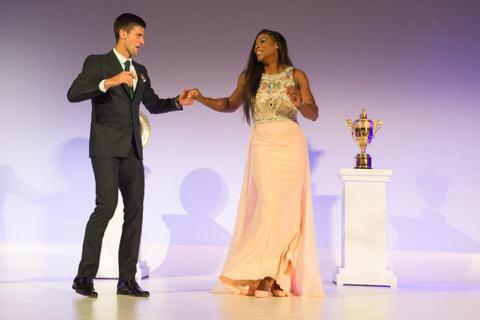 The Wimbledon dinner was an evening with an exciting mix of tradition and fun as newly crowned singles champions Novak Djokovic and Serena Williams shook a leg together, bringing a superb end to the best grand slam event of the year.
July 11, 2015
Federer of yore sets up prime time showdown with Djokovic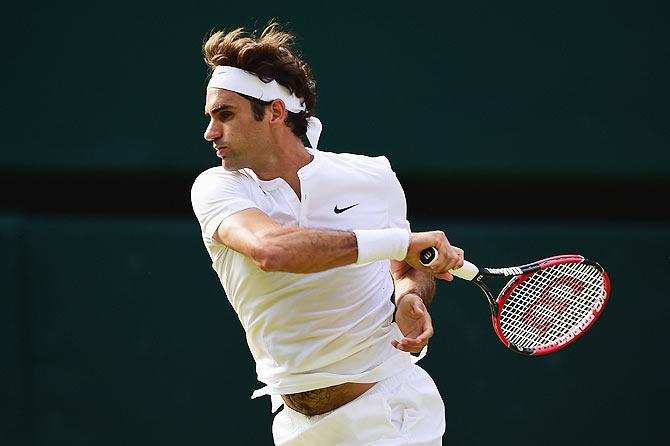 The problem with addictive TV box sets is that when the credits roll on the final episode it leaves a void.
Gold Cup: US beat Haiti, advance to quarter-finals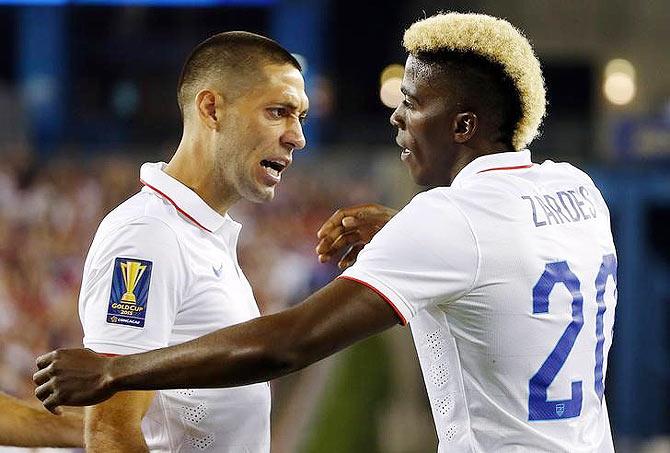 The United States secured a quarter-final spot in the CONCACAF Gold Cup when they beat Haiti 1-0 on Friday, while Panama and Honduras drew 1-1 in the other Group A match in Massachusetts.
Wimbledon: Spectators' divided loyalties hardly helped home boy Murray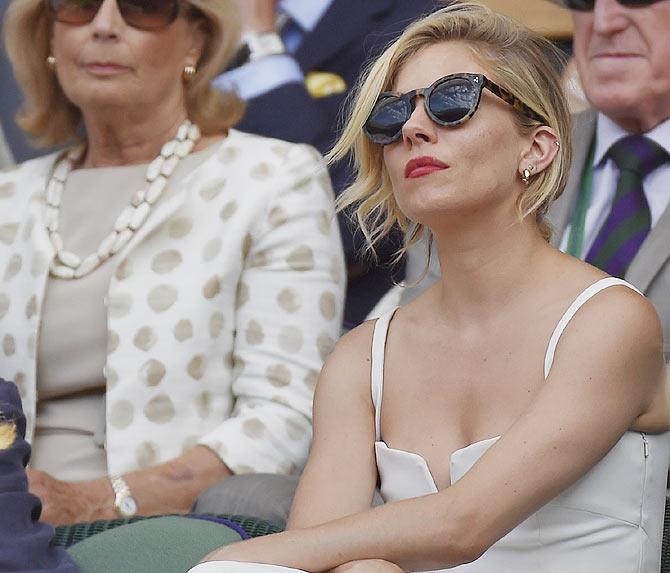 Murray was slightly vexed by a question at the post-match news conference that suggested the fans' loyalties were more divided than if he were playing anyone but Federer.
PHOTOS: How Murray was done in by Federer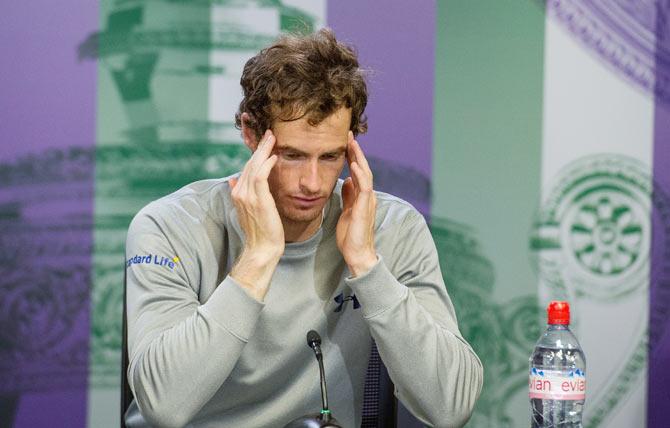 A year after Andy Murray's reign as Wimbledon champion ended lamely at the hands of a man dubbed the new Roger Federer, he got a stark reminder on Friday that the original is the real threat to his grand slam ambitions.
ISL Auction: Why John Abraham's North East Utd picked Seityasen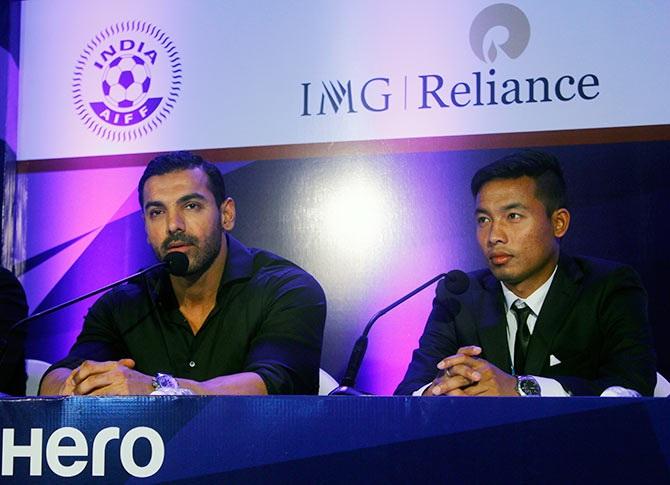 North East United FC had a pretty forgettable inaugural season, but they look to make amends in the second edition of the Indian Super League.
July 10, 2015
Radwanska pays price for not following her instincts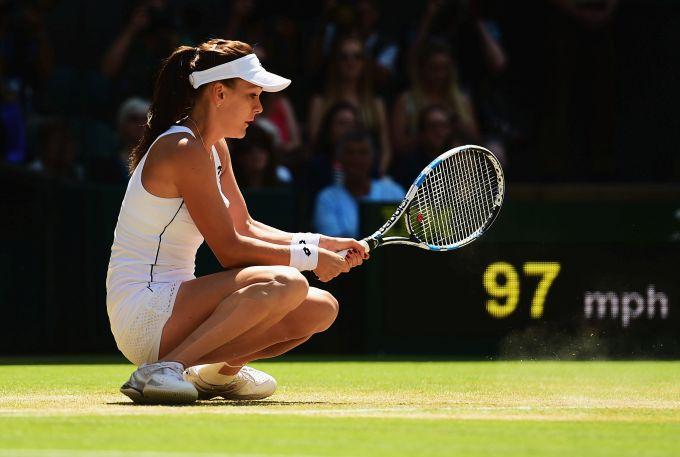 Agnieszka Radwanska paid the ultimate price for following the orders of her coaching team rather than relying on her own instincts in the final game of her Wimbledon semi-final against Garbine Muguruza on Thursday.
July 09, 2015
Wimbledon: Sharapova doesn't stand a chance against super Serena!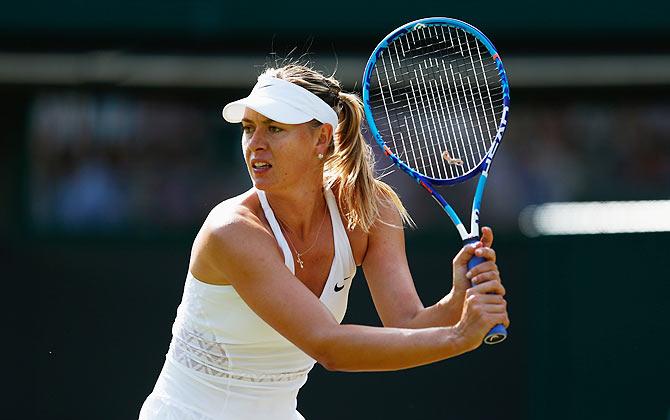 As Russian Maria Sharapova and American Serena Williams get ready to slug it out in their big-ticket semi-final, records and history tells us who has had the upper hand.
When a 'wiser' Gasquet left Wawrinka and the crowd awestruck!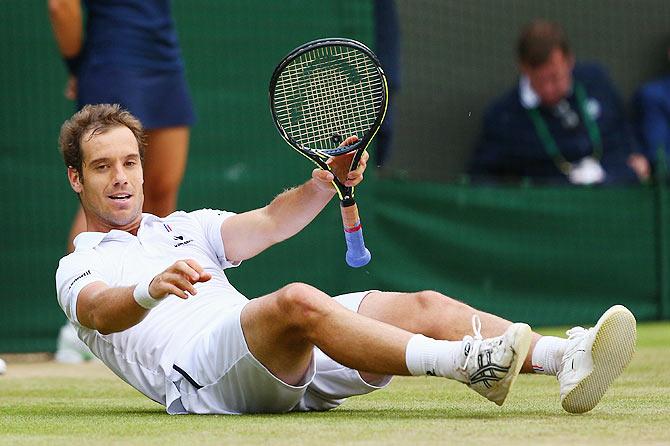 The 29-year-old Frenchman crashes 'top-four' party to set up semi-final against World No Djokovic
Smart Dealers: Europe's best-selling football clubs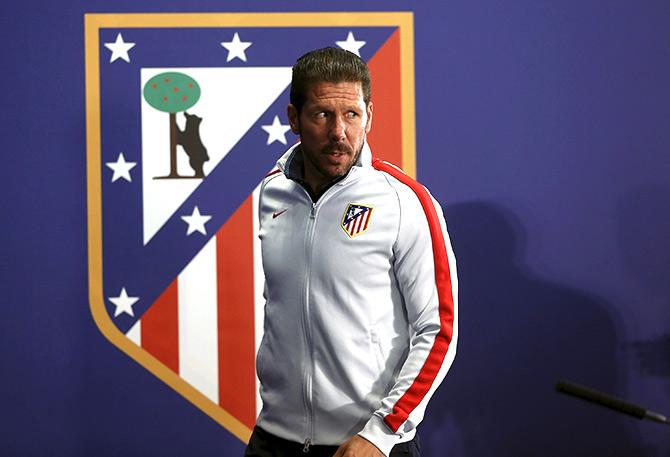 The policy of buying players cheap and selling them for a higher price a few years on is a business model that worked well for clubs like Atletico Madrid and FC Porto. With the transfer window open for the next few weeks, Rediff.com takes a look at clubs that made smart deals over the years.
July 08, 2015
Bacsinszky and Keys silenced at Wimbledon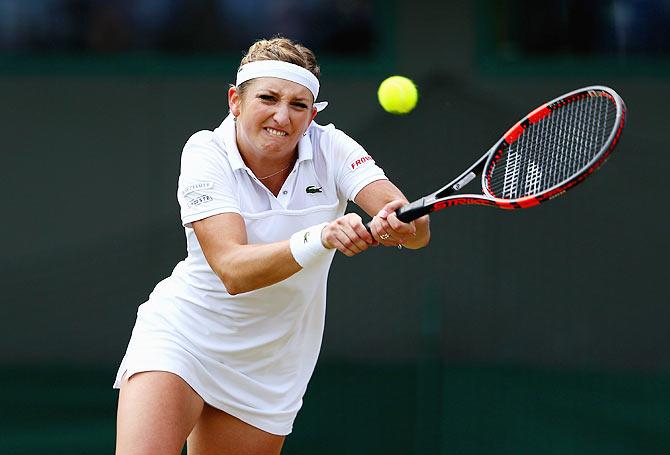 The daughter of two lawyers and a former waitress received their last orders at the Wimbledon on Tuesday when Madison Keys and Timea Bacsinszky missed out on a great opportunity to set up a semi-final date.
'Shocked' Kyrgios demands 'respect if not love' from Aussies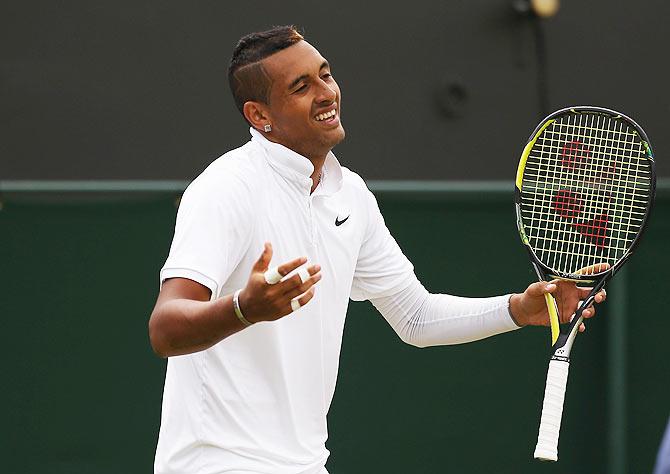 'I'm not asking everyone to love me but at least know me as a person first before you judge me'
Sharapova can't wait to duel with 'vulnerable' Serena on Centre Court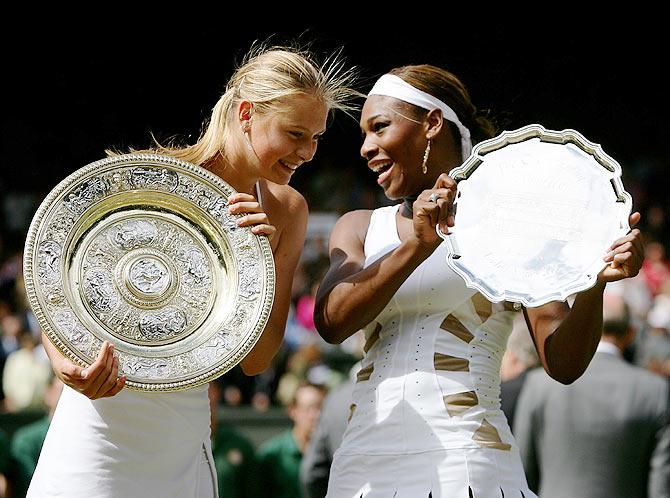 Maria Sharapova and world No 1 Serena Williams haven't played each other at the Wimbledon Championships since their Round of 16 clash in 2010.
I didn't want to compete against Liverpool, says LA Galaxy's Gerrard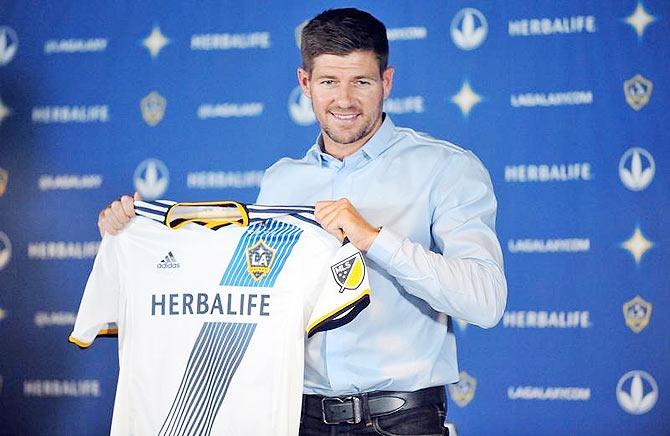 'I love Liverpool Football Club and I always will do... but I didn't want to become a squad player or a sub at the club I love'
This 'perfect player' is first Spanish woman in 18 years to make semis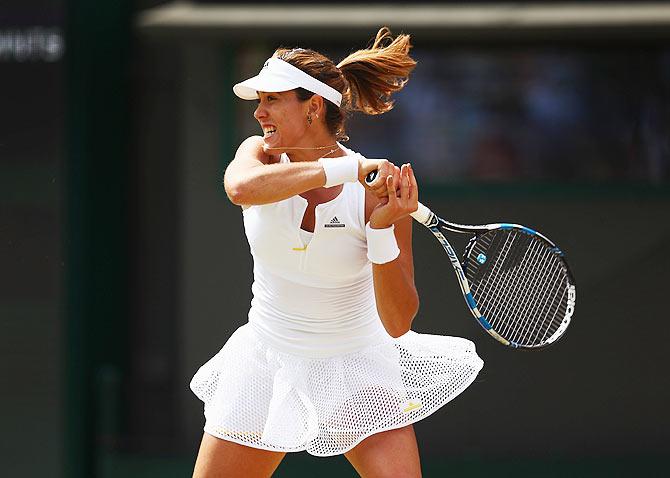 A heady mix of talent and gumption, Garbine Muguruza now in the same league as Arantxa-Sanchez Vicario
Vijender Singh: Punching above his weight?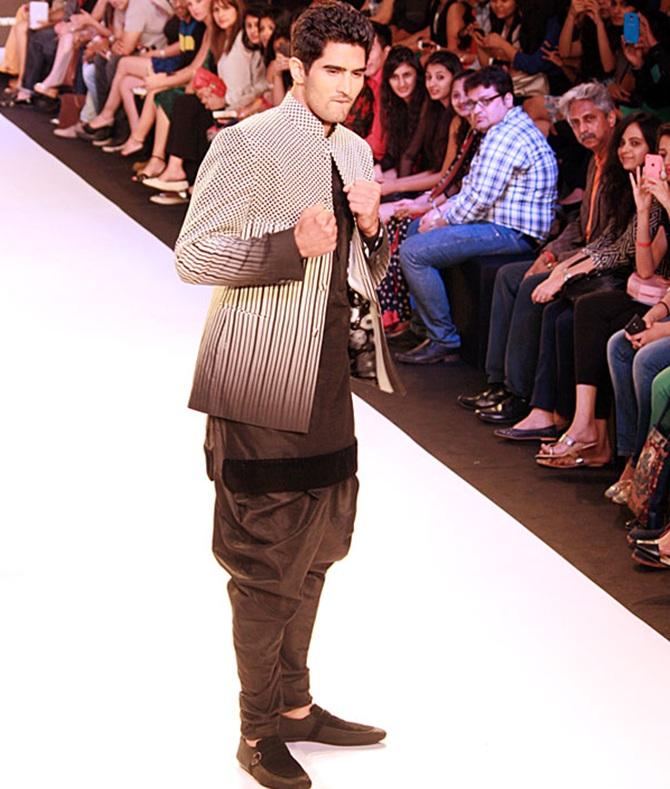 Vijender Singh gives up amateur boxing to turn full-time professional, perhaps the words ring truer than ever.
Wimbledon: Sharapova accused of unsporting behaviour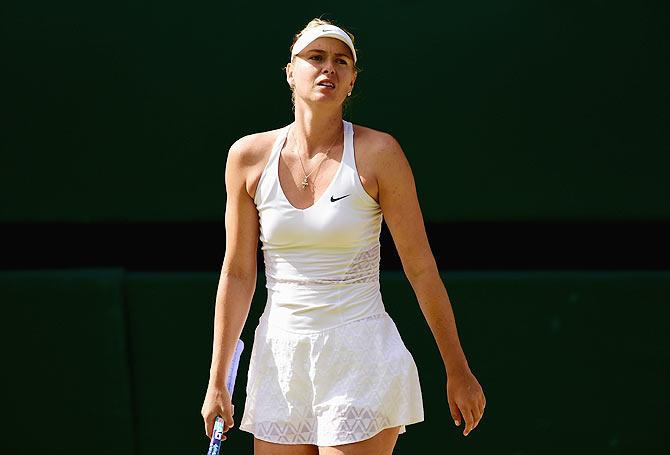 "What I experienced, what I felt from her moving around in between my serving motion was not, I don't think, sportsmanlike, in my opinion," American Coco Vandeweghe claimed after her quarter-final loss
July 07, 2015
Tour de France: Froome in top gear in crash-marred third stage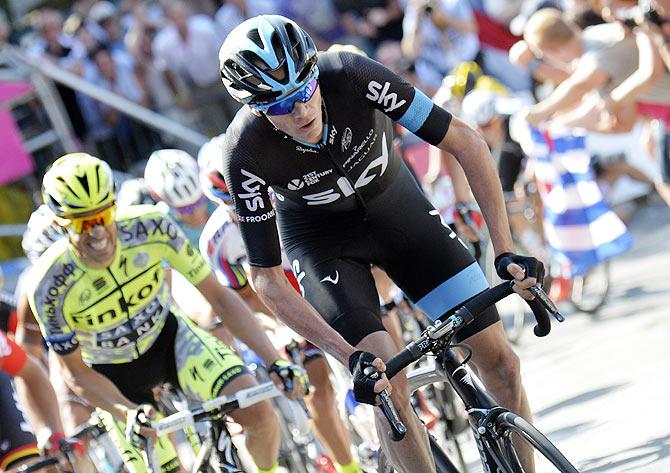 Chris Froome seized early control of the Tour de France, the 2013 champion snatching the yellow jersey after a crash-marred third stage won by Spain's Joaquim Rodriguez on Monday.
Wawrinka marches forth in bid to be in Federer's league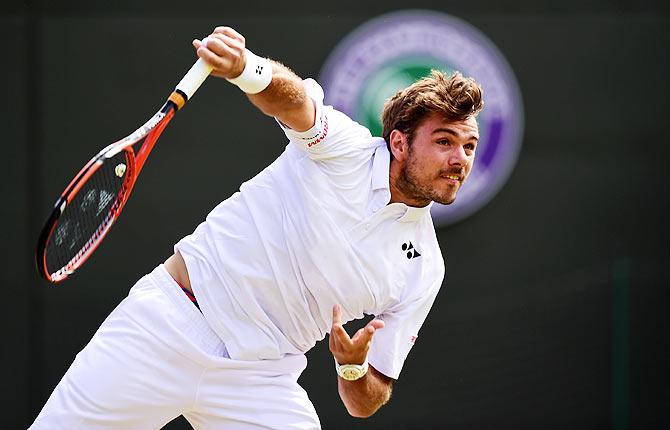 In-form Swiss man in fray to become only the fifth player in the professional era to win the French and Wimbledon back-to-back
July 06, 2015
10 Best Sports PHOTOS of the Week!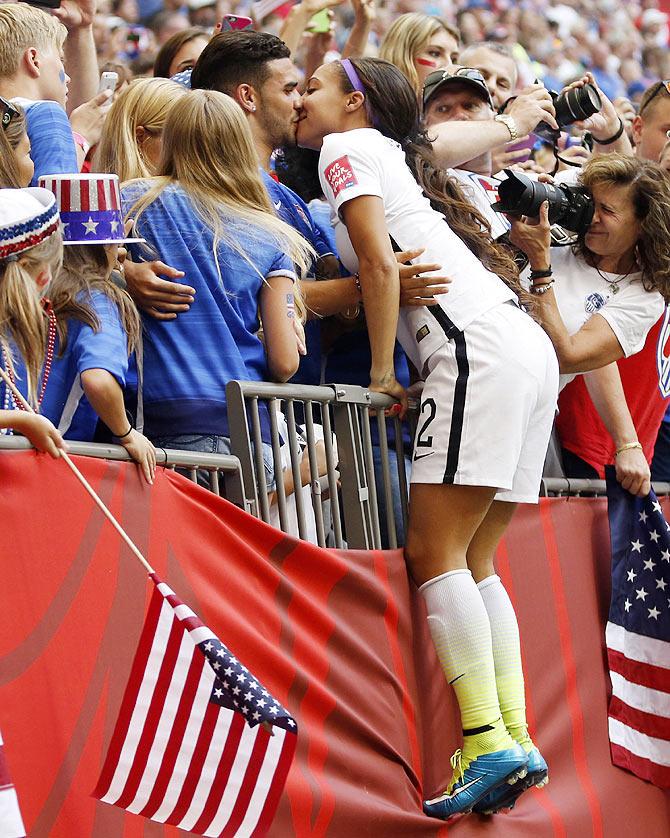 And, since, pictures speak more than words, Rediff.com brings you images from these sporting events and others that made headlines in the week gone by.
Of kisses and selfies: Family time for US players after World Cup win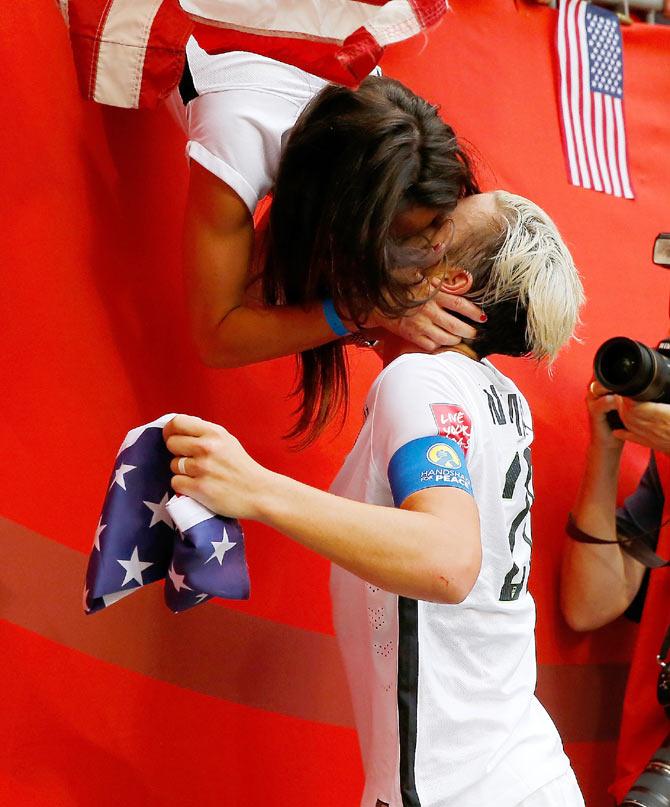 Here are precious family moments that the players stole after their historic victory...
USA parties like it's 1999 after Women's World Cup victory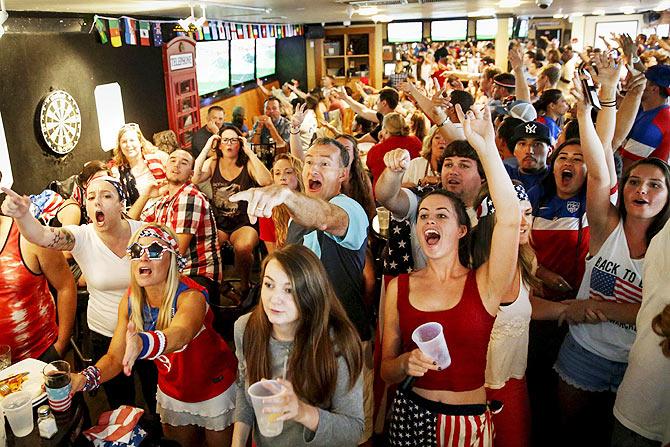 After the game, Kathy Hollins, Lloyd's future mother-in-law, said watching her son's fiancee was: "Like a high. You don't even need drugs ... She's so awesome, she just doesn't give up."
We aim to break into top 10 prior to the Olympics: Ashwini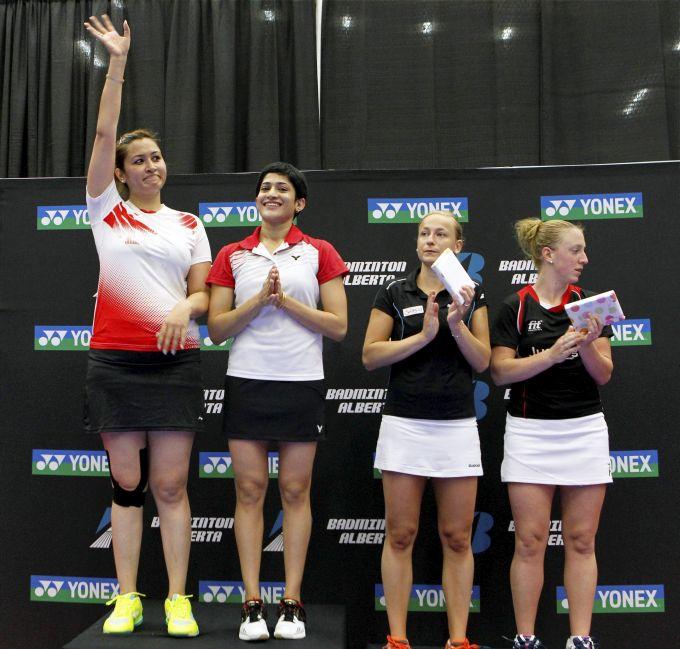 Fresh from her triumphant exploits with senior partner Jwala Gutta in the Canadian Open, shuttler Ashwini Ponnappa said the ace Indian doubles pair was now aiming to break into the top ten while qualifying for next year's Rio Olympic Games.
Dutch heatwave no sweat for Aussie Rohan Dennis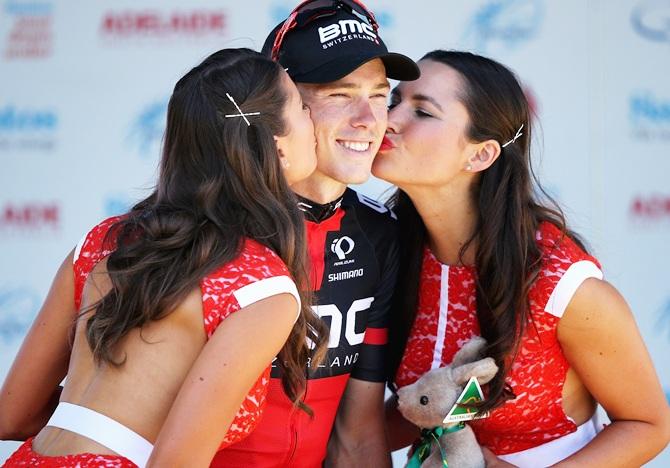 A heatwave was no sweat for Tour de France stage one winner Rohan Dennis.
Lloyd hat-trick inspires US to third Women's World Cup title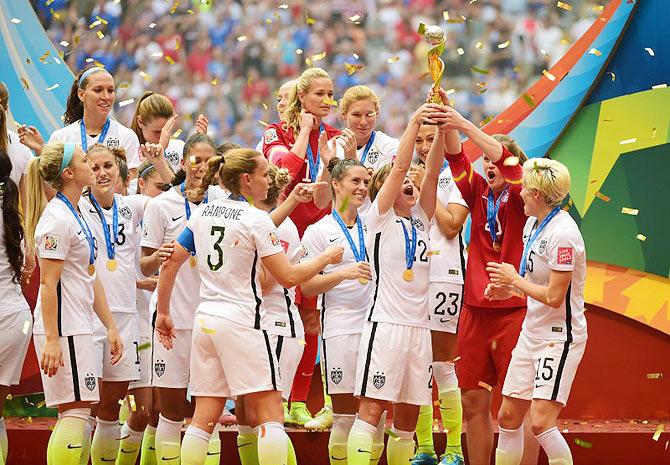 The American captain struck three times inside 16 minutes as the US stormed into an unexpected and unsurmountable 4-0 lead over their shell-shocked opponents.
July 04, 2015
Wimbledon: How an inspired Jankovic stunned holder Kvitova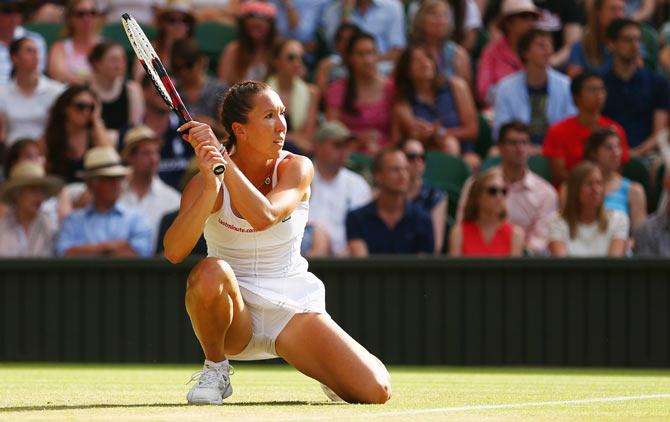 Holder Petra Kvitova suffered a shock 3-6, 7-5, 6-4 defeat by Serbia's former World No 1 Jelena Jankovic who produced an inspired display in the Wimbledon third round on Saturday.
Wimbledon PHOTOS: Defending champ Kvitova knocked out; Federer wins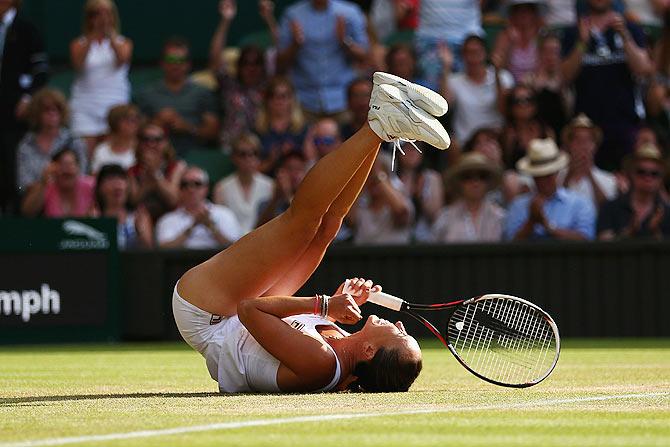 Photos from the Wimbledon matches played on Saturday.
July 03, 2015
These players have a superior record over Nadal...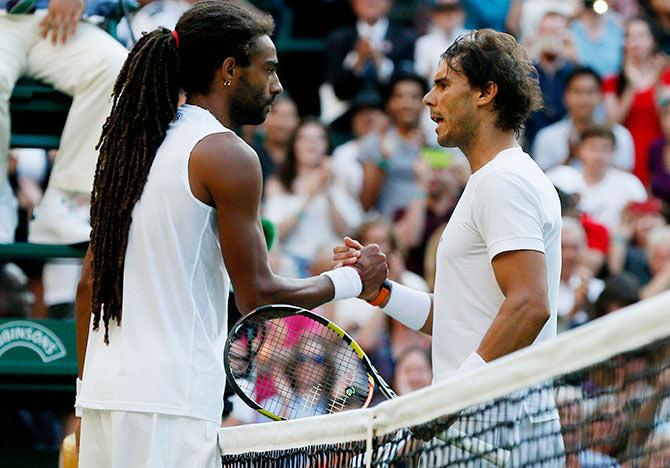 Nadal, is known to have a superior win-loss record over most top players (including Andy Murray and Novak Djokovic), but believe it or not, there are players on the circuit who have an edge over Nadal.
PHOTOS: Celebrities glamour-up Wimbledon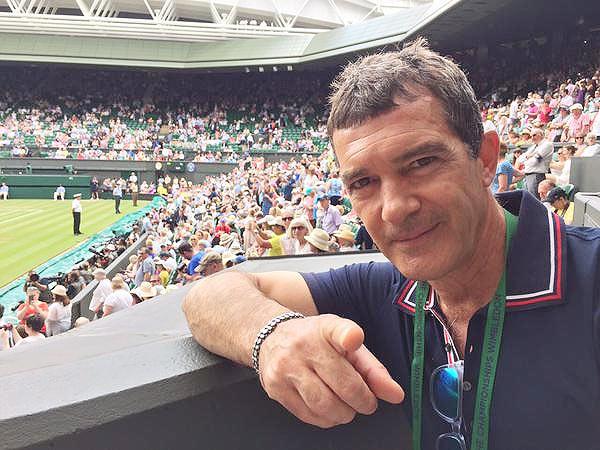 As the stars of tennis sweat it out in pursuit of the Wimbledon Championship crown at the resplendent All England Lawn Tennis and Croquet Club, stars of another planet descend on venue and watch their favourites in action.
July 01, 2015
'Ashwini and I can win a medal at the 2016 Olympics'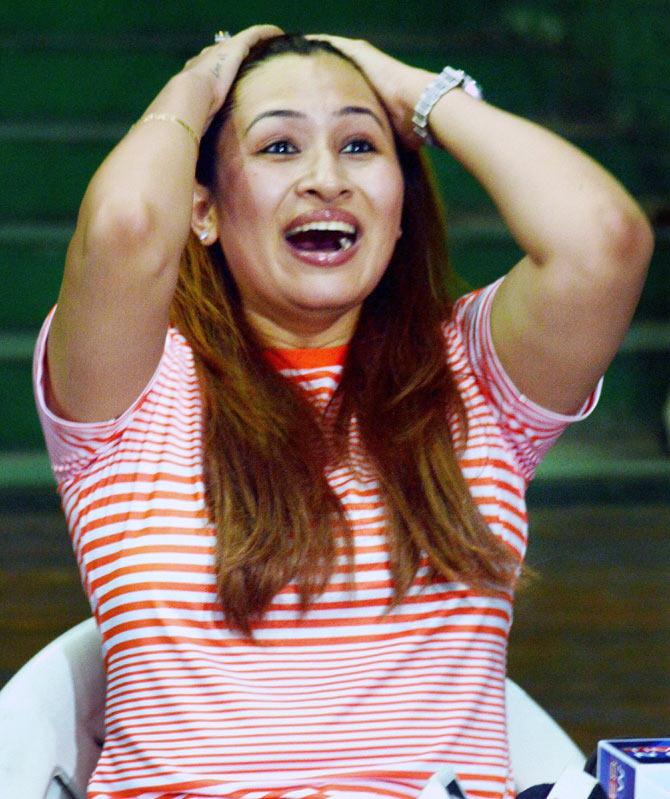 - 'We need the government to support us with funds'
Tour de France: Get set for battle royale on treacherous course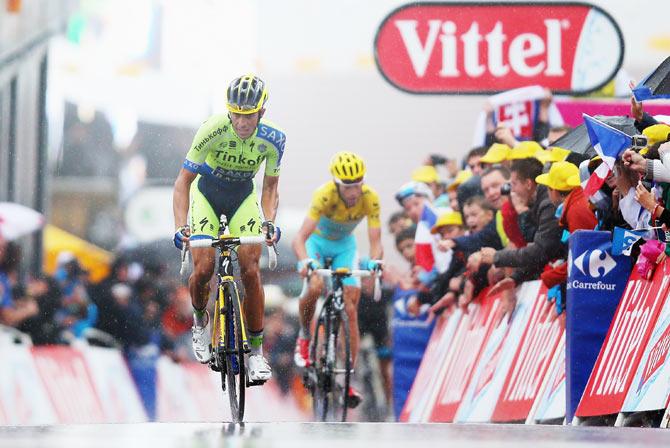 Alberto Contador will cement his status as the best grand tour rider of the modern era if he emerges as the winner of the Big Four's battle royale at the Tour de France -- the most highly anticipated race in decades.
With most likes, followers, Wimbledon takes social media by storm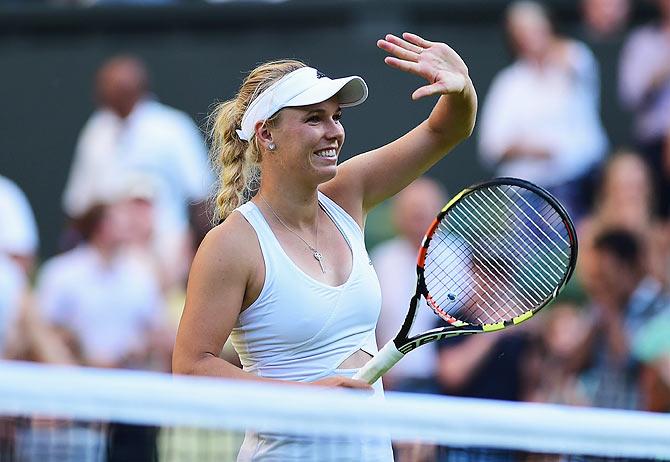 It's the most popular Grand Slam across popular social networking sites
June 30, 2015
Wimbledon PHOTOS: Federer outclasses Dzumhur, Nadal cruises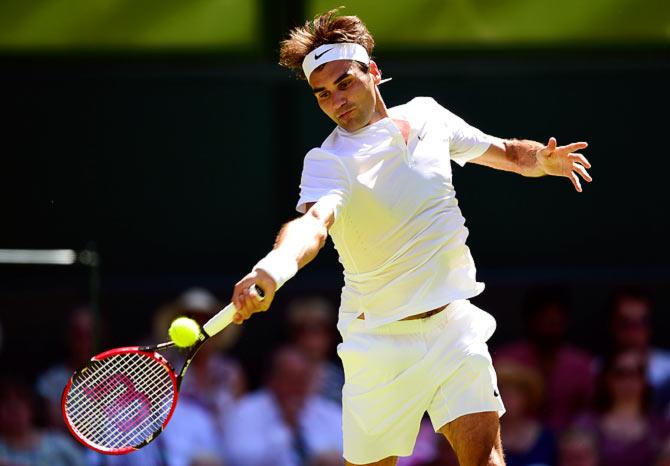 Roger Federer began his 63rd consecutive Grand Slam tournament with a majestic 6-1, 6-3, 6-3 first-round win over little-known Bosnian Damir Dzumhur at Wimbledon in London, on Tuesday.
Hockey League: India seek to iron out defensive flaws as Malaysia lurk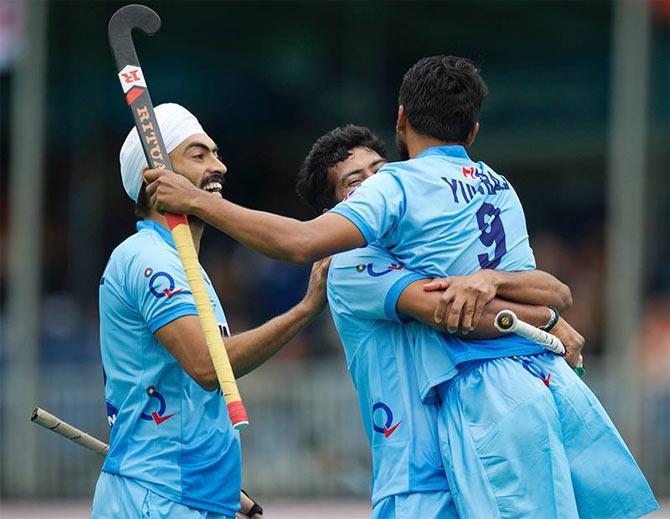 Soundly thrashed by Australia in their last match, India will look to sort out their defensive woes when they take on Malaysia in their quarter-final match of the Hockey World League Semifinals in Antwerp, Belgium, on Wednesday.
10 Best Sports Photos of the Week!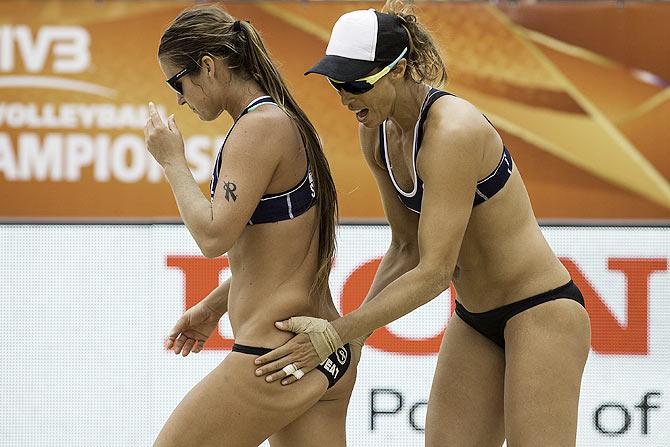 Take a look at images from events that caught our attention in the week gone by.
June 27, 2015
New racquet-wielding Federer says never felt better before Wimbledon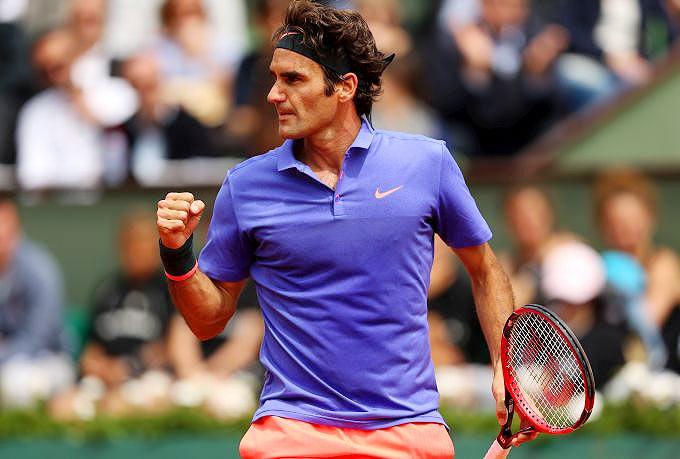 - 'It's probably been the best preparation I've ever had for Wimbledon because we have a week more on the grass'
Bencic stuns Radwanska in Eastbourne to claim maiden title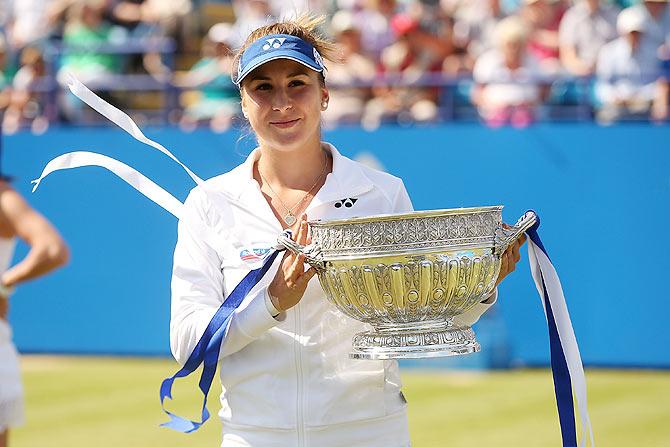 - At 18 years and 109 days, Bencic is the youngest player to win a premier-level title since Caroline Wozniacki won in New Haven almost seven years ago
Tennis beauties add zing to pre-Wimbeldon bash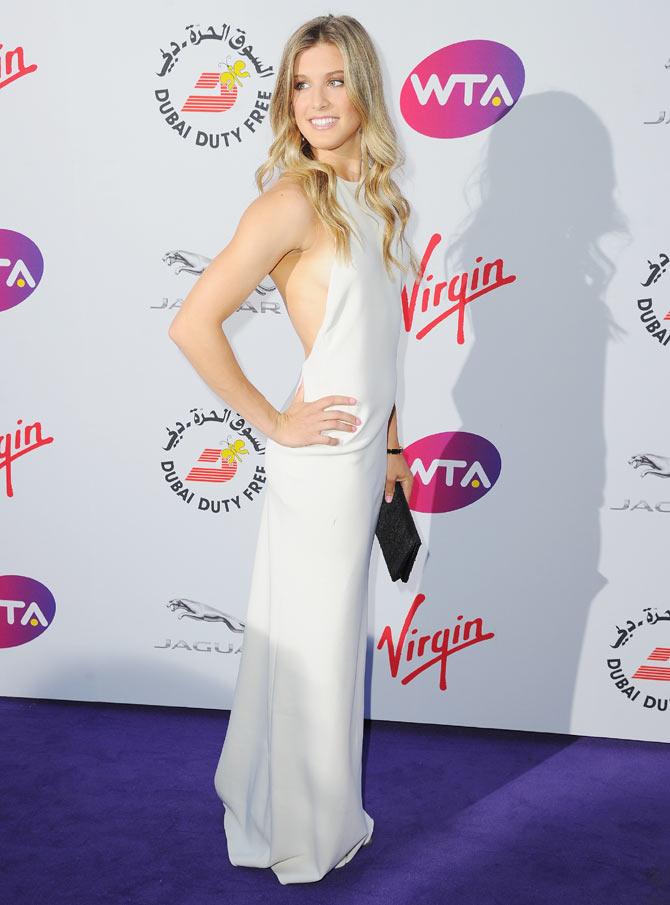 Rediff.com lets you into the party zone...
June 26, 2015
Satnam ready to rub shoulders with the cream of NBA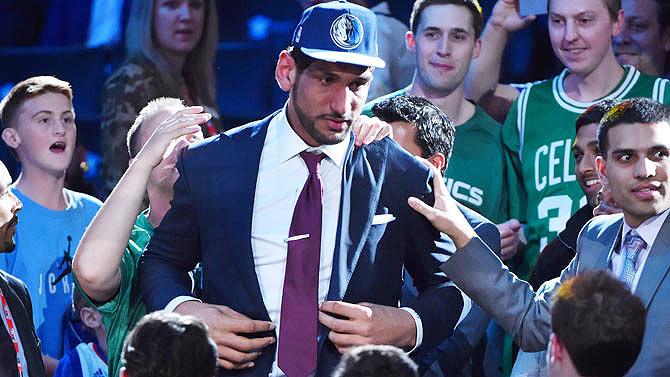 Following Satnam's historic draft into the Dallas Mavericks for the 2015 NBA season, the mystery of Satnam will hopefully be unravelled in the upcoming season.
Copa America PHOTOS: Guerrero hat-trick eases Peru into semis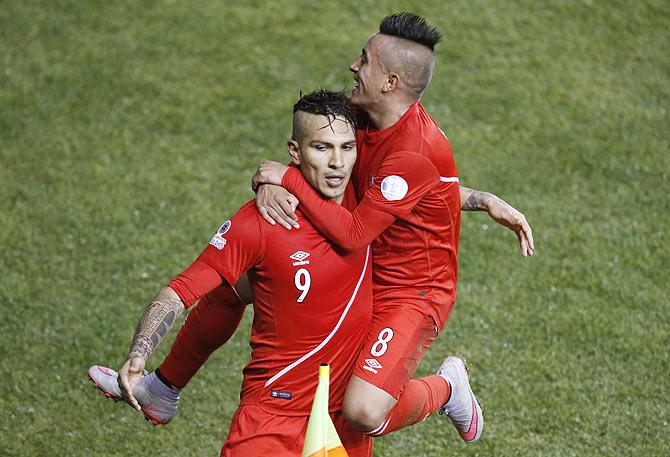 Peru striker Paolo Guerrero scored a hat-trick to give his side a comfortable 3-1 victory over Bolivia at the Copa America on Thursday, setting up a last-four showdown with hosts Chile.
PHOTOS: The life and times of the glamorous Sania Mirza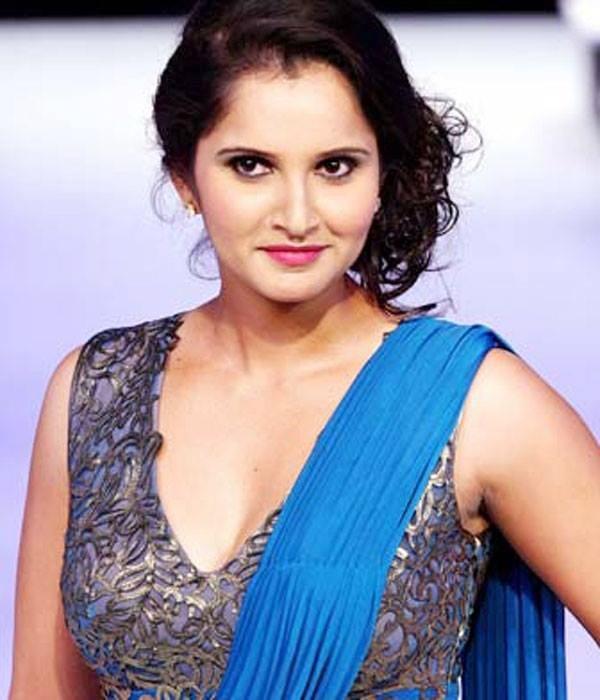 She has spunk, confidence, some naughtiness and lots of style. Meet Sania Mirza, off-court
June 24, 2015
AIFF's 'ingenious' idea to boost Indian football...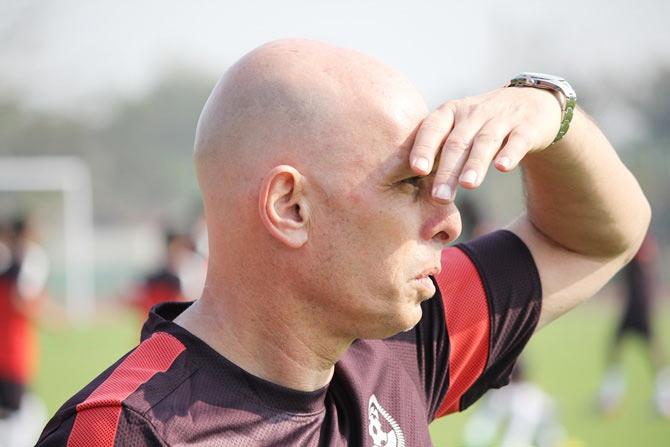 India FA eye origin players for short-term solution
June 23, 2015
Does Mandzukic's Juventus move mean Tevez on his way out?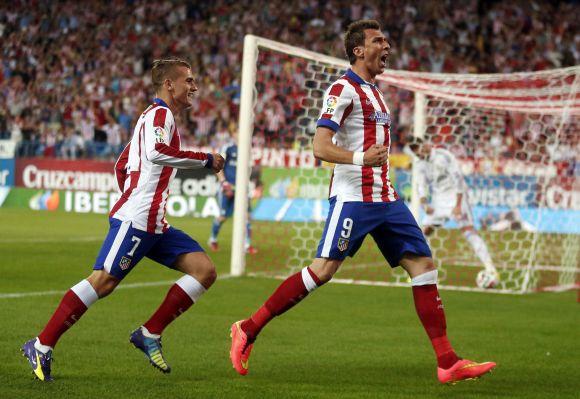 Mandzukic signing adds to the Serie A champs' big haul of strikers as Paul Pogba is targetted by Barca and PSG among other clubs
June 22, 2015
PHOTOS: Olympic champ Mary Kom celebrates International Yoga Day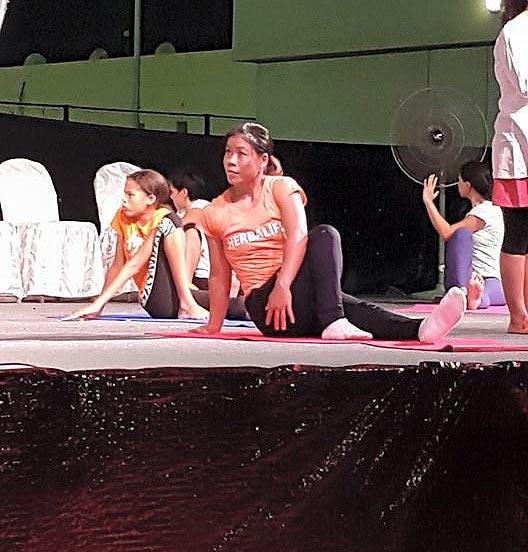 Among the hoards of Yoga enthusiasts who marked International Yoga Day on Sunday was India's Olympic boxing champ Mary Kom.
Mauresmo, Bjorkman's flair perfectly compliment Murray's skill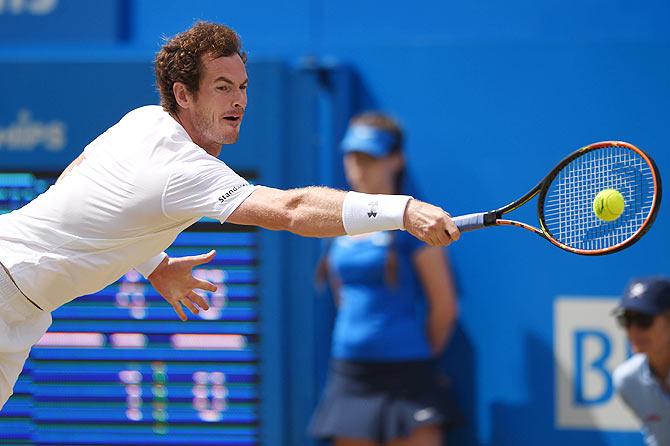 Andy Murray says he is playing better than when he won Wimbledon in 2013 and after the last few weeks, it would be no surprise if he repeats that historic feat next month.
I am a candidate for FIFA presidency, Maradona reveals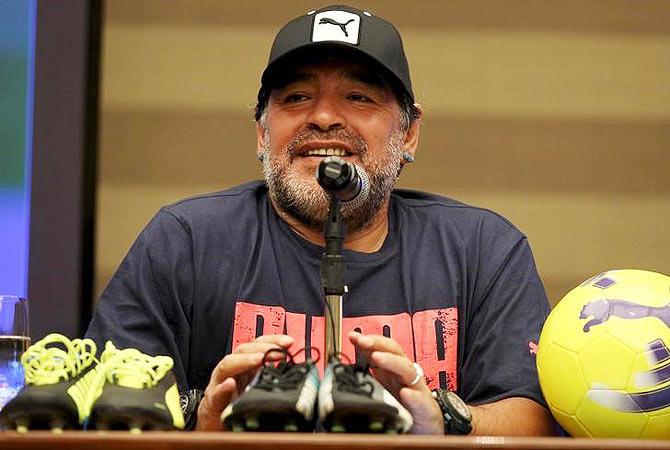 In a private chat with friend and author, Victor Hugo Morales, the Argentine football great revealed his nomination for the presidency of the global football body
June 19, 2015
World League Semifinals: Expect the unexpected from pressure-free India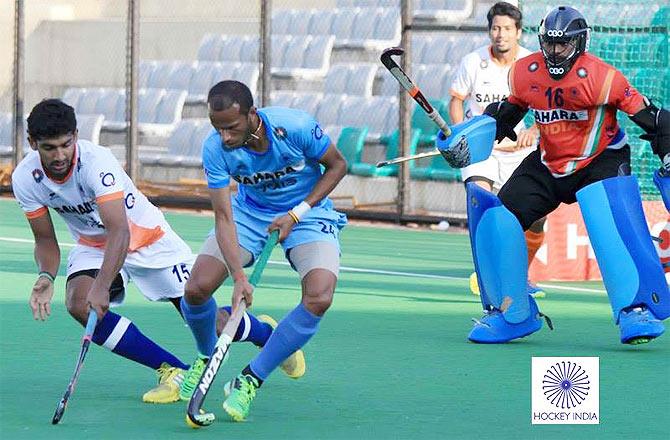 - 'I hope our training on creating early pressure will be evident when we go into the competition'
F1 is letting down fans and drivers, warns Webber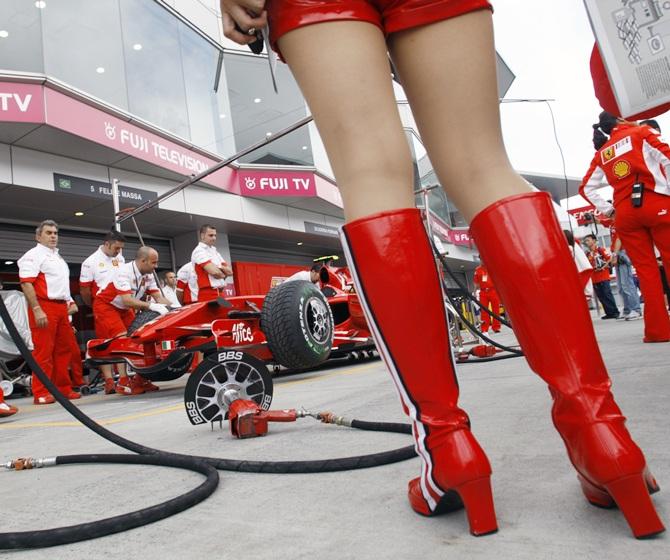 'I think we're disappointed with it as F1 fans...All the drivers that I'm talking with, we're disappointed with what's going on with the cars, the lap times, it's just not stimulating for the drivers'
For Serena Slam, there will have to be no lapses from Williams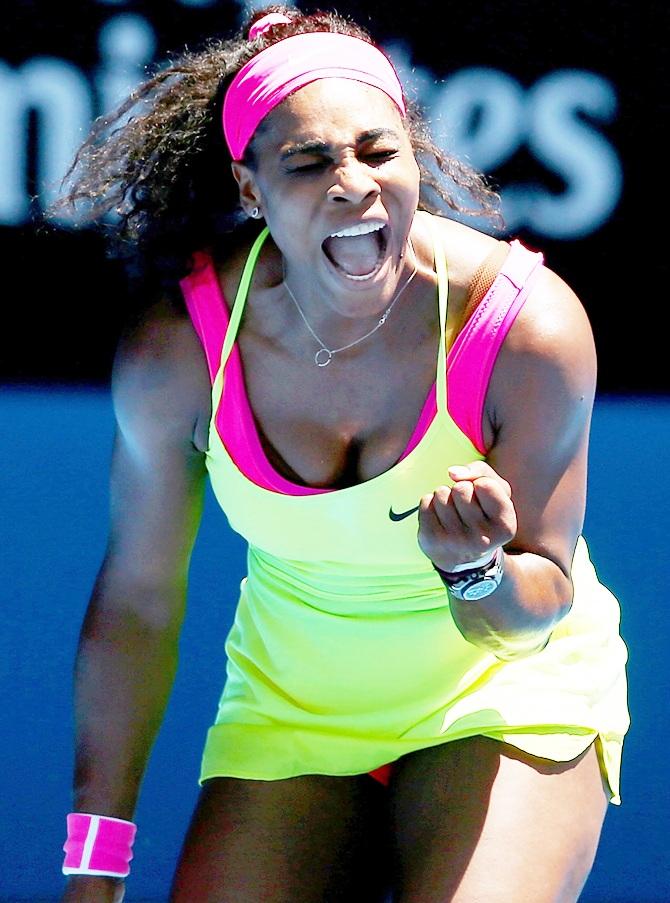 'Even though she's still playing arguably her best tennis, you have to wonder at a certain point how long that can keep up.'
June 17, 2015
Nadal positive despite Queen's setback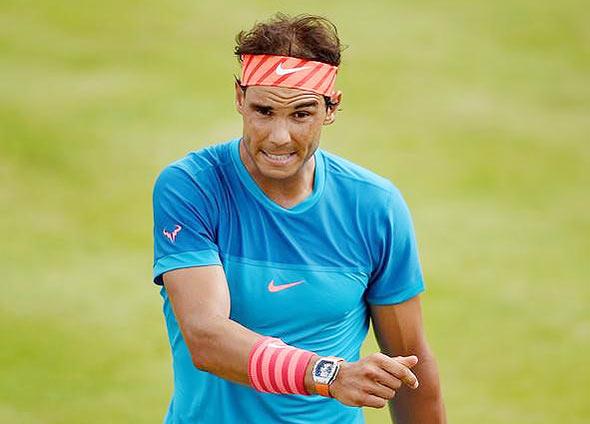 "There is nothing very negative. I won a tournament last week. This week I lost an opportunity, but, my feeling, my thoughts are no different today than yesterday.
Women's World Cup: US top 'group of death' after Wambach's goal record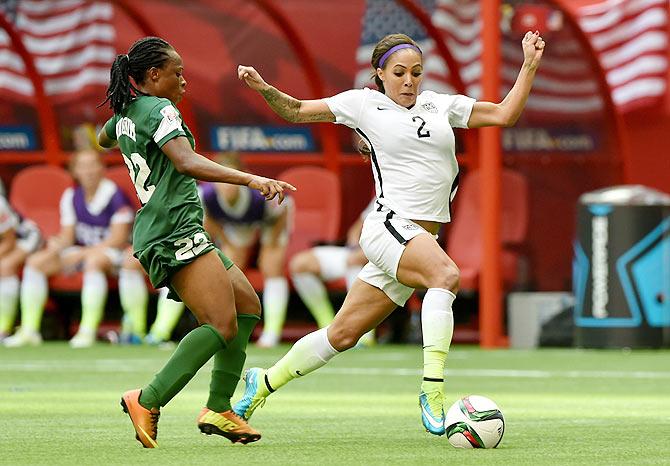 Having escaped the 'group of death', it is now do-or-die for the United States and Australia after advancing to the knockout round of the Women's World Cup on Tuesday.
PHOTOS: Warriors beat Cavaliers to clinch NBA title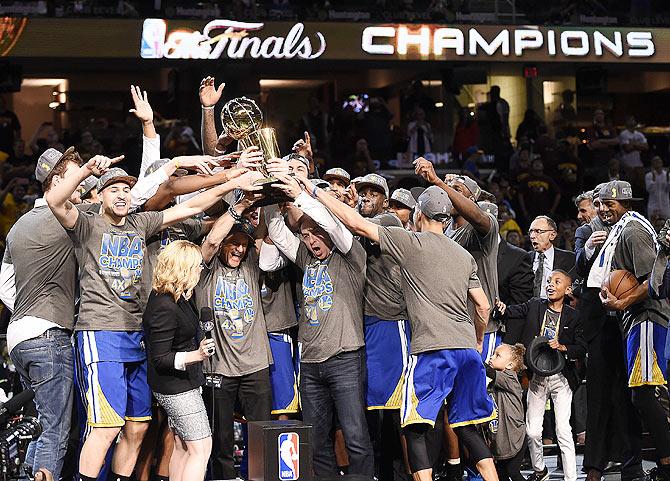 The Golden State Warriors beat LeBron James and the Cleveland Cavaliers 105-97 on Tuesday to win the NBA Finals for the first time in 40 years.
PHOTOS: Drama at Copa America as Messi embroiled in confrontation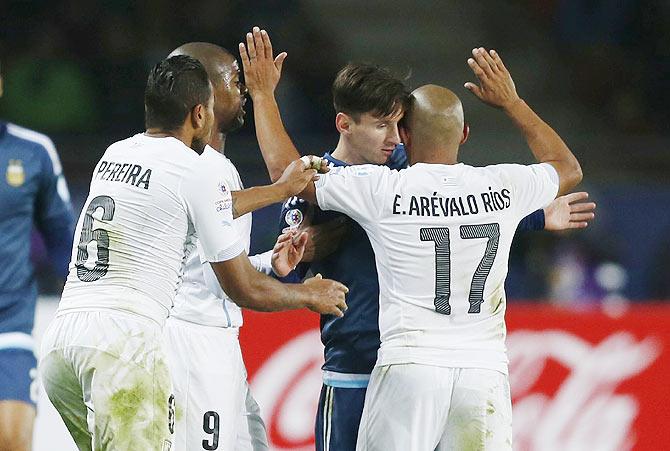 In the other match of the night, Jamaica 'keeper blunder hands Paraguay 1-0 win
June 16, 2015
Women's World Cup PHOTOS: Of dubious decisions and sideline showdowns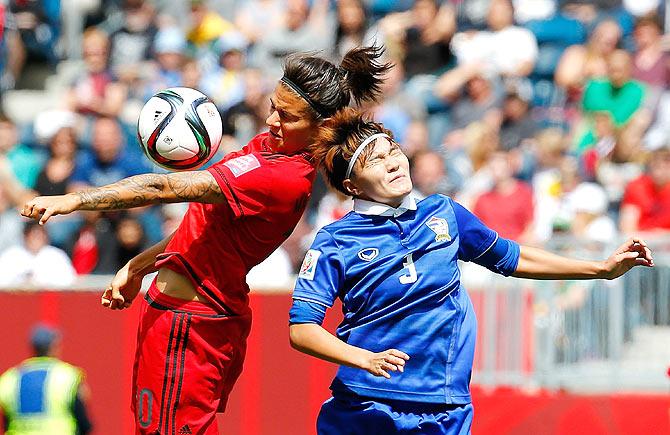 the game that made most news on the night was the drawn match between New Zealand and China.
Copa America PHOTOS: Chile draw 3-3 with Mexico in thriller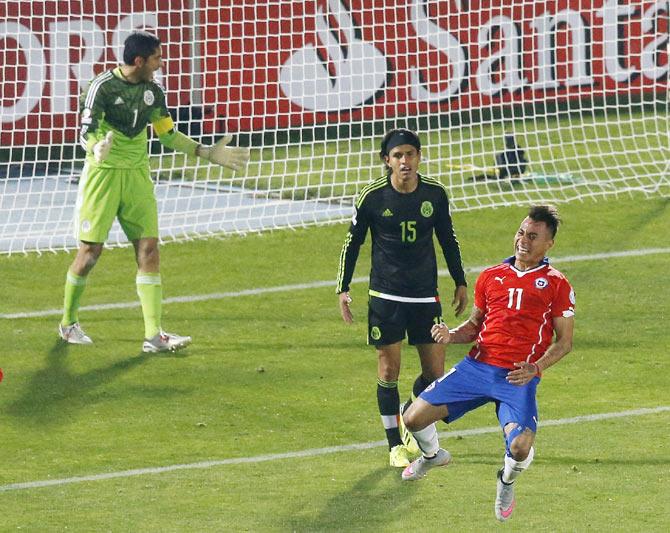 Mexican striker Matias Vuoso and Chile midfielder Arturo Vidal both scored twice in a game that roared from end to end and never let up in intensity.
Bad light halts Dimitrov match; Hewitt plays last match at Queen's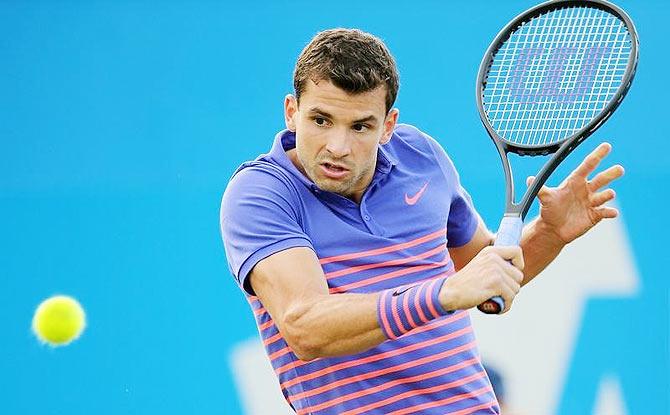 Photos from the Queen's Club tennis tournament played in London on Monday
June 15, 2015
The grass is finally looking greener for sharp Nadal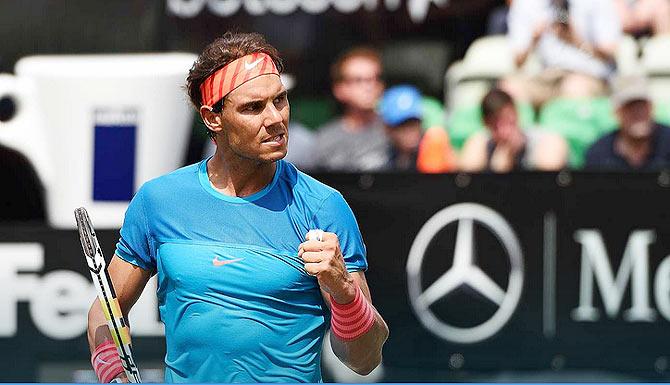 "At this point of the season for me, every victory is important, every title means a lot to me. This is not confidence for Wimbledon, this is an important victory for me and I'm happy for that today.
Euro qualifiers PHOTOS: Rooney closes in all England goal record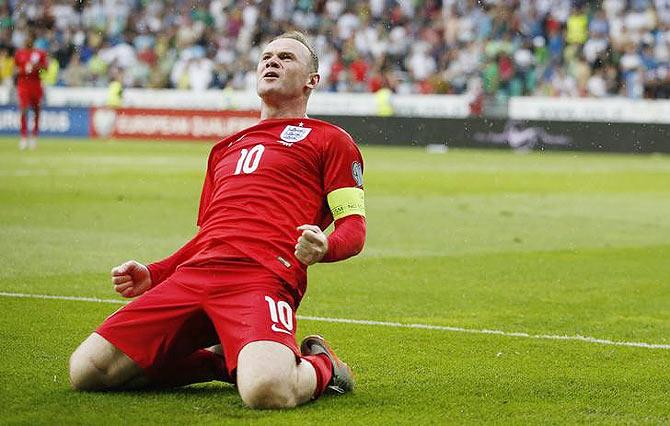 Photos from the Euro 2016 qualifying matches played on Sunday.
Copa America PHOTOS: Neymar stars for Brazil; Venezuela stun Colombia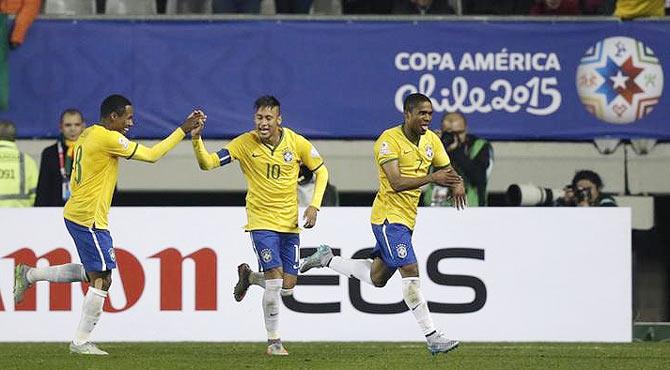 Substitute Costa slipped the ball past the keeper from close range in the 48th minute of the second half to break the deadlock and extend Brazil's winning run to 11 matches.
June 14, 2015
Women's World Cup: Brazil qualify for knockouts; France shocked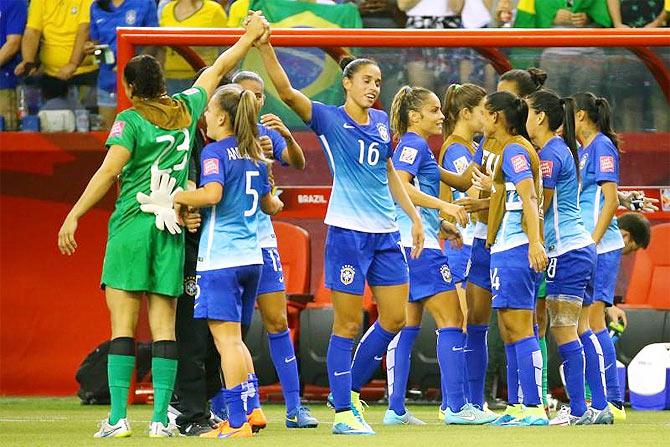 Brazil became the second team to qualify for the knockout round of the women's World Cup on Saturday and England picked up a big win, but France suffered a shock defeat that could make their life at the tournament tougher.
Euro qualifiers PHOTOS: Ronaldo tricks for 10-man Portugal; Germany win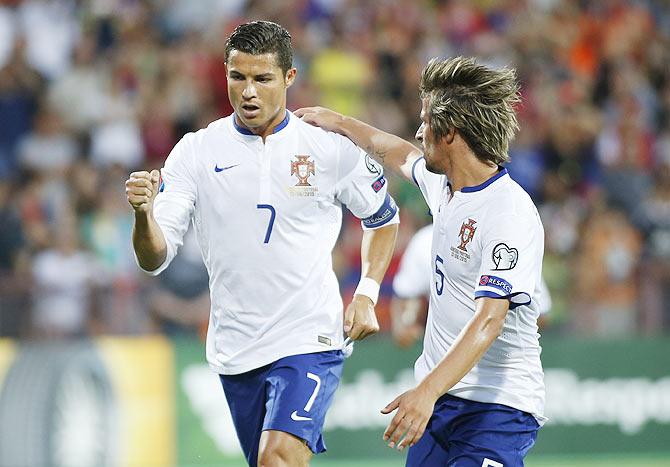 Schuerrle hits treble for the world champs; Lewandowski helps Poland thrash Georgia
June 12, 2015
Fun and games: Murray fails at NBA half-court challenge, Bale trumps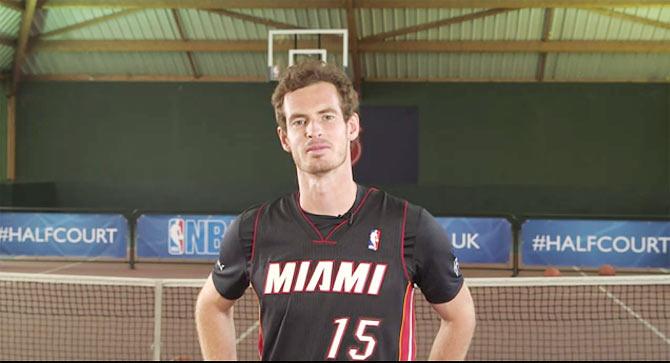 The half court challenge allows a player five attempts to make a basket from a distance of 47ft (half court).
June 10, 2015
Mondal to lead India against Oman in World Cup qualifier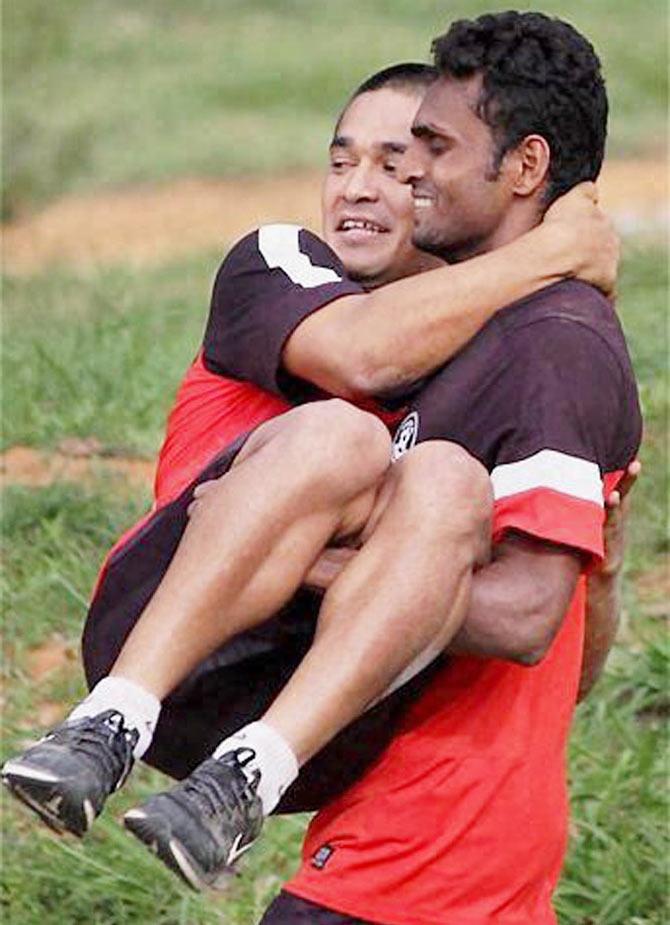 Women's FIFA World Cup: Brazil's Marta breaks goal record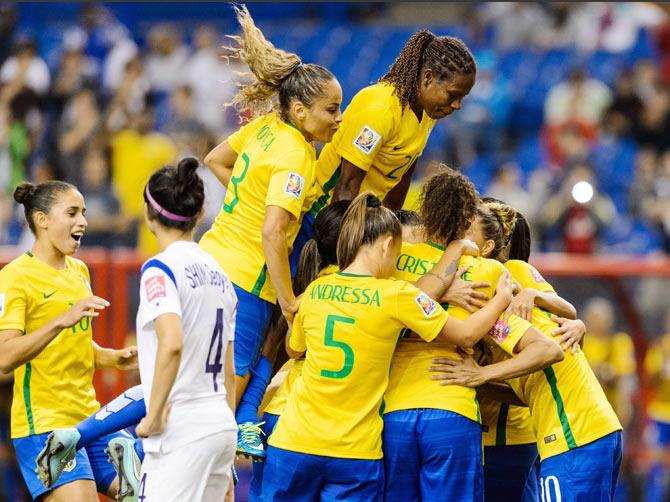 Marta became the all-time leading scorer at the women's World Cup on Tuesday as Brazil vaulted to the top of Group E with a 2-0 win over South Korea, while Eugenie Le Sommer's superb long-range strike gave France victory over England.
June 09, 2015
PHOTOS: African teams stamp their class at the FIFA Women's World Cup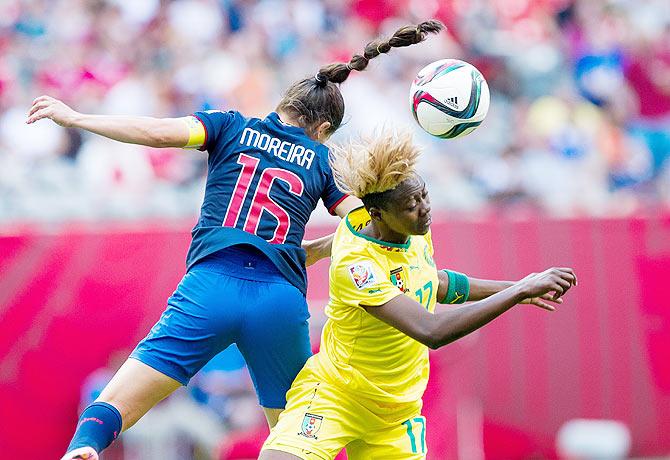 Cameroon overpower Ecuador; Nigeria score late to draw with Sweden
IOC's Bach warns FIFA of 'painful' reforms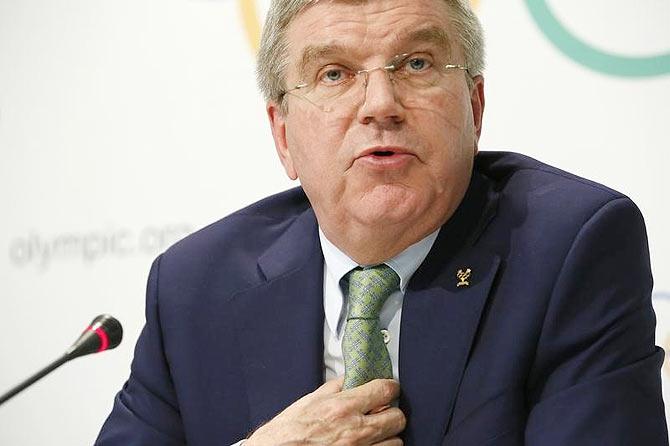 "We can only encourage FIFA to continue (with) the reforms which have been initiated, we cannot give detailed advice of what to do but we appreciate there is a readiness for reforms".
Out of Federer's shadow, Wawrinka scripts own legacy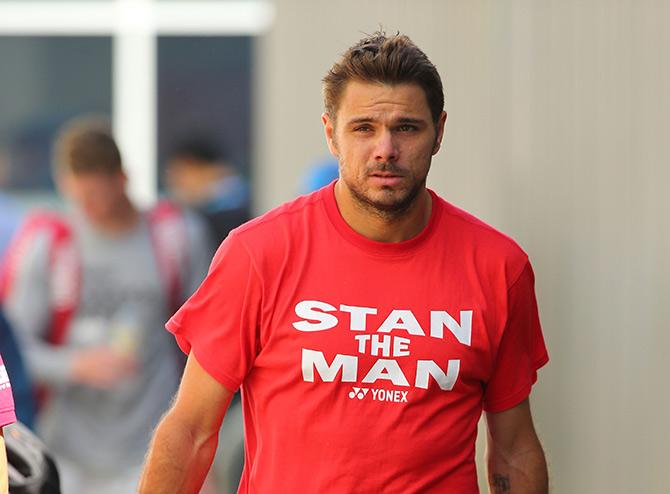 Bikash Mohapatra traces the rise of the Swiss, first man to win multiple Slams in the 'Big Four' era.
Wawrinka's backhand bullets burst Big Four's bubble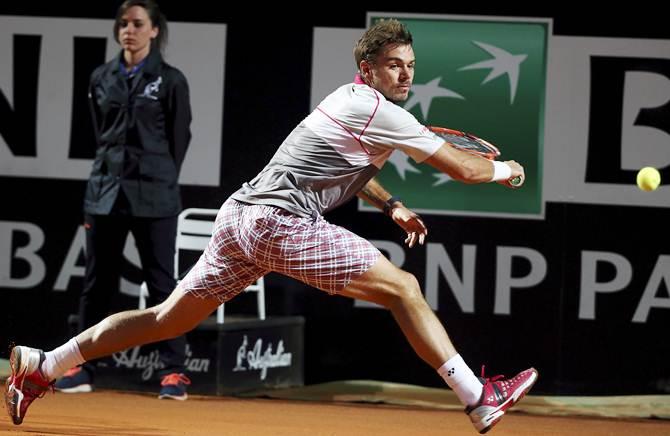 Stanislas Wawrinka and his wondrous one-handed backhand managed to pull off a feat no man outside tennis's Big Four had achieved in the past 40 Grand Slams -- to win two major titles
June 08, 2015
PHOTOS: Treble-winners Barca on top of the world!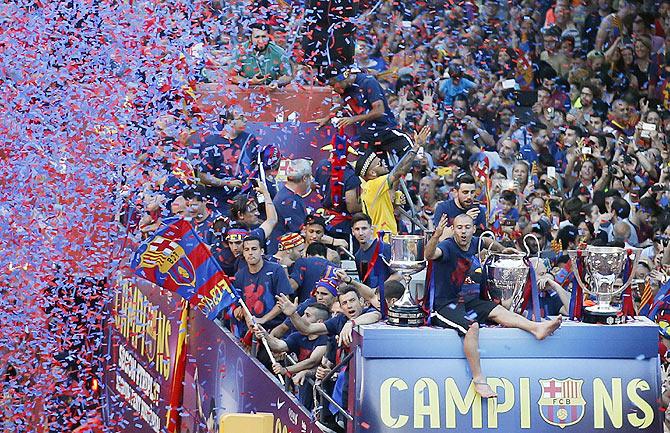 Rediff.com gives you a glimpse of the celebrations.
Wawrinka's crazy shorts to go right where they belong... in the museum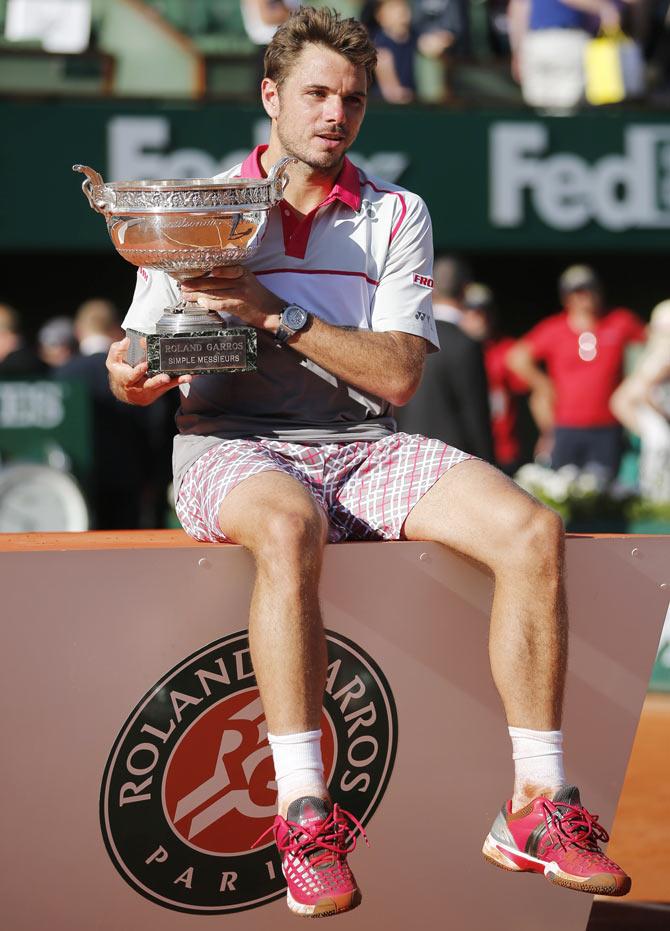 'Everybody talks about those shorts since I put them on. Apparently I'm the only one who likes it'
June 06, 2015
Wawrinka faces boos after beating local boy Tsonga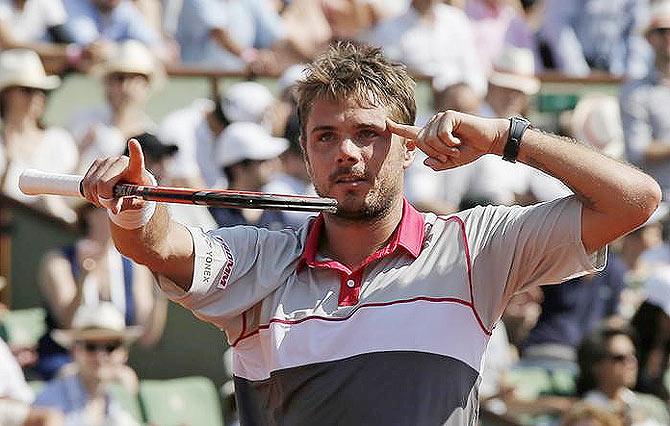 As if playing Novak Djokovic or Andy Murray in the French Open final was not a tough enough task, Stan Wawrinka will probably have to deal with a hostile Roland Garros crowd on Sunday.
Champions League final: Barca not getting carried away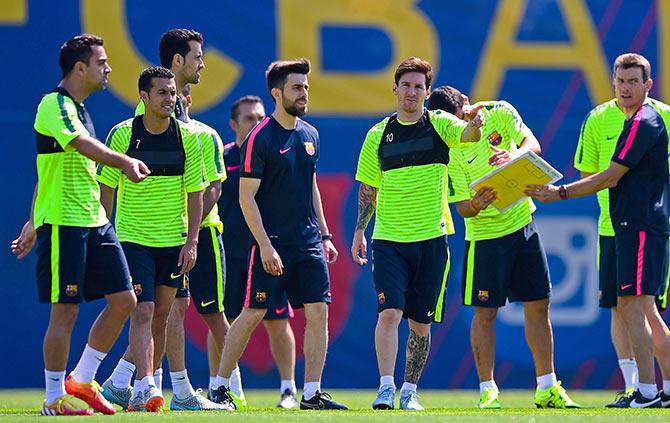 'We will need to have a good day to get past a rival of this magnitude'
June 05, 2015
Can Serena brave through illness to claim French Open crown?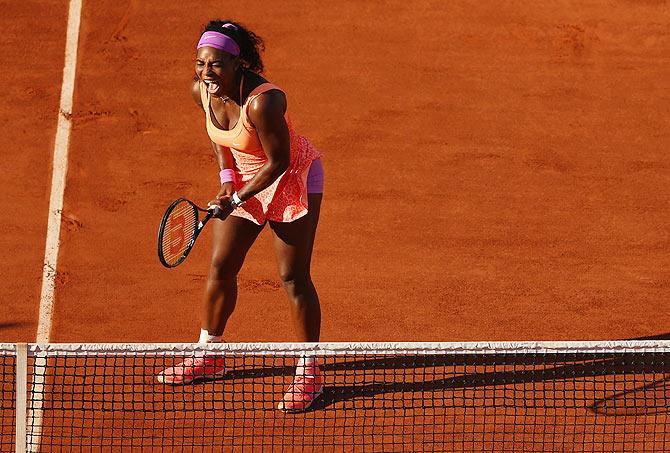 World No 1 Williams, 33, could not practise on Friday, still suffering from an illness that left her coughing and spluttering during her three-set semi-final win over Swiss Timea Bacsinszky.
June 04, 2015
Title-chasing Djokovic looks forward to Murray challenge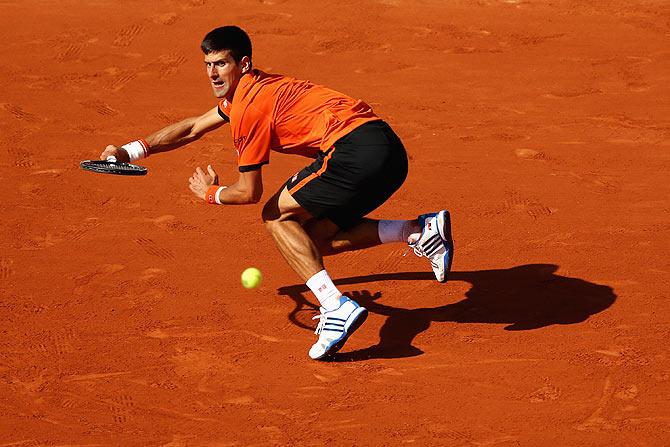 "But tomorrow is a new day and I have to move on. It's only the quarter-finals, and I want to fight for the title. That's what I came here for. I have to kind of direct my thoughts to the semis."
Cool Murray reverses fortunes against claycourt lover Ferrer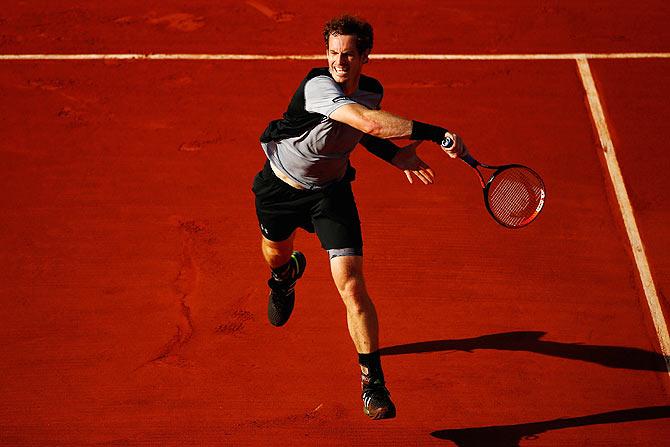 "And going into the match having not lost on clay this year and having some big wins on the surface is important for me. I will just keep doing what I have been doing."
June 03, 2015
I-League champions Mohun Bagan return home to grand reception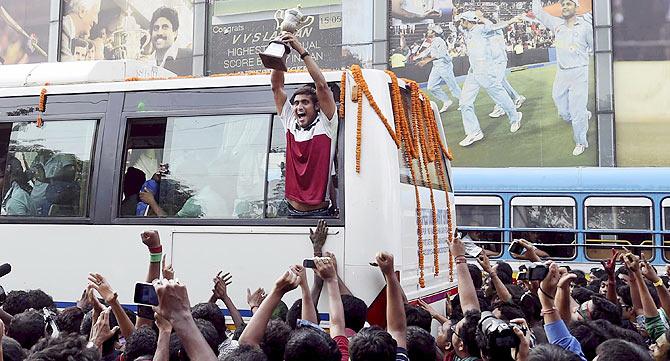 Images: Mohun Bagan get massive reception.
June 01, 2015
French Open PHOTOS: Sharapova ousted, Djokovic sets up Nadal clash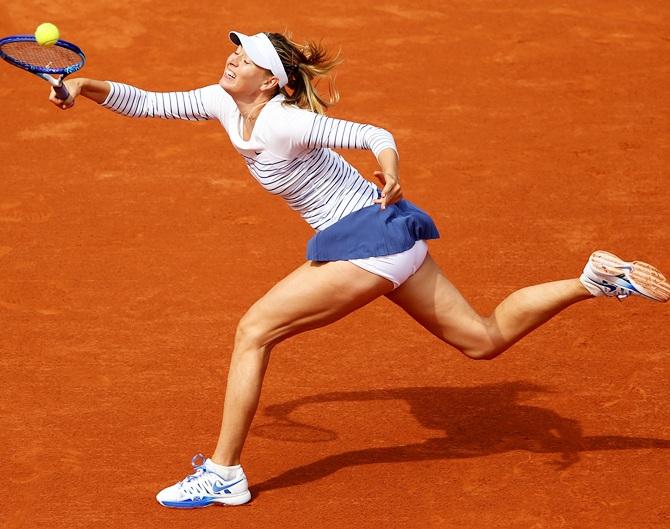 A summary of the matches from Day 9 at the French Open.
PIX: Golfer McIlroy walks hand-in-hand with girlfriend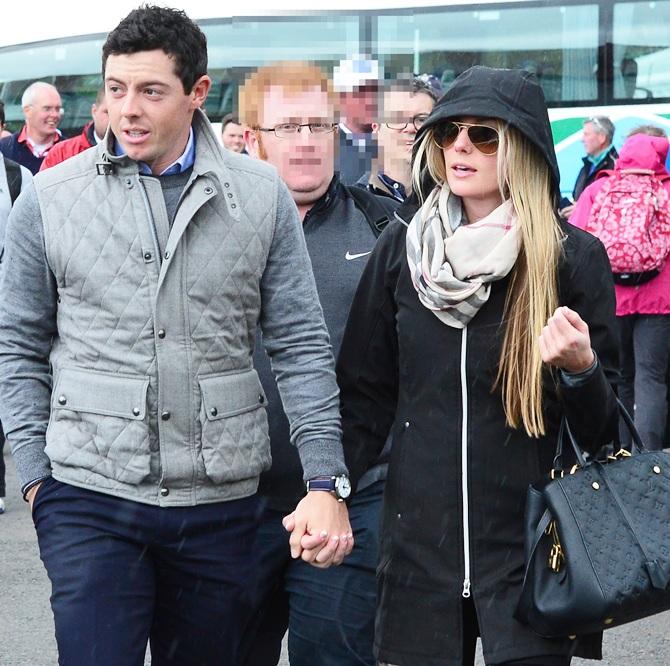 Star golfer Rory McIlroy revealed very happy in his love with new girlfriend Erica Stoll.
She is 92, a cancer survivor and she has now run into record books!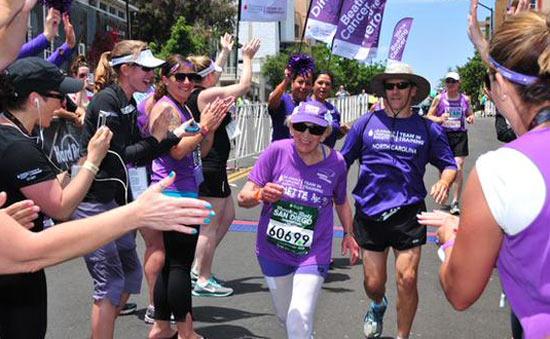 Harriette Thompson of Charlotte, North Carolina, completed Sunday's Rock 'n' Roll Marathon in San Diego in 7 hours, 24 minutes, 36 seconds. She was mobbed by well-wishers as she crossed the finish line, AP reported.
Milkha Singh hosts cast of Dil Dhadakne Do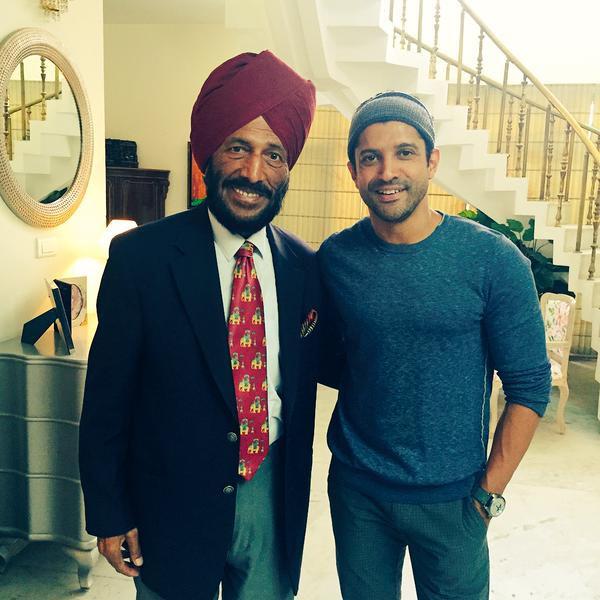 And, as promised, the film's star cast kept their date with the legendary athlete and posted pictures of their visit on Twitter.
Japan's Nishikori breaks 72 year record on Parisian clay!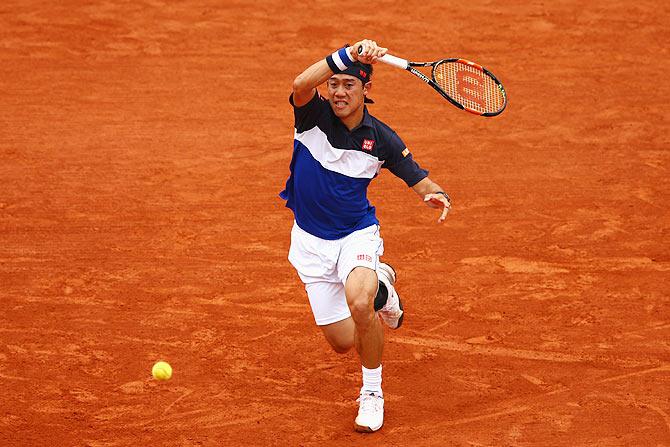 The fifth seed's success made it the first time a Japanese male player had reached the last eight at Roland Garros since Jiro Satoh made it to the semi-finals in 1931 and 1933.
EPL club Leicester City's players in racist sex tape row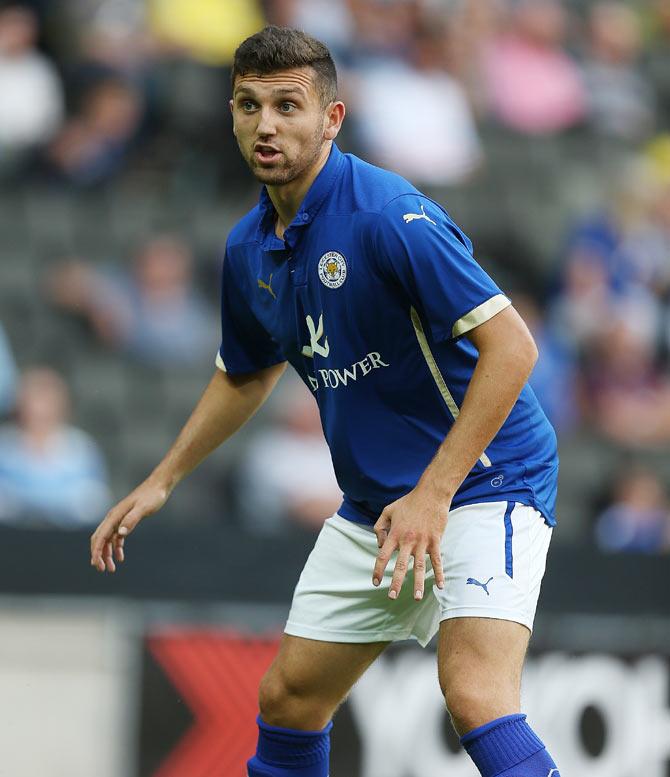 "Tom Hopper, James Pearson and Adam Smith would like to convey their sincere apologies for their behaviour -- to the women involved in the incident, to the club and its owners, to the club's fans and to their families," a club statement said.
Serie A: Lazio survive missed penalty to take Champions League spot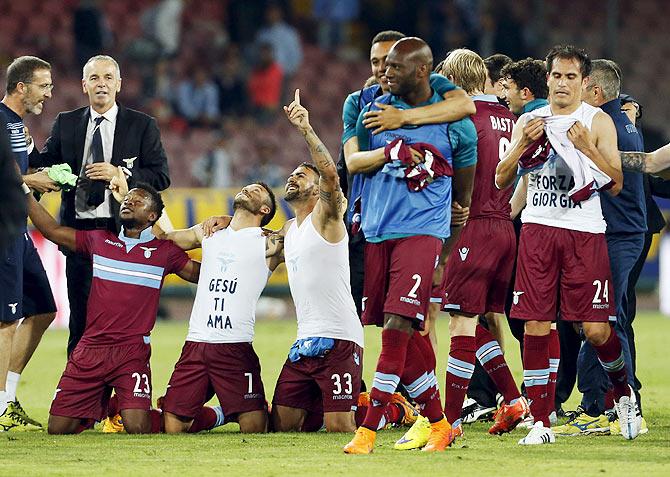 Lazio survived a storming Napoli fight back, including a missed penalty, as they won 4-2 on Sunday to finish third in Serie A and qualify for the Champions League playoff round after both teams finished with 10 men.
Meet Chelsea's iron man John Terry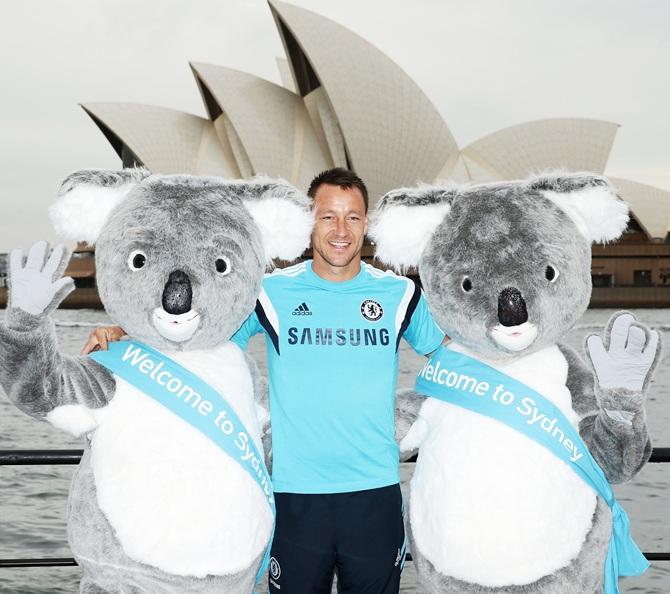 Terry is clearly delighted to have been reunited since with Portuguese Jose Mourinho, under whose guidance he has won three of the four Premier League winners' medals he owns.
May 29, 2015
US led FIFA probe should not harm expected 2026 bid: analysts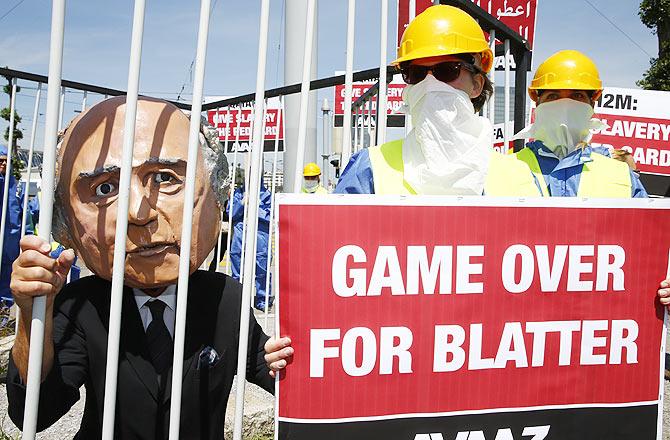 America's chances of hosting the 2026 World Cup are not likely to be hurt by a US led corruption investigation that has ensnared key figures in FIFA, world soccer's governing body, analysts said on Thursday.
PHOTOS: Groin no problem for Djokovic as good friend Ibra watches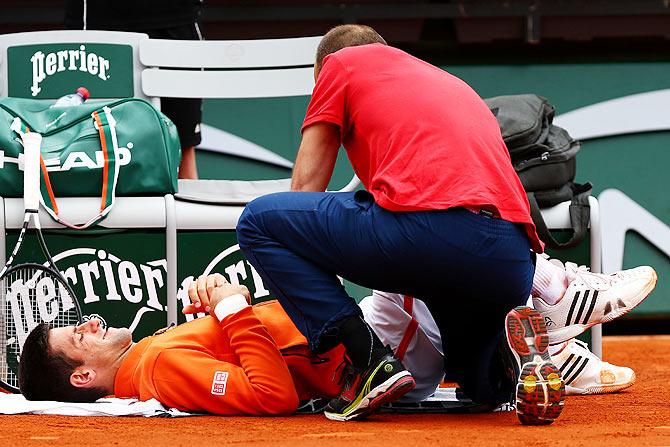 World No 1 Novak Djokovic's had to take a medical timeout before completing a 6-1, 6-4, 6-4 dominating win over Luxembourg's Gilles Muller at Roland Garros on Thursday.
'Blatter right man for FIFA top job'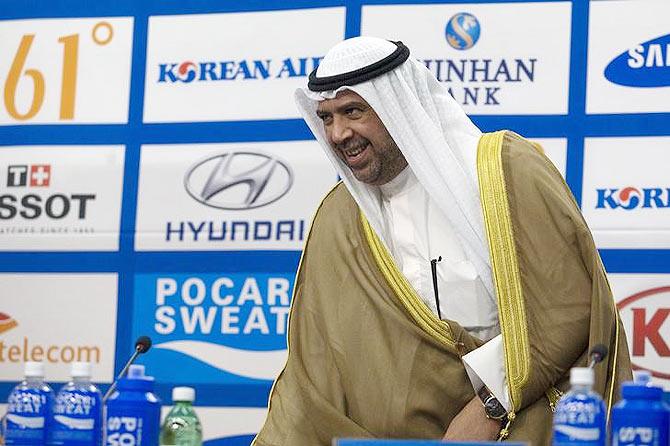 - 'FIFA should have a leader with a lot of experience'
Canada, US will not support Blatter for FIFA presidency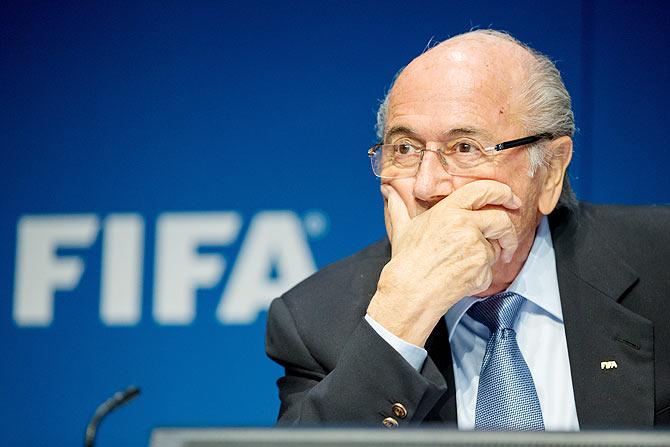 Canada, which is hosting the 2015 FIFA Women's World Cup, will not support incumbent Sepp Blatter in Friday's presidential vote at the FIFA Congress, the head of the Canadian Soccer Association said on Thursday on his official Twitter account.
When a seed of doubt crept into 'unprofessional' Serena's mind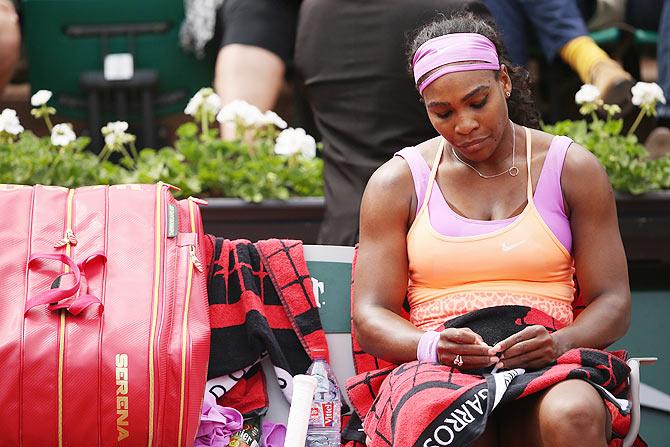 Defeat is never an option for Serena Williams, but the World No 1 came close to an embarrassing second-round exit at the French Open after an 'unprofessional' display on Thursday.
Heysel 1985: Football's forgotten tragedy remembered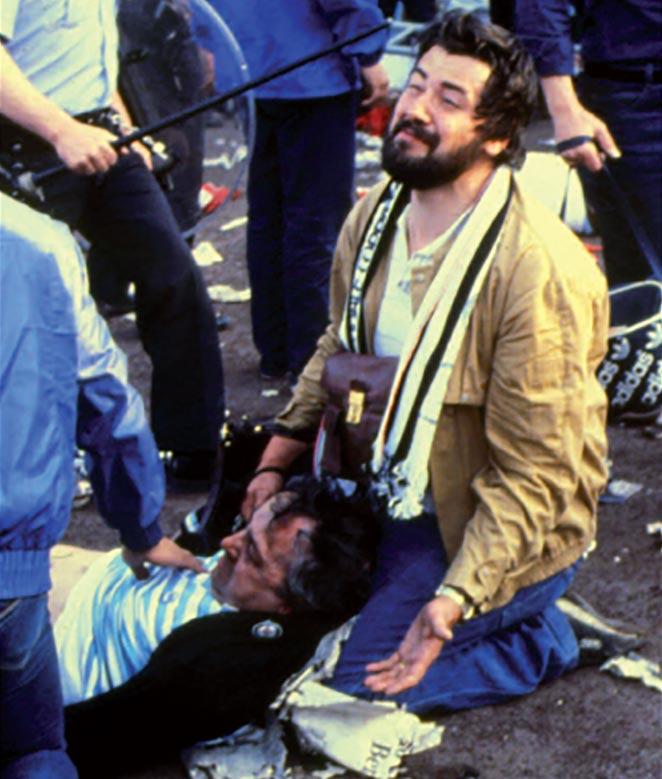 On the 30th anniversary of the football tragedy, Rediff.com's Bikash Mohapatra, in an exclusive interaction with Italian author Francesco Caremani, discusses the incident that affected so many people, including himself.
May 28, 2015
Proud Basques Bilbao eyeing King's Cup upset against Barca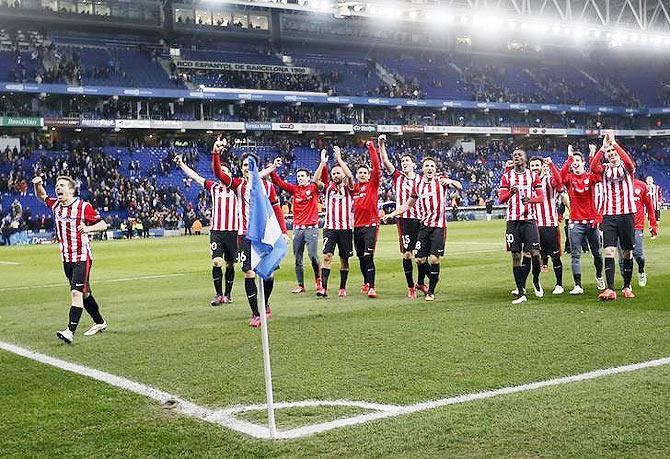 Athletic Bilbao have proudly resisted pressure to abandon their policy of only recruiting players of Basque origin, making it all the more impressive that they are the club standing between Barcelona and a record-extending 27th King's Cup.
Soccer sponsors dismayed by FIFA corruption allegations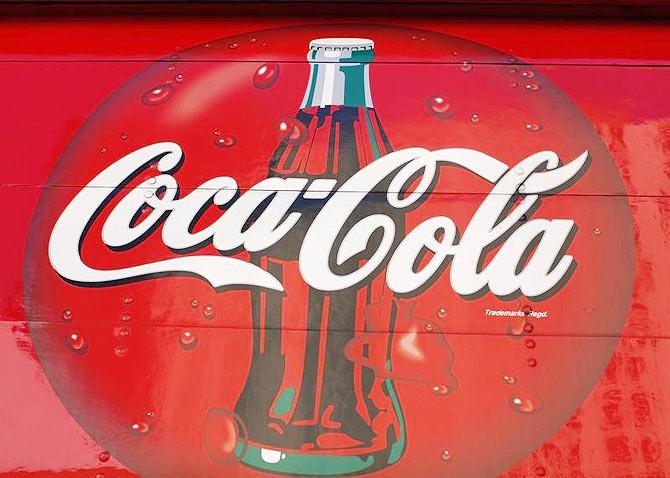 World Cup sponsors are in an awkward position, experts said, because they are under pressure from consumers to distance themselves from any corruption, but such sponsorships are lucrative in the long term.
Brazil businessman lynchpin in FIFA corruption scam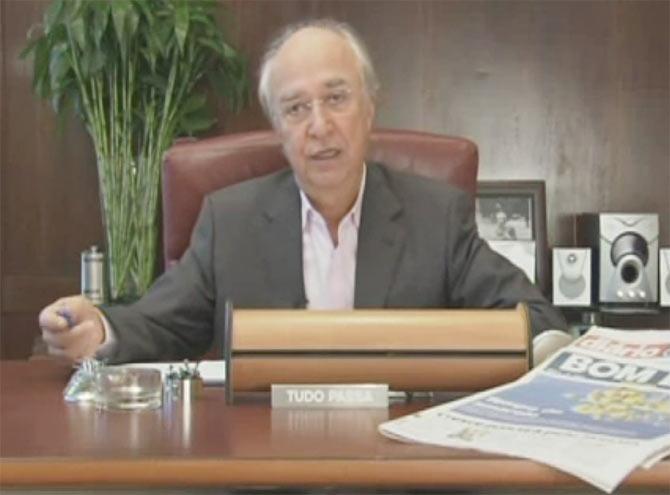 In an indictment released by the Department of Justice on Wednesday, Hawilla was one of four convicted defendants who helped US investigators build their case against 14 top global soccer officials and sports marketing executives accused of orchestrating more than $150 million in bribes and kickbacks.
Time for Blatter to go, says former FIFA official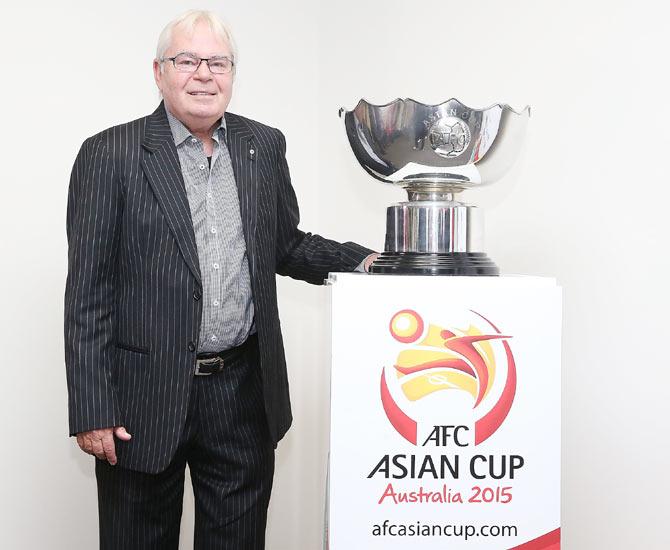 'The stigma that FIFA is a corrupt body has to be erased once and for all. One fears that will not happen until Sepp Blatter goes'
PHOTOS: Bacca brace helps Sevilla clinch Europa League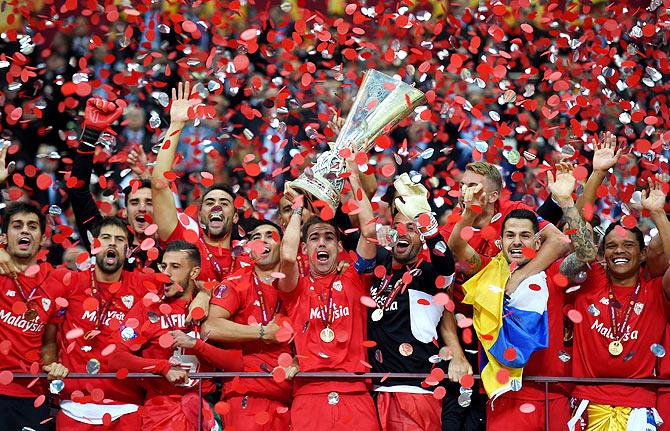 Carlos Bacca claimed the plaudits with a superb double strike, including a late winner to decide a pulsating clash that began at a hair-raising pace with four goals in the first half.
Maradona delights in FIFA scandal; backs Prince Hussein for top job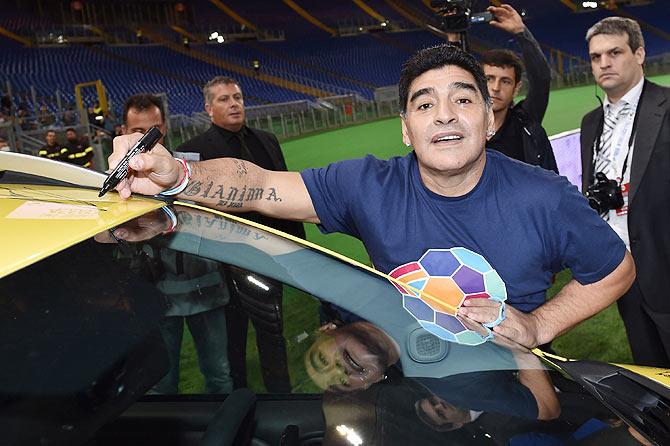 Diego Maradona, one of soccer's most gifted players, said he was "enjoying" the spectacle of several of the world governing body's top officials charged with corruption after US and Swiss authorities announced investigations on Wednesday.
Federer not worried who is in the chair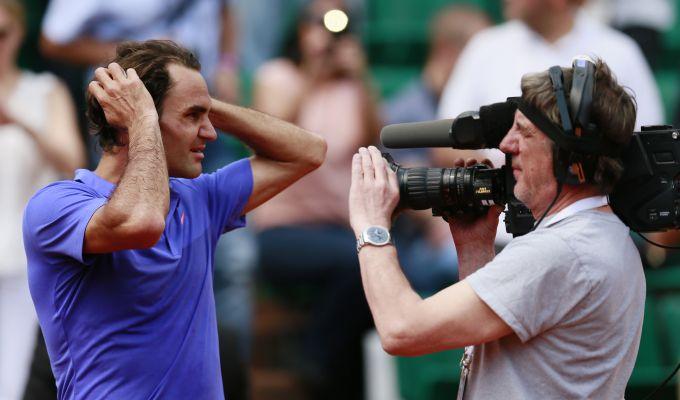 Roger Federer does not fret about who umpires his matches and said on Wednesday all players should be treated equally by officials, whatever their ranking.
May 27, 2015
FIFA: Swiss open criminal proceedings tied to 2018, 2022 World Cup bids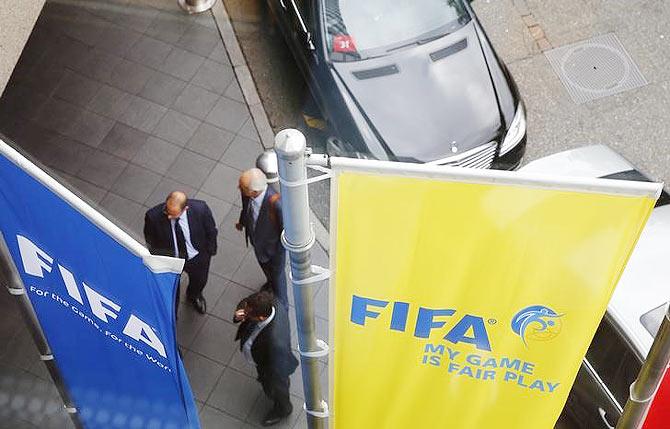 Swiss authorities have opened criminal proceedings against individuals on suspicion of mismanagement and money laundering related to the allocation of the 2018 and 2022 FIFA soccer World Cups in Russia and Qatar.
Here's why McEnroe deems French Open schedule too long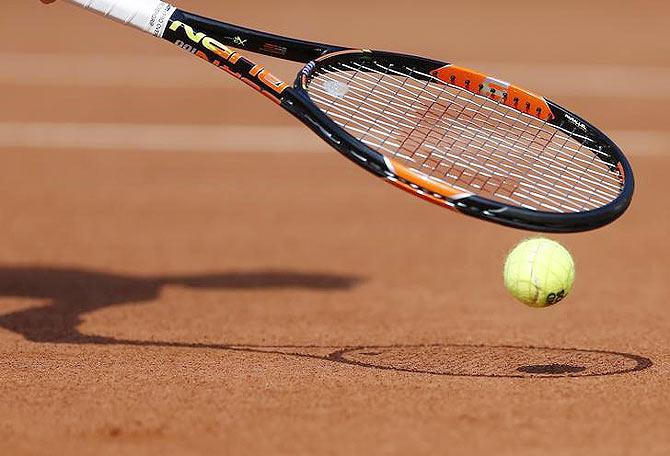 "Think of it from a players' perspective. Some are hoping to reach the second week of a major but some don't even make it to the first week of the event. That's tough to take.
May 25, 2015
PHOTOS: WAGS, kids join Chelsea players in celebrating EPL title win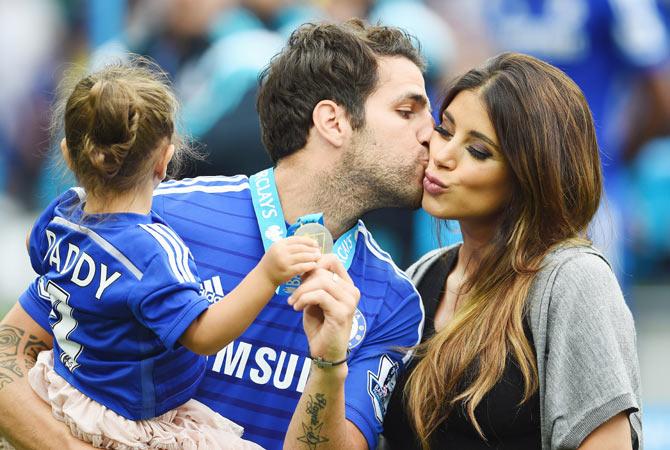 On the final day of matches in the English Premier League, Chelsea, who finished the season with 87 points after beating Sunderland 3-1 at Stamford Bridge on Sunday, lifted the trophy on Sunday.
French Open PHOTOS: Sharapova, Murray, Berdych storm into 2nd round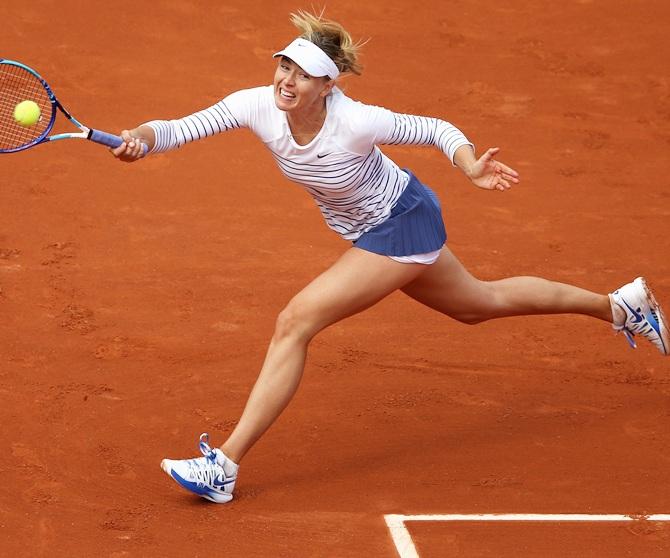 Czech fourth seed Tomas Berdych bulldozed his way into the second round of the French Open by thrashing Japanese qualifier Yoshihito Nishioka 6-0, 7-5, 6-3 on Monday.
Coach wants more international events for boxers as Thapa wins gold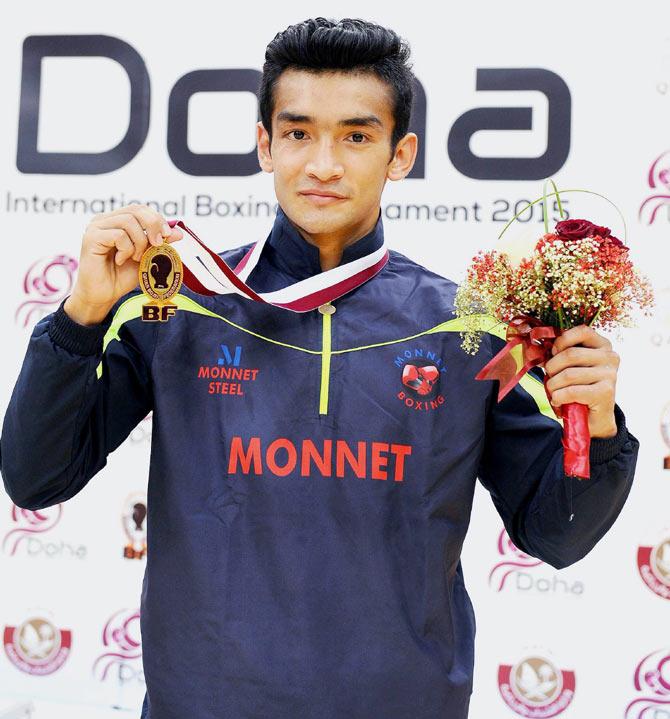 Impressed by India's performance at the Doha International Tournament, Aussie boxers want exchange programme with India, claims coach Gurbax Singh Sandhu
Drogba challenges new Chelsea team to emulate class of 2005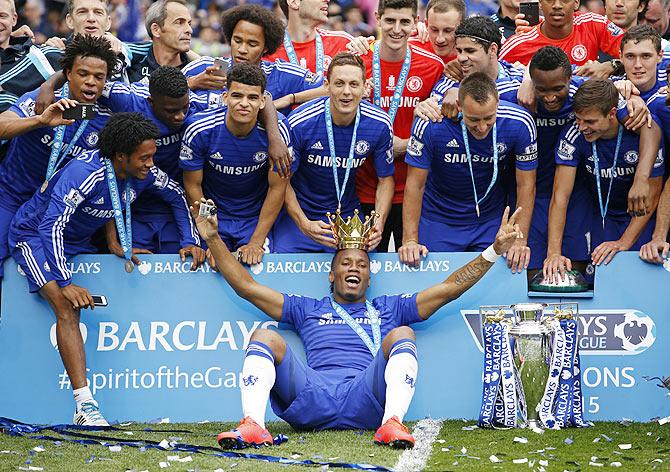 The departing Didier Drogba threw down the gauntlet to the young Chelsea squad on Sunday as he led Premier League celebrations at Stamford Bridge, telling them they had to win more titles to stand comparison with the class of 2005.
EPL: Gerrard farewell comes with Liverpool's worst loss in 52 years!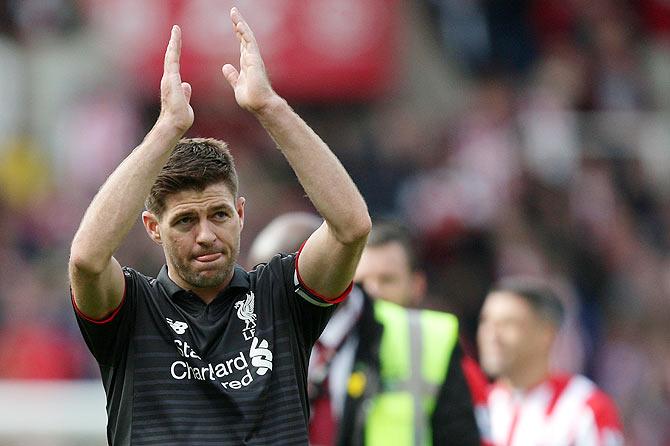 Another English football legend, Frank Lampard bid goodbye with a goal for Manchester City on final day of the season
May 24, 2015
PHOTOS: Cheers and tears as champs Barca give Xavi emotional send-off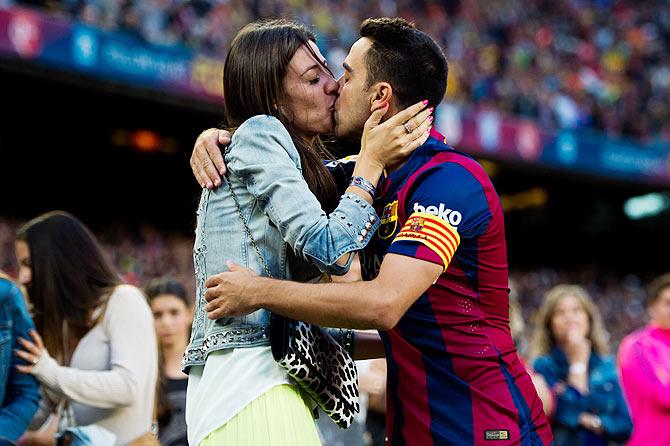 It was a night of mixed emotions at the Camp Nou on Saturday as FC Barcelona's veteran midfielder and captain, Xavi, known for his slick short passes, played his final La Liga match against Deportivo la Coruna.
French Open PHOTOS: Federer breezes through first round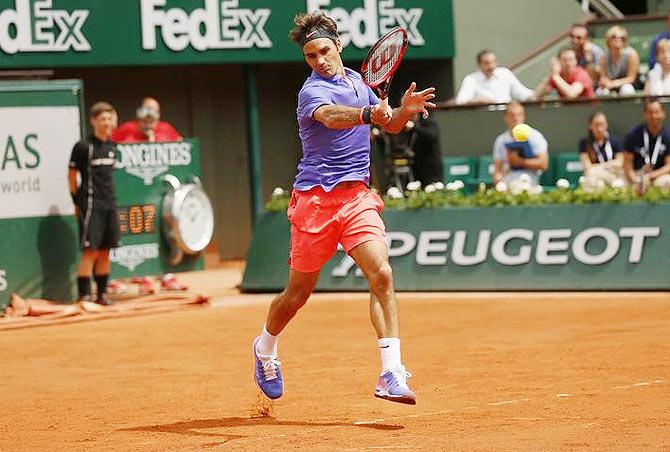 Images from Day 1 of the French Open matches played at Roland Garros on Sunday
Ronaldo tweets his support to under-fire Real Madrid coach Ancelotti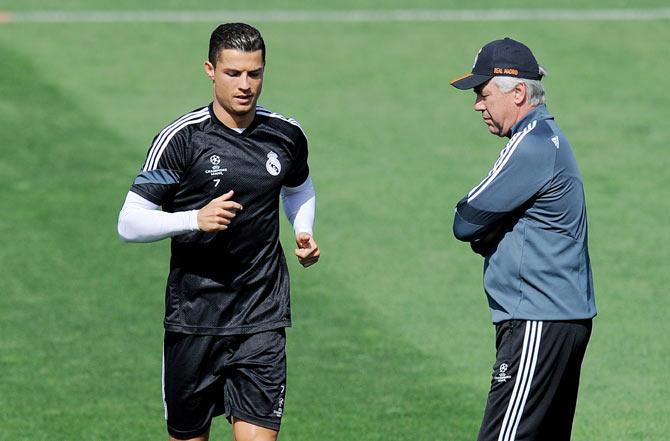 Real Madrid top scorer Cristiano Ronaldo has signalled strong support for coach Carlo Ancelotti and sent a clear message to club president Florentino Perez that he does not want the Italian to be sacked.
La Liga PHOTOS: Ronaldo smashes hat-trick; Atletico stay third on table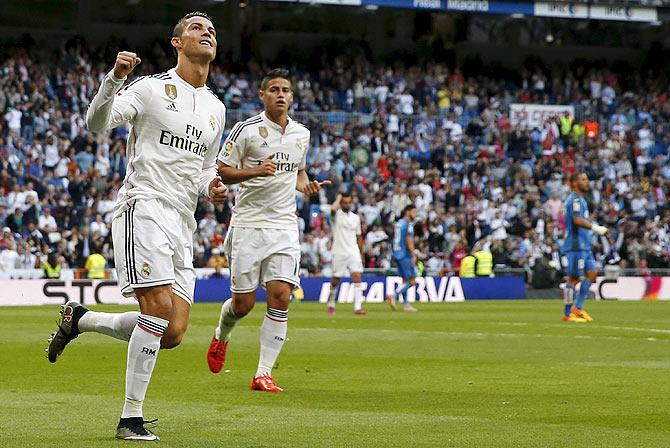 Atletico Madrid secured a berth in the Champions League group stage for next season and Deportivo La Coruna narrowly escaped relegation when they came from two goals down to draw 2-2 at champions Barcelona on the final day in La Liga on Saturday.
PHOTOS: 'Irreplaceable Xavi is one of a kind'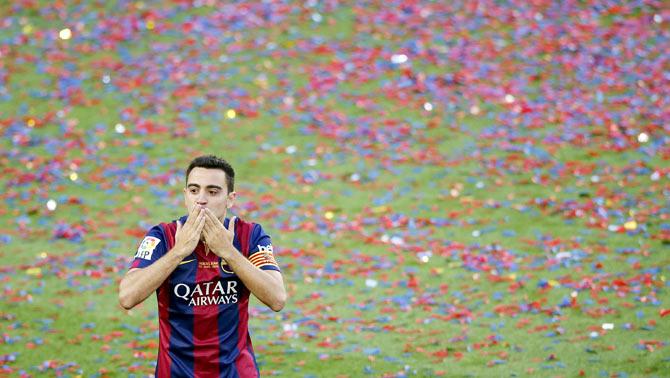 FC Barcelona's midfield magician and the architect of tiki-taka football gets emotional farewell
May 22, 2015
One match to go, but Chelsea's champion players are already partying!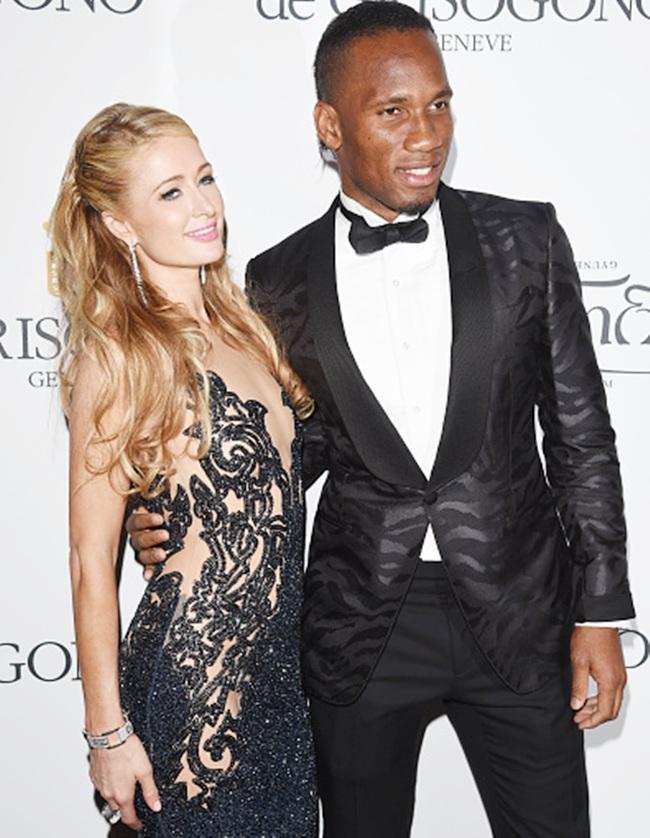 Chelsea won the English Premier League earlier this month with three games to spare. And the players tried to make maximum out of the situation.
McEnroe dissects problems in Nadal's game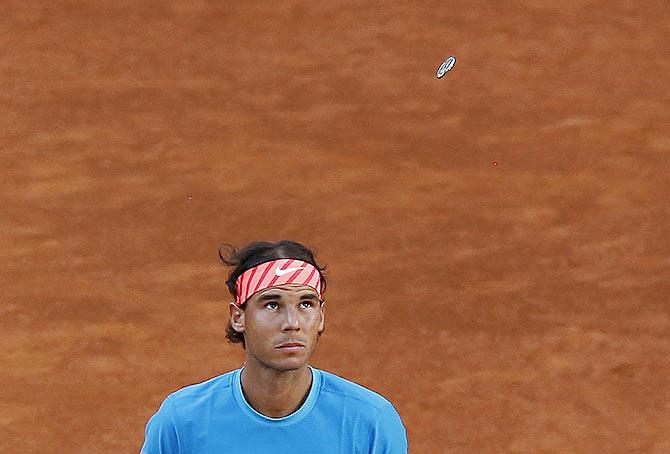 Seven-times Grand Slam John McEnroe knows how it feels when a tennis career starts going in the wrong direction.
Hope floats for Bianchi family as F1 returns to Monaco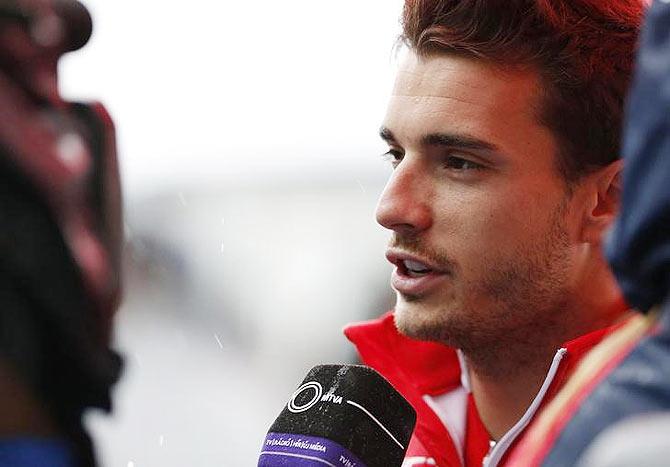 Jules Bianchi, who went into a coma after suffering brain injuries in a horrific crash in Japan last October, recorded his first points for Marussia at the Monaco GP last season.
Detractors must unite to oust Blatter: Van Praag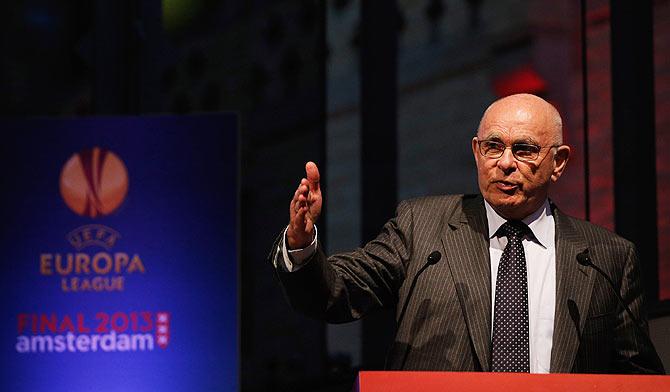 'It is impossible that FIFA moves on with its current presidency'
More withdrawals leave Blatter favourite to retain FIFA top job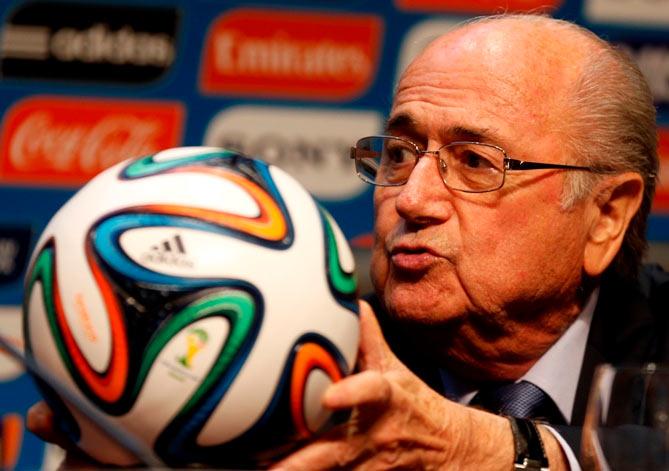 "Does anyone think it's normal that one of the candidates doesn't even bother to present an election manifesto that can be voted on May 29."
May 21, 2015
Qatar still failing migrant workers: Amnesty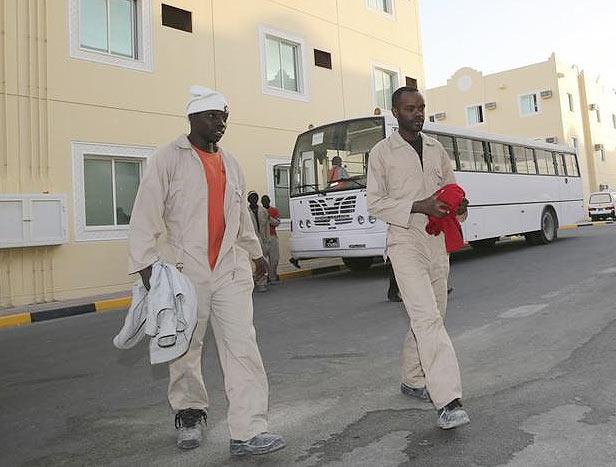 Qatar, host nation of the 2022 World Cup, is still doing little to improve conditions for migrant workers despite promising reform last year, Amnesty International said on Wednesday.
Can Figo pull off upset win in FIFA presidentilal polls?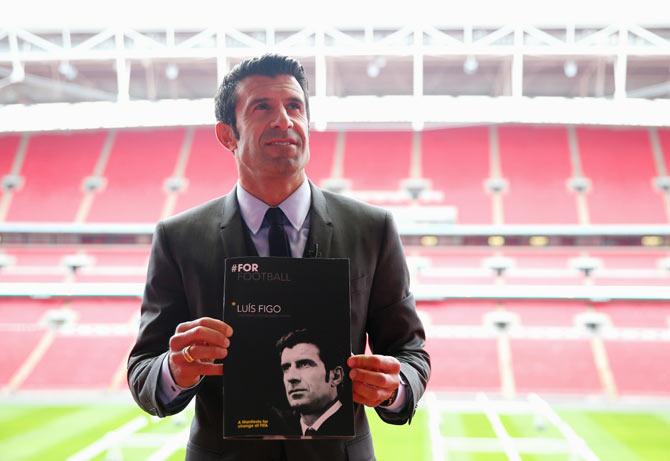 Luis Figo was one of the most talented, successful and exciting players of his generation, leading Portugal to a series of impressive performances which put many bigger countries to shame.
Tricky forty-five minutes that could change world football's fate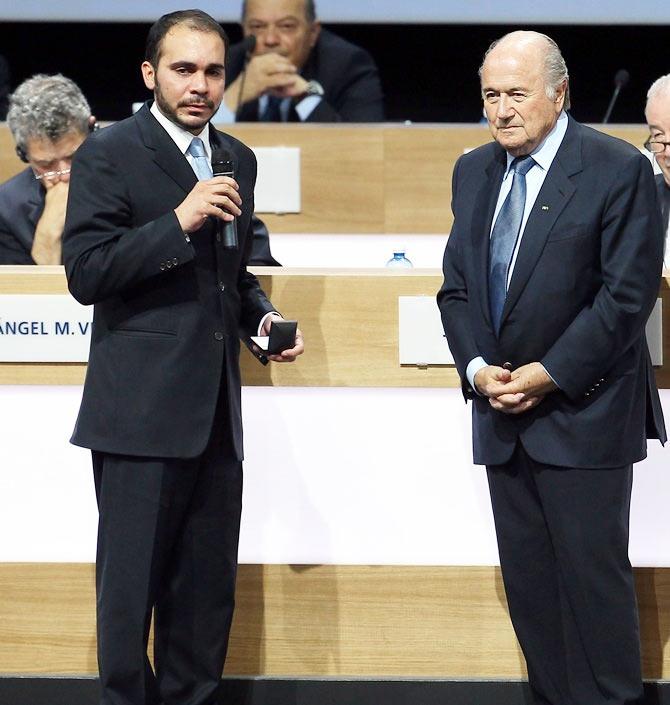 When Sepp Blatter is not comparing FIFA to a boat in calm or choppy waters he often uses football analogies to illustrate his point so it might amuse him to think he faces a tricky 45 minutes at this month's Congress.
PHOTOS: Super-sub Matri strikes to help Juventus win Italian cup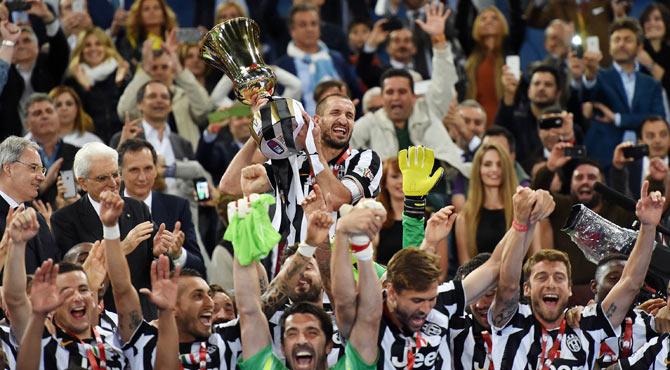 Substitute Alessandro Matri was the unlikely hero when he scored an extra-time winner to give Juventus a 2-1 win over Lazio in the Coppa Italia final on Wednesday, keeping them on course for the treble.
EPL PHOTOS: Sunderland eke out draw at Arsenal, avoid relegation threat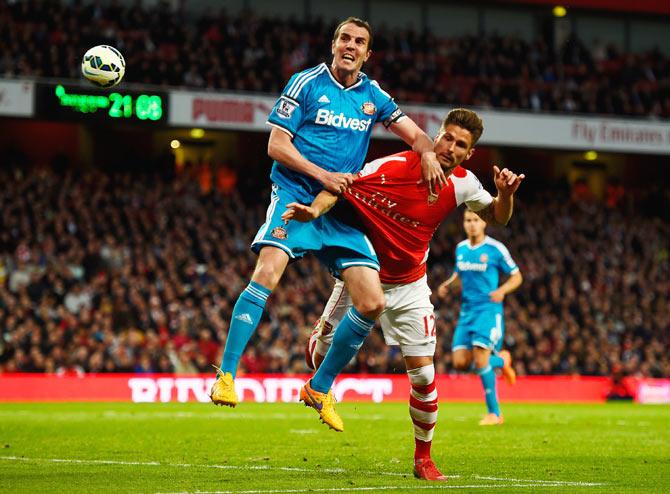 The battle to avoid relegation is now a straight shootout between Hull City and 17th-place Newcastle United, who are two points better off heading into Sunday's final round.
May 20, 2015
Hamilton extends Mercedes stay until 2018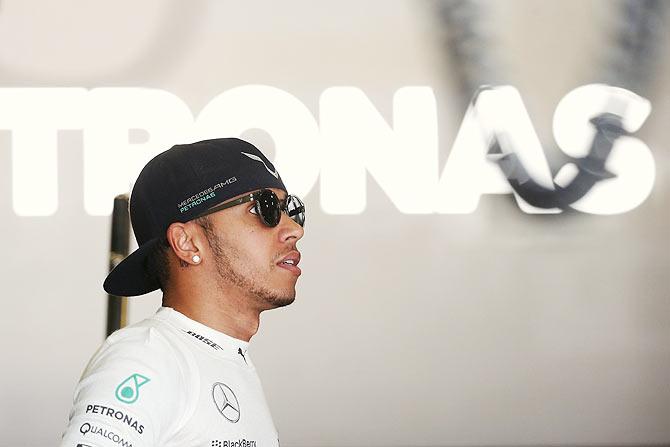 Double Formula One world champion Lewis Hamilton has agreed a new three-year contract that will keep him at Mercedes until the end of 2018, the team announced on Wednesday.
Barca's midfield magician Xavi to bid adieu to boyhood club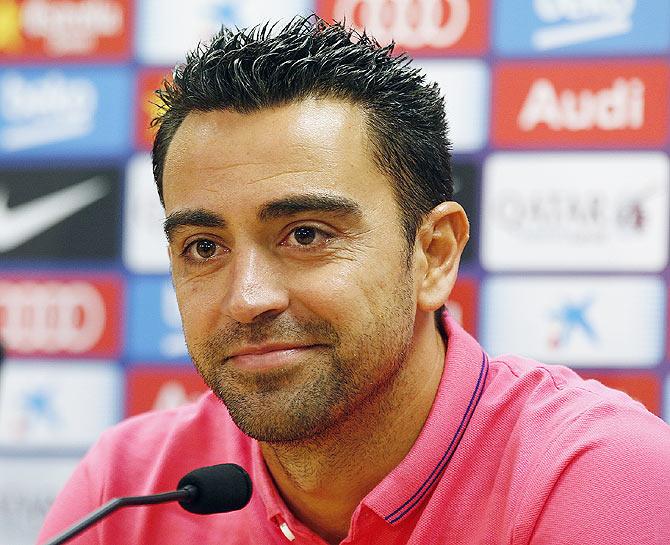 Barcelona midfielder Xavi will announce on Thursday he is leaving the club he joined as an 11-year-old to sign a lucrative three-year deal with Qatari side Al Sadd, his agent told Reuters on Wednesday.
May 18, 2015
Ancelotti's future in balance as another title slips from Real's grasp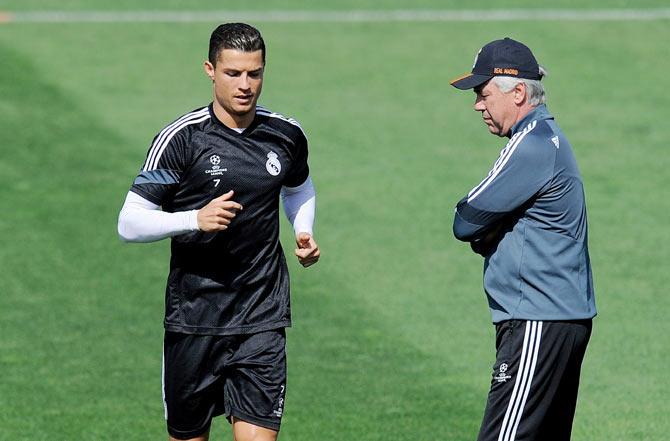 If there is one lesson Real Madrid coach Carlo Ancelotti has learned during his two seasons in Spain it is that resting on your laurels is not an option at the world's richest club by income.
Rewind: How Barca tightened their grip on the title over the season...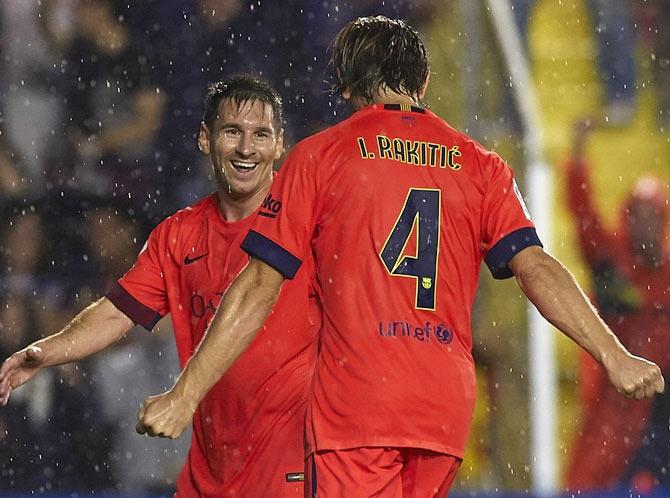 PHOTOS: Barca players let their hair down after 23rd La Liga title win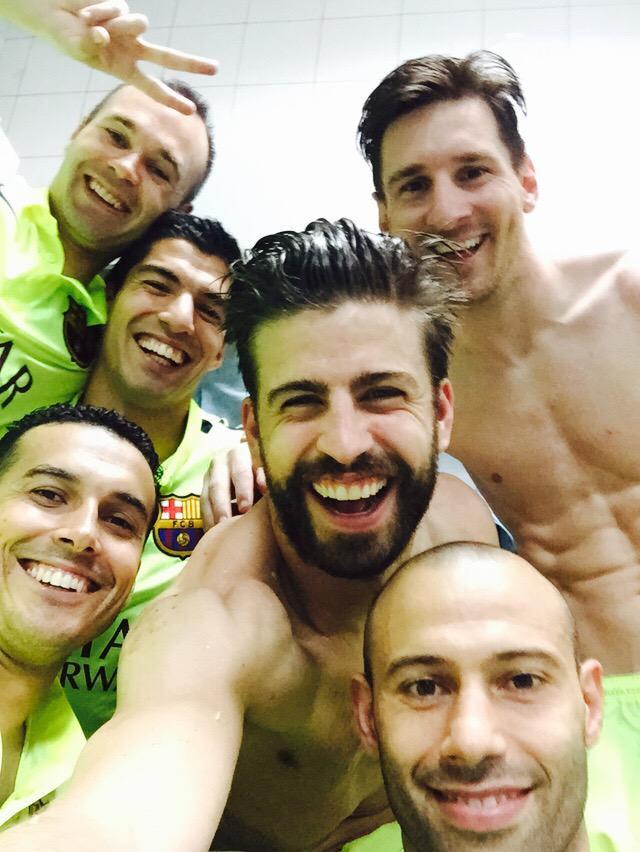 Spain's footballing giants, FC Barcelona won their 23rd La Liga crown after defeating Atletico Madrid 1-0 on Sunday. And after winning, what was their fifth title in seven years, the Barca players let their hair down and celebrated in style at the Vincent Calderon stadium.
Enrique wins fans and the La Liga crown on Barca return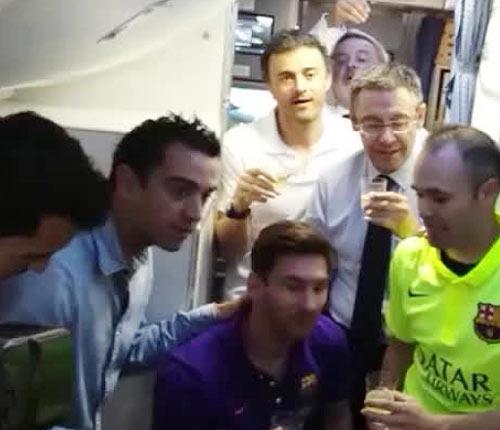 The enduring image of Luis Enrique for many soccer fans is the Spain player with blood gushing from his nose after a vicious elbow from Italy defender Mauro Tassotti during the 1994 World Cup quarter-final in Boston.
May 14, 2015
With no silverware in sight, what does the future hold for Ancelotti?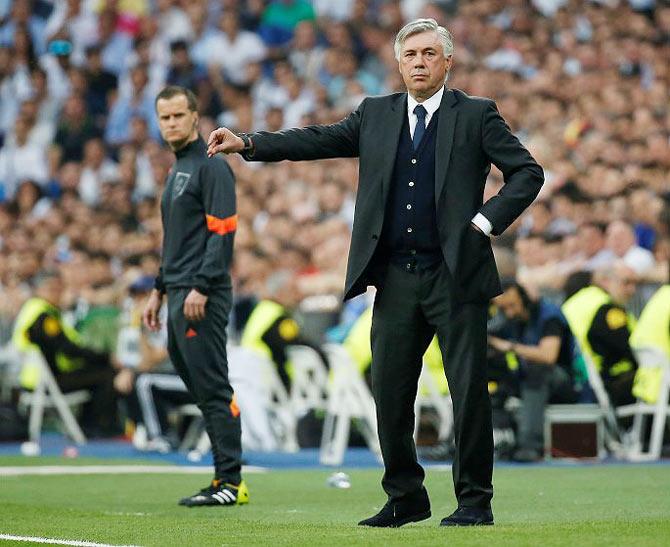 NASCAR's Danica Patrick to move to F1 in 2016?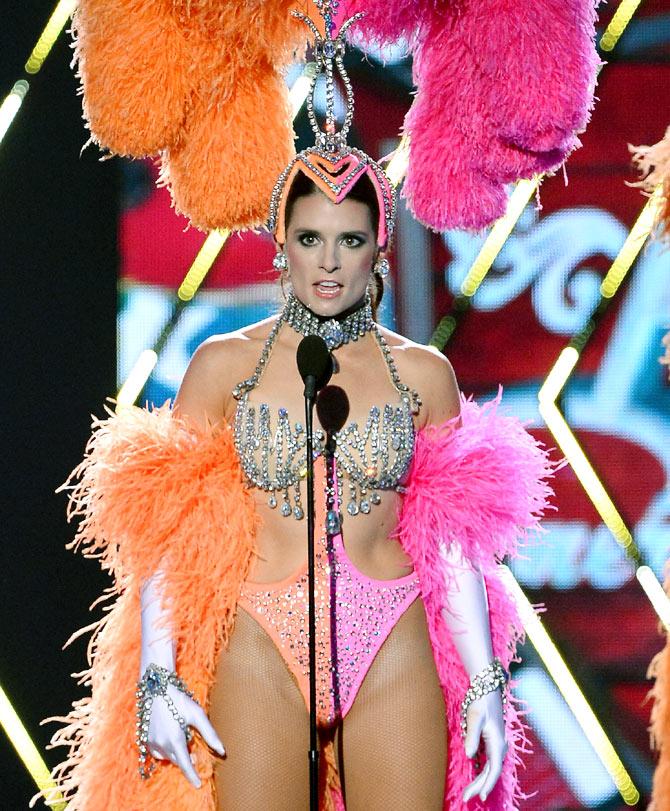 Formula One has not had a woman driver start a race in nearly 40 years and Danica Patrick, who nearly tested for Honda in 2008, has been through the rumour mill many times already.
Champions League: Local lad Morata breaks Madridista hearts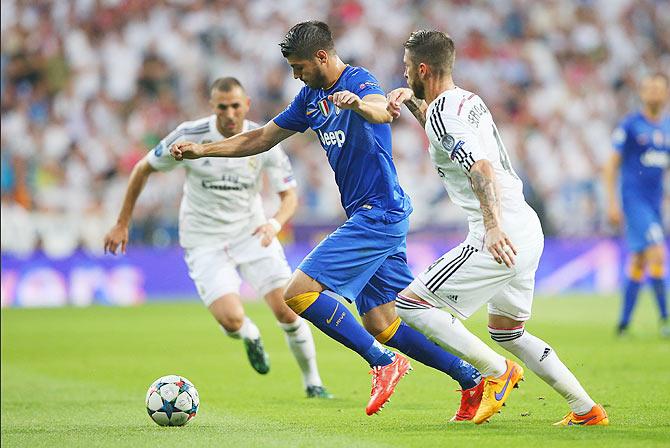 'I would have liked to have scored against another team but that's life'
Champions League PHOTOS: Morata stuns Real to fire Juve into final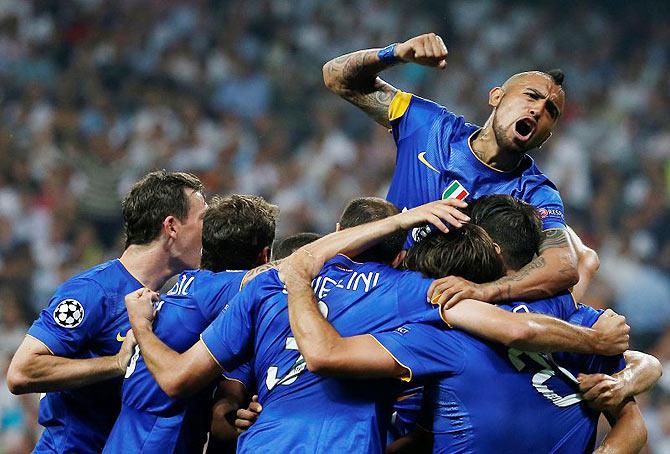 Juventus shattered Real Madrid's dream of a record-extending 11th European crown when Alvaro Morata scored against his former club to secure a 1-1 Champions League draw with the holders on Wednesday and send Juve into the final 3-2 on aggregate.
May 13, 2015
Champions League: Barca's 'MSN' network working seamlessly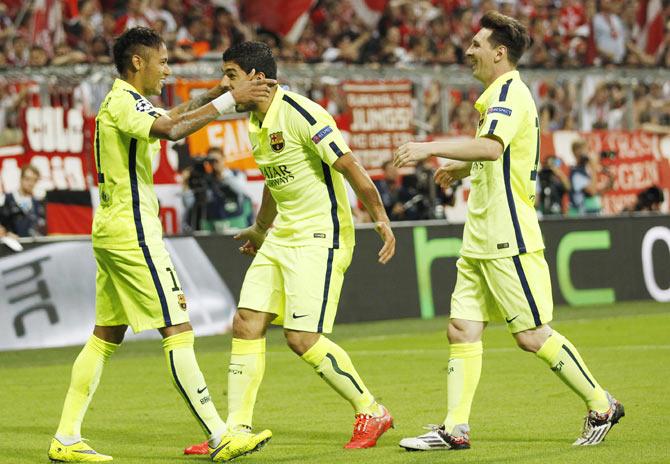 Tuesday's match was the latest masterclass from the South American trio, known in Spain as 'MSN', whose goals have put Barca on the brink of repeating 2009's treble of Champions League and Spanish league and Cup triumphs, the only time a La Liga club have achieved the feat.
May 12, 2015
Champions League: Real stare at trophy-less season as Juve beckon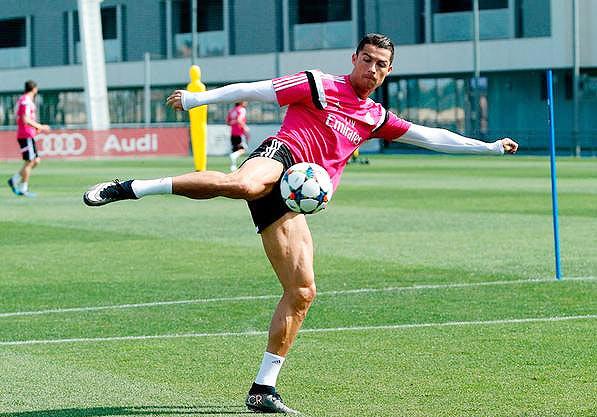 'They created danger when we lost the ball or because of our errors. I believe that if we stay calm, remain really patient and make them move then the game will go our way'
May 11, 2015
Champions semis: Can home comfort help Bayern overturn the deficit?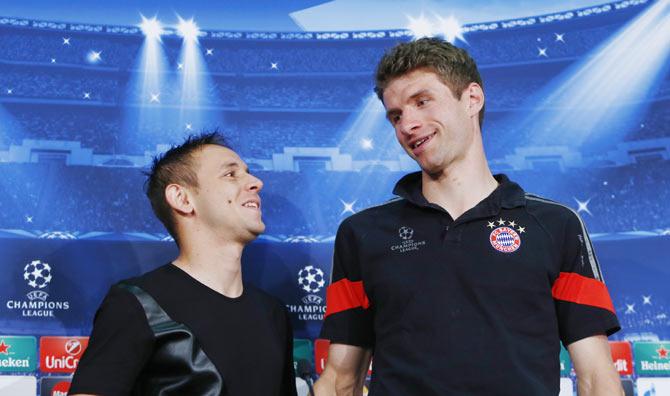 "First we have to play football and see what happens. Maybe we can then score a goal and create an atmosphere in the stadium."
Reality strikes Ferrari as they struggle to bridge gap with Mercedes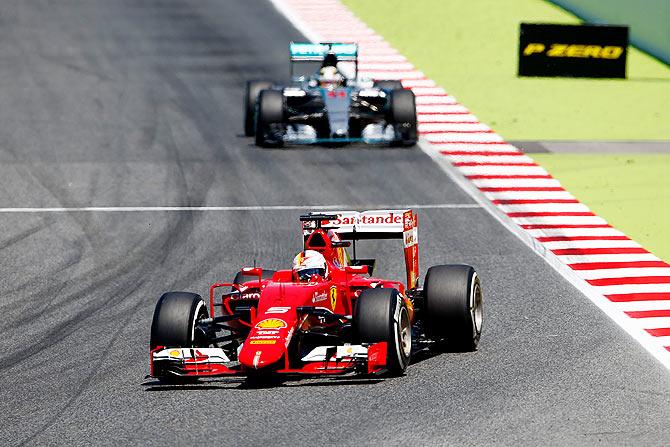 Ferrari will be looking for answers in Formula One testing this week after champions Mercedes were more dominant than ever in Sunday's Spanish Grand Prix.
10 BEST Sports Photos of the Week!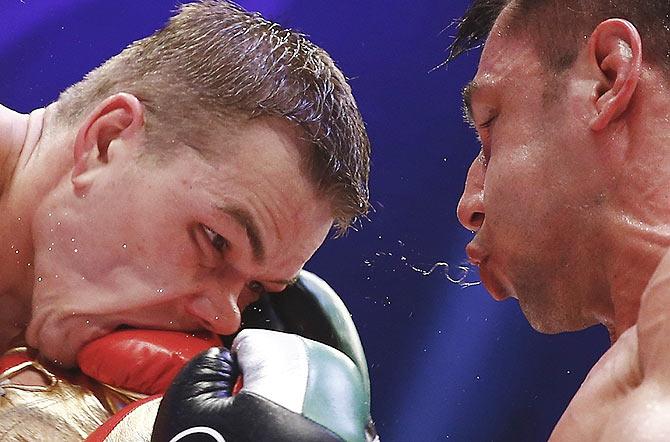 The past week saw a lot of brilliance in sports. It started with Juventus and Barcelona lighting up the Champions League with their inspiring football and, later in the week, Mercedes' Nico Rosberg stoked the F1 circuit in Spain, capping a brilliant win to cut teammate Lewis Hamilton's lead to 20 points.
Can injury-hit Bayern reverse the tide against dazzling Barca?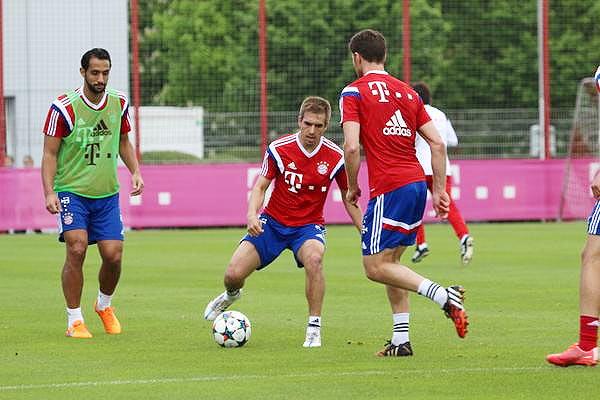 Bayern Munich will not only have to overturn a 3-0 Champions League semi-final first leg deficit against Barcelona on Tuesday but they will have to do it against a superb defence and in the midst of their biggest slump in years.
May 08, 2015
Alonso ready to reclaim podium with gratefulness in heart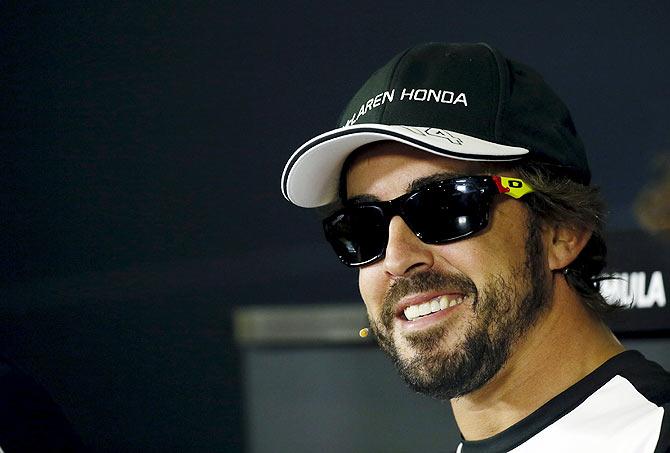 Fernando Alonso can see a brighter future for McLaren, despite turning up at his home Spanish Grand Prix on Thursday with a stye in his eye.
Europa League PHOTOS: Sevilla on brink of final; Frustration for Napoli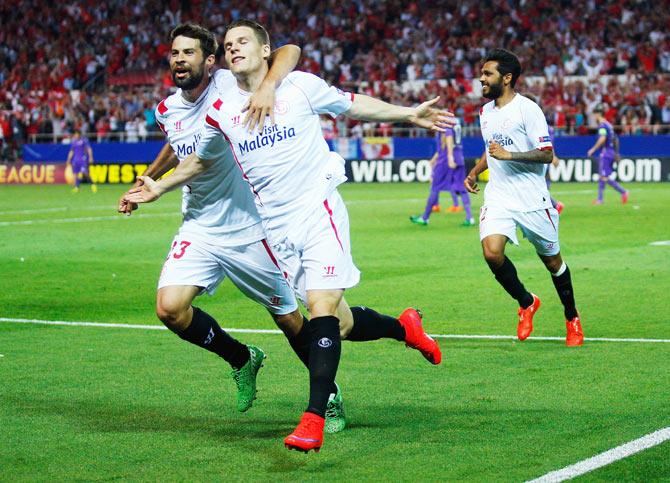 Sevilla stayed firmly on course for a second consecutive Europa League crown when an Aleix Vidal double and a Kevi