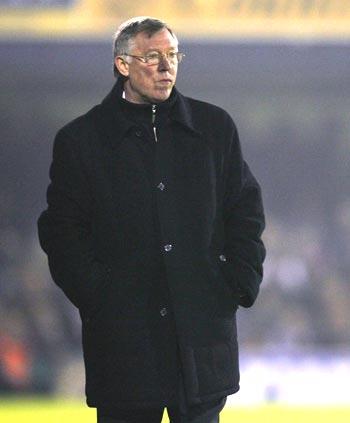 Manchester United manager Alex Ferguson believes this season's Premier League title race is so open any one of eight teams who have a chance of winning it.
"History tells you that two teams always break away at the end. That's what normally happens. But it is not looking like that at the moment. It's so tight that when you see it grouped up like it is, even the team down in eighth place will start to think 'maybe we can do it this year,'" The Mirror quoted Ferguson, as saying.
"Football is like that, it gives you optimism. Sometimes unrealistic, but that's what you should do - you should be optimistic about your chances," he added.
"Before they lost at Arsenal, Aston Villa's form was the best in the Premier League. They'd beaten us, Chelsea and Liverpool, and their form was outstanding. They've suffered a defeat but do you think Martin O'Neill is suddenly thinking they've got no chance? Absolutely not," he said.
United can cut Chelsea's lead to two points, when they take on Wigan at Old Trafford. But Ferguson believes the Red Devils have yet to hit their best form this season.
"But the important thing now is that we have players coming back and we can hopefully find the consistency we normally do in the second half of the season," he said.
"With all the problems we've had with injuries to defenders, I'd have definitely accepted being two points off the top of the table by the end of the year. At the start of the season I saw Chelsea as the biggest danger to us and I haven't changed my mind out about that," he concluded.
'Torres is best striker in world'
Liverpool skipper Steven Gerrard has termed the club's ace player Fernando Torres as the best striker in the world.
Torres hit a 93rd-minute winner for his 50th Kop league goal in a new Liverpool record of just 72 games.
"Everyone knows that when Fernando is on form he is the best in the world, the best bar none. He can score goals like this one, out of nothing even after he has experienced a quiet game. That's what makes him so special. This is a massive result for us, a huge win. It could spark the run that drives us into the top four," Gerrard said.
Torres escaped the Villa defence just once but that was all he needed as he finished lethally from 12 yards, The Sun reports.
"This will help our confidence so much," Torres said.
Liverpool were second-best at snowy Villa Park but victory moved them to within four points of the last Champions League place.
Boss Rafa Benitez repeated his guarantee that Liverpool can claim fourth spot in the Premier League.
"We knew we had to win if we wanted to remain in contention for the Champions League. There was no question about it. I'm so pleased for Fernando, so happy for everyone. If my players do what they can, if they keep repeating their best form, we will be there," Benitez said.