Home > Sports > Tennis > Report


Wickmayer says she's no drug cheat

December 29, 2009 14:10 IST
Last Updated: December 29, 2009 14:30 IST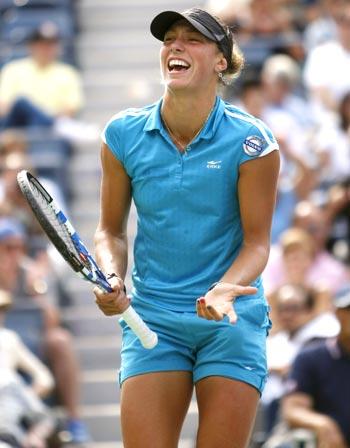 Belgian tennis star Yanina Wickmayer says she has no time for drugs cheats and scant regard for the tennis officials in her own country who banned her on a drugs technicality.
Wickmayer is in Auckland for the ASB Classic starting next week, a fortnight after a Belgian court suspended a one-year ban imposed by the Flemish National Doping Organisation.
According to the New Zealand [Images] Herald, the world No 16 had been banned for failing to report her whereabouts for drugs testing three times.
On Tuesday, she said she never missed a test, never failed a test and tennis officials in her own country were very poor communicators.
Wickmayer said there was no room for drugs cheats in any sport but tennis officials in Belgium treated players like robots and did not communicate with them.
Under the "whereabouts rule" top 50 players must let tennis authorities know where they are for three months in advance for dope testing.
Last year Wickmayer, 20, leapt 55 places in the world rankings and said after moving into the world top 50 she was not properly told what she had to do.
She said Belgian authorities sent four letters to her home and all were returned because no one was there to receive them.
She was playing outside Belgium and was with her father and coach, Marc Wickmayer, and no one told her she had to report.
"I was warned after the third time when things were all too late," Wickmayer said.
Henin works out in Brisbane [Images]
Former Grand Slam champion Justine Henin [Images] has arrived in Brisbane determined to make the most of her "possible" push to win the Australian Open [Images] in the third tournament of her comeback.
According to the Courier Mail, Henin had the first training session of her Australian campaign this morning at the Queensland Tennis Centre, where she will chase match practice with a wildcard to the Brisbane International, starting Sunday.
The seven-time Grand Slam champion is third favourite in betting markets for the Australian Open behind world No.1 Serena Williams [Images] and Henin's great Belgian rival Kim Clijsters [Images], who will be top seed in Brisbane.
"I think anything is possible, all the time. I go day after day and I hope I have a good preparation the next two weeks," said Henin, who plays her first tournament in 20 months at the Brisbane International.
"I don't plan my career on the next three or four weeks - I plan it for the next three or four years now," she added.
ANI