Michael Schumacher is very likely to make a Formula One comeback with Mercedes next year, according to Ferrari president Luca di Montezemolo.
"He phoned me and he told me that there is a very, very, very strong possibility (of racing for Mercedes)," the autosport.com website on Friday quoted Montezemolo as telling reporters at Ferrari's Maranello headquarters.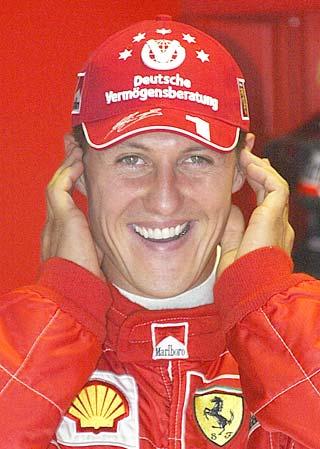 "Having said that, it is not 100 percent decided. But that is what he said yesterday morning."
The Ferrari website quoted Montezemolo as saying it was more the seven times world champion's "twin brother" who was contemplating a return rather than the man who won five titles in a row for the Italian team.
"The real Schumacher, the one I know, will always remain in the Ferrari family," Montezemolo told Ferrari's website (www.ferrari.com)
"Then there's his totally identical twin brother who seems to have the idea in his head to go and race in Formula One with Mercedes.
"I don't know him personally, but it's clear that we cannot offer him anything: we have two young drivers like Felipe Massa and Fernando Alonso, who we are expecting a lot from next year."
Schumacher has worked as a consultant for Ferrari since retiring in 2006 but Montezemolo has told Reuters the Italian team would not stand in his way if he decided to race for Mercedes who have taken over world champions Brawn.
The 40-year-old was due to replace the injured Massa in August but pulled out following medical checks on a neck injury sustained in a motorcycle accident which caused him pain during testing.
"I think that when I asked him to replace Felipe after that terrible accident in Budapest this summer, the desire to race came back powerfully and not being able to finish what he wanted to do left a great void that we cannot satisfy," Montezemolo added.
"We tried to advance the idea of a third car but for the moment it is not possible. I don't know what his future decision will be but I give my best regards to him, or rather, to his twin."
The Mercedes team trying to lure Schumacher are run by Ross Brawn, the former Ferrari and Benetton technical director who helped Schumacher to win all his world titles.