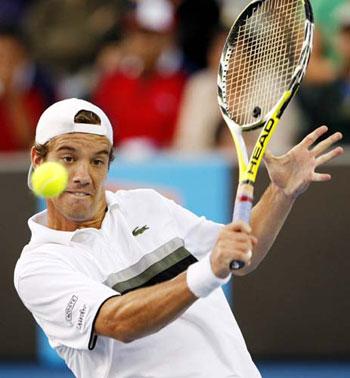 The International Tennis Federation (ITF) has expressed its disappointment at the Court of Arbitration for Sport (CAS) decision to clear French player Richard Gasquet of doping after he tested positive for cocaine.
"The ITF is disappointed with the decision of the Court of Arbitration for Sport to dismiss the ITF's and World Anti-Doping Agency's (WADA) appeal against the decision imposed on Richard Gasquet by an independent tribunal in July 2009," ITF president Francesco Ricci Bitti said in a statement.
The CAS verdict followed a court's decision this week to overturn one-year suspensions for Belgians Yanina Wickmayer and Xavier Malisse who broke anti-doping regulations.
Both players fell foul of WADA rules on athletes being available for out-of-competition doping tests and notifying the authorities of their whereabouts.
"We are counterpart to the WADA code and we follow it scrupulously," said an ITF source who declined to be identified.
WADA is expected to appeal to CAS about the decision to overturn the bans.
"The ITF has adopted the World Anti-Doping Code, which provides a right to appeal decisions made under rules pursuant to the Code, and the ITF and WADA have exercised their respective rights in this regard," Ricci Bitti added.
"The CAS is the ultimate arbiter of such appeals and so the ITF must respect and abide by its decision. The ITF also recognises the potential implications of the CAS decision with respect to future decisions and will discuss these with WADA."
Gasquet was provisionally suspended in May after testing positive for benzoylecgonine, a metabolite of cocaine, from a sample taken in Miami.
An independent tribunal set up by the ITF ruled in July that he was guilty of a doping offence but accepted his plea that he been inadvertently contaminated by another person in a nightclub.
He was banned for two months and 15 days, backdated to May, meaning he is free to continue his career. The ITF had called for a one or two-year ban.
Gasquet, a former Wimbledon semi-finalist, strenuously denied having taken cocaine and said the results of tests on a hair sample in an independent laboratory proved his innocence.
CAS said it rejected the ITF's appeal that that there was insufficient evidence to support Gasquet's claim of contamination, finding that it was satisfied on the "balance of probabilities" that his claim was correct.