Home > India > Sports > First Look


Discuss |
Email |
Print | Get latest news on your desktop


Night race brings new challenges for F1

September 22, 2008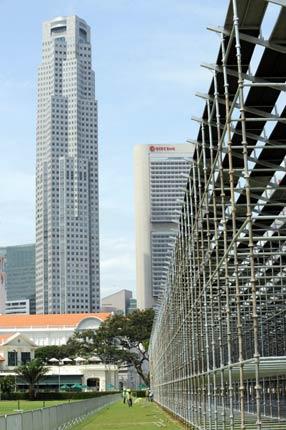 McLaren's Martin Whitmarsh remained deadpan while mechanics fitted rally-style headlamps to one of his team's Formula One cars ahead of next weekend's Singapore Grand Prix.
"Singapore is a new event for us, it's new on the calendar," the chief executive explained, in what the team described playfully as an 'illuminating' video on their website.
- Complete Coverage: Formula One
"We're pushing hard and hopefully the aerodynamicists will appreciate it," he concluded, the trace of a smile betraying the joke as the camera panned back to reveal the ludicrous attachment.
Unlike Le Mans 24 Hour racers, Formula One cars do not have headlamps and never will.
Singapore's debut on the Formula One calendar, with the city streets hosting the sport's first night grand prix, has nonetheless forced teams to reappraise how they go about their business.
The lighting is the least of their worries, with 1,500 projectors in place to illuminate the streets to a level bright enough to meet high definition television broadcast standards -- four times brighter than a typical stadium.
"I'm looking forward to the challenge but the reality is for us it will be a completely visible track," said Red Bull's David Coulthard.
"The whole night race thing is maybe more interesting for the media and the fans sitting in the grandstand.
"When we drive through the tunnel in Monaco, we don't come in and say to our engineers 'Oh my god, the lap is great apart from the tunnel' because it's just another piece of circuit," continued the Scot.
"I honestly don't think there's going to be such a big difference racing at night."
HOTEL CLEANERS
The hotel cleaners and chambermaids are more of a concern.
With qualifying on Saturday starting at 10 p.m. local time (3 p.m. British time) and the race itself at 2000, teams will be staying on European time while in Singapore.
That will mean going to bed in the early hours of the morning and staying there until the afternoon, when they will have breakfast.
"Going to bed late and getting up late is easy," BMW-Sauber's German driver Nick Heidfeld [Images] told reporters at the last Italian Grand Prix.
The problem will be those who are still working around them.
"If you just offset the meeting schedules and things, it means that we will be finishing at five o'clock in the morning on Saturday and Sunday mornings, so it is quite a big change," said Williams technical director Sam Michael.
"You could look at it and say 'well, everyone is in Europe normally so they should be on that time zone'.
"But it's quite difficult to go back to the hotel and sleep during the day, especially when you've got people walking around tidying up," he added.
The solution for Williams and others is to have a dedicated floor of the hotel for team members, with the room cleaners under orders to stay away.
AFTERNOON PEAK
"Essentially we must not acclimatise to the local time, which is totally different to how we normally operate," agreed McLaren's championship leader Lewis Hamilton [Images].
"Our training programmes ensure that over a race weekend we are at peak performance during the afternoons and as a result we are going to be staying in European time so this doesn't get disrupted.
"Apparently not acclimatising is much harder than adapting, because your body naturally wants to change.
"For the drivers, our meal, waking and sleeping rhythms will all be in European time. For example, we will get up early afternoon for breakfast, have supper at 1 a.m. and go to bed at around 3 a.m.," he added.
Rain will bring more problems, with drivers worrying about glare from the lights and reflections from standing water.
Many concerns have been addressed already, with engineers and logistics experts visiting Singapore in July for a test of the lighting.
"We have looked at different things," said Toyota's chief engineer Dieter Gass. "We have looked at a pit board for example which is visible at night and we have to make sure everything is visible in the garage and on the pit wall.
"The display on the steering wheel might need to be different because normally it has to be quite bright in order to be visible on a sunny day."
Some drivers, like Coulthard, have experience of night racing from competing in the Le Mans 24 Hours. Others, such as Ferrari's [Images] fun-loving world champion Kimi Raikkonen [Images], are confirmed night owls.
"I guess Kimi should be on form," joked Red Bull's technical director Adrian Newey, who worked with the Finn at McLaren. "He's used to performing when it's dark."
Photograph: Workers erect seats gallery built for the Formula One night race in front of the city hall in Singapore. ROSLAN RAHMAN/AFP/Getty Images
Text: Reuters
Email |
Print | Get latest news on your desktop