Home > India > Sports > Interviews


Discuss |
Email |
Print | Get latest news on your desktop

The Rediff Interview/Somdev Devvarman

'Hopefully, I can help win the tie for India'

September 18, 2008


| | |
| --- | --- |
| Somdev Devvarman | |
| | |
| | |
| | |
| | |
| | |
| | |
Somdev Devvarman is being talked of as the future of Indian tennis, and there isn't a better platform to stake that claim.
Only one tie old, the 23-year-old newly-turned pro carries India's hopes of entering the Davis Cup World Group when it takes on Romania in the play-offs on red clay, in Bucharest, from September 19 to 21.
Somdev, who has taken over as India's No 2 player from Rohan Bopanna, is primed for singles duty along with Prakash Amritraj, while veterans Leander Paes [Images] and Mahesh Bhupathi [Images] will combine for doubles.
Having qualified for the BCR Open in Bucharest last week, and stretched world No 18 Nicholas Almagro to three sets there, the Indian is confident going into the tie. 
Deepti Patwardhan spoke with him ahead of the Romania match.
After a long time India has a real shot at getting to the World Group. How is the mood in the camp?
I definitely agree that we have a chance to win this tie. The mood in the team is great. We're all playing good tennis and are really looking forward to a good tie.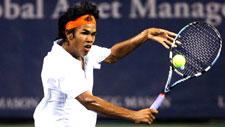 How big a factor will the surface play, since, historically, India hasn't had great results on clay.
Romania is a tough team and, definitely, a very good team on clay. But this is Davis Cup and anything can happen. Our singles players, right now, are getting very accustomed to the clay and we're playing well. I don't think anything has to be said about our doubles teams as their accomplishments speak for themselves.
How do you think the teams match-up? Ranking-wise, India is at a disadvantage.
Like I said earlier, I think this is Davis Cup and anything can happen. I think our match-ups are quite good right now and we're all playing good tennis going into the tie.
You had some good results at the Bucharest Open. What positives will you take from the match against Nicholas Almagro and how much will that experience help you in the upcoming tie?
I have been playing a lot on clay in Romania. I have got a few matches in and I definitely feel very ready for the matches.
Do you feel the pressure of expectation now that you're being tipped as the key player for India?
Not really. I try not to worry too much about the expectations and focus more on how I can play good tennis and help India win the tie. I don't feel any pressure right now and I feel confident going into my singles match.
How is the experience as an Indian David Cupper been so far?
It's been awesome. I have enjoyed every bit of representing my country. It's a different feeling than just playing team tennis; that's for sure and, hopefully, I can help win the tie for India.
More Interviews
Email |
Print | Get latest news on your desktop