Home > India > Sports > Formula One > Reuters > Report


Discuss |
Email |
Print | Get latest news on your desktop

Button liberated by Formula One's new rules

November 20, 2008 11:30 IST



Jenson Button [Images] put Honda's dismal 2008 season behind him and looked forward to a brighter Formula One future after an encouraging test in Barcelona on Wednesday.

"It's nice to be back in a car that I enjoy driving," said the Briton, who scored just three points from his 18 races this year.

"Taking a lot of the downforce off and running on slick tyres suits my driving style a lot more than grooved tyres," he added in a team review of the first test since this month's season-ending Brazilian Grand Prix.

Formula One's rules are changing next year, with the sport going back to slick tyres and adopting heavily revised aerodynamics to try and create more overtaking.

"I've had a fun couple of days and it's been very useful as we have tested many things which should help us with the new car," said Button. "It's been a positive start to 2009 already and I'm very pleased.

"I've just got to keep pushing the team hard now to get the improvements that we are hoping to achieve for next year."

Although he has yet to be confirmed for 2009, Button looks sure to stay with Honda but his team mate is still far from certain.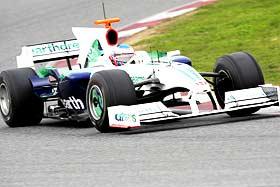 Honda have tested Brazilians Bruno Senna, nephew of the late triple champion Ayrton, and Lucas Di Grassi this week with both in with a shout of replacing their veteran compatriot Rubens Barrichello, who also hopes to stay.
Senna completed 107 laps of the Circuit de Catalunya on Wednesday and was ninth quickest of the 12 drivers in action with a best time of one minute 21.676 seconds.
That time, on his first full day in an F1 car, compared well to fifth-placed Button's best of 1:21.387.
Germany's [Images] Sebastian Vettel was fastest for the second day in a row for Red Bull Racing, the team he has joined from stablemates Toro Rosso. His best lap was 1:19.295.
Renault test driver Di Grassi did 110 laps on Tuesday with a best time of 1:22.283, half a second slower than Button.
"Whether what I did today is good enough is for the team to decide now and I respect that," said Senna, who was runner-up in the GP2 support series this year.
"For me personally, for my first time in a Formula One car, I have to be happy with what I achieved today."
Team boss Ross Brawn said Honda would assess both youngsters' performances.
"Lucas and Bruno have both performed admirably over the course of the week and their evident enthusiasm and commitment has made them a pleasure to work with," he said.
"We will now take some time to carefully consider our findings from this test before reaching any further conclusions."
© Copyright 2008 Reuters Limited. All rights reserved. Republication or redistribution of Reuters content, including by framing or similar means, is expressly prohibited without the prior written consent of Reuters. Reuters shall not be liable for any errors or delays in the content, or for any actions taken in reliance thereon.

Formula One: The Complete Coverage
Email |
Print | Get latest news on your desktop