Home > India > Sports > News > Report


Discuss |
Email |
Print | Get latest news on your desktop

Narain Karthikeyan unplugged, almost

Bikash Mohapatra | November 13, 2008 17:13 IST


| | |
| --- | --- |
| Narain Karthikeyan | |
| | |
| | |
| | |
| | |
| | |
| | |
It was supposed to be an auto show. On display were the latest models of BMW [Images], Lamborghini, Renault and Skoda. As is the norm, a big name was called to inaugurate the show and give it a fillip. Usually these "guests" turn up late. And this is where things went against the prevailing norm. The guest in this case arrived on time, probably a few minutes before.
Soon the focus shifted towards him -- and the cars left at his mercy. Media frenzy followed him wherever he went, shutterbugs didn't waste a single opportunity. Seeing the kind of attention he was getting, the organizers must have been happy that he would be there only for a few minutes, and not more.
The person in question, you guessed it right, was Narain Karthikeyan [Images].
Every one wanted his slice of the pie -- and to top it all, Narain isn't exactly loquacious or media savvy.
And then there was Gautam Singhania.
The tussle between photographers to get the two in the same frame was evident and others had to just wait for their opportunity. And when it did come, even though in patches, one had to make the most of it.
The first question was an obvious one, pertaining to the A1 GP race at Chengdu (China) -- Narain finished 10th in the Feature Race and earned a point for Team India. The answer was even more obvious.
"I think we had a pretty solid start at Chengdu. I am confident we can carry forward the good work," said Narain.
So how good is the new Ferrari-powered car?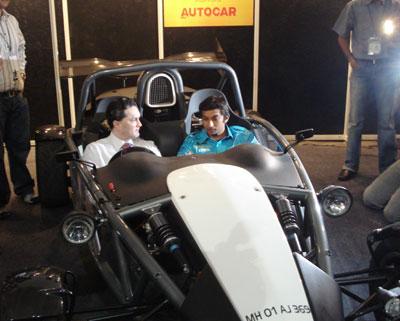 "The Ferrari-powered car is very different from the A1 car we had last year," he said.
"Obviously, the Ferrari [Images] name gives it a lot more credibility and I am looking forward to having a fantastic year."
Back-to-back diplomatic answers are always deterring, but we persisted and requested the ace driver to elaborate. And it worked to an extent.
"It's the dream of every driver to race in a Ferrari-powered car and it's the first time in my life that I am getting to race with a new car," said Narain.
"I tried to do the best I can and came out with the point. The next step is obviously Sepang and I am looking forward to it."
And how smooth was the transition?
"We actually changed the set up of the car between the sprint and the feature race in Chengdu," explained Narain. "The car was more comfortable. Before the first pit stop I had settled down and then I set the third fastest lap in the race. So, things are looking up definitely."
The Indian ace had a great debut season in A1 GP last year -- winning twice in Zhuhai (China) and Brands Hatch (UK) and getting pole position in the latter -- and seems to be carrying forward the good forward the good form into this season.
"I was really happy to have won two races last year, in China and the UK," said Narain. "Now that I have won a point, I can expect more points and try and figure out how to make the new car work."
Is it his F1 experience -- Narain drove for Jordan in the 2005 F1 season and was a test driver for the Williams team in the two subsequent seasons --- that is holding him in good stead at the A1 GP?
"I think a lot of drivers have some experience or the other at F1 or some other format," reasoned Narain. "So I don't have any advantage in that sense. But my overall experience is definitely an advantage."
Now that Vijay Mallya's [Images] Force India has severed ties with Ferrari -- opting for McLaren instead -- does it mean a return to F1 for India's only driver with that experience? Has he had talks with Force India regarding a comeback?
"No," said Narain, a one-word answer, sans any explanation, but with enough scope to read between the lines.
But that is Narain Karthikeyan for you -- a man of few words, always at his diplomatic best. And lest we forget, he continues to be a show-stopper.
Photographs: Bikash Mohapatra
Email |
Print | Get latest news on your desktop