Home > India > Sports > Formula One > PTI > Report

Force India miss Q2 in Sepang

March 22, 2008 14:59 IST



Pipped by Honda's Rubens Barrichello in the last corner, Force India's Giancarlo Fisichella will start 17th in Sunday's Malaysian Grand Prix after yet again coming tantalisingly close to making the cut for the second qualifying session in Sepang on Saturday.

Fellow Force India driver Adrian Sutil, who struggled to get the car balance on the softer tyres, will start 21st on the grid.

It turned out to be almost a repeat show of Melbourne as Fisichella once again impressed in the final practice session and looked set to make it to second qualifying session before Barrichello marred his party with just .042 seconds separating them.

Meanwhile, after Melbourne's flop show where neither of the drivers could finish the race, Ferrari [Images] occupied the front row of the grid with Felipe Massa [Images] grabbing the pole just ahead of team mate Kimi Raikkonen [Images].

Massa's flying lap of 1:35.748 was just 0.482 seconds ahead of Raikkonen.

McLaren never posed any serious threat with Heikki Kovalainen finishing third ahead of his British team mate Lewis Hamilton [Images] to lock out the second row.

Toyota driver Jarno Trulli sprang a surprise and will start fifth ahead of both BMW [Images] Saubers cars.

Apart from both the Force India drivers, Super Aguris of Takuma Sato and Anthony Davidson, Sebastien Bourdais of Toro Rosso and Kazuki Nakajima of Williams were also knocked out in the first qualifying session.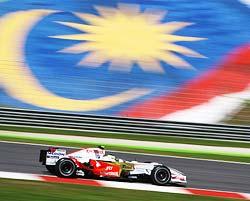 Force India, however, can take heart from the fact that while other teams' fastest lap times in qualifying have remained the same as in 2007, the Vijay Mallya-owned side improved its quickest lap by over two seconds.
"Just five hundredths away from Q2, it was very close. I am a little disappointed with not getting there, but I did my best and did a fantastic lap," Fisichella, a champion here with Renault in 2006, said.
Despite not making it to Q2, Fisichella remained optimistic about the car.
"It's very encouraging -- just five hundredths from the top 16 and Q2, and just under a second from the quickest lap time of that session -- it is very promising for the future," said the Italian.
Sutil too shared his team mate's optimism.
"It was not a good qualifying, but to be honest I was expecting this as we had not had a great practice in the morning ... In the race and over longer runs I think we are better. In Melbourne it was OK and I have a good feeling there is more in the car," he said.
Chief technical officer Mike Gascoyne admitted it was frustrating to be within a second of the quickest time in the first session and still be 17th on the grid.
"Giancarlo has done a good job all day, Adrian struggling with the balance, but overall I think we have a car that can be competitive with those in front of us and I think the new parts we have had on the car here have increased our performance from Melbourne.
"We have to look to the strategy to have a good race here tomorrow," Gascoyne said.
Provisional starting grid for Sunday's Malaysian Grand Prix:
 1.  Felipe Massa (Brazil [Images])        Ferrari
 2.  Kimi Raikkonen (Finland)     Ferrari
 3.  Heikki Kovalainen (Finland)  McLaren
 4.  Lewis Hamilton (Britain)     McLaren
 5.  Jarno Trulli (Italy [Images])         Toyota
 6.  Robert Kubica (Poland)       BMW Sauber
 7.  Nick Heidfeld (Germany [Images])      BMW Sauber
 8.  Mark Webber (Australia)      Red Bull
 9.  Fernando Alonso [Images] (Spain)      Renault
 10. Timo Glock (Germany)         Toyota
 11. Jenson Button [Images] (Britain)      Honda
 12. David Coulthard (Britain)    Red Bull
 13. Nelson Piquet (Brazil)       Renault
 14. Rubens Barrichello (Brazil)  Honda
 15. Sebastian Vettel (Germany)   Toro Rosso
 16. Nico Rosberg (Germany)       Williams
 17. Giancarlo Fisichella (Italy) Force India
 18. Sebastien Bourdais (France [Images])  Toro Rosso
 19. Takuma Sato (Japan [Images])          Super Aguri
 20. Adrian Sutil (Germany)       Force India
 21. Anthony Davidson (Britain)   Super Aguri
 22. Kazuki Nakajima (Japan)      Williams
© Copyright 2008 PTI. All rights reserved. Republication or redistribution of PTI content, including by framing or similar means, is expressly prohibited without the prior written consent.

Formula One: The Complete Coverage