Home > India > Sports > Olympics 2008 > Report


Discuss |
Email |
Print | Get latest news on your desktop

Games tickets for Beijing venues sold out

July 28, 2008 11:26 IST



Olympic [Images] tickets for events in host city Beijing [Images] have completely sold out, Games organisers said, leaving only tickets for competitions in co-host cities still available.

Organisers released the final tranche of 820,000 tickets on Friday, prompting chaotic scenes at ticket booths in Beijing, where queues of tens of thousands of people strained to break heavy police cordons.

"With a heated participation of ticket buyers, Games-time competition tickets of the Beijing 2008 Olympic Games venues in Beijing have been sold out," the Beijing Organising Committee for the Olympic Games said on its website late on Sunday.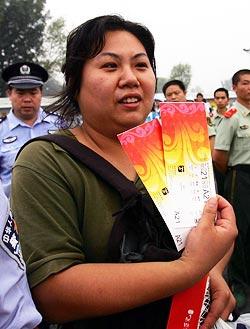 Some 250,000 of the final tranche were for Beijing-based events, with the rest for soccer qualifiers held in co-host cities Tianjin, Shanghai, Shenyang and Qinhuangdao.
A final batch of 14,000 tickets for equestrian events would go on sale in co-host city Hong Kong on Tuesday, organisers said on the competition website.
Tickets for many competitions in Beijing sold out within hours, with some buyers camping out at ticket booths two days before they opened.
Thousands of police and paramilitary troops struggled to keep order at booths during the last-chance sale, where scuffles broke out between frustrated ticket-buyers, security officials and reporters.
Beijing's sale of nearly 7 million Olympic tickets has been swift but not without incident. Prospective buyers complained on blogs and Internet chat-rooms of not being able to complete purchases after the third batch of tickets was released in May.
The former Olympic ticketing chief was sacked last November after the ticketing website crashed almost immediately on the opening day of the second round of sales.
The Beijing Games start on August 8.
Email |
Print | Get latest news on your desktop