Home > India > Sports > Formula One > Reuters > Report


Discuss |
Email |
Print | Get latest news on your desktop

Hamilton makes all the difference in Germany

Alan Baldwin | July 21, 2008 11:04 IST


| | |
| --- | --- |
| Lewis Hamilton | |
| | |
| | |
| | |
| | |
| | |
| | |
Lewis Hamilton [Images] seized victory from the jaws of defeat on Sunday after McLaren made their Formula One championship leader sweat for his second win in a row.
Starting on pole position for his first German Grand Prix, Hamilton was comfortably clear of Ferrari [Images] title rival Felipe Massa [Images] until the safety car came out just after the halfway stage.
While others pitted for new tyres and fuel, McLaren decided to keep the 23-year-old out in a risky decision that could have cost them the race.
Hamilton needed to build a 23-second cushion before his second and final stop to then return to the track in the lead, an impossible task.
Despite punching out a series of quick laps, he was only 13 seconds clear when he came in. That dropped him to fifth place, with Ferrari's Brazilian Felipe Massa ahead and poised to seize the overall lead.
Hamilton's response was to prove that the driver can make all the difference and that, after being hailed as a rain master for winning in the wet at Silverstone two weeks ago, he was also a pass master.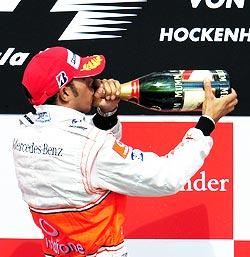 "We probably should have come in [under the safety car] but at the end of the day I don't understand exactly what's going on behind me and I have to have full confidence in the guys," he said in a post-race news conference.
"It did make my job a little bit harder but I just told [team boss] Ron [Dennis] 'That's what you hired me to do, this is what I'm here for'."
BARGING PAST
Hamilton's team mate Heikki Kovalainen obligingly let him pass for fourth place and, with BMW [Images] Sauber's Nick Heidfeld [Images] pitting while in the lead, the Briton was third.
He proceeded to reel in Massa, barging past without ceremony, and was then taken aback to find he still had Renault's surprise leader Nelson Piquet to deal with. The rookie put up little resistance as the McLaren scythed past.
"I would have much preferred an easy comfortable afternoon out in front. But it didn't work that way," Hamilton said, now four points clear of Massa after his fourth win of the season and eighth from just 27 races.
"We had two very comfortable, two very decent stints and the team opted for me to stay out.
"I guess they thought I could pull out a gap but it was a 23 second gap I needed and I only had seven laps or something so I don't know how that worked out," he continued.
"I was over the limit, pushing and pushing trying to get the gap but I came out behind Heikki.
"I have to say a big thank you to Heikki, he was a great team-mate. He didn't put up a huge fight and saw that I was quicker and enabled me to get past quicker."
Dennis said there had been more than enough fuel in Hamilton's car when the safety car came out to rebuild his lead before having to pit.
The problem arose when the safety car then stayed out three or four laps longer than expected.
"With the benefit of hindsight maybe we should have double-shuffled [brought both McLaren drivers in together] the cars," he said after the Mercedes-powered team's first Hockenheim victory since 1998.
"He [Hamilton] did a fantastic race, no question about that. The first stint was just blistering pace and we were comfortably quicker through the whole race," he added.
© Copyright 2008 Reuters Limited. All rights reserved. Republication or redistribution of Reuters content, including by framing or similar means, is expressly prohibited without the prior written consent of Reuters. Reuters shall not be liable for any errors or delays in the content, or for any actions taken in reliance thereon.

Formula One: The Complete Coverage
Email |
Print | Get latest news on your desktop