Home > India > Sports > News > Report


Discuss |
Email |
Print | Get latest news on your desktop

Chandhok wins German GP2 race

July 20, 2008 18:12 IST



India's Karun Chandhok soaked tremendous pressure to score his first race win of the 2008 GP2 Series in Hockenheim on Sunday.

The 24-year-old from Chennai, who is backed by Red Bull, Punj Lloyd [Get Quote], JK Tyre, Amaron, ICSA Logistics and Sidvin, started from pole position but lost his advantage at the start to Renault F1 test driver Lucas di Grassi, as Karun's clutch didn't disengage properly, and he spun his wheels too much as the lights went out.

Chandhok ran in a solid second in the early laps, but soon closed up onto di Grassi's tail with some quick lap times. He slipstreamed past him at the Parabolika sweeper, and then battled wheel-to-wheel at the Spitzkehre and the Mercedes Arena, where Karun took the lead.

After that, he came under intense pressure from Andi Zuber of Piquet Sports for the last 20 laps of the race, but Karun kept his cool for a fantastic victory for the iSport International team. It was Chandhok's second career victory in the Formula 1 feeder category.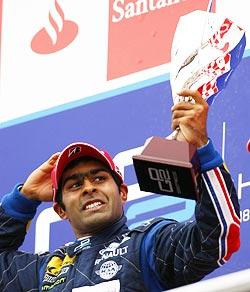 "We've had some really bad luck on Sundays this year, so it was nice to finally win one," said Chandhok. "It was a good win, because I had to pass Lucas for the lead and was under pressure all the time, but I had good pace. I think the team did a great job for me. It's a fantastic result."
Of his race, Karun said: "We changed the clutch overnight, and I just couldn't judge the bite of it at the start. Lucas had an amazing start, but he was pretty slow and it was no problem to pass him. I got a good exit from Turn 2, and he was sliding around a lot, and got a good run into the hairpin.
"I sold him a dummy, so although he was briefly back in front, I knew I'd get him on the way out. From then on, it was okay. I didn't really feel under pressure too much from Zuber, although he was always there. The rear tyre degradation was much higher than we anticipated, so it was tricky to manage. I knew if I'd have run away from Zuber, I would have been in trouble with the tyres at the end, so it was a case of managing the gap to him."
"The only problem I had in the whole race was lapping Diego Nunes, and I ran wide at Turn 1 when I lost the downforce. That allowed Zuber to get a bit of a run on me, so I had to defend at the hairpin. But, besides that brief moment, I was in total control of the situation. I am really delighted for the whole team, the sponsors and everyone. It was really fantastic to have the Indian National Anthem playing at a Formula 1 weekend for only the second time."
Chandhok's next race is at the Hungaroring in Budapest, in a fortnight's time.
"I had fastest lap in Hungary last year, with a smaller team, so I'm hoping for a result like this one in a few weeks time," said Karun.
Email |
Print | Get latest news on your desktop