Home > Sports > Stars We Spotted


Vijay Amritraj meets his namesake in Chennai

January 31, 2008

Reader Vijay Amritraj sent us this picture.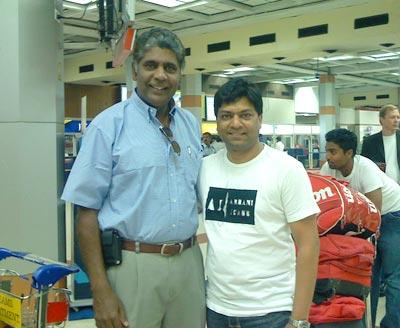 'Yes, my name is also Vijay Amritraj, but in no way connected to tennis.
'I was returning from a conference in Singapore and my bleary eyes lit up when I saw my illustrious namesake at the Chennai airport. I pulled out my visiting card, walked up to him and said, "Hi, I want you to look at my visiting card." He looked at it closely and said excitedly, "it can't be true...is this for real?",' writes Vijay.
'We exchanged a brief conversation about our names, and the tennis legend actually asked me if he could keep my card? This photograph is from my iphone!'
'For 35 years I've always been referred to the legend. I've been asked innumerable number of times if I have a link or an association?
'After yesterday, I do. The tennis icon Vijay Amritraj came across as a warm and friendly person. We all, of course, know about his exploits on the tennis court and what a great ambassador of sport he is!'
Thanks, Vijay, for sharing this picture!
If you encounter your favourite cricket/sports personalities, send us the photograph or video on sportsdesk@rediff.co.in We will feature the best images right here on Rediff Sports or Rediff Cricket.
Please check more Reader photographs