Home > Sports > Formula One > Report

Mallya cautions India to keep feet on the ground

January 11, 2008 17:10 IST



Force India Formula One team co-owner Vijay Mallya [Images] has warned the country not to expect too much from the team in 2008 despite a big budget increase.

The Indian billionaire bought into the Spyker team and renamed it after last season and interest has been drummed up further through advertisements about "the force of a billion hearts."

After announcing Italian Giancarlo Fisichella and German Adrian Sutil as the drivers for the new season on Thursday, Mallya called for expectations to be "reasonable and practical".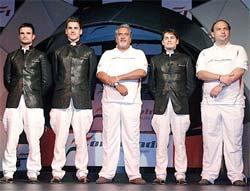 "I do not for a minute underestimate the challenges before me and my team," Mallya said after announcing the budget for the season as $120 million, an increase of $50 million from last year.
"I have said that we will not produce any miracles in 2008, but we will certainly demonstrate to the world that Force India is going firmly in the right direction up the grid."
Cricket-crazy India, with 1.1 billion people and the fastest growing major economy after China, is seen as a potential market for other sports.
"My objective is by 2010, when India will host their first-ever F-1 Grand Prix, that Force India Formula One team will rightfully occupy a place in the podium. That doesn't mean we can't get to the podium earlier," he added.
NO LIFELINE
Some had expected Force India to hand a lifeline to Narain Karthikeyan [Images], who became the country's first Formula 1 driver in 2005 and tested with Williams last year.
"I had to choose the drivers very, very carefully because here is a team that also needs to learn," Mallya said.
"The engineering team needs to benefit from the inputs of the drivers. In that purpose no Indian driver fitted the bill."
Mallya said it was a proud moment personally and for the whole of India.
"We understand India is a big country, we understand the name of the team is Force India and that there is going to be many, many Indians closely watching the performance of this team.
"And to them we owe our best efforts and our best performance. There is not going to be any compromise whatsoever. But expectation levels also need to be reasonable and practical."
Formula One: The Complete Coverage