Home > Sports > EPL > Report

Eduardo injury shocks Wenger

February 24, 2008 12:53 IST


| | |
| --- | --- |
| Eduardo da Silva | |
| | |
| | |
| | |
| | |
| | |
| | |
Arsenal striker Eduardo da Silva broke his left leg in the 2-2 English Premier League draw with Birmingham City on Saturday, bringing a furious reaction from his coach Arsene Wenger.
The match was stopped for nearly 10 minutes as the Brazilian-born Croatia international was treated on the field before being carried off on a stretcher.
Birmingham defender Martin Taylor was given a straight red card for his challenge on Eduardo in the third minute.
"The tackle was horrendous and this guy [Taylor] should never play football again," Wenger told BBC television.
"I've seen some bad ones before but you are not always punished with a broken leg.
"The minimum is that the season is over and we're scared it is much longer."
Wenger later issued a statement saying his initial comments about Taylor had been "excessive" while the club also said the striker has undergone surgery and is resting.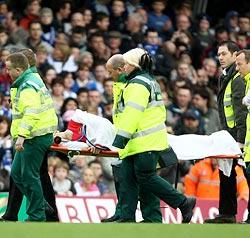 Birmingham manager Alex McLeish said Taylor is very upset about the injury.
"He's absolutely distraught, he's not that type of player," he told Sky Sports television. "He didn't feel he made that much contact with Eduardo."
Wenger said there is a school of thought that Arsenal could only be stopped by using rough play.
"It goes along with the idea... that to stop Arsenal, you have to kick Arsenal," he said.
"That kind of thing was waiting to happen. It's not acceptable. If that is football, it's better to stop it.
DISTRAUGHT PLAYERS
Arsenal's players wandered around the pitch looking stunned and Sky television said they would not replay the incident because the pictures are too horrific.
Eduardo was rushed to hospital and medical staff at the ground were also reported to be shocked at the seriousness of the injury.
"He is a fantastic guy and to see him in such pain and the shape of his leg was very difficult to take for our players," added Wenger, who said Eduardo had broken his leg and ankle.
Born in Rio de Janeiro, 24-year-old Eduardo moved to Croatia aged 15 to join Dinamo Zagreb as an apprentice although he later returned home to play on loan for two seasons at Bangu, a minor club in Rio's sprawling western suburbs.
After obtaining Croatian nationality, he made his full international debut against Ireland in 2004 and is one of a number of Brazilians playing for other national sides.
Eduardo, who joined Arsenal in July, was looking forward to playing for Croatia at this year's European championships.
Television commentators drew a comparison with the injury to Coventry City defender Dave Busst, whose career ended after he suffered a compound fracture of his right leg against Manchester United in 1996.
Play was interrupted for 10 minutes before Busst was carried off and blood from his wounds was washed off the pitch.
Complete Coverage