Home > India > Sports > News > Report


Discuss |
Email |
Print | Get latest news on your desktop

Saina eyes top-5 ranking

December 05, 2008 17:17 IST



After sneaking into the elite zone of top-10 players in the world, India top women's shuttler Saina Nehwal [Images] has set her eyes on breaking into top-five bracket by the end of next year.

The Hyderabadi ace, brimming with confidence, said she is in no mood to relax and will do whatever it takes to grab a place in the top-five ranking.

"My next target is to break into the top five within next year. I know it won't be easy, because from here on I will have to play the quarters and semis, if not the finals, in all the tournaments against top class players. But I know I can do it," Saina said.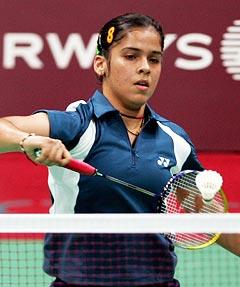 "There will be pressure and expectations on me but I just don't want to think about that and want to give 100 per cent each time I step onto the court."
The Beijing Olympics quarter-finalist, who officially gained the 10th ranking on Thursday, said she was pretty confident of securing the 10th spot.
"I knew it when I was playing in the Hong Kong Open. I knew if I could make the quarter-finals then I will break into the top-10. The girl who was 10th had already lost the match, so had that idea," the 18-year-old said.
"But after it was officially announced, my father called me up to give me the news and Gopi sir (National coach Pulela Gpoichand) congratulated me next."
However, the National champion says she will have to wait for the celebrations as things have changed after terror attacks in Mumbai.
"Today I am going to Vijaywada, from there I will go to Kochi and then on Sunday I will be back in Hyderabad and, hopefully, if everything goes well we might have dinner at the academy. All the stadium people will be invited and dad and Gopi sir will be there.
"But there are some concerns because of the terror attack in Mumbai, so nothing has been planned as yet. If this plan doesn't materialise we can celebrate on New Year's eve," she added.
Saina, who made the quarter-finals in the Hong Kong Open last week, is taking a month's break before steeping onto the courts in January at the Malaysia and Korea Opens.
The World junior champion, who had a shaky start to the year, reckons the two-month break during April-May as the most important phase of her career as it helped retrospect on her game.
"I think the two-month break in April and May proved very important because it helped me to train hard and correct my mistakes and come back as a stronger player especially after the disappointing start to the year.
"After the break, I played my first tournament in June. It was Singapore Open and there, when I defeated some top players, I realised that I can win more tournaments.
"Earlier I was looking for the top 25 spot but I reset my target to top-10, looking at the way things were going my way," she said.
Asked how does she guard against complacency, Saina said, "I have come to this phase of my life after a lot of pain and sacrifice and have earned my place through hard work. So my priority is just to focus on the game and the rest will be taken care of by Gopi sir and my parents."
Email |
Print | Get latest news on your desktop