Home > India > Sports > Olympics 2008 > First Look


Discuss |
Email |
Print | Get latest news on your desktop


Cuban Matos gets life ban for kicking referee

August 23, 2008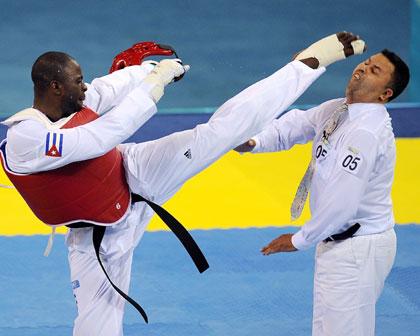 Cuba's Angel Valodia Matos was banned for life from taekwondo on Saturday after he kicked the match referee in the head in his Olympic [Images] bronze medal bout, a tournament official said.
Matos's coach was also banned for the behavior that the official said was in "strong violation of the spirit of taekwondo and the Olympic Games".
"The following sanctions will take immediate effect and the punishment is the following: Permanent exclusion of coach and athlete for lifetime of all WTF-promoted championships," the official said, referring to the World Taekwondo Federation.
"All records of this athlete at the Beijing [Images] Olympic Games will be immediately deleted," he said, to cheers and applause from the crowd.
The match against Kazakhstan's Arman Chilmanov in the men's heavyweight tournament descended into chaos in the second period.
With Matos leading 3-2, coaches from both teams ran on to the mat to remonstrate with the match referee after he stopped the fight, apparently in Chilmanov's favor.
Matos had been receiving treatment for a foot injury.
After a heated exchange on the mat, Matos struck the referee in the head with a high kick. He also kicked another official.
Matos was promptly disqualified and escorted from the arena.
Email |
Print | Get latest news on your desktop