Home > India > Sports > Olympics 2008 > Report


Discuss |
Email |
Print | Get latest news on your desktop

'I am confident my son will beat the Cuban'

Onkar Singh in Bhiwani | August 22, 2008 09:23 IST


| | |
| --- | --- |
| Vijender Kumar | |
| | |
| | |
| | |
| | |
| | |
| | |
When Haryana boxer Vijender [Images] Kumar takes on Cuba's Emilio Correa Dayeaux on Friday, in the semi-finals of the 75 kg category in the boxing competition at the Olympics [Images], he will not only have the backing of his parents and village folk of Kaluwas in hometown Bhiwani but also all Indians praying for his success.
Vijender ensured another medal for India at the Beijing [Images] extravaganza when he beat Carlos Gongora of Ecuador in the quarter-finals on Wednesday.
"I am confident my son will live up to expectations and beat the Cuban," Vijender's mother Krishna Devi told rediff.com in an exclusive conversation on the eve of the fight.
Vijender's father Mahipal Beniwal, who works as a driver with Haryana Roadways, nods in agreement as his wife informs him that Haryana Chief Minister Bhupinder Singh Hooda's man is there to meet him.
Hooda has already announced the setting up of a boxing academy in Bhiwani, which has been put on the international map following Vijender's brilliant showing at the Games.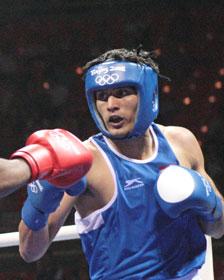 It is learnt that the Haryana government plans to spend over Rs 70 lakh to encourage children to take up boxing and wrestling.
Meanwhile, Vijender's family has put up shamiana outside their house for the stream of well-wishers and those wishing to watch Friday's showdown on television.
"He started boxing at the young age of 13. He would get up before us and go for practice," informs the proud mother. "Now that his SAI coach has taken over his training we are not aware of his schedule," she adds.
Beniwal is convinced that if children are encouraged at the local level India can do well in various Olympic disciplines.
"The children of village Kaluwas alone have won more than 127 medals at various levels. There is a sportsman in every family. I would say that this is the central place for producing good boxers," he says.
"By 2012, I am sure India will win many more medals, and all of them will come to Haryana athletes," adds a village elder, puffing hooka.
Vijender's mother is however not sure whether she will be able to receive her son at the Indira Gandhi [Images] International airport when he returns from Beijing.
"This is for the village elders to decide. I will be happy to meet him in peace at home. But I am now concentrating on worshipping the gods and praying for his victory. Once the match starts I will be glued to the television," she says.
Sure, she will not be the only one doing that. The entire nation is looking forward to the boxer throwing punches at his Cuban opponent and making it to the next round.
Email |
Print | Get latest news on your desktop