Home > India > Sports > Olympics 2008 > First Look


Discuss |
Email |
Print | Get latest news on your desktop


'Bolt should show more respect'

August 21, 2008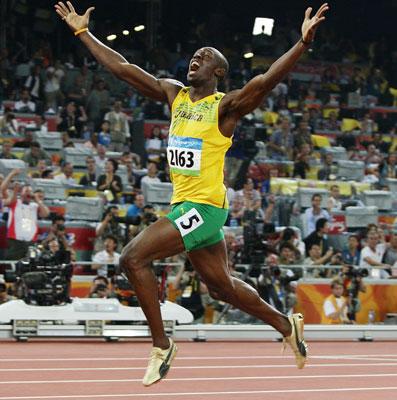 Jamaican double sprint gold medallist Usain Bolt [Images] is now on a par with the great US sprinter Jesse Owens [Images] but should show more respect to his fellow competitors, IOC chief Jacques Rogge said on Thursday.
- 'Insane Usain' dazzles the world
Owens became one of the biggest names in the Olympics [Images] by winning four golds in the 1936 Berlin Games but Bolt's 100 and 200 metres wins, both set in world record times, has earned him a place alongside the American, according to Rogge.
"Bolt is another dimension in sprint," the International Olympic Committee president told international news agencies in an interview.
"Bolt must be considered now the same way like Jesse Owens should have been in the '30s. It is different in that Bolt has a bigger edge than Owens in his finals.
"Bolt in a way -- if he maintains that in the future -- will bring a mark like Jesse Owens."
The Jamaican won the 100m and 200m sprint gold in world records -- the latter clinched on Wednesday in 19.30 seconds -- but Rogge was not completely satisfied with the manner in which he achieved them.
"I think he should show more respect, shake hands, give a tap on the shoulder to the other ones. Not making gestures like the one he made," he said.
Rogge was referring to his comfortable 100m win on Saturday in 9.69 seconds where he pounded his chest before crossing the finishing line.
"He still has to mature," Rogge said. "I would love him to show more respect to his competitors. He should learn that he should shake hands with competitors."
Rogge said that was something Bolt would learn with time.
"He is a young man. Bolt will learn that sooner or later. He is a great athlete of course."
Bolt celebrated his 22nd birthday on Thursday in Beijing [Images] ahead of the 4x100 metres relay where he could add a third gold on Friday.
Email |
Print | Get latest news on your desktop