Home > India > Sports > Olympics 2008 > Report


Discuss |
Email |
Print | Get latest news on your desktop

Indian archery campaign ends with Champia's defeat

August 13, 2008 12:44 IST



India's archery challenge in the Beijing [Images] Olympics [Images] came to an end with Mangal Singh Champia failing to replicate his ranking round form and crashing out in pre-quarterfinals in the men's individual section in Beijing on Wednesday.

Champia, who sizzled in the ranking round to finish overall second, was pipped by Russian Bair Badenov 109-108 at the Olympic Green Archery Field.

Incidentally, Badenov had shot 658 -- way below Champia's 678 -- in the ranking round but when it mattered the most, it was the Russian archer who raised his game and clinched the issue.

Earlier in the day, Champia had little problem in sweeping aside Vaezi Hojjatolah of Ireland 112-98.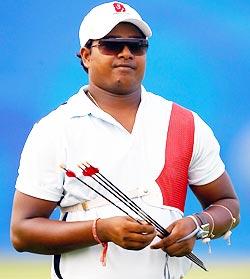 The Indian women team, which got a bye in the first round for finishing sixth in the ranking round, had earlier crashed out of the tournament with a defeat against China.
In the individual events, senior member Dola Banerjee [Images] and L Bombayla Devi made an early exit losing their first round match while compatriot Pranitha Vardhineni did slightly better, managing to reach the next level.
A dejected Champia said he just could not adjust to the format and that perhaps spelt his doom.
"I struggled for rhythm and the format did not allow me get into the groove. In practice, we shoot six arrows one by one but here, I had to shoot one, leave the lane for the opponent to fire one before I could go and have my second go at it," Champia said.
"It's not that I lost to someone who is a world beater but I think it simply was not my day. I had high hopes since finishing second in the ranking round and this is surely not my best performance," he added.
Champia said he would now focus his energies on the upcoming World Cup.
"Anyway, I cannot do anything about it anymore. Instead, I will prepare for the World Cup and the World Championship and then you have the 2010 Commonwealth Games [Images] in Delhi [Images]," he added.
Email |
Print | Get latest news on your desktop