Home > India > Sports > Olympics 2008 > Report


Discuss |
Email |
Print | Get latest news on your desktop

Lezak saves his best for last

August 11, 2008 14:31 IST


| | |
| --- | --- |
| Jason Lazek | |
| | |
| | |
| | |
| | |
| | |
| | |
Jason Lezak's incredible anchor leg swim that gave the United States the gold medal in the men's 4x100 meters freestyle relay on Monday may have seemed like history repeating.
Eight years ago, Lezak was part of the American team that lost the gold medal to Australia [Images] at the 2000 Sydney Olympics [Images].
In both races, the relay and individual 100 freestyle world records were smashed. And both times, the team that boasted before the race they would "smash" their opponents, were left with egg on their face.
This time the US, with Michael Phelps [Images], Garrett Weber-Gale and Cullen Jones, came from a seemingly hopeless position to finish on top after an epic battle with France [Images] that was decided by a fingernail.
When Lezak entered the pool, with Phelps's bid for a record eight gold medals nestling tenuously on his broad 32-year-old shoulders, he was 0.69 seconds behind France, whose final swimmer, Alain Bernard, had held the individual 100 record until just minutes earlier when Australia's Eamon Sullivan broke it.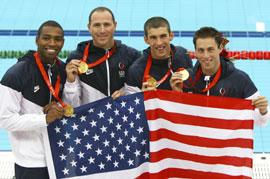 Bernard stretched his lead to almost a second when they turned for home and it appeared Phelps's record bid was over before it had really begun.
Somehow, Lezak got his hands on the wall first, swimming an incredible 46.06 seconds for his leg, and set a world record of 3:08.24, almost four seconds faster than the previous mark of 3:12.23 set by the American second-string team in the heats.
"There was no way I was going to catch a guy that was two seconds ahead of me," Lezak said. "I'm not going to lie.
"When I flipped at the 50 and I still saw how far ahead he was and he was the world record holder until about two minutes before that when Sullivan went off, the thought really crossed my mind for a split second that there was no way.
"And then I changed, and I said 'you know what, it's the Olympics and I'm here for the United States of America'.
"It's more than I don't care how bad it hurts, I'm just going to go out and play it. I ...just got, like, super-charged and took it from there. It was unreal."
Lezak may not have realised it at the time, but history was definitely repeating itself.
Eight years ago, the Americans went to Sydney brimming with confidence but began taunting the Australians, which was highlighted by Gary Hall Jr's quip the US would "smash them like guitars".
The move backfired spectacularly when the Australians, inspired by a then teenage Ian Thorpe, stormed home on the last lap to win the gold and break the world record.
Michael Klim, who broke the individual world record as the lead-off swimmer for Australia, ecstatically rammed home the riposte with a gleeful display of 'air guitar'. In the lead-up to Beijing [Images], France taunted the Americans by saying they would smash them.
"They had talked a lot about it," Lezak said. "We would just rather do it in the pool.
"I knew it was going to come down to the end, and I was hoping to be ahead, but I never lost hope."
Email |
Print | Get latest news on your desktop