Home > India > Sports > Olympics 2008 > Report


Discuss |
Email |
Print | Get latest news on your desktop

Hassled Federer forced to quit Games village

August 07, 2008 13:01 IST



World number one Roger Federer [Images] says he cannot stay in the Olympic village because of constant attention from other athletes.

Federer, who will carry the Swiss flag in Friday's opening ceremony on his 27th birthday, showed his face in the village and was swamped by fellow athletes turning into fans demanding autographs.

"It is impossible really, there are so many athletes asking for photos and so on. It is not ideal to prepare," he told a news conference on Thursday.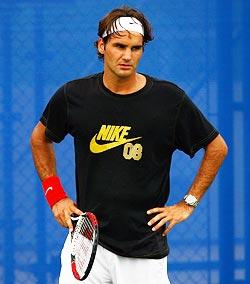 "I will go down once in a while to see the other Swiss athletes," said Federer who stayed in the village at the last two Olympics [Images] and even met his girlfriend for the first time at the one in Sydney.
"I have the option -- I can go to the village or I can get away," he added.
Federer begins his campaign against Russia's [Images] Dmitry Tursunov [Images] in the first round of the competition which starts on Sunday.
VILLAGE LIFE
The Swiss player, who will lose his number one ranking position to Spanish rival Rafael Nadal [Images] on August 18, said the difficulties of village life in Athens four years ago had stopped him from watching other events.
"I hope to see more sports this time. In Sydney I saw some sports but in Athens, for some crazy reason, there was too much going on and I was unable to see any other sports.
"I would like to see some athletics or basketball," he added.
Federer, who lost a dramatic Wimbledon [Images] final to Nadal and has since struggled for form, asked for some perspective on his performances.
"I know people expect more from me after the last five years but I can still save this season with this or the US Open and right now the focus is on the Olympics," he said.
"To say this season has been bad because I didn't win that epic is a bit hard."
Federer said winning an Olympic gold medal would be "right up there" with his 12 Grand Slam titles but would also provide extra flavour.
"It is a bit different in that you are representing a country as well, which means a lot to me, being part of it is nice," he said.
Email |
Print | Get latest news on your desktop