Home > India > Sports > Interviews


Discuss |
Email |
Print | Get latest news on your desktop

The Rediff Interview/

I hope to do well in Beijing: Saina

August 06, 2008


| | |
| --- | --- |
| Saina Nehwal | |
| | |
| | |
| | |
| | |
| | |
| | |
Saina Nehwal may be one of the youngest members of the Indian contingent at the Beijing [Images] Olympics [Images], but she certainly represents the country's best chance of a medal at the Games.
The 18-year-old recently climbed to 15th in the world rankings after a brilliant performance in the Asian circuit last month. Now, just a few days away from her maiden Games, the badminton star is quietly confident of making a mark in Beijing.
After all, she was the first Indian woman to reach the semi-finals of a Super Series event, the Singapore Open. She then carried on her impressive form at the Thailand Open, where she reached the quarter-finals before losing to Chinese top-seed Xie Xingfang.
Even former badminton legend Prakash Padukone [Images] believes that a favourable draw could see Saina ending up with a medal.
'Looking at her current form, maybe, she has a better chance than Anup Sridhar [the other Indian entry in badminton] of winning a medal. Of late she has been playing really well,' Padukone had said before the team's departure for Beijing.
In an exclusive conversation with Chief Correspondent Harish Kotian, Saina talks about her preparation for the quadrennial extravaganza.
You have been training hard for the Olympics for the last few weeks. How is it going?
The preparations are going on quite well. I am quite happy with my game right now. I am working on my defensive areas and movements. In the ladies game you need more stamina because there is a lot of running involved. So I have been focussing on increasing my stamina.
What specific training programme you are working on?
I am working on my movements and stamina, because I believe I have a good game overall. I will try and learn about my opponents' game and prepare accordingly. I want to work hard on court and make sure that my opponents do not get any easy points from me. But, no doubt, I will have to struggle for it.
I am doing a lot of meditation to keep myself focussed. I am also doing a lot of breathing exercises to keep myself relaxed on court.
Who is helping you with your preparations for Beijing?
I have been undergoing training under the watchful eyes of Pullela Gopichand at his academy in Hyderabad.
I may have been training for the last three weeks for seven hours a day and I think it has made a difference. I have also been undergoing running and weight exercises to build on my strength. Hopefully, I will be ready and prepared when I step in court to play at the Olympic Games.
You recently broke into the top 20 and are now ranked as high as 15. Is that a timely boost ahead of the Olympics?
Yes, I have a lot of confidence in my game and I hope to do well in Beijing. I have done well this year in the international circuit and have beaten top players along the way. I have also managed to break into the top 20 which has been a big boost ahead of the Olympics.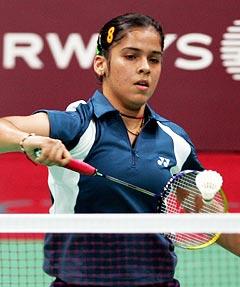 But is there some extra pressure, now that there is so much expectation, on you?
I believe there is no pressure or tension on me playing in the Olympics. I am just 18 and most of the players I will play are around 30; so if you have a look at it I have nothing to lose. I will just look to go out and enjoy myself on the court. I am working hard on my preparations and when the time comes I will give my 100 percent in the matches that I play. I am just looking to give my best and, if I do well, it will be good, but I don't I won't get tense and lose sleep over it.
I am proud to have got a chance to represent my country at the Olympics at such a young age. I am trying not to get lost in the weight of expectations and take the pressure, else I will lose in the first round itself. I will just try and play to the  best of my abilities and not think about anything else.
What would you say was the turning point of your career?
I think the turning point of my career was winning the Philippines Open in 2006, during which I also beat the world number three player, Xu Huwaien of Germany [Images], in the quarter-finals. That victory gave me the confidence that I can also be the best in the world and that I can beat the top players.
How much has Gopichand helped in your rise as a badminton player?
Gopichand has been of great help and helped me improve as a player. This is the third year that I have been training under him and he wants me to be fit and injury free. He has told me not to get tensed and think about too many things. That is because when I get tensed I tend not to play in a hurry and I get negative on court. So basically, he told me to guard against getting nervous on court and just be relaxed on court.
Gopichand has been busy with his construction work but despite that he regularly comes to the academy to help me with my game. He constantly gives me new training programmes, which helped change my game to the international level. Before my stint with him, I used to be a rally level player and I was quite slow but after working with him at his academy my game has changed to international level. My thinking has also changed, my strategies have changed. and now I feel quite confident of taking on the top players in the world.
I also had a stint with Sidek in May this year. He told me that I am playing well as compared to last year when my game had a few problems. He said that I have improved a lot and he is quite happy with my game.
What other targets have you set yourself this year?
I am hoping to break into the top 10 by the end of this year. That is the target I have set for myself for this year.
More Interviews
Email |
Print | Get latest news on your desktop