Home > India > Sports > Olympics 2008 > Report


Discuss |
Email |
Print | Get latest news on your desktop

Phelps coy about record bid

August 06, 2008 18:40 IST


| | |
| --- | --- |
| Michael Phelps | |
| | |
| | |
| | |
| | |
| | |
| | |
It should come as no surprise that after breaking so many world records Michael Phelps [Images] sounds a bit like a broken record himself.
While the world's sporting media have become obsessed with the American's bid to win a record eight gold medals in Beijing [Images], Phelps refused to even discuss the subject.
Despite being grilled on the issue at a packed news conference on Wednesday, Phelps declined to discuss his prospects, rigidly sticking to the athlete's mantra he is taking it one race at a time.
"You guys [the media] are the ones talking about it, I'm not saying anything," the 23-year-old said. "I'm just preparing myself the best way I can to compete the best way I can. That's my goal and that's what I'm going to stick with.
"I haven't ever said anything about breaking any record or going after any record, I'm just going out there to try and do something I want to do."
If Phelps' ad nauseum responses were an attempt to deflect some of the media hype, he seems doomed to fail. His bid to beat the seven gold medals Mark Spitz [Images] won at the 1972 Munich Olympics [Images] is one of the biggest talking points in the Chinese capital.
It is a record many thought would never be broken but it suddenly seemed plausible when Phelps won six golds at Athens in 2004 then seven at last year's world championships in Australia [Images].
PEAK POWERS
His long-time coach Bob Bowman believes Phelps, who holds the world record in four different individual events, is in the best shape of his life both physically and mentally.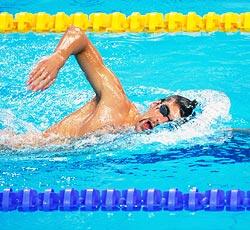 "He's just much stronger and mature so he's got a lot more power and still has the fitness," Bowman said.
"Emotionally, he's very much the same guy. He handles challenges really well, he wants to do really well in his races and he has his own goals.
"The biggest advantage he has now is that he's been through the process before so he knew what to expect and he's handled all of the other things that come with the Olympic Games better."
Phelps will swim five individual events in Beijing, 200 meters freestyle, 200 and 400 individual medley and the 100 and 200 butterfly.
He holds the world record for each of those events except the 100 butterfly but believes the 400 individual medley will pose the greatest challenge.
"They're all going to be hard...with so many races. I think one of my hardest ones is one of my first ones, the 400IM," he said. "That's the one I'm most excited to swim."
US head men's coach Eddie Reese said Phelps faces stiff challenges in all his races but he would not discount him winning the lot.
"He's got races from his own team [mates], he has races from other teams, he's the one up there at the top of the pyramid and everyone wants to be there," Reese said.
"I've seen him do some of the most amazing things. I would safely say I would never bet against him."
Email |
Print | Get latest news on your desktop