Home > India > Sports > Olympics 2008 > Report


Discuss |
Email |
Print | Get latest news on your desktop

Phenomenon Phelps lands in Beijing

August 04, 2008 16:36 IST



The US swimming team arrived in Beijing [Images] on Monday with Michael Phelps eager to start an Olympic adventure that could end with him breaking Mark Spitz's record of seven golds in a single Olympics [Images].

The 23-year-old and other members of the US swimming squad flew in from a pre-Games training camp in Singapore four days before Friday's opening ceremony.

Phelps won six golds and two bronze medals at the 2004 Athens Olympics and will pick up a $1 million bonus from sponsor Speedo if he can equal compatriot Spitz's haul from the 1972 Munich Games.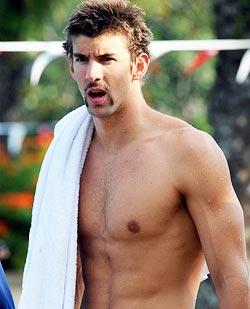 The American is due to swim the 200 and 400m medley, the 100 and 200m butterfly, the 200m freestyle and three relays in Beijing.
Even if he wins just half his events, Phelps will still become the most prolific gold medallist of all time, surpassing the record career tallies of nine shared by Spitz, US athlete Carl Lewis, Finnish athlete Paavo Nurmi and Soviet gymnast Larysa Latynina.
At last year's world championships in Melbourne, the American won seven golds and missed out on an eighth when the United States were disqualified from the medley relay because of a team mate's error.
Email |
Print | Get latest news on your desktop