Home > India > Sports > First Look


Olympic torch relay gets underway in Pakistan

Rezaul H Laskar | April 16, 2008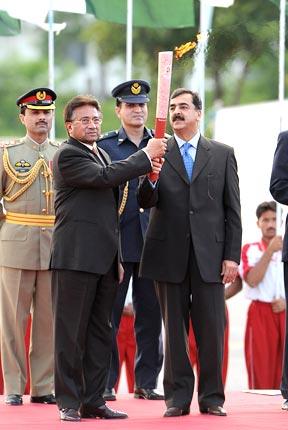 Amidst unprecedented security arrangements to ward off any anti-China protest and militant threat, the Pakistan leg of the Olympic torch relay kicked off in Islamabad on Wednesday with a colourful ceremony, attended by President Pervez Musharraf [Images] and Prime Minister Yousuf Raza Gillani.
The Olympic flame, contained in a lantern, was escorted to the Jinnah Stadium sports complex by members of the President's bodyguard-riding horses, as policemen and paramilitary Pakistan Rangers personnel stood guard outside.
Should film stars run the Olympic torch relay?
The ceremony began with a performance by the Pakistan Army band and a reading from the Quran.
After being taken around the stadium by volunteers, the lantern was used to light the torch, which was then handed over to Musharraf and Gillani, who participated in the event together keeping aside their political differences.
As colourful balloons were released into the overcast sky over the stadium, the two leaders handed over the flame to the first runner, former hockey player Samiullah Khan, who represented the country in the 1970s and 1980s and was nicknamed "the Flying Horse".
Official sources said special security arrangements were made in Islamabad in view of protests by human rights activists in London [Images], Paris and San Francisco against China's crackdown in Tibet [Images] as well as the fear of militant attacks.
Pakistan has witnessed a deadly wave of suicide attacks and blasts since last year that have killed over 1000 people.
Thousands of security personnel were deployed to protect the Olympic torch that touched down in Islamabad shortly after midnight on the first part of its journey through South Asia.
Photograph: Aamir Qureshi/AFP/Getty Images