Home > Sports > Tennis > Report


Somdev looking to stamp his mark in Mumbai

Deepti Patwardhan | September 23, 2007 20:48 IST


| | |
| --- | --- |
| Somdev Dev Varman | |
| | |
| | |
| | |
| | |
| | |
| | |
Most tennis players would like an early start to their career, hitting the road in their teens. But just when Somdev Dev Varman's pro-career was looking up, he chose to take a larger view and take the sports scholarship in the University of Virginia, at 18.
An organised person himself, Somdev decided to put his life plan into action.
"It was a very easy decision to make," says Somdev. "I was doing okay on the tour, nothing great. I needed an education, since I'd be playing pro-tennis for the next 12 years. I wanted to get a degree and give another shot as a professional, probably, when I was 23-24, because that's the age you're ready."
The smiling 22-year-old, originally from Assam, is on his first visit to Mumbai, having received a wild-card for the ATP event, beginning on Monday. He and partner Stephen Amritraj have been given a wild-card entry into the doubles main draw.
After an excursion around South Mumbai with coach Tony Bresky, looking for energy drinks and snacks, Somdev arrived at the venue, the Cricket Club of India on Sunday, amidst much curiosity. He last played in the country in January 2006. This time he comes as the reigning NCAA college champion and a much-improved player.
Somdev beat the 6'9" John Isner 7-6, 4-6, 7-6 in the final in May to become the first Indian to win the event.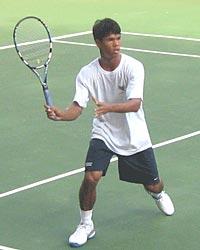 "The NCAA Championships is a very good tournament. You have 64 good players from colleges around the US. Isner is a great college player; I had beaten him the week before. I tried my hardest and served well," he recalls.
"College tennis is big in the US. The guy who won in 2004 -- Benjamin Becker -- has gone on to break into the top-50. James Blake also played for his college, though he didn't complete it. We had players like Paul Goldstein and the Bryan brothers playing here, so it has a tradition for the best guys."
The big-serving Isner has already made an impact on the tour, making it to the finals of the ATP in Washington, where Somdev was the only Indian to qualify for the main draw. The American also made a big dent at his first Grand Slam appearance, when he made it to the third round of the US Open this year.
"He's one of the best servers on tour. We were not surprised that he has done so well, but we didn't think he'd do it just two months out of college," says Somdev, who thinks Isner has set a great example for the college players to make it big on the tour.
Though college championships are a rung below the ATPs, Somdev's coach, Bresky, believes it's the Indian's mental strength has gone a long way in soaking up the pressure of being the best player on the 12-member team.
"When you are the best player you are expected to win all the matches for your team. These players are constantly pushed and become mentally stronger. His biggest strength is that he has great heart, great fight.," said Bresky.
"He's past the stage to teach technical aspects on the game. When he came four years ago he was a lot thinner and more defensive. He has got a lot stronger and quicker on court. We are now working more on the minor adjustments, his endurance, his shot selection. He is very fit; I know Indian players prefer to play on fast hard courts or grass courts, but I am sure Somdev is going to be a very good player on clay."
Though his tennis career is looking up this summer, Somdev is more than happy to make the most of the nine months remaining in college and resume on the tour full-time with a heart and plan to slay his opponents.
Photographs: Deepti Patwardhan