Home > Sports > First Look


Barca to unleash Henry, Ronaldinho

September 19, 2007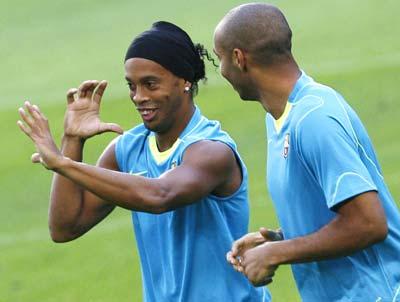 Barcelona will unleash dynamic duo Ronaldinho [Images] and Thierry Henry [Images] in tandem for the first time in the Champions League on Wednesday when they take on Olympique Lyon in the tricky Group E opener.
- Champions League: Liverpool, Chelsea held
Argentine Lionel Messi [Images] will also be in the mix for Barca as they go for goals against a Lyon side rebuilding after the loss of many key players such as Florent Malouda and Eric Abidal.
The other game in Group E features Rangers hosting the champions of Germany [Images], Stuttgart, in Glasgow.
Manchester United have striker Wayne Rooney [Images] back in their squad as they travel to the Portuguese capital to play Sporting Lisbon in Group F, although Owen Hargreaves is ruled out.
In the same group Roma host Dynamo Kiev.
Arsenal's impressive start to the season will be put to the test when they host Sevilla in Group H while Slavia Prague, making their debut in the Champions League group stage, will be optimistic of victory over former winners Steaua Bucharest.
Italian champions Inter Milan will be in for a lively evening in Istanbul against Fenerbahce while CSKA Moscow [Images], the sole Russian club among the 32 participants, travel to PSV Eindhoven.