Home > Sports > Interviews


The Rediff Interview/Viswanathan Anand

'I am proud I was the only undefeated player'

October 05, 2007



It is always a pleasure to interview Vishwanathan Anand. Very rarely you come across such a warm and down-to-earth person, nay world champion!

Only a few months ago he took over the world No 1 ranking; now he has the World crown. He had won it six years ago, but the latest triumph, in a tournament that featured eight of the world's top-ranked players, is certainly remarkable. But, then, Anand has a habit of conquering heights.

From Mexico, where the World Chess Championship was held, Anand and his wife Aruna have returned to Spain, where they live.

In an exclusive chat over telephone, Anand speaks to Shobha Warrier about the championship, Mexico, and the gift Aruna expects from him.

First, congratulations on winning the World Chess Championship.

Thanks a lot.

Which one do you savour more, becoming world No 1 or winning the World Chess Championship? Can you compare these two achievements?

They are pretty close. I had won the World Championship before in 2000. But the world No 1 was a new thing. Of course, the World Championship was six years ago. So I was a kind of longing to win it again.

I remember becoming world No 1 happened after I won at Linares. So I was very happy that day as well.

Your winning the World Championship did not come as a surprise to many as being the number one; everybody expected you to. What was in your mind when you went to Mexico? Were you under any pressure?

I tried not to think about it. First of all, I do not consider myself, or anyone in particular, a favourite. In this field the most dangerous thing is that anybody can beat you. The difference between players is very small. Therefore, I just tried to play round to round and not think about who the favourite is, and all that.

You were the only undefeated player in the entire tournament. Were you very cautious?

Yes, I was the only undefeated player. That is something I am very proud of. It was not easy.

No, I was not cautious on the board. I played and did not look for any extra safety or anything like that. But I was conscious that if you started to drift or become a little bit careless, you could be punished harshly. I was very alert. So, in that sense, I was cautious.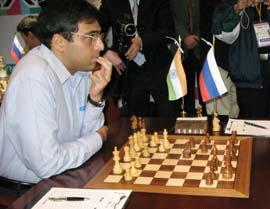 Who did you consider your strongest rival or real threat in the tournament?
I must say, most of the tournament, [Boris] Gelfand was a threat. Clearly, he had a very good tournament and was always at striking distance. For instance, had I lost the game against [Alexander] Grischuk, in the 13th round, Gelfand would have been just half a point behind me. That way, he was a real threat.
But, at the beginning of the tournament, I had no idea who that person would be. Before the tournament I had no idea what course the whole tournament would take.
You said after you won the championship you were very fortunate to have won the game against Grischuk. Why?
It was quite a tricky situation. I looked completely lost. Then I sort of calmed down and realised what it was. Still the position was rather dangerous for me. If I had lost that game, what would have happened was, the one point lead I had before the last game would have become a half point lead. Half point lead means, if you don't win, but draw, somebody else can catch up with you.
So, when I was able to save that half point against Grischuk, it was in my hands and all I had to do was draw the last game.
In the match against Grischuk, was the thought of maintaining the one-point lead weighing on your mind?
It was not weighing on my mind. Let me put it this way; if I had only a half point lead at the start of the 13th round, a half point lead in the 14th round would have been a fantastic situation. But if you had a one-and-a-half point lead when there were three rounds to go, and if you had only a half point lead before the last game, the situation would be completely different. That was why it was very crucial for me to save that game.
Was the Grischuk game the toughest?
There were other tough games as well, but this was the one I was closest to defeat.
Which was the easiest?
All my four wins were hard-fought. So I can't really say there were any easy games.
Does leading from the beginning of the tournament make a player complacent?
It can. But, somehow, my lead did not grow really large till the ninth round. So, it was only after the ninth round that I had to fight any complacency.
How did you motivate yourself after you took a one-point lead?
You focus on the game, see who you are playing next, prepare for it and go. Yes, it is not as easy as I make it sound. But you try to do that.
While playing a game, does the thought of points come to your mind?
It crosses your mind. At the board, it was not much of a problem. But when you are sitting idle, these thoughts come to you.
In one of our earlier interviews, you told me that Mexico is one country you and Aruna love a lot. After the tournament, what did you two do?
This time we did very little. On the last day, we thought now that we are here we must see the city a bit. So, we took a walk around the important paths, a guided tour. During the tournament, we neither had the time nor the inclination to go sightseeing. In fact, most of the time, we stayed in the hotel. Of course, at some point, we want to go back to Mexico city just for a vacation.
You also told me you love Mexican food. Did you try any new dish?
Definitely. They have lovely sauces, and I especially like a sauce called 'Mole' (pronounced 'moley'). It is a chocolate-based sauce. So, everyday, I used to have that. That was something I really enjoyed. Because the tournament was on, I didn't experiment much. Yes, sometimes I had some spicy food.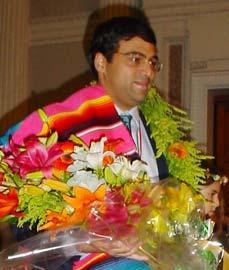 You are aware of the kind of reception and monetary benefits the cricket players got after they came back from South Africa, and also the way the winning hockey team reacted to it. Do you consider the Indian media responsible for the hype given to cricket to the point of neglecting other sports?
I wouldn't put it that way. I think it would be nice if other sports also got the same recognition when they did well. Now, the other sports have to compete more.
When someone like Pankaj Advani wins, yes, I think the media should give equal credit to it because what he did was very creditable.
Do you feel because of the importance given to cricket, other sports have suffered in India?
I don't want to sound like attacking cricket, but when other sports do well, it should be recognised. But other sports also have to compete to get media attention. That is how the world is.
Ever since the Twenty20 team was given a tumultuous welcome, everyday one sports person or the other is commenting on the step- motherly treatment given to other sports. Are you angry about this? Or, are you indifferent?
I am indifferent. I concentrate on my sport. I work hard and try to do well.
Your comments about how you would be received in India after the triumph have appeared everywhere...
Somehow that was not the sense in which I mentioned it. When asked, what kind of expectations do you have? I said, well, something like that! It was not a challenge to the Indian public or anything like that.
Were you happy with the way you were received when you came here as the world No 1?
Yes. Also in 2000, when I came after I won the World Championship, the reception was fantastic. And I am sure I will be surprised this time as well! I don't think they will disappoint me!
A columnist in The Hindu wrote the other day that you and Aruna get mobbed in Spain but you can go unnoticed in India. Is it true?
Well, if I haven't shaved for many days, I can manage in India! Yes, I am recognised pretty often in India. I have been mobbed in Chennai also. I still remember the reception in 2000. When I returned after winning the World Championship there were so many people at night to receive you.
I had a fantastic time in India this time (after becoming  world number one) I got hundreds of messages. I didn't feel neglected!
Are you generally a very positive person?
Yeah. I guess so.
Are you chilling out now that you are world No 1 as well as the World chess champion?
Yes. We are going to Turkey for a holiday and then we will come to India by mid-October. We probably will spend a day or two in Istanbul.
How did you celebrate after the win in Mexico?
I went with some friends to an Indian restaurant. When the organisers asked the restaurant, they said they are closed on Sundays. Then they found out who was coming. 'If Anand is coming, I will ask my staff to stay and we will keep the restaurant open on Sunday,' the restaurant owner said. He not only kept the restaurant open but refused to accept [payment of) the bill. That was one of the most touching things I experienced after winning the championship.
Did Aruna give you any gift?
I think she is expecting a gift from me!
(Anand gave the phone to Aruna and she said: 'I had told him if he won the tournament he should buy me a diamond necklace! I hope I will get my gift! But I have promised to buy him a new telescope, and that will be my gift.')
So that is what you are going to buy her?
I guess so!
Have a nice holiday in Turkey!
Thanks!
More Interviews