Home > Sports > Column > Karun Chandhok

'First F1 test was a positive experience'

November 15, 2007


| | |
| --- | --- |
| Karun Chandhok | |
| | |
| | |
| | |
| | |
| | |
| | |
My first test in Formula One has overall been a very positive experience with Red Bull Racing. The test, as I mentioned last week, was more about reliability and working to get all the new complicated electronic systems up to working order and assist the team in their development. For the team, it also gave them a chance to evaluate my ability as a test driver in terms of speed, consistency and feedback.
A lot of people have asked me how it felt to drive on track for the first time in a Formula One car and if I was nervous at all. But, to be honest, because of the great deal of work on our program I was just really busy trying to get the systems to work how we wanted and I didn't really get a chance to sit back and look into what a big occasion this was for me.
You really don't have much of chance to get settled in to Formula One because of the limited track time and in some ways it felt like another day in the office, like at a GP2 test but with a lot more people. In GP2, my entire team had 14 people and this week we had 80 people here just for a test! As I mentioned, there were a lot of people at the test and it was very interesting for me to work with so many engineers from the engine, chassis, electronics, aerodynamics, tyres and brakes.
The F1 car itself is actually a bit smaller than the GP2 car in size. Although the power is more and the brakes are better, to be honest they weren't anything that I didn't expect and really not too much of a step from GP2. What was really different was the aerodynamics -- the sheer amount of grip and speed that you can carry in a fast corner is something incredible. The style you need for an F1 car is slightly different to a GP2 one but with the new rules about no traction control and the standard ECU's, the changes in style is actually less than it would've been otherwise.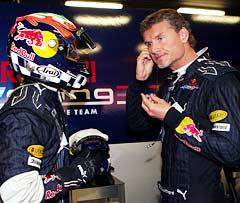 David Coulthard was also very open and offered his 13 years of experience if I had any problems. I told him it was a bit bizarre for me to think that I have a t-shirt in my room which he autographed for me at the Macau Grand Prix Formula 3 race, when I was seven years old and today we are running alongside each other!
On day one our running was limited to just 15 full laps by some teething problems with the new electronics, which to be honest we expected with a complete overhaul of systems but on the second day I was able to carry out some good runs and work well with the team on making steps forward with the car. Of course testing times are very hard to judge because of the different teams running different testing programs but to end up P11 at the end is very satisfying all the same and I'm quite happy with that. Physically also I felt pretty good and only started to suffer with my neck a little bit towards the end of day 2 which is quite normal for anyone in their first test. I have been in Italy [Images] for the last one month training with my new trainer Giuseppe Sebastiani and this has been invaluable I think.
At the moment, I cannot really comment on what the next step is although it is likely to be another season of racing in GP2 which I would ideally combine with some Formula One testing. For the moment though I would really like to thank everyone at Red Bull Racing for this fantastic opportunity and wait and see what the future holds.
Photographs: GEPA pictures/ Franz Pammer