Home > Sports > Formula One > Report

Force India makes waves in testing

November 15, 2007 11:41 IST



Force India Formula One team continued making solid progress when it completed another trouble-free day of testing at the Circuit de Catalunya in Barcelona on Wednesday.

The three drivers testing for the team owned by Indian billionaire Vijay Mallya [Images], Adrian Sutil, Christian Klien and Vitantonio Liuzzi, continued the team's programme of accumulating data on the new electronic control units, putting in more than 1,000 km.

The trio were incredibly closely matched over the day, finishing within two tenths of each other, however it was Klien who posted the team's fastest time with 1 minute 24.446.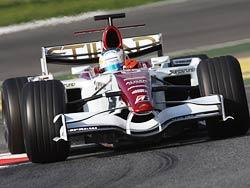 Austrian Klien, who last tested for the team in Spa back in August, piloted one car throughout the morning, before handing it to Liuzzi. The Italian put in 56 laps, just a tenth from the Klien's fastest time.
Sutil, meanwhile, completed a comprehensive programme throughout the day to gather plenty of information on the new-for-2008 electronics. A huge 105 laps later, both he and the team were pleased with the progress shown on Wednesday.
"At the end of the day it did not feel too different to the last races, as the car is the same just with the new electronics, but without the traction control. It takes time for everyone to get used to it as it is very sensitive now and difficult to get the maximum acceleration. This was the main point today; to concentrate on braking and acceleration, but it was also a day for me to drive and get used to the new package," Sutil said.
Klien and Liuzzi will take one car each to continue their respective programmes on Thursday, the third and final day of the test.
Force India's chief technical officer Mike Gascoyne said it was a very productive day of testing for the team.
"Our major test item on both cars was the standard ECU configuration. We had no major problems and were work through to get through the unsolved issues, with both cars completing over 100 laps each. It was also a chance to test Klien and Liuzzi, who had their first runs in the car to make themselves comfortable. We will continue our programme tomorrow with them driving a car each for the whole day," he said.
TESTING DATA:
Drivers: Adrian Sutil, Christian Klien & Vitantonio Liuzzi
Track: Circuit de Catalunya, Spain
Best lap time:  1min 24.446 (Klien) / 1min 24.537 (Sutil) / 1min 24.555 (Liuzzi)
Laps completed: 56 (Klien), 105 (Sutil), 55 (Liuzzi)
Kilometres completed:  1,006km (261km Klien / 489km Sutil / 256km Liuzzi)
Air temperature: High of 20�C
Track temperature: High of 21�C
Weather: Dry, cold but clear throughout the day
Formula One: The Complete Coverage