| | |
| --- | --- |
| Jamie Carragher | |
| | |
| | |
| | |
| | |
| | |
| | |
Advertisement
May 15, 2007


AC Milan playmaker Kaka expects Liverpool to play a long ball game in the Champions League final next week when he will be bidding to complete a personal wish list of achievements.

The Brazilian has been in outstanding form for Milan this season and scored three goals over two legs in the semi-final win over Manchester United to set up the clash with Liverpool in Athens on May 23.

"I think Liverpool are different from Manchester, they play a game that is very typical of English soccer. They are a very well-coached team by (Rafael) Benitez and they are a very tactical team. They are a team that marks tight," Kaka said.

"Manchester are a team that like to play more, the quality of their passing is better and they keep the ball longer," he said in a interview for Adidas.

Liverpool beat Milan in the 2005 Champions League final after coming back from 3-0 down at halftime to draw 3-3 and win on penalties.

Steven Gerrard was a driving force for Liverpool that night and Kaka admires the England midfielder greatly.

"An excellent player, in my opinion, he is a modern player because he is a player who runs, marks, knows how to pass, cross, score goals and he is a leader on the field for Liverpool. So he is a player that I would like to have in my team," the 25-year-old said.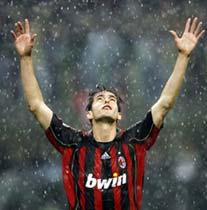 Kaka, who has asked Brazil if he can miss the Copa America in Venezuela starting on June 26 because of fears of burn-out, suffered a serious spine injury at a swimming pool when he was 18.
After making a full recovery he launched a 10-point career plan which included playing for Brazil, moving to Italy or Spain and featuring in a World Cup.
He has ticked off all 10 achievements but has now decided to add an 11th -- win the Champions League.
"Everyone is talking about revenge for what happened in 2005. It happened. We lost that final, Liverpool were the champions and it will always be remembered that way.
"So we have the opportunity to once again, make our mark on history," he said.
© Copyright 2007 Reuters Limited. All rights reserved. Republication or redistribution of Reuters content, including by framing or similar means, is expressly prohibited without the prior written consent of Reuters. Reuters shall not be liable for any errors or delays in the content, or for any actions taken in reliance thereon.