Home > Sports > Hockey > PTI > Report


Indian hockey lacking in skill and power: Hendriks

March 08, 2007 17:32 IST



Although India has a huge pool of talented players, the deficiency in skill and power is not helping their cause in big tournaments, says Spain's hockey coach Maurits Hendriks.

Hendriks, who is a consultant of the Premier Hockey League, said it is imperative to bridge the gap in order to lift the standard of Indian players to match top international sides.

"At skill level, the Dutch and Spaniards are at the top. Australia and Germany are physically stronger. But India do not come among the top three as far as skill and physical stamina are concerned.

"But they are in the top three as far as number of top players are concerned. The pool of players available in the country is the biggest," Hendriks said.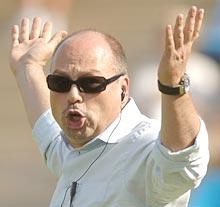 In an obvious reference to India, he said: "The top teams have to work on one particular area for improvement whereas sides below the top six need to improve on every aspect."
Hendriks said the domestic level should be of high standard in order to help a country achieve podium finishes.
"To get on the podium any participant [country] has to reach high level of performance which is a result of right kind of preparation. That preparation comes from experience level of players and coaching staff.
"I have a strong belief that this kind of experience level can be achieved if you have the domestic level which is of that high standard," he said.
The reputed coach said coaching staff in India is normally engaged in "politicking" and do not interact among themselves, thereby hampering their growth as a whole.
"The coaching staff here [India] don't interact among themselves. They are egoistic to learn from each other. There is a need for interaction to get better," he said.
Claiming that the PHL is gaining in popularity, Hendriks said the tournament could help improve the standard of Indian hockey only up to a certain limit.
"If we are able to get a link between the PHL and existing Indian hockey, then I would definitely give a proposal to the IHF.
"The first phase of recovery may be very slow, but don't expect overnight results. We have made a stout start. But Indian hockey should be able to keep up its own pants," he said.
Recollecting his early days as a coach of the Spanish team, Hendriks said he tried to rectify things at grassroots level to create a strong national side.
"In the first one-and-half years in Spain, I worked on improvement at internal level. I reduced the number of clubs so that coaches had to work harder and improve on the quality," he said.
Hendriks said the PHL had grown in stature, becoming a visible and powerful hockey tournament in the world.
"In three years time we have established our position. We are receiving public and media attention and players are making good money," he said.
He said without compromising on its quality, he would like to see the tournament as a more attacking one.
"I would like to see more goals and attacking hockey. We have brought in more number of younger players. This year, Maratha Warriors were the youngest and Sher-e-Jalandhar had the highest average age. But we have to control the flow of younger player in order to enhance the quality," he said.
On the manhandling of an umpire in PHL final, Hendriks said players' misconduct would be dealt in a severe manner.
"Every hockey pitch has a set of code of conducts. Some things which are allowed in football cannot be allowed in hockey. We will have to deal in a severe manner any break of code of conduct.
"If you are a playing professional league and break rule, then you cannot make money. Apart from this, the tournament director has to make a ruling on suspension (from PHL). We are very serious about it," he said.
On the new one-on-one rule adopted during penalty shoot-outs in the PHL, Hendriks said he was excited by watching the innovation on the field.
"It involves skill, speed, execution and timing of both the striker as well as the goalkeeper. I am excited as I saw spectator reaction. You know you have come up with something that will excite people," he said.
On this year's result in the PHL, Hendriks expressed satisfaction that Orissa Steelers won the title displaying best hockey.
"Orissa Steelers was the best team and I am happy the best team has won. Their coach A K Bansal is a keen thinker and the tournament gave him a chance to try out his ideas," he said.
© Copyright 2007 PTI. All rights reserved. Republication or redistribution of PTI content, including by framing or similar means, is expressly prohibited without the prior written consent.