Home > Sports > Football > UEFA Champions League 2006-07 > Reuters > Report


UEFA to investigate Valencia-Inter brawl

March 07, 2007 18:08 IST



Valencia and Inter Milan face a UEFA disciplinary investigation after the Spanish side's substitute David Navarro sparked a brawl at the end of their UEFA Champions League victory on away goals at the Mestalla.

The Valencia defender said he is ashamed by his behaviour after running on to the pitch and punching Inter midfielder Nicolas Burdisso in the face, breaking his nose, before being chased by Milan players at the end of Tuesday's match.

"I've never behaved this way before and I'm sure my family will be very disappointed in me," Navarro was quoted as saying in sports daily Marca on Wednesday.

"I'm ashamed and very much regret what I did. I haven't seen the television pictures and the truth is I don't want to either. I'm upset because I've never done anything like this in my life before nor will I again."

European soccer's governing body UEFA said both clubs face a disciplinary investigation with a hearing at the next regular meeting of its control and disciplinary body on March 22.

That meeting is already due to consider the crowd problems during Manchester United's Champions League first knockout round, first leg tie away to Lille last month.

BURDISSO FLOORED

Tuesday's incidents were triggered when Navarro sprinted off the bench at the end of the 0-0 draw as his team mate Carlos Marchena and Inter midfielder Burdisso squared up to each other.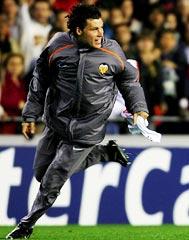 Navarro floored Burdisso with a punch in the face and was pursued by several Inter players as he ran off the pitch. Inter coach Roberto Mancini said the Argentine's nose had been broken.
A mass brawl developed in the centre of the pitch and the incidents continued in the tunnel as several Inter players tried to follow Navarro into the dressing room.
Security guards intervened, but it took several minutes before the situation calmed down. Local media reported that Navarro left the stadium by a back door.
"When I saw that they were going for Carlos [Marchena] I ran on the pitch," said Navarro. "I saw Burdisso and was going to separate them, but I just lost my head.
"I expect to be punished. I very much regret what happened and I will accept whatever punishment I am given."
The defender added that he would try and ring Burdisso to apologise.
COWARDLY NAVARRO
Inter coach Roberto Mancini, who missed the incident at the time but watched replays, branded Burdisso's assailant a coward on Italy's Sky television network.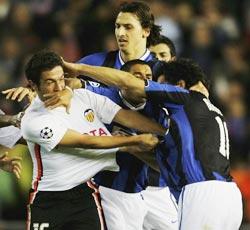 "I didn't see anything because I was going back to the changing rooms, but the lads told me what happened," he said.
"Looking at the pictures, one thing is certain, that the Valencia player is a coward. That's the only thing you can call a man who gives someone a punch like that and then runs away."
Inter president Massimo Moratti was far more diplomatic and said his club would not be seeking redress from UEFA.
"I'm sorry for the player [Burdisso] and for everything that happened at the end of the game. We really did't expect to have things like that happen any more."
As for reported trouble between opposing players in the dressing rooms, he said: "There wasn't a fight there. The UEFA delegate was aware of the situation and he's a good man.
"He'll do what he has to do. But I don't think there will be any action from Inter over this."
UEFA Champions League 2006-07: The Complete Coverage
© Copyright 2005 Reuters Limited. All rights reserved. Republication or redistribution of Reuters content, including by framing or similar means, is expressly prohibited without the prior written consent of Reuters. Reuters shall not be liable for any errors or delays in the content, or for any actions taken in reliance thereon.