Home > Sports > Stars We Spotted


Spotted: Jim Courier in Massachusetts

June 26, 2007

Reader Karthik Marudur sent us this picture from Massachusetts.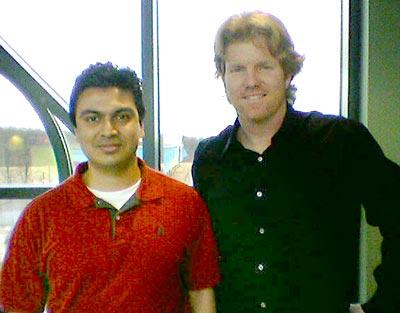 Jim Courier was in the Staples store in Framingham, Massachusetts, to promote the Champions Series in Boston. He was playing in the series along with John McEnroe, Todd Martin and Pete Sampras.
'Staples was one of the sponsors of the event,' writes Karthik, 'and its employees signed up to play a one-on-one table tennis game with Jim. He was pretty good and I didn't see anybody beating him.'
The former French Open champ chatted with Karthik and also obliged him with a photograph.
Thanks Karthik!
If you encounter your favourite cricket/sports personalities, send us the photograph or video on sportsdesk@rediff.co.in We will feature the best images right here on Rediff Sports or Rediff Cricket.
Please check more Reader photographs