Home > Sports > Formula One > Reuters > Report


Hamilton enters Tiger territory

June 15, 2007 10:54 IST
Last Updated: June 15, 2007 11:59 IST



Lewis Hamilton [Images] enters Tiger territory this week and whether Formula One's new hero likes it or not comparisons will abound ahead of Sunday's US Grand Prix.

Hamilton, who last weekend at the Canadian Grand Prix [Images] became the first black driver to win a Formula One race, has tried to distance himself from the inevitable comparison with Tiger Woods [Images], saying their situations have little in common.

For American sports fans, however, there are undeniable links and with golf's world number one just a few hundred miles east teeing up at the US Open the pair will be under scrutiny this weekend.

"I'm not Tiger," Hamilton told reporters after his victory in Canada [Images]. "I have to prove myself before people can make those types of comparisons."

With Woods in the field, the US Open is guaranteed huge television ratings in America but whether Hamilton can bring the same buzz and audience to the US Grand Prix is far from certain.

Hamilton was the main attraction in Montreal, filling the marketing void left by the departure of local hero Jacques Villeneuve from F1.

Despite the absence of the Canadian driver, motor racing fans filled the stands at the Circuit Gilles Villeneuve, many eager to get a first glimpse of the Briton who has captivated the sport with his supreme skill and everyman personality.

BITTER MEMORIES

The 22-year-old Hamilton's drawing power, however, will be put to the test at the famed Brickyard as he bids for his seventh podium finish in his first seven races.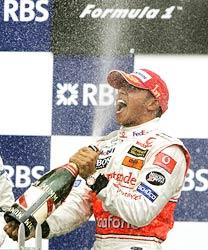 Tony George, owner of the Indianapolis Motor Speedway who is in tough negotiations with F1 supremo Bernie Ecclestone to keep the race at his track, will be prime among those hoping that Hamilton's presence will give the race a jolt of interest.
Putting people back in the Brickyard's sprawling bleachers, however, will not be easy with many American motor sports fans still harbouring bitter memories of the 2005 race that resulted in the biggest fiasco in F1 history.
With angry fans tossing debris on the track just six cars took the start after the 14 with Michelin tyres withdrew for safety reasons.
As promoters around the world hammer on Ecclestone's door begging for Formula One races, Americans remain indifferent to the motor sport spectacle, preferring to get their high-octane fix from NASCAR.
Not since Mario Andretti lifted the F1 drivers' title in 1978 has the US had a legitimate rooting interest in the race.
While Hamilton has quickly become one of the world's most recognisable athletes, he walked the streets of New York and Washington just days before Sunday's US Grand Prix unnoticed except by a few European tourists.
"I was recognised a couple of times but once it was a Spanish couple and there was a couple of English tourists but none of the Americans," Hamilton told reporters.
EVERY LEVEL
Despite Hamilton's uneasiness at comparisons to Woods, the similarities between the two are striking.
Like Woods, Hamilton is articulate and thoughtful. Both have found success at every level and are unruffled by the spotlight.
More than most countries, the United States has always been keenly aware of the battles fought by black athletes and their impact on American culture.
From Jackie Robinson's breaking of Major League Baseball's colour barrier in 1947 to Tony Dungy becoming the first black coach to win a Super Bowl last January, each milestone has been treated with significance.
Motor racing remains one of the last sports in the US where African-Americans still have to make a breakthrough.
At the Indy 500 last month a record three women were on the 33-car starting grid but no black drivers. George Mack and Willy T Ribbs remain the only two African-Americans to have race in the event.
McLaren identified Hamilton as a potential future champion at an early age, signing him to a development contract when he was 13.
Even NASCAR recognises the importance of unearthing such a talent and so it has instituted a diversity programme designed to identify and support minorities attempting to break into top-flight racing.
© Copyright 2007 Reuters Limited. All rights reserved. Republication or redistribution of Reuters content, including by framing or similar means, is expressly prohibited without the prior written consent of Reuters. Reuters shall not be liable for any errors or delays in the content, or for any actions taken in reliance thereon.

Formula One: The Complete Coverage