Home > Sports > Tennis > The French Open 2007 > Report


Bhupathi advances, Paes out

June 06, 2007 11:40 IST
Last Updated: June 06, 2007 12:04 IST



India's Mahesh Bhupathi and his Czech partner Radek Stepanek advanced to the semi-finals of the men's doubles at the French Open on Wednesday after surviving a tough battle against second seeds Jonas Bjorkman and Max Mirnyi at Roland Garros in Paris.

Bhupathi and Stepanek rallied strongly after losing the first set to triumph 3-6, 6-1, 7-6 (8-6) in a gruelling contest, which stretched two hours and 14 minutes.

The unseeded duo now take on sixth seeds Mark Knowles of the Bahamas and Daniel Nestor of Canada in the last four.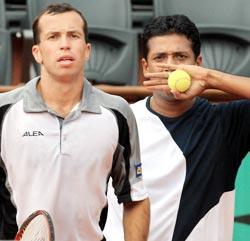 In the other semi-final, the ninth seeded Czech pairing of Lukas Dlouhy and Pavel Vizner will face fourth seeds Fabrice Santoro of France and Nenad Zimonjic of Serbia.
Dlouhy and Vizner stunned top seeds Bob Bryan and Mike Bryan of the US 5-7, 6-4, 6-4 to advance to the last four.
However, Leander Paes' campaign at the claycourt Grand Slam came to an end, when he bowed out the mixed doubles.
Paes, partnering Meghann Shaughnessy of the US, went down 6-4, 4-6, 7-10 to Tiantian Sun of China and Julian Knowle of Austria in the quarter-finals.
(Results)
Men's doubles quarter-finals:
Mahesh Bhupathi/Radek Stepanek (India/Czech Republic) beat (2) Jonas Bjorkman/Max Mirnyi (Sweden/Belarus) 3-6, 6-1, 7-6(6)
(9) Lukas Dlouhy/Pavel Vizner (Czech Republic) beat (1) Bob Bryan/Mike Bryan (US) 5-7, 6-4, 6-4.
(4) Fabrice Santoro/Nenad Zimonjic (France/Serbia) beat Igor Kunitsyn/Dmitry Tursunov (Russia) 6-4, 7-5
(6) Mark Knowles/Daniel Nestor (Bahamas/Canada) beat Michael Kohlmann/Rainer Schuettler (Germany) 6-4, 6-4
Mixed doubles quarter-finals:
(8) Nathalie Dechy/Andy Ram (France/Israel) beat (2) Liezel Huber/Kevin Ullyett (South Africa/Zimbabwe) 7-6(5), 6-2
Sun Tiantian/Julian Knowle (China/Austria) beat Meghann Shaughnessy/Leander Paes (US/India) 4-6, 6-4, 10-7
The French Open 2007 coverage