Home > Sports > Formula One > Reuters > Report


Hamilton wants to see out career at McLaren

July 05, 2007 20:53 IST



Championship leader Lewis Hamilton [Images] has told McLaren he wants to stay with them for the rest of his Formula One career and would have driven for free this year.

The 22-year-old rookie told reporters before his home British Grand Prix on Thursday he was simply passionate about the team.

"There's a lot of emotion there," he said.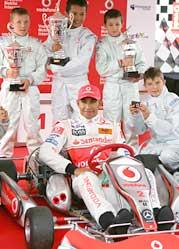 "A lot of it is just because I've grown up with them, you go to the factory and everything's perfect -- the way things are run, the people there, the mechanics, just everyone. I love everything about the team and I enjoy working with them.
"I couldn't imagine working anywhere else to be honest," added Hamilton.
The youngest Briton to win a Grand Prix, and the first black driver, Hamilton has finished all eight of his races to date on the podium and leads double world champion team mate Fernando Alonso [Images] by 14 points.
"I'm not saying I'm going to be here forever, I don't know how long I will be in Formula One, I haven't decided how long I want to stay in Formula One. I might want to do something else," he continued.
"But if that is a short time or a long time, I feel happy to see out my career with McLaren because I'm very passionate about the team." 
FREE RIDE
Asked how he would respond if Ferrari [Images] offered untold riches, Hamilton replied that money is not his motivation.
"I'm not here for the money. It's never been something that's driven me to get to Formula One," he said.
"If (McLaren boss) Ron (Dennis) came up to me and said, 'I'll give you the drive but you're not going to get paid', any driver would have jumped at it.
"You want to be respected, and at some point you want to be paid your value, but that's not something that drives me."
Mobbed by photographers and television crews earlier on Thursday at a karting event with young hopefuls eager to follow his example, Hamilton is very much the man of the moment in his British race debut.
He said he had been surprised by the response to his success, particularly on visiting a children's hospital in London [Images] on Wednesday, but was determined to keep his feet on the ground.
"My world's just turned upside down," he said. "I don't feel like a phenomenon, I just feel like a normal guy. It's just quite unreal for me."
Hamilton also revealed that, despite becoming a fixture on the post-race podium, he still prefers spraying champagne to drinking it.
"I don't like champagne," he said. "That's why I very rarely drink it on the podium."
© Copyright 2007 Reuters Limited. All rights reserved. Republication or redistribution of Reuters content, including by framing or similar means, is expressly prohibited without the prior written consent of Reuters. Reuters shall not be liable for any errors or delays in the content, or for any actions taken in reliance thereon.

Formula One: The Complete Coverage