Home > Sports > Tennis > Wimbledon Championships 2007 > Report


I love playing five sets: Paes

Deepti Patwardhan in London | July 02, 2007 18:21 IST


| | |
| --- | --- |
| Leander Paes | |
| | |
| | |
| | |
| | |
| | |
| | |
It was not the best match or the biggest crowd. Leander Paes [Images] and Martin Damm had just completed their first round match on Court No 16, beating Chris Haggard of South Africa and Marcin Matkowski of Poland 7-6, 6-3, 7-5. But, as soon as the game was over, the entire Indian contingent was converging upon Paes.
And he obliged each of them; with autographs and pictures, and small talk.
There are some celebrities who spend a lifetime building walls between themselves and their fans; there are others who spend a lifetime destroying them.
Leander Paes is fast becoming the Andre Agassi [Images] of India. Not only because, like the legendary American, he has extended his career well into the 30's, giving it an ageless hue, but for the sheer affection he generates from his fans.
Like Agassi, Paes is one of the few celebrities who reach out to their fans, bond with them, make them feel welcome, important and part of their success, and bow and say thank you for coming, and mean it.
"Huh! I don't see it that way. It's only people's perception," says Paes of the Agassi parallel.
"I am just a simple boy from Goa [Images] who has worked very hard to get here.
"I guess they just love the passion with which I play.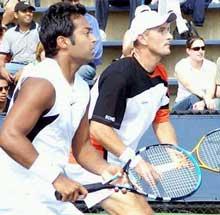 "They know they are going to see a good game, they enjoy the show. It's great to have people from India, or some of the locals [during Wimbledon] come and support me year after year. Be it when I won my bronze medal, or during Davis Cup, or four years ago [when he had a brain cyst removed] the support has been humbling."
Counting his days as a junior, the Indian is now in his 19th year at Wimbledon and has added three more triumphs -- with Mahesh Bhupathi [Images] in the famous summer of 1999, when the 'Indian Express', as they were known, reached the final of all four Grand Slams, and two mixed doubles titles, with Lisa Raymond (1999) and Martina Navratilova (2003).
Paes, who won the 1990 boys' singles championship, at 34, is still India's best hope to win the grass court Grand Slam.
"It is disappointing to see there aren't many youngsters coming through," says India's Davis Cup captain.
"Sania [Mirza] is doing very well in the women's section, but we need some depth in the men's. We had some of them here, playing qualifiers, but what we need is for them to be in the main draw."
This is the lack of depth Paes has often countered as India's captain in Davis Cup. When nerves or injuries have inflicted the youngsters, he has taken over the responsibility, stood up and been counted.
In the last two years, when India needed him in the live fifth rubber and to keep Group I relegation at bay, Paes came up with the results.
"Me playing against Pakistan or Kazakhstan does not mean I don't have confidence in the boys," he insists.
"I think, as a captain, the biggest mistake you would make is to not play yourself. I took the decision which I thought was the best at the time, which I thought would make India win.
"As a captain I am in a no-win situation, because even if you lose you are criticised, and even if you win you are criticised."
Playing for India, with an unflinching commitment for the past 17 years, has meant Paes is ready for a five-set challenge whenever it comes. With the ATP bringing in the match tie-break to shorten matches and make doubles more spectator-friendly, Wimbledon remains the only tournament to hold best-of-five sets matches for men.
"Bring it on," grins Paes. "The longer the match the better chance we have of winning it.
"I love playing five sets. I'd take that any day, because fitness is not an issue. I don't feel my age; I think I am a lot fitter now than I was seven years ago. Not that I didn't work hard then, but as you grow old you have to work harder."
Paes added momentum to that fitness campaign six months ago, hiring Czech triathlete David Vider to help him train. The results are there to see. A leaner frame and a tailor-made serve-and-volley game for grass make up a lethal combination at Wimbledon.
"You see the trophy upstairs, I'm going for that!"
Smiling and carrying people with him, he keeps the caravan rolling.