Home > Sports > Stars We Spotted


Varun meets Geet Sethi

January 11, 2007

Reader Varun Bansal sent us this picture.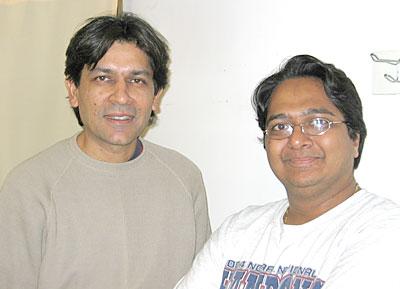 'Its an amazing feature that you started 'Spotted the Stars'. Its so wonderful to see and become a part of other people's happy and surprised moments in life.
'I have been a rediff user since last 5 years and slowly your wonderful site has grown on me so much that I now rely mostly on your site for news, but I must add that this feature 'Spotted the Stars' is the most unique and the best feature you started. Congratulations on its success.
'I wanted to share my moment of happiness with you when I met my idol Mr Geet Sethi. I have been his fan right from my childhood when I used to play billiards and used to love watching him play on the Star Sports channel. I practice Vipassana Meditation and didn't know that one of the by-products of practicing this technique was that I would meet my idol in one of the courses.
'It was way back in 2004 summer when I went for a course in Shelbourne Falls, Boston, USA that Mr Sethi attended the same course and I was lucky to meet him there. He took me for just a fan but was surprised when I told him his children's names.
'I would appreciate if you could add me to your 'Spotted the Stars - Hall of Fame'.... :),' writes Varun.
If you encounter your favourite cricket/sports personalities, send us your photograph on sportsdesk@rediff.co.in. We will feature the best images right here on Sports or Rediff Cricket.