Home > Sports > First Look


Champions league joins Gillette

February 06, 2007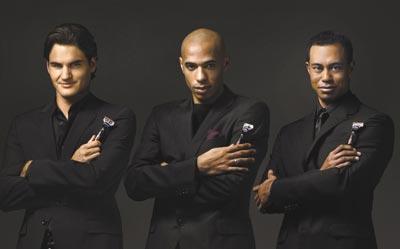 Gillette staged an advertising coup, signing three of the biggest athletes in the world -- Roger Federer, Thierry Henry and Tiger Woods-- to endorse their shaving product.
The agreement was announced after the Dubai Desert Classic, in which Woods finished two strokes behind winner Henrik Stenson.
Federer and Woods, whose friendship is gathering winds, will now have one more thing in common, apart from their history-chasing pursuits.
"Getting to know Roger has been pretty cool," Woods said. "We see sport on so many different levels the same way." 
Federer said he'd started playing a bit of golf on courses in the United States and in Switzerland.
"I don't play that much golf, but I do hope to get Tiger to teach me," Federer said.
Henry, French and Arsenal striker, said he admired Woods and Federer but had trouble watching golf. 
"I would stay up really late to see Tiger play," Henry said. "Sometimes, I have to be honest, I did fall asleep."