Home > Sports > Stars We Spotted


Martin Damm with Babji

September 12, 2006

Last week, we launched a new feature where we post images of world sportsmen contributed by readers.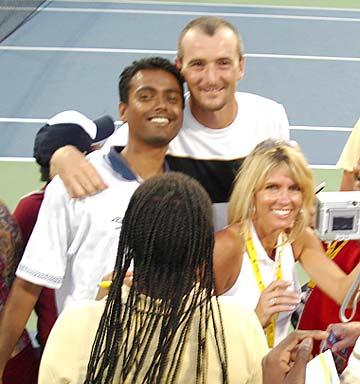 If you encounter/meet/see cricketers or sports personalities and photograph them, please scan the photographs and mail the pictures to us. We will feature the best images right here on Cricket or Rediff Sports.
Reader K D Babji, who sent us this photograph, wrote: 'Here is my photo with Martin Damm at the US Open 2006 men's doubles final, after Martin and Leander Paes won it.
'I approached him for an autograph and among a crowd of people he wrapped his arm around me for a photo op.
'Well, he was very friendly, signed several autographs, even though he had to play the mixed doubles in a couple of hours. I got autographs from all four players, Leander signed with a "Jai Hind".
'The doubles final was very thrilling, both Martin and Leander played excellent, never giving up. I also watched the quarter- finals.'
So rush those photographs to us!
Earlier:
Sania in New York | Vikram meets Shane | When Rajath met Aravinda | Sandip meets 'God'