Home > Sports > First Look


Sania in New York

September 11, 2006

Last week, we launched a new feature where we post images of world sportsmen contributed by readers.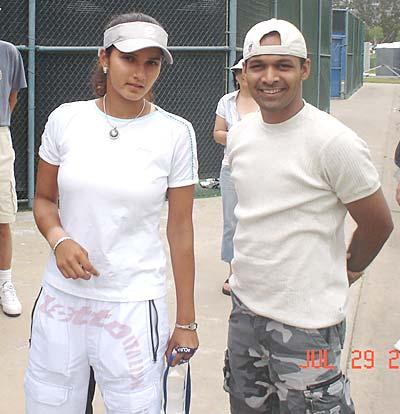 If you encounter/meet/see cricketers or sports personalities and photograph them, please scan the photographs and mail the pictures to us. We will feature the best images right here on Cricket or Rediff Sports.
Rahul Ramesh Shirsat sent us the image of his friend Hegde, who met Sania Mirza in the US recently.
So rush those photographs to us!
Earlier:
Vikram meets Shane | When Rajath met Aravinda | Sandip meets 'God'


What do you think about the story?








Read what others have to say:





Number of User Comments: 7








Sub: there r others 2.

saniais very talentd player no doubt. but there r others 2.i also play tennis, bt i dont hv resources to pay my coaching fee. i ...


Posted by aashi bhadana









Sub: Path is very Difficult

Saniya, path is very difficult but u r image of the country. keep it up and do'nt loose it. bye jagat


Posted by JAGAT









Sub: Sania u r my Soriya

OHHHHH Sania I want to see u in hindi cinema,u r not fitted in tennis.U r very hot,lets join in Bollywood:-)))


Posted by abhi









Sub: improve again

sonia we want to see the no.1 rank in world u follow oun mission u make target than u jump oun rank other wise u ...


Posted by surender pandey









Sub: Sania

Sania may be ranked 70 today but I guess its the same people praising here when she was ranked 31. Why is it that the ...


Posted by Azmatazz






Disclaimer