Home > Sports > Stars We Spotted


Avinash meets Krajicek at the Heathrow airport

October 31, 2006

We recently launched a new feature where we post images of world sportsmen contributed by you Dear Readers.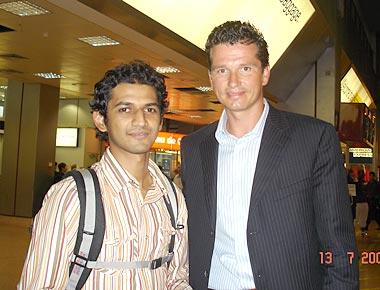 If you encounter/meet/see cricketers or sports personalities and photograph them, please scan the photographs and mail the pictures to us. We will feature the best images right here on Cricket or Rediff Sports.
Reader Avinash Saikia sent us this picture from Heathrow, UK.
'This is a picture of me with Richard Krajicek, former Wimbledon champ,' writes Avinash.
'I posed with him while we were awaiting our flights at the Heathrow airport. He was there to recieve his wife.'
So rush those photographs to us!