Home > Sports > Stars We Spotted


When Ivanisevic charmed Nisha

October 17, 2006

We recently launched a new feature where we post images of world sportsmen contributed by you Dear Readers.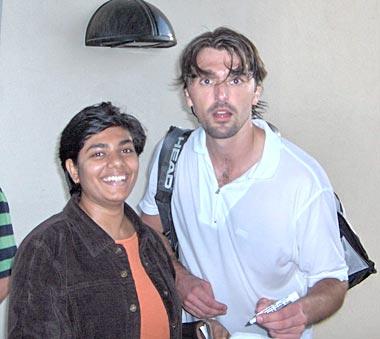 If you encounter/meet/see cricketers or sports personalities and photograph them, please scan the photographs and mail the pictures to us. We will feature the best images right here on Cricket or Rediff Sports.
Reader Nisha Giri sent us this picture from Houston, Texas.
'Here is my picture with tennis star Goran Ivanisevic taken in Houston in November 2005. He was there to participate in the Stanford Financial Champions Cup, an exhibition tournament of retired champions,' writes Nisha.
'This picture with Goran is special for me because it's a dream come true. He was my all-time favourite tennis player and my only serious celebrity crush growing up.'
'I always sorely regretted not meeting him when he came to India for the Davis Cup in 1995 (I may have been the only Indian rooting for him then against Leander Paes). But this encounter in Houston satisfied my long unfulfilled desire. I don't think he fell in love with me the moment our eyes met, but he did give me a smile and posed for a photograph.'
'Although I'd long abandoned the hopes of marrying him, I will always cherish this picture (which my husband graciously clicked).'
So rush those photographs to us!


What do you think about the story?








Read what others have to say:





Number of User Comments: 8








Sub: what a suprise

Nisha!! it is such a surprise to see your pic!! Yea n I remember abt ur crush on Ivanisevic. I had a crush myself on ...


Posted by Neeraja









Sub: Me too

Me too!(although Edberg was "my man"!!!)I still have the pic that has your pencil case with Goran's name on it :)


Posted by Kavy









Sub: Goran

Wow, so many Goran fans admitting to having been unpatriotic! At least I seem to be the only female fan in this list... glad I ...


Posted by Nisha









Sub: I am a fan of Goran

Hey Nisha.. Like you I am also a die hard fan of Goran..


Posted by Vimal









Sub: about Goran Ivanisevic

yes probably you are right , Goran was one of my all time favorites as well , infact he was my brother\'s favorite player , ...


Posted by harunesh






Disclaimer